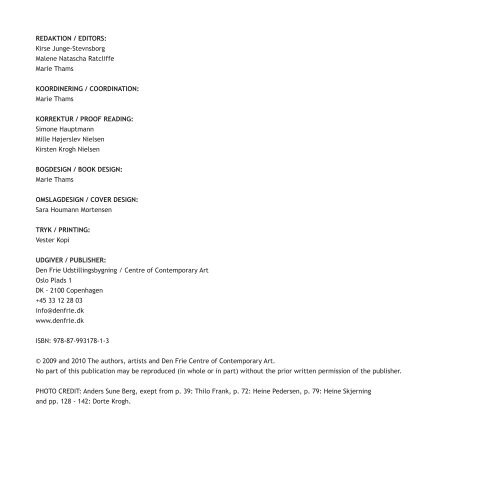 læs bogen her - Den Frie REDAKTION / EDITORS:

Kirse Junge-Stevnsborg

Malene Natascha Ratcliffe

Marie Thams

KOORDINERING / COORDINATION:

Marie Thams

KORREKTUR / PROOF READING:

Simone Hauptmann

Mille Højerslev Nielsen

Kirsten Krogh Nielsen

BOGDESIGN / BOOK DESIGN:

Marie Thams

OMSLAGDESIGN / COVER DESIGN:

Sara Houmann Mortensen

TRYK / PRINTING:

Vester Kopi

UDGIVER / PUBLISHER:

Den Frie Udstillingsbygning / Centre of Contemporary Art

Oslo Plads 1

DK - 2100 Copenhagen

+45 33 12 28 03

info@denfrie.dk

www.denfrie.dk

ISBN: 978-87-993178-1-3

© 2009 and 2010 The authors, artists and Den Frie Centre of Contemporary Art.

No part of this publication may be reproduced (in whole or in part) without the prior written permission of the publisher.

PHOTO CREDIT: Anders Sune Berg, exept from p. 39: Thilo Frank, p. 72: Heine Pedersen, p. 79: Heine Skjerning

and pp. 128 - 142: Dorte Krogh.
More magazines by this user