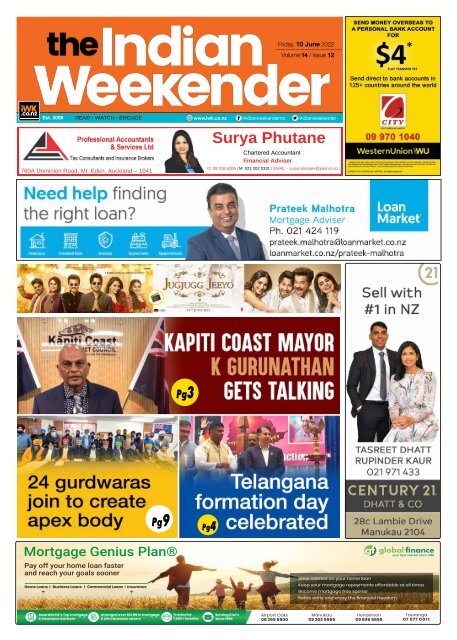 The Indian Weekender, 10 June 2022
You also want an ePaper? Increase the reach of your titles
YUMPU automatically turns print PDFs into web optimized ePapers that Google loves.
Friday, 10 June 2022

Volume 14 / Issue 12

www.iwk.co.nz /indianweekendernz /indianweekender

760A Dominion Road, Mt. Eden, Auckland – 1041

Surya Phutane

Chartered Accountant

Financial Adviser

O: 09 218 6206 | M: 021 202 0331 I EMAIL - surya.phutane@pasl.co.nz

Pg3

Pg9

Pg4
---
2

NEW ZEALAND

Friday, June 10, 2022

Read online www.iwk.co.nz

Make winter

a little better

WITH COMPREHENSIVE HEALTH COVER AND A FREE nib BETTER HEALTH BOX

Private health insurance helps protect you

and your family from the unexpected. It can

give you more control over who treats you

and when. Without it, private treatment could

be unaffordable or make a significant impact

on your hard-earned savings and lifestyle.

Our purpose is your better health, when you

sign up to any new nib policy through your

adviser, you'll receive a FREE nib better

health box worth over $100. So wrap up

and get covered this winter.

With the better health box, you'll receive a

curated mix of wellness products, first aid kit,

rapid antigen tests and even more to help you

get through this winter.

Working with:

not

Examples

CMYK & RGB – JPEG, PNG, EPS, PDF

SO TALK TO YOUR ADVISER TODAY FOR ALL THE DETAILS.

One box per policy, terms and conditions apply. Offer only for new applications submitted between 2 May

and 29 July 2022, with a policy commencement date no later than 14 August 2022.
---
Read online www.iwk.co.nz Friday, June 10, 2022

NEW ZEALAND 3

Kapiti Coast Mayor says no to a hat-trick

VENU MENON

IN WELLINGTON

Kapiti Coast Mayor

K. Gurunathan has a

pocketful of campaign

stories.

As the only non-Pakeha to

be voted to the office of the

mayor, not once but two times

back-to-back, he is quick to

recount his struggles in a largely

white Kapiti Coast electorate.

There is that famous incident

on the campaign trail when Guru

turned to his managers, "two

white blokes," and told them to

"brighten the photograph" on

his billboards.

Was that a sell-out?

Guru calls it a strategy.

"You don't realise that you

don't fight this battle, I do," he

reminded his Pakeha election

managers at the time.

That incident is freezeframed

in electoral folklore. It

highlights the subliminal battles

the dark-skinned candidate

must face to cross the finish

line in a predominantly white

social milieu.

Guru elaborates on this in a

somewhat comic vein: "If you

take a photograph, and if there

are Pakehas in it, you'll find that

your features cannot be seen

(because it's too dark). When

you brighten it up so that your

features can be seen, you'll

find that their faces get blurred

and cannot be seen (because

it's too white). But that's their

Mayor K. Gurunathan ( left) with Indian Weekender's Venu Menon

problem, right? "

Guru sees that as a tactical

move.

"Some may think I lightened

my skin to gain the chains of

the mayor. That is a prejudicial

way of thinking," Guru argues.

"I'm not becoming white; I'm

reducing my blackness."

He says in an election he

knows he must be in charge of

his own image. "So, am I a sellout

because I reduce my own

blackness? Or am I strategically

thinking to get the Pakehas

across the line to lose their

prejudice? "

The challenge before Guru

when he entered the election

fray back in 2016 was that "to

get across the line to become

the mayor" he needed to "take

along those people who don't

realise that they've got racial

prejudice embedded in them."

His battle was based on

the premise that "the Pakeha

mindset is subconsciously

biased against the colour

black," what with all those

negative connotation words

such as " black spot " and "

blackmail" that litter the

English language.

Throughout, Guru was acutely

aware that he was up against

the deeply entrenched cultural

perception that "black means

bad."

So, in his playbook as a

non-Pakeha candidate in the

mayoral fray, brightening his

photo on the billboards was a

strategic imperative.

"When you are part of the

minority, you've got to do

that," Guru explains. "It's easier

for the Pakehas because they

don't have to fight that battle,

but coloured people do,"

But Guru was no stranger

to racial discrimination. It

was embedded in his past in

Malaysia, where he traced

his roots to the diaspora of

indentured labourers.

"In Malaysia, Indians are only

10 per cent of the population

and we are the darkest. When

you belong to the plantation

workers class and are the

darkest, you are at the bottom

rung of the ladder."

He followed his older brother

to New Zealand to pursue his

education, partly to escape his

social underdog status and the

stigma attached to it, as well as

because NZ was the cheapest

overseas destination to study

in at the time.

All roads led to Kapiti Coast

for Guru once he found a Kiwi

wife. He worked as a reporter for

15 years, which dovetailed into

a political career. "Working for

a local paper is not like working

as a specialist journalist for the

city papers," Guru notes. "For

the local papers you have to

write stories on topics like "Mrs

Brown's lost cat" or "Council's

project costs blow up."

A lot of Guru's reporting

back then was on the council.

His by-line and the man behind

it became familiar to the

community. Throwing his hat

in the ring for the local bodies

election was almost a natural

progression.

Becoming a councillor was

the first step. But making the

leap to mayor was something

else.

"Being a mayor involves a

certain gravitas," Guru explains.

"Therefore, it's not an easy

glass ceiling to break."

He recalls travelling to

Malaysia to attend his niece's

wedding after he took office as

mayor.

"I was treated as a poster

boy. For me to become a mayor

was big news," Guru recalls.

Guru said a question he was

always asked was "What do

they call you over there when

you are the mayor? "

"The white people call me

Your Worship," was Guru's

reply.

Guru said that "just blew their

minds."

He says for a black person to

be called "Your Worship" means

a psychological barrier has been

broken.

But being an Indian raises

his acceptance levels across

communities, Guru says.

"I think the fact that I'm

Indian, and I'm bald, and wear

round glasses and look like

Gandhi, also helps," he says,

only partly in jest.

To the mainstream mind

Gandhi is a figure that's

acceptable, Guru suggests.

"Except for the violence that

followed after the country was

partitioned, the change-over

from British rule was largely

peaceful in India."

Continued on Page 10
---
4

NEW ZEALAND

Friday, June 10, 2022

Read online www.iwk.co.nz

EMPOWERING ETHNIC COMMUNITIES IN WELLINGTON

VENU MENON IN

WELLINGTON

For over 30

years, the

Multicultural

Council of Wellington

(MCW) has been

working to bring

the different ethnic

communities in

Wellington together

on a common

platform dedicated

to the celebration

Principal Vijeshni Rattan

of ethnic diversity in

Aotearoa.

With more than 20 ethnic The survey is a first step in

community organisations as mapping the important dates

its members, the council works on the calendar for people of

closely with the New Zealand diverse cultural backgrounds

Police and other government across New Zealand.

agencies to ensure the The project, which is part

participation and representation of an initiative to publish NZ's

of ethnic communities in central first Tiriti-based multicultural

and local government.

calendar later this year, is

The council lobbies on behalf supported by the NZ Police.

of migrants to ensure that The survey, launched by

"ethnic communities are fully Multicultural New Zealand

engaged, and add value to the (MNZ), compiles information

wellbeing and leadership of on food, costumes, activities,

Wellington's wider community." locations and dates on any

The council is one of 23 occasion of the respondent's

regional councils coming under choice.

the umbrella organisation, the "With this we can begin to

New Zealand Federation of paint a rich picture of the 200

Multicultural Councils.

plus ethnicities that make

A key initiative launched by up New Zealand," says MNZ

Multicultural New Zealand (MNZ) president Pancha Narayanan.

on Race Relations Day on 25 Narayanan says Aotearoa has

March 2022 was a nationwide embraced its multiculturism "in

survey marking the "special leaps and bounds in the past

occasions of all cultures in New decade."

Zealand."

The census has identified a

total of 213 ethnic groups,

while Statistics New Zealand

has recognised 196 countries,

making New Zealand one of the

most ethnically diverse nations

in the world.

All of these ethnic groups

celebrate their special

occasions throughout the year.

Rachel Qi, president of the

MCW, says the council aims

to make a positive difference

to the immigrant communities

and help them add value to the

wider Wellington community.

"We are focused on holding

cultural, sporting and social

activities as well as celebrate

festivals in keeping with

Wellington's diversity."

MNZ, of which MCW is a part,

has re-signed the memorandum

of understanding (MoU) with

the New Zealand Police as

a partnership organisation.

"This is a milestone for us to

engage deeper with the New

Zealand Police to build a safer

community together, where

migrants feel comfortable and

secure," Rachel says.

The MCW engages with the

police on the recruitment

process to ensure better ethnic

representation in the police.

Rachel points out that the

bulk of the members of the

MCW are registered community

groups, such as the Wellington

Indian Association which has

roughly 1500 fee-paying

members. Other members

are community groups hailing

from China, Malaysia, The

Philippines, Africa, Fiji, Pakistan,

Myanmar, Sri Lanka, Bulgaria,

Armenia and other countries.

The Multicultural Festival is an

annual event held by the MCW

in January, which coincides

with the celebration of the

Chinese New Year. The event

is supported by the Wellington

City Council.

Another important event

on the MCW calendar is

International Women's Day

held in March, which is marked

by workshops on women's

empowerment and a "ladies

evening", when women drawn

from the various ethnic

communities of Wellington get

together for a social evening of

cat walks and dinner.

Race Relations Day is jointly

celebrated in April by the

MNZ, MCW, Human Rights

Commission, New Zealand

Police, Wellington City Council,

and other stakeholders. Chinese

New Year, Diwali, Eid, Pacific

day, African day and Pakistan

day are some of the festive

occasions marked by the MCW

in collaboration with the Royal

New Zealand Police College

based in Porirua.

One notable event was the

NZ police recruits staging a

Bollywood dance.

"The MCW has a solid, longterm

partnership with the

New Zealand Police," Rachel

notes. "We want to bring all

the communities together to

celebrate diversity, to support

each other for unity, for peace

and for love."

Telangana formation day celebrated in Auckland

SANDEEP SINGH

The Telangana Diaspora

of Auckland and the

wider Indian community

marked the eighth anniversary

of the formation of the Indian

state of Telangana last week.

A colourful cultural event was

organised by the Telangana

Federation of New Zealand

on June 3 at Mt Eden War

Memorial to mark the occasion

of Telangana formation day.

Telangana joined the Indian

Union on 2 June 2014, when

the new state was carved out

of Andhra Pradesh as a result

of a decade-long political and

social movement demanding a

separate state on the basis of a

distinct cultural identity.

Since then, Telangana people

all around the world, including

in Auckland, celebrate the

state's formation day whereby

revisiting and paying tributes to

the sacrifices of those who have

participated in the decade long

political and social movement

demanding a separate state.

The Telangana Federation

of New Zealand – a relatively

new body that seeks to unite

different associations affiliated

or linked to the state of

Telangana under a common

platform – took the lead in

organising the celebratory

event.

The event witnessed the

participation of several key

dignitaries, including Minister

of Transport Michael Wood,

Hon Consulate of India, Bhav

Dhillon, Labour Party Councillor

and Mayoral candidate Efeso

Collins, and leaders of several

community Associations,

including Narendra Bhana of

New Zealand Indian Central

Association (NZICA), Prakash

Biradar NZICA General

Secretary, Dhanshukh Lal

President of Auckland Indian

Rachael Qi

Association and Sunil Kaushal

President Waitakere Indian

association among others.

Speaking on the occasion,

Minister Wood and Mr Dhillon

congratulated the members of

the Telangana community in

Auckland.

A congratulatory video

message from Niranjan Reddy

- the Minister of Agriculture in

the government of Telangana

– was also played at the event.

Welcoming all key dignitaries

and the members of the

Telangana community, Kalyan

Rao Kasuganti of the Telangana

Federation of New Zealand

also paid tribute to early

participants and contributors

to the erstwhile Telangana

movement, which eventually

resulted in the formation of the

new state.

The event witnessed the

enthusiastic participation of

children in classical dance and

cultural performances.

The Telangana Formation

Day event was organised by

Telangana Diaspora community

leaders Kalyan Rao Kasuganti,

Ram Mohan Danthala, Arun

Prakash, Ram Mohan Reddy,

Jagan Mohan Vodnala, Vijay

Kosna, Kiran Kumar, Mohan

Reddy, Ravinder Boddu,

NarsingEnaganti, GiridharMorla

and Telangana Community

members.
---
Read online www.iwk.co.nz Friday, June 10, 2022

NEW ZEALAND 5

INDIAN HIGH COMMISSION MOVES TO NEW HOME IN WELLINGTON

VENU MENON IN WELLINGTON

The High Commission of India

marked the occupation of its new

premises in Wellington following

the completion of the Griha Pravesh

(house warming) ritual today.

The pooja was conducted in the

courtyard of the building, after which

the guests took their seats in the

auditorium to witness multi-faith groups

shower blessings on the new structure.

Dr. Pushpa Wood, founder of the Interfaith

Council of Wellington, briefed the

audience about the ritual that took place

earlier, saying it was dedicated to Lord

Ganesh, who is believed to remove all

obstacles in the path of a new venture.

The inter-faith readings to bless

the building were kick- started by iwi

members from the local Pipitea Marae

who delivered a Māori blessing. This was

followed by a Christian prayer read by

the acting Deacon of the Wellington

Cathedral of St. Paul. The Mufti of

New Zealand was up next, followed by

the Wellington Gurudwara. The acting

Abbot of the Thai Meditation Centre of

Wellington delivered a Buddhist blessing.

The prayer session culminated with a

Vedic chant invoking Goddess Lakshmi.

High Commissioner Muktesh Pardeshi

then unveiled the commemoration

plaque before honouring the architects

and contractors who executed the

building project . He also presented

shawls to each of the faith leaders who

read the prayers.

Addressing the audience, Mr.

Pardeshi said "with the Greha Pravesh

and the multi- faith blessings, the

new surroundings are sanctified. This

formalises our occupation of the new

premises."

Mr. Pardeshi said the High Commission

will be moving to its new home in

Wellington in "a few days".

"As notified, all services will resume

from this office complex from June 8,"

Mr. Pardeshi said.

He described the event as a milestone

in the history of India-New Zealand

relations. "It's a proud day for all Indians

in New Zealand."

Mr. Pardeshi said the new

High Commission is housed in an

environmentally- friendly building,

"allowing natural light to permeate

throughout the complex."

He informed the audience that

most of the construction works were

accomplished in the last two and a half

years when the world was struggling

with Covid -19. "We have seen all kinds

of disruptions such as lock downs,

supply challenges, labour shortages,

Covid-19 infections, delays and huge

cost overruns," he said.

No technical team from India could

travel to give on-site guidance, he

added.

Mr. Pardeshi briefly recapped the

history of India's links to NZ. Indians

have been visiting this country for the

last 200 years. But the official presence

of the Government of India began only

after Independence, he noted.

The new High Commission building in

Wellington has been completed in the

75th year of India's independence.

India's official presence in Wellington

began with an office of the Trade

Commissioner on 49 Willis St. Two

years later, the Trade Commission

was upgraded to the level of a High

Commission, Mr. Pardeshi pointed out.

"Since 1952, we have maintained

diplomatic relations with New Zealand

at the level of High Commission," Mr

Pardeshi said, adding "So, this year we

celebrate 70 years of diplomatic relations

at the level of High Commission."

Mr Pardeshi noted a special historical

coincidence. "The number of our building

is 72. And this year we are celebrating

72 years of the official presence of India

in New Zealand."

Mr Pardeshi enlightened the audience

on the origin of the street name where

the new High Commission stood. The

Māoris who first arrived in the area

noticed the widespread presence of the

Pipi, and named their Marae after this

tree. "We are proud to be in the vicinity

of Pipitea Marae", Mr Pardeshi declared.

In closing, Mr Pardeshi said the new

High Commission premises is a space on

which to build up the India- New Zealand

relationship in the years to come.

The High Commissioner conveyed his

thanks to Mr. Bhav Dhillon, Honorary

Consul of India in Auckland.

" I have spent many hours on the

telephone with my distinguished friend,

Mr Bhav Dhillon, who is India's Honorary

Consul in Auckland, seeking his guidance

when the project was ongoing," Mr.

Pardeshi said.

The function ended with the unveiling

of the High Commission emblem and the

hoisting of the tri-colour by the High

Commissioner, followed by the national

anthem.

Chef de Partie

Full time position in a well established

South East Asian restaurant

Tandoori experience required along with good knowledge

of Indian style curries, snacks and breads.

Approximately 45 hours per week, shifts include nights

and weekends, uniforms and staff meals are provided.
---
6

NEW ZEALAND

Friday, June 10, 2022

Read online www.iwk.co.nz

Nurses not on fast track residence pathway

NAVDEEP KAUR MARWAH

Recently the government

announced a new "green

list" (a group of 85

occupations identified as having

critical gaps) as part of its

immigration rebalance policy.

According to the government,

the list aims to give high-skilled

migrants in hard-to-fill jobs

a quicker residency pathway

when the borders reopen next

month.

However, the occupations in

the green list are split into two

groups "straight to residence"

and "work to residence".

The fast-tracked "straight to

residence" pathway means

those in listed occupations can

come to NZ on a work visa from

4 July and apply for residence

from September. The "work

to residence pathway" allows

occupations listed to apply for

residence but only after being

in NZ for two years first.

Interestingly,

while

occupations like doctors,

multimedia specialists, food

technologists and engineers,

among others, are on the fasttracked

'Straight to Residence'

pathway, Registered nurses

are on a second list. This has

caused disappointment to

many. There is no doubt that

there have been significant

staff shortages across several

sectors, including nursing,

which were made worse due

to the border closure due

to Covid-19 that resulted in

cutting off the flow of overseas

workers, including nurses.

Prime Minister Jacinda Ardern

said the inclusion of the twoyear

requirement was due to

concerns around staff retention

at some District Health Boards

(DHBs).

"Essentially, all it does is ask

that you just work in the field

for two years, so it is recency

we just ask that you stay as a

nurse, and one of the reasons

for that is we did have raised

with us by some DHBs the

concern of whether or not we

were retaining everyone that

was coming in as a nurse," said

Ardern.

"I was absolutely

flabbergasted"

Anne Daniels

New Zealand Nurses

Organisation president Anne

Daniels openly expressed

disappointment on the issue

and said, "I was absolutely

flabbergasted and disappointed

to see that we (nurses) weren't

on the fast track straight to

residence pathway. We are in

a crisis as we are dealing with

While occupations like doctors,

multimedia specialists, food technologists

and engineers, among others, are on

the fast-tracked 'Straight to Residence'

pathway, Registered nurses are

on a second list. This has caused

disappointment to many.

acute staff shortages. It is

sad but true that NZNO, which

has around 55000 members,

were not consulted by the

government before taking this

decision.

"Only a small portion of the

aged care sector was consulted.

We need to be attractive to

qualified overseas nurses as

a destination; otherwise, we

will lose them to countries like

Australia, the UK, or Canada.

We want nurses and midwives

to be on the fast-track list

and will be working with the

government on that. I also see

this decision to reflect gender

discrimination, and I think we

should be treated equally. We

need change to immigration

policy settings."

"There is a need to bring

change to immigration policy

settings'

Josephine Gagan, Managing

Director, Geneva Healthcare,

NZ's leading provider of homebased

injury, disability, aged

care and illness support, also

shared the same sentiment.

"The home and community

sector is currently experiencing

a serious sector-wide staffing

shortage which has been

exacerbated by the border

closures and the recent pay

equity discussions that would

see nurses who are involved

in caring for vulnerable New

Zealanders who remain in their

homes be paid far less than

DHB employed nurses with

exactly the same set of skills,"

said Gagan.

Gagan maintains that to

encourage more overseasbased

trained nurses to

consider NZ as a viable option,

Geneva Healthcare fully

supports offering the same

fast-track residency provision

that is currently open to other

skilled professionals. "We

need to urgently address the

home and community sector

workforce issue through

initiatives such as a change to

immigration policy settings to

ensure our vulnerable Kiwis do

not miss out on the essential

care and support they need to

recover and stay well in their

own homes," said Gagan.

'Not right to have nurses wait

for two years'

Harpreet Kaur (named

changed on request), a migrant

nurse, feels it is unfair to have

registered nurses wait for two

years to apply for residence.

She says, "I think it is not right

that we nurses have to wait for

two years to apply for residence

whereas a multimedia specialist

or a food technologist does not

have to. This will deter nurses

from moving to NZ."

Even a political leader has

expressed their disappointment

with nurses not being on the

straight to residence list.

'Minister perseveres with his

anti-immigration agenda'

ACT Party's Immigration

spokesperson Dr James

McDowall says that NZ

desperately need nurses to keep

our hospitals going. "Hospitals

are overrun, and nurses are in

short supply, but somehow

the Government believes

'multimedia specialists' deserve

precedence for fast-tracked

residency. The Government

turned off the immigration

tap during Covid, having a

devastating impact on many

industries and our productivity

as a nation. Our hospitals are

struggling under the weight of

workforce shortages, but the

Minister perseveres with his

anti-immigration agenda."

Another perspective

On the other hand, The NZ

Aged Care Association (NZACA)

feels it is good to have nurses

on a 2-year-visa before they

can apply for residence.

Sharing his thoughts, NZACA

Chief Executive Simon Wallace

said, "NZACA advocated for

nurses to be on a two-year visa

and, most importantly, that

these two years be tied to one

aged residential care employer.

We have a severe workforce

crisis in the sector and need

to keep nurses working in aged

care. With a turnover of aged

care nurses at an all-time high

of 48 percent over the year

to December 2021, securing

nurses for these two years

would have been beneficial for

our sector's staffing woes."

Wallace said that NZACA

didn't support a straight-toresidence

visa as it puts no

requirement or incentive for

nurses to remain in aged care,

and they can depart after a

short period for more money

in District Health Boards or

abroad.

The government's rationale

When Indian Weekender

contacted INZ to know about

the rationale behind having

nurses on the work to residence

pathway, MBIE Immigration

Policy Manager Kirsty Hutchison

explained that some roles

were provided with a pathway

to residence after two years

of working in NZ, including

nursing and midwifery, as these

occupations have seen higher

levels of people leaving their

field after gaining residence

or there are currently other

concerns about retention.

"All of the Green List

occupations were selected

because they are high-skilled,

hard-to-fill occupations in

global demand. The twoyear

requirement for some

occupations, including

registered nurses, ensures NZ

is both attractive to migrant

workers and that the skills

shortages the Government is

seeking to fill will be addressed

for at least two years by migrant

workers. Asking migrant

workers to work in these roles

for two years before gaining

residence also demonstrates

a commitment to the role and

settling in NZ."

As long as workers are

employed in NZ as nurses

for two years while on an

Accredited Employer Work Visa

(AEWV), they have a pathway

to the residence, even if they

change employers.

According to Hutchison,

"The Green List (which will be

reviewed in one year, and then

every three years after that)

provides all registered nurses

(across 13 disciplines) much

more certainty about their

residence path. Previously,

most of these nurses did not

have a dedicated pathway to

the residence through the Long

Term Skills Shortage List. Now

they do.

"The Green List provides

other benefits: the visa process

is simplified as roles do not have

to be advertised, and migrants'

partners will continue to have

open work rights. Together,

these changes mean any

existing migrant nurses in NZ

and those coming in the future

will benefit more than they did

under the old system."

Rule change likely to push

migrant nurses to other shores

NAVDEEP KAUR MARWAH

Nurses are allowed to

apply for residence

only after two years of

residing in NZ, as per the Green

List recently released by the

Immigration department.

Indian Weekender spoke to

immigration experts on how

the rule change will impact the

inflow of migrant nurses to NZ.

Alastair McClymont accuses

the Labour government of

putting political expediency

over everything else. "The

government would rather

undermine the NZ economy,

our health services and our

economic recovery than admit

that their ideological policy

position is simply wrong and

dangerous."

Immigration lawyer Arran

Hunt says the government

clearly aims to promote the

employment prospects of local

graduate nurses leaving the

university. However, he notes

that "new nurses may not be

able to undertake roles that

experienced nurses can fill."

Hunt predicts that this policy

will force experienced migrant

nurses to leave NZ in search

of better prospects in other

countries.

"After the mess that was the

Skilled Migrant Category delays,

created mostly by government

policy, would you want to be a

nurse, told to wait two years

Alastair McClymont

Arran Hunt

before you can even apply,

and not knowing how long it will

take to process your residence

once you can apply?" he asks,

adding that this will only

exacerbate the existing nursing

shortage.

McClymont cites the

Productivity Commission's

report to support his stand

that migrants do not suppress

Kiwi wage rates and that "we

must have clear pathways to

residency to attract and retain

the skills that are desperately

needed".
---
Read online www.iwk.co.nz Friday, June 10, 2022

NEW ZEALAND 7

Prayer meet for Jashandeep to be

held on Saturday

NAVDEEP KAUR MARWAH

The Indian community in Auckland is

grieving the loss of a young Indian

in Auckland on June 8, 2022

The deceased named Jashandeep Singh

had got a head injury while he was involved

in a fight at Orchard Rise in Rosehill

Papakura on May 15. The said case is still

under investigation by the police.

Since then, he was admitted to Auckland

City Hospital and was in a coma. This

morning he passed away, leaving his

friends and family in shock and mourning.

His friend and family are planning a

prayer meet for him. Giving the details

about it, his friend Sunny Gill said, "We are

organising a prayer meet for Jashandeep

this Saturday (June 11) at Gurudwara Sri

Kalgidhar Sahib Takanini from 10 am to

noon."

Following the same, the friends and

family want to repatriate Jashandeep back

to India and will shortly be contacting the

High Commission of India regarding the

same. A fundraiser has been started by his

friends in his memory.

The 29-year-old, who hailed from

Amritsar, Punjab, came to New Zealand

around eight years back as a student and

undertook a business course at Martin

Hautus Institute. Currently, he owns an

Auckland based furniture moving company

named Anytime Mover and was staying at

Manukau with his partner.

Talking about him, his close friend Sunny

Gill, who knew him from Amritsar, said,

"Yaaron ka yaar tha Jashan. He was such a

Jashandeep Singh

A prayer meet is being

organised for Jashandeep

this Saturday (June 11)

at Gurudwara Sri

Kalgidhar Sahib Takanini

from 10 am to noon

great guy, always willing to help everyone.

He believed in living life to the fullest and

was very cheerful. He was full of life and

wanted to do so much. I don't know how

god can be so cruel? I will truly miss him."

His family applied for a visa to come and

see him while he was in the hospital, and

it was only on June 8 that his father got

the visa.

His family included his parents in India

and a brother who stays overseas.

Christchurch pays homage

to Punjabi music legend

Sidhu Moosewala

MAHESH KUMAR

A

candlelight vigil was

held at the Bridge

of Remembrance

in Christchurch to

commemorate the life and

legacy of Punjabi singer

Shubhdeep Singh Sidhu,

aka Sidhu Moosewala.

Indian community

members in their hundreds

joined the vigil on a cold evening

on June 6 and paid tribute to the

28-year-old singer, who was shot

dead in Punjab's Mansa district on

May 29.

Fans remembered the deceased

artist in speeches made beside a

large picture of Sidhu mounted on

a table bedecked with candles and

flowers .

As mourners wept, a minute's

silence was observed, followed by

condolences and songs in memory

of the slain musician.

Surinder Tandon, a community

leader, said: "Moosewala left the

world too soon. His death is a big

shock and loss to his family and

music fans worldwide. He will be

fondly remembered for his very

popular Christchurch concert held

in late 2019. May Waheguru ji bless

peace to the departed noble soul."

Born on June 11, 1993, in the

Moose Wala village in Mansa, Punjab,

Shubhdeep Singh Sidhu, aka Sidhu

Moosewala, rose to stardom in his

mid-twenties, gaining a worldwide

fan following in a short span of two

years.

Sunny, who organised the

candlelight vigil, told Indian

Weekender that Sidhu's untimely

death had left fans devastated

and also left a massive void in the

Punjabi music scene which will be

difficult to fill.

Jaskeerat,a fan, said: "Besides

being a great entertainer, Shubh

was also a huge inspiration for youth

around the world. Budding artists

looked up to him and saw how he

kept himself grounded despite being

a huge star."

Similar vigil meetings and memorial

services to pay homage to the artist

were also held in various other New

Zealand cities.
---
8

NEW ZEALAND

Friday, June 10, 2022

Read online www.iwk.co.nz

Making homesick Bengalis feel at home in NZ

NAVDEEP KAUR MARWAH

West Bengal is known

for its rich heritage,

with towering figures

such as Rabindranath Tagore,

Toru Dutt, Raja Ram Mohan

Roy and others dominating the

state's cultural landscape.

Bengal is also famous for its

cuisine, with delicacies such

as Rosogullas, Chomchom and

Sorshe Ilish

In the 11th part of our

series on Indian cultural

associations, we focus on

Nandan NZ, a Bengali Indian

cultural association, which is

committed to making homesick

Kiwi Bengalis feel at home in

New Zealand.

Swastika Ganguly, general

secretary of the Aucklandbased

association formed in

2000, describes it " as an

all-inclusive family-oriented

organisation whose primary

motive is to provide the Indian

Bengalis in Auckland a home

away from home."

The organisation, with around

150 Bengali members, aims to

promote Bengali culture and

tradition across communities

in NZ, especially targeting the

youth.

According to Ganguly, "The

organisation has consistently

preserved its Bengali heritage

and promoted the Bengali

language, culture, social values

and religious activities among

the entire spectrum of Bengali

and Non-Bengali communities

across NZ. We want to reach

out to people of all ages, with

particular emphasis on younger

people, so that they can join

with the organisation's senior

members to understand the

rich heritage of the Bengali

language. This will help its

vibrant identity to be passed

onto future generations."

Independence Day, Durga

Puja, Lakshmi Puja, Saraswati

Puja, Annual Picnic, Poila

Boisakh (Bengali New Year)

are celebrated by Nandan

every year. This celebration

is marked by music, dance,

poetry recitation and savouring

the choicest food. The annual

The organisation,

with around 150

Bengali members,

aims to promote

Bengali culture and

tradition across

communities in

NZ, especially

targeting the

youth.

drama or 'Natok' is also staged.

There was no let-up in the

activities during the Covid-19

lockdown, with the cultural

activities being staged virtually.

Nandonik, an annual cultural

event, which features a Bengali

folk festival, will be held on

July 2. The calendar of events

also includes Nandan Milan Mela

on September 11, aimed at

promoting small businesses,

art and culture.

Durga Puja will be celebrated

from September 30 to

October 2.

Ganguly told the Indian

Weekender that she plans to

have consistent growth of

the organisation and hopes

to expand the scope of the

association beyond Auckland.

Shri Radha Krishna Mandir plans

long cultural weekend in Auckland

SANDEEP SINGH

Auckland's Shri Radha Krishna

Mandir is gearing up for a long

cultural weekend from June 10

-12.

Several cultural and spiritual events

are planned as part of the 21st Patotsava

Mahotsava of the temple.

Sri Radhakrishna Mandir is celebrating

its 21st birth anniversary this weekend.

Hindus observe the Patotsav Mahotsav

to celebrate the anniversaries of murticonsecration

(Prana Pratishtha) of

Mandirs (temples).

Explaining more about the Patotsava

Mahotsava, Dr Pandit Devram Bhai, the

main priest of the temple, said: "The

word Patotsav comprises of two words

Paat and Utsav. While Utsav means

festive celebrations, Paat is derived

from Patti, a strip of garment tied on the

head of a Murti."

"The Patotsava ritual typically involves

a grand Abhishek of the Murtis, which

involves pouring Panchamrut – milk,

yoghurt, ghee, sugar and honey, and

Kesar-Jal – water with saffron, on the

Murtis."

Sri Radha Krishna Mandir – A brief

history

Interestingly, many Aucklanders would

be surprised to know that Shree Radha

Krishna Mandir, situated in the quiet

precinct of the iconic Mahatma Gandhi

Centre in Eden Terrace, shares antiquity

only surpassed by Sandringham's

ATA Dr Pandit President Devram Vai Ravindran Bhai

Balmoral Mandir, which is the oldest

Hindu temple in New Zealand.

Though the temple was constructed

and officially inaugurated in 2001, it

had its beginnings almost a decade

earlier in 1991 when a prayer hall was

made to offer prayers in the then newly

acquired building of Findlay's Bakery at

145 New North Road, Eden Terrace by

the Auckland Indian Association. The

building has since then evolved into

the iconic Mahatma Gandhi Centre, with

Sri Radha Krishan Mandir coming up as

a revered place of worship within its

precinct.

Cultural events on Saturday and

Sunday

Extending an open invitation to all

Aucklanders and New Zealanders for the

21st Patotsava Mahotsav, Dr Devram

Bhai said, "Many spiritual and cultural

events have been planned from morning

to night on Saturday and Sunday

involving, and everyone is invited to be

part of the celebrations to mark this

auspicious occasion."

Garba Night planned for Friday night

Extending the weekend cultural events

to Friday night as well, the Auckland

Indian Association has also planned

a garba night for the members of the

community.

Explaining the rationale for organising

a garba event now (usually, garba

is performed during the festival of

Navratri), Dhansukh Lal, President

of Auckland Indian Association, said,

Many spiritual and

cultural events have

been planned from

morning to night on

Saturday and Sunday

involving, and everyone

is invited to be part

of the celebrations to

mark this auspicious

occasion."

"There was a long-felt need within our

community to bring together everyone

and energise with an opportunity to

play garba as the last two years of

Covid pandemic and the accompanying

restrictions have prevented such a

celebratory gathering."

"The Friday garba event is ticketed

with $5 entrée fees (on the doors)

and food and drinks available for sale

throughout the night," Dhansukh Lal

said.
---
Read online www.iwk.co.nz Friday, June 10, 2022

NEW ZEALAND 9

Sikh leaders hail creation of new apex body

NAVDEEP KAUR MARWAH

The 60,000-strong Sikh

community of New

Zealand, which has a

history dating back 135 years,

is consolidating its presence

under a single body-the Sikh

Association New Zealand

(SANZ) – which was formed

following the merger of 24

gurudwaras(Sikh temples).

Daljit Singh, spokesperson of

the Supreme Sikh Society who

is overseeing the formation

of the new body, told Indian

Weekender that all the

gurudwaras have united to form

a nationwide organisation to

represent the Sikh community.

Youth and women's wings will

also be announced shortly.

SANZ will emerge as a

platform to raise contentious

issues that impact the Sikh

community, including the

parents residence visa policy,

the case of migrants stranded

overseas and those without a

visa, he said.

Singh said SANZ will also

join hands with the Hindu and

Muslim communities to evolve

a common platform to raise

ethnic issues.

He said the aim is to unite

the diverse faiths and provide a

voice for the community. While

maintaining cordial relations

with the government and the

political establishment, the goal

is to ensure that the community

has a say in the decision making

process, Singh explained saying,

"The main aim is to bring

people of all religions, be it

Sikh, Hindu, Muslim and others,

to unite together to act for the

community and raise their voice

We will actively liaise with other

communities and help to form a

SANZ will emerge as a platform to

raise contentious issues that impact

the Sikh community, including the

parents residence visa policy, the

case of migrants stranded overseas

and those without a visa ,

common platform where ethnic

community to be listened."

Currently, the organisation

draws nearly 40,000 people to

its weekly meetings.

The decision to float the new

entity has been welcomed by

the Indian Sikh community, with

Punjabi migrants moving to NZ

in larger numbers.

Sikh community leader

Prithipal Singh Basra pointed

out that the Punjabi community

established the Sikh society in

the 1960s and opened the first

gurudwara in Hamilton in 1977.

He said the New Zealand Sikh

Society functioned smoothly

till 2010 before splitting into

several smaller units. "We have

too many people claiming to be

leaders of the Sikh Community,

and unfortunately, no one

knows who our spokesperson is.

This new organisation will solve

the problem for the benefit of

our community," Basra said.

Navtej Randhawa, a

community leader from

South Auckland, hailed

the development. "All the

Sikh organisations coming

together in NZ to form a joint

representative body is welcome

news. With rising community

numbers, there are many issues

and concerns that need to be

advocated multilaterally with

different organisations, and

that's why we need a body that

can effectively achieve results

for the community. It's a step

in the right direction."

Nar

Trust Saffron Finance for

expert Mortgage/ Insurance

advice backed by years

of experience

Mortgages:

• Home loans

• Commercial Property loans

• Business Loans

• Top up & Debt consolidation

• Re-Finance and Refixing

• Investment Property loans

• Restructuring of loan

• Construction & Renovation

Risk Insurances:

• Life & Trauma

• Key Person Cover

• Medical / Health

• TPD and Income Protection

• Mortgage Repayment cover

• New to Business &

• Business Continuity Cover

• Redundancy Cover

Nimish Parikh

Registered Financial Adviser

M. 021 236 7070

nimish@saffronfinance.co.nz

Contact for

free assessment

18B Kirby Street, Glendene,

Auckland 0602

P O Box - 69263 , Glendene,

Auckland 0645

www.saffronfinance.co.nz
---
10 NEW ZEALAND

Plea to aid family of

healthcare worker

under coma

SANDEEP SINGH

A

Give a little page has

been created for a Kiwi-

Indian healthcare worker

whose family faces an uncertain

future after the man suffered

a fall three weeks ago and is

currently in a medically induced

coma at Auckland Hospital.

Biju Joseph and his wife Simy

Pathrose, both temporary

migrant healthcare workers

hailing from the South Indian

State of Kerala, had been living

in NZ for the past five years.

Joseph, who had been ill with

Covid and other complications,

suffered a seizure following the

fall.

Soby Thomas, President of

Auckland Malayali Samajam,

told the Indian Weekender that

it is unlikely that Simy, with two

children to look after, could

return to work .

John Babu, a family friend

who created the Give a little

page, said that the family had

been struggling to build a life in

NZ as healthcare assistants on

work visas. Their children had

joined them in November 2021.

According to Babu, Biju

requires long term rehabilitation

treatment .

Biju had applied for residency

after becoming eligible under

the one-off 2021 resident visa

programme and was awaiting

the outcome.

"It would be really great if

our communities could extend

as much support as possible

to the distraught family," Soby

said .

Currently, the family is being

supported by close friends

and members of the Malayali

Samajam.

The community has rallied

to support the young migrant

family, with more than $31,000

being collected from donations

so far.

Support from the community

can be directed to the Give a

little page https://givealittle.

co.nz/cause/biju-and-familyneed-your-prayers-and-support

Friday, June 10, 2022

Reserve Bank ready to

begin five-year bond

sale process

RNZ

The Large

Scale Asset

Programme

(LSAP), otherwise

loosely called money

printing, was brought

in quickly in 2020

when Covid-19

appeared as part of

a raft of measures to ensure

liquidity in the financial system

and keep banks funded to back

businesses and households.

RBNZ senior manager for

financial markets Dean Hill said

the repayment process had

been designed to be predictable

and avoid disruption to financial

markets.

"We're doing this in a way that

doesn't disrupt the functioning

of financial markets and the

New Zealand bond market."

RBNZ ended the programme

last July and will sell $5b a year

to the Debt Management Office

for the next five years, at the

rate of $415 million a month

from July through to May, and

$435m for the month of June.

Hill said the RBNZ would sell

its long dated bonds first and

hold on to the short-term bonds

until they matured. The RBNZ

would also hold $1.8b worth of

local government bonds until

maturity.

The central bank should have

cleared the LSAP purchases by

mid-2027, essentially leaving

it with a "clean slate" if it

needed to cope with any future

emergencies, he said.

"It creates some resilience for

our monetary policy response in

the future. The primary tool for

monetary policy in the future

will be the official cash rate and

this will be a tool available to us

but there's no guarantee we will

deploy that tool in the future."

The bonds were worth nearly

$8.4b less than what the

Reserve Bank paid for them,

which will be covered by a

government indemnity.

However, the programme

should not be judged by what it

cost in simple dollar terms but

what its value was during a time

of crisis, Hill said.

Read online www.iwk.co.nz

Kapiti Coast

Mayor says...

Continued from Page 3

Then there is the name

Guru, which denotes a spiritual

teacher.

"So, I look like Gandhi and am

known as Guru. You can't get a

better branding than that," he

quips.

But those assets are

peripheral. Guru recognises

what matters is the merit you

bring to the role, "in making

yourself available to the

community, the activities you

do, the submissions you make

on important issues."

Then why shy away from a

third term?

Approaching 70, Guru wants

to spend time with his first

grandchild, and return to what

he calls his "actual calling"---

being a journalist.

Wellington lifts Dhyan Chand Trophy at

Queen's Birthday Tournament 2022

MAHESH KUMAR

Wellington A lifted

the Dhyan Chand

Trophy after winning

the Men's A section at the

New Zealand Indian Sports

Association Queen's Birthday

Tournament 2022 held in

Christchurch.

The tournament was hosted

by the Christchurch Indian

Sports Club at Ngā Puna Wai

Stadium.

The 3-day tournament

commenced on 4 June 2022.

The Bay of Plenty team

won the Women's section and

Pukekohe B won the Men's B

section.

The tournament witnessed a

Women's competition and two

Men's competitions, known as

A and B Section.

The Men's A Section of the

tournament competes for the

coveted Dhyan Chand Trophy

which is NZISA's oldest trophy.

Twelve teams were

participating this year in the

tournament played on Round

Robin format:

Women's Teams

• Bay of Plenty

• North Harbour

• Auckland

• Wellington

Men's Teams

• Auckland A

• Pukekohe A

• Wellington A

• Christchurch A

and

• Pukekohe B

• Auckland B

• Central Districts

• Christchurch B

The tournament has a rich

history and is a premier event

that aims to showcase Indian

hockey from its eight member

clubs from Auckland, Central

Districts, North Harbour,

Waikato, Bay of Plenty,

Christchurch, Pukekohe and

Wellington.

The first Coronation

Tournament, which later

became today's Queen's

Birthday Tournament, was held

at Maidstone Park in Wellington

over the Sovereign's Birthday

Weekend in 1953. Wellington

Indian Sports Club, which was

founded in 1935 (becoming

the first Indian Sports Club) and

Auckland Indian Sports Club,

which was founded in 1936,

participated in the inaugural

Coronation Tournament.

The tournament got an

enthusiastic response and led

to the formation of the New

Zealand Indian Central Sports

Organisation (later rechristened

as New Zealand Indian Sports

Association) with the objective,

"To satisfy a long-felt need

to co-ordinate and promote

participation in sport by Indians

living in New Zealand". NZICSO

was founded with a belief that

it would showcase the Indian

sporting talent and provide

greater opportunities and

incentives to compete in firstclass

sports competitions.

Over the years, the

tournament has become one

of the most anticipated and

followed sporting event, and

this year was no different with

the community turning up in big

numbers over the three days to

witness brilliant hockey being

played.

Jaya Bhana of Christchurch

Indian Sports Club lauded

the community participation,

"It was great to see the

Christchurch Indian community

come in large numbers and

support their team as well as

the tournament."

The Dhyan Chand Trophy,

awarded to the winning

Men's A hockey team at the

tournament, was donated

by the New Zealand Indian

Central Association. The first

Dhyan Chand Trophy was won

by Wellington when the first

NZCISO Hockey Tournament

was held in 1963 in Wellington.

This year saw the Dhyan

Chand Trophy come back to

Wellington as the team which

remained undefeated, beat the

Pukekohe A by 1-0. Sajan Patel

scored the winning goal.

Wellington A Coach Hemant

Lala was immensely proud of

his team. "This result didn't

just come about by accident,'

he said. " Planning for the

weekend began 5 minutes

after losing the shoot-out to

Auckland in 2021."

Led by captain Shayam

Bhana, Wellington Mens

A played a brilliant game

throughout the tournament ,

displaying determination and

and the ability to stay calm

under pressure.

The tournament next year will

be played at Wellington over

the Queen's Birthday holiday in

2023.

Live streaming services

for YouTube and Facebook

was provided by Local

Gecko Productions and the

Tournament was supported

by One Foundation, Raj Bhana

Bayleys Real Estate, Dawson

Insurance, Radar Direct and The

Property Boss.
---
Read online www.iwk.co.nz Friday, June 10, 2022

FIJI 11

Former Fijian resident

invests $300K in Nadi

A

former

Fijian citizen has

returned home to invest

his hard earned money

and cre ate employment.

Papatoetoe, New Zealand,

busi nessman, Sulendra Raju, who

grew up in Nawaka, Nadi, has

invested close to $300,000 into

two restau rants in Nadi Town.

On Friday, Attorney-General

and Minister for Economy Aiyaz

Sayed-Khaiyum officiated at the

All in One Builders Cakes and

Fastfood at Mar ket Road.

He congratulated Mr Raju for

do ing well in New Zealand and not

forgotting about his homeland –

to invest in the Fijian Economy.

Many Fijians are actually

coming back to invest in

restaurants and most buildings

are undergoing re furbishment.

"We welcome this investment

not only from an economic

perspective, from a financial

perspective, but also from a

societal perspective, be cause it

also goes to show these deep

connections with Fiji that we

want to nurture," he said.

"It demonstrates to all of

us that hard work always pays

off. Perse verance always pays

off. Having a strong family

background, and unit ed, keeping

a close family pays off."

He added what actually paid

off more was the ability to be

generous.

"There are many people in this

world who, once started doing

well, they actually forget their

roots. They forget the beginning,

or they also become extremely

money-fo cused and become

greedy and op pose contributing

to society."

Mr

Sayed-Khaiyum

acknowledged Mr Raju who

helped people whose building

roofs blew off after being hit by

a recent tornado.

"Mr Raju fixed those damaged

homes for free and in a way, what

he's doing also is helping us in Fiji

by opening up the restaurant is

ac tually creating jobs," he said.

Mr Raju,47, said the primary

aim of his investment was to

give back to the community of

Nadi.

"I just think about people when

we were here. The reason is to

know my staff here and give

them opportuni ties, giving them

work. That makes me happy," he

said.

"Doing business here is

basically nothing compared to

what he does in New Zealand

with his construc tion company.

"There'll be a lot of

opportunities here. We are all

one family. I thank the Attorney-

General for the sup port given

by the Fijian Govern ment in the

investment," he said.

Mr Raju was born in Savusavu,

Momi, Nadroga and moved to

Nawa ka at an early age because

his par ents were vendors at the

Nadi Mu nicipal Market.

He moved to NZ in 1995 after

he was granted work permit to

pick fruits and in 2012 he set up

his company All in One Builders

where more than 80 staff are

employed.

Survey to understand parents

perception regarding vaccination

for 5-11 year old children

Parents are being asked

about their perception

regarding vaccination

for children between the ages

of 5 to 11 years ahead of the

Ministry of Health's rollout

of the COVID-19 pediatric

vaccination campaign.

Permanent Secretary,

Doctor James Fong says the

Ministry aims to understand

whether parents have any

concerns about the vaccine,

what additional information

they need to make an

informed decision and the

best way to communicate this

information.

Fijians have been sent a

text message where they

must follow a link to complete

the survey.

He adds they will announce

the commencement date

for the Pfizer vaccine for

5-11 years old roll out in the

country in due time.
---
Editorial

Is govt losing war of

perception on rising crime?

The fact that the govt is fighting a war of perception on the unabated rise of

crime is undeniable. However, the important question that deserves attention

is if the government is losing this perception battle. Most certainly, it is not

winning this battle.

The battle of perception reached a new milestone when the Opposition National

Party picked up a call being made by some small business advocacy group for quite

some time of removing the Police Minister Poto Williams from the job and was

robustly rebutted by none other than the Prime Minister.

At the beginning of the week, National Party leader Christopher Luxon said Williams

was not equipped to be a police minister.

The minister was out of her depth at a time when gang activity was increasing

unabated Luxon argued.

Prime Minister Jacinda Ardern was emphatic in her response and defended Williams'

track record as Police Minister, saying that there was a significant increase in the

number of police, record investment in police, and the recently introduced firearm

prohibition orders that many believe goes further than what National's policy had

proposed to achieve.

This pitch is cautiously projected by every minister in the government fronting up

media questions around the recent spate in incidences of ram-raids in dairy shops

and small businesses followed with gun-related violence due to inter-gang rivalry

playing out in open streets in Auckland and the Northland region.

Along with this pitch of "record investment in police," "arming up of special

gang-related units and the recently introduced "firearm prohibition orders", the

government is occasionally throwing the police under the bus, saying that it is the

police's job to quell the rising spate of crime.

By doing so, the government is effectively washing its hand from the responsibility

of taking any ownership and showing leadership and direction to the police on how to

take control of a law-and-order situation that is clearly deteriorating.

When guns are being fired and bullets being sprayed in households in South

Auckland almost at a will, demonstrating little fear of any consequences, including

police response and possible prosecution that too almost on a daily basis then it

must be acknowledged that something in the law-and-order mechanism is failing

badly.

The perception about general law and order is now a bit distorted anyway.

For a long time, the central attention in the deteriorating law and order space was

captured by the rising numbers and the increase in boldness in the manner of ramraids

of dairy stores and small businesses.

It was also accompanied by the dramatic reduction of the age of alleged offenders,

with often reports of kids as young as seven-year-old participating in the collective

act of crime confounding the police and law enforcement agencies on how best to

respond in a manner that looks equitably on both – safety of young offenders and

the safety and concerns of victims of such crime.

It is important to accept the fact that the police and this government have so far

not been able to rightly reflect the concerns of the dairy store and small business

operators who were victims of repeated ram raids and left unsupported.

This complex law and order situation has in recent months been further aggravated

by the increase in gun violence and gang violence, thereby distorting the entire

perception around law and order.

What is the primary, most immediate and urgent law and order problem facing the

country?

Is it the rising number of audacious ram raids by young offenders at small

businesses, thereby risking the lives of workers, staff, and customers alike?

Or the gang-related gun violence running amok in several patches around the

country?

Are these incidences of crime related by any means, or one is seen as precipitating

the other?

What is the government's view on this?

This perception battle around the law-and-order situation plays out in politics as

the government being charged by some critics, including the opposition National

Party as being "soft on crime" – a charge that the government denies and rebuts

vehemently.

While the government could be right in many assertions of making a record

investment in police and changing gun laws in NZ like never before, the public has an

expectation of seeing the result of those steps on the ground.

They expect to see a rapid fall in the number of such incidences playing out on

our roads.

Till that happens, it will not be an exaggeration to say that the government may

be losing this battle of perception around the deteriorating law and order situation,

despite its best intention.

Thought of the week

"The day the power of love overrules

the love of power, the world will know

peace."― Mahatma Gandhi

10 June – 16 June 2022

Fri Sat Sun Mon Tues Wed Thu

Fine apart

from morning

cloud

23°

18°

Partly

cloudy

24°

18°

Partly

cloudy

24°

17°

Fine light

winds

26°

18°

Indian Weekender : Volume 14 Issue12

Publisher: Kiwi Media Publishing Limited

Editor: Dev Nadkarni | dev@indianweekender.co.nz

Fine, then

showers

This week in New Zealand's history

11 June 1901

Cornwall Park gifted to Auckland

26°

19°

Graphic Designer: Yashmin Chand | design@indianweekender.co.nz

Multimedia Specialist: Karan Bhasin | 022 0772 156 | karan@indianweekender.co.nz

Accounts and Admin.: 09-2173623 | accounts@indianweekender.co.nz

Showers

Auckland Reporter: Navdeep Kaur Marwah: | 021 952 246 | navdeep@indianweekender.co.nz

Waikato Reporter: Sandeep Singh | 021 952 245 | sandeep@indianweekender.co.nz

Wellington Reporter: Venu Menon | 021 538 356 | venu@indianweekender.co.nz

Christchurch Reporter: Mahesh Kumar | 021 952 218 | mahesh@indianweekender.co.nz

Views expressed in the publication are not necessarily of the publisher and the publisher

is not responsible for advertisers' claims as appearing in the publication

Views expressed in the articles are solely of the authors and do not in any way represent

the views of the team at the Indian Weekender

Kiwi Media Publishing Limited - 133A, Level 1, Onehunga Mall, Onehunga, Auckland.

Printed at Horton Media, Auckland

Copyright 2020. Kiwi Media Publishing Limited. All Rights Reserved.

Send your suggestions and feedback to editor@indianweekender.co.nz

25°

18°

Few

showers

25°

18°

At a civic reception for the Duke and Duchess of Cornwall and York, John Logan

Campbell handed over the deed to land around One Tree Hill/Maungakiekie.

The new park was named in honour of the royal couple

12 June 1902

New Zealand flag confirmed

The New Zealand blue ensign that had been adopted for use on government

ships in 1869 was proclaimed as 'the recognised flag of the colony'

12 June 1942

First US troops arrive in Auckland

Over the following two years, about 100,000 American servicemen would

spend time in New Zealand, which became a rear base for the Allies' counteroffensive

against Japan.

14 June 1984

Muldoon calls snap election

Prime Minister Robert Muldoon surprised many by announcing a 'snap' election

to be held in exactly one month's time

15 June 1959

Chinese gooseberry becomes kiwifruit

The prominent produce company Turners and Growers announced that it would

from now on export Chinese gooseberries under the name 'kiwifruit'. First

grown here in 1906, kiwifruit are now cultivated worldwide, with New Zealandgrown

fruit marketed as 'Zespri'.

16 June 1971

Polynesian Panther Party founded

The Polynesian Panther Party was founded in Auckland by six young Pacific

Islanders: Paul Dapp, Will 'Ilolahia, Vaughan Sanft, Fred Schmidt, Nooroa

Teavae and Eddie Williams. The group included Samoans, Tongans, Cook Islanders,

and a few Māori.
---
Read online www.iwk.co.nz Friday, June 10, 2022

INDIA 13

EAM Jaishankar hails India

as 'first responder' during

crisis in the world

Speaking at an event to

mark the eight years

of the Narendra Modi

government, External Affairs

Minister S Jaishankar described

India as the first responder in

many situations and said the

country is capable and sensitive

to global expectations.

Asserting India's readiness

to support countries in crisis,

he highlighted, "India was the

first responder during the

earthquake in Nepal, the conflict

in Yemen, the water crisis in the

Maldives, mudslides in Sri Lanka,

the typhoon in my Mymmar and

the floods of Mozambique as

notable examples."

Underlining 'Sabka Sath,

Sabka Vikas, Sabka Vishwas,'

Jaishankar said that in seeking

solutions to larger complicating

issues, we believe in Sabka

Prayas as well.

"We supplied 'Made-in-India'

COVID vaccines to 98 countries.

Our medical personnel are

making contributions abroad

in these crucial times, he

said, adding that India counts

'Vaccine Maitri' as one of its

key achievements," he said

further.

However, Indian Foreign Policy

thinking is displaying greater

conceptual and operational

clarity and India looks forward

to taking initiatives on global

concerns that are truly

consequential, said the EAM.

AAP Govt in Punjab to

present its first budget

The Punjab Cabinet led by

Chief Minister Bhagwant

Mann on Tuesday

approved summoning of the

budget session of the 16th

Vidhan Sabha from June 24

with the laying of the budget –

the first of the AAP government

– on June 27.

A decision in this regard was

taken at a Cabinet meeting

chaired by Mann here.

The Chief Minister's Office

said the Cabinet gave the nod

for promulgation of the session

from June 24 with obituary

references and motion of thanks

on the Governor's Address,

followed by a discussion on it.

The Finance Minister will

present the budget for 2022-

23 on June 27 and the general

discussion on the budget will

take place thereafter. The

report of the Comptroller and

Auditor General for 2018-

19 and 2019-20 along with

Financial and Appropriation

Accounts for 2019-20 and

2020-21 will also be tabled

during the session.

Jaishankar also said that

many of the engagements

reflect the importance we give

to diplomacy for development,

we are foreign technology,

capital, best practices and

collaborations are directly

applied to accelerate our national

growth including through

our flagship programme and

initiatives, while he mentioned

his "disappointment" with the

UN reaffirming its role.

"India has always viewed the

UN as important to global peace

and security development.

We currently serve as a nonpermanent

member of the

Security Council and one very

active in UN organisation and

its peacekeeping, while our

endeavours will always remain

supportive. We also share

the disappointment of the

international community about

In order to save natural

resources in terms of

groundwater, besides improving

soil health and generating

additional income for the

farmers, the Cabinet also gave

the green signal for providing

the minimum support price

(MSP) on summer moong at

Rs 7,275 per quintal for 2022-

23 by Markfed, the state nodal

agency for the purchase of

crops.

It was also decided to provide

viability gap funding to the

the UN declining effectiveness.

Our advocacy of reform

multilateralism, therefore, has

become even stronger," read

the statement by EAM.

Jaishakar emphasized,

"Indian Foreign Policy has

displayed greater conceptual

and operational clarity whether

during COVID or current

economic challenges as India

has gone extra mile for its

neighbours and will continue to

do so. We count Vaccine Maitri

as one of our key achievements

as India supplied COVID vaccines

to 98 countries."

He also appreciated the

medical personnel for making

contributions abroad in these

crucial times, in a concluding

statement, counting 'Vaccine

Maitri' as one of its key

achievements.

agency at the rate of Rs 1,875

per quintal, amounting to nearly

Rs 66.56 crore.

In a much needed succour

to street vendors hit by the

Covid-19 pandemic, the Cabinet

also decided to waive stamp

duty being levied on executing

the loan or hypothecation

agreement up to Rs 50,000

(third tranche loan) for the

street vendors under PM Street

Vendor's AtmaNirbhar Nidhi

(PM SVANidhi) scheme.

PM Modi to

lead Yoga Day

celebrations in

Mysuru

Prime Minister Narendra

Modi is set to lead the

International Yoga Day

celebrations in Mysuru on June

21 by performing Yoga at the

Mysuru Palace premises being

organised as part of the Azadi

Ka Amrit Mahotsav.

Karnataka Chief Minister

Basavaraj Bommai on Tuesday

reviewed the preparations

for International Yoga Day

celebrations in Mysuru, which

will be held on June 21.

Bommai wanted the officials

to make arrangements for

transport, snacks, drinking

water and other facilities for

the participants in perfect

coordination with the Union

government.

"Extend all the cooperation

to the Union AYUSH ministry,

which is keen to organise an

exhibition on Yoga on the

occasion," Bommai instructed.

The State government has

constituted 14 committees

Agra's tourism industry

upbeat as flight ops

set to increase

The tourism

industry

in Agra is

upbeat as more

cities are set to be

air connected with

the Taj city.

Ahead of the

beginning of the

new tourist season

in September, the

prospect of more

cities being added to

the list is bright, say hoteliers,

as the local MPs are pursuing

the demand for international air

connectivity.

"Agra will gain more when

direct flights from international

destinations start landing

here," said senior hotelier

Sandip Arora.

including a Core Committee

headed by the District incharge

minister for smooth

and successful conduct of the

event.

Bommai instructed the Police

officials to ensure fool-proof

security during the PM's visit.

The International Yoga

Day celebrations are being

held in a big way at 75

prominent Heritage spots of

the country. In Karnataka it

has been organised at Mysuru,

Halebeedu, Hampi, Pattadakal

and Vijayapura(Golgumbaz).

Prime Minister Modi would

inaugurate the event in Mysuru,

while union minister of state for

Agriculture Shobha Karandlaje

would participate in the event

at Halebeedu.

Union minister for Coal

Prahlad Joshi at Hampi IT

minister Rajeev Chandrashekar

at Pattadakal and Union minister

for Energy Bhagwant Khuba at

Vijayapura.

The Civil Aviation Ministry

has indicated that flights from

Indore and Goa could start

operating in a month's time.

Demands have been made to

start a direct flight from Mysore

to Agra, the two important

tourist destinations of the

country.
---
14 SPORTS

Shooter Avani Lekhara

breaks world record,

secures berth for Paris

Paralympics 2024

Tokyo Olympics gold

medallist Avani Lekhara

clinched a gold medal

with a world record score of

250.6 in Women's 10m Air

Rifle standing SH1 here at the

Chateauroux Para-Shooting

World Cup on Tuesday and

secured a place at the Paris

Paralympics 2024.

The 20-year-old shooter

broke her own world record of

249.6. Poland's Emilia Babska

bagged the silver medal with a

total of 247.6, while the bronze

was won by Anna Normann of

Sweden with a total of 225.6.

SH1 category is for athletes

with lower limb impairment

for competition in rifle events.

"Proud to bring home the gold

medal in the R2 10M Air Rifle

SH1 event with a WR score &

s 1st #Paris2024 Quota, at the

#Chateauroux2022. My 1st Int.

event since the @paralympics.

A big thank you to everyone

who has supported me! @

narendramodi @ianuragthakur

@ParalympicIndia @Media_SAI,

" tweeted Avani Lekhara.

Lekhara bagged the gold just

three days after being on the

verge of missing out on the

Para Shooting World Cup as her

coach and escort were denied

visas. The Sports Ministry and

Sports Authority of India had

to intervene to get the Visa

cleared.

Last year Avani Lekhara

clinched a gold medal and a

bronze medal at the Tokyo

Paralympics. She won a gold in

the 10 metre Air Rifle standing

event in the SH1 category and

followed it up with a bronze in

the women's 50-metre rifle 3

positions SH1 event, making

her the first Indian woman to

win multiple medals at the

Paralympics.

Apple releases

watchOS 9 with

new health

features

Apple has announced

its upcoming watchOS

9 update at WWDC.

Improvements to the watch

faces, Workout app, sleep

stages, a first-of-its-kind

AFib History, and medication

monitoring are all part of the

latest version.

According to GSM Arena,

there are four new watch faces

in watchOS 9. Lunar, Playtime,

Metropolitan, and Astronomy

are some of them. Existing

watch faces have been updated

as well; the Portraits face now

shows the depth effect on

photographs of cats, dogs, and

landscapes, and certain classic

watch faces, such as Modular,

Modular Compact, and X-Large,

now have changeable backdrop

colours and gradients.

More information and metrics

have been added to the Workout

app. Custom workouts enable

you to design an organised

workout with customised

work and rest times. It is also

possible to add new warnings,

such as pace, power, heart

rate, and cadence.

The Exercise app now includes

a new Multisport workout type

for triathletes that uses motion

sensors to analyse movement

patterns and automatically

transitions between any

sequence of swimming, bike,

and running workouts.

For runners, watchOS 9 now

displays additional running

data such as stride length,

ground contact duration, and

vertical oscillation to aid with

performance. Those who run

on a regular basis can now

compete against their prior

best or last time. A new pacer

mode calculates the required

pace for a specific distance and

time target.

With the addition of sleep

stages, Apple has improved

sleep tracking. In the app, the

Apple Watch may now display

a breakdown of REM, Core, and

Deep sleep.

Friday, June 10, 2022

Read online www.iwk.co.nz

International cricket returns

to Multan after 14 years as Pak

takes on West Indies

After weeks of speculation,

Pakistan are set to take

on the West Indies in

the first of the three-match

One-day International series

at the Multan Cricket Stadium

here later on Wednesday, with

crucial ICC Cricket World Cup

Super League (CWCSL) points

up for grabs.

This will be after a gap of more

than 14 years that international

cricket is returning to the venue

with Bangladesh having played

here in April 2008.

The series was initially

scheduled to be played in

Rawalpindi but was moved to

Multan at the last minute.

The series against the

West Indies was rescheduled

from December 2021, due

to a Covid-19 outbreak in the

Caribbean side, to June this

year.

West Indies are returning from

the Netherlands, where they

swept a three-match ODI series

3-0. Currently, they are sitting

in fourth spot on the CWCSL

standings with 80 points from

18 games, while Pakistan are

10th with 60 points from 12

ODIs.

Pakistan will go into the

series with a positive mindset,

having won their last ODI

contest, against Australia, by a

2-1 margin at home in March-

April. The side will be bolstered

by the return of Shadab Khan,

who missed that series due to

an injury.

One of the biggest challenges

for both teams will be dealing

with the heat. Temperatures

are expected to hover around

the high 40s, hence all matches

will begin at 4 pm local time to

tackle the stifling conditions.

The last time the two teams

met in a bilateral affair for

50-over internationals was

in September 2016 when

Pakistan hosted West Indies

in the UAE for a three-match

series. Pakistan were dominant

as they put up big targets in

excess of 300 twice and 285 in

the first ODI.

Babar emerged as the

breakout star and was

adjudged Player of the Series

for registering sensational

scores of 120 (his first ODI

century), 123 and 117 in three

matches. He became the third

Pakistan batter to score three

consecutive centuries in men's

ODIs and eighth overall.

"This is an important series for

us as it holds important Super

League points. The players

have been putting in a lot of

effort to prepare themselves

for the West Indies challenge

and we are eager to win another

series and bag maximum points

to consolidate our chances for

direct qualification in the 2023

World Cup," said Babar Azam

ahead of the match.

Apple MacBook Air 2022

launched with M2 chip

Apple launched the

2022 edition of

MacBook Air with new

software updates and M2 chip

in the Worldwide Developer

Conference (WWDC) 2022 on

Tuesday.

According to TechCruch, the

new edition of MacBook Air

is equipped with iOS 16 and

watchOS 9. It is powered by

8-Core CPU, upto 10-core GPU,

8GB RAM and upto 512GB SSD

storage.

2022 edition of MacBook

Air comes with a larger 13.6-

inch Liquid Retina display. The

new Air is available in four

colour variants including silver,

starlight gold, midnight blue

and space grey.

It features a 1080p FaceTime

HD camera with a larger image

sensor and Dolby Atmos fourspeaker

sound system. With

a fanless design, the device

promises a silent operation.

Laced with ProRes video

engine for hardware-accelerated

encode and decode, the new

MacBook Air is designed to

play back more streams of 4K

and 8K video than before, as

reported by TechCruch.
---
Read online www.iwk.co.nz Friday, June 10, 2022

WORLD 15

World Bank downgrades 2022 global growth

forecast to 2.9 pc, warns of stagflation risk

The global economy is

on track to grow by 2.9

percent in 2022, down

1.2 percentage points from the

January projection, the World

Bank Group said in its latest

Global Economic Prospects

released on Tuesday, warning

of stagflation risk.

Compounding the damage

from the COVID-19 pandemic,

the Russia-Ukraine war has

magnified the slowdown in

the global economy, which is

entering what could become

a protracted period of feeble

growth and elevated inflation,

the report said.

This raises the risk of

stagflation, with potentially

harmful consequences for

middle- and low-income

economies alike, according to

the report.

Global growth is expected

to slump from 5.7 per cent in

2021 to 2.9 per cent in 2022

and hover around that pace

over 2023-2024, the report

showed.

Growth in advanced

economies is projected to

sharply decelerate from 5.1 per

cent in 2021 to 2.6 per cent

in 2022.

Among emerging market and

developing economies, growth

is also projected to fall from

6.6 per cent in 2021 to 3.4 per

cent in 2022 -- well below the

annual average of 4.8 per cent

from 2011 to 2019.

As a result of the damage

from the pandemic and the war,

the level of per capita income in

developing economies this year

will be nearly 5 per cent below

its pre-pandemic trend.

World Bank President David

Malpass said that for many

countries, the recession will be

hard to avoid, adding that it is

urgent to encourage production

and avoid trade restrictions.

"Changes in fiscal, monetary,

climate and debt policy are

needed to counter capital

misallocation and inequality,"

Malpass said.

Global inflation has risen

sharply from its lows in mid-

2020 on rebounding global

demand, supply bottlenecks,

and soaring food and energy

prices, according to the report.

Markets expect inflation to peak

in mid-2022 and then decline

but remain elevated.

The report also offers the

first systematic assessment of

how current global economic

conditions compare with the

stagflation of the 1970s

with a particular emphasis on

how stagflation could affect

the emerging market and

developing economies.

It noted that ending the

stagflation of the 1970s

required "steep increases" in

interest rates, which triggered

a global recession and a string

of financial crises in emerging

markets and developing

economies.

If inflation remains elevated, a

repeat of the resolution of the

earlier stagflation episode could

translate into a sharp global

downturn along with financial

crises in some emerging markets

and developing economies, the

report warned.

World Bank

slashes China

growth

forecast over

Covid

The World Bank has

sharply slashed its

annual growth forecast

for China, warning in a report

Wednesday that Covid

disruptions could further slow

recovery in the world's secondlargest

economy.

China is the last major

economy wedded to a zero-

Covid policy, using rapid

lockdowns, mass testing and

strict movement restrictions

to eliminate outbreaks -- but it

has tangled supply chains and

dragged economic indicators

to their lowest levels in around

two years.

Growth in China is projected

to slow to 4.3 percent in 2022,

the World Bank said in a report

on Wednesday, marking a steep

0.8 percentage-point drop from

the December forecast.

Auckland Indian Association Inc.
---
16

FEATURES

Malabar Fish Curry Recipe

A delicious, creamy fish curry with goodness of coconut milk and full of chilllies,

coriander and mustard seeds. Fish is a great dinner option since it is loaded with

nutrients like omega - 3 fatty acids, proteins and several vitamins. Apart from

being healthy, this fish curry is full of delightful flavours in luscious gravy. A

perfect meal for the next dinner party!

• Total Cook Time55 mins

• Prep Time15 mins

• Cook Time40 mins

• Recipe Servings2

Ingredients of MalabarFish

Curry

• 40 gms whole coriander

seeds

• 60 gms whole red chilli

• 10 ml coconut oil

• 1 gram mustard seeds

• 10 gms onion, chopped

• 3-4 Curry leaves

• 20 ml coconut milk

• 5 ml tamarind pulp

• 5 gram coriander,

chopped

• 120 gms seabass fish

curry cuts

How to Make Malabar

Fish Curry

1. Soak whole coriander

seeds and whole begdi

chilli together for 3 to 4

hrs at least.

2. Boil soaked ingredients,

after boiling make a

paste, and strain it.

3. Take a pan, add coconut

oil, mustard seeds, curry

leaves and chopped

onions, cook it till

translucent.

4. Put the strained paste,

cook it well and add fish

curry cuts in the gravy.

5. Finish with coconut milk

and tamarind pulp.

6. Garnish with chopped

coriander and fried curry

leaves.

Friday, June 10, 2022

Read online www.iwk.co.nz

Garlic Chutney

Spicy and garlicky, this chutney

is absolutely lip smacking.

• Total Cook Time25 mins

• Prep Time10 mins

• Cook Time15 mins

• Recipe Servings2

Ingredients of Garlic Chutney

• 100 gm garlic-peeled

• 25 gm dried whole red

chillies-cut up and soaked

in some vinegar

• Salt to taste

How to Make Garlic Chutney

1. Grind all the ingredients

together to a smooth

paste, avoiding, water.

TIMEOUT
---
Read online www.iwk.co.nz Friday, June 10, 2022

FEATURES 17

5 skincare routines

for Winter season

From summer to winters, it's not

only our way of living, clothes

or eating habits change, our

skin also changes season to season.

Talking about night skincare, which is

an essential part to repair and revive

the skin from all day, dirt, pollution

and sun rays, also need a little change.

So, what should we do? In addition to

using a broad-spectrum sunscreen and

a good ultra-hydrating moisturizer, we

should also revive our night skincare

routine, including the cleansing

method, the way of exfoliating skin

and yes the moisturizer. Let's give a

minute to read what things in night

skincare can make your skin healthy

in winters:

Night Skincare Routine For Winter

1. Cleanse face with milk cleanser

or milk

Milk is an amazing cleanser. It

contains lactic acid which acts as

a good cleanser. You can buy a milkbased

cleanser to remove makeup and

deeply cleanse the face before going

to bed. It not only removes dirt and

grime but also leaves skin soft and

supple. Take some milk and rinse your

face with it or else you can add a little

gram of flour to it.

2. Exfoliate the skin on an

alternative day

Exfoliation is also important in

winters to remove the dead,

flaky skin. But, remember to do

gentle exfoliation in winters and on

alternative days. For this step, you can

go for a gentle scrub or homemade

scrub using oats or coffee by adding

coconut oil or milk to it.

3. Must give your skin a massage

every day

Do massage the skin daily, especially

after exfoliating the skin. It will

help to deeply condition your skin. For

this action, use coconut oil, argan oil

or rosehip oil. You can also go for aloe

vera gel if you don't want oil on some

days. In the end. massage with oil or

gel for some time and rinse the face

using lukewarm water.

4. Choose a deep conditioning

cream, gel or moisturizer

The next step is one of the most

essential steps in the winter

night skincare routine. Using a good

moisturizer or cream is very important

in winter. Must apply an ultrahydrating

moisturizer not only on your

face but also to your hands and feet

to keep the skin moist, conditioned,

soft, healed and healthy.

5. Apply a hydrating face mask

weekly

winter hydrating face mask can

give your skin the next level of

A

rejuvenation.

You can apply

this mask once

a week or twice

a week. You need

finely mashed

banana, 1 tablespoon

of honey and curd

along with some drops

of almond oil. Mix all

the ingredients well and

apply the mixture onto

the face. Keep the mixture

till it gets dry and rinse the

face with normal or lukewarm water.

Afterwards, must apply moisturizer.

Always do this step once you are

done with massaging.

These 5 steps can help you to keep

your skin glowing, radiant and smooth

even in harsh winters.

Here's how you should take care

of your lips during winters

Winter may bring some relief

from the scorching summer,

but it may also bring along a lot

of dryness in the air, causing

your skin to become even drier.

This weather can be a brutal

time for the most neglected

part of your body; lips. The

cold, chilling wind and dry,

heated air in the interiors all

conspire to make your lips dry

and flaky. There is no denying

the fact that lips require a lot

of care. The best solution to

make our lips soft instantly

is to apply store-bought lip

balms; however, they only work

in the short run. Our kitchen is

a treasure trove of ingredients

that can be brought to use to

take care of lips. We tell you

some important tips along with

ingredients that can help make

your lips soft and moisturised

even during the harsh winters.

Tips to take care of your lips

during winter

Avoid licking your lips

constantly to make them

moist as this process can

encourage more dryness. In

fact, the enzymes in saliva that

are meant to digest food are

irritating to the lips.

Avoid balms that may

contain camphor, eucalyptus

and menthol. These ingredients

tend to promote more dryness

on the lips, making the problem

worse.

If you don't treat your dry

and chapped lips, chances of

them getting infected increase.

Always ensure that whenever

you apply any ingredient or

balm, it should be done at night.

Your body is at rest during this

time and tends to repair itself.

Let the lips take their own time

to repair themselves with the

treatment you choose to give.

Even if you are choosing

store-bought lip balms, make

sure you pick the ones that

have petrolatum, essential oils

or glycerine. These ingredients

keep your lips protected for

longer period of time.

Don't forget to apply

sunscreen on lips regularly.

You don't feel a lot thirsty

during winters, but ensure

keeping yourself well hydrated.

A dehydrated body will always

leave your lips dry and chapped.

Include a healthy and

nourishing diet that includes

vitamins, minerals in order to

keep your body healthy.

Vitamin A is an important

nutrient for healthy lips. Include

carrots, milk products, and

apricots in your diet to load up

on vitamin A.

Home remedies for lips

during winter

1. Aloe vera

Aloe vera is a commonly

available plant, so you can plant

one in your garden. You can use

the gel extracted from the aloe

vera leaves to make your lips

We tell you some important tips along with

ingredients that can help make your lips

soft and moisturised even during the

harsh winters.

soft and supple. Aloe vera is full

of water content that leaves

your lips moisturised.

2. Ghee

A drop of ghee can work

wonders on your dry and

chapped lips. Ghee acts as

a moisturiser. Apply some

ghee on your lips and leave it

overnight.

3. Honey

Honey is said to be an amazing

moisturiser that has healing and

antibacterial properties to treat

chapped lips. Make a mixture of

honey and glycerine and apply

on your lips. Leave it overnight

and wake up to amazing lips.

4. Rose petals and milk

Take some fresh rose petals

and dunk them in some raw milk

for a few hours. Now, apply this

milk on your lips at least two

to three times a day. Milk and

rose petals have moisturising

effects that will help make your

lips pink.

5. Sugar

Sugar acts as a scrub that

helps remove the dead skin on

the lips, leaving them looking

supple and soft. Take some

honey and mix sugar to it and

scrub and massage it well on

your lips. Keep it for some time

and wash off with warm water,

followed by a natural lip balm.

6. Coconut oil

Coconut oil is one of the best

natural moisturisers you'd come

across. All you need to do is to

warm some of it and massage it

on your lips. Leave it overnight

and wake up to soft and supple

lips.

This winter, don't let your

lips suffer from dryness and

bring these handy tips and

ingredients to use and enjoy

healthy and moisturised lips!
---
18

ENTERTAINMENT

The film 'The Dirty Picture' produced by Ekta had an ensemble cast of Vidya Balan, Emraan Hashmi, Naseeruddin Shah,

and Tushaar Kapoor. It depicted the true story of a South Indian adult film actress, Silk Smita whose love for cinema made

her a global star. However, deceit and unfortunate incidents led to her tragic downfall.

2. Lootera

Ekta Kapoor turns

47, a look back

at her 5 best film

productions

Producer Ekta Kapoor turned 47 on XXX!

Ekta has numerous movies and soap operas

to her name, establishing a name for

herself in the Bollywood industry. On the

occasion of her 47th birthday, here's a

glimpse of her 5 best Bollywood film

productions.

1. The Dirty Picture

Friday, June 10, 2022

Read online www.iwk.co.nz

Farhan Akhtar pens

note to 'Ms. Marvel'

makers, expresses

gratitude

Bollywood star Farhan

Akhtar has expressed

his gratitude towards

the makers of his upcoming

series 'Ms Marvel', by posting

an appreciation post for them.

On Tuesday, the 48-year-old

star took his Twitter account,

and tweeted the poster of

the series along with an

appreciation note, "In gratitude

(red heart emoji) #MsMarvel

out tomorrow" he captioned

the tweet.

"Tomorrow, 8th June, will see

the release of the first episode

of Ms Marvel on Disney+ and

Disney+ Hotstar. This post is in

appreciation of the creators, the

directors, and all those in front

and behind the camera, who

collaborated to make Ms Marvel

what it is. It is in appreciation

of Sharmeen Obaid-Chinoy for

her guidance through my days

of working on it." it read.

Moving Further he added, "It

is an appreciation of Marvel.

I'm proud to be part of their

conscious inclusiveness. This

show is a celebration of diversity

and it certainly will bring joy and

pride of self-identity to millions

of young girls and boys of the

sub-continent. And last but

not least, it is in appreciation

of the wonderfully talented

Iman Vellani. Be prepared to

be thoroughly entertained and

effortlessly charmed by her.

Thank you and good luck, Team

Ms Marvel."

Details regarding Farhan's

character are under wraps,

though his participation has

been touted as a guest-starring

role, Deadline reported.

'Ms. Marvel' is one of the

highly anticipated Marvel

Cinematic Universe (MCU)

projects. It introduces Iman

Vellani as Kamala Khan, aka

the titular character, who is

a Muslim American teenager

growing up in Jersey City. An

avid gamer and a voracious

fan-fiction scribe, Kamala is

a superhero mega-fan with

an oversized imagination --

particularly when it comes to

Captain Marvel.

Armaan Malik collaborates

with Ed Sheeran for new

version of '2Step'

The beautiful cinematic representation of 'Lootera', produced by none other than Ekta Kapoor had won several hearts.

It's the story of a disguised archaeologist who falls in love with the daughter of an aristocratic family. However, a dark secret

of the protagonist lends a tragic ending to their love story. Starring Ranveer Singh and Sonakshi Sinha, the film was a hit.

3. Ek Villain

Another masterpiece and an Ekta Kapoor production, 'Ek Villain' narrates the story of a simple girl, played by Bollywood

diva Shraddha Kapoor who falls in love with a goon, aka Siddharth Malhotra. Although everything seems to be going fine,

the narrative changes with a dark plot twist that leaves you with the question, who is the real villain?

4. Veere Di Wedding

Ekta Kapoor's Veere Di Wedding portrays the lives of four childhood friends, as they navigate through life and face

challenges in their friendship and relationships. Bollywood A-listers namely Kareena Kapoor Khan, Sonam Kapoor, and

Swara Bhaskar starred in the film along with Shikha Talsania.

5. Pagglait

A unique take on the life of a young widow, this Ekta Kapoor production takes us through a simple story Through the

eyes of Sandhya, the protagonist, played seamlessly by Sanya Malhotra, as she rises above societal norms, casual sexism, and

eventually turns into a strong-headed woman.

Singer Armaan Malik

has joined hands with

international artist Ed

Sheeran for a new version of

the song '2Step'.

Taking to Twitter, Armaan

shared the update with his

fans and followers.

He said, "I'm beyond excited

to be featured on this version

of 2step with Ed Sheeran!

He's always been such an

inspiration, and I'm a big fan

of his music and incredible

songwriting. This is a huge

moment not only for me, but

also for other Indian artists

too. I genuinely believe that

this will be the beginning for a

lot more collaborations of this

nature."

The original version of the

song was released in 2021

as part of Ed Sheeran's 2021

album Equal.
---
Read online www.iwk.co.nz Friday, June 10, 2022

FEATURES 19

Travel destinations of the week

ALBERTA - Canada at its best

MARLBOROUGH, New Zealand

One of the sunniest regions in New Zealand,

Marlborough is a year-round destination with

a huge range of activities and attractions

to fit all budgets and travel types.

Alberta holds wonder around

every bend and corner,

from the spectacular

Canadian Rockies to the Badlands

to the culturally rich cities.

Perfect for travelers with passions

for learning and the expansive

outdoors, Alberta offers a wide

variety of festivals and museums, rich

and

interactive history, exquisite provincial

parks,

delicious cuisine with small batch spirits and

an impressive number of daylight hours to maximize time. In early July, the

sun rises before 5:30 and sets close to 10 p.m.

Explore the newly expanded Metis Crossing, an interpretive destination

offering immersive and authentic Indigenous Métis experiences. For city

culture, the Edmonton Queer History Project has launched its new interactive

website and walking tours that map 27 historically significant landmarks.

For those who like to travel slow, Vacations By Rail has routes through the

Rockies and the cities.

From the rowdy Calgary Stampede to the spiritual mountain lakes to

the desolate northern parklands, where you can catch a rare glimpse of

the world's last remaining wild buffalo and, if you're lucky, the Northern

Lights—these are the places you won't want to miss on your next trip to

Alberta.

This little corner of Te Waipounamu (the

South Island) offers a variety of landscapes

tightly packed within easy reach of the main two

hubs, Picton and Blenheim. Explore the striking

Marlborough Sounds, take a day hike or bike trip,

or dive tastebuds-first into the thriving culinary and

viticulture scene of the renowned Marlborough wine

region.

Whether you're doing a mega South Island road trip or are

just heading to Blenheim or Picton for a weekend getaway, Marlborough is one of the best

places to visit in the South Island and is well worth adding to any South Island itinerary.

If you're coming from the North Island, the Interislander and Bluebridge ferries will arrive

in Picton after a 3.5 hour trip from Wellington. If you're flying, it's just under 1.5 hours from

Auckland to Blenheim, 50 minutes from Christchurch or 25 minutes from Wellington.

Marlborough is also an excellent addition to any South Island road trip, with Blenheim being

a 1h 45m drive from both Nelson and Kaikoura, or 4.5 hours from Christchurch.

What to do in Marlborough

• Swim with wild dolphins in Picton (ethically)

• Go on a wine tour

• Play postie for a day and do the Mail boat cruise

• Hike the Queen Charlotte Track

• Hit one of the bike trails on Queen Charlotte Track

• Explore The Marlborough Sounds from water level by kayak

• Learn about WWI and WWII at the Omaka Aviation Heritage Centre

• Learn about Enjoy a classic food and wine experience on a seafood cruise

• Find some Lord of the Rings filming locations

BOOK ADS IN

NEWSPAPER

The most widely circulated WEEKLY

publication for Kiwi-Indians and the most

popular news platform with a strong

online, social media, and print. We deal

with all major advertising: Digital, Social

Media and Newspaper Print advertising.

PROPERTY

AUTOMOBILE

EDUCATION

Call us for a customised advertising

solution with Indian Weekender

021 952 216

Email sales@indianweekender.co.nz

Email sales@indianweekender.co.nz /

mahesh@indianweekender.co.nz

leena@indianweekender.co.nz

www.indianweekender.co.nz

IMMIGRATION

MORTGAGE

EVENTS

NEW ZEALAND

Over a ton of colour to be used at

Krishna Holi 2021 event in Kumeu

The Indian Weekender Friday, February 12, 2021 11

RIZWAN MOHAMMAD

T

he biggest Holi event in the country

on Sunday, February 14 at ISKCON

Temple in Kumeu will put over one

ton of colours for 10,000 visitors to play with

celebrating the annual Hindu festival.

Holi is one of the most popular and widely

celebrated festivals for the Indian community

after Diwali that is celebrated by the diaspora

and the adjoining communities across the globe.

The annual festival of colour falls on March

28-29 this year, and the religious element of the

festival signifies the triumph of good over evil.

It is observed a the end of winter and advent of

spring month (in the Indian subcontinent), and

spiritual part of the festival starts with Holika

Dahan (burning demon Holika) also known as

Chhoti Holi and the following day as Holi.

In its 9th year, Krishna Holi event at the

iconic Hare Krishna Temple in Kumeu, West

Auckland attracts thousands of people from all

walks of life, different ethnicities and faiths to

be a part of a colourful and joyous event.

Speaking with the Indian Weekender,

Krishna Chandra from the temple said they are

excited to see the festive season of Holi back

after a gloomy year of Covid-19 in the country.

"Holi at the Krishna Temple is one of the

most vibrant events in our calendar- we see

families dressed white clothing visi the temple

and then dance and drench in dry and wet

colours from noon till early evening," Krishna

Chandra, secretary and spokesperson of Hare

Krishna Temple said.

The temple spread over 100 acres start the

free event at 11 a.m. and will have stalls that

distribute at least ten to 12 colours, and there

will also be watercolours for the visitors.

A giant LED screen is also installed on the

stage with a DJ and live music for the attendees

to dance and have fun.

"It's a family-friendly- tobacco and alcoholfree

event. People of all ages can have fun as

there will be colour stalls, water stations, food

stalls, changing rooms, showering stations for

people drenched in colour," Mr Chandra said.

He added tha the temple stocks colours to be sanitisers are in place for people, arrangements

used at the festival at least 2-3 years at a time. for children activities, so that everyone gets to

The temple will be used over a ton of colour at enjoy the even to its fullest.

the event both in its dry form and with water. "We have volunteers, security to usher

"We have given 200 kgs of colour to fire vehicles to park in the appropriate places,

brigade who will mix it in their water tank manage the oncoming and returning traffic,

and then splash it on the visitors at different and make sure visitors feel comfortable at the

intervals.

event," Mr Chandra added.

"Since this year's event coincides with The event organisers have appealed the

Valentine's Day, we have kept valentine theme visitors to come in white dress as colours tend event like previous years will be high octane,

gifts and gift station too at the venue for the to exhibit its vibrancy on white clothing, get full of energy and good vibes," Mr Chandra

public to celebrate the occasion there," Mr spare clothing to change after playing with added.

Chandra added.

colour and food and water arrangements have ISKCON Temple is located on 1229

Mr Chandra says all arrangements in been made a the venue.

Coatesville-Riverhead Highway, Kumeu, West

terms of Covid QR Code scanning and hand "Hol is always a fun event and Krishna Holi Auckland, and the event starts at noon to 5 p.m.

Hare Krishna temple to host 'Saatvik food festival'

RIZWAN MOHAMMAD

T

he Hare Krishna Temple in Kumeu, West Auckland

is hosting its annual food festival event on Saturday,

February 13, for the community.

More than 3000 people are expected to attend the event

where they will be served saatvik vegetarian food, tour the

temple premises and have a relaxing family-fun day.

"Our Hare Krishna Food Festival is very popular amongs the

wider Kiwi community in Auckland, people from all faiths and

ethnicities come to the temple, take a tour of the place knowing

about the deities, the ISKCON establishment, its works for the

community and have snacks and food during the day," Krishna

Chandra, secretary and spokesperson for Hare Krishna temple

told the Indian Weekender.

The event is said to be quiet, and exhibit a relaxing

environment where people get to meet new people, make

friends, experience the calmness being with nature, have

Saatvik (pure) vegetarian food and have good family day.

"This event is happening just one day before our most

popular Krishna Holi event which is will be loud, full of energy,

playfulness, music and dance," Mr Chandra added.

The events will start at 2 p.m. and end at seven in the evening.

Besides the food festival, Krishna Temple organises lunch

event every Sunday at its premises where 300-400 people

come, chant mantras, meditate, spend some time with nature

and dine with the community members.

"It is a soothing atmosphere at the temple, chanting mantras

with the community, knowing more about the religion, what

can they do a the temple and how can they make a difference in

the community by serving others and the less privileged.

"There are also children's activities

organised so that they engage themselves

and also have a good time at the temple," Mr

Chandra said.
---
Auction

4

2

1 103B Parau Street, Three Kings

No Plan 'B' - Must be SOLD

1

Nothing beats BRAND NEW! Quality freestanding brand new home ready

to move-in in this great location of THREE KINGS (bordering Mt Eden).

Peace of mind is assured here with weatherboard exterior and branded

chattels. Created by an experienced architect and crafted by skilful

hands, this two level luxury executive house has a generous layout.

The easy care section was designed to minimise upkeep and maximise

leisure time, with private, sun-soaked outdoor entertaining area

providing the perfect spot to unwind with family and friends. The

location is simply exceptional. Close to all motorways, cafes and all local

amenities. In Zone for Dominion Road School, Mt Roskill Grammar and

Intermediate school. This premium property is sure to impress even the

most discerning purchasers, so don't delay, call one of us for viewing

today. Must be SOLD, owner needs to start other project. Act quickly -

contact VK Verma or Ramana today for viewing.

1

3

AUCTION

Onsite, Sunday, 26th June 2022 at 2:00 pm

(Unless Sold Prior)

VIEWINGS

Sat/Sun 1:30pm to 2:00 pm or By Appointment

VK Verma

027 577 3747

vk.verma@harcourts.co.nz

Ramana MV

021 508 900

Ramana.mv@harcourts.co.nz

09 629 0088

mtroskill@harcourts.co.nz

2 White Swan Road Mt Roskill