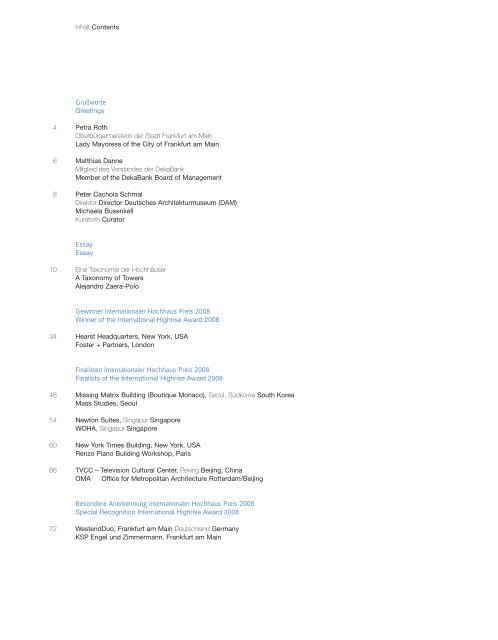 Inhalt Contents Grußworte Greetings Petra Roth ...
Inhalt Contents Grußworte Greetings Petra Roth ...
Inhalt Contents Grußworte Greetings Petra Roth ...
MEHR ANZEIGEN
WENIGER ANZEIGEN
Sie wollen auch ein ePaper? Erhöhen Sie die Reichweite Ihrer Titel.
YUMPU macht aus Druck-PDFs automatisch weboptimierte ePaper, die Google liebt.
4

6

8

10

34

48

54

60

66

72

Inhalt Contents

Grußworte

Greetings

Petra Roth

Oberbürgermeisterin der Stadt Frankfurt am Main

Lady Mayoress of the City of Frankfurt am Main

Matthias Danne

Mitglied des Vorstandes der DekaBank

Member of the DekaBank Board of Management

Peter Cachola Schmal

Direktor Director Deutsches Architekturmuseum (DAM)

Michaela Busenkell

Kuratorin Curator

Essay

Essay

Eine Taxonomie der Hochhäuser

A Taxonomy of Towers

Alejandro Zaera-Polo

Gewinner Internationaler Hochhaus Preis 2008

Winner of the International Highrise Award 2008

Hearst Headquarters, New York, USA

Foster + Partners, London

Finalisten Internationaler Hochhaus Preis 2008

Finalists of the International Highrise Award 2008

Missing Matrix Building (Boutique Monaco), Seoul, Südkorea South Korea

Mass Studies, Seoul

Newton Suites, Singapur Singapore

WOHA, Singapur Singapore

New York Times Building, New York, USA

Renzo Piano Building Workshop, Paris

TVCC – Television Cultural Center, Peking Beijing, China

OMA Office for Metropolitan Architecture Rotterdam/Beijing

Besondere Anerkennung Internationaler Hochhaus Preis 2008

Special Recognition International Highrise Award 2008

WestendDuo, Frankfurt am Main Deutschland Germany

KSP Engel und Zimmermann, Frankfurt am Main
---
77

78

79

80

81

82

83

84

85

86

87

88

Nominierte Projekte Internationaler Hochhaus Preis 2008

Nominated Projects International Highrise Award 2008

Adia Headquarters, Abu Dhabi Vereinigte Arabische Emirate United Arab Emirates

Kohn Pedersen Fox Associates (International) PA, London

Air Apartments, Broadbeach/Queensland Australien Australia

Ian Moore Architects, Sydney

Bahrain World Trade Center, Manama Königreich Bahrain Kingdom of Bahrain

Atkins, Dubai

Beetham Hilton Tower, Manchester Großbritannien United Kingdom

Ian Simpson Architects, Manchester

Chaowei Men Peking Beijing, China

Steidle + Partner, München und and Strategy Architectural Design Co. Ltd., Peking Beijing

Eureka Tower, Melbourne Australien Australia

Fender Katsalidis, Melbourne

Hesperia Hotel and Conference Center, L'Hospitalet/Barcelona Spanien Spain

Richard Rogers Partnership, London

Holloway Circus, Birmingham Großbritannien United Kingdom

Ian Simpson Architects, London

Meriton Tower, Sydney Australien Australia

Harry Seidler & Associates, Sydney

PopMoma, Peking Beijing, China

Baumschlager-Eberle, Peking

Regent Place, Sydney Australien Australia

Foster + Partners, London

Torre Espacio, Madrid Spanien Spain

Pei Cobb Freed & Partners Architects LLP, New York

Torre SyV, Madrid Spanien Spain

R&AS Rubio & Álvarez-Sala, Madrid

Vertical Courtyard Apartment, Hangzhou, China

Amateur Architecture Studio, Hangzhou

Wanda Plaza Peking Beijing, China

gmp Architekten von Gerkan, Marg und Partner, Berlin/Beijing

The Willis Building, London Großbritannien United Kingdom

Foster + Partners, London

7 World Trade Center, New York, USA

Skidmore, Owings & Merrill LLP, New York

Impressum Ausstellung Imprint Exhibition

Impressum Katalog Imprint Catalogue

Abbildungsnachweise Illustration Credits
---
Eine Taxonomie der Hochhäuser

von Alejandro Zaera-Polo

Nach einer zwei Jahrzehnte währenden Auszeit, die fast

genau mit der Lebensspanne des World Trade Center in

Manhattan übereinstimmt, ist das Hochhaus wieder en

vogue. Das World Trade Center wurde 1972 fertiggestellt,

ein Jahr, bevor der Bau des Sears Tower in Chicago

abgeschlossen wurde und die Ölkrise sich anbahnte.

Aufgrund der Zweifel an einer auf Öl basierenden Gesell -

schaft kam der Wettlauf um das höchste Gebäude

vorübergehend zum Stillstand. Doch dieser Niedergang

scheint bewirkt zu haben, dass das Charisma, über das

hohe Häuser verfügen, heute wieder überzeugt. Auf

einigen Websites wird die wachsende Zahl an Hoch -

häusern weltweit verfolgt, werden ihre technischen

Errungenschaften diskutiert und bewundert. Laut Emporis,

einer dieser Websites, wurden 40 Prozent der weltweit

bestehenden Hochhäuser – Gebäude mit mehr als zwölf

Stockwerken – seit 2000 gebaut, und acht Prozent des

Anteils an hohen Gebäuden weltweit befinden sich im

Bau. Die Stadt mit den meisten Hochhäusern der Welt –

Benidorm, Spanien – hat bereits ein Hochhaus für alle

180 Einwohner. In Santos, Brasilien, gibt es sogar einen

Hochhausfriedhof, den Memorial Necropole Ecumenica III.

Die Faszination liegt nicht allein in der wiedererstandenen

Bedeutung von urbanem Charisma, dem Glamour des

Highlife, den atemberaubenden Ausblicken, dem Gefühl

von Macht angesichts innovativer Technologie sowie eifrig

summender technischer Spielereien und auch nicht im

Schwindelgefühl, das sich einstellt, wenn die Gebäude im

Wind schwanken. Über all dies hinaus gibt es den

unvermeidbaren Trend zur Verdichtung der bestehenden

städtischen Zentren, da die Menschen in den urbanen

Ballungsgebieten zusammenströmen. Über ihre wieder -

entdeckte ästhetische "Hipness" hinaus stellen hohe

Gebäude ein Verdichtungsmodell zur Verteilung der

Bevölkerung dar, das dazu beiträgt, den Grüngürtel vor

den sich konstant ausdehnenden Vororten zu schützen.

Einst den reichsten und mächtigsten Einwohnern der

Weltfinanzzentren vorbehalten, werden Wolkenkratzer in

manchen Städten zu einer Art lokaler Typologie der

Mittelschicht. Der Erfolg von Hochhauskomplexen mit

Mischnutzungen, wie Roppongi Hills in Tokio, The Arch in

Kowloon, Tower Place in Seoul und Kanyon in Istanbul,

wird von internationalen Bauunternehmen als Vorbild für

qualitätsvolle Stadtentwicklung und üppigen Profit

betrachtet, das, so es die Umstände erlauben, möglichst

oft wiederholt werden sollte.

Einer der Gründe für die Demokratisierung von hohen

Gebäuden ist die beachtliche Weiterentwicklung ent -

sprechender Gebäudetechnologien: widerstandsfähigere

Materialien und zeitsparende Bautechnologien für Stahl

und Beton, hocheffiziente vorgehängte Fertigfassaden -

systeme mit ausgezeichneten Isolierwerten und Sonnen -

filtereigenschaften, intelligent gestaltete vertikale

Transportsysteme mit höherer Tragfähigkeit, mehr effiziente

Energieanlagen, die auf erneuerbaren Energien beruhen.

Die Effizienz von Hochhäusern ist heute wesentlich größer

als 1973, und der Bau sowie der Unterhalt von Hoch -

hausgebäuden sind für ein immer größer werdendes

Kundenspektrum erschwinglich. Der Bau von Wohnhoch -

10

A Taxonomy of Towers

by Alejandro Zaera-Polo

After a two-decade lapse that coincides almost

exactly with the lifespan of the World Trade Center in

Manhattan, high-rise building is back in vogue. The

World Trade Center, finished in 1972 – one year

before the Sears Tower in Chicago – was completed

as the 1973 oil crisis unfolded, pausing the race for

taller buildings by instilling doubts about the solidity

of an oil-based economy. Their demise seems to have

convinced everyone again of the charisma that tall

buildings command. A few websites are now devoted

to following the growing array of high-rise buildings

worldwide and to discussing and admiring their

technical prowess. According to Emporis, one of

these websites, 40 percent of the high-rise buildings

– buildings above twelve stories – on the earth have

been built since 2000, and around 8 percent of the

world's stock of tall buildings is under construction

right now. The most high-rise-intensive city in the

world – Benidorm, Spain – already has one high-rise

building for every 180 inhabitants; there is even a

high-rise cemetery, the Memorial Necrópole

Ecumênica III, in Santos, Brazil.

The fascination is not just with the renewed impor -

tance of urban charisma, the glamour of high-life, the

breathtaking views, the feeling of power from living

with cutting edge technology and humming gadgets,

or even the vertigo caused by buildings swaying in the

wind. There is also the inevitable trend towards the

densification of existing urban centers, as the planet's

human population flocks irreversibly towards urban

cores. Beyond their renewed aesthetic hipness, tall

buildings offer a high-density model for distributing

population on the planet that helps preserve the green

belt from the ever-expanding suburb.

Once the preserve of the very rich and powerful

inhabitants of the world financial centers, skyscrapers

in some cities are becoming a sort of vernacular

typology engaging the middle class. The success of

high-rise, mixed-use complexes like Roppongi Hills in

Tokyo, The Arch in Kowloon, Tower Place in Seoul,

and Kanyon in Istanbul is being noticed by inter -

national developers as an example of urban develop -

ment quality and plentiful profit to be replicated as

often as circumstances allow.

One of the reasons for the democratization of building

height has been a substantial development of related

building technologies: materials with higher strength

and faster construction technologies, in steel and

concrete; high-efficiency curtain-wall systems with

superior insulation and solar filtering values; intelligent

vertical transportation systems with higher lifting

capacities; more efficient energy plants running on

renewable sources. The efficiency of high-rises is now

substantially greater than it was in 1973 and this is

making the construction and maintenance of high-rise

buildings affordable for a widening spectrum of

customers. As opposed to the post-war high-rise

residential construction – which was the result of
---
häusern in der Nachkriegszeit war das Ergebnis einer

aufgeklärten Politik und Stadtplanung, die Hochhäuser

wurden vor allem für die geringverdienende Bevölkerung

errichtet. Im Gegensatz dazu ist der Bau von neuen

Wohnhochhäusern heute auf eine entsprechende Markt -

nachfrage zurückzuführen.

Die Antwort der Bauindustrie auf die der Hochhaus typo -

logie inhärente Komplexität und die Maßgabe der

Wirtschaftlichkeit besteht darin, dass man derartige

Projekte in unterschiedliche Problembereiche unterteilt, die

dann von verschiedenen Fachleuten betreut werden.

Das typische Hochhaus wird heutzutage zunächst anhand

gut etablierter Marktwerte entwickelt, die von Immobilien -

spezialisten verwaltet werden: Massenkennzahlen,

Abstand von der Fassade zum Gebäudemittelpunkt,

Grundrissgrößen, Planungsraster, Deckenhöhe, Netto- und

Bruttoflächenverhältnisse sowie Fassadenkennzahlen

stellen nur die ersten zu überwindenden Hindernisse dar.

Sicherheitsbestimmungen und Aufzugkapazitäten, die von

Spezialisten für Vertikaltransport und Brandschutzberatern

ausgewertet werden, sind weitere Hemmnisse. Vorschriften

zum Umweltschutz schränken die Gestaltung der Fassade

ein, da bestimmte Tageslicht- und Isolierwerte sowie

Solarertragswerte erreicht werden sollen. Und schließlich

bestimmen die Kompetenz und Zeiteffizienz der Bau -

industrie vor Ort und der Preis der Materialien, die den

Anforderungen der Statiker, der bautechnischen Berater

und der Bauunternehmer zu entsprechen haben, welche

Struktur – und damit Baumasse – das Projekt erhalten

könnte.

Die rücksichtslose Durchsetzung des Wirtschaftlichkeits -

prinzips führt meistens dazu, dass der größte Teil des

Gebäudes schon "gestaltet" ist, bevor die Architekten

überhaupt einbezogen werden; deren gestalterische

Funktion ist dann häufig auf die Fassade (unter Hinzu -

ziehung von Beratern für Fassadenkonstruktionen), die

Eingangshalle und die Toiletten beschränkt. Die einzige

Möglichkeit, zu vermeiden, dass die Auswirkungen dieser

Aspekte den Entwurf bestimmen, ist gegeben, wenn das

Projekt die Entwicklung eines Markenimages für ein

Unternehmen, eine Stadt oder einen Bauträger erfordert.

Im besten Falle wird dem Architekten ein gewisser Einfluss

gewährt, wenn er eine Gebäudefassade zu entwerfen

hat, die für potenzielle Kunden interessant ist, oder er ist

angehalten, einen Markenwert für den Eigentümer zu

kreieren beziehungsweise Planungsausschüsse und

Politiker vor Ort zu überzeugen, höhere Geschossflächen -

zahlen zu genehmigen.

Momentan gibt es sehr viele Entwurfswettbewerbe, die

große Beachtung finden; öffentlichkeitsbewusste Kunden

beauftragen bekannte Architekten, spektakuläre Gebäude

zu entwerfen, die sich allen Konventionen widersetzen,

auch denen der Ökonomie. Die Frage ist hier, wie sich

Innovation von Neuheit unterscheiden lässt, insbesondere

angesichts der Doppelmoral, die für Hochhausprojekte der

Gegenwart bezeichnend ist. Diese Projekte unterliegen

entweder der erbarmungslosen Kosteneffizienz, die die

Möglichkeiten auf die Wiederholung bewährter Modelle

beschränkt; oder sie fallen der Ökonomie des Marken -

images anheim, wo alles möglich ist und im Bestreben

um das Neuartige jegliche signifikante Verbindung zur

Typologie des Hochhausturms entfällt. Jene Projekte, die

eigentlich die Möglichkeit böten, die gängigen Richtwerte

zu verschieben, werden oft missbraucht, um in einer

willkürlichen Geste bizarre und spektakuläre Hochhäuser

enlightened politics and urbanism, mostly for lowincome

populations – new high-rise residential

building is driven by market demand.

The building industry's answer to the inherent

complexity of the high-rise typology and the scale of

its economies has been to break projects into different

problems to be resolved by different experts. The

typical high-rise today is designed first by wellestablished

market ratios administered by real-estate

specialists: population ratios, façade-to-core depths,

floor-plate sizes, planning grids, floor-to-floor heights,

net-to-gross ratios, and façade ratios form the first

level of constraint. Safety regulations and lift

capacities, interpreted by vertical transportation and

fire consultants, add more constraints. Environmental

regulations constrain the skin design to achieve

certain daylight and insulation values and solar-gain

ratios. Finally, the local construction industry's speed

and skills and the price of commodities filtered

through the structural consultants or contractors

determine what kind of structure – and therefore

massing – the project may acquire.

The ruthless force of these economies has usually

"designed" most of the building by the time architects

get involved, relegating their role to the design of the

skin (usually with contributions by façade consultants),

lobby, and toilets. The only possibility of preventing

these forces from controlling design comes when the

project requires the delivery of an image to brand a

corporation, city, or developer. In the best-case

scenario, the architect is empowered by formalizing

an envelope that will be attractive to potential

customers, create brand value for the occupier, or

seduce local planning committees and politicians to

allow higher floor/area ratios.

We are now witnessing an unprecedented number of

high-profile design competitions in which attentionseeking

clients are commissioning well-known

architects to produce spectacular buildings that defy

all conventions, including budgetary ones. The

question here is how to distinguish innovation from

novelty, particularly within the double standard that

rules contemporary high-rise projects. These projects

are subject either to ruthless efficiencies that constrain

possibilities to the repetition of verified models, or

they fall into the economy of the brand image in which

everything is possible and the desired novelty can

direct choices without drawing any significant links to

the typological phylum. Those projects that would

allow the benchmark to slide further because of their

profile, are often misused in producing weird and

spectacular high-rises full of contingent gestures that

fail to open the market to meaningful experimentation.

This one of the reasons that these projects – as

opposed to museums, for instance – have remained in

the hands of large commercial firms.

To work effectively in this evolving market, we need to

develop the typological knowledge that could

reactivate the synergies across the divides in which

the industry has split the high-rise project. The

creation of new relationships between efficiency and

expression will allow us to grow beyond the wave of

vacuous expressionism that has captured the most

interesting high-rise commissions and voided them of

13
---
Internationaler Hochhaus Preis The International Highrise Award

Gewinner 2008 Prize Winner 2008

Hearst Headquarters

New York, USA

Planungsteam Design Team:

Entwurfsplanung Project designer:

Foster + Partners, London

Verantwortliche Kontaktarchitekten Architect of Record

(Rohbau shell + core):

Adamson Associates, Toronto, Canada

Innenausstattung fit-out: Gensler, New York

Bauherr Client Hearst Corporation, New York

Projektentwicklung Development Manager

Tishman Speyer Properties, New York

Statik Structural Engineers WSP Cantor Seinuk,

New York

Bauunternehmung Construction Turner Construction

Haustechnik Mechanical Engineers Flack + Kurtz

Licht Lighting Gorge Sexton Associates (Rohbau shell

and core), Washington D.C.; Kugler Associates Inc.,

New York (Innenrauminstallation fit-out)

Höhe Height 182 m

Mit dem Hearst Tower wurde ein Traum aus den 1920er

Jahren wahr. William Randolph Hearst wollte den

Columbus Circle zu einem pulsierenden neuen Viertel in

Manhattan entwickeln und mit dem Neubau seines

Firmensitzes ein Zeichen für das ehrgeizige Vorhaben

setzen. Er beauftragte den Architekten und Szenografen

Joseph Urban (zusammen mit George P. Post & Sons) mit

dem Entwurf eines atemberaubenden Monuments, das

zukünftig den Columbus Circle dominieren sollte. Urban,

der für seine Theater- und Opernbühnenbilder bekannt

war, plante ein Art-Deco-Gebäude aus Sandstein, in

dessen zurückgesetzte Ecken er Säulen mit allegorischen

Figuren integrierte. Für die spätere Erweiterung um einige

Stockwerke zum "Hochhaus" stattete er das Hearst

Headquarters bereits mit statischen Vorrichtungen aus.

Der Bau wurde 1928 fertiggestellt, doch infolge der

"Great Depression" kam er über die ersten sechs Stock -

werke nicht hinaus. Erst nahezu 80 Jahre später, als die

Hearst Corporation die Zusammenführung ihrer diversen

New Yorker Büros am Ort des historischen Hauptsitzes

beschloss, wurde der Gedanke der vertikalen Erweiterung

wieder aufgegriffen.

34

Konstruktion Construction Stahlkern mit diagonaler

Tragwerksstruktur (Diagrid), die Dreiecksrahmen von

jeweils vier Geschossen Höhe bildet. Stahlstützen mit

Betonverfüllung vom zehnten Geschoss abwärts.

Steel core with perimeter diagonal structural system

(diagrid) forming four-story triangular frames. Concrete

reinforced steel super columns from tenth floor down.

Standardgeschossfläche Typical floor area 1 900 m 2

Bruttogeschossfläche Gross internal 80 000 m 2

Fertigstellung Completion Juni June 2006

Nutzung Use Bürogebäude Office building

Wandbild Mural Richard Long

Icefall Icefall Foster + Partners in Zusammenarbeit mit

dem Glasspezialisten Jamie Carpenter und dem

Wasserspezialisten Jim Garland, Fluidity

Foster + Partners in cooperation with the glass

specialist Jamie Carpenter and water specialist

Jim Garland, Fluidity

The Hearst Tower has enabled a dream from the

1920s to come true: William Randolph Hearst wanted

to transform Columbus Circle into a lively new district

in Manhattan and sought to create a symbol for this

ambitious project in the form of the new head office

building for his corporation. He commissioned

architect and scenographer Joseph Urban (together

with George P. Post & Sons) to design a breathtaking

monument that once should dominate Columbus

Circle. Urban, who was renowned for his theater and

opera set designs, planned the base of a tower out of

sandstone and columns with allegorical figures in the

recessed corners of the Art Deco building; he also

integrated load bearing facilities into the structure to

enable its later vertical extension. The building was

completed in 1928, but due to the impact of the Great

Depression never went beyond the first six stories. It

was not until almost eighty years later – when the

Hearst Corporation resolved to bring together its

various New York offices in one historical head office

– that the idea of extending the building upwards was

reborn.
---
Lageplan Site plan

Da die Fassaden des Hearst-Gebäudes 1988 unter Denk -

malschutz gestellt worden waren, stand von Anfang an

fest, dass die bestehende äußere Hülle erhalten und in die

neue Planung integriert werden sollte. Das Architektur büro

Foster + Part ners hatte bereits Bauten mit der speziellen

Problematik von Denkmalschutz und zeitgenössischer

Intervention realisiert – beispielsweise den Great Court des

British Museum oder den Berliner Reichstag – und war

daher nach Auffassung des Auftraggebers in besonderem

Maße für die Erweiterung des Hearst-Firmensitzes quali -

fiziert. Trotz der Zäsur, die die terroristischen Anschläge

2001 im Baugeschehen der Stadt New York verursachten,

ent schied man sich für die Weiterführung des Projektes,

sodass der Hearst Tower das erste Hochhaus war, das

nach diesem Datum fertiggestellt wurde.

Der Dialog zwischen Alt- und Neubau bestimmt den

Ent wurf. Die denkmalgeschützte Sandsteinfassade des

U-förmigen Basisbaukörpers wurde renoviert, das innere

Volumen entkernt. Über dem Bestandssockel ragt nun

ein gläserner Turm mit einem prägnanten Stahltragwerk

in den Himmel. Die Fassaden sind von einer Diagonal -

struktur aus Dreiecksrahmen gegliedert. Mit zurück -

springenden Ecken in Form von "Vogelschnäbeln" wird

die charak te ri stische Silhouette des Gebäudes noch

akzentuiert.

As the shell of Hearst building was placed under a

preser vation order in 1988, it was clear from the

outset that the old building had to be retained and

integrated into the new planning. Architects Foster +

Partners had an established track record handling the

special tasks associated with contemporary inter -

ventions into listed buildings – prime examples include

the British Museum's Great Court and the Berlin

Reichstag. In the opinion of the developer, the

company was especially well suited to conceptualise

the expansion of the Hearst corporate headquarters.

Despite the caesura in building activity in New York

in the wake of the 9/11 attacks, a decision was made

to continue the project, which had already been

started; thus, the Hearst Tower was the first high-rise

building to be completed after 9/11.

The design hinges on the dialog between the old and

the new building. The listed sandstone façade of

the U-shaped pedestal building was renovated, while

the interior was removed. Above this podium now

stands a tall glass tower, featuring a striking steel loadbearing

structure. The façades are structured by

diagrids (diagonal grid). The recessed corners, which

are shaped like birds' beaks, further highlight the

building's characteristic silhouette.

37
---
Internationaler Hochhaus Preis The International Highrise Award

Finalist 2008

Missing Matrix Building (Boutique Monaco)

Seoul, Südkorea South Korea

Architekten Architects

Mass Studies: Minsuk Cho, Kisu Park

www.massstudies.com

Bauherr Client

Bumwoo Development Co. Ltd + Leadway Co. Ltd

Grundstücksfläche Site area 4 285 m²

Grundfläche Ground footprint 1 713 m²

Nettogeschossfläche Net floor area 54 860 m²

Höhe Height 116,5 m

Fertigstellung Completion 2008

Nutzung Use Einzelhandel, Wohnungen

(172 Einheiten für Wohnen und Arbeiten)

Retail, residential (172 living/working units)

Die Architekten des Architekturbüros Mass Studies in

Seoul erforschen im Rahmen ihrer Mass-Matrix-Studien

neue Typologien für vertikale Gebäude in einer von

Massen produktion geprägten und hoch verdichteten

urbanen Landschaft. Seoul ist eine der am dichtesten

besiedelten Städte der Welt; immense homogene Stadt -

viertel mit immergleichen Apartmenttürmen sind das

Ergebnis einer jahrzehnte langen Ausrichtung auf vertikales

Wachstum. Seit dem Ende der 1990er Jahre wurden

hingegen Hochhäuser in den verschiedensten Stilab -

weichungen generiert, um, zumeist über Oberflächen -

ästhetik, neue Wahrzeichen im anonymen Umfeld zu

schaffen.

Mass Studies Architekten begannen, anhand der Grund -

einheit einer "Domino-Matrix" Alternativen für räumliche und

soziale Inhalte in diesem vom Markt bestimmten, dicht

bebauten Kontext zu entwickeln. Entsprechend einem

Brettspiel, bei dem Spielfiguren auf einem rechteckig

gefassten Spielbrett angeordnet werden, ist der architek -

tonische Spielraum der Domino-Matric es der vertikale

dreidimensionale Bereich, für den im Zuge der Unter -

suchung neue Regeln aufgestellt oder eine neue Spielart

erfunden werden können. Charakteristische kritische

Faktoren einer Wolkenkratzer-Landschaft wie Aussicht,

Belüftung und Belichtung sind Teil der Mass-Studies,

ebenso wie Bäume und Gärten als Elemente einer

vertikalen Naturlandschaft. Die Formulierung neuer privater

und öffentlicher Raumkomponenten soll die soziale

Interaktion stimulieren.

48

Lageplan Site plan

Architects from the Mass Studies architecture office in

Seoul are exploring new typologies for vertical

buildings in a mass-produced and high-density urban

setting, as part of their Mass Matrix studies. Seoul is

one of the world's cities with the very highest building

density; immense districts with identical apartment

towers that are the product of many decades of focus

on vertical growth. Since the end of the 1990s, by

contrast, high-rises have been created boasting a

broad variety of designs and styles in order to create

new landmarks in a homogeneous environment. Albeit

often only by concentrating on surface appeal.

The architects at Mass Studies took a domino matrix

as their basic element and began searching for

alternative spatial and social content in this decidedly

market-driven densely built setting. Like a board game

in which the figures are arranged on the board for the

start, vertical space functions as the architectural

scope of the domino matrices, and in the course of

the study new rules can be invented or new variants

of the game introduced. Characteristically critical

factors for a sky-rise city, such as the view, ventilation,

and illumination all play a role in the Mass Studies, as

do trees and gardens as elements of a vertical natural

world. The formulation of new private and public

spatial components is intended to stimulate social

interaction.
---
Internationaler Hochhaus Preis The International Highrise Award

Finalist 2008

Newton Suites

Singapur Singapore

Architekten Architects

WOHA, Singapur: Wong Mun Summ, Richard Hassell,

Chan Ee Mun, Ang Chow Hwee, Pham Sing Yeong,

Goh Soon Kim, Sabrina Foong

www.wohadesigns.com

Bauherr Client

UOL Group Limited

Grundstücksfläche Site area 3 843 m²

Grundfläche Ground footprint 1 537 m²

Nettogeschossfläche Net floor area 16 640 m²

Höhe Height 194 m

Fertigstellung Completion 2007

Nutzung Wohngebäude Use Residential building

Dieses 36-stöckige Gebäude ist ein Modell für umwelt -

freundliche Hochhäuser in den Tropen und integriert unter -

schiedliche nachhaltige Elemente in eine zeitgenössische

Konfiguration. Das Gebäude liegt am Rand einer

Hoch haus bebauung und unmittelbar vor einem höhenbe -

grenzten Bereich, der einen weiten Blick über die

Natur schutzgebiete erlaubt, ein seltener Luxus im dicht

besiedelten Singapur.

Die Außenhaut des Gebäudes nutzt Elemente zum Sonnen -

schutz, gemusterte Paneelstrukturen und vorspringende

Balkone, um eine funktionale und gleichzeitig prägnante

Fassade zu schaffen. Der horizontale Sonnenschutz aus

einem dehnbaren Metallgewebe filtert das starke tropische

Sonnenlicht. Er verhindert die Solareinstrahlung und

erlaubt gleichzeitig eine visuelle Verbindung zur Erde. Das

ausgezogene Gewebe sieht je nach Blickwinkel anders

aus und erscheint in einer Bandbreite von geschlossen bis

transparent. Dieser Aspekt, zusammen mit dem Schatten -

spiel und den sich überschneidenden Mustern von

Schatten und Gewebestruktur gibt dem Gebäude im

Verlauf der Tageszeiten ein fortwährend bewegtes,

unscharfes und wechselhaftes Aussehen. Die Schatten -

muster verändern auch das Aussehen der Vorsprünge der

Erkerfenster – Elemente, die aufgrund der Bauvorschriften

den Gewinn des Bauträgers erhöhen und bei Wohnungen

in Singapur standardmäßig eingesetzt werden – und

binden sie somit in die Sprache des Gebäudes ein.

54

This thirty-six-story development is a model for

environ mental solutions to tropical high-rise living

integrating several sustainable devices into a

contemporary architectural configuration. The building

sits at the edge of a high-rise zone and fronts a

height-controlled area that affords expansive views of

the central nature reserves; a rare luxury in densely

built Singapore.

The exterior of the tower uses sunshading elements,

patterned planes of textured panels and protruding

balconies to create a façade that is functional yet

distinctive. The horizontal, metal expanded mesh

sunshading screens the strong tropical sunlight. It

prevents insolation while permitting visual connection

to the ground. The angled expanded mesh changes

appearance with viewpoint, appearing anywhere

between solid and transparent. This, combined with

the cast shadows and interference patterns between

the shadows and the mesh, gives the building a

constantly shifting, blurred appearance depending on

the time of day. The layers of sunshading screens also

changes the reading of the projections of the bay

windows, a standard applied feature of Singapore

apartments due to their contribution to developer

profit and prescriptive regulations, embedding them in
---
Internationaler Hochhaus Preis The International Highrise Award

Finalist 2008

New York Times Building

New York, USA

Architekten Architects

Renzo Piano Building Workshop, Paris

www.rpbw.com

In Zusammenarbeit mit In collaboration with

FXFowle Architects, P.C., New York

Projektarchitekten Project Architects RPBW:

Renzo Piano, Bernhard Plattner, Erik Volz

Projektarchitekten Project Architects FXFowle:

Bruce Fowle, Daniel Kaplan

www.fxfowle.com

Bauherr Client

The New York Times Company/Forest City Ratner

Company, New York

Grundstücksfläche Site area 7 442 m²

Grundfläche Ground footprint 6 150 m²

Nettogeschossfläche Net floor area

ca. approx. 95.000 m²

Höhe Height 319 m

Fertigstellung Completion 2007

Nutzung Use Bürogebäude Office building

Demokratie, Offenheit, Transparenz – diese Grund -

prinzipien und Werte, für die die New York Times steht,

sollten auch die Architektur des neuen Hochhauses am

Times Square bestimmen, das der wohl wichtigsten

Tageszeitung der USA als neuer Firmensitz dient. Auch

nach dem Anschlag vom 11. September 2001 setzten

Bauherr und Architekten die Planung eines Gebäudes, mit

einer leichten, transparenten und zurückhaltenden An -

mutung fort, das auch für die Öffentlichkeit zugänglich sein

sollte.

Die Grundstruktur des schlank aufragenden Hochhauses

entstand aus dem Gedanken, das Gebäude in eine

Anzahl verschiedener Schichtungen aufzulösen. Die

Fassaden der Türme sind aus einer Kombination von

Vorhangfassaden aus Klarglas und vorgehängten Screens

aus schmalen, weißen Keramikröhren gebildet. Die

Keramiklayer haben die Funktion eines energieeffizienten

Sonnenschutzes und lassen das Leben der Stadt wie

durch einen Filter einsickern. In der Fassadenschichtung

von außenliegender Stahlkonstruktion, Klarglas und glatter

Keramik werden die Nuancen und Farben des New Yorker

Lichts eingefangen und reflektiert; bei entsprechenden

Lichtverhältnissen legen sie sich wie ein Weichzeichner

um das Gebäude.

60

Grundriss 1. Obergeschoss First floor plan

Democracy, openness, transparency – these are the

fundamental principles and values for which The New

York Times stands. Therefore, it was only logical that

the new high-rise on Times Square, destined to be the

new corporate home to what is probably the most

important newspaper in the United States, was meant

to reflect these principles, as well. Even after the 9/11

attacks, the developer and the architects continued

working to plan a building that was light, transparent

and restrained.

The basic structure of the slender and very tall highrise

stems from the idea of resolving the building into

a number of layers. The towers' façades are formed

from a combination of clear-glass curtain walls and

screens made of thin white ceramic tubes. The

ceramic layers function as an energy-efficient solar

protection, so that urban life outside enters the room

as if through a filter. The layering of the façades (outer

steel structure, clear glass, and smooth ceramics)

captures and reflects all the nuances and colors of

New York light, and when the light is right bathes the

building in softness.
---
Internationaler Hochhaus Preis The International Highrise Award

Finalist 2008

TVCC – Television Cultural Center

Peking Beijing, China

Architekten Architects

Office for Metropolitan Architecture Rotterdam/Beijing

www.oma.eu

Verantwortliche Partner Responsible partners:

Ole Scheeren und and Rem Koolhaas

Projektarchitekten Project architects: Charles Berman,

David Chacon, Erez Ella, André Schmidt

Projektmanager Project manager: Dongmel Yao

Bauherr Client: China Central Television (CCTV)

Grundstücksfläche Site area

4 ha TVCC-Grundstück; 4 ha TVCC site;

20 ha gesamte Grundstücksfläche 20 ha total site

(CCTV Headquarters)

Das TVCC — Television Cultural Center liegt im östlichen

Teil von Peking, mitten im Herzen des neuen Central

Business District. Es ist eines von drei Gebäuden des

Pekinger Prestigeprojektes China Central Television

Headquarters und wurde zur Olympiade 2008 offiziell

eröffnet. Als Antagonist zum spektakulären Haupt -

produktions- und Bürogebäude CCTV wurde das kleinere

TVCC mit einer einfacheren Struktur, aber einer komplexen

Geometrie realisiert. Unter seinem charakteristischen Dach

birgt das TVCC nicht nur Fernsehstudios und ein Hotel,

sondern auch alle öffentlichen Bereiche des Projektes, die

auf den ersten vier Ebenen in Boxen übereinander

gestapelt sind und einen urbanen Mikrokosmos bilden: ein

Theater für 1500 Personen, Tonaufnahmestudios, digitale

Kinos, Nachrichtenstudios. Der Standort der Boxen erfolgt

zum einen aus den Anforderungen der verschiedenen

Funktionen, wird aber auch aus dem Piranesi-Bildmuster

abgeleitet, das der ganzen Anlage zugrunde liegt.

Während die Funktionen in den abgeschlossenen

Boxen wie Räume in einem Haus wirken, erscheinen die

Lobbies, das Theaterauditorium und der Hoteleingang

wie öffentliche Räume in einer Stadt. Das Theater kann

mit einer beweglichen Wand geöffnet werden, sodass

die klassische Trennung von Foyer, Auditorium und Bühne

aufgehoben wird. Da jeder Bereich sowohl als Bühne

als auch als Auditorium nutzbar ist, kann die Bühne je

nach Bedarf immer wieder neu positioniert werden.

66

Grundfläche Ground footprint 10 245 m²

Nettogeschossfläche Net floor area 78 000 m²

Höhe Height 159 m

Fertigstellung Completion 2008

Nutzung Use

Theater, Großleinwand-Kinos, Fernsehstudios,

Ausstellung, Hotel

Theater, big-screen cinemas, TV studios,

exhibition space, hotel

Television Cultural Center (TVCC) is located in the

eastern part of Beijing, right in the heart of the new

Central Business District. It is one of three buildings of

the Beijing prestige project China Central Television

Headquarters scheduled to open officially for the

Olympic Games 2008. Designed as an antagonist to

the spectacular main production and office building

CCTV, the smaller TVCC is structurally simpler but

geometrically complex. Under a characteristic roof the

building not only houses TV studios and a hotel but

also all the public areas of the project, located in the

first four levels and distributed into different boxes, so

that an urban microcosm is generated inside: a 1500seat

theater, audio recording studios, digital cinemas,

and news studios. The location of the boxes follows

the requirements of the individual functions, but is

also derived from the Piranesi pattern underlying the

whole site.

While the main spaces of each program in the

enclosed boxes are similar to residual spaces, the

lobbies, theatre auditorium, and the hotel drop-off

shall be understood as public spaces in a city. The

classical separation of the foyer, auditorium, and stage

can be eliminated by opening the dividing movable

panels to combine all spaces into one large entity.

Since the use of every area as a stage or auditorium is

flexible, the theater can be repositioned by the

multiple usage of this space.
---
Internationaler Hochhaus Preis The International Highrise Award

Besondere Anerkennung 2008 Special Recognition 2008

WestendDuo

Frankfurt am Main Deutschland Germany

Architekten Architects

KSP Engel und Zimmermann: Jürgen Engel, Martina

Lasse, Uwe Mehring, Ulf Gatzke-Yu, Jong-A Yu,

Thomas Busse, Zlatka Damjanova, Ragorn Potiwihok,

Anke Wünschmann, Daniel Arfeller, Oliver Burk, Bitoria

Vasquez-Roiz, Marc Höricht, Johannes Eichelberger

www.ksp-architekten.de

Bauherr Client

Hochtief Projektentwicklung GmbH

Grundstücksfläche Site area 7 066 m²

Grundfläche Ground footprint Hochhaus High-rise

1 176 m² ; Untergeschoss Basement 1 728 m²

Nettogeschossfläche Net floor area Hochhaus High-rise

20 200 m²; Untergeschoss Basement 10 850 m²

Fertigstellung Completion 2006

Nutzung Use Bürogebäude mit öffentlichem Restaurantund

Barbereich Office building with public restaurant

and bar area

Das WestendDuo an der Bockenheimer Landstraße ist

gemessen an seiner Höhe von nur 96 Metern eines der

kleineren Hochhäuser in Frankfurt. Die beiden Türme

nehmen die Stadtraster des Frankfurter Westends auf, die

an der Bockenheimer Landstraße aufeinander treffen.

Leicht konvexe Fassaden erzeugen eine dynamische

Wirkung entlang der Gebäudelängsachse; aufrecht

stehende Fassadenelemente fassen zwei Stockwerke zu

einer Einheit und lassen die Türme schlank und elegant

wirken.

Das Erdgeschoss als öffentlicher Raum mit Foyer, Bars

und Restaurant erweitert den Stadtraum und setzt das

Gebäude in Beziehung zu seiner Umgebung. Der alte

Baumbestand auf dem Vorplatz blieb unberührt, sodass

der Eindruck eines parkähnlichen Grundstücks erhalten

blieb.

Die Erschließung der oberen Geschosse erfolgt von dem

zentralen Foyer im ersten Obergeschoss. Von hier aus

werden die zwischen den Bürohausscheiben gelegenen

Foyers der darüber liegenden Etagen über Fahrstühle

erreicht. Ein Miet-Konferenzbereich erweitert die Funk -

tionen des Foyers zu einem hausinternen meeting point.

Um flexibel auf zukünftige Nutzerwünsche eingehen zu

können, ist der Neubau für verschiedene Mietkonstel -

lationen konzipiert. Die Positionierung der Erschließungs -

kerne und die stützenfreien Innenräume ermöglichen

sowohl die kleinteiligere Unterteilung und Vermietung von

bis zu vier Einheiten pro Etage als auch die Realisierung

unterschiedlicher Bürolandschaften vom Großraum über

Teambereiche bis zum Zellenbüro.

72

Judged by its height of just 96 meters, the WestendDuo

on Bockenheimer Landstrasse is one of Frankfurt's

smaller high-rises. The two towers adopt the urban

grids of the Westend district of Frankfurt, which meet

on Bockenheimer Landstrasse. The slightly arched

façades add momentum to the shape; vertical façade

elements transform two stories into a single unit,

emphasizing the slender elegance.

The publicly accessible ground floor boasts a

restaurant and bars, upgrading the building and the

surroundings. The mature trees on the forecourt were

left untouched so that the park-like piece of land was

preserved.

The upper stories are accessed from a central foyer

on the first floor. From here elevators reach the foyers

located between the two towers on the levels above.

A conference area enhances the foyer's functionality,

making it a meeting point for the building in general.

In order to be flexible in its response to future user

needs, the new building has been designed to

accommodate different tenant configurations. The

positioning of the access shafts and the inside rooms,

which are pillar-free, enables the rental of smaller

sections of up to four units per floor, as well as the

creation of a variety of office configurations, from

open-plan systems and team rooms, to single-person

offices.