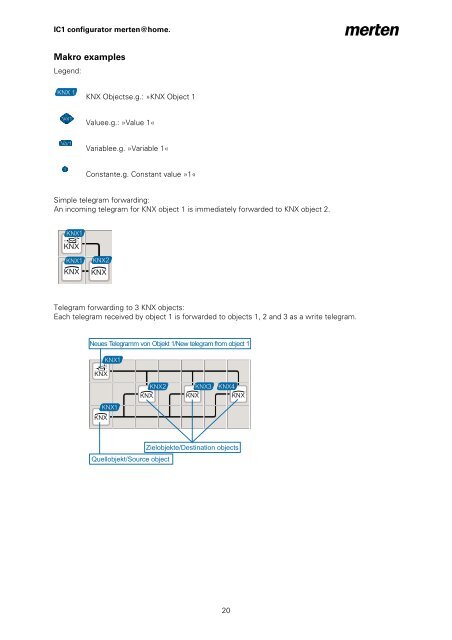 IC 1 Konfigurator merten@home IC 1 Konfigurator merten@home
IC1 configurator merten@home.

Makro examples

Legend:

KNX 1

KNX Objectse.g.: »KNX Object 1

Valuee.g.: »Value 1«

Variablee.g. »Variable 1«

Constante.g. Constant value »1«

Simple telegram forwarding:

An incoming telegram for KNX object 1 is immediately forwarded to KNX object 2.

KNX EIB1

KNX

KNX EIB1 KNX EIB2

KNX KNX

Telegram forwarding to 3 KNX objects:

Each telegram received by object 1 is forwarded to objects 1, 2 and 3 as a write telegram.

Neues Telegramm von Objekt 1/New telegram from object 1

KNX

KNX EIB1

KNX EIB1

KNX

Quellobjekt/Source object

KNX EIB2 KNX EIB3 KNX

EIB4

KNX

KNX

KNX

Zielobjekte/Destination objects

20
Weitere Magazine dieses Users