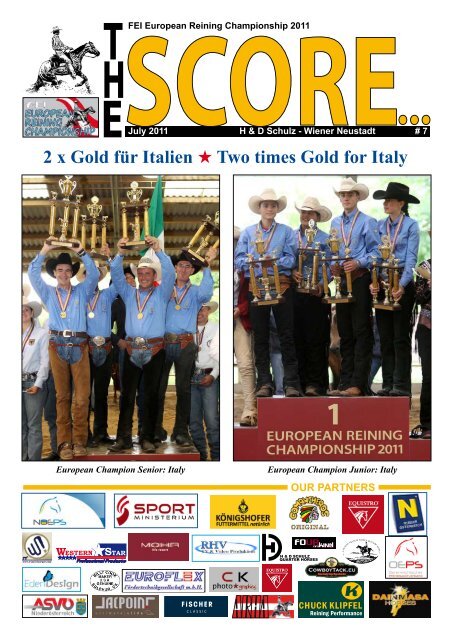 7 - Western Star
7 - Western Star
7 - Western Star
MEHR ANZEIGEN
WENIGER ANZEIGEN
Erfolgreiche ePaper selbst erstellen
Machen Sie aus Ihren PDF Publikationen ein blätterbares Flipbook mit unserer einzigartigen Google optimierten e-Paper Software.
FEI European Reining Championship 2011July 2011 H & D Schulz - Wiener Neustadt # 72 x Gold für Italien H Two times Gold for ItalyEuropean Champion Senior: ItalyEuropean Champion Junior: ItalyOUR PARTNERS
---
Foreword by the FEI PresidentOn behalf of the Fédération Equestre Internationale,it gives me great pleasure towelcome you to the FEI European ReiningChampionships for Seniors, Young Ridersand Juniors 2011 at Wiener Neustadt, Austria.Some time ago there were already 10nations listed to start in this event whichwill showcase the top European athletesand horses in this popular and ever-growingsport.At Kreuth in Germany two years ago it wasthe host nation that dominated the teamevents when taking gold in both the Seniorand Young Riders Championships whileItaly claimed the Junior team honours.However the Italians were double-winnersin the individual competitions, with gold inboth the Junior and Young Rider divisions,leaving Germany's Nina Lill to clinch theSenior title.Senior athletes must achieve a minimumscore in order to qualify for these Championshipsas either an individual or teammember, and we can expect competition ofthe highest calibre over the next few days.The German team may prove difficult tobeat as they strive for their fourth teamgold but the opposition is expected to putthem under plenty of pressure and they willneed to perform their "patterns" to perfectionif they are to succeed.I wish all the competitors the very best ofluck ahead of this great week of sport.And to the organisers, officials, supporters,horse-owners, spectators and the manyvolunteers without whose help this eventcould not take place, I send my best wishesfor a thoroughly enjoyable Championshipfixture, conducted in a spirit of comradeshipand horsemanship.h h h h h hIm Namen der Fédération Equestre Internationaleheiße ich Sie ganz herzlichwillkommen zur FEI EuropameisterschaftReining in Wiener Neustadt. 10 Nationengehen bei diesem Event an den <strong>Star</strong>t, darunterdie besten Pferde und Reiter Europas.Bei der letzten EM in Kreuth ging die Goldmedaillebei den Senioren (Mannschaftund Einzel) und bei den Jungen Reiternan Gastgeber Deutschland. Italien errangMannschaftsgold bei den Junioren sowieEinzelgold bei den Jungen Reitern.Uns erwarten in den nächsten Tagen spannendeWettkämpfe und sicherlich herausragendeRitte. Das deutsche Team wird allesdaran setzen, zum vierten Mal Gold mitder Mannschaft zu erringen. Sie muss sichjedoch hochkarätiger Konkurrenz stellen;der Druck wird ungeheuer groß sein.Ich wünsche allen Teilnehmern viel Erfolgin dieser Woche.Den Organisatoren, Offiziellen, Pferdebesitzern,Sponsoren und Zuschauern sowieden vielen Freiwilligen, ohne die diesesEvent nicht möglich wäre, sende ich diebesten Wünsche für eine gelungene Europameisterschaft,die ganz im Sinne vonKameradschaft, Fairness und Horsemanshipsteht.HRH Princess HayaFEI PresidentForeword by the OEPS PresidentLiebe Pferdesportfreunde,im Namen des Österreichischen Pferdesportverbandsdarf ich Sie herzlich zu denFEI European Reining Championships derallgemeinen Klasse, Jungen Reiter undJunioren in Wiener Neustadt willkommenheißen. Von 26. bis 28. Juli 2011 geht imschönen und gepflegten <strong>Western</strong> TrainingCenter H&D Schulz die Post ab. Das Whoist Who der internationalen Reiningszenegibt sich ein Stelldichein und Zuseher erwartetein Pferdesporterlebnis der Extraklasse.Es wird spannend, ob die deutscheMannschaft ihre Erfolge der vergangenenEM in Kreuth 2009 wiederholen kannoder ob andere Nationen punkten werden.Wer die Hausherrn und das fleißigeTeam rund um Gerda Langer kennt weiß,dass das Turnier perfekt organisiert ist undkeine Wünsche bei Teilnehmern, Pferdenund Fans offen bleiben. An dieser Stelleein großes Dankeschön an die gesamteOK-Mannschaft sowie an die zahlreichenfreiwilligen Helfer im Hintergrund. Ohneihr großartiges Engagement wären Eventsdieser Größenordnung in Österreich nichtdurchführbar.Ich drücke allen Reitern die Daumen. Mögendie Besten gewinnen. Ihnen, liebe Besucher,wünsche ich viele spannende Wettbewerbeund gute Unterhaltung.Mit Sportlichen GrüßenDear Horse Loversh h h h h hon behalf of the Equestrian Association ofAustria, I'd like to welcome you in WienerNeustadt to the FEI European ReiningChampionships of Senior, Junior andYoung Riders. From July 26 until 28, 2011beautiful <strong>Western</strong> Training Center H&DSchulz is the showcase of top quality reinings.The Who is Who of internationalreining is there presenting a very specialhorse event to visitors. We will see whetherthe German team that earned team and individualgold in 2009, will be able to repeattheir success – or whether one of the othernations will be able to claim the prestigioustitle. Those who know the owner and hostof this facility as well as the professionalteam of Gerda Langer, also know that thisis going to be another perfectly organizedshow for exhibitors, horses and fans. A bigthank you to all of the organizing team aswell as all the helpers in the background.Without their dedication and great job theyare doing, an event of this size could not bemanaged in Austria.Good luck to all the riders – may the besthorse and rider win. And to you, dear visitors:great fun with this spectacular sport.Kind regards,Elisabeth Max-TheurerOEPS President
---
Foreword by the NRHA Executive DirectorOn behalf of the NRHA, I would like to welcomeall the exhibitors, owners and spectatorsto the 2011 FEI European ChampionshipShow! It is wonderful to return to thisfantastic facility and I would like to extenda special thank you to Helmut Schulz andhis team for organizing such a tremendousevent. I would also like to express our appreciationto all the show sponsors for makingthis event a memorable success.Reining has grown substantially around theworld in recent times and Europe has beenat the heart of that success. We appreciatethe members and National Affiliates for alltheir support and enthusiasm for the Sport.In addition, I would like to express our gratitudeto the FEI for their continued dedicationin promoting the sport of Reining.h h h h h hIm Namen der NRHA begrüße ich alle Teilnehmer,Besitzer und Zuschauer zur FEIEuropameisterschaft 2011! Es ist schön,wieder auf dieser fantastischen Anlage zuGast zu sein, und ich möchte mich ganzherzlich bei Helmut Schulz und seinemTeam für die Organisation dieses großenEvents bedanken. Unser besonderer Dankgebührt den Sponsoren, die maßgeblichzum Gelingen dieser Veranstaltung beitragen.Reining verzeichnet weltweit beachtlicheZuwächse, und Europa ist immer schon dasHerz dieses Erfolges gewesen. Wir bedankenuns bei den Mitgliedern und den NationalAffiliates für ihre Unterstützung undden Enthusiasmus, den sie diesem Sportentgegenbringen. Gleichzeitig möchte ichmich bei der FEI für die Promotion desReiningsports bedanken.Dan WallNRHA Executive DirectorDank an unsere Sponsoren!Wir danken allen Sponsoren der FEI Reining Europameisterschaft. Ohneihre Hilfe wäre ein Event dieser Größenordnung nicht zustande gekommen.Chuck Klipfel Reining PerformanceDainmasa HorsesCowboy TackEquistroASVÖ NiederösterreichÖsterreichischer PferdesportverbandNÖ PferdesportverbandNiederösterreichische LandesregierungSportministerium<strong>Western</strong> <strong>Star</strong>HPJ EichbergerAustrian <strong>Western</strong> Riding Assoc.FUTURITY PROSPECTSvonJAC O RIMA & SMARTINFor sale all the time!H & D SCHULZQUARTER HORSES& 0664 45 34 726www.westernstar.at
---
OfficialsPresidentShow SecretaryGround Jury - JudgesPresidentMember – JudgeEquipment JudgeTechnical DelegateAppeal CommitteePresidentMemberFEIFEI CoordinatorChief StewardFEI Veterinary DelegatePresidentVeterinary CommissionPress OfficeGraphic DesignSpeakerFotoVideoFarrierShow VeterinarianMedical ServiceSecurityOrganising CommitteeHelmut Schulz/AUTGerda Langer/AUTRalf Hesselschwerdt/GERRicky Bordignon/ITADr. Hilde Jarc/AUTFrancois Zurcher/SUIRick Lemay/SWETomas Barta/CZEDan Wall/USARaymond Grether/NEDNick Cornelissen/BELIvonne Stückler/AUTIan Williams/GBRDirector Non-Olympic Sports DepartmentTammy Thill/LUXFrank Spadinger/AUTDr. Constanze Zach/AUTDr. Claudia Haidbauer/AUTDr. Michael Schöberl/GERRamona Billing/GEREric Andics/AUTBoris Kook/GERCK Photographics Christian Kellner/AUTRHV TV & Video ProduktionRoland Hahn/GERJürgen Rothmanner/AUTDr. Frauke Gitz/AUTDr. Karl Lorber/AUTRotes Kreuz Wr. Neustadt/AUT<strong>Western</strong> <strong>Star</strong> Team/AUTAustrian Reining Horse AssociationZeitplan/Schedule26. Juli, Dienstag/Tuesday 10:00-13:30 Comp. 1 Junioren TeamSiegerehrung/Award Ceremony15:00-18:30 Comp. 2 Senioren TeamSiegerehrung/Award Ceremony20:00 Eröffnungsparty/Opening Party27. Juli, Mittwoch/Wednesday 10:00-13:30 Comp. 3 Young Rider TeamSiegerehrung/Award Ceremony17:00-18:30 Comp 4. Consolation Run20:00 Exhibitor Party28. Juli, Donnerstag/Thursday 09:30-12:00 Comp. 5 Juniors IndividualSiegerehrung/Award Ceremony13:30-16:00 Comp. 6 Young Rider IndividualSiegerehrung/Award Ceremony17:30-20:00 Comp. 7 Senior IndividualSiegerehrung/Award Ceremony20:00 End of the Show Party29. Juli, Freitag/Friday 08:00 NRHA Show20:00 Party & Life Music30. Juli, Samstag/Saturday 08:00 NRHA Show20:00 Party & Life MusicEigentümer, Herausgeber und Verleger: <strong>Western</strong> Training Center <strong>Western</strong> <strong>Star</strong>, Günserstraße 280, 2700 Wr. Neustadt. info@westernstar-hd.comwww.westernstar.at Redaktion: Ramona Billing, Ivonne Stückler; Artwork: Eric Andics; Fotos:CK photoHgraphics Christian Kellner & Susanne Lhotka;Show Office: Gerda Langer, Astrid Poandl & AWA Team.
---
Die Richter H The JudgesRicky Bordignon (ITA)Ricky Bordignon kommt aus Vicenza, Italien. Der AQHA Professional Horseman hat selbst viele Pferdezum internationalen Erfolg geführt, darunter 15 European Champions in Reining, Cutting, WorkingCowhorse und <strong>Western</strong> Pleasure, Futurity und Derby Champions Ltd Champion in Italien, AQHA ItalianChampion Jr. und Sr Reining, Finalist Italian Reining Futurity 2007 und Italian Reined Cow Horse FuturityOpen 2007 und AMERICANA 2010 Reserve Champion NRHA Ltd Open und European ChampionNRHA Freestyle Open. Ricky Bordignon hat die Richterkarten der AQHA, NRCHA A1, NSBA, NRHA,FEI und NCHA AA.Ricky Bordignon operates the Ongaresca Ranch in Vicenza, Italy. He is an AQHA Professional Horsemanwith lots of international accomplishments including 15 European Champions in Reining, Cutting,Working Cowhorse and <strong>Western</strong> Pleasure, Italian Futurity und Derby Champions Ltd Champion, AQHAItalian Champion Jr. and Sr Reining, Italian Reining Futurity and Italian Reined Cow Horse FuturityOpen finalist 2007 and AMERICANA 2010 Reserve Champion NRHA Ltd Open and European ChampionNRHA Freestyle Open. Ricky Bordignon is an AQHA, NRCHA A1, NSBA, NRHA, FEI and NCHA AAjudge.Ralf Hesselschwerdt lebt in Zwingenberg an der hessischen Bergstrasse. Der Diplom Ingenieur fürArchitektur und Homöopath ist dem <strong>Western</strong>reitsport seit über 20 Jahren verbunden. Er hat die Richterkartender NRHA, AQHA und FEI. Zu den von ihm gerichteten Turnieren zählen die FEI WEG in Jerez2002, Aachen 2006, Lexington 2010, die NRHA Futurity USA 2007, das Italian Reining Derby undMaturity, die NRHA European Affiliate Championships, das WRC Mooslargue, Tumbleweed Challengeund viele mehr.Ralf Hesselschwerdt comes from Zwingenberg. He is an engineer for architecture as well as a specialistof homoeopathy. Dedicated to western riding for more than 20 years now, he has got the NRHA, AQHAand FEI card and judged major events like the FEI WEG in Jerez 2002, Aachen 2006, Lexington 2010,NRHA Futurity USA 2007, the Italian Reining Derby and Maturity, NRHA European Affiliate Championships,WRC Mooslargue, Tumbleweed Challenge and many more.Ralf Hesselschwerdt (GER)Dr. Hilde Jarc (AUT)Dr. Hilde Jarc ist seit etwa 40 Jahren in fast allen Sparten des Reitsports aktiv. Ihr größter sportlicherErfolg war der Europameister Titel im Distanzreiten 1985. Die Chemikerin ist hauptberuflich im Gesundheitsministeriumtätig und war mehr als 20 Jahre lang Referentin für <strong>Western</strong>reiten in der österreichischenFN bis zur Aufnahme der Reining durch die FEI. Sie hat die NRHA und FEI Richterkarteund richtete u.a. die NRHA European Affiliate Championship 2007 sowie NRHA Shows und CRI inÖsterreich, Tschechien, Belgien und Dänemark.Dr. Hilde Jarc has been dedicated to almost all disciplines of riding for almost 40 years now. She wasan European Champion long distance riding in 1985 herself. She is a chemist who works for the AustrianMinistry of Health. For more than 20 years, Dr. Hilde Jarc worked as an advisor for western riding inthe Austrian National Federation. As an NRHA and FEI judge, her accomplishments includethe 2007NRHA European Affiliate Championship as well as NRHA shows and CRI in Austria, Belgium, Denmarkand the Czech Republic.Rick Lemay kommt aus Angelholm in Schweden. Der Profitrainer war unter anderem fünf Mal HighPoint Open Rider Scandinavian Reining Horse Assoc. und trainierte und showte viele Pferde zum Internationalhigh point reining horse, zum Swedish Champion Reining und zum AQHA World Show Reiningqualifier. Lemay ist seit vielen Jahren als AQHA, NRHA und FEI Richter und hat viele nationale undinternationale Turniere gerichtet.Rick Lemay is from Angelholm in Sweden. He is an AQHA approved judge since 2003 as well as anexperience NRHA and FEI judge. This accomplishments include five time high point open rider ScandinavianReining Horse Assoc.; International high point reining horse – '96, '98, '99, '00, '01; SwedishChampion Reining – '96 – '02; AQHA World Show Reining qualifier – '96-'00 & '02. Rick Lemay hasjudged numerous top national and international events.Rick Lemay (SWE)Francois Zurcher (SUI)Francois Zurcher kommt aus Genf in der Schweiz. Der selbständige Steuerberater und Rechnungsprüferist seit vielen Jahren als NRHA und FEI Richter tätig. U.a. hat er die NRHA Futurity USA (Oklahoma)gerichtet, die Belgium und French Futurity, das Italian Derby and Maturity, die NRHA EuropeanFuturity und die NRHA European Affiliate Championship, das CS Classic, die FEI European ReiningChampionship, die FEI World Reining Championship, das World Reining Masters, die Reining WorldFinals und viele CRI.Francois Zurcher is self employed as an accountant and tax adviser in Geneva, Switzerland. He is anexperienced NRHA and FEI judge. His major shows include the NRHA Futurity USA (Oklahoma), theBelgium and French Futurity, Italian Derby and Maturity, NRHA European Futurity and NRHA EuropeanAffiliate Championship, CS Classic, FEI European Reining Championship, FEI World ReiningChampionship, World Reining Masters, Reining World Finals and other miscellaneous CRI 1, 2, 3 and 4 *.
---
FEI Europameisterschaft Reining 2011 in Wiener Neustadt:Italien wird Europameister bei den JuniorenSilber für Deutschland vor den NiederlandenGastgeber Österreich verpasst knapp MedaillenrängeDer Mannschaftswettkampf der Juniorenbildete den Auftakt der FEI EuropameisterschaftReining 2011 in Wiener Neustadt.30 junge Reiterinnen und Reiteraus zehn Nationen traten gegeneinanderan. Überlegener Sieger wurde schließlichdie italienische Mannschaft bestehend ausSara Ambrosini mit Maxplease, Lara Lorengomit BH Shot O Lon, Nicolo Borettimit Sun Olenas Red Chicka und GiovanniMasi mit Remins Remedy. Mit insgesamt643 Punkten verwiesen sie Deutschlandauf den zweiten Platz (628,5), gefolgt vonden Holländern (616,5 Punkte). Mit 614Punkten verpasste die lange führende österreichischeMannschaft schließlich ganzknapp die Medaillenränge.Alisa Müller (GER) und Sparkling Cieloverschafften als sechste <strong>Star</strong>ter mit einem211er Score dem deutschen Team eine guteAusgangsposition. Der Score sollte langeZeit Spitze bleiben, bis Nicolo Boretti als19. <strong>Star</strong>ter einen Top Ritt hinlegte, wobeier insbesondere bei den Spins und Stopsplussen konnte. 216 war das Ergebnis.Alissa Leloux (NED) und Little Smart Jameenfolgten kurz darauf und sorgten miteiner 213 für den besten Ritt der NiederländerJunioren. Fabienne Krämer (GER)und ihre Stute Little Roosters Gal setztenals letzte deutsche <strong>Star</strong>ter noch mal allesauf eine Karte, und die Bronzemedaillengewinnerinvon 2009 enttäuschte nicht.210,5 gab es für die beiden, was schließlichfünftbester Ritt sein sollte. Doch Italienhatte mit Giovanni Masi noch mit einemsehr starken letzten Reiter aufzuwarten, dersich auch nicht scheute, auf volles Risikozu gehen. Er und sein American QuarterHorse-Hengst Remins Remedy konnten inpraktisch jedem Manöver Pluspunkte sammelnund beendeten ihren Ritt schließlichmit einer 220. Damit stand Gold für ItalienSilber Medaille für Deutschland / Germany claimed the silver medalNiederlande holen Bronze / bronze for the Netherlandsfest, das zudem auch im Einzelfinale amDonnerstag mit vier Reitern vertreten ist."Ich freue mich riesig über unseren Erfolg",strahlte Italiens Coach Filipo Masinach der Siegerehrung. "Ich wusste, dassich vier gute Reiter im Team habe, aber bisauf Giovanni waren alle anderen noch unerfahren.Zudem war Deutschland wiedersehr stark aufgestellt. Ich habe unsere beidenbesten Pferde für den Schluss aufgeho-Silver: GermanyAlisa Müller / Sparklin CieloSofie Eckebrecht / Guns Red ObsessionSabrina Baumgärtner / Top On CutieFabienne Krämer / Little Roosters GalFEI European Championship 2011Junior Team CompetitionGold: ItalySara Ambrosini / MaxpleaseLara Lorengo / BH Shot O LonNicolo Boretti / Sun Olenas Red ChickaGiovanni Masi / Remins RemedyBronze: The NetherlandsFamke Alegra / BQ Fancy <strong>Star</strong>letMegan Schmidt / Great Kid WhizTrudy Van der Plas / Twist N FrecklesAlissa Leloux / Little Smart Jameen
---
High Score: Giovanni Masi & Remins Remedy: 220ben, und diese Strategie ging voll auf."Die deutsche Mannschaft bestehend ausAlisa Müller mit Sparklin Cielo, SofieEckebrecht mit Guns Red Obsession, SabrinaBaumgärtner mit Top On Cutie undFabienne Krämer mit Little Roosters Galerrangen die Silbermedaille. BundestrainerKay Wienrich war sehr zufrieden mit denLeistungen der deutschen Junioren: "Allehaben ihre Sache wirklich gut gemacht. Ichfreue mich sehr - schließlich hatten wir dreijunge Reiterinnen dabei, die noch keineEM-Erfahrung hatten. Und alle vier habenes ins Einzelfinale geschafft."Bronze ging an die Niederlande: FamkeAlgera mit BQ Fancy <strong>Star</strong>let, MeganSchmidt mit Great Kid Whiz, Trudy Vander Plas mit Twist N Freckles und AlissaLeloux mit Little Smart Jameen. "Ich bineinfach nur glücklich", sagte TrainerinRieky Young begeistert zum Erfolg ihrerJunioren. "Sie waren fantastisch, vor allemwenn man bedenkt, dass es doch eine sehr'grüne'Mannschaft war."Damit stehen die Teilnehmer fürs Einzefinalefest. Österreich wird mit vier ReiternAlissa Leloux, NEDim Finale vertreten sein: Marina Bottoli, diemit Jac Little Lena den sechstbesten Rittdes Mannschaftswettkampfes hatte (Score210), Viktoria Seekircher, Julia Gaupmannund Janine Petschnig. Für die Niederlandegehen Alissa Leloux (drittbester Score213!), Megan Schmidt, Famke Algera undTrudy van der Plas an den <strong>Star</strong>t. Die weiterenEinzelfinalisten sind Jorrit Heidbuchel(BEL), Lukasz Czechowicz und Anna Deredowska(beide POL), Morgane Cheveux(FRA), Brenda Lesniczakova und TamaraKorseova (beide CZE).2011 FEI European Reining Championships in AustriaItaly claims Team Gold in Junior Division - Silver forGermany, Bronze for the NetherlandsThe 2011 European Reining Championshipsin Wiener Neustadt started with theteam competition in the Junior division –an outstanding presentation of 30 Juniorriders from ten nations. In the end, teamItaly claimed the gold medal: Sara Ambrosiniriding Maxplease, Lara Lorengo ridingBH Shot O Lon, Nicolo Boretti ridingSun Olenas Red Chicka and Giovanni Masiriding Remins Remedy scored a total of643 points. Germany earned the silver medal(628.5) with The Netherlands earningbronze (616.5). Host nation Austria whichhad been leading for quite some time onlymissed the medal ranks by 2.5 points (totalscore 614).As sixth rider, Alisa Müller (GER) andSparkling Cielo scored a 211 for Germanywhich stayed highscore for quite sometime. Then Nicolo Boretti from Italy rodeSun Olenas Red Chicka to a great 216,earning plus points especially for his finespins and stops. Alissa Leloux (NED) andLittle Smart Jameen followed some riderslater scoring a 213 for the Dutch Juniors.The last German rider Fabienne Kramer(GER) and her mare Little Roosters Gal,who had already won Bronze at the 2009FEI EC, scored a 210.5 for Germany. ButItaly still had one very strong rider left:Giovanni Masi and his American QuarterHorse stallion Remins Remedy riskedeverything. The two collected plus points inalmost any maneuver scoring a 220 in theend – the junior competition's high score!This was the team gold medal for Italy,which also has got four riders in the individualfinal."I'm so glad about our success," Italy'scoach Filipo Masi said after the awardpresentation. "I knew I had four good ridersin the team, but with the exception ofGiovanni, they had no experience in suchan event. Also, Germany was a tough competitoragain with a strong team. I savedour two horses until the end of the competition,and that strategy worked."The German team consisting of Alisa Müllerriding Sparklin Cielo, Sofie Eckebrechtriding Guns Red Obsession, SabrinaBaumgärtner riding Top On Cutie and FabienneKramer riding Little Roosters Galclaimed team silver. The German trainerKay Wienrich was more than pleased withwhat his Juniors had achieved: "They alldid a great job. I'm especially glad as wehad three young and inexperienced ridersin the team. And all four made it to the individualfinal. "Bronze went to The Netherlands: FramkeAlgera Famke riding BQ Fancy <strong>Star</strong>let,Megan Schmidt riding Great Kid Whiz,Trudy Van der Plas riding Twist N Frecklesand Alissa Leloux riding Little SmartJameen. "I'm simply happy," said theirtrainer Rieky Young. "We had a rathergreen team, and they were fantastic!"Alltogether the top 20 of the team competitionmade it to the individual final (minimumscore: 199.5). Austria will have fourriders there: Marina Bottoli, who highscoredfor the Austria team with Jac LittleLena (Score 210), Viktoria Seekircher, JuliaGaupmann and Janine Petschnig. Forthe Netherlands, Alissa Leloux (third bestscore 213!) and Megan Schmidt will bein the final, the other finalists being JorritHeidbuchel (BEL), Lukasz Czechowicz andAnna Deredowska (both POL), MorganeCheveux (FRA), Brenda Lesniczakova andTamara Korseova (both CZE).
---
FEI Europameisterschaft Reining 2011 in Wiener NeustadtAuch bei den Seniors:Gold für Italienische MannschaftDeutschland holt Silber, Österreich BronzeRudi Kronsteiner und Giuseppe Prevosti auf Platz 1 nach VorlaufCongratulations to the winning Teams!Zum zweiten Mal am gleichen Tag ertöntebei der FEI Europameisterschaft Reining inWiener Neustadt die italienische Nationalhymne:nach Gold bei den Junioren wurdeItalien Mannschaftseuropameister. Mitinsgesamt 662,5 Punkten setzten sie sichgegen Deutschland (Silber mit 656,5 Punkten)und Gastgeber Österreich (Bronze mit652,5 Punkten) durch. Frankreich wurdemit einer 647 Vierte vor Belgien (640) undder Schweiz (632,5).Der Mannschaftswettkampf in der SeniorDivision war sicherlich einer der spannendstenin der Geschichte der EM. TitelverteidigerDeutschland, Italien, Österreich,Belgien, Frankreich und die Schweizwaren durchweg mit starken Reitern inPferden vertreten.Für erste große Beifallsstürme sorgteRieky Young (NED) mit Brady Chex. DieHolländerin, die als Einzelreiterin für ihrLand ritt, startete als Siebte und brachte esmit einem Klasseritt auf eine 219,5, wasder sichere Einzug ins Einzelfinale seinsollte. Dann erzielten zwei Reiter unmittelbarhintereinander Highscore 223: derItaliener Giuseppe Prevosti mit Enzo GolasSkeets Flamin und der Österreicher RudiKronsteiner mit Ima Mega Antares (Bes.Karin & Ruggero Prevedel, ITA). Mit diesemHengst war Kronsteiner bereits 2009Vize-Europameister in der Einzelwertung.Beide Reiter glänzten mit einem herausragendenDurchgang mit großartigen Spins,perfekter Arbeit auf den Zirkeln und grandiosenStops.Stefano Angelucci legte für Italien mit ABCaptain Badger eine 221 nach, was amEnde der zweitbeste Score bleiben sollte.Zusammen mit Cristian Dallapozzas 218,5auf Whiz Ruf Peppy ergab das 662,5 Punktefür Italien und damit Gold. MassimilianoCanu und Hesa Mega Whiz erzielten eine215,5, die das Streichergebnis für Italienbildete, aber für einen Platz in Einzelfinalebequem reichte. Damit hat Italien alle vierReiter im Einzelfinale."Ich wusste, dass wir ein gutes Team haben",so der italienische Chef d'EquipeRoberto Cuoghi. "aber ich wusste auch,dass zum Beispiel die Deutschen und Österreichermit sehr guten Pferden da sind.Daher war durchaus nicht sicher, was unserwartet. Wir haben einfach unser Bestesgegeben, und es hat geklappt. Ich möchtemich an dieser Stelle einmal ganz herzlichbei Helmut Schulz für die Gastfreundschaftund die tolle Organisation bedanken! Jederist hier freundlich und hilft sofort, und dieAnlage ist fantastisch."Oliver Wehnes und Lil Ruf Bandit (Bes.Nico Hörmann) legten für Deutschlandeine 215,5 vor. Sylvia Rzepka mit DoctorZip Nic (Bes. Zip Nic Partnership) undNico Hörmann mit Smart Spookster (Bes.Silver: GermanyOliver Wehnes/Lil Ruf BanditChristina Tolksdorf/Ruf Lil MarthaSylvia Rzepka/ Doctor Zip NicNicolas Hörman/Smart SpooksterFEI European Championship 2011Senior Team CompetitionGold: ItalyCristian Dallapozza/Whiz Ruf PeppyMassimiliano Canu/Hesa Mega WhizGiuseppe Prevosti/Skeets FlaminStefano Angelucci/AB Captain BadgerBronze: AustriaMarkus Morawitz/Dun It Whiz JerryDennis Schulz/Smart Rattle SnakeRudi Kronsteiner/Ima Mega AntaresMartin Mühlstätter/Dun It On The QT
---
Highscore for Guiseppe Prevosti (ITA) & Rudi Kronsteiner (AUT): 223Spookster Syndicate) erzielten dann beideeine 220,5 – den drittbesten Score dieserEM und sicherten damit Deutschland dieSilbermedaille. Christina Tolksdorf undRuf Lil Martha, die als Reserve für SteffenBreug nachgerückt waren und für diedies der erste Einsatz in der Senior Divisionwar, brachten es auf eine 203,5, was dasStreichergebnis bedeutete.Bundestrainer Kay Wienrich war begeistert:"Was soll ich sagen – ich freue michungeheuer. Unsere Leute haben die Erwartungensogar noch übertroffen. Oliver hatdas Pferd erst seit etwa vier Wochen, undes war sein erster Einsatz auf einer FEI EM.Er hat seine Sache prima gemacht! UndSylvia und Nico waren einfach großartig.Und unsere Jüngste im Team Christina hatsich ebenfalls bestens bewährt."Österreich verpasste nur knapp die ersehnteSilbermedaille. Markus Morawitz undDun It With Jerry mussten sich mit einer213,5 zufrieden geben und werden beimConsolation Run nochmal versuchen, insFinale zu kommen. Dennis Schulz undSmart Rattle Snake (Bes. Dainmasa Horses)hatten Pech beim schnellen Zirkel, woder Hengst ausrutschte und in Kreuzgaloppfiel. Das bedeutete schließlich einen Scorevon 215. Und auch Martin Mühlstätter undDun It On The QT (Bes. Katja Jungfer)konnten nicht ganz ihrem Potential gerechtwerden. Es war den beiden anzumerken,dass Mühlstätter den Hengst erst seit gesternunter dem Sattel hat. Das Ergebnis:214,5 und damit Einzelfinale ebenso wiefür Dennis Schulz. Chef d'Equipe HelmutSchulz nahm es gelassen: "Wir hätten natürlichgerne Silber gehabt, aber wir gönnenNico Hörmann und Sylvia Rzepka undden anderen des deutschen Teams die Medaille.Immerhin haben wir drei schon malsicher im Einzelfinale."2011 FEI European Reining Championships in AustriaSecond team gold for Italy – now in Senior Division,Germany claims Silver, Austrian BronzeRudi Kronsteiner and Giuseppe Prevosti lead after team competitionFor the second time at the FEI EuropeanChampionships, the national anthem of Italywas played: after winning team gold inthe Junior division, Italy becam EuropeanChampion in the senior division as wellwith a total score of 662,5 points. Germanyclaimed the silver medal (656,5) with Austriawinning bronze (652.5). France placedfourth (647), Belgium fifth (640), Switzerlandsixth (632,5).The first great applause from the audiencecame for Rieky Young (NED) and her BradyChex. The two were an individual forthe Netherlands and scored a superb 219,5– a safe place for the individual final. Thentwo riders top scored a 223: Italian GiuseppePrevosti riding Enzo Gola's SkeetsFlamin and Austrian Rudi Kronsteiner ridingIma Mega Antares (owner Karin &Ruggero Prevedel, ITA). With this stallion,Rudi Kronsteiner was 2009 Reserve EuropeanChampion in individual ranking.Both riders gave a brilliant presentationwith beautiful spins and circles and dramaticslides.Stefano Angelucci rode AB Captain Badgerto the second highest score of thecompetition 221 . Together with CristianDallapozza's 218,5 astride Whiz Ruf Peppythis meant a total of 662.5 for Italy.Massimiliano Canu and Hesa Mega Whizearned a 215,5, which means four Italianriders in the individual final."I knew we have a good team," said Chefd'Equipe Roberto Cuoghi. "but I also knewthat Germany and Austria had brought finehorses as well. So we simply went on andtried to do our best. And we were lucky. Abig thank to Helmut Schulz for his hospitalityand great organization. Everybody is sofriendly here, and the facility is great. "Oliver Wehnes and Lil Ruf Bandit (ownerNico Hörmann) scored a 215,5 for Germany.Sylvia Rzepka riding Doctor ZipNic (owner Zip Nic Partnership) and NicoHörmann riding Smart Spookster (ownerSpookster Syndicate) added a 220.5 eachafter two beautiful rides – the thirdbestscore of the European Championship. Thismeant silver for Germany. Christina Tolksdorfand Ruf Lil Martha, who replacedSteffen Breug and for whom it was her firstsenior EC competition, scored a 203,5.Germany's team trainer Kay Wienrich said:"What can I say – it was fantastic. Our riderswere even better than we had hoped.Oliver has got the horse for only 4 weeks,and it was his first EC. He was great! AndSylvia and Nico did a superb job. As didour youngest Christina."Austria only missed the silver medal 'byinches'. Markus Morawitz and Dun It WithJerry had tob e content with a 213,5 and willtry better in the Consolation Run. DennisSchulz' Smart Rattle Snake (owner DainmasaHorses) slipped during the fast circleand cross fired shortly. This resulted in ascore of 215 and Martin Muhlstatter andDun It On The QT (owner Katja Jungfer)could not live up to their usual form either.It was obvious that Martin has got the horsesince yesterday, and both are not yet usedto each other. But Martin and Dennis willbe in the individual final for sure. Chefd'Equipe Helmut Schulz: "We would haveloved to win silver, but the Germans werebetter and deserved it. We had one greatride, and some bad luck with the others, butI'm glad about the medal all the same. Andwe still got the individual final."
---
Faszination ReiningFEI und Reining im ÜberblickReining – das ist Adrenalin pur! Kaumjemand kann sich der Faszination dieser<strong>Western</strong>reitsportdisziplin entziehen, wenner zum ersten Mal einen guten Reiter aufeinem voll ausgebildeten Pferd sieht. Rasanzund Harmonie zwischen Pferd undReiter und ein wenig natürlich auch derHauch des alten Westens machen dieseDisziplin zu der am schnellsten wachsendenim <strong>Western</strong>reitsport.2ooo Der Weltreiterverband FEI nimmt Reining in den Kreis seineroffiziellen Pferdesportdisziplinen auf.2oo2 Die ersten Nationen qualifizieren sich im CRIO für die Weltreiterspiele(Anm.: CRIO ist wie z.B. CSIO Nationenwertung,in der die Länder in Viererteams antreten).2oo2 Weltreiterspiele in Jerez (Spanien): zum ersten Mal ist Reiningmit dabei.2oo3 Erste offizielle Reining Europameisterschaft (FEI) in ReggioEmilia (Italien).2oo4 Erstes FEI Reining Masters in Oklahoma City, OK.;Schweizerin Jeannette Krähenbühl dritte in Open und Siegerinin der Ltd. Division2oo6 Weltreiterspiele in Aachen2oo7 Deutschland wird zum zweiten Mal Mannschafts-Europameister.2008 Erste eigene FEI Weltmeisterschaft Reining: Deutschland gewinntBronze2009 Erste FEI Europameisterschaft auch für Junioren und Junge Reiter.Die ManöverDas Regelbuch kennt elf verschiedeneAufgaben (Patterns) unterschiedlichenSchwierigkeitsgrades. Jede Pattern setztsich aus sieben bis acht verschiedenen Manövernoder Lektionen zusammen. Hierzuzählen der Sliding Stop, bei dem das Pferdaus vollem Galopp zum Stehen kommtund dabei meterweite auf der Hinterhandgleitet, der Spin (rasante 360° Drehungenauf dem inneren Hinterfuß), schnelle undlangsame Zirkel mit fliegenden Galoppwechseln,schnelles Rückwärtsrichten undRollbacks (180° Drehungen aus dem SlidingStop). Jedes Manöver wird gesondertbewertet. Der Reiter beginnt seine Aufgabemit einem Guthaben von 70 Punkten. DieManöver werden in ½-Punkt Schritten von–1 ½ bis + 1 ½ benotet, wobei 0 korrekteAusführung ohne Schwierigkeitsgrad bedeutet.Dazu gibt es Strafpunkte (Penalties)für Fehler. Die Summe aller Einzelbewertungenergibt den Gesamt-Score.Das ReiningpferdReining stellt hohe Anforderungen an Körperund Psyche des Pferdes. Grundsätzlicheignet sich jede Pferderasse für dieseSportart, solange sie die körperlichen undpsychischen Voraussetzungen mitbringt.Reining Pferde sind meist kleine, kompakteund wendige Pferde, die über vielKraft und Ausdauer sowie ein starkes Nervensystemverfügen. Nicht jedes Pferd istvon den Nerven her dem hohen Tempogewachsen. Im großen Sport sind in derRegel die sogenannten <strong>Western</strong>pferderassenvorn zu finden, also American QuarterHorse, Paint und Appaloosa, was nichtverwundert, da entsprechende Zuchtauslesebetrieben wurde. Hier haben sich ganzspezielle Reining-Blutlinien herauskristallisiert.Herausragende Reining-Vererbersind z.B. Hollywood Dun It, HollywoodJac, Sugar Bars, Colonel Freckles oder MrGun Smoke, um nur einige zu nennen.Die AusrüstungÄhnlich wie im konventionellen Turniersportist auch die Reining einer Kleiderordnungunterworfen. Vorgeschrieben sindein langärmliges Hemd mit Kragen, Jeans,Stiefel und ein <strong>Western</strong>hut. Hinzu kommeneventuell Chaps und Sporen. Grundsätzlichsollten Reiter und Pferd ein gepflegtes Bildabgeben, bei dem Kleidung und Satteldeckeidealerweise farblich auf das Pferdabgestimmt sind. Das Pferd trägt einenReiningsattel, der ähnlich wie der Dressursattelden Reiter beim richtigen Sitz unterstützt.3-und 4-jährige Pferde können inden entsprechenden Prüfungen beidhändigauf Trense (Snaffle Bit) oder gebisslos mitHackamore (Bosal) vorgestellt werden, älterePferde müssen einhändig auf Kandare(Bit) geritten werden. Ein weiterer wichtigerBestandteil der Ausrüstung ist der Beschlag,denn nur spezielle "Sliding Plates",also ganz besondere Eisen an den Hinterhufen,ermöglich überhaupt das meterlangeGleiten auf der Hinterhand.
---
The horse is coming down the arenaat a fast galopp gaining speed withany stride, and then melts down in a long,smooth stop while the audience is whistlingand shouting with fascination – this is reining,FEI's youngest discipline.The origins of reining go back to the daysof the American cowboy. For his job withthe cattle, which was often dangerous, acowboy needed a horse he could completelydepend on. A horse, that fast, agile andcould stop and turn on the slightest cue.The horse had to be ridden with one handonly, as the other had to be free for work.FEI and Reining - A Survey2ooo2oo22oo22oo32oo42oo6Reining –Fascinationof Speed and FinesseToday reining is one of the fastest growingriding disciplines. The main organizationof reining is the National Reining HorseAssociation in the United States with affiliatesall over the world.The ManeuvresThere are eleven different patterns in theNRHA rule book, each pattern consistingof seven to eight maneuvres. These includethe sliding stop, the spin (360 degree turnaround),small, slow and big, fast circles,backup and rollbacks (180 degree turnsafter the stop) . The competitor enters thearena with a 70 score. The maneuvres arejudged in ½ point steps from –1 ½ to + 1 ½.0 means an average performance withoutmuch risk. Penalties are given for mistakes,whereas plus is given for speed, but onlyif combined with smoothness and finesse.All individual results of the maneuvres areadded for the total score. A good reininghorse should react to the lightest clue fromhis rider without showing any resistance. Itshould show total control all the time andgenerally pleasing to watch.Reining becomes official FEI discipline.First nations qualify via CRIO for World Equestrian Games.Reining is part of the World Equestrian Games at Jerez (Spain) forthe first time: Gold for U.S.A., Silver for Canada and Bronze for Italy.First FEI European Championship in Reggio Emilia (Italy):Gold for Germany, Italy second.First FEI Reining Masters in Oklahoma City, OK.World Equestrian Games at Aachen: Team US wins Gold again,Canada second, Italy third.2008 First own FEI World Championship Reining.2009 First FEI European Championship for junior and young riders.The reining horseReining demands a lot of a horse – bothphysically and mentally. Any horse canbe used for this discipline as long as theirconformation and mind correspond to thedemands. Reining horses are fast, powerfuland well muscled, especially the hindquarters.Also, they have to be both sensitiveand cool as well as very cooperative. Inhigh level reining competition, almost all ofthe reining horses are western horse breedswith a special focus on the American QuarterHorse. Today there are various bloodlinesspecialized on reining like TopsailWhiz, Hollywood Dun It, Hollywood Jac,Sugar Bars, Colonel Freckles or Mr GunSmoke, only to name a few.EquipmentThe reininghorse carries a western saddleespecially designed for this discipline.3-year-old horses are ridden with bothhands on a snaffle or bosal, older horsesmust shown with one hand only in the bit.In order to perform those long stops, horseswear so called sliding-plates on their hindhooves. In competition, the rider wearsjeans and maybe chaps, spurs, a long sleevedshirt and western hat.
---
Team Czech RepublikTeam SuisseChef d´Equipe: Ivan ČernochTeam Vet: Dr. Martin SeitlJunior RidersBarbora Julinova, 22.04.1994, Vizovice.NRHA Multiple Winner – Category 14-18, Res. Champion of theCzech Rep. Youth.El Chex (Nu Chex To Cash x Genuine Diamond Ring),2004 QH Stallion, owner Petr Julina.Tamara Korešova, 16.01.1994, Blansko.Multiple Champion and Res. Champion of the Czech Rep. Youth.Peppy Bright <strong>Star</strong> (Peppy Golden Scooter x WS Queen <strong>Star</strong>),2002 App. Gelding, owner Tamara Koresova.Brenda Lesniczakova, 31.07.1997, Kozlovice.Czech Champion 2008; 2009 Youth, NRHA Multiple Winner13 & under, Reserve Champion NRHA Futurity Non Pro Poland2010.Smart Chiconita (Smart Chic Olena x One More Memory),1997 QH Stallion, owner Klara Salkova.Josefina Rašilovova, 08.06.1994, Praha.Czech Championship 2010 – 5th place class Youth, 1st placeTeams Category.Rocky Top Princess (Solanos Rocky Top x Hard Times Lady),2003 QH Mare, owner Jaroslav Kadlec.Young ridersLukaš Sedlák, 18.05.1993, Ceske Mezirici.Multiple Reserve Champion of the Czech Rep. Youth, NRHAPewter Trophy Winner Youth 2006.Racy O Rima (Jac O Rima x Taris Tina Catalyst),2001 QH Mare, owner Alistar Ltd.Ondřej Slamjak, 05.08.1990, Baska.Res. Champion of the Czech Rep. 2009 Amateur, NRHA LawsonBronze Trophy Winner Non Pro Roleski4Spin (PL) 2009, 2010.Smart Little Joker (Smart Chic Olena x Deluxe Dry),2002 QH Stallion, owner RC Dreveny dvur Baska.Chef d'Equipe: Lore PfennigerTrainer: Grischa LudwigTeam Assistant: Sven FrieseckeTeam Vet: Dr. Matthias GräberSenior RidersAnnika Friesecke, 16.08.1987, Matzendorf.CRI* Champion 2010 Mooslargue, 4th Swiss ChampionshipOpen Senior Horses.RS McJac Hglo (McJac Flash x Harlan Glo),2000 QH Gelding, owner Ursula Niklaus.Sara Moonen, 06.08.1972, Avenches.2010 Swiss Championship Amateur 3rd, 2009 Swiss ChampionAmateur, 2009 CS Classic Intermediate Non Pro 3rd.Roping Our Pine (Roping Chute x Our Ginger Pine),2000 QH Gelding, owner Myrta Bürgin.Selina Schultheiss, 29.03.1985, Hilfikon.2011 CRI* Champion Mooslargue Spring Slide, 2010 NRHABreeders Futurity Champion, 2006 WEG Aachen finalist, multipleEuropean and Swiss Futurity Champion.Checkmate Jane (Bar S Smart Alec x Checkmate Solano),2001 QH Mare, owner Marisa Guggisberg.Adrienne Speidel, 27. 09. 1982, Hombrechtikon.Swiss Res. Champion Amateur Reining.A Hollywood All <strong>Star</strong> (Hollywood Dun It x All <strong>Star</strong>s),2002, QH Stallion, owner Ariane Speidel.Young RidersNina Zinsli, 11.05.1990, Ilanz.2010 Swiss Championship Amateur Gold, 2009 Swiss ChampionshipYouth Gold, 2009 FEI European Championship YoungRiders finalist.Major Lena Cielo (Lena Cielo x Major N Motion),2000 QH Gelding.Perrine Hirter, 20.02.1992, Matzendorf.2010 Swiss Championship Youth Gold, 2009 Euro Youth Cup4th Reining, 2008 Swiss Championship Youth <strong>Western</strong> Riding 2nd.Cutters Sugarman (Chics Sugarman x Cutters Mite),2000 QH Gelding.Barbora JulinovaTamara KorešovaAnnika FrieseckeSara MoonenBrenda LesniczakovaJosefina RašilovovaSelina SchultheissAdrienne SpeidelLukaš SedlákOndřej SlamjakNina ZinsliPerrine Hirter
---
Team AustriaChef d'Equipe: Helmut SchulzVet: Dr. Karl LorberSenior RidersRudi Kronsteiner, Freystadt, GER.3 x NRHA World Champion Open, 2 x FEI World Reining MastersChampion, multiple Futurity and Derby Champion, multipleBronze Trophy Champion.Ima Mega Antares (ARC Antares Surprise x Ima MarthaMemory),QH Stallion, owner Andrea Castrucci.Martin Mühlstätter, USA.FEI World Reining Finals 7th, Open finalist in NRHA Derby,NRBC Classic, Congress Futurity, NRHA Intermediate Open Futurity,2011 Cactus Classic Int. Open Derby Champion, NRHATop Ten Open.Dun It On The QT (Hollywood Dun It x Tivios Little Queen),2004 QH Stallion, owner Katja Jungfer-Schubert.Rudi KronsteinerMarkus Morawitz, Mattersburg.Austrian Futurity Champion, multiple Bronze Trophy Champion,NRHA Breeders Futurity Finalist.Dun It Wiz Jerry (Topsail Whiz x Dun Its Enterprise),2005 QH Stallion, owner Paolo Orlandini.Dennis Schulz, 1968, Wiener Neustadt.Multiple European and Austrian Champion, multiple NRHAOpen Bronze Trophy Champion, multiple Reining Circuit Winner,multiple AQHA Futurity / Maturity Champion, NRHA TopTen 2009.Smart Rattle Snake (Smartin x Rima O Chexy),2001 QH Stallion, owner Dainmasa HorsesMartin MühlstätterGerald Freitag, Wiener Neustadt.APHA Austrian Champion, NRHA Breeders Futurity finalist,multiple NRHA Morrison Bronze Trophy Champion, 3rd NRHAEuropean Affiliate Championships Ltd. Open.Jac That Out (Jacs On Top x Shawnee Buena Chex),2001 QH Stallion, owner Judith Ernst.Markus Morawitz Dennis Schulz Gerald Freitag
---
Team GermanyChef d'Equipe: Paul KratschmerBundestrainer: Kay WienrichTierarzt: Dr. Matthias GräberSenior RidersSteffen Breug, Reichweiler.2 x FEI European Champion Team, multiple Bronze TrophyChampion, FEI World Reining masters Bronze, DQHA MaturityChampion, NRHA Breeders Futurity Champion Bit, NRHABreeders Derby Champion 2000.Little Whiz Chic (Topsail Whiz x Quiet Little Chic),2003 QH Stallion, owner Steffen Breug.Steffen BreugNico Hörmann, Bünde.AMERICANA Champion 2002, NF German Champion 2005,2010, Italian Derby Champion, 2x FEI European Championteam, multiple CRI and Bronze Trophy Champion, FEI WEGfinalist, FEI World Reining Finals 2010 Res. Champion RestrictedDivision.Smart Spookster (Smart Little Lena x Spookster),QH Stallion, owner Spookster Syndicate.Sylvia Rzepka, Neu-Mitterndorf.Multiple NRHA Bronze Trophy and CRI Champion, NRHABreeders Futurity Champion Bit Open, FEI WEG 2006 8th placeindividual final, FEI World Championship Bronze (Team).Doctor Zip Nic (Reminic x Sugar Jodie Doll),QH Stallion, owner Zip Nic Partners.Nico HörmannSylvia RzepkaReserve:Christina Tolksdorf, Heckenbach.FEI European.Championship 2009 Young Riders team gold,individual silver, multiple Open and Youth ApHC EuropeanChampion, Junior and Senior Reining Appaloosa CongressChampion, ApHCG Reining Futurity Reserve Champion.Ruf Lil Martha (Lil Ruf Peppy x Miss Martha King),QH Mare, owner Uwe Tolksdorf.Oliver Wehnes, Kandel.DQHA and EWU German Champion, DQHA Maturity and FuturityChampion & Reserve Champion, multiple NRHA FuturityFinalist.Lil Ruf Bandit (Lil Ruf Peppy x Looks Like Mom), 2003 QHStallion, owner Belinda Pisano.Junior RidersSabrina Baumgärtner, 22.01.1993, Polsingen.CRI Champion Easter Show Kreuth 2011, 2nd Intermediate NonPro, NRHA Breeders Derby 2011 Non Pro Top Ten.Top On Cutie (Jacs On Top x Tanquerys Cutie), 2005 QH Mare.Christina TolksdorfOliver Wehnes
---
Sofie Eckebrecht, 21.07.93, Schwerte.NRHA Youth bis 18 Champion, NRHA NRW JahreschampionYouth 2010, CRI 2011 Kreuth Res. Champion, NRHA RegioCup 2010, Team 5th, individual 3rd.Guns Red Obsession (One Roan Gun X Expensive Jet Set),1999 QH Gelding.Fabienne Krämer, 24.01.94, Lautertal.2009 NF Res. German Champion Juniors, 2009 FEI EC JuniorsBronze (team & individual), 2010 AQHA Youth World Cup Gold(individual), AQHA Youth 18 All Around Champion, NRHANon Pro Bronze Trophy Champion, NF German ChampionJuniors.Little Roosters Gal (Gallo del Cielo x Gainsville Girl),2002 QH Mare.Alisa Müller, 24.06.1994, Gernsbach.FEI European Championship Bronze (Team), 2009 Youth - 18Champion.Sparkling Cielo (Gallo Del Cielo x Bella Della),2005 QH Stallion.Laura Spielmann, 04.02.93, Meine-Wedelheine.Nord-Maturity Champion 2006, NRHA Youth Champion 2006European Experience Allroundchampion Novice Youth 2008,NF German Champion 2009, Res. Champion 2010, Youth WorldCup Res. Champion 2010.Little Peppy Olena (Olena San Badger x Uga Spot Diddee),2001 QH Mare.Franziska Zschau, 17.07.1994, Bünde.FEI European Championships 2009 Team Bronze, NRHA NRWSnaffle Bit Futurity Champion 2010, Top Ten NF GermanChampionship Juniors 2009/2010.Peppys Lil Whizzard (Lil Dry Peppy x Begos Pure Gold),2001 QH GeldingYoung RidersVanety Korbus, 21.02.1992, Straubenhardt.CRI Champion 2010 Juniors, CRI Champion 2011 Young Riders,EWU Champion Reining Youth, NRHA Reserve Champion.SES Topsail Whiz (Tivios Tucker Chex x Whiz a Holly ), 2002QH Stallion.Josefin Lintner, 05.01.1990, St. Wendel.2005 NRHA Breeders Futurity Non Pro 9th, 2007 IRHA DerbyRes. Champion Ltd. Non Pro, 2008 NF Germand Res. Championjuniors, 2009 FEI European Championship Young Riders teamgold, individual bronze.Miss Estrella Del Cielo (Gallo Del Cielo x Dales Altra),2001 QH Mare.Laura Stein, 20.08.1990, Wehrheim.Hessian Champion Youth 2008 / 2009, 5th NF German ChampionshipYoung Riders..NRHA Germany Res. Year End ChampionYouth -14.SR Frosty Smoke (Frostys Chic Olena x Just Watch my Smoke),1997 QH Gelding.André Zschau, 24.10.1990, Bünde.NF German Champion Juniors 2008 and Young Riders 2009 /2010, Euroclassics, Bremen Lawson Bronze Trophy Non ProChampion 2009/2011.Jacs War Leo (Jac O Rima x Wranglers Skylark),2003 QH Gelding.Sofie EckebrechtFabienne KrämerAlisa MüllerLaura SpielmannFranziska ZschauVanety KorbusJosefin LintnerLaura SteinAndré Zschau
---
J.H.P. und Julia Maikisch0676/620 87 520664/468 07 95Gestüt Krumphofwww.krumphof.atTraining | Showing | ClinicsFachhändler fürMobiler SattelshopÖffnungszeiten:Mo. bis Fr.: 9.00 – 12.00 und 14.30 – 18.00 Uhr,Sa.: 9.00 – 12.00 UhrA-4702 Wallern Bergern Straße 1Tel. 07249/43013 Fax 07249/43018Mobil 0664/432 88 89E-Mail: om-reitsport@aon.atwww.om-reitsport.com
---
Team PolandChef d'Equipe: Joanna ZwierzchowskaTrainer: Woijciech AdamczykSenior RidersLothar Koenig, 27.01.1978, Renska Wies.2010 PZJ/FEI Polish Reserve Champion Reining, 2011 Winnerof Qualifications for Polish Championships, 2010 World EquestrianGames qualifier.Arcletic Louis, 2000 QH Gelding, owner Roland Koenig.Bogdan Czarnik, 15.10.1973, Radziemice.2010/2011 PZJ/FEI Polish Champion Reining, twice MiddleEuropean Champion Reining, representative of Poland at 2009WRM and 2010 WEG, 2011 World Reining Finals qualifier.Catalysts Bandit AF (Cause Of It All x Meyers Trouble Three),2002 QH Stallion, owner Janusz Kowalik.Young RidersZuzanna Zwierzchowska, 24.11.1991, Plochocin.2011 PLQHA Reining Amateur Champion, 2010 Polish EquestrianFederation Reserve Champion (2010), 2009 FEI EuropeanChampionships 15th.Diamond Betsy Bear (Mistas Mr Hook x Docs Eternal Babe),2003 QH Mare, owner: Joanna Zwierzchowska, Jezry Szumanski.Junior RidersAnna Deregowska, 11.05.1993, Lodz.2010 PLQHA Champion, 2010 Roleski 4 Spin Futurity Non ProChampion 4-year-old horses.Dots Magnum (Magnum Chic Dream x Miss Jessie Cat),2004 QH Gelding, owner Anna DeredowskaLukasz Czechowicz, 07.11.1995, Zieleniewo.2010 NRHA Roleski 4 Spins Circuit Non Pro Champion, CampoverdeCup NRHA Non Pro champion, Youth Res. ChampionPZJ/FEI Polish Championship.Arcletic Jack, 2004 Gelding, owner Pawel Czechowicz.Justyna Elzbieciak, 14.08.1996, Czaniec.2010 Roleski 4 Spins Circuit Youth 13 & Under Champion, threetimes winner in Youth 13 & under.Whiz A Woody (Whizatcheck x Hollywood Amberqueen),2003 QH Mare, owner Dorota Elzbieciak.Anna Elzbieciak, 22.02.1995, Czaniec.2009 NRHA European Champion in Sweden, 2010 CRI* winnerin Poland, 3rd NRHA Roleski 4 Spin III Non Pro.KS Whizaway (Topsail Whiz x Dun <strong>Star</strong> Holly),1999 QH Stallion, owner Dorota Elzbieciak.Lothar KoenigBogdan CzarnikAnna DeregowskaLukasz Czechowicz. Justyna Elzbieciak, Anna ElzbieciakFor further Information:www.nrha.at
---
Team ItalyMassimilano CanuMirko PiazziChef d'Equipe: Roberto CuoghiTrainer: Filippo MasiTeam Assistant: Adriano MeacciSenior RidersStefano Angelucci, 17.04.1975, Cerveteri.LTE $ 137,645.32.AB Captain Badger (Frozen Sailor x Pap Little Sol),2004 QH Stallion, owner Angelucci Quarter Horses.Christian Baldelli, 14.09.1976, Pesarp.AT Peppy Hickorywood (ML Sharp Smart Gene x ML Greatwood),2005 QH Stallion, owner Matteo Antonelli.Cristian Dallapozza, 17.06.1977, Cerveteri.LTE $ 106,345.Whiz Ruf Peppy (Topsail Whiz x Lil Ruf Lady),2004 QH Stallion, owner WRO QH S.r.L.Massimilano Canu, 17.09.1970, Capalbio.1996,1997 ANCR Futurity Ltd. Open Reserve Champion,IQHA1996 Futurity Open Champion.Heza Mega Whiz (Topsail Whiz x Mi Mega),2005 QH Stallion, owner Andrea CastrucciMirko Piazzi, 05.08.1973, Bazzano.Mifillenium (Mifilena x Elderberry Ace),1996 QH Stallion, owner Vittirio Raboni.Giuseppe Prevosti, 23.6.1977, Erbusco.French NRHA, AIQH and PHCI Futurity Champion, 2008IRHA Italian Open Champion, 2009 -2010 ERAA Futurity OpenChampion, 2009 NRHA Germany Ltd Open Futurity Champion,2011 NRHA European Futurity Open Champion level 2'3, 2011IRHA NRHA Derby Open Champion level 2'3.Skeets Flamin (Skeets Peppy x First Ex Flme),2004 QH Stallion, owner Enzo Gola.Davide BrighentiGuglielmo FontanaDavina PeriniAndrea IannettaStefano AngeluciGiovanni Masi
---
ReserveBrighenti Davide, 23.08.1979, Castiglione delle Stiviere.Multiple NRHA European Futurity Finalist Level 3,4, IRHADerby and Maturity Finalist, 2009 IRHA Futurity Open 4th,2008 NRHA 23 Classic Open Champion, 2009 FEI World Championshipteam gold, 2007 FEI European Champion (individual).Dualin For Me (Dual Peppy x Me Olena),1997 QH Stallion, owner Gianfranco Cometti.Junior RidersSara Ambrosini, 23.03.1994, Castelnuovo Magra.Maxplease (Chic Please x Pidgeon Poo),2005 Stallion, owner Maurizio Ambrosini.Nicolò Boretti, 27.07.1993, Genova.Sun Olena Red Chicka (Epitome Olena x Smart Dream In Lena)2004 QH Mare, owner Nicolò Boretti.Lara Lorengo, 16.05.1993, Civitade Camuno.Lombardian Champion Rookie Youth 2007, Trophy rookie youth2007 Co-Champion, IRHAPrefuturity 2009 Ltd. / Int. and Non Pro Res. Champion, FuturityVeneto 2009 Ltd./Int. and Non Pro Champion, 4-year-old FuturityRes. Champion/ Ltd. / Int. Champion.BH Shot O Lon (Doc O Lon x Hot Shot Lena),2000 QH Stallion, owner Lara Lorengo.Giovanni Masi, 30.07.1993, Siena.2009 IRHA Futurity Ltd and Int Non Pro Champion, Non ProRes. Chanpion, NRHA European Futurity Non Pro All LevelsFinalist and Non Pro Go round Leader All Levels, IRHA YouthTrophy Champion 2009 & 2010.Remins Remedy (Remin Whiz x Colones HL Red Hot),2005 QH Stallion, Bes. Luca Zeni.ReserveAlessio Baldi, 26.03.1993, Florenz.2009 IRHA Rookie Champion of the year, IRHA Maturity andDerby Ltd. Int. Non Pro Finalist, 2010 LRHA Youth Championof the year, LRHA Memorial Sturla Ltd. Int Non Pro Champion,2011 IRHA all Levels Non Pro Finalist, TRHA Derby Int. NonPro Champion.Roosterosophy (Ricochet Rooster x ARC Joy Surprise), 2005QH Stallion, owner Az. Agr. D Quarter Horse.Davina Perini, 28.09.1993, Vicchio M. Ilo.Toscana Champion Youth 2004.ARC Turbulence Out (Playing It Out x ARC Black Storm),2002 QH Stallion, owner Davina Perini.Young RidersChiara Bartoletti, 03.01.1992, Calenzano.2006 I.R.H.A./N.R.H.A Rookie champion of the year, 2007I.R.H.A./N.R.H.A Maturity ltd non pro reserve champion andI.R.H.A/N.R.H.A Futurity ltd int non pro champion, 2008 NRHABreeders Futurity Non Pro Bit Champion, 2009 NRHA EuropeanFuturity level 3,4 reserve champion, FEI European Championshipteam silver / individual gold.Sailor Lula (Frozen Sailor x Smart Peppy Lyla),2001 QH Mare, owner Adriano Meacci.Manuel Cortesi, 14.01.1992, Forlimpopoli.ML Great Spirit (SR Great Oak x Giusy Hollywood Dun),2004 QH Mare, owner Eugenio Latorre.Guglielmo Fontana, 18.09.1991, Taino.2003 LR Ltd. Non Pro Champion, 2005 IRHA Int. Non ProChampion, IRHA Futurity and Maturity Finalist, IRHA DerbyNon Pro finalist, 2006 LR Youth Champion, LR and APCRTrophy Non Pro Champion, 2009 FEI EM Silver medal (team),TRHA Maturity Int. Open Champion and Open Res. Champion.Sparkle Poco Hickory (ARC Sparle Surprise x Phoebe Pocodot),2002 QH Stallion, owner Nazzareno Mazzeo.Gloria Spiaggi, 26.08.1992, Borgonovo Val Tidone.2007 Trophy Co-Champion Rookie Youth, Lombardian ReiningYouth Champion 2007/2010, IRHA Futurity Champion Ltd. NonPro 2010, IRHA Res. Champion Rookie Youth 2007 and Youth2010, Slide in Texas youth Champion 2008.Smart Zen (Frozen Sailor x ARC Smart Enterprise),2003 Stallion, owner Tullio MascarelloReserveAndrea Iannetta, 17.12.192, Campobasso2010 AIQH Futurity Champion Non Pro 4-year-old horses, multipleregional Rookie ChampionLittle Sugar Speedy (Little Pie Jac x Solonas Gold),2002 QH Stallion, Bes. Andrea IannettaCristian DallapozaGiuseppe PrevostiManuel CortesiGloria SpiaggiAlessio BaldiLara LorengoChiara Bartoletti
---
SHINING SPARKSHINERS VINTAGE126 AQHA OpenReining Points21.000 $ LTEMultiple NRHA Bronze TrophyWinner, Superior Reining,USET Finalist, WEG Aachen,Multipler AQHA Champion,Körung 8.29, Hengstbuch I,erfolgreicher NachwuchsTARIS VINTAGETeam NetherlandChef d'Equipe: Caspar de JongeTeam Manager: Adrianne van WaardenbergTeam Vet: Waling HaytemaSenior RidersRieky Young, Vorstenbosch.NRHA Top Ten Int. Open, multiple NRHA Bronze TrophyChampion, NRHA European Affiliate Res. Champion Int. Open,2011 FEI World Reining Finals gold (restr. Division), multipleDutch and European Champion.Brady Chex (Buenonic Chex x Somethingtocrowabout),2005 QH Stallion, owner The Brady Bunch.Young RidersSharon de Groot, 04.06.1994, Haaksbergen..Qualified NRHA EK 2010, Reserve Champion Snaffle Bit NonPro 2010, Second Place Snaffle Bit Non Pro at Wanroij 2011.Conquistador Sis (Conquistador Whiz x Sisters Twisted),2005 QH Mare.Mariska Hak, 20.10.1991, Dussen.2010 Dutch Champion Youth, 2011 7th at the NRHA EuropeanChampionships Youth 14 –18, 2009 /2010 DRHA year endreserve champion Youth 14 - 18.Topsail Ricochet (Topsail Cody x Dox Wired Scat Cat),2001 QH Gelding.Sharon Hooijkaas, 11.09.1990, Almere.2010 European Paint Horse Championship gold Novice HorseAmateur, 2010 Dutch Championship APHA Amateur Reining allages gold, DRHA Rookie of the year 2010.Commander Riminic (Reminic x Miss Royal Command),1998 PH Stallion.Liza Groot Severt, 02.04.1993, Ruurlo.2008 Dutch Champion Youth AQHA, 2009 Top 5 EC NRHAYouth in Sweden, 2010 Buckle Champion Youth in Holland.Expressed by <strong>Star</strong>lite (Bay <strong>Star</strong>lite x Honeys Expresso),2002 QH Mare.Junior RidersFamke Algera, 06.05.1997, Gouda.2011 CRI in The Netherlands, Vorstenbosch, 68, 2011 DRHASpringSlide, 67, NRHA-EC 2010, 67,7.BQ Fancy <strong>Star</strong>let (Burnt <strong>Star</strong>light x Fancy N Badge),2005 QH Mare.Alissa Leloux, 17.06. 1995, Bennebroek.2011 NRHA European Champion Youth 14-18, European Res.Champion Ltd. Non Pro, 2010 NRHA European Res. ChampionYouth 14-18.Little Smart Jameen (Smart Little Egger x Miss Rojo San),2001 QH GeldingPut aVintagein yourbarn !Aktuelle Deckinformationen, Infoszu Verkaufspferden und weitereNews erhalten Sie im Internet unter:www.lamesahorses.comoder unter Tel.: 09383 / 73 27Team FranceSenior RidersLaura Duponchel, 05.08.1988, Normandie.2005 French Champion Juniors, French Champion Pro Elite2008 and 2010.Chic Sail Dream (Top Olena Dream x Sailin Barbee),1998 QH Stallion, owner Pierre Moyon.Gregory LegrandNew Doc Peppy Cat (Doc Peppy Cat x Jacs Little Columbia),2001 QH Stallion, owner Julien Legrand.Franck Perret, 09.02.1969, Saussay en Eure et LoirFrench Champion 2000, 2008, 2009, NRHA Breeders FuturityReserve Champion, WEG 2002 Jerez Individual Finalist.
---
Rieky YoungSharon HooijkaasLiza Groot SevertAlissa LelouxTrudy van der Plas,13.06.1996, Heeswijk-Dinther.Twist N Freckles (Dun It WithA Twist x Four Freckles Halo),2005 QH Stallion, ownerHeeswijk-Dinther T. Van DerPlas.Megan Schmidt, 25.07.1994,Groesbeek.2008 DRHA Res. ChampionBuckle Standings, 2009 KNHSDutch Champion, 2010 NQHADutch Champion.Great Kid Whiz (Topsail Whizx Rosa Bonheur),1998 QH Gelding.Sharon HooijkaasLiza Groot SevertMariska HakTeam HungariaYoung RidersDóra Blank, 10.07.1990.Cute Eldorado Cody,1996 QH Gelding, Bes. Dóra Blank.Katalin Gergely, 23.12.1990.Crazy Professor,1996 QH Stallion, Bes. Dénes KrizsákJunior RidersHelka Heffler, 25.07.1995.TB Docs Archie,2005 QH Gelding, Bes. Helka Heffler. Dora BlankARH Lucky Whiz Dunit (Don Quintana xStyle Holly Dun It),2005 QH Stallion, owner Franck Perret.Young RidersMorgane Cheveux, 11.05.1994, Grenadesur l'Adour.1st in CRI Y in Mooslargue, 2nd in NRHANon Pro class, multiple 1st places in FFEclasses.A Chocolate Chic (Chocolate Chic Olenax Jodie Montana),2001 QH Mare, owner Soizic ChampagneManon SergentBaby Jaba (RS Little Red Jaba x Im ABaby Catalyst),2003 QH mare, owner Manon SergentMorgane CheveuxFranck PerretLaura Duponchel