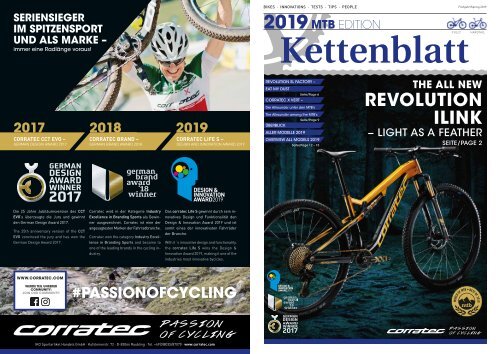 Erfolgreiche ePaper selbst erstellen
Machen Sie aus Ihren PDF Publikationen ein blätterbares Flipbook mit unserer einzigartigen Google optimierten e-Paper Software.
WORLD OF MTB • BEST OF 2019

SERIENSIEGER

IM SPITZENSPORT

UND ALS MARKE –

immer eine Radlänge voraus!

BIKES · INNOVATIONS · TESTS · TIPS · PEOPLE Frühjahr/Spring 2019

2019 MTB EDITION

FULLY HARDTAIL

2017 2018 2019

CORRATEC CCT EVO –

GERMAN DESIGN AWARD 2017

CORRATEC BRAND –

GERMAN BRAND AWARD 2018

CORRATEC LIFE S –

DESIGN AND INNOVATION AWARD 2019

REVOLUTION SL FACTORY –

EAT MY DUST

Seite/Page 6

CORRATEC X VERT –

Der Allrounder unter den MTB's

The Allrounder among the MTB's

Seite/Page 9

ÜBERBLICK

ALLER MODELLE 2019

OVERVIEW ALL MODELS 2019

Seite/Page 12 – 15

THE ALL NEW

REVOLUTION

ILINK

− LIGHT AS A FEATHER

SEITE/PAGE 2

Die 25 Jahre Jubiläumsversion des CCT

EVO's überzeugte die Jury und gewinnt

den German Design Award 2017.

The 25th anniversary version of the CCT

EVO convinced the jury and has won the

German Design Award 2017.

Corratec wird in der Kategorie Industry

Excellence in Branding Sports als Gewinner

ausgezeichnet. Corratec ist eine der

angesagtesten Marken der Fahrradbranche.

Corratec won the category Industry Excellence

in Branding Sports and became to

one of the leading brands in the cycling industry.

Das corratec Life S gewinnt durch sein innovatives

Design und Funktionalität den

Design & Innovation Award 2019 und ist

somit eines der innovativsten Fahrräder

der Branche.

With it´s innovative design and functionality,

the corratec Life S wins the Design &

Innovation Award 2019, making it one of the

industries most innovative bycicles.

WWW.CORRATEC.COM

WERDE TEIL UNSERER

COMMUNITY:

JOIN OUR COMMUNITY:

#PASSIONOFCYCLING

IKO Sportartikel Handels GmbH · Kufsteinerstr. 72 · D-83064 Raubling · Tel. +49(0)8035/87070 · www.corratec.com
---
REVOLUTION ILINK

SL FACTORY

"MIT DEM REVOLUTION ILINK

HABEN WIR EIN RACEFULLY ENTWICKELT

WELCHES NEUE MASSSTÄBE SETZT.

MIT DEM GEWICHT VON UNGLAUBLICHEN

9,3 KG IST DAS REVOLUTION ILINK SL

FACTORY DAS DERZEIT LEICHTESTE

XCO VPP BIKE WELTWEIT."

///

"WITH THE REVOLUTION ILINK

WE HAVE DEVELOPED A

RACEFULLY THAT SETS

NEW STANDARDS.

WITH A WEIGHT OF

UNBELIEVABLE 9.3 KG,

THE REVOLUTION ILINK

SL FACTORY IS

ACTUALLY THE

LIGHTEST XCO VPP

BIKE WORLD WIDE."

01

INSIDE LINK TECHNOLOGIE

virtueller Drehpunkt

virtual Pivot Point

KONRAD

IRLBACHER

corratec CEO

01

Highlights

Hochwertiger extremer Superlight Rahmen,

Rahmengewicht incl. Dämpfer unter 2.000 Gramm

INSIDE LINK TECHNOLOGIE –

einzigartiges VPP System mit einem straffen Hinterbau ganz

ohne Lockout

Für das Revolution iLink konzipierter Dämpfer von FOX

Superlight frame with an overall weight of

just under 2.000 gram

INSIDE LINK TECHNOLOGY –

an outstanding VPP System for a tight body rear end without

lockout

Customized shock setup of FOX

INSIDE LINK TECHNOLOGIE

→ Aufgrund der speziellen Rahmengeometrie bzw. der Anordnung der

Dämpfereinheit verlagert sich der virtuelle Drehpunkt etwas oberhalb

der Kettenstrebe.

→ Bei Kettenspannung und offenem Dämpfer entsteht dabei ein

200% Anti Squad, der Dämpfer zieht sich bis Anschlag auseinander

und das Hinterrad wird automatisch nach unten in den Boden

gedrückt.

→ Dieser Effekt erzeugt enorme Traktion und Vortrieb ohne

dabei den Dämpfer zu sperren.

INSIDE LINK TECHNOLOGY

→ Due to the special frame geometry or the arrangement

of the damper unit the virtual pivot point shifts

slightly above the chainstay.

→ For chain tension and open damper.

This creates a 200% Anti Squad, the Damper

pulls apart until stop and the rear wheel

will automatically lock pressed down

into the ground.

→ This effect creates tremendous

traction and propulsion without

blocking the damper.

QUADRATISCHE RAHMENFORMEN

→ Diese Rahmenform gewährleistet die außerordentliche

Stabilität des Rahmens und sorgt

gleichzeitig für das unglaubliche Rahmengewicht

von weniger als 2.000 Gramm inklusive

Dämpfer.

SQUARE FRAME SHAPES

→ This frame shape ensures exceptional stability

of the frame while providing the incredible

weight of less than 2,000 grams including the

damper.dollore mporrovid est,

"DIE INSIDE LINK TECHNOLOGIE IST DAS

HERZSTÜCK DES NEUEN REVOLUTION ILINK.

DAS RACEFULLY BIETET ZU JEDER ZEIT

VORTRIEB UND MAXIMALE STEIFIGKEIT

WIE EIN HARDTAIL UND DAS ALLES GANZ OHNE

SEPARATEN LOCKOUT!"

"INSIDE LINK TECHNOLOGY IS THE CORE PART

OF THE NEW REVOLUTION ILINK.

THE RACEFULLY OFFERS AT ANY TIME POWER

AND MAXIMUM STIFFNESS WITHOUT

SEPARATE LOCKOUT! "

Konrad Irlbacher

entwickelte das Revolution iLink

INTEGRIERTER KETTENSTREBENSCHUTZ

→ Ein Elastomer speziell entwickelt für das

Revolution iLink schützt die Kettenstrebe vor

äußeren Einflüssen, wie Ketten- oder Steinschläge.

INTEGRATED CHAIN COVER

→ An elastomer specially developed for the

Revolution iLink protects the chainstay from

external influences such as chain or stone

impacts.
---
REVOLUTION ILINK

SL FACTORY

REVOLUTION ILINK

SL PRO TEAM

01 MASSGEFERTIGTER

DÄMPFER VON FOX

CUSTOMIZED

SHOCK OF FOX

05 HOCHWERTIGE

TUNE ANBAUTEILE

HIGH QUALITY

TUNE COMPONENTS

01 FLACHERER

LENKKOPFWINKEL

FLATTER

STEARING

HEAD ANGLE

03

SRAM XX1 EAGLE

02

FOX 32 SC KASHIMA

COATED GABEL

FOX 32 SC KASHIMA

COATED FORK

02 INSIDE LINK TECHNOLOGIE

virtueller Drehpunkt

virtual Pivot Point

04 DT SWISS XRC SPLINE

01 02 03

01 02

Highlights

Das Revolution iLink, Allmountain MTB,

die ideale Waffe für den Ritt

"Ich war einer der Ersten der das

neue Revolution iLink unter

XCO Wettkampfbedingungen

testen durfte. Mein Fazit:

Ihr habt hier ein Monster

geschaffen."

DÄMPFER

→ Speziell für das Revolution iLink konzipierte

Dämpfereinheit von FOX

SHOCK

→ Particularly drafted shock of FOX for the

Revolution iLink

FOX GABEL

→ Angepasste FOX 32 SC Kashima Coated Gabel

mit 100mm Federweg

FOX FORK

→ Cutsomized FOX 32 SC Kashima Coated Fork

with 100mm travel

04 05 05

SRAM XX1 EAGLE

→ 12 Fach Antrieb mit einer noch größeren

Übersetzungsbandbreite von 500%

SRAM XX1 EAGLE 12

→ speed engine for an even wider range up to

500% to provide even on steep climbs the

necessary gears

FLACHERER LENKKOPFWINKEL

→ Der identische Rahmen wie bei der Race

Variante dem SL Factory. Die Gabel von FOX

mit noch mehr Federweg, 120mm, sorgt für

einen flacheren Lenkkopfwinkel. Dies bietet

noch mehr Fahrkomfort für lange Touren und

zusätzliche Sicherheit auf technisch anspruchsvollen

Kursen.

FLATTER STEARING HEAD ANGLE

→ The identical frame as the race version of the

SL Factory The fork of FOX with even more

travel, 120mm, ensures for a flatter steering

head angle. This provides even more ride

comfort for long tours and additional safety

on technically demanding courses.

INSIDE LINK TECHNOLOGIE

→ Hinzu kommt die herausragende Inside Link

Technologie und hochwertigste Komponenten.

Das Revolution iLink SL Pro Team bietet

somit alle Eigenschaften, um bei der Transalp

die Bike Kollegen alt aussehen zu lassen.

INSIDE LINK TECHNOLOGY

→ Addtionally the outstanding Inside Link technology

and high quality components are part

of the bike. The Revolution iLink SL Pro Team

thus offers all the features needed to make

the bike col league looking old at the Transalp.

CHICKEN BONE

→ Die vertikale Strebe stabilisiert den Rahmen

zusätzlich und gewährleistet so einen extrem

verwindungssteifen Hinterbau der Extra

Klasse.

CHICKEN BONE

→ The vertical bar additionally stabilizes the

frame, thus ensuring an extremely stiff rear

body of the extra class.

über die Alpen

Inside Link Technologie für einen

straffen Hinterbau ohne Dämpfer

120mm Federweg für mehr

Downhill Spaß

The Revolution iLink an Allmountain

MTB for the ride across the alps

Inside Link Technology for a tight rear

triangle without lockout

120mm travel for

even higher downhil fun

Andrea Pendini –

Master Europa Meister 2018 im

XC Marathon auf dem

corratec Revolution iLink

Das neue Revolution iLink Pro & LTD, die

Allmountain Fullies mit 29 Zoll Laufrädern

kommen 2019 mit einem Full Car-

The new Revolution iLink Pro & LTD, the

Allmountain Fullies with 29 inch wheels,

are 2019 equipped with a full carbon

"I was one of the first who tested

the all new Revolution iLink

under XCO competition circumstances,

and my conclusion:

you've created a monster here."

Andrea Pendini –

European Master Champion 2018 in

XC Marathon on the Revolution iLink

DT SWISS XRC SPLINE

→ 29 Zoll Carbon Laufräder mit Boost Standard!

Extrem Leicht und außerordentlich stabil.

DT SWISS XRC SPLINE

→ 29 inch carbon wheels with boost standard!

Amazing lightweight and outstanding stiffness

in one package.

TUNE PARTS

→ Der Sattel von TUNE "KOMM VOR" ist nicht

nur verdammt leicht, Gewicht ca. 95 Gramm,

sondern bietet auch darüber hinaus noch

einen hohen Fahrkomfort

TUNE PARTS

→ The saddle of TUNE "KOMM VOR" is not only

damn light with an approximately weight of

just 95 gram, it offers even high riding comfort

as well

TUNE LENKER UND VORBAU

→ Das Cockpit ist ebenfalls von TUNE,

"TURNSTANGE" und "GEILES TEIL",

und kommt auf ein Gesamtgewicht von

ca. 294 Gramm (Lenker und Vorbau)

TUNE HANDLEBAR AND STEM

→ The Cockpit is supported of TUNE as well,

"TURNSTANGE" and "GEILES TEIL", and has

an overall weight of just approximately

294 gram (handlebar and stem)

REVOLUTION ILINK PRO & LTD

bon Rahmen. Der Rahmen ist mit der

bewährten Inside Link Technologie ausgestattet

und enthält darüber hinaus alle

weiteren Features zu der leichteren SL

Variante. Mit dem Revolution iLink Pro &

LTD bilden wir den perfekten Abschluss

der iLink Familie und bieten vom High

End Race Bike bis hin zum Trail Modell

für entspannte Tagestouren alles was

das MTB Herz höher schlägen lässt.

frame. Furthermore it contains the proven

Inside Link technology and all other

features of the lighter SL model. The

Revolution iLink Pro & LTD are the perfect

completion of the iLink family and

offers everything from high-end race

bikes to trail models for enjoyed day

trips.

4 5
---
#EATMYDUST

07 TUNE PARTS

Sattel "KOMM VOR" ein Leichtgewicht

mit nur 95 Gramm

Saddle "KOMM VOR" a lightweight

with only 95 gram

07 TUNE PARTS

Lenker "TURNSTANGE" und

Vorbau "GEILES TEIL" wiegen

zusammen lediglich 294 Gramm

Handlebar "TURNSTANGE" and

stem "GEILES TEIL" has an

overall weight of just 294 gram

03 SUPERLIGHT RAHMEN

Gewicht ca. 1.050 Gramm

SUPERLIGHT FRAME

Weight approximately 1,050 gram

01

GESCHWUNGENE

SITZSTREBE

CURVED SEATSTAY

02

GEWÖLBTES OBERROHR

ARCHED TOP TUBE

06 FOX 32 FLOAT SC FACTORY

100mm Federweg für Vortrieb

und Fahrspaß

100mm travel for speed

and riding pleasure

04 DT SWISS XRC 1200 SPLINE

29 Zoll Laufräder mit Boost Standard

29 inch wheels with Boost Standard

05 POWERHOUSE

Extra breites Tretlager für maximale

Steifigkeit und Kraftübertragung

Oversize BB construction – for maximum

stiffness and power transmission

REVOLUTION 29

SL FACTORY

01 02

Das Revolution 29 SL Factory wurde konzipiert für die XCO Weltcup Strecken die-

EAT MY DUST

BOOST HINTERRADNABE

GESCHWUNGENE SITZSTREBE

GEWÖLBTES OBERROHR

Highlights

Gesamtgewicht von

unglaublichen 8,5 Kg

Geschwungene Verlängerung

der Sitzstrebe dämpft effizient Schläge

und Stöße ab

Boost Standard –

Breitere Hinterradnabe, Breiteres

Tretlager für mehr Stabilität und eine

herausragende Kraftübertragung

1 x 12 Antrieb mit der

Sram Eagle XX1

ser Welt und ist eine absolute Rennmaschine. Der Rahmen gefertigt nach dem

EPS carbon Verfahren, versehen mit Boost Standard, ist verdammt leicht und dabei

noch außerordentlich steif. Die ganze Power wird zu 100% auf die Trails transportiert.

The Revolution 29 SL Factory was made for the XCO World Cup tracks of this World

and is an absolute racing machine. The frame produced according to the EPS

carbon process, provided with Boost Standard, is superlight and still extremely

stiff. All the power is 100% transported on the trails.

→ Besonderes Feature – der Slogan EAT MY

DUST ist in der Kettenstrebe integriert

EAT MY DUST

→ Special Feature – the Sloagan EAT MY DUST

is shaply integrated in the chain stay

→ Die Hinterradnabe wächst von 145 auf

148 mm. Das Rad wird somit noch steifer

und stabiler um die Kraft optimal auf die

Straße zu transportieren!

BOOST REAR HUB

→ The rear hub grows from 145 to 148 mm. The

bike will be even stiffer and more stable to

optimally transport the power on the road!

→ Geschwungene Verlängerung der Sitzstrebe

um effizient Stöße und Schläge abzudämpfen.

Das Resultat: Mehr Fahrkomfort sowohl auf

flowigen als auch auf steinigen, verblockten

Trails

CURVED SEATSTAY

→ Curved Shape of the seatstay absorbs

efficiently shocks at any time. The result:

Superior riding comfort on flowy as well as

rocky trails in the same way

→ für zusätzliche Fahrsicherheit auf

anspruchsvollen Trails

→ Gleich wie der geschwungenen Sitzstrebe

nutzen wir auch am Oberrohr eine Wölbung

um schnell aufeinander folgende Erschütterungen

bei ruppigen Trails abzufedern.

Ein weiteres Dämpfungselement neben der

FOX Gabel. Du bist somit noch sicherer und

schneller unterwegs.

ARCHED TOP TUBE

→ for increasing riding safety on challenging

Trails

→ Just like the curved seat stay, we also built

a bulge on the top tube to quickly cushion

following vibration of rough trails. Another

damping element next to the FOX fork. You

ride even safer and faster.

Overall weihgt of just

unbelievable 8,5 Kg

Curved shape of the seatstay

absorbs shocks efficiently

Boost Standard - wider rear hub and

bottom bracket for increasing stability

and outstanding power transmission

1 x 12 buy gear of the Sram Eagle XX1

"Im Sommer trainiere ich ausschließlich auf

meinem Hardtail von corratec, dem Revolution 29

SL Factory. Für mich ist es entscheidend ein leichtes

und trotzdem stabiles Bike zu haben, um schnell zu

klettern und auf Abfahrten den nötigen Fahrkomfort zu

genießen. Genau diese Eigenschaften bietet das Revolution

29 SL Factory. Für mich die perfekte Rennmaschine um mich

für die anstehende Biathlon Weltcup Saison in Form zu bringen."

ARND PEIFFER,

BIATHLON OLYMPIA UND WELTCUPSIEGER

"In Summer and Spring I just train on my Hardtail the Revolution

29 SL Factory. For me it is the perfect training device. With

the light and stiff frame it is very fast on the climbs and also

well shaped for the descents. The perfect race machine to get

in shape for the upcoming Biathlon worldcup season."

Offizieller Lieferant der deutschen

Ski Nationalmannschaften Alpin,

Ski Cross, Biathlon und Nordisch
---
KETTENBLATT MTB EDITION Spring/Summer 2019

KETTENBLATT MTB EDITION Spring/Summer 2019

CORRATEC X VERT

Highlights

Triple Butted Aluminium Rahmen

Tapered Headtube – speziell verstärktes

Steuerrohr um auftretende Kräfte

besser aufnehmen zu können

CORRATEC

MTB TESTCENTER

The Lab - das corratec Testcenter ist DER

Hotspot für alle Biker mitten in Riva del

Garda. Inhaber Stefano ist ein wahrer Zau-

Unser Hardtail für jedes Terrain,

eine ausgewogene Geometrie mit

650B oder 29 Zoll Laufrädern

High-class Triple Butted

aluminum frame

X VERT PRO

X VERT RACE

THE LAB

RIVA DEL GARDA

berer am Werkzeug und bietet dir dein optimales

Set Up für die bestmögliche Performance

auf dem Trail.

The Lab - the corratec Testcenter is the

One and Only Hotspot for all bikers in the

center of Riva del Garda. Owner Stefano is

Tapered Headtube – specially reinforced

for better absorption of occurring forces

Our all-round hardtail for every terrain

with a balanced geometry with optional

29 inch or 650B wheels

X VERT ELITE

X VERT EXPERT

a real wizard at the tool bar and offers the

perfect set up for demanding and challen-

Die X Vert Reihe bietet für jeden das perfekte Bike, von

ging trails.

klein bis groß, von jung bis alt, vom Profi über den

Amateur bis hin zum Einsteiger. Mit der eigens entwickelten

X Vert Young Serie bieten wir die perfekten Bikes

für alle Rookies und den MTB Stars von morgen.

THE LAB

in Riva del Garda, Viale Rovereto 11b.

Mehr Informationen unter:

Ein echtes Highlight. Mit einem leichten Tripple Butted

Aluminium Rahmen, wahlweise 29, 650B, 26, 24 oder

20 Zoll Reifen vermittelt das Bike vor allem eines:

FREUDE AM FAHREN!

X VERT 650B MISS C

X VERT MOTION

www.the-lab.it

The X Vert range offers the perfect bike for everyone,

from small to tall, from young to old, from pro among

amateur to beginner. With the specially developed

X Vert Young series we offer the perfect bikes for all

rookies and the MTB stars of tomorrow. A real highlight.

With a lightweight tripple-butted aluminum frame,

either 29, 650B, 26, 24 or 20-inch tires, the bike stands

for our values and purpose: PASSION OF CYCLING!

X VERT HALCON

X VERT ROCK TEAM

X VERT ROCK

X VERT TEEN

X VERT KID

JULIANE SEYFARTH – DSV WELTCUP SKISPRINGERIN

Weltmeistertitel im Team Springen bei der WM in Seefeld/Innsbruck 2019

World title in the team Jumping at the World Championships in Seefeld/Innsbruck 2019

8

"Als Skispringerin vertraue ich nur auf das beste Material.

Beim Skispringen ist dies essenziell für den Erfolg und der

eigenen Sicherheit. Auch beim Biken will ich diese

Eigenschaften nicht missen, daher hab ich mir für den

kommenden Sommer für das Corratec X Vert Bike

entschieden. Ich freue mich bereits auf die ersten

Sommertrainings-Einheiten mit diesem Bike."

"As a ski jumper I trust only the best material. In ski jumping

the equipment is the cornerstone for success and your

own safety. I do not want to give up these qualities, therefore

I´m looking already forward to the summer training with my

corratec X Vert. "

Offizieller Lieferant der deutschen

Ski Nationalmannschaften Alpin,

Ski Cross, Biathlon und Nordisch
---
1993

KETTENBLATT MTB EDITION Spring/Summer 2019

2019

MOUNTAINBIKE

RACINGTEAM

CORRATEC AB DER SAISON 2019

STOLZER PARTNER DES MTB RACINGTEAM

(UCI PRO TEAM)

DIE FAHRER

STEFFEN THUM

Team Manager und Routinier

2x Overall Worldcup Winner

Transpyr Winner

Alps Epic Winner

REMI LAFFONT

Climber

Alps Epic Winner

Transpyr Winner

Arabian Epic Stagewin

CORRATEC FROM THE SEASON 2019

PROUD PARTNER OF THE MTB RACINGTEAM

(UCI PRO TEAM)

RIDERS

SIMON GEGENHEIMER

Sprinter

Overall Worldcup Winner

XCE Eliminator

4x German Champion Sprint

3x Medalist World Champs

MARION FROMBERGER

Puncheur

RENNTERMINE

RACEDATES

→→

UCI Weltcup XC

Esp/ITA/GER

→→

Bundesliga MTB

Weubach GER

→→

Alps Epic

Frankreich

→→

Bike Transalp

GER/AUT/ITA

→→

Arabian Epic

UAE

→→

Bike Festival Willingen

GER

GALI WEINBERG

Fliegengewicht / Flyweight

Medalist World Champs

Vice German Champion

UND NOCH VIELE MEHR …

AND MUCH MORE …

Medalist Israeli

Champs

SUPERBOW –

DIE LEGENDE LEBT WEITER!

THE LEGEND IS STILL ALIVE!

DIE ARBEITSGERÄTE

THE BIKES

REVOLUTION 29 SL FACTORY

REVOLUTION ILINK SL FACTORY

Highlights

Unverwechselbares

Corratec Bow-Design

Kurze Kettenstrebe

für einen agilen Rahmen

Polarised

corratec Bow-Design

Short Chain stay

for an agile frame

1993 revolutionierte corratec mit dem Superbow die Fahrradbranche

und sicherte sich unter anderem den Red Dot Design

Preis! In der Folge fuhr der damalige weltklasse Athlet Jan Ostergaard

auf dem corratec Superbow von Sieg zu Sieg im MTB

UCI Weltcup.

Logisch, dass solch eine Legende noch bis heute ein fester

Bestandteil der corratec Familie ist – das corratec Superbow

Team 29!

1993 corratec revolutionized with the Superbow the cycling

industry and won amongst others the Red Dot Desgin Award!

As a result, the world-class athlete Jan Ostergaard rode on

the corratec Superbow from victory to victory in the MTB

UCI World Cup.

Logically, such a legend is still an integral part of the

corratec family – The corratec Superbow Team 29!

CORRATEC-TESTCENTER/VERLEIHSTATIONEN

TEST DATES

→→

BIKE FESTIVAL

Riva del Garda/Italy

03. - 05.05.2019

→→

FESTIVAL

Brixen/Italy

19. - 22.09.2019

Händler/Name Straße Postleitzahl Ort Internet

DEUTSCHLAND

2-Rad Weissenseel Im Seelein 14 97332 Volkach www.zweirad-weissenseel.de

E-Bike Inn Tirolerstraße 3 83242 Reit im Winkl www.ebikeinn.com

ÖSTERREICH

WW-Sport Wörndle Dorfstraße 26 A-6212 Maurach am Achensee www.ww-sport.at

Sport 2000 Harry Montafonerstraße 7 A-6791 Sankt Gallenkirch www.sportharry.at

E-Mobility Travel & More Enge Gasse 3 A-4400 Steyr www.emobility.co.at

Sport 2000 Etz Bichlstraße 7 A-6370 Kitzbühel www.etz.at

Sport 2000 Perner Flachaustr. 142 A-5542 Flachau www.sport-2000-perner.at

Sport 2000 Klieber Hauptstr. 387 A-5531 Eben i. Pongau www.sport-klieber.at

Sport 2000 Nenner Hintetux 797 A-6294 Hintertux www.sportnenner.at

Sport Stubai Stubaital Str. 62 A-6167 Neustift www.sport-stubai.at

Sport Blachfelder Niederau 187 A-6314 Wildschönau www.sportblachfelder.at

Feelfree Piburger Str. 6 A-6433 Ötz www.feelfree.at

Sport 2000 Knittel Holzgau 77 A-6654 Holzgau www.sportcenter-knitel.at

Pro Cycle Kornmarktstr. 9 A-6900 Bregenz www.pro-cycle.at

Sport 2000 Sunny Sillian 49d A-9920 Sillian www.sunny-2000.com

Sport 2000 Grasmugg Kirchbach 24 A-8082 Kirchbach www.grasmugg.at

Sport Stock Postfeldstr. 7 A-6272 Kaltenbach www.sportstock.at

Sport 2000 Kendlbacher Nr. 126 A-5611 Grossarl www.sport-kendlbacher.at

MUK Sport Muhledorfle 73 A-6708 Brand www.muk-sport.at

Sport 2000 Wiebmer Europastr. 20 A-9971 Matrei i. O

details.sport2000.at/haendler/

sport-2000-wibmer-matrei-106

Sport 2000 Passler Außerrotte 33 A-9963 St. Jakob i. Deffreggen www.sport-passler.at

Bikenature Sankt Johann Speckbacherstr. 75 A-6380 St.Johann in Tirol www.bike-stjohann.at

SCHWEIZ

Matterhorn Sport Zermatt Bahnhofstrasse 78 CH-3920 Zermatt www.matterhornsport.ch

10 11
---
KETTENBLATT MTB EDITION Spring/Summer 2019

KETTENBLATT MTB EDITION Spring/Summer 2019

MTB 2019

Revolution iLink 29 SL

Fox 2019 34 FLOAT SC Performance Elite 120mm

Fox 2019 FLOAT DPS Performance

X Vert

Magura MT5/MT4 180mm/180mm

Rockshox RECON TK 100mm

Sram X01 Eagle black 12S

Shimano MT500 36/26T

44 | 48 | 52

Shimano Disc Brake MT200 180mm/160mm

WORLD OF MTB • BEST OF 2019

REVOLUTION ILINK SL PRO TEAM

Shimano DEORE XT 10S

39 | 44 | 49 | 54

X VERT RACE

Revolution iLink 29

Fox 34 FLOAT SC Performance 120mm

Fox 2019 FLOAT DPS Performance

Magura MT5/MT4 180mm/180mm

Sram GX Eagle 12S

WORLD OF MTB • BEST OF 2019

44 | 48 | 52

REVOLUTION ILINK PRO

X Vert

Rockshox XC 30 TK 100mm

REVOLUTION ILINK SL FACTORY

Revolution iLink 29 SL

Magura MT8/MT8 180mm/160mm

Fox 2019 32 FLOAT SC Factory 100mm

Sram XX1 Eagle Gold 12S

Fox 2019 FLOAT DPS Factory 44 | 48 | 52

Revolution iLink 29

Rockshox REBA RL 120mm

Fox 2019 FLOAT DPS Performance

Sram FC NX Eagle Boost Black 32T

Shimano Disc Brake MT400 180mm/180mm

Sram NX Eagle 12S

SUPERBOW TEAM 29

SuperBow Team 29

Shimano Disc Brake MT200 180mm/160mm

Rockshox RECON TK 100mm

Shimano DEORE XT 10S

Shimano MT500 36/26T 44 | 49 | 54

Shimano MT500 36/26T

Tektro HDM275 180mm/180mm

Shimano DEORE XT 10S

39 | 44 | 49 | 54

X VERT ELITE

44 | 48 | 52

REVOLUTION ILINK LTD

Revolution 29 SL

Rockshox SID Word Cup 100mm

X Vert

Sram XX1 Eagle Boost Gold 32T

RST Aerial 100mm

Magura MT8/MT8 180mm/160mm

Shimano MT210 36/22T

Sram XX1 Eagle Gold 12S

Tektro HDM275 180mm/180mm

39 | 44 | 49 | 54

Shimano DEORE 9S

REVOLUTION SL PRO TEAM

39 | 44 | 49 | 54

X VERT EXPERT

REVOLUTION SL FACTORY

Revolution 29 SL

Magura MT8/MT8 180mm/160mm

Fox 32 FLOAT SC Factory 100mm

Sram XX1 Eagle Gold 12S

Sram XX1 Eagle Boost Gold 32T 39 | 44 | 49 | 54

Revolution 29 SL

Rockshox SID RL 100mm

Shimano DEORE XT 36/26T

Magura MT4/MT4 180mm/160mm

Shimano DEORE XT 11S

39 | 44 | 49 | 54

REVOLUTION SL PRO

X VERT PRO

X Vert SL

Sram DB LVLTL 180mm/160mm

Rockshox RECON RL 100mm

Sram GX Eagle 12S

Sram Descendant Eagle Black 32T 39 | 44 | 49 | 54

X Vert 650B

HL525D AMS 100mm

Shimano M371 40/33/22T

Tektro HDM275 180mm/180mm

Shimano ACERA 9S

Revolution 29

Rockshox RECON RL 100mm

Shimano MT500 36/26T

39 | 44 | 49 | 54

X VERT MOTION

Shimano Disc Brake MT200 180mm/160mm

Shimano DEORE XT 10S

39 | 44 | 49 | 54

REVOLUTION LTD

Revolution 29

X Vert 650B

Rockshox RECON RL 100mm

HL 565D AMS 100mm

Sram STYLO Eagle 32T

Shimano FY301 42/34/24T

REVOLUTION RACE

Magura MT4/MT4 180mm/160mm

Sram NX Eagle 12S

X VERT MISS C

Tektro HDM275 180mm/180mm

Shimano ACERA 8S

Revolution 29

Magura MT4/MT4 180mm/160mm

Rockshox REBA RL 100mm

Shimano DEORE XT 11S

Shimano DEORE XT 36/26T 39 | 44 | 49 | 54

39 | 44 | 49 | 54

REVOLUTION ELITE

X Vert Miss C 650B

Tektro HDM275 180mm/180mm

RST Omega 100mm

Shimano DEORE 9S

Shimano MT100 40/33/22T 39 | 44 | 49 | 54

34 | 39 | 44 | 49 | 54

X VERT HALCON

12 13
---
KETTENBLATT MTB EDITION Spring/Summer 2019

KETTENBLATT MTB EDITION Spring/Summer 2019

KIDS & TEENS 2019

X Vert 26 Rock

X Vert 26 Rock

Manitou Marvel C

HL 565 AMS

Shimano TOURNEY TX 42/32/22T

Shimano TOURNEY TX 42/32/22T

Tektro HDM285 180mm/160mm

Tektro HDM285 180mm/180mm

Shimano TOURNEY TX 8S

Shimano TOURNEY TX 8S

34 | 39

34 | 39

X VERT ROCK TEAM

X VERT ROCK

X Vert Teen 24

X Vert Kid 20

HL 565 AMS

HL 565 AMS

Single Crankset

Single Crankset

Tektro V-Brake

Tektro V-Brake

Shimano TOURNEY 7S

Shimano TOURNEY 7S

Uni

Uni

X VERT TEEN

X VERT KID

E-POWER X VERT FACTORY 650B+

Bosch Performance CX / Purion Display

Sram GX Eagle 12S

Bosch PowerTube 500Wh

Magura MT5/MT4 203mm/180mm

E-Power X Vert 650B Plus

ZZYZX Cross Attack 650B

Rockshox REVELATION Motion Control 140mm 39 | 44 | 49 | 54

Bosch Performance CX / Purion Display

Bosch PowerTube 500Wh

E-Power X Vert 650B Plus

Rockshox RECON RL 140mm

Shimano M7000 SLX 11S

Shimano Disc Brake MT201 180mm/180mm

ZZYZX Cross Attack 650B

39 | 44 | 49 | 54

E-POWER X VERT PRO TEAM 650B+

Bosch Performance CX / Purion Display

Bosch PowerTube 500Wh

E-Power X Vert 650B

Rockshox RECON RL 100mm

Shimano DEORE XT 11S

Magura MT5/MT4 180mm/180mm

ZZYZX Cross Attack 650B

39 | 44 | 49 | 54

E-POWER X VERT PRO 650B TRAPEZ

Bosch Performance CX / Purion Display

Bosch PowerTube 500Wh

E-Power X Vert 650B

Rockshox RECON RL 100mm

Shimano DEORE XT 11S

Magura MT5/MT4 180mm/180mm

ZZYZX Cross Attack 650B

39 | 44 | 49 | 54 | 57

E-POWER X VERT PRO 650B GENT

E-MTB 2019

Bosch Performance CX / Purion Display

Bosch PowerTube 500Wh

E-Power RS 150

Rockshox YARI RC 150mm

Shimano DEORE XT 11S

Magura MT5/MT4 203mm/203mm

ZZYZX Cross Attack 650B

41 | 46 | 51 | 56

E-POWER RS 150 PRO 650B+

WORLD OF MTB • BEST OF 2019

E-POWER X VERT ELITE 29 TRAPEZ

Bosch Performance CX / Purion Display

Shimano DEORE XT 10S

Bosch PowerTube 500Wh

Shimano Disc Brake MT200 180mm/180mm

E-Power X Vert 29 ZZYZX Cross Attack 29

Suntour XCR Air 100mm 39 | 44 | 49 | 54

Bosch Performance CX / Purion Display

Bosch PowerTube 500Wh

E-Power X Vert 29

Suntour XCR Air 100mm

Shimano DEORE XT 10S

Shimano Disc Brake MT200 180mm/180mm

ZZYZX Cross Attack 29

39 | 44 | 49 | 54 | 57

E-POWER X VERT ELITE 29 GENT

Bosch Performance / Purion Display

Bosch Performance CX / Purion Display

Bosch PowerTube 500Wh

Bosch PowerTube 500Wh

E-Power X Vert 29

E-Power RS 150

Suntour XCR Air 100mm

Suntour Aion 140mm

Shimano DEORE XT 10S

Shimano DEORE XT 10S

Tektro HDM275 180mm/180mm

Shimano Disc Brake MT200 180mm/180mm

ZZYZX Cross Attack 29

ZZYZX Cross Attack 29

39 | 44 | 49 | 54 | 57

41 | 46 | 51 | 56

E-POWER RS 150 ELITE 29

E-POWER X VERT EXPERT 29 GENT

Bosch Performance Speed 45 / Intuvia Display

Bosch PowerTube 500Wh

E-Bow 29

Rockshox REBA RL Motion Control 100mm

E-POWER RS 150 FACTORY 29

Shimano DEORE XT 11S

Magura MT5E/MT4E 180mm/180mm

E-POWER X VERT EXPERT 29 TRAPEZ

Bosch Performance Speed 45 / Intuvia Display

Sram GX Eagle 12S

ZZYZX Cross Attack 29

Bosch Performance / Purion Display

Shimano DEORE XT 10S

Bosch PowerTube 500Wh

Magura MT5/MT4 203mm/203mm

44 | 49 | 54

Bosch PowerTube 500Wh

Tektro HDM275 180mm/180mm

E-Power RS 150 Mavic XA 29

Fox 36 FLOAT Performance 150mm 41 | 46 | 51 | 56

E-BOW SPEED 29

E-Power X Vert 29 ZZYZX Cross Attack 29

Suntour XCR Air 100mm 39 | 44 | 49 | 54

14 15