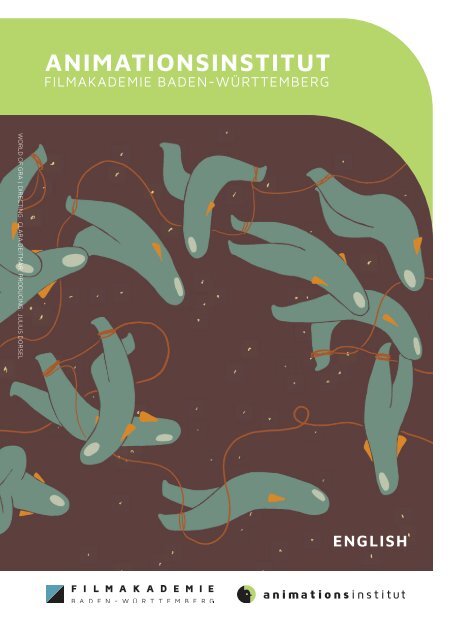 Animationsinstitut Broschüre English
Erfolgreiche ePaper selbst erstellen
Machen Sie aus Ihren PDF Publikationen ein blätterbares Flipbook mit unserer einzigartigen Google optimierten e-Paper Software.
A JUGGLER'S TALE | REGIE: STEFFEN WORLD OBERLE OF GRA & ENZIO | DIRECTING: PROBST, CLARA PRODUCER: DEITMAR, DOMINIK PRODUCING: SCHÖN JULIUS DORSEL

ANIMATIONSINSTITUT

FILMAKADEMIE BADEN-WÜRTTEMBERG

ENGLISH
---
SIX REASONS

TO STUDY AT

ANIMATIONSINSTITUT

Animationsinstitut at Filmakademie Baden-Württemberg trains

outstanding talents at the highest level in the fields of Animation,

Visual Effects, Technical Directing, Animation/Effects Producing

and Interactive Media. In addition, the institute runs a Research & Development

department and curates the annual international conference FMX.

1.

2.

3.

4.

5.

6.

INTEGRAL APPROACH & SPECIALIZATION

We provide our students with an understanding of the overall

context of animation. On this basis, we enable them to specialize

step by step.

PERSONAL DEVELOPMENT

We encourage and support our students as they discover and

develop their authenticity.

PROJECT WORK AND TEAMWORK

Working in teams, our students develop and realize projects of

exceptional quality.

TECHNOLOGICAL ADVANTAGE

Close links with national and international research projects also

give our students a decisive advantage on the forefronts of technology.

TALENT PROMOTION & NETWORKING

We make it easy for our students and alumni to get settled in

the industry, define their roles, network, and develop their skills.

HEIMAT & INTERNATIONALITY

Animationsinstitut is the home base. FMX is where the community

meets. It is also a career springboard for our students and alumni.

1
---
MOBILE | DIRECTING: VERENA FELS, PRODUCING: FRANZISKA SPECHT & REGINA WELKER

2
---
FILMAKADEMIE

BADEN-WÜRTTEMBERG

INTERDISCIPLINARY FILM & MEDIA EDUCATION

Animationsinstitut is part of the Filmakademie Baden-Württemberg, one of

the world's leading educational institutions in film and media.

From first year on, training in theory and practice is organised in interdisciplinary

teams. The teams consist of students from several courses such as

Animation, Cinematography, Documentary Directing, Screenplay, TV Journalism,

Film Music, Film Sound/Sound Design, Interactive Media, Montage/

Editing, Motion Design, Production, Production Design, Fiction Directing, Series

and Advertising Film.

This means the school produces over 250 film and media projects every year.

Our 500 students are supported by over 300 visiting lecturers and 120 staff.

They help our students to find their unique style and develop the courage to

take risks in their work.

UNIQUE & GLOBALLY CONNECTED CAMPUS

The Filmakademie is located on a campus which is shared with Animationsinstitut,

the Academy of Performing Arts Baden-Württemberg and the Atelier

Ludwigsburg-Paris, a one-year programme of continuous education for European

filmmakers in the fields of production and distribution. That is why the

Filmakademie offers students a broad and unique interdisciplinary qualification.

Further, our partnerships with universities and international programmes

mean our students have access to international networks of creatives.

www.filmakademie.de

www.animationsinstitut.de

www.adk-bw.de

www.atelier-ludwigsburg-paris.com

3
---
FILMAKADEMIE BADEN-WÜRTTEMBERG & ANIMATIONSINSTITUT | CAMPUS

4
---
STUDIES

FIELDS OF STUDIES

Animationsinstitut at Filmakademie Baden-Württemberg offers the following

fields of studies:

Animation (i.e. Character Animation)

Visual Effects

Animation/Effects Producing

Technical Directing

Interactive Media

BASIC STUDIES & PROJECT/POSTGRADUATE STUDIES

During their two years of basic studies (1st and 2nd year), all students of

Filmakademie receive training collectively and in an interdisciplinary manner to

learn the basic concepts and methods of filmmaking. During the following two

and a half years of project/postgraduate studies (3rd and 4th year), the students

work on their own projects in their chosen specialization. Direct entry into project

studies is possible. In order to qualify, candidates for project or postgraduate

studies must already hold a degree in a relevant subject area or provide proof of

sufficient work experience. All lectures in project study courses are held in English.

Animation/Effects Producing, Technical Directing and Interactive Media are offered

as postgraduate studies and no tuition fees are charged for EU citizens. Candidates

must already hold a degree from a university or equivalent institution (Bachelors,

Masters or Diploma) and provide proof of practical experience.

Training at Animationsinstitut is hands-on and project related. The students

receive support through seminars, weekly classes and mentoring as well as

individual supervision. All fields of studies at Animationsinstitut are fulltime

courses and start in the winter semester. Upon successful completion

of their studies, students receive the Filmakademie's diploma.

FOR MORE INFO, PLEASE SCAN CODES

5

STUMBLEBEE | DIRECTING: MONIKA TENHÜNDFELD, PRODUCING: MONIKA TENHÜNDFELD & CHRISTIAN ZEHETMEIER
---
6
---
INTERNATIONAL

OUTLOOK

Animation is a global art form. The VFX, games and animation industries act

multinationally, with many of the studios working across various continents.

As a globally connected school, Animationsinstitut supports artistic cooperation

across borders and cultures. Its English language curriculum, especially

in project study and postgraduate courses, makes it an international hub for

talents from all over the world where they can thrive creatively.

At the same time, Animationsinstitut enables its students to network internationally

and to gather work experience around the globe during their studies.

Within a mobility year after the basic study course, they can not only

do internships but also participate in student exchange programs. For this

purpose, Animationsinstitut cooperates with partnering schools and universities

worldwide, whose students also come to Ludwigsburg to realize projects

together with students of Animationsinstitut.

"Animation is a universal language with 1000 faces, and animation

projects need many voices and diverse perspectives. That is why we want

to welcome talents from all over the world as our students"

Dr. Tina Ohnmacht, Head of International Network Animationsinstitut

7
---
BILD VON MOODY BOOTY, KATHRIN KÜHNER 2020

MOODY BOOTY | DIRECTING: KATHRIN KUHNERT, PRODUCING: LENA-CAROLIN LOHFINK & MAREIKE KELLER

8
---
ANIMATION

9

BLIESCHOW | DIRECTING: CHRISTOPH SAROW, PRODUCING: LENA-CAROLIN LOHFINK
---
"There are no limits to animation – anything we can imagine can be brought

to life through animation."

Prof. Andreas Hykade, Head of Animationsinstitut & Senior Lecturer Animation

10
---
ANIMATION

Hardly any other sector of the creative industry sets less limits to your imagination

than the world of animation.

Animationsinstitut of Filmakademie offers you artistic and technical education

in the field of animation. Whether computer animation, hand-drawn animation,

stop motion, real-time animation, or interactive applications – our technologically

sophisticated infrastructure gives you the opportunity to learn all

relevant production techniques.

The objective is to develop your individual artistic style. To this end, you carry

out your own projects and are given the space and freedom to experiment in a

variety of ways together with other Filmakademie students. You are supported

by highly qualified lecturers and even while studying you will meet important

players in the national and international industry.

"For me, my studies had exactly the right mixture of structure and

freedom. On the one hand, there was the professional infrastructure and

high-quality technical equipment. On the other hand, creative teaching,

workshops and a motivating environment that enables you to realize

your own projects."

Christoph Sarow, Alumnus Animation

11

ROLLIN` WILD | DIRECTING: KYRA BUSCHOR, CONSTANTIN PAEPLOW, PRODUCING: PAUL MARESCH
---
Course of study

Entry options

Duration

Teaching language

Tuition fees

(per Semester)

Job profiles

Film & Media

Basic Studies (BS) & direct entry into Project Studies (PS)

BS 2 Years, PS 2 ½ Years (Full-time study)

German & English

EU Citizens: BS & PS € 0 or € 650 (second degree) respectively

Non-EU: BS & PS € 1,500

Concept Artist, 2D/3D Artist, CG Artist, Stop Motion

Director, Animation Director

A BLINK OF AN EYE | DIRECTING & PRODUCING: KIANA NAGHSHINEH

12
---
CHARACTER

ANIMATION

CHARACTER ANIMATION

Within the Animation course, Animationsinstitut offers unique training in

Character Animation in all its forms and functions. You acquire all relevant

skills for this specialised field.

Learn the art of breathing life into characters for the film and game industries

using performing arts, traditional animation, and modern techniques. Industry

renowned lecturers will help you kick-start your career in the film and media

industry.

"As a result of a growing worldwide demand for highly qualified Character

Animators, this specialization is an important part of Animationsinstitut's

curriculum and is unique in Germany. Industry renowned lecturers

and cutting-edge technology give students the opportunity to develop

expertise in a key skill, which helps them kick-start a successful career."

Urte Zintler, Senior Lecturer Character Animation

13

RATATOSKR | DIRECTING: MEIKE MÜLLER, PRODUCING: LENA-CAROLIN LOHFINK & MALTE STEHR
---
Course of study

Entry options

Duration

Teaching language

Tuition fees

(per Semester)

Job profiles

Film & Media

Basic Studies (BS) & direct entry into Project Studies (PS)

BS 2 Years, PS 2 ½ Years (Full-time study)

German & English

EU Citizens: BS & PS € 0 or € 650 (second degree) respectively

Non-EU: BS & PS € 1,500

Character Animator, Animation Director

EVANGELINE | DIRECTING: NADINE SCHWENK, PRODUCING: NINA SCHWARZ

14
---
VISUAL

EFFECTS

15

ON THE SET OF "LOVE AND FIFTY MEGATONS" | DIRECTING: CORNELIUS SCHICK, PRODUCING: MARVIN MARTE & JOSE-

PHINE ROSS
---
"The specialization VFX deals with the planning and creation of visual effects

from script to final image at the highest level."

Prof. Juri Stanossek, Senior Lecturer Visual Effects

16
---
VISUAL EFFECTS

With visual effects (VFX), there are no limits for you to tell your story. Hardly

any film, game or spot is made without the use of VFX these days.

Studying at Animationsinstitut gives you an artistic and technical education

in the implementation of VFX in films, games, and other formats. Our technologically

sophisticated infrastructure allows you to learn all relevant techniques

for VFX production.

You carry out your own projects and have the space and freedom to experiment

in a variety of ways together with other Filmakademie students. Highly

skilled lecturers support you, and even while studying you get to meet important

players in the national and international industry.

"The most important thing I learned here was teamwork and multifaceted

thinking. Everyone brings special skills to their studies so that everyone

learns from each other."

Pascal Schelbli, Alumnus Visual Effects & Student Academy Award Winner

17

BREAKINGPOINT | DIRECTING: MARTIN LAPP, PRODUCING: ANICA MARUHN & TOBIAS GERGINOV
---
Course of study

Entry options

Duration

Teaching language

Tuition fees

(per Semester)

Job profiles

Film & Media

Basic Studies (BS) & direct entry into Project Studies (PS)

BS 2 Years, PS 2 ½ Years (Full-time study)

German & English

EU Citizens: BS & PS € 0 or € 650 (second degree) respectively

Non-EU: BS & PS € 1,500

VFX Supervisor, VFX Artist, Digital Matte Painter, Lighting/

Shading/Texturing Artist, Previz Artist, Modeling Artist, VFX

Compositor, VR Director

THE BEAUTY | DIRECTING: PASCAL SCHELBLI, PRODUCING: TINA VEST & ALEKSANDRA TODOROVIC

18
---
ANIMATION/

EFFECTS

PRODUCING

19

MULM (FMX TRAILER 2020) | DIRECTING: CAROL RATAJCZAK & TOBIAS TREBELJAHR, PRODUCING: LAURA MESSNER
---
"By working on various animation projects the future producers, creative

producers, and line producers get to know their tasks first-hand."

Prof. Lilian Klages, Senior Lecturer Animation/Effects Producing

20
---
ANIMATION/EFFECTS PRODUCING

Be the one who pulls all the strings: As a producer of films or games you are

involved in every phase of a project, from idea to marketing. You are the one

who makes it all happen!

The course Animation/Effects Producing at Animationsinstitut teaches you the

production-related implementation of animation, game, and effects projects.

You will become a professional in matters of budgeting, timing, resource

management, team leadership and more.

In addition to these theoretical foundations, the focus of your studies is on

practical work and project realization together with other students. The objective

is to teach you a problem-based, joined-up way of thinking to help you

with the competent development and implementation of project ideas.

"Here at Animationsinstitut, we have various possibilities to try different

technologies and learn so many things by really producing different types

of productions."

Jiayan Chen, Alumna Animation/Effects Producing

21

ON THE SET OF "BURNED" | DIRECTING: JUSTIN BRAUN, PRODUCING: ISABELLA BRAUN
---
Course of study

Entry options

Duration

Teaching language

Tuition fees

(per Semester)

Job profiles

Entry

Requirements

Film & Media or Production

Basic Studies in Production at FABW (BS)

& Postgraduate Studies (PGS)

BS 2 Years, PGS 2 ½ Years (Full-time study)

German & English

EU Citizens: BS € 0 or € 650 (second degree) respectively,

PGS € 0

Non-EU: BS & PGS € 1,500

Animation Producer, VFX Producer, Production Coordinator,

Production Manager, Project Manager

First degree in economics, management, media, design,

communication, or another related field; Organizational

skills; Ideally, industry experience in producing

TEAM OF "PARIS YOU GOT ME" | DIRECTING: JULIE BOEHM, PRODUCING: ALEKSANDRA TODOROVIC &

ANN-KATRIN BOBERG

22
---
TECHNICAL

DIRECTING

23

LED WALL SET, STUDIO 1, FILMAKADEMIE
---
"The students learn to master the technological challenges that are required

for the realization of projects in the fields of animation, VFX, virtual production,

and immersive media. With their knowledge of using new technology, they

are able to contribute to sustainable production processes."

Prof. Volker Helzle, Senior Lecturer Technical Directing & Head of Research & Development

24
---
TECHNICAL DIRECTING

As a Technical Director with a background in computer science, you set new

tech trends in the film and game industry. You create the link between art and

technology in the production of films, games, or immersive media projects.

You manage any technical aspects.

After you have completed your studies of computer science or a similar subject

area, you are comprehensively trained as a Technical Director at Animationsinstitut.

You implement Animation and VFX projects, research new software

solutions, and are free to experiment in a variety of ways together with other

Filmakademie students.

For example, you program suitable software solutions, automate animation or

VFX processes, and define workflows. Another important part of your studies

is your research work at Animationsinstitut.

"I see a Technical Director as a mixture between an artist and a person

who likes technology and programming. It's the perfect mixture of art

and math."

Hanna Binswanger, Alumna, Rigging TD at Animal Logic

25

IMMERSIVE EXPERIENCES WORKSHOP
---
Course of study

Entry options

Duration

Teaching language

Tuition fees

(per Semester)

Job profiles

Entry

Requirements

Animation/Technical Directing

Postgraduate Studies (PGS)

PGS 2 ½ Years (Full-time study)

English

EU Citizens: PGS € 0

Non-EU: PGS € 1,500

Technical Director (TD), Technical Artist, Creature TD,

Pipeline TD, Research TD, Shading & Lighting TD, FX TD,

Virtual Production TD, Rigging TD

First degree in computer science, or related field;

Enthusiasm for animation and VFX projects.

VIRTUAL FILMMAKING WORKSHOP

26
---
INTERACTIVE

MEDIA

27

INSTALLATION "SCHWEBEPUNKTE" (NEULAND FESTIVAL) | MALTE HARTLEB, CLARA DEITMAR & JANNIK JOCHIM
---
"Format openness, curiosity, eagerness to experiment – interactive

media are a playground of possibilities."

Anna Brinkschulte, Senior Lecturer Interactive Media

28
---
INTERACTIVE MEDIA

A game or a visionary app for the world of the future – create impressive,

interactive experiences! By specializing in Interactive Media at Animationsinstitut,

you learn how to design, plan, and implement games, apps, VR

experiences, media installations, and other interactive experiences. You can

choose from the three specializations Transmedia/Games Director, Transmedia/Games

Artist or Transmedia/Games Producer.

The leitmotif of the course is "Games & Beyond". The focus is on the social as

well as playful interaction of users and observers with the possibilities offered

by media. You have unlimited room to experiment with formats. The objective

is to develop ideas as well as your own artistic and technical design language.

Projects of students with such specialization have won several awards, including

"Deutscher Computerspielpreis" (German Computer Games Award) and

awards by the internationally important SIGGRAPH Asia.

"At Animationsinstitut, the great influence of other creative students

creates very individual ideas and ways of looking at the usual design

processes."

Dominik Schön, Alumnus Interaktive Medien & Winner German Developer Award

29

SIX HATS | DIRECTING: FABIAN FIESS, PRODUCING: VINCENT WALTAN
---
Course of study

Entry options

Duration

Teaching language

Tuition fees

(per Semester)

Job profiles

Film & Media or Production respectively

Basic Studies (BS) & Postgraduate Studies (PGS)

BS 2 Years, PGS 2 ½ Years (Full-time study)

German & English

EU Citizens: BS € 0 or € 650 (second degree) respectively,

PGS € 0

Non-EU: BS & PGS € 1,500

Game Designer, UX Designer, Content Director,

Creative Director, Creative Technologist, Art Director,

Artist, Tech Artist, Media Producer

SUPER SIZE HERO – ANIPLAY | DIRECTING: TILL SANDER-TITGEMEYER, PRODUCING: JIAYAN CHEN

30
---
WHICH REQUIREMENTS DO I NEED TO MEET TO STUDY

AT FILMAKADEMIE?

In general, applicants need a high school diploma equivalent to the German

Abitur. Practical experience in the media sector (basic studies: 12 months,

project/postgraduate studies: 6 months) must be proven. If applicants do not

possess a university entrance degree, they have the option of proving their

specific artistic proficiency in a particular test. In addition, all applicants must

prove their suitability by submitting a work sample.

Candidates for postgraduate studies should hold a first degree in a related field.

WHAT IS THE MAIN TEACHING LANGUAGE?

German is still the primary on-site language at Animationsinstitut, however,

in the project and postgraduate studies an increasing number of lectures and

31
---
workshops are held in English by international lecturers. You still need to obtain

a DSH German certificate to apply at Animationsinstitut, except for Technical

Directing, which is taught exclusively in English.

DO YOU CHARGE TUITION FEES?

EU Students: No tuition fees are charged for first degree studies or for

the postgraduate studies Animation/Effects Producing, Technical Directing

and Interactive Media.

International Students from non-EU countries: Tuition fees are

€ 1,500 per semester. In some cases, tuition fee waivers are available.

For further information please contact:

studienreferat@filmakademie.de

32
---
BEYOND STUDY

Beyond study, Animationsinstitut encourages cooperation and exchange

between students, alumni, lecturers, and employees. This leads to a lively

community in which members support each other regarding the development

of ideas and projects, teambuilding, networking, a transfer of knowledge and

technology, productions, and more.

ALUMNI

Graduates keep in touch with each other and with Animationsinstitut. Regular

Alumni-Meetings, the Alumni-Newsletter of Filmakademie, and personal

profiles on the graduate portal (www.filmakademie-alumni.de) build the

framework of the dynamic Alumni-Network of Animationsinstitut.

TALENT

In accordance with the motto "lifelong learning", Animationsinstitut offers

students and alumni to participate in programs such as Animation Sans Frontières

(ASF). This EU-funded international training program brings together

young creatives from all over Europe to develop animation-related projects.

Also, to kickstart professional careers, Animationsinstitut supports its graduates

in the matters of intellectual property, sustainable production, and

entrepreneurship.

3RD PARTY PRODUCTIONS

With and for external companies, institutions, and organizations, Animationsinstitut

realizes a wide variety of commissioned productions and third-party

funded projects in accordance with market conditions. These projects enable

recent graduates to continue to work on ideas, approaches, and team works

that were created during their studies, often in collaboration with Animationsinstitut's

Research and Development department.

"To complement the wide range of courses, a strong, lively, and open

Animationsinstitut-community provides room for developments, collaborations,

initiatives, and a diverse variety of formats, in cooperation with

external partners."

Christian Müller, 3rd Party Productions & Alumni

33
---
OUR FORMER STUDENTS WORK AT...

Pixar, Walt Disney Animation Studios, Industrial Light & Magic, Weta,

Framestore, MPC, ScanlineVFX, Mackevision, Pixomondo, Rise FX, Studio

Film Bilder, Ravensburger, M.A.R.K. 13, Studio Soi, Studio Seufz, Woodblock,

Studio Fizbin, Zeitland Media & Games, and many more or founded their

own studios.

ALUMNI MEETING AT FMX

S.M.I.L.E. (GAME) | DANIEL BAHR, DANIELA DREWKE, JASMIN DREYER

34
---
UNIQUE STUDY

ENVIRONMENT

RESEARCH & DEVELOPMENT

Practical education at Animationsinstitut is complemented by academic

research carried out by the R&D department. Together with its national and

international partners, the department conducts diverse research projects

focusing on technical innovations for film and media productions. In particular,

Technical Directing students are encouraged to contribute to the department's

research projects. Further activity of Animationsinstituts' research and

development centers on providing a foundation for ecologically sustainable

productions based on new technologies at Filmakademie and beyond.

TECHNICAL EQUIPMENT

Animationsinstitut offers facilities with state-of-the-art technology. All

students have their own workstation with all current tools as well as special

project-based solutions. They also have access to all of Filmakademie's infrastructure.

"State-of-the-art techniques such as motion capture and virtual camera

as well as tailored equipment and periphery of the student workstations

represent the 'hand tools' of all animation students. Technology must

not hinder the work of our students but should promote and spur their

creativity."

Joachim Genannt, Head of Technology Animationsinstitut

35
---
VIRTUAL FILMMAKING WORKSHOP

LED WALL SET, STUDIO 1, FILMAKADEMIE

36
---
FMX

Each year, Animationsinstitut organizes FMX. The non-profit

English-speaking event is a globally influential conference dedicated

to animation, visual effects, interactive and immersive media.

At FMX creative minds and international experts gather from around the

world. Top-class speakers provide deep insights into industry developments

in presentations, workshops, master classes and company suites. The latest

tools, technologies and business models are introduced and discussed. Wellknown

studios and companies scout for new talent at the Recruiting Hub.

On the School Campus, students from around the world can exchange ideas.

At FMX, Animationsinstitut's students have the chance to gain first-hand

information on the latest trends and innovations in art and technology. Also,

they can present their study projects to an international audience as part of

the conference program and establish useful contacts for their future career

in the industry.

"FMX is an important part of Animationsinstitut's curriculum. It is a big

plus for students that they can build a network for their future careers

there."

Prof. Andreas Hykade, FMX Conference Chair

www.fmx.de

37

FMX
---
FILM & MEDIA EXCHANGE

FMX | FILM & MEDIA EXCHANGE

FMX 2022_AI Broschüre_17-11-2021.indd 1 17.11.2021 17:03:23

38
---
ANIMATIONSINSTITUT

HEAD OF ANIMATIONSINSTITUT

Prof. Andreas Hykade (Head of Animationsinstitut, FMX Conference Chair),

Heike Mozer (Head of Finance/Management),

Ann-Kathrin Eglsoer (Executive Assistant)

STUDIES

Senior Lecturers

Prof. Andreas Hykade (Animation),

Anna Brinkschulte (Interaktive Medien),

Prof. Lilian Klages (Animation/Effects Producing),

Prof. Volker Helzle (Technical Directing)

Curriculum Coordination

Constanze Bühner, Claudia Baumgartner, Isabel Gimber

International Network

Dr. Tina Ohnmacht

Production

Anna Matacz, Yannick Petzold

Third-Party-Productions & Alumni

Christian Müller

Project Mentoring

Lisa Forelli, Stefan Michel, Philipp Obländer, Andreas Ulmer

39
---
RESEARCH & DEVELOPMENT

Prof. Volker Helzle (Head of Research & Development),

Simon Spielmann, Jonas Trottnow, Tonio Freitag, Paulo Scatena

MANAGEMENT

Selina Schmutz, Marco Neuert, Anja Fellerhoff, Nataša Predojević

Communication

Theresa Seitz, Franziska Ullrich

TECHNOLOGY

Joachim Genannt (Head of Technology)

IT

Viet Nguyen, John Holth, Thomas del Popolo, Elmar Weinhold

Post Production

Michael Schott, Stefan Binggeser

STAFF POSITIONS

Dr. Alexander Kreische (Coordination Online Projects & Media Production),

Christiane Geyer (Project Management IT-Applications),

Anke Kletsch (Coordination Festivals)

40
---
PRIZES & AWARDS

1000 INTERNATIONAL PRIZES FOR STUDENT PROJECTS

Student Academy Awards, Annie Awards, SIGGRAPH, SIGGRAPH Asia, VES

Awards, BAFTA, The Rookie Awards, Deutscher Computerspielpreis, Gamescom,

Ottawa International Animation Festival, Cannes Lions, Cartoon d'Or, AMAZE,

Lumière Awards, Stuttgart Festival of Animated Film, Anima Mundi, Ars Electronica,

First Steps Awards

AWARDS ANIMATIONSINSTITUT

The Hollywood Reporter

The Top 10 Visual Effects Schools 2019,

The Top 15 International Film Schools 2017

Focus Money

Germanys best public arts college 2018

The Rookies

Best Visual Effects School 2017, Runner-up Best Animation School 2018, 2nd

Place Visual Effects & Animation School Production Excellence 2021

VFX Voice

Among the "Leading VFX programs" 2019

41

TEAM OF "THE BEAUTY" AT THE VES AWARDS CEREMONY IN LOS ANGELES
---
CONTACT

If you have any questions on how to apply at Animationsinstitut,

please feel free to contact us:

study@animationsinstitut.de (Animationsinstitut)

studienreferat@filmakademie.de (Filmakademie in general)

Filmakademie Baden-Württemberg GmbH

Animationsinstitut

71638 Ludwigsburg

Akademiehof 10

Germany

+49 7141 969 82 800

info@animationsinstitut.de

Take a look behind the scenes and connect with students, lecturers, and

alumni:

www.animationsinstitut.de

www.filmakademie.de

"Studying at Animationsinstitut offers a lot of flexibility, especially in

the project studies. You can choose which areas you'd like to focus on,

we encourage you to give feedback and suggest guest lecturers from the

industry. If you want to initiate a project or contribute to somebody else's

project, is up to you. So if you are looking for a practice-oriented course

you can actively shape yourself, this is the place to be."

Constanze Bühner, Curriculum Coordination

42
---
"In respect of financial, organizational, and legal matters, the

management is committed to successfully implement projects of the

students and the academic departments. In this process, we feel

obliged to consider values such as equality and diversity. Regardless of

their origin, gender, belief, social background, or physical condition,

students and employees shall be able to unfold their talents and

strengths at Animationsinstitut."

Heike Mozer, Head of Management Animationsinstitut

"Animationsinstitut is characterized not only by a professional

atmosphere but also a very familiar one. We support students quite

individually in their creative development and try to provide the best

framework possible to realize their ideas. In this regard, there are

many possibilities because of the intensive cooperation with other

departments of the Filmakademie. Furthermore, there is a high level of

quality in production, as the project teams are supervised by industryexperienced

mentors." Anna Matacz, Head of Production Animationsinstitut

43

THE GIANT AND THE SEED | DIRECTING: SARA SHABANI HESARI, PRODUCING: SARA SHABANI HESARI & SASKIA STIRN
---
"If someone is still unsure to apply, one should please not hesitate to get

in contact with us via study@animationsinstitut.de. If something seems

unclear or there are yet questions, we are happy to support applicants

where possible." Claudia Baumgartner, Curriculum Coordination Animationsinstitut

"We support students if they have any questions about their participation

in festivals around the globe, and we help them with submitting their

projects. Every year we have numerous acceptations and can see much

success because of the high level of quality of the works."

Anke Kletsch, Coordination Festivals Animationsinstitut

"We offer student projects the chance to get publicity and focus the

attention on the people behind them. There are a lot of stories to tell, and

it is fun to spread the word over our channels about Animationsinstituts'

great creative output." Theresa Seitz, Management Communication Animationsinstitut

HALLWAY ANIMATIONSINSTITUT

44
---
45
---
BLIESCHOW | REGIE/DIRECTOR: WORLD OF CHRISTOPH GRA | DIRECTING: SAROW, PRODUCER: CLARA DEITMAR, LENA-CAROLIN PRODUCING: LOHFINK JULIUS DORSEL

46