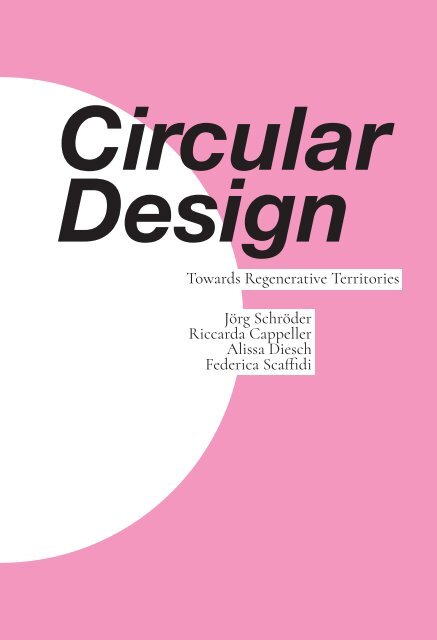 Circular Design
ISBN 978-3-86859-745-5
ISBN 978-3-86859-745-5
MEHR ANZEIGEN
WENIGER ANZEIGEN
Erfolgreiche ePaper selbst erstellen
Machen Sie aus Ihren PDF Publikationen ein blätterbares Flipbook mit unserer einzigartigen Google optimierten e-Paper Software.
Circular

Design

Towards Regenerative Territories

Jörg Schröder

Riccarda Cappeller

Alissa Diesch

Federica Scaffidi
---
8 MESSAGES

4 / 5

TABLE OF CONTENTS

10 Circular Design

Jörg Schröder

30 Circular Narratives

Riccarda Cappeller

44 Circular Assets for City and Society

Federica Scaffidi

54 Culture and Creativity as Drivers for Cicular Territories

Alissa Diesch

60 THe Atlas as a Project

Alissa Diesch

66 INTERFACE

68 Territorial Relation

70 Context

72 Challenges

74 Situations

76 Scales

78 Strategies

80 Tools
---
142 A New Layer for Syracuse

table of contents

82 NEW SYSTEMS

84 Walk the Line

92 Meat Change

100 Co-Habitat

108 NEW PROCESSES

110 Weserhafen

118 Dinámicas Cafetaleras

126 TRANSFORMATION

128 When Pacman Ate the Motorway…

136 Koshiki Dreams
---
150 Rediscovering Territories

154 Superumbau 2035

6 / 7

TABLE OF CONTENTS

148 NEW BAUHAUS CITY

152 New Bauhaus City Atlas

160 Land Unter

166 SEASIDE

168 Living on the Coast

170 Seaside Atlas

172 Riviera dei Fiori

180 Welcome to Rügen
---
234 APPENDIX

table of contents

186 MOUNTAINS

188 Mountain Flows

190 Mountains Atlas

192 Collserola Ring

198 MEDWAYS

200 Medways: Circular Territories

204 Circular around Etna

214 The Terra di Bari Experience

224 The Guadalquivir Eco-Traveller

236 Behind this Book

238 More Books
---
MESSAGES
---
10 / 11

Circular Design:

Design-led Innovation

for Circular Territories

Jörg Schröder

Of the total waste generated in Europe, 36% comes from building

construction and demolition (Eurostat 2020). A triple challenge for

the aim of carbon neutrality is the energy consumed by production

and demolition, the use of finite and carbon-based resources, and

the energy wasted in transport. Market volatility and rising prices

make it an urgent matter to rationalise materials and energy use. The

issue of sustainable construction materials—which for the last seventy

years seemed an infinite resource—is becoming a driver for change

in architecture and in the whole construction economy, with the aim

to reduce CO 2

emissions and climate impact (European Commission

2022a). Architectural research and practice is following other creative

fields such as fashion, furniture, industrial, and product design

to target the re-use of materials not only as a necessity of our time but

as a thrilling field of creativity and expression of new aesthetics that

strongly influences the economy. The Ellen MacArthur Foundation

(2021a) claims that "design is fundamental to a circular economy".

Designers promote "circular solutions", establish new circular business

models, and see themselves as frontrunners in an "irresistible

circular society" (Creative Denmark 2021). It is exiting to detect new

links between design disciplines and economics, material, social, and

cultural sciences. The design sector—of which architects are a part—

is extending the concept of "recycling" to "upcycling" and finally to

"designing for reassembly", attempting in the design process to include

a further use for the original product.

This essay—and this book—goes one step further to look at the links

between circularity principles, design, and city-making, in order to

develop a systematic approach. It asks what a circular design paradigm

could mean, how precisely it could support climate neutrality,

and how it is bound to the sustainability of cities and quality of life.

We begin with the topic of waste and resources: would it not be better

re-use whole buildings, urban areas, and even cities instead of disassembling

them for recycling? Should we take a more comprehensive

approach than simply focusing on material recycling, concen-
---
messages

Architecture and buildings are

at the forefront when we discuss

how to achieve climate neutrality,

how to transform cities and territories,

how to achieve inclusion.

Here, links between circularity,

design, and city-making emerge

as one of the most promising

generators of innovation.

This outline shows that a circular

design paradigm needs to start

from an urbanistic perspective

and why circular design can make

cities more liveable.

trating instead on a carbon-free and circular way to design, install,

live, and think about space? This essay focuses on the implications

of an overall circular approach to city-making, to dealing with urban

spaces and urban elements. It highlights the role of design in this process,

since circularity in cities is bound to material, spatial, and cultural

experience. The objective is to define a combined circular-design

approach to the way we analyse, interpret, and project the structure,

shape, vitality, and meaning of cities, and the ideas, processes,

and mechanisms that shape their transformation. Since design circularity

is addressed in different disciplines and diverse scientific, political,

and societal discourses with different definitions, roles, and

perspectives, the aim of this outline is to contribute to a more systematic

understanding of circular design, and to relate it to city-making.

Urban design and planning is reaching out to new interdisciplinary

linkages, highlighting the conceptual and concrete impact of material

culture, visioning, shaping space, and organising processes of change.
---
12 / 13

This essay looks not only at architecture and urbanism, but also at a

wider range of creative disciplines for climate-neutral cities, in dialogue

and collaboration with other sectors and society.

Methodology

The focus of the research offered in this essay is on urbanism and

architecture, with links to other creative disciplines, to material and

natural sciences, engineering, economics, social sciences and humanities.

Based on a discussion of decarbonisation and the questions

it raises for the role of cities, city-making, and liveability, the essay

offers an outline that reviews current concepts and research on circularity,

design, and city-making, in order to identify and condense

the main characteristics for a circular design paradigm for urban and

territorial innovation. Discussed in dedicated essays in this book are

novel approaches that connect experience with exploration, a new

role for the creative and cultural sector in decarbonisation, and social

innovation that merges activism, entrepreneurship, and public

action. The use of studio work in the university as a "mirror" for theories

and research follows at the end of this essay. In the outlook,

further considerations for research in architecture and urbanism are

offered.

Decarbonisation and cities

Nearly 40% of CO 2

emissions worldwide come from the construction,

use, and demolition of buildings (UN 2020). Also other

ressource.architektur

Golden structural steel mats lifted into the air by steel frames, leaving an open space below:

the installation ressource.architektur at the Real Estate Fair in Hanover transforms current

debates on building and the city into a spatial experience. The nearly 3 tonnes of steel used

for the installation is the amount per person needed for reinforced concrete in conventional

new construction in the 400,000 new homes for which the federal government is aiming. For

reinforced concrete alone, 6 tonnes of C02 are emitted per person. At the same time, Europe

wants to become the first climate-neutral continent, is aiming for sustainable cities, is striving

for a radical change in building with the New European Bauhaus and is just discovering the

issue of sovereignty and security of production chains. How does this go together? ressource.

architektur prominently addresses the redesign of cities through the creative reuse of existing

buildings.

ressource.architektur was installed as a design build project by students from Leibniz Universität

Hannover LUH and Hannover University of Applied Sciences HsH, jointly developed

with the Chamber of Architects of Lower Saxony, the Association of German Architects BDA,

Bund Deutscher Baumeister BDB, the Association of German Interior Architects BDIA, the

Association of German Landscape Architects BDLA and the Building Culture Network of

Lower Saxony, together with the Faculty of Architecture and Landscape at Leibniz University

Hannover and the Interior Design course at Hannover University of Applied Sciences.

ressource.architektur was supported by a large number of sponsors from the building industry.

Design of the installation: Malin Osterheider, Max Passgang, Kimberly Rahn (all LUH),

Paul Schomburg, Melanie Weber (HsH). Built with: Max Bender, Anna Bertram, Ferdinand

Helmecke, Viviane Hilsenbeck, Lina Nikolic, Fabian Raue, Jannika Rehkopf, Helena Reinhard,

Jean Sauerländer (all LUH), Vivian Ebeling, Lisa Faller, Vicky Frehe, Niklas Meyer,

Amelie Miller, Antonia Reum, Niclas Thiry, Frithjof Wahl, Tessa Winkelmann (all HsH). Supervision:

Prof. Jörg Schröder and Rebekka Wandt MSc (LUH), Prof. Bernd Rokahr and Prof.

Tatjana Sabljo (HsH). Photo by Max Passgang.
---
messages
---
30 / 31

Circular Narratives

Riccarda Cappeller

Going on a journey—whether an imaginative-fictional or a real-time

travelling of space, time, and people—is always about making discoveries

on the move. It is about sequences of images, created through

different kinds of storytelling, characters, or the memories and impressions

gathered by being in spaces, observing, and interacting

with them. Georges Perec in "Species of Spaces and other Pieces"

(1974) introduces a practical exercise to record a street, teaching the

reader how to see and take notice of a situation through asking questions

and describing happenings, the time passing, or people moving.

It is a moment—a setting—as if it were a stage and the reader and

Perec are transferred into the same dimension, becoming flaneurs,

wanderers, or storytellers, following the concept discussed by Georg

Simmel in Die Großstadt und das Geistesleben (1903; The Metropolis

and Mental Life) or of Walter Benjamin in Städtebilder (1963; City

Images).

As a form of empirical research with a creative approach, the journey

can be used to read urban situations make and share discoveries, visually

and conceptually binding together diverse types of information.

At the same time, it allows one to move from one place or scale to

another, opening the possibility to engage with specific aspects or the

experience as a whole. "Space in this sense is used as a tool and medium

to transfer complexities and share narratives" (Cappeller 2020). It

invites us to change our perception and way of making sense of urban

situations, working with the multiplicity of inherent perspectives and

taking a step back to reflect on its relations.

Based on these first thoughts, this essay examines a possible understanding

of what circular narratives could mean. It uses the research-oriented

design projects presented later in this book as a

theoretically grounded and—as urban design exercises—practically

evolved background. These projects allow the discussion of a new

"narrative creation" in urban design that integrates interdisciplinary

and multi-scalar approaches to make the design processes graspable.

Departing from the very personal interest of their creators, the

projects, which deal with very different places and topics, give an

overview of current discussions, urban transformation processes,
---
messages

This essay looks at how complex

relations in topics of circularity

can be put together and

transferred to a broader public.

The creation of narratives for

existent spaces, the thinkingmaking

in design processes, and

the cultural dimension of urban

space are theoretically discussed

and supported with examples

using artistic approaches. The

aim is to open the urban design

perspective and emphasise a

situated knowledge creation.

and repeatedly appearing needs for new forms of social and spatial

interaction, showing conceptually strong strategies for creating more

open, dense, or mixed living spaces. This essay goes a step further

and includes approaches from other disciplines that have innovative

potential and can contribute to urban design as "integrative field of

study, profession and course of action [that] takes a clear stance for

inter- and transdisciplinary co-production as well as for a systemic

understanding of [contemporary urban] challenges" (Giseke et al.

2021).

Circular narratives emphasise the creation of situated knowledge or

context-related readings and writings of space that connect to existing

situations or happenings and aim at deep analysis. They take a

distance from a more theoretical-fictional imagination not bound to

any specific location, and look at the intersection of the transformation

and performativity of space and the agency of architects and urban

designers. Three research targets are foregrounded:
---
36 / 37

City as classroom

Platform cafe

"Situated Drawings" by Public Works

Acting in various urban situations, the art and architecture office Public Works has developed

"Situated Drawings" as a "representational device [for] a series of micro activist performances"

(Lang 2019) and form of direct communication. Building upon place-specific learning in

live projects and a relational understanding of space, it is a critique of existing architectural

representation. Discovered through and with the users of a particular space, local knowledge

and skills, fragmented experiences, multiple views upon the area, and personal stories are

brought together in "spatialised collages", sharing and critically reflecting on what constitutes

the place. These spaces of engagement and informal learning are created together with local

actors, dealing with different kinds of complexities, understanding knowledge as a transversal

category that emerges through being situated, and building on the practice of collaborative

and informal making (Lang 2019). The collages are similar to tableaus vivants (living pictures)

that work as a "depiction of a scene usually presented on stage" (Merriam-Webster). Intentionally

they are both artistic forms and expressions of coexistence and temporality, and they

tell many stories at the same time.
---
messages

The farm

Grove Adventure Playground

Situated Drawing "A Public Land Grab" by Public Works. Image: courtesy of Public Works
---
56 / 57

"Connections: Music Venues". Project in the framework of the international workshop "The

Future of Creative Cities" organised by Leibniz University Hannover and University del Rosario

Bogotá in 2022. The project explores possible transformations and versatile activities of

music venues in Hannover (Germany), Vancouver (Canada), and Valledupar (Colombia) by

interrelating these places with exchange concepts. Graphic by Nicolas Toro, Karoly Zubek,

Martin Trujillo, and Vincent Jeske

These industries now employ more than 7.5% of all employees in the

European Union with a tendency towards growth (KMU 2016). The

related socio-economic group of producers and consumers described

as the "creative class" is a wide cluster of people who "create meaningful

new forms" (Florida 2003, p. 8) linked to certain lifestyles and

professions. They are highly mobile, looking for places where they

find diversity and "the opportunity to validate their identities as creative

people" (Florida 2003, p. 9). The creative class also (re-)creates

environments that are characterised by the three Ts: technology, talent

and tolerance (Florida 2002), highlighting the transformative potential

that creative industries have for cities.

Creative industries are considered to be "forerunners in the emerging

digital society, in practicing new forms of employment and inventing

new business models, in working in networks and co-operations

as well as fostering innovation in other (more traditional) sectors"

(KMU 2016, p. 53). They are mostly characterised by small enterprises

and a very high rate of self-employed and freelance workers (KMU

2016). This is reflected in the businesses' high flexibility and people

working in quickly adapting networks, but also in the vulnerability

of the sector, especially during crises like the COVID-19 pandemic,

when many financial rescue packages did not consider these structures

(UNESCO, IBRD 2021).
---
messages

Through analysing successful creative environments, it becomes clear

that a dense and dynamic network of spatially bound and itinerant

factors are characteristic. When talking about creative cities, Carta

(2007) therefore adds a fourth T: territory, in reference to the spatial

relations on which the network is grounded. He stresses local factors

such as rooted cultural backgrounds and skills for "producing new

creative economies, starting with cultural capital, the highest expression

of a location's identity, both tangible and intangible, comprising

its cultural heritage, local memory, creative activities, dreams, and

aspirations" (Carta 2007, p. 32). The recognition and appreciation of

cultural assets—places and people—and their integration into new

networks can help to activate the potential of underestimated productive

traditions, generating new value-creation loops. Production

carried out by people who, due to ethnic or gender discrimination,

have been denied access to larger markets can be empowered by integrating

them into educational systems or by re-framing their work as

design, fashion, or cuisine, as can be seen in the Hangzhou apprenticeship

programme (Matovic, Madariaga, San Salvador del Valle

2018) or international design brands such as ames. 1

The shifting, reciprocal linkages between cultural and creative industries

and cities, creating complex and powerful dynamics, are

the common denominators that the UNESCO creative city network,

founded in 2004, aims to explore (UNESCO 2020). Up to now, only

the obvious economic outputs of the growing creative industries for

local development have seemed to matter, while further ideas about

how to exploit the potential are still to be tested, although the exchange

of good practices is promoted (Matovic et al. 2018). Furthermore,

the network can help to foster planetary relations, bottom-up

globalisation processes, a local-global dialogue (Carta 2007), and

support a decolonial cosmopolitanism (Mignolo 2011). The benefits

and spill-over effects of cultural and creative industries so far have

mainly been linked to metropolitan contexts (Evans 2009, Florida

2003), rural areas have been a blind spot in the discussion (Janc et al.

2020). The extension into a territorial dimension (Schröder 2022) offers

the possibility to deepen and extend the potentials of the creative

city concept into regional networks. A new mapping and reading of

rural areas, particularly in relation to close-by urban centres, can reveal

promising new scenarios for creative clusters. In the case studies

of Catania, Bari, and Seville (see the chapter "Medways" in this book)

and their respective regions, agricultural production and an architectural

and gastronomic heritage already form a base for tourism.

These site-specific spaces and skills can be enhanced when becoming

part of a tighter network, making use of the multi-local and flexible
---
74 / 75

Koshiki Dreams / Satochosato

p. 136

Dinámicas Cafetaleras / Monterrey

p. 118

Situations

The evaluation of concrete situations for the analysis and projection

process highlights a considerable range of spatial patterns. Clearly,

the impact of urban and metropolitan diffusion—just to state

the classic categories of housing, work, transport, and leisure—and

even more the tendency to consume space and resources as if there

were no tomorrow—can be confirmed in the characteristics and

variety of patterns. To construct a taxonomy of situations will be

crucial for developing local recycling and transformation strategies,

as well as for their up-scaling. Still, the projects will show the

high context- and path-dependency of typological elements.

Town centres

Agro-industrial building stock

Rural elements/textures

Urban elements/textures

Productive building stock, industrial areas

Touristic building stock

Transport infrastructure

Weserhafen / Minden

p. 110

When Pacman Ate the Motorway / Hanover

p. 128

Land Unter / Halligen

p. 160
---
interface

Circular around Etna / Catania

p. 204

Riviera dei Fiori / Sanremo

p. 172

The Terra di Bari Experience / Bari

p. 214

The Guadalquivir Eco-Traveller / Seville

p. 224

Collserola Ring / El Papiol

p. 192

Welcome to Rügen / Dranske

p. 180

Walk the Line / Eichsfeld

p. 84

A New Layer for Syracuse

p. 142

Superumbau 2035 / Hoyerswerda

p. 154

Meat Change / Vechta

p. 92

Co-Habitat / Barcelona

p. 100
---
78 / 79

Strategies

Based on the theoretical framework, circular design needs to go

beyond re-use, not only in order to exclude potential unsustainability

emerging in complex systems, but mainly to articulate its

dynamic vocation. Thus, as a framework for urban and territorial

strategies, we understand circular thinking as fundamental to

developing active, adaptive, and responsive design processes, oriented

towards setting spaces into cycles, starting new cycles, accelerating

cycles, and connecting sectoral cycles. What is very well

mirrored in the study projects is the multiple dimensions of cycles

in this approach, not only material, but also energetic, economic,

cultural, knowledge- and value-related factors.

Superumbau 2035 / Hoyerswerda

p. 154

Walk the Line / Eichsfeld

p. 84

Collserola Ring / Barcelona

p. 192

Koshiki Dreams / Satochosato

p. 136

A New Layer for Syracuse

p. 142

Dinámicas Cafetaleras / Monterrey

p. 118

Co-Habitat / Barcelona

p. 100

Setting spaces into cycles

Welcome to Rügen / Dranske

p. 180

Riviera dei Fiori / Sanremo

p. 172

Meat Change / Vechta

p. 92

When Pacman Ate the Motorway / Hanover

p. 128

Weserhafen / Minden

p. 110
---
interface

Starting new cycles

Koshiki Dreams / Satochosato

p. 136

Riviera dei Fiori / Sanremo

p. 172

Weserhafen / Minden

p. 110

>

Welcome to Rügen / Dranske

p. 180

Meat Change / Vechta

p. 92

Superumbau 2035 / Hoyerswerda

p. 154

When Pacman Ate the Motorway / Hanover

p. 128

The Guadaquivir Eco-Traveller / Seville

p. 224

Accelerating cycles

Collserola Ring / Barcelona

p. 192

Circular around Etna / Catania

p. 204

Co-Habitat / Barcelona

p. 100

The Terra di Bari Experience / Bari

p. 214

Land Unter / Halligen

p. 160

Walk the Line / Eichsfeld

p. 84

Dinámicas Cafetaleras / Monterrey

p. 118

Riviera dei Fiori / Sanremo

p. 172

The Guadalquivir Eco-Traveller / Seville

p. 224

The Terra di Bari Experience / Bari

p. 214

Welcome to Rügen / Dranske

p. 180

>>>

Koshiki Dreams / Satochosato

p. 136

Weserhafen / Minden

p. 110

Land Unter / Halligen

p. 160

Circular around Etna / Catania

p. 204

Connecting sectoral cycles

Walk the Line / Eichsfeld

p. 84

Collserola Ring / Barcelona

p. 192

Dinámicas Cafetaleras / Monterrey

p. 118
---
NEW PROCESSES
---
128 / 129

When Pacman

Ate the Motorway…

Anna Pape and Julia Theis

The motorway as a resource
---
transformation

Texts by Anna Pape, Julia Theis, and Jörg Schröder

Is there a future for the motorway?

The idea of speeding along the

wide asphalt plain with your

favourite song playing on the

radio is a thing of the past. Traffic

jams and road repairs are the

reality. Motorways cut through

villages, cities, and nature, dividing

them into right and left, top and

bottom. Isn't it time to rethink

the motorway, to give it back

to people? Even to those who

experience it from the outside?

By adopting the principle of

the road construction site, the

Pacman Project dissolves the

existing patterns and structures

and transforms the motorway—as

shown in the scenario for the A2—

into an open platform, a space for

people.
---
150 / 151

Rediscovering

Territories

Riccarda Cappeller and Jörg Schröder

New Bauhaus City is inspired by the initiative New European Bauhaus

started by the European Commission to enhance creative action

and to transform the built environment in order to reach climate-neutrality.

The focus on cities set for the course, addresses two

crucial dimensions in this context: cities as places where different

sectoral changes play together, such as green building, sustainable

mobility, circular economy, the use of renewable resources; and cities

as spaces to offer new liveability and inclusiveness. Climate change

will determine how we understand, feel, and design cities. It is both

the stage and a key actor in imagining and realising a resilient way of

living and working together. The Territorial Design Studio projects of

New Bauhaus City (Schröder, Cappeller 2021) respond to this call by

setting cities at the core—as places where a multitude of phenomena

occur at the same time, where people, space, flows, and ideas interact,

where a new quality of life can be imagined and achieved. The specific

focus is living places beyond the metropolis (Schröder 2018): this

target field corresponds to the 130,000 living places with fewer than

100,000 inhabitants where two out of three Europeans live (Eurostat

2020). Such settlements—medium and small cities, suburbs, towns,

villages, hamlets, farmsteads—are neglected in common debates, in

media, and architecture. Hence, in this context, "cities" refer to smaller

living places and not to the EC-OECD definition of city (Dijkstra,

Poelman 2012). In this sense, New Bauhaus City aims to add an architectural

and urbanistic perspective to research on smaller places

(Espon, KU Leuven 2014; Wagner, Growe 2021). Living places beyond

the metropolis, their potentials and possible transformation—

stressing new connections, enhanced centralities, and new living and

working models—are addressed from different perspectives. Some of

them face challenges of vacancy, decay, abandonment through work

migration, missing potential for a younger generation or a lack of

community life, mobility and digital infrastructure.

The theoretical framework refers to research-based design projects

and includes creative methodologies not only in the form of projection

with case studies (addressing action) but also in the systemic

modelling of contextual information and in the formulation of
---
new bauhaus city

objectives bound to spatial action (Schröder 2021). It offers methodological

innovation through design-led analysis and visioning for

sustainable urban transformation, highlighting the role of communities

for resilience and promoting a new understanding of qualitative

density. Starting from a perspective of urban design and architecture,

two tools are developed: formats for creative narratives in analysis

and project development, and formats for the creative exchange with

other disciplines and local stakeholders, opening up new sources of

knowledge. The projects merge analytical and synthetic aspects in

streams of creative inventiveness, referring to a multi-scalar and interdisciplinary

research approach.

For creative exploration, multiple perspectives, and pathways in

design research processes, as well as inputs for a theoretical reflection,

an active discussion of topics and places was tested in feedback

loops. For example, the New Bauhaus City Dialogues, organised as

an accompanying lecture series for the course, opened discussion

in-between theory and practice and expanded the view of urbanism

through interdisciplinary perspectives. 1 The series addressed

three topics: "New Work" searched for a programmatic and spatial

sense of new places, alliances, and environments for productivity;

"Experiments" discussed social and cultural initiatives that support

the transformation processes of existing urban situations; and "Creativity"

examined innovation pathways based on combined imagination

and projection processes, including novel and digital means

of communication. The dialogues fostered the ability to pose precise

questions, increase exchange, and start discussions with experts from

other disciplinary backgrounds.

Footnote:

1 The New Bauhaus City Dialogues are available online at: http://www.youtube.com/c/FakultätfürArchitekturundLandschaftLUH/videos

(01.06.2022).

Bibliography:

Dijkstra L., Poelman H. (2012) Cities in Europe. The New OECD–EC Definition. Directorate–General for Regional and

Urban Policy. Available online at: http://ec.europa.eu/regional_policy/ sources/docgener/focus/2012_01_city.pdf

(01.06.2022).

ESPON, KU Leuven (2014) ESPON TOWN. Final report 2014. Available online at: https://www.espon.eu/sites/default/

files/attachments/TOWN_Final_Report_061114.pdf (01.06.2022).

Schröder J. (2018) "Open Habitat". In: Schröder J., Carta M., Ferretti M., Lino B., eds. (2018) Dynamics of Periphery. Atlas

of Emerging Creative and Resilient Habitats. Berlin, JOVIS, pp. 10–29.

Schröder J. (2021) "Cosmopolitan Design". In: Schröder J., Carta M., Scaffidi F., Contato A., eds. (2021) Cosmopolitan

Habitat. A research agenda for urban resilience. Berlin, JOVIS, pp. 12–16.

Schröder J., Cappeller R., eds. (2021) New Bauhaus City. Places outside of Metropolis. Hannover, Regionales Bauen und

Siedlungsplanung, Leibniz Universität Hannover.

Wagner M., Growe A. (2021) "Research on Small and Medium-Sized Towns: Framing a New Field of Inquiry". In: World

2021, 2, 105–126.
---
160 / 161

Land Unter

Kristina Gergert and Pia-Marie Hoff

Collage of a storm flood
---
new bauhaus city

Texts by Kristina Gergert, Pia-Maire Hoff, and Riccarda Cappeller

This study offers an alternative

perspective on the Wadden Sea,

which is conventionally seen

only as a natural space between

sea and land on the German

North Sea coast. Focusing on

the Halligen—small protected

marsh islands without dikes—the

study discovers the Wadden Sea

as a cultural space and a human

habitat endangered by climate

change. Taking care of nature

is inscribed in this settlement

pattern, which offers both a major

resource to increase awareness

and an experience of the natural

space. Furthermore, the Halligen

offer valuable models for dealing

with rising sea levels and for

adapting human habitats to

natural processes through the use

of traditional knowledge.
---
162 / 163

Community

inhabitng

Agriculture

Housing

farm

seller

public work space

care station

Providing

ferry

pension cattle

culture events

restaurant

farm shop

music

holiday home rental

rehabilitation

child care

church

Culture

Nature Conservation

voluntary service

Education

existing structure

new structure

Tourism

guided tours

Creative Work

Programming interrelations

Breathing in

Breathing out
---
new bauhaus city

As part of the natural processes in the

Wadden Sea ecosystem, the Halligen have

always been regularly flooded (Land Unter)

and in a constant process of change.

However, since climate change has caused

sea levels to rise faster and extreme

weather events to occur more frequently,

the damage has become greater and life

on the Halligen and their warften (artificial

hills for farmsteads) more dangerous.

Not only are people's homes at risk,

but also animal habitats and agriculture.

Ecologically, as well as culturally, they are

an important habitat that needs new approaches

in order to be preserved.

Currently, there are ten Halligen, stretching

between the islands of Pellworm and

Sylt. Most of them are connected to the

mainland by regular ferry services, others

by road dams. Some, such as Süderoog,

can only be reached by boat at high tide

and on foot over the mud-flats at low tide.

Since the natural habitat of the Halligen

are shaped by the tides, they have a high

ecological diversity, with various plants

and nutritious soil, making them an important

habitat for migratory birds. The

regular flooding is crucial for the growth

of the Hallig through sedimentation, naturally

adapting to rising sea levels. The

problem, however, is that sedimentation

does not take place fast enough in relation

to the rise in sea levels. Among the

elements to ensure the further existence

of the Halligen are breakwaters and low

dikes preventing the sediments of the

Hallig from being washed away. In the

past, this protection was abandoned, and

people extracted salt peat, which brought

the region its former prosperity, but also

made the area vulnerable and led to several

flood disasters. For a sustainable, resilient

transformation, the transfer of this

traditional and often tacit knowledge into

future innovation is necessary. Looking

at a map of the former settlements, the

dikes and the former coastline is visible.

For centuries, people have built their

houses by the coast on elevations to protect

them from floods. The warften made

of peat soil, are an old form of settlement

that continues to disappear. The architectural

typology of the warft is a dense

ensemble that includes rainwater reservoirs.

The houses are arranged at the edge

and provide an open space in the centre,

which is protected from the wind and

can either be used in the event of a storm

surge to bring the livestock to safety or

serve as a gathering area. When the storm

surge comes, the warft is the only place

where life is possible, temporarily creating

high-density living.

As a scenario, structural measures can

make the warften physically and socially

resilient to climate change. They are

"no-regret measures" that can be extended

or adapted to changing conditions.

One idea is the extension of warften, increasing

the density of the existing building

structures. Built in a way that they

can continue to withstand the rise in sea

level, they grow with it through sedimentation,

which gives more space for additional

programmes. Another idea is to

strengthen the existing warften, as well as

the programmes and community on the

Hallig to create new offers that increase

the liveability on the islands. For example,

in the case of Hallig Hooge, a comparatively

well-developed infrastructure

(school, supermarket, fire station, community

health station) can be connected

with other islands to densify the network

of programme components. Currently

separated cycles of agriculture, fishery, local

production, knowledge can be merged

into a circular system.
---
MOUNTAINS
---
228 / 229

Gerena

La Algaba

Torre de

la Reina

Huevar del Aljafarre

Poblado de Alfonso XIII

Intermodal hub port

Port of Seville

Villages hosting

the pavilion

Road with car or bus

Guadalquivir

Bicycle lane

La Rinconada

Vision for the The Eco-Traveller

Port de Sevilla

Valdezorras

Montequinto

Seville, the capital of Andalusia, is directly

located on the river Guadalquivir and

is the economic centre of the area—in

a strategic position between the Mediterranean

Sea, the Atlantic Ocean, and

the whole European continent. The area

has a rich cultural heritage and a unique

mixture of cultures, languages, and traditions.

The investigation to detect circular

dynamics starts from analysing the agriculture,

the rural towns surrounding Seville,

and the infrastructure. If the area is

to continue its path of historical relevance

in food production, the ecological impact

derived from local activities needs to be

considerably lowered and new sustainable

approaches need to be developed,

in particular preventing desertification

(Junta de Andalucía 2008; Expósito, Berbel

2017).

The towns around Seville, partly due to

the postponement of urbanisation processes

since the 2008 economic crisis, are

losing their young population and threatened

by abandonment, particularly of

historic centres. They can already rely on

connectivity with Seville, but they have

barely no connection with each other

through public transport, and no sustainable

transport of goods or lean mobility.

There is not only a lack of infrastructural

connectivity, but also of other aspects

such as knowledge, economic initiatives,

community projects, locally produced

products, or cultural events. At the same

time, local knowledge, traditions, and

culture—important sources for a circular

economy—are threatened. On the positive

side, several projects and initiatives

targeting the use of food by-products

exist (Moore 2018; Alves de Castro et al.

2020; Pleguezuelo et al. 2018), direct production

and distribution chains extend to

Seville and its different transport hubs,
---
medways

while local initiatives and not least the

tourism economy are rediscovering the

cultural vocation of food production.

The scenario developed in order to foster

circular systems in the towns and in

linkages with Seville points at the river

Guadalquivir as a new axis for the sustainable

transport of people and goods

on water, to be extended in the canal systems—the

visible side of a new water regime

with considerably less irrigation and

adjustment of plants. This new transport

axis links directly to the centre of Seville

and to the harbour as an international

hub. A boat system can become a tool for

circular economy and cooperation. As

part of a larger circular concept, the aim

is to ensure better connection not only

in terms of mobility but between people

and enterprises: e.g. in support of ecological

transformation, start-ups, education,

training, new business models.

The concept of The Eco-Traveller proposes

a travelling event in the form of performances

and activities linked to a pavilion

that travels from town to town, collects

and distributes information, knowledge,

products, and culture, and that enhances

cooperation. The starting point of

the travelling pavilion is the port of Seville—a

key hub in the concept—from

where it is transported by ship. When

it is delivered to one of the new boat

stops near the towns, its arrival is celebrated

with a festival. Then the pavilion

is set up in the centre of the town. Each

of the towns organises a programme for

the activities linked to the pavilion, derived

from economic, social, and cultural

characteristics, in particular concerning

bio-economy. While some towns

are already known for their agricultural

activities and their products, others are

noted for their cultural events and art

projects. The Eco-Traveller can connect

these strengths and initiate the cultural

change necessary for sustainable transition.

In the pavilion, workshops, exhibitions,

and events accelerate the exchange

of information and bring entrepreneurs,

experts, skilled workers, citizens, and

tourists together. The pavilion takes the

form of parasols and is therefore a flexible

structure that can be adapted to different

situations. After the period of activities, it

travels to the next town and thus triggers

a circular economy along the Guadalquivir.

At the port of Seville, the home base

of the pavilion, prototypes and products

are sampled during the year and then presented

all together at a fair event.
---
230 / 231

Gerena

Torre de la Reina

La Rinconada

La Algaba

Valdezorras

Huevar del Aljafarre

Hafen

Montequinto

Puebla del Rio

Poblado de Alfonso XIII

Analysis of the different situations and connectivity of towns
---
medways

Poblado de Alfonso XIII

Puebla del Rio

La Algaba

Valdezorras

Torre de la Reina

Montequinto

Gerena

Huevar del Aljafarre
---
236 / 237

Behind this Book

Jörg Schröder, architect and urban planner, Full professor and Chair for Territorial

Design and Urban Planning of Leibniz University Hannover. Graduated from and

assistant professor at Technische Universität München. His research focus is on

urbanism and architecture for sustainable transition and territorial innovation, as well

as on design research, particularly regarding new metropolitan and peripheral spatial

constellations, emerging creative habitats, and circular dynamics. Recent R&D projects

include: Rurbance (EU Alpine Space Programme), Regiobranding (BMBF), Dynamics of

Periphery (DAAD), Creative Heritage (Volkswagen Foundation), Creative Food Cycles

(EU Creative Europe Programme). schroeder@staedtebau.uni-hannover.de

Riccarda Cappeller M.Sc. M.A., University researcher and lecturer at the Chair for

Territorial Design and Urban Planning of Leibniz University Hannover. Her research

interest is in design modes for mixed urban spaces, conducting teaching and research

activities on artistic approaches in urban design. Since 2015 she has been an architectural

journalist, and since 2013 worked in collaboration with the collective Exyzt/Constructlab.

MA in Visual Sociology at Goldsmiths University London 2017 and MSc in Architecture

at Bauhaus Universität Weimar 2015, Universidad de Buenos Aires 2014, ETSAM,

Politecnica Madrid 2012. cappeller@staedtebau.uni-hannover.de

Alissa Diesch, architect, university researcher and lecturer at the Chair for Territorial

Design and Urban Planning of Leibniz University Hanover. Graduated from and

teaching assignments at Technische Universität München (2016–2017). Researcher,

lecturer and leader of the research group Hábitat Socio-Cultural at the Universidad La

Gran Colombia, Bogotá (2015–18). Architect at Zwischenräume Architekten (2012–

14). DAAD PhD research scholarship in Colombia 2017. Her research interests include

participatory knowledge generation, postcolonial spaces, research-to-design concepts,

rurban-rural relations and transformations. diesch@staedtebau.uni-hannover.de

Federica Scaffidi, architect, PhD, University researcher and lecturer at the Chair for

Territorial Design and Urban Planning of Leibniz University Hannover. Visiting scholar

at Polytechnic of Turin (2015–16), ETSAM of Madrid (2016), LUH (2017), and IUAV

(2022). PhD and Doctor Europaeus from University of Palermo (2019). Her research

is based on qualitative and quantitative methodologies and has addressed territorial

development, social innovation and recycling, studying how creative cycles are driving

new urban communities and social entrepreneurship models. scaffidi@staedtebau.unihannover.de

Anna Pape M.Sc., graduted in Architecture and Urban Design from Leibniz University

Hanover. Research assistant and tutor at the Chair of Territorial Design and Urban

Planning. In addition to her experience in several architecture and urban design offices

in Hanover and Berlin, she cooperates for many projects as a collective with the artist

Franz Betz devising projects in urban space and light installations. Recent publication:

Urbane Optionsflächen, with Raumlabor Berlin. anna.pape@web.de
---
appendix

Many thanks to all our fantastic students who contributed to the book: Lucie Paulina

Bock, Maya Eberle, Vanessa Ehrich, Gülce Erincik, Kristina Gergert, Michel Grändorf,

Juan Esteban Hernandez Cardona, Pia-Marie Hoff, Niccoló Huesmann, Jan Hüttmann,

Pia Nicola Kampkötter, Leandra Leipold, Melanie Oeltjen, Tamás Oravecz-Deák, Malin

Osterheider, Anna Pape, Max Passgang, Sarah Pens, Mara Piel, Karen Schäfer, Marius

Schumann, Leonardo Stadler, Julia Theis, Rebekka Wandt, Lea von Wolfframsdorff.

New Bauhaus City: Master Territorial Design Studio directed by Jörg Schröder, Riccarda

Cappeller, and Federica Scaffidi. Students: Aletta Bünte, Kristina Gergert, Pia-Marie Hoff,

Niccoló Huesmann, Miriam Krüssel, Tamas Oravecz-Deák, Diana Ragimova, Karen

Schäfer, Madita Schroeder, Marius Schumann, Cesia Vergara Torpoco, Jule Weiher, Faya

Youssef.

Seaside: Master Territorial Design Studio directed by Jörg Schröder, Alissa Diesch, and

Riccarda Cappeller. Students: Chen Daie, Maya Eberle, Dao Le, Andrea Marcos Pelaez,

Alba Marín Pérez, Christina Mauersberg, Nolwenn Maurice, Malin Osterheider, Max

Passgang, Soleia Pierre, Leonardo Stadler, Lisa-Marie Tegt, Rebecca Wehling, Laura

Wirbel.

Mountains: Master Territorial Design Studio directed by Jörg Schröder, Alissa Diesch,

and Federica Scaffidi. Students: Gabriel Cameron, Ricco Frank, Angela Gaini, Michel

Grändorf, Anna Kozachkova, Nadine Kristandt, Ajda Lukman, Emma Römer, Pia

Schulenberg, Vanessa Schwarzkopf, Karina Tews, Rebekka Wandt, Nicolas Witt, Hans

von Witzendorff.

Medways: Circular Territories: Master Territorial Design Seminar directed by Jörg

Schröder, Riccarda Cappeller, Alissa Diesch, and Federica Scaffidi. Students: Vanessa

Ehrich, Gülce Erincik, Juan Esteban Hernandez Cardona, Niccoló Huesmann, Jan

Hüttmann, Melanie Oeltjen, Tamás Oravecz-Deák, Sarah Pens.

Thesis projects in the chapters New Systems, New Processes, and Transformation,

supervised by Jörg Schröder, Riccarda Cappeller, Alissa Diesch, and Federica Scaffidi:

Lucie Paulina Bock, Pia Nicola Kampkötter, Leandra Leipold, Mara Piel, Julia Theis,

Rebekka Wandt, Lea von Wolfframsdorff; as well as "Pacman" by Anna Pape and Julia

Theis as Master Studio project. Special thanks to Prof. Dr. Dr. Margitta Buchert as second

examiner of most of the thesis projects at the Chair.

Instagram: @territorialdesign
---
Circular Design

Towards Regenerative Territories

by Jörg Schröder, Riccarda Cappeller, Alissa Diesch, and Federica Scaffidi

© 2023 by jovis Verlag GmbH

Texts by kind permission of the authors

Pictures by kind permission of the photographers/holders of the picture rights

All rights reserved

Copy-editing: Melissa Larner

Design and Setting: Anna Pape

Cover: Graphic by Anna Pape

Chapter covers: Graphic by Anna Pape based on Google Maps

Printed in the European Union

Bibliographic information published by the Deutsche Nationalbibliothek:

The Deutsche Nationalbibliothek lists this publication in the Deutsche

Nationalbibliografie; detailed bibliographic data are available on the internet at

http://dnb.d-nb.de

jovis Verlag GmbH

Lützowstraße 33

10785 Berlin

www.jovis.de

jovis books are available worldwide in selected bookstores. Please contact your nearest

bookseller or visit www.jovis.de for information concerning your local distribution.

ISBN 978-3-86859-745-5 (Softcover)

ISBN 978-3-86859-836-0 (PDF)