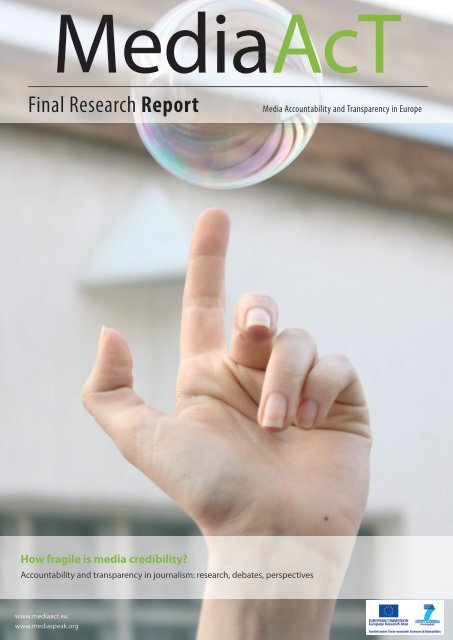 MediaAcT
How fragile is media credibility? Accountability and transparency in journalism: research, debates, perspectives Final Research Report | Media Accountability and Transparency in Europe
How fragile is media credibility? Accountability and transparency in journalism: research, debates, perspectives
Final Research Report | Media Accountability and Transparency in Europe
SHOW MORE
SHOW LESS
Create successful ePaper yourself
Turn your PDF publications into a flip-book with our unique Google optimized e-Paper software.
MediaAcT

Final Research Report

How fragile is media credibility?

Accountability and transparency in journalism: research, debates, perspectives

www.mediaact.eu

www.mediaspeak.org

Media Accountability and Transparency in Europe
---
index Index | Editorial | Birds-eye view | Opening the toolbox | Zoom-in on the newsroom | Media landscapes

BIrds-EyE

vIEw

5 A RigHT ROYAl TUsslE

Between press freedom and

state-sanctioned self-regulation

8 lET's TAlK TO THE nEWsROOM

Facts and figures of the MediaAcT research

project

9 MEDiA ACCOUnTABiliTY in

EUROPE AnD BEYOnD

The state of media accountability in different

countries

AddITIOnAl

4 EDiTORiAl

40 gUEsT EssAY

42 inTERViEWs

44 lEgAl nOTiCE

44 AUTHORs

OpEnIng ThE

TOOlBOx

12 UP-TO-DATE OR OUT OF TOUCH?

Traditional press councils and "readers' letters"

14 EUROPEAn FlAgsHiPs

Best practice examples of media

accountability

18

20

22

PREPARing FOR THE FUTURE

Media accountability tools online

iT's TRAnsPAREnCY, sTUPiD !

To what extent and how should

journalists engage in audience participation?

ACTiOn!

How media research can have a lasting

impact on journalists and the public

Photograph: Lutz Kampert
---
ZOOM-In On ThE

nEwsrOOM

24 CRiTiCAl OR HYPOCRiTiCAl

jOURnAlisTs?

Results of a worldwide survey

28 TRAining is A MUsT

Journalism education fosters media

accountability

30 HOW TO inCREAsE MEDiA

ACCOUnTABiliTY

Do journalists need more incentives or

sanctions to use accountability tools?

32 in THE PillARY!

Errors in reasoning by media management

concerning newsroom self-inspection

Photograph: Lutz Kampert

MEdIA

lAndscApEs

34 CUlTURE ClUB: sHARED VAlUEs

AnD DiVERgEnT PRACTiCEs

Accountability cultures in Europe –

first assumptions

36 MEDiA lAnDsCAPEs in

TRAnsiTiOn i

Focus on central and eastern Europe

38 MEDiA lAnDsCAPEs in

TRAnsiTiOn ii

Perspectives from the Arab world

Photograph: Lutz Kampert

Index | Editorial | Birds-eye view | Opening the toolbox | Zoom-in on the newsroom | Media landscapes

index
---
Index | Editorial

| Birds-eye view | Opening the toolbox | Zoom-in on the newsroom | Media landscapes

Who's watching the

watchdogs?

Do the "Jayson Blair affair", the

"Stephen Glass affair" or the more

recent "phone hacking affair"

("Hackgate") sound familiar to

you? Not a clue? You may vaguely

remember the case of this New

York Times' journalist accused of

plagiarism, or the movie, Shattered

Glass, about a young journalist who

throws away his brilliant career

when he's discovered of making

up all his stories… Not yet? Think

of this: the Leveson Inquiry, the

Murdoch name and the closure of

the News of the World magazine. Photograph: Lutz Kampert

If this information makes sense to

you, it's probably because you already have heard something about

journalistic issues on ethics and deontology – or because you are

either a media professional or a media policy-maker. In any case, feel

very welcome to plunge through a thoughtful analysis on journalistic

concerns: have you ever thought of the fragility of the line which

divides "good" and "bad" journalism? Have you ever thought of

the difficulty we all face when we try to understand if a journalist

or his/her story truly defends the freedom of speech or is simply

overstepping the law?

Which leads us to an essential question: should the media be

regulated? Probably all of us agree that journalistic self-regulation is a

must, some observers have even started to question the effectiveness of

existing self-regulation practices recently. After all, journalists are free

to criticise different forms of power but the question remains of towards

whom are they responsible and held accountable. Besides, journalism is

perceived as powerful. As such it has always been the target of suspicion

and criticism. The continuous progression towards the freedom of the

press, along with the relative diminution of censorship and/or direct

control of political power over the media, gave rise to a growing debate

about media accountability and the question how media accountability

can be assured in a time of growing competition in the media business

worldwide, as well as in a time of rapid technological change.

To start, let's talk about the word "accountability". Indeed, in

some countries the word does not even exist. According to different

translations, the state, the markets, the media industry or even the

individual consciousness will be more or less taken into account

– while media accountability foremost means for us "that journalists

respect their sources and their audiences" (see Mike Jempson's text, p.

42). In other words: we understand that freedom of speech intrinsically

underpins ethical considerations about the public and the peers from

two different perspectives: transparency and responsiveness. The first

refers to shedding light on the background to news production; the

second is the practice whereby media organisations encourage users to

give feedback.

The MediaAcT project lights up the question of media accountability

at a moment of deep renewal, for at least three reasons: the generalisation

of new technologies, the integration of new democracies to traditional

western journalism practices and the questioning of journalism and its

values as we know them. These aspects were taken into account during

our research. The diversity of our sampling concerning countries and

contexts, which includes western and non-western as well as traditional,

new and emerging democracies, gives both an account of the original

jungle of media accountability and of the process of reorganisation

it is going through: The general trend might also replace traditional

instruments and institutions (such as press councils or trade journals)

by audience-oriented participative practices (media blogs, online

comments, etc.) in the long run.

This magazine gives some clues to fundamental questions: What

can be done to hold the media to account? How can we establish an

effective system of media self-regulation especially in countries where

the media is deeply affected by political powers? How can media users

play a much more active role in media criticism? What can be learnt

from the different experiences with media accountability in northern

and southern, western and eastern Europe – as well as the Arab world?

Responsible journalism is our best bet and aim. According to the

MediaAcT survey, accountable media are essential for the future of

quality journalism. In this sense, articles in this magazine explore

four main debates: (1) the sometimes very complex line between press

freedom and state regulation, emphasising the outstanding differences

among countries; (2) the belief that new technologies are deeply

changing journalistic practices and accountability instruments, even

though traditional Media Accountability Instruments (MAIs) remain

valid; (3) our proposal for newsrooms to use easy-to-understand-andto-apply

accountability tools; (4) examples and experiences, through

which we are aiming to show you how important it is today to feel

concerned about journalism's ethical issues.

Indeed, the discussion about media accountability is vital for the

future of quality journalism. The research you're about to read may be

a starting point for further activity in this field.

Olivier Baisnée, Sandra Vera-Zambrano

and the MediaAcT team
---
A right royal tussle between

press freedom and

state-sanctioned self-regulation

By Mike JeMpSOn

Photograph: photocase/codswollop

Will a new UK model have anything to offer Europe?

As the MediaAcT project set about examining the different ways

in which European and Arabic journalism traditions handle issues of

accountability and transparency, an extraordinary saga was playing

out in the United Kingdom which could have global consequences.

Revelations that senior executives in one of the world's biggest media

companies had allowed or ignored criminal activity in the pursuit

of sensational stories led to more than 100 arrests, mostly of journalists

and some in dawn police raids, and to serious charges being laid

against at least 30, some for multiple alleged offences. Global media

giant News International shut down one of Britain's oldest and top selling

(circulation of 2.6m) weeklies, the News of the World (established

1843), when the scandal first erupted, only to find that its sister paper

The Sun (circulation of 2.4m) was also implicated.

At 12:33 on 13 July 2011 the UK Prime Minister David Cameron

announced to the House of Commons that he was setting up an

independent inquiry into what had become to be known as 'the phone

hacking scandal'.

A foretaste of what was to come

Four years earlier Clive Goodman, Royal Editor at the News of the

World, and private investigator Glenn Mulcaire had been gaoled for

illegally intercepting phone messages of members of the Royal household.

At the time the Press Complaints Commission, set up by the newspaper

industry in 1991 as a form of self-regulation, had accepted assurances

that Goodman was 'one rogue reporter' even though the UK's

Information Commissioner had published two damning reports in

2006 indicating that 305 journalists from 32 newspapers and magazines

had employed the services of another private investigator to obtain

almost 4,000 items of personal information on their behalf. The

investigator was prosecuted but the journalists were not, and proposals

that in future they should face fines or imprisonment for breaking

Data Protection rules were dropped.

Nonetheless numerous prominent figures who discovered that

their phones had been hacked by the Murdoch-owned newspaper

received substantial, and initially undisclosed, compensatory da-

Index | Editorial | Birds-eye view | Opening the toolbox | Zoom-in on the newsroom | | Media landscapes
---
Index | Editorial | Birds-eye view view|

Opening the toolbox | Zoom-in on the newsroom | Media landscapes

mages. It was common knowledge within the trade that private

personal information was also being obtained by payments to

public servants and by illicit access to bank accounts, health and

telephone records.

Then in July 2011 The Guardian newspaper revealed that News of

the World reporters had intercepted messages on the mobile phone

of 13 year old Milly Dowler, who had been abducted and murdered

in 2002. It caused a public outcry and led directly to Cameron's

statement during which he spoke of "accusations of widespread

lawbreaking by parts of our press; alleged

corruption by some police officers;

and ... the failure of our political system

over many, many years to tackle a problem

that has been getting worse." He

said that the police had 3,870 names,

and around 4,000 mobile and 5,000

landline phone numbers, of people who

may have been the subject of unlawful

interference by journalists, or private

investigators acting on their behalf.

Parliament intervenes

Plainly this was a massive scandal involving

criminal activity and the inquiry

he set up, under a senior high

court judge, Lord Justice Leveson,

was to have two parts. In the first he

would look into the culture, practices

and ethics of the press, its relationship

with the police and politicians, and the failure of the current system

of regulation, and the issue of cross-media ownership. He would

make recommendations for a more effective way of regulating the

press while supporting its freedom, plurality and independence

from Government. A second part would examine the unlawful or

improper conduct at the News of the World and other newspapers,

and examine the management and police failures, which allowed it

to happen.

Cameron would later say on television, BBC1, that he would "absolutely"

abide by Lord Justice Leveson's recommendations, unless

as the interviewer suggested, they were 'bonkers'. "The status quo is

not an option," he said. He wanted a system that worked for ordinary

people without the state becoming involved.

An initial compromise using an ancient device called a Royal

Charter, was developed by a government minister in consultation

with the industry, and then revised in a late-night, all-party meeting

with campaigners for media reform who had originally been

reticent about this approach. It would create a Recognition Panel,

independent of the press and parliament, whose sole task would

be to ensure that any self-regulatory body set up by the industry

complied with the criteria proposed by Lord Justice Leveson. But

the deal done was instantly rejected by the industry, who have since

come up with a variant on the same theme, but this time with

the industry rather than the monarch's advisors in charge. This in

itself posed an constitutional problem since the monarch could not

proceed to approve either Charter while controversy raged. If the

politicians' version gets the go ahead most newspapers have said

they will not comply. If the industry's version is adopted, victims

and critics of the press will remain dissatisfied.

Open season on the press, police and politicans

Before conducting his 11 month long inquiry in the law courts, Leveson

had held a series of briefings for his team and then two days

of seminars with editors, academics and other media experts, to give

them a chance to suggest, which lines of inquiry he should follow.

Opening the Inquiry proper in November 2011 he said: "The

press provides an essential check on all aspects of public life. That

is why any failure within the media affects all of us. At the heart of

this Inquiry, therefore, may be one simple question: who guards the

guardians?"

His purpose was to make 'recommendations

for a more effective policy

and regulation that supports the integrity

and freedom of the press while

encouraging the highest ethical standards'.

In seeking to determine an answer

to his own question he and his team

of assessors (former journalists, media

executives, a civil rights lawyer, a city

regulator and a former police chief)

heard from some 135 organisations and

474 individuals, in person or in writing.

He conducted a forensic examination of

complaints against the press, as well as

interrogating editors, journalists, police

officers and politicians.

The revelations about the journalistic

culture, and the damage caused

to individuals by intrusive or inaccurate coverage, kept the inquiry

high on the news agenda, and while many positive aspects of the

work of journalists were mentioned, most evidence did damage to

their reputation.

Lord Justice Leveson's report on the first part of his Inquiry, published

in December 2012, runs to some 2,000 pages. The executive

summary is 46 pages long and contains 92 recommendations relating

to the press, self-regulation and the behaviour of the police and

politicians. The central challenge was to the newspaper industry – to

come up with a new system of self-regulation that would win back

public trust in journalism.

It would need to be led by an independently appointed Chair,

with a board clearly independent of the industry, with no dominance

by editors, and powers to impose heavy fines on those who

seriously transgressed an agreed Code of Practice. Significantly he

proposed the creation of a separate, independent 'recognition body'

which would 'guard the guardians'. It's sole role would be to ensure

that the new system of self-regulation lived up to the required standards.

He suggested that the existing statutory regulator for broadcasting

and communications, Ofcom, might fulfil that role, unless a

new body was created with statutory backing to ensure it had sufficient

authority.

Neither the new self-regulators nor the recognition body could

force publishers to sign up to the new scheme, so Leveson proposed

an incentive. Those that joined a self-regulatory body – and he left

it open to the industry to decide how many such bodies might be

set up – would avoid the risk of exemplary damages being awarded

against them in the event of litigation. This too would require legislation,

following the Irish model.
---
Leveson's plan caused an instant rift within the coalition government.

The Liberal Democrat Deputy Prime Minister Nick Clegg

welcomed the proposals. "Lord Justice Leveson has considered these

issues at length," he told Parliament. "He has found that changing

the law is the only way to guarantee a system of self-regulation which

seeks to cover all of the press. And he explains why the system of sticks

and carrots he proposes has to be recognised in statute in order to be

properly implemented by the courts."

The Prime Minister took a different line, prompting suggestions

that he had been 'got at' by leading media executives. "The issue of

principle is that for the first time we would have crossed the rubicon of

writing elements of press regulation into the law of the land," Cameron

told Members of Parliamemts (MPs). "I'm not convinced at this

stage that statute is necessary."

The devil is in the detail

Analysis of the 'Press Barons' Charter' by leading campaigners for regulatory

reform (see box below), all suggest that it is a reversion to a system

distinctly similar to the discredited Press Complaints Commission.

Far from being independent of press and parliament, this new proposal

allows industry representation throughout and even makes room for

members of the House of Lords to sit on the Recognition Panel.

"It is further away from what Leveson recommended than

anything that has gone before," said Claire Enders, founder of the

media research company Enders Analysis. The Press Charter would

neither meet his primary purpose to ensure that self-regulation set up

by the industry was fit for purpose, she explained, nor the second – to

allow an arbitation service which should be included to be recognised

by the courts, in part to protect publishers from high costs.

At a Foundation for Law, Justice and Society workshop on media law

after Leveson held in April at the University of Oxford Law Faculty,

Eric Barendt, Emeritus Professor of Media Law at University College,

concluded that "the media's objections to Leveson are not so much

philosophical as neurotic".

Former broadcasting standards regulator Lara Fielden, author of a

recent international study of press councils, said that since the media

are granted special privileges in the public interest and in the interest

of democracy, "in return, we expect those who hold power to account,

to account for the powers granted them."

Throughout the backroom negotiations about how best to proceed

– entirely against the spirit of transparency envisaged by Leveson

– and despite evident support for Leveson among politicians and the

public, as media lawyer and Hacked Off proponent chair Hugh Tomlinson

QC, told the gathering "the media have managed to conduct a

campaign of outrageous and barely believable misinformation to fight

the opposition forces to a standstill." A non-stop battery of headlines

and stories vilifying their critics and suggesting that their real aim

was state control of the press was spearheaded by The Daily Mail, the

Telegraph Group and News International titles, leading proponents of

the 'Press Barons' Charter'.

A Free Speech Network (www.freespeechnetwork.org.uk) claiming

the support of 25 national and international media organisations,

campaigned with pamphlets and adverts as if those seeking a more

effective regulatory system were in favour of state control of the press.

Indeed MediaAcT was characterised as part of an European Union

conspiracy to take control of the press in The Telegraph in April 2013.

Only four, low circulation, national newspapers, The Financial

Times, The Guardian, The Independent and the Morning Star have

stood by Leveson's

key principles.

Having sought

to present Leveson's

recommendations

as the end of press

freedom in the UK

after 300 years,

the mainstream

newspaper groups

have now devised a

delaying tactic for

reform which can

"In rETUrn, wE

ExpEcT ThOsE

whO hOld pOwEr

TO AccOUnT, TO

AccOUnT fOr ThE

pOwErs grAnTEd

ThEM."

only be resolved by negotiation on their terms.

While this may be understandable, since newspapers have a vested

interest in defending their territory, it also highlighted the difficulty

of obtaining any sort of balance or independent critical analysis on a

matter of supreme public interest, when the 'agenda setters' have their

own agenda.

Although there was some parliamentary debate, negotiations to

resolve the impasse over Leveson were conducted in secret – at first

amongst editors and proprietors, then between them and government

ministers, and finally between political party leaders and the Hacked

Off campaign. What had begun with one public scandal – the revelations

about the hacking of Milly Dowler's phone – ended with another

– the almost total exclusion of the public from the debate about how

best to improve media accountability.

After one of the most comprehensive public analyses of journalistic

behaviour ever undertaken in the UK, or elsewhere, as we go to press

the UK is no nearer a resolution to the age old and vexed question asked

by Lord Justice Leveson, 'Quis custodiet ipsos custodes?`

dEclArATIOn Of InTErEsT

Mike Jempson is director of the journalism ethics charity

MediaWise (www.mediawise.org.uk) which assists members

of the public with complaints about media misbehaviour,

and vice-chair of the Ethics Council of the National

Union of Journalism (Uk & Ireland). Both organisations

gave evidence to the leveson Inquiry favouring press

self-regulation but in a significantly strengthened form

underpinned by statute.

lInks

The leveson Inquiry: http://www.levesoninquiry.org.uk

Media standards Trust: Analysis: press coverage of leveson,

by gordon neil ramsay, May 2013: http://mediastandardstrust.org/wp-content/uploads/downloads/2013/05/MsTleveson-Analysis-090513-v2.pdf

leading campaigners for regulatory reform in the Uk:

Hacked Off: http://hackinginquiry.org/

The Media Standards Trust: http://mediastandardstrust.org

Media Reform Coalition: http://www.mediareform.org.uk

Media Policy Project, The London School of Economics and Political

Science: http://blogs.lse.ac.uk/mediapolicyproject/

Index | Editorial | Birds-eye view | Opening the toolbox | Zoom-in on the newsroom | Media landscapes
---
Index | Editorial | Birds-eye view view|

Opening the toolbox | Zoom-in on the newsroom | Media landscapes

let's talk to the newsroom!

Facts and figures of the MediaAcT research project

The international research project "Media Accountability and Transparency

in Europe" (MediaAcT) has studied both media accountability

infrastructures and journalists' attitudes towards media self-regulation in

14 countries. Within a 3 ½ year research process a distinguished team

of academics from across Europe has conducted a representative survey

among 1,762 journalists in European countries as well as two exemplary

Arab countries (Tunisia and Jordan). The international research project

has received funding from the European Union Seventh Framework Programme

FP7/2007-2013. The study had three core stages.

> International investigation

In a first stage, national desk studies were conducted to investigate the

status quo of media self-regulation and media accountability structures in

the participating countries.

> Into the field

In a second stage, qualitative interviews with around 90 US, European

and Arab experts in the field of online media accountability were conducted

in order to assess the impact of the Internet and the Social Web on

self-regulation and accountability structures and practices.

> Talk to the newsroom

In a third stage, 1,762 journalists in 14 European and Arab countries

were surveyed online on their attitudes towards and experiences with

media self-regulation and media accountability, making this study the

first comparative journalists' survey on media self-regulation and media

accountability ever. Therefore, media scholars, media professionals, and

media policy-makers alike may use the data provided in the disseminated

processes in order to finally assess the impact of different Media Accountability

Instruments (MAIs) on media professionals – and show which

restrictions weaken their influence – on a sound empirical basis.

LINK

For further information and research results please visit:

http://www.mediaact.eu

Photograph: photocase/owik2

MediaAcT key publications:

Publication 1: The world of media accountability

The MediaAcT project's state-of-the-art reports on media accoun-tability

and transparency in Europe. It provides pioneer work

in analysing the development of established and emerging Media

Accountability Instruments in 14 countries in eastern and western

Europe as well as the Arab world.

Eberwein, Tobias et al. (eds.) (2011): Mapping Media Accountability

– in Europe and Beyond. Köln: Herbert von Halem Verlag.

Publication 2: Do-it-yourself accountability

This guidebook presents best practice examples in the field of innovative,

web-based media accountability from across Europe. Bichler,

Klaus et al. (2012): Best Practice Guidebook: Media Accountability

and Transparency across Europe.

http://www.mediaact.eu/fileadmin/user_upload/Guidebook/

Best_Practice_Guidebook_new.pdf

Publication 3: Digital Accountability

The Internet offers new opportunities and challenges for the

transparency of journalistic work and the responsiveness to audience

criticism. The working paper analyses how newsrooms and citizens

use the Internet for media accountability all around the globe.

Heikkilä, Heikki et al. (2012): Media Accountability Goes Online:

A Transnational Study of Emerging Practices and Innovations.

MediaAcT Working Paper. Dortmund: Media Accountability and

Transparency in Europe.

http://www.mediaact.eu/fileadmin/user_upload/WP4_Outcomes/WP4_Report.pdf

Publication 4: Results of the MediaAcT survey

For the latest scientific book "Journalists and Media Accountability.

An International Study of News People in the Digital Age"

edited by Susanne Fengler et al., New York: Peter Lang, published

Summer 2013 (in print), please visit: www.mediaact.eu
---
Photograph: photocase/pauliestroj

Media accountability in Europe

and beyond

By hAlliki hArrO-lOiT

The state of media accountability in different countries

After reading the first publication of the MediaAcT research project

"Mapping Media Accountability – in Europe and Beyond", an

Estonian journalism student attending a seminar about the future

of journalism in Estonia commented: "It was enlightening to read

such a cross-national study. Previously, I had the feeling that we

have so many problems with media accountability and self-regulation

here, but now I can see that some countries have an even

worse situation, and in some countries the system functions much

better."

This is certainly one way to think about media accountability:

comparison enables one to better evaluate the known environment.

Estonia is a small country with a very liberal media policy. Unlike

several of the post-communist countries of central and eastern

Europe, media policy does not suffer under political parallelism,

because market forces play the dominant role.

Comparison at the same time enables a broader perspective on

a topic that is hard to pin down easily. The cross-national view

helps us to see the complexity of self-regulatory instruments and

at the same time realise how tightly accountability is linked to

each particular journalism culture, the maturity of civic culture

and the state of the economy. The broader perspective also enables

us to get a clearer understanding about the fact that accountability

instruments exist in most European countries but differ from each

other with regard to their structure and daily practices. There-

Index | Editorial | Birds-eye view view | Opening the toolbox | Zoom-in on the newsroom | Media landscapes
---
Index | Editorial | Birds-eye view view|

Opening the toolbox | Zoom-in on the newsroom | Media landscapes

10

fore, the practical hands-on knowledge that is limited to media

accountability practices in each researcher's or journalist's country

only provides a limited understanding of the overall context of accountability

and the range and typology of instruments that could

support transparency and responsiveness – in summary: the quality

of journalism as a whole.

Hidden aspects of media accountability

The cross-country analysis, with its transnational view, brings to

light, for example, a hidden aspect of media accountability: that

the differences in the evaluation of accountability instruments and

journalistic values are determined by the type of media organisation.

Hence, journalists who work for public broadcasting companies

in different countries have, in some regards, more common values

than journalists who work, for example, for a public broadcasting

company and a tabloid publication in the same country.

Another way to look at the existing media accountability system

is to focus on the changes that have been taking place as online

media have developed. Many traditional Media Accountability Instruments

(MAIs) in Europe are universal: press and media councils,

codes of ethics, ombudsmen. These instruments have been more or

less adapted to the online world. However, in addition to the traditional

instruments an increasing number of European countries are

using innovative accountability instruments, which are tailor-made

for the digital world, for example, media-critical blogs, correction

buttons and interactive complaint systems. These responsive online

instruments have the potential to increase the dialogue between

journalists and lay members of the public, information sources and

active citizens.

The collapse of the business models of professional journalism

have brought an important question for the future of quality journalism

to the fore: if professional journalism is increasingly of a

poorer quality, who is in charge of the watchdog role in society?

Although the media should be free and autonomous it is necessary

to balance the media industry's powerful corporate interests with

the public interest.

The corporate interest – from a rational point of view – is to

produce news content as cheaply as possible. Information overload

challenges journalists' information selection and interpretation abilites;

strong public relations sectors provide new pressures for journalistic

autonomy. At the same time, society demands responsible

media.

However, societal and technological changes in the global political

economy have made balancing these contradicting interests

increasingly difficult. A simple question is this: what makes a news

organisation strong and motivated enough to keep an eye on its

own actions, particularly when the economic interests of the media

industry and other business sectors are inter-related? The answer is a

professional ideology and a developed accountability system. What

is the state of media accountability across Europe and in some Arab

countries at present?

Codes of ethics: easy to recognise

The most visible traditional accountability instruments across

countries are codes of ethics and codes of good conduct (codes of practice).

While ethical standards mostly apply at the national level,

in-house codes or media organisational codes are directed more

towards certain occupations or jobs (e.g. managing editors' code

Photograph: photocase/Bastographie

of ethics). However, all the codes declare values and principles

that aim to regulate daily practices and protect the interests of

democratic and civic society. As an example, let's have a look at

the principle of 'objectivity', which is present in most of the codes

of ethics. The principle of 'objectivity' and truth-telling is often

expressed as practical guidance, for example, "In the case of a

conflicting story a journalist should take all different opinions

into consideration," or "a journalist should carefully check the

facts from various sources...". In different countries the number

of such codes of standards varies. In Poland, for example, the

four professional organisations have different nationally applicable

codes: The Charter of Media Ethics; The Journalistic Code of

Conduct; The Code of Journalistic Ethics of The Association of Polish

Journalists (SDP) and The Code of Ethics of The Association of

Journalists of the Republic of Poland (SDRP). In contrast, Estonia

and Finland only have one national code of ethics for journalists

and journalism.

In addition to the national differences, many media organisations

across the countries surveyed have their own mission statements

and editorial statutes, and newsroom internal ethics codes

aimed at managing employees' professional values as well as their

behaviour on social media like Twitter or Facebook (for exam-
---
ple, in the Netherlands). In Jordan the government adopted its

own code of ethics and many journalists perceived this as another

means of controlling the press. Al-Ghad (which is privately owned

and Jordan's second largest daily newspaper) uses its own code of

ethics but only uses it for newsroom decisions for those cases that

need justifying. These few examples illustrate the problem: the

code of ethics seems to be such a clear and "basic" instrument for

ensuring media responsibility. However, our cross-national survey

shows that there is such a variety of codes and these differ so much

in importance that one should always ask the critical question: how

and by whom are these codes interpreted?

Press councils: differences in authority and status

Self-regulated press councils, which are groups of representatives

from the media and society who judge media behaviour on the

basis of complaints that are brought to the council, exist in 7 of

the 14 countries surveyed (Austria, Estonia, Finland, Germany,

the Netherlands, Switzerland and the UK). Their authority and

status are very different. The status of the press councils in Finland

and the Netherlands seems to be higher than in other countries.

The Press Complaints Commission (PCC) in the UK seems to have

the widest influence on general media literacy: in addition to dealing

with people's complaints, the PCC holds public meetings and

hearings, provides in-house training for journalists and advises on

how to make complaints etc.

In addition to these "classical" press councils, some countries

have other types of bodies which interpret codes of conduct

and ethics. The efficiency of these bodies varies. For example,

the Romanian Press Club is one of the most prominent media

federations and it should observe and enforce the code of ethics.

However, members of this club have violated the code and the

Council of Honor did not penalise them. In Germany, in additition

to the press council, several other organisations take care of

the interpretation of quality and ethical principles, for example,

the Voluntary Self-regulation Authority of Cinematic Industry, The

German Advertising Standards Council and The German Council

for Public Relations.

Catalysts for the accountability dialogue

Accountability comprises media responsibility to society as well as

responsiveness. The latter refers to an ongoing dialogue and debate

between the media professionals and their audiences as well as to

their willingness to explain the principles and motives behind editorial

decisions. A variety of forms of responsiveness can be simultaneously

observed in the countries with a high level of journalistic

professionalism. Ombudsmen (for the press, broadcasting or both)

exist in Austria, Germany, the Netherlands and the UK. There are

reader's advisory boards or councils in Austria and Switzerland, and

correction corners or correction boxes in the newspapers in Germany

and the Netherlands. Regular media-critical pages appear

mostly in quality newspapers (in the UK, Germany, Switzerland

and the Netherlands). Nordic countries also have a strong professional

journalism tradition. Finland is a particular case where one

rather strong "instrument" dominates: The National Press Council,

with the powerful professional Union of Journalists, strongly adheres

to the "responsiveness ideology".

In the countries where freedom of speech and the development

of the journalism culture has been interrupted (Estonia, Poland,

Romania, Jordan and Tunisia) responsiveness is weaker. One of

the reasons for this is that criticism of the media is only occasionally

discussed. Critical scrutiny is often taken as an attack from

a competitor, and admitting and excusing errors is considered to

damage an organisation's reputation. Another reason is a weaker

professional culture and the dominance of commercial values.

As the Internet has generated many new possibilities for implementing

interactive instruments to strengthen the media's responsiveness,

it is important to ask: how intensive is the use of

these instruments in various countries? One can find some fine

examples from different countries: journalists blogs, written by

journalists as individual authors; media blogs, written by journalists

as representatives of a media organisation; citizen blogs and

audience blogs; various interactive debates arranged by media

organisations ("readers' or listeners' clubs"); and media observatories

(e.g. www.media.cat). In spite of the wide range of responsive

instruments media organisations generally prefer traditional

instruments. "Responsiveness" based on dialogue and communication

with audiences is currently more of an exception than

a rule. Maybe the media managers just need to be encouraged

to use these innovative instruments to foster transparency, even

if their organisations have not developed specific accountability

mechanisms yet.

Responsiveness as journalistic value

Is accountability a luxury or a necessity? We do not yet have clear

answers but going back to the question: "who is watching the watchdog

in a democratic society?" one can imagine that a possible niche

for a media professional could be the role of a "trusted information

interpreter". How is it possible to be trusted and trustworthy in an

environment where pressures from the public relations sector, as well

as from other interest groups and business interests, are increasing?

Responsiveness and transparency as journalistic values need mechanisms

in order for them to be rooted in daily practices. It would be

the worst solution if the media declared that these values are not

built into their day to day activities.

The results of the MediaAcT study provide a wide comparative

overview of how similar instruments function in different cultural

and political contexts. Some instruments are just brilliant ideas:

inexpensive and easy to implement (e.g. correction buttons). Other

instruments could provide journalists with more feedback from

the public or allow the audience to engage in debates about media

ethics. Media criticism seems to be more active in large media markets.

Looking at smaller media markets one could ask: could better

dialogue between academia and industry encourage consideration

of innovative Media Accountability Instruments that would allow

professional journalism to improve its accountability systems while,

at the same time, supporting professional journalists in the present

economically difficult situation?

fUrThEr rEAdIng

harro-loit, halliki (2010): from Media policy to Integrated

communications policy. how to Apply the paradigm shift

on a European and national level. In: klimkiewicz, Beata

(eds.). Media freedom and pluralism. Media policy challenges

in the Enlarged Europe, cEU press, pp. 45 - 58.

11

Index | Editorial | Birds-eye Birds-eye view view|

Opening the toolbox | Zoom-in on the newsroom | Media landscapes
---
1

Index | Editorial | Birds-eye view | Opening the toolbox

| Zoom-in on the newsroom | Media landscapes

1

Photograph: photocase/kallejipp

Up-to-date or out of touch?

By SAlVAdOr AlSiuS, MArcel MAuri-de lOS riOS & ruTh rOdrigueZ-MArTineZ

Traditional press councils and "readers' letters"

It's time to dip into the media's laboratory. Let's open the journalist's

toolbox and take a closer look at the diverse traditional instruments

that journalists and the media have developed over the years to ensure

that they act within ethical norms and values: press councils and

readers' letters. Are these traditional instruments already old-fashioned

and out of touch or are they still up-to-date and relevant?

Journalists monitor government action, political decisions and

investigate issues. However, guarding society is only one side of the

coin. Who monitors the media and journalists ensuring that they act

ethically? The government? Who else?

Press freedom in a democracy attracts only low levels of legal

government regulations, but something is out of kilter if the

government sets rules for journalists and narrows press freedom by

sanctioning their daily work. This can be seen in the annual Press

Freedom Index compiled by Reporters Without Borders. Neither is it

right that full responsibility should fall on the media companies and

media professionals, who may be tempted to act in line with personal

or corporate interests. In a democracy there is only one answer to this

delicate question: the public.

"Feedback", an old concept

The term 'participation' – recently replaced by 'interaction' – has, for

decades, been used to overcome the idea of the one directional nature

of communication. In the mid twentieth century communication

theory incorporated the concept of 'feedback' to refer to messages

which sent information back in the opposite direction from usual.

Feedback comprised messages sent to those who normally had the

role of sending out information, messages in which the recipients were

involved to some extent in the active process of communication.

Public feedback: voting with your feet

So, how has the public generally 'fed back' to the communication
---
media? First, via a message, which while not explicit, is tremendously

effective – consumption. Clearly, it is somewhat dangerous

to make all decisions on the basis of audience figures; but neither

can the response of the public as consumers of media products be

ignored. It should be accepted that the public increasingly sanctions

what it considers to be good or bad quality by voting with its feet. To

ignore this entirely would be foolish.

Readers' letters: the voice of the audience

There have been and still are specific procedures which allow the

public to express their views on media content. One very longstanding

way is the 'letter to the editor'. This letter format, which

has become a distinct journalistic genre in itself, emerged from the

British and American press. Today, given the proliferation of digital

means through which individuals can make their voices heard,

such emphasis on the importance of the 'Letter to the editor' might

ring a little hollow. The fact is that this letter form has endured for

almost two centuries as the most natural way for individuals to

express themselves in the public arena. It is true that the expression

of ideas through this channel was conditioned by many factors:

space limitations, the tendency towards 'soft' topics that permeates

much of the media, and last but not least, the criteria applied to the

selection of material. Despite this, as Brian Thornton, an expert on

readers' letters, points out, they nonetheless express public feeling,

and especially the feelings of a sector of the public who know how to

express their opinions in writing.

The 'letter to the editor' was a mode of communication which

took off in the press in particular. The visual media have on occasion

tried to emulate the possibilities of this pseudo-genre. Sometimes

this is done through simply transposing the concept across media,

for example, when radio presenters read out letters sent in by some of

their listeners. However, radio, and later television, gradually took on

board the idea that listeners could express their feelings live, generally

using the telephone.

'Letters to the editor' and other similar types of contribution have

been lauded by media companies as a way of making their content

more attractive. Without doubt some of the contributions have a

critical edge and, in their own way, these contributions have helped to

influence the quality of media content. A good example of this kind of

the contribution by the users can be found in Spain. Some years ago

the Spanish newspaper El Pais published in its Sunday supplement

only those Letters to the Editor where the readers referred to the

coverage made by the newspaper during the previous week.

Self-regulation as self-defence

The second major channel through which individuals have been able

to express their critical opinions about media content has been the

press councils. The press councils try to ensure that media ethics are

respected. They are entities which receive complaints from individuals

regarding the way in which the media handle the news. They have a

certain moral legitimacy in making judgments on the appropriateness

of how news is dealt with, although they have no actual legal clout to

impose any kind of sanction. Although the press councils are bodies

which are separate from the media companies, in many cases it was

the media companies themselves which promoted the councils as

means of self-regulating the content of their products.

In a number of countries the press councils were born out of

initiatives by media companies to protect themselves from attempts

by government or parliament to impose excessively rigid regulation.

They are the channel by which the media system self-regulates. A

substantial proportion of them are cross-party and are made up of

representatives from among editors and journalists' associations.

There are also some (as for example in Sweden, Denmark and

the United Kingdom) which include members of the public as

representatives, who are ultimately those who hold the right to

receive complete, verified information.

Challenges and reformulations

One of the main problems for press councils is incorporating a

reasonable degree of public representation. In a formal democracy

the only thing that truly guarantees such representation is universal

suffrage. However, at the same time, it is true that for public

representation to come via the parliamentary parties would be

problematic. The independence of information, with respect to the

established political powers, would be among those things at risk.

Other problems which have limited the councils' ability to act

have been: the lack of power to impose sanctions, as mentioned

earlier, the unwillingness of some companies to recognise the moral

authority of the verdicts, difficulties in obtaining funding, and

a lack of awareness of their role among the general public. The

UK was one of the first countries to have a press council but it

was the UK's Press Complaints Commission which had its role

questioned once again following the case of The News of the World

and the recommendation of Judge Leveson regarding the creation

of new laws to govern the press (for details see also the article by

Mike Jempson, page 5-7). This is still under discussion and as an

alternative there is talk of a possible reformulation of the press

council. The tension between regulation and self-regulation is at the

fore yet again. During recent decades many professional journalists

believed self-regulation could act as a palliative to limit the powers

that control media content, and also as a way to guarantee the

public the right to access true, complete and accurate information.

However, lately, many journalists, and also media users, recognise

that the system that gives out penalties to violators is too "soft" and

cannot stop certain excesses of the tabloid press or garbage TV.

Press councils and readers' editors still have validity

It is worth considering whether these two prongs of public

participation, letters to the editor and complaints to the press

councils, still have any validity. Based on the answers from the

professionals surveyed in the MediaAcT study it is important to

differentiate between the instruments: while the press council was

perceived as an accountability instrument with medium impact

among the professionals from the countries surveyed, it was at

the same time evaluated more positively than other traditional

instruments, such as ombudsmen or readers' editors (for further

information regarding ombudsmen and other new forms of

"participative instruments" for more openness and transparency,

please see the article by Huub Evers and Harmen Groenhart, page

20-21). The digital age has clearly provided many new channels

which make the interaction between broadcasters and recipients (to

use the classic division of roles) more intense (for digital details

see page 14-17 and page 18-19). If we go back to the journalist

laboratory, basic tools, such as the traditional press council and the

reader's letter, continue to have their place in the toolbox, despite

their evident limitations.

1

Index | Editorial | Birds-eye view | Opening Opening the toolbox

| Zoom-in on the newsroom | Media landscapes
---
1

Index | Editorial | Birds-eye view | Opening the toolbox

| Zoom-in on the newsroom | Media landscapes

Online Example 2: Actor Transparency II

Another tool to foster actor transparency is a chat

box, as practiced by the Swedish newspaper Norran.

Their eEditor offers users the opportunity to get in

contact with the journalists in a live-chat (every day

from 6am to 9pm). It is featured on the front page

of the paper. Users can suggest topics or ideas

for stories, report mistakes, ask questions or give

feedback. The new tool has increased the number

of unique visitors, acts as an ombudsperson and a

correction button and it is also a way to encourage

user-generated content (http://norran.se/).

European

flagships

By MATThiAS kArMASin, dAnielA krAuS, Andy kAlTenBrunner & klAuS Bichler

Best practice examples of media accountability

After having introduced the "old ladies" of accountability to you – let's

walk on the wild side and do a little cross-country accountability trip

through European newsrooms. It is astonishing to see the creative ways

in which the need for accountability is interpreted within international

newsrooms: Italian journalists record their editorial meetings for the

public, UK journalists reflect news decisions online in a blog, journalists

from the Netherlands critique their own profession in a weekly TV

show. The responses by journalists worldwide to the strong demand

for responsiveness and media accountability are manifold – online and

offline. A lot of media organisations use traditional offline tools to foster

Online Example 1: Actor Transparency I

Actor transparency includes the disclosure

of ownership, the publishing of company

guidelines and information about the

journalists themselves (contact, job position,

etc.). It reveals to the users those who produce

the news. The relevant information can easily

be published on the medium's website, as a

byline underneath an article for example, or

via a range of social media tools. Examples can

be found on the Facebook pages of the Polish

news outlet money.pl (https://www.facebook.

com/ciszak.moneypl) or at the Spanish VilaWeb

(http://www.facebook.com/VilaWeb).

Online

Example 3: Production Transparency I

Production transparency deals with transparency of

sources and professional decision making. Journalists' and

companies' blogs are tools that can easily be implemented.

For example, in the Editors' Blog of the BBc news (http://www.

bbc.co.uk/news/blogs/the_editors/) journalists comment

on the news production of the BBC news show. Other such

blogs are operated by single journalists or media managers

reflecting decisions or national journalism discussions. One

example is the Interna-blog of the Swiss local newspaper

Südostschweiz (http://www.suedostschweiz.ch/community/

blogs/interna).

media accountability, like readers' letters, media journalism, ombudsmen

and codes of ethics. A lot of new possibilities for media accountability have

arisen as a result of the Internet. Ways to interact with the audience have

increased and the time gap has vanished. It's a fact that accountability has

been and will continue to be transferred to the online world to use digital

possibilities to further media accountability. For example, journalists

create new digital contact points for users with a new interpretation of

the ombudsman. Others try to integrate their users into the process of

news selection and production. These digital instruments offer a couple

of economic advantages. They are easy to implement, cost-efficient
---
Online

OFFline

Example 4: Production Transparency II

A more expensive production transparency approach

is shown by the Italian newspaper La Repubblica. Their

open newsroom conference reveals news production

processes as the most important editorial meetings

are broadcasted online (not streamed live, but

available online). The users can see how journalists

justify their choices, comment on the news and

discuss the paper's issues (http://video.repubblica.

it/rubriche/repubblica-domani).

and help in facilitating a trusting relationship with the audience by

creating a dialogue between the public and media organisations. In the

US and in Europe in recent years the media industry was characterised

by the consequences of the economic crisis: cost cuts for journalists and

newspaper deaths. At the same time new tools for discourse emerging

through the advent of the Internet show positive changes in journalism

(e.g. interaction with the users). The MediaAcT team collected examples

of accountability tools offline and online and selected and published them

in a "Best Practice Guidebook: Media Accountability and Transparency

across Europe". This publication details a collection of innovative

Example 6: Production Transparency IV

An important instrument of media accountability

is media journalism. A successful example was the

TV show De Waan van de Dag from the Dutch public

service broadcaster. It was a 29 minute weekly media

journalism programme focusing on production

routines, editorial choices, must-haves and flaws

in journalism. One part of the show was a debate

among journalists, reporters and editors-in-chief

about specific issues moderated by a well-known and

experienced presenter. The show reached a market

share of 5.5%. Another example still being broadcast

is the German TV show Zapp – das Medienmagazin

(http://bit.ly/da9BNs).

Online

Example 5: Production Transparency III

Another major aspect of production

transparency is open error management. Many

tools that foster open and transparent error

management are available and in operation in

online publishing. Correction or error buttons

at the Berliner Morgenpost ("Leider falsch"

http://www.morgenpost.de/berlinaktuell/

article1077710/), the Swiss newspaper

Tagesanzeiger (http://www.tagesanzeiger.

ch) or the Swiss free newspaper 20Minuten

(http://www.20min.ch, http://www.20min.ch/

ro/) are just three examples. Similarly, there

exist correction boxes which make errors

transparent, e.g. at the Dutch public service

broadcaster NOS' website (www.nos.nl/nos/

herstel/).

instruments dedicated to media accountability and quality assurance

in journalism. It targets media managers, journalists and practitioners

in the field of content production who are interested in high quality

and transparency. The tools in this guidebook include users and media

professionals involved in the processes of media production and media

self-regulation. The following overview is intended to help you to navigate

easily through the diverse world of transparency and media accountability.

By way of guidance, we distinguish between three different types of

transparency and media accountability: actor transparency, production

transparency and responsiveness. Let's get started.

1

Index | Editorial | Birds-eye view | Opening the toolbox

| Zoom-in on the newsroom | Media landscapes
---
1

Index | Editorial | Birds-eye view | Opening the toolbox toolbox|

Zoom-in on the newsroom | Media landscapes

OFFine

Example 10: Responsiveness IV

A good way to include the audience in the reflection and

production processes are readers' advisory boards. Amongst

others, they are practiced by the German boulevard

newspaper BILD (http://bit.ly/MMsYPn), the Austrian local

newspaper Vorarlberger Nachrichten (http://bit.ly/OZ3dwT),

the Swiss boulevard newspaper Sonntagsblick (http://bit.

ly/Oo9MHG) and the Catalan newspaper El Punt (http://

bit.ly/QwmOVg). The advisory councils are composed of

readers representing the diversity of the audience. They

are elected once a year. Their "task" is to attend panels

in the newspaper's headquarters and discuss their ideas,

share their opinions and give feedback. Such tools ensure

transparency, foster media literacy and have a high impact

on the loyalty of the users.

Online

Example 11: External Tools

Next to these company internal innovations one

can find new tools that empower the audience

in the process of media regulation and selfregulation.

Since the advent of the Internet,

it has been possible for the audience to get its

voice heard easily, inexpensively and with the

possibility of reaching a lot of other interested

people. Users can participate in the process of

media accountability, for example, by writing

their own media watch blogs. Examples can

be found in many countries: MediaBugs, USA

(http://mediabugs.org/), BildBLOG, Germany

(http://www.bildblog.de/), Merkintöjä mediasta,

Finland (http://outi.posterous.com/) or kobuk,

Austria (http://www.kobuk.at/).

Best practice examples online:

Online

Example 8: Responsiveness II

The open newsroom policy of The Guardian

is a remarkable concept. Next to many

other tools, they offer their newslist to all

users. On this website users are able to see

which stories are discussed or produced by

the newspaper's staff or what the editors

think about their coverage. The readers get

a good idea of how the news is produced.

Furthermore, they can post what they think

of the stories or suggest ideas – all userfriendly

via Twitter or Email. The newslist

is a format which is easy and inexpensive

to establish as it can be an embedded

Google document (http://www.guardian.

co.uk/help/insideguardian/2011/oct/10/

guardian-newslist).

OFFline

Example 14:

Production Transparency IV

An internal offline practice is the

"early paper critique" as is done by

the Swiss Bieler Zeitung (http://www.

quajou.ch/downloads/medienaward/Dokumentation_Medien-

Award_2005.pdf). All articles

produced before 6pm (before

the newspaper goes into print)

are collectively analysed by the

editors involved. The articles are

always presented by the head of

the news division. At least one of

the chief editors, as well as the art

director, have to be present. This

instrument fosters a lively internal

debate on quality, accuracy and

decision-making.
---
OFFline

Example 12: External Tools

The Register Citizen Newsroom Cafe in Torrington,

Connecticut, USA (http://newsroomcafe.

wordpress.com/) is a combination of coffee

house and local newsroom. The local

newspaper is produced by professionals,

citizen journalists and lay people. People can

give feedback to stories, attend the planning

meetings or use the work space provided. To

date the physical presence in the newsroom

is not as great as the online contributions.

This innovative project strengthens the

error management process, creates actor,

newsroom and production transparency, and

contributes to responsiveness.

Example 9:

Responsiveness III

A sophisticated approach to

include users in the selection and

production processes has been

adopted by the Finnish public

broadcaster YLE2. One third (8

minutes) of their daily prime time

live current affairs programme

is completely focused on the

publics' perspectives. Everybody

can suggest topics, comment

ideas and act as a contributor and

they use a range of platforms such

as Facebook, Twitter, Google+ and

Skype. The level of contributions

as well as the audience response is

a big success (http://yle.fi/uutiset/

puheenaiheet/).

Online

Online OFFline

Example 7: Responsiveness I

Responsiveness refers to an active and fair dialogue with users. This includes,

first of all, an open newsroom policy. There are many different tools helping

journalists to give insights into news making and news production. For

example, the weekly live chats with editors that are practiced by the French

online paper rue89 (http://www.rue89.com/participez-a-la-conference-deredaction-en-ligne)

are an effective and non-expensive tool. Journalists

and users can discuss current issues, ask for feedback or give insights into

their reporting routine.

Example 13: External Tools

An easy to implement offline tool is an open

critique session, as practiced by the Austrian

monthly magazine Datum (http://bit.ly/

OtaQJA) and by the Spanish El Periodico (http://

entretodos.elperiodico.com). This is an open

forum where the audience can discuss the

latest issue with either or both the editorial

team and an external expert from the media

or the arts. The resources needed are quite

low. These sessions strengthen reader loyalty

towards the medium and give an insight into

the production process.

1

Index | Editorial | Birds-eye view | Opening the toolbox

| Zoom-in on the newsroom | Media landscapes
---
1 1

Index | Editorial | Birds-eye view | Opening the toolbox toolbox|

Zoom-in on the newsroom | Media landscapes

Preparing

for the future

By heikki heikkilÄ

Media accountability tools online

In recent years, there have not been many innovations in newspaper,

radio or television journalism to report. However, a number of new phenomena

in journalism and public communication have emerged on the

Internet: blogging and microblogging, citizen journalism and user-generated

content, data journalism and data leaks, for example.

Some observers argue that online communication can be instrumental

in democratizing societies in some parts of the world – for instance,

in Arab countries – while in western countries it is assumed that the Internet

is key in pulling the news industry out of its economic difficulties.

In the USA, a recent report on Post-Industrial Journalism predicts that

"journalism in this country will get worse before it gets better". It will

get better, the report maintains, if news producers and users are able to

"take use of tools and techniques that were not possible ten years ago".

While some of this optimism may be unwarranted, it is convincingly

pointed out that the online news environment is much more dynamic

than the offline environment.

One of the challenges for media organisations in the future is to

strengthen the public trust in news institutions and the legitimacy of

journalism. Two principles of media accountability are important in

this respect: transparency and responsiveness. Transparency refers to

practices that aim to shed light on the background to news production

by describing who the producers are and explaining what they are

doing. Responsiveness, in turn, refers to practices whereby media organisations

encourage users to give feedback and find ways to take users'

concerns into account.

Digital technologies seem to be well-suited for both purposes. On

the Internet, news organisations can break out from the scarcity of

publishing space and inform the audience at length about their ethical

standards and editorial policies. In addition, the Internet enables direct

interaction between producers and recipients of news. Thus, it is easier

for anyone to participate in the dialogue about the ethics and quality

of news.

In the MediaAcT project an explorative study was launched for mapping

the development of media accountability on the Internet in Western,

central and eastern Europe, the USA, and two Arab countries.

The analysis demonstrates that while the Internet tools and instruments

have spread to different parts of the world their prominence and efficacy

vary a great deal. These differences do not merely relate to the varying

standards of the Internet infrastructures. Even more importantly, the

differences suggest that transparency and responsiveness are not among

the top priorities in newsrooms.

Transparency: unless you have something to hide

When politicians refuse to give a statement, a normative argument for

transparency is often voiced by journalists: "If you have nothing to hide,

transparency is for your own good". Our analysis suggests that journalists

do not always apply the same argument to themselves. This is de-

Photograph: photocase/ohneski

monstrated by the fact that only a few practices promoting transparency

are widespread among online news organisations. Where such practices

are introduced, the news organisations' motive to implement them is

often commercial rather than ethical.

The simplest model of so called "actor transparency" is to tag news

items with the by-line and the e-mail address of the responsible author.

This is a widespread practice in the USA, western Europe and Poland,

but it is far less common in Bulgaria, Serbia or Arab countries. Even less

common is that online news services provide more detailed profiles of

journalists' specific expertise on the themes they are reporting.

At the level of the media organisation, actor transparency can mean

shedding light on the ownership structures of media companies. Such

information is generally made available in western Europe and the USA,

but the financial reports and business strategies are separated from the

online news services. A similar separation can be found between news

websites and ethical guidelines. In news cultures where the codes of

ethics are approved collectively by journalists' unions, the ethical guidelines,

as well as tools for filing a complaint to the press council, exist

outside online news platforms. In news cultures where the emphasis on

ethical conduct is on in-house guidelines, these codes are not always easily

accessible. These examples suggest that transparency is for some reason

toned down by news organisations, which undermines its efficacy.

While actor transparency casts light on practices before the act of

publication, transparency may also be enacted during it. News organisations

may allow users to compare the news items to the original
---
sources of information by attaching external hyperlinks to the news

story. This practice, however, is far from systematically applied. Instead

of this online news organisations prefer publishing the hyperlinks only

to their previously published news stories. This means that the hyperlinks

do not aim to help users to evaluate the veracity of the news item

in front of them, but rather they are treated as an implicit persuasion for

users to stay a bit longer on the given news website.

Another form of production transparency can be introduced by allowing

users to witness editorial meetings or submit their ideas for editorial

decision-making. Production transparency may also be pursued by

running newsroom blogs to explain editorial decisions or comment on

questions arising from the reporting. At the moment, only a few news

organisations are providing video streams from their editorial meetings

or providing newsroom blogs which systematically consult users about

the items they are covering. Even if some news organisations have run

newsroom blogs for a number of years, the practice in general seems to

be losing prominence.

Newsroom blogs may be regarded as outdated, as online news organisations

are interested in getting a foothold on social networking

sites. While Facebook users, groups and networks may be harnessed in

gathering sources and information, for online newsrooms Facebook is

predominantly a tool for promoting news stories and a promising strategy

for maximising incoming web traffic to their news service. While

this objective is legitimate, it is based on economic interests rather than

ethical principles.

Responsiveness: "Tell us where we went wrong"

News organisations depend on their audiences. This idea is very notice-able

in the variety of ways that newsrooms open themselves up

to users' tip-offs and comments. Facebook and Twitter are clearly

gaining importance over discussion boards, news comments and

Frequently Asked Questions (FAQ) sections. Despite the fact that social

media enables more direct interaction with users, it seems that

journalists continue to keep their audiences at arm's length. At the

end of 2010, only two editors-in-chief in th United Kingdom were

tweeting regularly, and their mode of communication was mainly

one-directional.

The area which online newsrooms have taken more seriously is

error management. Not only are news desks better prepared to receive

notification of errors; they are also proactively making error

management more transparent. One of the online tools, which is

gradually becoming more widespread, is the correction button. The

efficacy of error management needs contributions from active and

interested users. Some of this activity may not be directed back to

the news organisations through correction buttons, but it may give

rise to citizen-based media monitoring. These sorts of citizen blogs

can be found in different types of media and political cultures, such

as Germany, the USA and pre-revolutionary Tunisia.

New environment – new dynamics?

The development of online media accountability practices does not

depend so much on technology but on economic and commercial

interests within news organisations. At the moment, transparency

and responsiveness are not among the primary strategies in media

companies; many newsrooms are still experimenting with the idea.

Through experiments, new journalistic practices – and perhaps innovations

in media accountability – may emerge.

The flow of ideas about new online practices does not spread in

the same way as technologies. In journalism new influences traditionally

flow top-down and from the centre to the periphery. This

pattern highlights the role of western news cultures and national

flagship media corporations in each country.

While actors such as the New York Times, BBC and The Guardian

continue to be influential in the online environment, new practices

may emerge from elsewhere, too. Due to new online start-up organisations

in the USA, media bloggers in Europe, and online activism

in Arab countries, the news environment today is much more decentralised

and transnational than it used to be ten years ago.

fUrThEr rEAdIng

Anderson, wright; Bell, Emily; shirky, clay (2012): post-Industrial

Journalism: Adapting to the present. new york:

Tow center for digital Journalism, columbia Journalism

school. http://towcenter.org/research/post-industrialjournalism/

domingo, david et al. (2012): Media Accountability goes

Online: A Transnational study of Emerging practices

and Innovations. MediaAcT working paper. Available at:

http://www.mediaact.eu/fileadmin/user_upload/wp4_

Outcomes/wp4_report.pdf

1

Index | Editorial | Birds-eye view | Opening the toolbox

| Zoom-in on the newsroom | Media landscapes
---
Index | Editorial | Birds-eye view | Opening the toolbox toolbox|

Zoom-in on the newsroom | Media landscapes

0

it's transparency, stupid!

Journalism is increasingly faced with calls for more public accountability.

Empowerment of citizens, digitalisation, commercialisation

and increasing information flows pose new demands for journalistic

quality and professional legitimacy. Consequently, professional

organisations increasingly state the importance of being transparent

and responsive towards the audience. While both audience

interaction and transparency are indispensable in their own right,

we suggest that transparency deserves extra attention. Not only is

transparency believed to improve news media credibility, it also supports

audience interaction and, not insignificantly, it is relatively

easy to realise.

Serveral ways of transparency

Journalists and newsrooms can be transparent in several ways. In

the first place, journalists can be clear about their sources. Referring

to sources is a common journalistic practice; by attributing assertions

to others, a journalist explains how their claims are underpinned.

Increasingly, this 'source transparency' is provided by links to

original documents and raw material. It is less common, however,

to explain the authority, the expertise and the interests of a source.

Few journalists mention the specific conditions of news people

before appearing as a source. In the second place, journalists can

be transparent by sharing thoughts and decisions during the journalistic

process. Some call this 'process journalism', to emphasise

By huuB eVerS & hArMen grOenhArT

Photograph: photocase/MMchen

To what extent and how should journalists engage in audience participation?

that journalistic claims are never definitive, but constantly developing.

Admitting and correcting mistakes is part of the same deal.

Third, journalists can be transparent about themselves and their

organisations by means of mission statements, ethical standards,

responsibilities and backgrounds. A common practice is the use of

credit lines or the publication of short journalists' biographies on

the news medium's website. Apart from this, many journalists create

their own individual profile. They have their own website, or use

Twitter to express their thoughts or to ask followers for help. This

makes it easier for potential sources to find a journalist when they

want to provide them with information. In addition, many journalists

perceive transparency in terms of the accessibility of the news

organisation by means of a contact for complaints. Publication of

any form of audience interaction, like user comments, social media,

or participatory journalism may be called 'interaction transparency',

which symbolises the responsiveness of journalists.

Nevertheless, journalists have good reasons for secrecy as well. As

journalism is a discipline of verification, it is hazardous to publish

news that still needs to be checked. Unless journalists have doubtful

motives, they do not want to publish obvious inaccuracies. More

strategically, journalists may need to keep their projects secret from

their object of inquiry or from competing news media. The most

fundamental reason for secrecy, however, lies in source protection.

Absolute transparency silences criticism, and as such it functions
---
against freedom of information. Therefore, journalistic transparency

may be wise, but should be handled with great care.

Do you practice what you preach?

Notwithstanding these important considerations, newsrooms do not

seem to practice what they preach about transparency and audience

interaction. The MediaAcT research shows a clear difference between

what journalists think their newsroom should do and what they think

their newsroom actually does. Considerable parts of the journalistic

process do not require secrecy, so something else is going on. Part of

the explanation, as we found, lies in a tendency to shift the responsibility

for transparency and audience interaction to others. As may be

the case in any other organisation or profession, journalists seem to

believe particularly that their colleagues need to make more effort.

For instance, journalists working for the dailies do not attach the

highest values to employing an ombudsman, the news agency journalists

do. This is remarkable because ombudsmen have no traditional

role for news agencies. Because we do not expect news agencies

to hire ombudsmen in the near future themselves, we suggest that

these results show a 'telling others what to do-effect': news agency

journalists – possibly evaluating themselves as a gateway to the news

media – consider that it is a good idea if their print colleagues employ

an ombudsman or public editor.

Telling others what to do also comes to the fore between job positions.

Journalists with managerial job positions differ from operational

journalists in their attitudes towards transparency and audience

interaction. Editors-in-chief attached the highest values and freelancers

the lowest values to providing a contact for complaints about

content. Although all respondents were rather positive about employing

an ombudsman, editors-in-chief are more positive than reporters.

In addition, compared to media managers, both reporters and

freelancers seem to shy away from audience interaction. This may be

due to assumptions about accountable organisations, which is more

the editor-in-chief's problem, and the seemingly unfeasible interference

with journalistic production, which is more the reporter's

problem. In the end, reporters have to deal with the audience on a

daily basis, not the editors-in-chief, who merely deal with end-ofthe-line

audience interaction.

Also, age groups account for a few, but meaningful differences.

Junior journalists appreciate direct communication on social media

and online participatory news production significantly more than

senior journalists. This does not mean that senior journalists attach

no value to audience ties in general. Senior journalists show no significant

differences on the importance of responding to users' comments

and suggestions, and moreover, senior journalists appreciate

the more traditional means of communication, like a central contact

for complaints or an ombudsman.

Finally, the journalists' nationalities also seem to matter. Although

it seems that European journalists share a common belief

that transparency and audience interaction is important, we found

significant differences between different countries. For instance,

Jordanian journalists show high belief in citizens' contributions to

journalism. Contrasting with journalists from other countries, they

strongly believe in co-production and in direct communication via

social media. Moreover, Jordanian and Tunisian journalists estimate

that their audiences' interest in media accountability issues is high.

The Arab spring may offer an explanation for this, as very recently

the citizen's voice had significant impact on governmental regimes

in these countries. Regarding ombudsmen – as a way to offer transparent

communication with the reader – we found interesting differences

as well. On the one hand, French and Spanish journalists

clearly attach most value to employing an ombudsman. This may be

related to the relatively long tradition of having ombudsmen, who

are seen as icons of quality journalism for prestigious news media,

such as Le Monde, El País and several broadcasting organisations.

On the other hand, Finland and Estonia have no tradition of ombudsmen,

which clearly resonates in the low support given to this by

both Finnish and Estonian journalists. Moreover, in the case of Finland,

this low score emphasises that journalists seem quite satisfied

with the existing culture of audience interaction.

In summary, we found significant differences between how

groups of journalists perceive the importance and actual practices of

transparency and audience interaction. Managers think journalists

should interact more with the audience, while journalists think managers

should invest more in organisational transparency. Although,

to a certain extent, European journalists share a common ideology

on transparency and interaction with the audience, the historical

and political context of individual countries also clearly affects journalists'

faith in transparency and audience interaction. This suggests

that, if feasible, any journalistic quality management should be defined

at the national level and only in terms of improving self-regulation.

The profession itself knows best what improves quality in the

newsroom and what does not. Transparency and audience interaction

seem to be promising tools in that respect, as there still seems to

be considerable room for improvement.

And what about the audience itself?

Journalists often reject pleas for transparency claiming that the general

public is not interested in the processes behind the scenes.

This seems to be only partly true. On the one hand, Dutch research,

by Schönbach and Van der Wurff, showed that the audience is not

very keen to get in touch with journalists. The interactive character

of public accountability suggests a certain amount of reciprocity

which is certainly not the case for all news consumers. Usually the

accountability process only gets going where mistakes have been

made or in cases of public indignation. Factors further hampering

the process are the weak media literacy of the public and the poor

transparency and accessibility of news organisations. On the other

hand, other recent research by Groenhart in the Netherlands contradicts

the supposition of disinterest among news users. A group

of news users is intrinsically interested in newsroom processes, and

many like to observe what's going on in the newsrooms more passively.

When it comes to quality management, the audience expects

a certain level of transparency in journalism. This high or low level

of interest does not depend so much on a certain medium type or

age group, but rather on media literacy. Therefore, proactive transparency

and media literacy may have more potential for public accountability

than passively waiting for the audience to correct journalism

quality. The MediaAcT project has therefore developed an

online platform for citizens and bloggers, aiming to increase media

literacy (see page 22-23). Instead of expecting the public to proactively

engage with the news process, journalists should make the

effort of making their trade more transparent. They should do so by

stating the professional intentions of news media, by revealing the

struggles behind the scenes, and above all by showing off their own

successful efforts.

1

Index | Editorial | Birds-eye view | Opening the toolbox toolbox|

Zoom-in on the newsroom | Media landscapes
---
Index | Editorial | Birds-eye view | Opening Opening the the toolbox

| Zoom-in on the newsroom | Media landscapes

Photograph: photocase/hannesleitlein
---
Action!

By TOBiAS eBerwein

how media research can have a lasting

impact on journalists and the public

How can media research have a lasting impact on the behaviour of journalists

and other social actors? Why is it that so many newsrooms have

no discernible interest in any kind of academic analyses, while for many

researchers their main motivation is in initiating a wide social debate on

the quality of the media, thus contributing to journalism's advancement?

There have been countless discussions on the question of the relevance of

academic research – and media studies in particular (see Fengler, Eberwein

and Jorch, 2012). Despite many attempts to bridge the gap between journalism

and academia, at best, the relationship between them still seems to

be ambivalent in most European countries. As the comparative survey by

the multinational MediaAcT consortium demonstrates, media research

hardly receives any attention from journalists across Europe (and the Arab

world). When asked what impact journalistic practitioners give to the academic

analysis of journalism, as compared to other Instruments of Media

Accountability (MAIs), such as press councils, ombudspersons or media

criticism on the social web, a mere 19% of respondents claimed that it had

at least some influence on their behaviour. Only few other MAIs received

worse ratings (for more details see Fengler, Eberwein, Mazzoleni, Porlezza

and Russ-Mohl, forthcoming). Do most initiatives by media scholars to

launch a public debate on media performance and correcting journalistic

mistakes simply vanish into thin air?

Transgress the academic boundaries

In order to cope with this problem, the MediaAcT project devised a way

to change this: major research results that have been generated over the

project's life, the past 31/2 years, are not only being published in the traditional

form of academic papers, but also in other media formats that

can help to address all stakeholder groups with an interest in a free and

pluralistic media landscape – most notably media practitioners and the

public. The collection of articles and essays in this journal may serve as

one example – summarising the project's findings and presenting them

in an easily accessible form, not the conventional mode of academic writing.

To illustrate the benefit of well-functioning Media Accountability

Instruments, the project also identified many international best-practice

examples and these are presented in a guidebook for journalists and newsrooms

(see box below).

Let's start! Online and offline training

Moreover the project participants developed two online platforms that are

intended to highlight the societal relevance of the discussion about media

accountability and transparency: one of them, a web-based training tool

for journalists, is integrated in the project's homepage on the web (http://

www.mediaact.eu); the other, a dynamic website for bloggers and other

interested citizens, is accessible under http://www.mediaspeak.org.

For the journalist's training tool, the MediaAcT consortium developed

a seminar series on media accountability. It consists of 14 separate sessions

on topics ranging from theoretical perspectives and insights into the concepts

of media self-regulation and co-regulation, to a practical introduc-

tion to the functionality of different MAIs, such as press councils, codes of

ethics, ombudspersons, media journalism and the particular potential of

web-based accountability processes. Each session is accompanied by a set

of Powerpoint slides, ready to use in a classroom setting. In addition, the

training tool also includes a variety of flash cards for key terms, suggested

reading assignments, a collection of case studies on characteristic ethical

dilemmas in journalistic practice and multimedia elements (e.g. video interviews

with international experts in the field). All materials draw on the

research from the MediaAcT project, communicating key findings from

its studies that directly relate to everyday work in the newsroom.

The MediaAcT citizens' platform is dynamic and interactive. It collects

critical blog posts by media users about journalistic misbehaviour

and offers room for public discussion. The site also presents different codes

of conduct for media professionals and provides simple instructions about

how to make complaints if these codes are disobeyed. Moreover, it also

works as a forum to connect other decentralised citizen initiatives on media

criticism and accountability.

Both the citizen platform and the training tool are unconventional

ways of presenting the findings of an academic survey. Nonetheless, they

not only serve their audiences in professional journalism and civil society

– but also media researchers in their long struggle to bridge the gap between

themselves and their objects of study.

lInks

website of the MediaAcT project: http://www.mediaact.eu

MediaAcT's online platform for journalists and citizens:

http://www.mediaspeak.org

fUrThEr rEAdIng

Bichler, klaus; harro-loit, halliki; karmasin, Matthias; kraus,

daniela; lauk, Epp; loit, Urmas; fengler, susanne; schneider-

Mombaur, laura (2012): Best practice guidebook: Media

Accountability and Transparency across Europe. Url: http://

www.mediaact.eu/fileadmin/user_upload/guidebook/

Best_practice_guidebook_new.pdf

fengler, susanne; Eberwein, Tobias; Jorch, Julia (eds.)

(2012): Theoretisch praktisch!? Anwendungsoptionen

und gesellschaftliche relevanz der kommunikations- und

Medienforschung. konstanz: Uvk.

fengler, susanne; Eberwein, Tobias; Mazzoleni, gianpietro;

porlezza; colin; russ-Mohl, stephan (eds.) (forthcoming):

Journalists and Media Accountability. An International study

of news people in the digital Age. new york etc.: peter lang.

Index | Editorial | Birds-eye view | Opening the toolbox

| Zoom-in on the newsroom | Media landscapes
---
Index | Editorial | Birds-eye view | Opening the toolbox | Zoom-in on on the the newsroom newsroom | Media landscapes

Photograph: photocase/spudnique
---
Critical or hypocritical

journalists?

By SuSAnne Fengler, TOBiAS eBerwein, JudiTh pieS, JuliA lönnendOnker &

lAurA Schneider-MOMBAur

results of a worldwide survey

How can we ensure a free and responsible press across Europe?

This question is currently debated heatedly, even aggressively, by

journalists, industry representatives, media policy-makers and

scholars across Europe. In late 2012, Lord Justice Leveson recommended

a fundamental reform of the traditional model of media

self-regulation in Britain – which has dominated other western

European journalism cultures since the 1950s. As a consequence

of the News of the World scandal, Leveson suggests a new, statutory

regulatory system. Obviously, the current self-regulation system

was not able to restrict the unethical and unlawful methods

of the Murdoch-owned tabloid.

Leveson has prompted an outcry among British news outlets.

Many of them consider such a form of state intervention to be

the end of press freedom. A similarly fierce response was given

by industry representatives and lobbyists across Europe to the

2013 report of the EU High-Level Group on Media Freedom

and Pluralism (HLG) (see also page 40). The committee was

set up by EU commissioner, Neelie Kroes, in 2011; at that time

the European parliament was concerned about a tightening of

media law in Hungary under the Orbán government. Among

other recommendations, the High-Level Group suggests drastically

expanding the sanctioning potential of existing press

councils. They also demand mandatory media councils in EU

states which, like France and Romania, do not have a press

council yet.

Journalists' attitudes towards media self-regulation

The key question behind both the Leveson recommendations and

the High-Level Group report is obvious: does the traditional model

of media self-regulation dating back to the 1950s, with press

councils as its core institution, still suffice for today's converging

media world – which is so much more competitive? Can new accountability

instruments emerging online – like newsroom blogs,

online ombudsmen and media criticism via the Web – successfully

support, or even replace these traditional instruments of media

self-regulation? Aren't participative models of media accountability

a more promising and "healthy" option than co-regulation

models which foresee a greater role for the state?

These are also the key questions of the research project "Media

Accountability and Transparency in Europe" (MediaAcT).

Our survey of 1,762 journalists in European as well as two Arab

countries (Tunisia and Jordan) reveals sharp contradictions: even

though journalists across countries unanimously support the

statement "Journalistic responsibility is a prerequisite for press

freedom", journalists' actual support for the concept of media

self-regulation is, at best, mediocre in most countries.

Lip service to media accountability?

Journalists only attribute a medium or even rather weak impact to press

councils, media criticism in the mass media, ombudsmen, media blogs,

and the other Media Accountability Instruments (MAIs). Obviously,

European journalists in many countries question the effectiveness of

the existing media self-regulation practices. The survey results also

reveal another telling fact: journalists perceive those MAIs that have

the potential to endanger their personal professional lives as much

more powerful than all of the instruments at the professional level.

In almost all of the 14 countries involved in the study, journalists see

ethical guidelines given out by their newsroom and media laws as the

most influential instruments of media accountability. In comparison,

traditional instruments of media self-control, such as press councils

and press codes, are perceived as considerably less influential. In most

countries journalists also attribute rather little impact to ombudsmen,

trade journals and media criticism in the mass media – let alone

external critics, such as media Non-governmental Organisations

(NGOs) or media scholars. Thus, from an empirical point of view,

it seems understandable that the European Union raises the question

of whether the current potential of sanctions that European press

councils have at their disposal is sufficient.

Journalists observe more audience criticism online

In the past few years, many new MAIs have emerged online – like blogs

run by journalists, online ombudsmen, media users' blogs, and media

criticism via Twitter and Facebook. Obviously, these new instruments

already have some impact on the journalists. Many media professionals

across countries said in our study that they observe a notable increase of

critical audience feedback online. Younger journalists especially, and

those journalists who work for online media, are open-minded about

these innovative instruments. Among the new digital possibilities,

social media platforms are rated as the most important MAI: the

surveyed journalists state that they have received an increasing amount

of feedback and critique from their audiences via Facebook and Twitter.

Especially for journalists in the two Arab countries - affected by their

experiences with governmental censorship – the social media dialogue

with their audience is important. However, while digital MAIs have

obviously gained prominence, they still lag behind the – limited –

relevance of the traditional Media Accountability Instruments.

Criticism of colleagues is not common

In many countries there is hardly any culture of criticism within newsrooms:

just a third of all surveyed journalists stated that they criticise

their colleagues often or frequently. Only in a few countries, like Finland,

where newsrooms are less hierarchically organised (see further

down), are journalists criticised more often by their colleagues.

Index | Editorial | Birds-eye view | Opening the toolbox | Zoom-in on the newsroom

| Media landscapes
---
Index | Editorial | Birds-eye view | Opening the toolbox | Zoom-in on the newsroom newsroom|

Media landscapes

External criticism by politicians, scientists or media users is even

less appreciated – and often perceived as unfair by journalists. Does

this attitude still fit in this day and age, where influential institutions

call for more media transparency? When journalism fails to initiate a

critical debate about its weaknesses and problems, it also misses the

chance to point out its strength and its essential role for an efficient

democracy in the era of Google & Co.

Not very welcome: the audience as media critic

In the digital age, it has become much easier for media users to become

media critics. They can get back to journalists and news outlets

via Facebook and Twitter, or use social media to network with other

citizen media critics. Many news websites offer comment functions

and a few are already experimenting with correction buttons. Is the

time ripe for a participatory approach towards media accountability?

Are journalists ready to give the public a significant role in holding

the media to account? Not yet, according to our data. Journalists

across countries observe increasing audience criticism online, but

they still do not take their public as seriously as they should. Even

though the future of quality journalism, at least, more than ever

depends on a stable trust relationship with the audience, journalists

seem to cling to their traditional gatekeeper role: they do not

consider the impact of user comments – be they offline and online

– on journalism as important. Less than half of the journalists across

countries support the statement that journalists are concerned about

audience criticism. While journalists strongly favour transparency

about media ownership and also support the idea of publishing a

journalistic code of ethics online, they are much less enthusiastic

about explaining everyday news decisions in a newsroom blog. They

also want to provide a contact for users' complaints – but support

for ombudsmen, and the opportunity to communicate directly with

journalists, is considerably less intensive. Journalists are also quite

sceptical about allowing users to participate in the production of

stories online or provide links to original sources. Even though journalism

is a public service, the public is held in rather low esteem by

journalists.

Another item in our survey questionnaire may provide an explanation:

when we asked journalists who they feel responsible to,

journalists cited their own conscience and professional values in first

place. Moreover, the majority of journalists feel more responsible

to their sources than to their target audience or the public. To sum

up: even though the audience makes increasing use of online feedback

mechanisms, journalists are still reluctant to acknowledge the

public's role in holding the media to account. Thus, participatory accountability

models cannot replace a strong organisational commitment

and a sophisticated system of incentives at all levels to promote

media accountability.

Scepticism in Spain, Italy, Romania and Poland

In central and eastern as well as southern Europe journalists are even

more sceptical about the concept of media transparency: many Spanish

and Italian journalists, as well as their colleagues from Romania and Poland,

believe that publishing corrections or making newsroom processes

transparent online will damage the bond of trust between journalism

and the audience. Journalists from these four countries as well as from

Jordan and Tunisia told us with higher than average frequency that they

worked for distinctly political media, and therefore felt constrained to a

specific political idea or pressured by the government.

Promoting media accountability – stick or carrot?

Given these rather sobering results – what can be done to promote media

accountability? Our data clearly show that journalists don't want state

intervention – the statement "formal systems of media regulation are

open to political abuse" was widely supported by the 1,762 journalists

who responded to our survey. However, they view the existing instruments

as insufficient as well – in sharp contrast to the industry representatives

who, in reaction to the High-Level Group report, claimed that

the existing systems of media self-regulation work properly and well. For

example, while UK industry representatives were extremely against any

form of co-regulation, journalists in the UK gave highest support to the

statement "to be effective media self-regulation needs more sanctions."

Towards a culture of accountability

Our survey shows that the newsroom makes the difference. Journalists

from news outlets who report being praised when they uphold standards

even under difficult circumstances, and who report that they would be

called in by their supervisors when media users challenge the integrity

of their work, value the impact of the different MAIs higher than their

peers who work in newsrooms without such a culture of accountability.

This means that the newsroom management plays a considerable

role when it comes to the ethical awareness of journalists. A series of

additional 100 interviews with international experts on media accountability

conducted by MediaAcT has confirmed this: "Only enacting

the instruments through practices, media accountability actually exists.

Instruments, therefore, cannot be taken for granted, and for them to

become established practices depends on actors' attitudes and positions

in the field" (Domingo & Heikkilä, 2011, p. 10).

We can also observe the strong influence of the organisation

on other issues: journalists from public broadcasting stations rate

the impact of MAIs higher than their colleagues from commercial

TV and radio. Across hierarchies, freelancers are most reluctant to

support the MAIs. Media organisations which have pushed towards

outsourcing in many European countries now carry a huge responsibility:

for their own interest they have to make sure that they do not

grow a 'journalistic underclass' without ethical awareness. There is

a second lesson here: it takes a pro-active media management to establish

a culture of accountability in the newsrooms – but it also requires

a certain amount of financial stability, both on the individual

and on the organisational level, to be able to 'afford' accountable

behaviour. This is quite a challenge in a time where journalists from

all MediaAcT survey countries consider economic pressure to be the

greatest threat to standards in journalism.

However, in the digital age, it is no longer costly to install accountability

and transparency mechanisms in the newsroom. Our survey

data also show that web-based MAIs are gaining prominence: albeit

at a low level of significance. Media blogs written by journalists are

already considered more influential than the traditional journalistic

trade magazines, and newsroom blogs – which can foster transparency

about newsroom-internal discussions about journalistic standards

– almost equal the significance of the 'classic' ombudsman.

The responsibility of media companies is even greater in southern

and central Europe, where journalists' unions and federations are less

influential than in western and northern Europe. Here, journalists rate

the (potential) impact of a company code especially highly. If media

managers actively implement accountability and transparency mechanisms,

they clearly demonstrate that they care for media accountability,

and thus make any form of state intervention superfluous. Should
---
the High-Level Group – even though it is so sharply criticised

– succeed in increasing the pressure on media organisations to

pro-actively install MAIs, the report will already have served its

purpose.

A media policy perspective: incentives

Media policy-makers could encourage such activities by creating

strong incentives for media companies to become involved

in media accountability activities at both levels. The MediaAcT

project has applied an economic perspective to the study of media

accountability practices. Thus, we argue that reminding journalists

and media companies of their norma-tive duties 'to behave

well' may be less successful than offering concrete rewards for

accountability activities. These rewards can be both material and

immaterial, as the example of the Irish press council shows – here,

media companies enjoy legal advantages when they become

members of the press council and actively apply the Irish press

code in their newsrooms.

Lessons from Finland

While support for most MAIs is rather low across our survey

countries, some countries stick out as positive examples. Finnish

journalists, along with their colleagues from Switzerland, showed

the highest support for almost all MAIs. They also show considerably

more support for many other MAIs. These results contrast

notably even with neighbouring countries like Germany. What

is different in Finland, and also Switzerland, where the press

council is held in very high esteem as compared to many other

countries?

First of all, both are countries with a high level of education

and a high degree of media literacy. Also, a vivid civic engagement

fosters public surveillance of media institutions. We also find a

clue when we take a look at the responses interviewees provided to

the questions about how often they criticise colleagues, or how often

they are criticised by their peers. In both instances, journalists

Photograph: photocase/Mr. Nico

from these two countries reported criticising fellow journalists frequently,

and being frequently criticised by other journalists or supervisors as

well. The results stand in sharp contrast to countries like Germany,

where peer criticism is the exception rather than the rule. Obviously,

newsroom structures are an explanation, and they are rather flat and

informal in Finland, allowing constructive criticism. However, Finland

and Switzerland are also two countries which still have a relatively affluent

media industry, receiving considerable state subsidies – and thus

they might be in a better position to afford accountability, compared

to countries with stiff media competition. Finally, both countries have

small journalistic populations of 9,000 (Switzerland) respectively 8,000

(Finland). This might make peer surveillance and naming-and-shaming

in the journalistic community more effective than in large media systems

like Germany or the UK with journalistic populations of 50,000

to 70,000. Here, many more ethical dilemmas may occur, but simply

vanish from the professional radar without debate.

Education matters

Finally, our survey data also point out the crucial role that journalism

education plays in responsible journalism. Journalists across countries

consider journalism education as more relevant for upholding standards

in journalism than any MAIs. Thus, investing in journalism education

itself is an investment in a responsible press – this is also a message for

industry representatives, who are rather unwilling these days to finance

mid-career training. Our data show that journalists in central and eastern

Europe and the Arab countries in particular lament the inadequate

journalism education in their country. It would be a worthy investment

to provide long-term support to modernise journalism curricula in these

countries. The MediaAcT survey also shows that journalists who received

training in media ethics during their journalism education display a

somewhat greater sensitivity towards issues of media accountability (for

details see the following article). With our MediaAcT interactive online

training tool (see article page 22-23), we hope to encourage journalism

educators and their students to discuss journalistic responsibility – and

at the same time to teach journalists to deal with criticism.

Index | Editorial | Birds-eye view | Opening the toolbox | Zoom-in on the newsroom

| Media landscapes
---
Index | Editorial | Birds-eye view | Opening the toolbox | Zoom-in on the newsroom newsroom|

Media landscapes

Raluca Radu

at a MediaAcT

workshop in

Dortmund,

germany

photograph: EBI

"Training is a must"

By dAnielA pOpA & rAlucA rAdu

Journalism education fosters media accountability

Education has a particular importance in the demarcation of a profession

from a simple vocation. The more diverse the education provided

for a particular sector and the more specificity it implies, the easier it

is for professionals to acquire autonomy and recognition. Professional

autonomy means responsibility and accountability towards the public

and towards other stakeholders in society. This also holds true for journalism.

In most democratic and liberal systems, access into journalism is

free, as it is implied by the principles of freedom of speech and right to

information. "Press has been 'free' for several centuries in UK. There is

no absolute pre-entry or post-entry requirement for a journalist to have

a journalism qualification in the UK. Being a journalist is an aspect of

freedom of expression", explains Mike Jempson, MediaAcT UK expert.

Professional journalists' status does not depend on a degree or on a type

of training, but on the simple exercise of the activity. Anyone can become

a journalist, if they meet the requirements of the editors.

Judith Pies, the MediaAcT expert on the Arab world offers a insight

into the Middle East: "In Jordan, there is an official restriction

concerning the right to practice journalism. The press laws say that only

journalists who are members of the Jordan Press Association are allowed

to work as journalists".

Training in journalism is, nevertheless, a must, as the MediaAcT

study in 14 countries demonstrates. Education is an important factor

in the process of professionalisation of journalists. Through education,

journalists learn the practical skills of the job, along with the norms and

the values that derive from the public service mass-media renders to society.

As the age of the MediaAcT respondents decreases, the probability

that they have followed journalism at university level increases, in all

MediaAcT countries.

The educational offer in the MediaAcT countries

The way journalistic education is organised depends, in some regards,

on the period of undisturbed development, which the journalistic world

enjoyed under different national circumstances. The countries in the

MediaAcT panel can be grouped into three clusters: countries that did

not experience an authoritarian regime after World War II (western Europe),

countries that followed a transitional period towards democracy

in the last 20 to 40 years (Spain and central and eastern Europe) and

countries that have recently entered the democratic path (Tunisia and

Jordan).

The curriculum of the journalistic courses and the practical relevance

of these courses for a practising journalist also depend on the

degree of democratisation and liberalisation in each country. Moreover,

the way journalistic education is organised depends on the size

of the market (and the existence of public and commercial news organisations,

which have the capacity to hire the graduates) and on the

incentives future journalists are provided in following a journalistic

training or a university program.

Let's have a look at the United Kingdom. Here the market is so

large, the employers demand course certificates to have a proof of

whether a candidate is suitable for the job. Complex accreditation

systems, accepted by the state, for recognised courses and programs

in journalism, have been developed since the 1950s. In the United

Kingdom, just as in the Netherlands, Germany or France, there are

several offers of training programs for journalists. In France, the oldest

vocational schools appeared at the beginning of the 20th century, according

to Olivier Baisnée, the French MediaAcT expert.

The educational offer at university level is, in some of these countries,

like Italy, less than 30 years old. A noticeable exception
---
according to Jari Väliverronen, the Finnish MediaAcT expert, is

Finland, which has had a journalism program at the state university

and an accreditation system since 1925. On the other side of the time

scale, one may find Austria, where journalistic programs started only

in 2002 (beforehand universities offered programs only in communication

studies). In Spain, the three former central and eastern European

countries of Estonia, Poland and Romania, in Tunisia and Jordan

the main journalism trainings are coordinated by universities.

In addition, organisations, foundations and associations in nearly

all countries offer a broad range of courses, internships and other kind

of actions, designed to increase journalists' awareness towards accountability

issues.

Media accountability is linked to journalism education

Journalism education is ranked the fourth most important factor influencing

journalistic behaviour, after company editorial guidelines,

laws regulating the media and professional codes of ethics – this is one

of the most interesting results of the MediaAcT study.

The first group of countries, those that did not experience a totalitarian

regime after the Second World War, tend to have a smaller population

of journalists that followed university level courses, but more

journalists with a vocational diploma, as is the case of Germany, Austria

and Switzerland. In the countries that experienced a totalitarian

regime more recently, the main training is organised by universities,

and consequently, the percentage of journalists with university training

is, in some cases, several times higher, than the other countries

(see, for example, the Netherlands and Spain, in Fig. 1).

Fig. 1. The choice of "University training", "Vocational diploma" and "In-house

training" for the question "What formal training have you had in journalism?",

country by country. Formal university training is aggregated for: journalism

school, university degree in journalism and journalism-related postgraduate

degree.

Depending on the national educational offer in journalism and on

the age of the respondents, formal university training was followed by

more than half of the journalists in the Arab countries (Jordan and

Tunisia), in the former Communist countries (Poland, Estonia, and

Romania), but also in Finland, France, and Spain. More than 30%

identified vocational training as part of their journalism education

in the Netherlands, Switzerland, United Kingdom and Austria. Also,

more than 50% of the journalists recognised in-house training as a

form of socialisation with the norms of journalism in Poland, Germany,

Jordan and Italy (see Fig. 1).

Ethics courses are not compulsory in all journalistic programs.

When asked a specific question, on training in journalism ethics,

more than 80% of the respondents followed ethics courses in Italy

and Jordan, but less that 50% in Austria and Germany (see Fig. 2).

Fig. 2. The answer to the question "My training/education included instruc-

tion in journalism ethics", country by country.

The subgroups of respondents, based on formal training in media

ethics, has different answers to questions related to interaction

with stakeholders, indicating that media ethics training fosters accountability.

Thus, 61.46% of the journalists trained in journalism

ethics (Group 1) agree and strongly agree with the idea of communicating

with the public through social media, as compared with

52.15% of journalists without such training (Group 2). Nevertheless,

a significant 6% more of Group 1 (67.98%) believe that media

institutions "Should respond to user comments and suggestions".

Media ethics training explains the differences between the

journalists that consider that company editorial guidelines have a

strong impact on journalistic behaviour (Group 1: 62.97% versus

Group 2: 53.32%), just like the professional code of ethics (Group

1: 51.99% versus Group 2: 44.68%) or journalism trade journals,

in countries where these exist (Group 1: 59.86% versus Group 2:

51.75%).

Journalistic education in the future

The academic offer of journalism courses is a necessary issue, but

is insufficient to transform journalism into a profession, indicates

Mihai Coman, MediaAcT expert for Romania. Other necessary

aspects include: codes of ethics, imposed and implemented by a

designated body, a common journalists' identity and a common

professional culture.

The MediaAcT study indicates that traditional Media Acountability

Instruments, like press councils and professional trade publications,

do not exist in all MediaAcT countries. At the same time,

innovative Media Accountability Instruments, based on the new

media (digital), appear all over the world. Journalists trained in

media ethics are more inclined to use them, in making their work

more transparent to the scrutiny of the stakeholders. Journalism

education has to acknowledge these transformations and to encourage

students to study and to understand them. Finally, this paves

the way for the future of accountable journalism.

fUrThEr rEAdIng

Josephi, Beate (2010): Journalism Education in countries

with limited Media freedom, peter lang: new york, ny.

EJTA - European Journalism Training Association

http://www.ejta.com

World Journalism Education Council

http://www.wjec.ou.edu

Index | Editorial | Birds-eye view | Opening the toolbox | Zoom-in on the newsroom

| Media landscapes
---
Index | Editorial | Birds-eye view | Opening the toolbox | Zoom-in on the newsroom newsroom|

Media landscapes

0

How to increase media accountability

By MATThiAS kArMASin, dAnielA krAuS, Andy kAlTenBrunner & klAuS Bichler

do journalists need more incentives or sanctions to use accountability tools?

Media accountability, defined as any non-state means of making

media responsible towards the public, is one key indicator for media

pluralism and media freedom in a country. Therefore, investments in

better media accountability systems mean investment in the quality

of democracy. The MediaAcT team, as part of its research, tried to

find ways to foster such investments. Two main target groups for

such measures are journalists and media companies. Especially today

in times of crisis (media, financial sectors, etc.) there should be

incentives for journalists and media companies to have fair and balanced

reporting. However, state intervention is out of the question.

The relevant standards should be developed in a joint process by the

media industry and its managers, journalists, the audience, NGOs,

media scholars etc.

Research shows that regulated self-regulation, also termed co-regulation,

is the best way to meet high media accountability standards.

This means that the state provides a framework that offers the media

incentives for self-regulation. The juggling act between guaranteeing

freedom of expression as well as media freedom on the one side and

censorship on the other side can be handled best by such measures.

High standards in media accountability guarantee a high level of

freedom of expression. Furthermore they raise the quality of discussion

within the public sphere.

The international MediaAcT research group has collected interesting

results within the research processes. One result of the Media-AcT

project consists of policy recommendations. Based on the

research outcomes, the team can recommend three major measures

to foster media accountability in the future at the supranational level:

1. Monitoring (EU focus on fundamental rights in the member

states).

2. A clear framework for subsidies (EU focus on fair competition).

3. Encouraging media literacy (EU focus on European public

sphere).

1. The first needs researchers' actions: Continuous monitoring

helps to evaluate the state-of-the-art of media accountability in the

EU member states. The monitoring includes a regularly produced

(annual, bi-annual) and openly published index, which has been developed

by the MediaAcT project, which monitors the activities of

media professionals and media organisations in EU member states.

Such an index creates a ranking in order to find country-specific deficits.

Furthermore, it enables media policy makers to set incentives

to improve the situation. Moreover, the highlighted best practice

countries can act as benchmarks. In the long term, the monitoring

will apply important data to media and journalism and thereby raise

the quality of democracy. Therefore it strengthens fundamental

rights.

2. The second requires the involvement of politics: The media sector

is no longer simply a national issue, as concentration processes in

ownership in the EU accelerate. For the European Commission, the

protection of competition policies and the free movement provision

should also apply to the media industry. As a consequence, any kind

of subsidies should only be granted under clear premises. Transparent

frameworks should apply to direct subsidies (e.g. press subsidies

or public service broadcaster fees) as well as to indirect subsidies (e.g.

public advertising money).

Regarding direct subsidies, the national public broadcaster
---
services should play a major role in accountability processes.

Their major stakeholder is the audience. As they are (partly) financed

by public money or taxes, they should act as benchmarks in

balanced and high quality reporting or entertaining. Consequently,

public broadcasters should stick to clearly defined standards and

act as a reference point in internal media accountability systems.

This can be achieved by having an adapted internal code of ethics, a

fixed complaints procedure or by making news production processes

transparent.

Regarding indirect subsidies, clear rules are also needed. Government

departments, public bodies and institutions spend a huge amount of money

on advertising in all kinds of media. These institutions should oblige

themselves to spend advertising money only in a medium that maintains

certain accountability standards. These standards have to be defined in

advance and can range from membership in a (local) press council, accepting

the national code of conduct, having an ombudsman or having fixed

accountability procedures.

3. The third needs an informed public: Europe requires more initiatives

to promote and support media literacy in EU member states. The European

Commission already provides direct support to a number of media

organisations or media projects, e.g. EURANET, support for Euronews

and for the European Journalism Centre. As a consequence, the Commission

should also initiate and financially support a programme for media

literacy. Such a programme will raise the quality of discussion within the

European public sphere.

These three suggestions are based on the scientific results of the MediaAcT

project. They address three levels of media accountability, each

involving multiple stakeholders mutually developing media accountability

standards.

lInk

The MediaAcT policy recommendations can be

downloaded here: www.mediaact.eu/outcomes.html

Photograph: Lutz Kampert

1

Index | Editorial | Birds-eye view | Opening the toolbox | Zoom-in on the newsroom

| Media landscapes
---
Index | Editorial | Birds-eye view | Opening the toolbox | Zoom-in on the newsroom newsroom|

Media landscapes

in the pillary!

By STephAn ruSS-MOhl

errors in reasoning by media

management concerning newsroom

self-inspection

Media executives and journalists have a difficult time dealing with criticism.

Recent media scandals in the United Kingdom and the subsequent

discussion about media regulation in the British media have done

a fine job illustrating this point, as have large Swiss media conglomerates

like Tamedia or Ringier with the way they handle journalistic coverage

of media and media research. Despite the insistence with which they

demand accountability and transparency from others, they care little for

transparency when it comes to revealing their own procedures.

Let us assume that the media is powerful, and that power in democracy

needs to be controlled and counterbalanced. Let us suppose as

well that press freedom is a basic prerequisite to facilitate democracy

and to adequately inform citizens. The Leveson Report's catalogue of

the News of the World transgressions (which includes hacking the private

phone messages of a murder victim and bribing the police) and

the BBC's maneuvering to veil the pedophilic misconduct of one of

its most prominent TV moderators both exemplify a distinct lack of

media accountability. At the core, there are three highly interrelated

areas of media accountability to be mentioned. They are the "three Cs":

corrections policies, complaints management and coverage of journalism

and media by the media.

Focusing on the US, the UK, Germany, Switzerland and Italy, we

will try to explain the extent to which "rational economic" behavior

can be found in this specific field of self-inspection, how "predictably

irrational" media owners, media managers and journalists make decisions,

and how cultural norms and behavior patterns influence media

accountability and the processing of "unethical" or unprofessional behavior.

As the Swiss partner within the framework of the large, EU-funded

MediaAcT project, we've spent more than three years analysing how

the media handles accountability. Recently, a booklet outlining 'best

practice' examples has been published, and further empirical results

are in the process of evaluation. It can be stated in advance that media

owners, media managers and editors in chief pay little attention to the

"three Cs" – indeed such scant attention that it is worth probing why

this might be the case.

From a precursory business perspective, media executives should

invest in media accountability. Media accountability is not at all costly

– in fact, it is rather cheap. Corrections columns require the dedication

of a newsroom, but they don't cost "real" money. Costs for press

councils usually are shared by many media companies, and they are

negligible in budgets. In most media outlets an ombudsman will hold

a part-time position, which might even be an honorary, unsalaried role.

Only media journalists are expensive. However, they need not necessarily

be added to an existing newsroom. Costs for media journalism

can be kept down if the beat is created by shifting resources within the

newsroom. Top editors might dedicate existing space, reporters and

editors to such a beat – thus reporting somewhat less about politics or

sports, for example.

Photograph: photocase/mr. QM

Media accountability also pays off, in that it promises returns:

Ombudsmen and press councils can be considered an excellent insurance

policy against more costly, time absorbing risks, reducing the

costs for legal advice and legal battles. If they communicate effectively

with the public, this should foster relationships with readers,

increase journalism's credibility, and educate journalists and the

public about the media. With improved media literacy and quality

consciousness, recipients should therefore increase their willingness

to pay for high journalistic quality.

The upper and the lower quality segment

To understand why media executives don't engage in more media accountability

a second glance is needed. We may have to differentiate

and add to the assumption that each media system can be divided into

a lower and an upper quality segment, concerning the journalism being

offered. Concerning media accountability, there exists a built-in conflict

of interest between the lower and the upper market segments: The

lower segment will serve audiences with low levels of education and

media literacy. It will be more advertiser-driven and less dependent on

generating revenues from the audience. By contrast, business success in

the upper segment depends on the public's willingness to pay and on

increasing the share of the audience interested in credible, high quality

journalism.

As such, we may have to modify the initial statement: If media executives

in the upper quality segment were rational, self-interested actors

primarily concerned with the economic well-being of the media institutions

and newsrooms they are responsible for, they would "invest" considerably

more in media accountability than they have done so far. Still,

there remains the puzzling question of why such investments remain

rare. The following four answers may help solve the puzzle.
---
First, there is a second and potentially more intriguing conflict

of interest between the institutional and the personal self-interests of

media executives. For media companies, more accountability and

transparency may be essential, but top managers are frightened to be

put in the pillory by press councils, ombudsmen, and media journalists.

Media executives are certainly aware of what they are doing to

others when they scandalise politicians, CEOs and other members

of the celebrities' club – and they simply may not want to become

victims of the same tortures.

Top managers and editors therefore mistrust press councils, ombudsmen,

and media journalists – it is the typical case of a principalagent

relationship. As "principals", media executives depend on the

mediating skills and the expertise of ombudsmen, press councils or

media journalists serving the industry as "agents" but they never

know whether the agents might abuse their positions, power and

knowledge for bumbledom or self-serving interests.

Media executives also find themselves in a prisoner's dilemma.

If they remain the only ones implementing the "three Cs" because

competitors don't follow suit, they risk compromising themselves.

The costs will be due immediately, while the full benefits of the more

costly accountability policies (ombudsmen, media journalists) will

only materialise if they are shared among other media operating in

the upper market segment. In particular, media journalism has a credibility

problem, if a journalist is dealing with his own employer or

immediate competitor. This is why it would be so important that all

media in the upper quality segment report fairly and continuously

about media and journalism.

Similarly, corrections policies fail due to the prisoners' dilemma:

No journalist wants to find himself in the pillory – particularly not

if colleagues might successfully hide their errors and thus avoid such

treatment. This is why editors-in-chief must work hard to persuade

staffs that corrections columns are an important means to regain

credibility. Usually, they shy away from such efforts.

Most frequently, the sheer power of large media conglomerates

hinders media accountability. In many cases, the cash cows of these

companies are in the lower segment, perhaps even subsidising the

flagships in the upper market segment. The overarching institutional

interests of the conglomerate will outweigh the institutional

interests of the media in the upper market segment. Under such

conditions, it becomes difficult for the flagships to "independently"

support policies of media accountability.

Predictably irrational decisions

All these are plausible arguments and do partially explain the underinvestment

in media accountability. By rationalising indecisiveness

and underinvestment, media executives may also become victims of

errors in reasoning. According to insights from behavioral economics,

some of them are "predictably irrational," as Dan Ariely points

out. Bestselling author Rolf Dobelli also describes these errors in a

most entertaining way.

In particular, selective perception and cognitive dissonance may be

the cause if the work of press councils or ombudsmen is impeded

or if media sections are abolished and if there are no longer specialised

media journalists in the newsrooms (as occurred at the Tages-

Anzeiger in Switzerland, Die Zeit in Germany and Il Sole-24 ore in

Italy). Media executives fear negative coverage and scandalisation,

and such anxieties are possibly based on neglect of probability: Very

few media magnates are as powerful as Rupert Murdoch or Silvio

Berlusconi – thus the risk of becoming the target of scandalisation

by well-functioning media journalism is drastically overrated.

The zero cost craze is another trap, into which media executives

may also fall prey – just like the rest of us. As behavioral economist

Dan Ariely points out, we all tend to behave irrationally if we can

get hold of a "freebie." This is why marketing experts, as well as publishers,

seduce us again and again with "free" bargains or free newspapers.

This is also why media executives are lured into not investing

in media accountability, as this seemingly implies "zero cost." Yet

there are hidden costs occurring in tandem with freebies, which only

become visible later – often in the form of expensive lawsuits and

long-term losses of credibility which can be difficult to measure, but

reduce the willingness of publics to pay for journalism.

If top editors resist the institutionalisation of ombudsmen and

press councils, they will also probably become victims of the overconfidence

effect. This infers that editors are unaware of their own

limits in handling errors and conflicts adequately and with a certain

"distance", and that they underestimate the time needed for mediating

and problem solving instances of conflict about media coverage,

but also in coaching their own staff. Media executives may become

very lonely at the top of the hierarchy and become victims of the socalled

control illusion.

Cultural differences

Last but not least, media executives in journalism and in the media

industries can be caught in herd behavior. This may help explain significant

cultural differences existing even among highly developed

western countries in handling media accountability. For example,

the strongly institutionalised ombudsmen and the appearance of

corrections columns in the US may be explained in part by the New

York Times serving as a trailblazing cheerleader in the Anglo-Saxon

world.

Similarly, the negligible interest in media accountability in Italy

and in eastern and southeastern European countries needs to be seen

in a larger context: Wherever the legal system is rotten, where mafialike

activities surpass the government and penetrate the economic

system, where you find little appreciation for the public interest and

even less conscientiousness for public space, it is unlikely that media

executives will discover the benefits of media accountability.

Under the conditions of media convergence, with a wide array of

blogs and social media flaunting increased interactivity and linking

options, traditional mainstream media lost their "monopoly" over

news distribution and agenda setting, and are rapidly losing control

over media accountability procedures. Susanne Fengler, director

of the MediaAcT project, recently coined the term "crowd-sourced

media accountability." As traditional mainstream media have stubbornly

failed to provide transparency, she believes that the Internet,

blogs and social networks will provide the necessary transparency.

Media executives working in high quality media are therefore well

advised to take care of media accountability before they lose complete

control over it.

fUrThEr rEAdIng

fengler, susanne; russ-Mohl, stephan (2008): Journalists

and Information-Attention-Markets. In: Journalism vol. 9

(6), pp. 667 - 690.

Index | Editorial | Birds-eye view | Opening the toolbox | Zoom-in on the newsroom

| Media landscapes
---
Index | Editorial | Birds-eye view | Opening the toolbox | Zoom-in on the newsroom | Media landscapes

Photograph: photocase/12frames

Culture club: shared values and

divergent practices

By giAnpieTrO MAZZOleni & SergiO SplendOre

Accountability cultures in europe – first assumptions

Why do reporters from Finland and Portugal, for eaxample, have

conflicting outlooks on the newsworthiness of a given event? Why

do reporters from Spain and Germany evaluate the importance

of social media for journalism differently? It is evident, that a

country's history, religion, art, political traditions, and folk culture

are likely to be crucial explanatory factors for the ways in which

journalism is organised and acknowledged as a profession and the

ways in which journalists are trained to fulfil their informative

function and to relate to the public.

Journalism has often been investigated by comparative research,

that has had a clear preference for perspectives that focused on

journalism's relations to media or political systems, to education

and training methods, to levels and the nature of professionalisation,

to employment issues and the like. What has been missing in

most studies is the "culturalist" approach.

The MediaAcT research intended to fill this gap by trying to

understand the evident dissimilarities between several European

countries and considered introducing some explaining factors that

are based on cultural determinants. The common output of this

research was mapping differences and similarities between countries.

The concept of accountability

Let's start from the concept of accountability. Although it's surely

the backbone of the Anglo-American philosophy of "media performance",

it barely exists in most countries around the globe. The

word "accountability" is absent from many national vocabularies.

So, how can we explain why the journalists of our survey show

different attitudes regarding what we nicknamed the MAIs (Media

Accountability Instruments), i.e. the ombudsman, press council or

code of ethics?

We think that how they either or both perceive and espouse

these instruments closely depends on (and is to a certain extent

affected by) the dominant cultural forms of the social environment

where the journalists grew up, were educated and entered the

news profession. Our survey measured the journalists' support for

available and unavailable instruments aimed enabling media to be

accountable and transparent towards their public.

Positive attitudes

Figure 1 shows how the journalists score country by country on

the first two factors, that is those referring to the perceived influence

of and to the support for the traditional MAIs, such as the

publication of codes of ethics, the disclosure of ownership and the

employment of an ombudsman.

Figure 1. Perceived impact of and support for traditional MAIs
---
What we see is that although there is a quite evident and positive

attitude among journalists in all countries favouring (supporting)

traditional MAIs (scores between .6 and .8) they differentiate significantly

from country to country in the extent of how they perceive

the possible impact (of MAIs) on their professional conduct. Some of

the countries rank particularly low: Italy is the lowest, followed by

Austria, Spain and Poland. We can envisage a broad "lip service" by

Europe's journalists to the value of accountability; but when they

assess what principles of accountability guide their daily work, they

are split according to national idiosyncrasies found in the dominating

journalistic cultures.

Low enthusiasm for online instruments

Beside looking at the way journalists evaluate traditional MAIs,

the project revealed it was worthwhile investigating how journalists

considered the instruments that online technologies provide to increase

the accountability of the news profession. These instruments

are providing links to the original sources of a journalistic piece,

allowing users opportunities to participate in the production of news

stories, responding to users' comments/suggestions or providing online

opportunities to communicate directly with journalists, for example

via Facebook and Twitter. The overall result from the data is

that the journalists don't show much enthusiasm (perceived impact

or support) for these additional instruments (Figure 2), compared to

the amount of enthusiasm for the traditional instruments. Yet, if we

look more closely at the Figures we notice a "reverse behaviour" in a

group of countries: the lower the perceived impact the higher is the

support in Italy, Romania, Poland and France.

Figure 2. Perceived impact of and support for online MAIs

How to explain this? In some cases journalists were asked to assess

instruments that did not exist in their countries. For example, unsuccessful

or non-existent experiences with traditional instruments,

like that of the ombudsman, tend to negatively affect the attitudes

of the journalists towards these new opportunities to display more

accountable news production routines.

Even though the actual support for these accountability principles

and instruments varies from country to country, journalists

appear to acknowledge and share the recommendations to achieve

them. We went further in exploring our findings. Our assumption

was that the ways journalists react are rooted in the cultural environment

that surrounds them. To measure cultural factors with

statistical methods is still mostly wishful thinking. Here we do not

offer a conclusive cause-effect explanation, but simply suggest which

journalistic cultural aspects may partially explain our findings.

From the organisational (i.e. relationships with colleagues and

more senior staff) and professional perspectives, the survey provided

interesting evidence concerning the dimensions of the accountability

culture in different countries and the degree to which ethical

standards of the profession are influential.

Figure 3. Orientation toward professional values vs. orientation

toward the organisation

Figure 3 shows that journalists in Italy, Austria, Romania and

Po-land appear to be more affected by their organisational environment

than by professional values. This remarkable evidence shows

that these countries share a weaker connection to the principles (and

practice) of accountability culture and display lower levels of professionalisation.

In conclusion, in an ideal world accountability is a standard well

anchored in the value system that enlightens the journalistic profession

in democracies. However, our analysis indicates that, in many

cases, the cultural environment and the nature of the relationships

within organisational contexts can curtail the attainment of the accountability

that journalists say they aspire to.

Thus we can see the differences in journalistic accountability cultures.

Italy, Spain, Austria, Poland and Romania are countries where

this culture appears to be less well founded. Journalists who work

in these countries are more committed to their organisational employers

(i.e. loyalty and responsibility toward fellow journalists and

editors) than to issues of transparency.

Our glimpse of journalism relies on first-hand personal views of

hundreds of journalists, so some caution is needed. However, we

hold to the conviction that the idea of accountability is a culturally

charged concept and its use and implementation can be seen as

functions of a particular professional outlook enmeshed with the

dominating national culture. For example, it is hardly a coincidence

that the accountability of public officials, politicians and institutions

offering public services is written into the laws regulating these domains

in countries with a protestant socio-political historical background,

while it is only loosely present in the legislations of catholic

countries. Italy, Austria, Poland, Spain and Romania happen to be

countries with strong catholic or orthodox influence on their social

institutions.

We cannot pursue this interpretive line further as we do not

have appropriate survey data to establish clear correlations. Nevertheless,

we believe that to implement a "culturalist" approach,

that draws on historical, religious and anthropological determinants

of social behaviour – like that of journalists – can advance

the understanding of similarities and differences, proximities and

distances, in the journalism profession in our European countries

and beyond.

Index | Editorial | Birds-eye view | Opening the toolbox | Zoom-in on the newsroom | Media landscapes
---
Index | Editorial | Birds-eye view | Opening the toolbox | Zoom-in on the newsroom | Media landscapes

Media landscapes in transition:

Focus on central and eastern Europe

By BOguSłAwA dOBek-OSTrOwSkA

The collapse of communism at

the end of the 1980s opened

a new chapter in a history of

central and eastern European

countries, which were previously

a part of the 'Soviet bloc'.

After 40 years of censorship

and strong political control

over media content, the "Round

Table" in Poland with the participation

of representatives of

both the Solidarity movement

and the communist government

in the Spring of 1989

made a strong impact on the

process of democratisation in

the whole region. The "Velvet

Photograph: Imago/Sven Simon

revolution" in Czechoslovakia,

peaceful changes of regime in

Hungary and Slovenia, the collapse of the symbolic Berlin Wall

further contributed to political and social transformations. More

dramatic ways towards democracy were observed in Romania –

the execution of Nicolae Ceausescu in December 1989 – and in

Bulgaria – the resignation of the Communist Party leader, Todor

Zhivkov, who was absolutely loyal to Moscow, in November 1989.

The dramatic events in Lithuania (the attack of the Soviet army

on the TV station in Vilnius which resulted in 15 victims in January

1991) and as a consequence of the "Singing Revolution" in

three Baltic states between 1987 and 1991 led to the restorations of

their independence. There is no doubt that the transition towards

democracy and installation of democracy in central and eastern

Europe had a huge impact on the journalism culture in this region,

where "press freedom replaced the Communist policy control and

censorship", as the two experts on media accountability in Poland

Michał Głowacki and and Paweł Urbaniak recently stated. But the

main question is: Has media freedom helped to install a Media

Accountability Instruments (MAIs) and developed it? The answer

is not crystal clear.

Media Accountability Instruments and democracy

In 1993, Attila Agh presented four possible development scenarios

for the countries in Europe: Sleeping Beauty (easy westernisation),

Deepfreeze (return to the past), Latin Americanisation (falling back

to the Third World), and Fair Weather (central Europe joins the

European integration). The last of these is now becoming factual.

East Germany was welcomed into the European Union as part of

a reunited Germany in 1990. Eight countries – Estonia, Latvia,

Lithuania, Poland, the Czech Republic, Slovakia, Hungary and

Slovenia – joined in the 'big bang' enlargement on 1 May 2004

symbolising the unification of eastern and western Europe. Bulgaria

and Romania joined the European Union in 2007. Croatia will

be member of EU in July 2013. However, there are still some countries

in central and eastern Europe that remain outside the European

Union. This includes the Balkans countries such as Serbia,

Montenegro, Bosnia-Herzegovina, FYR Macedonia, and Albania,

as well as some post-soviet republics such as Moldova, Ukraine,

Russia and Belarus.

A way towards consolidated and mature democracy is not easy.

The process of the consolidation of democracy is linked not only

with political transformation, which includes political reforms and

the introduction of democratic institutions. Parts of this process

are, on the one hand, economic transformation with economic reforms

and free market conditions, as well as social changes and

civil society development, on the other.

The Democracy Index, which is based on the analysis of five fundamental

democracy indicators: electoral process and pluralism;

functioning of government; political participation; political culture;

and civil liberties, is a very useful tool which helps to evaluate

the condition of democracy in the world. The index published in

2011 indicates the erosion of democracy. Stagnation was noted in

the period 2006-2008 and from the 2010 onwards world wide recession.

Without doubt, the global financial crisis that started in

2008 also provoked some negative trends in political development

in central and eastern Europe. The region was classified in the fifth

position in the world (see Table 1).
---
Table 1: Democracy index average by region 2011

region 2006 2008 2010 2011

northern America 8.64 8.64 8.63 8.59

western Europe 8.60 8.61 8.45 8.40

latin America & carribean 6.37 6.43 6.37 6.35

Asia & Australasia 5.44 5.58 5.53 5.51

Central and Eastern Europe 5.76 5.67 5.55 5.50

sub-saharan Africa 4.24 4.28 4.23 4.32

Middle East & north Africa 3.53 3.54 3.43 3.62

Total 5.52 5.55 5.46 5.49

Source: Democracy index 2011 http://www.sida.se/Global/

About%20Sida/Så%20arbetar%20vi/EIU_Democracy_Index_Dec2011.pdf

What do these political, economic and social developments

mean for the media? For accountability?

The consolidation of democracy in central and eastern European

member states of the EU is a crucial factor in a context of press

freedom and the development of media systems. Figure 1 shows the

dramatic situation of press freedom in Bulgaria (87th position in

2013) and Hungary (56th position in 2013). The situation in Romania

(42nd position in 2013) is not satisfactory but better than

in the 2000s. Quite negative conditions of the media are noted in

Latvia (39th position in 2013), Slovenia (35th position in 2013) and

Lithuania (33rd position in 2013). Some positive trends are observed

in 2013 in the Czech Republic (16th position), Poland (22nd position),

and Slovakia (23rd position). Estonia (11th in 2013) still has

the highest position in the region. However, its rank is worse than in

comparison to the 3rd position in 2012.

Nowadays, after 24 years of the media system transformation

in ten countries – as members of the EU, we can observe some

common processes and similar features such as political and economic

instrumentalisation. Political instrumentalisation is present

in public media services everywhere. Party logic is observed with a

different intensification in each state of the region. It results in the

processes of public radio and television politicisation; and sometimes

journalism is a political profession. In the case of economic

instrumentalisation, profit is more important than quality, media

logic leads towards commercialisation and tabloidisation. In consequence

media look for scandals and sensation. They prefer a 'horse

race' coverage of politics, and escape from the political sphere.

Both instumentalisations are enemies of media accountability in

central and eastern Europe. A commentary-oriented journalism,

a weak journalistic culture and the limited role of the audience

are common features in the region and hinder the development of

MAIs. Hence, we can select four levels of media professionalism

and Media Accountability Instruments (MAIs) implementation in

the region. Estonia and the Czech Republic are leaders in the region,

they have the best position in many rankings (including Democracy

Index, Press Freedom Index). The second consists of Poland

and Slovakia which have eliminated many negative consequences

of instrumentalisation during recent years. Slovenia, Latvia and

Lithuania share some troubles, where the media feel the pressure

from political actors. The worst situation of media accountability

is traditionally observed in Bulgaria, Romania, and – from 2011

– also in Hungary.

Insufficient space for Media Accountability Instruments

The quality of democracy is a very important factor which determines

press freedom. Press freedom stimulates the development

of MAIs. Today we know that there is insufficient space

for MAIs in central and eastern Europe and that significant differences

between the countries might be observed. In general, all

the states, all EU members, introduced most of the traditional

MAIs as journalistic associations, codes of professional conduct,

charters of media ethics, etc. Moreover, many private media accepted

ethical standards, codes of ethics in advertising and public

relations. Unfortunately, traditional MAIs do not function

well or their role is limited as in Poland and Romania. Generally,

in some countries journalistic associations seem to be divided in

line with political ties (Poland and Serbia) and codes of journalistic

conduct have a rather low impact on journalism in practice.

In Estonia, "the collision of the different vision of functions

and implementation of self-regulation have effected two parallel

press councils". Estonian scholars claim that the crucial issue is

not "the existence" of MAIs but "the efficiency" in their state.

We observe the same problem throughout the region, not only

in Estonia.

Hence, it is still difficult to estimate the impact on new media

and technologies on MAIs in central in eastern Europe. Innovative

MAIs do not exist at all or their influence is perceived as

very weak. Self-regulation in online media has begun to develop

slowly in Estonia, Latvia, Lithuania, Poland, the Czech Republic,

and Slovakia. Romanian scholars underline the role of

blogs, and state that the blogger community is extremely critical

towards journalists. Furthermore, Internet users' comments on

online news articles in Poland are increasingly visible in practice,

but are rarely dedicated to issues related to media performance.

Overall, MAIs in central and eastern Europe lack research

and publications dedicated to journalism ethics in the digital

age, as well as the role of managers and the public. The international

research project on media accountability can be seen as

an important first step. But the future of Media Accountability

Instruments in central and eastern Europe is still unclear. It is

difficult to predict their future development.

fUrThEr rEAdIng

dobek-Ostrowska, Boguslawa; glowacki, Michal; Jakubowicz,

karol; sükösd, Miklós (2010): comparative Media

systems. European and global perspectives. central

European Univ press, Budapest.

Index | Editorial | Birds-eye view | Opening the toolbox | Zoom-in on the newsroom | Media landscapes
---
Index | Editorial | Birds-eye view | Opening the toolbox | Zoom-in on the newsroom | Media landscapes

Media landscapes in transition:

Perspectives from the Arab world

By JudiTh pieS & AMirOuche nedJAA

A taxi journey in Amman can introduce

you to the challenges and chances of media

accountability in Jordan and other

transitional Arab countries. Assume you

are traveling with Mohammed Abu Safieh,

a taxi driver and chairman of Balad

Radio's listeners' club. Balad Radio is the

first community radio station in Jordan. It

wants to include the audience in its daily

work and the listeners' club is part of how

Balad Radio aims to do that. Originally,

Mr. Abu Safieh's task was to collect listeners'

complaints and ideas and pass them

on to the journalists in the newsroom who

would then use them to improve their performance.

In reality, his job has become Photograph: Imago/Xihua

much more complex: journalists in the

newsrooms don't necessarily want taxi drivers

to interfere in their work; citizens contributing to news gathering expression "phone calls from the mukhabarat" almost interchangeably

don't reveal their sources to the radio staff; the mukhabarat (the secret with "soft containment".

service) wants to make sure that Balad Radio is not too critical of the In Tunisia, any criticism of the government or the president was

local head of police.

subject to systematic censorship until the end of the Ben Ali regime in

While driving his taxi through Amman, Mohammed Abu Safieh 2011. The Tunisian Internet Agency, which was controlled by the go-

receives phone calls from officials, citizens and journalists. His five vernment, imposed heavy content filtering. Oppositional and regime

years of experience working with the listeners' club has equipped him critical websites were blocked and even media outlets operating from

with the necessary tools to moderate between the differing claims: "The abroad, like Radio Kalima, were hacked. Journalists were constantly in

club has helped me to understand decision making mechanisms by the fear of being imprisoned. Even though a lot of reform initiatives have

state, members of parliament and media outlets. It has also helped me taken place since the revolution (see infobox), pressure from politicians,

to understand how credible or transparent they all are." His represen- judges, media owners and security services remain. One example is the

tative role as chairman of the listeners' club has shifted to a mediating arrest of Attounissia newspaper journalists for publishing a photograph

position, and the challenge is to answer some of the basic questions for showing the German-Tunisian football player Sami Khedira hugging

journalism in Jordan and other countries in transition: how can journa- a naked top model.

lism become more independent of regimes? Can audience involvement Long standing practices of control and pressure do not change within a

make journalism more responsible towards the needs of society? How few years and journalists need to learn to live up to their new freedoms

much transparency is needed to evaluate the quality and independence and growth in independence. In theory, journalists strongly reject "soft

of journalists' work?

containment" and state interference, but how can they get rid of it in

practice?

Regimes still hold journalists to account

A big challenge is the remaining impact of the regime's various means

for directing journalists to act in the regime's own interest. In Jordan,

censorship was banned from print journalism in 1989, when martial

law was also lifted. However, direct content control through radio and

TV licensing procedures, and less explicit forms of control, so-called

"soft containment", are still present. Politicians, businessmen, religious

leaders and others, who want to influence journalists' reporting, threaten

journalists with prison or offer them money. In a survey by the Jordanian

Al-Quds Research Center, 43% of the Jordanian journalists surveyed

said that they had been exposed to such attempts, mostly because

they were reporting on security issues. So, journalists in Jordan use the

Journalists are skeptical about self-regulation

Journalistic codes of ethics are the oldest form of journalistic self-regulation

and have been adopted in countries all over the world. However,

many authoritarian regimes have misused them, using them as another

means of state control. In the case of Jordan, the code of ethics, issued

by the Jordanian Press Association in 2003, became a legally binding part

of the press and publications law, completely contradicting the idea of

voluntary and independent journalistic self-regulation. This cynically

explains why, in the MediaAcT survey, Jordanian journalists consider

codes of ethics as highly influential for their journalistic performance.

In many European countries, professional organisations have been
---
playing an active role in fighting for journalists' interests and their

independence from the state. However, in Tunisia and Jordan, they

have not been of great help over the last thirty years because the regimes

had tightly controlled them. Only recently have they started to struggle

for independence, as in the case of the National Syndicate of Tunisian

Journalists (SNJT), which has rejected plans to exclude journalists from

the future regulatory body for radio and television (HAICA).

Independent press or media councils, which might also help to keep

the state out of the profession, have not yet been established in Tunisia

or Jordan. Journalists from these countries still hesitate to support initiatives

to form press councils and other bodies regulating the media for

fear of being co-opted by the regimes again. The majority of Jordanian

and Tunisian journalists in the MediaAcT survey say that such "formal

systems of media regulation are open to abuse for political purposes."

Nevertheless, according to the same survey, they are convinced that

"responsible media are a pre-condition for independent media".

The audience as a potential ally for more independence

The audience seems to agree with the journalists' conviction and has

become active in holding the media to account. They criticise articles

in their comments on news websites, upload their own content in special

sections and contribute to news gathering via Facebook and the

telephone. Some projects outside newsrooms encourage journalists and

the public to produce their own news. Their aim is "to hold the media

to account for what they don't cover" as expressed by Lina Ejeilat, cofounder

of the Jordanian project 7iber.com. In Tunisia, the organisation

Nawaat has founded a news website, to which bloggers and journalists

contribute in order to adjust the news agenda to the real needs of society.

Due to the late liberation of a strictly censored online environment

under Ben Ali, such practices are not yet as well established in

Tunisia as in Jordan. However, journalists in both countries are equally

willing to accept audience involvement, to a greater extent than most

of their European colleagues, as the results of the MediaAcT survey

demonstrate. It seems that they have found support for their fight for

independence in the audience: listeners and readers provide newsrooms

with information that journalists would not otherwise get due to lack

of access to official information; the audience addresses social problems

better than the minister of development; criticism from the audience is

not as threatening as from the secret service.

Transparency is still a controversial issue

Internet technology helps to strengthen the relationship between newsrooms

and the audience, but it also helps politicians to spread their

viewpoints or false information more efficiently through Facebook accounts

and comments. Therefore, it becomes even more important for

journalists to be transparent about their work and their networks. A

recent – yet unpublished – study by one of the authors on transparency

in Tunisian news websites found that only 40% display their chief

editor's name. Giving information on media owners is even less common.

During the dictatorship journalists were forced by law to clearly

publish their names on articles. Now, they have the freedom to refrain

from that practice of transparency. Naming sources and giving clear

references or links to information could have been dangerous for them

and their sources: that is why they preferred to stay vague and still often

stick to that habit today. Because of these authoritarian experiences

Tunisian and Jordanian journalists are still hesitant about transparency

though this is changing. Today, the majority of Jordanian journalists

support the disclosure of ownership of media organisations, the pu-

blication of mission statements, the provision of links to sources and explanations

about news decisions to the audience. For their part, Tunisian

journalists do not agree amongst themselves about these practices

because they have only recently started to consider and introduce more

radical changes. In addition, a growing number of organisations and

projects are trying to shed light behind the scenes of news production,

by critically observing the media's performance. One of them is the

Arab Working Group for Media Monitoring (AWGMM). Its main activity

is the monitoring of media coverage in order to determine whether

fair and balanced reporting is taking place. Extended monitoring and

greater transparency would not only give a clearer picture of the media's

performance during important transitions, but might also improve the

audience's ability to judge media quality and independence.

Hard job, but promising

The described attitudes, initiatives and developments prove that Mohammed

Abu Safieh's job is a hard, but promising one. If he managed

to convince the citizen contributors to reveal their sources to the newsroom

journalists; if the journalists double checked the information and

agreed to withhold the source's name in return; if he was then able to

silence the mukhabarat with bulletproof facts; Mohammed Abu Safieh

would probably call it a successful day for media independence.

BAckgrOUnd

legal and regulatory steps for (partly)

liberalizing the media

jordan since King Abdallah ii (1999-2013)

- 2001 Abolishing the Ministry of Information

- 2003 Implementing the audio-visual law allowing private

radio and television stations

- 2003 Establishing two regulatory bodies for radio and television,

Avc & Tcr

- 2007 passing of an access to information law

- 2007 & 2010 passing revisions of the press and publications

law

Post-revolutionary Tunisia (2011-2013)

- 2011 Abolishing the Ministry of Information

- 2011 freezing of the two main censor institutions, ATcE and

ATI

- 2011 creation of a national body for information and communication

reform, InrIc

- 2011 passing revisions of the press and media law

- 2011 licensing twelve new radio and five Tv channels

- 2011 passing a law for access to information

- 2012 drafting regulations for an audiovisual regulatory

body, hAIcA

lInks

Jordanian Balad Radio: http://www.balad.fm

Jordanian citizen journalism website: http://www.7iber.com

Tunisian Bloggers' platform Nawaat: http://www.nawaat.org

Arab Working Group for Media Monitoring: http://www.awgmm.

org

fUrThEr rEAdIng

Judith pies (2013): Media Accountability in Transition: survey

results from Jordan and Tunisia. Journalists and Media

Accountability. An International study of news people in the

digital Age" edited by susanne fengler et al., new york: peter

lang, published summer 2013 (in print)

Index | Editorial | Birds-eye view | Opening the toolbox | Zoom-in on the newsroom | Media landscapes
---
Index | Editorial | Birds-eye view | Opening the toolbox | Zoom-in on the newsroom | Media landscapes

0

Hot debate: who controls the med

The involvement of the EU −

highly disputed, highly praised

gueST eSSAy By herTA dÄuBler-gMelin

From the outset, the Report on Freedom and Plurality of Media in the

EU by the High-Level Expert Group (HLG) – installed by EU-Commissioner

Neelie Kroes, published in January 2013 after hearings and

conferences with media houses, journalists and lots of media and legal

university experts – was and is the object of discussions and disputes.

This is exactly what the EU-Commissioner and the HLG intended.

The current discussions show just how necessary are the report and

its 30 recommendations, addressed to the EU's member states, parliaments,

media enterprises and journalists.

Most of the member states and especially the Irish presidency

highly praised the broad concept of the report and the recommendations,

emphazising that media are more than economic services under

EU competence to set and monitor competition laws. The Presidency

underlined the paramount importance of free and pluralistic media

as a basic right to every European citizen, guaranteed in the European

Convention of Human Rights and in the EU Charter of Fundamental

Rights. Accordingly the EU includes the principle of free and pluralistic

media, as pillars of the EU's free and democratic society, as an

important element into the EU's foreign policy and into the EU 'aquis

communitaire' to be accepted by countries wishing to join the EU as

member states. Furthermore, these values commit the EU to monitor

the freedom and plurality of media as preconditions to free and fair

European Parliament elections.

The report addresses concerns on free and pluralistic quality journalism

that exist in most of EU member states. A quite widespread

problem is that of mostly print media in the era of increasing Internet

use, which leads to economic problems and threats the quality journalism

by poor pay and bad working conditions, especially less time for

thorough research and mature editorial comments. Throughout the

EU there is increasing concern that the exponential growth of individual

use of the Internet may confer additional importance on free and

pluralistic media (private or public interest, print or digital) as the sole

platform enabling collective information on important issues as well

The report of the high-level group (hlg) on Media Freedom and pluralism was published

on January 21, 2013, by the european commission. The report presents recommendations

on media freedom, pluralism and the role of the eu. The group was established

in October 2011 by neelie kroes, the Vice-president of the european commission,

and is chaired by professor Vaira Vīķe-Freiberga, the former president of latvia.

Members of the consortium are professor herta däubler-gmelin, former german Federal

Minister of Justice, luís Miguel poiares pessoa Maduro, professor of european

law at the european university institute and Ben hammersley, Journalist and editor at

large at Wired uk.

as open discussions, between the interests and opinions of individuals

and groups constituting society.

The report additionally mentions the variety of dangerous threats

to media freedom and pluralism that exists in some member states (e.g.

political or economic interference by the state, interference by powerful

advertising customers and companies, misuse of journalism by the

media). Consequently, depending on each state's degree of interest in

guaranteeing the freedom and plurality of media, the EU involvement

is either highly disputed or highly praised. A key issue is the question

of media self-regulation vs. intervention of legal instruments. Media

companies claiming real or imaginary capabilities of self-correction,

under the pretext of undue political influence (state censorship) fight

against the imposition of national laws, European regulation or public

'watchdog' institutions.

The report and the recommendations by the HLG emphasise selfregulation

as the most important guarantor of free media, but insist

that constitutional state laws are important to preserve the standards

when self-regulation does not work. That is why member states and

the EU are bound to monitor and, if necessary, intervene if standards

required are not adequately met. The report recommends the use of

soft law: media oriented self-regulation instruments, such as transparent

codes of ethics and independent media councils (comprising

representatives of media enterprises, journalists, ombudsmen and citizens)

with sanctioning powers.

The report doesn't dictate instruments but further suggests that national

parliaments should, as prerequisites for making public subsidies

(EU or national) to media and grants to journalists, publicly discuss

annual reports on the situation of freedom and plurality of media,

which would in turn be monitored by EU institutions, mainly the

European Parliament, in a regular overview.

In the near future, the European Parliament will publish its own

report, including the HLG recommendations. Both aim to secure, by

European law, the freedom and pluralism of media in the EU.
---
ia? Self-regulation vs. co-regulation

not appropriate

we are concerned by some aspects of the report dealing with an increased role of media councils

which could 'impose fines, order apologies and remove journalistic status' following complaints

by citizens. The right of reply could be obtained by 'simple request of citizens [and] published with

the same relevance as the original coverage'. we are surprised by such a proposal because it is an

unclear extension of the competence of the media councils. As you know, there is no single 'journalistic

status' in the EU, so how could it be removed? furthermore, media councils are a matter of

self-regulation: they do not exist in all European countries and we wonder how and why the European

commission would 'monitor' such bodies 'to ensure that they comply with European values'

– which need to be better defined anyway. such a strong stand may have been generated by the

cases of spectacular misbehavior of a small group of journalists in the Uk last year, however we do

not find appropriate to make the 'leveson' issue an EU issue because there is no ground for it. The

report's wording on the role of media councils makes us think of the hungarian Media Authority,

which is – in the mind of EfJ – an authoritarian system set up to serve the government in fighting

freedom of the media. These are sensitive and controversial points that are not accepted by many

journalists' organisations in Europe.

Arne König, President, European Federation of Journalists (EFJ) http://europe.ifj.org/en

From left to right: Herta Däubler-Gmelin, former German Federal Minister

for Justice and Member of the High-Level Group on Media Freedom and

Pluralism, Neelie Kroes, Vice President of the EC in charge of the Digital

Agenda, and Vaira Vīķe-Freiberga, former President of Latvia and Chair of

the High-Level Group on Media Freedom and Pluralism .

The report and its recommendations on media and journalism were

discussed controversially in blogs, by journalists' federations and in international

media. As quoted on the website of the Commission, "The

mandate of the group was to draw up a report for the Commission with

recommendations for the respect, protection, support and promotion of

pluralism and freedom of the media in Europe."

(Photo: EC)

Report of the High-Level Group: https://ec.europa.eu/digital-agenda/

sites/digital-agenda/files/HLG%20Final%20Report.pdf

We don't need new media regulation

The high-level group has missed a

golden opportunity to address the real

challenges and to support an independent

press that promotes democracy and

cultural diversity throughout the world.

we are quite taken aback by the report's

recommendations. The EU does not have

legal competence under the treaties to

harmonise substantive media laws such

as defamation. Any notion of harmonised

rules of the game, monitored by the EU,

is anathema to press freedom – the very

thing the group was to protect.

Independent press councils and self-regulatory

bodies or press ombudsmen exist

already in most EU countries and operate

according to national cultural and social

mores. Journalists follow codes of ethics

and high professional standards are already

adapted to the digital environment.

we don't need new media regulation,

however; what we need are the right conditions

for the long term viability of quality

journalism and professional media.

Angela Mills Wade, Executive Director, European

Publishers Council (EPC) http://epceurope.eu/

1

Index | Editorial | Birds-eye view | Opening the toolbox | Zoom-in on the newsroom | Media landscapes
---
Index | Editorial | Birds-eye view | Opening the toolbox | Zoom-in on the newsroom tewsroom | | Media Media landscapes

landscapes

Huub Evers, netherlands

What is media accountability for you?

Media do play an important role in the daily

life of most people. They have a lot of influence

and therefore responsibility. The audience

wants journalists to legitimate their choices and

decisions. People want to learn how media work

and why journalists write or broadcast things in a

certain way. They want journalists to react to their

remarks and complaints. Because: if journalists

call everything and everybody to account, they

must be able to practice openness and transparency themselves.

Why is it so important to do research on media accountability?

Media accountability is one of the leading topics in journalism studies. Editorial

staffs need to be pushed to get in touch with their audience. Journalists can use

'best practices' from all over the world for their own newsroom. Exploration of

accountability and transparency examples is useful for journalists and audience.

What was the funniest/most interesting moment in the project?

The funniest moment was our mosquito meeting in Tartu, Estonia. We had

Mike jempson, UK

What is media accountability

for you?

It means that journalists

respect their sources and their audiences. They cannot always get at the

whole truth, so the humility to acknowledge mistakes adds to rather than

diminishes credibility, in my view. My team and I at the MediaWise Trust

believe that Press Freedom is a responsibility exercised by journalists on

behalf of the public. That says it all for me.

Why is it so important to do research on media accountability?

Changing technology, the changing political economy of the media, and the

varieties of journalistic traditions mean that different systems may be required

under different circumstances. As always we must be alert to change, and

adapt accordingly. The value of research (if it is not too long drawn out, and

the results can be translated into normal language) is that it helps everyone

to understand the landscape and their place in it, and how best to respond to

the consequences of changes that research has identified.

What was the biggest task in the international project?

Trying to get working journalists in the UK to complete a complex

questionnaire.

What was the funniest/most interesting moment in the project?

Funniest (after the event) trying to enjoy a mean al fresco in Tartu without

being bitten alive by forty million mosquitoes.

What did you learn from the MediaAcT project?

That it is really interesting to learn about the complexities of different

journalistic traditions. That devising questionnaires by committee is a

nightmare. That we still have a long way to go before journalists and

academics can find the right way to communicate with each other effectively.

That despite all our different cultural influences, preferences and constraints,

we all share a desire for accurate, responsible and responsive journalism

that holds power to account and is free from corporate or governmental

interference.

our MediaAcT conference there in the hot summer of 2010. During the

conference we had to take great pains to keep the mosquitoes at arm's

length. Every few minutes a hard blow was to be heard in the small and

broiling conference room. It influenced the decision taking processes and

caused laughter.

There were a lot of interesting moments: meeting colleagues from

abroad, listening to presentations and discussing new developments in the

conference rooms and outside. A very important consequence of the project

is the international network each participant built.

What did you learn from the MediaAcT project?

The most important thing I learned from the project is about the important

role media watchblogs and social media play in media criticism. In my

opinion, modern mediawatch and criticism will come from blogs and social

media (Facebook and Twitter). Every journalist should be aware of this

development and go along with it.

Do you think international media is on the right track?

Difficult to answer. Depends on where you live and what your experience

about it is. Press freedom is not everywhere an established asset. A debate

on topics like responsibility, accountability and transparency presupposes a

certain level of freedom.

Accountability and

mosquito meetings in Tartu

personal views on MediaAcT by the international research team

Raluca Radu, Romania

Why is it so important to do research on

media accountability?

Research on media accountability may

help journalists, media managers and

journalism educators to understand the

phenomenon better, identify strategic

actors, key resources and key processes, in

the short term, and ensure the survival of

media companies, alongside other fields

of media research, in the long term.

What was the funniest/ most interesting

moment in the project?

The most interesting moment for me was to discover that the Romanian

journalistic sample is the youngest and one of the most religious. It is now an

intellectual challenge for the team of the University of Bucharest to find out the

reasons and the effects of these facts.

What did you learn from the MediaAcT project?

I was motivated by the excellent MediaAcT team to overcome my fears related

to quantitative research and to statistical analysis.

Do you think international media is on the right track?

At the moment, in my opinion, media companies are trying to find new

business models and new revenue models. Different media stakeholders

pressure the industry to use a cleaner line of conduct, and to stand up against

political and maybe against economic pressures. There are multiple roads

international media may take from this point.
---
Boguslawa Dobek-Ostrowska, Poland

What is media accountability for

you?

Media accountability is a must

– not a luxury – for contemporary

media organisations, it is a challenge,

an important way to look at

contemporary media.

What was the biggest task in the

international project?

The biggest task was to understand

media accountability processes

in new media and extend, reorganise, redefine traditional

conceptualisations of media accountability in the digital age.

What was the funniest/most interesting moment in the project?

The most interesting moments were discussions amongst

MediaAcT people, especially those in which we discovered, that

despite cultural and linguistic differences we share the same

values, ideas and academic ethos.

What did you learn from the MediaAcT project?

We learnt that in modern academic life, administration and

logistics and research are almost of the same importance.

Do you think international media is on the right track?

For the moment, we don't think so, but there is a place for

improvement, because many interesting ideas are growing.

stephan Russ-Mohl, switzerland

What is media accountability for you?

The willingness of journalists and newsrooms,

to behave in an accountable and

transparent way, for example to express

doubts if they are unsure about their

reporting, and to correct errors.

Why is it so important to do research on

media accountability?

Because journalists might learn from

each other and from 'best practices' elsewhere. However, firstly, somebody

has to identify and systematically analyse existing accountability – and make

newsrooms aware that they demand daily accountability from others. They have

to apply similar rules to their own work!

What was the biggest task in the international project?

I assume to assure that the participating researchers apply the same methodology

and the same standards to our common research. We are fully aware that not only

do journalism cultures differ in Europe – research cultures differ, too!

What was the funniest/most interesting moment in the project?

Difficult to recall. There were many such moments, as Susanne Fengler created

from the very first moment a "working climate" which was based on mutual

friendship, trust and all of us shared a certain sense of humour. Possibly a summer

evening in Estonia when all of us wanted to enjoy some beers outside and an

invasion of mosquitoes forced all of us to "donate" our blood and to escape…

What did you learn from the MediaAcT project?

Much about the different journalism and research cultures in Europe – and how

important it is that journalists and media researchers get to know each other

across cultural and language barriers.

Do you think international media is on the right track?

We definitely need more "international" or even "European" media. By the way,

the EU might also invest some more money in training for journalists.

dear reader,

this magazine is about media responsibility

– at a time when the future of quality

journalism is probably less clear than

ever before. Many new sources of information

compete for people's attention in

the web. More than ever, the trademark

of professional journalism will be transparency about the way

stories are being made – and accountability for what is being

published in today's media societies.

we hope that this magazine has inspired you to become

involved in media accountability: As a journalist, our research

shows that there are so many easy and cost-effective new ways

for the media to demonstrate accountability and transparency

online. As a media user, we want to encourage you to make

yourself heard – and to make an informed choice. we want

you to encourage those newsrooms that do pay attention to

ethical standards, and do take the risk to be transparent and

to admit mistakes. As a policy-maker, we encourage you to

put the issue of media accountability on the political agenda.

we, as a research consortium, pledge for a media policy that

promotes accountability in journalism – by setting clear

incentives, not by sanctions and interventions. It is the ultimate

goal of the more than 30 international researchers involved

in the MediaAcT project to preserve media independence in

a time of rapid change. lively democracies need a free and

responsible press.

finally, we hope we can encourage fellow scholars and journalism

educators to be aware of our crucial role in the creation

of a 'culture of media accountability'. Journalists everywhere

consider journalism education as one of the most relevant factors

for upholding standards in journalism. Investing in journalism

education is an investment in a responsible press – this

is a message also for industry representatives, who are rather

unwilling these days to finance mid-career trainings.

The MediaAcT survey shows that journalists who received

training in media ethics during their journalistic education

are more sensitive towards issues of media accountability. we

hope that journalism educators will make use of this magazine

(and our accompanying online tool, see www.mediaact.eu) to

promote seminars and lectures on media accountability. sensitising

aspiring journalists about what they owe to the public

is surely a task as important as any professional technique to

be taught in journalism schools and journalism programs.

Our survey data show that this is a prevalent need: Even today,

journalists still feel more responsible towards their sources

than either their target audience or the public. In order to fill

the concept of media accountability with life – and open the

door for a participative approach to holding the media to account,

journalists need to be more aware than they are now

that the public is the prime stakeholder of the "fourth estate".

It needs a joint effort from all of us to ensure quality journalism

in the future.

yours

prof. dr. susanne fengler

director of the MediaAcT research project

Index | Editorial | Birds-eye view | Opening the toolbox | Zoom-in on the newsroom | Media landscapes
---
Index | Editorial | Birds-eye view | Opening the toolbox | Zoom-in on the newsroom | Media landscapes

Authors

Salvador Alsius, PhD,

Head of Journalism Studies

at Universitat Pompeu Fabra

(UPF) and senior researcher

of GRP (Journalism Research

Group), Spain.

Olivier Baisnée, PhD,

works as an associate

professor in political science

at the Institut d'Etudes

Politiques de Toulouse,

France.

Photgraph: Walter Henisch

klaus Bichler, MMag.,

researcher at Medienhaus

Wien, lecturer at the

University of Vienna and

at the University of Krems,

Austria.

prof. dr. herta däublergmelin

is a former German

Minister of Justice and is

member of the Consortium

of the High-Level Group

on Media Freedom and

Pluralism (HLG).

Bogusława dobek-

Ostrowska, PhD, she is

professor at the University

of Wroclaw, Poland and the

head of the Department of

Journalism and Communication.

Tobias eberwein, PhD,

professor at the Institute

of Journalism and acting

academic director, Erich

Brost Institute, TU Dortmund.

Scientific coordinator

of the MediaAcT project.

huub evers, PhD, is a

freelance media ethics

expert. Till 2011, he was a

professor of media, ethics

and diversity at Fontys

University of Applied

Sciences, Tilburg, NL.

Susanne Fengler, PhD,

professor of international

journalism, director of the

Erich Brost Institute for int.

Journalism, TU Dortmund

University. Director of the

MediaAcT project.

drs. harmen p. groenhart

is lecturer for Journalism

Studies at the School

of Journalism, Fontys

University of Applied

Sciences, Tilburg, NL.

heikki heikkilä, PhD, is

senior research fellow, University

of Tampere, Finland.

He is the MediaAcT

Work Package leader focusing

on innovations in online

media accountability.

halliki harro-loit, PhD,

professor of journalism,Institute

of Journalism and Communication,

University of

Tartu, Estonia. Research

group leader, Centre of Excellence

in Cultural Theory.

Mike Jempson, PhD, Senior

Lecturer in Journalism at

the University of the West

of England. He has been

Director of the journalism

ethics charity The Media

Wise Trust since 1996.

Photgraph: Walter Henisch

Andy kaltenbrunner, PhD,

media consultant and

lecturer (Austria, Spain,

Germany), executive

director of Medienhaus

Wien, Austria.

Photgraph: Walter Henisch

Matthias karmasin, PhD,

full professor at the Department

of Media and Communication

Sciences, University

of Klagenfurt, ombudsman

of the MediaAcT

project.

Photgraph: Walter Henisch

daniela kraus, PhD,

executive director of

fjum_forum for journalism

and media Vienna, Austria.

Her research interests are

journalism research, journalism

education, web 2.0.

Julia lönnendonker, M.A.

(USA), Dipl.-Geogr., is

a senior researcher at the

Erich Brost Institute for

international journalism and

coordination officer of

the MediaAcT project.

Marcel Mauri, PhD,

Lecturer in Journalism

History and Media Ethics

at the Communication

Department, Universitat

Pompeu Fabra (UPF), Spain.

prof. gianpietro Mazzoleni

Professor of Sociology of

Communication and Director

of the Master's Program

in Public & Corporate Communication

at the Università

degli Studi di Milano, Italy.

Amirouche nedjaa, executive

director of the "Arab

Working Group for Media

Monitoring". He has specialised

in monitoring the

media coverage during

electoral campaigns.

Judith pies is a lecturer and

research assistant at the

Erich Brost Institute for

International Journalism

and the Institute for

Journalism, TU Dortmund

University, Germany.

daniela popa, PhD student,

teaching assistant at the

Faculty of Communication

and International Studies,

Danubius University of

Galati, Romania.

raluca-nicoleta radu, PhD,

is an associate professor at

the Journalism Department,

Faculty of Journalism and

Communication Studies,

University of Bucharest,

Romania.

ruth rodríguez-Martínez,

has a PhD in Journalism

from the Universidad

Complutense in Madrid.

Her main research interests

are specialised journalism

and cultural journalism.

Stephan russ-Mohl, PhD,

professor of journalism and

media management, Università

della Svizzera italiana,

Lugano, Switzerland and

director of EJO, European

Journalism Observatory.

laura Schneider-Mombaur,

Dipl. Journ., is scientific

assistant at the Erich Brost

Institute for int. journalism

and works as administrative

officer at the MediaAcT

project. Freelance journalist.

Sergio Splendore, PhD in

sociology at the "Graduate

School in Social, Economic

and Political Sciences",

Department of Social and

Political Science, University

of Milan. Italy.

Sandra Vera-Zambrano,

PhD, currently works as

research assistant for the

Institut d'Etudes Politiques

in Toulouse, France.

lEgAl nOTIcE

MediaAcT - Final Report

Publisher

Erich Brost Institute for

International Journalism

Technische Universität dortmund

germany

prof. dr. susanne fengler

dr. Tobias Eberwein

Editors

Tobias Eberwein, laura schneider-

Mombaur

Editorial assistance: Mariella Trilling &

Johannes hoffmann

Circulation

10.000

layout and Production

susanne Janecke

language Editing

Marcus denton, Alison Ansell

Print

griebsch & rochol druck gmbh &

co kg

gabelsberger straße 1

d-59069 hamm

germany

Contact

Erich Brost Institute

Otto-hahn-straße 2

d-44227 dortmund

germany

Tel. +49 (0)234-755-6976

E-Mail: info@brost.org

Title

photographer: photocase/jUliE:p

The research leading to these

results has received funding from

the european union Seventh

Framework programme (Fp7/2007-

2013) under grant agreement n°

244147. The information in this

document is the outcome of the

eu project "Media Accountability

and Transparency in europe"

(MediaAcT). The research reflects

only the authors' views and the

european union is not liable for

any use that may be made of the

information contained therein. The

user thereof uses the information at

their sole risk and liability.