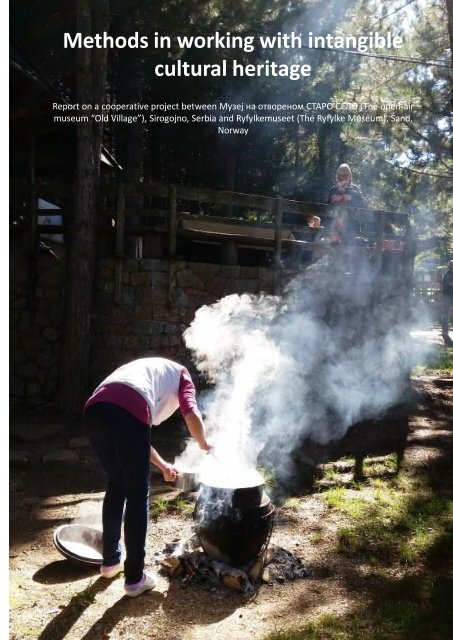 Methods in working with intangible cultural heritage - report
Report on a cooperative project between Музејнаотвореном СТАРО СЕЛО (The open-air museum "Old Village"), Sirogojno, Serbia and Ryfylkemuseet (The RyfylkeMuseum), Sand, Norway.
Report on a cooperative project between Музејнаотвореном СТАРО СЕЛО (The open-air museum "Old Village"), Sirogojno, Serbia and Ryfylkemuseet (The RyfylkeMuseum), Sand, Norway.
SHOW MORE
SHOW LESS
Create successful ePaper yourself
Turn your PDF publications into a flip-book with our unique Google optimized e-Paper software.
Methods in working with intangible

cultural heritage

Report on a cooperative project between Музеј на отвореном СТАРО СЕЛО (The open-air

museum "Old Village"), Sirogojno, Serbia and Ryfylkemuseet (The Ryfylke Museum), Sand,

Norway

Side 1 av 25
---
Methods in working with intangible cultural heritage

Report on a cooperative project between Музеј на отвореном СТАРО СЕЛО (Staro Selo - The openair

museum "Old Village"), Sirogojno, Serbia and Ryfylkemuseet (The Ryfylke Museum), Sand,

Norway

Ryfylkemuseet 2015

The photo on the front cover is from Sirogojno and shows lunch being prepared in traditional clay

pots from Zlakusa.

The Open-Air Museum "Old Village" not only documents the production of traditional clay pots but

also promotes the use of clay pots in their presentation of traditional cooking of food.

Side 2 av 25
---
Introduction

The idea of starting up a cooperative

project between the Ryfylke Museum and

the Staro Selo museum in Serbia to

develop methods for work on intangible

heritage arose during the annual

conference of ICOM/ICR (The

International Committee for Regional

Museums) in 2012. The conference tour

included a visit in Sirogojno where we

learned about the work done by the

museum Staro Selo to preserve, present

and promote intangible heritage. One year

later, in 2013, the Ryfylke Museum

arranged a tour to Sirogojno for its

employees, giving us an opportunity to

become better acquainted with the local

museum's work.

ICR's annual conference in 2012 also

included a visit to the Ethnographic

Museum and The Central Institute for

Conservation (CIK) in Belgrade. Both

places have also welcomed us later. We

now have an especially good relationship

with the Institute. Although the Centre for

The Intangible Cultural Heritage of Serbia

is placed at the Ethnographic Museum,

CIK has been assigned much of the

responsibility for the development of work

with the intangible cultural heritage.

In 2014 we were allotted a grant from the

Arts Council Norway for a limited

cooperative project. This funding has been

a major factor in allowing for a study tour

to Sirogojno in 2014 and a seminar at Sand

in 2015. Our discussions on experiences

have provided us with a mutual

understanding about topics we have

worked with and the methods used in our

work. This will be explained further in the

following.

This report is based partly on written

reports and articles from publications

prepared by The Open-air Museum "Staro

Selo" and The Central Institute for

Conservation.

Hosts and guests on our study tour to

Sirogojno in October 2014. Front row, l/r:

Snezana Tomić-Joković, Grete Holmboe, Sanja

Ignjatić, Kjersti Moe, Bojana Bogdanović.

Second row l/r: Jelena Toskić, Branko

Blagojević, Dragan Cicvarić, Trygve Brandal,

Roy Høibo.

Sand, June 2015

Roy Høibo

Museum Advisor/PhD, Director of Ryfylke

Museum between 1981 and 2014.

Side 3 av 25
---
Summary

While Ryfylke Museum has worked

systematically over the past 20 years to

understand, document and transmit

traditional action-borne skills, especially

those concerning building techniques, the

Staro Selo Museum in Serbia has worked

since 2010 with the immaterial culture

lying in a broad sector of tradition. The

aim of the present project has been an

increase of understanding and knowledge

about work with immaterial culture.

Funds granted to the project have allowed

participants from Ryfylke Museum to carry

out a study tour to Beograd and Sirogjojno

in October 2014 and for participants from

The Central Institute of Conservation

(CIK) and the museum Staro Selo to make

a return visit to Ryfylke in May 2015. In

addition to an introduction concerning

project work at each museum and at CIK,

to participatory observation and to

presentation of the results, these study

tours have also given general orientation

about the work of the museums in which

we have had special benefit of an exchange

of experiences about work with the general

public and with programs for children and

young people.

One main conclusion reached in this

project is that documentation and

presentation of knowledge concerned with

craftsmanship and home crafts, customs,

food, music and dance must become as

important part of museum work as is the

preservation of buildings, tools, equipment

and interiors.

In Sirogjojno this understanding arose as a

natural consequence of the work with

establishing the open-air museum. In

Ryfylke we regard knowledge about

performing handicrafts, use of tools, and

understanding materials as being integral

to the work of building preservation.

The basic method of work is "learning by

doing" in which skilled tradition bearers

demonstrate and advise. The museum's

mission is to create arenas for the

transmission of traditions and to document

what is done with the means allowed for

by knowledge and economy.

There are challenges connected both to

finding tradition bearers who will and can

participate, and to recruiting younger

practitioners. One important precondition

for success seems to be the ability to create

attractive meeting places.

Sirogojno, Serbia: The "Old Village" and

The Knitters' Museum

Village women have always processed

their own wool, from the newly sheared

fleece of their sheep to finished skeins of

yarn and spools of thread. They have

always spun, woven and knitted coverings

and clothes for their loved ones. Their craft

is as old as the world they were born in and

is something they have always known and

lived for. Anything that could not be sewn

of linen and heavy cloth was knitted: warm

woolen socks, gloves, a scarf or two, and

finally sweaters.

The first time the women from Sirogojno

and adjacent villages displayed their

handicrafts in public was at an exhibition

in 1962. The bravest among them decided

to set up their own organization, start

knitting for the market and earn their own

incomes. They then attended the first

seminar on knitting. Soon after this event,

Dobrilja Vasiljevic arrived, bringing with

all her knowledge and experience. She was

a daughter-in-law in Pastor Smiljanic's

family, a famous corporate family of

Zlatibor clergymen. As a fashion designer

and a brilliant organizer with many

Side 4 av 25
---
marvelous accomplishments, she remained

in Sirogojno for several decades afterwards

in order to make her dreams come true by

working with the knitters.

When it all started, only twenty fearless

women accepted offers of additional

training. By the 1990s, however, almost

two thousand women knitters were doing

work for the world's fashion markets.

Over ten thousand hand-knitted garments

made of soft Icelandic wool would be

exported abroad annually, bringing foreign

exchange revenue amounting to millions of

dollars. 'A traditional handicraft was used

to create high-quality, high-fashion

clothing, of unique design and authentic

style. Sweaters, jackets, coats, outfits,

suits, caps and scarves from Sirogojno

were seen and admired in fashion shows, at

fairs, and in upmarket shop windows in

Sweden, Italy, France, Germany, USA and

Japan. Numerous world-famous fashion

magazines wrote about them, mentioning

the Zlatibor knitters, these unknown

women in their kerchiefs, gazing at their

hands interweaving lines, patterns, colors

at incredible speed.

Knitting is still a traditional custom in the

Zlatibor region. These ladies gather at a

crossroad every afternoon, weather permitting,

to knit, drink coffee and have a good gossip.

A unique project associated with the

knitters included patient and systematic

efforts to educate women in rural areas,

render them literate, enlighten them

culturally and inform them about health

care issues and in general elevate their

lives. Scores of writers, painters, doctors,

and agricultural experts began coming to

Sirogojno to show their respect for the

knitters. Exhibitions, concerts, lectures,

seminars, and workshops enabled them to

overcome and make up for all the things

they had missed out in life and to involve

them and their environment with

contemporary trends. The knitters'

additional incomes and the increased rural

development brought about by their

association prevented migration from less

favored areas (LFA) like these towards

urban centers and to foreign countries.

They thus preserved their mountain

villages, while their knitting, being a new

occupation, brought the first pensions as a

reward to the most persistent and deserving

women.

The knitters' association became interested

in new challenges. Additional efforts were

now made to protect the traditional

authentic architecture of the region in order

to preserve the setting in which these gifted

women, the weavers and knitters, were

accustomed to live and create. This

resulted in the creation of a unique openair

museum. 1

The authorities of former Yugoslavia, a

country with a very rich cultural heritage

and invaluable distinctions among the

interlaced lives of its nations and cultures,

never paid adequate attention to the

traditions of village lifestyle. Despite

attempts to establish and develop

monumental collections of ethnographical

1 "The Knitters' Museum", Sirogojno, leaflet, not

dated

Side 5 av 25
---
objects, only one open-air museum has

thus far been formed and brought to life –

the open-air museum in Sirogojno,

Zlatibor.

The open-air museum "Old Village" thus

represents the successful realization of the

first project relating to an open-air museum

in Serbia. It is widely recognized as a

museum complex of huge importance, as a

potential and developmental model of great

significance for the nation's culture.

The initial idea of building a museum of

folk architecture, the "Old Village" in

Sirogojno, started in 1979 with the

presentation of the project itself, the scope,

plan and project for its construction and

organization, furnishing and arrangement,

the finalizing of its functional organization

including the production and tourism

segments of the complex, and the final

defining of the purpose, contents and

function of the museum. All these phases

were carried out by a group of experts

headed by the architect Ranko Findrik and

including the ethnologists Dusan Drljaca,

Nikola Pantelic and Bosa Rosic.

Fifty buildings have been placed in an area

of 5 hectares. The selected facilities are

representative of the richness of the

architecture and the development of the

vibrant culture of the Zlatibor region. They

are outstanding examples of traditional

Zlatibor wooden architecture,

characterized by special spatial and

constructional features, and thus allow for

the tracing of the development tendency of

this type of folk architecture. The "Old

Village" was established as an open-air

museum institution in 1992. 2

2 "Open-air Museum Old Village", Sirogojno,

guidebook 2007

The intangible heritage of Serbia – the

national organizational structure

Serbia ratified the UNESCO Convention

for the Safeguarding of Intangible Cultural

Heritage in 2010. A National Committee

was established to adopt and prepare a

strategy for the safeguarding of the

intangible cultural heritage of the Republic

of Serbia, participate in harmonizing

national legislation aiming at inclusion of

the intangible cultural heritage and adopt

proposals for registration in the National

Registry of the Intangible Cultural

Heritage.

The first regional seminar on the

implementation of the Convention was

held at the open-air museum "Staro Selo"

in Sirogojno as early as October 2010.

A Network of Regional Coordinators has

been established, aiming at locating and

identifying elements of the intangible

cultural heritage and helping to establish

cooperation between communities, groups,

individuals, experts, professional centers

and research institutes in order to collect,

document, store and preserve heritage data.

The coordinator for Western Serbia is

Snezana Tomic, an ethnologist and

Museum Advisor at "Staro Selo".

The network collaborates with the Centre

for the Intangible Cultural Heritage,

established in 2012 and located at the

Ethnographic Museum in Belgrade. The

Centre implements the strategy for the

safeguarding of the intangible cultural

heritage of Serbia, initiates activities of

regional coordinators, collects and stores

proposals for registration in the National

Registry of the Intangible Cultural

Heritage, organizes professional

Side 6 av 25
---
conferences, takes necessary measures to

inform communities, groups, and

individuals of the importance and value of

their intangible cultural heritage, handles

publication and presentation of research

results in the field, collaborates with other

national, regional and independent

organizations and coordinates national,

regional and international programs and

networking.

Another important body for developing the

task of safeguarding the intangible cultural

heritage of Serbia is The Central Institute

for Conservation in Belgrade (CIK). The

Institute, which was officially established

in September 2009, has a wide mission. It

not only has a national character and

significance, but also a regional one, in that

it evolves from the fact that regional

activities are logical first steps in unifying

the exchange of theoretical and

methodological knowledge, practical

experience, continuous scientific training,

financial resources, partnerships and

interdisciplinary teamwork, connecting and

coordinating the development and

implementation of overall strategies to

preserve heritage. Its key responsibility is

to organize an efficient protection service,

which involves all resources and activities

aimed at heritage protection within a single

uniform system.

The old and almost forgotten techniques of

making objects of wood, metal, clay, etc are

presented through the revival of old crafts.

With these workshops, the Museum presents

three men's production crafts (coppersmith,

blacksmith and pottery) allowing visitors the

opportunity to become familiar with the

complete process of making traditional

handicraft products.

A wide range of themes

As early as the year after the regional

seminar, in 2011, "Staro Selo" organized

the first of a number of annual fairs of old

crafts and professions. The goal of the

program was to contribute to the

conservation and development of craft

skills, especially through their presentation

and evaluation as being a vital part of the

intangible cultural heritage present in the

Uzice region, which was seen as having

great potential for the sustainable

development of the region. The program

also aimed to provide access to cultural

benefits for its citizens, to contribute to the

popularization and to promote promotion

of the intangible cultural heritage, and raise

the quality of the services on offer at the

open-air museum The "Old Village".

During the five-day presentation of the

Fair museum visitors were introduced not

only to the traditional techniques and skills

for making craft products as these have

been preserved to the present day in the

Uzice region, but also to the resulting

products. By observing the master

artisans, visitors could learn about their

manufacturing methods, craft techniques

and the products they make; they were also

able to participate actively in producing

certain objects. The follow-up programs

for the Fair emphasized the usage value of

craft products.

Side 7 av 25
---
The fair of old crafts and trades is a

presentation of traditional techniques and

skills of making craft products preserved to

this day in the Užice region. Visitors are

invited to learn from the artisans about the

craft techniques and to participate actively in

making certain objects. The supporting

programs present the use value of craft

products, as well as the preparation and

tasting of traditional dishes from the Užice

region.

The following themes are among those

presented at the Fair:

Traditional preparation of food

Carpentry

Workshop for learning to knit

Pottery craft

Blacksmithing

Dressmaking

Basket-making

Leceder making

Bottle-making

Chair-making

Making national costumes

Embroidery

Weaving

Making plum cake

Preparing pie pastry

Cooking cabbage and beans

Preparing Zlatibor polenta

The program of the Fair has led to the

realization "that within a culture, an object

is something that can be touched, smelled

or used in different ways…". "The

engagement of other senses in museum

exhibitions, especially smell and taste,

would allow for a sensual assumption of

information in addition to the spiritual

appreciation within the observed/presented

culture…" Craftsmen can be seen as

actors accessible to an audience, among

whom a dialogue based on everyday life

can be carried out. Handmade products, in

contrast to industrial production, carry

stories and messages in which we can seek

alternatives for a modern way of life in the

future. This program is significant because

it presents another method for museum

communication. This method acts by

means of a direct communication between

visitors and craftsmen and includes an

opportunity for observing and participating

in the process of creation of the products. 3

Even more important was the attention

paid by the museum to field studies and to

recording the current state of trade in the

field, to documenting, creating and

curating collections of craft objects, to

their presentation and publication, to

creating videos on craft techniques in the

Museum workshops, to organizing training

in old skills, to regular communication

with the artisans based on their advice

about improving product quality, to selling

craft products in the Museum shop as well

as expanding the range of their products

through the production of copies of

museum pieces and various types of useful

objects through media affirmation.

Among the crafts that have been

documented in different ways are cask-

3 Snezana Tomic-Jokovic in the catalogue of «The

third fair of old crafts and professions», Open-air

museum «Old Village», Sirogojno 2013.

Side 8 av 25
---
making, pottery blacksmithing, making

flutes, traditional production of dried meat,

and basin-making.

different ages, workshops for the youngest

visitors are being designed within almost

all aspects of program activities. 4

Meeting visitors

The Fair of Traditional Crafts and

Professions is not the only initiative

undertaken by "Staro Selo" to enable their

visitors to become acquainted with actionborne

traditions. In the autumn of 2013 the

museum offered a program of wedding

traditions, and a festival of decorated eggs

at Eastertime 2014.

The School for Painting Easter Eggs is among

the most popular of the programs intended

solely for children. In order to make various

Museum activities available for children of

different ages, workshops for the youngest

visitors are being designed within almost all

program activities.

With the aim of presenting the rich cultural

heritage that has been preserved in the field of

performing arts to the public, the Museum

began organizing The Festival World of Music

in 2011. The audience enjoys a wide variety of

music while listening to concerts of original

vocal groups, bands of musicians performing

early medieval music, and also renowned

artists whose music is based on tradition.

Since children make up more than half the

total number of visitors to the Museum,

great attention is paid to these youngest

guests within the program of activities. The

following are popular events in the

programs intended solely for children: the

school for painting Easter eggs and the

Quiz "Bistrik" – an interesting test of

knowledge about the Museum and folk

tradition. In order to make various

Museum activities available for children of

4 For additional information about the work with

immaterial culture at the Open-air Museum "Old

Village", please see the annex by Snezana Tomic-

Jokovic´: Application of the Results obtained in

research on the Old Crafts and Occupation.

Side 9 av 25
---
Sand, Norway:

Intangible cultural heritage at Ryfylke

Museum

Ryfylke Museum is the museum for the

eight municipalities – Forsand, Strand,

Hjelmeland, Suldal, Sauda, Finnøy,

Rennesøy and Kvitsøy – that were merged

in connection with a municipal unification

process in the 1960s to form the Ryfylke

Region. The forerunner of the regional

museum was Rogaland Folkemuseum –

Rogaland Folk Museum – established as a

classic open-air museum in Stavanger

1936, and reorganized as a regional

museum for Ryfylke 1981. As a result of

the reorganizing the headquarters were

moved from the county capitol Stavanger

to Sand, the centre of the municipality of

Suldal.

In its work with intangible cultural

heritage, Ryfylke Museum has largely

concentrated on two topics: traditional

building crafts and traditional music, song

and dance. Other topics have also been

addressed, however, and plans have been

made for dealing with new topics. We will

explain this work in the following.

Searching for building traditions

An important part of the museum's

collections is made up of 77 ancient

buildings and a collection of traditional

boats that also includes two sailing vessels.

Soon after the reorganization of the

museum as a regional museum Ryfylke

Museum realized that vital knowledge

about traditional craftsmanship was

necessary in order to maintain the

collections in a credible way. In 1985, the

county planning authority invited to

participate in working out a county plan for

heritage sites. In the recommendations

submitted by the steering group in 1987,

we pointed out that protection of cultural

heritage also should include protection of

old crafts. We recommended that the

county municipality ought to establish

workshops in cooperation with the State

and the municipalities, to provide the

necessary professional assistance. Quite

specifically, the group proposed that two

antiquarian workshops be started as a

short-range measure, one at Ryfylke

Museum in Sand. Nothing happened in the

short range, however, but seen in

retrospect this was an important basis for

the establishment of a building protection

project at Ryfylke Museum in 1994.

Ryfylkemuseet has worked systematically for

twenty years to identify, document and spread

knowledge about traditional crafts. Here

museum craftsmen work together with older

tradition bearers to restore a litle barn using

traditional methods of stave construction.

The project was well-supported by the

County Governor, the district funding

office for Rogaland, Suldal business

development and Rogaland County

Municipality. It was a project with

extensive and ambitious goals, but its

beginning was humble. At this time the

museum had only one permanently

employed craftsman. The project allowed

for engaging one employee in a 50%

position and part-time hiring of craftsmen

as instructors. Grete Holmboe was engaged

Side 10 av 25
---
as project leader. She carried out the

project in a most productive way, and was

later appointed leader of the building

department of the museum.

The project began at the beginning of 1995

and lasted until 2001. During this period

ten far-reaching documentation projects

were completed according to the model

proposed by Jon Bojer Godal at the

Norwegian Crafts Development

this a "knowledge-philosophical concept"

that expresses something about the

connections that allow us to do something.

He distinguishes between aptitude and

awareness. Action-borne knowledge is,

first and foremost, an aptitude.

Jon Bojer Godal has been an important

contributor to the understanding of the

visual part of craftsmanship. In an article

in Folk i Ryfylke 2006, he wrote:

Craftsmanship is primarily expressed in

the craft. This can be divided as process

and product. The product is permanent,

but the process is transitory and no longer

visible when the product is finished. The

product depends on this transitory

substance of action, pattern of action, skill,

perception, comprehension and

understanding for what is done. The

process also includes tools, equipment,

workplace and raw material that only

indirectly and partially are visible in the

finished object. No matter how many words

and how much can be said and written,

craftsmanship in its primary form of

expression is process and product.

It has still been necessary to find the

correct terms for what is done. The

expression "action-borne knowledge" was

arrived at as a result of attempts to find

better terms than "experienced knowledge"

or "silent knowledge" then used in

professional literature. The correct term

arose at a meeting at Maihaugen in 1993

and while Jon Bojer Godal brought the

child to be christened, it was Magne

Velure who blessed it. Godal himself calls

Learning by doing. Marlinn Tveit was an

apprentice at the museum between 2013 and

2015.

The basis for the work of strengthening

building preservation at Ryfylke Museum

was the idea proposed in the County Plan

for Cultural Heritage in Rogaland in 1989

about establishing an antiquarian workshop

at Ryfylke Museum in Sand. The county

municipality did not follow up this

proposal nor was the idea of having one or

more centers for building preservation in

Rogaland followed up.

Side 11 av 25
---
The extreme prioritizing of building

preservation at Ryfylke Museum has

nonetheless led to the museum emerging as

an important setting for building

protection. In the Regional Plan for

Museums produced in 2011, the need for

strengthening building preservation was

noted and in a study based on the plan,

Ryfylke Museum has been chosen as a

center for such protection.

At present, no detailed plans for how such

a center would function have been worked

out, but we assume that one important role

will be as a resource center for other

museums, for municipalities and for

owners of protected houses. There is a

need for strengthening knowledge about

building protection, developing

competence among those working in the

field and on placing more emphasis on the

intangible portion of building protection

(action-borne knowledge), on establishing

good systems for documentation, on

completing research projects and on

allowing for providing better information

to the public.

Action-borne knowledge can only be

preserved by keeping it alive. It is still

important, however, to document what we

do when we work on the restoration and

care of old buildings. That is the only way

we can be sure that real knowledge about

what is done can be saved, and why things

were done as they were done when there is

next a need of doing maintenance work on

a building.

Documentation includes the condition

before work is started, the work processes

underway and the finished result. But it

also includes searching in other sources for

information about the building, such as can

be found in archives, literature, old

photographs and among people who can

contribute their recollections. We use

photos and films, surveys, drawings, notes

and interviews. These are important source

materials for information on building

heritage and traditional craftsmanship, and

in that way a basis for the spread of

knowledge that is a duty for every

museum.

In 2005, Ryfylke Museum was granted

funds on behalf of the Building Network

(the network of museums doing a lot of

work on building protection) from ABM

Development (now the Arts Council

Norway) for a project called "Creating

sources and assembling knowledge in

building protection". The project led

among other things to a Handbook for

Documentation of Buildings that gives

guidance on how one should proceed in the

work of documenting building protection.

At Ryfylke Museum we now began to feel

we were rather good at this. We also got

more employees. When funds were granted

for a new position as craftsman in 2007,

we hired Sven Hoftun, a young carpenter

who had specialized in furniture-making,

attended technical school and had a career

as Norwegian champion and participation

in the World Skills Competition. In 2009

we were granted another increase in our

annual funds and could hire Kjell Gunnar

Haraldseid who had an apprentice

certificate as a woodworker and varied

experience from the army's engineering

corps. We now had a building department

with increased capacity and high

competence. We were given a commission

to carry out a pilot project on building

preservation at the museums of Rogaland

for the Ministry of Culture. We were now

among the foremost in this country

Side 12 av 25
---
concerning building protection and our

self-confidence was so great that we

invited the annual conference in ICOM's

Committee for Historic Buildings to

Ryfylke in 2009. ICOM, the International

Council of Museums, is the world

organization for museums. The Committee

for Historic Buildings, DEMHIST, is an

under-committee.

Among the things we showed these

foreigners was the result of our work in

restoring the cottar's farm at Røynevarden.

We thought that this little site high above

Suldal Lake would be suitably exotic and

besides, we could show exemplary

illustrations of good restoration work.

The barn at the cotter's farm Røynevarden was

restored in 2013-2014. The roof was covered

with birchbark and sod in keeping with roofing

traditions in these region of Ryfylke.

We know much more now than when we

started the project Building Protection in

Ryfylke in 1995, but we will never be

over-qualified. In the olden days

youngsters followed their fathers or

masters for years. We have difficulties in

finding master craftsmen. In many cases

the tradition has become weak or is about

to disappear. During the years we have

worked with this, many of those we have

had as tradition-bearers have passed away.

And that always means shorter periods of

learning or transmission of traditions. But

over time we have built up our experience,

and we have built up an environment

whose members can support each other in

the development of the craft. We know of

no better method, and hope that our own

work, in collaboration with others in the

networks that have been established, helps

action-borne knowledge, that part of the

intangible cultural heritage made up of

traditional crafts, continue to be a sound

foundation for the work of preservation

and maintenance of historic buildings.

An archive for song, music and dance

Folk music was long something that

existed in an archive- and museum-free

zone. In many countries it still does. In

Norway, however, the collection of folk

music and songs was included in the

project of building the nation. It started late

in Rogaland compared to the more wellknown

fjord and dale districts. The history

of the folk music archive for Rogaland is a

history of doubts, hesitation and a great

deal of idealism. Most doubt concerned

whether there were any traditions to

preserve, hesitation about whether this was

worth spending money on. Idealism was

linked to those who started out anyway.

The first meeting about collecting,

preserving and presenting folk music

traditions in Rogaland was held in October

1981. The subject was "Rogaland – The

unexplored part of the musical map". This

meant the folk music map over the whole

of Norway. The conclusion was that

material from Rogaland could be found in

various archives and that it could be

supplemented by means of notation and

recording.

The cultural committee of the county

municipality appointed a commission in

Side 13 av 25
---
1982. Its recommendations to establish an

archive for folk music and folkdance from

Rogaland were submitted in May 1982. An

important goal for this archive would be to

"provide funds to stimulate interest in folk

music and folkdance and use appropriate

forms of presentation in an attempt to

promote greater interest in this respect".

Ten years were to pass from this proposal

to the opening of a folk-music archive for

Rogaland. The first, cautious grants for

starting work of collecting were not

followed up and county planning mills

ground slowly. The break-through

occurred with the making of a museum

plan for Rogaland. The resolution for

creating this plan was passed in 1987 and

every museum was asked to join a group

that would follow the work. Egil Harald

Grude, the county antiquarian, wrote the

plan. In his finished version the

establishment of a part-time position at the

folk-music archive was incorporated as a

proposed prioritized measure. When the

county council considered the plan in June

1992, the proposal received its final

political approval.

Even more gratifying was Suldal

municipality's adoption of generous funds

allowing for an additional part-time

position. The museum now had the funds

to finance operation of the folk-music

archive. This continued for four years, but

from 1 January 1996, the county

municipality took over responsibility for

the position and from then on an entire

curator position has been devoted to the

work of the folk-music archive.

teachers' college in Bergen, and could both

dance and play various instruments. After

starting from absolute scratch, she built up

a collection of material over the next 30

years that now forms the foundation of the

folk-music archive. Her greatest

achievements were in presentation, in that

she held numerous courses, lectures,

seminars and concerts. One point of effort

has been the annual folk-music weekends

in Suldal where performers of all ages have

been able to receive instruction from the

best performers from all over the country.

Archive material has also been published

in print and as sound. Among the most

important productions are the books on

Christmas carols and on folk songs from

the sea based on archival material, the

textbook "Bewitched" and CDs with

instrumental and vocal music. In 2011,

much of the recorded material was

digitalized. Work on cataloging and

preparing this material for digital

presentation is now being carried out.

Ida Katrine Bråvoll is among the young people

who play the Hardanger fiddle. Guro

Nedrevåg watches in the background. Photo:

Lise Bjelland.

Ruth Anne Moen (1950-2011) was

appointed to the post and started work on

building up the archive. She had received

her training as a music teacher at the

Side 14 av 25
---
Other topics in intangible heritage being

worked with at Ryfylke Museum

The pioneers at the museum were aware as

early as the 1950s that many traditional

crafts were in danger of being forgotten.

They engaged a film maker and began

documenting some of these crafts. This

resulted in the film "Older methods of

work in Suldal" ["Gamle arbeidsmåtar i

Suldal"] issued by the museum in 1958 5 .

The film documented the following

activities:

Traditional music and dance

Saddle-making

Rose-painting

Carding, spinning, weaving; fulling

woolen cloth in a water-powered

fulling mill

Angling for salmon

Production of barrel hoops

Haymaking with sickles, drying

and transporting hay using a

carrying-rope

Transport of goods with a horse

and a packsaddle

Milking goats and making goat

cheese

Threshing grain with a wooden flail

During the past ten years the museum has

been established as an arena where

immigrants and local people could make

contact and where food has acted as an

important mutual element. We have seen

that cooperation on cooking food and

conversations held during the resulting

5 "Gamle arbeidsmåtar in Suldal" ["Old work

methods in Suldal"], a film based on a manuscript

written by Julius Bårdsen and Peder Heskestad.

Photographed by Kolbjørn Rostrup. Rogaland

Folkemuseum 1958.

good meal generate good integration. In

order to continue this work, the museum

has applied for grants for a project called

"The more cooks, the better integration".

The many varieties of wood-burning

hearths in Ryfylke Museum's buildings

have put focus the need for increasing,

documenting and transmitting knowledge

about wood and wood-burning. We are

therefore working on a project that can

allow us to work systematically with this

concept.

Communications in the Ryfylke district are

in a process of radical change. After

countless years of depending on ferry boats

in order to cross its many fjords, the

present-day construction of bridges and

subsea tunnels will bring immense changes

to the means of travel, meeting places and

functions in many local communities.

Ryfylke Museum hopes to carry out a

project to document travel and the

consequences that changes in the systems

of travel will bring about.

The more cooks, the better integration. For the

past ten years, Ryfylkemuseet has invited

people of varying religious and cultural

backgrounds to meet at the museum. Food has

proved to be an excellent basis for building

networks between people.

.

Side 15 av 25
---
The organization of work with the

intangible cultural heritage in Norway

The convention on protection of the

intangible heritage was ratified by Norway

on 1 January 2007. Traditional

craftsmanship is defined as being a vital

part of intangible heritage. The

convention's radical perspective is that

traditional craftsmen and the transmission

process in itself are given priority ahead of

the forms and products resulting from the

work. This means that good conditions for

the process of transmission must be

assured. Action is more important than

product, craftsmanship more important

than the building.

It is the Arts Council Norway that has been

assigned responsibility on behalf of the

Ministry of Culture for implementing the

convention on protection of the intangible

heritage in Norway. The Arts Council is to

evaluate the need for establishing a digital

base for intangible culture in relation to

already existing registries, to develop

procedures for nomination to international

registries and to arrange courses and

conferences so as to reach all those who

might have interest in the topic.

On a national level the Registry of Crafts

was already established at Maihaugen in

Lillehammer in 1987. This was to be part

of the work of protecting traditional crafts

and knowledge that was about to

disappear. An important part of the work

was to be a nation-wide register of

craftsmen. The grounds for doing this was

that the competence held by one person

could be spread out to a larger district. The

Registry of Crafts later changed its name to

the Norwegian Handicraft Development

with the additional title Center for

Intangible Cultural Heritage. The Center

has been assigned responsibility for

implementing UNESCO's Convention of

17 October 2003 concerning Protection of

Intangible Cultural Heritage with emphasis

on craftsmanship.

Methods used in working with the

intangible cultural heritage

Serbia and Norway have both ratified

UNESCO's convention on the intangible

cultural heritage and we have seen that the

organization of the work is conducted

along fairly similar lines. Numerous

museums in both Serbia and Norway have

responded to the challenges. Some had

identified the intangible segment of culture

as being an accepted field of work before

UNESCO formulated it as a theme, while

others have strengthened their efforts after

the convention was ratified.

There appear to be three main aspects that

are essential to success:

The first is to identify, establish

relations with and encourage

involvement among the bearers of

tradition in those themes that are

found important to begin working

with.

The second is to document their

actions.

The third is to transmit the

traditions to younger practitioners.

This is the most difficult aspect of

the job.

The challenge lying in the first aspect is

that one often becomes aware that a

tradition, a skill or a craft is in danger of

being lost only when the last practitioners

are becoming really old. If this then also

involves a tradition that has not been

Side 16 av 25
---
actively practiced for a period, and whose

tools and equipment have not been cared

for, the chances for any authentic recovery

or resumption of the tradition can be

reduced.

In Sirogojno, however, they are so close in

time to the tradition that it appears to have

been easier to communicate with tradition

bearers who can transmit their skills to

both museum professionals and museum

visitors. The challenge faced there is that

many of these practitioners are growing

old and it may prove difficult in the future

to find younger ones who have these

specific skills as a living tradition.

Mirka Kovčica Rožanstvo is one of the older

tradition bearers with whom Staro Selo has

collaborated. Here he shows how to make

barrel hoops.

Experience shows, however, that most

tradition bearers take great pleasure in

transmitting their skills to others. Sourcecritical

problems can arise concerning

questions about the status of the

practitioners of a skill one has made

contact with and whether that which is

transmitted consists of primary or

secondary knowledge. But this should not

be more difficult to deal with than is the

case in other fields of cultural-historical

research.

Documentation of the actions is done with

the use of various techniques: observing

and noting down what is observed,

interviewing, shooting photographs and

films, registering tools, equipment and

even work spaces. Obtaining suitable

technical equipment for carrying out

documentation is not difficult. What is

difficult, however, is acquiring enough

competence in the use of such technical

equipment. Satisfactory use of

photographic equipment seems especially

demanding of a standard of technical

competence that most museum

professional cannot reach. On the other

hand, there are not many professional

photographers who have competence in

cultural-historical documentation.

Successful documentary work should thus

ideally be based on good and confident

cooperation between documenter and

photographer.

The best documentation cannot however

replace the practitioner of skill who

maintains this skill as a living tradition.

Action-borne skills are embodied

knowledge that not only deals with

knowing, but also with doing, as shown

above by Jon Bojer Godal. If we are unable

to find younger people who can acquire

this knowledge, the skill will die out. It

will be extremely difficult to revive a skill

on the basis of documentation and

preserved tools and equipment if one has

Side 17 av 25
---
not been able to learn the skill by

practicing it together with someone who

can do it.

At Ryfylke Museum we have made great

efforts to build a network of people

interested in our work of collecting,

documenting and transmitting traditional

crafts. We have experienced, however, that

it can be difficult to bring in people who

are doing active work in the field.

Participation in a project for transmitting

action-borne knowledge is time-consuming

and when the activities are not part of a

process that has direct benefit for one's

daily work, it can be difficult to give

priority to participation.

It is easier to manage transmission of

traditional music and dance. These are

leisure-time activities for most

practitioners and great interest exists in

Norway for acquiring competence in both

music and dance, even among the very

young.

Conclusion

Work with immaterial culture at the two

museums and the resulting cooperation

between them has had several positive

results:

Important sectors of the life style

experienced in and between the

buildings have been documented and

transmitted.

An awareness of the fact that museum

work also concerns immaterial culture

has been reinforced.

Presentation of and training in traditions

and customs has increased the general

public's interest in the museums.

We must admit, however, that work with

immaterial culture can result in new

challenges. On the one hand, it can prove

difficult to find informants who have

sufficient knowledge about the issues on

which the museum wishes to work, while

also having the ability and the desire to

transmit their expertise. On the other hand,

it can also be difficult to recruit younger

participants who are motivated enough to

acquire traditional knowledge.

One important factor for success is quite

probably that of establishing a social

setting around the transmission of

tradition. Participation must be seen as

being attractive. Everyone must get

something in return for their participation,

both in the form of knowledge and of

comradeship. There are several ways to

accomplish this. Breaks in work, food and

coffee can provide the extra values that

make participation attractive.

Accommodation can also do that. Or the

event itself can not only inspire a desire to

participate, but can also create so much

attention that this emphasizes the

importance of what is being done.

The most important conclusion is,

however, that working with handicrafts

and home crafts, customs, food, music and

dance must become just as important a part

of museum work as preserving buildings,

tools and interiors.

This belief arose in Sirogojno as a natural

consequence of their work in establishing

the open-air museum. At Ryfylke, we

consider skills in doing handicrafts, using

tools and understanding materials to be an

integral part of building conservation.

Side 18 av 25
---
Both of the museums in question have

given high priority to this work and can

document excellent results. The fact still

remains that there are enormous tasks still

left undone, at the same time that a feeling

of too little time for accomplishing this is

apparent. Societal changes during the last

few generations have happened so quickly

that traditions will disappear if nothing is

done to document and transmit them.

There is a great need for museums to

concentrate on tasks linked to life as it is

lived.

music. Discussions have already started

about whether exchange visits can be made

in connection with events and programs at

the respective museums.

There is also a possibility that the

museums will benefit from carrying out

mutual documentation projects. Heating

with an open fire may prove to be an

acceptably limited project. The museums'

approaches appear to be comparable, while

the project itself has limited scope and will

most probably bring practical results.

Future cooperation will be discussed in

connection with the institutions' further

plans of operation.

Coffee cooked over an open fire adds to the

appeal of working in a cold, wintery forest.

Continuation

Some staff members at the two museums,

and also some at CIK, have met with each

other four times. This has allowed them to

develop such positive personal bonds that

there is definite belief in the benefits

arising from their cooperative efforts.

These cooperative efforts are also marked

by mutual professional respect and

pleasant get-togethers.

Both Ryfylke museum and the Staro Selo

museum see that their mutual interests will

make a further development of their

cooperation even more meaningful. The

most obvious point of contact lies in

Side 19 av 25
---
Attachment

Application of the Results Obtained in

Research on the Old Crafts and

Occupations

Snezana Tomic-Joković, Ethnologist,

Museum Consultant, Open-air Museum

"Old Village", Sirogojno

Snezana Tomic-Joković, museum consultant,

ethnologist, graduated from the Department of

Ethnology and Anthropology, University of

Belgrade. Since 1992, she has been employed in the

Open-air museum "Old Village" in Sirogojno. She

studies the field of tangible and intangible culture in

Zlatibor District and publishes research results in

professional and scientific articles and publications.

She is the author of numerous ethnographic

exhibitions, manager of projects, participant in the

organization of professional and scientific

conferences devoted to the protection of cultural

heritage, participant at symposia and conferences.

She is the associate of the Centre for the Protection

of Intangible Cultural Heritage, and coordinates its

work in the region of Western Serbia.

Abstract: This paper is going to discuss

how the material on old trades and

occupations obtained in the field research

could be applied, i.e. returned to the

studied community or an individual, as

well as the experience gained during the

research, and how they could improve the

core activity in the Open-air museum "Old

Village" in Sirogojno.

Keywords: field research, traditional crafts

and occupations, applied ethnology/

anthropology, cultural heritage, sustainable

development.

Introduction

In line with the activities of European (and

out of Europe) Skansen museums that have

shown a substantial commitment to the

preservation of crafts 6 throughout their

history, the Open-air museum, "Old

Village" in Sirogojno pays great attention

to protection of traditional crafts and

6 Krstović, N. (2012): Zanati: gde posle muzeja?,

in: Glasnik Etnografskog instituta SANU LX (1),

Beograd, 79-92

occupations of Užice region, as one of the

segments in the protection of cultural

heritage. It is implemented through a

variety of activities: field studies and

recording the current state of crafts in the

field, documenting material, forming

collections of the crafts' objects and their

expert analysis, their presentation and

publication, then, making video recordings

of the craft techniques, presentation of

traditional craft techniques in the

workshops of the Museum, organizing

training in performance of the traditional

crafts, regular cooperation with the artisans

in the field, where advice on how to

improve product quality and marketing of

craft products in the Museum store is

given, as well as expanding the range of

their products through the production of

copies of museum pieces, various types of

everyday objects, offering traditional

gastronomic specialties in the museum's

"Tavern" and through media promotion.

The tendency of the Museum is to keep the

handicraft production from disappearance,

but also from excessive commercialization,

to preserve the form and structure of craft

production in the community that needs to

be developed through these activities, to

adapt certain products to modern needs of

society, to identify vulnerable values and

find ways to sustain.

This paper will discuss application of

results of the years of field research on old

trades and occupations that were conducted

in the period from 1992 to date.

Field research

In cognitive practices, on this topic, in

addition to the use of relevant literature

which mostly dates from the first half of

the XX century, field studies are of great

significance.

Fieldwork of the Open-air museum "Old

Village" experts, in the period from 1992

until now, proceeded sporadically in some

areas of the municipalities of Čajetina,

Arilje, Bajina Bašta, Nova Varoš and

Side 20 av 25
---
Užice, and systematically during the year

2011 within the research project Recording

artisans and traditional craft skills and

knowledge in the municipality of Čajetina

and making proposals for the National

Register of Intangible Cultural Heritage,

whose goal is highlighted in the title of this

project.

During field research, the techniques of

surveys and interviews with artisans were

used and, when possible, with some of the

family members. The process of making

craft products was monitored at all stages -

from preparation of materials, followed by

creating an object, to its sale. The process

has been documented by photo material

and audio-visual recordings. Attention was

paid to the economic aspect of a trade as

well as of social status of craftsmen. But

first, one should be acquainted with the

relevant literature on a given topic.

The importance of trades, as the most

important part of a town's economy and

culture, and guilds as old heritage of social

organization and basis of social

relationships in a town, was emphasized by

Tihomir Đordjević as early as the

beginning of XX century when he

published Instructions 7 for collection of

material about crafts and guilds in Serbian

lands 8 .

Although there appeared valuable works

on crafts with an accent on changes and

deterioration of trades related to the

territory of Serbia 9 , there were no reports

or guidelines on testing traditional crafts

until 1990 when, within the UNESCO

programme World Decade for Cultural

7 Đorđević, T. (1913): Uputstvo za prikupljanje

gradiva o zanatima i esnafima u srpskim zemljama,

Beograd, Srpska kraljevska akademija, p. 1-80

8 Đorđević, T. (1925): Arhivska građa za zanate i

esnafe u Srbiji od drugog ustanka do esnafske

uredbe 1847, Srpski etnografski zbornik, HHHIII,

Beograd.

9 Savić, M. M. (1954): Naša industrija i zanati,

Sarajevo; Vučo, N. (1954): Raspadanje esnafa u

Srbiji, knjiga prva, Beograd; Vučo, N. (1958):

Raspadanje esnafa u Srbiji, knjiga druga, Beograd

Development, a ten-year action plan for the

development and revitalization of trades

was given. A methodological booklet was

printed in collaboration with the United

Nations Development Programme (PNUD)

and the Institute of African Culture (ICA).

It contains a number of practical advice for

collecting items and the survey used to

examine development of handicraft

products and their sale 10 .

Regarding the current attitudes about the

field research Zorica Ivanović points out

that each fieldwork means direct contact

with those under the study. The

construction of anthropological knowledge

and authority should be observed in the

context of broader social and symbolic

sphere in which anthropology operates and

that is a constitutive element of its

discourse 11 . In this way we are looking at

problems of "locality" and issues relating

to belonging to a group, community,

continuity and group identity.

"Ethnographic fieldwork, research practice

based on direct and long-lasting social

contact between the researchers and the

researched (observation with

participation), which resulted in written

ethnographies, has traditionally been

regarded as not only one of the basic

methodological values, but a distinctive

feature of anthropology based on which,

the difference in relation to other social

sciences and humanities is constructed. So,

it is a method that borders its disciplinary

field and marks the boundaries of the

discipline itself, these limits or the content

within them are impossible to review

without rethinking the very idea of "field"

and "field work" 12 .

10 Kovač, S. (1995): Tradicionalni zanati u Srbiji u

svremeno doba, in: Etnoantropolški problemi, sv.

10, Beograd, str. 83-93

11

Ivanović, Z. (2005): Teren antropologije i

terensko istraživanje pre i posle kritike

reprezentacije, in: Etnologija i antropologija: stanje

i perspektive, ur. D.Radojičić, LJ.Gavrilović,

Beograd, Etnografski institut SANU, str. 123-141

12 The same, p. 123-141, 126

Side 21 av 25
---
One of the results of field research on the

old crafts is a publication Living rural

trades in Užice region and their protection

in the examples of pottery, coppersmith's

and blacksmith's crafts. Its aim is to

highlight the importance of the pottery,

cooper and blacksmithing crafts have had

for the environment in which they evolved,

to describe their history, traditional

techniques of products making, materials

and tools used in production, changes in

production methods conditioned by

modern way of life, to highlight the

continuity of trade existence, their

protection and relevance they have today

in the development of family and local

community 13 , and smaller publications like

Užice meat processing products, Basin

makers from the village of Pilica, Making

Flutes and Double Flutes in Užice

Region 14 . Publishing of systematized field

material is planned to be continued in the

next period.

"It is particularly interesting to discuss

contribution of ethnologists in maintaining

traditions of society in which they live,

which is especially evident in the work of

ethno-parks and museums. It is quite

expected that members of a society

experience their collective identity in the

essential and static way, but an ethnologist

should not share such attitudes of other

members of the community; instead he

should approach identity (primarily

national and ethnic) as a rational and

dynamic phenomenon". 15

13 Tomić-Joković, S. i Toskić, J. (2010): Živi seoski

zanati u Užičkom kraju i njihova zaštita na primeru

grnčarskog, kačarskog i kovačkog zanata, Muzej na

otvorenom ,,Staro selo" Sirogojno, Sirogojno

14 Tomić-Joković, S. (2012): Užički suvomesnati

proizvodi, Muzeja na otvorenom ,,Staro selo"

Sirogojno; Toskić, J. (2012): Čančari iz sela Pilica,

Muzeja na otvorenom ,,Staro selo" Sirogojno;

Cicvarić, D. (2012): Izrada svirala i dvojnica u

užičkom kraju, Muzej na otvorenom ,,Staro selo"

Sirogojno.

15 Ribić, V. (2005): Osnove nastave iz predmeta

Primenjena etnologija: perspektive razvoja, in:

Etnologija i antropologija: stanje i perspektive; ur.

Application of research results

Field work collected information about the

real way of life and cultural models as we

see them. "The task of anthropologists is to

help people transform their awareness of

social needs into social action ... This

means that the purpose of research is

addressing real life problems of the studied

population 16 ". Systematization and

processing of field material provide a total

of qualitative and quantitative data that do

not stay trapped in documentary funds and

depots, but are still used in implementation

of various actions within the museum

activity: permanent and thematic

exhibitions, trade shows, educational

programs, presentations.

The permanent exhibition of the Museum

includes three craft workshops: pottery,

coppersmith's and blacksmith's. Beside

displayed tools and craft products, quite

significant is the narrative of craftsmen,

artisans who were the owners of these

workshops, as well as their engagement in

practical presentations of traditional craft

skills 17 . Although "the activities were

called crafts demonstrations and their

introduction to visitors through the

museum obsolete measures of (folk)

architecture facilities rehabilitation

represented unsuccessful attempt of

museum documentation resuscitation" 18 ,

Dragana Radojičić, Ljiljana Gavrilović, Beograd:

Etnografski institut SANU, str. 253-261

16 Ribić, V. (2007): Primenjena antrolpologija:

razvoj primenjenih antropoloških istraživanja u

Velikoj Britaniji i Sjedinjenim Američkim

Državama, Beograd: Srpski genealoški centar:

Odeljenje za etnologiju i antropologiju Filozofskog

fakulteta u Beogradu, str. 104.

17 Toskić, J. (2011): Lončarska radionica, Muzej

na otvorenom ,,Staro selo" Sirogojno, Sirogojno;

Tomić-Joković, S. (2011): Kačarska radionica,

Muzej na otvorenom ,,Staro selo" Sirogojno,

Sirogojno; Tomić-Joković, S. (2011): Kovačka

radionica, Muzej na otvorenom ,,Staro selo"

Sirogojno, Sirogojno.

18 Krstović, N. (2012): Zanati: gde posle muzeja?

in: Glasnik Etnografskog instituta SANU LX(1), p.

79-92.

Side 22 av 25
---
they are nonetheless important in

presenting the craft, especially as this is

about "live" crafts and artisans who are

actively engaged in trade. In addition to

craftsmen, during the period of increased

number of visits to the Museum, a basket

maker and some weavers were engaged in

workshops. For the next period, it is

planned that all involved artists achieve

effective work and get the opportunity to

sell their goods directly to the visitors.

Economically, it would completely justify

their involvement in the Museum.

Speaking about the use of knowledge

anthropologists obtain, "Gerald Bereman

insists that it is impossible to collect data

and analyze them without thinking about

their use, as well as that an anthropologist

cannot get rid of the consequences of his

scientific activity. Because of the

possibility that anthropologic knowledge

could be used for purposes that are outside

control of anthropologists and opposed to

the values they represent, Bereman

suggests: "We must try to apply our

knowledge and skills to real problems that

we have defined, instead of simply

accepting them from sources that provide

our funds. We need to ask questions that

point to the problems of our time, and not

the ones that minimize and obscure them

..." 19 .

In the preservation and revival of

traditional crafts, in constant collaboration

of the Museum experts with craftsmen

from Užice region, production of some

objects whose use is neglected by using

industrial products (džban, brine, photo

frame and mirror, etc..) is resumed; the

copies of museum exhibits are produced as

well (dining tables, three-leg chair, cradle,

woven bags, embroidered handkerchiefs,

etc..). What makes these products valuable

19 Ribić, V. (2007): Primenjena antrolpologija:

razvoj primenjenih antropoloških istraživanja u

Velikoj Britaniji i Sjedinjenim Američkim

Državama, Beograd: Srpski genealoški centar:

Odeljenje za etnologiju i antropologiju Filozofskog

fakulteta u Beogradu, str. 49.

is the pursuit of artisans to be faithful to

their original objects in the material from

which they are made, their form, but also

in technology of their development; still in

creation of some objects, in addition to

using manual, the machine processing is

also applied, which is adapted to modern

living conditions. The permanent sales

exhibition of traditional craft products and

herbal products typical of this area is

organized in the Museum shop. This type

of craft products' exposure represents an

important pathway by which historical

knowledge is transmitted and has the same

significance as other exhibitions in the

museum activity, where the possibility of

purchasing becomes a new form of

communication.

Trade products whose use is applicable

even in contemporary life were presented

in 2005 at the exhibition The Products of

Old Crafts, from Traditional to

Contemporary in the Ethnographic

Museum in Belgrade 20 , where exhibits

were sold. These were the products that

had already been offered in the Open-air

Museum "Old Village" shop, but on this

occasion, in collaboration with artisans,

copies of the interior objects were made

(bed, chest of clothes, table, chairs,

"stolovača" cabinet, shelves, etc.). These

products, made of natural materials, in the

time of environmental trends, have special

value. During the exhibition, a significant

interest for these products was shown

through their purchases. It offers a real

possibility that, through continuous sales,

these products become available in

Belgrade.

If we accept the statement of Vladimir

Ribić that anthropology must, both in

theory and in practice, serve to the benefit

of all people and the action anthropologists

use clinical, i.e. experimental method,

which means not only to stick to

20 Tomić-Joković, S. (2005): Proizvodi starih

zanata, od tradicionalnog ka savremenom,

catalogue, Sirogojno.

Side 23 av 25
---
observation, but try to influence reality 21 ,

then real aspects should be used.

Very important activities are educational

programmes and creative workshops in the

Museum complex. On two occasions, the

Museum organized training of young

people in performing crafts: the first in

1997, in collaboration with the Labour

market, with the project that included three

trades: carpentry, basketware and

coppersmith's, and the other in 2005, in

cooperation with the Local community

Sirogojno and the Ministry of Agriculture,

Forestry and Water Management, which

covered four crafts: weaving, tailoring,

blacksmith's and basketware 22 . The

workshops included local residents as

carriers and transmitters of knowledge and

skills, as well as the participants

themselves 23 . Unfortunately, in both cases,

the desired result was not achieved, and

that was to get as many young unemployed

people from Zlatibor villages qualified for

dealing with some of these crafts. This was

an attempt to influence the current issue of

depopulation and unemployment.

However, there were very successful

thematic workshops with students of the

Faculty of Applied Arts, who applied their

practical knowledge gained in the

workshops: Processing wool in a

traditional manner, hemp processing in a

traditional way, Old techniques of weaving

on a horizontal loom, Old techniques of

21 Ribić, V. (2007): Primenjena antropologija:

razvoj primenjenih antropoloških istraživanja u

Velikoj Britaniji i Sjedinjenim Američkim

Državama, Beograd: Srpski genealoški centar:

Odeljenje za etnologiju i antropologiju Filozofskog

fakulteta u Beogradu, str. 98

22 Stari zanati i zanimanja: obuka u radionima

Muzeja na otvorenom ,,Staro selo" u Sirogojnu,

Sirogojno: Muzej na otvorenom ,,Staro selo", 2005.

23 Tomić-Joković, S. (2011): Edukativne radionice

u oblasti nematerijalnog kulturnog nasleđa, in:

Nematerijalno kulturno nasleđe, ur. Dušica

Živković, Beograd: Ministarstvo kulture

informisanja i informacionog društva: Centar za

zaštitu nematerijalnog kulturnog nasleđa pri

Etnografskom muzeju u Beogradu, str. 80-87

weaving on a vertical loom, in their further

practical work 24 .

Promotion of cultural heritage is a key

aspect in sustainable cultural life. A very

important programme was launched at the

Museum in 2011. It is The Fair of

Traditional Crafts and Occupations, whose

organization is contributing to the

preservation, popularization and evaluation

of craft skills, cultural identity and

intangible cultural heritage, promotion of

the craft activity status and attracting

young people to trades 25 . The tendency of

the Museum is to preserve the handicraft

production from disappearing and

excessive commercialization, to preserve

forms and structures of handicrafts in the

local community that needs to be

developed through this activity, to adapt

certain products to modern needs of

society, to identify the endangered values

and find ways to sustain 26 .

The Fair of Traditional Crafts and

Occupations is an ethnographic exhibition

that presents everyday life, the living

legacy of craftsmanship. This is an

exhibition of objects belonging to the past,

but that are currently being made, because

there is a real need for their use. Some

artisans create items in the presence of

visitors. Artisanal product gains its value

from its creator at the time and place of its

creation, within the cultural context.

Everything that is happening here and now

is being noted.

The programme Fair of Traditional Crafts

and Occupations gives the possibility that

"an object of culture is something one can

feel, smell and use in a variety of ways...

24 Tomić-Joković, S. (2008): Uloga Muzeja na

otvorenom ,,Staro selo" u Sirogojnu u očuvanju i

oživljavanju starih zanata i zanimanja, in: Muzeji,

ur. Ljiljana Gavrilović, Beograd: Muzejsko društvo

Srbije, str. 95-101

25 Vašar starih zanata i zanimanja 1,2, Sirogojno:

Muzej na otvorenom ,,Staro selo" Sirogojno, 2011/

2012.

26 Drugi vašar starih zanata, Sirogojno: Muzej na

otvorenom ,,Staro selo" Sirogojno, 2012.

Side 24 av 25
---
Involvement of other senses in the museum

exhibitions, smell and hearing primarily,

would provide beside spiritual, a physical

acceptance of information on the observed

/ presented culture ..." 27 Artisans are actors

accessible to the public, one can have a

dialogue with them on everyday life.

Handicraft products represent individual

creativity with local and regional

characteristics. Hand-made products versus

industrial production convey stories and

messages in which we look for alternatives

to the modern way of life in the future.

This program is important because it

represents a kind of museum

communication - direct communication of

visitors with artisans and the opportunity to

watch and participate in the process of

making a product. The support programs of

the Fair show the use values of craft

products: cooking (beans, cabbage, pie,

strudel pie, buckwheat flour pie, etc.) in

ceramic pottery of the village of Zlakusa

prepared on fireplace in the permanent

exhibition of the Museum, preparing and

tasting polenta, making traditional plum

cakes, tasting dairy (cheese, cream) and

vegetable dishes (preserves, jam, brandy)

and dried meat products (prosciutto,

sausage, bacon).

The educational aspect of the Fair is

reflected in the organization of workshops

for visitors: Learn to knit, Decorating

garments of wool conducted by knitters

from Sirogojno.

Organizing the event offers visitors the

experience of the space in which they are

located, participating in the amenities and

activities, learning and understanding of

life in the local community and eventually

they take memories about their

experiences. Presentation of heritage

through events and supporting contents

contribute to the creation of extra value of

cultural sites and increases number of

visits to the Museum.

Conclusion

People create their cultural tradition,

cherish and pass it in succession. It is up to

us to preserve and cherish traditional crafts

and their techniques; we will succeed in it

if we recognize them as an asset and as an

important part of the environment in which

they act, if we consider the possibilities of

their sustainability, if we find ways to

improve the skills, if we promote them.

Crafts and craft skills make regional

cultures distinctive and they can enrich the

tourist offer of the region. Preserving crafts

should become ambition of the entire

society in accordance with their needs.

Contribution to their conservation could be

provided particularly by individuals as

bearers of knowledge, institutions of

different professional orientation, local

governments, public authorities,

legislation, etc.. The task of a museum is to

engage tradition in various forms of

sustainable development.

"Self-definition of museum practice as

applied ethnology / anthropology, which in

recent years more and more often appears

in our literature, should mean that the

knowledge created within ethnology /

anthropology as "pure" science and,

thereafter, applied in museological

practice, produces visible short or longterm

effects on social reality within which

it is applied, or that it directly or indirectly

affects the maintenance or change in

everyday behaviour and/or thought

patterns of people in the society in which a

museum operates" 28 .

27 Gavrilović, LJ. (2007): Kultura u izlogu: ka

novoj muzeologiji, ur. Dragana Radojičić, Beograd:

Etnografski institut SANU, p. 57

28 The same, p. 95

Side 25 av 25