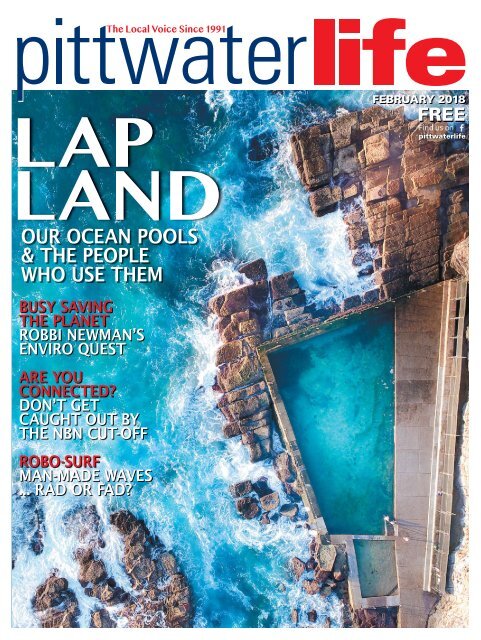 Pittwater Life February 2018 Issue
Lap Land - Our Ocean Pools & The People Who Use Them. Busy Saving the Planet. Are You Connected? Robo Surf.
Lap Land - Our Ocean Pools & The People Who Use Them. Busy Saving the Planet. Are You Connected? Robo Surf.
SHOW MORE
SHOW LESS
Do you know the secret to free website traffic?
Use this trick to increase the number of new potential customers.
The Local Voice Since 1991

LAP

LAND

OUR OCEAN POOLS

& THE PEOPLE

WHO USE THEM

FEBRUARY 2018

FREE

pittwaterlife

BUSY SAVING

THE PLANET

ROBBI NEWMAN'S

ENVIRO QUEST

ARE YOU

CONNECTED?

DON'T GET

CAUGHT OUT BY

THE NBN CUT-OFF

ROBO-SURF

MAN-MADE WAVES

... RAD OR FAD?
---
Editorial

Take a bow, local achievers

This month this space is

dedicated to congratulating

the wonderful local achievers

awarded Australia Day

honours for their service to

community. Take a bow all!

Member (AM)

John Kinsella (Mona Vale) –

for significant service to the

international community

through healthcare and

educational programs for

vulnerable children in

Cambodia; Dorothy Isaksen

(Narrabeen) – for significant

service to the Parliament

of NSW, as an advocate for

gender equality in politics, as a

mentor, and to the community.

Officer (AO)

Emeritus Prof Russell

Lansbury AM (Avalon Beach)

– for distinguished service to

industrial relations education

as an academic, researcher

and author, and as a mentor

of young academics; Angus

Gordon (North Narrabeen) –

for service to environmental

management and planning,

and to the community (former

general manager Pittwater

Council 1996-2005).

Medal (OAM)

Dr Kenneth Hughes AFSM

(Bilgola Plateau) – for service

to the community, particularly

through emergency response

organisations (was Pittwater

Council Citizen of the Year,

2002); The Reverend Ivan

Roberts (Mona Vale) – for

service to the Uniting Church

in Australia, and to the Myall

Creek Memorial.

Meanwhile NB Council

announced its own Australia

Day Awards Winners.

Outstanding Community

Service award winners in

Pittwater region (a total of 15

were awarded) were: Kellie

Carroll (Mona Vale) and

Lorraine Clarke (Narrabeen).

If you know a local who

deserves to be acknowledged,

we urge you to nominate them

next year. – Nigel Wall

The Local Voice Since 1991

FEBRUARY 2018 3
---
FREE LOCAL

MONTHLY

INDEPENDENT

DISTRIBUTION

32,000

Delivered to householders

& businesses throughout

the Pittwater area at the

beginning of each month.

AFFORDABLE

RATES &

LONG-LIFE

EXPOSURE

CALL

US TO

DISCUSS

YOUR AD!

Tel: 0438 123 096

PO Box 170

Mona Vale 1660

Email:

info@pittwaterlife.com.au

Website:

www.pittwaterlife.com.au

Publisher: Nigel Wall

Managing Editor: Lisa Offord

Graphic Design: CLS Design

Photography: iStock

Contributors: Rosamund

Burton, Gabrielle Bryant, Brian

Hrnjak, Jennifer Harris, Nick

Carroll, Sue Carroll, Dr. John

Kippen, Janelle Bloom, Geoff

Searl.

Distribution:

John Nieuwenhof & Gill Stokes

pitlifewalkers@gmail.com

Published by

Word Count Media Pty Ltd.

ACN 149 583 335

ABN 95 149 583 335

Printed by Rural Press

Phone: 02 4570 4444

Vol 27 No 7

Celebrating 26 years

The Local Voice Since 1991

LAP

LAND

OUR OCEAN POOLS

& THE PEOPLE

WHO USE THEM

BUSY SAVING

THE PLANET

ROBBI NEWMAN'S

ENVIRO QUEST

ARE YOU

CONNECTED?

DON'T GET

CAUGHT OUT BY

THE NBN CUT-OFF

ROBO-SURF

MAN-MADE WAVES

... RAD OR FAD?

FEBRUARY 2018

FREE

pittwaterlife

26

38

44

WALKERS

WANTED

To deliver Pittwater Life

once a month.

Permanent and casual runs

are available now in:

Palm Beach, Avalon,

Newport,

Bayview & Church Point.

EARN TOP MONEY PAID PROMPTLY!

Email:

pitlifewalkers@gmail.com

thislife

COVER: Many of us don't give them a second thought

but Pittwater's seven ocean pools have their own little

micro-communities of swimmers and supporters (p26);

We made enquiries to ensure you don't miss the NBN

connection cut-off date in your suburb (p8); Read about

the background of local marine environmental group

Living Ocean and its co-founder Robbi Newman (p38);

Nick Carroll details what it's like to surf Kelly Slater's

man-made wave pool in inland California (p44); and

catch up with the latest on the local health front (p46).

COVER IMAGE: James Knight / aeroaus.com

also this month

Editorial 3

Pittwater Local News 6-25

Special Feature: Our Ocean Pools 26-36

Life Stories: Robbi Newman 38-39

Art Life 40

Boating Life 41

Surfing Life: Riding in Kelly Slater's Wave Pool 44-45

Health & Wellbeing; Hair & Beauty 46-52

Local Call 53

Money 54-55

Law 56-57

Food: Super seafood dishes 66-68

Crossword 69

Gardening 70-72

the goodlife

Restaurants, food, gigs, travel and gardening.

Also find our regular features on beauty, health, surfing,

art, local history, our guide to trades and services, money,

law and our essential maps.

ATTENTION ADVERTISERS!

Bookings & advertising material to set for

our MARCH issue MUST be supplied by

FRIDAY 9 FEBRUARY

Finished art & editorial submissions deadline:

FRIDAY 16 FEBRUARY

The MARCH issue will be published

on WEDNESDAY 28 FEBRUARY

COPYRIGHT

All contents are subject to copyright and may not be reproduced except with the

written consent of the copyright owner. GST: All advertising rates are subject to GST.

4 FEBRUARY 2018

The Local Voice Since 1991
---
News

Bus lane conversion 'spells disaster'

The NSW Government has

come under friendly fire

from local Federal MP

Jason Falinski over its conversion

of sections of T3 lanes to

bus-only lanes between Manly

Vale and Neutral Bay, which

the Mackellar Liberal member

said would spell disaster for

Pittwater commuters.

Mr Falinski told Pittwater

Life he is outraged by the

decision that will significantly

increase travel times for

Northern Beaches residents

who drive the corridor.

T3 lanes are now bus-only

lanes along Burnt Bridge Creek

Deviation (from Condamine

Street to Sydney Road) and

along Spit (pictured) and

Military Roads (from Ourimbah

Road, Mosman to the Neutral

Bay interchange), operating

during the morning peak

period from 6am to 10am

weekdays.

"These changes are detrimental

to our community," Mr Falinski

said, adding he had written

to State Minister for Transport

Andrew Constance urging him

to delay his decision.

"January is the one time of

the year where traffic is reasonable,

and the commute to the

city during peak hours is bearable.

The conversion has made

the traffic just as bad as during

the worst time of the year, with

many rightly asking me: how

bad will it get in February and

beyond when everyone is back

at work and school?"

Mr Falinski said that since

the 1970s, the State Transit

Authority (STA) had argued

that the T3 Lanes along the

road corridor from the Northern

Beaches to the CBD should

be converted to bus-only lanes

to reduce bus travel times

and encourage greater use of

public transport.

"Unfortunately, all the evidence

I have seen – including

modelling from the RMS – disputes

this claim," he said. "And

who is going to be hurt most

by this? It's people who are carpooling

(doing the right thing),

or families taking not just their

children, but their neighbour's

children to school."

He said the Northern

Beaches already had three of

the worst-congested roads,

with Warringah Road rated the

third worst-congested road

in Australia by Infrastructure

Australia. He added traffic

congestion currently cost NSW

$6.5 billion a year.

"These figures hide the human

misery that congestion

causes to our citizens, communities

and their families,"

Mr Falinski said. "Transport

continues to be the number

one issue for people on the

beaches – it's what I get asked

about the most."

He said better infrastructure,

like the beaches Link tunnel,

Mona Vale Road upgrades

and French Forest roadworks,

should be given a chance to

work first, before any other

changes made the local transport

situation even worse.

"I urged the Minister to delay

this conversion, so life wouldn't

become unbearable for commuting

families, and workers

who choose to carpool on the

Northern Beaches." – Nigel Wall

6 FEBRUARY 2018

The Local Voice Since 1991
---
News

Don't get caught by NBN cut-off

Around 10,000 homes

and businesses in

Pittwater will lose

their internet connection

over the coming months

unless they migrate to the

new National Broadband

Network (NBN) by their

part-of-suburb's designated

disconnection date.

An approach by Pittwater

Life revealed approximately

5,200 premises in parts of

Avalon and Bilgola will reach

the end of the 18-month

migration window in April –

and a further 2,700 premises

in parts of Avalon and Palm

Beach will follow in June.

More homes and businesses

in other parts of Avalon and

Bilgola will be cut-off in

October.

While some parts of

Pittwater suburbs are

already serviced and

connected by the NBN, others

are not, or have yet to be

scheduled for connection –

which is causing considerable

confusion in the community.

NBN spokesperson

Marcela Balart explained

that where possible, NBN Co

looked to upgrade existing

technologies in order to roll

the network out as quickly

and efficiently as possible.

"We use a range of

technologies which result in

fast and reliable broadband

– this choice of technology is

decided area-by-area, based

on the best solution for the

location," she said.

"This may mean that

sometimes we prioritise

building the network to

one part of a suburb before

installing new infrastructure

in another part of that area."

She added: "It's important

for people to know the

switch to the NBN network

is not automatic. Once the

NBN network is available

in an area, people will have

18 months to contact their

preferred phone or internet

company to make the

switch. After this time, the

old copper network will be

decommissioned."

More than 21,000 premises

across the Northern Beaches

areas are expected to

become ready for service

over the next six months, Ms

Balart said.

Construction was currently

underway to connect

almost 15,000 premises in

parts of Pittwater suburbs

Elanora Heights, Narrabeen,

Mona Vale, Newport, North

Narrabeen and Warriewood.

More than 21,000 other

premises across the

Northern Beaches areas were

expected to become ready

for service over the next

six months, including parts

of Bayview, Church Point,

Elanora Heights (other),

Ingleside, Narrabeen (other),

North Narrabeen (other),

Mona Vale (other), Newport

(other) and Warriewood

(other).

Ms Balart said the best

thing for people to do was

visit the NBN Co website

(nbnco.com.au) and use the

Check Your Address function

which would tell a resident

or business when they will

be eligible to order a retail

service over the NBN access

network.

"If the address is 'ready

to connect', an approximate

disconnection date will also

be available," she said. "If

access is not yet available,

people can register their

email address and NBN Co

will notify them when they

can order a service through a

retailer."

The network was now more

than halfway built with more

than seven million homes and

businesses across Australia

able to connect to retail

services over the new network.

Almost 1.8 million of those

8 FEBRUARY 2018

The Local Voice Since 1991
---
premises were in NSW.

"To date, the rollout

has been largely focused

on regional Australia and

prioritising those areas that

are underserved. While this

continues, the focus is now

on ramping up the network

build in metro areas," she

said.

"This will include parts of

Sydney and the surrounds,

with 2018 set to be NBN's

biggest in terms of build and

scale."

– Nigel Wall

More connectivity

options on horizon

Simon Bond from Newportnet

– which offers optic fibre internet

connectivity for customers

in their business premises

– says the Beaches rollout of the

NBN has been "somewhat of a

patchwork quilt".

"Having spoken to several

contractors carrying out the

work it is apparent that many

areas are easier to connect than

others," said Mr Bond. "When

you consider that every location

offers different challenges

it is easy to understand that

the timing of the rollout and

the pressures to get as many

people connected as possible in

a challenging timeframe means

that if difficulties arise, the

contractors will simply move to

the next area where there are

less complications."

Work in Newport to upgrade

existing services such as

electricity and water had meant

that much of the existing infrastructure

where the NBN rollout

was planned had seen works

needing to be rescheduled due

to the need for increased civil

works due to damage caused to

existing infrastructure.

"Here in Newport we invested

in our own fibre to the building,

in order to future-proof

businesses and residents early.

"Newportnet's connection

is a 10-gig symmetrical fibre,

meaning the connection is 100

times as fast as the maximum

NBN download capacity and

250 times the fastest upload.

"Local residents also share

Newportnet's infrastructure –

meaning that they do not even

need to worry if, or when the

NBN comes to town."

Mr Bond recommended that

consumers facing disconnection

anxiety should reach out

to the NBN, whose website had

a clear roadmap for consumers

who may be confused.

Mr Bond also said he would

be happy to offer advice to people

if they were unable get the

answers they needed. – NW

News

The Local Voice Since 1991

FEBRUARY 2018 9
---
Patriots go boom

News

The Palm Beach Patriots are not only

one of the top female surf boat crews

in Australia but the four rowers

are also riding a wave of success in their

chosen careers.

Lucy Day is a current affairs reporter/

producer at Channel Seven and MC for the

Sydney Swans' home games; Elly Reynolds

is Head PE teacher at Newtown Performing

Arts High School; Verity Boulton is senior

partnership manager at Rugby Australia;

and new recruit Papa Hipango, who studied

at UC Berkeley for four years, is working

for Salesforce Enterprise Business Development

in Sydney.

The crew is swept by long-time Palmy

surf club member Peter Spence, who is

National Field Sales Manager Impulse at

Nestle.

While the Patriots appear to have a

mortgage on the elite Ocean Thunder series

after making it three wins in three rounds

at Dee Why on January 13, it's the State and

Aussie titles they have their sights set on.

Lucy, Verity and Elly met through the

surf club and have become very close

friends.

"Yes, we are really tight," Lucy said.

"'We hang out a lot together socially and

talk daily, even though we see each other

every second day for training or carnivals.

Verity was also one of my bridesmaids when

I got married in 2016.

"We are all pretty outgoing and don't shy

away from a good dance floor!"

Verity admits to being a bit of a thrill

seeker and has already climbed Mt Kilimanjaro

to raise funds for Flying Kites, Kenya.

Elly is the 'mum' of the crew, according to

Lucy.

"She is the most organised person I know.

Elly has the memory of an elephant and

ensures we are organised for carnivals and

training," Lucy said.

WHAT A CREW:

Palm Beach

Patriots Verity

Boulton (left),

Elly Reynolds,

Peter Spence

(sweep), Papa

Hipango and

Lucy Day.

10 FEBRUARY 2018

The Local Voice Since 1991
---
in Thunder race

Papa Hipango only arrived on the scene

this season after long-time Palmy rower

Alex Tyrrell decided to take a break after

rowing for nine years.

"They were always going to be big

shoes to fill," said Lucy, who at 17 was

ranked No 1 in Australia in the 2000m

Steeple Chase.

"We looked internally for a replacement

but many of our female rowers at Palmy

were already in a crew or had fallen pregnant

or had just had a baby so we then had

to look externally."

As luck would have it, Verity found Papa

at her local gym.

"Verity saw what Papa pulled on the ski

erg one session and quickly bailed her up,"

Lucy said.

Little did they know that Papa excelled in

rowing and was an All American at college.

"She is a natural athlete. We've had some

big and tricky surfs this season which has

tested all of us," Lucy said. "Papa takes it

all in her stride. She has no fear and listens

and learns fast.

"I think she is loving the transition into

surf boats."

Verity and Lucy have won silver and gold

medals in under-23s at nationals in 2008

and 09 respectively with Matt Giblin as

their sweep.

Elly started rowing with the great Midget

Farrelly as her first sweep.

It was when Lucy returned from interstate

after working for Adelaide's 'Today

Tonight' that she was back rowing again

and joined forces with Verity, Elly and Alex,

with Spency at the helm.

"Peter has a solid training program we've

been following since we started rowing

with him. It works well for us," said Lucy.

After taking out round three of Thunder

at Dee Why, the Patriots (24 points) have

opened a five-point gap over closest rival

Collaroy Gold, with Currumbin a further

point behind.

"We are certainly not taking anything for

granted," said Verity. "We still have a job

to do. It would be nice to win back-to-back

Thunder titles. Then we can focus on the

big carnivals ahead."

Verity typifies what this crew is all

about. She injured her back at the gym

the day before the third Thunder round

but told her chiropractor Jason Lamb

she just had to row the next day. "He did

a very good job," Verity said.

– John Taylor

News

The Local Voice Since 1991

FEBRUARY 2018 11
---
News

SEEN…

HEARD…

Hmm. Looks kind of familiar doesn't it? Imagine our prise when Pittwater Life bumped into this doppelganger

sur-

logo while on a recent fact-finding trip to the US.

Former PM Bob Hawke was in fine form leading guests

in a rousing rendition of 'Waltzing Matilda' at Jonah's

Australia Day bash. The annual soiree doubles

as a birthday celebration for the boutique hotel and

restaurant which this year turned 89. Mr Hawke, accompanied

by partner Blanche

d'Alpuget, noted his

affinity with Jonah's as he enters his 89th year. The

couple were joined by a mix of celebs and dignitaries

including car supremo Col Craword, media identity

Deborah Hutton, INXS' Kirk Pengilly and former world

surfing champ Layne Beachley, Olympics boss John

Coates, and media face Kerry Anne Kennerly and husband

John. Guests feasted on Australia Day-inspired

creations from new executive chef Matteo Zamboni,

including bespoke 'Chiko' rolls, lamb cutlets, fresh

seafood and savoury 'Lamingtons'.

Also heard: Those traffic monitoring wires installed

over summer at the intersection of Old Barrenjoey

Road and Avalon Parade? An approach to NB Council

revealed the statistics will be "used to update traffic

data and fed into the Avalon Place Plan". Stay tuned…

Also, the flurry of activity at Pasadena at Church Point

continues – Fairfax Media reports the controversial

refurb will open in March with a 160-seat seafood

grill. We hear the 10-room boutique hotel will follow

later in the year.

ABSURD…

Seems not everyone was happy with the additional

transport services across Pittwater over

summer, with the Palm Beach base of Fantasea

Cruises telling Pittwater Life it had to suspend

its newly introduced water taxi service due to leged vandalism and threats to its staff, as well

as heckling of customers. Police confirmed they

al-

had taken reports of several malicious damage

incidents; Northern Beaches Local Area Com-

mand are also in possession of CCTV footage of

the alleged culprits which they are investigating.

Police also urge anyone with information

to come forward and contact local police or

Crime Stoppers on 1800 333 000.

12 FEBRUARY 2018

The Local Voice Since 1991
---
News

Palmy Walkway nearing delivery

The expected completion date for the pedestrian

walkway from Palm Beach Wharf to Governor

Philip Park has been revised to midyear,

Northern Beaches Council has confirmed.

General Manager Environment & Infrastructure

Ben Taylor said Palm Beach Walkway – part

of the first stage of construction works in the

Coastal Walkway Project, Connecting the Northern

Beaches and which was originally scheduled

to be open by January – had progressed to

'delivery' phase.

"This long-awaited walkway consists of

elevated boardwalk sections together with

concrete footpaths, with custom screening and

handrails," Mr Taylor said. "When completed it

will see planting of new native trees, opportunities

for community art and an overall upgrade in

safety to the current walking conditions."

He confirmed cyclists would not be permitted

to use the walkway for safety reasons.

"The walkway will be one of a kind and will be

a key piece of infrastructure in the area."

The construction process has been undertaken

in conjunction with extensive consultation with

residents whose properties border the walkway;

Council did not reply to questions about any

ongoing issues or current consultation.

Work started on the Palm Beach walkway in

November 2017.

"Council is continuing to develop concepts

for other sections of this overall iconic walkway

between Palm Beach and North Head and consultation

with the community will be occurring in

early 2018," Mr Taylor said.

He added concepts are being developed for

several missing links including Whale Beach

Road (from Florida Road to Norma Road);

upgrades for the section from Newport SLSC to

Avalon Beach SLSC (via The Serpentine), Hillcrest

Avenue Mona Vale, upgrades near Mona Vale

SLSC and sections along Narrabeen Park Parade

at Warriewood.

– Nigel Wall

6THINGS

THIS MONTH

New hospital Open Day.

You have read all about it; now's

your chance to get a feel for the

brand new Arcadia Pittwater

Private Hospital at 4 Daydream St

Warriewood when it opens its doors

for a Community Open Day on Sun

4 from 10am-3pm.

Get a wriggle on. Learn about

the art of composting and worms

from the experts at Kimbriki Eco

House and Garden in Terrey Hills

so your can reduce your amount of

food waste going in the rubbish bin

while creating natural fertiliser for

your garden on Sun 4 OR Fri 9 from

10am-1pm. Cost $25 per person.

Places limited. Bookings essential.

9486 3512 or kimbriki@kimbriki.com

Week of golf. Hundreds of

women golfers will be doing the

rounds at seven stunning Northern

Beaches courses – Bayview,

Cromer, Long Reef, Manly, Mona

Vale, Monash and Wakehurst

from Mon 12 to Fri 16 in one of the

largest amateur women's golfing

tournaments in the Southern

Hemisphere – The Barrenjoey

Peninsula Week of Golf. Details

barrenjoeyweekofgolf.com

Visit Manly. Pop into Manly Art

Gallery & Museum for two very

good reasons. First catch the last

few weeks of the amazing North

Head Project curated by Katherine

Roberts (closes Sun 18) then enjoy

the creativity of this year's crop

of HSC students' works selected

for the Express Yourself exhibition

to be opened by artist Joshua

Yeldham on Fri 23 for a five-week

run. 9976 1421

Car seat check. Have your child

car seats, harnesses and booster

seats checked for safety and fit

with a free inspection by Authorised

Restraint Fitters at Winnererremy

Bay Reserve, Mona Vale on

Thursday 22. Co-ordinated by NB

Council. From 9am-2pm; bookings

are essential 1300 434 434.

Lights, skate, action. Council's

Youth Services Team in partnership

with Skater HQ are hosting a Friday

Night Lights event on Fri 23 from

4.30-7.30pm at Avalon Beach Skate

Park. Free entry, spot prizes, free

coaching plus food and drinks.

Contact 9942 2401 or youth@

northernbeaches.nsw.gov.au for

more info.

14 FEBRUARY 2018

The Local Voice Since 1991
---
A new hitch for

trailer adverts

News

The practice of leaving

unhitched trailers to

advertise businesses on

prominent transport corridors

throughout Pittwater is about

to be stamped out, with the

NSW Government announcing

hefty fines of up to $3000 for

offenders.

Changes to environmental

planning rules kick in on

March 1, aimed at unclogging

the visual distraction

on our roads and improving

safety. However, there will be

a three-month amnesty before

Northern Beaches Council

rangers commence dishing out

fines ($1500 for individuals

and $3000 for businesses) from

June 1, to ensure the community

has adequate time to be

informed and for trailers to be

cleared.

Until now the issue has been

a grey area, with planning

controls around trailers unclear

– unless trailers breach a

parking restriction, authorities

are virtually powerless to act.

The change will see advertisements

banned on

parked trailers on roads, road

shoulders, footpaths and

nature strips – but excluding

advertising associated with

the primary use of the trailer

in the course of work being

undertaken, e.g. tradesman's

trailers and public authorities.

Additionally, consent will be

required for displaying signage

on trailers parked on private

land in view from roads, road

shoulders footpaths and nature

strips – including homes.

At the same time, the

Government confirmed that

advertising in transport corridors

would be permissible with

consent from the Planning

Minister.

A government spokesperson

said: "During consultation,

safety and amenity concerns

were raised about roadside advertising

trailers blocking motorists'

vision and distracting

drivers. By reducing the types

of roadside trailer advertising

currently on our roads, we'll

minimise risks to drivers."

He added: "Allowing advertising

in transport corridors

will provide funding for

transport agencies and councils

to deliver public benefit

programs, such as road

safety improvements, better

public transport services

and improvements to public

amenity."

NB Council currently offers

banner advertising along Barrenjoey

Road and Pittwater Rd,

including Newport Hill and the

junction of Mona Vale Rd; cost

for a two-week commercial

booking is $76 ($38 not-forprofit

groups).

One local business owner

affected by the new ban, who

did not wish to be named,

told Pittwater Life: "The

government and Council

need to look at the big picture

here – the abundance of boats

and caravans parked on our

streets are much larger and

raise more concerns about

16 FEBRUARY 2018

The Local Voice Since 1991
---
locking motorists' vision.

"There is a plethora of road

signs, advertising hoardings

and banners on just about

every road to distract the

driver… is paying the government

or Council for this right

eliminating the distraction?

"The advertising trailer

ban is nothing but discrimination

against small business

owners trying to promote

their services and wares…

and the council not getting a

cut."

– Nigel Wall

The sign of things to come

Coming to your street

(sort of) soon – the new,

approved Northern Beaches

Council street sign!

Pittwater Life, which

spotted this shiny new

addition in Elizabeth St,

Avalon, has been told the

rollout of our new street

signs, which were on the list

of deliverable requirements

following the Council

amalgamation in May 2016,

could take many, many

years to fulfil.

NB Council confirmed

around 30 signs have been

replaced so far from Manly

to Palm Beach – including

13 in the former Pittwater

Council area.

But don't hold your

breath about any largescale

change, or be concerned

Council is splurging

ratepayers' money – the

costing wasn't budgeted

in the State Government's

cash handover, meaning

replacements will be done

only when necessary.

Acting General Manager

Customer and Corporate

Melanie Gurney said:

"Council's obligation

to ensure responsible

management of ratepayer

funds means we will only

replace the signs with the

new branding on an asneeds

basis – such as when

they are damaged or faded."

Ms Gurney confirmed any

replacement of signs will

be funded from Council's

existing budget.

Streets that have the

new sign are: Loombah St –

Bilgola Plateau; Cooinda St

– Bilgola Plateau; Mirrabooka

St – Bilgola Plateau;

Chisholm Ave – Avalon;

Bungendore St – Ingleside;

Eastbourne Ave – Avalon;

Emma St – Mona Vale;

Patrick St – Avalon; Elizabeth

St – Avalon; Narrabeen Park

Pde – Mona Vale; Hunter

St – Warriewood; Hunter St

North – Warriewood; and

Patterson Lane – Avalon.

– Nigel Wall

News

The Local Voice Since 1991

FEBRUARY 2018 17
---
News

Local ballerinas leap at amazing opportunities

It has been another highly successful

year for Dynamite Premiere Academy

(DPA) in Newport with students

offered coveted places at schools in

London, New York, the French Riviera,

Hong Kong as well as the Australian

Ballet Interstate program.

Emma Price (pictured) will be off to

London in April after she was accepted

into the Royal Ballet School Spring

Intensive.

Through an audition process the

13-year-old was given direct entry into

the program, where she'll stay with

other young dancers at White Lodge

in Richmond Park and train for seven

hours every day for a week with various

Royal Ballet School teachers.

Taking dance lessons since she was

three, the Year 8 Ravenswood School

for Girls student has her sights set on

a career in dance.

And she's no stranger to the commitment

required to achieve this

goal – last year Emma was dancing 17

hours of ballet/contemporary a week.

What does she enjoy about ballet?

"I love the structure and discipline

ballet requires… when I am

dancing I just feel happy."

Emma's proud mum Pippa can't

praise her teachers highly enough.

"Dynamite Premiere Academy has

been such an important part of Emma's

dance journey so far," she said.

"Emma has teachers providing opportunities

that she could only have

dreamed of, teachers that believe in

her ability and future… we would not

be anywhere else."

DPA Principal Melissa Mitchell was

thrilled with all students' achievements,

reporting the sisters

Pittwater Life featured last year

– Emily and Charlotte Enright –

each gained direct access into

the Royal Ballet School Autumn

Intensive Program in Hong Kong

and through YAGP (the biggest

competition in the world)

14-year-old Emily

received a summer

program

scholarship

to the École

supérieure de

danse, Cannes

Also,

six students received scholarships to

the Summer Intensive Program at the

Joffrey Ballet School in New York and

all received direct entry into its fulltime

training program.

And nine-year-old Zara Wenborne's

acceptance into The Australian Ballet

Interstate Training Program means

DPA now has students across all its

levels.

One of the refreshing aspects of DPA

is the equal emphasis placed on providing

a relaxed and fun environment

and a range of recreational

classes for children of every age

and standard.

To this end, DPA is offering

a "free trial" to all new

families for the beginning

of term 1 (terms and

conditions apply). Term

1 resumes Monday 5

February.

For more

information

call 9918

8841 or

email info@

dynamitepa.

com.au.

Photo: Winkipop Media

18 FEBRUARY 2018

The Local Voice Since 1991
---
Pittwater's International

Women's Day breakfast

Book your seat or get a

group of friends together

and secure a table to celebrate

International Women's Day

with a scrumptious breakfast

and a special guest speaker at

the Royal Prince Alfred Yacht

Club in March.

This annual event acknowledges

the achievements of

women and it's where Member

For Pittwater Rob Stokes

traditionally announces the

Pittwater Woman of the Year.

Guest speaker at this year's

breakfast to be held in a beautiful

space overlooking the

water across to Bayview and

Scotland Island, is wheelchair

basketball player, sailor and

Member of Parliament Liesl

Tesch AM.

Hosted by Zonta Club of

Northern Beaches, a group

assisting local women in need

and international projects

in developing countries,

the breakfast is always well

attended by the local community

(men are also welcome!).

SPEAKER: Liesl Tesch AM

The Pittwater IWD Breakfast

will be held from 7am-

9am on Wednesday 7 March.

The cost is $45. Book early to

avoid disappointment (bookings

will remain open until

Thursday 1 March or until

sold out). Enquiries to pittwateriwdbreakfast@gmail.com

or Sue on 0407 850 860.

Proceeds from the breakfast

will support service

projects of Zonta Club of

Northern Beaches.

News

The Local Voice Since 1991

FEBRUARY 2018 19
---
News

Events

Strategy

feedback

sought

N

orthern Beaches Council

has drafted a new events

strategy to support local

organisations to run their own

vibrant events and complement

those run by Council.

Mayor Michael Regan urged

the community to provide feedback

before submissions close

on February 11.

He said the strategy aimed

to help attract, develop and

support a range of diverse and

exciting events.

"We have a proud history

of hosting spectacular events

on the Northern Beaches," Mr

Regan said.

"Today, hundreds of events

are held from Manly to Palm

Beach each year, entertaining

more than half a million people

with an array of festivals, music,

shows and exhibitions.

"Our events bring people

together to celebrate who we

are and where we live – instilling

a great sense of community

pride and connection as well as

stimulating the local economy.

"We know that the community,

businesses and organisations

have a real enthusiasm

for even more events. From

listening to more than a thousand

community members

during the consultation period,

it is clear there is a real appetite

for a mix of large-scale events

and smaller, local events.

"They want events that

showcase local talent, create

new experiences in non-traditional

locations and promote

the Beaches as a destination of

choice. And the community has

told us they want events to be

sustainable, help boost employment

and be accessible through

improved transport options,"

Mr Regan said.

The new Events Strategy

will have a range of actions,

including investigating funding

models to help support a wider

range of local events – some of

which could potentially transition

to significant events.

More info at 'Your Say' at

northernbeaches.nsw.gov.au.

20 FEBRUARY 2018

The Local Voice Since 1991
---
Pittwater News

News

Mona Vale Autumn

Festival announced

The Mona Vale Chamber of

Commerce have come up with

a great way to keep businesses

at the forefront of the local

community exiting the busy

summer trade period, launching

a new Autumn Festival

that will transform Bungan

Street into a cavalcade of

food, entertainment and more

from 10am to 4pm on March

3. "This new inaugural event

is expected to attract thousands

of people to Mona Vale

so it presents a great opportunity

for local businesses to

open their doors to drive both

sales and consumer awareness,"

said Chamber president

Chris Kavanagh. "We're looking

to attract both stallholders

and visitors – currently

we encourage local shops to

join us with a stall on Bungan

St, or opening onto the street

from their premises." Benefits

to Autumn Festival stallholders

include a free year's

membership to the Chamber,

plus 50% off the price of a

stall at the end-of-year Mona

Vale Market Day. Chris said

the Autumn Festival would

be heavily promoted locally.

For more information email

info@monavalechamber.org

or call 02 9194 6788.

Stop Press: Mention the

Festival ad in Pittwater Life

magazine on Autumn Festival

Day on March 3 and you'll go

in the draw to win a magnum

of champagne! Simply drop

by the Event tent.

It's last call for

Creative entries

Organisers say there is still

time to register to enter and

make your three-minute film

for the 5th Northern Beaches

Creative Creatures film

festival. Films are to be up to

three minutes long and are required

to include an image or

reference to red shoes. Deadline

for submission of entries

is March 18. The festival will

be held on the front green

at Avalon Bowling Club on

Sunday April 8 from 1pm-

8pm. "Be a part of this fabulous

local film festival which

launched the now famous

Avalon Now," said organiser

Katy Young. Register at

creativecreaturesfilmfestival.

com.au. (While we're on the

subject, a reminder Tropfest

Australia returns on Saturday

17 February at Parramatta

Park. Academy Award winner

Susan Sarandon will head this

year's Tropfest Jury – and for

the first time the ABC will

be the exclusive broadcast

partner.)

Councillor starts

grants program

Passionate Narrabeen Ward

councillor Rory Amon is

putting his money where his

mouth is, funding a community

grants fund with a

portion of his pay as a means

of giving back to the local

community. The Liberal-endorsed

councillor said Round

1 of the program, now open

for applications, includes a

total of $5,000. "Grants are

between $200 to $500 for any

community group to help

with projects or the purchase

of items which benefit our

community," Cr Amon said.

"As I am a Councillor for

Narrabeen Ward, priority

will be given to groups with

a connection to that Ward – a

connection might be that your

group is based in Narrabeen

Ward, does work in the Ward,

or one of your members lives

in the Ward." He added all applications

would be assessed

by an independent community

panel. Applications for

the Amon Community Grants

Fund close February 28; more

info roryamon.com.au

Scotland Island

Wharf Upgrades

The Scotland Island Residents

Association has chalked up

a huge win for its offshore

22 FEBRUARY 2018

The Local Voice Since 1991
---
community with news the

State Government has announced

almost $1 million

towards wharf upgrades on

the island. Pittwater MP Rob

Stokes confirmed Northern

Beaches Council had

been allocated $641,000 to

support improvements to

Carols Wharf and $351,000

to upgrade Bell Wharf. Both

wharves will be extended

to accommodate additional

capacity and improvements

will be introduced to enhance

safety and disability access.

SIRA president Hubert van

Mierlo said that although a

detailed design was yet to be

done, they expected the works

would be in line with the

proposals submitted by SIRA

last year, including 30 new

commuter boat tie-ups at Bell

Wharf and 38 new commuter

boat tie-ups at Carols Wharf.

"The legwork for this was

done by the Wharves Working

Group under leadership

of Alec Beckett – well done

Continued on page 24

Book now for Barefoot Ball on Newport Beach

Tickets are now on sale for Newport Surf

Club's 2018 'Barefoot Ball' from 6pm on

March 24, with the gala evening on Newport

Beach set to raise funds for Cystic

Fibrosis research and care. Attendees will

enjoy delicious catering from hatted local

restaurant Sotto Sopra, great music from

the Kate Lush Band, and bare feet all under

the stars at one of Sydney's most stunning

beaches! The Ball is conducted in partnership

with Cystic Fibrosis Community Care

(CFCC) which contributes valuable funds to

research Australia's most common lifeshortening

genetic condition and works

to improve the quality of life for sufferers

and their families. The first Ball was

not only a wonderful evening when the

community came together under the full

moon on Newport Beach, but a significant

fundraising success for both Newport SLSC

& CFCC – and a great opportunity to get a

better appreciation of the work of CFCC and

the impact it has had on the lives of many.

Book now – the last Ball sold out in two

weeks. Visit eventbrite.com.au and search

'barefoot ball'. If you can't attend, but

wish to contribute by donating or purchasing

a ticket in our raffle to win a $19,500

10-night European cruise, visit galabid.

com/auction/barefoot

News

The Local Voice Since 1991

FEBRUARY 2018 23
---
News

Pittwater News

Tracking down family histories

If you've ever wanted to learn

more about your family's

history but don't know where

to start, Northern Beaches

Council has the answer – it

has recruited experienced volunteers

to help at Dee Why Library

Family History Fridays.

Mayor Michael Regan said the

program, which runs 10am

to 4pm on Fridays starting

on February 2 through to the

end of the year, would have

great results in helping locals

find out about and connect

with their family history. An

example: local resident and

Vietnam veteran Alan Wright

knew almost nothing about

his family history before

coming along to the Council

Library initiative. However,

Alan's search – which started

with a single birth certificate

– has led to him locating a

91-year-old cousin he didn't

know existed and WWI medals

awarded to his ancestors

which he plans to wear at

future ANZAC Day marches.

He has also traced records

back to his great-great-greatgrandfather

and compiled a

huge folder of historical documents,

including photographs,

about his family. Alan now

spends two days a week at the

library making the most of its

free access to online ancestry

research tools and says he

would love to do a course in

family history research to

help others. (Alan, right, pictured

with Dee Why Library

staff member Michael Houstone.)

Bookings are essential

for Family History Fridays.

Call 9942 2610 to request a

one-hour session with a volunteer

or visit northernbeaches.

nsw.gov.au/library for more

information.

Continued from page 23

to all!" he said. "SIRA will

start talks with Council on

the timing and details of the

work next month – the funding

deal stipulates that the

works are completed before

the end of 2019 and of course

we hope for a much earlier

delivery." Mr Stokes said the

wharf extensions, part of the

Government's Boating Now

Program, would also enable

deeper water access during

low tides and assist with overall

reliability. "These are vital

projects for Scotland Island

residents – so I'm delighted

the NSW Government is

providing financial support,"

he said.

Avalon ocean

Swims' new date

Ocean swimmers will make

a big splash at the rescheduled

Avalon ocean swims on

Sunday 9 April with a choice

of three swims including

the iconic 'Around The

Bends' swim. Volker Klemm,

race director of the Avalon

swims, says there is a swim

for ocean swimmers of all

levels. "We have a 1km swim

starting at 9.30am sharp

at Avalon Beach followed

by our traditional 1.5km

swim starting at 10.30am,"

Volker said. "For the more

daring ocean swimmers

there is the 'Around The

Bends' course from Newport

Beach to Avalon – a 2.5km

swim which will provide a

truly magical experience."

He added the revised date,

prompted by the cancellation

of the Avalon Swim on January

14 due to big seas, came

with benefits. "April 9 is not

such a busy time for ocean

swims and participants

will have the chance to get

in more training," he said.

Entries are still being taken

at oceanswims.com (and late

registration is available from

8am at Avalon). However,

there are no late entries for

the Around The Bends swim;

caps and timing chips will

be available for collection at

Newport Beach. There is also

a shuttle bus from Avalon to

Newport after the swim.

10 new interns

for MV Hospital

Staffing at Mona Vale Hospital

has received a boost with

10 new medical graduates

commencing their clinical

internships in late January.

Local MP Rob Stokes said the

intake was part of a record

999 graduates commencing

positions in NSW hospitals as

part of a major investment by

the NSW Government to increase

the number of doctors

in metropolitan and rural areas.

The interns will be under

the guidance of experienced

senior doctors and will put

into practice their many years

of university preparation.

24 FEBRUARY 2018

The Local Voice Since 1991
---
"Mona Vale Hospital has a

long-standing history of contributing

to the education of

our state's medical workforce

and we know these latest

graduates will be in excellent

hands," Mr Stokes said. "I'm

delighted the NSW Government

is continuing to lead

the nation in training junior

doctors and responding to the

ever-increasing demand for

medical services."

Rainbow Club

seeks swim teachers

Rainbow Club Warriewood is

seeking AUSTSWIM or Swim

Australia qualified swimming

teachers. Rainbow Club

Australia has 20 clubs across

NSW which provide swimming

lessons for children

with a disability. 'Swim

the Rainbow' is a specially

designed program tailored

for children with a disability.

Spokeswoman Heather Nadilo

said the Club paid above

award rates to attract dedicated

and passionate teachers

who can commit to a school

term of weekend lessons (current

rates are from $30/hr).

"Our club meets on Saturdays

during the school term and

we offer all our swimming

teachers a full package of

benefits to reward them for

all their commitment and

dedication," Heather said. Apply

rainbowclubaust.com.au

or email Heather at admin@

rainbowclubaust.com.au

A healthy start in Mona Vale

Health foodies rejoice… organic and wholefood market, Flannerys,

has just opened a flagship store in Park St, Mona Vale –

with 10,000 hand-picked products (including organic fruit and

vegetables), a huge amount of fridge space and 300 different

bulk offerings, plus a cosy on-site café – serving Cocowhip,

acai bowls, organic and free-trade coffee, smoothies, super

lattes (with beetroot, turmeric and cocoa) as well as other

healthy bites. There's also a naturopath consulting area, where

visitors can watch their herbs being mixed while they wait –

and it's hard to miss the live rescue bee hive in the middle of

the store. Naturopath and local Caroline Robertson (pictured)

says Flannery's choice to open on the Northern Beaches was

indicative of the local community's growing move towards

healthy living. "We are all about creating a gathering place for

the community, to get health advice and stock up on health

food needs," she said. "We're really excited about our online

booking system where you can secure a free, 15-minute advice

session with our naturopaths. We have a private area to meet,

so if there's something a bit more personal to talk about – like

hormone imbalances, prostate trouble or difficulty breastfeeding

– we offer a personalised, uninterrupted place to get advice."

From February there will also be a a series of workshops

in-store – these include a cooking workshop demonstration

by acclaimed nutritionist Lee Holmes, a mushroom immunity

session and a workshop focusing on how to manage daily

stress and sleep well. More info Flannerys.com.au

Vet

on

call

with

Dr Ben Brown

Vaccination is an essential

part of the creation of

'herd immunity' whereby

the entire animal population

is protected because the

prevalence of life-threatening,

contagious diseases is

substantially reduced due to

greater immunity in the pet

population.

Every vaccinated

animal contributes to

the maintenance of herd

immunity. Annual vaccination

also allows a complete

physical examination to be

conducted each year; this is

particularly important because

our pets can't tell us they feel

unwell, and signs of disease

(especially in the early stages)

can be very subtle.

We recommend an annual

check-up and vaccination;

however with advances in

technology we no longer need

to vaccinate dogs against the

same diseases every year. For

unvaccinated dogs Parvovirus

is still very common,

especially in younger dogs,

and can cause life-threatening

viral gastroenteritis and

bone marrow suppression.

Distemper causes viral

meningitis and is rapidly

fatal in the majority of dogs

it infects. Thankfully, due

to vaccination and herd

immunity, this disease is rare

in Australia. Infectious Canine

Hepatitis is a worldwide,

contagious disease of dogs.

In addition to our core

three-yearly vaccination

protocol we also recommend

vaccination against canine

cough every year; it's an oral

vaccine plus an injection.

Canine cough is common,

especially where dogs

congregate e.g. dog parks,

and via public water bowls.

To increase rates of

vaccination we have

commenced a 'LifeVac'

program which reduces the

cost of your pet's vaccinations

over its lifetime. Drop into

our hospitals at Newport and

Avalon to find out more!

News

The Local Voice Since 1991

FEBRUARY 2018 25
---
Differen

Strokes

Story by Rosamund Burton

Photos: Rosamund Burton & Lindy Hardcastle; Jay Platt, Jim Knight, Gab Scanu (aerial).

Cover Feature

26 FEBRUARY 2018

The Local Voice Since 1991
---
t In

the 1920s baths were

carved into the rocks along

the Northern Beaches, and

they became popular swimming

places. A decade later in

the 1930s, providing work for

the unemployed during the

Depression, the ocean pools

started to be built. There are

seven pools between North

Narrabeen and Palm Beach,

and over a couple of days lifelong

swimmer, Lindy Hardcastle,

and I visited each one...

North Narrabeen

'Pool Closed' the sign says

when we arrive at North

Narrabeen (right) at 7.30am.

However, a man appears from

the direction of the pool with

a towel over his shoulder.

"Don't pay any attention

to the sign," he says, "The

pool gets cleaned on Tuesday

night, and the cleaners have

forgotten to turn it around."

Size-wise North Narrabeen

is the most impressive of all

the Northern Beaches ocean

pools. It's a 50-metre by

18-metre pool with a wooden

boardwalk built within a

larger 70-metre by 40-metre

wading pool. It's located at

the entrance of the Narrabeen

Lagoon at the north end of

Narrabeen Beach.

We reach the changing

rooms as three men – Yorkshire-born

Bob Gibson, Garry

Smith and Greg Johnson –

Cover Feature

The Local Voice Since 1991

FEBRUARY 2018 27
---
ABOVE: Braving the elements

– Lindy Hardcastle

at North Narrabeen pool;

CENTRE: author Rosamund

with (l-r) Bob Gibson, Garry

Smith and Greg Johnson;

RIGHT: Mona Vale pool in a

lull between ocean surges.

Cover Feature

emerge from the water

looking chilly.

"The water is around

15 degrees today," says

Manly-born Johnson, who

has been swimming at the

pool daily for 38 years.

He is an accountant and

from here heads to his

office in the city for the day.

"I usually swim between 500

metres and a kilometre; I've

done 500 metres today, because

it's cold and also rough."

He tells us that the pool was

built in the 1930s under the

Unemployment Relief Scheme.

It cost [then] Warringah Council

£494 to build and opened in

March 1934. In 1933, in anticipation

of the pool opening,

the Narrabeen Ladies Amateur

Swimming Club was formed –

now known as the Narrabeen

Lakes Amateur Swimming Club.

The pool is also home to the

Shivering Sharks, a club which

formed in the 1960s, and in

winter hosts the Charlie Brady

Memorial Narrabeen Shield

in the pool (and doesn't allow

competitors to wear wetsuits).

Greg Johnson also mentions

Joe Crowley, who passed away

two years ago. "He was known

as the mayor of the pool, and

taught swimming here for over

55 years."

Next to emerge from the

water is Leon Wickens, 77.

Pulling a large piece of blue tac

out of his ear, he tells us with

a grin: "I was born in Lakemba

and moved to Narrabeen in

1951. I've been swimming here,

on and off, for 60 years." He

joined the NAB in 1955 and for

many years was bank manager

at the local branch.

"Starting the day with a swim

is excellent for the physical

health, and spiritually as well.

It makes you feel so good. We

swim and then all go to the surf

club and have a cup of coffee...

it doesn't really matter what

happens for the rest of the day."

The tide has now come up

over the edge of the pool and

the surf is crashing into it. So,

in a lull in the waves, we walk

quickly along the wooden

boardwalk to the far end, then

plunge into the cold water

and do a fast 50 metres back

towards the beach.

Mona Vale

We pull off Surfview Road at

the north end of Mona Vale

Beach. A hundred metres

from the headland across the

sand on the rock promontory

which divides Mona Vale

Beach from Bongin Bongin

Bay is the 30-metre pool and

also a kids' pool. Ocean baths

were built here in 1914 and

then improved in the 1930s.

However, a sign saying

'Beach Closed' has been

planted into the sand, and the

concrete walkway to the pool,

and the pool itself are hidden

under spume and spray, so

we can't swim today. It only

dawns on us now that the

pool at Narrabeen might have

been closed today because

of the rough conditions and

unusually high tide due to the

'super moon'.

We return at 7 o'clock the

following morning, and walk

into the change rooms to find

it full of women dressing after

their swim in the pool.

"We're the Buckettes," they

chime. Eighty-two-year-old

Jenny Lewis is the oldest and

the founding member of this

group of 20 women. Ten

years ago she was swimming

28 FEBRUARY 2018

The Local Voice Since 1991
---
LEFT: Mona Vale's 'Buckettes' (l-r) Jenny Lewis, Maggie Perdrian, Mina Pontello

and Pauline Unsworth; ABOVE: the concrete approach to Mona Vale

pool; RIGHT: The long, thin Newport pool on the beach's southern tip.

Cover Feature

in the pool, and started

talking to Pauline Unsworth,

and then they introduced

themselves to Margot Yorke.

The three of them began

having coffee after their

morning swim, and going

to the movies together. A

couple of other women joined

the group, and it grew from

there.

"People were attracted to

our laughter and happiness,"

Pauline explains. "Rain, hail or

shine we swim. In winter we

put hot water in our bucket

and stand in it after swimming

to warm up."

"We share clothes," adds

another Buckette. The change

room is affectionately called

the Shed and the clothes,

including a purple bra, are

known as 'The Shed Brand'.

They have also had Buckette

shirts printed, which several

of them are wearing.

"Every July," continues Pauline,

"we go up on the train to

Moree to the hot spring baths.

We've been through so much

together – life experiences,

births, deaths and weddings.

You get to know each other so

well. And," she adds, "when

you're naked there's no hiding

from each other."

The Buckettes head to the

Bronze Kiosk at Mona Vale

Surf Club for coffee, and

Lindy and I walk onto the

beach and along the narrow

concrete walkway to this pool

nestled in the rocks in the between

the two beaches. Water

is breaking over the edge and

it's exhilarating to do laps in

the clean water.

Newport

We walk down the walkway on

the corner of Calvert Parade

and The Boulevarde onto the

beach, and follow the track at

the southern end of Newport

Beach around the rocks to

the pool. It's not hard to pick

our way over the rocks, but

we're told later by a regular

swimmer that the path has

been destroyed by recent

storms. A couple of people are

swimming up and down this

50-metre pool with its natural

30 FEBRUARY 2018

The Local Voice Since 1991
---
ock bottom, including David

Hodkinson, who has only lived

in the area for a couple of

years, but cycles down regularly

to swim his laps. "This is

the best rock pool," he says.

"It's always quiet."

However, it wasn't always

quiet. From the 1860s onwards

steamers brought people

from Sydney to Newport

Wharf, and they would walk

to the surf beach. The Sydney

Morning Herald reported on

31 January 1926 the opening

of 'the new rock baths', which

had cost £560. An ocean pool

was built in the current location

in the 1930s.

This pool and Mona Vale's

have no electricity, so the

council workers who clean

all seven ocean pools have to

wear headlamps when they

are cleaning the pool at night.

In August 2012, early morning

swimmers arrived to find

an 11-metre, 30-tonne young

adult humpback whale carcass

had broken the post and chain

where it had washed over, and

lay lodged in the pool.

The high tide and big swell

that evening washed the car-

Cover Feature

The Local Voice Since 1991

FEBRUARY 2018 31
---
ABOVE: Local David Hopkinson

swims laps regularly – Newport is

his pool of choice as it's 'always

quiet'; RIGHT: The ever-popular

Bilgola pool at the southern end of

the beach presents a long length.

grew up at Palm Beach, now

lives in Avalon, and runs a gardening

business called Lanes

Gardens.

"I usually swim here or at

the Newport Rock Pool," he

says. "I have a break from

gardening in the middle of the

day and in summer and winter,

I swim 20 lengths, 1km. I do

it to keep fit, but also, I love

being in the salt water every

day. It's like a form of meditation.

It relaxes me and I feel

re-energised."

While he's talking 54-yearold

Maryanne Spiers dives into

the pool. She is a fitness coach

and personal trainer, who lives

at Bilgola Plateau.

"I love all the ocean pools,

but Bilgola is my favourite. It's

a good length for laps and has

a lovely aspect. The salt water

is so refreshing. It relaxes

and revitalises you more than

fresh water."

Maryanne Spiers grew up

ocean swimming at Austinmer

in Wollongong. She was

a member of the Surf Life

Saving Club, when few women

were members. "Our crew at

Austinmer were the second

group of girls who got their

bronze medallion. That was

around 1979." Then at the age

of 18 she said she became

Australia's first female professional

lifeguard.

"I had all the qualifications,

but women hadn't been

Cover Feature

cass out of the pool and back

out to sea, but then it washed

up on the beach. An excavator

couldn't move the giant mammal,

and it had to be cut up

with chainsaws, and put into

landfill at Lucas Heights.

The surf always breaks

around this pool, and here

you feel all the energy of the

ocean. This morning waves

are breaking over the edge,

and Lindy and I are whirled

around by the water as we

swim our laps.

Bilgola

Tucked in near the rocks at

the southern end of the beach

are the eight-lane 50-metre by

15-metre pool and the 50-metre

by 5-metre wading pool,

which were built in the 1960s.

When we arrive at quarter

past one, 45-year-old Steve

Lane is swimming lengths. He

32 FEBRUARY 2018

The Local Voice Since 1991
---
ABOVE & BELOW: Maryanne Spiers

and Steve Lane both agree swimming

at Bilgola pool is a form of

meditation; RIGHT: The angular and

exposed pool at Avalon Beach is

susceptible to much ocean churn.

employed before. Then I beat

half of the men in the test, so

they couldn't not employ me

after that. I set the bar," she

concludes with a smile.

Not content with breaking

glass ceilings on the beach

Maryanne Spiers turned to the

snow, representing Australia

in the ski-ing at the 1998 Calgary

Winter Olympics.

She is passionate about

healthy ageing. "I'm getting

younger every year, not older,"

she grins.

Lindy is already swimming

lengths, so I dive in and swim

join her. The surf is breaking

into the pool, and I'm buffeted

by spray and the pull of the

foaming water, but the energy

of the swirling sea water is

utterly exhilarating.

This is the home of the Avalon

Bilgola Amateur Swimming

Club, which started in the mid-

'60s, and meets here every

Saturday morning from mid-

October to the end of March,

catering from social swimmers

to the more competitive.

Avalon

In 1923, the Sydney Mail

reported "young people

enjoying themselves at what is

known as the Avalon bathing

hole, a natural rocky bath".

The present day 22-metre pool

and the toddlers pool beside it

were built in the late 1930s.

In 2011 a 1.5-metre baby

bronze whaler was found

circling inside the pool, so the

pool had to be drained, and

the shark removed by [then]

Pittwater Council workers.

"Another problem when

we get big seas," says Steve

Lawler, Executive Manager

of Parks and Recreation with

Northern Beaches Council, "is

that often so much kelp ends

up in the pool, it's not possible

to swim."

On this particular morning

with the 'super moon' tide

still rising it's impossible to

see whether whalers or weed

might be lurking beneath

the swirling foam. Lindy

marches confidently along

the concrete walkway to the

pool, while I cower from the

spray, and watch her descend

the steps and enter the water.

As she does a few strokes she

looks like a seal, her head

of dark hair bobbing up out

of the water and then being

submerged by the waves.

Far less brave I don't even

contemplate trying to swim

in this. Clinging to the rails I

Cover Feature

The Local Voice Since 1991

FEBRUARY 2018 33
---
Cover Feature

walk down the steps and just

submerge myself into the

maelstrom of white water.

Sitting on a bench above

the pool, like the Socrates of

the ocean pools, is Michael

Ossipoff. He lives on Clareville

Beach and tells us he wets

his gills daily in either Whale

Beach, Bilgola, Newport or

Avalon ocean pools.

"They have different personalities,"

he muses. "In this

pool, like Newport, you feel

closely connected to the surf

and the ocean in general." The

three of us gaze down at the

pool awash with surf. "The

pools have a value beyond the

mental and physical health they

provide. They also draw community

together. They should

be viewed as being one of the

jewels of the area," he says.

Whale Beach

It's six o'clock in the evening

when we park on The Strand,

and walk south along the beach

to the shallow 25-metre pool.

There is no breeze and no

longer sunlight on the pool.

A single swimmer is doing

lengths, 73-year-old Maria

Salome from Guatemala who

came with her husband to

Australia in 1984, and who has

lived in the area since 1994.

"I swim every day except

Sundays, because there are

usually too many people. Even

in winter I swim. I love it.

"I usually come at half past

seven in the morning, and

there are about 10 or 12 other

people," she says. Then her

eyes well with tears. "My husband

has cancer and is in the

Royal North Shore Hospital. My

ABOVE: Lindy struggles through the 'washing machine' at Avalon pool.

ABOVE: Colour contrast of rocks

and pool at Whale Beach; RIGHT:

Maria Salome swims six days a

week but avoids Sunday crowds.

son had flown from Germany

and my daughter from Holland.

I'm here at this time today because

I just wanted a swim."

She is so strong in the face

of such sadness, and yet again

I am reminded of what sanctuaries

these ocean pools are.

We place our bags on a

rock ledge, before sinking

into the still water and, aware

of its healing power, do four

slow lengths. Tiny whiting flit

through the water.

Palm Beach

We reach Palm Beach at half

past four. The 50-metre ocean

pool is nestled into the southern

end of the long beach, and

accessed from Ocean Road.

Seventy-two-year-old Tina

Horkan swims here twice a day.

"Years ago they were filming

Home and Away here. There

were all these cameras and

lights, and Chris Hemsworth

was standing in the middle of

the pool. I was doing breaststroke

and he was in my way,

so I gave him a kick. He gave

me a devastatingly beautiful

smile and I felt so bad."

Christina Webber and

Jackie Green are sitting on the

sandstone steps below the

changing rooms soaking in

the warm afternoon sun after

their swim. They have been

friends for 16 years, are house

painters and currently paint-

34 FEBRUARY 2018

The Local Voice Since 1991
---
LEFT: No black line – swimmers get into a rhythm at Palm Beach pool;

CENTRE: Tina Horkan had an encounter with actor Chris Hemsworth;

RIGHT: Christina Webber and Jackie Green swim after work every day.

Cover Feature

ing a house in Bilgola. They

are both speckled with white

paint after their day's work.

"We finish work at four,"

Jackie explains, "and come

down and swim a kilometre,

then sit and talk for as long

as we can before going home.

It's a fantastic way to finish

the day."

"It's beautiful here in every

sort of weather," Christina

explains. "It changes our outlook.

Even if we're tired we

know we'll feel so good

afterwards. We look forward

to it, and doing it consistently

keeps us in good shape and

also a good frame of mind."

Christina moved to Avalon

25 years ago, and Jackie has

lived in the area her whole

life, growing up in Avalon, and

now living in Clareville.

"We meet lots of people

here," Christina tells me. "People

are very friendly. I think

swimming opens people up

to conversation. You're happy

after a swim."

This is also the pool, where

for over 65 years Jack Carter,

who is now in his 80s, has

taught kids to swim every

summer. He taught Kerry and

Ros Packer to swim, and then

their son, Jamie.

In the distance is Barrenjoey

headland, and the lighthouse,

and then the long expanse

of Palm Beach's red sand.

Gazing at the idyllic view we

lower ourselves into the water.

And we are both filled with

that great sense of well-being

which comes from plunging

into ocean pools as we swim

our final lengths.

The ocean pools are cleaned

weekly during the summer

months, and fortnightly during

the winter months of June,

July, August. Cleaning times

depend on the tides and the

weather, and people are not

able to swim in the pools

three hours prior to cleaning

and 12 hours after.

* For the pool cleaning

timetable go to northernbeaches.nsw.gov.au/thingsto-do/rockpools.

Sources trove.nla.gov.au;

for more information visit

oceanpoolsnsw.net.au

36 FEBRUARY 2018

The Local Voice Since 1991
---
Sea

Changers

Life Stories

Behind a lillypilly hedge on Barrenjoey

Road near Sandy Point is an original

old timber beach house. Old Man

Banksia grows beside worn steps leading

up to the verandah where a Sea Shepherd

beach towel is draped over the railing.

I'm here to meet photographer Robbi

Newman who with his wife Carol is one

of the co-founders of Living Ocean. The

tall, willowy Carol greets me and leads me

through the main house with its original

ornate ceilings, surfboards adorning the

walls, and a glass cabinet full of old cameras

and seashells.

Robbi's studio is in the garden, and

stretched diagonally across the corrugated

iron roof is a large model of a humpback

whale. "We were given it," Robbi says casually,

when I ask how the cetacean found its

way there. "The kindergarten kids love it."

Robbi Newman grew up between Dural,

where his family had orchards, and at Palm

Beach. His grandfather was a renowned

photographer, who travelled all around

Australia shooting with plate cameras.

"So, the house always had cameras in it

– old Kodaks and Brownies – and even as a

kid I used to take lot of photos."

His father died when Robbi was less

than 12 months old; and he describes his

stepfather as "a ratbag who ran down the

family fruit farm". Robbi was at The King's

School in Parramatta when, aged 15, he

left home and moved in with friends at

Newport. He used to get a lift to school with

an art teacher who lived at Avalon, until the

teacher moved to Tasmania. So from then

on Robbi went to Narrabeen High.

"I spent one whole autumn surfing one

year at the Wedge, and when I went back to

school, the headmaster just said: 'Newman,

you're back.' That's all there was to it, which

I thought was fantastic."

Robbi went to the University of New England

and studied Natural Resources.

"I was a child of the '60s and '70s. It was

the 'dawning of Aquarius' and we were

going to save the planet. But I was torn between

being an environmentalist and being

a creative person."

Robbi "got sucked in" to the peninsula's

creative world, taking photographs and

writing environmental stories for the surfing

magazine, Tracks, while making friends

with surf filmmakers, Paul Witzig, Alby Falzon

and others like David Elfick, who was

the producer of 'Newsfront' and one of the

executive producers of 'Rabbit-Proof Fence'.

He travelled around Australia working on

the 1974 surfing film, 'Rolling Home', and

had already started taking photographs for

a range of magazines like Overlander and

also expedition photography with Australian

Himalayan Expeditions to the Himalayas

and beyond.

He went on to travel the world as a photographer,

working and living in Singapore

and early Dubai, shooting for airlines and

Living Ocean has achieved so much

for the marine environment over eight

years, thanks to Robbi Newman and co.

Story by Rosamund Burton

ad agencies. This opened the doors to

destinations like New York, London, Africa

and Asia.

Returning to base himself as an advertising

photographer in the booming days of

advertising at North Sydney he became one

of the top 10 photographers of the time.

Robbi and Carol met in 1980. She was a

model and he was taking photos of her on

a swing at Palm Beach for Cleo magazine.

"We couldn't do the shoot, because it was

raining," said Carol.

"So I went to his place at Bungan for

breakfast. That happened a couple of mornings,

so we got to know each other."

They worked together off and on. Then

a job took Robbi to Singapore. He came

back to Australia, and when he returned to

Singapore, Carol went with him.

"The advertising agency put us up in the

Ava Gardner suite at Raffles Hotel, and the

billiard room was set up as the photographic

studio," she recounts. Robbi and

Carol continued to travel the world with

his photography work, and they had two

children, Jamie and Claudia, who are both

now in their 20s.

Before they bought this house 10 years

ago they lived at Whale Beach. Robbi sold

that property and bought this, not thinking

they would live here, as he had work lined

up in Dubai. But that fell through and the

cottage became the family home, which

they have grown to love, and Jamie lives in

38 FEBRUARY 2018

The Local Voice Since 1991
---
Main pic credit: Nigel Wall

a flat at the end of the garden.

Living Ocean was founded in 2010, a

couple of years after they moved here.

"Sea Shepherd had filmed a clip of a

Japanese whaling boat shooting a mother

whale with her calf next to her, and I posted

that clip to Facebook," he explains. "Friends

of ours, Deon and Kim Hubner, who lived

at Whale Beach, saw it and said 'we've got to

do raise some money to help fight this'."

Robbi, Carol, Deon and Kim decided to

organise a fund-raising dinner, and invite

some of their friends to one of their homes.

However because so many locals were

excited by the idea of protecting whales,

the event grew and, in the end, was held at

Ripples at Whale Beach. The evening started

with Aboriginal musician Bunna Lawrie,

playing a whale call on the didgeridoo, a

call to the whales migrating to the Southern

Ocean to be safe. After the meal and

auction hosted by David Koch, Iva Davies

launched into Icehouse's 'Great Southern

Land', and former Mondo Rock bassist Paul

Christie and a group of other musicians

started playing and the evening took off.

"The fundraiser was a huge success and

it was obvious that we should form an

ocean conservation and awareness-based

charity, which we called 'Living Ocean'."

Robbi and Carol's daughter, Claudia, who

is very much involved with Living Ocean,

designed the logo.

Over the next few years Living Ocean

organised three more major fundraising

events and many smaller ones, and has

raised tens of thousands of dollars for Sea

Shepherd and other environmental groups.

"The peninsula is a wealth of extraordinary

talent and everyone we ask to

contribute time and talent always say yes. It

empowers all who contribute," he said.

In 2011 Living Ocean started their 'No

Plastic Please' campaign. International

bodyboarder, Ben Player, who lives locally,

said "everywhere I go there's plastic in the

ocean" and was passionate about doing

something about it. Documentary and

surf film maker, Jack McCoy, and other

surfers, including Tom Carroll and Barton

Lynch, also got involved, and behind Living

Ocean's science-based beach clean-ups run

by Sarah Taite and Sally Gole, along with

other plastic awareness groups such as

The Green Team. Currently, Living Ocean is

supporting and funding world-renowned

Dr Jennifer Lavers' scientific research on

Lord Howe Island into reduced numbers of

shearwaters due to plastic ingestion.

In 2014 Living Ocean merged with the

Whale and Seal Foundation. IT guru Bill

Fulton, and environmentalist, Sam Barrip,

had been leading research in tracking the

migration of humpback whales. In September

2017 the organisation successfully

postponed seismic testing by a petroleum

company in a 40km area south of Newcastle,

showing that the location of the

seismic survey was in the direct path of the

southern migration routes of species such

as Humpback whales with their calves.

Having lived on the peninsula most of

his life Robbi recognises the connection

that residents feel to the ocean, and their

deep desire to do what they can to ensure

the health of its sea life. Robbi emphasises

that it's the efforts of numerous unsung heroes,

locals and other, which enable Living

Ocean to make a difference both globally

and locally.

"Living Ocean is a volunteer organisation

and we need volunteers to help our growing

number of citizen-science-based campaigns

and new volunteer action group alliances

that are being formed."

As Robbi juggles his photography work

with his commitment as Living Ocean

president, he is fulfilling his desire to be

creative and his passion to preserve the

natural world.

For more info, to donate, or to become a

member for $10 per annum, go to livingocean.org.au

Life Stories

CLOCKWISE FROM OPPOSITE: Robbi at Palm

Beach; in his designed studio at North Sydney

during the advertising industry's heyday in the

late 1980s; with the gifted whale on the top of

the beach house (image by Bruce Usher for White

Horse magazine); at home with Carol; celebrating

research vessel Salt with (l-r) Bill Fulton (research

& IT), Prof Ian Goodwin (Macquarie Uni); Jack

Barripp, Sophie McClelland (finance), Sam Barripp

(research), Rita Kluge (photographer) and Mark

Farrell (navigator); Carol, shot on the NSW south

coast for Good Weekend magazine in 1987.

The Local Voice Since 1991

FEBRUARY 2018 39
---
Art Life

Art Life

Quilters are 'Touching Stars'

The Avalon Quilters are presenting their 2018 Exhibition of

Members Works at Avalon Uniting Church in Bellevue Avenue

on the weekend of March 9-10.

The group will be raffling a special 1930s vintage quilt,

'Touching Stars' (pictured) – with all proceeds donated to the

Australian Mitochondrial Disease Foundation.

As well as an extensive display of hand-made quilts, attendees

will have the opportunity to purchase from a vast array of

exquisite hand-crafted goods.

The exhibition is open from 9am-5pm; entry $5. More

info call Anne Perry 0401 335 737.

Cubist influence

really fits the Bill

Palm Beach-based artist Bill

Chamberlain has enjoyed the

artistic journey that has taken

him from absorbing the harsh

dark shapes and character of

the inner city to the fresh local

landscape.

With a background steeped in

art – his father was a finalist in

the Wynne and Archibald Prizes

and his uncle an illustrator in

London – Bill enrolled at the

Julian Ashton Art School where

he studied for five years.

"This school, using classical

teaching methods, provided

an essential grounding in the

fundamentals of drawing and

painting without which any

form of creative expression is

problematical," Bill said.

Bill's first influences were

the cubists and the painters of

Sydney's old inner city suburbs,

including Surry Hills, where he

lived for a time.

"I started exhibiting, mainly

painting inner city scenes,"

he said (example pictured). "I

branched out into figurative

work and take my inspiration

now from the local Pittwater

environment.

"Colour is most important

to me, but it must be used in

a refined and gradated way,"

he explained. "Learning to mix

paint properly and to reproduce

tone are a great legacy of the

Julian Ashton… but like learning

a musical instrument, it takes a

long time to get that touch."

Bill has had a varied working

life – originally in the legal industry,

he also trained as a chef

and has a diploma in hospitality

management.

"All this time I painted, moving

into different medias like

gouache and ink, alongside my

favourite, oil. Then in 2013, I

was a finalist in the Gallipoli Art

Prize."

Bill recently decided to

include business acumen into

the mix. "I decided I needed an

image for my art, so I designed

a logo and registered my business

name 'Savannah Studios'."

He intends to evolve his art

even more.

"I have found you have to

be curious about other artists,

whether it's the Australian impressionists,

or the French moderns…

look at every possible art

book and exhibition and maybe

one day something of what you

have seen might come out in

your own work." – Nigel Wall

40 FEBRUARY 2018

The Local Voice Since 1991
---
Boating Life

More funding supports

Narrabeen boat storage

The State Government

has tipped in a further

$45,000 to assist Northern

Beaches Council with its plan

for watercraft storage around

Narrabeen Lagoon.

Pittwater MP Rob Stokes

said the funding is part of

the Government's Boating

Now Program which provides

financial support to councils

to introduce boating infrastructure

initiatives.

Council has been allocated

$30,000 to introduce additional

storage facilities for

dinghies and kayaks around

the foreshore. A further

$15,000 will assist Council

with the construction of

a storage shed for larger

dragon boats and outrigger

canoes at Jamieson Park.

"Narrabeen Lagoon is one of

our community's most impressive

and important recreational

areas – throughout summer

the lagoon is a hive of activity

with people enjoying all sorts

of watercraft," Mr Stokes said.

"The lagoon's popularity

means additional watercraft

storage is necessary to help

improve safety around the

foreshore and maintain the

area's natural beauty.

"The creation of Narrabeen

Lagoon State Park has enabled

a whole range of investments

that maximise public

access to this beautiful area.

"There have long been issues

with people informally

storing canoes, kayaks and

dinghies around the fore-

shore and these can become

eyesores."

The new facilities are addressing

the increase in demand to

store watercraft and aimed at

reducing watercraft dumping,

overcrowding and dangerous

boat storage practises.

As reported by Pittwater

Life last year, watercraft

owners must now apply for a

yearly permit sticker, which

gives them an allocated position

to store their watercraft.

Watercraft without an

authorised permit sticker

are no longer permitted to

be left along the Narrabeen

foreshore; offending watercraft

are removed and stored

at Council's compound for

collection or disposal.

Permit fees are $179 for

residents and $268 for nonresidents;

more info from

the Property Officer – Watercraft

on 9970 1111.

Watercraft safety blitz

Five penalty notices were issued to people on Pittwater

during a Roads and Maritime Services personal watercraft

safety campaign last month.

Roads and Maritime Services' Ride Smart safety operation

was carried out between Saturday 13 and Monday 22 January.

The first six days of the operation focused on education

and the remaining four on compliance.

The purpose of the campaign was to ensure personal watercraft

(PWC) operators were aware of NSW waterways rules.

A Roads and Maritime Services spokesperson said during

four days of compliance activities, around 3609 vessels

across NSW were checked. Of these vessels, 35 per cent

(1271) were PWC.

"Around eight per cent of all vessels checked (276) were

operating on Pittwater and Northern Beaches waterways," the

spokesperson said.

"More than 25 per cent of vessel checks were carried out

on PWC including jetskis and Boating Safety Officers issued

five Penalty Notices – a total of 113 Penalty Notices were issued

across NSW."

Offences included irregular riding, not wearing a lifejacket

while being towed, not wearing a lifejacket on a vessel and

causing excessive wash.

– Lisa Offord

Boating Life

The Local Voice Since 1991

FEBRUARY 2018 41
---
Young Life

Young Life

Helping girls to

make their move

The benefits of playing team

sport are well known, yet

young women are twice as likely

as young men to be inactive.

Inspired by campaigns to

encourage girls to move more,

Pittwater Peninsula Netball (PPN)

has organised a number of activities

and extended invitations

to all clubs to enjoy a Gala Day

leading into the new season.

"Research has indicated that

girls' participation in organised

sport has decreased over the

years and is much less that

boy participation, despite the

benefits sport gives young girls,

especially teenagers," said PNN

Secretary Belinda Geros.

Studies show in addition to

greater energy and improved fitness,

regular physical activity can

help manage stress, alleviate depression

and anxiety, strengthen

self-esteem, enhance mood and

boost mental alertness.

"The earlier that our girls start

playing sport, the more benefits

they will experience and the

longer these benefits will stay

with them," Belinda said.

"We would like to create as

many opportunities for our

young girls from our community

to be involved with a great team

sport like netball for all ages and

abilities and from a young age

by encouraging as many families

from our community to get

involved."

The club will be running

several skills clinics this year with

some high-profile professional

netballers teaching players of all

ages and grades; it is expanding

its indoor training facilities;

fundraising for more equipment

and getting involved in more

gala days including running its

own Gala Day in March for all

clubs to attend.

The 10yr and 11yr Gala Day

hosted by PPN will be held

at John Fisher Park on Sat 24

from 9am-1pm and comprise

20-minute games, (2 minutes

halftime), with each team playing

four games – no point score, no

stress or pressure.

The BBQs will be fired up from

8.30am and there will be coffee

vans. Team entries close March

19.

Meanwhile PPN team formation

starts Feb 5 with 8yrs and 9yrs

skills clinics on Feb 9 and 16.

For more information go to

peninsulanetball.org.au

TUITION

Northern Beaches Home Tu toring

Call John 9972 1469

1-ON-1 individual tutoring in your home. All ages and subjects K-Uni.

Qualifi ed tutors. WWC child protection checked. Since 2009.

David's ace idea

Local tennis coach David

Vytopil is looking

forward to serving up

more tennis lessons at

the Newport Community

centre, where he has

helped improve the

games of all ages for the

past two years.

"The courts are in a

pleasant environment,

away from busy traffic,"

explained David, who

has been coaching for

six years and launched

his own 'Action Tennis'

business a year ago.

"Mums can stay and

watch their kids in a

relaxed, shaded setting,

or drop them off and

head to a local café to

catch up with friends."

David (pictured), who

also coaches at the

Elanora Heights Tennis

Club, has a background working at several tennis centres

and has also worked at private schools on the north shore

(he is police record-checked), with qualifications obtained

through Tennis Australia. He coaches children using the

Tennis Australia Hotshots program.

As he explained: "I cater for all ages and levels and can

accommodate group or private lessons, and for women's

groups I can arrange social matches with in-built coaching

– I aim to provide a friendly, fun atmosphere."

David said he gets a lot of satisfaction from seeing

students improve their tennis and gain confidence –

something important as they start out and which will make

them want to continue playing tennis later in life.

"I have seen many kids come out of their shells and

become more self-confident through tennis, all the while

appreciating an enjoyable approach to the game."

David says his rates are "very competitive"; he is

currently arranging a 9-week term starting on the 5th of

February, with times available from 7-9am and 3.30pmdusk.

For more info phone 0407 007 161.

42 FEBRUARY 2018

The Local Voice Since 1991
---
Avalon SC shoots

for success in

2018 local comp

Avalon Soccer Club is gearing

up for another great

year down at 'The Bay'

with officials offering a warm

welcome to members, current

and new, to season 2018.

Online registrations are now

open via the club's website avalonsoccerclub.com.au

– this is

also the best source for general

information about the club and

the season ahead.

The club will be holding one

registration/orientation day at

the Careel Bay Clubhouse on

Saturday 10th February 2018

from 9am-5pm. They will also

be selling new playing gear

and club merchandise at great

prices on these days (see ad on

page 13).

"Avalon SC prides itself on a

friendly, family club environment,"

said club president John

Kowtan. "The club comprises

more than 1,100 players aged

from 5 to 70, who enjoy playing

the beautiful game at a

variety of levels and we are entirely

run by a group of highly

dedicated volunteers.

"AVSC strives to provide

the best possible playing and

coaching environment with the

resources to their disposal. We

put a great emphasis on player

development and coach education

at all skill levels.

"We are fortunate to boast

two experienced and professional

coaches as their Directors

of Coaching. This allows us to

provide members with quality

coach education and academystyle

coaching 'in-house'."

The club's dedication to

player development has led to

some great success in recent

seasons and they look to build

on this in 2018.

Some of their recent achievements

include:

n MWFA Women's Premier

League Grand Final Winners

& FA Cup Winners 2017;

The Local Voice Since 1991

The Endsister

by Penni Russon

Allen & Unwin

$16.99

It's shaping up to be

another great year of

authors of Australian

teen fiction writing for

younger readers. Allen

& Unwin has certainly

plucked some winners,

following last year's turn

with Jacyln Moriarty,

they've just published

WE ARE THE CHAMPIONS: Avalon SC's League and GF-winning W16-1 team. award-winning Penni

Russon's The Endsister.

n MAL-1 Semi-Finalists 2017; Cup in Canberra."

The Outhwaites move

n W16-1 FNSW Champion Of As part of their effort to from Australia to begin a

Champions Semi-Finalists continually improve the facilities

new life in an inherited,

2017;

at Careel Bay, new lighting haunted mansion in

n MWFA W12-1, W15-1 and was installed on the mini fields London where the baby

W16-1 (pictured) League and in 2016 which has greatly

of the family, Sibbi,

Grand Final Winners 2017; increased the area available begins to act very

n MWFA Women's Premier for training after dark and strangely, forever talking

League FA Cup Winners 2016; future night matches. New about a mysterious

n W14-1 FNSW Champion of drainage for the mini fields 'endsister'.

Champions Finalist 2016; has been completed recently Alternating narratives

n W18-1 FNSW Champion of to enable more junior games between the siblings

Champions Finalist 2015; to be played in the event of including 16-year-old

n W16-1 FNSW Champion of rain, all boundary fencing has Else and 4-year-old

Champions Winners 2013 & been renewed, including new Sibbi, plus a couple of

2014;

car park fencing around field ghosts, make for pacy

n MWFA Presidents Cup for 1, with plans to complete the chapters. The mystery

Best Junior Club 2013;

other fields in 2018.

builds quickly plus there

n FFA Junior Team of the Year "A lot of the club's success is a satisfying amount

2012 (W16-1);

is due to the hard work of the of character back story

n Six successful tours to

great committee and volunteers which helps round out

Vanuatu in successive years at Careel Bay, who really make this tale.

(2012-2017) by Avalon SC W16 everyone welcome and ensure Interestingly, Russon

teams, promoting cultural exchange

the atmosphere is one of a

used online writing tool

and women's football friendly community club," John and forum, Storybird,

development in the region. said.

to develop Endsister,

"Planning and fundraising for If you're interested in

soliciting feedback and

their 2018 tour of Vanuatu by volunteering or joining the support from readers.

Avalon W16s is well advanced," committee please email

The results are now here

John said. "The club will again Club President John Kowtan for everyone to enjoy.

also be encouraging teams to at president@avalonsoccerclub.com.au

– Libby Armstrong

take part in the 2018 Kanga

FEBRUARY 2018 43

Young Life
---
Surfing Life

Surfing Life

Surfing Kelly Slater's

robo-churn Wave Pool

Most of you have seen some video footage... but what's it really like?

with Nick Carroll

Ever since the Kelly Slater

steel mesh fence, held up by a

Wave Company did its big

series of metal posts, 100 in all,

reveal two years ago, every

each around four metres from

surfer I know has been quietly

wigging out. They're wigging

because of what the KSWC

revealed: to wit, what appeared

to be a seriously excellent, and

for sure completely artificial,

wave. Breaking in a pool. For a

long way.

Since then, the KSWC and its

owners, the World Surf League,

have been releasing a slim yet

steady diet of carefully curated

video clips showcasing their

invention. Each clip – slow-motioned,

angled just right, and

starring Kelly or one of his pro

tour compadres – makes it look

better and better.

Yet at the same time, they

have kept the doors to this facility

BREAKING NEWS: Not quite the backdrop we're used to seeing from the beach.

the next. Everything is grey,

precise and industrial; it looks

for all the world like a high-tech

watery prison.

I was completely fascinated.

Never had I thought that anyone

would expend this kind of time,

money, and human ingenuity

on making a wave! Especially

when there's so many of them

out there in the ocean already.

Around a dozen of us had

been invited for the day, mostly

other surf journalists. We were

organised into groups of four

at a time. I was in the second

group, which drove me a little

bit mad, but at least it gave me

a chance to watch.

Here's another thing you

closed to any independent

It truly is the last place you'd rim, running all the way around

can't tell from the PR – the wave

observer. The secrecy around expect to be surfing. And the the pool's perimeter – maybe destroys the Pool. Like, blows

the Pool has been obsessive. truth is, what you do in the Pool 700 metres end to end, and it to bits. As it breaks, the wave

Access has been limited to is not surfing, it's something 150 metres wide. On the inner sets all the three or four Olympic

pools' worth of water in

invited guests and potential else again.

rim, the wall falls away on its

investors. As a result, the WSL When you arrive at the facility open side to a broad trough wild motion. It washes over an

Surf Ranch, as it's officially gates for your session, they maybe two and a half metres elevated area of plastic-coated

known, has become the most swing smoothly open to reveal deep, which runs most of the concrete known as "the beach"

exclusive surf spot in the world. a small carpark and a neatly way down that side before and surges through several

Kelly's been compared to Willy kept building. Inside the building

circling around at both ends channels into the deep trough

Wonka in some circles, and

invites to his Chocolate Factory

are sought far and wide.

Well, thanks to a series of

odd events, late last year I got

the Golden Ticket, as it were.

Come visit the Ranch for a day!

No expectations! See what you

think!

Thus, in early November I

found myself roaring up the

I-5 freeway out of Los Angeles,

on possibly the single weirdest

and least expected surf trip of

my life.

The WSL Surf Ranch is

set behind an immaculately

maintained wooden wall, at

a property just off Jackson

Road in Lemoore, California.

Lemoore is a central valley farm

town of around 25,000 people.

The town grows cotton and

struggles with its water supply.

you'll find a spacious chang-

ing room complete with filled

board racks, wetsuits, leashes,

towels, wax, everything you

might want to use during a surf.

Everything feels organised,

low-key, stylish. A door opens

from that room into a hang-out

area, then into another room

dedicated to the Pool's design,

with bathymetry charts and

illustrations of imaginary Pools

of the future.

Well you would see all that

if you weren't me, because I

ignored all that stuff and ran

straight to the low-slung wall

beyond, and gazed out over

Kelly's modern miracle.

Immediately I realised how

much of it has been hidden in

the videos. The KSWC Pool is

contained by a concrete wall,

maybe a metre high on its outer

and joining up with the body of

the Pool.

Half way down this side of

the Pool is a large control tower

set-up. From here they run the

Pool, watching an array of sensors,

picking up any issues with

the machinery or with waterflow,

and eventually, pushing

the button to make it work.

On the other side of the Pool

is the thing that does the work:

basically a heavy blade or foil,

half-submerged and around

12 metres long, and mounted

train-like on a monorail track

running the length of the Pool.

When dragged along the track,

this foil forms an exaggerated

version of a ship's prow-wake,

in effect pulling the wave from

one end of the Pool to the other.

The machinery is separated

from the body of the Pool by a

along the outer rim. Water flies

everywhere. Small quantities

are blown clean out of the Pool

and on to the paths surrounding

it. The reverberations go

on for a long time, surging up

and down the Pool, and take

ages to truly settle; even after

five minutes, the typical period

between waves, the surge is still

present.

Not only does this effect tend

to ever so slightly vary the wave

over time, it's also a revelation.

If a single wave can do that in

the Pool, how much energy is

being distributed through an

everyday surfing lineup?

Slightly freaking out with

excitement, I grabbed my board

and waded out to the takeoff

point. There was no need to

paddle, at least not any further

than Metal Pole number 31,

44 FEBRUARY 2018

The Local Voice Since 1991
---
where I was instructed to wait

for the wave to approach. The

water itself is fresh and treated

regularly to eliminate bacteria;

there was a slight wafting of

chlorine.

Then it got weird. "ONE

MINUTE!" came a disembodied

voice from a range of

loudspeakers up and down

the Pool. No waves break in

this pool without the control

tower's button being pressed.

They TELL you when they're

making a wave.

I sat there, trying to remain

calm. The machine started.

Aside from an initial clank, it

sounded like a ski lift – sort

of a muted grinding. I gazed

down the Pool and watched as

a triangle of elevated water appeared

from behind the fence

and migrated across the Pool.

Good God! Here it came!

The wave had been described

to me by various

surfers whom I trust. They'd all

struggled a bit to explain the

thing, but they'd all called it "legit".

Here's my quick run-down:

The wave has the power of

a soft Indonesian location, or

one of Australia's easier pointbreaks.

It's a long ride – about

45 seconds – but it passes

quickly, possibly because the

pace of the wave is so constant

as to be almost hypnotic.

Ocean waves change and flex

constantly, while this one just

proceeds along, controlled by

the foil's movement – as soon

as the foil stops, it stops.

The wave grows hollower

and flatter at different times

during the ride, as it encounters

different bits of the bottom

contour, but the changes

happen with no warning: for

one thing, there's no wave in

front of you to show you what

might be about to happen, and

for another, you can't see the

bottom. All the normal "tells"

of a surfing lineup are missing.

You have to rely on a lifeguard

on a jetski, who rides along

just inside the wave line, yelling

encouragement and advice.

Once you get the wave's

timing figured out, it's a piece

of cake, honestly. The wave presents

very little physical challenge.

There's no duck-diving

or negotiating broken water,

or watching for errant waves. If

you wipe out, the wave's gone

and there you are, pfft.

But there's one thing about it

that I feel many surfers would

find extremely challenging:

there's no choice involved. In a

normal ocean surfing situation,

you make a lot of choices about

waves, often for reasons you

aren't fully conscious of at the

time. Maybe a wave reminds

you of one you rode and liked

three months ago. Maybe it

scares you even though you're

not sure why. You want to catch

a left or you want to catch a

right. You just feel like sitting

there!

In Kelly's Pool, all that's out.

There's someone in a tower

yelling "ONE MINUTE!" There's

you, by yourself, with three of

your mates sitting further down

the Pool hoping you'll fall off.

And because you're getting

maybe three or four waves a

session, you really don't wanna

fall off.

It feels almost exactly like

being in a professional surfing

contest.

I caught a dozen waves in two

sessions and drove back down

the I-5 to Los Angeles, thrilled

yet dissatisfied. The wave is super

fun, but is that all surfing's

about? Three days later a small

south swell arrived in Californian

waters, and I jogged down

to Lower Trestles for the early.

It was late fall, and the smell

of sage was in the air. I could

tell Lowers had had an active

summer by the sand-line, which

changes year to year. A dozen

or so surfers were out, most

of whom I knew. We told each

other stupid jokes; and caught

waves when we felt like it.

Nick Carroll is a leading

Australian and international

surf writer, author, filmmaker

and surfer, and one

of Newport's own. Email:

ncsurf@ozemail.com.au

Surfing Life

The Local Voice Since 1991

FEBRUARY 2018 45
---
Health & Wellbeing

Health on the back-to-sch

Health & Wellbeing

Got the backpack, lunchbox,

books, uniform

and pencils organised

– tick… but how much thought

have you given to your children's

vision and hearing, the

two senses that can have a

profound effect on learning

and behaviour?

As the new school term gets

underway find out how simple

health checks and being aware

of certain signs and symptoms

– and seeking expert advice

if you are concerned – can

help prevent problems further

down the line.

Vision

Did you know that vision is

responsible for 80 per cent of

all learning in your child's first

12 years? Poor vision can interfere

with your child's learning

and social development, yet it

often goes unnoticed, says optometrist

Rowena Beckenham.

"It's important for children to

have an eye examination prior

to starting school and again

every two years throughout

their life to monitor their vision

and eye health," Rowena, from

Beckenham Optometrist in

Avalon, said.

"Making this a part of your

child's regular health care

routine will give you peace of

mind and confidence that they

won't miss a thing."

Rowena explained there

were changing demands on

the visual system as children

progressed through school and

every eye examination should

take these into consideration.

Advice on computer, digital

games and phone use, time

spent at near tasks and time

devoted to outdoor pursuits

were all critical for healthy

eye development and performance

in a learning environment,

she said.

Signs and symptoms of a

vision problem include:

n One eye turns in or out

while the other points

straight ahead;

n Frequent blinking;

n Red or watery eyes;

n Sensitivity to light;

n Frequently rubbing eyes;

n Difficulty concentrating;

n Tilting head noticeably;

n Covering or closing one eye;

n Difficulty learning to read;

n Holding a book very close

when reading;

n Leaving out confusing words

when reading;

n Squinting or sitting very

close when watching television;

n Difficulty recognising familiar

people in the distance;

and

n Complaints of headaches,

blurred or double vision

Children's eye health checks

are covered by Medicare.

Hearing

Hearing is crucial to speech

and language development,

communication, learning and

social skills – and hearing

problems are probably more

common than you think.

A staggering 30 per cent of

children in Kindy to Year 2 will

have a hearing loss at some

point in time and hearing

problems can develop at any

age, said audiologist Michelle

Thompson-Laing.

Michelle joined Pittwater

Hearing in Avalon in December,

having previously worked

at Australia's largest paediatric

clinic fitting babies as young

as 6 weeks and children with

hearing aids.

Michelle said there were

several types of hearing loss

that could affect children.

"Sensorineural hearing loss

is a permanent hearing loss

generally caused by damage

to the cochlea," Michelle said.

"This type of loss is often

genetic in children but in

many cases there may be no

other family members with a

known hearing loss."

The most common type of

hearing loss in children is a

conductive loss.

"This is caused by a blockage

in the middle or outer ear

(most often fluid) and is usually

temporary and treatable,"

Michelle said.

Hearing can be tested at any

age and a child is never too

young to have their hearing

checked if a parent or caregiver

is concerned.

Passing the newborn hearing

screening test does not

guarantee a child will not

develop a hearing loss and

parents should always be on

the look out for changes in

hearing.

Signs and symptoms of hearing

loss include:

n Difficulty understanding

what people are saying;

n Says "what?" or "huh?" frequently;

n Delays in speech and language;

n Turning up the TV volume or

46 FEBRUARY 2018

The Local Voice Since 1991
---
ool checklist

sitting very close to the TV;

n Problems academically,

especially if they weren't

present before;

n Complaints of ear pain,

earaches or noises; and

n Watching a speaker's face

intently – many children's

hearing loss escapes detection

because they are very

good lip readers.

Michelle explained hearing

tests in children over the age

of three were quick and easy

- and usually fun and stressfree.

– Lisa Offord

Oral heath

Making sure your child

knows how to look after

their teeth and gums at

home and at school (think

good oral hygiene, avoiding

sugary snacks and wearing

a mouthguard when playing

sport) will help them to stay

healthy and avoid dental

problems.

Just like twice daily

brushing, if you schedule

regular visits to the dentist

it will become a normal part

of your child's routine and

set them up for good oral

health for life.

Focus on feet

The experts from the

Australian Podiatry

Association say after the long

summer break is the perfect

time to get into the routine

of giving kids an annual foot

check to find out if shoes fit

and if they are experiencing

foot pain or any other issues.

If foot problems run in the

family, its important to have

children's growth checked

periodically by a podiatrist

or at least have feet

measured by a shoe supplier

that provides professional

measuring services.

Avoid handing down

shoes – a shoe belonging to

someone else will take on

their shape and gait, which

will not be the same as the

new wearer. Buying new is

always advised.

Top-to-toe

wellness

Avalon Beach

Chiropractic & Wellness

has welcomed another

health professional to its

team – podiatrist Evan

Johnstone from Avalon

Beach Podiatry.

Since Chiropractor Dr

Sam Garner and his partner

Rachel became part of the

Avalon Beach community

in 2015, they have steadily

expanded services to comanage

patients.

"Regularly patients will

receive a combination

of therapies based on

their presentation to

optimise their results," Sam

explained.

"Our team looks at

the whole body; if there

is a problem at their

foundation – for example

their feet, this can have

an effect on the knees,

hips right through to their

neck," he said.

"For this reason we

are very happy to have a

podiatrist join the team

for best outcomes for our

patients."

Their team also includes

two remedial massage

therapists, Joe De Sensi

and Sarah Gartside.

You will find Avalon

Beach Chiropractic &

Wellness in the heart of

the village at 2 Simmonds

Lane.

Info call 9918 0070 or go

to avalonbeachchiropractic.

com.au

Health & Wellbeing

The Local Voice Since 1991

FEBRUARY 2018 47
---
Health & Wellbeing

Health & Wellbeing

Inspection time after our

fun in the summer sun

It is still summer time – and

therefore a good time to

remind you to check your

spots. Remember a large

proportion of spots are found

by the person themselves and

not necessarily the doctor.

People are well aware of any

changes and are often able

to point these out to their

doctors.

There is a simple memory

aid to checking spots: A –

Asymmetry; B – Border; C

– Colour; D – Diameter; and

E – Elevation.

Spots should be

symmetrical and rounded;

any asymmetry or uneven

shapes may be a concern.

The border of a spot should

be smooth and rounded.

Irregular, scalloped borders

or borders that merge into

the skin may raise concern.

Spot colour should be

uniform and light – any

very dark colour, or any

colour that is speckled or

uneven, should be noted.

Spots should be less than 6

millimetres in diameter. Flat

spots are better than raised

or elevated spots. A final

check is any change and the

rate of change.

Spots that are new,

bleed, do not heal, hurt or

change may be suspicious.

Remember that blood after

combing or brushing hair

may be a hidden spot. Scalps

may be sunburnt especially

along part lines or in males

when their hair starts to thin.

Remember that trauma may

be an alert to a pre-existing

spot and is not usually the

cause of a skin cancer. It may

be the bump that alerts you

to a spot or causes the spot

to break down and not heal.

Skin cancers may occur in

places not obviously exposed

to the sun. Behind the ears,

in the ears, high on the

upper lips and in the scalp

are not unusual places for

skin cancers. Certain areas

are more common for skin

cancers. The tops of the

ears, lower lips, noses, back

of the hands, upper backs,

shoulders and lower legs are

particularly common sites.

Spots themselves are

highly variable. They may be

flat, raised, crusty, dry, pink,

brown, black, purple, pearly,

full of veins, ulcers, sores,

blister, lumps, nodules, soft,

firm, smooth, irregular and

in any combination of the

above. Some spots are easily

diagnosed by simply looking

with Dr John Kippen

and feeling or stretching the

skin. Others may require

a small sample or biopsy

to be taken for diagnosis.

Biopsies also give additional

information such as the

subtype of skin cancer or the

depth of the lesion. This may

aid the final treatment as

certain types and subtypes

of skin cancer require a

larger or wider cuff of normal

skin to be taken. This is

known as the margin. Poorly

differentiated skin cancers

or those with an infiltrating

growth pattern require larger

margins to obtain clearance.

Now and as we head out

of summer are good times

to check your own skin spots

and to also get them checked

by your doctor.

Our columnist Dr John

Kippen is a qualified, fully

certified consultant specialist

in Cosmetic, Plastic and

Reconstructive surgery.

Australian trained, he also

has additional Australian and

International Fellowships.

Dr Kippen works from custom-built

premises in Mona

Vale. He welcomes enquiries

and questions. Please

contact him via johnkippen.

com.au or by email: doctor@

johnkippen.com.au

48 FEBRUARY 2018

The Local Voice Since 1991
---
Hospital boost as 'fusion' facility opens

Here's a look inside Pittwater's first

brand new fully accredited private

hospital admitting patients from this

month.

Boasting a unique care model not yet

seen in Australia and promoted as the

"next generation in health care" the 85-

bed Arcadia Pittwater at 4 Daydream

Street Warriewood is a blend of

hotel-styled amenities with the latest

hospital care and facilities.

The purpose-built sub-acute

hospital is designed for patients

requiring short to longer hospital

stays for recovery after surgery or

for a medical condition and palliative

and geriatric care.

This summer, scores of locals

including medical providers have

had a taste of things to come at

open days and tours where they have

experienced the facilities including

spacious private rooms flooded with

natural light, indoor pool, gymnasium

and even tested the hospital menu

prepared by a former 5-star hotel chef.

Developed by new private hospital

operator Arcadia Health Care, Arcadia

Pittwater is essentially a hospital and

hotel fusion operation providing a

setting for a leading medical team to

create an individualised treatment plan

for a patient for best outcomes.

Accordingly, the hospital offers a

range of accommodation styles and

services to meet a patient's needs

throughout their stay, at a standard well

above typical hospital accommodation

models, Managing Director Dr Harry

Pannu said.

Services patients can expect to be

offered, in addition to top-class care,

include room service outside of the

usual breakfast, lunch and dinner

options; guest laundry; massage and

wellness treatments; concierge service;

and hair washing and blow-dry.

As for cost, Dr Pannu explained a

majority of the stay would be covered

by private insurance recoveries, which

will vary according to policy and

health fund provider with additional

services collated and billed to a

patient as guest services during

their stay… just as in a hotel.

"As a private hospital patients

will be facilitated through an

admissions process, fully assisted

by a specialist admissions team, that

verifies the medical need, tailored

program for the residential care,

rehabilitation recovery services or day

rehabilitation," Dr Pannu said.

Staff report there's plenty of

interest in the new facility, with

patients and families pre-booking beds

before the doors of the hospital had

even opened.

* Open Day on February 4 – all

welcome; more info 8919 3100 or

visit arcadiapittwater.com.au

Health & Wellbeing

The Local Voice Since 1991

FEBRUARY 2018 49
---
Health & Wellbeing

Health & Wellbeing

More surgery options in Mona Vale

Patients requiring day

surgery will have more

opportunity to undergo

operations and procedures

close to home in a newly

rebuilt health facility in the

heart of Mona Vale.

After months of

construction work, Pittwater

Day Surgery is set to re-open

in March with a new fresh

look, more operating theatres,

more services and state-ofthe-art

equipment for local

specialists and patients.

Since 2002, more than

17,000 patients have visited

the day surgery at 20 Bungan

Street for ear, nose and

throat, ophthalmology, plastic

surgery, cosmetic surgery and

dental operations.

The expanded facility on

the original site will be four

times bigger (from 250m2

to 1000m2) and allow for

other services including

gastroenterology, urology

and gynaecology surgery to

be provided in the medical

hub where more than 50

specialists are located.

Features of the build

included a complete

refurbishment of the existing

consulting rooms and waiting

space and construction

of a new day surgery with

three operating theatres

incorporating the latest

technology and equipment.

Pittwater Day Surgery

Founder and CEO Dr Frank

Elsworth said the new

facilities ensured people on

the Northern Beaches would

continue to get the best in

medical care with minimum

need for residents to travel too

far from home for day surgery

or post-operative care.

He explained specialists

who consulted on the

Northern Beaches were some

of the best in NSW - very

experienced surgeons and

anaesthetists also operating at

the top private hospitals such

as The San, The Mater and

North Shore Private.

"Investing in this new

facility in Mona Vale ensures

all of the community can take

advantage of staying in the

local area under the care of

their specialist of choice," Dr

Elsworth said.

Pittwater Day Surgery is

fully licensed with the NSW

Department of Health, holds

full ISO accreditation and is

also accredited against the 10

National Quality Standards.

For more information go

to pittwaterdaysurgery.com.

au – Lisa Offord

50 FEBRUARY 2018

The Local Voice Since 1991
---
Health & Wellbeing

The Local Voice Since 1991

FEBRUARY 2018 51
---
Hair & Beauty

Hair & Beauty

New magnificent seven:

The things to try in 2018

Another year, another

opportunity to harness

the latest potential

at hand to assist in making

our skin and body healthy

and radiant. Most of us on

the spectacular Northern

Beaches want to be the best

possible version of ourselves

– and not a "different"

version where we become

unrecognisable. There are

many new treatments and

products calling out to us,

along with those that are

still tried, true and reliable

staples.

Lose the fat – Given the

increasing obesity epidemic,

researchers from the

University of Texas Medical

Branch at Galveston have

discovered a promising drug

that has been shown to

selectively shrink excess

fat by increasing fat

cell metabolism.

The drug

significantly

reduces body

weight and

blood

cholesterol

levels

without lowering

food intake in

obese mice,

according to a

recent study published in

Biochemical Pharmacology.

Activated Charcoal –

Became popular in skin

care a few years ago;

the ingredient draws out

impurities and bacteria to

help fight acne and detoxify

with Sue Carroll

helping fuel optimal skin

function and providing a

healthy glow.

Fat Freezing – Is a

treatment growing

in popularity. The

process does not

result in weight

loss, but can assist

with both debulking

and sculpting of

difficult areas of

fat that are hard to

budge with regular exercise

and diet. It is an amazing

treatment for men and

women to assist with actual

body sculpting; ideal for

women who have small

pockets of fat in areas such

as the bra roll, a tummy

pouch after pregnancy, love

handles and a tummy bulge.

New Injectables – The

evolution of new injectables

is allowing both men and

women to have a more

youthful appearance. Kybella

is a new product; it is a

prescription medicine used

in adults to improve the

appearance and profile of

moderate to severe fat below

the chin.

After attending the annual

Anti-Ageing Aesthetic

Medicine Conference last

year, it is evident that there

are many new products and

technologies available to

help enhance both our health

and appearance. However, it

is still common practice to

use multiple technologies,

treatments, products and a

healthy lifestyle, in order to be

the best we can be in 2018.

skin. Activated Charcoal may

assist with calming breakouts

and reducing oil flow. A

popular treatment using the

Q Switch Nd Yag laser and a

charcoal carbon serum can

also assist with decongesting

the upper layers of the skin

to give it a healthy glow.

LED therapy – For the

face or localised areas

is not new, but the LED

treatment beds will be more

commonplace for full body

treatments in 2018. Multiple

wavelengths (colour) of light

work together to increase

blood circulation and reduce

inflammation so your body

can naturally relieve pain,

speed the healing process

and promote total body

wellness. LED therapy may

also prevent damage to

cells caused by free radicals

and protect skin from UV

damage.

Moringa – has twice the

protein of spinach and three

times as much iron. The

'super green' (pictured) is

shown to be an even more

powerful inflammation

Sue Carroll of Skin

fighter than turmeric

Inspiration has been a qualified

Aesthetician for 33 years.

(which was the 2017 antiinflammatory

go-to).

Sue has owned and

Facial serums – With skin

battling UV rays, pollution,

operated successful beauty

blue light from technology clinics and day spas on

and harsh ingredients, a

the Northern Beaches.

wave of facial serums will be info@skininspiration.com.au

introduced in 2018 to support www.skininspiration.com.au

skin barrier functioning,

52 FEBRUARY 2018

The Local Voice Since 1991
---
Local Call

Luxurious

Valentine's

lingerie

If there's ever a special time of year when premium

lingerie takes centre stage it's now – but

for some, the world of undergarments is an

unexplored space.

In Pittwater we're lucky to have three independent

lingerie stores staffed by trained

experts to ensure you shop with confidence.

And if the idea of buying lingerie for Valentine's

Day still feels awkward, an extra-special

sleepwear purchase never goes amiss – the

stores featured here have that covered too.

Nothing

Butt

Lingerie

Store owner Chris

is a great believer

in Valentine's Day

being the special day

to spoil the special

person in your life –

and she says Nothing

Butt Lingerie (see ad

page 31) are ready

for the occasion with

lovely specialty pieces

from Palindrome,

Essence, Pleasure

State, Ginia as well

as Simply Silk.

"Envy silk nighties

are a 'special

spoil', as well as

matching robes

to many of our

nighties," says

Chris. "And French

Country cool cotton

nighties in summer are fabulous.

"Red lingerie sets for Valentine's are a big hit

and we have them from Simone Perele, Pleasure

State and Bassoni."

She added lace bodysuits from Palindrome

and Triumph, as well as lace triangle bras, will

be very popular.

"Beautiful lingerie sets are also in stock from

Heidi Klum and Pleasure State, in lovely summer

colours," she said. "Everyday bras and briefs

from Berlei, Triumph, Simone Perele are always

in stock.

"Our staff are all trained fitters and available

at all times to assist with gift ideas or everyday

purchases."

Gift-wrapping and gift vouchers are always

available. P: 9999 1462

The Local Voice Since 1991

Avalon Uncovered

The girls at Avalon Uncovered – Madeleine,

Lauren and Di – believe that beauty starts

underneath and have a wide variety of beautiful

styles, fabrics and fashion items for that

someone special and to suit women all ages and

figure types.

"Our gorgeous collection of lingerie includes

the iconic French label Simone Perele, the expertly

designed and exclusive collection by Wacoal

and luxury Australian intimates range

by Palindrome," says owner Madeleine Petersen.

"We offer a range of sophisticated and modern

style for a fresh, feminine and luminous

look."

Key colours include charcoal, midnight, natural

and cream blended with muted shades of

rose pink and soft greys (see ad page 34).

"For nightwear, we have luxurious Ginia silk

nighties, chemises, camisoles and pyjamas in

gorgeous tones of champagne, cream, black and

ruby red.

"Other options include our best-selling cotton

sateen night robes in glorious florals by Sanctuary

Studio, or the super soft and sexy Mischka

slips by the Western Australian company

Humidity.

"We have also just received more stock in of

luxurious silk eye masks and silk pillow cases

by The Goodnight Co – featuring beautiful soft

colours in 100% pure mulberry silk."

Madeleine added gift vouchers and gift-wrapping

were also available in-store.

"We pride ourselves on personalised service

and commitment, ensuring every customer

has a positive and rewarding experience."

P: 0419 822 844

Utopia Lingerie

Owner Julia says it's a given that women love their

partner to show their appreciation of them – "and

giving us lingerie means we both get to enjoy it!"

Indecision is no excuse either, with Julia urging

men who may be uncertain about the right gift to

speak to one of her trained staff, who have years

of experience in knowing what women want.

She suggests you could even give your special

someone a Gift Voucher so that they can choose

themselves.

Utopia Lingerie was situated at Warriewood

Square for 10 years so if you are wondering

where they have gone – they've moved to bright

new spacious premises at Narrabeen (in between

The Sands and the 7/11, opposite Bunnings)

where they currently have lots of items on sale in

time for Valentine's Day (see ad page 12).

"We have a huge range of brands and can fit

from first bras to ladies' soft cup, then up to H

cups including sports bras," said Julia.

"Many of our European brands cater for small

to large cups and backs. Our Simone Perele range

is extensive. Not forgetting our sleepwear – particularly

for the elderly ladies."

Brands include Givoni, Schrank and many

more. P: 9913 7091

FEBRUARY 2018 53

Local Call
---
Business Life: Money

Business Life

Good Risk conundrum: reason for going what

'nuts' exactly this festive in the bottle? season with Brian Hrnjak

This When month writing we about look at round n An unsecured up feature of deposit Acorns made as attractive and functional user balance of your Acorns account

how financial under-pricing innovation risk one it allows to another them entity to save for while them interface – fancy words for the rises and falls in line with the

can of lead the perspectives to financial I they to spend. invest into As a emerging parent of app looks and feels very cool. movements in markets during

can failure: share I have with a you client is from in the

inside soft drinks of a fintech business company and in

which our first in my meeting case has I asked been

rolling him what out the starting fast-growing point

Acorns was when app. he Since was launching designing

in a new Australia drink in or early drinks 2016 the

app range. now My resides naïve assumption the smart

phones was that of he around spent 350,000 days in

Australians, the test kitchen that's taste-testing

roughly 1.5%

of different the population. flavours, colours

and If you're combinations the dark but about he

what pulled I'm me talking up short about, with Acorns his

is response: a micro investment "Nah, I always platform start

or with what's the brand." sometimes called a

'round-up' Branding app, is a the critical first one step

of in its consumer kind in Australia. marketing; Our aside

teenagers markets I and think private I've come equity

to offering the conclusion you a that target apps return

such of 4.45% as Acorns per using annum a blend over 12

of months. psychology and technology

may The be first the only message effective above way

to is taken get modern from the kids Company's

to save

because website – they it sounds sure do like know

how a term to spend. deposit, it even

looks Acorns like works a term because deposit the

principles advertisement underlying but with its design many

more asterisks. The second

line is my paraphrasing of

the managing director's

comments in the Australian

Financial Review. The point is:

Would you provide unsecured

While these principles have

proven to be sound over time

Acorns goes on to provide an

indirect benefit to its users

in the form of education and

improved financial literacy.

Get two or more people in the

room who have an account and

you'll find out what I mean –

when did you start? What are

the course of the trading day.

One of the challenges

any finance app would have

encouraging young people to

save and invest is to remain

relevant in their eyes. Over

the past year a number of

enhancements have taken place

following user feedback, the

headline ones being:

Found Money partners – users

can shop online with brands

such as Bonds, Dan Murphy's,

BCF, Uber etc. and these

partners usually deposit bonus

amounts or extra round ups

firm from along positioning with our your partners product finance for a company to

into the users account;

brought among the it out myriad from others US out invest in 'emerging markets' deposits. Over that same My of market Finance positions feature – but uses in

in there, 2015 if where your product it had been exhibits in return for a 4.45% p.a. period I also noticed:

artificial this case intelligence the Bitcoin to trade track as

established certain characteristics for a few years. it return? Consider that our n A Perth-based hedge fund and well. categorise The Citibank spending product and

allows The app potential works customers

in a couple banks regularly offer you advertising on Facebook; calculate is offering free a term cash flow; deposit

of to ways: suspend by taking judgment a data and unsecured consumer finance n Citibank promoting a Super rate of fund 4% p.a. linkages for 6 months – allows

feed become from more your receptive spending to are via your firmly credit rooted card in behavioural at a rate you combined saving for? term What deposit returns / users on the to condition make deposits that you to a

accounts your message. and rounding up the finance: of around investing 20% p.a. small To me have structured you had? investment; It's inherently and range place half of industry of your and deposit public

purchases Compare you these make two to the amounts what's being on a offered regular basis not that competitive n The investment but when outlined it's offer into an superannuation at-risk structured funds;

nearest messages dollar for and the investing same won't a fair be return missed if you combined take a with combined earlier offering with the 'term' tools and based Emerald financial Portfolio product issued – a socially by

these offer: accumulated balances investing proper account over an of extended risk in the information deposits for that another app entity responsible the bank. The portfolio 'term' option deposit

into n 12-month a mix of term exchange investment; traded period equation. of time to average provides to invest it's into also what extremely appears introduced product is following basically member a loan to

funds 4.45% listed per on annum*; the ASX, free or, into Over the markets the holiday smoothing period informative to be venture – as a capital. regular user feedback; another company or fund so

by account you debiting set-up; an amount monthly or out it was peaks reported and troughs. that our Of you The can't hedge help fund but become mentioned Little that it Acorns can go – and sub accounts invest in a

regular distributions; payment from dedicated your course major banks it doesn't made hurt even that it more above informed is a classic about hedge the fund designed range of to smaller allow investment companies

bank account account manager; to your Acorns $100k does further all of cuts these to things the low within behaviour that can take of markets advantage whether of on before behalf they of children list on any or other stock

account. minimum. Most users enjoy the the rates framework available of on a highly cash you gearing are looking and any to combination

or not – the dependants exchange. under the age of 18.

56 54 DECEMBER FEBRUARY 2018 2017

The Local Voice Since 1991
---
On their own, there

is absolutely nothing

wrong with any one of

these financial products

if you understand and

knowingly accept the risks

involved in making an

investment. Problems are

only going to arise if there

is a mismatch between the

risk and performance of what

you invested in and what you

thought you invested in.

There is also a common

thread through these three

very different investment

products. Each of them is only

being offered to 'sophisticated'

investors, occasionally

referred to as 'professional'

or 'wholesale' investors

as well. These flatteringsounding

terms come from the

Corporations Act, which in a

nutshell says that if you have

an accountant's certificate

verifying that you hold assets

in excess of $2.5 million, or

earned gross income in excess

of $250,000 per year for the

past two years, or you are

investing over $500,000 in a

single holding, then you do not

need to be provided with the

range of consumer protections

that retail investors receive –

such as a statement of advice

considering your financial

needs and risk profile, fee

disclosures or access to the

financial ombudsman service

etc.

As one of my clients who

was contemplating one of

these investments noted: Half

of the suburb of Manly could

be classified as sophisticated

just by virtue of their

property holdings.

But just because you

can get a ticket to the

high rollers' room doesn't

mean you should suspend

common sense and healthy

scepticism; on the contrary

you should have more than

average, according to the

legislation. Those of us

around during the last great

crisis 10 years ago can recall

most hedge funds shutting

up shop, all of the investment

banks pulling back or closing

their structured product

divisions and even blue chip

shares taking a 40% haircut

in value.

If you recall, all of this was

precipitated by the under

valuation and under-pricing of

risk – house prices will never

fall, asset prices are robust,

liquidity is plentiful, money is

cheap… and so on. At a time

when low cash returns are

forcing many investors higher

up the risk spectrum, we

need to maintain our guard.

To avoid the problems of the

past…

Brian Hrnjak B Bus CPA

(FPS) is a Director of GHR

Accounting Group Pty

Ltd, Certified Practising

Accountants. Offices at:

Suite 12, Ground Floor, 20

Bungan Street Mona Vale

NSW 2103 and

Shop 8, 9 – 15 Central Ave

Manly NSW 2095,

Telephone: 02 9979-4300,

Webs: www.ghr.com.au and

www.altre.com.au Email:

brian@ghr.com.au

These comments are of a

general nature only and are

not intended as a substitute

for professional advice.

Business Life

The Local Voice Since 1991

FEBRUARY 2018 55
---
Business Life: Law

Business Life

Importance of investing

in field of conveyancing

Over the years this column

has addressed the

subject of conveyancing

– what is it and its importance

to all who have property

transactions, both residential or

commercial.

Briefly a Conveyance has

been defined as "a mode by

which property is transferred

from one person to another

by written instruments and

related formalities, and also

such an instrument itself, such

as a lease, mortgage, or vesting

instrument".

It is the science and art of

validly creating, transferring,

and extinguishing rights in

property, particularly in or over

land by written deeds of various

kinds. It has traditionally been a

major branch of legal work and

lawyers' business.

It includes investigation of

title – the document which

at the end of a transaction is

paramount. For after every

step has been taken, if a

vendor is unable to convey a

clear unencumbered title there

will be no settlement – no

concluded transaction.

To market a property, a

real estate agent needs to be

provided with a draft contract

by a solicitor or conveyancer for

those prospective purchasers,

who having inspected the

property, wish to investigate

with their legal advisors the

specific details of what is being

offered for sale.

The draft contract contains

12 pages of conditions in what

is known as the Law Society

Contract, the latest edition

being 2017. To this is added

Special Conditions, drafted

by the solicitor and designed

to protect the interests of the

vendor; and a title search as

held in Land and Property

Information (old Titles office) –

this should show the identities

of the individuals or companies

who are registered as owning

the land upon which the

improvements or buildings are

found and if more than one

person is noted as owner on

title the manner in which their

shares are held i.e. joint tenants

or tenants in common (and if

the latter the percentage held

by each person).

The Title should also show

any plan of subdivision,

easements, covenants mortgage

or caveat and even on rare

occasions a caveat in the name

of 'Queen Elizabeth II' meaning

a failure to pay land tax.

Other documents to be

included should be a survey

of the property showing the

placement of the buildings or

improvements on the land,

a building certificate – this is

more optional and a serious

purchaser should seek the

Vendor's agreement for one

to be obtained from the local

council. Plus a final occupation

certificate (if the property

is new or has had major

renovations), and a swimming

pool certificate showing that

the pool complies with recent

legislation. There are other

elements depending on the

type of property. Whether it is

with Jennifer Harris

a Retirement Village or a Strata

Title complex or Company

title and rural lands can be

different again. Frequently

Contracts are offered for 'Off

the Plan' property (units or

townhouses yet to be built). In

this transaction a prospective

purchaser agrees to purchase

and pays a deposit on a specific

plan – usually to be built

within a nominated period to

completion and payment of the

final agreed sum. Should the

time period not be achieved a

'sunset clause' may operate and

the parties can agree to rescind.

There are obvious risks in this

type of transaction.

Media comment from time to

time suggests that conveyancing

should cost very little in terms

of time and effort, this being

particularly so for residential

property. There may be some

transactions which appear

straightforward but in this

writer's experience they can be

few and far between. There are

many matters which can add to

the complexity of conveyancing.

For example, questions of land

tax; home warranty insurance;

GST; unauthorised or illegal

structures; caveats; separate

advice for a purchaser of First

Home Owners Grant; whether

the property is subject to a

tenancy; if a retirement village

separate advice on the village

contract and advice as to the

purchasers' rights and liabilities;

56 FEBRUARY 2018

The Local Voice Since 1991
---
whether Foreign Investment

Review approval is required; and

finally the nature of ownership.

If unequal shares, the need to

ascertain percentages if the

property is held as tenants in

common. Quite often Family

Law property settlements have

to be taken into consideration.

These are an indication

of some of the issues to be

determined by the lawyer

conveyancer.

The first grant of land from

the Crown was made in NSW

in 1792. It was based on the

English Common Law System

of conveyancing known as 'old

system'. Each time land was

sold or mortgaged, a separate

deed was drawn up and when

lodged for registration, was

given a book and number

identification. To prove

ownership to title there had

to be an unbroken series of

deeds i.e. Grant, conveyance,

mortgage, re-conveyance,

acknowledgement, discharge of

mortgage, etc. This is known as

the chain of title.

This system has

overwhelmingly been replaced

by Torrens title. A system of

land registration, in which

a register of land holdings

maintained by the state

guarantees an indefeasible title

to those included in the register

have ownership transferred

through registration of title

instead of deeds.

As technology has

transformed business over

the past 30 or 40 years with

facsimile, email and text, so too

have aspects of conveyancing

with the development of E

Conveyancing – largely done

online. However, there remains

major issues to be addressed

before a clear title and

settlement can be achieved.

Risks which are frequently

identified are: illegal/

unapproved building works;

incorrect boundaries;

encroachments; unpaid rates

and taxes; identity theft, fraud

and forgery; and dealings with

the property by third parties

after exchange but before the

incoming purchaser settles and

is registered on title to mention

but a few.

An added method of

protection of title introduced

in recent years is the

introduction of title insurance

The Local Voice Since 1991

for home buyers. There are

two companies – First Title

and Stewart Title – both with

American antecedents. These

policies provide an indemnity in

respect of 'actual loss' suffered

by an insured in circumstances

where a property has been

purchased without a building

certificate, and following

settlement the purchaser is

ordered to demolish or rectify all

or part of an existing structure

due to non-compliance with the

relevant development consents

required by law.

Depending on the

circumstances each of the

matters listed above can be

covered by title insurance. It

is particularly important in

matters of identity theft, fraud

and forgery, which with the

development of technology can

produce documents of all kinds

– particularly titles. There have

been cases in Western Australia

and the ACT where owners have

had their properties sold and

titles registered to new owners

by use of forged titles.

It would be prudent to

consider these matters with

your lawyer/ conveyancer. So

often we receive an inquiry

which asks how cheaply we can

act on a conveyance. So often it

is from someone who has or is

about to pay over $1 million for

the property to be purchased.

It always seems strange that

one would ask for cut-price

conveyancing on something

so vital and important. The

average person in life sees a

solicitor for conveyancing, a

Will and Power of Attorney and

associated documents. We

encourage the care you take in

choosing your property to be

reflected in the care you take

in choosing your conveyancing

team. Long ago this writer

embraced the idea of having a

certified practising conveyancer

as part of our team so that

clients may have the benefit of

both practitioners in the field of

conveyancing.

Comment supplied by

Jennifer Harris, of Jennifer

Harris & Associates, Solicitors,

4/57 Avalon Parade,

Avalon Beach.

T: 9973 2011. F: 9918 3290.

E: jennifer@jenniferharris.com.au

W: www.jenniferharris.com.au

FEBRUARY 2018 57

Business Life
---
Trades & Services

Trades & Services

AUTO REPAIRS

British & Swedish

Motors

Call 9970 6654

Services Range Rover, Land

Rover, Saab and Volvo with the

latest in diagnostic equipment.

Narrabeen Tyrepower

Call 9970 6670

Stocks all popular brands

including Cooper 4WD. Plus

they'll do all mechanical repairs

and rego inspections.

Barrenjoey

Smash Repairs

Call 9970 8207

barrenjoeysmashrepairs.com.au

Re-sprays a specialty, plus

restoration of your favourite vehicle.

Commercial vehicle specialist.

BOAT SERVICES

Avalon Marine

Upholstery

Call Simon 9918 9803

Makes cushions for boats, patio

and pool furniture, window seats.

ELECTRICAL

Eamon Dowling

Electrical

Call 0410 457 373

For all electrical, phone, TV,

data and security needs.

FLOOR COVERINGS

Blue Tongue Carpets

Call Stephan 9979 7292

Family owned and run. Carpet,

rugs, runners, timber, bamboo, vinyl,

tiles & laminates. Open 6 days.

GARDENS

Graham Brooks

Call 0412 281 580

Tree pruning and removals.

Reports regarding DA tree management,

arborist reports.

Precision Tree Services

Call Adam 0410 736 105

Adam Bridger; professional tree

care by qualified arborists and

tree surgeons.

CLEANING

The Aqua Clean Team

Call Mark 0449 049 101

Quality window washing,

pressure cleaning, carpet

washing, building soft wash.

Martin Earl House Wash

Call 0405 583 305

Pittwater-based owner on site at

all times. No travellers or uninsured

casuals on your property.

House Washing

Northern Beaches

Call Ben 0408 682 525

Family-run housewashing –

exteriors, high-pressure cleaning

and soft washing; 18 years

on the Northern Beaches.

LAWN CARE

Platinum Turf Solutions

Call Liam 0412 692 578

Specialists in turf supply &

installation, lawn care & cylinder

mowing, full lawn construction,

turf renovations, maintenance.

MASSAGE & FITNESS

Avalon Physiotherapy

Call 9918 3373

Provide specialist treatment for

neck & back pain, sports injuries,

orthopaedic problems.

Avalon Physiotherapy

& Clinical Pilates

Call 9918 0230

Dry needling and acupuncture,

falls prevention and balance

enhancement programs.

Avalon Beach

Chiropractic

Call 9918 0070

Professional care for all ages.

Treatment for chronic and acute

pain, sports injuries.

Francois Naef/Osteopath

Call 9918 2288

Diagnosis, treatment and

prevention for back pain and

sciatica, sports injuries, muscle

soreness and strain, pregnancyrelated

pain, postural imbalance.

PAINTING

Contrast Colour

Call 0431 004 421

Locals Josef and Richard offer

quality painting services. Tidy,

reliable, they'll help consult

on the best type of paint for

your job.

Modern Colour

Call 0406 150 555

Simon Bergin offers painting

and decorating; clean, tidy,

quality detail you will notice.

Dependable and on time.

Painting & Decorating

Call 0418 116 700

Andrew is a master painter with

30 years' experience. Domestic

and commercial; reasonable

rates, free quotes.

Interior &

Exterior Colour

Call 0417 236 577

Deborah is a local colour and

interior design/decorating

consultant with over 30 years'

experience. One-hour colour

consultation with spec and

samples.

UPHOLSTERY

All Foam

Call 9973 1731

Cut to measure quality foam

for day beds, boats, caravans

and more. Discounted prices

and reliable local service. Free

measure and quote.

Luxafoam North

Call 9999 5567

Local specialists in all aspects of

outdoor & indoor seating.

Custom service and expert

advice.

Esyou Design

Call Susan 0422 466 880

Specialist in day bed and outdoor

areas. Reliable local

service. Offering domestic &

commercial.

Leather Hero

Call 0490 796 012

Northern Beaches-based specialists

in leather cleaning, revamps,

repairs and colour restoration for

lounges, cars and boats.

Advertise your

Business in

Trades

& Services

section

Phone

0438 123 096

58 FEBRUARY 2018

The Local Voice Since 1991
---
Trades & Services

The Local Voice Since 1991

FEBRUARY 2018 59
---
Trades & Services

TUITION

Northern Beaches

Home Tutoring

Call John 9972 1469

1-ON-1 individual tutoring

in your home. All ages and

subjects K-Uni. Qualified tutors.

WWC child protection checked.

Since 2009.

Eliminate all manner of pests.

They provide a 24-hour service.

PUMPS & TANKS

Water Warehouse

Call 9913 7988

waterwarehouse.com.au

Rainwater tanks & pumps. Irrigation

& filter supply specialists.

DISCLAIMER: The editorial and advertising content in Pittwater Life

has been provided by a number of sources. Any opinions expressed

are not necessarily those of the Editor or Publisher of Pittwater Life

and no responsibility is taken for the accuracy of the information

contained within. Readers should make their own enquiries directly

to any organisations or businesses prior to making any plans or

taking any action.

Trades & Services

PEST CONTROL

Predator Pest Control

Call 0417 276 962

predatorpestcontrol.com.au

Environmental services at their

best. Comprehensive control.

Advertise

your Business

in Trades

& Services

section

Phone

0438 123 096

RENOVATIONS

Rob Burgers

Call 0416 066 159

Qualified builder provides all

carpentry needs; decks, pergolas,

carports, renovations and

repairs.

Underdeck

Call Adrian 0417 591 113

Waterproof under your deck and

turn the area into usable space

all year round.

SunSpec

Call Dustin 0413 737 934

sunspec.com.au

All-aluminium, rust-proof remotecontrolled

opening roofs & awnings.

Beats competitor's prices.

60 FEBRUARY 2018

The Local Voice Since 1991
---
the

good

life

Showtime

Shakespeare in the park

Theatre company Bard on the Beach returns

to Avalon with three outdoor performances

in February.

Fans can look forward to Shakespeare's first

comedy The Two Gentlemen of Verona on Fri

23, and two performances of The Tragedy of

King Richard III on Sat 24 and Sun 25.

The performances will be in Dunbar Park

starting at 7.30pm.

There are no tickets; it's first-in, bestdressed

– we suggest you get there early to

find a place on the grass and reserve your

spot with a blanket.

You can take low chairs, grab some takeaway

or bring a picnic dinner and enjoy the show.

Once the sun sets it can get very cold so make

sure you pack something to keep you warm.

Payment is at the end of the show by

donation only; recommended minimum $20

per person. Info bardonthebeach.net.

dining

food

62

66

All ages

band night

Showcasing a unique blend

of rock, pop, soul and

beyond local brother-duo

Lime Cordiale (right) and Gold

Coast rock band Bleeding

Knees Club will be doing their

stuff at the Northern Beaches

PCYC in Dee Why on Fri 16

from 7-10pm.

Tickets $15 includes free endof-night

transport to Mona Vale

and Manly and a one-year PCYC

membership.

Supported by bands Black

Iguana and Heartlake, this is an

all-ages, alcohol- and drug-free

event. If the kids don't already

know how to book tickets,

you can find details on the NB

Council website.

Showtime

crossword

gardening

travel

69

70

73

Around

the clubs

If our maths are right it's

been 40 years since Aussie

rock legends The Radiators

played their first show, yet if

you are lucky enough to catch

The Rads on stage these days

you'll see the passing years

and rigours of touring haven't

diminished their spark.

Tickets to The Radiators and

Spy Vs Spy at Dee Why RSL

on Friday 9 are selling like

hotcakes, so better be quick!

Starts 7.45pm; tickets $30.

If classic rock (we're talking

Queen, The Eagles, Bruce

Springsteen, Kiss, Creedence

Clearwater… you get the

drift) is more your style check

out the gig locked in on Sat

10 at The Royal Motor Yacht

Club; members $25,

non-members $30.

FEBRUARY 2018 61
---
Dining Guide

February's best restaurants, functions, events and reader deals...

Bistro 61

Avalon Beach RSL

1 Bowling Green Lane

Avalon Beach

OPENING HOURS

Open 7 days

Lunch 12pm-2:30pm

Dinner 5:30-8:30pm

CUISINE

Modern Aust / pub food

PRICE RANGE

Meals $8-$30

Specials $12-$15

BOOKINGS 9918 2201

Avalon Beach RSL's Bistro 61

is a great place to head for

a local meal, offering tasty

modern Australian dishes at

affordable prices.

Don't miss their $25 Ribs

deal for lunch or dinner on

Mondays in February.

Plus they're open for

breakfast on weekends over

summer, from 8am.

Watch Super Bowl LII on

February 5 with $5 chicken

wings and $20 buckets of

Budweiser.

Great music acts on

The holidays may be over but

smart operators of eateries and

bars are taking advantage of

the warm weather with great

options for customers.

Café Racer – formerly The

Inch – overlooking Village Park

at Mona Vale is now open for

dinner on Friday and Saturday

nights, with owner Jeremy

Drayton excited about the

dishes prepared by head chef

Karan Sandhu (below).

"Customers have been

asking us to open for cocktails

Saturdays this month include

The Replacements (3rd), Nat &

Rin (10th), Shade of Red (17th)

and East West Blues (24th).

Happy Hour is every

Monday, Tuesday & Friday from

4-6pm.

Open for lunch and dinner

seven days, with extensive

outdoor dining areas, Bistro

61 offers a variety of specials

(lunch and dinner) during the

week, including $12 tacos

(Tues), $15 Chicken Schnitzels

(Wed), 2-4-1 pizzas (Thurs), and

a $20 burger + beer (Fri).

Seniors are well catered

for – there are daily Seniors

specials, including beerbattered

flathead – plus they

do a $5 kids meals on Sundays!

(There's a playground, too.)

From the menu, chef

Mitch recommends his twist

on nachos – pulled beef and

blackbeans with chipotle, corn

chips, guacamole, Danish fetta

and coriander.

Members get discounts on

meals purchased. Membership

starts from $5.50.

The club is licensed, with

no BYO. Bookings online or

call 9918 2201 – large groups

welcome.

More tasty morsels

and drinks, so we've put a

thoughtful menu together

including share plates, pasta,

steaks and salads," he said.

"We've been trading seven

days for the past decade and

have always been a popular

breakfast and lunch destination

– we're happy we can now

translate into a relaxing dining

venue at the weekend."

He added food blogger

spooningaustralia.com.au had

recently joined them for dinner

– "Look us up there, with some

great dinner photos, or come

try for yourself soon!"

Meanwhile north of the

bends, Freebird Avalon (right)

is making a name for itself with

its '70s vibe, attractive cocktail

list and menu crafted by ex-

Lucio's (Paddington) sous chef,

Simon MacKay.

Owner Daniel McManus has

Hong Kong

Chinese Restaurant

332 Barrenjoey Rd,

Newport

OPENING HOURS

Dinner Tues-Sun 5pm

CUISINE

Chinese & Asian

PRICE RANGE

Entrees $5-20

Mains $12.90-26.50

*Deliver Whale Beach - Narrabeen

BOOKINGS 9997 4157

Book a table at this

popular Newport eatery in

February and your family

is guaranteed a great night

out with a feast for the eyes

and the tastebuds.

Order ahead for their

wonderful Peking Duck which

is offered as a dine-in-only

special Thursdays through

Sundays in Summer.

There are two traditional

courses: Peking Duck

pancakes & duck sang choy

bow (bookings essential;

62 FEBRUARY 2018

The Local Voice Since 1991

LIC

BYO

All

an impressive hospitality CV;

he started as a barman at 17

and progressed to opening

Mojo Record Bar which he ran

for four years (winning Time

Out's People's Choice Award

and Best New Bar in Australia

award at the prestigious

Bartender Awards) moving to

Palm Beach where he consulted

to the industry.

He spent the past year

waiting for the right space to

become available in Avalon

for his new venture – which

P

mention the ad when you

call).

This long-established

restaurant on the eastern

side of Barrenjoey Rd has

an extensive menu based

on traditional flavoursome

Cantonese with touches of

spicy Szechuan and other

Asian dishes and fresh

seasonal vegetables.

Entrees start at just $6

while mains are great value

too, starting at $16.80.

The menu ranges from

adventurous, like a Sizzling

Szechuan-style Platter of

king prawns and fillets of

chicken, to contemporary,

featuring spicy salt and

pepper king prawns, to

traditional, with favourites

including Mongolian lamb,

Honey king prawns and

Honey chicken.

New dishes are introduced

regularly so make sure you

check out the blackboard

specials.

The team are only too

happy to home deliver your

meal, with a range that takes

in Narrabeen to the south to

Palm Beach in the north.

Fully licensed or BYO.

opened in December.

Daniel is rightly proud of

the transformation of his space

overlooking Avalon Parade.

"I did 75 days straight of 15

hours so yes, a big job!"

So why Avalon?

"There are a lot of music

lovers in Avalon and people

who love live music," Daniel

said. "I saw Avalon as a great

place where I could open up a

venue to eat, drink, gather and

enjoy the music, both on our

playlist and our live gigs.

"I spend hours every week

getting the playlist right. Our

food menu is designed for

people to come in and share

over a bottle of wine or a beer

so it's very much a place to

catch up with friends."

And why Freebird?

"I've always loved the Lynyrd

Skynyrd song – all nine minutes

of it!" he explained. "It had a

nice retro sound and was in

line with the era of music I play
---
Royal Motor

Yacht Club

Salt Cove on Pittwater

46 Prince Alfred

Parade, Newport

OPENING HOURS

Breakfast Lunch & Dinner

Mon-Fri from 8.30am

Weekends from 8am

PRICE RANGE

Breakfast from $8-$18

Entrees from $9-$21

Mains from $16-$26

BOOKINGS 9997 5511

RMYC's restaurant Salt

Cove on Pittwater's menu

offers affordable meals and

generous servings including

a variety of starters and share

plates, seafood, burgers,

grills, salads, desserts and

woodfired pizza.

Great Friday night music in

kicks off in the Lounge Bar

from 7.30pm. Acts in February

include: Jack Derwin (2nd),

Braden Evans (9th), Peter Kinch

(16th) and Joe B (23rd).

Get ready for The Classic

Rock Show on Saturday

February 10, with the music

of Blondie, Bruce Sprinsteen,

Creedence Clearwater Revival,

Queen, The Eagles and more.

Trivia is held every Tuesday

night from 7.30pm (great

prizes and vouchers).

Club social memberships

are available for just $160.

Barrenjoey

Bistro

Club Palm Beach

1087 Barrenjoey Rd,

Palm Beach

BISTRO OPENING HOURS

Lunch 11:30am-2.30pm

Dinner 6pm-8.30pm

PRICE RANGE

Lunch and dinner

specials $13.50

BOOKINGS 9974 5566

Head to Club Palm Beach,

conveniently located just a

short stroll from Palm Beach

Wharf, for hassle-free dining

in February.

Barrenjoey Bistro is open

for lunch (11.30am to 2.30pm)

and dinner (6pm to 9pm) seven

days, plus there's a Snack Menu

available 2.30pm-6pm.

The Bistro serves top-value a

la carte meals plus daily $13.50

specials of roasts (Mondays),

rump steak with chips and

salad (Tuesdays), chicken

schnitzel with chips and salad

(Wednesdays), homemade

gourmet pies with chips and

salad (Thursdays) and fish

and chips with salad (Fridays),

except public hols.

Watch Super Bowl LII on the

big screen on Monday February

5. The Members' lucky badge

draw is held Wednesday and

Friday night (every 30 mins

between 5pm-7pm), and

jackpots by $100 each week.

Enjoy Trivia Night from

5.30pm on Wednesdays, plus

Bingo 10am on Fridays.

The club has a courtesy

bus that makes regular runs

Wednesdays, Fridays and

Saturdays from 4.30pm to

9pm. Ring to book a pick-up.

here – '50s through '70s.

"The posters on the wall are

all Tour and band posters from

that era, so it has authenticity."

Daniel recommends

Freebird's 18-hour slow-cooked

pork belly; for drinks, he

says you can't go past their

signature 'Let's Twist Again',

cocktail – a blend of fresh lime

juice, maraschino liqueur and

gin, shaken and served in a

chilled martini glass.

"And we have launched a

special kids / family menu

every day from 4pm – 7pm.

The kids menu has dishes such

as Roast Chicken ragu with

hidden vegetables – we grate

broccoli, carrot and zucchini

into it so the kids might not

notice! And we have a classic

Australian BBQ session with

drinks specials every Sunday

afternoon – perfect for our

outdoor balcony."

Find Freebird at 50 Old

Barrenjoey Rd, Avalon.

The Local Voice Since 1991

FEBRUARY 2018 63
---
Functions

Couple look to love beyond Mirage

Valentine' Day will be extra

special for Newport couple

Marisa Galvez Ganoza and

Miguel Arrisueno – not only

will it be their first as a married

couple but the first time

they have spent February 14

together in the same country.

Theirs is a true and very

modern love story. Marisa,

50, and Miguel, 56, first met

and became great friends as

students in Peru in 1985 but

when Miguel's family moved to

Australia they grew apart.

Then, after 26 years, Miguel

used Facebook to track down

the woman he "always remembered

with love" sending her a

message "just to say hello" as

Marisa was married with four

children.

Turns out Marisa had

recently separated from her

husband… and it wasn't long

before a few messages through

Facebook turned into hundreds

of exchanges every day.

"After a while we challenged

each other who was going to

call first… and she did!" Miguel

said.

When Miguel visited Peru

they "instantly clicked – and

after six wonderful weeks we

realized that there

was a chance for

love!" he said.

For four years

Miguel travelled to

Peru to see Marisa

twice a year; and

he proposed over

a candle-lit dinner

complete with

champagne and

strawberries when

Marisa came to

Australia to visit.

The couple's decision to

marry at The Metro Mirage

Newport last September was

an easy one.

"It's such a wonderful place

Marisa and Miguel and

their ceremony at Metro

Mirage Hotel Newport.

with a stunning view

that we had already

fallen in love with as

we live only three

blocks away and the

people there are

amazing and very

helpful," Miguel said

The couple described the

wedding planning experience

as "fascinating" and were impressed

by the attention given

to detail – such as the release

of two balloons with the names

of their fathers who had

recently passed away.

"The highlight of the

day was seeing each other

in our wedding clothes

and realizing that we were

finally getting married

after four long years of

a long-distance relationship…

and having a dance

with all our friends," Miguel

said.

"Now that we are finally here

together we are planning to

have a wonderful life."

Thinking of tying the knot?

The Summer Wedding Expo

will be held on Sunday Feb

18 from 1pm-4pm at the

Metro Mirage Hotel overlooking

beautiful Pittwater

at 2 Queens Parade West,

Newport. Meet wedding suppliers,

enjoy live music and

canape and wine tasting. Free

entry. See Facebook or visit

metrohotels.com.au or call

9997 7011 for details.

64 FEBRUARY 2018

The Local Voice Since 1991
---
Times Past

Careel House a Jolly good design

Careel House (on the north

of Bangalley Headland)…

"which is substantially

in its original condition, is a

proud simple structure. It is

difficult to determine where

the structure ends and the cliff

begins. It rises from the rocks

as though it is part of them,

revealing a master story-teller

who has mixed fact with fiction

so boldly that the house has

the dimension of truth". This

appropriate statement is how

Douglas Al exander saw the

house (and architect Alexander

Stewart Jolly's philosophy)

when appraising it in his thesis

for his Bachelor of Architecture

in 1969.

Careel House is another

of Alexander Stewart Jolly's

Avalon Beach masterpieces,

designed in 1931 for Major and

Mrs Pauline Grieve.

Although the house was

built by Czech stonemasons

and using sandstone from the

site, the stunning fireplace

was designed and almost

certainly constructed by

Jolly with his own hands. It

is characteristic of several of

Jolly's fireplace designs but

this fireplace is undoubtedly

his most elaborate – "built

on baronial proportions".

It extends across the entire

seven-metres width of the

house, with the ingle a direct

extension of 3.5 metres into

the living room. Seating

extends on either side of the

hearth and the ingle became

a cosy retreat during wintery

and westerly conditions.

It was designed using the

principles Jolly observed

when he revisited Scotland

and some of the original

ingles there. Although the

fireplace is almost massive in

proportions, it possesses some

delightful details of form,

patterns and earthly colours.

Another internal feature

of the house was the folding

'Hollywood-style' beds in

the living room. The four

beds were constructed of

timber and sprung with

springs bought from the

Railways Department and

fitted by a Czech handyman.

During the day they were

recessed in the stone walls

and appeared as bookshelves

and had a cupboard in each

one with linen underneath.

At night they were turned

on a vertical axis through

180 degrees and were laid

horizontally to become

beds. Of course, this gave

more space during the

day and provided sleeping

accommodation without

having to include separate

bedrooms.

The floors throughout

the house were originally

polished cedar boards with the

characteristic red colour and

ran the full length of the living

room space. The longitude

orientation of these boards

tended to further exaggerate

the length of the living room

space of 17.2 metres (56 feet).

The bathroom was originally

a "handsome affair" composed

of daffodil yellow unglazed

tiles with a sunken bath,

built-in cupboards and (rather

primitively) the shower

operated by a string.

TIMES PAST is supplied

by local historian

and President of the

Avalon Beach Historical

Society GEOFF SEARL.

Visit the Society's

showroom in Bowling

Green Lane, Avalon

Beach.

Times Past

The Local Voice Since 1991

FEBRUARY 2018 65
---
Food Life

Light seafood meals are

a great way to beat heat

with Janelle Bloom

It's back to school, work and

regular routine – which is

nowhere near as much fun

as the time off most of us have

just enjoyed. Nevertheless, the

weather will remain warm to

hot for the coming weeks, so

light meals remain front of

mind. I'm sure you'll discover

these seafood recipes fit the

bill! Enjoy!

Warm salmon

& rice salad

Serves 4 (as light meal)

Food Life

Recipes: Janelle Bloom Photos: Steve Brown; Benito Martin; Thanks also to Perfection Fresh

2 tbs sesame seeds, toasted

2 green onions, finely chopped

1 tsp sesame oil

1½ tsp caster sugar

3 tbs soy sauce

3 tbs rice wine vinegar

2 tsp finely grated fresh ginger

2 x 375g pieces salmon fillet,

skinned, pin-boned

1¼ cups rice and quinoa

1 bunch Broccolini, ends

trimmed

1 tbs light olive oil

4 Quke baby cucumbers, thinly

sliced

1 cup coriander or parsley

leaves

2 cups bean sprouts, trimmed

1 long red chilli, deseeded,

finely chopped

1. Combine the sesame seeds,

green onion, sesame oil,

sugar, soy, vinegar and ginger

in a jug. Put salmon onto

a plate and spoon over 1½

tablespoons dressing, turn to

coat. Cover and marinate in

the fridge 10 minutes.

2. Cook the rice and quinoa

following packet directions.

Drop the broccolini into a

saucepan of boiling salted

water, cook 1 minute. Drain,

pat dry then chop.

3. Heat a large frying pan over

medium-high heat until hot,

add oil, swirl to coat pan.

Cook salmon for 2 minutes,

turn and cook further 2 minutes.

Reduce heat, cook 5-6

minutes for medium or until

cooked to your liking, remove

to a plate, stand 5 minutes

then break into pieces.

4. Combine the warm rice, broccolini,

Qukes, coriander, bean

sprouts and chilli. Gently stir

through the salmon. Pour

over the remaining dressing

and serve with lime wedges if

desired.

Fish tagine

Serves 4

2 tbs olive oil

1 large brown onion, finely

chopped

4 garlic cloves, crushed

Finely grated rind, 1 lemon

1 tsp sea salt

3 tsp ground turmeric

3 teaspoons ground cumin

¼ tsp ground cinnamon

2 large ripe tomatoes, diced

2 cups chicken or fish stock

6 chat potatoes, peeled, cut

into thick wedges

1 cup flat leaf parsley leaves,

chopped

100g Sicilian green olives

800kg skinless white fish fillets,

66 FEBRUARY 2018

The Local Voice Since 1991
---
For more recipes go to www.janellebloom.com.au

cut into 3cm cubes

1 cup couscous

Extra parsley and lemon

wedges to serve

1. Heat oil in a large, deep

frying pan over medium

heat. Add onion, cook, stirring

often for 5 minutes or

until soft. Add garlic, lemon

rind, salt, turmeric, cumin

and cinnamon. Cook, stirring,

for 1 minute or until

fragrant.

2. Add the tomato, stock and

potato. Cover and simmer for

10 minutes or until potato is

just tender. Stir in the parsley

and olives.

3. Add the fish to the tagine,

cover and cook gently for 10

minutes or until fish is just

cooked through.

4. Meanwhile, place couscous in

a large heatproof bowl and

cover with 2 cups boiling water.

Cover and set aside for 5

minutes. Remove the cover

and stir gently with a fork to

separate the grains.

5. Divide couscous among serving

plates. Top with tagine

and sprinkle with parsley and

serve with lemon.

Fresh fish nuggets

Serves 4-6

800kg skinless, boneless white

fish fillets, cut into 3cm cubes

2 tsp Worcestershire sauce

1 tbs tomato sauce

1 tsp sea salt flakes

2 tsp ground white pepper

2 tbs chopped flat leaf parsley

1 tbs corn flour

1 cup plain flour

2 eggs, beaten

Vegetable oil for cooking

Sour cream and sweet chilli

sauce or tartare sauce, to serve

1. Place fish into a food

processor. Pulse until finely

chopped. Add Worcestershire

sauce, tomato sauce, salt,

pepper, parsley and cornflour.

Pulse to form a sticky

paste.

2. Using a tablespoon of mixture,

use wet hands to shape

into nuggets. Place onto a

tray lined with baking paper.

Dust lightly in flour, turn and

dust other side. Repeat until

all mixture is shaped.

3. Dip nuggets into beaten egg

and then into flour again.

4. Heat a large, deep frying pan

or wok with enough vegetable

oil to come halfway up

the sides until to 180°C (see

Janelle's Tip). Cook nuggets in

batches of six for 2-3 minutes,

turning over halfway or until

cooked through. Remove to a

wire rack to drain.

5. Serve with sour cream and

sweet chilli sauce or tartare

sauce.

Janelle's tip: To check if oil

is hot enough add a cube of

bread to the hot oil – it should

turn golden in 10 seconds.

Apple jelly

grape cups

Makes 8

2 cups clear apple juice or apple

cider

3 tsp powdered gelatine

1 tbs water

750g seedless black grapes

1. Pour the apple juice or cider

into a small saucepan. Mix

gelatin and water in a small

bowl. Add to the apple juice.

Whisk over low heat for 5

minutes until gelatin dissolves

and mixture is warm.

Set aside for 20 minutes to

cool.

2. Remove grapes from the

stalk. Put them into plastic

cups or glasses. Pour the apple

mixture over the grapes

to almost cover. Refrigerate

for 4 hours until set and well

chilled. Serve with scoop

vanilla ice cream if you like.

Tip: Try using cranberry,

mango or pineapple juice

instead of apple juice.

Food Life

The Local Voice Since 1991

FEBRUARY 2018 67
---
Food Life

In Season

Limes

Janelle's Tip:

To get the most

juice from the

fruit, roll on the

benchtop then

microwave for 20

seconds before

cutting in half

and juicing.

Food Life

Closely related to lemons,

the lime originated in

South East Asia. In Australia

we see two varieties: the

Tahitian lime which has a

green skin, and the Mexican

Lime which is yellow-skinned.

Buying

Look for fruit that is brightly

coloured and feels heavy.

While they are in season it's

a good idea to buy in bulk

and juice the fruit. Pour into

ice cube trays and freeze

then transfer to an airtight

container or bag and freeze.

Storage

Store out of direct sunlight

in a fruit bowl on the bench

for up to 7 days, or in an

unsealed plastic bag in the

crisper for up to one month.

Also In Season

February

Apricots; Berries

(blueberries, raspberries

& strawberries); Figs;

Lychees; Mangoes;

Watermelon, Nectarines;

Peaches; Pineapple; Plums;

also Avocado; Beans

(butter, snake, green &

flat); Cucumber, Chillies,

Capsicum; Lettuce; Sugar

Snap Peas; Radishes, Corn,

Tomatoes and Zucchini.

Nutrition

Limes are a great source of

vitamin C.

Lime & berry ice pops

Makes 12

4 limes, juiced

¼ cup white sugar

1¾ cups coconut water, chilled (see Janelle's Tip)

125g Perfection Fresh Blueberries

125g Perfection Raspberries

1. Combine lime juice and sugar in a small saucepan. Stir over

medium heat until the sugar has dissolved. Bring to the

boil, simmer gently 5-8 minutes until syrup has reduced by

half. Set aside to cool.

2. Combine the blueberries and raspberries in a bowl. Half-fill

12 x 80ml (1/3 cup) popsicle moulds carefully with berries.

Combine the lime syrup and coconut water in a jug. Pour

over the berries to almost cover. Freeze for 30 minutes or

until partially frozen.

3. Insert a paddle-pop stick into the centre of each mould.

Add the remaining berries then cover with remaining juice.

Freeze for 6 hours or overnight if time permits. Remove

from the moulds and serve immediately.

Janelle's Tip: You can buy watermelon coconut water which is

great option for this recipe!

68 FEBRUARY 2018

The Local Voice Since 1991
---
Pittwater Puzzler

Compiled by David Stickley

31 Across clue

30 Item from a restaurant's menu (4)

31 Establishment like La Paysanne in

Bilgola (10)

ACROSS

1 Fellow pupil from Pittwater House,

perhaps (10)

6 Black bird sometimes seen on Narrabeen

Lagoon (4)

10 Reserve in Bayview that will soon have

its boating facilities upgraded (7)

11 Puzzling sort of device for cryptic

crossword solvers (7)

12 The B in NBN (9)

13 To supply or provide with (5)

14 Growing old (6)

16 Handyman's collection of stuff (7)

17 Possible final score after a round at

Avalon Golf Course (3)

19 Rigorously austere (7)

21 Solemn promise (6)

25 BBQ sausage-turners (5)

26 Recreational facility of which there

are seven between North Narrabeen and

Palm Beach (5,4)

28 Supplements (7)

29 A really hot day (7)

DOWN

1 Craft expertly raced by the Palm Beach

Patriots (8)

2 DIY bookstore section (3-2)

3 Continually (2,3,2)

4 Opening time of Limani Seafood Restaurant

in Narrabeen (6)

5 Almost secret opening in floor or ceiling

(8)

7 Event held in Gilbert Park Manly every

Friday night from 12 January to 23

March, _____ ____ Markets (5,4)

8 One, for example, anaesthetic? (6)

9 One of Alexander Stewart Jolly's Avalon

Beach masterpieces, ______ House

(6)

15 Food goodies sold by 4mates at the

Berry Reserve Market (9)

16 Possible result of summer at the

beach (3)

17 Wide landscape view (8)

18 Help yourself (4,4)

20 Describing the sun first thing in the

morning (6)

22 Pulses prominent in Curry By The

Curve's menu items (7)

23 Run aground (6)

24 Watercraft that takes advantage of

beautiful locations of Pittwater (3-3)

27 The archetypal uncultivated Australian

working man (5)

[Solution page 72]

Pittwater Puzzler

The Local Voice Since 1991

FEBRUARY 2018 69
---
Garden Life

Garden Life

Delight Passionate in the pomegranates amazing

colours great for of growing, hydrangeas eating

Pomegranates Always a favourite for

ger and sweeter with

Christmas are native to colour, hydrangeas

Iran, but are early flowering their

Pomegranates don't

some extra attention.

heads travellers off! took They the look wonderful

seed in the corners garden, brightening

the of the semi-shaded earth. Now areas and

glowing the pomegranate in the full, is protected

sunlight. grown all Once over the

older

varieties world. It has were been either pink or

blue found depending ancient on the soil,

additional carvings in lime China, will it deepen

the is mentioned pinks and in blueing the tonic

(sulphate Bible, it was of named aluminium) will

heighten in ancient the Rome blues, by but the

new Pliny named as the 'Apple varieties will

maintain of Carthage', their and colour. it's White

never said that changes. Venus There gave a are pomegranate

to Paris! of every size from

hydrangeas

the History tiny dwarf also tells Piamina us that to the juice

tall of the traditional pomegranate Mop was Heads. used by the

With prophet so many Mohammed to choose to purge from the

it sin is of almost envy. Pomegranates too difficult to grow like of the traditional mop heads,

decide. scarlet Christmas There are baubles, the delicate hanging the cone-shaped flowers of

lace from caps, a very the beautiful, huge blooms small, compact hydrangea paniculata bushes

tree and with bright, glossy green

like frost, but cooler

winters produce better

fruit. To fruit well

the flowers need bees

for pollination. Two

trees will fruit better

than one. (Plant plenty

of flowering plants to

attract the bees to the

garden.)

There are several

commonly

grown varieties,

but I think

the best is

'Wonderful'; its

fruit is softer

and the seeds

that can be two not metres so hard. tall.

The recently introduced Also, there is

smaller growing a dwarf Picotee pomegranate

varieties that with grows two-tone to just flower one

leaves. It is perfect for a small urban garden.

Pomegranates need hot weather to produce

metre – it is a great heads pot are plant hard or very to leave special be-ihind

flowers and if you still have produce a semi-

fruit

a rockery. The single

fruit; in cooler areas they are often grown as to eat.

shaded wall, the climbing

an ornamental shrub or tree. Late-winter pruning

will increase the density of the shrub. The amazing double flowers; beautiful. it won't give you any

The dwarf ornamental hydrangea pomegranate petiolaris is has just

crumpled petals of the bright scarlet flowers fruit but is a stunning Hydrangeas container are plant. forgiving

are a joy to see, standing out against the dense The huge leathery plants fruits that are are full easy of sweet to grow.

foliage. Pruned annually this delightful fruiting scarlet beads. They They can like be regular eaten raw, water used and for

tree is a spectacular sight in any garden. juice or mixed into

any

salads.

good

The

garden

unripe

soil.

skins

Mulch

To do well, pomegranates (punica granatum) produce a bright

the

red

roots

juice that

with

is

compost

used for

to

dye

require full sun and long hot summers, welldrained

garden soil (mulched with cow manure the fruit – the juice

on Moroccan leather.

keep

Look

them

out

cool

when

and

you

feed

cut

them

stains!

in early spring to get

or compost) and regular watering. Before

them going. Grow them in

A pomegranate plant may be hard to find

pots, or in the garden; bring

planting, add a small amount of garden lime. but well worth the trouble. It can usually

them inside when in flower

Although they handle drought and extreme be found online from Daley's fruit trees in

or cut the blooms – they last

weather conditions well, the fruit will be big-

Queensland.

well in water.

with Gabrielle Bryant

Cherry Guava a

sweet surprise

IBe n full flower quick in my veggie

garden is my Cherry Guava,

to sometimes snap known up as a Strawberry

Guava. This delightful

Spring bulbs

evergreen shrub never fails to

Iproduce t's so tempting a heavy right crop now of cherry – the

guavas bulb stands in early are autumn. full of tulips,

daffodils, It is a small, jonquils, pretty hyacinths tree with

and rounded, snow glossy drops. green If you leaves want

to that grow only these grows cold-climate

to about

bulbs three metres you should in height. treat Keep them it

as trimmed annuals. into Give shape them after the fruiting.

old

The delicate – place fluffy them flowers in the

treatment

crisper are creamy drawer white, of the growing refrigerator

close

the branches. for six weeks They before are fol-

planting, lowed by the and tangy they will flavoured, flower

beautifully sweet, berry-sized, in spring. cherry However, red

without fruit that a are frosty high winter vitamin they C.

won't Unlike be the good taller-growing the following deciduous

yellow These guava bulbs that are needs better

year.

grown cooking, the containers. fruit can be eaten

raw Why straight not grow from the warmerclimate

tree or

used in cooking, spring bulbs jellies, that drinks, will

come sauces back or jams. year after year?

Nothing You should can beat protect the the scent fruit

of from freesias, fruit fly or with the a display fruit fly of bait.

brightly coloured sparaxis,

ranunculus and anemones.

Get Cheerful into orange the lachenalias,

standing straight like orange

soldiers, 'swing' make of a pretty Xmas border

Iin t partly is time shaded to relax areas. and enjoy The

sun-loving your garden. pale Look blue at Spring your

Stars outdoor (tritelia) seating will requirements

soon multiply

come – the back shops year are after full year. of

and

The amazing upright chairs spikes and of tables. the pale

pink, Hanging lilac, cane white egg and chairs magenta have

flowers been trendy of the for babiana the past Baboon few

Flowers years and complement now the 'Swing blue, yellow,

Seat' mauve is back. or Nothing white Dutch is more iris.

peaceful Buy your than bulbs swinging as soon in as a

you seat see for them two, sheltered to avoid disappointment,

from

the weather as with they a sell roof out to

quickly shade from (then the plant sun late – makes March). a

great Christmas present too!

72 70 DECEMBER FEBRUARY 2018 2017

The Local Voice Since 1991
---
Bonsai – big

impact with

a little effort

Bonsai trees make wonderful Christmas

presents but they need special

care to keep them going. They are

mistakenly given as indoor plants but to

thrive they must be kept outside (perfect

for balconies or patios).

The ancient Japanese art of bonsai can

become totally absorbing. These miniature

trees take many years of love and

patience to create. For the beginner there

are a few crucial tips to keep your tiny

tree healthy and growing.

First, find out about your tree and the

conditions it would need if it were to

grow to full size. Sun or shade? Warm or

cold? It will need the same conditions

even though it is a miniature plant.

Of course, water is essential for survival

– but more bonsai die from root rot than

from thirst. Check the soil before you

water. Bonsai trees are in tiny pots and

dry quickly but in colder months they may

only need water a couple of times a week.

Help care for chooks

FUN & EDUCATIONAL: Finn Selby

lends a hand at the Avalon garden.

The Local Voice Since 1991

The roots soon fill the pot, making it hard

for the water to sink in. Make sure that the

water penetrates the soil. If in doubt, water

the pot in a container and let it soak,

then lift it out to drain. (It is best to water

your tree in the evening so that the soil

stays damp through the night.)

Bonsai need to be fed regularly

through the growing season – but with

a half-strength fertiliser. Plants should

Avalon Community Garden,

located in the grounds of

Barrenjoey High School in Tasman

Road, North Avalon, has

slowly developed over the past

seven years into a thriving

environment, with additions

such as watering systems,

a large growing enclosure,

storage, pathways – and the

introduction of chickens.

President Helen Saunders

said currently there are a

couple of gaps on the chicken

feeding roster.

"This involves picking up

from Avalon Organics, who

kindly donate their leftover

veggies, letting the chickens

out for their daily forage and turning the sprinklers on."

Helen said joining ACG costs very little and involvement was

both enjoyable and rewarding.

"When you are in the garden you feel like you are on a farm

in the country," she said. "Kids love collecting the eggs and the

chickens love being petted… you get to take home the eggs you

collect and a whole bunch of vegetables – it's fabulous!"

"Anybody is welcome but I also think it would be a really

worthwhile after-school activity… maybe two or three families

would like to come together or even share the activity; the more

the merrier!"

More info phone Helen (0418 251 480), or Billy Bragg (0405

508 270); also check out the website and Facebook pages.

be re-potted every two years. Until you

learn how to do this job yourself it is best

to get this done by a bonsai expert at a

bonsai nursery. They will also prune the

roots and shape the tree for you.

Once hooked, you will find bonsai an

intriguing and fascinating hobby. If you

want to learn more there are several

bonsai courses available. Look online to

find one nearby.

FEBRUARY 2018 71

Garden Life
---
Garden Life

Garden Life

Jobs this Month

February

Days of extreme heat

followed by thunder,

lightning, hail and wind

don't make life easy for our

gardens! Sunburn and wind

damage look terrible, but wait

until the very hot days are over

before you trim back foliage,

as you will expose new growth

to more sunburn. Also, let your

lawn grow a little longer than

usual in the hot weather. This

will keep the roots cooler and

hold the moisture better. Also,

check gutters for leaves after

the windy days. Keep them

clear. Blocked gutters are a

danger during bushfire season.

Tree-mendous

myrtle

Crepe Myrtles are in full flower;

if you want to plant one this is

the month to see all the colours:

lilac, pink, dark pink or white.

Crepe myrtles make excellent

street trees because they

respond well to being pruned

and their size can easily be controlled.

Some are flowering very

late and some are not flowering

well. I believe that this is caused

by the very dry winter.

Care for roses

Lightly prune roses, removing

any old flowers, and feed the

plants with Sudden Impact

for Roses for a new flush of

flowers as the weather cools.

Spray with Eco Fungicide to

prevent blackspot. Fuchsias

have suffered in the heat but

will soon bounce back if you

trim them and water them

with a liquid fertiliser.

Orchids spiking

As the days cool bring your

cymbidium orchids into a

sunny position. They will be

starting to form their flower

spikes now. Feed them with

Strike Back for Orchids.

Feed citrus

Citrus should be fed this

month but as the new shoots

appear look out for leaf miner

and aphids on the tips. Spray

weekly while the weather

stays warm with Eco Oil. Spray

either early in the morning or

in the evening – never spray

if the temperature is over 30

degrees.

Buy bulbs

Spring bulbs are on the bulb

stands and bulb catalogues

are available online. Make

your choice as soon as possible

to avoid disappointment

but wait until the end of March

to plant them.

Switch vegies

There is still time to plant a

last crop of tomatoes, beans

and zucchini, carrots – but

remember to leave room for

winter crops of beans, broccolini,

cauliflower, onions, carrots,

parsnips and lettuce.

Get digging!

The holidays are over and it

is time to work in the garden.

Digging and getting dirty is

part of a gardener's life! Pull

out flowers and veggies that

have finished and replenish the

soil with compost or cow manure,

to be ready for autumn

planting. Dig the garden well,

turning the soil. Add a wetting

agent to allow the water to

soak in. The rain has been

heavy but a few centimetres

down the earth is dry. If you

can, resist the temptation to

Graft a gum

If you love the birds, plant

a grafted dwarf flowering

gum. You will get

birds, bees for the garden

and huge gum nuts for

Christmas decorations.

The flowers can be cream,

pale pink, hot pink, dark

pink, orange or scarlet.

Don't 'hedge' bets

Don't be tempted to trim

sasanqua hedges now, even if

they need it – the shrubs are

already setting their buds for

Autumn blooms. If you trim

them now you will lose your

flowers. Feed Camellias and

Sasanquas with Kahoona. This

is the last time before Spring.

Mite be trouble

Look out for red spider mite

on azaleas. You can control

these mites with Yates Rose

Gun or Natrasoap. Spray under

the leaves as well as on top

until the solution runs off.

Crossword solution from page 69

replant for a couple of weeks.

Mystery location: LONG BEACH

72 FEBRUARY 2018

The Local Voice Since 1991
---
Travel Life

Road Trip, USA

Think 'road trip'

and think cruising

the US west coast,

with the desert, iconic

Highway 1 or Route 66

and myriad small-town

destinations all major

players in your holiday

dream. But is it really

like that? Yes… and a

whole lot more.

The loop from Los

Angeles to Las Vegas is

one of the most popular

in the world but add

more variety by plotting

a route that takes

in San Francisco as your

finishing point; all up it's

2,500km of easy driving

spiritual experience. Stay

in 14 days – and it will take at the hip Mojave Sands Hotel,

you from city, through desert, thoughtfully refurbed and

snow-capped mountains and offering tick-the-box touches

back to the coast.

like record players with collections

of through-the-decades

Picking up your rental car

from the airport is stress-free, vinyl. Pappy and Harriet's, at

thanks to the myriad shuttle the deserted Western films

buses supplied by providers.

As for plotting a course the stars turn up to play to

lot 'Pioneer Town', is where

Google Maps makes navigation

foolproof.

nounced (Paul McCartney

stunned, small houses unan-

Explore LA in two days: take played there last February as

in Venice and Santa Monica a precursor to his World Tour).

beaches; the Mount Wilson And Noah Purifoy's desert art

Observatory (think 'La La installations are a must see.

Land'), the Walk of Fame on Continue east to take in the

Hollywood Boulevard, Rodeo Southern Rim of the Grand Canyon

and impressive engineering

Drive, Beverley Hills, and the

famous Hollywood sign. Allow marvel Hoover Dam. Get your

at least a half day at the Getty photo taken on the fast-disappearing

Route 66 via Amboy. At

Museum, with its awesome collection

of art and unbeatable the Canyon, take the Sky Walk

views of the city and coastline. (horseshoe of Perspex jutting

Plug in your road 'tape', turn out over the 4000-feet drop).

up the volume and cruise the Continue to Hoover Dam (three

two hours to Palm Springs. hours) before hitting Vegas

This low-profile desert city, (one hour), baby!

surrounded by mountains, is The city has a heap more

famous for its architectural contributions

to modern America main strip; a visit to the Nation-

going for it than just its glitzy

– a self-guided tour (midcenturypalmsprings.com)

is a must, entertaining if sobering insight

al Atomic Testing Museum is an

especially the iconic Kaufmann into the Cold War and nuclear

House (1946) and Elvis Presley's arms race, while the nearby Fremont

Street Experience takes

Honeymoon Hideaway (1957).

Joshua Tree is a further in the 'old' Las Vegas with its

hour's drive; it's a long strip smaller casinos, original neon

of not-much-happening with signs and offers true carnival

some must-pop-in-and-check- atmosphere (ride the horizontal

'em-out local stores dotted zipline!). As one local recommended:

"Everything's a lot

between. Head 20 minutes

out of town to Joshua Tree looser down there."

National Park for a truly

Las Vegas to Ridgecrest (site

The Local Voice Since 1991

CLOCKWISE FROM ABOVE: Joshua trees cast incredible, brooding

shapes against the desert sky; get your kicks... you know where;

former prison Alcatraz from atop Lombard Street, San Francisco.

of the US Navy's

largest landholding with 12%

USA restricted airspace) takes

four hours 30 minutes, cutting

through Death Valley and its

marble-cake-colouring desert

mounds. Then it's a 10-hour

day on the road heading up and

through the stunning, snowtouched

(in December) Sequoia

State Forest, some 7000 feet

above sea level, before dropping

down into Monterey and

Cannery Row (think John Steinbeck

and Big Little Lies).

Explore Big Sur down

Highway 1, taking in renowned

Pebble Beach golf course, plus

Carmel-by-Sea and Monterey

township, which was

fished out of sardines by

the 1960s and is a now a

National Marine Sanctuary.

In San Francisco, the

audio self-tour on Alcatraz

is a must. Also drive

across the Golden Gate

Bridge to Point Vista for

some mandatory holiday

snaps; ride a cable car from

the wharf district back to

town; have dinner in vibrant

Chinatown (R&G Lounge is

very good); and allow a few

hours to scale and explore

the recently expanded San

Francisco Museum of Modern

Art where you'll take in Warhols

and Lichensteins and more.

– Nigel Wall

* Plan your own US road trip

now with DriveAway Holidays,

car rental from LAX

starting from $39/day ($270

for 7 days). Or treat yourself

with a Mustang Convertible

from $85/day ($598 for 7

days). All prices include full

insurance with nil excess

for complete peace of mind.

Visit driveaway.com.au or

speak to your travel agent.

FEBRUARY 2018 73

Photos: Nigel Wall; Lisa Offord

Travel Life
---
Travel Life

Travel Life

Top End tours top-shelf for memories

The Northern Territory

is home to a land of

contrasts, from the Red

Centre's majestic natural

wonders to the Top End's

vibrant floodplains and

hidden waterfalls.

A visit the heartland of Australia

will reveal traditional

Indigenous culture, where

you can view beautiful rock

art dating back thousands of

years, sample delicious and

authentic bush tucker and

hear stories of the land and

'Dreamtime'.

TravelView's Sharon Godden

says when you explore Australia's

Top End with Inspiring

Journeys' 'Kakadu's Ancient

Secrets' tour you will discover

another side of the Outback –

a land of untamed wilderness,

winding rivers, lush wetlands

and spectacular wildlife.

"Begin your five-day journey

exploring serene Litchfield

National Park, where you can

swim in the secluded pools

of Wangi and Florence Falls,"

Sharon said. "Spot beautiful

birds and awe-inspiring

saltwater crocodiles with a

morning safari cruise on the

Mary River. Take in spectacular

views of Kakadu National

Park from Gunlom Falls and

marvel at the iconic sights

of Katherine River's gorges

and canyons. Be immersed

in Australia's heritage at the

rock art galleries of Ubirr and

Nourlangie and learn traditional

Indigenous painting

techniques.

"With Inspiring Journeys,

you will delight in the

benefits of boutique travel.

Unwind in distinctive eco-

lodges, enjoy the comfort

of luxury 4WD vehicles and

relax as our experts provide

authentic experiences that

create moments to last a

lifetime."

Sharon added Inspiring Journeys'

'Outback Australia: The

Colour of Red' brings to life

Australia's sacred heartland.

"Throughout this five-day

outback adventure you will

explore the Red Centre's

most iconic sites while enjoying

touches of luxury and

immersive experiences, from

stylish accommodation and

4WD vehicles to distinctive

meals that capture the essence

of a destination," she

said.

"You'll be mesmerised by

the magic of a Red Centre

sunrise and delve into the

ancient history of Uluru and

Kata Tjuta… hike to the top

of Kings Canyon and be

rewarded with breathtaking

views and hidden gardens

before enjoying dinner 'Under

a Desert Moon' accompanied

by sparkling starlight."

Other highlights include

exploring the West MacDonnell

Ranges and embarking on

a walk through the dramatic

Angkerle (Standley Chasm)

before wandering through

Simpsons Gap; plus learning

about outback life at Curtin

Springs cattle station and the

Royal Flying Doctor Service;

and appreciating Indigenous

connection to land with a delicious

bush tucker dinner.

For more info contact

TravelView Avalon; phone

9918 4444 or email sales@

travelview.net.au

74 FEBRUARY 2018

The Local Voice Since 1991