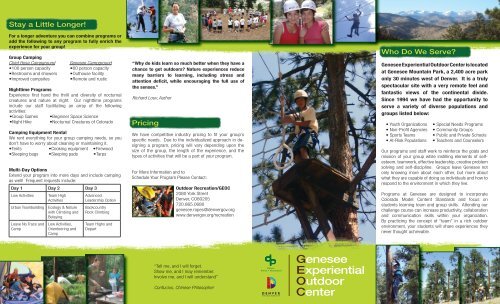 Genesee Experiential Outdoor Center Brochure
Genesee Experiential Outdoor Center Brochure
Genesee Experiential Outdoor Center Brochure
SHOW MORE
SHOW LESS
You also want an ePaper? Increase the reach of your titles
YUMPU automatically turns print PDFs into web optimized ePapers that Google loves.
Stay a Little Longer!

For a longer adventure you can combine programs or

add the following to any program to fully enrich the

experience for your group!

Group Camping

Chief Hosa Campground Genesee Campground

•100 person capacity •60 person capacity

•Restrooms and showers •Outhouse facility

•Improved campsites •Remote and rustic

Nighttime Programs

Experience first hand the thrill and diversity of nocturnal

creatures and nature at night. Our nighttime programs

include our staff facilitating an array of the following

activities:

•Group Games •Beginner Space Science

•Night Hike •Nocturnal Creatures of Colorado

Camping Equipment Rental

We rent everything for your group camping needs, so you

don't have to worry about cleaning or maintaining it.

•Tents •Cooking equipment •Firewood

•Sleeping bags •Sleeping pads •Tarps

Multi-Day Options

Extend your program into more days and include camping

as well! Frequent requests include:

Day 1 Day 2 Day 3

Low Activities Team High

Activities

Urban Teambuilding Ecology & Nature

with Climbing and

Belaying

Leave No Trace and

Camp

Low Activities,

Orienteering and

Camp

Advanced

Leadership Option

Backcountry

Rock Climbing

Team Highs and

Depart

"Why do kids learn so much better when they have a

chance to get outdoors? Nature experiences reduce

many barriers to learning, including stress and

attention deficit, while encouraging the full use of

the senses."

Richard Louv, Author

Pricing

We have competitive industry pricing to fit your group's

specific needs. Due to the individualized approach in designing

a program, pricing will vary depending upon the

size of the group, the length of the experience, and the

types of activities that will be a part of your program.

For More Information and to

Schedule Your Program Please Contact:

Outdoor Recreation/GEOC

2080 York Street

Denver, CO80205

720.865.0680

genesee.ropes@denvergov.org

www.denvergov.org/recreation

"Tell me, and I will forget.

Show me, and I may remember.

Involve me, and I will understand"

Confucius, Chinese Philosopher

Genesee

Experiential

Outdoor

Center

Who Do We Serve?

GeneseeExperientialOutdoorCenterislocated

at Genesee Mountain Park, a 2,400 acre park

only 30 minutes west of Denver. It is a truly

spectacular site with a very remote feel and

fantastic views of the continental divide.

Since 1994 we have had the opportunity to

serve a variety of diverse populations and

groups listed below:

• Youth Organizations • Special Needs Programs

• Non-Profit Agencies • Community Groups

• Sports Teams • Public and Private Schools

• At-Risk Populations • Teachers and Counselors

Our programs and staff work to reinforce the goals and

mission of your group while instilling elements of selfesteem,

teamwork, effective leadership, creative problem

solving and self-discipline. Groups leave Genesee not

only knowing more about each other, but more about

what they are capable of doing as individuals and how to

respond to the environment in which they live.

Programs at Genesee are designed to incorporate

Colorado Model Content Standards and focus on

students learning team and group skills. Attending our

challenge course can increase productivity, collaboration

and communication skills within your organization.

By practicing the concept of "team" in a rich outdoor

environment, your students will share experiences they

never thought achievable.
---
Challenge Course

Enjoy a stunning view of the Indian

Peaks at Genesee or the comforts of

your site while experiencing activities

1-2 feet off the ground or as much as 40

feet in the air. Each day is customized

by our staff to meet your group's needs

and interests.

Urban Teambuilding – at Your Site!

Grades 3rd-12th and College

1-6 Hours Group Size 10-200

Our portable program arrives at your

location with our equipment and staff. We

focus on activities and challenges that can

be accomplished with varied groups and

settings, so your group can get to know one

another for the first time or further strengthen

the community in your group.

Low Activities Challenge Course

Grades 3rd-12th and College

4-6½ Hours Group Size 10-100

Spend your day drawing on the knowledge and

ideas of each individual through depending on

one another. By selecting progressively more

difficult activities to balance, lift, swing, & jump

across, problem solving, creativity, cooperation

and communication can be addressed.

Single High Element Option

For an additional charge, ONE of the following

high elements can be added to your Low Activities

Day: Team Power Pole, Climbing Tower

or Giant Swing.

High Activities Team

Challenge Course

Grades 6th-12th and College

6½ Hours Group Size 10-100

Begin your day with a short hike to our site

and then step onto the low activities course

as a team. Your skill building as a group,

close to the ground, will set the stage for time

spent scaling the high elements where each

individual has a critical role on the team.

Adaptable Challenge Course Option

Are you a Special Needs Program or a group

who wants to build compassion through a

different perspective? This program may

include adaptable high activities like the

Flying Squirrel, Giant Swing, Climbing Tower

and use of a 4:1 pulley system.

Advanced Leadership Training Option

Does your group need a more challenging twist

or more opportunities to delve into leadership

styles, group dynamics and debriefs? This

option allows students to experience our NEW

high static-line course. By managing their

own safety systems, greater self-reliance and

achievement can be discovered.

Explorer

This program focuses on environmental

ethics, Colorado ecosystems, and

outdoor skills while customized to each

group (3rd grade and up). Lessons are

taught in cooperative ways with the

goal of teambuilding in mind. Choose a

combination of any of the trails, lessons

and activities listed below or ask about

including the Challenge Course.

Lessons (1-6½ Hours Each)

Leave No Trace:

Environmental Ethics Introduction

Through hands-on activities and exercises,

this program will teach how to prevent and

minimize their impacts in nature while still

enjoying recreational activities outdoors.

Ecology and Natural History

Outdoor Classroom

At Genesee, your students will use all of their

senses in identifying the surrounding trees,

plants and flowers; learn about predator/prey

relationships, explore the elements of the food

chain and investigate habitats and wildlife.

Nature Connection and Reflection

Students are amazed at what they hear, see

and experience when alone. This valuable,

structured quiet time of reflection, in nature, can

be a finishing touch to the day or an inspiration

for authoring a writing lesson at school.

Outdoor Skills (2-4 Hours Each)

Orienteering Course with Compass

or GPS Instruction

Get back to the basics of land navigation

using a compass, map and/or GPS system.

The program can include reading topographic

maps, shooting bearings and factoring

declination while hiking.

Climbing and Team Belaying

Learn to put on a harness and ascend the

climbing tower while attached to a climbing

rope. With a team of your classmates safely

belaying you up and lowering you down, you

can enjoy a truly birds-eye view of Genesee.

Trails (1-6½ Hours Each)

Beaver Brook Braille Trail is an easy, short

hike along the diverse geography of a 0.6 mile

loop. This is a less strenuous activity ideal

for focusing more on the natural history and

ecology of the area. Some groups choose to

wear blindfolds and follow the blind-adaptive

hand line for a new perspective and a teamfocused

twist.

Chavez Trail is a moderate to strenuous

trail that can be a short out-and-back or

connected to the Beaver Brook to make a

long 3.5 mile loop. The trail winds down into

a canyon where you can explore the riparian

ecosystem of Beaver Brook, a lush area with

continuous water flow.

Adventure

These program types focus on a new discovery or

a longer journey for groups looking for variety. The

specialized equipment required for these unique

programs is included.

Climb the Tower

Grades 3rd-12th and College

4-6½ Hours Group Size 12-40

A twenty minute hike ends at our 30 foot climbing tower

overlooking Beaver Brook Canyon. The four routes are

belayed by your supervised participants, allowing 20 students

to be actively involved in the climbing process at a time.

With more time, individual belay skills, climbing techniques

and knots can be instructed.

Backcountry Rock Climbing

Grades 6th-12th and College

6½+ Hours Group Size 8-40

Our rock-climbing site

is a 1-mile moderate

downhill hike to Beaver

Brook Creek to a secluded

and private crag.

Instruction on climbing

techniques and belay

skills occurs on any of

our seven routes with a

variety of difficulty. Your

day will conclude with a

one-mile hike back up the trail. No experience necessary.

Rappelling Instruction Option

For an additional charge, add rappelling to your day on the

rock. This option includes an additional staff member to

manage this new experience for your group.