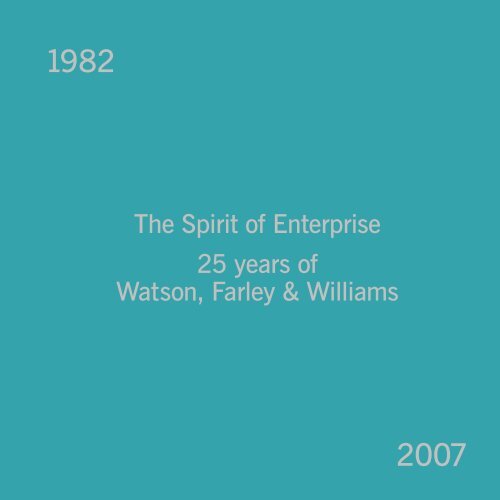 The Spirit of Enterprise 25 years of Watson, Farley & Williams
The Spirit of Enterprise 25 years of Watson, Farley & Williams
The Spirit of Enterprise 25 years of Watson, Farley & Williams
SHOW MORE
SHOW LESS
Do you know the secret to free website traffic?
Use this trick to increase the number of new potential customers.
1982

The Spirit of Enterprise

25 years of

Watson, Farley & Williams

2007
---
This history of 25 years of Watson, Farley & Williams is

based on the many stories of current and former partners

and members of staff.

It reflects our firm's journey to date and encapsulates the

hard work and enjoyment we have all had serving our

much valued clients.

We hope you enjoy reading it.

Frank Dunne

Chairman

Watson, Farley & Williams LLP

www.wfw.com

London Athens Paris New York Singapore Bangkok Rome Hamburg
---
Contents

04 Chapter 1:

Breakaway

08 Chapter 2:

Off like a rocket

12 Chapter 3:

Creating the WFW network

16 Chapter 4:

Downside of success

22 Chapter 5:

Charting a new course

26 Chapter 6:

Looking forward
---
Chapter 1:

Breakaway

Martin Watson, Alastair Farley & Geoffrey Williams
---
1981

The Spirit of Enterprise

January

Greece joins the European Community.

January

Ronald Reagan succeeds Jimmy Carter as

US President.

February

Rupert Murdoch buys The Times and

The Sunday Times for £12 million.

March

The British Social Democratic Party is launched

at the Connaught Rooms in London.

March

The first London Marathon starts with

7,500 runners.

May

François Mitterrand is elected President of France.

July

Lady Diana Spencer marries Charles,

Prince of Wales.

October

Egyptian president Anwar Sadat is assassinated

during a military parade.

1982

February

Laker Airways collapses leaving passengers

stranded and debts of over £200 million.

25 years of Watson, Farley & Williams

"It was 8.30 one Friday evening. I was

working in my office when Alastair came in

and, in an almost casual way, floated the idea

of our setting up on our own."

So Martin Watson recalls the exact moment

when Alastair Farley first raised the possibility

of creating the firm that would become Watson,

Farley & Williams. Given how low-key the

suggestion was, it is perhaps not surprising that

neither of them can remember exactly when this

evening meeting took place. They guess it must

have been some time in late 1981. At the time

Martin Watson and Alastair Farley were partners

of Norton Rose, a long-established City law firm.

Both were shipping finance lawyers, both had

developed thriving practices.

It was a heady time for the shipping

industry. Through the 1970s new, better and

bigger ships were being built to replace ageing

fleets. London was the centre of international

shipping: the UK government of the day was

providing extensive assistance to the domestic

shipping industry and the availability of

investment grants and generous capital

allowances encouraged foreign shipping

companies to set up in the UK. Japan was in the

course of developing a shipbuilding industry.

The bankers financing the transformation were

pioneering new instruments and techniques.

The first ever multicurrency shipping loan (in

which Martin Watson was involved) and the

first ship lease were both products of this era.

However, the more that the shipping lawyers

within Norton Rose capitalised on the surge in

what was in essence an international business,

the more their energy and enthusiasm stood

them apart from those whose businesses were

domestically focused. "The bright sparks in

05
---
06

Chapter 1: Breakaway

Norton Rose were those doing foreign deals,"

remembers Martin Watson. "From that came the

thought that, maybe, we could do something

ourselves." That of itself might not necessarily

have been reason to leave what was an excellent

firm but Alastair Farley, who sat on one of

Norton Rose's planning committees, found

himself increasingly frustrated by the views

of the firm's partners who were reluctant to

countenance significant overseas expansion.

"We were failing to exploit what I could see

from an international shipping point of view

were fantastic international contacts. That

certainly precipitated our leaving."

Geoffrey Williams, an aviation specialist at

Norton Rose and six months Alastair Farley's

senior, was also sounded out about whether he

might be interested to come with them. In the

same casual way as he had done when floating

the idea to Martin Watson, Alastair approached

Geoffrey Williams with the proposal to leave

Norton Rose and set up a new firm. When he

received no immediate response to the idea, he

assumed the latter was not interested. It later

transpired that Alastair Farley's suggestion had

been, in his own words, "so Delphic that it

completely passed Geoffrey by!" Only at the

very point of their departure did Geoffrey

Williams come to understand what was being

proposed. He readily agreed to join the new

venture, by which point Watson and Farley

(the order of names chosen by the flip of a coin)

became Watson, Farley & Williams. The two

primary movers (Alastair Farley and Martin

Watson) gave themselves a year to make a

success of the new venture, to which end each

took out second mortgages on their homes to

finance a year's worth of overheads, which they

estimated would be £180,000. If the new firm

didn't succeed, they reasoned, they could

always find work elsewhere.

Once their decision had been announced,

they certainly had support from colleagues to

come with them. David Warder, Chris Preston

and, after some persuasion by Martin Watson,

Andrew Pouteaux all joined the new firm as

salaried partners. Frank Dunne started as an

associate but would become a partner within a

year. Secretaries and support staff were also

happy to hand in their notice and make the

move, among them Fiona Wood, Alastair

Farley's secretary, on whose organisational

skills the new firm would depend. Procuring

the most advanced IT systems was a priority –

each secretary had access to a Wang word

processing station, then considered to be the

height of technological advancement.

David Warder
---
The Spirit of Enterprise

Flying start

Alastair Farley and Martin Watson had already

handed in their resignations when a chance

meeting at a Sunday lunch led to a totally

unexpected turn of events. Alastair Farley

takes up the story:

"At this lunch another lawyer asked whether

I had contacted the Law Society to ask about the

rules for taking clients. I had been to see the Law

Society about setting up on our own but had not

asked this very question. At that time we had not

approached our clients and did not expect to be

able to do so until we had actually left Norton Rose.

What I discovered was that, under the rules,

the existing firm had to give their clients the

opportunity of going to the new firm, to ensure

fair competition. The Law Society sent me some

pro forma letters, which I took along to the

managing partner and explained – slightly

shamefacedly – that the letter needed to be

sent out by Norton Rose. You can imagine the

reaction. In the end, a much longer letter was

sent to some, but not all clients, which referred

to a number of partners retiring, others being

made up and then, almost as a kind of PS, the

fact that Farley, Watson and Williams were

leaving the firm. The responses, all very positive,

started coming in a month or so before we left

and suddenly we had a law firm and a business

in the making."

This was all at a time in the City where moves

such as this were almost unheard-of; a mouldbreaking

move was afoot.

25 years of Watson, Farley & Williams

Chris Preston

Frank Dunne

07
---
Chapter 2:

Off like a

rocket

Cotts House, 1982
---
1982

The Spirit of Enterprise

April

The Falklands War begins.

June

Prince William is born at St Mary's Hospital, London.

October

Helmut Kohl replaces Helmut Schmidt as Chancellor

of Germany.

October

Sony launches the world's first Compact Disc player.

November

The fourth terrestrial television channel, Channel 4, is

launched in England, Scotland and Northern Ireland.

November

Soviet invasion of Afghanistan.

1983

June

Margaret Thatcher wins a landslide victory to secure

her 2 nd term as UK Prime Minister.

September

Korean Airlines Flight 007 is shot down by a Soviet

Union jet fighter over Sakhalin Island.

Dramatic the effect may have been in the City

but outside the Square Mile the world had its

attention on other matters.

In response to the invasion of the Falklands

by Argentina on 2 nd April, a task force was being

assembled to set sail to the south Atlantic to

recapture the islands. Without great fanfare

25 years of Watson, Farley & Williams

Watson, Farley & Williams opened for business

on 1st May 1982. Apart from the machinations

involving The Law Society rules, there was also

a change of plan forced upon it when it came to

finding office space. Everything was all set for

offices in Devonshire Square but another

company came up with a higher bid for the lease

and secured the space. "The irony was that it

was a client of mine, who had not realised they

were bidding against us," recalls Alastair Farley,

"and then they asked me for a reference!".

Instead, offices were found in Cotts House,

off Camomile Street, and – perhaps most

awkward of all – literally on the other side

of the road from Norton Rose's offices.

The three founding partners, three other

partners, two assistant solicitors, four secretaries,

one IT expert, a part-time telex operator and

an office boy got down to business in these

somewhat cramped offices. "It was chaos,"

remembers Andrew Cunningham of Moore

Stephens, the auditors for both Norton Rose

and Watson, Farley & Williams, "with papers

stacked high on the floors and people running

around." Frank Dunne and Chris Preston shared

an office in what was really a storeroom in the

basement, adjacent to the car park, and Kim

Walkling, who joined soon after the start from

Slaughter and May, worked from a window

ledge! But that did not matter: there was work

to be done right from the moment the firm

opened. Most of those contacted came over to

the new firm and, within a month, the firm

had 19 financial institutions as clients.

That they and other shipping clients switched

their custom to a small, untried firm over a longestablished,

major City law firm was due to a

number of factors. The first was the nature of

shipping law practice, in which individual

09
---
10

Chapter 2: Off like a rocket

relationships, rather than institutional ties,

were the norm. Whether shipowners, many

of which were family-run businesses, or the

banks financing shipping business, it was with

individuals that the lawyers dealt and with

whom professional relationships were forged.

They were set apart from their competitors by

a deep understanding of the shipping industry,

from all angles.

Secondly, the founders of the firm and those

who joined them had established a formidable

reputation. Andrew Cunningham remembers

the founders making an excellent combination:

"Geoffrey had gravitas, an expert in aircraft

leasing, Martin was a workaholic dealmaker, and

Alastair the best commercial shipping lawyer I

have ever come across, someone with enormous

intellectual capability, very deep knowledge of

the law and, professionally, cold as ice. In a crisis,

you would never want him on the other side."

Their reputation was such that when David

Osborne sounded out some partners of Linklaters

(where he was then working) about the wisdom

of leaving to join the new firm, he was advised

that he had nothing to fear. Indeed, he handed

in his resignation at Linklaters before Watson,

Farley & Williams had even come into existence,

starting a couple of months after it opened.

It may also have assisted the decision that

Watson, Farley was offering a 20 per cent higher

salary for its new recruits than they could

expect to receive from the big City firms.

Thirdly, the energy and enthusiasm of the

founders, allied to determined entrepreneurialism

helped to convince the owners, banks and other

clients that their faith in the new firm was wholly

justified. The start-up finance, augmented by a

loan provided by another firm of solicitors to

whom Watson, Farley & Williams undertook to

refer private client work from their corporate

clients, was soon superseded by a regular bank

facility from Hill Samuel, as the new firm was

able to show work-in-progress and a healthy

cash flow.

"We went off like a rocket," says Frank Dunne.

"There was a mountain of work. For the first

year at least, and probably longer than that, I

and everybody else worked seven days a week."

The new firm was underpinned by a spirit of

enterprise, something that is frequently referred

to by law firms today but highly unusual in the

early 1980s. As Martin Watson puts it, "We

wanted a niche firm, and we wanted people to

be successful and to enjoy themselves. We felt

that if we found the right people and worked

incredibly hard, everything would fall into place."

It certainly did. By the end of the first year the

new firm had brought in some £840,000 in fee

income. By April 1983 there were six partners,

13 other fee-earners and a total staff of 27. Even

before the end of the first year, in March 1983,

the firm had outgrown the basic accommodation

of Cotts House and moved to Navigation House

in Aldgate.

The practice divided, broadly, between

shipping and shipping finance (Martin Watson,

Alastair Farley, David Warder and Frank Dunne),

aviation and leasing finance (Geoffrey Williams),

offshore oil and gas contracting (Andrew

Pouteaux) and tax (Chris Preston). Others soon

joined. "Word got out around the City that we

were rather dangerous to have meetings with,"

jokes David Warder, "in case we approached

the young associates on the other side after

the meeting and offered them a job!" It soon

became clear that the new firm would need
---
The Spirit of Enterprise

a litigation capability, and that gap was filled

with the arrival of Charles Smallwood in

January 1983 from Holman, Fenwick & Willan

in Hong Kong and shortly after that by Simon

Curtis from Ince & Co.

Strength of a handshake

The manner in which Charles Smallwood joined

Watson, Farley & Williams shows the confidence

that people had in the new firm, as Alastair

Farley relates:

"Charles was working at Holman Fenwick

in Hong Kong. He phoned up, and expressed

interest to join us, after seeing an ad we had

placed advertising for litigation lawyers. Some

time in late 1982 I stopped off in Hong Kong on

my way back from the Far East on one trip and

arranged to have dinner with him. By the end of

the dinner we had agreed terms, and Charles

had mentioned that he would be free to start at

the beginning of January. On my return to

London, I wrote Charles a letter confirming

the terms we had agreed. I never heard back

so I assumed, much to my regret, that he had

changed his mind. Then, on 2 nd January, Charles

turned up in the office. I was astonished, and

told him that I had not heard from him since our

meeting, to which Charles replied that he had

never received the letter that I had sent him!

My letter had gone by sea mail. So Charles joined

us on the basis of a handshake in a Japanese

restaurant in Hong Kong at midnight."

25 years of Watson, Farley & Williams

Watson, Farley & Williams became

renowned as outstanding lawyers, problem

solvers, commercially astute and, vitally, well

versed in the sectors in which they operated.

More than this, however, "the founders inculcated

in us all a gold dust mentality," as Frank Dunne

recalls. "That was one of the huge differences in

culture between WFW and the firms we had

left. In this new small firm we had a relatively

small number of core clients, who, of course,

meant a huge amount to us. They were the 'gold

dust' and the absolute need to give them an

outstanding service was deeply ingrained in

all of us. Because of our commitment, the

clients were extraordinarily well served."

The firm's lawyers travelled incessantly to

ensure that their clients' needs were attended to,

Martin Watson concentrating on his clients in

northern Europe and Scandinavia and Alastair

Farley on his clients in the Mediterranean.

"Shipping is a very personal business," Alastair

Farley explains. "Many of the shipowning

businesses were family-owned, passing down

from generation to generation. Even on the

financing side, because of its specialist nature,

shipping business was dealt with by a certain

coterie of individuals, who would stay in that

line of work even when they moved banks. We

served them well and believed that, as a result,

they stayed loyal to us. At the time, I remember

people coming up to us and saying that we

must have had the most marvellous marketing

operation because of our top clients. But the

truth was, it was all word of mouth, being in

the market place and doing the deals."

11
---
Chapter 3:

Creating the

WFW network

The partners of Watson, Farley & Williams, New York office, 1990
---
1984

The Spirit of Enterprise

October

The Grand Hotel, Brighton, is bombed during the

Coservative Party Conference.

November

US presidential election: Ronald Reagan defeats

Walter F. Mondale.

1985

March

Mikhail Gorbachev becomes leader of the Soviet Union.

1986

April

Chernobyl nuclear disaster.

October

'Big Bang' deregulation of the London Stock Exchange.

1987

June

Margaret Thatcher wins a 3 rd term as Prime Minister of

the United Kingdom.

October

'Black Monday' stock market levels fall sharply.

1988

January

The Soviet Union begins its program of economic

restructuring – perestroika.

1989

January

George H. Bush is elected President of the United States.

25 years of Watson, Farley & Williams

For an internationally minded group of

practitioners doing international work in a

global business, it was always the wish –

if not the stated strategy – to open offices

outside London.

London remained the principal centre for

international shipping but other centres also

existed and were attracting the involvement of

the many and varied component segments that in

total made up the worldwide shipping business.

Greece and Norway were natural jurisdictions

in which first to look to set up overseas offices.

Greeks and the shipping business are virtually

synonymous, added to which Alastair Farley

had several prominent clients in Greece. Frank

Dunne had lobbied to open up in Greece for

some time, dating back to his time with Norton

Rose. The clinching factor was a request by an

American banking client for Watson, Farley to

have a local presence to handle loan financings

to its Greek customers. And so it was that, in

March 1984, Frank Dunne took up residence in

the Piraeus offices of a local lawyer, Theo

Sioufas, to open Watson, Farley & Williams's

first overseas office.

It was not a moment too soon, but not for

the expected reasons. Frank Dunne's arrival

coincided with a catastrophic decline in the

shipping market, a consequence of serious overordering

of new tonnage in the late 1970s and

declining charter rates, resulting in customers

getting into cash-flow difficulties. Instead of

handling new loans, as he had anticipated,

Frank Dunne was immediately advising on

workouts, restructurings and the occasional

business collapse. Not good for the shipping

sector, but undoubtedly good for the new office.

As it happened, too, WFW was able to capitalise

13
---
14

Chapter 3: Creating the WFW network

on some advanced communications technology

to its distinct advantage: a fax machine, which,

astonishingly, no other law firm in Greece then

possessed, and an electronic link to the firm's

computer database in London, an almost

unheard-of, and very expensive, thing in

the 1980s.

The success of the office in Greece gave

the firm confidence to open elsewhere. Peter

Cull was sent out to open an office in Oslo,

in September 1986, making Watson, Farley &

Williams the first foreign law firm to open in

Norway. The decision was taken purely to

practise English law, and not to take on

Norwegian qualified lawyers – so as not to

upset the many Norwegian law firms from

whom the firm received referrals – which was

later to prove a disadvantage. But the move

was certainly vindicated. As in Greece, the

business flowed in and, as with the Piraeus

office, the timing of the move was propitious.

Norwegian ship owners started to register

their vessels with 'flags of convenience' in

Liberia, Panama and other tax-friendly

jurisdictions. At the same time as Nigel

Thomas took over from Peter Cull in 1988,

the Norwegian government introduced socalled

'KS' schemes, which permitted limited

partnership ownership of vessels. WFW's

practice flourished; the firm had originally

anticipated that Oslo might serve as a base for

Swedish business, but it turned out to be a big

enough market in its own right.

At the same time the London office was

developing fast, and diversifying. As well as

litigation, the firm built its company and

corporate work (recruiting William Fossick

from Norton Rose, much to the relief of those

who had been advising on PLC matters before

his arrival) and general banking and finance

(taking on Geoffrey Wynne and Neil Cuthbert,

both from the Royal Bank of Canada). Geoffrey

Williams expanded his practice to start doing

film finance ("Geoffrey was our leasing guru,"

says Alastair Farley). Specialists were recruited

to meet the demands from clients for a broader

range of services – Maria Llewellyn to develop

a property practice, Richard Whish to provide

competition law expertise and later Liz Buchan

on employment and immigration, "We never

had 'departments', and in fact Alastair forbade

us from using the term," remembers Frank

Dunne. The focus of the firm's energy was

entirely on servicing existing clients in a

booming market and winning new business.

No unnecessary time was spent on management.

"We had a very simple philosophy, that no feeearner

should spend more than 10 per cent of

his time on management," jokes Alastair Farley.

Even when William Fossick became the firm's

first managing partner in 1987, that was on the

basis that he would not spend more than a

quarter of his time on management.

A simple philosophy, and a very successful

one. Fee income rose to more than £2 million at

the end of the second year, £3.5 million at the

end of the third and £4.6 million at the end of

the fourth. By the end of the decade, fee

income would exceed £10 million. After the

first couple of years, more were brought into

equity partnership (another seven by 1985 and

a further 10 by the end of the decade). There

were five times as many fee earners in 1990 as

there had been in 1983. To accommodate all

these extra people, the firm moved from its

Navigation House offices to Minories House,

in January 1988. To begin with one floor (out of
---
The Spirit of Enterprise

five) was not occupied in anticipation of

subletting it; that never happened since

the space was soon needed and continued

expansion led to an annex in Leadenhall Street.

In 1991, less than four years after moving to

the Minories, the London office moved again,

to the current premises in Appold Street.

Watson, Farley & Williams had established a

formidable reputation in the world of shipping,

and found itself the subject of some welcome

approaches by others to join forces. In Paris,

Marie-Josée Heitzler, with whom the firm had

had many dealings as a lawyer at the French

export credit Banque Francaise des Commerce

Nationwide publicity

Immediately after the New York office was

established, the United States Congress passed

the Oil Pollution Act in 1990. This had been

passed in the wake of the Exxon Valdez oil spill

the previous year. This legislation was given

nationwide coverage on US television. One of

the experts upon whom the networks called

was Thad Miller, one of the seven partners who

had joined from Burlingham Underwood &

Lord. Martin Watson, who was in New York

for the opening of the office, was thrilled at

the publicity:

"I was watching television in my hotel room,

when Thad Miller came on the screen and, under

his picture, our name, Watson, Farley & Williams.

We couldn't have hoped for better publicity."

25 years of Watson, Farley & Williams

Extérieur, was on the point of retiring. She was

keen for the firm to take over her work, and

Watson, Farley & Williams, for its part, was

only too keen to do just that. The solution was

to open an office, in which Mme (as she was

always respectfully known) Heitzler took

some space as she wound down her practice.

The firm turned to Nigel Moss, then an inhouse

counsel at BSFE (Banque de la Société

Financière Européenne) and previously a

colleague at Norton Rose, to do the honours,

at the end of July 1989.

Across the Atlantic, too, an opportunity for

expansion landed on the firm's plate. Seven

partners of the New York law firm, Burlingham

Underwood & Lord, looking to internationalise

their practice beyond New York, saw in Watson,

Farley & Williams just the sort of practice that

could offer that. For WFW, having its own New

York office offered the prospect of capturing for

itself the million dollars plus of business that it

was referring to Burlingham Underwood and

other law firms in New York each year. It also

presented a golden opportunity to follow

important US banking clients to their roots.

The seven partners, whose practices covered

ship finance and litigation, led by John Osborne,

accordingly joined the firm and set up the New

York office in January 1990. With this move, the

firm had the distinction of becoming one of the

first English law firms, if not the very first, to

have US lawyers as partners. David Osborne

moved to New York from London to integrate

the new office into the firm and to provide

English law advice.

15
---
Chapter 4:

Downside

of success

Partner retreat 1982

Minories House, 1988
---
1990

The Spirit of Enterprise

August

Iraq invades Kuwait, leading to the Gulf War.

1991

June

Boris Yeltsin is elected President of Russia.

1992

April

John Major wins the UK General Election.

1993

January

Bill Clinton is voted President of the United States.

1994

May

The Channel Tunnel opens.

1995

May

Jacques Chirac is elected President of France.

1996

August

The Prince and Princess of Wales are divorced.

1997

May

Tony Blair wins a landslide UK General Election.

2000

January

Y2K passes without widespread computer failure.

25 years of Watson, Farley & Williams

"We were riding the crest of a wave." As

Watson, Farley & Williams entered its second

decade, this was the assessment of the firm's

position by founding partner Alastair Farley.

It seemed too good to be true, and it was.

The heady growth of the 1980s and the early

1990s, which saw fee income double in the

space of two years to reach £28 million, was not

matched by attention to the firm's direction or

financial foundations.

The background to the opening of a Moscow

office showed the firm at its best and its worst.

A high-level contact within the Soviet shipping

ministry cultivated over many years by Alastair

Farley yielded rewards in the late 1980s as the

Soviet Union, in the process of collapsing,

endeavoured to commercialise its fleet. That

resulted in the financial independence from

the Ministry of Merchant Marine of the USSR's

international shipping organisation and the

ship-operating companies located all over the

USSR and in the newly emerging republics.

Almost overnight, there were more than a

dozen potential new clients. Watson, Farley

shipping partners took off to the far corners of

what had been the Soviet Union, from Riga in

the west, to Murmansk in the Arctic north,

Vladivostock in the far east and Odessa on the

Black Sea, in pursuit of new business. "It was

an excellent example of our buccaneering

spirit," says Alastair Farley.

It seemed only natural that this would be

followed up by creating an office in Moscow.

Other foreign law firms were falling over

themselves to open in the Russian capital.

Watson, Farley & Williams followed suit,

opening in October 1993. It was not an

17
---
18

Chapter 4: Downside of success

illogical move, since there were long-standing

Russian contacts who could be serviced, but the

fact of the matter was that Moscow was not a

shipping finance centre. The loans and deals

associated with shipping were done by Russian

deal makers who chose to use London.

"Our clients moved out, as we moved in,"

remembers David Warder. Michael Greville,

who went out to open the office, did more

corporate and securities business than shipping

work. Opening in Moscow was borne more of

impulse rather than careful consideration.

The collapse of foreign investment to Russia

following the 1998 financial crisis led to

the demise and ultimate closure of Moscow

in February 2002, when the lease on the

office expired.

Indeed, there was a sense in which the firm

was being too unconstrained in general. There

were continuing efforts to break into new areas

of practice, particularly general banking and

finance, which were not successful and not

helped by the recession in the early 1990s. The

firm was moving out of its specialist fields of

practice, where it had established a formidable

reputation and could charge commensurately

high fees, into areas dominated by others, where

it had to rely on other means to penetrate the

market. That meant, in effect, competing on

price rather than expertise.

As David Warder explains: "We found it

difficult to get the right people, especially after

the first wave when we all had the shared vision

of the new venture. It was the old conundrum:

the people you want don't want to move, and the

people who want to move aren't necessarily the

people you want. But a partnership depends on

personalities and people getting on with and

integrating into the existing group. For some

it worked, but for too many it didn't. It was

an error-prone business, at which we have

become more astute." However, the firm's

entrepreneurial instincts did serve it well in

the creation of a central and eastern European

practice out of which would emerge a

flourishing energy practice.

There was some disquiet about the way

in which the firm was being managed.

Disagreements surfaced about the direction

in which the firm was heading, eventually

developing into a full-blown rift between

those who believed that the firm should

stick to its core strengths (shipping and

asset finance), and those who argued for a

diversification and expansion into new areas

of practice. Matters reached a head when two

litigation partners in the first group, Simon

Curtis and Mark Davis, left in 1996 to create

their own firm. Their departure was a serious

blow, as many people today freely admit.

"Simon was one the best lawyers we had,"

reflects Alastair Farley, "brilliant at getting

across, simply, complexities to clients. We

were all sad to see him leave."

The ship needed steadying. Earlier, a

management consultant had been appointed

to advise how the firm should go forward.

Among his recommendations was the need

for stronger management, including a practice

group structure organised across offices.

A management committee of three was

formed, followed in 1995 by an election, for

the first time, of a managing partner, David

Warder, who divided his time equally between

management and client work. Professionals

were hired to take control of the firm's support
---
The Spirit of Enterprise

The seeds of the energy practice

In the summer of 1993 Martin Watson and

Charles Walford approached Douglas Wardle,

then at McKenna & Co specialising in

privatisation and corporate work in eastern

Europe, to see if he would be interested in

moving to WFW as a partner. He agreed,

bringing with him a small team from McKennas.

The next three years were spent working on

a variety of corporate privatisations in a number

of eastern European countries including the

Baltics, the Balkans, Bulgaria and Romania.

Indeed, for a couple of years the firm headed

Privatisation International's league table as the

international law firm with the highest number

of privatisations in eastern Europe.

One particularly important deal was the

acquisition of one of Hungary's largest power

groups for a US power developer in 1996. The

successful privatisation spawned power-related

financings and work on new power projects in

Hungary, Croatia and the Czech Republic.

Between 1996 and 2001 Watson, Farley

expanded its power business into several

countries in the region, acting for various

different clients, predominantly from the US

or the UK.

25 years of Watson, Farley & Williams

functions. Michael Reid was recruited in July

1995 as a finance director, and subsequently as

chief executive. His experience both inside and

outside law was invaluable, as David Warder

explains. "I knew very little about management,

and the sum total of my reading was a book

about management, appropriately titled

Herding Cats! Michael helped not just me, but

all of us, to get the business back on track."

Alastair Farley also sings his praises:

"Michael had his detractors, because he was a

hard-nosed businessman, but he knew about

financial management and saw us through a

difficult time."

For a brief period, Watson, Farley &

Williams had the distinction of having

two offices in Scandinavia. After a two-year

secondment with Danish firm, Bech-Brunn &

Trolle, Chris Lowe – as much for personal as

professional reasons (he met his wife there)

– persuaded the firm to open an office in

Copenhagen in March 1994. The office stayed

open for nearly six years, and might have

continued but for a disadvantageous tax

position. The office in Oslo had by then also

come to the end of its useful life but, in this

case, for very different reasons.

It had been a deliberate policy not to take

on Norwegian lawyers, so as not to compete

directly with the many Norwegian law firms

from whom the firm had been referred work,

but over the years those very same Norwegian

firms had learnt how to draft English law

agreements.

"We taught them how to write those

contracts, and then they found they could

provide the same service to our clients, but at

lower cost," remembers Martin Watson. That

19
---
20

Chapter 4: Downside of success

made the maintenance of an Oslo office less

than cost-effective and, after much agonising,

it was closed in the summer of 1996. Mike

Vernell, who had been the resident partner

since 1993, returned to London. However,

the firm did not lose out because the principal

clients continued to use the London office.

The late 1990s was a critical time for the

firm, during which it was required to take

some difficult decisions about the relative

contributions of partners. The upshot was

that a number of them agreed to leave the firm.

A new and radical profit sharing scheme was

introduced in 1999, which involved bringing

the junior partners fully into equity.

The firm's founders also moved on: over

the course of the next two years, Geoffrey

Williams retired from practice, and Alastair

Farley and Martin Watson stepped down from

the partnership, although both remain closely

associated with the firm today. Later still,

Alastair Farley became the Prime Warden of

the Worshipful Company of Shipwrights and

(at the time of writing) Martin Watson the

Vice-President of the Chamber of Shipping,

the first time an individual not from a shipping

company had been elected to the post in the

organisation's history.

Despite these significant changes the firm

continued to grow: in April 2001 Watson,

Farley & Williams had 51 partners and,

in all, 190 lawyers.

15 Appold Street
---
The Spirit of Enterprise

25 years of Watson, Farley & Williams

Partners' Weekend, Chelsea Harbour, 1995

21
---
Chapter 5:

Charting a

new course
---
2001

The Spirit of Enterprise

January

George W. Bush is elected President of the

United States.

June

Tony Blair wins a 2 nd landslide UK General Election.

September

September 11 th attack at the World Trade Center

in New York kills almost 3,000 people.

2002

January

Euro notes and coins are issued in 12 member states.

2003

March

Coalition forces invade Iraq.

2004

May

10 new member states join the European Union

– the largest expansion to date.

2005

January

Pope John Paul II dies; over 4 million people

travel to the Vatican to mourn him.

July

The International Olympic Committee awards

the 2012 Summer Olympics to London.

August

Hurricane Katrina strikes the US Gulf Coast

causing widespread damage.

25 years of Watson, Farley & Williams

Amid all the openings and closings of offices,

there was always one conspicuous gap in the

network: Asia.

Why was it that Watson, Farley & Williams,

a top international shipping firm, did not have

an office in Hong Kong, an international

financial centre, a major trading outlet for

China's fast-growing economy and one of the

world's largest container ports? "We discussed

the possibility of opening in Hong Kong at

regular intervals," says Frank Dunne. "As a

shipping finance centre, Hong Kong is clearly

the type of place where we really should have

had a presence. However, turning that into

reality has been very difficult." Many factors

militated against Hong Kong: the expense; the

inability to identify suitable local lawyers to

join the firm; and the difficulties of breaking

into a mature market, in which there were

many long-established domestic and foreign

firms. Underlying all these considerations was

the uncertainty about what would happen to

Hong Kong after sovereignty in the territory

reverted to China in 1997. Despite these

obstacles, the firm still came close to taking

on a team in Hong Kong in the early 1990s

but decided against at the last moment.

As it turned out, this was not such a

disadvantage. For if Hong Kong didn't work out,

another Asian financial centre, Singapore, did.

This came about after the firm was approached

by a partner with the Singapore office of London

rival Sinclair Roche & Temperley, who expressed

interest in a move to New York. In the ensuing

discussions, he was persuaded to stay in

Singapore and, furthermore, to bring the whole

Sinclair Roche office with him in order to create

a Watson, Farley & Williams office in the citystate.

After a tense negotiation with Sinclair

23
---
24

Chapter 5: Charting a new course

Roche the entire practice was taken over in

September 1998. "Such was our concern about

confidentiality that we obtained approval from

the WFW partnership to take on the SRT

partners and to open the new office without

disclosing their identities or that of their firm",

recalls Nigel Thomas, who led the negotiations

and moved out to Singapore to be the head

of the new office. The practice expanded

rapidly and over time its focus shifted, in

particular developing a regional corporate

practice and moving away from shipping

litigation. Steven Burkill, one of the original

partners, handled some major arbitrations,

including two Thailand-based arbitrations

that resulted in him moving to Bangkok and

opening an office there in October 2001; he

remains there today, as the office has thrived

on a steady stream of regional and domestic

arbitration and corporate work.

Meanwhile, in Europe, dramas were

happening in the Paris office. In 1992 a young

and energetic lawyer, David Syed, had joined

from Baker & McKenzie, bringing with him

some top French clients. On the back of this

practice, the Paris office developed rapidly,

growing in size to some three dozen lawyers

by 2001. This expansion, impressive though it

was, was not enough for David Syed, who felt

the firm was being held back by a lack of capital

markets capability, particularly in the New York

office. He had for several years been an advocate

for merger with a US firm to which end several

options were considered. After this failed to

progress, David Syed led a mass breakaway

in Paris to a US firm and, in October 2002,

the Paris office was reduced from almost 40

lawyers to two (Nigel Moss and one assistant).

On a larger scale, David Syed had replayed

what Alastair Farley, Martin Watson and

Geoffrey Williams had done nearly 20 years

before. "Live by the sword, die by the sword,"

Frank Dunne jokes. The office has since reestablished

itself on a smaller scale and indeed

the partners today include Laurence Martinez-

Bellet, who left with David Syed in 2002 but

rejoined the firm two years later.

At about the same time, attention turned

to Italy and in particular to the fragmented

power sector which was offering increasing

opportunities for foreign involvement. One of

these was a power project on which WFW

worked with a young Italian lawyer at the

Rome office of Carnelutti, Eugenio Tranchino.

He then floated the idea of leaving Carnelutti

with a small team to establish an office for

Watson, Farley & Williams in Rome. This duly

happened in October 2002. Better was to come

the following year when he was joined by Carlo

Galdo, an Italian ship finance lawyer already

well known to WFW and a regular correspondent

of the firm. A thriving finance and corporate

practice has since developed, combining locally

won business with referrals from London.

Energy continues to be a mainstay of WFW's

Italian business.

Germany was another market that was

becoming increasingly of interest to the firm.

By 2003 German banks, mostly based in the

north, had established a substantial position

in the global shipping industry. Not having

a presence in Hamburg was beginning to

resemble a gap in the network – Frankfurt,

a possible alternative, was saturated with

English firms. In early 2005 two German finance

partners, Thomas Hollenhorst and Maren

Brandes, were recruited to open the office.
---
The Spirit of Enterprise

Focus on sectors

"We have learnt from our past mistakes,"

believes Michael Greville, who succeeded

David Warder as managing partner in 2001 –

also becoming the firm's first full-time

managing partner.

"In the 1990s, as we moved out of our niche,

we were entering markets already well served

by other firms. We had nothing special to offer

so it was difficult to compete other than on

price. This time around, as we expand, we

have concentrated on maintaining competitive

advantage through expertise, and have quite

deliberately chosen to focus on sectors of the

market that relate to, and can enhance, the firm's

reputation in asset finance. Through this Watson,

Farley & Williams has evolved from being a ship

finance boutique to an international firm which

advises owners and financiers of large capital

assets – not just in the shipping industry but

also aviation, energy, oil and gas, natural

resources, telecoms, utilities, and real estate.

In all these areas we offer a high-value, highquality

practice across our offices which has

diversified mainly through focused expansion

of our corporate practice and through that our

finance, litigation and tax practices."

25 years of Watson, Farley & Williams

At around the same time the firm became

active in the renewable energy sector in

Germany, advising on acquisitions of

wind farms for UK investors. As the final

arrangements were being put in place to open

the office in October 2005, negotiations began

with the Hamburg corporate firm of Wegener,

Bechtel Schmidt, who had been working with

WFW on the renewable energy transactions.

Six months after opening in Hamburg, in April

2006, the firm had to move to new offices in the

docklands as the two firms merged – actually

the first merger that WFW had done – to create

not just a shipping firm, but an all-round

shipping, corporate, private equity and tax

practice. "The Hamburg office put a new

complexion on our business in Germany as

well as opening up more avenues in Europe,"

observes David Warder. "We have there a

young team of people, who fit culturally

very well with the rest of the firm."

The practices in Hamburg and Rome

say much about how the practice of Watson,

Farley & Williams has developed and changed.

Founded as largely a shipping finance practice,

the firm has built its expertise and reputation

in asset finance and that expertise has been

applied, in more recent times, to other sectors.

It is the firm's corporate practice, as much as

its finance practice, that has acted as the

springboard to these new practice areas.

The firm's financial position has benefited

accordingly. Fee income for the 25 th year ended

April 2007 was £53 million, the highest it has

ever been, and there are now 67 partners and

more than 200 lawyers in eight offices.

25
---
Chapter 6:

Looking

forward

Hamburg office, 2006
---
2006

The Spirit of Enterprise

January

Russia cuts natural gas to Ukraine over a

price dispute.

April

Romano Prodi narrowly defeats Silvio Berlusconi

in the Italian parliamentary elections.

April

Queen Elizabeth II celebrates her 80 th birthday

at Windsor Castle.

December

Saddam Hussein, former Iraq president,

is executed in Baghdad.

December

England experiences its warmest year since

records began in 1659.

2007

January

Bulgaria and Romania join the European Union.

March

15 Royal Navy servicemen are seized by

Iranian authorities.

April

The Pound hits a 15-year high against the US dollar,

breaking through the US$2 level for the first time

since 1992.

May

Tony Blair's 10 th anniversary as UK Prime Minister

and confirmation that he will stand down.

25 years of Watson, Farley & Williams

As the firm enters a new phase of its history,

it can reflect on an eventful first 25 years, which

has been full of adventure, drama and some

disappointments. If the firm had things going

its way in the early days, it certainly has

challenges in the current market.

Some recent developments have been to the

firm's definite advantage. The shipping industry,

which long provided the core of the firm's

practice, has consolidated and grown with

the expansion of world trade and continues

to offer business opportunities.

Even so, competitive pressures on established

market positions continue. The maturing of the

shipping industry has taken deals to the capital

markets (albeit still to a surprisingly small extent),

and specialist expertise is easily copied by others.

As David Osborne notes, the business has

changed significantly over the life of the firm:

"What we now regard as 'plain vanilla' shipping

finance transactions used at the time we started

to be regarded as an obscure black art, for

which we could charge quite a lot of money.

The market for that sort of work has become

much more commoditised and therefore

more competitive."

The key to success remains keeping ahead

of the competition as new markets open;

a good example of this was UK tax based

leasing in the late 1990s. The challenges have

been compounded by the transformation of

communications, which make it near-impossible

to protect intellectual know how. "We can

draft a document incorporating all our shipping

expertise and knowledge, developed over

decades, circulate it to a banker or a borrower,

and the next thing it has become a market

standard, to which anyone has access,"

27
---
28

Chapter 6: Looking forward

notes Frank Dunne. "That barrier to market

entry has simply gone."

Yet at the same time new avenues for

capitalising on expertise are emerging. The

rapid growth of the LNG sector, fuelled by

the need to bring natural gas to western Europe

and the USA, has provided a perfect bridge

between the firm's shipping, oil and gas and

energy practices which could not have been

predicted when the decision to focus on those

industries was made. Similarly, the growth in

wealth and influence of the private equity

industry has enabled smaller firms, without

strong positions in the capital markets enjoyed

by those close to the large investment banks,

to obtain investment and acquisition work

particularly suited to specialist areas.

So what does the future hold? "We are at an

interesting point," reflects Frank Dunne. "For

the last 10 or so years we have been very happy,

very successful with what we are, our position

in the world, what Watson, Farley & Williams is

in the great order of things. We have an inner

strength stemming from the satisfaction with

the business which we are in. But there is

pressure to grow, especially in a world where

being big counts for much. We have grown,

maybe less than other firms, but importantly

we remain distinct. Against this backdrop,

our top objective is to maintain our unique

position in the market, founded not on size

but on the quality of service in our chosen areas

of practice. Our founders created this firm in

the spirit of enterprise, and we will carry that

spirit forward."

Ebbs and flow

In the mid 1990s leasing techniques which had

been developed in the aviation industry began to

be used for high-value equipment in the offshore

oil industry, financing floating production units

and drillships.

The firm's maritime and tax expertise led it

into some very large transactions of this nature

and it was able to strengthen its practice in the

offshore industry as a result. A change of tax rules

concentrated the focus of UK tax leasing onto

conventional shipping and the firm developed a

premier position in ship leasing, from container

vessels to the most modern cruise ships.

A further radical change in tax rules in 2005

reduced the flow of deals – but other opportunities

always present themselves and the firm continues

to be involved in developing new techniques

and structures.
---
The Spirit of Enterprise

25 years of Watson, Farley & Williams

Partners' Weekend, Tower of London, 2006

29
---
London

15 Appold Street

London

EC2A 2HB

UK

New York

100 Park Avenue

New York

NY 10017

USA

Rome

Via Vittorio Veneto, 96

00187 – Rome

Italy

www.wfw.com

© Watson, Farley & Williams 2007

Athens

8 th Floor – Ionian Building

2 Defteras Merarchias Street

Piraeus 185 36

Greece

Singapore

16 Collyer Quay

#12-02 Hitachi Tower

Singapore 049318

Hamburg

Van-der-Smissen-Straße 9

22767 Hamburg

Germany

Paris

150, avenue des Champs Elysées

75008 Paris

France

Bangkok

Unit 902, 9 th Floor,

GPF Wittayu Tower B

93/1 Wireless Road

Patumwan

Bangkok 10330

Thailand
---
Author: Humphrey Keenlyside

After qualifying and practising as a commercial litigation

lawyer, he moved into journalism and then into full-time

professional writing.

Print: Sumfield & Day

Design: GHSM Ltd
---
1982

London

2007

London

Athens

Paris

New York

Singapore

Bangkok

Rome

Hamburg