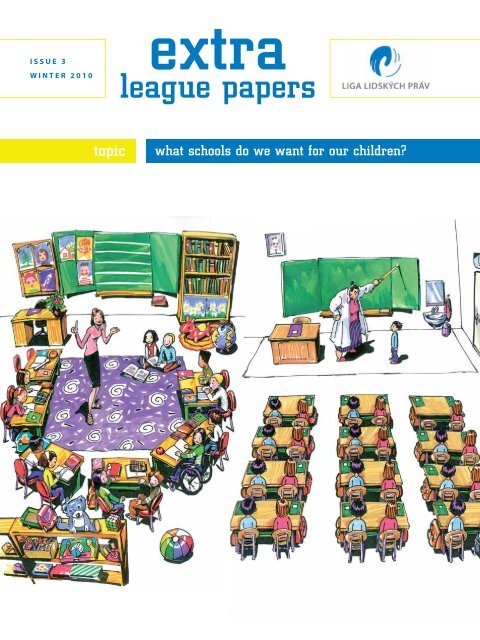 EXTRA league papers | issue 3 | winter 2010 | What Schools Do We Want for our Children?
Create successful ePaper yourself
Turn your PDF publications into a flip-book with our unique Google optimized e-Paper software.
ISSUE 3

WINTER 2010

topic

extra

league papers

what schools do we want for our children?
---
2

introduction

Olga Kusá, educational specialist in the Inclusive

Education Support Centre in Brno

we should have

diversity in

schools… or did i

go mad?

I like my job. I really do. Thanks to my

job I got to know those schools where

diversity is accepted, respected and

even welcomed as good experience and

benefi cial for all. But just like all other

jobs it has its dark side that can get on

my nerves!

Have you ever wondered how some people

can be so thick-headed? Have you ever felt you

were the only one trying to make something

happen? Have you ever felt like exploding

because you were being told again and again

why some things cannot be done instead of

trying to fi nd solutions? What can surely make

me see red is the stiff ness of opinions of education

workers whose simplifying and black

and white judgements aff ect the education of

"diff erent" children. Psychologists and specialized

teachers are the ones who establish the

"diagnosis", on which basis a child is recommended

for integration into a regular school or

sent to a special school. Educational counsellors

cooperate with teachers and advise them

how to work with children who have a learning

disability. These people can have an essential

impact on the future of children and their authority

can aff ect the minds of teachers. I have

recently had an opportunity to participate in

a discussion between educational counsellors

and teachers at a standard elementary school.

The subject of the discussion was the education

of so-called problematic pupils. I was happy

about the event, I was interested in the problems

teachers had and curious to know how

the educational counsellors would deal with

the multitude of questions and complaints.

But to my bitter disappointment, at the very

beginning the lead psychologist unblinkingly

said: "It is a shame that it is no longer allowed to

send border children to former special schools.

Such children will now come fl ooding into your

schools! I am really curious to see how you will

manage it."

Imagine my despair, my job is to motivate teachers

not to give up on and get rid of less able

children, no matter how diffi cult the work with

them can be. "Border children" is a simplifi ed

term describing children whose results in IQ

tests border on mild intellectual disabled. These

children do not do well in school and there

are many reasons why it is so. However, I think

that these children do not belong to schools

for the intellectually disabled.

Nevertheless, the discussion goes on. And with

it come other shocking words spoken by an

educational counsellor: "It is time we really started

to fear children with behavioural disorders,

as their number rises. An unruly child cannot be

changed, nothing works for them."

But the best of educational optimism is yet to

come: "There is nothing you can do with border

children; they will not start getting better. Let

them fail the end of year exams and they might

end up at a special school anyway."

This experience was stuck in my head long afterwards

and I was thinking about the psychologist.

A change can be diffi cult and attitudes

are especially hard to change. Maybe she has

twenty or thirty years of experience, feels sure

about what she does and nothing can easily

surprise her. "It has been working fi ne until now,

so what do you want?!" "A change?" I ask. Or did

I really go mad?

Lucie Obrovská, lawyer of the Equal Opportunities

Department of the Offi ce of the Public Defender

of Rights

three year "anniversary"

of the

d. h. verdict: have

we moved on?

The Czech Republic has committed to

ensuring equal access to education. Since

last year this right has been grounded

not only in the Charter of fundamental

rights and basic freedoms, education

rules and international obligations but

also in the Anti-discrimination Act.

When non-governmental organizations recently

criticized the Minister of Education for his

indifference towards the issue of integration

and inclusion, they pointed out the possibility

of another action being brought against the

Czech Republic at the European Court of Human

Rights in Strasbourg. In 2007 in the case of D.

H. and others vs. the Czech Republic the same

court stated that we discriminate against Roma

children because we do not provide them with a

standard quality education, i.e. education given

to non-Roma children. Instead, a great number

of Roma children are placed in non-standard

schools. But according to the current legislation,

only disabled children should be provided with

such education. In Western countries it is quite

common that emphasis is put on coeducation

of all children, regardless of their disability. Inclusion

is good not only for the education of the

diff erent, disabled child but it also improves the

child's relationship with majority children, who

thus learn tolerance.

Special changes at special schools or

Czech-style inclusion

Although special schools were to be removed

from the education system, anyone in this fi eld

will confirm that the change of the schools'

naming was merely symbolic. Special schools

were renamed practical elementary schools but

the change in the concept of education, which

would support the inclusive approach, did not

happen. It is appalling that three years later legal
---
epresentatives of Roma children can still claim

compensation for an unequal access to education.

Apart from this, they can also bring an action

to court on the basis of the Anti-discrimination

Act. For now, the use of the Act is rather scarce.

We have to realize that the inclusive approach to

education is not merely a moral challenge presented

by some experts, parents or non-profi t

organizations. The School Act itself supports an

interpretation, which says that in cases in which

it is benefi cial to the pupil to be included in the

mainstream education this has to be done.

One of the educational principles is an individual

approach to every pupil and their educational

needs. Apart from this, one of the education

regulations explicitly states that in case of

agreement with the child's interests, the State is

obligated to provide the child with a standard

education. It is therefore necessary to incessantly

remind people that the inclusive approach is

not a surreal wish expressed by academics but

that it is a legally binding concept, supported by

the Strasbourg verdict and education rules.

A so-called reintegration should be a natural

part of the inclusive approach. The decision to

place a child in a special school upon the recommendation

of a psychologist should not be defi

nite, on the contrary, they should be continuously

watched and, if the situation changes, sent

back to a standard elementary school. In addition,the

teachers should be ready to provide the

disabled children with appropriate support.

Inclusion is for all, not only for Roma

Non-governmental organizations, many experts

and international institutions, including

the European Commission against Racism and

Intolerance are expressing alarm at the fact that

the implementation of changes towards Roma

education solutions has been stopped. The current

Minister of Education refuses to support the

changes that were prepared and partly implemented

by the previous governments. We have

to realize that the concept of inclusive education

is much broader. It concerns not only Roma children

but all disabled children as well. It includes

quality education for ethnic minority children

but it is also important to put maximum eff ort

into integration of all children into standard

schools and classes. The inclusive education system

has the potential to off er quality education

to any pupil but it also has a considerable socializing

function at schools and in classes attended

by mentally or physically disabled children and

able-bodied children together.

The Czech Republic is obligated to ensure the

highest possible quality of education to all children,

so it must be pointed out that the criticism

on the part of organizations for protection of the

human rights of disabled people is more than

relevant. It is not a mere moral challenge but a

serious legal obligation, which the State is obligated

to fulfi l as the Czech Republic has ratifi ed

the UN Convention on the Rights of Persons with

Disabilities. The discussion about insufficient

integration of disabled children, of children from

foreign families or otherwise disadvantaged

children is therefore as relevant as the discussion

about the education of Roma children.

Verdict, and what is to follow?

The fact that Roma children are discriminated

against by the Czech Republic has been pointed

out for a long time. That the education off ered

in the former special schools does not provide

adequate knowledge and skills needed to succeed

at labour market is beyond question. It is true

that the Roma are very often unrightfully placed

outside the mainstream. Non-standard education,

i.e. education not at a regular elementary

school, is intended for intellectually disabled

children only. People with mild intellectual disability

represent about 3 per cent of the population;

it is therefore exceedingly disproportionate that 30

per cent of Roma children are educated at former

special schools. This fact had been pointed out

by Czech non-governmental organizations long

before the afore-mentioned verdict was reached

but unfortunately it had no impact on the actions

taken by the Czech state authorities. This

made the Strasbourg verdict, which emphasizes

the human rights violation committed by the

Czech Republic, all the more important. The

court has repeatedly highlighted the segregation

of the Roma, as it stated that neither Croatia

nor Greece are able to provide equal educational

opportunities for young Roma.

The D. H. verdict puts emphasis on two essential

aspects of the problem: (a) the lack of informed

consent of the Roma parents to their child's

placement outside the educational mainstream

and (b) doubts as to the adequacy of tests

used by pedagogical-psychological counselling

centres. The court states that these tests are culturally

prejudiced. This means that worse results

achieved by Roma children do not stem from

their own inability but from a diff erent cultural

and social background. The court also believes

that racial prejudices on the part of responsible

people play an equally important role in sorting

Roma children. This surely is a bold proclamation

but if it is not true, we have to ask ourselves,

what causes the disproportionate number of

Roma children at special schools.

Has there been any change at all since the

verdict was reached three years ago? The same

Roma children who were placed outside the

educational mainstream before the verdict, continue

to be educated at these non-standard or

"ghetto" schools. The work of pedagogical-psychological

counselling centres did not undergo

any considerable change either from the point

of view of legislation or concerning personnel.

This means that we still wrongfully send Roma

children to such schools and classes that neither

prepare them for everyday life nor provide them

with quality education.

What did the Czech School Inspectorate

fi nd out?

Exactly a year ago I carried out an analysis for

the Czech Helsinki Committee, in which I tried

topic

to assess the progress we made in following the

"Strasbourg dictate". One year later I must say

that the situation has not improved although

some changes have occurred. For example, the

Czech School Inspectorate started to cooperate

with non-governmental organizations and

actively approached the burning questions

concerning the education of the Roma and I

was invited to participate in its investigations.

Observations made at special schools confi rm

what the non-governmental organizations have

long been pointing out: that the representatives

of special schools cannot be expected to show

self-criticism and eff orts to reduce the number

of children placed in special schools. It is an essential

matter of their existence.

But there were some aspects of the problem that

the Inspectorate could not observe. It is impossible

to exactly observe the parents' consent to

their child's placement outside the educational

mainstream although it is imposed by law. The

legislation requires that informed consent is

obtained but in practice, parents are rarely informed.

However, in the near future a ministry

guideline is to be issued, which would deal with

the question of informed consent. Presently,

it is the usual practice that the parent merely

signs school-prepared documents as a sign of

their consent. It is therefore difficult to assess

to what extent the parents are informed about

the consequences of their child's placement in a

special school.

Nevertheless, the Inspectorate could and did

find out that the head teachers themselves

violate the rules. Apart from the informed consent,

another condition of a child's placement

in a special school is a diagnosis of intellectual

disability. The diagnosis is established by a pedagogical-psychological

counselling centre or

by a specialized pedagogical centre. The Inspectorate

observed that in many cases the head teacher

decided on a child's placement in a special

school without presenting such diagnosis. This is

a very serious failure because the head teacher is

the decision-making state authority and should

be held responsible for such a situation.

Equal access to education still beyond

horizon

Among children who are educated according

to lower standards, the Roma children are the

majority. The situation is the same concerning

the number of diagnoses made by pedagogical

counselling centres. Let us not pretend that the

results are accidental. In a democratic country

it is out of bounds to accept a thesis that claims

that the number of intellectually disabled individuals

is considerably higher in one ethnic group

than in another. The core of the problem is more

likely to be found in the selection of tests used

Continued on page 4.

3
---
4

you decide!

Jennifer Clark, author is a law student at Albany

Law School, New York

education as a fundamental

human

right vs. exclusion

of disabled children

Education is the vehicle for which children

learn and establish the skills necessary

to develop and grow. Education is

also the foundation from which social interactions

and self-empowerment stem.

And despite education being critical to

proper development, children with disabilities

continue to face discrimination in

the educational setting.

The United Nations Convention on the Rights

of Persons with Disabilities, which came into

force in 2008, was drafted as a supplement to

the Universal Declaration of Human Rights in an

eff ort to protect individuals with disabilities. To

date, there are 146 signatories to the Convention

and 90 ratifi cations. The Convention recognizes

that the term "disability" is evolving but notes

that it typically includes individuals with longterm

physical, mental, intellectual, or sensory

impairments.

There is estimated to be more than 650 million

Continued from page 3.

by the counselling centres, in the lack of quality

personnel in the centres but also in the lack of

motivation on the part of elementary schools

to educate the Roma. This year the Inspectorate

presented these observations to the Public Defender

of Rights to decide whether or not this

was a case of discrimination of the Roma. Three

years after the Strasbourg verdict the ombudsman

again confi rmed that unlawful activities

still go on in the Czech education system, that

we still discriminate against the young Roma.

Is there anything positive we can say by way of

in the world living with disabilities and many

encounter obstacles which prevent them from

receiving an education similar those who do not

have a disability. Research has showed that people

with disabilities are more likely to be poor

and as such, they lack access to educational

services. Statistics demonstrate that 19 per cent

of less educated people have disabilities and

11 per cent of better educated individuals have

disabilities.

In lieu of the Convention and ratifi cation by 90

state parties, many countries have also implemented

their own disability discrimination acts.

The need to enact legislation is clear: 90 percent

of children with disabilities in developing

countries do not attend school. In the United

Kingdom for example, the Disability Discrimination

Act prohibits discrimination in schools

and requires public entities to promote equal

opportunities for individuals with disabilities.

Some of the equal opportunities include access

to public transportation and facilities and other

educational services.

In Scotland, the Disability Discrimination Act

makes it unlawful for a school to discriminate

against disabled individuals. The Act applies

to all schools, not just state-funded schools.

The obligations imposed on schools, however,

do not apply to teaching aids and services.

Instead, the Act applies to policies and procedures

which may keep children with disabilities

separate from those who do not have them.

Compensation for claims of discrimination is not

permissible in Scotland.

conclusion? I hardly think so. Unlike last autumn,

nowadays the question of inclusion has no political

support. The Czech Republic still does not

fulfi l its legal obligations, and therefore it would

come as no surprise if there were more suits,

guilty verdicts and penalties. The only surprise

could be whether the action is brought by a

Roma pupil or by a physically disabled child. But

what worries me more is the fact that wrongfully

segregated children still cannot go back to

elementary schools. Another very distressing

fact is that the Roma children are still excessively

The United States has very detailed regulations

ensuring those with disabilities are treated fairly

and have equal educational opportunities. The

Individuals with Disabilities Education Act was

passed in 1975 and prior to its passage, at least

one million children with disabilities in the United

States were denied public education. The

Act specifi cally addressed the educational needs

of children with disabilities from birth to age 21.

The Act requires that education-related services

are designed to meet the unique learning needs

of eligible children and schools are also required

to create an individualized education program

for each student. The Act also requires adequate

services be provided, including transportation

to and from school, speech-language pathology,

psychological services, physical therapy, and

recreation.

Schools throughout the world are moving towards

more inclusive environments which support

children with disabilities. Many policies now

prohibit authorities from denying children with

disabilities admittance to school. Other regulations

prohibit school authorities from allowing

children with disabilities access to services and

benefi ts off ered to students without disabilities.

Despite the changes being made, many children

are still discriminated against once they arrive at

school. It is imperative that those with disabilities

have the same opportunities to excel as those

who do not have a disability, especially since

education is recognized as a fundamental right.

Education as a fundamental right vs. exclusion of

children with disabilities: You decide.

source: www.isifa.com

placed in former special schools, which further

widens the social gap existing in Czech society.

And it is clear that if we do not provide the Roma

children with a chance to get better education,

they will hardly learn self-reliance and independence

from state assistance. Moreover, the

current state of aff airs is exceedingly expensive

for the State and it unnecessarily heightens

social tension.

The author is a close collaborator of the League of

Human Rights
---
Michaela Tetřevová, lawyer of the League of Human

Rights

how does the system

of threatened

children care fail?

the story of a family and their three-year struggle

to get their children back in their care

The Czech Republic has long been criticized

by international organizations

for the high number of children living

in state institutions. More than 21,000

children spend their childhood in such

institutions. This number means that we

are one of the leading countries with regard

to the number of institutionalized

children.

What are the causes of this desperate

state? The State fails mainly in providing

preventive help to threatened families.

Instead of helping parents in crisis, the

State chooses to punish them by taking

their children away. Children are often

taken away from their parents with surprising

rapidity. Getting them back can

prove an extremely long and arduous

task.

Mr and Mrs Stejskal know all about this. Their

two little daughters have been living in a state

institution for two years now. The social services

workers took them away after one night when

the girls were left home alone. When they could

not fi nd their mother, they went out on a balcony

and called her. A municipal police patrol

who happened to pass by noticed the crying

children and notifi ed the child protection authority.

The negligent parents were punished

immediately. The next day the Stejskals were

visited by a social services worker who took

the children away. For a couple of months the

girls were living with their grandmother and

were seeing their parents regularly. Then, it got

diffi cult for the grandmother to take care of two

little children so they went to a state institution.

The institution where the girls are living now is

about 55 miles away from their parents' home.

Of course, there are state institutions which

would be closer. But all of them were full at

the time the girls' placement was decided. No

wonder, if we consider how many children live

in state institutions! The considerable distance

that separates the Stejskals from their daughters

disrupts the family relationships. Both parents

work full time in three-shift operation, so

they are unable to see their daughters regularly.

Children suff er in state institutions but

courts are at ease

The litigation concerning the institutionalization

of the girls has been going on for three

years and a decision is not going to be reached

soon. To make things worse, education at a state

institution begins to negatively aff ect the girls.

The seven-year old Michaela is very friendly to

everybody, and if somebody told her to come

home with them, she would not hesitate. In

contrast, younger Pavlína, who has been living

in the state institution since the age of two and

can remember nothing but the state institution,

is distrustful and resentful.

Several studies have already proved that children

who are brought up in state institutions

are more likely to have growth disorder, and

have behavioural disorders and low social and

intellectual skills. Only one in 171 children

growing up in a state institution gets a university

degree. Other research shows that 56 per

cent of children, who leave the state institution

after they turn 18, commit a criminal off ence.

But it seems that in case of the Stejskal family,

the court does not take into consideration the

negative aspects of state care. Instead of acting

quickly and in the best interest of the child,

it is not unusual that time periods separating

the court proceedings go up to two months. It

looks like time goes slowly in a court building,

whereas with small children, just like Michaela

and Pavlína, time fl ies fast.

The Stejskals have been litigating a claim to get

their children back for 1,088 days now. It is their

bad luck that the court proceedings have been

brought in the Northern Bohemia Region. These

courts are well-known for their slow proceedings

concerning the care of minors. In 18 per

cent of cases the proceedings last for 6 months

to 1 year. In 20 per cent of cases the proceedings

go on for 1 to 3 years, which is the highest number

in the Czech Republic.

But the situation in other regions is no better.

Long court proceedings represent a problem

within the whole system. The Civil Procedure

Code, which deals with proceedings concerning

care of minors, unfortunately does not defi ne

any period within which the courts should reach

a decision. There only exist a 24-hour period

for issuing a preliminary measure that places

children in state institutions. But the preliminary

measure is to be used in an emergency, in

cases where the children are ill-treated, sexually

abused or left with no one to look after them,

and therefore it is necessary to act quickly. Unfortunately,

in practice, the preliminary measure

is often misused in cases of long-term family

troubles.

case

Social services workers inspect and threaten

but do not help

This was the case of the Stejskals as well. The

department of social services opened a fi le on

Michaela and Pavlína in 2004. This was when

problems fi rst occurred in the family. Mr Stejskal

liked to have a drink in a pub and his wife used

to go and pay his bills, when he drank more that

he could pay for. When Mrs Stejskal used to go

and pay her husband's bill, the kids were left

home alone. But Mrs Stejskal too liked to drink

a little sometimes. One time, after she had been

celebrating with a friend, she went to see her

friend off and she shut herself out of doors. The

eighteen-month-old Michaela was left home

alone and fi re fi ghters had to help Mrs Stejskal

open the apartment door again.

So the Stejskals were visited by a social services

worker several times. However, her visit always

included a mere formal inspection. In fifteen

minutes she ran through the apartment, checked

whether the fridge contained enough food,

whether the clothes were nicely tidied in closets,

whether the fl oor was well swept and whether

the children were appropriately dressed.

Then she simply informed the parents that they

should improve the education of their children

and threatened to take the kids away. That was

the end of any further communication with the

family. The Stejskals never learned what they

should improve in particular, and when.

On the contrary, in the Netherlands and the United

Kingdom it is common that if a family gets

into trouble, a social services worker will call a

family conference, at which the wider family

gathers. Together they try to come up with an

individual plan, which would comprise particular

measures and tasks and a time schedule

to go according to. The duties resulting from

the individual plan, which has been drawn up

by the whole family, are easily understandable

for everybody and are not seen as an inimical

intervention in family life. This contributes to a

higher motivation of the family for keeping to

the proposed plan. Moreover, the family eff ort

is supported by a continuous evaluation, when

the family and the worker discuss the measures

that were successfully adopted and those that

need to be yet taken.

Continued on page 7.

5
---
6

interview

questions for…

…Josef Dobeš, the Minister of Education

How do you think an ideal school for your children

should look like?

Above all, it would be a friendly environment

created by teachers, parents and children. It

would be a school where children could be freely

educated without being manipulated. And

at the same time it would be a safe place where

children could explore all their possibilities.

Candidates for the "Fair School" Award

are better and better

In the past month LIGA teachers visited new

schools, which aim to be awarded the Fair School

Certifi cate. They travelled the whole country

and returned home satisfi ed. "I was pleasantly

surprised by the high level of application of inclusive

principles at schools. Most schools try to

put into practice the philosophy and principles of

equal access to education," says Monika Tannenbergerová.

At present, fi fteen schools from all

over the Czech Republic have applied for the

Certifi cate and applications still keep coming.

Our pedagogical-legal team explains to the

schools what they can expect and clarifi es any

possible ambiguities. Throughout the year we

counsel the schools engaged in the project and

we watch how the inclusion goes at the schools.

Whether the Certificate is awarded or not is

decided by an independent board of experts.

LIGA awards the Fair School Certifi cate to those

schools that promote a fair approach to all pupils

regardless of their handicap, special skills or

skin colour. Since 2009 ten schools were awarded

the Certifi cate and other schools joined the

project this year.

What do you think about inclusive education as a

system? What, in your opinion, is the signifi cance

of the process of inclusion for society?

Inclusion or integration of handicapped children

is a completely proper process, it is necessary

that this process take place in an entirely

transparent way and that inclusion become an

open dialogue between experts, representatives

of regions and schools, and parents.

Do you think that Czech special and practical

elementary schools are really attended only by

children who belong there?

It would be naive to think that it is so. I will only

confi rm the numbers, which I do not consider to

be exaggerated, that 26 per cent of the children,

who attend these schools, do not have any intellectual

disability. It is a wrong approach. On

the other hand, I fully support special schools,

because they work in fairly diffi cult conditions

and without appropriate acknowledgement

and support.

What is your opinion of the D. H. verdict, and

what solution would you propose, as a solution

is inevitable according to the Strasbourg recommendation?

The substance of the D. H. verdict is that children

without intellectual disability should not

be placed outside mainstream education. This is

a matter to be considered and solved by Regulations

No. 72 and 73, which need to be amended.

We can achieve this by the end of January 2011.

We achieved a signifi cant decision: Parents

do not have to pay fines for not

having their child vaccinated

Parents who decide not to have their children

vaccinated or to postpone the vaccination, can

no longer be fi ned. This was the decision of the

Supreme Administrative Court, which accepted

the arguments of LIGA that the Regulation on

vaccination against infectious diseases is in

contradiction with constitutional law. This puts

an end to an often insensitive practice of health

offi cials who imposed fi nes of up to 20,000 CZK

on parents who refused to get their children

vaccinated or to postpone the vaccination, even

in cases the parents' decision was based on the

child's bad reaction to a previous vaccination.

"If the State wishes to enforce this duty, this would

have to be regulated by law," says Josef Vlašín, a

judge at the Supreme Administrative Court.

The ground-breaking verdict has been reached

in the case of the Čechs who refused vaccination

and were ordered by the Offi ce of Public Health

to pay a fi ne of 8,000 CZK. Mr and Mrs Čech

decided to defend themselves in court with the

help of LIGA lawyers. After two years, success

finally came and it can positively influence

other similar litigations. The rights of patients to

decide whether to get vaccinations or not has

What will the progress of the National Action

Plan on Inclusive Education be now that some of

the experts, who collaborated on its drafting and

realization, have left?

It has to be said that the so-called NAPIV (National

Action Plan on Inclusive Education) was

prepared only in March 2010. It took a very long

time before the plan was created, the people

engaged in the plan met once (June 2010) and

then somebody leaves. In my opinion, this is

a short-term matter and I rather appreciate

long-term projects. I will call NAPIV at the end of

November 2010 and will gladly invite anybody

who wants to continue with the project. I wish

it were mostly perseverant and determined

people.

Do you think that education towards tolerance

and removal of xenophobia and racism is suffi cient

at schools?

Generally speaking, it is necessary to put more

eff ort in this matter, and not only at schools but

also in families, sports fi elds (see sports stadiums).

We can undoubtedly observe a certain

progress and openness regarding this issue.

Progress is achieved with regard to the attitude

of the repressive organs, where a significant

shift has been noted, because this environment

is far less tolerant. But it is necessary not to stop

focusing on this issue because it still represents

a great danger for society.

in short

been a long-term issue for LIGA. "We think that

the current legislation does not respect human

rights. This repressive system is uncommon in all

Western countries," says Zuzana Candigliota, a

LIGA lawyer.

Human Rights Clinic working again

With the beginning of the new academic

year LIGA introduced another course entitled

Human Rights Clinic offered in cooperation

with the Faculty of Law of Palacký University

in Olomouc, with which LIGA cooperates on a

long-term basis. David Zahumenský, the LIGA

Chair, advised the students how to conduct an

interview with a client. He also gave them some

essential facts about health law. Within a threehour

session the students had the opportunity

to apply the acquired knowledge and skills in

practice.

The goal of the clinic is to use interactive methods

to introduce students to the issue of

human rights and their legal protection. At the

same time the course aims to give the students

practical legal skills and inspire them with a

sense of professional responsibility towards

disadvantaged social groups and public interest

protection.
---
Are you a teacher, head teacher, education

expert, parent of a handicapped child

or just someone who cares? Our test will

show you what legislative obstacles are

in the way of education of disadvantaged

pupils.

questions

1. Can a school refuse a pupil because they do

not belong to the school neighbourhood?

2. Can a Roma child be placed in a special or

practical school only on the basis of their

problematic behaviour?

3. Can a school get a fi nancial contribution for a

socially disadvantaged pupil?

4. Does the education legislation prefer group

integration to individual integration?

5. Does a pupil with a mild intellectual disability

have to attend a special school?

6. Can a child be repeatedly kept in the same

grade at elementary school?

7. Does the legislation include the concept of a

"Roma assistant"?

Continued from page 5.

Solutions exist but only theoretically

The concept of family conferences is far from

being introduced here. A similar concept is suggested

in the National Action Plan to transform

and unite the system of care of threatened children

but its realization is extremely uncertain.

Although things seem to be changing at the

Ministry, all plans exist only on paper and it may

take years before they are put into practice. So

for the time being, we stick to the usual practice,

where the child protection authority keeps

waiting until the situation in the family is bad

enough for the children to be taken away upon

correct answers

1. NO. Only in case the school is at full capacity.

The head teacher is obligated to primarily

accept those pupils who live in the school

neighbourhood. But if the school capacity is

not filled with neighbourhood pupils, the

head teacher cannot refuse a pupil from a

diff erent neighbourhood.

2. NO. A child can be placed in a special school

only on the basis of a psychological expert

opinion issued by a counselling centre,

which reveals that the child has special

educational needs. Another necessary

condition is the informed consent of the

child's parent.

3. NO. According to Regulation No. 492/2005 Coll.,

test

does Czech legislation keep

disadvantaged children in mind?

a court decision. In the defence of social services

workers we have to admit that there is a lack

of personnel. A Ministry report says that 560

social workers are missing in the system. In the

present situation, where one social worker has

to deal with 354 cases of threatened children a

year, it is impossible to think that the work with

families will be perfect.

But these facts cannot be used as an excuse. By

the ratifi cation of the Convention on the Rights

of the Child, the State has committed to promote

the best interests of the child and has to

do its utmost to do so. But for now the system

is rather leaky.

on Regional Norms a financial contribution

can only be given to disabled pupils.

4. NO. Individual integration is preferred.

5. NO. It is preferred that the child be placed in

a standard elementary school with an individualized

education program, so they can

attend a standard class.

6. NO. A pupil can fail a class only twice during

their studies at an elementary school.

7. NO. A Roma assistant is a popular name used

by general public. But the Education Act only

knows the concept of "pedagogical

assistant" who can be assigned by the head

teacher to a class attended by a pupil with

special educational needs.

A more responsible approach to care for threatened

children would surely be welcomed by

the Stejskal children, who have been waiting in

a state institution for two years for the court to

reach a fi nal decision.

7
---
8

we published

A documentary entitled "Fair Schools"

See for yourselves that coeducation of all

children works.

In cooperation with professionals we have made

a documentary about inclusive education, that

is about the education of physically or socially

disadvantaged or otherwise diff erent children

in standard schools and classes. Although inclusion

is a common and successful education

system adopted abroad, in the Czech Republic

it is still met with prejudices. That is why we

have decided to publicly present three Czech

schools that started applying the inclusion principles

and successfully integrated pupils with

physical or mild intellectual disabilities, autistic

children, Roma children but also exceptionally

gifted children who need special pedagogical

assistance as well.

The fi lm will present three children and their

parents, teachers and classmates. We will show

liga's people

LIGA'S PEOPLE LIGA's People Club

LIGA'S PEOPLE is a

group of our regular

contributors who

help us protect human

rights and improve

the quality of

life of all people in the

Czech Republic.

JOIN US AND YOU CAN GET

• regular information about our activities

• EXTRA League Papers twice a year

• invitations to social events and public discussions

• annual report

• new publications and other little gifts for free

If you would like to support us, please contact

Petr Jeřábek on 776 234 446 or send an email to

lidiligy@llp.cz.

www.lidiligy.cz

EXTRA League

Papers are fi nancially

supported by the

American Embassy in

Prague.

you how they live, how they study and how they

do at schools awarded LIGA's Fair School Certifi -

cate for their approach. The fi lm is intended not

only for head teachers and teachers but also for

the general public.

The grand premiere will take place on 3rd December

2010 on the occasion of the International

Day of Persons with Disabilities.

How to become a fair school II

Inclusive education in practice

The "How to become a fair school" manual

has another volume. It is primarily intended

for head teachers and teachers at elementary

schools. You can fi nd there inspiring texts on

inclusive education written by fair schools head

teachers themselves. It also contains many interesting

tips on classes and lessons. To help you

orientate yourselves in this issue we have provided

explanation of the most important terms

and answers to frequently asked questions of

teachers and pupils. Apart from this, you can

learn about new features prepared by the Ministry

of Education, Youth and Sports in the fi eld

of legislation concerning children with special

educational needs.

CHEERING FOR JUSTICE!

The rights of children are one of our major

priorities here at the League of Human Rights.

We think that if we do not help children get

quality education and grow up in a family environment,

we will probably sentence them

to a life on the edge of the society. Thanks to

your support we can better enforce the rights

of children in practice.

David Zahumenský, Chair

WE WOULD LIKE TO THANK

ALL DONOURS FOR THEIR HELP.

IT PAYS OFF NOT TO BE INDIFFERENT.

The League of Human Rights is

supported by:

The "How to become a fair school II" manual is

available at www.llp.cz for free download.

How to fairly compensate patients?

Video for experts and others

To familiarize the general public with the issue

of compensation for accidental damage in health

care we have made a short documentary entitled

"How to fairly compensate patients?" We

have used the example of an action brought by

the bereaved family of the late Mrs Pechoušová

to show you how diffi cult it is to orientate oneself

in the Czech legislation concerning similar

cases.

Marie Cilínková, an attorney, will talk about her

forty years of experience with the defence of patients'

rights. Gerald Bachinger, the head of the

Patientenanwalt in Lower Austria, will explain

how the Austrian system of compensations

works. And LIGA will present their suggestions

and recommendations on how to systematically

solve the issue of patients' compensation.

You can watch the video at the LIGA's YouTube

channel.

Imprint

EXTRA LEAGUE PAPERS

Issue 3, December 2010

Issued by: The League of Human Rights,

Burešova 6, 602 00 Brno,

Registration No.: 26600315.

Register of Ministry of Culture,

Czech Republic: E 19103.

Issued twice a year in Brno.

Editor: Magda Kucharičová

Graphics and typography:

Nikola Spratek Poláčková

www.nikolapolackova.com

Title page picture: Aleš Čuma

Contact: The League of Human Rights, Burešova

6, 602 00 Brno, tel.: +420 545 210 446,

fax: +420 545 240 012, email: brno@llp.cz,

www.llp.cz,

www.ferovanemocnice.cz,

www.ferovaskola.cz,

www.lidiligy.cz,

www.reformaopatrovnictvi.cz.