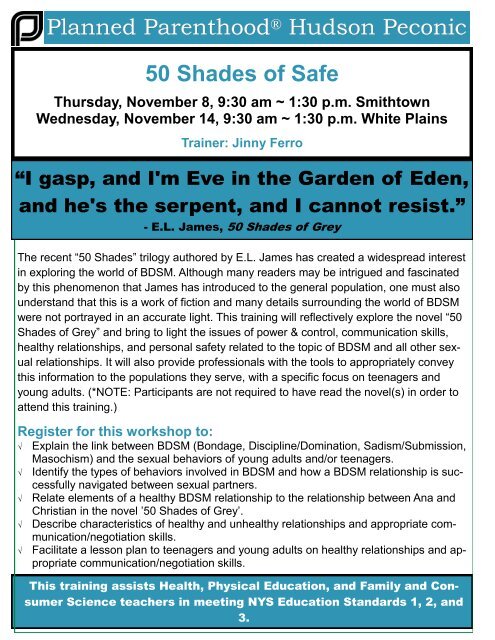 50 Shades of Safe Planned Parenthood® Hudson Peconic
50 Shades of Safe Planned Parenthood® Hudson Peconic
50 Shades of Safe Planned Parenthood® Hudson Peconic
SHOW MORE
SHOW LESS
You also want an ePaper? Increase the reach of your titles
YUMPU automatically turns print PDFs into web optimized ePapers that Google loves.
Planned Parenthood ® Hudson Peconic

50 Shades of Safe

Thursday, November 8, 9:30 am ~ 1:30 p.m. Smithtown

Wednesday, November 14, 9:30 am ~ 1:30 p.m. White Plains

Trainer: Jinny Ferro

"I gasp, and I'm Eve in the Garden of Eden,

and he's the serpent, and I cannot resist."

- E.L. James, 50 Shades of Grey

The recent "50 Shades" trilogy authored by E.L. James has created a widespread interest

in exploring the world of BDSM. Although many readers may be intrigued and fascinated

by this phenomenon that James has introduced to the general population, one must also

understand that this is a work of fiction and many details surrounding the world of BDSM

were not portrayed in an accurate light. This training will reflectively explore the novel "50

Shades of Grey" and bring to light the issues of power & control, communication skills,

healthy relationships, and personal safety related to the topic of BDSM and all other sexual

relationships. It will also provide professionals with the tools to appropriately convey

this information to the populations they serve, with a specific focus on teenagers and

young adults. (*NOTE: Participants are not required to have read the novel(s) in order to

attend this training.)

Register for this workshop to:

Explain the link between BDSM (Bondage, Discipline/Domination, Sadism/Submission,

Masochism) and the sexual behaviors of young adults and/or teenagers.

Identify the types of behaviors involved in BDSM and how a BDSM relationship is successfully

navigated between sexual partners.

Relate elements of a healthy BDSM relationship to the relationship between Ana and

Christian in the novel '50 Shades of Grey'.

Describe characteristics of healthy and unhealthy relationships and appropriate communication/negotiation

skills.

Facilitate a lesson plan to teenagers and young adults on healthy relationships and appropriate

communication/negotiation skills.

This training assists Health, Physical Education, and Family and Consumer

Science teachers in meeting NYS Education Standards 1, 2, and

3.
---
To register, please mail, email or fax this form to:

Planned Parenthood ® Hudson Peconic, Inc.

C/O Education and Training Department

175 Tarrytown Road, White Plains, 10607

Email: registration@pphp.org

Fax: (914) 948-0010

Please Note:

Please complete and return registration form by Wednesday, October 31

Registration is on a first-come, first-served based. You will receive an e-mail confirmation if you

are accepted to participate in the training.

Fee Date & Time Location Training Trainer

$45

Choose One:

9:30—1:30 pm,, 11/8

9:30—1:30 pm, 11/14

PPHP Smithtown

Training Room

70 Maple Avenue

Smithtown, NY 11787

PPHP White Plains

Training Room

175 Tarrytown Road

White Plains, NY 10607

50 Shades of

Safe

Please make check payable to:

Jinny Ferro

Planned Parenthood ®

Hudson Peconic, Inc.

Who should attend:

Middle and high school teachers (PE teachers, health teachers, family & consumer science

teachers), district officials, parents, social workers, psychologists, pediatricians, case managers,

guidance counselors, nurses, youth serving professionals, prevention specialist, professionals

working with the developmentally disabled population, outreach educators, and

interns in the health or education fields.

Contact Information: (Please Print)

Name: ___________________________________________

Title: ____________________________________________

Agency/School: ___________________________________

Address: _________________________________________

City: ____________________________________________

State: Zip: _____________________________________________

Phone/Fax: _______________________________________

Email: ___________________________________________

PPHP/Training Dept. (Please note the participant name

& training attending in the memo portion of the check)

Total Amount Due: _____________________________

Payment: Enclosed To be sent PO#: _____

Please charge my: Visa MasterCard Discover

AmEx

Card Number: _______________________________

Exp. Date: ____ /____ / ____

Cardholder Name:

Print: _______________________________________