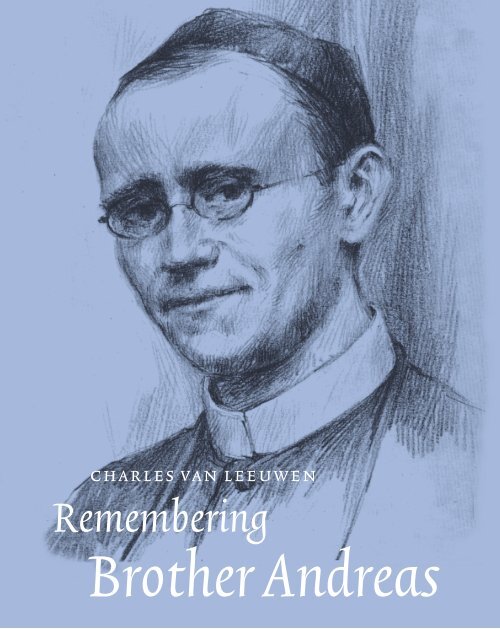 frater Andreas Engels:frater Andreas - Fraters - CMM Brothers
frater Andreas Engels:frater Andreas - Fraters - CMM Brothers
frater Andreas Engels:frater Andreas - Fraters - CMM Brothers
SHOW MORE
SHOW LESS
Create successful ePaper yourself
Turn your PDF publications into a flip-book with our unique Google optimized e-Paper software.
charles van leeuwen

Remembering

Brother Andreas
---
Remembering

Brother Andreas

including texts from

Maximino Arts

Tharcisio Horsten

Amatus Hosemans

Paschasius van Loon

Modestus Spierings

Victor Zwijsen

introduced and annotated by

Charles van Leeuwen
---
© 2008 Brothers cmm and Charles van Leeuwen

Original title: Herinneringen aan frater Andreas (2007)

Translation by: Maastricht University Language Centre

Published by: Brothers cmm, Tilburg-Nairobi

Book Design: Brigitte Slangen, Nijmegen

Lithography: Fred Vermaat, Wijchen

Cover drawing: Brother Vincenzo de Kok

isbn 978 90 812137 21

All rights reserved. No part of this publication may be reproduced, stored in a

retrieval system and/or transmitted in any form or by any means, electronic,

mechanical, photocopying, recording or otherwise, without the prior permission

of the publisher.

Contents

Preface

7

charles van leeuwen

Gentle and humble in heart

13

father victor zwijsen

He is beyond my admiration

38

brother modestus spierings

You should be in my place and I in yours

52

brother paschasius van loon

An ordinary life of extraordinary virtue

64

brother maximino arts

An inspiring role model

74

brother tharcisio horsten

A special person with special blessings from God

88

brother amatus hosemans

With love and meticulous punctuality

106

About the texts and illustrations

123

List of illustrations

124

Publications about Brother Andreas

126
---
Preface

This book brings to life memories of the Dutch brother and

teacher Andreas van den Boer (1841-1917). The cmm Brothers'

archives contain many texts in the form of letters or notebooks

with accounts of the 'holy brother' by people who knew him. We

have chosen but a few from the many stories. Together they paint

a very personal picture of Brother Andreas, who he was, what he

stood for and how he lived. The collected stories in this book were

written after his death by fellow brothers, students and colleagues.

The texts give a lively impression of the community in

which Brother Andreas lived and the school where he worked.

They contain small anecdotes one can still identify with today and

show what Brother Andreas meant to others. His fellow brothers

and students remain fairly matter-of-fact in their stories and are

not afraid of making critical remarks or qualifying their opinions.

So an image emerges of a very extraordinary man, but also a very

vulnerable one, an image that is much more human and probably

more recognisable than the idealised image of the heroic and exemplary

brother, which comes to us from official hagiography.

Brother Andreas brought a unique approach to religious life. He

identified with the Mercy in the brothers' programme, and in his

own way contributed to its meaning and standing. He fulfilled

7
---
his potential; his life was dedicated to the upbringing and education

of children, to the care and attention of his fellow brothers,

and devoted to the congregation and the church. His life was perhaps

not spectacular and did not lead to spectacular results – at

least not at first glance – but if we read the stories about Brother

Andreas carefully, we find many extraordinary things. Many people

who met him experienced something they wanted to hold on

to and pass on.

on his own. He is always pictured between school children, fellow

brothers, family members and fellow villagers. Photographers

had to process the group photos and enlarge some parts of them,

because people wanted to have a personal portrait of the 'holy

brother', but in doing so they distorted reality. Is it not better to

depict Brother Andreas as a teacher among his pupils? Does it not

do more justice to his efforts on behalf of children? Is it not more

accurate to place Brother Andreas among his fellow brothers? In

this way it becomes clear that he undertook his mission together

with others and shared his passion with many other brothers.

Brother Andreas was not a man who fought a lonely battle, but

one who was part of a community and very dedicated to children.

For that authentic portrait we should, therefore, place Brother

Andreas amidst children and fellow brothers. That is why this

book is not just about Brother Andreas, but also about the people

around him: brothers, priests, children and parents.

8 9

More than ninety years have passed since the death of Brother Andreas

in 1917. During that time – almost a century – more than ten

biographies have been published, some of which are very voluminous

and detailed. As a result, there is a lot of documentation on

the life of Brother Andreas, from the box bed where he was born to

the cell where he slept, from the students he had to the lessons he

taught, and from the books he read to the jokes he told. However,

despite all the attention from historians and archivists, it is becoming

increasingly difficult from a modern perspective to fully

understand the world of Brother Andreas and imagine how the

brothers used to live. What moved Andreas and his fellow brothers?

What was it that made such an impression on the people surrounding

Brother Andreas? What did his example mean to them

during his life and after his death? This book aims to answer these

questions by referring back to the sources.

This book is not just about the story of Brother Andreas the individual.

On all his devotional pictures he is depicted alone, but the

surprising thing is, there are no photographs of Brother Andreas

This book is not just about the past either. The history of the

Brothers of Mercy is more than a collection of dusty brochures

and faded pictures. The story of Brother Andreas and his fellow

brothers continues today. All around the world there are people

devoted to works of mercy. They work in education and training

and apply themselves to the care of the sick and those discriminated

against. They look after forgotten people and offer help and

salvation where no one else intervenes. They pray and bring hope,

lay the foundations for communities and represent the church.

Brother Andreas still has brothers and sisters today whose life and

work is motivated by the same passion. When we talk about the
---
work, the belief, the ideals, the struggles and the miracles of

Brother Andreas, we do so to inspire the people of today. His zeal

and dedication have not lost any of their topicality and his work

must be continued.

One of the first biographies of Brother Andreas was written in

1922 by an Austrian priest, Father Theophorus Max, who had met

the brothers by chance when he accompanied a group of children

being cared for in the Netherlands after World War i. Father Max

was deeply impressed by what the brothers did for the children

and wrote his book in gratitude and dedicated it to the benefactors

of the Viennese and German children in Tilburg. It is perhaps

only a small point, but it aptly illustrates that we cannot separate

the story of Brother Andreas from the bigger story of Mercy to

which the brothers dedicated – and still dedicate – their lives.

This new English book about Brother Andreas is published on the

occasion of the 50th anniversary of Brothers cmm in Kenya. We

would like to dedicate it to all young cmm brothers, who are also

benefactors of children in many different countries, and follow

the example of Brother Andreas in their work, prayer and community

life. We hope they will recognise in the stories about a man

'gentle and humble in heart' (Mathew 11,29) their own passion,

inspiration and personal dedication, and thus feel encouraged to

continue sharing merciful love wherever they can.

Charles van Leeuwen

October 2008

11
---
Gentle and humble in heart

charles van leeuwen

Brother Andreas, or Jan van den Boer, was born into a simple

farmer's family in Udenhout in the Dutch province of Brabant, on

24 November 1841, the youngest of seven children. During his

childhood, the family moved several times within the municipa -

lity as his father's business prospered and expanded. Jan first lived

in Udenhout itself, later in the smaller villages Biezenmortel and

Helvoirt. As a farmer's son he learned to work hard and was to distinguish

himself throughout his life by his inexhaustible zest for

work. His pious family also endowed him with a warm and deep

faith, which was never to leave him. He was a clever boy and loved

to read and study, and because of that was soon the odd one out in

the village. As a result, it did not really surprise anyone when he

went to the new teacher training college of the brothers in

Tilburg in 1855 and chose a future as brother and teacher at the

age of seventeen. In 1863 he took his eternal vows.

Brother and teacher

Not long before that, in 1844, Bishop Joannes Zwijsen had foun -

ded the Congregation of Brothers of Our Lady Mother of Mercy,

also called the Brothers of Tilburg after the place where they

star ted. Zwijsen hoped to found a religious working community,

13
---
14

which would serve a number of needs in his diocese. The primary

need was to service the great demand for Catholic education, but

there was also a need for other forms of education as well as care

for the poor and those discriminated against. The objectives were

comparable to those that other recently founded congregations of

brothers had set themselves. Zwijsen's idea was not an original

one; communities of brothers of mercy were also at work elsewhere,

in several French, Belgian and Dutch cities. Some years earlier,

in 1832, when he was still chaplain in Tilburg, Zwijsen had

founded a congregation of sisters: the Sisters of Charity of Our

Lady Mother of Mercy. This congregation focused successfully on

local education and care of the sick, but was less successful at

working with older boys. It was thus quickly followed by the congregation

of brothers. Although it did not grow as rapidly as the

congregation of sisters, by 1859, the year when Jan van den Boer

became a novice and was given the name Brother Andreas, it had

more than one hundred brothers. They worked at a few schools in

Tilburg, but had also started some schools elsewhere in the

province of Brabant and even across the border in Belgium.

Brother Andreas trained as a teacher and was appointed at Huize

Ruwenberg, a new and large boarding school in Sint-Michiels -

gestel, in 1861. He was to work at this prestigious institute for

over fifty years and taught many children from influential

Catholic families. His work as a tutor and teacher was busy and

varied. Brother Andreas taught various classes, including the art

of handwriting and Dutch and later obtained additional teaching

certificates in French and German. He was good at languages and

he would use them extensively, not only in education. For example,

in his free time he translated a great many children's books

from German and ensured that the level of French, one of the official

languages of communication in the congregation at the

time, was kept to a high standard. In addition to the children, he

also taught those brothers who were less familiar with these languages.

Besides education there were many other tasks that filled

a brother's day, such as supervising the boys when they got up in

the morning, when playing in the court yard, during recreation

time and in the dormitories. In addition, there were always plenty

of household chores to do, and the celebration of Mass and

other daily religious practices.

At first Brother Andreas worked in primary education, but he was

soon entrusted with the care of the 'Latinists', boys in preparatory

training to become priests. The congregation had set up the Latin

class in the hope that some boys would opt to be trained as priests

for the congregation, because until 1916 the congregation had

priests as well as brothers. In practice this combination did not

work very well and was not permanently approved by the church

authorities. The idea was later dropped and the priests went to

work elsewhere. However, when Brother Andreas worked at

Ruwenberg, the seminary still existed. Between 1871 and 1900

Brother Andreas supervised various priest student classes, first as

a teacher and later also as their director. He found it easier to work

with boys aged between twelve and eighteen rather than with

younger children. His serious personality was better suited to

boys who were aware of their vocation.

15
---
Kind and devoted

In some ways Brother Andreas was an extraordinary brother. He

was meticulous in everything he did and he surprised everyone

with his amazing punctuality. He was always on time and adhered

to a strict religious regime. In his desire to follow up and

give meaning to the smallest regulation he had no equal. He was

a man of great composure who did not shy away from the more

rigorous aspects of religious life. That is how, for many brothers,

he became a model of religious obedience and a living example of

how to abide by the rules. But he was much more than that. He

was also a very social man, eager to help his fellow brothers and

loyal to his superiors. Despite being a little too virtuous and slow,

he was also happy, friendly and uncomplicated in his manner. He

never complained and did not back out of any duties. Thus he became

a highly esteemed fellow brother. But that was not all. He

was also a very popular teacher, which was curious, because he was

not very successful nor gifted at teaching. He did not have enough

natural authority and flair for that. He may not have been very

gifted, however, but he did have vision. He did not approve of the

accepted approach to teaching and abhorred hitting children or

imposing strict punishments. He invariably chose a gentle and

humane approach and entered into serious discussions with the

boys. Because of his kind-hearted and careful nature he knew how

to win the trust of boys and brothers who felt lonely in such a

large and strict boarding school.

So Brother Andreas was the personification of the key values of the

congregation. His humble and self-effacing approach to religious

life was an example to all. He also showed what it meant to be a

brother and to live in a community. And he was a man who put

the concept of mercy into practice; the mercy the congregation

carried in its name, but was not perceived by everyone in the large

and expanding educational system.

16 17

Perseverance

When Brother Andreas was seventy and in failing health, he was

transferred to a brother house in Tilburg. Despite having lived at

Ruwenberg for fifty years and having become one with the building

and the community, he accepted the transfer in 1912 in good

spirits and without complaint. Perhaps it was better for him, now

that he was getting old and infirm, to live in a smaller community.

He had a tubercular infection on his right shoulder, which was

getting worse. He suffered a lot of pain and lost almost all control

over his right hand. It is typical of the brother's character and perseverance

that he taught himself to write with his left hand, with

a skill that would do credit to a handwriting teacher. His comment

on that was: 'The Good Lord always gives us a second chance.

I can no longer write with my right hand, but I can still write with

my left. I can no longer write with a pen, but I can write with a

pencil.'

After a quiet old age Brother Andreas died quite suddenly in the

summer of 1917. He was seventy-five years old and caught a bad
---
cold. Until then he had been reasonably fit, but on a cold summer's

day he had pushed himself too far by taking a long walk

from his community in Tilburg to his family in Berkel. He did not

spare himself and simply carried on, but paid the price with an infection

that would prove fatal. His condition deteriorated rapidly;

it was not an easy death. Moments of quiet and lucid prayer were

followed by hours of despair and religious anguish. The peaceful

conversations with the brothers who nursed him switched to

feverish death and inward struggle. It was to leave a deep impression

on the brothers who witnessed it. The once so quiet and

modest brother put up a bitter and heroic fight, until he finally

succumbed on the evening of 3 August 1917.

There are various accounts of his final moments. Some say they

were wretched, some say they were reconciled and radiant. His

fellow brothers were deeply moved by his death. Their dying

brother brought them face to face with eternity. They wanted to

pray for his salvation, but realised that he could perhaps better

pray for their salvation. They mourned his passing, but were also

thankful for such a glorious ascension. His death was not final;

the man already referred to as the 'holy brother' during his life

became even holier after his death. Many seemed to hold special

memories of his saintliness.

Holy brother

The children at school called him the 'holy brother'. This was not

meant as a compliment. Brother Andreas, after all, was not good

19
---
at keeping order. As a teacher he was perhaps remarkable for his

piety, but he often floundered and embarrassed himself in front

of class. He was not the only brother given this dubious title of

honour. The students of Ruwenberg used the same nickname for

several confrères, sometimes mockingly or ironically and sometimes

with a glimmer of ad miration for their religious deportment,

which the children did sense, but could not place.

In the beginning Brother Andreas did not really mind his nickname.

He was a man of principle. That was the way he was. It was

important to him to carefully apply the school rules, to strictly interpret

the rules of religious life, to help his colleagues as much as

possible and to treat all students properly. That was not saint -

liness but meticulousness. The nickname 'holy brother' did not

even do justice to that precision. After all, looking for something

to hold on to is not the same as saintliness.

There was nothing Brother Andreas could do about it. The nickname

'holy brother' was to stick for the rest of his life. During a

celebration one evening, when fireworks were being shot into the

air, the boys joked that one day Brother Andreas would ascend

into heaven as quickly as the rocket shot into the air. And if the

brother accidentally knocked himself on a stovepipe and let out

an expletory Glory be to the Father, the boys saw it as a wonderful

illustration of his reputed holiness. Brother Andreas's other unusual

characteristics, such as his shyness, his lethargy, his absentmindedness

and his obsession with time, were interpreted as aspects

of his proverbial holiness. Was Brother Andreas not always

21
---
lost in heavenly thoughts? Was it not a wonder that despite this he

always managed to be exactly on time? Did it not amount to a

superhuman achievement, complete control over time and a total

regard for colleagues and school order?

It became more embarrassing for Brother Andreas when his fellow

brothers started using the nickname as well. The community's

superior Frumentius van Hulten once said in the chapter,

when he explained the rules: Take Brother Andreas, for example,

he is a 'holy brother' who applies the rules perfectly. After that

Brother Andreas felt that everyone was watching him. It made

him even more timid and nervous than he naturally was. In res -

ponse he applied the rules even more conscientiously than before.

He did not want to offend anyone and was afraid of not being

worthy of his fellow brothers or of setting them the wrong example.

The more he was used as an example – and Superior Brother

Frumentius had the habit of using him as a model brother all too

often – the more anxious and unhappy he felt. He dismissed every

compliment and developed a hearty dislike for his nickname.

Brother Andreas never lost his holy reputation. Children longingly

looked forward to meeting the 'holy brother' for the first time,

but were disappointed when they met him. Was that all? Was that

so ordinary and drudging teacher supposed to be the 'holy bro -

ther'? The school children's parents were curious too and watched

him when they visited the Ruwenberg Institute. They were surprised

at his simple appearance and retiring manner. The 'holy

brother of Ruwenberg' had conjured up very different images in

their imaginations! His fellow brothers were not unnerved by the

23
---
nickname 'holy brother' and were not afraid to comment on it,

as Brother Paschasius van Loon did in his memoirs: 'Back then

people sometimes said: Brother Andreas is a holy person, but it

would be quite difficult if we had too many saints here, as it would

make a proper mess of things.'

His fellow brothers could not refrain from spying on him, testing

him or poking fun at him about his much-discussed holiness.

Whenever he heard the cursed word, Brother Andreas cringed in

fear. He did not want to hear it. It was a form of pestering against

which he could not defend himself. Perhaps it was even a form of

blasphemy, because it did not do justice to the holiness of the

Almighty and Merciful God, to the holiness of Christ and to so

many saints and blessed who really were holy. He tried to be even

more anonymous in the way he lived and withdrew into himself

more and more. But to no avail. He was and would remain the

'holy brother' to all.

In blessed modesty

We know quite a lot about the life of Brother Andreas. That is clear

from the many accounts of him. For some inexplicable reason

attention was repeatedly drawn to this inconspicuous brother.

Students, parents, fellow brothers – they were mesmerized by

him and could watch him for hours. Brother Andreas already had

a 'reputation of holiness' during his life, but from the stories we

know, we can deduce that his reputed holiness was also a subject

of discussion. Some people really saw something holy in him

25
---
while others did not see it at all, or only referred to it jokingly or

teasingly. He refused to entertain it himself. He was an ordinary

human and did his best to be an 'ordinary' brother. Brother Andreas

bore the nickname of 'holy brother' as a kind of cross. It was

a torment he would suffer for a long time and which would mark

him deeply for life.

He rejected any kind of personal adulation, as his fellow brother

Amatus remembers: 'He scorned honour, wealth and worldly

pleasures. He laughed about honour. He did not like people to

honour him. Once I had to write an article for a newspaper. I do

not remember what it was about, but I had the chance to mention

Brother Andreas. I told him: 'André, how about I give you a

mention in my article. He looked at me indignantly: "Mention

me! What good will that do? For God's sake let me be free." I heeded

his words so as not to hurt him.' Others were less discreet

and eagerly passed on the stories about his exemplary life and his

reputed holiness, and in this way he became an icon of Ruwenberg.

Devotion

The nickname 'holy brother' would outlive Brother Andreas! His

death is followed by a piece of history which is difficult to trace.

Brother Andreas very quickly became a real holy brother to a wide

circle of people. Many invoked him in their prayers. The extra -

ordinary prayers answered and attributed to the intercession of

Brother Andreas were numerous. Several miracles did happen. A

27
---
devotion was born. His grave became a place of pilgrimage. The

modest and solitary brother became an icon.

The congregation and diocese realised that they had to respond to

the messages about miracles and inexplicable recoveries that were

reported after the death of Brother Andreas. In 1924 the brothers

established a Brother Andreas Bureau, which was given the task

of recording the accounts of miracles attributed to and stories

about Brother Andreas. The printing presses of the Roman

Catholic boys' orphanage had to supply an insatiable demand for

devotional pictures, collectible medallions and souvenirs. People

also wanted to hear his life story, which is why several brothers

and priests wrote his biography. The brothers also organised

special evening prayers for Brother Andreas and, from 1930, pilgrimages

to his grave. So the veneration of Brother Andreas became

quite structured soon after his death. It all happened quite

quickly, and within ten years of his death there was a strong religious

devotion to him.

One thing is certain. Brother Andreas would not have thought a

process of beatification necessary. Had he known about it ninety

years after his death it would probably have made him just as unhappy

as when he heard himself called 'holy brother', a name he

felt he did not deserve. He would have dismissed it, saying: 'I was

just a simple and ordinary brother; please leave me alone.' If the

process of beatification, which started sixty years ago and concluded

only recently, were indeed to result in beatification, we

would have a controversial blessed, a blessed who did not believe

he was, nor wanted to be a blessed – a reluctant blessed. Brother

Andreas is not a spectacular world-shattering candidate blessed,

but a very simple man, an unpretentious blessed. As one of his

fellow brothers said about him, 'As far as I know or have seen,

there was nothing special or any radiance apart from the silent

radiance that emanates from an ordinary life that is lived as vir -

tuously as possible'.

28 29

Nevertheless it would take until after the war before an official

beatification process could start. Between 1947 and 1948 a commission

of church authorities started collecting and studying the

many accounts and wonders. The process would continue in the

decades that followed and was finally concluded in 1982. Extensive

official documentation was brought together and scholars and cardinals

are now only studying one last wonder, a wonder that must

be officially recognised before Brother Andreas can be beatified.

Extraordinary charisma

Can we compare Brother Andreas van den Boer to the blessed and

the saints of his time? He was no scholar and Prince of the Church

like Columbia Marmion (1856–1923), no dynamic founder of orders

like Pierre Julien Eymard (1811–1868), and no inspiring missionary

like Damien de Veuster (1840–1889). He left no mystical

writings like Theresia van Lisieux (1873–1897); nor did he assert

his religious and political beliefs through martyrdom like Titus

Brandsma (1881–1942). Brother Andreas did not scale the heights

of those mentioned above. He was a sympathetic and perhaps
---
30

somewhat clumsy teacher, who led a sober and simple life. He was

a deeply religious man who accepted his limitations and tried to

make the most of them, and an unpretentious brother who perhaps

unwittingly wins first prize in beatification.

After almost a century this brings us to the question: how should

we judge the life of Brother Andreas and how do we explain his

saintly reputation? If, after decades of speculation, the beatification

that people have been waiting for finally comes to pass, what

are we to make of it?

Brother Andreas's extraordinary charisma can clearly be found in

his simplicity. He was a straightforward, unpretentious man. We

can draw inspiration and encouragement from his simple way of

life and the way he constantly dedicated himself to the lot of vulnerable

people, because the secret to religious life is to be found in

the unfailing pursuance of such simplicity. Brother Andreas can

serve as an example for teachers, social wor kers and other workers

of mercy, to whom he seems to whisper: 'What I could do as a simple

brother, you can do too, so just go on and do it.'

Brother Andreas's extraordinary charisma can also be found in his

clear and determined manner. He was a caring brother and a kind

teacher. He exceeded others in his level of caring and kindness. He

empathised with children who struggled at school and tried to

give them extra support. He did not like to punish, but dealt

kindly with the troublemakers. He was quick to help people who

could not manage on their own. He paid special attention to chil-

dren and fellow brothers who felt lonely in the vast educational

system. His simple example offered gentle encouragement to fellow

brothers who may have had doubts. He was a man who carefully,

clearly put the ideals of mercy and brotherhood into practice.

Finally, Brother Andreas's extraordinary charisma can also be

found in his silent life of prayer. People around him sensed his

zeal and inner strength. They felt his gentle compassion and

were touched by it. As Brother Exuperius said about him: 'If you

saw Brother Andreas, you instinctively thought he was someone

who walked in God's presence and if you met him somewhere,

es pecially during the silentium, you could not believe that he was

thinking of anything but God.' We have no insight into Brother

Andreas's inner self, despite the best efforts of the first biographers

to reconstruct his life of prayer. It is very clear, however,

that his life was firmly rooted in silence and prayer and from that

Brother Andreas drew strength to live his life as he did.

Champion of virtuousness

The oldest sources often present Brother Andreas as a champion

of virtuousness. He was a man of his time and lived strictly to the

rules of the congregation and the regulations imposed by the

church. Central concepts in his understanding of religious life

were order, obedience, servitude, brother love, kindness and mortification

of the will. His kindness and virtue were unsurpassed.

According to one of his fellow brothers: 'If you wanted to please

31
---
him, you had to ask him a favour.' Some of his fellow brothers

and students thought he was a bit soft because of this; others

sometimes complained that he grumbled a lot, was stiff and

old- fashioned. In their memories of Brother Andreas his fellow

brothers and students also mention his human side and weaknesses

and say that that was what they loved about him. Brother

Andreas was more than an exemplary brother. He exposed his

own vul nera bility and could therefore win the trust of other vulnerable

people.

So Brother Andreas projected the extraordinary charisma of the

community of brothers. He represented what we could call the

founding generation of brothers of mercy, the extraordinary first

group of brothers. He started teacher training college at the age of

thirteen, when the congregation was barely ten years old and had

only a few dozen members. He knew all the young and new brothers,

because they went to the teacher training college with him or

lived in the same mother house. He was assigned the task of educating

and training the first generations of student priests. He

acted under the authority of the founders of the congregation,

Msgr Joannes Zwijsen and Superior Franciscus Salesius de Beer.

He took part in the great adventure of spiritual discovery and new

undertakings of those first decennia. In Bro ther Andreas's life

story we see the influence of the different religious values that

were present at the beginning of the congregation – values that

were essential at the time but still stand at the centre of every

Christian life. These are the values of brother love, merciful care,

simplicity, silence, devotion, determination, justice, prayer, faith

in God, community, obedience, enthusiasm, and so on.

33
---
However, the very strongly defined and somewhat dated depiction

of goodness and virtuousness may stand in the way of getting

to know Brother Andreas when viewed from a 21st century perspective.

One of his colleagues and fellow brothers who knew him

well, Brother Amatus Hosemans, indicates that it was no different

a century ago: 'Most people who had close contact with Brother

Andreas were a bit wary of him at first. He was too meticulous for

them, too holy. Slowly, however, their silent admiration for this

man would grow, a reverence that would never leave them, not

even many years after they left the institute. Although at first

glance he did not appear to be the world's greatest teacher, those

that came into contract with Brother Andreas were the most

deeply inspired and touched by him. One explanation for such an

extraordinary influence is that those that met him discovered this

simple man's saintliness, which was drawn from sixty years of ascetic

life and fifty years of teaching. He was always punctual and

polite down to the last detail and dedicated himself to the task of

tutor and teacher in words and deeds, all of which was in effect directed

at God. He was a man who preferred to keep a low profile

and be true to himself in everything he did. Perhaps it was because

they understood that his heroic struggle to be faithful to a simple

life went beyond the simple things themselves and that his words

and deeds effectively only had one direction – they were directed

at God – and that his love of God and the desire to fulfil God's will

took up his whole life. And so it happened that he, probably without

even knowing it himself, came to the fore and had an extra -

ordinary impact.'

35
---
Gentle and humble in heart

Maybe we can't fully understand Brother Andreas's extraordinary

charisma, how it originated and how it affected people around

him. But it certainly had to do with his religious lifestyle: his deep

'love of God and desire to fulfil God's will' and his being 'faithful

to a simple life', as Brother Amatus characterises it. Perhaps by

referring to biblical terms we can come closest to the mysterious

radiance of Brother Andreas's life. He identified with the ordinary

and needy people he worked for, and became one of them. Didn't

Jesus say that the poor in spirit, the pauperes spiritu, would have part

in the Kingdom of Heaven? (Mt 5,3). And didn't he invite many of

those poor, small and ordinary people to follow Him and make

the Kingdom of Heaven visible? Brother Andreas was one of these

ordinary but totally dedicated people following Jesus, he was

'gentle and humble in heart' (Mt 11,29). In his complete solidarity

with the small and ordinary children he cared for and the extreme

simplicity he strived after himself, he gave shape consistently and

wonderfully to a life according to the Gospel.

37
---
father victor zwijsen

First brother historian
---
father victor zwijsen (1858–1930) was the grandson of

Cornelis Zwijsen, the brother of the congregation's founder,

Msgr Joannes Zwijsen. The young Zwijsen, named Cornelis Johannes

after both his grandfather and his famous uncle, was only

ten years old when he started at the Ruwenberg boarding school.

A few years later he joined the seminary of the congregation. In

1876 he entered the noviciate of the brothers, in 1879 he took his

eternal vows and in 1882 he was ordained priest. Because of his

background, his priesthood and his keen insight into people he

was predestined to hold a leading position in the congregation.

After a period as chaplain in 't Heike in Tilburg – the same position

in which his uncle started his renowned ecclesiastic career

fifty years earlier – he was set to Grave, to become rector of the

brother house and the Saint Henry Institute for the blind in 1892.

Two years later he was posted to Curaçao, where he became rector

of Saint Thomascollege in Willemstad. After the college closed in

1909, he was called back to Tilburg and, because of his experience

in journalism and literary talent, was given a lot of editorial work

to do in addition to his pastoral work for the Saint Vincent

Church next to the mother house. He became editor in chief of

the Catholic children's magazine De Engelbewaarder (The Guardian

Angel) and in 1912 took on the chief editorship of the national

Catholic newspaper De Tijd (The Times), a position he was, how -

ever, to resign from a year later. Either he did not feel at home in

Amsterdam, or the congregation's polity did not see journalism as

a suitable occupation for brothers and priests. When the congregation

became a congregation of brothers on the authority of

Rome in 1916 and the priests had to leave, Zwijsen had to comply

too and start a new life. He became rector of the psychiatric hospital

Coudewater in Rosmalen, a job he combined with editorial

work for the Episcopal paper St.-Jansklokken, which he himself had

founded, and other writing. Under his new name, C.J. Zwijsen, he

published several studies on Spanish literature and a detailed bio -

graphy of Saint Francis De Sales (1920). The fact that he lovingly

recalls the first general superior of the brothers in the preface of

his biography, Father Franciscus Salesius de Beer, 'whom I venerated

as a father', even after his forced departure from Tilburg, ty -

pifies his lifelong solidarity with the congregation.

40 41

Zwijsen was the first father to understand the importance of a historiography

of the congregation. He wrote the chronicles of the

mother house from 1880 and probably also supplemented information

preceding that date. He was able to draw from personal

experience and family stories for his memories of the life of Msgr

Zwijsen, Archbishop of 's Hertogenbosch (Herinneringen uit het leven

van Z.D.H. Msgr J. Zwijsen Aartsbisschop van 's Hertogenbosch) written in

the 1880s, and was actively involved in the 50th anniversary of the

congregation in 1894. He not only published dozens of articles

about the congregation in daily papers across the Netherlands,

but with his memorial book Gouden Jubeljaar (Golden Jubilee) in

1894 he provided the first official history of the brothers. The following

text about Brother Andreas is a letter to the general superior

written in Coudewater on 18 March 1920.
---
He is beyond my admiration

there was no love for him in my young heart, I did not lack respect

for his virtuousness. Little things made that respect grow. For

example, once I happened to be close by and saw the good man al-

father victor zwijsen

most knock himself out on the corner of a hot stovepipe. There

was not a hint of him losing his composure. All I heard was a soft

'Glory be to the Father' pass his lips, which to me was a small sign

42 I was placed under the guidance of Brother Andreas at Ruwenberg at the young

of immense virtuousness.

43

age of ten and I knew him until I was sixty. I do not remember much from the

early years until I was placed under his special supervision during the foundation

of the Latin section of the teacher training college at Ruwenberg in 1871.

Twelve young priest candidates, including one boy from Germany, were consigned

to his care in a separate part of the old building. One of them, and not

one of the easiest, was the undersigned.

I do not like Brother Andreas

The first impression I had of him, which stayed with me for a long

time, can be summed up in the following words, which slipped

out and even reached the Very Reverend Superior General: Je n'aime

pas frère André, I do not like brother Andreas. Whose fault was it?

Now I am older and see things through different eyes, I do not

hesitate to say that it was my fault. After three years of having been

just an ordinary student at Ruwenberg, during which time I

could only have earned a small prize for good behaviour once, I

was placed under the onerous rule of a conscientious man. I was

not going to easily succumb to the straightjacket of duty as interpreted

by Brother Andreas. However, no matter how recalcitrant I

was, I never saw the good man lose his patience, and, although

God is calling us

At the end of recreation time he used to stand in the doorway of

the old building with the bell in his hand and say: Mes amis, Dieu

nous appelle, My friends, God is calling us. Sometimes we would

grumble, but the concept of performing one's duty to God gradually

got through to us. A major part of his approach to upbringing

was dedicated to devoutness, and, to be honest, it saddened me a

great deal as someone who was anything but naturally devout. It

did not make it any easier when I sometimes heard others (who

should have said nothing) say that he was much too gracious, and

had raised us much too kindly.

Let's press on!

During the first years of our residence at Ruwenberg we, the Latinists,

had no holiday, by which I mean that we did not go home.

That was very hard indeed! But then Brother Andreas did his best

to make our time more pleasant with all kinds of distractions, in

which he only succeeded part of the time, but mostly he did not.
---
Not surprisingly, holidays were later again reintroduced. On our

walks in the picturesque surroundings of Sint Michielsgestel the

sun, and in particular his watch, were our guide. His Allons serrer

(let's press on), meant as much as: let's make sure we're back on

time, so that we don't lose a minute's worth of study. So, wandering

along unfamiliar roads or paths he did not know the length of

was out of the question. Sometimes, however, we did have the illusion

of being lost in the woods.

The sandman

The study period that followed was usually quite funny. We knew

very well how much trouble Brother Andreas had staying awake,

not only in the chapel, where he made incredible efforts to avoid

dropping off, but also during study periods. Whenever he fought

against the sandman, we (at least the undersigned) jumped at the

opportunity to grab forty winks too. If it got really bad and the

'watchman' was overcome at his desk, at least for a minute, we

sometimes got into mischief, like exploring the room behind the

classroom where the refreshments were kept. The lock on the

cupboard, however, never gave way. Such raids were always

doomed to failure anyway, because they always had to be aborted

when mind again triumphed over matter and the gruelling struggle

against sleep started again.

45
---
Almost saints

overflowed with tenderness. The way he told me the news and the

heartfelt manner in which he tried to comfort me, stayed with me

as the memory of a soft balm, which was poured over my emotional

soul.

In those days there were several duty masters who stood in for

Brother Andreas from time to time. Some of them were not well

suited to the job, which was no surprise, because no matter how

much people may look down on the post of duty master, it re-

After five years of humanities, what a pleasure it was for him to be

46 quires a considerable amount of tact and character insight to keep

able to offer the congregation its first born! The number had 47

control over such a troop of youngsters in their awkward years.

dwindled from twelve to six (one had slipped from his care

No matter how good their understanding, they are always full of

through death during his student years at Ruwenberg), but these

mischief and inclined to run riot at every opportunity. I am sure

six were and remained very dear to him. This is where my relation-

that he had reason to complain about more than one duty master,

ship with Brother Andreas ends. We stayed in Tilburg; he was

who was either too lenient or too strict, but he never said a word

made responsible for a new class of priest students at Ruwenberg.

in our presence, lest it would diminish the respect we should have

for them. On the contrary, he knew how to extol their virtue to

After that I hardly ever saw him, as our paths diverged.

such an extent that we started looking upon some of them as almost

saints. As a result, when we became their fellow brothers,

some were greatly disappointing. We had learned to look at them

in the light Brother Andreas shone on them, but in reality they

were different.

Rich vein

Tenderness

Nothing really stands out in my memory from those days. Everything

flowed along without fuss or drama. Of course there were

disappointments, perhaps on both sides, but nothing special

happened, otherwise it would have made a deeper impression on

me. Once, during my studies, my mother was seriously ill. I was

surprised that the man I had thought without compassion, now

The next time our paths crossed, although it was only on paper,

was when I was rector in Grave and had the opportunity to help

take over and edit De Engelbewaarder (The Guardian Angel). This

very popular children's magazine had started life four years ear lier

in Maastricht at the Saint Paul's print works. It found no success

until it was sold in 1892 for the formidable price of one Dutch

guilder to Mr Jozef Witlox in Grave, where it was to be edited from

then on. The Roman Catholic boys orphanage in Tilburg was to

be responsible for printing and running the magazine. For the

next ten years, however, its net profit was donated to the blind

boys institute in Grave. The children's magazine received help

from all sides in the form of contributions. One of the first to
---
come forward was Brother Andreas, who opened a rich vein of

short stories and articles. I cannot say that all of the children's stories

were noteworthy for their style. He did not always manage to

hit the right note, which is so essential to capturing a child's interest.

So it happened from time to time, that stories were rejected

or simply not placed. That is not an easy task for the person

doing the rejecting, nor is it easy for the person being rejected.

Many would be deterred from writing by such setbacks, but not

Brother Andreas. He graciously accepted the comments from the

man, he himself had taught to write and compose, and always set

back to work with renewed vigour. He was not a genius at writing,

but a genius in virtuousness … like an immense fire that could not

be extinguished by the swirling winds of doubt.

Hero of modesty

Via the superiors of the congregation I, his former student, more

than once received extensive writings to read and assess, consisting

of dozens of notebooks. The assessments, which I submitted

in writing were sometimes less than flattering, but I never heard

him complain. That is quite remarkable, because pieces of writing

are like children – even if they are ugly and deformed, parents feel

protective towards them. The same applies to a brainchild. No

matter how far from perfect they are, as a rule their authors cannot

bear them to be meddled with, or even worse, shoved into a corner

and forgotten! Brother Andreas was the exception to that rule. He

had become one with Thomas à Kempis's ama nesciri et pro nihilo

reputari (love to be unknown and thought of as nothing), perhaps

49
---
not without inner struggle and effort, but the outside world was

never witness to this. For me he was one of the heroic figures of

modesty, a virtue that was often praised, but rarely practised, especially

(and this is where I remorsefully point to myself with my

penholder) by them, who feel called to put pen to paper to inform

others. For him it was enough to have made the effort. Whether or

not the products of his pen could be used did not dishearten him,

or so it seemed, which is remarkable. To him God's glory and the

salvation of others was what mattered most, the rest was incidental.

Youthful obstinacy

Now, finally, my young and rash Je n'aime pas frère André changed to

J'admire frère André (I admire Brother Andreas), and this admiration

grows stronger as the number that share his traits grow fewer. He

does not need my admiration, but let me rest it on his grave as

compensation for all the grief he no doubt suffered, often as a result

of my youthful obstinacy and rashness.

51
---
other modestus spierings

Housemate of Brother Andreas
---
54 brother modestus spierings from Oss (1852–1922) went

fact that he was a proficient teacher and valued his fellow brothers 55

to the brothers' teacher training college and entered the con -

is illu strated by his being elected as member of the general board

gregation in 1871, after he had passed his auxiliary teaching

in 1902. He wrote several text books on history, such as Ons verleden

certi ficate. He was one of the few brothers of his generation who

en ons heden (Our past and present) and Onze Staatsinrichting (Our

was allowed to study for a teaching certificate, as the policy on

political system). These books were widely sold and were reprinted

studying at the time was still very reserved. The congregation's

several times. In this way Brother Modestus met a need for school

polity made sure that the number of teaching certificates did not

grow faster than the number of schools to prevent unrest and

books with a Catholic outlook on Dutch history and society.

frustration among brother teachers. Brother Modestus passed his

In 1914 he was allowed to 'rest' in the brother community

teaching certificate in 1879, at the same time as his lower teaching

De Heuvel, the same house where Brother Andreas spent his last

certi ficate in French. He was to become one of the brother teach-

years. The two older brothers developed a friendship during those

ers involved in the development of education in the Dutch

years and often went for walks together during recreation time.

province of Brabant. He was sent from one school to the next to

The text published below was written during a retreat and dated

either set it up or consolidate it. As a result his career as a teacher

3 August 1919. Brother Modestus recalls his memories of Brother

and headmaster unfolded in many different places: 's Hertogen-

Andreas as a housemate and writes about his friend and fellow

bosch (1872–1875), Tilburg 't Heike (1875–1895), Reusel (1895–

1899), Tilburg St Denis (1899–1904) and Goirle (1904–1914). The

brother's illness and death.
---
You should be in my place and I in yours

to the director of the boarding school, Brother Gregorius, that he

had hit a boy, to which the brother director responded by pointing

out the gentle Brother Andreas. 'Yes, Brother Director', was

brother modestus spierings

the answer, 'but if we were all like Brother Andreas we would all

be saints, in which case you could close your famous institute.'

That is the way it was. This is a story I have heard told by Brother

56 I, the undersigned, now aged sixty-six, first met Brother Andreas in 1867 or

1868, when I was a student at teacher training college and Brother Andreas

Amandus.

57

supervised us for a number of months.

Short stroll

Kind and gentle man

I don't remember anymore why we thought he was a holy man.

Perhaps it was because that is what we had been told. I found him

quite dry and did notice that he had a lot of trouble staying awake.

When supervising the table and the study room, he normally

paced to and fro at the back of the class. When His Reverence left

after a few months, he left no special impression other than that

he was a kind and gentle man. Whether he was kind and gentle by

nature, I do not know, but I never experienced him otherwise. I

often heard it said that he had no authority as a teacher and that

the boys in the lower classes ran riot. When I said that they would

not do that with me, that I would grab them by the collar and

throw them out if they tried, and that he should get angry now

and again, the answer was: 'You would, but Brother Andreas

wouldn't. He would never ever touch a child,' and: 'Absolutely

not. Oh no, he would rather pray than be angry.' No wonder he

had no authority over the fledglings. A duty master once admitted

Let me show you the strength of his conscience. One day he asked

the superior, Brother Ignacio, for permission to go for a short

stroll on his way home from the mother house. The request was

granted. When he was gone, I said to the brother director that he

was not really going for a stroll, just taking the other way home,

whereupon he replied: 'He asks permission for other little things

too.' Brother Andreas sometimes went for a walk. One day I asked

him if he wanted to join me for an hour for a walk, but he said that

he had no time. No one was very eager to go that day, but I did find

someone. That evening Brother Andreas approached me to ask if I

had found a walking companion and whether I had had an enjoyable

walk. When he heard that everything was all right, he was as

happy as a child and added: 'Good, but I should have gone with

you, because you once came for a walk with me when you would

rather have stayed at home.'
---
58

Trespassing

On one of our walks we came to a gate leading to farmland on the

other side of the railway. I said: 'Go on, open it.' Brother Andreas

may have been the oldest, but said nothing. One of the brothers

suggested that it might get us into trouble with the National

Railways. I resumed: 'Come, it's OK. It's only a skip and a jump.

I wouldn't worry about trespassing.' That was too much for

Brother Andreas, who exclaimed: 'Brother Modestus, how can you

say that?' I was suddenly faced with a dilemma: brotherly love or

trespassing. 'Oh Brother Andreas,' I said, 'The whole world belongs

to our Lord. Saint Paul says that we are God's children and

therefore his heirs. We can safely cross the railway line.' So we

crossed it. Brother Andreas replied: 'All right then', and crossed it

too. It is quite likely that he will have worried about the incident

for the rest of the day and perhaps even into the evening. In this

way I may have unintentionally got His Reverence into trouble

more than once, but never out of spite or anything like that, because

I held him in high esteem – higher perhaps than those who

thought of him as a bit slow and sanctimonious. I loved him very

much and had no trouble conversing with him during our walks.

He was a well-read man.

Novena

During the last years of his life he suffered with his right arm, his

shoulder, I believe. He even learned to write with his left hand because

of it. The brother director once proposed praying a novena

with him and another brother for a cure, if he was agreeable to the

idea. He did not have anything against doing it, but believed it

was better not to pray the novena, as it did not do him any harm to

suffer a little for Our Dear Lord. During Mass, when the brothers

made the sign of the cross the aching arm had to take part too, for

as long as possible. I often felt sorry for him. When he later re -

co vered, the arm was once again put to full service. Incidentally,

when he prayed, not even whilst performing the Stations of the

Cross, I never noticed anything unusual about him apart from his

profound devoutness. That seemed to be the maxim in his life:

Strive for perfection, but not to be special.

Last walk

About a month before he died he had a bout of diarrhoea – a cold

I believe. As everyone was familiar with his love of abstinence, and

his reputation for leaving everything to the superior, everyone

was surprised that the doctor was not sent for. He made a reasonable

recovery. Fourteen days before his death Brother Andreas

walked to Berkel near Tilburg, together with the brother director,

Brother Melchior and myself, to visit his brother Christ. On the

way the brother director asked him how he was and he replied

that everything was all right. We spent about an hour in Berkel.

The brother director settled his affairs and Brother Andreas

seemed to be in the best of health. His niece, who had been wedded

there and to whom the farmhouse belonged, remarked on

how fit and healthy he looked, as did her husband and his bro -

ther. He did indeed look well. Brother Andreas enjoyed a sand-

59
---
wich and smoked a cigar. When we were ready to leave for Tilburg,

his family did not want Brother Andreas to return on foot. The

carriage was brought round and they took us back to Tilburg. The

Wednesday after, Brother Andreas was to go to his other brother

on business in Helvoirt, together with the brother director. The

journey was postponed because of bad weather. The following

day, Brother Andreas became very ill.

Congratulations

The same doctor who had treated his arm was sent for. He said

that Brother Andreas was not to be transported to the mother

house. A brother from the mother house was to nurse him in the

brother house of the Sacred Heart at de Heuvel. The evening of

the next day Brother Andreas was given the last rites, which

caused general consternation. After receiving the last sacraments

with extreme devoutness and renewing his eternal vows, the

brothers congratulated him. He was in such good spirits that I

said: 'Brother Andreas, in two days time you will be back at

school', to which he answered: 'Yes, yes, I do not believe that this

illness will kill me either.' However, his condition did not improve;

it worsened.

Do not forget us

On Friday 3 August, I visited the patient before I went to school.

As I arrived I heard Brother Victorinus, the nurse, say to Brother

Andreas: 'Today you are going to heaven.' Brother Andreas was at

61
---
peace with that and requested that the brothers remember him in

tongue again and let out another scream, like someone who was

prayer. Brother Victorinus gave his promise and asked Brother

about to have something horrible put in his mouth. Then Bro ther

Andreas not to forget the brothers either. No, he would never forget

them. When I asked him a short while later how he was, he

Andreas was dead.

said: 'Fine', but added that he had so little faith in God. I said that

many saints, including Saint Alphonsus had felt the same, but

Invoking the deceased

62 that he should express his confidence in the Lord and in Our Dear

That same evening we started our annual retreat. We prayed for 63

Lady in his prayers as often as he could, and that he should not

Brother Andreas and invoked him. His father confessor said to

trust in himself, but in God and Our Dear Lady. (I do not know if

us: 'It is all right to invoke him; I will do the same. Often, when

this was theologically sound.) I said that I would ask the boys at

Brother Andreas knelt at my feet in the confessional box, I

school to pray for him and he approved. As the day passed so the

thought that our roles should be reversed: You should be in my

hour of death drew closer.

place and I in yours …'

Loud scream

That evening at around eight o' clock we all went to the sick room.

Brother Andreas was dying. His father confessor was sat at his bedside

and was saying some short prayers, which Brother Andreas

repeated. When his father confessor, the Reverend van Riel, chaplain

at de Heuvel, left him, Brother Plechelmus took over. Brother

Andreas repeated everything for as long as he could. He became

increasingly short of breath. Suddenly he opened his dying eyes.

I thought he was looking for someone and that he focused his

broken eyes on me, but I must have imagined it. His breathing

became more and more laborious. I was sat at the end of the bed,

together with Brother Salvius, when all of a sudden I saw him stick

out his tongue and Brother Andreas let out a loud scream. Then

he drew back his tongue. Shortly afterwards, he stuck out his

I will leave it at this, until I think of something else to write. These

memoirs were written during the annual retreat of 1919 (1–10 August).

Holy Brother Andreas, pray for me and protect me, my body and soul, although

I am not worthy. I often invoke him and would like to advise all

brothers to do so. 'If y obtained anything special? No, did not ask

for it either.' My poor soul is the main thing, but my worldly wellbeing

is commended to him too. He will continue to pray for me

until I and all his fellow brothers have joined him in heaven.
---
other paschasius van loon

Carpenter and duty master
---
66 When brother paschasius van loon (1859–1941) from

The last year of his noviciate (1890–1891), Brother Paschasius 67

Rotterdam entered the congregation of brothers in 1888, he be-

worked as a duty master at Ruwenberg under the guidance of

came a carpenter in the mother house. In 1891 he took his eternal

Brother Andreas. In a text written on 6 August 1919, in Willem-

vows in Tilburg. As a carpenter he was sometimes sent to other

stad, he recounts his experiences of working with Brother

communities for short periods to work. As a result he led a varied

An dreas. The skilled carpenter expresses a critical view on the fur-

life and travelled a lot. After all, the brother houses needed a lot of

niture at Ruwenberg and as a craftsman gives a respectful, yet

chores doing and they were happy to entrust this to the handy

matter-of-fact opinion of his fellow brother Andreas's achieve-

Brother Paschasius. In addition to the mother house and other

communities in Tilburg, he spent periods working at Ruwenberg,

in Maaseijk, Willemstad (1891–1894) and Grave (1909–1919)

where he did carpentry, building and paint work. In 1919 he was

sent to Santa Rosa in Curaçao and in 1922 he was transferred to the

community in Paramaribo, where he died in 1941.

ments.
---
An ordinary life of extraordinary virtue

brother paschasius van loon

Wobble

I did notice that he often struggled to stay awake in chapel. He did

his best to fight it in any way he could. The students sat on the two

back benches of the chapel. Brother Andreas would sit in the side

passage on a wooden prayer stool and I sat behind the students'

benches. The prayer stools were made by our brother carpenter

who had a deserved reputation for making lopsided things. As a

consequence, the stools did not sit level and had a tendency to

wobble. Every time Brother Andreas started feeling sleepy, the

first thing he did was to lift his arms off the stool and sit up

straight. If that did not help, he lifted his feet from the ground

too, which – to our amusement – made him wobble gently.

68 As I have been asked to write down what I remember about Brother Andreas van

den Boer, I would like to do so for its own sake and for the edification of his fellow

brothers.

69

Any comments about my manner?

I was at Ruwenberg with Brother Andreas for a year, from 1891 to

1892. I was duty master for the priest students and Brother Andreas

was their director at the time. I believe that Brother Andreas

was someone who sought perfection by doing ordinary things

with extraordinary virtue. I cannot remember him doing anything

contrary to our rules or practices. In 1891 I took my vows

and went to Curaçao. When I said my farewells to Brother Andreas

he asked me whether I had any comments about his manner that

may have hindered me. I said the only thing I could think of was

that he had kept me waiting a while on a few occasions before

taking over supervision, but added: 'I was only a trainee. You may

have done so on purpose at the request of the superiors to test me.'

He did not say anything, but laughed.

Counting words

You would expect someone like Brother Andreas to seize every opportunity

to learn spiritual lessons. Perhaps he did so for himself,

but it did occur to me that he rarely did so for others. If I or anyone

else expressed any inner thoughts on such occasions, then he

joined in wholeheartedly, but he was seldom the first to say anything.

Perhaps he was too modest for that. I sometimes felt secretly

amused when he was talking about things he was not very sure

about. He would continuously say things like 'If I am not mis -

taken, it is like this', or 'It is so long ago, that I can no longer say

with certainty, but I believe it is like this.' Then he would hold his

index finger in front of his mouth and count his words one by one

as if he was dictating a telegram and had to pay for every word.

How afraid he is again of lying, I would think to myself.
---
A bit narrow-minded

I do not believe he was a very emotional man. I always thought he

was a kind, gentle and serious man, even a little dry, but one who

forced himself to partake in ordinary life and conform to others

out of virtuousness. I remember him, for example, helping to perform

a puppet show with such gravity as if it was a very serious

matter. That is why the brothers and older boys enjoyed and appreciated

his contribution so much on such occasions. Another

incident I remember at Ruwenberg between Brother Andreas and

me was the time when I had started telling the students some of

the stories about the life of Saint Gerard Majella. They were very

interested and asked me to bring the book along and read from it,

which I did. When Brother Andreas joined them, they were still

enthusiastically talking about it. Later he approached me about it

and voiced his disapproval. What if reading that book made them

want to become Redemptorists? 'But Brother Andreas,' I replied,

'Does it matter how good is done? Perhaps, if they were to become

Redemptorists, they could do more good than if they stayed with

us?' But he could not accept that. 'If they are here now to become

priests in our congregation, we should guide them in that direction.'

At the time I thought it was a bit narrow-minded, but it is

quite possible that his love for the congregation made him say it.

If we had many such saints

In 1900, I was back at Ruwenberg as duty master of the students.

Brother Andreas was a teacher there at the time; I believe he

71
---
taught German, the art of handwriting and perhaps some other

subjects, I am not quite sure anymore. He was always willing to

help me if I needed his help for anything. I was there with him for

three years, but just like I said about the year before my departure

to Curaçao, I never saw him do anything contrary to the rules or

customs of the congregation. Back then people sometimes said:

'Brother Andreas is a holy person, but it would be quite difficult if

we had too many saints here, as it would make a proper mess of

things; this was a reference to the lack of authority he had over the

children, rather than his virtuousness. What beneficial influence

his punctuality and virtuousness had on the children, is hard to

tell. Only God knows the answer to that.

Students

As a person he did not achieve a lot. As mentioned above, I have always

heard that he had little authority over the children. He was

better with the older students who were a little wiser and respected

him because of his virtuousness. Furthermore, a large part of

his life as a brother was spent as a director to the students who

were trained for priesthood in our congregation. The courses

usually started with twelve or thirteen boys between the ages of

twelve and thirteen. They remained students until they were

eighteen or nineteen. Then they officially became brothers and

their student years at Ruwenberg were over. So they spent five

years under the directorship of Brother Andreas. I believe he was

there for six courses, which covers a time span of 6 x 5 = 30 years.

The results of these thirty years of work, at least for the congrega-

tion, were not what you can call brilliant. Many of the students

did not make it to the priesthood. Of those who did, three left the

congregation during his time as director, until finally all the others,

albeit at the request of Rome, left too. So I finish as I started by

saying: As far as I know or have seen, there was nothing special

about him but for the silent radiance that emanates from an ordinary

life lived with extraordinary virtue.'

72 73
---
other maximino artS

Education inspector
---
76 brother maximino arts (1876–1935) went to the Episcopal

Brother Maximino was also an education inspector, and in that 77

teacher training college run by the brothers in 's Hertogenbosch

capacity he visited all the brother schools. That is how he knew

and entered the congregation in 1893. He completed the major

Brother Andreas, whom he had to inspect on several occasions. He

part of his noviciate in the new brother house in Zwolle, where he

is more capable than anybody else of describing Brother Andreas's

took his eternal vows in 1897. As a teacher he did the rounds and

attitude towards education and what his didactic views were. It is

worked in various places: Ruwenberg (1897–1900), 's Hertogen-

notable that as an inspector Brother Maximino passed critical

bosch (1900-1903), Oisterwijk (1903–1905), Zwolle (1905–1908),

judgement on the work of the teacher, but that as a fellow broth-

Tilburg (1908–1914), Zwolle again (1914–1917), Cuijk (1917–1919)

er he was very taken by Brother Andreas's attitude and personali-

and finally again in 's Hertogenbosch (1919–1935). He was an eduty.

In the following letter to the general superior of the brothers, a

cator at heart, who in addition to his teaching was also active in

letter which is not dated but was probably written in 1919, he in-

the Episcopal teacher training college and took on many other

sists that one should seriously look into writing a biography on

educational activities outside the scope of the congregation.

Brother Andreas. He suggests that the story should not just be

He worked at an adult education institute, the Volksuniversiteit,

limited to the facts of his life, but that it should also evoke the

where he gave classes to the unemployed, youth leaders and

prison warders. He had a heart condition and died at the relatively

young age of fifty-nine.

mind and spirituality of this extraordinary man.
---
An inspiring role model

brother maximino arts

Make children your equals

His ideals as an educator were at odds with the spirit of the time.

He did not believe in the maxim of simply giving children a happy

childhood. No, his idea of a harmonised and religious upbringing

also included motivating children to work hard and do well in intellectual,

moral and religious fields. He also expected good behaviour

from his pupils in almost all circumstances. I would not

want to claim, however, that this man, who appreciated his calling

to prepare young souls for the great struggle of life, was a good

teacher. He was probably too narrow-minded for that and had too

little understanding of how a child's mind works. He could never

put himself in a child's shoes. The big principle of Christian education

'become as children' in his devout heart assumed the

meaning: 'make children your equals'. His mistake was that he

thought he could treat children as adults. When he was with the

children, the man was all seriousness, punctuality, sense of duty,

fear and formality. Anything that even hinted at jollity was unthinkable

and he would never stand for it in class. He could not

tolerate a lot from the children and he certainly did not understand

the art of turning a blind eye. I think he believed that every

youthful impetuosity that remained unpunished marked a

child's soul. It always appeared to me that Brother Andreas clearly

lacked the pedagogic skills that would have enabled him to help

shape the children's characters.

78 I would like to say a few words of reverence in memory of Brother Andreas. I do

not have sufficient time or information to write a full biography and will therefore

restrict myself to a few distinct characteristics. I would like to emphasise

those qualities I personally experienced in Brother Andreas in his capacity as a

teacher and educator.

79

Strong ideals

When I first met Brother Andreas, I was about twenty years old.

Although I had absolutely no experience or insight into human

nature, he came across very clearly as a compassionate man with

strong ideals. He saw it as his solemn duty to put those strong

ideals into actions wherever possible. He spoke to me alone on

several occasions and with his apostolic fervour and temperament

tried to convince me that all teachers should be filled with passion

and life when addressing young people, so that their spoken

words become revelations in their young hearts. He himself

approached young people with strict principles of godliness, virtuousness

and morality, accompanied by the burning desire to

impress all kinds of virtues on children's hearts.
---
80

If only I could …

The strange thing is, however, that this lacklustre educator who

had nothing in common with children was in later years highly

revered by all his former pupils. There is no other explanation

than that he must have given them the impression of being an extraordinary

man through his way of teaching or in how he approached

them. He never referred to himself as an exceptional

teacher or even a good educator. He often said: 'I do not have any

of the good qualities that are characteristic of a real teacher.' Another

of his heartfelt regrets was: 'If only I could teach myself how

to lead that full life and become more generous through the

awareness of my inner strength ... But I don't know how.' Despite

the fact that he did not know how, I would like to set this modest

brother as an example for all teachers. Among the famous educators

I cannot imagine a man from whom we can learn more than

from Brother Andreas.

Imperturbable good humour

Although he showed no talent for the heavy burden of work

which had been placed upon his shoulders and was stultifying to

so many, he carried the burden contentedly, even cheerfully. I

have seen him face restless, rebellious students with such a tired

and worrisome expression. However, as soon as he left the classroom,

all negative thoughts were dispelled from his mind and

everything seemed happiness and light. How did he so quickly regain

his inner strength and calmness of soul, which was so merci-

lessly disturbed by his small tormentors? Where did this sorely

tried man get his imperturbable good humour that made him

such an amiable character? I would like to take this opportunity

to take a closer look at a few of the idiosyncratic and engaging

characteristics that typify him. He realized few of his plans. Nevertheless,

when he was shattered at the end of a day's teaching, his

stern face still beamed with a passion for work and he still spoke

fervently about expanding the Kingdom of God in the hearts of

the children.

Staying young and spirited

Brother Andreas's life was difficult in other respects too, and not

only for him, but for us all: 'Man's life on earth is a struggle.' Show

me a teacher who has not experienced moments of great depression.

Oh, how mysterious life sometimes appears to all impulsive

and thoughtful characters. How difficult it is to express what goes

on in the depths of our soul during life's struggles. How numerous

are those who see their sombre pessimistic moods as a dark

shadow upon their lives? Despondency and disappointment

gnaw at their life force. Such people need an example to help them

become strong and stay young and spirited, as we all do. It is possible

to stay young and spirited. I know men with wrinkly faces,

with youthful smiles and a twinkle in their eye. Those are the men

and women that children are attracted to, because they recognise

something within them. Brother Andreas stayed young too. At

the age of seventy he still wanted to study child language and life

so that his writing would appeal to children. Although he did not

81
---
82

have the talent to be a children's writer, his last story in De Engelbewaarder

(The Guardian Angel) was considerably better than his earlier

children's stories. In one sentence: The life of Brother Andreas

is the antithesis of the dejection and fear many a teacher is burdened

with. Our profession lends itself to dissatisfaction. Every

student makes his or her demands on a teacher, and every teacher

will have felt at some time or other that there are students who do

not or cannot respond to his or her guidance. That is why I believe

that all educators are sometimes despondent, or that they have

days or even weeks when their spirits are in danger of sinking.

An inspiring role model

Every profession that is seriously pursued, not only the teaching

profession, has its difficulties, and that is why almost every person

occasionally becomes disconsolate and low-spirited. What a

heartening role model Brother Andreas could therefore be to

everyone. What a great and useful piece of work would be performed

by him who succeeded in capturing the essence of this exemplary

man in a book. He is already a friend to many, but if there

were to exist a correct portrayal of him, then he would become a

good friend to many more. People could then reach out to him in

the face of adversity. One could invoke his intercession to help follow

his example, and in many a man's heart he would bring patience,

relief, hope, composure and peace.

Balance in work and life

We all feel that we must go through a considerable struggle before

we can achieve a balance in our work and lives, and we long for a

living example. Brother Andreas is that example. He never lost his

composure, even in the most difficult circumstances when all his

efforts ended in utter failure. Whatever happened, he always retained

his self-respect and did his duty. It is precisely this characteristic

that shows the influence fundamental principles had on

him. His sense of duty was so powerful, that it not only allowed

him to control all his actions and thoughts, but it also allowed

him to master his innermost impulses. I noticed more than once

that his inner balance was never upset, even when a carefully prepared

lesson that required immense effort to teach turned out to

be totally unsuccessful. So, when the tormented man emerged

from a classroom exhausted and he heard someone praise the congregation

or a confrère, then you could see the reflection of inner

joy on his face that sometimes shines through the eyes of excited

children's faces.

In search of an authentic portrayal

People here in 's Hertogenbosch have wanted a good biography

for some time now, but add that the biography must follow the

right path. The path does not start at birth and work its way

chronologically through to his death, listing items and life events

of greater or lesser importance. That is just a peripheral path. People

do not want a chronicle of his life; they want to know about

83
---
the man. They want a biography that clearly puts across his inner

and external struggle, his aspirations and his deeds, so that the

meaning of his life is made clear to all his devotees. In this way we

are put in touch with the man himself, and only in this way can

we be influenced by his purifying and edifying personality. Such a

biography, they add here in 's Hertogenbosch, must come more

from the heart than the head, not to view the brother through

rose-tinted glasses, but to accurately depict the struggler, the

fighter and the man of deeds. I think that you will probably agree

with the 's Hertogenbosch confrères on this point. They see

Brother Andreas as a sufferer who has found solace, a fighter who

has triumphed. That is why he can become our life's consoler, the

one who gives us the strength to fight, and who inspires and motivates

our selfish hearts.

Difficulties

I have let some of the confrères of my community read what I have

written here. They believe that I should have provided more details.

My answer to this was that I was not privy to many details,

and that I did not think that details were that important. The future

biographer must penetrate Brother Andreas's character and

realm of thought with heart and soul and only record those details

that influenced the deeper foundations of his character and

the formation of his spiritual life. Only then would I expect a good

biography to enlighten our spirits, tired and weary through misfortune

or failed efforts, like a breath of fresh air. If anyone has the

right to say to us: 'Do not be afraid of difficulties', it is Brother

85
---
Andreas. I believe I can still hear him say: 'It is good for our state of

mind and spiritual growth, if our work is a heavy burden.' I hope

that his next biography will reflect his strength and give us the

key to mastering our deepest fears and desires.

87
---
other tharcisio horsten

General superior and historian
---
other tharcisio horsten (1879–1952) from Tilburg

was very focused on language and literature, just like the brothers

Andreas and Amatus. He started his noviciate in 1896, as the old

era was coming to a close. The first general superior, Father Franciscus

Salesius De Beer retired in 1900 and died a year later. The

renowned director of the teacher training college, Brother

Xaverius Dijkhoff, who had led the school for thirty years, retired

in 1897. Like many of his fellow brothers, Brother Tharcisio became

a teacher, but also continued to study. He achieved his lower

teaching certificate in French in 1900, his lower teaching certificate

in English in 1904 and his teaching certificate in 1906. From

that year onwards he taught at the brothers' teacher training college,

first in Tilburg, later also in 's Hertogenbosch and from 1914

in the mother house in Tilburg. He made a name for himself by

writing a Catholic history of literature for secondary schools, Stemmen

van verre en dichtbij (voices from near and far) in five parts

(1915–1919) and was involved in the new training institute Rooms-

Katholieke Leergangen in Tilburg and 's Hertogenbosch, an initiative

which would develop into the Catholic University of Nijmegen in

1923. Everything seemed to point to Brother Horsten, with his

strong interest in literature and history and his friendships with

Catholic literary scholars like L.C. Michels and Father Maximilianus

van Dun, also taking the path of humanities. Life, however,

decided otherwise. In 1926 he was elected general superior, a position

he would hold for twelve years. Although he continued to

read and write a lot during his time in office, so much so that he is

often depicted with a book in his hand, he did not have time for a

serious book project until after he left office, in 1938. He then

started two important projects: He became the editor of and main

contributor to the new and informative Brothers' periodical Heden

en Verleden (Present and Past), and he started to write an official history

of the congregation, a project he just managed to finish despite

the war years and his quickly deteriorating health. The last

of the three volumes of De Fraters van Tilburg (The Brothers of

Tilburg, 1844–1944) was published in the year of his death, 1952.

90 91

Of course, the brother history written by Horsten also had to include

a chapter about Brother Andreas. However, as a historian,

Horsten believed that he did not have to write about any subjects

that had been described elsewhere. This is why he did not write

about the life of Brother Andreas, which had been covered by

various authors, but primarily about what happened after his

death. The text written by Horsten, therefore, does not contain

many personal memories about Brother Andreas. It does, how -

ever, provide a lot of information on the development of the

Brother Andreas devotion. From his various viewpoints as a historian,

an involved fellow brother and a responsible former general

superior, Horsten describes how the devotion grew steadily and

was increasingly structured by the brothers. He completed his

story in 1944, when preparations were being made for the process

of beatification, which would eventually start after the war in 1946

(to be fina l ised only in 1982).
---
A person with special blessings from God

brother tharciscio horsten

whom no one ever saw break any of the many religious rules and

regulations, who never sought anyone's attention, whose guise

had nothing that could attract attention, a man absorbed in God,

who never meddled in the outside world except when obedience

obliged him to do so, who always had the air of being very strongly

aware of living in the presence of God, was laid to rest in the

graveyard of the mother house, it was not the end. There were

brothers who had died before and after him who were revered by

their contemporaries, lived saintly lives and one who died a holy

death, and yet they did not endure beyond the grave. The miraculous

thing was that for Brother Andreas it was a beginning.

92 On 3 August 1917, the first Friday of the month, Brother Andreas van den Boer

capped his devout life with a venerable death. Brother Andreas was born on 24

November 1841, and died famous and holy in Tilburg in the brother house of

the Sacred Heart of Jesus at almost 75 years of age, 58 of which he spent in our

congregation. He worked at Ruwenberg for many years in education, including

the training and formation of future priests for the congregation, whose leader

93

he was from 1871, until he was replaced in 1900. He spent the last years of his

life in Tilburg. He did not accomplish any remarkable achievements during his

life, except that he trod the path to sainthood with conviction and dedication.

In moments of need

Miraculous

During his life many of his fellow brothers already regarded him

with silent devotion as a special person blessed by God. When

Brother Andreas gave his holy soul to God on the first Friday of

August 1917, and the press published the news of his death in a

short article, many in the congregation and many of his former

students, especially from Ruwenberg, were convinced that hea -

ven had gained a holy intercessor. The miraculous thing was that

when this quiet and modest man, who was so friendly and yet so

deadly serious, who always averted his gaze, but was at the same

time talkative and far from stiff, always calm and composed,

Brother Andreas had always wanted privacy, and he never thought

that anyone ever saw anything special in him. However, the Father,

who can see into the soul, started to reward. God inspired

faith in the hearts of many in and outside the congregation, who

had known Brother Andreas and had admired his devout life in

silent devotion. They started to invoke Brother Andreas in moments

of need, which is only human, and their prayers were

heard. They said that their prayers were answered because of the

intercession of Brother Andreas. Who started it, and where and

how? Nobody knows, but we can confidently say: It is the Lord's

will and it is wonderful. Brother Andreas became a never-ending

source of inspiration. He, who had always avoided people and

rumours, was suddenly the centre of devotion, and the circle of

devotees continued to expand. The brother house in Tilburg kept
---
on receiving reports of prayers being answered. It became a neverending

stream. It soon required some organisation, which is why

in 1924 the Brother Andreas Bureau was established in the mo ther

house to deal with everything that was related to Brother Andreas.

It received and processed correspondence, stored any gifts received,

and upon request published any prayers that were

answered in De Engelbewaarder (The Guardian Angel).

Under lock and key

The most assiduous promoter for the devotion to Brother Andreas

was Brother Dorotheus van Santvoort, also sometimes referred

to as the 'Apostle of the Prayer Association' and who looked

after the Brother Andreas cause until his death on 10 June 1923

with unparalleled enthusiasm. He quickly succeeded in interesting

the ecclesiastical authorities – in particular the vicar-general

of the diocese of 's Hertogenbosch, Msgr Pompen, who always

took a lively interest in anything concerning our congregation –

in the remarkably busy and growing devotion to the recently deceased

Brother Andreas. As early as 17 July 1919, Msgr Pompen

wrote a letter to the brothers, in which he asked all the brothers to

write down what they remembered about Brother Andreas. To

ensure that the accounts were systematic (as if required for a future

process), Msgr Pompen's circular letter gave a detailed list of

points the accounts had to include. Further instructions were

that everything that had belonged to Brother Andreas had to be

collected, such as clothes, books, writings, utensils, etc. It all was

to be kept under lock and key and now resides at the mother

house.

95
---
Diocesan investigation

More than one hundred written accounts about the virtues and

holy life of Brother Andreas were received. Because of the nature of

these accounts and the increasing number of prayers being heard,

it was decided to ask Msgr F.A. Diepen, bishop of 's Hertogenbosch,

to set up a Diocesan investigation to officially look into the

heroic virtues of God's servant. However, Msgr Diepen believed

that it was not yet the right time to start the Episcopal process.

That is why the case of Brother Andreas was officially put on hold.

Events, however, continued to take their course.

and paint the portraits of Brother Andreas we have today. Those

who knew Brother Andreas well, however, agree that there is

something missing in these portraits. Perhaps they are missing

the fundamental truth that nobody can put into words, the reflection

of his calm, happy and inward-looking soul on his face, or

something in his appearance as a whole. The pictures based on

these photographs or the painted portraits are usually accompanied

by a piece of material worn by Brother Andreas and distri -

buted free of charge by the Brother Andreas Bureau. The prayer

printed on the back, asking for help 'through intercession of your

faithful servant, Brother Andreas's, has been approved by the

church authorities.

96 97

Biographies and prints

Many, especially those who did not know Brother Andreas personally,

wanted to know more about the holy man; they wanted a

bibliography. Brother Frumentius van Hulten, who had known

Brother Andreas for years at Ruwenberg and had been his supe rior

for some, complied with this wish. He wrote a book published in

1921: Frater Andreas. Een levensbeeld (Brother Andreas: An impression

of his life). Many people wanted to have a picture of Brother Andreas.

But this was difficult, because there were no pictures of

him. One of the books that Brother Andreas had often read stated

that the desire to be photographed only betrays one's vanity. That

is why Brother Andreas was never photographed alone. Some

group photographs did, however, exist at Ruwenberg. These were

taken on festive occasions when Brother Andreas simply complied

with his superior's wishes, and later used to create the pictures

A border of flowers

The Brother Andreas Bureau also had collectible medallions with

effigies of Brother Andreas and larger plaques made, which could

be purchased. The circle of devotees continued to expand. There

were pilgrimages to his grave to seek help or give thanks in prayer.

People put flowers on his grave or hung flowers on the simple

burial cross. Sometimes a devoted, thankful hand would arrange

a border of flowers around the grave. A woman in Breda who

passed her teaching exams went straight from the examination

hall to the station, took the train to Tilburg, looked for the bro -

ther house and when taken to the grave knelt on the ground and

prayed for a long time. Then she stood up, picked some flowers in

the garden of the monastery, laid them around the grave, knelt

once more, put her hand on the earth that covered the body and
---
then made a large sign of the cross. Then she went back to the station

and travelled to her mother to tell her the good news 'that she

had passed her teaching exams thanks to the intercession of

Brother Andreas. This is one of hundreds of examples…

found shelter and care in the Netherlands during and after the

1914–1918 war thanks to the help of the RC Housing Committee.

This priest also heard about Brother Andreas and started studying

his life. He believed that he was doing his fellow-countrymen and

women and the German-speaking Catholics a great service by

describing the life of Brother Andreas to them. In 1922 Frater M.

Andreas von Tilburg was published, dedicated to the benefactors of

the Viennese and German children in Tilburg. The detailed bio -

graphy was translated into Dutch in 1925. Below is an extract of

the preface by vicar-general Msgr J. Pompen: '…It is very remarkable

that the quiet life of Brother Andreas immersed in God makes

such an impression in a time when the spiritual life of so many

people is weakening by the day and religion is limited purely to

outward appearances. Luckily the core of the religious population

still understands that such a private life, such an internal life as

Brother Andreas's ennobles and sanctifies man and is therefore

most agreeable to God. How else can we explain the large number

of recoveries and extraordinary events that are attributed to

prayers answered by Brother Andreas? Father Max also heard

about the prayers that were answered. After thoroughly studying

Brother Andreas's way of life, he came to the conclusion that if

judged correctly, Brother Andreas must be the right man in our

time to serve as an example of charity, simplicity, love of work and

a life of prayer. Inspired by this, he also decided to introduce the

Germans to the "secrets of the internal life" of Brother Andreas,

which everyone could adopt to achieve the same spiritual nobility,

the same happiness and peace and the same sanctity"…'

Young women of South America

98 99

Thanks to the publication of the prayers that were answered in

the magazine De Engelbewaarder, Brother Andreas became known

in Belgium, Indonesia, Dutch Guiana and Curaçao and there are

stories about prayers being answered from those countries and

regions too. From Curaçao the devotion spread to different republics

in South America. On Curaçao, the Sisters of Roosendaal

have a Spanish boarding school for wealthy young women (comparable

to our former Colegio Santo Tomas). These students are

mainly from Venezuela, Ecuador, Bolivia, Quito and Peru. The sisters

teach the young women of South America about the devotion

to Brother Andreas, which is why pictures or plaques of the simple

Brother Andreas can be found in many grand houses in those

South American countries and why young women and children

carry a medallion of Brother Andreas in their bags or wear it

around their necks.

General example

In 1922 the devotion to Brother Andreas was extended. At the time

there was a Viennese priest in Tilburg, Father Theophorus Max,

responsible for the children from Austria and Germany who
---
Steady growth of devotion

The devotion expanded rapidly and took on new forms. On 3 August

1930, on the anniversary of Brother Andreas's death, the first

pilgrimage visited his grave. It consisted of eighteen people from

the city of Bergen op Zoom… On Sunday, 30 July 1939, the pilgrimage

paid its tenth visit. As always, prayers were said at the

grave and the pilgrims paid homage in the chapel of the brother

house by lighting candles. They visited the Brother Andreas Bureau,

where devotional pictures were handed out and they could

buy plaques and collectible medallions. In its tenth year around

eighty people made the pilgrimage from Bergen and many other

places – clear evidence of the steady growth of the devotion to

Brother Andreas. That is why the case of Brother Andreas was put

to Msgr Diepen again in 1932 and the request to take measures to

establish a Diocesan investigation was repeated. Msgr Diepen,

however, remained wary of getting involved. The bishop was of

the opinion that the case was not yet ready for official consideration

and wanted to wait until stronger evidence was available.

A stomach relic

A very extraordinary thing happened in 1937 concerning the recovery

of Father Aloysius van den Heuvel in the Trappist

monastery in Tilburg. In his account Father Aloysius relates that

he had been suffering stomach problems for some time. In February

1937 the problem became quite alarming. Father Aloysius

started vomiting blood, and was rushed to St Elisabeth Hospital

101
---
in Tilburg. 'After thorough observation and examination it was

decided that there was nothing they could do' and after four

weeks of treatment in hospital, the patient was brought back to

the monastery. 'Tests had revealed that I had cancer and, according

to the doctors, only a few weeks to live. But things turned out

very differently. On the twenty-fifth anniversary of my ordination

I was incredibly lucky to be reading Mass again, and in July 1937

I was discharged from the sick ward and returned to our normal

way of life.' Father Aloysius attributes his extraordinary story to

the intercession of Brother Andreas: 'I had often been told about

the many prayers that had been heard through the intercession of

Brother Andreas. That is why I put my faith more into the help

I hoped to get from him. I also used to wear, and still do to this

day, a devotional picture with a relic of Brother Andreas on my

person close to my stomach. I prayed with unfaltering faith to

God's servant. Others in and outside the Trappist monastery

prayed with him, and the result has amazed everyone to this day.

I am therefore convinced, as is everyone else, that it was Brother

Andreas who brought about my totally unexpected recovery.'

Highest point of glory

Does God have plans for our humble, holy fellow brother? Who

knows! The fact is, that now, more then twenty-five years after his

death, the devotion and faith continue to grow and more and

more people are looking to Brother Andreas for support in their

hour of need. Not a day goes by without the Brother Andreas Bureau

having proof of that, although, since the De Engelbewaarder is

103
---
no longer printed (because of the shortage of paper these war

days) we no longer have a way of publishing the prayers that have

been answered and thankful devotees are forced to make do with

the advertisement columns of a daily newspaper. Since 1942, the

twenty-fifth anniversary of the holy death of Brother Andreas, his

case has constantly held the attention of the congregation's polity.

The approaching centenary of the congregation naturally

caused attention to be focused even more strongly on the fellow

brother through whom the congregation achieved its highest

point of glory. It was the right time to finally deal with the Bro ther

Andreas case. While the congregation's polity was preoccupied

with those thoughts and plans in 1944, Providence directed circumstances

in such a way that the path to be followed in the

Brother Andreas case was indicated by friends in authority in

Rome. That is how in 1944 the first definite and official step was

taken on the path that would lead to setting up a Diocesan investigation

and the ecclesiastical process in Rome, to honour God

and for the glorification of his servant Brother Andreas.
---
other amatus hosemanS

Colleague, fellow brother and confidant
---
Of all fellow brothers, brother amatus hosemans (1865–

1946) from Tilburg was probably the one closest to Brother Andreas

and as fellow teacher and housemate also shared many

things with him. Amatus had been sent to the Ruwenberg boarding

school at an early age and knew Brother Andreas as a teacher

and duty master. In 1882 he started his noviciate in Tilburg and in

1884 he returned to Ruwenberg, but as a duty master and teacher.

It was a period when Ruwenberg was undergoing changes and

those in charge wanted to introduce a new and less severe climate.

Brother Andreas and Brother Amatus were two of the brothers responsible

for the actual implementation of this policy. Amatus,

like Andreas, was one of the brothers who continued studying

and he passed his lower teaching certificate in French in 1888, his

lower teaching certificate in English in 1892 and his teaching certificate

in 1894. He was one of the most prominent teachers at

Ruwenberg and was also director for some time. In 1902, on the

occasion of the fiftieth anniversary of the school he wrote a very

lively chronicle about life at school. His career as a teacher would

also lead him to other brother schools: 's Hertogenbosch (1892),

Tilburg where he became director of the brothers' teacher trai -

ning college (1906–1912), 's Hertogenbosch (1916) and finally

Zwolle where he became director of the ulo (advanced primary

edu cation, 1914–1943). Brother Amatus held an executive post as

first brother elected in the board between 1908 and 1912, a period

in which the congregation was strongly divided internally. Amatus

was rewarded for this membership in the board by a demotion

to the remote city of Zwolle, far from the administrative centre of

the Tilburg mother house. At the end of the war Brother Amatus

returned to the mother house in Tilburg, where he died in 1946.

Amatus Hosemans wrote well and was prolific with a vast body of

works besides the above-mentioned chronicle about Ruwenberg.

Like so many other brothers, he usually published under a pseudonym.

The fact that he had at least ten different pen names and

signatures for his publications in magazines and newspapers,

school books, translations, poems and plays typifies the productivity

and the creativity of this man. As mentioned, Brother Amatus

Hosemans was Brother Andreas's friend and confidant. That

was not just because their classrooms were next to each other, but

also because they had both studied French and shared a great interest

in languages and literature. They were more than good colleagues

and literary friends; they were also of the same mind as far

as religion was concerned. That is how – through his own writings

and because he was able to give the early biographers extensive

first-hand information – Brother Amatus became a key witness to

the life of Brother Andreas. Published below are parts of the

chronicle of Ruwenberg, which he re-edited during the war years

(and part of which was published posthumously in the brother

magazine Heden en verleden [Present and Past], 1953), with excerpts

from a letter written to the general superior, dated 11 August

1944, in answer to a long list of questions. The fragments that

most strikingly portray the life of Brother Andreas, are presented

together as a new text.

108 109
---
With love and meticulous punctuality

the last detail and dedicated himself to the task of tutor and

teacher in words and deeds, all of which was in effect directed at

God. He was a man who preferred to keep a low profile and be true

brother amatus hosemans

to himself in everything he did. Perhaps it was because they understood

that his heroic struggle to be faithful to a simple life

went beyond the simple things themselves and that his words and

110 Shall I tell you something else about Brother Andreas? There is a whole biogra-

deeds effectively only had one direction – they were directed at 111

phy about him. I was the one who provided most of the information to Father

God – and that his love of God and the desire to fulfil God's will

Max, the biographer, when he spent a few days with me in Zwolle. I think it is

took up his whole life. And so it happened that he, probably with-

time to put the record straight about his reputation for punctuality. I would like

out even knowing it himself, came to the fore and had an extra -

to talk about some exaggerations regarding his punctuality, which some people

invented to diminish his reputation. No one can have a higher opinion of Bro -

ordinary impact.

ther Andreas than I, who was lucky enough to enjoy his trust. He came to me,

who was so much younger and had been his pupil, with all kinds of things.

Watching

Too meticulous, too holy

Most people who had close contact with Brother Andreas were a

bit wary of him at first. He was too meticulous for them, too holy.

Slowly, however, their silent admiration for this man would grow,

a reverence that would never leave them, not even many years

after they left the institute. Although at first glance he did not

appear to be the world's greatest teacher, those that came into

contact with Brother Andreas were the most deeply inspired and

touched by him. One explanation for such an extraordinary influence

is that those that met him discovered this simple man's

saintliness, which was drawn from sixty years of ascetic life and

fifty years of teaching. He was always punctual and polite down to

I had lessons from Brother Andreas as a boy of twelve. He taught

me the basics of French. As a child I saw him cultivate every virtue

I expected to see in a real brother: friendliness, patience and devotion.

I admired the friendly patience he had with a fellow student,

who always claimed that he had learned his lessons, but never

knew anything. I later shared life with him at Ruwenberg for

twenty-two years and never noticed anything in him that was

contrary to the virtues which the Holy Rules demand from us. He

cultivated both the divine and the cardinal virtues in a heroic way.

I often watched him to see if he made any mistakes. I even tried to

test him to see if I could get him to break any of the rules, such as

the rule of silence by showing him a book and asking him what he

thought about it. I could not get him to speak a single word. I had

to be satisfied with a friendly nod.
---
The burdens of his post

evening before, because there was a certain flaw in him proposing

it himself. The welfare of the young most certainly allowed him to

He accepted the strictness of religious life and the burdens of his

post with love and the most precise punctuality. The burdens of

rise above that.

his post stemmed from the lack of authority over the children of

the institute. He did, however, exercise authority over the stu-

How to remain patient

112 dents who were being trained as priests for the congregation. The

If you wanted to find a substitute at Ruwenberg, if you were 113

children of the institute knew that he was a saint and revered him

otherwise engaged, you went to Brother Andreas, because he was

as such. Nevertheless – o âge sans pitié – in class they were trouble-

usual ly prepared to help. 'If the brother director agrees, I would

some, garrulous and difficult, especially with Brother Andreas.

be pleased to help', was his standard answer. It did not matter

Although they would respectfully listen to him admonishing

whether he was asked to supervise the playground or the class-

them in his mild-mannered way, they would not fear any severe

room; it was all the same to him. As he had no authority, he noted

punish ment from him. Brother Andreas regularly carried that

the pupils' shortcomings on a slate, in French of course, for the

burden – a terrible burden for those speaking from experience –

class brother to find, who would then have to deal with the pupils

without getting angry or losing his temper.

concerned. Jansen n'entre pas bien. Willems parle. Martens n'est pas attentif

pendant la prière, Bakker is fidgeting (Jansen's participation is inadequate,

A certain flaw

Willems talks too much, Martens doesn't pay attention during prayer). Appa -

rently he did not know what 'fidgeting' was in French, until I

When I succeeded Brother Tharcisius in the classroom next to

looked it up and wrote 'to fidget = frimiller' on the slate. After that

Brother Thomas', Andreas was teaching German there. In the

he would write N.N. frimille. We would laugh and say: 'He knows

winter of 1890–1891 things were very tense. There was a lot of un-

how to remain patient and will go straight to heaven. We get

rest. One evening one of the students held up a small red flag,

angry on his behalf and will later go to purgatory.' We were always

which was greeted with general laughter. I jumped from my desk

glad to have him supervise our classrooms, because then he would

and placed myself in front of the window in the door. Of course,

all fell quiet immediately. The following day Brother Andreas approached

me. If I had no objections, he would ask the brother

director if we could swap lessons – I could take over his class and

he would teach my boys. He must have thought about it the

surely pray for our pupils, as they were his then too.
---
Punctuality test

For a long time he took over my class at Ruwenberg at around

seven o' clock, because I had to join the boys in the refectory at half

past seven. After that I usually accompanied them to the recreation

room. Every afternoon he asked what time he should be

there, because I did not always finish teaching at the same time.

The pupils often spoke about Brother Andreas's holiness and one

day I decided to put his punctuality to the test together with the

boys. The boys were to specify a different time for every day of the

week and we would see if Brother Andreas would keep to it. Of

course, I do not remember exactly which times were given, but it

went something like this: On the Monday I asked Brother Andreas

to be there at five to seven, on Tuesday at three minutes past

seven, on Wednesday five past, etc. In the afternoon I would use

some pretext to synchronise my watch with Brother Andreas's,

and the boys were given the time too.

The first evening, the classroom door opened precisely on time

and in walked Brother Andreas. A stifled laugh from the boys: it

was true. The second day he arrived on the dot again. This time

they looked more serious: that was astonishing. On the third day

it was the same again. The pupils gasped in amazement and

would do so every day, because no matter how much I varied the

time – one day even to half a minute – Brother Andreas always appeared

at the specified time. That is how precise he was with

everything a superior, or someone he regarded as his superior,

would ask of him.

115
---
116

Forbearing demeanour

Everything he said and everything he did – his whole manner –

was proof of the extreme care he took to preserve purity. His eyes

were usually downcast and his demeanour forbearing. He would

never cross his legs – at most he would sit with his feet crossed. He

was very reserved but friendly towards people of the opposite sex.

He never physically touched anyone. Once, when Father Bolsius

S.J., a former pupil, embraced him (a greeting which was not common

in the Netherlands) in the presence of his confrères, he was

startled and too embarrassed to know what to do.

The simple truth

He was totally uncomplicated, and in his work only sought God

with whom he was totally absorbed. He was completely truthful,

so that no one ever doubted anything he said. His love of the truth

sometimes made us laugh. A story told during recreation time

might have gone as follows: 'Last week Tuesday I bumped into

Father Superior in Torenstraat in 's Hertogenbosch. Did I say

Tuesday? I meant Wednesday.' The story went on, but was interrupted

by: 'I do believe I was right in the first place. It was Tuesday.'

That is how it went. As a result, his narrative style was sometimes

quite boring. I once heard a general superior, Father

Drabbe, say: 'If I was given different accounts on a matter during a

visitation, I would question Brother Andreas about it. If he had an

answer, it was always the simple truth.'

The holy liar

His constant praying and the devotion with which he received the

Blessed Sacraments helped him to avoid making any mistakes and

improve anything he considered to be wrong about himself. He

was so critical of himself, that he accused himself of all kinds

of wrongs every week in the Confession Chapter (a chapter where

brothers could publicly confess their sins). We could not understand

what he could possibly accuse himself of. With reference to

these chapters he was sometimes called the 'holy liar'.

Honouring

He scorned honour, wealth and worldly pleasures. He laughed

about honour. He did not like people to give him honour. Once I

had to write an article for a newspaper. I do not remember what

it was about, but I had the chance to give Brother Andreas a

mention. I told him: 'André, how about I give you a mention in

my article. He looked at me indignantly: "Mention me! What

good will that do? For God's sake let me be free'. I heeded his

words so as not to hurt him.

Totally engulfed

He brought honour and tribute to all the secrets of our Mass.

There was something very special, for example, about the tone of

his Gloria Patri (Glory be to the Father). Christmas was a very special

celebration for him, because of his devotion to the Mystery of the

117
---
118

Incarnation. His extreme gratitude for this and for Mary's part

was also apparent in his religious fervour when he prayed the

Angelus Domini. The way he knelt before the Most Blessed Sacrament,

his most respectful demeanour in the chapel, his modesty,

in short, his total engulfment in prayer after Holy Communion

and during Mass was proof of his deep veneration for it. He also

enjoyed talking about the greatness of this Blessed Sacrament, not

only in class during religious education, but also during recrea -

tion. His mind was always focused on God. He was so inwardly

focused, that during silentium he did not notice what was going on

around him. If he was somewhere quiet, you could hear him praying

to God under his breath. His whole appearance expressed this.

If you bumped into him in the hall or in the garden, you could feel

that he was busy with God.

Kindergarten

He worshipped all saints as and when they were commemorated

during the Ecclesiastical year. He wrote a novena book, with novenas

for various saints. He translated Kindergarten, by Father Mätt ler,

about the lives of young saints, from the German to encourage

children to worship saints. He also wrote many articles for the

magazine De Engelbewaarder (The Guardian Angel) to propagate

devoutness among children. He had a vehement desire to spread

our sacred faith. Some of his favourite literature included the annals

of missionary work and other books on the same topic. He

would often talk about missionary work to groups of brothers,

who would listen with the greatest interest, because he was an in-

spiring storyteller and loved to share his enthusiasm for missionary

work with his listeners. Whenever we saw it we said: 'They

must be talking about Catholic missionary work!'

Quiet reading room

No matter how seriously Brother Andreas took life, he was always

good-humoured during recreation, never loud or exuberant, but

certainly cheerful. He was very pleasant to chat to. If we had permission

to smoke, he joined in, probably so as not to be the odd

one out, although I am convinced that he probably would rather

not have smoked. He knew and enjoyed telling interesting

proverbs and amusing anecdotes. Once when he was supervising

the students in the reading room, who were sat working quietly,

there was a sudden commotion. The duty master looked at the

student on the corner of the first bench. He in turn looked round

at the student on the second bench, who looked round at the

third, etc., until the student on the last bench looked round at the

statue of the Sacred Heart, which was stood against the back wall,

and pointed at it accusingly. Brother Andreas blushed a little, as if

his respect for the Sacred Heart had faltered for a moment.

His lips remained sealed

If he was in the reading room, then silentium was maintained out of

respect for him. Only because we revered him. We were convinced

that he would never tell on others. We never did anything badly

wrong, nor did we do anything that could lead to negative conse-

119
---
quences. As a result he was not forced to impose the rules and he

was happy with that. Blessed confrère, pray for us. I contributed

to your holiness, by putting you to the test from time to time, to

see whether you would do anything wrong. 'Is it a good book,

Andreas?' He would nod his head in affirmation, but his lips

remained sealed when talking was not strictly necessary. Say,

Andreas, why don't you perform a great miracle, so that we can

build an altar to you?

121
---
About the texts and illustrations

The text by Brother Tharcisio Horsten is a slightly abbreviated chapter

from his history De Fraters van Tilburg (The Brothers of Tilburg), 1844–

1944 (Tilburg, 1946–1952), part 3, pp. 50–59. The other texts are handwritten

texts from the archives of the Brother Andreas Bureau, at

Gasthuisring in Tilburg. The file numbers are 10.2.5 (Victor Zwijsen),

10.3.4 (Paschasius van Loon), 10.3.5 (Modestus Spierings), 10.3.17

(Maximino Arts) and 12.8 (Amatus Hosemans) respectively. The text

by Brother Amatus is supplemented with excerpts from the chronicles

of Ruwenberg (1852–1887 and 1901–1902, five typed notebooks), which

is in the Ruwenberg section of the Brother Archives in Tilburg.

The purpose of this publication is to introduce Brother Andreas and

the sources about his life to a wider public. It is not the intention to

give a full and critical account of these sources. Some of the texts have

been slightly modified where they might have been ambiguous and

lead to misunderstanding. Spelling and punctuation has been mo -

dernised. Subheadings have been added to the texts to make them

more accessible, which meant that some of the original paragraphs

had to be changed. To prevent duplication, the texts of the Brothers

Modestus, Tharcisio and Amatus were slightly abbreviated.

123
---
124

List of illustrations

Cover drawing: portrait of Brother Andreas by Brother Vincenzo de

Kok (1911–1997)

p. 2 Brother Andreas by Carl Itschert (1876–1936), oil painting from

photograph, 1921

p. 6 The box bed in which Brother Andreas was born

p 10 Brother Andreas on an old school photograph, 1879

p. 12 Four devotional pictures of Brother Andreas

p. 18 The house in Udenhout where Brother Andreas was born

p. 20 The interior of the parental house of Brother Andreas and

Brother Andreas with his family, 1906

p. 22 An aerial photograph of Ruwenberg, c. 1950

p. 22 The façade of Ruwenberg in c. 1900

p. 24 The dormitory at Ruwenberg

p. 24 The dining hall at Ruwenberg

p. 26 The schoolyard at Ruwenberg, with Brother Andreas on the

right

p. 32 The mother house of the brothers in Tilburg. Drawing from

1894

p. 34 Brother Andreas's cell in the De Heuvel community

p. 36 Brother Andreas on a school photograph

p. 38 Father Victor Zwijsen

p. 44 Group photograph of the student priests with Brother Andreas

and Rector Zweers

p. 48 Group photograph with twenty-two of the twenty-eight priests

who had to leave the congregation in 1916. Many had been

taught by Brother Andreas. Father Victor Zwijsen is the fourth

from the left on the first row.

p.50 The schoolyard at Ruwenberg, with Brother Andreas on the

right

p. 52 Brother Modestus Spierings (left on the first row next to

Brother Andreas) on a group photograph of the De Heuvel

brother community in c. 1916–1917

p. 60 The farm in Biezenmortel where Brother Andreas grew up

p. 64 Brother Paschasius van Loon

p. 70 The chapel in Ruwenberg

p. 74 Brother Maximino Arts

p. 86 Brother Andreas's handwriting, initially with his right hand

and later with his left hand. A text about a brotherly reprimand.

p. 88 Brother Tharcisio Horsten in Manado

p. 94 Brother Andreas's grave with a rose bush in flower in c. 1930

p. 100 A prayer to Brother Andreas around a sick bed, photograph c.

1950

p. 102 A meeting of the Diocesan investigation, 1946

p. 104 Group photograph of the student at Ruwenberg in 1907

p. 106 Brother Amatus Hosemans

p. 114 Brother Andreas and Brother Amatus during the Jubilee of

Ruwenberg in 1902

p. 120 Procession during the translatio in 1968, when Brother Andreas's

grave was moved from the garden to the chapel of the mother

house of the brothers in Tilburg

p. 122 The occasion was also used to inspect the mortal remains before

returning them to a sealed coffin

125
---
126

Publications about Brother Andreas

Several biographies have been written about Brother Andreas, the

most recent being in Dutch: Frater Andreas van den Boer (Andreas Bureau,

Tilburg 1998, 238 p.), written by Brothers Ben Westerburger and Toon

Wouters. The book can now only be found second-hand and describes

the life and experiences of Brother Andreas in an accessible way. It also

contains an important list of sources and draws on many well-known

as well as unknown accounts by fellow brothers, students, family

members and acquaintances. There are two English books. The life of

Frater Andreas van den Boer. Positio super virtutibus (Roma 1993, 1011 p.),

written by Ben Westenburger and offering a very comprehensive do -

cumentation. A slightly older English-language biography is Brother

Andreas van den Boer cmm. The mercy brother without frills. (Mosocho Kenya,

1991, 133 p.), written by Brother Anthony Koning. But both English

books are difficult to be found, which is the reason of this new publication

in English. Apart from English, there are still publications in

Indonesian and in German: Seorang Frater cmm yang sederhana berbelaskasih

dan kudus (Seri Spiritualitas cmm, Yafa Indonesia, 1996) in Bahasa

Indonesia by Brother Pieter Jan van Lierop, and Frater M. Andreas von

Tilburg. Ein Lebensbild (Tilburg 1922), 286 p., by Father Theophorus Max

scj, the first extensive biography which was very influential and had

several editions.

Nice pictures and objects from his life can also be seen at the exhibition

about the history of the cmm Brothers in the generalate

of the brothers in Tilburg. The exhibition was prepared by Brother

Caesarius Mommers and Carine van Vugt in 1994. Finally, there is the

Brother Andreas website (fraterandreas.nl), which was created by

Charles van Leeuwen and Paul Simons in 2006 at the request of the

brothers.

Much has also been written about the history of the Brothers cmm.

The main publications in English are by brother Anthony Koning, In a

Worldwide Brotherhood inspired by Mercy. The Brothers cmm 1844-2002 (Tilburg

2004, 228 p.) and by Joos van Vugt, Brothers at Work. A history of five Dutch

congregations of brothers and their activities in Catholic education, 1840-1970

(Nijmegen 1996, 126 p.).

For those interested in further reading in Dutch, there are still some

older books. First of all the bestseller Enigen uit velen. Fraters van Zwijsen

in 22 portretten, edited by Joep Eijkens (Tilburg 1994), which paints

a lively picture of the congregation, including a portrait of Brother

Andreas. An essential source is Frater Andreas. Een levensbeeld (Tilburg

1921), 76 p., by Brother Frumentius van Hulten, which is the first

biography with a classical and long-lasting portrayal of the 'holy

brother'. A partly fictitious life story, easy reading for a wider public,

is offered by Sister M. Emerentia OP, Geluk dat in stilte groeide. Een verhaal

van de levensopgang van een Brabantse jongen (Tilburg 1951, 155 p. Merito -

rious, but with not much new information is Frater Andreas. Kort bericht

over een man die geruisloos door het leven ging (Tilburg 1972, 52 p., by M. Van

Delft cssr. The special issue of the brothers' magazine Ontmoetingen 27

(September 1968) is very valuable, it opens up new perspectives from

many different authors and paints a modern picture within the framework

of the resourcing of the congregation's spirituality. The above

shows that people from different cultures and religious backgrounds

have contributed to the historiography of Brother Andreas.

127