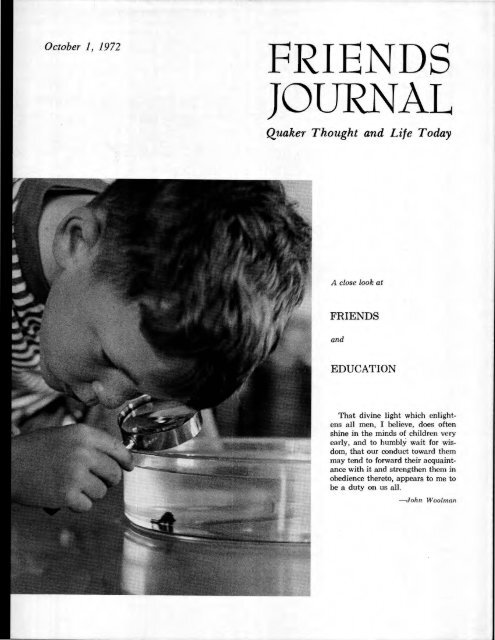 Quaker Thought and Life Today - Friends Journal
Quaker Thought and Life Today - Friends Journal
Quaker Thought and Life Today - Friends Journal
SHOW MORE
SHOW LESS
Create successful ePaper yourself
Turn your PDF publications into a flip-book with our unique Google optimized e-Paper software.
October 1, 1972

Quaker Thought and Life Today

A close look at

FRIENDS

and

EDUCATION

That divine light which enlightens

a ll men, I believe, does often

shine in the minds of children very

early, and to humbly wait for wisdom,

that our conduct toward them

may tend to forward their acquaintance

with it and strengthen them in

obedience thereto, appears to me to

be a duty on us all.

--John Woolman
---
FRIENDS

JOURNAL

October 1, 1972

Volume 18, Number 16

Friends Journal is published the first and fifteenth of each month

(except in June, July, and August, when it is published monthly)

by Friends Publishing Corporation at 1 52-A North Fifteenth Street,

Philadelphia 19102 Telephone: (215) 564-4779. (Temporary

office address: 112 South Sixteenth Street, Philadelphia 19102)

Friends Journal was established in 1955 as the successor to The

Friend (1827-1955) and Friends Intelligencer (1844-1955).

JAMES D. LENHART, Editor

JOYCE ROLLE ENNIS, Managing Editor

NINA 1. SULLIVAN, Circulation Manager

PAULINE G. MCGEE, MARGUEIUTE L. HORLANDER, and

LoiS F. ONEAL, Office Staff

BOARD OF MANAGERS : Daniel D. Test, Jr., Chairman, Richard P.

Moses, Treasurer, Mildred Binns Young, Secretary

1970-1973: Laura Lou Brookman, Helen Buckler,

Mary Roberts Calhoun, Richard J. Crohn, A. Alexander Morisey,

Eleanor Stabler Clarke, Opal Gooden,

Francis Hortenstine, William B. Kriebel, Walter H. Parlymiller.

1971-1974: Carol P. Brainerd, Miriam E. Brown,

William Hubben, Maraaret B. Richie, Daniel D. Test, Jr.,

Eleanor B. Webb, Elizabeth Wells, Mildred Binns Youna.

1972-1975: Paul Blanshard, Jr., Walter Kahoe,

Richard P. Moses, Ada C. Rose, James B. Shuman,

Eileen B. Warina, Gordon D. WhitcrafL

CONTIUBUTINO EDITORS: Frances Williams Browin, William Hubben,

Richard R. Wood

Subscription: United States, possessions: one year $6, two yean

$11, three years $15. Foreian countries (includina Canada and

Mexico) : one year $7, two years $13, three years $18. SinaJe

copies: 35 cents, unless otherwise noted. Sample copies are sent

on request.

Second class postage paid at Philadelphia, PennsylvaniL

Copyriaht C 1972 by Friends Publishing Corporation. Requests to

reprint excerpts of more than two hundred words should be

addressed to the editor.

Contents

Friends Schools for the Future-Douglas Heath 508

Education for Individuals-John Harkins ... . .... .... . . . . 510

Deschooling for Education-D. Neil Snarr . . . . . . ......... 5 12

Authentic Education- Thomas E. Jones . . . .... . . . . . .... 514

Living Education- Dick Hiler ...... . ........... . . . .. . . 515

Education With Value- Christopher H. Anderson .. . ...... 516

Financing Friends Schools-John F. Gummere .. . ... . .... 518

Letters to the Editor . . . . . . . . . . . . . . . . . . . . . . . . . . . . . . . . . 520

Reviews of Books ..... . . . . .. . . . ... . . . . ........ . ...... 521

Other Education Articles . . . . . . . . . . . . . . . . . . . . . . . . . . . . . . 522

A Primer on Peace Education . . . . . . . . . . . . . . . . . . . . . . . . . . 524

Coming Events and Announcements . . . . . . . . . . . . . . . . . . . . 535

THE YOUNG MAN ON THE COVER concentrates on one

thing just as this issue does and for the same purpose-to learn.

506

On the Growing Edge

Photograph by Linda Haines

HUNDREDS of persons heading for the New Jersey shore

one Saturday morning this past summer were reminded

of the realities of war and perhaps of peace by signs saying,

"The P.O.W.'s won't go home until the bombing

stops." The message was pedaled by 16 cyclists who left

Medford, N.J., Meeting, traveled almost 18 miles, camped

overnight and then put the signs back on their backs for

their-and the motorists'-trip home the next day. ·

A thousand miles away and out of the sight of all but a

few friends and relatives, a more dramatic protest against

the destruction and loss of life in Indochina was continuing

as 11 inmates of Danbury Prison maintained a

fast which they vowed to end only with death or peace in

Vietnam.

Six of the men are Vietnam veterans, and three are

conscientious objectors. Since they started fasting on

August 6, the 27th anniversary of the Hiroshima bombing,

they have been joined by others outside the prison, including

John Bach who spoke at Friends General Conference

in June.

The message of the Danbury Eleven, directed to the

American people, is "Take back your power, exert your

voice, direct your affairs. This is your country. Take

charge and direct it. Don't permit this war, which you

have often rejected, to continue."

Someone who had visited the men said they hoped to

jar Americans out of their complacency as Martin Luther

King had done a decade earlier and as Gandhi had done

in India. And the mother of one of the prisoners said her

son "has now found a great purpose in life." As the

Journal went to press the fast was continuing and so was

the war. While the men were saying "Don't let this war

continue," President Nixon was vowing to maintain the

all-out bombing of North Vietnam. Amid all this, the

Pentagon released the latest body counts of military dead:

53,035 Americans, 165,268 South Vietnamese and

859,641 National Liberation Front and North Vietnamese.

Presumably the Danbury Eleven, if need be, wiiJ go into

a different category.

October J, 1972 FRI ENDS JOURNAL
---
The First Word

More Questions

Than Answers

FRIENDS EDUCATION shares the predicaments that characterize

our age. Long ago we gave up many of the strategies

securing our "guarded education." The enormous traffic

in knowledge and information as well as the mounting

emotional disorientation surrounding us everywhere demanded

that we rethink our educational philosophy. These

changes in contemporary life likewise affected our religious

thinking, as we somewhat surprisingly found ourselves

facing demands for a new interpretation of our

Quaker tenets from children, students and teachers. We

tried, not always successfully, to encourage an open exchange

of opinions in response to these new and challenging

queries. Together with the problem of defining

our personal identities ("Who, or what am I?" "What, or

who, should I be?") has arisen the search for our Society's

evolving identity. Our teachings have never

claimed to be an abstract deposit of faith; our way of

life is an inseparable part of Quakerism. It has become

obvious that the former clear-cut proposition of adult

maturity being ranged against the trusting and unknowing

minds of the young is no longer realistic. Now the generations

are tied together not only in their search for truth

but also in the mutual awareness of their insecurity.

This kind of fellowship does not need to do away with

the position of authority based upon experience and

mature guidance. Nevertheless, the hallmark of our age

is a pervasive insecurity immobilizing our best energies.

Education has failed those who are still "at ease in Zion"

and feel comfortably safe. We may even sympathize with

today's puzzling remark that "only he who is completely

confused might yet hope to understand our time." Fortunately,

there is among Friends a tradition of mutual

confidence and cautious judgment on which we can and

must draw.

Those among our young whose vagrant energies continue

to disturb themselves and others do not speak for

our entire youth. But their revolt has disclosed cracks

in the walls of our educational structure that also are

clearly visible in our homes, our classrooms, and in the

relationship among teachers, parents, and administrators.

Clearly, then, Friends testimonies are encountering conflicts

of extreme urgency. Our time's Babylonian style of

living is testing youth with intrepidly vulgar temptations.

It is no longer easy to be young-if it ever was. Youth

is the time when we want to be "different." Where are

the models to choose from? What testimonies do the confused

adults display that are to be emulated? Faith is the

ultimate orientation of man's entire existence in God.

FRIENDS JOURNAL October I, 1972

How does it manifest itself? Can any religious group ever

be the repository of faith? Or can only the members themselves

witness to their individual faith in a troubled communion

with the infinite?

In our preparatory schools we are now reading Freud

(and should continue to do so). But are we equally exploring

the superconscious mind? Are we preparing ourselves

and the young for the weightier human totality that

our age demands of us? Where are we to start? What is

there to do when we attempt to make our time the seventh

day of creation, as St. Augustine demanded of man centuries

ago? "What then shall we do?" was perhaps the

most contemporary question the apostles asked of Jesus.

It is a poor excuse to say that there are too many frontiers

to conquer. Limiting ourselves may yet be our strength if

we listen to the voice within.

We must realize that many of the young nowadays

refuse to spend the first half of their lives in the fear of

life itself. Are we to reject them as reckless, immoral, unprincipled,

or outright queer at the time when they may

need us most? Or are we living, searching, and worshiping

with them in honesty as long as they are with us? Are we

attempting to appreciate their urge to experience a new

type of community and dedication beyond what we ourselves

have ever known? Have we become too timid to

defend some of the treasures of our fathers so that they

will not rush away in a moment of crisis like the young

man in the gospel of Mark who remained faceless for all

times?

There are, indeed, more questions than answers. Perhaps

we formerly had so many answers ready that we left

no room for questions. Perhaps now it is the questions,

big and little, that provide at least a tentative link with the

young. And perhaps it is in the asking and searching for

answers together that we may share a glimpse of the

ultimate Truth.

WILLIAM HUBBEN

Departures

DAVID PERRY, editorial assistant on the Journal staff since

September, 1971, put a great deal of thought, time and

energy into stimulating, encouraging and gathering material

for this special issue on education. Somewhat ironically,

just as plans for the issue were beginning to jell,

David and his wife, Peggy, were offered and accepted

"perhaps the toughest field job" in American Friends

Service Committee, representatives in Saigon for the

Quang Ngai rehabilitation center. On August 30, the rest

of the staff stopped work on the education issue long

enough to wish David and Peggy well as they left for what

will undoubtedly be the most educational experience of

their young lives.

507
---
pacificism, racial justice, and sexual equality. Friends

should feel ·thoroughly at home with the basic values of

increasing numbers of young people. In fact, many young

people are out in front of us.

Finally, Friends have been committed to the equal

worth of each person, to mutuality of respect, to participatory

democracy, to consensual decisionmaking. So are

our young people. Like us in our own business meetings,

they too have difficulty fulfilling the promise of their own

values. But there is a clear emerging similarity in our

assumptions about what our relationships with each other

should be.

I do not suggest the Friends way of life is synonymous

with the lifestyle of many of today's young people. It isn't.

Not just in manifest form but also in terms of our religious

assumptions and tradition. There are differences.

But our tradition could provide the experiential, nonauthoritarian,

religious rootedness for many of today's

youth if we but learned how to live that tradition more

radically in our lives and schools.

My third conviction about Friends schools is that they

should offer a religiously and not secularly based education.

I find Friends understanding of religious experience

to be thoroughly compatible with the principal purpose of

education. In contrast to other types of religious groups,

Friends do not need to sacrifice educational integrity for

some narrow religious commitment. Why? Because Friends

have always sought to discover the Truth. Friends are not

constricted in their searching by preformed and prescribed

doctrines and dogmas. They are free to follow the leadings

of the Inward Word. Quakers have no fear of freed

inquiry or that science will undermine their "theory of

evolution," "virgin birth," or the "trinity."

Friends value experiencing the Word now; hence,

Friends emphasize the process of searching and living in

the Truth, not in believing that they have found some

final, irrefutable answer to their lives.

The principal reason, then, why a Friends education

should be a deeply religious one is because our purpose as

educators is to help a youth become more open to the

truth. In Humanizing Schools: New Directions, New Decisions,

I have phrased our goal in more prosaic language

to be the furtherance of a youth's educability by encouraging

his maturity. For an educable person is a person

open to new experience, new truths. An educable person

is one who desires to and does search out new information

and experience. An educable person has mastered

the skills involved in the process of educating himself.

An educable person, in summary, is willing to risk the

pain of being vulnerable to new growth and transformation.

But when are we most vulnerable, most open to new

insight and growth? We are vulnerable when we are

children, before the world has closed us in, out of fear

and pain and hurt. Yet, as Jesus said, we must become

like little children again if we are to enter the Kingdomof

true knowledge. We also are very vulnerable when we

are in love. This is why the relationships among all members

of a Friends school should be based on deep caring

and mutual respect. No one grows in a Friends school if

FRIENDS JOURNAL October I, 1972

(Continued on page 526)

Freedom is natural at Germantown Friends

509
---
opportunities for students to know themselves. Where

field studies are carried on, the regimenting effects of

departmentalism (subject-centered idiom and structure)

can be overcome and a wholistic stimulation provided

learners. This properly supervised extension of the curriculum

in language, the sciences and intercultural relations

have proved fruitful in the colleges I have been

privileged to study. Danger of triviality and over-busyness

in this "horizontal outreach" can be avoided by holding

strictly to the college purpose of liberal rather than vocational

learning. In thus extending the curriculum it is

obvious that private colleges cannot compete with tax

supported institutions, but they can make education

meaningful and relevant. Both students and money can

be attracted to such institutions.

The Creation

I BELIEVE that God did create the universe, and air, water,

etc. But I also believe that he used the process of evolution

to do it.

I prefer not to think that the human race, and the entire

world even, were developed as an accident. I feel also,

on the other hand, that the story that is told about it in the

Bible is very farfetched.

Actually, we can't really be sure if there even was a beginning

of the earth. After all, time never had a beginning

(I believe); God never had a beginning; and many people

believe that the universe never had a beginning.

Many people believe that we descended from apelike

creatures; but what I ask is where did the apelike creatures

come from? All right, so people tell me they came

from lesser creatures. But I could just . keep on asking

where things came from and pretty soon that person (or

people) would probably run out of answers. What I'm

trying to stress here is that life doesn't just happen by

itself, so somewhere along the line God must have created

that first tiny little amoeba (or whatever) that started the

chain of evolution. Unless, of course, life has always been;

and therefore there would have been no real creation.

Randal Southworth

Religion 9 C 1971-72 Term

Moorestown Friends School

Thinking

Thinking is wondering,

Wondering what will happen

in the days to come.

Thinking is wondering,

Wondering what has happened

in the days that have gone

and passed.

Thinking is wondering

About today and tomorrow.

Thinking is wondering, wondering,

Wondering.

Stephanie Jones, Grade 4,

The Friends School,

Haverford, Pennsylvania

FRIENDS JOURNAL October 1, 1972

Living Education

by Dick Hiler

THE MOST IMPERATIVE need in public secondary education

is to create learning environments in which teenagers

can learn to love and respect themselves and develop a

faith and confidence in their abilities and potentialities.

Today, even those who "succeed" in school graduate

feeling that they are stupid, or at best far more limited

than they really are. They have learned not to trust their

own judgment but to seek answers from some "authority,"

which might be a teacher, parent, book or someone defined

as an expert. What Friends speak of as their "Inner

Light" is still present, but young people within themselves

can no longer trust its guidance. If this is true of our

bright students, how much more is it true of those for

whom school is one failure after another!

Why such a dismal record? Because in what we term

the "main business" of school there are few experiences

which help SJtudents come to respect themselves. There is

no structure that enables them to participate in a real way

in important decisions affecting their education. There are

very few opportunities for students to do something which

they feel is truly important. The only challenge for most

is in beating the system, so they find their adventures in

the forbidden or illegal categories, rather than in the

growth of their own mind and personality.

How do we change this situation? By helping young

people take over responsibility for their own lives, by

making them agents of their own learning, by providing

experiences that are relevant to their needs as individuals.

Actually all it really takes to start the process of change

is one administrator or teacher with the determination

to begin, the knowledge of what to do and how to do it,

and the dedication to see it through. Then, despite all the

difficulties and obstacles, both real and imagined, important

change will begin to occur, students will be given

and will assume real responsibility, and valid, relevant

learning experiences will take place.

Perhaps the most remarkable example of how education

can produce confidence and self-assurance came out

of an experience I had in 1969-70 when 15 young people

with no building experience, plus three staff members,

constructed their own school of ten Yurts (a round,

wooden structure adapted from a Mongolian design). lt

took eight weeks and cost $3,500. It was a hard, often

frustrating, job with many physical discomforts, but the

goal was achieved. With it came a sense of accomplishment

few young people ever experience.

More recently, I have seen similar results through the

Parkway Program, a public, experimental high school in

Philadelphia. Students have spent a quarter on a farm in

West Virginia putting in a garden, building living quarters

and learning about Appalachia. Others built a Yurt in a

Dick Hiler is in his second year as teacher with Philadelphia's

Parkway Program. His backgrou11d also i11cludes teach ing experience

in Ohio and eight years with the American Friends

Service Committee's high school program.

515
---
who are sympathetic to Friends principles and who wish to

have their children exposed to the same.

There is, however, a wide gap between Quaker theory

and Quaker practice when applied to Friends educational

institutions. If the purpose of Quakerism is indeed to "revive

primitive Christianity," that is, to be a living witness

in the Christian community for the need to recover the

vitality and the dynamism of the early Christians and to

help establish the Kingdom here on earth, then Quaker

schools should become vital training grounds for radical

social change.

Unfortunately, however, Quaker secondary schools and

colleges are rarely, if ever, such exciting centers for learning.

On the contrary, Quaker secondary schools especially

tend to exude a highly academic, college-preparatory atmosphere

designed to instruct a socially elite minority. In

many instances these schools are so outrageously priced

that they are far beyond the financial reach of most

Friends.

Friends secondary schools and colleges which limit

themselves to preparing a select minority to fulfill traditional

social roles are actually exploiting the name of

Friends, as they are not truly functioning as the religiously

oriented centers for human growth that they should be.

Let me elaborate on precisely what is a "dynamic training

ground for radical social change." As I have stated

earlier, Quaker schools should act as alternatives to the

public educational system. Their purpose should be to provide

in the context of a learning environment, a thoroughly

human community atmosphere which surrounds

the individual student with a sense of belonging and an

awareness of the love of others in the community for

him/ her and of the concern for his/ her welfare. Friends

schools should not have as a primary concern the maintenance

of competitive academic standards. This is not to

imply that academics should be disregarded but that

"academic excellence" in the traditional sense should

never be the principal goal of a Quaker school. The

rigorous academic standards of many Quaker secondary

schools and some colleges indicate a subservience to the

established norms of our society and a willingness to uphold

an anachronistic educational status quo! Who is to

say that our society is correct in its conception of education?

It appears to me that a society as corrupt as ours

must also reflect distorted educational standards.

So, Friends should not be thwarted in their efforts to

run schools that are beyond the often perverse norms of

American society. As radical alternatives, Friends schools

should strive to be highly innovative in their approach to

education. Above all, they should earnestly endeavor to

eliminate all obstacles to learning and to human growth.

Friends should be at the vanguard of eliminating the grading

system, for example.

Without a doubt, this is the greatest obstacle to learning

that faces students today. The ethic behind "measuring"

academic achievement is a competitive one and as

such is an unforgivable denial of the Quaker concept that

all men are equals. Rather than encouraging students to

seek knowledge for their personal edification, grades foster

a selfish attitude among students-a materialistic desire to

FRIENDS JOURNAL October I, 1972

gain self-esteem and to outdo their peers. Grades often pit

student against student in a ruthless "game" that is thoroughly

unchristian in its lack of cooperation and love.

Furthermore, grades produce an undesirable separation

between instructor and student. As long as the student

lives in fear of the power of the teacher to grade him/ her

the type of healthy interaction that should exist in the

classroom is impossible.

Many argue that the world is a competitive place and

that students should not be guarded from the realities of

life. The world is indeed competitive-a great tragedy at

that! Competition is responsible for many, if not most, of

our present day ills. It is largely because man has been

too busy competing with his fellow man, rather than cooperating,

that we find our present world to be in a state

of chaos. Competition is clearly not in the spirit of Christ

who ministered to all men and who bade men to live in

harmony and peace. A very significant and urgent step in

making Friends schools training grounds for radical social

change would be to discard the grading system altogether.

I do not mean to "revise" this deplorable inequity but to

totally discard it! This would be getting at the roots of the

most detrimental aspect of our schools. Friends have in

the past been innovators. They were, for example, the first

real group in America to disavow slavery. It would be

very much in that admirable tradition of Friends to eliminate

in their schools that academic form of slavery known

as "grades."

It therefore follows that all academic "honors" and distinctions

which set one individual above another should

also be discarded. Friends colleges, for example, should

discontinue the use of such elitist practices as the "Dean's

List."

If Friends are truly interested in establishing a world

of harmony, they must eventually come to the realization

that the international balance of power that they seek in

the political realm also applies to their own educational

institutions. Just as the United States has no right to control

the destinies of countless millions of people throughout

the world, neither do a handful of Quaker (or non­

Quaker) administrators have a right to a similar authority

over their students. We Americans are slowly learning that

national and international understanding entails mutual

cooperation and equal involvement (yes, power) in decisionmaking.

Increasingly, students are discontent with

our present educational system in which the individual student

is little more than a pawn in the hands of an allpowerful

administration and faculty. Students are no

longer content to pay enormous tuitions in turn for being

"graded" and having no say in the decisions which affect

their academic lives.

Friends schools can be transformed from "institutions"

into radical training grounds for social change. Given an

opportunity to live in and contribute to a truly caring community

in which every individual is cherished for his/ her

individuality, students in Friends schools cannot help but

be radically affected-in a very positive sense! It is such

individuals who will help to bring about the peaceable

revolution that Friends are striving for.

517
---
Financing Friends Schools

by John F . Gum.m.ere

LET us be realistic: Friends schools are good schools.

We who are close to them are well aware of shortcomings,

and we constantly try to improve; that is as it should be.

But the truth is that people from every walk of life and

religious denomination turn to Friends for education because

they believe in what we stand for. We have a very

strong moral obligation to keep on doing our 1evel best.

We do wish we were as good as some think we are. But

there is a desperate need for schools free to teach and

plan as they think wisest to provide the education that

so many want.

It is obvious that all educational institutions, regardless

of size, type, or location, need financial support. Although

many Friends schools have not experienced economic

pressures as soon or as severe as other private schools,

those pressures now are becoming quite serious. As the

cost of everything has increased steadily, schools have

been forced to raise tuition to the point where there is a

clear and present danger that some will price themselves

out of existence. We have a moral obligation to the Society

of Friends and to society in general, to prevent this

from happening by keeping our schools strong. To do this,

we must support them.

It is the school committee which. has the primary responsibility

for finances. Anyone who becomes a member

of such a committee must assume the burden of giving

generously or securing contributions, or both. The committee

member has to set the example.

Since money is hard 1o come by, the committee must

work with the administration (which naturally must devote

most of its time to running ,the school) to find

capable help for fundraising. Someone must head this

work, be it a specialist hired for the purpose, a parent, or

a graduate. The fundraiser has to keep after the committee

members, and they in turn must keep after each

other so that assigned prospects, potential donors, interested

alumni, parents of students-all are asked to help.

No avenue can be left unexplored. Annual giving should

be vigorously promoted. Special projects often appeal to

individuals, and a choice should be offered. Visible and

practical improvements can be pointed to, and the operating

budget can be relieved of their cost.

A businesslike report of the operations of the school

must be furnished. Businessmen are used to scanning

balance sheets. We can show that we waste no money on

useless items; that we are frugal as well as careful; that

we have low overhead and no jobs where papers are

shufiled or useless statistics compiled; and that we devote

a very high percentage of income to people.

Committees must know all helpful financing methods.

For instance, how many schools send bills in August and

John Gummere, while serving 30 years as secretary of Haverford

College Corporation and 17 years as Haverford Friends

School Committee chairman, produced more than $5,000,000 for

Penn Charter School during 27 years as headmaster.

518

list the year's full amount? Many families will pay such

bills all at once, with obvious advantages. All should pay

at least 60 percent by opening day and the rest in January.

How much expert advice does the committee have on

managing all the areas of fundraising? What studies have

been made of long-term needs and prospects for a capitalfund

campaign?

Any consideration of finances requires examination of

internal management efficiency. For example, is deferred

maintenance-that fiend that doubles costs-in evidence?

Which committee members are concerned with continuous

inspection and assistance in ·property problems?

We all know that school committee members are interested

in a great many other things besides money. But it

is money that makes the mare go, money that in all our

schools is a major concern, money that remains the key

to survival, and therefore money that is the committee's

major responsibility. But not the committee's alone.

Monthly Meetings will have to make substantial increases

in their appropriations for their schools. If they

believe in them and in Quaker education, then their duty

is perfectly clear: prove it. We have responsibilities to

others besides ourselves, too, for others look to us, regard

us as a solid segment of independent education, depend

on us to set examples. I know from my travels and contacts

as head of three national organizations of independent

schools and administrators how true this is.

As to our reputation, we may say, "Let us forget this

praise and continue to deserve it." But we cannot forget

the obligations which rest upon us; we cannot let our

schools down.

Directly, it all comes back to the committee. There is

room no longer for figureheads as members. A determined

committee will find a way. Indirectly, it all comes back

to Friends themselves and the depth of their commitment

to education as an integral part of the Quaker experience.

October I, 1972 FRIENDS JOURNAL
---
Reviews of Books

American Nonpublic Schools. Patterns

of diversity. By OTTO F. KRAUSHAAR.

The Johns Hopkins Press. 362 pages.

$10

OTTO KRAUSHAAR sketches the historical

settings under which the 18,000 private

schools in America developed and describes

their various educational goals

and philosophies, financial conditions,

and readiness for change.

This volume is wide ranging and

complete in its study of the varying

emphases of different religious groups,

but of special interest is the history and

analysis of Friends Schools. "The

Quaker mystique with its blend of religious

innerness, worldwide social

service, pacifism and shrewd business entrepreneurship

defies expert characterization,"

the author states, "but as John

Harden says in his Protestant Churches

in America, the Society of Friends has

exerted an influence on American

The

Unspoiled

Resort

MoMnk

MOUNTAIN HOUSE

Temperature inversions are our joy

and delight. With cold air sliding

right down the side of our mountain,

we are spared frost until late

October. For you that means unrivaled

autumn coloring in the

woods while the gardens blossom

brilliantly. No need to mention

outdoor sports, food, amenities;

after 100 years you know they're

here.

Call (212) 233-2244 or write:

MOHONK MOUNTAIN HOUSE

90 mil••ltom N . Y.C., NYS Tltt .. way Eeit II

LAKE MOHONK • NEW PALTZ, N.Y. 12561

FRIENDS JOURNAL October 1, 1972

thought all out of proportion to its

numbers."

But the book also points out that the

very tolerance and broad ecumenism of

Friends Schools are the source of some

of their current problems. Indeed, if

preparation for life in a secular community

is substituted for preparation to

participate in a religious community attempting

to live by higher standards

than exist in the world around it, then

the main reason for Friends Schools

may have ceased to exist.

In discussing the future of church

schools, Kraushaar is not particularly

worried about the alleged decline of religious

awareness in contemporary society.

In fact, he sees evidence of growing

religious awareness. The major

problem of Quakers, as of all church

schools, is to be amenable to the overdue

changes in contemporary education,

to adopt new curricula and to change

the teacher from classroom authority to

stimulator, catalyst, and guide of student

learning.

EVERETT L. HUNT

Swarthmore, Pa.

Education and the Rise of the Corporate

State. By JoEL H. SPRING. Beacon Press.

206 pages. $7.95

THE FACT that Ivan Illich concludes his

foreword to this incisive history of

American education by stating that the

book "could soon become standard

reading not just in educational but also

in economic, political and cultural

history" perhaps says more about the

book's fundamental message than could

any lengthy review.

Spring's message, from beginning to

end, is that American schools have

produced "men and women who conformed

to the needs and expectations

of a corporate and technocratic world."

Between that quote from the body's

opening paragraph and Spring's conclusion

that " . .. the continued use of

concepts of socialization in the schools

takes on a nightmarish quality" the

reader will follow the shaping of education

by paternalistic companies after

the Civil War through the emergence

of the corporate society to where we

find ourselves today. According to

Spring, we have reached the point where

the only way to avoid the nightmare of

tomorrow's technocratic world is by

"ending the power of the school."

Those concerned about freedom, individual

lifestyles and indeed, the "education

of the whole child" in today's

society wi ll find traveling through the

history of education with Spring a jarring

but valuable experience. Unfortuately,

the trip ends right where we are

today, without any suggestions about

how to go about "ending the power of

the schools." J. D. L.

Leading a Double Life. By DONALD

CouRT. Friends Home Service Committee,

London. 22 pages.

DONALD COURT, a member of Newcastie-upon-Tyne

Meeting, a university

instructor, and a pediatrician, knows

whereof he speaks. The style of writing

-never insistent, always aware--encourages

the reader to "respond instead

of react," as the author puts it.

He considers the question, "What quality

of private living is needed for effective

public service?" He does not shy

away from false modesty from personal

experiences. He broadens and universalizes

them, allowing them to come

home to roost where they will.

BESS LANE

Friendsville Academy

A Friends Secondary School

• A coeducational Friends Boarding

School, grades 7-12. Established

1857. State accredited, general

and college preparatory curriculum.

Limited enrollment.

• A small school community that

emphasizes personal responsibility

and family sensitivity.

• A total program designed to give

youth new opportunities to overcome

limitations to personal,

social, educational growth.

• A curriculum guided by the

Quaker concept that learning is

life itself, with special projects

and off-campus involvement.

• Stressing individual growth and

realization of a personal freedom

that acknowledges and accepts

logical limits, self-control, and

personal responsibility.

FRIENDSVILLE ACADEMY

College Street

Friendsville, Tennessee 37737

521
---
Young pupils at Friends Select experiment with learning materials.

Reach Exceeds Gr-p be if we were meeting our ideals!). We

ROBERT L. SMITH, headmaster at Sidwell

Friends School, when asked what

makes Sidwell a Friends school said:

"In summation, we feel the principles

of the Society of Friends are eminently

important in the life of the school.

Insofar as principles are also ideals, we

acknowledge freely many shortcomings.

We are fortunate that our reach exceeds

our grasp (how dull things would

will continue, through a period of unusual

difficulty for all our schools, their

staffs, and their boards, to work bard

guided by the extraordinarily fruitful,

stimulating and growth-producing principles

of Friends as they relate to the

life of the School. I am continually

struck by the creative way in which

Friends ideas feed and sustain good

education."

Light Within Forma

Base for Education

ELEANOR STABLER CLARKE, while speaking

at Swarthmore College's 1972 commencement

exercises where she received

an honorary degree, captured

the essence of the relationship between

Quakerism and education when she

said: "The Quaker belief in the light

within, that of God in everyone, is the

basis for our social testimonies. It is

also the basis for our interest in education.

The emphasis on the dignity and

worth of the individual means at

Swarthmore a concern for the development

of the potential of every young

person who is a student at the college.

Liberal education at its best has a similar

goal for students."

Buckingham Friends Meeting

ANNUAL FAIR

October 7, 1972. 1 0 a.m.-3:30 p .m.

Games for children. Pony rides.

ART EXHIBIT

Quilts and home sewing. Home baking,

jellies, candy. Treasure and trash.

Flowers, plants. Miscellaneous small

items. Used books.

Sandwiches and snacks.

YOU WILL HAVE A GOOD TIME!

BUCKINGHAM MEETING GROUNDS

Lahaska, Pennsylvania, on Route 202

Receive 6% or 6}2% Interest

on Savings while you help

further Friends education

By investing your savings in Friends

Select School debentures, you can

help reduce interest the School is currently

paying on building construction

loans and provide additional funds for

educational purposes. Debentures

which mature in 1980 return 6% interest.

Debentures which mature in

1990 return 6112% interest. Interest is

paid semi-annually on April 15 and

October 15. Debentures are available

for as little as $100. For further information,

return this coupon with your

name and address or call James

Weaver at (215) 561-5900.

F'RIENDS JOURNAL October I , 1972

Office of Treasurer

Friends Select School

The Parkway at Seventeenth Street

Philadelphia, Pennsylvania 19103

Please send me further information on debentures.

NAME

ADDRESS

CITY STATE ZIP CODE

523
---
BUY ANY BOOK

IN PRINT

Visit or Can

FRIENDS BOOK STORE

302 ARCH ST.

PHILADELPHIA 19106

Telephone: MA 7-3576

Hours: Weekdays 9-5;

Saturdays, 10-4

FRIENDS'

CENTRAL SCHOOL

OVERBROOK, PHILADELPHIA 19151

A Coeducational Country

Day School

Five-year kindergarten through 12th

Grade; College Preparatory Curriculum

Founded in 1845 by the Society of

Friends, our school continues to emphasize

integrity, freedom, simplicity

in education through concern for

the individual student.

THOMAS A. WOOD

Headmaster

524

A Primer on

Peace Education

by Nonnan H- Wilson

THIS PRIMER shows how teachers and

kids can focus learning on the roots of

violence and possible roots of peace.

Let's begin this primer with several assumptions

: 1. Schools cannot resolve

either domestic violence or international

conflict. 2. They can, however, educate

both students and teachers to inquire

into the nature and roots of violence.

3. They can help students consciously

confront conflict. 4. Students

can form models of a nonviolent society

and a disarmed world and thus

study alternative solutions to current

crises. Further, schools can help students

appreciate the traditions within

our own and other cultures that are

based on conciliation as well as conflict.

Various cultures demonstrate that managing

conflict without overt violence

or consuming hatred is important-even

crucial-in the learning process.

These learnings are crucial for our

culture because the results of past failures

to learn how to manage conflict

are all around us. Violence and war are

everyday occurrences on the six o'clock

LOOKING FOR A NO-LOAD MUTUAL FUND

WITH SOCIAL CRITERIA?

THE PAX WORLD FUND, INC.

-A diversified fund whose financial

objective is the conservation of principal

and income and, secondarily, possible

long-term growth.

- There is no sales charge, underwriting

discount, or other commission.

-Minimum initial investment is $ 1,000.

(Net asset va lue and offering price as

- The Fund endeavors through its in- of January 1 8, 1972 is $1 0.36.) Sevestment

objectives to make a con- curities are available for sale in New

tribution to world peace by investing York, California, Massachusetts, DeJain

securities of companies whose busi- ware, District of Columbia, Pennsylness

is essentially directed toward non- vania, Illinois, Maryland, New Jersey,

milita ry activities. and Washington .

This announcement is neither an offer to sell nor a solicitation of an offer to buy these securities.

The offer is made on ly by the prospectus.

To : PAX WORLD FUND, INC.

224 State Street, Portsmouth, New Hampshire 03801

Gentlemen: Please send me a free prospectus of the Pax World Fund, Inc.

Name _____________________________ _

Address. ___________________________________________________ __

City _________________ State __________ Zip ___________ _

news. The draft has brought home moral

dilemmas to millions of families.

Crime and drugs, defense contracts and

economic conversion are life and death

matters for thousands of large and

small communities. Yet, for all the excitement

of this period in history, thousands

of young people are turning offand

turning into future-shocked wanderers.

Against this looming background of

need, it seems obvious that every faculty

member of every school has a potential

leadership role. Remember the

old slogan, "Every teacher a teacher

of reading."? So it is with peace education.

Every academic discipline can,

and ought to be, involved.

Art teachers can ask students to draw

their concepts of "war" and "peace,"

make collages on these themes, or contrast

paintings such as Guernica or war

photos by David Duncan with the 19th

century paintings of Napoleon or Washington

to help understand why men go

to war.

Literature teachers can reinforce

visual images and the moral questions

in war/ peace studies. A high school

teacher can include a unit on Thoreau

to supplement the American version of

the Mexican-American War. Questions

on conscientious objection and civil disobedience

can be discussed. Many

classes read Red Badge of Courage,

War and Peace, Gone With the Wind

for their literary qualities. Why not for

their relevance to contemporary social

issues?

Mathematics teachers can help students

grasp the trends and magnitude

of arms expenditures, foreign aid programs,

economic needs in our cities as

well as in developing countries. Data

on all these issues can be graphically

interpreted.

Physical education teachers can help

social science students understand the

three basic systems which influence our

learning: conflict, exchange, and integrative.

Research on "the conflict spiral,"

part of contemplated Thomas Y.

Crowell units on "Conflict and Change,"

can perhaps be best understood . through

direct experience on the athletic field.

Science and ecology studies interlock

with social studies and historical inquiry.

Charges of "ecocide" in Indochina

from American defoliation programs

need investigation. Current controversies

over atomic power plants

move into questions of military policies.

Obviously, peace education is not

only the province of social studies

teachers. Concerned colleagues, students,

and citizens are needed to initiate

October 1, 1972 FRIENDS JOURNAL
---
ROMANCE AND MARRIAGE

by David Gerstein

Glorifies the Biblical and Talmudic

ideals of Jove and explores the effects

on the family and marriage of current

sexual mores.

"As soon as man becomes only matter and

is reduced to mere animal existence,

namely a life without spirit, he is destined

to disappear . . .. The proper civilization

holds mind and matter in balance so that

the one will not overpower the other."

Price: $2.50 plus postage

Order from:

Palo Verde Publishing Co.,

609 N. 4th Ave., Tucson, AZ 85703

SANDY SPRING

FRIENDS SCHOOL

SANDY SPRING, MD. 20860

Coeducational, Grades 10-12

Boarding and Day

A uniquely diversified program designed

to demonstrate

• life itself as a religious experience;

• individual growth to its greatest potential;

• personal in volvement in today's

challenging environment;

• commitment to disciplined, servicecentered

living.

C. Thornton Brown, Jr.,

Headmaster

"LET YOUR LIVES SPEAK"

Counseling Service

Family Relations Committee

of Philadelphia Yearly Meeting

For appointment call counulors

btlroun 8 and 10 P.M.

Christopher Nicholson, A.C.S.W.,

Germantown, VI 4-7076.

Annemargret L. Osterkamp. A.C.

S.W., Center City, GE 8-2329

Holland McSwain, Jr., A.C.S.W.,

West Chester, 436-4901

Ruth M. Scheibner, Ph.D., Ambler,

643-7770

Josephine W. Johns, M.A., Media,

Pa., LO 6-7238

Valerie G. Gladfelter, A.C.S.W.,

Willingboro, N. J., 609-871-3397

(May call her 9 a.m. to 10 p.m.)

David Harley, A.C.S.W., Lehigh Valley,

215-437-1396

Consultants: Ross Roby, M.D.,

Howard Page Wood, M.D.

526

Friends School•

for the Future

(Continued from page 509)

people fear to be themselves, fear to be

vulnerable, in their relationships with

each other. But we are also very vulnerable

when we know how to and do

worship in Friends silent meeting. Meeting

for worship is the core of a Friends

school because it is the one school experience

in which everyone can learn

how to be and in fact be most vulnerable

to new growth . It is the time of greatest

collective educability. It is potentially

the most central and powerful educational

experience of a Friends school.

Meeting for worship offers us a

model of the educational process. In

meeting we seek to so open ourselves,

to so reduce our inner barriers and defenses,

that the Inward Word becomes

audible. We can learn to be more sensitive

to fleeting hunches, wisps of reverie,

illusive images, intuitions, revelations.

It is the time we learn how to

"turn off" the distractions of this world,

to concentrate attention, to reflect on

our inner world. In meeting we can

learn how to listen genuinely. For me

the heart of meeting is its inward Iisteningness

and then that receptive

searching listeningness to others through

whom God may be speakin g. We

struggle to give voice to share with

others what we've heard. Meeting, at

its best, is a profoundly corporate experience

that reaffirms our common

identity as human beings through a rare

but shared mystical experience. Meeting

is not a disembodied, rational or

intellectual exercise; it is an experience,

a deeply integrative one involving our

bodies, one in which feeling is fused

with thought, in which the leadings

from others become creatively synthesized

with our own knowledge and personal

experience. Meeting is the time

we practice deepening our inner

strengths. In silence we learn how to

become independent of the constant

noise in which we live; we learn bow

to become more free of the need to be

constantly entertained or stimulated.

Surely these are important educable

skills and motives indispensable to the

classroom when we educate a whole

youth, not just his cortex. As educators

move to make more of their traditional

academic courses more deeply experiiential,

more organismic rather than

just cerebral, more integrative of the

affective and the intellectual, we

Quaker educators should feel more and

more at home, because we will be recovering

in the classroom the forma-

tive experiences inherent in a meeting

for worship. For it has been our -lack

of clarity about the deep coherence between

our religious and educational

practices that has fragmented our

schools. We tuck meeting for worship

into a 30-minute corner of the week,

neither preparing for it nor nurturing

our classrooms with its insights and inspiration.

The consequence is, of

course, that we have that meeting but

our classrooms. We view meeting as a

foreign body in our schools, a quaint

custom- but one irrelevant to our

teaching. We fail to draw upon the

power inherent in both meeting and the

classroom to confirm and enhance the

power of the other. Our Quaker

schools thereby lose their coherence to

be powerfully educating environments.

These are my convictions: A Friends

school must be more parochial, more

radically traditional, and should offer a

religiously based, value-centered education.

I realize very well how imposing

are the difficulties in fulfilling any one,

let alone all, of these directions. I also

know many Friends and a great many

non-Friends in our schools will disagree

with my understanding of the

Friends tradition and its potentiality

for furthering the growth of young

people. But if we do try to deepen the

religious and hence the educational

spirit of a school, we will encounter at

least three troubling dilemmas.

Most of us lack real clarity about

the centrality of the Quaker view of

man, of the role of experiencing and

of growth to what we do as teachers

in our classrooms. We fail to see the

educational implications in our tradition

of how we relate to students. We

have not understood that truth must be

experienced if it is to transform lives.

Friends are more inductive than deductive;

they value pre-logical as well as

logical thought. I wrote in a Pendle

Hill pamphlet entitled Why a Friends

School that I did not believe Friends

had a distinct educational philosophy.

I thought their distinctive contribution

was in the educative power of meeting

for worship, means of organizing community

decisionmaking, and in their

social outreach. I now am uncertain

about that judgment. For contained in

each of these forms are assumptions

about how growth does and should occur.

Certainly implied in every aspect

of our Friends traditions are assumptions

about what conditions create

healthy growth, which is, after all, another

way of describing the purpose of

education. For example, Friends have

much to say about authority and our

October ] , 1972 FRIENDS JOURNAL
---
elationships to it. Just what would our

relationships with our students be if we

really lived out the Friends view of

man and his relationships in our

schools and classrooms?

Another dilemma in creating a more

powerful Friends school is that most of

our schools lack a "like-minded" core

of Quaker teachers. We have not initiated

a systematic effort. to recruit and

nurture young Friends or like-minded

persons to be either teachers or headmasters

in our schools. Our national

teacher shortage has become a surplus.

For the next decade there will be many

more teachers than teaching positions.

Friends can now be much more discriminating

in building a core group

of adults in our schools whose lives

live out or are resonant with the

Quaker way of life. I'd prefer a competent

like-minded educator than a

brilliant Ph.D. academician who had

no feeling for the religious centering

of a Friends school.

We also have failed to introduce

younger non-Quaker teachers to the

Quaker way of life. We need to provide

more opportunities for teachers to

experience how to open themselves

more inwardly through guided meditative

retreats. I don't mean we make a

"hard sell," get conversion pledges, and

obnoxiously proselytize. I do mean that

we take more effective steps to identify,

communicate, and provide more meaningful

opportunities for those new to

the Friends way of life to glimpse experientially

just what is meant by that

way of life. We may have to stop trying

to be all things to all people. We

certainly should stop trying to reduplicate

within our schools all of society,

if that replication dilutes the Quakerliness

of our schools. There are other

ways we can present to our youth the

diversity of values and people within

our society than by creating a tepid,

fractious, and divisive student body and

faculty who share few basic value commitments.

The stronger the core

Quaker faculty, the more centrifugal

can our commitment to diversity be.

But there first must be that unity of

Quaker presence and model at the

core. Quakers need not be apologetic

for creating a Friends school.

The third dilemma we face is that

we talk a great deal about what a

Friends school is but we do very little

to develop and implement specific curricular

and other patterns to create a

Quaker ethos. There are numerous

ways we could more self-consciously

prepare our students to experience the

Friendly way of life. We have failed to

FRIENDS JOURNAL October I , 1972

ABINGTON FRIENDS SCHOOL

Jenkintown, Pa. 19046

886-4350

ADELBERT MASON, Headmaster

coed day school • nursery-12th grade

"Let the heart of America

be as great as its wealth."

-Letter from India

FRED S. JAMES & CO., INC.,

OF PENNSYLVANIA

Insurance

841 CHESTNUT STREET

PHILADELPHIA, P A. 19107

WAlnut 3-6800

INSURANCE BROKERS AND CONSULTANTS SINCE 1858

World Religions MEDALLION

Diameter 2"

Handcrafted in the Philippines of

Kapis !Translucent Seashelll.

Ideal for gifts, price includes postage

and descriptive leaflet.

Bolo Tie (Braid or Thong) $2.50

Pin-Backed 2.00

On Sea-Shell Chain 3.00

Matching Shell Earrings 1.50

On Filigree Silver Chain 6.00

Discounts per doz. assorted

, .•. Beginning with the Christian Cross

clockwise are the seven-branched

Candlutick of Judea, tho Wheel of Life

of Buddha, tho Cry of Mohammed

("There is but one God ... ")i the Balance

of Tao, ond the Continuing life of the

Hindu. In the center is the Lamp of

Knowledge, and the circles around it,

One World.

UNITARIAN UNIVERSALIST WOMEN'S FEDERATION

(of Unitarian Universalist Church)

4831 E. 22nd St., Tucson, Arizona 85711

527
---
develop a sequential experiential curriculum

for mastering those skills necessary

to worshiping in meeting, participating

in a business meeting, serving

others. Most of us just assume, for

example, that students, and faculty too,

know how to meditate. That isn't true.

We do nothing. or at best very little,

to explain meeting for worship and its

relation to the purposes of the school

and the academic life of the classroom.

We desperately need an integrated curricular

plan from kindergarten through

12th grade for developing the skills of

meditation. We need to make our

courses in religion, particularly on

Quakerism. more deeply experiential,

inductive, and skill-oriented. We need

a systematic curricular plan for teaching

decisionmaking and conflict-resolution

skills if business meeting is to be

productive. We also need a curricular

plan from kindergarten through 12th

grade that provides our students with

the opportunity to learn how to care

for and to serve others with compassion

and empathy. We need to take

each of our principal testimonies and

create courses that ground our students

intellectually and emotionally in their

Previously announced:

content. Certainly in a Friends school

we should have required courses on

pacifism, racism, sexism, and their relevance

to our social testimonies. These

courses should represent our best efforts;

they should be experiential; they

should confront students with their

own values and beliefs about the content

of the courses and the testimonies.

Their purpose should not be to conform

students to a Friends point of

view but to sensitize them to the range

of value commitments, including those

of Friends, involved in each issue. My

point is that we need to become much

more self-consciously analytical about

just what our religious tradition implies

for the maturing of students and

then systematically create the appropriate

curricular and other forms necessary

to realize the educative potentials

within our tradition.

Reshaping Friends schools to be

more distinctive, radically traditional,

and religiously centered is a challenge

beyond the imaginative and practical

resources of most of us. Reshaping our

schools means at its root reshaping the

adults of the school who serve as the

inspirational models of the Quaker way

PENDLE HILL

October 27·29 Conflict in a Friends Meeting, 1972 Meeting Workshop. With

Mona Darnell.

November 3-5 Creative Dance Workshop. Led by Anne Smith.

November 10·12 Sensitivity Training Weekend. Led by Bob Blood and Jean

Feinberg.

November 17-19 A Pendle Hill Retreat. Led by Helen Hole.

DECEMBER EVENTS:

December 1-3 Married Couples Weekend. With Bob and Margaret Blood. In a

small group, couples will explore unfulfilled potentialities of

their relationship and experience ways of making it more

meaningful.

December 8·10 Touchstones of Reality. A seminar with Maurice Friedman. A

new type of experimental encounter weekend centered on the

sharing and dialogue of "touchstones of reality" through

verbal and non-verbal communication and group interaction.

December 29· Worship and Celebration: Midwinter Institute. With John and

January 1 June Yungblut.

Write: Dorothy Rodgers, Pendle Hill, Wallingford, Pennsylvania 19086.

528

of life. We, as do our schools, need

help. We, as do our schools, need to

develop structures by which we can

help each other. Friends schools have

been woefully resistant to creating

ways to capitalize on the principle of

synergism, that the whole is greater

than the sum of its parts. By cooperati

vely sharing and working together

our schools might create more powerful

educational growth experiences

than each can separately. For example,

no one school has the resources to develop

a meditative curricular plan. No

one school has the resources to provide

the diversity of experiences educationally

that many students need. No

one school has the resources to create

a functional language learning center

in Latin America. By thinking of our

schools as parts of a wider Friends

educational community, we will be able

to marshal our resources in ways to

help each other become more radically

centered in our religious tradition.

Then our Friends schools will really

offer an alternative educational model

to our society that is distinctive-and

distinguished.

A Quaker Center for Study and Contemplation

Friendly Farmsteads

MEETING HOUSE AND FARM HOUSE

by Howard H. Brinton

Faith translated into practice in the

Quaker communities of 17th and 18th

century America. Cover design: the

Leedom farmscape by Edward Hicks.

Pendle Hill Pamphlet No. 185 Price 70¢

Write: Elaine Bell, Pendle Hill,

Wallingford, Pennsylvania 19086

October 1, 1972 FRIENDS JOURNAL
---
MEETING ANNOUNCEMENTS

Alaska

FAIRBANKS--Unprogrammed worship, First·

days, 9 a.m., H ome Economics Lounge, Third

Floor, Eielson Building. Discussion follows.

Phone: 479·6801.

Argentina

BUENOS AIRES--Worship and Monthl y Meeting,

one Saturday each month in suburbs, Vicente

Lopez. Phone: 791·5880 ( Buenos Aires).

Arizona

FLAGSTAFF-Unprogramed meeting, 11 a.m.,

402 S. Beaver, near cam pus. Mary Campbell,

Clerk, 310 E. Cherry Ave. 774·4298.

PHOENIX-Sundays: 9:45 a.m., adult study; 11

a.m., meet ing for worship and First-day School,

1702 E. Glendale Avenue, 85020. Mary Lou Cop·

pock, clerk, 6620 E. Culver, Scottsdale, 85257.

TUCSON-Friends Meeting, 129 N. Warren: Sun·

day School, 10 a.m .; worship (semi-programmed)

11 a.m. Clerk, Harry Prevo, 297·0394.

TUCSON-Pima Friends Meeting ( Pacific Yearly

Meeting), 739 E. 5t h Street, Worship, 10:00 a.m.,

Nelle Noble, Clerk, 6741 T1vani Drive, 298·7349.

California

BERKELEY-Unprogrammed meeting. First-days

11 a.m., 2151 Vine :st., 843·9725.

CLAREMONT- Meeting for worship 9:30 a.m.

Discussion 11:00 a.m. Classes for c hildren.

Clerk: Clifford Cole, 339 West lOth Street, Clare·

mont 91711.

COSTA MESA--Orange County Friends Meeting,

Meeting f or worship, 10:30 a.m. Call 548·8082

or 897·5916.

DAVIS--First-day School and adult discussion,

9:45 a.m., 345 L St. Visitors call 753·5890.

FRESNO-Meeting every Sunday, 10 a.m., Col·

lege Y Pax Dei Chapel, 2311 E. Shaw . Phone:

237·3030.

HAYWARD-Worship, 11 a.m., Old Chapel, 890

Fargo, San Leandro. Clerk 658·5789.

LA JOLLA-Meeting, 11 a.m., 7380 Eads Avenue.

Visitors call 296·2264 or 454·7459.

LONG BEACH-Marloma Meeting and Sunday

School, 10:30 a.m., 647 Locust . 424·5735.

LOS ANGELES--Meeting, 11 a.m., 4167 So.

Normandie. Visitors call 754·5994.

MARIN- Worship 10 a.m., Mill Valley Commu·

nity Church Annex, Olive and Lovell. DU 3·5303.

MONTEREY PENINSULA- Friends Meeting for

worship, Sundays, 11 a.m., 1057 Mescal Ave.,

Seaside. Call 394·9991.

PALO ALTO-Meeting f or worship, 11 a.m., First·

day c lasses for c hildr en, 11:15, 957 Colorado.

PASADENA-526 E. Orange Grove (at Oaklan d).

Meet ing for worship, Sunday, 10:30 a.m.

REDLANDS--Meeting and First-day Sch ool, 10

a.m., 114 W. Vine. Clerk: 792·9218.

SACRAMENT0-2620 21st St. Meeting for wor·

ship Sunday, 10 a.m .; discussion 11 a.m. Clerk:

455·6251.

SAN FERNANDO-Family sharing 10 a.m . Un·

programmed worship, 10:20 a.m. 15056 Bledsoe

St. 367·5288.

SAN FRANCISCO-Meeting for worship, First·

days, 11 a.m .. 2160 Lake Street, 752·7440.

FRIENDS JOURNAL October I, 1972

SAN JOSE-Meeting, 11 a.m.; children's and

adult s' classes, 10 a.m.; 1041 Morse Street.

SANTA BARBARA-BOO Santa Barbara St.,

(Neighborhood House). 10 a.m. Enter f rom De

La Guerra. Go to extreme rear.

SANTA CRUZ-Meeting f or worship, Sundays,

10:30 a.m. 303 Walnut St. Clerk, 688·6831.

SANTA MONICA-First·day School at 10, meet·

ing at 11. 1440 Harvard St. Call 451·3865.

VISTA-Palomar Meeting, 10 a.m. Clerk:

Gretchen Tuthill, 1633 Calle Dulce, Vista 92083.

Call 724-4966 or 728·2666.

WESTWOOD ( West Los Angeles)-Meeting 11

a.m .. University Y.W.C.A., 574 Hilgard (across

from U.C.L.A. bus stop) . 472-7950.

WHITTIER-Whitleaf Monthly Meeting, Admin·

istration Building, 13406 E. Philadelphia. Wor·

ship, 9:30 a.m .; discussion, 698-7538.

Colorado

BOULDER- Meeting for worship, 10 a.m.; First·

day School, 11 a.m. Margaret Ostrow, 443·0594.

DENVER-Mountain View Friends Meeting, wor·

ship 10 to 11 a.m., Adult Forum 11 t o 12, 2280

South Columbine Street. Phone: 722·4125.

Connecticut

HARTFORD-Meeting and First-day School, 10

a.m., discussion 11 a.m.. 144 South Quaker

Lane, West Hartford. Phone: 232·3631.

NEW HAVEN-Meeting, 9:45 a.m. Conn. Hall,

Yale Old Campus. Phone: 776·7369.

NEW LONDOK-622 Williams St ., Worship, 10

a.m.; discussion, 11. Clerk: Hobart Mitchell.

RFD 1, Norwich 06360. Phone, 442·7947.

NEW MILFORD-HOUSATONIC MEETING: Wor·

ship 11 a.m. Route 7 at L anesville Road.

STAMFORD-GREENWICH-Meeting for worship

and First·day School, 10 a.m. Westover and Rox·

bury Roads. Stamford. Clerk, Peter Bentley, 4

Cat Rock Road, Cos Cob, Connecticut . Tele·

phone: 203-TO 9·5545.

STORRS--Meeting f or worship, 10 a.m., corner

North Eagleville and Hunting Lodge Roads.

429·4459.

WATERTOWN- Meeting 9:30 a.m.. Watertown

Library, 470 Main Street. Phone: 274·8598.

WILTON-First-day School, 10:30. Meeting for

worship, 11 :00 a.m., 317 New Canaan Road.

Phone: 966·3040. Martin Clark, clerk, phone:

743·5304.

Delaware

CAMDEN-2 miles south of Dover. Meet ing and

First-day School 11 a.m.

CENTERVILLE-Center Meeting, one mile east

of Route 52 at southern edge of town on Cen·

ter Meeting Road. Meeting, First-day, 11 a.m.

HOCKESSIN- North of road from Yorklyn, at

crossroad. Meeting for worship, 10:30 a.m.,

Fir st-day School, 11:10 a.m.

NEWARK-Worship, Sunday, 10 a.m., Newark

Center for Creative Learning, 48 W. Park Place,

Newark, Delaware.

ODESSA-Worship, 1st Sundays, 11 a.m.

REHOBOTH BEACH-5 Pine Reach Road, Hen·

lopen Acres, 227·2888. Worship, First-day lG a.m.

WILMINGTON-Meet infs for worship; 4th &

West Sts., 10:30 a.m.; 01 School Rd., 9:15 a.m.

District of Columbia

WASHINGTON- Meeting, Sunday, 11 a.m .; wor·

ship group, 9 a.m.; adult discussion, 10 a.m.·

11 a.m.; babysitting, 10 a.m.-12 noon; First-day

School, 11 a.m.-12:30 p.m. 2111 Florida Ave.

N.W., near Connecticut Ave.

WASHINGTON-Sidwell Friends Library-Meet·

ing, Sunday, 11:00, during school year, 3825

Wisconsin Avenue, N. W.

florida

CLEARWATER-Meeting 10:30 a.m., Y.W.C.A.,

222 S. Lincoln Ave. Phon e: 733·9315.

DAYTONA BEACH- Sunday, 10:30 a.m. 201 San

Juan Avenue. Phone: 677·0457.

GAINESVILLE-1921 N.W. 2nd Ave. Meeting and

First-day Sch ool, 11 a.m.

J ACKSONVILLE-Meeting 10 a.m., Y.W.C.A.

Phone contact 389·4345.

LAKE WALES--At Lake Walk·in·Water Heights.

Worship, 11 a.m. 676-5597.

MIAMI-CORAL GABLES-Meeting, 10 a.m., 1185

Sunset Road. Thyrza Allen Jacocks, clerk, 361·

2862 AFSC Peace Center, 443·9836.

ORLANDO-WINTER PARK-Meeting, 10:30 a.m.,

316 E. Marks St., Orlando. Phone: 241-6301.

PALM BEACH-Meeting, 10:30 a.m., 823 North A

St., Lake Worth. Phone: 585-8060.

SARASOTA-Meeting for worship, First-day

School, 11 a.m., College Hall, New College

campus. Adult discussion, 10 a.m. Margaret B.

Maddux, clerk. 955·9589.

American Friend:r Service Committee

Annual Public M eeting

November 4, 10 a.m. to 5 p.m.

Friends Meeting House, 4th and Arch

Still Available ...

THE BEST COMBINATION OF INTEREST

ON SAVINGS OFFERED ANYWHERE !

%

SAVINGS

CERTIFICATES

5 PASSBOOK

%

ACCOUN TS

WHY HOT STOI' AHO SEf US TOOAY

'IUD&. UMU

"'-···

HOME OFFICE

32 South lansdowne Avenue

l a nsdowne, Pennsylvania 19050

MA 6-2900

LAWRENCE PARK OFFICE

AI lawrence Rood Entrance

To lawrence Pork Center

l roomall, Pennsylvania 19008

El J -2900

531
---
Proposed Friends Center, 15th and Race Streets, Plliladelpllia.

Photograph by John Zuck

ST. PETERSBURG-Meet ing 11 a.m. 130 19t h

Avenue, S. E.

Georgia

ATLANTA-Worship and First -day School, 10

a.m ., 1384 Fairview Road N.E., Atlanta 30306.

Margaret Kaiser, Clerk. Phone: 634·0452. Quaker

House. Telephone: 373·7986.

AUGUSTA- Meeting for worship and First -day

School, 10:30 a.m., 340 Tel fair Street. Lester

Bowles, clerk. Phone: 733·4220.

Hawaii

HONOLULU-Sundays, 2426 Oahu Avenue. 9:45,

hymn sing; 10, wors hip; 11:15, adult study

group. Babysitting, 10:15 to 11. Phone: 988-2714.

Illinois

CARBONDALE- Unprogrammed worship. Sundays,

10 a.m., Student Christian Foundatoon, 913

S. Illinois. Coclerks: Jane Stowe, 549-2029; Peg

Stauber, 457·6542.

CHICAG0-57th Street. Worship, 11 a.m., 5615

Woodlawn. Monthly Meeting every first Friday,

7:30 p.m. Phone: BU 8-3066.

CHICAGO-Chicago Monthly Meet ing, 10749 S.

Artesian. HI 5·8949 or BE 3·2715. Worship 11

a.m.

CHICAGO - Northside ( unprogrammed). Worship

10 a.m. For information and meeting loca·

tion, phone: 477-5660 or 327-6398.

DECATUR-Worship, 10 a.m . Phone Agnita

Wright, 877·2914, for meeting location.

DEKALB-Meeting, 10:30 a.m ., 424 Normal

Road. Phone: 758·2561 or 758·1985.

DOWNERS GROVE-(west suburban Chicago)­

Worship and First-day School 10:30 a.m., 5710

Lomond Ave. (3 blocks west of Belmont, 1 block

south of Maple). Phone: 968-3861 or 665-0864.

EVANSTON-1010 Greenleaf, UN 4-8511 . Worship

on First-day, 10 a.m.

LAKE FOREST-Worship 10 a.m . at Meeting

House. West Old Elm Road and Ridge Road.

Mail address Box 95, Lake Forest , Ill. 60045.

Phone area: 3 12, 234·0366.

PEORIA-GALESBURG- Unprogrammed meet ing

10 a.m. in Galesburg. Phone: 343·7097 or 245·

2959 for location.

532

QUINCY-Unprogrammed meeting, 10:30 a.m.

Phone: 223-3902 o r 222-6704 for location.

ROCKFORD-Rock Valley Meet ing. Worship,

10:30 a.m.; informal togetherness, 11:30. Meet·

ing Room, Christ the Carpenter Church, 522

Morgan St. Information: call 964-0716.

SPRINGFIELD-Worship, 10 a.m . Phone Robert

Wagenknecht , 522-2083 for meeting location.

URBANA-CHAMPAIGN-Meeting f or worship,

11 a.m ., 714 W. Green St., Urbana. Phone: 344·

6510 or 367-0951.

Indiana

BLOOMINGTON-Meeting for worship 10:15

a.m., Moores Pike at Smith Road. Call Norris

Wentworth, phone: 336-3003.

FORT WAYNE-Unprogrammed worship, 10 a.m.

Clerk, Edna L. Pressler. Phone: 489-5297 or 743·

0616 for meeting location.

INDIANAPOLI$-Lanthorn Meeting and Sugar

Grove. Unprogrammed worship, 10 a.m. Sugar

Grove Meeting House. Willard Heiss, 257·1081

or Albert Maxwell, 839-4649.

RICHMOND-Clear Creek Meeting, Stout Me·

morial Meetinghouse, Ea rlham College. Unpro·

grammed worship, 9:15 a.m. Clerk, Mary Lane

H iatt 962·6857. (June 20-Sept. 19, 10:00.)

WEST LAFAYETTE-Meeting for worship, 9:45

21.m., 176 E. Stadium Avenue. Clerk, Kenneth

L. Andrew, phone: 743·3058.

Iowa

DES MOINEs-Meeting for worship, 10 a.m.,

c lasses, 11 a.m. Meeting House, 4211 Gnnd

Ave. Phone 274-0453.

PAULLINA-Worship, 11 a.m.; First-day School,

10 a.m. Rachel Hodgin, Paullina, Correspond·

ent.

Kansas

WICHITA-University Friends Meeting, 1840 Un·

iversity Avenue. First -day School 9:45 a.m.,

Meeting for worship 11:00 a.m. Richard P. New·

by, Minister; Thomas Sw ain, Direct or of Chris·

tlan Education. Phone 262·0471.

Kentucky

LEXINGTON- Unprogrammed worship and First·

day School, 4 p.m. Fo r information, call 277·

2928.

LOUISVI LLE-Meeting for worship 10:30 a.m.

Ch ildren's classes 11:00 a.m. 3050 Bon Air

Avenue. 40205. Phone: 452-6812.

Louisiana

BATON ROUGE-Worship, 10 a.m., Wesley

Foundation, 333 E. Chimes St. Clerk: Stuart

Gilmore; telephone: 766·4704.

NEW ORLEANs-Worship Sundays, 10:30 a.m.,

in Friends' homes. For Information, telephone

368·1146 or 822-3411.

Maine

MID-COAST AREA-Regular meetings for worship.

For information telephone 882-7107 (Wis·

casset) or 236-3064 (Camden).

PORTLAND-Forest Avenue Meeting, Route 302.

Unprogram med worship and First-day School. 10

a.m. Phone: 839·3288. Adult discussion, 11:00.

Maryland

ADELPHI-Near University of Maryland. 2303

Metzrott Road. First-day School, 10:30 a.m.;

worship, 10 a.m. Deborah James, clerk. Phone,

422·9260.

ANNAPOLI5-Worship, 11 a.m., former St.

Paul's Chapel, Rt. 178 (General's Hwy .) and

Crownsville Rd .. Crownsville, Md. Alice Ayres,

clerk (301·263-5719).

BALTIMORE-Worship 11 a.m.; c lasses, 9:45.

Stony Run 5116 N. Charles St. 10 5·3773, Home·

wood 3107 N . Charles St. 235-4438.

BETHESDA-Sidwell Friends Lower School,

Edgemoor Lane & Beverly Rd. Classes 10:15;

worship 11 a.m. Phone: 332-1156.

EASTON-Third Haven Meeting and First-day

School, 11 a.m., South Washington St. Frank

Zeigler, clerk, 634·2491; Lorraine Claggett, 822·

0669. June to Sept ., worship, 9:30 a.m.

SANDY SPRING-Meet inghouse Road, at Rte.

108. Worship, 9:30 and 11 a.m.; first Sundays,

9:30 only. Classes, 10:30.

UNION BRIDGE-PIPE CREEK MEETING (near)

-Worship, 11 a.m.

Massachusetts

ACTON-Meeting for worship and First-day

School, Sunday, 10:00 a.m., Women's Club, Main

Street. Patricia Lyon, clerk, (617) 897-4668.

AMHERST-NORTHAM PTON-GREENFIELD-Meet·

ing for worship and First-day School 10:30. Mt .

Toby Meetinghouse, Route 63 in Leverett. Phone

584-2788.

BOSTON-Worship 11 :00 a.m.; fellowship hour

12:00, First-day. Heacon Hill Friends House, 6

Chestnut Street, Boston 02108. Phone: 227-9118.

CAMBRIDGE-5 Longfellow Park ( j ust off Brat·

tie Street, west of Harvard Square) One meet·

lng for worship during summer at 10 a.m., June

18 through September 10. Visitors welcome.

Phone: 876-6883.

LAWRENCE--45 Avon St., Bible School, 10 a.m.,

worship 11 a.m., Monthly Meeting first Wednes·

day 7:30 p.m . Clerk, Mrs. Ruth Mellor. 189

Hampshire St., Met huen, Mass. Phone: 682·4677.

SOUTH YARMOUTH, CAPE COD-North Main

St. Worship and First-day School, 10 a.m . Phone:

432·1131.

WELLESLEY- Meeting for worship and Sunday

School, 10:30 a.m., at 26 Benvenue St reet.

Phone: 235-9782.

WEST FALMOUTH, CAPE COD-Rt. 28 A, meet·

ing for worship, Sunday 11 a.m .

WESTPORT-Meet ing Sunday, 10:45 a.m. Cen·

tral Village: Clerk, J. K. Stewart Kirkaldy. Phone:

636·4711.

WORCESTER-Pleasant Street Friends Meeting,

901 Pleasant Street. Meeting for worship each

First-day, 11 a.m. Telephone: PL 4-3887.

Michigan

ANN ARBOR-Worship-Sharing, 9:30 a.m.; Meet·

ing for Worship, 10; Adult Discussion, 11:15.

Meetinghouse, 1420 Hill St. Clerk, Mabel Hamm,

2122 Geddes Ave. (phone: 663-5897) .

DETROIT-Friends Church, 9640 Sorrento. Sun·

day School, 10 a.m.; worship, 11 a.m . Clerk,

William Kirk, 16790 Stanmoor, Livonia, Michl·

gan, 48154.

October ] , 1972 FRIENDS JOURNAL