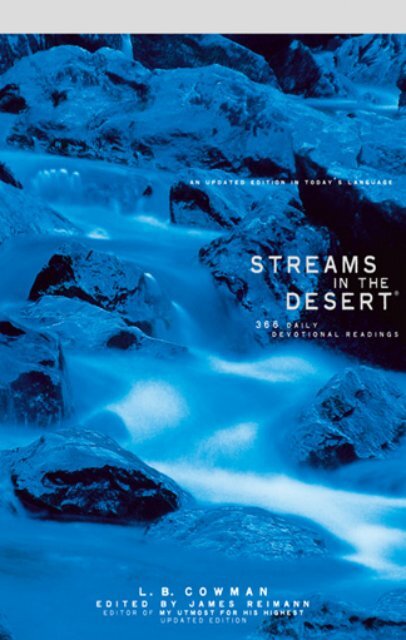 Streams in the Desert - Advent Prayer Warriors International Network
Streams in the Desert - Advent Prayer Warriors International Network
Streams in the Desert - Advent Prayer Warriors International Network
SHOW MORE
SHOW LESS
Create successful ePaper yourself
Turn your PDF publications into a flip-book with our unique Google optimized e-Paper software.
This page is intentionally left Blank
---
01Streams 11/5/01 10:01 AM Page 2

About Streams in the Desert

An Updated Edition in Today's Language

For years, the beloved classic devotional Streams in the Desert

has sustained and replenished God's weary desert travelers.Now,

bursting forth like a sparkling clear river of wisdom, encouragement,

and inspiration, this updated edition of Streams in the

Desert promises to revive and refresh today's generation of faithful

sojourners,providing daily Scripture passages from the popular,

readable New International Version—and modern, easyto-understand

language that beautifully captures the timeless

essence of the original devotional.
---
01Streams 11/5/01 10:01 AM Page 4

Praise for

Streams in the Desert, Updated Edition

"Jim Reimann's updating of Streams in the Desert is a muchneeded

book for our time, and a worthy companion to his

updated My Utmost for His Highest. This new volume is truly

fresh water from a time-tested fountainhead of faith."

—Gary Smalley

"The author has sifted through ideas and concepts and come

out with a shining work that uplifts and encourages the reader....A

Handbook of strength and comfort."

—Barbara Johnson, Spatula Ministries
---
01Streams 11/5/01 10:01 AM Page 5

AN UPDATED EDITION IN TODAY'S LANGUAGE

STREAMS

IN THE

DESERT

366 DAILY

DEVOTIONAL READINGS

L. B. C O W M A N

EDITED BY JAMES REIMANN

EDITOR OF MY UTMOST FOR HIS HIGHEST,

UPDATED EDITION

®
---
Streams in the Desert ®

Adobe Acrobat eBook Reader Format

Copyright © 1997 by Zondervan

This updated edition is based on the original text of Streams in the Desert

Copyright 1925, 1953, and 1965 by Cowman Publications, Inc.,

and Copyright © 1996 by Zondervan

Requests for information should be addressed to:

Zondervan, Grand Rapids, Michigan 49530

ISBN: 0-310-24470-6

All Scripture quotations, unless otherwise indicated, are taken from the

Holy Bible: New International Version®. NIV®. Copyright © 1973,

1978, 1984 by International Bible Society. Used by permission of

Zondervan. All rights reserved. Note: when italics or small capitals are

used for emphasis in Scripture quotations, that use is the author's, not

the original translators'.

No part of this publication may be reproduced, stored in a retrieval system,

or transmitted in any form or by any means—electronic, mechanical,

photocopy, recording, or any other—except for brief quotations in printed

reviews, without the prior permission of the publisher. All rights reserved.

Interior design by Sue Vandenberg Koppenol
---
Table of Contents

Praise for Streams in the Desert, Updated Edition 3

Introduction to the Updated Edition 9

A Personal Word from L. B. Cowman 11

January 12

February 55

March 94

April 135

May 176

June 215

July 255

August 293

September 333

October 371

November 411

December 446

Contributors Index 489

Scripture Index 495

Subject Index 504

About the Authors 510

About the Publisher 513
---
01Streams 11/5/01 10:01 AM Page 7

Dedication to the Updated Edition

To Aaron,my second-born son.You have endured a great

deal this past year: a sudden brain aneurysm and massive

hemorrhage, surgery, and an on-going recovery period.Yet

through it all, you have been a joy to all of us who love you

and evidence of God's loving protection.You have not complained

but have been a living example of the Spirit of God

having His perfect way in the heart of a child of His. May

the Lord continue to use your life as a testimony for others

of Christ's enduring power and grace.

Sometimes the Lord's way is hard,

Leading through many stresses and storms;

But Satan's harsh touch is barred,

And God's character He surely forms.

Though you nearly tasted death,

You've learned how God sovereignly spares;

He renewed your life and breath,

Displaying how graciously He cares.

Yet today still unrevealed,

He has made for you a perfect plan;

Just follow the path He's willed,

And you'll soon become a godly man.

James Reimann

"'For I know the plans I have for you,'declares the Lord,

'plans to prosper you and not to harm you, plans to give

you hope and a future'" (Jer. 29:11).

"I always pray with joy. . .being confident of this,that he

who began a good work in you will carry it on to completion

until the day of Christ Jesus" (Phil. 1:4, 6).
---
01Streams 11/5/01 10:01 AM Page 8

"Through waves, and clouds, and storms

He gently clears the way."
---
01Streams 11/5/01 10:01 AM Page 9

Introduction to the Updated Edition

October 24, 1995, is a date I will never forget. I was called out of

a business meeting with the terrifying news that my second-born son,

Aaron, had just had a massive brain hemorrhage while away at school.

After having won a scholarship to college and spending only six weeks

there, he had been found in a park near the school, calling out for

help.After a number of people ignored him, a "good Samaritan" finally

stopped to help. She called 911—saving him from certain death.

Aaron had emergency surgery to remove a blood clot that had grown

to the size of a tennis ball.

Since then Aaron has undergone months of therapy and has gracefully

endured numerous changes in his life. It is continuing to take

much time and hard work, but he is determined to regain what he

has lost. And when I look back on the past year, I am also reminded

of a number of other changes and trials our family has endured.Yet as

a result, each of us has seen the sovereign hand of God at work.

Two days after my son's surgery, Zondervan tried to contact me

to see if I would be interested in writing an updated edition of Streams

in the Desert.They had no way of knowing that I was still sitting with

my son in intensive care, and from the outset I have seen this timing

as sovereign—not coincidental.As I have worked on this book God has

ministered to me in a mighty way—meeting me at the point of my

own personal need.

Streams in the Desert's enduring power is the result of the selections

being firmly based on the truth of Scripture.As the editor of the updated

edition,I have endeavored to maintain the beauty of the original without

altering its meaning, giving it the same care I gave the updated edition

of My Utmost for His Highest, which I edited several years ago.

For those of you familiar with both Streams in the Desert and My Utmost

for His Highest,you may be interested in knowing something of the tie

between these two best-selling daily devotional books of all time.Not only

were they originally published during the same time period (Streams in

1925,and My Utmost in 1927),but L.B.Cowman,who compiled Streams

in the Desert, and Oswald Chambers had ministered together.They met

when Cowman and her husband were missionaries to Japan and Chambers

traveled there to preach.Also,both were greatly influenced by Charles

Spurgeon, the great English preacher of the late 1800s. Chambers came

9
---
01Streams 11/5/01 10:01 AM Page 10

to a saving knowledge of Christ through the preaching of Spurgeon, and

Cowman selected more of Spurgeon's writings for Streams in the Desert

than those of any other person.

I trust you will enjoy reading Streams in the Desert.As mentioned

before, God has ministered to me in a mighty way as I have worked

on this book, and I would like to share one very special example.

One morning as I was reading the Scriptures and praying, all of the

events of the past several months seemed to be crushing in on me. My

family and I were dealing with a number of changes in our lives including

the sale of a business we had owned for twenty years, my oldest

son leaving home to join the Navy, and Aaron leaving for college.All

this was then followed by Aaron's brain hemorrhage and surgery.The

next month, my mother had to have emergency surgery, was hospitalized

for thirty days, and my wife and daughter were in a car wreck and

suffered whiplash. As I reflected on all of this, I found myself complaining

to the Lord about my circumstances and all of the things that

seemed to be afflicting my family and me.

After I finished my prayer time, asking God to remove all my afflictions,

I resumed my work on Streams in the Desert. To my amazement,

especially since I was not in the best frame of mind, the next devotion

I worked on was the one for February 19. You may want to turn to

that one now to see how providentially it applied to my situation.The

message of this devotion was exactly what I needed to hear, and was a

great encouragement to me that God certainly is not finished with me

yet.And I could honestly say after working on that devotion that my

heart was reopened to the words of Paul, who said,"I have learned to

be content whatever the circumstances" (Phil. 4:11).

My prayer is that God would also minister to you through Streams

in the Desert in a similar way. I know firsthand the power of Christ that

lies within these pages, and the hope, encouragement, comfort, and

strength that comes from His Word being applied to our hearts. I trust

these insights into God's Word will be like "Streams in the Desert" to

you during the difficult times of your life, for He has said,"Water will

gush forth in the wilderness and streams in the desert" (Isa. 35:6).

10

James Reimann

Editor
---
01Streams 11/5/01 10:01 AM Page 11

A Personal Word from L. B. Cowman

In the pathway of faith we come to learn that the Lord's

thoughts are not our thoughts, nor His ways our ways. Both

in the physical and spiritual realm, great pressure means great

power! Although circumstances may bring us into the place

of death, that need not spell disaster—for if we trust in the

Lord and wait patiently, that simply provides the occasion for

the display of His almighty power."Remember his marvelous

works that he hath done; his wonders, and the judgments of

his mouth" (Ps. 105:5 KJV).

11
---
January

Day 1 Day 2 Day 3 Day 4 Day 5

Day 6 Day 7 Day 8 Day 9 Day 10

Day 11 Day 12 Day 13 Day 14 Day 15

Day 16 Day 17 Day 18 Day 19 Day 20

Day 21 Day 22 Day 23 Day 24 Day 25

Day 26 Day 27 Day 28 Day 29 Day 30

Day 31
---
01Streams 11/5/01 10:01 AM Page 12

January 1

The land you are . . .to take possession of is a land of mountains and valleys

that drinks rain from heaven. It is a land the Lord your God cares

for; the eyes of the Lord your God are continually on it from the beginning

of the year to its end. (Deuteronomy 11:11–12)

Today we stand at the threshold of the unknown.Before us lies

a new year, and we are going forward to take possession of it.

Who knows what we will find? What new experiences or

changes will come our way? What new needs will arise? In spite

of the uncertainty before us, we have a cheerful and comforting

message from our heavenly Father:"The Lord your God

cares for [it]; the eyes of the Lord . . . are continually on it from

the beginning of the year to its end."

The Lord is to be our Source of supply. In Him are springs,

fountains, and streams that will never be cut off or run dry.To

those who are anxious comes the gracious promise of our heavenly

Father:If He is the Source of our mercies,mercy will never

fail us. No heat or drought can dry the "river whose streams

make glad the city of God" (Ps. 46:4).

Yet the land we are to possess is a land of valleys and hills. It

is not all flat or downhill. If life were always smooth and level,

the boring sameness would weigh us down.We need the valleys

and the hills.The hills collect the rain for hundreds of fruitful

valleys.And so it is with us! It is the difficulty encountered on

the hills that drives us to the throne of grace and brings the showers

of blessing.Yes, it is the hills, the cold and seemingly barren

hills of life that we question and complain about,that bring down

the showers. How many people have perished in the wilderness

valley, buried under its golden sand, who would have thrived in

the hills? And how many would have been killed by the cold,

destroyed or swept desolate of their fruitfulness by the wind,if not

for the hills—stern, hard, rugged, and so steep to climb? God's

hills are a gracious protection for His people against their foes!

We cannot see what loss, sorrow, and trials are accomplishing.We

need only to trust.The Father comes near to take our

12
---
01Streams 11/5/01 10:01 AM Page 13

hand and lead us on our way today. It will be a good and blessed

New Year!

He leads us on by paths we did not know;

Upward He leads us, though our steps be slow,

Though oft we faint and falter on the way,

Though storms and darkness oft obscure the day;

Yet when the clouds are gone,

We know He leads us on.

He leads us on through all the unquiet years;

Past all our dreamland hopes, and doubts and fears,

He guides our steps, through all the tangled maze

Of losses, sorrows, and o'er clouded days;

We know His will is done;

And still He leads us on.

Nicholaus Ludwig Zinzendorf

January 2

The side rooms all around the temple were wider at each successive level.

The structure surrounding the temple was built in ascending stages, so

that the rooms widened as one went upward.A stairway went up from

the lowest floor to the top floor through the middle floor.(Ezekiel 41:7)

Still upward be your onward course:

For this I pray today;

Still upward as the years go by,

And seasons pass away.

Still upward in this coming year,

Your path is all untried;

Still upward may you journey on,

Close by your Savior's side.

Still upward although sorrow come,

And trials crush your heart;

Still upward may they draw your soul,

With Christ to walk apart.

13
---
01Streams 11/5/01 10:01 AM Page 14

Still upward till the day shall break,

And shadows all have flown;

Still upward till in Heaven you wake,

And stand before the throne.

We should never be content to rest in the mists of the valley

when the summit of Mount Tabor awaits us. How pure is

the dew of the hills, how fresh is the mountain air, how rich

the food and drink of those who dwell above, whose windows

look into the New Jerusalem! Many saints are content to live

like people in coal mines, who never see the sun.Tears sadden

their faces when they could be anointed with heavenly oil.I am

convinced that many believers suffer in a dungeon when they

could walk on a palace roof, viewing the lush landscape and

Lebanon.Wake up,believers,from your lowly condition! Throw

away your laziness, sluggishness, coldness, or whatever is interfering

with your pure love for Christ. Make Him the Source,

the Center,and the One who encompasses every delight of your

soul.Refuse to be satisfied any longer with your meager accomplishments.Aspire

to a higher,a nobler,and a fuller life.Upward

to heaven! Nearer to God! Charles H. Spurgeon

I want to scale the utmost height,

And catch a gleam of glory bright;

But still I'll pray, till heaven I've found,

Lord, lead me on to higher ground!

Not many of us are living at our best.We linger in the lowlands

because we are afraid to climb the mountains.The steepness

and ruggedness discourage us, so we stay in the mist of the

valleys and never learn the mystery of the hills.We do not know

what is lost by our self-indulgence,what glory awaits if we only

have the courage to climb, or what blessings we will find if we

will only ascend the mountains of God! J. R. M.

Too low they build who build beneath the stars.

14
---
01Streams 11/5/01 10:01 AM Page 15

January 3

I [will] move along slowly at the pace of the droves before me and that

of the children. (Genesis 33:14)

What a beautiful picture of Jacob's thoughtfulness for the cattle

and the children! He would not allow them to be driven too hard

for even one day.He would not lead them at a pace equal to what

a strong man like Esau could keep or expected them to keep, but

only one as fast as they were able to endure.He knew exactly how

far they could go in a day, and he made that his only consideration

in planning their travel.He had taken the same wilderness journey

years before and knew from personal experience its roughness,

heat, and distance.And so he said,"I [will] move along slowly."

"Since you have never been this way before" (Josh. 3:4).

We "have never been this way before,"but the Lord Jesus has.

It is all untraveled and unknown ground to us, but He knows

it all through personal experience. He knows the steep places

that take our breath away, the rocky paths that make our feet

ache,the hot and shadeless stretches that bring us to exhaustion,

and the rushing rivers that we have to cross—Jesus has gone

through it all before us.As John 4:6 shows,"Jesus,tired as he was

from the journey, sat down." He was battered by every possible

torrent, but all the floodwaters coming against Him never

quenched His love.Jesus was made a perfect leader by the things

He suffered."He knows how we are formed, he remembers that

we are dust" (Ps. 103:14).Think of that when you are tempted

to question the gentleness of His leading. He remembers all the

time and will never make you take even one step beyond what

your feet are able to endure. Never mind if you think you are

unable to take another step, for either He will strengthen you

to make you able, or He will call a sudden halt, and you will

not have to take it at all. Frances Ridley Havergal

In "pastures green"? Not always; sometimes He

Who knowest best, in kindness leadeth me

15
---
01Streams 11/5/01 10:01 AM Page 16

In weary ways, where heavy shadows be.

So, whether on the hilltops high and fair

I dwell, or in the sunless valleys, where

The shadows lie, what matter? He is there.

January 4

Jesus replied,"You may go.Your son will live."The man took Jesus at

his word and departed. (John 4:50)

Whatever you ask for in prayer, believe. (Mark 11:24)

16

Barry

When you are confronted with a matter that requires immediate

prayer, pray until you believe God—until with wholehearted

sincerity you can thank Him for the answer. If you do

not see the external answer immediately, do not pray for it in

such a way that it is evident you are not definitely believing God

for it.This type of prayer will be a hindrance instead of a help

to you.And when you are finished praying, you will find that

your faith has been weakened or has entirely gone.The urgency

you felt to offer this kind of prayer is clearly from self and Satan.

It may not be wrong to mention the matter to the Lord again,

if He is keeping you waiting for His answer, but be sure to do

so in a way that shows your faith.

Never pray in a way that diminishes your faith.You may tell Him

you are waiting, still believing and therefore praising Him for

the answer.There is nothing that so fully solidifies faith as being

so sure of the answer that you can thank God for it. Prayers

that empty us of faith deny both God's promises from His Word

and the "Yes" that He whispered to our hearts. Such prayers

are only the expression of the unrest of our hearts, and unrest

implies unbelief that our prayers will be answered."Now we

who have believed enter that rest" (Heb. 4:3).

The type of prayer that empties us of faith frequently arises

from focusing our thoughts on the difficulty rather than on
---
01Streams 11/5/01 10:01 AM Page 17

God's promise. Abraham,"without weakening in his faith, . . .

faced the fact that his body was as good as dead. . . .Yet he did

not waver through unbelief regarding the promise of God, but

was strengthened in his faith and gave glory to God" (Rom.

4:19–20).May we "watch and pray so that [we] will not fall into

[the] temptation" (Matt. 26:41) of praying faith-diminishing

prayers. C. H. P.

Faith is not a sense, nor sight, nor reason, but simply taking

God at His word. Christmas Evans

The beginning of anxiety is the end of faith, and the beginning

of true faith is the end of anxiety. George Mueller

You will never learn faith in comfortable surroundings.God

gives us His promises in a quiet hour, seals our covenants with

great and gracious words, and then steps back, waiting to see

how much we believe.He then allows the Tempter to come,and

the ensuing test seems to contradict all that He has spoken.This

is when faith wins its crown.This is the time to look up through

the storm, and among the trembling, frightened sailors declare,

"I have faith in God that it will happen just as he told me"

(Acts 27:25).

Believe and trust; through stars and suns,

Through life and death, through soul and sense,

His wise, paternal purpose runs;

The darkness of His Providence

Is starlit with Divine intents.

January 5

Then Asa . . . said,"Lord, there is no one like you to help the powerless

against the mighty." (2 Chronicles 14:11)

Remind God of His exclusive responsibility:"There is no one

like you to help."The odds against Asa's men were enormous.

"Zerah the Cushite marched out against them with a vast army

and three hundred chariots" (v. 9). It seemed impossible for Asa

17
---
01Streams 11/5/01 10:01 AM Page 18

to hold his own against that vast multitude.There were no allies

who would come to his defense.Therefore his only hope was

in God.

It may be that your difficulties have come to such an alarming

level that you may be compelled to refuse all human help.

In lesser trials, you may have had that recourse, but now you

must cast yourself on your almighty Friend. Put God between

yourself and the enemy.

Asa, realizing his lack of strength, saw Jehovah as standing

between the might of Zerah and himself.And he was not mistaken.We

are told that the Cushites "were crushed before

the Lord and his forces"(v. 13), as though heavenly warriors

threw themselves against the enemy on Israel's behalf. God's

forces so overwhelmed the vast army of the enemy that they

fled.Then all Israel had to do was follow up and gather the

plunder.Our God is "the Lord of hosts"(Isa.10:16 KJV),who

can summon unexpected reinforcements at any moment to

help His people.Believe that He is between you and your difficulty,

and what troubles you will flee before Him, as clouds

in the wind. F. B. Meyer

When nothing on which to lean remains,

When strongholds crumble to dust;

When nothing is sure but that God still reigns,

That is just the time to trust.

It's better to walk by faith than sight,

In this path of yours and mine;

And the darkest night, when there's no outer light

Is the time for faith to shine.

"Abraham believed God" (Rom. 4:3), and said to his eyes,

"Stand back!"and to the laws of nature,"Hold your peace!"and

to an unbelieving heart,"Silence, you lying tempter!" He simply

"believed God." Joseph Parker

18
---
01Streams 11/5/01 10:01 AM Page 19

January 6

When you pass through the waters . . . they will not sweep over you.

(Isaiah 43:2)

God does not open paths for us before we come to them, or

provide help before help is needed. He does not remove obstacles

out of our way before we reach them.Yet when we are at

our point of need, God's hand is outstretched.

Many people forget this truth and continually worry about

difficulties they envision in the future.They expect God to open

and clear many miles of road before them, but He promises to

do it step by step, only as their need arises.You must be in the

floodwaters before you can claim God's promise. Many people

dread death and are distressed that they do not have "dying

grace."Of course,they will never have the grace for death when

they are in good health.Why should they have it while in the

midst of life's duties, with death still far away? Living grace is

what is needed for life's work and calling, and then dying grace

when it is time to die. J. R. M.

"When you pass through the waters"

Deep the waves may be and cold,

But Jehovah is our refuge,

And His promise is our hold;

For the Lord Himself has said it,

He, the faithful God and true:

"When you come to the waters

You will not go down, BUT THROUGH."

Seas of sorrow, seas of trial,

Bitter anguish, fiercest pain,

Rolling surges of temptation

Sweeping over heart and brain—

They will never overflow us

For we know His word is true;

All His waves and all His billows

19
---
01Streams 11/5/01 10:01 AM Page 20

He will lead us safely THROUGH.

Threatening breakers of destruction,

Doubt's insidious undertow,

Will not sink us, will not drag us

Out to ocean depths of woe;

For His promise will sustain us,

Praise the Lord, whose Word is true!

We will not go down, or under,

For He says,"You will pass THROUGH."

Annie Johnson Flint

January 7

I have learned to be content whatever the circumstances. (Philippians

4:11)

Paul, while being denied every comfort, wrote the above

words from a dark prison cell.

A story is told of a king who went to his garden one morning,

only to find everything withered and dying. He asked the

oak tree that stood near the gate what the trouble was.The oak

said it was tired of life and determined to die because it was not

tall and beautiful like the pine tree.The pine was troubled because

it could not bear grapes like the grapevine.The grapevine was

determined to throw its life away because it could not stand erect

and produce fruit as large as peaches.The geranium was fretting

because it was not tall and fragrant like the lilac.

And so it went throughout the garden.Yet coming to a violet,

the king found its face as bright and happy as ever and said,

"Well,violet,I'm glad to find one brave little flower in the midst

of this discouragement.You don't seem to be the least disheartened."The

violet responded,"No, I'm not. I know I'm

small, yet I thought if you wanted an oak or a pine or a peach

tree or even a lilac, you would have planted one. Since I knew

20
---
01Streams 11/5/01 10:01 AM Page 21

you wanted a violet, I'm determined to be the best little violet

I can be."

Others may do a greater work,

But you have your part to do;

And no one in all God's family

Can do it as well as you.

People who are God's without reservation "have learned to

be content whatever the circumstances."His will becomes their

will, and they desire to do for Him whatever He desires them

to do. They strip themselves of everything, and in their nakedness

find everything restored a hundredfold.

January 8

I will send down showers in season; there will be showers of blessing.

(Ezekiel 34:26)

What is your season today? Are you experiencing a season of

drought? If so, then it is the season for showers.Are you going

through a season of great heaviness with dark clouds? Then that

too is the season for showers."Your strength will equal your

days" (Deut. 33:25)."I will send . . . showers of blessing." Notice

that the word "showers" is plural.

God will send all kinds of blessings. And all His blessings go

together like links in a golden chain. If He gives you saving

grace, He will also give you comforting grace. God will send

"showers of blessings." Look up today, you who are dried and

withered plants.Open your leaves and flowers and receive God's

heavenly watering. Charles H. Spurgeon

Let but your heart become a valley low,

And God will rain on it till it will overflow.

You, O Lord, can transform my thorn into a flower. And I

do want my thorn transformed into a flower. Job received sunshine

after the rain, but was the rain all wasted? Job wants to

21
---
01Streams 11/5/01 10:01 AM Page 22

know, and I want to know, if the rain is related to the sunshine.

Only You can tell me—Your cross can tell me. You have

crowned Your sorrow. Let this be my crown,O Lord.I will only

triumph in You once I have learned the radiance of the rain.

George Matheson

The fruitful life seeks rain as well as sunshine.

The landscape, brown and dry beneath the sun,

Needs but the cloud to lift it into life;

The dews may dampen the tree and flower,

But it requires the cloud-distilled shower

To bring rich greenness to the lifeless life.

Ah, how like this, the landscape of a life:

Dews of trial fall like incense, rich and sweet;

But meaning little in the crystal tray—

Like moths of night, dews lift at break of day

And fleeting impressions leave, like lips that meet.

But clouds of trials, bearing burdens rare,

Leave in the soul, a moisture settled deep:

Life stirs by the powerful law of God;

And where before the thirsty camel trod,

There richest beauties to life's landscape leap.

Then read you in each cloud that comes to you

The words of Paul, in letters large and clear:

So will those clouds your soul with blessing feed,

And with a constant trust as you do read,

All things together work for good. Fret not, nor fear!

January 9

I consider that our present sufferings are not worth comparing with the

glory that will be revealed in us. (Romans 8:18)

I once kept a bottle-shaped cocoon of an emperor moth for

nearly one year.The cocoon was very strange in its construction.The

neck of the "bottle" had a narrow opening through

22
---
01Streams 11/5/01 10:01 AM Page 23

which the mature insect forces its way.Therefore the abandoned

cocoon is as perfect as one still inhabited, with no tearing of the

interwoven fibers having taken place.The great disparity between

the size of the opening and the size of the imprisoned insect

makes a person wonder how the moth ever exits at all. Of course,

it is never accomplished without great labor and difficulty. It is

believed the pressure to which the moth's body is subjected when

passing through such a narrow opening is nature's way of forcing

fluids into the wings,since they are less developed at the time

of emerging from the cocoon than in other insects.

I happened to witness the first efforts of my imprisoned moth

to escape from its long confinement.All morning I watched it

patiently striving and struggling to be free. It never seemed able

to get beyond a certain point,and at last my patience was exhausted.The

confining fibers were probably drier and less elastic than

if the cocoon had been left all winter in its native habitat,as nature

meant it to be.In any case,I thought I was wiser and more compassionate

than its Maker, so I resolved to give it a helping hand.

With the point of my scissors, I snipped the confining threads

to make the exit just a little easier. Immediately and with perfect

ease, my moth crawled out, dragging a huge swollen body

and little shriveled wings! I watched in vain to see the marvelous

process of expansion in which these wings would silently and

swiftly develop before my eyes.As I examined the delicately beautiful

spots and markings of various colors that were all there in

miniature, I longed to see them assume their ultimate size. I

looked for my moth, one of the loveliest of its kind, to appear in

all its perfect beauty. But I looked in vain. My misplaced tenderness

had proved to be its ruin.The moth suffered an aborted life,

crawling painfully through its brief existence instead of flying

through the air on rainbow wings.

I have thought of my moth often, especially when watching

with tearful eyes those who were struggling with sorrow, suffering,

and distress. My tendency would be to quickly alleviate

the discipline and bring deliverance. O shortsighted person that

23
---
01Streams 11/5/01 10:01 AM Page 24

I am! How do I know that one of these pains or groans should

be relieved? The farsighted,perfect love that seeks the perfection

of its object does not weakly shrink away from present,momentary

suffering. Our Father's love is too steadfast to be weak.

Because He loves His children,He "disciplines us . . .that we may

share in his holiness" (Heb. 12:10).With this glorious purpose

in sight, He does not relieve our crying. Made perfect through

suffering, as our Elder Brother was, we children of God are disciplined

to make us obedient, and brought to glory through

much tribulation. from a tract

January 10

Paul and his companions . . . [were] kept by the Holy Spirit from

preaching the word in the province of Asia. (Acts 16:6)

It is interesting to study the way God extended His guidance to

these early messengers of the Cross. It consisted mainly in prohibiting

their movement when they attempted to take a course

other than the right one.When they wanted to turn to the left,

toward Asia, He stopped them.When they sought to turn to the

right, toward Bithynia in Asia Minor, He stopped them again. In

his later years,Paul would do some of his greatest work in that very

region,yet now the door was closed before him by the Holy Spirit.The

time was not yet ripe for the attack on these apparently

impregnable bastions of the kingdom of Satan.Apollos needed

to go there first to lay the groundwork. Paul and Barnabas were

needed more urgently elsewhere and required further training

before undertaking this responsible task.

Beloved,whenever you are in doubt as to which way to turn,

submit your judgment absolutely to the Spirit of God, asking

Him to shut every door but the right one.Say to Him,"Blessed

Spirit,I give to You the entire responsibility of closing every road

and stopping every step that is not of God. Let me hear Your

voice behind me whenever I 'turn aside to the right or to the

left' [Deut. 5:32]."

24
---
01Streams 11/5/01 10:01 AM Page 25

In the meantime, continue along the path you have already

been traveling. Persist in your calling until you are clearly told

to do something else. O traveler, the Spirit of Jesus is waiting

to be to you what He was to Paul. Just be careful to obey even

His smallest nudging or warning.Then after you have prayed

the prayer of faith and there are no apparent hindrances, go

forward with a confident heart. Do not be surprised if your

answer comes in doors closing before you. But when doors are

shut to the right and left, an open road is sure to lead to Troas.

Luke waits for you there,and visions will point the way to where

vast opportunities remain open,and faithful friends are waiting.

from Paul, by F. B. Meyer

Is there some problem in your life to solve,

Some passage seeming full of mystery?

God knows, who brings the hidden things to light.

He keeps the key.

Is there some door closed by the Father's hand

Which widely opened you had hoped to see?

Trust God and wait—for when He shuts the door

He keeps the key.

Is there some earnest prayer unanswered yet,

Or answered NOT as you had thought 'twould be?

God will make clear His purpose by and by.

He keeps the key.

Have patience with your God, your patient God,

All wise, all knowing, no long lingerer He,

And of the door of all your future life

He keeps the key.

Unfailing comfort, sweet and blessed rest,

To know of EVERY door He keeps the key.

That He at last when just HE sees is best,

Will give it THEE.

Anonymous

25
---
01Streams 11/5/01 10:01 AM Page 26

January 11

Comfort, comfort my people, says your God. (Isaiah 40:1)

Store up comfort.This was the prophet Isaiah's mission.The

world is full of hurting and comfortless hearts. But before you

will be competent for this lofty ministry, you must be trained.

And your training is extremely costly, for to make it complete,

you too must endure the same afflictions that are wringing

countless hearts of tears and blood.Consequently,your own life

becomes the hospital ward where you are taught the divine art

of comfort.You will be wounded so that in the binding up of

your wounds by the Great Physician,you may learn how to render

first aid to the wounded everywhere. Do you wonder why

you are having to experience some great sorrow? Over the next

ten years you will find many others afflicted in the same way.

You will tell them how you suffered and were comforted. As

the story unfolds, God will apply the anesthetic He once used

on you to them.Then in the eager look followed by the gleam

of hope that chases the shadow of despair from the soul, you

will know why you were afflicted. And you will bless God for

the discipline that filled your life with such a treasure of experience

and helpfulness. selected

God comforts us not to make us comfortable but to make

us comforters. John Henry Jowett

They tell me I must bruise

The rose's leaf,

Ere I can keep and use

Its fragrance brief.

They tell me I must break

The skylark's heart,

Ere her cage song will make

The silence start.

They tell me love must bleed,

And friendship weep,

26
---
01Streams 11/5/01 10:01 AM Page 27

Ere in my deepest need

I touch that deep.

Must it be always so

With precious things?

Must they be bruised and go

With beaten wings?

Ah, yes! by crushing days,

By caging nights, by scar

Of thorn and stony ways,

These blessings are!

January 12

Reckon it nothing but joy . . . whenever you find yourself hedged in

by the various trials, be assured that the testing of your faith leads to

power of endurance. (James 1:2–3 WEYMOUTH)

God hedges in His own in order to protect them.Yet often they

only see the wrong side of the hedge and therefore misunderstand

His actions. And so it was with Job when he asked,"Why

is life given to a man whose way is hidden, whom God has

hedged in?" (Job 3:23). Ah, but Satan knew the value of that

hedge! He challenged the Lord by saying,"Have you not put a

hedge around [Job] and his household and everything he has?"

(Job 1:10).

Onto the pages of every trial there are narrow shafts of

light that shine. Thorns will not prick you until you lean

against them,and not one will touch you without God knowing.The

words that hurt you, the letter that caused you pain,

the cruelty of your closest friend, your financial need—they

are all known to Him. He sympathizes as no one else can

and watches to see if through it all,you will dare to trust Him

completely.

The hawthorn hedge that keeps us from intruding,

Looks very fierce and bare

27
---
01Streams 11/5/01 10:01 AM Page 28

When stripped by winter, every branch protruding

Its thorns that would wound and tear.

But springtime comes; and like the rod that budded,

Each twig breaks out in green;

And cushions soft of tender leaves are studded,

Where spines alone were seen.

The sorrows, that to us seem so perplexing,

Are mercies kindly sent

To guard our wayward souls from sadder vexing,

And greater ills prevent.

To save us from the pit, no screen of roses

Would serve for our defense,

The hindrance that completely interposes

Stings back like thorny fence.

At first when smarting from the shock, complaining

Of wounds that freely bleed,

God's hedges of severity us paining,

May seem severe indeed.

But afterwards, God's blessed springtime cometh,

And bitter murmurs cease;

The sharp severity that pierced us bloometh,

And yields the fruits of peace.

Then let us sing, our guarded way thus wending

Life's hidden snares among,

Of mercy and of judgment sweetly blending;

Earth's sad, but lovely song.

January 13

In all these things we are more than conquerors through him who loved

us. (Romans 8:37)

This is more than victory.This is a triumph so complete that

we not only have escaped defeat and destruction but also have

28
---
01Streams 11/5/01 10:01 AM Page 29

destroyed our enemies and won plunder so rich and valuable

that we can actually thank God for the battle. How can we be

"more than conquerors"? We can receive from the conflict a

spiritual discipline that will greatly strengthen our faith and

establish our spiritual character.Temptation is necessary to establish

and ground us in our spiritual life. It is like the fierce winds

that cause the mighty cedars on the mountainside to sink their

roots more deeply into the soil.Our spiritual conflicts are among

our most wonderful blessings,and the Adversary is used to train

us for his own ultimate defeat.The ancient Phrygians of Asia

Minor had a legend that every time they conquered an enemy,

they absorbed the physical strength of their victims and added

to their own strength and bravery. And in truth,meeting temptation

victoriously doubles our spiritual strength and weaponry.Therefore

it is possible not only to defeat our enemy but

also to capture him and make him fight in our ranks.

The prophet Isaiah tells of "fly[ing] upon the shoulders of

the Philistines" (Isa. 11:14 KJV).These Philistines were their

deadly foes, but this passage suggests that they would be able

not only to conquer the Philistines but also to ride on their

backs to further triumphs. Just as a skilled sailor can use a head

wind to carry him forward,by using its impelling power to follow

a zigzag course, it is possible for us in our spiritual life,

through the victorious grace of God, to turn completely

around the things that seem most unfriendly and unfavorable.

Then we will be able to say continually,"What has happened

to me has really served to advance the gospel"(Phil.1:12).from

Life More Abundantly

A noted scientist,observing that the early sailors believed the

coral-building animals instinctively built up the great reefs of

the Atoll Islands in order to protect themselves in the inner

waterway, has disproved this belief. He has shown these organisms

can only live and thrive facing the open ocean in the highly

oxygenated foam of the combative waves. It is commonly

29
---
01Streams 11/5/01 10:01 AM Page 30

thought that a protected and easy life is the best way to live.

Yet the lives of all the noblest and strongest people prove exactly

the opposite and that the endurance of hardship is the making

of the person. It is the factor that distinguishes between

merely existing and living a vigorous life.Hardship builds character.

selected

But thanks be to God, who always leads us in triumphal

procession in Christ and through us spreads

everywhere the fragrance of the knowledge of him. 2

Corinthians 2:14

January 14

When he has brought out all his own, he goes on ahead of them.

(John 10:4)

This is intensely difficult work for Him and us—it is difficult

for us to go, but equally difficult for Him to cause us pain.Yet

it must be done. It would not be in our best interest to always

remain in one happy and comfortable location.Therefore He

moves us forward.The shepherd leaves the fold so the sheep will

move on to the vitalizing mountain slopes. In the same way,

laborers must be driven out into the harvest, or else the golden

grain would spoil.

But take heart! It could never be better to stay once He

determines otherwise; if the loving hand of our Lord moves us

forward, it must be best. Forward, in His name, to green pastures,

quiet waters, and mountain heights! (See Ps. 23:2.) "He

goes on ahead of [us]." So whatever awaits us is encountered first

by Him, and the eye of faith can always discern His majestic

presence out in front.When His presence cannot be seen, it is

dangerous to move ahead.Comfort your heart with the fact that

the Savior has Himself experienced all the trials He asks you

to endure; He would not ask you to pass through them unless

30
---
01Streams 11/5/01 10:01 AM Page 31

He was sure that the paths were not too difficult or strenuous

for you.

This is the blessed life—not anxious to see far down the road

nor overly concerned about the next step, not eager to choose

the path nor weighted down with the heavy responsibilities of

the future,but quietly following the Shepherd,one step at a time.

Dark is the sky! and veiled the unknown morrow!

Dark is life's way, for night is not yet o'er;

The longed-for glimpse I may not meanwhile borrow;

But, this I know and trust, HE GOES BEFORE.

Dangers are near! and fears my mind are shaking;

Heart seems to dread what life may hold in store;

But I am His—He knows the way I'm taking,

More blessed even still—HE GOES BEFORE.

Doubts cast their weird, unwelcome shadows o'er me,

Doubts that life's best—life's choicest things are o'er;

What but His Word can strengthen, can restore me,

And this blest fact; that still HE GOES BEFORE.

HE GOES BEFORE! Be this my consolation!

He goes before! On this my heart would dwell!

He goes before! This guarantees salvation!

HE GOES BEFORE! And therefore all is well.

J. Danson Smith

The oriental shepherd always walked ahead of his sheep. He

was always out in front. Any attack upon the sheep had to take

him into account first. Now God is out in front. He is in our

tomorrows, and it is tomorrow that fills people with fear. Yet

God is already there. All the tomorrows of our life have to pass

through Him before they can get to us. F. B. Meyer

God is in every tomorrow,

Therefore I live for today,

Certain of finding at sunrise,

31
---
01Streams 11/5/01 10:01 AM Page 32

Guidance and strength for my way;

Power for each moment of weakness,

Hope for each moment of pain,

Comfort for every sorrow,

Sunshine and joy after rain.

January 15

That night the Lord appeared to [Isaac]. (Genesis 26:24)

It was the same night Isaac went to Beersheba. Do you think

this revelation from God was an accident? Do you think the time

of it was an accident? Do you believe it could have happened

any other night as well as this one? If so,you are grievously mistaken.Why

did it come to Isaac the night he reached Beersheba?

Because that was the night he reached rest. In his old land

he had been tormented.There had been a whole series of petty

quarrels over the ownership of insignificant wells.There is nothing

like little worries,particularly when there are many of them.

Because of these little worries, even after the strife was over,

the place held bad memories for Isaac.Therefore he was determined

to leave and seek a change of scenery.He pitched his tent

far away from the place of his former strife.That very night the

revelation came. God spoke to him when there was no inner

storm. He could not speak to Isaac when his mind was troubled.

God's voice demands the silence of the soul. Only in the

quiet of the spirit could Isaac hear the garments of his God brush

by him. His still night became his shining night.

My soul,have you pondered these words:"Be still,and know"

(Ps. 46:10)? In the hour of distress, you cannot hear the answer

to your prayers.How often has the answer seemed to come much

later! The heart heard no reply during the moment of its crying,

its thunder, its earthquake, and its fire. But once the crying

stopped, once the stillness came, once your hand refrained from

knocking on the iron gate,and once concern for other lives broke

through the tragedy of your own life, the long-awaited reply

32
---
01Streams 11/5/01 10:01 AM Page 33

appeared.You must rest, O soul, to receive your heart's desire.

Slow the beating of your heart over concerns for your personal

care.Place the storm of your individual troubles on God's altar

of everyday trials, and the same night, the Lord will appear to

you. His rainbow will extend across the subsiding flood, and

in your stillness you will hear the everlasting music. George

Matheson

Tread in solitude your pathway,

Quiet heart and undismayed.

You will know things strange, mysterious,

Which to you no voice has said.

While the crowd of petty hustlers

Grasps at vain and meager things,

You will see a great world rising

Where soft sacred music rings.

Leave the dusty road to others,

Spotless keep your soul and bright,

As the radiant ocean's surface

When the sun is taking flight.

from the German of V. Schoffel

January 16

A furious squall came up. (Mark 4:37)

Some of life's storms—a great sorrow,a bitter disappointment,

a crushing defeat—suddenly come upon us. Others may come

slowly, appearing on the uneven edge of the horizon no larger

than a person's hand. But trouble that seems so insignificant

spreads until it covers the sky and overwhelms us.

Yet it is in the storm that God equips us for service.When

God wants an oak tree,He plants it where the storms will shake

33
---
01Streams 11/5/01 10:01 AM Page 34

it and the rains will beat down upon it.It is in the midnight battle

with the elements that the oak develops its rugged fiber and

becomes the king of the forest.

When God wants to make a person, He puts him into some

storm.The history of humankind has always been rough and

rugged.No one is complete until he has been out into the surge

of the storm and has found the glorious fulfillment of the prayer

"O God, take me, break me, make me."

A Frenchman painted a picture of universal genius. In his

painting stand famous orators, philosophers, and martyrs, all of

whom have achieved preeminence in various aspects of life.The

remarkable fact about the picture is this: every person who is

preeminent for his ability was first preeminent for suffering. In

the foreground stands the figure of the man who was denied

the Promised Land: Moses. Beside him, feeling his way, is blind

Homer. Milton is there, blind and heartbroken.Then there is

the form of One who towers above them all.What is His characteristic?

His face is marred more than any other.The artist

might have titled that great picture The Storm.

The beauties of nature come after the storm.The rugged

beauty of the mountain is born in a storm,and the heroes of life

are the storm-swept and battle-scarred.

You have been in the storms and swept by the raging winds.

Have they left you broken,weary,and beaten in the valley,or have

they lifted you to the sunlit summits of a richer, deeper, more

abiding manhood or womanhood? Have they left you with more

sympathy for the storm-swept and the battle-scarred? selected

The wind that blows can never kill

The tree God plants;

It blows toward east, and then toward west,

The tender leaves have little rest,

But any wind that blows is best.

The tree that God plants

Strikes deeper root, grows higher still,

34
---
01Streams 11/5/01 10:01 AM Page 35

Spreads greater limbs, for God's good will

Meets all its wants.

There is no storm has power to blast

The tree God knows;

No thunderbolt, nor beating rain,

Nor lightning flash, nor hurricane;

When they are spent, it does remain,

The tree God knows,

Through every storm it still stands fast,

And from its first day to its last

Still fairer grows.

January 17

35

selected

Daniel, servant of the living God, has your God, whom you serve continually,

been able to rescue you? (Daniel 6:20)

We find the expression "the living God" many times in the

Scriptures, and yet it is the very thing we are so prone to forget.We

know it is written "the living God," but in our daily life

there is almost nothing we lose sight of as often as the fact that

God is the living God.We forget that He is now exactly what He

was three or four thousand years ago, that He has the same sovereign

power, and that He extends the same gracious love

toward those who love and serve Him.We overlook the fact that

He will do for us now what He did thousands of years ago for

others, simply because He is the unchanging, living God. What

a great reason to confide in Him, and in our darkest moments

to never lose sight of the fact that He is still, and ever will be,

the living God!

Be assured, if you walk with Him, look to Him, and expect

help from Him, He will never fail you.An older believer who

has known the Lord for forty-four years wrote the following

as an encouragement to you:"God has never failed me. Even
---
01Streams 11/5/01 10:01 AM Page 36

in my greatest difficulties, heaviest trials, and deepest poverty

and need, He has never failed me. Because I was enabled by

God's grace to trust Him, He has always come to my aid. I

delight in speaking well of His name." George Mueller

Martin Luther, deep in thought and needing to grasp hidden

strength during a time of danger and fear in his life,was seen

tracing on the table with his finger the words,"He lives! He

lives!"This is our hope for ourselves,His truth,and humankind.

People come and go. Leaders, teachers, and philosophers speak

and work for a season and then fall silent and powerless. He

abides.They die but He lives.They are lights that glow yet are

ultimately extinguished. But He is the true Light from which

they draw their brightness, and He shines forevermore. Alexander

Maclaren

"One day I came to know Dr. John Douglas Adam," wrote

Charles Gallaudet Trumbull."I learned he considered his greatest

spiritual asset to be his unwavering awareness of the actual presence

of Jesus.Nothing sustained him as much,he said,as the realization

that Jesus was always actually present with him. This

realization was totally independent of his own feelings,his worthiness,

and his perceptions as to how Jesus would demonstrate

His presence.

"Furthermore,he said Christ was the center of his thoughts.

Whenever his mind was free from other matters, it would turn

to Christ.Whenever he was alone,and no matter where he was,

he would talk aloud to Christ as easily and as naturally as to

any human friend.That is how very real Jesus' actual presence

was to him."

January 18

Thanks be to God, who always leads us in triumphal procession in

Christ. (2 Corinthians 2:14)

God wins His greatest victories through apparent defeats.Very

often the enemy seems to triumph for a season,and God allows

36
---
01Streams 11/5/01 10:01 AM Page 37

it. But then He comes in and upsets the work of the enemy,

overthrows the apparent victory,and as the Bible says,"frustrates

the ways of the wicked" (Ps. 146:9). Consequently, He gives us

a much greater victory than we would have known had He

not allowed the enemy seemingly to triumph in the first place.

The story of the three Hebrew young men who were

thrown into the fiery furnace is a familiar one.There was an

apparent victory for the enemy. It looked as if the servants of

the living God were going to suffer a terrible defeat.We have

all been in situations where it seemed as though we were defeated,

and the enemy rejoiced.We can only imagine what a complete

defeat this appeared to be for Daniel's friends.They were

thrown into the terrible flames while their enemies watched

to see them burn.Yet the enemy was greatly astonished to see

them walking around in the fire, enjoying themselves.Then

King Nebuchadnezzar told them to come out of the fire.The

enemy "crowded around them.They saw that the fire had not

harmed their bodies, nor was a hair of their heads singed; their

robes were not scorched,and there was no smell of fire on them

...for no other god can save in this way" (Dan. 3:27, 29).

This apparent defeat resulted in a miraculous victory.

Suppose these three men had lost their faith and courage and

had complained, saying,"Why didn't God keep us out of the

furnace!"They would have been burned, and God would not

have been glorified. If there is a great trial in your life today,

do not acknowledge it as a defeat. Instead, continue by faith to

claim the victory through Him who is able to make you "more

than conquerors"(Rom.8:37),and a glorious victory will soon

be apparent. May we learn that in all the difficult places God

takes us, He is giving us opportunities to exercise our faith in

Him that will bring about blessed results and greatly glorify His

name. from Life of Praise

Defeat may serve as well as victory

To shake the soul and let the glory out.

37
---
01Streams 11/5/01 10:01 AM Page 38

When the great oak is straining in the wind,

The limbs drink in new beauty, and the trunk

Sends down a deeper root on the windward side.

Only the soul that knows the mighty grief

Can know the mighty rapture. Sorrows come

To stretch out spaces in the heart for joy.

January 19

Then Jesus told his disciples . . . that they should always pray and not

give up. (Luke 18:1)

Observe the ant,"the great Oriental conqueror Tamerlane told

his friends. In relating a story from his early life, he said,"I once

was forced to take shelter from my enemies in a dilapidated

building, where I sat alone for many hours.Wishing to divert

my mind from my hopeless situation, I fixed my eyes on an ant

carrying a kernel of corn larger than itself up a high wall. I

counted its attempts to accomplish this feat.The corn fell sixtynine

times to the ground, but the insect persevered.The seventieth

time it reached the top.The ant's accomplishment gave me

courage for the moment,and I never forgot the lesson."from The

King's Business

Prayer that uses previously unanswered prayers as an excuse

for laziness has already ceased to be a prayer of faith.To someone

who prays in faith, unanswered prayers are simply the evidence

that the answer is much closer.From beginning to end,our

Lord's lessons and examples teach us that prayer that is not steadfast

and persistent,nor revived and refreshed,and does not gather

strength from previous prayers is not the prayer that will triumph.

William Arthur

Arthur Rubinstein, the great pianist, once said,"If I neglect

practicing one day, I notice; two days, my friends notice; three

days, the public notices." It is the old principle "Practice makes

perfect." We must continue believing, praying, and doing His

will. In any of the arts, when the artist ceases to practice, we

38
---
01Streams 11/5/01 10:01 AM Page 39

know the result. If we would only use the same level of common

sense in our faith that we use in our everyday life, we

would be moving on toward perfection.

David Livingstone's motto was,"I resolved never to stop until

I had come to the goal and achieved my purpose." He was victorious

through unwavering persistence and faith in God.

January 20

Sorrow is better than laughter, because a sad face is good for the heart.

(Ecclesiastes 7:3)

Sorrow, under the power of divine grace, performs various ministries

in our lives. Sorrow reveals unknown depths of the soul,and

unknown capacities for suffering and service. Lighthearted, frivolous

people are always shallow and are never aware of their own

meagerness or lack of depth. Sorrow is God's tool to plow the

depths of the soul, that it may yield richer harvests. If humankind

were still in a glorified state, having never fallen, then the strong

floods of divine joy would be the force God would use to reveal

our souls'capacities.But in a fallen world,sorrow,yet with despair

removed, is the power chosen to reveal us to ourselves.Accordingly,

it is sorrow that causes us to take the time to think deeply

and seriously.

Sorrow makes us move more slowly and considerately and

examine our motives and attitudes.It opens within us the capacities

of the heavenly life,and it makes us willing to set our capacities

afloat on a limitless sea of service for God and for others.

Imagine a village of lazy people living at the foot of a great

mountain range, yet who have never ventured out to explore

the valleys and canyons back in the mountains. One day a great

thunderstorm goes careening through the mountains, turning

the hidden valleys into echoing trumpets and revealing their

inner recesses,like the twisted shapes of a giant seashell. The villagers

at the foot of the hills are astonished at the labyrinths

and the unexplored recesses of a region so nearby and yet so

39
---
01Streams 11/5/01 10:01 AM Page 40

unknown.And so it is with many people who casually live on

the outer edge of their own souls until great thunderstorms of

sorrow reveal hidden depths within, which were never before

known or suspected.

God never uses anyone to a great degree until He breaks

the person completely. Joseph experienced more sorrow than

the other sons of Jacob, and it led him into a ministry of food

for all the nations. For this reason, the Holy Spirit said of him,

"Joseph is a fruitful vine . . .near a spring,whose branches climb

over a wall" (Gen. 49:22). It takes sorrow to expand and deepen

the soul. from The Heavenly Life

The dark brown soil is turned

By the sharp-pointed plow;

And I've a lesson learned.

My life is but a field,

Stretched out beneath God's sky,

Some harvest rich to yield.

Where grows the golden grain?

Where faith? Where sympathy?

In a furrow cut by pain.

40

Maltbie D. Babcock

Every person and every nation must endure lessons in God's

school of adversity.In the same way we say,"Blessed is the night,

for it reveals the stars to us," we can say,"Blessed is sorrow, for

it reveals God's comfort." A flood once washed away a poor

man's home and mill,taking with it everything he owned in the

world.He stood at the scene of his great loss,brokenhearted and

discouraged.Yet after the waters had subsided,he saw something

shining in the riverbanks that the flood had washed bare."It

looks like gold," he said. And it was gold.The storm that had

impoverished him made him rich. So it is oftentimes in life.

Henry Clay Trumbull
---
01Streams 11/5/01 10:01 AM Page 41

January 21

I consider my life worth nothing to me, if only I may finish the race

and complete the task the Lord Jesus has given me. (Acts 20:24)

We read in 2 Samuel 5:17,"When the Philistines heard that

David had been anointed king over Israel,they went up in full force

to search for him."The moment we receive anything from the Lord

worth fighting for, the Devil comes seeking to destroy us.

When the Enemy confronts us at the threshold of any great

work for God, we should accept it as evidence of our salvation,

and claim double the blessing, victory, and power. Power

is developed through resistance.The force and the amount of

damage created by an exploding artillery shell appears to be

greater because of the resistance at the point of impact. A power

plant produces additional electricity by using the friction of

the rotating turbines. And one day, we too will understand that

even Satan has been used as one of God's instruments of blessing.

from Days of Heaven upon Earth

A hero is not fed on sweets,

Daily his own heart he eats;

Chambers of the great are jails,

And head winds right for royal sails.

41

Ralph Waldo Emerson

Tribulation is the door to triumph.The valley leads to the

open highway,and tribulation's imprint is on every great accomplishment.

Crowns are cast in crucibles, and the chains of character

found at the feet of God are forged in earthly flames.No one

wins the greatest victory until he has walked the winepress of

woe.With deep furrows of anguish on His brow, the "man of

sorrows" (Isa. 53:3) said,"In this world you will have trouble"

(John 16:33). But immediately comes the psalm of promise,

"Take heart! I have overcome the world."

The footprints are visible everywhere.The steps that lead

to thrones are stained with spattered blood, and scars are the
---
01Streams 11/5/01 10:01 AM Page 42

price for scepters.We will wrestle our crowns from the giants

we conquer. It is no secret that grief has always fallen to people

of greatness.

The mark of rank in nature

Is capacity for pain;

And the anguish of the singer

Makes the sweetest of the strain.

Tribulation has always marked the trail of the true reformer.

It was true in the story of Paul, Luther, Savonarola, Knox,Wesley,and

the rest of God's mighty army.They came through great

tribulation to their point of power.

Every great book has been written with the author's blood.

"These are they who have come out of the great tribulation"

(Rev. 7:14). In spite of his blindness, wasn't Homer the unparalleled

poet of the Greeks? And who wrote the timeless dream

of Pilgrim's Progress? Was it a prince in royal robes seated on a

couch of comfort and ease? No! The lingering splendor of John

Bunyan's vision gilded the dingy walls of an old English jail in

Bedford, while he, a princely prisoner and a glorious genius,

made a faithful transcript of the scene.

Great is the easy conqueror;

Yet the one who is wounded sore,

Breathless, all covered o'er with blood and sweat,

Sinks fainting, but fighting evermore—

Is greater yet.

January 22

He withdrew . . . to a solitary place. (Matthew 14:13)

42

selected

There is no music during a musical rest, but the rest is part of

the making of the music. In the melody of our life, the music is

separated here and there by rests. During those rests, we foolishly
---
01Streams 11/5/01 10:01 AM Page 43

believe we have come to the end of the song. God sends us times

of forced leisure by allowing sickness,disappointed plans,and frustrated

efforts. He brings a sudden pause in the choral hymn of

our lives, and we lament that our voices must be silent.We grieve

that our part is missing in the music that continually rises to the

ear of our Creator.Yet how does a musician read the rest? He

counts the break with unwavering precision and plays his next

note with confidence, as if no pause were ever there.

God does not write the music of our lives without a plan.Our

part is to learn the tune and not be discouraged during the rests.

They are not to be slurred over or omitted, nor used to destroy

the melody or to change the key. If we will only look up, God

Himself will count the time for us.With our eyes on Him, our

next note will be full and clear. If we sorrowfully say to ourselves,"There

is no music in a rest," let us not forget that the rest

is part of the making of the music.The process is often slow and

painful in this life,yet how patiently God works to teach us! And

how long He waits for us to learn the lesson! John Ruskin

Called aside—

From the glad working of your busy life,

From the world's ceaseless stir of care and strife,

Into the shade and stillness by your Heavenly Guide

For a brief time you have been called aside.

Called aside—

Perhaps into a desert garden dim;

And yet not alone, when you have been with Him,

And heard His voice in sweetest accents say:

"Child, will you not with Me this still hour stay?"

Called aside—

In hidden paths with Christ your Lord to tread,

Deeper to drink at the sweet Fountainhead,

Closer in fellowship with Him to roam,

Nearer, perhaps, to feel your Heavenly Home.

43
---
01Streams 11/5/01 10:01 AM Page 44

Called aside—

Oh, knowledge deeper grows with Him alone;

In secret oft His deeper love is shown,

And learned in many an hour of dark distress

Some rare, sweet lesson of His tenderness.

Called aside—

We thank You for the stillness and the shade;

We thank You for the hidden paths Your love has made,

And, so that we have wept and watched with Thee,

We thank You for our dark Gethsemane.

Called aside—

O restful thought—He doeth all things well;

O blessed sense, with Christ alone to dwell;

So in the shadow of Your cross to hide,

We thank You, Lord, to have been called aside.

January 23

Why, O Lord, do you stand far off? (Psalm 10:1)

God is . . . an ever-present help in trouble" (Ps. 46:1). But He

allows trouble to pursue us, as though He were indifferent to

its overwhelming pressure, so we may be brought to the end

of ourselves.Through the trial, we are led to discover the treasure

of darkness and the immeasurable wealth of tribulation.

We may be sure that He who allows the suffering is with us

throughout it. It may be that we will only see Him once the

ordeal is nearly passed,but we must dare to believe that He never

leaves our trial. Our eyes are blinded so we cannot see the One

our soul loves.The darkness and our bandages blind us so that

we cannot see the form of our High Priest.Yet He is there and

is deeply touched. Let us not rely on our feelings but trust in

His unswerving faithfulness.And though we cannot see Him,let

us talk to Him.Although His presence is veiled, once we begin

to speak to Jesus as if He were literally present,an answering voice

44
---
01Streams 11/5/01 10:01 AM Page 45

comes to show us He is in the shadow, keeping watch over His

own.Your Father is as close to you when you journey through

the darkest tunnel as He is when you are under the open heaven!

from Daily Devotional Commentary

Although the path be all unknown?

Although the way be drear?

Its shades I travel not alone

When steps of Yours are near.

January 24

But the dove could find no place to set its feet . . .so it returned to Noah

in the ark....He waited seven more days and again sent out the dove

from the ark.When the dove returned to him in the evening, there in

its beak was a freshly plucked olive leaf! (Genesis 8:9–11)

God knows exactly when to withhold or to grant us any visible

sign of encouragement. How wonderful it is when we will

trust Him in either case! Yet it is better when all visible evidence

that He is remembering us is withheld. He wants us to realize

that His Word—His promise of remembering us—is more real

and dependable than any evidence our senses may reveal. It is

good when He sends the visible evidence, but we appreciate it

even more after we have trusted Him without it. And those who

are the most inclined to trust God without any evidence except

His Word always receive the greatest amount of visible evidence

of His love. Charles Gallaudet Trumbull

Believing Him; if storm clouds gather darkly 'round,

And even if the heavens seem hushed, without a sound?

He hears each prayer and even notes the sparrow's fall.

And praising Him; when sorrow, grief, and pain are near,

And even when we lose the thing that seems most dear?

Our loss is gain. Praise Him; in Him we have our All.

45
---
01Streams 11/5/01 10:01 AM Page 46

Our hand in His; e'en though the path seems long and drear

We scarcely see a step ahead, and almost fear?

He guides us right—this way and that, to keep us near.

And satisfied; when every path is blocked and bare,

And worldly things are gone and dead which were so fair?

Believe and rest and trust in Him, He comes to stay.

Delayed answers to prayers are not refusals. Many prayers

are received and recorded, yet underneath are the words,"My

time has not yet come." God has a fixed time and an ordained

purpose, and He who controls the limits of our lives also determines

the time of our deliverance. selected

January 25

Your rod and your staff, they comfort me. (Psalm 23:4)

At my father's house in the country,there is a little closet near

the chimney,where we keep the canes,or walking sticks,of several

generations of our family.During my visits to the old house,

as my father and I are going out for a walk, we often go to the

cane closet and pick out our sticks to suit the occasion.As we

have done this, I have frequently been reminded that the Word

of God is a staff.

During the war, when we were experiencing a time of discouragement

and impending danger,the verse "He will have no

fear of bad news; his heart is steadfast, trusting in the Lord" (Ps.

112:7) was a staff to walk with on many dark days.

When our child died and we were left nearly brokenhearted,I

found another staff in the promise "Weeping may remain for

a night, but rejoicing comes in the morning" (Ps. 30:5).

When I was forced to be away from home for a year due to

poor health,not knowing if God would ever allow me to return

to my home and work again, I chose this staff, which has never

failed:"For I know the plans I have for you, . . . plans to prosper

46
---
01Streams 11/5/01 10:01 AM Page 47

you and not to harm you, plans to give you hope and a future"

(Jer. 29:11).

In times of impending danger or doubt, when human judgment

seems to be of no value,I have found it easy to go forward

with this staff: "In quietness and trust is your strength" (Isa.

30:15).And in emergencies, when there has been no time for

deliberation or for action,this staff has never failed me:"He that

believeth shall not make haste"(Isa.28:16 KJV).Abbott Benjamin

Vaughan, in The Outlook

Martin Luther's wife said,"I would never have known the

meaning of various psalms, come to appreciate certain difficulties,

or known the inner workings of the soul; I would never

have understood the practice of the Christian life and work, if

God had never brought afflictions to my life." It is quite true

that God's rod is like a schoolteacher's pointer to a child, pointing

out a letter so the child will notice it. In this same way, God

points out many valuable lessons to us that we otherwise would

never have learned. selected

God always sends His staff with His rod.

Thy shoes shall be iron and brass; and as thy days, so

shall thy strength be. Deuteronomy 33:25 KJV

Each of us may be sure that if God sends us over rocky paths,

He will provide us with sturdy shoes. He will never send us on

any journey without equipping us well. Alexander Maclaren

January 26

I have begun to deliver.... Now begin to conquer and possess.

(Deuteronomy 2:31)

The Bible has a great deal to say about waiting for God, and

the teaching cannot be too strongly emphasized.We so easily

become impatient with God's delays.Yet much of our trouble

in life is the result of our restless, and sometimes reckless, haste.

47
---
01Streams 11/5/01 10:01 AM Page 48

We cannot wait for the fruit to ripen, but insist on picking it

while it is still green.We cannot wait for the answers to our

prayers, although it may take many years for the things we pray

for to be prepared for us.We are encouraged to walk with God,

but often God walks very slowly.Yet there is also another side

to this teaching: God often waits for us.

Quite often we fail to receive the blessing He has ready for

us because we are not moving forward with Him.While it is

true we miss many blessings by not waiting for God,we also lose

numerous blessings by overwaiting.There are times when it takes

strength simply to sit still, but there are also times when we are

to move forward with a confident step.

Many of God's promises are conditional,requiring some initial

action on our part. Once we begin to obey, He will begin

to bless us.Great things were promised to Abraham,but not one

of them could have been obtained had he waited in Chaldea.

He had to leave his home, friends, and country, travel unfamiliar

paths, and press on in unwavering obedience in order to

receive the promises.The ten lepers Jesus healed were told to

show themselves to the priest, and "as they went, they were

cleansed" (Luke 17:14). If they had waited to see the cleansing

come to their bodies before leaving,they would never have seen

it. God was waiting to heal them, and the moment their faith

began to work, the blessing came.

When the Israelites were entrapped by Pharaoh's pursuing

army at the Red Sea, they were commanded to "go forward"

(Ex. 14:15 KJV). No longer was it their duty to wait, but to

rise up from bended knees and "go forward" with heroic faith.

Years later the Israelites were commanded to show their faith

again by beginning their march over the Jordan while the river

was at its highest point.They held the key to unlock the gate

into the Land of Promise in their own hands,and the gate would

not begin to turn on its hinges until they had approached and

unlocked it.The key was faith.

48
---
01Streams 11/5/01 10:01 AM Page 49

We are destined to fight certain battles, and we think we

can never be victorious and conquer our enemies.Yet as we

enter the conflict, One comes who fights by our side.Through

Him we are "more than conquerors" (Rom. 8:37). If we had

waited in fear and trembling for our Helper to come before

we would enter the battle, we would have waited in vain.This

would have been the overwaiting of unbelief. God is waiting to

pour out His richest blessings on you."Go forward" with bold

confidence and take what is yours."I have begun to deliver....

Now begin to conquer and possess." J. R. Miller

January 27

Make you strong, firm and steadfast. (1 Peter 5:10)

Before we can establish a new and deeper relationship with

Christ, we must first acquire enough intellectual light to satisfy

our mind that we have been given the right to stand in this

new relationship. Even the shadow of a doubt here will destroy

our confidence.Then, having seen the light, we must advance.

We must make our choice, commit to it, and take our rightful

place as confidently as a tree is planted in the ground. As a bride

entrusts herself to the groom at the marriage altar, our commitment

to Christ must be once and for all,without reservation

or reversal.

Then there follows a time of establishing and testing, during

which we must stand still until the new relationship becomes

so ingrained in us that it becomes a permanent habit.It is comparable

to a surgeon setting a broken arm by splinting it to keep

it from moving. God too has His spiritual splints He wants to

put on His children to keep them quiet and still until they pass

the first stage of faith. Sometimes the trial will be difficult, but

"the God of all grace, who called you to his eternal glory in

Christ, after you have suffered a little while, will himself restore

you and make you strong, firm and steadfast" (1 Peter 5:10).

A. B. Simpson

49
---
01Streams 11/5/01 10:01 AM Page 50

There is a natural law at work in sin and in sickness, and if

we just drift along following the flow of our circumstances, we

will sink under the power of the Tempter. But there is another

law of spiritual and physical life in Christ Jesus to which we

can rise, and through which we can counterbalance and overcome

the natural law that weighs us down.

Doing this, however, requires real spiritual energy, a determined

purpose,a sure stance,and the habit of faith.It is the same

principle as a factory that uses electricity to run its machinery.

The switch must be turned on and left in that position.The

power is always available, but the proper connection must be

made.And as long as that connection is intact, the power will

enable all the machinery to stay in operation.

There is a spiritual law of choosing, believing, abiding, and

remaining steadfast in our walk with God.This law is essential

to the working of the Holy Spirit in our sanctification and in

our healing. from Days of Heaven upon Earth

January 28

I am jealous for you with a godly jealousy. (2 Corinthians 11:2)

Oh, how the old harpist loves his harp! He cuddles and caresses

it, as if it were a child resting on his lap. His life is consumed

with it. But watch how he tunes it. He grasps it firmly, striking

a chord with a sharp, quick blow.While it quivers as if in pain,

he leans forward, intently listening to catch the first note rising

from it. Just as he feared, the note is distorted and shrill. He

strains the string,turning the torturing thumbscrew,and though

it seems ready to snap with the tension,he strikes it again.Then

he leans forward again, carefully listening, until at last a smile

appears on his face as the first melodic sound arises.

Perhaps this is how God is dealing with you. Loving you

more than any harpist loves his harp, He finds you nothing but

harsh, discordant sounds. He plucks your heartstrings with torturing

anguish.Tenderly leaning over you, he strikes the strings

50
---
01Streams 11/5/01 10:01 AM Page 51

and listens.Hearing only a harsh murmur,He strikes you again.

His heart bleeds for you while He anxiously waits to hear the

strain "Not my will, but yours be done" (Luke 22:42)—a

melody as sweet to His ears as angels' songs. And He will never

cease from striking the strings of your heart until your humbled

and disciplined soul blends with all the pure and eternal harmonies

of His own being. selected

Oh, the sweetness that dwells in a harp of many strings,

While each, all vocal with love in a tuneful harmony rings!

But, oh, the wail and the discord, when one and another is rent,

Tensionless, broken and lost, from the cherished instrument.

For rapture of love is linked with the pain or fear of loss,

And the hand that takes the crown, must ache

with many a cross;

Yet he who has never a conflict, wins never a victor's palm,

And only the toilers know the sweetness of rest and calm.

Only between the storms can the Alpine traveler know

Transcendent glory of clearness, marvels of gleam and glow;

Had he the brightness unbroken of cloudless summer days,

This had been dimmed by the dust and the veil

of a brooding haze.

Who would dare the choice, neither or both to know,

The finest quiver of joy or the agony thrill of woe!

Never the exquisite pain, then never the exquisite bliss,

For the heart that is dull to that can never be strung to this.

January 29

God is in the midst of her, she will not be moved; God will help her

when morning dawns. (Psalm 46:5 NASB)

Will not be moved"—what an inspiring declaration! Is it possible

for us who are so easily moved by earthly things to come

to a point where nothing can upset us or disturb our peace? The

51
---
01Streams 11/5/01 10:01 AM Page 52

answer is yes, and the apostle Paul knew it.When he was on his

way to Jerusalem, the Holy Spirit warned him that "prison and

hardships" (Acts 20:23) awaited him.Yet he could triumphantly

say,"But none of these things move me" (Acts 20:24 KJV).

Everything in Paul's life and experience that could be disturbed

had already been shaken, and he no longer considered

his life or any of his possessions as having any earthly value. And

if we will only let God have His way with us, we can come to

the same point.Then, like Paul, neither the stress and strain of

little things nor the great and heavy trials of life will have enough

power to move us from "the peace of God, which transcends all

understanding" (Phil. 4:7). God declares this peace to be the

inheritance of those who have learned to rest only on Him.

"Him who overcomes I will make a pillar in the temple of

my God. Never again will he leave it" (Rev. 3:12). Becoming

as immovable as a pillar in the house of God is such a worthy

objective that we would gladly endure all the necessary trials

that take us there! Hannah Whitall Smith

When God is the center of a kingdom or a city, He makes

it strong "like Mount Zion, which cannot be shaken" (Ps.

125:1).And when God is the center of a soul, although disasters

may crowd in on all sides and roar like the waves of the

sea, there is a constant calm within.The world can neither give

nor take away this kind of peace.What is it that causes people

to shake like leaves today at the first hint of danger? It is simply

the lack of God living in their soul, and having the world

in their hearts instead. R. Leighton

"Those who trust in the Lord are like Mount Zion, which cannot

be shaken but endures forever" (Ps. 125:1).There is an old Scottish

version of this psalm that strengthens our blood like iron:

Who clings to God in constant trust

As Zion's mount he stands full just,

And who moves not, nor yet does reel,

But stands forever strong as steel!

52
---
01Streams 11/5/01 10:01 AM Page 53

January 30

I will be like the dew to Israel. (Hosea 14:5)

The dew is a source of freshness. It is nature's provision for

renewing the face of the earth. It falls at night, and without it

vegetation would die. It is this great renewal value of the dew

that is so often recognized in the Scriptures and used as a symbol

of spiritual refreshment. Just as nature is bathed in dew, the

Lord renews His people. In Titus 3:5 the same thought of spiritual

refreshment is connected with the ministry of the Holy

Spirit and referred to as "renewal by the Holy Spirit."

Many Christian workers do not recognize the importance of

the heavenly dew in their lives, and as a result lack freshness and

energy.Their spirits are withered and droopy for lack of dew.

Beloved fellow worker, you recognize the folly of a laborer

attempting to work all day without eating, but do you recognize

the folly of a servant of God attempting to minister without

eating of the heavenly manna? Neither is it sufficient to have

spiritual nourishment only occasionally. Every day you must

receive the "renewal by the Holy Spirit."You know the difference

between your whole being pulsating with the energy and

freshness of God's divine life or feeling worn-out and weary.

Quietness and stillness bring the dew. At night when the leaves

and grass are still, the plants' pores are open to receive the

refreshing and invigorating bath. And spiritual dew comes from

quietly lingering in the Master's presence. Get still before Him,

for haste will prevent you from receiving the dew.Wait before

God until you feel saturated with His presence.Then move on

to your next duty with the awareness of the freshness and energy

of Christ. Dr. Pardington

Dew will never appear while there is either heat or wind.

The temperature must fall, the wind cease, and the air come to

a point of coolness and rest—absolute rest—before the invisible

particles of moisture will become dew to dampen any plant

53
---
01Streams 11/5/01 10:01 AM Page 54

or flower. And the grace of God does not come forth to bring

rest and renewal to our soul until we completely reach the point

of stillness before Him.

Drop Your still dews of quietness,

Till all our strivings cease:

Take from our souls the strain and stress;

And let our ordered lives confess

The beauty of Your peace.

Breathe through the pulses of desire

Your coolness and Your balm;

Let sense be mum, its beats expire:

Speak through the earthquake, wind and fire,

O still small voice of calm!

January 31

He giveth quietness. (Job 34:29 KJV)

He gives quietness in the midst of the raging storm. As we

sail the lake with Him, reaching deep water and far from land,

suddenly,under the midnight sky,a mighty storm sweeps down.

Earth and hell seem mobilized against us,and each wave threatens

to overwhelm our boat.Then He rises from His sleep and

rebukes the wind and the waves. He waves His hand, signaling

the end of the raging tempest and the beginning of the restful

calm. His voice is heard above the screaming of the wind

through the ropes and rigging, and over the thrashing of the

waves."Quiet! Be still!" (Mark 4:39). Can you not hear it? And

instantly there is a great calm."He giveth quietness"—quietness

even in the midst of losing our inner strength and comforts.Sometimes

He removes these because we make too much of them.

We are tempted to look at our joys, pleasures, passions, or our

dreams, with too much self-satisfaction.Then through His gracious

love He withdraws them, leading us to distinguish

54
---
01Streams 11/5/01 10:01 AM Page 55

between them and Himself. He draws near and whispers the

assurance of His presence,bringing an infinite calm to keep our

hearts and minds."He giveth quietness."

"He giveth quietness." O Elder Brother,

Whose homeless feet have pressed our path of pain,

Whose hands have borne the burden of our sorrow,

That in our losses we might find our gain.

Of all Your gifts and infinite consolings,

I ask but this: in every troubled hour

To hear Your voice through all the tumults stealing,

And rest serene beneath its tranquil power.

Cares cannot fret me if my soul be dwelling

In the still air of faith's untroubled day;

Grief cannot shake me if I walk beside you,

My hand in Yours along the darkening way.

Content to know there comes a radiant morning

When from all shadows I will find release;

Serene to wait the rapture of its dawning—

Who can make trouble when You send me peace?
---
01Streams 11/5/01 10:01 AM Page 55

February

Day 1 Day 2 Day 3 Day 4 Day 5

Day 6 Day 7 Day 8 Day 9 Day 10

Day 11 Day 12 Day 13 Day 14 Day 15

Day 16 Day 17 Day 18 Day 19 Day 20

Day 21 Day 22 Day 23 Day 24 Day 25

Day 26 Day 27 Day 28 Day 29

February 1

This is my doing. (1 Kings 12:24)

The disappointments of life are simply the hidden appointments

of love. C.A. Fox

My child, I have a message for you today. Let me whisper it

in your ear so any storm clouds that may arise will shine with

glory, and the rough places you may have to walk will be made

smooth. It is only four words, but let them sink into your inner

being, and use them as a pillow to rest your weary head. "This

is my doing."

Have you ever realized that whatever concerns you concerns

Me too? "For whoever touches you touches the apple of [my]

55
---
01Streams 11/5/01 10:01 AM Page 56

eye"(Zech.2:8)."You are precious and honored in my sight"(Isa.

43:4).Therefore it is My special delight to teach you.

I want you to learn when temptations attack you, and the

enemy comes in "like a pent-up flood" (Isa. 59:19), that "this

is my doing" and that your weakness needs My strength, and

your safety lies in letting Me fight for you.

Are you in difficult circumstances, surrounded by people

who do not understand you,never ask your opinion,and always

push you aside? "This is my doing." I am the God of circumstances.You

did not come to this place by accident—you are

exactly where I meant for you to be.

Have you not asked Me to make you humble? Then see that

I have placed you in the perfect school where this lesson is

taught.Your circumstances and the people around you are only

being used to accomplish My will.

Are you having problems with money, finding it hard to

make ends meet? "This is my doing," for I am the One who

keeps your finances, and I want you to learn to depend upon

Me.My supply is limitless and I "will meet all your needs"(Phil.

4:19). I want you to prove My promises so no one may say,"You

did not trust in the Lord your God" (Deut. 1:32).

Are you experiencing a time of sorrow? "This is my doing." I

am "a man of sorrows, and familiar with suffering" (Isa. 53:3). I

have allowed your earthly comforters to fail you,so that by turning

to Me you may receive "eternal encouragement and good

hope" (2 Thess. 2:16). Have you longed to do some great work

for Me but instead have been set aside on a bed of sickness and

pain? "This is my doing." You were so busy I could not get your

attention, and I wanted to teach you some of My deepest truths.

"They also serve who only stand and wait." In fact, some of My

greatest workers are those physically unable to serve,but who have

learned to wield the powerful weapon of prayer.

Today I place a cup of holy oil in your hands. Use it freely,

My child. Anoint with it every new circumstance, every word

56
---
01Streams 11/5/01 10:01 AM Page 57

that hurts you,every interruption that makes you impatient,and

every weakness you have.The pain will leave as you learn to

see Me in all things. Laura A. Barter Snow

"This is from Me," the Savior said,

As bending low He kissed my brow,

"For One who loves you thus has led.

Just rest in Me, be patient now,

Your Father knows you have need of this,

Though, why perhaps you cannot see—

Grieve not for things you've seemed to miss.

The thing I send is best for thee."

Then, looking through my tears, I plead,

"Dear Lord, forgive, I did not know,

It will not be hard since You do tread,

Each path before me here below."

And for my good this thing must be,

His grace sufficient for each test.

So still I'll sing,"Whatever be

God's way for me is always best."

February 2

In the shadow of his hand he hid me; he made me into a polished

arrow and concealed me in his quiver. (Isaiah 49:2)

In the shadow"—each of us must go there sometimes.The

glare of the sunlight is too bright,and our eyes become injured.

Soon they are unable to discern the subtle shades of color or

appreciate neutral tints, such as the shadowed sickroom, the

shadowed house of grief, or the shadowed life where the sunlight

has departed.

But fear not! It is the shadow of God's hand. He is leading

you,and there are lessons that can be learned only where He leads.

The photograph of His face can only be developed in the

dark room. But do not assume that He has pushed you aside.

57
---
01Streams 11/5/01 10:01 AM Page 58

You are still "in his quiver." He has not thrown you away as

something worthless.

He is only keeping you nearby till the moment comes when

He can send you quickly and confidently on some mission that

will bring Him glory. O shadowed,isolated one,remember how

closely the quiver is tied to the warrior. It is always within easy

reach of his hand and jealously protected. from Christ in Isaiah,

by F. B. Meyer

In some realms of nature, shadows or darkness are the places

of greatest growth.The beautiful Indian corn never grows more

rapidly than in the darkness of a warm summer night.The sun

withers and curls the leaves in the scorching light of noon, but

once a cloud hides the sun, they quickly unfold.The shadows

provide a service that the sunlight does not.The starry beauty

of the sky cannot be seen at its peak until the shadows of night

slip over the sky.Lands with fog,clouds,and shade are lush with

greenery. And there are beautiful flowers that bloom in the

shade that will never bloom in the sun. Florists now have their

evening primrose as well as their morning glory.The evening

primrose will not open in the noonday sun but only reveals its

beauty as the shadows of the evening grow longer.

If all of life were sunshine,

Our face would long to gain

And feel once more upon it

The cooling splash of rain.

February 3

58

Henry Jackson Van Dyke

At once the Spirit sent him out into the desert. (Mark 1:12)

This seemed a strange way for God to prove His favor. "At

once"—after what? After heaven was opened and the Spirit

descended "like a dove" (v. 10), and the Father voiced His

blessing,"You are my Son, whom I love; with you I am well

pleased" (v. 11).Yet it is not an abnormal experience.
---
01Streams 11/5/01 10:01 AM Page 59

You, my soul, have also experienced it.Aren't your times of

deepest depression the moments that immediately follow your

loftiest highs? Just yesterday you were soaring high in the heavens

and singing in the radiance of the morning.Today, however,

your wings are folded and your song is silent.At noon you

were basking in the sunshine of the Father's smile, but by

evening you were saying from the wilderness,"My way is hidden

from the Lord" (Isa. 40:27).

No,my soul,the actual suddenness of the change is proof that

it is not abnormal.Have you considered the comfort of the words

"at once," and why the change comes so soon after the blessing?

Simply to show that it is the sequel to the blessing. God shines

His light on you to make you fit for life's deserts, Gethsemanes,

and Calvaries. He lifts you to new heights to strengthen you so

that you may go deeper still. He illuminates you so He may send

you into the night, making you a help to the helpless.

You are not always worthy of the wilderness—you are only

worthy of the wilderness after the splendor of the Jordan River

experience.Nothing but the Son's vision can equip you to carry

the Spirit's burden,and only the glory of the baptism can withstand

the hunger of the desert. George Matheson

After blessings comes the battle.

The time of testing that distinguishes and greatly enriches a

person's spiritual career is not an ordinary one but a period when

it seems as if all hell were set loose. It is a time when we realize

our soul is caught in a net, and we know God is allowing us to

be gripped by the Devil's hand.Yet it is a period that always ends

in certain triumph for those who have committed the keeping

of their souls to God. And the testing "later on . . .produces a harvest

of righteousness and peace" (Heb. 12:11) and paves the way

for the thirtyfold to one hundredfold increase that is promised to

follow (see Matt. 13:23). Aphra White

59
---
01Streams 11/5/01 10:01 AM Page 60

February 4

I will cause you to ride on the heights of the land. (Isaiah 58:14)

One of the first rules of aerodynamics is that flying into the

wind quickly increases altitude.The wings of the airplane create

more lift by flying against the wind. How was this lesson

learned? It was learned by watching birds fly. If a bird is simply

flying for pleasure, it flies with the wind. But if it senses danger,

it turns into the wind to gain altitude, and flies up toward

the sun.

The sufferings of life are God's winds.Sometimes they blow

against us and are very strong.They are His hurricanes, taking

our lives to higher levels, toward His heavens.

Do you remember a summer day when the heat and humidity

were so oppressive, you could hardly breathe? But a dark

cloud appeared on the horizon, growing larger and larger, until

it suddenly brought a rich blessing to your world.The storm

raged, lightning flashed, and thunder rumbled.The storm covered

your sky, the atmosphere was cleansed, new life was in the

air, and your world was changed.

Human life works exactly on the same principle.When the

storms of life appear,the atmosphere is changed,purified,filled with

new life, and part of heaven is brought down to earth. selected

Facing obstacles should make us sing. The wind finds its

voice not when rushing across an open sea but when it is hindered

by the outstretched limbs of a pine tree or broken by the

strings of an aeolian wind harp. Only then does the harp have

songs of power and beauty. Send your soul, which has been set

free, sweeping across the obstacles of life. Send it through the

relentless forests of pain and against even the smallest hindrances

and worries of life, and it too will find a voice with which to

sing. selected

Be like a bird that, halting in its flight,

Rests on a limb too slight.

60
---
01Streams 11/5/01 10:01 AM Page 61

And feeling it give way beneath him sings,

Knowing he has wings.

February 5

You will not leave in haste. (Isaiah 52:12)

I do not believe we have even begun to understand the wonderful

power there is in being still.We are in such a hurry,always

doing, that we are in danger of not allowing God the opportunity

to work.You may be sure that God will never say to us,

"Stand still,""Sit still," or "Be still," unless He is going to do

something.This is our problem regarding the Christian life: we

want to do something to be Christians,instead of allowing Him

to work in us.

Think of how still you stand when your picture is being

taken, as the photographer captures your likeness on film. God

has one eternal purpose for us: that we should be "conformed

to the likeness of his Son" (Rom. 8:29). But in order for that

to happen, we must stand still.We hear so much today about

being active, but maybe we need to learn what it means to be

quiet. from Crumbs

Sit still, my children! Just sit calmly still!

Nor deem these days—these waiting days—as ill!

The One who loves you best, who plans your way,

Has not forgotten your great need today!

And, if He waits, it's sure He waits to prove

To you, His tender child, His heart's deep love.

Sit still, my children! Just sit calmly still!

You greatly long to know your dear Lord's will!

While anxious thoughts would almost steal their way

Corrodingly within, because of His delay—

Persuade yourself in simple faith to rest

That He, who knows and loves, will do the best.

61
---
01Streams 11/5/01 10:01 AM Page 62

Sit still, my children! Just sit calmly still!

Nor move one step, not even one, until

His way has opened.Then, ah then, how sweet!

How glad your heart, and then how swift your feet,

Your inner being then, ah then, how strong!

And waiting days not counted then too long.

Sit still, my daughter! Just sit calmly still!

What higher service could you for Him fill?

It's hard! ah yes! But choicest things must cost!

For lack of losing all how much is lost!

It's hard, it's true! But then—He gives you grace

To count the hardest spot the sweetest place.

J. Danson Smith

February 6

He turned the sea into dry land, they passed through the waters on

foot—come, let us rejoice in him. (Psalm 66:6)

It is a profound statement that "through the waters," the very

place where we might have expected nothing but trembling,

terror, anguish, and dismay, the children of Israel stopped to

"rejoice in him"!

How many of us can relate to this experience? Who of us,

right in the midst of our time of distress and sadness, have been

able to triumph and rejoice, as the Israelites did?

How close God is to us through His promises, and how

brightly those promises shine! Yet during times of prosperity,

we lose sight of their brilliance.In the way the sun at noon hides

the stars from sight, His promises become indiscernible. But

when night falls—the deep, dark night of sorrow—a host of

stars begin to shine, bringing forth God's blessed constellations

of hope, and promises of comfort from His Word.

Just as Jacob experienced at Jabbok, it is only once the sun

sets that the Angel of the Lord comes, wrestles with us, and we

62
---
01Streams 11/5/01 10:01 AM Page 63

can overcome.It was at night,"at twilight"(Ex.30:8),that Aaron

lit the sanctuary lamps.And it is often during nights of trouble

that the brightest lamps of believers are set ablaze.

It was during a dark time of loneliness and exile that John

had the glorious vision of his Redeemer. Many of us today have

our "Isle of Patmos,"which produces the brightest memories of

God's enduring presence, uplifting grace, and love in spite of

solitude and sadness.

How many travelers today,still passing through their Red Seas

and Jordan Rivers of earthly affliction, will be able to look back

from eternity, filled with memories of God's great goodness, and

say,"We 'passed through the waters on foot.'And yet,even in these

dark experiences,with waves surging all around,we stopped and

said,'Let us rejoice in him'!" J. R. Macduff

There I will give her back her vineyards,and will make

the Valley of Achor a door of hope. There she will sing.

Hosea 2:15

February 7

Why are you downcast, O my soul? (Psalm 43:5)

Is there ever any reason to be downcast? Actually, there are

two reasons,but only two.If we were still unbelievers,we would

have a reason to be downcast; or if we have been converted but

continue to live in sin, we are downcast as a consequence.

Except for these two conditions, there is never a reason to

be downcast, for everything else may be brought to God "by

prayer and petition,with thanksgiving"(Phil.4:6).And through

all our times of need, difficulty, and trials, we may exercise faith

in the power and love of God.

"Put your hope in God" (Ps. 43:5). Please remember there is

never a time when we cannot hope in God, whatever our need

or however great our difficulty may be. Even when our situation

appears to be impossible, our work is to "hope in God."

63
---
01Streams 11/5/01 10:01 AM Page 64

Our hope will not be in vain,and in the Lord's own timing help

will come.

Oh, the hundreds, even the thousands, of times I have found

this to be true in the past seventy years and four months of my

life! When it seemed impossible for help to come, it did come,

for God has His own unlimited resources. In ten thousand different

ways,and at ten thousand different times,God's help may

come to us.

Our work is to lay our petitions before the Lord, and in

childlike simplicity to pour out our hearts before Him, saying,

"I do not deserve that You should hear me and answer my

requests,but for the sake of my precious Lord Jesus;for His sake,

answer my prayer.And give me grace to wait patiently until it

pleases You to grant my petition. For I believe You will do it in

Your own time and way."

"For I will yet praise him" (Ps. 43:5). More prayer, more exercising

of our faith,and more patient waiting leads to blessings—

abundant blessings. I have found it to be true many hundreds

of times,and therefore I continually say to myself,"Put your hope

in God." George Mueller

February 8

Surely I am with you always. (Matthew 28:20)

Never look ahead to the changes and challenges of this life

in fear.Instead,as they arise look at them with the full assurance

that God, whose you are, will deliver you out of them. Hasn't

He kept you safe up to now? So hold His loving hand tightly,

and He will lead you safely through all things.And when you

cannot stand, He will carry you in His arms.

Do not look ahead to what may happen tomorrow. The same

everlasting Father who cares for you today will take care of you

tomorrow and every day. Either He will shield you from suffering

or He will give you His unwavering strength that you

64
---
01Streams 11/5/01 10:01 AM Page 65

may bear it.Be at peace,then,and set aside all anxious thoughts

and worries. Francis de Sales

The Lord is my shepherd. Psalm 23:1

Not was, not may be, nor will be. "The Lord is my shepherd."

He is on Sunday,on Monday,and through every day of the week.

He is in January, in December, and every month of the year. He

is when I'm at home and in China. He is during peace or war,

and in times of abundance or poverty. J. Hudson Taylor

He will silently plan for you,

His object of omniscient care;

God Himself undertakes to be

Your Pilot through each subtle snare.

He WILL silently plan for you,

So certainly, He cannot fail!

Rest on the faithfulness of God,

In Him you surely will prevail.

He will SILENTLY plan for you

Some wonderful surprise of love.

No eye has seen, no ear has heard,

But it is kept for you above.

He will silently PLAN for you,

His purposes will all unfold;

Your tangled life will shine at last,

A masterpiece of skill untold.

He will silently plan FOR YOU,

Happy child of a Father's care,

As if no other claimed His love,

But you alone to Him were dear.

Whatever our faith says God is, He will be.

65

E. Mary Grimes
---
01Streams 11/5/01 10:01 AM Page 66

February 9

Jesus did not answer a word. (Matthew 15:23)

He will quiet you with his love. (Zephaniah 3:17)

Are you reading these verses as a child of God who is experiencing

a crushing sorrow, a bitter disappointment, or a heartbreaking

blow from a totally unexpected place? Are you longing

to hear your Master's voice calling you, saying, "Take

courage! It is I. Don't be afraid" (Matt. 14:27)? Yet only silence,

the unknown,and misery confront you—"Jesus did not answer

a word."

God's tender heart must often ache listening to our sad,complaining

cries. Our weak, impatient hearts cry out because we

fail to see through our tear-blinded, shortsighted eyes that it is

for our own sakes that He does not answer at all or that He

answers in a way we believe is less than the best. In fact, the

silences of Jesus are as eloquent as His words and may be a sign

not of His disapproval but of His approval and His way of providing

a deeper blessing for you.

"Why are you downcast,O my soul? . . .I will yet praise him"

(Ps. 43:5).Yes, praise Him even for His silence. Let me relate a

beautiful old story of how one Christian dreamed she saw three

other women in prayer.

When they knelt the Master drew near to them. As He

approached the first of the three, He bent over her with tenderness

and grace.He smiled with radiant love and spoke to her

in tones of pure,sweet music.Upon leaving her,He came to the

next but only placed His hand upon her bowed head and gave

her one look of loving approval. He passed the third woman

almost abruptly, without stopping for a word or a glance.

The woman having the dream said to herself,"How greatly

He must love the first woman. The second gained His

approval but did not experience the special demonstrations

of love He gave the first. But the third woman must have

66
---
01Streams 11/5/01 10:01 AM Page 67

grieved Him deeply, for He gave her no word at all, nor even

a passing look."

She wondered what the third woman must have done to

have been treated so differently. As she tried to account for the

actions of her Lord, He Himself came and stood beside her.

He said to her,"O woman! How wrongly you have interpreted

Me! The first kneeling woman needs the full measure of

My tenderness and care to keep her feet on My narrow way.

She needs My love,thoughts,and help every moment of the day,

for without them she would stumble into failure.

"The second woman has stronger faith and deeper love than

the first,and I can count on her to trust Me no matter how things

may go or whatever people may do.Yet the third woman,whom

I seemed not to notice, and even to neglect, has faith and love of

the purest quality. I am training her through quick and drastic

ways for the highest and holiest service.

"She knows Me so intimately, and trusts Me so completely,

that she no longer depends on My voice,loving glances,or other

outward signs to know of My approval. She is not dismayed or

discouraged by any circumstances I arrange for her to

encounter.She trusts Me when common sense,reason,and even

every subtle instinct of the natural heart would rebel, knowing

that I am preparing her for eternity,and realizing that the understanding

of what I do will come later.

"My love is silent because I love beyond the power of words

to express it and beyond the understanding of the human heart.

Also, it is silent for your sakes—that you may learn to love and

trust Me with pure,Spirit-taught,spontaneous responses.I desire

for your response to My love to be without the prompting of

anything external."

He "will do wonders never before done" (Ex. 34:10) if you

will learn the mystery of His silence and praise Him every time

He withdraws His gifts from you.Through this you will better

know and love the Giver. selected

67
---
01Streams 11/5/01 10:01 AM Page 68

February 10

Do not take revenge, my friends. (Romans 12:19)

There are times when doing nothing demands much greater

strength than taking action.Maintaining composure is often the

best evidence of power. Even to the vilest and deadliest of

charges,Jesus responded with deep,unbroken silence.His silence

was so profound, it caused His accusers and spectators to wonder

in awe.To the greatest insults, the most violent treatment,

and to mockery that would bring righteous indignation to the

feeblest of hearts,He responded with voiceless,confident calmness.Those

who are unjustly accused, and mistreated without

cause, know the tremendous strength that is necessary to keep

silent and to leave revenge to God.

Men may misjudge your aim,

Think they have cause to blame,

Say, you are wrong;

Keep on your quiet way,

Christ is the Judge, not they,

Fear not, be strong.

The apostle Paul said,"None of these things move me" (Acts

20:24 KJV). He did not say,"None of these things hurt me." It is

one thing to be hurt, and quite another to be moved. Paul had a

very tender heart, for we do not read of any other apostle who

cried as he did. It takes a strong man to cry."Jesus wept" (John

11:35), and He was the strongest man that ever lived.

Therefore it does not say,"None of these things hurt me."

The apostle Paul had determined not to move from what he

believed was right. He did not value things as we are prone to

do. He never looked for the easy way, and placed no value on

his mortal life. He only cared about one thing, and that was his

loyalty to Christ—to gain Christ's smile.To Paul, more than to

any other man,doing Christ's work was his earthly pay,but gaining

Christ's smile was heaven. Margaret Bottome

68
---
01Streams 11/5/01 10:01 AM Page 69

February 11

As soon as the priests . . . set foot in the Jordan, its waters . . . will be

cut off. (Joshua 3:13)

The Israelites were not to wait in the camp until the Jordan was

opened but to "walk by faith" (2 Cor. 5:7 KJV).They were to

break camp,pack up their belongings,form a marching line,and

actually step into the river before it would be opened.

If they had come down to the riverbank and then stopped,

waiting for the water to divide before stepping into it, they

would have waited in vain.They were told to "set foot in the

Jordan" before "its waters . . . will be cut off."

We must learn to take God at His word and walk straight

ahead in obedience, even when we can see no way to go forward.The

reason we are so often sidetracked by difficulties is

that we expect to see barriers removed before we even try to

pass through them.

If we would only move straight ahead in faith,the path would

be opened for us. But we stand still, waiting for the obstacle to

be removed, when we ought to go forward as if there were no

obstacles at all. from Evening Thoughts

What a lesson Christopher Columbus taught the world—a

lesson of perseverance in the face of tremendous difficulties!

Behind him lay the gray Azores,

Behind the gates of Hercules;

Before him not the ghost of shores,

Before him only shoreless seas.

The good Mate said:"Now we must pray,

For lo! the very stars are gone.

Brave Admiral, speak, what shall I say?"

"Why, say,'Sail on! sail on! and on!'"

"My men grow mutinous day by day;

My men grow ghastly pale and weak!"

The strong Mate thought of home; a spray

69
---
01Streams 11/5/01 10:01 AM Page 70

Of salt wave washed his sunburned cheek.

"What shall I say, brave Admiral, say,

If we sight only seas at dawn?"

"Why, you shall say at break of day,

'Sail on! sail on! sail on! and on!'"

They sailed.They sailed.Then spoke the Mate:

"This mad sea shows its teeth tonight.

He curls his lip, he lies in wait,

With lifted teeth, as if to bite!

Brave Admiral, say but one good word;

What shall we do when hope is gone?"

The words leapt like a leaping sword:

"Sail on! sail on! sail on! and on!"

Then, pale and worn, he kept his deck

And peered through darkness.Ah! that night

Of all dark nights! And then a speck—

A light! A light! A light! A light!

It grew, a starlit flag unfurled!

It grew to be Time's burst of dawn.

He gained a world; he gave that world

Its grandest lesson:"On! sail on!"

Faith that goes forward triumphs.

February 12

70

J. R. Miller

Your heavenly Father knows. (Matthew 6:32)

A visitor at a school for the deaf was writing questions on

the board for the children. Soon he wrote this sentence:"Why

has God made me able to hear and speak, and made you deaf?"

The shocking sentence hit the children like a cruel slap on

the face. They sat paralyzed, pondering the dreadful word

"Why?"And then a little girl arose.
---
01Streams 11/5/01 10:01 AM Page 71

With her lip trembling and her eyes swimming with tears,

she walked straight to the board.Picking up the chalk,she wrote

with a steady hand these precious words: "Yes, Father, for this

was your good pleasure" (Matt. 11:26).What a reply! It reaches

up and claims an eternal truth upon which the most mature

believer, and even the youngest child of God, may securely

rest—the truth that God is your Father.

Can you state that truth with full assurance and faith? Once

you do, your dove of faith will no longer wander the skies in

restless flight but will settle forever in its eternal resting place

of peace: your Father!

I still believe that a day of understanding will come for each

of us, however far away it may be.We will understand as we

see the tragedies that today darken and dampen the presence

of heaven for us take their proper place in God's great plan—

a plan so overwhelming, magnificent, and joyful, we will laugh

with wonder and delight. Arthur Christopher Bacon

Chance has not brought this ill to me;

It's God's own hand, so let it be,

For He sees what I cannot see.

There is a purpose for each pain,

And He one day will make it plain

That earthly loss is heavenly gain.

Like as a piece of tapestry

Viewed from the back appears to be

Only threads tangled hopelessly;

But in the front a picture fair

Rewards the worker for his care,

Proving his skill and patience rare.

You are the Workman, I the frame.

Lord, for the glory of Your Name,

Perfect Your image on the same.

71

selected
---
01Streams 11/5/01 10:01 AM Page 72

February 13

The forested hill country . . . will be yours. (Joshua 17:18)

There is always room higher in the hills.When the valleys are

full of Canaanites, whose mighty iron chariots are slowing your

progress, go up to the hills and occupy the higher land. If you

find you can no longer do work for God,pray for those who can.

You may not be able to move things on earth with your words,

but you may move heaven.If it seems that your continued growth

is impossible on the lower slopes due to limited areas of service,

the constraints of maintaining the day-to-day necessities,or other

hindrances, allow your life to burst forth, reaching toward the

unseen, the eternal, and the heavenly.

Your faith can level forests. Even if the tribes of Israel had realized

what treasures awaited them in the hills above, they would

never have dreamed it would be possible to actually harvest the

thick forests.But as God instructed them to clear the forests,He

also reminded them of the sufficient power they possessed.The

sight of seemingly impossible tasks, like leveling these forestcovered

hills,are not sent to discourage us. They come to motivate

us to attempt spiritual feats that would be impossible except

for the great strength God has placed within us through His

indwelling Holy Spirit.

Difficulties are sent in order to reveal what God can do in

answer to faith that prays and works. Are you being squeezed

from all sides in the valley? Then "ride on the heights of the

land" and be "nourished . . . with honey from the rock" (Deut.

32:13). Gain wealth from the terraced slopes that are now hidden

by the forests. from Daily Devotional Commentary

Got any rivers they say are uncrossable,

Got any mountains they say "can't tunnel through"?

We specialize in the wholly impossible,

Doing the things they say you can't do.

song of the Panama Canal builders

72
---
01Streams 11/5/01 10:01 AM Page 73

February 14

Rejoice in the Lord always. I will say it again: Rejoice! (Philippians

4:4)

It is a good thing to "rejoice in the Lord."Perhaps you have tried

it but seemed to fail at first. Don't give it a second thought, and

forge ahead.Even when you cannot feel any joy,there is no spring

in your step,nor any comfort or encouragement in your life,continue

to rejoice and "consider it pure joy" (James 1:2)."Whenever

you face trials of many kinds" (James 1:2), regard it as joy,

delight in it,and God will reward your faith.Do you believe that

your heavenly Father will let you carry the banner of His victory

and joy to the very front of the battle, only to calmly withdraw

to see you captured or beaten back by the enemy?

NEVER! His Holy Spirit will sustain you in your bold advance

and fill your heart with gladness and praise.You will find that

your heart is exhilarated and refreshed by the fullness within.

Lord, teach me to rejoice in You—to "be joyful always"

(1 Thess. 5:16). selected

The weakest saint may Satan rout,

Who meets him with a praiseful shout.

Be filled with the Spirit. . . . Sing and make music in

your heart to the Lord. Ephesians 5:18–19

In these verses, the apostle Paul urges us to use singing as

inspiration in our spiritual life. He warns his readers to seek

motivation not through the body but through the spirit, not

by stimulating the flesh but by exalting the soul.

Sometimes a light surprises

The Christian while he sings.

Let us sing even when we do not feel like it, for in this way

we give wings to heavy feet and turn weariness into strength.

John Henry Jowett

73
---
01Streams 11/5/01 10:01 AM Page 74

About midnight Paul and Silas were praying and singing

hymns to God, and the other prisoners were listening to

them. Acts 16:25

O Paul, what a wonderful example you are to us! You gloried

in the fact that you "bear on [your] body the marks of Jesus"

(Gal. 6:17).You bore the marks from nearly being stoned to

death,from three times being "beaten with rods"(2 Cor.11:25),

from receiving 195 lashes from the Jews,and from being bloodily

beaten in the Philippian jail. Surely the grace that enabled

you to sing praises while enduring such suffering is sufficient

for us. J. Roach

Oh, let us rejoice in the Lord, evermore,

When darts of the Tempter are flying,

For Satan still dreads, as he oft did before,

Our singing much more than our crying.

February 15

Do not fret because of evil men or be envious of those who do wrong.

(Psalm 37:1)

Never become extremely upset over your circumstances. If

worry were ever justified, it would have been during the circumstances

surrounding the writing of this psalm."Evil men"

were "dressed in purple and fine linen and lived in luxury every

day" (Luke 16:19)."Those who do wrong" were ascending to

the highest places of power and were tyrannizing their brothers

who were less fortunate. Sinful men and women strutted through

the land with arrogant pride and basked in the light of great prosperity,

while good people became fearful and worried.

"Do not fret." Never get unduly upset! Stay cool! Even for a

good reason, worrying will not help you. It only heats up the

bearings but does not generate any steam. It does not help the

locomotive for its axles to become hot; their heat is only a hindrance.The

axles become heated because of unnecessary friction.

74
---
01Streams 11/5/01 10:01 AM Page 75

Dry surfaces are grinding against each other instead of working

in smooth cooperation, aided by a thin cushion of oil.

Isn't it interesting how similar the words "fret" and "friction"

are? Friction caused by fretting is an indication of the absence

of the anointing oil of the grace of God.When we worry, a little

bit of sand gets into the bearings. It may be some slight disappointment,

ungratefulness, or discourtesy we have experienced—suddenly

our life is no longer running smoothly. Friction

leads to heat, and heat can lead to very dangerous conditions.

Do not allow your bearings to become heated. Let the oil of

the Lord keep you cool so that an unholy heat will not cause you

to be regarded as one of the "evil men." from The Silver Lining

Dear restless heart, be still; don't fret and worry so;

God has a thousand ways His love and help to show;

Just trust, and trust, and trust, until His will you know.

Dear restless heart, be still, for peace is God's own smile,

His love can every wrong and sorrow reconcile;

Just love, and love, and love, and calmly wait awhile.

Dear restless heart, be brave; don't moan and sorrow so,

He has a meaning kind in chilly winds that blow;

Just hope, and hope, and hope, until you braver grow.

Dear restless heart, recline upon His breast this hour,

His grace is strength and life, His love is bloom and flower;

Just rest, and rest, and rest, within His tender power.

Dear restless heart, be still! Don't struggle to be free;

God's life is in your life, from Him you may not flee;

Just pray, and pray, and pray, till you have faith to see.

Edith Willis Linn

February 16

Although I have afflicted you,...I will afflict you no more.(Nahum

1:12)

75
---
01Streams 11/5/01 10:01 AM Page 76

There is a limit to our affliction.God sends it and then removes

it.Do you complain,saying,"When will this end?"May we quietly

wait and patiently endure the will of the Lord till He comes.

Our Father takes away the rod when His purpose in using it is

fully accomplished.

If the affliction is sent to test us so that our words would glorify

God,it will only end once He has caused us to testify to His

praise and honor. In fact, we would not want the difficulty to

depart until God has removed from us all the honor we can yield

to Him.

Today things may become "completely calm" (Matt. 8:26).

Who knows how soon these raging waves will give way to a sea

of glass with seagulls sitting on the gentle swells?

After a long ordeal, the threshing tool is on its hook, and

the wheat has been gathered into the barn. Before much time

has passed, we may be just as happy as we are sorrowful now.

It is not difficult for the Lord to turn night into day. He who

sends the clouds can just as easily clear the skies.Let us be encouraged—things

are better down the road. Let us sing God's praises

in anticipation of things to come. Charles H. Spurgeon

"The Lord of the harvest" (Luke 10:2) is not always threshing

us.His trials are only for a season,and the showers soon pass.

"Weeping may remain for a night, but rejoicing comes in the

morning" (Ps. 30:5)."Our light and momentary troubles are

achieving for us an eternal glory that far outweighs them all"

(2 Cor. 4:17).Trials do serve their purpose.

Even the fact that we face a trial proves there is something

very precious to our Lord in us, or else He would not spend

so much time and energy on us. Christ would not test us if He

did not see the precious metal of faith mingled with the rocky

core of our nature, and it is to refine us into purity and beauty

that He forces us through the fiery ordeal.

Be patient, O sufferer! The result of the Refiner's fire will

more than compensate for our trials, once we see the "eternal

76
---
01Streams 11/5/01 10:01 AM Page 77

glory that far outweighs them all." Just to hear His commendation,"Well

done"(Matt.25:21);to be honored before the holy

angels; to be glorified in Christ, so that I may reflect His glory

back to Him—ah! that will be more than enough reward for all

my trials. from Tried by Fire

Just as the weights of a grandfather clock, or the stabilizers

in a ship, are necessary for them to work properly, so are troubles

to the soul. The sweetest perfumes are obtained only

through tremendous pressure, the fairest flowers grow on the

most isolated and snowy peaks, the most beautiful gems are

those that have suffered the longest at the jeweler's wheel, and

the most magnificent statues have endured the most blows from

the chisel. All of these,however,are subject to God's law.Nothing

happens that has not been appointed with consummate care

and foresight. from Daily Devotional Commentary

February 17

The land which I do give to them,even to the children of Israel.(Joshua

1:2 KJV)

God is speaking about something immediate in this verse. It

is not something He is going to do but something He does do,

at this very moment.As faith continues to speak, God continues

to give. He meets you today in the present and tests your

faith. As long as you are waiting,hoping,or looking,you are not

believing. You may have hope or an earnest desire, but that is

not faith, for "faith is being sure of what we hope for and certain

of what we do not see" (Heb. 11:1).The command regarding

believing prayer is:"Whatever you ask for in prayer, believe

that you have received it, and it will be yours" (Mark 11:24).

We are to believe that we have received—this present moment.

Have we come to the point where we have met God in His

everlasting NOW? from Joshua, by A. B. Simpson

True faith relies on God and believes before seeing. Naturally,

we want some evidence that our petition is granted

77
---
01Streams 11/5/01 10:01 AM Page 78

before we believe,but when we "live by faith"(2 Cor.5:7),we

need no evidence other than God's Word. He has spoken, and

in harmony with our faith it will be done. We will see because

we have believed, and true faith sustains us in the most trying

of times, even when everything around us seems to contradict

God's Word.

The psalmist said,"I am still confident of this: I will see the

goodness of the Lord in the land of the living" (Ps. 27:13). He

had not yet seen the Lord's answer to his prayers, but he was

confident he would see, and his confidence sustained him.

Faith that believes it will see, will keep us from becoming

discouraged.We will laugh at seemingly impossible situations

while we watch with delight to see how God is going to open

a path through our Red Sea. It is in these places of severe testing,

with no human way out of our difficulty, that our faith

grows and is strengthened.

Dear troubled one, have you been waiting for God to work

during long nights and weary days, fearing you have been forgotten?

Lift up your head and begin praising Him right now for

the deliverance that is on its way to you. from Life of Praise

February 18

Whatever you ask for in prayer, believe that you have received it, and

it will be yours. (Mark 11:24)

When my little son was about ten years old, his grandmother

promised him a stamp collecting album for Christmas.Christmas

came and went with no stamp album and no word from

Grandma.The matter, however, was not mentioned, until his

friends came to see his Christmas presents.I was astonished,after

he had listed all the gifts he had received,to hear him add,"And

a stamp album from my grandmother."

After hearing this several times,I called my son to me and said,

"But George,you didn't get a stamp album from Grandma.Why

did you say you did?"

78
---
01Streams 11/5/01 10:01 AM Page 79

With a puzzled look on his face, as if I had asked a very

strange question,he replied,"Well,Mom,Grandma said,and that

is the same as." Not a word from me would sway his faith.

A month passed and nothing else was said about the album.

Finally one day, to test his faith and because I wondered in my

own heart why the album had not been sent, I said,"George, I

think Grandma has forgotten her promise."

"Oh no, Mom,"he quickly and firmly responded."She hasn't."

I watched his sweet, trusting face, which for a while looked

very serious, as if he were debating the possibility I had suggested.

Soon his face brightened as he said,"Do you think it

would do any good for me to write Grandma, thanking her for

the album?"

"I don't know," I said,"but you might try it."A rich spiritual

truth then began to dawn on me.

In a few minutes a letter was written and mailed, as George

went off whistling his confidence in his grandma. Soon a letter

from Grandma arrived with this message:

My dear George,

I have not forgotten my promise to you for a stamp

album. I could not find the one you wanted here, so I

ordered one from New York. It did not arrive until after

Christmas, and it was not the right one. I then ordered

another, but it still has not arrived. I have decided to send

you thirty dollars instead so that you may buy the one you

want in Chicago.

Your loving Grandma.

As he read the letter, his face was the face of a victor. From

the depths of a heart that never doubted came the words,"Now,

Mom, didn't I tell you?" George "against all hope . . . in hope

believed" (Rom. 4:18) that the stamp album would come. And

while he was trusting, Grandma was working, and in due time

faith became sight.

79
---
01Streams 11/5/01 10:01 AM Page 80

It is only human to want to see before we step out on the

promises of God.Yet our Savior said to Thomas and to a long

list of doubters who have followed,"Blessed are those who have

not seen and yet have believed" (John 20:29). Mrs. Rounds

February 19

Every branch that does bear fruit he prunes so that it will be even more

fruitful. (John 15:2)

A child of God was once overwhelmed by the number of afflictions

that seemed to target her.As she walked past a vineyard during

the rich glow of autumn, she noticed its untrimmed appearance

and the abundance of leaves still on the vines.The ground

had been overtaken by a tangle of weeds and grass,and the entire

place appeared totally unkempt.While she pondered the sight,

the heavenly Gardener whispered such a precious message to

her that she could not help but share it.

The message was this:"My dear child, are you questioning

the number of trials in your life? Remember the vineyard and

learn from it. The gardener stops pruning and trimming the vine

or weeding the soil only when he expects nothing more from

the vine during that season.He leaves it alone,because its fruitfulness

is gone and further effort now would yield no profit.

In the same way,freedom from suffering leads to uselessness.Do

you now want me to stop pruning your life? Shall I leave you

alone?"

Then her comforted heart cried,"No!"Homera Homer-Dixon

It is the branch that bears the fruit,

That feels the knife,

To prune it for a larger growth,

A fuller life.

Though every budding twig be trimmed,

And every grace

Of swaying tendril, springing leaf,

May lose its place.

80
---
01Streams 11/5/01 10:01 AM Page 81

O you whose life of joy seems left,

With beauty shorn;

Whose aspirations lie in dust,

All bruised and torn,

Rejoice, though each desire, each dream,

Each hope of thine

Will fall and fade; it is the hand

Of Love Divine

That holds the knife, that cuts and breaks

With tenderest touch,

That you, whose life has borne some fruit,

Might now bear much.

Annie Johnson Flint

February 20

Nothing will be impossible for you. (Matthew 17:20)

It is possible for believers who are completely willing to trust

the power of the Lord for their safekeeping and victory to lead

a life of readily taking His promises exactly as they are and finding

them to be true.

It is possible to daily "cast all your anxiety on him" (1 Peter

5:7) and experience deep peace in the process.

It is possible to have our thoughts and the desires of our hearts

purified in the deepest sense of the word.

It is possible to see God's will in every circumstance and to

accept it with singing instead of complaining.

It is possible to become strong through and through by completely

taking refuge in the power of God and by realizing that

our greatest weakness and the things that upset our determination

to be patient,pure,or humble provide an opportunity to

make sin powerless over us.This opportunity comes through

Him who loves us and who works to bring us into agreement

81
---
01Streams 11/5/01 10:01 AM Page 82

with His will, and thereby supplies a blessed sense of His presence

and His power.

All these are DIVINE POSSIBILITIES. Because they are His

work, actually experiencing them will always humble us, causing

us to bow at His feet and teaching us to hunger and thirst for more.

We will never be satisfied with anything less—each day,each

hour,or each moment in Christ,through the power of the Holy

Spirit—than WALKING WITH GOD. H. C. G. Moule

We are able to have as much of God as we want. Christ puts

the key to His treasure chest in our hands and invites us to take

all we desire. If someone is allowed into a bank vault, told to

help himself to the money, and leaves without one cent, whose

fault is it if he remains poor? And whose fault is it that Christians

usually have such meager portions of the free riches of

God? Alexander Maclaren

February 21

Be still before the Lord and wait patiently for him. (Psalm 37:7)

Have you prayed and prayed, and waited and waited, and still

you see no evidence of an answer? Are you tired of seeing no

movement? Are you at the point of giving up? Then perhaps

you have not waited in the right way, which removes you from

the right place—the place where the Lord can meet you.

"Wait for it patiently" (Rom. 8:25). Patience eliminates worry.

The Lord said He would come, and His promise is equal to

His presence.Patience eliminates weeping.Why feel sad and discouraged?

He knows your needs better than you do, and His

purpose in waiting is to receive more glory through it.Patience

eliminates self-works."The work of God is this:to believe"(John

6:29), and once you believe, you may know all is well. Patience

eliminates all want.Perhaps your desire to receive what you want

is stronger than your desire for the will of God to be fulfilled.

Patience eliminates all weakness. Instead of thinking of waiting

as being wasted time, realize that God is preparing His resources

82
---
01Streams 11/5/01 10:01 AM Page 83

and strengthening you as well.Patience eliminates all wobbling."He

touched me and raised me to my feet"(Dan.8:18).God's foundations

are steady, and when we have His patience within, we are

steady while we wait. Patience yields worship. Sometimes the best

part of praiseful waiting is experiencing "great endurance and

patience . . . joyfully" (Col. 1:11).While you wait,"let [all these

aspects of] patience have her perfect work" (James 1:4 KJV), and

you will be greatly enriched. C. H. P.

Hold steady when the fires burn,

When inner lessons come to learn,

And from this path there seems no turn—

"Let patience have her perfect work."

February 22

83

L. S. P.

"If you can"?...Everything is possible for him who believes. (Mark

9:23)

I seldom have heard a better definition of faith than that given

in one of our meetings, by a sweet, elderly black woman, as she

answered a young man who asked, "How do I obtain the Lord's

help for my needs?"

In her characteristic way,pointing her finger toward him,she

said with great insistence,"You just have to believe that He's

done it and it's done." The greatest problem with most of us

is,after asking Him to do it,we do not believe it is done.Instead,

we keep trying to help Him, get others to help Him, and anxiously

wait to see how He is going to work.

Faith adds its "Amen"to God's "Yes"and then takes its hands

off, leaving God to finish His work.The language of faith is,

"Commit your way to the Lord; trust in him and he will do

this" (Ps. 37:5). from Days of Heaven upon Earth

I simply take Him at His word,

I praise Him that my prayer is heard,
---
01Streams 11/5/01 10:01 AM Page 84

And claim my answer from the Lord;

I take, He undertakes.

Active faith gives thanks for a promise even though it is not

yet performed,knowing that God's contracts are as good as cash.

Matthew Henry

Passive faith accepts the Word as true—

But never moves.

Active faith begins the work to do,

And thereby proves.

Passive faith says,"I believe it! every word of God is true.

Well I know He has not spoken what He cannot, will not, do.

He has instructed me,'Go forward!' but a closed-up way I see,

When the waters are divided, soon in Canaan's land I'll be.

Lo! I hear His voice commanding,'Rise and walk: take up

your bed';

And,'Stretch to Me your withered hand!' which for so long

has been dead.

When I am a little stronger, then, I know I'll surely stand:

When there comes a thrill of healing, I will use with ease

my reclaimed hand.

Yes, I know that 'God is able' and full willing all to do:

I believe that every promise, sometime, will to me come true."

Active faith says,"I believe it! and the promise now I take,

Knowing well, as I receive it, God, each promise,

real will make.

So I step into the waters, finding there an open way;

Onward press, the land possessing; nothing can my progress stay.

Yes, I rise at His commanding, walking straight, and joyfully:

This, my hand so sadly shriveled, as I reach, restored will be.

What beyond His faithful promise, would I wish or do I need?

Looking not for 'signs or wonders,' I'll no contradiction heed.

Well I know that 'God is able,' and full willing all to do:

I believe that every promise, at this moment can come true."

84
---
01Streams 11/5/01 10:01 AM Page 85

Passive faith but praises in the light,

When sun does shine.

Active faith will praise in darkest night—

Which faith is thine?

February 23

And there came a lion. (1 Samuel 17:34 KJV)

85

selected

It is a source of inspiration and strength to us to remember how

the youthful David trusted God. Through his faith in the Lord,

he defeated a lion and a bear and later overthrew the mighty

Goliath.When the lion came to destroy his flock, it came as a

wonderful opportunity for David.If he had faltered and failed,he

would have missed God's opportunity for him and probably

would never have been the Lord's chosen king of Israel.

"And there came a lion." Normally we think of a lion not as

a special blessing from the Lord but only as a reason for alarm.

Yet the lion was God's opportunity in disguise.Every difficulty and

every temptation that comes our way, if we receive it correctly,

is God's opportunity.

When a "lion" comes to your life, recognize it as an opportunity

from the Lord, no matter how fierce it may outwardly

seem. Even the tabernacle of God was covered with badger skins

and goat hair. No one would think there would be any glory

there, yet the Shechinah glory of God was very evident underneath

the covering. May the Lord open our eyes to see Him,

even in temptations, trials, dangers, and misfortunes. C. H. P.

February 24

Though John never performed a miraculous sign,all that John said about

this man was true. (John 10:41)

Perhaps you are very dissatisfied with yourself. You are not a

genius, have no distinctive gifts, and are inconspicuous when
---
01Streams 11/5/01 10:01 AM Page 86

it comes to having any special abilities. Mediocrity seems to be

the measure of your existence. None of your days are noteworthy,

except for their sameness and lack of zest.Yet in spite

of this you may live a great life.

John the Baptist never performed a miracle, but Jesus said

of him,"Among those born of women there is no one greater"

(Luke 7:28).His mission was to be "a witness to the light"(John

1:8), and that may be your mission and mine. John was content

to be only a voice, if it caused people to think of Christ.

Be willing to be only a voice that is heard but not seen, or

a mirror whose glass the eye cannot see because it is reflecting

the brilliant glory of the Son. Be willing to be a breeze that arises

just before daylight,saying,"The dawn! The dawn!"and then

fades away.

Do the most everyday and insignificant tasks knowing that

God can see. If you live with difficult people, win them over

through love. If you once made a great mistake in life, do not

allow it to cloud the rest of your life, but by locking it secretly

in your heart, make it yield strength and character.

We are doing more good than we know.The things we do

today—sowing seeds or sharing simple truths of Christ—

people will someday refer to as the first things that prompted

them to think of Him.For my part,I will be satisfied not to have

some great tombstone over my grave but just to know that common

people will gather there once I am gone and say,"He was

a good man. He never performed any miracles, but he told me

about Christ, which led me to know Him for myself." George

Matheson

Thy Hidden Ones (Ps. 83:3 KJV)

Thick green leaves from the soft brown earth,

Happy springtime has called them forth;

First faint promise of summer bloom

Breathes from the fragrant, sweet perfume,

Under the leaves.

86
---
01Streams 11/5/01 10:01 AM Page 87

Lift them! what marvelous beauty lies

Hidden beneath, from our thoughtless eyes!

Mayflowers, rosy or purest white,

Lift their cups to the sudden light,

Under the leaves.

Are there no lives whose holy deeds—

Seen by no eye save His who reads

Motive and action—in silence grow

Into rare beauty, and bud and blow

Under the leaves?

Fair white flowers of faith and trust,

Springing from spirits bruised and crushed;

Blossoms of love, rose-tinted and bright,

Touched and painted with Heaven's own light

Under the leaves.

Full fresh clusters of duty borne,

Fairest of all in that shadow grown;

Wondrous the fragrance that sweet and rare

Comes from the flower-cups hidden there

Under the leaves.

Though unseen by our vision dim,

Bud and blossom are known to Him;

Wait we content for His heavenly ray—

Wait till our Master Himself one day

Lifts up the leaves.

God calls many of His most valued workers from the

unknown multitude. [See Luke 14:23.]

February 25

I will give you every place where you set your foot, as I promised.

(Joshua 1:3)

87
---
01Streams 11/5/01 10:01 AM Page 88

Besides the literal ground still unoccupied for Christ, there is

before us the unclaimed and unwalked territory of God's promises.What

did God say to Joshua? "I will give you every place where

you set your foot, as I promised."Then He set the boundaries of

the Land of Promise—all theirs on one condition:they must march

across its length and breadth, measuring it off with their own feet.

Yet they never marched across more than one third of the

land,and as a consequence,they never possessed more than that

one third.They possessed only what they measured off and

no more.

In 2 Peter 1:4 we read,"He has given us his very great and

precious promises."The land of God's promises is open before

us, and it is His will for us to possess it.We must measure off

the territory with the feet of obedient faith and faithful obedience,

thereby claiming and appropriating it as our own.

How many of us have ever taken possession of the promises

of God in the name of Christ? The land of His promises is a

magnificent territory for faith to claim by marching across its

length and breadth, but faith has yet to do it.

Let us enter into and claim our total inheritance. Let us lift

our eyes to the north, south, east, and west and hear God say,

"All the land that you see I will give to you"(Gen.13:15).Arthur

Tappan Pierson

Wherever the tribe of Judah set their feet would be theirs,

and wherever the tribe of Benjamin set their feet would be

theirs, and so on. Each tribe would receive their inheritance

by setting foot upon it. Don't you imagine that as each tribe

set foot upon a given territory, they instantly and instinctively

felt,"This is ours"?

An elderly black man who had a wonderful testimony of

grace was once asked,"Daniel, how is it that you exhibit such

peace and joy in your faith?""Oh, sir!" he replied."I just fall

flat on God's 'very great and precious promises,' and I have all

that is in them. Glory! Glory!" One who falls flat on God's

88
---
01Streams 11/5/01 10:01 AM Page 89

promises knows that all the riches abiding in them are his. from

Faith Papers

The Marquis of Salisbury, an English statesman and diplomat,

upon being criticized for his colonial policies, replied,

"Gentlemen, get larger maps."

February 26

My grace is sufficient for you. (2 Corinthians 12:9)

The other day I was riding home after a hard day's work. I

was very tired and deeply depressed, when quickly, and as suddenly

as a lightning bolt, the verse came to me: "My grace is

sufficient for you."When I arrived home I looked it up in the

Word, and it finally came to me this way: "MY grace is sufficient

for you."My response was to say,"Yes,Lord,I should think it is!"

Then I burst out laughing.

Until that time, I had never understood what the holy laughter

of Abraham was.This verse seemed to make unbelief totally

absurd. I pictured a thirsty little fish who was concerned about

drinking the river dry,with Father River saying,"Drink away, little

fish;my stream is sufficient for you."I also envisioned a mouse

afraid of starving after seven years of plenty, when Joseph says to

him,"Cheer up, little mouse; my granaries are sufficient for you."

Again,I imagined a man high on a mountain peak,saying to himself,"I

breathe so many cubic feet of air every year, I am afraid I

will deplete all the oxygen in the atmosphere." But the earth says

to him,"Breathe away, filling your lungs forever; my atmosphere

is sufficient for you."

O people of God, be great believers! Little faith will bring

your souls to heaven, but great faith will bring heaven to your

souls. Charles H. Spurgeon

His grace is great enough to meet the great things—

The crashing waves that overwhelm the soul,

The roaring winds that leave us stunned and breathless,

89
---
01Streams 11/5/01 10:01 AM Page 90

The sudden storms beyond our life's control.

His grace is great enough to meet the small things—

The little pinprick troubles that annoy,

The insect worries, buzzing and persistent,

The squeaking wheels that grate upon our joy.

Annie Johnson Flint

There is always a large balance credited to our account in the

bank of heaven. It is waiting for us to exercise our faith to draw

upon it. Draw heavily on God's resources.

February 27

So Jacob was left alone, and a man wrestled with him till daybreak.

(Genesis 32:24)

Left alone!"What different emotions these words bring to mind

for each of us! To some they mean loneliness and grief, but to

others they may mean rest and quiet.To be left alone without

God would be too horrible for words,while being left alone with

Him is a taste of heaven! And if His followers spent more time

alone with Him, we would have spiritual giants again.

Our Master set an example for us.Remember how often He

went to be alone with God? And there was a powerful purpose

behind His command,"When you pray,go into your room,close

the door and pray" (Matt. 6:6).

The greatest miracles of Elijah and Elisha took place when

they were alone with God. Jacob was alone with God when

he became a prince (see Gen. 32:28). In the same way, we too

may become royalty and people who are "wondered at" (Zech.

3:8 KJV). Joshua was alone when the Lord came to him (see

Josh.1:1).Gideon and Jephthah were by themselves when commissioned

to save Israel (see Judg. 6:11; 11:29). Moses was by

himself at the burning bush (see Ex.3:1–5).Cornelius was praying

by himself when the Angel of God came to him (see Acts

10:1–4). No one was with Peter on the housetop when he was

90
---
01Streams 11/5/01 10:01 AM Page 91

instructed to go to the Gentiles (see Acts 10:9–28). John the

Baptist was alone in the wilderness (see Luke 1:80), and John

the Beloved was alone on the island of Patmos when he was the

closest to God (see Rev. 1:9).

Earnestly desire to get alone with God. If we neglect to do

so, we not only rob ourselves of a blessing but rob others as well,

since we will have no blessing to pass on to them. It may mean

that we do less outward, visible work, but the work we do will

have more depth and power.Another wonderful result will be

that people will see "no one except Jesus"(Matt.17:8) in our lives.

The impact of being alone with God in prayer cannot be

overemphasized.

If chosen men had never been alone,

In deepest silence open-doored to God,

No greatness would ever have been dreamed or done.

February 28

Let us continually offer to God a sacrifice of praise. (Hebrews 13:15)

An inner-city missionary, stumbling through the trash of a

dark apartment doorway, heard someone say, "Who's there,

Honey?"Lighting a match,he caught sight of earthly needs and

suffering, amid saintly trust and peace. Calm, appealing eyes,

etched in ebony, were set within the wrinkles of a weathered

black face. On a bitterly cold night in February, she lay on a

tattered bed, with no fire, no heat, and no light. Having had no

breakfast, lunch, or dinner, she seemed to have nothing at all,

except arthritis and faith in God. No one could have been further

removed from comfortable circumstances, yet this favorite

song of the dear lady played in the background:

Nobody knows the trouble I see,

Nobody knows but Jesus;

Nobody knows the trouble I see—

Sing Glory Hallelu!

91
---
01Streams 11/5/01 10:01 AM Page 92

Sometimes I'm up, sometimes I'm down,

Sometimes I'm level on the groun',

Sometimes the glory shines aroun'—

Sing Glory Hallelu!

And so it continued:"Nobody knows the work I do,Nobody

knows the griefs I have,"the constant refrain being,"Glory Hallelu!"

until the last verse rose:

Nobody knows the joys I have,

Nobody knows but Jesus!

"We are hard pressed on every side, but not crushed; perplexed,but

not in despair;persecuted,but not abandoned;struck

down, but not destroyed" (2 Cor. 4:8–9). It takes these great

Bible words to explain the joy of this elderly black woman.

Do you remember the words of Martin Luther as he lay on

his deathbed? Between groans he preached,"These pains and

troubles here are like the type that printers set.When we look

at them, we see them backwards, and they seem to make no

sense and have no meaning. But up there, when the Lord God

prints out our life to come, we will find they make splendid

reading."Yet we do not have to wait until then.The apostle Paul,

walking the deck of a ship on a raging sea, encouraged the

frightened sailors,"Be of good cheer" (Acts 27:22 KJV).

Paul, Martin Luther, and the dear black woman were all

human sunflowers, seeking and seeing the Light in a world of

darkness. William C. Garnett

February 29

Put out into deep water. (Luke 5:4)

The Lord did not say how deep.The depth of the water into

which we sail depends upon how completely we have cut our

ties to the shore, the greatness of our need, and our anxieties

about the future.Yet the fish were to be found in the deep, not

the shallow, water.

92
---
01Streams 11/5/01 10:01 AM Page 93

It is the same with us—our needs are to be met in the deep things

of God.We are to sail into the deep of God's Word,which the Holy

Spirit will open to us with profound yet crystal-clear meaning. And

the words we knew in the past will have an ocean of new meaning,

which will render their original message very shallow.

"Put out into [the] deep" of the atonement.We must continue

until the Spirit brings such understanding of Christ's precious

blood that it becomes an omnipotent balm, and food and

medicine for our soul and body.

"Put out into [the] deep"of the Father's will.We must endure

until we fully comprehend its infinite detail and goodness and

its far-reaching provision and care for us.

"Put out into [the] deep" of the Holy Spirit.We must never

stop until He becomes to us a warm, shining, radiant, and fathomless

sea, one in which we soak, basking and breathing and

ultimately losing ourselves and our sorrows in the calmness and

peace of His everlasting presence.We must keep on until the

Spirit becomes a clear and glorious answer to our prayer; our

most careful and tender guide; the most thoughtful anticipator

of our needs; and the most skilled and supernatural sculptor of

our circumstances.

"Put out into [the] deep" of God's purposes and His coming

kingdom. We must carry on until the Lord's coming and

His millennial reign are before us,where we see eternity unfolding

beyond the glorious gates, until our imagination is blinded

by the brilliant light, and our heart flutters with an inexpressible

anticipation of the joy of seeing Jesus and "the glory that

will be revealed in us" (Rom. 8:18).

Jesus instructs us to set sail into all of these. He created us,

and He created the depths of the fathomless sea. And He has

made those depths fit together in perfect harmony with all our

talents and desires. from Soul Food

Its streams the whole creation reach,

So plenteous is the store;

93
---
01Streams 11/5/01 10:01 AM Page 94

Enough for all, enough for each;

Enough forevermore.

The deep waters of the Holy Spirit are always accessible,because

they are always flowing. Will you claim afresh and anew today to

be immersed and drenched in these waters of life? The waters in

Ezekiel's vision were at first "coming out from under the threshold

of the temple" (Ezek. 47:1).Then as a man went to measure

it,he found it to be ankle-deep. Soon he measured and found the

water was knee-deep.Again he measured and the water was to the

waist. Next it was "a river that no one could cross" (Ezek. 47:5).

How far have we advanced into this river of life? The Holy

Spirit desires that our self be completely submerged—not

merely ankle-deep, knee-deep, waist-deep, but self-deep. He

wants us hidden and bathed under this life-giving stream. Let

loose the lines holding you to the shore and sail into the deep.

And never forget, the Man who does the measuring is with us

today. J. Gresham Machen
---
01Streams 11/5/01 10:01 AM Page 94

March

Day 1 Day 2 Day 3 Day 4 Day 5

Day 6 Day 7 Day 8 Day 9 Day 10

Day 11 Day 12 Day 13 Day 14 Day 15

Day 16 Day 17 Day 18 Day 19 Day 20

Day 21 Day 22 Day 23 Day 24 Day 25

Day 26

Day 31

Day 27 Day 28 Day 29 Day 30

March 1

Consider what God has done:Who can straighten what he has made

crooked? (Ecclesiastes 7:13)

God often seems to place His children in places of deep difficulty,leading

them into a corner from which there is no escape.

He creates situations that human judgment, even if consulted,

would never allow. Yet the cloudiness of the circumstance itself

is used by Him to guide us to the other side. Perhaps this is

where you find yourself even now.

Your situation is filled with uncertainty and is very serious,

but it is perfectly right. The reason behind it will more than

justify Him who brought you here, for it is a platform from

which God will display His almighty grace and power.

He not only will deliver you but in doing so will impart a

lesson that you will never forget. And in days to come,you will

94
---
01Streams 11/5/01 10:01 AM Page 95

return to the truth of it through singing. You will be unable

to ever thank God enough for doing exactly what He has done.

selected

We may wait till He explains,

Because we know that Jesus reigns.

It puzzles me; but, Lord,You understandest,

And will one day explain this crooked thing.

Meanwhile, I know that it has worked out Your best—

Its very crookedness taught me to cling.

You have fenced up my ways, made my paths crooked,

To keep my wand'ring eyes fixed on You,

To make me what I was not, humble, patient;

To draw my heart from earthly love to You.

So I will thank and praise You for this puzzle,

And trust where I cannot understand.

Rejoicing You do hold me worth such testing,

I cling the closer to Your guiding hand.

F. E. M. I.

March 2

Be ready in the morning, and then come up....Present yourself to

me there on top of the mountain. No one is to come with you. (Exodus

34:2–3)

The morning is a critically important time of day. You must

never face the day until you have faced God, nor look into the

face of others until you have looked into His.You cannot expect

to be victorious,if you begin your day in your own strength alone.

Begin the work of every day after having been influenced by

a few reflective, quiet moments between your heart and God.

Do not meet with others, even the members of your own family,

until you have first met with the great Guest and honored

Companion of your life—Jesus Christ.

95
---
01Streams 11/5/01 10:01 AM Page 96

Meet with Him alone and regularly, having His Book of

counsel open before you. Then face the ordinary, and the

unique, responsibilities of each day with the renewed influence

and control of His character over all your actions.

Begin the day with God!

He is your Sun and Day!

His is the radiance of your dawn;

To Him address your day.

Sing a new song at morn!

Join the glad woods and hills;

Join the fresh winds and seas and plains,

Join the bright flowers and rills.

Sing your first song to God!

Not to your fellow men;

Not to the creatures of His hand,

But to the glorious One.

Take your first walk with God!

Let Him go forth with thee;

By stream, or sea, or mountain path,

Seek still His company.

Your first transaction be

With God Himself above;

So will your business prosper well,

All the day be love.

96

Horatius Bonar

Those who have accomplished the most for God in this

world are those who have been found on their knees early in

the morning. For example, Matthew Henry would spend from

four to eight o'clock each morning in his study.Then, after

breakfast and a time of family prayer, he would return to his

study until noon.After lunch, he would write till four p.m. and

then spend the remainder of the day visiting friends.
---
01Streams 11/5/01 10:01 AM Page 97

Philip Doddridge referred to his Family Expositor as an example

of the difference of rising at five o'clock,as opposed to seven.

He realized that increasing his workday by twenty-five percent

was the equivalent of adding ten work years to his life over a

period of forty years.

Adam Clarke's Commentary on the Bible was penned primarily

in the early morning hours.Barnes'Notes,a popular and useful

commentary by Albert Barnes,was also the fruit of the early

morning. And Charles Simeon's Sketches were mostly written

between four and eight a.m.

March 3

The spirit shrieked,convulsed him violently and came out.(Mark 9:26)

Evil never surrenders its grasp without a tremendous fight.We

never arrive at any spiritual inheritance through the enjoyment

of a picnic but always through the fierce conflicts of the battlefield.And

it is the same in the deep recesses of the soul. Every

human capacity that wins its spiritual freedom does so at the

cost of blood.Satan is not put to flight by our courteous request.

He completely blocks our way,and our progress must be recorded

in blood and tears.We need to remember this,or else we will

be held responsible for the arrogance of misinterpretation.When

we are born again, it is not into a soft and protected nursery

but into the open countryside, where we actually draw our

strength from the distress of the storm."We must go through

many hardships to enter the kingdom of God"(Acts 14:22).John

Henry Jowett

Faith of our Fathers! living still,

In spite of dungeon, fire and sword:

Oh, how our hearts beat high with joy

Whene'er we hear that glorious word.

Faith of our Fathers! Holy Faith!

We will be true to Thee till death!

97
---
01Streams 11/5/01 10:01 AM Page 98

Our fathers, chained in prisons dark,

Were still in heart of conscience free;

How sweet would be their children's fate,

If they, like them, could die for Thee!

March 4

Imitate those who through faith and patience inherit what has been

promised. (Hebrews 6:12)

The biblical heroes of faith call to us from the heights they have

won,encouraging us that what man once did,man can do again.

They remind us not only of the necessity of faith but also of

the patience required for faith's work to be perfected. May we

fear attempting to remove ourselves from the hands of our heavenly

Guide, or missing even one lesson of His loving discipline

due to our discouragement or doubt.

An old village blacksmith once said,"There is only one thing

I fear: being thrown onto the scrap heap.You see, in order to

strengthen a piece of steel, I must first temper it. I heat it, hammer

it, and then quickly plunge it into a bucket of cold water.

Very soon I know whether it will accept the tempering process

or simply fall to pieces. If, after one or two tests, I see it will

not allow itself to be tempered, I throw it onto the scrap heap,

only to later sell it to the junkman for a few cents per pound.

"I realize the Lord tests me in the same way: through fire,

water, and heavy blows of His hammer. If I am unwilling to

withstand the test, or prove to be unfit for His tempering

process, I am afraid He may throw me onto the scrap heap."

When the fire in your life is the hottest, stand still, for "later

on ...it produces a harvest" (Heb. 12:11) of blessings.Then we

will be able to say with Job,"When he has tested me,I will come

forth as gold" (Job 23:10). selected

Sainthood finds its source in suffering.Remember,it requires

eleven tons of pressure on a piano's strings for it to be tuned.

98
---
01Streams 11/5/01 10:01 AM Page 99

And God will tune you to perfect harmony with heaven's theme

if you will withstand the strain.

Things that hurt and things that mar

Shape the man for perfect praise;

Shock and strain and ruin are

Friendlier than the smiling days.

March 5

We have come to share in Christ if we hold firmly till the end the confidence

we had at first. (Hebrews 3:14)

Often the last step is the winning step. In Pilgrim's Progress the

greatest number of dangers were lurking in the area closest to

the gates of the Celestial City. It was in that region the Doubting

Castle stood. And it was there the enchanted ground lured

the tired traveler to fatal slumber. It is when heaven's heights are

in full view that the gates of hell are the most persistent and full

of deadly peril. "Let us not become weary in doing good, for at

the proper time we will reap a harvest if we do not give up" (Gal.

6:9)."Run in such a way as to get the prize" (1 Cor. 9:24).

In the bitter waves of woe

Beaten and tossed about

By the sullen winds that blow

From the desolate shores of doubt,

Where the anchors that faith has cast

Are dragging in the gale,

I am quietly holding fast

To the things that cannot fail.

And fierce though the fiends may fight,

And long though the angels hide,

I know that truth and right

Have the universe on their side;

And that somewhere beyond the stars

99
---
01Streams 11/5/01 10:01 AM Page 100

Is a love that is better than fate.

When the night unlocks her bars

I will see Him—and I will wait.

100

Washington Gladden

The greatest challenge in receiving great things from God

is holding on for the last half hour. selected

March 6

We had hoped. (Luke 24:21)

I have always been so sorry that the two disciples walking with

Jesus on the road to Emmaus did not say to Him,"We still hope"

instead of "We had hoped." The situation is very sad, because

in their minds it is over.

Oh, if only they had said,"Everything has come against our

hope, and it looks as if our trust were in vain.Yet we will not

give up,because we believe we will see Him again."Instead,they

walked by His side, declaring their shattered faith. Jesus had to

say to them,"How foolish you are, and how slow of heart to

believe!" (Luke 24:25).

Are we not in danger of having these same words said to

us? We can afford to lose every possession we have, except our

faith in the God of truth and love. May we never express our

faith, as these disciples did, in the past tense—"We had hoped."

Yet may we always say, "I have hope." from Crumbs

The soft, sweet summer was warm and glowing,

Bright were the blossoms on every bough:

I trusted Him when the roses were blooming;

I trust Him now....

Small was my faith should it weakly falter

Now that the roses have ceased to blow;

Frail was the trust that now should alter,

Doubting His love when storm clouds grow.

The Song of a Bird in a Winter Storm
---
01Streams 11/5/01 10:01 AM Page 101

March 7

We were harassed at every turn. (2 Corinthians 7:5)

Why is it that God leads us in this way, allowing such strong

and constant pressure on us? One of His purposes is to show

us His all-sufficient strength and grace more effectively than if

we were free from difficulties and trials."We have this treasure

in jars of clay to show that this all-surpassing power is from God

and not from us" (2 Cor. 4:7).

Another purpose is to bring us a greater awareness of our

dependence upon Him. God is constantly trying to teach us

how dependent we are on Him—that we are held completely

by His hand and reliant on His care alone.

This is exactly where Jesus Himself stood and where He

desires us to stand.We must stand not with self-made strength

but always leaning upon Him.And our stand must exhibit a trust

that would never dare to take even one step alone.This will

teach us to trust Him more.

There is no way to learn of faith except through trials.They

are God's school of faith, and it is much better for us to learn to

trust Him than to live a life of enjoyment.And once the lesson

of faith has been learned,it is an everlasting possession and an eternal

fortune gained.Yet without trust in God, even great riches

will leave us in poverty. from Days of Heaven upon Earth

Why must I weep when others sing?

"To test the deeps of suffering."

Why must I work while others rest?

"To spend my strength at God's request."

Why must I lose while others gain?

"To understand defeat's sharp pain."

Why must this lot of life be mine

When that which fairer seems is thine?

"Because God knows what plans for me

Will blossom in eternity."

101
---
01Streams 11/5/01 10:01 AM Page 102

March 8

Do as you promised . . .that your name will be great forever.(1 Chronicles

17:23–24)

This is one of the most blessed aspects of genuine prayer.Often

we ask for things that God has not specifically promised. Therefore

we are not sure if our petitions are in line with His purpose,

until we have persevered for some time in prayer.Yet on

some occasions, and this was one in the life of David, we are

fully persuaded that what we are asking is in accordance with

God's will.We feel led to select and plead a promise from the

pages of Scripture, having been specially impressed that it contains

a message for us. At these times, we may say with confident

faith,"Do as you promised."

Hardly any stance could be more completely beautiful,

strong, or safe than that of putting your finger on a promise of

God's divine Word and then claiming it. Doing so requires no

anguish, struggle, or wrestling but simply presenting the check

and asking for cash. It is as simple as producing the promise

and claiming its fulfillment. Nor will there be any doubt or

cloudiness about the request. If all requests were this definitive,

there would be much more interest in prayer. It is much better

to claim a few specific things than to make twenty vague

requests. F. B. Meyer

Every promise of Scripture is a letter from God, which we

may plead before Him with this reasonable request: "Do as you

promised." Our Creator will never cheat those of us of His creation

who depend upon His truth.And even more, our heavenly

Father will never break His word to His own child.

"Remember your word to your servant,for you have given me hope"

(Ps. 119:49).This is a very common plea and is a double argument,

for it is "your word."Will You not keep it? Why have You

spoken it, if You will not make it good? "You have given me

hope." Will You now disappoint the hope that You Yourself have

brought forth within me? Charles H. Spurgeon

102
---
01Streams 11/5/01 10:01 AM Page 103

Being fully persuaded that God had power to do what

he had promised. Romans 4:21

It is the everlasting faithfulness of God that makes a Bible

promise "very great and precious"(2 Peter 1:4).Human promises

are often worthless,and many broken promises have left broken

hearts. But since the creation of the world, God has never

broken a single promise to one of His trusting children.

Oh, how sad it is for a poor Christian to stand at the very

door of a promise during a dark night of affliction, being afraid

to turn the knob and thereby come boldly into the shelter as a

child entering his Father's house! Gurnal

Every promise of God's is built on four pillars.The first two

are His justice and holiness, which will never allow Him to

deceive us.The third is His grace or goodness, which will not

allow Him to forget. And the fourth is His truth, which will

not allow Him to change, which enables Him to accomplish

what He has promised. selected

March 9

Descend from the crest. (Song of Songs 4:8)

Bearing the burden of crushing weight actually gives Christians

wings.This may sound like a contradiction in terms, but it is a

blessed truth.While enduring a severe trial,David cried,"Oh,that

I had the wings of a dove! I would fly away and be at rest" (Ps.

55:6).Yet before he finished his meditation,he seems to have realized

that his wish for wings was attainable,for then he said,"Cast

your cares on the Lord and he will sustain you" (Ps. 55:22).

The word "burden" is described in my Bible commentary

as being "what Jehovah has given you." The saints' burdens are

God-given, leading us to wait upon Him. And once we have

done so,the burden is transformed into a pair of wings through

the miracle of trust, and the one who was weighted down "will

soar on wings like eagles" (Isa. 40:31). from Sunday School Times

103
---
01Streams 11/5/01 10:01 AM Page 104

One day when walking down the street,

On business bent, while thinking hard

About the "hundred cares" which seemed

Like thunderclouds about to break

In torrents, Self-pity said to me:

"You poor, poor thing, you have too much

To do.Your life is far too hard.

This heavy load will crush you soon."

A swift response of sympathy

Welled up within.The burning sun

Seemed more intense.The dust and noise

Of puffing motors flying past

With rasping blast of blowing horn

Incensed still more the whining nerves,

The fabled last back-breaking straw

To weary, troubled, fretting mind.

"Ah yes, it will break and crush my life;

I cannot bear this constant strain

Of endless, aggravating cares;

They are too great for such as I."

So thus my heart consoled itself,

"Enjoying misery," when lo!

A "still small voice" distinctly said,

"'Twas sent to lift you—not to crush."

I saw at once my great mistake.

My place was not beneath the load

But on the top! God meant it not

That I should carry it. He sent

It here to carry me. Full well

He knew my incapacity

Before the plan was made. He saw

A child of His in need of grace

And power to serve; a puny twig

Requiring sun and rain to grow;

104
---
01Streams 11/5/01 10:01 AM Page 105

An undeveloped chrysalis;

A weak soul lacking faith in God.

He could not help but see all this

And more.And then, with tender thought

He placed it where it had to grow—

Or die.To lie and cringe beneath

One's load means death, but life and power

Await all those who dare to rise above.

Our burdens are our wings; on them

We soar to higher realms of grace;

Without them we must ever roam

On plains of undeveloped faith,

(For faith grows but by exercise

In circumstance impossible).

O paradox of Heaven.The load

We think will crush was sent to lift us

Up to God! Then, soul of mine,

Climb up! Nothing can e'er be crushed

Save what is underneath the weight.

How may we climb! By what ascent

Will we crest the critical cares

Of life! Within His word is found

The key which opens His secret stairs;

Alone with Christ, secluded there,

We mount our loads, and rest in Him.

March 10

My righteous one will live by faith. (Hebrews 10:38)

105

Mary Butterfield

Often our feelings and emotions are mistakenly substituted for

faith. Pleasurable emotions and deep, satisfying experiences are

part of the Christian life, but they are not the essence of it.Trials,

conflicts, battles, and testings lie along the way and are to
---
01Streams 11/5/01 10:01 AM Page 106

be counted not as misfortunes but rather as part of our necessary

discipline.

In all of these various experiences, we are to rely on the

indwelling of Christ in our hearts, regardless of our feelings, as

we walk obediently before Him. And this is where many Christians

get into trouble.They try to walk by feelings rather than

by faith.

A believer once related that it seemed as if God had totally

withdrawn Himself from her. His mercy seemed completely

gone. Her loneliness lasted for six weeks, until the heavenly

Lover seemed to say to her,"You have looked for Me in the outside

world of emotions, yet all the while I have been waiting

inside for you.Meet Me now in the inner chamber of your spirit,

for I am there."

Be sure to distinguish between the fact of God's presence and

the feeling of the fact. It is actually a wonderful thing when our

soul feels lonely and deserted, as long as our faith can say,"I do

not see You, Lord, nor do I feel Your presence, but I know for

certain You are graciously here—exactly where I am and aware

of my circumstances." Remind yourself again and again with

these words:"Lord,You are here. And though the bush before

me does not seem to burn,it does burn.I will take the shoes from

my feet,'for the place where [I am] standing is holy ground'"

(Ex. 3:5). London Christian

Trust God's Word and His power more than you trust your

own feelings and experiences.Remember,your Rock is Christ,

and it is the sea that ebbs and flows with the tides, not Him.

Samuel Rutherford

Keep your eyes firmly fixed on the infinite greatness of

Christ's finished work and His righteousness.Look to Jesus and

believe—look to Jesus and live! In fact, as you look to Him,

unfurl your sails and bravely face the raging storms on the sea

of life. Do not exhibit your distrust by staying in the security

of the calm harbor or by sleeping comfortably through your life

106
---
01Streams 11/5/01 10:01 AM Page 107

of ease. Do not allow your life and emotions to be tossed back

and forth against each other like ships idly moored at port. The

Christian life is not one of listless brooding over our emotions

or slowly drifting our keel of faith through shallow water. Nor

is it one of dragging our anchor of hope through the settling

mud of the bay, as if we were afraid of encountering a healthy

breeze.

Sail away! Spread your sail toward the storm and trust in Him

who rules the raging seas. A brightly colored bird is safest when

in flight. If its nest is near the ground or if it flies too low, it

exposes itself to the hunter's net or trap. In the same way, if we

cower in the lowlands of feelings and emotions, we will find

ourselves entangled in a thousand nets of doubt, despair, temptation,

and unbelief."How useless to spread a net in full view

of ALL THE BIRDS!" (Prov. 1:17)."Put your hope in God"

(Ps. 42:5). J. R. Macduff

When I cannot feel the faith of assurance, I live by the fact

of God's faithfulness. Matthew Henry

March 11

After the death of Moses the servant of the Lord, the Lord said to

Joshua son of Nun, Moses' aide:"Moses my servant is dead. Now

then, you and all these people, get ready to cross the Jordan River."

(Joshua 1:1–2)

Yesterday you experienced a great sorrow,and now your home

seems empty.Your first impulse is to give up and to sit down

in despair amid your dashed hopes.Yet you must defy that temptation,

for you are at the front line of the battle, and the crisis

is at hand. Faltering even one moment would put God's interest

at risk. Other lives will be harmed by your hesitation, and

His work will suffer if you simply fold your hands.You must

not linger at this point, even to indulge your grief.

A famous general once related this sorrowful story from his

own wartime experience. His son was the lieutenant of an

107
---
01Streams 11/5/01 10:01 AM Page 108

artillery unit, and an assault was in progress. As the father led

his division in a charge, pressing on across the battlefield, suddenly

his eye caught sight of a dead artillery officer lying right

before him. Just a glance told him it was his son.The general's

fatherly impulse was to kneel by the body of his beloved son

and express his grief, but the duty of the moment demanded

he press on with his charge.So after quickly kissing his dead son,

he hurried away, leading his command in the assault.

Weeping inconsolably beside a grave will never bring back

the treasure of a lost love, nor can any blessing come from such

great sadness. Sorrow causes deep scars, and indelibly writes its

story on the suffering heart.We never completely recover from

our greatest griefs and are never exactly the same after having

passed through them. Yet sorrow that is endured in the right

spirit impacts our growth favorably and brings us a greater sense

of compassion for others. Indeed, those who have no scars of

sorrow or suffering upon them are poor."The joy set before"

(Heb. 12:2) us should shine on our griefs just as the sun shines

through the clouds,making them radiant.God has ordained our

truest and richest comfort to be found by pressing on toward

the goal. Sitting down and brooding over our sorrow deepens

the darkness surrounding us,allowing it to creep into our heart.

And soon our strength has changed to weakness. But if we will

turn from the gloom and remain faithful to the calling of God,

the light will shine again and we will grow stronger. J. R. Miller

Lord,You know that through our tears

Of hasty, selfish weeping

Comes surer sin, and for our petty fears

Of loss You have in keeping

A greater gain than all of which we dreamed;

You knowest that in grasping

The bright possessions which so precious seemed

We lose them; but if, clasping

Your faithful hand, we tread with steadfast feet

108
---
01Streams 11/5/01 10:01 AM Page 109

The path of Your appointing,

There waits for us a treasury of sweet

Delight, royal anointing

With oil of gladness and of strength.

March 12

109

Helen Hunt Jackson

The Lord made an east wind blow across the land all that day and all

that night. By morning the wind had brought the locusts....Pharaoh

quickly summoned Moses and Aaron....And the Lord changed the

wind to a very strong west wind, which caught up the locusts and carried

them into the Red Sea. Not a locust was left anywhere in Egypt.

(Exodus 10:13, 16, 19)

In these verses we see how in ancient times, when the Lord

fought for Israel against the cruel Pharaoh, it was stormy winds

that won their deliverance.And again later, in the greatest display

of His power, God struck the final blow to the proud defiance

of Egypt with stormy winds.Yet at first it seemed that a

strange and almost cruel thing was happening to Israel.They

were hemmed in by a multitude of dangers: in front, a raging

sea defied them; on either side, mountains cut off any hope of

escape; and above them, a hurricane seemed to blow. It was as

if the first deliverance had come only to hand them over to a

more certain death."The Israelites looked up, and there were

the Egyptians, marching after them.They were terrified and

cried out to the Lord" (Ex. 14:10).

Only when it seemed they were trapped for the enemy did

the glorious triumph come.The stormy wind blew forward,beating

back the waves.The vast multitude of Israelites marched

ahead along the path of the deep sea floor—a path covered with

God's protecting love.On either side were crystal walls of water,

glowing in the light of the glory of the Lord, and high above

them roared the thunder of the storm. And so it continued on
---
01Streams 11/5/01 10:01 AM Page 110

through the night, until at dawn the next day, as the last of the

Israelites set foot on shore,the work of the stormy wind was done.

Then Israel sang a song to the Lord of how the stormy wind

fulfilled His word:"The enemy boasted,'I will pursue, I will

overtake them. I will divide the spoils. . . .' But you blew with

your breath, and the sea covered them.They sank like lead in

the mighty waters" (Ex. 15:9–10).

Someday, through His great mercy, we too will stand on "a

sea of glass," holding "harps given [to us] by God."Then we

will sing "the song of Moses the servant of God and the song

of the Lamb:'Great and marvelous are your deeds, Lord God

Almighty. Just and true are your ways, King of the ages'" (Rev.

15:2–3).Then we will know how the stormy winds have won

our deliverance.

Today, only questions surround your great sorrow, but then

you will see how the threatening enemy was actually swept away

during your stormy night of fear and grief.

Today you see only your loss,but then you will see how God

used it to break the evil chains that had begun to restrain you.

Today you cower at the howling wind and the roaring thunder,

but then you will see how they beat back the waves of

destruction and opened your way to the peaceful Land of

Promise. Mark Guy Pearse

Though winds are wild,

And the gale unleashed,

My trusting heart still sings:

I know that they mean

No harm to me,

He rides upon their wings.

March 13

Just and true are your ways, King of the ages. (Revelation 15:3)

110
---
01Streams 11/5/01 10:01 AM Page 111

The following story was related by Mrs. Charles H. Spurgeon,

who suffered greatly with poor health for more than twentyfive

years:

"At the end of a dull and dreary day,I lay resting on my couch

as the night grew darker. Although my room was bright and

cozy, some of the darkness outside seemed to have entered my

soul and obscured its spiritual vision. In vain I tried to see the

sovereign hand that I knew held mine and that guided my fogsurrounded

feet along a steep and slippery path of suffering.

"With a sorrowful heart I asked,'Why does the Lord deal

with a child of His in this way? Why does He so often send such

sharp and bitter pain to visit me? Why does He allow this lingering

weakness to hinder the sweet service I long to render

to His poor servants?'

"These impatient questions were quickly answered through

a very strange language.Yet no interpreter was needed except

the mindful whisper of my heart. For a while silence reigned

in the little room, being broken only by the crackling of an oak

log burning in the fireplace. Suddenly I heard a sweet, soft

sound: a faint, yet clear, musical note, like the tender trill of a

robin beneath my window.

"I asked aloud, 'What can that be? Surely no bird can be

singing outside at this time of year or night.' But again came the

faint, mournful notes, so sweet and melodious, yet mysterious

enough to cause us to wonder.Then my friend exclaimed,'It's

coming from the log on the fire!'The fire was unshackling the

imprisoned music from deep within the old oak's heart!

"Perhaps the oak had acquired this song during the days

when all was well with him—when birds sang merrily on his

branches, and while the soft sunlight streaked his tender leaves

with gold.But he had grown old and hard since then.Ring after

ring of knotty growth had sealed up his long-forgotten melody,

until the fiery tongues of the flames consumed his callousness.

The intense heat of the fire wrenched from him both a song

111
---
01Streams 11/5/01 10:01 AM Page 112

and a sacrifice at once.Then I realized: when the fires of affliction

draw songs of praise from us, we are indeed purified, and

our God is glorified!

"Maybe some of us are like this old oak log: cold, hard,

unfeeling,and never singing any melodious sounds.It is the fires

burning around us that release notes of trust in God and bring

cheerful compliance with His will. As I thought of this, the fire

burned, and my soul found sweet comfort in the parable so

strangely revealed before me.

"Yes, singing in the fire! God helping us, sometimes using

the only way He can to get harmony from our hard and apathetic

hearts.Then, let the furnace be 'heated seven times hotter

than usual' [Dan. 3:19]."

March 14

Moses approached the thick darkness where God was.(Exodus 20:21)

God still has His secrets—hidden from "the wise and learned"

(Luke 10:21). Do not fear these unknown things, but be content

to accept the things you cannot understand and to wait

patiently. In due time He will reveal the treasures of the

unknown to you—the riches of the glory of the mystery. Recognize

that the mystery is simply the veil covering God's face.

Do not be afraid to enter the cloud descending on your life,

for God is in it. And the other side is radiant with His glory.

"Do not be surprised at the painful trial you are suffering, as

though something strange were happening to you. But rejoice

that you participate in the sufferings of Christ" (1 Peter 4:12–

13).When you feel the most forsaken and lonely, God is near.

He is in the darkest cloud. Forge ahead into the darkness without

flinching,knowing that under the shelter of the cloud,God

is waiting for you. selected

Have you a cloud?

Something that is dark and full of dread;

112
---
01Streams 11/5/01 10:01 AM Page 113

A messenger of tempest overhead?

A something that is darkening the sky;

A something growing darker by and by;

A something that you're fearful will burst at last;

A cloud that does a deep, long shadow cast?

God's coming in that cloud.

Have you a cloud?

It is Jehovah's triumph car: in this

He's riding to you, o'er the wide abyss.

It is the robe in which He wraps His form;

For He does dress Him with the flashing storm.

It is the veil in which He hides the light

Of His fair face, too dazzling for your sight.

God's coming in that cloud.

Have you a cloud?

A trial that is terrible to thee?

A dark temptation threatening to see?

A loss of some dear one long your own?

A mist, a veiling, bringing the unknown?

A mystery that insubstantial seems:

A cloud between you and the sun's bright beams?

God's coming in that cloud.

Have you a cloud?

A sickness—weak old age—distress and death?

These clouds will scatter at your last faint breath.

Fear not the clouds that hover o'er your boat,

Making the harbor's entrance woeful to float;

The cloud of death, though misty, chill and cold,

Will yet grow radiant with a fringe of gold.

GOD'S coming in that cloud.

A man once stood on a high peak of the Rocky Mountains

watching a raging storm below.As he watched, an eagle came

up through the clouds and soared away toward the sun.The

113
---
01Streams 11/5/01 10:01 AM Page 114

water on its wings glistened in the sunlight like diamonds.If not

for the storm, the eagle might have remained in the valley. In

the same way, the sorrows of life cause us to rise toward God.

March 15

Do not be afraid, O worm Jacob....I will make you into a threshing

sledge, new and sharp, with many teeth. (Isaiah 41:14–15)

Could any two things be in greater contrast than a worm and

a threshing tool with sharp teeth? A worm is delicate and is

easily bruised by a stone or crushed beneath a passing wheel.

Yet a threshing tool with sharp teeth can cut through rock and

not be broken, leaving its mark upon the rock. And almighty

God can convert one into the other. He can take an individual

or a nation, who has all the weakness of a worm, and through

the energizing work of His own Spirit, endow that person or

nation with strength enough to make a profound mark upon

the history of their time.

Therefore a "worm"may take heart.Almighty God can make

us stronger than our circumstances and can turn each situation

to our good. In God's strength we can make them all pay tribute

to our soul.We can even take the darkest disappointment,

break it open, and discover a precious jewel of grace inside.

When God gives us an iron will, we can cut through difficulties

just as an iron plowshare cuts through the hardest soil. As

He said in the above verse,"I will make you. . . ." Will He not

do it? John Henry Jowett

Christ is building His kingdom with the broken things of

earth. People desire only the strong, successful, victorious, and

unbroken things in life to build their kingdoms, but God is the

God of the unsuccessful—the God of those who have failed.

Heaven is being filled with earth's broken lives, and there is no

"bruised reed" (Isa. 42:3) that Christ cannot take and restore

to a glorious place of blessing and beauty. He can take a life

crushed by pain or sorrow and make it a harp whose music

114
---
01Streams 11/5/01 10:01 AM Page 115

will be total praise.He can lift earth's saddest failure up to heaven's

glory. J. R. Miller

"Follow Me, and I will make you . . ."

Make you speak My words with power,

Make you vessels of My mercy,

Make you helpful every hour.

"Follow Me, and I will make you . . ."

Make you what you cannot be—

Make you loving, trustful, godly,

Make you even just like Me.

For our good. (Hebrews 12:10)

March 16

115

L. S. P.

In one of Ralph Conner's books he tells the story of Gwen.

Gwen was an undisciplined and strong-willed girl,always accustomed

to having her own way. One day she had a terrible accident

that crippled her for life,leading her to become even more

rebellious. Once while in a complaining mood, she was visited

by a local "sky pilot," or mountaineer missionary. He told her

the following parable about the canyon:

"At first there were no canyons but only the vast, open

prairie. One day the Master of the prairie, walking across His

great grasslands, asked the prairie, 'Where are your flowers?'

The prairie responded,'Master, I have no flower seeds.'

"The Master then spoke to the birds, and they brought seeds

of every kind of flower, scattering them far and wide. Soon the

prairie bloomed with crocuses,roses,yellow buttercups,wild sunflowers,

and red lilies all summer long.When the Master saw the

flowers, He was pleased. But He failed to see His favorites and

asked the prairie, 'Where are the clematis, columbine, violets,

wildflowers, ferns, and the flowering shrubs?'
---
01Streams 11/5/01 10:01 AM Page 116

"So once again He spoke to the birds, and again they

brought all the seeds and spread them far and wide. But when

the Master arrived, He still could not find the flowers he loved

the most, and asked, 'Where are my sweetest flowers?' The

prairie cried sorrowfully,'O Master, I cannot keep the flowers.The

winds sweep fiercely across me,and the sun beats down

upon my breast, and they simply wither up and blow away.'

"Then the Master spoke to the lightning, and with one swift

bolt, the lightning split the prairie through its heart. The prairie

reeled and groaned in agony and for many days bitterly complained

about its dark, jagged, and gaping wound. But the river poured its

water through the chasm, bringing rich, dark soil with it.

"Once again the birds brought seeds and scattered them in

the canyon. After a long time the rough rocks were adorned with

soft mosses and trailing vines,and all the secluded cliffs were draped

with clematis and columbine. Giant elms raised their huge limbs

high into the sunlight, while at their feet small cedars and balsam

firs clustered together.Everywhere violets,anemones,and maidenhair

ferns grew and bloomed, until the canyon became the Master's

favorite place for rest, peace, and joy."

Then the "sky pilot" said to her,"'The fruit [or "flowers"] of

the Spirit [are] love, joy, peace, patience, kindness, . . . gentleness'

[Gal. 5:22–23], and some of these grow only in the canyon."

Gwen softly asked,"Which are the canyon flowers?" The missionary

answered,"Patience, kindness, and gentleness.Yet even

though love, joy, and peace may bloom in the open spaces, the

blossom is never as beautiful, or the perfume as fragrant, as when

they are found blooming in the canyon."

Gwen sat very still for quite some time, and then longingly

said with trembling lips,"There are no flowers in my canyon—

only jagged rocks." The missionary lovingly responded,"Someday

they will bloom, dear Gwen. The Master will find them,

and we will see them, too."

Beloved, when you come to your canyon, remember!

116
---
02Streams 11/5/01 10:01 AM Page 117

March 17

Stay there until I tell you. (Matthew 2:13)

I'll stay where You've put me; I will, dear Lord,

Though I wanted so badly to go;

I was eager to march with the "rank and file,"

Yes, I wanted to lead them,You know.

I planned to keep step to the music loud,

To cheer when the banner unfurled,

To stand in the midst of the fight straight and proud,

But I'll stay where You've put me.

I'll stay where You've put me; I'll work, dear Lord,

Though the field be narrow and small,

And the ground be neglected, and stones lie thick,

And there seems to be no life at all.

The field is Your own, only give me the seed,

I'll sow it with never a fear;

I'll till the dry soil while I wait for the rain,

And rejoice when the green blades appear;

I'll work where You've put me.

I'll stay where You've put me; I will, dear Lord;

I'll bear the day's burden and heat,

Always trusting You fully; when sunset has come

I'll lay stalks of grain at Your feet.

And then, when my earth work is ended and done,

In the light of eternity's glow,

Life's record all closed, I surely will find

It was better to stay than to go;

I'll stay where You've put me.

O restless heart—beating against the prison bars of your

circumstances and longing for a wider realm of usefulness—allow

God to direct all your days. Patience and

trust, even in the midst of the monotony of your daily

117
---
02Streams 11/5/01 10:01 AM Page 118

routine,will be the best preparation to courageously handle

the stress and strain of a greater opportunity, which

God may someday send.

March 18

He answered nothing. (Mark 15:3 KJV)

There is no scene in all the Bible more majestic than our Savior

remaining silent before the men who were reviling Him.

With one quick burst of divine power, or one fiery word of

rebuke, He could have caused His accusers to be laid prostrate

at His feet.Yet He answered not one word,allowing them to say

and do their very worst. He stood in THE POWER OF

STILLNESS—God's holy silent Lamb.

There is a place of stillness that allows God the opportunity

to work for us and gives us peace. It is a stillness that ceases

our scheming, self-vindication, and the search for a temporary

means to an end through our own wisdom and judgment.

Instead,it lets God provide an answer,through His unfailing and

faithful love, to the cruel blow we have suffered.

Oh,how often we thwart God's intervention on our behalf

by taking up our own cause or by striking a blow in our own

defense! May God grant each of us this silent power and submissive

spirit.Then once our earthly battles and strife are over,

others will remember us as we now remember the morning

dew, the soft light of sunrise, a peaceful evening breeze, the

Lamb of Calvary, and the gentle and holy heavenly Dove.

A. B. Simpson

The day when Jesus stood alone

And felt the hearts of men like stone,

And knew He came but to atone—

That day "He held His peace."

They witnessed falsely to His word,

They bound Him with a cruel cord,

118
---
02Streams 11/5/01 10:01 AM Page 119

And mockingly proclaimed Him Lord;

"But Jesus held His peace."

They spat upon Him in the face,

They dragged Him on from place to place,

They heaped upon Him all disgrace;

"But Jesus held His peace."

My friend, have you for far much less,

With rage, which you called righteousness,

Resented slights with great distress?

Your Savior "held His peace."

119

L. S. P.

I remember hearing Bishop Whipple of Minnesota,who was

well known as "The Apostle of the Indians," voice these beautiful

words: "For the last thirty years, I have looked for the face

of Christ in the people with whom I have disagreed."

When this spirit drives us, we will be immediately protected

from a feeble tolerance of others, narrow-mindedness, harsh

vindictiveness, and everything else that would damage our testimony

for Him who came not to destroy lives but to save them.

W. H. Griffith-Thomas

March 19

Dear friends,do not be surprised at the painful trial you are suffering....

But rejoice that you participate in the sufferings of Christ. (1 Peter

4:12–13)

Many hours of waiting were necessary to enrich David's harp

with song. And hours of waiting in the wilderness will provide

us with psalms of "thanksgiving and the sound of singing"

(Isa.51:3).The hearts of the discouraged here below will be lifted,

and joy will be brought to our Father's heavenly home.

What was the preparation for Jesse's son, David, to compose

songs unlike any others ever heard before on earth? It was the

sinful persecution he endured at the hands of the wicked that
---
02Streams 11/5/01 10:01 AM Page 120

brought forth his cries for God's help.Then David's faint hope

in God's goodness blossomed into full songs of rejoicing,declaring

the Lord's mighty deliverances and multiplied mercies.Every

sorrow was yet another note from his harp, and every deliverance

another theme of praise.

One stinging sorrow spared would have been one blessing

missed and unclaimed.One difficulty or danger escaped—how

great would have been our loss! The thrilling psalms where

God's people today find expression for their grief or praise

might never have been known.

Waiting on God and abiding in His will is to know Him in

"the fellowship of sharing in his sufferings" (Phil. 3:10) and "to

be conformed to the likeness of his Son" (Rom. 8:29). Therefore

if God's desire is to enlarge your capacity for spiritual

understanding,do not be frightened by the greater realm of suffering

that awaits you. The Lord's capacity for sympathy is

greater still, for the breath of the Holy Spirit into His new creation

never makes a heart hard and insensitive, but affectionate,

tender, and true. Anna Shipton

I thank Christ Jesus our Lord,who has given me strength,

that he considered me faithful, appointing me to his service.

1 Timothy 1:12

March 20

Sorrowful, yet always rejoicing. (2 Corinthians 6:10)

A stoic person despises the shedding of tears, but a Christian

is not forbidden to weep.Yet the soul may become silent from

excessive grief, just as the quivering sheep may remain quiet

beneath the scissors of the shearer. Or, when the heart is at the

verge of breaking beneath the waves of a trial, the sufferer may

seek relief by crying out with a loud voice. But there is something

even better.

120
---
02Streams 11/5/01 10:01 AM Page 121

It is said that springs of sweet, fresh water pool up amid the

saltiness of the oceans,that the fairest Alpine flowers bloom in the

wildest and most rugged mountain passes,and that the most magnificent

psalms arose from the most profound agonies of the soul.

May it continue to be! Therefore, amid a multitude of trials,

souls who love God will discover reasons for boundless, leaping

joy.Even though "deep calls to deep"(Ps.42:7),the clear cadence

of the Lord's song will be heard.And during the most difficult

hour that could ever enter a human life, it will be possible to bless

the God and Father of our Lord Jesus Christ.

Have you learned this lesson yet? Not simply to endure or

to choose God's will but to rejoice in it "with an inexpressible

and glorious joy" (1 Peter 1:8). from Tried by Fire

I will be still, my bruised heart faintly murmured,

As o'er me rolled a crushing load of woe;

My words, my cries, e'en my low moan was stifled;

I pressed my lips; I barred the teardrop's flow.

I will be still, although I cannot see it,

The love that bares a soul and fans pain's fire;

That takes away the last sweet drop of solace,

Breaks the lone harp string, hides Your precious lyre.

But God is love, so I will stay me, stay me—

We'll doubt not, Soul, we will be very still;

We'll wait till after while, when He will lift us—

Yes, after while, when it will be His will.

And I did listen to my heart's brave promise;

And I did quiver, struggling to be still;

And I did lift my tearless eyes to Heaven,

Repeating ever,"Yes, Christ, have Your will."

But soon my heart spoke up from 'neath our burden,

Rebuked my tight-drawn lips, my face so sad:

"We can do more than this, O Soul," it whispered.

"We can be more than still, we can be glad!"

121
---
02Streams 11/5/01 10:01 AM Page 122

And now my heart and I are sweetly singing—

Singing without the sound of tuneful strings;

Drinking abundant waters in the desert;

Crushed, and yet soaring as on eagle's wings.

March 21

According to your faith will it be done to you. (Matthew 9:29)

122

S. P.W.

Praying through"something might be defined as follows:"Praying

your way into full faith;coming to the point of assurance,while

still praying, that your prayer has been accepted and heard; and in

advance of the event,with confident anticipation,actually becoming

aware of having received what you ask."

Let us remember that no earthly circumstances can hinder

the fulfillment of God's Word.We must look steadfastly

at His immutable Word and not at the uncertainty of this everchanging

world. God desires for us to believe His Word without

other evidence, and then He is ready to do for us "according

to [our] faith."

When once His Word is past,

When He has said,"I will," [Heb. 13:5 KJV]

The thing will come at last;

God keeps His promise still. [See 2 Cor. 1:20.]

The prayers of the Pentecostal era were prayed with such simple

faith that they were like cashing a check. Robert Anderson

And God said. . . .And it was so. Genesis 1:9

March 22

After forty years had passed, an angel appeared to Moses in the flames

of a burning bush in the desert near Mount Sinai. . . .Then the Lord

said to him," . . .I have indeed seen the oppression of my people in Egypt.

I have heard their groaning and have come down to set them free. Now

come, I will send you back to Egypt." (Acts 7:30, 33–34)
---
02Streams 11/5/01 10:01 AM Page 123

Forty years was a long time to wait in preparation for a great

mission.Yet when God delays, He is not inactive.This is when

He prepares His instruments and matures our strength.Then

at the appointed time we will rise up and be equal to our task.

Even Jesus of Nazareth had thirty years of privacy, growing in

wisdom before He began His work. John Henry Jowett

God is never in a hurry. He spends years preparing those

He plans to greatly use, and never thinks of the days of preparation

as being too long or boring.

The most difficult ingredient of suffering is often time.A

short, sharp pain is easily endured, but when a sorrow drags on

its long and weary way year after monotonous year, returning

day after day with the same dull routine of hopeless agony, the

heart loses its strength.Without the grace of God, the heart is

sure to sink into dismal despair.

Joseph endured a long trial, and God often has to burn the

lessons he learned into the depths of our being, using the fires

of prolonged pain. "He will sit as a refiner and purifier of silver"

(Mal. 3:3), yet He knows the specific amount of time that

will be needed. Like a true goldsmith, God stops the fire the

moment He sees His image in the glowing metal.

Today we may be unable to see the final outcome of the

beautiful plan that God has hidden "in the shadow of his hand"

(Isa. 49:2). It may be concealed for a very long time, but our

faith may rest in the assurance that God is still seated on His

throne. Because of this assurance, we can calmly await the time

when, in heavenly delight, we will say, "All things [have]

work[ed] together for good" (Rom. 8:28 KJV).

As Joseph did, we should be more careful to focus on learning

all the lessons in the school of sorrow than to focus anxious

eyes toward the time of our deliverance.There is a reason

behind every lesson,and when we are ready,our deliverance will

definitely come.Then we will know we could never have served

in our place of higher service without having been taught the

123
---
02Streams 11/5/01 10:01 AM Page 124

very things we learned during our ordeal. God is in the process

of educating us for future service and greater blessings. And if

we have gained the qualities that make us ready for a throne,

nothing will keep us from it once His timing is right.

Don't steal tomorrow from God's hands. Give Him time to

speak to you and reveal His will. He is never late—learn to wait.

selected

He never shows up late; He knows just what is best;

Fret not yourself in vain; until He comes just REST.

Never run impulsively ahead of the Lord. Learn to await

His timing—the second, minute, and hour hand must all point

to the precise moment for action.

March 23

Some of the plunder taken in battle they dedicated for the repair of the

temple of the Lord. (1 Chronicles 26:27)

Great physical force is stored in the depths of the earth,in places

such as coal mines. Coal was produced by the tremendous heat

that burned the ancient forests. In the same way, spiritual force

is stored in the depths of our being and is brought about by

the very pain we cannot understand.

Someday we will see that "the plunder taken in battle" from

our trials was simply preparing us to become like Great-heart

in Pilgrim's Progress, so we too could lead our fellow pilgrims triumphantly

through trials to the city of the King. But may we

never forget that the source of learning to help others must be

the experience of victorious suffering.Whining and complaining

about our pain never does anyone any good.

Paul never carried the gloom of a cemetery around with

him, but a chorus of victorious praise.The more difficult his

trial, the more he trusted and rejoiced, shouting from the very

altar of sacrifice. He said,"Even if I am being poured out like

a drink offering on the sacrifice and service coming from your

124
---
02Streams 11/5/01 10:01 AM Page 125

faith, I am glad and rejoice with all of you" (Phil. 2:17). Lord,

help me today to draw strength from everything that comes to

me! from Days of Heaven upon Earth

He placed me in a little cage,

Away from gardens fair;

But I must sing the sweetest songs

Because He placed me there.

Not beat my wings against the cage

If it's my Maker's will,

But raise my voice to heaven's gate

And sing the louder still!

March 24

Then Jacob prayed,"O God of my father Abraham, God of my father

Isaac, O Lord, who said to me,'Go back to your country and your relatives,

and I will make you prosper.' . . . Save me, I pray." (Genesis

32:9, 11)

There are many healthy aspects to Jacob's prayer. In some respects

it could serve as a mold into which we pour our own spirits while

we are being melted in the fiery furnace of sorrow.

Jacob began by quoting God's promise twice and by saying,

"Who said to me" and "You have said" (v. 12). See how he has

God in his grasp! God places Himself within our reach through

His promises, and when we can actually say to Him,"You have

said," He cannot say no. God must do as He has said.

If Jacob was so careful over his words, what great care will

God take over His promises? Therefore while in prayer be sure

to stand firmly on a promise of God. By doing so, you will

obtain enough power to throw open the gates of heaven and

to take it by force. from Practical Portions for the Prayer-Life

Jesus desires that we would be very specific in our requests,

asking for something definite. "What do you want me to do for

you?"(Matt.20:32) is the question He asks everyone who comes

125
---
02Streams 11/5/01 10:01 AM Page 126

to Him during trials and affliction. Make your requests earnestly

and specifically, if you desire definite answers. It is the aimlessness

of prayer that accounts for so many seemingly unanswered

prayers.Be specific in your petitions. Fill out your check for something

definite, and it will be cashed at the bank of heaven when

it is presented in Jesus' name. Dare to be specific with God. selected

Frances Ridley Havergal once said, "Every year I live—in fact,

nearly every day—I seem to see more clearly how all the peace,

happiness, and power of the Christian life hinges on one thing.

That one thing is taking God at His word, believing He really

means exactly what He says, and accepting the very words that

reveal His goodness and grace, without substituting other words

or changing the precise moods and tenses He has seen fit to use."

Take Christ's Word—His promise—and Christ's sacrifice—

His blood—with you to the throne of grace through prayer,and

not one of heaven's blessings can be denied you. Adam Clarke

March 25

Without faith it is impossible to please God,because anyone who comes

to him must believe that he exists and that he rewards those who earnestly

seek him. (Hebrews 11:6)

We all need faith for desperate days, and the Bible is filled

with accounts of such days.Its story is told with them,its songs

are inspired by them,its prophecy deals with them,and its revelation

has come through them. Desperate days are the

stepping-stones on the path of light.They seem to have been

God's opportunity to provide our school of wisdom.

Psalm 107 is filled with stories of God's lavish love. In every

story of deliverance, it was humankind coming to the point of

desperation that gave God His opportunity to act. Arriving at

"their wits' end" (Ps. 107:27) of desperation was the beginning

of God's power.

Remember the promise made to a couple "as good as dead,"

that their descendants would be "as numerous as the stars in

126
---
02Streams 11/5/01 10:01 AM Page 127

the sky and as countless as the sand on the seashore" (Heb.

11:12). Read once again the story of the Red Sea deliverance,

and the story of how "the priests who carried the ark of the

covenant of the Lord stood firm on dry ground in the middle

of the Jordan" (Josh. 3:17). Study once more the prayers of Asa,

Jehoshaphat, and Hezekiah when they were severely troubled,

not knowing what to do. Go over the history of Nehemiah,

Daniel, Hosea, and Habakkuk. Stand with awe in the darkness

of Gethsemane, and linger by the tomb in Joseph of Arimathea's

garden through those difficult days.Call to account the witnesses

of the early church,and ask the apostles to relate the story

of their desperate days.

Desperation is better than despair. Remember, our faith did

not create our desperate days. Faith's work is to sustain us

through those days and to solve them.Yet the only alternative

to desperate faith is despair. Faith holds on and prevails.

There is not a more heroic example of desperate faith than

the story of the three Hebrew young men Shadrach, Meshach,

and Abednego.Their situation was desperate, but they bravely

answered,"If we are thrown into the blazing furnace, the God

we serve is able to save us from it, and he will rescue us from

your hand, O king. But even if he does not, we want you to

know, O king, that we will not serve your gods or worship the

image of gold you have set up" (Dan. 3:17–18). I especially

like the words "But even if he does not"!

Let me briefly mention the Garden of Gethsemane and ask

you to ponder its "nevertheless." "If it be possible . . . nevertheless

. . . " (Matt. 26:39 KJV). Our Lord's soul was overwhelmed

by deep darkness.To trust meant experiencing anguish

to the point of blood,and darkness to the very depths of hell—

Nevertheless! Nevertheless!

Find a hymnal and sing your favorite hymn of desperate faith.

S. Chadwick

When obstacles and trials seem

Like prison walls to be,

127
---
02Streams 11/5/01 10:01 AM Page 128

I do the little I can do

And leave the rest to Thee.

And when there seems no chance, no change,

From grief can set me free,

Hope finds its strength in helplessness,

And calmly waits for Thee.

March 26

Lift up your eyes from where you are and look north and south,

east and west.All the land that you see I will give to you. (Genesis

13:14–15)

No desire will ever be placed in you by the Holy Spirit unless

He intends to fulfill it. So let your faith rise up and soar away

to claim all the land you can discover. S.A. Keen

Everything you can comprehend through faith's vision

belongs to you. Look as far as you can, for it is all yours. All

you long to be as a Christian, and all you long to do for God,

are within the possibilities of faith.Then draw closer to Him,

and with your Bible before you,and your soul completely open

to the power of the Spirit,allow your entire being to receive the

baptism of His presence. As He opens your understanding,

enabling you to see His fullness, believe He has it all for you.

Accept for yourself all the promises of His Word, all the desires

He awakens within you, and all the possibilities of what you

could become as a follower of Jesus. All the land you see is given

to you.

The provision of His grace, which helps us along the way

to the fulfillment of His promise, is actually tied to the inner

vision God has given us.He who puts the natural instinct in the

heart of a bird to fly across a continent in search of a warmer

climate is too good to deceive it. Just as we are confident He

placed the instinct within the bird, we can be assured He has

also provided balmy breezes and springlike sun to meet it when

it arrives.

128
---
02Streams 11/5/01 10:01 AM Page 129

And He who breathes heavenly hope into our hearts will not

deceive or fail us when we press forward toward its realization.

selected

They left and found things just as Jesus had told them.

Luke 22:13

March 27

I consider that our present sufferings are not worth comparing with the

glory that will be revealed in us. (Romans 8:18)

A remarkable event occurred recently at a wedding in England.

The bridegroom,a very wealthy young man of high social standing,

had been blinded by an accident at the age of ten. In spite

of his blindness, he had graduated from the university with honors

and had now won the heart of his beautiful bride, although

he had never looked upon her face. Shortly before his marriage

he underwent a new round of treatments by specialists, and the

result was ready to be revealed on the day of his wedding.

The big day arrived, with all the guests and their presents.

In attendance were cabinet ministers, generals, bishops, and

learned men and women.The groom, dressed for the wedding

but with his eyes still covered by bandages, rode to the church

with his father. His famous ophthalmologist met them in the

vestry of the church.

The bride entered the church on the arm of her whitehaired

father.She was so moved,she could hardly speak.Would

the man she loved finally see her face—a face others admired

but he knew only through the touch of his delicate fingertips?

As she neared the altar, while the soft strains of the wedding

march floated through the church, she saw an unusual group.

There before her stood the groom, his father, and the doctor.

The doctor was in the process of cutting away the last bandage.

Once the bandage was removed, the groom took a step forward,yet

with the trembling uncertainty of someone who is not

129
---
02Streams 11/5/01 10:01 AM Page 130

completely awake. A beam of rose-colored light from a pane

in the window above the altar fell across his face, but he did

not seem to see it.

Could he see anything? Yes! Recovering in an instant his

steadiness and demeanor, and with a dignity and joy never

before seen on his face, he stepped forward to meet his bride.

They looked into each other's eyes, and it seemed as if his gaze

would never wander from her face.

"At last!" she said."At last," he echoed solemnly, bowing his

head. It was a scene with great dramatic power, as well as one of

great joy.Yet as beautiful as this story is, it is but a mere suggestion

of what will actually take place in heaven when Christians,

who have been walking through this world of trial and sorrow,

"shall see [HIM] face to face" (1 Cor. 13:12). selected

Just longing, dear Lord, for you,

Jesus, beloved and true;

Yearning and wondering when

You'll be coming back again,

Under all I say and do,

Just longing, dear Lord, for you.

Some glad day, all watching past,

You will come for me at last;

Then I'll see you, hear your voice,

Be with you, with you rejoice;

How the sweet hope thrills me through,

Sets me longing, dear Lord, for you.

March 28

As soon as the priests who carry the ark of the Lord—the Lord of all

the earth—set foot in the Jordan, its waters flowing downstream will

be cut off and stand up in a heap. (Joshua 3:13)

Who can help but admire those brave Levites! They carried

the ark of the covenant right into the water, for the river was

130
---
02Streams 11/5/01 10:01 AM Page 131

not divided until "their feet touched the water's edge" (v. 15).

God had promised nothing else.

God honors faith—stubborn faith—that sees His PROMISE

and looks to that alone.We can only imagine how bystanders

today, watching these holy men of God march on, would say,

"You will never catch me running that risk! The ark will be swept

away!" Yet "the priests . . . stood firm on dry ground" (v. 17).

We must not overlook the fact that faith on our part helps God

to carry out His plans. Be willing to come to the help of the

Lord.

The ark of the covenant was equipped with poles so the

priests could raise it to their shoulders. So even the ark of God

did not move itself but was carried. When God is the architect,

men are the bricklayers and laborers. Faith assists God. It

can shut the mouths of lions and quench the most destructive

fire. Faith still honors God, and God honors faith.

Oh, for the kind of faith that will move ahead, leaving God

to fulfill His promise when He sees fit! Fellow Levites, let us

shoulder our load, without looking as though we were carrying

God's coffin. It is the ark of the living God! Sing as you

march toward the flood! Thomas Champness

One of the distinguishing marks of the Holy Spirit in the

New Testament church was the spirit of boldness. One of the

great essential qualities of the kind of faith that will attempt great

things for God and expect great things from God is holy boldness

and daring.When dealing with a supernatural Being and

taking things from Him that are humanly impossible, it is actually

easier for us to take a lot than it is to take a little. And it is

easier to stand in a place of bold trust than in a place where we

cautiously and timidly cling to the shore.

Like wise sailors living a life of faith, let us launch our ships

into the deep. We will find that all things are "possible with

God" (Luke 18:27), and "everything is possible for him who

believes" (Mark 9:23).

131
---
02Streams 11/5/01 10:01 AM Page 132

Today let us attempt great things for God, taking His faith

to believe great things and taking His strength to accomplish

them! from Days of Heaven upon Earth

March 29

See how the lilies of the field grow. (Matthew 6:28)

Many years ago there was a monk who needed olive oil, so

he planted an olive tree sapling. After he finished planting it,

he prayed, "Lord, my tree needs rain so its tender roots may

drink and grow. Send gentle showers."And the Lord sent gentle

showers.Then the monk prayed,"Lord, my tree needs sun.

Please send it sun."And the sun shone, gilding the once-dripping

clouds. "Now send frost, dear Lord, to strengthen its

branches," cried the monk. And soon the little tree was covered

in sparkling frost, but by evening it had died.

Then the monk sought out a brother monk in his cell and

told him of his strange experience. After hearing the story, the

other monk said,"I also have planted a little tree. See how it is

thriving! But I entrust my tree to its God. He who made it

knows better than a man like me what it needs. I gave God no

constraints or conditions, except to pray, 'Lord, send what it

needs—whether that be a storm or sunshine,wind,rain,or frost.

You made it, and you know best what it needs.'"

Yes, leave it with Him,

The lilies all do,

And they grow—

They grow in the rain,

And they grow in the dew—

Yes, they grow:

They grow in the darkness, all hid in the night—

They grow in the sunshine, revealed by the light—

Still they grow.

132
---
02Streams 11/5/01 10:01 AM Page 133

Yes, leave it with Him,

It's more dear to His heart,

You will know,

Than the lilies that bloom,

Or the flowers that start

'Neath the snow:

Whatever you need, if you seek it in prayer,

You can leave it with Him—for you are His care.

You, you know.

March 30

133

selected

But now, all you who light fires and provide yourselves with flaming

torches, go, walk in the light of your fires and of the torches you have

set ablaze.This is what you shall receive from my hand: You will lie

down in torment. (Isaiah 50:11)

This is a solemn warning to those who walk in darkness and

who try to help themselves find the light.They are described

as the kindling for a fire that is surrounding itself with sparks.

What does this mean?

It means that when we are in darkness, the temptation is to

find our own way without trusting in the Lord and relying upon

Him. Instead of allowing Him to help us, we try to help ourselves.

We seek the light of the natural way and the advice of

our friends. We reason out our own conclusions and thereby

may be tempted to accept a path of deliverance that would not

be of God at all.

The light we see may be the fires from our own kindling,

or deceptive beacons leading us toward the danger of the rocks.

And God will allow us to walk in the false light of those sparks,

but the end will be sorrow.

Beloved, never try to get out of a dark place except in God's

timing and in His way. A time of trouble and darkness is meant

to teach you lessons you desperately need. Premature deliverance
---
02Streams 11/5/01 10:01 AM Page 134

may circumvent God's work of grace in your life. Commit the

entire situation to Him,and be willing to abide in darkness,knowing

He is present.

Remember, it is better to walk in the dark with God than

to walk alone in the light. from The Still Small Voice

Stop interfering with God's plans and with His will.

Touching anything of His mars the work. Moving the hands

of a clock to suit you does not change the time.You may be

able to rush the unfolding of some aspects of God's will, but

you harm His work in the long run.You can force a rosebud

open, but you spoil the flower. Leave everything to Him,

without exception. "Not what I will, but what you will"

(Mark 14:36). Stephen Merritt

His Way

God sent me on when I would stay

('Twas cool within the wood);

I did not know the reason why.

I heard a boulder crashing by

'Cross the path where I had stood.

He had me stay when I would go;

"Your will be done," I said.

They found one day at early dawn,

Across the way I would have gone,

A serpent with a mangled head.

I ask no more the reason why,

Although I may not see

The path ahead, His way I go;

For though I know not, He does know,

And He will choose safe paths for me.

from Sunday School Times

March 31

The wind was against it. (Matthew 14:24)

134
---
02Streams 11/5/01 10:01 AM Page 135

The winds of March are often cruel and blustery. And yet they

typify the stormy seasons of my life. Indeed, I should be glad

to have the opportunity to come to know these seasons. It is

better for the rains to descend and the floods to come than to

always live in the legendary land of Lotus or the lush Valley of

Avalon, where the sun always shines and strong winds never

blow. The storms of temptation may appear cruel,but don't they

lead to a greater intensity and earnestness in my prayer life?

Don't they compel me to cling to God's promises with a tighter

grasp? And don't they leave me with character that is more

refined?

The storms of sorrow through bereavement are intense, but

they are one of the Father's ways of driving me to Himself. His

purpose is to softly and tenderly speak to my heart in the secret,

hidden place of His presence. There is a certain glory of the

Master that can only be seen when the wind is contrary and my

ship is being tossed by the waves.

Jesus Christ is not my security against the storms of life,

but He is my perfect security in the storms. He has never

promised me an easy passage, only a safe landing.

Oh, set your sail to the heavenly gale,

And then, no matter what winds prevail,

No reef can wreck you, no calm delay;

No mist will hinder, no storm will stay;

Though far you wander and long you roam

Through salt sea sprays and o'er white sea foam,

No wind can blow but that will speed you Home.

Annie Johnson Flint
---
02Streams 11/5/01 10:01 AM Page 135

April

Day 1 Day 2 Day 3 Day 4 Day 5

Day 6 Day 7 Day 8 Day 9 Day 10

Day 11 Day 12 Day 13 Day 14 Day 15

Day 16 Day 17 Day 18 Day 19 Day 20

Day 21 Day 22 Day 23 Day 24 Day 25

Day 26 Day 27 Day 28 Day 29 Day 30

April 1

Though he slay me, yet will I hope in him. (Job 13:15)

Because I know whom I have believed. (2 Timothy 1:12)

135
---
02Streams 11/5/01 10:01 AM Page 136

I will not doubt, though all my ships at sea

Come drifting home with broken masts and sails;

I will believe the Hand that never fails,

From seeming evil works to good for me.

And though I weep because those sails are tattered,

Still will I cry, while my best hopes lie shattered:

"I trust in Thee."

I will not doubt, though all my prayers return

Unanswered from the still, white realm above;

I will believe it is an all-wise love

That has refused these things for which I yearn;

And though at times I cannot keep from grieving,

Yet the pure passion of my fixed believing

Undimmed will burn.

I will not doubt, though sorrows fall like rain,

And troubles swarm like bees about a hive.

I will believe the heights for which I strive

Are only reached by anguish and by pain;

And though I groan and writhe beneath my crosses,

Yet I will see through my severest losses

The greater gain.

I will not doubt.Well anchored is this faith,

Like some staunch ship, my soul braves every gale;

So strong its courage that it will not fail

To face the mighty unknown sea of death.

Oh, may I cry, though body leaves the spirit,

"I do not doubt," so listening worlds may hear it,

With my last breath.

An old seaman once said,"In fierce storms we must do one

thing, for there is only one way to survive: we must put the

ship in a certain position and keep her there." And this, dear

Christian, is what you must do.

136
---
02Streams 11/5/01 10:01 AM Page 137

Sometimes, like Paul, you cannot see the sun or the stars to

help you navigate when the storm is bearing down on you. This

is when you can do only one thing, for there is only one way.

Reason cannot help you,past experiences will shed no light,and

even prayer will bring no consolation.Only one course remains:

you must put your soul in one position and keep it there.

You must anchor yourself steadfastly upon the Lord. And

then,come what may—whether wind,waves,rough seas,thunder,lightning,jagged

rocks,or roaring breakers—you must lash

yourself to the helm, firmly holding your confidence in God's

faithfulness, His covenant promises, and His everlasting love in

Christ Jesus. Richard Fuller

April 2

They looked . . . and there was the glory of the Lord appearing in the

cloud. (Exodus 16:10)

You should get into the habit of looking for the silver lining of

storm clouds.And once you have found it, continue to focus on

it rather than the dark gray of the center. Do not yield to discouragement

no matter how severely stressed or surrounded by

problems you may be. A discouraged soul is in a helpless state,

being neither able to "stand against the devil's schemes" (Eph.

6:11) himself nor able to prevail in prayer for others. Flee every

symptom of the deadly foe of discouragement as you would run

from a snake. Never be slow to turn your back on it, unless you

desire to eat the dust of bitter defeat.

Search for specific promises of God,saying aloud of each one,

"This promise is mine." Then if you still experience feelings of

doubt and discouragement, pour your heart out to God, asking

Him to rebuke the Adversary who is so mercilessly harassing

you.

The very instant you wholeheartedly turn away from every

symptom of discouragement and lack of trust, the blessed Holy

Spirit will reawaken your faith and breathe God's divine strength

137
---
02Streams 11/5/01 10:01 AM Page 138

into your soul. Initially you may be unaware that this is happening,but

as you determine to uncompromisingly shun every attack

of even the tendency toward doubt and depression, you will

quickly see the powers of darkness being turned back.

Oh, if only our eyes could see the mighty armies of strength

and power that are always behind our turning away from the

hosts of darkness toward God,there would be no attention given

to the efforts of our cunning Foe to distress, depress, or discourage

us! All the miraculous attributes of the Godhead are

marshaled on the side of even the weakest believer who, in the

name of Christ and in simple, childlike trust, yields himself to

God and turns to Him for help and guidance. selected

One day in autumn,while on the open prairie,I saw an eagle

mortally wounded by a rifle shot.With his eyes still gleaming

like small circles of light, he slowly turned his head, giving one

last searching and longing look toward the sky. He had often

swept those starry spaces with his wonderful wings.The beautiful

sky was the home of his heart. It was the eagle's domain.

It was there he had displayed his splendid strength a thousand

times. In those lofty heights, he had played with the lightning

and raced the wind. And now, far below his home, the eagle

lay dying. He faced death because—just once—he forgot and

flew too low.

My soul is that eagle.This is not its home. It must never lose

its skyward look. I must keep faith, I must keep hope, I must

keep courage, I must keep Christ. It would be better to crawl

immediately from the battlefield than to not be brave.There is

no time for my soul to retreat.Keep your skyward look,my soul;

keep your skyward look!

Keep looking up—

The waves that roar around your feet,

Jehovah-Jireh will defeat

When looking up.

138
---
02Streams 11/5/01 10:01 AM Page 139

Keep looking up—

Though darkness seems to wrap your soul;

The Light of Light will fill your soul

When looking up.

Keep looking up—

When worn, distracted with the fight;

Your Captain gives you conquering might

When you look up.

We can never see the sunrise by looking toward the west.

Japanese proverb

April 3

Glorify ye the Lord in the fires. (Isaiah 24:15 KJV)

Notice the little word "in"! We are to honor the Lord in the

trial—in the very thing that afflicts us. And although there are

examples where God did not allow His saints to even feel the

fire, usually the fire causes pain.

It is precisely there, in the heat of the fire, we are to glorify

Him.We do this by exercising perfect faith in His goodness and

love that has permitted this trial to come upon us. Even more,

we are to believe that out of the fire will arise something more

worthy of praise to Him than had we never experienced it.

To go through some fires will take great faith,for little faith will

fail. We must win the victory in the furnace. Margaret Bottome

A person has only as much faith as he shows in times of trouble.The

three men who were thrown into the fiery furnace

came out just as they went in—except for the ropes that had bound

them. How often God removes our shackles in the furnace of

affliction!

These three men walked through the fire unhurt—their skin

was not even blistered. Not only had the fire "not harmed their

bodies,nor was a hair of their heads singed;their robes were not

scorched, and there was no smell of fire on them" (Dan. 3:27).

139
---
02Streams 11/5/01 10:01 AM Page 140

This is the way Christians should come out of the furnace

of fiery trials—liberated from their shackles but untouched by

the flames.

Triumphing over them in it. Colossians 2:15 KJV

This is the real triumph—triumphing over sickness in it, triumphing

over death in dying, and triumphing over other

adverse circumstances in them. Believe me,there is a power that

can make us victors in the conflict.

There are heights we can reach where we can look back over

the path we have come and sing our song of triumph on this

side of heaven.We can cause others to regard us as rich, while

we are poor, and make many rich in our poverty. We are to triumph

in it.

Christ's triumph was in His humiliation. And perhaps our

triumph will also be revealed through what others see as humiliation.

Margaret Bottome

Isn't there something captivating about the sight of a person

burdened with many trials, yet who is as lighthearted as

the sound of a bell? Isn't there something contagious and valiant

in seeing others who are greatly tempted but are "more than

conquerors"(Rom.8:37)? Isn't it heartening to see a fellow traveler

whose body is broken, yet who retains the splendor of

unbroken patience?

What a witness these give to the power of God's gift of grace!

John Henry Jowett

When each earthly brace falls under,

And life seems a restless sea,

Are you then a God-held wonder,

Satisfied and calm and free?

April 4

Elisha prayed,"O Lord,open his eyes so he may see." (2 Kings 6:17)

140
---
02Streams 11/5/01 10:01 AM Page 141

This is the prayer we need to pray for ourselves and one

another: "Lord, open our eyes so we may see."We are surrounded,

just as the prophet Elisha was, by God's "horses and

chariots of fire"(2 Kings 6:17),waiting to transport us to places

of glorious victory.

Once our eyes are opened by God, we will see all the events

of our lives, whether great or small, joyful or sad, as a "chariot"

for our souls. Everything that comes to us becomes a chariot

the moment we treat it as such. On the other hand, even the

smallest trial may become an object crushing everything in its

path into misery and despair if we allow it.

The difference then becomes a choice we make. It all

depends not on the events themselves but on how we view

them. If we simply lie down, allowing them to roll over and

crush us, they become an uncontrollable car of destruction.Yet

if we climb into them,as riding in a car of victory,they become

the chariots of God to triumphantly take us onward and

upward. Hannah Whitall Smith

There is not much the Lord can do with a crushed soul. That

is why the Adversary attempts to push God's people toward

despair and hopelessness over their condition or the condition

of the church. It has often been said that a discouraged army

enters a battle with the certainty of defeat. I recently heard a

missionary say she had returned home sick and disheartened

because her spirit had lost its courage, which led to the consequence

of an unhealthy body.

We need to better understand these attacks of the Enemy on

our spirit and how to resist them. If he can dislodge us from our

proper position,he then seeks to "wear out the saints of the most

High"(Dan.7:25 KJV) through a prolonged siege,until we finally,

out of sheer weakness, surrender all hope of victory.

April 5

Go inside and shut the door behind you and your sons. (2 Kings 4:4)

141
---
02Streams 11/5/01 10:01 AM Page 142

The widow and her two sons were to be alone with God. They

were not dealing with the laws of nature, human government,

the church,or the priesthood. Nor were they even dealing with

God's great prophet,Elisha. They had to be isolated from everyone,

separated from human reasoning, and removed from the

natural tendencies to prejudge their circumstance. They were

to be as if cast into the vast expanse of starry space, depending

on God alone—in touch with the Source of miracles.

This is an ingredient in God's plan of dealing with us.We

are to enter a secret chamber of isolation in prayer and faith that

is very fruitful. At certain times and places,God will build a mysterious

wall around us. He will take away all the supports we

customarily lean upon, and will remove our ordinary ways of

doing things. God will close us off to something divine, completely

new and unexpected, and that cannot be understood

by examining our previous circumstances. We will be in a place

where we do not know what is happening, where God is cutting

the cloth of our lives by a new pattern, and thus where

He causes us to look to Him.

Most Christians lead a treadmill life—a life in which they

can predict almost everything that will come their way. But the

souls that God leads into unpredictable and special situations are

isolated by Him. All they know is that God is holding them

and that He is dealing in their lives.Then their expectations

come from Him alone.

Like this widow, we must be detached from outward things

and attached inwardly to the Lord alone in order to see His wonders.

from Soul Food

It is through the most difficult trials that God often brings

the sweetest discoveries of Himself. from Gems

God sometimes shuts the door and shuts us in,

That He may speak, perhaps through grief or pain,

And softly, heart to heart, above the din,

May tell some precious thought to us again.

142
---
02Streams 11/5/01 10:01 AM Page 143

April 6

I will stand at my watch and station myself on the ramparts; I will

look to see what he will say to me. (Habakkuk 2:1)

Without watchful expectation on our part, what is the sense

in waiting on God for help? There will be no help without it.

If we ever fail to receive strength and protection from Him, it

is because we have not been looking for it. Heavenly help is

often offered yet goes right past us.We miss it because we are

not standing in the tower, carefully watching the horizon for

evidence of its approach, and then are unready to throw the

gates of our heart open so it may enter.The person who has

no expectations and therefore fails to be on the alert will receive

little help.Watch for God in the events of your life.

There is an old saying: "They who watch for the providence

of God will never lack the providence of God to watch for."

And we could turn the saying around as well and say, "They

who never watch for the providence of God will never have the

providence of God to watch for." Unless you put the water jars

out when it rains, you will never collect the water.

We need to be more businesslike and use common sense with

God in claiming His promises. If a man were to go to the bank

several times a day, lay his check at the teller's window, and then

pick it up and leave without cashing it, it would not be long

before the bank would have him ordered from the premises.

People who go to the bank have a purpose in mind.They

present their check, receive their cash, and then leave, having

transacted real business.They do not lay their check on the

counter, discuss the beauty of the signature, and point out the

lovely design on it. No, they want to receive money for their

check and will not be satisfied without it. These are the people

who are always welcome at the bank, unlike those who simply

waste the teller's time.

Unfortunately,a great many people also play at praying.They

do not expect God to give them an answer, so they simply

143
---
02Streams 11/5/01 10:01 AM Page 144

squander their prayer time.Our heavenly Father desires us to transact

real business with Him in our praying. Charles H. Spurgeon

Your hope will not be cut off. Proverbs 23:18

April 7

Their strength is to sit still. (Isaiah 30:7 KJV)

Inner stillness is an absolute necessity to truly knowing God. I

remember learning this during a time of great crisis in my life.

My entire being seemed to throb with anxiety, and the sense of

need for immediate and powerful action was overwhelming.Yet

the circumstances were such that I could do nothing,and the person

who could have helped would not move.

For a time it seemed as if I would fall to pieces due to my

inner turmoil.Then suddenly "a still small voice"(1 Kings 19:12

KJV) whispered in the depths of my soul,"Be still, and know

that I am God"(Ps.46:10). The words were spoken with power

and I obeyed. I composed myself, bringing my body to complete

stillness,and forced my troubled spirit into quietness.Only

then,while looking up and waiting,did I know that it was God

who had spoken.He was in the midst of my crisis and my helplessness,

and I rested in Him.

This was an experience I would not have missed for anything.

I would also say it was from the stillness that the power seemed

to arise to deal with the crisis, and that very quickly brought it to

a successful resolution. It was during this crisis I effectively learned

that my "strength is to sit still." Hannah Whitall Smith

There is a perfect passivity that is not laziness. It is a living

stillness born of trust. Quiet tension is not trust but simply compressed

anxiety.

Not in the turmoil of the raging storm,

Not in the earthquake or devouring flame;

But in the hush that could all fear transform,

The still, small whisper to the prophet came.

144
---
02Streams 11/5/01 10:01 AM Page 145

O Soul, keep silence on the mount of God,

Though cares and needs throb around you like a sea;

From prayers, petitions, and desires unshod,

Be still, and hear what God will say to thee.

All fellowship has interludes of rest,

New strength maturing in each level of power;

The sweetest Alleluias of the blest

Are silent, for the space of half an hour.

O rest, in utter quietude of soul,

Abandon words, leave prayer and praise awhile;

Let your whole being, hushed in His control,

Learn the full meaning of His voice and smile.

Not as an athlete wrestling for a crown,

Not taking Heaven by violence of will;

But with your Father as a child sit down,

And know the bliss that follows His "Be Still!"

Mary Rowles Jarvis

April 8

That is why, for Christ's sake, I delight in weaknesses, in insults, in

hardships, in persecutions, in difficulties. For when I am weak, then I

am strong. (2 Corinthians 12:10)

The literal translation of this verse adds a startling emphasis

to it, allowing it to speak for itself with power we have probably

never realized. It is as follows:"Therefore I take pleasure in

being without strength, being insulted, experiencing emergencies,and

being chased and forced into a corner for Christ's sake;

for when I am without strength, I am dynamite."

The secret of knowing God's complete sufficiency is in coming

to the end of everything in ourselves and our circumstances.

Once we reach this point, we will stop seeking sympathy for

our difficult situation or ill treatment, because we will recognize

these things as the necessary conditions for blessings.We

145
---
02Streams 11/5/01 10:01 AM Page 146

will then turn from our circumstances to God,realizing they are

the evidence of Him working in our lives. A. B. Simpson

George Matheson, the well-known blind preacher of Scotland,

once said,"My dear God, I have never thanked You for

my thorns. I have thanked you a thousand times for my roses

but not once for my thorns. I have always looked forward to the

place where I will be rewarded for my cross, but I have never

thought of my cross as a present glory itself.

"Teach me,O Lord,to glory in my cross.Teach me the value

of my thorns. Show me how I have climbed to You through

the path of pain. Show me it is through my tears I have seen

my rainbows."

Alas for him who never sees

The stars shine through the cypress trees.

April 9

Everything is against me! (Genesis 42:36)

All things God works for the good of those who love him. (Romans

8:28)

Many people are lacking when its comes to power. But how

is power produced?

The other day, my friend and I were passing by the power

plant that produces electricity for the streetcars.We heard the

hum and roar of the countless wheels of the turbines,and I asked

my friend,"How is the power produced?" He replied,"It simply

is generated by the turning of those wheels and the friction

they create.The rubbing produces the electric current."

In a similar way, when God desires to create more power in

your life,He creates more friction.He uses this pressure to generate

spiritual power. Some people cannot handle it, and run

from the pressure instead of receiving the power and using it

to rise above the painful experience that produced it.

146
---
02Streams 11/5/01 10:01 AM Page 147

Opposition is essential to maintaining true balance between

forces.It is the centripetal and centrifugal forces acting in opposition

to each other that keep our planet in the proper orbit.

The propelling action coupled with the repelling counteraction

keep the earth in orbit around the sun instead of flinging it

into space and a path of certain destruction.

God guides our lives in the same way.It is not enough to have

only a propelling force.We need an equal repelling force, so He

holds us back through the testing ordeals of life. The pressures

of temptations and trials and all the things that seem to be

against us further our progress and strengthen our foundation.

Let us thank Him for both the weights and the wings He

produces. And realizing we are divinely propelled, let us press

on with faith and patience in our high and heavenly calling.

A. B. Simpson

In a factory building there are wheels and gearings,

There are cranks, pulleys, belts either tight or slack—

Some are whirling swiftly, some are turning slowly,

Some are thrusting forward, some are pulling back;

Some are smooth and silent, some are rough and noisy,

Pounding, rattling, clanking, moving with a jerk;

In a wild confusion in a seeming chaos,

Lifting, pushing, driving—but they do their work.

From the mightiest lever to the smallest cog or gear,

All things move together for the purpose planned;

And behind the working is a mind controlling,

And a force directing, and a guiding hand.

So all things are working for the Lord's beloved;

Some things might be hurtful if alone they stood;

Some might seem to hinder; some might draw us backward;

But they work together, and they work for good,

All the thwarted longings, all the stern denials,

All the contradictions, hard to understand.

147
---
02Streams 11/5/01 10:01 AM Page 148

And the force that holds them, speeds them and retards them,

Stops and starts and guides them—is our Father's hand.

Annie Johnson Flint

April 10

Tell me what charges you have against me. (Job 10:2)

O tested soul,perhaps the Lord is sending you through this trial

to develop your gifts.You have some gifts that would never have

been discovered if not for trials. Do you not know that your

faith never appears as great in the warm summer weather as it

does during a cold winter? Your love is all too often like a firefly,

showing very little light except when surrounded by darkness.

And hope is like the stars—unseen in the sunshine of prosperity

and only discovered during a night of adversity.Afflictions

are often the dark settings God uses to mount the jewels of His

children's gifts, causing them to shine even brighter.

Wasn't it just a short time ago that on your knees you prayed,

"Lord, I seem to have no faith. Please show me that I do"?

Wasn't your prayer, even though you may not have realized it

at the time, actually asking for trials? For how can you know if

you have faith,until your faith is exercised? You can depend upon

the fact that God often sends trials so our gifts may be discovered

and so we may be certain of their existence.And there is

more than just discovering our gifts—we experience real growth

in grace as another result of our trials being sanctified by Him.

God trains His soldiers not in tents of ease and luxury but by

causing them to endure lengthy marches and difficult service.

He makes them wade across streams,swim through rivers,climb

mountains, and walk many tiring miles with heavy backpacks.

Dear Christian, could this not account for the troubles you

are now experiencing? Could this not be the reason He is dealing

with you? Charles H. Spurgeon

Being left alone by Satan is not evidence of being blessed.

148
---
02Streams 11/5/01 10:01 AM Page 149

April 11

What I tell you in the dark, speak in the daylight; what is whispered

in your ear, proclaim from the roofs. (Matthew 10:27)

Our Lord is constantly taking us into the dark in order to tell

us something.It may be the darkness of a home where bereavement

has drawn the blinds; the darkness of a lonely and desolate

life, in which some illness has cut us off from the light and

the activity of life; or the darkness of some crushing sorrow

and disappointment.

It is there He tells us His secrets—great and wonderful,eternal

and infinite.He causes our eyes,blinded by the glare of things

on earth, to behold the heavenly constellations. And our ears

suddenly detect even the whisper of His voice, which has been

so often drowned out by the turmoil of earth's loud cries.

Yet these revelations always come with a corresponding

responsibility: "What I tell you . . . speak in the daylight . . . proclaim

from the roofs."We are not to linger in the darkness or stay

in the closet. Soon we will be summoned to take our position

in the turmoil and the storms of life.And when that moment

comes, we are to speak and proclaim what we have learned.

This gives new meaning to suffering, the saddest part of

which is often the apparent feeling of uselessness it causes.We

tend to think,"How useless I am! What am I doing that is making

a difference for others? Why is the 'expensive perfume'(John

12:3) of my soul being wasted?" These are the desperate cries

of the sufferer, but God has a purpose in all of it. He takes His

children to higher levels of fellowship so they may hear Him

speaking "face to face, as a man speaks with his friend" (Ex.

33:11), and then deliver the message to those at the foot of the

mountain.Were the forty days Moses spent on the mountain

wasted? What about the time Elijah spent at Mount Horeb or

the years Paul spent in Arabia?

There is no shortcut to a life of faith, which is an absolute

necessity for a holy and victorious life.We must have periods

149
---
02Streams 11/5/01 10:01 AM Page 150

of lonely meditation and fellowship with God. Our souls must

have times of fellowship with Him on the mountain and experience

valleys of quiet rest in the shadow of a great rock.We

must spend some nights beneath the stars, when darkness has

covered the things of earth,silenced the noise of human life,and

expanded our view, revealing the infinite and the eternal. All

these are as absolutely essential as food is for our bodies.

In this way alone can the sense of God's presence become

the unwavering possession of our souls, enabling us to continually

say, as the psalmist once wrote,"You are near, O Lord"

(Ps. 119:151). F. B. Meyer

Some hearts,like evening primroses,open more beautifully

in the shadows of life.

April 12

Jesus, full of the Holy Spirit, returned from the Jordan and was led by

the Spirit in the desert,where for forty days he was tempted by the devil.

(Luke 4:1–2)

Jesus was filled with the Holy Spirit and yet was tempted.The

strongest force of temptation often comes upon a person when

he is closest to God.Someone once said,"The Devil aims high."

In fact, he caused one disciple to say he did not even know

Christ.

Why is it that very few people have had as great a conflict

with the Devil as Martin Luther had? It is because Martin

Luther was shaking the very kingdom of hell itself.And remember

the tremendous struggles John Bunyan had!

When a person has the fullness of the Spirit of God, he will

experience great conflicts with the Tempter. God allows temptation

because it does for us what storms do for oak trees, rooting

us deeper, and it does for us what heat does for paint on

porcelain, giving us long-lasting endurance.

150
---
02Streams 11/5/01 10:01 AM Page 151

You will never fully realize the level of strength of your grasp

on Christ, or His grasp on you, until the Devil uses all his force

to attract you to himself. It is then you will feel the tug of

Christ's right hand. selected

Extraordinary afflictions are not always the punishment of

extraordinary sins but are sometimes the trials resulting from

God's extraordinary gifts. God uses many sharp-cutting instruments,

and polishes His jewels with files that are rough. And

those saints He especially loves, and desires to make shine the

most brilliantly,will often feel His tools upon them. R.Leighton

I willingly bear witness to the fact that I owe more to my

Lord's fire, hammer, and file than to anything else in His

workshop. Sometimes I wonder if I have ever learned anything

except at the end of God's rod. When my classroom is darkest,

I see best. Charles H. Spurgeon

April 13

The hand of the Lord was upon me there, and he said to me,"Get

up and go out to the plain, and there I will speak to you." (Ezekiel

3:22)

Have you ever heard of anyone being greatly used by Christ who

did not experience a special time of waiting, or a complete upset

of his plans at first? From the apostle Paul's being sent into the Arabian

wilderness for three years—during which time he must have

been overflowing with the Good News—down to the present

day, it seems those who will be used will have a time of waiting.

Have you been looking forward to telling about trusting Jesus,but

instead He is asking you to show what trust is, by waiting?

My own experience is far less severe than Paul's but reveals

the same principle. Once when I thought the door was being

thrown open for me to enter the literary field with a great

opportunity, it was just as quickly shut. My doctor stepped in

and simply said,"Never! You must choose between writing and

living, for you cannot do both." The year was 1860, and I did

151
---
02Streams 11/5/01 10:01 AM Page 152

not come out of my shell of isolation with my book Ministry

of Song until 1869. By then I saw the distinct wisdom of having

been kept waiting for nine years in the shade.

God's love is unchangeable, and He is just as loving even

when we do not see or feel it. And His love and His sovereignty

are equal and universal.Therefore He often withholds

our enjoyment and awareness of our progress, because He

knows best what will actually ripen and further His work in

us. Frances Ridley Havergal

I laid it down in silence,

This work of mine,

And took what had been sent me—

A resting time.

The Master's voice had called me

To rest apart;

"Apart with Jesus only,"

Echoed my heart.

I took the rest and stillness

From His own hand,

And felt this present illness

Was what He planned.

How often we choose labor,

When He says "Rest"—

Our ways are blind and crooked;

His way is best.

Work He Himself has given,

He will complete.

There may be other errands

For tired feet;

There may be other duties

For tired hands,

The present, is obedience

To His commands.

152
---
02Streams 11/5/01 10:01 AM Page 153

There is a blessed resting

In lying still,

In letting His hand mold us,

Just as He will.

His work must be completed.

His lesson set;

He is the Master Workman:

Do not forget!

It is not only "working."

We must be trained;

And Jesus "learned" obedience,

Through suffering gained.

For us, His yoke is easy,

His burden light.

His discipline most needful,

And all is right.

We are to be His servants;

We never choose

If this tool or if that one

Our hands will use.

In working or in waiting

May we fulfill

Not ours at all, but only

The Master's will!

153

selected

God provides resting places as well as working places. So

rest and be thankful when He brings you, tired and weary, to

streams along the way.

April 14

The Lord himself will come down from heaven, with a loud command,

with the voice of the archangel and with the trumpet call of God, and

the dead in Christ will rise first.After that, we who are still alive and
---
02Streams 11/5/01 10:01 AM Page 154

are left will be caught up together with them in the clouds to meet the

Lord in the air.And so we will be with the Lord forever. (1 Thessalonians

4:16–17)

It was "very early in the morning" (Luke 24:1),"while it was

still dark" (John 20:1), that Jesus rose from the dead. Only the

morning star, not the sun, shone down upon His tomb as it

opened. Jerusalem's shadows had not yet retreated, and its citizens

were still asleep.Yes, it was still night, during the hours of

darkness and sleep, when He arose, but His rising did not break

the slumbering of the city.

And it will be during the darkness of the early morning,

while only the morning star is shining, that Christ's body—

His church—will arise. Like Him, His saints will awake while

the children of the night and darkness are still sleeping their

slumber of death. Upon rising, the saints will disturb no one,

and the world will not hear the voice that summons them.As

quietly as Jesus has laid them to rest—each in their own silent

grave, like children held in the arms of their mothers—He will

just as quietly and gently awake them when the hour arrives.

To each will come the life-giving words,"You who dwell in the

dust, wake up and shout for joy" (Isa. 26:19). Into their graves

the earliest ray of glory will find its way.The saints will soak

up the first light of morning,while the clouds of the eastern sky

will give only the faintest hints of the uprising.The gentle fragrance

of the morning, along with its soothing stillness, invigorating

freshness, sweet loneliness, and quiet purity—all so

solemn and yet so full of hope—will be theirs.

Oh, how great the contrast between these blessings and the

dark night through which they have just passed! Oh, how great

the contrast between these blessings and the graves from which

they have been freed! They will shake off the dirt of earth that

once held them,flinging mortality aside,and will rise with glorified

bodies "to meet the Lord in the air."The light of "the

bright Morning Star" (Rev. 22:16) will guide them upward

154
---
02Streams 11/5/01 10:01 AM Page 155

along a brand-new path.The beams of that Star of the Morning

will, like the star of Bethlehem, direct them to the presence

of the King."Weeping may remain for a night,but rejoicing

comes in the morning" (Ps. 30:5). Horatius Bonar

While the hosts cry Hosanna, from heaven descending,

With glorified saints and the angels attending,

With grace on His brow, like a halo of glory,

Will Jesus receive His own.

"I am coming soon."Amen. Come, Lord Jesus. Revelation

22:20

A soldier once said, "When I die, do not play taps over my

grave. Instead, play reveille, the morning call, the summons to

arise."

April 15

I trust in your word. (Psalm 119:42)

The strength of our faith is in direct proportion to our level

of belief that God will do exactly what He has promised. Faith

has nothing to do with feelings, impressions, outward appearances,

nor the probability or improbability of an event. If we

try to couple these things with faith, we are no longer resting

on the Word of God, because faith is not dependent on them.

Faith rests on the pure Word of God alone. And when we take Him

at His Word, our hearts are at peace.

God delights in causing us to exercise our faith. He does so to

bless us individually, to bless the church at large, and as a witness

to unbelievers.Yet we tend to retreat from the exercising of our

faith instead of welcoming it.When trials come, our response

should be,"My heavenly Father has placed this cup of trials into

my hands so I may later have something pleasant."

Trials are the food of faith. Oh, may we leave ourselves in the

hands of our heavenly Father! It is the joy of His heart to do good

to all His children.Yet trials and difficulties are not the only way

155
---
02Streams 11/5/01 10:01 AM Page 156

faith is exercised and thereby increased. Reading the Scriptures also

acquaints us with God as He has revealed Himself in them.

Are you able to genuinely say, from your knowledge of God

and your relationship with Him, that He is indeed a beautiful

Being? If not, let me graciously encourage you to ask God to

take you to that point, so you will fully appreciate His gentleness

and kindness, so you will be able to say just how good He

is, and so you will know what a delight it is to God's heart to

do good for His children.

The closer we come to this point in our inner being,the more

willing we are to leave ourselves in His hands and the more

satisfied we are with all of His dealings with us. Then when

trials come, we will say,"I will patiently wait to see the good

God will do in my life, with the calm assurance He will do it."

In this way,we will bear a worthy testimony to the world and

thereby strengthen the lives of others. George Mueller

April 16

By faith Abraham, when called to go to a place he would later receive

as his inheritance,obeyed and went,even though he did not know where

he was going. (Hebrews 11:8)

Abraham "did not know where he was going"—it simply was

enough for him to know he went with God. He did not lean

as much on the promises as he did on the Promiser. And he

did not look at the difficulties of his circumstances but looked

to His King—the eternal, limitless, invisible, wise, and only

God—who had reached down from His throne to direct his

path and who would certainly prove Himself.

O glorious faith! Your works and possibilities are these:contentment

to set sail with the orders still sealed, due to unwavering

confidence in the wisdom of the Lord High Admiral;

and a willingness to get up,leave everything,and follow Christ,

because of the joyful assurance that earth's best does not compare

with heaven's least. F. B. Meyer

156
---
02Streams 11/5/01 10:01 AM Page 157

In no way is it enough to set out cheerfully with God on any

venture of faith.You must also be willing to take your ideas of

what the journey will be like and tear them into tiny pieces,

for nothing on the itinerary will happen as you expect.

Your Guide will not keep to any beaten path. He will lead

you through ways you would never have dreamed your eyes

would see. He knows no fear, and He expects you to fear nothing

while He is with you.

The day had gone; alone and weak

I groped my way within a bleak

And sunless land.

The path that led into the light

I could not find! In that dark night

God took my hand.

He led me that I might not stray,

And brought me by a safe, new way

I had not known.

By waters still, through pastures green

I followed Him—the path was clean

Of briar and stone.

The heavy darkness lost its strength,

My waiting eyes beheld at length

The streaking dawn.

On, safely on, through sunrise glow

I walked, my hand in His, and lo,

The night had gone.

April 17

157

Annie Porter Johnson

The hand of the Lord has done this. (Job 12:9)

A number of years ago the most magnificent diamond in the

history of the world was found in an African mine. It was then
---
02Streams 11/5/01 10:01 AM Page 158

presented to the king of England to embellish his crown of state.

The king sent it to Amsterdam to be cut by an expert stonecutter.

Can you imagine what he did with it?

He took this gem of priceless value and cut a notch in it.

Then he struck it one hard time with his hammer, and the

majestic jewel fell into his hand, broken in two.What recklessness!

What wastefulness! What criminal carelessness!

Actually, that is not the case at all. For you see, that one blow

with the hammer had been studied and planned for days,and even

weeks. Drawings and models had been made of the gem.Its quality,

defects, and possible lines along which it would split had all

been studied to the smallest detail. And the man to whom it was

entrusted was one of the most skilled stonecutters in the world.

Now do you believe that blow was a mistake? No, it was the

capstone and the culmination of the stonecutter's skill.When he

struck that blow,he did the one thing that would bring that gem

to its most perfect shape,radiance,and jeweled splendor. The blow

that seemed to be the ruin of the majestic precious stone was actually

its perfect redemption,for from the halves were fashioned two

magnificent gems. Only the skilled eye of the expert stonecutter

could have seen the beauty of two diamonds hidden in the

rough, uncut stone as it came from the mine.

Sometimes, in the same way, God lets a stinging blow fall

on your life.You bleed, feeling the pain, and your soul cries out

in agony. At first you think the blow is an appalling mistake.

But it is not, for you are the most precious jewel in the world

to God. And He is the most skilled stonecutter in the universe.

Someday you are to be a jewel adorning the crown of the

King.As you lie in His hand now, He knows just how to deal

with you.Not one blow will be permitted to fall on your apprehensive

soul except what the love of God allows. And you may

be assured that from the depths of the experience, you will see

untold blessings,and spiritual enrichment you have never before

imagined. J. H. M.

158
---
02Streams 11/5/01 10:01 AM Page 159

In one of George MacDonald's books, one of the characters

makes this bitter statement: "I wonder why God made me.

I certainly don't see any purpose in it!"Another of the characters

responds,"Perhaps you don't see any purpose yet,but then,

He isn't finished making you.And besides,you are arguing with

the process."

If people would only believe they are still in the process of

creation, submit to the Maker, allowing Him to handle them

as the potter handles clay, and yield themselves in one shining,

deliberate action to the turning of His wheel, they would soon

find themselves able to welcome every pressure from His hand

on them, even if it results in pain.And sometimes they should

not only believe but also have God's purpose in sight:"bringing

many sons to glory" (Heb. 2:10).

Not a single blow can hit,

Till the God of love sees fit.

April 18

He will do this. (Psalm 37:5)

I once believed that after I prayed, it was my responsibility to

do everything in my power to bring about the answer.Yet God

taught me a better way and showed me that self-effort always

hinders His work. He also revealed that when I prayed and had

confident trust in Him for something, He simply wanted me

to wait in an attitude of praise and do only what He told me.

Sitting still, doing nothing except trusting in the Lord, causes

a feeling of uncertainty, and there is often a tremendous temptation

to take the battle into our own hands.

We all know how difficult it is to rescue a drowning person

who tries to help his rescuer, and it is equally difficult for the

Lord to fight our battles for us when we insist upon trying to

fight them ourselves. It is not that God will not but that He

cannot, for our interference hinders His work. C. H. P.

159
---
02Streams 11/5/01 10:01 AM Page 160

Spiritual forces cannot work while we are trusting earthly

forces.

Often we fail to give God an opportunity to work, not realizing

that it takes time for Him to answer prayer. It takes time

for God to color a rose or to grow a great oak tree. And it takes

time for Him to make bread from wheat fields.He takes the soil,

then grinds and softens it. He enriches it and wets it with rain

showers and with dew.Then He brings the warmth of life to

the small blade of grass, later grows the stalk and the amber

grain, and finally provides bread for the hungry.

All this takes time.Therefore we sow the seed,till the ground,

and then wait and trust until God's purpose has been fulfilled.

We understand this principle when it comes to planting a field,

and we need to learn the same lesson regarding our prayer life.

It takes time for God to answer prayer. J. H. M.

April 19

Stand firm and you will see the deliverance the Lord will bring you

today. (Exodus 14:13)

This verse contains God's command to me as a believer for those

times when I am confronted with dire circumstances and extraordinary

difficulties.What am I to do when I cannot retreat or go

forward and my way is blocked to the right and to the left?

The Master's word to me is,"Stand firm."And the best thing

I can do at these times is to listen only to my Master's word,

for others will come to me with their suggestions and evil

advice.Despair will come,whispering,"Give up—lie down and

die." But even in the worst of times, God would have me be

cheerful and courageous, rejoicing in His love and faithfulness.

Cowardice will come and say,"You must retreat to the world's

ways of acting. It is too difficult for you to continue living the

part of a Christian. Abandon your principles." Yet no matter

how much Satan may pressure me to follow his course, I cannot,

for I am a child of God. The Lord's divine decree has

160
---
02Streams 11/5/01 10:01 AM Page 161

commanded me to go from "strength to strength" (Ps. 84:7).

Therefore I will, and neither death nor hell will turn me from

my course. And if for a season He calls me to "stand firm," I

will acknowledge it as time to renew my strength for greater

strides in the future.

Impatience will come, crying,"Get up and do something! To

'stand firm' and wait is sheer idleness." Why is it I think I must

be doing something right now instead of looking to the Lord?

He will not only do something—He will do everything.

Arrogance will come, boasting, "If the sea is blocking your

way, march right into it and expect a miracle." Yet true faith

never listens to arrogance,impatience,cowardice,or despair but

only hears God saying, "Stand firm." And then it stands as

immovable as a rock.

"Stand firm." I must maintain the posture of one who stands,

ready for action, expecting further orders, and cheerfully and

patiently awaiting the Director's voice. It will not be long until

God will say to me,as distinctly as He told Moses to tell the children

of Israel,"Move on" (Ex. 14:15). Charles H. Spurgeon

Be quiet! Why this anxious heed

About your tangled ways?

God knows them all. He gives you speed

And He allows delays.

It's good for you to walk by faith

And not by sight.

Take it on trust a little while.

Soon will you read the mystery aright

In the full sunshine of His smile.

In times of uncertainty—wait.If you have any doubt—wait,

never forcing yourself into action. If you sense any restraint in

your spirit, do not go against it—wait until the way is clear.

161
---
02Streams 11/5/01 10:01 AM Page 162

April 20

"Not by might nor by power,but by my Spirit,"says the Lord Almighty.

(Zechariah 4:6)

Once as I walked along the road on a steep hill, I caught sight

of a boy on a bicycle near the bottom. He was pedaling uphill

against the wind and was obviously working tremendously hard.

Just as he was exerting the greatest effort and painfully doing

the best he could do,a streetcar,also going up the hill,approached

him. It was not traveling too fast for the boy to grab hold of a

rail at the rear, and I am sure you can guess the result. He went

up the hill as effortlessly as a bird gliding through the sky.

This thought then flashed through my mind: "I am like that

boy on the bicycle in my weariness and weakness. I am pedaling

uphill against all kinds of opposition and am almost worn

out with the task. But nearby there is great power available—

the strength of the Lord Jesus. All I must do is get in touch

with Him and maintain communication with Him. And even

if I grab hold with only one little finger of faith, it will be

enough to make His power mine to accomplish the act of service

that now overwhelms me."

Seeing this boy on his bicycle helped me to set aside my

weariness and to recognize this great truth.from The Life of Fuller

Purpose

Abandoned

Utterly abandoned to the Holy Ghost!

Seeking all His fullness, whatever the cost;

Cutting all the moorings, launching in the deep

Of His mighty power—strong to save and keep.

Utterly abandoned to the Holy Ghost!

Oh! The sinking, sinking, until self is lost!

Until the emptied vessel lies broken at His feet;

Waiting till His filling shall make the work complete.

162
---
02Streams 11/5/01 10:01 AM Page 163

Utterly abandoned to the will of God;

Seeking for no other path than my Master trod;

Leaving ease and pleasure, making Him my choice,

Waiting for His guidance, listening for His voice.

Utterly abandoned! No will of my own;

For time and for eternity, His, and His alone;

All my plans and purposes lost in His sweet will,

Having nothing, yet in Him all things possessing still.

Utterly abandoned! It's so sweet to be

Captive in His bonds of love, yet wondrously free;

Free from sin's entanglements, free from doubt and fear,

Free from every worry, burden, grief, or care.

Utterly abandoned! Oh, the rest is sweet,

As I tarry, waiting, at His blessed feet;

Waiting for the coming of the Guest divine,

Who my inmost being will perfectly refine.

Lo! He comes and fills me, Holy Spirit sweet!

I, in Him, am satisfied! I, in Him, complete!

And the light within my soul will nevermore grow dim

While I keep my covenant—abandoned unto Him!

author unknown

April 21

He did not waver . . . regarding the promise . . . , being fully persuaded

that God had power to do what he had promised. (Romans

4:20–21)

Scripture tells us that Abraham, "without weakening in his

faith, . . .faced the fact that his body was as good as dead"(v.19).

He was not discouraged, because he was not looking at himself

but at almighty God."He did not waver ...regarding the

promise" but stood straight, not bending beneath the staggering

load of God's blessing. Instead of growing weak, his faith

163
---
02Streams 11/5/01 10:01 AM Page 164

grew stronger, exhibiting more power, even as more difficulties

became apparent. Abraham glorified God for His complete

sufficiency and was "fully persuaded that God had power to do

what he had promised."

The literal translation of this passage from the Greek expresses

the thought in this way: God is not merely able but abundantly

able,bountifully and generously able,with an infinite surplus

of resources, and eternally able "to do what he had

promised."

He is the God of limitless resources—the only limit comes

from us. Our requests, our thoughts, and our prayers are too

small, and our expectations are too low. God is trying to raise

our vision to a higher level,call us to have greater expectations,

and thereby bring us to greater appropriation.Shall we continue

living in a way that mocks His will and denies His Word?

There is no limit to what we may ask and expect of our glorious

El Shaddai—our almighty God.And there is no way for

us to measure His blessing, for He is "able to do immeasurably

more than all we ask or imagine, according to his power that is

at work within us" (Eph. 3:20). A. B. Simpson

The way to find God's treasure-house of blessing is

to climb the ladder of His divine promises.Those promises

are the key that opens the door to the riches of God's

grace and favor.

April 22

He knows the way that I take. (Job 23:10)

O believer, what a glorious assurance this verse is! What confidence

I have because "the way that I take"—this way of trials

and tears, however winding, hidden, or tangled—"He

knows"! When the "furnace [is] heated seven times hotter than

usual" (Dan. 3:19), I can know He still lights my way. There is

an almighty Guide who knows and directs my steps, whether

164
---
02Streams 11/5/01 10:01 AM Page 165

they lead to the bitter water at the well of Marah or to the joy

and refreshment of the oasis at Elim (see Ex. 15:23, 27).

The way is dark to the Egyptians yet has its own pillar of

cloud and fire for God's Israel.The furnace may be hot, but not

only can I trust the hand that lights the fire, I can also have the

assurance the fire will not consume but only refine.And when

the refining process is complete,not a moment too soon or too

late,"I will come forth as gold" (Job 23:10).

When I feel God is the farthest away, He is often the nearest

to me."When my spirit grows faint within me, it is you who

know my way"(Ps.142:3).Do we know of another who shines

brighter than the most radiant sunlight, who meets us in our

room with the first waking light, who has an infinitely tender

and compassionate watchfulness over us throughout our day,

and who "knows the way that [we] take"?

The world, during a time of adversity, speaks of "providence"

with a total lack of understanding.They dethrone God,

who is the living, guiding Sovereign of the universe, to some

inanimate, dead abstraction.What they call "providence" they

see as occurrences of fate, reducing God from His position as

our acting, powerful, and personal Jehovah.

The pain would be removed from many an agonizing trial

if only I could see what Job saw during his time of severe affliction,

when all earthly hope lay dashed at his feet. He saw nothing

but the hand of God—God's hand behind the swords of the

Sabeans who attacked his servants and cattle, and behind the

devastating lightning; God's hand giving wings to the mighty

desert winds, which swept away his children; and God's hand

in the dreadful silence of his shattered home.

Thus, seeing God in everything, Job could say,"The Lord gave

and the Lord has taken away; may the name of the Lord be

praised"(Job 1:21).Yet his faith reached its zenith when this oncepowerful

prince of the desert "sat among the ashes" (Job 2:8)

165
---
02Streams 11/5/01 10:01 AM Page 166

and still could say,"Though he slay me, yet will I hope in him"

(Job 13:15). J. R. Macduff

April 23

Though I walk in the midst of trouble, you preserve my life. (Psalm

138:7)

The Hebrew of this verse literally means to "go on in the center

of trouble."What descriptive words! And once we have called

on God during our time of trouble, pleaded His promise of

deliverance but not received it, and continued to be oppressed

by the Enemy until we are in the very thick of the battle—or

the "center of trouble"—others may tell us,"Don't bother the

teacher any more" (Luke 8:49).

When Martha said,"Lord, . . .if you had been here,my brother

would not have died" (John 11:21), Jesus countered her lack

of hope with His greater promise,"Your brother will rise again"

(John 11:23). And when we walk "in the center of trouble"

and are tempted to think,like Martha,that we are past the point

of ever being delivered,our Lord also answers us with a promise

from His Word:"Though I walk in the midst of trouble, you

preserve my life."

Although His answer seems so long in coming and we continue

to "walk in the midst of trouble," "the center of trouble" is

the place where He preserves us, not the place where He fails us. The

times we continue to walk in seemingly utter hopelessness are

the very times He will "stretch out [His] hand against the anger

of [our] foes" (Ps. 138:7). He will bring our trouble to completion,

causing the Enemy's attack to cease and to fail.

In light of this, what reason would there ever be for despair?

Aphra White

The Eye of the Storm

Fear not that the whirlwind will carry you hence,

Nor wait for its onslaught in breathless suspense,

166
---
02Streams 11/5/01 10:01 AM Page 167

Nor shrink from the blight of the terrible hail,

But pass through the edge to the heart of the tale,

For there is a shelter, sunlighted and warm,

And Faith sees her God through the eye of the storm.

The passionate tempest with rush and wild roar

And threatenings of evil may beat on the shore,

The waves may be mountains, the fields battle plains,

And the earth be immersed in a deluge of rains,

Yet, the soul, stayed on God, may sing bravely its psalm,

For the heart of the storm is the center of calm.

Let hope be not quenched in the blackness of night,

Though the cyclone awhile may have blotted the light,

For behind the great darkness the stars ever shine,

And the light of God's heavens, His love will make thine,

Let no gloom dim your eyes, but uplift them on high

To the face of your God and the blue of His sky.

The storm is your shelter from danger and sin,

And God Himself takes you for safety within;

The tempest with Him passes into deep calm,

And the roar of the winds is the sound of a psalm.

Be glad and serene when the tempest clouds form;

God smiles on His child in the eye of the storm.

April 24

Faith is being . . . certain of what we do not see. (Hebrews 11:1)

Genuine faith puts its letter in the mailbox and lets go.Distrust,

however, holds on to a corner of the envelope and then wonders

why the answer never arrives.There are some letters on my

desk that I wrote weeks ago,but I have yet to mail them because

of my uncertainty over the address or the contents.Those letters

have not done any good for me or anyone else at this point.

And they never will accomplish anything until I let go of them,

trusting them to the postal service.

167
---
02Streams 11/5/01 10:01 AM Page 168

It is the same with genuine faith. It hands its circumstance

over to God, allowing Him to work. Psalm 37:5 is a great confirmation

of this:"Commit your way to the Lord; trust in him

and he will do this." He will never work until we commit. Faith

is receiving—or even more, actually appropriating—the gifts

God offers us.We may believe in Him, come to Him, commit

to Him, and rest in Him, but we will never fully realize all our

blessings until we begin to receive from Him and come to Him

having the spirit of abiding and appropriating.from Days of Heaven

upon Earth

Dr. Payson, while still a young man, once wrote to an elderly

mother who was extremely worried and burdened over the

condition of her son. He wrote,

You are worrying too much about him. Once you have

prayed for him, as you have done, and committed him to

God, you should not continue to be anxious. God's command,

"Do not be anxious about anything" (Phil. 4:6), is

unlimited,and so is the verse,"Cast all your anxiety on him"

(1 Peter 5:7). If we truly have cast our burdens upon another,

can they continue to pressure us? If we carry them with

us from the throne of grace, it is obvious we have not left

them there. In my own life I test my prayers in this way:

after committing something to God,if I can come away, like

Hannah did, with no more sadness, pain, or anxiety in my

heart, I see it as proof that I have prayed the prayer of faith.

But if I pray and then still carry my burden, I conclude my

faith was not exercised.

April 25

Mary Magdalene and the other Mary were sitting there opposite the

tomb. (Matthew 27:61)

Oh,how slow grief is to come to understanding! Grief is ignorant

and does not even care to learn.When the grieving women

168
---
02Streams 11/5/01 10:01 AM Page 169

"were sitting there opposite the tomb,"did they see the triumph

of the next two thousand years? Did they see anything except

that Christ was gone?

The Christ you and I know today came from their loss.

Countless mourning hearts have since seen resurrection in the

midst of their grief, and yet these sorrowing women watched

at the beginning of this result and saw nothing. What they

regarded as the end of life was actually the preparation for coronation,for

Christ remained silent that He might live again with

tenfold power.

They did not see it.They mourned, wept, went away, and

then came again to the sepulcher,driven by their broken hearts.

And still it was only a tomb—unprophetic, voiceless, and drab.

It is the same with us. Each of us sits "opposite the tomb"

in our own garden and initially says,"This tragedy is irreparable.

I see no benefit in it and will take no comfort in it." And

yet right in the midst of our deepest and worst adversities, our

Christ is often just lying there, waiting to be resurrected.

Our Savior is where our death seems to be. At the end of our

hope, we find the brightest beginning of fulfillment.Where

darkness seems the deepest, the most radiant light is set to

emerge. And once the experience is complete,we find our garden

is not disfigured by the tomb.

Our joys are made better when sorrow is in the midst of

them. And our sorrows become bright through the joys God

has planted around them. At first the flowers of the garden may

not appear to be our favorites, but we will learn that they are

the flowers of the heart.The flowers planted at the grave deep

within the Christian heart are love, hope, faith, joy, and peace.

'Twas by a path of sorrows drear

Christ entered into rest;

And shall I look for roses here,

Or think that earth is blessed?

Heaven's whitest lilies blow

169
---
02Streams 11/5/01 10:01 AM Page 170

From earth's sharp crown of woe:

Who here his cross can meekly bear,

Shall wear the kingly purple there.

April 26

I consider everything a loss compared to the surpassing greatness of

knowing Christ Jesus my Lord. (Philippians 3:8)

Light is always costly and comes at the expense of that which

produces it. An unlit candle does not shine, for burning must

come before the light. And we can be of little use to others

without a cost to ourselves. Burning suggests suffering, and we

try to avoid pain.

We tend to feel we are doing the greatest good in the world

when we are strong and fit for active duty and when our hearts

and hands are busy with kind acts of service.Therefore when

we are set aside to suffer, when we are sick, when we are consumed

with pain, and when all our activities have been

stopped, we feel we are no longer of any use and are accomplishing

nothing.

Yet if we will be patient and submissive, it is almost certain

we will be a greater blessing to the world around us during our

time of suffering and pain than we were when we thought we

were doing our greatest work.Then we are burning, and shining

brightly as a result of the fire. from Evening Thoughts

The glory of tomorrow is rooted in the drudgery of

today.

Many people want the glory without the cross,and the shining

light without the burning fire,but crucifixion comes before

coronation.

Have you heard the tale of the aloe plant,

Away in the sunny clime?

By humble growth of a hundred years

It reaches its blooming time;

170
---
02Streams 11/5/01 10:01 AM Page 171

And then a wondrous bud at its crown

Breaks into a thousand flowers;

This floral queen, in its blooming seen,

Is the pride of the tropical bowers,

But the flower to the plant is sacrifice,

For it blooms but once, and it dies.

Have you further heard of the aloe plant,

That grows in the sunny clime;

How every one of its thousand flowers,

As they drop in the blooming time,

Is an infant plant that fastens its roots

In the place where it falls on the ground,

And as fast as they drop from the dying stem,

Grow lively and lovely all 'round?

By dying, it liveth a thousandfold

In the young that spring from the death of the old.

Have you heard the tale of the pelican,

The Arabs' Gimel el Bahr,

That lives in the African solitudes,

Where the birds that live lonely are?

Have you heard how it loves its tender young,

And cares and toils for their good,

It brings them water from mountains far,

And fishes the seas for their food.

In famine it feeds them—what love can devise!

The blood of its bosom—and, feeding them, dies.

Have you heard this tale—the best of them all—

The tale of the Holy and True,

He dies, but His life, in untold souls

Lives on in the world anew;

His seed prevails, and is filling the earth,

As the stars fill the sky above.

He taught us to yield up the love of life,

For the sake of the life of love.

171
---
02Streams 11/5/01 10:01 AM Page 172

His death is our life, His loss is our gain;

The joy for the tear, the peace for the pain.

April 27

172

selected

I am the Living One; I was dead, and behold I am alive for ever and

ever! (Revelation 1:18)

Flowers! Easter lilies! Speak to me this morning the same sweet

lesson of immortality you have been speaking to so many sorrowing

souls for years.Wise old Book! Let me read again in your

pages the steady assurance that "to die is gain"(Phil.1:21). Poets!

Recite for me your verses that resound the gospel of eternal life

in every line. Singers! Break forth once more into hymns of

joy—let me hear again my favorite resurrection songs.

Trees, blossoms, and birds; and seas, skies, and winds—whisper

it, sound it anew, sing it, echo it, let it beat and resonate

through every atom and particle on earth,and let the air be filled

with it.Let it be told and retold again and again,until hope rises

to become conviction,and conviction becomes the certainty of

knowing. Let it be told until, like Paul, even when we face our

death, we will go triumphantly, with our faith secure and a

peaceful and radiant expression on our face.

O sad-faced mourners, who each day are wending

Through churchyard paths of cypress and of yew,

Leave for today the low graves you are tending,

And lift your eyes to God's eternal blue!

It is no time for bitterness or sadness;

Choose Easter lilies, not pale asphodels;

Let your souls thrill to the caress of gladness,

And answer the sweet chime of Easter bells.

If Christ were still within the grave's low prison,

A captive of the Enemy we dread;
---
02Streams 11/5/01 10:01 AM Page 173

If from that rotting cell He had not risen,

Who then could dry the gloomy tears you shed?

If Christ were dead there would be need to sorrow,

But He has risen and vanquished death today;

Hush, then your sighs, if only till tomorrow,

At Easter give your grief a holiday.

May Riley Smith

A well-known preacher was once in his study writing an

Easter sermon when this thought gripped him:"My Lord is

living!"With excitement he jumped up, paced the floor, and

began repeating to himself, "Christ is alive. His body is warm.

He is not the great 'I was' but the great 'I am.'"

Christ is not only a fact but a living fact. He is the glorious

truth of Easter Day!

Because of that truth, an Easter lily blooms and an angel sits

at every believer's grave.We believe in a risen Lord, so do not

look to the past to worship only at His tomb. Look above and

within to worship the Christ who lives. Because He lives, we

live. Abbott Benjamin Vaughan

April 28

When they cried out to the Lord,he raised up for them a deliverer,Othniel

...,Caleb's younger brother, who saved them.The Spirit of the

Lord came upon him. (Judges 3:9–10)

God is continually preparing His heroes,and when the opportunity

is right, He puts them into position in an instant. He

works so fast, the world wonders where they came from.

Dear friend,let the Holy Spirit prepare you,through the discipline

of life. And when the finishing touch has been made

on the sculpture, it will be easy for God to put you on display

in the perfect place.

The day is coming when,like Othniel,we will also judge the

nations and will rule and reign with Christ on earth during

173
---
02Streams 11/5/01 10:01 AM Page 174

His millennial kingdom. But before that glorious day, we must

allow God to prepare us, as He did Othniel at Kiriath Sepher

(see Judg.1:11–13).We must allow God to work amid our present

trials and in the little victories, the future significance of

which we can only imagine.Yet we can be sure that if the Holy

Spirit has His way with us,the Lord of heaven and earth has also

prepared for us a throne. A. B. Simpson

Human strength and human greatness

Spring not from life's sunny side,

Heroes must be more than driftwood

Floating on a waveless tide.

Every highway of life descends into the valley now and

then. And everyone must go through the tunnel of tribulation

before they can travel on the high road of triumph.

April 29

Elijah was a man just like us. He prayed earnestly. (James 5:17)

Thank God Elijah was "just like us"! He sat under a tree,complained

to God, and expressed his unbelief—just as we have

often done.Yet this was not the case at all when he was truly

in touch with God."Elijah was a man just like us,"yet "he prayed

earnestly." The literal meaning of this in the Greek is magnificent:instead

of saying,"earnestly,"it says,"He prayed in prayer."

In other words,"He kept on praying."The lesson here is that

you must keep praying.

Climb to the top of Mount Carmel and see that great story

of faith and sight.After Elijah had called down fire from heaven

to defeat the prophets of Baal, rain was needed for God's

prophecy to be fulfilled. And the man who could command fire

from heaven could bring rain using the same methods.We are

told, "Elijah . . . bent down to the ground and put his face

between his knees" (1 Kings 18:42), shutting out all sights and

174
---
02Streams 11/5/01 10:01 AM Page 175

sounds. He put himself in a position, beneath his robe, to neither

see nor hear what was happening.

Elijah then said to his servant,"Go and look toward the sea"

(1 Kings 18:43). Upon returning, the servant replied,"There is

nothing there." How brief his response must have seemed!

"Nothing!" Can you imagine what we would do under the same

circumstances? We would say, "Just as I expected!" and then

would stop praying. But did Elijah give up? No.In fact,six times

he told his servant,"Go back." Each time the servant returned

saying,"Nothing!"

Yet "the seventh time the servant reported,'A cloud as small

as a man's hand is rising from the sea'" (1 Kings 18:44).What a

fitting description, for a man's hand had been raised in prayer

to God before the rains came. And the rains came so fast and

furiously that Elijah warned Ahab to "go down before the rain

stops you."

This is a story of faith and sight—faith cutting itself off from

everything except God,with sight that looks and yet sees nothing.Yes,

in spite of utterly hopeless reports received from sight,

this is a story of faith that continues "praying in prayer."

Do you know how to pray in that way—how to prevail in

prayer? Let your sight bring you reports as discouraging as possible,

but pay no attention to them. Our heavenly Father lives,

and even the delays of answers to our prayers are part of His

goodness. Arthur Tappan Pierson

Each of three young boys once gave a definition of faith

that illustrates the important aspect of tenacity.The first boy

defined faith as "taking hold of Christ," the second as "keeping

our hold on Him,"and the third as "not letting go of Him."

April 30

The cows that were ugly and gaunt ate up the seven sleek,fat cows....

The thin heads of grain swallowed up the seven healthy, full heads.

(Genesis 41:4, 7)

175
---
02Streams 11/5/01 10:01 AM Page 176

This dream should be a warning to each of us.Yes, it is possible

for the best years of our life, the best experiences we have

enjoyed,the best victories we have won,and the best service we

have rendered, to be swallowed up by times of failure, defeat,

dishonor, and uselessness in God's kingdom. Some people

whose lives offered exceptional promise and achievement have

come to such an end. It is certainly terrible to imagine, but it

is true. Yet it is never necessary.

Samuel Dickey Gordon once said that the only safe assurance

against such a tragedy is to have a "fresh touch with God

daily—or even hourly." My blessed, fruitful, and victorious

experiences of yesterday have no lingering value to me today.

In fact, they can be "swallowed up" or reversed by today's failures,

unless I see them as incentives to spur me on to even better

and richer experiences today.

Maintaining this "fresh touch with God," by abiding in

Christ, will be the only thing to keep the "ugly and gaunt . . .

cows" and the "thin heads of grain" from consuming my life.

from Messages for the Morning Watch
---
02Streams 11/5/01 10:01 AM Page 176

May

Day 1 Day 2 Day 3 Day 4 Day 5

Day 6 Day 7 Day 8 Day 9 Day 10

Day 11 Day 12 Day 13 Day 14 Day 15

Day 16 Day 17 Day 18 Day 19 Day 20

Day 21 Day 22 Day 23 Day 24 Day 25

Day 26

Day 31

Day 27 Day 28 Day 29 Day 30

May 1

God, who does not lie, promised. (Titus 1:2)

Faith is not conjuring up, through an act of your will, a sense

of certainty that something is going to happen. No, it is recognizing

God's promise as an actual fact,believing it is true,rejoicing

in the knowledge of that truth, and then simply resting

because God said it.

Faith turns a promise into a prophecy. A promise is contingent

upon our cooperation,but when we exercise genuine faith

in it, it becomes a prophecy.Then we can move ahead with

certainty that it will come to pass, because "God . . . does not

lie." from Days of Heaven upon Earth

I often hear people praying for more faith, but when I listen

carefully to them and get to the essence of their prayer, I

176
---
02Streams 11/5/01 10:01 AM Page 177

realize it is not more faith they are wanting at all.What they

are wanting is their faith to be changed to sight.

Faith does not say,"I see this is good for me; therefore God

must have sent it." Instead, faith declares,"God sent it; therefore

it must be good for me."

Faith, when walking through the dark with God, only asks

Him to hold his hand more tightly. Phillips Brooks

The Shepherd does not ask of thee

Faith in your faith, but only faith in Him;

And this He meant in saying,"Come to me."

In light or darkness seek to do His will,

And leave the work of faith to Jesus still.

May 2

The Lord has established his throne in heaven, and his kingdom rules

over all. (Psalm 103:19)

Some time ago as I went out my door in the early spring,a blast

of easterly wind rounded the corner.It seemed defiant and merciless

and was fierce and dry, raising a cloud of dust ahead of

it.As I removed the key from the door,I quite impatiently began

to say, "I wish the wind would . . ." What I was about to say was

change, but my thought was stopped and the sentence was never

finished.

As I continued on my way,this incident became a parable for

me.I imagined an angel handing me a key and saying,"My Master

sends you His love and asked me to give you this."Wondering,I

asked,"What is it?" "It is the key to the winds,"the angel

said and then disappeared.

My first thought was,"This indeed will bring me happiness."

So I hurried high into the hills to the source of the winds and

stood amid the caves.I proclaimed,"I will do away with the terrible

east wind—it will never plague us again!" I summoned

that unfriendly wind to me,closed the door behind it,and heard

177
---
02Streams 11/5/01 10:01 AM Page 178

it echoing through the hollow caves. As I turned the key, triumphantly

locking it in,I said,"There,I am finished with that."

Then looking around me,I asked myself,"What should I put

in its place?" I thought of the warm southerly wind and how

pleasant it must be to newborn lambs and new flowers and

plants of all kinds. But as I put the key in the door, it began to

burn my hand. I cried aloud,"What am I doing? Who knows

what damage I may cause? How do I know what the fields want

and need? Ten thousand problems may result from this foolish

wish of mine!"

Bewildered and ashamed, I looked up and asked the Lord

to send His angel to take away the key. Then I promised I would

never ask for it again.To my amazement,the Lord Himself came

and stood by me.He stretched out His hand to take the key,and

as I placed it there, I saw it touch that sacred scar.

I was filled with remorse as I wondered how I could ever

have complained about anything done by Him who bore such

sacred signs of His love.Then He took the key and hung it on

His belt. I asked,"Do you keep the key to the winds?""I do,

my child," He graciously answered.And as He spoke, I noticed

that all the keys to my life were hanging there as well. He saw

my look of amazement and asked, "Did you not know, dear child,

that my 'kingdom rules over all'?"

"If you rule 'over all,'" I questioned,"is it safe to complain

about anything?" Then He tenderly laid His hand upon me to

say,"My dear child, your only safety comes from loving, trusting,

and praising Me through everything." Mark Guy Pearse

May 3

Everyone who calls on the name of the Lord will be saved. (Joel 2:32)

So why don't I call on His name? Why do I run to this person

or that person,when God is so near and will hear my faintest

call? Why do I sit down to plot my own course and make my

178
---
02Streams 11/5/01 10:01 AM Page 179

own plans? Why don't I immediately place myself and my burden

on the Lord?

Straight ahead is the best way to run, so why don't I run

directly to the living God? Instead, I look in vain for deliverance

everywhere else, but with God I will find it.With Him I

have His royal promise:"[I] will be saved." And with Him I never

need to ask if I may call on Him or not, for the word "everyone"is

all encompassing.It includes me and means anybody and

everybody who calls upon His name.Therefore I will trust in

this verse and will immediately call on the glorious Lord who

has made such a great promise.

My situation is urgent, and I cannot see how I will ever be

delivered.Yet this is not my concern, for He who made the

promise will find a way to keep it. My part is simply to obey His

commands,not to direct His ways. I am His servant,not His advisor.

I call upon Him and He will deliver me. Charles H. Spurgeon

May 4

He wounds, but he also binds up; he injures, but his hands also heal.

(Job 5:18)

The Ministry of Great Sorrow

As we walk beside the hills that have been so violently shaken

by a severe earthquake,we realize that times of complete calm

follow those of destruction. In fact, pools of clear, still water lie

in the valley beneath the fallen rocks of those hills as water lilies

reflect their beauty to the sky.The reeds along the streams whisper

in the wind, and the village rises once again, forgetting the

graves of the past.And the church steeple,still bright after weathering

the storm,proclaims a renewed prayer for protection from

Him who holds the corners of the earth in His hands and gives

strength to the hills. John Ruskin

God plowed one day with an earthquake,

And drove His furrows deep!

179
---
02Streams 11/5/01 10:01 AM Page 180

The huddled plains upstarted,

The hills were all aleap!

But that is the mountains' secret,

Long hidden in their breast;

"God's peace is everlasting,"

Are the dream words of their rest.

He made them the haunts of beauty,

The home chosen for His grace;

He spreads forth His mornings upon them,

His sunsets light their face.

His winds bring messages to them—

Strong storm-news from the main;

They sing it down the valleys

In the love song of the rain.

They are nurseries for young rivers,

Nests for His flying cloud,

Homesteads for newborn races,

Masterful, free, and proud.

The people of tired cities

Come up to their shrines and pray;

God freshens them within again,

As He passes by all day.

And lo, I have caught their secret!

The beauty deeper than all!

This faith—that life's hard moments,

When the jarring sorrows befall,

Are but God plowing His mountains;

And those mountains yet will be

The source of His grace and freshness,

And His peace everlasting to me.

180

William C. Garnett
---
02Streams 11/5/01 10:01 AM Page 181

May 5

As they began to sing and praise,the Lord set ambushes against the men

...who were invading Judah, and they were defeated. (2 Chronicles

20:22)

Oh, if only we would worry less about our problems and sing

and praise more! There are thousands of things that shackle us

that could be turned into instruments of music, if we just knew

how to do it.Think of those people who ponder, meditate, and

weigh the affairs of life, and who continually study the mysterious

inner workings of God's providence,wondering why they

suffer burdens and are opposed and battled on every front.How

different their lives would be,and how much more joyful,if they

would stop indulging in self-centered and inward thinking and

instead would daily lift their experiences to God, praising Him

for them.

It is easier to sing your worries away than to reason them

away.Why not sing in the morning? Think of the birds—they

are the first to sing each day, and they have fewer worries than

anything else in creation. And don't forget to sing in the

evening, which is what the robins do when they have finished

their daily work. Once they have flown their last flight of the

day and gathered the last bit of food, they find a treetop from

which to sing a song of praise.

Oh, that we might sing morning and evening, offering up

song after song of continual praise throughout our day! selected

Don't let the song go out of your life

Although it sometimes will flow

In a minor strain; it will blend again

With the major tone you know.

Although shadows rise to obscure life's skies,

And hide for a time the sun,

The sooner they'll lift and reveal the rift,

If you let the melody run.

181
---
02Streams 11/5/01 10:01 AM Page 182

Don't let the song go out of your life;

Though the voice may have lost its trill,

Though the quivering note may die in your throat,

Let it sing in your spirit still.

Don't let the song go out of your life;

Let it ring in your soul while here;

And when you go hence, it will follow you thence,

And live on in another sphere.

May 6

The secret of the Lord is with them that fear him. (Psalm 25:14

KJV)

There are certain secrets of God's providence He allows His children

to learn. Often, however, at least on the surface, His dealings

with them appear to be harsh and hidden.Yet faith looks deeper

and says,"This is God's secret.You are looking only on the outside,

but I look deeper and see the hidden meaning."

Remember,diamonds are found in the rough,and their true

value cannot be seen. And when the tabernacle was built in

the wilderness, there was nothing ornate about its outward

appearance. In fact, the outer covering of the thick hides of sea

cows gave no hint of the valuable things inside.

Dear friend,God may send you some valuable gifts wrapped

in unattractive paper. But do not worry about the wrappings,

for you can be sure that inside He has hidden treasures of love,

kindness,and wisdom.If we will simply take what He sends and

trust Him for the blessings inside, we will learn the meaning

of the secrets of His providence, even in times of darkness.

A. B. Simpson

Not until each loom is silent,

And the crossthreads cease to fly,

Will God unroll the pattern

And explain the reason why

182
---
02Streams 11/5/01 10:01 AM Page 183

The dark threads are as needful

In the Weaver's skillful hand,

As the threads of gold and silver

For the pattern He has planned.

A person who has Christ as his Master is the master of every

circumstance. Are your circumstances pressing in on you? Do

not push away,for they are the Potter's hands. And you will learn

to master them not by stopping their progress but by enduring

their discipline. Your circumstances are not only shaping

you into a vessel of beauty and honor but also providing you

with resources of great value.

May 7

Jesus told his disciples a parable to show them that they should always

pray and not give up. (Luke 18:1)

The failure to persevere is the most common problem in prayer

and intercession.We begin to pray for something, raising our

petitions for a day,a week,or even a month,but then if we have

not received a definite answer,we quickly give up and stop praying

for it altogether.

This is a mistake with deadly consequences and is simply

a trap where we begin many things but never see them completed.

It leads to ruin in every area of life. People who get

into the habit of starting without ever finishing form the habit

of failure. And those who begin praying about something

without ever praying it through to a successful conclusion

form the same habit in prayer. Giving up is admitting failure

and defeat.Defeat then leads to discouragement and doubt in

the power of prayer, and that is fatal to the success of a person's

prayer life.

People often ask,"How long should I pray? Shouldn't I come

to the place where I stop praying and leave the matter in God's

hands?" The only answer is this: Pray until what you pray for has

been accomplished or until you have complete assurance in your heart

183
---
02Streams 11/5/01 10:01 AM Page 184

that it will be. Only when one of these two conditions has been

met is it safe to stop persisting in prayer, for prayer not only is

calling upon God but is also a battle with Satan. And because

God uses our intercession as a mighty weapon of victory in the

conflict,He alone must decide when it is safe to cease from petitioning.Therefore

we dare not stop praying until either the

answer itself has come or we receive assurance it will come.

In the first instance, we stop because we actually see the

answer. In the second, we stop because we believe, and faith in

our hearts is as trustworthy as the sight of our eyes,for it is "faith

from God" (Eph. 6:23) and the "faith of God" (Rom. 3:3 KJV)

that we have within us.

As we live a life of prayer, we will more and more come to

experience and recognize this God-given assurance.We will

know when to quietly rest in it or when to continue praying

until we receive His answer. from The Practice of Prayer

Wait at God's promise until He meets you there, for He

always returns by the path of His promises. selected

May 8

Walking around in the fire. (Daniel 3:25)

When Shadrach, Meshach, and Abednego were thrown into

the furnace, the fire did not stop them from moving, for they

were seen "walking around." Actually, the fire was one of the

streets they traveled to their destination.The comfort we have

from Christ's revealed truth is not that it teaches us freedom from

sorrow but that it teaches us freedom through sorrow.

O dear God, when darkness overshadows me, teach me that

I am merely traveling through a tunnel. It will then be enough

for me to know that someday it will be all right.

I have been told that someday I will stand at the top of the

Mount of Olives and experience the height of resurrection

glory. But heavenly Father, I want more—I want Calvary to

lead up to it. I want to know that the shadows of darkness are

184
---
02Streams 11/5/01 10:01 AM Page 185

the shade on a road—the road leading to Your heavenly house.

Teach me that the reason I must climb the hill is because Your

house is there! Knowing this, I will not be hurt by sorrow, if I

will only walk in the fire. George Matheson

"The road is too rough," I said;

"It is uphill all the way;

No flowers, but thorns instead;

And the skies overhead are gray."

But One took my hand at the entrance dim,

And sweet is the road that I walk with Him.

"The cross is too great," I cried—

"More than the back can bear,

So rough and heavy and wide,

And nobody near to care."

And One stooped softly and touched my hand:

"I know. I care.And I understand."

Then why do we fret and cry;

Cross-bearers all we go:

But the road ends by and by

In the dearest place we know,

And every step in the journey we

May take in the Lord's own company.

May 9

Abraham remained standing before the Lord. (Genesis 18:22)

In this chapter, Abraham pleaded with God for the lives of others.A

friend of God's can do exactly that. But perhaps you see

Abraham's level of faith and his friendship with God as something

far beyond your own possibilities.Do not be discouraged,

however, for Abraham grew in his faith not by giant leaps but

step by step. And we can do the same.

The person whose faith has been severely tested yet who has

come through the battle victoriously is the person to whom

185
---
02Streams 11/5/01 10:01 AM Page 186

even greater tests will come.The finest jewels are those that are

the most carefully cut and polished,and the most precious metals

are put through the hottest fires.You can be sure Abraham

would never have been called the Father of Faith had he not

been tested to the utmost.

Read Genesis 22.In verse 2 God said to Abraham,"Take your

son,your only son,Isaac,whom you love,and . . .sacrifice him."

We then see him climbing Mount Moriah with his heart heavy

and yearning yet humbly obedient. He climbed with Isaac, the

object of his great love, who was about to be sacrificed at the

command of God—the One whom Abraham faithfully loved

and served!

What a lesson this should be to us when we question God's

dealings in our lives! Rebuke all explanations that try to cast

doubt on this staggering scene, for this was an object lesson for

all ages! Angels also looked on in awe.Will Abraham's faith not

stand forever as a strength and a help to all God's people? Will

his trial not be a witness to the fact that unwavering faith will

always prove the faithfulness of God?

The answer is a resounding—yes! And once Abraham's faith

had victoriously endured its greatest test, the Angel of the

Lord—the Lord Jesus, Jehovah, and He in whom the "many

promises God has made . . . are 'Yes' . . . [and] 'Amen'" (2 Cor.

1:20)—spoke to him and said,"Now I know that you fear God"

(Gen.22:12). The Lord said to him,in effect,"Because you have

trusted me through this great trial, I will trust you, and you will

forever be 'my friend'[Isa.41:8]." The Lord promised Abraham,

"I will surely bless you . . .and through your offspring all nations

on earth will be blessed, because you have obeyed me" (Gen.

22:17–18).

It is true, and always will be, that "those who have faith are

blessed along with Abraham, the man of faith" (Gal. 3:9). selected

Having a friendship with God is no small thing.

186
---
02Streams 11/5/01 10:01 AM Page 187

May 10

I would have despaired unless I had believed that I would see the goodness

of the Lord....Wait for the Lord;be strong,and let your heart take

courage. (Psalm 27:13–14 NASB)

Do not despair!

Oh,how great the temptation is to despair at times! Our soul

becomes depressed and disheartened, and our faith staggers

under the severe trials and testing that come into our lives,especially

during times of bereavement and suffering.We may come

to the place where we say,"I cannot bear this any longer. I am

close to despair under these circumstances God has allowed.He

tells me not to despair, but what am I supposed to do when I

am at this point?"

What have you done in the past when you felt weak physically?

You could not do anything.You ceased from doing.In your

weakness,you leaned on the shoulder of a strong loved one.You

leaned completely on someone else and rested, becoming still,

and trusting in another's strength.

It is the same when you are tempted to despair under spiritual

afflictions. Once you have come close to the point of despair,

God's message is not,"Be strong and courageous" (Josh. 1:6), for

He knows that your strength and courage have run away. Instead,

He says sweetly, "Be still, and know that I am God" (Ps. 46:10).

Hudson Taylor was so weak and feeble in the last few months

of his life that he told a friend,"I am so weak I cannot write. I

cannot read my Bible. I cannot even pray. All I can do is lie still

in the arms of God as a little child, trusting Him."This wonderful

man of God, who had great spiritual power, came to the

point of physical suffering and weakness where all he could do

was lie still and trust.

That is all God asks of you as His dear child. When you

become weak through the fierce fires of affliction, do not try to

"be strong." Just "be still, and know that [He is] God." And know

that He will sustain you and bring you through the fire.

187
---
02Streams 11/5/01 10:01 AM Page 188

God reserves His best medicine for our times of deepest

despair.

Be strong and take heart. Psalm 27:14

Be strong, He has not failed you

In all the past,

And will He go and leave you

To sink at last?

No, He said He will hide you

Beneath His wing;

And sweetly there in safety

You then may sing.

May 11

188

selected

We went through fire and water, but you brought us to a place of abundance.

(Psalm 66:12)

It may seem paradoxical, but the only person who is at rest

has achieved it through conflict.This peace, born of conflict, is

not like the ominous lull before the storm but like the serenity

and the quietness following the storm, with its fresh, purified

air.

The person who may appear to be blessed, having been

untouched by sorrow, is typically not one who is strong and at

peace.His qualities have never been tested,and he does not know

how he would handle even a mild setback.The safest sailor is

certainly not one who has never weathered a storm. He may be

right for fair-weather sailing, but when a storm arises, wouldn't

you want an experienced sailor at the critical post? Wouldn't

you want one at the helm who has fought through a gale and who

knows the strength of the ship's hull and rigging, and how the

anchor may be used to grasp the rocks of the ocean floor?

Oh, how everything gives way when affliction first comes

upon us! The clinging stems of our hopes are quickly snapped,
---
02Streams 11/5/01 10:01 AM Page 189

and our heart lies overwhelmed and prostrate, like a vine the

windstorm has torn from its trellis. But once the initial shock

is over and we are able to look up and say,"It is the Lord"(John

21:7), faith begins to lift our shattered hopes once more and

securely binds them to the feet of God. And the final result is

confidence, safety, and peace. selected

The adverse winds blew against my life;

My little ship with grief was tossed;

My plans were gone—heart full of strife,

And all my hope seemed to be lost—

"Then He arose"—one word of peace.

"There was a calm"—a sweet release.

A tempest great of doubt and fear

Possessed my mind; no light was there

To guide, or make my vision clear.

Dark night! 'twas more than I could bear—

"Then He arose," I saw His face—

"There was a calm" filled with His grace.

My heart was sinking 'neath the wave

Of deepening test and raging grief;

All seemed as lost, and none could save,

And nothing could bring me relief—

"Then He arose"—and spoke one word,

"There was a calm!""IT IS THE LORD."

May 12

Everything is possible for him who believes. (Mark 9:23)

189

L. S. P.

The "everything" mentioned here does not always come simply

by asking, because God is always seeking to teach you the

way of faith.Your training for a life of faith requires many areas

of learning, including the trial of faith, the discipline of faith,
---
02Streams 11/5/01 10:01 AM Page 190

the patience of faith, and the courage of faith. Often you will

pass through many stages before you finally realize the result

of faith—namely, the victory of faith.

Genuine moral fiber is developed by enduring the discipline

of faith.When you have made your request to God, and the

answer still has not come, what are you to do? Keep on believing

His Word! Never be swayed from it by what you may see

or feel.Then as you stand firm, your power and experience

is being developed, strengthened, and deepened. When you

remain unswayed from your stance of faith,even in view of supposed

contradictions to God's Word,you grow stronger on every

front.

God will often purposely delay in giving you His answer,and

in fact the delay is just as much an answer to your prayer as is

the fulfillment when it comes. He worked this way in the lives

of all the great Bible characters. Abraham, Moses, and Elijah

were not great in the beginning but made great through the discipline

of their faith. Only through that discipline were they

then equipped for the work to which God had called them.

Think, for example, of Joseph, whom the Lord was training

for the throne of Egypt. Psalm 105:19 (KJV) says, "The word

of the Lord tried him." It was not the prison life with its hard

beds or poor food that "tried him" but "the word of the Lord."

The words God spoke into his heart in his early years, concerning

his elevated place of honor above his brothers,were the

words that were always before him. He remained alone in

prison, in spite of his innocence, and watched others being

released who were justly incarcerated. Yet he remembered God's

words even when every step of his career made fulfillment seem

more and more impossible.

These were the times that tried his soul, but they were also

the times of his spiritual growth and development.Then when

word of his release from prison finally came,he was found ready

and equipped for the delicate task of dealing with his wayward

190
---
02Streams 11/5/01 10:01 AM Page 191

brothers.And he was able to do so with a love and a patience

only surpassed by God Himself.

No amount of persecution will try you as much as experiences

like these—ones in which you are required to wait on

God. Once He has spoken His promise to work, it is truly hard

to wait as you see the days go by with no fulfillment. Yet it is

this discipline of faith that will bring you into a knowledge of

God that would otherwise be impossible.

May 13

We do not know what we ought to pray for. (Romans 8:26)

Often it is simply the answers to our prayers that cause many

of the difficulties in the Christian life.We pray for patience,

and our Father sends demanding people our way who test us

to the limit,"because . . . suffering produces perseverance"(Rom.

5:3).We pray for a submissive spirit, and God sends suffering

again, for we learn to be obedient in the same way Christ

"learned obedience from what he suffered" (Heb. 5:8).

We pray to be unselfish, and God gives us opportunities to

sacrifice by placing other people's needs first and by laying down

our lives for other believers.We pray for strength and humility,

and "a messenger of Satan" (2 Cor. 12:7) comes to torment us

until we lie on the ground pleading for it to be withdrawn.

We pray to the Lord,as His apostles did,saying,"Increase our

faith!" (Luke 17:5).Then our money seems to take wings and

fly away; our children become critically ill; an employee

becomes careless, slow, and wasteful; or some other new trial

comes upon us, requiring more faith than we have ever before

experienced.

We pray for a Christlike life that exhibits the humility of a

lamb.Then we are asked to perform some lowly task, or we are

unjustly accused and given no opportunity to explain, for "he

was led like a lamb to the slaughter, and . . . did not open his

mouth" (Isa. 53:7).

191
---
02Streams 11/5/01 10:01 AM Page 192

We pray for gentleness and quickly face a storm of temptation

to be harsh and irritable.We pray for quietness, and suddenly

every nerve is stressed to its limit with tremendous tension

so that we may learn that when He sends His peace,no one

can disturb it.

We pray for love for others, and God sends unique suffering

by sending people our way who are difficult to love and

who say things that get on our nerves and tear at our heart.

He does this because "love is patient, love is kind. . . . It is not

rude,...it is not easily angered. . . . It always protects, always

trusts,always hopes,always perseveres.Love never fails."(1 Cor.

13:4–5, 7–8).

Yes, we pray to be like Jesus, and God's answer is:"I have

tested you in the furnace of affliction" (Isa. 48:10); "Will your

courage endure or your hands be strong?" (Ezek. 22:14);"Can

you drink the cup?" (Matt. 20:22).

The way to peace and victory is to accept every circumstance

and every trial as being straight from the hand of our loving

Father; to live "with him in the heavenly realms" (Eph. 2:6),

above the clouds,in the very presence of His throne;and to look

down from glory on our circumstances as being lovingly and

divinely appointed. selected

I prayed for strength, and then I lost awhile

All sense of nearness, human and divine;

The love I leaned on failed and pierced my heart,

The hands I clung to loosed themselves from mine;

But while I swayed, weak, trembling, and alone,

The everlasting arms upheld my own.

I prayed for light; the sun went down in clouds,

The moon was darkened by a misty doubt,

The stars of heaven were dimmed by earthly fears,

And all my little candle flames burned out;

But while I sat in shadow, wrapped in night,

The face of Christ made all the darkness bright.

192
---
02Streams 11/5/01 10:01 AM Page 193

I prayed for peace, and dreamed of restful ease,

A slumber free from pain, a hushed repose;

Above my head the skies were black with storm,

And fiercer grew the onslaught of my foes;

But while the battle raged, and wild winds blew,

I heard His voice and perfect peace I knew.

I thank You, Lord,You were too wise to heed

My feeble prayers, and answer as I sought,

Since these rich gifts Your bounty has bestowed

Have brought me more than all I asked or thought;

Giver of good, so answer each request

With Your own giving, better than my best.

Annie Johnson Flint

May 14

On that very day Abraham [did] . . .as God told him.(Genesis 17:23)

Instant obedience is the only kind of obedience there is, for

delayed obedience is disobedience. Each time God calls upon

us to do something, He is offering to make a covenant with

us. Our part is to obey, and then He will do His part to send a

special blessing.

The only way to be obedient is to obey instantly—"On that

very day," as Abraham did.I know we often postpone doing what

we know to do, and then later do it as well as we can. Certainly

this is better than not doing it at all. By then, however, it is

at best only a crippled, disfigured, and partial attempt toward

obedience. Postponed obedience can never bring us the full blessing

God intended or what it would have brought had we obeyed at the

earliest possible moment.

What a pity it is how we rob ourselves, as well as God and

others, by our procrastination! Remember, "On that very day"

is the Genesis way of saying,"Do it now!" from Messages for the

Morning Watch

193
---
02Streams 11/5/01 10:01 AM Page 194

Martin Luther once said, "A true believer will crucify, or

put to death, the question,'Why?' He will simply obey without

questioning."And I refuse to be one of those people who

"unless . . . [I] see miraculous signs and wonders . . . will never

believe" (John 4:48). I will obey without questioning.

Ours not to make reply,

Ours not to reason why,

Ours but to do and die.

Obedience is the fruit of faith; patience is the early blossom

on the tree of faith. Christina Rossetti

May 15

Men see not the bright light which is in the clouds. (Job 37:21 KJV)

Much of the world's beauty is due to clouds.The unchanging

blue of a beautiful, sunlit sky still does not compare to the

glory of changing clouds.And earth would become a wilderness

if not for their ministry to us.

Human life has its clouds as well. They provide us with shade,

refresh us, yet sometimes cover us with the darkness of night.

But there is never a cloud without its "bright light." God has

told us,"I have set my rainbow in the clouds" (Gen. 9:13). If

only we could see clouds from above—in all their billowing

glory, bathed in reflective light, and as majestic as the Alps—

we would be amazed at their shining magnificence.

We see them only from below, so who will describe for us

the "bright light" that bathes their summits, searches their valleys,and

reflects from every peak of their expanse? Doesn't every

drop of rain in them soak up health-giving qualities,which will

later fall to earth?

O dear child of God! If only you could see your sorrows and

troubles from above instead of seeing them from earth. If you

would look down on them from where you are seated "with

Christ . . . in the heavenly realms" (Eph. 2:6), you would know

194
---
02Streams 11/5/01 10:01 AM Page 195

the beauty of the rainbow of colors they reflect to the hosts of

heaven. You would also see the "bright light" of Christ's face

and would finally be content to see those clouds cast their deep

shadows over the mountain slopes of your life.

Remember,clouds are always moving ahead of God's cleansing

wind. selected

I cannot know why suddenly the storm

Should rage so fiercely round me in its wrath;

But this I know—God watches all my path,

And I can trust.

I may not draw aside the unseen veil

That hides the unknown future from my sight,

Nor know if for me waits the dark or light;

But I can trust.

I have no power to look across the tide,

To see while here the land beyond the river;

But this I know—I will be God's forever;

So I can trust.

May 16

Do not be afraid, Daniel. Since the first day that you set your mind to

gain understanding and to humble yourself before your God, your words

were heard, and I have come in response to them. But the prince of the

Persian kingdom resisted me twenty-one days. (Daniel 10:12–13)

This passage is a wonderful teaching on prayer and shows us

the direct hindrance Satan can be in our lives. Daniel had fasted

and prayed for twenty-one difficult days. As far as we can

tell from the biblical account, the difficulty came not because

Daniel was not a good person nor because his prayer was not

right but because of a special attack from Satan.

The Lord had sent His angelic messenger to tell Daniel that

his prayer was answered the moment he began to pray, but the

good angel was hindered by an evil angel who met him along

195
---
02Streams 11/5/01 10:01 AM Page 196

the way and wrestled with him.This conflict occurred in the

heavens, yet Daniel experienced the same kind of conflict here

on earth as he agonized in prayer.

"Our struggle is not against flesh and blood, but against the rulers,

against the authorities,...and against the spiritual forces of evil in

the heavenly realms" (Eph. 6:12). Satan's attack and the ensuing

struggle delayed the answer three full weeks. Daniel was nearly

defeated,and Satan would have been glad to kill him,but God

would not allow anything to come upon Daniel beyond what

he could bear. (See 1 Cor. 10:13.)

Many prayers of believers are hindered by Satan.Yet you do

not need to fear when your unanswered prayers are piling up,

for soon they will break through like a flood.When that happens,

not only will your answers flow through but they will

also be accompanied by new blessings. from a sermon

Hell works the hardest on God's saints.The most worthy

souls will be tested with the most pressure and the highest heat,

but heaven will not desert them. William L.Watkinson

May 17

After forty years had passed, an angel appeared to Moses . . . in the

desert....Then the Lord said to him,". . . Now come, I will send

you back to Egypt." (Acts 7:30, 33–34)

Often the Lord calls us aside from our work for a season and

asks us to be still and learn before we go out again to minister.

And the hours spent waiting are not lost time.

An ancient knight once realized, as he was fleeing from his

enemies, that his horse needed a shoe replaced.The prudent

course of action seemed to be to hurry on without delay. Yet

higher wisdom told him to stop for a few minutes at the blacksmith's

along the road. Although he heard the galloping hooves

of the enemies' horses close behind, he waited until his steed

was reshod before continuing his escape. Just as the enemy

appeared,only a hundred yards away, he jumped into the saddle

196
---
02Streams 11/5/01 10:01 AM Page 197

and dashed away with the swiftness of the wind.Then he knew

his stopping had actually hastened his escape.

Quite often God will ask us to wait before we go, so we

may fully recover from our last mission before entering the next

stage of our journey and work. from Days of Heaven upon Earth

Waiting! Yes, patiently waiting!

Till next steps made plain will be;

To hear, with the inner hearing,

The Voice that will call for me.

Waiting! Yes, hopefully waiting!

With hope that need not grow dim;

The Master is pledged to guide me,

And my eyes are unto Him.

Waiting! Expectantly waiting!

Perhaps it may be today

The Master will quickly open

The gate to my future way.

Waiting! Yes, waiting! still waiting!

I know, though I've waited long,

That, while He withholds His purpose,

His waiting cannot be wrong.

Waiting! Yes, waiting! still waiting!

The Master will not be late:

Since He knows that I am waiting

For Him to unlatch the gate.

May 18

197

J. Danson Smith

We were under great pressure,...so that we despaired even of life....

But this happened that we might not rely on ourselves but on God,who

raises the dead. (2 Corinthians 1:8–9)
---
02Streams 11/5/01 10:01 AM Page 198

Pressed beyond measure; yes, pressed to great length;

Pressed so intensely, beyond my own strength;

Pressed in my body and pressed in my soul,

Pressed in my mind till the dark surges roll.

Pressure from foes, and pressure from dear friends.

Pressure on pressure, till life nearly ends.

Pressed into knowing no helper but God;

Pressed into loving His staff and His rod.

Pressed into liberty where nothing clings;

Pressed into faith for impossible things.

Pressed into living my life for the Lord,

Pressed into living a Christ-life outpoured.

The pressure of difficult times makes us value life. Every time

our life is spared and given back to us after a trial, it is like a new

beginning.We better understand its value and thereby apply ourselves

more effectively for God and for humankind. And the pressure

we endure helps us to understand the trials of others,equipping

us to help them and to sympathize with them.

Some people have a shallowness about them. With their

superficial nature,they lightly take hold of a theory or a promise

and then carelessly tell of their distrust of those who retreat from

every trial.Yet a man or woman who has experienced great

suffering will never do this. They are very tender and gentle,

and understand what suffering really means. This is what Paul

meant when he said,"Death is at work in us" (2 Cor. 4:12).

Trials and difficult times are needed to press us forward. They

work in the way the fire in the hold of a mighty steamship provides

the energy that moves the pistons, turns the engine, and

propels the great vessel across the sea,even when facing the wind

and the waves. A. B. Simpson

May 19

Before he had finished praying, Rebekah came out with her jar on her

shoulder....Then the man bowed down and worshiped the Lord,

198
---
02Streams 11/5/01 10:01 AM Page 199

saying,"Praise be to the Lord, . . . who has not abandoned his kindness

and faithfulness." (Genesis 24:15, 26–27)

Every godly prayer is answered before the prayer itself is finished—"Before

he had finished praying . . ." This is because

Christ has pledged in His Word, "My Father will give you whatever

you ask in my name" (John 16:23).When you ask in faith

and in Christ's name—that is, in oneness with Him and His

will—"it will be given you" (John 15:7).

Since God's Word cannot fail, whenever we meet these simple

conditions,the answer to our prayer has already been granted

and is complete in heaven as we pray, even though it may

not be revealed on earth until much later.Therefore it is wise

to close every prayer with praise to God for the answer He has

already given.

"Praise be to the Lord,. . .who has not abandoned his kindness

and faithfulness." (See Dan. 9:20–27; 10:12.) from Messages

for the Morning Watch

When we believe God for a blessing, we must have an attitude

of faith and begin to act and pray as if the blessing were

already ours. We should respond to God as if He has granted

our request. This attitude of trust means leaning upon Him for

what we have claimed and simply taking it for granted that He

has given us our request and will continue to give it.

When people get married,they immediately have a new perspective

and begin to act accordingly.This is how it should be

when we take Christ as our Savior, our Sanctifier, our Healer, or

our Deliverer.He expects us to have a new perspective,in which

we recognize Him in the capacity and the role we have trusted

Him for, and in which we allow Him to be everything to us we

have claimed by faith. selected

The thing I ask when God leads me to pray,

Begins in that same act to come my way.

199
---
02Streams 11/5/01 10:01 AM Page 200

May 20

Shall I not drink the cup the Father has given me? (John 18:11)

God is a thousand times more meticulous with us than even an

artist is with his canvas.Using many brush strokes of sorrow,and

circumstances of various colors, He paints us into the highest

and best image He visualizes, if we will only receive His bitter

gifts of myrrh in the right spirit.

Yet when our cup of sorrows is taken away and the lessons

in it are suppressed or go unheeded, we do more damage to

our soul than could ever be repaired.No human heart can imagine

the incomparable love God expresses in His gift of myrrh.

However, this great gift that our soul should receive is allowed

to pass by us because of our sleepy indifference, and ultimately

nothing comes of it.

Then, in our barrenness we come and complain, saying,"O

Lord, I feel so dry, and there is so much darkness within me!"

My advice to you, dear child, is to open your heart to the pain

and suffering, and it will accomplish more good than being full

of emotion and sincerity. Tauler

The cry of man's anguish went up to God,

"Lord, take away pain:

The shadow that darkens the world You have made,

The close, choking chain

That strangles the heart, the burden that weighs

On the wings that would soar,

Lord, take away pain from the world You have made,

That it love You the more."

Then answered the Lord to the cry of His world:

"Shall I take away pain,

And with it the power of the soul to endure,

Made strong by the strain?

Shall I take away pity, that knits heart to heart

And sacrifice high?

200
---
02Streams 11/5/01 10:01 AM Page 201

Will you lose all your heroes that lift from the fire

Wisdom toward the sky?

Shall I take away love that redeems with a price

And smiles at the loss?

Can you spare from your lives that would climb unto Me

The Christ on His cross?"

May 21

I remembered my songs in the night. (Psalm 77:6)

I read somewhere of a little bird that will never sing the song

its owner desires to hear while its cage is full of light. It may

learn a note of this or a measure of that but will never learn an

entire song until its cage is covered and the sunlight is shut out.

Many people are the same, never learning to sing until the

shadows of darkness fall. We need to remember: the fabled

nightingale sings with its breast against a thorn; it was on that

Bethlehem night the song of angels was heard; and it was "at

midnight the cry rang out: 'Here's the bridegroom! Come out

to meet him!'" (Matt. 25:6).

It is indeed extremely doubtful that a person's soul can really

know the love of God in its richness and in its comforting,

satisfying completeness until the skies are dark and threatening.

Light emerges from darkness, and morning is born from

the womb of night.

James Creelman once journeyed through the Balkans in

search of Natalie, the exiled queen of Serbia. In one of his letters,

he described his trip this way:

During that memorable journey,I learned that the world's

supply of rose oil comes from the Balkan Mountains.The

thing that interested me most was that the roses had to be

gathered during the darkest hours, with the pickers starting

at one o'clock and finishing by two. Initially this practice

seemed to me to be a relic of superstition or tradition, but

201
---
02Streams 11/5/01 10:01 AM Page 202

as I investigated further, I learned that actual scientific tests

had proved that a full forty percent of the fragrance of the

roses disappeared in the light of day.

And it is also a real and unquestionable fact of human life

and culture that a person's character is strengthened most during

the darkest days. Malcolm J. McLeod

May 22

Commit your way to the Lord; trust in him and he will do this.

(Psalm 37:5)

The literal meaning of this verse is:"Roll your way onto Jehovah

and trust upon Him,and He works." This brings to our attention

the immediacy of God's action once we commit,or "roll,"

burdens of any kind from our hands into His.Whether our burden

is a sorrow,difficulty,physical need,or concern over the salvation

of a loved one, "He works."

When does He work? "He works"now.We act as if God does

not immediately accept our trust in Him and thereby delays

accomplishing what we ask Him to do.We fail to understand

that "He works" as we commit. "He works" now! Praise Him

for the fact that this is true.

Our expectation that He will work is the very thing enabling

the Holy Spirit to accomplish what we have "rolled"onto Him.

At that point it is out of our grasp, and we are not to try to do

it ourselves."He works!" Take comfort from this and do not

try to pick it up again. What a relief there is in knowing He

really is at work on our difficulty!

And when someone says,"But I don't see any results," pay

him no attention.

"He works"if you have "rolled"your burdens onto Him and

are "looking unto Jesus" (Heb. 12:2 KJV) to do it. Your faith

may be tested, but "He works." His Word is true! V. H. F.

202
---
02Streams 11/5/01 10:01 AM Page 203

I cry out to God Most High, to God, who fulfills his

purpose for me. Psalm 57:2

One beautiful old translation of this verse says,"He will perform

the cause I hold in my hand." That makes it very real to

me today. The very thing "I hold in my hand"—my work today,

this concern that is beyond my control,this task in which I have

greatly overestimated my own abilities—this is what I may "cry

out" for Him to do "for me," with the calm assurance He will

perform it."The wise and what they do are in God's hands"

(Eccl. 9:1). Frances Ridley Havergal

The Lord will follow through on His covenant promises.

Whatever He takes and holds in His hand He will accomplish.

Therefore His past mercies are guarantees for the future, and

worthy reasons for continuing to cry out to Him. Charles H.

Spurgeon

May 23

They were at their wits' end.Then they cried out to the Lord in their

trouble, and he brought them out of their distress. (Psalm 107:27–

28)

Are you standing at "Wits' End Corner,"

Christian, with troubled brow?

Are you thinking of what is before you,

And all you are bearing now?

Does all the world seem against you,

And you in the battle alone?

Remember—at "Wits' End Corner"

Is just where God's power is shown.

Are you standing at "Wits' End Corner,"

Blinded with wearying pain,

Feeling you cannot endure it,

You cannot bear the strain,

Bruised through the constant suffering,

203
---
02Streams 11/5/01 10:01 AM Page 204

Dizzy, and dazed, and numb?

Remember—at "Wits' End Corner"

Is where Jesus loves to come.

Are you standing at "Wits' End Corner"?

Your work before you spread,

All lying begun, unfinished,

And pressing on heart and head,

Longing for strength to do it,

Stretching out trembling hands?

Remember—at "Wits' End Corner"

The Burden-Bearer stands.

Are you standing at "Wits' End Corner"?

Then you're just in the very spot

To learn the wondrous resources

Of Him who fails you not:

No doubt to a brighter pathway

Your footsteps will soon be moved,

But only at "Wits' End Corner"

Is the "God who is able" proved.

204

Antoinette Wilson

Do not get discouraged—it may be the last key on the ring

that opens the door. Stansifer

May 24

Sarah became pregnant and bore a son to Abraham in his old age, at

the very time God had promised him. (Genesis 21:2)

The plans of the Lord stand firm forever, the purposes of

his heart through all generations"(Ps.33:11). But we must be

prepared to wait on God's timing. His timing is precise, for

He does things "at the very time" He has set. It is not for us

to know His timing,and in fact we cannot know it—we must

wait for it.
---
02Streams 11/5/01 10:01 AM Page 205

If God had told Abraham while he was in Haran that he

would have to wait thirty years before holding his promised

child in his arms, his heart might have failed him. So God, as

an act of His gracious love, hid from Abraham the number of

weary years he would be required to wait. Only as the time

was approaching, with but a few months left to wait, did God

reveal His promise:"At the appointed time next year . . .Sarah

will have a son" (Gen. 18:14).The "appointed time" came at

last, and soon the joyous laughter that filled the patriarch's

home caused the now elderly couple to forget their long and

tiring wait.

So take heart, dear child, when God requires you to wait.

The One you wait for will not disappoint you. He will never

be even five minutes behind "the appointed time." And soon

"your grief will turn to joy" (John 16:20).

Oh, how joyful the soul that God brings to laughter! Then

sorrow and crying flee forever, as darkness flees the dawn. selected

As passengers, it is not for us to interfere with the charts and

the compass.We should leave the masterful Captain alone to

do His own work. Robert Hall

Some things cannot be accomplished in a day. Even

God does not make a glorious sunset in a moment. For

several days He gathers the mist with which to build His

beautiful palaces in the western sky.

Some glorious morn—but when? Ah, who will say?

The steepest mountain will become a plain,

And the parched land be satisfied with rain.

The gates of brass all broken; iron bars,

Transfigured, form a ladder to the stars.

Rough places plain, and crooked ways all straight,

For him who with a patient heart can wait.

These things will be on God's appointed day:

It may not be tomorrow—yet it may.

205
---
02Streams 11/5/01 10:01 AM Page 206

May 25

I endure everything for the sake of the elect, that they too may obtain

the salvation that is in Christ Jesus, with eternal glory. (2 Timothy

2:10)

Oh, if only Job had known, as he sat in the ashes, troubling his

heart over the thought of God's providence,that millions down

through history would look back on his trials. He might have

taken courage in the fact that his experience would be a help

to others throughout the world.

No one lives to himself,and Job's story is like yours and mine,

only his was written for all to see.The afflictions Job faced and

the trials he wrestled with are the very things for which he is

remembered,and without them we would probably never have

read of him in God's Word.

We never know the trials that await us in the days ahead.

We may not be able to see the light through our struggles, but

we can believe that those days, as in the life of Job, will be the

most significant we are called upon to live. Robert Collyer

Who has not learned that our most sorrowful days are frequently

our best? The days when our face is full of smiles and

we skip easily through the soft meadow God has adorned with

spring flowers, the capacity of our heart is often wasted.

The soul that is always lighthearted and cheerful misses the

deepest things of life.Certainly that life has its reward and is fully

satisfied, but the depth of its satisfaction is very shallow. Its heart

is dwarfed, and its nature, which has the potential of experiencing

the highest heights and the deepest depths, remains undeveloped.

And the wick of its life burns quickly to the bottom,

without ever knowing the richness of profound joy.

Remember, Jesus said, "Blessed are those who mourn"

(Matt.5:4). Stars shine the brightest during the long dark night

of winter. And the gentian wildflowers display their fairest

blooms among the nearly inaccessible heights of mountain

snow and ice.

206
---
02Streams 11/5/01 10:01 AM Page 207

God seems to use the pressure of pain to trample out the fulfillment

of His promises and thereby release the sweetest juice

of His winepress.Only those who have known sorrow can fully

appreciate the great tenderness of the "man of sorrows" (Isa.

53:3). selected

You may be experiencing little sunshine, but the long periods

of gloomy darkness have been wisely designed for you, for perhaps

a lengthy stretch of summer weather would have made you

like parched land or a barren wilderness.Your Lord knows best,