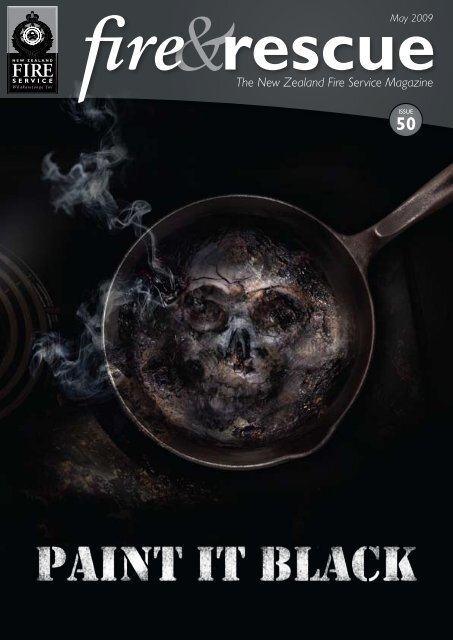 The New Zealand Fire Service Magazine
The New Zealand Fire Service Magazine
The New Zealand Fire Service Magazine
SHOW MORE
SHOW LESS
You also want an ePaper? Increase the reach of your titles
YUMPU automatically turns print PDFs into web optimized ePapers that Google loves.
May 2009

The New Zealand Fire Service Magazine

ISSUE

50
---
May 2009

Issue No. 50

Fire & Rescue is the flagship

publication of the New Zealand

Fire Service.

It is produced by Media,

Promotions and Communications,

National Headquarters,

Level 9, 80 The Terrace, Wellington.

Front cover:

New messages showcase the dark side

of fire safety.

Back cover:

The crew from Morningside help out

with fire education.

We welcome contributions from

Fire Service personnel and their families.

Email stories and digital pictures to:

fire.rescue@fire.org.nz

(Pictures need to be at least 1MB)

Post written material and photos,

or photo CDs to:

Fire & Rescue magazine,

PO Box 2133, Wellington.

(These will be returned on request)

If you have a story idea or an upcoming

event you would like Fire & Rescue to

cover, call the editor on (04) 496 3675.

Fire & Rescue is online at:

www.fire.org.nz

ISSN: 1176-6670

All material in Fire & Rescue magazine is

copyrighted and may not be reproduced

without the permission of the editor.

3

12

8 10

Fire Safety Paint it black ............................................................................................3

Business Recognition for all .................................................................................6

Technology SMART Atlas – a key fire risk management tool ...............7

Education Firewise Re-development Project –

the national evaluation ......................................................................8

In the Community Operation Waitangi ..........................................................................10

New Station – new location –

same commitment to service .....................................................11

Heroic Fire Service sunk by police cheats ...........................12

A Southern man & woman .........................................................12

Truck & ruck .........................................................................................13

Tribute Andrew Scotland ................................................................................14

Awards A Royal Honour ..................................................................................15

Fun & Games The Wheel Deal .................................................................................16

The Calendar needs you! ..............................................................17

Stairway to heaven ...........................................................................18

Relay For Life........................................................................................19

A different kind of Sevens .............................................................20

Our People A couple of minutes with... Rob Holah ..................................22

Sports Calendar 2009 Sports Calendar ....................................................................23

16

18
---
Seven new pictographs – meaning a picture or symbol

that stands for a word or group of words – have been

built around a single image of a major fire danger

(unattended cooking, frying, alcohol, overloaded plugs

and heaters) or a fire safety device (smoke alarms and

batteries).

For some time, regions have been calling for fire safety

messages suitable to use on vehicles, locker doors,

billboards and so on.

Any new fire safety messages would need to be clear

enough for people to take one look at and understand

in an instant – without having to read any words around

the image to make sense of it.

We have good ol' Flint and Amber and the Firewise Crew

to convey our safety messages to children, but we lacked

compelling, simple messages for the 18–65 year olds,

particularly the 18–35 year age group, that demand

immediate action.

Fire Safety

A new set of fire safety messages is about to hit the street – and here's your preview.

This age group tends to be over-whelmed by advertising

and social marketing messages. Our new safety messages

needed to be compelling and dramatic enough to create

an immediate emotional response.

The new set of pictographs are available only as electronic

files – not in hardcopy format. You can browse them at:

http://firenet.fire.org.nz/Firenet/BusinessUnits/MPC/

promotions.htm.

To access the large electronic file of a pictograph, go to

the shared N Drive (N:Promotions\Safety pictographs 1N

Drive\Promotions\Safety pictographs_1. Choose the right

message in the shape you need (horizontal or vertical),

copy the file onto a CD or DVD and take it to your local

designer to print.

It is important to note that some of these pictographs

may be scary for young children. Please consider the

environment that you intend to display the image and

the impact it may have on some youngsters.

Unattended

cooking kills.

The New Zealand Fire Service Magazine May 2009

3
---
4 Issue No. 50

Fire Safety

Smoke alarms

save lives.

Overloaded

plugs can kill.

Don't leave

matches and

lighters around.
---
Fire Safety

Keep it

beating.

Don't drink

and fry.

Keep things

a metre from

the heater.

The New Zealand Fire Service Magazine May 2009

5
---
By Heather Clark

6 Issue No. 50

Business

Recognition for all

Publicly acknowledging employers of volunteer firefighters is all part of

developing local partnerships with those who share similar values and a

commitment to help build strong, safe and caring communities.

The Employer Recognition Programme recognises the

support that employers both big and small provide to

the New Zealand Fire Service by allowing their employees

to respond to incidents during working hours. The programme

has been operating at its different levels for nearly three

years. We initially started with nine pilot brigades to test

the fit of the programme, and went on to extend this to 100

brigades nationally the following year.

During this time the programme has proven its value both

anecdotally and in terms of the goodwill being engendered

by employers towards their local brigades. The All

Personnel Survey is also reflecting the high level of

approval the programme is gaining from those brigades

who have taken up the opportunity to be involved.

Western FRM, Trevor Brown catches up with

John Bongenaar, manager at Beaurepaires in

Palmerston North and SFF at Feilding VFB.

I can now advise that funding has been

secured to roll this programme

out to all brigades nationally.

This is a very positive move

by the Commission to

acknowledge and

support the work of

the volunteers and

the support provided

by their employers. It is

also another step towards

assisting with the ongoing

sustainability of our brigades.

I am pleased to be able to advise

we are now open for business to all

brigades who wish to partake in this programme.
---
SMART Atlas –

a key fire risk management tool

Introduced in 2006, SMART Atlas

provides all staff with a graphical

representation of risk within any area

or district across New Zealand and

provides the ability to investigate the

risk profiles of these districts in detail

prior to formal mitigation strategies

being developed. It also enables

personnel to measure and monitor

results against specific targets, goals

and business plan objectives.

Underpinned by census data,

SMART Atlas has developed into

a sophisticated yet simple to use

business planning tool that investigates

potential fire risk and associated

data patterns from a station, district

and region level.

For example, if a station wished to

initiate a smoke alarm installation

campaign, SMART Atlas can provide a

visual picture of the risk profile of the

area and can assist in the planning and

monitoring of how the campaign is

progressing against intended outcomes.

Utilising key risk management and

reporting tools such as SMART Atlas

The New Zealand Fire Service Magazine

assists the Fire Service in having a

clear, visual picture of the risk profile

within communities and allows more

effective planning and mitigation

against such risks. At the same time

we can actively engage key at risk

community groups through robust

partnership, awareness and education

strategies.

Technology

SMART Atlas can be accessed

through the 'Fire Applications' tab

on the FireNet homepage and its

services include:

• Location of incidents currently

open at Comcens as well as

recently attended incidents

• Incidents with investigation

reports

• Buildings with operational plans

• Boundaries of gazetted urban

fire districts and station first

response zones

• Status of local initiatives

e.g. smoke alarm installations

and properties targeted and

visited by personnel

• Buildings where risk scoring has

been completed

• Emergency incident summary

reporting

• Fire investigation reports

• Fire hydrant and water mains

location mapping.

May 2009

7
---
A project to give Firewise a major make-over is underway.

Firewise Re-development Project

Be Firewise, Years One and Two, (Firewise), has been

running in primary schools throughout the country for

almost 10 years.

Last year a national evaluation of Firewise was completed

by leading research company Martin Jenkins. Generally,

it found that the programme was well-supported and has

real safety benefits, but there is room for improvement,

leading on to a project to re-develop Firewise.

Another important reason to update Firewise is the

introduction of the Ministry of Education's new 2010

Curriculum. This makes some big changes to the way

schools' deliver education. The new edition of Firewise is

being designed to work in well with the new Curriculum,

giving it the competitive edge against the current array of

safety programmes available to schools.

The new edition of Firewise will pull-together the experience

of Firewise practitioners and coordinators, Ministry of

Education advisors and practicing primary school teachers.

It will be brought together by a specialist education

developer and a Fire Service project manager.

The new and improved edition of Firewise will be ready

to promote from the beginning of Term Three on 20 July.

This is in good time for teachers planning the their work

in the new 2010 school year.

Although the project is well-underway it is never too

late to contribute your opinions and suggestions. Check

out the Firenet page (http://firenet.fire.org.nz/Firenet/

BusinessUnits/MPC/firewise.htm) set up to hold all of

the information about the project. You can have your say

by contacting your regional representative on the Firewise

Reference Group or you can email the Fire Service project

manager: caroline.rosanowski@fire.org.nz

A snapshot of what practitioners said about the current Firewise programme:

"The content is far too long and it puts teachers off.

The most important action we want children to take is:

In a fire, get out and stay out!"

"There could be more focus on smoke alarms in

the resource."

"More research needs to be done on the key messages

with primary teachers themselves. It would be good

to know: how many messages can children take in;

the best wording of the messages; and should messages

start with 'don't'?"

8 Issue No. 50

Education

"All regions should have a dedicated Firewise coordinator

to meet the delivery targets with dedicated promotions.

It would be a good fit with FAIP coordinator.

"The firefighter training DVD is really old. A new DVD

modelling ways to present Firewise to children would

be helpful. It could use a variety of practitioners with

different styles."

"It would help firefighters to gain an understanding

of the environment teachers work in, for example:

what are the pressures and demands on teachers;

how will the new 2010 curriculum affect

teachers; how do schools operate; how do teachers

teach the resource?

"Recognition and reward is vital to support

Firewise practitioners. There is currently

no really strong evaluation loop (although

there is an evaluation form this doesn't work

in practice)."

"A national database that is easy to use is

essential. It should align with the Ministry of

Education database.

"A cluster model of training for firefghters would

be the best fit for NZFS. This could be supported

through a regional coordinator."

All comments available in full on Firenet

http://firenet.fire.org.nz/Firenet/BusinessUnits/MPC/firewise.htm
---
– the national evaluation

Evaluation recommendations

To improve uptake of Firewise,

the evaluation recommended:

• Firefighters need strategies to

encourage school leaders to take

ownership of Firewise. A flexible

approach is needed as each school

is unique.

• Engaging with schools is an ongoing

task and firefighters need to be

sufficiently resourced and motivated.

Firefighters should be responsible

for up to 12–16 schools each.

• The attitudes of firefighters toward

Firewise affects their ability to engage

with schools and promote and support

the delivery of the programme.

The Fire Service should assign the

responsibility of Firewise to dedicated

staff and offer training to those who are not.

To improve delivery of Firewise, the evaluation

recommended:

• The Firewise teaching component is too long.

Reduce the number of hours Firewise takes to

teach without compromising quality. Focus the

programme on key messages.

• Teachers should be provided with an overview or

"quick answers" sheet so that they can respond

to children's questions.

• Parental involvement with homework is a valuable

way to support classroom learning and teachers

need to set expectations about how this should

be done. Escape planning and safe meeting places

are successful as homework. The role of the

Fire Service is to influence schools and teachers

to encourage homework to be completed.

• Firefighters who currently deliver a one-hour

Firewise presentation instead of the teaching

component do not achieve the desired results.

This approach must stop.

• Firefighter visits to schools recapping fire safety

messages is a valued part of the programme.

Visits that focus on fire trucks and playing with

Education

equipment however, distract five and six year olds

from learning the fire safety messages. Firefighters

should deliver the firefighter presentation and avoid

turning the visit's focus to playing on the truck.

• The firefighters approach to promoting and

supporting the delivery of Firewise varies across

districts. To achieve consistency and provide ongoing

support to firefighters, regional Firewise coordinator

roles should be considered. The role would involve:

ensuring consistent practice; adequate resourcing;

providing training and promotional material and

generally supporting firefighters.

Contact your regional Firewise Reference Group member

Name Region Phone Email

Caroline Rosanowski NHQ Wellington X4722 Caroline.Rosanowski@fire.org.nz

(project manager)

04 470 3310

Stuart Ide Southern X 36490

03 442 7540

Stuart.Ide@fire.org.nz

Kevin Donaldson Transalpine 03 307 8962 Kevin.Donaldson@fire.org.nz

Danny Sharpe Arapawa n/a Danny.Sharpe@fire.org.nz

Mike Bauckham Eastern n/a Mike.Bauckham@fire.org.nz

Nick Pine Western n/a Nick.Pine@fire.org.nz

Megan Dromgool Bay–Waikato X74006

07 571 2707

Megan.Dromgool@fire.org.nz

Mike McEnaney Auckland 09 302 5193

027 450 0131

Mike.Mcenaney@fire.org.nz

Terry Baylis Northland X96014

09 438 9173

Terry.Baylis@fire.org.nz

Elizabeth Grieve NHQ Wellington X48056

04 496 3726

Elizabeth.Grieve@fire.org.nz

The New Zealand Fire Service Magazine May 2009

9
---
Operation

Waitangi

There appeared to be a real sense of positivity

at this year's Waitangi Day celebrations in

Russell and the biggest crowd yet of 75,000

"upbeat" New Zealanders who converged on

the Treaty ground were proof of this.

As usual the Fire Service was on-hand to push key fire

safety messages such as the importance of working

smoke alarms and the dangers of unattended cooking.

The Kitchen Fire demonstrator and the Wendy House,

run by Te Roopu Tenei Ahi Ki Tamaki Makaurau and

enthusiastically supported by Northland Fire Region

staff, were big drawcards for the estimated 65,000 people

who passed through the Fire Service display.

But it wasn't just a promotion and education day.

Northland volunteer brigades provided an operational

response in the event of an emergency. With so many

people and cooking stalls, there was a high risk with an

event such as this.

Many thanks must go to Piki Thomas and both the

Northland and Auckland Fire Regions for their continued

support of this kaupapa.

10 Issue No. 50

in the Community
---
New station – new location –

same commitment to service

In late February, the new Paraparaumu Fire Station was officially opened by the

Minister of Internal Affairs, Hon Dr Richard Worth.

The $3.8million station (including the land cost) is a

significant investment in a community that is one of the

fastest growing urban areas in New Zealand. The station

on Te Roto Drive replaces the 50 year old station that

was situated on Kapiti Road. The new station is a composite

one with career staff transferred from elsewhere in

the greater Wellington area supplementing the existing

volunteer brigade members.

The Paraparaumu Fire Station has been designed and

built with environmental factors in mind. Constructed to

exceed earthquake safety standards, the station also

feature two 22,000 litre water tanks. One is fed from

town water supply and acts as a storage reservoir in the

event of a supply failure. The other tank recycles rain

water from the roof and is used for all outside taps and to

feed the toilet system. With a power generator in the rear

yard, the station can continue full operations even in the

event of an area-wide power failure. On the roof are two

solar panels which boost the hot water supply and sensor

lighting has been installed throughout to reduce power

usage. It is a station that personnel can be proud of and

one that offers increased reassurance to the community

and, given its proximity to State Highway 1, the motoring

public as well.

The New Zealand Fire Service Magazine

In the Community

Attending the opening were (l to r) Mike Hall,

Hon Dr Richard Worth, Dame Margaret Bazley,

Ian Pickard and Wayne Sarjeant

May 2009

11
---
By Barry Gibson

Heroic Fire Service

sunk by police cheats

When the Police challenged the Fire Service to a row off in

Christchurch, the last thing Area Manager, Dan Coward, was

expecting was underhand tactics.

The Fire Service team consisted of Dan (the Great Helmsman), CFO John

Reed from Brooklands, CFO Mark Buckley and DCFO Dwayne Pool

from Lyttelton and an on-the-day field commission to SFF Arnie Allen

from Christchurch Brigade. Then word got out that the police team had

sneaked out and had a trial run and practice which was very much in

contravention of the rules. Clearly the police used a different rule book!

It was keenly contested tussle but a photo finish showed a police victory

with less than a foot in it. Obviously the practice run made all the

difference! It was a great social event that has further strengthened the

relationship the Metro Area Management team have with their police

colleagues in Christchurch.

However, there were some successes with the Fire Service Novice Mixed

and Novice Men winning their sections. Some 50 + teams entered on the

day in a variety of sections. Dan has confirmed with the District Manager

of the Police that the Fire Service will be competing again next year and

that legal challenges will be mounted if the police stoop to the same tricks!

A Southern man & woman

Flint & Amber visited the Southern Lakes area on a recent trip down South.

They called in at the Arrowtown Autumn Festival and

the Lake Hawea Volunteer Fire Brigade Community

Day. They were there to help spread the fire safety

message to local children and the wider community.

At the Arrowtown Autumn Festival they took part in

the Street Parade with the Arrowtown Volunteer Fire

Brigade, then they joined the large crowd on the street.

They were very popular with adults and children, many

of whom wanted photos taken of them including an

excited wedding party who left the reception to pose

for a shot.

The following day Flint & Amber travelled to Lake

Hawea where they joined the Lake Hawea Volunteer

Fire Brigade at their Community Day. Again they were

able to spread important messages to all who attended.

The mascots have proven incredible drawcards for kids

(and brides and grooms) and are a big help in generating

the right sort of fire safe behaviour.

12 Issue No. 50

In the Community
---
Truck & ruck

Wanganui Fire Station recently played host to a group of Chatham Island children

who were in town to play rugby against local teams.

The 21 kids and their

caregivers visited the station

as part of their itinerary and

were given the full treatment

by Red Watch.

One of the parents is a 12

year Volunteer firefighter on

the island and he said he

"learnt heaps" from the visit.

Red Watch were rewarded

with a gift of Kina roe,

Smoked fish and Paua and

a stirring Haka - from the

children.

Red Watch also played host

to the Wellington U12

Football team last year on

a station visit proving that

they really are good sports.

The New Zealand Fire Service Magazine

In the Community

May 2009

13
---
Following the Waterways competition,

Andrew and three other

members of the Waipu VFB stayed

in Queenstown and decided to take

part in some extreme sports, the four

decided to go hang-gliding.

While Andrew was in tandem with

experience hang-gliding instructor

Argentinean, Gerardo Bean the wings

broke and the parachute failed killing

both men.

Friends flew in from Europe, Australia

and throughout New Zealand for

Andrew's funeral at the Waipu Fire

Station on Monday March 16 where

14 Issue No. 50

Tribute

Andrew Scotland

The UFBA Conference down in Queenstown was touched

by tragedy when Waipu volunteer Andrew 'Scotty' Scotland

lost his life in a tragic hang-gliding accident.

approximately 1000 people attended

to mourn his loss.

Speakers told of Scotty, the life of any

party, a loving father who fiercely

protected his wife Pauline, a true

friend and excellent senior firefighter

who will be sorely missed by everyone

who knew him.

Scotty leaves behind his wife Pauline

who is four months pregnant and

their 3-year old son, Aydan plus

three children, 13 year-old Blake and

10-year-old Olivia from a previous

relationship.

A trust has been formed to help look

after Pauline and donations may be

made at any National Bank to the

Pauline Scotland Trust.

In late March a bitter sweet evening

of fundraising was held by the Waipu

VFB to raise money for Pauline.

Members of the brigade were given

Mohawks. Plenty of people from the

community came along and members

of other brigades fundraised as well,

local hairdressers volunteered their

time and close to $9000 was raised.

If you would like to donate to

the Pauline Scotland Trust at any

National Bank or digitally to account

06 0493 0454552 00.
---
A Royal Honour

In late March, four Fire Service personnel were recognised at a ceremony

at the Wellington Town Hall where they received the Queen's Service Medal

for Community Service from Governor-General, Hon Anand Satyanand.

With a combined length of service of

more than 100 years, these recipients

bring credit to themselves, their

brigades and the Fire Service.

'Butch' Waterhouse has served with

the Maketu Volunteer Fire Brigade

for almost 20 years. He is currently

a Senior Firefighter but was the

CFO for 12 years. He has led a

project to install 800 smoke alarms

in the community and has also

recruited local identities to promote

the Firewise programme in schools,

rest homes and marae. Butch is also

involved with the Maketu Surf

Lifesaving Club and the Maketu

Coastguard.

The New Zealand Fire Service Magazine

For over 25 years until his retirement

in 2005, Tony Haggerty was the

Hazardous Substance Advisor with

the Fire Service where one of his

roles was to run training courses

for firefighters on how to deal with

chemical spills and fires. He was

actively involved in the development

of hazardous substance regulations

and control requirements and was

the NZFS representative on the

Toxic Substances Board.

Glenn Cockburn is CFO for the

Rolleston Volunteer Fire Brigade and

was instrumental in establishing the

brigade as a medical first responder.

An ambulance officer for St John for

the past 17 years, Glenn is currently an

Awards

Left to right:

'Butch' Waterhouse,

Tony Haggerty,

Glenn Cockburn

and Ben Goddard.

advanced paramedic and crew chief of

the St John Rescue Helicopter Team.

A founding member of the Springs

Ellesmere Community Board, Glenn

has also been a past chairman of

the Rolleston Residents' Association

and Rolleston Reserve Management

Committee.

Deputy Chief of the Ohakune Volunteer

Fire Brigade for 18 years and CFO for

the last five, Ben Goddard, is active in

the community promoting fire safety

messages. A member of the Ruapehu

Emergency Management Group and

the Western Fire Region Operating

Committee, Ben was also involved

in raising funds for the building of

the local ambulance station.

May 2009

15
---
16 Issue No. 50

Incidents Fun & Games

When TVNZ's Wheel of Fortune production company went searching for 'celebrities' to front a week-long

series of the game show, they needed people with the type of pulling power that would guarantee increased

viewership. So obviously they came knocking on the Fire Service door and after some easy negotiations over

what we needed to get from the opportunity, we signed the deal and entered into the fun.

If you don't know the Wheel of Fortune show, contestants

spin a wheel that is made up of cash, prize and bankrupt

segments. If their spin lands on a cash amount or a prize,

they get the right to request a consonant to solve a word

puzzle. If they get a consonant that is part of the puzzle, they

can spin again. If they land on bankrupt, they get nothing.

Wheel of Fortune attracts around 500,000 New Zealand

viewers each week day so a big part of the Fire Service getting

involved was the opportunity to expose a big audience

to important fire safety messages as the word puzzles.

The firefighters would also be able to expand on why fire

safety was so important with show host, Jason Gunn.

Another important aspect of our involvement was that each

of the 12 firefighters had one of three nominated charities

they were playing for to raise money and awareness. The

Child Cancer Foundation, The National Burn Centre, and

The NZ Breast Cancer Foundation were understandably

very enthusiastic to be involved and very thankful.

Rob Holah, who has taken over the NZ Firefighter

Calendar reins from Les Presling, was tasked with finding

past and present calendar models to agree to be part of

the show when it was filmed in Auckland two weeks ago.

Stepping up to the mark were Auckland firefighters

Jason Orchard, Josh Darby, Liam Devoy, Vili Vaea,

Josh Harrison, Cameron Mckecknie, Doug Kinsella and

Jeremy Fraser. Representing Wellington were Bret Burrows

and John Holah. Brendon Dunn came up from Greerton

and Te Awamutu Volunteer Fire Brigade member,

Corey Neilson, made up the team.

On the filming day, initial nerves were soon put to rest

with Jason Gunn's stories and jokes keeping everyone

social and at ease. Having promo shots taken with Greer

Robson was also a thrill for many. In the end, a very

successful filming with only a couple of minor bloopers

and over $55,000 worth of cash and prizes donated to

the three charities.
---
NZ Firefighters Calendar 2010

Application Form

Thank you for applying for the 2010 Firefighters Calendar,

we look forward to your entry. You will be notified of

acceptance within 6 weeks of application.

1. Take and attach at least three (but no more than six)

body/head shots of yourself.

a. Attempt a variety of angles, lighting, and locations

b. These are primarily for matching candidates to

design and layout concepts

2. Complete all fields of this form and return to

The NZFFSA – Firefighters Calendar

PO Box 674

Whangaparaoa 0943

Personal Details

Full Name:

Station:

Watch:

Home phone: ( )

Work phone: ( )

Cell Phone:

Home e-mail:

Work e-mail:

Fun & Games

The Calendar

needs you!

Age:

Notes:

• Professional photo shoots for successful candidates will be taken in June

• All photos will be returned if a self addressed envelope is supplied

• Disclaimers will be required for all successful candidates

Thank you and good luck.

Regards

Rob Holah

rob@teamblackfire.com

The New Zealand Fire Service Magazine May 2009

17
---
Stairway to heaven

At 788 feet of vertical elevation, the Columbia

Centre in downtown Seattle stands as the second

tallest building west of the Mississippi. It takes

69 flights of stairs and 1,311 steps to get to the

top. Every year it plays host to the Firefighter

Stairclimb where firefighters from across America

and around the world race to be the fastest to the

top. On Sunday, March 8, New Zealand was there.

By Maree Ryan

I joined the Fire Service in 2004 as a Volunteer at

Tauranga Fire Station. I got accepted into the paid staff

last year and have been on Green Watch at Hutt City

Station since mid December under the expert guidance

of SSO Stu Cleland.

18 Issue No. 50

Fun & Games

NZ team at Firefighters Skytower Challenge

(l to r) Maree Ryan, Adam Rubie, Tony Beattie,

Brendon Ryan and Carmen Daniela.

My first stairclimb was the

Firefighters Skytower Challenge in Auckland in 2007.

My goal was just to finish so I was stoked to come third.

Last year the goal was to beat my 2007 time, and I ended

up winning the female competition. Always looking

for challenges, I had heard about the Firefighter

Stairclimb in Seattle and that a NZ team goes over there

to compete. I made some enquiries and got my name on

the team for 2009.

The trip to Seattle was awesome! And the race over there

is huge – just over 1500 firefighters enter the competition.

I was placed 10th female overall, out of 124, and got the

fastest time for the NZ team. The NZ 2009 team consisted

of Tony Beattie, Brendon Ryan, Carmen Daniela, Adam

Rubie and myself. Everyone did really well and it was

Brendon's first climb ever.

I enter the competitions because it's fun as well as a huge

challenge and also to meet new people. If I win then that

is a major bonus.

My training for a stairclimb, usually consists of walking

the 28 flights of steps at the Majestic centre in Wellington.

I do this three times each session fully donned and with

steel cylinders and do it a couple of time a week.

When I'm not doing that I also do mountain biking and

won the female cross country and downhill sections of

the NZFS Mountain Bike Champs held in Rotorua in

February, for both 2008 and 2009. In 2008 I won the

overall cross country – beating all the guys!

Of course, this all pales into insignificance when

compared to SSO Cleland's heroic feat of biking around

Lake's Rotorua and Taupo in one day a couple of

weekends ago!!!
---
Fundraising via eating was a

definite theme this year, but all that

eating (toasted sandwiches, chop

suey, cake & cookies) was definitely

for a good cause and helped us

raise a respectable $3,365 for the

Cancer Society.

This year, unlike the past few

events in the capital, Relay was

completed in brilliant sunshine.

Relay For Life

Mad members of NHQ and Arapawa Regional office again

participated in the Cancer Society's annual Relay For Life event on

28-29 March at Frank Kitts Park down by the Wellington waterfront.

It's amazing how much further

people can walk in non-liquid sunshine!

The combined team walked /

ran / skipped a respectable 430km,

with 6 individuals completing the

personal milestone of a marathon

and a further 9 completed a half

marathon. A special note of thanks

to the lads from Brooklyn Blue

watch crew who came down and

ran the first hour or so for us.

Fun & Games

Karen Pickard, Lou Dawson,

Debbie Cumings, Chelsea Cumings

(Flint), Jennifer Foster, Lyndsay

Burns, Hannah Nelson (Amber)

and Pam Markham-Barrett

The event also provided us with

the opportunity to promote some

of our key winter fire safety

messages. To help with this Flint

and Amber took to the track and

proved to be a very popular with

children and parents alike wanting

to take photos with them as well

as taking away some of our fire

safety brochures.

The New Zealand Fire Service Magazine May 2009

19
---
A Different Kind

of Sevens

With the abject failure of the New Zealand Sevens team at just about every tournament it

showed up to, it was up to football to show how a truncated sport should really be played.

This year's New Zealand Fire Service 7 aside Soccer

Tournament was hosted by the members of Palmerston

North Station for the first time after two successful years

in Rotorua.

Of the thrirteen teams that showed up, some put to

socialising first, and playing second, while other teams

focused on winning but placed a high value on enjoying

the occassion.

The teams started arriving Friday morning, Arena One

where the event was to be held. was an absolute picture;

newly painted goal posts and field markings, tents erected

20 Issue No. 50

Fun & Games

and the playing surface a dream. There would be no

excuse for anything other than good footy.

The Weather also came to the party – not a cloud in the

sky with the thermometer hovering close to 30 degrees.

Hydration, and plenty of it was the order of the day.

By and large all the games were played in the spirit fitting

such an occasion. One of the senior referees commented

that he was pleasantly surprised at the standard of skills

on offer and was impressed at the spirit that the games

were played in.

During the nights whilst the socialising went on, successes
---
were embellished upon, disappointments were healed,

and promises of better successes next year were made.

56 games were played over the two days before the

finalists were found, Palmy Raiders v Wellington One.

Half an hour of play saw the two teams locked at two all.

This was followed by two 5-minute spells of 'golden goal'

play. Palmy 1, with only seconds remaining on the clock

nailed the winner to become 2009 champions, much to

the delight of the local partisan crowd.

The New Zealand Fire Service Magazine

Fun & Games

May 2009

21
---
Where are you stationed?

I recently moved to Kawerau

from Auckland

What is your rank/title?

Senior Firefighter and also

Event & Promotions Manager

How long have you been in the job?

6 years, almost to the day.

Family?

I haven't started one of my own if

that's what you mean? Not that

I'm aware of.

What's the one thing that sticks most

in your mind about the job?

The willingness of every firefighter I

know to help when needed. I have been

involved in a lot of events for charity

and seen people who were really in

despair, and everybody rallies around

when needed. Furthermore, it always

surprises me who is the most

forthcoming and enthusiastic.

If you could make one change to the

Fire Service what would it be?

One change? That's a tough one

really... I'll be broad and go with

communication. The rumour

mill seems alive and well

at all levels, and although

I don't take these things

too seriously, it would

be great to have

better dialogue

amongst everyone.

22 Issue No. 50

Our People

A couple of minutes with...

ROb HOlAH

Your most embarrassing moment?

I embarrass myself regularly actually.

That lit up dance floor at boogie

Wonderland has a lot to answer for

because I can't dance!

What's the one thing that people would

be surprised to learn about you?

I have been to as many countries

as my age.

Favourite book?

Odd Thomas, Dean Koontz

Favourite Movie?

The bourne Identity, and all

the sequels!

Favourite TV Show?

lost

Favourite Music Group?

Franz Ferdinand or The Strokes

Favourite Sport?

Snowboarding

Favourite Holiday Destination?

Czech Republic, everywhere should

be like eastern Europe.

If I wasn't in the Fire Service

I would be...

A career explorer.
---
2009

Sports Sports

Calendar Calendar

Get out those calendars because

there are a few dates coming up

that you best put a ring around.

May 2009

National Darts

Tournament

Papamoa

sandford@orcon.net.nz

July 5 2009

Auckland Districts F/Bs

Annual Bowls Competition

Silverdale Bowling Club

apps@clear.net.nz

August 2009

National Trout Fishing

Tournament

Turangi

jim.prescott@fire.org.nz

September 3 2009

NZFS National Rugby

Tournament

Napier

graeme.day@fire.org.nz

May 2009

Wairarpa Sub Assn

Golf Tournament

Carterton Golf Club

henry.stechman@fire.org.nz

July 5 2009

Wellington Provincial F/B

Golf Tournament

Feilding Golf Club

warren.dunn@fire.org.nz

August 2009

National Alpine Ski

Championships

Ohakune

ohakune@fire.org.nz

September 2009

South Island Basketball

Tournament

Twizel

shane-tania@xtra.co.nz

Sports Calendar

May 2009

Bay Waikato Annual

Golf Tour

Putaruru Golf Club

putaruru@fire.org.nz

July 2009

National Snooker

Tournament

henry.stechman@fire.org.nz

August 30 2009

Wellington Provincial

Indoor Bowls Tournament

Wellington

denchy@xtra.co.nz

October 2009

Sports Council regional

sports committee meetings

Contact your regional sports

council rep for more details

May 2009

National Volley Ball

Tournament

Tauranga

kerry.gordon@fire.org.nz

July 2009

South Island Volleyball

Tournament

michael.cockburn@fire.org.nz

September 5 2009

Wellington Provincial F/B

Driving Challenge

Mansfield Race Way Feilding

denchy@xtra.co.nz

If you know of

an event missing,

please contact

Fire & Rescue

The New Zealand Fire Service Magazine May 2009

23
---
The New Zealand Fire Service Magazine

Published May 2009

By the New Zealand Fire Service

Media, Promotions & Communications

National Headquarters, Wellington

www.fire.org.nz