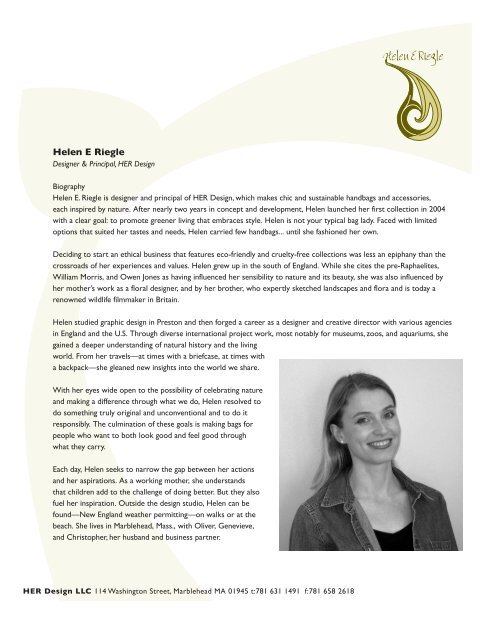 Helen E Riegle - HER Design
Helen E Riegle - HER Design
Helen E Riegle - HER Design
SHOW MORE
SHOW LESS
You also want an ePaper? Increase the reach of your titles
YUMPU automatically turns print PDFs into web optimized ePapers that Google loves.
<strong>Helen</strong> E <strong>Riegle</strong><br />
<strong>Design</strong>er & Principal, <strong>HER</strong> <strong>Design</strong><br />
Biography<br />
<strong>Helen</strong> E. <strong>Riegle</strong> is designer and principal of <strong>HER</strong> <strong>Design</strong>, which makes chic and sustainable handbags and accessories,<br />
each inspired by nature. After nearly two years in concept and development, <strong>Helen</strong> launched her first collection in 2004<br />
with a clear goal: to promote greener living that embraces style. <strong>Helen</strong> is not your typical bag lady. Faced with limited<br />
options that suited her tastes and needs, <strong>Helen</strong> carried few handbags... until she fashioned her own.<br />
Deciding to start an ethical business that features eco-friendly and cruelty-free collections was less an epiphany than the<br />
crossroads of her experiences and values. <strong>Helen</strong> grew up in the south of England. While she cites the pre-Raphaelites,<br />
William Morris, and Owen Jones as having influenced her sensibility to nature and its beauty, she was also influenced by<br />
her mother's work as a floral designer, and by her brother, who expertly sketched landscapes and flora and is today a<br />
renowned wildlife filmmaker in Britain.<br />
<strong>Helen</strong> studied graphic design in Preston and then forged a career as a designer and creative director with various agencies<br />
in England and the U.S. Through diverse international project work, most notably for museums, zoos, and aquariums, she<br />
gained a deeper understanding of natural history and the living<br />
world. From her travels—at times with a briefcase, at times with<br />
a backpack—she gleaned new insights into the world we share.<br />
With her eyes wide open to the possibility of celebrating nature<br />
and making a difference through what we do, <strong>Helen</strong> resolved to<br />
do something truly original and unconventional and to do it<br />
responsibly. The culmination of these goals is making bags for<br />
people who want to both look good and feel good through<br />
what they carry.<br />
Each day, <strong>Helen</strong> seeks to narrow the gap between her actions<br />
and her aspirations. As a working mother, she understands<br />
that children add to the challenge of doing better. But they also<br />
fuel her inspiration. Outside the design studio, <strong>Helen</strong> can be<br />
found—New England weather permitting—on walks or at the<br />
beach. She lives in Marblehead, Mass., with Oliver, Genevieve,<br />
and Christopher, her husband and business partner.
---
About <strong>HER</strong> <strong>Design</strong><br />
Challenge conventions. Live responsibly. Embrace style.<br />
Our goal is to distinguish green from granola—to produce beautiful products that are stylish, functional, and eco-friendly<br />
Background<br />
Since we started doing business in 2004, we have been producing unique, contemporary handbags and laptop bags<br />
made from sustainable materials.<br />
Core campaigns<br />
"Can a handbag save the world?" / "Great bags for a good reason" / "Honor nature and your inner princess"<br />
As customers reflect on what makes our high-style, responsibly made handbags different to conventional ones,<br />
the handbag becomes the gateway for more meaningful change.<br />
Innovation<br />
We love using novel materials and have most recently incorporated into our designs microsuede and woven polyester,<br />
both made from 100% recycled content; Cradle to Cradle certified wool flannel; and recycled PET lining, which is made<br />
from post-consumer soda bottles. We have also featured Treetap "wild rubber," a sustainably made,fair-trade product<br />
from the Amazon, as a leather substitute.<br />
Manufacturing<br />
We manufacture in small or family-run factories that maintain high standards for their workers and conform<br />
to fair labor practices. The majority of the collection is made in Costa Rica. We also use factories<br />
in Massachusetts.<br />
Giving<br />
The effects of human activities know no geographic boundaries. The natural resources we<br />
consume come from all over, and the pollution we generate circulates with the wind and<br />
water. For this reason, we seek to support causes on all seven continents in the areas of<br />
environmental protection and awareness, animal welfare, and improving children's lives.<br />
We commit two percent of gross sales to these causes, and contribute numerous bags<br />
to fundraising events across the country. Among the organizations we have supported are<br />
local activists (HealthLink), groups with national influence (Sierra Club), and global relief<br />
organizations (UNICEF).<br />
We are a proud member of Co-op America's Business Network.
---
What they're saying about us: our customers<br />
"The bags are FANTASTIC! I love them – not only for their fabulous design and attention to detail but also the<br />
environmental care that accompanies them. You are doing a great thing and people have already taken notice."<br />
– Shop, Charlestown RI<br />
"I just purchased your 'Leaf' computer bag and wanted to tell you how wonderful it is! This may be the first time I have<br />
taken time to send a note to praise a product." – LF, Burlington VT<br />
"I just wanted to tell you how simple and beautiful I think your bags are. Stunning." – TW, Atlanta GA<br />
"Thanks to <strong>Helen</strong> for offering such beautiful, unique, and inspiring purses." – AM, Pasadena CA<br />
"My new <strong>HER</strong> <strong>Design</strong> bag is just perfect! I never miss an opportunity to tell my friends what an eco- and socially friendly<br />
product it is." – EC, New York NY<br />
"Thank you, from the bottom of my heart, for your dedication towards changing the environment and making your vision<br />
a reality." – LN, Los Angeles CA<br />
"I want a vegan handbag and have been searching all over. These are really the best looking bags I've found…. Thanks<br />
for producing great products that respect the environment and animals!" – SP, Abilene TX<br />
"Thanks for your integrity - it just gets stronger and stronger, and I can truly appreciate your honest efforts to build an<br />
ethically superior business." – Shop, Portland OR<br />
"My laptop bag is absolutely fabulous! I know everyone will be asking me where I got it. It's so refreshingly different."<br />
– LB, Vancouver BC<br />
"I look forward to carrying the first bag that fits the rest of my lifestyle but doesn't look frumpy." – LP, Gig Harbor WA<br />
<strong>HER</strong> <strong>Design</strong> LLC 114 Washington Street, Marblehead MA 01945 t:781 631 1491 f:781 658 2618
---
In The Media<br />
Feb 8 2008 The Green Set – "It's H.E.R. Time" (WEB)<br />
Feb 3 2008 Trendinista – "Handbags: Always Look on the Bright Side" (WEB)<br />
Jan 29 2008 Environmental News Network – "Giving: It's the New Getting at Sundance" (WEB)<br />
Dec 14 2007 Handbags.com – "Meet <strong>Helen</strong> E <strong>Riegle</strong>: Eco-Friendly Handbags!" (WEB)<br />
Dec 13 2007 Green Living Online – "12 Days of Green Shopping: Fashion Accessories" (WEB)<br />
Dec 2007 Gaiam Community – "Green Gifts for the Eco-Chick" (WEB)<br />
Nov 7 2007 Green Fashion and Beauty – "Celeb-Worthy Environmentalist Handbags" (WEB)<br />
Sep 20 2007 Chic by Nature – "<strong>Helen</strong> E <strong>Riegle</strong>'s Fall Collection" (WEB)<br />
Sep 19 2007 Treehugger.com – "Fall 07: <strong>HER</strong> <strong>Design</strong>" (WEB)<br />
Sep 18 2007 Ethical Fashionista – "Exquisite Bags for Ethical Beauties" (WEB)<br />
Sep 14 2007 iVillage (Going Green's Blog) – "Can a Handbag Save the World?" (WEB)<br />
Jul 31 2007 Ideal Bite – "Need an Attractive Escort for Your Next Party?" (WEB)<br />
Jun 6 2007 Boston Herald – "Fashion Conscience" (PRINT)<br />
Jun 2007 iVillage (iGo Green) – "Stuff We Love" (WEB)<br />
Spr/Sum 2007 Northshore Magazine – "Scene" (PRINT)<br />
Apr 12, 2007 Marblehead Reporter – "Green <strong>Design</strong>s Good As Gold" (PRINT)<br />
Apr 2007 Natural Health – "Weather the Storm" (PRINT)<br />
Mar 13 2007 OrganicAuthority.com – "An Oscar Green Suite" (WEB)<br />
Jan 2007 Blush Magazine – "Eco Chic" (PRINT)<br />
Dec/Jan 2007 Natural Health – "Truly Gifted: For the World Traveler" (PRINT)<br />
Dec 14, 2006 Ideal Bite – "Ideal Green Gifts: <strong>HER</strong> <strong>Design</strong> 'Techtonic' Work Bag" (WEB)<br />
Dec 1, 2006 Treehugger.com – "<strong>HER</strong> <strong>Design</strong> Incorporates Cradle-to-Cradle Wool in Fashion Accessories" (WEB)<br />
Nov/Dec 2006 The Green Guide – "Top Product Picks: Stocking Stuffers ('Eco Geeko')" (PRINT)<br />
Sep/Oct 2006 KIWI – "Fashionable, Functional, Eco-Friendly Finds" (PRINT)<br />
Sum/Fall 2006 Northshore Magazine – "Style is in the Bag" (PRINT)<br />
Sep 1, 2006 The Green Guide – "Seasonless Green Fashion" (PRINT)<br />
Aug 7, 2006 SheFinds.com – "Today's Finds – Eco-Chic: <strong>HER</strong> <strong>Design</strong> Bags" (WEB)<br />
Jun 30, 2006 FOX25 Morning News – "Zip Trip: Marblehead" (TV)<br />
<strong>HER</strong> <strong>Design</strong> LLC 114 Washington Street, Marblehead MA 01945 t:781 631 1491 f:781 658 2618
---
What they're saying about us: the press<br />
"Bold shapes, bright colors, and hip detailing are drawing celebrities like <strong>Helen</strong> Mirren – the Queen<br />
herself – to these 'green' purses."<br />
– Gaiam Community, Dec 07<br />
"Going green and being fashion forward are becoming one. The 'Lily' handbag would be the perfect everyday<br />
bag for the 'down to earth' woman!"<br />
– Handbags.com, Dec 07<br />
"With so many handbags made from leather, fur accents, scales and skin, purses may not be a traditional<br />
example of eco-friendly style, but designer <strong>Helen</strong> E. <strong>Riegle</strong> is changing the fashion world one tote at a time."<br />
– Blush Magazine, Jan 07<br />
"Want to be eco and elegant? You can be both with handbags from <strong>HER</strong> <strong>Design</strong>."<br />
– KIWI magazine, Sep-Oct 06<br />
"Love to be eco-chic but don't necessarily want accessories that scream Eco-Conscious? I love my bags made<br />
from billboard vinyl and candy wrappers, but sometimes I just want a purse that looks good. When I found<br />
<strong>HER</strong> <strong>Design</strong> I got my wish." – SheFinds, 8/7/06<br />
"We are all huge fans. Chic and made from organic cotton canvas and tree-tapped wild rubber that is<br />
like the softest leather." – Ideal Bite, 6/9/06<br />
"These bags have very clean lines and smart details." – The Green Shopper, 2/23/06<br />
"<strong>Helen</strong> <strong>Riegle</strong>'s eco- and animal-friendly handbags are really too shockingly hip to pass up."<br />
– The Humane Society blog: Fashion Week, 2/9/06<br />
<strong>HER</strong> <strong>Design</strong> LLC 114 Washington Street, Marblehead MA 01945 t:781 631 1491 f:781 658 2618
---
Select retailers of <strong>Helen</strong> E <strong>Riegle</strong> fashion accessories<br />
CA<br />
All Shades of Green – Los Angeles<br />
Beauty & Wisdom – Santa Monica<br />
greenROHINI – Sherman Oaks<br />
CO<br />
Dwell On – Basalt<br />
Kenai Shoes – Breckenridge<br />
FL<br />
Exit Art – Longboat Key<br />
Juno & Jove – Sarasota<br />
Magnolia – Tampa<br />
ME<br />
Terracotta Stylish Stuff – Ellsworth<br />
Heart to Heart – Houlton<br />
The Kimball Shop – Northeast Harbor<br />
MA<br />
Artwear – Arlington<br />
Envi – Boston<br />
Greenward – Cambridge<br />
The Store @ DeCordova – Lincoln<br />
She – Marblehead<br />
Red Mannequin – Oak Bluffs<br />
Adlumia – Orleans<br />
MN<br />
Birch Clothing – Minneapolis<br />
NY<br />
Richard Oliver House – Bedford Village<br />
Cow Jones Industrials – Chatham<br />
Subdivision Boutique – Long Island City<br />
OH<br />
Park + Vine – Cincinnati<br />
OR<br />
Greenloop – Portland<br />
RI<br />
Mills Creek Natural Market – Charlestown<br />
TN<br />
Gild the Lily – Memphis<br />
TX<br />
Wildflower Organics – Austin<br />
VT<br />
Danform Shoes – Colchester<br />
VA<br />
Elsie Garden – Charlottesville<br />
Green Alternatives – Norfolk<br />
Alchemy – Richmond<br />
WI<br />
A. Boutique – Appleton<br />
Next Door – Brookfield<br />
A Stone's Throw – Madison<br />
CANADA<br />
Riva's the Eco Store – Calgary<br />
UNITED KINGDOM<br />
The Square Peg – Lochgilphead<br />
ONLINE SHOPS<br />
www.careerbags.com<br />
www.cocosshoppe.com<br />
www.eBags.com<br />
www.eConsciousMarket.com<br />
www.poshorganic.com<br />
www.recycledthreads.com<br />
www.thegreenloop.com<br />
www.eco-handbags.ca (CAN)<br />
www.thenaturalstore.co.uk (UK)<br />
<strong>HER</strong> <strong>Design</strong> LLC 114 Washington Street, Marblehead MA 01945 t:781 631 1491 f:781 658 2618