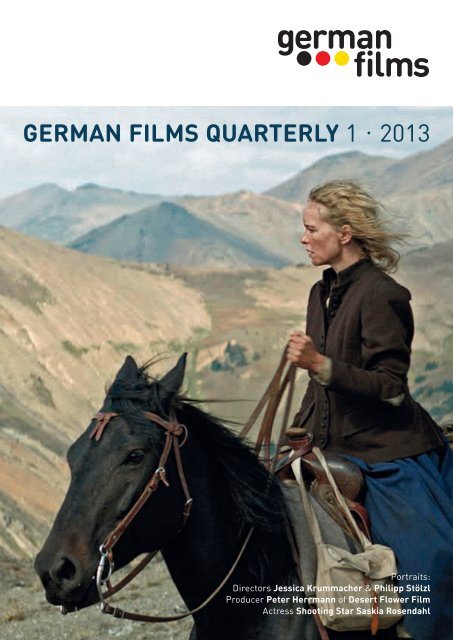 B_Cards, neu - german films
B_Cards, neu - german films
B_Cards, neu - german films
SHOW MORE
SHOW LESS
Create successful ePaper yourself
Turn your PDF publications into a flip-book with our unique Google optimized e-Paper software.
GERMAN FILMS QUARTERLY 1 · 2013

Portraits:

Directors Jessica Krummacher & Philipp Stölzl

Producer Peter Herrmann of Desert Flower Film

Actress Shooting Star Saskia Rosendahl
---
SHOOTING STARS AWARDS

donated by

Monday, 11th February 2013 at the

Berlin International Film Festival

PUBLIC FORUM

panel of experts will discuss

THE ACTOR'S ROLE: HOW TO BECOME

VALUABLE IN THE FILM INDUSTRY

Sunday, 10 th February, at 14.30

Hotel de Rome, Opera Court

PARTICIPATING EFP MEMBERS

www.shooting-stars.eu

ARTA DOBROSHI

REPUBLIC OF KOSOVO*

LAURA BIRN

FINLAND

MIKKEL BOE FØLSGAARD

DENMARK

E u r o p e a n F i l m P r o m o t i o n F r i e d e n s a l l e e 1 4 – 1 6 2 2 7 6 5 H a m b u r g , G e r m a n y i n f o @ e f p - o n l i n e . c o m w w w. e f p - o n l i n e . c o m

with the support of

SHOOTING STARS

EU's MEDIA Programme main partner

co partner third partners

event partners

CHRISTA THÉRET

FRANCE

NERMINA LUKAČ

SWEDEN

CARLA JURI

SWITZERLAND

LUCA MARINELLI

ITALY

EFP is supported by

* This designation is without prejudice to positions on status, and is in line with UNSCR 1244 and the ICJ Opinion on the Kosovo declaration of independence.

© Gitte Post (Mikkel Boe Følsgaard), Marica Rosengård (Laura Birn), C. Bellaïche / H&K (Christa Théret), Peter Hartwig (Saskia Rosendahl), Sirio Magnabosco (Luca Marinelli), L. Bejta (Arta Dobroshi),

Marius Baragan (Ada Condeescu), Urska Kosir (Jure Henigman), Amerisa Lukač (Nermina Lukač), Cüneyt Kaya (Carla Juri)

ADA CONDEESCU

ROMANIA

SASKIA ROSENDAHL

GERMANY

JURE HENIGMAN

SLOVENIA
---
PORTRAITS

4 STEERING CLEAR OF THE MAINSTREAM A portrait of director Jessica Krummacher

6 FILMS ARE LIKE KIDS A portrait of director Philipp Stölzl

8 STRIVING FOR AUTHENTICITY A portrait of producer Peter Herrmann

10 A SHOOTING STAR WITH HER FEET ON THE GROUND

A portrait of actress Saskia Rosendahl

12 NEWS

IN PRODUCTION

14 BRUNDIBAR – NON JOKING AREA Douglas Wolfsperger Documentary

ESSENSRETTER Valentin Thurn Documentary

15 FAMILY BUSINESS Christiane Büchner Documentary

FRAU ELLA Markus Goller Feature

16 GLOBAL PLAYER Hannes Stöhr Feature

DAS GLÜCK Fabian Möhrke Feature

17 HABIB RHAPSODY Michael Baumann Feature

HELDEN Hansjörg Thun TV Movie

18 LOVEisREAL Julia von Heinz Feature

POKA (GOOD-BYE) Anna Hoffmann Feature

19 SPUTNIK Markus Dietrich Feature

STILLER SOMMER Nana Neul Feature

20

NEW GERMAN FILMS

DIE ABENTEUER DES HUCK FINN

THE ADVENTURES OF HUCK FINN Hermine Huntgeburth Feature

21 BOUCHBENNERSCH OTTO – VOM UMGANG MIT ANDERSARTIGKEIT

BOUCHBENNERSCH OTTO – HOW TO TREAT DIFFERENTNESS Janina Jung Documentary, Short

22 DREI STUNDEN THREE HOURS Boris Kunz Feature

23 ENDE DER SCHONZEIT CLOSED SEASON Franziska Schlotterer Feature

24 FÜNF FREUNDE 2 THE FAMOUS FIVE 2 Mike Marzuk Feature

25 FÜNF JAHRE LEBEN 5 YEARS Stefan Schaller Feature

26 GOLD Thomas Arslan Feature

27 HEIMKOMMEN COMING HOME Micah Magee Short

28 KNISTERN DER ZEIT – CHRISTOPH SCHLINGENSIEF UND SEIN OPERNDORF

IN BURKINA FASO CRACKLE OF TIME – CHRISTOPH SCHLINGENSIEF AND HIS

OPERA VILLAGE IN BURKINA FASO Sibylle Dahrendorf Documentary

29 KOPFÜBER UPSIDE DOWN Bernd Sahling Feature

30 LAYLA FOURIE Pia Marais Feature

31 LOST PLACE 3D Thorsten Klein Feature

32 LUDWIG II Peter Sehr, Marie Noëlle Feature

33 MASKS Andreas Marschall Feature

34 NOWHEREMAN Annika Blendl, Leonie Stade Documentary

35 OH BOY Jan Ole Gerster Feature

36 PERRET IN FRANKREICH UND ALGERIEN

PERRET IN FRANCE AND ALGERIA Heinz Emigholz Documentary

37 ROLAND KLICK – THE HEART IS A HUNGRY HUNTER Sandra Prechtel Documentary

38 SIENIAWKA Marcin Malaszczak Docu-Fiction

39 WEIL ICH SCHÖNER BIN CAUSE I HAVE THE LOOKS Frieder Schlaich Feature

42 FILM EXPORTERS

43 IMPRINT

CONTENTS

GFQ 1-2013 3

25

29

30

31

37

38
---
DIRECTOR PORTRAIT

STEERING CLEAR OF THE MAINSTREAM

A portrait of director Jessica Krummacher

Jessica Krummacher's feature film TOTEM displays a sur -

prisingly subtle visual realism, while its open dramaturgy,

furious physical presence and subsequent avoidance of politically

correct messages distinguish it from the mass of newgeneration

German films. The director, author, editor and producer,

together with her partner, Timo Müller, plans to develop

more films outside of the arthouse mainstream in artistic

tandem with their Berlin-based production company

kLAPPbOXfILME in the coming years.

TOTEM is inspired by the authentic story of an eastern European

home-help who committed suicide while living with a German

family. In the form of a subjectively narrated prose text, the

director develops an unusual perspective on the world as

experienced by the protagonist; without a conventional screenplay,

she consistently stages the inner world of this family constellation

that lacks communication, paralyzed as it is within

ritual. "I do not start out from filmic role models, I don't find my

subjects as a cineaste," says Jessica Krummacher in explanation

of her approach: "I much prefer to observe people, but I am

not terribly interested in the factual side, which was the focus

of our study course. I consciously seek alienation, exaggeration

and artificiality."

You won't find calculable plotpoints, pleasing light design and

classical camera work in TOTEM. Shot with a hand-held

camera, mainly in interiors with notoriously weak light, it develops

an oppressive atmosphere, in which the psychodrama of

the exploited housemaid Fiona implodes under the egocentric

family monsters. A pair of twin »Reborn« dolls, which Fiona

takes care of like babies, indicate a taboo catastrophe in the life

of the apathetic mother, but meanwhile the scurrilous nature

of this hermetic world takes an ironic look at the family ideal of

German middle-class culture.

In interviews 34-year-old Jessica Krummacher emphasizes: "I

am a political person." Her parents, both part of the 1968 move -

ment – her father now a professor of Political Science – conveyed

the creative pleasure in reflection on social structures to

her early on. "I am interested in how such structures condition

human experiences."

The film's central set is one of those characteristic homes

owned by the population of the Ruhr region who became prosperous

but are now being increasingly strapped financially by

the crisis. "I grew up in Bochum, I know where I am there," the

director says about her choice of this urban landscape otherwise

sadly under-represented in German author films. "I found

my actors Marina Frenk and Benno Ifland at the Schauspielhaus

in Bochum. The rented, furnished house, a set that I found myself,

where part of the team lived together for weeks, had its

own special atmosphere, generating an oppressive mood.

During the rehearsals that certainly challenged us."

TOTEM was developed without the fetters of a screenplay, with

no predictable patterns of ideas. The focus was on improvisation

work between the professional actors and the children. It was

in the montage (with Heike Parplies) that the director first

arrived at the compact form, whose effect was compared to

horror elements by many critics.

Despite her emphasis on team work, Jessica Krummacher

regards herself as the leading mind behind the creative process.

Her motivation to continue along this path: "The stories

that I relate need to be told. But if you produce a film for a total

of €30,000, you do want to get something out of it for yourself.

Creativity together with others is a powerful experience, and

that is worth a lot to me."

GFQ 1-2013 4

Jessica Krummacher (photo © Timo Müller)
---
MORDOGAN (photo © Jessica Krummacher)

On the occasion of the TOTEM premiere at Venice in 2011, in

conversation with Ed Meza, correspondent for Variety, Jessica

Krummacher commented critically on the situation for newgeneration

filmmakers, contradicting the image of the widelyspread

German film support system with rare openness. She

and Timo Müller had applied for support for TOTEM and

MORSCHOLZ, but did not receive any. And so the two films were

made without support budgets because, as the director emphasizes,

the promotion of new-generation films is linked to television

broadcasters and therefore restrictive, too interested in

well-trodden paths to ensure viewing quotas.

The young filmmaker, who describes herself as a fool for

figures, is well aware of the reverse side to the no-budget concept:

in the long term and "from a political standpoint" she

thinks it is unacceptable to finance the achievements of her

team through self-exploitative deferred fees. "New-generation

support needs to be more open and courageous": she is

convinc ed of that. She registers with skepticism the mass of

new-generation projects tending towards the mainstream because

they are adapted and dressed down in the preparation

phase. She also observes the situation of radical cultural

change with concern, fearing that the audience for difficult

cinema films may fall away completely.

Her greatest dream is one of new production possibilities, new

freedom for the cinema, a revolutionized world of television. In

the meantime she is preparing her next feature film project,

MORDOGAN, a story about a German who owns a holiday home

in Turkey, and his friend, a re-migrant from Germany back to

Turkey – at least this time it is with support for the screenplay

from Bavaria. More important than this, she has received the

Eurimages Co-Production Development Award for MORDOGAN,

which corresponds to €30,000 for the development of a co-production

with Turkey.

In addition, she is working on the development and production

of the documentary film DER ROTE BERG by Timo Müller. This

project is about a hermit who has been living in a cliff-face

above a major state highway for twenty years now. The 62-yearold

man is convinced that he has found a city dating back 4,000

years. Against all opposition, he is excavating the remains of

this city.

Jessica Krummacher is determined that one day she will be

able to make a living from her unusual, stimulating films.

Claudia Lenssen

DIRECTOR PORTRAIT

JESSICA KRUMMACHER grew up in Bochum. She studied

Politics and Media Art in Bochum and Karlsruhe, as well as

Documentary Film and TV-Journalism at the University of Tele -

vision & Film (HFF) in Munich. She has been making short films

since 2000, when she also began working in various other areas

of film, primarily as a producer. DIE KINDER VON AHAUS (2005),

her documentary film portrait of two farming families in the

shadow of a German atomic waste storage facility, was support -

ed by Greenpeace and shown at national festivals. In their joint

production company kLAPPbOXfILME, Jessica Krummacher

produced the feature film debut of her partner Timo Müller,

MORSCHOLZ, a surreal snapshot of a post-proletarian, pro -

vincial family, which was awarded the New-Generation Award

for Best Direction at the Munich Film Festival in 2008. TOTEM,

Jessica Krummacher's feature film debut – for which she also

acted as author, editor and co-producer – was made as her

graduation film at the HFF Munich. TOTEM, the subtle portrait

of a young, suicidal home-help caught in the clutches of a compulsive

family, was premiered as the only German con tribution

to the Venice Film Festival 2011, in the 26th Settimana della

critica. The film ran with considerable success and earned

numerous positive press reviews at the Viennale in Vienna, the

International Film Festival Rotterdam, the FIC Gijon in Spain,

the BAFICI in Buenos Aires, and German film festivals in Saarbrücken

(Max Ophüls Prize), Schwerin and Ludwigshafen.

Distri buted by Filmgalerie 451, TOTEM was launch ed in German

cinemas in 2012.

Contact

kLAPPbOXfILME

info@klappboxfilme.de

www.klappboxfilme.de

GFQ 1-2013 5
---
NORTH FACE (photo © Dor Film-West)

DIRECTOR PORTRAIT

FILMS ARE LIKE KIDS

A portrait of director Philipp Stölzl

It's so tempting to give an extensive description of what a cool

apartment Philipp Stölzl and family have, with its concrete

walls, multi-levels, tons of books and DVDs, train set and fitted

kitchen but we have cake to eat and tea to drink, as well as films

and filmmaking to discuss.

The first thing Stölzl does is trust me with his laptop so I can

watch the marketing trailer of THE PHYSICIAN. It's bright, starstudded,

action, adventure, romance, danger, thrills and, no art

for art's sake here, very commercial. It's big and going to be a

big success: audiences into this kind of thing will lap it up.

"I never went to film school," Stölzl says. "I just learned on the

job working on music video sets and watching other directors.

I guess I would have been wrong in a film school anyway. When

I started out most of the film schools in Germany were very

'artistic' oriented."

In a world where many claims are made, personal smoke and

mirrors deployed, Stölzl is open and confident: "I had no great

artistic master-plan," he says. "Luckily I've always been offered

a lot of projects: it was more about instinctively finding out what

sets me on fire, who are the people behind it and do you fit with

them. I guess when you come from music videos you have a

pretty 'craft-y' attitude toward creative work – the videos are a

broad art format, you have to sell a record after all, you always

try to find a broad audience. You need to appeal as well as maintain

standards and do something artistically powerful."

Nailing his colors to the mast, Stölzl says, "I like it when heavy

and intelligent themes are told in an entertaining way. It's great

when the mixture works. This German thing about dividing art

into entertainment or heavy stuff, is just stupid. I like fun. You

can use it to reach someone who is not so into film or opera.

Entertainment mustn't always be stupid."

He admits, "Things sometime flop, but the aim is to entertain.

Music videos led me to English-language work and I got to

travel the world. Now I love working in the language and it's big

fun to make a cinema film in it."

Stölzl's filmography "is more European than US but English is

a great script language and it's so good when films have the

chance to reach beyond the three German-speaking territories."

Although he has a lot to be proud of, Stölzl does not rewrite his

personal history to suit: "I developed a lot of stuff that did not

make it into a film. Sometimes it feels like planting a garden,

seeing what grows. It could be a tree or nothing." One of these

dead trees was a film called THE TRUTH ABOUT HÄNSEL AND

GRETEL. "We worked long and hard on it," Stölzl says. "I also

developed with Jan de Bont, producing a film about a time

traveling serial killer in Boston. You spend years sitting on the

GFQ 1-2013 6

Philipp Stölzl (photo © Matthias Baus)
---
YOUNG GOETHE IN LOVE (photo © deutschfilm 2010)

script, give it your all and nothing gets green-lit! It's the reality

of the business unfortunately."

How does he do his thing? "I get a script," Stölzl explains, "I look

for what suits me. You have an instinct. I'm making my third

historical film. I know I am good at creating worlds, I'm experienced,

you have a feeling. It's not that you want to do that for -

ever, but it is a security thing and I feel safe and the cast is in

good hands."

Stölzl goes on to explain that a script has to evoke "a spark of

love. In many cases you know after ten pages if you're com -

patible. Every time is exciting. I try to read them in real time, in

one go, hoping the spark becomes a flame. You have your own

taste, of course, and that gives you more enthusiasm."

Stölzl's films "are involved with history, literature, a bit of music.

I grew up in a home with grand pianos and Goethe. I heard my

first Wagner from my father's LPs. There were many photos and

art books. I'm at home in this world, I like living in it. I instinc -

tively seek out projects within this world."

Entertainment, for Stölzl, does not mean lightweight, quite the

opposite. "I tend towards heavy themes," he explains. "NORTH

FACE is quite heavyweight, about death, survival, politics, Nazis,

an ice storm. YOUNG GOETHE IN LOVE is a bit lighter, it's a

romantic love story but also has painful moments. THE

PHYSICIAN is similar: there is a great deal of religious conflict,

power politics, war fanaticism, all solid stuff."

As to his methods, Stölzl is "always very involved with the

writing, most of the time co-writing the script. It moves the film

faster into production and on set, where things are different

anyway, you know exactly what is meant and can make quick

decisions, find quick solutions. I also love working with others,

love dialogue and the teamwork of filmmaking, whatever stage

of the process."

Stölzl seeks "to create a climate with actors and camera and

crew where everyone can give something. I'm a director where

actors can say when something is not right and make sugges -

tions. There is always this large machine running so you have

to create a relaxed atmosphere and freedom. Every day is new,

you have only so many shooting days, you have to get to the

point, which limits what you can try and experiment with."

NORTH FACE and GOETHE "cost around €7 million," Stölzl explains.

"THE PHYSICIAN is some €20 million, but you always

find it's not enough! The budget has to fit what you want to

make. It's silly if the story is too big! THE PHYSICIAN was a long

shoot because it's also made as a TV two-parter, so you are making

two times ninety minutes. In the end, though, whatever the

DIRECTOR PORTRAIT

budget, you are always nervous at the start and there is no big

difference in the end. But when you have actors like Stellan

Skarsgård and Ben Kingsley the whole 'star' thing is not so important.

It's very uncomplicated on set and they were both great

to work with."

Stölzl is also a big fan of post-production, "for what you can experience

in terms of surprises, both good and bad. You find an

actor you were concerned about is good, a scene no longer

functions so well, or works better elsewhere. Films are like kids,

they grow, have their own heads almost, you don't know what

will come out. It's a bit scary but also a great and exciting journey.

Then you get to see how an audience perceives it, will they

find their way in this world or not?"

Whilst he has no plans to produce, it's still "never say never" for

Stölzl. He takes his two boys, aged five and nine, to the set and

the cinema, where "films rated FSK 6 are often strong enough!

I recently saw VINCENT AND THE SECRET OF CROCODILE

MANSION. Very good movie, but it's THE SHINING for kids!" He

is also a lover of Pixar's films, "I have them all here. They are

so well written and surprising. They get you every time. I often

end up quoting them! The way they structure stories, build

emotions, totally perfect, absolutely great. I even cried in TOY

STORY 3! And you can also watch them with kids! They've yet to

see any of my films as they're too violent!"

THE PHYSICIAN will be ready for Christmas 2013, then it's back

to opera and development for Stölzl. "I want to make a film

about Richard Wagner," he says. "There hasn't been a good one

yet and it could be really great, something made for me! Not a

classical biopic but about the premiere of The Ring in 1870 in

Bayreuth. He created his own monster trilogy, you know. There

are diaries about rehearsals, treading the line between disaster

and madness. The music is great, it could be a theatrical

feature. It's my heart's project so I'm not rushing it."

Simon Kingsley

PHILIPP STÖLZL was born in Munich in 1967. After high

school he by-passed university, survived civilian service and became

a theater intern, working as an assistant for various production

designers at the legendary Munich Kammerspiele

theater. He then freelanced as a production designer, creating

sets and costumes all over Germany until, at the end of his 20s,

he "decided to look for a new challenge." That turned out to be

music videos, which he wrote, art directed and directed. He

made them for, amongst others, Madonna, Garbage, Faith No

More and Rammstein, which also enabled him to move into

commercials and theatrical features. His first fiction film, BABY

(2002), "a small tragicomedy, quite arthouse," was followed four

years later by NORTH FACE (2008), a man versus mountain

drama. Two years later came YOUNG GOETHE IN LOVE (2010).

One year after that he made his foray into Hollywood with the

action film THE EXPATRIATE (2012). Currently, he is in post-production

on the medieval epic THE PHYSICIAN, based on Noah

Gordon's bestselling novel. For the past six years he has also

followed a second career, directing and stage designing opera,

aiming "to do one every year, high-level stuff."

Contact

Philipp Stölzl

stoelzl@snafu.de

GFQ 1-2013 7
---
Nowhere IN AfrIcA (photo © Bavaria film International)

PRODUCER PORTRAIT

STRIVING FOR AUTHENTICITY

A portrait of producer Peter herrmann

"Studying ethnology was, in fact, good preparation for becoming

a producer later on," says Munich-based Peter herrmann, who

is one of the few German producers who can say with justified

pride that they produced an oscar ® -winning film.

"when I was a student of cultural Studies, we didn't just cover

one aspect of culture like sociology or psychology, but a holistic

approach to the foreign cultures," he continues, observing that

"with very few exceptions, I have always made films which are

about authentic or historical events and are true stories."

Although herrmann didn't follow the usual path many film producers

take by attending film school for formal training, he had

a first taste of the world of filmmaking during field research in

west Africa during his studies. "we didn't really have any idea

of what we were doing at the time when we made some ethnographic

films about rituals – and I expect some students are still

having to watch our films to this day! – but I got hooked on film

and then began working in documentaries after graduation."

Initially, he made featurettes for Bavarian Broadcasting's eve -

n ing news magazine program and gradually the films became

longer until he eventually produced and directed a featurelength

documentary on voodoo rituals in west Africa, GIN fÜr

DIe GÖTTer, which was successfully released in the cinemas.

The second half of the 1980s/early 1990s then saw herrmann

working in commercials, travelling around the globe and producing

for major clients, until he joined forces with Andreas

Bareiss in 1994 to set up the production outfit MTM cineteve.

his first production at MTM was romuald Karmakar's DeATh-

MAKer, a two-hander between Götz George (as the massmurderer

fritz haarmann) and Jürgen hentsch as his inter -

rogator, which went on to win three German film Awards in

1996 for Best Director, Best film and Best Actor.

"The film had a very small budget, but romuald had a very

clever strategy to say that it should remain a chamber piece and

we would concentrate everything on this one room and never

leave it," he recalls. "The result was very successful in the

cinema and also won many prizes."

The subsequent years saw MTM handling the production of TV

films for the ArD and ZDf networks, such as Dominik Graf's

frAU BU LAchT and Der SKorPIoN, and herrmann also looks

back fondly on the collaboration with Günter rohrbach at the

company when he stopped running the Bavaria film studios in

1994 and came to MTM as a freelance producer. "It was a great

experience for me because I learned many things that I wouldn't

have otherwise," herrmann explains.

They made three films together: roland Suso richter's A

hANDfUL of GrASS and his two-part mini-series The BUBI

SchoLZ STorY, starring Benno fürmann as the legendary

boxer, and Jan Schütte's fAT worLD.

GfQ 1-2013 8

Peter herrmann (photo © Mathias Bothor)
---
DeSerT fLower (photo © Desert flower

filmproductions/walter wehner/People Photography)

At the same time, herrmann began working on the development

of the screen version of Stefanie Zweig's novel Nowhere

IN AfrIcA which took him seven years from the point when the

book came onto the market until the end of shooting in Kenya

in 2001.

"I had acquired the rights to the book very early on before it became

a bestseller," he recalls, "and then started looking for

screenwriters and directors. I had worked with various authors

when I finally decided on caroline Link as director after seeing

her debut BeYoND SILeNce. That was exactly the style and way

I felt the film should look."

however, herrmann wasn't sure that he would be able to get the

financing together for such an ambitious project – with a budget

of € 7 million – for such a young director. This also changed,

though, when BeYoND SILeNce was nominated for the Best

foreign Language film Academy Award ® and Link became a

'name' that could then attract financing.

The rest, as they say, is history: Nowhere IN AfrIcA opened

in Germany at the end of 2001 and was the biggest grossing

German film of 2002, subsequently winning five awards at the

German film Awards and the Academy Award ® for Best foreign

Language film in 2003.

Africa was also the setting for herrmann's next project DeSerT

fLower, based on waris Dirie's incredible journey from the Somalian

Desert to the catwalks of the world. Again, he chose a

woman director – this time, German-American writer-director

Sherry hormann – and then spent three years with her on developing

and honing the script before going before the camera.

"The financing came together relatively fast even though it was

a large budget," herrmann notes, pointing out that shooting in

english threw up new unexpected challenges. "on this project,

we learned the different ways of working between German and

Anglo-Saxon casting directors. In Germany, we are used to casting

actors and then proceeding with the final stage of financing.

There's always a close cooperation because the agents and

actors know how things can change. But the agencies in the

States and London want to know if you have the money and can

place it in a trust account. once that is done, everything is

possible."

It was straight after DeSerT fLower that herrmann began developing

a new project with hormann – ANLeITUNG ZUM UN-

GLÜcKLIchSeIN, a comedy inspired by the Austrian-American

psychologist and philosopher Paul watzlawick's besteller The

Situation Is Hopeless, But Not Serious, which stars Johanna

wokalek, Iris Berben and Katharina Marie Schubert and was released

by Studiocanal in Germany last october.

PRODUCER PORTRAIT

"It was quite unusual for me – my very first comedy," explains

herrmann. "I now have the greatest of respect for this genre

because it is so hard to get the timing right, and it's even harder

when you are making a comedy which is gentler and more poetic."

he returned to the dramatic genre for his next project eXIT

MArrAKech – which also sees him reunited with caroline Link

for a second time and travelling once again to the African continent.

"caroline has always been preoccupied with family and

relationships and she decided this time to focus on a father-son

relationship. There was a feeling that the film shouldn't be set

in Germany or europe, but more in an exceptional situation, so

we went off to Morocco for a two-week trip. we didn't have any

story, treatment or exposé, just the idea of a father and son on

a journey together. This was also a different kind of working because

we weren't adapting an existing book. Instead, we had an

original story focusing on a specific idea."

eXIT MArrAKech – which stars BerLIN, BoXhAGeNer

PLATZ's Samuel Schneider as the son pitted against his theater

director father played by Ulrich Tukur – will be released later in

2013 by Studiocanal in Germany.

Looking ahead, Africa is not likely to feature in herrmann's next

feature film project which he currently has in development

about the life of the dancer and resistance fighter Sylvin rubinstein.

In fact, he had already visited the subject matter when he

produced a documentary about rubinstein entitled er TANZTe

DAS LeBeN by Marian czura and Kuno Kruse in 2003. Kruse

was also the author of a book published in 2000, Dolores &

Imperio. Die drei Leben des Sylvin Rubinstein. rubinstein was an

international star in the music halls of the 30s with his twin

sister as the flamenco act 'Imperio y Dolores' until the Nazi

occupation in Poland tore them apart. Then, after the war, Sylvin

became a flamenco star dressed as Dolores preserving the

memory of his sister who perished in the holocaust.

Martin Blaney

After studying ethnology in Munich, PETER HERRMANN

worked in various positions in the film industry since 1984 and

also directed documentaries. he co-founded MTM in 1994 and

was ceo of MTM west television & film in cologne from 1999,

taking over as sole shareholder in 2004. As a managing partner,

herrmann founded Desert flower filmproduktion in 2005 as a

special purpose company for Sherry hormann's 2009 adaptation

of the novel DeSerT fLower. he followed this in 2011 with

hormann's next feature ANLeITUNG ZUM UNGLÜcKLIchSeIN,

and caroline Link's eXIT MArrAKech. his biggest success to

date as a producer was Link's oscar ® -winning film Nowhere

IN AfrIcA (2001). The film also won the 2002 German film

Award in five categories, the Bavarian film Award, and several

other prizes. Previous to this, herrmann had produced roland

Suso richter's A hANDfUL of GrASS (2000), which won the

cannes Junior 2001 in the children's film section at cannes. his

films as an executive producer have included romuald Karmakar's

DeAThMAKer (1995) and Jan Schütte's fAT worLD

(1997). his TV productions include roland Suso richter's The

BUBI SchoLZ STorY (1997) and several episodes of TATorT

and PoLIZeIrUf 110.

Contact

Desert Flower Filmproduktion

peter.herrmann@desert-flower.de

www.desert-flower.de

GfQ 1-2013 9
---
ACTRESS PORTRAIT

A SHOOTING STAR WITH HER FEET ON THE GROUND

A portrait of actress Saskia Rosendahl

We meet at Berlin's main railway station after an exchange of

emails and text messages. It's not the ideal location, but

Rosendahl is on her way home after a busy but fun day's postproduction

sound work and has ninety minutes till her train

goes. So the food court it is then!

"LORE is my big milestone," Rosendahl explain. "Before that I

had a very small role in FÜR ELISE. I got the part after a long

process, which started with an online casting. After that came

a casting at the agency, then I met Cate during my coaching and

the next one was where the final decision was made. There were

still five girls left in the race. We had an eight-hour casting day,

at the end of which we did an improvised scene from the script

and then, honestly, I cannot remember what happened! After

the scene I looked up and they were all crying!"

This kind of story could so easily be part of an experienced

actress' official PR-biography from an agency, an anecdote

trott ed out, doubtless embellished over time, to showcase her -

self in the best possible light. With Saskia Rosendahl, a young

woman only just starting out and still very much finding her way,

though, you know it's the truth. You ask, she thinks a bit and

then answers. Full, honest and open ones.

"'You've got the plot!' they told me," Rosendahl continues, "or

maybe it was 'You've got the part'?" she asks herself rhetorically,

almost as if she still cannot believe it. "I was up against

experienced actors! But Cate was looking for unknown faces

and I was the only one with no experience. I can't really say how

or why I got the part! I've not learned the ropes of acting so I

went by instinct."

Some instinct! Because Rosendahl turns in a towering performance

as the titular LORE who discovers for herself that war,

the Second World War, really is hell. If you have seen the film

you understand why writer-director Cate Shortland wanted an

unknown and, moreover, one whose own experience of filming

this hard hitting story would also convey the transformation of

the lead character.

"I got the script just one day before the big casting," Rosendahl

explains. "I read it at night and then went into the casting. I was

lucky, I think, not to have so much preparation time. Cate went

through the script with me and we also had an acting coach,

which was very important. I wasn't alone!"

Given the usual progression of young actors, Rosendahl kicked

off with some hardcore stuff, "Which was good," she says, "so I

threw myself into it. It was hard because I had no personal experience

of what LORE goes through." Thank heavens for that,

because LORE really does go through the wringer. So how did

she tackle the character? "I went for LORE's feelings," Rosendahl

explains. "As preparation I watched documentaries to get

her environment, the Hitler Youth for girls, for example. I also

read various books and my dialogue with Cate too."

During the actual shooting, Rosendahl continues, "We went

through things before every scene. I was able to develop with

the role, which was very important for me as an inexperienced

actor. It was really our close teamwork, Cate and me, together

with the acting coach, Hanne Wolharn. We did very solid

groundwork. I looked for similar things in my experience to

bring out similar feelings. I remembered what my great-grandmother

told me of what she had experienced, and I also found

other situations that brought out the right feelings."

Her Shooting Star status "came out of the blue! Until now I've

only really ever been interested in the Berlinale, in that I was

curious, but I didn't know about the nomination or the process,

so I am very happy about this. It was a huge surprise, a great

recognition."

GFQ 1-2013 10

Saskia Rosendahl (photo © Peter Hartwig)
---
LORE (photo © Adam Arkapaw)

And then, as if Rosendahl is still coming to terms with everything

– "It's now my job! Acting! I was in my last school summer

holidays when we filmed, then I graduated high school and

toured with the film. It just happened and here I am, working!"

She admits she does "not have any concrete plans at the

moment, I'm totally occupied with the film. It's really crazy since

it all started from basic curiosity."

A clearly intelligent and thoughtful young woman, Rosendahl is

also in no rush. "It's hard to say how I want to develop," she says.

"Acting is very important to me, but as to what direction …

Acting gives me ways to discover myself. I'm always coming up

against my limits, also when I'm confronted with other people's

stories and have to get into character. I feel LORE was also a

self-discovery. I'm now at a point where I have to find out which

way to go. I'm open to every experience that comes along."

Given that very healthy attitude, I pitch her a few genres. Action

hero? Comedy? Horror? "I'd like to try a bit of everything!," she

laughs, "but would certainly like to try a new area. I just had a

few castings, they're still ongoing, and I'm taking my time.

Things are moving. I'm being sent serious scripts and it will all

start again in the spring. I'll be making WIR SIND JUNG. WIR

SIND STARK, which is being directed by Burhan Qurbani."

Rosendahl explains she has been doing sound work on her latest

film, ZUM GEBURTSTAG by Dennis Decours. "It's a thriller,

I think! The script changed every day so I don't really know the

final version. It's a complicated story which starts in the GDR,

about two friends who pacted one would pass his girlfriend to

the other then would come back sometime and reclaim her.

That girlfriend is my mother. Thirty years later he returns …"

Rosendahl explains the filming experience was "very unique and

interesting. It was great fun. The shooting was very different.

With LORE, Cate was very supportive in that she held me by the

hand. Here the director was keen for the performances to come

from the actors themselves, so I had to find things inside myself

and the results were very pleasantly surprising. Again, it was a

real learning process."

How does she develop a persona for the character? Rosendahl

thinks very, very carefully before replying. "I read the script," she

answers, "give it to a friend or family member to get someone

else involved, then I talk about the character, try to get another

viewpoint, ask what they think how the character ticks. I also

want to try making notes and inventing a backstory. I was very

supported on LORE so I didn't have to do this alone. I thought

that would happen with the second film but it wasn't the case."

Things will clearly change with time and experience gained, but

right now Rosendahl needs "to feel a personal connection with

the director: we are working together. Cate is very teamwork

oriented, I had the feeling whatever I did it wasn't wrong and

ACTRESS PORTRAIT

could develop from there. We could bring in a great many of our

own ideas. It's very important to be allowed to do that. Feedback

is very important for me, I need to know if I am conveying what

the director wants. I need some freedom but also this security,

feedback. Or we sit down in the evening and can talk about it."

Rosendahl cites her admiration of Meryl Streep, but "otherwise

I don't have a favorite actor. You watch a film and it's not just

the actor, there are all the other things going on, such as the

editing."

"I didn't know before what this opportunity could release in me,"

Rosendahl says. "It's going from zero to sixty, leaping into cold

water, which I really like but is not always easy. I'm endlessly

grateful for it." And her family? "They give me lots of support,"

she replies. "Without it this would be really hard. I'm an actor

but I want to be a person too."

Ironically, Rosendahl has already made the two worst mistakes

an actor can, according to the great comedian W.C. Fields anyway,

acting with children and animals, both of which she does

in LORE! "Oh well, then that's them out of the way!" she laughs.

"Again, I had no experience so it was normal."

How about her newly won Shooting Star status? You know, just

that word, Star. "I'm really looking forward to all the fuss,"

Rosendahl admits, "but I am also happy to have a short break

before it all kicks off." They shoot a star in the air, where she

lands … Saskia Rosendahl is happy regardless.

Simon Kingsley

SASKIA ROSENDAHL was born in Halle in 1993 and grad -

uated high school in 2012. She thought she was the only actor

in the family until "My father confessed that, after school, he

won a place to study acting in Leipzig but never took it up. I don't

know if acting is genetic in the family, though!" She started her

career at the Opernhaus in Halle, doing "ballet with the

Children's Company, lots of of act ing, then improv." Still in Halle,

she also worked at the Neues Theater. Her breakthrough came

from "my ballet teacher's daughter, who is also an actress, who

told me all about agencies." She "applied and got accepted by

Rietz Management" on the strength of her ballet experience.

Rosendahl's breakthrough came with the lead role in Cate

Shortland's LORE, which won her Best Actress at the 23rd

Stockholm Film Festival and has made her this year's EFP

German Shooting Star at the Berlinale 2013.

Agent

Rietz*Management

kontakt@rietz-casting-agentur.de

www.rietz-casting-agentur.de

GFQ 1-2013 11

ZUM GEBURTSTAG

(photo © Peter Hartwig/busse & halberschmidt)
---
photo © MFG Filmförderung Baden-Württemberg

NEWS

SCREENPLAY AWARD CELEBRATES 15TH YEARS

The Thomas Strittmatter Prize, endowed with €25,000, will be

presented by MFG Baden-Württemberg for the 15th time in

2013 to an outstanding screenwriter. Prerequisite to receive the

award is residence of the writer or the establishment of the

story line in the state of Baden-Württemberg. The award money

is bound to the development of a new screenplay, congruent to

the regulations of the MFG Film Fund. Even a nomination for

the award bestows the nominees with prize money.

A prominent jury reads the anonymous screenplays and all

nominees are invited to Berlin for the awards ceremony which

takes place during the Berlinale. The Secretary for the Arts

Jürgen Walter, together with MFG's managing director Gabriele

Röthemeyer, will present the Thomas Strittmatter Prize at the

permanent representational offices of the state of Baden-

Württem berg in Berlin. A list of previous, successful winners –

including FOUR MINUTES by Chris Kraus, 5 YEARS by Stefan

Schaller or HABIB RHAPSODY by Michael Baumann – and

further information can be found at: www.thomas-strittmatterpreis.de.

WIM WENDERS FOUNDATION IN DÜSSELDORF

His works should belong to everyone, at least that's how Wim

Wenders sees it. And so for this reason, the Wim Wenders

Foundation has been established in his hometown of Düsseldorf.

The foundation intends to reacquire the rights to all of the

director's films in order to make them available to the general

public. The foundation was called to life by Wim Wenders and

his wife Donata Wenders and is set out to make a valuable

contri bution to the cultural life in the German state of North

Rhine-Westphalia (NRW). The foundation's goal is, among other

things, to support and promote innovative narrative art. To -

gether with the Film- und Medienstiftung NRW, a Wim Wenders

Scholarship will be awarded in 2013. Financial support will be

provided by the state of NRW, the city of Düsseldorf and the

Cultural Foundation of Federal States as well as by private

donators. The Film- und Medienstiftung NRW was instrumental

in bringing all the partners together for the collaboration in this

unique foundation.

FIRST SHORT FILM DAY CELEBRATED IN GERMANY

On 21 December 2012, the shortest day of the year, Germany

successfully celebrated its first ever SHORT FILM DAY. Being an

initiative of the French CNC, Le jour le plus court was already a

tremendous success in France in 2011. In cooperation with the

French-German TV broadcaster ARTE and with financial support

from the German Federal Film Board (FFA), the German

Short Film Association was able to coordinate a similar event

in Germany in 2012. In spite of the usual pre-Christmas rush

and the Mayan predictions of the world's demise on that day,

155 event organizers and cinemas in 70 towns and cities

through out Germany joined in this celebration of short film,

screening short films not only on the silver screen but also at

the most unusual places such as backyards, trams and kindergartens.

The association hopes that over the coming years,

many more European countries will join in this amazing event

and the idea behind it. And which utopia could be more beautiful

than having a SHORT FILM DAY as a shared event throughout

Europe? More information is available at: www.kurzfilmtag.com

GERMAN SHORTS: CLERMONT-FERRAND & BERLIN

The German Short Film Association (AG Kurzfilm) and German

Films have established a constant platform for German short

films at the International Short Film Festival Clermont-Ferrand.

At the 35th edition of the festival, there were four German

shorts competing for the Grand Prix: AUSGLEICH (Matthias

Zuder), STOLZ DES OSTENS (Christoph Wermke) and the coproductions

FATHER (Ivan Bogdanov, Veljko Popovic, Moritz

Mayerhofer, Asparuh Petrov, Rositsa Raleva, Dmitry Yagodin)

and LIVING STILL LIFE (Bertrand Mandico). Another two were

selected for the Lab Competition: REALITY 2.0 (Victor Orozco)

and SONNTAG 3 (Jochen Kuhn).

Furthermore, the 8th edition of the "Soirée Allemande · Coup

de cœur - Le court métrage allemande", a French-German

cooperation between the AG Kurzfilm, German Films, the International

Short Film Festival Clermont-Ferrand, the Goethe-

Institute Lyon as well as the KurzFilmAgentur Hamburg

celebrated its premiere at the festival. Afterwards, the program

will be touring the Goethe-Institutes and festivals worldwide as

a French, German and English subtitled DVD. From more than

450 German festival entries in Clermont-Ferrand, ten films

from various genres were selected for the program: NOBODY'S

FOOL (Alexandra Kardinar, Volker Schlecht), THE CONFE-

RENCE: OR SHOOTING FOR THE MOON (Franz Winzentsen),

RUNNER (Carolina Hellsgård), SNAIL TRAIL (Philipp Artus),

FATHER (Ivan Bogdanov, Veljko Popovic, Moritz Mayerhofer,

GFQ 1-2013 12

photo © Benjamin Schindler
---
NEWS

Asparuh Petrov, Rositsa Raleva, Dmitry Yagodin), THE

DOWNFALL (Andreas Melcher, Christian Meyerholz), BREAKING

THROUGH (Florian Dietrich), DIFFERENT (Dennis Stein-Schomburg),

BEIGE (Sylvie Hohlbaum), and GIRL'S NIGHT OUT (Timo

Becker).

Furthermore, as one of sixteen partner countries, the AG Kurzfilm

has for the fourth time been involved in the Euro Connection

Co-Production Forum. Being responsible for the German

applications, a jury appointed by the association selected a project

by Jos Diegel (elias film) for the pitching to potential coproduction

partners. The association – in co-operation with

German Films – was also present with a booth at the short film

market in Clermont-Ferrand and organized the market screen -

ing "Matinée Allemande · Coup de foudre - Le court métrage

allemand" with another seven outstanding German short films.

At the Berlinale, the AG Kurzfilm is once again present at the

European Film Market with a booth to inform about German

short films, present their new short film catalogue German

Short Films 2013 and the highly sought-after festival calendar

for 2013. The association will also hold a reception on Monday

evening, 11 February 2013 to celebrate short film as such and

to create a meeting point for everyone interested in short film.

On Tuesday, 12 February there will be a special screening of a

selection of the winners and nominees of the German Short

Film Award at the Hackesche Höfe Kinos.

CROSSMEDIA IN THE BALTIC SEA REGION:

FIRST MOTION STIMULATES DEVELOPMENT

FIRST MOTION was an EU-funded project revolving around the

challenges and opportunities of the media industry in the Baltic

Sea Region. From 2010 – 2012 ten partners (lead partner: Film

Fund Hamburg Schleswig-Holstein) from seven countries

worked together on the topic: How to Tell & Sell a Story in a

Digital World? Concentrating on the four main categories of

production, distribution, education and business models, they

performed research on cross- and transmedia, developed help -

ful tools and handbooks, and created new curricula for professionals.

The results were presented at the closing conference

in Riga in December 2012 and can be downloaded under

www.firstmotion.eu. A special highlight of FIRST MOTION's products

was also released at the conference The Distribution and

Collaboration Platform. More information is available at

www.balticuniverse.com.

EMERGING ARTISTS – NEW DVD COMPILATION

WITH EXPERIMENTAL FILMS

At the end of 2012, German Films and the German Short Film

Association released a new DVD compilation. For the first edition

of Emerging Artists – Contemporary Experimental Films and

Video Art from Germany, a jury of four curators from renowned

German festivals selected a program of eight recent works. At

the beginning of 2013 three presentations were organized to

intro duce the new program to industry and audiences: Emerging

Artists celebrated its national premiere on 12 January 2013 in

the context of the 26th Filmwinter Stuttgart. International

presen tations took place during the 42nd International Film

Festival Rotterdam (23 January-3 February 2013) and the 35th

Inter national Short Film Festival Clermont-Ferrand (1-9

February 2013). The program is available for further inter -

national screen ings on Blu-ray and DCP.

see what happens

see what happens

The BR film magazine

Wednesday 10.45 p.m.

kinokino.de

GFQ 1-2013 13
---
photo © Joachim Gern

IN PRODUCTION

BRUNDIBAR – NON JOKING AREA ESSENSRETTER

Genre Art, Education, History, Music, Theater Category Documentary

Director Douglas Wolfsperger Screenplay Douglas Wolfsperger

Directors of Photography Frank Amann, Igor Luther With Greta

Klingsberg, Anika Westphal, Ikra-Fatma Latif Producer Douglas

Wolfsperger Co-Producer Pavel Strnad Production Company Douglas

Wolfsperger Filmproduktion/Berlin, in co-production with Negativ Film

Productions/Prague, WDR/Cologne, Cine-Impuls/Stuttgart Original

Version German Shooting Dates February-November 2012 With back -

ing from MEDIA, Medienboard Berlin-Brandenburg, Czech Film Fund,

German-Czech Future Fund, Ursula Lachnit-Fixson Foundation

Documentarist Douglas Wolfsperger portrays four young adults, all of

whom come from either a problem and/or migration background,

mounting the opera Brundibár in Berlin's Schaubühne theater. It's a

joyful opera for children, but one which also carries a tragic notoriety.

It was once performed by children in the Theresienstadt concentration

camp, granting them a bit of joy and distraction amidst the horror

around them. It was also abused by the Nazis for propaganda purposes,

such as when the Red Cross made its inspections, and moreover

appear ed in the notorious Third Reich propaganda film, DER FÜHRER

SCHENKT DEN JUDEN EINE STADT (translation: 'The Führer Gives the

Jews a Town').

In today's Theresienstadt, another time, another and yet the same place,

the young performers meet one of the child stars from those days, Greta

Klingsberg, now an expressive elderly lady in her eighties who belongs

amongst the very few young actors of the time to have survived the

deportations. It is an encounter that leaves its mark …

As one of the youngsters wrote in his on-set diary, "After talking with

Greta I went to have a look around all by myself. I got lost and ended up

in the Jewish cemetery … As I got closer and closer I felt more and more

uneasy. I felt like I was treading on somebody who could not defend

themselves."

SK

Contact

Douglas Wolfsperger Filmproduktion

info@douglas-wolfsperger.de

www.douglas-wolfsperger.de

Genre Documentary Director Valentin Thurn Screenplay Valentin

Thurn Director of Photography Frank Kranstedt Producer Astrid

Vanderkerkhove Co-Producer Valentin Thurn Production Company

Schnittstelle/Cologne, in co-production with Thurn Film/Cologne

Original Version English, German Shooting Dates October 2012-

January 2013

"Eat your broccoli!", "I want to see an empty plate", "Finish your food":

no matter what the phrase, we encourage children not to waste food

and yet, today, half of it is still thrown away.

FOOD SAVERS (ESSENSRETTER) is the story of people who are fighting

for a different approach to one of life's essentials. Farmers, super -

market executives, cooks, design students and completely average

house holds, each one is at a different point in the supply, production

and consumption chain. What they all share is the desire to bring about

a new appreciation of food, replacing the one that, bit by bit, has been

lost in recent years.

Each one of their examples poses the question: why is it so difficult to

reverse this trend? Analyzing each point of the production process,

FOOD SAVERS shows that, purely from a business management point

view, throwing food away can even pay off, although it is a disaster for

the environment and feeding of the world. The film then examines what

kinds of approaches to a solution make sense.

The basic issue, pursued throughout the commentary, is that if politics

and society have already formulated the clear-cut goal to stop food

waste, why, then, is it so hard to make this goal a reality? By the end it

becomes obvious that this is a "task of the century", a state of affairs

that can only be ended with a fundamental change in our way of doing

business, by bringing economic pressure to bear.

Every participant in FOOD SAVERS is confronted with a guiding question

with regard to their ethical standpoint. A movement in favor of greater

appreciation of food already exists amongst the widest of social groups.

Especially encouraging is that the subject has become particularly

important to young people, too. In the process, very different views of

the world reach the same conclusion: whether Christian, Muslim,

Buddhist or Humanist, food has a value that goes way beyond the

monetary.

SK

World Sales

Global Screen

info@globalscreen.de

www.globalscreen.de

GFQ 1-2013 14

photo courtesy of Thurn Film
---
photo © Büchner Filmproduktion

FAMILY BUSINESS FRAU ELLA

Genre Human Interest Category Documentary Director Christiane

Büchner Screenplay Christiane Büchner Directors of Photography

Justyna Feicht, Thomas Plenert With Anne Pacht, Jowita Sobolak, Birgit

Pacht, Ulrike Pacht, Oliwia Sobolak Producer Tobias Büchner Co-

Producer Mariusz Wlodarski Production Company Büchner Filmproduktion/Cologne,

in co-production with Lava Films/Lodz, MDR/Leipzig,

ARTE/Strasbourg Original Version German, Polish Shooting Dates June

2012-April 2013 With backing from MEDIA, Film- und Medienstiftung

NRW, BKM, German Federal Film Fund

An observational film, FAMILY BUSINESS is the story of two families

brought together by two important aspects of contemporary familial

care: time and money.

Jowita and her husband Andrzej live in Lublin/Poland. Like many, they

took advantage of the good times and started building a house without

a loan. Then things turned bad, Andrzej lost his job. Four years later,

their 13-year-old daughter Oliwia's room is still just an empty shell.

Needing money, they all decide the mother should now work in

Germany.

At the same time in Bochum/Germany, another family faces a momentous

decision: only after their father's death do Birgit and Ulrike realize

just how much help their mother Anne, now 88, needs in everyday life.

They spend four long months taking turns, patiently getting her through

the day. Finally, they can't go on. They move the furniture out of the

dining room into the lounge, to make room for Jowita.

The film accompanies both families from the moment they decide to

merge lives. Both experience for the first time what it means to open

one's own family to strangers, to leave previous roles and surrender

responsibility.

Who does what out of love and where does the work begin? Where are

one's own borders, where those of the unknown others? Where do the

sparks fly or the paint rub off on one another? Whilst Jowita knows better

how to estimate Anne's dementia-related unease than her own

daughters, she, Jowita, is suddenly surprised by her own daughter

Oliwia's first love. The situation forces everyone to re-plot their course

when it comes to being there for one another.

Now surrounded by so many people all concerned about her, and having

lived with Jowita for two months, Anne sits back, wrapped toasty warm

from head to toe in her wool blanket, and summarizes her situation as

she sees it: "I've no idea what she's doing here. I, in her place, would

never move in with any old Polish family."

SK

World Sales

Autlook Filmsales

welcome@autlookfilms.com

www.autlookfilms.com

IN PRODUCTION

Genre Romantic Comedy, Road Movie Category Feature Director

Markus Goller Screenplay Dirk Ahner, based on the novel by Florian

Beckerhoff Director of Photography Ueli Steiger Cast Matthias

Schweig höfer, Ruth Maria Kubitschek, August Diehl, Anna Bederke Producers

Matthias Schweighöfer, Marco Beckmann, Dan Maag Production

Company Pantaleon Entertainment/Berlin Original Version German

Shooting Dates September-November 2012 With backing from Medienboard

Berlin-Brandenburg, German Federal Film Board, FilmFernseh-

Fonds Bayern, German Federal Film Fund

30-year-old Sascha has the worst day of his life: his girlfriend Lina

announces she's pregnant, in shock he wrecks his taxi and ends up in

the hospital. His pal Klaus says it's all a stroke of fate, not that Sascha

believes it: he feels misunderstood, rejected and punished by life.

Sascha shares a hospital room with Ella, a feisty 87-year-old, whose

talkativeness gets on his nerves. The fact that she is being forced to

under go an unnecessary operation fires Sascha's rage and, in an

adventurous action, he frees her from the doctors' clutches and brings

her back to his place.

Suddenly caught up in the chaos of Sascha's life, Ella witnesses Lina

breaking up with him because, in her eyes, he is not ready for a relation -

ship, to say nothing of being a father. Sascha is so wrecked, Ella decides

to stay for a while.

As this odd couple gets to know one another, Ella realizes Sascha has

locked himself in through fear of being hurt. Ella, in contrast, although

she has experienced many bad things in her 87 years, has the ability to

see with her heart and believe in goodness. They complement one an -

other and, despite their limitations and differences, become friends.

Ella lets Sascha into her deepest secret: she has a great, genuine, unfulfilled

love: Jason, a US soldier. After the war ended she never saw

him again. Sascha and Klaus decide to drive her to France to look for

him. An adventurous journey ensues, both guys almost becoming rivals

for her friendship! When it comes to an argument, Ella decides to leave

them!

They meet up again where Jason is supposed to live. There, they find

Ella standing in front of the grave of the man she had loved all her life,

bidding farewell. It is an encounter that changes everything.

On the journey back, Ella dies. But part of her remains: Sascha is no

longer afraid. He resolves to change his life and drives to Lina to ask

her something important.

SK

Contact

Pantaleon Entertainment

info@pantaleonfilms.com

www.pantaleonfilms.com

GFQ 1-2013 15

photo © Pantaleon Entertainment/Warner Bros.
---
photo © sabotage films/Pola Sieverding 2012

IN PRODUCTION

GLOBAL PLAYER DAS GLÜCK

Genre Tragicomedy Category Feature Director Hannes Stöhr Screenplay

Hannes Stöhr Director of Photography Andreas Doub Cast

Christoph Bach, Walter Schultheiß, Inka Friedrich, Ulrike Folkerts,

Stefan Hallmayer, Rita Lengyel, Monika Wojtyllo, Jin Jin Harder, Kevin

Chen, Harvey Friedman, Hans-Jochen Wagner Producers Karsten

Aurich, Annedore von Donop, Hannes Stöhr Production Company

Sabotage Films/Berlin, in co-production with Stoehrfilm/Berlin, ARD

Degeto/Frankfurt, BR/Munich, ARTE/Strasbourg Original Version German

Shooting Dates October-November 2012 With backing from MFG

Baden-Württemberg, Medienboard Berlin-Brandenburg, BKM, Filmund

Medienstiftung NRW, German Federal Film Fund

Director Hannes Stöhr, whose previous films include BERLIN CALLING

and ONE DAY IN EUROPE, rediscovered his native roots in Baden-Württemberg

and traveled to Shanghai for his latest film GLOBAL PLAYER.

"After being 20 years away from my home town, it was a real eye-opener

to see how tough the people are and that globalization is taking place

in the provinces and not only in the big cities," he remarks.

While the film's action is inspired by real-life events he has observed in

his home town over recent years, the family textile company of Bogenschütz

& Söhne is fictional, but he has achieved an authenticity to the

setting by casting actors originating from the south-west corner of

Germany – such as the veteran actor Walter Schultheiß as the 90-yearold

patriarch, his son Michael, played by Christoph Bach, who is trying

to negotiate a deal with the Chinese behind his father's back to save the

company, and one of the two daughters played by Inka Friedrich who

are recruited by their father to stop the son's plans – as well as local

professionals from the Theater Lindenhof, and 'real' people as the

factory workforce.

"That's something I have always liked about Hannes' films and this

stylistic approach runs through them all," says producer Annedore von

Donop about the casting. "It is a refreshing mixture, and the authenticity

of the real people – with their unforgettable faces – can be really surprising."

"In many respects, the film's action is similar to Shakespeare's King

Lear and it is a very universal story," Stöhr adds, while von Donop

points out that the film also addresses the question of one generation

handing over to another and the conflicts and confrontations flaring up

within a family.

As producer Karsten Aurich notes, shooting in China might seem a

daunting proposition, but they were lucky to find a local service producer

in Shanghai who not only knew the right locations, but had studied in

Berlin and so spoke fluent German.

MB

World Sales

Beta Cinema

beta@betacinema.com

www.betacinema.com

Genre Drama, Tragicomedy Category Feature Director Fabian Möhrke

Screenplay Fabian Möhrke Director of Photography Marco Armborst

Cast Andreas Döhler, Carola Sigg, Levin Henning, Godehard Giese,

Annika Ernst Producers Maxim Juretzka, Jost Hering Co-Producer

Lucia-Milena Bonse Production Company BuntFilm/Berlin, in co-production

with Cine Plus Filmproduktion/Berlin for ZDF/Mainz Original

Version German Shooting Dates October-December 2012 With backing

from German Federal Film Fund, CineTirol, FISA Filmstandort Austria

There is only one way to know what cracking the lottery jackpot is like,

and that is to win it! Statistically you have more chance of finding the

money but hey! It's voluntary and very hard to resist. True, a huge sum

of cash all at once can wreck lives and relationships, but then again,

maybe not.

Dreaming of that big win is part of the fun. Will it be ponies for all your

friends? A gold-plated helicopter covered in diamonds? A holiday home

by the Baltic? Freeing a dear friend from a job they hate? But there are

all the downsides too, starting with whom you tell, or not. Then all those

begging letters. What is suddenly a good cause and what not? If you

decide to keep it a secret, how best to stop it leaking out? Especially if

there is suddenly a new Ferrari in the driveway and you take some extra

holiday and return with a very fashionable tan. Oh yes, and you give up

your job too! Perhaps moving to somewhere new would help, where nobody

knows your name and face. But what about the people and life you

have left behind? Put it this way, if somebody you know is suddenly €22

million better off, would you shake their hand and congratulate them?

This is the situation and these are the questions suddenly facing Torsten

(end 30s), who was not looking for anything special, just a guy who

bought a lottery ticket to keep the peace with his enthusiastic lotteryplaying

colleagues at work. He might have been hoping to win the jackpot,

deep down, but he was not expecting to.

As always, the questions thrown up are also answered by more than one

person. It might be Torsten's ticket, but his wife Susanne has already

decided where the money is going. His son Lutz has as well. Winning is

the bombshell but now comes the collateral damage as Torsten's

orderly world is torn apart and he has to ask the most important

question: who is he really?

SK

Contact

BuntFilm

info@bunt-film.de

www.bunt-film.de

GFQ 1-2013 16

photo © BuntFilm
---
photo © Laura Schleicher/INDI FILM

HABIB RHAPSODY HELDEN

Genre Comedy, Drama, Tragicomedy Category Feature Director

Michael Baumann Screenplay Michael Baumann, Sabine Westermaier

Director of Photography Bernhard Keller Cast Vedat Erincin, Burak

Yigit, Thorsten Merten, Klaus Manchen, Teresa Harder, Ilyes Moutaoukkil,

Luise Heyer, Godehard Giese, Maryam Zaree, Aykut Kayacik, Kida

Khodr Ramadan Producer Arek Gielnik Co-Producer Brigitte Dithard

Production Company INDI FILM/Stuttgart, in co-production with

SWR/Baden-Baden Original Version German, Turkish Shooting Dates

September-October 2012 With backing from MFG Baden-Württemberg,

German Federal Film Fund, German Federal Film Board, Hessische

Filmförderung, MEDIA

An ensemble film, HABIB RHAPSODY (working title) tells the story of

four men, their ability to 'lie' their way through life, and the art of being

honest to oneself.

There is Habib (49), who runs a kebab stand and is finally reunited with

the love of his youth whom he left years ago back in Turkey when he

moved to Germany to work. His son Neco (24) is rootless and making

do in life, at best, desperately grasping at the straws offered by various

dubious 'deals'. He loves a young girl but is already married. Bruno (46)

is summarily sacked by his friend and business partner, and stages a

one-man strike on a traffic island in protest. Ingo (78) escapes from the

hospital on the eve of a risky operation to beg his daughter's forgiveness

for what happened forty years ago when he abandoned her; his sub -

sequent life as a Casanova and adventurer having left him, in the end,

empty and alone.

At the same time the city's refuse collection service is on strike. As the

shine starts to come off the clean façade, so too does it off the lead

characters' lives. The lies they live, both large and small, force their way

to the surface. Each man is confronted with the existential questions,

"What would have been, if ...?" and "For what reason am I living and why

here?"

Events come to a head in one night: Neco's deal and love affair hit the

rocks. Bruno is rehabilitated, except he is now unsure if he wants to go

back. Ingo gains his daughter's benediction and can finally die in peace.

And Habib? He learns his lost love's daughter is also his. Exhausted, he

meets Neco the next morning. For the first time in years they are able

to talk openly and honestly as father and son, during which Neco shows

he has gained the strength to acknowledge his weaknesses and Habib

tells his son of his Turkish roots.

SK

Contact

INDI FILM

info@indifilm.de

www.indifilm.de

IN PRODUCTION

Genre Action, Adventure Category TV Movie Director Hansjörg Thun

Screenplay Derek Meister, Simon X. Rost Director of Photography Peter

Joachim Krause Cast Christiane Paul, Hannes Jaenicke, Heiner

Lauterbach, Christine Neubauer, Armin Rohde, Yvonne Catterfeld Producers

Stefan Raiser, Felix Zackor Co-Producer Dieter Pochlatko Production

Company Dreamtool Entertainment/Munich, in co-production

with epo-film/Vienna Original Version German Shooting Dates August-

October 2012 With backing from Film- und Medienstiftung NRW,

FilmFernsehFonds Bayern, Medienboard Berlin-Brandenburg, MFG

Baden-Württemberg, nordmedia Fonds, Fernsehfonds Austria

Without warning, a communications satellite crashes into the Berlin

Reichstag, leaving great destruction in its wake. While the authorities

speculate about a terrorist attack, airplanes start falling from the sky

and communications systems collapse – Germany and the rest of the

world are in a state of emergency.

To the west of Geneva. In the largest scientific research center in the

world, which operates with a billion-dollar budget, an experiment gone

wrong is throwing the world out of joint. Scientists from 80 nations have

simulated the big bang with the so-called "God machine", the biggest

nuclear particle accelerator in the world, and created a black hole that

changes the earth's gravitation. The young scientist Sophie, a former

staff member of this institute, had already warned about the risks presented

by the God machine in her doctoral dissertation. An explosion

then cripples the research center …

The German Federal Chancellor orders Sophie to go to Geneva and put

an end to the escalating experiment. She is accompanied by Marc,

whose sister Andrea and daughter Jana are trapped with a group of

children in the Geneva research center.

For our two heroes, reaching Geneva is a tour de force through various

countries in a state of chaos. But it also becomes a time of human encounters,

in which courage is stronger than fear, and people do not

withdraw into themselves, but reach out and act. A time in which the

end is a beginning and two brothers again become one heart and one

mind. In which strength grows out of weakness, and a great nation out

of individuals. In which hope rises up from despair, and great love from

loneliness. A time in which one glance says more than a thousand words

and the smallest ones are simply gigantic.

World Sales

Global Screen

info@globalscreen.de

www.globalscreen.de

GFQ 1-2013 17

photo © RTL/Ennenbach
---
photo courtesy of 2Pilots Film

IN PRODUCTION

LOVEisREAL POKA (GOOD-BYE)

Genre Drama, Romantic Comedy Category Feature Director Julia von

Heinz Screenplay Julia von Heinz, John Quester Director of Photog -

raphy Daniela Knapp Cast Karoline Schuch, Max Mauff, Lore Richter,

Suzanne von Borsody, Trystan Pütter Producers Jörg Siepmann, Harry

Flöter, Julia Röskau Co-Producers Saar Yogev, Naomi Levari Production

Company 2 Pilots Filmproduction/Cologne, in co-production with Black

Sheep Film Productions/Tel Aviv, Kings&Queens Filmproduktion/

Hersching Original Version German, English, Hebrew Shooting Dates

October-December 2012 With backing from FilmFernsehFonds Bayern,

BKM, German Federal Film Fund, Film- und Medienstiftung NRW,

MEDIA

"After I read a novel about a young German woman in Israel, I thought

the story could make an interesting film. So, in 2009, I approached Julia

von Heinz to write a screenplay and direct," producer Julia Röskau

recalls.

In 2011, the project was then selected for the Berlinale Co-Production

Market where 2Pilots found its Israeli partners Black Sheep Film Productions.

As Röskau points out, after the casting sessions, it was "clear

very soon" that Karoline Schuch – whose recent credits include

SCHUTZENGEL and PUPPE, ICKE & DER DICKE – would be cast in the

central role of Hannah who has ambitious career plans, but needs to

show a commitment to social causes.

Volunteering to work at a home for the disabled in Tel Aviv, she comes

up against political activists and is the target of Holocaust jokes and

teasing about being German from her superior Itaj. Hannah's approach

to Holocaust history gradually changes after she meets the survivor

Gertraud – played by veteran actress Lea Koenig who is known as "The

First Lady of Israeli Theatre" – and she is interested for the first time in

her own family history. What's more, Hannah and Itaj become ever close

as they fall in love …

Von Heinz explains that the film analyses "the special relationship be -

tween third-generation Germans and Israelis since the Holocaust. Both

are obsessed with the Holocaust since it has so essentially influenced

their identities and, more than 60 years later, this shared history connects

them in a way that also brings a certain closeness."

"It was naturally a challenge to be shooting in a foreign land and having

German and Israeli crews working together with their different customs

and working practices, although I see this all in a positive light," Röskau

says. Moreover, at the end of the film's shoot in Israel, the visiting cast

and crew had first-hand experience of the eternal Palestininan-Israeli

conflict when rockets rained down on Tel Aviv and Jerusalem in mid-

November.

MB

Contact

2 Pilots Filmproduction

info@2pilots.de

www.2pilots.de

Genre Romantic Comedy Category Feature Director Anna Hoffmann

Screenplay Anna Hoffmann, Oliver Haller Director of Photography Andreas

Höfer Cast Natalia Beltiski, Pasha Antonov, Thomas Papst, Karin

Hanczewski Producers Stephan Grobe, Oliver Haller Production Company

Jolle Film/Ludwigsburg Original Version German, Russian Shoot -

ing Dates October-November 2012 With backing from MFG

Baden-Württemberg, ZDF

Kazakh-born director Anna Hoffmann has taken a very personal story

for her feature debut POKA (GOOD-BYE) which also marks the first

feature film production for producer Stephan Grobe's Ludwigsburgbased

company Jolle Film.

"We made two short films together at the Baden-Württemberg Film

Academy, but I hadn't realized that Anna came from Kazakhstan because

she didn't have any accent," Grobe recalls. "In conversation, she

told me that more than 4 million immigrants from Kazakhstan live in

Germany, but they are so well integrated into life in Germany that people

aren't aware of them."

This led to them making the award-winning documentary WHERE IS

THAT HOME NOW? as Hoffmann's final year project in which she accompanied

her uncle and father by train from Bielefeld via Moscow to

Almaty to re-visit the family home after 15 years in Germany.

Hoffmann's roots in Kazakhstan also provided the inspiration for her

debut feature, the love story POKA (GOOD-BYE), which is set in 1990

when the wave of so-called ethnic Germans began moving back to

Germany. The German Georg and Lena, the daughter of a Communist

functionary, have fallen in love, but Georg is about to leave for his homeland,

just as Lena learns that she is pregnant …

The project was selected for the Baltic Bridge East by West (B'EST) program

last year, and Grobe then used the platform of Tallinn's Baltic

Event at the end of November to look for potential partners to provide

completion funding. He also plans to screen a rough cut to interested

parties during the Berlinale.

Speaking about POKA (GOOD-BYE), Hoffmann, who received a Special

Lola in 2009 for THE HOUSEMAID, says "this story is about who we are

and where we come from." In addition, she is fascinated by the playing

with language since "the mixture of German and Russian languages is

very typical for the immigrants. They use it as slang, and I think this

slang will enrich the film. Dominik Graf's IN THE FACE OF THE CRIME

is a great example for me in this context. That's why it has a great DVD

success among Russian-Germans."

MB

Contact

Jolle Film

s.grobe@jolle-film.com

www.jolle-film.com

GFQ 1-2013 18

photo © Juri Tschabanow
---
photo courtesy of mm filmpresse

SPUTNIK STILLER SOMMER

Genre Children & Youth Category Feature Director Markus Dietrich

Screenplay Markus Dietrich Director of Photography Philipp Kirsamer

Cast Flora Li Thiemann, Finn Fiebig, Luca Johannsen, Emil von Schönfels,

Devid Striesow, Yvonne Catterfeld, Maxim Mehmet, Jacob Matschenz,

Andreas Schmidt, Ursula Werner, Bernd Stegemann, Marie

Gruber Producers Marcel Lenz, Guido Schwab, Dorothe Beinemeier,

Leontine Petit, Joost de Vries Co-Producers Dries Phlypo, Pavel Strnad

Production Companies Ostlicht Filmproduktion/Weimar, Hamster

Film/Halle, in co-production with A Private View/Brussels, Negativ Film

Productions/Prague, in association with MDR/Leipzig, NDR/Hamburg

Original Version German Shooting Dates October-November 2012 With

backing from Mitteldeutsche Medienförderung, Filmförderung Hamburg

Schleswig-Holstein, German Federal Film Board, German Federal

Film Fund, Eurimages, Czech Film Fund

Director Markus Dietrich's feature debut draws on his personal experiences

of growing up as a child in the former East Germany (GDR) and

shows historical events from a child's perspective. "When the Wall collapsed

in 1989 and all the people in the world were celebrating, I was

ten years old and in the midst of it," Dietrich recalls. "But no matter

what the politicians thought or kept silent about then: for me, the fall

of the Wall wasn't a world-changing event, but rather a superb adventure.

And that's exactly what I think also makes SPUTNIK [working title]

so important. From the children's perspective, it is an adventure."

Dietrich's screenplay opens in October 1989 with the month getting off

to a disastrous start for 10-year-old Frederike when her beloved Uncle

Mike is expelled from the former GDR. Inspired by her idol Captain

James T. Kirk from STAR TREK, she and her two best friends build a

transporter to "beam" herself to West Berlin. But the experiment goes

dramatically wrong: instead of beaming the three children, the entire

village's population disappears! They witness on TV how their families

and friends desperately try to climb back over the Berlin Wall to home.

Only swift action can undo the experiment and prevent the worst

happen ing before the border guards open fire. It's a frantic race against

time for the trio and, what's more, the nasty local policeman Mauder

starts snooping around...

"What I like about this film is that it has two layers," producer Leontine

Petit of Hamster Film explains. "For the children, there is a lot of fun

and adventure, but there is also an emotional story because the girl has

to let go of the uncle she really likes and then tries to beam him back.

And on the parents' level, it is all about living together with your children

in the GDR and how to cope with certain issues that weren't very easy.

When Markus talks about the film, he says that he had a normal childhood

and, as a child, he had an enormous imagination to help him survive

and solve problems. So, in a way, the film is an ode to imagination."

MB

World Sales

Attraction Distribution

info@attractiondistribution.ca

www.attractiondistribution.ca

IN PRODUCTION

Genre Drama Category Feature Director Nana Neul Screenplay Nana

Neul Director of Photography Leah Striker Cast Dagmar Manzel, Ernst

Stötzner, Victoria Trauttmansdorff, Marie Rosa Tietjen, Arthur Igual,

Hans-Jochen Wagner, Sylvie Granotier, Rainer Ewerrien, Jef Bayonne,

Rainer Galke Producers Jörg Siepmann, Harry Flöter Production Company

2 Pilots Filmproduction/Cologne Original Version German, French

Shooting Dates September-October 2012 With backing from Film- und

Medienstiftung NRW, Kuratorium junger deutscher Film, MEDIA

"The story for SILENT SUMMER (STILLER SOMMER) has a personal

background for Nana and I had always felt that this could provide the

basis for an interesting film," producer Jörg Siepmann of Colognebased

2 Pilots says.

"Nana was already working on a screenplay about this subject and so I

encouraged her to continue working in this direction," he continues,

pointing out that the project was developed in close collaboration with

commissioning editor Stefanie Groß of pubcaster SWR who came onboard

at a very early stage.

"The screenplay is rather special because it portrays a marriage from

two perspectives: the first half is seen from the wife's perspective and

then, halfway through the film, the story is re-told from the other

partner's standpoint. It was a fine line to get things just right," Siepmann

explains.

The film opens with art historian Susanne suddenly losing her voice

after a successful auction and deciding to take a break in the family's

holiday home in the Cévennes mountains in the South of France.

The village community of French and German expats are surprised to

suddenly see Susanne again after such a long time. Going in search of

her true self, she not only finds out who she is, but also makes sur -

prising new discoveries about her husband. Her voicelessness sends

both of them on an inner journey during which Herbert recognizes that

his denial of the past merely invites his own misery, while Susanne begins

to comprehend that the loss of her voice is more than a function of

exhaustion.

"We felt that with such a narrative approach to the story, we needed to

cast with top actors and are very happy to have landed a coup with Ernst

Stötzner and Dagmar Manzel as the husband and wife," Siepmann

notes. "Moreover, the supporting roles are also cast with such pro -

minent names as Victoria Trautmannsdorff, Marie Tietjen, and Hans-

Jochen Wagner."

MB

Contact

2 Pilots Filmproduction

2pilots@2pilots.de

www.2pilots.de

GFQ 1-2013 19

photo courtesy of 2 Pilots Film
---
NEW GERMAN FILMS

DIE ABENTEUER DES HUCK FINN

THE ADVENTURES OF HUCK FINN

Huck Finn sits prim and proper at the table with widower

Douglas and Miss Watson every day, is served by the obedient

house-slave Jim, goes to school and constantly to church as

well. After all, he and his best mate Tom Sawyer are wealthy

boys since they found a treasure during their last adventure.

What's wrong here? Right, boys like Tom & Huck are definitely

not prim and proper! Huck Finn loves nothing more than being

outdoors in his rain barrel, catching fish and roasting it on a

stick over the campfire. Shoes, jackets, shirt collars – what's all

that for? Whenever possible, they sneak away … but one day it's

all over with the good village life. Huck's boozy and greedy

father shows up in St. Petersburg. And he's up to no good! The

tramp and scallywag thinks that the prosperity of his son Huck

belongs all to him. Before the old man can do any mischief,

Huck runs away and Jim joins him as he overhears that Miss

Watson sold him to a slave trader. On a self-made raft they start

their ex citing adventure down the dangerous Mississippi River

all the way to Cairo and from there to Ohio, where slavery is forbidden

and Jim can build up a life as a free man. At least that is

the plan. Hunted by Huck's dad and three ruthless slavehunters,

Huck experiences his greatest and most dangerous

adventure ever.

Genre Action, Adventure, Family Entertainment Category Feature

Year of Production 2012 Director Hermine Huntgeburth

Screenplay Sascha Arango Director of Photography Sebastian

Edschmid Cast Leon Seidel, Jacky Ido, Louis Hofmann, August

Diehl, Henry Hübchen Producer Boris Schönfelder Co-

Pro ducers Benjamin Herrmann, Michael Kölmel Production

Company Neue Schönhauser Filmproduktion/Berlin, in coproduction

with Majestic Filmproduktion/Berlin, Filmaufbau/

Leipzig Length 101 min Original Version German Subtitled

Version English With backing from Film- und Medienstiftung

NRW, Medienboard Berlin-Brandenburg, German Federal Film

Board, Mittel deutsche Medienförderung, BKM, Filmförderung

Hamburg Schleswig-Holstein, German Federal Film Fund

HERMINE HUNTGEBURTH studied Film at the Hamburg

Hochschule für Bildende Künste and in Sydney/Australia. After

working on several short and documentary films, she was awarded

the German Film Award for Best Newcomer Director in

1991 for her directorial feature film debut IM KREIS DER

LIEBEN, followed by such award-winning television films as EIN

FALSCHER SCHRITT (1994), GEFÄHRLICHE FREUNDIN (1996),

UND ALLES WEGEN MAMA (1998), DER HAHN IST TOT (1999),

DIE STUNDE DES WOLFS (1999), ROMEO (2001), EVA BLOND

UND DER ZWERG IM SCHLIESSFACH (2003), DER BOXER UND

DIE FRISEUSE (2004), and the two-part TV series TEUFELS -

BRATEN (2007). Among her feature film credits are popular hits

such as TRIO (1998), BIBI BLOCKSBERG (2002), THE WHITE

MASAI (2005), EFFI BRIEST (2009), TOM SAWYER (2011), and

THE ADVENTURES OF HUCK FINN (2012).

World Sales

Beta Cinema

beta@betacinema.com

www.betacinema.com

GFQ 1-2013 20

photo © Majestic/Tam Trambow
---
BOUCHBENNERSCH OTTO – VOM UMGANG MIT ANDERSARTIGKEIT

BOUCHBENNERSCH OTTO – HOW TO TREAT DIFFERENTNESS

Bouchbennersch Otto was born as Otto Mueller in Emmerichenhain/Germany

in 1907. He witnessed two World Wars, was

trained as a bookbinder and later became a police-servant for

the community. He announced news in Emmerichenhain and

the surrounding villages with a bell. Otto was known all over

town. And he was different. Unlike all the others …

Genre Portrait, History, Society Category Documentary, Short

Year of Production 2012 Director Janina Jung Screenplay Janina

Jung Director of Photography Janina Jung Production

Company Kunsthochschule für Medien Köln (KHM)/Cologne

Length 29 min Format HD, color, 16:9 Original Version German

Subtitled Version English Festivals Kassel Dokumentar film- &

Videofest 2012, DOK Leipzig 2012 Awards Golden Dove Leipzig

2012

NEW GERMAN FILMS

JANINA JUNG was born in 1977 in Dillenburg. Since 2010,

she has been a student in the post-graduate program at the

Academy of Media Arts (KHM) in Cologne.

World Sales

Kunsthochschule für Medien Köln (KHM)

dilger@khm.de

www.khm.de

GFQ 1-2013 21

photo © 2012 KHM/Janina Jung
---
NEW GERMAN FILMS

DREI STUNDEN

THREE HOURS

Martin is a poet, a quiet but tenacious dreamer, who, for years,

has been working on his great play about cloud castles, flying

pirates and a feisty princess. His secret role model for the lead -

ing character is his good friend Isabel, a cheeky young woman

who is waging war on genetically modified seeds around the

world. And she's leaving tomorrow to go to drought-plagued

Mali in the middle of Africa for the next three years. Lo and behold,

Martin confesses his Iove to her at the departure desk. A

confession which would have meant the world to Isabel some

time ago, but now comes too late to change things.

But then the flight is delayed for several hours and Isabel takes

off into the city to talk to Martin – but he has disappeared.

Precious hours pass – is there enough time left for the two of

them to make a whole slew of decisions that will re-define their

lives? How much time does one need for this, anyway?

Genre Romantic Comedy Category Feature Year of Production

2012 Director Boris Kunz Screenplay Boris Kunz Director of

Photography Martin Niklas Cast Nicholas Reinke, Claudia

Eisinger, Peter Nitzsche, Lucy Wirth, Matthias Brenner, Doris

Buchrucker, Dietrich Hollinderbäumer, Hartmut Schreier,

Katharina Leonore Goebel, Christian Heiner Wolf Producer

Khaled Kaissar Production Company Kaissar Film/Munich, in

co-production with die film gmbh/Munich, BR/Munich, Hochschule

für Fernsehen und Film München (HFF/M)/Munich

Length 100 min Format DCP, color, 1:1.85 Original Version German

Subtitled Version English Festivals Hof 2012, Biberach

2012 With backing from FilmFernsehFonds Bayern

BORIS KUNZ was born in 1979. While studying Directing at

the University of Television & Film in Munich, he gained further

experience as a director's assistant and completed several production

internships. Also active as a writer, his films include:

KURS SÜDOST (short, 2002), the DETEKTIV MAXWELL series of

films (2002-2004), BILDER (short, 2005), I BE THE PROPHET

(short, 2005), WIE ES BLEIBT (2006), DANIELS ASCHE (short,

2010), and his graduation film THREE HOURS (DREI STUNDEN,

2012).

World Sales

ARRI Worldsales

aexacoustos@arri.de

mhemminger@arri.de

www.arri-mediaworldsales.de

GFQ 1-2013 22

photos © Kaissar Film/Paula Tschira
---
ENDE DER SCHONZEIT

CLOSED SEASON

CLOSED SEASON is set in 1942 and tells the story of Fritz and

Emma who are hiding Albert, a Jewish refugee, at their remote

farm in the Black Forest. Since his marriage with Emma has

remained childless, Fritz uses the situation to suggest an unorthodox

arrangement: He asks Albert to sleep with his wife and

conceive a child on his behalf. The consequences are dramatic:

Emma discovers her sexuality, Fritz cannot control his jealousy

and Albert feels trapped between the two of them. Against the

background of war, an unpredictable drama unfolds that turns

offenders into victims and vice versa.

Genre Drama, History Category Feature Year of Production

2012 Director Franziska Schlotterer Screenplay Franziska

Schlotterer, Gwendolyn Bellmann Director of Photography

Bernd Fischer Cast Brigitte Hobmeier, Hans-Jochen Wagner,

Christian Friedel, Thomas Loibl, Rami Heuberger, Maximilian

Mauff, Michaela Eshet, Ayala Meidan, Mike Maas, Wolfgang

Packhäuser, Stela M. Katic Prislin, Pepe Trebs, Carla Soravia,

Holger Braune Producers Christian Drewing, Philipp Homberg

Co-Producer Itai Tamir Production Company EIKON Südwest/

Stuttgart, in co-production with SWR/Baden-Baden, Laila

NEW GERMAN FILMS

Films/Tel Aviv Length 100 min Format DCP, Blu-ray, color,

1:1.85 Original Version German, English Subtitled Version

En glish Festivals Filmfest Munich 2012, Biberacher Filmfestspielen

2012, Kinofest Lünen 2012, Montreal World Film Festival

2012, Plus Camerimage 2012, Atlanta Jewish Film Festival 2013,

San Diego Jewish Film Festival 2013, Toronto Jewish Film

Festival 2013 Awards Best Film Lünen 2012, Best Actress &

Ecumenical Film Prize Montreal 2012 With backing from MFG

Baden-Württemberg, BKM, Israeli Filmfond, German Federal

Film Fund

FRANZISKA SCHLOTTERER was born in Munich in 1972. She

studied at Northwestern University in Chicago and New York

University, followed by the Screenwriting Masterclass Step by

Step in Berlin. Also active as a screenwriter, her films as a

director include: UPON ARRIVAL (short, 1995), TIMES OF

CHANGE (1998), GAME OVER (2005), THE ARCHITECT (2006),

THE SMARTER SOLUTION (short/image film, 2007), WALKING

THROUGH THERESIENSTADT (short doc, 2009), UNDER SUS -

PICION (doc, 2009), and CLOSED SEASON (2012).

World Sales

Atlas International Film

mail@atlasfilm.com

www.atlasfilm.com

GFQ 1-2013 23

photos © Eikon Südwest
---
NEW GERMAN FILMS

FÜNF FREUNDE 2

THE FAMOUS FIVE 2

The summer holidays are finally here! School is out and there

are fun and adventures to be had! Our heroes, the titular

"famous five", George, Julian, Dick, Anne and their faithful wonder

dog, Timmy, set out for their first ever group cycle ride

through the countryside – and with not a parent in sight! When

they stop to set up camp, the kids meet a rather strange boy by

the name of Hardy. Wanting to stay a Famous Five and not become

a Something Six, they try to get rid of the annoying little

spud! But then, adventure strikes and Dick is kidnapped!

It doesn't take our junior detectives long to discover it is a case

of mistaken identity: the bad guys' intended victim was Hardy

who, it turns out, is the son of the incredibly wealthy business

tycoon, Mr. Kent. But is this crime just about the money? Putting

their sleuthing talents to the best possible use, the kids track

Dick to the kidnappers' hideout, a medieval castle known as The

Owl's Nest. Of course, a rescue must be mounted immediately,

which is when George, Julia, Anne and Timmy discover Hardy

gradually proves he can be a real help after all. Once inside, our

heroes learn the dastardly thugs are hunting bigger fish than

just Hardy: they are after a legendary gem known as The Green

Eye, an emerald that is the most valuable jewel in the world.

Hardy, it turns out, is the key to its whereabouts, possessing information

he doesn't even know he has!

A furious and wild chase, as befits any and every THE FAMOUS

FIVE story, leads everyone, heroes and villains, to a mysterious

traveling circus and deep, very deep, into the adventurous caves

at Gaffenstein Rock …

Genre Action, Adventure, Children & Youth, Family Entertainment

Category Feature Year of Production 2013 Director Mike

Marzuk Screenplay Peer Klehmet, Sebastian Wehlings Director

of Photography Bernhard Jasper Cast Valeria Eisenbart, Quirin

Oettl, Justus Schlingensiepen, Neele Marie Nickel Producers

Andreas Ulmke-Smeaton, Ewa Karlström Co-Producer Martin

Moszkowicz Production Company SamFilm/Munich, in co-production

with Constantin Film Produktion/Munich Length 90 min

Format 35 mm, color, 1:1.85 Original Version German Subtitled

Version English With backing from FilmFernsehFonds Bayern,

Filmförderung Hamburg Schleswig-Holstein, German Federal

Film Board, German Federal Film Fund

MIKE MARZUK was born in 1969 in Landsberg am Lech.

Since 1995 he has been working as an editor, musician, writer

and director for short and feature films as well as video clips.

His films include: WWGW* – *WEISST WAS GEIL WÄR...?!

(2007), SUMMER (SOMMER, 2008), ROCK IT! (2010), and both

THE FAMOUS FIVE films, the first of which scored over 1 million

admissions in Germany.

World Sales

Beta Cinema

beta@betacinema.com

www.betacinema.com

GFQ 1-2013 24

photo © SamFilm/Constantin Film/Bernd Spauke, © Hodder&Stoughton 2013
---
FÜNF JAHRE LEBEN

5 YEARS

What would you prefer? Solitary confinement with non-stop

glar ing neon lights, American pop tunes at full blast, and sudden,

senseless beatings? Or to be locked up next to a fellow

prisoner who'll rat on you for a Big Mac? Perhaps the worst is

having to kill your only friend, even if it is only a lizard …

Based on the true story of the German Turk Murat Kurnaz, who

spent a total of five years as a U.S. prisoner in Afghanistan and

Guantánamo, 5 YEARS is an unflinching chronicle of un -

imaginable abuse and a duel between two iron-willed person -

alities.

The accused: Kurnaz, who wanted to give meaning to his life by

turning to the Islamic faith and going on a pilgrimage to

Pakistan right after 9/11. The accuser: U.S. government interrogation

specialist Holford, who pulls all the stops of mani -

pulation and fear, and whose main goal is to obtain a confession

from Kurnaz. But Kurnaz can't confess; he's innocent.

And after many months elapse – months of physical and mental

torture – Kurnaz realizes that Holford needs his confession,

whether true or false, to win this battle and solve a diplomatic

problem between America and Germany. Kurnaz knows that by

refusing to sign, he is using the only power left to him.

As Kurnaz settles into an indefinite, perhaps endless, prison

term, he denies his captors the satisfaction of breaking his soul.

Kurnaz chooses life, in spite of everything.

NEW GERMAN FILMS

Genre Drama Category Feature Year of Production 2012 Director

Stefan Schaller Screenplay Stefan Schaller, based on Murat

Kurnaz's 5 Years of My Life Director of Photography Armin

Franzen Cast Sascha A. Geršak, Ben Miles Producers Jochen

Laube, Fabian Maubach, Joseph M'Barek Production Company

teamWorx Television & Film/Ludwigsburg, in co-production with

Studio Babelsberg/Potsdam, Cine Plus Filmproduktion/Berlin,

Filmakademie Baden-Württemberg/Ludwigsburg Length 95

min Format DCP, color, cs Original Version English, German

Subtitled Version English Festivals Max Ophühls Festival Saarbrücken

2013, Rotterdam 2013 With backing from MFG Baden-

Württemberg, nordmedia Fonds, German Federal Film Board,

German Federal Film Fund

STEFAN SCHALLER was born in Munich in 1982. After

complet ing his secondary education, he studied Politics and

Theater in Munich. A stay in Central America was followed by

practical experience in the field of cinema as a script developer

for Boje Buck Produktion in Berlin. Schaller began studying

Theatrical Direction at the Baden-Württemberg Film Academy

in 2005. HANDS OFF MISSISSIPPI, for which he wrote the

screenplay, was awarded both the Bavarian as well as the

German Film Award for Best Children's Film. In 2008 his midlength

film BÖSE BILDER was honored with the renowned Max

Ophüls Award. In 2009 his short film JEDEM DAS SEINE was

screened in the Perspectives German Cinema sidebar at the

Berlin Film Festival.

World Sales

Global Screen

info@globalscreen.de

www.globalscreen.de

GFQ 1-2013 25

photos © teamWorx/S. Kuhlbach/A. Cott
---
NEW GERMAN FILMS

GOLD

Summer 1898. Canada during the Klondike Gold Rush. Emily

Meyer joins a group of seven German American immigrants. Together

they embark on the long journey to the newly discovered

gold fields in Dawson. Brought together by shady businessman

Wilhelm Laser's advertisement, the members of the group put

it all on the line to change their miserable lives.

Recommended by Wilhelm Laser, they decide to take the

Ashcroft Trail, a route through the Canadian interior. With

horses and a covered wagon, they take off without an exact idea

of the dangers and strains that this journey has in store for

them. Hardly any of them will have known that from their point

of departure in Ashcroft, the distance to Dawson was more than

2,500 km.

Full of hope, the prospectors begin their journey. The first part

of the journey to Quesnel is relatively untroubled. But before too

long, problems begin to arise. The terrain becomes ever more

difficult to negotiate. They soon literally loose track as the supposedly

marked and fully constructed path disappears before

their eyes. Their route leads them along through a hostile and

untapped wilderness. One by one, their exhausted pack horses

die. The strenuous journey and internal clashes begin to tear

the group apart. Now Emily Meyer, who appeared to be the most

fragile member of the group at the beginning of the journey,

proves herself to be one of the most dogged and enduring in

view of the many challenges. She does not know exactly what

the future will bring. Nevertheless, of one thing she is certain:

there is no way that she will return to the life she left behind.

Driven by a dream and the hope which it has inspired for a better

life, the decimated group works through the rough environment

toward their goal, a goal that seems to be further removed

from them with every step they take.

Genre Drama Category Feature Year of Production 2013

Director Director Thomas Arslan Screenplay Thomas Arslan

Director of Photography Patrick Orth Cast Nina Hoss, Marko

Mandić, Peter Kurth, Uwe Bohm, Lars Rudolph, Rosa Enskat,

Wolfgang Packhäuser Producers Florian Koerner von Gustorf,

Michael Weber Executive Producer Henrik Meyer Production

Company Schramm Film Koerner & Weber/Berlin, in co-production

with BR/Munich, Degeto Film/Frankfurt, WDR/Cologne,

ARTE/Strasbourg, in cooperation with Red Cedar Film Gold/

Vancouver Length 113 min Format 35 mm, DCP, color, cs

Original Version German Subtitled Version English Festivals

Berlin 2013 (In Competition) With backing from Medienboard

Berlin-Brandenburg, BKM, German Federal Film Board,

German Federal Film Fund, ILB

THOMAS ARSLAN was born in 1962 in Braunschweig and

spent four years during his schooling in Ankara/Turkey. He

studied Germanics and History in Munich and Film at the

German Film & Television Academy (DFFB) in Berlin. He has

been working as a writer and filmmaker since 1992. His films

include MACH DIE MUSIK LEISER (1994), the trilogy,

GESCHWISTER (1996), DEALER (1998) and A FINE DAY (DER

SCHÖNE TAG, 2000), IM SCHATTEN (2009), and GOLD (2013).

World Sales

The Match Factory

info@matchfactory.de

www.the-match-factory.com

GFQ 1-2013 26

photo © Schramm Film/Patrick Orth
---
HEIMKOMMEN

COMING HOME

When Robert's girlfriend dies in a car accident, he turns his

grief against his younger sister Jo.

Jo dives into a new hobby – ice hockey – from which she gathers

the strength to bring her brother back to the land of the living.

Genre Drama Category Short Year of Production 2012 Director

Micah Magee Screenplay Magdalena Graczewicz Director of

Photography Raphael Beinder Cast Mia Plappert, Alexander

Martschewski Producer Friederike Steinbeck Production Company

Deutsche Film- und Fernsehakademie Berlin (DFFB), in

co-production with RBB/Potsdam-Babelsberg Length 23 min

Format 35 mm, color, cs Original Version German Subtitled

Version English Festivals SXSW 2012, Filmfest Dresden 2012,

Achtung Berlin 2012, Plus Camerimage 2012, Romania International

Film Festival Bucharest 2012, Festival Premiers Plans

d'Angers 2012 Awards German Short Film Award 2012,

Audience Award Angers 2012

NEW GERMAN FILMS

MICAH MAGEE came to Berlin with a Fulbright Fellowship in

Journalism in 2001 and stayed to study Directing at the German

Film and Television Academy (DFFB). Her short films include:

KRANKENHAUS (2004), THE GIRL WHO STARED DOWN

THE SUN (2004), FLOWERS (2006), MY LAST DAY IN NIGERIA

(2009), SUCCESS (2010), and COMING HOME (2012).

World Sales

Deutsche Film- und Fernsehakademie Berlin (DFFB)

j.schymik@dffb.de

l.tinette@dffb.de

www.dffb.de

GFQ 1-2013 27

photo © DFFB
---
NEW GERMAN FILMS

KNISTERN DER ZEIT – CHRISTOPH SCHLINGENSIEF UND SEIN OPERNDORF IN BURKINA FASO

CRACKLE OF TIME – CHRISTOPH SCHLINGENSIEF AND HIS OPERA VILLAGE IN BURKINA FASO

An African Bayreuth? An opera in Burkina Faso?

Christoph Schlingensief, the German film, theater and opera

director had a vision for an opera village in Africa. Despite

cancer, he made trips to Burkina Faso, such was his devotion

and conviction. CRACKLE OF TIME tells the story of the im -

possible project: To build an opera village in Burkina Faso, a

space combining art and life, with a school, theater, hospital,

liv ing quarters, a football field, a lunchroom. Schlingensief

want ed everything it needs to live and survive. Everything in one

place. From the initial location search in May 2009 and the

ground-breaking in February 2010 to the emergence of the

school, the documentary take us up close to the German artist

Christoph Schlingensief and his architect Diébédo Francis Kéré

who originally comes from Burkina Faso. But then everything

changed. Christoph Schlingensief died in August 2010.

Death played a role from now on. After a period of standstill, the

team of the opera village went on. The documentary gets behind

the vision of the opera village and witness the struggles and

hurdles. In October 2011 the school celebrated its opening.

In 2011 Christoph Schlingensief was posthumously awarded the

Golden Lion at the Venice Biennale for his stage installation,

"fluxus oratorium – church of fear" in the German pavilion.

Genre Art, Theater, Music, Architecture, Africa, Human Interest

Category Documentary Year of Production 2012 Director

Sibylle Dahrendorf Screenplay Sibylle Dahrendorf Directors of

Photography Philipp Tornau, Christoph Krauss, Ingo Brunner

With Christoph Schlingensief, Aino Laberenz, Diébédo Francis

Kéré Producers Michael Bogár, Johannes Nowbary Co-Producer

Sibylle Dahrendorf Production Company Perfect Shot

Films/Berlin, in cooperation with ZDF, ORF, Goethe-Institut

Length 106/52 min Format DCP, HDCAM, Blu-ray, color, 16:9,

1:1.78 Original Version German, French, Moré Subtitled Ver -

sions English, French, Spanish, Portuguese Festivals Dokfest

Munich 2012 With backing from Medienboard Berlin-Brandenburg,

German Federal Film Board, German Federal Film Fund

SIBYLLE DAHRENDORF was born 1964 in Cologne. Since

1992 she has been living in Berlin and works as an author, film

director, and freelancer for several TV broadcasting stations,

realiz ing reports, features and documentaries (shooting in

Germany, Bosnia, Columbia, Mexico, Argentina, Israel and

Africa). Since 1998 Sibylle Dahrendorf has been working with

the artist, film and theater director Christoph Schlingensief and

accompanied him and his work for many TV features. CRACKLE

OF TIME – CHRISTOPH SCHLINGENSIEF AND HIS OPERA

VILLAGE IN BURKINA FASO is her first documentary for the

cinema.

World Sales

Patra Spanou

spanoupa@yahoo.de

GFQ 1-2013 28

photos © Filmgalerie 451/Aino Laberenz/Sibylle Dahrendorf
---
KOPF BER

Ü

UPSIDEdown

More than anything, 10-year-old Sascha likes to go on bike rides

with the neighbor girl Elli and collect sounds. He also has a

passion for fixing up his bike in his improvised workshop. What

he doesn't like is the new special school he has been sent to in

order to learn how to read and write. One day Sascha is caught

stealing and his mother decides to seek help at the youth welfare

office. The social worker Frank is assigned to help the boy

for one year, at school and in his daily life. Although Sascha first

rejects Frank, sometimes it can be practical to have a personal

"bodyguard" at your side. Frank convinces Sascha and his

mother to have a few medical tests done. The diagnosis: ADD,

an attention deficiency disorder. Sascha is prescribed pills to

help him concentrate. While his school performance improves

and he gets into less trouble with grown-ups, his character also

changes and his friendship to Elli starts to fall apart.

Genre Children & Youth, Coming-of-Age Story, Family Entertainment

Category Feature Year of Production 2012 Director

Bernd Sahling Screenplay Bernd Sahling, Anja Tuckermann

Director of Photography Anne Misselwitz Cast Marcel

Hoffmann, Frieda-Anna Lehman, Inka Friedrich, Claudius von

Stolzmann Producer Jörg Rothe Co-Producers Antonio

Exacoustos, Franz Kraus, David P. Steel Production Company

NEW GERMAN FILMS

Neue Mediopolis Filmproduktion/Leipzig, in co-production with

ARRI Film & TV Services/Munich, Steelecht/Offenbach am Main

Length 90 min Format 35 mm, color, 1:1.85 Original Version

German Subtitled Version English Festivals Berlin 2013 With

backing from Kuratorium junger deutscher Film, Mittel -

deutsche Medienförderung, BKM, German Federal Film Fund,

Hessische Filmförderung, Akademie für Kindermedien

BERND SAHLING was born in 1961 in Naumburg and studied

at the "Konrad Wolf" University of Film & Television (HFF/B) in

Potsdam-Babelsberg from 1986-1991. After his studies, he

worked as a freelance writer and director before receiving a

scholarship to attend Columbia College in Chicago and Northwestern

University. Since 1999 he has been conducting

seminars and workshops on children's films. A selection of his

films includes: SONG FOR ANNE (LIED FUER ANNE, short,

1985), BOOMERANG (BUMERANG, short, 1986), EVERYTHING

GETS WELL (ALLES WIRD GUT, TV, 1990), THE CAT'S NEST (IM

NEST DER KATZE, TV, 1991), WAITING FOR HEALTH (WARTEN

AUF GESUNDHEIT, short, 1994), RAILROAD JUNCTION

(IM GLEISDREIECK, 1995), HIGH SCHOOL (GYMNASIUM, TV,

1999), THE BLIND FLYERS (DIE BLINDGÄNGER, 2004), and

UPSIDEdown (KOPFÜBER, 2012).

World Sales

ARRI Worldsales

aexacoustos@arri.de

mhemminger@arri.de

www.arri-mediaworldsales.de

GFQ 1-2013 29

photos © Neue Mediopolis Filmproduktion
---
NEW GERMAN FILMS

LAYLA FOURIE

Layla, a young polygraphist, is given the opportunity to get proper

employment in a company specializing in the business of

lie-detection and security. As a single mother, Layla is forced to

take her son Kane with her on her journey.

As they head into the country, to what Layla hopes will be the

beginning of a real life, an accident happens. Yet from this moment

on, their lives will never be the same. A web of lies and

deception become firmly wrapped around this young mother

and son and as their trust is put to the test, it is perhaps just a

matter of time before the truth tears them apart …

Genre Drama Category Feature Year of Production 2013 Director

Pia Marais Screenplay Horst Markgraf, Pia Marais Director

of Photography André Chemetoff Cast Rayna Campbell, August

Diehl, Rapule Hendricks Producers Claudia Steffen, Christoph

Friedel Co-Producers Jeremy Nathan, Michael Auret, Tom

Dercourt, Frans van Gestel Production Company Pandora

Film/Cologne, in co-production with Spier Film/Cape Town,

DV8 Films/Johannesburg, Topkapi Film/Amsterdam, Cinema

Defacto/Paris, WDR/Cologne, ARTE/Strasbourg Length 105 min

Format 35 mm, DCP, color, 1:2.39 Original Version English

Festi vals Berlin 2013 (In Competition) With backing from Filmund

Medienstiftung NRW, German Federal Film Fund, Medienboard

Berlin-Brandenburg, German Federal Film Board, Centre

National du Cinéma et de l'Images Animee, The Netherlands

Film Fund, Department of Trade and Industry South Africa,

Eurimages, MEDIA

PIA MARAIS grew up in South Africa, Sweden and Spain. She

studied Sculpture and Photography in London, Amsterdam and

Düsseldorf before going on to study Film at the German Film &

Television Academy (DFFB) in Berlin. Her feature films include:

THE UN POLISHED (DIE UNERZOGENEN, 2007), which screened

at many inter national film festivals and won various prizes, including

the Tiger Award in 2007 in Rotterdam, AT ELLEN'S AGE

(IM ALTER VON ELLEN, 2010) and LAYLA FOURIE (2013).

World Sales

The Match Factory

info@matchfactory.de

www.the-match-factory.com

GFQ 1-2013 30

photo © Pandora Film
---
LOST PLACE 3D

Project HAARP: In 1982, at the peak of the Cold War, the U.S.

military based in West Germany began experimenting with

high-intensity electromagnetic waves. Not long after, 28 fatal

incidents were recorded in the surrounding area. The experiments

were cancelled and all facilities were shut down. Until

today …

Four high-school kids embark on a geocaching trip, a GPS

scavenger hunt into the vast forest regions of southwestern

Germany. They are led deep into a former military restricted

area. At a seemingly abandoned camp ground, they run into a

mysterious stranger wearing a radiation suit and who warns

them about weather anomalies in this part of the woods. Can

they trust him? Tension grows within the group, but not only

is their friendship put to the test, an invisible, even more

dangerous threat is already spreading among them. Trying to

find a way out, they stumble upon a secret radio tower facility,

and what started out as an adventure turns into a fight for

survival …

LOST PLACE is Germany's first mystery thriller shot in first-rate

stereoscopic 3D images and the first German feature film to be

natively mixed and presented in Dolby ® Atmos .

NEW GERMAN FILMS

Genre Thriller Category Feature Year of Production 2013

Director Thorsten Klein Screenplay Thorsten Klein, Lena

Vurma Directors of Photography XiaoSu Han, Andreas

Thalhammer Cast François Goeske, Josefine Preuß, Anatole

Taubman, Jytte-Merle Böhrnsen, Pit Bukowski Producers Alex

Weimer, Lena Vurma, Esther Friedrich Co-Producer Alexander

Thies, Christoph Ott Production Company MovieBrats Films &

Animation/Berlin, in co-production with Dragonfly Films/Berlin,

NFP Marketing & Distribution*/Berlin, SPB Stereo Post Production/Berlin

Length 99 min Format 3D DCP, 2D DCP, 3D Bluray,

color, cs Original Version German Subtitled Version

English With backing from HessenInvestFilm, Medienboard

Berlin-Brandenburg, German Federal Film Fund

THORSTEN KLEIN was born in Kaiserslautern in 1978 and

grew up in the vicinity of the Rammstein Airbase with Cold War

relics and formerly top-secret underground facilities being part

of his everyday life. He worked at a paper mill, for a wrecking

company, as a security guard and freelance journalist, before he

studied Screenwriting at the German Film- and Television

Academy (DFFB) in Berlin. He's been working as a writer and

story editor for Studio Hamburg and Action Concept Cologne

and wrote and directed several short films and a web series.

World Sales

Valuetainment AG

sales@valuetainment.com

www.valuetainment.com

GFQ 1-2013 31

photo © MovieBrats/Dragonfly Films/Han/Thalhammer
---
NEW GERMAN FILMS

LUDWIG II

Bavaria, 1864: Just 18, Crown Prince Ludwig is a striking young

man. Tall and good-looking, he is passionate about the grim,

brooding works of Richard Wagner with every fiber of his heart

and soul. When King Maximilian II unexpectedly dies, Ludwig is

proclaimed King of Bavaria and cheered enthusiastically by his

subjects, who have put all their hopes for a better future in him.

But he is naive, and soon has more enemies than friends. He

believes in a better world and wants his people to live in peace

and happiness. And to achieve this, his kingdom will become a

center of beauty, ruled by the arts. His ministers can't understand

why he refuses to buy new weapons …

Suspicious of the palace courtiers, Ludwig surrounds himself

with commoners who swear loyalty to him. He seeks friendship

where love should blossom, and love where passion is for -

bidden. Richard Wagner skillfully manipulates Ludwig's

passion. His grandiose operas cast their spell on the young

ruler, who seems ready to bankrupt his nation to foster

Wagner's monumental plans. But war is on the horizon, as

Prussia sets its sights on establishing a German Empire.

Bavaria needs a resolute king; but not even Ludwig's beloved

cousin Elisabeth, Empress of Austria, can convince him to

address matters of state rather than devote himself to art.

The war is lost, and Bavaria's independence with it. Ludwig

retreats into his dream world, ransacking the royal coffers to

build the palaces of his visions. The sun begins to set on

Ludwig's life, but his legend has already taken root …

Genre Drama, History Category Feature Year of Production

2012 Directors Peter Sehr, Marie Noëlle Screenplay Marie

Noëlle, Peter Sehr Director of Photography Christian Berger

Cast Sabin Tambrea, Sebastian Schipper, Hannah Herzsprung,

Edgar Selge, Friedrich Mücke, Justus von Dohnányi, Samuel

Finzi, Tom Schilling, Paula Beer, Uwe Ochsenknecht, Peter

Simonischek, Gedeon Burkhard, Katharina Thalbach, August

Schmölzer, Michael Fitz, Franz Dinda, Christophe Malavoy Pro-

ducer Ronald Mühlfellner Co-Producers Danny Krausz, Kurt

Stocker, Franz Kraus, Antonio Exacoustos, Roland Zelles Production

Company Bavaria Pictures/Geiselgasteig, in co-production

with Dor Film/Vienna, BR/Munich, ARD Degeto/Frankfurt,

WDR/Cologne, SWR/Baden-Baden, ORF/Vienna, Rolize/Bad

Feilnbach, B.A. Produktion/Munich, ARRI Film & TV Services/

Munich, P'Artisan Filmproduktion/Munich, Warner Bros. Film

Productions Germany/Hamburg Length 140 min Format DCP,

color, cs Original Version German Subtitled Version English

With backing from FilmFernsehFonds Bayern, German Federal

Film Fund, German Federal Film Board, MEDIA, Bavarian Bank

Fund, FISA Film Location Austria, ORF Film/Television Agreement,

Film Fund Vienna, ÖFI Austrian Film Institute, Culture

Lower Austria, Cine Tirol

PETER SEHR studied Physics and Chemistry in Zurich. After

a year in South America, he pursued doctoral studies in Bio -

physics in Oxford. He then moved to Paris to work as a research

scientist at the Institut Curie. At the same time, he began to

work as an assistant director. In 1982, he returned to Germany

and worked with various German and French directors. In 1988,

he founded P'Artisan Filmproduktion with Marie Noëlle.

MARIE NOËLLE grew up in France. After studying Mathe -

matics, she earned an MBA. In 1979, she began working with

Peter Sehr as an editor, screenwriter and co-director. She is

also active as a writer and producer for other directors. Their

films together include: UND NICHT EIN TOHUWABOHU (1988),

THE ANARCHIST'S WIFE (DIE FRAU DES ANARCHISTEN, 2008),

and LUDWIG II (2012).

World Sales

Global Screen

info@globalscreen.de

www.globalscreen.de

GFQ 1-2013 32

photos © Bavaria Pictures/Dor Film/Warner Bros./Rolize, B.A. Produktion/ARRI Film & TV Services/Stefan Falke
---
MASKS

After failing at many auditions, wanna-be actress Stella sur -

prisingly gets accepted at the "Matteusz Gdula" private school.

In the shadowy halls of the old building she works hard on her

skills, but her lack of talent gives her fellow students enough

reasons to make fun of her.

When whispers of a secret method of acting that is not to be

talked about resonate in the rooms of the school, Stella wants

to find out all about it. Cecile, a charismatic girl who never

seems to leave the school, tells her about Gdula, the mysterious

founder, who back in the 70s invented an extreme acting method

to make every actor "shine". But after students died during his

sessions, Gdula committed suicide and his method was banned.

One day Cecile disappears without a trace. Strange noises come

from the abandoned wing of the institute. Stella suspects that

someone is still practicing Gdula's bizarre method. And she

wants to participate at all costs. Even if it may kill her …

Genre Horror, Thriller Category Feature Year of Production

2011 Director Andreas Marschall Screenplay Andreas Marschall

Director of Photography Sven Jakob Cast Susen Ermich,

Magdalena Ritter, Julita Witt, Michael Siller, Dieter-Rita Scholl,

Teresa Nawrot, Norbert Losch, Michael Ballaun Pro ducer

Heiner Thimm Co-Producers Bernd Reichert, Volker Lange

Production Company Stormlight Films/Berlin, in co-production

with Anolis Entertainment/Haibach Length 108 min Format

DCP, Blu-ray, DigiBeta, color, cs Original Version German Subtitled

Versions English, French, Spanish Festivals Hof 2011,

Espoo Ciné 2011, Celluloid Screams 2011, Morbido FF 2011,

Ravenna Nightmare 2011, Fright Nights Vienna 2011, San

Sebastian Horror & Fantasy FF 2011, Razorreel Fantastic 2011,

Leeds IFF 2011, Abertoir Horror Festival 2011, Paris Inter -

national Fantastic FF 2011, Las Palmas de G.C. IFF 2012, BAFICI

2012, Fantaspoa Brazil 2012, Transilvania IFF 2012, Splatterday

Night Fest 2012, Fantastic Films Weekend Bradford 2012,

Fantafestival Rome 2012, Neuchatel Int'l Fantastic FF 2012,

NEW GERMAN FILMS

Cinestrange Dresden 2012, Morbido Panama 2012, BUT Filmfestival

Breda 2012, Buenos Aires Rojo Sangre 2012, South

Africa Horrorfest Cape Town 2012, Molins Horrorfilm Festival

2012, Drunken Zombie Peoria 2012, Gijón IFF 2012, ToHorror

Turin 2012 Awards Audience Award Morbido FF 2012, Special

Mention Ravenna 2011, Best Horror Film & Best Actress Fright

Nights 2011, Special Mention Leeds 2011, Audience Award &

Cine+ Award Paris Int'l Fantastic FF 2011, Best Director & Special

Mentions: Best Art Direction & Best Editing Buenos Aires

Rojo Sangre 2012,Antonio Margheriti Award ToHorror Turin 2012

ANDREAS MARSCHALL began his career as an artist of

graphic novels. He designed film posters, book illustrations and

more than 300 record covers. His first film project was the horror

rock-music-compilation HALLUCINATIVE COMAS (1991) for

the heavy metal band Kreator, which was released in the US,

Japan, Great Britain and Germany. Since then, he has directed

over 60 video clips, for bands like Sodom, Extrabreit, Guano

Apes, as well as commercials and corporate films. He edited

feature films like TRACK (1996), AS FAR AS MY FEET WILL

CARRY ME (2001), the TV series KÜSTENWACHE and worked as

a screenwriter. In 2004 he made his feature film debut with the

award winning TEARS OF KALI, which became an instant festival

hit, sold in many major territories and is now considered an

independent genre classic. MASKS (2011) is a loving tribute to

the maestros of the Italian genre cinema like Mario Bava and

Dario Argento and a fas cinating thriller-experience. With

MASKS, Marschall proves that he is a major force in the up -

coming new wave of German genre films.

World Sales

Anolis Entertainment

ivo@anolis-film.de

www.anolis-film.de

www.masks-themovie.de

GFQ 1-2013 33

photos © Stormlight Films/Anolis Entertainment
---
NEW GERMAN FILMS

NOWHEREMAN

What makes a person what he is? Cajo (22) is typical for the

petty criminal youth on the wrong path. His crimes include

armed robbery and aggravated assault. But now Cajo wants to

make a change, this time when he gets out of jail everything will

be different. With his adoptive parents, who brought him from

Brazil when he was two, at his side, he sets out to start a new

life. Euphorically, he looks for a home together with his pregnant

girlfriend Rijelda and makes plans for a happy family life.

But soon his past catches up with him: Cajo pretends to be

some one he is not. In order to escape reality, he invents char -

acters, feigns being a car dealer, a professional football player

or a talent scout and gets lost in his performances. The re la -

tion ship with Rijelda splits up. Cajo must return to jail and his

young girlfriend is alone with the child. The film accompanies

Cajo throughout a whole year. One year later, the filmmakers

meet him again, and he comments on the past year. Behind his

façade you can see a boy who seems to know exactly what he is

and can evaluate himself very well. You can tell that he wants

to make it but he does not know why he fails again and again.

The filmmakers are very close to the protagonist and mix the

two levels: Cajo's past and his present, in which he is his own

commentator. "I do not know who I am. And if you do not know

who you are, you're nobody and everyone."

Genre Biopic, Coming-of-Age Story Category Documentary

Year of Production 2012 Directors Annika Blendl, Leonie Stade

Director of Photography Carla Muresan Cast Cajo Thorbecke,

Rijelda Husseini, Gitti Thorbecke, Reinhard Thorbecke Producer

Ferdinand Freising Production Company Hochschule für Fernsehen

und Film München (HFF/M)/Munich Length 57 min

Format HD, color, 16:9 Original Version German Subtitled Version

English Festivals Max Ophüls Festival Saarbrücken 2013

(In Competition)

ANNIKA BLENDL was born in 1982 in Regensburg. After her

schooling, she worked as an actress in Berlin and was part of

the ensemble at the Schauspielhaus Zürich from 2004-2005, in

addition to roles in numerous films including FARLAND

(Michael Klier), GESPENSTER (Christian Petzold), AFTER

EFFECT (Stephan Geenes), MARIA AM WASSER (Thomas

Wendrich), TRANSIT (Philipp Leinemann), and REALITY XL

(Tom Bohn). Since 2009, she has been studying Documentary

Directing and Television Journalism at the University of Tele -

vision and Film Munich. Her films as a director include: the

docu mentaries KUNSTMACHER (2008), SEPP (2010), and

NOWHEREMAN (2012).

LEONIE STADE was born in 1988 in Lindau on Lake Constance.

After editorial internships at the Munich-based news -

paper Münchner Merkur and the design studio Designworks, she

started studying Documentary Directing and Television Journalism

at the University of Television and Film Munich in 2009. Her

films include: the documentaries ALEX (2010), 2M2 LEBEN

(2012), and NOWHEREMAN (2012).

World Sales

Annika Blendl

annikablendl@gmail.com

GFQ 1-2013 34

photo © Carla Muresan
---
OH BOY

Niko is in his late 20s and recently dropped out of college. He

lives for the moment, drifting sleeplessly through the streets of

Berlin, marvelling at the people around him. With a quiet

curiosity, he observes how they cope with everyday life while

failing to notice how he himself is becoming an outsider. But,

one day, everything changes, and Niko is forced to confront the

consequences of his inaction. His girlfriend ends their re -

lationship, his father cuts off his allowance and a psychiatrist

diagnoses him with an 'emotional imbalance'. Meanwhile a

peculiar beauty from his past confronts him with the emotional

wounds he inflicted, his new neighbor – accompanied by meatballs

and Schnapps – pours his heart out and, throughout the

city, there doesn't seem to be a single cup of 'normal' coffee

available.

"Do you know the feeling when people around you seem to behave

strangely? And the longer you think about it, the more it

dawns on you that it's not other people who are strange, but

yourself?" Niko's epiphany, however, is immediately, abruptly

interrupted when he's forced to stand up to a rowdy gang of

teenagers, and a night-time encounter with an old man not only

personifies his own loneliness but also demonstrates how the

city's history continues to assert itself.

Genre Tragicomedy Category Feature Year of Production 2012

Director Jan Ole Gerster Screenplay Jan Ole Gerster Director

of Photography Philipp Kirsamer Cast Tom Schilling, Friederike

Kempter, Marc Hosemann, Katharina Schüttler, Justus von

Dohnányi, Andreas Schröders, Arnd Klawitter, Martin

Brambach, Frederick Lau, Ulrich Noethen, Michael Gwisdek

NEW GERMAN FILMS

Pro ducers Marcos Kantis, Alexander Wadouh Production Company

Schiwago Film/Berlin, in co-production with Chromosom

Filmproduktion/Berlin, HR/Frankfurt, in cooperation with ARTE/

Strasbourg Length 85 min Original Version German Subtitled

Version English Festivals Karlovy Vary 2012, Munich 2012,

Oldenburg 2012, Zurich 2012, Sao Paulo 2012, AFI Fest L.A.

2012, Tallinn Black Nights 2012, IFF Bratislava 2012, plus

Camerimage 2012, Marrakech 2012, Angers 2013, Rotterdam

2013 Awards Best Screenplay Award Munich 2012, Best Film &

Audience Award, Seymour Cassel Award Oldenburg 2012,

Special Mention for director Jan Ole Gerster Zurich 2012, Best

Director, FIPRESCI Jury Award & Fedeora Jury Award Bratislava

2012, Red Hering Award & Audience Award Tallinn 2012 With

backing from Medien board Berlin-Brandenburg, German

Federal Film Board, BKM

JAN OLE GERSTER trained as a paramedic following his civil

service, then completed an internship at X Filme Creative Pool,

working together with Wolfgang Becker on GOOD BYE, LENIN!

He then studied at the German Film and Television Academy

Berlin (DFFB). A selection of his films includes: DER SCHMERZ

GEHT – DER FILM BLEIBT: THE MAKING OF GOOD BYE, LENIN!

(2004), J'ADORE LE CINEMA – YANN TIERSEN UND DIE FILM-

MUSIK (2004), OH BOY (2012), and numerous commercials and

videos.

World Sales

Beta Cinema

beta@betacinema.com

www.betacinema.com

GFQ 1-2013 35

photos courtesy of Schiwago Film
---
NEW GERMAN FILMS

PERRET IN FRANKREICH UND ALGERIEN

PERRET IN FRANCE AND ALGERIA

The film PERRET IN FRANCE AND ALGERIA presents thirty

buildings and architectural ensembles of the French architects

and construction engineers Auguste and Gustave Perret.

Auguste Perret has masterfully refined concrete construction

in the implementation of his projects and instilled in them a

classical expression. Working in parallel to the execution of

numerous construction projects in France, Perret was building

under conditions of colonialism in North Africa. The film traces

this division chronologically. The buildings erected in Algeria

from 1912 until 1952 are for the first time the subject of a film,

as are the ones built in France. The edifices of Perret in France

and their continued existence in the present are thus juxtaposed

to his projects realized in North Africa. A differentiated interaction

with the "architectural heritage" in diverging cultures

thereby becomes visible. The fate of Western architectural

modernism along with its symbolic value and sustainability in

the everyday interaction with its resulting products in varying

social conditions and landscapes comes into view.

Genre Art, Architecture, Experimental Category Documentary

Year of Production 2012 Director Heinz Emigholz Director of

Photography Heinz Emigholz Producers Frieder Schlaich, Irene

von Alberti Production Company Filmgalerie 451/Berlin, in coproduction

with WDR/Cologne Length 110 min Format HD, DCP,

color, 1:1.85 Original Version no dialogue Festivals Locarno

2012, Toronto 2012, Kaunas 2012, Vancouver 2012, Viennale

2012, Duisburger Filmwoche 2012, Documentary Fortnight:

MoMA New York 2013 With backing from BKM, Medienboard

Berlin-Brandenburg, Filmförderung Hamburg Schleswig-Holstein

HEINZ EMIGHOLZ was born in 1948 near Bremen. He trained

as a draftsman and studied Philosophy and Literature in Hamburg.

Since 1973, he has worked as an independent filmmaker,

artist, writer and producer in Germany and the USA. In 1974 he

started his encyclopaedic drawing series THE BASIS OF MAKE-

UP. He looks back on numerous exhibitions, retrospectives,

lectures and publications. In 1984 he started his film series

PHOTOGRAPHY AND BEYOND. He has held a professorship in

Experimental Filmmaking at the Universität der Künste Berlin

since 1993, and co-founded the Institute for Time-based Media

and the Art and Media program there. A selection of his films

includes: SCHENEC-TADY I-III (1973-1975), ARROWPLANE

(1974), TIDE (1974), HOTEL (1976), DEMON (1977), NORMALSATZ

(1981), THE BASIS OF MAKE-UP I-III (1983-2004), DIE WIESE

DER SACHEN (1987), DER ZYNISCHE KÖRPER (1990),

SULLIVAN'S BANKS (2000), MISCELLANEA I-III (2001-2004),

GOFF IN THE DESERT (2003), D'ANNUNZIO'S CAVE (2005),

SCHINDLER'S HOUSES (2007), LOOS ORNAMENTAL (2008),

SENSE OF ARCHITECTURE (2009), PARABETON-PIER LUIGI

NERVI AND ROMAN CONCRETE (2012), PERRET IN FRANCE

AND ALGERIA (DECAMPMENT OF MODERNISM – PART II/

PHOTO GRAPHY AND BEYOND – PART 20) (2012). More at

www.pym.de.

World Sales

Patra Spanou

spanoupa@yahoo.de

GFQ 1-2013 36

photo © Heinz Emigholz
---
ROLAND KLICK – THE HEART IS A HUNGRY HUNTER

… the gritty, kinetic, visionary cinema of Roland Klick

At the age of fourteen Roland Klick knew: Cinema is what my

soul is longing for. Filmmaking as an adventure, as an existential

experience, escape from and rebellion against the overstructured

German post-war reality. The director as an explorer

and foreign legioner, in search of himself.

Roland Klick, the director of films such as DEADLOCK (with

Mario Adorf) and WHITE STAR (with Dennis Hopper) has an

exceptional position in German cinema. Maladjusted to the

forms of New German Film of the 70s, too imaginative and unconventional

for the commercial cinema, marginalized by the

critical establishment – although his films won six state film

awards – he has celebrated international success and has

gained cult status. Klick's dystopian punk rock odysseys, aciddrenched

westerns and youth-oriented crime dramas are ripe

for rediscovery. ROLAND KLICK – THE HEART IS A HUNGRY

HUNTER is a documentary about the exceptional director of

modern German film history.

NEW GERMAN FILMS

Genre Biopic, Educational, Film Category Documentary Year of

Production 2013 Director Sandra Prechtel Screenplay Sandra

Prechtel Directors of Photography Susanne Schüle, Lukas

Schmid With Roland Klick, Eva Mattes, Otto Sander, Hark Bohm,

David Hess, Jost Vacano Producer Frieder Schlaich Production

Company Filmgalerie 451/Berlin, in cooperation with ZDF/

Mainz, 3sat/Mainz Length 80 min Format DCP, Blu-ray, color,

1:1.85 Original Version German Subtitled Version English

Festivals Berlin 2013 (Panorama)

SANDRA PRECHTEL was born in 1969 in Munich and studied

Literature, Film and Politics in Munich, London and Berlin. Also

active as a freelance author for various German newspapers

and periodicals, her films include: ND DEUTSCHES NEULAND

(doc, 2004) SPORTSFREUND LÖTZSCH (doc, 2007), DIE BALL-

KÖNIGIN (doc, 2010), and ROLAND KLICK – THE HEART IS A

HUNGRY HUNTER (doc, 2013).

World Sales

Patra Spanou

spanoupa@yahoo.de

GFQ 1-2013 37

photos © Filmgalerie 451
---
NEW GERMAN FILMS

SIENIAWKA

SIENIAWKA is a journey into humanity's irrational sub -

conscious.

Stefan tries to make his way through a post-industrial no man's

land. An encounter with a stranger leads to the line between

reality and imagination becoming blurred. The future and the

past become intertwined. Visions emerge from Stefan's mind

of another time.

The cold-blooded surgeon used to work in the dissecting room.

There was a cinema where everyone would go to on the weekend.

A state of complete delirium caused a young man's heart

to stop beating.

By passing through memory and the imaginary, Stefan wit -

nesses death, mental illness and the margins of humanity in a

world that resembles our own.

At the end, all that remains are ruins – everything begins to dissolve.

The outside world no longer resembles the one that he

was forced to leave. Internal chaos is mirrored by external

chaos.

Genre Drama Category Docu-Fiction Year of Pro duction 2013

Director Marcin Malaszczak Screenplay Marcin Malaszczak

Director of Photography Marcin Malaszczak Cast Stefan

Szyszka, Stanislaw Cheminski, Boguslawa Kasprzak, Wiktor

Szatkowski, Jerzy Szlosar, Francisek Zajdel, Zbigniew Skrabek,

Jerzy Iwanczewski, Kazimierz Duchaczek, Tomasz Czlonka Producers

Andreas Louis, Marcin Malaszczak, Michel Balagué,

Georg Tiller Production Company Deutsche Film- und Fernsehakademie

Berlin (DFFB), in co-production with Mengamuk

Films/Berlin-Vienna Length 124 min Format DCP, color, 1:1.85

Original Version Polish Subtitled Versions English, German

Festivals Berlin 2013 (Forum)

MARCIN MALASZCZAK was born in Poland and emigrated as

a child with his parents to West Berlin. A student at the German

Film and Television Academy (DFFB), his films include: THE

SWIMMER (short, 2010) and SIENIAWKA (2013).

World Sales

Mengamuk Films

info@mengamukfilms.com

www.mengamukfilms.com

GFQ 1-2013 38

photo © DFFB/Mengamuk Films
---
WEIL ICH SCHÖNER BIN

CAUSE I HAVE THE LOOKS

13-year-old Charo seems like a typical Berlin teenager. She's a

student surrounded by good friends and has her eye on the

coolest guy in school. But no one knows that Charo has been

living in Germany illegally for years, not even her best friend

Laura. Problems start to arise when Charo's mother is caught

by the police and wants to take Charo back to Columbia. Charo

now needs to trust Laura with her secret because it's the only

way she'll be able to fight for her future in Germany.

Puberty, trust, precarious living conditions and deceit: Based

on a true story, CAUSE I HAVE THE LOOKS intertwines a vibrant

coming-of-age story with the exceptional situation of illegal

immigration.

Genre Children & Youth, Coming-of-Age Story, Drama, Educational,

Family Entertainment Category Feature Year of Pro -

duction 2012 Director Frieder Schlaich Screenplay Claudia

Schaefer Director of Photography Benedict Neuenfels Cast

Mariangel Böhnke, Mira Aring, Angeles Aparicio, Andrea Sánchez

del Solar, Lavinia Wilson, Mario Golden, Stefan Kolosko,

Inka Löwendorf Producers Frieder Schlaich, Irene von Alberti

Production Company Filmgalerie 451/Berlin Length 81 min

Format HD, DCP, color, 1:1.85 Original Version German,

Spanish Subtitled Version English Festivals Achtung Berlin

2012, Filmkunstfest MV-Schwerin 2012, FilmFest Osnabrück

2012, One World Berlin Film Festival 2012, Stockholm Inter -

national Film Festival Junior 2013 With backing from BKM,

Kuratorium junger deutscher Film

NEW GERMAN FILMS

FRIEDER SCHLAICH is a German producer and director.

After studying Visual Communication at the Academy of Fine

Arts in Hamburg, his debut film HALFMOON, based on writings

by Paul Bowles, received numerous awards and international

critical acclaim. His subsequent film OTOMO, based on the true

story of an African immigrant in Stuttgart, won Best Film at

Bergano and the Diversity in Spirit Award at Vancouver in 2000.

Since then he has produced films by such diverse artists as

Christoph Schlingensief (THE AFRICAN TWIN TOWERS, with

Patti Smith, among others) and Werner Schroeter (international

co-production NUIT DE CHIEN), Heinz Emigholz (GOFF IN THE

DESERT, PARABETON), Irene von Alberti (STADT ALS BEUTE,

TANGERINE), Cynthia Beatt (THE INVISIBLE FRAME, starring

Tilda Swinton), Elfi Mikesch (MONDO LUX) and Omer Fast

(CONTINUITY), among others.

World Sales

Patra Spanou

spanoupa@yahoo.de

GFQ 1-2013 39

photo © Filmgalerie 451
---
GERMAN FILMS: A PROFILE

German Films Service + Marketing

is the national infor mation and advisory center for the promotion of German films worldwide. It was established in 1954 under the

name Export-Union of German Cinema as the umbrella association for the Association of German Feature Film Producers, the

Association of New German Feature Film Producers and the Association of German Film Exporters, and operates today in the

legal form of a limited company. In 2004, the company was reorganized and now operates under the name: German Films Service

+ Marketing GmbH

SHAREHOLDERS are the Association of German Film Pro -

ducers, the German Producers Alliance, the Association of

German Film Exporters, the German Federal Film Board (FFA),

the Deutsche Kinemathek, the German Documentary Association,

FilmFernsehFonds Bayern, Film- und Medien stiftung

NRW, Medien board Berlin-Brandenburg, and the German Short

Film Association.

ADVISORY BOARD

Martin Moszkowicz Chairman

Peter Dinges

Antonio Exacoustos

Sylke Gottlebe

Kirsten Niehuus

Ulrike Schauz

TEAM

Mariette Rissenbeek Managing Director

Julia Basler Documentary Film

Angela Hawkins Publications & Website Editor

Barbie Heusinger Distribution Support

Nicole Kaufmann Regional Coordinator: USA, UK & Northern Europe

Birgit Koch Press & PR

Verena Köstler Accounts

Iris Reiz Assistant to the Managing Director

Dennis Ruh Festival Coordinator

Maike Schantz Regional Coordinator: Southern Europe & South America

Martin Scheuring Project Coordinator & Short Film

Bernhard Simek Regional Coordinator: Eastern Europe & Australia

Konstanze Welz Television, Regional Coordinator: Asia

In addition, German Films has foreign representatives for

Eastern Europe, China, and the USA/Canada.

German Films' budget of presently €4.7 million comes from

film export levies, the office of the Federal Government

Commissioner for Culture and the Media, and the FFA. The

seven main regional film funds (FilmFernsehFonds Bayern,

Filmförderung Hamburg Schleswig-Holstein, Film- und

Medien stiftung NRW, Medienboard Berlin-Brandenburg,

MFG Baden-Württemberg, Mitteldeutsche Medien förderung,

and Nord media) make a financial contribution – currently

amounting to €345,000 – towards the work of German Films.

German Films is a founding member of the European Film

Promotion, a network of European film organizations with

similar responsibilities to those of German Films. The organiza -

tion, with its headquarters in Hamburg, aims to develop and

realize joint projects for the pre sentation of European films on

an inter national level.

In association and cooperation with its shareholders, German

Films works to promote feature, documentary, television and

short films.

RANGE OF ACTIVITIES

Close cooperation with major international film festivals, in -

cluding Berlin, Cannes, Venice, San Sebastian, Locarno,

Rome, Karlovy Vary, Montreal, Toronto, New York, Shanghai,

Warsaw, Moscow, and Busan

Organization of umbrella stands for German sales companies

and producers at international television and film markets

(Berlin, Cannes, AFM Los Angeles, Shanghai)

Staging of Festivals of German Films in selected inter national

territories

Staging of the German Premieres industry screenings in New

York, and other selected territories

Providing advice and information for representatives of the

international press and buyers from the fields of cinema, video,

and television

Providing advice and information for German filmmakers and

press on international festivals, conditions of participation, and

German films being shown

Organization of the annual Next Generation/Short Tiger short

film program, which presents a selection of shorts and is internationally

premiered at Cannes

Publication of informational literature about current German

films and the German film industry, as well as international

market analy ses and special festival brochures

A website (www.german-films.de) offering in forma tion about

new German films, a film archive, in formation and links to

German and international film festivals and institutions, and a

VOD platform for buyers and festival delegates

Organization of the selection procedure for the German entry

for the Oscar ® for Best Foreign Language Film

Collaboration with Deutsche Welle's DW-TV KINO program

which features the latest German film releases and inter -

national productions in Germany

Organization of the German Films Previews geared toward

arthouse distributors and buyers of German films

Selective financial Distribution Support for the foreign

releases of German films

Organization with Unifrance of the annual German-French

film meeting

GFQ 1-2013 40
---
Allianz Deutscher Produzenten – Film & Fernsehen e.V.

German Producers Alliance

Kronenstr. 3 | 10117 Berlin/Germany

phone +49-30-2 06 70 88 0 | fax +49-30-2 06 70 88 44 | info@produzentenallianz.de | www.produzentenallianz.de

Arbeitsgemeinschaft Dokumentarfilm e.V.

German Documentary Association

Schweizer Str. 6 | 60594 Frankfurt am Main/Germany

phone +49-69-62 37 00 | fax +49-61 42-96 64 24 | agdok@agdok.de | www.agdok.de

Arbeitsgemeinschaft Kurzfilm e.V.

German Short Film Association

Förstereistr. 36 | 01099 Dresden/Germany

phone +49-3 51-4 04 55 75 | fax +49-3 51-4 04 55 76 | info@ag-kurzfilm.de | www.ag-kurzfilm.de

Deutsche Kinemathek

Museum für Film und Fernsehen

Potsdamer Str. 2 | 10785 Berlin/Germany

phone +49-30-30 09 03-0 | fax +49-30-30 09 03-13 | info@deutsche-kinemathek.de | www.deutsche-kinemathek.de

FilmFernsehFonds Bayern GmbH

Gesellschaft zur Förderung der Medien in Bayern

Sonnenstr. 21 | 80331 Munich/Germany

phone +49-89-54 46 02-0 | fax +49-89-54 46 02 21 | filmfoerderung@fff-bayern.de | www.fff-bayern.de

Filmförderungsanstalt

German Federal Film Board

Große Präsidentenstr. 9 | 10178 Berlin/Germany

phone +49-30-27 57 70 | fax +49-30-27 57 71 11 | presse@ffa.de | www.ffa.de

Film- und Medienstiftung NRW GmbH

Kaistr. 14 | 40221 Düsseldorf/Germany

phone +49-2 11-93 05 00 | fax +49-2 11-93 05 05 | info@filmstiftung.de | www.filmstiftung.de

Medienboard Berlin-Brandenburg GmbH

August-Bebel-Str. 26-53 | 14482 Potsdam-Babelsberg/Germany

phone +49-3 31-74 38 70 | fax +49-3 31-7 43 87 99 | info@medienboard.de | www.medienboard.de

Verband Deutscher Filmexporteure e.V. (VDFE)

Association of German Film Exporters

Robert-Koch-Str. 1 | 80538 Munich/Germany | Berlin office: Winterfeldtstr. 56 | 10781 Berlin/Germany

phone +49- 89-57 08 77 53 | fax +49-89-57 08 77 60 | mail@vdfe.de | www.vdfe.de

Verband Deutscher Filmproduzenten e.V.

Association of German Film Producers

Ismaninger Str. 45 | 81675 Munich/Germany

phone +49-89-33 03 69 06 | fax +49-89-33 74 32

mail@filmproduzentenverband.de | www.filmproduzentenverband.de, www.filmproducers.de

Der Beauftragte der Bundesregierung für Kultur und Medien

Federal Government Commissioner for Culture & the Media

Köthener Str. 2 | 10963 Berlin/Germany

phone +49-30-18 68 14 43 51 | fax +49-30-1 86 81 54 43 51 | Ulrike.Schauz@bkm.bund.de | www.kulturstaatsminister.de

Filmförderung Hamburg Schleswig-Holstein GmbH

Friedensallee 14–16 | 22765 Hamburg/Germany

phone +49-40-398 37-0 | fax +49-40-398 37-10 | info@ffhsh.de | www.ffhsh.de

MFG Medien- und Filmgesellschaft

Baden-Württemberg mbH

Bereich Filmförderung | Breitscheidstr. 4 | 70174 Stuttgart/Germany

phone +49-7 11-90 71 54 00 | fax +49-7 11-90 71 54 50 | filmfoerderung@mfg.de | www.mfg-filmfoerderung.de

Mitteldeutsche Medienförderung GmbH

Hainstr. 17-19 | 04109 Leipzig/Germany

phone +49-3 41-26 98 70 | fax +49-3 41-2 69 87 65 | info@mdm-online.de | www.mdm-online.de

nordmedia – Die Mediengesellschaft

Niedersachsen/Bremen mbH

Expo Plaza 1 | 30539 Hanover/Germany

phone +49-5 11-1 23 45 60 | fax +49-5 11-12 34 56 29 | info@nordmedia.de | www.nordmedia.de

SHAREHOLDERS & SUPPORTERS

GFQ 1-2013 41
---
ASSOCIATION OF GERMAN FILM EXPORTERS

Verband deutscher Filmexporteure e.V. (VDFE)

Robert-Koch-Str. 1

80538 Munich/Germany

phone +49-89-570 877 53

fax +49-89-570 877 60

mail@vdfe.de

www.vdfe.de

A-COMPANY FILM

LICENSING INTERNATIONAL GmbH

Alexanderstr. 7

10178 Berlin/Germany

phone +49-30-25 76 23 30

fax +49-30-25 76 23 59

info@a-company-ag.com

www.a-company-film.com

Action Concept Film- &

Stuntproduktion GmbH

An der Hasenkaule 1-7

50354 Hürth/Germany

phone +49-22 33-50 81 00

fax +49-22 33-50 81 80

wolfgang.wilke@actionconcept.com

www.actionconcept.com

Aktis Film International GmbH

Hauptmannstr. 10

04109 Leipzig/Germany

phone +49-3 41-35 54 09 07

fax +49-3 41-35 54 09 09

info@aktisfilm.com

www.aktis-film.com

ARRI Worldsales

Türkenstr. 89

80799 Munich/Germany

phone +49-89-38 09 12 88

fax +49-89-38 09 16 19

aexacoustos@arri.de

mhemminger@arri.de

www.arri-mediaworldsales.de

Berlin office:

Winterfeldtstr. 56

10781 Berlin/Germany

phone +49-30-8 61 23 93

Atlas International Film GmbH

Candidplatz 11

81543 Munich/Germany

phone +49-89-21 09 75-0

fax +49-89-21 09 75 81

mail@atlasfilm.com

www.atlasfilm.com

Beta Cinema GmbH

Grünwalder Weg 28d

82041 Oberhaching/Germany

phone +49-89-6 73 46 98 28

fax +49-89-6 73 46 98 88

beta@betacinema.com

www.betacinema.com

Constantin Film Verleih GmbH

Feilitzschstr. 6

80802 Munich/Germany

phone +49-89-44 44 60 0

fax +49-89-44 44 60 666

zentrale@constantin-film.de

www.constantin-film.de

Films Boutique GmbH

Köpenicker Str. 184

10997 Berlin/Germany

phone +49-30-69 53 78 50

fax +49 30-69 53 78 51

info@filmsboutique.com

www.filmsboutique.com

Global Screen GmbH

Sonnenstr. 21

80331 Munich/Germany

phone +49-89-24 41 29 55 00

fax +49-89-24 41 29 55 20

info@globalscreen.de

www.globalscreen.de

Media Luna New Films UG

Aachener Str. 24

50674 Cologne/Germany

phone +49-2 21-51 09 18 91

fax +49-2 21-51 09 18 99

info@medialuna.biz

www.medialuna.biz

SOLA Media GmbH

Filderhauptstr. 49

70599 Stuttgart/Germany

phone +49-7 11-4 79 36 66

fax +49-7 11-4 79 26 58

post@sola-media.com

www.sola-media.com

Transit Film GmbH

Dachauer Str. 35

80335 Munich/Germany

phone +49-89-59 98 85-0

fax +49-89-59 98 85-20

loy.arnold@transitfilm.de

mark.gruenthal@transitfilm.de

www.transitfilm.de

GFQ 1-2013 42
---
FOREIGN REPRESENTATIVES IMPRINT

Eastern Europe Simone Baumann

Saxonia Entertainment

Altenburger Str. 9

04275 Leipzig/Germany

phone +49-3 41-35 00 45 36

fax +49-3 41-35 00 77 45 36

baumann@german-films.de

USA & Canada Oliver Mahrdt

Hanns Wolters International Inc.

501 Fifth Avenue, #2112A

New York, NY 10017/USA

phone +1-212-714 0100

fax +1-212-643 1412

mahrdt@german-films.de

China Anke Redl

CMM Intelligence

B 621, Gehua Tower

No. 1, Qinglong Hutong

Dongcheng District

Beijing 100007/China

phone +86-10-84 18 64 68

fax +86-10-84 18 66 90

redl@german-films.de

Airport Offices:

München

( 089/97 58 07-0

Fax 089/97 59 52 82

muc@multi-logistics.de

worldwide transport solutions Int. Medienspedition

FILMTRANSPORTS . FIRST CLASS SERVICE !

AIRFREIGHT WORLDWIDE:

EXPORT . IMPORT . WAREHOUSE

INTERNATIONAL COURIERSERVICE:

WORLDWIDE "DOOR TO DOOR"

TRUCKING SERVICE . OVERNIGHT

FESTIVALS . FILMPRODUCTION-HANDLING

Frankfurt

( 069/69 52 36-0

Fax 069/69 52 36 15

fra@multi-logistics.de

German Films Quarterly is published by:

German Films Service + Marketing GmbH

Herzog-Wilhelm-Str. 16

80331 Munich/Germany

phone +49-89-5 99 78 70

fax +49-89-59 97 87 30

info@german-films.de

www.german-films.de

ISSN 1614-6387

Credits are not contractual for any of the films mentioned in this publication.

© German Films Service + Marketing GmbH

All rights reserved. No reproduction, copy or transmission of

this publication may be made without written permission.

Editor Angela Hawkins

Production Reports Martin Blaney, Simon Kingsley

Contributors Martin Blaney, Simon Kingsley,

Claudia Lenssen

Translations Lucinda Rennison

Cover GOLD (photo © Schramm Film/Patrick Orth)

Design & Art Direction Werner Schauer www.triptychon.biz

Printing Office www.esta-druck.de

PEFC/04-31-1180

Berlin

( 030/412 20 34

Fax 030/412 20 94

ber@multi-logistics.de

German Films supports the use of paper from sustainable forestry.

The pages of this magazine are made of PEFC certificated cellulose.

PEFC (Programme for the Endorsement of Forest Certification schemes)

is the largest independent organization worldwide for securing and

continuously improving a sustainable forest management and it

guarantees ecological, social and economic standards. Currently there

are 215 million hectares of PEFC certificated forest worldwide.

GmbH

www.multi-logistics.de

Hamburg

( 040/50 75 15 73

Fax 040/50 75 25 36

ham@multi-logistics.de

GFQ 1-2013 43
---
Bringing the

best new

films from

Germany to

the world…

GERMAN FILMS AT THE BERLINALE 2013: European Film Market · Martin-Gropius-Bau · Stand 16

Niederkirchner Str. 7 · 10963 Berlin · phone +49-30-609 027 420 · www.german-films.de