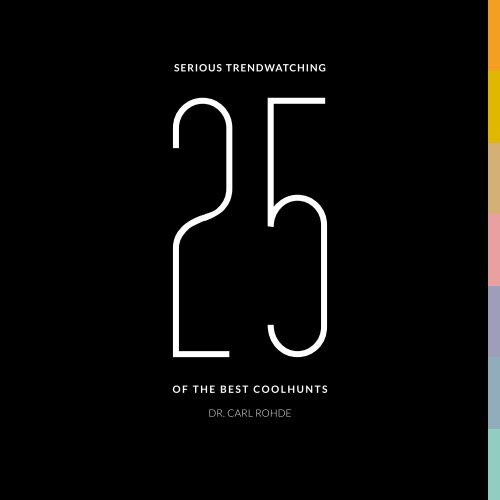 25 of the best Coolhunts - Fontys ACI
25 of the best Coolhunts - Fontys ACI
25 of the best Coolhunts - Fontys ACI
SHOW MORE
SHOW LESS
Do you know the secret to free website traffic?
Use this trick to increase the number of new potential customers.
25

SERIOUS TRENDWATCHING

OF THE BEST COOLHUNTS

DR. CARL ROHDE
---
25

SERIOUS TRENDWATCHING

OF THE BEST COOLHUNTS

DR. CARL ROHDE
---
Table of Contents

A brief introduction to International Lifestyle Studies 5

Introduction 8

A first year with hundred students: trendwatching and Coolhunting 11

Definition of Cool 13

25 of the best Coolhunts

1 Kickstarter: the biggest virtual platform in which creative people will find each other 18

2 Airbnb: staying at special places with common people 22

3 Dribbble and Forrst: not suitable for everyone 26

4 Farmville in real time: a world famous game 30

5 The Candy Shell Card: a gadget with a trend bite 34

6 The Seil backpack: safe and Cool for urban nomads 38

7 The biker's lifestyle: urban nomads on a bicycle 42

8 Landpeel: mobile office on the go 46

9 Ostrich: a powernap wherever you want 50

4
---
10 The Urban Quiver Camera Bag: for the sturdy and stylish photographer on the go 54

11 Miharayasuhiro: for fashion with now and then an extra virile moment 58

12 The mobile mancave: a virile moment on wheels 62

13 Monki Television: an exciting concept fashion store 66

14 Candy Chang: Before I Die Wall 70

15 D'Espresso, New York: an inspiring coffeebar 74

16 L' Eclaireur, Paris: invitation to discover your own story 78

17 Subway Tokyo: a transparent kitchen garden 82

18 Del Monte: exciting ice lolly 86

19 Greengiving: printed apples and pears and by the way also kiwis 90

20 Nadeau's Urban Mini Gardens: well designed nature in your house 94

21 A Wall of Hopes & Dreams: Cool for many generations 98

22 AWARE energy plant: environmentally friendly, smart and stylish 102

23 OAT: flourishing sneaker 106

24 VAHO: Barcelona advertising posters turned into creative bags 110

25 Stefan Gzyl: mobile parks 114

Conclusion 118

Synopsis of the most important mentality trends 120

Colophon 124

5
---
A brief introduction to International Lifestyle Studies

International Lifestyle Studies is a four year bachelor program that, since 2010, has educated

Lifestyle Professionals. A professional who can develop new products and services that

connect to the lifestyles of many people. In order to accomplish this students need to

know everything about social trends. With this knowledge they are going to invent

creative ideas (= concepts) for new services/products which correspond with the needs

of the various groups of people.

Lifestyle as work field

The work field linked to Lifestyle is very versatile because people can Express their lifestyles

in many ways. The program distinguishes six fields:

• Human Movement

• Health

• Food

• Leisure

• Appearance

• Living

Program outline

The program starts with a general foundation of 2.5 years in which students get

acquainted with all six Lifestyle sectors. Besides that they also focus on all four tasks:

analyze trends, develop lifestyle concepts, realize products/services and advise during

the implementation. In the final 1.5 years they can specialize in two fields minimum.

Relationship with professionals

At International Lifestyle Studies we think it is important that students meet their future

professionals as soon as possible. During all programs they work on assignments from

the field. Also in the Lifestyle Factory (a learning place in management of the program),

they work in the context of companies and organizations. The students also do two

7
---
internships which both last twenty weeks. This is the best way to gain experience as a

trend analyst and a developer of concepts.

Future employers

The future profession of the Lifestyle Professional is to analyze trends, to develop and

to introduce Lifestyle concepts. Students can find work in marketing, innovation,

R&D but also in New Business Development. In addition there are more and more

companies that use the knowledge of trends and of consumer needs to develop concepts

for their customers.

Finally students can also be selfemployed as a creative entrepreneur or related functions.

More than one hundred companies have made it clear that they would like to work with

interns and graduates. Companies such as Achmea, The Efteling, Fair Trade Original,

GGD, Hema, Leolux, Mundial Productions, Nike, Philips, Thermae 2000 and The Sting.

Well-known academic trendwatcher

Dr. Carl Rohde works for International Lifestyle Studies. He made his profession of

trendwatching. He belongs to the top of the Dutch trendwatchers. During their first year

students participate in an international research, International Cool City Hunt Project,

under the direction of Carl Rohde. Together with students from other business schools and

universities abroad they are in search of new concepts that might be considered Cool.

Not Cool hip but Cool that is attractive, inspiring with future growth potential. These products

or concepts found in the Coolhunts will be translated into future trends.

In this booklet dr. Carl Rohde has selected the 25 coolest examples, found by first year

students of International Lifestyle Studies 2010-2011. He analyzed these examples

thoroughly. First to make it for the students more transparent what this valuable methodology

consists of.

Second to show representatives of organizations and companies what International

Lifestyle Studies and lectorate Trendwatching do with trends in this program.

8
---
Minor Trendwatching

International Lifestyle Studies also offers the minor Trendwatching twice a year.

All students who study at a University of Applied Sciences (Fontys and non Fontys

students) and would like to know more about trends and who would like to use this

knowledge in their future profession can join this minor.

In this minor they are taught how to trace mentality trends systematically, how to

analyze and interpret.

Students find out what the consequences are of these worldwide developments

for their profession. After having finished the minor the students are able to apply

trend insights specifically to the sector they work. In this booklet some examples

will be discussed that are observed by the minor students.

Enjoy reading this booklet

Anja Sparidaans

Coordinator International Lifestyle Studies

More info on the program and the brochures can be found on www.fontysaci.nl and fontys.nl/lifestyle

9
---
Introduction

In September 2011 the program International Lifestyle Studies started at the Academy

for Creative industries in Tilburg.

It was quite unique that this program could start : it was a time of recession and the Dutch

Ministry of Education did not feel like accrediting new programs.

Many new educational initiatives died in times of financial uncertainty with the Department

of Education. But fortunately International Lifestyle Studies could start. It was a solid signal

that the government had faith in this new program.

Before the government gives permission for a new program to start, the idea for the

program needs to be proposed to representatives of the business sector.

In an ideal situation they also cooperate in further developing the program.

This way a solid basis is created. The graduates would like to have jobs in which their

expertise is wanted by the trade and industry.

Definitely with an innovative program such as International Lifestyle Studies, this all

worked out excellently.

Many companies such as Nike, The Efteling, Hema, Philips Design, Fair Trade Original,

Mundial Productions and Royal Hotel and Catering Industry, underlined the need for

an extensive program trendwatching and innovation. They made it quite clear that the

expertise and competences of this education are of great importance for the future.

Research questions for trendwatchers

International Lifestyle Studies takes trendwatching seriously. How to learn to watch trends

in a good, solid and professional way is one of the main cornerstones of the course.

Regularly trendwatching is associated with either a search for the latest gadgets or a

search for the latest fashion trends. International Lifestyle Studies is focused on a deeper

and broader search. An education cannot be based on a search for nice gadgets. Trendwatching

in the field of fashion already takes place in some other programs. But never in

a four year program accredited by the government.

10
---
Trendwatching at International Lifestyle Studies wants to serve many fields.

Students are not only trained in observing in a trend sensitive way but they are also

challenged to search for deeper mentality trends that play a vital part in society.

What is in the mind of today's young people? What are for example the most recent

growth spots on the internet that they find most attractive and inspiring?

What trends can we observe here? What does this say about the mentality of the youth?

How do men, young and old, change in a world that is more and more focused on sex

equality? In a recession in which more men in Europe lose their jobs compared to women.

This recession is therefore sometimes called a 'man' recession. What happens with

women in such a world? Today many young women have greater economic, social and

emotional independence than their mothers and even more than their grandmothers.

How do they live their lives? What do they expect from work and holidays, a relationship

and health, making fun and studying? What trend developments can we define in all

these fields?

In fact how stressed are we in our society? Is stress different with young people,

30 somethings or 50 somethings? And which trend phenomena can be associated with

this? 'Chill' is a term that did not exist fifteen years ago. Neither did Binge drinking.

Many 30+ focus on mindfulness. This hardly existed five years ago. They all refer to

trends and behind these trends is another world with changing mentalities.

How does the 50+ generation experience life? The 50 to 70 generation is the most

prosperous group by average and not just in the Netherlands. What mentality trends

start, prosper and eventually wane again?

How do we learn to become sensitive for these developments and their manifestations?

How can we document them and make them plausible?

11
---
From validated trends to innovative concepts

International Lifestyle Studies is trying to find the substantial answers to these questions.

How to reach mentality trends that have future growth potential and a solid expressive

power? This we call validated trends.

We trace them within social fields and corporate sectors.

On the basis of these validated trends innovative products and services are subsequently

developed for the business and government. This is the beating heart of the program:

from validated trends to innovative concept development. It is also the reason why many

companies have supported this program from day one.

As a professor Trendwatching & Innovation I was involved with International Lifestyle

Studies from day one. This booklet is meant for you to get an impression of what we,

lecturers and students, have done in the first year. Another three years to go. That is

three quarters of the complete learning and research process. But there is a lot to see

now and we don't want to withhold it from you.

Dr. Carl Rohde wishes to thank Sylvie Dieteren, Anja Sparidaans and Monica Veeger

12
---
A first year with hundred students: trendwatching and Coolhunting

Innovation is a must -do thing. So is solid trendwatching

A trendwatcher has the ability and the talent to discover seeds in the present and to

forecast which seeds will likely develop into broader future mentality trends. Not everyone

has that talent or that ambition. At International Lifestyle Studies many students enter with

the second one: ambition.

Next to this they are going to learn to develop their talent and capacities systematically.

We support them by means of lectures, workshops, and brainstorm sessions but also

by letting them work with the possibilities internet offers and by teaching them how to

comment on the contributions in this virtual world and also by working together.

Thus International Lifestyle students make their own blog in the first month of the

academic year.

They also need to practice tracing and observing physically but also virtually new things

that they see in the street and which have growth potential.

Of course not all new observations will have growth potential. It is essential to make a

difference between on the one hand the gadget that shows up to only disappear very fast

afterwards and on the other hand all manifestations that have new fundamental and long

term growth.

These manifestations cover a very broad range. It could be a new product e.g. the fast

rise of the electric bicycle for the 50+.

It could also be a new service e.g. the immense love people feel for Apple products.

It could also be manifestations of behavior: Buddhism is the fastest growing religion

in the Netherlands. It could also be a very inspiring website, a breathtakingly handy app

for your mobile, a young musician that touches the right chord, a boutique hotel or

a garment. In all cases trendwatchers spot new developments big or small, fast and

ingenious. The best trendwatchers systematically go deeply into the question: what is

behind all this? What chord is touched? What exactly has growth potential? These are

questions that lead to validated mentality trends. Companies and government can benefit

13
---
from this. We live in a fierce competitive world. The Netherlands cannot distinguish itself

by low wages. In this field it is very difficult to compete with China. The Netherlands

can distinguish itself in its capacity to realize innovative products and services, insights

and ideas.

These grow best in a field of validated trends. Innovation is a must-do.

Innovation without knowledge of trends leads to innovation in the dark.

Thus International Lifestyle Studies: from trends to innovations.

Trendwatching as a profession

Trendwatching comes in many shapes and sizes now that the professional status grows

and its importance becomes more and more obvious. There are different types of

trendwatchers: trendwatchers who keep sharp track of everything that happens on the

internet. Trendwatchers who especially read and analyze books and trend magazines.

Trendwatchers who primarily comb the virtual streets.

All round trendwatchers do all three. International Lifestyle Studies educates students

in becoming an all round trendwatcher.

The program makes an end to the stereotyping of trendwatching: an interesting but

superficial hobby. The opposite is true, trendwatching has developed into a fascinating

professional activity in a rapid pace.

In the Netherlands International Lifestyle Studies takes the initiative to further develop

this profession, increase its competences and to reach a better insight and to conduct

relevant research.

14
---
Definition of Cool

The International Cool City Hunt Project

Trendwatchers who primarily visit the virtual streets, document and register what news

they observe, can be called 'Coolhunters'.

They are in search of anything that can be considered Cool with future growth potential.

This makes them trend sensitive.

It is a basic competence for all students. In this context Fontys University of Applied

Sciences started together with trend research company www.scienceofthetime.com.

The international Cool City Hunt Project. In this project thousands of students

worldwide participate. They show us what Cool observations they have observed in their

country or on the internet.

We have to avoid that Cool leaves the impression that it is too popular. The good thing

about the term is that it is understood all over the world. For international research this

is a necessity. Besides we emphasize in our Cool City Hunt lectures that it is not about

hip, painfully hip. If we would do this we would go in the gadget direction that we want

to avoid. We are too thorough for that. Our definition of Cool is: everything that is

attractive and inspiring with future growth potential. It cannot be avoided in this worldwide

project that it is still a broad definition but it offers possibilities of insights and analyses.

It needs to be well-reasoned why something is considered Cool and why it has growth

potential. Thus we go beyond getting excited about something that is hip painfully hip.

This is called: study.

Besides the definition of Cool being attractive and inspiring with future growth potential

can be used for many companies and sectors.

It is just as relevant for Footlocker as it is for Fairtrade, building corporations, airline

companies, HEMA and BNN. They all use the input regarding what is Cool differently

in their strategic plans. For all lines of businesses it is important to find out what has

15
---
definitely future growth potential and what has not.

Trendwatching and Coolhunting in a professional way traces seeds of new things in the

present, decides what has future growth potential and describes what mentality trends

are behind these new things.

Procedure and methodology

The past year about one hundred International Lifestyle students received the assignment

to go trendwatching and Coolhunting for several sectors.

In this booklet we selected 25 observations of what is considered 'Cool'.

The selection is based on:

• The assessors, external trendwatchers and fellow students were more than averagely

enthusiastic. First selection criteria: attractive and inspiring so new and making

enthusiastic.

• The observations were clearly argued why the selected observations have growth

potential. Second selection criterion: well-reasoned future growth potential

• It is very sharply made clear what mentality trend lies behind the example. Third selection

criteria. Translation to one or more broader mentality trends

These three criteria play a major role in professional trendwatching. The third criteria

is decisive when we are professionally looking for validated mentality trends.

This means that we are trying to find out what Cool stands for, what does it mean,

what mentality trend lies behind it. This all in relation to the presented observations

and examples.

Procedure en methodology: an observation is just an observation

It goes without saying that a sharp observation of Cool is a necessity.

At the same time it is only the beginning. Next it needs to be defined what is the

significance of the observation. That is where analyzing and interpreting comes in

and thus reading and studying.

16
---
It is also a matter of creatively combining more observations.

An observation is just an observation. No more no less. And this does not make it

a validated trend.

However if we succeed in discovering one mentality movement in the observations of

what is Cool, then it is Eureka time. Professional trendwatching from one observation

towards more observations towards underlying mentality trends. If this is done systematically

and based on knowledge it will result in mentality trends.

In the meantime we have become more trend sensitive and more professional.

One hundred students

The collected observations are all made by International Lifestyle students and students

that attend the minor Trendwatching.

They give a good impression of the broad range within which students have been

trendwatching and Coolhunting. They also show us what is going on in the current world

of the young people or what will be going on. The fact that we focus on young people and

their world also confines this booklet full of first year contri butions. Most observations of

Cool by our students are related to the youth world itself.

Trend sensitive observations regarding Cool in the e.g. very important 50 + generation

remain under represented.

In the coming three years this will have our full attention.

In conclusion we would like to demonstrate the methodology necessity that observations

need to be combined in order to reach validated trend insights. It makes me proud that

I will perform this combined task. I hope to inspire students the coming three years.

I hope to deliver an interesting interpreted contribution to their selection and this booklet.

For them but also for all other readers of this booklet.

In this booklet we have chosen to link more observations of Cool. That is how the underlying

mentality trends can be better documented. As we said earlier this may not be done

17
---
ased on one example. A downside of this procedure is that not all trends will be focused

on. The best synopsis of trends that will be worked with now and in the future can be

found on www.scienceofthetime.com.

Nevertheless we are convinced that the first year has been concluded successfully.

And don't forget: we still have three years to go.

The 25 selected observations of Cool as presented in this booklet are all contributed

by the students of Internatonal LifeStyle Studies and of the minor Trendwatching of

Fontys University of Applied Sciences, the Netherlands. However, their observations

and contributions are part of a much greater research object:

The International Cool City Hunt project. This project once started at

www.scienceofthetime.com and has been facilitated and embraced by Fontys University

of Applied Sciences. The vision behind The International Cool City Hunt Project is that all

future professionals need to become more trend- and innovation sensitive. That is what will

keep us competitive (and creative) in a 'Flat World', in which all continents and businesses

are competing on equal footing. In the emerging economies people are working harder,

more hours for less money than inhabitants of Europe and North America are willing to.

Being more innovative than the rest will be their key competitive edge and capacity.

Will the next Steve Jobs rise in the USA again? In Europe? Or in India, China or Brazil?

In order to be effectively innovative professionals had better leave from a solid platform

of validated mentality trends that thoroughly describe what the (future) consumer target

groups aspire, desire and need. But also where their worries, anxieties and preoccupation

lie. Innovation is a must more than ever before. However, innovating that is not based on

a platform of validated mentality trends means: innovating in the dark. This the conviction

lies behind the International Cool City Hunt Project. The vision of the project: helping to

make its participants more seriously trend-sensitive, and therefore enabling them to

become more innovation-sensitive.

A coherent kaleidoscope of over 25 universities worldwide now participate in the

International Cool City Hunt Project. Professional experts of Science Of The Time and

18
---
Fontys University of Applied Sciences travel to universities abroad, presenting to their

students the international validated Cool mentality trends and ask them to contribute

their own observations of Cool. For instance, after being inspired by what Cool experience

economy – latest phase! - means in this world, we invite the local students to focus,

study and document what the trend means in their part of the world. This we do for six

to ten trends at each university we visit. The students upload their examples to

www.scienceofthetime.com and the International Cool City Hunt Project gets enriched

further. All selected observations of Cool are analysed and interpreted by our team.

The research mood of the International Cool City Hunt Project is: FUBU. For you, by you!

All participants not only are taught what the international validated Cool mentality

trends are and how to Coolhunt themselves. At some of our befriended universities we

also are conducting (pressure cooker or ten days) 'From mentality trends to innovative

concepts' (summer) courses. Also we are starting to invite, for instance, our Shanghai

(Shanghai Institute of Technology) professors and students and our Sao Paulo professors

and students (ESAMC) to 'chew' on the observations of Cool we have gathered on the

other part of the world. So Shanghai interprets Sao Paulo and vice versa. In order,

not only to make all involved more trend- and innovation-sensitive, but also to give them

all a better feel for intercultural differences. Intercultural differences in a 'Flat World'.

The International Cool City Hunt Project will continue. If universities are interested to

join us, or if individual students want to give it a serious try, please, contact:

carl@scienceofthetime.com or Sylvie Dieteren, project

manager International Cool City Hunt: s.dieteren@fontys.nl.

Dr. Carl Rohde

19
---
20

Kickstarter

THE SOCIAL WEB CONTINUES
---
www.kickstarter.com

01

A new way to sponsor and follow creativity, according to

KICKSTARTER the biggest virtual platform in which creative

people will find each other

Chris and Daniella Merzatti would like to give an impulse to the

artistic community in their city. They do this by means of offering

those who are seriously interested in drawing classes a course in

their mobile pop- up studio.

The estimated costs are € 1,708. Charles Cain wants to publish

the first music album called civil ghost. This costs about $ 4,126.

A videogame is developed for young fathers, called Octodad.

"It is about the life of an octopus trying to pass himself off as a

human father. Probably the coolest game about fatherhood you'll

ever play." Estimated development and distribution costs $ 21,118.

All sympathetic initiatives with not much money.

At www.kickstarter.com they and many others try to find fans and

sponsors. The site offers the possibility to upload a promotional video

in which you can present your own initiative. Others watch the video

and can decide to contribute financially. The promotion for donations

for a project needs to be done in an established frame of time.

Octodad has turned out to be a success. They still have eight days

to go but the money is in the bag and they can realize their goal.

For more information, check the website.

www.kickstarter.com. The site works. CNN, Wired, The New York

Times wrote about it. Kickstarter is the biggest platform where

creative people from all over the world can share their remarkable

initiatives with potential fans.

21
---
This makes the site a good place for Coolhunting: there are so

many original ideas to be found. Next to that Kickstarter also

makes it possible that good ideas can be realized. That can also

be considered Cool.

www.kickstarter.com is one observation of what is Cool within

the Coolhunt a student carried out. One observation however

does not prove to be the dawn of a (new) trend.

If the observation however is shared by others who also think it

is Cool then the meaning of Cool grows. We have, so to speak a

quantitative test moment. In the case of Kickstarter not only

Lifestyle students contribute to this test moment but also the

interest of the world press and investors are valued.

Then it becomes time to take the phenomenon seriously and to find

out what big trend plays a role in the background. What trend does

www.kickstarter.com illuminate as being Cool?

"It is a distinct change in the individualistic era, we need eachother

to survive in a society that is away from central authority"

That trend we may call: The rise of the social web.

The first generation websites (birth somewhere between 1998

and 2005) initially had a very systematic character. It was often no

more than the advertising brochure of a company. The one we

used to receive in our mailbox but now posted on the internet with

an email address added. From 2005 a new generation of websites

has been developed: more dynamic, more interactive, more social.

In these websites we talk with each other, comment on each

22

READ MORE:

We-Think

author: Charles Leadbeater

publisher: Profile Book (GB)

ISBN: 1861978375

publication: 2009
---
www.kickstarter.com

01

other's uploads, work together virtually. This accounts for the name 'Social Media' and

The rise of the worldwide social web is the underlying trend.

We would like to explore and document deeper mentality trends (always with more

than one Cool example) with our examples and observations, then we reach validated

trends of Cool with an expressive power that has a longer shelf life than Cool gadgets

of the delusion of the day.

Kickstarter is, also after nine months an excellent example. It underlines and illustrates

the importance of one of the most fundamental trends that will put its

emphasis on the present but also the future: The rise of the social web. In addition it

shows how lively this trend manifests itself with new faces again and again.

New faces that keep us enthusiastic. New faces that, in the case of Kickstarter.com,

bring together creative and enthusiastic people in a way and on a scale that was simply

not possible ten years ago.

23
---
24

Airbnb

THE SOCIAL WEB CONTINUES
---
www.airbnb.com

02

AIRBNB staying at special places with common people

www.airbnb.com is a site where you can rent a bed, a room or an apartment from 'real'

people ( so not hotels) for one or more days.

At the moment the site is active in 17,775 cities divided over 190 countries. The principle

is simple. The visitor clicks on the city of his or her choice. He/ she has a look at the room,

reads the accompanying introduction of the person who offers e.g. the room, compares

prices and makes a choice.

www.airbnb.com is not the only website where budget conscious travelers can meet

room owners. www.couchsurfing.org is an earlier example and more idealistic in structure:

"participating in creating a better world, one couch at the time." However the more

efficient structure of airbnb.com plus the extensive offer on the site and the clear

overview, has made Airbnb the biggest.

And on the social web counts: the biggest wins everything. Ask Google, Facebook and

YouTube. At this moment Airbnb can call itself the darling of Silicon Valley. The site wants

to issue shares and will collect, according to the Financial Times more than $112 million.

The CEO of www.airbnb.com is Brian Cheski.

His success story is simple and recognizable. That is also the reason that it expresses a certain

authentic coolness. A couple of years ago Cheski moved to San Francisco. Just like any

other poor design student he had trouble paying the rent of his apartment. When a big

design conference was organized in his city he decided to rent out his room per night.

25
---
26

READ MORE:

MacroWikinomics

authors: Don Tapscott & Anthony D. Williams

publisher: Atlantic Books

ISBN: 1848877196

publication: 2010
---
www.airbnb.com

02

are two strong examples of this. I am convinced that more examples will follow. They will

"It's a new way of traveling. It becomes an adventure because

you never know where you are going to sleep next night"

It turned out to be a success. This Cheski admitted was to his own surprise: who likes to

sleep in someone else's bed? Apparently lots of people who like to travel low budget

make that decision. That is how Cheski became an entrepreneur of his own Cool idea.

To show that his idea could work he decided to give up his own house in 2010 and lived for

eight months in rooms he rented out via his own site.

These types of daring initiatives inspire.

Of course there is a downside to renting out your rooms via www.airbnd.com. Can the

other party be trusted? Thus the social web has created its own strategies to test that

trust. When the visitor of the site clicks on the room he would like to have, he can see

how many people rented the room before him and how they judged the room, the host,

the neighborhood. From friendliness to accessibility.

Just like Kickstarter, Airbnb was initially spotted being Cool by one student. However many

others agreed on his enthusiasm for this site and the idea lying behind it.

This gives quantitative momentum to the coolness of the example. Next we need to find

out what Airbnb stands for. Again we can primarily interpret the site as a sparkling

example of coolness and the innovative strength of the worldwide web.

The richness and the potential has not been exhausted yet. Airbnb as well as Kickstarter

enthuse, surprise and inspire us.

27
---
28

Dribbble and Forrst

THE SOCIAL WEB CONTINUES
---
www.forrst.com

www.dribbble.com

03

DRIBBLE AND FORRRST not suitable for everyone

www.forrst.com is a social website where creative designers and developers meet one

another, learn from one another and share challenges. So they all become better professionals.

The site offers several opportunities. After registration a lot of relevant articles

and messages can be read in the field of trends in design. You can click to places where

new concepts are discussed and enriched by a community of interested people. There is

also an opportunity to ask questions and to pick each other's brains.

www.dribbble.com is a comparable site. "Show and tell for creators", that is how the site

defines itself. Dribbble offers fewer interactive possibilities than Forrst. However both

have conquered a place in the designer world. It goes without saying that both are

successfully part of the worldwide social web. The rise of the social web was also the

basis of the previous two examples: Kickstarter and Airbrn. Forrst and Dribbble can be

added. Not a single trendwatcher or Coolhunter can avoid to conduct research in this

immense new world of the social web.

It is so to say a mega trend within which a kaleidoscope of new trends and developments

are born again and again.

"They do not want to share their creations with the rest

of the world, but only with the best"

At the same time Trendwatchers and Coolhunters are continuously looking for new,

Cool examples. That is part of the basic competence. At the same time trendwatchers

and Coolhunters can easily be bored. The danger is that they focus on new examples and

do not pay enough attention to analyzing, exploring and interpreting what has been

discovered so far.

That is the risk that we run with this mega trend the worldwide social web.

In spite of its familiarity, this trend opens a totally new and revolutionary sparkling universe.

29
---
To search for new, Cool phenomena and events in that universe must be taken very seriously.

And not been disposed of as: 'been there, done that'. that is throwing out the baby (read

mega trend) with the bathwater.

We discuss Dribbble and Forrst not as being another example of what happens in the

worldwide web. We also would like to point out another small, Cool, characteristic of

both sites. Dribbble and Forrst make it perfectly clear that they are not for everyone.

Even stronger, you can only enter by invitation of someone who has already been

admitted. That is opposed to 'the more the merrier'. Dribbble and Forrst make an inspiring

contra movement: we are exclusive. That makes the site more attractive, more intriguing

and more secretive.

Especially on the internet where everything is easily accessible and can thus become

boring and chaotic, a selective admission works if you want to keep an eye on your

quality.

Anyway, Dribbble and Forrst are not the only one that make themselves cooler in this

way. www. elysiants.com is only for the very rich. Without invitation you cannot enter:

"celebrate life in style". Many new fashion sites also make themselves more special by

not admitting everyone. Google+ also fits in here. At the moment you can only enter

by invitation. In short, within the mega universe of the worldwide social web we have a

smaller mentality trend here: on invitation only. Can it be a little more secretive? It is

worth trying to find out how to apply this trend in an original and innovative way.

30

READ MORE:

The Whuffie Factor

author: Tara Hunt

publisher: Crown Business

ISBN: 307409503

publication: 2009
---
www.forrst.com

www.dribbble.com

31
---
32

Farmville

THE SOCIAL WEB CONTINUES
---
www.farmville.com

04

FARMVILLE IN REAL TIME a world famous game

Farmville is the most successful game on Facebook. Monthly the

virtual game has more than 35 million players. Daily they spend an

average of twenty minutes on Farmville. In Farmville everyone

owns a farm. Work needs to be done. Farmville in itself is free.

But virtual harvest, tools, plants can also be bought with real

money. The manufacturer of Farmville is Zynga. In a very short

time it became very popular among young people.

Farmville has become a world-wide feature. A cultural phenomenon

emphasizes the manager director of Zynga, Mark Pincus. He is,

together with many players, right. Farmville combines the best

aspects of social gaming with the human instinct to take care of

something. That instinct is exploited in the virtual world. Also add

to it the many people who live in cities. Many of them think it really

attractive to plant fields, milk cows and shear sheep. If it cannot

take place in the real world then it should take place in a virtual

world. Besides you can start a farm of your own in the most romantic

parts in the world: the countryside in the United Kingdom.

The magazine Wire, leading when it comes to observing technological

and digital developments, explains Farmville's success by

pointing out that people like to do something for each other.

This creates bonding. In younger and Cooler circles people ask

others to take care of their farm when they are too busy: would

you like to take over my farm today? It highly appreciated that

someone works for you on that farm so that it does not dwindle.

Farmville, according to Pincus, is a healthy, social and educational

33
---
34

READ MORE:

Born Digital

authors: John Palfrey & Urs Gasser

publisher: The Perseus Books Group

ISBN: 465005152

publication: 2008
---
www.farmville.com

"Another beautiful example of a game

with an obvious experience"

game. It is not necessary to have commercials on tv. Facebook

friends recommend the game without even without commercials.

Another aspect is that Farmville does not use tv commercials to

distinguish itself. It has the impression of too much bought attention.

Yet Farmville wants to get attention in a Cooler way, with a remarkable

campaign. This is how Farmville entered New York City.

New Yorkers suddenly saw many sheep in the densely populated

areas of the city. They saw people walking sheep. A remarkable

campaign which was photographed a lot and thus could be found on

YouTube. This increased Farmville's brand awareness even more.

The original character of the campaign put the game in a very

remarkable light. That is what campaigns are for: to put the underlying

product, brand or service is a positive light. Farmville with its sheep

campaign understood this very well.

Again we must not stick to this example.

What is behind it? What can we learn

from it? It is not that everyone should

walk sheep in New York in order to be

Cool. That would be a too easy translation

of the idea behind Farmville's sheep

campaign. Farmville really wants to invite

people to think of how to attract the

attention in an original way. In order to

load our product, service or brand in a

positive way.

35
---
The Candy Shell Card

36

URBAN NOMADS GOING MASS
---
www.speckproducts.com

05

THE CANDY SHELL CARD a gadget with a trend bite

At International Lifestyle Studies we also educate professional

trendwatchers. This means that we always go in search for the

deeper meaning of the trend.

That is also the reason why we have a love-hate relationship with

gadgets. Definitely they belong to the world of trendwatching

and Coolhunting. It is underlined by the fact that there are many

well visited sites in which gadgets are central. www.gadgets.com is

one of them. www.wired.com is for the addicts of techno gadgets.

www.crave.com has a strong commercial approach: you can immediately

buy from each other.

Yet gadgets often have something superficial about them. They mostly

refer to the issues of the day than to the deeper meaning and

mentality trends. This explains our love-hate relationship with the

world of gadgets.

The Candy Shell Card for iPhone 4 is made and sold by a company

called Speck. Speck is solidly represented on the internet.

Essentially it is a very simple product but with a trendy twist.

It is a beautifully designed sleeve for the iPhone and at the same

time a credit card holder. It comes in many colors. Two products in

one that people carry with them all day long. It is very convenient to

37
---
have them together. The Candy Shell Card is beautifully designed

and comes in many colors. This adds something the coolness of this

gadget. There is apparently something to choose, we can personalize

it.

In spite of the fact that we are not very happy with gadgets,

the Candy Shell Card has made this booklet. Not because

students appreciate the gadget: it is convenient and functional

but also nice and something that can be shown. We also see in

the coolness of this gadget two other mentality trends with

future growth potential reflected.

The first broader mentality trend we call 'The rise of the stress

society'. In the current society more and more impulses come in

our direction. And we lead a more fragmented lives compared to

our grandparents would consider healthy. The result is the stress

society. From research it appears that more and more people

more or less suffer from stress. Every product, every service that

enlightens our lives by being handy and functional we would like

to embrace. Most certainly when that product is nice to see and

something that can be shown to others. This is what the Candy

Shell Card aims at.

38

READ MORE:

The Design of Things to Come

authors: Craig M. Vogel & Jonathan Cagan & Peter Boatwright

publisher: Pearson Education (US)

ISBN: 132776200

publication: 2011
---
www.speckproducts.com

05

The second trend the Candy Shell Card can be linked with is the

trend regarding our strongly growing mobility. We travel a lot

more than our grandparents. Shorter as well as longer distances.

Necessity as well as pleasure. Many of us have become urban

nomads: always on the go. Anything that makes running and

travelling more efficient we think of as attractive and inspiring.

The Candy Shell Card fits in perfectly. It makes our mobile

existence handier than ever before. If this also happens in a well

designed way we call the result definitely: Cool.

"It's Cool because it combines two daily used products, the purse and the phone.

This product fits the lifestyle of the urban nomad perfectly"

39
---
The Seil backpack

40

READ MORE:

Ther Substance of Style

author: Virginia Postrel

publisher: Harper Perennia

ISBN: 60933852

publication: 2004

URBAN NOMADS GOING MASS
---
www.leemyungsu.com

06

THE SEIL BACKPACK safe and Cool for urban nomads

The Seil backpack is designed by a designer company in Seoul: Leemyungsu Design Lab

and awarded with the prestigious Red Dot Design Award. Awards and encouragements

distributed by lots of competitions in the world are really useful for trendwatchers and

Coolhunters. Not only because of the new developments that arise but also because of

the fact that the coolness is confirmed and legitimized by the award.

"I think it's Cool because the designers also attached an emotional modus,

in which the user can show his or her mood with emoticons"

The Seil backback is a good example of this. It is a Cool idea for cyclists. To cycle safely.

The Seil backback has a led display on the backside. When you sit on your bike you can

send signals to the display on routes of the cyclist: straight ahead, turn left, turn right,

stop. It is all shown to the traffic behind the backpack: clear, original and safe. In the

meantime it also shows how Cool the cyclist is. The display can also communicate a lot

more e.g. how the cyclist feels. This happens via emoticons which we all know from the

internet. For sure the first target group of the Seil backpack.

41
---
Cool design has everything to do with the right connection between functional and fun.

We also saw this in the previous example, the Candy Shell Card. For trendwatchers and

Coolhunters it is worthwhile making it clear what a certain target group defines as

functional and desirable on the one hand and inspiring and fun on the other hand.

The right combination is worth a million. For every future product a new combination

can be composed innovatively.

We know now that one Cool observation does not prove to be the dawn of a (new) trend.

That also applies to the Seil backpack. Although one Cool example, here the Seil backpack,

42
---
www.leemyungsu.com

06

is able to put an underlying deeper mentality trend in a different

perspective and at the same time it is able to enrich this with a new

insight. The broader trend this Seil backback applies to is what we

called in our previous example our growing mobility. As said before

we travel a lot and more intensively thanks to our enormously

growing mobile infrastructure. This turns a lot of us into urban

nomads. Constantly on the go with a matching versatility. The urban

nomad wants to have wifi everywhere because he/she wants to

have access to everything, within only some mouse clicks away.

Many urban nomads are proud of their lifestyles and prefer to

travel around town in an distinguishing Cool way, remember

functional and fun. In this mentality and lifestyle the Seil backpack

fits in perfectly. I am pretty sure that also Lifestyle students want to

be seen with it.

However I also invite them to keep tabs on the professional question

the Seil backback raises. How can we even more successfully serve

the mentality and lifestyle of the urban nomads? What other Cool

product or service innovation can we think of while brainstorming

with the target group and the customer? It does not stop with the

Seil backpack. It starts with it.

43
---
The biker's lifestyle

44

URBAN NOMADS GOING MASS
---
www.lcc.org.uk

www.copenhagencyclechic.com

www.tfl.gov.uk

www.janbuczek.com

www.mfarch.com

07

THE BIKER'S LIFESTYLE urban nomads on a bicycle

So far all observations have been selected for two reasons.

First because of their coolness and also because they refer to a

deeper mentality trend in our society.

That is the way it should be: trendwatching and Coolhunting

must not stay at the surface. That is why we encounter the rise

of the worldwide web, the stress society (the Candy Shell Card),

the growth of the urban nomads and their special lifestyles but in

a much smaller area of design also the demand for a Cool combination

of functionality and fun.

Trendwatching can also proceed the other way around.

Once the contours of a trend are solid we can systematically

search for Cool examples within this trend. This actually happened

with the rise of the urban nomad. It is a worldwide trend, thanks to

the fact that many people went to live in big cities. This could lead

to the risk of biting off more than you can chew. Several students

have focused within the rise of the urban nomads on what happens

in the world wide bicycle culture. This is clearly a part of the bigger

trend but easier to handle.

"Especially the biking lifestyle blog Cycle Chic is a really nice blog that shows

that riding a bike doesn't have to interfere with looking fabulously stylish"

45
---
This is the reason for organizing a Coolhunt among the most important websites for

die-hard cyclists new style.

It turned out to be a good point to document how the targetgroup of urban nomads

grows and what Cool observations can be made. Some bicycle sites are primarily well

designed platforms on which the target group looks after its own interests. "Our priority

is making sure that London cyclists have a strong voice", could be a slogan in the UK.

Other websites focus on commenting highly on good city bicycle routes. Sometimes they

want to convince city government to give more priority to this subject, in London,

in New York. In the Netherlands we are ahead in the field of bicycle paths, traditionally

a bicycle country. It would be great if we could load our traditional bicycle culture with

lots of coolness that we can sell abroad in a Cool recycled way. In the meantime we polish

our healthy touristic image. There is definitely a market for this. Websites that link

46

READ MORE:

The Rise of the Creative Class

author: Richard Florida

publisher: Basic Books

ISBN: 465024777

publication: 2004
---
www.lcc.org.uk

www.copenhagencyclechic.com

www.tfl.gov.uk

www.janbuczek.com

www.mfarch.com

07

bicycles to fashion are a pretty good example of this.

www. cyclechic.com does not only show how Cool it is to cycle but

also sells new articles that fit in with the growing bicycle culture,

even make it Cooler this way.

The Cycle Chic movement started a couple of years ago on a small

scale in Copenhagen. Now almost fifty cities , from Sydney to

San Francisco, join with local versions. 'Cycle in fabulous style',

sounds the common denominator. Apart from these websites the

strength of the new biker's lifestyle also shows from the rapidly

growing blogs. A nice one: www.bikeportland.org. those who want

to get a clear picture fast of a) how biker's lifestyle spreads itself all

over the world and b) how it has a cultural face of its own per country,

are advised to go to the site www. mamabicycle.blogspot.com,

a site initiated in Kyoto, Japan.

Subsequently good questions can be asked. Why does the new

bicycle culture grow that fast so that many people think it is Cool?

Does it have to do the with all the traffic jams in the cities?

To what does the increased health consciousness contribute?

And of course how can we even more meet the underlying needs?

How can we make it more attractive for the 50+ generation?

47
---
48

Landpeel

URBAN NOMADS GOING MASS
---
www.shinple.com

08

LANDPEEL mobile office on the go

It is called Landpeel. It looks like a carpet that is light enough to

carry. However it is more than a carpet. It is a carpet which can

be unfolded into a simple chair, a desk and some accessories.

All folding. Landpeel has been developed by a designer,

Shin Yamashita, connected to the Kyoto Institute for Technology.

It is not remarkable that the idea of Landpeel has been developed

49
---
in Japan. Japan is absolutely one of the most densely populated

countries. People need to make the most of the space available.

Landpeel, call it a folding office, fits in perfectly. Also students do

not have much space. That obviously explains its appreciation

within this targetgroup.

"It's something innovative and useful,

especially for the urban nomad with small apartments in a dense city"

Last year Landpeel was a reasonable success on the internet.

www.architecture-buzz.com for example is a site where many

designers meet each other. This often happens in the age of the

mega trend worldwide social web, as we saw before.

Only www.architecture-buzz.com does it a bit differently.

It asks visitors to buzz the presented ideas strongly on the internet.

Buzzing is actively supported by the website. Thus Landpeel was

buzzed all over the virtual universe.

Last summer we delivered a course on trendwatching and Coolhunting

with students from one of the prestigious universities

of China: Shanghai Institute of Technology (SIT) in Shanghai.

At the moment China is the factory of the world. The ambitions

of China go further. China also wants to learn how to design

creatively and how to innovate. They realize that trendwatching

and Coolhunting are an elementary professional occupation to

step successfully into the world of design and innovation.

That is the reason that they want to work together with a

professional academy such as International Lifestyle Studies.

50
---
www.shinple.com

08

We had better not miss that connection.

READ MORE:

The Shift. The Future of Work is Already Here.

author: Lynda Gratton

publisher: Nilsson & Lamm

ISBN: 7427956

publication: 2011

The summer course was the basis for this cooperation. Successful for

the Chinese students who highly appreciated the innovative part

of the program. Successful for our own students who would like to

bridge the gap between the new China and the West, the most

important market with future growth potential. The cooperation

has made the Dutch and the Chinese students more sensitive for

international cultural differences.

Landpeel scored very highly with our Shanghai students. They were

very enthusiastic about the freedom the mobile office offers.

They also thought it a surprising idea. It is also appreciated that

everything is efficiently at hand. There is also mild criticism.

One student comments that it is highly unusual to sit on the lawn

with your computer. Is this due to the old Chinese culture of not

wanting to be noticed?

The students also think that there should be a choice in more models

and colors. And one way or the other wifi needs to be integrated

automatically. Two nice indications for the fastidiousness of the

new Chinese consumers.

51
---
52

Ostrich

URBAN NOMADS GOING MASS
---
www.studio-kg.com

09

OSTRICH a powernap wherever you want

It is called Ostrich. It has been found on the website of the

Museum Of Modern Art in New York. His creator is called

Kawamura Ganjavian, owner of a Japanese design company.

Often it comes from Japan when it is about remarkable and

functional design.

"The Ostrich offers a safe micro environment in which you can fall

asleep comfortably and safely." This is a quote from the website.

The Ostrich looks like a pillow, a piece of clothing and a bed but is

none of it. "The Ostrich allows you to fall asleep wherever you are.

Short or tall. Without leaving your office desk", according to the

website.

53
---
Cool! Here a possibility is offered to flee from daily stress instantly,

to energize, to unwind. Indeed the Ostrich fits very well in our

desire for moments of relaxation in a stress society. Besides the

Ostrich pays attention to our enormous mobility. That trend we

call 'The rise of the urban nomads'. The Ostrich fits in this trend.

It offers a powernap on the go.

Again it is not about the Ostrich itself. It is a separate example of

Cool. Yes it is a remarkable and original product. It makes people

smile. It will have many 'I like' on Facebook. However to be honest

I do not see myself with it to anticipate sleepiness when travelling.

Others can however think differently about this. They probably

will. Important is that the Ostrich can be linked to two mentality

trends that are still growing. First the rise of the urban nomad.

How can we meet their demands in a Cool way also when they

are sleepy? Second how to de-stress in a stress society. How does

this look like nowadays? How will it look like in the future?

How can we meet the demands of the inhabitants in the stress

society, per generation and per targetgroup, in an original and

Cool way?

These are the questions that we ask at International Lifestyle

Studies. To answer them we need a well-documented and solid

platform for validated trends. With such a platform we can work,

conduct research and innovate.

54

READ MORE:

On Balance

author: Adam Philips

publisher: Penguin Books Ltd

ISBN: 241143896

publication: 2011
---
09

"People want to de-stress and escape from the daily stress"

www.studio-kg.com

55
---
56

The

Urban

Quiver

Camera

Bag

COOL MALES
---
www.blackstonebags.com

10

THE URBAN QUIVER CAMERA BAG for the sturdy and stylish

photographer on the go

Although all mobile phones have a camera, the real photographer

stills works with professional equipment. This equipment is known

to weigh a lot. Photographers travel all over the country. They are

urban nomads 'avant la lettre'. Their work is their pride. Their camera

is often subject of the conversation. That could be the reason that

without doubt they will also be proud of their camera bag, especially

when it becomes subject of the conversation. People like to

distinguish themselves in a positive way without being too garish.

The Urban Quiver Camera Bag does all this for the semi professional

urban nomad photographer.

The manufacturers of the Urban Quiver had set their goal on

producing a more functional bag, which is at the same time trendier

and cooler than the usual tourist equipment. Thus an oblong backpack

was designed, which is much easier to carry. The backpack has

separate parts for the various camera components. The Urban Quiver

follows purposeful with its design the contours of the several

components. Besides the backpack can be closed in such a way that

no one can open it when you carry the bag on your back. From the

original and divergent design it does not show that there is a camera

in the bag. This minimizes the theft chance. It is all very functional

and efficient when you have an intensive day of photography

ahead of you. These are added values for many photographers.

Before, we have already seen that Cool design needs to have more

than superior functionality. Besides our identity and psychology

57
---
58

READ MORE:

Branded Male, Marketing to Men

author: Mark Tungate

publisher: Kogan Page Ltd

ISBN: 749450118

publication: 2008
---
10

"This camera bag has it all, the coolness,

www.blackstonebags.com

the efficiency and it is comfortable and stylish"

we regularly wish to distinguish ourselves in an original and stylish

way. Also in these dimensions of Cool the Urban Quiver is successful.

The design is unmistakably special and not garish. With the Urban

Quiver no one looks like an average tourist. The Urban Quiver was

first spotted on one of the many gadgets sites: www.bestthisstuff.com.

The name says a lot. So does the current slogan "Stuff we drool

about".

If we look at the meaning and mentality behind the Urban Quiver

then we can again draw a clear line to the lifestyle of urban

nomads. The growth trend has already been discussed.

We can draw a second line from the Urban Quiver to the much

broader mentality trend: functionality and fun. We met this trend

with the Seil backpack and the Candy Shell Card. In the Urban Quiver

the combination of superior functionality on the one hand and

prominent and nice design on the other hand, play an important part.

To conclude we can say that there is a third line to be drawn from

the Urban Quiver to a broader mentality trend. This is about what

men want today: a load of toughness. Of course men have always

wanted to express some toughness but today it has increased.

This we will discuss in the next two examples.

59
---
Miharayasuhiro

60

READ MORE:

Stiffed..

author: Susan Faludi

publisher: Harper Perennia

ISBN: 380720450

publication: 2000

COOL MALES
---
www.miharayasuhiro.jp

11

MIHARAYASUHIRO for fashion with now and then an extra virile moment

International Lifestyle Studies is not just for students who like to become fashion trend-

watchers. We like to serve more sectors: from food to wellness, from entertainment to

hospitality, from food to city management. Of course this does not mean that we do not

examine the fashion sector for Cool expressions. However this happens mainly in our

search for underlying mentality trends which are also hidden in fashion examples.

We do not collect promotional fashion sound bites such as 'brown is the new black' or

'color blocking'.

We conduct research in what way the credit crunch expresses itself in the latest fashion

trends and with a view to the future. We also conduct research as to what it teaches us

about changing women's needs or about changing virility.

In this context we meet fashion designer Miharayasuhiro. His coolness is beyond

discussion. He has designed shoes for Puma for a decade and he has a male line that is

unmistakably original and provocative. Miharayasuhiro is regularly praised as the man

who designs fashion in a unique way for the dynamic urban nomad. Furthermore his fashion

characterizes itself by an exciting mix of high quality craftsmanship and a prominent use

of fabrics and other material. Casual and folk are keywords that characterize his fashion

line 2011-2012.

61
---
I will not discuss in further detail the fashion implications of Miharayasuhiro's work.

I would like to deal with one picture from his collection. It is the picture of a young man

who has vague associations with hippies by his long hair. Although his hair is indefinitely

more moderated and styled than the average hairstyle from the sixties.

His clothes are loose fitting and gives lot of elbow room. The cardigan is thoughtlessly

knotted around the hips. The overall picture: an upper middle class fashionable urban

nomad. On the suspenders a half rusted lock, some old cutlery and an old water container.

We already mentioned it: Miharayasuhiro has provocative characteristics.

I would like to focus on these remarkable details. What do the slightly old fashioned

ornaments add to the presented fashion and male picture? Is there more behind it than

the creativity of an inspired fashion artist? Certainly! Fashion geniuses often do stranger

and funnier things. Yet these rusty frivolous parts lend themselves for a deeper analysis.

Today's young men are often called 'Metrosexuals'. They like to shop and spend, they like

fashionable clothes and perfumes more than their fathers did. They also spend more

time and money on outward appearances. Does all this vanity sound a bit feminine?

Not at all, just metrosexual.

62
---
www.miharayasuhiro.jp

11

"They need clothes that make it possible to travel

and leave a serious impression at the same time"

Yet it appears from market research and Coolhunts that the Metrosexual in spite of his

love for good looks, for design and pampering also pursues a genuine and old fashioned

virile moment now and then. By watching Jackass or Top Gear from the couch. Due to

the feminization of society they are metrosexualizing. If we go back to that picture of

Miharayasuhiro then these rusty ornaments to traditional suspenders offer a reassuring

symbolic virile moment.

A virile moment in a very Cool and metrosexual picture of an urban nomad.

63
---
The mobile mancave

64

COOL MALES
---
www.cigarv.com

12

THE MOBILE MANCAVE a virile moment on wheels

It is a well known insight that women are from Venus and men

from Mars since John Gray's bestseller.

Both sexes do not understand each other all the time very well.

In one of his examples Gray discusses how different women and

men deal with fights. The moment there is a disagreement women

want to talk about it. Men first want to withdraw just like the

caveman did. Only when they know how to deal with it they can

communicate. If the man returns to his cave in accordance with

his nature it does not help when the woman manifests her opinion

at the entrance in an emotionally expressive way. This will only

lead to escalation and lack of understanding.

Give him time and he will get out, promises Gray. Do not expect

that he starts talking right away. That is not in his DNA. He does

not come from Venus, remember?

In spite of these popular truths men have developed enormously

the past decades. At the moment more women than men graduate.

They do this faster and better. It is not self evident that men are

the First Sex. Nowadays fathers change diapers more often than

their (grand) parents. They are often not the only provider.

The money earned together is divided more in consultation

compared to former times.

It is not always a nice feeling to lose the traditional position of the

First Sex. Add to this that the current credit crunch is much tougher

on men than women regarding losing jobs especially in the lower

social economic class. It becomes clear that today's men want to

withdraw in their caves. The 'Caveman' it is called in the US.

65
---
Men, who like to do odd jobs, like to build a

place for themselves. From the famous hobby

room to a pavilion. A word such as pavilion does

not fit the bill. May it become a bit more virile.

In the pavilion no tea or sandwiches will be

"Just relax where and whenever you want. Without nagging wives,

just retreat and enjoy your own small world"

served on white linen. The smell of beer

dominates. There is no embroidery on the

wall but a pin up. There is a comfortable

couch, a table for the legs and a flat screen.

In short a man cave. That is what men from

Mars build. At least they dream of this.

Just google 'man cave' and a whole new

world opens itself for you. The trend was

already there before the credit crunch but is

now speeding up.

Underlying mentality trends are seldom

completely new. The trend of men who now

and then have a strong need to withdraw in

their own caves, has already been there since

prehistoric times. Nevertheless the trend is

still relevant because it is gaining momentum

and this trend shows many new developments.

Trends within a megatrend. Now there is also

the rise of the mobile mancave on wheels.

66

READ MORE:

Metrosexy

author: Mark Simpson

publisher: marksimpsonist

E-book

publication: 2010
---
www.cigarv.com

12

The car, better say bus, is called Ciga RV.

The name is not a coincidence because

smoking is allowed. That is absolutely part

of the traditional lifestyle of men. There is a

good aircon inside. As well as a fridge with

drinks to share with the pals. And a bar and

a game console. The trend may have started

in prehistory, it manifests itself now stronger.

It is also quite handy that this latest version

on the man cave is on wheels. Not only does

it offer freedom but it is also avoided that

he needs permission from the wife to build

that awful pavilion. In that evasion behavior

you still see the emancipation of the women.

67
---
68

Monki Television

COOL HOPE
---
www.monki.com

13

MONKI TELEVISION an exciting concept fashion store

In cooperation with Fontys University of Applied Sciences www.scienceofthetime.com

conducts international research on mentality trends among young people worldwide.

In this way students not only develop an international knowledge and an international

perspective but they also get a feeling for the intercultural differences which are of great

importance on this globalizing planet. One of the research questions we ask participating

students worldwide is to explain how they interpret Cool Hope. Which examples of hope

do they think attractive and inspiring? It is interesting that our Asian and European

69
---
students think differently on this Cool Hope themes. In general

Asian students approach the subject in a more symbolic way.

They take pictures of playing children because they have the future.

Or they point out the trust that they have in their political leaders.

Especially those from the past inspire and give hope. Or they show

the material progress in their country. Especially Shanghai shows

impressive images of growth. They are all categorized under

Cool Hope.

That is different in Europe. We are used to material prosperity.

To celebrate this collectively as they do in Shanghai is not part of

the European version of Cool Hope. Political heroes are also not

common in Europe. On the other hand European examples of

Cool Hope are often strongly colorized in an individual way.

I remember a Coolhunter of mine from Barcelona who badly

wanted to start a fashion business of her own but she had no

money. She solved this awkward situation by starting her own

business on the internet. After a while this turned out to be a

success and she earned enough money to start her business after

all. Thanks to the internet her individual ambitions materialized.

This does not mean that these initiatives cannot be found in Asia

but in Europe they are more often shown as examples of Cool Hope.

I had to think of these research data when I saw the enthusiasm

that Monki Television raised with a couple of students from

"Fashion minded girls around the world:

let us take a look at their lives"

70

READ MORE:

Googled

author: Ken Auletta

publisher: Ebury Press

ISBN: 753522438

publication: 2011
---
www.monki.com

13

International Lifestyle Studies. Monki is a small but exciting

concept fashion store for young women in Scandinavia. The shop

has only existed for a short time but the innovative ambition level is

very high. At the beginning of 2010 Monki started its own internet

channel, with its own fashion shows. On Monki Television intelligent

fashion bloggers full of ideas and plans are being interviewed

about their attempt to show the world who they are and what they

want. Of course they all wear Monki clothes. You can immediately

click on the prices. You can also have a look at the total collection.

Monki Television is Cool for various reasons. First it is an innovative

experiment to introduce a new fashion brand in a virtual world.

In an opinionated way: by not showing the clothes on fashion dolls

but to have them worn by ambitious fashion bloggers. Ambitious

fashion bloggers who show their inspiring lifestyle. This generates

hope. Hope that the fans of Monki Television can also realize their

own dreams just like Monki.

71
---
Before I Die

"A great thing about the project is that it changes a useless place into a new

vibrant spot with some kind of significance to the local community"

72

COOL HOPE
---
www.candychang.com

READ MORE:

From Empire to Community

author: Etzioni

publisher: Palgrave USA

ISBN: 1403965358

publication: 2004

14

Candy Chang BEFORE I DIE WALL

The Wall of Hopes & Dreams also discussed

in this booklet, is a well-known 'old' phenomenon.

This does not make the wall less

Cool. Perhaps we can call the wall on Times

Square the primeval mother of all written

walls in this world.

Candy Chang is an artist who makes use of

the public spaces. She wants to make it nicer

to stay in urban surroundings. With her art

projects she wants to make neighborhoods

more livable and human. Candy Chang is a

prominent artist who has received many art

prizes. She spoke at TED, an internet

speakers platform, where many famous

people promote their thoughts. She worked

with neighborhood communities in New

York, Nairobi, Johannesburg and Vancouver.

At the moment she lives in New Orleans,

that troubled perhaps even traumatized city.

In New Orleans Candy Chang started her

73
---
74

'Before I Die' project. It is simple and

involving at the same time. In the neighborhood

she worked for she put up a very tall

blackboard. Everyone was invited to write

down what they wanted to do before they

die. Just like the Wall of Hopes & Dreams

on Times Square, a collective time document

with wishes of a neighborhood was developed.

Sometimes funny, sometimes worried.

Here some examples: "Before I die I want to

finish my house, … teach yoga,….not live an
---
www.candychang.com

14

average life,… have kids,…own a mini tiger".

Especially in the poverty districts where

people are not used to being asked for their

opinion, the Before I Die Wall hit a chord.

Candy Shang is now internationally known.

She advises those who are interested how

to set up a local wall. The wall is an inspiration

for the social and political policy of the

neighborhood. Here local residents express

their wishes. There is a connection between

the original Wall of Hopes & Dreams on

Times Square and the socially involved art

project by Candy Chang. In both cases a

community expresses itself on 'their' wall.

However there are also differences.

The Wall of Hopes & Dreams is more a

wall full of entertainment, a wall you pass by.

The Before I Die Wall by Candy Chang wants

to go deeper. She wants to supply every

member of the community with a voice and

by doing so she wants to activate them.

Both walls have a coolness of their own.

From the idea behind it we can learn how

people think. What they think is attractive

and inspiring. In the Wall of Hopes &

Dreams it is primarily a long tradition.

The Before I Die Wall wants to support

local communities and even activate them

to do positive things together.

75
---
D' Espresso

76

THE MOST INVOLVING WOW EXPERIENCES
---
www.despresso.com

15

D' ESPRESSO, nEW yORk an inspiring coffeebar

"Bite, Chew, Cram, Suck, Devour, Swill, Digest, Munch, Wolf, Nibble, Slurp, Gobble, Swallow,

Graze, Quaff, Gorge. Snack, Guzzle. D' Espresso." A coffee bar that recommends itself this

way would like to make clear that it is the place where you can enjoy your coffee in many

ways, including the associated muffins. D'Espresso, Madison Avenue, New York is that place.

They can deservely be found in the list selection of Coolhunt examples that we present here.

A long quote from the website. It is very clever to come up with these type of mood

expressions. The D' Espresso feeling really sinks in. "It is a cold Friday afternoon.

It is supposed to be spring but we don't notice that yet. I need a caffeine boost after

a hard day at work or at home where children and grown ups demand time from you.

I need to answer some mails before the weekend really starts. So I need caffeine and

wifi. That is why I enter D' Espresso. Immediately I see homey seats near the window,

in the corner, nice cupcakes, exciting coffee beans, various tea mixtures and herbal

infusions. I decide to choose tea with a special cupcake. Some time later I am aware of

the music: James Brown and other musicians from Motown. There are newspapers and

magazines. On the counter an inviting tin of biscuits. I ask for my wifi code and work

smoothly for another hour. Then my weekend has really started."

77
---
D' Espresso sells cakes, tea and coffee. So do many others. Yet D' Espresso distinguishes

itself in a superior way. They sell more: an atmosphere. D' Espresso sets an atmosphere,

a consistent ubiquitous atmosphere with one goal: to make sure that tea, coffee and

cakes taste even better. The interior decoration also contributes to this. The decorations

with book images is not only special it also gives symbolic immersion to what you drink

and eat. Consistent and Cool all together.

Now also the rule counts that one example does not make a trend. D' Espresso is however

part of an important trend which has been active for years and is still not boring.

A trend which show new faces all the time and thus confirms its future growth potential.

This trend is also called 'The experience economy': Spoilt consumers, which most certainly

are all of us in the west, go more and more for the unknown and less predictable products

that offer more extras. That extra can be something very handy and well designed:

iPod and iPads worldwide. It can also be unexpected good service. That is why everyone

78
---
www.despresso.com

15

READ MORE:

prefers KLM to Ryanair, if the money does not play a role. It could also be the remarkable

atmosphere. That is what D' Espresso has chosen.

Together with Apple and KLM and many more, D'Espresso invokes an essential question.

How can we offer our consumers or customers a real experience? One that we remember

and that connects? An experience which is creative an innovative at the same time?

The well known attracts and connects less? These are questions that the experience

economy invokes. We had better take this seriously and continue Coolhunting on this.

"This tiny coffee shop in New York has

an interesting interior design"

The Experience Economy

authors: Pine & Gilmore

publisher: Harvard Business School Publishing

ISBN: 875848192

publication: 1999

79
---
80

THE MOST INVOLVING WOW EXPERIENCES

L' Eclaireur
---
www.leclaireur.com

16

L' ECLAiREuR, PARiS invitation to

discover your own story

L' Eclaireur is a trendy fashion shop in Paris. Actually they don't

want to be a shop but an exclusive experience. Everything is

designed for this. I admit that in this experience you can shop

successfully: clothes, jewelry, art, shoes, furniture and techno

gadgets. Above all L' Eclaireur wants to be unique. The customer

does not come just to shop. The customer is in search of what

L' Eclaireur can add to the identity and the biography of the visitors.

As it says on the website: "We invite you to discover your own story".

It definitely is a bit pretentious but L' Eclaireur wants to be anything

but common. They proudly announce that they are the first concept

store in Paris and that they have existed for thirty years now. They are

ahead and are the first to show what is new in the universe of

fashion, design and art (less than the universe does not work for

L' Eclaireur). The pompous tone makes me, a 50 plusser, a bit giggly.

This does not matter however as there is a market for these stores

and their approach of the customer. When it comes to clothes there

is a market for price fighters, for the middle segment and for the

upmarket shops. The price fighters shout the loudest: just act normal

and pay a reasonable, simple price. The middle segment approaches

the customer with more service. Shops such as L' Eclaireur want

to offer the customer excellent service but also an experience.

To act superior is a discipline in itself. The customer needs to be

seduced and conquered in order to spend lots of money and not

paying attention to the price. Magic strategy to reach this: make it

special, turn it into a double-dyed experience.

81
---
"This is a store combined with recycled art.

If we all start to work this way it would be much better for nature"

82

READ MORE:

Luxury World

author: Mark Tungate

publisher: Kogan Page Ltd

ISBN: 749452633

publication: 2009
---
www.leclaireur.com

16

the trend develop itself in the upmarket segment? But also:

From the website: "This is not a shop. It is an experience. Our shop

is a project which grows and grows. It is a constant dream that

feeds itself with our emotions, our history, our memories".

Beautiful inviting words: Who does not want to see what a dream

project of thirty years looks like? Even though you must forget

about your wallet.

Within the universe of L' Eclaireur it was observed how to exhibit

clothes.

At L' Eclaireur no regular clothes racks but a shop experience

with breathtaking esthetics in which progressive artists have put

theirs souls. It works: L' Eclaireur is exclusively Cool. Furthermore

all products are produced in a corporate social responsible way.

This also adds to the coolness of L' Eclaireur.

L' Eclaireur is only one example of a strong mega trend: the Rise

and growth of the experience economy. D' Espresso, New York is

another good example. It is obvious that two examples are insufficient

to decide that the experience economy exists. But in our

international trends research we have also seen hundreds of

strong examples. The examples include many shops but also hotels,

airports, exhibitions, fashion shows. In an extensive Coolhunt on

boutique hotels in four continents, Apple was looking for inspiration

to design their Apple stores. This results in a solid foundation

to decide on the existence of the experience economy.

Subsequently it needs to be analyzed and interpreted. In what

direction does the experience economy develop itself? How does

how does this translate itself to the middle segment of the market?

In that segment there is a demand for new experiences, at moderate

prices self evidently.

83
---
Subway kitchen

garden

84

THE MOST INVOLVING WOW EXPERIENCES
---
www.subway.co

17

In the middle of the store, Subway, the

SUBWAY TOKYO a transparent kitchen

garden

The Marunouchi building in Tokyo is not

the latest business and shopping centre of

Tokyo anymore. Thus it needs to reconsider

the question how to attract as many visitors

as possible. One of the distinguishing claims

the Marunouchi Building communicates is

that it is the most interactive building in

Tokyo. Another related claim is that they

do everything to create an atmosphere of

openness. Due to this everyone can meet

each other in a nice and pleasant way.

In order to reach this all shops are invited to

think about how to give their visitors new

experiences. Subway introduced a surprising

innovation which I, myself in any case,

had never seen and many students thought

it remarkably Cool.

"The average customer nowadays wants to be sure

their food is fresh"

sandwich chain has created an artificial

garden in which the salad and herbs grow

85
---
the visitor will have on his plate. It cannot be more fresh neither

more transparent. You can see growing what is on your plate.

We live in a time in which suspicion of the quality of food grows.

Think of the scandal about cucumbers, meat and bean sprouts

which caused casualties in the summer of 2011 in Germany.

Look at the growing doubt regarding sushi because of Fukushima-

radioactive sushi? All this is reason for doubt about food from

which we do not know its origin.

Of course one garden in a sandwich bar in Tokyo cannot take away

the commotion. But just like the other examples it shows what we

think inspiring and attractive.

It offers insight into deeper mentality levels. Concern for the quality

of food for example, growing distrust towards global anonymous

food chains.

86

READ MORE:

The End of Overating

author: David Kessler

publisher: Penguin Books Ltd

ISBN: 014104781X

publication: 2010
---
www.subway.co

17

Growing distrust towards a lot more.

Are we being informed well? Can we trust

the measures the government announces?

This all results in a desire for proven fresh

and healthy food. Add to this the other

important trend, the experience economy we

met in D' Espresso and L' Eclateur. Anything

that offers us a surprising experience, huge

or small, luxurious or commonplace, can be

considered Cool. It becomes clear that fresh

salad plants in a sandwich bar relate to two

big trends: experience economy and healthy

and fresh.

87
---
88

THE MOST INVOLVING WOW EXPERIENCES

Exciting ice lolly
---
www.valentinbeinroth.com

18

DEL MONTE exciting ice lolly

"These are hot ice lollies! It's amazing how an ice lolly can be an experience

just by the shape"

Del Monte is a famous brand that among other things sells icecreams. Also brands would

like to be Cool. It helps when Del Monte sells icecreams which attracts the attention and

is Cool at the same time. After all it reflects the brand. It 'loads' the brand as experts call

it, with an amount of coolness. That is the reason that this summer Del Monte decided

to work together with young artists. They were invited to create exciting ice lollies.

Thus the Daniel Craig ice lolly was invented, based on the famous movie image in which

James Bond in Casino Royal rises from the waves. The Daniel Craig Smoothie ice lollies

(yes indeed: a promotional mouthful) comes in the following flavors: blueberry, pomegranate

and cranberry. The ice lolly contains one hundred calories. "realize your dream with ice

lollies shaped like James Bond's/Daniel Craig's torso", it is called on the website.

Other male ice lolly role models in order of popularity were: Jude Law, Hugh Grant en

Tom Jones. Thousands of women participated in this research. It goes without saying that

here the women's market is being served. ' License to kill', it is called.

For the more virile icecream moment ice lollies were put on the market in the shape of a

89
---
pistol. Men as well as women liked this ice lolly. It was first introduced

at the start of the English International Ice Cream Week.

Del Monte received a lot of publicity.

Did Del Monte aim at introducing a serious new icecream product?

No. Two James Bond and two pistol ice lollies and pack it in.

It was eyecatching and funny. It became even more exciting

because the ice lollies were only available in a limited edition.

That is how scarcity is created which even increases the curiosity

for this remarkable ice lolly (Not For Everyone! More Secrecy

Please). However for Del Monte the ice lollies were of course a

90

READ MORE:

Priceless

authors: Diana LaSalle & A. Britton

publisher: Harvard Business School Publishing

ISBN: 157851746X

publication: 2002
---
www.valentinbeinroth.com

18

There is a row between Del Monte and the artists. Unfortunately

summer PR stunt. For a moment the brand was on everyone's lips-

and spreads itself on the internet.

Do we need to find out what is behind the promotion of the ice

lollies? Yes and no. No because it is about a remarkable ice lolly

that is consumed instantly and has thus no eternity. Yes because

Del Monte has adequately reached its goal: to attract everyone's

attention with a playful remarkable product. This loads the brand

as far as surprise and boldness is concerned. These are important

matters on the competitive icecream market.

Is it of much use to find out what lies behind these ice lollies

regarding mentality? Yes. The ice lollies are a convincing example

of how the experience economy, as a worldwide mega trend, is still

appealing to the market. Such an ice lolly is not worth much and at

the same time it is a one-off. But to put it on the market as a special

experience loads the coolness of Del Monte. This is worth a million.

At International Lifestyle Studies we are not only searching for

innovative concepts which make life more inspiring and attractive.

We teach our students how to do the same thing for the brand

and its commercial campaigns. Then it turns out that an exciting

ice lolly can represent a certain coolness but also an enormous

brand value.

we can not find out what it is about. But in spite of this the example

does not lose its strength.

91
---
92

THE MOST INVOLVING WOW EXPERIENCES

Greengiving
---
www.stickercompany.nl

19

GREENGIVING printed apples and pears and by the way also kiwis

Seen on www.greengiving.nl: the website covers it all.

Greengiving has biologically grown fruit and also promotional gifts.

The combination is not very obvious but is realized in a creative entrepreneurial way.

Printed apples, pears and kiwis. The ink can be eaten.

Greengiving is very straightforward when promoting its original fruit assortment.

Printed food has always been popular. "Let your company share delicious apples or

other fruit at a conference. As an extra you can order a full color box. Please call us

for further information about our printed food".

93
---
We live in a time when we are flooded by a lot of commercial

communication. It is very difficult for all that communication to

reach us. The commercials on tv are full and very expensive.

Young people watch less tv. Advertising on the internet has not

been fully developed. The banners internet advertising started

with, has become very irritating. This is not very positive for a

brand. Today's internet advertising is much more subtle. Google

knows your search behaviour and has customized advertising

messages on your screen the moment you are sensitive for that

particular message. It is not a coincidence that you are confronted

with Portuguese hotel offers when you are orientating on a

Mediterranean holiday. Facebook experiments with the 'I like'

button. With this button you can recommend your friends a

product or service or quote. We call this advertising for the

targetgroup by the targetgroup. Twitter starts with 'Pay with a

tweet' : you receive a present e.g. free entrance for an attractive

place on the net that remains closed otherwise. The condition is

that you tweet about it. So twitter becomes advertising.

In short commercial communication renews itself all the time.

This is necessary in order to survive the immense communication

'violence'. The key question remains how to distinguish yourself?

"This is a way to promote products with less waste

and it is a real eyecatcher"

You can distinguish yourself by being there on an unsuspected

moment, unsuspected place with your communication message.

Here you find the unexpected strength of printed apples, pears

94

READ MORE:

Supertrends

authors: C. Rohde, G. Eilander & N. Mirani

publisher: Scriptum Books

ISBN: 9055947091

publication: 2010
---
www.stickercompany.nl

19

and kiwis . The communication message not figuratively but

literally hits you. In the meantime the fruit of Greengiving is

biological, so extra healthy. Every brand which is associated

with biological and healthy receives more sympathy. Just like

Del Monte in the previous part knew how to become more

original. The nice part about Greengiving's printed fruit is that

it does not lead to any pollution. This cannot be said for the

countless door to door brochures which we do not read.

When we are looking for deeper mentality trends we need to go

beyond printed apples, pears and kiwis. Nobody expects printed

fruit to replace commercials on tv. Or that Greengiving will beat

Google. Greengiving's printed fruit shows how attractive and

remarkable we find original communication tools. And when this

also turns out to be environmentally friendly and healthy then the

printed fruit refers to a trend that will be very important in the

future : healthy please (1), environmentally friendly (2) and original

communication if possible (3).

95
---
Urban Mini Gardens

96

COOL & THE CITY
---
www.patricknadeau.com

"This is great for urban farming"

20

asked Nadeau to enrich the public spaces with original nature.

NADEAU'S URBAN MINI GARDENS well designed nature in

your house

How Cool can green be? Pretty Cool if well designed, practical in use

and nicely priced. Patrick Nadeau did all three. He is an architect

from origin. He is internationally leading in the field of integrating

nature in his designs in an original way. That can be big or small.

That can be very luxurious but also for the middle segment of the

market. Nadeau designed for Boffi, a French chain in luxurious

kitchens, spectacular hanging gardens which invoke association

with the rainforest. Nadeau regularly also works for fashion houses

such as Louis Vuitton, Hermes and Kenzo. The city of Rennes also

It can also be smaller and Cool at the same time: Nadeau's Urban

Mini Gardens. Less impressive than his Urban Hanging Gardens

97
---
ut not less interesting because here a Cool and striking idea has

been translated into a much bigger market. Trendwatchers run the

risk of being blinded by the world of extra Cool and forget that

real money is earned when those ultra Cool ideas are made smaller

and mass marketed. That is exactly what Urban Mini Gardens does.

Those Urban Mini Gardens consist of three state of the art pots

(48cmx10cmx22cm) made of waterproof PVC. They are connected

by a metal fence. Inside there is a crafty drainage system. The plants

are bigger and more original than the usual planters in the window

sills. Well-designed and easier to use in more places: restaurants,

hotels, and offices. But also at home: who does not want a nice piece

of well designed nature in his own house?

It now also applies that we cannot see the coolness of Nadeau's

Urban Mini Gardens in itself. We must find out what lies behind it,

what is the desire it expresses, what is the mentality reflected in it

98

READ MORE:

Emotional Design

author: Donald A. Norman

publisher: Basic Books

ISBN: 465051367

publication: 2005
---
www.patricknadeau.com

20

and what is its growth potential.

In the case of all Nadeau's work we can draw a line to the mega

trend we have already observed in three phenomena D' Espresso,

New York, L' Eclaireur, Paris. Subway, Tokyo: the experience

economy.

From Urban Mini Gardens some other lines can be drawn to broader

mentality trends. Once the primary necessities of life have been

fulfilled we like to embellish their direct living environment but

also the neighborhood and town they live in. Nadeau's work is also

connected to this because it increases the beauty, the quality and

the naturalness of every surrounding in which it is placed.

I admit that Nadeau's Urban Hanging Gardens are more energetic

than his Urban Mini Gardens. This is a matter of scale and price.

We can also connect Nadeau's nature products, big and small,

to another mentality trend: the concern that we feel for the

environment. Nadeau's projects and objects contain an almost

automatic "good for the environment" moment. Of course an

economical electronic car does more for the environment than

ten original planters. But the "good for the environment" feeling

adds to the sympathy and coolness Nadeau's work exposes.

99
---
Wall of Hopes & Dreams

100

COOL & THE CITY
---
www.timessquarenyc.org

21

New Yorkers and other visitors who would

WALL OF HOPES & DREAMS Cool for

many generations

The nicest part of the word Cool is that it is

known worldwide. Every Coolhunter,

anywhere in the world, can easily understand

the definition that we use: attractive and

inspiring with future growth potential.

The definition needs to aim at a targetgroup

still to be defined. In this booklet we have

particularly selected examples for the

younger targetgroup.

However some examples are considered Cool

by all generations. For example the Wall of

Hopes & Dreams which can be found on

Times Square, New York around the turn of

the year. On that wall people register their

hopes and dreams, their wishes and ambitions

for the next year. Every year the result is

a colorful collection of sticky notes with

personal statements. The wall automatically

gets a lot of attention because Times Square

is traditionally the place where lots of New

Yorkers get together to celebrate the new

year. The Square registers the wishes of the

like to share with each other.

101
---
"If you add an experience to your goals you will not forget them"

102

READ MORE:

Authenticity

authors: Pine & Gilmore

publisher: Harvard Business School Publishing

ISBN: 1591391458

publication: 2007
---
www.timessquarenyc.org

21

of all times. Even more attractive in times of economic stress and

Of course we can also register our hopes and dreams in silence or

we can post them on Facebook. Still the Wall of Hopes & Dreams

maintains bravely in this era. Intentions and ambitions seem more

serious when they are registered on the wall. It seems as though it

adds to the perseverance with which we pursue things.

In spite of the immense opulence and attraction of what we ventilate

on the internet a serious message left behind on a real wall remains

Cool. Besides if we post a message on the wall, we enter a sympathetic

tradition of many generations old. Many people think this

attractive and inspiring. In the end the result shows a colorful

image of all our hopes and dreams. That is Cool.

The Wall of Hopes & Dreams is not a Cool example within the

meaning of ultra Cool new. The coolness of the wall is due to

the fact that it has existed many generations and is accessible for

everyone. The example was selected by the younger targetgroup.

They thought it very Cool. Not Cool as in ultra hip. Here Cool

hits a chord with many generations. Both ideas of Cool have their

strength and value. That is why we need to conduct research on

both of them.

What exactly lies behind the Cool strength of the wall? As said

before, not the ultra hip or new. The opposite. The Wall of Hopes

& Dreams offers the opportunity to enter a sympathetic tradition

together and to share intentions and wishes. This has been a wish

individualization. The wall will exist, solid as ever. The mentality

behind the wall, of tradition and sharing, will even become more

and more attractive.

103
---
104

Energy plant

COOL SUSTAINABILITY
---
www.tii.se

22

designed didactic moment regarding our

AWARE ENERGY PLANT environmentally

friendly, smart and stylish

The energy plant is invented and carried out

by the Swedish design collective AWARE.

AWARE is especially active to make people

aware in the environmental area. AWARE

wants to make people more than conscious.

In an attractive and inspiring way they want

people to change their behavior.

One of their ideas to reach this goals is the

energy plant. The energy plant is not real

but virtual. The plant reflects the use of

energy in the house it can be found. Is the

use of energy too high then the plant

shrinks. If the residents use the energy in a

sensible way then the plant flourishes.

The plant also has a second button that tells

its history and also the use of energy. We

can see the energy plant as an energy meter

which looks so great that it does not belong

in the meter cabinet but it can have a visible

place in the living room. At the same time,

the plant offers a visually attractive metaphor

for our use of energy. It is an originally

use of energy.

Design as well as intention can be considered

Cool here. We all know that the environment

105
---
is and will be an important topic. The desire

for a healthier environment for ourselves

and our planet is definitely present. Indeed

we can bargain on that desire. That is the

reason that we do not want environmentally

friendly products to be very expensive.

We regularly doubt the depth and sincerity

of these initiatives and products. Will it be

considered window dressing? Nevertheless

we appreciate every environmentally

friendly initiative. Many of us realize that

dealing with the environment in a sensible

way is of great importance for our planet,

ourselves and our children. It also goes

without saying that we do not always do this

sufficiently. The energy meter is a simple,

original way to feel this duty stronger and

to color it in an original way.

The mentality trend behind this energy plant

is obvious. The energy plant leads us directly

to the necessity and the wish to live life in a

more environmentally friendly and social

responsible way. Born out of a necessity:

desire and necessity will become stronger

this century. It is a bonus if we can put

this into practice sooner because of these

Cool means. That is what the energy plant

stands for.

106

READ MORE:

The Necessary Revolution

author: Peter Senge

publisher: Ballantine

ISBN: 385519044

publication: 2010
---
22

"It's a bit like an eco Tamagotchi for at home"

www.tii.se

107
---
Flourishing sneakers

108

COOL SUSTAINABILITY
---
www.oatshoes.com

23

OAT the flourishing sneakers

"Why it's Cool? Because it's something innovative from our own country"

At the latest Amsterdam Fashion Week OAT received the second

prize in the Green Fashion Competition.

They produce the first sneakers that are totally biodegradable.

The shoes, which are for men and women, all have a light color but

differentiate themselves by the brightly colored soles. OAT has

worked on the technical process to develop these sneakers for

two years. At the Amsterdam Fashion Week they miraculously had

flowers flourishing from the shoes. It is not clear whether the flowers

have a symbolic function or that there are actually seeds in the

sole. This does not matter: it remains Cool anyway. The idea as well

as the beautiful presentation at the Amsterdam Fashion Week.

We now also need to look beyond the sneaker at the mentality

trends on which the coolness of the shoe is based. Actually two

109
---
mentality trends are hidden in the sneaker. First the desire to do good for the environment.

OAT's flourishing sneaker fits perfectly in this trend to embrace corporate socially responsible

activities. The claim to be socially responsible is convincing, original and innovative.

Another mentality trends accounts for OAT's coolness. People want to differentiate

themselves in a positive way. They want to be admired by their peers. That is where

the OAT sneaker comes in: it is one of a kind. There lies a story behind it which is nice

to tell to others. Every targetgroup differentiates itself in a different way. The way every

targetgroup does this is an implicit and explicit part of every Coolhunt that is being

carried out.

There is also a playful downside of the flourishing sneaker of OAT. Many young people

are fascinated by the retro sneaker. If every sneaker is biodegradable what retro is left?

OAT is light hearted about this: "You can call it a vintage killer. But you leave something

much better behind."

Momentarily OAT has a temporary cooperation with the well-known Virgin brand.

Good for OAT because Virgin finances the project. Also good for Virgin because OAT is

capable of adding a Cool association to the Virgin brand. The result of this cooperation

is a limited edition sneaker, specially designed for Virgin. Only 1,900 pairs will see the

light of day. This limited production keeps the sneaker particularly special. This again adds

to its coolness. Who is Cool enough to get the sneaker in time? And who misses the boat?

The second example of Cool in this booklet was about two designers sites (Dribbble and

Forrst) that did not admit just everyone. Behind that strategy the same mentality trend

can be found as we see here: Not For Everyone! Secrecy, Please! Dribbble and Forrst on

the one hand and OAT's flourishing sneakers on the other hand are miles away from

one another. In order to be Cool and to attract the attention they both use the same

mentality trend: Not For Everyone! Secrecy, Please!

110
---
www.oatshoes.com

READ MORE:

World Changing

author: Alex Steffen

publisher: Abrams

ISBN: 810930951

publication: 2006

111
---
VAHO bags

112

COOL SUSTAINABILITY
---
vaho.ws/en

24VAHO

products are made of the same PVC

READ MORE:

The Long Tail, Why the Future of Selling is Less about More

author: Chris Anderson

publisher: Hyperion Books

ISBN: 1401302378

publication: 2006

VAHO Barcelona advertising posters

turned into creative bags

Everyone who has been to Barcelona has

definitely seen them: the huge posters which

in every street is horizontally connected to

the lamp posts. They are very colorful and

most of the time the posters contain

announcements of cultural manifestations

that are going to take place in the city.

The posters (PVC) are water resistant,

cannot easily be damaged and are flexible.

The material is excellent for open air

advertising posters. It is also perfect material

to produce bags. Handbags, notebook sleeves

and office files. However more colorful and

creative than we are used to. This is the

Cool business of VAHO. VAHO employees

collect old PVC posters and adapt them to

unique bags in many varieties and sizes.

Sometimes they also manufacture wallets

and dustbins and even chairs. Although all

they are all unique. Everyone can choose his/

her own personal bag. Personalized uniqueness.

This is considered Cool worldwide.

113
---
VAHO was not the first one. Ten years ago the Swiss brand Freitag

was Cool among our Coolhunters. Freitag then produced, and still

does, unique bags out of sailcloth but also tyres and safety belts

from trucks. Many people thought it fantastically Cool, powerful

and at the same time friendly for the environment. That same

enthusiasm now applies to the Spanish VAHO. At the same time

VAHO needs to do more than follow in the footsteps of Freitag.

114
---
vaho.ws/en

"This bag is not only a fashion item

but a social and ecological contribution"

24

using different materials and thus creating new opportunities?

It does this by e.g. working together with prisons. Inmates produce

the bags. This way they feel themselves a useful part of our society.

VAHO becomes even cooler because it shows corporate social

responsibility. The fact that the bags are made of recycled material

also contributes to its coolness. Not 'fashion' but 'trashion' VAHO

calls it. VAHO dissociates itself from the commercial fashion market.

It shows that it has its roots in the street life. Even literally because

it gets its material from the streets of Barcelona; authentic and Cool.

In the meantime VAHO also makes use of the digital developments.

Soon the customer has the possibility to create his/her own bag

online. "1. Select model. 2. Choose banner. 3. Create it. 4. and take

it away" it is called. A good international delivery service and for

VAHO from Barcelona the sky is the limit. Though it also depends

on several dimensions. One dimension is organization: can the

delivery service reach the whole world at a reasonable price?

Another one is the internet: how will they distinguish their website

from the competitors websites? But also: if co-creation is the next

step how will this virtual process be shaped?

The third one is product: is VAHO extending its product range

At the same time VAHO needs to cherish its authentic roots in

the streets of Barcelona. Can VAHO work with limited editions?

Secrecy, Please? Or invite exclusive top designers? The future will tell.

115
---
116

Mobile parks

COOL SUSTAINABILITY
---
www.stefangzyl.com

25

STEFAN GzYL mobile parks

'Park Disponible' is a project of Stefan Gzyl. Gzyl want to make it

possible in an original way to simulate a piece of nature downtown.

His project visualizes a glass box with a minipark which can be put

everywhere. It is about fifteen square meters. It could be one park

but also a series of virtual parks.

The mini park needs to supply its own eco system. The air humidity

as well as the temperature need to be regulated. The soil needs

to be sufficiently alimentary and fertile. In short you need climate

control in order to keep the parks green all year. Stefan Gzyl has

taken care of this in his mobile parks. Visitors who are interested

can order a membership card online. This card gives the visitor

access for a certain period of time.

By the way Stefan Gzyl is 'just' a student with a Cool idea.

A Cool idea that he strongly supports. He combines enthusiasm

and entrepreneurship to realize his idea.

Gzyl's mobile parks are connected to several mentality trends.

First the experience economy. These parks are special and surprising.

That is how every example of the experience economy starts.

The mobile parks also connect to our growing wish to a greener

environment which suggest purity and care for the environment.

Thirdly the mobile parks connect to our desire to have relaxing

moments in a stressful existence. Even lounging in one of his parks

fits in perfectly. Help me to de-stress in a stress society. Finally we

really appreciate everything which makes our living environment

117
---
in the city more attractive and inspiring. This connects to another

mentality trend: love thy city.

Again we see the importance illustrated to carry out the essential

movement of trendwatching and Coolhunting. It always starts

with a fresh look in search of Cool examples. However it does not

end here. Next we analyze and interpret the needs and wants

that are implied by the selected example. This will be translated

into a mentality trend. It is very essentialthat that we do not focus

on one example but on many examples in our search for the

underlying mentality trends. By discussing these examples

creative and solid patterns reach the surface. Then we will judge

118

READ MORE:

Who is your City

author: Richard Florida

publisher: The Perseus Books Group

ISBN: 465013538

publication: 2009
---
www.stefangzyl.com

"This way you can get rid of your stress

in a minipark"

25

whether they have growth potential or not. If we have executed all

this we have distilled a number of mentality trends from the many

examples of Cool which say more than any isolated hip example.

This methodology realizes validated trends based on empirical and

valid foundation.

119
---
Conclusion

This booklet has been written one year after International Lifestyle Studies started.

It does not pretend to show everything students have done during one year of trendwatching

and Coolhunting. It wants to show in a visually interesting and solid way what

defines responsible trendwatching and Coolhunting.

• Go and look for what is striking, attractive and inspiring (Cool).

• Try to describe this carefully. Explain the Cool object that you have observed because

it is not always clear to the unbiased reader. Also explain why the selected example is

considered Cool. You need to have arguments why it is considered Cool.

• Starting Coolhunters run the risk of being to enthusiastic about an example without

further arguments. It is advisable to ask fellow students to have a closer look at your

example. This hopefully leads to a discussion which can transform baseless enthusiasm

into a solid argumentation.

• Next it needs to be explained why this selected example has future growth potential.

This is serious business which is not possible without reading authorative newspapers

and magazines, without reading books. Only attending TED lectures is not sufficient.

This will not turn you into a professional trendwatcher.

• All the time we need to wonder if we have differentiated the targetgroups sufficiently.

Does the selected example of Cool attract old or young people, men or women,

higher educated people or lower educated people, autochthonous or immigrants?

• We need to ask ourselves: what does the example stand for? Which desires, ambitions,

fears are expressed here? What mentality trend is described in the example? One or

more mentality trends?

• One swallow does not make a summer. A selected example of Cool does not make a trend.

Serious trendwatching works with lots of examples. Mosaic combinations are made of

it. Within the combinations the patterns become more visible which puts forward a deeper

mentality trend. Then we need to find out whether this mentality trend has future

growth potential. By using this methodology we can reach validated mentality trends.

120
---
• Trendwatching and Coolhunting are inspiring and valuable activities. They hopefully

lead to developing more sensitive eyes, to becoming more trend sensitive.

• However trendwatching and Coolhunting are not a goal in itself. The validated mentality

trends with future growth potential will be a solid and fertile foundation to create high

quality and innovative ideas, concepts, products and services together with students

but also with the industry. Only then we can say that the road from trendwatching to

innovation has been successfully completed.

At International Lifestyle Studies the first year has been completed. The second year

focuses more on statistics, on different methods of trendwatching, on other targetgroups

than the young, on more cultural comparisons.

Many students continued their trendwatching and Coolhunting activities. Next year

many new Cool observations will be made. Go to the site www.scienceofthetime.com

and we show you the latest and best observations including the analysis according to

the principles discussed above.

121
---
Summary of the most important mentality trends

THE SOCIAL WEB CONTINUED

The social web feels like passing notes in the class room. It offers us a new universe to

chat and meet, to learn and teach. Together. The social web stands for the ultimate

mentality trend revolution of our times. It play its role everywhere.

URBAN NOMADS GOING MASS

Half of the world population now lives in big cities, expanding all the time. Urban nomads

embrace a 24/7/365 lifestyle. They demand wifi all over their living spaces. Cities are the

natural habitats, so they love cool embellishments there. Above all they want to zap through

the city with the highest efficiency: big cars are so 20th century. Their adage: 'I want to

consume, connect, work wherever, whenever 24/7/365'.

COOL MALES

"The criteria for emotional maturity have changed. A mature adult nowadays is someone

who is comfortable talking about their inner conflicts, someone who values personal

relationships above abstract goals, someone who is not afraid to cry. In other words:

a mature adult is a woman." Generation X males are often Metrosexuals. They see the good

things about it but also ask themselves "Where is the cowboy in me?" Every image, brand,

television program that helps them to connect with their Cowboy Inside is appreciated.

COOL HOPE

One: millions of people have been lifted out off intense poverty during the last decade.

Two: the huge potential to organise whatever you want to organize more effectively and

efficiently through the Internet. Three: add to this, with care, the Jasmine revolutions in

the Arabic area. Four: add to this the always new and surprising beauty, wonders and

joys that humanity is capable of. And it is time to document and interpret what Cool Hope

looks like and will look like in the forthcoming years.

THE MOST INVOLVING WOW EXPERIENCES

In more affluent societies we are less preoccupied with having things; we have enough.

We become more preoccupied with experiencing the best and most exciting.

Less consuming the profane and more celebrating what is memorable. In marketing terms:

122
---
the rise of the era of the memorable experiences. In Coolhunters term: the quest for

The Most Involving Wow Experiences.

COOL & THE CITY

More than half of the world's population lives in cities. Very many, especially the young

ones, love it there. They like to make it THEIR city – Appropriating The City, we call this.

They like it when people, including themselves, work together to make the city a more

empowering place. Love Thy city, we call this. They love to move through the city smoothly

and effectively. Dolphins in the City, we call this. They love the hidden places in the city,

only available for those who know. Secrecy, please, we call this. After years of documenting

Cool in the city, and knowing the several dimensions of it, we go back to the basis.

COOL SUSTAINABLITY

Sustainability continues for all the right reasons. First, the world is in danger and needs

sustainability. Second, many people want it very badly, even if many of them do not wish

to pay extra money for green products. Last but not least: Cool Sustainability stands for

a huge area of potential innovation.

SANE RECESSION

There is a healthy side to recession as well. During hard times, we reconnect to what is

really important in life. We are seriously invited to behave more resiliently, more creatively,

more cleverly. And that is Cool. Those who are not strong, have to be clever.

GIVE US NARRATIVES

Man is more than a series of biochemical processes. Man is looking for meaning. In its most

compelling version, meaning is often hidden and revealed in powerful narratives.

Information overload is a social-cultural fact of contemporary culture. This makes that

we even look harder than before for umbrellas and shelters of narratives that make

sense, give meaning, comfort, support or inspire us in appealing and inspiring ways.

COOL NOSTALGIA

The more we are going to live in a broadening context, the more we cherish our particular

roots and origins. That says the law of the general and the particular. Especially now,

in this era of exploding frontiers, it is good, fertile and lucrative to embrace the general on

123
---
the one hand and, at the same time on the other hand: show our extra love for the

particular, for what makes us 'us'. We summarize it as: Cool Nostalgia.

COOL COMPASSION

Many people in this world, on all continents and stations of life, agree: "I have a good life.

Better than so many others. I feel privileged. That is why I want to return something to

the world." This feeling is not new. But its Cool manifestations are becoming more

entrepreneurial, more innovative, more social web empowered and closer to the impulses

of our own heart. Yes, we can live cynical and egocentric lives. But what good does it bring

us in the end? What is it worth?

HELP ME TO RELAX – THE COOL WAY

We are stressed out in very many ways. We work too long hours; the whole world agrees

upon this. We are not enough empowered by our bosses; almost the whole world agrees upon

this as well. We want to be good partners, parents, lovers, friends, career makers, sports

persons. We want to 'develop' our selves. And a growing amount of us also wants to explore

the spiritual dimension of life: mindfulness as a recent manifestation of Help Me To Relax.

THE RISE OF THE DISTRUST CULTURE

Distrust Culture builds on the growing awareness and anger that Fairness does not seem

to exist in this world. Or at least: less than the decades before. Think of the rich getting

richer and getting away with everything. Think of globalization and national injustices.

Think of corruption. Think of the anger of the 'normal' young and jobless people in

countries such as Portugal, Spain and Greece. Think of FIFA. But also as part of the

trend, think of Cool scandals revealing a Distrust Culture. Think of the new ways of

organising – often empowered by the social media – resistance against it all. There is the

Anger Moment, the Outing Moment and the Organising Moment.

FILTERING INSTANTANUOUS INFORMATION OVERLOAD

It is not only the net, though the net aggravates all the issues (especially the rise of the mobile

net): but we live in an era of immense information overload which leaves us with only one

option: to protect ourselves against the overdose and to filter what comes to us. That is

the heart of the new Cool mentality trend: Filtering Instantaneous Information Overload.

124
---
HUMAN PEARLS AND COOL WONDERLANDS

Especially the younger generations have a serious desire to withdraw from time to

time. To withdraw is not too realistic, but refreshingly dreamy Cool Wonderlands.

So far we have seen many Cool contributions that symbolise subtle and gentle

gestures of human interaction. Science Of The Time predicts that this Cool mentality

will be on the rise again in the fierce, cost cutting years of growing global tension that

lie in front of us.

SECRECy, PLEASE

Now we feel that this Cool mentality trend is on the rise again. In a new context, of

course. Think of concept and pop-up stores. Think of über-luxurious 'not-for-all-at-all'

approaches. Think of limited access to Cool internet venues.

CO-CREATION IS NOT OVER

Now we see the co-creation taking new exciting dimensions. Think of Mix-It-As-You-Wish.

Think of the www.kickstarter.com mood. Think of creating your own spaces and communities

according to your own desires and demands. In your city, in your virtual world, within your

personal life space. Think of app-culture raised to a square.

COOL PROTECTION

Now we see the Cool mentality trend Cool Protection on the rise again. It is Risk Society

time again. The dangers against which we have to protect ourselves are sometimes old

e.g. pollution, in transparent food chains. But sometimes also brand new. Our privacy in a

Facebook world (1). Our money in a banking system that has lost trust and credibility (2).

But also the danger we run of drowning in a flood of information, an overload that makes

it impossible to assess what is true and what is a lie. The search for protection against

these dangers, old and new dangers, is growing again. And Cool.

COOL FEMALES

Between bimbo/barbification and the real power bitch. Between the caring mother and a

career. On a quest for perfection, sometimes surreal, photo shopped perfection.

125
---
Colophon

Edition: Fontys University of Applied Sciences and Science Of The Time - 2011

Compilation and text: Dr. Carl Rohde

Editor: Anja Sparidaans

Translation: Sylvie Dieteren

Design: Blauwzuur

Production: Maartje Dries en Charlie Neijenhuis

Printing: Drukkerij Verhagen

Circulation: 1,500

Information: www.scienceofthetime.com - www.fontysaci.nl - www.fontys.nl/lifestyle

Contributions from the following students:

Alexandre Innavong www.alexandreinnavong.wordpress.com

Cecile Cremer www.soldoutforever.com

Charlie Neijenhuis www.everydaycharlie.com

Dwayne Croes www.croesdwayne.wordpress.com

Elmay Claassen www.elmayclaassen.wordpress.com

Janou Bonnie www.janoubonnie.wordpress.com

Jessy Grootzwagers www.jessyvonteese.wordpress.com

Kimberley Schouten www.bloggerley.wordpress.com

Maartje Dries www.maartjedries.wordpress.com

Marlotte van Kerkhof www.m-byhand.blogspot.com

Rinke Adema www.excentriek.wordpress.com

Rosanne Steensma www.t2d4.wordpress.com

Ruben Kuijsters www.rubenkuijsters.wordpress.com

Sofie Kerkhofs www.soophisticatedatschool.wordpress.com

Tine Goosens www.vendredigirl.wordpress.com
---
www.scienceofthetime.com

www.fontysaci.nl