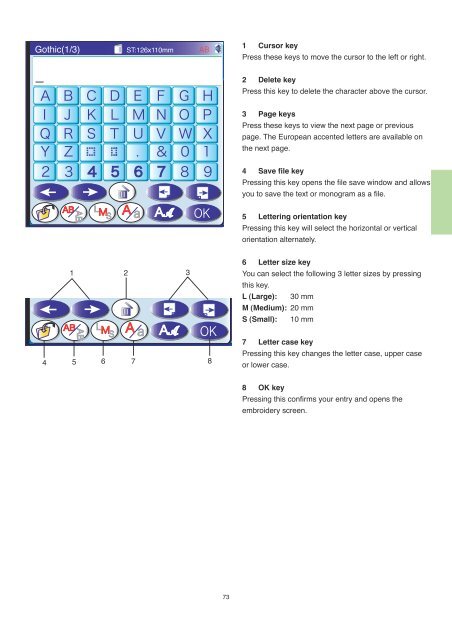 IMPORTANT SAFETY INSTRUCTIONS SAVE THESE ... - Janome IMPORTANT SAFETY INSTRUCTIONS SAVE THESE ... - Janome
Gothic(1/3) ST:126x110mm

1 2 3

4 5 6 7 8

73

1 Cursor key

Press these keys to move the cursor to the left or right.

2 Delete key

Press this key to delete the character above the cursor.

A Z

3 Page keys

Press these keys to view the next page or previous

page. The European accented letters are available on

the next page.

4 Save file key

Pressing this key opens the file save window and allows

you to save the text or monogram as a file.

A Z

5 Lettering orientation key

Pressing this key will select the horizontal or vertical

orientation alternately.

6 Letter size key

You can select the following 3 letter sizes by pressing

this key.

L (Large): 30 mm

M (Medium): 20 mm

S (Small): 10 mm

7 Letter case key

Pressing this key changes the letter case, upper case

or lower case.

8 OK key

Pressing this confirms your entry and opens the

embroidery screen.
More magazines by this user