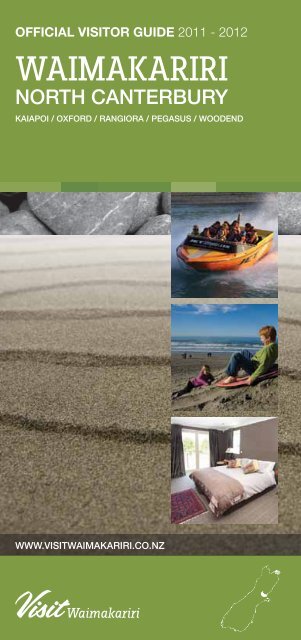 Official Visitor Guide - Visit Waimakariri
Official Visitor Guide - Visit Waimakariri
Official Visitor Guide - Visit Waimakariri
SHOW MORE
SHOW LESS
Do you know the secret to free website traffic?
Use this trick to increase the number of new potential customers.
OFFICIAL VISITOR GUIDE 2011 - 2012

WAIMAKARIRI

NORTH CANTERBURY

KAIAPOI / OXFORD / RANGIORA / PEGASUS / WOODEND

WWW.VISITWAIMAKARIRI.CO.NZ
---
2

CONTENTS

Welcome to Waimakariri, North Canterbury 2-3

Family Fun & Adventure - Taste of Country Goodness 4

Heritage & Culture - Gardens & Art Galleries 5

Parks & Reserves 6

Walking & Cycling 7

What's On Waimakariri Events 8

Kaiapoi 10-13

Pegasus, Woodend, Waikuku 14-18

Rangiora 19-25

Ohoka 26-27

Cust 28-29

Oxford 30-34

Play . . . have fun . . . stay . . .

in Waimakariri, North Canterbury

CONNECT WITH

US TODAY…..

WWW.VISITWAIMAKARIRI.CO.NZ

CHRISTCHURCH

WAIMAKARIRI

WELCOME TO WAIMAKARIRI,

NORTH CANTERBURY

Waimakariri (meaning cold rushing water in Maori) is just minutes

north of Christchurch City and the International Airport, and from

only thirty minutes to two hours drive to Waipara Valley's vineyards,

Hanmer Springs, Kaikoura and the skifields – an ideal peaceful

country location to base yourself.

In Waimakariri you will experience a truly New Zealand country

lifestyle with its wide sandy beaches, rich rolling countryside and

forested foothills that are full of fun and adventure.

The country towns of Rangiora and Oxford are destinations for

shopping, with great cafes and art galleries to discover. Kaiapoi

offers a unique town experience with the life and activity on and near

the meandering river through the centre of town. Nearby Ohoka is a

relaxing place to stay and is popular for garden tours and weddings.

The coastal beaches near Woodend, Pegasus and Waikuku are

enjoyed all year round, along with the golf course and lake at the

new Pegasus town. Inland travelling will bring you to Cust, Loburn

and the Ashley Gorge, which are surrounded by rural farmland and

views of the foothills and the mountains.

KAIAPOI I-SITE VISITOR CENTRE

Raven Quay, Kaiapoi, Phone: +64 3 327 3134

3
---
4

FAMILY FUN &

ADVENTURE

• Jet boating on the braided

Waimakariri River or through

the Waimakariri Gorge

• River cruising on board the

historic MV Tuhoe

• Surf, swim and boogie board

in the sea at Woodend,

Pegasus and Waikuku

Beaches

• Tee off on country golf

courses in Kaiapoi, Pegasus,

Rangiora, Ohoka and

Waimakariri Gorge

• Try out the covered driving

range at the Pegasus Sports

& Golf Club

• Kayaking and sailing on

Pegasus Lake

• Mountain biking at Pegasus,

on the new Tutaupatu Trail,

Kaiapoi Island and on the

foothills tracks

• Horse trekking along the

Oxford foothills

• Fishing for salmon or trout in

the Waimakariri and Ashley

Rivers

WWW.VISITWAIMAKARIRI.CO.NZ

TASTE OF

COUNTRY

GOODNESS

• Taste fresh local produce in

the cafés and restaurants

• Learn the art of 'cooking up

a treat' Seagars Cook School

in Oxford

• Meet the locals on the North

Canterbury Food & Wine Trail

• Visit Farmers' Markets in

Ohoka, Rangiora, Oxford and

Kaiapoi

• Discover boutique shops in

Cust, Rangiora, Oxford and

Kaiapoi

• Stay in country

accommodation and enjoy

the peace and tranquillity

HERITAGE &

CULTURE

• River cruising on the

MV Tuhoe

• Kaiapoi Pa, considered

to be the most significant

settlement area for Ngai Tahu

in the South Island

• Museums in Rangiora, Cust

and Oxford depict the life and

times of the early settlers

• The Northbrook Wetlands is

a place of the early industries

and the tracks will take you

past the site remnants

• Historic homes and garden

tours of stunning early 1900's

homestead

•

ART GALLERIES

& GARDENS

• Art Galleries in Oxford and

Rangiora which exhibit the

works of local and national

artists

• Tour the gardens open to

visitors in Ohoka and Oxford

from October until May

• Garden tours and plant sales

are held annually in various

locations, and for more

details talk to the Kaiapoi

i-SITE staff, or view the

events page on:

www.visitwaimakariri.co.nz

KAIAPOI I-SITE VISITOR CENTRE

Raven Quay, Kaiapoi, Phone: +64 3 327 3134

5
---
6

PARKS & RESERVES

Ashley Gorge

Facilities: camping ground,

walking tracks, toilets, river,

playground equipment, picnic

tables, changing sheds.

The gentle flowing river, mature

trees, native bush and the bird

life combine to create an area

of natural beauty and tranquility.

A relaxing natural environment

combined with good swimming

holes and bush walks.

Kaiapoi Lakes - Nga Tapuwae

O Mua (footsteps of the past).

Facilities: lakes, toilets, viewing

platform, picnic tables.

A perfect place for picnics,

bird watching, walking, catch

and release fishing and nonmotorised

model yachts.

The area is of high cultural

significance to Maori and

European history.

Matawai Park, Rangiora -

source of native springs

Facilities: native bush, BBQ,

toilets, walking trail, picnic

tables.

A native haven tucked away in

the middle of Rangiora. This is

a great place for picnics, serene

walks and photography. Plants

represent the native vegetation

of Canterbury, based on the

theme from the mountains to

the sea.

WWW.VISITWAIMAKARIRI.CO.NZ

Northbrook Wetlands,

Rangiora - Io Io Whenua (the

power given to the sons of

Rangi and the gods who rule

the elements and control the

manifestations of nature).

Facilities: walking track, ponds,

picnic tables, benches, viewing

platforms. This is the place to

go and enjoy a thriving young

Canterbury wetland with views

across the lush green pastures.

There's space for birds to

breed, tracks to wander along

and for kids to ride their bikes.

WALKING

& CYCLING

The Waimakariri has a fantastic

natural environment of beaches,

rivers, foothills and mountains

you can explore on foot or bike.

Glentui & Ashley Gorge

A range of trails in Canterbury's

foothills through native and

podocarp forests and tussock

fields alive with a myriad of

native birds.

Tutaepatu Trail

This new track can start at

either Woodend or Waikuku

Beach or in the middle from

Pegasus' beach road access.

Graded for mountain biking and

walking or running – share with

care when on the track. Views

of sea, river and lagoon along

the coast from Woodend to

Waikuku beaches.

Mt Thomas & Mt Thomas

Forest

Walks range from one hour to

a full day traverse of the area.

Beautiful native forest and

birdlife is seen. Picturesque

picnic and camping areas along

the many tracks.

Oxford Forest

A range of trails through tawai/

mountain beech and podocarp

forests, farmland and snow

tussock with shelters and huts

en route. Walking tracks from

2 to 5 hours one way, as well

as tramping tracks for the more

adventurous.

River Walks

Outstanding rural river scenery,

seascapes, wetlands, birdlife,

heritage trails and historic sites

on the beautiful walkways

around the Waimakariri,

Kaiapoi, Cam and Ashley

Rakahuri Rivers and the Mill

Stream in Ohoka.

Kaiapoi Island

The Kaiapoi Island section of

the Waimakariri River Regional

Park is the most popular area of

this park, and offers recreation;

mountain biking, walking,

running and picnicking in a

unique braided river setting.

KAIAPOI I-SITE VISITOR CENTRE

Raven Quay, Kaiapoi, Phone: +64 3 327 3134

7
---
8

WAIMAKARIRI EVENTS - 2011-2012

JANUARY

Canterbury Rodeo - Mandeville

Waikuku Sand Sculpture

Competition - Waikuku

Contact Tri Series - Pegasus

Street Machine & Muscle Car

Madness - Rangiora

FEBRUARY

Oxford - A Day in the Country

W.A.I Art Exhibition - Waikuku

Pegasus NZ Women's Golf Open

- Pegasus

Bedrock50 - 52km Ultramarathon

- Oxford

MARCH

8 Seconds Bull Riding - Rangiora

Swannanoa Country Fair

- Swannanoa

North Canterbury Triathlon

- Rangiora

Kowai Family Gala - Sefton Domain

Rangiora Kaiapoi Fun Run and Walk

- Rangiora

APRIL

Oxford A & P Show - Oxford

MAY

Prosser Quirke Creative Arts

Exhibition - Rangiora

JUNE

Canterbury Rally - Rangiora

JULY

Kaiapoi Art Expo - Kaiapoi

AUGUST

The Great Oxford Garage Sale Trail

SEPTEMBER

North Loburn School Half Marathon

& 10 km Run/Walk - Ashley Forest

Oxford Country Classic - Oxford

Ashley Forest Rallysprint - Rangiora

Spring Art Exhibition - Rangiora

OCTOBER

Woodend Spring Flower Show

- Woodend

Oxford Spring Cruise - Oxford

Pegasus Fun Run & Walk - Pegasus

Soap Box Derby & Family Day

- Rangiora

Northern (Rangiora) A&P Show

- Rangiora

Woodford Glen Speedway

Fireworks Extravaganza - Kaiapoi

Waimakariri Light Party - Kaiapoi

WWW.VISITWAIMAKARIRI.CO.NZ

NOVEMBER

Lees Valley MTB Challenge - Ashley

Gorge

Canterbury USA DAY - Woodend

Woodend Beach Country Music

Festival - Woodend

Mandeville Craft Festival - Mandeville

Ohoka School Garden Tour

& Festival - Ohoka

Kaiapoi Classic Multisport

& Duathlon - Kaiapoi

Ohoka School Garden Tour

& Festival – Ohoka (2011)

DECEMBER

South Island Waka am Sprints

- Pegasus

Kaiapoi Carnival & Market Day

Mandeville Music Festival

- Mandeville

Rangiora Toyota Santa Parade

& Party in the Park

House of Travel Triathlon Festival

- Pegasus

Oxford Christmas Parade

and Picnic - Oxford

State Cricket Matches - Rangiora

__________________________________

ARTS

Arts in Oxford Gallery - Oxford

Chamber Gallery - Rangiora

__________________________________

FARMERS MARKETS & CRAFT

MARKETS (YEAR ROUND)

Ohoka Farmers Market - Every Friday

Oxford Farmers' Market - Every

Sunday

Rangiora Farmers Market - Every

Sunday

Kaiapoi Winter Produce Market

- Every Saturday (summer), Every

Sunday (winter)

Oxford Village Market - Every Sunday

Ohoka Artisan Craft Market - 1st

Friday of each month

Oxford Craft Market - 1st Sunday of

each month

Woodend Market - last Saturday of

each month

For further information on

these events and other events

happening in the Waimakariri

District, view our website:

www.visitwaimakariri co.nz

or check us out on Facebook.

Waimakariri Farmers Markets

a: Ohoka Domain, Cnr Mill/Whites Road

and Rangiora Council carpark,

Percival Street

e: info@ohokafarmersmarket.co.nz

w: www.ohokafarmersmarket.co.nz

______________________________________

Spend your mornings at the Ohoka Farmers

Market on Fridays or Rangiora Farmers

Market on Sundays and experience what

locals have grown to depend upon.

Local producers, up to 40 during the high

season, gather to sell their fresh produce.

Freshly baked breads, organic veges,

seasonal fruits to preserves. Home baking,

nuts, oils and juices. Eggs to cheese, fish to

garden plants.

Ohoka is the true country market with a

penchant for garden related traders. In the

Domain you will also find rarebreeds and

a monthly artisan craft market. Join us for

foods of the Waimakariri - for your kitchen

and your soul.

Ohoka: Fridays 9am –12:30pm

Rangiora: Sundays 9am – 12:30pm

Ohoka Artisan Crafts: Ist Friday Monthly

Jet Thrills Christchurch

a: Jet Boat Ramp in Waimakariri

Regional Park under State Highway

1 Bridge (off Wrights Road, Clarkville)

p: 03 385 1478 or 0800 277 729

e: info@jetthrills.com

w: www.jetthrills.com

______________________________________

Go Jet boating on the Waimakariri River

- one of New Zealand's most exciting and

challenging rivers. Your jet boat will skim the

shallows, spin in your own length.

Great commentary along the way and

fantastic views. View the mighty Southern

Alps from your river vantage point over a

cuppa on the river bank on our 60 min Blast

plus tour.

Shuttle service available from the city area.

• 30 min "Braided Blast"

• 60 min "Blast Plus" a stop at the top for

a cuppa allow 75 mins.

• 90 min "Jet Trek" combo

• 50 min "Heli Jet" combo

KAIAPOI I-SITE VISITOR CENTRE

Raven Quay, Kaiapoi, Phone: +64 3 327 3134

FARMERS MARKET WAIMAKARIRI

JET BOATING WAIMAKARIRI RIVER

9
---
10

KAIAPOI

Kaiapoi is located only 15

minutes north of Christchurch

with easy access from State

Highway 1, via the Northern

Motorway, and is a handy

destination to stock up on

holiday essentials with a full

range of shops, eateries, petrol

stations, laundromat, dump

station and a supermarket.

Kaiapoi is home to the

Waimakariri district's official

information centre, the Kaiapoi

i-SITE Visitor Centre. The team

at the i-SITE will be happy to

help you with local information

and accommodation bookings,

recommendations for places to

dine, as well as assisting with

holiday itineraries for further travel in New Zealand.

The picturesque Kaiapoi River is popular for rowing, kayaking, and

fishing, with riverside tracks for walking and cycling.

Cruise down the Kaiapoi and Waimakariri Rivers on the iconic

MV Tuhoe and enjoy river wildlife and the views from the mountains

to the sea.

Parks and reserves are dotted throughout the town, with places for

picnicking and for kids to play.

The restaurants throughout the town feature a wide variety of

international cuisine flavours, from Japanese, Chinese, Thai and

Egyptian.

Play golf on a well groomed 18 hole golf course amongst beautiful

mature trees.

WWW.VISITWAIMAKARIRI.CO.NZ

Mountain Bike and Fishing Rod Hire

a: Raven Quay, Kaiapoi

p: 03 327 3134

e: info@kaiapoivisitorcentre.co.nz

w: www.visitwaimakariri.co.nz

______________________________________

Take a drive out to Kaiapoi just 19km north

of Christchurch to experience the lovely

river town. While you are there…

Ride a Bike

Hire a mountain bike from us, grab a local

map and explore the suggested routes or

talk to our local expert staff about where

best to go. Tandem, Mountain bikes and a

child's bike trailer are all available for hire.

Catch a Fish

Come and see us for local waterway advice,

hire a fishing rod, grab some bait and try

your luck in the Kaiapoi or the Waimakariri

rivers for Salmon*, Trout* and Herrings.

Rods available for Adults and Children.

Fishing licenses and bait also available.

(*seasons apply, license required).

Great family fun!

M V Tuhoe

a: Kaiapoi Wharf, Kaiapoi

p: 03 327 3134

e: info@kaiapoivisitorcentre

w: www.mvtuhoekaiapoi.co.nz

______________________________________

The MV Tuhoe is an historic schooner that

was built in 1919 and is now at the Kaiapoi

River wharf. This ship was secured in 2004

by the MV Tuhoe Kaiapoi Rivertown Trust

and is operated by a team of volunteers.

During the season from October until June

the following year the ship regularly sails the

Kaiapoi and Waimakariri rivers.

When you depart from the Kaiapoi Wharf

you will cruise for a relaxing and peaceful

hour. Along your journey you may see river

activities, fishermen, trampers, bird life,

landscape scenes of the Southern Alps

mountains, Banks Peninsula and also

Pegasus Bay.

For sailings, function hire and enquiries

contact the Kaiapoi i-SITE Visitor Centre,

Raven Quay, Kaiapoi, Phone: 03 327 3134.

KAIAPOI I-SITE VISITOR CENTRE

Raven Quay, Kaiapoi, Phone: +64 3 327 3134

KAIAPOI WAIMAKARIRI

11
---
KAIAPOI WAIMAKARIRI

12

Woodford Glen Speedway

a: Double days Road, Kaiapoi

p: 03 327 6117 or info line 03 364 8833

e: racing@woodfordglen.co.nz

w: www.woodfordglen.co.nz

______________________________________

AmPro Tools Woodford Glen Speedway is

situated just a couple of minutes drive from

Kaiapoi town centre and is renowned for its

'value for money' family entertainment.

Running most Saturday nights from

October to April, Woodford Glen is the

place to be on a summer's night. With eight

different racings classes there is something

for the whole family to enjoy. For those

who love smashing and crashing action the

SuperStocks, Stockcars & Streetstocks are

guaranteed to keep you jumping from your

seat whilst the high horse powered Super

Saloons & Modifieds will thrill those who

love high speed wheel to wheel racing.

Bring the whole family to Woodford Glen

and enjoy the great food available from

5pm, then sit back and enjoy a thrilling

nights entertainment when the cars hit the

track from 7pm.

www.woodfordglen.co.nz for more info.

Paddywax & Co. Jewellery

a: 172A Williams Street, Kaiapoi

p: 03 327 7776

e: paddywax@windowslive.com

______________________________________

Paddywax & Co - Something uniquely

yours.

North Canterbury's specialist jewellerymakers

– is the place to go for advice

on remodeling your heritage items.

Jeweller Tristan Jones, who has worked

in the industry for 25 years, is a versatile

craftsman and skilled in this type of

modification. Tristan is adept at producing

unique pieces, catering to all tastes,

requirements and ages.

Wedding jewellery and custom made items

a specialty. We have access to a wide range

of diamonds to suit all budgets.

We also stock coloured gems and jewellery,

wedding jewellery, bracelets & bangles,

necklaces, and we also do a full range of

repairs and alterations.

One of North Canterbury's largest

stockists of Pounamu & Bone carved

items.

WWW.VISITWAIMAKARIRI.CO.NZ

Blue Skies Conference and Training Centre

a: 12 Williams Street, Kaiapoi

p: 03 327 8007

e: gary@blueskies.org.nz

w: www.blueskies.org.nz

______________________________________

Blue Skies is a dynamic facility offering a

range of accommodation types suitable

for all groups, only 15 minutes north of

Christchurch set in seven hectares of park

like grounds.

Suitable for Business Conferences, School

Camps, Church Groups, Training Retreats,

and even Family and Corporate Picnics.

There are spacious grounds and plenty of

room for Tents and Camping, plus powered

sites for Caravans and Camper-vans.

Three bunkroom style lodges available

for groups sleeping 100, 48, and 25.

Conference Centre has serviced rooms and

sleeps 24. Group catering available. On site

activities include Abseiling and Climbing

wall, Confidence course, Flying Fox,

Orienteering, Fitness Circuit and Swimming

Pool (warm months only).

Kaiapoi on Williams Motel

a: 14-16 Williams Street, Kaiapoi

p: 03 327 0806 or 0800 327 080

e: stay@kaiapoionwilliams.co.nz

w: www.kaiapoionwilliams.co.nz

______________________________________

Stay in Kaiapoi's newest motel with

6 spacious luxury studio units, plus 2

bedroom house.

All self contained with fully equipped

kitchen, ensuite with shower, phone free

fast internet, Sky TV and DVD player. Off

street parking.

Continental breakfast available delivered to

your room.

Within walking distance of restaurants and

local amenities. 5km to beaches, river and

golf course. 10 mins to airport (18km), 15

mins to Christchurch city centre (18km).

KAIAPOI I-SITE VISITOR CENTRE

Raven Quay, Kaiapoi, Phone: +64 3 327 3134

KAIAPOI WAIMAKARIRI

13
---
14

PEGASUS,

WOODEND

& WAIKUKU

Built around a beautifully

designed feature lake and

extending to the shores of

Pegasus Bay, Pegasus is a town

that has been designed to offer

residents and visitors a lifestyle

built on a remarkable array

of attractions, entertainment

and community resources.

Features already open include

a 14 hectare feature lake with

swimming bay, an 18-hole

championship golf course, two

cafés and a bar and the General

Store.

Woodend is only 20 minutes drive from Christchurch. Woodend

Beach is only a 5 minute drive and is a safe swimming beach which

is patrolled over the summer holiday period.

Stay in modern country motels or the beachside camping ground,

only a few footsteps from the sea.

Waikuku is a small settlement and nearby Waikuku Beach and

Ashley/Rakahuri River are popular for swimming, surfing, walking

the beach and fishing. There is plenty of space for picnicking in the

sheltered beach reserves with a kids playground, toddlers pool,

flying fox and tennis courts. The beachside camping ground is

sheltered and is set amongst large trees, close to the beach.

Nearby is the site of the Kaiapoi Pa, established around the year

1700 it became the stronghold of the Ngai Tahu tribe. This is a place

where you can sense the sacred heritage of Aotearoa, New Zealand.

WWW.VISITWAIMAKARIRI.CO.NZ

There's so

much to do

at Pegasus

5 Lake Pegasus

for swimming,

kayaking & sailing

5 Ocean beach

with access road

right to beach

5 Wetland areas with birdlife and

boardwalks

5 Public 18 hole championship golf course

5 Driving range and tennis courts

5 Great café & bars including fresh coffee

roasted on site

5 Hire centre with kayaks, mountain bikes

and yachts for hire (summer season only)

Pegasus Sales &

Information Office

Cnr Pegasus Boulevard

& Main Street, Pegasus

Ph: 03 920 3050

www.pegasustown.com

KAIAPOI I-SITE VISITOR CENTRE

Raven Quay, Kaiapoi, Phone: +64 3 327 3134

PEGASUS WAIMAKARIRI

15
---
COASTAL WAIMAKARIRI

WOODEND WAIMAKARIRI

16

Te Kohaka o Tuhaitara Trust

a: 1 Woodend Beach Road,

Woodend Beach

p: 03 313 1768

e: tkot.enquiries@farmside.co.nz

w: www.tuhaitarapark.org.nz

______________________________________

Tuhaitara Coastal Park covers 10.5 km of

coastline between the Waimakariri River and

the township of Waikuku.

The Park comprises many significant natural

features including the 50ha spring fed

Tutaepatu Lagoon, home of many native

flora and fauna species.

The Park has a network of walking, cycling

and horse trails. The walking and cycling

trails run the length of the park and connect

to the adjoining beach settlements. Horse

float parking is located at Kiwi Ave Waikuku

and Ferry Road Woodend Beach with

clearly marked trails and access to the

beaches.

Tuhaitara Coastal Park serves to preserve

Ngai Tahu values, retain and enhance

rare indigenous biodiversity and provide

recreational and educational opportunities

for all people.

Woodend Beach Holiday Park

a: 14 Woodend Beach Road,

Woodend Beach

p: 03 312 7643

e: woodendbeachhp@xtra.co.nz

w: www.woodendbeachholidaypark.co.nz

______________________________________

25 minutes from Christchurch Airport

Woodend Beach Holiday Park offers very

affordable motel and cabin accommodation

as well as large powered and unpowered

campervan/caravan/tent sites.

Situated 8km north of Kaiapoi, 8km east of

Rangiora and 6km south of Pegasus Town

and only metres from a sandy beach.

We have 55 acres of peace with only the

sounds of the waves and the birds with

wonderful forest walking and biking tracks.

Our park is very well maintained with clean

facilities, wifi and broadband, 3 childrens

playgrounds, bmx track, exotic bird aviary

and a shop.

Just turn at The Gateway Hotel Woodend

and find us at the end of the Woodend

Beach Road.

WWW.VISITWAIMAKARIRI.CO.NZ

Pegasus Gateway Motels

a: 4 Main North Road, SH1, Woodend

p: 03 312 7829 or 0800 555 829

e: info@pegasusgatewaymotels.co.nz

w: www.pegasusgatewaymotels.co.nz

______________________________________

Away from the city ... but in touch with

so much.

14 spacious apartments, ideal for families,

couples or businesspeople that need space

to spread out and relax.

Apartments: 1 & 2 bedroom designated

non-smoking, fully equipped kitchen, king

size beds, broadband internet, LCD flat

screen and Sky TV. Each has a terrace area

with seating.

2 Bedroom accessible apartments x2.

20 minutes to Airport, Ample parking.

Adjacent to Woodend Hotel and

Restaurant.

Pegasus Gateway Motel is the gateway to

many attractions. 2 minutes to Pegasus

town and superb golf course. Kaiapoi

and Rangiora are 5 minutes drive with all

they have to offer and then the rest of the

fabulous Waimakariri District.

Wayside Motels

a: 77 Main North Road, Woodend

p: 03 312 7616 or 0800 366 222

e: wayside@xtra.co.nz

w: www.waysidemotel.co.nz

______________________________________

We are pleased to offer a mix of 11 modern

and established fully self contained units

with cooking facilities, in a peaceful garden

setting. Situated on SHW1 in Woodend,

close to Rangiora and Kaiapoi.

For something special try our luxury spa

bath studio apartments, or for a larger

group our modern 2 bedroom, 2 ensuite

family apartment. Together with the ever

popular studio, 1 and 2 bedroom standard

units we believe we have a room to suit any

need or budget.

Facilities include a Playground, Swimming

Pool, BBQ area, Wi-Fi, Sky TV and

extensive off street parking.

We are close to cafés and restaurants while

only 2km from Pegasus Golf Course and

Town. Christchurch and it's international

airport is an easy 20 minutes drive

from our gate.

KAIAPOI I-SITE VISITOR CENTRE

Raven Quay, Kaiapoi, Phone: +64 3 327 3134

WOODEND WAIMAKARIRI

17
---
WAIKUKU WAIMAKARIRI

18

Waikuku Beach Holiday Park

a: 1 Domain Terrace, Waikuku Beach

p: 03 312 7600

e: arkiwi@hotmail.com

w: www.waikukubeachholidaypark.co.nz

______________________________________

Come to paradise! Seaside location with

193 campsites, 6 cabins, and 3 onsite

caravans.

Award winning Pegasus Golf Course is 3km

to the south. Trails for hiking or biking follow

the river, as well as the Pegasus track which

meanders through the forest alongside the

beach through Woodend Beach and on to

the Waimakariri River at Karaki. Swim, surf,

fish, or just relax.

Playground, wireless broadband, internet

kiosk, pedal cart hire, camp store,

wheelchair access toilets and showers,

laundry, kitchens, bbq, in holiday park.

Tennis court, skateboard ramp, flying fox,

basketball court, toddlers playground at

domain next door. Village general store has

takeaway foods as well as postal facilities.

Great eateries nearby.

Casa Laguna Bed & Breakfast

a: 129 Park Terrarce, Waikuku Beach

p: 03 312 7994

e: j.g.stone@xtra.co.nz

w: www.backend.co.nz/waikuku

______________________________________

Enjoy staying in Casa Laguna bed and

breakfast on the shore of the picturesque

Ashley Lagoon at Waikuku Beach. From

your upstairs balcony you have a panoramic

view from the Southern Alps to Pegasus

Bay.

The location is ideal for walking, biking,

fishing, swimming, surfing, wind surfing,

boating, kayaking and birdwatching.

Easy travelling distance to Christchurch,

vineyards, Hanmer Springs and Porter

Heights ski field.

Downstairs the modern glass, cedar and

steel unit has a queen size, double and

2 single beds. It has its own bathroom,

lounge and separate courtyard which opens

straight onto the magnificent lagoon.

Bed & breakfast options for couples and

single travellers. Dinner negotiable. Your

hosts are Jennie & Gerry Stone, who have

lived in North Canterbury for over 40 years.

WWW.VISITWAIMAKARIRI.CO.NZ

RANGIORA

Rangiora is a vibrant town with a

strong sense of community and

offering an attractive quality of

life in its semi rural setting only

30 minutes from Christchurch.

Founded in 1878, Rangiora has

been servicing a prosperous

farming district for nearly 130

years. The history of the town

is evident today as you stroll

along the High Street and see

buildings beautifully restored

in keeping with the original

architecture.

Rangiora is well known for a

great variety of boutique stores,

which are unique to the town

and you will be served by people

who will take the time to help

and chat.

Relax in open air courtyard cafés

in the sunshine, or on a Sunday

morning visit the Rangiora

Farmers Market in the centre of

the town for fresh local produce.

Get the kids into the new Dudley

Park Aquatic Centre, and enjoy

the fun pools as well as the 8 laned 25m pool and spa pool.

Cricket matches are held at the MainPower Oval throughout the

summer season and the A & P Showgrounds is home to the

Northern A & P Show at Labour Weekend along with the popular

Street Machine & Muscle Car Madness in January each year.

Wonderful outdoor spaces provide recreation and relaxation for

families in the town and close by, including Victoria Park, Matawai

Park, Northbrook Wetlands and the nearby Ashley River.

KAIAPOI I-SITE VISITOR CENTRE

Raven Quay, Kaiapoi, Phone: +64 3 327 3134

19
---
RANGIORA WAIMAKARIRI

20

DESTINATION SHOPPING

The Accessory Shoppe

a: 144 High Street, Rangiora

p: 03 313 5498

e: theaccessoryshoppe@clear.net.nz

______________________________________

We stock an extensive range of hats,

scarves, jewellery, handbags, wallets,

clothes, everything a girl needs to

accessorize. Then venture next door into

the lingerie shop where we specialize in personal fittings or browse through the

beautiful nightwear and the maternity range.

Jaks Clothing and Accessories

a: 108 High Street, Rangiora

p: 03 313 1720

e: jaks2@xtra.co.nz

w: jaks.co.nz

______________________________________

Jaks is an exclusive, easy to browse

boutique with outstanding customer service.

Teamed with our exclusive, funky NZ labels,

we pride ourselves in helping our customers make the right choices to look

and feel fabulous. Jaks also stocks a fantastic range of accessories including

jewellery, scarves, belts, and gorgeous handbags.

Robe

a: 125 High Street, Rangiora

p: 03 313 0099

______________________________________

From elegant to edgy, there's something

to suit all tastes at robe - a funky boutique

in the heart of Rangiora. The stylish store

has a number of labels exclusive to North

Canterbury - including Sophie Pink, Nyne,

Ricochet, Grab, Ketz-Ke and Standard Issue. Accessorise with robe's stunning

range of belts, bags, and stockings, or choose a piece from its exquisite

jewellery collection. robe - where you truly will find all things beautiful.

Country Lane Fashion Boutique

a: 140 High Street, Rangiora

p: 03 313 4565

______________________________________

An enjoyable shopping experience awaits

you at our French country style boutique.

We offer an extensive range of New Zealand

designed and made fashion labels, along

with unique and distinctive jewellery and

accessories. Relax in our spacious surroundings where our friendly sales team

are only too happy to help you create a look that's right for you.

Open: Mon-Fri 9am-5.30pm, Sat 10am-4pm.

WWW.VISITWAIMAKARIRI.CO.NZ

Cream & Clover

a: 152 High Street, Rangiora

p: 03 313 2933

______________________________________

Stocking a beautiful range of exclusive

gifts and homewares, this is the perfect

destination for shopping in a relaxed

atmosphere. Gifts, Kitchen and Homewares

are beautifully displayed throughout the

store, which also specialises in quality NZ made products, from local artists to

beautiful linens there is such a great selection. Beautiful pieces for great living!

Wee Kiwi Children's Boutique

a: 216 High Street, Rangiora

p: 03 313 4325

e: orders@weekiwi.co.nz

w: www.weekiwi.co.nz

______________________________________

A unique children's boutique, Wee Kiwi

stocks a selection of beautiful children's

labels for prem through to teens for the

wanna-be fashionistas. There's a range of quality European and New Zealand

clothing labels plus shoes, educational toys and quality gifts. To add to your

shopping experience there's a play area for kids & free gift-wrapping service.

The Gingerbread House

a: 3B Good Street, Rangiora

p: 03 310 6805

e: info@pennysgingerbreadhouse.co.nz

w: www.pennysgingerbreadhouse.co.nz

______________________________________

The Gingerbread House is bursting with

sweetness. Like a kid in a candy store you'll

be spoilt for choice with our selection of

lollies, handmade chocolates, heavenly cupcakes and homemade cookies,

sweets and fudges. Enjoy a beverage, indulge your taste buds and take home

a little piece of The Gingerbread House.

Femme de Brocante

a: 15 Coronation Street, Rangiora

p: 03 310 7635

e: enquiries@fdb.co.nz

w: www.fdb.co.nz

______________________________________

Affordable Designer Fabrics for the

Home.

Firmly established as a destination store in Rangiora, people flock from all over

New Zealand to Femme de Brocante for their fabric fix. Renowned for their

gorgeous affordable curtain and upholstery fabrics and having the largest range

of oilcloth in the country, this store is a must see.

KAIAPOI I-SITE VISITOR CENTRE

Raven Quay, Kaiapoi, Phone: +64 3 327 3134

RANGIORA WAIMAKARIRI

21
---
RANGIORA WAIMAKARIRI

22

Dudley Park Aquatic Centre

a: 47 Church Street, Rangiora

p: 03 311 8905

e: aquatic@wmk.govt.nz

w: www.aquatic.waimakariri.govt.nz

______________________________________

The Dudley Park Aquatic Centre is an

indoor heated aquatic facility operated by

the Waimakariri District Council, featuring a

large 8-lane 25 metre lane pool, 20 metre

long learners pool, children's leisure pool

including toddler area, and spa pool.

Programmes run at the facility include

Aquarobics, learn to swim, schools

swimming and water safety, and

Aquajogging. Lane swimming is also

available for recreation and fitness, or simply

bring the family down for a play.

During the summer months the Waimakariri

District Council also operates the Oxford

Community Pool, an outdoor 25 metre lane

pool and learners pool. This is located on

Burnett Street, Oxford.

Waimakariri District Libraries

Rangiora Library, Chamber Gallery and

Citizens Advice Bureau

a: 141 Percival Street, Rangiora

p: 03 311 8901

Kaiapoi Library

a: 9 Cass Street, Kaiapoi

p: 03 375 5009

Oxford Library

a: 34 Main Street, Oxford

p: 03 311 9006

______________________________________

First choice for knowledge and

entertainment.

• Public internet, email, photocopying

and fax.

• Local maps and tourist information.

• Daily newspapers.

Rangiora and Kaiapoi Libraries open 7 days

a week. Oxford closed Sunday.

Visit our website or follow us on Twitter.

http://libraries.waimakariri.govt.nz

WWW.VISITWAIMAKARIRI.CO.NZ

Riverstone Motel

a: 18 Southbrook Road, Rangiora

p: 03 313 1863 or 0800 778 663

e: welcome@riverstonemotel.co.nz

w: www.riverstonemotel.co.nz

______________________________________

The perfect stay when you're away.

The newest motel in Rangiora – opened

January 2008. Quality built motel complex,

offering serviced accommodation with 17

modern & stylish suites designed with your

comfort in mind.

Deluxe studios, 1 & 2 bedroom family units

(all equipped with kitchen).

All units have air-conditioning (heatpumps)/

double glazed/sound proof. Some units

with spa bath/courtyard/wheel chair access.

Purpose built 4-bedroom apartment with 4

bathrooms. LCD TV's, DVD players, SKY

digital, Wi-Fi broadband access.

Gateway to Food & Wine Trail and

Inland Scenic Route 72. 25kms north of

Christchurch Airport. Restaurant & bar

adjacent.

Rangiora Holiday Park

a: 337 Lehmans Road, RD1, Rangiora

p: 03 313 5759

e: rangioraholidaypark@hotmail.com

w: www.travelindex.co.nz

______________________________________

Enjoy six acres of park-like setting in a very

quiet country atmosphere. Located 3.5km

from Rangiora town centre, 1.5km from

Inland Scenic Route 72 (Oxford Road),

2km from Rangiora Airfield. Adjacent to

Rangiora racecourse and a short walk to

Ashley River.

Modern communal facilities, internet

access, swimming pool and adjacent

playground. BBQs for hire, dump station.

Lodges suitable for group bookings, self

contained units (with linen), cabins, caravan

and tent sites. Linen available for hire for

cabins. Excellent access and parking.

Eftpos not available. Visa / Mastercard

accepted.

Resident proprietors / hosts: Allan and

Raewyn Campbell, Bev and Blue Dobson.

KAIAPOI I-SITE VISITOR CENTRE

Raven Quay, Kaiapoi, Phone: +64 3 327 3134

RANGIORA WAIMAKARIRI

23
---
RANGIORA WAIMAKARIRI

24

Blackhouse Vineyard B&B

a: 533 Boundary Road, Fernside

p: 03 312 5553

e: info@blackhouse.co.nz

w: www.blackhouse.co.nz

______________________________________

Our vineyard bed & breakfast experience is

set within ten acres in the picturesque North

Canterbury, 25 mins drive from Christchurch

International Airport.

The blackhouse vineyard b&b experience

allows our guests complete privacy in a

beautifully appointed separate unit.

Facilities include; a large bedroom with

queen sized bed, lounge with kitchenette

(hob, dishdrawer, fridge & microwave) and

a private bathroom with a toilet, basin and

shower.

Guests enjoy their own private garden and

are free to wander around the property and

through the vineyard at any time.

Our prices include your choice of either

a cooked or continental breakfast served

either in the unit or the garden.

Pete's Farm Stay B&B and Cottage

a: 45 Mairaki, Fernside, Rangiora

p: 0800 313 518

e: petesfarm@xtra.co.nz

w: www.petesfarm.co.nz

______________________________________

Welcome to Pete's Farm Stay. Enjoy great

views of the mountains and countryside

from our new house or cottage while taking

in the peacefulness and quietness of the

area.

Just one minute from Inland Scenic

Route 72.

Experience up close Pete shearing a sheep.

Feed our pet sheep, calves and alpacas.

Only 30 minutes away from Christchurch

airport or city.

Hosts Pete and Gaye offer you a homely

atmosphere where you can relax after a day

sightseeing or travelling.

You have a choice of the house or the

2 bedroomed self-contained cottage.

WWW.VISITWAIMAKARIRI.CO.NZ

Arcadia Cafe

a: Situated in Gables Arcade,

96 High Street, Rangiora

p: 03 313 8533

______________________________________

A warm spacious café, with welcoming

friendly staff, located in the Gables Arcade,

Rangiora.

We offer a vast range of scrumptious food

and beverages to either eat in or takeaway.

Choices include Big Kiwi Breakfasts, fish

meals, chips, pies and savouries and our

very popular 'Hot Meat Sandwiches'.

Scones and muffins are baked daily, fresh

paninis, wraps, scotch eggs, quiche, filos,

cottage pies, baked potatoes, sandwiches

(fresh daily) and a vast range of cakes and

slices.

We have a good variety of gluten free food

available and we pride ourselves in our

Vivace Expresso coffee, along with a full

drinks menu of both hot and cold drinks.

Open 6 days, except public holiday

weekends.

NORTH

CANTERBURY

FOOD

& WINE

TRAIL

To discover some of the finest

places to find local produce,

fine wines, delicious local

flavours and idyllic country

accommodation, pick up a copy

of the North Canterbury Food

& Wine Trail guide and map

from the Kaiapoi i-SITE Visitor

Centre, or visit the website.

fresh flavours

authentic experiences

fantastic food & wine

passionate people

www.foodandwinetrail.co.nz

KAIAPOI I-SITE VISITOR CENTRE

Raven Quay, Kaiapoi, Phone: +64 3 327 3134

RANGIORA WAIMAKARIRI

25
---
26

OHOKA

Ohoka is a country area close

to Kaiapoi and Christchurch,

with large estate gardens, rural

lifestyle accommodation and

a perfect place to stay and

experience rural New Zealand.

A Farmers' Market is held in

the Ohoka Domain on a Friday

morning, all year round and

you can come along and meet

the local producers of the area,

enjoy a tasty treat, coffee or tea

from the Chai tent. A children's

playground and plenty of space

to sit, the market is a great place

to bring family and friends of all

ages.

The Ohoka Stream Walkway

takes in tree lined paths

alongside historic homes and

grassy tracks by the stream.

Ohoka is a popular destination

for weddings, there are many

wedding venues available along

with many accommodation

options for the bride and

bridegroom, wedding party and

guests.

For more information about garden tours or wedding venues, talk to

the Kaiapoi i-SITE staff, or view the venues or arts & gardens pages

on www.visitwaimakariri.co.nz.

WWW.VISITWAIMAKARIRI.CO.NZ

Oakhampton Lodge

a: 24 Keetly Place, Ohoka, Kaiapoi

p: 03 312 5413

e: info@oakhampton.co.nz

w: www.oakhampton.co.nz

______________________________________

Enjoy the peace, tranquility and friendly

hospitality in our spacious modern home

and beautiful gardens.

The oak-lined roads, lush green farmland

and mountain views of Ohoka provide the

perfect location for those wishing to enjoy a

country stay 20 minutes from Christchurch

international airport.

Conveniently located between the small

towns of Kaiapoi and Rangiora, we are an

ideal location to relax or enjoy the many

attractions: ski fields, gardens, wineries,

thermal pools, golf courses, boating and

fishing; all within an hour's reach.

"Thanks so much for helping us make

a smooth transition to NZ – a truly soft

landing! We couldn't have asked for more

caring hosts!" Shuli & Eran, Israel

Oberau Homestay and B&B

a: 9 Jacksons Road, Ohoka

p: 03 312 6867

e: oberau@xtra.co.nz

w: www.oberau.co.nz

______________________________________

Oberau is within 20 minutes of Christchurch

and it's international airport. The two local

towns of Rangiora and Kaiapoi are within

10 minutes drive.

The house is set in a large garden with

pond, potager and a trufferie, plus

uninterrupted rural views.

Oberau is the ideal base to explore the ski

fields, wineries, thermal pools, fishing and

golf courses which make North Canterbury

a delight to visit.

Stay with us and allow Sara to assist you in

planning your day, while enjoying a leisurely

breakfast.

KAIAPOI I-SITE VISITOR CENTRE

Raven Quay, Kaiapoi, Phone: +64 3 327 3134

OHOKA WAIMAKARIRI

27
---
28

CUST

Cust is set on terraces

overlooking rural farmland and

across to rolling hills and the

mountains. A quiet country

village is what you will discover,

as you travel along Inland Scenic

Route 72.

The village was first known as

Moeraki Downs, then for a time

as Middleton or Middleton-onthe-Cust

being the middle town

between Oxford and Rangiora.

The nearby Cust river was

named after Sir Edward Cust

in 1849, who was a member

of the Canterbury Association,

which organised the immigrant

ships, and early settlement of

Canterbury 1850 - 1853. Later,

Cust was adopted to be the

name for the town.

Today you will find a charming

destination stores; Away with

the Fairys for craft, quilting, fairy

and teddy bear lovers and for

treasure trove lovers who enjoy

shopping and a café experience

under the one roof, you will be in heaven at Route 72 Café, Bar &

Emporium.

The Cust Museum in the centre of the village, will give you a taste

of the history of the local area, and is open every Sunday afternoon

2pm - 4pm.

WWW.VISITWAIMAKARIRI.CO.NZ

Route 72 Café Bar Emporium

a: 1697 Main Road, Cust

p: 03 312 5250

e: route72@clear.net.nz

w: www.route72.co.nz

______________________________________

The perfect place to eat and shop!

In the café:

• Mouth watering cuisine

• Homemade baking

• Organic coffee

• Local wines, large choice of beers

• A view to amaze

In the emporium:

• New Zealand and world sourced gifts

• Possum and merino gloves, hats and

jumpers

• Fashion jewellery and scarves

• Honey, lanolin and New Zealand flower

skincare

Away With The Fairys

a: Main Road, Cust (30mins from ChCh)

p: 03 312 5250

e: info@awaywiththefairys.co.nz

w: ww.awaywiththefairys.co.nz

______________________________________

The Fairy, Bear & Patchwork Shop

For the fairys, we have fairy dresses, shows

and dress ups. The Flower Fairies and

Pink Poppy range of plates, cups, books,

jewellery boxes and gifts.

For the pirates, we have pirate and dinosaur

plates, tins, wallets, toys and dressups.

For the bear lovers and collectors, we have

Settler, Bearington, Russ, Boyds, cards and

bear clothes. Also hand puppets, webkins,

gollys and baby gifts.

For the patchworkers and sewers we have

hundreds of fabrics, including The flower

Fairies, Nancy Halvorsen, Sue Marsh,

Spots, Boys Stuff and Christmas fabrics

year round. Pattersn, DMC and Mettler

cottons and numerous patchwork supplies.

Come and visit me and my friends for an

enchanted experience.

KAIAPOI I-SITE VISITOR CENTRE

Raven Quay, Kaiapoi, Phone: +64 3 327 3134

CUST WAIMAKARIRI

29
---
30

OXFORD

Only 45 minutes drive from

Christchurch, nestled under the

foothills and close to native bush

walks and waterfalls, Oxford and

nearby Ashley Gorge offer many

recreational and leisure activities.

Experience the leisurely

atmosphere of English village

shopping in Oxford with

boutique stores, an art gallery,

local museum and cafés.

Discover the fun of cooking

classes, or simply enjoy relaxing

for a while at the cafés with

excellent coffee, local wines

and stunning views. During

the evening on open nights, a

wonderful display of the night

sky can be seen from the Oxford Observatory.

An ideal starting point for bush walks, hunting trips, fishing and jet

boating adventures, or horse trekking on the foothills, tramping and

mountain biking for the more adventuresome.

Tour gardens near to Oxford with historic homes a feature in Okuku

to be enjoyed. A variety of excellent accommodation options are

available in the township and wider area.

A Farmers' Market is held every Sunday morning in the Main Street

of Oxford, and you can come along and meet the local producers

of the area and browse the Oxford Village Market – a variety of stalls

and treasures.

Ashley Gorge is nestled at the base of Mt Thomas Forest and set

amidst beautiful native bush and woodland surroundings. If you

are on holiday or visiting for the day, can enjoy both adventure

and relaxation here; fishing, swimming, hiking, tramping, mountain

biking, lush green reserves to picnic and for snoozing in the sun.

WWW.VISITWAIMAKARIRI.CO.NZ

Seagars at Oxford

a: 78 Main Street, Oxford

p: 03 312 1435

e: jo@joseagar.com

w: www.joseagar.com

______________________________________

Seagars at Oxford is owned by cook book

author Jo Seagar.

As well as her relaxed country style café,

the business includes a cook school,

kitchen store and bed & breakfast

accommodation.

Simple food, North Canterbury wines, a

relaxed atmosphere and a lovely drive to

Oxford – a great day out.

Seagars at Oxford - B&B

a: 78 Main Street, Oxford

p: 03 312 1435

e: jo@joseagar.com

w: www.joseagar.com

______________________________________

We have three comfortable studio units that

can be configured as twin or double rooms.

We also have a spacious three bedroom

(2 bathroom) unit ideal for groups of friends

or families.

Breakfast is served in Seagars Café.

For groups wanting to book a private

day in the cook school with Jo, we can

accommodate the group on a share twin

basis.

KAIAPOI I-SITE VISITOR CENTRE

Raven Quay, Kaiapoi, Phone: +64 3 327 3134

OXFORD WAIMAKARIRI

31
---
OXFORD WAIMAKARIRI

32

Arts in Oxford Gallery and Gift Shop

a: 68 Main Street Oxford

p: 03 312 1639

w: www.artsinoxford.co.nz

______________________________________

With its superb location on the Main

street of Oxford only 40 minutes from

Christchurch the Arts in Oxford Gallery

and Gift shop is a must see destination for

Visitors and Art lovers.

The Gallery regularly showcases some of

NZ's most celebrated artists works and

has attracted tens of thousands of visitors

through the doors since opening in 2010.

We invite you to view and purchase art

works from our continually changing

exhibitions and while visiting, be tempted by

our fabulous range of New Zealand crafted

Ceramics, Jewellery, Cards, Sculptural

works and much more in our gift shop.

Tuesday to Sunday 10am—4pm.

Closed Mondays.

Kowhai Residential School of Riding

a: 711 Island Road, View Hill, Oxford

p: 03 312 4309

e: info@kowhai.co.nz

w: www.kowhai.co.nz

______________________________________

Horse riding lessons and trekking on

well schooled horses in a safe country

environment. On farm accommodation, stay

from ½ day to 3 months.

Lessons from complete basics to Dressage,

Show Jumping & Cross Country for

experienced riders. Complete beginners

and unaccompanied children are welcome

from age 8.

Enjoy scenic farm trekking with views over

the Canterbury plains.

Packages for School and tour groups.

Special courses every weekend and all

School Holidays.

Transfers are available from Christchurch

city of airport anytime. (POA)

Kowhai has over 90 horses

available and has been offering

riding holidays for more than 40

years.

WWW.VISITWAIMAKARIRI.CO.NZ

Hielan House

a: 74 Bush Road, Oxford

p: 03 312 4382

e: hielanhouse@ihug.co.nz

w: www.hielanhouse.co.nz

______________________________________

Set on 6 acres on rural land nestled close

to Oxford foothills. Unwind with quality

accommodation and warm hospitality.

Two well appointed upstairs guest areas

include own lounge, views from every

window, ensuites, DVD/TVs, fridges and

tea/coffee facilities. Free use of sauna/spa,

internet/email and laundry facilities. Swim

in our in ground swimming pool in summer.

Golf clubs available for use.

Continental/Full menu breakfasts. Dinner by

arrangement.

Located 3 minutes from Oxford township

and just off Inland Scenic Route 72, make

us your base for easy travel to the rest of

the South Island.

Visa/Mastercard accepted.

Okuku Country Estate and Cottage

a: 2 Rakahuri Road, RD3, Rangiora

p: 03 312 8740

e: enquiries@okukucountryestate.co.nz

w: www.okukucountryestate.co.nz

______________________________________

Set amongst magnificent parkland, this

gracious fully restored homestead is

secluded yet extremely accessible just 50

minutes from Christchurch.

Okuku offers a self-catering cottage through

to a fully catered option in the Homestead.

The refurbished, fully equipped, selfcontained

cottage has stunning views of

snow capped Alps and farm paddocks

housing pet goats. Relax on the private

verandah or in the cosy warmth of this

3 bedroom romantic and inviting country

retreat.

Homestead guests enjoy the ambience

of beautiful reception rooms,tastefully

furnished ensuite queen or king bedrooms

which offer picturesque views of the

gardens.

All guests are warmly welcomed by the

owner hosts of this grand estate.

Bookings essential.

KAIAPOI I-SITE VISITOR CENTRE

Raven Quay, Kaiapoi, Phone: +64 3 327 3134

OXFORD WAIMAKARIRI

OKUKU WAIMAKARIRI

33
---
ASHLEY GORGE WAIMAKARIRI

34

Ashley Gorge Holiday Park

a: 697 Ashley Gorge Road, Oxford

p: 03 312 4099

e: ashleygorge@farmside.co.nz

w: www.ashleygorgeholidaypark.co.nz

______________________________________

Ashley Gorge - the fond memories of many

New Zealander's summer holidays started

here.

For many visitors (overseas and local) here

is a chance to sit back, relax and enjoy the

real New Zealand countryside. Surrounded

by beautiful trees and bush covered hills,

with a clean clear river almost at your door

step, this is the ideal spot to get away from

it all.

We have great family camping less than

an hour from Christchurch City. Our fully

serviced park boasts spacious powered

and non-powered sites, cosy cabins and for

larger groups two bunkrooms .

Tidy kitchen facilities and picnic tables allow

for easy mealtime even for the most basic

campers.

USEFUL GUIDES

Pick up a copy of these useful guides from the Kaiapoi i-SITE

Visitor Centre, or view them on www.visitwaimakariri.co.nz

WWW.VISITWAIMAKARIRI.CO.NZ

COASTAL WAIMAKARIRI

– THINGS TO DO

¨ River cruising on the MV Tuhoe along

the Kaiapoi and Waimakariri Rivers

¨ Blast up the Waimakariri River

with Jet Thrills (options for lower

Waimakariri and also Waimakariri

Gorge)

¨ Have a swing at the covered driving

Range at Pegasus Golf Club, or out

on the tennis courts

¨ Go for a sail or a kayak on

Lake Pegasus

¨ Try out the flying fox at Waikuku

Beach domain

¨ Ride your mountain bike along

the new Tutaepatu Trail

¨ Walk along the wide sandy beaches

at Waikuku, Woodend or Pegasus

INLAND WAIMAKARIRI

– THINGS TO DO

¨ Visit the destination shops in

Rangiora, Cust and Oxford

¨ Take a cooking class at Seagars

at Oxford

¨ Walk on a track in the foothills

forest of Mt Thomas or Mt Oxford

¨ Picnic and play in Victoria Park,

in the heart of Rangiora

¨ Splash down at the Dudley Park

Aquatic Centre in Rangiora

¨ Trek on Mt Oxford's foothills with

Kowhai Riding School

¨ Float along in the river at Ashley

Gorge, have a picnic, make a dam

For more great ideas and suggestions of family fun,

adventure and shorts walks, check out the itineraries page

on www.visitwaimakariri.co.nz or talk to the friendly team

at Kaiapoi i-SITE Visitor Centre

KAIAPOI I-SITE VISITOR CENTRE

Raven Quay, Kaiapoi, Phone: +64 3 327 3134

35
---
WWW.VISITWAIMAKARIRI.CO.NZ

Visit the friendly, knowledgeable staff to help with local and

regional information and booking service:

• Accommodation

• Activities and attractions

• Tours and transport (bus, trains, ferry)

• Itineraries and future travel arrangements

• Souvenirs, maps and brochures

Kaiapoi i-SITE Visitor Centre

Raven Quay, Kaiapoi

Phone: +64 3 327 3134

Email: Kaiapoi@i-site.org

Free parking

Latitude: 43 - 23min 01.2 South

Longitude: 172 - 39min 35.5 East

Open 7 days – closed Christmas Day