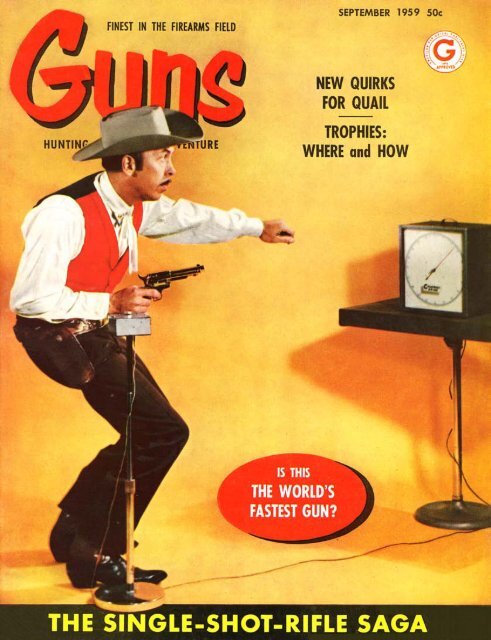 GUNS Magazine September 1959
GUNS Magazine September 1959
GUNS Magazine September 1959
SHOW MORE
SHOW LESS
You also want an ePaper? Increase the reach of your titles
YUMPU automatically turns print PDFs into web optimized ePapers that Google loves.
MODEL

30

The action's fast!

... you're faster with the new

featherweight Savage 30!

Fast action? This featherweight pump is so beautifully

balanced it points and swings as if it were part

of you. Fine gun performance from the dependable

slide action - proved by years of rigorous testing in

the field. Ventilated rib and decorated receiver are

standard on the Savage 30 (custom features that

ordinarily cost $30 extra) . 6 quick shots (with plug to

reduce to 3 shots) - 12 gauge only. Popular barrel

lengths and chokes.

Also be sure to see the Savage 30-AC with adjustable

choke (see insert below) at your sporting arms dealer.

Write for your tree catalog of '

Savage, Stevens and Fox firearms.

Savage Arms, Chicopee Falls 75,

Mass. All prices subject to change.

Slightly higher in Canada.

$82.50 Model 30 illustrated. 30-AC $87.50.

(vent rib included)

• Gallup, New Mexico. Indian Uprising? ...

In Gallup an 88 Winchester, a hunting knife,

and a Navajo rug were reported stolen from

a residence, police said.

* * *

• Cleveland, O. When an armed thug and

his companion walked into a food store at

2539 Woodland Ave. owner Sam Melluso, 56,

was waiting for them. Melluso pointed his

own gun at the two men and ordered them

out. They turned and trotted off. A year ago

Sam was robbed of $300 in his store. Since

then he has kept his gun handy.

* * *

• Radium, Colo. Henry Hinton runs a ranch

in these parts but spends most of his time

making guns, especially heavy muzzle-loading

rifles like those used by the early settlers.

Mr. Hinton spends so much time on the old

f1int-and-ball muskets that no one could

afford to buy one, so he occasionally gives

one to a friend.

* * *

• Los Angeles, Calif. At a Hollywood party,

Adolph, a Boxer dog, came dressed as Wyatt

Earp, replete with frontier hat, tin badge

· .• and a holstered pistol at his side.

* * *

.Phoenix, Ariz. It turns out you can spend

your time under water and still be no land·

lubber with the rifle. The Arizona Rifle

Association Officers Trophy was won by a

team from Submarine Flotilla 1, a Navy out·

fit based in San Diego.·

* * *

• Wells, Maine. It wasn't always healthy to

be handy with a rifle. A fellow named George

Burroughs was executed for witchcraft here

in 1692 because he could support a heavy

musket at arm's length by sticking a finger

into its muzzle.

* * *

+Ardmore, Okla. Fifty years ago Buck Garrett

Carter County sheriff, left a .45 revolver

with Polk Anderson, then a bank president.

The weapon is still on display at the bank.

It was last fired Nov. 11, 19l8-in celebration

of the first World War Armistice.

* * *

+Fort Smith, Ark. Pretty Helen Lommasson

is proof that you can be adept around

the house and still know how to take care

of yourself. The high-school teen-ager, whose

skills include embroidery, cooking, and dressmaking,

and who was recently selected as

the nation's "Young Homemaker of 1956,"

is also a crack shot. She is president of the

town's Girls Club Rifle Club.

+ New York City. * Robert * * Frielich, Manhattan

gun dealer, paid $5100 for a rifle

cartridge-and it was an empty one at that.

But no ordinary one ... it was hand made

84 years ago by the famed rifle maker, Oliver

Winchester.

6 GUNS SEPTEMBER 1959
---
Write to our factory, No. 25 Lacey Place, Southport, Conn., for descriptive literature on the entire line of RUGER firearms.
---
SURE AS SHOOTIN'

;;»C

3

SHOTS

P RIC E

flJu THE

FOR

OF

1

SUPER-JET

COMPLETE RELOADING TOOL

dJrWt dealM TODAY!

• NEW DESIGN

SLiMLlNED.COMPACT

GREATER LEVERAGE

POSITIVE LOCKING PINS

• LARGER HOPPERS

• BRONZE BUSHINGS

• CENTERING DEVICE FOR WAD SEATING

• DEFINITE STOP SET FOR WAD SEATING

• NEW SCORING TOOL FOR STAR

CRIMPING NEW CASES

HEAT TREATED HOUSINGS

W R IT E

TODAY

Please send FREE HANDBOOK

Name

COMPARE

TEST ..•

THEN USE

THE

BEST

/¥iee RELOADING HANDBOOK

Address

City

State

LACHMILLER ENGINEERING CO.

A Report On the New Ruger Super Blackhawk

BACK IN 1926, '27, and '28, Harold Croft

and I, and later 1. D. O'Meara, had

several single action Colt .44 and .45 caliber

guns made up embodying our ideas of what a

modern single action should be. R. F. Sedgley,

Neal Houchins, and O'Meara did the

work. We flat·topped the frames, similar to

the old Bisley and S.A. Army flat-top target

models, but we extended the frame farther

to the rear and made the flat top much

thicker and heavier. The top of the hammer

was cut off so it would go under the extended

rear end of the frame. The front sight was

fitted in a band encircling the barrel, and

we used some of the very first ramp-type

front sights giving maximum sight radius. I

designed a new base pin catch similar to the

lever latch on the old Model 1874 Sharps

rifle.

Croft designed his No.3 grip-a combination

of the Bisley back strap cut off and

changed in angle to be more like the S.A.

Army back strap but coming up higher on

the frame. This was used with a regular S.A.

Army trigger guard. I further changed and

improved the design in our No. 5 grip with

more flare at the extreme lower corner of

the back strap. Even then, we agreed that

the best grip ever, especially for handling the

recoil of very heavy loads, was the grip and

straps on the old 2nd model Colt Dragoon.

However, Dragoons were valuable property

even then, and we could not wreck one to

get the stocks and straps; so we did the best

we could with the Bisley and S.A. Army

back strap and trigger guard.

The base pin was improved and a largeheaded

one made up that could be easily

grasped with the fingers, ending the need

for pliers to pull out the base pin. Croft

designed a main spring similar in shape to

the Colt double action main spring, and the

culmination of our efforts was my No. 5

S.A. Colt.

We tried to get the Colt company inter.

csted enough to bring them out: but without

success. No.5 was made up and left plain

purposely until I had thoroughly tested it.

That winter of 1927, I killed 42 great horned

owls with that gun alone while running a

coyote line. It was so much superior to all

other single actions I had used that I sent

it back to Croft for engraving and ivory

stocks. I believe it is stilI the finest S.A.

Colt in existence.

The late Chauncey Thomas and Ashley

Haines and I corresponded a great deal at

the time on ways to improve the old S.A.

Colt. My friend, Gus Peret, went even

further. He designed and had made up a

swing-out cylinder, simultaneous-ejection single

action, which he stilI has. Our combined

efforts, however failed to impress the Colt

company, even though I offered them the

loan of all my flat top guns as models, with

all their improvements. At the same time, I

worked out the design of my .44 Special

buJIet (Ideal 10 . 429431 in 250 grain), and

perfected heavy loads, first with 12 grains of

No. 80 powder and later with 2400 when

that powder came on the market in the '30s.

During the Annual N.R.A. Convention in

Jacksonville, Fla., in August, 1951, Bill

Ruger made a trip to Idaho in his little

Jaguar car, stopping at Salmon, Idaho, to see

me and Judge Don Martin. I had joined the

N.R.A. technical staff in January of 1950,

and was away at the convention at the time,

but Judge Martin obtained my keys, showed

Bill Ruger all my flat-topped S.A. CoILs, and

urged him, as I had been doing by letter, to

bring out a modern single action revolver.

ot so long thereafter, Bill brought out his

famous Single Six. I criticized the flat-top

frame, the forward position of the rear sight,

and the lack of a proper loading gate and

extractor button, and urged him to redesign

the gun and bring it out in a larger version

for the .44 Special with the improvements

(Continued on page 61)

6445 San Fernando Road, Glendale 1, California

8

"SAY YOU SAW IT IN CUNS"

GUNS SEPTEMBER 19S9
---
Marlin Announces

First Rifle

Chambered For New

.22 Magnum Rimfire!

Marlin Micro-Groove Model 57M Offers lOO-yard

Varmint Shooting at Less Than 6¢ a Shot!

Here's the first basically new .22 rifle in yearschambered

for the revolutionary new .22 Magnum

Rimfire cartridge, to give you power and speed

never before available in a .22 rimfire load!

Forless than 6¢ a shot, the Marlin Micro-Groove

57·M gives you these Magnum Rimfire advantages:

15 lightningjast shots with muzzle energy greater

than a .38 S&W cartridge, and more energy and velocity

at 100 yards than the .22 high velocity long

rifle cartridge develops at the muzzle!

YOU SAVE $4.95 ON MARLIN MICRO·VUE SCOPE

when you buy it together with the new Marlin Micro-Groove

Model 57-M .22 Magnum! Instead of regular price of $14.95, you

pay only $10 for this quality 4-power scope in combination with

any Marlin .22 rifle! See this factory-matched accuracy-team at

your Marlin dealer's nowl

Marlin

Micro-Groove Rifles

Only Marlin combines the smashing energy and

flat trajectory of this varmint-busting low-cost load

with the bonus accuracy of Micro-Groove Rifling!

Ask your dealer to show you this new Marlin

model (also available chambered for regular .22

cartridges)-with shortest stroke ofany lever-action

rifle. (Your trigger-hand never leaves the stock!)

Priced at just $49.95-under $5 00 DOWN

Marlin Pay-Later Plan, only

Prices subject fo cho.nge without notice•

• .MAIL THIS COUPON TODAY! _

_11II

K-99 I

Marlin Firearms Company, P. O. Box 995, N. Y. 17, N. y. I

Please send me the Marlin illustrated catalog, 24 page Target & I

Game Record Book, plus a Home and Field Rustopper Kit. I am

enclosing 25¢ to cover handling and mailing. I

I

I

I

I I NAME _

; ADDRESS _

I

I CITY ZONE__STATE _ I

I I

----------------------

GUNS • SEPTEMBER 1959 9

I

I I
---
Four times National Fast Draw Champion, Dee Woolem cocks

gun, knocks it back out of holster into firing position, without

ever letting muzzle point at shooter's leg. Best time: .12 of a

second. At right, Woolem demonstrates one of the fancy

spins and twirls that make up his popular stage repertoire.

14 GUNS SEPTEMBER 1959
---
A FAST DRAW EXPERT MEETS THE CHAMPION. REPORTS ON THE STYLE

-AND THE GUN-THAT MAKES FAST DRAW THE SAfEST GUN SPORT

I

'M A GUNSLl GER. It's a word some of us dislike,

maybe because it has a reckless, slap-dash sound

that we feel is beneath the dignity of a legitimate and

hard-won manual skill-but if that's the word you

want to use to describe a quick draw addict, I'm one.

I've been one for more than 25 years; a product, not

of TV "adult westerns" but of Zane Grey, William

McLeod Raine, and the tales of the old time gunmen,

fictional and factual. (Even then, there was feeling

about words and their shades of meaning. "Gunmen,"

"gunfighter," meant different things to different people,

and the wrong usage was resented.)

My boyhood heroes were Lassiter, Buckey Duane,

Hopalong Cassidy, and Wyatt Earp and his ilk-not

the present pros of triggernometry like Hugh O'Brian,

Clint Walker, Kelo Henderson, or even Arvo Ojala and

Rodd Redwing and Joe Bodrie and Dee Woolem who

have done so much to spark our present fast draw

boom. I was more than just a reading worshipper;

early on, I wanted to imitate my heroes. I started

practicing quick draw long, long before it was a

national pastime; and I came up the hard way, expending

thousands upon thousands of rounds of ammunition,

making all the blunders common to the

experimentation of a man who is "going it alone." I

even made the worst blunder of all, the one that still

happens and is giving quick draw a bad name unnecessarily.

I earned what the cynics are calling "the badge

of the gunslinger," the right leg limp, by shooting myself

in the leg with a .45 caliber bullet. Actually, this is

the badge of the bad gunslinger. No man need wear it,

or even risk it. I know better now; but things are

much different for today's gunslingers than they were

when I earned my badge for bad gun manners. Now,

there's no excuse for accidents.

Twenty-five years ago there were no how-to articles,

no books, no clubs, no instructors in the art of the fast

draw. The only references were those in the book and

. Border shift, spins, rolls, are colorful,

help develop manual dexterity and timing.

By CLYOE G. HOWEll

GllNS SEPTEMBER 1959 15
---
Safe for fast draw since

gas blast alone will stop

timer, new Crosman Single

Action' Six in .22 Cal. is

low priced but accurate.

New and old get together, compare gas

operated Hahn "45" with original Colt's Navy.

National Fast Draw Championship trophy won

by Woolem in '55 has since been defended

against over 200 "fast guns" in competition.

magazine "westerns:" "He stood tense, bending forward a

little. both arms bent, his hands hooked like a hawk's

claws." Many of those stories were written by men who

had never fired a gun, much less qualified as fast draw

experts.

Today's fast draw addicts can learn much faster, much

easier, much cheaper than I did-and without acquiring

that Hopalong Cassidy limp. Today, you can learn fast

draw under the tutelage (personal or printed) of expertsand

real experts they are; men who have devoted both

scientific study and rigorous practice to the development of

this new-old art. You can begin with holsters perfected for

quick draw, with refinements never even dreamed of when

I started. You can watch and consult with gun wizards like

Dee Woolem, four times National Fast Draw Pistol Shooting

Champion, and other professionals. You can read articles

like this and others, published and to come in this

magazine. You can study that handgunner's textbook, "Fast

and Fancy Revolver Shooting," by the late Ed McGivern.

You can join fast draw clubs where the experience of other

shooters will help you. And-with the new Hahn "45" gas

operated.single action BB revolver, or with the even newer

Crosman gas-operated .22 Single Action Six, you can

practice for pennies instead of spending hard-earned dollars

as I did. All this, with absolute safety thrown in. You don't

even need to use pellets, because these guns "fire" even when

empty, with force enough in the gas charge alone to stop a

timer.

.Shooting is fun, and for my money, fast draw is tops in

shooting fun. But let's face it-fast draw, like most other

human efforts in which speed is a prime factor, is dangerous

if done wrong. And live ball ammunition is wrong!

Practicing fast draw with ball ammunition is as stupid as

going into a wringer head first. It can cost yOll, and it can

damage all shooting sports, penalize all shooters, by stirring

up bad publicity and adverse legislation. Don't do it! You

can be just as fast, you can prove speed and accuracy by

16 GUNS SEPTEMBER 1959
---
Classic among demonstrations of gun speed is drop-draw-and-hit trick enacted (but without

trickery) by Woolem in high-speed picture sequence by Detroit "News" photographer using

a Fastex camera. Gun fires from lip of holster; blast of blank knocks cup left and downward.

topping timers or marking targets, with blanks or wax

bullets or best and safest of all with the Hahn gas operated

revolver (with or without pellets) -and you can learn

faster because you can work without the fear handicap.

There are three objectives in quick draw shooting: recreation

or fun shooting, proficiency as a tool in law enforcement,

and a career as a quick draw instructor or exhibition

shooter. Only a few can attain the blinding speed, the

prestidigitator's skill needed for instruction and exhibition

work; most of us have jobs of our own to do. Quick draw

can be a priceless asset to a police officer, but-quick draw

alone won't get him a job on any police force. It might

have in the 1880s, but not now. For every man interested

in quick draw for these reasons, a thousand are fascinated

with it because it's fun-and fun it is.

I spent years working out a system of my own for a

really fast yet safe draw. I experimented with many kinds

of belts and holsters, some that tipped the butt of the gun

forward, some that held the gun vertical, a few that slanted

the barrel forward and the butt back. I tried dozens of

positions for gun height, from waist to knee. I cut holsters

and belts to weird shapes until I ran out of leather; then

bought new ones and started over. I "tuned up" my single

actions, first one way and then another. I learned a little

here and a little there, and some of what I learned for sure

was wrong, as I found out later; but what I did gain over

the years was a certain degree of manual dexterity that

helps with each experiment with a new method.

One thing I did stick to was a determination to play it

safe, and my version of safety was-eock after the gun

leaves the holster and slip-hammer the first shot so that the

finger can be kept away from the trigger. I still believe in

this method, in spite of things learned recently and which

I'll discuss later. It's safe if you stick strictly to the rule as

written; and it's fast, as I proved.

Cocking with the draw was what got me the bullet wound

in my leg. I was using a lower holster than I use now, and

GUNS SEPTEMBER 1959

I was trying for speed beyond that which I could handle

safely. Result: I cocked sooner than I intended, the gun

failed to clear leather, my thumb slipped, and the gun fired.

When hammer-slapping came into vogue among the

Hollywood gunmen, I branded it as doubly dangerous. This

involves slapping the hammer back to cock while the gun is

still holstered, before even starting to lift it out of the

leather. With a low holster, it means that your entire draw

-lifting the gun, pointing it, finding the trigger-must be

done with the gun at full cock. I still say, this is asking for

trouble. I still say it, though I know now what I didn't

realize at first-that the danger lies in the low gun position

and the necessity of lifting it out of the holster, not necessarily

in the method of cocking. Again, more of this later.

A few weeks ago, I got the enviable assignment of interviewing

Dee Woolem, four times National Fast Draw

champ since 1955, now the traveling representative for

Crosman Arms Company, makers of the new Hahn "45"

gas operated single action BB revolver and the Crosman

gas operated .22 Single Action Six. I knew Dee was

blindingly fast; he had to be, to win those four national

titles in open competition. I knew too that he was a hammer-slapper.

Frankly, that last fact nearly scared me off of

the assignment. Fanatic as I am about safety, I had a chip

on my shoulder about hammer-slapping and I was afraid

Dee and I would arrive at nothing but disagreement.

I did some research on Dee before I started, and what I

learned was impressive. At the Erie County Sheriff's Department

range, Buffalo, ew York, with Dave Sheldon,

designer of a robot-type timer action as witness, Dee recorded

a draw·and-fire mark (including reaction time) of

.37 of a second. He scored another .37 second shot at

Frontier City, Oklahoma, against a Mythen timer. And for

draw time only, not counting reaction time, Dee holds a

record of .12 of a second, set during Helldorado Days, Las

Vegas, evada, in June, 1951, in national competition

before 10,000 witnesses. (Continned on page 40)

17
---
RIFLE SAGA

Single shot loading procedure starts with bullet being

dropped into rifling. Slug is best unsized, just lubricated

with soft, tacky mixture. Then kinked seater

is used (right) to push bullet into start of rifling.

that, had the development continued after World War I,

competition between the single shots and today's bench

rest rifles would have been close indeed in the field of

accuracy.

American single shot rifles reached their peak in design

and use during a bygone period when we were indeed a

"nation of riflemen." Shooting was the national sport, as

popular as baseball is today. Accuracy was the ideal;

velocity or rapidity of fire of little consequence. The man

with a single shot rifle liked to shoot all day, keeping

ten shots inside a 21j2" circle, from rest, at 200 yards.

This demand for accuracy produced some of the most

famous shooters and rifle-makers our game has known.

The history of the single shot rifle is sprinkled with

names synonomous with accuracy. The old maestro Harry

Pope, George Schoyen, A. O. Zischang, George Schalk,

and A. W. Peterson were barrel-makers topped by none.

A single shot rifle barreled by any of these craftsmen is

a prized item among gun nuts today. Dr. Hudson and

F. J. Rabbeth, both excellent shots, were renowned for

their excellent Gast bullet designs. E. A. Leopold experimented

extensively with bullet lubricants, a very important

item for cast bullet accuracy. Dr. Franklin W. Mann, one

of our most noted ballistics experts, was a single shot

advocate.

Along with the single shot rifle were developed some of

Ballard .32-40 iron sighted

groups inside 9/lb"xI5/lb".

With bullet seated to avoid jumping to the

rifling, case loaded with FFg black powder

and card wad on top is then inserted.

America's most outstanding marksmen. Chris Westergaard,

Arthur Hubalek, Col. Tewes, C. W. Rowland, and an old

German named Katzenellenbogen, were all famous offhand

champions. The ability of these men to hit the 25-ring

consistently at 200 yards is still remembered today. Remember,

the standard target had a 12" bull with a 25-ring

only 11/2" across. Each succeeding ring was 11/3" larger.

GUNS SEPTEMBER 1959 19
---
One-Man Practice

Sharpens Shotgun Skill

Walking into line which is attached to trap catch, shooter can gain the

effect of a "surprise" throw without needing to have a helper at the trap.

Foot release set-up is variation: rope is tied to peg, tripped by shooter's foot.

YOU DON'T NEED A THROWER TO

PRACTICE FOR SKEET, TRAP, OR FIELD

GUNNING. A LENGTH OF ROPE DOES IT

SINGLE-HANDED SHOTGUN PRACTICE is difficult.

Holding a trap in one hand and flinging the clay, then

swinging up to bust it, is not a really satisfactory way of

improving your shotgun shooting. The rifle shooter can

operate his rig all by himself. When the season opens, his

shooting eye is "in" and game falls or scores rise because

of his ability to practice, if necessary, without helpers. But

the shotgunner usually has to dig up some help to operate a

trap, or must have some affiliation with a gun club, to

practice on clay pigeons. It isn't always easy to find a

friend whose time matches yours when you want to shoot a

few rounds, and a gun club may be miles away, too far to

reach in the short daylight afterwork hours.

One solution is to become a do-it-yourself trapshooter, by

operating your own trap with a thirty or forty foot line. A

trap will cost only about twenty-five dollars and will last a

lifetime. The base should be mounted on a post, and the

trap proper may be removed in seconds when not being

used. We won't even figure the cost of the rope; you can

annex part of your wife's clothesline. The plastic type is

GUNS SEPTEMBER 1959

By PHILLIP D. RUSH

With Marlin Model 90 at the ready, 5hotgunner can

release birds with a slight motion of forend hand.

excellent. Targets and shells are the only other expense, and

quite a savings may be realized if you do your own reloading.

Now you are all set up to shoot without assistance from

anyone, providing your shooting area isn't too far away.

The writer has found three basic methods for tripping the

release catch on the trap. These might be termed "walk

into," "walk away from," and (Continued on page 66)

21
---
WHITE HUNTER SAYS AFRICA'S MOST

DANGEROUS BEAST IS-THE ONE

THAT COMES CLOSEST TO KILLING YOU! FACE ANY ONE OF THEM, AND

hen Be Charges,

22 GUNS • SEPTEMBER 1959
---
Magnificent African black-maned lion is first prize for sportsmen on

safari, who find placid beast can spring to charge in 30' leaps in seconds.

You Hit-Or Else!

M

ANY YEARS AGO, old professional hunter T. Murray

Smith told me, "One learns something new on

every safari; if not about game, then about people." He

was right. I have found that one can add an "est" to nearly

every safari, too. Either about the safari itself, or about

the clients or the game, a safari will be remembered as the

longest, the shortest, the best, the worst, the closest, the

hardest, the easiest-or something. These stories are about

"the closest" ... the close calls with death.

Every professional hunter has been asked what animal

he thinks is most dangerous: elephant, rhino, lion, leopard,

or buffalo? With most, the title probably goes to the animal

which came nearest to "getting" the hunter concerned. The

old pre-historic looking rhino comes well down on most

professionals' list. It has the weight and speed, but lacks in

brain power. But, and here is a point: given the right

circumstance he can be as deadly as any! The above mentioned

Capt. Murray Smith can testify to this, and did. Two

incidents moved old jaru from low to high on Smith's list.

By WILLIAM M. JENVEY

The first incident happened down in the Yaida Valley in

the days when only the bold ventured over the valley rim

and faced the appalling, boulder strewn track. Few safaris

got down without bursting at least a tyre, and none got

back up without trouble. Since then, a decent road has been

made, and bush clearing for tsetse fly -control has altered

the valley's appearance; but in those days it was truly wild.

It was from a camp in this valley that Murray led his client

up to a rhino as it fed along between clumps of thick bush.

He worked his way carefully to one side and, when a clear

shot presented itself, told the sportsman to shoot. On the

shot, the rhino took off, snorting loudly and bearing to the

right around a thick clump of bush which hid it from view.

Murray, then an agile 65 or so, dived around the other

side of the bush, expecting to wham it as it went past. But

things didn't work out as planned. The rhino was diving

around the bush too, real close, hugging the bush like

Murray. was. They met head on. Murray had guessed

wrong once, and he guessed wrong again as he frantically

GUNS SEPTEMBER 1959 23
---
Old faru moved to top of white hunter's "danger" list

when rhino unpredictably drove through brush, instead of

circling it, put battered hunter Murray in hospital.

Pre-dawn safari camp is idyllic. peaceful, but day may

hold high adventure or sudden death in tangle with game.

Plain Westley Richards (top) or engraved India

Royal Holland & Holland differ in finish but both

throw massive .470-.465 slugs to put down African

heavy game with knockout one-two punches.

dug his heels in. There was a grass covered pig-hole in

front of him and over he went! A shot from his .416, fired

somehow as he fell, did not stop the rhino's horn from

ripping his thigh open. Before more damage was done,

the client, who was up to the occasion, killed the hostile

animal.

Murray never attached much importance to this incident.

After all, a pig-hole could be anywhere and rhinos are so

clottish they may decide to run in any direction when hit.

But the second time, the rhino was not even hit.

In the thick bush country near Voi, on the track of a

bull elephant, Murray, his client, gunbearers, and tracker

passed up-wind of a cow rhino and her calf. First indication

of trouble was the sound of crashing brush, then the

snorting of the cow as she came straight up wind. The

native boys disappeared. Quickly, he positioned his client

behind a handy tree, himself moving behind a small but

thickly leafed bush. The sound was very close now and to

Murray it appeared that the rhinos would storm past along

a game trail a few feet away. The calf did, but not the cow.

She bored clean through Murray's bush! ... Next day, in

hospital for his second stretch within a couple of months,

Murray stated, "I'll shoot the next bloody rhino that just

looks at me!"

In the right (or wrong) circumstances, I think anyone

of these dangerous animals can be just as dangerous as

another. Because of its nature and speed, when wounded,

the leopard is the one most likely to reach the hunter who is

following up. One may get clawed badly, but is less likely

to be killed, simply because of the average leopard's lack of

weight. A lion is a different proposition. Although a bigger

target, he has to be stopped when he charges, because, if

his charge gets home, one clout from a paw is enough. It

was a lion which gave me my biggest fright.

When learning this business of professional hunting, one

has to decide fairly early what type of heavy rifle to use,

magazine or double. I decided after witnessing an incident

in which my mentor, Murray, figured. On that safari were

two young Americans in their (Continued on page 52)

London's John Rigby, "riflemakers to H.M. the

Queen," build light .275's for deer stalking

and heavy double .470s (shown) for Africa.

24 GUNS SEPTEMBER 1959
---
Moving into cover after Bob White are hunters who find

altered farming methods have driven quail to the brush.

By GEORGE McKENNA

QUAIL HUNTERS are complaining that the

birds are gone. "It ain't like the old days,"

they tell. "The birds just ain't there. Either a disease

has killed them off, or imported birds like the

coturnix and those ground-running scaled ones have

driven the native 'bob-whites' off."

They're all wrong. The quail are still here; it's

just that they have changed their habits and old

hunting methods won't work any more.

It used to be that quail hunting was a com·

paratively easy-going sport for open country. When

I was a boy, we hunted with big boned dogs that

26 GUNS SEPTEMBER 1959

r
---
worked well ahead of the guns, and almost all of

the shots were made in the open. After a covey rise,

the singles would go down close enough so we

could mark where they landed and go right after

them.

All of this is changed now, and I think the change

is because farming methods have become so different.

Quail like weed seeds. Extensive checks by

game biologists have proved that ragweed seeds

make up a major item in the quail's diet during the

hunting season. Along with weeds to eat, they

need good heavy cover in which they can hide from

their enemies.

Both the heavy cover and weeds used to be found

on small farms where mules and human muscles

provided the 'power for farm work. Thick hedgerows

were common, and crops were often left standing

after they ripened, giving birds both food and

cover until the farmer could get around to his

harvest.

low, the average farm is much larger, the old

fences and hedgerows have been ripped out, and

the farm field may reach a mile or more between

covers. Pastures are clipped close; tilled land is

cultivated by tractors; weeds are kept out; crops

are harvested as soon as they are ripe by machines

which leave nothing in the fields except stubble.

Often large amounts of shattered grain are left,

but no amount of grain can keep quail on the land

if there isn't enough cover.

A few landowners who like to hunt, or who

realize the value of birds in controlling insects, try

to remedy the situation by making plantings of

cover crops along the edges of cultivated fields and

in clearings. If they are left standing all winter, and

if the cover is really adequate, these plantings can

be a big help in keeping quail around. As yet, however,

they have been made on much too small a

scale to have any great effect on the quail population.

This means that the man who wants to hunt quail

will simply have to forget about the farming country

where he used to find birds, and go where they have

gone. That's what I did last season.

The first areas I hunted were the tracts of mature

woodland near farming sections. I found a few quail

here, but not enough. I think those quail were only

there by chance, perhaps fleeing from fields that

had just been stripped bare of cover, but not finding

enough of food in the woods to make their new

home.

The only places I did find the birds in lar
---
Plainclothes firepower is brace of snubbed Smith Chiefs Specials packing total of ten .38

Special Hi-Speed hollow points for concealability plus good close-in stopping power.

Pistols for Plainclothesmen

FINDING BEST COMPROMISE BETWEEN POWER, DEPENDABILITY, AND

SIZE GOVERNS CHOICE OF PLAINCLOTHES GUN

Off-duty officer needs small-butt pocket revolver

which packs punch. Skelton carries nickel Colt .38.

28

By ALLAN SKELTON

Photos By H. A. Tuck

THE average police officer, arriving home after a day of

pounding the pavement, is ready and eager to shuck off

his heavy Sam Brown and service revolver. When he dons

mufti for a trip to the supermarket, he ponders with some·

thing less than relish the regulation which requires him

to tote his artillery. His big revolver is a tough item to

pack when the object is to keep it out of view. The long

handle of the arm, perhaps made larger with hand-filling

grips, is as conspicuous as rat sign in the sugar bowl,

whether the iron is stuffed in the waistband, slung under

the arm, or attached to the pants belt in a cutaway holster.

And dropping the big persuader into the side pants pocket

leaves the cop in danger of finding his trousers at half·

mast, to say nothing of the likelihood of ripping the pocket

out with the hammer spur, if a quick draw is attempted.

GUNS

SEPTEMBER 19S9
---
Small town officers who are nut bound by departmental

rules to carry weapons at all times, still face the same

problem, for different reasons. Recognized by one and all

as "the law," the law enforcement officer of a small town

or community is frequently called to duty from church,

the movies, or anywhere he may be found. Not knowing

what he will face on such a call, it is imperative that this

officer be armed, and a bulky, eye.catching gunbelt is not

desirable.

And, let's face it, police in plain clothes are not the

only ones to whom ways to carry a gun concealed are of

interest. The prevalence of hitch·hike murder and kidnapping,

of gang muggings and unprovoked and unpredict.

able attacks, are making many good cItIzens, men and

women alike, consider the desirability of "carrying the

difference." Here again, a large holstered gun draws suspicion,

even police interference.

There is nothing wrong, per se, with the concealed weapon;

the wrong depends on the intent of the wearer. In

some states and many municipalities, laws make it "wrong"

to carry any concealed weapon; but weapons for self

defense have been carried, concealed or otherwise, since

time immemorial. Since small firearms came into existence,

they have been so used. Stagecoach riders in England

and the Colonies looked with favor on large caliber, single

shot, flintlock pistols, often carried in pairs. The invention

Hideaway battery includes author's nickel Colt Detective Special .38 which won't rust in pocket. Steel Chief's (left). and

Airweight (top). Bodyguard with cut guard and Herrett grips, and M & P 2" with Pachmayr adaptor, are good pocket guns.

GUNS SEPTEMBER 19S9 29
---
Old time belly gun for maximum effect in minimum packages

is Frontier Colt .45 with barrel taken off frame.

2

COAT POCKET DRAW

... And muzzle of revolver

grasped, and pulled out into

waiting right palm ...

Pocket pistol is

drawn from inside

1jacket in surprise

move. Coat is first

pulled open by

hand.••

3

of the percussion cap meant more dependable ignition for

the pocket gun (flintlocks were prone to twist in the pocket

and spill the priming charge), and the famous Deringer

pocket guns came into being. Those wanting more accuracy

than afforded by these stubby pocket cannons sometimes

carried a pair of percussion duellers, .40 to .50

caliber, inserted in the armholes of their waistcoat in much

the same position as the later-developed shoulder holster.

The Civil War found military men on both sides packing

small caliber rimfire Smith & Wesson revolvers as "insur- .

ance." Although lacking in power, this little spitfire was

a sought after article, owing to its use of self-contained

ammunition.

Every lover of firearms history is familiar with the stillpopular

.41 Remington over-under and its dwarf cartridges.

Kept alive by tales of western derring-do, it is still packed

by belly gunners and little old ladies with lace shirtwaists

and steely eyes. It was, and is, woefully inadequate as a

serious defense weapon. During one period on the Arizona

border I toted one as a second to my holstered .357 Magnum-until

a practice shot which stuck about 14 inch into

a telephone pole, leaving the hollow base of the slug

exposed for all to see, convinced me that the .41 short rimfire

was not a load on which to bet my blue chips. The

range for this eye-opening shot was three feet.

From Reconstruction days until the early 20th century,

those wanting a small hideaway gun chose from the rimfire,

and later centerfire, .22's, .32's, .38's, and .41's. These were

produced in large quantities by Colt in their Cop and Thug

and Cloverleaf models, by Smith and Wesson with their

old tip-up and later break-top versions, by Hopkins and

Allen with their finely made Merwin and Hulbert single

actions, and by many other smaller companies.

Until the coming of the .38 Special with its smokeless

powder loadings, no production model pocket gun using

metallic cartridges was manufactured that could be relied

on as a manstopper. The only possible exception to this

would be the little-known Sheriff's Model Single Action

Army Colt in .45, .44-40, and (Continued on page 45)

... Which curls around .38

Left hand falls away as

in swift gesture substi­ 4 right hand secures hold

tuting surprise for speed. to trigger the "snub" gun.

30 GUNS SEPTEMBER 1959
---
Big sheep trophies, highly prized by hunters, are

found in high back-country "where weather i's born."

Neither size of track nor

size of bear necessarily

indicates rank of trophy;

size of skull only counts.

Best hunter can do is pick

biggest male bear in sight

and hope skull measures up.

Record goat has only 12" horns, but the hunter who tops

it will have to match a big billy's own climbing skill.

the hunter's head as the target.

Under such circumstances, it is plain stupid for one or

two hunters, strangers to the country, to try it on their own.

They must have a woods- and mountain-wise guide. A good

one is worth his weight in gold. Without a proper guide,

the mountain hunting of sheep, goats, and bear can be

fraught with frustrations and assorted dangers.

All three of these species require a good, sound rifle of

proven caliber, one that can perform well up to maximum

ranges. This is no sport for the testing of unproven and

unfamiliar armament. Most of the shots will be well inside

the 200-yard range, and some of the most critical ones may

be at 50 to 100 yards. But your only chance for a fine

trophy may be too far out for any but the finest, longreaching

rifle, so you should go well-heeled.

You sometimes get some odd shots in this kind of hunting.

A sheep-hunting friend once killed a pair of fine rams

on a ledge only 30 feet below the rock catwalk on which he

was standing. At the opposite extreme, another friend and I

took a portly billy goat at an estimated 425 yards, and at a

45-degree angle above us. When he went down, it took us

an hour and a half to climb up to where he lay, within

eight feet of a 90-foot sheer drop.

All of these species can be mighty tough to find and

even harder to kill. A keen-eyed sheep may be located in

such a spot that it cannot be approached to any but extreme

range. Goats, on a pound-for-pound basis, can be terrifically

tough to bring down, even after the hunter has worked his

way on feet, hands, and finger-tips to the cliffs and crags

on which they live. And a grizzly, or an Alaskan Brownie,

has a barrelful of courage and the physical equipment to

make taking him a job of steady nerves and cool marksmanship.

Taking all these things together, the hunter of

sheep, goats, and bear needs a substantial supply of what

is delicately referred to as "intestinal fortitude," plus gun

skill. If he is short on either commodity, he'd better

stick to other types of hunting.

32 GUNS SEPTEMBER 1959
---
Snow-filled high mountain canyons sometimes

smooth hunter's way but may prove hazardous.

Even the weather in such country can be a real hazard.

Sheep, goat, and bear live in country where weather is

born. I've seen a placid and sun-smiling day turn into a

heavy wind-driven snowfall that was as blinding as a

blanket. Concealed behind high and spiny ridges of rock,

the Weatherman can, with little warning, turn into a

treacherous assassin.

Big American lion may measure 9' tip to tip, are also found

in rugged country, are usually hunted on horseback with dogs.

I once spent a 20-below-zero night in the shelter of two

spruce trees, three of us taking turns in one lone sleeping

bag spread on a cedar-bough bed to keep it off the ice-hard

snow. We could have camped in far more comfort in a

valley a half-mile away, but if we had we might have

spooked (or been spooked by!) a grizzly the guide had

described as being "As big as a (Continued on page 48)

Black bear, including his cinnamon and brown color phases, is found in great number

over wide areas. This 325 pound black was taken by Chet Kimble with .30-06.

GUNS SEPTEMBER 19S9 33
---
James guns at Huntington are New Model Remington .44

and 1853 Lefaucheux 12 mm. with added spring ejector.

By HERMAN P. DEAN

WHEN THE JAMES GANG ROBBED

HUNTINGTON. WEST VIRGINIA. BANK.

THEY LEFT BEHIND THEM

THESE TWO GUNS. NOW DISPLAYED IN HUNTINGTON GALLERIES

WHEN THE JESSE JAMES gang rode through Huntington,

West Virginia, at high noon on September

6, 1875, they took with them $14,000 from the Bank of

Huntington safe, and they left behind them three mementos

of this daring robbery: three revolvers-one a Colt, another

a Remington Civil War army-type percussion, and

the other a French Lefaucheux. The Colt is owned by a

Charleston, West Virginia, collector. The Remington and

the Lefaucheux are among the exhibits on display at

Huntington Galleries. The guns were dropped on the floor

of the bank vault at the time of the robbery, and were

important items of the evidence which secured a conviction

for the members of the robbery band who were apprehended.

History records that the Huntington robbery gang was

led by the James brothers, Jesse and Frank. However.- there

GUNS

SEPTEMBER 1959

is some doubt whether or not "the James boys" themselves

actually participated in this particular hold-up. Some authorities

contend that they sent their men into Huntington

and joined them later, after the robbery.

One of the leaders of the outlaw gang was a man named

Webb, who carried the Remington percussion pistol now on

display at Huntington Galleries. Webb was later captured

by a Tennessee sheriff while having his horse shod in a

blacksmith shop. This was shortly after the Huntington

robbery, and $5,000.00 in currency was recovered from the

money belt he wore when arrested. Webb was brought back

to Huntington, tried for his part in the robbery, and sen·

tenced to twenty years in the West Virginia penitentiary. It

is recorded that he served his term as a model prisoner and

afterwards took up religious work and became a minister of

the gospel in his declining years. (Continued on page 36)

35
---
BIG GAME OR VARMINT ... open country, brush, mountainous

terrain ... hunt what you want, where you want, when

you want with the fabulous BALvar 8. Here's the only multipurpose

scope sight of its kind ••• the one scope you can use

for all hunting.

INSTANTANEOUS CHOICE OF POWER-Turn of ring provides

exact power you need from 2YzX to 8X. No limiting

click stops, BALvar 8 is continuously variable with no change

in focus, eye distance or point of impact.

NO CHANGE IN RETICLE SIZE WITH CHANGE OF POWER­

Patented B&L Tapered Cross-Hair Reticle, Y3 minute at

center, appears sharp, fine at any power.

YOUR EYE IMMEDIATELY ON TARGET-"Wedge-shape" crosshairs

help you instantly center sight on target.

WIDE FIELD-40' at 100 yards at 2Yz X setting. An excellent

field of view for scanning or tracking moving target ...

"close in" with desired power and shoot with accuracy.

USE ON ANY RIFLE-One scope is all you need for all your

hunting rifles ... changes from one to another in seconds,

locks in perfect zero every time, ready to shoot.

STURDY CONSTRUCTION-No delicate internal parts to jar

loose; adjustments are made in the mount. Will not knock

out of zero. Guaranteed permanently fog proof.

ECONOMICAL-One investment at less cost than any combination

of two hunting sights ... fills the need for several

scopes. $99.50, or just 10% down on Time Payment Plan.

FREE! "FACTS ABOUT TELESCOPIC SIGHTS"-Be an expert

on telescopic sights. Send for this most authoritative, 96-page

manual containing valuable information about scopes and

scope shooting. Write to

Bausch & Lomb Optical

Co., Rochester 2, N. Y.

BAUSCH & LOMB

""'V'""

GUNS SEPTEMBER 1959 43
---
$

• • •

••••••••••••••••••••••••••••••

GUNS

SHOOTER, GUNSMITH ...

Make Your Own Take-Down Inspection

of Breda's Remarkable Autoloader

You will find this new Breda Gun is best because it has . ..

60 second "No-Tool" take-down anytime-anywhere

... with screwless "Interlock" design.

Complete interchangeability of parts of all components

and barrels in each model series resulting

from Breda's precision engineering.

-

Breda's quick choke system interchangeable choke

tubes which are integral engineered extensions of

the barrel ... assuring superior shot patterns.

Breda's hard chrome lined barrel impervious to

rust, pitting and corrosion ... reduces leading.

Breda's construction means less wear and tear on the gun and assures you of

easy service and maintenance ... and a lifetime of reliable performance. Parts

and service readily available through the Dakin Gun Company and its dealers.

Inspect Breda-Compare Breda-Buy Breda... All the "Extras" at no extra cost.

.---.

For detailed information about the Breda Mark II 12 and 20 gauge lightweight,

standard, and magnum models . .. write today! Prices: $182.00 to $198.00.

Sole U. S. A. distributor Dakin Gun Co:rnpany

DEPT.I9-B, 121 SECOND STREET, SAN FRANCISCO 5, CALIFORNIA

SEPTEMBER 1959 53

• •••••••••••••••••••".• ••••••••••••••••••
---
GUNS • SEPTEMBER 1959

When buying

your next gun . . .

set your

SIGHTS on VALUEI

Whether you are a 'year 'round' devotee of the

sport or a 'once a year' shooter - you can appreci­

ate quality. Whether you own a single gun, or a

rack full of fabulous firearms - you can appreciate

the plus value of owning top quality sporting arms.

Buying a new gun is an investment in future hap­

piness and pleasure. Set your sights on the highest

value. That doesn't necessarily mean the highest

price. For, when you consider that FI's premium

quality is a standard - not an extra - you will ap­

preciate why these fine sporting arms are the best

dollar-for-dollar value on the market.

Put yourself in line for a top-value firearm. See

the complete FI line at your dealer's - today.

OUR line of top-quality sporting arms includes a

wide selection of rifles, shotguns, handguns and

actions and barreled actions. We can't do justice to

all of them in this limited space. They are all

pictured and described in our new catalog, available

on request.

Write for 1959 24page

illustrated catalog.

Please include 10c

to cover postage and

handling.

What "FIREARMS" sells

sells "FIREARMS."

CORPORATION

WASHINGTON 22, D. C.

63