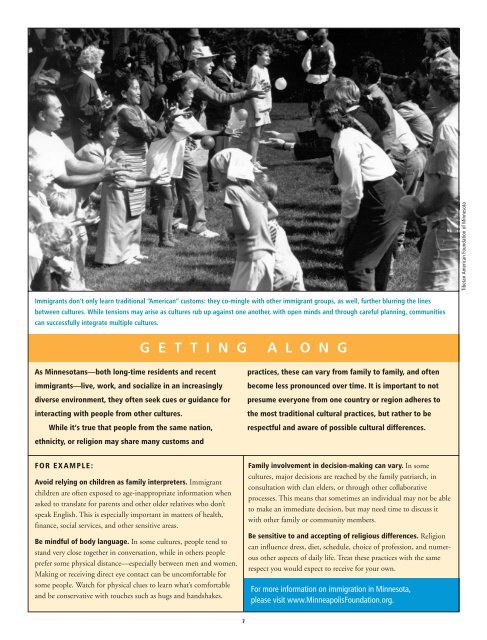 Immigration in Minnesota - The Minneapolis Foundation
Immigration in Minnesota - The Minneapolis Foundation
Immigration in Minnesota - The Minneapolis Foundation
SHOW MORE
SHOW LESS
Create successful ePaper yourself
Turn your PDF publications into a flip-book with our unique Google optimized e-Paper software.
Immigrants don't only learn traditional "American" customs: they co-mingle with other immigrant groups, as well, further blurring the lines

between cultures. While tensions may arise as cultures rub up against one another, with open minds and through careful planning, communities

can successfully integrate multiple cultures.

As Minnesotans—both long-time residents and recent

immigrants—live, work, and socialize in an increasingly

diverse environment, they often seek cues or guidance for

interacting with people from other cultures.

While it's true that people from the same nation,

ethnicity, or religion may share many customs and

FOR EXAMPLE:

Avoid relying on children as family interpreters. Immigrant

children are often exposed to age-inappropriate information when

asked to translate for parents and other older relatives who don't

speak English. This is especially important in matters of health,

finance, social services, and other sensitive areas.

Be mindful of body language. In some cultures, people tend to

stand very close together in conversation, while in others people

prefer some physical distance—especially between men and women.

Making or receiving direct eye contact can be uncomfortable for

some people. Watch for physical clues to learn what's comfortable

and be conservative with touches such as hugs and handshakes.

G E T T I N G A L O N G

7

practices, these can vary from family to family, and often

become less pronounced over time. It is important to not

presume everyone from one country or region adheres to

the most traditional cultural practices, but rather to be

respectful and aware of possible cultural differences.

Family involvement in decision-making can vary. In some

cultures, major decisions are reached by the family patriarch, in

consultation with clan elders, or through other collaborative

processes. This means that sometimes an individual may not be able

to make an immediate decision, but may need time to discuss it

with other family or community members.

Be sensitive to and accepting of religious differences. Religion

can influence dress, diet, schedule, choice of profession, and numerous

other aspects of daily life. Treat these practices with the same

respect you would expect to receive for your own.

For more information on immigration in Minnesota,

please visit www.MinneapolisFoundation.org.

Tibetan American Foundation of Minnesota