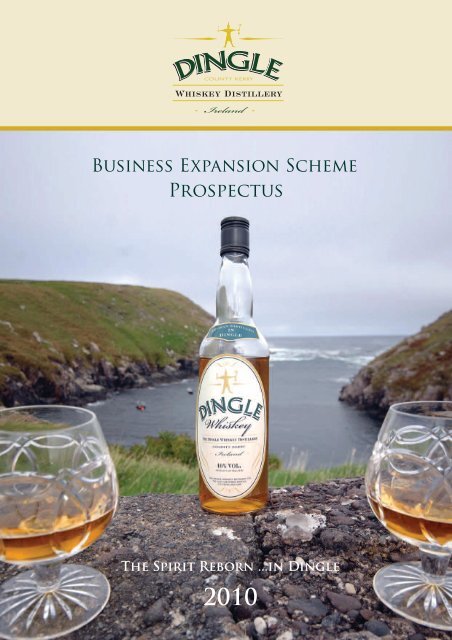 Dingle-Distillery-Brochure.pdf - The Dingle News
Dingle-Distillery-Brochure.pdf - The Dingle News
Dingle-Distillery-Brochure.pdf - The Dingle News
SHOW MORE
SHOW LESS
Create successful ePaper yourself
Turn your PDF publications into a flip-book with our unique Google optimized e-Paper software.
Business Expansion Scheme

Prospectus

The Spirit Reborn ...in Dingle

2010
---
The Golden age of Irish whiskey

took a bit longer to arrive

but by the late eighteenth century

there were an estimated 1,200 distilleries

throughout the island of Ireland
---
SOMETHING OLD

To some, whiskey is like a religion. And perhaps it's not surprising. After all, Irish monks brought the art of

distillation home from their travels in the 6th century. This was Ireland's Age, when we were known as the Isle

of Saints and Scholars.

The Golden age of Irish whiskey took a bit longer to arrive but by the late eighteenth century there were an

estimated 1,200 distilleries throughout the island of Ireland, not all of them entirely legal. Irish whiskey was to

become the premium spirit in Britain and the United States during the following century. On the eve of

Prohibition, Irish whiskey was on the crest of a very broad and well-founded wave.

But the failed action of the US Administration in banning alcohol put paid to that. And, of course, during

Prohibition dubious illegal moonshine was sold as Irish whiskey, this being, perversely, the bootlegger's

pretence of quality. And so the reputation was severely tarnished. Real Irish whiskey - rich, round and

complex - came to be seen as rough, fiery stuff. Blended Scotch whisky, which had become a commercial

reality in the early years of the 20th century, devoured the market.

By 1966, distilling in Ireland had been so badly damaged that three of the surviving producers were forced to

merge. Thus Jameson, Power's and Cork Distilleries became

Irish Distillers. Bushmills was part of Irish Distillers from the early 1970's until its recent purchase by Diageo.

Currently there are three working distilleries in Ireland:

Bushmills in Co Antrim, Midleton in Co Cork and Cooley

in Co Louth, the latter two being modern, large facilities.

Times change. And things have been looking up for Irish

whiskey in recent years. International interest in single malt

Scotch whiskeys, many of them from very small distilleries,

has created a new market for discerning spirits enthusiasts.

Overall, in recent years the market for such products has

been growing by 15% to 20% a year. Irish whiskey accounts

for just over 2% of the world market. Diageo, owners of

Bushmills, and Groupe Pernod-Ricard, owners of Irish

Distillers, are understood to have ambitious plans to expand

this share.
---
This will be a craft distillery,

specialising in high quality,

essentially artisan spirits.

And in the Irish context,

that is something wholly new.
---
SOMETHING NEW

There is an opportunity.

Consider this:

Scotland has over 150 distilleries. Some of them are vast, industrial operations;

many of them are very small, craft distilleries, almost artisan in scale.

Ireland has three distilleries. None of them could be described as artisan, despite the undoubted quality of

some of their produce.

Ireland will soon have four distilleries. The Porterhouse Group, which pioneered craft brewing in Ireland, has

joined forces with Kerry entrepreneur Jerry O'Sullivan to create the Dingle Whiskey Distillery. The new

company has secured the consultancy services of some the greatest authorities on premium spirits in the

world and have appointed John McDougal, former head distiller/manager at Springbank, Balvenie, Laphroaig,

Tormore and several other distinguished Scottish distilleries, as consultant distiller. His book "Worts, Worms

and Washbacks" highlights his distilling career which began in 1963. reputedly the only man alive to have

distilled all styles of Scottish Whisky.

The distillery is being constructed within the old Dingle Creamery and will have three stunning copper pot

stills which have been carefully designed and will be hand-crafted by Forsyths, famed Scottish still makers.

This 100% Irish whiskey distillery will have the capacity to produce five hogsheads of spirit per day, roughly

1250 litres. This will be a craft distillery, specialising in high quality, essentially artisan spirits. And in the Irish

context, that is something wholly new.

Dingle is a major tourism destination and the Distillery's visitor centre will be yet another attraction in this

much-visited Atlantic town.
---
Peddler's Lake,

The source of the water

For the Dingle

Whiskey Distillery
---
REBEL TERRITORY

It is hard to conceive of the essential difference between the boutique Dingle Whiskey Distillery and other

whiskey producers in Ireland. Essentially, it comes down to scale. Where the others are devoted to promoting

major international brands, Dingle will concentrate largely on a niche market for high quality, distinctive,

perhaps even quirky whiskeys. In that sense, this a venture that breaks the mould. In the old days the Dingle

Peninsula and Dingle itself, the most westerly town in Europe, were firmly in rebel territory. It seems like a

very suitable place for such a distillery. And it will mean the first Irish whiskey to be matured right next to

the Atlantic ocean.

THE ARGUMENT, DISTILLED

It takes years before a whiskey distillery can actually sell any product, doesn't it? Actually, no. From Day One,

The Dingle Whiskey Distillery will be producing a white spirit born from Kerry barley and Irish malt and this

will form the backbone of Dingle Cream, the world's only cream liqueur that can claim to be made in a

former creamery.

In addition we will create and produce a unique liqueur, expressing the natural, delicate edible botanicals,

honey and fruit of Kerry. This will be an Irish digestif, aimed primarily at the dining experience.

So, while the distillery's premium whiskeys age in casks, the rest of the output is being put to immediate

benefit with these two exciting new malted barley spirits-based liqueurs.
---
our Distiller's Thoughts

An artisan distillery highlights and emphasises the hand-crafted patience, commitment and skill to be used

in distilling premium spirits. The portfolio will include:

Dingle Green:

Aged exclusively in former Bourbon casks to finish clean, has a soft aroma and gentle flavour profile.

This is the very water of life, and barrel aging for four years will reveal a classic creamy, sweetish Irish whiskey

enhanced by the salt air of Dingle Bay and the calcium-rich distillery water (from Peddler's Lake) used in

producing it. Roasted nuts and Irish malt will come through in the easy drinking and exceptionally smooth

40% abv whiskey.

Dingle Gold:

Aged in sherry casks, with a new aromatic nose of marzipan timbre and a unique layer of sweetness (caramel

and honey) with lush apricot note. The Triple Wood, in general terms, features the finish-off year in sherry

casks before being bottled and the sherry cask tones down the resin and dry spice notes from American oak

in the first year of ageing. A reddish amber colour with immediacy of flavour which will be packaged at

natural cask strength. Nose: A spicy aroma of dried citrus and muted (but well balanced) with vanilla, honey,

a hint of caramel sweetness from the intermediate wood. A warm aftertaste with tingle will be the closing

note in the finish.

Whale Tail: Single Malt 4-year cask aged whiskey

The wash is made of a grist of Kerry barley and Irish malted barley, fermented with proprietary Irish brewing

yeast in washbacks, and spirit is triple-distilled and collected into ex-bourbon casks for four years ageing.

A classic Irish whiskey results that is warming and smooth.

Dingle Cream: the celebration of fresh Irish cream

Irish malt and barley spirit is carefully mixed with fresh cream from local herds and natural Irish honey.

The resulting white cream liqueur is easy-going, delightful and a complement to coffee or enjoyed readily

neat, or over ice.

Dingle Dew: the essence of Kerry

Irish malt and barley spirit extracts aromas and flavours of Kerry botanicals and flowers in the distillation

process itself. The resulting aperitif is a distinctive sipping amber herbal liqueur with some natural Irish honey

sweetness.

Special Limited Edition Spirits

Founding Fathers: Individually Designed Cask Strength Whiskey

The finest cut spirit matured in the wood of your choice. 63% alcohol by volume, choice of either; port,

madeira, bourbon or oloroso cask.

Celebration: Single Malt 5-year cask aged whiskey

The wash is made of a grist of 100% Irish malted barley, fermented with proprietary Irish brewing yeast in

washbacks, and spirit is triple-distilled and collected into ex-bourbon casks for five years ageing.

The master distiller will select the most distinctive casks and set these aside for a limited-edition five-year

single cask whiskey (2000 bottles) whiskey (2000 bottles).
---
Our Distiller's Thoughts

Dingle Gold is our benchmark single malt whiskey using our single malt ageing system. The wash is

fermented in washbacks. Once distilled and collected, our spirit will undergo a novel system of maturation

unique to Dingle.

Ageing Dingle Gold whiskey at Dingle Distillery takes

place through the laborious and precise Spanish process

known as the Criaderas y Solera system. In this process,

the younger spirit is blended slowly and methodically with

other more mature spirit. The older whiskeys impart their

flavour to the younger ones, while the latter freshen the

former due to their youth and strength.

The new spirit is placed into the Añado barrels, large oak

ex-bourbon barrels.

The Solera System

The Anado Barrels

Criadera #3

Criadera #2

Criadera #1

The Solera Row - floor

As whiskey is drawn from the 'solera' row, bottled and

sold, spirit is drawn from the 'Criadera #1 barrels (which

may be ex-Sherry Butts) to replenish the "solera" barrels–(never drawing of more than 1/3 of any barrel at

any time)–and so on through the successive next row of 'Criadera' above, i.e.: Criadera #3 (which may be export

pipes) is used to fill Criadera #2 and so on.

The solera system may add complexity, but it painstakingly and ingeniously

replicates the proven and beloved sherry technique called fractional

blending.

Here's how it works:

Barrels of spirit of the same type but different vintage are stacked on top

of each other, the oldest on the bottom, and the youngest on the top.

With four rows of barrels representing four vintages of spirit, each year

anywhere from 10 percent to 30 percent of the bottom (the oldest)

barrels' volume will be drawn off to be bottled as that year's Solera whiskey:

Dingle Gold.

The headspace created by this drawing-off will be filled with spirit from the level above, and those barrels

will be filled with the level above them, and onwards and upwards, while the last year's barrels on the top

level will be topped up with new spirit. Each year, as a limited amount of finished Dingle Gold is drawn off

from the bottom level of barrels, the average age of the whiskey at the bottom barrels will continue to rise

with the years until it reaches a constant average age. A solera that is eight levels deep (if 25 percent is taken

out of the oldest row for bottling each year) will produce whiskey that are an average age of 8 years old

after 10 years.

Using American oak casks releases sweet flavours (honey, vanilla, toffee...). But the the use of aged casks in

a Solera array brings out richness and nuances of caramel flavours, fruity notes, subtle char, dry fruits and

others. This ensures that future batches of Solera-reserved single malt whiskey always taste the same.
---
Each cask will then be bottled,

allowing for the annual evaporation rate

that distiller's call The Angels' Share
---
THE ANGELS' SHARE and YOUR SHARE

Business Expansion Scheme

1. Summary of Relief

BES provides a tax deduction for Irish resident individuals who invest in what is

known as qualifying companies.

Drioglann Daingean is a qualifying company on the understanding that its primary turnover

will be derived from the distillation/manufacturing of whiskey and liqueurs for at least the

first 3 years of the BES period. We have obtained confirmation from Revenue in the form

of an RICT 2.

An individual can invest in an unlimited number of qualifying companies.

However, the total BES relief available to him/her is restricted to €150,000 in any one tax year.

Spouses are treated as separate individuals for the purposes of BES relief.

Therefore, a husband and wife could each make a qualifying investment and obtain relief

of up to €150,000 each provided they are each in receipt of sufficient taxable income.

The relief is used to reduce the individual's taxable income.

Therefore, a tax saving of up to €73,500 is available to an individual paying tax at the 49% rate

of tax on the investment amount and in respect of an investment of €150,000.

This saving is increased where the value of PRSI and the health levy is taken into account.

BES is a specified relief which is subject to the high earner restriction i.e. the maximum tax

reliefs that an individual can claim in any one year is restricted to the greater of €250,000

or 50% of his/her total income (before tax reliefs) in any one tax year.

Any relief, not used in a particular tax year, is carried forward for offset in future tax years.
---
2. Form of Investment

BES relief is available in respect of newly issued qualifying shares.

On making the relevant investment, the individuals will be granted new shares in

Drioglann Daingean. These shares will be ordinary shares with no preferential rights.

The individual will receive a share certificate detailing his/her investment.

Once the company has traded for four months, Revenue will issue each investor with a

Form RICT 3 in respect of their investment. This form should be retained for a period

of six years in the event of any future Revenue queries.

The investor will claim the tax relief in the year in which the investment was made i.e. if the

investment is made in September 2009, the relief will be claimed in the individual's 2009

income tax return.

Investors must retain their interest for five years in order to avoid a claw-back of the relief.

3. Other Key Issues

We understand from the promoters that they themselves are extensively investing in this

project and promoter funds will not be returned to the promoters until the investors

have received their monies.

4. Exit Mechanism

At the end of the five year holding period the company will repurchase the investors' shares.

Put and call agreements will be put in place to facilitate the investor's exit at market value

following the relevant retention period.

Market value will be determined by the company's auditors and the determination will be final.

Due to the rights attached to the shares, it is anticipated that the market value will not exceed

the par value of the shares on acquisition plus 20%.

The investors, investing more than 100k will have the option, but not the obligation of retaining

2% of their total investment at the end of the 5 year period, by virtue of retaining non-voting

shares which have rights to dividends.

5. FGS's role in this project

It should be noted that FGS are the tax advisers to this project.

However, FGS's role is solely in this tax capacity and hence,

FGS are not promoters to this project.

The contact promoter for potential investors

is Oliver Hughes (mobile no: 087 244 2576 email: oliver@theportehouse.ie).

FGS have not been specifically asked to comment on the non-tax and financial aspects

of the project. However, the promoters are available to discuss these aspects in detail

with each investor.
---
BES investors with an investment of €100k plus will receive a Founding Fathers Cask of whiskey for €1

(not including duty and/or VAT)

Ownership of such a cask confers the honour of being a Founding Father. The owner's name will be handstencilled

on the cask and inscribed on a plaque in the visitor's centre. Founding Fathers are welcome to visit

the distillery at any time and will be encouraged to taste their casks once a year in order to monitor

development. Indeed, it is possible to be present in the distillery when your cask is being distilled.

And there is a choice of cask available including port, madeira, oloroso and bourbon.

This price is based on your whiskey maturing in a 250 litre cask, a hogshead, at cask strength 63%.

Our distilleries preference is a sherry cask, but you may prefer your spirit to mature in either a bourbon,

madeira, oloroso or port cask.

€8,250.00 includes storage for up to 10 years, bottling labelling and insurance.

When the Whiskey is drawn down excise duty and vat become payable.

At 63% duty currently is €17.31 per bottle.

Taking into account the Angels' Share at 2% per annum, at 5 years this equates to approximately 320 bottles.

€25.78 per bottle

+ €17.31 duty

= €43.09 plus VAT

As a Founding Father you will be invited to our annual party but why not distil your whiskey with our distiller.

A purchase includes a 4 star house and within that week you will brew and distil your spirit.

NOTE: Further details of the various lifestyle entitlements of being a Founding Father will be available

at a later date.

For further information contact:

Oliver Hughes John Sheehy David L'Estrange

The Porterhouse Brewing Company, John B. Sheehy & Co. L'Estrange & Co.

11 - 15 Tara Street, Waterside, Dingle, College House, 71 - 73 Rock Road

Dublin 2, Ireland Co. Kerry, Ireland Blackrock, Co. Dublin, Ireland

Tel: +353 (0) 1 671 5715 Tel: +353 (0) 66 - 915 2363 Tel: +353 (0) 1 278 0811

Fax: +353 (0) 1 670 9605 Fax: +353 (0) 66 - 915 2364 Fax: +353 (0) 1 278 094

Email: oliver@theporterhouse.ie

mobile: +353 872 44 2576

FGS will be liaising with

Oliver Hughes on the taxation issues.

Email: john@johnbsheehy.com Email: info@lestrangeco.com
---
The foundation of

the Dingle Whiskey Distillery

is a milestone
---
STARTING A TRADITION

The foundation of the Dingle Whiskey Distillery is a milestone. It marks Ireland's very first move to introduce

the craft-based, boutique distillery that is so much part of Scotland. Instead of another Irish whiskey, it had

to be different: the first of its kind. A new tradition starts here.
---
DINGLEWHISKEY.IE