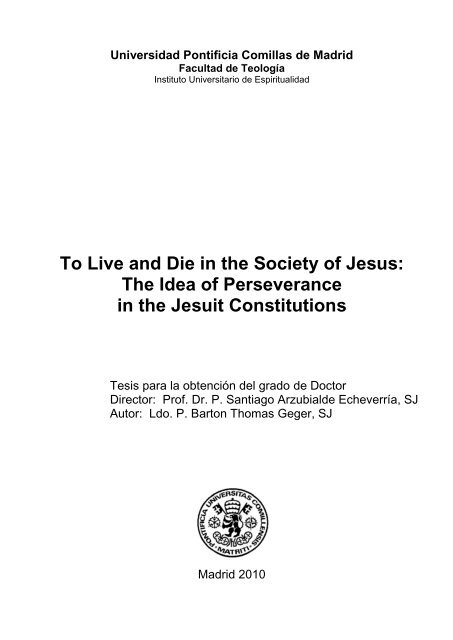 To Live and Die in the Society of Jesus - Regis - Regis University
To Live and Die in the Society of Jesus - Regis - Regis University
To Live and Die in the Society of Jesus - Regis - Regis University
SHOW MORE
SHOW LESS
Create successful ePaper yourself
Turn your PDF publications into a flip-book with our unique Google optimized e-Paper software.
Universidad Pontificia Comillas de Madrid

Facultad de Teología

Instituto Universitario de Espiritualidad

To Live and Die in the Society of Jesus:

The Idea of Perseverance

in the Jesuit Constitutions

Tesis para la obtención del grado de Doctor

Director: Prof. Dr. P. Santiago Arzubialde Echeverría, SJ

Autor: Ldo. P. Barton Thomas Geger, SJ

Madrid 2010
---
CONSTANCIA REGISTRAL DEL TRIBUNAL DEL ACTO

DE LA DEFENSA DE TESIS DOCTORAL

TÍTULO: TO LIVE AND DIE IN THE SOCIETY OF JESUS:

THE IDEA OF PERSEVERANCE IN THE JESUIT CONSTITUTIONS

AUTOR: LDO. P. BARTON THOMAS GEGER, SJ

DIRECTOR: PROF. DR. P. SANTIAGO ARZUBIALDE ECHEVERRÍA, SJ

TUTOR-PONENTE: PROF. DR. P. PASCUAL CEBOLLADA SILVESTRE, SJ

DEPARTAMENTO: INSTITUTO UNIVERSITARIO DE ESPIRITUALIDAD

FACULTAD: FACULTAD DE TEOLOGÍA

Miembros del Tribunal Calificador:

PRESIDENTE: Firma:

VOCAL: Firma:

VOCAL: Firma:

VOCAL: Firma:

SECRETARIO: Firma:

Fecha de lectura:

Calificación:

2
---
Si tiene determinación deliberada de vivir y morir in Domino

con esta y en esta Compañía de Jesús, nuestro Criador y Señor.

--St. Ignatius Loyola,

Constituciones de la Compañía de Jesús 51

Apud illos inveniuntur fortes viri, apud quos fortissimi quique honorantur.

--St. Thomas Aquinas, De Regno IV

3
---
TABLE OF CONTENTS

ABBREVIATIONS. . . . . . . . . . . . . . . . . . . . . . . . . . . . . . . . . . . . . . . . . . . . . . . . . . . . .

ACKNOWLEDGMENTS. . . . . . . . . . . . . . . . . . . . . . . . . . . . . . . . . . . . . . . . . . . . . . . .

INTRODUCTION. . . . . . . . . . . . . . . . . . . . . . . . . . . . . . . . . . . . . . . . . . . . . . . . . . . . . .

CHAPTER ONE: FUNDAMENTALS OF FIDELITY. . . . . . . . . . . . . . . . . . . . . . . . . .

I. THE OLD TESTAMENT. . . . . . . . . . . . . . . . . . . . . . . . . . . . . . . . . . . . . . . . . . . . .

A. Fidelity Divine and Human

B. The Individual and the Community

C. Perseverance in Israelite States-of-Life

D. Oaths, Promises and Vows

II. THE NEW TESTAMENT. . . . . . . . . . . . . . . . . . . . . . . . . . . . . . . . . . . . . . . . . . .

. A. St. Paul on Perseverance

B. St. Paul and ―Fear of the Place‖

C. St. Paul on Perseverance in the Body

D. Fidelity to One's ―First Faith‖

E. Perseverance in Luke-Acts

III. CHAPTER SUMMARY. . . . . . . . . . . . . . . . . . . . . . . . . . . . . . . . . . . . . . . . . . . .

CHAPTER TWO: PERSEVERANCE IN THE CLASSIC RULES. . . . . . . . . . . . . . . .

I. EARLY FUNDAMENTALS OF PERSEVERANCE. . . . . . . . . . . . . . . . . . . . . . . . . .

A. The Rise of Monasticism

B. Key Terms in the Early Tradition.

1. Patientia and Perseverantia

2. Acedia and the Horror Loci

3. Stabilitas

4. Propositum

II. PERSEVERANCE IN THE CLASSIC RULES. . . . . . . . . . . . . . . . . . . . . . . . . . . . .

A. The Rule of Pachomius

B. The Greater Asketikon of St. Basil

C. The Rule of St. Augustine

D. John Cassian, The Institutes I-IV

E. The Rule of St. Benedict

F. The Regula Bullata of St. Francis of Assisi

G. The Primitive Constitutions of St. Dominic Guzman

III. CHAPTER SUMMARY. . . . . . . . . . . . . . . . . . . . . . . . . . . . . . . . . . . . . . . . . . . .

CHAPTER THREE: TO PRESERVE AND INCREASE. . . . . . . . . . . . . . . . . . . . . . . .

I. IGNATIUS ON DESCENT WITH CHRIST. . . . . . . . . . . . . . . . . . . . . . . . . . . . . . . .

A. Ignatius' Sentido Grupal

B. Descent into the Society of Jesus

C. No Volver Atrás

D. The Three Temptations of Ignatius

E. Libertad and Pura Intención

6

10

12

31

32

32

41

44

48

49

50

59

64

66

68

73

75

76

76

81

81

85

88

89

93

93

99

108

112

118

124

127

133

138

138

138

144

151

156

162

4
---
II. IGNATIUS' EXPERIENCES OF INCONSTANCY IN SELF AND OTHERS. . . . . .

A. Ignatius' Vows

B. Inconstancy of the Iñiguistas and Early Jesuits

III. CONSERVAR Y AUMENTAR IN THE IGNATIAN CORPUS. . . . . . . . . . . . . . . . . .

IV. CHAPTER SUMMARY. . . . . . . . . . . . . . . . . . . . . . . . . . . . . . . . . . . . . . . . . . . .

CHAPTER FOUR: TO LIVE AND DIE IN THE SOCIETY OF JESUS. . . . . . . . . . . .

I. OVERVIEW OF THE TEXTS. . . . . . . . . . . . . . . . . . . . . . . . . . . . . . . . . . . . . . . . .

II. THE SOCIETY OF JESUS AS A MYSTICAL BODY. . . . . . . . . . . . . . . . . . . . . . .

A. Divine Origin

B. Divine End

C. Conservation and Growth

D. Universality of Mission

E. Christ the Head

F. Supernatural Unity

G. A Roman Heart

H. Charisms and Roles

I. Love for the Body

III. PERSEVERANCE IN THE MYSTICAL BODY. . . . . . . . . . . . . . . . . . . . . . . . . . .

A. Baptism into the Body

1. Evaluation and Admission of Candidates

2. A Propositum to Enter the Body

B. Severing Members from the Body

1. Distinction between Dismissals and Defections

2. Consequences of Leaving a Mystical Body

3. ―Apostates‖ from the Body

4. Impact of Departures on Those Who Remain

IV. PERSEVERANCE OF THE SUPERIOR GENERAL. . . . . . . . . . . . . . . . . . . . . . .

V. CHAPTER SUMMARY. . . . . . . . . . . . . . . . . . . . . . . . . . . . . . . . . . . . . . . . . . . . .

CHAPTER FIVE: CONCLUDING SYNTHESIS. . . . . . . . . . . . . . . . . . . . . . . . . . . . .

I. OVERVIEW OF INDIVIDUALIST THEOLOGIES . . . . . . . . . . . . . . . . . . . . . . . . . .

A. Basic Principles

B. The Fallacy of the Cartesian Self

II. IGNATIUS' DOCTRINE OF JESUIT PERSEVERANCE. . . . . . . . . . . . . . . . . . . . .

A. Subjective Disposition

B. Objective Factors

III. RELEVANCE FOR THE PRESENT. . . . . . . . . . . . . . . . . . . . . . . . . . . . . . . . . . . .

A. The Centrality of Vocation Promotion

B. Circumspection in the Language of ―God's Will‖

C. Pure Intention and the Examination of Conscience

D. Articulating a Reason to Persevere

APPENDIX A: "ON PERSEVERING IN RELIGIOUS LIFE." . . . . . . . . . . . . . . . . . .

BIBLIOGRAPHY. . . . . . . . . . . . . . . . . . . . . . . . . . . . . . . . . . . . . . . . . . . . . . . . . . . . . .

INDEX. . . . . . . . . . . . . . . . . . . . . . . . . . . . . . . . . . . . . . . . . . . . . . . . . . . . . . . . . . . . . . .

165

165

169

180

188

191

191

195

199

199

202

203

204

206

208

209

210

212

212

220

223

231

232

236

238

241

241

248

251

251

251

255

262

264

266

268

271

273

274

277

279

286

302

5
---
I. PRIMARY SOURCES

ABBREVIATIONS

MONUMENTA HISTORICA SOCIETATIS IESU [MHSI] 1

Chron. Juan Alfonso de Polanco, Vita Ignatii Loiolae et rerum Societatis Iesu historica

[the ―Chronicon‖]. 6 vols. Madrid, 1894-98.

Epist. Mixtae Epistolae mixtae ex variis Europae loci ab anno 1537 ad 1556 scriptae. 5 vols. Madrid,

1898-1901.

FN Fontes narrativi de S. Ignatio de Loyola et de Societatis Jesus initiis. 4 vols.

Rome, 1943-65.

Litt. Quadr. Litterae Quadrimestres ex universis praeter Indiam et Brasiliam locis in quibus aliqui de

Societate Jesu versabantur Romam missae. 7 vols. Madrid and Rome, 1894-1932.

M Bobad. Nicolai Alphonsi de Bobadilla sacerdotis e Societate Jesu Gesta et scripta. Madrid,

1913.

M Borgia Sanctus Franciscus Borgia quartus Gandiae Dux et Societatis Jesu Praepositus

Generalis tertius. 5 vols. Madrid, 1894-1911.

M Bras. Monumenta Brasiliae. 5 vols. Rome, 1956-1968.

M Broët Epistolae PP. Paschasii Broëti, Claudii Jaji, Joannis Codurii et Simonis Rodericii.

Madrid, 1903.

M Fabri B. Petri Fabri primi sacerdotis e Societate Jesu Epistolae, memoriale et processus.

Madrid, 1914.

MI Const. Monumenta Ignatiana. Sancti Ignatii de Loyola: Constitutiones Societatis Jesu.

3 vols. Rome, 1934-1938.

MI Epp. Monumenta Ignatiana. Sancti Ignatii de Loyola Societatis Jesu fundatoris epistolae et

instructiones. 12 vols. Madrid, 1903-1911.

MI Ex. Monumenta Ignatiana. Exercitia spiritualia S. Ignatii de Loyola et eorum directoria.

2nd edition, revised, 2 vols. Madrid, 1919; Rome, 1969.

MI Font. Monumenta Ignatiana. Fontes documentales de S. Ignatio de Loyola. Rome, 1977.

Doc.

MI Reg. Monumenta Ignatiana. Regulae Societatis Jesu (1540-1556). Rome, 1948.

MI Scripta. Monumenta Ignaciana. Scripta de Sancto Ignacio de Loyola. 2 vols.

Madrid, 1904-1918.

M Lain. Epistolae et acta Patris Jacobi Lainii. 8 vols. Madrid, 1912-1917.

M Nadal Epistolae P. Hieronymi Nadal Societatis Jesu ab anno 1546 ad 1577. 5 vols. Madrid,

1898-1905. Comentarii de Instituto Societatis Jesu. Rome, 1962.

M Paed. Monumenta paedagogica Societatis Jesu. 2nd edition, revised, 5 vols. Rome, 1965-

1986.

M Rib. Patris Petri de Ribadeneira Societatis Jesu sacerdotis Confessiones, epistolae aliaque

scripta inedita. 2 vols. Madrid, 1920-1923.

M Salm. Epistolae P. Alphonsi Salmeronis. 2 vols. Madrid, 1906-1907.

M Xav. Epistolae S. Francisci Xaverii aliaque eius scripta. Second edition, revised, 2 vols.

Rome, 1944-1945.

P. Co. Polanci Complementa. Epistolae et commentaria P. Joannis Alphonsi de Polanco.

2 vols. Madrid, 1916-1917.

Po. Vita. Vita Ignatii Loiolae et Rerum Societatis Jesu. Rome, 1894.

1 Abbreviations for the MHSI are taken from The First Jesuits by JOHN W. O'MALLEY, Harvard

University Press, 1993, pp.379-380.

6
---
OTHER JESUIT SOURCES

Auto Ignatius' oral account of his early life to Luis Gonçalves de Câmara, critically edited in

MI Scripta. I:31-98.

Co The Constitutions of the Society of Jesus, critically edited in MI Const. I-III.

Diálogos PEDRO RIBADENEIRA, Diálogos en los quales se tratan algunos exemplos de personas

que habiendo salido de la religion de la Compañia de Jesús, han sido castigados

severamente de la mano del Señor (c.1595). Unpublished manuscript, preserved in the

archives of the Colegio Inglés in Valladolid, Spain.

Ex / Exx The Spiritual Exercises, critically edited in MI Ex. I:140-417.

Mem The Memoriale of Luis Gonçalves de Câmara (his daily account of Ignatius' words and

deeds as Superior General in Rome), critically edited in FN I:508-752.

FI 1540 The 1540 Formula of the Institute, located in the apostolic letter Regimini militantis

Ecclesiæ; critically edited in MI Const. I:24-32.

FI 1550 The 1550 Formula of the Institute, located in the apostolic letter Exposcit debitum;

critical edition in MI Const. I:372-383.

SD The Spiritual Diary of Ignatius Loyola, critically edited in MI Const. I:86-158.

ScIg Scintillae Ignatianae (Sayings of Ignatius compiled in 1712 by Fr. Gabriel Hevenesi.)

OTHER PRIMARY SOURCES

APa Apophthegmata Patrum, Greek Alphabetical Collection (PG 65:71-440).

APs Apophthegmata Patrum, Latin Systematic Collection or Verba Seniorum

(PL 73:855-1022).

Conf The Conferences of John Cassian

Inst The Institutes of John Cassian

LR The ―Longer Responses‖ in the Greater Asketikon of St. Basil

RA Rule of St. Augustine (the Praeceptum)

RB Rule of St. Benedict

RBull The Second Rule (Regula Bullata) of St. Francis of Assisi

RM Rule of the Master (Regula Magistri)

PrimCons Primitive Constitutions of the Order of Friars Preacher (the ―Rodez manuscript‖)

RP The Rule of Pachomius

RPrima The First Rule (Regula Prima) of St. Francis of Assisi

SR The ―Shorter Responses‖ in the Greater Asketikon of St. Basil

II. JOURNALS, INSTITUTES AND GENERAL REFERENCE 2

AAS Acta Apostolicae Sedis. Rome, 1909.

AEcR American Ecclesiastical Review.

AHSI Archivum Historicum Societatis Iesu. Rome, 1932.

ARSI Archivum Romanum Societatis Iesu. Rome.

AnBib Analecta Biblica. Rome, 1952ss.

ALK* Archiv für Literatur und Kirchengeschichte des Mittelalters.

BAC Biblioteca de Autores Cristianos. Madrid.

Bib Biblica. Rome, 1920.

Bici Bibel und Kirche. Stuttgart, 1946.

BHisp Bulletin Hispanique

BZ Biblische Zeitschrift. Paderborn, 1903.

CBQ Catholic Biblical Quarterly.

CCC Catechism of the Catholic Church. Second edition, 1994.

CE The Catholic Encyclopedia. 1907.

Chr Christus. Cahiers Spirituels. Paris, 1954.

CIC Codex Iuris Canonici

2 All abbreviations are from SIEGFRIED M. SCHWERTNER, Abkürzungsverzeichnis für Theologie

und Grenzgebiete (Berlin: W. De Gruyter, 1992), DEI I:41-47, and DHCJ I:XVII-XLV, unless marked by

an asterisk (*), in which case they are my own.

7
---
CiuDios* La Ciudad de Dios. Madrid, 1881. (Suspended 1928-1941).

CIS Centrum Ignatianum Spiritualitatis. Rome, 1970.

CRMC* Codex Regularum Monasticarum et Canonicarum.

Com Communio. Revue catholique internationale.

Conc Concilium.

CSEL Corpus Scriptorum Ecclesiasticorum Latinorum. Austrian Academy of Sciences, 1864.

DiccAut Diccionario de Autoridades. 3 vols. Real Academia Española. Facsimile edition.

Madrid: Editorial Gredos, 1969.

DCECH Diccionario Crítico Etimológico Castellano e Hispánico. 6 vols. Madrid, 1980.

DEI* Diccionario de Espiritualidad Ignaciana. 2 vols. Bilbao and Santander: Mensajero and

Sal Terrae, 2007.

DHCJ Diccionario Histórico de la Compañía de Jesús. 4 vols. Rome: IHSI, 2001.

DR Downside Review.

DSp Dictionnaire de Spiritualité, Ascétique et Mystique. Paris, 1992-1994.

DThC Dictionnaire de Théologie Catholique (Ed. A. Vacant-E.Mangenot) Paris, 1903ss.

DTVC* Diccionario Teológico de la Vida Consagrada. Third edition. Madrid, 2000.

EEc Estudios Eclesiásticos. Madrid, 1922.

Greg Gregorianum. Rome, 1920.

GuL Geist und Leben. Cologne.

HeyJ Heythrop Journal.

IJS The Institute of Jesuit Sources. St. Louis, 1961.

IHSI Institutum Historicum Societatis Iesu. Rome.

JR* Journal of Religion

JSNT Journal for the Study of the New Testament.

JThS Journal of Theological Studies

LSS* Lateinische Sprichwörter und Sentenzen des Mittelalters in Alphabetischer Anordnung.

7 vols. Göttingen, 1965.

LThK Lexikon für Theologie und Kirche, 20 ed., Freiburg i.Br. 1957-1968.

Manr Manresa. Madrid, 1925.

MCom Miscelánea Comillas. Madrid.

MdSch* The Modern Schoolman.

MS* Monastic Studies. Montreal, 1964.

NCE The New Catholic Encyclopedia. Second edition. 2002.

NDT* The New Dictionary of Theology. Bangalore, 2003.

NID* The New International Dictionary of New Testament Theology. Second edition, 1980.

NJBC* The New Jerome Biblical Commentary.

NTS New Testament Studies. Cambridge, 1954.

NvTst* Novum Testamentum

ODCC* Oxford Dictionary of the Christian Church. Third Edition, 2005.

PG Patrologia cursus completus. (J.-P. Migne) Series Graeca. Paris.

PL Patrologia cursus completus. (J.-P. Migne) Series Latina. Paris.

RR Review for Religious. St. Louis, 1942.

RAM Revue d'Ascétique et de Mystique. Toulouse, 1920.

SalTer Sal Terrae. Santander, 1912.

SM Sacramentum Mundi. Freiburg 1967-1969, Barcelona 1972-1976.

SPCK Society for Promoting Christian Knowledge. London.

SSJ Studies in the Spirituality of Jesuits. St. Louis, 1969.

TE Teología Espiritual. Valencia, 1957.

TLC* Tesoro de la Lengua Castellana o Española (by SEBASTIÁN DE COVARRUBIAS).

Barcelona: Editorial Alta Fulla, 2003.

TLOT* Theological Lexicon of the Old Testament.

TS Theological Studies. Washington.

ViRel Vida Religosa. Madrid, 1944.

WaySup The Way Supplement. London, 1965.

ZKTh Zeitschrift für Katholische Theologie. Innsbruck.

ZTC Zeitschrift für Theologie und Kirche. Mohr.

8
---
III. OTHER ABBREVIATIONS

AICARDO AICARDO, J.M., Comentario a las Constituciones de la CJ. 6 vols. Madrid, 1919-1932.

ASTRAIN ASTRAIN, A., Historia de la Compañía de Jesús en la Asistencia de España. 7 vols.

Razon y Fe, Madrid, 1905-1925.

CASTRO GARCÍA DE CASTRO VALDÉS, JOSÉ., El Diario Espiritual y El Epistolario de San Ignacio

de Loyola: Aspectos Linguísticos y Léxicos. 2 vols. Salamanca, 1999. [Doctoral

dissertation.]

CDF Congregation for the Doctrine of the Faith. Rome.

COLLDECR The collected decrees of the first thirty Jesuit General Congregations, edited in For

Matters of Greater Moment, eds. John W. Padberg, Martin D. O'Keefe and John L.

McCarthy, St. Louis, IJS, 1994.

CUA The Catholic University of America. Washington, D.C.

GC General Congregation of the Society of Jesus

GS Gaudium et Spes (Pastoral Constitution of the Second Vatican Council on the church in

the modern world).

IMITCHR Imitatio Christi (The Imitation of Christ), attributed to Thomas á Kempis.

LG Lumen Gentium (Dogmatic Constitution of the Second Vatican Council on the church).

SMRVG SOMMERVOGEL, C., Bibliothèque de la Compagnie de Jésus. 10 vols. Paris and

Brussels, 1890-1932.

ST Summa Theologiae of St. Thomas Aquinas.

9
---
ACKNOWLEDGMENTS

I wish to express my gratitude to those who assisted so generously with the

research and preparation of the present work. First and foremost, my director, Fr.

Santiago Arzubialde of the Universidad Pontificia Comillas, gave me the courage to

bring it to completion with his enthusiasm for the topic and his continued assurances of

its value for the Society. As my original intent was to focus exclusively on Ignatius and

his times, Fr. Arzubialde's urging that I approach the Constitutions within the tradition

of scripture and religious life proved invaluable. My subsequent research opened my

eyes to Ignatius' significant debt to the earlier spiritual tradition, thus prompting me to

rethink the entire focus of this study. I am grateful for Fr. Arzubialde's companionship,

for his extraordinary knowledge of the Spiritual Exercises, and for his seemingly-

inexhaustible patience with my Spanish.

Several Jesuits were kind enough to read my work in its entirety despite their

busy schedules: Fr. Pascual Cebollada of Comillas, Fr. Philip Endean of Oxford

University, Fr. John Padberg of the Institute of Jesuit Sources in St. Louis, Fr. John

O'Malley of Georgetown University, and Mr. Chris Schroeder of the Regis University

Community in Denver. Any errors or gratuitous conclusions that the present work still

contains only demonstrate my obstinacy before their careful critiques.

I am grateful to the Jesuits of the Cantoblanco Community at Comillas for their

friendship and support. In particular, the previous rector, Fr. Luis María García

Domínguez, and the present rector, Fr. Julio Martínez, offered encouragement and

suggestions; Fr. Manuel Revuelta answered questions of Jesuit history and directed me

to helpful resources; and Fr. José Martínez de la Escalera spent many hours with me as

we endeavored to decipher old manuscripts.

10
---
I thank Fr. Garth Hallett of Saint Louis University and Dr. A.M.C. Casiday of

the University of Wales for their critiques of various sections; Fr. José García de Castro

of Comillas, who assisted with the nuances of Ignatius' vocabulary; Fr. Claude Pavur of

Saint Louis University, for providing an expert translation of a lengthy letter by Juan

Polanco; Mrs. Carol Rossini of Regis University, who proofread the dissertation; and

finally Fr. Don Highberger, for preparing its format.

11
---
INTRODUCTION

If the practice of interpreting texts is as old as the written word, the science of

hermeneutics is much younger. Methodical reflection upon the presuppositions and

principles which a subject brings to interpretation had its first stirrings in the sixteenth

century as a result of the Reformation debates over the Christian scriptures and the

Renaissance return to the Greco-Roman classics. It became a formal study largely due

to Friedrich Schleiermacher (d.1834), whose forays into ―higher criticism‖ raised

awareness of the need to study the original context, language and motivations of a

writer.

Early hermeneutics generally focused on the worldview of the writer with the

presupposition that an objective analysis of the data was possible, so that, at least in

principle, a definitive interpretation could be uncovered. In the present day, greater

attention is given to the role of the interpreting subject. Regardless of the original

meaning of a text—to the extent that it is still considered possible to uncover one—it is

now widely recognized that a subject will interpret the text, consciously or not, within

the context of his or her own preoccupations and presumptions. Jaroslav Pelikan, in his

classic work Jesus Through The Centuries: His Place in the History of Culture,

demonstrated how Jesus in the gospels has been variously regarded as an ideal monk,

the Platonic logos, and an Enlightenment teacher of common sense. 3

In the case of the saints, whose stories and writings Christians often consider

normative to some extent for their own lives, the question inevitably arises: how to

introduce their example and doctrine into new cultural contexts in a way that keeps

them relevant, while at the same time not substantially distorting them? For if one

3 JAROSLAV PELIKAN, Jesus Through the Centuries: His Place in the History of Culture, New

Haven, Yale University Press, 1985.

12
---
places such a premium on the experience of the interpreting subject that the truth of the

historical person becomes secondary or even irrelevant, one essentially treats him or her

as a cipher that gives credence and authority to one's own convictions. Feminist writers

such as Elisabeth Schüssler Fiorenza and Kathleen Norris have endeavored to

demonstrate how the stories of the third-century virgin martyrs of Rome, and then of St.

Maria Goretti, were co-opted by pious writers in the twentieth century to substantiate

their own ideas of sexual purity, in a way that probably obfuscated the real motivations

that impelled these women to give their lives for the faith. 4

Perhaps no other saint brings these tensions into such bold relief as Ignatius

Loyola. The extraordinary popularity of his spirituality both inside and outside the

Catholic Church is largely due to the manner in which he appears to have anticipated

post-conciliar values. His trust in personal experience, his conviction that God is found

in all things, and that the apostolate was no less a means to glorify God than monastic

contemplation, his affirmation that God communicates directly with Christians, and his

idealism fused with a practical wisdom, all make him attractive to a church that extols

the dignity of lay vocations ―in the world,‖ the presence of God in personal experience,

and dialogue between faiths and cultures. Yet, as legitimate as these connections to

Ignatius might be, it stands to reason that the momentum which he enjoys is potentially

problematic, as ever-increasing numbers of well-intentioned disciples with little or no

familiarity with the historical man are tempted to press him into service. A case in point

is the term magis, a revered part of the Ignatian lexicon in many Jesuit institutions.

Despite its wide usage, Jesuits and their lay colleagues are by no means unanimous

about its meaning, and many struggle to define it at all. Ironically, Ignatius'

4 See ELISABETH SCHÜSSLER FIORENZA, In Memory of Her: A Feminist Theological

Reconstruction of Christian Origins, London, SCM Press, 1983, pp.224-226, 236; KATHLEEN NORRIS,

The Cloister Walk, New York, Riverhead Books, 1996, pp.186-205 and 223-236.

13
---
understanding of the term, rooted in the idea that ―what is more universal is more

divine,‖ led him to conclusions that many of his disciples today would likely consider

antithetical to their own ideas of Ignatian spirituality.

The problems of interpretation are multiplied by the sheer volume of historical

documents related to Ignatius and the early Society. Some 7,000 letters written by

Ignatius and his secretaries, in addition to numerous drafts of foundational documents,

far exceed what we possess of earlier founders with reference to their religious

communities. Some have speculated that the great devotion that certain saints enjoyed

in centuries past, such as St. Joseph, St. Anne, the apostles James and Jude, Mary

Magdalene, and John the Baptist, was partly due to the fact that relatively little was

known of the historical persons. As such they were a ready canvas upon which the

faithful could project their own needs. Whether or not this is true, Ignatius' situation is

rather different. Voluminous material means it is possible to find texts that appear to

support widely divergent interpretations of Ignatian spirituality.

Finally, Ignatius was born during a tumultuous transition in western history,

namely that from the medieval to the early modern worldview. Whereas the former

generally favored universal, abstract norms, the objectivity of reason, and the fallenness

of human nature, the Renaissance returned to classical emphases on experience,

rhetoric, and the grandeur of human accomplishments in the arts and sciences. Debate

continues whether and to what extent Ignatius should be interpreted within the context

of either age, although recent scholarship tends to regard both him and the pre-

suppression Society as enthusiastic ambassadors of Renaissance values, most obviously

in the realms of education, missionary inculturation, and the performing arts.

These difficulties bring us to a principal theme of the present study. Western

ideas of freedom, conscience and personhood have changed dramatically in the five

14
---
centuries since Ignatius. Modern theories of personhood are often influenced by

Cartesian and Kantian epistemological presuppositions that lead to a highly discrete

sense of self in relation to the wider community, as well as to a relatively privatized

notion of conscience. And again, as a result of existentialist and personalist philo-

sophies in the last century, freedom is no longer ―the ability to choose what one should‖

in the classic Augustinian sense. Now what matters most is not what one chooses, but

why and in what disposition one chooses it, and through this responsible exercise of

freedom one attains fuller personhood. In light of such shifts, when a person makes the

seemingly-innocuous observation that Ignatius anticipated the modern idea that God

communicates directly to individuals, the truth of that statement is hardly as evident as

it might seem at first glance.

The classic philosophical tension between the universal and the particular

usually lies at the heart of these divergent interpretations, which, for our purposes, can

take the form of the relationship between the individual Jesuit to the Society of Jesus, or

the manner in which a discerner brings so-called universal principles and abstract

theological doctrines to bear upon his particular situation. By way of comparison,

classic liberal political theory, so influential on modern democracies, presupposes

discrete individuals existing in nature, intelligible in themselves, who enter into social

contracts. To maintain these contracts individuals freely relinquish some pre-existing

rights for the sake of the whole. From this perspective, societies are viewed somewhat

ambivalently as potential encroachers upon remaining rights and autonomy; and it is

hardly coincidence that modern political discourse in the United States is almost entirely

punctuated by a discussion of rights, with little said about duties. Ignatius, who died

eighty years before Descartes' ―turn to the subject,‖ would have presupposed a more

contextual notion of personhood, whereby ideas of truth, value and God come primarily

15
---
from the community; and consequently, that a discerner's reasons for a particular

election can always be articulated in terms that are at least intelligible (if not necessarily

convincing) to that community.

Of course, the recognition that modern interpretations of Ignatius sometimes

diverge from the historical man is not new. 5 For those writers who acknowledge it, the

question usually becomes whether such divergences can serve modern needs and

sensibilities while remaining faithful to the essence of Ignatius' spirituality. Fr. Karl

Rahner argued in the affirmative. 6 In contrast, other writers appear quite unaware how

much their interpretations of Ignatius diverge from the historical man. In The Christian

State of Life, for example, Fr. Hans Urs von Balthasar credited Ignatius with having

revolutionized the ancient and medieval emphasis on a universal call to the faithful by

his insistence upon a particular call directed to each Christian, and which must be

regarded as constitutive of the Christian life as such. 7 Hence, for Von Balthasar, ―It is

not by inquiring into his own aptitudes and inclinations that the Christian—or, indeed,

anyone else—comes to know the personal and loving will of God in his regard or the

5 For a synopsis of variant interpretations, see RONALD H. MCKINNEY, ―Ignatian Discernment: A

Lens for Engaging Contemporary Catholic Moral Philosophy,‖ MdSch 84 (2006), pp.31-47: see also

GERARD J. HUGHES, ―Ignatian Discernment: A Philosophical Analysis,‖ HeyJ 31 (1990), pp.419-438.

Hughes argues, as do I in the present study, that Ignatius relied more heavily on universal principles for

decision-making than many modern writers have been willing to allow.

6 KARL RAHNER, ―The Logic of Concrete Individual Knowledge in Ignatius Loyola,‖ trans. W.J.

O'Hara, in The Dynamic Element in the Church, New York, Herder & Herder, 1964. Rahner bluntly

acknowledged a principal point of the present study, namely Ignatius' strong predilection for the universal

over the particular: ―We should like to express the opinion (without being able to give grounds for it

here) that Ignatius has something almost of the archaic and archetypal about him. That explains what at a

first superficial glance one might call the mediaeval features of his spiritual character. He has nothing

that really belongs to the Baroque or the Renaissance about him. The features that are held to justify

interpretation in those terms, his individualism, deliberate reflection, his almost technically regulated selfmastery,

his silence and discretion, his subordination of the highly self-aware person to the objective task,

the slight skepticism which pervades everything though without lyrical self-expression or self-conscious

melancholy, these and similar traits are not really ‗Baroque' and ‗modern', even if in other connections

the distinguishing mark of the ‗Baroque' and of ‗modern times' is the individual's awareness of himself

as an individual, exulting in himself or intoxicated with is own problems and complexity, a self-mirroring

individuality. None of that is to be observed in Ignatius‖ (―Logic,‖ pp.86-87, n.1).

7 HANS URS VON BALTHASAR, The Christian State of Life, trans. Mary Frances McCarthy, San

Francisco, Ignatius Press, 1983, p.391.

16
---
mission God has decreed for him.‖ 8 As we shall see, it is difficult to conceive a

statement more contrary to what Ignatius actually affirmed in the Constitutions and

Spiritual Exercises.

At stake is more than a theoretical debate about the appropriateness of calling

certain ideas ―Ignatian.‖ Variant interpretations of Ignatian discernment can and do

result in quite different conclusions about how to proceed in concrete situations;

conclusions that some might regard as not simply un-Ignatian but indeed morally

suspect. In this light, the conciliatory remark of Jules Toner, that widely-divergent

approaches to Ignatian discernment have proven consistently useful in practice, requires

some qualification. 9

The topic of commitment to a Jesuit vocation, like no other, highlights the

concrete consequences of these ambiguities in Ignatian studies. When a man contem-

plates leaving the Society, is it ultimately a private decision between him and his God,

or does the community (i.e., the Society) enjoy the final determination of the man's

vocation? Whose experience is given more weight, that of the individual or of the

Society? Is each vocation crisis radically unique, so that the Society has little to offer in

the way of guiding norms? Or do most reasons for leaving follow one of several well-

trodden paths, about which the the Society has accumulated numerous stories for

edification and guidance? Did Ignatius understand the divine call to be directed to

individuals in light of the mysterious depths of their interiorities, so that, in principle, it

is impossible to know what direction those calls might take? Or did Ignatius understand

the call as a ―universal‖ invitation, to which each responds in light of his own capacities

and personal gratitude?

8 Ibid., p.396.

9 JULES J. TONER, Discerning God's Will: Ignatius of Loyola's Teaching on Christian Decision-

Making, St. Louis, IJS, 1991, p.8.

17
---
I propose that it is more accurate to the historical Ignatius to interpret his ideas

about discernment and commitment from what we might call a ―communitarian‖ point

of view, insofar as a community as such presupposes universal principles and values

that apply to each of its members, and also insofar as the self must be understood as a

contextual construct. Talk of duties to the community should not be regarded, in the

first place, as a potential constriction of individual freedom and development, but rather

the principal means by which these are attained. Furthermore, I shall endeavor to

demonstrate that this communitarian emphasis is much more consistent with the biblical

tradition, ancient and medieval ―religious life‖ (as articulated in certain classic rules),

the early Ignatius' sentido grupal [group sense], and most importantly, his emphasis in

the Constitutions on conserving and increasing [conservar y aumentar] the Society of

Jesus as a whole, to which he subordinated individual vocations as a means to that end.

It is remarkable how Ignatius' ideas about Jesuit commitment (to be addressed in

the present study) were so consistent regarding universal principles and the good of the

community as such. 10 What are some of these principles?

● Although a man's desires and convictions might have prompted him to

enter the Society, once he entered the novitiate, the determination of the

authenticity of his vocation was entirely the purview of the Society. The

Society could legitimately dismiss a man despite his subjective

commitment to remain, or urge him to stay under pain of sin despite his

conviction that the Society was not God's will for him. The individual,

as far as he was concerned, was to be personally committed to persevere

from the moment he entered the novitiate.

10 McKinney balked at the supposed presupposition of Toner, that Ignatius provided a

systematically consistent doctrine of discernment. ―Why should we expect, let alone prefer, a ‗coherent'

Ignatian viewpoint? Should we not expect there to be contradictions? Moreover, should we not value

more just a creative ambiguity than a clear-cut consistency? [. . .] On the contrary, is it not the nature of

a classic text that its rich complexity can result in contrary readings of it?‖ (MCKINNEY, p.32). While the

point is well taken—we must allow Ignatius to be human, and not expect him to have resolved all the

tensions and ambiguities inherent in any school of thought—it is necessary to remember that he was

trained in scholastic theology that favored system and consistency, and that he implicitly expressed

preference for it over positive theology [Ex 363]. We should not fail to credit Ignatius with as much

consistency as the texts allow us.

18
---
● Ignatius did not understand the novitiate as an opportunity for men to

discern or re-evaluate their vocations. This included the practice of

making the Exercises in the novitiate, which was to confirm novices in a

good decision already made.

● The Society determines the authenticity of an individual vocation not on

the basis of his subjective desires and convictions about God's will, but

rather on the basis of his utility for the Society. In this sense, an

authentic Jesuit vocation is rooted in that which is rational, universal, and

objectively verifiable.

● The ―Call of the King‖ in the Exercises is not necessarily or even usually

a discrete, personalized call to individuals, the concrete form of which is

undeterminable in principle ahead of time, but rather a universal

summons to all the faithful, rooted in the kenotic descent of Christ from

the Father, and in union with which one ascends back to the Father.

Individuals for their part choose to what depth they will descend with

Christ in light of their own abilities, gratitude and magnanimity.

● Today the term ―discernment‖ is often used in the context of a decision to

leave religious life. It is found in recent editions of the constitutions of

some religious institutes. Yet Ignatius would have rejected this usage as

a contradiction in terms.

● Annotation Fifteen, where Ignatius affirms that directors should allow

God ―to communicate directly with the creature,‖ is commonly

interpreted to mean that directors should say nothing to sway the election

of exercitants during an Election. This interpretation is sometimes

upheld as fundamental to the dynamics of the Exercises. In the directory

that Ignatius dictated to Fr. Juan Vitoria, however, Ignatius affirms that

directors should so intervene if they believe exercitants are choosing that

which is wrong or even simply less good than the alternative. 11

● Modern writers on religious commitment often depict a decision to enter

religious life or to persevere in it as an ―exterior expression‖ of an

interior faith. Since that interior faith is largely incommunicable, and

unknowable even to the individual in its entirety, its exterior expression

is always open to re-evaluation in light of new considerations. ―Smaller‖

acts of perseverance, such as in one's assigned duties, are even less

representative of that interiority. Manifest in the Constitutions, however,

is extraordinary emphasis on perseverance in all its forms (most notably

the ad vitam term of the Superior General), and all of which Ignatius

considered revelatory of the quality of one's faith.

● Modern ways of thinking tend to instinctively frame the question of

religious commitment in terms of vows. This can be reductionist.

Ignatius preferred to raise questions about a man's pura intención, i.e.,

his faith, magnanimity, and gratitude, all of which preceded vows and

11 MI Ex. II:94-95 (trans. MARTIN E. PALMER, On Giving the Spiritual Exercises: The Early Jesuit

Manuscript Directories and the Official Directory of 1599, St. Louis, IJS, 1996, p.18). See also Ex 333.

19
---
(ideally) prompted them. Although Ignatius had a pious devotion to

vows in the Society, evidence suggests that he considered them more as a

public, juridical means to encourage perseverance when pura intención

was lacking.

This communitarian emphasis and its implications for perseverance are

unmistakable in the principal theological motif of the Constitutions: the Society of

Jesus as a Mystical Body of Christ. It was a theology largely inspired by Ignatius'

mystical experience at La Storta, and only in light of it can certain rules be properly

understood, such as the ad vitam term of the General as Head of the Body, the authority

of the Body to determine the vocations of its individual members, and the requirement

that men be committed to persevere from the moment they enter the Body. The

theology was also a means by which he could underscore his conviction about the elite

status of the Society. . . a conviction that had its own implications for constancy in a

Jesuit vocation.

* * *

It would be too simple to suggest that Ignatius' ideas about Jesuit commitment

are explainable entirely in terms of a worldview that was different from our own. His

approach to admissions, dismissals, and unauthorized departures confused and offended

many of his contemporaries, most famously the Dominican Melchior Cano. To read

Ignatius correctly, it is therefore necessary to recognize that he gave extraordinary

attention to perseverance in the Constitutions and other documents (far more than in the

rules of any previous founder, with the possible exception of Cassian's Institutes), and

furthermore to recognize that this preoccupation was largely the result of considerations

particular to him. Among these were his emphases on interiority and pura intención,

and his earlier, traumatic failures with the Iñiguistas to create and preserve an apostolic

body. The latter in particular has yet to be given its due by Jesuit commentators.

20
---
Nowhere does Ignatius give perseverance extended treatment in the Constitu-

tions, yet its presence is felt in almost every chapter. Readers are reminded six times of

a man's duty ―to live and die‖ in the Society. Candidates must be determined to

―persevere in it for their entire lives‖ from the moment they apply. Jesuits should reject

assistance from family and friends ―in order to help them persevere in their vocation

with greater firmness and stability.‖ And one must be content ―to spend all the days of

his life‖ in whatever grade or duties the Society might choose for him.

Remarkably pithy sentences which we know originate with Ignatius (as opposed

to the Constitutions' co-author Juan Alfonso de Polanco 12 ) affirm that candidates should

have ―a deliberate determination in the Lord to live and die with and in this Society of

Jesus our Creator and Lord.‖ Those who make simple vows should understand that ―on

their side they are perpetually obliged to live and die in our Lord in and with this

Society, for the greater glory of the Divine Majesty and for their own greater merit and

stability.‖ In still another passage, Ignatius tied perseverance to the raison d'être of the

Constitutions: ―to aid the body of the Society as a whole and its individual members

toward their preservation and increase.‖

Constancia, firmeza, conservación, promesa, obligación and (e)stabilidad

appear more than one hundred times in the Constitutions, almost always in a context of

individual perseverance. Superiors must test the constancia of Jesuits to determine ―the

more stable and firm they may be in the divine service and in their original vocation.‖

Superiors should ask scholastics ―whether they remain firm in their determination,

vows, and promise which they made to God our Lord.‖ Applicants from other religious

orders are not to be accepted into the Society, because ―every good Christian ought to

be stable in his first vocation.‖

12 These sentences are found in Text α of the General Examen, composed by Ignatius in 1546

before Polanco arrived in Rome to assume duties as the Society's secretary. For more on the authorship

of Text α see below, p.193, n.540.

21
---
Ignatius devoted an entire chapter of the Constitutions to defections and

dismissals from the Society, something unprecedented in the history of religious rules.

Unique as well was the ―General Examen,‖ an essay he penned in 1546 to provide

candidates and superiors with basic data about the Society and its requirements. It is a

bracing document in which the General left no doubt about the rigors of the Society and

his expectation that candidates persevere. That same year, wishing to stem the

departures which the order was already experiencing, Ignatius required men in studies

―to promise to enter the Society‖ after studies were complete; in other words, they were

to promise to make solemn vows at a later date. This was the origin of simple,

perpetual vows in the Society, a novelty that threw into complete disarray the

contemporary scholastic theology of religious consecration. The ensuing controversy

lasted for decades, prompting the papal bull Ascendente Domino (1584), in which

Gregory XIII did not offer a theological explanation for simple vows, but simply

appealed to their evident utility for a successful religious order.

Ignatius' attention to perseverance was by no means limited to the Constitutions.

It is prominent in the first half of the Autobiography, where accounts of Ignatius' own

―vocation crises‖ were redacted to convey theological points for the benefit of future

Jesuits. It is an essential characteristic of the surrender sought in key contemplations of

the Exercises and is pointedly addressed in the passage on unchangeable elections.

Related issues appear frequently in Ignatius' letters from Rome, as the General was

often obliged to dismiss unsuitable men or to respond to their petitions to leave.

Polanco himself wrote a letter to a wavering Jesuit in which he listed no less than fifty-

two reasons for staying in the Society, reasons which he appeared to imply were

traceable to Ignatius. 13

13 P Co II:809-814. The letter carries the heading ―P. Polanci ex P. Ignacio,‖ though the extent to

which the reasons for perseverance can be attributed to Ignatius is questionable. The date of the letter is

22
---
Ignatius' emphasis on perseverance, in conjunction with certain historical factors

such as the high number of departures from the Society in the first decades of its

existence and widespread anxieties about salvation in the sixteenth century, appear to

have contributed to a spiritual ―devotion‖ to perseverance within the order. Many early

Jesuits, including St. Francis Borgia, purportedly received private revelations to the

effect that men who died in the Society were assured of salvation. The pious opinion

was perpetuated by innumerable hagiographers and spiritual writers 14 and even by two

Superiors General, Vincenzo Carafa (d.1649) and Jan Roothaan (d.1853). 15 It remained

a staple of formation in many Jesuit novitiates well until the Second Vatican Council. 16

The negative correlate received its due as well. About 1592 Pedro Ribadeneira

wrote a tome with the lurid title, Dialogues Containing Some Examples of Men Who,

Having Left the Religious Order of the Society of Jesus, Were Punished Severely by the

Hand of the Lord. 17 It was not an example of Ribadeneira's well-known idiosyncrasies.

unknown, and it was possibly never sent. According to Fr. ANTONIO ALDAMA (Imagen Ignaciana del

jesuita en los escritos de Polanco, Subsidia 9, Rome, 1975, pp.44-45), it must have experienced a certain

dissemination, as it was included in a book by Fr. J. DELBREL, Pour les jeunes religieux: Esto fidelis

(Paris, 1913), which itself was later translated into Italian (1914) and Spanish (1920). An English

translation is in Appendix A of this study.

14 E.g., ALVARE CIENFUEGOS, La Heroyca vida, virtudes, y milagros del grande S. Francisco de

Borja (1702) [SMRVG II:1182-1183]; JUAN EUSEBIUS NIEREMBERG, Vida del Santo Padre y gran siervo

de Dios el B. Francisco de Borja (1644) [SMRVG V:1747]; NICHOLAS LANCICIUS, Dissertatio Historica et

Theologica de Praestantia Instituti Societatis Iesu (date unknown) [SMRVG VI:1450-1451]; ANDREW

CAZORLA, Super revelatione in favorem eorum qui in SJ moriuntur (1649) [SMRVG II:933, IX:17];

ANTOINE NATALE, Atrium domus aeternitatis, sive praxis praeparationis ad mortem sancte obeundam in

Societate Jesu (1703) [SMRVG V:1594]; JACQUES CORET, Le cinquième Ange de l'Apocalypse Ignace de

Loyola Fondateur de la Compagnie de Jesus (1679) [SMRVG II:1455]; JACQUES TERRIEN, Recherches

historiques sur cette tradition que la mort dans la Compagnie de Jésus est un gage certain de

prédestination (Poitiers, Henri Oudin, 1874).

15 FEDERICO CERVÓS asserted Carafa's and Roothan's endorsement of the opinion in Breve

Noticia del Instituto de la Compañía de Jesús, Second Edition, Rafael Casulleras, Barcelona, 1923,

pp.153-154. Cervós did not cite his sources except to affirm that Carafa mentioned the opinion in a talk

to the Jesuits at the college in Naples.

16 FEDERICO CERVÓS, novice-master for seventeen years and chief editor of the MHSI from 1912

to 1919, gave lengthy attention to the opinion in Breve Noticia, pp.133-155. An 1874 translation of

TERRIEN'S Recherches historiques by the Jesuits of Woodstock, Maryland, was reprinted as late as 1974

(Prophecies and Revelations about the Jesuits, trans. WILLIAM ARMSTRONG, Seattle, Jesuit Books).

17 PEDRO RIBADENEIRA, Diálogos en los quales se tratan algunos exemplos de personas que

habiendo salido de la religion de la Compañia de Jesús, han sido castigados severamente de la mano del

Señor (c.1595), henceforth abbreviated Diálogos. It was never published, but several manuscript copies

exist, and sections have been reprinted in various histories of the Society. The manuscript cited in the

23
---
When Ignatius the General received a letter from a Jesuit superior relating the

misfortunes of men who had left the Society, he ordered a Latin translation to be sent to

all the provinces. 18 The first historian of the Society, Pedro de Guzman, devoted twelve

folios to the ―Sucessos desgraciados de los salidos‖ in his Historia de la Compañía de

Jesús de la Provincia de Castilla (1600). 19 Dire tales were collected in numerous other

works such as Alphonsus Aldrade's Dialogo de sucessos tragicos a los expulsos de la

Compañía de Jesús (1656) 20 and Barthélemi Alcazar's Chrono-Historia de la

Compañía de Jesús en la Provincia de Toledo (1710). 21

Motives for the Present Study

The relevance of our study for the modern Society of Jesus is clear. In the years

following the Second Vatican Council, the order experienced an unprecedented exodus

of thousands of members. For those who remained, the emotional consequences were

often traumatic, especially in the form of a crisis of meaning. One would err, however,

to minimize the impact of continuing departures by supposing that the worst of it has

passed. Today those departures are experienced within a Society that is half as large,

twice as aged, and far less self-assured. As a result, each loss can be felt quite keenly.

Our subject is extremely delicate. It inevitably raises questions about the

relative dignity of Christian vocations, conscience and sin, the place of suffering,

discernment of God's will, and any number of other topics that are convoluted in their

own right. Many men who left the Society are now its most loyal benefactors and

collaborators. For these reasons it is perhaps not surprising that, for all its relevance,

few writings have been dedicated specifically to Jesuit perseverance since the 1970s,

present thesis is in the archives of the Colegio Inglés in Valladolid, Spain. The Dialogos have not been

edited in the MHSI. See Appendix A of the present study for an English translation.

18 Litt. Quadr. IV:683-688. See also AICARDO I:651-652.

19 ARSI, Castilla 35 I, ff.77-89.

20 SMRVG I:328.

21 SMRVG I:144-145.

24
---
when a flurry of essays suddenly appeared in journals of the Society, an initial attempt

to deal with the sudden exodus. 22 To be sure, the subject continues to be addressed

piecemeal and indirectly. Writings on spiritual surrender and the Passion in the

Exercises, for example, can have implications for constancy in a Jesuit vocation. 23

Ignatian rules of discernment are applied in theory and practice to deliberations to leave

permanent states-of-life. 24 Essays on the union of minds and hearts, the meaning of

Jesuit vows, psychological development in religious life, and any number of other

topics, all broach Jesuit commitment at least implicitly. Nevertheless, to the best of my

knowledge, no extended study of perseverance has yet been attempted.

Ignatius was walking a tightrope in the Constitutions. He wished to find a

theological language that would underscore Jesuit commitment, while at the same time

allowing men to leave in good conscience if the Society deemed their vocations

inauthentic. The problem was how to accomplish the latter in such a way that did not

give good conscience where none was warranted, and even more importantly, did not

weaken the morale of those who stayed. Ignatius had to choose his words carefully,

because he knew that language has consequences. Like action, it is not simply an

expression of what we believe; it also shapes what we believe, a point to which Ignatius

even alluded in the Constitutions [62.1]. Similarly, St. Cyprian of Carthage was not

impelled by disdain for the lapsed (among whom were his two sisters), but by concern

22 E.g., JUAN ESTEBAN, ―Fidelidad y Perseverancia,‖ Manr 40 (1968), pp.253-262; THOMAS E.

CLARKE, ―Jesuit Commitment—Fraternal Covenant?‖ SSJ 3 (1971), pp.69-101; JOHN C. HAUGHEY,

―Another Perspective on Religious Commitment,‖ ibid., pp.103-119.

23 E.g., PETER-HANS KOLVENBACH, The Road from La Storta, St. Louis, IJS, 2000, pp.61-105;

PEDRO ARRUPE, In Him Alone Is Our Hope: Texts on the Heart of Christ, ed. Jerome Aixala, St. Louis,

IJS, 1984.

24 See JOHN J. ENGLISH, Spiritual Freedom: From an Experience of the Ignatian Exercises to the

Art of Spiritual Guidance, Second Edition, Chicago, Loyola Press, 1995, pp.175-215; JULES J. TONER,

Spirit of Light or Darkness? A Casebook for Study Discernment of Spirits, St. Louis, IJS, 1995; MICHAEL

SIMPSON, ―Philosophical Certitude and the Ignatian Election,‖ WaySup 24 (1975), pp.58-66; JUAN M.

RUFO, ―Elecciones inmutables en la cultura de la provisionalidad,‖ Manr 73 (2001), pp.161-173.

25
---
for his remaining flock, when he wrote: Si negantes rei criminis non erunt, nec

confitentes praemium virtutis accipient. 25

My desire, therefore, is to call attention to the importance of the issue for the

saint and thereby prompt further studies. Again, I do not wish to imply that what the

historical Ignatius believed should necessarily be normative today. We must allow the

man to be human. If certain of his convictions are dated in light of modern theology

and psychology, we should not be embarrassed to say so frankly. I respectfully suggest,

however, that things are alleged in the name of ―Ignatian spirituality‖ which the saint

never said and never would have said. Whatever differences exist between his

convictions and our own, it is imperative to keep them distinguished. If we do not, the

man can no longer challenge us.

Objectives and Methods

The principal objectives of the present study are to explain and contextualize the

aforementioned anomalies in light of the experiences and convictions of the historical

Ignatius and to demonstrate how these anomalies are intelligible within a communitar-

ian understanding of the Society, which Ignatius systematized in the Constitutions by

describing the Society in a way that clearly alluded to the ecclesiology of the Mystical

Body of Christ.

For this reason, it might be affirmed that the relationship between the individual

and the community is the unifying theme of the following chapters. That is, in addition

to the manner in which perseverance is explicitly addressed in the scriptures, in classic

religious rules, and in the Jesuit Constitutions, I shall examine the self-understanding of

religious communities as such in these same texts, and how this self-understanding

shaped ideas of what it meant to persevere. What I hope to demonstrate is that Ignatius'

25 CYPRIAN OF CARTHAGE, De Lapsis 20 (PL 4:483a). ―If those who deny are not guilty of a

crime, then neither do those who confess deserve to be called virtuous.‖ (Translation mine.)

26
---
deference to the community (i.e., the Society), if more pointed than what we normally

find in the tradition, is still quite consistent with it, dating as early as the ancient

Israelites.

The principal sources for the present study are the works of Ignatius and other

early Jesuits in the critical editions of the Monumenta Historica Societatis Iesu. They

include the Constitutions and its early drafts, the Spiritual Exercises, the Spiritual Diary,

the so-called Autobiography, and the letters. I refer also to writings of Juan Polanco,

Jerome Nadal, Luis Gonçalves da Câmara, and Diego Laínez, four men who comprised

Ignatius' inner circle in Rome, and who were entrusted in various ways to articulate and

promulgate his ideals.

Other sources include classic rules and constitutions which preceded the Society.

This genre of religious literature suggests, in a way that the vast ecclesial legislation on

vows and ―apostates‖ from religious life does not, the manner in which communities

grappled with departures from their ranks. Hence it is usually not important for my

purposes whether their content can be attributed with certainty to their putative authors.

Nevertheless, when presented with options, such as the four purported rules of St.

Augustine or various early drafts of the Dominican Constitutions, I chose those in

which the hand of the saint is most probable or immediate.

I approach the texts using basic tools of historical-critical analysis. Primarily

this means contextualizing and correlating the content of the Jesuit sources.

Grammatical analysis of the Constitutions and Exercises will reveal a remarkable

consistency in Ignatius' choice of words, one not always preserved in English transla-

tions. Form criticism is not employed, although I will briefly note similarities between

27
---
the autobiography and earlier biographies of Ignatius for the purpose of positing an

early oral tradition. 26

The tensions between historical-critical and rhetorical analyses of Ignatian texts

have been brought to light by a number of recent studies. Marjorie O'Rourke Boyle

avers that the narratives of the Autobiography are so thoroughly shaped by rhetorical

devices and symbols of medieval hagiography that the book simply cannot be regarded

as a ―factually historical document.‖ 27 Fr. Philip Endean maintains that our knowledge

of the historical Ignatius and the early Society is ―severely limited,‖ and therefore many

attempts to apply the sources to present-day exigencies might well constitute the

―heresies‖ of fundamentalism and classicism. 28 Proponents of rhetorical analysis

typically affirm that the Constitutions should not be understood primarily as discrete

rules to be followed, but as a model of discernment which marks a characteristically

Jesuit way of proceeding. 29

To a certain extent these questions are not critical to my thesis. Moments in the

life of Ignatius which I contend are important to understand his doctrine of

perseverance, such as his vocation crises, his expulsion from the Holy Land by the

Franciscans, and the defection of the Iñiguistas, are independently attested in

contemporary sources. And insofar as I wish to elucidate his theology of perseverance,

it matters little whether he conveyed it by means of rhetorical devices. (We shall see

26 Critical editions of both biographies are found in Diego Laínez, S.J., Primer biógrafo de S.

Ignacio, ed. ANTONIO ALBURQUERQUE, Bilbao, Mensajero & Sal Terrae, 2005.

27 MARGORIE O'ROURKE BOYLE, Loyola's Acts: The Rhetoric of the Self, University of California

Press, 1997, p.2.

28 PHILIP ENDEAN, ―Who Do You Say Ignatius Is? Jesuit Fundamentalism and Beyond,‖ SSJ 19

(1987), p.22.

29 E.g., MAURIZIO COSTA, ―The Constitutions: Hermeneutics and Structure,‖ in Constitutions of

the Society of Jesus: Incorporation of a Spirit, Rome and India, 1993, pp.47-74; CARLOS COUPEAU,

Beginning, Middle and End: A Rhetorical Study of the Constitutions of the Society of Jesus as a Classic of

Spirituality, Cambridge, Weston Jesuit School of Theology, 2001 [unpublished STD thesis], and ―The

Constitutions of the Society of Jesus: The Rhetorical Component,‖ Studies in Spirituality 14 (2004),

pp.199-208; HOWARD J. GRAY, ―What Kind of Document?‖ WaySup 61 (1988), pp.21-34; ANDRÉ DE

JAER, Faire corps pour la mission: Une lecture sapientielle des Constitutions de la Compagnie de Jesús,

Bruxelles, Lessius, 1998; JOSEPH VEALE, ―How the Constitutions Work,‖ WaySup 61 (1988), pp.3-20.

28
---
passages in the Autobiography and Constitutions where he did just that.) Nevertheless I

do suggest that radical skepticism of the sources regarding their historical accuracy is

often based upon epistemological presuppositions of a Cartesian bent. I shall return to

this point in the final chapter.

Structure of the Present Study

"Chapter I: Fundamentals of Fidelity.‖ The subject of perseverance in the

Scriptures is too vast to treat adequately in a single book, much less a chapter. Here I

limit myself to select passages from the Old and New Testaments which highlight

ancient fundamentals of fidelity and commitment. Many of these passages and stories

were frequently used as touchstones by ancient and medieval writers with regard to

perseverance in Christian commitments. Ignatius appeals to some of them in his own

writings.

―Chapter II. Perseverance in the Classic Rules.‖ In this chapter I study the

treatment of perseverance in classic religious rules and how it slowly evolved,

becoming both increasingly elaborated and Christocentric. The Jesuit Constitutions

represents the pinnacle of that process.

―Chapter III. To Preserve and Increase.‖ Here I endeavor to explain Ignatius'

sentido grupal in light of his personal experiences and spiritual doctrine, especially as

found in the Autobiography and Spiritual Exercises. The phrase conservar y aumentar,

which appears so frequently in the Constitutions and letters, must be understood within

this context.

―Chapter IV. ―To Live and Die in the Society of Jesus.‖ We see that Ignatius'

description of the Society of Jesus in the Constitutions strongly paralleled the theology

of the Roman Catholic Church as the Mystical Body of Christ. Ignatius' precepts

regarding admissions, commitment, dismissals and defections fit well into this theology.

29
---
―Chapter V: Concluding Synthesis.‖ I summarize the principal points of the

present study and compare them to basic principles of modern ―individualist‖ theologies

which posit the individual, and not the community, as the privileged starting-point for

theories of knowledge and ethics.

My reason for the title of the present study—other than the fact that it's catchy—

is that it well captures Ignatius' communitarian emphasis and its affinity with the

doctrine of St. Paul. Ignatius penned ―to live and die in the Society of Jesus‖ in 1546

with reference to the determination of candidates to persevere. He was almost certainly

alluding to Romans 14:7-8, where Paul had urged Christians not to judge each other's

standing before God when they disagreed about points that were not a matter of sin.

But whatever a Christian's personal convictions, Paul continued, his or her choices must

still be made in light of the good of the community, since ―none of us lives for oneself,

and no one dies for oneself.‖ For both Paul and Ignatius, this surrender to the commun-

ity of faith was nothing less than surrender to Christ himself in his Mystical Body.

―For if we live, we live for the Lord, and if we die, we die for the Lord.‖

Barton T. Geger, SJ

Regis University, Denver

March 2010

30
---
CHAPTER ONE:

FUNDAMENTALS OF FIDELITY

Perseverance in the Bible is so pervasive and complex that it would be

impossible to give it adequate treatment in a book, much less a chapter. We shall limit

ourselves to a few aspects of Old and New Testament theology that serve to illuminate

Ignatius' own spiritual doctrine. Given Ignatius' affinity for St. Paul, for example, the

latter's treatment of perseverance within an ecclesiology of ―the Body of Christ‖ is

important. In the Middle Ages several passages from Paul's letters (or Deutero-Pauline

letters) were scriptural touchstones for perseverance in religious life, and thus merit

attention. The Israelite understanding of fidelity to the covenant and Luke's depiction

of the Christian community in Acts will also be considered. We shall even turn briefly

to the unsavory subject of divine retribution for those who break their commitments, an

idea that was present in the theology of sixteenth-century religious life.

Our primary objective is to establish thematic similarities between Ignatius'

doctrine of perseverance and the earlier biblical tradition, so as to mitigate over-

emphasis on the saint as a revolutionary harbinger of modern spiritual values, although

the full impact of this argument will not be felt until we turn to Ignatius' own doctrine

in later chapters. For the moment the reader is asked to keep in mind two ideas that

reappear in the present chapter (and in Chapter Two as well). First, we shall see that

ancient Israelites and early Christians understood various forms of perseverance—i.e.,

perseverance in daily tasks, or in a state-of-life, or in a mission given by God or by the

community, or in the public confession of the faith—to be all highly revelatory of the

quality of one's faith. As noted in the Introduction, this is contrary to modern ideas of

the self that often posit a gulf between one's ineffable interiority and exterior

31
---
expressions of that interiority, so that certain acts are more indicative than others of a

so-called ―fundamental option‖ for God.

Second, we shall note a strong corporate emphasis in the OT and Pauline corpus,

in the sense that fidelity to God was hardly distinguishable from fidelity to the

community and to the divine commands given to the community via public revelation.

I. THE OLD TESTAMENT

A. Fidelity Divine and Human

That the Israelites understood their ethical conduct to be an imitation of God's

own righteousness might appear so obvious as to require little comment. Israelite

fidelity to the covenant, her care for the poor and disadvantaged, her practice of justice,

were all to be living signs of God's own fidelity and justice. By this means Israel would

be a light to the nations. ―Yahweh, who comes to his people, wishes to have his nature

reflected in theirs,‖ wrote Walther Zimmerli, and again, ―This point is made especially

clear in the statement that introduces the core of the legal material in the Holiness Code:

‗You shall be holy, because I, Yahweh your God, am holy (Lev 19:2).'‖ 30 According to

H.H. Rowley, Israelites were to ―reflect the character that God was perceived to have.

And that character was the character that he revealed in his acts.‖ 31 And again, Erhard

Gerstenberger maintained that in the post-exilic period, ―The pious individual (in his or

her community) becomes the model of the righteousness of Yahweh.‖ 32

That the Israelites perceived some kind of similarity between their own conduct

and the righteousness of the LORD seems sufficiently clear. Both parties were said to

follow the same road (Gen 5:22, Deut 1:30-33, Ps 68:7, 77:20, Is 40:3). Israelites were

to be holy as the LORD is holy (Lev 11:45, 19:2). The LORD would place His own spirit

143.

30 WALTHER ZIMMERLI, Old Testament Theology in Outline, Atlanta, John Knox, 1978, pp.142-

31 H.H. ROWLEY, The Faith of Israel, London, SCM Press Ltd., 1956, p.60.

32 ERHARD GERSTENBERGER, Theologies of the Old Testament, trans. John Bowden, Minneapolis,

Fortress Press, 2002, p.235.

32
---
within them, so that through them His own holiness would be proven to the nations

(Ezek 36:22-37). Hosea was instructed to remain with his adulterous wife for many

days just as God would remain faithful to Israel for many days (Hos 3:1-4). Finally, the

LORD's love was described using the Israelites' own concept of hesed, i.e., the special

deference and affection which two parties were supposed to show each other by virtue

of their shared covenant.

Nevertheless, to what extent does the evidence of the OT really support the

affirmation that Israelites understood themselves to be reflecting or emulating God?

The children ask a direct question of their elders: ―What do these rites and ordinances

mean?‖ (Exod 12:26, 13:14, Deut 6:20). The responses to this question, scattered

throughout the Torah, never explicitly affirm an imitation of God's own fidelity, charity

and justice. Rather, if Israel obeyed, she would be His special possession, a kingdom of

priests, and a holy nation (Deut 19:5-6, 26:18-19). She would find life through His

decrees (Lev 18:5, Deut 5:33, 6:18), and the LORD would be an enemy to her enemies

(Exod 23:22). By obedience she would learn to fear God (Lev 19:32), and she would be

made pure to exist in His presence (Lev 15). The LORD instructed Israelites to treat

foreigners with justice, not because that was what He did, but because ―you well know

how it feels to be an alien, since you were once aliens yourselves in the land of Egypt‖

(Exod 23:9, 20). In short, the precepts of the Mosaic Law bestowed Israelites with a

unique moral character that distinguished her from her neighbors. To be unique, it was

unnecessary to affirm that it mirrored God's own character. It was sufficient to be

simply different than those around them. In this light it is notable that, according to the

Deuteronomist, Israelite fidelity to the covenant would demonstrate to the nations the

33
---
wisdom and intelligence of the Israelites (not of the LORD), so that the nations would

say in response, ―This great nation is truly a wise and intelligent people'‖ (Deut 4:6). 33

The point is important because the LORD's radical transcendence would have

precluded in the Israelite mind any strong connection between the divine attributes and

their own human actions (Isaiah 44:6-23). God frequently asks, ―Who is like me?‖ (Is

44:7, 46:9, Jer 50:44). When He does, the answer that He clearly expects—―No one‖—

referred not only to the pagan gods but to humans as well, including the Israelites (Exod

9:14).

This distinction between human and divine righteousness is quite consistent with

other well-known facets of Israelite thought. The OT contains no treatises on the nature

of truth, goodness or beauty, nor abstract theories of rights and duties on the basis of

which Israelites could evaluate the moral doctrine given by God. Oracles were judged

to be of divine origin only if they came to pass (Deut 18:22), not on the basis of whether

their content corresponded to the Israelites' prior ideas about God. That the LORD

forbade something made it bad; that He required it made it good. ―[The Hebrew] knew

that he had been addressed, that he had been told what was required of him; and he

knew perfectly well when and where he had been told, what the demands were which

were incumbent upon him, and Who it was Who had exacted of him such demands.‖ 34

Consequently it was probably not the aim of the sacred writer to present

Abraham's near-sacrifice of Isaac (Gen 22) as an implicit condemnation of human

sacrifice, an interpretation that serves to soothe modern sensibilities. Abraham would

not have doubted the morality of the act. That Isaac raises not a word of protest appears

to be the writer's implicit acknowledgment of its legitimacy. The difficulty for

Abraham was that he had staked all his hopes of earthly happiness and fulfillment on

1961, p.15.

33 Emphasis mine.

34 JAMES MUILENBURG, The Way of Israel: Biblical Faith and Ethics, New York, Harper & Row,

34
---
the promises of the LORD (Gen 15), hopes which would have evaporated with the death

of Isaac. 35 Abraham's constancy in the face of God's apparent abandonment of their

covenant, and despite any perceptible reason for renewed hope in his own earthly

happiness, carried an obvious message for the Israelites in Babylon.

If Israelites had conceived their morality to be an emulation of God's own

nature, the question of the proper action in specific situations would have required

deliberation of how to apply abstract ideas about divine fidelity, justice and mercy to the

particularities of their situation. We find nothing of the kind in the OT. There was no

need to discern God's will, as it had already been laid down in the Mosaic Law:

For this command which I enjoin on you today is not too mysterious and remote

for you. It is not up in the sky, that you should say, ‗Who will go up in the sky to

get it for us and tell us of it, that we may carry it out?' Nor is it across the sea,

that you should say, ‗Who will cross the sea to get it for us and tell us of it, that

we may carry it out?' No, it is something very near to you, already in your

mouths and in your hearts; you have only to carry it out (Deut 30:11-14).

This passage was not an affirmation of the Israelites' ability to keep the law.

That particular point appears to have been taken for granted until the later prophets.

Rather, that the precepts could exist in their mouths and hearts was a rhetorical manner

of affirming that the precepts could be known, remembered and discussed by everyone

(Deut 6:6-7, 11:18-19). Obedience, not discernment, was the key to living rightly

(Exod 32:8, Deut 5:32, Deut 9:12, 16, 11:28, Is 1:2-3). The law was obeyed not

because it reflected God, but because it was from GOD. ―Our justice before the LORD,

our God, is to consist in carefully observing all these commandments he has enjoined on

us‖ (Deut 6:25).

Only fifteen chapters of the Torah (Exod 1-15) are dedicated to the liberation

from Egypt, while 121 chapters contain rules for cultic worship and daily living. For

the ancient Israelites, as well as for later Jewish exegetes, the Torah was not primarily

35 At the time of the Exile when the narrative was redacted, the fates of the just and wicked alike

were believed to be the shadowy realm of Sheol (Ps 88:4, 89:49, Eccl 6:6, Job 3:19, 30:19).

35
---
about liberation, but rather an exposition and celebration of the will of the LORD for

structuring the Israelite community. 36 The Exodus in conjunction with the Law had

formed them into a holy people. Drawing from this truth, St. Paul would later liken

Christian baptism to the crossing of the Red Sea (1 Cor 10:1-5). Baptism created a new

community and gave it a special identity. 37 The focus of Paul's analogy was not

primarily Christian freedom, but the new life and moral standards placed upon

Christians as a result of incorporation into that community (1 Cor 10:6-11, Gal 6:16). 38

The Israelite theology of transcendence notwithstanding, their knowledge of

God was largely shaped by their language and cultural practices. As a result the

Israelites used the same terms to describe divine and human love (such as hesed) while

simultaneously affirming that they believed divine holiness as little like their own.

Three points of contact between the holiness of the LORD and of Israelite culture are

especially relevant for our purposes: the power of the spoken word, the meaning of a

covenant, and the notion of hesed.

To the modern mind, words are fleeting, intangible realities that must be

preserved in writing in order to obtain formal status or to endure into the future. The

proverb ―Believe half of what you see and none of what you hear‖ reflects a

presupposition that the visual is more certain than the audible, and by extension that the

spatial is more real than the temporal. In this the West inherited much from the ancient

Greeks, whose own epistemological biases inclined to the visual. (It has been observed

that Plato's doctrine of the Forms could not have been conceived by a blind

36 GERSTENBERGER, pp.210-211, n.5.

37 NJBC 8:114.

38 ―To return to the fleshpots of Egypt‖ (Exod 16:3) became a metaphor for defections from

religious life. See CASSIAN, Conf III.7.5; MI Epp II:84. In the Diálogos, RIBADENEIRA wrote: ―quien se

marauillara que en las cassas sagradas de Religión por mas sanctas que sean se hallen entre muchos

algunos que no se amolden enteramente a su ynstituto que sigan los caminos torçidos que no gusten del

mana çelestial que dessen [desean] y suspiren por las ollas de Egito‖ (―Who then marvels at the fact that,

in the holy houses of religious life, as holy as they are, there are a few among the many who are not

conformed completely to their institute, who follow twisted paths, who do not care for the heavenly

manna, who desire and sigh for the fleshpots of Egypt?‖) (Translation mine.)

36
---
philosopher.) Whether as a cause of these biases or a result of them, the Greeks were

the first to effect the momentous shift from an oral to a literary culture in the history of

western thought. 39

Centuries earlier, the Israelites and their neighbors in the ancient Near East had

been oral cultures. A word, once uttered, continued to exist as an objectively-existing

entity that survived even the death of the speaker. A word could be ―eaten‖ (Ps

119:103, Ezek 3:1), ―received‖ (Jer 9:19) and ―stolen‖ (Jer 23:30). Blessings and curses

thus possessed everlasting power. Isaac could not rescind the blessing he unwittingly

gave to the wrong son (Gen 27:35-41), and Joshua continued to respect a covenant that

he had been duped into making (Josh 9:3-27). In this light it is understandable that the

word ―promise‖ did not exist in ancient Hebrew, if that word is understood in the

modern sense to mean a performative utterance that actuates the commitment it

signifies. 40 For the Israelites, a word ―went ahead‖ of the speaker and held him

accountable; and to speak of one's own actions in the future tense was effectively to

make a promise. When English translations of the OT refer to ―promise‖ it is usually a

rendering of the Hebrew dābar (word) or ‗āmar (speak).

To establish a pact or ―covenant‖ [berith] between individuals, tribes and

nations, and to hold both parties accountable to those covenants, recourse could not be

taken to documentation. Instead, both sides participated in a ritual of oaths, invocations

and sacrifices, at which time the rights and obligations of each were established. By an

oath [šebû'â] one invoked God as witness to the fact that the person had spoken the

truth (Hos 4.15, Exod 22:10) and would fulfill what he had pledged (Gen 24:3, Josh 9:2,

Ecc 8:2-3). If a person reneged on a covenant, he was cursed, i.e., liable to divine

39

See WALTER ONG, Orality and Literacy: The Technologizing of the Word, Second Edition, New

York, Routledge, 2002.

40

On ―performative utterances‖ that actuate what they signify see the classic study of J.L.

AUSTIN, How To Do Things With Words, Oxford, Clarendon Press, 1963.

37
---
punishment (2 Kgs 6:31, Ne 10:30). Since God had no higher witness to whom he

could appeal when making oaths, he swore by his own name (Isa 45:23, Jer 49:13,

51:14).

Various kinds of covenants existed in the ancient Near East. Some were

between equals who shared similar rights and obligations. Typically, however, a more

powerful party such as a king or suzerain exacted an oath of respect and service from a

weaker party in exchange for loyalty and protection, in a manner similar to medieval

feudalism. Covenants could also be conditional or promissory. In the former, parties

would be blessed if they kept the terms of the pact but cursed if they broke them. To

renew a broken covenant, it would be necessary to repeat the ritual. In promissory

covenants, one party made a promise that remained valid in perpetuity regardless of the

other party's future conduct. A king, for example, could bestow fiefs on subjects as

rewards for their loyalty, with no further action required of the recipients. OT examples

of promissory covenants include God's promise to Noah that He would never again

destroy the earth by flood (Gen 9:8-17); the rainbow was to be the formal sign of that

pact. To Abraham God promised possession of the promised land and ancestors

numerous as the stars (Gen 15, 17); circumcision was the sign of that pact. The LORD

promised David that the royal line of Israel would forever remain in his lineage (2 Sam

7, Ps 89:28-36). In each case, the covenants were God's response to the demonstrated

faith of his servants.

The Sinai covenant, the principal theological motif of the Torah, is variously

described as conditional (Exod 19:5-6, 20:5-6) and promissory (Exod 34:6, Deut 4:31,

30:1-3), a reflection of the fact that the Torah was a compilation of diverse traditions

that underwent centuries of modifications before taking a fixed form in the Exilic

period. The ritual of the covenant, however, as described in Deut 11, follows the model

38
---
of the Neo-Assyrian treaties of the first millennium B.C, in which a stronger power was

identified, his previous beneficent deeds were listed, stipulations were made, witnesses

named, and blessings and curses invoked. It suggests that the earliest conception of the

Sinai covenant had been conditional, and that God could therefore annul it if the

Israelites violated its terms.

The prominence of promissory covenants in the Torah is generally accepted as a

reflection of the pastoral needs and reform agenda of its compilers during the Exilic

period. The idea that the LORD had originally made a conditional covenant with Israel

was no longer sufficient, as it implied that Israel had been rightfully abandoned for her

sins, perhaps forever. A clear example of this shift in emphasis is found in the exiles'

newfound interest in Abraham. The patriarch had not been a significant figure in pre-

exilic and sapiential literature. In Babylon, however, the Israelites became preoccupied

by two questions: Would they survive as a nation? And would they regain their land?

In the ancient stories of Abraham, they found their answers. His faith won for him

descendants (i.e., a nation) and a promised land. Consequently, in the post-exilic period

he evolved into a symbol that encapsulated the aspirations of all Israel to remain faithful

to the covenant (Sir 44:19-21, 1 Macc 2:53). 41

For the Exilic redactors, the task was presumably more difficult than simply

switching attention to a different kind of covenant. For centuries the prophets had

hammered the idea that God might abandon Israel for her sins, not only as a temporary

gesture to shake her from complacency (Deut 4:25-31), but permanently, so that Israel

would be destroyed at the hands of her enemies (Deut 8:6-20, 28:15-68, Lev 26:14-46,

Hos 1:9, Jer 12:7-13, Lam 2:5, Ezek 10-11). 42 To instinctively interpolate into these

41

The radical unilaterality of the covenant was underscored by the detail that Abraham was in a

trance at the time it was made (Gen 15:12).

42

On the Israelite sense of abandonment by the LORD, see HANS URS VON BALTHASAR,

Mysterium Paschale, trans. Aidan Nichols, San Francisco, Ignatius Press, 1990, pp.72-75.

39
---
passages the Christian conviction that God would never definitively abandon a people

would effectively gloss over the real anguish experienced by Israel at this moment in

her history. By no means could she be so confident, as a definitive break would have

been a legitimate expression of divine fidelity to the terms of the covenant (Lev 26:25,

Hos 5:11, Dan 9:14).

It would seem then that the Exilic redactors needed another foundation upon

which to preach God's irrevocable commitment to Israel. They found it in the concept

of hesed. Although it escapes adequate translation into English, hesed may be

understood as the love and deference two parties owe each other by virtue of having

made a covenant. It was not strictly equivalent with ―love‖ insofar as hesed was not

bestowed on a covenant-partner in response to beauty, virtue or other meritorious

qualities, nor did it denote romantic attracttion. It could, however, convey affection,

sincerity, friendliness and loyalty. Scholars have suggested ―covenant-love‖ or

―covenant-solidarity‖ as the best English translations, though when hesed appears

without modifiers in the OT, it is usually translated simply as ―love‖ or ―mercy‖ or

―kindness.‖

The contractual basis of hesed is significant, as it highlights one of the subtle

ironies of OT theology. The sacred writers were clear that the LORD'S hesed was not a

response to any beauty or virtue of Israel, but rather from a sense of covenant-solidarity.

In the psalms God is asked to show mercy ―as befits‖ or ―according to‖ his hesed (Ps

25:7, 51.1, 109:26, 119:88, 124, 149). If He delayed in doing so, Israelites could

remind Him that His reputation as a covenant-maker was on the line (Ps 109:21). Even

subordinates of one of the parties could invoke its privileges in the name of their master:

Abraham's servant asked God to show his master hesed by helping the servant to find a

wife for Isaac (Gen 24:12). It is thus paradoxical that Israelites could beg the LORD not

40
---
to annul the covenant in light of the hesed He owed them precisely as a result of the

covenant. Yet the paradox made their plea all the more poignant, as it underscored their

lack of any claim on God.

Hesed is often modified or accompanied in the OT by 'emet and 'emunah. Both

carried connotations of ―truth,‖ but usually in senses quite different from the modern

idea that truth is the correspondence of propositional statements to reality. For the

ancient Israelites truth was a datum of concrete experience. Something was true if it

had been tested and shown to be solid and reliable (Gen 42:16, Deut 13:15, 17:4, 3 Kgs

10:6, Jer 4:2, Prov 8:7). 43 It was usually not opposed to factual error, but to deceit or

that which lacks constancy. 44 Israelites believed the LORD ―true‖ not on the basis of

abstract reasoning about His divine attributes nor even on the basis of His word alone,

since even God was obliged to make oaths. He was true because his past deeds had

shown him to be so (Isa 43:9-13). Where 'emet modifies or accompanies hesed, it

usually stresses the latter's firmness and dependability. Hesed we' ĕmeth appears often

in the OT to denote God's love for Israel. It is translated in the RSV as ―steadfast love‖

(Exod 20:6, 34:6, Ps 98:3, Mic 7:20). 45

B. The Individual and the Community

One of the distinctive features of OT thought is its exceptionally strong

corporate emphasis. Individual Israelites could not conceive the meaning of their lives

apart from the corporate mission given to Israel, the people of God, to be a light to the

nations. The prominent figures of Israelite salvation history, especially patriarchs and

43 See JACQUES GUILLET, Themes of the Bible, trans. Albert J. LaMothe, Jr., Fides, Notre Dame,

1961, pp.32-36; EDWARD THOMAS RAMSDELL, ―The Old Testament Understanding of Truth,‖ JR 31

(1951), pp.264-273.

44 At times 'emet did signify propositional statements that correspond to reality, but 'emet and

'emunah usually conveyed something richer. 'Emunah was more psychological in character, with a

connotation of trust, while 'emet signified a being's ―essential solidity.‖ See GUILLET, p.34.

45 NELSON GLUECK, Hesed in the Bible, trans. Alfred Gottschalk, Cincinnati, Hebrew Union

College Press, 1967, pp.72-73.

41
---
kings, were understood as personifications of Israel. The events of their lives, their

personalities and struggles with faith, all symbolized and foreshadowed the salvation

history of Israel as a whole. 46 Corporate emphasis manifested itself most clearly in

terms of their understanding of justice. God could inflict punishments on a group for

the sins of one (Num 16, Josh 7:2, 1 Sam 2:31, 2 Kgs 5:27); and conversely, blessings

obtained by one could be bestowed upon others, including generations yet to come

(Exod 20:5-6, 32:13, Deut 9.5-8, 2 Kgs 8:19).

The smallest unit of Israelite society was the extended family, with the oldest

male as sole authority. In the absence of police or welfare programs, families were the

only source of protection and sustenance. Individual Israelites were strictly obliged to

subordinate personal goals to the needs of the family in order to ensure its survival.

They found their sense of meaning and identity, their duties and rights, all articulated

within that context. ―Individual Israelites, disengaged from the socially determined

roles which form the basis of their responsibility, are not ‗selves' about whom one can

speak meaningfully or whose actions one can meaningfully evaluate.‖ 47 Just as a son

labored to make the family prosperous, not himself, so too his adherence to the Mosaic

Law made Israel holy, not himself.

In a culture where individuals depended on stable relationships for survival and

prosperity, Israelites had to prove themselves faithful and constant, not in an invisible

inner attitude, but manifest visibly in the commitments of everyday life. 48 A person's

―deepest‖ values and intentions were revealed by his or her concrete actions. This idea

is captured in proverbs such as ―A truthful witness does not lie‖ (Prov 14:5), which

46 NJBC 77:69.

47 ROBERT DI VITO, ―Old Testament Anthropology and the Construction of Personal Identity,‖

CBQ 61 (1999), p.225.

48 TLOT II:139-140.

42
---
otherwise would be a meaningless tautology. 49 That fidelity to a written law or specific

commitment could only be a limited, imperfect means of expressing an inner love

would have been largely foreign to Israelites, for whom to love the LORD and to love the

covenant amounted to essentially the same thing. This did not mean that sincerity was

unnecessary (Deut 8:3, 11-20, 11:13, 22-28, 28:1-6, 15-19, 58-60, 30:15-20). In

practice it was possible to follow the law without a love for the law.

To be sure, the OT does not completely lack a notion of the individual and his or

her relationship before God. A relatively greater sense of individual responsibility is

evident in writings of the Exilic period, such as Deut 24:16: ―Fathers shall not be put to

death for their children, nor children for their fathers; only for his own guilt shall a man

be put to death.‖ The most well-known evidence for this shift to greater individuality is

found in Jeremiah and Ezekiel, who both cited a proverb that rejected the idea of

communal punishments: ―The fathers have eaten sour grapes, and the children's teeth

are set on edge‖ (Jer 31:29, Ezek 18:2). Yet even in the pre-Exilic period, one might

affirm that the qualities particular to the prophetic office—i.e., that prophets could be

chosen personally by God (Deut 18:15, 18), that their mysticism could make them

appear eccentric (1 Sam 3, 2 Kgs 9:11), and that they were sometimes obliged to

chastize their own people—all lent themselves to a relatively heightened sense of

individual vocation.

The greater individualism found in Deuteronomy, Ezekiel and Jeremiah is one of

the most contested points of modern OT studies. Post-war scholars tended to suggest

that a momentous change had occurred in Israelite consciousness whereby the

traditional collectivism was rejected. Noted Gerhard Von Rad, ―How modern and

revolutionary [Ezekiel] appears here, this very prophet whose thinking is at the same

49 Ibid., pp.232-233.

43
---
time so conditioned by sacral orders!‖ 50 More recent scholarship tends to mitigate this

interpretation. Because the gods of the ancient Near East were typically associated with

a particular people, the destruction of a people meant the disappearance of its gods.

Jeremiah and Ezekiel wished to assure individual Israelites during the Babylonian

Captivity that the LORD continued to exist despite the loss of their collective nation. To

restore Israel would require them to face unexpected challenges. 51 And one modern

exegete has questioned whether the tendency of post-war scholars to emphasize a

rejection of collectivism was not closely tied to their own bias that individualism

represents a more enlightened morality, 52 a bias that was certainly prominent in the

existentialist philosophies of the mid-twentieth century.

C. Perseverance in Israelite States-of-Life

In light of the Israelite conception of personal identity, it comes as no surprise

that there is little reference to anything like ―personal vocations‖ in the modern

understanding of that term, much less exhortations to persevere in them. It is true that

Israelites could conceive of God calling individuals to missions, such as kings and

prophets. Nevertheless these persons were exceptions to the rule.

Persons dedicated to ascetic practices for predetermined periods of time were

called Nazarites, or ―separated ones.‖ The earliest Nazarite consecrations were lifelong

commitments, e.g., Samson (Judg 13:7) and Samuel (1 Sam 1:28). Later practice

permitted temporary consecrations (Num 6:1-21). Nazarites were to persevere in these

commitments until the allotted time was complete (vv.4-6). If they accidentally defiled

50

VON RAD, II:266. Cited in KAMINSKY, p.118.

51

NJBC 77:73.

52

JOEL S. KAMINSKY, Corporate Responsibility in the Hebrew Bible, JSOT, Supplement Series

196, Sheffield Academic Press, 1995. Kaminsky cited GERHARD VON RAD (Old Testament Theology,

trans. D.M.G. Stalker, New York, Harper & Row, 1962, 1965, I:364, II:266) and D. DAUBE (Studies in

Biblical Law, Cambridge University Press, 1947, p.157) among those with apparent biases (p.118). Von

Rad, for example, referred to the ―now rotten collectivism‖ of the Israelites (VON RAD II:266, cited in

KAMINSKY, p.118).

44
---
their consecration, they had to renew it from the beginning (vv.9-12). Although some

scholars describe Nazarite vows as acts of devotion or supererogation, others argue that

they were conditional like all other Israelite vows. 53 That is, Nazarites promised the

LORD special service in return for having been granted a petition.

That Israelites were to persevere in marriage is not affirmed explicitly in the OT,

yet it was presupposed in the Torah whereby a man leaves his parents and becomes

―one flesh‖ with his wife (Gen 2:24). The Torah provided numerous provisions for

divorce, and rabbis continued to debate how liberally they should be applied. Post-

exilic writers increased emphasis on monogamy and fidelity, a consequence both of

their desire to raise the moral standards of Israel and of their tendency to liken marriage

to God's irrevocable covenant (Ezek 16, Hos 1-3, Tob 6-8, Sir 25-26, Prov 5-7, 31, Mal

2:13-16).

Four prominent offices in Israel—priests, judges, kings and prophets—are

described in Deut 16-18. Perseverance in the priesthood was a non-issue insofar as the

office was hereditary, as were most professions and trades in the ancient Near East. A

man was a priest by virtue of being born into the tribe of Levi (Deut 18:5). Judges (not

to be confused with the warlords of the premonarchical period) were the local judiciary,

though they shared this responsibility with the priests. They were selected by the

people (Deut 1:13, 16:18) and ruled on minor disputes and crimes, while serious cases

were relegated to the Levites of the central court in the Temple (Deut 16:18-17:3).

There a lay judge presided according to a rotating roster (Deut 17:9).

The description of kings in Deut 17 is more spiritualized due to the intimate

connection which the sacred writers recognized between the monarchy and the covenant

(2 Sam 11-12, 1 Kgs 2:1-4). God, not the Israelites, would choose kings for Israel

422.

53 See TONY W. CARTLEDGE, ―Were Nazarite Vows Unconditional?‖ CBQ 51 (1989), pp.409-

45
---
(17:15), thus giving the kingly office more the aspect of a vocation in the modern sense.

According to Isaiah the ideal king embodied hesed and emet (Is 16:5), hence the

stability of a king in his vocation was a vital symbol. A king would persevere not by

accumulating wealth or wives (Deut 17:16-17), but by meditating on the law ―all the

days of his life‖ (v 19). Yet kings could be dethroned if they violated the covenant (1

Sam 12:15, 13:13-14), indicating that despite their unique status they were subject to the

law like all Israelites.

Prophets were charismatic teachers of Israel (Deut 18:15-22), as compared to

priests, who taught the law from the sanctuaries, although one could do both, as did

Jeremiah and Ezekiel. Most prophets were professionals who traveled in groups (1 Sam

10:5,10, 1 Kgs 22:6) and had hereditary guilds (2 Kgs 2:3, Amos 7:14), thus making

their office similar to the priesthood and judiciary. A personal call from God to

prophesy appears to have been an exception to the norm. 54

For those individuals who did receive a call, we find heightened attention to

perseverance in their vocation. Isaiah affirmed that despite his sufferings he had not

turned back (Is 50:4). God told Ezekiel to be firm in the face of Israel's recalcitrance,

and that He would make the prophet's forehead ―harder than flint‖ (Ezek 3:9). Ezekiel

had to lie on his side for 430 days as expiatory suffering for the sins of Israel. To ensure

his perseverance, God would place cords upon him until those days were completed

(4:4-8). Jonah's own perseverance was forced upon him, despite his best efforts to the

contrary (Jon 1-2).

Jeremiah provides us with the most poignant treatment of perseverance-in-

vocation in the OT. In 626 B.C. he began to re-educate Judah in the worship of the

LORD and to warn her of impending destruction by foreign powers if she continued

54 NJBC 11:8.

46
---
eligious syncretism. God assured Jeremiah from the start that he would meet ceaseless

resistance, but he was not to be discouraged, since God would make of him ―a fortified

city, an iron pillar, and bronze walls, against the whole land‖ (1:18). Jeremiah

persevered for forty years despite ridicule (15:10, 20:7-9), profound depression (20:14-

18), beatings and imprisonment (19:14-20:6, 37:15-38:13), and constant threat of

assassination (11:19, 18:23). He witnessed Judah's destruction in 587 B.C., and though

he preached of her restoration, he did not live to see it. 55

The prophet's reflections upon his own perseverance were recorded in five so-

called ―confessions‖ (11:18-12:6, 15:10-21, 17:14-18, 18:18-23, 20:7-18) composed

during the reign of the Judean king Jedokiah. There Jeremiah's pain is such that he

rejects the traditional belief that sinners are punished and the virtuous rewarded (12:1).

God responds not by defending himself but by exhorting Jeremiah to remain steadfast

(12:5-6). Jeremiah accuses the LORD of forsaking him (15:18, 20:7), and twice curses

the day he was born (15:10, 20:14-15). This effectively constituted a rejection of his

vocation, since the prophet knew that he had been consecrated from birth (1:5). God

takes seriously Jeremiah's rejection of his vocation, but promises to restore it, on the

condition that the prophet cease his complaints and demonstrate faith in God's ways

(15:19-20).

Like Hosea and Ezekiel, Jeremiah recognized a connection between his personal

life, the content of his prophesy, and the fate of his people. He embodied in his own

person the rise and fall of Judah. His celibacy was one example. Since childlessness

was considered a curse, it was surely not Jeremiah's own choice but rather obedience to

the command of God (16:1-2). It embodied his message that the established families of

Judah in which its members found meaning and security eventually would be destroyed

55 See JOHN BRIGHT, ―A Prophet's Lament and Its Answer: Jeremiah 15:10-21,‖ Interpretation 28

(1974), pp.59-74.

47
---
(16:3-4). Similarly, the prophet's perseverance was the necessary precondition for

continuing and legitimating the message that Judah must persevere in its own fidelity

(10:19-21, 15:15-21, 20:11).

D. Oaths, Promises and Vows

Vows [noun = nēder, verb = nādar], meaning a promise made to God, were

common in Hebrew piety. In the OT vows always appear to have been conditional.

Israelites pledged to do something for God, such as offer a sacrifice or make an act of

public praise, if God first answered their request for assistance (Gen 28:20, Num 21:2,

Jdg 11:30, 1 Sam 1:11). These were voluntary acts not required by Israelite religion, yet

once made there was a serious obligation to fulfill them. 56

Oaths and vows were clearly distinguished in Israelite thought (Num 30:2, 10,

13). In an oath God was invoked as witness to a contract between two other parties; in a

vow God himself was a party in the contract. They also differed regarding the sequence

of execution: in an oath a person promised to act first, after which God might respond,

if the oath was properly fulfilled; in a vow, an Israelite petitioned God to act first.

Finally, a vow was conditional. God was free to choose whether or not to respond to

the request. An oath was never conditional: the one who swore was strictly obligated

to fulfill what he had pledged.

The Torah regulated the place and manner in which vows were to be fulfilled.

Vows of unmarried girls and wives could be annulled by fathers or husbands (Num

30:3-8), and when Israelites found it too burdensome to keep their vows they could

receive permission from priests to redeem them with monetary contributions to the

Temple (Lv 27, Num 30). These provisions suggest how popular was the practice of

vows, as well as a tendency to vow rashly.

Jonah 2:9.

56 Deut 23:21-23, Ps 22:25, 50:14. 56:13, 61:9, 65:2, 66:13, 76:12, Job 22:27, Ecc 5:4, Is 19:21,

48
---
That promises are so prevalent in the OT makes it all the more striking that

Israel's sinfulness does not appear to ever be described in the language of ―breaking its

promises to God.‖ All language of ―promise‖ in the OT—in the context of the

covenants—appears to refer almost exclusively to God's promises to Israel. It seems to

underscore the distinction Israelites drew between their morality and the righteousness

of the LORD. Nowhere is it suggested that Israelites should keep their word precisely

because God keeps his. Rather, Israelites were faithful to oaths and vows for the sake of

personal reputation, the avoidance of curses, and (in the specific case of vows) to render

to God that which was rightfully His (Lev 27:1-8, Deut 12:11, 17, 23:21, Ps 76:11).

II. THE NEW TESTAMENT

Perseverance permeates the entirety of the NT in three ways. First are the

appeals to persevere in prayer and the Christian virtues, which constituted a ceaseless

battle against pagan and demonic temptations (Col 4:2, Eph 6:13-14). This form of

perseverance was typically conveyed by the Greek hypomonē (literally, ―to stand one's

ground‖). Hypomonē was not a morally neutral term: in the LXX and NT it typically

meant the positive act of waiting with faith and hope (Job 6:10, Sir 22:18, Mt 24:13, Lk

21:19). The primary virtues to be cultivated—in addition to the specifically theological

virtues of faith, hope and love (1 Cor 13:13)—were calm patience in suffering (again

hypomonē) and forbearance with the sins and limitations of others, normally denoted by

anechomai (Matt 17:17, Rom 15:1, Col 3:13, Eph 4:2). 57

The second form of perseverance in the NT is ―Final Perseverance,‖ i.e.,

constancy in confession of the faith until death. ―Whoever endures to the end will be

saved‖ (Matt 10:22). The sacred writers' treatment of final perseverance lacks the

57 In the LXX anechomai could signify the act of God or a human restraining an emotion or action

(Gen 45:1, Job 6:10, Isa 63:15), although God's forbearance with humans was more often denoted by

macrothymos.

49
---
theological subtleties or concerns of later confessional polemics. The idea was simply

to continue confessing the faith in the midst of persecution and doctrinal confusion.

Hypomonē was again used to convey this idea.

Third, Christians should persevere in missions and states-of-life that had been

assigned to them (or at least recognized) by Jesus, Paul, or the Christian community.

These included the mission of the Twelve (Lk 22:28), the ministries of Paul and his co-

workers (Acts 15:38, 2 Cor 4:1, 6:1-10, 2 Tim 3:10, 4:2), and states such as marriage,

virginity and widowhood (Mk 10:9, 1 Cor 7:20-24, 1 Tim 2:15, 4:16, 5:12).

A. Saint Paul on Perseverance

In the Pauline and Deutero-Pauline corpus, we find little hint of the incarnational

theology of the Fathers, whereby creation is transformed by virtue of the Word-made-

flesh. Although Jesus was the Incarnate Word, he nevertheless assumed the ―likeness of

sinful flesh‖ (Rom 8:3) and thus appeared as one who also needed to be ―made perfect‖

(Heb 5:7-9) or ―vindicated in the spirit‖ (1 Tim 3:16). It would have been impossible to

recognize his true power and glory apart from his death and resurrection (Phil 2:7-11).

By his complete surrender to the Father's will, the emptying of himself, Jesus died to

sinful flesh and simultaneously was established as the Son of God by virtue of his

resurrection (Rom 1:3-4, Heb 1:5). Jesus' patience in suffering, and more specifically

his perseverance until death, was the sine qua non of his glorification, i.e., the full

realization of his authentic self.

All existence is radically transformed by this Paschal Mystery, insofar as the

death and resurrection of Christ were supernatural events that transcend time, so that

through baptism, Christians are permitted to participate in it mystically. ―We were

indeed buried with him through baptism into death, so that, just as Christ was raised

from the dead by the glory of the Father, we too might live in newness of life‖ (Rom

50
---
6:4). The death-to-self of the Christian is participation, here and now, in Jesus' own

death to sin and self-determination; the life of the Christian is a constant and ever-

deepening conformation to the glory of the risen Christ, so that it is no longer the

Christian who lives, but Christ in him (Gal 2:20).

Patience and perseverance in the Christian are essential manifestations of that

supernatural reality. In other words, the existence of sufferings does not call into

question the reality of God's presence in the life of the Christian, but rather the contrary:

as in Christ's own Passion, they reveal the presence of God already within the Christian.

Only in this light can Paul's affirmation be understood, that he rejoiced in the numerous

sufferings and setbacks of his ministry as opportunities to more fully manifest the power

and glory of Christ for the sake of the people to whom he ministered. ―I bear with

everything for the sake of those who are chosen, so that they too may obtain the

salvation this is in Christ Jesus, together with eternal glory. This saying is trustworthy:

―‗If we have died with him we shall also live with him;

if we persevere, we shall also reign with him'‖

(2 Tim 1:10-12). 58

Hence Paul addressed the three aforementioned forms of NT perseverance in a

manner that suggested a close relationship between them (Col 1:21-23). For Christians

to flag in practice of the virtues was to deny their faith in Jesus (Eph 4:20-24). 59 Failure

to persevere in missions and states-of-life also demonstrated a lack of faith, as is clear in

the Second Letter to the Corinthians, where Paul reflected on the spirituality of his

ministry and that of his co-workers. He equated his perseverance with the essence of

his faith in Jesus: ―Since, then, we have the same spirit of faith, according to what is

58 If Paul was the author of 2 Timothy then vv. 11-13 probably represent an early Christian hymn.

If the author was an anonymous disciple or redactor, it is possibly an allusion to a saying of Paul himself.

59 NJBC 51:66. Of course, Paul did not mean that mastery of the virtues (understood in the classic

sense of ingrained habits acquired through practice) was prerequisite for salvation, since no one could

merit salvation though works (Rom 3:23, 7:19). Rather, the struggle to suffer patiently and endure the

shortcomings of others was a visible manifestation of one's faith and gratitude for having been redeemed

(Rom 5:1-5, 1 Cor 6:11, 20, Gal 5:16, Eph 4:31-32). Lack of the former implied lack of the latter. This

was true also for perseverance in prayer (Rom 12:12, Col 4:2).

51
---
written, ‗I believed, therefore I spoke,' we too believe and therefore speak, knowing that

the one who raised the Lord Jesus will raise us also with Jesus and place us with you in

his presence‖ (4:13-14).

Consequently, Paul's incessant references to his own perseverance do not

indicate what today might be easily be construed as conceit. As teacher of a new

covenant, he could not carry written credentials like other teachers of the Mosaic Law

(2 Cor 3:1). His constancy in ministry, despite his sufferings and trials and unattractive

appearance (2 Cor 4:7), was the only real proof of his credibility (1 Cor 4:12, 2 Cor 6:4,

1 Thess 1:2-5), sincerity (2 Cor 4:1, 6:3-4), trustworthiness (Rom 8:25, 1 Cor 1:8-10),

apostolic authority (2 Cor 11:21-29, Col 1:21-29), love for Christ (Cor 12:10), and

spiritual growth (1 Cor 9:24-27, Phil 3:12-16). 60 It also distinguished him from false

apostles (2 Cor 11:23). That Paul made his perseverance integral to his preaching must

have been well-known among early Christians. The writers of Acts, Ephesians and the

Pastoral Epistles depicted him as doing the same (Acts 20:18-31, 21:12, 26:21-23, Eph

3:7-13, 4:1-2, 1 Tim 1:16, 2 Tim 3:10, 4:7). 61

Paul placed equally high standards on his co-workers: ―Now it is of course

required of stewards that they be found trustworthy‖ (1 Cor 4:2). He noted the

constancy of Apollos, equal to his own (1 Cor 4:6-17): ―We are fools on Christ's

account. . . when ridiculed, we bless, when persecuted, we endure‖ (vv.10-12). Else-

where Paul wrote, ―We are afflicted in every way, but not constrained; perplexed, but

not driven to despair‖ (2 Cor 4:8). Timothy, a fellow ―slave‖ of Christ (Phil 1:1), was

not to be disdained, because he was doing the same work as Paul (1 Cor 16:10, Phil

2:19-24, 1 Tim 4:12); and Titus was to be trusted because he ―walked in the same spirit‖

60 See SCOTT J. HAFEMANN, Suffering & Ministry in the Spirit: Paul's Defense of His Ministry in

II Corinthians 2:14-3:3, Grand Rapids, William B. Eerdmans, 1990, esp. pp.98, 133-179.

61 In light of the value Paul gave perseverance, it is not surprising that he took umbrage at the

insinuation that he himself had been inconstant (2 Cor 1:18-22). Much of the Second Letter to the

Corinthians could be read as his defense against that accusation.

52
---
as Paul (2 Cor 12:18). Some of Paul's companions had been tested and found

trustworthy (2 Cor 8:22, Col 1:7, Phil 4:3), while others risked their lives for the gospel

(Rom 16:4, Phil 2:30). Indeed, Paul relied upon his co-workers so heavily and

identified with them so strongly that he considered them extensions of his own person.

To imitate Timothy was to imitate Paul (1 Cor 4:16-17):

In everything we commend ourselves as ministers of God, through much endurance,

in afflictions, hardships, constraints, beatings, imprisonments, riots, labors, vigils,

fasts. . . We are treated as deceivers and yet are truthful; as unrecognized and yet

acknowledged; as dying and behold we live (2 Cor 6:4-5, 8-9).

Paul regarded any failure to persevere on the part of his companions as a grave

blow to his mission. It was not simply that fewer workers meant fewer gains, though

obviously this was important too: ―In due time we shall reap our harvest, if we do not

give up‖ (Gal 6:9). More fundamentally, inconstancy in his companions was a stain

upon Paul's own image and undermined the very heart of his message. Clear evidence

of this is found in Acts 15:36-41, where Paul refused Barnabas' request that Mark

accompany them on another missionary journey. During a previous tour Mark had left

the two men behind (13:13), and as a result, Paul insisted that ―they should not take

with them someone who had deserted them at Pamphylia and who had not continued

with them in their work‖ (v.38). The writer of Acts (―Luke‖) gives no explanation for

Mark's departure. Scholarly speculation includes Mark's unwillingness to preach to

Gentiles, resentment of being overshadowed by Paul, fear of the dangers of the journey,

and even a sense of responsibility to his mother at home. 62 Yet Luke leaves no doubt

about Paul's feelings on the matter (or at least about Luke's own feelings). The verb

aphistēmi that denoted Mark's departure (v.38) carried connotations of apostasy, 63 and

the argument itself was described as a paroxusmos, or strongly emotional outburst.

62 C. CLIFTON BLACK, ―The Presentation of John Mark in the Acts of the Apostles,‖ Perspectives

in Religious Studies 20, Fall 1993, p.245.

63 The same verb appears in Acts 5:37-38.

53
---
Some have theorized that the real source of the argument was a disagreement

between Paul and Barnabas about the legitimacy of preaching to the Gentiles. Luke,

who tended to idealize his portrait of the early church, supposedly glossed over a grave

theological difference between these leaders by shifting blame to Mark's inconstancy.

While this is possible, the theory is superfluous. It appears to presume that Mark's

inconstancy by itself could not have been sufficient to explain the break-up between

Paul and Barnabas, whereas for Paul and Luke there were few values more important.

Far more likely is that Barnabas found himself defending his cousin's integrity against

Paul's rigorous standards, than that Barnabas had a sudden change of heart about

preaching to the Gentiles so soon after having vigorously defended that point in

Jerusalem (15:2,12).

That Paul and Mark later reconciled (2 Tim 4:11, Col 4:10, Phlm 24) suggests it

would have been unnecessary for Luke to mention Mark's inconstancy at all, unless

Luke felt it necessary to teach a point that remained valid despite the reconciliation.

The strong terms of the narrative, plus the fact that Paul was willing to part with

Barnabas over the matter, imply a principle was at stake. 64 The church had placed trust

in Paul and Barnabas because they had ―dedicated their lives to the name of our Lord

Jesus Christ‖ (Acts 15:25), but Mark had betrayed that confidence. Luke underscored

this by mentioning Mark's departure twice within the same sentence (v.38). That

Barnabas continued to side with Mark implicated Barnabas in apostasy as well. He who

was so prominent in the first half of Acts is mentioned no more after this incident.

Paul also exhorted perseverance in various Christian ―states-of-life.‖ Three

times in 1 Corinthians 7 he urged the faithful to ―remain in the calling in which they

were called‖ (vv.7,20,24). Apparently some married Christians had wished to separate

64 LUKE TIMOTHY JOHNSON, The Acts of the Apostles, Sacra Pagina Series, ed. Daniel J.

Harrington, Collegeville, Liturgical Press, 1992, p.288.

54
---
in order to practice continence (v.1), or because tensions had arisen where one spouse

was pagan (vv.12-14). Some slaves were petitioning freedom from their masters

(vv.21-23), probably having been inspired by Paul's rhetoric, ―For freedom Christ has

set us free; so stand firm and do not submit again to the yoke of slavery‖ (Gal 5:1).

Christians of Jewish descent attempted to disown their heritage by means of a medical

procedure that undid their circumcision (v.18). Finally, some youths and widows who

had chosen continence were having second thoughts (vv.36-39). Since Paul normally

treated moral questions on an ad hoc basis, the fact that here he broached a wide variety

of situations using a single principle (―remain in the calling in which you were called‖)

makes this text quite relevant for the present study.

A difficulty arises in Paul's multivalent use of ―to call‖ [kaleō] and ―calling‖

[klēsis]. Such language easily conjures modern ideas of vocation (from the Latin

vocare, ―to call‖), whereby God invites specific individuals to states such as marriage,

celibacy, etc. Paul's usage is more ambiguous. On the one hand, klēsis (v.20) refers to

social-legal status within the Roman Empire more than to any ecclesially-defined role

like apostles, preachers and teachers (1 Cor 12:27-28, Eph 4:11). Circumcision and

slavery were ―callings‖ in addition to marriage, virginity and widowhood. Paul

affirmed that to change such a calling, while generally undesirable, was nevertheless not

a sin (vv.9, 15, 28, 36), which presumably he would have done had he perceived a

strong identification between klēsis and a divine call directed to individuals. Indeed,

every time klēsis appears elsewhere in the Pauline corpus, it always refers to God's

general call to human beings to have faith in the gospel (e.g., 1 Cor 1:26, Rom 11:29,

Phil 3:14).

On the other hand, there can be no doubt that Paul understood himself to have

been personally called by God to a specific vocation within the church, i.e., to be a

55
---
teacher to the Gentiles. In 1 Corinthians he used the same term to describe both this call

and the general call to all the faithful: ―Paul, called [klētos] to be an apostle of Christ

Jesus by the will of God, and Sosthenes our brother, to the church of God that is in

Corinth, to you who have been sanctified in Christ Jesus, called [klētois] to be holy‖

(1:1-2).

We must be content with this ambiguity without presuming that the apostle

necessarily entertained a sharper understanding of klēsis in his own mind. At the least,

the following can be affirmed. While it would be erroneous to equate klēsis in 1 Cor 7

with a vocation in a modern sense, neither is it possible to completely disassociate the

two. Paul affirmed that God had assigned Corinthians to their present states (7.17),

which for him probably meant that slaves and widows were such by the ordering of

divine providence, as opposed to the result of a direct, personal calling. Second, Paul

had opened some theological doors by his multivalent use of klēsis, so that it would not

be surprising if, within one or two generations, perseverance in social-legal states such

as widowhood began to be viewed as indicative of one's faith no less than perseverance

in the more overtly Christian offices of apostles, preachers and teachers. We shall find

evidence of just this in 1 Timothy.

Before considering the rationale for Paul's principle to ―remain in the calling in

which you were called,‖ several specific cases require attention. On marriage, Paul

affirmed that ―a wife is bound to her husband as long as he lives‖ (1 Cor 7:39). Jesus

had swept aside the traditional rabbinical debates about the liberality with which

divorces should be granted by rejecting divorce altogether (Mk 10:2-12, Mt 5:31-32,

19:3-12, Lk 16:18). (Scholars generally agree that the provisions for ―unchastity‖

[pornea] in Matthew were later interpolations to soften Jesus' teaching. 65 ) Paul

65 NJBC 42:32.

56
---
eminded Corinthians of Jesus' prohibition (1 Cor 7:13), but made concessions for

marriages in which one spouse was pagan (vv.12-16). That is, if a pagan desired to

divorce a Christian, the latter was free to leave with a clear conscience (v.15); but if a

pagan wished to remain married to a Christian, the latter was obliged to persevere

(vv.12-13). Nowhere does Paul suggest that Christians could take the initiative in

seeking divorces. 66 The apostle thus appears to have placed high expectations on the

Christian conscience, insofar as married Christians had to be honest with themselves

about their own role in having instigated the question of divorce. 67

Paul then addressed the question whether young women who once had dedicated

themselves to continence might legitimately marry:

If anyone thinks he is behaving improperly toward his virgin, and if a critical

moment has come and so it has to be, let him do as he wishes. He is committing

no sin; let them get married. The one who stands firm in his resolve, however,

who is not under compulsion but has power over his own will, and has made up

his mind to keep his virgin, will be doing well. So then, the one who marries his

virgin does well; the one who does not marry her will do better (1 Cor 7:36-38).

The passage is obscure, as it unclear whom Paul had in mind when he wrote of ―a man

and his virgin [parthenos].‖ There are two widely-held interpretations, each of which

raises as many problems as it solves. 68 The traditional reading, dating as early as St.

John Chrysostom, 69 sees the advice directed to a father and daughter. The woman had

dedicated herself to continence (or perhaps the father had done it for her), but then she

changed her mind (or perhaps the father did), and the father wishes to know if he may

allow her to marry without the both of them sinning. The Parousia which Paul preached

66 This was a Roman consideration only, since under Jewish law women were not allowed to

petition for divorce. It is also unclear whether Christians deserted by their spouses could remarry, though

Rom 7:2-3 and 1 Cor 7:39 seem to answer in the negative.

67 Here it is notable that the fate of the Christian spouse—that is, the determination of what he or

she was to do for the remainder of his or her life—was effectively placed in the hands of another person,

namely the pagan spouse. We shall find a parallel idea in Ignatius' conviction that the question of a

man's continuance in his Jesuit vocation was to be determined not by him but by the Society.

68 D.E.H. WHITELEY, The Theology of St. Paul, Oxford, Basil Blackwell, 1964, pp.218-222; R.

KUGELMAN, ‗‗1 Cor 7:36–38,'' CBQ 10 (1948), pp.63-71; J.J. O'ROURKE, ‗‗Hypotheses regarding 1 Cor

7:36–38,'' CBQ 20 (1958), pp.292–298.

69 JOHN CHRYSOSTOM, In epistulam 1 a ad Corintios argumentum et homiliae, XIX.7.

57
---
(vv.29-31) was delayed, so that the girl's sexual desires put her in danger of acting

inappropriately, or perhaps she and her father feared that to wait longer would make her

unmarriageable.

The second possibility is that Paul was writing about men and women who had

chosen to cohabitate in continence, but then found it more difficult than anticipated. In

this case the question would have been whether they could convert the relationship into

normal marriage without sin. In the second and third centuries so-called ―spiritual

unions‖ were popular, in which virgines subintroductae lived with men who had

dedicated themselves to continence, ostensibly to care for their domestic needs. 70 The

practice resulted in numerous scandals. To judge by its repeated condemnation by the

Fathers and Councils, 71 spiritual unions were so common that they practically

constituted an ecclesial institution. Yet scholars generally agree that in Paul's time it

was too early for such institutional overtones. 72

Regardless of the proper interpretation of 1 Cor 7:36-38 (scholarly opinion

appears to lean toward spiritual unions), almost certainly it was not a question of vows

having been made. Consonant with the later tradition of the second and third centuries,

Corinthians probably had made a simple resolution, or propositum. (We shall return to

the propositum in Chapter Two.) For now, it is sufficient to note that Paul was willing

to allow Christians to go back on these resolutions when it was a matter of courting

serious sin. This is all the more remarkable since—we may reasonably presume—many

of these resolutions were publicly known in the church community. Nevertheless, Paul

70 In the fifth century virgines subintroductae came to mean ―domestic worker‖ (NCE XIV:539).

71 See TERTULLIAN, De exhortatione castitatis XII, De virginibus velandis XIV; CYPRIAN OF

CARTHAGE, Epistula IV; JEROME, Epistula XXII; IRENEUS, Adversus haereses I.6.3; EUSEBIUS, Historia

ecclesiastica VII.30.12-14. See also SYNODS OF ELVIRA (306, dec.27), ANCYRA (314, dec.19), and the

FIRST COUNCIL OF NICEA (325, dec.3).

72 The idea of spiritual unions resurface throughout church history. After the Second Vatican

Council they took the form of ―The Third Way,‖ the proponents of which affirmed that vowed celibates

could enter into platonic, monogamous relationships (e.g., EUGENE KENNEDY and PAUL D'ARCY, The

Genius of the Apostolate, New York, Sheed & Ward, 1965).

58
---
urges such a person to ―stand firm in his resolve‖ if at all possible [hos de hestēken en

tēi kardiai autou hedraios; Vulg., qui statuit in corde suo firmus], or literally, ―to stand

firm in his heart.‖ 73

B. St. Paul and "Fear of the Place"

So what was Paul's over-arching motivation for urging constancy in all the

aforementioned states-of-life? Scholars often assert that he was a social conservative

who feared that frequent changes would bring additional harassment upon the fledgling

church. 74 Supposedly for this reason he declined to attack slavery directly, an

institution that the Romans considered fundamental to their society, and which they had

defended ruthlessly on occasion. Peter Brown even suggested that the apostle's

reluctance to see marriages dissolve was self-interested: ―To abolish the household

would have undermined Paul's own authority in the distant city. It would have broken

the subtle chain of command by which his own teachings were passed on to each local

community through the authority of local house-holders.‖ 75 Another common

explanation is more theological in nature. Since God deigned to call each Corinthian to

the gospel in his or her present status (v.17), and since he or she had been able to

perceive and embrace that call while in that status, there was no reason to change. The

divine call transcends all human conventions like social-legal states. 76

These explanations are problematic. Nothing could have been more destabili-

zing in Roman culture than Paul's promotion of celibacy, which, among other things,

73 This language will reappear in Cassian's Institutes and the Constitutions of the Society of Jesus.

74 W.F. ORR and J.A. WALTHIER, 1 Corinthians, Anchor Bible Series, New York, Doubleday &

Co., 1976, pp.216-17; OTTO KUSS, Carta a los Romanos, Cartas a los Corintios, Carta a los Gálatas,

trans. Claudio Gancho, Barcelona, Editorial Herder, 1976, pp.229-230; NJBC 82:151.

75 PETER BROWN, The Body and Society: Men, Women, and Sexual Renunciation in Early

Christianity, New York, Columbia University Press, 1988, p.54.

76 See RAYMOND F. COLLINS, First Corinthians, Sacra Pagina Series, 1999, pp.274-275.

59
---
provided new possibilities for women beyond the traditional roles of wife and mother. 77

The Roman state pressured female citizens through imperial decree to marry and bear as

many children as possible, a consequence of the high infant mortality rate and the need

for a stable population to maintain the Empire. Young Christian women who refused to

marry for the sake of service to the church could be regarded as traitors and executed. 78

As for slavery, it is unnecessary to ascribe Paul's silence to timidity, since the life of

Roman slaves was far different from that of U.S. slaves in the nineteenth century. The

former experienced far fewer restrictions and indignities, and their conditions often

surpassed that of free Roman citizens. 79 Paul did not witness the same moral outrages

that demanded rectification.

Moreover, the idea that Christians transcend social-legal states by virtue of being

Christian does not, by itself, explain why Christians should remain in those states.

Raymond Collins writes, ―All social conditions are mutually equal in the Lord.

Therefore the Christian is to remain in the social condition in which he or she had been

called as a Christian.‖ 80 Yet the conclusion does not follow from the premise. Indeed,

some invoke transcendence to legitimate changes in social and ecclesial structures,

which is precisely what feminist scholars have done in response to Paul's affirmation

that ―There is neither Jew nor Greek, there is neither slave nor free person, there is not

male and female; for you are all one in Christ Jesus‖ (Gal 3:28).

77 ―[B]y the fourth century, marriage was seen as an age-old Roman institution representing a

universal norm, whereas virginity embodied a new and appealing, but still somewhat controversial

Christian alternative‖ (WILLEMIEN OTTEN, ―Augustine on Marriage, Monasticism, and the Community of

the Church,‖ TS 59 [1998], p.389).

78 See SCHÜSSLER FIORENZA, pp.224-226, 236; GILBERT MARKUS, The Radical Tradition: Saints

in the Struggle for Justice and Peace, London, Longman, Dartman & Todd, 1992.

79 Roman slaves could own their own property and hold second jobs outside their master's

purview. They wore the same clothing as free persons, attained high social positions, were philosophers,

scholars, governors and doctors. They could expect to be released after a specified period. Free persons

were known to voluntarily become slaves for the sake of its benefits (RAYMOND COLLINS, First

Corinthians, Sacra Pagina Series, ed. Daniel J. Harrington, Collegeville, Liturgical Press, 1999, pp.278-

279). Also DAVID G. HORRELL, The Social Ethos of the Corinthian Correspondence: Interests and

Ideology from 1 Corinthians to 1 Clement, Edinburgh, T&T Clark, 1996, pp.158-167.

80 COLLINS, First Corinthians, p.276.

60
---
What then could be the inspiration behind Paul's principle to ―remain in the

calling in which you were called‖? One probable candidate is often overlooked,

namely, the influence of Stoic thought on Paul's ethics. 81 Stoics advocated apatheia

[Latin: impassibilitas], that is, the absence of disordered passions that dissuaded one

from actions and emotions in accordance with right reason. There was not universal

agreement among Stoics about the details, but the goal was not the complete elimination

of emotions, as is often affirmed. St. Jerome criticized Evagrius on just this point, 82 yet

Evagrius, the Stoics in general, and various Church Fathers, all affirmed that properly-

ordered emotions were good and could serve certain ends. 83 Rather, apatheia was to

hone human nature to its fullest potential by eliminating the inconstancy, wrongdoing

and unnecessary suffering that occurred when persons allowed themselves to become

distressed by realities beyond their control, such as the loss of family members,

reputation, or material possessions. 84 The idea was to form persons of serenity and

purpose, from whom balanced responses to specific situations flowed naturally and

easily. That was, in essence, what it meant to be a good person.

For the Stoics, the singular manifestation of a lack of apatheia was what Cassian

later called the horror loci, or ―fear of the place.‖ 85 Persons deceived themselves into

81 For general overviews see J.N. SEVENSTER, Paul and Seneca, Eiden, E.J. Brill, 1961, and J.

LEIPOLDT and W. GRUNDMANN, El Mundo del Nuevo Testamento [Umwelt des Urchristentums], trans.

Luis Gil, Madrid, Ediciones Cristiandad, 1973, I:359.385, II:335-352.

82 JEROME, Epistula 133.3.

83 SENECA wrote of legitimate cheerfulness and joy (De Vita Beata IV) and laughter (De

Tranquillitate Animi XIV-XV, De Constantia XVIII) and pleasure not sought for its own sake (ibid VII,

XII-XIV), but gave no quarter to anger, ―which refuses to be ruled‖ (De Ira XVIII). ―Non negamus rem

incommodam esse uerberari et inpelli et aliquo membro carere, sed omnia ista negamus iniurias esse; non

sensum illis doloris detrahimus, sed nomen iniuriae, quod non potest recipi uirtute salua‖ (De Constantia

XVI). See also ANDRONICUS OF RHODES, De passionibus I, VIRGIL, Aeneid VI:733-734, HORACE,

Satirae I.3.68-69; EVAGRIUS, De octo vitiosis cogitationibus 10:13-15, Skemmata 2, Capita practica ad

Anatolium 46, Praktikos 42, 57, 86, Ad monachos 87; AUGUSTINE, De Civitate Dei XIV:8.19.

84 The Fathers disagreed whether Christians could attain perfect apatheia during their earthly

lives. On this and the nuances of apatheia in general, see AUGUSTINE M.C. CASIDAY, ―Apatheia and

Sexuality in the Thought of Augustine and Cassian,‖ St. Vladimir's Theological Quarterly 45 (2001),

pp.359-394.

85 CASSIAN, Inst X.2. E.g., HORACE, Satirae II.7.28-29; SENECA, De Consolatione ad Helviam

XII.3.4.

61
---
thinking that they could not be happy or fulfilled unless they were ―here‖ or ―there,‖

that is, unless they were married or single, slave or free, Roman or Greek. In so doing

they placed all their hopes—indeed the essence of their person—in contingent realities,

instead of looking inward. ―The person you are matters more than the place to which

you go,‖ wrote Seneca, ―for that reason we should not make the mind a bondsman to

any one place.‖ 86 In Book III of Lucretius' De Rerum Natura it is a recurring motif:

Si possent homines, proinde ac sentire videntur

pondus inesse animo, quod se gravitate fatiget,

e quibus id fiat causis quoque noscere et unde

tanta mali tam quam moles in pectore constet,

haut ita vitam agerent, ut nunc plerumque videmus

quid sibi quisque velit nescire et quaerere semper,

commutare locum, quasi onus deponere possit.

If men, in that same way as on the mind

They feel the load that wearies with its weight,

Could also know the causes whence it comes,

And why so great the heap of ill on heart,

O not in this sort would they live their life,

As now so much we see them, knowing not

What ‗tis they want, and seeking ever and ever

A change of place, as if to drop the burden. 87

That Paul had Stoicism on his mind when composing 1 Cor 7 is probable.

Strong similarities are evident, especially in v.37, with a passage from Philo, a Jewish

philosopher heavily influenced by Stoic thought:

He who always acts sensibly, always acts well; he who always acts well, always

acts rightly; he who always acts rightly also acts impeccably, blamelessly,

faultlessly, irreproachably, harmlessly, and therefore will have the power to do

anything, and to live as he wishes, and he who has this power must be free. But

the good man always acts sensibly, and therefore he alone is free. Again, one

cannot be compelled to do anything or prevented from doing anything, cannot be

a slave. . . 88

86 SENECA, Epistula 28 (trans. GUMMERE, I:201). In the same letter Seneca cites Virgil, ―Lands

and cities are left astern, your faults will follow you whithersoever you travel‖; and also Socrates, ―Why

do you wonder that globe-trotting does not help you, seeing that you always take yourself with you? The

reason which set you wandering is ever at your heels‖ (ibid., I:199).

87 LUCRETIUS, De Rerum Natura III:1060-1067 (trans. LEONARD, pp.130-131).

88 PHILO OF ALEXANDRIA, Every Good Man is Free LIX-LXI (cited in COLLINS, First

Corinthians, p.300).

62
---
In his letter to the Philippians, Paul writes in a manner strongly reminiscent of

the Stoic doctrine of the locus:

I rejoice greatly in the Lord that now at last you revived your concern for me.

You were, of course, concerned about me but lacked an opportunity. Not that I

say this because of need, for I have learned, in whatever situation I find myself, to

be self-sufficient. I know indeed how to live in humble circumstances; I know

also how to live with abundance. In every circumstance and in all things I have

learned the secret of being well fed and of going hungry, of living in abundance

and of being in need (4:10-12).

Here the Greek term for ―self-sufficient,‖ autarkēs, was a technical term in the

Stoic school to denote the ideal that one should transcend his circumstances and be

content in any situation. 89 Wrote Seneca: ―The happy man is content with his present

lot, no matter what it is, and is reconciled to his circumstances; the happy man is he who

allows reason to fix the value of every condition of existence.‖ 90

To be sure, Paul transformed Stoic principles through his appeal to Christ: ―I

have strength for everything through him who empowers me‖ (v.13). To read this as a

denial of the efficacy of human efforts would put more weight on v.13 than it was

intended to bear. Verse 13 represents, as much as anything else, the confession of a

new motivation for an ancient idea. Paul transcended his place for Christ, not a secular

goal of perfecting human nature.

I even consider everything as a loss because of the supreme good of knowing

Christ Jesus my Lord. For his sake I have accepted the loss of all things and I

consider them so much rubbish, that I may gain Christ (Phil 3:7-8).

And again, in a passage ringing with Stoic terminology:

Finally, brothers, whatever is true, whatever is honorable, whatever is just,

whatever is pure, whatever is lovely, whatever is gracious, if there is any

excellence and if there is anything worthy of praise, think about these things.

Keep on doing what you have learned and received and heard and seen in me.

Then the peace of God will be with you (Phil 4:8-9). 91

89 SEVENSTER, Paul and Seneca, pp.113-114.

90 SENECA, De Vita Beata VI.2 (trans. BASORE, II:115).

91 On the Stoic character of the passage see SEVENSTER, Paul and Seneca, pp.152-156.

63
---
Paul, like the Stoics, has been accused of complacency before the suffering of

others. 92 If apatheia truly had required anything of the sort, it does not seem possible

that the Fathers could have embraced it as warmly as they did. 93 ―I shall hasten to grant

all honourable requests,‖ 94 wrote Seneca, and again, ―Wherever there is a human being

there is an opportunity for a kindness.‖ 95 If Paul had been aloof to the trials experienced

by Christians in their various commitments, he would not have permitted professed

widows and virgins to marry, nor pagans and Christians to divorce, nor slaves to

petition their freedom (which he implicitly permitted in 1 Cor 7:21). Rather, for both

the Stoics and for Paul, it was really a question of unflinching honesty directed toward

oneself. Paul will permit Christians to change their states. . . but is it really the case that

they must change to be happy and fulfilled?

C. St. Paul on Perseverance in the Body

Paul proclaimed freedom from the Law, but he was by no means antinomian.

Right action for Christians was still largely delineated by ―external‖ factors which

contextualized Christian morality within wider philosophical and religious traditions.

The apostle continued to draw upon the Stoic teaching of virtues and vices so familiar in

the Greco-Roman world (Rom 1:29-31, 1 Cor 6:9-10, Gal 5:22-23), and among which

patientia and perseverantia held pride of place (see Chapter Two). From the same

pagan sources Paul also derived principles of right conduct that are recognizable within

92 Attempts to distance Paul from Stoicism sometimes appear motivated by desires to save the

apostle's reputation. HANS CONZELMANN wrote regarding slavery in vv.21-24, ―Paul is not calling for

Stoic indifference, nor is he cultivating the resentment of the oppressed‖ (1 Corinthians, trans. James W.

Leitch, Philadelphia, Fortress Press, 1975). See also HORRELL, pp.161-162.

93 SENECA, De Vita Beata 20.3-5: ―As for me, I shall always live as if I were aware that I had

been born for service to others, and on this account I shall render my thanks to Nature; for how could she

better have served my interest? She has given me, the individual, to all men and all men to me, the

individual. Whatever I may possess, I shall neither hoard as a miser, nor as a spendthrift squander.

Nothing shall seem to me so truly my possessions as the gifts I have wisely bestowed‖ (trans. BASORE,

I:151).

94 SENECA, De Vita Beata XX (trans. BASORE, II:151).

95 Ibid., XXIV (trans. BASORE, II:163).

64
---
the created order (Rom 1:18-32), and which constitute their own ―natural‖ law (Rom

2:14-15).

Nor were Christians without ―the law of Christ‖ (Gal 6:2, 1 Cor 9:21), which for

Paul meant the concrete example of love and fidelity visible in the life of Christ, who

became for them ―the wisdom of God‖ (1 Cor 1:30). The Spirit which Christians

receive in baptism (Rom 8:1-13) stirs a continual process of transformation to the image

of Christ (1 Cor 15:49, Gal 3:27) who had been obedient to death (Phil 2:8). Paul

believed himself to be highly conformed to that image (Rom 15:18), so that he could

boldly command others to imitate his own conduct, just as he imitated that of Christ (1

Cor 4:16-17, 11:1, Gal 4:12, 1 Thess 1:6).

Consequently, Paul's injunction to ―discern what is the will of God, what is

good and pleasing and perfect‖ (Rom 12:2), and again to ―work out your salvation with

fear and trembling‖ (Phil 2:12), presupposed that the options were morally good in

themselves, or at least indifferent. 96 ―Hate what is evil, hold on to what is good‖ (Rom

12:9). The apostle reprimanded those who believed that freedom in the Spirit allowed a

man to engage in a legitimate sexual relationship with his stepmother (1 Cor 5:1-13, 12-

14), and Christians had to reprimand and condemn members of the Church when it was

a matter of clear wrongdoing (1 Cor 5:12).

Moreover, the apostle urged a strongly communitarian approach to Christian

ethics that carried startling implications for those actions which otherwise could be

considered morally permissible under the freedom of the new covenant. A case in point

is the dispute over foods considered unclean under the Mosaic Law (Rom 14:1-15:6, 1

Cor 8, 10:23-33). While many ate what they pleased, others could not do so with a clear

conscience. The legalistic spirituality was too ingrained (1 Cor 8:7). Yet because it was

96 See Ex 170.

65
---
a ―dispute over opinions,‖ i.e., neither eating nor abstaining was evil in itself (Rom

14:1, 1 Cor 8:8), Paul enjoined both sides not to pass judgment on each other (Rom

14:3-4). Each must act according to his conscience (Rom 14:14, 20, 23). Yet Paul does

not leave the matter there. Although those who eat are stronger in faith (Rom 15:1)—

Paul includes himself among them—they should nonetheless forego eating disputed

foods for the ―peace and building up‖ of the entire Body, which is the ―work of God‖

(Rom 14:19-20). To continue to eat such foods would be ―to please ourselves,‖ but

Christ had not come to please himself (Rom 15:1-3). Paul then put it even more

strongly: to eat such foods knowing that it wounds the faith of weaker members of the

Body is a sin not only against those members, but against Christ himself (1 Cor 8:12).

Paul thus comes full circle to a point he made at the beginning of Romans 14: whether

one eats or abstains, it should be for the Lord. ―For if we live, we live for the Lord, and

if we die, we die for the Lord; so then, whether we live or die, we are the Lord's‖ (14:7-

8). To surrender one's will and judgment for the sake of the community was nothing

less than a participation in the death of Christ.

D. Fidelity to One's "First Faith"

We turn now to 1 Timothy, probably written a generation after Paul. The writer

(the ―Pastor‖) affirms that widows who remarried after having been enrolled

[katalegesthai] as widows in the Christian community had turned against Christ and

earned condemnation for violating their first pledge [ethetēsan tēn prōtēn pistin] (5:9-

12). (Jerome translated v.12 as primam fidem, or ―first faith,‖ in the Vulgate.) The

nature of the enrollment is unknown, although it probably did not include vows.

Clearly, however, widowhood had evolved into a kind of formal Christian state-of-life,

one which entailed full-time dedication to prayer and charitable works in exchange for

the financial support of the local church.

66
---
The Pastor's intent was twofold. First, he sought to regulate the vocation of

widowhood, which apparently had been in existence for some time. There were so

many widows in the churches that they became a financial drain (vv.4,8,16). Many had

little to do and became idlers (v.13) or vulnerable to manipulation by heretical groups

(v.15). The Pastor affirmed that true widows were those who had no family of their

own on whom they could depend for support (vv.3-5), thus recalling the classic biblical

sense of widowhood (1 Kg 17:12, Lk 7:12). False widows still had financial means to

care for their families (v.8).

Second, the Pastor was concerned for the integrity of the vocation of Christian

widowhood, a vocation that had been formalized by an act of enrollment (vv.11-12).

The Pastor regarded perseverance in enrolled widowhood as indicative of faith itself:

when the ―sensuality‖ of enrolled widows prompts them to remarry, it ―estranges them

from Christ‖ (v.11) [gar hotan katastrēnian tou Christou]. The precise meaning of the

Greek is elusive, but clearly implied is a sense of apostasy. It should not be interpreted

as disdain for (re)marriage, since elsewhere the Pastor recommended that younger,

unenrolled widows remarry (v.14). 97 At issue was the violation of the enrollment itself.

At this point a question might be raised: Was the Pastor really concerned with

the integrity of the widows' vocation, or was he using a theological gloss to justify a

more practical concern for the church's finances and public reputation? It is true that

the letter as a whole displays anxieties about the public image of the church (3:7, 5:14,

6:1). Yet the question is predicated upon a false distinction. Whatever the Pastor's

theology of enrollment, the act of bringing financial harm or public discredit to the

Christian community, or of abusing the widows' vocation, was not to be distinguished

from apostasy (vv. 6, 11, 15). This is clear where the Pastor addressed false widows

97 See 1 Cor 7:8-9, Rom 7:1-3.

67
---
who neglected their familial responsibilities: ―Whoever does not provide for relatives

and especially family members has denied the faith and is worse than an unbeliever‖

(v.8). As Luke Timothy Johnson observes, ―No better evidence could be given

concerning the understanding of pistis in this letter as involving an entire way of life.

Making moral choices that are inconsistent with the standard of the community amounts

to ‗denying' (arnēsesthai) that faith.‖ 98

E. Perseverance in Luke-Acts

It is not surprising that, of the four evangelists, Luke places the greatest

emphasis on perseverance. The physician first met Paul in Troas, and a few years later

became his ―beloved‖ co-worker on the second and third missionary journeys (Acts

16:10, 20:5, Col 4:14). Luke accompanied Paul to Jerusalem (Acts 21:1-18) and

remained at his side during his final years in prison (2 Tim 4:11), possibly even

witnessing Paul's execution. As a result, Luke not only would have been cognizant of

the centrality of perseverance in Paul's preaching, but also would have had first-hand

experience of the impact of defections on the apostle's morale and mission. 99

―Everyone in Asia deserted me, including Phygelus and Hermogenes,‖ lamented Paul

from his Roman prison (2 Tim 1:15). ―Luke is the only one with me.‖ Demas, another

co-worker whom Paul had named in conjunction with Luke in previous letters (Col

4:14, Phlm 24), had also abandoned them, perhaps made nervous by the apostle's

looming execution (2 Tim 4:10,16). Hence it is appropriate that the first overt evidence

of Luke's agenda regarding perseverance should be found in his rendition of the parable

of the sower (8:4-8, 11-15). The original Markan text had affirmed that the seed which

falls on good soil are those ―who hear the word and accept it and bear fruit thirty and

98

LUKE TIMOTHY JOHNSON, The First and Second Letters to Timothy, The Anchor Bible Series,

Doubleday, New York, 2001, p.263.

99

According to EUSEBIUS, the gospel of Luke was based upon the preaching of Paul (Historia

ecclesiastica V.8.2). Overt theological similarities are lacking, however (NJBC 43:2).

68
---
sixty and a hundredfold‖ (5:20). Luke shifted its emphasis from the quantity of the

harvest to the character of the disciple. ―But as for the seed that fell on rich soil, they

are the ones who, when they have heard the word, embrace it with a generous and good

heart, and bear fruit through perseverance [hypomonē]‖ (v.15). 100

In Apostasy and Perseverance in the Theology of Luke, Schuyler Brown has

shown that successful perseverance and the benefits that result from it were associated

specifically with the twelve apostles, who for Luke possessed a distinct vocation or

office apart from discipleship in general. 101 This is perhaps counter-intuitive, since in

the synoptics the apostles are typically depicted as weak in faith and action. For Luke,

however, the perseverance of the apostles during Jesus' earthly existence will be the

church's source of strength in the age to come. In a verse unique to Luke, Jesus tells the

Twelve, ―It is you who have stood by me in my trials‖ (22:28), and then adds, ―I confer

a kingdom on you, just as my Father has conferred one on me, that you may eat and

drink at my table in my kingdom; and you will sit on thrones judging the twelve tribes

of Israel‖ (Lk 29-30). Where these latter verses are paralleled in Matthew, Jesus says

nothing of perseverance, but rewards the apostles simply for having followed him

(19:28).

Luke restricts the term ―apostle‖ to those who were eyewitnesses to Jesus'

ministry from the beginning (Lk 24:48, Acts 1:21-22), and to those who showed

unbroken faith in Jesus. For Luke, only the Twelve fit these criteria. Even Paul, who

predominates the last half of Acts, but who had not known Jesus personally, is not

called an apostle, with two exceptions (Acts 14:4, 14). Luke reworks his Markan source

100 CLEMENT OF ROME: ―Paul also obtained the reward of patient endurance, after being seven

times thrown into captivity, compelled to flee, and stoned. After preaching both in the east and west, he

suffered martyrdom under the prefects. Thus was he removed from the world, and went into the holy

place, having proved himself a striking example of patience‖ (Epistula 1 ad Corintios 5).

101 SCHUYLER BROWN, Apostasy and Perseverance in the Theology of Luke, Rome, Pontifical

Biblical Institute, 1969, p.55.

69
---
so that the term ―apostle‖ is traced to Jesus himself (Mk 3:14-16, Lk 6:13). 102 He

distinguishes the Twelve (or Eleven) from the other disciples (Lk 24:9,33), redacts

Mark to clarify that the Twelve were selected from a pre-existing group, and subtly

concretizes the moment in which Jesus endows the Twelve with their office and title

(Mk 3:13-16, Lk 6:13, cf. Acts 1:21-23). Luke even differentiates between the nature of

the summons: disciples were those who responded to Jesus' general call to repentance

(Lk 13:3-5, 14:18-20), while the apostles were selected by Jesus himself. 103

Luke's description of the early Christian community merits brief attention (Acts

2:42-47, 4:32-5:11), as it will be frequently extolled in later monastic rules as an ideal.

Scholars generally agree that, consistent with Luke's style, the description of the early

church is idyllic; it may be asked whether and to what extent such a state of harmony

really existed. More relevant for our purposes, however, are the values Luke wished to

promote in the text. It has been argued that, strictly speaking, Luke does not maintain

that a complete renunciation of goods was required to enter the Christian community,

but rather, that the generosity of the first Christians was so stirred that no one kept

anything for themselves (2:44-45, 4:32). 104 From this point of view, the sin of Ananias

and Sapphira was not that they reserved part of the property for themselves (5:4), but

that they had lied to the church, and by so doing, lied to God (5:5).

On the other hand, it hardly seems possible that Luke would not have conceived

the dispossession of all material goods as a symbol for total spiritual surrender. 105 The

sayings on discipleship in the gospel of Luke did little else but warn of the dangers of

less-than-total dedication: the seed which began to grow but was choked by the riches

102

―whom he also named apostles‖ in Mk 3:14 is an interpolation not found in many manuscripts.

103

SCHUYLER BROWN, p.88-90.

104

ALFRED WIKENHAUSER, Los Hechos de los Apóstoles, trans. Florencio Galindo, Barcelona,

Editorial Herder, 1967, pp.102-103.

105

LUKE TIMOTHY JOHNSON, The Literary Function of Possessions in Luke-Acts, Missoula,

Scholars Press, 1977, p.202.

70
---
and pleasures of life (8:14), and again, those who were unfit because they put their hand

to the plow and looked back (9:62). It is also possible to see in the deaths of Ananias

and Sapphira an allusion to Lk 9:24: ―Whoever wishes to save his life will lose it.‖ In

this sense, the sin of the couple was primarily a lack of faith and generosity, presumably

because they worried about what they would eat and wear (12:22). Later monastic

writers occasionally cited the ill-fated couple with this interpretation in mind: they saw

a parallel with the whole-hearted surrender, both material and spiritual, required to

undertake a monastic vocation.

There is no reason to deny that Luke had both nuances in mind, but the severity

of the punishment strongly suggests that the principal sin of the couple was lying to the

Christian community. 106 Notwithstanding his emphasis on the rigors of discipleship, it

hardly seems possible that Luke wished to suggest that death was a fitting punishment

for those who failed to surrender all their material possessions to the church, especially

since (we may reasonably presume) total dispossession was not universally practiced by

the time Luke wrote his gospel. In v.3 Peter mentions the couple's lie to the Holy Spirit

before their retention of the property (i.e., in reverse chronological order), suggesting

that it was not so much a matter of two separate sins, but that the latter was a

clarification of the former. Peter asks rhetorically, ―While it remained unsold, did it not

remain yours? And when it was sold, was it not still under your control?‖ (v.4),

appearing to imply that total surrender of the land had not been required in the first

place. 107 Peter then summarized the heart of the matter: ―You have not lied to human

beings, but to God‖ (v.4).

The idea that God punishes wrongdoers during their earthly existence, so

embedded in the Hebrew worldview, was destined to retain a firm hold in the mindset of

106 On the lie as the principal sin see ROBERT F. O'TOOLE, ―You Did Not Lie to Us (Human

Beings) but to God,‖ Biblica 76 (1995), pp.182-210.

107 See Heb 13:16.

71
---
monastics and consecrated religious up to and including Ignatius and the early Jesuits.

It would be unfair to dismiss it as unenlightened. As noted earlier, ancient Israelites

lacked an idea that good and evil were repaid in Sheol; 108 and both ancient and medieval

societies often lacked stable police and military authorities to enforce justice (a primary

reason for the rise of medieval feudalism). It was therefore critical that God dispense

justice during the earthly existence of individuals and nations (Gen 16:5, 31:53, 1 Sam

24:15, Zec 5:3), both as a deterrent to crime, and for its own witness value. If God did

not punish Israel for her infidelities, she would set a bad example to others (Deut 28:46,

29:21-28). 109

One NT exegete averred that the ―chilling‖ story of Ananias and Sapphira may

have been inspired by a real event, ―but the present version and the interpretation of the

deaths as divine punishment, without parallel in the NT, undoubtedly are the product of

popular imagination.‖ 110 Yet the story does indeed have NT parallels. The deaths of

Judas (Acts 1:18) and Herod (Acts 12:23) are clearly described as examples of divine

punishment, and Peter even threatens Simon the Magician with a bad end (Acts 8:20).

Jesus appears to have distanced himself from the idea of divine retribution (Matt 5:45,

Luke 9:54-55, 13:4, John 9:3), yet his own prediction of the desolation of Jerusalem

presupposes it (Luke 21:20). References to divine punishment during earthly life are

found also in Acts 13:11, the letters of Paul (1 Cor 10:6, 11:30, 2 Tim 4:14-16), and the

108 Only in the later OT are rewards associated with the afterlife, e.g., Ps 72, Job 19:23-29.

109 In a seminal article, KLAUS KOCH argued that, strictly speaking, OT passages do not suggest

that the LORD inflicted punishments on humans directly. Instead, He structured the mechanics of the

universe in such a way that misfortunes were the inevitable consequence of wayward action. The divine

role was to assure that these natural processes proceeded correctly (―Gibt es ein Vergettungsdogma im

Alten Testament?‖ ZKT 52, 1995, pp.1-42; see also VON RAD I:265-272, 384-387, 436-437). While this

idea is certainly present in the OT, it cannot be broadened into the comprehensive theodicy that Koch

suggests, as it would imply a Deism quite foreign to Israelite thought.

110 NJBC 45:32.

72
---
Book of Revelation, where it is a recurring theme: ―Those whom I love, I reprove and

chastise‖ (Rev 3:19). 111

III. CHAPTER SUMMARY

Aspects of Ignatius' doctrine of perseverance in a Jesuit vocation are paralleled

in the biblical tradition. One is the strong link between the good of the community—

understood not only in spiritual but also material, practical terms—and the proper

service of God to be rendered by its individual members. For all intents and purposes

the ancient Israelites did not distinguish between the two. St. Paul understood the

surrender of one's judgment and will to the needs of the community (i.e. the Body of

Christ) to be a surrender to Christ himself. For the Pastor, inconstancy in the vocation

of widowhood discredited the Christian community and ipso facto was a turning away

from Christ. In the story of Ananias and Sapphira, Luke affirms no less than three times

that their lie to the community was in fact a lie or affront the Holy Spirit (Acts 5:3,4,9).

In a similar vein, failure to be reliable in the commitments of everyday life was

no less a sign of a lack of faith than formal apostasy. Israelites made no distinction

between the two: the smallest precepts of the Law demanded observance, because all of

them came directly from the LORD. They could not conceive of a love for the LORD

apart from a love and obedience to the Law, all the more because they lacked the idea of

an ―inner self‖ several levels removed from their words and deeds. Although Paul

defined pistis as belief in the heart and confession of the lips (Rom 10:9-10)—which at

first glance would seem to place greater value on perseverance in confession of the faith

than on perseverance in ―smaller‖ commitments such as states-of-life or the virtues—in

fact he treated Christian existence as an integrated whole. In Luke-Acts the evangelist

111 See a saying attributed to Ignatius: Si te Deus faciat multa pati, signum habe, quod te velit

facere magnum sanctum (ScIg, Feb. 29).

73
---
underscores fidelity to individual missions within the church in his treatment of the

perseverance of the Twelve, of Paul, and of John Mark.

It is highly problematic to cite OT covenant theology as a basis for commitment

and vows in modern religious life. 112 OT and NT writers appealed to whatever kind of

covenant suited the pastoral needs of their audience. In addition, the nature of OT vows

(conditional) and the purpose for making them (divine favors) and for keeping them

(personal reputation and the avoidance of curses) differed essentially from the nature

and purpose of modern religious vows. The point is important because we shall see that

Ignatius did not conceive Jesuit perseverance primarily as a function of formal vows,

but more fundamentally as the expression of an interior faith and integrity that he

encapsulated in the expression pura intención. In this Ignatius demonstrated continuity

with Stoic doctrine and the ancient idea of a propositum, both of which continued to

make themselves felt throughout the Christian spiritual tradition that preceded him, as

we shall see in Chapter Two.

112 See VICTOR R. SALANGA, ―B e rit as Biblical Foundation for Religious Vows: The Need to

Distinguish?‖ Landas 17:1 (2003), pp.70-80.

74
---
CHAPTER TWO:

PERSEVERANCE IN THE CLASSIC RULES

We now turn to the treatment of perseverance in classic religious rules, in order

to bring to light both the uniqueness of the Jesuit Constitutions and its continuity with

the tradition. Here ―classic rules‖ is a shorthand expression for six texts: the Rule of

Pachomius, the Greater Asketikon of St. Basil of Caesarea, the Praeceptum of St.

Augustine of Hippo, the Institutes of John Cassian, the Regula Bullata of St. Francis of

Assisi, and the Primitive Constitutions of St. Dominic. No claim to comprehensiveness

is intended. Other rules were highly influential in the Christian tradition, and we will be

unable to examine even these six with the thoroughness they deserve. Nevertheless they

will provide an adequate sampling within the limits of the present chapter.

To facilitate historical continuity with the previous chapter, we preface the

examination of rules with a section dedicated to some early fundamentals of

perseverance found in the desert tradition and writings of the Church Fathers, which

generally predate the earliest rules or were contemporaneous with them. We shall also

define some traditional terms related to perseverance. In this way it will be unnecessary

to advert to their significance each time that we encounter them in the rules.

When we examine a rule, we shall pay special attention to its ―theology of

community‖ and the relationship of the individual to that community, and how these

appear to have shaped the writer's treatment of perseverance. The significance of

leaving a Basilian commune, for example, which placed emphasis on unity between

monks for its own sake and cherished the Acts community as its model, differed notably

from that of leaving a disciplina cenobia of Cassian, for whom community was a means

to an end.

75
---
In the interests of manageability, it is necessary to leave some considerations by

the wayside, such as the theology implicit in liturgical rites of profession as described in

certain rules, and the relevant ecclesial legislation in force at the time when a rule was

drafted. In any case, both have already been the subject of extensive studies.

I. EARLY FUNDAMENTALS OF PERSEVERANCE

A. The Rise of Monasticism

In recent decades scholars have posited a variety of sociological and psycho-

logical motivations behind the extraordinary popularity of desert monasticism in the

early fourth century. Whatever their truth, of primary importance from a theological

perspective is what the participants of this movement understood themselves to be

doing. In the first three centuries of the church, her experiences of persecution and

martyrdom left an indelible mark upon her idea of spiritual perfection and ideal witness.

Long before the legalization of Christianity under Constantine, Clement of Alexandria

held that, if physical martyrdom was limited to a few, ―gnostic martyrdom,‖ i.e., a life

genuinely conformed to the gospel (which for Clement generally meant strict asceticism

and the Stoic ideal of apatheia) was in principle possible for all. 113 Hence, it was

perhaps inevitable that the surge of insincere catechumens which followed the

conversion of the emperor, coupled with the laxity of an increasingly-institutionalized

church, created massive disillusionment among the faithful. The goal of the first desert

hermits (traditionally personified by St. Anthony) was to recapture death with Christ

through solitude, prayer, sexual continence, and rigorous asceticism. Other than the

impression that their initial choice would have made on urban Christians, in their radical

isolation they presumably entertained few expectations of reforming the church through

the witness of their lives.

113 CLEMENT OF ALEXANDRIA, Stromata II.19, IV.4.

76
---
History resulted otherwise. The hermits wielded an extraordinary fascination

upon the Roman world, prompting thousands to come to the desert either to seek their

counsel or imitate their lives. Some hermits could not endure the continued interrup-

tions, or the temptations to anger, pride and fornication that were provoked by these

visits, and retreated further into the desert. 114 Yet the rapidly expanding desert

population, and the persistence of the visitors and disciples, made this impracticable for

most. Abbas and ammas had to learn how to accommodate their regimens to their

disciples' needs and weaknesses, tolerate their distractions, and make allowances for

their failings. Perhaps most significantly, they became conscious that they were

answerable to God not only for themselves but for their charges. Any failings on the

part of the abba could now be an occasion of wider scandal. 115

Hence, a momentous shift occurred in desert spirituality. Ascetics began to

reinterpret spiritual martyrdom as the sufferings and sacrifices required to accommodate

and to edify the neighbor. The transition occurred rather quickly. The apophthegmata,

which generally represent a kind of monasticism specific to the regions of Nitria and

Scetis, whereby ascetics lived in relatively close-proximity under the tutelage of one or

several abbas, generally took for granted the legitimacy of hospitality and the abba-

disciple relationship, focusing instead on the discernment and sacrifice required to

practice those relationships well. (The cenobitic tradition of northern Egypt was also

under way at this time.) Almost all references to ―patience,‖ for example, refer to what

was needed to endure other human beings, as opposed to waiting patiently on God. 116

A hermit who was very holy lived near to a community of monks. Some visitors

to the community happened to go to see him and made him eat, though it was not

the proper time. Later the monks of the community said to him, ‗Weren't you

upset, abba?' He answered, ‗I am upset when I do my own will.'

114 Typified especially by Abba Arsenius (APa ARSENIUS 1, 2, 8, 13).

115 APa JOHN THE DWARF 7, POEMEN 170, N 256-257, ANTHONY 9.

116 APa ANTHONY 14, MOSES 1, 2, POEMEN 74.

77
---
A brother came to a hermit: and as he was taking his leave, he said, ‗Forgive me,

abba, for preventing you from keeping your rule.' The hermit answered, ‗My

rule is to welcome you with hospitality, and to send you on your way in peace.' 117

The transition to an ―interpersonal asceticism‖ was directly responsible for at

least two distinctive contributions of the desert fathers to the spiritual tradition. The

first was the practice of spiritual direction, with emphasis on transparency in the abba-

disciple relationship. 118 Many ascetics were troubled by despair for their progress, or

the strength of their temptations, or by scandal, or by bad advice they had received from

an abba. The fathers also were convinced of the omnipresence of demons which tried to

frighten and deceive ascetics into quitting their vocations, 119 and which were typically

believed to provoke the passions, especially lust. 120 In all such cases, the unreserved

disclosure of thoughts to an abba, though potentially embarrassing, enabled objective

analysis of a ―vocation crisis‖ beneath the light of the accumulated wisdom of the desert

tradition.

[Anthony] also said, ‗Nine monks fell away after many labours and were

obsessed with spiritual pride, for they put their trust in their own works and being

deceived they did not give due heed to the commandment that says, ―Ask your

father and he will tell you.‖' (Deut. 32.7). 121

A second contribution was the exercise of obedience to an abba. Originally a

temporary step in the formation process until novices could manage on their own,

obedience soon became a value in its own right, one that could be practiced over the

course of a lifetime. Many, notably Basil, believed it made cenobitic monasticism far

superior to eremiticism, on the grounds that, for all their rigor, hermits still followed

117

APs XIII.7, 8 (trans. BENEDICTA WARD, The Desert Fathers: Sayings of the Early Christian

Monks [the Systematic Collection], London, Penguin Books, 2003, p.136).

118

APs IV.25, V.3, 13, 14, 19; APa POEMEN 101, MACARIUS 3.

119

APs VII.16, 24; APa PITYRION 1.

120

APs V.4, 8, 10, 11, 19, 23, 34, 39, VII.10, 16; but see APs V.1, VII.21. It is perhaps

significant that those apopthegmata about monks who ―returned to the world‖ usually cited sexual desire

as the cause APs V.4, 23, 24, 38; APa PAPHNUTIUS 4, but see also APs VII.24, 42, APa ANTHONY 37. In

these sayings there is no interest in distinguishing between ―the demon of lust‖ and what might be

considered normal desires to marry (APs 28, APa OLYMPIUS 2).

121

APa ANTHONY 37 (trans. BENEDICTA WARD, The Sayings of the Desert Fathers [the

Alphabetical Collection], Kalamazoo, Cistercian Publications, 1984, pp.8-9).

78
---
their own will. 122 The implications of this shift were enormous. For one, it

presupposed that the words of an abba were divinely inspired. 123 This was implicitly

underscored by sayings where abbas commanded their disciples to do that which was

irrational or imprudent from a strictly human perspective. 124 It also meant a disciple's

relationship to his abba was now the principal means by which he was related to Christ

himself. 125

The hermits said, ‗If a man trusts someone else, and makes him his servant, he

ought not to think about God's commandments, but give himself completely to

obey the will of his spiritual father. If he obeys him in everything he will not sin

against God.' 126

Thus, in the early desert tradition we find the stirrings of a sense of unity, group-

identity, and manner of relating to the divinity that would ultimately lead to the

monastic theology of koinonia. To judge by the apophthegmata (which represent third-

and fourth-generation ascetics), a growing sense of mutual responsibility and group-

identity was well underway, as evidenced in their concern not to create scandal and their

fears that they were not living up to the standards of their predecessors. 127 It is curious,

however, that sayings which pertain explicitly to the errors of returning to the world

made few allusions to scandal or to a fall from earlier standards. Rather, they typically

depict a personal defeat for the individual monk, often couched in the language of a lack

of apatheia.

The apopthegmata are quite clear that apatheia was the resistance of passions

and temptations, not their elimination. 128 The most advanced monks could expect them

122

APs XIV.19; APa RUFUS 2; BASIL, LR 7.

123

APa EPHREM 2, PAMBO 2, 7.

124

APa MARK 2, JOHN, DISCIPLE OF PAUL 1, JOHN THE DWARF 1.

125

APs I.9, XIV.19; APa PAMBO 3, POEMEN 65, 73, 143, SYNCLETICA 17.

126

APs XIV.12 (trans. WARD, Desert, pp.143-144).

127

See GRAHAM GOULD, The Desert Fathers on Monastic Community, Oxford, Clarenden Press,

1993, pp.13-17.

128

APa ABRAHAM 1, JOSEPH OF PANEPHYSIS 3.

79
---
their entire lives. 129 They were desirable and even necessary for their ability to purify

and chasten, provided that the monks were strong enough not to succumb. 130 Nor did

the presence of passions and temptations preclude the existence of a simultaneous

spiritual peace, attained through self-knowledge, meditation on the joys of heaven, and

confidence that one was doing God's will. 131 False peace, in contrast, came from an

absence of temptations. 132

That monks should persevere until death was so essential to their spirituality that

it was rarely stated explicitly in the apopthegmata. Early martyrs had obtained

salvation by heroic fidelity unto death; so too monks must die as monks, i.e., die in a

life dedicated to continence, asceticism and prayer, in order to obtain spiritual

martyrdom. 133 Physical death was both the termination and culmination of a lifetime of

patient endurance, the latter being what abbas identified with the Pauline expression of

―dying with Christ.‖ 134 Hence, a common metaphor for the cell was a ―tomb.‖ 135 It was

the site of the monk's ―dead‖ body during the course of his physical life, and (insofar as

he should die there physically) also the place where his new life would begin. 136 All

this is neatly captured in John the Dwarf's description of the ideal monk, which makes

no reference, strictly speaking, to physical death in the monastic vocation.

Abba John said, ‗I think it best that a man should have a little bit of all the

virtues. Therefore, get up early every day and acquire the beginning of every

virtue and every commandment of God. Use great patience, with fear and longsuffering,

in the love of God, with all the fervour of your soul and body. Exercise

great humility, bear with interior distress; be vigilant and pray often with

reverence and groaning, with purity of speech and control of your eyes. When

129 APa ANTHONY 4, AMMONAS 3, THEODORE OF PHERME 1, POEMEN 28, 125.

130 APa ANTHONY 5, 23, BESSARION 9, EVAGRIUS 5, THEODORA 2, JOSEPH OF THEBES 1.

131 APa ALONIUS 1, EVAGRIUS 1, JOSEPH OF PANEPHYSIS 10, POEMON 149, THEODORE OF

ENATON 2, COPRES 2.

132 APa JOHN THE DWARF 13. SYNCLETICA distinguished between true and false sadness (27).

133 APa POEMEN 182, PAMBO 3.

134 APs XIV.11, APa JOHN THE DWARF 34. See also EVAGRIUS, On Thoughts 38

135 APa JOHN THE DWARF 34, POEMEN 2, 50,

136 Apparently there was a maxim that sincere repentance and mortification for three days was

sufficient to obtain forgiveness for sins (APa MOSES 12, POEMEN 12, SISOES 20). It was probably not

understood dogmatically, as the fathers also acknowledged legitimate last-minute conversions (JOHN THE

DWARF 40, POEMEN 182).

80
---
you are despised do not get angry; be at peace, and do not render evil for evil. Do

not pay attention to the faults of others, and do not try to compare yourself with

others, knowing you are less than every created thing. Renounce everything

material and that which is of the flesh. Live by the cross, in warfare, in poverty

of spirit, in voluntary spiritual asceticism, in fasting, penitence and tears, in

discernment, in purity of soul, taking hold of that which is good. Do your work

in peace. Persevere in keeping vigil, in hunger and thirst, in cold and nakedness,

and in sufferings. Shut yourself in a tomb as though you were already dead, so

that at all times you will think death is near.' 137

There is no clear indication in the apophthegmata that a lifetime of ―dying with

Christ‖ was understood as actual participation in Christ's sufferings, as Paul had

affirmed (Col 1:24). To be sure, an ―economy of graces‖ was implied by the fact that

monks prayed for each other. Otherwise there is lacking a sense of a supernatural

connection by means of which the sufferings of one could win graces for another. At an

earthier level, however, a monk could convert others simply by waiting them out with

patient endurance; that is, until they had time to recognize the error of their ways or to

be edified by the monk's holy behavior. 138

B. Key Terms in the Early Tradition

1. Patientia and Perseverantia

Educated in the Stoic school, Tertullian accordingly exalted patientia as the

most important of the Christian moral virtues. 139 In De Patientia (c.210) he called it

fundamental to faith itself: ―So is patience set over the things of God, that one can obey

no precept, fulfil no work well-pleasing to the Lord, if estranged from it‖ (1). Charity,

―the treasure-house of the faith and the highest sacrament,‖ depends on patience for its

existence, since all tolerance and forgiveness require patience with others (12).

Conversely, every sin is reducible to impatience: Lucifer fell because of his impatience

137 APa JOHN THE DWARF 34 (WARD, Sayings, p.92).

138 APa JOHN THE DWARF 18, ISIDORE THE PRIEST 1, ―ABBA OF ROME‖ 2.

139 In the present study ―moral virtues‖ are distinguished from the three theological virtues of

faith, hope and love.

81
---
with God who created humanity in His image, and Adam and Eve because they were

impatient with God's instructions in Paradise (5).

Tertullian used patientia to denote a variety of related ideas: to endure physical

ills and the injuries of others with tranquillity, to forego revenge in the knowledge that

God exacts justice in His own time, to accept deprivations and losses with equanimity,

and to remain constant and cheerful despite the setbacks encountered during the long

process of acquiring knowledge and virtue. Stoics also practiced these, but falsely,

because their goals were secular and impious. They did not see patience's true origin in

God, who endures human obtuseness and who sheds his gifts on the good and bad alike:

―Patience is God's nature‖ (3). In Jesus the patientia of the Father was embodied in a

way ―more imitable‖ for Christians (11), who had endured without complaint the

sufferings brought upon him by his obedience to the Father (3).

Cyprian of Carthage, enamored of Tertullian's thought, composed his own

version of De Patientia during or shortly after the Decian persecution of 250-251, when

the majority of Carthaginian Christians apostatized, including Cyprian's two sisters. 140

His redactions of Tertullian's text exhibit that reality. Patience was now the principle of

interpretation for the entire Old Testament: all the patriarchs and prophets ―were

watchful over nothing more than that they should preserve patience with a strong and

steadfast equanimity‖ (10). Patience was the precondition not only of charity but also

of faith and hope (13-15). Where Tertullian made only passing references to Roman

persecution (his description of ―injuries‖ are usually vague enough to mean pains

experienced in everyday life), Cyprian made Roman persecution the heart of his treatise.

140 According to JEROME, Cyprian read Tertullian daily (Liber de viris inlustribus LIII). For the

development of patience in Tertullian, Cyprian and Augustine see DAVID BAILEY HARNED, Patience:

How We Wait Upon the World, Cambridge, Cowley Publications, 1997, pp.41-57; and LORENZO ALCINA

ROSSELLÓ, ―Dinámica de la paciencia,‖ Revista de Espiritualidad 24 (1965), pp.531-534.

82
---
About 415 Augustine wrote his own version of De Patientia. 141 That he

intended it as a complement to his earlier work on continence is significant, as it

suggests that he was thinking less about sufferings during extraordinary persecutions

than he was about the more commonplace trials of a Christian vocation. The bishop

limited himself to two questions: what is the nature of authentic Christian patience, and

where does it come from? His precise definition became standard in scholastic

theology: ―that by which we tolerate evil things with an even mind, that we may not

with a mind uneven desert good things, through which we arrive at the better‖ (2).

Augustine did not mean that Christians should remain unmoved by injustice or the

sufferings by others. True patience was put to the service of an objectively good cause

and unmotivated by egoism and passion. Thus, one could suffer patiently in a fight for

justice (which as a cardinal virtue was an objective good that one could not ignore),

provided that the fight was not motivated by pride or an irrational impatience.

Augustine agreed with Tertullian and Cyprian that patientia is a great gift since

it may be said of God and humans alike, but he declined to praise it as the highest of the

moral virtues. 142 The reason was his doctrine of grace. His predecessors did not deny

that grace was requisite for patientia, but they did believe will and effort also played a

role, insofar as any moral virtue was acquired through practice. Augustine rejected this

(12). Patience was dependent upon charity, not vice versa, because charity itself was an

unmerited gift. ―Thus let this much be said of charity, without which in us there cannot

be true patience, because in good men it is the love of God which endures all things‖

141

AUGUSTINE'S authorship of De Patientia has been challenged, but he referred to it in Epistula

231.7.

142

AUGUSTINE listed the principal moral virtues as temperance, fortitude, justice and prudence

(De moribus Ecclesiae 15). See also GREGORY THE GREAT, Moralia in Job XXII; THOMAS AQUINAS, ST

II-II, Q.136, art.2.

83
---
(20). 143 In his commentary on Psalm 62, Augustine reaffirmed, ―To God my soul shall

be made subject, for from Himself is my patience.‖ 144

In De Dono Perseverantiae (c.420) the bishop distinguished between patientia

and perseverantia in a way his predecessors had not. (Tertullian used patientia to

denote a variety of nuances, whereas Cyprian used various terms interchangeably, e.g.,

firmitas, constantia, perseverantia, longanimitas, fortitudo and stabilitas.) For

Augustine, perseverantia denoted the fait accompli of dying in the state of grace: it was

the act by which one ―remains faithful in Christ to the end,‖ and ―the moment when this

life, in which alone there is danger of falling, is completed‖ (1). 145 What distinguished

it from patientia, therefore, was its distinguishing mark of accomplishment or finality.

For if someone has chastity and falls away from it, becoming incontinent; in like

manner, if he has justice, patience, faith itself, and falls away from it, he is said to

have had the virtue, but not to have it; for he was continent or just, patient or

faithful, as long as he was so; but when he ceases to be so, he is not what he was.

For if a man does not persevere, how was he persevering, since a person shows

himself persevering by perseverance, and that man in question did not do so? 146

Augustine did not deny that his contemporaries often used perseverantia in a

looser sense to mean continuance in a course of action for a protracted period (1). His

intent was to avoid confusion by clarifying his terminology. Like patientia,

perseverance was solely a divine gift (10). Therefore, if someone were to say carelessly

that one Christian ―persevered until death‖ while another ―persevered for ten years and

then apostatized,‖ it would imply either that God had withdrawn his gift from the latter,

143

Haec propter charitatem dicta sint, sine qua in nobis non potest esse vera patientia: quia in

bonis charitas Dei est, quae tolerat omnia.

144

AUGUSTINE, Enarrationes in Psalmos LXII.7 (trans. PHILIP SCHAFF, St. Augustin: Exposition

on the Book of Psalms, New York, Christian Literature Publishing Co., 1886, p.264).

145

Asserimus ergo donum Dei esse perseverantiam qua usque in finem perseveratur in Christo.

Finem autem dico, quo vita ista finitur, in qua tantummodo periculum est ne cadatur.

146

Nam si habeat aliquis continentiam, et ab ea decidat atque incontinens fiat, si iustitiam

similiter, si patientiam, si ipsam fidem, recte dicitur habuisse et non habere. Continens enim fuit, vel

iustus fuit, vel patiens, vel fidelis fuit, quamdiu fuit; cum vero esse destitit, non est quod fuit. Qui vero

non perseveraverit, quomodo perseverans fuit, cum perseverando quisque ostendat se perseverantem,

quod iste non fecit? (trans. MARY A. LESOUSKY, The De Dono Perseverantiae of Saint Augustine: A

Translation with an Introduction and a Commentary, Washington, D.C., CUA, 1956, p.105).

84
---
or that the latter had lost it through his own sins, both of which were theologically

incorrect.

Augustine's precise definitions were not widely adopted in later centuries.

Spiritual writers continued to use patientia, constantia, stabilitas and perseverantia

rather interchangeably, with a general preference for patientia. This was largely

attributable to the influence of Gregory the Great (d.604), who solidified the

prominence of patientia in the western spiritual tradition by means of his Regula

Pastoralis and especially his ―Commentary on Job‖ (Moralia sive Expositio in Job), a

massive work fifty-times longer than the Book of Job. 147 Both vied with the

Benedictine Rule as the most influential spiritual text of the early Middle Ages.

Gregory's assertion that ―patience is the root and guardian of all the virtues‖ was

repeated innumerable times in later centuries. 148 And the patience of Job, treated only

briefly by earlier Fathers, became a primary paradigm through which to interpret the

sufferings of Christ and his Body, the Church.

2. Acedia and the Horror Loci

Modern writers often describe acedia as ―sadness‖ or ―melancholy,‖ yet

Evagrius and Cassian both regarded ―sadness‖ [λύπη, tristitia] as a separate vice, albeit

related to acedia and normally preceding it. In vulgar Greek acedia meant ―indiffer-

ence,‖ quite different from sadness. Cassian translated it into Latin as anxietas, anxietas

cordis, or even more strongly as taedium cordis, i.e., ―disgust of the heart‖ or

―tediousness of the heart.‖ 149 Sadness, in contrast, was a depression that resulted when

one failed to endure with equanimity the sufferings beyond one's control. 150 Its

147 Respectively, PL 77:13 and PL 75:515.

148 GREGORY THE GREAT, Homiliae in Evangelia [on Luke 21:9-19] (PL 76:1261d); Regulae

pastoralis liber III:9 (PL 77:59d).

149 CASSIAN, Conf. V.2.

150 CASSIAN, Inst. IX.

85
---
principal symptoms were irritability and a desire to withdraw from the company of

others.

A distinguishing mark between the two vices was the object of their focus. A

sad monk was introspective, in that he focused on himself and what he lacked. This

might include his slow progress in the virtues, for example, or the absence of a family.

Eventually he would tire of this pain, but instead of acknowledging that the problem lay

within his own attitude, he redirected his focus outward to his ―place,‖ which he now

considered the source of his problems. Evagrius and Cassian described the transition in

detail. A monk became disgusted with his cell, complained that he could achieve no

good there, and that he could not be saved if he remained in that place. He accused his

companions of failing in virtue and charity, and dreamed of other monasteries where he

could serve God better. He became careless in his duties, and took advantage of any

excuse to leave his cell under the guise of charity.

If left unchecked, this acedia typically ended with a monk abandoning the

monastery altogether; or if this were not possible, he fell into a kind of ―sleep‖ of

inactivity, lethargy and despair. 151 For this reason, both Evagrius and Cassian named

acedia as the vice contrary to the virtue of perseverance. The opposite of sadness was

equanimity or cordis constantia. 152

For the pagans, horror loci was typically described in terms of physical

locations—i.e., persons believed they could not be fulfilled unless they travelled to new

places and experienced new sights—although a wider sense that included the

circumstances of one's life was usually implicit. The desert fathers readily applied the

principle to the need to remain in one's cell. But locus also came to mean, with equal

151 CASSIAN, Inst X.3-6. Later we shall see a probable allusion to this ―sleep‖ in Ignatius' account

of his cure from scruples [Auto 25].

152 CASSIAN, Inst IX.1, 13, Conf VI.9.3.

86
---
insistence, the community with whom one lived, or the monastic state in general. Wrote

Gregory:

Many times when we complain about the lives of those around us, we become

greatly determined to change our place, to find a secret and retired life, quite

ignorant of the fact that, if the spirit is lacking, the place is of no avail. For the

same Lot of whom we spoke earlier managed to preserve himself saintly in

Sodom, but he sinned on the mountain [Gen 19: 2, 30]. That places do not

preserve our souls is attested also by the first father of the human race, who

sinned in Paradise itself. But to speak of earthly places is only to touch upon the

truth, for if places were able to save us at all, Satan would not have fallen from

Heaven. 153

Rationalization, i.e., quasi-deliberate deception of self and others by means of

false reasoning, was implicit in the pagan understanding of the horror loci, but not

extensively developed until Evagrius and Cassian. Monks were not likely to blame God

or the value of monastic life for their taedium cordis. Had they done so, it would have

been obvious that the real problem lay within themselves. Yet it was always possible to

justify oneself on theological grounds by citing Scripture or ―God's will.‖ Wrote

Evagrius:

[Acedia] instils in him a dislike for the place and for his state of life itself, for

manual labour, and also the idea that love has disappeared from among the

brothers and there is no one to console him. And should there be someone during

those days who has offended the monk, this too the demon uses to add further to

his dislike (of the place). He leads him on to a desire for other places where he

can easily find the wherewithal to meet his needs and pursue a trade that is easier

and more productive; he adds that pleasing the Lord is not a question of being in

a particular place: for scripture says that the divinity can be worshipped

everywhere (cf. John 4:21-4). 154

Cassian confided to Abba Moses that he once left his cell to seek a cure for his

acedia from Abba Paul. 155 Moses rebuked him sharply. To leave even for the sake of

153 GREGORY THE GREAT, Homiliae in Hiezechielem I:9.22. (Translation mine.) That ―the place

is of no avail‖ was a chestnut of the desert tradition. In the Verba Seniorum it is written, ―Adam, even

though he was in Paradise, disobeyed God's command while Job, who was living on a dung hill, kept it‖

(APs XI:54; trans. WARD, Desert, p.129). See also Monita Sancti Pachomii 25 [spurious?] in ARMAND

VEILLEUX, ed., Pachomian Koinonia, Cistercian Studies Series, Kalamazoo, Cistercian Publications,

1982, III:23-24. RIBADENEIRA later cited Gregory's maxim in the Dialogos.

154 EVAGRIUS, Practicus 12.5 (trans. ROBERT SINKEWICZ, Evagrius of Pontus: The Greek Ascetic

Corpus, Oxford University Press, 2003, p.99).

155 CASSIAN, Inst X.25 (trans. BONIFACE RAMSEY, John Cassian: The Institutes, Ancient Christian

Writers Series, New York, Newman Press, 2000, p.234).

87
---
spiritual growth made Cassian a deserter and a fugitive [ut desertorem ac fugitivum],

two terms that later became standard in the western spiritual tradition to denote depart-

ures from religious life. Cassian had to learn to triumph through endurance [tolerantia]

instead of dissipating his passions or allowing himself to fall into the torpid sleep.

3. Stabilitas

It is often affirmed that the term stabilitas, and the spiritual value it denoted,

gained prominence in the west via the Rule of St. Benedict. We have already seen why

this is misleading. Seneca, Cicero and Livy had praised stabilitas as the patience,

tranquillity and constancy required as the basis for individual fulfilment and the welfare

of the state. 156 Paul, drawing from this tradition, urged stability in Christian vocations

and states. ―Therefore, my beloved brothers, be firm, steadfast [Vulg. stabiles,

inmobiles], always fully devoted to the work of the Lord, knowing that in the Lord your

labor is not in vain‖ (1 Cor 15:58).

―Since the beginning of Latin Christian literature,‖ wrote Jean LeClercq, ―the

vocabulary concerning stability is associated, as it was in the New Testament, with the

basis of the entire Christian attitude, namely faith.‖ 157 This was demonstrated most

clearly by Augustine, who affirmed that true stabilitas is found in God alone. 158 While

humans exist in a changing, finite world filled with anxieties and confusion, the goal of

Christians was to share in the divine peace and stability by means of their faithful union

with God. 159

156

CICERO, In Catilinam IV.19, Topica XXVI:99, Tusculanae Quaestiones IV:8, De Officiis

I:102, Philippics II:113.

157

JEAN LECLERCQ, ―In Praise of Stability,‖ MS 13 (1982), p.94.

158

AUGUSTINE, De civitatae Dei XI:21, XXI:15.

159

AUGUSTINE, Epistula 142.1, De fide et Symbolo VI.13, De Genesi ad litteram IV.3, Enarra-

tiones in Psalmos LXXXIII.25, XLII.2.

88
---
4. Propositum

The Fathers generally held the higher calling of sexual continence to be an open

invitation to all Christians, and that all were capable of it, barring significant emotional

or physical deficiencies (Matt 19:10-12). 160 A divine call directed to specific individ-

uals was unnecessary; and indeed it is questionable to what extent early Christians even

thought in such terms. Rather than a response to an interior voice, a ―vocation‖ was a

reflection of the fact that one had recognized, acknowledged and embraced a truth that

had been publicly revealed by Christ in his words and example. 161 Hence it was

generally inadmissible that healthy, mature Christians could wrongly choose contin-

ence. Even if one wavered later, it had still been the right decision, objectively

considered. In such cases the solution was not to leave the commitment in order to find

the higher good, but to remain firm in order to be conformed to the higher good.

It appears that in the first three centuries formal vows and promises were not the

usual means by which these commitments were understood to be activated. When one

resolved to embrace continence, that resolution by itself was binding in conscience,

even if it had not been made public. The Fathers urged all who made such resolutions

to act on them as soon as possible, lest in the meantime temptations cause them to

falter. 162 To strengthen their resolve, some informed their bishops of their decision, or

160 These points were rarely stated baldly. They are presupposed by other factors in the patristic

corpus, such as the treatment of the superiority of continence as a more-or-less universally-applicable

truth, that orphans and ―child-oblations‖ could be allowed into ascetic communities before the age of

reason, and that parents should encourage continence in their children. See AMBROSE, De virginitate I:1,

11, 32, 62, II:1, 15, De viduis X, LI, passim; AUGUSTINE, De bono coniugali X, De sancta virginitate

XXIII, XXX, De continentia XVII; BASIL, LR 10.1, SR 45, and Preface to Constitutiones Asceticae

[spurious? PG 31:1321-1428], CLEMENT OF ALEXANDRIA, Stromata IV.4. Yet the Fathers acknowledged

that authentic vocations required a free and mature choice from children once they came of age

(AUGUSTINE, Epistula XXXI.7, BASIL, Epistula CIC.18, LR 15.4).

161 ―Since our loving God and Saviour Jesus Christ proclaims and declares: Come to me all you

who labour and are burdened and I will refresh you (Matt 11:28), we do not reject without a risk those

coming to the Lord through us and who wish to take on his easy yoke and the burden of his

commandments that lightens us up to heaven‖ (BASIL, LR 10.1; trans. ANNA M. SILVAS, The Greater

Asketikon of St. Basil the Great, Oxford University Press, 2005, p.193). See also AUGUSTINE, De sancta

virginitate III.

162 BASIL, Constitutiones Asceticae [spurious?] I-III; GREGORY THE GREAT, Homiliae in evangelia

XXXIV.2 (on Pentecost); JOHN CHRYSOSTOM, In Matthaeum homiliae XXVII.

89
---
announced it before an ecclesial assembly. By the fourth century these acts had evolved

into liturgical rites of profession, which might have included formal vows or promises

(the evidence is unclear on this point). These rites increased the onus to persevere

insofar as it was now a matter of public interest and assumed juridical overtones. What

remains relatively clear, however, is that the primary locus of the commitment was still

the original resolution. 163

In the Latin West the resolution was normally called a propositum, and

sometimes pactum. 164 In secular usage propositum denoted a proposal or decision for a

course of action. It could also mean that which had been proposed, or a way of doing

something. Pactum was a quasi-legal term that meant a pact or pledge (it appears in the

Vulgate to translate ―covenant‖), and like propositum, could also signify a way of

proceeding. 165 In the East the resolution was usually called an epangelia (announce-

ment, promise, pledge), 166 homologia (confession, acknowledgment), 167 or proairesis

(deliberate choice, resolution, purpose). 168 The first two terms could also mean

―promise,‖ and epangelia is often translated thusly in the NT. In most cases, however,

these terms are probably best understood not as a formal promise that actuates the

commitment it signifies, but as a declaration of one's intention about a course of action

which, given its gravity, is understood to be a self-imposed commitment. As we noted

163

In 404 POPE INNOCENT I wrote to Victricius that virgins formally consecrated in a rite should

be judged more harshly than those who had solely made a propositum (PL 20:480A), and again to

Rusticus of Narbonne that public consecration rendered the obligation more serious.

164

On the propositum in the ancient church see J. CAMPOS, ―El «propositum» monástico en la

tradición patrística,‖ CiuDios 181 (1968), pp.535-547; JOSEPH CONWELL, Impelling Spirit: Revisiting a

Founding Experience, Chicago, Loyola Press, 1992, pp.339-380; JUAN-MANUEL DEL ESTAL, ―El voto de

virginidad en la primitiva iglesia de Africa,‖ CiuDios 175 (1962), pp.593-623; GERMAIN LESAGE,

―Sacred Bonds in the Consecrated Life,‖ WaySup 37 (1980), pp.78-96; RENÉ METZ, Consecration des

Vierges dans l'Eglise Romaine: Etude d'Histoire de la Liturgie, Paris, Presses Universitaires de France,

1954.

165

P.G.W. GLARE, ed., Oxford Latin Dictionary, Oxford, Clarendon Press, 1982, s.v. pactum

(II:1280-1281).

166

H.G. LIDDELL and ROBERT SCOTT, eds., A Greek-English Lexicon, Seventh Edition, New

York, Harper & Bros., 1889, s.v. έπαγγελία (p.280). See BASIL, SR 2, LR 8.2.

167

Ibid., s.v. όμολόγία (pp.568-569).

168

Ibid., s.v. προαίρεσις (p.1271). See also DSp XVI:651, s.v. ―Vie Consacreé.‖

90
---
earlier, there is continuity here with the OT, where the Hebrew dabar (to speak) is often

translated as ―promise,‖ especially when the LORD is the speaker.

Why was a Christian propositum considered binding at all? Joseph Conwell

rightly affirms that its obligation was not rooted in the subjective resolve of the

individual but in the nature of the object to which that resolve was directed: ―Intent,

determination, resolve and purpose are all very good, but the word is transformed by the

fact that what the Christian has set out to do is to fulfill God's will or answer God's

call.‖ 169 Yet this can be misleading, if ―God's will‖ is interpreted as a personalized

invitation directed to individuals. Germain Lesage was perhaps more precise when he

affirmed that the ―sacred bond‖ of a propositum ―rests upon the power of truth,‖ i.e., it

is ―an action tending towards perfection and the eschatological service of the people of

God.‖ 170 In other words, insofar as the ideal of continence was an open invitation to all

Christians, all that was necessary to commit to it was to recognize that datum of public

revelation, acknowledge its justice (i.e., God's right to ask it), and then to give one's

fiat. There was no need for a formal promise, much less a rite. ―Hands are not laid on a

virgin,‖ wrote Hippolytus, ―for a propositum alone makes her a virgin.‖ 171

Conversely, reneging on a propositum was typically described as ―apostasy,‖

understood in its broad etymological sense of a retreat from an original position. The

interior spirit of a Christian that first prompted her to recognize the gospel truth, value

it, and embrace it, had now withdrawn itself to a certain degree. By implication, she

either no longer believed in the revealed ideal of continence, or no longer believed that

169 CONWELL, Impelling Spirit, p.346. This was probably the thinking behind Augustine's

assertion that feigning a propositum was even worse than breaking one: Simulare propositum sanctitatis

pejus est quam cadere a proposito (Sermo CCCLV.6; PL 39:1572).

170 LESAGE, p.93.

171 HIPPOLYTUS, Traditio apostolica XII. See also BASIL, Epistula CIC.18: ―[T]he name virgin is

given to a woman who voluntarily devotes herself to the Lord, renounces marriage, and embraces a life of

holiness. . . . [A] girl of sixteen or seventeen years of age, in full possession of her faculties, who has

been submitted to strict examination, and is then constant, and persists in her entreaty to be admitted, may

then be ranked among the virgins, her profession ratified, and its violation rigorously punished‖ (trans.

PHILIP SCHAFF, Basil: Letters and Select Works, Edinburgh, T&T Clark, 1895, p.237).

91
---
God could or would provide the grace to live that ideal well. (Basil affirmed, for

example, that the defection of consecrated virgins was worse than that of consecrated

widows precisely because ―the mind of Scripture‖ held virginity to be higher. 172 ) When

the Fathers wrote to or about lapsed virgins and monks, they rarely called attention to

broken vows or promises. They preferred to write of denied truths, lost faith and

confidence, and the fidelity and justice owed to God. 173

Nowhere is this clearer than in two long letters of John Chrysostom to Theodore,

a young monk who had fallen in love and wished to marry. 174 In response to letters

from Theodore who had expressed despair of finding peace in his vocation, Chrysostom

marshalled a wide array of arguments. Not once did he allude to promises or vows. He

rather preferred analogies to a soldier's fidelity. A citizen was not required to enlist in

the military, but once he did so, to abandon that commitment was a grave disservice to

his king and his people. It was a matter of justice, intelligible apart from any vow.

―Marriage is right,‖ you say. I also assent to this. . . But it is no longer possible

for you to observe the right conditions of marriage. For if he who has been

attached to a heavenly bridegroom deserts him, and joins himself to a wife, the

act is adultery, even if you call it marriage ten thousand times over; or rather it is

worse than adultery in proportion that God is greater than man. . . . For, as I said

at the beginning, if you were a private person no one would indict you for

shunning to serve as a soldier; but now thou art no longer thy own master, being

engaged in the service of so great a king. 175

172

BASIL, Epistula 199.18.

173

See AUGUSTINE, De sancta virginitate XVIII, BASIL, Epistulae 44, 45, 46; CYPRIAN, Epistula

LXI, De habitu virginum XVIII.

174

CHRYSOSTOM, Ad Theodorum lapsum libri I-II (PG 47:277-316). Theodore's letters are found

in PG 48:1063-1066. Theodore remained in the monastery and later became bishop of Mopsuestia.

175

CHRYSOSTOM, Ad Theodorum lapsum liber II.3 (trans. PHILIP SCHAFF, St. Chrysostom: On the

Priesthood; Ascetic Treatises; Select Homilies and Letters; Homilies on the Statutes, New York,

Christian Literature Publishing Co., 1886, p.147).

92
---
II. PERSEVERANCE IN THE CLASSIC RULES

A. The Rule of Pachomius [RP]

Abba Pachomius (290?–346) was not the first to create cenobia in Egypt, but he

was apparently the first to provide them with a coherent and unifying spiritual principle,

namely koinonia. To that end he composed a rule in Sahidic. Today it is known in its

entirety only through Jerome's Latin translation of a Greek text. 176 Study of this text

and of Coptic and Greek fragments indicate that Pachomius composed the rule over an

extended period, adding precepts as circumstances required. His disciples continued

this process after his death, so that it is unclear how much of the rule actually dates to

Pachomius.

The Latin rule consists of nearly two hundred precepts divided into four

sections. The first section, the Praecepta, concerns daily life in the community:

worship, care of the infirm, eating, work, and reception of visitors. The Praecepta et

Instituta were job-descriptions for the praepositus (the superior of an individual house

within a monastery, not to be confused with the abba) and dispensator, who was

responsible for the material needs of a house. Correction and punishment are the

subjects of the Praecepta atque Judicia, while the Praecepta et Leges clarify the

authority of the praepositus.

It must be conceded that the centrality of koinonia in Pachomian spirituality is

not immediately apparent in the rule, or at least not in the Latin translation. Possible

renderings such as communio, societas, and congregatio appear infrequently, and when

they do, they do not usually denote the community or its unity per se. The morning-

prayer assembly was called a collecta (from the Greek synaxis). The RP does not advert

to the existence or need of a unifying spirituality. Our knowledge of the importance of

176 PL 23:65-86.

93
---
the doctrine comes from other writings attributed to the abba and his disciples.

According to his successor Theodore:

It is by a favor from God . . . that there appeared upon the earth the holy

Koinonia, by which he made known the life of the Apostles to men who desire to

follow their model forever before the Lord of all. Indeed, the apostles left

everything and, with all their heart, followed Christ; they stood steadfast with him

in his trials, and shared with him in the death of the cross; after which they

deserved to be seated on the twelve thrones of glory and to judge the twelve

tribes of Israel. 177

For all its innovative significance, Pachomian koinonia does not appear to have

meant the sharing of all things in common as a general end in itself, as we will find in

the rules of Basil and Augustine. Compared to later rules, for example, the RP favored

a loose ordo. Monks were not required to eat the evening meal in common, nor to pray

together except for the collecta, and apart from the required manual labor, they were

free to structure their day as they pleased. Pachomius had intended cenobia as means of

material and spiritual support, as well as protection from barbarian raiders, and thus

they were a response to specific needs. His monks were inclined to privacy and self-

denial (as opposed to sharing for its own sake) to the extent the ordo made this possible.

The RP contains no explicit references to perseverantia, stabilitas, patientia,

constantia or firmitas in a monastic vocation. In fact these words do not appear at all,

except once when perseverare is used negatively: si contempserit, et obstinato animo in

duritia perseveraverit, separabunt eum extra monasterium. 178

Rule 18 of the Praecepta et Instituta is a long list of brief maxims. 179 Four

allude to failures to persevere in some aspect of monastic life. Ne affligatur in

177 Trans. VEILLEUX, III:91. Horsiesios frequently referred to the ―law of koinonia‖ of Pachomian

monasteries (VEILLEUX, II:209, 210, 215, 216). This is probably the same that appears once in the RP as

in commune monasterii (PL 23:44a), which Veilleux translated ―the law of the monastery‖ (VEILLEUX

II:159).

178 PL 23:81d. ―If he shows contempt and remains obstinately in the hardness of his heart, he

shall be isolated outside the monastery‖ (trans. VEILLEUX, II:176). Cf. PL 23:84a where persistere is

used in the same context.

179 PL 23:80a-81a (trans. VEILLEUX, II:172-174).

94
---
tribulatione perhaps alludes to 2 Corinthians 4:8: In omnibus tribulationem patimur,

sed non angustiamur: aporiamur, sed non destituimur. 180

Non nutet ac fluctuet in operibus suis hearkens to the manner in which Basil

later used enkrateia, and Benedict stabilitas, to describe steadiness or ―non-movement‖

in a monk's work, prayer, desires and affective states, and ultimately, perseverance in

the monastic state. 181 We shall return to this point shortly.

Doctrinal orthodoxy, a great preoccupation of the desert fathers, was probably

the principal concern behind a third maxim: Non deserat veritatem timore superatus. 182

Yet it carried a double-meaning, since ―truth‖ also meant the higher calling of the

ascetic life as revealed in the gospels. In an ancient collection of Pachomius' sayings

the abba reminded monks to be vigilant, and ―how those who have fallen away from

God are punished, and also what torments are laid up for those who have been

negligent, especially those who have known the truth. . . .‖ 183

A fourth maxim, Ne deserat justitiam propter lasitudinem, is literally translated:

―He shall not desert justice on account of weariness.‖ 184 In classical Latin justitia

pertained to the proper allocation of goods between persons and to the due rendering to

the gods of what was rightfully theirs. It appears four times in the Vulgate of Matthew

to denote moral conduct in conformity with God's will (5:10, 5:20, 6:1, 21:32), and

thrice to denote God's saving activity (3:15, 5:6, 6:33). Paul used it in Romans to

denote the ―righteousness of God,‖ i.e. His saving activity in history, 185 and that which

180 ―He shall not be crushed in tribulation‖ (PL 23:80c, trans. VEILLEUX, II:173).

181 ―He shall not vacillate in his actions‖ (PL 23:80c, trans. VEILLEUX, II:173).

182 ―He shall not abandon truth, overcome by fear‖ (PL 23:80d, trans. VEILLEUX, II:173).

183 Paralipomena 19 (VEILLEUX, II:41-42). Emphasis original.

184 PL 23:81ª. Veilleux translated it, ―He shall not give up out of weariness,‖ although his

annotations on this text are unclear whether he was working from a Coptic fragment or Jerome's Latin

(VEILLEUX, II:173, 194, nn.10-16). It possibly alludes to Galatians 6:9: ―Let us not grow tired of doing

good, for in due time we shall reap our harvest, if we do not give up‖ [Vulg., bonum autem facientes non

deficiamus tempore enim suo metemus non deficientes].

185 E.g., Rom. 1:17, 3:5, 3:21-22, 3:25-26.

95
---
is credited to persons who acknowledge God's righteousness by faith. 186 In later

ecclesial Latin it carried the meaning of sanctity and (in the plural) of divine mandates.

The Pachomian maxim thus appears to refer to defections from ―the life of holiness‖ as

determined and revealed by God. Defections were an injustice toward God, insofar as

that which was rightfully His had been retracted. Desere (to desert or forsake) suggests

a definitive break from justitia, i.e., leaving monastic life altogether, as opposed to

growing lax.

In this light a saying from the Verbum Seniorum is noteworthy, where justitia,

perseverance, and the fear of God (i.e., of his justice) are all intertwined:

One of the hermits said, ‗Unless you first hate, you cannot love [non facies

justitiam]. Unless you hate sin, you cannot live sinlessly. As it is written,

‗Depart from evil and do good' (Ps. 37:27). But perseverance [propositum animi]

is needed for this. Adam, even though he was in Paradise, disobeyed God's

command while Job, who was living on a dung hill, kept it. It seems that God

requires from us a good intention [propositum bonum], that is, that we should fear

him always. 187

The RP refers several times to those who left a cenobium without permission.

Because the focus in each case is not the unauthorized departure, but how the monk

should be received upon his return, it is often unclear whether the precepts specifically

refer to monks who left with intentions to return, to monks who fled to another

monastery, or to monks who left monastic life altogether. We find in the Praecepta:

CXXXVI. Qui absque commonitione fratrum recesserit, et postea acta pœnitentia

venerit, non erit in ordine suo absque majoris imperio.

CXXXVII. Præpositus domus dispensator si una nocte absque fratribus

dormierit: et postea acta pœnitudine ad conventum venerit fratrum, non ei

permittetur, ut introeat domum, aut stet in ordine suo absque majoris imperio. 188

186 E.g., Rom. 4:3, 4:5-6, 4:9, 4:11, 4:13, 4:32.

187 APs XI:54 (trans. WARD, Desert, p.129).

188 PL 23:78a. ―[136] Anyone who has left the Koinonia of the brothers and afterwards does

penance and comes back shall not return to his rank without the superior's order. [137] In the same way,

if a housemaster or a steward sleeps outside one night without the brothers, and afterwards does penance

and comes to the assembly of the brothers, he shall not be permitted to enter his house or take his rank

without the superior's order‖ (trans. VEILLEUX, II:165).

96
---
In ordine suo refers to the seats to which monks were assigned for the meals and

the collecta, arranged according to seniority. (This was not only an effective method of

eliminating distinctions based on social status, but also made it easy to identify missing

monks.) The question behind these precepts, therefore, is not whether returning monks

should be allowed back into the monastery (which Pachomius, with his well-known

pastoral sensitivity, appears to have taken for granted), but whether they had sacrificed

their seniority by leaving without permission. 189

Similarly ambiguous is this passage from the Praecepta atque Judicia:

CLXXI. Si quis promiserit se observare regulas monasterii, et facere cœperit,

easque dimiserit; postea autem reversus egerit pœnitentiam, obtendens

infirmitatem corpusculi, per quam non possit implere quod dixerat, faciant eum

inter languentes commorari, et pascetur inter otiosos, donec, acta pœnitentia,

impleat quod promisit. 190

The description of a lax or misbehaving monk as ―sick‖ was a commonplace of

monastic literature. 191 The precept apparently refers to lax monks who remained on the

grounds of the monastery.

The verb fugĕre in other precepts suggests the monks in question intended to

defect. In the Praecepta et Instituta we find:

CLII. Præpositus domus culpæ et increpationi subjacebit, si ante tres dies non

nuntiaverit Patri; sive in via, sive in agro, sive monasterio quid perierit: agetque

publice pœnitentiam juxta ordinem constitutum. Et si homo fugerit, et ante tres

horas non nuntiaverit Patri, reus erit perditionis ejus: nisi tamen eum rursus

invenerit.

CLIII. Hæc est ultio in eum que fratrem de domo perdiderit: tribus diebus aget

publicam pœnitentiam, quod si eadem hora nuntiaverit Patri, in qua fugit, reus

non erit.

189 RB 29.1-3.

190 PL 23:83b. ―If someone has promised to observe the rules of the monastery and has begun to

do so, but abandoned them, but later on returned and did penance, while putting forward the weakness of

his body as the reason for his incapacity to fulfill what he had promised, he shall be made to stay with the

sick and shall be fed among the idle until, having done penance, he fulfill his promise‖ (trans. VEILLEUX,

II:178).

191 Jerome's diminutive corpusculum (―puny body‖ or ―little fellow‖) instead of corpus is curious.

We might have here, interpolated into his translation, an example of his well-known sarcasm.

97
---
CLIV. Peccatum si in domo sua Præpositus viderit, et non statim increpaverit

delinquentem, nec nuntiaverit Patri monasterii, ipse increpationis ordini

subjacebit. 192

Again, the concern is not departures, but that praepositi keep abbas informed of

events in the coenobia. Since Pachomian monasteries were large (sometimes over a

thousand monks) and their ordo favored privacy, many absences probably went

unnoticed until the collecta, when all took their assigned places.

That praepositi were partly responsible for the loss of fugitive monks is

significant. It is remarkable that Pachomius, while clearly disapproving of unauthorized

absences, directs no warnings to would-be fugitives, nor reproaches those who left, nor

makes any mention of their punishment. Yet the RP does contain references to the

punishment of praepositi who let monks leave unnoticed, as well as to monks whose

behavior caused others to flee. In the Praecepta atque Judicia, the abba passes over the

question of fault for monks who fled, focusing instead on the possibility that someone

else was to blame:

CLXXV. Si unus e fratribus, vel duo, vel tres scandalizati ab aliquo recesserint

de domo, et postea venerint, ventilabitur inter cos et scandalizantem ante

judicium; et si reus inventus fuerit, monasterii regulis emendabitur. 193

It is typical of religious rules that explicit attention to perseverance is found in

those sections which pertain to the evaluation and admission of candidates, insofar as

the question arises whether they have the desire and character to remain committed.

192 PL 23:79c. ―[152] For any object lost from the house for more than three days, whether it be

lost in the field or on the road, the housemaster shall be held responsible if he does not inform the steward

within the three days. He shall bow down to the ground according to the established precept. He shall

also be held responsible for the loss of someone who has run off, if he does not notify the father of the

monastery within three hours, unless he finds the man again. [153] This is the sin of the one who has lost

a man through negligence. For three days he shall bow down to the ground daily, according to their rule.

But if he has reported it at the time of the flight, he shall be exempt from sin. [154] When a sin is

committed among the men in one of the houses, if the housemaster, seeing the fault, does not notify the

steward, it shall be done to him according to their canon‖ (trans. VEILLEUX, II:171).

193 PL 23:84a. ―If one of the brothers, or even two or three, being scandalized by someone, leaves

the house and afterwards returns, the case between them and the one who scandalized them shall be

judged. If the latter is found guilty, he shall be corrected according to the rules of the monastery‖ (trans.

VEILLEUX, II:178).

98
---
The RP is an exception. Like later rules, Pachomius required newcomers to wait

outside the gate for several days; but unlike later rules, which affirmed that its purpose

was to test their ability to persevere, 194 the RP indicates nothing of the sort. Pachomius'

concern appears to have been more legal than spiritual; i.e., that some candidates were

runaway slaves or seeking refuge from legal and familial responsibilities.

[E]t diligenter sui experimentum dabit, ne forte mali quidpiam fecerit et turbatus

ad horam timore discesserit, aut sub aliqua potestate sit: et utrum possit

renuntiare parentibus suis, et propriam contemnere facultatem. 195

This is one example where a Pachomian precept with no explicit connection to

perseverance was redacted in later rules in such a way as to introduce it. Another is the

requirement that the secular clothing of candidates be kept in the storeroom et erunt in

potestate principis monasterii. 196 No reason is given for the precept. Later rules

incorporated it but added that, by this means, departing monks could receive their old

clothes back. 197

B. THE GREATER ASKETICON OF ST. BASIL [GA]

After priestly ordination Basil taught ascetic principles to various groups such as

consecrated virgins living with their families, laypersons in the world, and monastic

communities. He also founded communities of his own. Scribes recorded the questions

put to him, and about 365 the first edition of the ―Smaller Asketicon‖ appeared, its

contents arranged in question-and-answer format. Basil continued to revise it for the

rest of his life; at his death the ―Greater Asketicon‖ was more than twice its original

194 Inst IV, RM 87-89, RB 58.

195 PL 23:70a. ―Carefully he shall make himself known: has he done something wrong and,

troubled by fear, suddenly run away? Or is he under someone's authority? Can he renounce his parents

and spurn his own possessions?‖ (trans. VEILLEUX, II:153). Philip Rousseau speculates that this rule was

added sometime after Pachomius' death, and that the evaluation of vocations had originally been the

shared responsibility of the monks and the candidates' families (ROUSSEAU, Pachomius, pp.69-70).

196 PL 23:70b. ―[I]n the keeping of the superior of the monastery‖ (trans. VEILLEUX, II:153).

197 Inst IV.6, RM 90.83-87, RB 58.27-28.

99
---
size. 198 The GA, more overtly directed to communities than the SA, is an eclectic text

in which Basil incorporated earlier essays and homilies and made copious citations of

Scripture. 199 It is divided into longer and shorter responses, traditionally known in Latin

as the Regulae fusius tractatae and Regulae brevius tractatae. Basil offered relatively

few concrete instructions therein, preferring instead to elaborate his theological and

ascetical principles.

100

As priest and bishop, Basil was deeply disturbed by the heresy, acrimony and

scandal he witnessed within local churches and ascetic communities, which included

numerous defections from the priesthood and consecrated life. 200 It is in this context,

i.e, Basil's keen awareness of Christian weakness, that one should understand his strong

advocacy of coenobitic monasticism as a means to spiritual perfection, or what he called

―the life of piety.‖ Only by means of true and lasting koinonia in his communities could

similar scandals be avoided. Basil acknowledged the impact of his experiences in the

Prologue of the GA, with an apparent allusion to 2 Tim 5:11.

Whenever I call these things to mind—if I may speak openly of my own

experience—I am struck with a kind of shuddering and cold terror in case it

happens that through carelessness of mind or preoccupation with vanities I fall

from the love of God and become a reproach against Christ. For the one who

now deceives us. . . will boast of our disobedience and apostasy. 201

198 In Latin known as the Asceticon magnum (PG 31:901-1305) and Asceticon Parvum (PL

103:483-554). The SA no longer exists in the original Greek except for a few fragments. There is no

critical edition of the Syriac version, only of a Latin translation by Rufinus (PL 103). As Basil constantly

revised his work, there is no definitive text of the GA; at his death at least three versions were in

circulation. For the purposes of this study I refer to a critical translation by ANNA M. SILVAS, The

Asketikon of St. Basil the Great, Oxford University Press, 2005. She based it upon the last version known

to possess Basil's stamp of approval, despite the fact that it had been edited by his contemporaries, as

opposed to earlier versions arranged solely by Basil (SILVAS, pp.13-14).

199 The ambiguity begins in the Prologue. Basil begins by addressing himself to committed

ascetics, then suddenly shifts attention to Christians who were satisfied with the minimum necessary for

salvation. It appears here that Basil incorporated an earlier homily directed to catechumens who were

inclined to defer baptism until their death (SILVAS, p.153, n.1).

200 As bishop, Basil was required to address these defections, as well as second marriages

(permitted but widely disdained), from a juridical perspective. In three letters to Amphilochius he

discussed numerous decrees of early councils pertaining to these issues (BASIL, Letters 188, 199, 217;

SCHAFF, Basil, pp.223-228, 236-240, 255-259).

201 GA, Prol. 4. On the relevance of 2 Tim 5:11, see below, pp.66-68. On Basil's experience of

scandal and its influence on his images of community, see FEDWICK, Basil, pp.41-47.
---
101

Whereas the Fathers generally allowed for a distinction between ―the good‖ and

―the better‖ in Christian life (i.e., continence was ideal but not obligatory), Basil

affirmed that all Christians were obliged to seek spiritual perfection, which meant a life

dedicated to prayer, charity, continence, and a renunciation of possessions. 202 To

mingle with those satisfied with an observance of the commandments was harmful; they

fail to love the Lord and ―rubbish the work of piety.‖ 203 (This should be interpreted,

however, within the context of a church that was experiencing an onslaught of insincere

catechumens.) Hence monastic profession [homologia] was essentially no more than a

profession of Christian faith and a reaffirmation of baptismal promises. 204

This perfection was realistically possible for the majority of Christians only

through the mutual support of cenobitic monasticism. Basil developed this argument at

length in the GA, offering fourteen reasons in LR 7 for its superiority to eremiticism.

To this end he employed two images to describe monastic community. The first was the

Acts Community, to which he alludes at least a dozen times. 205 Going beyond

Pachomius, Basil insisted that koinonia meant being of one heart and mind and sharing

202

Basil's standards almost certainly reflected the influence of his old mentor Eustathius, bishop

of Sebaste, with whom he later had a falling out. Eustathius was instigator of a movement which

advocated extreme asceticism and condemned marriage as sinful. Although a disruptive influence in

local churches, Eustathians did not break from them, endeavoring rather to instill their convictions in all

Christians (FEDWICK, Basil, pp.156-160). Another prominent movement with similar doctrine, the

Encratites, tended toward separatism and group-identity (BROWN, Body and Society, pp.92-101). Basil

did not condemn marriage in principle but considered it a distraction from the pursuit of perfection (LR 5,

33). He permitted married couples, even those with children, to enter his communities, provided the

spouses lived in separate houses and practiced continence (LR 12, 15). It is important to remember that

Basil was writing to communities with the intention of inspiring them in their vocation, at a time when the

excesses of the Eustathians and Encratites were stirring doubts about asceticism's true value (BROWN,

Body, pp.289-290). Earlier Basil had composed a treatise specifically for laypersons, the Moralia, the

standards of which were not significantly different than what he espoused in the GA.

That vows of poverty, chastity and obedience formally constitute the essence of ―the religious life‖

is a medieval development, yet one foreshadowed by Basil. ―Clearly the precious pearl [Matt 13:45-46]

is used as an example of the heavenly Kingdom, which the Lord's word shows we cannot attain, unless in

order to gain it we have first given exchange for it all our possessions alike—riches, glory, family, and

whatever else is so keenly admired by the many‖ (LR 8). Emphasis mine.

203

LR 6, 32.

204

SR 2, LR 8.

205

In Epistula 295 Basil recommends to monks the ideal of the Acts community against

temptations to laxity and defection (SCHAFF, Basil, pp.317-318).
---
all things in common. 206 To ascetics who affirmed that it was sufficient to neither take

anything from the community nor give anything of their own, Basil responded that this

sharing was the essence of Christian love, and by implication, the raison d'être of

monastic community.

If he will not uphold that teaching of the Lord who said Love one another even as

I have loved you (John 13:34), then let us uphold the Apostle who said Cast out

the evil from among yourselves (1 Cor 5:13), lest it happen that a little leaven

corrupt the whole lump (1 Cor 5:6). 207

102

Sharing was not, in the first place, a practical necessity elevated in dignity by the

interpolation of Christian values, nor was it an exterior expression of an interior attitude.

It was koinonia itself, i.e., an earthly experience of simultaneously existing as one-and-

many, a unity made possible through the presence of the Holy Spirit. It was more than a

sharing of material goods. It meant an investment of one's entire existence in the lives

of one's companions, including time, prayer, labor, and emotional energies.

Basil also utilized the Pauline metaphor of the church as a Body, held together

by the Spirit with Christ as the Head. 208 It was Christ who called persons to the Body,

and salvation came only through membership in that body (understood in the above

sense of the supremacy of cenobitic monasticism). The body had one heart and one

soul. One's ―true‖ family were the other monks, and each had gifts for building up the

body. The presider was responsible for the welfare of each, and he or she should be an

ideal ascetic whom others could imitate. Misbehaving members were ―sick‖ or

―dislocated,‖ and those who left were ―amputated‖ from the body.

Basil's use of the Body metaphor is unique among the classic rules. Yet the

evidence suggests that koinonia, not the Body, was his ideal image. His preferred term

for individuals was not ―members‖ or ―parts‖ but epi to auto [―we who live together‖]

206 SR 85, 86.

207 SR 86 (trans. SILVAS, p.321). Emphases Silvas'.

208 The specific qualities of the Body here listed are found in LR 7, 8, 24, 25, 28, 29, 32, 35, 43.1,

SR 44, 102, 188, 225.
---
or simply koinonia. He never called his communities the ―Body of Christ,‖ nor did he

affirm, like Benedict later, that superiors hold the place of Christ. In LR 7, where he

exploits the Body metaphor most fully, he is more preoccupied with attacking

eremiticism than with providing a theological ideal for true community. Hence it is

significant that when he ceases his attack and turns to his own communities at the end of

LR 7, he abruptly shifts to the language of koinonia.

[T]his is the dwelling together of brothers in unity. Its goal is the glory of God

according to the commandment of our Lord Jesus Christ. . . and it preserves the

character of what was reported of the saints in the Acts of the Apostles, of whom

it is written: All the believers were of one mind and held all things in common

(Acts 2:44) and again: And the multitude of believers were of one heart and soul;

and not one of them said that anything he possessed was his own; but they held

all things in common (Acts 4:32). 209

103

How did Basil understand departures from his koinonia? In LR 36 he posited

three possible motives for ―the breaking of one's pledges‖: a monk desires to leave a

lax community that is detrimental to his spiritual progress, his leadership skills are

needed in a different community, or he suffers from ―instability of intention.‖ In the

first case, Basil permitted one to leave if he first attempted to reform the community

with the help of outside authorities. This ensured that monks were leaving in good

faith, since a third party could determine whether reform was truly needed or the monks

were using the community as an excuse. If reform was needed but failed, they ―will no

longer be withdrawing from brothers but from strangers‖ (Matt 18:17). This

underscored Basil's identification of koinonia with the essence of the community, in

that its absence would mean there was no real community to leave.

In the second case, should there be a shortage of good leadership among

communities, qualified monks who left one to serve another ―are not withdrawing

themselves but fulfilling the common good.‖ 210 Basil did not specify anything more

209 LR 7.4 (trans. SILVAS, p.186).

210 On inter-community transfers see also LR 35.
---
about the transition process. Presumably he expected it to happen only with the

blessing of the community, which is perhaps implied where he wrote of personnel being

―directed to this place or that through the commandment of the Lord.‖ That Basil

mentioned inter-monastery transfers together with illicit defections is notable; it

suggests that some were citing the welfare of other monasteries as an excuse to leave

their own.

104

Basil rejected all other reasons for leaving, including desires for the solitary life,

as ―instability of intention.‖ 211 It presupposed his conviction that enkrateia was

essential to the ―life of piety.‖ In Stoic thought enkrateia meant the suppression or

moderation of desires and impulses necessary to acquire apatheia. It was also used

more narrowly to denote sexual continence. Basil defined it at length in the GA: it was

―abstinence from pleasures practised in order to overthrow the mind of the flesh in view

of the goal of piety,‖ and again, ―a taking away of sin, a weaning from passions, a

mortifying of the body with its natural passions and cravings; it is the beginning of

spiritual life, the sponsor of eternal blessings and extinguishes in itself the sting of

pleasure.‖ 212 It included mastery over distractions and frivolous thoughts and

laughter. 213

Enkrateia was not about suffering for its redemptive or punitive value. 214 The

aim was to deny superfluous pleasures that inevitably stimulated exertions of self-will

211 LR 36. See also SR 74, 102.

212 LR 16-19. Basil held no illusions about enkrateia being a panacea for perseverance. He wrote

several letters to a fallen monk with whom he had once lived, and who had practiced the greatest

austerities: ―What has become of the story of your labours? Or must we disbelieve them? How can we

avoid giving credit to what has long been hid when we see what is plain? . . . You have made yourself

security for fatal perjury; and, by setting the ascetic character at nought, you have cast blame even upon

the Apostles and the very Lord Himself. You have shamed the boast of purity. You have disgraced the

promise of chastity; we have been made a tragedy of captives, and our story is made a play of before Jews

and Greeks‖ (Epistula 45.2; trans. SCHAFF, Basil, p.148).

213 LR 5, 17.

214 Despite the bracing language of self-denial, Basil was careful to articulate moderation and

accommodation to individual needs (LR 16, 17, 19). ―Yet, by [enkrateia] we do not at all mean complete

abstinence from food—this would indeed be the violent dissolution of life—but abstinence from pleasures
---
and thus ruptured koinonia. Hence the vice principally opposed to enkrateia was

following one's own will, or ―self-pleasing,‖ to which Basil refers frequently.

105

The steadiness or ―non-movement‖ that results from enkrateia is a recurring

theme in the GA. Basil applied it to a wide variety of considerations, including monks'

emotional stability, their satisfaction with their superiors, or perseverance in their

vocation. Even a desire to change assigned jobs in the community was a sign that one

was a ―self-pleaser‖ and ―ailing from passion.‖ 215 To support all these points Basil

repeated Paul's maxim ―to remain in the calling in which you were called‖ (1 Cor 7:20);

it is one of the most frequently-cited biblical verses in the GA. On that basis, for

example, no one should give goods to the poor except the one charged with that task,

and monks should not preoccupy themselves with the decisions of their superior. 216

Each should ―show unwearying zeal for God in his own place.‖ 217

Basil posited several reasons why illicit departures are sinful. These are not

found in the SA, suggesting that he had acquired increased experience in this regard. 218

[A]nyone who has been received into the community and (it happens that) then

annulled his profession, must surely be regarded as sinning against God, before

whom (as witness) and to whom he pledged the profession of his promises. If

someone sins against a man, it says, they shall pray for him to God, but if he sins

against God, who shall pray for him? (1 Sam. 2:25). For anyone who dedicated

himself to God but then darts off to another kind of life has committed sacrilege,

since he has purloined his own self and made off with an offering that is God's.

It is only reasonable that the brothers' door never again be opened to such as

these—not even for a brief stay for the sake of shelter as they pass by. For the

apostolic rule is plain which bids us withdraw from everyone disorderly (2 Thess.

3:6) and not associate with him, that he may be put to shame (2 Thess. 3:14). 219

practised in order to overthrow the mind of the flesh (Rom. 8:) in view of the goal of piety (LR 16, trans.

SILVAS, p.207). Here and elsewhere Basil was anxious to distance himself from Encratites.

215

SR 117. See also LR 24, 41-42, SR 119, 121, 125.

216

SR 91, 100, LR 48.

217

LR 24. Emphasis mine.

218

LR 14 is a reworking of a passage from the SA, Question 7, in which Basil had written of

consecrated virgins (PL 103:498c). The references to sacrilege, however, and being shunned from the

brothers, were new.

219

LR 14 (trans. SILVAS, pp.198-199). Emphases Silvas'.
---
And again:

It cannot be a matter of indifference whether those who have once professed

before each other to live a common life continue to do so or to withdraw. . . . [I]n

the first place, it dishonours the name of our Lord Jesus Christ who gathered us

together; and secondly because the disposition of each towards the other cannot

remain wholehearted and they will become suspicious of each other instead. But

this is clearly opposed to the commandment of the Lord who said: If you are

offering your gift at the altar and there remember that your brother has anything

against you, leave your gift there before the altar and go, first be reconciled to

your brother and then come and offer your gift (Matt. 5:23-4). 220

106

Here Basil treats departures as a ―vertical‖ offense against God and a

―horizontal‖ offense against the community. The first he couched in the language of

consecration and sacrilege. In the classical understanding, consecratio was the

liturgical act of dedicating an object or person exclusively to the service of God. To use

a consecrated object inappropriately, or to harm a consecrated person, was in essence to

steal from God that which rightfully belonged to Him, and which God could have used

for the furtherance of His ends. In this sense Basil was appealing to a respect for

justitia, not essentially different from what we find in the Rule of Pachomius.

Basil frequently alluded to consecration and sacrilege, a likely reflection of his

background as a bishop. The possessions of one who enters an ascetic community, for

example, are consecrated to God; therefore if his relatives fight to obtain them instead

of allowing him to dispose of them at his discretion, they commit sacrilege. 221 Monks

commit sacrilege if they lose or break the tools of the community. 222 Ministers must not

to be partial in the distribution of resources to the monks, since Christ rewards respect

for those ―dedicated‖ to him. 223 And Basil requires outside church authorities to witness

monastic professions,

so that by their means the consecration of the body may be hallowed as a kind of

sacred offering to God and their witness may confirm the event. For in the mouth

of two or three witnesses, it says, every word is established (Deut 19:15; Matt

220 LR 36 (trans. SILVAS, p.243). Emphases Silvas'.

221 LR 9, SR 187.

222 SR 143-144.

223 LR 34.
---
18:16). In this way the zeal of the brothers will occur no blasphemy and those

who profess themselves to God and then try to annul it will be given no loophole

for their shamelessness. 224

107

All this is quite different from what we find in other rules. Neither Pachomius,

Augustine, Benedict, Francis, nor Dominic refer to the consecration of monks or

monastery possessions. Cassian used this terminology in the Institutes, but restricted it

to material goods, i.e., departing monks who demanded the return of that which they

had given the monastery were guilty of ―blasphemy‖ and a ―sacrilegious spirit.‖ 225

That Cassian declined to call monks ―consecrated‖ was likely intentional. As we shall

see, he wished to make it easy to expel men from a cenobium in order to preserve its

rarefied atmosphere. The idea that monks were consecrated would have made it

difficult for him to do so. 226

The aforecited explanations for the sinfulness of departures were Basil's

responses to pointed questions from his audience. That one who departs ―must surely

be regarded as sinning against God‖ suggests that some monks were denying the

sinfulness of departures. And again, that ―it cannot be a matter of indifference‖ to the

community when its members leave, suggests that some who left (or perhaps even some

who remained behind) had excused them on the grounds that the community had no

legitimate reason to react negatively. 227 As ―occasional‖ responses, Basil's answers

should not be interpreted to mean that he conceived a sharp distinction between

224

LR 15.4 (trans SILVAS, pp.203-204). See also LR 14.

225

Inst. IV.4, 19-20.

226

Perhaps for this reason the language of consecratio and consecrare appears nowhere else in the

Institutes and Conferences.

The ―Master‖ took Cassian's principle a step further when he wrote that every object which enters

a monastery, or is produced therein, ―makes its way to God‖ and is thus obliged to ―persevere‖: Quidquid

enim in monasterio aliquando adquisiuit uel laborauit aut contulit, abscedenti ei penitus non reddatur,

quia omni rei ingressae ad Deum in monasterio perseverantia opus est. Ideo exitus licentiae denegatur.

Solum ab inuito ea res, quae liberum habet arbitrium, non detinetur, id est anima ipsa et corpus, quae in

voluntatibus et desideriis suis ut a diabolo captivetur, libero se dicit esse constituta arbitrio et putat sibi

licere quod malum est (RM 90.88-91). Monks are offered as a gift to God (87.35) and anything offered to

God must not be recalled to the world (90.94).

227

One wonders whether enkrateia was invoked as the reason why a community should be

indifferent to the departures of its members, in which case there would have been an interesting tension

between it and koinonia, the two fundamental values of Basilian communities.
---
obligations to God and obligations to a community. His idea of koinonia was that of an

organic unity whereby fidelity to a community was the principal means to experience

the presence and fidelity of God. From a modern perspective, when Basil (and Cassian)

describe the abuse of common property as sacrilege or the departure of a monk as

sacrilege, it can be tempting to see a subtle spiritualization intended to protect the

economic and emotional interests of the monastery. Yet as we have seen, that interpret-

tation is predicated upon a distinction that was generally foreign to their spirituality.

108

The obligation to persevere in a propositum was already clear in the SA, 228 but

Basil framed it still more sharply in the GA. He added more criteria for the admission

and formation of children, and for the first time in the history of rules, he mentioned a

formal rite of profession, which must be made with maturity and ecclesial approbation,

―so that if they fail, no reproaches are brought against the life of piety.‖ 229 (Again, it is

unclear whether this entailed a formal promise or vow.) Here and elsewhere in the GA,

Basil exhibits preoccupation with the scandal and negative publicity among the public

that were caused by departures. Perhaps it is evidence that his communities were

located in an urban setting.

C. THE RULE OF ST. AUGUSTINE (C. 397) [RA]

As a layman Augustine established retreat houses in Cassiciacum and Tagaste

where he and friends could pray and engage in intellectual reflection. He established

his first real monastery in a church garden in Hippo after his priestly ordination in 391;

its residents were laymen and all goods were possessed in common. When Augustine

was consecrated bishop five years later, he left the grounds so that his duties and

frequent visitors would not disrupt its tranquillity. About 397 he wrote the Praeceptum

228 SA, Question 7 (PL 103:499a).

229 LR 15.
---
as a rule for the friends he left behind. 230 It is a brief text of five chapters, each

consisting of several paragraphs.

109

The first chapter firmly establishes the koinonia of the Acts community as the

ideal of the monastery. Augustine alludes to it five times, but no more in the remainder

of the rule. It begins thusly:

Haec sunt quae ut observetis, praecipimus in monasterio constituti. Primum,

propter quod in unum estis congregati, ut unanimes habitetis in domo et sit vobis

anima una et cor unum in Deum (Acts 4:32). Et non dicatis aliquid proprium, sed

sint vobis omnia communia (4:32), et distribuatur unicuique vestrum a praeposito

vestro victus et tegumentum, non aequaliter omnibus, quia non aequaliter valetis

omnes, sed potius unicuique sicut cuique opus fuerit (4:35). Sic enim legitis in

Actibus Apostolorum, quia erant illis omnia communia et distribuebatur

unicuique sicut cuique opus erat (4:32, 35). 231

Augustine instructs monks of wealthy means not to be proud for having donated

much to the community. Monks from humbler backgrounds were likewise not to put on

airs as a result of their sudden rise in material comfort and social circles. The chapter

then ends with another appeal to the Acts community:

Omnes ergo unanimiter et concorditer vivite (4:32), et honorate in vobis invicem

Deum cuius templa facti estis. 232

Augustine desired to create communities of equals, bound by mutual love,

respect, and support, in which all could practice the virtues and pray in tranquillity. 233

230 ―Rule of St. Augustine‖ is traditionally applied to several texts, of which the authenticity of

some is widely rejected. Scholars generally regard as authentic the Praeceptum, a rule for men, with

twelve brief chapters that begin with the words Haec sunt. Also probably authentic is a slightly revised

version for women called the Regularis informatio. It was addressed to a community of virgins at Hippo

and prefaced with parts of an earlier letter (Epistula 211.1-4, also called the Obiurgatio) in which the

bishop chastizes them for rebelling against their superior. Probably inauthentic, but similar in thought, is

the Disciplina monasterii or Ordo monasterii or Regula secunda, a rule of eleven chapters which begins

with Ante omnia. Over the centuries these and other texts were combined and revised so that recovery of

the original versions remains elusive. The Praeceptum, prefaced by the first sentence of the Ordo

monasterii, has been called the Regula recepta (PL 32:1377-1384). It was used extensively after its

ratification by the Fourth Lateran Council, and is the oldest rule with western origins.

231 RA I.1-3. ―Here are the rules we lay down for your observance, once you have been admitted

to the monastery. The chief motivation for your sharing life together is to live harmoniously in the house

and to have one heart and one soul seeking God. Do not call anything your own; possess everything in

common. Your superior ought to provide each of you with food and clothing, not on an equal basis to all,

because all do not enjoy the same health, but to each one in proportion to his need. For you read in the

Acts of the Apostles: ‗They distributed everything in common', and ‗Distribution was made to each in

proportion to each one's need'‖ (trans. GEORGE LAWLESS, Augustine of Hippo and His Monastic Rule,

Oxford, Clarendon Press, 1987, p.81).

232 RA I.8. ―Live then, all of you, in harmony and concord; honour God mutually in each other;

you have become His temples‖ (trans. LAWLESS, p.83).
---
His entire emphasis was on this union of hearts and minds. He wrote nothing in the RA

of seeking mystical contemplation, nor study, nor ascetic practices. Avoidance of vice

was a communal project: ―Mutually safeguard your purity. . . God, who dwells in you,

will protect you in this way too by your mutual vigilance.‖ 234 There is no allusion to

hierarchies, save a few fleeting references to a superior [praeposito], and nothing about

the positive value of obedience to that superior. On the contrary, Augustine subtly

underscores obedience to the community by making the praeposito the ―middle term‖ in

the process of fraternal correction. That is, one who observed vice in another should

first try to confront his peer before going to the superior; later, if the guilty monk

refused correction from both his peer and superior, he was not to be expelled unless he

was brought before the entire community and still persisted in his obstinacy. 235

110

In the RA we find no references to perseverance in a monastic vocation, nor to

the evaluation of candidates, nor to a rite of profession, nor even to a propositum

bonum. The rule begins with the fact of having been admitted: Haec sunt quae ut

obseruetis praecipimus in monasterio constituti. 236 The closest Augustine comes to

the idea of perseverance is the aforementioned rule on correction: Quam si ferre

recusauerit, etiam si ipse non abscesserit, de uestra societate proiciatur. 237 It suggests

that individuals were free to leave of their own accord, or at least on occasions when

serious tensions arose. The RA is also unique among classic rules insofar as it adverts

to monks who wanted to stay but were not allowed to do so. This was not a case of

Augustine disregarding any sincere convictions they might have had about their

vocations. The bishop was thinking about the already-old problem of those who entered

233

The most important texts outside the Praeceptum for Augustine's understanding of monastic

community are Sermons 355-356 (PL 39:1568-1581) and Epistula 211 (PL 33:958-964).

234

RA IV.6 (trans. LAWLESS, p.91).

235

RA III.9.

236

RA I.1. ―Here are the rules we lay down for your observance, once you have been admitted to

the monastery‖ (trans. LAWLESS, p.81).

237

RA IV.9. ―If he refuses to submit to punishment, even if he is determined not to leave, expel

him from your society‖ (trans. LAWLESS, p.93).
---
monastic life to escape their poverty or their responsibilities in the outside world. 238

Once inside they often refused to work, citing Matt 6:25-34 as justification. That

Augustine admitted this problem explicitly in Chapter One testifies not only to its

prevalence, but also to the importance of purity of intention as constitutive of true

communio.

111

While it is always dubious to argue from silence, the conspicuous absence of

references to perseverance probably reflects Augustine's theology. His monasteries

were to pose a healthy challenge to a church ostensibly tainted by mediocrity and

scandal, but they were not a judgment upon it, much less a remedy for its ills (contrary

to Cassian and Basil, but similar to Francis). 239 In the RA we find no hint of elitism, no

language of rejecting the world, nor even of a distinction from it. 240 The bishop was too

convinced of the pervasiveness of sin to expect monks to rise far above the

imperfections that marked all other Christians; and unlike Jerome, Augustine

entertained little hope that asceticism would diminish the strength of temptations, sexual

or otherwise, that enticed monks to quit. 241 To be sure, perseverance was a desidera-

tum. But what R. A. Markus affirmed about Augustine's view of spiritual perfection

applies equally well here: It was required of all, equally beyond the powers of all, and

equally dependent upon God's grace. 242 Consequently exhortations to persevere would

238 See AUGUSTINE, De opere monachorum; CASSIAN, Inst IV.3, 30.

239 ―La comunidad agustiniana es el mismo cuerpo místico de Cristo, la Iglesia en un grupo de

miembros más selectos y, en principio, más honorables; o si se quiere, una iglesia o comunidad

particularmente ferviente dentro de la Iglesia de Cristo‖ [ANDRÉS MANRIQUE, ―El espíritu de la vida de

comunidad según San Agustín,‖ CiuDios 180 (1967), p.180]. A.M.C. CASIDAY described Augustinian

monasticism as a kind of ―concentrated Christianity‖ (Tradition and Theology in St. John Cassian,

Oxford University Press, 2007, p.61). In this light it is significant that Augustine never called the

community a ―Body‖ in his rule, a term that he used frequently elsewhere to describe the church.

240 Despite temptations which visits from family and sojourns outside the monastery could

occasion (RA III.3-5, IV.3), Augustine seems to presume that monks could leave the grounds without

permission (III.2), including for visits to the public bathhouses, albeit always in groups (RA III.7).

241 On Augustine's ambivalence toward asceticism see PETER BROWN, Body and Society, pp.387-

427. Brown cites a remark in Contra Iulianum: ―For when I had this work in hand, it was announced to

us that an old man of eighty-three, who had lived with his wife in continence for twenty five years, had

just now purchased a lyre girl for his pleasures‖ (ibid., p.419).

242 MARKUS, p.159.
---
have served little purpose. Neither could the bishop bring himself to condemn those

who left, given his own experience of weakness.

D. JOHN CASSIAN, THE INSTITUTES I-IV (C. 417-418)

112

Cassian was requested by Bishop Castor of Julia Apta to establish and reform

monasteries in Gaul based upon eastern doctrine and practice. The initial result of his

efforts was the Institutes, a collection of twelve books in which he tailored Egyptian

monasticism to an environment that was different both physically and culturally. Books

I-III describe externals such as monastic dress and the forms of prayer and psalmody.

Book IV contains the fundamental values of monasticism, and culminates in a speech of

Abba Pinufius to a young novice on the day of his profession. The speech centers upon

perseverance in his vocation, and has rightly been called the ―heart of the Institutes.‖ 243

Books V-XII are a literary unit distinct from I-IV, in which Cassian attends to the eight

principal vices of monastic life (as first listed by his mentor Evagrius 244 ) and means to

overcome them. In the following paragraphs we limit ourselves to Books I-IV, insofar

as these were frequently adopted by monastic communities for their rule.

While Cassian agreed with Augustine on the primacy of grace, central to his

theology was the conviction that monks contribute something of their own to the

process of perfection through the practice of asceticism. 245 Vices and unruly desires

were not inescapable realities of the fallen human condition; they could be eliminated

with prayer and effort. At the same time, their presence was a helpful indicator of

spiritual immaturity or heretical leanings that required attention. 246 Whether or not this

243 BONIFACE RAMSAY, John Cassian: The Institutes, New York, Newman Press, 2000, p.5.

244 Cassian deliberately makes no acknowledgement of his considerable debt to Evagrius, whose

connections to Origen would have disrupted reception of Cassian's work. Probably for similar reasons

the term apatheia is found nowhere in the Institutes or Conferences.

245 The Institutes were composed eight years before monastic hostilities to Augustine's theology

of grace first erupted (c.416), and thus should not be interpreted as an implicit critique of the bishop's

writings.

246 Inst VI.7.2, VI.10, Conf III.7.3, IX.3.3, X.5, X.11.6, XIV.12.
---
ightfully earned Cassian the epithet ―semi-Pelagian,‖ the efficacy of will and effort had

been a basic presupposition of all the Fathers minus Augustine. What Cassian wrote at

the end of Book IV could easily have been penned by Tertullian, Cyprian, Basil or

Gregory, or for that matter, by Seneca:

Ergo patientiam tuam no debes de aliorum sperare virtute, id est, ut tunc eam

tamtummodo possideas, cum a nemine fueris irritatis: quod ut possit non evenire,

tuae non subjacet potestati; sed potius de humilitatae tua et longanimitate, quae in

tuo pendet arbitrio. 247

113

For Cassian the ultimate goal of a monk was not koinonia with his companions

but mystical contemplation, which was facilitated by the absence of disordered desires

and thoughts. Cassian called this absence puritas cordis or ―purity of heart,‖ which he

apparently substituted for the Greek term apatheia. 248 Contrary to Augustine, for whom

koinonia was achieved in spite of, or even because of, the vices of its members, Cassian

held that true and lasting friendships could exist only between persons who possess

purity of heart. 249 Rather than being an end in itself, a cenobium was a place where one

could experience peer pressure to advance toward greater perfection.

Consequently, in Books I-IV we find hardly a hint of the Acts community as the

ideal of monastic life. It is true that Cassian praises the first monks for having retained

its unity of heart and mind and the sharing of goods, but then Cassian adds that they

also did things ―far more lofty‖ by seeking solitude and rigorous asceticism. 250 With

one possible exception, nowhere does Cassian use communio or a transliteration of

247 Inst IV.42 (PL 49: 201A). ―Hence you must not expect your patience to come from anyone

else's virtuousness—that is, so that you will not only possess it when no one else irritates you (which it

does not lie in your power to prevent from happening)—but rather from your own humility and

forbearance, which depends upon your will‖ (trans. RAMSEY, Institutes, p.101).

248 That Cassian did not transliterate apatheia as he had other terms, suggests he was avoiding a

controversial term in order to facilitate wider reception of his work.

249 Conf 16.3-6.

250 Inst II.5.1-2. In the Conferences Cassian would identify the Acts community as the historical

origin of cenobitic monasticism.
---
koinonia to denote the community or its unity. 251 Rather, his gaze focused almost

entirely on the individual monk. In Book I, for example, the garb of monks is not so

much a means of identification with a community or the monastic state as much as an

imitation of solitary figures such as Elijah and the Baptist. And at the start of Book IV,

Cassian begins with ―the instruction of him who renounces this world,‖ and ends with

the mandate that he persevere.

114

The prominence of perseverance in Cassian's thought is most evident in Book

IV, where it constitutes the principal theme. ―Before anything else,‖ he writes, ―I think

that we ought to touch upon how great the perseverance and humility and subjection of

these men is so enduring and by what training it is shaped, such that they persevere in

the cenobium until they are bent with age.‖ 252 Cassian was referring to Egyptian

monks, whom he held up as an ideal before Gallic monks. Here and elsewhere he

reminds Gallic monks of their inadequacy by comparison: ―For [the virtue of Egyptian

monks] is of such a kind that we do not recall anyone who has joined our [Gallic]

monasteries to have maintained even for a full year.‖ 253 Yet this should be read cum

grano salis, as the inferiority of monks to their predecessors was a recurring theme in

the apopthegmata; and in any case, the importance of models to whom monks could

aspire was integral to Cassian's project.

Cassian treats perseverance both as the necessary condition of the possibility of

spiritual growth, and as the reward or fruit of that growth. The former appears at the

beginning of Book IV, in the context of the probation process, where a commitment to

251 In Inst II.17.1 Cassian writes of one ―who is entrusted with arousing the religious community

[communitio] and caring for the synaxis‖ (trans. RAMSAY, Institutes, p.48).

252 Inst IV.2 (trans. RAMSEY, p.79). ―Quorum tam longa perseuerantia et humilitas atque subiectio

quemadmodum tam diuturna perduret quaue institutione formetur, per quam usque ad incuruam senectam

in coenobio perseuerent, opinor nos ante omnia debere praestringere. . ..‖ Latin citations of the Institutes

are from Jean Cassien: Institutions Cénobitiques, ed. Jean-Claude Guy, in the series Sources chrétiennes,

Série des Textes Monastiques d' Occident, Paris, Les Editions du Cerf, 1965, vol.17.

253 Ibid. ―tanta namque est, quantam neminem in monasteriis nostris ingressum ne anno quidem

integro tenuisse meminimus.‖
---
persevere is regarded as the essential precondition for admission. Unlike Pachomius,

Cassian leaves no ambiguity about the rationale behind probation: a candidate must

remain outside the gate ten days until ―he has given an indication of his [perseverantia]

and desire, as well as of his humility and [patientia].‖ 254 Meanwhile he should endure

ridicule ―to give proof of his [constantia]‖ and to prove his mettle ―in time of trial‖[in

tentationibus].

115

Also new was Cassian's justification for the precept that monks should be

dispossessed of all money before entering the grounds. They would be more easily

tempted to leave if they knew they had viable recourses outside the community. 255 In

contrast, Basil had considered in the GA whether the renunciation of goods was

practiced because goods were bad in themselves or because they distracted their owners.

He answered that possessions are inherently good insofar as they are divine creations,

and that their dispassionate and discerning distribution (preferably within the

community 256 ) was a great aid to spiritual growth. 257 For Basil, such sharing was an end

in itself. Thus we have another example of how a ―theology of community‖ can have

implications for precepts related to perseverance.

Cassian forbids monks ―the possibility of leaving openly,‖ that is, of leaving

with the implicit or explicit consent of the community. 258 They could either flee at night

―like a runaway slave‖ or to leave during the day amid ridicule from the others. His

bluntness is striking; nothing of the sort is found in the other rules. On the other hand,

fleeing monks would not be hunted down and compelled to return, as affirmed in the RP

and RB. To preserve the high standards of the community, it was necessary to be able

254 Inst IV.3.1 (trans. RAMSAY, p.79).

255 Inst IV.3.2.

256 LR 9.

257 SR 92.

258 Inst IV.6.
---
to expel new monks for slight offenses 259 and senior monks for greater offenses. 260

Thus, there is an odd tension between the stress placed upon individual perseverance

and the relative liberty with which a cenobium could dismiss its members. 261

116

That lack of perseverance was more a personal failure than an offense against

the community is underscored at the end of Book IV by the fact that Cassian placed an

exhortation to persevere in the mouth of Abba Pinufius, a widely-venerated monk who,

while superior of a cenobium, had twice fled in the middle of the night to enter distant

monasteries where he was unknown and could experience greater humility. 262 That

Cassian recounted these stories approvingly indicates that leaving a cenobium was not

sinful in itself if the motivation was proper. By implication, stabilitas denoted a value

that far transcended physical location. Nonetheless Cassian presupposed an extraordi-

nary puritas cordis in Pinufius that was not possessed by the majority of monks, 263 since

he condemned as a general rule those who left their cenobia under the pretext of seeking

greater perfection. 264

Cassian exalted the deeds of Abbas John, Patermutus and Pinufius, so that ―there

might arise from these not only an incitement to a perfect life but also an outline of their

chosen orientation [propositum].‖ 265 Cassian began with John, describing his obedience

as a novice, and then Patermutus, who, also as a neophyte, cast his own son into a river

at the command of his abba. 266 Cassian distinguished Pinufius, however, as an example

―coming not from a beginner but from one who was perfect and an abba.‖ 267 Cassian

recounted Pinufius' stories last of the three (symbolizing the end of a formation

259

Inst IV.6.

260

Inst IV.16.3.

261

We shall find this tension again in the Jesuit Constitutions.

262

Inst IV.30-31. See also Conf XX.1.

263

Inst IV.40.

264

Inst X.

265

Inst IV.23 (trans. RAMSAY, Institutes, p.90).

266

Inst IV.24-28.

267

Inst IV.30 (trans. RAMSAY, Institutes, p.94).
---
process), and put the exhortation to persevere in Pinufius' mouth. In this manner

Pinufius was an icon of the results of perseverance in a monastic vocation, and proof

that puritas cordis was in fact attainable. Moreover, of the three abbas, Cassian

implicitly identified Pinufius as the model for the Institutes. This occurs when Pinufius

tells his novice that cenobites are better trained for ―the perfection of this chosen

orientation [propositum]‖ when they have a single model of ―a perfect life‖ on which to

focus. 268 Since Cassian earlier described Pinufius as ―perfect,‖ the abba was ironically

pointing to himself. 269

117

―Pinufius‖ describes perseverance as the fruit of lifetime of asceticism, and

proof that purity of heart had been attained. ―Once you have been well established by

training of this kind, you will be able, under this discipline, to abide forever, and you

will not be drawn away from the cenobium by any trials of the enemy or by any

factions.‖ 270 No similar affirmations are repeated, and thus it might seem that Cassian

viewed perseverance primarily as a precondition of ―purity of heart.‖ Yet the

dichotomy between precondition and result is too simplistic. Cassian described puritas

cordis in the Institutes and Conferences with a rich variety of terms, all of which, quite

notably, connote perseverance: tranquillitas, stabilitas, firmitas, patientia, constantia

and immobilitas. 271 More than a precondition or result, perseverance in a monastic

vocation was essentially equated with the proximate end of the monastic life, i.e.,

puritas cordis.

268 Inst IV.40.

269 If this is conceded, it follows that ―Pinufius‖ was referring to the Institutes when he said that

heavenly glory awaits those who cling to God ―in accordance with the teaching of this rule‖ (Inst IV.33).

270 Inst IV.41.3.

271 On Cassian's vocabulary see COLUMBA STEWART, Cassian the Monk, Oxford University

Press, 1998, pp.44-47 and 168-169, nn.46-51. All these terms, minus immobilitas, appear in the Jesuit

Constitutions. Immobilitas does not appear in the Institutes, and only five times in the Conferences (I.8.1,

VI.14.2, XVIII.13.1, 16.1, XIX.9.2).
---
118

The significance of this is evident in Pinufius' discourse to his novice. Christ

nailed to the cross was completely incapable of movement. The novice's complete

renunciation of self was an imitation of that immobility.

Our cross is the fear of the Lord. Just as someone who has been crucified, then, no

longer has the ability to turn his limbs in any direction by the act of his mind,

neither must we exercise our desires and yearnings in accordance with what is easy

for us and gives us pleasure at the moment but in accordance with the law of the

Lord and where it constrains us. And just as he who is fixed to the gibbet of the

cross no longer contemplates present realities or reflects on his own affections; is

not distracted by worry or care for the morrow. . . and, although he may still be

breathing in his body, believes himself dead in every respect and directs on ahead

the gaze of his heart to the place where he is sure that he will go. . . . 272

A renunciation of will and desire, if genuine, precluded not only the desirability

but the ability to turn back. Each day of a monk's earthly life was a ―realized

perseverance,‖ i.e., the future fait accompli of death in the monastic state was at every

moment a present reality. When Pinufius asks the rhetorical question, ―How can a

person constantly carry a cross, and how can someone be crucified while he is still

alive?‖ 273 he posits the two acts of carrying the cross (movement) and being crucified

(immobility) as seemingly contradictory, yet in fact the same reality.

Beware lest you think of your family or your former feelings, return to the

worries and cares of the world, ‗put your hand to the plow' (in the words of the

Savior) ‗and look back,' and be unable to claim to the kingdom of heaven. . . .

Instead you must abide until the end in the poverty you professed before God and

his angels, and also in the humility and patience with which you begged with so

many tears to be received into the monastery when you stayed outside it for ten

days. . . . For it is not he who has begun in these things but he who has

persevered in them to the end who will be saved. 274

E. THE RULE OF ST. BENEDICT (C. 540) [RB]

For centuries it was believed that Benedict of Nursia composed the rule that

bears his name. The Rule of the Master [Regula magistri] was supposedly an inferior

redaction by an anonymous author. Today it is generally agreed that the opposite is

272

Inst IV.35 (trans. RAMSAY, Institutes, pp.97-98).

273

Inst IV.34.

274

Inst IV.36.2 (trans. RAMSAY, Institutes, pp.98-99).
---
true: the RM is older (c.520), and the primary source from which Benedict took his

own rule, copying large portions verbatim. Yet he eliminated the RM's slavish

attention to detail, wrote in more universal, abstract terms, and added his own material.

As a result the RB is only one-third the size of the RM.

119

It is widely recognized that the RB places great emphasis on the ―horizontal‖

dynamics of monastic life, i.e., union with Christ was attained primarily through monks'

relationships with each other and with their abbot, as opposed to heavy asceticism and

contemplation. That the horizontal dimension is virtually absent in the RM, and also in

the Institutes, from which the Master drew heavily, makes Benedict's special emphasis

all the more clear. In the RM, for example, profession is made directly to God, but in

the RB it is made to the abbot in the presence of God and the saints. 275 And the final

sixteen chapters of the RB, not found in the RM, all pertain to fraternal relationships.

Given this priority, one might expect Benedict to exploit traditional themes of

koinonia and the Acts community. Such is not the case. Neither ―one heart and mind in

God,‖ nor communio, nor other traditional terms appear in the text to denote the

community or its unity. Instead, Benedict uses congregatio twenty-five times to denote

the monastery or a gathering of monks in the oratory. 276 Benedict alludes to the Acts

community four times, but does not develop it thematically. 277

275 RM 89.6-11, RB 58.17-18.

276 The significance of the term congregatio for Benedict and the Master (it is used extensively in

the RM) is deducible from its secular meaning, i.e., a ―gathering‖ or ―flocking together‖ of persons. It

would have been well applied to monastic communities whose spirituality was founded upon frequent

gatherings in the oratory. In RM XIV.4 monks making penance prostrated themselves in the oratory,

crying, ―Pray for me, O holy assemblies [congregatii], from whom I have deserved to be separated

because of my recklessness and the persuasion of the devil. Pray for me, my erstwhile deans

[praepositi].‖ Latin citations of the RM are from ADALBERT DE VOGÜÉ, La Règle du Maître, in the series

Sources chrétiennes, Série des Textes Monastiques d' Occident, Paris, Les Editions du Cerf, 1964, vols.14

and 15. English translations are from LUKE EBERLE, ed., The Rule of the Master, Michigan, Cistercian

Publications, 1977.

277 RB 33.6, 34.1, 55.20, 57.5.
---
120

To describe the unity of his monasteries Benedict preferred the imagery of a

family or ―house of God‖ with the abbot as a powerful but loving paterfamilias. 278

Domus Dei and fraternitas are both used twice to denote the monastery, 279 pater four

times for the abbot, and fratres 47 times for the monks. The Prologue begins, ―Listen,

O my son‖ [Obsculta, o fili]. More than a simple change of vocabulary, however,

Benedict gives the abbot a centrality and theological weight unprecedented in the classic

rules. The RB begins with a description of his vocation:

Abbas qui praeesse dignus est monasterio semper meminere debet quod dicitur et

nomen maioris factis implere. Christi enim agere vices in monasterio creditur,

quando ipsius vocatur pronomine, dicente apostolo: Accepistis spiritum

adoptionis filiorum, in quo clamamus: Abba, Pater. 280

Consequently an abbot was largely accountable for the perseverance of his

charges, a point Benedict reiterated throughout the RB. 281 Like a real father, he was

responsible for the instruction, governance, and correction of all in his family, so that he

non solum detrimenta gregis sibi commissi non patiatur, uerum in augmentatione boni

gregis gaudeat. 282 (The significance of this verbal couplet—―not only to preserve, but

also to increase‖—which appears repeatedly in the Jesuit Constitutions, is a point to

which we shall return in Chapter III.) For now, we simply note that the onus Benedict

278 Reacting to the hierarchical implications of paterfamilias, some commentators have denied that

it is the principal image of unity in the RB, in favor of koinonia, the egalitarianism of which supposedly

minimizes the role of the abbot. (E.g., AUGUSTA MARIE, ―Koinonia: Its Biblical Meaning and Use in

Monastic Life,‖ ABR 18 [1967], pp.189-212.) The arguments, however, seem to presuppose that

koinonia is antithetical to obedience to human authorities. Yet koinonia in the NT did not rule out

prominent roles of leadership in the Acts community, nor charisms of leadership and authority for Paul.

279 Respectively, RB 53.22, 64.5 and 1.5, 72.8. The traditional term dominici schola servitii

appears once (Prol 45), although it has been argued that in the RB it refers to the rule itself, not to the

monastery. See GARCÍA M. COLOMBÁS, La Tradición Benedictina: Ensayo histórico. Vol. II: Los siglos

VI y VII, Zamora, Monte Casino, 1990, pp.46-49.

280 RB 2.1-2. ―To be worthy of the task of governing a monastery, the abbot must always

remember what his title signifies and act as a superior should. He is believed to hold the place of Christ

in the monastery, since he is addressed by a title of Christ, as the Apostle indicates: You have received

the spirit of adoption of sons, by which we exclaim, abba, father (Rom 8:15)‖ (trans. FRY, RB 1980

[1982], p.21). My affirmation that the rule opens with a description of the abbot, although it is located in

Chapter II, is predicated upon RB 1.13, which regards the description of the kinds of monks as a prelude

to the rule proper.

281 RB 2.32, 27.5-9. It is subtly implied also in RB 2.23-26, insofar as the abbot is expected to be

firm with the inquietos who by definition are not likely to persevere. See also RM 2.33, 89.12-16.

282 RB 2.32. On the significance of this couplet for Ignatius, see above, pp.180-188.
---
placed on the abbot to preserve the vocations of his brothers was novel in the classic

rules. We found hints of it only in the RP, where Pachomius had held house ministers

(but not the abba) partially responsible for monks who fled.

121

Yet responsibility went both ways. Monks would persevere in their vocations

through obedience to their abbot, a virtue which, not coincidentally, received unprece-

dented emphasis in the RB, as opposed to earlier rules that focused on solitude and

asceticism. Among various ―degrees of humility‖ that Benedict lists, the third degree

was that a monk obeys his superior in all things. The fourth degree meant that a monk

receives commands with patientia, and sees them through to completion, so that he can

―persevere to the end and be saved‖ (Matt 10:22). In the fifth degree, a monk disclosed

all his thoughts openly to his abbot, and in the eighth degree, he resolved to do nothing

but what was commanded by the common rule [communis] and the example of others.

Again, we see here the extension of a trend that began with the desert fathers, whereby

fidelity and accountability to God was achieved precisely through fidelity and

accountability to the community.

To describe perseverance Benedict uses the terms perseverare, persistere,

stabilitas and patientia. These are also found in the RM, but Benedict did not copy

them uncritically. He preferred stabilitas to the Master's perseverantia. 283 Where the

RM affirmed that perseverantia was needed for perfection, Benedict changed it in such

a way as to give it a communal dimension: stabilitas in congregationem. 284

Like Cassian, Benedict linked perseverance in a monastic vocation with Christ's

Passion. Yet there was a subtle difference. Cassian described a persevering monk as

283 Stabilitas appears seven times in the RM. The fact that the RB, one-third the size of the RM,

retains the same number of references to stabilitas, but omits most references to perseverantia in the RM,

suggests Benedict preferred the first term.

284 RM 6.2, RB 4.78
---
having the habitu ac figura of Him who hung upon the Cross. 285 Benedict went further,

calling a monk's perseverance a participation in Christ's own Passion:

Processu vero conversationis et fidei, dilatato corde inenarrabili dilectionis

dulcedine curritur via mandatorum Dei, ut ab ipsius numquam magisterio

discedentes, in eius doctrinam usque ad mortem in monasterio perseverantes,

passionibus Christi per patientiam participemur, ut et regno eius mereamur esse

286 287

consortes. Amen.

122

Like Basil and the Master before him, Benedict criticized gyrovagues, i.e.,

wandering monks who refused to commit to any one community, but instead took

advantage of a monastery's hospitality for several days before moving on to the next. 288

Benedict cited stabilitas, which appears seven times in the rule, as the corollary

virtue. 289 Gyrovagues were semper vagi et numquam stabiles, 290 for example, and

candidates had to promise stabilitas in that particular monastery to be admitted. 291 The

use of stabilitas in this context, as opposed to other terms like constantia or

perseverantia, was almost certainly intentional. Gyrovagues were rationalizing their

behavior on the grounds that they were living the freedom from care and responsibility

described in Matt 6:34. To Benedict's mind, however, what they really feared was that

a commitment to any one place would stifle their peace and fulfilment. Hence,

stabilitas was the appropriate antidote for their horror loci.

Stabilitas was also linked to humility. 292 By obeying the abbot and rule, monks

refused to indulge their own wills, and thus practiced humility. In contrast, Sarabites

285

Inst IV.34 (PL 49: 159a).

286

RB Prol. 49-50 (cf. RM Theme 45-46). ―But as we progress in this way of life and in faith, we

shall run on the path of God's commandments, our hearts overflowing with the inexpressible delight of

love. Never swerving from his instructions, then, but faithfully observing his teaching in the monastery

until death, we shall through patience share in the sufferings of Christ that we may deserve to share also

in his kingdom. Amen.‖ (trans. FRY, RB 1980 [1982], p.19).

287

All Latin citations of the RB are from the critical edition of ADALBERT DE VOGÜÉ, La Règle de

Saint Benoît, in the series Sources chrétiennes, Série des Textes Monastiques d' Occident, Paris, Les

Editions du Cerf, 1964, vols. 34 and 35.

288

RB 1.10-12. The parallel text in the RM is considerably longer, cf. RM 1.13-74.

289

RB 1.11, 4.78, 58.9, 58.17, 60.9, 61.5, 61.12.

290

RB 1.11.

291

RB 58.9, 58.17, 60.9, 61.5, 61.12.

292

RB 2.23-32, 7.35-43.
---
and Gyrovagues gratified their whims by living outside the monastery. Nullus in

monasterio proprii sequatur cordis voluntatem. 293 In this light, a failure to persevere

could be the consequence of prideful self-indulgence:

Frater qui proprio vitio egreditur de monasterio, si reverti volverit, spondeat prius

omnem emendationem pro quo egressus est, et sic in ultimo gradu recipiatur, ut

ex hoc eius humilitas conprobetur. 294

123

Benedict also linked perseverance with patientia. The latter appears eleven

times in the RB to mean the acceptance of difficulties and suffering with equanimity. 295

Five of those eleven passages are connected to perseverance in the monastery. 296 On

the admittance of candidates, for example:

Ergo si veniens perseveraverit pulsans et inlatas sibi iniurias et difficultatem

ingressus post quattuor aut quinque dies uisus fuerit patienter portare et persistere

petitioni suae, annuatur ei ingressus et sit in cella hospitum paucis diebus. 297

In another passage of the RB, abbots are instructed to be gentle with the

oboedientes, mites and patientes but stern with the indisciplinatos and inquietos. 298

Here patientes is the converse of inquietos, the latter denoting restless monks unlikely to

remain in the monastery. 299

The RB is notable for an innovation that departed from the traditional idea of the

binding power of a propositum. A probation period of one year was introduced, during

which time the candidates acquired experience of the monastic life. They were also

293

RB 3.8. ―In the monastery no one is to follow his own heart's desire‖ (trans. FRY, RB 1980

[1982], p.26.

294

RB 29.1-2. ―If a brother, following his own evil ways, leaves the monastery but then wishes to

return, he must first promise to make full amends for his leaving. Let him be received back, but as a test

of his humility he should be given the last place‖ (trans. FRY, RB 1980 [1982], p.53).

295

RB 4.30, 7.42, 36.5, 68.2, 72.5.

296

RB Prol. 50, 7.35, 58.3, 58.11.

297

RB 58.3-4. ―Therefore, if someone comes and keeps knocking at the door, and if at the end of

four or five days he has shown himself patient in bearing his harsh treatment and difficulty of entry, and

has persisted in his request, then he should be allowed to enter and stay in the guest quarters for a few

days‖ (trans. FRY, RB 1980 [1982], p.78).

The alliteration of three couplets—perseveraverit pulsans, patienter portare, and persistere

petitioni—was probably intended as a memory aid. The first alludes to the Vulgate of Acts 12:16, where

Peter perseverabat pulsans until the Christians opened the door for him.

298

RB 2.25.

299

These terms in Spanish form will reappear in the Spiritual Exercises and Jesuit Constitutions to

denote various aspects of perseverance.
---
ead the rule formally three times. After each reading, candidates were reminded that

they could ―depart freely‖ if they desired. 300 Benedict required that they promise de

stabilitate sua perseverantia while in probation, yet it seems this was not binding in the

same sense as profession. 301 (The Master, in contrast, considered monks bound by pain

of sin to persevere once they had entered the monastery with an intention to remain. 302 )

Hence it is probably not coincidence that propositum and related terms appear nowhere

in the RB, such as they do in the GA, RM, and the Institutes. 303

124

After profession monks were gravely obliged to persevere for life. One who left

after such a thorough preparation, during which time ―he was at liberty either to refuse

or accept,‖ would be ―condemned by the God whom he mocks‖ [ab eo se damnandum

sciat quem inridit]. 304

F. THE REGULA BULLATA OF ST. FRANCIS OF ASSISI (1223) [RBULL]

The first Franciscan rule was orally approved in 1209 by Innocent III. It

provided a norm of life for the friars, in addition to the example of Francis, during the

first decade of the order's existence. In the following years additions and corrections

were made by Francis, General Chapters and papal representatives. When Honorius III

required the order to adopt a year-long novitiate and other modifications in 1220, 305

Francis chose to write a new text, the so-called Regula Prima [RPrima] of 1221. Yet

the RPrima was imprecise and lacked the legal terminology preferred by the Roman

300

RB 58.10, 16.

301

RB 58.9.

302

RM 87.60 mentions monks who made oaths to remain in a monastery for a limited period but

not to become permanent members; in context it appears to be a voluntary gesture, not a regulation.

The RM sends a mixed message. Newcomers could deliberate whether to stay, and if they left,

they should be given a sign of peace and allowed to depart like a guest (88.6, 13-14). Nevertheless their

choice was either si debeat se ad Deum firmare aut ad diabolum expedius remeare (88.6), and if they left,

the Devil had managed to reclaim his own, men whom Christ had unwillingly accepted into the

monastery (88.14).

303

Propositum appears twice in the RM (58.5, 90 caput).

304

RB 58.18.

305

HONORIUS III, Cum secundum consilium, Sept. 22, 1220.
---
Curia. So Francis enlisted the aid of others, including Cardinal Ugolino (later Gregory

XI), to make revisions. The result was the Regula Bullata, so named for its approval in

the bull Solet annuere of 1223.

125

The new apostolic thrust of mendicant orders (represented by the Franciscans

and Dominicans) required friars to travel widely and preach to the baptized and

unbelievers. Thus the RBull depicts a religious community deeply integrated into the

life, concerns and authoritative structures of the wider church. Francis promised

obedience to the popes and to the Church of Rome, and four times cited the need for

episcopal oversight in various situations. 306 His clerics were to recite the office

according to the rite of the Roman Curia. Attention to the concerns of the wider church

(especially to heresy), to the authority of Rome, and to consistency with canonical

legislation, are all evident in the text.

Thus it is not surprising that the RBull lacks the separatist or elitist overtones of

earlier rules. Nowhere does Francis cite the Acts community or the Pauline metaphor of

the Body to describe his order, either of which might have suggested that the order was

a more ideal expression of the gospel than the masses of Christian faithful. 307 At most,

Francis' communities were an intensification of Christian life, in a manner similar to

what Augustine suggested in his own rule. 308 Francis does not describe his order or the

union between friars in trinitarian, christological or pneumatological terms. 309

306 RBull 2.4, 9.1, 11.2, 12.3.

307 There are no allusions to the Acts community in Francis' written corpus. Frequent references

to the corpus Christi usually denote the Eucharistic species, respect for which was a prominent theme of

his spirituality.

308 This diminution of the difference between laity and religious is most evident in the so-called

―Letter to All the Faithful‖ [Epistola ad Fideles]. Francis exhorted ―all Christians, religious, clerics and

layfolk‖ to a sincere love for God, and affirmed that ―religious especially are bound to make greater

efforts, without neglecting the duties of ordinary Christians, because they have left the world‖ [Specialiter

autem religiosi, qui renuntiaverunt saeculo, tenentur plura et maiora facere, sed ista non dimittere]

(trans. MARION A. HABIG, St. Francis of Assisi, Omnibus of Sources, Third Edition, Chicago, Franciscan

Herald Press, 1973, pp.93, 93).

309 Francis refers to Christ five times in the RBull (3.10, 6.6, 9.4, 10.10, 12.4), either to introduce

a scripture passage, to make a plea ―in Christ,‖ or to refer to his example. ―Spirit‖ appears only four
---
126

Francis invoked the imagery of family, though not as much as Benedict. His

friars were a fraternitas of ―little brothers‖ [minorum fratrum] guided by a Minister

General whom all were bound to obey. 310 The General in turn was obedient to the

popes and to the Roman Church. Friars are ―members of the same family‖ [domesticos

invicem inter se] who love each other more than a mother loves her children. 311 The

ministers listen with kindness and charity, so that friars may speak to them ―as

employers with their servants‖ [sicut domini servis suis]. 312

The most explicit reference to perseverance is the following: Et nullo modo

licebit eis de ista religione exire iuxta mandatum domini papae, quia secundum sanctum

evangelium nemo mittens manum ad aratrum et aspiciens retro aptus est regno Dei. 313

It was a revision of a passage in the RPrima: Postea non licebit ei ad aliam religionem

accedere neque ―extra obedientiam evagari‖ iuxta mandatum domini papae et

secundum evangelium. 314 That the RBull was stronger in tone suggests Francis had

acquired additional experience of departures since the composition of the RPrima. In

both rules, however, perseverance was mandatory only after the novitiate year was

complete and the novice had professed obedience.

Another notable redaction concerned probation. In the RPrima, Francis made no

provisions for the screening of candidates. All who came to the door were welcomed

and taught the basics of the life by the minister. After a year-long probation, he could

times (5.2, 6.8, 10.4, 10.8), not to denote the Trinitarian Person but the Pauline ―life in the spirit‖ as

opposed to ―life in the flesh‖ (see RBull 6.8; RPrima 17.7-16).

310 All Latin citations are taken from François D'Assise: Écrits, ed. Théophile Desbonnets, in the

series Sources chrétiennes, Paris, Les Editions du Cerf, 1981, vol. 285

311 RBull 6.7-8.

312 RBull 10.5. Francis refers to the ministers as servants of the friars (8.1, 10.1, 10.6).

313 RBull 2.12-13. ―It is absolutely forbidden to leave the Order, as his holiness the Pope has laid

down. For the Gospel tells us, No one, having put his hand to the plow and looking back, is fit for the

kingdom of God (Lk 9:62)‖ (trans. HABIG, p.58) Francis was referring to the bull Cum secundum

consilium of 1220: ―Once profession has been made, no brother will dare leave the order, and it will be

licit for no one to accept those who have left it‖ (trans. HABIG, p.32).

314 RPrima 2.10 ―[O]nce that has been done, he may not change to another Order, or wander

about beyond the limits of obedience, as the pope has commanded.‖
---
profess obedience. 315 Chapter One specified that this policy was a reflection of the

conviction that the gospel ideals were an open invitation to all. 316 In the RBull,

however, Francis was obliged to add impediments and screening procedures in

accordance with ecclesial law. 317 Presumably, he was also mindful of his experience of

departures. Hence, Chapter One of the RPrima was omitted from the RBull. Francis

could no longer regard vocations to his order as an open invitation without

discrimination.

127

Francis called departures ―illicit,‖ i.e., a violation of ecclesial law. Nowhere in

the rule does he condemn departures in traditional terms such as apostasy, an exertion of

self-will, a lack of discipline, etc. It probably reflects his professed reluctance in the

RBull to pass moral judgments upon others or to become angry at their faults. 318

G. THE PRIMITIVE CONSTITUTIONS OF ST. DOMINIC GUZMAN (1216-1220) [PC]

No copy of the original Dominican constitutions remains in existence. The

earliest preserved document, the so-called Rodez manuscript, dates to the mid-

fourteenth century. 319 It is a copy of an earlier text, possibly the original constitutions,

to which additions and corrections had been added. The Rodez manuscript represents

the final stage of redaction of the ―primitive constitutions‖ as they were known to

Dominic's successor Jordan of Saxony, but before they were completely revised by

Raymond of Penafort.

The PC consists of a Prologue and two halves called ―Distinctions.‖ The prima

distinctio regulated admissions, prayer, faults and daily life. Both it and the Prologue

315 RPrima 2.1-2.

316 RPrima 1.

317 RBull 2.1-6.

318 RBull 2.17, 3.10-11, 7.3.

319 Named for the convent of Rodez where it was originally kept, the manuscript is now in the

Dominican archives at Santa Sabina in Rome. It was edited by HEINRICH DENIFLE in ―Die Constitutionen

des Prediger-Ordens vom Jahre 1228‖ in Archiv für Literatur und Kirchengeschichte des Mittelalters,

Graz, Akademische Druck, 1955, I:193-227. An English translation is found in Saint Dominic:

Biographical Documents, ed. FRANCIS C. LEHNER, Washington, D.C., Thomist Press, 1964, pp.209-251.
---
were copied largely from the Premonstratensian Constitutions. The secunda distinctio

was composed in May 1220 by the first general chapter of the order, where Dominic

was principal legislator. It dealt with governance, study and preaching.

128

Dominic's primary concern was to create a juridical document, not a spiritual

treatise for edification. Conspicuous in the PC is an almost complete lack of theological

discourse. Jesus Christ is mentioned once in the entire text (when the friars are called

―the company of Christ's sheep‖). 320 ―God‖ and the ―Holy Spirit‖ appear eleven times

each, usually in passing. Scripture is cited twice, indirectly. The rules are practical and

succinct. All this is largely explained by the fact that, by this time, religious institutes

usually possessed two authoritative texts on their self-identity: a regula that described

their spirit and constitutiones that structured their common life. By the time the PC was

composed, the Friars Preacher had already chosen the RA as their rule. 321

In this light, the first sentence of the Prologue is noteworthy.

Quoniam ex precepto regule iubemur habere cor unum et animam unam in

domino: iustum est, ut qui sub una regula et unius professionis voto vivimus,

uniformes in observantia canonice religionis inveniamur, quatinus unitatem que

interius servanda est in cordibus: foveat et representet uniformitas exterius

servata in moribus. 322

This opening reference to the RA and the possession of ―one heart and mind in God‖

would seem to locate the unity of the Friars in the traditional concept of koinonia, with

its emphasis on mutual love and the sharing of all things in common. Yet the rest of the

passage indicates that unity was described in largely juridical terms: uniformes in

320 This does not include two instances where Christ is mentioned in formulaic expressions, i.e.,

the Eucharist as ―the Body of Christ,‖ and Dominic's reference to the Kyrie eleison.

321 The Fourth Lateran Council had mandated that all new religious communities use for their rule

one of four traditional texts: the Augustinian, Basilian, Benedictine, or Franciscan.

322 DENIFLE, p.194. ―Because a precept of our Rule [i.e., the RA] commands us to have one heart

and mind in the Lord, it is fitting that we, who live under one rule and under the vow of one profession, to

be found uniform in the observance of canonical religious life, in order that the uniformity maintained in

our external conduct may foster and indicate the unity which should be present interiorly in our hearts‖

(trans. LEHNER, p.212).
---
observantia canonice religionis. In the PC a community is usually called an ordo (39

times) or conventus (13 times). 323 A superior was a prelatus or prior.

129

Departures are also described in juridical language. ―Contempt for the Order

and for canonical discipline‖ would result if men were allowed to leave for any reason

other than complete incorrigibility. 324 The juridical approach to perseverance is most

evident in the primo distinctio, which contains a taxonomy of faults with their

respective punishments: 41 ―lighter faults,‖ 16 ―grave faults,‖ six ―more grave faults,‖

and the ―most grave fault‖ (the last being a friar's utter incorrigibility). To leave the

grounds with permission but return late, or to leave without the blessing of the prior,

were lighter faults. To remain on a mission longer than what had been assigned by the

prior was a grave fault. It was a more grave fault to leave with intentions to defect.

(These explicit distinctions between different manners and motives for leaving the

monastery are a notable development over the earlier classic rules.)

Dominic did not list defections among the ―more grave faults.‖ He instead gave

them a section of their own, which he inserted between the lists of ―more grave faults‖

and the ―most grave fault‖ 325 ; he also applied to defections the punishment proper to a

graver fault. The section was entitled, ―Of a Brother Who Has Apostatized‖ [De fratre

qui apostateverit]. That Dominic singled out defections for special attention probably

reflects the frequency of unauthorized departures from religious communities at that

time. Elsewhere in the PC, he alluded to friars who fled the monastery as often as four

times, and in the Secunda Distinctio, he decreed that general and provincial chapters

323 Societas also appears five times.

324 DENIFLE, p.21 (trans. LEHNER, p.232).

325 DENIFLE, pp.205-212 (trans. Lehner, pp.228-232). Chapters are not numbered in the Rodez

manuscript. Denifle added them in the margins of his edition.
---
should end with ―a blessing for those who are persevering and an anathema for those

who have apostatized.‖ 326

130

If a fugitive monk did not return within forty days, the punishment was

excommunicatio. This did not mean permanent expulsion from the order, but

segregation from communal activities such as meals, common prayer, and the Eucharist.

Priests could neither preach nor confect the sacraments while under excommunica-

tion. 327 (Dominic appears to have presumed that returning friars would never be refused

by the community as long as they were contrite, although they might suffer some degree

of excommunication for the rest of their lives.) Definitive expulsion was reserved only

for the one who ―does not fear to admit his guilt, but refuses the penalty.‖

Gravissima culpa est: Incorrigibilitas ejus, qui nec culpas timet admittere, et

penam recusat ferre. De quo preceptum est patris nostri Augustini, ut etiamsi

ipse non abcesserit, de vestra societate proiciatur, secundum apostolum, qui

hereticum [sic] hominem post primam et secundam correctionem adhibitam et

incorrigibilitatem patefactam devitare iubet tanquam peccantem peccatum ad

mortem, quia subversus est que eiusmodi est. Hic quidem habitu exutus et

vestibus secularibus indutus exire compellendus est, si tamen usque ad horam

illam sani capitis et integri sensus extitit. Et nemini aliter, quod quidam indigne

appetunt, sub qualibet occasione unquam est danda licentia recedendi, ne ordo et

canonica disciplina in contemptum veniant, dum despicitur in indignis habitus

religionis canonice. Et ita, sicut a corde professionem abicére: sic et accepta

professionis insignia deponere cogantur. Nec ulli aliquo modo pro sua quantalibet

inportunitate aliter indulgeatur egrediendi licentia. 328

326 DENIFLE, p.221 [In fine communis fiat confessio et absolutio, perseverantibus benedictio,

apostatis et profugis anathematis maledictio]. Trans. LEHNER, p.243.

327 ―Excommunication‖ appears inconsistently in the PC. On the one hand, apostates who did not

return within forty days were excommunicated; but on the other hand, those who did return in time were

subject to the penalties of a ―graver fault,‖ which is also named as excommunication elsewhere in the PC.

The answer lies in the Premonstratensian source, which reads: Quisquis Canonicorum, vel Conversorum,

etiam non dimisso habitu, apostatare præsumpserit, statim à Fratribus tanquàm excommunicatus, tàm

intùs, quàm foris videtur (Whoever among the Canons or Postulants dares to apostatize, even if he has

not forsaken the habit, shall immediately be considered excommunicate in the eyes of the brothers, both

inside and outside the community; Codex Regularum V:286 [Translation mine.]) Here excommunication

meant definitive expulsion from the community. When Dominic drew from this source, he retained the

term but applied it to a different context.

328 DENIFLE, pp.211-212. ―The most grievous fault is the incorrigibility of one who does not fear

to admit his guilt, but refuses the penalty. Of such a one our father Augustine commands that, if he does

not leave of his own accord, he should be expelled from your society, according to the authority of the

Apostle, who commands the faithful to avoid a heretic who, after a first and a second correction, remains

openly incorrigible. For such a one must be regarded as sinning unto death, because he is totally plunged

in darkness. He shall be compelled to remove his habit and put on secular clothes, if he is still of sound

mind and sense. In no other case is permission granted to leave the Order, for such a request would be

unbecoming. Only contempt for the Order and for canonical discipline would be engendered, if the habit
---
131

The force of this passage is remarkable. In an ironic departure from the RA

which he cites, Dominic affirms three times that in all cases apart from obstinacy (et

nemini aliter—sub qualibet occasione unquam—nec ulli aliquo modo) permission to

leave was denied, and the refusal of permission itself was repeated twice. It is possible

that the LR 36 of the GA was an inspiration for this text. Both approached the question

of legitimate and illegitimate departures within the context of ―incorrigibility,‖ although

in LR 36 it is the community, not the individual, who refuses to amend. Dominic's

affirmation that ―in no other case is permission granted to leave the Order‖ resembles

Basil's, that ―no other reason for withdrawals from the brothers is admissible.‖

The phrase pro sua quantalibet inportunitate is notable. It was an acknowledge-

ment, unique among the classic rules, that some men were not simply fleeing, but rather

asking their superiors for permission to leave.

Dominic required stability in particular tasks and grades. Novices ―should hold

to the place they have been assigned,‖ a possible allusion to 1 Cor 7:17. 329 And at the

end of the Secunda Distinctio it is written, ―Furthermore, no lay brother shall become a

cleric or dare occupy his time with books for the purpose of study.‖ 330 In a similar

manner, Francis had regulated in the RBull that ―those who are illiterate should not be

anxious to study,‖ and that by enduring their tasks and roles free from self-interest, they

will persevere to the end and be saved (Matt 10.22). 331

of canonical religious life could be put off under such pretexts. But, since the incorrigible one has denied

profession in his heart, let him be compelled to put off the ensigns of profession he received. In no other

case is permission granted to leave the Order, no matter how often the request is repeated‖ (trans.

LEHNER, pp.231-232).

329

DENIFLE, p.201 [quod locum ubi positi fuerint teneant]. Trans. LEHNER, pp.219-220.

330

DENIFLE, p.227 [Item nullis conversus fiat canonicus, nec in libris causa studendi se audeat

occupare]. Trans. LEHNER, p.251.

331

―El texto parece metido un tanto forzadamente en un contexto literario e ideológico de grandes

vuelos. Hablaría, sin embargo. . . de la importancia del tema para Francisco, así como de la vinculación

de su reserva frente al estudio con la posible vanagloria, búsqueda de poder y prestigio, y la justificación

de diferencia de clases en la Fraternidad‖ (JULIO HERRANZ et al., eds, Los Escritos de Francisco y Clara

de Asís: Textos y Apuntes de Lectura, Oñati, Editorial Franciscana Arantzazu, 2001, p.269, n.251). This

will be relevant later for the Jesuit Constitutions, where Ignatius urges temporal coadjutors not to seek to

change their grades.
---
132

Dominic introduced the subject of probation with an allusion to the Benedictine

vow formula: Sed tamen adhuc antequam stabilitatem et comunitatem promittant, et

obedientiam prelato et successoribus suis faciant, tempus probationis assignetur. 332

Dominican scholar Fr. Pierre Mandonnet considered the appearance of stabilitas in this

context to be anachronistic, arguing that its Benedictine connotation of stability in loco

did not suit the apostolic thrust of the Order of Preachers. 333 By now we have seen,

however, that stabilitas in this context is entirely consistent with the deeper tradition of

the term.

The PC is the first of the classic rules to contain a written vow formula. It reads:

Ego N. facio professionem et promitto obedientiam deo [sic] et beate Marie et tibi

N. magistro ordinis predicatorum et successoribus tuis secundum regulam beati

Augustini et institutiones fratrum ordinis predicatorum, quod ero obediens tibi

tuisque successoribus usque ad mortem. 334

The formula is notable for several reasons. The distinction between ―profession‖ and

―promise‖ suggests that announcing a propositum before a community was still

considered logically distinct from a formal promise. Nevertheless, that the formula

specifies ―obedience until death‖ is a subtle divergence from the early desert mindset,

the latter having regarded physical death in the monastic state as a presupposition of the

commitment itself. Thus, as we see both here and in the RB, physical death in the

religious state is now distinguished as an accomplishment of its own.

332 Primera distinctio 13 (DENIFLE, p.202). ―However, before they promise stability and life in

common or vow obedience to the prelate and his successors, a period of probation shall be assigned to

them‖ (trans. LEHNER, p.221).

333 ―S'il avait en quoi que ce soit le désir de se séparer radicalement du mouvement canonial, c'est

pourtant ce mot qu'il devrait le plus soigneusement éviter, car il est susceptible d'une interprétation

ruineuse pur ce que l'Ordre possède précisément de plus original: sa grande liberté d'allures et son

universalité‖ (PIERRE MANDONNET, Saint Dominique, L'Idée, L'Homme et L'Œuvre: Perspectives, Paris,

Desclée de Brouwer et Cie, 1937, p.231).

334 Primera distinctio 15 (DENIFLE, pp.202-207). ―I, Brother . . . make profession and promise

obedience to God and to Blessed Mary and to you N., Master of the Order of Preachers, and to your

successors according to the Rule of the Blessed Augustine and the Institutes of the Friars of the Order of

Preachers that I will be obedient to you and to your successors until death‖ (trans. LEHNER, p.222).
---
III. CHAPTER SUMMARY

133

To the modern mind, perseverance in a Christian vocation is commonly viewed

as an end in itself, insofar as it bears witness to the depths of a commitment made in

love, and imitates the perseverance of the Son in his Passion. From that perspective, it

is a question of the conditions necessary to enable and facilitate a commitment until the

end. That is, do Christians possess the requisite maturity and satisfaction in their voca-

tions, and are the external circumstances of their lives such, that perseverance in their

commitments is both plausible and desirable?

What is unmistakable in the Fathers and classic rules, however, is a conviction

that perseverance was more of a means to an end. It was not a matter of a Christian

finding peace in a commitment and thus persevering, but rather, he had to persevere if

he were ever going to find peace. Chrysostom wrote to Theodore:

This is the mark of a noble soul, not to be cast down, nor be dismayed at the

multitude of the calamities which oppress us, nor to withdraw, after praying many

times without success, but to persevere, until He have mercy upon us. 335

But if this seems to you a difficult thing, that you should be willing to enter on

the path which leads to better things, simply enter upon it, and lay hold on eternal

life. Yea, I beseech and implore you by your former reputation, by that

confidence which once was yours, let us see you once again standing on the

pinnacle of virtue, and in the same condition of perseverance as before. 336

In the monastic tradition this conviction was underscored by the Pauline

principle ―to remain in the calling in which you were called,‖ which itself was a

Christian baptism of the Stoic doctrine of the horror loci. St. Basil explicitly invoked

the Pauline principle in the GA, yet the basic idea is found throughout the apophtheg-

mata and the other classic rules. Emphasis on constancy in all its forms, whether in the

daily tasks of monastic life, in assigned roles, or in the monastic state, is one example of

this. We shall see that it finds its strongest articulation yet in the Jesuit Constitutions.

335 JOHN CHRYSOSTOM, Ad Theodorum lapsum liber I.1 (trans. SCHAFF, St. Chrysostom, p.92).

336 Ibid., I.6 (trans. SCHAFF, St. Chrysostom, p.107).
---
134

In the apophthegmata, RP, GA, and RA, physical death in the monastic state

was clearly presumed but not mentioned explicitly. This was not accidental. If a

monk's entire life were a complete surrender to God, there would have been little reason

to single out physical death in the monastic state for special praise. It was simply the

earthly termination of a ―living death with Christ‖ that had begun years earlier. The

latter was the specific goal that made death in the monastic state an inevitable conclu-

sion. Basil made this remarkably clear in a letter to a disciple:

Many men have had the courage to enter upon the solitary life; but to live it out to

the end is a task which perhaps has been achieved by few. The end is not

necessarily involved in the intention; yet in the end is the guerdon [reward] of the

toil. No advantage, therefore, accrues to men who fail to press on to the end of

what they have in view and only adopt the solitary's life in its inception. Nay,

they make their profession ridiculous, and are charged by outsiders with

unmanliness and instability of purpose. 337

Nevertheless, perhaps as the result of increased experience regarding departures

from monastic life, a subtle shift occurs in the Institutes and RB, whereby perseverance

in the monastic state is identified as a desideratum and a specific object of theological

reflection. Benedict and Cassian both link monastic perseverance to Christ's own

perseverance in his Passion, and Benedict suggests that it is an actual participation in

Christ's Passion. The RBull and PC contain relatively few spiritual maxims—a

reflection of their more juridical character—so that no continuation of Basil's and

Cassian's ―increased Christocentrism‖ regarding perseverance is evident. We shall find

in the Jesuit Constitutions, however, that Ignatius was the first to explicitly mention the

physical death of the men in his order, and moreover, that he closely associated ―living

and dying in the Society‖ with the Pauline doctrine of descent and ascent with Christ.

Both Cassian and Benedict perceived the need to provide a single model of

perseverance to which monks could aspire. Cassian located it in Abba Pinufius, but

Benedict brought that model closer to home by making him the abbot of the monastery.

337 BASIL, Epistula XLII.1 (trans. SCHAFF, Basil, p.143). Emphasis mine.
---
Ignatius will continue this idea, and dramatically increase its emphasis, by establishing

the firm perseverance of the Prepósito General as the model for all Jesuits.

135

The evolution of specific precepts in the classic rules reflected increasing

concern for perseverance. In the RP the examination of candidates was intended to

ascertain their social-legal status, not the likelihood of their perseverance; but in later

rules the latter became the primary consideration. The RP gave no explanation why the

secular clothing of entrants should be retained in the storeroom; later rules specified

that, by this means, defectors could be given their old clothes back. The RP makes no

mention of a formal commitment; the GA mentions a profession rite, the RB adds a vow

in writing, and the PC adds the wording of the vow. Perhaps most interestingly, there is

also increasing nuance in the descriptions of the motives for departures: in the RP the

reasons monks fled were undifferentiated; Basil distinguished the expelled from the

fugitives; Augustine acknowledged the possibility of expelling men who wanted to stay;

and Dominic alluded to men who asked permission to leave. The Jesuit Constitutions

will mark a culmination of this evolutionary process, not only in the thoroughness with

which Ignatius treats departures, but also in the subtlety with which he describes their

motives.

If there are points on which the classic rules are consistent, one is their

willingness to receive anyone into the community so long as he or she were orthodox

and possessed nominal health and genuine desires for spiritual perfection; and another is

that defectors would be welcomed back repeatedly so long as they were sincerely

contrite. (It is true that Augustine wrote of monks who must be expelled despite their

desires to stay, but he had in mind those with disingenuous motives.) Generally, then, it

may be affirmed that the salvation of the monk was given priority over the scandal and

morale problems that his repeated departures and difficult temperament might provoke
---
in the community. Ignatius will diverge from this convention in a manner that proved

highly controversial.

136

The classic rules treat constancy in all aspects of religious life as revelatory of

the quality of one's faith (as opposed to being simply a lack of virtue or character). For

that reason, departures from monastic life were labeled ―apostasy‖ in a manner similar

to formal renunciations of the faith. 338 Protestant historian Philip Schaff (1819-1893),

despite his confessional antagonisms toward monasticism, acknowledged this early link

between the two apostasies:

The arguments which Chrysostom used [in his letters to Theodore] would

condemn all who broke their monastic vows. They retain moral force only if we

substitute apostasy from faith for apostasy from monasticism, which must be

regarded as a temporary and abnormal or exceptional form of Christian life. 339

The theological connection between all forms of perseverance was well-captured

by the classic term stabilitas. As noted earlier, writers occasionally affirm that its

original emphasis in Benedictine spirituality was permanence in a physical location, so

that its later application in the Dominican and Jesuit Constitutions (both of which

presuppose missions outside the community as essential to their charism) was anachro-

nistic. As we have seen, however, this is quite erroneous. From the earliest centuries of

the church stabilitas was associated with the essence of Christian faith itself, and it

pertained to all aspects of Christian existence. If Benedict increased emphasis on

stability in loco, the richer meaning of the term was by no means absent in his rule.

In the Fathers and classic rules, perseverance was rarely couched in the language

of fidelity to a promise or vow. (Such language is present in the GA, but even there it is

unclear whether ―profession‖ meant a formal promise or a homologia.) Rather, it was a

question of the justice that one owed to God and the community, and of remembering

338 The scholastic tradition distinguished between apostasy a fide (formal renunciation of the

faith), ab ordine (abandonment of the clerical state) and a religione (abandonment of the monastic state or

―religious life‖); see CE, s.v. ―apostasy.‖ See also THOMAS AQUINAS, ST II-II., Q.12, art.1.

339 SCHAFF, Basil, p.7.
---
the dignity and duties one possessed by virtue of having entered religious life. In other

words, questions were not raised about the meaning of a ―promise,‖ but about the

quality of the faith and the honesty with which one examined his reasons for desiring to

leave. In this we find strong parallels in the Jesuit Constitutions. If the mendicant rules

addressed departures from a more canonical point of view, Ignatius returned to a focus

on a person's interiority, or what he called pura intención.

137

Basilian koinonia could be realized only if each member invested himself

emotionally and materially, without reserve, in the lives of the others. It was simply

impossible that departures could be ―a matter of indifference‖ to those who remained: it

disrupted that which they had every right to experience by virtue of having entered the

community. The recurring problem of departing monks who demanded the return of

goods they had donated to the monastery represented the same injustice on a material

plane. Yet departures did more than simply decrease morale and financial assets. To

the extent that a community invested its time and resources under the presumption of a

member's continued commitment, his departure wounded the ability of that community

to attain the end for which it was created. If departures were frequent or traumatic

enough, they could jeopardize the community's very survival. As we shall see in

Chapter Three, no one knew this better than St. Ignatius Loyola.
---
CHAPTER THREE:

TO PRESERVE AND INCREASE

138

The present chapter prepares for an analysis of the Constitutions in Chapter Four

by considering aspects of Ignatius' theology and personal experience that illuminate his

norms on admissions, dismissals, and the extraordinary emphasis that he placed on

perseverance. For example, here we consider his ideas of descent with Christ, pura

intención, Christian freedom, and the defection of all his early followers, in order to

appreciate why, in the Constitutions, he affirms that all Jesuits are to be committed to

persevere from the day they enter the Society. And again, in the present chapter we

address Ignatius' early predilection to form a group of like-minded men, a predilection

largely inspired by his preference for the más universal, so as to recognize in Chapter

Four the centrality of the couplet conservar y aumentar that appears repeatedly in the

Constitutions.

Chapter Three contains three parts. In Part I we consider Ignatius' understand-

ing of commitment from a more abstract point of view, i.e., how it was rooted in

cultural and theological considerations, most notably the values of chivalry and the

Pauline doctrine of descent with Christ, for which Ignatius had a special affinity. In

Part II we turn to seminal moments in Ignatius' personal experience, particularly the

loss of all his early companions, the so-called Iñiguistas. In Part III we shall see how

the tension between those two dynamics, that is, the tension between Ignatius' high

ideals and lived reality, was enshrined in the couplet conservar y aumentar.

I. IGNATIUS ON DESCENT WITH CHRIST

A. Ignatius' Sentido Grupal

Throughout the twentieth century, a highly contested question of Ignatian

scholarship was the identification of that moment in Ignatius' life when he first
---
conceived a desire to form a canonical religious order in the semblance of the Society of

Jesus. In the first half of the century, a common contention was that the Society was

revealed to Ignatius in all its essential elements at the river Cardoner. Later scholarship

frequently affirmed that forming a canonical order never crossed Ignatius' mind until

1539, when the first companions were contemplating how to maintain their unity while

being dispersed on missions by the Pope.

139

Today the majority of scholars reject the idea that the Society was conceived at

the Cardoner. 340 To accept that conclusion, however, does not preclude the possibility

that Ignatius was firmly committed to forming an apostolic group of some sort at an

early date. As early as his second stay in Barcelona (1524-1525), he recruited three

men to his particular way of life—Calisto de Sa, Lope de Cáceres and Juan de

Arteaga—and refused others who volunteered, such as Miguel Rodis, Bartolomé de

Torres, and Juan Pascual. Ignatius' selectivity, plus the fact that his group wore

matching garb similar to canonical religious, 341 indicate the existence of something

more than an impromptu cluster of charismatic friends. Nadal and Ribadeneira both

maintained that Ignatius had attempted to gather a group since the time of his earliest

studies in Spain. 342

Never one to set humble goals, Ignatius' desire at this early period was to

recreate the Apostolic College by gathering a group of twelve, a desire that remained

with him as late as 1540. 343 At an ecclesial investigation in Alcalá, his group was

described as los quales dizen que hazen vida o manera de apóstoles. 344 This does not

340 Modern scholarship acknowledges, however, that Ignatius' intellectual illumination at the

Cardoner influenced many of his later decisions about the Society's way of proceeding, a point about

which Ignatius and other early Jesuits were quite clear.

341 Auto 58; MI Font. Doc. 115.

342 See FN II:135 (Nadal), IV:229 (Ribadeneira).

343 FN I:170, 177, 182, 263, FN II:180, MI Epp II:52, VIII:461, XII:332-333, M Xav II:820.

344 MI Font. Doc. 115.
---
mean Ignatius was thinking of a canonical order. 345 On the contrary, the hope of a

reform movement with a symbolic twelve persons at its core, a movement untainted by

associations with canonical religious life (which suffered from a reputation for laxity

and decline), and freely at the disposal of the same Holy Spirit that had descended upon

the apostles at Pentecost, was widespread among the faithful. 346 The alumbrados

occasionally attempted to make it a reality, at times with disastrous results.

140

It is not out of the question that Ignatius entertained the idea of a group as early

as his convalescence at Loyola. Fundamental to the knightly mentality was the

conviction that nothing of substance is obtained without sacrifice and strong bonds of

loyalty. 347 At Pamplona Ignatius rallied men to persevere in defense of a fortress

against overwhelming odds. Only by a collective effort could his goal of winning glory

be attained. On his sickbed, dwelling on the idea of giving glory to God, it is possible

that his thoughts turned almost immediately to rallying a new group for an even greater

cause. 348 Looking back on that time, Ignatius told Câmara that he had dreamed of doing

―what Francis and Dominic had done.‖ 349 He was probably alluding to the fact that they

had founded two of the most prominent orders of the sixteenth century. 350

345

Polanco noted that two otherwise-unknown men left Ignatius' company in Paris precisely

because he was not yet thinking of a canonical order (Po. Vita I:50).

346

See ANGELA SELKE DE SÁNCHEZ, ―Vida y muerte de Juan López de Celain, alumbrado

vizcaino,‖ BHisp 62 (1960), pp.136-162.

347

For a fuller treatment of what HANS WOLTER called the ―community consciousness of crusade

spirituality‖ [Gemeinschaftsbewußtsein der Kreuzzugsfrömmigkeit], including its relation to Ignatius'

preference for the más universal, see ―Elemente der Kreuzzugsfrömmigkeit in der Spiritualität des

heiligen Ignatius,‖ in Ignatius von Loyola: seine geistliche Gestalt und sein Vermächtnis 1556-1956, ed.

Friedrich Wulf, Würzburg, Echter-Verlag, 1956, pp.113-150 [trans. ―Elements of Crusade Spirituality in

St. Ignatius,‖ in Ignatius of Loyola: His Personality and Spiritual Heritage 1556-1956, St. Louis, IJS,

1977, pp.97-134].

348

―Para nosotros, que podemos dominar de un solo vistazo ese periodo de búsqueda y de

paciente docilidad, se dibuja una línea luminosa: Ignacio, tan pronto como sintió que debía darse al

servicio de Dios, comprendió al mismo tiempo que ese servicio exigía de él que se agregase compañeros

para perseguir con ellos su ideal‖ (MAURICE GIULIANI, Acoger el tiempo que viene: estudios sobre San

Ignacio de Loyola, trans. Miguel Lop Sebastià, Bilbao & Santander, Mensajero & Sal Terrae, 2006,

pp.37-38).

349

Auto 2.

350

Some commentators deny that Ignatius was alluding to the foundation of the mendicant orders

here, yet the fact that this passage from the Autobiography was dictated by the founder of a rapidly-
---
141

Whatever the cultural influences on Ignatius' sentido grupal, the primary

inspiration must have been his mystical experiences at Manresa, and especially the final

illumination at the Cardoner, which synthesized the content of the others and left him

como si fuese otro hombre y tuviese otro intelecto, que tenía antes. 351 When considered

together, these experiences appear to have bestowed on Ignatius an insight into the

Pauline doctrine that all things emanate from God and return to God in a continuous act

of creation (Col 1:15-20). That is, the Eternal Son ―goes out‖ from the Father in a

timeless kenosis, a movement in which the act of creation itself is located. This kenosis

was manifested in human history in the self-emptying of Jesus to the will of the Father,

i.e., a surrender of his self-will, self-love, and self-interest that culminated in the Cross

(Phil 2:6-8). For Ignatius after the Cardoner (as for Paul before him), one mystically

participates in Jesus' Passion by imitating his self-emptying, and by so doing, one also

participates in the risen Christ's own glorious ascent to the Father. Thus Ignatius

typically calls Jesus both ―Creator‖ (source of all) and ―Lord‖ (that to which all things

are directed).

For Ignatius, the glory of God is served to the degree that persons freely

choose—to the extent they are willing and able—to follow Christ to the depths of his

surrender, insofar as the resulting exaltation which one enjoys with Christ is

correspondingly greater. This is explicit in the Exercises, where Ignatius affirms that

exercitants should seek nothing except the greater glory and praise of God, [p]orque

piense cada uno que tanto se aprovechará en todas cosas spirituales, cuanto saliere de

su propio amor, querer y interese. 352 Here the verb salir (―to go out from‖) recalls

Ignatius' vision at Manresa, when he saw el modo con que Dios había criado el mundo,

growing order to members of that same order would have made the inference all but inevitable. Whether

it accurately reflects what Ignatius was thinking at Loyola is a different question.

351 Auto 30. On the visions preceding the Cardoner see Auto 28-29.

352 Ex 189.10.
---
que le parecía ver una cosa blanca, de la cual salían algunos rayos, y que della hacía

Dios lumbre. 353

142

The implications of these mystical experiences for Ignatius' sentido grupal were

several. He now perceived God's presence and activity in all created things, most

importantly in the desires and spiritual strivings of other people. Consequently he

moderated what had been a highly self-absorbed ascetic spirituality in favor of

ministering to souls. 354 By helping others to participate in their own descent with

Christ, Ignatius believed he could give greater glory to God than if he had focused on

his own sanctity, since the glorification of all creation in union with the Son and for His

sake was the reason for the primordial kenosis (Col 1:16). 355 In this sense, Ignatius'

own descent with Christ inevitably drew others to Ignatius (e.g., his imitators, bene-

factors, and directees) just as Christ's surrender to the Father had drawn the multitudes:

―When I am lifted up from the earth, I will draw all people to myself‖ (John 12:32).

Second, for both Ignatius and Paul, the idea of descent with Christ was not

reducible to an attitude of interior surrender to the divine will—that which Ignatius

named pobreza espiritual in the Exercises—as fundamental and challenging as that

interior surrender might be. 356 Both men held that an even deeper descent with Christ

353 Auto 29.1. TLC, s.v. salir: ―Moverse de un lugar a otro alguna cosa y manifestarse.‖ LOUIS J.

PUHL translated salir as ―surrender‖ (The Spiritual Exercises of Saint Ignatius: Based on Studies in the

Language of the Autograph, Chicago, Loyola Press, 1951, p.78) and GEORGE GANSS as ―divests oneself‖

(The Spiritual Exercises of Saint Ignatius: A Translation and Commentary, St. Louis, IJS, 1992, p.80).

For an analysis of salir in the Ignatian corpus, see JOHN UDRIS, ―Surrender: The Ignatian Principle for

Growth in Christlikeness,‖ Studies in Spirituality 8 (1998), pp.188-198.

354 DEI I:285.

355 The parallels between Pauline and Ignatian doctrine are underscored by a remarkable conversation

between Ignatius and Diego Laínez. Ignatius asked Laínez whether he would prefer to die now and

be assured of eternal salvation, or to remain alive to continue serving God, even if this meant placing

Laínez' own soul at risk (FN IV:773, 775). Laínez opted for the former. Ignatius then indicated that he

would choose the latter. Paul had also described the same dilemma and opted for the latter (Phil 1:23-24),

in a passage that, not coincidentally, immediately precedes his exhortation to the Philippians to imitate the

self-emptying of the Son (2:6-11).

356 On parallels in Pauline and Ignatian doctrine, see CLEMENTE ESPINOSA, ―Buscar y hallar la

voluntad divina según San Pablo y según San Ignacio,‖ Manr 44 (1973), pp.25-52; ROGELIO GARCÍA-

MATEO, ―San Ignacio de Loyola y San Pablo,‖ in Ignacio de Loyola: su espiritualidad y su mundo

cultural, ed. Rogelio García-Mateo, Bilbao, Mensajero, 2000, pp.65-85; FABRIZIO PIERI, Pablo e Ignacio:
---
would, all else being equal, manifest itself in a literal imitation of the historical Jesus in

his lived experience of separation from family and friends, material poverty, begging for

sustenance, sexual continence, reception of abuses, etc. 357 In Chapter Two we noted

how strongly Paul identified his own experience of these as his personal ―death with

Christ,‖ and how it testified to his credibility and legitimacy as an apostle. Thus Paul

commended continence without requiring it, and urged others to imitate his own parti-

cular experiences:

You are honored, we are dishonored! To this very hour we go hungry and thirsty,

we are in rags, we are brutally treated, we are homeless. We work hard with our

own hands. When we are cursed, we bless; when we are persecuted, we endure

it, when we are slandered, we answer kindly. Up to this moment we have

become the scum of the earth, the refuse of the world. . . . Therefore I urge you

to imitate me. For this reason I am sending to you Timothy, my son whom I love,

who is faithful in the Lord. He will remind you of my way of life in Christ Jesus,

which agrees with what I teach everywhere in the church (1 Cor 4:10-13,16-

17). 358

143

As a consequence of this emphasis on actual imitation, those who descend as

deeply as possible with Christ will invariably assume a relatively-similar outward

appearance and a similar interior mentality (both of which, not coincidentally, Ignatius

later insisted upon for members of the Society of Jesus). They often will be drawn to

each other naturally by virtue of their shared ideals, so that, in consequence, they form

discernible groups within the body of believers as a whole. For this reason, when

Ignatius writes of ―abuses and actual poverty,‖ he generally associates it with what was

proper to the evangelical counsels and canonical religious life. 359 In a letter to Sr.

Testigos y maestros del discernimiento espiritual, trans. Ramón Alfonso Díez Aragón, Santander, Sal

Terrae, 2005; CHARLES J. JACKSON, ―Something that Happened to Me at Manresa: The Mystical Origin of

the Ignatian Charism,‖ SSJ 38 (2006).

357 Ex 167. On Ignatius' early attempts to imitate Christ as literally as possible, see D. MOLLAT,

―Le Christ dans l'expérience spirituelle de saint Ignace,‖ Chr 1 (1954), pp.23-47; HARVEY D. EGAN, The

Spiritual Exercises and the Ignatian Mystical Horizon, St. Louis, IJS, 1976, pp.86-95.

358 Emphasis mine. As we shall see shortly, Ignatius used la vida mía in the Autobiography to

denote his personal imitation of Christ; and following suit, the first Jesuits adopted la vida nuestra as a

means to denote their own actual poverty.

359 There are hints of this even in the Exercises. The term pobreza actual resonated with the

canonical language of religious life (GANSS, Spiritual Exercises, p.168), as did the language of being

―received into a life and state‖ (recibir en tal vida y estado) [Ex 98].
---
Teresa Rejadell, for example, he was thinking of religious life when he described a life

sin gozar de parientes, amigos, possesiones for those who choose to suffer with their

Creator and Lord. 360 In principle, however, Ignatius would not have denied that abuses

and actual poverty were possible for Christians in any state. 361 He was probably aware

of the fate of Sir Thomas More, a married layman who, by being stripped of his office,

his freedom, his family, and finally his life, realized the abuses and actual poverty of the

Exercises in their fullness. 362

B. Descent into the Society of Jesus

144

In ―The Call of the King,‖ Ignatius outlines three increasingly-deeper stages of

descent with Christ for those seeking to go beyond fidelity to the commandments:

spiritual poverty (i.e., a habitual disposition to surrender in all things to the will of God,

and a willingness to accept whatever trials arise as a result of that surrender), a request

to receive abuses and actual poverty in fact (in order to imitate more closely the

experiences of the historical Jesus), and the de facto reception of abuses and actual

poverty. As we shall see, Ignatius was convinced that an ever-deeper descent with

Christ along this threefold tier led to an increasingly smaller and elite group of

Christians, who, at the bottom of the descent, were to be represented by the apostolic

group he wished to form. Consequently, to leave his particular form of life for anything

else meant to ―go back‖ [volver atrás] to a lesser stage of descent, which by its nature

indicated a weakening of faith and generosity.

In the Kingdom meditation, Ignatius is clear that the call to spiritual poverty is

directed to all the faithful. A human king is loved by todos los principes y todos

360 MI Epp I:101.

361 Ignatius appears to acknowledge this possibility in MI Ex II:78.

362 St. Thomas More devoted great effort to the discernment of his vocation, to that end spending

some time with the Carthusians. He believed in the ideal of continence, but in light of his libido and

attraction to marriage he concluded (in the words of Erasmus), ―Better a chaste husband than a licentious

priest‖ (Epistles of Erasmus, London, 1901, trans. F.M. Nichols, III:392-394).
---
hombres cristianos, and he extends his call to todos los suyos. Then the risen Christ

utters His own sweeping summons, this time on a cosmic scale [delante dél todo el

universo mundo, al cual llama], which is nevertheless intended and possibly heard as an

intensely personal experience [y a cada uno en particular dice]. Notably, Christ does

not say ―If you want to come with me,‖ but rather, ―Whoever wishes to come with me‖

[quien quisiere]. Ignatius reinforces the universality of the call by his assertion that all

those with juicio y razón will respond, 363 i.e., the reasons for accepting the call are

intelligible in principle to all.

145

Those who más se querrán afectar y señalar en todo servicio de su rey eterno y

señor universal will desire more than interior surrender to the Father's will: they will

proactively ask for the grace de imitaros en pasar todas injurias y todo vituperio y toda

pobreza, así actual como espiritual. 364 Here Ignatius presumes that those who request

abuses and actual poverty will be fewer than those who embrace spiritual poverty. One

reason is that, among the latter, there can exist a concomitant hope that abuses and

actual poverty will not in fact be necessary. Thus Ignatius affirms that to ask for abuses

and actual poverty requires one to resist his sensualidad and amor carnal y mundane. 365

Yet if one declines to ask for abuses and actual poverty, this is no cause for disdain.

Christ himself, fully open to the will of the Father, nonetheless prayed that the cup of

363 Some commentators have suggested that the language of todos los suyos in the context of

medieval chivalry referred specifically to knights and vassals—as distinguished from all other subjects in

the realm—who enjoyed special bonds with their lord and were especially obliged to fight on his behalf.

This insight can shed light on Ignatius' understanding of the knightly attitudes that one should

demonstrate when responding to the call, but it should not be interpreted to mean that the call is directed

to pre-selected individuals. The First Week (which Ignatius considered suitable for all Christians)

presupposes that exercitants already enjoy a bond of loyalty to the King by virtue of their baptism. The

grace of the First Week is to renovate and deepen that bond by inculcating a sense of wonder and

gratitude for having been redeemed [Ex 60-61]. Every exercitant in the First Week was to ask himself,

―What ought I to do for Christ?‖ [Ex 53.2]. It is essentially the same question that re-appears in ―The

Call of the King.‖

For this reason I am inclined to agree with those who regard ―The Call of the King‖ as a piece

distinct from the Second Week properly so-called. The Election and the contemplations on the life of

Christ both presuppose that the choice for pobreza espiritual (if not more) has already been made.

364 Ex 98.3.

365 Ex 97.2.
---
suffering would pass him by (Luke 22:42). 366 Consequently those who ask for abuses

and actual poverty take an extraordinary step: they ask to share in that which Jesus

himself had desired to avoid, precisely because he had been unable to avoid it.

146

Those who proactively request abuses and actual poverty are also fewer for a

second reason. It often happens that the interior disposition and personal circumstances

of an exercitant are such that to request abuses and actual poverty would be ill-advised

or even inappropriate. It is questionable, for example, whether a married person can

rightly ask for them when he or she has a spouse and children who will be negatively

affected were that request to be realized. 367 Deleterious consequences are also possible

if one lacks the pura intención that such an extraordinary request requires, i.e., if one is

motivated by guilt, naïve enthusiasm, or competition-with-oneself (all of which Ignatius

had experienced). This consideration sheds important light on Annotation 15 of the

Exercises, where Ignatius informs directors that, while it is legitimate for them outside

the retreat to recommend continence and religious life to ―those who are probably

suitable for it‖ [que probabiliter tengan subyecto], during the retreat itself:

más conveniente y mucho mejor es, buscando la voluntad divina, que el mismo

Criador y Señor se comunique a la su ánima devota, abrazándola en su amor y

alabanza y disponiéndola por la vía que mejor podrá servirle adelante. 368

Annotation 15 is commonly interpreted to mean that it is better for God to

communicate His will directly to the creature via consolations, in such a way that the

universal norms of public revelation (e.g., the ideality of continence and the

renunciation of family for the sake of the gospel) are not essential in principle to the

discernment process, except perhaps to provide a sense of the legitimate parameters of

366 Ignatius makes a point of reiterating this in Ex 290.2.

367 Again, the story of Sir Thomas More is an excellent case in point. Knowing that his family

would be adversely affected by his imprisonment and execution, and desiring to avoid death himself,

More did all that he could to avoid prosecution within the limitations of his conscience, principally

through reliance on the English legal dictum qui tacet consentire videtur (―One who is silent appears to

consent‖). Yet his commitment to spiritual poverty was such that he accepted this fate for him and his

family when he concluded that it was God's will for them.

368 Ex 15.3-4.
---
the discernment. Understood thusly, God directly invites one to marry, another to the

priesthood, another to religious life, etc. 369

147

Yet another interpretation of Annotation 15 is possible. In the sixteenth century

the primary meaning of the verb comunicarse was not the communication of informa-

tion to another, but rather the act of negotiating or dealing familiarly with another for

the sake of coming to an agreement about a particular course of action. 370 Hence,

Ignatius might simply mean that it is better for God to enable exercitants to recognize

their desires and limitations with regard to the universal truths of public revelation

[disponíendola], and thereby to recognize the deepest stage of descent that is

realistically possible for them, as opposed to directors who, ignorant of or indifferent to

these dispositions and limitations, insist on a particular ideal. 371 As Polanco wrote in an

early directory of the Exercises: Quod enim simpliciter est melius, non unicuique

melius est. 372 When Annotation 15 is interpreted in this manner, the universal norms of

public revelation remain integral to the discernment process.

369 PETER-HANS KOLVENBACH affirmed, for example, in an essay on lay leadership in the Church,

―In the second week of the Exercises, [Ignatius] presents the Call of the Eternal King. In it, one

experiences the call given by Christ the eternal King in each person's heart, to commit one's life freely to

the King's own task, to hear and to respond with one's whole life for the building of his reign here on

earth. Even though some respond to this call as priests or consecrated women and others as lay men or

women, nevertheless, the sincerity and the surrender in our response has to be the same for all of us. For

what is involved here is that each one be faithful to the call, to the will of God that is the following of

Christ in our lives. In this response, there are no higher or lower ranks. For the issue here is above all the

response of each heart to the project that God has for every one of us—a project which will vary in the

forms it takes, but not in the fundamental and ultimate content: the call to be sons and daughters of God

in Christ‖ (―Laymen and Laywomen in the Church of the Millennium,‖ in The Road from La Storta, St.

Louis, IJS, 2000, p.281).

370 TLC, s.v. comunicar: ―Hazer partícipe a otro de alguna cosa. . . comunicar alguno es tratarle y

con-versarle.‖ DiccAut, s.v. comunicar: ―dar parte y notícia à uno de alguna cosa‖ and ―conversar,

tratar, tener comercio y trato familar con algúno.‖ S.v. comunicarse: ―confederarse, unirse, coligarse,

tener ò hacer trato secreto de común acuerdo para alguna operación.‖

371 That Annotation 15 was widely attacked in the sixteenth century can be largely explained by

this interpretation. At that time, it was widely held that all Christians of normal mental and physiological

health were capable of sexual continence (as the Fathers generally presupposed; see below, p.89, n.160).

Ignatius, given his emphasis on pura intención and his past experiences with Lope de Cáceres, Antonio

Arias, and untold others (see above, pp.169-180), would have been well aware that many lacked the

health or dispositions to practice celibacy well and enduringly. To insist on the ideal of religious life for

all persons would only promote mediocrity and scandal.

372 ―What is better in itself is not necessarily better for everyone‖ (MI Ex II:311, and n.156).
---
148

Ignatius further distinguishes between the free request for abuses and actual

poverty and the fact of actually receiving them: [si] queriéndome vuestra santísima

majestad elegir y recibir en tal vida y estado. 373 Whereas spiritual poverty and the

request for abuses and actual poverty lie within the purview of the individual, insofar as

he or she is free to choose them (all else being equal), the de facto reception of abuses

and actual poverty is God's to bestow at His discretion. To be sure, one can freely

choose to part with family and possessions, and one can also deliberately act in ways

intended to provoke ridicule and abuse. Yet to presume to do so without having

determined the divine will beforehand, or without waiting for God to provide the abuses

and actual poverty through His own means, was contrary to spiritual poverty, and

possibly motivated by indiscretion or vanity. 374 (As we shall see, Ignatius' precipitous

vow of chastity at Aránzuzu was a case in point.) Such a person also risked provoking

others into sin through their abuses of him or her. 375

In this light, Ignatius' vision at La Storta was the divine confirmation that his

request for abuses and actual poverty had been accepted. In the months leading up to

the vision, he had been begging Mary to place him with her Son, 376 indicating if nothing

else that he felt something was lacking or uncertain. It is unlikely that he questioned his

personal commitment to surrender to the divine will, nor, given his past experience,

would he have doubted the likelihood of future abuses and actual poverty. What does

appear unclear in his mind is whether the abuses and actual poverty that he was

373 Ex 98.4. See also Ex 146.3.

374 The Spanish Iñiguistas were interrogated and imprisoned in part for their efforts to imitate

religious poverty in their dress and begging. The second group in Paris had been ridiculed and chastised

in their pursuit of a poverty that was not secundum scientiam [Auto 77]. In this light, that Amador was

called ―crazy‖ (loco) [Auto 78] takes on added significance. Indiscrete zeal and a presumptuous quest for

abuses and actual poverty prompted Ignatius' 1547 letter to the Jesuit scholastics at Coimbra (MI Epp

I:495-510).

375 Ex 147.

376 FN I:496. ―‗To be placed with Christ': that was the content of this priestly mysticism of

Vicenza and La Storta‖ (HUGO RAHNER, The Vision of St. Ignatius in the Chapel of La Storta, Second

Edition, Rome, CIS, 1979, p.37). See also JOSEPH DE GUIBERT, The Jesuits: Their Spiritual Doctrine and

Practice, trans. William Young, Chicago, Loyola University Press, 1964, p.37.
---
experiencing were in fact the will of the Father (as opposed to the result of presumption

or errors on Ignatius' part), or in other words, whether the Father had really accepted

Ignatius' request to suffer with Christ. 377 At La Storta Ignatius vio tan claramente que

Dios Padre lo ponía con Cristo, su Hijo, que no se atrevería a dudar de esto, sino que

Dios Padre le ponía con su Hijo. 378

149

The significance of the distinction between the request for abuses and actual

poverty and the fact of receiving them is clear in light of Ignatius' long-suffering desire

to create an apostolic group. As we shall see, though the Iñiguistas in Spain and Paris

had experienced abuses and actual poverty, both groups came to naught; and especially

in the case of the second group, the dissolution was largely provoked by their imprudent

zeal for actual poverty. Consequently, Ignatius learned that the experience of abuses

and actual poverty was by no means evidence that these were in fact the will of the

Father. Without the pledge of La Storta, how could Ignatius be sure that the attacks

which his third group (i.e., the ―first companions‖) would soon experience in Rome—

and which he later described as the severest he ever endured 379 —in addition to the

imminent departures of Miguel Landívar, Antonio Arias and others, were not

indications that his new group was once again doomed to failure?

Consequently at La Storta, Ignatius linked the de facto reception of abuses and

actual poverty not solely to himself but also to his friends in the Lord, ―the first

companions.‖ He understood the divine pledge ―I will be propitious to you [vos, plural]

in Rome‖ in a sentido grupal, and for that reason, though he was normally reticent

about his mystical experiences, he immediately shared this one with Favre and Laínez:

377 JOSEPH DE GUIBERT observed that what always lingered in Ignatius' mind as the main point of

the vision was neither the sight of Christ carrying his Cross nor the promise of assistance, but the

certainty of association with the Son (The Jesuits, p.38.)

378 Auto 96. Emphasis mine. Ignatius did not indicate in the Autobiography that he saw Jesus

carrying his cross, as did later Ribadeneira and Nadal (FN IV:271, M Nadal IV:649, V:136).

Nevertheless, in light of our contention that Ignatius desired a confirmation that his present and future

sufferings would be the will of the Father, the detail of the cross would have been entirely consistent.

379 MI Epp I:137-138.
---
―Perhaps we will be crucified in Rome.‖ 380 Ignatius gained not only for himself, but

also for his companions by virtue of their association with him, the assurance of

knowing that they would experience abuses and actual poverty as the will of the

Father. 381 As a group they would know the fullest descent with Christ, from which

there could be no volver atrás.

150

After the foundation of the Society of Jesus, to enter the order was ipso facto to

enter into that corporate promise. We shall see in Chapter Four that Ignatius conveyed

that idea in the Constitutions by effectively likening entrance into the Society with

baptism into the Body of Christ, whereby one experiences full descent with Christ into

His death. Whether this meant, for Ignatius, that each individual Jesuit at some point in

his life could expect to experience real abuses, self-doubt, and frustration in his vocation

is open to question. What is clear, however, is that the pledge of La Storta provided the

Society a particular paradigm through which such trials should be interpreted when they

occur. In other words, in the life of any individual Jesuit, it is not the existence of such

abuses and actual poverty, but rather their absence, that perhaps requires an explanation.

We may summarize the descent with Christ as Ignatius described it in the

following manner:

Fidelity to the Commandments: Required of all.

Spiritual Poverty: Asked of all.

Request for Abuses and Actual Poverty: Appropriate for some.

Reception of Abuses and Actual Poverty: Promised to the Society of Jesus.

380 FN II:133.

381 Nadal affirmed similarly (M Nadal IV:652).
---
C. No Volver Atrás

151

For Ignatius, what best serves the glory of God is a state that exercitants elect in

light of their desires, abilities and limitations, while being deeply mindful that they are

(all else being equal) called to follow Christ in the evangelical counsels, religious life,

and/or abuses and actual poverty. Because personal desires, abilities and limitations are

considerations intelligible to all, the correct state for a particular exercitant in principle

should be evident to the director and others, provided that they have sufficient know-

ledge of the exercitant. For that reason Ignatius believed that he could legitimately

discern the vocation of another person, namely Dr. Miguel Torres, who had made the

Exercises earlier but had been unable to come to a decision. 382 And to an ecclesiastic

who wished to enter the Society but who delayed because he lacked sensible consola-

tions, Ignatius reponded:

[R]emunerando Dios N.S. la confi[an]za que en su prouidentia se tiene, y la

resignatión de si mesmo ente[ra], y abnegatión de sus proprias consolationes, con

mucho contentamiento y gusto, y tanto mayor abundantia de spiritual consolatión,

quanto [me]nos se pretiende, y más puramente se busca su gloria y beneplácito. A

su infinita y summa bondad plega enderezar todas cosas de [V.]md. como para tal

fin vey que más conuiene. 383

To Fr. Vitoria, Ignatius explained that faulty discernment occurs when one

proceeds ―unthinkingly‖ [sin pensar] and ―without reflecting‖ [sin considerar]. Some

enter religious life without calculating the difficulties beforehand (Lk 14:28-30) and

consequently fail to persevere. Others have sufficient self-knowledge ―to judge‖

[juzgassen] that they could not remain in the world without sinning.

Para que sintáis la difficultad que ay en usar indifferentemente de los medios que

Dios nuestro Señor nos ha dado, para que podamos conseguir el fin para que nos

crió: y para que conociendo esto os pongáis totalmente en sus manos, pues aquí

382 See JUAN EUSEBIO NIEREMBERG, Varones Ilustres de la Compañía de Jesús, Second Edition,

Bilbao, Mensajero, 1891, VIII:216. Ignatius offered three Masses for the proper discernment of Torres'

vocation. Torres entered the Society in 1547.

383 MI Epp XI:185. ―God our Lord repays our trust in his providence, our complete selfabandonment,

and our giving up of our own consolation by giving us a deep contentment and relish, and a

spiritual consolation that is all the richer the less we aim at it and the more purely we seek his glory and

will‖ (trans. MARTIN E. PALMER, Ignatius of Loyola: Letters and Instructions, St. Louis, IJS, 2006,

p.647).
---
está el fundamento de que hallemos lo que desseamos; mirad que algunos,

tomando la via de la religión, por no haver perseverado en ella, ne querido

sujetarse al suave yugo del Señor, se han ydo al infierno, porque se han salido

della, y appóstatas muerto por su culpa. Otros entrados en la religión, que en el

mundo no podían vivir sino peccando y offendiendo a Dios o crescían poco en el

Señor etc., han venido a ser sanctos, y si se casaran pudiera ser que se fueran al

infierno: y assí per orden de todos los otros estados, unos con las riquezas han

ganado el cielo, y otros con ellas el infierno. Pues siendo esto así, y que de parte

de los estados no venga esta malicia, cierto viene de parte nuestra, que sin pensar

nos entramos en cosas y inclinamos nuestros ánimos sin considerar si conviene al

servicio de Dios, si es mi vocación, si por aquella via podré mejor ir y conseguir

el fin para que Dios me crió. No todos pueden ser religiosos, quia, que potest

capere, capiat, dize el Señor; dando a entender que ay algunos que no lo pueden; y

que los que lo pueden, que si quieren ser perfectos, imo etiam salvos en cierto

modo, que es menester que lo tomen; porque parece que sea precepto, pues dize:

qui potest capere, capiat, en caso que juzgassen que en el siglo no podían guardar

la ley de Dios N.S., o que la evidencia de la vocación les obliga a seguirla. Pues

cierto es que aviendo esta difficultad y no sabiendo lo que nos conviene, que es

menester que totalmente nos resignemos en las manos de Dios nuestro Señor. . . 384

152

Consequently the idea of no volver atrás permeates the interior logic of the

Exercises. Ignatius affirmed there and elsewhere that the evil spirit is recognized when

exercitants realize that a proposed course of action is objectively less good than what

they are already doing. 385 This recognition occurs when retreatants (or directors)

evaluate a proposed course of action in the light of universal norms (e.g., biblical or

ecclesial principles) that they already know to be true. Indeed, that Ignatius warned

384 ―To help you understand the problem of making an indifferent use of the means God our Lord

has given us so that we can reach the end for which he created us, and so that after grasping this you will

place yourself unreservedly in his hands, since this is the foundation for finding what we are looking for,

consider the following: There have been persons who took the path of religious life and did not persevere

in it but refused to bend to the sweet yoke of the Lord, and have consequently gone to hell because they

abandoned religious life and through their own fault died apostate. Others entered religion after having

been unable to live in the world without sinning and offending God or without failing to make much

progress in the Lord, etc., and they reached sanctity; if they had married they might have gone to hell.

Similarly with all other states of life, one after another: some who earned riches have gone to heaven,

others who possessed riches have gone to hell. Since this is so, and since the evil does not stem from the

state itself, it certainly comes from our side in embarking on things unthinkingly and inclining our minds

without reflecting whether this is right for the service of God, whether it is my calling, whether this is the

best path for me to travel and so reach the end for which God created me. Not everyone can be a

religious. The Lord says, ‗He that can take, let him take it' [Matt 19:12], indicating that there are some

who cannot and that those who can, if they want to be perfect, or even if a certain sense if they want to be

saved, are obliged to take it, for it appears to be a precept inasmuch as he says, ‗He that can take it, let

him take it'—in a case where they judge that they would be unable to keep the law of God our Lord in the

world or where their calling is so manifest that they are under obligation to follow it. Now it is certain

that since this difficulty is real, and since we do not know what is right for us, we need to abandon

ourselves wholly into the hands of God our Lord‖ (trans. PALMER, On Giving, p.21).

385 See Ex 333.
---
Vitoria so strenuously about the dangers of choosing a state incorrectly only under-

scores his conviction that it was not possible to volver atrás from a more ideal state.

In 1547 Polanco wrote to Borgia ex commissione:

Como es señal que el spíritu sea bueno, si induce á la obseruançia y amor de todo

lo que hombre es obligado por seruiço de Dios N. S., assí el spíritu parece malo

que induze á lo contrario, como se vee. . . donde [Padre Onfroy] muestra su poca

deuoçión al instituo de vida que ha tomado, y con voto prometido de obseruar. . . 386

And when rejecting a benefice for a certain Jesuit, Ignatius wrote:

[N]o osaríamos tornar atrás, de un modo de proceder más perfetto en menos;

antes desseamos intensamente que Dios N. S. en su maior seruicio y alabanza nos

lleuase desta vida, que á los por uenir diéssemos tal ejemplo. 387

153

In light of the universal norm of no volver atrás, Ignatius could tell Fr. Vitoria

that a spiritual director might legitimately persuade or dissuade exercitants with regard

to certain decisions to which they were tending:

[H]able cautamente y cosas pensadas, de que se pueda edificar; y no le esfuerce a

que aya de tomar un estado o otro, salvo si él se sientesse inclinado a algún

estado, y esto le comunicasse; entonces sobre bien pensado, le podría dezir,

tuviendo como digo licentia para ello, lo que sintiere coram Domino, si pensasse

que dizírselo entonçes le puede confirmar en el buen propósito, o ayudar a

apartarse del menos bueno, y ponerse de nuevo en manos de Dios para que le

guíe, guardándose, como digo, siempre de no trattar cosa en que aya sospecha

que le quiere incitar a la Compañía; porque es contra la regla de los Exercicios y

puridad del espíritu de la Compañía, que non quiere sino que líberamente y por

divino instinto y beneplácito. . . y aun siendo en tal tiempo movido el exercitante

por consejos o industria de algún hombre mortal, siempre quedaría abierta la

puerta al demonio para le tentar, diziendo y sugiriéndole que si él no se moviera

por consejo de tal, etc., que nunca huviera hecho tal cosa; y que al fin consejo era

de hombre, y que quasi siempre yerra; y así le queda la tentación en la mano. 388

386 MI Epp XII:642. ―[A]s it is a sign that a spirit is good if it leads to the observance and love of

whatever one is obliged to for the service of God our Lord, so it seems to be an evil spirit that leads to the

opposite. This can be seen [where Father Onfroy] shows how small is his devotion to the Institute of life

he has embraced and has vowed to follow‖ (trans. PALMER, Letters, p.273). Emphasis mine.

387 MI Epp I:355. ―We would not dare to turn back from a more perfect to a less perfect manner

of proceeding. Rather, it is our fervent wish that for his own greater service and praise, God our Lord

would take us from this life rather than let us set such an example for those who are to come‖ (trans.

PALMER, Letters, p.127).

388 MI Ex II:95. ―[A director should not urge an exercitant] to choose one or another state, unless

the exercitant already feels himself inclined to a particular state and has told him this, then he may, after

careful reflection (and supposing, as I have said, that he has permission) tell the exercitant what he thinks

in the presence of the Lord, if he judges that saying it at that point might confirm the exercitant in his

good resolve or help him to turn away from something that is less good and to place himself back in

God's hands to be guided by him. But, as I have said, he must constantly be on guard not to talk about

anything which might suggest that he is trying to push him toward the Society. This would be against the

rule of the Exercises and against the purity of the spirit of the Society, which does not want anyone to be
---
154

The above citation is quite contrary to Annotation 15, if the latter is interpreted

in the modern sense to mean that all states-of-life can be formal objects of a divine call.

In fact, what Ignatius desires is that exercitants be motivated by pura intención (which

in principle could come from either consolations or reason). That directors should

protect and promote the pura intención of exercitants did not preclude the possibility of

asking exercitants to reconsider their choices in light of universal norms. In a word,

Annotation 15 served to ensure that the exercitant was convinced that the election was

genuinely his, and not someone else's. 389

No volver atrás did not refer solely to returning to a life of sin, but also to a

lesser state, i.e., to that of an ―ordinary Christian‖ in the world. 390 To Sr. Teresa

Rejadell, Ignatius repeated the words of the Enemy in Manresa: [C]ómo [h]as de viuir

toda tu vida en tanta penitencia, sin gozar de parientes, amigos, possesiones, y en vida

moved to enter the Society otherwise than by free choice and at God's will and prompting. . . Moreover,

with the exercitant having been moved at such a time by the advice or efforts of a mortal human, the door

will always be open for the devil to tempt him by suggesting that had it not been for the influence of soand-so's

advice he would never have taken such a step, and that the idea came from a human being, and

humans are nearly always wrong. And so the devil will always have this temptation at hand‖ (trans.

PALMER, On Giving, p.18).

389 Ignatius' counsel to Vitoria raises the possibility that during his early years of giving the

Exercises, Ignatius had erred by imposing his own values on the Iñiguistas and other exercitants, with the

result that some eventually left the commitments they had made during the Election. In this light it is

notable that each of the first companions in Paris, upon making the Exercises, elected without exception

to go to the Holy Land, which perhaps not coincidentally happened to be Ignatius' own fervent desire.

390 For these reasons it is misleading to call Ignatius a ―layman‖ during the period between his

conversion in 1521 and his priestly ordination in 1537. He did not think of himself as such. (Technically

he was a cleric, as he had been tonsured as a youth. In 1515 he appealed to his clerical status to avoid

civil prosecution [MI Font 229-246], and in 1522 he identified himself as a cleric of the diocese of

Pamplona while seeking papal permission for a pilgrimage to the Holy Land [MI Font 289-290].) If one

simply wishes to affirm that Ignatius was not a priest, and that his ministry of the Exercises and spiritual

conversation did not require ordination, that is correct as it stands. Today, however, the term ―laity‖

signifies more than being non-ordained: it carries a broader, more positive meaning of a particular

manner of living the gospel, typically in the context of marriage and secular employments. This is

precisely what Ignatius understood himself to have left behind.

The Autobiography indicates that Ignatius felt the first stirrings of conversion upon reading the

lives of Christ and the saints [Auto 5-7]. Yet the earlier biography by Laínez intimates that Ignatius first

renounced his old life and afterward read the books to reinforce that decision (ALBURQUERQUE, Diego

Laínez, pp.134-135). The Autobiography increases the drama by locating the conversion in a pivotal

moment of unexpected influence. If Laínez is correct, it suggests that Ignatius' earliest propósito was as

much a rejection of his old life as an embrace of a new life represented by the saints, and that this had

been rumbling in him long before Pamplona. In this sense, there is a significant parallel between Laínez'

account and the Exercises: one is not to read the lives of Christ and the saints during the First Week,

when exercitants reflect on their past history and sinfulness, but may do so during the Second Week,

when a decision to follow Christ has presumably been made already [Ex 100].
---
tan solitaria sin vn poco de reposo? Como de otra manera te puedas saluar sin tantos

peligros. . . 391 We shall see shortly how this was underscored in the Autobiography.

155

Thus for Ignatius, any ―discernment‖ to leave religious life was illegitimate by

its nature. All Christian states were holy in themselves, but leaving religious life was

not morally indifferent, and thus did not satisfy the conditions for the possibility of a

legitimate discernment that Ignatius had outlined in the Exercises. 392 Polanco, writing

ex commissione about a Jesuit wavering in his vocation, affirmed:

Circa Gioanni, N.P. non se risolue ad altro, se non a quello che prima. Con

intelligentia che tiene fin' a mo, pare li essercitii li gioueria[no] assai, et farlo

capacce etiam delle sue tentationi; perchè, dire bastano li precetti, chiaro è che

per lui non bastano, nè per huomo ch' [è] inspirato da Dio alla uia delli conseglii,

massime essendo obligato. 393

It seems that nowhere in his letters did Ignatius ever recommend that a Jesuit

make the Exercises in order to discern whether to remain in the Society. On the

contrary, for men wavering in their vocations, or for men who had left the Society but

now had thoughts of returning, Ignatius would have had them (re)make the Exercises

with the understanding that, if they did so correctly, they would come to realize that

leaving was a mistake. The above citation is a case in point: ―to enable him to see his

temptations.‖ As for another man who left the Society but was considering a return, his

buoni propositi after making the Exercises could be presumed:

Dell' altro, ch' è stato frate et professo, come pare, per la Compagnia nostra non

accaderà parlarne; ma essendo lui buon suposito, et risoluendosi di totalmente

dedicarsi al seuigio diuino, è da sperare che in molti luoghi sarà ben uenuto. Se

lui uorrà uenire a Roma, potrà far li essercitii; pur fuora di casa et a sue spese

(come credo se intenda), et dopoi li daremo l' aiuto che potremo per la

essecutione delli buoni propositi che cauerà delli essercitii; ma non debbiamo

391 MI Epp I:101, Auto 20. ―How are you going to live your whole life amid such penance, with

no enjoyment from friends, relatives, or possessions, leading such a lonely life and never having any

ease? There are other less perilous ways you can save your soul‖ (trans. PALMER, Letters, p.19).

392 Ex 170.

393 MI Epp V:452. ―As regards Giovanni [Ottilio], Our Father has made no decision different

from his previous one. With the intelligence he has shown so far, it would seem that the Exercises would

be of considerable help to him, and enable him to see his temptations. For as to his saying that the

commandments are enough, it is clear that they are not enough for him or for anybody inspired by God to

follow the way of the counsels, especially once he has so bound himself‖ (trans. PALMER, Letters, p.443).
---
promettere quello che non è in mano nostra, cioè farlo accettare in vna parte o

altra: faremo bene l' offitio del procurarlo, a gloria maggior diuina. 394

D. The Three Temptations of Ignatius

156

The above points about universal norms in discernment are underscored by

Ignatius' account of his temptations against his new vida, located in the Autobio-

graphy. 395 Certain parallels between these passages indicate that they were intended as

a literary triad. Failure to recognize the triad has caused commentators to misinterpret

various passages.

The first temptation occurred even before Ignatius left home. One of his

brothers (Ribadeneira later identified him as Martín Loyola), sensing that Ignatius

wished to make a great change, led him from room to room, reminded him of his

family, future and noble status, and begged him not to throw his life away. 396 The

Autobiography gives no indication that Ignatius hesitated. He simply ―slipped away‖

[se descabulló] from his brother. It recalls the gospel scene in which Jesus is led by the

Devil from one location to another in an effort to dissuade him from his mission (Luke

394 MI Epp X:655-656. ―Of the other one, who it seems was a brother and professed in our

Society, there will be no need to speak of him. But given that he is well-intended and has made up his

mind to totally dedicate himself to the divine service, it is to be hoped that he will be welcomed in many

places [i.e., Jesuit houses? Other orders?]. If he wishes to come to Rome, he will be able to make the

Exercises, though outside the house and at his own expense (as I believe he intends). Afterward, we will

give him what help we can for the execution of the good intentions that he will draw from the Exercises.

But we must not promise what is not in our hands, that is, to assure him that we will accept him one way

or another.‖ Translation and emphasis mine.

395 The theme of perseverance dominates the first half of the Autobiography. Before Ignatius had

even left his sickbed he was already perseveraba en su lección y en sus buenos propósitos [Auto 11]. At

Manresa he was perseverando en la abstinencia de no comer carne, y estando firme en ella, que por

ningún modo pensaba mudarse, until a corporeal vision changed his mind [27]. He also perseveraba

siempre en sus sólitas confesiones y comuniones cada domingo [21]. During his bout with scruples he

perseveraba en sus siete horas de oración de rodillas, levantándose a media noche continuamente, y en

todos los más ejercicios ya dichos [23] and toda la semana perseveró sin meter en la boca ninguna cosa

[25]. In total, perseverar appears seven times in the first 27 sections of the text, i.e., until the account of

Ignatius' mystical experiences, but appears no more after that. Affirmations about Ignatius' ―resolute

will‖ and ―firm convictions‖ also appear throughout the first half of the Autobiography.

That Ignatius the General wished to underscore perseverance to his Jesuit readers appears

supported by the fact that the Autobiography does not include an incident in Manresa when his firm

resolve seems to have wavered. Laínez wrote that Ignatius, while gazing at beggars in a hospital, felt

desires to return to his fine clothing, and sintiéndose un poco contristar, se parte de allí y se entra con los

otros pobres, y aquella cosa se le pasa (ALBURQUERQUE, p.139, n.8).

396 Auto 12. For Ribadeneira's account see FN IV:97.
---
4:1-12), and also Jesus' rejection by family and friends at Nazareth, where he ―slipped

through‖ the crowds (Luke 4:16-30). To note the biblical allusions is not to question

the historical veracity of Ignatius' story. It would be more doubtful that Martín had not

said something, and it seems unlikely that Ignatius would depict his brother as a tempter

for posterity had it not happened. Yet by means of the biblical allusion, Ignatius

insinuates that the ultimate source of the temptation was not Martín Loyola.

157

The second temptation occurred about four months after Ignatius arrived in

Manresa. A troublesome thought occurred to him: ¿Y cómo podrás sufrir esta vida 70

años que has de vivir? Its demonic origin is affirmed directly (sintiendo que era del

enemigo), and indirectly, insofar as Ignatius implied a connection to an earlier vision of

a serpent. 397

The words esta vida are significant here, as they will establish a link to the third

temptation. For Ignatius and early Jesuits, ―this life‖ and ―this way of life‖ were

favorite expressions to denote their vocation. 398 Of the nineteen times vida appears in

the Autobiography, ten refer to Ignatius' particular way of following Christ (as opposed

to the general idea of being alive), and three refer to the lives of Christ and the saints. 399

Hoces, for example, had made up his mind ―to follow the pilgrim's life.‖ 400

Ignatius described this troubling thought as la primera tentación que le vino

después de lo arriba dicho. To what was he alluding? Some writers assert that he was

referring to the incident with a Moor who had denied the perpetual virginity of Mary.

This is incorrect. Ignatius himself affirmed that he related the story of the Moor in

397 Auto 20.

398 For early Jesuit usage, see for example Salmerón to Laínez (MI Epp I:153-155). Favre

recalled in his Memoriale his firm propositum to choose ―this life which we now have‖ [firmoque

proposito eligendi hanc uitam, quam nunc habemus] (M Fabri:493). Xavier congratulated his

companions on the papal approbation of nuestra regla y modo de vivir (M Xav I:294).

399 Only six times does vida denote in the general sense the interval of time between birth and

death, or between two other specific moments in the life of a person [Auto 1.2, 9.1, 10.3, 20.3, 28.5,

30.4].

400 Auto 92.
---
order to show how God dealt with ―one who was still blind,‖ or in other words, it was a

matter of discernment, not temptation. 401 Ignatius appears to have been quite willing to

kill the Moor had he believed it was God's will; but he did not know what to think, and

left it to the mule to decide. By affirming the demonic presence behind the pensamiento

recio, Ignatius was effectively pointing to the earlier incident with Martín. Just as the

first temptation was directed at his nueva vida, so too was the second at Manresa.

158

Ignatius' response to the tempter mirrored the counsel of The Imitation of Christ,

the classic text of the Devotio Moderna that Ignatius had read at Manresa and which

remained a favorite throughout his life. 402 As Superior General, he continued to

admonish Jesuits with the same lesson:

El Padre estaua entonces muy malo, y nunca acostumbra prometerse vn día de

uida (antes quando alguno dize: yo haré esto de aquí á 15 días, ó daquí á ocho

días, el Padre siempre, como espantado, dize: «cómo, y tánto pensáys biuir?). 403

Again, to note parallels with the Imitation of Christ is not to question the

historicity of Ignatius' second temptation. On the contrary, preoccupation with the

fickleness of the will and complaints about the tedium of Christian life (arising from

emphases on asceticism and a works-oriented spirituality) were both so common in the

sixteenth century that such a temptation was only to be expected. 404

Ignatius' third temptation was occasioned by his bout with scruples. After

seeking a remedy for months, his ordeal ended abruptly: Mas en la fin destos pensami-

entos le vinieron unos desgustos de la vida que hacía, con algunos ímpetus de dejalla; y

401 Auto 14.

402 ImitChr I: 23, 25.

403 Auto 2. Mem §111 (MI Scripta. I:207; trans. ALEXANDER EAGLESTONE and JOSEPH MUNITIZ,

Remembering Iñigo: The Memoriale of Luis Gonçalves de Câmara, Leominster, Gracewing, 2004, p.67).

404 TERENCE O´REILLY, ―The Spiritual Exercises and the Crisis of Medieval Piety,‖ WaySup 70

(1991), p.106. ―Initium omnium malarum tentationum inconstantia animi est‖ (ImitChr I:13). Gerard

Groote often expressed concern that his good resolutions would slacken. Cisneros considered the many

ways in which this happened, for which reason he insisted upon spiritual exercises: ―En la carrera de

Dios no ir adelante es tornar atrás‖ (GARCIA JIMENEZ DE CISNEROS, Ejercitatorio de la vida espiritual, ed.

José María Casciaro, Madrid, Ediciones Rialp, 1957, p.327 (cap.LXVII). Vigilance against flagging

resolve was a favorite virtue of Stoic philosophy. See SENECA, De tranquilitate animi XIII.
---
con esto quiso el Señor que despertó como de sueño. 405 This brief, cryptic statement

appears to leave the nature of Ignatius' cure unclear. The difficulty arises from the fact

that ―disgust for the life he was leading‖ and ―impulses to cease from it‖ seem to refer

to his experience of scruples per se, i.e., he felt disgust for ―his life of scruples‖ and

desired to cease from it. Interpreted thusly, the cure remains unclear, since earlier

Ignatius indicated that he had experienced nothing but disgust for his scruples during

the entire four months of his ordeal.

159

Given the ambiguity, biographers and commentators offer numerous interpreta-

tions of the cure. Many aver that, similar to Martin Luther, Ignatius finally realized he

could not be perfect on his own, and that God had accepted him with his flaws. If this

were so, one would expect the older Ignatius to offer the same insight to others who

suffered from scruples. In fact, however, he continued to recommend the remedies that

he had tried in Manresa. 406 One might also expect the later Ignatius to avoid the

language of ―spiritual perfection,‖ but again the evidence is otherwise. William Bangert

affirmed that Ignatius was cured after learning to discern the roots of the scruples, even

though the Autobiography is clear that the cure came before Ignatius began to

investigate their roots. 407 Perhaps most revealingly, the majority of writers decline to

interpret the cure at all, preferring instead to repeat Ignatius' own words. 408

However, a better interpretation presents itself when we recall that la vida que

hacía again refers to Ignatius' decision to follow Christ without reserve. 409 In his

405 Auto 25.

406 MI Epp IV:456-458, VI:698, IX:123-124, XII:30-32, 68-70.

407 Auto 25.6-7. WILLIAM BANGERT, A History of the Society of Jesus, St. Louis, IJS, 1972, p.8.

408 E.g., CANDIDO DE DALMASES, Ignatius of Loyola: Founder of the Society of Jesus, trans.

Jerome Aixalá, St. Louis, IJS, 1985, p.59; PAUL DUDON, St. Ignatius of Loyola, trans. William Young,

Milwaukee, Bruce Publishing, 1949, p.63; MARY PURCELL, The First Jesuit: St. Ignatius Loyola,

Chicago, Loyola University Press, 1981, p.70; JOSEPH DE GUIBERT, The Jesuits: Their Spiritual Doctrine

and Practice, trans. William J. Young, Chicago, Loyola University Press, 1964, p.28.

409 To the best of my knowledge, the only commentators who offer interpretations similar to my

own (at least in English and Spanish) are JOSEPH MUNITIZ and PHILIP ENDEAN, in St. Ignatius of Loyola:

Personal Writings, London, Penguin Books, 1996, p.363, n.30, and JOSEPH N. TYLENDA, A Pilgrim's
---
account of the ordeal, Ignatius recognized that his scruples were problematic from the

beginning, yet he appears to have presumed that the scruples were provoked by his

desires to live as holily as possible. 410 Nowhere in the story is there an allusion to

demonic forces at work. Then his suffering reached the point that he found himself with

desires to reject his vida altogether and return to the world. It was precisely this sudden,

new development (con esto) that caused him to realize that his scruples were not coming

from his own desires to be holy, but rather from the Enemy. In other words, Ignatius

was able to recognize the work of the Enemy precisely because he was already

committed to the principle of no volver atrás. 411

160

Con esto quiso el Señor que despertó como de sueño. 412 Here is a probable

allusion to the ―torpid sleep‖ of Evagrius and Cassian which we noted in Chapter

Two. 413 In their taxonomies of virtues and vices, a temptation to leave the monastic life

was the last and greatest trial monks had to endure. Perseverance was required if they

were going to attain mystical contemplation, and thus Cassian and Evagrius named it

the virtue contrary to the torpid sleep. Likewise, after Ignatius persevered through his

three temptations, and awoke from his ―sleep,‖ he was rewarded with a series of

mystical revelations. 414

Once the triad of the Autobiography is recognized, at least one point emerges

clearly. That Ignatius attributed all temptations to volver atrás to demonic influence

was not an unreflective platitude but a key point of his spiritual doctrine. 415 Câmara

Journey: The Autobiography of Ignatius of Loyola, Revised Edition, San Francisco, Ignatius Press, 2001,

p.72. Neither treats the question in detail.

410

See Ex 349.1-3, where Ignatius undoubtedly describes his own experience at Manresa.

411

See Ex 333-334.

412

Auto 25.

413

See below, pp.85-88.

414

In Laínez' biography, Ignatius' revelations preceded his bout with scruples. The inversed order

in the Autobiography was possibly intended to underscore perseverance as a means to contemplation.

415

Ex 351. ST. BERNARD OF CLAIRVAUX to an abbot of Saint Nicasius at Rheims: ―Let him

remember that perseverance alone is always attacked by the devil, because it is the only virtue which has

the assurance of being crowned. It will be safer for him simply to persevere in the vocation wherein he is
---
elated a story in the Memoriale in which Ignatius' consultants opined that a certain

man's desires to leave the Society were not solely from the Devil, but also the result of

melancholy temperament. A esto respondió el Padre, que, avnque fuese cosa de

naturaleza, mucho más podía ser del demonio, que haze que el hombre paresca sin seso

con la vehemente tentación. 416

161

And to the Jesuit Louis Harmeville, whose vocation was wavering, Polanco

wrote ex commissione:

A due lettere della R'V' bastarà una breue resposta, dicendo che, considerate tutte

le ragioni, il parere di N'P' è che la al diuino seruicio; et reputi tentatione, et non

spirito bono. . . Et per leuare molte occasioni di inquietudini, ui exorto per parte

de N'P' a procurar la uera resignatione della uoluntà uostra, per mancamento

della quale sogliono accadere molti trauagli spirituali. 417

In Chapter Two we noted that in the ancient tradition, perseverance was

regarded as a means to an end more than an end in itself. 418 Ignatius shared the same

conviction in various forms: perseverance during an experience of scruples was

necessary to be liberated from them, and again, perseverance in a vocation was

necessary to attain spiritual joy and enlightenment. In the Exercises, Ignatius advised

scrupulous persons to answer the Enemy in the words of St. Bernard: Nec propter te

called than to renounce it under the pretext of a life more perfect, at the risk of not being found equal to

that which he had the presumption to attempt‖ (Letter XI.3; trans. SAMUEL J. EALES, Some Letters of

Saint Bernard, Abbot of Clairvaux, London, John Hodges, 1904, p.49).

416 Mem §128 (MI Scripta. I:216).

417 MI Epp XII:130. ―To two letters of Your Reverence a brief reply will suffice, saying that, all

things considered, the opinion of Our Father, in light of the divine service, is that you should consider it a

temptation, and not from the good spirit. . . And to remove many occasions of anxiety, I exhort you on

behalf of Our Father to procure the true resignation of your will, in the absence of which many spiritual

sufferings are apt to occur.‖ Translation and emphasis mine. See also MI Epp VIII:598-599.

418 Ignatius' counsel to his female followers in Alcalá was recorded in ecclesial depositions of

May 10 and 14, 1527. PAUL DUDON summarized it thusly: ―[Iñigo] further informed them, as beginners

in the spiritual life, of the difference between mortal and venial sin, warning them at the same time that if

they wished to enter the service of God heartily they must expect that the devil will attempt to thwart their

good resolutions by temptations and discouragement. Their firmness in the life they had adopted would

deliver them from these diabolical troubles‖ (St. Ignatius of Loyola, p.114). ―Iñigo consoled them and

exhorted them to remain firm in the face of temptations and torments; promising, if they did so, that they

would not, after two months, experience any tribulation of this kind. If he spoke to them like this, it was

only because he had passed through these trials. . .‖ (ibid., pp.114-115). Emphases mine.
---
incepi, nec propter te finam. 419 To Simão Rodrigues, whom he ordered to return to

Rome, Ignatius wrote: Por tanto tomad con mucha devoción el que nos veamos; y si no

halláredes tanta, Dios N.S. os la dará en la perseverancia de venir por acá. 420

E. Libertad and Pura Intención

162

Ignatius' treatment of freedom in the Call of the King might appear inconsistent.

On the one hand, he presents the election of spiritual poverty as a free choice: quien

quisiere venir comigo. Yet that freedom appears compromised by his assertion that

those who do not choose it are perversos caballeros.

In fact, Ignatius presupposes an interplay between obligation and freedom that

resonated deeply with knightly values. Centralized authorities and police forces were

lacking in the early Middle Ages. Only through bonds of trust, honor, devotion and

gratitude could security and stability be assured. Those who swore fealty [fidelitas] to a

lord received his protection and a share of his property, while they in turn were

obligated to fight for him when summoned. Yet oaths meant little without gratitude and

loyalty, since the obligation incurred by oaths could not easily be enforced should a

party choose not to honor it. 421 Within this sacral context, any knight who did his duty

precisely because he was ―obligated‖ was ipso facto a man of lesser mettle. 422

419 Ex 351.3. Commentators occasionally downplay as ―traditional teaching‖ Ignatius' attribution of

scruples to the Enemy [Exx 347, 349-351], yet it was precisely the exercitant's realization that scruples

were from the Enemy (as opposed to originating in the exercitant himself) that was to be a source of

relief.

420 MI Epp V:190. ―So with great devotion accept our seeing each other; and if you do not find

much devotion, God our Lord will give it to you through your perseverance in coming here‖ (trans.

PALMER, Letters, p.432).

421 Largely for this reason chivalry quickly assumed sacral overtones. The Church recognized its

potential to curb the abuses of warfare and encouraged it with initiation rites for knights that included a

vigil of arms. Ignatius mimicked aspects of these rites during his vigil at Montserrat. See Auto 17.

422 THOMAS AQUINAS, ST II-II, Q.104, art.1: ―Now a deed is rendered virtuous, praiseworthy and

meritorious, chiefly according as it proceeds from the will. Wherefore although obedience be a duty, if

one obey with a prompt will, one's merit is not for that reason diminished, especially before God, Who

sees not only the outward deed, but also the inward will.‖

The interplay between ―obligation‖ and ―free response in gratitude‖ is a running theme of Ignatius'

1547 letter to the Jesuits at Coimbra (MI Epp I:495-510; trans. PALMER, Letters, pp.165-174).
---
163

The value Ignatius placed on free responses in gratitude was deepened by his

experience at the Cardoner, as is clear from the Contemplatio in the Exercises. Because

God sustains creation in existence at every moment and continues working actively

within it, 423 and because all good gifts descend de arriba, 424 persons owe God

everything that they have and possess, and their every decision and action, in principle,

should be directed to Him, so that, in consequence, no one can claim credit for any

service rendered to Him (Luke 17:7-10). Yet God does not require such complete

dedication for salvation, 425 in order that people might, in many situations, act from love

alone, without compulsion or concern for salvation, just as the Son freely gave of

Himself in the primordial kenosis of creation. 426 Thus, for Ignatius, the complete

offering of liberty, memory, understanding and will (i.e., the Suscipe), 427 of which no

more can be asked of any Christian, is in the strict sense already required by razón y

justicia, 428 while in practice it can be prompted by nothing more than a desire for the

love of God along with his grace [amorem tui solum cum gratia tua]. 429

For Ignatius, free will exists in order to enable persons to choose what they

should, not what they want. In this he shared a traditional theology first articulated by

Augustine, whereby ―the necessity of freely choosing a particular course of action‖ was

not a contradiction in terms. God constitutes human nature in such a way that persons

desire perfect happiness and are incapable of desiring otherwise. 430 They do not

experience this inner drive as an imposition or restriction. The drive functions as a

423

Exx 235-236.

424

Ex 237.

425

THOMAS AQUINAS, ST II-II., Q.88, art.2.

426

Ex 102.2. See Mark 10:17-21.

427

Ex 234.4-5.

428

Ex 234.3.

429

Ex 234. I defer to the judgment of Fr. Ganss that this rendering in the Latin Vulgate captures

Ignatius' meaning better than the Spanish vuestro amor y gracia (GANSS, Spiritual Exercises, p.184,

n.122).

430

See DEI II: 1126-1127; MANUEL CABADA CASTRO, ―De la libertad humana a la divinidad.

Análisis histórico-sistemático de una relación,‖ Pensamiento 54 (1998), pp.3-7.
---
motor of the will, i.e., being drawn to the Infinite Good is the efficient cause of every

human choice, without which a person is incapable of desiring anything. 431 Hence for

Ignatius, as for Augustine before him, ―lack of freedom‖ was not primarily a lack of

options nor an inability for self-determination, but rather the existence of fears and

afecciones desordenadas that prevent one from choosing what he should. 432 Ignatius

likewise affirmed of the angels that they failed to use their freedom for its predeter-

mined end:

Cómo siendo [los ángeles] creados en gracia, no se queriendo ayudar con su

libertad para hacer reverencia y obediencia a su Criador y Señor, veniendo en

superbia, fueron convertidos de gracia en malicia y lanzados del cielo al

infierno. 433

164

That Ignatius emphasized positive impulses that arise from within, such as love,

gratitude, loyalty, and a desire for God's glory, as opposed to acting upon fears or a

sense of obligation, was emblematic of the Devotio Moderna, which emphasized

―interiority‖ as a reaction to the works-oriented spirituality of the sixteenth century.

Regarding Ignatius' approach to Jesuit formation, Câmara observed:

Deseyaua o P. Ignacio muito que ás cousas de seruiço de Deos espirituais nos

mouessemos e inclinassemos todos por deuacão e mouimento interior, e usaua

n'ellas o menos que podia de principios extrinsecos. Imaginaua eu, quando isto

notaua, que o fazia assy pera que nossas obras fossem mays uoluntarias, como

pera experiencia e mostra do que tinha nos subditos quando os deixaua em sua

mão. 434

In Chapter Four we shall see that this pura intención was one reason for

Ignatius' apparent de-emphasis of vows as the principal paradigm through which to

understand Jesuit commitment. In the sixteenth century private vows were extremely

common—typically made to obtain merit or a divine favor—yet they were often

431

THOMAS AQUINAS, ST I-II, Q.9, art.6.

432

Ex 1.

433

Ex 50. Emphasis mine.

434

Mem §171 (MI Scripta. I:238). ―Fr. Ignatius earnestly desired that in spiritual matters

concerning God's service we should all be moved and inclined by devotion and internal impulse, and that

there should be as little recourse as possible to external principles. My reflection, when I noted this, was

that he proceeded in this way so that our works should be more voluntary, and also to test and display the

dispositions of his subjects when he left them free‖ (trans. EAGLESTONE, p.104). See also Mem §357

(trans. EAGLESTONE, p.321).
---
precipitous and left unfulfilled. Religious vows had fallen into disrepute due to the

laxity and scandal of religious life. 435 Private vows were a target of reform not only for

the ecclesial hierarchy but also for writers of the Devotio Moderna, who typically

discouraged vows in their programs for spiritual renewal. 436 Thus we shall see that, in

the Constitutions, Ignatius preferred to describe Jesuit commitment in terms of

propósitos and determinaciones, both of which hearkened to the ancient Christian

notion of a binding commitment that preceded formal vows. 437

II. IGNATIUS' EXPERIENCES OF INCONSTANCY IN SELF AND OTHERS

A. Ignatius' Vows

165

There is evidence to suggest that Ignatius made several private vows shortly

after his conversion, at the height of his enthusiasm and naïveté. These include a vow