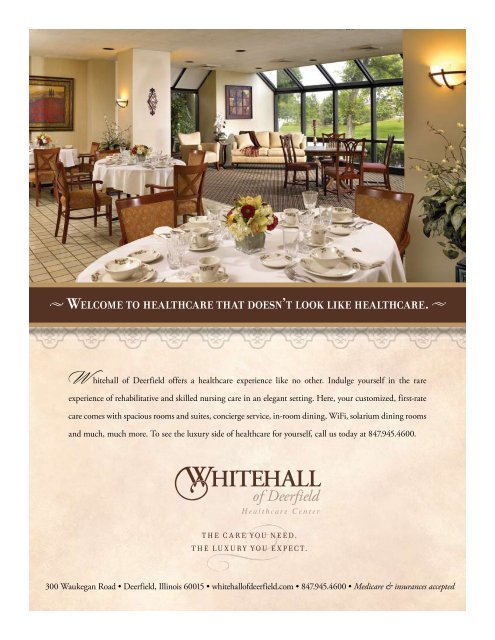 2011 Deerfield Bannockburn Riverwoods Community Guide 2011 Deerfield Bannockburn Riverwoods Community Guide
WELCOME TO HEALTHCARE THAT DOESN'T LOOK LIKE HEALTHCARE.

W hitehall of Deerfield offers ahealthcare experience like noother. Indulge yourself in the rare

experience of rehabilitative and skilled nursing care inanelegant setting. Here, your customized, first-rate

care comeswithspaciousrooms andsuites, concierge service, in-roomdining, WiFi,solariumdiningrooms

and much, much more. Tosee the luxury side ofhealthcare for yourself, call ustoday at 847.945.4600.

THECAREYOU AREYOU N EED. E

THELUXURYYOU X YOU EXPECT. E P

300WaukeganRoad•Deerfield,Illinois60015 •whitehallofdeerfield.com•847.945.4600 • Medicare&insurancesaccepted
More magazines by this user