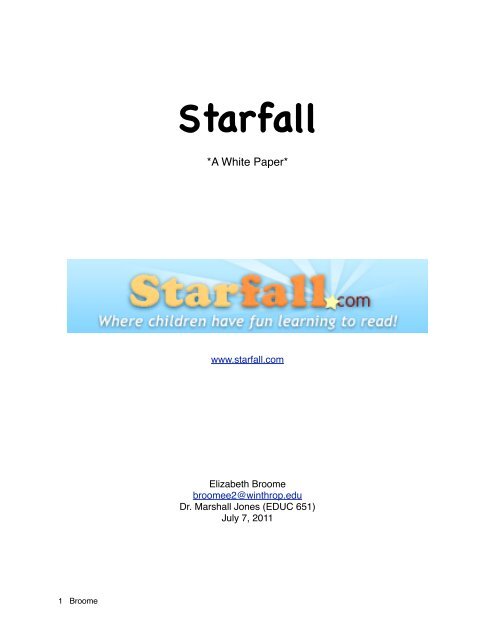 Starfall White Paper
Starfall White Paper
Starfall White Paper
SHOW MORE
SHOW LESS
Create successful ePaper yourself
Turn your PDF publications into a flip-book with our unique Google optimized e-Paper software.
1 Broome

Starfall

*A White Paper*

www.starfall.com

Elizabeth Broome

broomee2@winthrop.edu

Dr. Marshall Jones (EDUC 651)

July 7, 2011
---
Overview

White Paper: Starfall

! Starfall is a literacy website designed to help early or struggling readers. It is

accessible at www.starfall.com. Most of the site's activities are available for free, with a

few requiring a yearly subscription. Starfall is very audio-visually stimulating, designed

to encourage children's learning of letter shapes and sounds and the combination of

letters to make words. The website also provides tutorials for adults to help teach

children using the website.

! Starfall can be used in the classroom for large group instruction, such as using it

on the Smart Board to teach a specific concept. But it can also be used individually for

students who are struggling with a certain literacy skill, such as letter recognition, and

as an assessment tool for teachers. The read-along portions of the website provide

invaluable practice for beginning readers. Starfall is also touted as being very

successful for use with English Language Learners. Since most portions of the website

are free, it is also an excellent tool for students to use at home.

! ! ! ! http://funkidsonlinegames.com/starfall/

Starfall History

! Starfall was started in September of 2002 by the collaborative effort of Dr.

Stephen Schutz, his wife poet Susan Polis Schutz, and Brandi Chase and her team of

2 Broome
---
educators, artists, designers, animators, musicians, and engineers. Together, they

encompass Starfall Education, which manages the website, online educational store,

mobile applications, and Starfall curriculum. Starfall.com's website has been available

since 2002, however the resources available on the website have greatly improved and

grown since then. For instance, in May of 2009, Starfall Education launched the Starfall

Reading and Language Arts Curriculum for Kindergarten. The Kindergarten curriculum

is available through the website for varying fees.

! Starfall Education also developed several smart phone apps that use Starfall's

literacy principles through alphabet recognition games. Starfall.com may be less widely

known by the general public, but is greatly respected and known among the early

childhood community as an excellent literacy resource for beginning and struggling

readers.

Above: Photo of Starfall's smart phone "ABC" application

http://more.starfall.com/info/apps/starfall-education.php?ref=classic&

Starfall Availability

! Most of the features of the Starfall website are freely accessible to the general

public in the United States, Europe, and other countries via www.starfall.com. However,

there are options to gain membership to the "More Starfall" portion of the website

offering full access to all that the website has to offer. The annual membership options

are listed below:

3 Broome

- Home Membership ($35): Up to 3 users on one computer.

- Teacher Membership ($70): Up to 6 users; classroom use and home computer.

- Classroom Membership ($150): One classroom at school and home computer.
---
- School Membership ($270): One school location and each teacher's home

computer.

How Starfall Can Improve Learning

https://more.starfall.com/memb/join1.php

! As stated earlier, Starfall has been advertised as an effective tool for teaching

young children (ages 3-6) how to read. However, it can also be helpful when used as a

remediation tool for older students or for students learning English as their second

language. The following websites show examples of how Starfall can be used in early

childhood settings to encourage and improve literacy-based learning.

! http://www.starfall.com/n/N-info/educators.htm

! This page from Starfall's website is very helpful for educators by giving an

! explanation of the different aspects of the program in more technical terms. It

! describes how the program can boost student motivation, and skills in phonemic

! awareness, systematic phonics, vocabulary, fluency, and comprehension. It

! would be a good resource to have on hand if you were ever asked how the

! program was influencing classroom learning.

! http://ww2.sjc.edu/gnewman/Starfall.htm

! The aforementioned website offers a description and critique of Starfall's website,

! content, technical quality, use of technology, role of students and teachers, and

! classroom usage. The author provides rich detail of how the website can be used

! in the classroom as a classroom reading program, and as a remediation tool for

! struggling readers.

! http://em590.pbworks.com/w/page/6129546/Review-of-starfall

4 Broome
---
! This teacher's blog post gives a detailed description of Starfall's capabilities and

! describes how students can use Starfall during learning centers, as a part of

! large group learning, or individually to meet specific needs. She talks about how

! Starfall can allow students to have more self-direction in their learning, and how

! Starfall can meet a differentiated and diverse set of needs.

How to Use Starfall !

! Starfall's website was created for young children's use, therefore it is already

fairly self-explanatory. However, the following tutorials provide even the least

technology-savvy users with easy-access instructional guides.

! http://www.youtube.com/watch?v=PI9EyGPe-oo

! This YouTube tutorial focuses on the many different features of Starfall. It is a

! great resource to see the different aspects of the program through a video and

! would be good to show to teachers or parents who are just learning to use the

! website.

! http://www.youtube.com/watch?v=-ntrG6tn8Tw

! This video is from a talk show and focuses on those who are new to the website

! and need instruction on use. The hosts of the show go through the simple steps

! of the program and outline its ease of use.

! http://www.starfall.com/n/N-info/parents.htm?n=aboutus

! The parent portion of the Starfall website is helpful because it outlines the proper

! sequence for using the website depending on students' ability levels. The written

! tutorial also has direct links to the sections of the website of which it outlines, so

! it is easy to navigate. Here, you can also find links to Starfall's printable practice

! pages, as well.

5 Broome
---
Above: Starfall Screenshot featuring a game including American Sign Language (ASL)

The Affordances of Starfall

Benefits:

! Starfall Education offers many terrific, free, learning activities and games for

students who are learning to or struggling with learning to read. Access to the majority

of the website is free of charge and is easily accessible. Starfall.com offers activities for

a variety of learners, ranging from those who do not yet know letter shapes or sounds to

upper-level beginning readers. There are tutorials available for parents and educators

that outline instructions for suggested use and free printable pages for continued

learning outside of the online program.

Drawbacks:

! In order to access the "More Starfall" section of the website and thus gain full,

unrestricted access, you must pay an annual fee based on the number of computers

being used. You also must be connected to the internet throughout the duration of your

visit on the website in order to use most of the website's features.

6 Broome
---
National Education Technology Standards (NETS)

Creativity and Innovation

a.apply existing knowledge to generate

new ideas, products, or processes.

Communication and Collaboration

c.develop cultural understanding and

global awareness by engaging with

learners of other cultures.

Critical Thinking, Problem Solving,

and Decision Making

c.collect and analyze data to identify

solutions and/or make informed

decisions.

Digital Citizenship

b.exhibit a positive attitude toward using

technology that supports

collaboration, learning, and

productivity.

c. demonstrates personal responsibility

for lifelong learning

Technology Operations and

Concepts

b.select and use applications effectively

and productively.

Starfall.com encourages early childhood

students to use their prior knowledge and

expand their understanding through

leveled games and activities. Students are

constantly challenged at their current or

next level to produce correct responses

during literacy activities.

Starfall contains a culturally diverse set of

on-screen characters in their online

games. The website also features activities

specific to a wide variety of holidays and

offers students the opportunity to expand

their cultural understanding by learning

and using ASL throughout the program.

Starfall's activities are geared toward

helping students analyze data in new

ways, by presenting the information in

various stimulating forms (through audio

and visual sources). Students can easily

transfer knowledge gained through

Starfall's programming to practical,

everyday life.

The general design of the website

promotes a positive, fun, learning

experience for students. The bright,

colorful screen and various graphics and

sounds offer young students incentives to

staying productive throughout the use of

the program. The website is designed with

play as the focal point, but is also centered

around students' self-direction in learning.

Many young students require a lot of

stimulation in their learning today. Students

using Starfall games and activities are

learning through their computer play in a

productive and effective way, while

remaining stimulated and engaged.

NETS-Students can be accessed via http://www.iste.org/standards/nets-for-students/

7 Broome

nets-student-standards-2007.aspx
---
Additional Resources

! The following video sources demonstrate others' success using Starfall's many

various features with early childhood students.

! http://www.youtube.com/watch?v=ZcuQgh6iOVc

! This YouTube video shows several young children using Starfall's sign language

! features on the website. The video shows the children engaged in the activities

! and each young student focusing on something different in their learning.

! http://www.youtube.com/watch?v=IeFgUacakQo

! This YouTube video shows the features of the Starfall Kindergarten curriculum.

! Although the video is made by Starfall Education and is obviously biased, it is still

! informative and shows children interacting with the curriculum materials in the

! classroom.

! http://www.teacherslovesmartboards.com/2007/09/smartboard-and-.html

! This video shows a six-year old learning through Starfall on a Smart Board. The

! child is reading on the program and is enjoying using the large screen of the

! Smart Board. This demonstrates how Starfall could be used in a different way in

! the classroom, perhaps during large group times.

The screenshot above shows games featured in the website's "Learn to Read" section.

8 Broome
---
Conclusion

! Starfall.com is an interactive website created to teach young children how to

read. Its many games and activities, designed to encourage children's learning of letter

shapes and sounds and the combination of letters to make words, are an invaluable

technological tool in the early childhood classroom. Many 21st century learners require

the increased stimulation that this program provides in order to engage in literacy-based

learning in the classroom.

9 Broome