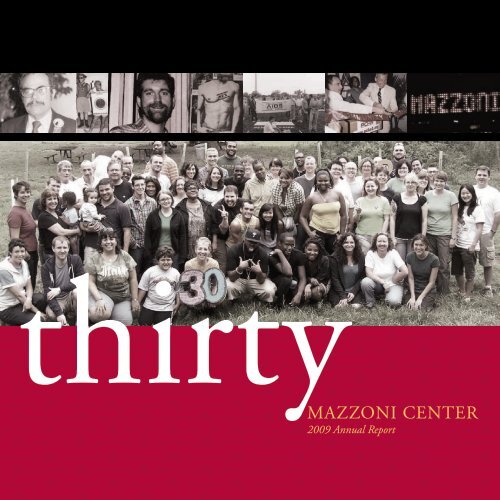 2009 Annual Report: Thirty - Mazzoni Center
2009 Annual Report: Thirty - Mazzoni Center
2009 Annual Report: Thirty - Mazzoni Center
SHOW MORE
SHOW LESS
Create successful ePaper yourself
Turn your PDF publications into a flip-book with our unique Google optimized e-Paper software.
thirtyMazzoni

Center

2009 Annual Report
---
our mission

to provide quality comprehensive health and wellness services in an LGBt-focused environment,

while preserving the dignity and improving the quality of life of the individuals we serve.

thirtyMazzoni

Center

2009 Annual Report

Board of Directors

July 1, 2008 – June 30, 2009

Kenneth oakes, President

Michael Wolf, MD, Vice President

Kelly Harris, Treasurer

rajnish S. Dave, Secretary

rev. Carol r. anthony

troy Cassel

Mark Coyne

russell Harris, MD

adam Whitney Meyers

Sheila Peopples

Stacy rosemarin

Jimmy J. ruiz, MD

Jayden Sampson

Paul Scoles, MD

Beth Shandor, Do

Michael Sweeney

about the cover: the thirty year history of Mazzoni Center includes many significant

developments in the fields of LGBt health and HiV / aiDS care, treatment, and

prevention. But none of these contributions would be possible without the hard work

and dedication of our most prized resource: our people.

Pictured (l to r): Walter Lear, MD; a "live" enactment of our "Lucky Stiffs" safe sex ad campaign;

Peter Mazzoni, MD; our "SEX" HIV prevention campaign; 1987 March on Washington; ribbon-cutting

of the first LGBT Community Health Center, 2002 ; Mazzoni in lights, atop the PECO Energy Building.

Below: Mazzoni Center employee staff picnic, 2009
---
thirty

Mazzoni Center

2009 Annual Report

From the Board President 2

From the executive Director 3

Family & Community Medicine 4

Behavioral Health Services 6

Care Services 8

Ctr/StD Services 10

Prevention Services 11

transgender Services 12

Development & Marketing 13

audited Financial Position 14

Funders & Donors 15
---
from the board president

2 :: thirty

One of my last official duties as Board President of Mazzoni Center,

was a real honor and privilege for me; i met with the staff, and thanked them for their work.

of all the great experiences i have had during these past two years as president, interacting with

these fine representatives of Mazzoni has been the most rewarding. these remarkable young

men and women have each made a conscious decision to dedicate their profession to the service

to others. each of you reading this report - our supporters, donors, funders, patients, clients,

and friends - are all part of the fabric of Mazzoni Center. You choose to share your talents and

resources because you believe in its mission. or you come to us, in need of the services and

support we offer, and you appreciate the professional and quality care for which Mazzoni Center is known. Whatever

your reasons, or whichever portal you entered, you have undoubtedly come into contact with one, or a number of the

amazing, selfless staff members who are in place, ready to assist you.

each of the more than 75 full-time staff members has, (to paraphrase Gandhi) immersed himself or herself

in the service of others and, one hopes, discovering within each one's self an expanded capacity to care.

now, you may ask, what does this have to do with our annual report? all that you will read in the pages that follow

could certainly not happen without the generous support of our donors and funders. nor would it matter, were it

not for the pressing needs of our patients and clients.

i ask that you read these narratives through the prism of our staff members here at Mazzoni Center.

absent the professional and compassionate care offered by the providers and staff of Family and Community Medicine

practice, thousands of members of our constituencies might go without health care. Were it not for our dedicated social

workers, hundreds more might be lost in a sea of red tape and bureaucracy, their health hanging in the balance. our

open Door mental health and substance abuse counselors provide firm ground and surer footing to those in need of

it. our outreach, prevention, and testing staff arm those accessing these services with the knowledge and tools to keep

themselves healthy. the food bank and housing team do more than provide food and shelter; they give them hope.

as i started to write this final address as president, i thought i would write that it has been a great honor to serve as

the leader of this board. But in retrospect, i would rather close by confessing that it has been a humbling experience,

standing side-by-side with staff and fellow board members, working towards a common goal.

thank you for allowing me this honor, and for being part of the Mazzoni family.

Ken oakes

President, Board of Directors

"The best way to find yourself

is to lose yourself in the service of others. "

Mahatma Mohandas Gandhi
---
from the executive director

This year Mazzoni Center marks thirty years of service to our

communities. We began this year-long dedication, appropriately enough, during this year's

season of Gay Pride, rolling past the crowd-lined streets of Philadelphia, proudly heralding this

achievement to our community.

two months later, we followed up that heady celebration with a more serious-minded

retrospective exhibit, detailing the development, not only of this organization and the health

and wellness services we have been providing to our community for three decades, but also, in

broader terms, the development of the LGBt health movement.

i am proud of how much we have accomplished, while at the same time energized by the task before us.

in the three decades since the founders of Lavender Health put forth a set of goals for LGBt health, we have addressed

the clinical needs of our community; we responded to the gap in health education; and we have forayed into research.

We continue to make progress on the needs of our community, and slowly, but gradually, we are making inroads in

the provision of services for women, even as we look to enhance and expand them in the future.

We have also gone beyond the framework of our founders – our provision of transgender services has created a new

benchmark for quality. our youth services afford young people the opportunity to develop leadership skills, and

become adults in a supportive and positive environment. our HiV services, for which there wasn't even an inkling

of need in 1979, now surpass all standards of quality. in the thirty years since, Mazzoni Center has earned a highlyregarded

reputation as a provider of these services, known and respected for our comprehensive case management,

food, and housing programs for people with HiV/aiDS.

i am not sure if our founders could have imagined such a strong, vibrant organization, with over 75 employees,

emerging from the small, volunteer-driven, effort they initiated. i am certain, however, that they are impressed by

the result.

Mazzoni Center's stature today as the pre-eminent health authority for the region's LGBt communities is, in large

part, due to the dedicated employees, volunteers, and board members, past and present, and of course, due to the

generous support of our donors and funders. to all of you i say "thank you," for your work, your support, and your

confidence. i look forward to the next thirty years with excitement and pride, for i know that this organization will

continue to exceed the expectations placed before it.

nurit Shein

Executive Director

thirty :: 3
---
When the original

founders of Lavender Health,

the agency which spawned PCHa, and later, Mazzoni Center,

convened their initial planning meetings more than 30 years

ago, they envisioned a holistic approach to gay and lesbian

health care, including clinical services for StD's, sensitive

gynecological care for women, as well as general health care.

But could they have imagined the level of sophistication

and professionalism that exists today at our thriving medical

practice, Mazzoni Center Family and Community Medicine?

the close of Fiscal Year 09 marked our first full year in our

gleaming new facility at 809 Locust Street. During that time,

our medical practice saw over 3,800 unduplicated clients,

an increase of nearly 1,000 over the previous year. Using the

standard definition of "active patient" to mean having had a

doctor's visit within the past 3 years, we can extrapolate that

we currently have almost 5,000 unduplicated clients under

our care.

our new facility has provided the practice with the necessary

room to grow. Whereas our former location at 1201 Chestnut

Street had two regular, and two make-shift exam rooms, 809

Locust boasts eight state-of-the-art, fully- equipped examination

4 :: thirty

In 2002, city health officials and Mazzoni Center

board and staff gathered to cut the ribbon on the first

Community Health Center, an LGBT-specific practice

and the first of its kind in Philadelphia.

&

family community

rooms, including a procedure room. the improvement in the

physical plant of the health practice cannot be overstated as

a factor in its growth. in FY 2008, we were averaging 400-

500 patient visits per month, whereas we are now seeing close

to 900 patients per month. We added another full-time nurse

practitioner this year, complementing and enhancing the

diversity of our health care team and reflecting of the diversity

of the communities we serve.

Just who are these communities that make up our patient base?

While the predominant group is gay males, women do make

up nearly a quarter of our patient population, half of whom

identify as lesbian or bi. twenty percent of our clientele are

transgender, a fact that might surprise the original founders.

While the articles of organization, drafted back in 1979,

made no accommodation for our transgender brothers and

sisters, the ensuing decades have brought about dialogue and

increased understanding, and trans folk are now recognized as an

integral part of our organization, and the community at large.

of course, the founders could not have foreseen the huge

part HiV and aiDS would play in our medical practice, and

the agency as a whole, because thirty years ago there was no

epidemic. today, approximately 10% of our patient base is

HiV-positive, but make up nearly 30% of patient visits. our
---
medicine

HiV-positive patients have come to know Mazzoni Center

FCM as providing the gold standard in HiV care, and we have

incorporated CDC guidelines for HiV testing into routine

care. By providing on-site medical case management, helping

patients to navigate insurance, secure housing, and providing

them with referrals to other support services and overall

coordination of care, Mazzoni Center helps to ensure that

our HiV+ patients remain in care. Knowing one's HiV status,

continuing in care and adhering to medication regimens is the

path toward maintaining health and quality of life.

Mazzoni Center's medical practice has instituted new efficiencies

into its delivery of care, which accounts in part for the nearly

forty percent increase in patient volume over the previous

year. But whereas in this day of managed care, where the term

"efficiency" is often a euphemism for quick, peripheral office

visits and a "get 'em in, get 'em out" mentality, our team of

providers has a reputation for a caring, considered approach to

health care that continues to attract new patients through our

doors, at a rate of 50 –100 new patients per month.

the horizon looks bright, as we continue to launch new

initiatives and services. We are adding a staff nutritionist for

our HiV-infected population. We have launched adolescent

programming, a medical "safety net" for young, often uninsured

Today, in our new facility at 809 Locust Street, we are helping

populations previously overlooked, with technologies unimagined when the

agency was founded in 1979. Here, Medical Director Robert Winn, MD,

uses laser technology on a transgender patient.

patients. We perform laser hair removal at greatly reduced costs

to transgender patients, adding immeasurably to their sense

of self-esteem and well-being. and we recently received an

aaCo-funded grant to develop a referral base for dental care

for our HiV positive patients.

Many of our patients have insurance, which we take as a

testament to the fact that we are attracting new patients who

have the means to make the choice to receive care at Mazzoni;

many others are uninsured, and Mazzoni Center welcomes

them also, remaining true and focused on our mission to

provide quality, compassionate care, regardless of ability to pay.

this mix of insured, and uninsured, from varied socioeconomic

backgrounds and circumstances, provides evidence that Mazzoni

Center is becoming the health care provider of choice for all of

the Philadelphia region's LGBt and HiV/aiDS communities.

thirty :: 5
---
ehavioral health services

one of the very first documents authored by the founding members

of Lavender Health established six interrelated "components" which, in combination, form a multi-disciplinary approach to improving

the health and well-being of the region's LGBt populus.

of those six tenets, one expressly speaks to the need for each

individual to take personal responsibility for his or her own

health and well-being. as the founders saw it, this component

entails (among other things) understanding the importance of

establishing positive human relationships, as

well as finding strategies to overcome challenges

posed by sexually transmitted diseases, and the

stigma that often accompanies them.

Learning to cope with societal pressures and

biases, and to overcome impediments such

as drug and alcohol dependency, was also

recognized as an essential part of an individual's

path to physical health and wellness.

While the founders did not expressly call for the

creation of mental health services, the concepts

outlined above, and the complex interrelationship among them,

are at the core of much of the work presently conducted in Mazzoni

Center's open Door Counseling Program. Common issues

brought into therapy by open Door clients include the desire to

develop intimacy and to form positive healthy relationships; with

family, with partners and with oneself.

6 :: thirty

then, as now, drug and alcohol dependency can create an obstacle

for some in our community. about 20% of our open Door clients

are seeking drug and alcohol treatment for themselves; however,

alcohol and drugs also play a central role in many of our clients

lives and manifest in relationships with friends,

partners and family who struggle with abuse

and dependency. through our comprehensive

behavioral health services, open Door seeks

to help clients identify and explore patterns of

Last year our Open Door Counseling

program provided over 4,000 hours of

individual, couples and family therapy,

as well as group support, to more than

550 clients.

dependency and many other related issues.

then, as now, sexually-transmitted diseases,

and the social stigmas that can accompany

them, can impact on an individual's sense of

self-esteem, and effect one's ability to seek and

maintain healthy relationships. But today, with

HiV, the stakes are considerably higher, and the accompanying

stigmas can be devastating.

twenty-eight percent of our open Door client population is HiVpositive,

a nearly 8% increase over the previous year. obviously, an

individual's HiV status, and the real-world implications a positive

status can have on one's psyche, and his or her relationships, is a

recurring and relevant theme in therapy. open Door therapists
---
espond to this need via individual counseling, as well as group

support. our HiV and recovery groups are among the most

frequented support groups within open Door.

Perhaps the single most significant development in open Door this

year is a new project called REACH (Recovery Empowerment

and Community Health). this program, funded by a major

new grant by SAMHSA (Substance Abuse and Mental Health

Services Administration) seeks to expand capacity by tapping

into high risk populations of gay and bisexual men, with a

particular focus on communities of color, by addressing drug and

alcohol use and sexual health. this program distinguishes itself

from traditional outpatient services through its use of peers to

engage men in dialogue about their health, as well as its emphasis

on "pre-treatment" – getting the client "ready" to enter treatment

on his terms and timetable. this program met and exceeded its

goals in terms of its start-up and provision of assessments and

treatment, and most importantly, began "reaching" a segment of

our community that does not traditionally seek treatment.

our open Door program continually operates at capacity, with

(unfortunately) a waiting list for new clients. We view this as

both a testament to the quality of services we offer, as well as an

indicator of the pressing need for culturally competent behavioral

health services for the LGBt communities.

Our REACH program is an innovative new approach to treatment utilizing

"peer engagement specialists" who recruit prospective clients into

pretreatment and treatment services via various social networking strategies.

Three members of the REACH team, pictured above, at a community event

with our Mobile Testing Unit.

thirty :: 7
---
care services

in 1979, the men and women who came together to form an organization to

improve the health of gays and lesbians had no notion of the calamity called aiDS that was

about to befall an entire generation. thus, they couldn't imagine the skyrocketing need for social services by those infected by HiV that

would follow the onset of this terrible disease.

in 1990, Philadelphia Community Health alternatives initiated case management services, helping its clients navigate the bureaucracy

and red tape to facilitate and ensure access to publicly available social services. in 1989, PCHa opened its regional Food Bank,

providing supplemental groceries and nutritional support to our clients with aiDS diagnoses.

today, Mazzoni Center's Care Services department provides case management services to over 1,000 clients, and provides groceries to

nearly 1,400 individuals.

Case Management

our Case Management program continues to be a leader in the

provision of quality case management services in the Philadelphia

region. as a result of our exceptional services, the Philadelphia

Department of Public Health, aiDS activities Coordinating

office (aaCo) this past year awarded an additional four case

managers to our program, for a total of fifteen full-time employees.

Following a "medical case management" model, our staff assist

clients in scheduling and attending their medical appointments,

resulting in a 95% attendance rate for medical appointments.

Studies show that HiV/aiDS clients who strictly adhere to their

medical regimen demonstrate more positive health outcomes.

our case managers are also highly trained in assessing clients'

eligibility for Medical assistance or other insurance, removing

a major barrier to receive care. ninety percent of our case

management clients now have health insurance.

other services include mental health and substance abuse referrals,

treatment adherence counseling, assisting with housing, and

vocational rehabilitation referrals.

8 :: thirty

Each holiday season, our staff collects and distributes hundreds of toys and winter

coats to provide for the children of many of our case management clients.

in august of 2008, we expanded our case management services

by staffing two full-time case managers on-site at Mazzoni Center

Family & Community Medicine. Paralleling the services we

provide at our main location, MCFCM case managers provide

a wide range of services to our HiV+ client population who

receiving their primary care from Mazzoni Center.

Fiscal Year 2009 was a transitional and rebuilding period for

adolescent Care Services at Mazzoni Center, and providing

services to 71 youth. Groundwork was laid for the introduction

of adolescent "Drop-in" hours, exclusively for those in the 13 – 24

year old age bracket, to begin in FY10.

our Care Services department also instituted LGBt case

management at MCFCM in FY09, designed to meet the medical

and psychosocial needs of HiV negative LGBt clients. there is

a heavy emphasis on trans-specific case management services, as

research continues to point up the multiple barriers to care faced

by transgender individuals.
---
Food Bank

Since it was first instituted 20 years ago, our regional HiV Food

Bank has served thousands upon thousands of aiDS-diagnosed

individuals in the Philadelphia region. it continues to play a vital

role in maintenance of healthy lifestyles, as a source for providing

supplemental groceries, and nutritional support. in FY09, we

distributed more than 8,400 bags of groceries. in addition to

our regular client base, 75 households received emergency (onetime)

food bank referrals, an increase of 29% over the previous

fiscal year. these clients are not eligible for on-going services, but

present with immediate food needs. this significant increase is

due to citywide closings and/or restrictions by community-based

and church-based soup kitchens and food banks.

Housing

our Housing Subsidy program continues to be the gold-standard

in housing assistance in the Philadelphia region for persons with

HiV/aiDS. the efficiency and effectiveness with which we

manage this program was again recognized by the city's office

of Housing and Community Development with the award of

an additional fourteen units in FY09, bringing to 76 the total

number of households to whom we are providing services, and

housing 105 individuals. additionally, our housing counselors

work in close collaboration with our medical case managers,

ensuring that our homebound tenants get help managing their

medical needs, including obtaining coverage and accessing health

care. at the close of FY09, our Housing Subsidy program stood

poised to be awarded a contract for an additional forty slots for the

upcoming fiscal year, an increase of nearly 50%, and the addition

of a housing counselor to our team. this new award conveys the

level of trust and confidence placed in Mazzoni Center by the

City to effectively manage this program.

Last year Dennis Coyne, our Regional HIV Food Bank

manager, helped to hand out more than 8,400 bags

of groceries to our HIV/AIDS clients, helping to

supplement their nutritional needs.

Today, Mazzoni Center's

Care Services department provides case

management services to over 1,000 clients, and

provides groceries to nearly 1,400 individuals.

thirty :: 9
---
ctr/std services

Screening for sexually transmitted diseases was among the

services first offered when the agency was instituted. Volunteers would go into the city's bathhouses

and provide screenings to help reduce the spread of syphilis, gonorrhea, and other StDs.

thirty years later, we are still providing that service,

and so much more. of course, the landscape was

altered dramatically with the onset of a mysterious,

deadly illness affecting gay men shortly after

Lavender Health opened its doors. the (mostly

volunteer) workers quickly learned they needed

to adapt to the new circumstances. in 1984, the

HiV virus was discovered, and was determined to

be the cause of this "gay plague," quickly earning

the nefarious status of "epidemic." one year later,

PCHa opened the first "alternate test Site" in

Pennsylvania, on St. James Street, and began

providing the newly-developed HiV antibody test.

Much of the technology has changed, and has

vastly improved over the past three decades. But

getting tested and knowing your HiV status was

then, and continues to be now, the critical first step

in preventing the spread of HiV, and maintaining

a healthy lifestyle.

Medical research has since discovered the links

between HiV and other StDs, and the increased

susceptibility for transmission of one, when the

other is already present. as a result, Mazzoni Center's

testing department has stepped up its provision

of StD screening, particularly among high risk

individuals. the Centers for Disease Control and

Prevention (CDC) reports that new cases of syphilis,

which disproportionately affect MSM, are at their

highest levels in more than a decade. as a response,

in addition to increased screening, our street teams

and web-based intervention efforts have increased

their outreach efforts.

10 :: thirty

From top:

In 1985, PCHA opened the first

"Alternate Test Site" in Philadelphia,

at this location on St. James Street.

So busy and crowded was this site,

that overburdened HIV counselors

had to walk clients around the block

to give them their test results privately.

Our testing capabilities have changed

dramatically, utilizing modern

technologies like rapid testing, and

new modes of delivery, such as our

mobile testing unit.

this past year, our Ctr/StD department

tested more than 5,200 individuals for HiV,

with an overall positivity rate of 2.1 percent. a

consistent, and troubling trend is the significantly

higher positive rate (54%, up from 47% in the

previous year) among MSM (men who have sex

with men) of color. While accounting for just

over a third of our testing pool, they account

for 49% of positives. We tested more young

people this year than last (11% increase), and

uncovered an alarming statistic of 37% increase

in positivity rate over FY08, mostly among

african-american MSM. this number, while

deeply troubling, confirms for us that at least

we are reaching these young people and getting

them into treatment.

Services like our mobile testing unit are useful

in helping us to identify and locate some of

those hard-to-reach, at-risk populations. rather

than wait for them to come to us, we proactively

go to them; where they live and congregate, in

some of the inner-city neighborhoods where

resources are more scarce, and social stigmas

surrounding HiV persist. additionally, we find

that in many communities of color, there also

persists a nagging homophobia. this has resulted

in the phenomenon known as the "down low,"

whereby men who identify as straight, still have

sex with other men. this "down low" behavior

"hides" more than the sex taking place, however.

it can also "hide" the transmission of HiV.
---
prevention services

the founding members of

Lavender Health agreed that

an informed community is

key to a healthy community,

and thus enumerated Health education as one of the six

tenets in working to improve the health and well-being of the

LGBt community.

in FY09, our Prevention Services Department provided

outreach, education, counseling and support to LGBt and

questioning Philadelphians, through a variety of approaches.

The Collective, a partnership program with GaLaei (Gay and

Lesbian Latino aiDS education initiative) and aSiaC (aiDS

Services in asian Communities) which focuses on communities

of color, had over 20,000 face-to-face street outreach contacts,

and conducted nearly 300 counseling sessions.

our Community Health Education program held 200

workshops with 3,500 middle and high school students

participating. new in FY09 was an LGBt Parenting

Collaborative, which provided more than 25 workshops to

almost 300 parents and children, dealing with issues such

as communication, sexuality and gender, and relationship

building.

our Many Men, Many Voices (3MV) group level intervention

is currently in year 2, and we're happy to say this program is

growing, successfully reaching young MSM of color and

providing them with critical health information and strategies to

change behaviors around sex, relationships and HiV prevention.

in FY09, 3MV held 84 workshops and retreats, reaching more

than 1,200 young men of color, a crucial demographic as we

have seen the highest rates of HiV infection in this group.

our affiliations with the "ballroom" community has proven

an effective way to tap into this group of young men.

Clockwise from top-left:

A safe sex poster from the 80's grabs

the audience's attention with this

"in your face" message.

Group level interventions, like the

3MV retreat pictured above, are an

altogether different approach about

educating, and ultimately changing

or modifying, risky behaviors.

Lavender Health founders never

could have imagined spreading safe

sex messages in this way, but online

messages and interventions have

proven and efficient and effective

means of reaching audiences.

another effective means of educating our LGBt communities,

(and one surely not foreseen by our founders thirty years ago) is

the use of Social networking websites. MySpace.com, twitter,

and Facebook have proven efficient and effective means of

reaching the internet generation.

Finally, our Ally Safe Schools Program and LEAD are helping

to create safe spaces in the Philadelphia public school system,

through special trainings for adults to become "allies" of

LGBtQ youth, as well as the creation of Gay-Straight alliances

(GSa's), and by developing leadership skills for LGBtQ and

allied youth, with specially tailored seminars, workshops, and

facilitated group discussions at Philadelphia's first annual GSa

Leadership Summit (LeaD).

thirty :: 11
---
transgender

services

a reading of the articles of organization of Lavender Health points

up a glaring omission. there is no mention, of our transgender

brothers and sisters. With the exception of a very few, highlypublicized

cases of transsexuals, there was very little public

discussion of the transgender issues, and certainly nothing coming

close to a transgender movement.

In the ensuing years, however, a grassroots

trans movement has sprung up, and today,

transgender communities are recognized as an

integral part of the dialogue of LGBT heatlh.

Mazzoni Center offers an array of trans-specific services, including

medical, psycho-social, and educational. Many of these services are

provided by staff members, some of them transgender themselves,

who are highly trained to the issues specific to the transgender

experience.

12 :: thirty

Dr. Lisa O'Connor, 2009 PTHC Keynote speaker, is a respected

former faculty member of the Robert Wood Johnson Medical School in New

Brunswick , NJ. Today, she operates her own family practice, where more

than 95% of her patient base identifies as trans.

today, Mazzoni Center is recognized, both within the trans

community and outside of it, locally and nationally, as a leader in

the field of transgender health. Mazzoni Center annually hosts the

largest transgender health conference in the nation, the Philadelphia

trans-Health Conference. Last year, over 1,500 people attended

this three-day conference, including health care providers,

mental health providers, educators, social workers, advocates and

community members. Many of the course offerings are accredited

by Jefferson Medical College, an esteemed insititution of medical

education. and it draws the top people in the field as keynote

speakers and presenters, as well as attendees.

While the founders of Lavender Health did not envision anything

like the PtHC, this national conference certainly falls within the role

of educating providers about LGBt issues, which was something

they were clear about as a primary goal of Lavender Health.
---
&

in 1980, Lavender Health, the precursor

to Mazzoni Center, received its first

government revenue, a $15,000 grant from the

Centers for Disease Control and Prevention to advance LGBtspecific

health issues.

development marketing

a few years later, the newly-named PCHa was the beneficiary

of the first of what would become a long string of fundraisers;

local singer-songwriter, performer and activist tom Wilson (now

Wilson-Weinberg) and tommy avicolli performed a cabaret to

raise badly-needed funds to help the agency care for those infected

by the new "gay plague."

For the next three decades, government contracts, foundation

grants, and individual donations have become the backbone of our

funding streams. Signature events, like 2008's L Word in Philly,

provide unique opportunities to engage longterm

donors while introducing new friends

to the Center's mission to provide health

and wellness services. the L Word in Philly,

featuring members of the cast and the show's

creator, was an enormous success, netted over

$70,000 in revenues, and attracted more than

500 attendees – some of whom were hearing

about Mazzoni Center, and our services,

for the first time. the event coincided with

the launch of Mazzoni Center's Women's

Programs and Services.

Hundreds of individuals, couples, and families supported Mazzoni

by giving over $35,000 through their employee contribution

campaigns and through the United Way. Corporate support

from Citibank, Walgreens, Comcast, Bank of America, and

Lincoln Financial Group provided additional support to build

the infrastructure of Mazzoni's expanding services. Foundation

and grant funds from the William Penn Foundation,

Susan G. Komen Foundation, and from the Pennsylvania

Department of Economic and Community Development

successfully improved the programmatic efforts this year. equally

amazing were the contributions that reached

Mazzoni directly from individuals, couples,

and families. almost $60,000 was granted

directly from individuals, with 250 new

supporters last year.

The L Word in Philly, featuring members of

the cast and the show's creator, was

an enormous success!

Perry Monastero recently joined the

Mazzoni Center family as our new

Director of Development and Marketing.

once again, house parties and annual

fundraisers convened by Mazzoni Center's

friends and supporters raised not only funds,

but awareness, and introduced new people

to the Center's work, as well. this year, Boys

in the Country, Strike! Against AIDS, Night

of a Thousand Friends, and Cabaret at the

Cloister all provided greater visibility and financial backing to

the Center.

the Board of Directors and staff deeply appreciate all of the

support from each person, institution, company, organization,

and funder that contributed to Mazzoni Center last year.

thirty :: 13
---
statement of

audited financial position

Year ending June 30, 2009

Revenue and Other Support

14 :: thirty

Unrestricted restricted total

Government Contracts $ 4,738,568 $ -- $ 4,738,568

third Party Billing 644,580 -- 644,580

Fundraising 313,285 43,348 356,633

other income 92,259 -- 92,259

Subtotal $ 5,788,692 $ 43,348 $ 5,832,040

Net Assets Released from Restriction

Total Revenue & Other Support

Expenses

$ 122,500 $ (122,500) --

$ 5,911,192 $ (79,152) $ 5,832,040

Program expenses $ 5,000,125 -- $ 5,000,125

Support Services 778,136 -- 778,136

total expenses $ 5,778,261 -- $ 5,778,261

Change in Net Assets

Net Assets as of July 1, 2008

Net Assets Thru June 30, 2009

$ 132,931 $ (79,152) $ 53,779

$ 953,826 $ 246,652 $ 1,200,478

$ 1,086,757 $ 167,500 $ 1,254,257

Where does the money come from?

Government Contracts 80%

third Party Billing 11%

Fundraising 7%

other 2%

Where does the money go?

Care Services 30%

Prevention & education 29%

Behavioral Health 15%

Medical Services 13%

administration 11%

Development 2%
---
thank you

Mazzoni Center is an affiliate of

United Way of Southeastern Pennsylvania and Delaware.

SePa Donor # 2304, Delaware Donor # 7591

to our donors *

$50,000 +

AIDS Activities Coordinating Office (AACO)

Centers for Disease Control & Prevention

City of Philadelphia - Department of Human Services

City of Philadelphia - Department of Public Health

City of Philadelphia - Office of Housing & Community Development

Family Planning Council / Circle of Care

Pennsylvania Department of Health

Substance Abuse & Mental Health Services Administration (SAMHSA)

U.S. Department of Health & Human Services

William Penn Foundation

$25,000 to $49,999

School District of Philadelphia

Susan G. Komen For The Cure (Philadelphia Affiliate)

United Way of Southeastern Pennsylvania & Delaware

$10,000 to $24,999

AIDS Fund

Broadway Cares/Equity Fights AIDS

Mel Heifetz

Susan G. Komen Breast Cancer Foundation

Pennsylvania Department of Economic & Community Development

Philadelphia Corporation for Aging

The Philadelphia Foundation

$5,000 to $9,999

Anonymous (2)

Connelly Foundation

Jenny Myers

Linda Pelullo

United Way - Anonymous (200+)

Woody's - Michael Weiss & Billy Weiss

Michael Wolf, MD

* this list reflects the generous support of our donors and funders for the period of July 1, 2008 through June 30, 2009.

thirty :: 15
---
$2,500 to $4,999

Anonymous (2)

Comcast Corporation

Delaware Valley Legacy Fund

Jimmy J. Ruiz, MD

Un iversity of Pennsylvania -

Beck Initiative

$1,000 to $2,499

Mitze Amoroso

Anonymous (1)

Bank of America

Early Night Out

Al icia Fasciocco

& Health Advocate. Inc.

Stephen R. Lee

Liberty Belle Invitational

Tom Morea

Megan Murphy

Joanna Pang

Svetlana Permiakova

PHILABUNDANCE

Jayden H. C. Sampson

Nu rit Levi Shein

& Rabbi Sue Levi Elwell

Michael Sirohi

Wharton Graduate Association

John J. Wilcox, Jr.

16 :: thirty

$500 to $999

David Adamany

Anonymous (2)

Al Besse

J. Blaine Bonham, Jr.

Todd Boschetto

David Cannell

Nicholas & Debbie Chaban

Scott Conking

Mark Coyne

Avi Eden

Steve Elkin

David Ertz

Michael F. Fink

Joel & Lucy Huff

Michael Mallinger

Lee Mallon

Ron Powers

Jeff Price

Stacy Rosemarin

Andrew Rouse

Stir & Lucky Lounge

Ro bert J. Winn, MD

& Christine Caputo Winn

Fern Zenia

$250 to $499

Anonymous (3)

Biff Bartron & Aaron Buda

Autumn Bayles

Robin Beideman

Ma rk H. Blecher, MD

& Lary Aasheim

Regina Byrne

Timothy Cabrey

Ennis Carter

Gloria Casarez

Victoria R. Chubb

Rajnish Dave

William C. Davidson

Councilman Frank DiCicco

Mr. & Mrs. Eric Emrich

Allen Fred Fielding

Janet Finegar & Jon Sher

Wendy Freeman

Jeff Goldman

Herman Greener

& Vincent Kellit, Jr.

David Hall

Kelly Harris & Gina Smith

James Jay Hoelz

George Horan

Joanne Johnson

Sandra Kaufman

Pe arline Kendells-Moore

& Martha Mae Cruel

Melissa Klein & Neysa Nevins

Mi chele Komito

& Abbe Foreman

Ma lcolm Kram

30 YEARS OF & Mark LGBT Zwanger HEALTH

Hosted Special Events

"Boys in the Country" – Michael Sweeney & Steve Betts

"Cabaret at the Cloister" – Russell Harris, MD & John Casavecchia

"Night of a Thousand Friends" – Kelly Harris & Gina Smith

Fr ed LaValley

& John Whitenight

Charles & Claire Levi

Alecia Manley

Jacqueline Marchwinski

James & Thais McNeal

David McShane

Linda Miniscalco

Tim Moir & Rob Taglieri

Shirley Morcom

Clark Morrell

Kristy Owen

La ura Pritchard

& Patty Inacker

Suma Reddy

Louis Reinholz, Jr.

Corie Romano

Elissa Sachs-Kohen

Ronald & Elaine Sandmeyer

Ha rley J. Saxby

& Gerald Haley

Marty Sellers

David Shelfo

Michelle Simon

Margot Stein & Marian Klotz

Glenn Sykes

Un iversity of Pennsylvania

Institute for

Contemporary Art

Rita Urwitz

Jeffrey Vanschenkbrill

Richard White

Carole Yamin

James Zangrilli

Lisa Ziemer

$100 to $249

Glen Abrams

Yasemin Agatan

Rhonda Akkerman

Suzanne Albert

Joshua C. Allen

John M. Allen

Pauline Lee Allen

Vincent Allen

Pamela Anderson

Theresa Andrews

Anonymous (5)

Re v. Carol Anthony

& Nancy Lowell

David & Margaret Arena

Sandra Arnold

Carol Arroyo

Wendy Arters

Allison Avellino

Patrick Bader

Denese Bailey

Charles Baird

Michael M. Baker

Diane Baldwin

Marianne Barbaro

Martina Barbour-Pustinsky

Elizabeth Baronofsky

Steve Berner

Cynthia Best & Joan Zeller

William J. Best

William Biskup, Jr.

Kenneth Black

Andrew & Amy Blackstone

Deborah Blair

Margaret Blendulf

Bl ue Cross

Marketing Department

Diane Bolger

Edwin Bomba

Bernard Bondi

Loriann Brock

Karen Brodsky

Tracy Buchholz
---
Allison Buehler

Richard & Barbara Buehler

Bret Carberry, II

John Carr

Peter & Norma Carter

Melissa Cazes

Jeffrey Chaban

Lisa Chosed

Christ Church

Cynthia Closs

Meegan Coll

Casey Cook

Romilda Crocamo

Thomas Cropp

Rene Crystal

Mark Cullison

Lolita Curtis

Christopher D'Amanda

Ch eryl Defulvio Conrad

& Dennis Conrad

Suzanne DeMelia

Christina DeVirgiliis

Romulo L. Diaz, Jr.

Wilhelm Dingler

Jay M. Donner

Keith Doughty

Paul Dradransky

Tom Duffin

Robin Durand

EC A - Philadelphia Gay

Bowling League

Stephen Elwell & Kate Judge

Elizabeth Evans

George Evans III

Ronald Falcon & Chad Klasna

Dennis Fee & Stephen Carlino

Sandra & Michael Feite

Alex Felmeister & Jason Giordano

Nina Ferrara

Stacia Fischer

Lisa Fiume

Hawley Fogg-Davis

Mara Francisco

Jessica Franklin

Ra lph R. Franks

& William F. McLaughlin, Jr.

Diane Fronckowiak

Domenic Gallelli

Tobey Geller

Terry Geyer

Elicia Gonzales

Ng Grace

Kevin Grafton

Jonathan & Cheryl Green

Judith Greenberg Wolff

Tina Grello

Sherri Grice

Sandra Griswold

Jeff Guaracino

Marjorie Gumayagay

Craig Hamilton

Sean Hanratty

Shana Harris

Kathryn Harrison

Stacey Hart

Kimberly Henry

Je ffrey Herman

& Chokchai Niamkongkit

Stacey Hinson

D.J. Hollister & Todd Shaner

Susan Holmes

Lee A. Hopkins

Michael Howett

Diana Hsu

Nick Ifft

Dr. Mindy Jacobs

Leanna Johannes

Michael L. Johnson

Daniel Monti

30 YEARS OF LGBT HEALTH

David & Francine Kasen

Daniel Keller & Buster Smith

Margaret Kelly

Betty Jane Kienzle

Erin Killough

James King, Jr.

Todd Kirkes

Kevin Knubel

Kristen Kovacs

Karen Kulp

Donna Kusnierczyk & Ginger Witmer

Marnie Lambert

Stephen Landstreet

Irene Landy & Michele DiPietro

Patricia Lawlor

Malcolm Lazin

Catherine Libertz

Michele Lipkin

Alexandria Lloyd

Patrick Logue

Jim Lonsdale

John P. Lutz

Cletus Lyman

Stephen Maffei

Robert Magnes & Stuart Cades

Marisa Mango

David Marcolla

Melissa Margera

Danielle Marino

Cynthia Marks

James H. Mason, Jr.

William Mason, Jr.

Brian S. Mattes

Megan McDonald

Charlene McGovern

Linda McGuire

Jeanne McIntyre

Karina I. McIntyre

Karen McNamara

Allen & Liliian Menkin

Donna Mercado

Adam Meyers

Donald Millinger

R. Perry Monastero

Julia Moon

Judy Morrissey

James & Joyce Moskovitz

Michael Murtha

Jenny Myers

Sharon & Anthony Natalini

Hayden Nelson-Major

Douglas Nightengale

Brendan Nolan

Erica Novak

Brian Oakes

Dolores Orem

Ken Oyer

Tim Panaccio

Thomas Parent

John Partridge

Lin Pawlyk

Linda Pelullo

Gilberto Pereira, MD

Laura J. Petticrew

Edward Pinka

Frank Pittner

Joseph Pratko

Elizabeth Pritchard

Michael S. Protevi

Anita Radix

Eric Reid & Thomas Kitson

Gerard Rementer

Ralph J. Riviello, MD

Richard Roberts

Jeanette & Robert Rogers

Jessica Rothschild

Elizabeth Rothwell

MB Russo

Joanne Saponare

Grace Scarloss

Lisa Schafer

Renee Schokowitz

Walter B. Schubert, Jr.

Paul Scoles, MD & Andres Paternoster

Diane Scollo

Leslie Scott

Judith Seldin-Cohen

Erica Serine

Jeffrey Shablin & Yul Giraldo

Cory Shaw

Brian Shook

Yin Siew

Joanne Silva

Lee Simerman, MD

Phyllis Simirglia

Thomas Smith

Thomas M. Smith

Mark Smith & Frank Hoffman

Cheryl Smith

Heather Snodgrass

thirty :: 17
---
Aracely Somoza

Dianne & Stephen Spragale

Sandra Stabler

Kerri Stinger

Susan Stouder

Brian Straka & Michael Ballas

Kerri Strike

Ellen C. Sullivan

Jo Surpin

Lori Swanson

Mark Sweeney

Leonette Tanguay

Tia Torrey

Michelle Tracy

Doug Venzie & Chris Lawler

Catherine von Reyn

James Wallick

James Bradford Warnock

Tara Warsavage

Karen Weaver

Richard Webster

Lauren Weinberg

Evan Weiner, MD

Suzanne Welsh

Holly Wexler

Trey Wilson

Thomas Wisnewski

James Witek, MD

Bruce E. Yelk

Elizabeth Young

Paul Yu

Anthony Zacchei

William Zackey

Lynn Zewitlin

Rachel Zimmerman & John Boyko, Jr.

18 :: thirty

$99 and under

Erika Aaron

Action Builders & Remodelers

Manish Agarwal

Brynn Airey

Timothy Akeria

Jonathon Alberstadt

Jeffrey Aldi

Susan Allen

Dirk Allen

Stuart P. Alter

Margaret Amodei

Fred Anderson

Anonymous (72)

Willie & Maudie Anthony

Michael Antinucci

Judith & David Applebaum

Candice Archibald

Yvette Arnold

John Arrowood

Shannon Ashberry

Julie K. Assis

Peter Atherton

Joe Audi

Mikaelyn Austin

Kory Aversa

Laurence Bach

Norman Bach & Paul George

Alisa Baer

30 Robert YEARS Baker & Jimmy Calnan OF Herbert LGBT Brueckner HEALTH

Harry Balkenhol

Pa ul Ballentine

& Scott Meixeill

Archita Banerjee

Denny Barnett

Ivana Batinic

Dean R. Beckett

Mindy Beecher-Marcoux

Gary Belneau

Dana Benito

Kerry Berenato

Christopher Bergen

Karl Bernhard

Jay Bernstein

Stephanie Bird

Joe Bisti

Craig R. Blackman

Johanna Blackmore

Luke Blair

Timothy Blake

Dave Blanch

Natalie Blasco

David Bolduc

Christopher Bolotor

Br andon Lisa Bond

& Jim Lutz

Alex Bonilla

Cherina Booker

Paul Booth

Rhonda Bowman

Eleanor Boyle

Tanina Bradley

William Hayes Brady

Mary Brakz

Robert Brano

Alexis Brauner

Robert Bray

Ty Brennan

Michael Bressi

Linda & Joseph Bretschneider

Renee Bridges

Stephanie Brill

Jaime Bronson

Derrick Brown

Thomas Bryant

Shawn Burke

Frank Calabrese

Hector Calderon

Jimmy Calnan & Rob Baker

Salvatore Caminito

Raymond Cancio

Pat Capelli

Dominique Cardamone

Pete Cardie

Can John Carfi

Steven Caristo

Shanyia Carter

Dana Carter

Rosaria Caruso

Jenny Casagrande

Kristin Caspar

William Castillo

Thomas F. Cavanaugh

Joseph & Miriam Cerra

Mitchell Chanin

Anna Chappelle

Bill Chlebowski

Jong Choi

Matthew Christy

Joseph Ciardi

Debbie Cieslik

Holly Cintron

Steve Cisowski

Louis Cissone

James P. Clarey

Dwyetta Clark

Christina Closs

Edward Cohen

Shana Cohen

Zachary Cole

Craig Cole

Marcia J. Coleman

Loni & Jason Coluccio

Marci Comisky

Lisa Concepcion

Lisa Concord

Kristen Connors

John Constantine

Manuel F. Cortes

Carlos Cortinas

George & Eileen Costas

Christopher P. Coster

Kelley Courtney

Dennis Coyne

Philip Cozzo

John Crawford

Shannon Criniti

Diana Cruz

Basil Cugliari

Thomas Curcio

Joseph D'Alessandro

Stephen Dalton

Desiree D'Ambro

Joseph D'Amore
---
Catherine Darin

Virginia Sheha Daughety

Christine Davies

Dan Davis

Deidre Davis

Linda Davis & Jefferson Moon

Br yan Day

& Nancy Sawyer Day

Nathaniel Day

John J. De Feo

Douglas Decker

Jody Dehart

Christian Deleo

Nicholas Della Vella

Michael Deluca

Frank DeLuca

James M. Demus

Charles Denning

Donna Dever

Delorice Diggs

Toni DiLang

Jenn Dion

Daryl Dixon

Dixon Dixon

Stephanie Dougherty

Chrsitopher Dougherty

Audry M. Dowd

Charles R. Dowdy

Chris Downing

Albert Drulis, Jr. & Scott Silber

Phillip & Blanche Drumheiser

Carol Drumtas

Marcie Dumas & Harry Dumas, III

Marlayne N. Dudovich

Patricia Dunne

Dawn C. Durain

Mike Duran

Paul H. Durante

Michael Dzenis

Patricia Eames

Bernard Edelstein

Marilyn Edmond

Amy Eick

Stacy Eisenbaugh

Er ic Engelhart

& Christopher Beagle

Angelica Espinoza

Enrique Esquivel

Jason D. Evans

Kenneth Everett

Eugenia Ewing

David Facey

Mitchell Farbstein

Karen Farrell

Tracey Farrigan

Samantha Federanko

Gerry Feiler

Anna Fera

Brittany Fera

Dominic Fera

Ralph Fera & John McIlwain

Sandra Ferlanie

Eric Fiedler

Gary Files

Frank Filipek

Daniel Filoramo

David Fine

Jonathan Fink

Clayton Fioravanti

Barbara Fiorella

Brenda Fishman

Francis Flavin & David McHarg

Clint Fleckenstein

30 Abbe YEARS Fletman & Jane HinkleOF

LGBT Jesse Grant HEALTH

Lucy Kenney Folger & Richard Folger

Latosha Ford Robinson

Elizabeth Forman

Robert Forrest

Michael J. Foster

Tracy Foster

Deborah Francesco

Michael C. Franceschini

Michael Franco

Lee Frankel

Kathy Fraser

Melanie Fratanduono

Tanya Frederick

Joseph Freedman

Donald Friedman, MD

Heather Frost

Rodney W. Fultz

Felicia Gabardi

Yvette Gabardi

Diane Galeone

John J. Gallagher, Jr.

Norma Gannon

Vanessa D. Gantt

Christy Garrett

Kevin Gatto

Christina Gaughan

Steve Gdowik

Kathryn Geraw

Amin Ghaziani

Vanessa Gibson-Cooper

Michael Giessmann

Constance & Patricia Giordano

Henry A. Gladstone, Esq.

Angela Glodowske

Thomas Golabeck

Randy Goldberg

Seth Goldman

Robert Goldman

Ryan Goldner

Alejandro Gonzales

Cheryl & Leroy Gonzales

Elaine Gooden

Leslie & Lois Gordon

Allan Graham

Matthew Gravel

Carole & John Greenauer

Richard Gribble

Steve Grillo

John Grillone

Michael Timothy Gritt

Marjorie M. Groeling

Paul J. Grossman

Charlie Gurrera

Reed Gusciora

Marlene Haines

Shanna Halpern

Wa yne Hamilton

& Michael Weinkowitz

Keith Harris

Rose Hartle-Barnhart & Paul Barnhart

Christine L. Hartwell

Jennifer Hartz

Charles Head

Michael Heath

Brian Helsdon

Joy & John R. Henderson, Jr.

Kristy Henner

Jonathan Herbst

Dean Hersh

Brian Hewitt

Geoff Hewitt

Allison Hindman-Harvey

John J. Hirniak

Kate Hodges

Risa J. Holland

John E. Holohan

Jodi Holopirek

Christopher P. Horrocks

Michael Huber

Michael Hughes

Ian Hungate

Dr. Ann Hussein

Lisa Iannamico

Katie Ingersoll

Jodi Ippolito

Ma rgaret A. James

& R.L. James, DDS

Mr. Anthony J. Jarman

David Jefferys

Jonathan Jellen

Sharon Johnson

Susan A. Johnson

Marie Johnson

Leora Jones

Velda E. Jones

Michael Jones

Lia Jones Allan & Elizabeth House

Gerald Kaloi

Chris Kaltalo

Melissa Kanjian

William Kapfer, Jr. & Eric Scott Baker

Esther Kaplan

Craig Kapp

James Katsaounis

thirty :: 19
---
Craig Katz & Ryan Maxwell

Quinn Keeley

Jessica Kegelman

Wilma Denise Keith

Annette Kelly

Chris Kemplsky

Michele Kennedy

Adam Kerns

Kimberly Kersey

Dr. Keith M. Kershner

Aidan Key

Valerie Khmelnitsky

P.A. Kirkner

Dorothy Kirschner

Rachael Klaus

Karen Klaus

Virginia Kleinert

Andrew Klink

Pamela & Basil Klipa

Wayne Knaub, II

Candace & Charles Knoll

Kenneth Knowlton

Despina Kontos

Lisa Koury

Joseph Kovacs

Mrs. E. Kringer

Kimberly Kunda

Noa Kuzma

Lindsey Cecelia LaBella

James Ladson

Steven Lafferty

Steven Laird

H. Lamaina

Michael Lamonaca

Terri Lane

Richard L. Lang

Jim Lattanzi

Michael C. Lazenka

Joyce Y. Lecato

Albert Lee

Ma rk S. Lenard

& Frederick Lopez

Dane Levens & Drew Desky

Moyan Levine

Tameka Lewis

20 :: thirty

Theodore Lewis

Timothy Lewis

Chris Lewis

Sharon D. Lewis

Re becca Lieberman

& George Smee

Fred Linge

Teresa Loehrs

Denise Lofaro

Jennifer Logue

Amanda Lopez

Rob Lord

Michelle Lotter

Ryan Lovett

Mark Loving

Deborah Lowenstein

Hugh Luck

Stormy Lundy

Julie Lynch

Malcolm MacGregor

Lauren K. Macnee

Susan Mahanor

Erin Malinowski

Kim Malone

Marcy Mancini

Carly Marcoux

Steven Margolies

AnnMarie Marranzini

Mr. Joseph M. Martenczuk

Ju anita Martinez

& Frank Torre

J. Morrin

30 YEARS OF LGBT HEALTH

Jo se Martinez-Figueroa

& Miguel Alameda-Ramirez

Marvin Levine & Norma Finkelstein

Sonia Massey

David Mathias

Joseph Matthews

Ryan Mattis

Todd E. May

Gerard Mayer

Daniel Mazen

Andrew & Dolores Mazzoni

Mark McCabe

Andrew L. McClain

George McClarin

Michelle McCurdy

Garrod McFadden

Kristi McGhee

Patience McGonigle

Marty & Caroline McGuire

Letonia McKnight

Margaret McManus

Antoinette V. McTamney

Joanne McTamney

Scott Meixell

Phillip Mendelsohn

Ruth Menkin

Ann Falbo Menkin

Josephine Mercer

Christopher Messina

Patrick Meyerle

Linda & Randy Miller

Edward H. Mills, Jr.

Joseph Mingari

Geraldine Minichiello

Samuel Mink

Vinny Mirabile

Scott Mirenda & Brian Hewitt

April Miszler

Donald Mark Mitchell

Marc Mittman

Heather Moday

Louis Monaco

Dawn Moody

Jeff Moore

Gaylon Morris

Jonathan Morrison

Liza Moscovice

Elicia A. Mourani

Ana Moyer

Chris Mueller

Barbara Mulckhuyse

Gloria Munoz

Tim Murdaugh

Sara Murphy

David Murphy

Paul Murphy

John Murtha

Mr. Kurt A. Mutschler

Michelle Myerson

Andrea Narcisi

Gordon Nebeker & Mustafa Noor

Carol Nelson

Michael Kevin Newman

Erika Newton

George Nickett

Alexander Noether

Erika Norkaitis

Ken Oakes & Ed Rice

Greg Oehme

Tom O'Grady

Priscilla Okemwa

Sally Oliveri

Barbara Bringhurst Osada

Donna Ostroff

Dr. Bill Pace

Anthony Padilla

Brandon Palermo

Cara Palladino

LeVerne Palmer

Dayna Palmieri

Jennifer Pardi

Melissa Parks

Priscilla Parshall

Monique Parsley

William Partridge, Jr.

David Pascale

Jordan Pascucci

Andres Paternoster

Vicki Patterson

Margaret Pendino

Cherry Perry

Dennis Petrone

Milo Petty

Ellyn Phair

Michael Phillips

Cindy Phillips

Karen Pigg

Allison Pollack

Erica Pollock

Ri chard Pollock, Jr.

& Francis Matherly, Jr.

Linda Pongonis

Robert T. Ponzini
---
Jill Poretta

Daniel Porto

Richard Potter

Carmella & June Poutlish

Janeen Priano

Anne W. & H. David Prior

Gloria Prusakowski

Sherita M. Ragins

Greg & Debbie Rand

Matthew Ray

Andrea Rayner

Gladys Ream

Daniel Reese

Dana Reinhold

Catharine Rice & Vince Delagarde

Brad Richards

Tifphane Riley

Ian Rimerman

Bill Rimmey

Ralph Ritter, III

Joan Rivera

James J. Roberts

Jill A.R. Roberts

Caryn Robinson

Esther Rock

Timothy Rock

John Roddy & Jim Lattanzi

Rene Rodriguez-Rivera

Cynthia Rogers

Abby Romberg

Adrianna Rooney

Alexa Roop

Dorilona Rose & Michael Kay

Nan Rosner

Victor Rossi

Tom Rouse

David Rowley

Louise Rubalow

Maria Ruggiero

John Ryan

Jesse Salazar

Mark Sandberg

Marion Sands

Nicholas & Stephanie Santella

Stanley Santiago

Brent Satterly

Susanne Scarano

Amy Scarano

Jane Scarano

Brian Schatz

Erica Schilling

Ed ward J. Schmitt

& Anita M. Schmitt

Ruth Scholl

Karen Schubert

David Schwartz

Jay L. Segal

Jo hn Sentman, Jr.

& Margaret Sentman

Laila Servance

Andrea Shapiro

Geoff & Krissy Shatz

Gary Shevin

Ann Sholly & John Wellenbach

Terry Shuntich

Marie Simpkins

Eva Singer

Sofia M. Sirak

Jesse E. Sisco

Sara Skinner

Ashley Smith

Thomas R. Smith

Lynne Smith

Barry Smith

Benjamin Smoak

David J. Snyder

Evan Urbania

30 YEARS OF LGBT HEALTH

P. Solari

Tami Sortman

Joseph A. Southerland

Ricky & Patricia Sozio

Sal Spirito

St . Joseph's University

Lady Hawks (basketball)

John Stahl

John Stern & Melissa Dribben

Regina Stevens

Shiona D. Stewart

J. Stephen Stines

Stephen Stoltz

Jeanne Stuardi

Keith J. Suez

Scott Sutherland

Adrianne Suwald

Ali Tabibzadeh

Stephanie Takaragawa

Alonda Tann

Bonnie Taraschi

Leah L. Taylor

Darryl Taylor

Stacy L. Teel

Diane & Robert Temkin

Robert M. Temko

Joseph & Jane Teti

Randall Therssen

Darlene Thomas

Tanya A. Thompson

Dean R. Thompson

Lisa Thor

James Thornton

Corinne Thornton

Maria Tierman

Sherrill Tittermary

Janet Toole

Gabriette P. Toussaint

Trans Health Conference

Thomas Truchel

Janice V. Truitt

Dr. Tramble T. Turner

Kol Tzedek - Rabbi's Fund

Bryan Ulishney & John Kadash

Rodney VanNesse

Matt Varrato

Edgar Vega

Rey Velasco

Steven Vishio

Erica Vitale

Krisine Vliet

Marie Vought

Cecilia Wagner

Richard Waldo

Jane Wallace

Deborah Washington

Marianne Watson

Zeenat Watts

Nancy Webb

David Weed

Devon Werner

Anne & James Wesler

Sheryl Westcott

Annette Whaley-Fowler

Bill Whalon

Linda Whitehill

Wlliam T. Whiting

Lori Whyte

Diane Widdop

Jennifer Wiley

Ms. Shakia M. Williams

Nicole Williams

Malik Wilson

Adrian Wimberly

Rebecca Winters

Suzanne Wirth

Lorraine Witts

Dawn Wolfe

Alison Wortman

Mallory Wright

Allan David Wyche

Jason C. Wynn

Valarie Yaeckel

Dean Yanchulis

Amy Yax

Chris Yencer

Bryon Yoder

Helen Yost

Jason Yovandich

Karen Zajick

Anthony Zamparelli

Jamie L. Zarrella

Michele & Michael Zezima

thirty :: 21
---
30 YEARS OF LGBT HEALTH

www.mazzonicenter.org

Main

21 South 12th Street

Philadelphia, Pennsylvania 19107

215.563.0652

Medical

809 Locust Street

Philadelphia, Pennsylvania 19107

215.563.0658

www.mazzonicenter.org