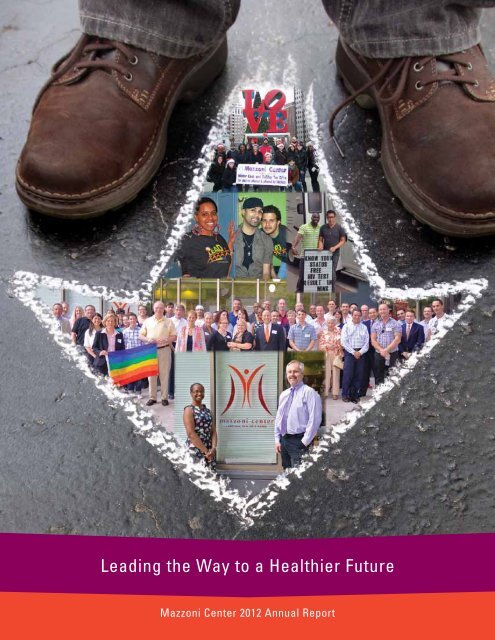 2012 Annual Report - Mazzoni Center
2012 Annual Report - Mazzoni Center
2012 Annual Report - Mazzoni Center
SHOW MORE
SHOW LESS
Create successful ePaper yourself
Turn your PDF publications into a flip-book with our unique Google optimized e-Paper software.
Leading the Way to a Healthier Future

Mazzoni Center 2012 Annual Report
---
Our MissiOn

To provide quality comprehensive health and wellness services in

an LGBT-focused environment, while preserving the dignity and

improving the quality of life of the individuals we serve.

Our HistOry

Mazzoni Center is the only health care provider in the Philadelphia

region specifically targeting the unique health care needs of the

lesbian, gay, bisexual, and transgender communities. Founded

in 1979, it is the oldest AIDS service organization in the

Commonwealth of Pennsylvania, and the fourth-oldest in the

nation. As the organization grew and evolved to meet the needs

of our constituents, Mazzoni Center has combined HIV/AIDS-

related services, health services, and legal services. With over 33,000

individuals benefiting annually from our services, we have proven

ourselves to be a leader among community-based organizations in

the greater Philadelphia area, and have developed a reputation for

excellence and innovation in service delivery to our constituents.
---
table Of COntents

Message from the Board President and Executive Director . . . . . . . .1

Medical Care & Services . . . . . . . . . . . . . . . . . . . . . . . . . . . . . . . . . .3

Open Door . . . . . . . . . . . . . . . . . . . . . . . . . . . . . . . . . . . . . . . . . . . . .5

Care Services . . . . . . . . . . . . . . . . . . . . . . . . . . . . . . . . . . . . . . . . . . .7

Prevention & Outreach . . . . . . . . . . . . . . . . . . . . . . . . . . . . . . . . . . . .9

Youth Services . . . . . . . . . . . . . . . . . . . . . . . . . . . . . . . . . . . . . . . . .11

Trans* Care Services . . . . . . . . . . . . . . . . . . . . . . . . . . . . . . . . . . . .12

Legal Services . . . . . . . . . . . . . . . . . . . . . . . . . . . . . . . . . . . . . . . . .13

Financials . . . . . . . . . . . . . . . . . . . . . . . . . . . . . . . . . . . . . . . . . . . . .15

Donors . . . . . . . . . . . . . . . . . . . . . . . . . . . . . . . . . . . . . . . . . . . . . . .16
---
1

A MessAge froM

the BoArd President And executive director

It has been an exciting and eventful

year at Mazzoni Center. In the face

of a still-sluggish economy, reduced

funding opportunities, and faced with

a massive overhaul of the healthcare

system that would have profound

and far-reaching impact on the work

we do, we successfully continued to

find innovative and effective ways to meet the health and wellness

needs of our communities.

In February we were privileged to partner with the White House

Office of Public Engagement and the U.S. Department of

Health & Human Services in hosting the first ever White House

Conference on LGBT Health, which took place at Jefferson

University. We were delighted to lead this historic opportunity

and champion addressing the health concerns of the lesbian, gay,

bisexual, and transgender communities in such a broad-based

public forum.

In her keynote address to the conference, Secretary of Health &

Human Services Kathleen Sebelius stated that: "The Affordable

Care Act may represent the strongest foundation we have ever

created to begin closing LGBT health disparities." She went on

to outline several ways in which the newly enacted legislation

is benefiting LGBT individuals and families - from expanding

access to preventative health screenings, to removing the option

for private health insurers to deny coverage based on pre-existing

conditions. She also talked about the plan released last year by

HHS to integrate sexual orientation- and gender identity-specific

questions into their national surveys, which will allow the federal

government for the first time to gather important health data on

LGBT Americans.

With the rollout of the Affordable Care Act over the next two

years, we anticipate dramatic growth in demand for our services at

Mazzoni Center, as many previously uninsured LGBT individuals

seek out a home for their medical needs. Our staff is already at

work developing solutions that will help the individuals we serve

navigate the changes that lie ahead, so that they can truly enhance

their health and well-being.

All across the agency it was a year of growth: our health center

at 809 Locust Street saw a major expansion that added six exam

rooms and other work spaces that will enable us to serve more

patients, more efficiently than ever before. We continued to be

the largest community-based HIV counseling and testing provider

in Philadelphia, and this year we tested a record number of

individuals at our various onsite locations and community events.

We added staff to our youth programs, expanding our reach and

strengthening our anti-bullying message in schools; we welcomed

a record number of student interns to support the work of our

legal services department; we hired a professional coordinator to

manage the growth of the Philadelphia Trans-Health Conference,

which welcomed a record 2,500 attendees in its 11th year. We added

a dedicated position to our Open Door Counseling program to

streamline intakes and expedite drug and alcohol assessments, so

we could connect individuals to the help they need, when they need

it most. From youth-specific programs like Ally Safe Schools and

HYPE, to the work our legal department has done in partnership

with the LGBT Elder Initiative, we are making an impact on

individuals of all ages, all races, and diverse communities.

We also initiated some exciting pilot programs: one targeting the

underserved Kensington neighborhood of Philadelphia, where

disproportionate rates of poverty, violence, IV drug use and sex

work have culminated in high rates of HIV and hepatitis C – and

many residents are either uninsured or underinsured. Another

program offers free drop-in medical care and wrap-around social

services one Friday evening per month at our Washington West

Project, in the heart of the 'gayborhood.'

As the challenges facing our communities evolve, so do we. Our

growth has been strategic and targeted to the areas where we see

the greatest need, and where we feel we can make the strongest

impact. Thanks to a community needs assessment survey Mazzoni

Center conducted from December 2011 through February 2012,

we have up-to-date information that will help us build a roadmap

for future programs and services that best fit the needs of those

we serve; information that instructs us on building capacity,

establishing partnerships, testing new and different approaches

to care, and always asking: how can we better meet the needs of

our constituents?

We are grateful for the ongoing support of the many individuals,

community allies, and supporting organizations that help us

continue this important work. We are proud to be mapping the

way forward, and laying the groundwork for a healthier future for

the LGBT communities in Philadelphia.

Kelly A. Harris, Nurit L. Shein,

President of the Board of Directors Executive Director
---
WHITE HOUSE CONFERENCE ON LGBT HEALTH

On February 16, 2012, Mazzoni Center was proud to partner with The White House Office of Public

Engagement (OPE) and the U.S. Department of Health & Human Services (HHS) in presenting

The White House LGBT Conference on Health, which took place at Thomas Jefferson University.

The focus of this historic event was on

facilitating a broad conversation about the

health needs of lesbian, gay, bisexual, and

transgender (LGBT) individuals.

The daylong symposium featured remarks

by Secretary of Health & Human

Services Kathleen Sebelius, Director of

the U.S. Office of Personnel Management

John Berry, and Philadelphia Mayor

Michael Nutter, among others. It was the

inaugural event in a series of conferences

around the country specifically focused

on LGBT Americans.

More than 300 health care professionals,

community organizers, medical students,

and community members from at least 22

states traveled to Philadelphia to attend

the conference, which was called "a

watershed moment for LGBT Health" in

the Huffington Post.

Panelists included key officials from the

national and regional HHS offices, as well

as leadership and staff from area LGBT

organizations and health entities.

(left to right): Ted Martin, Executive Director of Equality Pennsylvania; Christopher LaBonte, Principal and Director of External Affairs, Sellers Dorsey; Robert L. Barchi, M.D., Ph.D,

President of Thomas Jefferson University; Kathleen Sebelius, Secretary of the U.S. Department of Health and Human Services (HHS); Nurit L. Shein, Executive Director of Mazzoni

Center; Christopher Bartlett, Executive Director of the William Way LGBT Community Center; Donald F. Schwarz, MD, MPH, Health Commissioner and Deputy Mayor for Health

and Opportunity for the City of Philadelphia.

2
---
3

Medical Care & Services

The relationship you have with your healthcare provider is among the most important in

your life. However, even in 2012, too many lesbian, gay, bisexual, and transgender individuals

experience barriers to quality health care, either because they lack the insurance, resources,

or in some cases, they have no access to

a provider who understands their unique

health needs. At Mazzoni Center Family

and Community Medicine the provision of

compassionate, culturally competent health

care is the core of our mission.

Our practice at 809 Locust Street has

experienced extraordinary growth since

we opened our doors there in 2008 – a

testament to the need for culturally

competent LGBT care in the region. In

four years, the number of patient visits has

quadrupled to over 13,000 and the staff has

increased by 40%. Today the health center

has an active and growing roster of more

than 8,000 patients.

Our patient base continues to be

approximately 35% uninsured, 25% on

public insurance, and 40% on private

insurance. We are committed to providing

for our uninsured patients, although we

often struggle to find the resources. We

had a 20% increase in our HIV positive

patients in FY2012. Thanks to the success

of our weekly youth drop-in program, we

have also seen a large increase in adolescent

patients, who now make up 21% of our

patient base. This indicates that many youth

have successfully made the transition from

receiving care on an 'urgent' basis through

our drop-in program, to becoming part of

our regular patient base, and getting care on

a more routine basis.

Our facility underwent a major expansion

this year, adding six exam rooms that

have helped us cut patient wait time for

appointments and increased our overall

capacity. With the expansion we are now

scheduling an average of 1,200 patient visits

each month (up from 900 a month last year)

and we have the capacity for even further

growth in the future, up to 2,900 patient

visits per month.

We also added two full-time clinicians

in FY2012 to respond to our increasing

patient load. In addition to primary care, our

clinical team has expertise in treating HIV/

AIDS and hepatitis C, and in providing

transgender health care.

We have also completed our first full

year of using an EMR (Electronic

Medical Records) system, which has

revolutionized our workflow, making every

step in the patient care process simplified

and efficient. Through the online

patient portal, patients can access their

information, interact with clinicians, and

schedule or adjust appointments anytime,

as needed. The dramatic decrease in call

volume allows our front desk staff to focus

on interactions with patients in the office,

which helps us offer a more supportive and

welcoming environment. It has also greatly

improved our ability to collect and analyze

patient data, which makes it a powerful

tool for producing reports, measuring

patient outcomes, and approaching new

funding sources.

YOUTH DROP-IN

Our weekly adolescent drop-in program

continues to serve the most vulnerable

in our community – young people aged

14-24 – at no cost. The program operates

Wednesday evenings from 5:00-7:00 PM,

and in FY2012 we served 474 youth for

a total of 835 visits. Due to growing

demand, we added a third clinician to our

drop-in staff in February of 2012. On

a typical week we see 18-22 youth for

medical services, and with the help of case

management staff we can also address

other needs ranging from HIV and STD

testing, accessing legal or social services, or

assistance with a job search or housing.
---
PILOT PROGRAMS: BRIDGING

THE GAP

In September of 2011, Mazzoni Center

partnered with a storefront HIV testing site

known as GET UP to offer free, walk-in

medical care and social services to many

uninsured and underserved residents in

Philadelphia's Kensington neighborhood.

Our site is located at the notorious

intersection of Kensington Avenue and

Somerset, an area that has suffered from

disproportionate rates of poverty, violence,

widespread IV drug use and sex work, all

of which have culminated in high rates of

HIV and hepatitis C. Each month a team

of 3-4 clinicians and social workers from

Mazzoni Center provide four hours of free

medical care, including hepatitis and HPV

vaccinations, flu shots, family planning

and primary medical care. Our social

workers assist area residents in applying

for insurance, provide mental

health and/or drug and

alcohol referrals, and offer

crisis support. In the one

year this pilot program has

been operating, our staff has

provided free medical and

social services to 70 clients,

many of whom have no

other way to access care.

In January 2012 we launched another

pilot program that takes place one Friday

evening each month at the Washington West

Project (1201 Locust Street), and offers

free, drop-in services including medical

care, hormone replacement therapy, and

HIV/STD screening and STD treatment.

A collaboration between Mazzoni Center's

case management department, CTR

(Counseling, Testing, and Referral) team,

and our medical providers, the program

aims to link uninsured/underinsured

LGBTQ individuals to care – and is

particularly targeted to transgender women

of color, who have disproportionately high

uninsured rates and face significant barriers

to accessing traditional medical care.

Our clinicians treat these walk-in clients

for whatever health needs or concerns they

present, while case managers help them

apply for health insurance and connect to

Mazzoni Center's continuum of services,

including mental health, drug and alcohol

or social services. During the first six

months of operation, 53% of clients

seen on Friday evenings followed up for

further care at Mazzoni Center Family

and Community Medicine. Due to the

overwhelming success of this initiative, we

added a second Friday evening each month,

effective September 2012. We also plan to

introduce programming that will address

legal, educational/vocational and risk

reduction topics.

Mazzoni Center

provided $568,201 in free

medical care this year.

Next year we anticipate a

10% increase.
---
5

Open Door:

Affirmative Counseling for LGBTQ individuals

Providing a safe and supportive space for someone in crisis is often the first step toward

helping them achieve recovery from addiction and embrace a healthier life.

Here's a real-life example of how our

Open Door staff helped a young man we'll

call "Scott" this year. When he first arrived

for his intake assessment, he was a heavy

user of crystal meth, concerned about

how his habit was impacting his behavior,

and leading him to take great risks with

his body and his health. In nearly every

aspect – personal, financial, professional -

Scott felt his life spiraling out of control.

Based on his intake assessment, our staff

determined that his addiction was serious

enough to warrant inpatient services,

and recommended he seek help from a

residential treatment program.

Scott wasn't ready to take that step yet –

but he had made a connection with our

counseling team. He continued to show

up periodically, seeking help from one of

the therapists or REACH counselors, or

attend a support group meeting. At each

visit, our counselors would listen, offer

support, and gently encourage him to

consider more treatment, while reinforcing

the benefits of more stability and control

over his life. After eight months Scott

decided he was ready, and checked into an

inpatient detox program.

These days he is more than nine months

clean, with stable housing, greatly

improved physical health, and perhaps

most importantly, peace of mind. Often

helping a client like Scott means first

establishing trust, and then letting him

set the pace. Our team at Mazzoni

Center's Open Door counseling program

understands that each individual has their

own unique history and set of challenges:

our goal is to help people realize their

potential for a healthy and fulfilling life.

The Open Door program is a duallylicensed

outpatient mental health and

substance abuse treatment provider. Our

highly trained therapists each have distinct

areas of expertise, and provide support for

clients in the areas of: individual, couples,

and family therapy; dynamic support and

therapy groups; expressive and creative

therapies; psychiatric care and medication

management; recovery services; as well

as resources and referrals to communitybased

adjunct services. In FY2012 we

provided 501 lesbian, gay, bisexual,

transgender, queer or questioning

(LGBTQ) individuals, couples, and

families with professional, accessible

and culturally-affirming psychotherapy

or psychiatric services.

We performed 41%

more drug and

alcohol assessments

this year, thanks

to a streamlined

intake system.

Substance Abuse Treatment and

Recovery Programs

In FY2012 we saw a significant growth

in the number of clients accessing drug

and alcohol (D/A) services: with a

41% increase in D/A assessments, and

a 14% increase in the total number of

D/A counseling sessions. Much of this

growth can be attributed to a conscious

commitment to streamlining our internal

processes through the addition of fulltime

intake specialist Sean McNamara.

Thanks to this position, we are better able

to assess callers for drug or alcohol issues,

and to 'fast-track' those whom we identify

as in need of addiction services, to ensure

they are seen by a counselor within one or

two days. The sooner someone struggling

with addiction can see a therapist, the

greater their likelihood of following

through with treatment.

Individuals seeking help with substance

abuse or addiction through Mazzoni Center

have the option of receiving individual

therapy, and/or attending one of two dropin

support groups which are offered weekly,

free of charge, and are tailored to meet the

needs of LGBTQ people, whether they are

just beginning the process of recovery, or

have been on the road to recovery for some

time. Our approach differs from the 12-step

model, in that we use a harm reduction

approach which may include abstinence.

Our therapists develop uniquely tailored

goals with a client and work to build skills to

support and achieve these goals.
---
REACH: Recovery, Empowerment,

and Community Health

Most traditional mental health and

substance abuse programs operate on the

premise that clients will come to them. We

know there are many people struggling

with addiction who are overwhelmed by

their situation and simply don't know

where to turn, or perhaps they don't

realize all the resources and supports that

are available. Mazzoni Center's REACH

program distinguishes itself with an

aggressive approach to outreach, geared

specifically toward gay, and bisexual men,

and men who have sex with men (MSM),

particularly in communities of color.

The goal is to identify men at high risk

for HIV/STD transmission, and engage

them in conversation about modifying

their behavior in order to reduce that risk.

REACH provides each client with a peer

'partner' in the recovery process, whose

aim is to provide ongoing support in a

variety of innovative ways – in face-to-face

sessions, by phone, or via email.

You'll find the REACH team working

alongside our HIV counselors and testers

at the Washington West Project, or

consulting with case managers at Mazzoni

Center Family and Community Medicine.

They're also frequently out and about in

the community – connecting with people

in bars, at balls, and bathhouses. "What's

unique about the program is that we're

bringing an outreach component to mental

health and substance abuse," REACH

Project Manager John Edwards explains.

REACH counselors are trained to assess

where someone is, in terms of their

substance use and willingness to engage

in a recovery program.

"We'll work with the person no matter

where they are," Edwards says, adding: "It's

very important for us to communicate our

willingness to be there for each client, and

not judge or reject someone who doesn't

commit right away. Just because they're not

ready today doesn't mean they won't be

ready tomorrow."

Currently in its fourth year, REACH has

enrolled nearly 800 individuals and has

maintained an impressive 81% follow-up

rate over the past four years with clients

who have been enrolled for six months.

The program serves as an invaluable

"safety-net" for many clients who would

otherwise not have sought, or completed, a

behavioral health care program.

Living with HIV Support Group

Every Tuesday evening, Liza Linder,

MSW/ LCSW, meets with a group of

individuals who range in age from 19 to 70.

They come from all walks of life and all

corners of the city and surrounding areas,

but they have one thing in common: they

are all living with HIV/AIDS.

Since 2006 Liza has been facilitating the

"Living with HIV/AIDS" support group,

which offers a friendly, welcoming forum

for any HIV+ individual who identifies as

LGBTQ to discuss what's on their mind

– everything from dating and disclosure,

to dealing with family, new developments

in treatment, recovery issues and general

mental health. It continues to be our

longest-running and most highly attended

drop-in support group, with

an average of 20 attendees

every week.

Liza says it's a natural

extension of the work

Mazzoni Center does. "We

have so many clients who are

HIV positive," she says, "and

there's still a stigma around

HIV/AIDS. Sometimes

the stigma can be

stronger within the LGBT

community than outside of it." As a result,

some people with HIV feel very isolated:

"not necessarily in every aspect of their

lives, but when it comes to talking openly

about the disease," she explains.

She's had people show up who were just

diagnosed that morning, and others who've

been living with AIDS for 20 or 25 years.

"It can be reassuring for some of the

newer folks," she says, "to meet people

who have been living happily for many

years, and to know that they can have a

similar prognosis."

Sean, aged 30, just started attending the

group this year, and says being a part of

the group has given him hope and made

"At the time," James says, "I could feel myself just giving up... I wouldn't be the

same today if this group weren't available..."

him feel less isolated. Coming to group,

he explains, "You feel like you are part

of something. I feel like I have a future

and I am determined to handle whatever

obstacles come my way."

Another member, James, says the people

he met through this group "helped steer

me in the right direction," and away from

an abusive relationship, in the months that

followed his positive diagnosis. "At the

time," he says, "I could feel myself just

giving up." Since then he has come a long

way. "I wouldn't be the same today if this

group weren't available," James says. "I try

to surround myself with supportive people

but this group provides a kind of support

I can't get from people who aren't in my

situation."

6
---
7

Care Services

At Mazzoni Center we understand that wellness means more than an annual visit to the

doctor. It's about having access to health insurance and affordable medications,

counseling and psychosocial assistance, food stability and good nutrition, safe housing,

and more. Our case management program

is staffed by qualified, compassionate

professionals who dedicate themselves to

serving the particular needs of each client.

Recognizing that there are many factors

that can impact health, we take a holistic

approach to providing care services. It

might mean educating a client on how to

manage a chronic health condition like

asthma, diabetes, hepatitis C, or HIV.

Sometimes it's helping a client obtain a

legal name change; enrolling them in a low

cost prescription drug program; or working

to improve their housing or employment

situation. Our goal for the individuals we

work with is to live optimally, not just in

terms of health but also quality of life.

In FY2012 we provided HIV case

management to 863 clients, medical

advocacy for 343 clients (an increase

of 121% from the previous year), and

adolescent case management for 547

clients (an increase of 9% from FY2011).

Across all age ranges the single most

requested service we provide is

registration into prescription assistance

programs. With a significant proportion

of LGBTQ patients lacking insurance, our

programs meet a vital need of helping

patients have regular and affordable

(free or low-cost) access to their health

maintenance and acute medications.

Case managers assess each client for

insurance eligibility on a quarterly basis.

As a result, 90% of Mazzoni Center's

case management clients have

health insurance. For clients who are

uninsurable, we work to ensure those

needing prescriptions have coverage

through SPBP or patient assistance

programs.

For HIV-positive individuals, regular access

to medical care is vital in maintaining good

health. Our case managers work to ensure

these clients comply with recommended

standards of care, with the result that

90% of our active clients receive a

minimum of one viral load and CD4

lab every six months.
---
For many of our clients medical care

and access to medications is not enough.

Each December our case management

team organizes a Coat and Toy Drive to

benefit the children and families of our

clients. This past year we secured $12,326

in donations ($4,000 more than the previous

year) which allowed us to provide over 130

children with hats, gloves, scarves, and gifts,

and 95 children with winter coats during

the holiday season.

FOOD BANK

Mazzoni Center has been providing

free nutritious food via our pantry-style

food bank program, known as 'Vivian's

Cupboard,' since 1989. Operated out

of our Center City offices, the program

provides more than 2,700 meals every

month, allowing low-income, HIV-positive

Philadelphians to select packaged food

items in a supermarket-style setting.

According to the 2010 Report on HIV/

AIDS Care and Prevention issued by the

Philadelphia Department of Public Health,

"the socioeconomic issues associated with

On January 12, 2012, Philadelphia's two Whole Foods

Market locations donated 5% of their net profits from the

day to Mazzoni Center's food bank.

poverty, directly and indirectly increase

the risk of HIV infection and affect the

health of people living with HIV." The

overwhelming majority (97%) of our

food bank clients lack the financial

resources to meet the basic needs of

their households. 86% of our food pantry

consumers are at or below the Federal

Poverty Level for a single person household.

73% of food bank clients report receiving

Food Stamps, yet the average individual

receives less than $50 per month in Food

Stamps. Approximately 31% of the

households served by Mazzoni Center have

a female head-of-household, who typically

earn a lower income, if any, and have a

number of dependants. Children make up

14% of our food bank clients.

As jobless rates climb, individuals and

families dealing with chronic illnesses like

HIV/AIDS are vulnerable to poverty,

hunger, and worsening health outcomes.

Utilization of food bank services grew by

4% in FY2012. Since 2007, utilization of

our food bank has increased by 42%.

The number of households and individuals

serviced has also increased this year by

5% and 3% respectively. On average, 530

households access services each month,

with an average of 75 children and 550

adults. While the majority of our clients are

at or below Federal Poverty Level, we are

seeing an increase in middle income families

seeking food services as food prices increase

and joblessness climbs.

HOUSING

A home is more than four walls and a

roof: for most people a home is a symbol

of security, stability, and overall wellbeing.

A home locates us within our

community, and gives us a fixed point from

which to navigate the world outside. For

individuals living with HIV, establishing and

maintaining safe housing is a critical step on

the road to wellness. Since 2003 Mazzoni

Center has operated a Housing Subsidy

Program, funded by the U.S. Department

of Housing and Urban Development's

Housing Opportunities for Persons with

AIDS (HOPWA) program. In FY2012 our

program provided stable housing for 126

unduplicated tenants, of whom 37 were

families and 89 were single households. Of

these clients 89% were "very low income,"

meaning they earned 25% or less of the

median income for our area. Another 9%

were "low income" (earning 50% or less of

the area median income).

Our housing director and a team of

three housing counselors work closely

with clients throughout the year to ensure

they maintain appropriate, affordable,

and safe housing throughout the year,

intervening as needed with landlord-tenant

issues, maintenance concerns, financial

difficulties, and other challenges they may

face. Each year we re-inspect units to verify

their physical condition and overall safety,

and to be sure that our landlords are fully

compliant. We also conduct home visits to

units on a quarterly basis.

Thanks to a close collaboration with

our case management team, 100% of

our housing tenants had or acquired

medical insurance in FY2012.

8
---
9

Prevention & Outreach

HIV & STD SCREENING

Every nine and a half minutes, someone

in the U.S. becomes infected with HIV –

and one in five of them do not know it.

Here in Philadelphia HIV infection rates

are five times the national average. Getting

individuals who are at a high risk for

infection tested for HIV – especially gay and

bisexual men, and young men of color who

have sex with men - is a critical first step

towards helping them take charge of their

health. Statistics tells us that people who

know their HIV status are much more likely

to seek medical care, which dramatically

improves their health outcomes. Testing

remains a crucial focus in the battle

against HIV/AIDS, because we know that

identifying and treating individuals with

HIV not only improves their health, but

reduces the risk of transmission to others.

WASHINGTON WEST PROJECT

The Washington West Project, located

at 1201 Locust Street in the heart of

Philadelphia's "Gayborhood," is our main

testing site - offering free, walk-in HIV/

STD testing and screening in a welcoming,

storefront setting six days a week. "Wash

Every nine and a half minutes, someone in the U.S. becomes infected with

HIV – and one in five of them do not know it. In Philadelphia, HIV

infection rates are five times the national average.

West" frequently serves as a 'gateway' for

individuals seeking information and/or

testing, many of whom get connected to

additional Mazzoni Center programs and

services after their initial contact here.

This year at Wash West we tested 5,143

individuals for HIV, an increase of 19%

over FY2011. This boost in testing is due

in part to heightened awareness of Wash

West through focused outreach efforts and

word of mouth, as well as extended testing

hours introduced in fall 2011. Our CTR

(counseling, testing, and referral) team is

also part of the pilot project, launched in

January 2012, that takes place at Wash West

two Friday nights each month, offering

free medical care, hormone replacement

therapy, and HIV/STD screening and STD

treatment.

MOBILE TESTING UNIT

Mazzoni Center's mobile testing unit

(MTU) provides HIV/STD screening

in underserved areas and at community

events throughout the city of Philadelphia,

reaching people where they live, work, and

socialize. This year our MTU appeared

up to four times a week at regular sites

in Germantown, North Philadelphia,

South Philadelphia, and West

Philadelphia; and provided free HIV and

STD screenings at 16 festivals including

National Black HIV Awareness Day, World

AIDS Day, OutFest, and Philadelphia Gay

Pride. We also offer testing in designated

'wellness rooms' at the local bathhouses,

Club Body Center and Sansom Street Gym.

Our CTR Team can be found at these

various sites six days a week, during both

daytime and nighttime hours, helping

Philadelphians protect their health by

knowing their HIV status.

PREVENTION & OUTREACH

In FY2012 our Prevention staff reached

more than 25,000 individuals with safer

sex kits and materials through street
---
outreach, which remains one of the most

effective means of getting people tested and

informed about health and wellness services

available to them. These days community

outreach has evolved to incorporate online

spaces as well - so in addition to faceto-face

contact at bars, clubs, and public

events, we made close to 2,000 contacts in

FY2012 through online outreach on sites

like Facebook, Adam4Adam, Grindr, and

Scruff. Our team distributed approximately

170,000 condoms and safer sex kits

at our three locations, by request, and at

community events this year.

GET REAL

Storytelling is another powerful way to

capture someone's attention - and true

stories often have the strongest impact.

Through the CDC-funded Get REAL

project, we interview men from across

Philadelphia who have sex with men, and

publish their real-life stories in poster and

postcard form. These stories explore the

various reasons someone may become

vulnerable to transmitting or contracting

HIV, including: poverty, social isolation, and

substance abuse. The aim is to promote

discussion of HIV, safer sex, and the health

of gay and bisexual men in Philadelphia.

This year we produced ten Get REAL

stories, and distributed over 23,000

copies of the stories.

SYPHILIS ELIMINATION PROJECT

Through funding from the Philadelphia

Department of Public Health, our staff

developed a marketing campaign

("Syphilis Is Here") to educate

individuals, specifically gay and bisexual

men, about the high rates of syphilis in

Philadelphia, emphasizing the need for

Mazzoni Center provided

a total of 6,933 HIV tests

at Wash West and our

other locations in FY2012,

a 26% increase from the

previous year.

routine screening and condom use. The

"Syphilis Is Here" campaign was created as

a poster, a palm card, and a series of print

ads that ran in the Philadelphia Gay News in

summer 2011. The posters were displayed

at over 20 gay and bisexual "hot spots"

in Philadelphia, and over 2,000 of the palm

cards were distributed along with condom

packs by our community outreach teams.

THE REAL IMPACT PROJECT (T.R.I.P.)

Funded through the AIDS Activities

Coordinating Office of Philadelphia,

T.R.I.P. uses a social networking strategy

to encourage HIV testing in the black gay

and bisexual community in Philadelphia.

This year T.R.I.P. held two meetings per

month with the goal of enlisting individuals

who will recruit members of their

social network and encourage them

to get tested for HIV. By having men

advocate for HIV testing to their friends,

we leverage the power of peer networks

and achieve a higher impact than we could

through outreach and media efforts alone.

Peer recruiters receive training on different

approaches they can use to talk with friends,

family, and community members about HIV

and the importance of knowing your status.

EARLY INTERVENTION COUNSELING

& WELLNESS SERVICES

When a person tests positive for HIV it is

our goal to get them connected to health

care as quickly as possible - while also

dealing with the many other questions

and concerns that will arise with this lifechanging

news. In addition to linking newly

diagnosed HIV positive individuals to health

care and providing accompaniment to the

first few medical appointments, our Early

Intervention Counseling (EIC) service

also provides referrals for support services

including case management, food bank,

partner services, and more. This year the

program posted an 83% success rate in

linking newly diagnosed clients to care.

In FY2012 this service was merged with

our 'Wellness Counseling' program, which

offers high-risk MSM (men who have sex

with men) the opportunity to work one-onone

with a counselor to reduce their risk of

HIV transmission.

10
---
11

Youth Services:

Engaging the Next Generation

Statistics clearly show that

LGBT students are at high risk

for bullying and harassment

in schools. LGBT students are

more likely to skip school due

to fear, threats, and property

vandalism directed at them. An

estimated one in three LGBT

youth will drop out of school

altogether, which is three times

the national average.

Since 1998 Mazzoni Center's Ally Safe

School Program, which is primarily

funded by the William Penn Foundation,

has worked with students and faculty

in Philadelphia Public Schools to create

safer, more welcoming environments for

all students, through the formation and

coordination of Gay Straight Alliances

(GSAs) in middle and high schools, as well

as through in-school trainings for students,

teachers, and staff. In FY2012 the Ally

program added a second full-time staff

member, enabling us to reach even more

students across the city. The Ally team

worked with 56 active GSAs at middle

schools and high schools in the Philadelphia

School District, and hosted seven citywide

GSA meetings, each of which brought 20-

60 students from the city and surrounding

areas together for networking, collaboration,

and friendship.

This year also saw the launch of a new

Student Leadership Board (SLB), which

consists of eight students from schools

across Philadelphia who have taken an

active role in overseeing the Ally program.

By giving these students a leadership role,

the program seeks to foster a greater level

of engagement and enthusiasm not only

among SLB members, but all students

involved with the Ally program. Among

the key accomplishments of this

first year was the March 2012 LEAD

Conference, which brought 70 students,

family members, and GSA advisors

together for a full day of workshops and

presentations focused on developing

leadership skills. The SLB also created and

presented a workshop for teachers on how

to successfully start and maintain a GSA,

and made an appearance at the 11th Annual

Philadelphia Trans-Health Conference,

where they led a workshop on gender and

sexual identity for youth.

Healthy Sexuality Workshop Series

This community education program,

funded through the AIDS Activities

Coordination Office (AACO) of

Philadelphia and the Department of

Human Services, is a series of seven

workshops created to teach students

about a wide range of sexuality issues,

from relationships to sexual risk to LGBT

101. This year, our community health

educators delivered 261 workshops to

over 2,600 students in middle schools,

high schools and youth-specific

organizations across Philadelphia.

HYPE: Helping Youth Through

Prevention Education

Young black MSM (men who have sex

with men) are at a significantly higher

risk for HIV than the general population:

this group experienced a 48% increase in

HIV infections from 2006-2009. Through

our HYPE program, Mazzoni Center's

Prevention staff reaches out to young men

of color as well as transgender youth from

across Philadelphia, through social media,

street outreach, and community events.

Our team of skilled group facilitators hosts

a monthly workshop series, in which we

identify and address the various factors

that influence behavior and risk, including

cultural, social, and religious norms, HIV/

AIDS, relationship dynamics, and the social

influences of racism and homophobia.

All HYPE workshops are free of charge,

and include food and transit tokens for

all who attend. In FY2012 we worked

with 77 youth in our monthly workshops,

and an additional 30 youth attended one

of two intensive three-day retreats, held

in September 2011 and May 2012 at

Fellowship Farms in Pottstown, PA.

In response to a growing demand

from young men who had completed

the HYPE program, this year we

added a 'core group' that allows

graduates to stay connected to

one another and receive ongoing

support with their goals.
---
Trans* Care Services

Transgender and gender non-conforming people frequently experience discrimination

when accessing health care, from disrespect and harassment to violence and outright denial of service.

These experiences, combined with a widespread lack of knowledge and cultural competency among

health care providers, leads many transidentified

individuals to delay or avoid

seeking care altogether, often with

devastating results.

At Mazzoni Center we provide over 1,000

trans-identified individuals each year

with medical care, case management,

mental health, support groups, and

youth-specific services.

To ensure optimal streamlining of services

to our transgender patients and clients,

Mazzoni Center employs a full-time social

worker who specializes in transgender care,

and helps clients navigate the health care

and social services systems. Among the

services our trans care specialist provides

are biopsychosocial assessments; education

for individuals, couples, and families about

hormone treatments; letters to assist

with gender changes on identification

documents; and referrals to legal services.

With a full time trans care specialist, we are

consistently following best practices and

ensuring that our clients receive quality

health and wrap-around care services.

Administratively, we have created materials

explaining our process relating to trans

care at our medical practice and made this

information accessible online, at our offices,

and at community events. Our reputation

for providing expert care has grown, and

we are seeing clients from well beyond

the Philadelphia region. In FY2012, 23%

of new transgender-identified patients

interested in starting hormone replacement

therapy came from outside Pennsylvania

and New Jersey.

2012 PHILADELPHIA TRANS-HEALTH

CONFERENCE

The most recognized and internationally

acclaimed transgender program Mazzoni

Center provides is the annual Philadelphia

Trans-Health Conference (PTHC). This

year we hosted the 11th annual PTHC

from May 31-June 2, 2012, welcoming a

record 2,500 attendees from throughout

the country and around the world. This

free event is the largest of its kind, and

included some 200 workshops and panel

discussions on a diverse range of subjects

relating to health and wellbeing, including:

healthcare, safety, education, employment,

housing, legal issues, and social

support. This year's conference featured an

increased emphasis on international issues,

including panels on immigration and the

challenges faced by refugees and asylees;

transgender activism in Europe, as well as

spotlight discussions on the state of trans

communities in Latin America and South

Asia. Funding from the Arcus Foundation

and the Open Society Foundation helped

to make this programming possible.

New at the Philadelphia Trans Health

Conference this year was the first annual

Transgender Education Certificate

Course – a three-day intensive for

medical providers designed for new as

well as experienced medical providers

(MD, DO, NP, PA, RN, ND, PharmD)

interested in the primary care of adult

and pediatric transgender patients. The

certificate program consisted of lectures

given by nationally known experts in

the field of transgender primary care,

mental health, pediatrics and adolescent

medicine, and endocrinology. In addition,

Mazzoni Center's Legal Services presented

a daylong legal clinic for attendees as well

as workshops dedicated to legal issues

impacting transgender communities, and

aimed at practicing attorneys who wish to

learn more about these issues, in order to

provide culturally competent legal services

to transgender clients.

Above: (left to right) Barrett Marshall, Charlene Arcila,

April Murdock, Philadelphia Mayor Michael A. Nutter,

Kathy Padilla, and Michael P. Williams at the 2012

Philadelphia Trans-Health Conference.

12
---
13

Legal Services

There is at this time no federal or Pennsylvania law expressly prohibiting discrimination on the

basis of sexual orientation or general identity – nothing to ensure that LGBT individuals receive

equal treatment or enjoy equal rights when it comes to employment, housing, marriage, and

and myriad other important issues.

In the absence of guidance from

these authorities, different cities and

municipalities have begun to draft their

own legislation – with the result being a

patchwork of laws that are often confusing

and inconsistent, presenting a challenge

for LGBT individuals to navigate on

their own.

At Mazzoni Center, we believe there is a

direct relationship between recognition of

a person's legal rights and their ability to

enjoy full health and quality of life. That's

why our Legal Services staff zealously

advocates for the rights of our individual

clients, and for the advancement of the

legal rights of the LGBT communities

wherever possible. Our goal is to help

clients solve real life problems and receive

equal treatment through the application

and interpretation of the law, so that they

can focus their energy on leading full,

healthy lives.

We continue to be the only organization

in Pennsylvania that offers free legal

services tailored towards low-income

LGBT individuals, or those with an

annual salary below 185% of the federal

poverty guidelines.

In September 2011 we welcomed

David M. Rosenblum as our new legal

director. With an extensive background

in employment discrimination law at

the state and federal government levels,

Rosenblum has dedicated much of

his career to advocating for the rights

of LGBT individuals. This year the

legal services staff was expanded to

include a full-time staff attorney, and

was assisted by over 20 law student

interns from schools including: Drexel

University, the University of Michigan,

the University of Pennsylvania, Rutgers

University-Camden, Temple University,

Villanova University, and the University

of Virginia. The internship program

not only helps to manage our growing

number of intake calls and active cases, it

also provides on-the-ground training for

these students in a rapidly evolving area

of the law. "This is the next generation of

legal professionals," Rosenblum says, "and

through this program they are educated

on the issues that directly impact our

community - issues that have the potential

to change the civil rights landscape in the

years to come."

The department also enjoys the support

of a 17-member volunteer Legal

Advisory Board, made up of practicing

attorneys and academicians who offer

guidance and support in matters of policy

and developing areas of the law affecting

LGBT individuals.

In FY2012 Mazzoni Center's Legal

Services department received 509 new

intakes. The department averages 50-100

active docketed cases at any given time,
---
Breakdown of cases in FY2012

request for advance planning documents

housing/tenant issues

employment matters

criminal concerns

family law questions

on issues that include: legal name change,

family law questions, criminal concerns,

employment matters, housing/tenant

issues, medical issues (including insurance

coverage), access to public benefits,

and requests for advanced planning

documents.

While our primary focus remains

Philadelphia County, in FY2012

we successfully represented clients

in Delaware, Montgomery, Bucks

and Chester Counties, as well as an

isolated client in Tioga County who

had specifically requested our assistance,

fearing that he was the only transgender

individual in his county and would not

receive fair treatment from the judicial

system there. We are pleased to report a

successful outcome in the client's petition

for a name change, including a waiver of

publication and sealing of the record to

protect his safety and privacy.

6%

11%

6%

12%

15%

13%

37%

other (medical insurance

issues/public

accommodation

discrimination/access

to public benefits)

legal name change

EQUAL BENEFITS BILL

Legal Services was asked to assist

Philadelphia City Councilwoman At-Large

Blondell Reynolds Brown in fall 2011,

when she requested input on proposed

legislation for the Equal Benefits Bill,

which would require city contractors to

provide the same benefits to its same-sex

employees that it provides to married

heterosexual employees. With the advice

and input of Legal Director David

Rosenblum, the language of the bill

was revised to ensure it complied with

applicable law and would withstand court

scrutiny if challenged.

The Equal Benefits Bill was unanimously

passed by City Council and signed

" With the enactment of this bill, we have taken one more important step to

ensure that all Philadelphians who are 'created equal' are treated equal,"

remarked Councilwoman Reynolds Brown

into law by Mayor Michael A. Nutter

in December 2011. As Councilwoman

Reynolds Brown remarked, "With the

enactment of this bill, we have taken

one more important step to ensure

that all Philadelphians who are

'created equal' are treated equal."

KNOW YOUR RIGHTS

In an effort to educate LGBT community

members about the unique legal issues that

impact them, and to further raise awareness

of our legal services program, members of

Mazzoni Center's Legal Services staff made

numerous "know your rights" presentations,

and provided staff training sessions on

subjects ranging from LGBT elder issues to

employment discrimination law at special

events and venues throughout the city

in FY2012, including: Equality Forum,

the William Way LGBT Community

Center, and the Philadelphia District

Office of the U.S. Equal Employment

Opportunity Commission (EEOC).

In June 2012, our legal staff presented a

workshop on employment laws affecting

transgender individuals as part of the

Philadelphia Trans-Health Conference.

Also at the PTHC we hosted a daylong

drop-in legal clinic for conference

attendees. Now in its third year, the clinic

was staffed by 12 volunteer attorneys along

with our own Legal Services staff, and was

administratively supported by our summer

legal interns.

14
---
15

Financials

revenue And other suPPort

temporarily

unrestricted restricted total

Government Contracts $5,208,925 $ - $5,208,925

fundraising 461,397 360,438 821,835

third Party billing 2,482,297 - 2,482,297

Other support 28,158 - 28,158

subtotal 8,180,777 360,438 8,541,215

net assets releaseD frOM restriCtiOns 313,066 (313,066) -

total revenue and Other support 8,493,843 47,372 8,541,215

exPenses

Program services 6,622,444 - 6,622,444

support services 1,528,463 - 1,528,463

total expenses 8,150,907 - 8,150,907

chAnge in net Assets 342,936 47,372 390,308

net assets - beginning of year 1,676,082 102,595 1,778,677

net Assets - end of YeAr $2,019,018 $149,967 $2,168,985

Where does the MoneY coMe froM?

0.33%

FUND RAISING RESEARCH PARTICIPATION

THIRD PARTY

BILLING

9.12%

29.22%

61.33%

GOVERNMENT/

PUBLIC ENTITIES

Where does the MoneY go?

ADMINISTRATION

MEDICAL SERVICES

BEHAVIORAL HEALTH

16.88%

15.42%

3.33%

31.04%

12.73% 20.59%

DEVELOPMENT

CARE SERVICES

PREVENTION & EDUCATION
---
Individual, Foundation, and Corporate Donors

Fiscal Year 2012

Mazzoni Center's board members, employees, clients, patients, and volunteers gratefully acknowledge all of our

generous individual, couple, family, corporation, organization, and foundation contributors for their generous support

during Fiscal Year 2012. This list reflects our generous supporters for the period July 1, 2011 through June 30, 2012.

$75,000 - $100,000

Microsoft Corporation

William Penn Foundation

$50,000 - $74,999

Arcus Foundation

The Philadelphia Foundation

$25,000 - $49,999

AIDS Fund

Foundation to Promote Open Society

(now known as Open Society Foundations)

Independence Blue Cross Foundation Blue Safety Net Initiative

Philadelphia Affiliate of Susan G. Komen for the Cure

$15,000 - $24,999

Broadway Cares/Equity Fights AIDS

Gill Foundation

United Way of Southeastern Pennsylvania

$10,000 - $14,999

E. Rhodes and Leona B. Carpenter Foundation

Comcast Corporation

Scott Conking and Tom Wall

Mel Heifetz

Robert I. Jacobs Fund of The Philadelphia Foundation

Philadelphia Bar Foundation

Susan G. Komen Breast Cancer Foundation

Toll Public Interest Center/University of Pennsylvania Law School

Walgreens Corporation

$7,500 - $9,999

Anonymous

Russell Harris and John Casavecchia

MBA Equities, LTD and Max Berger

SYMANTEC Corporation

$5,000 - $7,499

Anonymous

Francis Cannon & Company

Stephen P. Carlino and Dennis R. Fee, DMD

Elite Island Resorts

Dr. Magnus Hirschfeld Fund

Independence Foundation

Arthur M. Kaplan and R. Duane Perry

Loews Philadelphia Hotel

Philadelphia AIDS Thrift

Philadelphia Gay News

Sapphire Fund

Nurit Levi Shein and Sue Levi Elwell

Michael Weiss

Western Association of Ladies For Relief

and Employment for the Poor

Robert Winn and Christine Caputo Winn

Michael J. Wolf, MD

$2,500 - $4,999

Alston & Bird, LLP

Anonymous

Rich Brome

Field House Sports Bar & Restaurant

James Hart & Friends

Dan Higgins Wood Flooring Warehouse

Human Rights Campaign Foundation

Andrew Margolis

Media Copy

Allen L. Morrison Memorial Fund of

The Philadelphia Foundation

Brian Moss Design

Opa Restaurant & Lounge

Philadelphia Bar Association Higginbotham Fellowship

Ron Powers

RSVP Vacations

Dr. Kathy Rumer

Thomas Runkle

Wells Fargo Foundation

$1,500 - $2,499

Anonymous

Barra Foundation

Equal Justice America

Hair Club of Philadelphia

Harrahs & Caesars Atlantic City

Scott Hedrick

George Horan and Guy Kirk

Liberty Belle Annual Bowling Tournament

Tom Morea

Craig Nuel

Margaret and Ray Pendino

Philadelphians MC

PNC Financial Services Group

Jimmy J. Ruiz, MD and Matthew Capucini

TD Bank

$1,250 - $1,499

Anonymous

Domenic Gallelli/Prodigal Security

Michael George

Kelly A. Harris and Regina Smith

Fletcher MacNeill

Gregory Palmer and Richard Dunner

Martin Varnedoe and Robert Colletti

James Witek

16
---
17

Individual, Foundation, and Corporate Donors

Fiscal Year 2012

$1,000 - $1,249

David Adamany

Agio Brand Solutions

Anonymous

Jay Bernstein and Michael Gritt

Mark H. Blecher, MD and Lary Aasheim

Mark Bower

James H. Bryson

Cancer Treatment Centers of America

Nicholas and Debbie Chaban

Combined Federal Campaign

Rajnish S. Dave, PhD

Michael Fink

Edward and Amy Gavin

Bill Gorman

Hot Boys Catering, LLC

Johnson & Johnson Family of Companies

Robert Kravitz

Gage Kristopher & Twisted Life

L'Oreal

Pew Charitable Trusts Employee Match Program

Philadelphia Zoo

Rainbow Rollers Bowling League

Sellers Dorsey

Jeff Sotland

SpecialtyUSA, LLC

Michael Sweeney and Steve Betts

United Church of Christ - Wider Church Ministries

Robin Wheeler

Noel Zayas Events

$750 - $999

Alura Business Solutions

AT&T

Blaine Bonham and Rick Spitzborg

Joseph Carlucci and John Moeller, Jr.

Patty Inacker and Laura Pritchard

James H. Kelleher and Derrik Morris

Fred LaValley and John Whitenight

Perry Monastero and Estuardo Orozco

Ira Sheres and Steve Sokoll

$500 - $749

Anonymous

Apple Vacations

Al Besse and Scott Evers

Robert Bettiker

Emily Bittenbender

BNY Mellon Matching Program

Breathe Salon & Day Spa

David Cannell and Paul Beckwith

Anthony Cannon and Janice Briscoe

Citibank - 1211 Walnut

Mark E. Coyne

DJ Michael DeCero

Joshua Dyal

Susan Edwards

Barry Eichner Consulting

Michael Govito

Elaine Grobman

Jeffrey Herman and Chokchai Niamkongkit

James McGinnis

David McShane

Bill Paszek

Sheila Peopples

David Puyear

Ian Ramsey-North

R Squared Design

Resorts Casino Hotel

Lauran and Sharon Schultz

Richard Shellenberger

James Simmons

John Stassi

J. Brian Straka

Tabu Lounge & Sports Bar

Ashley and Robert Tobin

Peter Vitellio

Eileen Wang

WDAS 103.5 FM

Rochelle and Nelson Wolf

Lynn Zeitlin and Gabriela Assagioli

$250 - $499

Absolut Vodka

Dan Anders and Anh Dang

Anonymous

Michael Baker

William Best

Body Electric School

Jeffrey Boles

Chuck Brault

Thomas Brennan

Bristol Myers Squibb Match Program

Brad Button

Gloria Casarez and Tricia Dressel

Andrew Chirls

City of Hope

Mary and Philip Cochetti

Jason Cohen and Dusty Latimer

Commonwealth Investment Management Group, LLC

Thomas Conway

Daniel Cosper

Mark Dann

David Davis, II

destination 49

Vikram Dewan

E. George Dobosh

Albert Drulis and Scott Silber

Eventions

Eyesite

Patrick Feeley

Tony Ferraiolo

Allen Fielding and James Renna

Giampolo Law Group

Harry Giordano

Sean Green

Keith Harris

Jules Henshell

Ira and Kathy Herman

Jamie Hollander

Hotel Palomar

Joel and Lucy Huff

iCandy

Independence Business Alliance

Dr. Mindy Jacobs

Jar Bar

Carole Johnson

Mark Kleinwichs

Don Kligerman

Knock Restaurant & Bar

George Knod and Pete Van Pelt

Nancy and Seth Kreimer

Ram Krishnan

Dan Loya/Spaces Transformed

LPL Financial

Frank Marzullo

Mayfield Social Club

Angela McCaffery

Bonnie Mueller

Gregory Murphy

National Gay and Lesbian Task Force

Foundation

Giang Nguyen and Sean Healy

James O'Toole

Pennsylvania Partners of Philadelphia

Philadelphia Association of Defense Counsel

Philadelphia Center for Transgender Surgery

Philadelphia Phillies

Frank Pittner

Kevin Poling

Gloria Prusakowski

Scott Reinboth and David Shelfo

Gary Ridge and Thomas Wisnewski

Joseph Roberts

Robert Roth

Jane Schmeltzer

Loretta and Andrew Sernekos

David Shelfo and Scott Reinboth

Freddy Shelley

Susan Sherman

Melinda Shull and Bruce Garner

Sandeep Singh

Amy Spiller

Vintage Wine Bar

Voyeur

Patricia Weigand

William Way Community Center

George Wisor

$100 - $249

12th Street Gym

Ferdinand Abletez

Lia Jones Allan and Elizabeth House

Michele Angello

Anonymous

Lynden Armstrong

John Arrowood
---
Stephen Assenheimer

Mark Aufdemberge

Virginia Austin

Julian Bajczyk

Charles Ballard

Bank of America Matching Gift Program

Jack Barry

Ralph Bassett

Kelly Bean and Melissa Nead

Kenneth Black

Jeanette Blize

Thomas Blucas

Dolores Bojazi

Geoff Bruen

Richard Bunnell

Allan and Lori Busdeker

Kristy Byrnes

Dale Callaway

Callen-Lorde Community Health Center

Michael Canfield

Capriccio Café & Espresso Bars

Bret Carberry and Don Casto

Leonore Carpenter and Tiffany Palmer

Daniel Castagna

Patrick Castaneda

Christine Castellano

Central Baptist Church Rainbow Alliance

Howard Childs

Blair Clinger

Franklin Cohen

Price Connors and Marty Smith

Damon Constantinides

Patrick Costello

John Costo

Matthew Cramer

Romilda Crocamo

John Cunningham, Jr.

Jorge Danta and Sam Spector

Kevin Davies

Davio's Northern Italian Steakhouse

Carmen de Gourville

Darryl Depiano

Jennifer Deuel

Scott DeWitt

Andrew Doy

Thomas Duffin

David Eckard

Richard and Susan Eckhardt

John Edwards

Krista Eickmann

Mark Falango

Dr. Ronald Filler

First Unitarian Church of Philadelphia

Tony Fisher and Harold Millan

Abbe Fletman

Flying Monkey Bakery

Elisabeth Flynn and Silvina Ocampo

Michael Flynn

Tom and Patty Foels

Fork Restaurant

Donald Formigli

Anthony Fortuna

Rob Franks and William McLaughlin, Jr.

David Frantz

Joseph Freedman

Joseph Frosolone Interiors, LLC

Karen Fryer

Donald Gallagher

William Gardner

Giovanni's Room

Edmund Gmoch and Rich Gregg

Joseph Golas and David Caparoni

Elicia Gonzales and Ames Scarano

Herman Greener and Vincent Kellit, Jr

Michael Grosberg

Christopher Grundy

John Guenst

Marie and Erwin Hahn

Benjamin Halton

Wayne Hamilton

Sean Hanratty

Matt Hapeman

Keith Haring Foundation

Aiden Harrington

Francisco Vasquez Harris

Gary Heneger

Tim Hennessey

Heather Hickman

Deb Hollister

John Holohan and William Ensminger

Robert Holt

Natalie Hrubos

Nick Ifft

Inciting Defiance

Joe Ippolito

Pauline Javorski and Sheri Putnam

Kelbourne Woolens LLC

Pearline and Martha Mae Kendells-Moore

Kiehl's in Rittenhouse Square

Daniel Keller and Buster Smith

Kirk Kirkpatrick

Carl Kopfinger and Steve Weitzenhofter

Frank Krafchik

David Krefetz

Kelly Kroehle

Allen Kuharski

Conrad Kuhn

Donna Kusnierczyk and Ginger Witmer

Leslie Lagerstrom

Rue Landau

Brad Latimer and Elizabeth Easter

Steve Lauer

Christopher Lawler and Douglas Venzie

Malcolm Lazin

Stephen R. Lee

Elizabeth and Joe Leska

Tara Lessard

Gerald Leube

Vincent Lim

Lindy Linder

Sharon Lopez and Alan Jacobs

Mia Lott

Genevieve Loutinsky

Ronald Lucente

Demosthenes Lymberopoulos and

Joseph Rodriguez

Christopher Mallios, Jr. and William McNett

David Marcolla

Lena and Howard Marder

Julia R. Masterman Laboratory and

Demonstration School

Mark Matey and Jay Kottoff

Mauckingbird Theatre Company

Andrew and Dolores Mazzoni

Michael McGauley and Jason Fiorello

Todd McKee

Darryl McMillan and Coy Smith

Robert and Irene McNamara

Sean McNamara

Donald Millinger

Mark Mitchell

Kali Morgan and KDM Enterprises

Gary Mucciaroni

Richard Muchnik

Michael Munson

Michael Murtha

Navigaytour

David Newby

Leif and Alison Nissen

Optimal Sports Club

Jonathan Oriole

Gregory Ott and Lewis Kalmbach

Out & Equal Workplace Advocates

Christina Pakis

Corey Palmer

John Pantalo and Michael Gregor

David Park

Gilberto Pereira

Mark Pettegrow

Philadelphia Gay Men's Chorus

Philadelphia FIGHT

Philadelphia Film Society

Richard Pollock, Jr. and Francis Matherly, Jr.

Michael Pomante

Charita Powell

Kit Rachlin

Radian Guarantee Employee Matching

Joseph Radomile

Luis Ramos

Reading Terminal Market Catering

Reconciling United Methodists, Eastern

Pennsylvania

Sereno Reisner

James Renna

Restaurant at the Morris House Hotel

Kenneth Richman

18
---
19

Individual, Foundation, and Corporate Donors

Fiscal Year 2012

$100 - $249 (cont.)

Christina Richter

River Stone Consulting

Steven and Ruth Anne Robbins

Lynn Rockwell

Anthony Rodriguez and Michael Williams

Joan Rolsky

David Rosenblum and Stephan Stoeckl

Collin Rossi

Barry Rucks and Chris Fuentes

Ryan Sallans

Jayden Sampson

Cisco Sanchez

Harley Saxby and Gerald Haley

Jena Schmidt

Judy Seldin-Cohen and Jeff Cohen

Deanna Semple

Sesame Place

Don Simmons

Russell Harris, John Casavecchia, Margaret and Ray

Pendino, along with Family & Friends of Gene Cavanaugh

– Cabaret at the Cloisters 2012

Care Services, Housing Services, and Friends of Mazzoni

Center – 2011 Holiday Gift and Toy Drive including the Beer &

Cupcakes 2 event

Michael Sweeney & Steve Betts – Boys in the Country 7

Mazzoni Center Staff & Volunteer Supporters – AIDS

Walk 2011

Bar AIDS Agency Staff & Volunteer Participants:

ActionAIDS, AIDS Law Project of Pennsylvania, Philadelphia

FIGHT, and Mazzoni Center; Coffee House Participants:

Café Cret, Café 12, La Colombe – Rittenhouse, La Colombe –

Dilworth Plaza; Bars, Hotel Venues & Restaurant Participants:

City Tap House, Field House Sports Bar, Knock Restaurant &

Bar, London Grill, PYT, Sisters, Sofitel, Square 1682, Tabu Sports

Bar, Tavern on Camac, The Bike Stop, Uncle's, Voyeur, Woody's,

XIX (Nineteen at the Hyatt Bellevue) – Bar AIDS 2011

Kelly Harris & Gina Smith – Nights of 1,000 Friends

Jason Cohen & Dusty Latimer – Ugly Sweater Party (Nights of

1,000 Friends)

Robert Simon

Brett Smith and Joseph Sutton III

Joseph Snyder and Harold Millan

Spirit of Philadelphia

Dianne and Stephen Spragale

Daniel Stairiker

Hope Steinman-Iacullo

Stephan Stoeckl

Richard Strahm

Mark Sundermeyer

Hal Tarr

Pat Tedora

Nicholas Teich

The Prime Rib

The Wilma Theater

Michael Tolassi

Trans-Genre

Unitarian Universalist Church of Cherry Hill

Evan Urbania

U.S. Bancorp Foundation Match

James and Margaret Van Etten

Rich Van Fossen

Maria Vashakidze

Louis John Vassalotti

Rey Velasco

David Venable

Beth Vogel

Evan Weiner

Meg Willovghby and Andy Boczkowski

Anthony Wong

Woody's Bar

Alison Wortman

Dean Yanchulis and Romulus Barba

Anthony Zalis

Jim Zangrilli

Vincent Zucal and Ralph Tullie

This list reflects our generous supporters for the period of July 1, 2011 through June 30, 2012. Some United Way Donor Choice Contributors are not documented in this year's annual

report due to timing of United Way gift reports (check FY13 upon availability). If you notice any error, please contact the Mazzoni Center Development & Marketing Department at

215-563-0652. Thank you.

Mazzoni Community Champions (Third Party Fundraising Teams)

Mazzoni Center thanks the fundraising teams that provided significant support this year (in order of highest contribution)

Liberty Belle Invitational – 2011 Annual Bowling Tournament

David van Guilder – Lansdale for Life (Nights of 1,000 Friends)

Rainbow Rollers – 2012 Annual Bowling Tournament

Gage Kristopher & Twisted Life – 8th Annual Fairgrounds -

Out at Night (AKA Gay Day at Six Flags, Great Adventure, a Nights

of 1,000 Friends event)

Thomas Runkle – Friends and Family Bar Night

(Nights of 1,000 Friends)

Ashley & Robert Tobin – Nights of 1,000 Friends

Freddy Shelley, Jeff Sotland, and the Tabu Lounge & Sports

Bar staff and patrons – Tabu Community Nights (Nights of 1,000

Friends)

Westbury Bar & Patrons – Mardi Gras Party 2012

Tiffany Palmer & Leonore Carpenter – Holiday Brunch 2011

(Nights of 1,000 Friends)

Philadelphia Voices of Pride – Glitter in the Air

Carly Marcoux with DaQuan J. Motley, Lust2Love, Lexi

Starr Show, Ethel Cee, and DJ Kit – Nights of 1,000 Friends

Rachael Schecter – Friends' Game Night (Nights of 1,000 Friends)
---
Public and Government Support

Philadelphia Department of Public Health – AIDS Activity Coordinating Office (AACO)

Philadelphia Office of Housing and Community Development (OHCD)

Substance Abuse and Mental Health Services Administration (SAMHSA)

Commonwealth of Pennsylvania

Center for Disease Control and Prevention (CDC)

Family Planning Council/Circle of Care

Philadelphia Department of Human Services

U.S. Department of Health & Human Services/Health Resources and Services Administration (HHS/HRSA)

Philadelphia Department of Public Health – Food/Ambulatory Care

Philadelphia Department of Public Health – STD Control

Senior Management

Nurit L. Shein, Executive Director

Ron Powers, Director of Programs

Virginia Austin, Practice Manager

Minerva Caro, Operations Director

Nick Chaban, Chief Financial Officer

Patricia Dunne, Human Resources Manager

Elisabeth Flynn, Senior Communications Manager

Alecia Manley, Care Services Director

R Perry Monastero, Development and Marketing Director

Judy Morrissey, Behavioral Health Services Director

Eric Paulukonis, Prevention Services Director

Gloria Prusakowski, Fiscal Director

David M. Rosenblum, Esq., Legal Director

Nicole Sommerville, Housing Director

Robert Winn, M.D., Medical Director

Board of Directors

Kelly A. Harris, President

Jimmy J. Ruiz, MD, Vice President

Rajnish S. Dave, Ph.D., Treasurer

Russell H. Harris, MD, Secretary

Mark H. Blecher, MD

Leonore F. Carpenter, Esq.

Jason K. Cohen, Esq.

Mark E. Coyne, BSPharm, RPh

Michael George, FACHE

Patty M. Inacker, LCSW, MBA

James H. Kelleher

Sheila E. Peopples, MBA

Anthony R. Rodriguez, MD

Jayden Sampson, Esq.

Eileen Y. Wang, MD

Michael J. Wolf, MD, Immediate Past President

20
---
Mazzoni Center was recognized as a "leader in lGbt Healthcare equality" in the

Healthcare equality index 2012 report, an annual survey conducted by the Human

rights Campaign (HrC) foundation, the educational arm of the country's largest

lesbian, gay, bisexual, transgender (lGbt) organization. the agency earned top marks

for our commitment to equitable, inclusive care for lGbt patients and their families.

MAIN

21 South 12th Street

Philadelphia, Pennsylvania 19107

215-563-0652

MEDICAL

809 Locust Street

Philadelphia, Pennsylvania 19107

215-563-0658

WASHINGTON WEST PROJECT

1201 Locust Street

Philadelphia, Pennsylvania 19107

215-985-9206

www.mazzonicenter.org