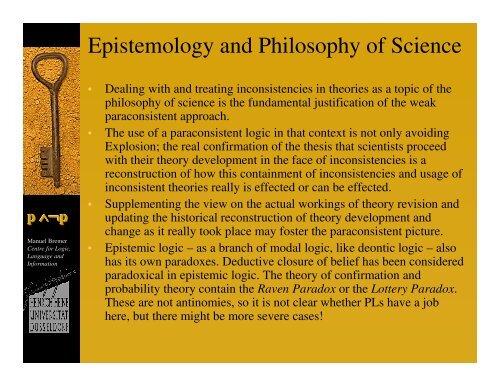 Epistemology and Philosophy of Science - Bremer
Epistemology and Philosophy of Science - Bremer
Epistemology and Philosophy of Science - Bremer
SHOW MORE
SHOW LESS
Create successful ePaper yourself
Turn your PDF publications into a flip-book with our unique Google optimized e-Paper software.
p ∧¬

∧¬ ∧¬p ∧¬

∧¬

Manuel Bremer

Centre for Logic,

Language and

Information

Epistemology and Philosophy of Science

• Dealing with and treating inconsistencies in theories as a topic of the

philosophy of science is the fundamental justification of the weak

paraconsistent approach.

• The use of a paraconsistent logic in that context is not only avoiding

Explosion; the real confirmation of the thesis that scientists proceed

with their theory development in the face of inconsistencies is a

reconstruction of how this containment of inconsistencies and usage of

inconsistent theories really is effected or can be effected.

• Supplementing the view on the actual workings of theory revision and

updating the historical reconstruction of theory development and

change as it really took place may foster the paraconsistent picture.

• Epistemic logic – as a branch of modal logic, like deontic logic – also

has its own paradoxes. Deductive closure of belief has been considered

paradoxical in epistemic logic. The theory of confirmation and

probability theory contain the Raven Paradox or the Lottery Paradox.

These are not antinomies, so it is not clear whether PLs have a job

here, but there might be more severe cases!
---
p ∧¬

∧¬ ∧¬p ∧¬

∧¬

Manuel Bremer

Centre for Logic,

Language and

Information

Inconsistent Theories

• Paraconsistent modelling can be employed diagnostically in case of

historic examples of theories which are/were inconsistent, although

they are/were not thought to be trivial or are/were not even known to

be inconsistent.

• Examples given are:

(a) the classic calculus of infintesimals in which the infinitely small

amount are taken as being nil sometimes and as being something

after all (one may divide through) at other times.

[cf. (Moore 1990, chap. 4)]

(b) quantum mechanics if you take the double slit experiments thus

that some particle cannot pass both slits, but does so nevertheless;

but this commits you to an inconsistent ontology at the

quantum level if you take this literally; weak paraconsistency

might say that we only talk like that, but that this way of talking

has to be superseeded.

[A quantum logic giving up distributive laws (Putnam 1968) turned out

to be not able to circumwent the problem (Gibbins 1981).]
---
p ∧¬

∧¬ ∧¬p ∧¬

∧¬

Manuel Bremer

Centre for Logic,

Language and

Information

Inconsistent Theories (II)

• (c) Bohr's theory of the atom, Bohr combing hypotheses both of

classical electrodynamics with incompatible quantum

hypotheses.

(d) Carnot's Theorem in thermodynamics. The theorem was derived

by Clausius in two ways using an inconsistent premise set, but he

accepted the later proof, since it didn't use the inconsistency.

(e) Planck's Law. Planck approached black body radiation is terms

of both classical and quantum hypotheses.

(d) Newtonian Gravitation Theory, since one for any nominated

force on a test mass find a way of dividing the source masses of

Newtonian cosmology so that we get the wanted resultant force.
---
p ∧¬

∧¬ ∧¬p ∧¬

∧¬

Manuel Bremer

Centre for Logic,

Language and

Information

Inconsistent Theories (III)

• (e) Standard Physics is an interesting case because of the role

mathematics plays here. According to the standard model of

sub atomic processes there is a shortest non-zero interval of

time (the ultimate quanta, which are not further divisible).

The equations employed in standard physics, however, involve

differentiation with respect to temporal coordinates, and a

differentiation is only well defined there if it is possible to

consider points/events that are arbitrarily close to each other.

Thus the theory itself contradicts the mathematics that is

otherwise employed to support or build up the theory! This does

not compromise its predictive power, however!

Thus either the theory is true and inconsistent or the real mathematics

behind the theory is not the mathematics of the Reals!

The reasoning from the applicability of mathematics in physics

to the truth of its underlying assumptions (continuity in this case)

is put into question if one wants to keep consistency.

[This last option had important consequences for the maintainability of

continuity assumptions in other fields – like the theory of computability

and hypercomputability – as well.]
---
p ∧¬

∧¬ ∧¬p ∧¬

∧¬

Manuel Bremer

Centre for Logic,

Language and

Information

Working with Inconsistency

• The historical thesis behind these examples is that as long as there is

no superseeding new theory or grounds to resolve the inconsistencies

in a particular way, scientists will go on working with an inconsistent

mixture of theory (elements), but avoid trivialisation.

• Thus the logic used here can only be paraconsistent!

• A systematic thesis behind these examples is that reasoning from the

inconsistent mixture can serve as a heuristics towards the looked for

consistent unified theory. (Lavoisier is cited as an example.)
---
p ∧¬

∧¬ ∧¬p ∧¬

∧¬

Manuel Bremer

Centre for Logic,

Language and

Information

Realism or Instrumentalism?

• Instrumentalism is the view that the posits of science need not be taken

at face value. Whether there are fifteen quarks or thirty-five is not of

decisive importance, but whether the corresponding theoretical

framework allows for successful predictions and technical applications

in the field in question.

• From an instrumentalist perspective one may go as far as not caring

whether the theoretical part of a science contains contradictions, as

long as this is the best working theory; paraconsistent logic, in this

case, preventing desastrous logical behaviour.

• From a realist perspective the contradictions posited by some theory

which is held to be the best theory have to taken as true. In the case of

empirical sciences this amounts to accepting inconsistent objects in

reality! That seems just too much. [cf. Chap. 17 on inconsistent ontology]

• So one may be, although a realist in general, an instrumentalist about

contradictions (thus advocating weak paraconsistency here). Without

the realist attitude, however, there seems to be less motivation to solve

the inconsistencies.
---
p ∧¬

∧¬ ∧¬p ∧¬

∧¬

Manuel Bremer

Centre for Logic,

Language and

Information

Inconsistent Observation

• The basis of empirical sciences is observation. Can there be

inconsistent observations? [Note: "Observe" is factive, "it seems" not.]

• There are inconsistent observations in the weak sense that one

observation A may lead to accept thesis B, while another observation

C leads to a rejection of thesis B. Oberservations (A and C) are then

inconsistent with each other. This is an unproblematic everyday case.

• There are optical illusions, think of a picture by Escher. One seems to

see an inconsistent objects. Of course, since these are illusions, there is

no such object, but the seeming nevertheless is real. That seeming is,

however, not stable (as you recognise if you try to fix both the

contradictory perspectives on such a drawing in question).

• As one can observe A, one may observe ¬A (by noting the absence of

A). As one can observe A and B, one may observe A ∧ B. Now if

observation is thus compositional, one may observe A ∧ ¬A, as Priest

(2002) claims. A ∧ ¬A being observable (a modal claim) can only

mean that there are situations/worlds where A ∧ ¬A really is observed.
---
p ∧¬

∧¬ ∧¬p ∧¬

∧¬

Manuel Bremer

Centre for Logic,

Language and

Information

Sources of Inconsistency

• One can try to give a systematization how inconsistency can arise

within a scientific theory (cf. Miller 2002):

• (a) reasoning from incorrect, or unknowingly restrictive,

experimental data.

This leads to inconsistency when the incorrect data are confronted with

correct data, or when the overgeneralisation founded in the too

restrictive data is put to the general test.

[As examples are given Galileo with several of his experiments and the

famous Michelson/Morley experiment!]

• (b) reasoning from incorrectly interpreted premises.

[As example the supposed inconsistency of the wave/particle duality is

given, taking "wave" and "particle" as ordinarily understood.]

• (c) reasoning on the basis of concepts that are later jettisoned.

This by way of equation or by implicitly reasoning with principles

(valid for the jettisoned concepts) the negations of which are in force

in the updated theory. [An example may be Lorentz' ether theory.]
---
p ∧¬

∧¬ ∧¬p ∧¬

∧¬

Manuel Bremer

Centre for Logic,

Language and

Information

Theory Revision

• Another application of weak paraconsistency can be theory revision.

• Theory revision or updating is standardly modelled by operations like

theory expansion (throwing in more sentences), or contraction

(throwing out some sentences).

The standard methodology of the AGM-approach aims at preserving

or regaining consistency. [see (Gärdenfors 1988)]

• A paraconsistent logic could claim to be the logic of theory revision in

that it can accomodate inconsistent belief sets and their evolution into a

new theory.

• The central concept of revision and the occasion to give up some belief

by contraction can then no longer be consistency, but some other

quality of belief systems. Coherence may be a candidate. Consistency

no longer would be the first requirement on coherence, but other

criteria of coherence like explanatory power, simplicity or data

adequacy would not be modified. Even an inconsistent belief system

might aim at coherence in that respect – as far as possible.

[On coherence and its criteria see: (Bender 1989), (BonJour 1985), (Rescher

1979), (Thagard 1978).]
---
p ∧¬

∧¬ ∧¬p ∧¬

∧¬

Manuel Bremer

Centre for Logic,

Language and

Information

Theory Revision (II)

• Formally the standard methodology of the AGM-approach is

devleoped by axioms for expansion, contraction and revision (as

comprised of the two former operations).

• If inconsistent belief are allowed the underlying logic has to be

changed to a paraconsistent one, since trivial belief systems still don't

make sense.

• Those axioms that lay down consistency [axiom (K5) for revision in

(Gärdenfors 1988), basically] have to be given up.

• Revision has to be defined in a new way along the lines of the socalled

"Levi Identity":

Revision is expanding with A a contraction with ¬A.

• Revision in this sense is paraconsistently meaningful and may increase

coherence (another AGM-axiom, (K7), has to be given up, however).
---
p ∧¬

∧¬ ∧¬p ∧¬

∧¬

Manuel Bremer

Centre for Logic,

Language and

Information

Coherence and Universality

• Epistemology itself may be considered to be at least implicitly

inconsistent, since it is universal (employing semantic concepts).

• Epistemology is universal in that it talks in general and universally

about the conditions of being true or being justified, including the

justifiability or truth of epistemological theories. (It has to be universal

given its philosophical aims and the implausibility of a hierarchy.)

• Universality is especially obvious in case of coherence theories.

Coherence theories claim that given an alternative of theories we shall

chose the theory that is more coherent than the other – whatever that

may mean in detail.

• The coherence comparison is necessary, since more than one theory

can cope with the data given, so that there are no "external" points of

comparison if that meant confronting theories with the world. Rather

theories have also to be compared with each other in the light of the

coherence criteria (like explanatory power, completeness...).
---
p ∧¬

∧¬ ∧¬p ∧¬

∧¬

Manuel Bremer

Centre for Logic,

Language and

Information

Coherence and Universality (II)

• Now, if they are comparable – and arguments against

inconsummerability show that they are – there has to be a super-frame

in which we do the comparison, or an area of overlap of methodology.

• This area of overlap or the super-frame consists of universal concepts

of (theory) appraisal like justified, explanatory, contained in etc.,

concepts that also include the structural concepts of language.

• That we need this super-frame has to be justified within a theory of

coherence (starting from a rejection of both naive realism and

relativism), and it is another way – besides insisting on semantic

closure [cf. Chap. 2] – to justify and outline the proper place of

philosophy (as the general reflection on our (linguistic) ways of

accessing reality).

• The standpoint of the super-frame or the standpoint of comparing

complete webs of beliefs are universal in character and thus – at least

for their containing semantics – are beset with antinomies.

• Coherence needs paraconsistency, even if consistency is a criterion of

coherence for some lower level theories.
---
p ∧¬

∧¬ ∧¬p ∧¬

∧¬

Manuel Bremer

Centre for Logic,

Language and

Information

Epistemic Logic

• Standard Epistemic Logic is a version of modal logic.

• As such it has been controversial in its closure assumptions like

(1) |⎯ A |⎯ KA

(2) |⎯ (A ⊃ B) |⎯ (KA ⊃ KB)

(3) |⎯ KA |⎯ KKA

where "K" is the knowledge operator. (1) claims complete knowledge

of logic, (2) closure of our knowledge under valid implications, and (3)

the self-accessibility of our knowledge. All these claims have been

criticised.

• If one tries to make it applicable to inconsistent belief systems one has

to drop the axiom schemes requiring consistency of belief:

(4) ¬BELIEF(A ∧ ¬A)

(5) BELIEF(¬A) ⊃ ¬BELIEF(A)

Somebody may believe either an explicit contradiction – vs. (4) – or

she may have an inconsistent set of beliefs, such that (5) is not true.

• Giving up (1) – (5) for reasons of psychological adequacy, however,

does not leave much of a logic worth its name!
---
p ∧¬

∧¬ ∧¬p ∧¬

∧¬

Manuel Bremer

Centre for Logic,

Language and

Information

Inconsistent and Impossible Worlds

• Although "inconsistent world" and "impossible world" are often used

interchangeably the two concepts should be kept apart.

• An inconsistent world is a world which for some sentence A contains

both A and ¬A. The world (or the set of sentences it supports) is

closed under the consequence relation of the underlying/assumed logic.

An inconsistent world thus contains inconsistent information or

inconsistent assumptions but does stick to the underlying/assumed

logic. In case that logic is non-paraconsistent the world, of course, is

trivial. If inconsistent worlds are to be non-trivial the underlying logic

has to be a paraconsistent logic.

[Note: We do not care in this chapter what worlds are or whether there are

inconsistent objects; see Chap. 17. Worlds may be assumed here to be just

maximal sets of sentences, i.e. they contain at least A or ¬A for any sentence

A of the language used.]

• An impossible world is a world where the laws of the underlying logic

need not hold, e.g. by non-compositional evaluation of complex

sentences A ⊃ B or A→B. Impossible worlds are so used in Relevant

semantics [cf. Chap.5] to invalidate verum ex qoudlibet sequitur.
---
p ∧¬

∧¬ ∧¬p ∧¬

∧¬

Manuel Bremer

Centre for Logic,

Language and

Information

Impossible Worlds

• Whether impossible worlds have besides their role in Relevant modal

semantics further philosophical functions is controversial.

• Some argue that we use impossible worlds when we reason and argue

about which logic or set theory may be the correct one. But that seems

rather to be a case where we – using some supposedly uncontested

minimal logic – compare and argue whether a set of sentences should

be closed under this or that consequence relation assuming these or

those axioms. Considering what is true according to some theory/logic

assumes for the sake of the argument that the theory/logic is adequate

and reasons according to this. This is not the "anything goes" of

impossible worlds.
---
p ∧¬

∧¬ ∧¬p ∧¬

∧¬

Manuel Bremer

Centre for Logic,

Language and

Information

Impossible Worlds (II)

• Especially, impossible worlds are no counter-instances to a supposed

universal logic [cf. Chap. 20]. Having a universal logic means to claim

possessing a logical framework that can deal not just with the topics of

common talk and the sciences, but also with the paradox ridden fields

of semantics or set theory. Universal logic does not invite an "anything

goes" or claims to deal with it. Universal logic pertains to how our

logical faculties, supposedly, really are, not to collection of arbitrary

evaluations that impossible worlds are. By arbitrary evaluation the

supposed ordinary meaning of terms and compositionality are given up

for grabs by fiat. One should not conclude that there aren't such

meanings from one's own decision to ignore them (in evaluations).
---
p ∧¬

∧¬ ∧¬p ∧¬

∧¬

Manuel Bremer

Centre for Logic,

Language and

Information

Impossible Worlds in Epistemic Logic

• The problem of omniscience in epistemic logic can be dealt with by

employing impossible worlds.

• The problem was that our beliefs are not closed under logical

consequence whereas epistemic modal logic claims just that.

• An epistemic logic with impossible worlds, where the usual

compositional evaluation conditions do not apply, may have a

restricted version of epistemic necessitation, restricted to the logical

laws known by the agent in question (i.e. holding in all the worlds,

including maybe impossible worlds, which are compatible with the

agents beliefs).

• Let Ω be the set of known or believed logical laws, and let PC be the

logic to be extended, then an omniscience restricting epistemic logic is:

(PC) All PC-theorems are theorems.

(K1) KA ⊃ A

(K2) KA ∧ K(A ⊃ B) ⊃ KB

(MP) A, A ⊃ B B

(NK) A, A ∈ Ω KA
---
p ∧¬

∧¬ ∧¬p ∧¬

∧¬

Manuel Bremer

Centre for Logic,

Language and

Information

Impossible Worlds in Epistemic Logic (II)

• So, by (K2) an agent detaches the logical consequence of what she

knows (or believes), but the logical consequences she takes into

account depend, by (NK), on whether the implication in question is

included in her logic knowledge set Ω.

• The semantics of this logic requires that even if these sentences may

also be false in the impossible worlds the known logical laws are also

true in the belief worlds of that agent.

• Truth in a model is defined – as in similar Relevant semantics – as

truth in all normal worlds.

• The logic can be shown to be adequate given this semantics.
---
p ∧¬

∧¬ ∧¬p ∧¬

∧¬

Manuel Bremer

Centre for Logic,

Language and

Information

Explicit vs. Implicit Belief

• Another way to avoid the counter-intuitive consequence of closure of

belief (especially Explosion) is to distinguish explicit belief and

implicit belief.

• Whereas one may claim that one is implicitly committed to all the

consequences of what one believes one need not explicitly draw these

consequences.

• Distinguishing an operator for implicit beliefs from an operator for

explicit beliefs Levesque (1984) introduces a new epistemic logic.

• Explicit belief obeys closure under the axioms for entailment in this

logic! That is, one only believes Relevant consequences of one's

explicit beliefs explicitly. Neither closure nor Explosion hold for

explicit belief.

• The standard closure principles (including Explosion), however, hold

for implicit belief. – That again seems problematic, since any

contradictions thus forces one to implicitly believe anything. Even so

this is implicit belief, it is just too much.
---
p ∧¬

∧¬ ∧¬p ∧¬

∧¬

Manuel Bremer

Centre for Logic,

Language and

Information

Rejoinder on Closure in Epistemic Logic

• One hypothesis on propositional attitudes might be that the very point

of propositional attitudes is to block closure (i.e. failure of closure is

no failure at all). Why should closure be blocked? Because – so one

might argue – people may believe/intend… contradictory

propositions/sentences/states… and our otherwise employed (real)

logic is PC! So to avoid Explosion in reporting someone's believes or

in stating one's owns beliefs closure has to be block (e.g. by a failure of

adjunction of beliefs). So – the argument might continue – the failure

of closure is only a problem for paraconsistent logicians and their

claim that there is no usage of ex contradictione in the first place!

• Now, although the hypothesis may sound interesting at the beginning,

our reluctance to let our inconsistent beliefs and theories explode (and

become trivial) sheds doubt on the claim that we use the full force of

PC, as argued before. Further on, if, as some theories of cognitive

representation claim, all we believe/assert… stands – implicitly – in

the scope of a "I believe/assert… that"-operator, then we employ

closure principles like adjunction and detachment all the time, at least

in our own case. The hypothesis has more force in the case of reporting

someone else's beliefs which we know to be inconsistent. So there

may be restricted closure in 3 rd person reports on beliefs…
---
p ∧¬

∧¬ ∧¬p ∧¬

∧¬

Manuel Bremer

Centre for Logic,

Language and

Information

Inconsistent Worlds and Fiction

• Some works of fiction are inconsistent, but as with inconsistent

theories that does not mean that they are trivial (i.e. claim that

everything is the case in the world described). So with respect to such

fiction a paraconsistent logic is needed.

• These works of fiction, on the other hand, rely on the reader drawing

conclusions (i.e. they employ and stick to some logic). Because stories

rely on the reader to fill in all the missing details (like persons

mentioned having a birthday, the sky being above the ground …) they

require that large parts of our common background knowledge and our

logic are still in force. An impossible world, by contrast, needs to be

specified completely in advance, since all or at least too many

sentences are logically independent of each other.
---
p ∧¬

∧¬ ∧¬p ∧¬

∧¬

Manuel Bremer

Centre for Logic,

Language and

Information

Paradoxes of Confirmation

• Although this is not directly related to paraconsistency, Relevant

Logics are able avoid some of the paradoxes of confirmation theory.

• One standard is the Raven Paradox. The hypothesis

(1) All Ravens are black./(∀x)(Raven(x) ⊃ Black(x))

can be confirmed, supposedly by positive instances. If a sentence is

confirmed, then so should be all the sentences that are logical

equivalent to it; and these are in FOL, for example,

(2) (∀x)(Raven(x) ∧ ¬ Black(x) ⊃ Raven(x) ∧ ¬ Raven(x))

(3) (∀x)(¬ Black(x) ⊃ ¬ Raven(x))

Now, (2) it seems can never be confirmed, since its consequence

contains a contradiction; (3) has the – supposedly paradoxical –

consequence that every instance of a non-black thing (e.g. a piece of

chalk) supports a thesis about ravens.

• In many PLs (e.g. in SKP) neither (2) nor (3) is logical equivalent to

(1), so even maintaining the thesis of confirmation equivalence of

logical equivalents the Raven Paradox does not ensue.
---
p ∧¬

∧¬ ∧¬p ∧¬

∧¬

Manuel Bremer

Centre for Logic,

Language and

Information

Assessment

• Within the philosophy of science we can see weak paraconsistency at

work. There is plenty evidence that we need some weak paraconsistent

modelling in some examples from the history of science and in theory

change.

• There is no need for dialetheism in the philosophy of science, since

scientists, although working for some time with inconsistent theories,

still assume that reality is consistent and thus the ultimate theory will

be consistent.

• In case of epistemology the general argument tying universality in

philosophy to dialetheism applies. A universalist – "transcendental" –

philosophy of knowledge can only be dialetheist.
---
p ∧¬

∧¬ ∧¬p ∧¬

∧¬

Manuel Bremer

Centre for Logic,

Language and

Information

Questions

• (Q1) Why does the Raven Paradox not arise in SKP? That is:

why can't (2) or (3) not be derived from (1)?

• (Q2) A ∧ ¬A being observable (a modal claim) can only

mean that there are situations/worlds where A ∧ ¬A

really is observed. It is not just a seeming! How could

that be? – Try it for yourself!

• (Q3) Within philosophy of science there has been a shift from

a model of theories as logically closed sets of sentences

towards the so called structuralist theory (Sneed 1979,

Stegmüller 1986), which sees theories as defined by

models in the manner of set theory. The structualist

picture distinguishes between the core of a theory and

its full models and intended applications. Is this picture

less opposed to the idea of inconsistent theories than the

standard view (so called "statement view") of theories?
---
p ∧¬

∧¬ ∧¬p ∧¬

∧¬

Manuel Bremer

Centre for Logic,

Language and

Information

Exercises

• (Ex1) In case you are familiar with the AGM-approach to

belief revision, try to find a paraconsistently possible

case of belief revision in which axiom (K7) for revision

is invalidated.

• (Ex2) Go through a model case of logical omniscience being

restricted to some Ω, using (K1), (K2), (NK).
---
p ∧¬

∧¬ ∧¬p ∧¬

∧¬

Manuel Bremer

Centre for Logic,

Language and

Information

Further Reading

• A reader dedicated solely to paraconsistent modelling and

interpretation of inconsistency in science is: Meheus, Joke (Ed.)

Inconsistency in Science. Dordrecht, 2002.

The examples in this chapter are mostly taken from that book. The

essays in it deal both with static as well as dynamic inconsistency

(using adaptive logics).

In that book you also find (Priest 2002) and (Miller 2002).

• On paraconsistent belief revision cf. Fuhrmann, Andre. "Theory

Contraction Through Base Contraction", Journal of Philosophical

Logic, 20 (1991), and especially: Tanaka, K. "What Does

Paraconsistency Do? The Case of Belief Revision", The Logica

Yearbook 1997, ed. by T. Childers, Prague, 1998, pp. 188–197.

• On standard Epistemic Logic see (Lenzen 1980). A critic of its closure

conditions you find in (Hintikka 1970 and 1973). On its paraconsistent

restriction see (Routley 1979a, pp. 884-94).
---
p ∧¬

∧¬ ∧¬p ∧¬

∧¬

Manuel Bremer

Centre for Logic,

Language and

Information

Further Reading (II)

• The Notre Dame Journal of Formal Logic devoted an issue, Fall 1997,

to theories of impossible and inconsistent worlds, edited by Graham

Priest.

• Veikko Rantala applied impossible worlds to the omniscience problem

of epistemic logic; cf. "Impossible Worlds Semantics and Logical

Omniscience", Acta Philosophica Fennica, 35 (1982), pp.106-15.