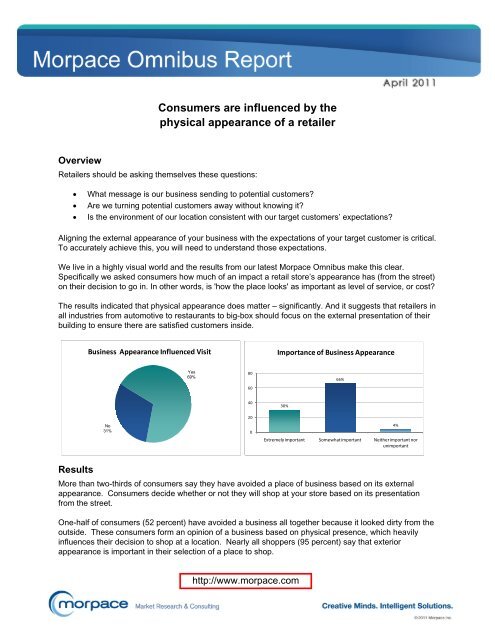 Morpace Omnibus Report-Physical Appearance - Amazon Web ...
Morpace Omnibus Report-Physical Appearance - Amazon Web ...
Morpace Omnibus Report-Physical Appearance - Amazon Web ...
SHOW MORE
SHOW LESS
Create successful ePaper yourself
Turn your PDF publications into a flip-book with our unique Google optimized e-Paper software.
Consumers are influenced by the

physical appearance of a retailer

Overview

Retailers should be asking themselves these questions:

• What message is our business sending to potential customers?

• Are we turning potential customers away without knowing it?

• Is the environment of our location consistent with our target customers' expectations?

Aligning the external appearance of your business with the expectations of your target customer is critical.

To accurately achieve this, you will need to understand those expectations.

We live in a highly visual world and the results from our latest Morpace Omnibus make this clear.

Specifically we asked consumers how much of an impact a retail store's appearance has (from the street)

on their decision to go in. In other words, is 'how the place looks' as important as level of service, or cost?

The results indicated that physical appearance does matter – significantly. And it suggests that retailers in

all industries from automotive to restaurants to big-box should focus on the external presentation of their

building to ensure there are satisfied customers inside.

Results

Business Appearance Influenced Visit

No

31%

Yes

69%

80

60

40

20

0

Importance of Business Appearance

30%

66%

Extremely important Somewhat important Neither important nor

unimportant

More than two-thirds of consumers say they have avoided a place of business based on its external

appearance. Consumers decide whether or not they will shop at your store based on its presentation

from the street.

One-half of consumers (52 percent) have avoided a business all together because it looked dirty from the

outside. These consumers form an opinion of a business based on physical presence, which heavily

influences their decision to shop at a location. Nearly all shoppers (95 percent) say that exterior

appearance is important in their selection of a place to shop.

4%
---
One-third of consumers have not entered a business because it "didn't look like a place I would normally

shop." These consumers may not have been able to put a finger on specifically why they didn't want to

shop there, but there was something about its appearance that gave them pause.

Even with the common perception that consumers build strong loyalty to a business, approximately 80

percent of consumers are open to shopping at new places, and most of them have visited a business

outside of their normal routine in the past six months.

Frequently Open to Shopping New Places

No

17%

Yes

83%

Have Shopped Somewhere Different

in the Past 6 Months

When considering what's important in selecting a place to conduct business, cleanliness and organization

is as important as customer service and cost.

More than 80 percent of consumers admit they have shopped only once at a location and never returned

because it did not meet their expectations. And while customer service is important to the customer's

experience, "being able to find what I'm looking for" is nearly as important; one-third have not returned to

a place because it was perceived as 'dirty'.

No

17%

80

60

40

20

0

Shopped Once and Didn't Return

Appearance Factor that Most

Influenced Decision to Not Go In

52%

Looked dirty from the

outside

Yes

83%

11%

Looked outdated/old

from the outside

2

80

60

40

20

0

68%

No

30%

Poor customer

service

53%

39%

Didn't look like place I

would normally shop/visit

Disorganized ‐

Couldn't find

what I was

looking for

32%

18%

Yes

70%

Most Impacted Decision to Not Return

(Multiple Mention)

Dirty Questionable

clientele

8%

Other
---
Conclusions and Recommendations

At the very least, retailers should consider developing a research plan to evaluate the external

presentation of their operations as part of their overall marketing efforts. The perceptions that consumers

have of the "look" of a retail storefront may not agree with the retailers'. After all, the expectations

consumers have are developed largely by what your competitors are doing.

In addition to "appearances," another consideration is your level of consistency. For example, the physical

layout, signage or external appearance of a storefront should be consistent, particularly in a given region

or target market.

Let us help you understand the consistency of your retail environment, guide specific improvements and,

reinforce your desired brand image.

For further insights, or to explore research opportunities, contact Jason Mantel, Morpace Vice President,

at 248.539.5252 or jmantel@morpace.com.

A total of 1,000 consumers were surveyed February 10-15, 2011 as part of the Morpace Omnibus.

3