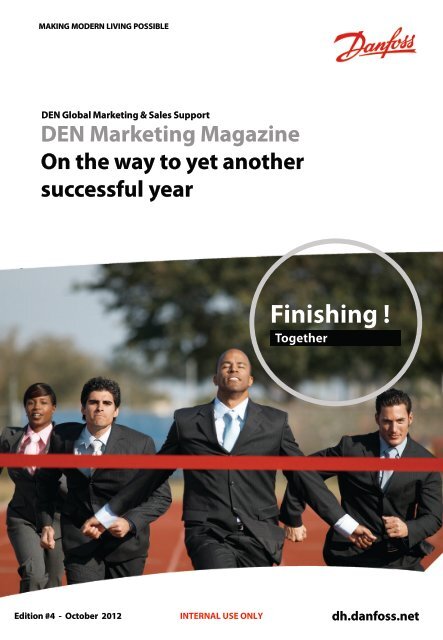 Finishing ! - Danfoss.com
Finishing ! - Danfoss.com
Finishing ! - Danfoss.com
SHOW MORE
SHOW LESS
You also want an ePaper? Increase the reach of your titles
YUMPU automatically turns print PDFs into web optimized ePapers that Google loves.
MAKING MODERN LIVING POSSIBLE

DEN Global Marketing & Sales Support

DEN Marketing Magazine

On the way to yet another

successful year

Edition #4 - October 2012

INTERNAL USE ONLY

Finishing !

Together

dh.danfoss.net
---
The DEN Global Marketing and Sales Support

team…

Edition #4 October 2012

2
---
Editorial by Jens K. Pagh Schmidt, Manager Strategic Marketing

• Listen to the voice of the customers_____________________________________________4

Marketing communication and Launch support ___________________________________6

• DEN/HS Marketing Network Meeting #4 __ _______________________________________8

• ISH 213 is coming___________________________________________________________10

• Telling the success story about district energy____________________________________12

• Product documentation catalogues ____________________________________________14

• Sales & Marketing intranet - satisfaction survey __________________________________16

• BaBV - Balancing Ball Valves launch ___________________________________________18

• Control Components overview leaflet _________________________________________20

• New group photos and optimized photo packages _______________________________22

• ECL Portal exhibition display__________________________________________________24

• Competitor benchmark, marketing communication _ _____________________________26

• Using KPI's to track performance ______________________________________________28

• New customer visits coordinator ______________________________________________30

Strategic Marketing __________________________________________________________32

• DEN Market Plans 2013 ______________________________________________________34

• Results of Project Hello 2012__________________________________________________36

• Customer Perception Study CPS 201___________________________________________38

• Application handbook – update_______________________________________________40

eBusiness___________________________________________________________________42

• Online presentation solution , application handbook _____________________________44

• Image bank, latest news on DEN content _______________________________________46

• Internet sites now available as mobile version ___________________________________48

• iPaper Catalogs, update _____________________________________________________50

• Roll-out of the new news sign-up page_________________________________________52

• Customer Oriented Web –COW update ________________________________________54

• Product Catalog Update_____________________________________________________56

• eCommerce, status ________________________________________________________57

Technical Documentation and eLearning________________________________________58

• Online documentation proofreading __________________________________________60

• Re-newed DL-DEN intranet site to courses______________________________________62

3
---
How loyal are our customers ?

How do our customer perceive us compared to our competitors ?

Jens K. Pagh Schmidt,

How does our managers experience the voice of the customers, when visiting them ?

These are some of the important questions, we ask and try to answer, in order to bring

forward the customer voice, into what we are doing in District Energy.

Customer Loyalty Index (CLI) is a yearly measure, where the loyalty of our customers are

measured through one simple question; "Can you recommend Danfoss to a colleague" ? –

this years result, which was presented in the spring, was very positive (score 41, compared

to 31 in 2011)

Head of Strategic Marketing

DEN Global Marketing and Sales support

Listen to the voice of the customers…..

Customer Perception Study (CPS), is a more in-depth study about our customers

perception of us. This year the study has been running in April-June 2012, where total 750

customers in 5 different countries have been interviewed about what they think is

important for them, and how Danfoss and our biggest competitors are performing.

4
---
The results revealed that we overall are performing quite well, not exceptional, and with

some clear indications that we need to improve within certain areas, such as customer

service and support and claim handling.

Project Hello, is a program, where managers from the entire DEN organization spend 1-2

days with sales colleagues, visiting customers, in order to experience and listen directly to

customer feedback on our performance.

These are the 3 key "customer centricity" initiatives which strategic marketing has been

running this year. It is important and crucial for our business, that not just the ones with

direct customer contact, but the entire organization focus on listening to the voice of the

customer, thus enabling us to bring increased value to our customers.

In this edition of the marketing newsletter, you can read much more about the CPS results

and the process, as well as the Project Hello.

Enjoy the reading of the newsletter – and remember every day to listen to the voice of our

customers.....

5
---
Marketing communication and Launch support

6
---
Synergies to lift marketing performance

DEN/HS Marketing Network Meeting #4

When 40 marketing specialists from 17 countries representing DEN and HS met up in Vienna for the

yearly cross divisional Marketing Network Meeting 18-19 September focus was on inspiration,

knowledge sharing and celebration of the success in 2011 and 2012. Also, a major theme was how to

take the next step to even stronger market impact through well planned and firmly executed marketing

campaigns and activities.

'We have come a long way since we started up these marketing network meetings in 2010. One of the

proofs is the creative audit we do every year and that is presented at these meetings. We can now see

that 83 per cent of the marketing material we produce is either completely in line or "almost there" with

the Danfoss Design standards.

Another success story that we can share across the two divisions are COW – the customer oriented web

sites that we are implementing in all markets. From 2011 to 2012 web sites traffic has gone by 25 per

cent. I show that customer centricity is an important driver for our market communication,' says

Marketing Communication & Launch Support Manager in DEN, Thomas Heide Jørgensen.

'We also took the opportunity to look ahead and challenged ourselves on how we can lift the

performance even more. One of the things we need to become better at is utilizing synergies across

markets and share ideas and campaigns.

Presentations from group work by Ilya Chaplinski, RUCO (left) and Eva O. Andersen, DKSC

We have some great examples of projects where we have conducted campaigns across markets – the

Danfoss Elite program we are running for installers is a good example and also our campaign 'Going for

Gold' leading up to this years Olympics in London gave great results. We will look into doing more

centrally developed campaigns that easily can be adapted and implemented in the local markets,'

explains Senior Marketing Manager in HS, Jes Bjørn Simonsen.

8
---
China and Germany took the prices

At the dinner Tuesday evening – with great

traditional Austrian food on the plates – the

winners of the two yearly marketing awards was

celebrated among the 6 nominees.

Winner of the Creative Audit Award 2012 was

the Chinese HS and DEN marketing teams and

Sales Director Xinchun Zhou received the price

for the highest improvement in compliance with

the Core & Clear design standards.

Marketing Manager Michael Schumburg, DEDEN,

winner of the Best Integrated Campaign Award.

Danfoss District Energy Germany won the Best Integrated Campaign Award for the DanFlat-campaign,

that was a result of a strong cooperation between the local sales organisation in Germany and the core

launch team of DEN in Nordborg.

The award was received by Marketing Manager Michael Schumburg who explains: 'Our campaign

shows that efficiency of market communication is very much related to the number of activities,

media input and the way they are linked together. It was great to receive the award in front of so many

good colleagues. We see it both as recognition for the job we did but also as a challenge for the

future. This will urge us to continue working together as one team – but also to remember to celebrate

our victories'.

Thomas Heide Jørgensen

Manager,

DEN marketing communication & launch support

thomas_heide@danfoss.com

9
---
ISH 2013 is approaching

Venue: Frankfurt am Main / Germany

Soon it will be time again for the ISH exhibition, which takes place during March 12-16 th 2013. Similar as

previous years Danfoss will be present at stands in 3 different halls.

As each exhibition hall is categorized according to a specific application and product focus the

presence in each hall is of importance due to visibility and relevance towards the key visitors. The main

DEN presence will be in hall 8, where we similar as in 2011 will host visitors and business stakeholders

on a stand of 80 m 2 .

In DEN a dedicated project team is organized together with our German sales & marketing organization,

represented by Michael Schumburg. Together with colleagues from HS and PE divisions we have

kicked-off the preparations and are current defining the overall marketing story and theme, which in a

strong way will link the stands together and communicate that Danfoss has solutions ready within

climate and energy.

Different than in earlier years we aim to rethink the utilization of the exhibition stand, so that more

focus comes on

1] Customer relevant needs, i.e. energy efficiency/savings and DHW quality

2] Application & product news

3] Support tools and services, i.e. selection tools like Hexact and EvoFlat

We will during the coming weeks and months involve relevant colleagues in the DEN BU's and DSC's to

proceed with our ISH 2013 preparations.

10
---
Learn more on:

www.ish.messefrankfurt.com

ISH 2013, March 12-16 th 2013,

Frankfurt am Main /Germany

Thomas Heide Jørgensen

Manager,

DEN marketing communication & launch support

thomas_heide@danfoss.com

11
---
Telling the success story about district energy

Supported by our category communication toolbox

As mentioned in the DEN marketing magazine #3, the recent years increased political focus

on renewable energy sources and energy efficiency has called for the necessity to play an

proactive role within public and industrial affairs to getting district energy put on the

agenda.

Cover of the ECOPOLIS tabloid

Check it out on:

www.ecopolis.danfoss.com

Info graphic – Open source energy

infrastructure with district energy

12
---
This have added an new dimension to the marketing communication of DEN division.

Especially since 2009 with the COP 15 summit in Copenhagen, many efforts have been

invested activities and development of material supporting our public and industry affairs

communication.

We are proud to launch the ECOPOLIS tabloid magazine, which is the center piece of our

district energy communication platform. It explains what district energy is about, how does is

work and why is a viable solution for sustainable heating and cooling of cities. Currently

versioning into German, French, Russian and Chinese is planned for Q4/2012.

Soon a dedicated ECOPOLIS landing page will be launch. The purpose is to motivate the

visitor to take action, by studying selected content from the tabloid i.e. the info graphics,

access reports and white papers for download or request contact to Paul Voss and his DEN

public affairs team.

By request we will be pleased to forward you a PPT that outlines the toolbox of available

district energy category communication material.

PPT overview – DE category

communication toolbox

Thomas Heide Jørgensen

Manager,

DEN marketing communication & launch support

thomas_heide@danfoss.com

13
---
Product documentation catalogues made easier

A new concept for automating and optimizing

Typically it is a quite comprehensive and cost intensive task to compile, distribute and update

the 750+ product binders, which are handed out to our customers each year. A product binder

is typically build around a larger number of single documents, i.e. leaflets, data and product

sheets as well as contact information etc. Keeping it updated at the customers place is often

done by replacing a complete binder, even though just documents are changed. This we

would like to change!

Together with our German DEDEN colleagues, we are right now we are running a pilot and

developing a new concept for product documentation catalogues. Based on our "iPaper

catalogue engine" we want to automate and optimized the process for compilation of

catalogues. In the first phase we will introduce 5-7 pre-defined catalogue, which in printed

form replace the current product binders (consisting of 25+ individual documents plus the

binder itself). When proof-of-concept is tested, we expect later to enable higher degree of

print-on-demand and customization.

The pilot project in brief:

Purpose:

• Introduce standardized catalogues as replacement for product binders, based on data

sheets and selected sales leaflets

• Reduce versioning/adaptation efforts, by reusing existing technical documentation in local

language

• Test opportunity for print-on-demand and customization

Key deliverables:

• Catalogue concept, incl. layout content structure and necessary content elements (index,

section dividers, imagery)

• Pre-defined DEN product catalogues (for 5-7 product groups)

• "Branded" cassette (as replacement for the previous used binder)

Requirements for getting started:

• Local tech. documentation (data sheets) available and stored in PCM

• Use of iPaper catalogue builder with administrator user rights

• Compilation of catalogue and preparation of print-ready file

In the next magazine edition, we will present the result of the German pilot project and be

able to share the first feedback, received by customers, sales representatives and other

internal stake holders

14
---
Thomas Heide Jørgensen

Manager,

DEN marketing communication & launch support

thomas_heide@danfoss.com

Outline – New concept for product

documentation catalogues

15
---
Sales & Marketing intranet

User satisfaction survey

In August, we conducted a user satisfaction survey of our Sales & Marketing intranet, which

covers the areas of: Sales & marketing tools, eBusiness, Pricing & Business Support, Danfoss

Learning – DEN and Strategic Marketing.

The results showed an overall satisfaction of 3.3 (1 = very satisfied and 7 is very dissatisfied),

which is slightly above average. The general satisfaction within the five areas was almost at

the same level (varying from 3.1 – 3.4). We also asked whether it is easy to find the things

people are looking for? Here the result was 3.2 (1 = very easy and 7 is very difficult), again

slightly above average.

In order to improve the satisfaction of our S&M intranet, we are right now in the process of

evaluating and to start implementing several of the improvements that were pointed out by

you in the survey. Some examples:

16
---
Sales & marketing tools:

• More case stories and animations plus missing case study about EvoFlat systems

• More info about each document

• PPT presentations for Danfoss Learning training materials should have its own section

• Separate section for promoting NEW sales tools

• Missing general presentations for main DEN product groups

• More material about heavy and low duty stations

eBusiness:

• Images are not easy to find (PIM portal)

• More images of applications

To increase awareness and use, we have now decided to carry out an on-line training – a guided tour

and introduction to the S&M intranet. The training takes place on November 7, so please feel free to

sign up (duration: approx. 35 min.). Sign up here:

http://portal.danfoss.net/divisions/DEN/DL/Lists/Course%20calendar/calendar.aspx?CalendarDate=0

5%2D10%2D2012

The survey was sent to 150 people in DEN/HS worldwide and the response rate was approx. 50%. We

will conduct a new survey in January 2013 to measure the impact of our continuous improvements.

Link to DEN Sales & Marketing intranet:

http://portal.danfoss.net/divisions/DEN/SaM/Pages/default.aspx

Lotte Petersen ,

Marketing Assitant

DEN marketing communication & launch support

Lotte_Petersen@danfoss.com

17
---
BaBV - Balancing Ball Valves

Marketing toolbox for product launch

BaBV- sales promotion leaflet

For the support of the new balancing ball valves product launch on the first wave markets

China and Russia , we have created a marketing toolbox to support this launch.

Balancing ball valves are a combination valves with shut of function and balancing function.

In order to raise the awareness with the target customers and present the product benefits we

have created the marketing launch toolbox that consist of a sales promotion leaflet, photo

library , technical documentation and a power point value proposition presentations .

18
---
Photo package - with optimized resolution for use in power point presentations

With the sales promotion leaflet we communicate the most important benefits to our

customers, and in this case it is the combination of both functions shut off and balancing

in one product. The BaBV as it is known in short will be launched in the two selected

markets , China and Russia. With this we are continuing the marketing support for the

new product launch process.

Ivan Temovski ,

Marketing Consultant

DEN marketing communication & launch support

Ivan.temovski@danfoss.com

19
---
Control Components overview leaflet

Presenting the only complete range on the market

The new Control component's for district heating overview in its first deliverable a print

leaflet will be available in November., and currently is in the final stage of proofreading. A part

from the leaflet the new overview communication platform of our component's offer will be

integrated online on our heating portal and presented in a PowerPoint presentation in this

phase. In future we will further develop the communication platform that is focused on the

functions in the district heating system that are performed by our products . Since trough

these functions we help the effective and efficient operation of the district heating system .

20
---
The leaflet is designed to be a standard functional material for sales engineers and our

customers, giving an overview , presenting the benefits of all component product groups and

trough combination table and more detailed product tables guiding the customer to the

specific technical information that he needs. It is intended for existing customers to have it as

a helpful guidebook, and for potential customers to be bale to get a information regarding the

whole product range of component's for district heating that Danfoss offers.

Ivan Temovski ,

Marketing Consultant

DEN marketing communication & launch support

Ivan.temovski@danfoss.com

21
---
Upgrading our visual material

New group photos and optimized photo packages

DP&Q Flow Controllers

Ball Valves

As part of the development of the new control component's for district heating communication

platform and deliverables, we have used the opportunity to update some of the group photos for

the above product groups, as well as develop some future and stylish single product photos.

The new group photos and single photos can be found on the new image bank – PIM portal :

http://pim.danfoss.net/Pages/Default.aspx

Temperature Controllers

All the photos are also available in a resolution optimized for use in PowerPoint, for this purpose we

have created special photo packages in zip format with by product group.

Motorized Control Valves

All the above product groups have PPT optimized photo package, this photo packages will be in

future available on the DEN sales and marketing tools section on DEN intranet and in PIM portal .

22
---
Extensive photo package – high res and ppt

The single product photos developed can be sued for seminar invitations, ad's , posters , online for

exhibition . For some of this product groups we significantly updated and increased the available

photo library in quantity and quality .

Ivan Temovski ,

Marketing Consultant

DEN marketing communication & launch support

Ivan.temovski@danfoss.com

23
---
ECL Portal

A new high-end exhibition display

At the Mostra Convegno exhibition in Italy in March, we demonstrated the new ECL portal to

the Italian audience. The display is interactive by means of a touchscreen display connected to

the internet where the web version of the portal is displayed, and by an Android tablet on

which the app version is demonstrated. The display attracted many interested visitors who

got the chance to experiment with the portal by the assistance of a Danfoss colleague.

The display has now been upgraded to be sustainable for repetitive use, and for those markets

which will launch the portal in the coming time, this will be a great opportunity to use for

internal training and/or demonstrate the concept for customers.

24
---
Thomas Kristian Hansen

Marketing Consultant,

DEN marketing communication & launch support

tkhansen@danfoss.com

25
---
Competitor benchmark

New insight for best practice marketing communication

What are our competitors telling their customers? Are they offering novel digital tools like

apps and if yes, which kind? How are they acting when they are participating in exhibitions

and which material are they handing out to visitors?

These are all questions that go about for all of us working within marketing and sales, and we

all have some kind of idea of what the competitors are doing. Now, we are taking a step up

and by a structured approach we attempt to get a clearer view on how our competitors

communicate.

So far we have processed some of the main competitors on the international scene, and here

are a few of the main conclusions:

• Digital tools like apps and videos are starting to emerge

• Social media is still at an early stage

• Compared to competitors, Danfoss has a high level of quality and professionalism in

marketing communication.

26
---
The benchmark has so far included main competitors at an international level. Next important

step will be to dig in to local markets, and map main competitors on a local scale. This will

require your involvement and expertise, and we look forward to cooperating with you on this

matter!

Thomas Kristian Hansen

Marketing Consultant,

DEN marketing communication & launch support

tkhansen@danfoss.com

27
---
Getting the most bang for the buck

Using KPI's to track performance

Choosing the right channels and tools to get messages across to our customers can often be a

challenge. We want to use the ones that are most effective and bring most value, but which

ones are actually satisfying these criteria?

A gut feeling from a marketing expert is always a good starting point for such an assessment,

but even more so, a proven track record of the performance of channels and tools will be an

even better platform to base decisions upon. Furthermore, a continuous assessment of

performance will be a solid ground to base corrective action upon and analyze the root causes

for the measured performance.

28
---
In Global Marketing, we have established a number of KPI's that we will start tracking. The KPI's

will cover performance of both internal and external platforms ranging from intranet and

internal training to external platforms e.g. printed marketing material, videos and heating

portal sites. Some of the KPI's will be tracked in close cooperation with you, so we look forward

to involve you in the coming time.

Thomas Kristian Hansen

Marketing Consultant,

DEN marketing communication & launch support

tkhansen@danfoss.com

29
---
New customer visits coordinator

Edel helps making customers wiser about DEN

Denmark is a laboratory for district heating technology. So, customers often come to Denmark

and the Danfoss headquarters to learn more. The interest is so great that DEN now has a full-

time employee to ensure customers a good experience – and to arrange cross-divisional

coordination during the visits. Her name is Edel Mathiesen. Click here to learn how she can

help you. Combined heat and power utilities and buildings with energy-efficient district

heating installations are common in Denmark. Consequently, Russian and Chinese

manufacturers of district heating solutions are increasingly coming to Denmark and Danfoss'

headquarters to learn more about green heating.

And Customer Visit Coordinator in DEN Edel Mathiesen is on the welcoming team. Her job is

to ensure that both customers and Danfoss get the most out of the visits.

"It is interesting, though hectic, with all the contact to customers and sales companies. So, we

have set up an intranet site where sales companies can register how many customers will be

arriving and what they would like to see. This helps us prepare better," she says, adding that

the work also involves cross-divisional coordination as customers often represent several

climate and energy sectors.

30
---
Edel typically books hotels and arranges guided tours at Danfoss headquarters and organizes visits

to combined heat and power utilities and construction projects. And, according to Edel's manager,

Marketing Communication Manager Thomas Heide Jørgensen, the efforts are worthwhile:

"The visitors are often decision-makers in the business community or the public sector and

represent urban areas numbering several million inhabitants. So, naturally, it is important that they

get to see projects and technology that make them more informed about and more interested in

Danfoss."

Edel Mathiesen usually books a guided tour of the office of

Danfoss founder Mads Clausen for the customers

Edel Birthe Mathiesen

DEN Customer visit coordinator

DEN marketing communication & launch support

Edel.Matt@danfoss.com

31
---
Strategic Marketing

32
---
DEN Market Plans 2013

Planning for the future success

Market plans are being updated for the 25 main DEN markets;

RU, CN, DE, DK, S, FI, PL; AT, UA, RO, NL, TR, CH, UK, F, E, I, RS, SI, HR, CZ, SK, H, BG, KZ

The market plans, continous to be the facilitator for implementing the DEN-S perspective,

- and similar to last autumn, we are also this year working on updating the "DEN market plans" for

the coming year.

For the 2013 version, only minor changes in the content has been done. Changes which will

strengthen the customer focus in the plans, as well as strengthen the business and activity plans.

34
---
The market plan process has this year been moved 1 month ahead, meaning that we are just now

in the process of finalizing the plans, so that they can be used as inputs for the target setting

process.

Market plans, are being updated in the same 25 markets as last year, covering the majority of the

DEN business.

The DEN business units, have been asked for inputs to the market plans, securing alignment with

their priorities. Next step in the process will be to present the plans for the main markets to the BUs

in some common meetings, to align on and approve the plans.

With the updated market plans, we continue to have an excellent overview of the different district

energy markets, as well as a strong platform for our activities in the markets for the coming year.

Market plans are available at the DEN-S reporting site, via this link: (limited access):

DEN Market Plans 2013

Jens K. Pagh Schmidt

Strategic Marketing Manager

DEN Strategic Marketing

jps@danfoss.com

35
---
How to become a more customer oriented organization

Results of Project Hello 2012

Project Hello is an initiative that takes a general step towards a more customer oriented

organization.

During this springtime and summer 24 DEN Managers from different departments (such as HR,

Finance, Operations, Marketing, R&D, Sales etc.) spent one full day each with Sales Engineers

from various Sales Organizations to meet and to talk to customers and to experience a day out

in the field.

The participants were asked to comment on many aspects in regards to how Danfoss DEN is

perceived by our customers. All this input is now summarized and analyzed . The key findings

and the most common feedback from DEN managers who participated at Project Hello 2012

are*:

• All in all it is perceived that we live up to our Value Proposition & we are seen as a company

with good reputation and high values.

• Our strenghts are seen in the interaction with customers and in our knowledge and

expertise. In order to keep or even increase customer interaction and loyalty we need keep

the level of expertise and we need to focus on internal processes.

• Quality is one of the basics we need to keep an eye on – either sustain or improve where

needed.

• The price level of our products is high, but if we get the basics right and if we fulfill the

needs of our customers the price is accepted by customers.

The most important learnings from Project Hello are also seen in the latest CPS results. Based

on the CPS results a list of follow up activities already have been defined by local sales teams as

well as by BU´s. Therefore the key findings from Project Hello will be incorporated to CPS

Follow Up Activities.

The general feedback from participants on Project Hello is very good. It is seen as a chance to

learn more about our customers as well as to discuss and share experience with local Sales

Engineers.

36
---
Bjarne Schultz, Senior Director, says: "Project Hello is a perfect opportunity for DEN to become a more

customer oriented organization. Everyone has the opportunity to gain a deeper understanding about

our customers and how they work, think and what they ask for. So it gets more clear how one can

support the customer within the own area of responsibility."

* Please note, that the project is done on individual level – naturally the results are subjective - that is to be considered

when reading the results

Gabriele Haydn-Strohmaier

Strategic Marketing Specialist

DEN Strategic Marketing

gabriele.haydn-strohmaier@danfoss.com

37
---
From Insight to Action

Customer Perception Study CPS 2012

In today's business environment we cannot afford to lose a single profitable customer and

knowing that customer satisfaction and loyalty can be directly translated into profitability, we

simply must listen to our customers.

In DEN we track our customer satisfaction on a regular base and our latest customer

perception survey (CPS) was conducted across Germany, Austria, Poland, Sweden and Finland

during April-June this year . In each market we focused on Installers, Consultants and District

Heating Utilities. The key findings from this years´ study are:

• We have a good reputation among our customers

• We are recognized for high product quality and reliable product performance

• The relationship to our customers is very strong

• We need to focus on internal processes - such as claim handling, customer support and

service

38
---
Listening to our customers and obtaining the data is the first step, but to get the full value of

the findings it needs a second important step: to convert the customer insight into action.

That is why we have created a handover process that involves stakeholders both from Sales

and BU´s.

Based on the results of CPS we have held workshops together with representatives of all

involved sales organizations as well as with all DEN BU´s. The purpose of the workshops was to

discuss and reflect our customers input and to define activities, that need to be done. In that

way we ensure that the customer´s voice is heard across the DEN organizations from Sales to

R&D, Operations, Product Management and Supply Chain Management.

The outcome of each workshop is a list containing activities, which refers to local sales

organizations (e.g. activities about internal processes, trainings, customer support etc.) as

well as to BU´s (.e.g. activities about claim handling, information flow, quality improvement

etc.) The actions are connected to a time plan as well as to a responsible person each and have

already started to be implemented.

We are very happy with the feedback we are getting from the teams involved in the process

and feel that with this program, which in fact has been elevated to a new Danfoss best

practice, we are making sure that we are getting the maximum value possible, and that we are

well on our way to increase DEN customer satisfaction levels.

Gabriele Haydn-Strohmaier

Strategic Marketing Specialist

DEN Strategic Marketing

gabriele.haydnstrohmaier@danfoss.com

Mette Buchbjerg

Strategic Marketing Specialist

DEN Strategic Marketing

mette.buchbjerg@danfoss.com

39
---
Project update on

recommended DH application handbook

The development of the Application Handbook is in its final phase.

The agency has been working on creating an attractive design and layout, but also a

comprehensive structure of the hand book. We are now doing the last fine-tuning with focus

on images and readability, and expect the final version to be ready soon.

Application handbook is under development, and therefore no links available at the moment.

40
---
Having the English master of the handbook ready, it will be available for all local markets for

adaption and translation.

We are looking forward to able to present the Application Handbook to you.

Mette Buchbjerg

Strategic Marketing Specialist

DEN strategic Marketing

mette.buchbjerg@danfoss.com

41
---
eBusiness

42
---
Recommenced District Heating Applications

Online presentation solution

Based on the contents of the printed application handbook, we are currently specifying

requirements, contents and structure of an online version, where we want to utilize the

possibilities the online channel is offering in order to establish close relations with the target

groups.

Main external target groups are consulting engineers, DHUs tech. department, installers and

students. Internally the solution will be relevant for i.e. sales, R&D, BUs and new employees to

gain insight into the recommend DH applications.

The first version will focus on communication and dialogue

• Promote and brand recommended DH applications online

• Create awareness, inform and educate on recommended applications

• Influence and lobby via key stakeholders and decision makers

• Establish dialogue and preference relations with target groups

• Integrate to selected areas in product catalogue (landing pages)

• Optimize solution for local versions & integration of long term objectives

Long term we aim at integrating the solution into related areas in Before, During and After

Sales: Moving from purely communication/dialogue on applications into business usage via

integration to product catalogue, design tool, eLearning & web shop functionalities.

44
---
First focus areas will be:

1) Portalize (All roads must lead to Rome); Entrance via

• Category (structural)

• Search (defining keywords tagging) + Filtering (via table overview data)

• Relations (tagging of related contents/areas)

2) Relations between contents: Linking with

• Contents (based on relevance)

• Product catalogue (landing pages) & Case stories

• User tagging and internal tagging of contents.

3) Dialogue

• Establish dialogue with target groups via possibility to add inline comments, questions,

etc.

• Start up DH application forum involving R&D to enable online dialogue and strengthen

relationship with external users/customers, who have signed up for membership

Vagn Sieljacks,

Manager

eBusiness

sieljacks@danfoss.com

45
---
Image Bank

Latest News on DEN Content

Our old Image Bank was closed on December 31st 2011. Since March 2012, we have been

uploading DEN graphical content into the new Image Bank which is a part of the crossdivisional

PIM (Product Information Management) project. The goal with PIM is to create a

database for all of Danfoss with all product related information, such as photos, drawings,

technical literature, sales promotion material etc.

The new Image Bank is, however, still work in progress. You find it here: http://pim.danfoss.net

– and you can see that the search function resembles the Google search page. The ambition is

to create a search tool which is just as good as Google when it comes to presenting results and

offering possibilities to sort and filter the results you get.

At the moment the Image Bank is a very simple version of what we want it to be in the future.

For now it is only possible to download 1 photo or drawing at a time and you can only

download the original format or convert to a small .JPG format.

46
---
These are some of the functions that will be possible in near future:

- Collect photos and drawings in a basket (download in a ZIP file)

- Convert to other formats like PNG, GIF

- Convert to CMYK color profile (from RGB)

- Crop photos and drawings before download

- Preview thumbnails of images in .EPS, .DWG and .PSD format

- Etc.

On DEN Intranet, you can always see the latest DEN content entered in Image Bank. Click here

to see the overview. In September we have uploaded new 3D CAD drawings of the heat

exchanger type XGC. You can see them here – unfortunately the Image Bank cannot generate

preview thumbnails of .DWG drawings yet. So you cannot see them until you download them

(if you have CAD drawing viewer software on your PC).

If you have any questions or need support feel free to contact Susan Lykkehave Sørensen

Susan Lykkehave Sørensen

Consultant

eBusiness

susanls@danfoss.com

47
---
Mobile Web

Internet sites now available as mobile version

In September we launched our international Internet site as mobile version. We have reused

all synergies from the COW (Customer Oriented Web) concept; structure, icons, images, etc.

– and all maintenance is done in the PCM system. Meaning when you update information

on the web site, it is automatically updated in the mobile version.

France will be the first local version available. Roll out to all other markets will begin shortly.

Background for offering a mobile version of our Internet site is based on both trends and

statistics.

- By 2014 it is expected that mobile Internet will take over desktop Internet usage

- 86% of mobile internet users spend in average 2,7 hours per day browsing their mobile

phone

- 200 mio. YouTube views occur on mobile devices every day

48
---
It is still just a small percentage of our total online users that are using mobile devices when

visiting our Internet sites.

But in just 1 year (from September 2011 till 2012) there has been an increase in mobile visits

of 134%!!!

So the trend is clear. The world is going mobile – and so are our customers!

Vagn Sieljacks,

Manager

eBusiness

sieljacks@danfoss.com

49
---
iPaper Catalogs

Improvements and Next Steps

Today 21 online iPaper catalogs are implemented across 15 markets. Containing technical

documentation, marketing material, etc. Via these iPaper catalogs the user can:

• Create a user account

• View the literature files as an online iPaper or PDF

• Collect literature files in your own personal catalog

• View your personal catalog online or download a PDF version

• Create multiple catalogs with different content

• Send your catalogs to your own mail address or forward it to others

In English there are 3 different iPaper catalogs:

• 1 with ECL Comfort documentation – click to view

• 1 with iMCV HVAC documentation – click to view

• 1 complete DEN catalog with all product documentation – click to view

Find a link to the complete list of our available iPaper catalogs on this page on our DEN

Intranet (middle column).

New features

Currently we are working on two new improvements in our iPaper catalog builders:

• making it possible to download iPaper catalogs with high resolution PDF files for

professional printing. It will be ready when all technical documentation available in PCM

have been uploaded as a high resolution PDF file

• a new search filter making it easier and faster to find the documents you are looking for -

and to sort the search results you get when searching for documents

50
---
Features to come

The next steps for iPaper catalogs will be making it possible to include animations and/or

videos.

All relevant colleagues in our DSCs who currently have iPaper catalogs will be contacted and

introduced to the new features when they have been implemented.

Susan Lykkehave Sørensen

Consultant

eBusiness

susanls@danfoss.com

Zorica Krstić ,

Assitant

eBusiness

zorica.krstic@danfoss.com

51
---
Roll-out of the new news sign-up page

Relevant news is essential to your business !

Today it is a must to be well informed, therefore we have updated the sign-up part of the

Danfoss Heating newsletter http://heating.danfoss.com/xNewsGx/0.html?Email=

Once subscriber update the subscription data he will receive much more individual and

relevant news about developments, launches, etc.

The sign up page should be updated on all COW sites.

So far we have updated it for:

• RO http://www.incalzire.danfoss.com/xNewsGx/0.html?Email=

• AT http://www.at.waerme.danfoss.com/xNewsGx/0.html?Email=

• SRB http://grejanje.danfoss.com/xNewsGx/0.html?Email=

• SI http://ogrevanje.danfoss.com/xNewsGx/0.html?Email=

• CZ http://cz.danfoss.com/xNewsGx/0.html?Email=

• UA http://ua.heating.danfoss.com/xNewsGx/0.html?Email=

• NL http://klimaatregeling.danfoss.nl/xNewsGx/0.html?Email=

• DE http://waerme.danfoss.com/xNewsGx/0.html?Email=

• RU http://ru.heating.danfoss.com/xNewsGx/0.html?Email=

Some more markets are to be handled by HS division.

52
---
Susan Lykkehave Sørensen

Consultant

eBusiness

susanls@danfoss.com

Zorica Krstić ,

Assitant

eBusiness

zorica.krstic@danfoss.com

53
---
COW update

Customer Oriented Web

From this design To this one

10 reasons for COW:

• One Danfoss – one way

• One place of business – easy to do business with

• Lost synergies between BA's – focus on solutions

• From 150+ sites to 1-2 per market

• Theme – energy & climate

• Targeted communication (installer, wholesaler…)

• More focus on consumer communication

• New visual style – icons, videos, new image identity

• Google friendliness – new search, YouTube channel

• New design

54
---
Customer Oriented Web design

• During September we have launched Polish COW site:

• Turkish COW site for professional users was launched in December 2012. Now we are

working on the Consumer site. The launch is expected in the middle of October.

• Swiss COW site is also in progress, German and French version. Translation process is in

progress. The launch is expected in the beginning of November.

Zorica Krstić ,Assitant

eBusiness

zorica.krstic@danfoss.com

55
---
Product Catalog Update

Making our Product Catalog more Customer Oriented

As a step two in our COW (Customer Oriented Web) project, we now want to put focus on

improving our online product catalog – making it easier and faster for customers to search,

filter and select required products, possible alternatives and combination options.

In order to investigate how some of our main target groups (Installers and Specifiers) use

online/mobile media when searching for product information, we have decided to involve an

agency to handle a series of usability tests/interviews with existing customers to get the

needed knowledge about their online behavior – but also their input and ideas to what a good

online product catalog looks like and how it should work.

6 installers and 6 specifiers in Denmark and Germany have agreed to participate in the

analysis.

When we get the results of these interviews, we will map them with our initial ideas and

expectations to get an even more clear picture on how to structure and design our online

product catalog in the future to support our customers the best way possible.

Naturally we will also contact relevant people from product portfolio management and from

the sales companies to gather internal input, before next steps are defined.

Vagn Sieljacks,

Manager

eBusiness

sieljacks@danfoss.com

Susan Lykkehave Sørensen

Consultant

eBusiness

susanls@danfoss.com

56
---
eCommerce

Project sales and markets status

Project sales

- The process study has been done.

- Research have shown that we have two option to proceed:

- Changing the sales process in majority of the DSCs

- Creating a system which can support project sales method

- At the moment we have tools like Decom, or EDI, which can support the sales but not the

project sales.

- We are waiting for the response from the DIT with feasibility evaluation.

- Solution which we created goes deep to the sales process at its roots. This is what we consider

as necessary if we want implementation to be successful.

- Solution concept has been created and checked with order handlers, internal sales, sales,

technical support people, GS, etc., many times.

- Next step is creation of the light (demonstration) version without any linkages to the real

databases. This version will be used to improve the capabilities further.

- We find as the most important that the system is accepted and appreciated by the future user

even before it is created.

Markets

AT. All the effort we have taken to increase the eCommerce share seems like not enough without

a proper project sales tool. We have not reached yet the goals for this year. Till the end of the year

we will focus on the LCI as the most suitable for the moment.

DE. All the activities are going according to the plan. Late start of the year (we started in July) will

definitely influence the results.

CZ. Very well done preparation of the SAP and dedication to the task gives results, even if we had

a late start for the market as well. Full focus is on Decom.

RU. Alignments of the data (SAP, RuCom) has been done and measuring is now more precise.

CN. Preparations for the intensive start in 2013 are in focus. Alignments are done.

Vagn Sieljacks,

Manager

eBusiness

sieljacks@danfoss.com

Sasa Milosavlevic,

ICT Business Analyst

eBusiness

Sasa.Milosavljevic@danfoss.com

57
---
Technical Documentation & eLearning

58
---
Online documentation proofreading

Saving time while delivering more

DEN-SMT

documentation

DEN-Product Managers

Local sales organisations Others

Server

From the first quarter of this year, Danfoss' documentation department (DEN-SMT) presented and

initiated a new way of proofreading in our master technical documentation /data sheets,

instructions/. The system will be used internally (cooperation with DEN product managers,

project managers, R&D, etc.) and also externally (local sales, organizations). In the past we used

procedures for proofreading and making new documents by typing comments, writing them on

paper, scanning them, sending them by e-mail, etc. That led to collecting a lot of paper in our

archive and full overview comments becoming easily lost from the beginning as some projects

can run for a year. A handwriting was also a problem for us technical documentation department

to understand their writing and what they meant in documentation, etc…

Instead of all that – our team ( especially thanks to Mr Marjan Mohar) considered if there was any

other way of fixing all those problems and found a new system of proofreading in" Adobe info

introduction – online proofreading".

No extra programs are required as we already have it on our computers – Acrobat READER.

60
---
Proofreading invitation

Publishing comments

Using this new method will:

- save our time when exchanging proofreading

- make corrections more visible and understandable when compared to handwritten

corrections on paper

- make it possible to automatically and immediately share your comments or questions with a

group of people who will be added to the list of the document

-local organizations have input in documents

-archive comments electronically

The procedure for proofreading originates and begins with us in the DEN-SMT department; all

comments will also be stored in our local web site archive.

Shared reviews are the most collaborative form of review because participants can read and

reply to the comments of other participants. Participants' comments are stored on an internal

server. Acrobat synchronies comments at regular intervals to download all the latest changes.

Reviewers are notified of new comments as they are added, and can observe and reply to

comments made by other reviewers.

Making comments

Vlado Pavcic

Chief Text Editor

DEN Technical Documentation

vlado.pavcic@danfoss.com

Marjan Mohar

Text Editor Assistent

DEN Technical Dokumentation

m.mohar@danfoss.com

61
---
Re-newed DL-DEN intranet site to courses

& New eLessons: MCV, iMCV®, Intro … to DEN, DH

http://portal.danfoss.net/divisions/DEN/DL

Calendar view of all DEN (globally organized)

virtual learning (on-line training)

You can filter eLessons by category, language or English headline to find the right eLesson

62
---
iMCV®:intelligent motorized control valves: launch eLesson

MCV: motorized control valves: launch eLesson

General Heating Training in local languages

• introduction to district energy concept

• introduction to district heating concept

• introduction to concept of controlling

Target group: all DEN employees and customers

Languages: EN – DE – CN - PL – RU

M. Marusa Jovanovic, Training Coordinator

Coordination and technical support for DEN Virtual learning courses

Instructional design and coordination of eLesson development

Marusa.Jovanovic@danfoss.com

63