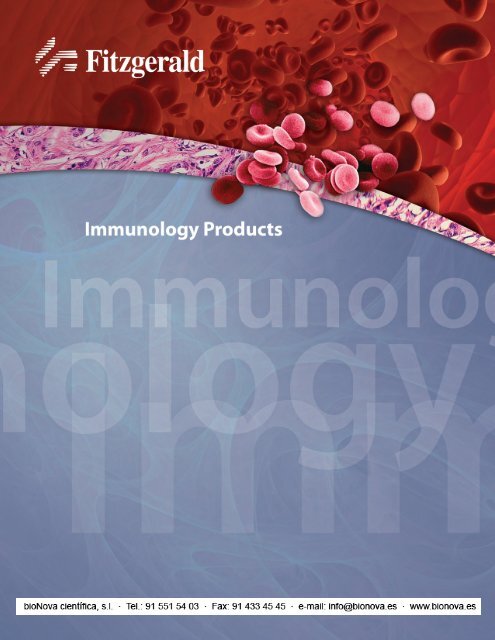 Secondary Antibodies
Secondary Antibodies
Secondary Antibodies
SHOW MORE
SHOW LESS
You also want an ePaper? Increase the reach of your titles
YUMPU automatically turns print PDFs into web optimized ePapers that Google loves.
Fitzgerald Industries International is the premier provider of over 20,000 highly<br />
purified Monoclonal and Polyclonal <strong>Antibodies</strong>, purified Proteins, ELISA Kits and<br />
Specialty Research Products. For more than 20 years our customers have known<br />
that they can depend on Fitzgerald Industries to supply them with high quality<br />
products for research and further manufacture.<br />
We at Fitzgerald have dedicated a great many resources to growing our<br />
Immunology product line significantly in the past 6 months. We now list almost<br />
3,500 Immunology products including recombinant and native proteins as well as<br />
a vast array of polyclonal and monoclonal antibodies targeting all aspects of the<br />
immune system in all organisms, such as physiological functioning of the immune<br />
system in states of both health and diseases, malfunctions of the immune system<br />
in immunological disorders (autoimmune diseases, hypersensitivities, immune<br />
deficiency), and the physical, chemical and physiological characteristics of the<br />
components of the immune system. We also offer a huge range of purified and<br />
conjugated immunoglobulins from over 15 species, in addition to an extensive<br />
collection of secondary antibodies which can be used in multiple applications.<br />
In addition to our impressive Immunology portfolio, we offer comprehensive<br />
listings in other research areas including Cancer, Cell Biology, Infectious Disease,<br />
Signal Transduction, Neuroscience, Cytokines & Growth Factors, Cardiac Markers,<br />
Hormones & Steroids, Protein Modification, Cell Death & Stress, and many more.<br />
Visit our website at www.fitzgerald-fii.com to view our complete offerings and<br />
full technical data.
---
Monoclonal <strong>Antibodies</strong><br />
Catalog No. Product Name Host Clone Size<br />
10R-A128a ANCA antibody Mouse CLB-12.8 200 tests/vial<br />
10R-M154b beta 2 Microglobulin antibody Mouse C21 1 mg<br />
10R-M154c beta 2 Microglobulin antibody Mouse B2 1 mg<br />
10R-CD1aPGp CD1 antibody Mouse 76-7-4 500 ug<br />
61R-CD1aPGBT CD1 antibody (biotin) Mouse 76-7-4 500 ug<br />
61R-CD1aPGFT CD1 antibody (FITC) Mouse 76-7-4 500 ug<br />
61R-CD1aPGPE CD1 antibody (PE) Mouse 76-7-4 100 ug<br />
10R-CD2cMSp CD2 antibody Rat 12-15 500 ug<br />
10R-CD2cHUp CD2 antibody Mouse S5.5 100 ug<br />
10-Z02A CD2 antibody Mouse M504501 200 ug<br />
10R-CD2bRT CD2 antibody Mouse MRC OX-34 250 ug<br />
10R-CD2DHU CD2 antibody Mouse 6G4 100 ul<br />
10R-CD2EHU CD2 antibody Mouse CLB-T11/1,6G4 1 ml<br />
10R-CD2aHU CD2 antibody Mouse 4B2 100 ul<br />
61R-CD2cHUAPC CD2 antibody (Allophycocyanin) Mouse S5.5 100 tests<br />
61R-CD2cMSBT CD2 antibody (biotin) Rat 12-15 500 ug<br />
61R-CD2cHUBT CD2 antibody (biotin) Mouse S5.5 100 tests<br />
61R-CD2cMSFT CD2 antibody (FITC) Rat 12-15 500 ug<br />
61R-CD2cHUFT CD2 antibody (FITC) Mouse S5.5 100 tests<br />
61R-CD2cMSPE CD2 antibody (PE) Rat 12-15 100 ug<br />
61R-CD2cMSPE CD2 antibody (PE) Rat 12-15 200 ug<br />
61R-CD2cHUPE CD2 antibody (PE) Mouse S5.5 100 tests<br />
61R-CD2cHUPECY5 CD2 antibody (PE-CY5.5) Mouse S5.5 100 tests<br />
61R-CD2cHUSP CD2 antibody (Spectral Red) Mouse S5.5 100 tests<br />
10-Z03A CD3 antibody Mouse M42251 200 ug<br />
10R-CD3cHU CD3 antibody Mouse PS1 1 ml<br />
10R-CD3aHU CD3 antibody Mouse T3/4.E 100 ul<br />
10R-CD3bHU CD3 antibody Mouse T3/2/16A9 100 ul<br />
10R-CD3fCKp CD3 antibody Mouse CT-3 500 ug<br />
10R-CD3gHU CD3 antibody Mouse UCHT1 100 ug<br />
61R-CD3gHUAPC CD3 antibody (Allophycocyanin) Mouse UCHT1 100 tests<br />
61R-CD3gHUAPCC7 CD3 antibody (Allophycocyanin-CY7) Mouse UCHT1 100 tests<br />
10R-CD3gHUP CD3 antibody (Azide Free) Mouse UCHT1 500 ug<br />
61R-CD3fCKBT CD3 antibody (biotin) Mouse CT-3 500 ug<br />
61R-CD3gHUBT CD3 antibody (biotin) Mouse UCHT1 100 tests<br />
61R-CD3gHUCY5 CD3 antibody (CY5) Mouse UCHT1 100 tests<br />
61R-CD3fCKFT CD3 antibody (FITC) Mouse CT-3 500 ug<br />
61R-CD3gHUFT CD3 antibody (FITC) Mouse UCHT1 100 tests<br />
61R-CD3fCKPE CD3 antibody (PE) Mouse CT-3 100 ug<br />
61R-CD3gHUPE CD3 antibody (PE) Mouse UCHT1 100 tests<br />
61R-CD3gHUPEC5 CD3 antibody (PE-CY5.5) Mouse UCHT1 100 tests<br />
61R-CD3gHUPEC7 CD3 antibody (PE-CY7) Mouse UCHT1 100 tests<br />
61R-CD3fCKSP CD3 antibody (Spectral Red) Mouse CT-3 100 ug<br />
Immunology Products<br />
Fitzgerald Industries International<br />
1
---
2<br />
Immunology Products<br />
Fitzgerald Industries International<br />
Monoclonal <strong>Antibodies</strong><br />
Catalog No. Product Name Host Clone Size<br />
61R-CD3gHUSP CD3 antibody (Spectral Red) Mouse UCHT1 100 tests<br />
10R-CD3efMS CD3e antibody Hamster 145-2C11 500 ug<br />
10R-CD3egMS CD3e antibody Hamster 500-A2 500 ug<br />
10R-CD3ehMS CD3e antibody Rat C365.29B 500 ug<br />
10R-CD3ebPGp CD3e antibody Mouse PPT3 500 ug<br />
10R-CD3eaPGp CD3e antibody Mouse BB23-8E6 500 ug<br />
61R-CD3efMSAPC CD3e antibody (Allophycocyanin) Hamster 145-2C11 100 ug<br />
61R-CD3egMSAPC CD3e antibody (Allophycocyanin) Hamster 500-A2 100 ug<br />
61R-CD3ehMSAPC CD3e antibody (Allophycocyanin) Rat C365.29B 100 ug<br />
10R-CD3efMSP CD3e antibody (Azide Free) Hamster 145-2C11 500 ug<br />
10R-CD3egMLE CD3e antibody (Azide Free) Hamster 500-A2 500 ug<br />
10R-CD3ehMSP CD3e antibody (Azide Free) Rat C365.29B 500 ug<br />
61R-CD3egMSBT CD3e antibody (biotin) Hamster 500-A2 500 ug<br />
61R-CD3ehMSBT CD3e antibody (biotin) Rat C365.29B 500 ug<br />
61R-CD3ebPGBT CD3e antibody (biotin) Mouse PPT3 500 ug<br />
61R-CD3eaPGBT CD3e antibody (biotin) Mouse BB23-8E6 500 ug<br />
61R-CD3egMSCY CD3e antibody (CY5) Hamster 500-A2 100 ug<br />
61R-CD3ehMSCY CD3e antibody (CY5) Rat C365.29B 100 ug<br />
61R-CD3efMSFT CD3e antibody (FITC) Hamster 145-2C11 500 ug<br />
61R-CD3efMSFT CD3e antibody (FITC) Hamster 145-2C11 100 ug<br />
61R-CD3egMSFT CD3e antibody (FITC) Hamster 500-A2 500 ug<br />
61R-CD3ehMSFT CD3e antibody (FITC) Rat C365.29B 500 ug<br />
61R-CD3ehMSFT CD3e antibody (FITC) Rat C365.29B 100 ug<br />
61R-CD3ebPGFT CD3e antibody (FITC) Mouse PPT3 500 ug<br />
61R-CD3eaPGFT CD3e antibody (FITC) Mouse BB23-8E6 500 ug<br />
61R-CD3efMSPE CD3e antibody (PE) Hamster 145-2C11 100 ug<br />
61R-CD3efMSPE CD3e antibody (PE) Hamster 145-2C11 200 ug<br />
61R-CD3egMSPE CD3e antibody (PE) Hamster 500-A2 100 ug<br />
61R-CD3ehMSPE CD3e antibody (PE) Rat C365.29B 100 ug<br />
61R-CD3ehMSPE CD3e antibody (PE) Rat C365.29B 200 ug<br />
61R-CD3ebPGPE CD3e antibody (PE) Mouse PPT3 100 ug<br />
61R-CD3eaPGPE CD3e antibody (PE) Mouse BB23-8E6 100 ug<br />
61R-CD3efMSsp CD3e antibody (Spectral Red) Hamster 145-2C11 100 ug<br />
61R-CD3ehMSsp CD3e antibody (Spectral Red) Rat C365.29B 100 ug<br />
61R-CD3ebPGSP CD3e antibody (Spectral Red) Mouse PPT3 100 ug<br />
10R-CD4eMS CD4 antibody Rat GK1.5 500 ug<br />
10R-CD4bHU CD4 antibody Mouse QS4120 100 ug<br />
10-Z04A CD4 antibody Mouse M504505 200 ug<br />
10R-CD4fHU CD4 antibody Mouse 1F6 1 ml<br />
10-003001 CD4 antibody Mouse 45 100 ug<br />
10-003101 CD4 antibody Mouse 4 100 ug<br />
10R-CD4jFEp CD4 antibody Mouse 3-4F4 500 ug<br />
10R-CD4gCKp CD4 antibody Mouse CT-4 500 ug
---
Monoclonal <strong>Antibodies</strong><br />
Catalog No. Product Name Host Clone Size<br />
10R-CD4hCKp CD4 antibody Mouse EP96 500 ug<br />
10R-CD4kHU CD4 antibody Mouse RFT-4g 100 ug<br />
61R-CD4eMSAPC CD4 antibody (Allophycocyanin) Rat GK1.5 100 ug<br />
61R-CD4kHUAPC CD4 antibody (Allophycocyanin) Mouse RFT-4G 100 tests<br />
61R-CD4eMSAPC5 CD4 antibody (Allophycocyanin-CY5.5) Rat GK1.5 100 ug<br />
61R-CD4kHUAPCC7 CD4 antibody (Allophycocyanin-CY7) Mouse RFT-4g 100 tests<br />
10R-CD4eMSP CD4 antibody (Azide Free) Rat GK1.5 500 ug<br />
10R-CD4kHUP CD4 antibody (Azide Free) Mouse RFT-4g 500 ug<br />
61R-CD4eMSBT CD4 antibody (biotin) Rat GK1.5 500 ug<br />
61R-CD4jFEBT CD4 antibody (biotin) Mouse 3-4F4 500 ug<br />
61R-CD4gCKBT CD4 antibody (biotin) Mouse CT-4 500 ug<br />
61R-CD4hCKBT CD4 antibody (biotin) Mouse EP96 500 ug<br />
61R-CD4kHUBT CD4 antibody (biotin) Mouse RFT-4G 100 tests<br />
61R-CD4eMSCY CD4 antibody (CY5) Rat GK1.5 100 ug<br />
61R-CD4kHUCY5 CD4 antibody (CY5) Mouse RFT-4G 100 tests<br />
61R-CD4eMSFT CD4 antibody (FITC) Rat GK1.5 500 ug<br />
61R-CD4eMSFT CD4 antibody (FITC) Rat GK1.5 100 ug<br />
61R-CD4bHUFT CD4 antibody (FITC) Mouse QS4120 0.2 ml<br />
61R-CD4gHUFT CD4 antibody (FITC) Mouse M-T441 0.2 ml<br />
61R-CD4jFEFT CD4 antibody (FITC) Mouse 3-4F4 500 ug<br />
61R-CD4gCKFT CD4 antibody (FITC) Mouse CT-4 500 ug<br />
61R-CD4hCKFT CD4 antibody (FITC) Mouse EP96 500 ug<br />
61R-CD4kHUFT CD4 antibody (FITC) Mouse RFT-4G 100 tests<br />
61R-CD4eMSPE CD4 antibody (PE) Rat GK1.5 100 ug<br />
61R-CD4eMSPE CD4 antibody (PE) Rat GK1.5 200 ug<br />
61R-CD4BHUPE CD4 antibody (PE) Mouse QS4120 0.2 ml<br />
61R-CD4GHUPE CD4 antibody (PE) Mouse M-T441 0.2 ml<br />
61R-CD4jFEPE CD4 antibody (PE) Mouse 3-4F4 100 ug<br />
61R-CD4gCKPE CD4 antibody (PE) Mouse CT-4 100 ug<br />
61R-CD4hCKPE CD4 antibody (PE) Mouse EP96 100 ug<br />
61R-CD4kHUPE CD4 antibody (PE) Mouse RFT-4G 100 tests<br />
61R-CD4eMSPEC5 CD4 antibody (PE-CY5.5) Rat GK1.5 100 ug<br />
61R-CD4kHUPEC5 CD4 antibody (PE-CY5.5) Mouse RFT-4G 100 tests<br />
61R-CD4eMSPEC7 CD4 antibody (PE-CY7) Rat GK1.5 100 ug<br />
61R-CD4kHUPEC7 CD4 antibody (PE-CY7) Mouse RFT-4G 100 tests<br />
61R-CD4eMSSP CD4 antibody (Spectral Red) Rat GK1.5 100 ug<br />
61R-CD4kHUSP CD4 antibody (Spectral Red) Mouse RFT-4G 100 tests<br />
10R-CD4aaPGp CD4a antibody Mouse 74-12-4 500 ug<br />
61R-CD4aaPGBT CD4a antibody (biotin) Mouse 74-12-4 500 ug<br />
61R-CD4aaPGFT CD4a antibody (FITC) Mouse 74-12-4 500 ug<br />
61R-CD4aaPGPE CD4a antibody (PE) Mouse 74-12-4 100 ug<br />
61R-CD4aaPGSP CD4a antibody (Spectral Red) Mouse 74-12-4 100 ug<br />
10R-CD5bMS CD5 antibody Rat 4H8E6 500 ug<br />
Immunology Products<br />
Fitzgerald Industries International<br />
3
---
4<br />
Immunology Products<br />
Fitzgerald Industries International<br />
Monoclonal <strong>Antibodies</strong><br />
Catalog No. Product Name Host Clone Size<br />
10-Z05A CD5 antibody Mouse M504507 200 ug<br />
10R-CD5bFEp CD5 antibody Mouse F43 500 ug<br />
10R-CD5gCKp CD5 antibody Mouse 2-191 500 ug<br />
10R-CD5cMS CD5 antibody Mouse UCHT2 100 ug<br />
61R-CD5bMSAPC CD5 antibody (Allophycocyanin) Rat 4H8E6 100 ug<br />
61R-CD5cMSAPC CD5 antibody (Allophycocyanin) Mouse UCHT2 100 tests<br />
61R-CD5bMSBT CD5 antibody (biotin) Rat 4H8E6 500 ug<br />
61R-CD5bFEBT CD5 antibody (biotin) Mouse f43 500 ug<br />
61R-CD5gCKBT CD5 antibody (biotin) Mouse 2-191 500 ug<br />
61R-CD5cMSBT CD5 antibody (biotin) Mouse UCHT2 100 tests<br />
61R-CD5cMSFTx CD5 antibody (FITC) Rat B19.1 100 ug<br />
61R-CD5bMSFT CD5 antibody (FITC) Rat 4H8E6 500 ug<br />
61R-CD5bMSFT CD5 antibody (FITC) Rat 4H8E6 100 ug<br />
61R-CD5bFEFT CD5 antibody (FITC) Mouse f43 500 ug<br />
61R-CD5gCKFT CD5 antibody (FITC) Mouse 2-191 500 ug<br />
61R-CD5cMSFT CD5 antibody (FITC) Mouse UCHT2 100 tests<br />
61R-CD5cMSPEx CD5 antibody (PE) Rat B19.1 100 ug<br />
61R-CD5bMSPE CD5 antibody (PE) Rat 4H8E6 100 ug<br />
61R-CD5bMSPE CD5 antibody (PE) Rat 4H8E6 200 ug<br />
61R-CD5bFEPE CD5 antibody (PE) Mouse f43 100 ug<br />
61R-CD5gCKPE CD5 antibody (PE) Mouse 2-191 100 ug<br />
61R-CD5cMSPE CD5 antibody (PE) Mouse UCHT2 100 tests<br />
61R-CD5cMSSP CD5 antibody (Spectral Red) Rat B19.1 100 ug<br />
61R-CD5bMSSP CD5 antibody (Spectral Red) Rat 4H8E6 100 ug<br />
10R-CD6aPG CD6 antibody Mouse MIL8 2 ml<br />
10R-CD7aHU CD7 antibody Mouse 3A1e 100 ug<br />
10-Z07A CD7 antibody Mouse M504509 200 ug<br />
10-Z08A CD8 antibody Mouse M504511 200 ug<br />
10R-CD8aHU CD8 antibody Mouse 4B11 1 ml<br />
10R-CD8cGP CD8 antibody Mouse CT6 250 ul<br />
10R-CD8dFEp CD8 antibody Mouse FCD8 500 ug<br />
10R-CD8bHU CD8 antibody Mouse UCH-T4 100 ug<br />
61R-CD8dFEBT CD8 antibody (biotin) Mouse FCD8 500 ug<br />
61R-CD8cGPFT CD8 antibody (FITC) Mouse CT6 100 tests<br />
61R-CD8dFEFT CD8 antibody (FITC) Mouse FCD8 500 ug<br />
61R-CD8bHUFT CD8 antibody (FITC) Mouse UCH-T4 100 tests<br />
61R-CD8dFEPE CD8 antibody (PE) Mouse FCD8 100 ug<br />
61R-CD8bHUPE CD8 antibody (PE) Mouse UCH-T4 100 tests<br />
61R-CD8bHUSP CD8 antibody (Spectral Red) Mouse UCH-T4 100 tests<br />
10R-CD8abMS CD8a antibody Rat 53-6.7 500 ug<br />
10R-CD8abMS CD8a antibody Rat 53-6.7 100 ug<br />
10R-CD8aaPGp CD8a antibody Mouse 76-2-11 500 ug<br />
10R-CD8aeCKp CD8a antibody Mouse CT-8 500 ug
---
Monoclonal <strong>Antibodies</strong><br />
Catalog No. Product Name Host Clone Size<br />
10R-CD8afCKp CD8a antibody Mouse EP72 500 ug<br />
10R-CD8adCKp CD8a antibody Mouse 3-298 500 ug<br />
61R-CD8abMSAPC CD8a antibody (Allophycocyanin) Rat 53-6.7 100 ug<br />
10R-CD8abMSLE CD8a antibody (Azide Free) Rat 53-6.7 500 ug<br />
61R-CD8abMSBT CD8a antibody (biotin) Rat 53-6.7 500 ug<br />
61R-CD8aaPGBT CD8a antibody (biotin) Mouse 76-2-11 500 ug<br />
61R-CD8aeCKBT CD8a antibody (biotin) Mouse CT-8 500 ug<br />
61R-CD8afCKBT CD8a antibody (biotin) Mouse EP72 500 ug<br />
61R-CD8adCKBT CD8a antibody (biotin) Mouse 3-298 500 ug<br />
61R-CD8abMSCY5 CD8a antibody (CY5) Rat 53-6.7 100 ug<br />
61R-CD8aeCKCY5 CD8a antibody (CY5) Mouse CT-8 100 ug<br />
61R-CD8adCKCY5 CD8a antibody (CY5) Mouse 3-298 100 ug<br />
61R-CD8abMSFT CD8a antibody (FITC) Rat 53-6.7 500 ug<br />
61R-CD8abMSFT CD8a antibody (FITC) Rat 53-6.7 100 ug<br />
61R-CD8aeCKFT CD8a antibody (FITC) Mouse CT-8 500 ug<br />
61R-CD8afCKFT CD8a antibody (FITC) Mouse EP72 500 ug<br />
61R-CD8adCKFT CD8a antibody (FITC) Mouse 3-298 500 ug<br />
61R-CD8abMSPE CD8a antibody (PE) Rat 53-6.7 100 ug<br />
61R-CD8abMSPE CD8a antibody (PE) Rat 53-6.7 200 ug<br />
61R-CD8aaPGPE CD8a antibody (PE) Mouse 76-2-11 100 ug<br />
61R-CD8aeCKPE CD8a antibody (PE) Mouse CT-8 100 ug<br />
61R-CD8afCKPE CD8a antibody (PE) Mouse EP72 100 ug<br />
61R-CD8adCKPE CD8a antibody (PE) Mouse 3-298 100 ug<br />
61R-CD8abMSPEC5 CD8a antibody (PE-CY5.5) Rat 53-6.7 100 ug<br />
61R-CD8abMSPEC7 CD8a antibody (PE-CY7) Rat 53-6.7 100 ug<br />
61R-CD8abMSPETR CD8a antibody (PE-Texas Red) Rat 53-6.7 100 ug<br />
61R-CD8abMSSP CD8a antibody (Spectral Red) Rat 53-6.7 100 ug<br />
61R-CD8aaPGSP CD8a antibody (Spectral Red) Mouse 76-2-11 100 ug<br />
10R-CD8baCKp CD8b antibody Mouse EP42 500 ug<br />
61R-CD8baCKBT CD8b antibody (biotin) Mouse EP42 500 ug<br />
61R-CD8baCKFT CD8b antibody (FITC) Mouse EP42 500 ug<br />
61R-CD8baCKPE CD8b antibody (PE) Mouse EP42 100 ug<br />
10R-CD9aHU CD9 antibody Mouse 72F6 1 ml<br />
10R-CD9cHUp CD9 antibody Mouse MM2/57 100 ug<br />
10R-CD9cHULE CD9 antibody (Azide Free) Mouse MM2/57 100 ug<br />
61R-CD9cHUFT CD9 antibody (FITC) Mouse MM2/57 100 tests<br />
61R-CD9cHUPE CD9 antibody (PE) Mouse MM2/57 100 tests<br />
10R-CD11aaMS CD11a antibody Rat I21/7 500 ug<br />
10R-CD11aaHU CD11a antibody Mouse 38 100 ug<br />
10R-CD11AD CD11a antibody Mouse LFA-1/2 1 ml<br />
10R-CD11aaMSp CD11a antibody (Azide Free) Rat I21/7 500 ug<br />
10R-CD11aaHUP CD11a antibody (Azide Free) Mouse 38 100 ug<br />
61R-CD11aaMSBT CD11a antibody (biotin) Rat I21/7 500 ug<br />
Immunology Products<br />
Fitzgerald Industries International<br />
5
---
6<br />
Immunology Products<br />
Fitzgerald Industries International<br />
Monoclonal <strong>Antibodies</strong><br />
Catalog No. Product Name Host Clone Size<br />
61R-CD11aaHUBT CD11a antibody (biotin) Mouse 38 100 tests<br />
61R-CD11aaMSFT CD11a antibody (FITC) Rat I21/7 500 ug<br />
61R-CD11aaHUFT CD11a antibody (FITC) Mouse 38 100 tests<br />
61R-CD11ADFT CD11a antibody (FITC) Mouse LFA-1/2 1 ml<br />
61R-CD11aaMSPE CD11a antibody (PE) Rat I21/7 100 ug<br />
61R-CD11aaMSPE CD11a antibody (PE) Rat I21/7 200 ug<br />
61R-CD11aaHUPE CD11a antibody (PE) Mouse 38 100 tests<br />
61R-CD11aaMSPE7 CD11a antibody (PE-CY7) Rat I21/7 100 ug<br />
10R-CD11bgMS CD11b antibody Rat 3A33 500 ug<br />
10R-CD11baMS CD11b antibody Rat M1/70 500 ug<br />
10R-CD11bcHU CD11b antibody Mouse ICRF44 100 ug<br />
10R-CD11beRT CD11b antibody Mouse OX-42 500 ug<br />
10-Z11B CD11b antibody Mouse M504514 200 ug<br />
10R-CD11BR CD11b antibody Mouse M091191 250 ug<br />
61R-CD11baMSAPC CD11b antibody (Allophycocyanin) Rat M1/70 100 ug<br />
10R-CD11bgMSLE CD11b antibody (Azide Free) Rat 3A33 500 ug<br />
10R-CD11baMSP CD11b antibody (Azide Free) Rat M1/70 500 ug<br />
61R-CD11bgMSBT CD11b antibody (biotin) Rat 3A33 500 ug<br />
61R-CD11baMSBT CD11b antibody (biotin) Rat M1/70 500 ug<br />
61R-CD11baMSCY5 CD11b antibody (CY5) Rat M1/70 100 ug<br />
61R-CD11bgMSFT CD11b antibody (FITC) Rat 3A33 500 ug<br />
61R-CD11bgMSFT CD11b antibody (FITC) Rat 3A33 100 ug<br />
61R-CD11baMSFT CD11b antibody (FITC) Rat M1/70 500 ug<br />
61R-CD11baMSFT CD11b antibody (FITC) Rat M1/70 100 ug<br />
61R-CD11bgMSPE CD11b antibody (PE) Rat 3A33 100 ug<br />
61R-CD11bgMSPE CD11b antibody (PE) Rat 3A33 200 ug<br />
61R-CD11baMSPE CD11b antibody (PE) Rat M1/70 100 ug<br />
61R-CD11baMSPE CD11b antibody (PE) Rat M1/70 200 ug<br />
61R-CD11baMSPE7 CD11b antibody (PE) Rat M1/70 100 ug<br />
61R-CD11baMSSP CD11b antibody (Spectral Red) Rat M1/70 100 ug<br />
61R-CD11caHUBT CD11c antibody (biotin) Mouse 3.9 100 ug<br />
61R-CD11caHUFT CD11c antibody (FITC) Mouse 3.9 120 tests<br />
10R-CD13aMS CD13 antibody Rat ER-BMDM1 100 ug<br />
61R-CD13BMSFT CD13 antibody (FITC) Rat S4-74 100 ug<br />
10R-CD14bPG CD14 antibody Mouse MIL-2 2 ml<br />
61R-CD14cHUFT CD14 antibody (FITC) Mouse 8G3 100 tests/vial<br />
61R-CD14cHUPE CD14 antibody (PE) Mouse 8G3 100 tests<br />
10R-CD16gMS CD16 antibody Rat 93 500 ug<br />
10R-CD16cHU CD16 antibody Mouse 3G8 100 ug<br />
10R-CD16bHU CD16 antibody Mouse 3G8 100 ug<br />
10-Z16A CD16 antibody Mouse M504517 200 ug<br />
10R-CD16F CD16 antibody Mouse 2H7 1 ml<br />
10R-CD16dHU CD16 antibody Mouse GRM1 100 ug
---
Monoclonal <strong>Antibodies</strong><br />
Catalog No. Product Name Host Clone Size<br />
10R-CD16aHU CD16 antibody Mouse FcR-gran/1, 5D2 200 tests/vial<br />
10R-CD16EHU CD16 antibody Mouse CLB-gran/11, 5D7 200 tests/vial<br />
61R-CD16gMSAPC CD16 antibody (Allophycocyanin) Rat 93 500 ug<br />
10R-CD16gMSP CD16 antibody (Azide Free) Rat 93 500 ug<br />
61R-CD16gMSBT CD16 antibody (biotin) Rat 93 500 ug<br />
61R-CD16gMSFT CD16 antibody (FITC) Rat 93 500 ug<br />
61R-CD16aHUFT CD16 antibody (FITC) Mouse 5D2 100 tests/vial<br />
61R-CD16gMSPE CD16 antibody (PE) Rat 93 100 ug<br />
61R-CD16gMSPE CD16 antibody (PE) Rat 93 200 ug<br />
61R-CD16cHUPE CD16 antibody (PE) Mouse 3G8 120 tests<br />
61R-CD16gMSPEC5 CD16 antibody (PE-CY5.5) Rat 93 100 ug<br />
61R-CD16gMSPEC7 CD16 antibody (PE-CY7) Rat 93 100 ug<br />
61R-CD16gMSSP CD16 antibody (Spectral Red) Rat 93 100 ug<br />
10R-CD18aMS CD18 antibody Hamster 12G5/2E6 500 ug<br />
10R-CD18eMS CD18 antibody Rat C71/16 500 ug<br />
10R-CD18eMSP CD18 antibody (Azide Free) Rat C71/16 500 ug<br />
61R-CD18eMSBT CD18 antibody (biotin) Rat C71/16 500 ug<br />
61R-CD18eMSFT CD18 antibody (FITC) Rat C71/16 500 ug<br />
61R-CD18eMSPE CD18 antibody (PE) Rat C71/16 100 ug<br />
10R-CD19aHU CD19 antibody Mouse 11G1 1 ml<br />
10R-CD19aMS CD19 antibody Rat 6D5 500 ug<br />
10R-CD19dMS CD19 antibody Mouse MB19-1 500 ug<br />
10R-CD19bHU CD19 antibody Mouse SJ25-C1 200 ug<br />
10R-CD19cHU CD19 antibody Mouse SJ25-C1 100 ug<br />
61R-CD19aMSAPC CD19 antibody (Allophycocyanin) Rat 6D5 100 ug<br />
61R-CD19dMSAPC CD19 antibody (Allophycocyanin) Mouse MB19-1 100 ug<br />
61R-CD19cHUAPC7 CD19 antibody (Allophycocyanin-CY7) Mouse SJ25-C1 100 tests<br />
10R-CD19aMSLE CD19 antibody (Azide Free) Rat 6D5 500 ug<br />
10R-CD19cHUP CD19 antibody (Azide Free) Mouse SJ25-C1 500 ug<br />
61R-CD19aMSBT CD19 antibody (biotin) Rat 6D5 500 ug<br />
61R-CD19dMSBT CD19 antibody (biotin) Mouse MB19-1 500 ug<br />
61R-CD19cHUBT CD19 antibody (biotin) Mouse SJ25-C1 100 tests<br />
61R-CD19aMSCY5 CD19 antibody (CY5) Rat 6D5 100 ug<br />
61R-CD19cHUCY5 CD19 antibody (CY5) Mouse SJ25-C1 100 tests<br />
61R-CD19aMSFT CD19 antibody (FITC) Rat 6D5 500 ug<br />
61R-CD19aMSFT CD19 antibody (FITC) Rat 6D5 100 ug<br />
61R-CD19dMSFT CD19 antibody (FITC) Mouse MB19-1 500 ug<br />
61R-CD19cHUFT CD19 antibody (FITC) Mouse SJ25-C1 100 tests<br />
61R-CD19aHUFT CD19 antibody (FITC) Mouse 11G1 100 tests/vial<br />
61R-CD19aMSPE CD19 antibody (PE) Rat 6D5 100 ug<br />
61R-CD19aMSPE CD19 antibody (PE) Rat 6D5 200 ug<br />
61R-CD19dMSPE CD19 antibody (PE) Mouse MB19-1 100 ug<br />
61R-CD19bHUPE CD19 antibody (PE) Mouse SJ25-C1 100 tests<br />
Immunology Products<br />
Fitzgerald Industries International<br />
7
---
8<br />
Immunology Products<br />
Fitzgerald Industries International<br />
Monoclonal <strong>Antibodies</strong><br />
Catalog No. Product Name Host Clone Size<br />
61R-CD19cHUPE CD19 antibody (PE) Mouse SJ25-C1 100 tests<br />
61R-CD19aMSPEC5 CD19 antibody (PE-CY5.5) Rat 6D5 100 ug<br />
61R-CD19dMSPEC5 CD19 antibody (PE-CY5.5) Mouse MB19-1 100 ug<br />
61R-CD19cHUPEC5 CD19 antibody (PE-CY5.5) Mouse SJ25-C1 100 tests<br />
61R-CD19aMSPEC7 CD19 antibody (PE-CY7) Rat 6D5 100 ug<br />
61R-CD19cHUPEC7 CD19 antibody (PE-CY7) Mouse SJ25-C1 100 tests<br />
61R-CD19cHUAPC CD19 antibody (PE-Texas Red) Mouse SJ25-C1 100 tests<br />
61R-CD19aMSSP CD19 antibody (Spectral Red) Rat 6D5 100 ug<br />
61R-CD19dMSSP CD19 antibody (Spectral Red) Mouse MB19-1 100 ug<br />
61R-CD19cHUSP CD19 antibody (Spectral Red) Mouse SJ25-C1 100 tests<br />
10R-CD20aHU CD20 antibody Mouse 7D1 1 ml<br />
10R-CD20Chu CD20 antibody Mouse MJ1 1 ml<br />
10R-CD20bHU CD20 antibody Mouse B-Ly1 100 ug<br />
61R-CD20bHUAPC CD20 antibody (Allophycocyanin) Mouse B-Ly1 100 tests<br />
61R-CD20bHUAPC7 CD20 antibody (Allophycocyanin-CY7) Mouse B-Ly1 100 tests<br />
61R-CD20bHUFT CD20 antibody (FITC) Mouse B-Ly1 100 tests<br />
61R-CD20bHUPE CD20 antibody (PE) Mouse B-Ly1 100 tests<br />
61R-CD20bHUPEC7 CD20 antibody (PE-CY7) Mouse B-Ly1 100 tests<br />
61R-CD20bHUSP CD20 antibody (Spectral Red) Mouse B-Ly1 100 tests<br />
10R-CD21bHU CD21 antibody Mouse BU33 100 ug<br />
10-Z21A CD21 antibody Mouse M504520 200 ug<br />
10R-CD21cPGp CD21 antibody Mouse BB6-11C9.6 500 ug<br />
61R-CD21cPGBT CD21 antibody (biotin) Mouse BB6-11C9.6 500 ug<br />
61R-CD21cPGFT CD21 antibody (FITC) Mouse BB6-11C9.6 500 ug<br />
61R-CD21cPGPE CD21 antibody (PE) Mouse BB6-11C9.6 100 ug<br />
10R-CD22bHU CD22 antibody Mouse RFB4 100 ug<br />
10R-CD22aHU CD22 antibody Mouse B-ly/16B11 200 tests/vial<br />
10R-CD22cMS CD22 antibody Rat 2D6 500 ug<br />
61R-CD22bHUAPC CD22 antibody (Allophycocyanin) Mouse RFB4 100 tests<br />
61R-CD22cMSAPC CD22 antibody (Allophycocyanin) Rat 2D6 100 ug<br />
10R-CD22cMSP CD22 antibody (Azide Free) Rat 2D6 500 ug<br />
61R-CD22cMSBT CD22 antibody (biotin) Rat 2D6 500 ug<br />
61R-CD22bHUFT CD22 antibody (FITC) Mouse RFB4 100 tests<br />
61R-CD22cMSFT CD22 antibody (FITC) Rat 2D6 500 ug<br />
61R-CD22bHUPE CD22 antibody (PE) Mouse RFB4 100 tests<br />
61R-CD22cMSPE CD22 antibody (PE) Rat 2D6 100 ug<br />
61R-CD22bHUSP CD22 antibody (Spectral Red) Mouse RFB4 100 tests<br />
61R-CD22cMSSP CD22 antibody (Spectral Red) Rat 2D6 100 ug<br />
10R-CD23cMS CD23 antibody Rat 2G8 500 ug<br />
10R-CD23bHU CD23 antibody Mouse BU38 100 ug<br />
61R-CD23cMSAPC CD23 antibody (Allophycocyanin) Rat 2G8 100 ug<br />
10R-CD23cMSP CD23 antibody (Azide Free) Rat 2G8 500 ug<br />
61R-CD23cMSBT CD23 antibody (biotin) Rat 2G8 500 ug
---
Monoclonal <strong>Antibodies</strong><br />
Catalog No. Product Name Host Clone Size<br />
61R-CD23cMSFT CD23 antibody (FITC) Rat 2G8 500 ug<br />
61R-CD23cMSPE CD23 antibody (PE) Rat 2G8 100 tests<br />
61R-CD23cMSPE CD23 antibody (PE) Rat 2G8 200 ug<br />
61R-CD23cMSPEC7 CD23 antibody (PE-CY7) Rat 2G8 100 ug<br />
10R-CD24cMS CD24 antibody Rat 91 500 ug<br />
10R-CD24bMS CD24 antibody Rat 30-F1 500 ug<br />
10R-CD24BHU CD24 antibody Mouse CLB-gran-B-Ly/1, 1B5 1 vial = 200 tests<br />
10R-CD24cMSP CD24 antibody (Azide Free) Rat 91 500 ug<br />
10R-CD24bMSP CD24 antibody (Azide Free) Rat 30-F1 500 ug<br />
61R-CD24cMSBT CD24 antibody (biotin) Rat 91 500 ug<br />
61R-CD24bMSBT CD24 antibody (biotin) Rat 30-F1 500 ug<br />
61R-CD24cMSFT CD24 antibody (FITC) Rat 91 500 ug<br />
61R-CD24bMSFT CD24 antibody (FITC) Rat 30-F1 500 ug<br />
61R-CD24bHUFT CD24 antibody (FITC) Mouse CLB-gran-B-Ly/1, 1B5 100 tests/vial<br />
61R-CD24cMSPE CD24 antibody (PE) Rat 91 100 ug<br />
61R-CD24bMSPE CD24 antibody (PE) Rat 30-F1 100 ug<br />
61R-CD24bMSPE CD24 antibody (PE) Rat 30-F1 200 ug<br />
61R-CD24cMSSP CD24 antibody (Spectral Red) Rat 91 100 ug<br />
10R-CD25dMS CD25 antibody Rat 7D4 500 ug<br />
10R-CD25cMS CD25 antibody Rat 3C7 500 ug<br />
10R-CD25bHU CD25 antibody Mouse 7G7B6 100 ug<br />
10R-CD25aHU CD25 antibody Mouse CLB-IL2R/TB30 200 tests/vial<br />
61R-CD25dMSAPC CD25 antibody (Allophycocyanin) Rat 7D4 100 ug<br />
61R-CD25cMSAPC CD25 antibody (Allophycocyanin) Rat 3C7 100 ug<br />
10R-CD25dMSP CD25 antibody (Azide Free) Rat 7D4 500 ug<br />
10R-CD25cMLE CD25 antibody (Azide Free) Rat 3C7 500 ug<br />
61R-CD25dMSBT CD25 antibody (biotin) Rat 7D4 500 ug<br />
61R-CD25cMSBT CD25 antibody (biotin) Rat 3C7 500 ug<br />
61R-CD25dMSFT CD25 antibody (FITC) Rat 7D4 500 ug<br />
61R-CD25dMSFT CD25 antibody (FITC) Rat 7D4 100 ug<br />
61R-CD25cMSFT CD25 antibody (FITC) Rat 3C7 500 ug<br />
61R-CD25aHUFT CD25 antibody (FITC) Mouse CLB-IL2R/1, TB30 100 tests<br />
61R-CD25dMSPE CD25 antibody (PE) Rat 7D4 100 ug<br />
61R-CD25dMSPE CD25 antibody (PE) Rat 7D4 200 ug<br />
61R-CD25cMSPE CD25 antibody (PE) Rat 3C7 100 ug<br />
61R-CD25cMSPE CD25 antibody (PE) Rat 3C7 200 ug<br />
61R-CD25bHUPE CD25 antibody (PE) Mouse 7G7B6 120 tests<br />
61R-CD25dMSPEC7 CD25 antibody (PE-CY7) Rat 7D4 100 ug<br />
61R-CD25cMSPEC7 CD25 antibody (PE-CY7) Rat 3C7 100 ug<br />
61R-CD25dMSSP CD25 antibody (Spectral Red) Rat 7D4 100 ug<br />
61R-CD25cMSSP CD25 antibody (Spectral Red) Rat 3C7 100 ug<br />
61R-CD26aHUBT CD26 antibody (biotin) Mouse 202.36 100 ug<br />
61R-CD29eHUBT CD26 antibody (biotin) Mouse 4B7R 100 ug<br />
Immunology Products<br />
Fitzgerald Industries International<br />
9
---
10<br />
Immunology Products<br />
Fitzgerald Industries International<br />
Monoclonal <strong>Antibodies</strong><br />
Catalog No. Product Name Host Clone Size<br />
61R-CD26aHUFT CD26 antibody (FITC) Mouse 202.36 100 ug<br />
10R-CD28aHU CD28 antibody Mouse 15E8 200 tests/vial<br />
10R-CD28bHU CD28 antibody Mouse 15E8 100 ul<br />
10R-CD28dMS CD28 antibody Hamster 37.51 500 ug<br />
10R-CD28eMS CD28 antibody Hamster PV-1 500 ug<br />
10R-CD28dCKp CD28 antibody Mouse AV7 500 ug<br />
61R-CD28dMSAPC CD28 antibody (Allophycocyanin) Hamster 37.51 100 ug<br />
61R-CD28eMSAPC CD28 antibody (Allophycocyanin) Hamster PV-1 100 ug<br />
10R-CD28dMSP CD28 antibody (Azide Free) Hamster 37.51 500 ug<br />
10R-CD28eMSP CD28 antibody (Azide Free) Hamster PV-1 500 ug<br />
61R-CD28dMSBT CD28 antibody (biotin) Hamster 37.51 500 ug<br />
61R-CD28eMSBT CD28 antibody (biotin) Hamster PV-1 500 ug<br />
61R-CD28dCKBT CD28 antibody (biotin) Mouse AV7 500 ug<br />
61R-CD28dMSFT CD28 antibody (FITC) Hamster 37.51 500 ug<br />
61R-CD28eMSFT CD28 antibody (FITC) Hamster PV-1 500 ug<br />
61R-CD28dCKFT CD28 antibody (FITC) Mouse AV7 500 ug<br />
61R-CD28dMSPE CD28 antibody (PE) Hamster 37.51 100 ug<br />
61R-CD28dMSPE CD28 antibody (PE) Hamster 37.51 200 ug<br />
61R-CD28eMSPE CD28 antibody (PE) Hamster PV-1 100 ug<br />
61R-CD28eMSPE CD28 antibody (PE) Hamster PV-1 200 ug<br />
61R-CD28dCKPE CD28 antibody (PE) Mouse AV7 100 ug<br />
61R-CD28dMSSP CD28 antibody (Spectral Red) Hamster 37.51 100 ug<br />
61R-CD28eMSSP CD28 antibody (Spectral Red) Hamster PV-1 100 ug<br />
10R-CD29FMS CD29 antibody Hamster INa2-2 500 ug<br />
10R-CD29dHU CD29 antibody Mouse P4C10 100 ug<br />
10R-CD30aHU CD30 antibody Mouse AC10 100 ug<br />
10R-CD30eMS CD30 antibody Hamster MCD30.1 500 ug<br />
10R-CD30eMSP CD30 antibody (Azide Free) Hamster MCD30.1 500 ug<br />
61R-CD30eMSBT CD30 antibody (biotin) Hamster MCD30.1 500 ug<br />
61R-CD30eMSFT CD30 antibody (FITC) Hamster MCD30.1 500 ug<br />
61R-CD30eMSPE CD30 antibody (PE) Hamster MCD30.1 100 ug<br />
61R-CD30eMSPE CD30 antibody (PE) Hamster MCD30.1 200 ug<br />
10R-CD31jMS CD31 antibody Rat 390 500 ug<br />
10R-CD31bHU CD31 antibody Mouse 158-2B3 100 ug<br />
10R-CD31cHU CD31 antibody Mouse 1A10 1 ml<br />
10R-CD31aHU CD31 antibody Mouse HC1/6 100 ug<br />
10R-CD31iSH CD31 antibody Mouse CO.3E1D4 250 ug<br />
10R-CD31gRT CD31 antibody Mouse TLD-3A12 500 ug<br />
10R-CD31hRT CD31 antibody Mouse TLD-3A12 250 ug<br />
10R-CD31dHU CD31 antibody Mouse HEC7 200 ug<br />
61R-CD31jMSAPC CD31 antibody (Allophycocyanin) Rat 390 100 ug<br />
10R-CD31jMSP CD31 antibody (Azide Free) Rat 390 500 ug<br />
61R-CD31jMSBT CD31 antibody (biotin) Rat 390 500 ug
---
Monoclonal <strong>Antibodies</strong><br />
Catalog No. Product Name Host Clone Size<br />
61R-CD31KBT CD31 antibody (Biotin) Mouse M1081101 100 ug<br />
61R-CD31jMSFT CD31 antibody (FITC) Rat 390 500 ug<br />
61R-CD31aHUFT CD31 antibody (FITC) Mouse HC1/6 100 tests<br />
61R-CD31jMSPE CD31 antibody (PE) Rat 390 100 ug<br />
61R-CD31jMSPE CD31 antibody (PE) Rat 390 200 ug<br />
61R-CD31aHUPE CD31 antibody (PE) Mouse HC1/6 100 tests<br />
61R-CD31jMSPEC7 CD31 antibody (PE-CY7) Rat 390 100 ug<br />
10R-CD32eHU CD32 antibody Mouse 7.3 100 ug<br />
10R-CD32GHU CD32 antibody Mouse CIKM5 200 ug<br />
10R-CD32cHU CD32 antibody (Fab'2) Mouse 7.3 100 ug<br />
61R-CD32eHUPE CD32 antibody (PE) Mouse 7.3 120 tests<br />
61R-CD33aHUPE CD33 antibody (PE) Mouse MD33.6 100 tests<br />
10R-CD35aHUx CD35 antibody Mouse KuN241 100 ug<br />
10R-CD35cHU CD35 antibody Mouse E11 200 ug<br />
10R-CD36aHU CD36 antibody Mouse CLB-IVC7 200 tests/vial<br />
61R-CD36aHU CD36 antibody (FITC) Mouse CLB-IVC7 100 tests<br />
10R-CD38aHU CD38 antibody Mouse AT13/5 500 ul<br />
10R-CD38bHU CD38 antibody Mouse SPC32 1 ml<br />
10R-CD38dMS CD38 antibody Rat NIMR-5 500 ug<br />
10R-CD38cMS CD38 antibody Rat 90 500 ug<br />
61R-CD38dMSAPC CD38 antibody (Allophycocyanin) Rat NIMR-5 100 ug<br />
61R-CD38cMSAPC CD38 antibody (Allophycocyanin) Rat 90 100 ug<br />
10R-CD38dMSP CD38 antibody (Azide Free) Rat NIMR-5 500 ug<br />
10R-CD38cMSP CD38 antibody (Azide Free) Rat 90 500 ug<br />
61R-CD38dMSBT CD38 antibody (biotin) Rat NIMR-5 500 ug<br />
61R-CD38cMSBT CD38 antibody (biotin) Rat 90 500 ug<br />
61R-CD38dMSFT CD38 antibody (FITC) Rat NIMR-5 500 ug<br />
61R-CD38cMSFT CD38 antibody (FITC) Rat 90 500 ug<br />
61R-CD38dMSPE CD38 antibody (PE) Rat NIMR-5 100 ug<br />
61R-CD38dMSPE CD38 antibody (PE) Rat NIMR-5 200 ug<br />
61R-CD38cMSPE CD38 antibody (PE) Rat 90 100 ug<br />
61R-CD38dMSSP CD38 antibody (Spectral Red) Rat NIMR-5 100 ug<br />
61R-CD38cMSSP CD38 antibody (Spectral Red) Rat 90 100 ug<br />
10R-CD40aMSP CD40 antibody Rat 37702 500 ug<br />
10R-CD40bMS CD40 antibody Rat 1C10 500 ug<br />
61R-CD40bMSAPC CD40 antibody (Allophycocyanin) Rat 1C10 100 ug<br />
10R-CD40bMSP CD40 antibody (Azide Free) Rat 1C10 500 ug<br />
61R-CD40bMSBT CD40 antibody (biotin) Rat 1C10 500 ug<br />
61R-CD40bMSFT CD40 antibody (FITC) Rat 1C10 500 ug<br />
61R-CD40bMSPE CD40 antibody (PE) Rat 1C10 100 ug<br />
61R-CD40bMSPE CD40 antibody (PE) Rat 1C10 200 ug<br />
61R-CD40bMSSP CD40 antibody (Spectral Red) Rat 1C10 100 ug<br />
10R-CD41bSH CD41 + CD61 antibody Mouse CO.35E4 2 ml<br />
Immunology Products<br />
Fitzgerald Industries International<br />
11
---
12<br />
Immunology Products<br />
Fitzgerald Industries International<br />
Monoclonal <strong>Antibodies</strong><br />
Catalog No. Product Name Host Clone Size<br />
61R-CD41aaHUBT CD41a antibody (biotin) Mouse 96.2C1 100 ug<br />
10R-CD42bbHU CD42b antibody Mouse CLB-MB45 200 tests/vial<br />
10R-CD45ROaHU CD45RO antibody Mouse UCHL1 200 ug<br />
61R-CD45ROaHUAP CD45RO antibody (Allophycocyanin) Mouse UCHL1 100 tests<br />
10R-CD46aHU CD46 antibody Mouse 169-1-E4.3 100 ug<br />
10R-CD47aMS CD47 antibody Rat MIAP301 500 ug<br />
10R-CD49cMS CD49b antibody Rat DX5 500 ug<br />
10R-CD49bbHUp CD49b antibody Mouse HAS-4 100 ug<br />
61R-CD49cMSAPC CD49b antibody (Allophycocyanin) Rat DX5 100 ug<br />
61R-CD49cMSAPC7 CD49b antibody (Allophycocyanin-CY7) Rat DX5 100 ug<br />
10R-CD49cMSP CD49b antibody (Azide Free) Rat DX5 500 ug<br />
61R-CD49cMSBT CD49b antibody (biotin) Rat DX5 500 ug<br />
61R-CD49cMSFT CD49b antibody (FITC) Rat DX5 500 ug<br />
61R-CD49cMSPE CD49b antibody (PE) Rat DX5 100 ug<br />
61R-CD49cMSPE CD49b antibody (PE) Rat DX5 200 ug<br />
10R-CD49EART CD49e antibody Hamster HMa5-1 500 ug<br />
10R-CD49dMS CD49e antibody Rat 5H10.27 500 ug<br />
10R-CD49dMLE CD49e antibody (Azide Free) Rat 5H10.27 500 ug<br />
61R-CD49dMSBT CD49e antibody (biotin) Rat 5H10.27 500 ug<br />
61R-CD49eaHUFT CD49e antibody (FITC) Mouse SAM-1 100 tests<br />
61R-CD49dMSFT CD49e antibody (FITC) Rat 5H10.27 500 ug<br />
61R-CD49dMSFT CD49e antibody (FITC) Rat 5H10.27 100 ug<br />
61R-CD49dMSPE CD49e antibody (PE) Rat 5H10.27 100 ug<br />
61R-CD49faHUFT CD49f antibody (FITC) Rat NKI-GoH3 100 tests<br />
61R-CD51bHUPE CD51 antibody (PE) Mouse 13C2 100 tests<br />
10R-CD51aHU CD51 Purified MAb antibody Mouse NKI-M9 200 tests/vial<br />
10R-CD51e CD51+CD61 antibody Mouse 34D7 100 ul<br />
10R-CD54cMS CD54 antibody Rat YN1/1.7.4 500 ug<br />
10R-CD54aHU CD54 antibody Mouse 15.2 100 ug<br />
10R-CD54cMSP CD54 antibody (Azide Free) Rat YN1/1.7.4 500 ug<br />
61R-CD54cMSBT CD54 antibody (biotin) Rat YN1/1.7.4 500 ug<br />
61R-CD54cMSFT CD54 antibody (FITC) Rat YN1/1.7.4 500 ug<br />
61R-CD54cMSPE CD54 antibody (PE) Rat YN1/1.7.4 100 ug<br />
61R-CD55aHUPE CD55 antibody (PE) Mouse 143-30 100 tests<br />
10R-CD58aSH CD58 antibody Mouse L180/1 2 ml<br />
10C-CR2040M1 CD59 antibody Mouse 3413500 100 ug<br />
61R-CD59aHUFT CD59 antibody (FITC) Mouse MEM43 100 tests<br />
10R-CD61cHUp CD61 antibody Mouse PM6/13 100 ug<br />
61R-CD61bHUFT CD61 antibody (FITC) Mouse PM6/13 100 tests<br />
61R-CD61bHUPE CD61 antibody (PE) Mouse PM6/13 100 tests<br />
10R-CD62ebHU CD62E antibody Mouse 1.2B6 100 ug<br />
61R-CD62ebHUFT CD62E antibody (FITC) Mouse 1.2B6 100 tests<br />
61R-CD62ebHUPE CD62E antibody (PE) Mouse 1.2B6 100 tests
---
Monoclonal <strong>Antibodies</strong><br />
Catalog No. Product Name Host Clone Size<br />
61R-CD62eHUPE CD62E antibody (PE) Mouse 1.2B6 100 tests<br />
10R-CD62dMS CD62L antibody Rat MEL-14 500 ug<br />
10R-CD62LaHU CD62L antibody Mouse LAM1-116 100 ug<br />
61R-CD62dMSAPC CD62L antibody (Allophycocyanin) Rat MEL-14 100 ug<br />
61R-CD62dMSAPC7 CD62L antibody (Allophycocyanin-CY7) Rat MEL-14 100 ug<br />
10R-CD62dMSP CD62L antibody (Azide Free) Rat MEL-14 500 ug<br />
61R-CD62dMSBT CD62L antibody (biotin) Rat MEL-14 500 ug<br />
61R-CD62dMSFT CD62L antibody (FITC) Rat MEL-14 500 ug<br />
61R-CD62LbHUFT CD62L antibody (FITC) Mouse DREG-56 100 tests<br />
61R-CD62dMSPE CD62L antibody (PE) Rat MEL-14 100 ug<br />
61R-CD62dMSPE CD62L antibody (PE) Rat MEL-14 200 ug<br />
61R-CD62LbHUPE CD62L antibody (PE) Mouse DREG-56 100 tests<br />
61R-CD62dMSPEC7 CD62L antibody (PE-CY7) Rat MEL-14 100 ug<br />
61R-CD62dMSSP CD62L antibody (Spectral Red) Rat MEL-14 100 ug<br />
61R-CD62LbHUSP CD62L antibody (Spectral Red) Mouse DREG-56 100 tests<br />
10R-CD62PC CD62P antibody Mouse M101281 500 ug<br />
10R-CD62PaHU CD62P antibody Mouse CLB-tromb/6, C2 200 tests/vial<br />
10R-CD64aHU CD64 antibody (Fab'2) Mouse 10.1 100 ug<br />
10R-CD66AaHU CD66a antibody Mouse 29H2 1 ml<br />
10R-CD66acdeHU CD66acde antibody Mouse CLB-gran/10,IH4Fc 200 tests/vial<br />
61R-CD66acdePE CD66acde antibody (PE) Mouse CLB-gran/10, IH4Fc 100 tests/vial<br />
10R-CD66BBHU CD66b antibody Mouse G10F5 100 ug<br />
10R-CD66baHU CD66b antibody Mouse CLB-B13.9 200 tests/vial<br />
10R-CD69aMS CD69 antibody Hamster H1.2F3 500 ug<br />
10R-CD69aMSP CD69 antibody (Azide Free) Hamster H1.2F3 500 ug<br />
61R-CD69aMSBT CD69 antibody (biotin) Hamster H1.2F3 500 ug<br />
61R-CD69aMSFT CD69 antibody (FITC) Hamster H1.2F3 500 ug<br />
61R-CD69aMSPE CD69 antibody (PE) Hamster H1.2F3 100 ug<br />
61R-CD69aMSPE CD69 antibody (PE) Hamster H1.2F3 200 ug<br />
61R-CD69aMSPEC CD69 antibody (PE-CY7) Hamster H1.2F3 100 ug<br />
61R-CD69aMSSP CD69 antibody (Spectral Red) Hamster H1.2F3 100 ug<br />
10R-CD70bHU CD70 antibody Mouse BU69 100 ug<br />
10R-CD70aHU CD70 antibody Mouse CLB-2F2 200 tests<br />
61R-CD70bHUFT CD70 antibody (FITC) Mouse BU69 120 tests<br />
61R-CD70bHUPE CD70 antibody (PE) Mouse BU69 1 vial =120 tests<br />
10R-CD70bHUP CD70 antibody (Preservative Free) Mouse BU69 500 ug<br />
10R-CD71cMS CD71 antibody Rat RI7217 500 ug<br />
10R-CD71aHU CD71 antibody Mouse RVS-10 200 ug<br />
10R-CD71cMSP CD71 antibody (Azide Free) Rat RI7217 500 ug<br />
61R-CD71cMSBT CD71 antibody (biotin) Rat RI7217 500 ug<br />
61R-CD71cMSFT CD71 antibody (FITC) Rat RI7217 500 ug<br />
61R-CD71cMSPE CD71 antibody (PE) Rat RI7217 100 ug<br />
61R-CD71aHUPE CD71 antibody (PE) Mouse RVS-10 100 tests<br />
Immunology Products<br />
Fitzgerald Industries International<br />
13
---
14<br />
Immunology Products<br />
Fitzgerald Industries International<br />
Monoclonal <strong>Antibodies</strong><br />
Catalog No. Product Name Host Clone Size<br />
10-Z72A CD72 antibody Mouse M42253 200 ug<br />
10R-CD72AHU CD72 antibody Mouse BU40 200 ug<br />
10R-CD72aMS CD72.1 antibody Mouse 10-1.D2 500 ug<br />
61R-CD72aMSBT CD72.1 antibody (biotin) Mouse 10-1.D2 500 ug<br />
61R-CD72aMSFT CD72.1 antibody (FITC) Mouse 10-1.D2 500 ug<br />
61R-CD72aMSPE CD72.1 antibody (PE) Mouse 10-1.D2 100 ug<br />
10R-CD74aHU CD74 antibody Mouse M-B741 100 ug<br />
10R-CD79baHU CD79b antibody Mouse CB3-1 100 ug<br />
10R-CD79bbMS CD79b antibody Hamster HM79-12 500 ug<br />
10R-CD79bbMSP CD79b antibody (Azide Free) Hamster HM79-12 500 ug<br />
61R-CD79bbMSBT CD79b antibody (biotin) Hamster HM79-12 500 ug<br />
61R-CD79bbMSFT CD79b antibody (FITC) Hamster HM79-12 500 ug<br />
61R-CD79bbMSPE CD79b antibody (PE) Hamster HM79-12 100 ug<br />
10R-CD80bMS CD80 antibody Rat 1G10 500 ug<br />
10R-CD80aHU CD80 antibody Mouse DAL-1 200 tests<br />
61R-CD80bMSAPC CD80 antibody (Allophycocyanin) Rat 1G10 100 ug<br />
10R-CD80bMP CD80 antibody (Azide Free) Rat 1G10 500 ug<br />
61R-CD80bMSBT CD80 antibody (biotin) Rat 1G10 500 ug<br />
61R-CD80bMSFT CD80 antibody (FITC) Rat 1G10 500 ug<br />
61R-CD80bHUFT CD80 antibody (FITC) Mouse BB1 120 tests<br />
61R-CD80bMSPE CD80 antibody (PE) Rat 1G10 100 ug<br />
61R-CD80bMSPE CD80 antibody (PE) Rat 1G10 200 ug<br />
61R-CD80bMSSP CD80 antibody (Spectral Red) Rat 1G10 100 ug<br />
61R-CD83aHUPE CD83 antibody (PE) Mouse HB15e 120 tests<br />
10R-CD86cMS CD86 antibody Rat GL1 500 ug<br />
10R-CD86bMS CD86 antibody Rat 2D10 500 ug<br />
10R-CD86aHU CD86 antibody Mouse BU63 200 ug<br />
61R-CD86cMSAPC CD86 antibody (Allophycocyanin) Rat GL1 100 ug<br />
61R-CD86bMSAPC CD86 antibody (Allophycocyanin) Rat 2D10 100 ug<br />
10R-CD86cMSP CD86 antibody (Azide Free) Rat GL1 500 ug<br />
10R-CD86bMSP CD86 antibody (Azide Free) Rat 2D10 500 ug<br />
61R-CD86cMSBT CD86 antibody (biotin) Rat GL1 500 ug<br />
61R-CD86bMSBT CD86 antibody (biotin) Rat 2D10 500 ug<br />
61R-CD86aHUBT CD86 antibody (biotin) Mouse BU63 100 ug<br />
61R-CD86cMSFT CD86 antibody (FITC) Rat GL1 500 ug<br />
61R-CD86aHUFT CD86 antibody (FITC) Mouse BU63 100 tests<br />
61R-CD86cMSPE CD86 antibody (PE) Rat GL1 100 ug<br />
61R-CD86cMSPE CD86 antibody (PE) Rat GL1 200 ug<br />
61R-CD86cMSPEC7 CD86 antibody (PE-CY7) Rat GL1 100 ug<br />
61R-CD86bMSPEC7 CD86 antibody (PE-CY7) Rat 2D10 100 ug<br />
61R-CD86cMSSP CD86 antibody (Spectral Red) Rat GL1 100 ug<br />
61R-CD86bMSSP CD86 antibody (Spectral Red) Rat 2D10 100 ug<br />
10R-CD87A CD87 antibody Mouse M0911231 100 ug
---
Monoclonal <strong>Antibodies</strong><br />
Catalog No. Product Name Host Clone Size<br />
10R-CD88aHU CD88 antibody Mouse S5/1 200 ug<br />
10R-CD90cMS CD90 antibody Rat G7 500 ug<br />
10R-CD90bHU CD90 antibody Mouse F15-42-1 100 ug<br />
61R-CD90cMSAPC CD90 antibody (Allophycocyanin) Rat G7 100 ug<br />
10R-CD90cMSP CD90 antibody (Azide Free) Rat G7 500 ug<br />
61R-CD90cMSBT CD90 antibody (biotin) Rat G7 500 ug<br />
61R-CD90cMSFT CD90 antibody (FITC) Rat G7 500 ug<br />
61R-CD90cMSFT CD90 antibody (FITC) Rat G7 100 ug<br />
61R-CD90bHUFT CD90 antibody (FITC) Mouse F15-42-1 100 tests<br />
61R-CD90cMSPE CD90 antibody (PE) Rat G7 100 ug<br />
61R-CD90bHUPE CD90 antibody (PE) Mouse F15-42-1 100 tests<br />
61R-CD90cMSSP CD90 antibody (Spectral Red) Rat G7 100 ug<br />
10R-CD90dMSp CD90.2 antibody Rat 30-H12 500 ug<br />
61R-CD90dMSAPC CD90.2 antibody (Allophycocyanin) Rat 30-H12 100 ug<br />
10R-CD90dMSLE CD90.2 antibody (Azide Free) Rat 30-H12 500 ug<br />
61R-CD90dMSBT CD90.2 antibody (biotin) Rat 30-H12 500 ug<br />
61R-CD90dMSFT CD90.2 antibody (FITC) Rat 30-H12 500 ug<br />
61R-CD90dMSFT CD90.2 antibody (FITC) Rat 30-H12 100 ug<br />
61R-CD90dMSPE CD90.2 antibody (PE) Rat 30-H12 100 ug<br />
61R-CD90dMSPE CD90.2 antibody (PE) Rat 30-H12 200 ug<br />
61R-CD90dMSSP CD90.2 antibody (Spectral Red) Rat 30-H12 100 ug<br />
10R-CD94aMSp CD94 antibody Rat 18d3 500 ug<br />
61R-CD94aMSBT CD94 antibody (biotin) Rat 18D3 500 ug<br />
61R-CD94aMSFT CD94 antibody (FITC) Rat 18D3 500 ug<br />
61R-CD94aMSPE CD94 antibody (PE) Rat 18D3 100 ug<br />
61R-CD101aHUFT CD101 antibody (FITC) Mouse BB27 100 ug<br />
61R-CD102aMSBT CD102 antibody (biotin) Rat 3C4 500 ug<br />
61R-CD102aMSPE CD102 antibody (PE) Rat 3C4 100 ug<br />
10R-CD103aMS CD103 antibody Hamster 2E7 500 ug<br />
10R-CD103aMSP CD103 antibody (Azide Free) Hamster 2E7 500 ug<br />
61R-CD103aMSBT CD103 antibody (biotin) Hamster 2E7 500 ug<br />
61R-CD103aMSFT CD103 antibody (FITC) Hamster 2E7 500 ug<br />
61R-CD103aMSPE CD103 antibody (PE) Hamster 2E7 100 ug<br />
10R-CD105BHU CD105 antibody Mouse TO7 100 ug<br />
61R-CD105bHUBT CD105 antibody (biotin) Mouse N1-3A1 100 ug<br />
61R-CD105dHUFT CD105 antibody (FITC) Mouse N1-3A1/SN6 120 tests<br />
61R-CD105cHUPE CD105 antibody (PE) Mouse N1-3A1 120 tests<br />
10R-CD106cMS CD106 antibody Rat M/K-2 500 ug<br />
10R-CD106bHUp CD106 antibody Mouse 1.G11B1 100 ug<br />
10R-CD106bHU CD106 antibody Mouse 1.G11B1 100 ug<br />
10R-CD106cMSP CD106 antibody (Azide Free) Rat M/K-2 500 ug<br />
61R-CD106cMSBT CD106 antibody (biotin) Rat M/K-2 500 ug<br />
61R-CD106bHUBT CD106 antibody (biotin) Mouse 1.G11B1 100 tests<br />
Immunology Products<br />
Fitzgerald Industries International<br />
15
---
16<br />
Immunology Products<br />
Fitzgerald Industries International<br />
Monoclonal <strong>Antibodies</strong><br />
Catalog No. Product Name Host Clone Size<br />
61R-CD106cMSFT CD106 antibody (FITC) Rat M/K-2 500 ug<br />
61R-CD106bHUFT CD106 antibody (FITC) Mouse 1.G11B1 120 tests<br />
61R-CD106cMSPEx CD106 antibody (PE) Rat M/K-2 100 ug<br />
61R-CD106bHUPE CD106 antibody (PE) Mouse 1.G11B1 100 tests<br />
10R-CD107abMS CD107a antibody Rat 1D4B 500 ug<br />
10R-CD107aaHU CD107a antibody Mouse H4A3 100 ug<br />
61R-CD107abMSAP CD107a antibody (Allophycocyanin) Rat 1D4B 100 ug<br />
61R-CD107abMSFT CD107a antibody (FITC) Rat 1D4B 500 ug<br />
61R-CD107aaHUFT CD107a antibody (FITC) Mouse H4A3 100 tests<br />
10R-CD107bbMSp CD107b antibody Rat ABL-93 500 ug<br />
10R-CD107baHU CD107b antibody Mouse H4B4 100 ug<br />
61R-CD107bbMSAP CD107b antibody (Allophycocyanin) Rat ABL-93 100 ug<br />
61R-CD107bbMSFT CD107b antibody (FITC) Rat ABL-93 500 ug<br />
61R-CD107baHUFT CD107b antibody (FITC) Mouse H4B4 100 tests<br />
10R-CD115a CD115 antibody Rat 2-4A5-4 1 ml<br />
10R-CD115a CD115 antibody Rat 2-4A5-4 500 ul<br />
10R-CD115aP CD115 antibody (BSA/Azide Free) Rat 2-4A5-4 200 ul<br />
10R-CD117bMS CD117 antibody Rat 2B8 500 ug<br />
10R-CD117aHU CD117 antibody Mouse 57A5 100 ug<br />
61R-CD117bMSAPC CD117 antibody (Allophycocyanin) Rat 2B8 100 ug<br />
61R-CD117bMSAP5 CD117 antibody (Allophycocyanin-CY7) Rat 2B8 100 ug<br />
10R-CD117bMSP CD117 antibody (Azide Free) Rat 2B8 500 ug<br />
61R-CD117bMSBT CD117 antibody (biotin) Rat 2B8 500 ug<br />
61R-CD117bMSCY5 CD117 antibody (CY5) Rat 2B8 100 ug<br />
61R-CD117bMSFT CD117 antibody (FITC) Rat 2B8 500 ug<br />
61R-CD117bMSPEx CD117 antibody (PE) Rat 2B8 100 ug<br />
61R-CD117aHUPE CD117 antibody (PE) Mouse 57A5 120 tests<br />
61R-CD117bMSSP CD117 antibody (Spectral Red) Rat 2B8 100 ug<br />
10R-CD122aMS CD122 antibody Rat 5H4 500 ug<br />
61R-CD122aMSAPC CD122 antibody (Allophycocyanin) Rat 5H4 100 ug<br />
10R-CD122aMSP CD122 antibody (Azide Free) Rat 5H4 500 ug<br />
61R-CD122aMSBT CD122 antibody (biotin) Rat 5H4 500 ug<br />
61R-CD122aMSFT CD122 antibody (FITC) Rat 5H4 500 ug<br />
61R-CD122aHUFT CD122 antibody (FITC) Mouse MIK-b1 100 tests<br />
10R-CD138aHU CD138 antibody Mouse 1D4 200 tests<br />
10R-CD138CHU CD138 antibody Mouse SB55a 100 ug<br />
61R-CD138cHUPE CD138 antibody (PE) Mouse 1D4 100 tests<br />
10R-CD140aMS CD140A antibody Rat APA5 100 ug<br />
10R-CD141b CD141 antibody Mouse QBEND/40 1 ml<br />
10R-CD144CMS CD144 antibody Rat CW24 500 ug<br />
61R-CD146aHUBT CD146 antibody (biotin) Mouse COM 7A4 100 tests (@ 10 ul/test)<br />
10R-CD147aHU CD147 antibody Mouse UM-8D6 100 ug<br />
61R-CD147aHUBT CD147 antibody (biotin) Mouse UM-8D6 100 ug
---
Monoclonal <strong>Antibodies</strong><br />
Catalog No. Product Name Host Clone Size<br />
61R-CD147aHUPE CD147 antibody (PE) Mouse UM-8D6 120 tests<br />
10R-CD152aMS CD152 antibody Hamster 1B8 500 ug<br />
10R-CD152bMS CD152 antibody Hamster 9H10 500 ug<br />
10R-CD152aMSP CD152 antibody (Azide Free) Hamster 1B8 500 ug<br />
10R-CD152bMSP CD152 antibody (Azide Free) Hamster 9H10 500 ug<br />
61R-CD152aMSBT CD152 antibody (biotin) Hamster 1B8 500 ug<br />
61R-CD152aMSFT CD152 antibody (FITC) Hamster 1B8 500 ug<br />
61R-CD152aMSPE CD152 antibody (PE) Hamster 1B8 100 ug<br />
10R-CD154dMS CD154 antibody Hamster MR1 500 ug<br />
10R-CD154aHU CD154 antibody Mouse 24-31 100 ul<br />
10R-CD154dMSP CD154 antibody (Azide Free) Hamster MR1 500 ug<br />
61R-CD154dMSBT CD154 antibody (biotin) Hamster MR1 500 ug<br />
61R-CD154aHUBT CD154 antibody (biotin) Mouse 24-31 100 ug<br />
61R-CD154dMSFT CD154 antibody (FITC) Hamster MR1 500 ug<br />
61R-CD154aHUFT CD154 antibody (FITC) Mouse 24-31 120 tests<br />
61R-CD154dMSPE CD154 antibody (PE) Hamster MR1 100 ug<br />
10R-CD162aHU CD162 antibody Mouse PL1 100 ug<br />
10R-CD163aRT CD163 antibody Mouse ED2 250 ug<br />
61R-CD163CHUBT CD163 antibody (biotin) Mouse RM3/1 100 ug<br />
61R-CD163BHUBT CD163 antibody (biotin) Mouse 5C6-FAT 100 ug<br />
10R-CD166aHU CD166 antibody Mouse 3A6 100 ug<br />
61R-CD166aHUBT CD166 antibody (biotin) Mouse 3A6 100 ug<br />
61R-CD166aHUFT CD166 antibody (FITC) Mouse 3A6 120 tests<br />
61R-D120aFT CD205 antibody (FITC) Rat DEC-205 200 ug<br />
10R-CD235aAHU CD235a antibody Mouse ery-1/AME-1 1 vial = 200 tests<br />
61R-CD235aAHUFT CD235a antibody (FITC) Mouse ery-1/AME-1 100 tests/vial<br />
10R-C140a Complement C1q antibody Mouse 242G3 50 ug<br />
10R-C192a Complement C3 antibody Mouse C3-9 1 mg<br />
10R-C141a Complement C3a alpha antibody Mouse H13 50 ug<br />
10C-CR6032M1 Complement C3a antibody Mouse 3010620 100 ug<br />
10R-C184a Complement C3b alpha antibody Mouse H206 50 ug<br />
10R-C194a Complement C3b beta antibody Mouse H11 50 ug<br />
10R-C195a Complement C5 antibody Mouse HCC5.1 50 ug<br />
10R-C142a Complement C5b antibody Mouse HCC5b.1 50 ug<br />
10-D42B D-Dimer antibody Mouse M01102704 1 mg<br />
10R-D100a D-Dimer antibody Mouse DD2 1 mg<br />
10R-D100C D-Dimer antibody Mouse DD4 1 mg<br />
10-D42A D-Dimer antibody Mouse M01102703 1 mg<br />
10R-E128A EDN antibody Mouse 3H8 100 ug<br />
10R-E107a Eosinophil Major Basic Protein Antibody Mouse BMK13 100 ug<br />
10R-E114a ERY-H/1 antibody Mouse 7C11 200 tests/vial<br />
10R-F100a F4/80 antibody Rat CI:A3-1 250 ug<br />
10-F77A Factor V antibody Mouse M5020721 100 ug<br />
Immunology Products<br />
Fitzgerald Industries International<br />
17
---
18<br />
Immunology Products<br />
Fitzgerald Industries International<br />
Monoclonal <strong>Antibodies</strong><br />
Catalog No. Product Name Host Clone Size<br />
10R-F102a Factor VIII antibody Mouse 8EB 500 ug<br />
10R-F102b Factor VIII antibody Mouse 8A 500 ug<br />
10R-F102c Factor Vlll antibody Mouse 10101 1 mg<br />
10-F80A Factor Vlll antibody Mouse M2110133 1 mg<br />
10-F60A Factor VlllC antibody Mouse M28259 1 mg<br />
10R-F107a Fibrinogen antibody Mouse 15H12 1 mg<br />
10R-F107B Fibrinogen antibody Mouse 1F3 1 mg<br />
10R-F107C Fibrinogen antibody Mouse 27C8 1 mg<br />
10C-CR6029M1 Fibrinogen D antibody Mouse 173602 100 ug<br />
10R-F108a Fibrinopeptide A antibody Mouse 1F7 1 mg<br />
10R-H101a H-2Db antibody Mouse 28-14-8 200 ug<br />
61R-H101bPE H-2Db antibody (PE) Mouse KH95 200 ug<br />
10R-H137a H-2Kb antibody Mouse AF6-88.5 500 ug<br />
10R-H116a Heparin antibody Mouse 570 100 ug<br />
10R-1142 HHV8 antibody Mouse AT4C11 100 ul<br />
10-H77A HLADR antibody Mouse M504528 200 ug<br />
10R-H125c HLADR antibody Mouse 1E5 200 tests/vial<br />
61R-H125aFT HLADR antibody (FITC) Mouse 1E5 100 tests<br />
10R-M102a Human Macrophage antibody Mouse MAC 387 200 ug<br />
10R-I139c IFN alpha antibody Mouse C10F5 1 mg<br />
10R-I139a IFN alpha antibody Mouse MMHA-2 50 ug<br />
10-I69A IFN alpha antibody Mouse M99012522 500 ug<br />
10R-I139a IFN alpha antibody Mouse MMHA-2 500 ug<br />
10R-I139b IFN alpha antibody Rat RMMA-1 250 ug/vial<br />
10-I69B IFN alpha antibody Mouse M99012523 50 ug<br />
61R-I139cFT IFN alpha antibody (FITC) Mouse MMHA-11 25 ug<br />
10R-I140b IFN beta antibody Mouse MMHB-3 50 ug / vial<br />
10R-I140a IFN beta antibody Mouse MMHB-1 0.1 ml<br />
10R-I140c IFN beta antibody Mouse MMHB-2 500 ug<br />
10R-I141a IFN beta antibody Rat RMMB-1 250 ug/vial<br />
10-I62B IFN beta antibody Mouse M99012525 50 ug<br />
10-I62A IFN beta antibody Mouse M99012524 50 ug<br />
61R-I140bFT IFN beta antibody (FITC) Mouse MMHB-3 0.1 ml<br />
10R-I101a IFN gamma antibody Mouse NIB42 500 ug<br />
10R-I157a IFN gamma antibody Rat YNH2.3 500 ug<br />
10-I61C IFN gamma antibody Mouse M32185 500 ug<br />
10R-I142a IFN gamma antibody Mouse DB-1 500 ug<br />
10R-I144a IFN gamma antibody Mouse DB-13 500 ug/vial<br />
10-I71A IFN gamma antibody Mouse M99012622 500 ug<br />
10-I61B IFN gamma antibody Mouse M99012527 100 ug<br />
10-I67A IFN gamma antibody Rat M99012531 500 ug<br />
10R-I101B IFN gamma antibody Mouse M912269 500 ug<br />
61R-I101bBT IFN gamma antibody (biotin) Mouse 4S.B3 500 ug
---
Monoclonal <strong>Antibodies</strong><br />
Catalog No. Product Name Host Clone Size<br />
10R-I152a IFNAR1 antibody Mouse MMHAR-1 500 ug<br />
10R-CD118aHU IFNAR2 antibody Mouse MMHAR-2 50 ug<br />
10-I64A IFNAR2 antibody Mouse M99012521 50 Tests<br />
61R-CD118AHUPE IFNAR2 antibody (PE) Mouse MMHAR-2 50 tests<br />
10R-I145a IFNGR2 antibody Mouse MMHGR-2 250 ug/vial<br />
10-I66A IFNGR2 antibody Mouse M99012529 250 ug<br />
61R-I114aHRP IgG2 Human (HRP) Monoclonal Antibody Set Mouse MH162-1 1 ml<br />
10R-1167 IL32 antibody Mouse AT2F9 100 ul<br />
10R-1011 KIR2D antibody Mouse 2H6 100 ul<br />
10R-1033 KIR2DL1 antibody Mouse 2F9 100 ul<br />
10R-1000 KIR2DL3 antibody Mouse 190IIC311 100 ul<br />
10R-1015 KIR2DS4 antibody Mouse 5F2 100 ul<br />
10R-L100b Lactoferrin antibody Mouse 1A1 1 mg<br />
10R-L100c Lactoferrin antibody Mouse 1C6 1 mg<br />
10R-L100a Lactoferrin antibody Mouse 2B8 1 mg<br />
10R-1001 LAIR1 antibody Mouse lc12 100 ul<br />
10R-M103a Macrophage Scavenger Receptor antibody Rat 2F8 250 ug<br />
10R-M160aMSp MAdCAM1 antibody Rat MECA-367 500 ug<br />
10R-M160aMSLE MAdCAM1 antibody (Azide Free) Rat MECA-367 500 ug<br />
61R-M160aMSBT MAdCAM1 antibody (biotin) Rat MECA-367 500 ug<br />
61R-M160aMSFT MAdCAM1 antibody (FITC) Rat MECA-367 500 ug<br />
61R-M146aBT Metallophilic Macrophage antibody (biotin) Rat MOMA 1 200 ug<br />
10R-M109a MHC Class I antibody Mouse 3F10 100 ug<br />
61R-M109aBT MHC Class I antibody (biotin) Mouse 3F10 100 ug<br />
61R-M109aFT MHC Class I antibody (FITC) Mouse 3F10 0.2 ml<br />
61R-M109aPE MHC Class I antibody (PE) Mouse 3F10 0.2 ml<br />
61R-M110aBT MHC Class II antibody (biotin) Mouse TDR31.1 100 ug<br />
61R-M110aFT MHC Class II antibody (FITC) Mouse TDR31.1 0.2 ml<br />
10R-M110a MHC Class II beta chain antibody Mouse TRD31.1 100 ug<br />
10R-1172 MINCLE antibody Mouse AT16E3 100 ul<br />
10R-M120a MOMA2 antibody (Mouse) Rat MOMA2 200 ug<br />
10R-K100a Mouse anti Human Kappa Light Chain antibody Mouse 4G7 1 mg<br />
61R-K106aHRP Mouse anti Rat Kappa 1 Light Chain (HRP) Mouse MARK1 500 ug<br />
61R-K105aHRP Mouse anti Rat Kappa alpha 1 Light Chain (HRP) Mouse MARK3 500 ug<br />
10R-M156b Mouse Pan Macrophages antibody Rat BM8 100 ug<br />
10R-M156a Mouse Pan Macrophages antibody Rat MOMA1 200 ug<br />
10R-M131a MUC1 antibody Mouse MA695 1 ml<br />
10R-M136a MUC1 antibody Mouse MA552 1 ml<br />
10R-M129b MUC1 antibody Hamster MH1 100 ug<br />
10R-M129a MUC1 antibody Mouse GP1.4 200 ug<br />
10-M93A MUC1 antibody Mouse M01102909 1 mg<br />
10-M93B MUC1 antibody Mouse M01102910 1 mg<br />
10R-M129C MUC1 Glycoprotein antibody Mouse M3A106 1 mg<br />
Immunology Products<br />
Fitzgerald Industries International<br />
19
---
20<br />
Immunology Products<br />
Fitzgerald Industries International<br />
Monoclonal <strong>Antibodies</strong><br />
Catalog No. Product Name Host Clone Size<br />
10R-M129D MUC1 Glycoprotein antibody Mouse M4H2 1 mg<br />
10R-M132a MUC2 antibody Mouse Ccp58 1 ml<br />
10R-M135a MUC6 antibody Mouse CLH5 1 ml<br />
10R-M134B Mucin 5AC antibody Mouse 45M1 100 ul<br />
10R-1014 NKp30 antibody Mouse y4E6 100 ul<br />
10R-1010 NKp44 antibody Mouse 8F12 100 ul<br />
10R-1007 NKp46 antibody Mouse n1D9 100 ul<br />
10-P08B PBP2a antibody Mouse M8121522 1 mg<br />
10-P08C PBP2a antibody Mouse M8121523 1 mg<br />
10-P08A PBP2a antibody Mouse M8121521 1 mg<br />
10R-P116a Perforin antibody Mouse delta G9 100 ug<br />
10R-P117a Perforin antibody Rat KM585 100 ul<br />
10R-P117b Perforin antibody Rat CB5.4 100 ug<br />
61R-P116ABT Perforin antibody (biotin) Mouse delta G9 100 ug<br />
61R-P116aFT Perforin antibody (FITC) Mouse delta G9 120 tests<br />
61R-P116aPE Perforin antibody (PE) Mouse delta G9 120 tests<br />
10-P70A Proteinase 3 antibody Mouse M01102819 1 mg<br />
10-P70B Proteinase 3 antibody Mouse M01102820 1 mg<br />
10R-K103B Rat anti Mouse kappa light chain antibody Rat LO-MK-1 1 mg<br />
61R-K103BBT Rat anti Mouse kappa light chain antibody (biotin) Rat LO-MK-1 1 mg<br />
10R-G102a Rat gamma 2B Heavy Chain antibody Mouse MARG2b-3 1 mg<br />
10R-M152a Rat Monocytes antibody Mouse ED1 250 ug<br />
10R-B124a Rat Pan B Cells antibody Mouse Ki-B1R 50 ug<br />
10R-G123a Rat Pan Granulocytes antibody Mouse RK-4 75 ug<br />
10R-M157a Rat Pan Macrophages antibody Mouse Ki-M2R 100 tests<br />
61R-T135aBT Rat Pan T cell antibody (biotin) Mouse Ki-T1R 200 ug<br />
10-R40A Rheumatoid Factor antibody Mouse M310120 500 ug<br />
10R-S110a SLA1 antibody Mouse JMIE3 250 ug<br />
10R-CD150a SLAM antibody Mouse IPO-3 100 ug/vial
---
Polyclonal <strong>Antibodies</strong><br />
Catalog No. Product Name Host Size<br />
20-OG20 alpha 1 Acid Glycoprotein antibody Goat 5 ml<br />
70R-3373 ASCC2 antibody Rabbit 50 ug<br />
20R-AR036 Attractin antibody Rabbit 50 ug<br />
20R-AR037 Attractin antibody Rabbit 50 ug<br />
20R-AR038 Attractin antibody Rabbit 50 ug<br />
70R-7550 BCAP29 antibody Rabbit 50 ug<br />
70R-6009 BCAP31 antibody Rabbit 50 ug<br />
70R-3765 BCL7A antibody Rabbit 50 ug<br />
70R-3771 BCL7A antibody Rabbit 50 ug<br />
70R-BR009 BD1 antibody Rabbit 50 ug<br />
20R-BG001 BD2 antibody Goat 50 ug<br />
70R-BR028 BD3 antibody Rabbit 100 ug<br />
70R-BR010 BD3 antibody Rabbit 50 ug<br />
70R-BR011 BD4 antibody Rabbit 50 ug<br />
20C-CR2010SP beta 2 Microglobulin antibody Sheep 1 ml<br />
20-MS30 beta 2 Microglobulin antibody Sheep 1 ml<br />
20-MG30 beta 2 Microglobulin antibody Goat 1 ml<br />
20R-MR013 beta 2 Microglobulin antibody Rabbit 500 ug<br />
70R-7564 beta 2 Microglobulin antibody Goat 1 mg<br />
60R-MR005BT beta 2 Microglobulin antibody (biotin) Rabbit 500 ug<br />
70R-7565 beta 2 Microglobulin antibody (HRP) Goat 1 mg<br />
60R-MR009HRP beta 2 Microglobulin antibody (HRP) Rabbit 500 ug<br />
70R-3963 BIVM antibody Rabbit 50 ug<br />
70R-4093 BIVM antibody Rabbit 50 ug<br />
70R-1644 BLK antibody Rabbit 100 ug<br />
70R-5736 BLNK antibody Rabbit 50 ug<br />
70R-7235 BTN1A1 antibody Rabbit 50 ug<br />
70R-7238 BTN2A1 antibody Rabbit 50 ug<br />
70R-7196 BTNL3 antibody Rabbit 50 ug<br />
70R-6390 BTNL8 antibody Rabbit 50 ug<br />
70R-7019 BTNL9 antibody Rabbit 50 ug<br />
70R-5623 BUB3 antibody Rabbit 50 ug<br />
70R-3417 BXDC2 antibody Rabbit 50 ug<br />
70R-7583 C1 Inhibitor antibody Sheep 1 mg<br />
70R-5985 C1QB antibody Rabbit 50 ug<br />
70R-5990 C1QB antibody Rabbit 50 ug<br />
70R-5739 C4BPA antibody Rabbit 50 ug<br />
70R-5917 C4BPB antibody Rabbit 50 ug<br />
20-000101 CD4 antibody Rabbit 500 ul<br />
20-000102 CD4 antibody Rabbit 100 ug<br />
70R-6188 CD5 antibody Rabbit 50 ug<br />
70R-5987 CD8B antibody Rabbit 50 ug<br />
Immunology Products<br />
Fitzgerald Industries International<br />
21
---
22<br />
Immunology Products<br />
Fitzgerald Industries International<br />
Polyclonal <strong>Antibodies</strong><br />
Catalog No. Product Name Host Size<br />
70R-5988 CD8B antibody Rabbit 50 ug<br />
70R-CR037 CD9 antibody Rabbit 100 ug<br />
20R-IR018 CD11c antibody Rabbit 50 ug<br />
20R-IR019 CD11c antibody Rabbit 50 ug<br />
70R-CR021 CD22 antibody Rabbit 50 ug<br />
70R-CR045 CD28 antibody Rabbit 100 ug<br />
20R-CR059 CD29 antibody Rabbit 100 ul<br />
20R-IR022 CD29 antibody Rabbit 50 ug<br />
20R-IR029 CD29 antibody Rabbit 50 ug<br />
70R-6098 CD36 antibody Rabbit 50 ug<br />
70R-6104 CD36 antibody Rabbit 50 ug<br />
70R-5925 CD40 antibody Rabbit 50 ug<br />
70R-6008 CD40 antibody Rabbit 50 ug<br />
20R-CR062 CD40 antibody Rabbit 100 ul<br />
70R-6092 CD40L antibody Rabbit 50 ug<br />
70R-CR026 CD40L antibody Rabbit 50 ug<br />
70R-CG007 CD40L antibody Goat 50 ug<br />
20R-IR027 CD49b antibody Rabbit 50 ug<br />
20R-IR028 CD49b antibody Rabbit 50 ug<br />
20R-IR008 CD51 antibody Rabbit 100 ul<br />
70R-CR046 CD72 antibody Rabbit 100 ug<br />
70R-CR047 CD72 antibody Rabbit 100 ug<br />
70R-CR048 CD100 antibody Rabbit 100 ug<br />
70R-CR049 CD100 antibody Rabbit 100 ug<br />
20R-CR017 CD105 antibody Rabbit 200 ug<br />
20R-CR018 CD105 antibody Rabbit 200 ug<br />
70R-CR038 CD133 antibody Rabbit 100 ug<br />
70R-BG004 CD137 antibody Goat 50 ug<br />
70R-BR007 CD137L antibody Rabbit 50 ug<br />
20R-CR019 CD144 antibody Rabbit 100 ug<br />
60R-CR003ft CD144 antibody (FITC) Rabbit 100 tests<br />
70R-5801 CD160 antibody Rabbit 50 ug<br />
70R-2900 CDC42EP4 antibody Rabbit 50 ug<br />
70R-3748 CDC42EP5 antibody Rabbit 50 ug<br />
70R-4129 CENTB5 antibody Rabbit 50 ug<br />
20-CR41 Ciita antibody Rabbit 100 ug<br />
20C-CR2011SP Complement C1q antibody Sheep 1 ml<br />
20C-CR2011G Complement C1q antibody Goat 1 ml<br />
20-CR78 Complement C1q antibody Rabbit 1 ml<br />
70R-7563 Complement C1q antibody Goat 1 mg<br />
20C-CR6020SP Complement C1r antibody Sheep 1 ml<br />
20C-CR6021SP Complement C1s antibody Sheep 1 ml
---
Polyclonal <strong>Antibodies</strong><br />
Catalog No. Product Name Host Size<br />
70R-1657 Complement C2 antibody Rabbit 100 ug<br />
70R-5918 Complement C2 antibody Rabbit 50 ug<br />
20C-CR2035G Complement C2 antibody Goat 1 ml<br />
70R-7581 Complement C3 antibody Goat 1 mg<br />
20-S0511G000-S4 Complement C3 antibody Goat 1 ml<br />
20-CG80 Complement C3 antibody Goat 1 ml<br />
20C-CR2018S Complement C3 antibody Sheep 1 ml<br />
70C-CR2018GAP Complement C3 antibody (Fab'2) Goat 1 mg<br />
20C-CR6032RP Complement C3a antibody Rabbit 500 ul<br />
20C-CR7085G Complement C3b antibody (inactive) Goat 1 ml<br />
20C-CR7086G Complement C3b antibody (proactive) Goat 1 ml<br />
20C-CR2019SP Complement C4 antibody Sheep 1 ml<br />
20C-CR6023SP Complement C4 antibody Sheep 1 ml<br />
20C-CR2019G Complement C4 antibody Goat 1 ml<br />
20-CG85S Complement C4 antibody Goat 1 ml<br />
20-CG85 Complement C4 antibody Goat 1 ml<br />
20C-CR2034R Complement C4a antibody Rabbit 1 ml<br />
70R-5742 Complement C4b antibody Rabbit 50 ug<br />
70R-7573 Complement C5 antibody Goat 1 mg<br />
70R-7588 Complement C5 antibody Sheep 1 mg<br />
20C-CR1012SP Complement C5 antibody Sheep 1 ml<br />
20C-CR2036G Complement C6 antibody Goat 1 ml<br />
20C-CR2037G Complement C7 antibody Goat 1 ml<br />
20C-CR6024SP Complement C8 antibody Sheep 1 ml<br />
20C-CR2038G Complement C8 antibody Goat 1 ml<br />
70R-5986 Complement C8b antibody Rabbit 50 ug<br />
70R-6994 Complement C8b antibody Rabbit 50 ug<br />
70R-7589 Complement C9 antibody Sheep 1 mg<br />
20C-CR2039G Complement C9 antibody Goat 1 ml<br />
70R-CR054 CRTH2 antibody Rabbit 100 ug<br />
70R-6241 CSF1 antibody Rabbit 50 ug<br />
70R-6326 CSF1 antibody Rabbit 50 ug<br />
70R-6442 CSF1 antibody Rabbit 50 ug<br />
70R-7099 CTAGE5 antibody Rabbit 50 ug<br />
70R-7102 CTAGE5 antibody Rabbit 50 ug<br />
70R-7104 CTAGE5 antibody Rabbit 50 ug<br />
70R-7105 CTAGE5 antibody Rabbit 50 ug<br />
70R-CR028 CTLA4 antibody Rabbit 50 ug<br />
43R-GD001RD Donkey anti Goat IgG (rhodamine) Donkey 0.5 ml<br />
70R-3329 EARS2 antibody Rabbit 50 ug<br />
70R-7572 Factor B antibody Goat 1 mg<br />
70R-7587 Factor B antibody Sheep 1 mg<br />
Immunology Products<br />
Fitzgerald Industries International<br />
23
---
24<br />
Immunology Products<br />
Fitzgerald Industries International<br />
Polyclonal <strong>Antibodies</strong><br />
Catalog No. Product Name Host Size<br />
20C-CR6026SP Factor B antibody Goat 1 ml<br />
70R-7571 Factor H antibody Goat 1 mg<br />
70R-7586 Factor H antibody Sheep 1 mg<br />
20C-CR6027G Factor H antibody Sheep 1 ml<br />
20C-CR6027SP Factor H antibody Goat 1 ml<br />
20C-CR6099G Factor I antibody Goat 1 ml<br />
20C-CR6100G Factor P antibody Goat 1 ml<br />
20-FS02 Factor VIII antibody Sheep 1 ml<br />
20R-FS002 Factor VIIIC antibody Sheep 10 mg<br />
60R-FS002hrp Factor VIIIC antibody (HRP) Sheep 200 ug<br />
70R-3423 FADD antibody Rabbit 50 ug<br />
70R-3337 FANCA antibody Rabbit 50 ug<br />
70R-2296 FANCE antibody Rabbit 50 ug<br />
70R-3410 FANCL antibody Rabbit 50 ug<br />
70R-3743 FAS antibody Rabbit 50 ug<br />
70R-6005 FCER1A antibody Rabbit 50 ug<br />
70R-6650 FCER1A antibody Rabbit 50 ug<br />
70R-5991 FCGRT antibody Rabbit 50 ug<br />
70R-3157 FCHO1 antibody Rabbit 50 ug<br />
70R-1853 FCRL1 antibody Rabbit 100 ug<br />
70R-7228 FCRL4 antibody Rabbit 50 ug<br />
70R-7229 FCRL4 antibody Rabbit 50 ug<br />
70R-6657 FCRL6 antibody Rabbit 50 ug<br />
70R-7197 FCRLA antibody Rabbit 50 ug<br />
70R-7201 FCRLA antibody Rabbit 50 ug<br />
70R-7578 Fibrinogen antibody Goat 1 mg<br />
20-S6791GND1-D0 Fibrinogen antibody Goat 1 ml<br />
20C-CR6029SP Fibrinogen antibody Sheep 1 ml<br />
20C-CR6029RP Fibrinogen antibody Rabbit 1 ml<br />
60R-FS003hrp Fibrinogen antibody (HRP) Sheep 200 ug<br />
70R-3397 FSIP1 antibody Rabbit 50 ug<br />
70R-5944 GALNAC4S-6ST antibody Rabbit 50 ug<br />
70R-4040 GBP2 antibody Rabbit 50 ug<br />
70R-5725 GBP2 antibody Rabbit 50 ug<br />
70R-1952 GBP4 antibody Rabbit 50 ug<br />
70R-2354 GCET2 antibody Rabbit 50 ug<br />
70R-2993 GCLC antibody Rabbit 50 ug<br />
70R-3355 GCLM antibody Rabbit 50 ug<br />
70R-2284 GEFT antibody Rabbit 50 ug<br />
70R-1647 GEM antibody Rabbit 100 ug<br />
70R-5974 GEM antibody Rabbit 50 ug<br />
70R-6386 GIMAP1 antibody Rabbit 50 ug
---
Polyclonal <strong>Antibodies</strong><br />
Catalog No. Product Name Host Size<br />
70R-6383 GIMAP5 antibody Rabbit 50 ug<br />
70R-GR021 GM-CSF antibody Rabbit 50 ug<br />
70R-GR026 GM-CSF antibody Rabbit 50 ug<br />
70-GR30 GM-CSF antibody Rabbit 50 ug<br />
60R-GR003bt GM-CSF antibody (biotin) Rabbit 25 ug<br />
41-XG57 Goat anti Human IgG Fc antibody Goat 1 mg<br />
40C-CR2022G Goat anti Human IgG Fc antibody Goat 1 ml<br />
60-GM33 Goat anti Mouse IgM (FITC) Goat 2 mg<br />
60R-KG001hrp Goat anti Mouse Kappa Light Chain (HRP) Goat 1 ml<br />
60R-LG002hrp Goat anti Mouse Lambda Light Chain (HRP) Goat 1 mg<br />
70R-2356 GSDML antibody Rabbit 50 ug<br />
20R-LR012 Hamster Lymphocyte antibody Rabbit 2 ml<br />
20R-LR011 Hamster Lymphocyte antibody Rabbit 20 mg<br />
60R-LR001FT Hamster Lymphocyte antibody (FITC) Rabbit 2 mg<br />
20R-HR017 Histamine antibody Rabbit 50 ul<br />
70R-5980 HLA-DPA1 antibody Rabbit 50 ug<br />
70R-4488 HLA-DQA2 antibody Rabbit 50 ug<br />
70R-4489 HLA-DQA2 antibody Rabbit 50 ug<br />
70R-6432 HLA-F antibody Rabbit 50 ug<br />
70R-6448 HLA-F antibody Rabbit 50 ug<br />
70R-3359 ICA1 antibody Rabbit 50 ug<br />
70R-3830 ICA1 antibody Rabbit 50 ug<br />
70R-4147 ICA1L antibody Rabbit 50 ug<br />
70R-IR018 ICAM1 antibody Rabbit 50 ug<br />
70R-1979 IFI35 antibody Rabbit 50 ug<br />
70R-3661 IFI44 antibody Rabbit 50 ug<br />
70R-1290 IFI44L antibody Rabbit 100 ug<br />
70R-4787 IFIH1 antibody Rabbit 50 ug<br />
70R-5799 IFIT2 antibody Rabbit 50 ug<br />
70R-3590 IFIT3 antibody Rabbit 50 ug<br />
70R-5819 IFIT5 antibody Rabbit 50 ug<br />
70R-5820 IFIT5 antibody Rabbit 50 ug<br />
20R-1002 IFN alpha 2a antibody Rabbit 100 ug<br />
70R-5360 IFN alpha 5 antibody Rabbit 50 ug<br />
70R-5430 IFN alpha 7 antibody Rabbit 50 ug<br />
20R-IS002 IFN alpha antibody Sheep 1 x 10^5 units/vial<br />
20-IR85 IFN alpha antibody Rabbit 2 x 10^4 units / vial<br />
20-IR86 IFN alpha antibody Rabbit > 20,000 units<br />
70R-4521 IFN beta 1 antibody Rabbit 50 ug<br />
20R-IS003 IFN beta antibody Sheep 2 x 10^4 units<br />
20R-IR010 IFN beta antibody Rabbit > 20,000 units<br />
70R-IG013 IFN beta antibody Goat 100 ug/vial<br />
Immunology Products<br />
Fitzgerald Industries International<br />
25
---
26<br />
Immunology Products<br />
Fitzgerald Industries International<br />
Polyclonal <strong>Antibodies</strong><br />
Catalog No. Product Name Host Size<br />
20R-IR014 IFN beta antibody Rabbit > 20,000 units<br />
20R-IR001 IFN beta antibody Rabbit 500 ug/vial<br />
43R-IG100BT IFN beta antibody (biotin) Goat 50 ug/vial<br />
20-IR67 IFN gamma antibody Rabbit 20 KU<br />
20-IR71 IFN gamma antibody Rabbit 200 ug<br />
70R-IR001 IFN gamma antibody Rabbit 100 ug<br />
70R-IR054 IFN gamma antibody Rabbit 50 ug<br />
60R-IR001bt IFN gamma antibody Rabbit 50 ug<br />
70R-IG025 IFN gamma antibody Goat 50 ug<br />
60R-IG001bt IFN gamma antibody Goat 50 ug<br />
70-IR18 IFN gamma antibody Rabbit 50 ug<br />
70R-IR019 IFN gamma antibody Rabbit 50 ug<br />
70R-6702 IFN gamma R2 antibody Rabbit 50 ug<br />
70R-IR021 IFN lambda 2 antibody Rabbit 50 ug<br />
60R-IG102BT IFNAR1 antibody Goat 50 ug/vial<br />
70R-1986 IFRD1 antibody Rabbit 50 ug<br />
70R-3682 IFRD1 antibody Rabbit 50 ug<br />
70R-1641 IGLL1 antibody Rabbit 100 ug<br />
70R-1671 IGSF1 antibody Rabbit 100 ug<br />
70R-6035 IGSF1 antibody Rabbit 50 ug<br />
70R-6152 IGSF1 antibody Rabbit 50 ug<br />
70R-6153 IGSF1 antibody Rabbit 50 ug<br />
70R-6403 IGSF11 antibody Rabbit 50 ug<br />
70R-7213 IGSF9 antibody Rabbit 50 ug<br />
70R-7528 ILDR1 antibody Rabbit 50 ug<br />
70R-6849 Integrin alpha 8 antibody Rabbit 50 ug<br />
70R-6842 Integrin beta 5 antibody Rabbit 50 ug<br />
70R-6177 Integrin beta 8 antibody Rabbit 50 ug<br />
70R-7233 ISLR2 antibody Rabbit 50 ug<br />
70R-6176 ITFG1 antibody Rabbit 50 ug<br />
70R-6769 ITFG3 antibody Rabbit 50 ug<br />
70R-1183 ITGB1BP2 antibody Rabbit 100 ug<br />
70R-2141 ITGB1BP3 antibody Rabbit 50 ug<br />
70R-6093 ITGB3BP antibody Rabbit 50 ug<br />
70R-1699 ITGBL1 antibody Rabbit 100 ug<br />
70R-1700 ITGBL1 antibody Rabbit 100 ug<br />
70R-2363 Karyopherin alpha 1 antibody Rabbit 50 ug<br />
70R-2364 Karyopherin alpha 1 antibody Rabbit 50 ug<br />
70R-5497 Karyopherin alpha 2 antibody Rabbit 50 ug<br />
70R-2090 Karyopherin alpha 3 antibody Rabbit 50 ug<br />
70R-2091 Karyopherin alpha 4 antibody Rabbit 50 ug<br />
70R-2092 Karyopherin alpha 5 antibody Rabbit 50 ug
---
Polyclonal <strong>Antibodies</strong><br />
Catalog No. Product Name Host Size<br />
70R-2070 Karyopherin alpha 6 antibody Rabbit 50 ug<br />
70R-2365 KIR2DL4 antibody Rabbit 50 ug<br />
70R-5962 KLRA1 antibody Rabbit 50 ug<br />
70R-5963 KLRA1 antibody Rabbit 50 ug<br />
70R-6843 KLRC3 antibody Rabbit 50 ug<br />
70R-5966 KLRF1 antibody Rabbit 50 ug<br />
70R-5297 LAIR2 antibody Rabbit 50 ug<br />
40-LG03 Lambda Chain antibody Goat 5 ml<br />
70R-6590 LAX1 antibody Rabbit 50 ug<br />
70R-5906 LBP antibody Rabbit 50 ug<br />
70R-5907 LBP antibody Rabbit 50 ug<br />
70R-2658 LCK antibody Rabbit 50 ug<br />
70R-2221 LCP1 antibody Rabbit 50 ug<br />
70R-3076 LCP1 antibody Rabbit 50 ug<br />
20C-CR7033RP Lectin antibody Rabbit 1 ml<br />
70R-6230 LIF antibody Rabbit 50 ug<br />
70R-5914 Lipocalin 1 antibody Rabbit 50 ug<br />
70R-5395 Lipocalin 6 antibody Rabbit 50 ug<br />
70R-3225 Lipocalin 8 antibody Rabbit 50 ug<br />
70R-5485 Lipocalin 12 antibody Rabbit 50 ug<br />
20R-MG001 Macrophage Scavenger Receptor antibody Goat 1 ml<br />
20R-MG001 Macrophage Scavenger Receptor antibody Goat 250 ul<br />
70R-6455 MARCO antibody Rabbit 50 ug<br />
70R-1705 MICA antibody Rabbit 100 ug<br />
70R-6091 MICA antibody Rabbit 50 ug<br />
70R-3313 MMD2 antibody Rabbit 50 ug<br />
20R-LR010 Mouse Lymphocyte antibody Rabbit 2 ml<br />
20R-LR013 Mouse Lymphocyte antibody Rabbit 20 mg<br />
20R-LR014 Mouse Lymphocyte antibody Rabbit 2 ml<br />
20R-LR005 Mouse Lymphocyte antibody Rabbit 20 mg<br />
60R-LR003FT Mouse Lymphocyte antibody (FITC) Rabbit 2 mg<br />
20R-MR014 Mouse Macrophage antibody Rabbit 5 ml<br />
20R-MR010 Mouse Macrophage antibody Rabbit 1 ml<br />
20R-MR029 Mouse Macrophage antibody Rabbit 5 mg<br />
20R-MR015 Mouse Macrophage antibody Rabbit 10 mg<br />
60R-MR006FT Mouse Macrophage antibody (FITC) Rabbit 2 mg<br />
20R-PR019 Mouse PMN antibody Rabbit 5 ml<br />
20R-PR001 Mouse PMN antibody Rabbit 1 ml<br />
20R-PR103 Mouse PMN antibody Rabbit 5 mg<br />
20R-PR041 Mouse PMN antibody Rabbit 10 mg<br />
60R-PR004FT Mouse PMN antibody (FITC) Rabbit 2 mg<br />
20R-TR002 Mouse Thrombocyte antibody Rabbit 5 ml<br />
Immunology Products<br />
Fitzgerald Industries International<br />
27
---
28<br />
Immunology Products<br />
Fitzgerald Industries International<br />
Polyclonal <strong>Antibodies</strong><br />
Catalog No. Product Name Host Size<br />
20R-TR039 Mouse Thrombocyte antibody Rabbit 1 ml<br />
60R-TR004FT Mouse Thrombocyte antibody (FITC) Rabbit 2 mg<br />
60R-TR005FT Mouse Thrombocyte antibody (FITC) Rabbit 2 mg<br />
60R-TR006FT Mouse Thrombocyte antibody (FITC) Rabbit 2 mg<br />
20R-TR004x Mouse Thymocyte antibody Rabbit 2 ml<br />
20R-TR042 Mouse Thymocyte antibody Rabbit 2 ml<br />
20R-TR041 Mouse Thymocyte antibody Rabbit 20 mg<br />
20R-TR036 Mouse Thymocyte antibody Rabbit 20 mg<br />
70R-3787 MPEG1 antibody Rabbit 50 ug<br />
70R-5281 MST1 antibody Rabbit 50 ug<br />
20R-MR021 MST1R antibody Rabbit 50 ug<br />
20R-MR022 MST1R antibody Rabbit 50 ug<br />
70R-MR052 MUC12 antibody Rabbit 100 ug<br />
70R-5823 MYD88 antibody Rabbit 50 ug<br />
70R-5825 MYD88 antibody Rabbit 50 ug<br />
70R-2294 NARF antibody Rabbit 50 ug<br />
70R-NR030 NFATc1 antibody Rabbit 100 ug<br />
70R-NR031 NFATc1 antibody Rabbit 100 ug<br />
70R-NR032 NFATc2 antibody Rabbit 100 ug<br />
70R-3406 NHLRC2 antibody Rabbit 50 ug<br />
70R-3374 NMRAL1 antibody Rabbit 50 ug<br />
70R-2314 NMT1 antibody Rabbit 50 ug<br />
70R-NG002 NP1 antibody Goat 50 ug<br />
70R-5884 OAS1 antibody Rabbit 50 ug<br />
70R-5887 OAS1 antibody Rabbit 50 ug<br />
70R-5885 OAS2 antibody Rabbit 50 ug<br />
70R-5886 OAS2 antibody Rabbit 50 ug<br />
70R-5888 OASL antibody Rabbit 50 ug<br />
70R-5891 OASL antibody Rabbit 50 ug<br />
70R-6426 ORAI1 antibody Rabbit 50 ug<br />
70R-6459 ORAI1 antibody Rabbit 50 ug<br />
70R-6919 ORAI2 antibody Rabbit 50 ug<br />
20R-GR014 Orosomucoid antibody Rabbit 500 ul<br />
70R-1514 P2RX7 antibody Rabbit 100 ug<br />
70R-5097 P2RX7 antibody Rabbit 50 ug<br />
70R-5124 P2RX7 antibody Rabbit 50 ug<br />
70R-3322 PADI4 antibody Rabbit 50 ug<br />
70R-1075 PCMTD1 antibody Rabbit 100 ug<br />
70R-2299 PECI antibody Rabbit 50 ug<br />
20R-PR011 Perforin antibody Rabbit 200 ug<br />
70R-2382 PGDS antibody Rabbit 50 ug<br />
70R-2383 PGDS antibody Rabbit 50 ug
---
Polyclonal <strong>Antibodies</strong><br />
Catalog No. Product Name Host Size<br />
70R-7024 PILRA antibody Rabbit 50 ug<br />
70R-7227 PILRB antibody Rabbit 50 ug<br />
70R-3499 Plastin 1 antibody Rabbit 50 ug<br />
70R-3366 PRAMEF10 antibody Rabbit 50 ug<br />
70-PC30 Protein A antibody Chicken 1 mg<br />
20C-CR7028GP Protein A antibody Goat 1 ml<br />
60C-CF0603 Protein A antibody (biotin) Goat 1 ml<br />
60C-CF0601 Protein A antibody (FITC) Goat 1 ml<br />
60C-CF0604 Protein A antibody (HRP) Goat 1 ml<br />
60C-CF0602 Protein A antibody (rhodamine) Goat 1 ml<br />
70R-1597 Protein C antibody Rabbit 100 ug<br />
70R-5495 Protein C antibody Rabbit 50 ug<br />
20C-CR8064SP Protein C antibody Sheep 1 mg<br />
70R-6073 Protein S antibody Rabbit 50 ug<br />
20R-PR037 Proteinase 3 antibody Rabbit 250 ul<br />
70R-5923 PTX3 antibody Rabbit 50 ug<br />
70R-1663 RAGE antibody Rabbit 100 ug<br />
70R-5975 RAGE antibody Rabbit 50 ug<br />
70R-5978 RAGE antibody Rabbit 50 ug<br />
20R-LR007 Rat Lymphocyte antibody Rabbit 2 ml<br />
20R-LR007 Rat Lymphocyte antibody Rabbit 20 ml<br />
20R-LR004 Rat Lymphocyte antibody Rabbit 20 mg<br />
60R-LR002FT Rat Lymphocyte antibody (FITC) Rabbit 2 mg<br />
20R-MR009 Rat Macrophage antibody Rabbit 5 ml<br />
20R-MR028 Rat Macrophage antibody Rabbit 10 mg<br />
20R-MR016 Rat Macrophage antibody Rabbit 10 mg<br />
60R-MR007FT Rat Macrophage antibody (FITC) Rabbit 2 mg<br />
20R-MR030 Rat Mast Cells antibody Rabbit 5 ml<br />
20R-MR031 Rat Mast Cells antibody Rabbit 2 ml<br />
60R-MR008FT Rat Mast Cells antibody (FITC) Rabbit 2 mg<br />
20R-PR043 Rat PMN antibody Rabbit 5 ml<br />
20R-PR020 Rat PMN antibody Rabbit 2 ml<br />
20R-PR102 Rat PMN antibody Rabbit 10 mg<br />
20R-PR052 Rat PMN antibody Rabbit 10 mg<br />
60R-PR003ft Rat PMN antibody (FITC) Rabbit 2 mg<br />
20R-TR040 Rat Thrombocyte antibody Rabbit 5 ml<br />
20R-TR037 Rat Thrombocyte antibody Rabbit 2 ml<br />
60R-TR010FT Rat Thrombocyte antibody (FITC) Rabbit 2 mg<br />
20R-TR005x Rat Thymocyte antibody Rabbit 2 ml<br />
20R-TR044 Rat Thymocyte antibody Rabbit 2 ml<br />
20R-TR043 Rat Thymocyte antibody Rabbit 20 mg<br />
20R-TR005 Rat Thymocyte antibody Rabbit 20 mg<br />
Immunology Products<br />
Fitzgerald Industries International<br />
29
---
30<br />
Immunology Products<br />
Fitzgerald Industries International<br />
Polyclonal <strong>Antibodies</strong><br />
Catalog No. Product Name Host Size<br />
60R-TR007FT Rat Thymocyte antibody (FITC) Rabbit 2 mg<br />
60R-TR008FT Rat Thymocyte antibody (FITC) Rabbit 2 mg<br />
70R-RR015 RFLAT1 antibody Rabbit 100 ug<br />
70R-RR017 RFXB antibody Rabbit 100 ug<br />
70R-3407 RSPH10B antibody Rabbit 50 ug<br />
70R-3383 RTP4 antibody Rabbit 50 ug<br />
70R-6406 SEMA3D antibody Rabbit 50 ug<br />
70R-7129 SEMA4B antibody Rabbit 50 ug<br />
70R-6852 SEMA4F antibody Rabbit 50 ug<br />
70R-6853 SEMA4F antibody Rabbit 50 ug<br />
70R-7134 SEMA6A antibody Rabbit 50 ug<br />
70R-7125 SEMA6D antibody Rabbit 50 ug<br />
70R-7127 SEMA6D antibody Rabbit 50 ug<br />
70R-6630 SIGIRR antibody Rabbit 50 ug<br />
70R-6067 SIGLEC6 antibody Rabbit 50 ug<br />
70R-6068 SIGLEC6 antibody Rabbit 50 ug<br />
70R-6173 SIGLEC6 antibody Rabbit 50 ug<br />
70R-6185 SIGLEC6 antibody Rabbit 50 ug<br />
70R-6142 SIGLEC7 antibody Rabbit 50 ug<br />
70R-6151 SIGLEC7 antibody Rabbit 50 ug<br />
70R-6182 SIGLEC9 antibody Rabbit 50 ug<br />
70R-6154 SIGLEC10 antibody Rabbit 50 ug<br />
70R-6148 SIGLEC12 antibody Rabbit 50 ug<br />
70R-6149 SIGLEC12 antibody Rabbit 50 ug<br />
70R-6150 SIGLEC12 antibody Rabbit 50 ug<br />
70R-4624 SKIV2L antibody Rabbit 50 ug<br />
70R-4692 SKIV2L2 antibody Rabbit 50 ug<br />
70R-6910 STEAP4 antibody Rabbit 50 ug<br />
20R-TM001 THETA Allo-antiserum antibody Mouse 500 ul<br />
20R-TM002 THETA gamma Globulin antibody Mouse 2 mg<br />
70R-6297 Thymopoietin antibody Rabbit 50 ug<br />
70R-6298 Thymopoietin antibody Rabbit 50 ug<br />
70R-6387 Thymopoietin antibody Rabbit 50 ug<br />
70R-5827 TIRAP antibody Rabbit 50 ug<br />
70R-5979 TLR5 antibody Rabbit 50 ug<br />
70R-2269 TLR6 antibody Rabbit 50 ug<br />
70R-5952 TLR9 antibody Rabbit 50 ug<br />
70R-2849 TNKS antibody Rabbit 50 ug<br />
70R-3098 TNKS antibody Rabbit 50 ug<br />
70R-2291 TNKS1BP1 antibody Rabbit 50 ug<br />
70R-4485 TREM2 antibody Rabbit 50 ug<br />
70R-6395 TREML2 antibody Rabbit 50 ug
---
Polyclonal <strong>Antibodies</strong><br />
Catalog No. Product Name Host Size<br />
70R-6048 TSTA3 antibody Rabbit 50 ug<br />
70R-1820 UNC93B1 antibody Rabbit 100 ug<br />
70R-6462 VISA antibody Rabbit 50 ug<br />
70R-6463 VISA antibody Rabbit 50 ug<br />
70R-5905 VPREB1 antibody Rabbit 50 ug<br />
70R-7017 VSIG1 antibody Rabbit 50 ug<br />
70R-1905 VSIG4 antibody Rabbit 100 ug<br />
70R-6416 VSIG8 antibody Rabbit 50 ug<br />
Immunology Products<br />
Fitzgerald Industries International<br />
31
---
32<br />
Immunology Products<br />
Fitzgerald Industries International<br />
<strong>Secondary</strong> <strong>Antibodies</strong><br />
Catalog No. Product Name Host Size<br />
41R-1006 Chicken anti-Goat IgG (H + L) Chicken 2 mg<br />
41R-1007 Chicken anti-Goat IgG (H + L) Chicken 1 mg<br />
43R-1038 Chicken anti-Goat IgG (H + L) (488-NHS Ester) Chicken 1 mg<br />
43R-1044 Chicken anti-Goat IgG (H + L) (488-NHS Ester) Chicken 0.5 mg<br />
43R-1033 Chicken anti-Goat IgG (H + L) (Alk Phos) Chicken 1 mg<br />
43R-1039 Chicken anti-Goat IgG (H + L) (Alk Phos) Chicken 0.5 mg<br />
43R-1034 Chicken anti-Goat IgG (H + L) (biotin) Chicken 1 mg<br />
43R-1040 Chicken anti-Goat IgG (H + L) (biotin) Chicken 0.5 mg<br />
43R-1035 Chicken anti-Goat IgG (H + L) (FITC) Chicken 1 mg<br />
43R-1041 Chicken anti-Goat IgG (H + L) (FITC) Chicken 0.5 mg<br />
43R-1036 Chicken anti-Goat IgG (H + L) (HRP) Chicken 1 mg<br />
43R-1042 Chicken anti-Goat IgG (H + L) (HRP) Chicken 0.5 mg<br />
43R-1037 Chicken anti-Goat IgG (H + L) (rhodamine) Chicken 1 mg<br />
43R-1043 Chicken anti-Goat IgG (H + L) (rhodamine) Chicken 0.5 mg<br />
41R-1047 Chicken anti-Mouse IgG (H + L) Chicken 2 mg<br />
41R-1048 Chicken anti-Mouse IgG (H + L) Chicken 0.5 mg<br />
43R-1298 Chicken anti-Mouse IgG (H + L) (488-NHS Ester) Chicken 1 mg<br />
43R-1304 Chicken anti-Mouse IgG (H + L) (488-NHS Ester) Chicken 0.5 mg<br />
43R-1293 Chicken anti-Mouse IgG (H + L) (Alk Phos) Chicken 1 mg<br />
43R-1299 Chicken anti-Mouse IgG (H + L) (Alk Phos) Chicken 0.5 mg<br />
43R-1294 Chicken anti-Mouse IgG (H + L) (biotin) Chicken 1 mg<br />
43R-1300 Chicken anti-Mouse IgG (H + L) (biotin) Chicken 0.5 mg<br />
43R-1295 Chicken anti-Mouse IgG (H + L) (FITC) Chicken 1 mg<br />
43R-1301 Chicken anti-Mouse IgG (H + L) (FITC) Chicken 0.5 mg<br />
43R-1296 Chicken anti-Mouse IgG (H + L) (HRP) Chicken 1 mg<br />
43R-1302 Chicken anti-Mouse IgG (H + L) (HRP) Chicken 0.5 mg<br />
43R-1297 Chicken anti-Mouse IgG (H + L) (rhodamine) Chicken 1 mg<br />
43R-1303 Chicken anti-Mouse IgG (H + L) (rhodamine) Chicken 0.5 mg<br />
41R-1069 Chicken anti-Rabbit IgG (H + L) Chicken 2 mg<br />
41R-1070 Chicken anti-Rabbit IgG (H + L) Chicken 1 mg<br />
43R-1432 Chicken anti-Rabbit IgG (H + L) (488-NHS Ester) Chicken 1 mg<br />
43R-1438 Chicken anti-Rabbit IgG (H + L) (488-NHS Ester) Chicken 0.5 mg<br />
43R-1427 Chicken anti-Rabbit IgG (H + L) (Alk Phos) Chicken 1 mg<br />
43R-1433 Chicken anti-Rabbit IgG (H + L) (Alk Phos) Chicken 0.5 mg<br />
43R-1428 Chicken anti-Rabbit IgG (H + L) (biotin) Chicken 1 mg<br />
43R-1434 Chicken anti-Rabbit IgG (H + L) (biotin) Chicken 0.5 mg<br />
43R-1429 Chicken anti-Rabbit IgG (H + L) (FITC) Chicken 1 mg<br />
43R-1435 Chicken anti-Rabbit IgG (H + L) (FITC) Chicken 0.5 mg<br />
43R-1430 Chicken anti-Rabbit IgG (H + L) (HRP) Chicken 1 mg<br />
43R-1436 Chicken anti-Rabbit IgG (H + L) (HRP) Chicken 0.5 mg<br />
43R-1431 Chicken anti-Rabbit IgG (H + L) (rhodamine) Chicken 1 mg<br />
43R-1437 Chicken anti-Rabbit IgG (H + L) (rhodamine) Chicken 0.5 mg
---
<strong>Secondary</strong> <strong>Antibodies</strong><br />
Catalog No. Product Name Host Size<br />
41R-1081 Chicken anti-Rat IgG (H + L) Chicken 2 mg<br />
41R-1082 Chicken anti-Rat IgG (H + L) Chicken 1 mg<br />
43R-1509 Chicken anti-Rat IgG (H + L) (488-NHS Ester) Chicken 1 mg<br />
43R-1515 Chicken anti-Rat IgG (H + L) (488-NHS Ester) Chicken 0.5 mg<br />
43R-1504 Chicken anti-Rat IgG (H + L) (Alk Phos) Chicken 1 mg<br />
43R-1510 Chicken anti-Rat IgG (H + L) (Alk Phos) Chicken 0.5 mg<br />
43R-1505 Chicken anti-Rat IgG (H + L) (biotin) Chicken 1 mg<br />
43R-1511 Chicken anti-Rat IgG (H + L) (biotin) Chicken 0.5 mg<br />
43R-1506 Chicken anti-Rat IgG (H + L) (FITC) Chicken 1 mg<br />
43R-1512 Chicken anti-Rat IgG (H + L) (FITC) Chicken 0.5 mg<br />
43R-1507 Chicken anti-Rat IgG (H + L) (HRP) Chicken 1 mg<br />
43R-1513 Chicken anti-Rat IgG (H + L) (HRP) Chicken 0.5 mg<br />
43R-1508 Chicken anti-Rat IgG (H + L) (rhodamine) Chicken 1 mg<br />
43R-1514 Chicken anti-Rat IgG (H + L) (rhodamine) Chicken 0.5 mg<br />
41R-ID002 Donkey anti Chicken IgY (H + L) Donkey 1 mg<br />
43R-ID052alk Donkey anti Chicken IgY (H + L) (Alk Phos) Donkey 0.5 ml<br />
43R-ID053bt Donkey anti Chicken IgY (H + L) (biotin) Donkey 0.5 ml<br />
43R-ID060C3 Donkey anti Chicken IgY (H + L) (Cy5) Donkey 0.3 ml<br />
43R-ID058ft Donkey anti Chicken IgY (H + L) (FITC) Donkey 500 ug<br />
43R-ID054hrp Donkey anti Chicken IgY (H + L) (HRP) Donkey 0.5 ml<br />
43R-ID057RD Donkey anti Chicken IgY (H + L) (rhodamine) Donkey 500 ug<br />
43R-ID055RD Donkey anti Chicken IgY (H + L) (rhodamine) Donkey 500 ug<br />
43R-ID056tr Donkey anti Chicken IgY (H + L) (Texas Red) Donkey 0.5 ml<br />
41R-ID001 Donkey anti Goat IgG Donkey 1 mg<br />
40-DG10S Donkey anti Goat IgG Donkey 100 ml<br />
40-DG10 Donkey anti Goat IgG Donkey 100 ml<br />
41C-CB0515 Donkey anti Goat IgG (H + L) Donkey 1 mg<br />
43R-ID002alk Donkey anti Goat IgG (H + L) (Alk Phos) Donkey 0.5 ml<br />
43C-CB0521 Donkey anti Goat IgG (H + L) (Alk Phos) Donkey 1 mg<br />
43R-ID004bt Donkey anti Goat IgG (H + L) (biotin) Donkey 0.5 ml<br />
43C-CB0519 Donkey anti Goat IgG (H + L) (biotin) Donkey 1 mg<br />
43R-ID040CY Donkey anti Goat IgG (H + L) (Cy3) Donkey 0.5 ml<br />
43R-ID028C5 Donkey anti Goat IgG (H + L) (Cy5) Donkey 500 ug<br />
43R-ID016ft Donkey anti Goat IgG (H + L) (Fab'2) (FITC) Donkey 0.3 ml<br />
43R-ID020pe Donkey anti Goat IgG (H + L) (Fab'2) (PE) Donkey 1 ml<br />
43R-ID012tr Donkey anti Goat IgG (H + L) (Fab'2) (Texas Red) Donkey 300 ug<br />
43R-ID018ft Donkey anti Goat IgG (H + L) (FITC) Donkey 500 ug<br />
43C-CB0516 Donkey anti Goat IgG (H + L) (FITC) Donkey 1 mg<br />
43R-ID019hrp Donkey anti Goat IgG (H + L) (HRP) Donkey 300 ug<br />
43C-CB0520 Donkey anti Goat IgG (H + L) (HRP) Donkey 1 mg<br />
43R-ID048RD Donkey anti Goat IgG (H + L) (rhodamine) Donkey 500 ug<br />
43C-CB0517 Donkey anti Goat IgG (H + L) (Rhodamine) Donkey 1 mg<br />
Immunology Products<br />
Fitzgerald Industries International<br />
33
---
34<br />
Immunology Products<br />
Fitzgerald Industries International<br />
<strong>Secondary</strong> <strong>Antibodies</strong><br />
Catalog No. Product Name Host Size<br />
43R-ID005tr Donkey anti Goat IgG (H + L) (Texas Red) Donkey 0.5 ml<br />
43C-CB0518 Donkey anti Goat IgG (H + L) (Texas Red) Donkey 1 mg<br />
43R-ID014bt Donkey anti Guinea Pig IgG (H + L) (biotin) Donkey 0.5 ml<br />
43R-ID026C3 Donkey anti Guinea Pig IgG (H + L) (Cy3) Donkey 500 ug<br />
43R-ID033ft Donkey anti Guinea Pig IgG (H + L) (FITC) Donkey 500 ug<br />
43R-ID032ft Donkey anti Guinea Pig IgG (H + L) (FITC) Donkey 300 ug<br />
43R-ID039hrp Donkey anti Guinea Pig IgG (H + L) (HRP) Donkey 0.5 ml<br />
43R-ID001alk Donkey anti Human IgG (H + L) (Alk Phos) Donkey 0.5 ml<br />
43R-ID030ft Donkey anti Human IgG (H + L) (FITC) Donkey 500 ug<br />
43R-ID037hrp Donkey anti Human IgG (H + L) (HRP) Donkey 0.5 ml<br />
43R-ID003alk Donkey anti Mouse IgG (H + L) (Alk Phos) Donkey 0.5 ml<br />
43R-ID036bt Donkey anti Mouse IgG (H + L) (biotin) Donkey 500 ug<br />
43R-ID010hrp Donkey anti Mouse IgG (H + L) (Fab'2) (HRP) Donkey 0.3 ml<br />
43R-ID045pe Donkey anti Mouse IgG (H + L) (Fab'2) (PE) Donkey 1 ml<br />
43R-ID034ft Donkey anti Mouse IgG (H + L) (FITC) Donkey 500 ug<br />
43R-ID062FT Donkey anti Mouse IgG (H + L) (FITC) Donkey 500 ug<br />
43R-ID042hrp Donkey anti Mouse IgG (H + L) (HRP) Donkey 0.5 ml<br />
43R-ID023rd Donkey anti Mouse IgG (H + L) (rhodamine) Donkey 500 ug<br />
40C-CB1129 Donkey anti Rabbit IgG (H + L) Donkey 1 mg<br />
43R-ID024alk Donkey anti Rabbit IgG (H + L) (Alk Phos) Donkey 0.5 ml<br />
43C-CB1135 Donkey anti Rabbit IgG (H + L) (Alk Phos) Donkey 1 mg<br />
43R-ID006bt Donkey anti Rabbit IgG (H + L) (biotin) Donkey 0.5 ml<br />
43C-CB1133 Donkey anti Rabbit IgG (H + L) (biotin) Donkey 1 mg<br />
43R-ID027C3 Donkey anti Rabbit IgG (H + L) (Cy3) Donkey 500 ug<br />
43R-ID015alk Donkey anti Rabbit IgG (H + L) (Fab'2) (Alk Phos) Donkey 0.3 ml<br />
43R-ID007bt Donkey anti Rabbit IgG (H + L) (Fab'2) (biotin) Donkey 0.3 ml<br />
43R-ID061FT Donkey anti Rabbit IgG (H + L) (Fab'2) (FITC) Donkey 300 ug<br />
43R-ID011hrp Donkey anti Rabbit IgG (H + L) (Fab'2) (HRP) Donkey 0.3 ml<br />
43R-ID046pe Donkey anti Rabbit IgG (H + L) (Fab'2) (PE) Donkey 1 ml<br />
43R-ID013ft Donkey anti Rabbit IgG (H + L) (FITC) Donkey 0.5 ml<br />
43C-CB1130 Donkey anti Rabbit IgG (H + L) (FITC) Donkey 1 mg<br />
43C-CB1134 Donkey anti Rabbit IgG (H + L) (HRP) Donkey 1 mg<br />
43R-RD002RD Donkey anti Rabbit IgG (H + L) (rhodamine) Donkey 500 ug<br />
43C-CB1124 Donkey anti Rabbit IgG (H + L) (Rhodamine) Donkey 2 mg<br />
43C-CB1131 Donkey anti Rabbit IgG (H + L) (Rhodamine) Donkey 1 mg<br />
43C-CB1132 Donkey anti Rabbit IgG (H + L) (Texas Red) Donkey 1 mg<br />
43C-CB1125 Donkey anti Rabbit IgG (H + L) (Texas Red) Donkey 2 mg<br />
43R-ID029bt Donkey anti Rat IgG (H + L) (Fab'2) (biotin) Donkey 0.3 ml<br />
43R-ID021pe Donkey anti Rat IgG (H + L) (Fab'2) (PE) Donkey 1 ml<br />
43R-ID064PE Donkey anti Rat IgG (H + L) (Fab'2) (PE) Donkey 1 ml<br />
43R-ID017ft Donkey anti Rat IgG (H + L) (FITC) Donkey 500 ug<br />
43R-ID044hrp Donkey anti Rat IgG (H + L) (HRP) Donkey 0.5 ml
---
<strong>Secondary</strong> <strong>Antibodies</strong><br />
Catalog No. Product Name Host Size<br />
43R-ID050RD Donkey anti Rat IgG (H + L) (rhodamine) Donkey 500 ug<br />
43R-ID049RD Donkey anti Rat IgG (H + L) (rhodamine) Donkey 500 ug<br />
43R-ID022tr Donkey anti Rat IgG (H + L) (Texas Red) Donkey 500 ug<br />
43R-ID047tr Donkey anti Rat IgG (H + L) (Texas Red) Donkey 0.5 ml<br />
40-DS40S Donkey anti Sheep IgG Donkey 100 ml<br />
40-DS40 Donkey anti Sheep IgG Donkey 100 ml<br />
43R-ID025bt Donkey anti Sheep IgG (H + L) (biotin) Donkey 0.5 ml<br />
43R-ID031ft Donkey anti Sheep IgG (H + L) (FITC) Donkey 500 ug<br />
43R-ID038HRP Donkey anti Sheep IgG (H + L) (HRP) Donkey 0.5 ml<br />
43R-ID051RD Donkey anti Sheep IgG (H + L) (rhodamine) Donkey 500 ug<br />
43C-CB1303 Donkey anti Sheep IgG (H + L) (Rhodamine) Donkey 2 mg<br />
43C-CB1304 Donkey anti Sheep IgG (H + L) (Texas Red) Donkey 2 mg<br />
41R-1008 Donkey anti-Goat IgG (H + L) Donkey 2 mg<br />
41R-1009 Donkey anti-Goat IgG (H + L) Donkey 1 mg<br />
43R-1050 Donkey anti-Goat IgG (H + L) (488-NHS Ester) Donkey 1 mg<br />
43R-1055 Donkey anti-Goat IgG (H + L) (488-NHS Ester) Donkey 1 mg<br />
43R-1045 Donkey anti-Goat IgG (H + L) (Alk Phos) Donkey 1 mg<br />
43R-1051 Donkey anti-Goat IgG (H + L) (Alk Phos) Donkey 0.5 mg<br />
43R-1046 Donkey anti-Goat IgG (H + L) (biotin) Donkey 2 mg<br />
43R-1052 Donkey anti-Goat IgG (H + L) (biotin) Donkey 1 mg<br />
43R-1047 Donkey anti-Goat IgG (H + L) (FITC) Donkey 2 mg<br />
43R-1053 Donkey anti-Goat IgG (H + L) (FITC) Donkey 1 mg<br />
43R-ID040hrp Donkey anti-Goat IgG (H + L) (HRP) Donkey 1 mg<br />
43R-1048 Donkey anti-Goat IgG (H + L) (HRP) Donkey 1 mg<br />
43R-1049 Donkey anti-Goat IgG (H + L) (rhodamine) Donkey 2 mg<br />
43R-1054 Donkey anti-Goat IgG (H + L) (rhodamine) Donkey 1 mg<br />
41R-1049 Donkey anti-Mouse IgG (H + L) Donkey 2 mg<br />
41R-1050 Donkey anti-Mouse IgG (H + L) Donkey 2 mg<br />
43R-1310 Donkey anti-Mouse IgG (H + L) (488-NHS Ester) Donkey 1 mg<br />
43R-1315 Donkey anti-Mouse IgG (H + L) (488-NHS Ester) Donkey 1 mg<br />
43R-1305 Donkey anti-Mouse IgG (H + L) (Alk Phos) Donkey 1 mg<br />
43R-1311 Donkey anti-Mouse IgG (H + L) (Alk Phos) Donkey 1 mg<br />
43R-1306 Donkey anti-Mouse IgG (H + L) (biotin) Donkey 2 mg<br />
43R-1312 Donkey anti-Mouse IgG (H + L) (biotin) Donkey 1 mg<br />
43R-1307 Donkey anti-Mouse IgG (H + L) (FITC) Donkey 2 mg<br />
43R-1313 Donkey anti-Mouse IgG (H + L) (FITC) Donkey 1 mg<br />
43R-ID041hrp Donkey anti-Mouse IgG (H + L) (HRP) Donkey 1 mg<br />
43R-1308 Donkey anti-Mouse IgG (H + L) (HRP) Donkey 1 mg<br />
43R-1309 Donkey anti-Mouse IgG (H + L) (rhodamine) Donkey 2 mg<br />
43R-1314 Donkey anti-Mouse IgG (H + L) (rhodamine) Donkey 1 mg<br />
41C-CB1122 Donkey anti-Rabbit IgG (H + L) Donkey 2 mg<br />
41R-1071 Donkey anti-Rabbit IgG (H + L) Donkey 2 mg<br />
Immunology Products<br />
Fitzgerald Industries International<br />
35
---
36<br />
Immunology Products<br />
Fitzgerald Industries International<br />
<strong>Secondary</strong> <strong>Antibodies</strong><br />
Catalog No. Product Name Host Size<br />
41R-1072 Donkey anti-Rabbit IgG (H + L) Donkey 2 mg<br />
43R-1440 Donkey anti-Rabbit IgG (H + L) (488-NHS Ester) Donkey 1 mg<br />
43R-1446 Donkey anti-Rabbit IgG (H + L) (488-NHS Ester) Donkey 1 mg<br />
43R-1451 Donkey anti-Rabbit IgG (H + L) (488-NHS Ester) Donkey 1 mg<br />
43C-CB1128 Donkey anti-Rabbit IgG (H + L) (Alk Phos) Donkey 1 mg<br />
43R-1441 Donkey anti-Rabbit IgG (H + L) (Alk Phos) Donkey 1 mg<br />
43R-1447 Donkey anti-Rabbit IgG (H + L) (Alk Phos) Donkey 1 mg<br />
43C-CB1126 Donkey anti-Rabbit IgG (H + L) (biotin) Donkey 2 mg<br />
43R-1442 Donkey anti-Rabbit IgG (H + L) (biotin) Donkey 2 mg<br />
43R-1448 Donkey anti-Rabbit IgG (H + L) (biotin) Donkey 2 mg<br />
43C-CB1123 Donkey anti-Rabbit IgG (H + L) (FITC) Donkey 2 mg<br />
43R-1443 Donkey anti-Rabbit IgG (H + L) (FITC) Donkey 2 mg<br />
43R-1449 Donkey anti-Rabbit IgG (H + L) (FITC) Donkey 2 mg<br />
43C-CB1127 Donkey anti-Rabbit IgG (H + L) (HRP) Donkey 1 mg<br />
43R-ID043hrp Donkey anti-Rabbit IgG (H + L) (HRP) Donkey 1 mg<br />
43R-1444 Donkey anti-Rabbit IgG (H + L) (HRP) Donkey 1 mg<br />
43R-1439 Donkey anti-Rabbit IgG (H + L) (rhodamine) Donkey 2 mg<br />
43R-1445 Donkey anti-Rabbit IgG (H + L) (rhodamine) Donkey 2 mg<br />
43R-1450 Donkey anti-Rabbit IgG (H + L) (rhodamine) Donkey 2 mg<br />
41R-1083 Donkey anti-Rat IgG (H + L) Donkey 2 mg<br />
41R-1084 Donkey anti-Rat IgG (H + L) Donkey 2 mg<br />
43R-1521 Donkey anti-Rat IgG (H + L) (488-NHS Ester) Donkey 1 mg<br />
43R-1526 Donkey anti-Rat IgG (H + L) (488-NHS Ester) Donkey 1 mg<br />
43R-1516 Donkey anti-Rat IgG (H + L) (Alk Phos) Donkey 1 mg<br />
43R-1522 Donkey anti-Rat IgG (H + L) (Alk Phos) Donkey 1 mg<br />
43R-1517 Donkey anti-Rat IgG (H + L) (biotin) Donkey 2 mg<br />
43R-1523 Donkey anti-Rat IgG (H + L) (biotin) Donkey 2 mg<br />
43R-1518 Donkey anti-Rat IgG (H + L) (FITC) Donkey 2 mg<br />
43R-1524 Donkey anti-Rat IgG (H + L) (FITC) Donkey 2 mg<br />
43R-ID068HRP Donkey anti-Rat IgG (H + L) (HRP) Donkey 1 mg<br />
43R-1519 Donkey anti-Rat IgG (H + L) (HRP) Donkey 1 mg<br />
43R-1520 Donkey anti-Rat IgG (H + L) (rhodamine) Donkey 2 mg<br />
43R-1525 Donkey anti-Rat IgG (H + L) (rhodamine) Donkey 2 mg<br />
41C-CB1301 Donkey anti-Sheep IgG (H + L) Donkey 1 mg<br />
41C-CB1301 Donkey anti-Sheep IgG (H + L) Donkey 2 mg<br />
41R-1091 Donkey anti-Sheep IgG (H + L) Donkey 2 mg<br />
41R-1092 Donkey anti-Sheep IgG (H + L) Donkey 2 mg<br />
43R-1564 Donkey anti-Sheep IgG (H + L) (488-NHS Ester) Donkey 1 mg<br />
43R-1570 Donkey anti-Sheep IgG (H + L) (488-NHS Ester) Donkey 1 mg<br />
43R-1576 Donkey anti-Sheep IgG (H + L) (488-NHS Ester) Donkey 1 mg<br />
43-DS42 Donkey anti-Sheep IgG (H + L) (Alk Phos) Donkey 1 mg<br />
43R-1565 Donkey anti-Sheep IgG (H + L) (Alk Phos) Donkey 1 mg
---
<strong>Secondary</strong> <strong>Antibodies</strong><br />
Catalog No. Product Name Host Size<br />
43R-1571 Donkey anti-Sheep IgG (H + L) (Alk Phos) Donkey 1 mg<br />
43C-CB1305 Donkey anti-Sheep IgG (H + L) (biotin) Donkey 2 mg<br />
43R-1566 Donkey anti-Sheep IgG (H + L) (biotin) Donkey 2 mg<br />
43R-1572 Donkey anti-Sheep IgG (H + L) (biotin) Donkey 1 mg<br />
43C-CB1302 Donkey anti-Sheep IgG (H + L) (FITC) Donkey 2 mg<br />
43R-1567 Donkey anti-Sheep IgG (H + L) (FITC) Donkey 2 mg<br />
43R-1573 Donkey anti-Sheep IgG (H + L) (FITC) Donkey 1 mg<br />
43-DS43 Donkey anti-Sheep IgG (H + L) (HRP) Donkey 1 mg<br />
43R-1568 Donkey anti-Sheep IgG (H + L) (HRP) Donkey 1 mg<br />
43R-1574 Donkey anti-Sheep IgG (H + L) (HRP) Donkey 1 mg<br />
43R-1563 Donkey anti-Sheep IgG (H + L) (rhodamine) Donkey 2 mg<br />
43R-1569 Donkey anti-Sheep IgG (H + L) (rhodamine) Donkey 2 mg<br />
43R-1575 Donkey anti-Sheep IgG (H + L) (rhodamine) Donkey 1 mg<br />
43R-IG015bt Goat anti Armenian Hamster IgG (H + L) (biotin) Goat 1.5 ml<br />
43R-IG026bt Goat anti Armenian Hamster IgG (H + L) (biotin) Goat 0.5 ml<br />
43R-IG018ft Goat anti Armenian Hamster IgG (H + L) (FITC) Goat 1.5 mg<br />
43R-IG032ft Goat anti Armenian Hamster IgG (H + L) (FITC) Goat 500 ug<br />
43R-IG098HRP Goat anti Armenian Hamster IgG (H + L) (HRP) Goat 1.5 ml<br />
43R-IG047hrp Goat anti Armenian Hamster IgG (H + L) (HRP) Goat 0.5 ml<br />
43R-IG057hrp Goat anti Bird IgG (H + L) Goat 1 mg<br />
41R-IG002 Goat anti Bird IgG (H + L) seondary antibody Goat 1 mg<br />
41C-CB0136 Goat anti Bovine IgG Goat 5 mg<br />
43C-CB0128 Goat anti Bovine IgG (Alk Phos) Goat 1 mg<br />
43C-CB0142 Goat anti Bovine IgG (Alk Phos) Goat 1 mg<br />
43C-CB0140 Goat anti Bovine IgG (biotin) Goat 2 mg<br />
43C-CB0123 Goat anti Bovine IgG (FITC) Goat 2 mg<br />
43C-CB0137 Goat anti Bovine IgG (FITC) Goat 2 mg<br />
41R-IG004 Goat anti Bovine IgG (H + L) Goat 1.5 mg<br />
43R-IG043AS Goat anti Bovine IgG (H + L) (Agarose Conjugated) Goat 20 mg<br />
43R-IG023alk Goat anti Bovine IgG (H + L) (Alk Phos) Goat 1 ml<br />
43R-IG024alk Goat anti Bovine IgG (H + L) (Alk Phos) Goat 1 ml<br />
43R-IG027bt Goat anti Bovine IgG (H + L) (biotin) Goat 1.5 ml<br />
43R-IG033ft Goat anti Bovine IgG (H + L) (FITC) Goat 2 mg<br />
43R-IG035hrp Goat anti Bovine IgG (H + L) (HRP) Goat 1.5 ml<br />
43C-CCB0113 Goat anti Bovine IgG (H + L) (HRP) Goat 2 mg<br />
43C-CB0110 Goat anti Bovine IgG (H + L) (Rhodamine) Goat 2 mg<br />
43C-CB0111 Goat anti Bovine IgG (H + L) (Texas Red) Goat 2 mg<br />
43C-CB0127 Goat anti Bovine IgG (HRP) Goat 2 mg<br />
43C-CB0141 Goat anti Bovine IgG (HRP) Goat 2 mg<br />
43C-CB0138 Goat anti Bovine IgG (Rhodamine) Goat 2 mg<br />
43C-CB0139 Goat anti Bovine IgG (Texas Red) Goat 2 mg<br />
43R-IG011hrp Goat anti Canine IgE (HRP) Goat 1 mg<br />
Immunology Products<br />
Fitzgerald Industries International<br />
37
---
38<br />
Immunology Products<br />
Fitzgerald Industries International<br />
<strong>Secondary</strong> <strong>Antibodies</strong><br />
Catalog No. Product Name Host Size<br />
70-IG84 Goat anti Canine IgE antibody Goat 1 mg<br />
40C-CB0215 Goat anti Cat IgG Goat 2 mg<br />
40C-CB0229 Goat anti Cat IgG Goat 2 mg<br />
43C-CB0221 Goat anti Cat IgG (Alk Phos) Goat 1 mg<br />
43C-CB0235 Goat anti Cat IgG (Alk Phos) Goat 1 mg<br />
43C-CB0219 Goat anti Cat IgG (biotin) Goat 2 mg<br />
43C-CB0233 Goat anti Cat IgG (biotin) Goat 2 mg<br />
43C-CB0216 Goat anti Cat IgG (FITC) Goat 2 mg<br />
43C-CB0230 Goat anti Cat IgG (FITC) Goat 2 mg<br />
40C-CB0208 Goat anti Cat IgG (H + L) Goat 2 mg<br />
43C-CB0214 Goat anti Cat IgG (H + L) (Alk Phos) Goat 1 mg<br />
43R-IG029bt Goat anti Cat IgG (H + L) (biotin) Goat 2 ml<br />
43C-CB0212 Goat anti Cat IgG (H + L) (biotin) Goat 2 mg<br />
43R-IG159FT Goat anti Cat IgG (H + L) (FITC) Goat 2 mg<br />
43C-CB0209 Goat anti Cat IgG (H + L) (FITC) Goat 2 mg<br />
43R-IG040hrp Goat anti Cat IgG (H + L) (HRP) Goat 2 ml<br />
43C-CB0213 Goat anti Cat IgG (H + L) (HRP) Goat 2 mg<br />
43C-CB0210 Goat anti Cat IgG (H + L) (Rhodamine) Goat 2 mg<br />
43C-CB0211 Goat anti Cat IgG (H + L) (Texas Red) Goat 2 mg<br />
43C-CB0220 Goat anti Cat IgG (HRP) Goat 2 mg<br />
43C-CB0234 Goat anti Cat IgG (HRP) Goat 2 mg<br />
43C-CB0217 Goat anti Cat IgG (Rhodamine) Goat 2 mg<br />
43C-CB0231 Goat anti Cat IgG (Rhodamine) Goat 2 mg<br />
43C-CB0218 Goat anti Cat IgG (Texas Red) Goat 2 mg<br />
43C-CB0232 Goat anti Cat IgG (Texas Red) Goat 2 mg<br />
41-GC05 Goat anti Cat IgM mu chain Goat 1 mg<br />
40C-CB0308 Goat anti Chicken IgG (H + L) Goat 1 mg<br />
43C-CB0314 Goat anti Chicken IgG (H + L) (Alk Phos) Goat 1 mg<br />
43C-CB0312 Goat anti Chicken IgG (H + L) (biotin) Goat 1 mg<br />
43C-CB0309 Goat anti Chicken IgG (H + L) (FITC) Goat 1 mg<br />
43C-CB0313 Goat anti Chicken IgG (H + L) (HRP) Goat 1 mg<br />
43C-CB0310 Goat anti Chicken IgG (H + L) (Rhodamine) Goat 1 mg<br />
43C-CB0311 Goat anti Chicken IgG (H + L) (Texas Red) Goat 1 mg<br />
43-GC12 Goat anti Dog IgG (H + L) (HRP) Goat 2 mg<br />
40-GP20 Goat anti Guinea Pig IgG Goat 100 ml<br />
40-GP20S Goat anti Guinea Pig IgG Goat 100 ml<br />
43R-IG041hrp Goat anti Horse IgG (H + L) (HRP) Goat 2 ml<br />
41-IG05 Goat anti Human IgA Goat 1 mg<br />
43C-CJ0104 Goat anti Human IgA (Fab'2) (Rhodamine) Goat 1 mg<br />
43C-CJ0103 Goat anti Human IgA (Fab'2) (Texas Red) Goat 1 mg<br />
43C-CB9109 Goat anti Human IgA (Rhodamine) Goat 1 mg<br />
43C-CB9110 Goat anti Human IgA (Texas Red) Goat 1 mg
---
<strong>Secondary</strong> <strong>Antibodies</strong><br />
Catalog No. Product Name Host Size<br />
43R-IG160HRP Goat anti Human IgA + IgG + IgM (H + L) (HRP) Goat 2 ml<br />
20-IG05 Goat anti Human IgA antibody Goat 5 ml<br />
70-IG60 Goat anti Human IgD delta chain antibody Goat 1 mg<br />
70R-IG015 Goat anti Human IgE antibody Goat 1 mg<br />
70C-CR2021GAP Goat anti Human IgE antibody Goat 1 mg<br />
41-XG55 Goat anti Human IgE antibody Goat 1 mg<br />
40-IG10 Goat anti Human IgE antibody Goat 1 ml<br />
41-XG56 Goat anti Human IgG Goat 1 mg<br />
41C-CB0957 Goat anti Human IgG Goat 5 mg<br />
41C-CB0972 Goat anti Human IgG Goat 2 mg<br />
43R-IG012alk Goat anti Human IgG (Alk Phos) Goat 1 mg<br />
43C-CB0963 Goat anti Human IgG (Alk Phos) Goat 1 mg<br />
43C-CB0978 Goat anti Human IgG (Alk Phos) Goat 1 mg<br />
43C-CB0961 Goat anti Human IgG (biotin) Goat 2 mg<br />
43C-CB0976 Goat anti Human IgG (biotin) Goat 2 mg<br />
43C-CB0940 Goat anti Human IgG (biotin) Goat 1 mg<br />
41C-CJ0112 Goat anti Human IgG (Fab'2) Goat 1 mg<br />
41C-CJ0118 Goat anti Human IgG (Fab'2) Goat 1 mg<br />
43C-CJ0113 Goat anti Human IgG (Fab'2) (FITC) Goat 1 mg<br />
43C-CJ0119 Goat anti Human IgG (Fab'2) (FITC) Goat 1 mg<br />
43C-CJ0116 Goat anti Human IgG (Fab'2) (HRP) Goat 500 ug<br />
43C-CJ0122 Goat anti Human IgG (Fab'2) (HRP) Goat 500 ug<br />
43C-CJ0117 Goat anti Human IgG (Fab'2) (PE) Goat 500 ul<br />
43C-CJ0123 Goat anti Human IgG (Fab'2) (PE) Goat 1 ml<br />
43C-CJ0115 Goat anti Human IgG (Fab'2) (Rhodamine) Goat 1 mg<br />
43C-CJ0121 Goat anti Human IgG (Fab'2) (Rhodamine) Goat 1 mg<br />
43C-CJ0114 Goat anti Human IgG (Fab'2) (Texas Red) Goat 1 mg<br />
43C-CJ0120 Goat anti Human IgG (Fab'2) (Texas Red) Goat 1 mg<br />
43R-IG016AS Goat anti Human IgG (Fc) (Agarose Conjugated) Goat 20 mg<br />
43C-CB0958 Goat anti Human IgG (FITC) Goat 2 mg<br />
43C-CB0973 Goat anti Human IgG (FITC) Goat 2 mg<br />
43C-CB0937 Goat anti Human IgG (FITC) Goat 1 mg<br />
40C-CB0929 Goat anti Human IgG (H + L) Goat 1 mg<br />
40C-CB0922 Goat anti Human IgG (H + L) Goat 2 mg<br />
43C-CB0935 Goat anti Human IgG (H + L) (Alk Phos) Goat 1 mg<br />
43C-CB0928 Goat anti Human IgG (H + L) (Alk Phos) Goat 1 mg<br />
43R-IG163BT Goat anti Human IgG (H + L) (biotin) Goat 1.5 ml<br />
43C-CB0933 Goat anti Human IgG (H + L) (biotin) Goat 1 mg<br />
43C-CB0919 Goat anti Human IgG (H + L) (biotin) Goat 2 mg<br />
43C-CB0926 Goat anti Human IgG (H + L) (biotin) Goat 2 mg<br />
41C-CJ0106 Goat anti Human IgG (H + L) (Fab'2) Goat 1 mg<br />
43C-CJ0111 Goat anti Human IgG (H + L) (Fab'2) Goat 1 ml<br />
Immunology Products<br />
Fitzgerald Industries International<br />
39
---
40<br />
Immunology Products<br />
Fitzgerald Industries International<br />
<strong>Secondary</strong> <strong>Antibodies</strong><br />
Catalog No. Product Name Host Size<br />
43C-CJ0107 Goat anti Human IgG (H + L) (Fab'2) (FITC) Goat 1 mg<br />
43C-CJ0110 Goat anti Human IgG (H + L) (Fab'2) (HRP) Goat 500 ug<br />
43C-CJ0109 Goat anti Human IgG (H + L) (Fab'2) (Rhodamine) Goat 1 mg<br />
43C-CJ0108 Goat anti Human IgG (H + L) (Fab'2) (Texas Red) Goat 1 mg<br />
43C-CB0930 Goat anti Human IgG (H + L) (FITC) Goat 1 mg<br />
43C-CB0916 Goat anti Human IgG (H + L) (FITC) Goat 2 mg<br />
43C-CB0923 Goat anti Human IgG (H + L) (FITC) Goat 2 mg<br />
43R-IG046hrp Goat anti Human IgG (H + L) (HRP) Goat 1.5 ml<br />
43C-CB0934 Goat anti Human IgG (H + L) (HRP) Goat 1 mg<br />
43C-CB0920 Goat anti Human IgG (H + L) (HRP) Goat 2 mg<br />
43-I28 Goat anti Human IgG (H + L) (HRP) Goat 1 mg<br />
43C-CB0931 Goat anti Human IgG (H + L) (Rhodamine) Goat 1 mg<br />
43C-CB0917 Goat anti Human IgG (H + L) (Rhodamine) Goat 2 mg<br />
43C-CB0924 Goat anti Human IgG (H + L) (Rhodamine) Goat 2 mg<br />
43C-CB0932 Goat anti Human IgG (H + L) (Texas Red) Goat 1 mg<br />
43C-CB0918 Goat anti Human IgG (H + L) (Texas Red) Goat 2 mg<br />
43C-CB0925 Goat anti Human IgG (H + L) (Texas Red) Goat 2 mg<br />
40-IG18 Goat anti Human IgG (H+ L) Goat 5 ml<br />
43C-CB0962 Goat anti Human IgG (HRP) Goat 2 mg<br />
43-I26 Goat anti Human IgG (HRP) Goat 2 mg<br />
43C-CB0977 Goat anti Human IgG (HRP) Goat 2 mg<br />
43C-CB0941 Goat anti Human IgG (HRP) Goat 1 mg<br />
43-I05 Goat anti Human IgG (HRP) (alpha chain specific) Goat 500 ug<br />
60-I20 Goat anti Human IgG (HRP) (gamma chain specific) Goat 1 mg<br />
43C-CB0959 Goat anti Human IgG (Rhodamine) Goat 2 mg<br />
43C-CB0974 Goat anti Human IgG (Rhodamine) Goat 2 mg<br />
43C-CB0938 Goat anti Human IgG (Rhodamine) Goat 1 mg<br />
43C-CB0960 Goat anti Human IgG (Texas Red) Goat 2 mg<br />
43C-CB0975 Goat anti Human IgG (Texas Red) Goat 2 mg<br />
43C-CB0939 Goat anti Human IgG (Texas Red) Goat 1 mg<br />
40C-CB0986 Goat anti Human IgG + IgA + IgM (H + L) Goat 2 mg<br />
43C-CB0992 Goat anti Human IgG + IgA + IgM (H + L) (Alk Phos) Goat 1 mg<br />
43C-CB0990 Goat anti Human IgG + IgA + IgM (H + L) (biotin) Goat 2 mg<br />
43C-CB0987 Goat anti Human IgG + IgA + IgM (H + L) (FITC) Goat 2 mg<br />
43C-CB0991 Goat anti Human IgG + IgA + IgM (H + L) (HRP) Goat 2 mg<br />
43C-CB0988 Goat anti Human IgG + IgA + IgM (H + L) (Rhodamine) Goat 2 mg<br />
43C-CB0989 Goat anti Human IgG + IgA + IgM (H + L) (Texas Red) Goat 2 mg<br />
20-IG25 Goat anti Human IgG + IgM + IgA antibody Goat 10 ml<br />
70C-CR6047GAP Goat anti Human IgG antibody Goat 1 mg<br />
20C-CR6047G Goat anti Human IgG antibody Goat 1 ml<br />
43-I24 Goat anti Human IgG Fc (Alk Phos) Goat 100 ug<br />
43R-IG017bt Goat anti Human IgG Fc (biotin) Goat 1 ml
---
<strong>Secondary</strong> <strong>Antibodies</strong><br />
Catalog No. Product Name Host Size<br />
70R-IG003 Goat anti Human IgG Fc antibody Goat 1 mg<br />
40-IG15-5 Goat anti Human IgG Fc antibody Goat 5 ml<br />
70-IG20 Goat anti Human IgG gamma chain antibody Goat 1 mg<br />
41C-CB0993 Goat anti Human IgM Goat 1 mg<br />
43C-CB0999 Goat anti Human IgM (Alk Phos) Goat 1 mg<br />
43C-CB0997 Goat anti Human IgM (biotin) Goat 1 mg<br />
41C-CJ0124 Goat anti Human IgM (Fab'2) Goat 1 mg<br />
43C-CJ0125 Goat anti Human IgM (Fab'2) (FITC) Goat 1 mg<br />
43C-CJ0128 Goat anti Human IgM (Fab'2) (HRP) Goat 500 ug<br />
43C-CJ0127 Goat anti Human IgM (Fab'2) (Rhodamine) Goat 1 mg<br />
43C-CJ0126 Goat anti Human IgM (Fab'2) (Texas Red) Goat 1 mg<br />
43C-CB0994 Goat anti Human IgM (FITC) Goat 1 mg<br />
43C-CB0998 Goat anti Human IgM (HRP) Goat 1 mg<br />
43-I36 Goat anti Human IgM (HRP) Goat 1 mg<br />
43C-CB0995 Goat anti Human IgM (Rhodamine) Goat 1 mg<br />
43C-CB0996 Goat anti Human IgM (Texas Red) Goat 1 mg<br />
40C-CR2023G Goat anti Human IgM antibody Goat 1 ml<br />
40-IG20 Goat anti Human IgM antibody Goat 5 ml<br />
41-XG59 Goat anti Human IgM antibody (mu chain) Goat 1 mg<br />
41C-CB9121 Goat anti Human Kappa Chain Goat 1 mg<br />
43C-CB9127 Goat anti Human Kappa Chain (Alk Phos) Goat 1 mg<br />
43C-CB9125 Goat anti Human Kappa Chain (biotin) Goat 1 mg<br />
41C-CJ0129 Goat anti Human Kappa Chain (Fab'2) Goat 1 mg<br />
43C-CJ0130 Goat anti Human Kappa Chain (Fab'2) (FITC) Goat 1 mg<br />
43C-CJ0132 Goat anti Human Kappa Chain (Fab'2) (HRP) Goat 1 mg<br />
43C-CJ0131 Goat anti Human Kappa Chain (Fab'2) (Texas Red) Goat 1 mg<br />
43C-CB9122 Goat anti Human Kappa Chain (FITC) Goat 1 mg<br />
43C-CB9126 Goat anti Human Kappa Chain (HRP) Goat 1 mg<br />
43C-CB9123 Goat anti Human Kappa Chain (Rhodamine) Goat 1 mg<br />
43C-CB9124 Goat anti Human Kappa Chain (Texas Red) Goat 1 mg<br />
43C-CB9134 Goat anti Human Lambda Chain (Alk Phos) Goat 1 mg<br />
43C-CJ0135 Goat anti Human Lambda Chain (Fab'2) (FITC) Goat 1 mg<br />
40C-CB9128 Goat anti Human Lambda Chain Goat 1 mg<br />
43C-CB9132 Goat anti Human Lambda Chain (biotin) Goat 1 mg<br />
41C-CJ0134 Goat anti Human Lambda Chain (Fab'2) Goat 1 mg<br />
43C-CJ0137 Goat anti Human Lambda Chain (Fab'2) (HRP) Goat 1 mg<br />
43C-CJ0136 Goat anti Human Lambda Chain (Fab'2) (Texas Red) Goat 1 mg<br />
60C-CB9129 Goat anti Human Lambda Chain (FITC) Goat 1 mg<br />
43C-CB9133 Goat anti Human Lambda Chain (HRP) Goat 1 mg<br />
43C-CB9130 Goat anti Human Lambda Chain (Rhodamine) Goat 1 mg<br />
43C-CB9131 Goat anti Human Lambda Chain (Texas Red) Goat 1 mg<br />
40C-CB1626 Goat anti Monkey IgA Goat 1 mg<br />
Immunology Products<br />
Fitzgerald Industries International<br />
41
---
42<br />
Immunology Products<br />
Fitzgerald Industries International<br />
<strong>Secondary</strong> <strong>Antibodies</strong><br />
Catalog No. Product Name Host Size<br />
70R-IG001 Goat anti Monkey IgA Goat 1 mg<br />
43C-CB1632 Goat anti Monkey IgA (Alk Phos) Goat 1 mg<br />
43R-IG004alk Goat anti Monkey IgA (Alk Phos) Goat 1 mg<br />
43C-CB1630 Goat anti Monkey IgA (biotin) Goat 1 mg<br />
43R-IG002bt Goat anti Monkey IgA (biotin) Goat 1 mg<br />
43C-CB1627 Goat anti Monkey IgA (FITC) Goat 1 mg<br />
43R-IG007ft Goat anti Monkey IgA (FITC) Goat 1 mg<br />
43C-CB1631 Goat anti Monkey IgA (HRP) Goat 1 mg<br />
43R-IG003hrp Goat anti Monkey IgA (HRP) Goat 1 mg<br />
43C-CB1628 Goat anti Monkey IgA (Rhodamine) Goat 1 mg<br />
43C-CB1629 Goat anti Monkey IgA (Texas Red) Goat 1 mg<br />
41C-CB1605 Goat anti Monkey IgG Goat 1 mg<br />
40R-IG002 Goat anti Monkey IgG Goat 1 mg<br />
43C-CB1611 Goat anti Monkey IgG (Alk Phos) Goat 1 mg<br />
43R-IG019alk Goat anti Monkey IgG (Alk Phos) Goat 1 mg<br />
43C-CB1609 Goat anti Monkey IgG (biotin) Goat 1 mg<br />
43R-IG021bt Goat anti Monkey IgG (biotin) Goat 1 mg<br />
43C-CB1606 Goat anti Monkey IgG (FITC) Goat 1 mg<br />
43R-IG022ft Goat anti Monkey IgG (FITC) Goat 1 mg<br />
40C-CB1601 Goat anti Monkey IgG (H + L) Goat 1 mg<br />
43C-CB1604 Goat anti Monkey IgG (H + L) (Alk Phos) Goat 1 mg<br />
43C-CB1602 Goat anti Monkey IgG (H + L) (FITC) Goat 1 mg<br />
43C-CB1603 Goat anti Monkey IgG (H + L) (HRP) Goat 1 mg<br />
43C-CB1610 Goat anti Monkey IgG (HRP) Goat 1 mg<br />
43R-IG020HRP Goat anti Monkey IgG (HRP) Goat 1 mg<br />
43C-CB1607 Goat anti Monkey IgG (Rhodamine) Goat 1 mg<br />
43R-IG054RD Goat anti Monkey IgG (Rhodamine) Goat 1 mg<br />
41C-CB1612 Goat anti Monkey IgG + IgA + IgM (H + L) Goat 1 mg<br />
41R-IG005 Goat anti Monkey IgG + IgA + IgM (H + L) Goat 1 mg<br />
43C-CB1618 Goat anti Monkey IgG + IgA + IgM (H + L) (Alk Phos) Goat 1 mg<br />
43R-IG013alk Goat anti Monkey IgG + IgA + IgM (H + L) (Alk Phos) Goat 1 mg<br />
43C-CB1616 Goat anti Monkey IgG + IgA + IgM (H + L) (biotin) Goat 1 mg<br />
43R-IG048bt Goat anti Monkey IgG + IgA + IgM (H + L) (biotin) Goat 1 mg<br />
43C-CB1613 Goat anti Monkey IgG + IgA + IgM (H + L) (FITC) Goat 1 mg<br />
43R-IG049ft Goat anti Monkey IgG + IgA + IgM (H + L) (FITC) Goat 1 mg<br />
43C-CB1617 Goat anti Monkey IgG + IgA + IgM (H + L) (HRP) Goat 1 mg<br />
43R-IG050hrp Goat anti Monkey IgG + IgA + IgM (H + L) (HRP) Goat 1 mg<br />
43C-CB1614 Goat anti Monkey IgG + IgA + IgM (H + L) (Rhodamine) Goat 1 mg<br />
43C-CB1615 Goat anti Monkey IgG + IgA + IgM (H + L) (Texas Red) Goat 1 mg<br />
41C-CB1619 Goat anti Monkey IgM Goat 1 mg<br />
70R-IG010 Goat anti Monkey IgM Goat 1 mg<br />
43C-CB1625 Goat anti Monkey IgM (Alk Phos) Goat 1 mg
---
<strong>Secondary</strong> <strong>Antibodies</strong><br />
Catalog No. Product Name Host Size<br />
43R-IG083alk Goat anti Monkey IgM (Alk Phos) Goat 1 mg<br />
43C-CB1623 Goat anti Monkey IgM (biotin) Goat 1 mg<br />
43R-IG070bt Goat anti Monkey IgM (biotin) Goat 1 mg<br />
43C-CB1620 Goat anti Monkey IgM (FITC) Goat 1 mg<br />
43R-IG082ft Goat anti Monkey IgM (FITC) Goat 1 mg<br />
43C-CB1624 Goat anti Monkey IgM (HRP) Goat 1 mg<br />
43R-IG074hrp Goat anti Monkey IgM (HRP) Goat 1 mg<br />
43C-CB1621 Goat anti Monkey IgM (Rhodamine) Goat 1 mg<br />
43C-CB1622 Goat anti Monkey IgM (Texas Red) Goat 1 mg<br />
43-GM15 Goat anti Mouse IgA (HRP) Goat 500 ug<br />
41-GM25 Goat anti Mouse IgG Goat 20 mg<br />
40-GM25S Goat anti Mouse IgG Goat 100 ml<br />
40-GM25 Goat anti Mouse IgG Goat 100 ml<br />
41C-CJ0207 Goat anti Mouse IgG (Fab'2) Goat 1 mg<br />
41C-CJ0213 Goat anti Mouse IgG (Fab'2) Goat 1 mg<br />
43C-CJ0208 Goat anti Mouse IgG (Fab'2) (FITC) Goat 1 mg<br />
43C-CJ0214 Goat anti Mouse IgG (Fab'2) (FITC) Goat 1 mg<br />
43C-CJ0211 Goat anti Mouse IgG (Fab'2) (HRP) Goat 500 ug<br />
43C-CJ0217 Goat anti Mouse IgG (Fab'2) (HRP) Goat 500 ug<br />
43C-CJ0212 Goat anti Mouse IgG (Fab'2) (PE) Goat 1 ml<br />
43C-CJ0218 Goat anti Mouse IgG (Fab'2) (PE) Goat 1 ml<br />
43C-CJ0210 Goat anti Mouse IgG (Fab'2) (Rhodamine) Goat 1 mg<br />
43C-CJ0216 Goat anti Mouse IgG (Fab'2) (Rhodamine) Goat 1 mg<br />
43C-CJ0209 Goat anti Mouse IgG (Fab'2) (Texas Red) Goat 1 mg<br />
43C-CJ0215 Goat anti Mouse IgG (Fab'2) (Texas Red) Goat 1 mg<br />
41C-CB1501 Goat anti Mouse IgG (H + L) Goat 2 mg<br />
43R-IG044AS Goat anti Mouse IgG (H + L) (Agarose Conjugated) Goat 20 mg<br />
41C-CJ0201 Goat anti Mouse IgG (H + L) (Fab'2) Goat 500 ug<br />
43C-CJ0202 Goat anti Mouse IgG (H + L) (Fab'2) (FITC) Goat 500 ug<br />
43C-CJ0205 Goat anti Mouse IgG (H + L) (Fab'2) (HRP) Goat 500 ug<br />
43C-CJ0206 Goat anti Mouse IgG (H + L) (Fab'2) (PE) Goat 1 ml<br />
43C-CJ0204 Goat anti Mouse IgG (H + L) (Fab'2) (Rhodamine) Goat 500 ug<br />
43C-CJ0203 Goat anti Mouse IgG (H + L) (Fab'2) (Texas Red) Goat 500 ug<br />
43-GM30 Goat anti Mouse IgG (H + L) (HRP) Goat 1 mg<br />
43C-CB5105 Goat anti Mouse IgG + IgA + IgM (H + L) (Alk Phos) Goat 1 mg<br />
43C-CB5103 Goat anti Mouse IgG + IgA + IgM (H + L) (biotin) Goat 2 mg<br />
43C-CB5100 Goat anti Mouse IgG + IgA + IgM (H + L) (FITC) Goat 2 mg<br />
43C-CB5104 Goat anti Mouse IgG + IgA + IgM (H + L) (HRP) Goat 2 mg<br />
43C-CB5101 Goat anti Mouse IgG + IgA + IgM (H + L) (Rhodamine) Goat 2 mg<br />
43C-CB5102 Goat anti Mouse IgG + IgA + IgM (H + L) (Texas Red) Goat 2 mg<br />
40C-CB1569 Goat anti Mouse IgG + IgM (H + L) Goat 1 mg<br />
43C-CB5175 Goat anti Mouse IgG + IgM (H + L) (Alk Phos) Goat 500 ug<br />
Immunology Products<br />
Fitzgerald Industries International<br />
43
---
44<br />
Immunology Products<br />
Fitzgerald Industries International<br />
<strong>Secondary</strong> <strong>Antibodies</strong><br />
Catalog No. Product Name Host Size<br />
43C-CB5173 Goat anti Mouse IgG + IgM (H + L) (biotin) Goat 1 mg<br />
43C-CB5170 Goat anti Mouse IgG + IgM (H + L) (FITC) Goat 1 mg<br />
43C-CB5174 Goat anti Mouse IgG + IgM (H + L) (HRP) Goat 1 mg<br />
43C-CB5171 Goat anti Mouse IgG + IgM (H + L) (Rhodamine) Goat 1 mg<br />
43C-CB5172 Goat anti Mouse IgG + IgM (H + L) (Texas Red) Goat 1 mg<br />
43R-IG058alk Goat anti Mouse IgG1 (Alk Phos) Goat 500 ug<br />
43R-IG060hrp Goat anti Mouse IgG1 (HRP) Goat 1 mg<br />
20R-IG003 Goat anti Mouse IgG1 antibody Goat 1 mg<br />
43R-IG062alk Goat anti Mouse IgG2a (Alk Phos) Goat 1 ml<br />
43R-IG063ft Goat anti Mouse IgG2a (FITC) Goat 1 ml<br />
43R-IG064hrp Goat anti Mouse IgG2a (HRP) Goat 1 ml<br />
43R-IG066ft Goat anti Mouse IgG2b (FITC) Goat 1 mg<br />
43R-IG067hrp Goat anti Mouse IgG3 (HRP) Goat 1 mg<br />
41C-CB5113 Goat anti Mouse IgM Goat 2 mg<br />
43C-CB5119 Goat anti Mouse IgM (Alk Phos) Goat 1 mg<br />
43C-CB5117 Goat anti Mouse IgM (biotin) Goat 2 mg<br />
43R-IG072bt Goat anti Mouse IgM (biotin) (mu chain specific) Goat 1 ml<br />
41C-CJ0219 Goat anti Mouse IgM (Fab'2) Goat 1 mg<br />
43C-CJ0220 Goat anti Mouse IgM (Fab'2) (FITC) Goat 1 mg<br />
43C-CJ0223 Goat anti Mouse IgM (Fab'2) (HRP) Goat 500 ug<br />
43C-CJ0224 Goat anti Mouse IgM (Fab'2) (PE) Goat 1 ml<br />
43C-CJ0222 Goat anti Mouse IgM (Fab'2) (Rhodamine) Goat 1 mg<br />
43C-CJ0221 Goat anti Mouse IgM (Fab'2) (Texas Red) Goat 1 mg<br />
43C-CB5114 Goat anti Mouse IgM (FITC) Goat 2 mg<br />
43C-CB5118 Goat anti Mouse IgM (HRP) Goat 1 mg<br />
43R-IG075hrp Goat anti Mouse IgM (HRP) (mu chain specific) Goat 1 ml<br />
43R-IG076pe Goat anti Mouse IgM (PE) (mu chain specific) Goat 1 ml<br />
43C-CB5115 Goat anti Mouse IgM (Rhodamine) Goat 2 mg<br />
43C-CB5116 Goat anti Mouse IgM (Texas Red) Goat 2 mg<br />
70R-KG001 Goat anti Mouse Kappa Light Chain antibody Goat 1 ml<br />
43R-IG005alk Goat anti Pig IgA (Alk Phos) Goat 100 ug<br />
43R-IG008ft Goat anti Pig IgA (FITC) Goat 1 mg<br />
43R-IG010hrp Goat anti Pig IgA (HRP) Goat 1 mg<br />
70R-IG002 Goat anti Pig IgA antibody Goat 1 mg<br />
41R-IG001 Goat anti Pig IgG (H + L) Goat 2 mg<br />
43R-IG025alk Goat anti Pig IgG (H + L) (Alk Phos) Goat 1 ml<br />
43R-IG030bt Goat anti Pig IgG (H + L) (biotin) Goat 2 mg<br />
70R-IG006 Goat anti Pig IgG (H + L) (Fab'2) Goat 1 mg<br />
43R-IG034ft Goat anti Pig IgG (H + L) (FITC) Goat 2 mg<br />
43R-IG037hrp Goat anti Pig IgG (H + L) (HRP) Goat 2 ml<br />
43R-IG042RD Goat anti Pig IgG (H + L) (rhodamine) Goat 2 mg<br />
43R-IG161HRP Goat anti Pig IgG (HRP) Goat 500 ug
---
<strong>Secondary</strong> <strong>Antibodies</strong><br />
Catalog No. Product Name Host Size<br />
43R-IG055alk Goat anti Pig IgG Fc (Alk Phos) Goat 1 mg<br />
43R-IG056hrp Goat anti Pig IgG Fc (HRP) Goat 1 mg<br />
70R-IG007 Goat anti Pig IgG Fc antibody Goat 1 mg<br />
43R-IG068alk Goat anti Pig IgM (Alk Phos) Goat 100 ug<br />
43R-IG077ft Goat anti Pig IgM (FITC) Goat 1 mg<br />
43R-IG078hrp Goat anti Pig IgM (HRP) Goat 1 mg<br />
70R-IG008 Goat anti Pig IgM antibody Goat 1 mg<br />
41-GR31 Goat anti Rabbit IgG Goat 10 mg<br />
41-GR30 Goat anti Rabbit IgG Goat 10 mg<br />
40-GR30 Goat anti Rabbit IgG Goat 100 ml<br />
40-SR35 Goat anti Rabbit IgG Sheep 250 ml<br />
40-GR30S Goat anti Rabbit IgG Goat 100 ml<br />
41C-CB1143 Goat anti Rabbit IgG Goat 2 mg<br />
41C-CB1150 Goat anti Rabbit IgG Goat 10 mg<br />
40C-CB1157 Goat anti Rabbit IgG Goat 5 mg<br />
43C-CB1142 Goat anti Rabbit IgG (Alk Phos) Goat 1 mg<br />
43C-CB1156 Goat anti Rabbit IgG (Alk Phos) Goat 1 mg<br />
43C-CB1149 Goat anti Rabbit IgG (Alk Phos) Goat 1 mg<br />
43C-CB1163 Goat anti Rabbit IgG (Alk Phos) Goat 1 mg<br />
43C-CB1140 Goat anti Rabbit IgG (biotin) Goat 2 mg<br />
43C-CB1154 Goat anti Rabbit IgG (biotin) Goat 2 mg<br />
43C-CB1147 Goat anti Rabbit IgG (biotin) Goat 2 mg<br />
43C-CB1161 Goat anti Rabbit IgG (biotin) Goat 2 mg<br />
41C-CJ0406 Goat anti Rabbit IgG (Fab'2) Goat 1 mg<br />
43C-CJ0408 Goat anti Rabbit IgG (Fab'2) Goat 1 mg<br />
41C-CJ0411 Goat anti Rabbit IgG (Fab'2) Goat 500 ug<br />
43C-CJ0413 Goat anti Rabbit IgG (Fab'2) Goat 500 ug<br />
43C-CJ0407 Goat anti Rabbit IgG (Fab'2) (FITC) Goat 1 mg<br />
43C-CJ0412 Goat anti Rabbit IgG (Fab'2) (FITC) Goat 500 ug<br />
43C-CJ0410 Goat anti Rabbit IgG (Fab'2) (HRP) Goat 500 ug<br />
43C-CJ0415 Goat anti Rabbit IgG (Fab'2) (HRP) Goat 500 ug<br />
43C-CJ0409 Goat anti Rabbit IgG (Fab'2) (Rhodamine) Goat 1 mg<br />
43C-CJ0414 Goat anti Rabbit IgG (Fab'2) (Rhodamine) Goat 500 ug<br />
43C-CB1137 Goat anti Rabbit IgG (FITC) Goat 2 mg<br />
43C-CB1151 Goat anti Rabbit IgG (FITC) Goat 2 mg<br />
43-GR59 Goat anti Rabbit IgG (FITC) Goat 2 mg<br />
43C-CB1144 Goat anti Rabbit IgG (FITC) Goat 2 mg<br />
43C-CB1158 Goat anti Rabbit IgG (FITC) Goat 2 mg<br />
40C-CB1115 Goat anti Rabbit IgG (H + L) Goat 1 mg<br />
43C-CB1108 Goat anti Rabbit IgG (H + L) Goat 2 mg<br />
43R-IG045AS Goat anti Rabbit IgG (H + L) (Agarose Conjugated) Goat 20 mg<br />
43C-CB1107 Goat anti Rabbit IgG (H + L) (Alk Phos) Goat 1 mg<br />
Immunology Products<br />
Fitzgerald Industries International<br />
45
---
46<br />
Immunology Products<br />
Fitzgerald Industries International<br />
<strong>Secondary</strong> <strong>Antibodies</strong><br />
Catalog No. Product Name Host Size<br />
43C-CB1121 Goat anti Rabbit IgG (H + L) (Alk Phos) Goat 1 mg<br />
43C-CB1114 Goat anti Rabbit IgG (H + L) (Alk Phos) Goat 1 mg<br />
43C-CB1105 Goat anti Rabbit IgG (H + L) (biotin) Goat 2 mg<br />
43C-CB1119 Goat anti Rabbit IgG (H + L) (biotin) Goat 1 mg<br />
43C-CB1112 Goat anti Rabbit IgG (H + L) (biotin) Goat 2 mg<br />
41C-CJ0401 Goat anti Rabbit IgG (H + L) (Fab'2) Goat 500 ug<br />
43C-CJ0403 Goat anti Rabbit IgG (H + L) (Fab'2) Goat 500 ug<br />
43C-CJ0416 Goat anti Rabbit IgG (H + L) (Fab'2) (biotin) Goat 500 ug<br />
43C-CJ0402 Goat anti Rabbit IgG (H + L) (Fab'2) (FITC) Goat 500 ug<br />
43C-CJ0405 Goat anti Rabbit IgG (H + L) (Fab'2) (HRP) Goat 500 ug<br />
43C-CJ0404 Goat anti Rabbit IgG (H + L) (Fab'2) (Rhodamine) Goat 500 ug<br />
43R-IG031ft Goat anti Rabbit IgG (H + L) (FITC) Goat 1.5 mg<br />
43C-CB1102 Goat anti Rabbit IgG (H + L) (FITC) Goat 2 mg<br />
43C-CB1116 Goat anti Rabbit IgG (H + L) (FITC) Goat 1 mg<br />
43C-CB1109 Goat anti Rabbit IgG (H + L) (FITC) Goat 2 mg<br />
43R-IG036hrp Goat anti Rabbit IgG (H + L) (HRP) Goat 2 ml<br />
43C-CB1120 Goat anti Rabbit IgG (H + L) (HRP) Goat 1 mg<br />
43C-CB1113 Goat anti Rabbit IgG (H + L) (HRP) Goat 2 mg<br />
43C-CB1103 Goat anti Rabbit IgG (H + L) (Rhodamine) Goat 2 mg<br />
43C-CB1117 Goat anti Rabbit IgG (H + L) (Rhodamine) Goat 1 mg<br />
43C-CB1110 Goat anti Rabbit IgG (H + L) (Rhodamine) Goat 2 mg<br />
43C-CB1118 Goat anti Rabbit IgG (H + L) (Texas Red) Goat 1 mg<br />
43C-CB1104 Goat anti Rabbit IgG (H + L) (Texas Red) Goat 2 mg<br />
43C-CB1111 Goat anti Rabbit IgG (H + L) (Texas Red) Goat 2 mg<br />
43C-CB1141 Goat anti Rabbit IgG (HRP) Goat 2 mg<br />
43C-CB1155 Goat anti Rabbit IgG (HRP) Goat 2 mg<br />
43C-CB1148 Goat anti Rabbit IgG (HRP) Goat 2 mg<br />
43C-CB1162 Goat anti Rabbit IgG (HRP) Goat 2 mg<br />
43C-CB1138 Goat anti Rabbit IgG (Rhodamine) Goat 2 mg<br />
43C-CB1152 Goat anti Rabbit IgG (Rhodamine) Goat 2 mg<br />
43C-CB1145 Goat anti Rabbit IgG (Rhodamine) Goat 2 mg<br />
43C-CB1159 Goat anti Rabbit IgG (Rhodamine) Goat 2 mg<br />
43C-CB1139 Goat anti Rabbit IgG (Texas Red) Goat 2 mg<br />
43C-CB1153 Goat anti Rabbit IgG (Texas Red) Goat 2 mg<br />
43C-CB1146 Goat anti Rabbit IgG (Texas Red) Goat 2 mg<br />
41C-CB1160 Goat anti Rabbit IgG (Texas Red) Goat 2 mg<br />
41C-CB1136 Goat anti Rabbit IgG Fc Goat 2 mg<br />
70R-IG017 Goat anti Rabbit IgG Fc Goat 2 mg<br />
70R-IG011 Goat anti Rabbit IgG Fc Goat 1.5 mg<br />
43R-IG079hrp Goat anti Rabbit IgM (HRP) Goat 1 mg<br />
70R-IG009 Goat anti Rabbit IgM antibody Goat 1 mg<br />
43R-IG006alk Goat anti Rat IgA (Alk Phos) Goat 1 ml
---
<strong>Secondary</strong> <strong>Antibodies</strong><br />
Catalog No. Product Name Host Size<br />
40-GR38 Goat anti Rat IgG Goat 100 ml<br />
41C-CJ0317 Goat anti Rat IgG (Fab'2) Goat 1 mg<br />
43C-CJ0311 Goat anti Rat IgG (Fab'2) Goat 1 mg<br />
43C-CJ0312 Goat anti Rat IgG (Fab'2) (FITC) Goat 1 mg<br />
43C-CJ0318 Goat anti Rat IgG (Fab'2) (FITC) Goat 1 mg<br />
43C-CJ0315 Goat anti Rat IgG (Fab'2) (HRP) Goat 500 ug<br />
43C-CJ0321 Goat anti Rat IgG (Fab'2) (HRP) Goat 500 ug<br />
43C-CJ0316 Goat anti Rat IgG (Fab'2) (PE) Goat 1 ml<br />
43C-CJ0322 Goat anti Rat IgG (Fab'2) (PE) Goat 1 ml<br />
43C-CJ0314 Goat anti Rat IgG (Fab'2) (Rhodamine) Goat 1 mg<br />
43C-CJ0320 Goat anti Rat IgG (Fab'2) (Rhodamine) Goat 1 mg<br />
43C-CJ0313 Goat anti Rat IgG (Fab'2) (Texas Red) Goat 1 mg<br />
43C-CJ0319 Goat anti Rat IgG (Fab'2) (Texas Red) Goat 1 mg<br />
41-GR58 Goat anti Rat IgG (H + L) Goat 1 mg<br />
40C-CB1236 Goat anti Rat IgG (H + L) Goat 1 mg<br />
41C-CB1215 Goat anti Rat IgG (H + L) Goat 2 mg<br />
40C-CB1222 Goat anti Rat IgG (H + L) Goat 2 mg<br />
43C-CB1221 Goat anti Rat IgG (H + L) (Alk Phos) Goat 1 mg<br />
43C-CB1242 Goat anti Rat IgG (H + L) (Alk Phos) Goat 1 mg<br />
43C-CB1228 Goat anti Rat IgG (H + L) (Alk Phos) Goat 1 mg<br />
43C-CB1219 Goat anti Rat IgG (H + L) (biotin) Goat 2 mg<br />
43C-CB1240 Goat anti Rat IgG (H + L) (biotin) Goat 1 mg<br />
43C-CB1226 Goat anti Rat IgG (H + L) (biotin) Goat 2 mg<br />
41C-CJ0301 Goat anti Rat IgG (H + L) (Fab'2) Goat 500 ug<br />
43C-CJ0302 Goat anti Rat IgG (H + L) (Fab'2) (FITC) Goat 500 ug<br />
43C-CJ0305 Goat anti Rat IgG (H + L) (Fab'2) (HRP) Goat 500 ug<br />
43C-CJ0306 Goat anti Rat IgG (H + L) (Fab'2) (PE) Goat 1 ml<br />
43C-CJ0304 Goat anti Rat IgG (H + L) (Fab'2) (Rhodamine) Goat 500 ug<br />
43C-CJ0303 Goat anti Rat IgG (H + L) (Fab'2) (Texas Red) Goat 500 ug<br />
43C-CB1216 Goat anti Rat IgG (H + L) (FITC) Goat 2 mg<br />
43C-CB1237 Goat anti Rat IgG (H + L) (FITC) Goat 1 mg<br />
43C-CB1223 Goat anti Rat IgG (H + L) (FITC) Goat 2 mg<br />
43C-CB1220 Goat anti Rat IgG (H + L) (HRP) Goat 2 mg<br />
43C-CB1241 Goat anti Rat IgG (H + L) (HRP) Goat 1 mg<br />
43C-CB1227 Goat anti Rat IgG (H + L) (HRP) Goat 2 mg<br />
43C-CB1217 Goat anti Rat IgG (H + L) (Rhodamine) Goat 2 mg<br />
43C-CB1238 Goat anti Rat IgG (H + L) (Rhodamine) Goat 1 mg<br />
43C-CB1224 Goat anti Rat IgG (H + L) (Rhodamine) Goat 2 mg<br />
43C-CB1239 Goat anti Rat IgG (H + L) (Texas Red) Goat 1 mg<br />
43C-CB1218 Goat anti Rat IgG (H + L) (Texas Red) Goat 2 mg<br />
43C-CB1225 Goat anti Rat IgG (H + L) (Texas Red) Goat 2 mg<br />
41C-CB1257 Goat anti Rat IgG + IgA + IgM (H + L) Goat 2 mg<br />
Immunology Products<br />
Fitzgerald Industries International<br />
47
---
48<br />
Immunology Products<br />
Fitzgerald Industries International<br />
<strong>Secondary</strong> <strong>Antibodies</strong><br />
Catalog No. Product Name Host Size<br />
43C-CB1263 Goat anti Rat IgG + IgA + IgM (H + L) (Alk Phos) Goat 1 mg<br />
43C-CB1261 Goat anti Rat IgG + IgA + IgM (H + L) (biotin) Goat 2 mg<br />
43C-CB1258 Goat anti Rat IgG + IgA + IgM (H + L) (FITC) Goat 2 mg<br />
43C-CB1262 Goat anti Rat IgG + IgA + IgM (H + L) (HRP) Goat 2 mg<br />
43C-CB1259 Goat anti Rat IgG + IgA + IgM (H + L) (Rhodamine) Goat 2 mg<br />
43C-CB1260 Goat anti Rat IgG + IgA + IgM (H + L) (Texas Red) Goat 2 mg<br />
43R-IG059ft Goat anti Rat IgG1 (FITC) Goat 1 mg<br />
43R-IG065hrp Goat anti Rat IgG2a (HRP) Goat 1 ml<br />
43R-IG061ft Goat anti Rat IgG2b (FITC) Goat 1 ml<br />
40C-CB1271 Goat anti Rat IgM Goat 1 mg<br />
43C-CB1277 Goat anti Rat IgM (Alk Phos) Goat 1 mg<br />
43C-CB1275 Goat anti Rat IgM (biotin) Goat 1 mg<br />
43R-IG071bt Goat anti Rat IgM (biotin) (mu chain specific) Goat 1 ml<br />
43C-CB1272 Goat anti Rat IgM (FITC) Goat 1 mg<br />
43R-IG073ft Goat anti Rat IgM (FITC) (mu chain specific) Goat 1.5 mg<br />
43C-CB1276 Goat anti Rat IgM (HRP) Goat 1 mg<br />
43C-CB1273 Goat anti Rat IgM (Rhodamine) Goat 1 mg<br />
43C-CB1274 Goat anti Rat IgM (Texas Red) Goat 1 mg<br />
40C-CB1415 Goat anti Swine IgM Goat 1 mg<br />
43C-CB1416 Goat anti Swine IgM (FITC) Goat 1 mg<br />
43C-CB1417 Goat anti Swine IgM (rhodamine) Goat 1 mg<br />
43R-GH001 Goat anti Syrian Hamster IgG (H + L) (biotin) Goat 1 ml<br />
43R-ID035ft Goat anti Syrian Hamster IgG (H + L) (FITC) Goat 1 mg<br />
43R-IG038hrp Goat anti Syrian Hamster IgG (H + L) (HRP) Goat 1 ml<br />
43R-IG097rd Goat anti Syrian Hamster IgG (H + L) (rhodamine) Goat 1 ml<br />
41C-CB0108 Goat anti-Bovine IgG (H + L) Goat 2 mg<br />
43R-1002 Goat anti-Bovine IgG (H + L) (488-NHS Ester) Goat 1 mg<br />
43C-CB0114 Goat anti-Bovine IgG (H + L) (Alk Phos) Goat 1 mg<br />
43R-IG028bt Goat anti-Bovine IgG (H + L) (biotin) Goat 1 mg<br />
43R-IG028bt Goat anti-Bovine IgG (H + L) (biotin) Goat 2 mg<br />
43C-CB0109 Goat anti-Bovine IgG (H + L) (FITC) Goat 2 mg<br />
43R-IG039hrp Goat anti-Bovine IgG (H + L) (HRP) Goat 1 mg<br />
43R-1001 Goat anti-Bovine IgG (H + L) (rhodamine) Goat 2 mg<br />
41R-1003 Goat anti-Chicken IgG (H + L) Goat 2 mg<br />
43R-1020 Goat anti-Chicken IgG (H + L) (488-NHS Ester) Goat 1 mg<br />
43R-1015 Goat anti-Chicken IgG (H + L) (Alk Phos) Goat 1 mg<br />
43R-1016 Goat anti-Chicken IgG (H + L) (biotin) Goat 2 mg<br />
43R-1017 Goat anti-Chicken IgG (H + L) (FITC) Goat 2 mg<br />
43R-1018 Goat anti-Chicken IgG (H + L) (HRP) Goat 1 mg<br />
43R-1019 Goat anti-Chicken IgG (H + L) (rhodamine) Goat 2 mg<br />
41R-1005 Goat anti-Donkey IgG (H + L) Goat 2 mg<br />
43R-1032 Goat anti-Donkey IgG (H + L) (488-NHS Ester) Goat 1 mg
---
<strong>Secondary</strong> <strong>Antibodies</strong><br />
Catalog No. Product Name Host Size<br />
43R-1027 Goat anti-Donkey IgG (H + L) (Alk Phos) Goat 1 mg<br />
43R-1028 Goat anti-Donkey IgG (H + L) (biotin) Goat 2 mg<br />
43R-1029 Goat anti-Donkey IgG (H + L) (FITC) Goat 2 mg<br />
43R-1030 Goat anti-Donkey IgG (H + L) (HRP) Goat 1 mg<br />
43R-1031 Goat anti-Donkey IgG (H + L) (rhodamine) Goat 2 mg<br />
41C-CB0608 Goat anti-Guinea Pig IgG (H + L) Goat 2 mg<br />
41R-1015 Goat anti-Guinea Pig IgG (H + L) Goat 1 mg<br />
43R-1092 Goat anti-Guinea Pig IgG (H + L) (488-NHS Ester) Goat 1 mg<br />
43R-1098 Goat anti-Guinea Pig IgG (H + L) (488-NHS Ester) Goat 1 mg<br />
43C-CB0614 Goat anti-Guinea Pig IgG (H + L) (Alk Phos) Goat 1 mg<br />
43R-1093 Goat anti-Guinea Pig IgG (H + L) (Alk Phos) Goat 0.5 mg<br />
43C-CB0612 Goat anti-Guinea Pig IgG (H + L) (biotin) Goat 2 mg<br />
43R-1094 Goat anti-Guinea Pig IgG (H + L) (biotin) Goat 1 mg<br />
43C-CB0609 Goat anti-Guinea Pig IgG (H + L) (FITC) Goat 2 mg<br />
43R-1095 Goat anti-Guinea Pig IgG (H + L) (FITC) Goat 1 mg<br />
43C-CB0613 Goat anti-Guinea Pig IgG (H + L) (HRP) Goat 1 mg<br />
43R-1096 Goat anti-Guinea Pig IgG (H + L) (HRP) Goat 1 mg<br />
43R-1091 Goat anti-Guinea Pig IgG (H + L) (rhodamine) Goat 2 mg<br />
43R-1097 Goat anti-Guinea Pig IgG (H + L) (rhodamine) Goat 1 mg<br />
41C-CB9107 Goat anti-Human IgA (alpha chain) Goat 2 mg<br />
41R-1019 Goat anti-Human IgA (alpha chain) Goat 1 mg<br />
41C-CJ0101 Goat anti-Human IgA (alpha chain) Goat 1 mg<br />
43R-1128 Goat anti-Human IgA (alpha chain) (488-NHS Ester) Goat 0.5 mg<br />
43R-1125 Goat anti-Human IgA (alpha chain) (Alk Phos) Goat 0.5 mg<br />
43R-1126 Goat anti-Human IgA (alpha chain) (biotin) Goat 0.5 mg<br />
43C-CJ0102 Goat anti-Human IgA (alpha chain) (FITC) Goat 0.5mg<br />
43C-CJ0105 Goat anti-Human IgA (alpha chain) (HRP) Goat 500 ug<br />
43R-1127 Goat anti-Human IgA (alpha chain) (rhodamine) Goat 0.5 mg<br />
43R-1118 Goat anti-Human IgA (alpha chain) (488-NHS Ester) Goat 1 mg<br />
43R-1124 Goat anti-Human IgA (alpha chain) (488-NHS Ester) Goat 1 mg<br />
43-I10 Goat anti-Human IgA (alpha chain) (Alk Phos) Goat 1 mg<br />
43R-1119 Goat anti-Human IgA (alpha chain) (Alk Phos) Goat 0.5 mg<br />
43C-CB9111 Goat anti-Human IgA (alpha chain) (biotin) Goat 1 mg<br />
43R-1120 Goat anti-Human IgA (alpha chain) (biotin) Goat 1 mg<br />
43C-CB9108 Goat anti-Human IgA (alpha chain) (FITC) Goat 1 mg<br />
43R-1121 Goat anti-Human IgA (alpha chain) (FITC) Goat 1 mg<br />
43C-CB9112 Goat anti-Human IgA (alpha chain) (HRP) Goat 1 mg<br />
43R-1122 Goat anti-Human IgA (alpha chain) (HRP) Goat 1 mg<br />
43R-1117 Goat anti-Human IgA (alpha chain) (rhodamine) Goat 1 mg<br />
43R-1123 Goat anti-Human IgA (alpha chain) (rhodamine) Goat 1 mg<br />
41R-1020 Goat anti-Human IgE (epsilon chain) Goat 2 mg<br />
41R-1021 Goat anti-Human IgE (epsilon chain) Goat 1 mg<br />
Immunology Products<br />
Fitzgerald Industries International<br />
49
---
50<br />
Immunology Products<br />
Fitzgerald Industries International<br />
<strong>Secondary</strong> <strong>Antibodies</strong><br />
Catalog No. Product Name Host Size<br />
43R-1133 Goat anti-Human IgE (epsilon chain) (488-NHS Ester) Goat 1 mg<br />
43R-1139 Goat anti-Human IgE (epsilon chain) (488-NHS Ester) Goat 1 mg<br />
43R-1129 Goat anti-Human IgE (epsilon chain) (Alk Phos) Goat 1 mg<br />
43R-1134 Goat anti-Human IgE (epsilon chain) (Alk Phos) Goat 0.5 mg<br />
43R-1130 Goat anti-Human IgE (epsilon chain) (biotin) Goat 1 mg<br />
43R-1135 Goat anti-Human IgE (epsilon chain) (biotin) Goat 1 mg<br />
43R-1131 Goat anti-Human IgE (epsilon chain) (FITC) Goat 1 mg<br />
43R-1136 Goat anti-Human IgE (epsilon chain) (FITC) Goat 1 mg<br />
43R-IG154hrp Goat anti-Human IgE (epsilon chain) (HRP) Goat 1 mg<br />
43R-IG154hrp Goat anti-Human IgE (epsilon chain) (HRP) Goat 500 ug<br />
43R-1137 Goat anti-Human IgE (epsilon chain) (HRP) Goat 1 mg<br />
43R-1132 Goat anti-Human IgE (epsilon chain) (rhodamine) Goat 1 mg<br />
43R-1138 Goat anti-Human IgE (epsilon chain) (rhodamine) Goat 1 mg<br />
41R-1026 Goat anti-Human IgG Goat 2 mg<br />
41R-1027 Goat anti-Human IgG Goat 2 mg<br />
41R-1028 Goat anti-Human IgG Goat 1 mg<br />
41R-1029 Goat anti-Human IgG Goat 2 mg<br />
41R-1030 Goat anti-Human IgG Goat 1 mg<br />
41R-1031 Goat anti-Human IgG Goat 1 mg<br />
41R-1032 Goat anti-Human IgG Goat 1 mg<br />
41R-1033 Goat anti-Human IgG Goat 1 mg<br />
41R-1034 Goat anti-Human IgG Goat 1 mg<br />
43R-1203 Goat anti-Human IgG (488-NHS Ester) Goat 0.5 mg<br />
43R-1209 Goat anti-Human IgG (488-NHS Ester) Goat 0.5 mg<br />
43R-1215 Goat anti-Human IgG (488-NHS Ester) Goat 0.5 mg<br />
43R-1221 Goat anti-Human IgG (488-NHS Ester) Goat 0.5 mg<br />
43R-1198 Goat anti-Human IgG (Alk Phos) Goat 0.5 mg<br />
43R-1204 Goat anti-Human IgG (Alk Phos) Goat 0.5 mg<br />
43R-1210 Goat anti-Human IgG (Alk Phos) Goat 0.5 mg<br />
43R-1216 Goat anti-Human IgG (Alk Phos) Goat 0.5 mg<br />
43R-1199 Goat anti-Human IgG (biotin) Goat 0.5 mg<br />
43R-1205 Goat anti-Human IgG (biotin) Goat 0.5 mg<br />
43R-1211 Goat anti-Human IgG (biotin) Goat 0.5 mg<br />
43R-1217 Goat anti-Human IgG (biotin) Goat 0.5 mg<br />
43R-1200 Goat anti-Human IgG (FITC) Goat 0.5 mg<br />
43R-1206 Goat anti-Human IgG (FITC) Goat 0.5 mg<br />
43R-1212 Goat anti-Human IgG (FITC) Goat 0.5 mg<br />
43R-1218 Goat anti-Human IgG (FITC) Goat 0.5 mg<br />
43R-1201 Goat anti-Human IgG (HRP) Goat 0.5 mg<br />
43R-1207 Goat anti-Human IgG (HRP) Goat 0.5 mg<br />
43R-1213 Goat anti-Human IgG (HRP) Goat 0.5 mg<br />
43R-1219 Goat anti-Human IgG (HRP) Goat 0.5 mg
---
<strong>Secondary</strong> <strong>Antibodies</strong><br />
Catalog No. Product Name Host Size<br />
43R-1202 Goat anti-Human IgG (rhodamine) Goat 0.5 mg<br />
43R-1208 Goat anti-Human IgG (rhodamine) Goat 0.5 mg<br />
43R-1214 Goat anti-Human IgG (rhodamine) Goat 0.5 mg<br />
43R-1220 Goat anti-Human IgG (rhodamine) Goat 0.5 mg<br />
43R-1174 Goat anti-Human IgG (488-NHS Ester) Goat 1 mg<br />
43R-1180 Goat anti-Human IgG (488-NHS Ester) Goat 1 mg<br />
43R-1186 Goat anti-Human IgG (488-NHS Ester) Goat 1 mg<br />
43R-1191 Goat anti-Human IgG (488-NHS Ester) Goat 1 mg<br />
43R-1197 Goat anti-Human IgG (488-NHS Ester) Goat 1 mg<br />
43R-IG165ALK Goat anti-Human IgG (Alk Phos) Goat 1 mg<br />
43R-1169 Goat anti-Human IgG (Alk Phos) Goat 1 mg<br />
43R-1175 Goat anti-Human IgG (Alk Phos) Goat 1 mg<br />
43R-1181 Goat anti-Human IgG (Alk Phos) Goat 1 mg<br />
43R-1192 Goat anti-Human IgG (Alk Phos) Goat 1 mg<br />
43R-1170 Goat anti-Human IgG (biotin) Goat 2 mg<br />
43R-1176 Goat anti-Human IgG (biotin) Goat 2 mg<br />
43R-1182 Goat anti-Human IgG (biotin) Goat 1 mg<br />
43R-1187 Goat anti-Human IgG (biotin) Goat 2 mg<br />
43R-1193 Goat anti-Human IgG (biotin) Goat 1 mg<br />
43R-1171 Goat anti-Human IgG (FITC) Goat 2 mg<br />
43R-1177 Goat anti-Human IgG (FITC) Goat 2 mg<br />
43R-1183 Goat anti-Human IgG (FITC) Goat 1 mg<br />
43R-1188 Goat anti-Human IgG (FITC) Goat 2 mg<br />
43R-1194 Goat anti-Human IgG (FITC) Goat 1 mg<br />
43R-1172 Goat anti-Human IgG (HRP) Goat 1 mg<br />
43R-1178 Goat anti-Human IgG (HRP) Goat 1 mg<br />
43R-1184 Goat anti-Human IgG (HRP) Goat 1 mg<br />
43R-1189 Goat anti-Human IgG (HRP) Goat 1 mg<br />
43R-1195 Goat anti-Human IgG (HRP) Goat 1 mg<br />
43R-1173 Goat anti-Human IgG (rhodamine) Goat 2 mg<br />
43R-1179 Goat anti-Human IgG (rhodamine) Goat 2 mg<br />
43R-1185 Goat anti-Human IgG (rhodamine) Goat 1 mg<br />
43R-1190 Goat anti-Human IgG (rhodamine) Goat 2 mg<br />
43R-1196 Goat anti-Human IgG (rhodamine) Goat 1 mg<br />
41R-1023 Goat anti-Human IgG (gamma chain) Goat 2 mg<br />
41C-CB0936 Goat anti-Human IgG (H + L) Goat 1 mg<br />
41C-CB0936 Goat anti-Human IgG (H + L) Goat 2 mg<br />
41C-CB0936 Goat anti-Human IgG (H + L) Goat 500 ug<br />
41R-1022 Goat anti-Human IgG (H + L) Goat 2 mg<br />
41R-1024 Goat anti-Human IgG (H + L) Goat 1 mg<br />
41R-1025 Goat anti-Human IgG (H + L) Goat 1 mg<br />
43R-1144 Goat anti-Human IgG (H + L) (488-NHS Ester) Goat 1 mg<br />
Immunology Products<br />
Fitzgerald Industries International<br />
51
---
52<br />
Immunology Products<br />
Fitzgerald Industries International<br />
<strong>Secondary</strong> <strong>Antibodies</strong><br />
Catalog No. Product Name Host Size<br />
43R-1150 Goat anti-Human IgG (H + L) (488-NHS Ester) Goat 1 mg<br />
43R-1156 Goat anti-Human IgG (H + L) (488-NHS Ester) Goat 1 mg<br />
43R-1162 Goat anti-Human IgG (H + L) (488-NHS Ester) Goat 0.5 mg<br />
43R-1168 Goat anti-Human IgG (H + L) (488-NHS Ester) Goat 0.5 mg<br />
43C-CB0921 Goat anti-Human IgG (H + L) (Alk Phos) Goat 500 ug<br />
43C-CB0921 Goat anti-Human IgG (H + L) (Alk Phos) Goat 1 mg<br />
43R-1145 Goat anti-Human IgG (H + L) (Alk Phos) Goat 1 mg<br />
43R-1151 Goat anti-Human IgG (H + L) (Alk Phos) Goat 0.5 mg<br />
43R-1157 Goat anti-Human IgG (H + L) (Alk Phos) Goat 0.5 mg<br />
43R-1163 Goat anti-Human IgG (H + L) (Alk Phos) Goat 0.5 mg<br />
43R-1140 Goat anti-Human IgG (H + L) (biotin) Goat 2 mg<br />
43R-1146 Goat anti-Human IgG (H + L) (biotin) Goat 2 mg<br />
43R-1152 Goat anti-Human IgG (H + L) (biotin) Goat 1 mg<br />
43R-1158 Goat anti-Human IgG (H + L) (biotin) Goat 0.5 mg<br />
43R-1164 Goat anti-Human IgG (H + L) (biotin) Goat 0.5 mg<br />
43R-1141 Goat anti-Human IgG (H + L) (FITC) Goat 2 mg<br />
43R-1147 Goat anti-Human IgG (H + L) (FITC) Goat 2 mg<br />
43R-1153 Goat anti-Human IgG (H + L) (FITC) Goat 1 mg<br />
43R-1159 Goat anti-Human IgG (H + L) (FITC) Goat 0.5 mg<br />
43R-1165 Goat anti-Human IgG (H + L) (FITC) Goat 0.5 mg<br />
43R-1142 Goat anti-Human IgG (H + L) (HRP) Goat 1 mg<br />
43R-1148 Goat anti-Human IgG (H + L) (HRP) Goat 1 mg<br />
43R-1154 Goat anti-Human IgG (H + L) (HRP) Goat 1 mg<br />
43R-1160 Goat anti-Human IgG (H + L) (HRP) Goat 0.5 mg<br />
43R-1166 Goat anti-Human IgG (H + L) (HRP) Goat 0.5 mg<br />
43R-1143 Goat anti-Human IgG (H + L) (rhodamine) Goat 2 mg<br />
43R-1149 Goat anti-Human IgG (H + L) (rhodamine) Goat 2 mg<br />
43R-1155 Goat anti-Human IgG (H + L) (rhodamine) Goat 1 mg<br />
43R-1161 Goat anti-Human IgG (H + L) (rhodamine) Goat 0.5 mg<br />
43R-1167 Goat anti-Human IgG (H + L) (rhodamine) Goat 0.5 mg<br />
41R-1039 Goat anti-Human IgG + IgA + IgM Goat 2 mg<br />
41R-1040 Goat anti-Human IgG + IgA + IgM Goat 1 mg<br />
43R-1250 Goat anti-Human IgG + IgA + IgM (488-NHS Ester) Goat 1 mg<br />
43R-1256 Goat anti-Human IgG + IgA + IgM (488-NHS Ester) Goat 0.5 mg<br />
43R-1245 Goat anti-Human IgG + IgA + IgM (Alk Phos) Goat 1 mg<br />
43R-1251 Goat anti-Human IgG + IgA + IgM (Alk Phos) Goat 0.5 mg<br />
43R-1246 Goat anti-Human IgG + IgA + IgM (biotin) Goat 2 mg<br />
43R-1252 Goat anti-Human IgG + IgA + IgM (biotin) Goat 0.5 mg<br />
43R-1247 Goat anti-Human IgG + IgA + IgM (FITC) Goat 2 mg<br />
43R-1253 Goat anti-Human IgG + IgA + IgM (FITC) Goat 0.5 mg<br />
43R-1248 Goat anti-Human IgG + IgA + IgM (HRP) Goat 1 mg<br />
43R-1254 Goat anti-Human IgG + IgA + IgM (HRP) Goat 0.5 mg
---
<strong>Secondary</strong> <strong>Antibodies</strong><br />
Catalog No. Product Name Host Size<br />
43R-1249 Goat anti-Human IgG + IgA + IgM (rhodamine) Goat 2 mg<br />
43R-1255 Goat anti-Human IgG + IgA + IgM (rhodamine) Goat 0.5 mg<br />
41R-1035 Goat anti-Human IgM (mu chain) Goat 2 mg<br />
41R-1036 Goat anti-Human IgM (mu chain) Goat 2 mg<br />
41R-1037 Goat anti-Human IgM (mu chain) Goat 1 mg<br />
41R-1038 Goat anti-Human IgM (mu chain) Goat 1 mg<br />
43R-1238 Goat anti-Human IgM (mu chain) (488-NHS Ester) Goat 0.5 mg<br />
43R-1244 Goat anti-Human IgM (mu chain) (488-NHS Ester) Goat 0.5 mg<br />
43R-1233 Goat anti-Human IgM (mu chain) (Alk Phos) Goat 0.5 mg<br />
43R-1239 Goat anti-Human IgM (mu chain) (Alk Phos) Goat 0.5 mg<br />
43R-1234 Goat anti-Human IgM (mu chain) (biotin) Goat 0.5 mg<br />
43R-1240 Goat anti-Human IgM (mu chain) (biotin) Goat 0.5 mg<br />
43R-1235 Goat anti-Human IgM (mu chain) (FITC) Goat 0.5 mg<br />
43R-1241 Goat anti-Human IgM (mu chain) (FITC) Goat 0.5 mg<br />
43R-1236 Goat anti-Human IgM (mu chain) (HRP) Goat 0.5 mg<br />
43R-1242 Goat anti-Human IgM (mu chain) (HRP) Goat 0.5 mg<br />
43R-1237 Goat anti-Human IgM (mu chain) (rhodamine) Goat 0.5 mg<br />
43R-1243 Goat anti-Human IgM (mu chain) (rhodamine) Goat 0.5 mg<br />
43R-1226 Goat anti-Human IgM (mu chain) (488-NHS Ester) Goat 1 mg<br />
43R-1232 Goat anti-Human IgM (mu chain) (488-NHS Ester) Goat 1 mg<br />
43-I34 Goat anti-Human IgM (mu chain) (Alk Phos) Goat 1 mg<br />
43R-1227 Goat anti-Human IgM (mu chain) (Alk Phos) Goat 1 mg<br />
43R-1222 Goat anti-Human IgM (mu chain) (biotin) Goat 1 mg<br />
43R-1228 Goat anti-Human IgM (mu chain) (biotin) Goat 1 mg<br />
43R-1223 Goat anti-Human IgM (mu chain) (FITC) Goat 1 mg<br />
43R-1229 Goat anti-Human IgM (mu chain) (FITC) Goat 1 mg<br />
43R-1224 Goat anti-Human IgM (mu chain) (HRP) Goat 1 mg<br />
43R-1230 Goat anti-Human IgM (mu chain) (HRP) Goat 1 mg<br />
43R-1225 Goat anti-Human IgM (mu chain) (rhodamine) Goat 1 mg<br />
43R-1231 Goat anti-Human IgM (mu chain) (rhodamine) Goat 1 mg<br />
41R-1041 Goat anti-Human kappa chain Goat 1 mg<br />
41R-1042 Goat anti-Human kappa chain Goat 1 mg<br />
43R-1262 Goat anti-Human kappa chain (488-NHS Ester) Goat 0.5 mg<br />
43R-1268 Goat anti-Human kappa chain (488-NHS Ester) Goat 0.5 mg<br />
43R-1257 Goat anti-Human kappa chain (Alk Phos) Goat 0.5 mg<br />
43R-1263 Goat anti-Human kappa chain (Alk Phos) Goat 0.5 mg<br />
43R-1258 Goat anti-Human kappa chain (biotin) Goat 0.5 mg<br />
43R-1264 Goat anti-Human kappa chain (biotin) Goat 0.5 mg<br />
43R-1259 Goat anti-Human kappa chain (FITC) Goat 0.5 mg<br />
43R-1265 Goat anti-Human kappa chain (FITC) Goat 0.5 mg<br />
43R-1260 Goat anti-Human kappa chain (HRP) Goat 0.5 mg<br />
43R-1266 Goat anti-Human kappa chain (HRP) Goat 0.5 mg<br />
Immunology Products<br />
Fitzgerald Industries International<br />
53
---
54<br />
Immunology Products<br />
Fitzgerald Industries International<br />
<strong>Secondary</strong> <strong>Antibodies</strong><br />
Catalog No. Product Name Host Size<br />
43R-1261 Goat anti-Human kappa chain (rhodamine) Goat 0.5 mg<br />
43R-1267 Goat anti-Human kappa chain (rhodamine) Goat 0.5 mg<br />
41R-1045 Goat anti-Llama IgG (H + L) Goat 1 mg<br />
43R-1286 Goat anti-Llama IgG (H + L) (488-NHS Ester) Goat 1 mg<br />
43R-1281 Goat anti-Llama IgG (H + L) (Alk Phos) Goat 0.5 mg<br />
43R-1282 Goat anti-Llama IgG (H + L) (biotin) Goat 1 mg<br />
43R-1283 Goat anti-Llama IgG (H + L) (FITC) Goat 1 mg<br />
43R-1284 Goat anti-Llama IgG (H + L) (HRP) Goat 1 mg<br />
43R-1285 Goat anti-Llama IgG (H + L) (rhodamine) Goat 1 mg<br />
41R-1058 Goat anti-Mouse IgG Goat 2 mg<br />
43R-1361 Goat anti-Mouse IgG (488-NHS Ester) Goat 1 mg<br />
43R-1357 Goat anti-Mouse IgG (Alk Phos) Goat 1 mg<br />
43R-1358 Goat anti-Mouse IgG (biotin) Goat 2 mg<br />
43R-1359 Goat anti-Mouse IgG (FITC) Goat 2 mg<br />
43C-CB1569 Goat anti-Mouse IgG (HRP) Goat 1 mg<br />
43R-1360 Goat anti-Mouse IgG (rhodamine) Goat 2 mg<br />
41R-1051 Goat anti-Mouse IgG (H + L) Goat 2 mg<br />
41R-1052 Goat anti-Mouse IgG (H + L) Goat 2 mg<br />
41R-1053 Goat anti-Mouse IgG (H + L) Goat 2 mg<br />
41R-1054 Goat anti-Mouse IgG (H + L) Goat 2 mg<br />
41R-1055 Goat anti-Mouse IgG (H + L) Goat 2 mg<br />
41R-1056 Goat anti-Mouse IgG (H + L) Goat 1 mg<br />
41R-1057 Goat anti-Mouse IgG (H + L) Goat 1 mg<br />
43R-1350 Goat anti-Mouse IgG (H + L) (488-NHS Ester) Goat 0.5 mg<br />
43R-1356 Goat anti-Mouse IgG (H + L) (488-NHS Ester) Goat 0.5 mg<br />
43R-1345 Goat anti-Mouse IgG (H + L) (Alk Phos) Goat 0.5 mg<br />
43R-1351 Goat anti-Mouse IgG (H + L) (Alk Phos) Goat 0.5 mg<br />
43R-1346 Goat anti-Mouse IgG (H + L) (biotin) Goat 0.5 mg<br />
43R-1352 Goat anti-Mouse IgG (H + L) (biotin) Goat 0.5 mg<br />
43R-1347 Goat anti-Mouse IgG (H + L) (FITC) Goat 0.5 mg<br />
43R-1353 Goat anti-Mouse IgG (H + L) (FITC) Goat 0.5 mg<br />
43R-1348 Goat anti-Mouse IgG (H + L) (HRP) Goat 0.5 mg<br />
43R-1354 Goat anti-Mouse IgG (H + L) (HRP) Goat 0.5 mg<br />
43R-1349 Goat anti-Mouse IgG (H + L) (rhodamine) Goat 0.5 mg<br />
43R-1355 Goat anti-Mouse IgG (H + L) (rhodamine) Goat 0.5 mg<br />
43R-1320 Goat anti-Mouse IgG (H + L) (488-NHS Ester) Goat 1 mg<br />
43R-1326 Goat anti-Mouse IgG (H + L) (488-NHS Ester) Goat 1 mg<br />
43R-1332 Goat anti-Mouse IgG (H + L) (488-NHS Ester) Goat 1 mg<br />
43R-1338 Goat anti-Mouse IgG (H + L) (488-NHS Ester) Goat 1 mg<br />
43R-1344 Goat anti-Mouse IgG (H + L) (488-NHS Ester) Goat 1 mg<br />
43R-1316 Goat anti-Mouse IgG (H + L) (Alk Phos) Goat 1 mg<br />
43R-1321 Goat anti-Mouse IgG (H + L) (Alk Phos) Goat 1 mg
---
<strong>Secondary</strong> <strong>Antibodies</strong><br />
Catalog No. Product Name Host Size<br />
43R-1327 Goat anti-Mouse IgG (H + L) (Alk Phos) Goat 1 mg<br />
43R-1333 Goat anti-Mouse IgG (H + L) (Alk Phos) Goat 1 mg<br />
43R-1339 Goat anti-Mouse IgG (H + L) (Alk Phos) Goat 1 mg<br />
43C-CB1533 Goat anti-Mouse IgG (H + L) (biotin) Goat 1 mg<br />
43R-1322 Goat anti-Mouse IgG (H + L) (biotin) Goat 2 mg<br />
43R-1328 Goat anti-Mouse IgG (H + L) (biotin) Goat 2 mg<br />
43R-1334 Goat anti-Mouse IgG (H + L) (biotin) Goat 1 mg<br />
43R-1340 Goat anti-Mouse IgG (H + L) (biotin) Goat 1 mg<br />
43R-1317 Goat anti-Mouse IgG (H + L) (FITC) Goat 2 mg<br />
43R-1323 Goat anti-Mouse IgG (H + L) (FITC) Goat 2 mg<br />
43R-1329 Goat anti-Mouse IgG (H + L) (FITC) Goat 2 mg<br />
43R-1335 Goat anti-Mouse IgG (H + L) (FITC) Goat 1 mg<br />
43R-1341 Goat anti-Mouse IgG (H + L) (FITC) Goat 1 mg<br />
43R-1318 Goat anti-Mouse IgG (H + L) (HRP) Goat 1 mg<br />
43R-1324 Goat anti-Mouse IgG (H + L) (HRP) Goat 1 mg<br />
43R-1330 Goat anti-Mouse IgG (H + L) (HRP) Goat 1 mg<br />
43R-1336 Goat anti-Mouse IgG (H + L) (HRP) Goat 1 mg<br />
43R-1342 Goat anti-Mouse IgG (H + L) (HRP) Goat 1 mg<br />
43R-1319 Goat anti-Mouse IgG (H + L) (rhodamine) Goat 2 mg<br />
43R-1325 Goat anti-Mouse IgG (H + L) (rhodamine) Goat 2 mg<br />
43R-1331 Goat anti-Mouse IgG (H + L) (rhodamine) Goat 2 mg<br />
43R-1337 Goat anti-Mouse IgG (H + L) (rhodamine) Goat 1 mg<br />
43R-1343 Goat anti-Mouse IgG (H + L) (rhodamine) Goat 1 mg<br />
41R-1063 Goat anti-Mouse IgG + IgM Goat 1 mg<br />
41R-1064 Goat anti-Mouse IgG + IgM Goat 1 mg<br />
43R-1390 Goat anti-Mouse IgG + IgM (488-NHS Ester) Goat 1 mg<br />
43R-1396 Goat anti-Mouse IgG + IgM (488-NHS Ester) Goat 1 mg<br />
43R-1386 Goat anti-Mouse IgG + IgM (Alk Phos) Goat 1 mg<br />
43R-1391 Goat anti-Mouse IgG + IgM (Alk Phos) Goat 1 mg<br />
43R-1387 Goat anti-Mouse IgG + IgM (biotin) Goat 1 mg<br />
43R-1392 Goat anti-Mouse IgG + IgM (biotin) Goat 1 mg<br />
43R-1388 Goat anti-Mouse IgG + IgM (FITC) Goat 1 mg<br />
43R-1393 Goat anti-Mouse IgG + IgM (FITC) Goat 1 mg<br />
43R-IG051hrp Goat anti-Mouse IgG + IgM (HRP) Goat 1 mg<br />
43R-1394 Goat anti-Mouse IgG + IgM (HRP) Goat 1 mg<br />
43R-1389 Goat anti-Mouse IgG + IgM (rhodamine) Goat 1 mg<br />
43R-1395 Goat anti-Mouse IgG + IgM (rhodamine) Goat 1 mg<br />
41R-1065 Goat anti-Mouse IgG1 Goat 1 mg<br />
43R-1402 Goat anti-Mouse IgG1 (488-NHS Ester) Goat 0.5 mg<br />
43R-1397 Goat anti-Mouse IgG1 (Alk Phos) Goat 0.5 mg<br />
43R-1398 Goat anti-Mouse IgG1 (biotin) Goat 0.5 mg<br />
43R-1399 Goat anti-Mouse IgG1 (FITC) Goat 0.5 mg<br />
Immunology Products<br />
Fitzgerald Industries International<br />
55
---
56<br />
Immunology Products<br />
Fitzgerald Industries International<br />
<strong>Secondary</strong> <strong>Antibodies</strong><br />
Catalog No. Product Name Host Size<br />
43R-1400 Goat anti-Mouse IgG1 (HRP) Goat 0.5 mg<br />
43R-1401 Goat anti-Mouse IgG1 (rhodamine) Goat 0.5 mg<br />
41R-1066 Goat anti-Mouse IgG2a Goat 1 mg<br />
43R-1408 Goat anti-Mouse IgG2a (488-NHS Ester) Goat 0.5 mg<br />
43R-1403 Goat anti-Mouse IgG2a (Alk Phos) Goat 0.5 mg<br />
43R-1404 Goat anti-Mouse IgG2a (biotin) Goat 0.5 mg<br />
43R-1405 Goat anti-Mouse IgG2a (FITC) Goat 0.5 mg<br />
43R-1406 Goat anti-Mouse IgG2a (HRP) Goat 0.5 mg<br />
43R-1407 Goat anti-Mouse IgG2a (rhodamine) Goat 0.5 mg<br />
41R-1067 Goat anti-Mouse IgG2b Goat 1 mg<br />
43R-1414 Goat anti-Mouse IgG2b (488-NHS Ester) Goat 0.5 mg<br />
43R-1409 Goat anti-Mouse IgG2b (Alk Phos) Goat 0.5 mg<br />
43R-1410 Goat anti-Mouse IgG2b (biotin) Goat 0.5 mg<br />
43R-1411 Goat anti-Mouse IgG2b (FITC) Goat 0.5 mg<br />
43R-1412 Goat anti-Mouse IgG2b (HRP) Goat 0.5 mg<br />
43R-1413 Goat anti-Mouse IgG2b (rhodamine) Goat 0.5 mg<br />
41R-1062 Goat anti-Mouse IgM (H + L) Goat 2 mg<br />
43R-1385 Goat anti-Mouse IgM (H + L) (488-NHS Ester) Goat 1 mg<br />
43R-1380 Goat anti-Mouse IgM (H + L) (Alk Phos) Goat 1 mg<br />
43R-1381 Goat anti-Mouse IgM (H + L) (biotin) Goat 2 mg<br />
43R-1382 Goat anti-Mouse IgM (H + L) (FITC) Goat 2 mg<br />
43R-1383 Goat anti-Mouse IgM (H + L) (HRP) Goat 1 mg<br />
43R-1384 Goat anti-Mouse IgM (H + L) (rhodamine) Goat 2 mg<br />
41R-1059 Goat anti-Mouse IgM (mu chain) Goat 2 mg<br />
41R-1060 Goat anti-Mouse IgM (mu chain) Goat 2 mg<br />
41R-1061 Goat anti-Mouse IgM (mu chain) Goat 1 mg<br />
43R-1379 Goat anti-Mouse IgM (mu chain) (488-NHS Ester) Goat 0.5 mg<br />
43R-1374 Goat anti-Mouse IgM (mu chain) (Alk Phos) Goat 0.5 mg<br />
43R-1375 Goat anti-Mouse IgM (mu chain) (biotin) Goat 0.5 mg<br />
43R-1376 Goat anti-Mouse IgM (mu chain) (FITC) Goat 0.5 mg<br />
43R-1377 Goat anti-Mouse IgM (mu chain) (HRP) Goat 0.5 mg<br />
43R-1378 Goat anti-Mouse IgM (mu chain) (rhodamine) Goat 0.5 mg<br />
43R-1367 Goat anti-Mouse IgM (mu chain) (488-NHS Ester) Goat 1 mg<br />
43R-1373 Goat anti-Mouse IgM (mu chain) (488-NHS Ester) Goat 1 mg<br />
43R-1362 Goat anti-Mouse IgM (mu chain) (Alk Phos) Goat 1 mg<br />
43R-1368 Goat anti-Mouse IgM (mu chain) (Alk Phos) Goat 1 mg<br />
43R-1363 Goat anti-Mouse IgM (mu chain) (biotin) Goat 2 mg<br />
43R-1369 Goat anti-Mouse IgM (mu chain) (biotin) Goat 2 mg<br />
43R-1364 Goat anti-Mouse IgM (mu chain) (FITC) Goat 2 mg<br />
43R-1370 Goat anti-Mouse IgM (mu chain) (FITC) Goat 2 mg<br />
43R-1365 Goat anti-Mouse IgM (mu chain) (HRP) Goat 1 mg<br />
43R-1371 Goat anti-Mouse IgM (mu chain) (HRP) Goat 1 mg
---
<strong>Secondary</strong> <strong>Antibodies</strong><br />
Catalog No. Product Name Host Size<br />
43R-1366 Goat anti-Mouse IgM (mu chain) (rhodamine) Goat 2 mg<br />
43R-1372 Goat anti-Mouse IgM (mu chain) (rhodamine) Goat 2 mg<br />
41R-1079 Goat anti-Rabbit IgG Goat 2 mg<br />
43R-1497 Goat anti-Rabbit IgG (488-NHS Ester) Goat 1 mg<br />
43R-1492 Goat anti-Rabbit IgG (Alk Phos) Goat 1 mg<br />
43R-1493 Goat anti-Rabbit IgG (biotin) Goat 2 mg<br />
43R-1494 Goat anti-Rabbit IgG (FITC) Goat 2 mg<br />
43R-1495 Goat anti-Rabbit IgG (HRP) Goat 1 mg<br />
43R-1496 Goat anti-Rabbit IgG (rhodamine) Goat 2 mg<br />
41C-CB1101 Goat anti-Rabbit IgG (H + L) Goat 2 mg<br />
41R-1073 Goat anti-Rabbit IgG (H + L) Goat 2 mg<br />
41R-1074 Goat anti-Rabbit IgG (H + L) Goat 2 mg<br />
41R-1075 Goat anti-Rabbit IgG (H + L) Goat 2 mg<br />
41R-1076 Goat anti-Rabbit IgG (H + L) Goat 2 mg<br />
41R-1077 Goat anti-Rabbit IgG (H + L) Goat 1 mg<br />
41R-1078 Goat anti-Rabbit IgG (H + L) Goat 1 mg<br />
43R-1485 Goat anti-Rabbit IgG (H + L) (488-NHS Ester) Goat 0.5 mg<br />
43R-1491 Goat anti-Rabbit IgG (H + L) (488-NHS Ester) Goat 0.5 mg<br />
43R-1481 Goat anti-Rabbit IgG (H + L) (Alk Phos) Goat 0.5 mg<br />
43R-1486 Goat anti-Rabbit IgG (H + L) (Alk Phos) Goat 0.5 mg<br />
43R-1480 Goat anti-Rabbit IgG (H + L) (biotin) Goat 0.5 mg<br />
43R-1487 Goat anti-Rabbit IgG (H + L) (biotin) Goat 0.5 mg<br />
43R-1482 Goat anti-Rabbit IgG (H + L) (FITC) Goat 0.5 mg<br />
43R-1488 Goat anti-Rabbit IgG (H + L) (FITC) Goat 0.5 mg<br />
43R-1483 Goat anti-Rabbit IgG (H + L) (HRP) Goat 0.5 mg<br />
43R-1489 Goat anti-Rabbit IgG (H + L) (HRP) Goat 0.5 mg<br />
43R-1484 Goat anti-Rabbit IgG (H + L) (rhodamine) Goat 0.5 mg<br />
43R-1490 Goat anti-Rabbit IgG (H + L) (rhodamine) Goat 0.5 mg<br />
43R-1456 Goat anti-Rabbit IgG (H + L) (488-NHS Ester) Goat 1 mg<br />
43R-1462 Goat anti-Rabbit IgG (H + L) (488-NHS Ester) Goat 1 mg<br />
43R-1468 Goat anti-Rabbit IgG (H + L) (488-NHS Ester) Goat 1 mg<br />
43R-1474 Goat anti-Rabbit IgG (H + L) (488-NHS Ester) Goat 1 mg<br />
43R-1479 Goat anti-Rabbit IgG (H + L) (488-NHS Ester) Goat 1 mg<br />
43R-1452 Goat anti-Rabbit IgG (H + L) (Alk Phos) Goat 1 mg<br />
43R-1457 Goat anti-Rabbit IgG (H + L) (Alk Phos) Goat 1 mg<br />
43R-1463 Goat anti-Rabbit IgG (H + L) (Alk Phos) Goat 1 mg<br />
43R-1469 Goat anti-Rabbit IgG (H + L) (Alk Phos) Goat 1 mg<br />
43R-1475 Goat anti-Rabbit IgG (H + L) (Alk Phos) Goat 1 mg<br />
43R-1453 Goat anti-Rabbit IgG (H + L) (biotin) Goat 2 mg<br />
43R-1458 Goat anti-Rabbit IgG (H + L) (biotin) Goat 2 mg<br />
43R-1464 Goat anti-Rabbit IgG (H + L) (biotin) Goat 2 mg<br />
43R-1470 Goat anti-Rabbit IgG (H + L) (biotin) Goat 2 mg<br />
Immunology Products<br />
Fitzgerald Industries International<br />
57
---
58<br />
Immunology Products<br />
Fitzgerald Industries International<br />
<strong>Secondary</strong> <strong>Antibodies</strong><br />
Catalog No. Product Name Host Size<br />
43R-1476 Goat anti-Rabbit IgG (H + L) (biotin) Goat 1 mg<br />
43R-1454 Goat anti-Rabbit IgG (H + L) (FITC) Goat 2 mg<br />
43R-1459 Goat anti-Rabbit IgG (H + L) (FITC) Goat 2 mg<br />
43R-1465 Goat anti-Rabbit IgG (H + L) (FITC) Goat 2 mg<br />
43R-1471 Goat anti-Rabbit IgG (H + L) (FITC) Goat 2 mg<br />
43R-1477 Goat anti-Rabbit IgG (H + L) (FITC) Goat 1 mg<br />
43C-CB1106 Goat anti-Rabbit IgG (H + L) (HRP) Goat 1 mg<br />
43R-IG099HRP Goat anti-Rabbit IgG (H + L) (HRP) Goat 1 mg<br />
43R-1460 Goat anti-Rabbit IgG (H + L) (HRP) Goat 1 mg<br />
43R-1466 Goat anti-Rabbit IgG (H + L) (HRP) Goat 1 mg<br />
43R-1472 Goat anti-Rabbit IgG (H + L) (HRP) Goat 1 mg<br />
43R-1455 Goat anti-Rabbit IgG (H + L) (rhodamine) Goat 2 mg<br />
43R-1461 Goat anti-Rabbit IgG (H + L) (rhodamine) Goat 2 mg<br />
43R-1467 Goat anti-Rabbit IgG (H + L) (rhodamine) Goat 2 mg<br />
43R-1473 Goat anti-Rabbit IgG (H + L) (rhodamine) Goat 2 mg<br />
43R-1478 Goat anti-Rabbit IgG (H + L) (rhodamine) Goat 1 mg<br />
41R-1085 Goat anti-Rat IgG (H + L) Goat 2 mg<br />
41R-1086 Goat anti-Rat IgG (H + L) Goat 2 mg<br />
41R-1087 Goat anti-Rat IgG (H + L) Goat 2 mg<br />
41R-1088 Goat anti-Rat IgG (H + L) Goat 1 mg<br />
43R-1550 Goat anti-Rat IgG (H + L) (488-NHS Ester) Goat 0.5 mg<br />
43R-1545 Goat anti-Rat IgG (H + L) (Alk Phos) Goat 0.5 mg<br />
43R-1546 Goat anti-Rat IgG (H + L) (biotin) Goat 0.5 mg<br />
43R-1547 Goat anti-Rat IgG (H + L) (FITC) Goat 0.5 mg<br />
43R-1548 Goat anti-Rat IgG (H + L) (HRP) Goat 0.5 mg<br />
43R-1549 Goat anti-Rat IgG (H + L) (rhodamine) Goat 0.5 mg<br />
43R-1532 Goat anti-Rat IgG (H + L) (488-NHS Ester) Goat 1 mg<br />
43R-1538 Goat anti-Rat IgG (H + L) (488-NHS Ester) Goat 1 mg<br />
43R-1544 Goat anti-Rat IgG (H + L) (488-NHS Ester) Goat 1 mg<br />
43R-1527 Goat anti-Rat IgG (H + L) (Alk Phos) Goat 1 mg<br />
43R-1533 Goat anti-Rat IgG (H + L) (Alk Phos) Goat 1 mg<br />
43R-1539 Goat anti-Rat IgG (H + L) (Alk Phos) Goat 1 mg<br />
43R-1528 Goat anti-Rat IgG (H + L) (biotin) Goat 2 mg<br />
43R-1534 Goat anti-Rat IgG (H + L) (biotin) Goat 2 mg<br />
43R-1540 Goat anti-Rat IgG (H + L) (biotin) Goat 2 mg<br />
43R-1529 Goat anti-Rat IgG (H + L) (FITC) Goat 2 mg<br />
43R-1535 Goat anti-Rat IgG (H + L) (FITC) Goat 2 mg<br />
43R-1541 Goat anti-Rat IgG (H + L) (FITC) Goat 2 mg<br />
43R-1530 Goat anti-Rat IgG (H + L) (HRP) Goat 1 mg<br />
43R-1536 Goat anti-Rat IgG (H + L) (HRP) Goat 1 mg<br />
43R-1542 Goat anti-Rat IgG (H + L) (HRP) Goat 1 mg<br />
43R-1531 Goat anti-Rat IgG (H + L) (rhodamine) Goat 2 mg
---
<strong>Secondary</strong> <strong>Antibodies</strong><br />
Catalog No. Product Name Host Size<br />
43R-1537 Goat anti-Rat IgG (H + L) (rhodamine) Goat 2 mg<br />
43R-1543 Goat anti-Rat IgG (H + L) (rhodamine) Goat 2 mg<br />
20C-CR2142G Human Kappa Light Chain antibody Goat 1 ml<br />
40-KG05 Human Kappa Light Chain antibody Goat 1 ml<br />
20-IG02 Human secretory IgA antibody Goat 1 ml<br />
43-IG02 Human secretory IgA antibody (HRP) Goat 1 ml<br />
10-I11A Mouse anti Canine IgE antibody Mouse 250 ug<br />
10-I11B Mouse anti Canine IgE antibody Mouse 250 ug<br />
10-I11C Mouse anti Canine IgE antibody Mouse 250 ug<br />
10-I11D Mouse anti Canine IgE antibody Mouse 250 ug<br />
43R-IG166HRP Mouse anti Goat IgG (H + L) (HRP) Mouse 1 ml<br />
10-I05A Mouse anti Human IgA antibody Mouse 1 mg<br />
10C-CR6043M1 Mouse anti Human IgA antibody Mouse 1 mg<br />
10-I05B Mouse anti Human IgA antibody Mouse 1 mg<br />
61-I58A Mouse anti Human IgE (HRP) Mouse 500 ug<br />
10-I10C Mouse anti Human IgE antibody Mouse 1 mg<br />
10-I10A Mouse anti Human IgE antibody Mouse 1 mg<br />
10-I10B Mouse anti Human IgE antibody Mouse 1 mg<br />
10R-I104c Mouse anti Human IgE antibody Mouse 1 mg<br />
10R-I104a Mouse anti Human IgE antibody Mouse 1 mg<br />
10R-I104d Mouse anti Human IgE antibody Mouse 1 mg<br />
10R-I104b Mouse anti Human IgE antibody Mouse 1 mg<br />
10R-I104e Mouse anti Human IgE antibody Mouse 1 mg<br />
10C-CR6046M3 Mouse anti Human IgE antibody Mouse 1 mg<br />
10C-CR6046M4 Mouse anti Human IgE antibody Mouse 1 mg<br />
10C-CR6046M5 Mouse anti Human IgE antibody Mouse 1 mg<br />
10-I10E Mouse anti Human IgE antibody Mouse 1 mg<br />
10-I10D Mouse anti Human IgE antibody Mouse 1 mg<br />
61R-I104cHRP Mouse anti Human IgE antibody (HRP) Mouse 1 mg<br />
61R-I169 Mouse anti Human IgG (biotin) Mouse 1 mg<br />
61R-I167 Mouse anti Human IgG (DY549) Mouse 1 mg<br />
61R-I168 Mouse anti Human IgG (DY649) Mouse 1 mg<br />
61R-I108bHRP Mouse anti Human IgG (HRP) Mouse 1 mg<br />
10C-CR6047M1 Mouse anti Human IgG antibody Mouse 1 mg<br />
10C-CR6047M2 Mouse anti Human IgG antibody Mouse 1 mg<br />
10-I15B Mouse anti Human IgG antibody Mouse 1 mg<br />
10-I15A Mouse anti Human IgG antibody Mouse 1 mg<br />
10R-I108a Mouse anti Human IgG antibody Mouse 4 x 1 ml set<br />
10-I17B Mouse anti Human IgG antibody (Fc) Mouse 500 ug<br />
61R-I110aHRP Mouse anti Human IgG1 (HRP) Mouse 1 ml<br />
10-I21A Mouse anti Human IgG1 antibody Mouse 200 ug<br />
10R-I127a Mouse anti Human IgG1 antibody Mouse 1 mg<br />
Immunology Products<br />
Fitzgerald Industries International<br />
59
---
60<br />
Immunology Products<br />
Fitzgerald Industries International<br />
<strong>Secondary</strong> <strong>Antibodies</strong><br />
Catalog No. Product Name Host Size<br />
10R-I110a Mouse anti Human IgG1 antibody Mouse 1 ml<br />
61R-I170aFT Mouse anti Human IgG1 Kappa Light Chain antibody (FITC) Mouse 1 vial = 100 tests<br />
10R-I128a Mouse anti Human IgG2 antibody Mouse 1 mg<br />
10-I22A Mouse anti Human IgG2 antibody Mouse 200 ug<br />
10R-I114a Mouse anti Human IgG2 antibody Mouse 1 ml<br />
10-I26A Mouse anti Human IgG2 antibody (Fab) Mouse 200 ug<br />
10R-I117d Mouse anti Human IgG2a antibody Mouse 500 ug<br />
10-I23A Mouse anti Human IgG3 antibody Mouse 200 ug<br />
10R-I120a Mouse anti Human IgG3 antibody Mouse 1 ml<br />
10R-I129a Mouse anti Human IgG4 antibody Mouse 1 mg<br />
10-I24A Mouse anti Human IgG4 antibody Mouse 200 ug<br />
10R-I121a Mouse anti Human IgG4 antibody Mouse 1 ml<br />
10-I20H Mouse anti Human IgM antibody Mouse 1 mg<br />
10R-I130B Mouse anti Human IgM antibody Mouse 1 mg<br />
10-I20B Mouse anti Human IgM antibody Mouse 1 mg<br />
10R-I130a Mouse anti Human IgM antibody Mouse 1 mg<br />
10-I20G Mouse anti Human IgM antibody Mouse 1 mg<br />
10C-CR2023M2 Mouse anti Human IgM antibody Mouse 1 mg<br />
10C-CR2023M3 Mouse anti Human IgM antibody Mouse 1 mg<br />
10-I20A Mouse anti Human IgM antibody Mouse 1 mg<br />
10-I06A Mouse anti IgA1 antibody Mouse 1 mg<br />
10-I17A Mouse anti IgG Fc antibody Mouse 1 mg<br />
43R-IM001C3 Mouse anti Rabbit IgG (H + L) (Cy3) Mouse 1 ml<br />
61R-I149aFT Mouse anti Rat IgD (FITC) Mouse 1 mg<br />
10R-I106a Mouse anti Rat IgE antibody Mouse 1 mg<br />
41R-RB001 Rabbit anti Bovine IgA Rabbit 1 mg<br />
40C-CB0115 Rabbit anti Bovine IgG Rabbit 2 mg<br />
40C-CB0129 Rabbit anti Bovine IgG Rabbit 5 mg<br />
43C-CB0132 Rabbit anti Bovine IgG (Texas Red) Rabbit 2 mg<br />
43C-CB0121 Rabbit anti Bovine IgG (Alk Phos) Rabbit 1 mg<br />
43C-CB0135 Rabbit anti Bovine IgG (Alk Phos) Rabbit 1 mg<br />
43C-CB0119 Rabbit anti Bovine IgG (biotin) Rabbit 1.5 mg<br />
43C-CB0133 Rabbit anti Bovine IgG (biotin) Rabbit 2 mg<br />
43C-CB0116 Rabbit anti Bovine IgG (FITC) Rabbit 1.5 mg<br />
43C-CB0130 Rabbit anti Bovine IgG (FITC) Rabbit 2 mg<br />
40C-CB0101 Rabbit anti Bovine IgG (H + L) Rabbit 2 mg<br />
43C-CB0107 Rabbit anti Bovine IgG (H + L) (Alk Phos) Rabbit 1 mg<br />
43C-CB0105 Rabbit anti Bovine IgG (H + L) (biotin) Rabbit 2 mg<br />
43C-CB0102 Rabbit anti Bovine IgG (H + L) (FITC) Rabbit 2 mg<br />
43C-CB0106 Rabbit anti Bovine IgG (H + L) (HRP) Rabbit 2 mg<br />
43C-CB0103 Rabbit anti Bovine IgG (H + L) (Rhodamine) Rabbit 2 mg<br />
43C-CB0104 Rabbit anti Bovine IgG (H + L) (Texas Red) Rabbit 2 mg
---
<strong>Secondary</strong> <strong>Antibodies</strong><br />
Catalog No. Product Name Host Size<br />
43C-CB0120 Rabbit anti Bovine IgG (HRP) Rabbit 1.5 mg<br />
43C-CB0134 Rabbit anti Bovine IgG (HRP) Rabbit 2 mg<br />
43C-CB0117 Rabbit anti Bovine IgG (Rhodamine) Rabbit 1.5 mg<br />
43C-CB0131 Rabbit anti Bovine IgG (Rhodamine) Rabbit 2 mg<br />
43C-CB0118 Rabbit anti Bovine IgG (Texas Red) Rabbit 1.5 mg<br />
40C-CB0222 Rabbit anti Cat IgG Rabbit 2 mg<br />
43C-CB0228 Rabbit anti Cat IgG (Alk Phos) Rabbit 1 mg<br />
43C-CB0226 Rabbit anti Cat IgG (biotin) Rabbit 2 mg<br />
43C-CB0223 Rabbit anti Cat IgG (FITC) Rabbit 2 mg<br />
41C-CB0201 Rabbit anti Cat IgG (H + L) Rabbit 2 mg<br />
43C-CB0207 Rabbit anti Cat IgG (H + L) (Alk Phos) Rabbit 1 mg<br />
43C-CB0205 Rabbit anti Cat IgG (H + L) (biotin) Rabbit 2 mg<br />
43C-CB0202 Rabbit anti Cat IgG (H + L) (FITC) Rabbit 2 mg<br />
43C-CB0206 Rabbit anti Cat IgG (H + L) (HRP) Rabbit 2 mg<br />
43C-CB0203 Rabbit anti Cat IgG (H + L) (Rhodamine) Rabbit 2 mg<br />
43C-CB0204 Rabbit anti Cat IgG (H + L) (Texas Red) Rabbit 2 mg<br />
43C-CB0227 Rabbit anti Cat IgG (HRP) Rabbit 2 mg<br />
43C-CB0224 Rabbit anti Cat IgG (Rhodamine) Rabbit 2 mg<br />
43C-CB0225 Rabbit anti Cat IgG (Texas Red) Rabbit 2 mg<br />
41C-CB0315 Rabbit anti Chicken IgG Rabbit 2 mg<br />
40C-CB0322 Rabbit anti Chicken IgG Rabbit 5 mg<br />
43C-CB0321 Rabbit anti Chicken IgG (Alk Phos) Rabbit 1 mg<br />
43C-CB0328 Rabbit anti Chicken IgG (Alk Phos) Rabbit 1 mg<br />
43C-CB0319 Rabbit anti Chicken IgG (biotin) Rabbit 1.5 mg<br />
43C-CB0326 Rabbit anti Chicken IgG (biotin) Rabbit 1.5 mg<br />
43C-CB0316 Rabbit anti Chicken IgG (FITC) Rabbit 1.5 mg<br />
43C-CB0323 Rabbit anti Chicken IgG (FITC) Rabbit 1.5 mg<br />
40C-CB0301 Rabbit anti Chicken IgG (H + L) Rabbit 2 mg<br />
43C-CB0307 Rabbit anti Chicken IgG (H + L) (Alk Phos) Rabbit 1 mg<br />
43C-CB0305 Rabbit anti Chicken IgG (H + L) (biotin) Rabbit 1.5 mg<br />
43C-CB0302 Rabbit anti Chicken IgG (H + L) (FITC) Rabbit 1.5 mg<br />
43C-CB0306 Rabbit anti Chicken IgG (H + L) (HRP) Rabbit 1.5 mg<br />
43C-CB0303 Rabbit anti Chicken IgG (H + L) (Rhodamine) Rabbit 1.5 mg<br />
43C-CB0304 Rabbit anti Chicken IgG (H + L) (Texas Red) Rabbit 1.5 mg<br />
43C-CB0320 Rabbit anti Chicken IgG (HRP) Rabbit 1.5 mg<br />
43C-CB0327 Rabbit anti Chicken IgG (HRP) Rabbit 1.5 mg<br />
43C-CB0317 Rabbit anti Chicken IgG (Rhodamine) Rabbit 1.5 mg<br />
43C-CB0324 Rabbit anti Chicken IgG (Rhodamine) Rabbit 1.5 mg<br />
43C-CB0318 Rabbit anti Chicken IgG (Texas Red) Rabbit 1.5 mg<br />
43C-CB0325 Rabbit anti Chicken IgG (Texas Red) Rabbit 1.5 mg<br />
43R-IR017alk Rabbit anti Chicken IgY (H + L) (Alk Phos) Rabbit 1 ml<br />
43R-IR018ft Rabbit anti Chicken IgY (H + L) (FITC) Rabbit 1.5 mg<br />
Immunology Products<br />
Fitzgerald Industries International<br />
61
---
62<br />
Immunology Products<br />
Fitzgerald Industries International<br />
<strong>Secondary</strong> <strong>Antibodies</strong><br />
Catalog No. Product Name Host Size<br />
43R-IR019hrp Rabbit anti Chicken IgY (H + L) (HRP) Rabbit 1.5 ml<br />
43R-IR016tr Rabbit anti Chicken IgY (H + L) (Texas Red) Rabbit 1.5 ml<br />
40C-CB0408 Rabbit anti Dog IgG Rabbit 2 mg<br />
40C-CB0415 Rabbit anti Dog IgG Rabbit 5 mg<br />
43C-CB0414 Rabbit anti Dog IgG (Alk Phos) Rabbit 1 mg<br />
43C-CB0421 Rabbit anti Dog IgG (Alk Phos) Rabbit 1 mg<br />
43C-CB0412 Rabbit anti Dog IgG (biotin) Rabbit 1.5 mg<br />
43C-CB0419 Rabbit anti Dog IgG (biotin) Rabbit 2 mg<br />
43C-CB0409 Rabbit anti Dog IgG (FITC) Rabbit 1.5 mg<br />
43C-CB0416 Rabbit anti Dog IgG (FITC) Rabbit 2 mg<br />
70R-IR003 Rabbit anti Dog IgG (H + L) Rabbit 2 mg<br />
41C-CB0401 Rabbit anti Dog IgG (H + L) Rabbit 10 mg<br />
43C-CB0407 Rabbit anti Dog IgG (H + L) (Alk Phos) Rabbit 1 mg<br />
43R-IR003bt Rabbit anti Dog IgG (H + L) (biotin) Rabbit 1.5 mg<br />
43C-CB0405 Rabbit anti Dog IgG (H + L) (biotin) Rabbit 2 mg<br />
43R-IR005ft Rabbit anti Dog IgG (H + L) (FITC) Rabbit 1.5 mg<br />
43C-CB0402 Rabbit anti Dog IgG (H + L) (FITC) Rabbit 2 mg<br />
43R-IR006hrp Rabbit anti Dog IgG (H + L) (HRP) Rabbit 1.5 ml<br />
43C-CB0406 Rabbit anti Dog IgG (H + L) (HRP) Rabbit 2 mg<br />
43C-CB0403 Rabbit anti Dog IgG (H + L) (Rhodamine) Rabbit 2 mg<br />
43C-CB0404 Rabbit anti Dog IgG (H + L) (Texas Red) Rabbit 2 mg<br />
43C-CB0413 Rabbit anti Dog IgG (HRP) Rabbit 1.5 mg<br />
43C-CB0420 Rabbit anti Dog IgG (HRP) Rabbit 2 mg<br />
43C-CB0410 Rabbit anti Dog IgG (Rhodamine) Rabbit 1.5 mg<br />
43C-CB0417 Rabbit anti Dog IgG (Rhodamine) Rabbit 2 mg<br />
43C-CB0411 Rabbit anti Dog IgG (Texas Red) Rabbit 1.5 mg<br />
43C-CB0418 Rabbit anti Dog IgG (Texas Red) Rabbit 2 mg<br />
41-RG16 Rabbit anti Goat IgG Rabbit 2 mg<br />
40-RG15 Rabbit anti Goat IgG Rabbit 100 ml<br />
41C-CB0522 Rabbit anti Goat IgG Rabbit 2 mg<br />
41C-CB0529 Rabbit anti Goat IgG Rabbit 2 mg<br />
40C-CB0536 Rabbit anti Goat IgG Rabbit 1.5 mg<br />
43C-CB0528 Rabbit anti Goat IgG (Alk Phos) Rabbit 1 mg<br />
43C-CB0535 Rabbit anti Goat IgG (Alk Phos) Rabbit 1 mg<br />
43C-CB0542 Rabbit anti Goat IgG (Alk Phos) Rabbit 500 ug<br />
43C-CB0526 Rabbit anti Goat IgG (biotin) Rabbit 2 mg<br />
43C-CB0533 Rabbit anti Goat IgG (biotin) Rabbit 2 mg<br />
43C-CB0540 Rabbit anti Goat IgG (biotin) Rabbit 1 mg<br />
43C-CB0523 Rabbit anti Goat IgG (FITC) Rabbit 2 mg<br />
43C-CB0530 Rabbit anti Goat IgG (FITC) Rabbit 2 mg<br />
43C-CB0537 Rabbit anti Goat IgG (FITC) Rabbit 1 mg<br />
40C-CB0508 Rabbit anti Goat IgG (H + L) Rabbit 1.5 mg
---
<strong>Secondary</strong> <strong>Antibodies</strong><br />
Catalog No. Product Name Host Size<br />
43R-IR004AS Rabbit anti Goat IgG (H + L) (Agarose Conjugated) Rabbit 20 mg<br />
43C-CB0507 Rabbit anti Goat IgG (H + L) (Alk Phos) Rabbit 1 mg<br />
43C-CB0514 Rabbit anti Goat IgG (H + L) (Alk Phos) Rabbit 500 ug<br />
43C-CB0505 Rabbit anti Goat IgG (H + L) (biotin) Rabbit 2 mg<br />
43C-CB0512 Rabbit anti Goat IgG (H + L) (biotin) Rabbit 1 mg<br />
43-RG16 Rabbit anti Goat IgG (H + L) (FITC) Rabbit 20 mg<br />
43C-CB0502 Rabbit anti Goat IgG (H + L) (FITC) Rabbit 2 mg<br />
43C-CB0509 Rabbit anti Goat IgG (H + L) (FITC) Rabbit 1 mg<br />
43C-CB0506 Rabbit anti Goat IgG (H + L) (HRP) Rabbit 2 mg<br />
43-RG15 Rabbit anti Goat IgG (H + L) (HRP) Rabbit 2 mg<br />
43C-CB0513 Rabbit anti Goat IgG (H + L) (HRP) Rabbit 1 mg<br />
43C-CB0503 Rabbit anti Goat IgG (H + L) (Rhodamine) Rabbit 2 mg<br />
43C-CB0510 Rabbit anti Goat IgG (H + L) (Rhodamine) Rabbit 1 mg<br />
43C-CB0504 Rabbit anti Goat IgG (H + L) (Texas Red) Rabbit 2 mg<br />
43C-CB0511 Rabbit anti Goat IgG (H + L) (Texas Red) Rabbit 1 mg<br />
43C-CB0527 Rabbit anti Goat IgG (HRP) Rabbit 2 mg<br />
43C-CB0534 Rabbit anti Goat IgG (HRP) Rabbit 2 mg<br />
43C-CB0541 Rabbit anti Goat IgG (HRP) Rabbit 1 mg<br />
43C-CB0524 Rabbit anti Goat IgG (Rhodamine) Rabbit 2 mg<br />
43C-CB0531 Rabbit anti Goat IgG (Rhodamine) Rabbit 2 mg<br />
43C-CB0538 Rabbit anti Goat IgG (Rhodamine) Rabbit 1 mg<br />
43C-CB0525 Rabbit anti Goat IgG (Texas Red) Rabbit 2 mg<br />
43C-CB0532 Rabbit anti Goat IgG (Texas Red) Rabbit 2 mg<br />
43C-CB0539 Rabbit anti Goat IgG (Texas Red) Rabbit 1 mg<br />
41C-CB0601 Rabbit anti Guinea Pig IgG (H + L) Rabbit 2 mg<br />
43C-CB0602 Rabbit anti Guinea Pig IgG (H + L) (FITC) Rabbit 2 mg<br />
43C-CB0603 Rabbit anti Guinea Pig IgG (H + L) (Rhodamine) Rabbit 2 mg<br />
40C-CB9114 Rabbit anti Human IgA Rabbit 1 mg<br />
43C-CB9120 Rabbit anti Human IgA (Alk Phos) Rabbit 1 mg<br />
43C-CB9118 Rabbit anti Human IgA (biotin) Rabbit 1 mg<br />
43C-CB9115 Rabbit anti Human IgA (FITC) Rabbit 1 mg<br />
43C-CB9119 Rabbit anti Human IgA (HRP) Rabbit 1 mg<br />
43C-CB9116 Rabbit anti Human IgA (Rhodamine) Rabbit 1 mg<br />
43C-CB9117 Rabbit anti Human IgA (Texas Red) Rabbit 1 mg<br />
40C-CB0950 Rabbit anti Human IgG Rabbit 5 mg<br />
40C-CB0943 Rabbit anti Human IgG Rabbit 1 mg<br />
41C-CB0964 Rabbit anti Human IgG Rabbit 10 mg<br />
40C-CB0971 Rabbit anti Human IgG Rabbit 2 mg<br />
43C-CB0956 Rabbit anti Human IgG (Alk Phos) Rabbit 1 mg<br />
43C-CB0970 Rabbit anti Human IgG (Alk Phos) Rabbit 1 mg<br />
43C-CB0949 Rabbit anti Human IgG (Alk Phos) Rabbit 1 mg<br />
43C-CB0954 Rabbit anti Human IgG (biotin) Rabbit 2 mg<br />
Immunology Products<br />
Fitzgerald Industries International<br />
63
---
64<br />
Immunology Products<br />
Fitzgerald Industries International<br />
<strong>Secondary</strong> <strong>Antibodies</strong><br />
Catalog No. Product Name Host Size<br />
43C-CB0968 Rabbit anti Human IgG (biotin) Rabbit 2 mg<br />
43C-CB0947 Rabbit anti Human IgG (biotin) Rabbit 1 mg<br />
43R-IR002AS Rabbit anti Human IgG (Fc) (Agarose Conjugated) Rabbit 20 mg<br />
43C-CB0951 Rabbit anti Human IgG (FITC) Rabbit 2 mg<br />
43C-CB0965 Rabbit anti Human IgG (FITC) Rabbit 2 mg<br />
43C-CB0944 Rabbit anti Human IgG (FITC) Rabbit 1 mg<br />
43-I23 Rabbit anti Human IgG (H + L) (Alk Phos) Rabbit 1 mg<br />
43C-CB0914 Rabbit anti Human IgG (H + L) (Alk Phos) Rabbit 1 mg<br />
43C-CB0912 Rabbit anti Human IgG (H + L) (biotin) Rabbit 2 mg<br />
43C-CB0913 Rabbit anti Human IgG (H + L) (HRP) Rabbit 2 mg<br />
43C-CB0911 Rabbit anti Human IgG (H + L) (Texas Red) Rabbit 2 mg<br />
43C-CB0955 Rabbit anti Human IgG (HRP) Rabbit 2 mg<br />
43C-CB0969 Rabbit anti Human IgG (HRP) Rabbit 2 mg<br />
43C-CB0948 Rabbit anti Human IgG (HRP) Rabbit 1 mg<br />
43C-CB0952 Rabbit anti Human IgG (Rhodamine) Rabbit 2 mg<br />
43C-CB0966 Rabbit anti Human IgG (Rhodamine) Rabbit 2 mg<br />
43C-CB0945 Rabbit anti Human IgG (Rhodamine) Rabbit 1 mg<br />
43C-CB0953 Rabbit anti Human IgG (Texas Red) Rabbit 2 mg<br />
43C-CB0967 Rabbit anti Human IgG (Texas Red) Rabbit 2 mg<br />
43C-CB0946 Rabbit anti Human IgG (Texas Red) Rabbit 1 mg<br />
40C-CB9100 Rabbit anti Human IgM Rabbit 2 mg<br />
43C-CB9106 Rabbit anti Human IgM (Alk Phos) Rabbit 1 mg<br />
43C-CB9104 Rabbit anti Human IgM (biotin) Rabbit 1.5 mg<br />
43C-CB9101 Rabbit anti Human IgM (FITC) Rabbit 1.5 mg<br />
43C-CB9105 Rabbit anti Human IgM (HRP) Rabbit 1.5 mg<br />
43C-CB9102 Rabbit anti Human IgM (Rhodamine) Rabbit 1.5 mg<br />
43C-CB9103 Rabbit anti Human IgM (Texas Red) Rabbit 1.5 mg<br />
40C-CB1600 Rabbit anti Monkey IgG (H + L) Rabbit 1 mg<br />
41C-CB5143 Rabbit anti Mouse IgA Rabbit 1 mg<br />
43C-CB5154 Rabbit anti Mouse IgA (Alk Phos) Rabbit 1 mg<br />
43C-CB5152 Rabbit anti Mouse IgA (biotin) Rabbit 1 mg<br />
43C-CB5149 Rabbit anti Mouse IgA (FITC) Rabbit 1 mg<br />
43C-CB5148 Rabbit anti Mouse IgA (HRP) Rabbit 1 mg<br />
43C-CB5250 Rabbit anti Mouse IgA (Rhodamine) Rabbit 1 mg<br />
43C-CB5151 Rabbit anti Mouse IgA (Texas Red) Rabbit 1 mg<br />
43-RM27 Rabbit anti Mouse IgG (H + L) (Alk Phos) Rabbit 1 mg<br />
41C-CB5120 Rabbit anti Mouse IgG1 Rabbit 1 mg<br />
43C-CB5126 Rabbit anti Mouse IgG1 (Alk Phos) Rabbit 1 mg<br />
43C-CB5124 Rabbit anti Mouse IgG1 (biotin) Rabbit 1 mg<br />
43R-IR008bt Rabbit anti Mouse IgG1 (biotin) Rabbit 1 mg<br />
43C-CB1521 Rabbit anti Mouse IgG1 (FITC) Rabbit 1 mg<br />
43R-IR024ft Rabbit anti Mouse IgG1 (FITC) Rabbit 1 mg
---
<strong>Secondary</strong> <strong>Antibodies</strong><br />
Catalog No. Product Name Host Size<br />
43C-CB5225 Rabbit anti Mouse IgG1 (HRP) Rabbit 1 mg<br />
43R-IR009HRP Rabbit anti Mouse IgG1 (HRP) Rabbit 1 mg<br />
43C-CB5122 Rabbit anti Mouse IgG1 (Rhodamine) Rabbit 1 mg<br />
43C-CB5123 Rabbit anti Mouse IgG1 (Texas Red) Rabbit 1 mg<br />
43R-IR007tr Rabbit anti Mouse IgG1 (Texas Red) Rabbit 1 mg<br />
41C-CB5127 Rabbit anti Mouse IgG2a Rabbit 1 mg<br />
43C-CB5133 Rabbit anti Mouse IgG2a (Alk Phos) Rabbit 1 mg<br />
43C-CB5131 Rabbit anti Mouse IgG2a (biotin) Rabbit 1 mg<br />
43R-IR031BT Rabbit anti Mouse IgG2a (biotin) Rabbit 1 mg<br />
43C-CB5128 Rabbit anti Mouse IgG2a (FITC) Rabbit 1 mg<br />
43R-IR010ft Rabbit anti Mouse IgG2a (FITC) Rabbit 1 mg<br />
43C-CB5132 Rabbit anti Mouse IgG2a (HRP) Rabbit 1 mg<br />
43R-IR012HRP Rabbit anti Mouse IgG2a (HRP) Rabbit 1 mg<br />
43C-CB5129 Rabbit anti Mouse IgG2a (Rhodamine) Rabbit 1 mg<br />
43R-IR011rd Rabbit anti Mouse IgG2a (Rhodamine) Rabbit 1 mg<br />
43C-CB5125 Rabbit anti Mouse IgG2a (Texas Red) Rabbit 1 mg<br />
40C-CB5134 Rabbit anti Mouse IgG2b Rabbit 1 mg<br />
43C-CB5140 Rabbit anti Mouse IgG2b (Alk Phos) Rabbit 1 mg<br />
43C-CB5238 Rabbit anti Mouse IgG2b (biotin) Rabbit 1 mg<br />
43C-CB5135 Rabbit anti Mouse IgG2b (FITC) Rabbit 1 mg<br />
43R-IR013ft Rabbit anti Mouse IgG2b (FITC) Rabbit 1 mg<br />
43C-CB5139 Rabbit anti Mouse IgG2b (HRP) Rabbit 1 mg<br />
43r-IR032hrp Rabbit anti Mouse IgG2b (HRP) Rabbit 1 mg<br />
43C-CB5136 Rabbit anti Mouse IgG2b (Rhodamine) Rabbit 1 mg<br />
43C-CB5137 Rabbit anti Mouse IgG2b (Texas Red) Rabbit 1 mg<br />
43R-IR014tr Rabbit anti Mouse IgG2b (Texas Red) Rabbit 500 ug<br />
40C-CB5141 Rabbit anti Mouse IgG3 Rabbit 1 mg<br />
43C-CB5147 Rabbit anti Mouse IgG3 (Alk Phos) Rabbit 1 mg<br />
43C-CB5145 Rabbit anti Mouse IgG3 (biotin) Rabbit 1 mg<br />
43C-CB5142 Rabbit anti Mouse IgG3 (FITC) Rabbit 1 mg<br />
43C-CB5146 Rabbit anti Mouse IgG3 (HRP) Rabbit 1 mg<br />
43R-IR015hrp Rabbit anti Mouse IgG3 (HRP) Rabbit 1 mg<br />
43C-CB5138 Rabbit anti Mouse IgG3 (Rhodamine) Rabbit 1 mg<br />
43C-CB5144 Rabbit anti Mouse IgG3 (Texas Red) Rabbit 1 mg<br />
40C-CB1506 Rabbit anti Mouse IgM Rabbit 2 mg<br />
43C-CB5112 Rabbit anti Mouse IgM (Alk Phos) Rabbit 1 mg<br />
43C-CB5110 Rabbit anti Mouse IgM (biotin) Rabbit 1.5 mg<br />
43C-CB5107 Rabbit anti Mouse IgM (FITC) Rabbit 1.5 mg<br />
43C-CB5111 Rabbit anti Mouse IgM (HRP) Rabbit 1.5 mg<br />
43C-CB5108 Rabbit anti Mouse IgM (Rhodamine) Rabbit 1.5 mg<br />
43C-CB5109 Rabbit anti Mouse IgM (Texas Red) Rabbit 1.5 mg<br />
41-RM28 Rabbit anti Mouse Kappa Chain Rabbit 1 mg<br />
Immunology Products<br />
Fitzgerald Industries International<br />
65
---
66<br />
Immunology Products<br />
Fitzgerald Industries International<br />
<strong>Secondary</strong> <strong>Antibodies</strong><br />
Catalog No. Product Name Host Size<br />
41C-CB5150 Rabbit anti Mouse Kappa Chain Rabbit 1 mg<br />
43C-CB5156 Rabbit anti Mouse Kappa Chain (Alk Phos) Rabbit 1 mg<br />
43C-CB5159 Rabbit anti Mouse Kappa Chain (biotin) Rabbit 1 mg<br />
43C-CB5256 Rabbit anti Mouse Kappa Chain (FITC) Rabbit 1 mg<br />
60-RM26 Rabbit anti Mouse Kappa Chain (FITC) Rabbit 1 mg<br />
43C-CB5160 Rabbit anti Mouse Kappa Chain (HRP) Rabbit 1 mg<br />
43-RM28 Rabbit anti Mouse Kappa Chain (HRP) Rabbit 1 mg<br />
43C-CB5157 Rabbit anti Mouse Kappa Chain (Rhodamine) Rabbit 1 mg<br />
60C-CB5158 Rabbit anti Mouse Kappa Chain (Texas Red) Rabbit 1 mg<br />
41C-CB5162 Rabbit anti Mouse Lambda Chain Rabbit 1 mg<br />
43C-CB5168 Rabbit anti Mouse Lambda Chain (Alk Phos) Rabbit 1 mg<br />
43C-CB5166 Rabbit anti Mouse Lambda Chain (biotin) Rabbit 1 mg<br />
43C-CB5163 Rabbit anti Mouse Lambda Chain (FITC) Rabbit 1 mg<br />
60-RM30 Rabbit anti Mouse Lambda Chain (FITC) Rabbit 1 mg<br />
43C-CB5167 Rabbit anti Mouse Lambda Chain (HRP) Rabbit 1 mg<br />
43-RM29 Rabbit anti Mouse Lambda Chain (HRP) Rabbit 1 mg<br />
43C-CB5164 Rabbit anti Mouse Lambda Chain (Rhodamine) Rabbit 1 mg<br />
43C-CB5165 Rabbit anti Mouse Lambda Chain (Texas Red) Rabbit 1 mg<br />
40C-CB1243 Rabbit anti Rat IgG Rabbit 2 mg<br />
40C-CB1250 Rabbit anti Rat IgG Rabbit 10 mg<br />
43C-CB1249 Rabbit anti Rat IgG (Alk Phos) Rabbit 1 mg<br />
43C-CB1256 Rabbit anti Rat IgG (Alk Phos) Rabbit 1 mg<br />
43C-CB1247 Rabbit anti Rat IgG (biotin) Rabbit 1.5 mg<br />
43C-CB1254 Rabbit anti Rat IgG (biotin) Rabbit 2 mg<br />
43C-CB1244 Rabbit anti Rat IgG (FITC) Rabbit 1.5 mg<br />
43C-CB1251 Rabbit anti Rat IgG (FITC) Rabbit 2 mg<br />
40C-CB1201 Rabbit anti Rat IgG (H + L) Rabbit 2 mg<br />
40C-CB1208 Rabbit anti Rat IgG (H + L) Rabbit 2 mg<br />
43C-CB1207 Rabbit anti Rat IgG (H + L) (Alk Phos) Rabbit 1 mg<br />
43C-CB1214 Rabbit anti Rat IgG (H + L) (Alk Phos) Rabbit 500 ug<br />
43C-CB1205 Rabbit anti Rat IgG (H + L) (biotin) Rabbit 2 mg<br />
43C-CB1212 Rabbit anti Rat IgG (H + L) (biotin) Rabbit 1 mg<br />
41C-CJ0307 Rabbit anti Rat IgG (H + L) (Fab'2) Rabbit 500 ug<br />
43C-CJ0308 Rabbit anti Rat IgG (H + L) (Fab'2) (FITC) Rabbit 500 ug<br />
43C-CJ0310 Rabbit anti Rat IgG (H + L) (Fab'2) (HRP) Rabbit 500 ug<br />
43C-CJ0309 Rabbit anti Rat IgG (H + L) (Fab'2) (Texas Red) Rabbit 500 ug<br />
43C-CB1202 Rabbit anti Rat IgG (H + L) (FITC) Rabbit 2 mg<br />
43C-CB1209 Rabbit anti Rat IgG (H + L) (FITC) Rabbit 1 mg<br />
43C-CB1206 Rabbit anti Rat IgG (H + L) (HRP) Rabbit 2 mg<br />
43C-CB1213 Rabbit anti Rat IgG (H + L) (HRP) Rabbit 1 mg<br />
43C-CB1203 Rabbit anti Rat IgG (H + L) (Rhodamine) Rabbit 2 mg<br />
43C-CB1210 Rabbit anti Rat IgG (H + L) (Rhodamine) Rabbit 1 mg
---
<strong>Secondary</strong> <strong>Antibodies</strong><br />
Catalog No. Product Name Host Size<br />
43C-CB1204 Rabbit anti Rat IgG (H + L) (Texas Red) Rabbit 2 mg<br />
43C-CB1211 Rabbit anti Rat IgG (H + L) (Texas Red) Rabbit 1 mg<br />
43C-CB1248 Rabbit anti Rat IgG (HRP) Rabbit 1.5 mg<br />
43C-CB1255 Rabbit anti Rat IgG (HRP) Rabbit 2 mg<br />
43C-CB1245 Rabbit anti Rat IgG (Rhodamine) Rabbit 1.5 mg<br />
43C-CB1252 Rabbit anti Rat IgG (Rhodamine) Rabbit 2 mg<br />
43C-CB1246 Rabbit anti Rat IgG (Texas Red) Rabbit 1.5 mg<br />
43C-CB1253 Rabbit anti Rat IgG (Texas Red) Rabbit 2 mg<br />
40C-CB1264 Rabbit anti Rat IgM Rabbit 2 mg<br />
43C-CB1270 Rabbit anti Rat IgM (Alk Phos) Rabbit 1 mg<br />
43C-CB1268 Rabbit anti Rat IgM (biotin) Rabbit 1.5 mg<br />
43C-CB1265 Rabbit anti Rat IgM (FITC) Rabbit 1.5 mg<br />
43C-CB1269 Rabbit anti Rat IgM (HRP) Rabbit 1.5 mg<br />
43C-CB1266 Rabbit anti Rat IgM (Rhodamine) Rabbit 1.5 mg<br />
43C-CB1267 Rabbit anti Rat IgM (Texas Red) Rabbit 1.5 mg<br />
41-RS45 Rabbit anti Sheep IgG Rabbit 2 mg<br />
40-RS50 Rabbit anti Sheep IgG Rabbit 100 ml<br />
40C-CB1322 Rabbit anti Sheep IgG Rabbit 2 mg<br />
40C-CB1329 Rabbit anti Sheep IgG Rabbit 500 ug<br />
40C-CB1343 Rabbit anti Sheep IgG Rabbit 500 ug<br />
43C-CB1328 Rabbit anti Sheep IgG (Alk Phos) Rabbit 1 mg<br />
43C-CB1342 Rabbit anti Sheep IgG (Alk Phos) Rabbit 1 mg<br />
43C-CB1335 Rabbit anti Sheep IgG (Alk Phos) Rabbit 500 ug<br />
43C-CB1349 Rabbit anti Sheep IgG (Alk Phos) Rabbit 500 ug<br />
43C-CB1326 Rabbit anti Sheep IgG (biotin) Rabbit 1.5 mg<br />
43C-CB1340 Rabbit anti Sheep IgG (biotin) Rabbit 1.5 mg<br />
43C-CB1333 Rabbit anti Sheep IgG (biotin) Rabbit 500 ug<br />
43C-CB1347 Rabbit anti Sheep IgG (biotin) Rabbit 500 ug<br />
43C-CB1323 Rabbit anti Sheep IgG (FITC) Rabbit 1.5 mg<br />
43C-CB1337 Rabbit anti Sheep IgG (FITC) Rabbit 1.5 mg<br />
43C-CB1330 Rabbit anti Sheep IgG (FITC) Rabbit 500 ug<br />
43C-CB1344 Rabbit anti Sheep IgG (FITC) Rabbit 500 ug<br />
40C-CB1308 Rabbit anti Sheep IgG (H + L) Rabbit 2 mg<br />
40C-CB1315 Rabbit anti Sheep IgG (H + L) Rabbit 1.5 mg<br />
43C-CB1314 Rabbit anti Sheep IgG (H + L) (Alk Phos) Rabbit 1 mg<br />
43C-CB1321 Rabbit anti Sheep IgG (H + L) (Alk Phos) Rabbit 500 ug<br />
43C-CB1312 Rabbit anti Sheep IgG (H + L) (biotin) Rabbit 2 mg<br />
43C-CB1319 Rabbit anti Sheep IgG (H + L) (biotin) Rabbit 1 mg<br />
43C-CB1309 Rabbit anti Sheep IgG (H + L) (FITC) Rabbit 2 mg<br />
43C-CB1316 Rabbit anti Sheep IgG (H + L) (FITC) Rabbit 1 mg<br />
43C-CB1313 Rabbit anti Sheep IgG (H + L) (HRP) Rabbit 2 mg<br />
43C-CB1320 Rabbit anti Sheep IgG (H + L) (HRP) Rabbit 1 mg<br />
Immunology Products<br />
Fitzgerald Industries International<br />
67
---
68<br />
Immunology Products<br />
Fitzgerald Industries International<br />
<strong>Secondary</strong> <strong>Antibodies</strong><br />
Catalog No. Product Name Host Size<br />
43C-CB1310 Rabbit anti Sheep IgG (H + L) (Rhodamine) Rabbit 2 mg<br />
43C-CB1317 Rabbit anti Sheep IgG (H + L) (Rhodamine) Rabbit 1 mg<br />
43C-CB1311 Rabbit anti Sheep IgG (H + L) (Texas Red) Rabbit 2 mg<br />
43C-CB1318 Rabbit anti Sheep IgG (H + L) (Texas Red) Rabbit 1 mg<br />
43C-CB1327 Rabbit anti Sheep IgG (HRP) Rabbit 1.5 mg<br />
43C-CB1341 Rabbit anti Sheep IgG (HRP) Rabbit 1.5 mg<br />
43C-CB1334 Rabbit anti Sheep IgG (HRP) Rabbit 500 ug<br />
43C-CB1348 Rabbit anti Sheep IgG (HRP) Rabbit 500 ug<br />
43C-CB1324 Rabbit anti Sheep IgG (Rhodamine) Rabbit 1.5 mg<br />
43C-CB1338 Rabbit anti Sheep IgG (Rhodamine) Rabbit 1.5 mg<br />
43C-CB1331 Rabbit anti Sheep IgG (Rhodamine) Rabbit 500 ug<br />
43C-CB1345 Rabbit anti Sheep IgG (Rhodamine) Rabbit 500 ug<br />
43C-CB1325 Rabbit anti Sheep IgG (Texas Red) Rabbit 1.5 mg<br />
43C-CB1339 Rabbit anti Sheep IgG (Texas Red) Rabbit 1.5 mg<br />
43C-CB1332 Rabbit anti Sheep IgG (Texas Red) Rabbit 500 ug<br />
43C-CB1346 Rabbit anti Sheep IgG (Texas Red) Rabbit 500 ug<br />
43C-CB1336 Rabbit anti Sheep IgG Fab'2 Rabbit 10 mg<br />
41R-1001 Rabbit anti-Bovine IgG (H + L) Rabbit 2 mg<br />
43R-1005 Rabbit anti-Bovine IgG (H + L) (FITC) Rabbit 2 mg<br />
43R-1008 Rabbit anti-Bovine IgG (H + L) (488-NHS Ester) Rabbit 1 mg<br />
43R-1003 Rabbit anti-Bovine IgG (H + L) (Alk Phos) Rabbit 1 mg<br />
43R-1004 Rabbit anti-Bovine IgG (H + L) (biotin) Rabbit 2 mg<br />
43R-1006 Rabbit anti-Bovine IgG (H + L) (HRP) Rabbit 1 mg<br />
43R-1007 Rabbit anti-Bovine IgG (H + L) (rhodamine) Rabbit 2 mg<br />
41R-1002 Rabbit anti-Cat IgG (H + L) Rabbit 2 mg<br />
43R-1014 Rabbit anti-Cat IgG (H + L) (488-NHS Ester) Rabbit 1 mg<br />
43R-1009 Rabbit anti-Cat IgG (H + L) (Alk Phos) Rabbit 1 mg<br />
43R-1010 Rabbit anti-Cat IgG (H + L) (biotin) Rabbit 2 mg<br />
43R-1011 Rabbit anti-Cat IgG (H + L) (FITC) Rabbit 2 mg<br />
43R-1012 Rabbit anti-Cat IgG (H + L) (HRP) Rabbit 1 mg<br />
43R-1013 Rabbit anti-Cat IgG (H + L) (rhodamine) Rabbit 2 mg<br />
41R-1004 Rabbit anti-Chicken IgG/Y (H + L) Rabbit 2 mg<br />
43R-1026 Rabbit anti-Chicken IgG/Y (H + L) (488-NHS Ester) Rabbit 1 mg<br />
43R-1021 Rabbit anti-Chicken IgG/Y (H + L) (Alk Phos) Rabbit 1 mg<br />
43R-1022 Rabbit anti-Chicken IgG/Y (H + L) (biotin) Rabbit 2 mg<br />
43R-1023 Rabbit anti-Chicken IgG/Y (H + L) (FITC) Rabbit 2 mg<br />
43R-1024 Rabbit anti-Chicken IgG/Y (H + L) (HRP) Rabbit 1 mg<br />
43R-1025 Rabbit anti-Chicken IgG/Y (H + L) (rhodamine) Rabbit 2 mg<br />
41C-CB0501 Rabbit anti-Goat IgG (H + L) Rabbit 1 mg<br />
41C-CB0501 Rabbit anti-Goat IgG (H + L) Rabbit 2 mg<br />
41R-1010 Rabbit anti-Goat IgG (H + L) Rabbit 1 mg<br />
41R-1011 Rabbit anti-Goat IgG (H + L) Rabbit 1 mg
---
<strong>Secondary</strong> <strong>Antibodies</strong><br />
Catalog No. Product Name Host Size<br />
41R-1012 Rabbit anti-Goat IgG (H + L) Rabbit 1 mg<br />
43R-1072 Rabbit anti-Goat IgG (H + L) (488-NHS Ester) Rabbit 0.5 mg<br />
43R-1078 Rabbit anti-Goat IgG (H + L) (488-NHS Ester) Rabbit 0.5 mg<br />
43R-1067 Rabbit anti-Goat IgG (H + L) (Alk Phos) Rabbit 0.5 mg<br />
43R-1073 Rabbit anti-Goat IgG (H + L) (Alk Phos) Rabbit 0.5 mg<br />
43R-1068 Rabbit anti-Goat IgG (H + L) (biotin) Rabbit 0.5 mg<br />
43R-1074 Rabbit anti-Goat IgG (H + L) (biotin) Rabbit 0.5 mg<br />
43R-1069 Rabbit anti-Goat IgG (H + L) (FITC) Rabbit 0.5 mg<br />
43R-1075 Rabbit anti-Goat IgG (H + L) (FITC) Rabbit 0.5 mg<br />
43R-1070 Rabbit anti-Goat IgG (H + L) (HRP) Rabbit 0.5 mg<br />
43R-1076 Rabbit anti-Goat IgG (H + L) (HRP) Rabbit 0.5 mg<br />
43R-1071 Rabbit anti-Goat IgG (H + L) (rhodamine) Rabbit 0.5 mg<br />
43R-1077 Rabbit anti-Goat IgG (H + L) (rhodamine) Rabbit 0.5 mg<br />
43R-1060 Rabbit anti-Goat IgG (H + L) (488-NHS Ester) Rabbit 1 mg<br />
43R-1066 Rabbit anti-Goat IgG (H + L) (488-NHS Ester) Rabbit 1 mg<br />
43R-1056 Rabbit anti-Goat IgG (H + L) (Alk Phos) Rabbit 1 mg<br />
43R-1061 Rabbit anti-Goat IgG (H + L) (Alk Phos) Rabbit 0.5 mg<br />
43R-1057 Rabbit anti-Goat IgG (H + L) (biotin) Rabbit 2 mg<br />
43R-1062 Rabbit anti-Goat IgG (H + L) (biotin) Rabbit 1 mg<br />
43R-1058 Rabbit anti-Goat IgG (H + L) (FITC) Rabbit 2 mg<br />
43R-1063 Rabbit anti-Goat IgG (H + L) (FITC) Rabbit 1 mg<br />
43-1001 Rabbit anti-Goat IgG (H + L) (HRP) Rabbit 1 mg<br />
43R-1064 Rabbit anti-Goat IgG (H + L) (HRP) Rabbit 1 mg<br />
43R-1059 Rabbit anti-Goat IgG (H + L) (rhodamine) Rabbit 2 mg<br />
43R-1065 Rabbit anti-Goat IgG (H + L) (rhodamine) Rabbit 1 mg<br />
41R-1013 Rabbit anti-Goat IgG Fc Rabbit 1 mg<br />
41R-1014 Rabbit anti-Goat IgG Fc Rabbit 1 mg<br />
43R-1084 Rabbit anti-Goat IgG Fc (488-NHS Ester) Rabbit 1 mg<br />
43R-1090 Rabbit anti-Goat IgG Fc (488-NHS Ester) Rabbit 1 mg<br />
43R-1079 Rabbit anti-Goat IgG Fc (Alk Phos) Rabbit 0.5 mg<br />
43R-1085 Rabbit anti-Goat IgG Fc (Alk Phos) Rabbit 0.5 mg<br />
43R-1080 Rabbit anti-Goat IgG Fc (biotin) Rabbit 1 mg<br />
43R-1086 Rabbit anti-Goat IgG Fc (biotin) Rabbit 1 mg<br />
43R-1081 Rabbit anti-Goat IgG Fc (FITC) Rabbit 1 mg<br />
43R-1087 Rabbit anti-Goat IgG Fc (FITC) Rabbit 1 mg<br />
43R-1082 Rabbit anti-Goat IgG Fc (HRP) Rabbit 1 mg<br />
43R-1088 Rabbit anti-Goat IgG Fc (HRP) Rabbit 1 mg<br />
43R-1083 Rabbit anti-Goat IgG Fc (rhodamine) Rabbit 1 mg<br />
43R-1089 Rabbit anti-Goat IgG Fc (rhodamine) Rabbit 1 mg<br />
41R-1016 Rabbit anti-Guinea Pig IgG (H + L) Rabbit 1 mg<br />
43R-1104 Rabbit anti-Guinea Pig IgG (H + L) (488-NHS Ester) Rabbit 1 mg<br />
43R-1099 Rabbit anti-Guinea Pig IgG (H + L) (Alk Phos) Rabbit 0.5 mg<br />
Immunology Products<br />
Fitzgerald Industries International<br />
69
---
70<br />
Immunology Products<br />
Fitzgerald Industries International<br />
<strong>Secondary</strong> <strong>Antibodies</strong><br />
Catalog No. Product Name Host Size<br />
43R-1100 Rabbit anti-Guinea Pig IgG (H + L) (biotin) Rabbit 1 mg<br />
43R-1101 Rabbit anti-Guinea Pig IgG (H + L) (FITC) Rabbit 1 mg<br />
43R-1102 Rabbit anti-Guinea Pig IgG (H + L) (HRP) Rabbit 1 mg<br />
43R-1103 Rabbit anti-Guinea Pig IgG (H + L) (rhodamine) Rabbit 1 mg<br />
41R-1017 Rabbit anti-Hamster IgG (H + L) Rabbit 2 mg<br />
41R-1018 Rabbit anti-Hamster IgG (H + L) Rabbit 1 mg<br />
43R-1110 Rabbit anti-Hamster IgG (H + L) (488-NHS Ester) Rabbit 1 mg<br />
43R-1116 Rabbit anti-Hamster IgG (H + L) (488-NHS Ester) Rabbit 1 mg<br />
43R-1105 Rabbit anti-Hamster IgG (H + L) (Alk Phos) Rabbit 1 mg<br />
43R-1111 Rabbit anti-Hamster IgG (H + L) (Alk Phos) Rabbit 0.5 mg<br />
43R-1106 Rabbit anti-Hamster IgG (H + L) (biotin) Rabbit 2 mg<br />
43R-1112 Rabbit anti-Hamster IgG (H + L) (biotin) Rabbit 1 mg<br />
43R-1107 Rabbit anti-Hamster IgG (H + L) (FITC) Rabbit 2 mg<br />
43R-1113 Rabbit anti-Hamster IgG (H + L) (FITC) Rabbit 1 mg<br />
43R-1108 Rabbit anti-Hamster IgG (H + L) (HRP) Rabbit 1 mg<br />
43R-1114 Rabbit anti-Hamster IgG (H + L) (HRP) Rabbit 1 mg<br />
43R-1109 Rabbit anti-Hamster IgG (H + L) (rhodamine) Rabbit 2 mg<br />
43R-1115 Rabbit anti-Hamster IgG (H + L) (rhodamine) Rabbit 1 mg<br />
41R-1043 Rabbit anti-Human IgG (H + L) Rabbit 2 mg<br />
43R-1274 Rabbit anti-Human IgG (H + L) (488-NHS Ester) Rabbit 1 mg<br />
43R-1269 Rabbit anti-Human IgG (H + L) (Alk Phos) Rabbit 1 mg<br />
43R-1270 Rabbit anti-Human IgG (H + L) (biotin) Rabbit 2 mg<br />
43R-1271 Rabbit anti-Human IgG (H + L) (FITC) Rabbit 2 mg<br />
43R-1272 Rabbit anti-Human IgG (H + L) (HRP) Rabbit 1 mg<br />
43R-1273 Rabbit anti-Human IgG (H + L) (rhodamine) Rabbit 2 mg<br />
41R-1044 Rabbit anti-Human IgM (mu chain) Rabbit 1 mg<br />
43R-1280 Rabbit anti-Human IgM (mu chain) (488-NHS Ester) Rabbit 1 mg<br />
43R-1275 Rabbit anti-Human IgM (mu chain) (Alk Phos) Rabbit 0.5 mg<br />
43R-1276 Rabbit anti-Human IgM (mu chain) (biotin) Rabbit 1 mg<br />
43R-1277 Rabbit anti-Human IgM (mu chain) (FITC) Rabbit 1 mg<br />
43R-1278 Rabbit anti-Human IgM (mu chain) (HRP) Rabbit 1 mg<br />
43R-1279 Rabbit anti-Human IgM (mu chain) (rhodamine) Rabbit 1 mg<br />
41R-1046 Rabbit anti-Llama IgG (H + L) Rabbit 1 mg<br />
43R-1292 Rabbit anti-Llama IgG (H + L) (488-NHS Ester) Rabbit 1 mg<br />
43R-1287 Rabbit anti-Llama IgG (H + L) (Alk Phos) Rabbit 0.5 mg<br />
43R-1288 Rabbit anti-Llama IgG (H + L) (biotin) Rabbit 1 mg<br />
43R-1289 Rabbit anti-Llama IgG (H + L) (FITC) Rabbit 1 mg<br />
43R-1290 Rabbit anti-Llama IgG (H + L) (HRP) Rabbit 1 mg<br />
43R-1291 Rabbit anti-Llama IgG (H + L) (rhodamine) Rabbit 1 mg<br />
41-RM27 Rabbit anti-Mouse IgG (H + L) Rabbit 2 mg<br />
41R-1068 Rabbit anti-Mouse IgG (H + L) Rabbit 2 mg<br />
43R-1420 Rabbit anti-Mouse IgG (H + L) (488-NHS Ester) Rabbit 1 mg
---
<strong>Secondary</strong> <strong>Antibodies</strong><br />
Catalog No. Product Name Host Size<br />
43R-1426 Rabbit anti-Mouse IgG (H + L) (488-NHS Ester) Rabbit 1 mg<br />
43R-1415 Rabbit anti-Mouse IgG (H + L) (Alk Phos) Rabbit 1 mg<br />
43R-1421 Rabbit anti-Mouse IgG (H + L) (Alk Phos) Rabbit 1 mg<br />
43R-1416 Rabbit anti-Mouse IgG (H + L) (biotin) Rabbit 2 mg<br />
43R-1422 Rabbit anti-Mouse IgG (H + L) (biotin) Rabbit 2 mg<br />
43R-1417 Rabbit anti-Mouse IgG (H + L) (FITC) Rabbit 2 mg<br />
43R-1423 Rabbit anti-Mouse IgG (H + L) (FITC) Rabbit 2 mg<br />
43R-1418 Rabbit anti-Mouse IgG (H + L) (HRP) Rabbit 1 mg<br />
43R-1424 Rabbit anti-Mouse IgG (H + L) (HRP) Rabbit 1 mg<br />
43R-1419 Rabbit anti-Mouse IgG (H + L) (rhodamine) Rabbit 2 mg<br />
43R-1425 Rabbit anti-Mouse IgG (H + L) (rhodamine) Rabbit 2 mg<br />
41R-1089 Rabbit anti-Rat IgG (H + L) Rabbit 1 mg<br />
41R-1090 Rabbit anti-Rat IgG (H + L) Rabbit 1 mg<br />
43R-1556 Rabbit anti-Rat IgG (H + L) (488-NHS Ester) Rabbit 1 mg<br />
43R-1562 Rabbit anti-Rat IgG (H + L) (488-NHS Ester) Rabbit 1 mg<br />
43R-1551 Rabbit anti-Rat IgG (H + L) (Alk Phos) Rabbit 0.5 mg<br />
43R-1557 Rabbit anti-Rat IgG (H + L) (Alk Phos) Rabbit 0.5 mg<br />
43R-1552 Rabbit anti-Rat IgG (H + L) (biotin) Rabbit 1 mg<br />
43R-1558 Rabbit anti-Rat IgG (H + L) (biotin) Rabbit 1 mg<br />
43R-1553 Rabbit anti-Rat IgG (H + L) (FITC) Rabbit 1 mg<br />
43R-1559 Rabbit anti-Rat IgG (H + L) (FITC) Rabbit 1 mg<br />
43R-1554 Rabbit anti-Rat IgG (H + L) (HRP) Rabbit 1 mg<br />
43R-1560 Rabbit anti-Rat IgG (H + L) (HRP) Rabbit 1 mg<br />
43R-1555 Rabbit anti-Rat IgG (H + L) (rhodamine) Rabbit 1 mg<br />
43R-1561 Rabbit anti-Rat IgG (H + L) (rhodamine) Rabbit 1 mg<br />
10R-I117b Rat anti Human IgG2a antibody Rat 1 mg<br />
61R-I117bBT Rat anti Human IgG2a antibody (biotin) Rat 1 mg<br />
10R-I109a Rat anti IgG1 Heavy Chain antibody (allotype IgK-1a) Rat 1 mg<br />
61R-I102bBT Rat anti Mouse IgA (biotin) Rat 1 mg<br />
10R-I102a Rat anti Mouse IgA Heavy Chain antibody Rat 1 mg<br />
10R-I105a Rat anti Mouse IgE antibody Rat 1 mg<br />
61R-I105aBT Rat anti Mouse IgE antibody (biotin) Rat 1 mg<br />
10-M61A Rat anti Mouse IgG antibody Rat 1 mg<br />
10R-I158A Rat anti Mouse IgG kappa antibody Rat 1 mg<br />
10R-I109b Rat anti Mouse IgG1 Heavy Chain antibody Rat 1 mg<br />
10R-I109c Rat anti Mouse IgG1 Heavy Chain antibody Rat 1 mg<br />
61R-I109bBT Rat anti Mouse IgG1 Heavy Chain antibody (biotin) Rat 1 mg<br />
61R-I109cBT Rat anti Mouse IgG1 Heavy Chain antibody (biotin) Rat 1 mg<br />
10R-K103a Rat anti Mouse IgG1 Kappa Light Chain antibody Rat 1 mg<br />
61R-K103aBT Rat anti Mouse IgG1 Kappa Light Chain antibody (biotin) Rat 1 mg<br />
10R-I115a Rat anti Mouse IgG2a Heavy Chain antibody Rat 1 mg<br />
61R-I115aBT Rat anti Mouse IgG2a Heavy Chain antibody (biotin) Rat 1 mg<br />
Immunology Products<br />
Fitzgerald Industries International<br />
71
---
72<br />
Immunology Products<br />
Fitzgerald Industries International<br />
<strong>Secondary</strong> <strong>Antibodies</strong><br />
Catalog No. Product Name Host Size<br />
43R-I118aBT Rat anti Mouse IgG2b (biotin) Rat 1 mg<br />
10R-I118a Rat anti Mouse IgG2b Heavy Chain antibody Rat 1 mg<br />
43R-I124aBT Rat anti Mouse IgM (biotin) Rat 1 mg<br />
10R-I124a Rat anti Mouse IgM antibody Rat 1 mg<br />
41R-SB001 Sheep anti Bovine IgA Sheep 1 mg<br />
43R-IS005HRP Sheep anti Bovine IgA (HRP) Sheep 1 mg<br />
43R-IS001hrp Sheep anti Bovine IgG (H chain) (HRP) Sheep 1 mg<br />
43R-IS002hrp Sheep anti Bovine IgG1 (HRP) Sheep 1 mg<br />
43R-IS003hrp Sheep anti Bovine IgG1 (HRP) Sheep 1 mg<br />
70R-IS001 Sheep anti Bovine IgG1 antibody Sheep 1 mg<br />
20R-IS001 Sheep anti Bovine IgG1 antibody Sheep 1 mg<br />
40C-CB0143 Sheep anti Bovine IgM Sheep 1 mg<br />
43C-CB0145 Sheep anti Bovine IgM (HRP) Sheep 1 mg<br />
43R-IS004hrp Sheep anti Bovine IgM (HRP) Sheep 1 mg<br />
20C-CR6043SP Sheep anti Human IgA antibody Sheep 1 ml<br />
40-IG11 Sheep anti Human IgE antibody Goat 1 ml<br />
20C-CR6050SP Sheep anti Human IgG gamma antibody Sheep 1 ml<br />
40C-CR2023S Sheep anti Human IgM antibody Sheep 1 ml<br />
41-SM26 Sheep anti Mouse IgG Sheep 100 ml<br />
43R-IG014alk Sheep anti Pig IgG (Alk Phos) Sheep 500 ug<br />
40C-CB1164 Sheep anti Rabbit IgG (H + L) Sheep 2 mg<br />
43C-CB1170 Sheep anti Rabbit IgG (H + L) (Alk Phos) Sheep 1 mg<br />
43C-CB1168 Sheep anti Rabbit IgG (H + L) (biotin) Sheep 2 mg<br />
43C-CB1165 Sheep anti Rabbit IgG (H + L) (FITC) Sheep 2 mg<br />
43C-CB1169 Sheep anti Rabbit IgG (H + L) (HRP) Sheep 2 mg<br />
43C-CB1166 Sheep anti Rabbit IgG (H + L) (Rhodamine) Sheep 2 mg<br />
43C-CB1167 Sheep anti Rabbit IgG (H + L) (Texas Red) Sheep 2 mg<br />
41R-1080 Sheep anti-Rabbit IgG (H + L) Sheep 2 mg<br />
43R-1503 Sheep anti-Rabbit IgG (H + L) (488-NHS Ester) Sheep 1 mg<br />
43R-1498 Sheep anti-Rabbit IgG (H + L) (Alk Phos) Sheep 1 mg<br />
43R-1499 Sheep anti-Rabbit IgG (H + L) (biotin) Sheep 2 mg<br />
43R-1500 Sheep anti-Rabbit IgG (H + L) (FITC) Sheep 2 mg<br />
43R-1501 Sheep anti-Rabbit IgG (H + L) (HRP) Sheep 1 mg<br />
43R-1502 Sheep anti-Rabbit IgG (H + L) (rhodamine) Sheep 2 mg
---
Immunoglobulins<br />
Catalog No. Product Name Species Size<br />
31R-1001 Bovine Ig fraction Bovine 10 mg<br />
31R-1025 Bovine Ig fraction Bovine 10 mg<br />
31-AB20 Bovine IgG Bovine 50 mg<br />
31C-CH0110 Bovine IgG (Fab) Bovine 2 mg<br />
65C-CH0111 Bovine IgG (Fab) (FITC) Bovine 1 mg<br />
65C-CH0112 Bovine IgG (Fab) (HRP) Bovine 1 mg<br />
31C-CH0107 Bovine IgG (Fab'2) Bovine 2 mg<br />
65C-CH0108 Bovine IgG (Fab'2) (FITC) Bovine 1 mg<br />
31C-CH0104 Bovine IgG (Fc) Bovine 1 mg<br />
65C-CH0105 Bovine IgG (Fc) (FITC) Bovine 1 mg<br />
65C-CH0102 Bovine IgG (FITC) Bovine 1 mg<br />
31R-1002 Bovine IgG (H + L) Bovine 10 mg<br />
31R-1003 Bovine IgG (H + L) Bovine 10 mg<br />
31R-1026 Bovine IgG (H + L) Bovine 10 mg<br />
31R-1027 Bovine IgG (H + L) Bovine 10 mg<br />
65C-CH0103 Bovine IgG (HRP) Bovine 1 mg<br />
31C-CH0113 Bovine IgM Bovine 1 mg<br />
31C-CH0210 Cat IgG (Fab) Cat 5 mg<br />
65C-CH0211 Cat IgG (Fab) (FITC) Cat 1 mg<br />
65C-CH0212 Cat IgG (Fab) (HRP) Cat 1 mg<br />
31C-CH0207 Cat IgG (Fab'2) Cat 2 mg<br />
65C-CH0208 Cat IgG (Fab'2) (FITC) Cat 1 mg<br />
65C-CH0209 Cat IgG (Fab'2) (HRP) Cat 1 mg<br />
31C-CH0204 Cat IgG (Fc) Cat 1 mg<br />
65C-CH0202 Cat IgG (FITC) Cat 1 mg<br />
65C-CH0203 Cat IgG (HRP) Cat 1 mg<br />
31C-CH0213 Cat IgM Cat 1 mg<br />
31R-1004 Chicken Ig fraction Chicken 10 mg<br />
31R-1028 Chicken Ig fraction Chicken 10 mg<br />
31C-CH0301 Chicken IgG Chicken 10 mg<br />
31C-CH0307 Chicken IgG (Fab'2) Chicken 10 mg<br />
65C-CH0308 Chicken IgG (Fab'2) (FITC) Chicken 1 mg<br />
65C-CH0309 Chicken IgG (Fab'2) (HRP) Chicken 1 mg<br />
31C-CH0304 Chicken IgG (Fc) Chicken 1 mg<br />
65C-CH0302 Chicken IgG (FITC) Chicken 1 mg<br />
65C-CH0303 Chicken IgG (HRP) Chicken 1 mg<br />
31-AC25 Chicken IgY Chicken 50 mg<br />
31C-CH0401 Dog IgG Dog 10 mg<br />
31C-CH0410 Dog IgG (Fab) Dog 1 mg<br />
65C-CH0411 Dog IgG (Fab) (FITC) Dog 1 mg<br />
65C-CH0412 Dog IgG (Fab) (HRP) Dog 1 mg<br />
31C-CH0407 Dog IgG (Fab'2) Dog 2 mg<br />
Immunology Products<br />
Fitzgerald Industries International<br />
73
---
74<br />
Immunology Products<br />
Fitzgerald Industries International<br />
Catalog No. Product Name Species Size<br />
65C-CH0408 Dog IgG (Fab'2) (FITC) Dog 1 mg<br />
65C-CH0409 Dog IgG (Fab'2) (HRP) Dog 1 mg<br />
31C-CH0404 Dog IgG (Fc) Dog 1 mg<br />
65C-CH0402 Dog IgG (FITC) Dog 1 mg<br />
65C-CH0403 Dog IgG (HRP) Dog 1 mg<br />
31C-CH0413 Dog IgM Dog 1 mg<br />
31C-CH1601 Donkey IgG Donkey 50 mg<br />
65C-CH1602 Donkey IgG (FITC) Donkey 1 mg<br />
65C-CH1603 Donkey IgG (HRP) Donkey 1 mg<br />
31C-CH1604 Donkey IgM Donkey 1 mg<br />
31R-1008 Goat Ig fraction Goat 10 mg<br />
31R-1032 Goat Ig fraction Goat 10 mg<br />
31-AG15 Goat IgG Goat 100 mg<br />
31C-CH0510 Goat IgG (Fab) Goat 2 mg<br />
65C-CH0511 Goat IgG (Fab) (FITC) Goat 1 mg<br />
65C-CH0512 Goat IgG (Fab) (HRP) Goat 1 mg<br />
31C-CH0507 Goat IgG (Fab'2) Goat 2 mg<br />
65C-CH0508 Goat IgG (Fab'2) (FITC) Goat 1 mg<br />
65C-CH0509 Goat IgG (Fab'2) (HRP) Goat 1 mg<br />
31C-CH0504 Goat IgG (Fc) Goat 2 mg<br />
65C-CH0505 Goat IgG (Fc) (FITC) Goat 1 mg<br />
65C-CH0506 Goat IgG (Fc) (HRP) Goat 1 mg<br />
65C-CH0502 Goat IgG (FITC) Goat 1 mg<br />
31C-CH0501 Goat IgG (H + L) Goat 10 mg<br />
65C-CH0503 Goat IgG (HRP) Goat 1 mg<br />
31R-AG001 Goat IgG control Goat 1 mg<br />
31C-CH0513 Goat IgM Goat 1 mg<br />
31R-1007 Guinea Pig Ig fraction Guinea Pig 10 mg<br />
31R-1031 Guinea Pig Ig fraction Guinea Pig 10 mg<br />
31C-CH0610 Guinea Pig IgG (Fab) Guinea Pig 1 mg<br />
65C-CH0611 Guinea Pig IgG (Fab) (FITC) Guinea Pig 1 mg<br />
65C-CH0612 Guinea Pig IgG (Fab) (HRP) Guinea Pig 1 mg<br />
31C-CH0607 Guinea Pig IgG (Fab'2) Guinea Pig 1 mg<br />
65C-CH0608 Guinea Pig IgG (Fab'2) (FITC) Guinea Pig 1 mg<br />
65C-CH0609 Guinea Pig IgG (Fab'2) (HRP) Guinea Pig 1 mg<br />
31C-CH0604 Guinea Pig IgG (Fc) Guinea Pig 1 mg<br />
65C-CH0602 Guinea Pig IgG (FITC) Guinea Pig 1 mg<br />
31-AP30 Guinea Pig IgG (H + L) Guinea Pig 10 mg<br />
65C-CH0603 Guinea Pig IgG (HRP) Guinea Pig 1 mg<br />
31C-CH0613 Guinea Pig IgM Guinea Pig 1 mg<br />
31R-1009 Hamster Ig fraction Hamster 10 mg<br />
31R-1033 Hamster Ig fraction Hamster 10 mg<br />
Immunoglobulins
---
Immunoglobulins<br />
Catalog No. Product Name Species Size<br />
31-AH70 Hamster IgG Hamster 10 mg<br />
31C-CH0704 Hamster IgG (Fab'2) Hamster 1 mg<br />
65C-CH0705 Hamster IgG (Fab'2) (FITC) Hamster 1 mg<br />
65C-CH0706 Hamster IgG (Fab'2) (HRP) Hamster 1 mg<br />
65C-CH0702 Hamster IgG (FITC) Hamster 1 mg<br />
31R-1010 Hamster IgG (H + L) Hamster 10 mg<br />
31R-1034 Hamster IgG (H + L) Hamster 10 mg<br />
65C-CH0703 Hamster IgG (HRP) Hamster 1 mg<br />
31C-CH0707 Hamster IgM Hamster 1 mg<br />
31R-1005 Horse Ig fraction Horse 10 mg<br />
31R-1029 Horse Ig fraction Horse 10 mg<br />
31C-CH0801 Horse IgG Horse 50 mg<br />
31C-CH0810 Horse IgG (Fab) Horse 2 mg<br />
65C-CH0811 Horse IgG (Fab) (FITC) Horse 1 mg<br />
65C-CH0812 Horse IgG (Fab) (HRP) Horse 1 mg<br />
31C-CH0807 Horse IgG (Fab'2) Horse 2 mg<br />
65C-CH0808 Horse IgG (Fab'2) (FITC) Horse 1 mg<br />
65C-CH0809 Horse IgG (Fab'2) (HRP) Horse 1 mg<br />
31C-CH0804 Horse IgG (Fc) Horse 1 mg<br />
65C-CH0805 Horse IgG (Fc) (FITC) Horse 1 mg<br />
65C-CH0806 Horse IgG (Fc) (HRP) Horse 1 mg<br />
65C-CH0802 Horse IgG (FITC) Horse 1 mg<br />
31R-1006 Horse IgG (H + L) Horse 10 mg<br />
31R-1030 Horse IgG (H + L) Horse 10 mg<br />
65C-CH0803 Horse IgG (HRP) Horse 1 mg<br />
31C-CH0813 Horse IgM Horse 1 mg<br />
31-AH05 Human IgA protein Human 5 mg<br />
31R-AI031 Human IgA protein Human 1 mg<br />
31C-CH0922 Human IgA protein Human 2 mg<br />
31R-AI001 Human IgA protein Human 1 mg<br />
31R-AI001 Human IgA protein Human 10 mg<br />
31R-1011 Human IgA protein Human 1 mg<br />
31R-1035 Human IgA protein Human 1 mg<br />
43C-CH0923 Human IgA protein (FITC) Human 1 mg<br />
65C-CH0924 Human IgA protein (HRP) Human 1 mg<br />
31C-CP1034I Human IgA protein (Plasma) Human 1 mg<br />
30C-CP7034 Human IgA1 protein Human 1 mg<br />
30C-CP8034 Human IgA2 protein Human 1 mg<br />
31C-CP1035K Human IgE Kappa protein Human 100 ug<br />
31C-CP4013 Human IgE Lambda protein Human 100 ug<br />
31-AI01 Human IgE protein Human 100 ug<br />
31-AI05 Human IgE protein Human 100 ug<br />
Immunology Products<br />
Fitzgerald Industries International<br />
75
---
76<br />
Immunology Products<br />
Fitzgerald Industries International<br />
Catalog No. Product Name Species Size<br />
31R-AI032 Human IgE protein Human 1 mg<br />
31R-AI032 Human IgE protein Human 100 ug<br />
31R-1012 Human IgG (H + L) Human 10 mg<br />
31R-1036 Human IgG (H + L) Human 10 mg<br />
31R-1014 Human IgG F(ab)'2 fragment Human 2 mg<br />
31R-1038 Human IgG Fab'2 Human 2 mg<br />
31C-CP3023 Human IgG Fab'2 protein Human 5 mg<br />
31R-1037 Human IgG Fc Human 1 mg<br />
31R-1013 Human IgG Fc fragment Human 1 mg<br />
30-AI09 Human IgG Fc protein Human 10 mg<br />
31-AI14 Human IgG Fc protein Human 2 mg<br />
31C-CP3022 Human IgG Fc protein Human 2 mg<br />
31-AI06 Human IgG protein Human 10 mg<br />
31R-AI035 Human IgG protein Human 1 mg<br />
31R-AI035 Human IgG protein Human 10 mg<br />
31C-CH0911 Human IgG protein (Fab) (FITC) Human 1 mg<br />
65C-CH0912 Human IgG protein (Fab) (HRP) Human 1 mg<br />
65C-CH0908 Human IgG protein (Fab'2) (FITC) Human 1 mg<br />
65C-CH0909 Human IgG protein (Fab'2) (HRP) Human 1 mg<br />
31C-CH3022 Human IgG protein (Fc) Human 1 mg<br />
65C-CH0902 Human IgG protein (FITC) Human 1 mg<br />
65C-CH0905 Human IgG protein (FITC) Human 1 mg<br />
65C-CH0903 Human IgG protein (HRP) Human 1 mg<br />
31C-CP1033U Human IgG protein (Serum) Human 1 mg<br />
31-AI17 Human IgG1 protein Human 1 mg<br />
31-AI18 Human IgG2 protein Human 5 mg<br />
31-AI19 Human IgG3 protein Human 1 mg<br />
31-AI20 Human IgG4 protein Human 1 mg<br />
31C-CP1106K Human IgM Kappa protein Human 5 mg<br />
31R-AI088 Human IgM Kappa protein Human 1 mg<br />
31-AH30 Human IgM protein Human 5 mg<br />
31R-AI037 Human IgM protein Human 10 mg<br />
31R-1015 Human IgM protein Human 1 mg<br />
31R-1039 Human IgM protein Human 1 mg<br />
31C-CH0919 Human IgM protein (Fab mu) Human 2 mg<br />
65C-CH0920 Human IgM protein (Fab mu) (FITC) Human 1 mg<br />
65C-CH0921 Human IgM protein (Fab mu) (HRP) Human 1 mg<br />
31C-CH0916 Human IgM protein (Fc 5mu) Human 1 mg<br />
65C-CH0917 Human IgM protein (Fc5mu) (FITC) Human 1 mg<br />
65C-CH0918 Human IgM protein (Fc5mu) (HRP) Human 1 mg<br />
65C-CH0914 Human IgM protein (FITC) Human 1 mg<br />
65C-CH0915 Human IgM protein (HRP) Human 1 mg<br />
Immunoglobulins
---
Immunoglobulins<br />
Catalog No. Product Name Species Size<br />
31-AI35 Human IgM protein (Human) Human 10 mg<br />
31-AI03S Human secretory IgA protein Human 5 mg<br />
31R-AI100 Ig Kappa Light Chain protein Human 1 mg<br />
31R-AI036 Ig Lambda Light Chain protein Human 1 mg<br />
31R-AI099 Ig Lambda Light Chain protein Human 1 mg<br />
31C-CH0910 IgG protein (Human) (Fab'2) Human 2 mg<br />
31C-CH0913 IgM protein (Human) Human 2 mg<br />
31R-AI092 Monkey IgG (whole molecule) Monkey 2 mg<br />
31R-AI093 Monkey IgM (whole molecule) Monkey 250 ug<br />
31R-1016 Mouse Ig fraction Mouse 10 mg<br />
31R-1040 Mouse Ig fraction Mouse 10 mg<br />
31-AM15 Mouse IgG Mouse 10 mg<br />
31-AM15S Mouse IgG Mouse 10 mg<br />
31C-CH1001 Mouse IgG Mouse 25 mg<br />
31C-CH1022 Mouse IgG (Fab) Mouse 2 mg<br />
65C-CH1023 Mouse IgG (Fab) (FITC) Mouse 1 mg<br />
65C-CH1024 Mouse IgG (Fab) (HRP) Mouse 1 mg<br />
31C-CH1019 Mouse IgG (Fab'2) Mouse 2 mg<br />
65C-CH1020 Mouse IgG (Fab'2) (FITC) Mouse 1 mg<br />
65C-CH1021 Mouse IgG (Fab'2) (HRP) Mouse 1 mg<br />
31-AM15FC Mouse IgG (Fc) Mouse 1 mg<br />
65C-CH1017 Mouse IgG (Fc) (FITC) Mouse 1 mg<br />
65C-CH1002 Mouse IgG (FITC) Mouse 1 mg<br />
31R-1017 Mouse IgG (H + L) Mouse 10 mg<br />
31R-1041 Mouse IgG (H + L) Ultra Pure Mouse 1 mg<br />
65C-CH1003 Mouse IgG (HRP) Mouse 1 mg<br />
10R-I169A Mouse IgG Control Mouse 250 ug<br />
31C-CH1004 Mouse IgG1 Mouse 1 mg<br />
65C-CH1005 Mouse IgG1 (FITC) Mouse 100 ul<br />
65C-CH1006 Mouse IgG1 (HRP) Mouse 100 ug<br />
31C-CH1007 Mouse IgG2a Mouse 1 mg<br />
65C-CH1008 Mouse IgG2a (FITC) Mouse 100 ul<br />
65C-CH1009 Mouse IgG2a (HRP) Mouse 100 ug<br />
31C-CH1010 Mouse IgG2b Mouse 1 mg<br />
65C-CH1011 Mouse IgG2b (FITC) Mouse 100 ul<br />
65C-CH1022 Mouse IgG2b (HRP) Mouse 100 ug<br />
31C-CH1013 Mouse IgG3 Mouse 1 mg<br />
65C-CH1014 Mouse IgG3 (FITC) Mouse 100 ul<br />
65C-CH1015 Mouse IgG3 (HRP) Mouse 100 ug<br />
31C-CH1025 Mouse IgM Mouse 1 mg<br />
31C-CH1401 Pig IgG Pig 25 mg<br />
31C-CH1410 Pig IgG (Fab) Pig 2 mg<br />
Immunology Products<br />
Fitzgerald Industries International<br />
77
---
78<br />
Immunology Products<br />
Fitzgerald Industries International<br />
Catalog No. Product Name Species Size<br />
65C-CH1411 Pig IgG (Fab) (FITC) Pig 1 mg<br />
65C-CH1412 Pig IgG (Fab) (HRP) Pig 1 mg<br />
31C-CH1407 Pig IgG (Fab'2) Pig 2 mg<br />
65C-CH1408 Pig IgG (Fab'2) (FITC) Pig 1 mg<br />
65C-CH1409 Pig IgG (Fab'2) (HRP) Pig 1 mg<br />
31C-CH1404 Pig IgG (Fc) Pig 1 mg<br />
65C-CH1402 Pig IgG (FITC) Pig 1 mg<br />
65C-CH1403 Pig IgG (HRP) Pig 1 mg<br />
31C-CH1413 Pig IgM Pig 1 mg<br />
31R-1018 Rabbit Ig fraction Rabbit 10 mg<br />
31R-1042 Rabbit Ig fraction Rabbit 10 mg<br />
31R-AR002 Rabbit IgG Rabbit 25 mg<br />
31C-CH1101 Rabbit IgG Rabbit 50 mg<br />
31C-CH1110 Rabbit IgG (Fab) Rabbit 5 mg<br />
65C-CH1111 Rabbit IgG (Fab) (FITC) Rabbit 1 mg<br />
65C-CH1112 Rabbit IgG (Fab) (HRP) Rat 1 mg<br />
31C-CH1107 Rabbit IgG (Fab'2) Rabbit 2 mg<br />
65C-CH1108 Rabbit IgG (Fab'2) (FITC) Rabbit 1 mg<br />
65C-CH1109 Rabbit IgG (Fab'2) (HRP) Rabbit 1 mg<br />
31C-CH1104 Rabbit IgG (Fc) Rabbit 1 mg<br />
31R-1019 Rabbit IgG (H + L) Rabbit 10 mg<br />
31R-1043 Rabbit IgG (H + L) Rabbit 10 mg<br />
65C-CH1103 Rabbit IgG (HRP) Rabbit 1 mg<br />
31R-AR001 Rabbit IgG Control Rabbit 500 ug<br />
31R-1020 Rabbit IgG F(ab)'2 fragment Rabbit 2 mg<br />
31R-1044 Rabbit IgG Fab'2 Rabbit 2 mg<br />
31C-CH1113 Rabbit IgM Rabbit 1 mg<br />
31R-1021 Rat Ig fraction Rat 10 mg<br />
31R-1045 Rat Ig fraction Rat 10 mg<br />
31C-CH1201 Rat IgG Rat 10 mg<br />
31C-CH1210 Rat IgG (Fab) Rat 2 mg<br />
65C-CH1211 Rat IgG (Fab) (FITC) Rat 1 mg<br />
65C-CH1212 Rat IgG (Fab) (HRP) Rat 1 mg<br />
31C-CH1207 Rat IgG (Fab'2) Rat 2 mg<br />
65C-CH1208 Rat IgG (Fab'2) (FITC) Rat 1 mg<br />
65C-CH1209 Rat IgG (Fab'2) (HRP) Rat 1 mg<br />
31C-CH1204 Rat IgG (Fc) Rat 1 mg<br />
65C-CH1202 Rat IgG (FITC) Rat 1 mg<br />
31R-1022 Rat IgG (H + L) Rat 5 mg<br />
31R-1046 Rat IgG (H + L) Rat 5 mg<br />
65C-CH1203 Rat IgG (HRP) Rat 1 mg<br />
31C-CH1213 Rat IgM Rat 1 mg<br />
Immunoglobulins
---
Immunoglobulins<br />
Catalog No. Product Name Species Size<br />
65C-CH1214 Rat IgM (FITC) Rat 500 ug<br />
65C-CH1215 Rat IgM (HRP) Rat 500 ug<br />
31R-1023 Sheep Ig fraction Sheep 10 mg<br />
31R-1047 Sheep Ig fraction Sheep 10 mg<br />
31C-CH1301 Sheep IgG Sheep 25 mg<br />
31-AS25 Sheep IgG Sheep 100 mg<br />
31C-CH1310 Sheep IgG (Fab) Sheep 2 mg<br />
65C-CH1311 Sheep IgG (Fab) (FITC) Sheep 1 mg<br />
65C-CH1312 Sheep IgG (Fab) (HRP) Sheep 1 mg<br />
31C-CH1307 Sheep IgG (Fab'2) Sheep 2 mg<br />
65C-CH1308 Sheep IgG (Fab'2) (FITC) Sheep 1 mg<br />
65C-CH1309 Sheep IgG (Fab'2) (HRP) Sheep 1 mg<br />
31C-CH1304 Sheep IgG (Fc) Sheep 1 mg<br />
65C-CH1305 Sheep IgG (Fc) (FITC) Sheep 1 mg<br />
65C-CH1306 Sheep IgG (Fc) (HRP) Sheep 1 mg<br />
65C-CH1302 Sheep IgG (FITC) Sheep 1 mg<br />
31R-1024 Sheep IgG (H + L) Sheep 10 mg<br />
31R-1048 Sheep IgG (H + L) Sheep 10 mg<br />
65C-CH1303 Sheep IgG (HRP) Sheep 1 mg<br />
31C-CH1313 Sheep IgM Sheep 1 mg<br />
31C-CH1501 Turkey IgG Turkey 10 mg<br />
65C-CH1502 Turkey IgG (FITC) Turkey 1 mg<br />
65C-CH1503 Turkey IgG protein (HRP) Turkey 1 mg<br />
Immunology Products<br />
Fitzgerald Industries International<br />
79
---
80<br />
Immunology Products<br />
Fitzgerald Industries International<br />
Catalog No. Product Name Species Expression System Source Size<br />
80R-1764 AIF1 protein (His tag) Human E.coli 100 ug<br />
30C-CR6001G alpha 1 Acid Glycoprotein Human Human plasma 1 ml<br />
30-AA01 alpha 1 Acid Glycoprotein protein Human Human plasma 1 mg<br />
30C-CP3001U alpha 1 Acid Glycoprotein protein Human Human plasma 2 mg<br />
30R-AA003 alpha 1 Acid Glycoprotein protein Human Human plasma 100 mg<br />
30R-AA003 alpha 1 Acid Glycoprotein protein Human Human plasma 10 mg<br />
30C-CP1021 alpha 1 Microglobulin protein Human Urine of donors with chronic renal<br />
tubular proteinuria 1 mg<br />
30-AM05 alpha 1 Microglobulin protein Human Urine from tubular proteinuria patients 1 mg<br />
30R-AM037-10 alpha 1 Microglobulin protein Human Urine from tubular proteinuria patients 10 mg<br />
30-AM06 alpha 1 Microglobulin protein Human Urine from tubular proteinuria patients 1 mg<br />
30R-AB032 BD1 protein Human E.coli 20 ug<br />
30R-AB033 BD1 protein Human E.coli 20 ug<br />
30R-AB005 BD2 protein Human E.coli 20 ug<br />
30R-AB006 BD3 protein Human E.coli 20 ug<br />
30R-AB034 BD4 protein Human E.coli 20 ug<br />
30R-AM001 beta 2 Microglobulin protein Human Urine of patients with chronic renal<br />
tubular proteinuria 10 mg<br />
30C-CP1022P beta 2 Microglobulin protein Human Urine of patients with chronic renal<br />
tubular proteinuria 1 mg<br />
30-AM11 beta 2 Microglobulin protein Human Human urine of patients with chronic<br />
renal tubular proteinuria 1 mg<br />
30R-AM002 beta 2 Microglobulin protein Human Urine from tubular proteinuria patients 10 mg<br />
30C-CP1022 beta 2 Microglobulin protein Human Urine of patients with chronic renal<br />
tubular proteinuria 1 mg<br />
30C-CP1022U beta 2 Microglobulin protein Human Urine of patients with chronic renal<br />
tubular proteinuria 1 mg<br />
80R-1875 BST2 protein (His tag) Human E.coli 50 ug<br />
30R-1439 CAPG protein Human E.coli 100 ug<br />
30R-ACD4 CD4 protein Human E.coli 100 ug<br />
30R-ACD22 CD22 protein Human CHO cells 20 ug<br />
30R-AS045 CD23 protein Human E.coli 20 ug<br />
30R-ACD40H CD40 protein Human E.coli 50 ug<br />
30R-ACD40H CD40 protein Human E.coli 10 ug<br />
30R-ACD40 CD40 protein (Mouse) Mouse E.coli 25 ug<br />
30R-ACD40 CD40 protein (Mouse) Mouse E.coli 5 ug<br />
80R-1774 CD40LG protein (His tag) Human E.coli 100 ug<br />
30R-ACD105x CD105 protein Human Insect cells 25 ug<br />
30R-ACD105 CD105 protein (Mouse) Mouse Insect cells 25 ug<br />
30R-AB025 CD137 protein Human E.coli 20 ug<br />
30R-AB024 CD137L protein Human E.coli 20 ug<br />
30R-AC046 CD137L-muCD8 Fusion protein Human CHO cells 25 ug<br />
30R-CD152 CD152 Mulg Fusion protein Human BHK cells 25 ug<br />
Proteins
---
Proteins<br />
Immunology Products<br />
Fitzgerald Industries International<br />
Catalog No. Product Name Species Expression System Source Size<br />
61R-CD154dHUBT CD154/CD40L muCD8 Fusion protein (biotin) Human CHO cells 25 ug<br />
80R-1343 CERT protein (His tag) Human E.coli 100 ug<br />
32C-CP1093 Complement C1 protein Human Human serum/plasma 200 ug<br />
32-AC02 Complement C1q protein Human Human serum/plasma 1 mg<br />
32C-CP1002U Complement C1q protein Human Human serum/plasma 1 mg<br />
32R-AC049 Complement C1q protein Human Human plasma 1 mg<br />
32C-CP1036U Complement C3 protein Human Human serum/plasma 250 ug<br />
32R-AC022 Complement C3 protein Human Human plasma 1 mg<br />
32R-AC022 Complement C3 protein Human Human plasma 10 mg<br />
32R-AC021 Complement C3 protein Human Human plasma 1 mg<br />
32C-CP1039 Complement C3a protein Human Human serum/plasma 50 ug<br />
32C-CP1043 Complement C3d protein Human Human serum/plasma 100 ug<br />
32R-AC050 Complement C4 protein Human Human plasma 1 mg<br />
32R-AC050-10 Complement C4 protein Human Human plasma 10 mg<br />
32C-CP1091 Complement C4a protein Human Human serum/plasma 50 ug<br />
32C-CP2033U Complement C7 protein Human Human serum/plasma 250 ug<br />
32C-CP1050 Complement C9 protein Human Human serum/plasma 250 ug<br />
30C-CP2036U Complement Factor B Human Human serum/plasma 250 ug<br />
30R-AD001 D-Dimer protein Human Human plasma 100 ug<br />
30-AD41 D-Dimer protein Human Human plasma 1 mg<br />
30C-CP2038U Factor H Human Human serum/plasma 250 ug<br />
30C-CP6131U Fibrinogen protein Human Human plasma 5 mg<br />
30-AF27 Fibrinogen protein Human Human plasma 1 gram<br />
30R-AF013 Fibrinogen protein Human Human plasma 1 gram<br />
80R-1324 FKBP6 protein (His tag) Human E.coli 50 ug<br />
80R-1451 GLIPR2 protein (His tag) Human E.coli 100 ug<br />
30R-AG014 GM-CSF protein Human E.coli 20 ug<br />
30R-AG014 GM-CSF protein Human E.coli 5 ug<br />
30R-AG016 GM-CSF protein Human E.coli 20 ug<br />
30R-AG016 GM-CSF protein Human E.coli 5 ug<br />
30R-AG022 GM-CSF protein Human E.coli 10 ug<br />
32R-CP001 Guinea Pig Complement Serum Guinea Pig 5 ml<br />
32R-CP006 Guinea Pig Complement Serum Guinea Pig 3 ml<br />
32R-CP006 Guinea Pig Complement Serum Guinea Pig 15 ml<br />
32R-CP004 Guinea Pig Complement Serum Guinea Pig 5 ml<br />
32R-CP008 Guinea Pig Complement Serum Guinea Pig 25 ml<br />
32R-CP002 Guinea Pig Complement Serum Guinea Pig 15 ml<br />
32R-CP009 Guinea Pig Complement Serum Guinea Pig 5 ml<br />
32R-CP005 Guinea Pig Complement Serum Guinea Pig 5 ml<br />
32R-CP007 Guinea Pig Complement Serum Guinea Pig 25 ml<br />
32R-CP003 Guinea Pig Complement Serum Guinea Pig 15 ml<br />
32R-CH001 Hamster Complement Serum Hamster 10 ml<br />
81
---
82<br />
Immunology Products<br />
Fitzgerald Industries International<br />
Catalog No. Product Name Species Expression System Source Size<br />
32R-CH001 Hamster Complement Serum Hamster 5 ml<br />
80R-1293 HBZ protein (His tag) Human E.coli 100 ug<br />
30-AH71S Heterophilic Antigen for Mononucleosis Bovine In vitro purified proteins from<br />
Bovine Red Blood Cells 1 mg<br />
30-AH71 Heterophilic Antigen for Mononucleosis Bovine In vitro purified proteins from<br />
Bovine Red Blood Cells 1 mg<br />
80R-1481 HPGD protein (His tag) Human E.coli 50 ug<br />
30-AI36 Human gamma Globulin protein Human Human plasma 10 grams<br />
31R-AI034 Human IgG protein Human Human plasma 10 mg<br />
30R-AI125 ICAM1 protein Human CHO cells 50 ug<br />
30R-AI049 IFN alpha 2 protein Human E.coli 20 ug<br />
30R-AI048 IFN alpha 2 protein Human E.coli 1 x 10^6 units/ ml<br />
30R-AI095 IFN alpha 2 protein (Monkey) Monkey E.coli 1 x 10^5 units/ ml<br />
30R-AI094 IFN alpha 4 protein (Mouse) Mouse Mammalian Cells 1 x 10^5 units/ ml<br />
30R-AI050 IFN alpha 4b protein Human E.coli 1 x 10^5 units/ ml<br />
30R-AI051 IFN alpha A protein Human E.coli > 5 million units<br />
30R-AI052 IFN alpha A protein (Mouse) Mouse E.coli 1 x 10^5 units<br />
30R-AI053 IFN alpha B2 protein Human E.coli 1 x 10^5 units/ ml<br />
30R-AI054 IFN alpha C protein Human E.coli 1 x 10^5 units/ ml<br />
30R-AI055 IFN alpha D protein Human E.coli 1 x 10^5 units/ ml<br />
30R-AI056 IFN alpha F protein Human E.coli 1 x 10^5 units/ ml<br />
30R-AI057 IFN alpha G protein Human E.coli 1 x 10^5 units/ ml<br />
30R-AI058 IFN alpha H2 protein Human E.coli 1 x 10^5 units/ ml<br />
30R-AI059 IFN alpha I protein Human E.coli 1 x 10^5 units/ ml<br />
30R-AI060 IFN alpha J1 protein Human E.coli 1 x 10^5 units/ ml<br />
30R-AI061 IFN alpha K protein Human E.coli 1 x 10^5 units/ ml<br />
30R-AI062 IFN alpha WA protein Human E.coli 1 x 10^5 units/ ml<br />
30R-AI064-1 IFN beta 1a protein Human CHO cells 1 x 10^6 units/ ml<br />
30-AI72 IFN beta protein Human E.coli 1 x 10^5 units/ ml<br />
30R-AB026 IFN beta protein Human CHO cells 20 ug<br />
30R-AI063 IFN beta protein (Mouse) Mouse E.coli 1 x 10^5 units/ ml<br />
30R-AI068 IFN gamma 1 protein Human E.coli 20 ug<br />
30R-AI150 IFN gamma 2 protein Human E.coli 20 ug<br />
30R-AI065 IFN gamma protein Human E.coli 100 ug<br />
30R-AI065 IFN gamma protein Human E.coli 20 ug<br />
30R-AI070x IFN gamma protein Human E.coli 20 ug<br />
30R-AI070x IFN gamma protein Human E.coli 100 ug<br />
30R-AI069 IFN gamma protein Human E.coli 100 ug<br />
30-AI74 IFN gamma protein (Mouse) Mouse E.coli 20 ug<br />
30R-AI130 IFN lambda 2 protein (Mouse) Mouse E.coli 20 ug<br />
30R-AU005 IFN Type 1 protein Human E.coli 1 x 10^5 units/ ml<br />
30R-AB012 IFN-Tau protein (Bovine) Bovine E.coli 1 x 10^5 units/ ml<br />
Proteins
---
Proteins<br />
Immunology Products<br />
Fitzgerald Industries International<br />
Catalog No. Product Name Species Expression System Source Size<br />
30R-1030 KIR2DL1 protein Human E.coli 100 ug<br />
30R-1031 KIR2DL3 protein Human E.coli 100 ug<br />
30R-1032 KIR2DS4 protein Human E.coli 100 ug<br />
80R-1853 KIR3DL1 protein (His tag) Human E.coli 100 ug<br />
30R-1033 LAIR1 protein Human E.coli 100 ug<br />
80R-1666 LCN2 protein (His tag) Human E.coli 100 ug<br />
80R-1757 MAP2K3 protein (His tag) Human E.coli 10 ug<br />
32R-CM001 Mouse Complement Serum Mouse 5 ml<br />
32R-CM001 Mouse Complement Serum Mouse 10 ml<br />
30C-CP3028 MPO antibody Human Human neutrophils 100 ug<br />
30R-AM031 MPO protein Human Human donor leukocytes 1 mg<br />
30R-1035 NCR/Nkp46 protein Human E.coli 100 ug<br />
30R-AN044 NP1 protein Human E.coli 20 ug<br />
80R-1325 NTAL protein (His tag) Human E.coli 100 ug<br />
30R-2078 ORM protein Human E.coli 100 ug<br />
30R-AO007 OX40 Ligand protein Human Hi-5 Insect cells 10 ug<br />
30R-AP045 PAFAH protein Human 293 cells 20 ug<br />
80R-1145 Pentraxin 3 protein (His tag) Human E.coli 100 ug<br />
80R-1880 POU2AF1 protein (His tag) Human E.coli 50 ug<br />
30-AP76 Protein A Staphylococcus aureus Staphylococcus aureus 10 mg<br />
30C-CX4511 Protein A Staphylococcus aureus Staphylococcus aureus 10 mg<br />
30-AP75 Protein A Staphylococcus aureus E.coli 10 mg<br />
65C-CE0402 Protein A (FITC) Bacterial 5 mg<br />
30R-1304 Protein A protein S.aureus E.coli 100 ug<br />
30C-CX4512 Protein G Bacterial E.coli 10 mg<br />
65-IP77 Protein G (HRP) Bacterial 1 ml<br />
30-AP70 Proteinase 3 protein Human Human neutrophils 200 ug<br />
30R-AP027 Proteinase 3 protein Human Purulent human sputum 100 ug<br />
30C-CP3048U Prothrombin protein Human Human serum/plasma 2 mg<br />
30C-CP3049U Prothrombin protein (Bovine) Bovine Bovine plasma 2 mg<br />
32R-CR001 Rabbit Complement Serum Rabbit 10 ml<br />
32R-CR001 Rabbit Complement Serum Rabbit 25 ml<br />
32R-CR003 Rabbit Complement Serum Rabbit 5 ml<br />
32R-CR003 Rabbit Complement Serum Rabbit 20 ml<br />
32R-CR002 Rabbit Complement Serum Rabbit 5 ml<br />
32R-CR004 Rabbit Complement Serum Rabbit 20 ml<br />
32R-CR005 Rat Complement Serum Rat 10 ml<br />
32R-CR005 Rat Complement Serum Rat 5 ml<br />
31R-IR001 Rat IgM protein Rat 1.5 mg<br />
80R-1554 SAA4 protein (His tag) Human E.coli 50 ug<br />
30R-AS047 sCD14 protein Human 293 cells 50 ug<br />
80R-1189 Serum amyloid A protein (His tag) Human E.coli 100 ug<br />
83
---
84<br />
Immunology Products<br />
Fitzgerald Industries International<br />
Catalog No. Product Name Species Expression System Source Size<br />
80R-1544 SH2D1A protein (His tag) Human E.coli 100 ug<br />
80R-1362 SLPI protein (His tag) Human E.coli 50 ug<br />
80R-1801 SNRPB2 protein (His tag) Human E.coli 50 ug<br />
80R-1247 TCTP protein (His tag) Human E.coli 100 ug<br />
80R-1849 TNFSF11 protein (His tag) Human E.coli 100 ug<br />
80R-1806 TNFSF15 protein (His tag) Human E.coli 100 ug<br />
80R-1824 TOLLIP protein (His tag) Human E.coli 50 ug<br />
Proteins
---
© Copyright 2011 Fitzgerald Industries International, Inc. All rights reserved. Published in the USA.<br />
www.fitzgerald-fii.com
---
Fitzgerald Industries International<br />
30 Sudbury Road, Suite 1A North<br />
Acton, MA 01720<br />
USA<br />
T 800.370.2222 or 978.371.6446<br />
F 978.371.2266<br />
Email: antibodies@fitzgerald-fii.com<br />
www.fitzgerald-fii.com