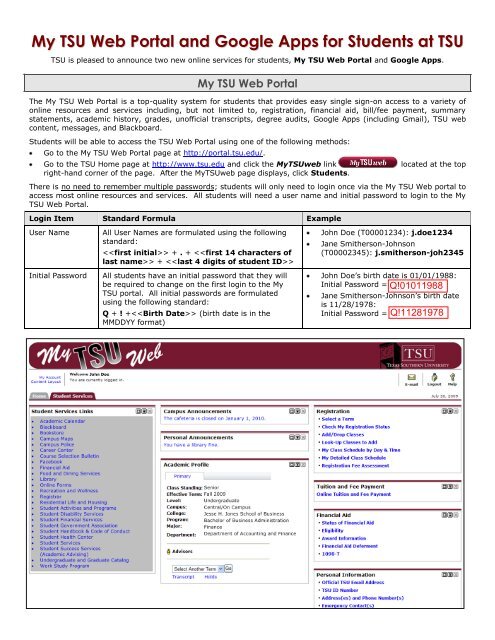 My TSU Web Portal and Google Apps for Students at TSU
My TSU Web Portal and Google Apps for Students at TSU
My TSU Web Portal and Google Apps for Students at TSU
SHOW MORE
SHOW LESS
Create successful ePaper yourself
Turn your PDF publications into a flip-book with our unique Google optimized e-Paper software.
My TSU Web Portal and Google Apps for Students at TSU

TSU is pleased to announce two new online services for students, My TSU Web Portal and Google Apps.

My TSU Web Portal

The My TSU Web Portal is a top-quality system for students that provides easy single sign-on access to a variety of

online resources and services including, but not limited to, registration, financial aid, bill/fee payment, summary

statements, academic history, grades, unofficial transcripts, degree audits, Google Apps (including Gmail), TSU web

content, messages, and Blackboard.

Students will be able to access the TSU Web Portal using one of the following methods:

Go to the My TSU Web Portal page at http://portal.tsu.edu/.

Go to the TSU Home page at http://www.tsu.edu and click the MyTSUweb link located at the top

right-hand corner of the page. After the MyTSUweb page displays, click Students.

There is no need to remember multiple passwords; students will only need to login once via the My TSU Web portal to

access most online resources and services. All students will need a user name and initial password to login to the My

TSU Web Portal.

Login Item Standard Formula Example

User Name All User Names are formulated using the following

standard:

+ . + +

Initial Password All students have an initial password that they will

be required to change on the first login to the My

TSU portal. All initial passwords are formulated

using the following standard:

Q + ! + (birth date is in the

MMDDYY format)

John Doe (T00001234): j.doe1234

Jane Smitherson-Johnson

(T00002345): j.smitherson-joh2345

John Doe's birth date is 01/01/1988:

Initial Password = Q!010188

Jane Smitherson-Johnson's birth date

is 11/28/1978:

Initial Password = Q!112878
---
Google Apps

With Google Apps Higher Education Edition, students get Google's best technologies. TSU selected Google Apps for

Higher Education for the following reasons:

The email and calendar systems are unsurpassed in the industry.

Additional functionality is available, including docs, chat, mobile, etc.

TSU can collaborate with and draw upon the expertise of Google.

Google Apps functionality could be incorporated into the My TSU Web portal.

Google Apps can share login information with the My TSU Web Portal (single sign-on).

Google Apps at TSU contains the following functionality:

Gmail (My TSU Mail)

Address will be @student.tsu.edu; this will be the official TSU email address for all students and will

replace Tiger Mail. This includes 7GB quota for email storage, email search tools, and integrated chat.

Email address will be the same as the User Name; for example:

John Doe's email address would be j.doe1234@student.tsu.edu

Jane Smitherson-Johnson's email address would be j.smitherson-joh2345@student.tsu.edu

Google Talk/Chat

Chat with friends, classmates, or instructors.

Google Docs

Create/use documents, spreadsheets, and presentations. Save documents and access from any

computer with Internet access, on or off campus. Share your documents and collaborate on projects.

Google Calendar

Keep your life on schedule and share your calendar with friends.

Google Home Page

Access all of the Google Apps from a single page.