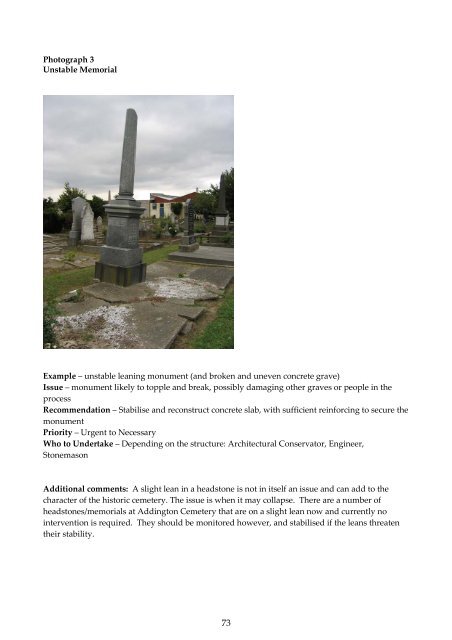 Conservation Plan Addington Cemetery - Christchurch City Libraries Conservation Plan Addington Cemetery - Christchurch City Libraries
Photograph 3

Unstable Memorial

Example – unstable leaning monument (and broken and uneven concrete grave)

Issue – monument likely to topple and break, possibly damaging other graves or people in the

process

Recommendation – Stabilise and reconstruct concrete slab, with sufficient reinforcing to secure the

monument

Priority – Urgent to Necessary

Who to Undertake – Depending on the structure: Architectural Conservator, Engineer,

Stonemason

Additional comments: A slight lean in a headstone is not in itself an issue and can add to the

character of the historic cemetery. The issue is when it may collapse. There are a number of

headstones/memorials at Addington Cemetery that are on a slight lean now and currently no

intervention is required. They should be monitored however, and stabilised if the leans threaten

their stability.

73
More magazines by this user