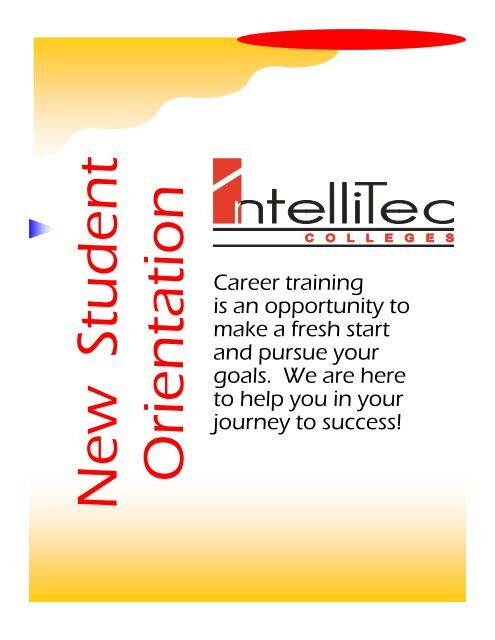 Orientation Booklet - IntelliTec Classweb - IntelliTec College
Orientation Booklet - IntelliTec Classweb - IntelliTec College
Orientation Booklet - IntelliTec Classweb - IntelliTec College
SHOW MORE
SHOW LESS
You also want an ePaper? Increase the reach of your titles
YUMPU automatically turns print PDFs into web optimized ePapers that Google loves.
New Student

Orientation

Career training

is an opportunity to

make a fresh start

and pursue your

goals. We are here

to help you in your

journey to success!
---
Table of Contents

Welcome to IntelliTec Colleges!.........................................................3

Mission Statement and Guiding Principles……………………………….4

Orientation Schedule………………………………………………………………....5

Meet Your Administrators……………………………………..………………..….6

Meet Your Program Supervisors…………………………..………………..….9

Daily Class Schedule………………………………………………………………….12

Building Plans and Layout………………………………………………………..13

Top 10 College Survival Tips…………………………………………………….16

Tips for Improving Memory……………………………………………………..19

Career Services…………………………………………………………………………..20

Student Discounts!..............................................................................21

Frequently Asked Questions…………………………………………………...22

Orientation Evaluation……………………………………………………………..24

Notes…………………………………………………………………………………...……..26

2

IntelliTec College
---
Carole

Earnshaw

Admissions

Representative

Theresa

Joest

Admissions

Representative

George Huisman

Enrollment

Coordinator

3

IntelliTec College

Introduction and Welcome

Welcome to the IntelliTec Colleges family! We are so excited that

you have chosen to pursue career training and we can't wait to

help you get started on your new career path! IntelliTec Colleges

has many resources and opportunities for you to take advantage

of, starting with your New Program Orientation. This booklet will

provide you with helpful tips, resources, and important contact information

to help ease your transition into college. Thank you for

choosing IntelliTec Colleges and, again, welcome!

Meet the Admissions Team

Robert

Smith

Admissions

Representative
---
MISSION: To provide excellent career training.

GOAL: To produce highly skilled, employable graduates.

GUIDING PRINCIPLES

IntelliTec College

Mission Statement and Guiding Principles

RESPECT:

Being punctual and prepared for meetings, events, and sessions

Encouraging participants to share their thoughts, ideas, opinions, and concerns

Appreciating differences of opinions, thoughts, and ideas

Having a high regard for each other and the people we serve

Listening to understand; listening to opinions and concerns

Having an awareness of others and their circumstances

Holding each other accountable for commitments made and the quality of work produced

INTEGRITY:

Being accountable for your actions and behaviors

Honest communication of thoughts, ideas, concerns, praise, and frustrations with

participants in a timely manner

Understanding how your actions impact and reflect upon IntelliTec Colleges

Following through on your commitments. Do what you say you will do

TEAMWORK:

Seeing the job through to completion

Acknowledging progress and celebrating accomplishments

Being proactive in assisting teammates and asking for help

Sharing thoughts, ideas, and lessons learned in order to promote the learning process

Communicating roles and responsibilities

Sacrificing for the good of others

Assuming that the actions of teammates and participants stem from positive intent

EXCELLENCE:

Taking pride in the work that you do and presenting a professional image

Supporting team members through encouragement and feedback

Having and exuding a positive attitude

Striving to learn from mistakes and improving your performance accordingly

Appreciating the opportunities provided by IntelliTec Colleges

4
---
Orientation Schedule

12:00—12:20

Introduction and Welcome

Career Training Leadership

12:20—12:35 Activity: Team Building

Mrs. Maloney, Dean of Students

12:35—1:15 Activity: Tour Your Training Environment

Program Supervisors

1:15—1:45 Success Tips

Program Overview

Program Supervisors

1:45—2:10 Meet Your Instructors

Lunch

2:10—2:30 Student Ambassadors

Questions & Answers & Evaluations

5

IntelliTec College
---
Meet Your Administrators

Mr. Mike Grove

Campus Director

Mr. Mike Grove, the former Campus Director of our Grand Junction campus,

transferred to our Pueblo campus with a vast array of experience and knowledge.

Mr. Grove, acting CFO of The Rembrandt Group, has a background of

over 27 years in financial and sales management. Additionally, he has

worked in the audit department of the CPA firm Peat, Marwick, Mitchell &

Co., and has held positions as Controller, Chief Financial Officer, and Chief

Executive of several public and private companies in the oil and gas, stock

brokerage, broadcasting, and education industries.

Your source for...

Ensuring Quality Training

Curriculum Support/Development

Ensuring State-of-the-Practice Technology

Conflict Resolution

Advice and Direction

Well-informed and educated is good.

Skilled and employable is better!

6

IntelliTec College

Mr. Grove has extensive experience in corporate finance, including public offerings

and private placements, and earned his Bachelor's of Science in Accounting

from the University of Colorado.

Hours of Availability:

Monday - Thursday 7:30 a.m. - 6:30 p.m.

Friday By Appointment

Also available by appointment outside normal hours
---
Meet Your Administrators

Mrs. Maloney

Your source for…

Student Support

National Technical Honor Society

Student Ambassadors Club

Assistance with Course Scheduling

Coordinating Car Pools

Lists of Available Housing

Locating Suitable Daycare

Arranging Tutoring Sessions

Conflict Resolution

Advice and Direction

Graduation Ceremonies

Campus Events and Fundraisers

Education is not preparation for life;

education is life itself.

- John Dewey

7

IntelliTec College

Dean of Students

Mrs. Maloney grew up in Naugatuck, Connecticut and studied at both

Marist College and the University of Connecticut. She spent nine years in

the government aerospace and defense industries as a Technical Writer/

Editor and Space Systems Analyst. After moving to Grand Junction in

2003, she joined IntelliTec Colleges as a Business Instructor and later

became Dean of Students.

Mrs. Maloney has degrees in Human Services, and Business Administrative

Technology.

Hours of Availability:

Monday -Thursday 10:00 a.m. - 8:00 pm

Also available by appointment outside normal hours
---
Meet Your Administrators

Mrs. Berrie

Mrs. Waterman

Mr. Marone

8

IntelliTec College

Registrar

Mrs. Berrie graduated from IntelliTec Colleges in 2009 with an Associate's Degree

of Occupational Studies in Business and Administrative Technology; she accepted

a position with IntelliTec shortly after graduation. Mrs. Berrie is a Microsoft

Certified Application Specialist and a member of the National Technical Honor

Society. With over ten years of customer service experience, she can provide you

with enrollment verifications, transcripts, and scheduling assistance.

Hours of Availability:

Monday, Wednesday 8:00 a.m. - 6:00 p.m.

Tuesday, Thursday 8:00 a.m. - 6:30 p.m.

Friday 9:00 a.m. - 12:00 p.m.

Also available by appointment outside normal hours

Director of Career Services

Mrs. Waterman came to IntelliTec Colleges with seventeen years of experience

in the career training industry, including seven years as Placement Director for

the Bel-Rea Institute of Animal Technology, a leading Veterinarian Technician

School. Before joining Bel-Rea, she studied Journalism and Communication at

the University of Colorado, Denver. Mrs. Waterman is a member of both the

Grand Junction Area and Palisade Chambers of Commerce.

Hours of Availability:

Monday, Wednesday 8:00 a.m. - 5:00 p.m.

Tuesday 9:00 a.m. - 7:30 p.m.

Thursday 9:00 a.m. - 6:00 p.m.

Friday 9:00 a.m. - 1:00 p.m.

Also available by appointment outside normal hours

Career Services Advisor

Mr. Marone graduated with a Bachelor's of Science Degree in Management

Information Systems from the University of Northern Colorado. He has over

fifteen years of pharmaceutical sales experience, as well as seven years of

buying and negotiating experience with Kroger Foods.

Please see Mrs. Waterman to schedule an appointment
---
Program Supervisors

Mrs. Barlow

Ms. Blankenagel

9

IntelliTec College

Administrative Technology and Health Information Technician

Program Supervisor

Mrs. Barlow earned her Associate's Degree in Business Administration from

Mesa State College (Colorado Mesa University), and is currently working towards

a Bachelor's Degree in Health Information Management through Regis

University. With over 22 years of business experience in the childcare, construction,

printing, and insurance industries, including seventeen years as a

small business owner and twelve years in the medical administration industry,

Mrs. Barlow is a knowledgeable and active member of the business community.

Mrs. Barlow continues to serve her local community as a board member

of the Fruita Chamber of Commerce and as a founding member of the Rocky

Mountain A.M.B.A. Chapter.

Hours of Availability:

Monday - Thursday 8:00 a.m. - 7:00 p.m.

Also available by appointment outside normal hours

Massage Therapy Program Supervisor

Mrs. Blankenagel graduated from the Utah College of Massage Therapy before

opening her own practice, which she operated in Salt Lake City for three years.

She is passionate about massage and specializes in Deep Tissue and

Injury work.

Hours of Availability:

Monday - Thursday 10:30 a.m. - 7:30 p.m.

Also available by appointment outside normal hours
---
Program Supervisors

Mr. Burke

Mr. Faudree

Ms. Prather

10

IntelliTec College

Allied Health Care Program Supervisor

Mr. Burke has been an Allied Health Care instructor with IntelliTec

College since April of 2010. Prior to joining the staff, Mr. Burke served in the

United States Navy for eight years and spent seven months in Iraq as a platoon

medic with the Marines Infantry. Mr. Burke is your evening contact for

questions regarding safety, security, and other pertinent issues. He was

recently promoted as the program supervisor for the Allied Health care programs.

Hours of Availability:

Monday - Wednesday 9:00 a.m. - 7:00 p.m.

Tuesday—Thursday 10:00 a.m.—8:00 p.m.

Also available by appointment outside normal hours

Automotive Technology Program Supervisor

Mr. Faudree has worked in the automotive field for 34 years. His extensive

list of credentials includes A.S.E. Master Certification, Master Certified Audi/

Volkswagen Technician, Master Certified KIA Technician, and Snap-On Diagnostics

Trainer Certification. Throughout his automotive technician career,

he has managed dealerships, owned his own business, overseen operations

as a shop foreman, and worked as an in-house trainer for dealership apprentice

programs.

Hours of Availability:

Monday - Thursday 7:30 a.m. - 5:30 p.m.

Also available by appointment outside normal hours

Dental Technology Program Supervisor

Ms. Prather has worked in the dental field for over twelve years, during

which time she received her C.D.A and E.F.D.A certifications. Ms. Prather has

trained many new dental assistants and has hospital operating room experience.

Hours of Availability:

Monday 7:30 a.m. - 1:30 p.m.

Tuesday, Wednesday 7:30 a.m. - 7:00 p.m.

Thursday 7:30 a.m. - 1:30p.m. &

5:30 p.m. - 10:50 p.m.

Also available by appointment outside normal hours
---
Daily Class Schedule

Day Schedule

8:00—8:50 Session 1

8:50—9:00 Break

9:00—9:50 Session 2

9:50—10:00 Break

10:00—10:50 Session 3

10:50—11:00 Break

11:00—11:50 Session 4

11:50—12:10 Lunch Break

12:10—1:00 Session 5

11

IntelliTec College

Evening Schedule

6:00—6:50 Session 1

6:50—7:10 Dinner Break

7:10—8:00 Session 2

8:00—8:10 Break

8:10—9:00 Session 3

9:00—9:10 Break

9:10—10:50 Sessions 4 & 5
---
772 Horizon Drive Building

12
---
770 Horizon Drive Building

13
---
764-B Horizon Drive Building

14
---
15

IntelliTec College

Top 10 College Survival Tips

Congratulations on your decision to pursue career training! Right now you are probably asking

yourself, "Can I really do this?" Of course you can! This guide will provide you with tips on how to

succeed in your training environment.

Survival Tip # 1

Stay on Top of Things – Keep track of day-to-day items, homework, and tasks to

ensure that you don't miss anything. Your daily life is hectic, with paying bills, working,

taking care of children, etc. However, you must now attend classes (20 hours per

week), study for these courses, complete assignments, etc. We suggest you keep

weekly and monthly schedules that include all your day-to-day tasks, as well as study

time. This will help you manage your time more efficiently.

Survival Tip # 2

Time Management - Finding enough time to study is one of the most difficult aspects

of college. Setting aside time every day specifically for studying will help you manage this

tough task. Create a study space where you will not be disturbed and that contains everything

you need to get started. This includes pens, pencils, paper, a calculator, textbooks,

and any other study aids specific to your needs. Additionally, computers can be a great

tool; however, they can also be very distracting, so consider this before including one in

your study space. Just make sure to create and follow a schedule and to remove anything

that may get in the way of your studying.

Survival Tip # 3

Create and Follow a Budget – Building a budget is essential to college survival, as

well as financial well-being in life. The Financial Services Office has resources available to

help you both establish a budget and achieve financial literacy. Your Financial Services

Officer can help you with questions such as: "What is your credit score, and what does it

mean for you as a consumer and a student;" "What are the responsibilities associated with

taking an educational loan;" and, "Why should you make arrangements to begin paying

off your loans within six months of answer graduating."

Survival Tip # 4

Attend Class - Using class time wisely will increase the level of success achievable as a

professional in your chosen career field. Additionally, attending class ensures that you use

class time properly and that you don't miss anything important. The first five minutes of

every class is usually a review of the previous lesson, while the last five minutes are used

to recap what you learned and what to look forward to.
---
Study Tips

Survival Tip # 5

16

IntelliTec College

Take Care of Yourself - Make sure you carve out "you" time; this will help manage your

stress level. "You" time could include working out, sleeping in on Saturday mornings, treating

yourself to a Starbucks coffee, etc. Good eating and sleeping habits are important while you

are attending college. Failing to achieve good habits, studying on an empty stomach, and

the combination of too little sleep and too much caffeine may interfere with your ability to

achieve your desired level of success.

Survival Tip # 6

Take Notes –Effective note-taking can help you succeed in the classroom. The key to taking

notes is to remember that you do not have to write down everything the instructor says.

Consider the following suggestions:

Write down key words and phrases discussed in class, as they tend to appear on tests

Copy everything the instructor writes on the white board

Leave space as you take notes so you can later fill in additional information from textbooks,

study groups, worksheets, etc.

After class, re-write the notes in your own words to help you recall topics more easily

Review your notes on a daily basis

Survival Tip # 7

Create Outlines - Before outlining your homework, look over the material you will cover. If

it is a textbook chapter, look at the Table of Contents and write down any questions you

have. If it is a PowerPoint presentation of a lecture, look over the slides and, again, write

down any questions you have. Then read the material, paying special attention to all key

terms. Highlight anything you don't understand so that you can ask those questions during

the next class session. Highlight the answers to your own questions before reading your material.

Finally, if, when you are done reading and outlining your material, it is covered in pink,

yellow, green, blue, orange, etc. marks, then you are outlining incorrectly because such outlines

are too disorganized and confusing.
---
Study Tips

Survival Tip # 8

17

IntelliTec College

Listen - The key to listening is to always be prepared. Attending class regularly, arriving

on time, returning from breaks on time, and sitting as close to the speaker as possible will

prepare you to more effectively listen. Pay attention to lectures and ask questions when

you do not understand something. Finally, look at the syllabus/class outlines and read the

suggested material for the day before coming to class.

Survival Tip # 9

Establish a Place to Study – As previously stated, your place should have a desk, a

comfortable chair, good lighting, all the supplies you may need, etc. Remove as many distractions

as possible. This place should not be a place you routinely go to do other things; it

should be your study place. Studying before you go to bed is ideal, since your brain will

more easily retain the information.

Survival Tip # 10

Find Study Buddies – Find at least one or two students in your classes to study with.

Studies show that students who study with someone routinely make better grades. You will

probably find yourself more motivated if you know someone else cares about what you are

doing in the class. Teaching a concept or new idea to someone who wants to study and

learn is a sure way to improve your understanding. However, studying in a group or with a

partner can sometimes become too social. Therefore, it is important to study with classmates

who have the same educational goals as yourself.

If, for some reason, you are having difficulty in a particular class,

please talk to your instructor and/or ask for a tutor. It is important

to us that you be successful and that you enjoy your career

training experience!
---
18

IntelliTec College

Tips to Improve Your Memory

As professionals-in-training, we are constantly bombarded with new information. We must quickly

absorb these facts into our short-term memories, and then convert them into long-term knowledge.

Furthermore, we must retrieve this information to demonstrate competency in assessments and

practical, hands-on demonstrations. The following tips may enhance your memorization skills, thus

helping you master topics.

Pay attention while learning and remove distractions.

Learn information correctly the first time. Inaccurate facts and ill-comprehended

ideas can persist in your memory as accurate information.

Explaining to someone else in your own words can help ensure full comprehension

of the material.

Try to see the significance of what you're learning by perceiving it as part of a

larger whole.

Involve your ego — see how the task relates to you.

Associate new material with other, related facts you already know.

Organize the material logically so you can properly file it in your memory.

Remembering parts of the whole will help you recall the rest.

Divide and group the material into manageable

and digestible portions.

Reinforce what you have learned

through repetition and use.

You won't remember what you

don't use.

Recite the material often.
---
Career Services

Skill-Specific Job Search Websites

Automotive

actautostaffing.com

careershop.com

mechanicjobs.org

motor.mechanic.jobs.com

Massage Therapy

alltherepyjobs.com

bestspajobs.com

jobsintherapy.com

salonemployment.com

Medical

allhealthjobs.com

health-carecareers.org

medicalassistant.net

medical-coding.net

Top 15 Job Search Websites

gjsentinel.com

gjfreepress.com

gjcity.org

mesacounty.us

mesaworkforce.org

Administrative Professional

admin-clerical.careerbuilder.com

admincrossing.com

administrativejobs.com

business.com

westslope.craigslist.org

westernslopehelpwanted.com

coloradojobs.com

cumulusjobs.com

jobsforcolorado.com

Preparing resumés and cover letters; interview

skills and coaching

Job search techniques

19

IntelliTec College

Dental

dentalassistantjobs.com

dentaljobs.net

dentalworkers.com

Workdental.com

careerbuilder.com

monster.com

indeed.com

craigslist.org

hotjobs.yahoo.com

See Your Career Services Center for More Job Search Websites!

Resumé Help Websites

jobswizard.com

theresumebuilder.com

totalresume.com

pongoresume.com

purelocal.com/how-to-do-a-resume

Visit Career Services for Other Helpful Internet Sites that

have Information on the Following Topics:

Occupational and economic statistics

Career planning and development

Other experience or skill-specific employment

listings
---
Receive 20% off on your next visit with a valid

Student ID Card

Get a Large, 2-Topping Pizza for Just $6

20

IntelliTec College

Find Great Student Discounts at

These Participating Businesses

Buy 1 Large Pizza, Get a 2nd

Medium, 1-Topping Pizza

For FREE
---
What do I do if I cannot make it to class? The professional thing to do if you are unable

to attend class is to contact the front desk to inform your instructor of your

absence. You will need to look at your syllabus to see what you missed due to your

absence. Attendance is very important at IntelliTec College because our curriculum

builds upon itself, and the habits you establish today will shape your future.

What if I need tutoring? The Dean of Students or your Program Supervisor can help

you arrange extra one-on-one time if you find it necessary.

I have a cash payment. Where do I make the payment? IntelliTec College's Bursar

Office Manager will accept payments from students in the form of cash, check,

money order, or credit card. Please check with the Financial Aid Office if you are

unsure of your cash payment obligation. Please keep a copy of the Receipt of Payment

for your records.

Where do I get a copy of my transcript? Unofficial and Official copies of your

transcript are available from the Registrar. Unofficial transcripts are presented to you

without a signature or seal. Official transcripts are sealed and signed by the Registrar.

Official transcripts are usually given with a release to employers, colleges, or

someone other than the student and only if the student's account is paid in full.

What if I need verification that I am attending school? The Registrar will provide a

letter defining your current enrollment status and your estimated graduation date.

When do I meet with the Career Services Advisor? The Career Services Advisor will

meet with you at your request to establish and/or share your goals and future plans.

You should get this process started as early in your career training as possible.

What should I do with the Student Aid Report (SAR) I received after completing a

FAFSA? You should carefully review your SAR for any errors. If you find any errors,

please see a Financial Services Officer. If you do not find any errors, please keep a

copy for your records.

21

IntelliTec College

Frequently Asked Questions
---
FAQs Continued...

How can I transfer credits from previous college experiences to IntelliTec College?

A student must submit an official transcript to the Dean of Faculty for review. Credit

transfers are considered on an individual basis. Generally, only credits that are less

than 10 years old are considered for transfer. There is no fee to transfer credits.

What does it mean to "Audit" classes? In meeting our mission, "To provide excellent

career training," IntelliTec Colleges allows its graduates to return to school to audit

classes. Auditing means taking the class for your own knowledge; you do not earn a

grade, nor do you earn credit. Graduates are eligible to audit any class he or she has

already taken. For example, if you took a Microsoft Office class using Office 2007

and would like to take the upgraded version using Office 20XX, you may do so for

the cost of the textbook. Tuition and lab fees are waived.

How do I test out of a course or receive a course exemption? For students whose

skills are already well developed in certain subject areas, the College offers the

option to test out. Test-outs are similar to taking the final exam in that area; students

must receive, at minimum, the equivalent of a "B" grade in order to test out of a

course. A successful test-out results in an "E" (exemption) on the transcript and

granting of the appropriate credit.

Attempted test-outs must be completed within the first twelve weeks of training.

Persons wishing to attempt a test-out of a course after completing the first twelve

weeks of training must submit a written request to the Campus Director. Such a

request should include the reasons for the request and justification for allowing the

test-out. The Campus Director may approve or deny the request based on consideration

of the student's best interest and the individual circumstances prompting

the request .

Students who desire to challenge a course to which they are currently assigned

must make arrangements to test out before the completion of the second scheduled

class session. Individuals required to complete a course as a result of previous unsuccessful

attempts are not eligible to challenge a course.

Please see the Registrar for more information.

22

IntelliTec College
---
Orientation Evaluation

Training Start Date: Career Training Choice:

Please rate the following aspects of the orientation:

Information Provided

Overall

What else would you like to know before you begin class?

What did you like most about orientation?

What would you change about orientation?

Excellent Very Good Good Fair Poor

Briefly describe how you feel about beginning your training.

23

IntelliTec College
---
NOTES

25
---
NOTES

26