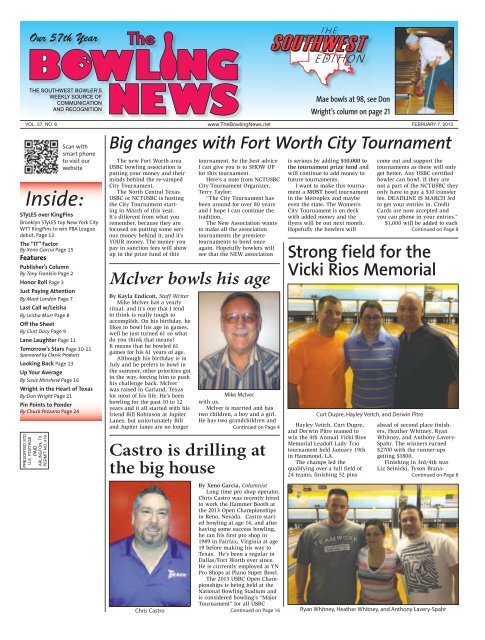 Inside: - The Bowling News
Inside: - The Bowling News
Inside: - The Bowling News
SHOW MORE
SHOW LESS
Create successful ePaper yourself
Turn your PDF publications into a flip-book with our unique Google optimized e-Paper software.
Our 57th Year

VOL. 57, NO. 6 www.TheBowlingNews.net FEBRUARY 7, 2013

Inside:

STyLES over KingPins

Brooklyn STyLES top New York City

WTT KingPins to win PBA League

debut. Page 13

The "IT" Factor

By Xeno Garcia Page 15

Features

Publisher's Column

By Tony Franklin Page 2

Honor Roll Page 3

Just Paying Attention

By Mark London Page 7

Last Call w/Leisha

By Leisha Murr Page 8

Off the Sheet

By Clint Dacy Page 9

Lane Laughter Page 11

Tomorrow's Stars Page 10-11

Sponsored by Classic Products

Looking Back Page 13

Up Your Average

By Susie Minshew Page 16

Wright in the Heart of Texas

By Don Wright Page 21

Pin Points to Ponder

By Chuck Pezzano Page 24

PRESORTED STD

U.S. POSTAGE

PAID

ARLINGTON, TX

PERMIT NO. 419

Scan with

smart phone

to visit our

website

The new Fort Worth area

USBC bowling association is

putting your money and their

minds behind the re-vamped

City Tournament.

The North Central Texas

USBC or NCTUSBC is hosting

the City Tournament starting

in March of this year.

It's different from what you

remember, because they are

focused on putting some serious

money behind it, and it's

YOUR money. The money you

pay in sanction fees will show

up in the prize fund of this

tournament. So the best advice

I can give you is to SHOW UP

for this tournament.

Here's a note from NCTUSBC

City Tournament Organizer,

Terry Taylor:

"The City Tournament has

been around for over 80 years

and I hope I can continue the

tradition.

The New Association wants

to make all the association

tournaments the premiere

tournaments to bowl once

again. Hopefully bowlers will

see that the NEW association

Mae bowls at 98, see Don

Wright's column on page 21

Big changes with Fort Worth City Tournament

Mclver bowls his age

By Kayla Endicott, Staff Writer

Mike Mclver has a yearly

ritual, and it's one that I tend

to think is really tough to

accomplish. On his birthday, he

likes to bowl his age in games,

well he just turned 61 so what

do you think that means?

It means that he bowled 61

games for his 61 years of age.

Although his birthday is in

July and he prefers to bowl in

the summer, other priorities got

in the way, forcing him to push

his challenge back. Mclver

was raised in Garland, Texas

for most of his life. He's been

bowling for the past 10 to 12

years and it all started with his

friend Bill Robinson at Jupiter

Lanes, but unfortunately Bill

and Jupiter lanes are no longer

Mike Mclver

with us.

Mclver is married and has

two children, a boy and a girl.

He has two grandchildren and

Continued on Page 4

Castro is drilling at

the big house

Chris Castro

By Xeno Garcia, Columnist

Long time pro shop operator,

Chris Castro was recently hired

to work the Hammer Booth at

the 2013 Open Championships

in Reno, Nevada. Castro started

bowling at age 14, and after

having some success bowling,

he ran his first pro shop in

1989 in Fairfax, Virginia at age

19 before making his way to

Texas. He's been a regular in

Dallas/Fort Worth ever since.

He is currently employed at YN

Pro Shops at Plano Super Bowl.

The 2013 USBC Open Championships

is being held at the

National Bowling Stadium and

is considered bowling's "Major

Tournament" for all USBC

Continued on Page 16

is serious by adding $10,000 to

the tournament prize fund and

will continue to add money to

future tournaments.

I want to make this tournament

a MUST bowl tournament

in the Metroplex and maybe

even the state. The Women's

City Tournament is on deck

with added money and the

flyers will be out next month.

Hopefully the bowlers will

Strong field for the

Vicki Rios Memorial

Curt Dupre, Hayley Veitch, and Derwin Pitre

Hayley Veitch, Curt Dupre,

and Derwin Pitre teamed to

win the 4th Annual Vicki Rios

Memorial Leadoff Lady Trio

tournament held January 19th

in Hammond, LA.

The champs led the

qualifying over a full field of

24 teams, finishing 52 pins

come out and support the

tournaments as these will only

get better. Any USBC certified

bowler can bowl. If they are

not a part of the NCTUSBC they

only have to pay a $10 transfer

fee. DEADLINE IS MARCH 3rd

to get your entries in. Credit

Cards are now accepted and

you can phone in your entries."

$1,000 will be added to each

Continued on Page 8

ahead of second place finishers,

Heather Whitney, Ryan

Whitney, and Anthony Lavery-

Spahr. The winners earned

$2700 with the runner-ups

getting $1800.

Finishing in 3rd/4th was

Liz Seinicki, Tyson Brana-

Continued on Page 8

Ryan Whitney, Heather Whitney, and Anthony Lavery-Spahr
---
Page 2 | Thursday, February 7, 2013 | THE BOWLING NEWS

Dear Sir:

Xeno's column titled "My

view on competitive bowling"

(Bowling News 1/3/13) might

be correct from some points

of view but it is not correct at

least here at Tenpins & More in

Rio Rancho.

In spite of the continuing

national recession, we ran

almost 1,000 tournament

games per lane again in 2012,

our 13th year of ownership,

and one of the better tournament

years since the backside

fell out of the economy in the

last part of 2007.

We have averaged more

than 47 different tournaments

since 2000, all of them competitive

at either the scratch,

handicap or novelty level.

Our New Mexico Open,

coming up to its 10th anniversary

this August might

feature a prize-fund of $50,000

with a record $10,000 on top

for an entry fee of about $225.

In 2012, we paid 1:3, a total

of more than $41,000 for the

second year in a row.

The Scratch Series, comprising

six match-play events

leading up to the NMO, could

pay out up to $15,000 in total,

depending on entries received.

For just $65 an entry, first is

guaranteed at $1,000, thanks to

BUY - SELL

AMF - BRUNSWICK EQUIPMENT - COMPLETE PACKAGES

WORLD'S LARGEST NEW - USED SPARE PARTS INVENTORY

ALL AMF BUMPER PARTS: XS QBUMP, DURABOWL AND GEN II IN STOCK

Tucker Bowling Equipment Co.

609 N.E. 3rd St.

Tulia, Texas 79088

Call (806) 995-4018

Fax (806) 995-4767

our in-house sponsors program.

Our average price per game

after paying gross receipts tax

is less than $2 a line in this

series. Oh, for the $4 a game

Xeno talked about.

Between December 9

and January 1, we paid out

more than $10,000 to various

tournament winners and placegetters,

and agree that a deeper

pay-out always encourages

more entries.

It has been suggested

around our area that people

bowl league at casino-based

Centers because of "all the

added money". I can tell your

readers Tenpins & More and it's

large and loyal group of sponsors

put in more added money

to leagues and tournaments

than any other two or more

local Centers combined.

In my opinion, competitive

bowling, considering all the

factors up against it these

past five years, is alive, doing

OK and has a bright future,

depending on the diligence of

the tournament directors - and

loyalty of the bowlers they›re

trying to serve.

Steve Mackie

Tenpins & More

Rio Rancho, NM

Xeno's Response: Mr. Steve

Mackie,

First of all, thank you for

sending a response to my

column. I love the feedback.

Secondly, I'm always glad

to hear that competitive is still

alive and well in the Southwest

Region. Someday I hope to

make it to your tournament;

the format and payout are

Bowling Parts, Inc.

P.O. Box 801

Tulia, Texas 79088

Call (806) 995-3635

email: daryl@tuckerbowling.com

www.tuckerbowling.com

Mailing Address: P.O. Box 1642, Colleyville, TX 76034-1642

Delivery Address: 4133 Heartstone Dr, Grapevine, TX 76051

Offi ce: 817-267-8686 • Fax: 817-267-1813 • Cell: 817-368-7960

Website: www.thebowlingnews.net • Email: bowlingnews@sbcglobal.net

JOE GENNARO (972-978-8687) . . . . . . . . . . . . . . . . . . . . . . . . . . . . . EDITOR EMERITUS

TONY FRANKLIN (tony@TheBowlingNews.net) . . . . . . . . . . . . .OWNER/PUBLISHER

GENIE FRANKLIN (genie@TheBowlingNews.net) . . . . . . . . . . . .OWNER/PUBLISHER

BILL HAZLETT (bill@TheBowlingNews.net) . . . . . . . . . . . . . . . . .MANAGING EDITOR

JIM WOODRUFF (jim@discountplasticbags.com) . . . . . . . . . . . . . FEATURE EDITOR

TYSON BRANAGAN (t.branagan@yahoo.com) . . . . . . . . . . . . . . . . . . STAFF WRITER

KAYLA ENDICOTT (kayla@TheBowlingNews.net) . . . . . . . . . . . . . . . . STAFF WRITER

CLINT DACY (clint@TheBowlingNews.net) . . . . . . . . . . . . . . . . . . . . . . . . COLUMNIST

MARK LONDON (mark@TheBowlingNews.net) . . . . . . . . . . . . . . . . . . . . COLUMNIST

SUSIE MINSHEW (strikeability@gmail.com) . . . . . . . . . . . . . . . . . . . . . . . . COLUMNIST

LEISHA MURR (leisha@TheBowlingNews.net) . . . . . . . . . . . . . . . . . . . . . COLUMNIST

DON WRIGHT (wrightdk@hot.rr.com ) . . . . . . . . . . . . . . . . . . . . . . . . . . . . . COLUMNIST

BUBBA FLINT (fl intsworld@aol.com) . . . . . . . . . . . . . . . . . . . . . . . . . . . . . CARTOONIST

CONTRIBUTING FEATURE WRITERS: John Jowdy • Chuck Pezzano

Note: Opinions expressed by our independent columnists and feature writers are

their own and do not necessarily refl ect the views of The Bowling News.

Subscription rates: $65 a year in advance. Check or money orders should

be addressed to THE BOWLING NEWS.

© 2013

Th e Bowling News

FOUNDED AND PUBLISHED BY JOE GENNARO FROM 1956-2009

very appealing to me. We are

very fortunate to have some

tournament directors that are

interested in keeping scratch

bowling alive and well. My

article was more about the shift

in the culture of tournament

bowling. Fewer and fewer

scratch bowlers travel to bowl

anymore. For example, I'm not

a PBA member now but last

year in PBA Regional competition,

they averaged about 40

entries per tournament during

the later part of summer. When

I joined the PBA in 1999, if the

field number dropped below 80

it was considered a low turnout.

In 2012, the only time they

reach 80 is if they visited a

major city. Pete McCordic is the

PBA Southwest Region tournament

director, and he does a

great job running these events.

He is NOT to blame for any of

this. Like I said the culture has

changed.

I competed in some handicap

tournaments the same

weekend as these Regionals

against 40 other guys fully

capable of competing as PBA

members. But they choose not

to anymore. Even in handicap

team tournaments, they bowl

for brackets, 3 games and

you're a winner. The quick

money is hard to turn down.

I understand, I get it. So

what's the solution? Tournament

sponsors? Maybe if they

served a better cause than just

bowling? There are two very

successful scratch tournaments

in Texas; one of them benefits

the Juvenile Diabetes Research

Foundation and the other, the

Stehlin Foundation for Breast

Cancer research. Lynda Barnes

and Donna Conners are the

two responsible for these

events, and they work year

round to make sure that not

only the bowlers have good

reason to travel long distances

to compete, but to also help us

be a part of something greater

than ourselves. And for them, I

am extremely grateful.

I still look forward to

everything I bowl. I compete in

scratch and handicap tournaments,

short format and long

formats. Every year I look for

tournament directors with new

ideas and hope they have something

great to offer the players.

I will continue to practice and

learn, so I can be ready for

whatever the future brings.

Maybe a trip to New Mexico

will be on the agenda.

Thanks again for the reply,

Xg

Editor's Note: It's great to

hear about excellent proprietors

and tournament directors like

Steve. I know that the New

Mexico Open is one of the very

best events that has weathered

the "tournament decline storm"

and has come out stronger on

the other side. It's one of the

best anywhere in the US. Keep

up the great work Steve. Now as

far as my view on the decline,

I've always felt a big contributing

factor to the decline is that

back in the late 80's and early

90's there were backers and

sponsors everywhere. If you

Continued on Page 13

Random Thoughts

Let's start off with some

congrats to Mark Estes and

Chris Johnson for winning the

Brunswick SASBA Member/

Guest event at BRC Westcreek

this weekend. For those keeping

score at home, that makes

9 SASBA titles for the 35-yr-old

CJ! That's ridiculous! A similar

shout-out goes to the recently

engaged Stefanie Nation

who finished 3rd with Bob

McGregor. My guess is that her

hair color change has loosened

up her arm swing. Dirtyblondes,

or whatever color that

was, do NOT have more fun.

9-9-9-9-9-9

Another solid team from

the SASBA Member/Guest was

Steve Ray and Kelly Ray. The

brother duo finished 7th and

had a blast doing it. "Steve

doesn't bowl much anymore

and the last time we actually

bowled together as a team we

won a tournament in Oklahoma,"

said Kelly. He added

that they had a great time, and

their other brother came out

to make for a cool little family

weekend on the lanes.

9-9-9-9-9-9

There has already been

a date change on the Carol

Hazlett Memorial Red River

Doubles event. It was moved

off of May 11-12 due to the fact

that it's Mothers day weekend.

CJ moved it to June 1-2, so

as I said last week, get your

partner, and get ready. See you

at Cowtown Bowling Palace in

June.

9-9-9-9-9-9

Xeno Garcia writes about

"IT" in this week's article.

The "IT" factor refers to those

athletes that have that something

extra that allows them to

reach a level of greatness that

most can't match. They can

conjure up the ability to win

out of thin air, and regardless

of the situation, will give you

Tony Franklin, Publisher

THE 42ND THE 42ND THE

OIL CAPITAL OPEN

IS COMING SOON!

all you can handle in a match.

Like Xeno, I too have always

been enthralled with people

that have "IT." Del Ballard and

Chris Johnson are two locals

that have "IT" in a big way. Del

could bowl three times a year,

and he will still be my #1 draft

pick to throw a shot in the

tenth for the cheese. Make sure

you read Xeno's column and

come up with your own list of

"IT" bowlers.

9-9-9-9-9-9

Ever wonder what it's

like to be 98-years-old? Ever

wonder what it's like to BOWL

at 98-years-old? Well if you

want the answer to that question,

make sure to read Don

Wright's column this week as

he interviews 98-year-old Mae

Stephens who bowls every

week at Fort Hood.

9-9-9-9-9-9

Performance Enhancing

Drug's or PED's what's the answer?

This week several more

high-profile names were added

to the list of possible users/

abusers. Scott Southwick and I

exchanged several emails this

week discussing the usage, and

sports affected and everything

in between. We sure don't have

an answer, but it's clear you

can't stop them because the

users and those that supply

them know how to beat the

tests. Should you just allow

everything, and go from there?

Should a positive test mean a

lifetime ban, terrifying anyone

to use them? Does every

sport have users? What about

bowling? I don't see how any

sport is safe due to the fact that

they clearly make a difference

in performance. The cost of the

PED's is the question mark for

me. If they are affordable then

every sport is at risk. Scary

thought…..

TOURNAMENT DATES

APRIL 6-7, APRIL 13-14,

APRIL 20-21, APRIL 27-28,

MAY 4-5, MAY 11-12, 2013

ENTRIES CLOSE Midnight, March 22, 2013

AMF SHERIDAN LANES

3121 S. Sheridan, Tulsa, OK 74145

918-627-2728 FAX: 918-627-7180

Call or go to our web site for complete rules and Entry blank

www.theoilcapitalopen.com
---
Men

Phil Hughes, Brunswick Zone Denton .................. 868

Lee White, Diamond Lanes .................................... 864

Billy Rogers, Plano Super Bowl ............................ 843

Barry McKee, Fiesta Lanes .................................... 817

Jeff Jones, Tenpins & More ................................... 810

Justin Medina, Tenpins & More ............................. 810

David Wilson, Western Bowl ................................. 795

Zeke Ziakas, BRC Thousand Oaks ....................... 793

Tony Treiber, Eastridge Lanes ............................... 792

Will Briggs, AMF Showplace Garland Lanes........ 790

Bill Bogucki, Hallmark Lanes ................................ 789

John Burkett, AMF Showplace Euless Lanes ...... 787

Terry Taylor, AMF Showplace Euless Lanes ......... 787

Rod Bach, Oil Bowl Lanes ..................................... 786

Don Hoyle, Forum Bowl ......................................... 783

Tyson Branigan, AMF Lewisville Lanes ................ 783

Jimmy Thompson, Mel's Lone Star Lanes ........... 782

Ron Boroff, Brunswick Westcreek Lanes ............. 779

Jeff Knopp, Stadium Lanes ................................... 774

Mike Miller, AMF DeSoto Lanes ............................ 772

John Taylor, Heritage Lanes .................................. 771

Erik Vermilyea, AMF Spare Time Lanes ................ 765

Eddie Gonzales, Jr., Big Spring Bowl-A-Rama ..... 765

Del Ballard, Cowtown Bowling Palace .................. 758

Frank English, Terrell Bowl .................................... 758

David Smith, Brunswick Zone Watauga ................ 731

Rich Carlson, Red Bird Lanes ............................... 729

Lee Ellison, Killeen Bowlerama ............................. 725

Tony Boyd, Rowlett Bowl-a-Rama ......................... 716

Steven Cox, Pin Center Bowl ................................ 710

Rick Irvine, Strikz ................................................... 700

Jeff Wertz, Plainview Bowl .................................... 668

Women

Dana Miller-Mackie, Tenpins & More .................... 798

Lisa Wasson, Plano Super Bowl ........................... 738

Miki Jo Parish, Cowtown Bowling Palace ............ 726

Debra Shannon, Western Bowl ............................. 725

Linda Chambers, AMF Showplace Garland ......... 725

Amanda Greenlaw, Killeen Bowlerama ................. 721

Jovan Blankenfeld, BRC Thousand Oaks ............ 721

Jeannette Verrelli, AMF Lewisville Lanes ............. 718

Ruth Crawford, AMF Showplace Euless Lanes.... 713

Karin Ciesiolka, Hallmark Lanes ........................... 706

April Taylor, Heritage Lanes .................................. 703

Michelle Rockwood, Forum Bowl.......................... 696

Celeste Fears, Oil Bowl Lanes .............................. 695

Lori Thompson, Mel's Lone Star Lanes ................ 690

Janis Baucom, Stadium Lanes .............................. 690

Lauren Daniel, Red Bird Lanes ............................. 687

Sydney Bowerman, Eastridge Lanes .................... 684

Judy Leverich, Diamond Lanes ............................. 672

Sandy Dooley, Brunswick Zone Watauga ............. 667

Loren Tenczar, Strikz .............................................. 665

Teri Gilbert, Fiesta Lanes ....................................... 653

Barbara Shaw, Rowlett Bowl-a-Rama ................... 650

Nell Ray, Brunswick Westcreek Lanes ................. 649

Stacey Pride, AMF DeSoto Lanes ......................... 648

Sheila Holder, Brunswick Zone Denton ............... 641

Leslie West, AMF Spare Time Lanes .................... 626

Lisa Massey, Terrell Bowl ...................................... 600

Debbie Lee, Pin Center Bowl ................................ 589

Irene Jackson, Big Spring Bowl-A-Rama ............. 571

Karen Crim, Plainview Bowl .................................. 568

At AMF Showplace Garland

Briggs crunches 790,

Chambers hammers 725

Will Briggs pocketed potent

242-279-269 = 790 NASCAR

numbers to lead the scoring

parade for the week at AMF

Showplace Garland Lanes.

Linda Chambers fronted fem

scoring with a rip-roaring 258-

288-179 = 725 Follies series.

HONOR ROLL

Dane Pence 243-702, Tonjah Castro

223-611, Bill Walsh 287-758, Darlene

Kimberlin 222-590, Guadalupe Munoz

193-564, Kathy Hopkins 190-556,

Harold Simmons 247-673, Judy Parker

183-544.

Kevin Boykin 257-700, Mike

Fletcher 268-762, Linda Chambers 248-

699, Sharon Boruff 159-459, Buddy May

198-531, June Armon 181-489, Tonjah

Castro 246-703, David Reno II 258-661.

Lisa Alonzo 204-545, William

Anglin 279-688, Rita Williams 171-503,

Mike Miller 270-796, Kevin Carbo,

Jr. 268-681, Terri Tate 258-643, Chris

Moore 285-784, Todd Dillon 213-564.

Gina Brannan 150-396, Curtis

West 255-723, Wanda Parker 236-671,

Brian Hilz 256-719, Rosemary Walton

182-523, Jon Ashley 259-736, Frank Fite

II 256-695, Janet Scarbrough 201-562.

Kevin Boykin 234-650, Nina

Moreno 174-463.

Phil Hughes

This week's high male is

Phil Hughes with 268-300-300

for a monster 868 series in the

Wednesday Follies league at

BRC Denton. Phil has been a

manufacturer's salesman for

car audio equipment for the

last 27 years.

What is your high series?

This my high, I have 3 800's.

How many 300's have you

bowled? That was four and

five.

Thoughts on your big night?

I was zoned in, and never got

nervous on one shot. It was a

great night. I was really intent

on shooting 800 and didn't

really look up till I got to the

ninth frame the last game. It

was surreal.

What ball did you throw?

The Storm IQ Tour Pearl.

Who drills your balls? Tom

Wicker has been helping me

and really teaching me a lot

about layouts and balls. But

this ball I drilled myself.

What is your all-time favorite

bowling ball? My first Black

Hammer that Bruce Rowe

drilled for me at Forest Park.

What is your all-time high

average? 231 last year.

How long have you been

bowling? I started when I was

16 and worked part-time as

a lane-runner at Loma Vista

Lanes in Kansas City, Mo. I

took off from bowling for 15

years and just started back

three years ago. My best friend

Keith Lohse came to see me in

the hospital after I had a heart

attack and said we needed to

spend more time together and

that I should start bowling

again. I eventually agreed.

Who is your favorite pro

bowler? It's still gotta be Guppy

Troup, he's my idol. Him and

Ernie Schlegel were my two

favorites.

Most memorable bowling moment?

It would have to be this

868, with back-to-back 300's.

My daughter and Brian Lohse

were there to share the moment

with me.

What lessons has the game

taught you? Not to take things

too seriously. That is what

drove me away from the game

years ago; I was taking it too

THE BOWLING NEWS | Thursday, February 7, 2013 | Page 3

seriously. I am using bowling

for fellowship now; it allows

me to talk to people about the

things I love.

Lee White

This week's second high

male is Lee White with 297-

277-290 for a huge 864 series

MAKE A DATE WITH THE

LOUSY BOWLERS CLUB:

10 weeks, $10 per week

3 People per team

Join and enjoy the great times of bowling at Brunswick!

Starts Thursday, February 21st at 9 PM

3 games per week

3 people per team

Meeting at 8:45 PM

in the Jacks & Jills league at

Diamond Lanes in Odessa, TX.

Lee is the VP of Operations at

Southwest Bank, and says that

they are a very strong supporter

of his bowling with their

flexibility in his schedule.

What is your high series?

Continued on Page 22

Brunswick

Westcreek Lanes

3025 Altamesa Blvd., Fort Worth, TX 76133

817-294-0501

June 1st & 2nd

This is a Scratch Doubles tournament.

Double Elimination, 3-Game Matches

This will be bowled on a competitive shot condition, that

places a premium on shot making and picking up spares.

Doubles team can be composed of any combination of men

& women. 1 PBA Member per team. Two National

Champions cannot bowl together.

2010 Champions

Nathan Bohr/Jake Peters

2010 Champions

Chris Johnson/Paul Flemming

Limited to the

first

64 Teams

2012 Champions

Derek Eoff/Mike Fagan

For more

Lessons from

information

contact Chris

Johnson or

Jamie Brooks

817-624-2151

the best

Paul Fleming

817-938-7739

4333 River Oaks Blvd., Fort Worth, TX 76114
---
Page 4 | Thursday, February 7, 2013 | THE BOWLING NEWS

At Brunswick Westcreek

Boroff soars to 779,

Ray plasters 649

Roberts and Wells bag 300's

Ryan Boroff's thundering 252-

248-279 = 779 Classic High Pot

session ended as the number-one

set of the week at Brunswick

Westcreek Lanes.

Nell Ray, Boroff's league mate,

led the ladies scoring race with

a sturdy 225-257-167 = 649 set.

Kevin Roberts and Stan Wells

shared high-game honors with

award-winning 12-baggers.

HONOR ROLL

Carlos Zapata 234-582, Paula

Armstrong 174-441, Jeremy Reynolds

265, Trisha Burns 217, Willie Jackson

698, Shannon Jones 591, Billy Fontenot

289-744, Cathy Nelson 235-557, George

Calloway 268-747.

Lea Anne Sikora 225-619, Daniel

Hughes 278-745, Crystal Askins 227-

609, Taylor Coggins 268-727, Mary

Brathwaite 213-594, Keith Thomas

246-693, Leisha Murr 211-582, James

Franklin 278-679.

Jacki Archer 232-580, E J Nenichka

267-669, Nita Stein 208-551, Dale

McFarland 267-689, Danita Wyley

48 th Annual

213-546, Cassandra Norris 213-542,

Jacque Mouton 212-500, Theresa

Bankston 211-537.

Charles Covert 256-686, Vicky Kopp

199-548, Gary Jeandron 247, Laverne

McGee 167-488, Doug Freemon 618, Lee

Ann Jackson 202-539, Eugene Gaspar

273-673, Teresa Tibbs 217-485.

Ren Johnson 267-721, Danita Wyley

223-623, Kevin Leach 202, Susan

Seward 173, James Franklin 279-691,

Danita Wyley 229-567, Ken Leach

280-752, Darlene Jones 245, Eddie

Brown 278.

Dolores Howard 237, Ken Leach

263-694, Dolores Howard 204-514, Ben

Brose 252-651, Cassie Reese 230-665,

Jonathan Redfield 226-651, Regina

Taddy 223-603, Monty Bowers 241-690.

Wanda Singleton 189, Dolores

Howard 527, Terri Trefger 224-643,

Kimer Laster 211-608, Denise Lindsey

107-295, Mike McDuff 248-649,

Marianne Gentry 117-330, Gregory

Palamidas 185-468.

Shonna Owens 116-303, Ken Korn

226, Cassie Williams 208-515, Ken

Garber 236-637, Jennifer Flores 112-

325, Jeff Hamlin 225-609, Sonja Nichols

172-468, Garry McKinney 181-503.

Randy Seward 145-380, Joe White

140-381, Lloyd Morris 186-492, George

Helfrich 233-614, Robert Flores 187-420,

Carl Jordan 202-584, Kevin Williams

Sr. 153-361.

Terrell Invitational

Terrell Invitational

A 900 Global ball tote to be

awarded to

Handicap Champions

(See website for more information)

At Cowtown Bowling Palace

Ballard racks up 758,

Parish hurls 726

Del Ballard's blue-ribbon 257-

278-223 = 758 Ft. Worth Classic

Trio league production earned

top billing on the honor roll

last week at Cowtown Bowling

Palace.

Miki Jo Parish, Ballard's

league mate, paced the ladies

with a classy 255-235-236 =

726 set.

HONOR ROLL

Randy Cross, Sr. 247-642, Katie

Tallant 235-669, Ronnie Sloan 245-678,

Duane Skinner 235-661, Ron Nason 267-

704, Lindsey Megredy 198-530, John

MCLVER BOWLS

Continued from Page 1

one more on the way. Although

he is the only person in his

family who bowls on a weekly

basis in league, his daughter

enjoys the sport as well but

isn't on a league. He does

however like to take the family

out to bowl on New Year's Day

to have fun along with family

bonding time.

Mclver didn't come up

with this idea to bowl his age

in games on his own. "I was

reading The Bowling News one

day and saw a story on an

80-year-old man that decided

to do this and I thought I might

Cantu, Jr. 265-693, Tony Edwards 259.

Sal Grieco 267-705, Samuel Magill

251-687, Pat Currie 248, Billy Gann 268-

669, Georgia Seward 207-513, Frankie

Mata, Jr. 245, Luann Satchell 192-516,

John Cantu, Jr. 234, Ron Nason 274-697.

Amy Hart 247-699, Arnie Parish

269, Lindsey Megredy 235-661, Jason

Magallon 267-694, Jannette Sanchez

233, Joshua Burnham (4 games) 279-

956, Miki Jo Parish (4 games) 920.

Del Ballard (4 games) 994, Kristin

Warzinski (4 games) 235-841, Ryan

Boroff 269, Stefanie Nation (4 games)

222-844, John Cantu, Jr. 265-652, Kris

as well give it a try!"

Mclver who started at age

54, has attempted this for seven

years and this summer will

make it eight. "The bowling

alley gives me rates because of

how many games I'm bowling.

I start out on one pair of lanes

and bowl league style and just

move one pair of lanes after

each game. The bowling alley

isn't packed in the morning

but by the time I'm about to

finish its pretty packed in

there" he says. This past month

he completed his mission and

bowled his age at AMF Showplace

Garland Lanes but in the

past he's also bowled at AMF

April 20, 21, 27, 28, May 4-5, 2013

Hosted by

Terrell Bowling Center

Terrell, TX

Entry Deadline: March 17, 2013

5 person Teams, Doubles & Singles

(Any combination of Men or Women)

Handicap 80% from 220

Lanes fully reconditioned between every squad

Brackets & Highpots, Optional Scratch Events

Presented by

C lark's

Promotions L.L.C.

Jennings 204-527, Michael Williams

258.

Mary Ann Darr 175-442, Grady

Adams 247-709, Paul Harrington 266-

697, Gloria Plemons 202-517, Dewayne

Hall 265-701, Rene Miller 174-484,

Keith Plemons 246, Alice Cain 169.

Mike Daniel 247-663, June Terry

163-416, James Hufhines 224, Patrick

Childers 219.

SENIORS

John Stewart 268-636, Neva House

207-541, Ken Knowles 237-664, Betty

Odom 189, David Pruitt 232, Kitty

Vaughan 187-499, John Stewart 246-

604, Millie Griggs 202, Carl Seward

225-598.

Kitty Vaughan 197-513, William

Odom 206, Betty Odom 194, Ken

Knowles 244, Marge Neuville 181, Sal

Grieco 236-608, Wanda Eads 180-488,

Carl Seward 235-523, Carrie Reed

175-464.

Richardson, and Plano Super

Bowl. His favorite ball to use

is the Hammer Nail because

it seems to fit better and have

more control. "It gets harder

as you go to have more control

because the lanes dry up after

a while." Mclver also enjoys

using the Hammer Black Pearl

and Terminator. "Sometimes

my bowling balls don't want to

come home with me after the

scores I bowl with them".

You can catch Mike Mclver

this summer bowling 62

games at one of the Dallas area

centers. Join in at your own

risk!

USBC

Certified

For more information call 972-754-0387

www.clarkspromo.com
---
AMF DeSoto Lanes 121 Northgate Drive, DeSoto, TX 75115 Ph: 972-780-8090

AMF Lewisville Lanes 1398 West Main St., Lewisville, TX 75067 Ph: 972-436-6575

AMF Richardson Lanes 2101 N. Central Expwy., Richardson, TX 75080 Ph: 972-231-2695

THE BOWLING NEWS | Thursday, February 7, 2013 | Page 5

1st Place $50,000/Division!

2nd Place $25,000/Division

3rd Place $10,000/Division

Go to AMF.com for complete rules.

4 Divisions

Open 200+ Average A: 180-199 B: 160-179 C: 159-Below

AMF Showplace Lanes Euless 1901 W. Airport Frwy., Euless, TX 76040 Ph: 817-540-0303

AMF Showplace Lanes Garland 1950 Marketplace Dr., Garland, TX 75041 Ph: 972-613-8100

AMF Spare Time Lanes 3149 S. Cooper St., Arlington, TX 76015 Ph: 817-465-4997
---
Page 6 | Thursday, February 7, 2013 | THE BOWLING NEWS

Six USBC board

nominees selected

ARLINGTON, Texas - Incumbent

United States Bowling

Congress Directors Karl Kielich

of El Paso, Texas, and Mark

Martin of Waterford, Mich.,

along with Anthony Colangelo

of Helmetta, N.J., Barbara Council-Armstead

of Philadelphia,

Jan Schmidt of Hales Corners,

Wis., and Scott Zeidman of

Culver City, Calif., form the

2013 slate of candidates for the

USBC Board of Directors.

The USBC Nominating

Committee selected the six

candidates for the four open

The Lifetime Bowlers are Back!

9 PIN NO TAP

DOUBLES TOURNAMENT

Saturday March 9

Squads at Noon / 2 PM

Sunday March 10

Squads at 10 AM / Noon

positions on the board. The

committee may slate up to

two candidates for each open

position. Additional candidates

still may run from the floor

if they provide notice of their

candidacy to the committee

more than 30 days in advance

of the USBC Annual Meeting.

USBC Convention delegates

will vote on the four open

positions May 3 during the

USBC Annual Meeting in Reno,

Nev. Biographies of the slated

candidates will be available on

BOWL.com by March 15.

$50 Entry Fee (per doubles team)

1st Place $800 Guaranteed

Based on 50 Entries

$700 Based on 40 Entries

$600 Based on 30 Entries

"Roll 900" Pot @ $200

(May change)

Scratch Singles Challenge $15 entry

Women's Handicap Singles Battle $10 entry

Tournament directors: Mel Camody & Larry Berneburg

Bowl Your

Head Off

Sundays & Wednesdays

9 PM to Close

$1.69 + tax per Game per Person

$3.79 Shoe Rental

2200 San Jacinto Blvd

Denton, TX 76205

940-383-3515

Pezzano falls,

breaks hip

PBA Hall of Famer and longtime

historian Chuck Pezzano

of Mountainside, N.J., has

been moved to the Atrium at

Wayne, a rehabilitation center,

to recover following surgery

to repair a broken hip suffered

a week earlier. Pezzano, one

of the sport's most celebrated

journalists, is expected to stay

at the rehab facility for two to

three weeks. Well-wishers are

asked to send cards or letters to

Pezzano at: Chuck Pezzano, 27

Mountainside Terrace, Clifton,

NJ 07013.

At Plano Super Bowl

Rogers explodes for

296/843, Wasson blasts 738

Hiam 300/835, Etchieson 298/830, Mann 815, Staton

805, Bagley, Blake (2), Booth, Gaither, Lindeman,

Murray, Wasson add 300's

Billy Rogers high-stepped his

way to the top of the honor roll

this week at Plano Super Bowl

by shooting a high-powered

279-268-296 = 843 Pepsi Classic

series.

Following close behind Rogers

with their own 800 series

were: Kevin Hiam 300/835 (Friday

Funsters), Chris Etchieson

298/830 (Pepsi Classic), Rick

Mann 815 (Friday Funsters) and

Greg Staton 805 (Sportsman).

Lisa Wasson dominated the

At AMF Showplace Euless Lanes

Burkett (296) and Taylor tie

at 787, Crawford sizzles at 713

King 300, Armstrong III 299

John Burkett and Terry Taylor

tied for the top spot on the honor

roll last week at AMF Showplace

Euless Lanes with outstanding

787 series.

Burkett fired hard-hitting

279-296-212 games in One Grand

league action while Taylor

downed hig-powered 266-257-264

games in his Full House outing.

Ruth Crawford registered

a sizzling 245-223-245 = 713

Monday Mixed series to lead the

lady bowlers.

Gary King earned high-game

honors with an award-winning

12-bagger while Jack Armstrong

III took runner-up honors with a

near perfect 299 solo.

HONOR ROLL

Ben Hall 266-760, Fred Walters

276-759, Ben Powell 277-736, Danny

Nguyen 268-727, Brent Miller 257-717,

Lance Whisman 266-715, Kevin Wynn

269-693, Mike Ewert 278-689, Don

ladies scoring race with a powerpacked

232-237-279 = 738 Pepsi

Classic set.

Brent Bagley, Kevin Blake,

Dan Booth, Quinton Gaither,

Dennis Lindeman, Reggie Murray

and Tam Wasson were perfect

on their way to sharing highgame

honors with Hiam with

award-winning perfectos. Kevin

Blake and Tam Wasson had side

by side 300 games which is rare

in the bowling world.

HONOR ROLL

Chris Carlstrom 258-641, Darren

Whitehead 221-641, Michele McElwey

209-581, Bryan Brenner 256-705, Cathy

Sposito 267-734, Trent Jacobs 255-678,

At Brunswick Zone Denton

Hughes taps 300/300/868,

Holder lists 641

Phil Hughes held the hot hand

last week and won the high-game

and series race at Brunswick

Zone Denton by hammering out

hefty 268-300-300 = 868 marks

in Wednesday Follies action.

Sheila Holder, Hughes' league

mate, led the ladies scoring race with

a stalwart 278-160-203 = 641 outing.

HONOR ROLL

Sean Kirkland 254-669, Sheri

Campbell 222-577, Larry Ferrell 262-

662, Amanda Ferrell 192-481, Ray

Studnicki 228-652, Kailee Horton 200-

Leuty 256-644.

Bryant McDowell 240-643, Adam

Tucker 233-639, Ed Everling 225-637,

Don Leuty 232-622, Brent Burris

220-619, Randy Williams 225-601,

Keith Haines 237-589, Charles Newton

201-584, Eric Gilley 215-567. Major

Whisenton, Sr. 200-521, Lea Sikora

276-701, Miki Jo Parish 243-696,

Sheila Walton 233-650, Danielle Sharpe

237-635, Lisa Steele 233-613, Danielle

Sharpe 214-615, Sherry Houghton

210-596.

Anna Joplin 218-594, Chris

Penczynzyn 205-570, Pam Grays 191-

560, Lucky Hansen 199-551, Rhonda

Downing 201-550, Mindy Wynn

214-547, Missy Lofland 189-537, Kimm

Meredith 192-536.

Joan Dale 199-531, Loyce Martin

198-527, Nancy Turner 195-523, Sandy

Robertson 170-481, Robin Montgomery

180-467, Denise Wheeler 170-466,

Linda Petty 160-461, Debra Holladay

116-318.

Danielle Hopland 191-542.

Anthony Simonsen 266-701, Danielle

Hopland 256-645, Dennis Lindeman

743, Loree Clark 183-528, Russell

Wright 234-638, Diane Wallentine

202-566, Richard Felixson 279-760.

Palma Madonna 224-578, Bill

Jackson 212-555, Shirley Large 169-473,

Greg Staton 278, Julie Locke 232-651,

Jeff Hargens 289-692, Kay Pingsterhaus

210-575, Cathy Sposito 237-638.

Louise Lackey 203-578, Jim Doran

277-739, Chris Rador 259-732, Glenn

Carlin 211-528, Sandy Genovese

178-504, Clayton Hale 269-771, Kelli

Spencer 246-726, Bill Fong 268-783.

Diane Wallentine 223-601, Brenda

Kindrick 226-641, Michele VanGilder

221-637, George Vaughn 259-720, Dottie

Culpon 202-561, Jeremy Reeve 258-717,

Linda Chambers 257-712.

Gene Gonzalez 265-703, Diane

Wallentine 221-617, Jim Kiser 266-757,

Debby Oulicky 218-624, Billy Rogers (4

games) 1057, Lisa Wasson (4 games)

942, Pat Neal 277-736, Patty Ellington

277-667.

Jim Bell 248-643, Amber Robinson

206-573, Shane McDaniel 258-683, Kay

Pingsterhaus 234-635, Tina Fitzgerald

202-595.

556, Forrest Roberts 279-687, Amanda

Ferrell 203-584.

Mike Lawson 225-623, Millie Otwell

212-524, Jeremy Chambers 265-748,

Renna Brock 236-636, Boyce Lewis

279-765, Becci Hendrix 206-538, Guy

Bent 266-716, Sheila Van Pelt 178-516.

Phillip Rundlett 240-683, Gabreille

Dorais 192-536, Ryan Reed 269-737, Teri

Lynn McCool 199-553, Leonard Reed

191-520, Tara Reed 174-466.

SENIORS

Leon Schon 268-709, Elaine Burick

222-619
---
Just Paying

Attention By Mark London

Mark@TheBowlingNews.net

Editor's Note: There is a

Spoiler Alert for a tape-delayed

PBA event involving Scott Norton

& Sean Rash in the third paragraph.

If you wish to be surprised

when this tournament airs,

please skip the third paragraph

only. Thank You, and enjoy.

Earlier on a rare live-show

last Sunday, Sean Rash dropped

a no-doubt double in the tenth

as his Brooklyn STyLES beat

the New York WTT Kingpins

in the inaugural PBA League

opening telecast, 225-215.

Rash's two strikes were what

the experienced player might

call technically perfect. The

first shot snapped the dime

just as easy as the third shot

in league practice, while the

second was just plain dead

flush. It's tough enough to

throw those most nights after a

few cold ones in mixed league

with a Ben Franklin on the

line, but when the lights are

warm, the red light on top of

the camera is on, and several

hundred people in the room

are dead silent, the challenge

is a little different. A couple of

years ago, he may have sprayed

one. Not now. That victory in

the Tournament of Champions

last April helped Rash enter

the next chapter of his career.

Channeling the adrenaline into

concentration when it's needed,

takes practice and is a sign of

maturity. He showed us and

himself he can do it at will.

So how about the PBA

League? Many positive reviews

are out about idea, the performances,

and now the telecast.

It could be little confusing

during qualifying to see the

how scores translate into team

Don Hoyle fired a charttopping

258-269-256 = 783

Crusaders series to end at the top

of the honor roll for the week at

Forum Bowl.

Michelle Rockwood paced the

lady bowlers with a sky-high 214-

257-225 = 696 Fast Lane Trio set.

Donny Davis' award-winning

12-bagger earned high-game

honors while Dennis DeLoose's

near perfect 298 took runner-up

honors.

HONOR ROLL

James Bailey 266-709, Michelle

Anderson 217-600, Joe Doctor (9 pin)

300-820, Margaret Montgomery (9 pin)

234-646, Joyce Johnson 188-519, Holly

Ginn 192-510, Brian Thomas 244-712,

Lynn Tuya 222-620. Frank Mills (4

games, 9 pin) 300-1153, Holly Beers

totals, but now that we've

seen the end result that should

disappear with the next round.

We were all wondering if PDW

could work more of his U.S.

Open magic into a tenth frame

double to clinch, but instead

we saw a young warrior take

that critical step into the next

stage of his career as PBA Tour

leader. It's one thing to win a

Player of the Year award; it's

another to keep the momentum

going into the next season. A

true sign was his XtraFrame

postgame chat with Ashly

Galante. He was quite calm

and clear with his answers

in describing that step some

bowlers cannot negotiate, the

mental letdown after a career

season. It's a different kind of

sophomore jinx. Some bowlers

disappear from the upper half

of the standings in part due

to pressing and trying to force

themselves to uphold the new

standard.

* * * *

Meanwhile, we will see

(once the show airs March 24)

the emergence of Scott Norton

as the next big name on the

PBA Tour. The question was

posed earlier Sunday, but now

the question must be amended.

It was asking if Scott Norton

was the best lefty on tour? Currently

the answer is yes. But

now after a win Sunday, Scott

Norton may be the best bowler

on tour period. He has scored

his second win of the season

and third overall taking the

PBA Detroit Winter Swing Earl

Anthony Players Championship

over the reigning PBA Player of

the Year, Sean Rash, 214-191.

Let's hope the Facebook

campaign to get him on The

At Forum Bowl

Hoyle jams 783,

Rockwood weaves 696

Davis 300, DeLoose 298

(4 games, 9 pin) 234-868, Ed William

203-595, Christina Benitez 134-371. Jeff

Steinman 185-486, Cindy King 205-565,

Jace Simon 278-713.

Tammy Henderson 222-564, Scott

Millar 278-719, Lisa Girton 245-608,

Tony Medina 210-617, Marsha Reed

194-470, Eric Dawson 258-723, Dena

Buffington 221-561, Brad Sampson (4

games) 266-1004. Michelle Rockwood

(4 games) 919, Dennis DeLoose 774,

Joseph Henson 263-718, Annie Akanni

200-550, Steve Gray 279-696, Mary

Santa Cruz 233-564, Johnny Gutierrez

224-626, Ruthie Flores 192-542.

Robert Taylor 260-685, Tami Rogers

234-611, Demetrya Wilson 229-604,

Donny Davis 729, Emily Montgomery

233-635, Hungle 278-749, Amber Correll

182-512.

Ellen DeGeneres Show is more

successful than Rob Stone's

cry on the 2010 Tournament of

Champions show pleading to

get Kelly Kulick on The Oprah

Show. That appearance could

get the PBA to the next level in

two ways. First, as a platform

for social advancement, but

also getting the Association

noticed to a new demographic.

If you haven't seen The Ellen

Degeneres Show, DVR it and

don't be too close to a mirror

when the light above your head

goes off. It will be blinding.

* * * *

Had a chance to attend a day

of the recent mid-season Bowling

Summit in San Antonio last

week. While waiting for lunch,

BPAA Vice President of Business

Development Bart Burger

was wrapping up a marketing

presentation and stated a few

facts from the 2012 "BPAA

member's survey." Bowling

center lineage came from more

open play than league play in

2012, 53 to 47 percent. Open

play first exceeded league play

in 2006. The next presentation

was equally interesting and if

I had not witnessed it myself, I

would have not believed it. The

median year when all current

BPAA centers opened is 1965.

In the West/Southwest part of

the U.S., it's 1977 and 1962 in

New England. The point those

facts are trying to make, is that

there are a lot of old centers out

there. In the West/SW there

are much newer centers than

the overall average, but it's

still surprising that there are

so many active, old centers out

there. Those of you in savvy in

marketing and pop culture can

THE BOWLING NEWS | Thursday, February 7, 2013 | Page 7

draw your own conclusions as

to why that's the case; but it is

none the less. Meanwhile, if I

get dragged into BPAA jail for

disclosing those findings, it's

been nice knowing you.

# # # # # # #

Check-in at 6:30 PM

Saturday Nights at 7:30 PM

$20 Entry Fee

Entry includes: Mystery Score, King/Queen Ticket, 1st Game Strike Pot

King/Queen Tickets

If your ticket is drawn choose to strike or spare. If you win, you will receive $1 for each strike in the 2nd game.

1st/2nd/3rd Game Strike Pot Tickets Bring in a New Bowler

160 & under average bowlers need 9 pins Receive $5.00 in

or better. 161 & over average bowlers must strike. Strike Pot Tickets for 3 games

NEW

BOWLERS

WELCOME

2013 Texas High School & Youth Elite Doubles

BOWLING CHAMPIONSHIPS

Sponsored by:

Brackets: $5.00 (handicap, scratch, ladies)

Doubles: $6.00 - High Pot: $5.00

Birthday Bowlers:

Come out and bowl on your birthday,

receive $5.00 in Strike Pot Tickets for each game.

CALL TO RESERVE YOUR SPOT TODAY!

972-641-4406 or 972-647-2275

SATURDAY, APRIL 13, 2013

12:00 NOON

Open to all certified Youth bowlers, enrolled

as a full-time student in public, private or

home-school program, under the age of 19.

Host Center: Plano Super Bowl

2521 Avenue K

Plano, TX 75074

Entry Fee: $40/team

✲ Sport Certified Bowling Tournament

✲ SMART Scholarships Awarded

www.PlanoSuperBowl.com

NEW OPTION:

Double Value Strike

Pot Tickets instead

of cash.

2001 S. Great

Southwest Parkway

Grand Prairie, Texas 75051
---
Page 8 | Thursday, February 7, 2013 | THE BOWLING NEWS

By Leisha Murr

I hope you all tuned into

ESPN last Sunday to watch the

live debut of the PBA League.

How did you like it? I, for one,

thought it was great and I look

forward to seeing more of the

teams on the next few shows.

With the last few season of

the PBA tour having several

events each year in the same

buildings, it seems like we

have seen a lot of the same

guys on the shows week after

week. The PBA draft of the

teams has given us an opportunity

to see the different

faces on the PBA tour. There

are 48 different players on the

8 teams. We get a chance to

see the seasoned veterans like

Amleto Monacelli and Walter

Ray Williams alongside up and

coming players like Jesse Buss

and John Szczerbinski who we

might not otherwise see make

a television show for several

years to come.

I like the Baker format for

the finals as well. You can see

how important each shot is and

talking to the other players on

your team. Each player only

has a chance to make one shot

on each lane, each game. You

better make a good shot so

your teammates can rely on

you and your ball reaction to

make their next shot the best it

can be.

If you watched the show,

you might have thought that

the team owners who were

in attendance, Jerome Bettis

and Terrell Owens were too

busy playing on their phones

to watch their own team in

competition, but that was not

the case. They were actually

on Twitter talking ABOUT

BOWLING with their own fans.

During the match of Owen's

Dallas Strikers team bowling

against Chris Hardwick's

Atom Splitters, the two owners

were doing a little "smack

talk" via twitter with over

3 million followers between

them combined. So that's 3

million people being exposed

to the PBA who are most likely

not already tuned in to watch

bowling on Sunday. I think

anytime we can get some

exposure for bowling or the

PBA outside of the traditional

bowling fans it's a good thing

for bowling in general.

I've been pretty slow to

catch on to the whole Twitter

thing, but it is a useful way

to keep up with information.

You can follow @USBC and

@PBATour to know what is

going on in the bowling world,

@ESPN for the sports world,

and @CNN for the real world.

You can even follow Tony @

bowlingnewsnet as he occa-

MONEY SHOT$ COLOR PIN BOWLING

$TRIKE POT$ $UPER $TRIKE POT$

Weekly drop in, not a league!

Bowl 3 games in our FUN format.

FRIDAY NIGHTS

AT 7:30 PM

Only $20.00 per person

(Pre-paid reservations accepted til 5 PM Fridays)

4 per lane

We Pay On All Splits Converted With A Color Pin

Super Pot pays out 1/2 to 1st time sweeper bowlers

COME ON OUT TO RED BIRD LANES

Family owned and Independently operated for 38 years

1114 S. Main

Duncanville

972-298-7143

fax: 972-709-5677

redbirdlanes@sbcglobal.net

sionally has something to say

about bowling. You can also

follow me @Lush_A although I

rarely send out a tweet or even

post on my Facebook. I think

just about everything I have

to say comes out each week in

Last Call.

Speaking of things that

come out of me each week,

again, I didn't mean to offend

anyone with some of my pet

peeves a couple of weeks ago.

I'm not angry. For those of you

in the extended "Southwest

Edition" area who do not get

the paper every week you can

go to www.TheBowlingNews.

net or scan the QR code on

the front page and go to the

weekly archives for the January

24th edition of the paper to

read some of my least favorite

things about bowlers. Since

that week several bowlers have

shared their own pet peeves

with me; maybe I will do a

sequel with some of those soon

so keep them coming. It was

also easy to see who all had

read the paper that week as

some pointed out where they

left their towel or offered NOT

to shake my hand. I'll gladly

shake your hand; I just want

to know that you've washed it

today. It is cold and Flu season,

people!!

VICKI RIOS MEMORIAL

Continued from Page 1

gan, Shawn Maldonado and

Anita Arnett, Omar Arnett, DJ

Archer. Each team won $1050.

In 5th/6th was Brandy

Sanderson, BJ Autin, Chris Lucas

and Brinda Burks, Cordell

Wilder, Brandon Williams.

Each team won $690.

The top five individual

qualifying scores were as follows,

Charlie Mills 1553, Omar

Arnett 1465, Sean Lavery-Spahr

1460, Curt Dupre 1460, and

Ryan Whitney 1449.

Mills and Jason Guest had

the only 300 games.

As always it's a great tournament

that gets lots of action,

takes care of the bowlers and

donates a portion of the money

to a good cause. This year they

had 165 brackets, $7200 in

the Calcutta, and Lee Tyrney

and the staff at Tangi Lanes

boiled 120 lbs of crawfish, 40

lbs of shrimp, BBQ Chicken,

sausage, corn and potatoes for

the players.

Each year, 10% of the Calcutta

money goes to a fund for

a scholarship in Vicki's name.

This year, they raised $720.

BIG CHANGES

Continued from Page 1

event and even the Scratch

Optional events.

Flyers can be downloaded at

www.thebowlingnews.net

As a side note, this is the

first time the city tournament

has been to BRC Westcreek in

20 years.

At Red Bird Lanes

Carlson caps off 729,

Daniel snares 687

Rich Carlson won the battle

for top billing at Red Bird Lanes

with outstanding 236-258-235 =

729 numbers in Red Bird Men's

league play.

Lauren Daniel took the top

spot for the ladies with a fine 173-

270-244 = 687 Career Girls set.

HONOR ROLL

Lesley Speaks 213-577, Len Cline

257-660, Charles Dillabough 247-622,

Pat Camp 169-496, Carolyn Large

208-540, Brian Dickerson 204-556,

Deanna Hoffman 205-539, Kevin

Boykin 223-666.

At Strikz

Irvine wraps up 700,

Tenczar sacks 665

FRISCO – Rick Irvine headed

the leader boards last week at

Strikz by logging laudable 220-

237-243 = 700 marks in Strikerz

league action.

Loren Tenczar booked a

banner 235-226-204 = 665

Monday Mixerz series to lead the

lady bowlers.

HONOR ROLL

Rick Brewer 224-614, Debbie Colby

208-544, Don Levy 223-645, Jennifer

Blythe 205-524, Craig Santoli 223-621,

Candy Torrey 224-591, Cathy Eberly

191-571, Debra Gorman 153-419.

Vernon Underwood 201-550, Julie

Sellers 190-527, Bill Young 255-627,

Cindy Howell 178-524, Josh Hanson

243-658, Lori Berry 213-518, Ted

Shaffer 216-592, Creeper Perry 183-517.

Keith Jennings 256-617, Yvette

Jackson 181-509, Jimmie Hawkins

189-489, Sandra Hawkins 172-491,

Glenn Goodrich 186-544, Sue Goodrich

175-487, Billy Cathey 225-656, Jamie

Trans 213-533.

Ida Tibbs 182-471, Cindy Howell

175-514, Ted Shaffer 194-539, Carolyn

Large 192-508.

Julie Collins 176-472, Treasa

Kosanke 179-461, Cathy Eberly 245-617,

Larry Obertz 220-646, Marianne Kolar

144-425, Mark Timm 216-597, Mark

Donnelly 249-656, Steve Ray 238-599.

Chris Marino 243-644, Cathy Eberly

259-634, Dewayne Smith 220-638,

Debbie Colby 109-569, David Edwards

235-606, Brian Holland 236-640, Kelly

Holland 153-423, Bob Held 259-675.

Pamela Solano 193-494, Scott

Orofino 225-633, Ron Shive 244-646,

Mike Robinson 228-619, Matt Robinson

222-643.

972-668-5263

8789 Lebanon Road,

Frisco, TX 75034

www.strikz.com
---
Hello and welcome to 2013!

2013 promises to be a historic

year in Daceland. It has already

been an adventurous one as

I started out 2013 on New

Year's Day lying in bed, sick

for a week with some sort of

stomach bug. Although being

somewhat "sick" on New Year's

Day is nothing new, it was

discouraging that I had to miss

the fun part of celebrating the

New Year with all my friends.

But there is no doubt 2013 is

going to be huge.

The first week of January

also was historic as I went under

the knife for the first time

in my life. The cause of the

surgery was a splintered bone

in my foot that was possibly

caused by kicking something.

Although I can't imagine

where or when this might have

happened (insert your favorite

Daceman temper tantrum joke

here), the doctor had to cut it

open and remove the splintered

bone. Most of my pain was

Erik Vermilyea pocketed a

power-packed 279-259-227 = 765

STL Businessmen's series to take

top honors for the week at AMF

Spare Time Lanes.

Leslie West led the ladies with

a strong 171-219-236 = 626 STL

Rejects set.

HONOR ROLL

Carrie Lacey 193-472, Billy Fields

277, Sonya Little 230, Sean Garrett

658, Kara Congi 621, Bill McCormack

268-724, Pat Schulze 198, Mary Ann

Conley 515, Leonard Loughner 186.

Lisa Loughner 167, Bobby Gilley

512, Kathy DeVries 392, David Cooley

205, Amber Lumpkin 173-445, Bob

Weber 527, Mike Davis 289, Leslie West

David Smith racked up a

high-flying 731 Thursday Mixed

series to head the leader boards

for the week at Brunswick Zone

Watauga.

Sandy Dooley nailed down the

high-set race for the ladies with a

blistering 667 Denim & Duds set.

HONOR ROLL

Eric Praught 280, Sherri Flannery

254, Max Davis 624, Julie McHugh 589,

Miki Jo Parish 620, Dan Ellis 709, Tim

Laird 673, Debbie Belew 440, Avery

while walking down hill or occasionally

on my push off step

while bowling so obviously it

needed to be fixed. I am now

four weeks into recovery and I

thought I was ready to resume

bowling, but about one game

into league last week I realized

why the doctor had said four to

six weeks off.

It's a shame I can't get some

of that anesthetic that they

used to knock me out for the

surgery. I would be invincible

with that stuff. The good part

about all of this is that it's

January and I have already met

my deductible so you can bet

every time I sneeze or sniffle

I am going to the doctor this

year.

It's that time of year once

again to review the ever so

clairvoyant Dacestronamous

and his 2012-2013 NFL

predictions.

Probably the first prediction

was the strangest as I predicted

that Calvin Johnson would

At AMF Spare Time

Vermilyea smashes

765, West crafts 626

236-626, Al Morrison 708, Bernestine

Knight 196-509. Sherry Paroulek 204,

Lee Ann Cairns 529, Willie Perkins

257-681, Lillian Allsbrook 256, Gaylene

Wilson 547, Ronnie Belz 209, Gabriel

Cisneros 168-437, Lorenzo Cisneros 518,

Mike Larsen 279.

Kelly Ray 279, Lindsley Davis 279,

Guy Gibson 247, Regina Taddy 234-603,

Aubrey Stephenson 625, Mike Belcher

235, JoAnn Partida 235, Jeffrey Huber

642, Ginger Busocker 623, Rick Van

Kolen 245-623. C J Jurik 154, Nikki

Rowe 431, Gary Easter 238, Elizabeth

Lopez 197, Brad Young 553, Chris

Greene 529, Rick Rosales 221-554,

Christine Erickson 170-453, Mike

Yordy 554.

At Brunswick Zone Watauga

Smith rockets to 731,

Dooley drills 667

Dison 677, Elizabeth Olivieri 511.

Kevin McKeehan 663, Juanita

Bradley 489, Stuart Mountain 729,

Rebecca Odell 568, Gary Ponikiewski

(4 games) 870, Marcus Williams 724,

Deb French 521, Delbert Wooldridge

692.

Debbie Fridley 487, Anthony

Rhynes 718, Mellonee Buckley 601.

SENIORS

Larry Brunk 621, Lana LeCroy 497,

Jimmy Hill 654, Mary Guy 485.

set the all-time touchdown

receptions in a season record.

Although I missed the record

I was dead on in the fact that

Calvin Johnson did break the

all-time receiving yards in a

season record, and was the first

to eclipse 2000 yards receiving

in a season.

Second I predicted that

Peyton Manning would lead

the Broncos to the Super Bowl,

but lose to Philadelphia in it.

Considering nobody would

know how he would play

this year and considering if it

weren't for some poor defense

this very well have come to

fruition. Of course the fact that

I had the Eagles winning the

Super Bowl explains why my

fantasy football team was so

bad.

The third prediction goes

to show that even the greatest

of opinions hold no water as I

predicted that neither Andrew

Luck nor RG3 would surpass

more than four wins on the

season. Of course both rookies

led their respective teams to

the playoffs, but both were

ousted in the first round.

My fourth prediction was a

pretty easy one, but the NY Jets

denied it from coming true by

hanging onto Tim Tebow for

the entire season. I predicted

that they would release him,

but instead they relegated him

to third string and kept him

the for the whole year. I have

no doubt his release is imminent

in New York.

Finally, my Cowboys

predictions were pretty darn

close, but again it was easy

to do. I predicted that they

would go 9-7 and miss the

playoffs. Although I gave them

the benefit of an extra win 9-7

would have got them in the

playoffs, but the final season

collapse, and errant Tony Romo

At Rowlett Bowl-a-Rama

Boyd fires

716, Shaw

pens 650

Tony Boyd was red-hot last

week at Rowlett Bowl-a-Rama

after pocketing 214-289-213 =

716 numbers in Thursday Fun

Fours league action.

Barbara Shaw posted a smooth

200-193-257 = 650 Wednesday

Mixers set to front fem scoring.

HONOR ROLL

Larry Lee 259-624, Linda Sires

246-630, Bill Clay 233-672, Cara

Thompson 181-492, Mark Elliott 276-

705, Kim Stewart 182-514, Susan Lee

200-505, Nancy Heltzel 189-523, Larry

Lee 266-720.

Susan Lee 236-603, Freddie

Wearien (2 games) 227-409, Mary Ellen

Rossbach (2 games) 168-317.

SENIORS

Randy Terry (2 games) 176-326,

Sharon Whitaker (2 games) 155-307,

Rodney Savole 246-630, Margaret

Thompson 191-478, Rodney Savole

(no tap) 262-678, Laura Peterson (no

tap) 221-623.

THE BOWLING NEWS | Thursday, February 7, 2013 | Page 9

interception ensured that they

indeed would miss the playoffs.

I also predicted the offseason

will be spent searching for the

heir to Tony Romo so we will

see in April if that comes true.

Check out our Specials

$2 Tuesdays

$2 per game starting at 5 PM

$2 draft starting at 9 PM

Late Night Thursday

9 PM – Close $10.95, All you can bowl

plus free nacho bar

Ladies Night

LADIES BOWL FREE

Wednesday Nights 9 PM to Close

www.facebook.com/

rowlettbowlarama

5021 Lakeview Parkway

Rowlett, TX 75088

972-475-7080

www.rowlettbowlarama.com

Bowl Your

Head Off

Sunday through Thursday

9 PM to Close

$2.29 + tax per Game per Person

$1.00 Each Shoe Rental, Small

Popcorn, Hot Dog and Small Soda

plus Draft Beer Specials!

Watauga

7301 Rufe Snow Drive, Watauga, TX 76148

817-485-2695
---
Page 10 | Thursday, February 7, 2013 | THE BOWLING NEWS

Sponsored by

Southwest-Area USBC Youth Scores

Matt Lenz led the Southwestarea

USBC youth bowlers last

month with a power-laden 279-

259-214 = 752 Family Time series

at Mel's Lone Star Lanes.

Kayla Endicott, Lenz' league

mate, paced the girls with a

sparkling 205-203-232 = 640 set.

At Big Spring Bowl-A-Rama, Big

Spring – Cole Schroyer 237-618, Alexia

Rawls 199-557, Rich Ewing 211-571,

Kaitlyn Schroyer 183-520, Dylan Lance

216-526, Kayla Aaron 192-477, Ransom

Parks 193-506, Breanna Rogers 174-405,

Dakota Backes 172-489, Christina

Rawls 155-392, Bracy Bacon 161-404,

Cheyenne Jones 164-371, Michael Reyes

147-394, Megan Reyes 143-369, Allen

Rawls 129-377, Tera Henry 133-369,

Scott Cantrelle 130-372, Mercedes

Rodriguez 146-345, Drayklyn Henry

150-337, Caitlyn Corley 112-305, Brandon

Rogers 125-325, Aubrey Bentley

119-292, Cameron Tradewell 128-319,

Jessica Henry 92-261, Sonny Prince 111-

292, Chloe Scroggins 105-254, Breydon

Reyes 106-284, Elisabeth Sigmon

91-234, Dominick Rawls 100-284, Sarah

Jones 80-213, Stetson Bennett 50-114,

Mariah Chavarria 84-200.

At Diamond Lanes, Odessa –

Michael Hopkins 259-701, Aimee

Dugas 174-486, Devon Gibson 278-

695, Ravenne Dugas 162-432, Fabian

DeLeon 227-621, Brianna Brusuelas

142-380, M C Lawson 214-595, Kendall

Smith 154-365, Gary Owens 220-570,

Tyler Mauck 202-561, Kris Arnold 223-

528, Tyler Thames 181-484, C J Ricks

163-445, Damen Orr 117-316, Blaine

Prewiit 118-309, Emilio Benavente

149-305.

At Eastridge Lanes, Amarillo –

Elijah Sledge 244-679, Elexis Sledge

256-599, Elijah Sledge 256-718.

At Fiesta Lanes, New Braunfels

– Brad Edwards 246-660, Nick Nolte

256-657, Brad Edwards 236-657, Philip

Williams 267-648, Devin Blume 235-

677, Jay Pohl 182-515, Riley Davin

148-361, Vic Berry 117-324, Banner

Bradshaw 171-456, Edward Nichols 173-

442, Jack Magnus 72-143, Ian Ferguson

72-142, Aiydan Hughes 108-281, Bryce

Vorhis 96-249, Jessica McAda 224-628,

Sarah Seaman 212-559, Jessica McAda

219-578, Shelby Light 201-531, Ashley

Devine 110-309, Katelyn Nowotny

93-256, KC Robinson 103-261, Ashley

Lambert 78-209, Keolani Patterson

64-113, Annabelle Smith 60-108, Marley

Brownslo 91-241, Megan Vorhis 84-235.

At Hallmark Lanes, Killeen – Martin

Daley 108-168, Audrey Hernandez

103-191, Hunter Wood 135-389, Caitlin

Schirripa 155-408, Chance Capinia

245-642, Sierra Ciesiolka 177, May

Dixon-Dates 516, Mike Mikell 177,

John Kilpatrick 476, Jessica Bearden

156, Suzanne Brown 372, Martin Daley

97-187, Audrey Hernandez 75-145,

Tyler Blackman 142, Micha Talley 350,

Caitlin Schirripa 144-375, Jordan Garza

277-651, Rebecca Arrevalos 235-604,

Mike Mikell 203-441, Jessica Bearden

156-418, Martin Daley 95, Joseph

Munns 172, Hunter Wood 289-491,

Shyanne Ciesiolka 136, Caitlin Schirripa

371, Quentin Hewitt 252, Jordan

Garza 634, Donna Skinner 216, Sierra

Ciesiolka 554.

At Heritage Lanes, Oklahoma City,

OK – Ryan Johnson 137-391, Morgan

Nunn 159-376, Jaylen Ramirez 247-693,

Tiesha Davis 226-633.

At Killeen Bowlerama, Killeen

– Chance Capinia 237-588, Crystal

China 145-382, Remington Smith

204-547, Molly Maxson 204-573, Ethan

Godfrey 81-199, Allison Vekasy 39-103,

Lowen Lara 101-275, Cherokee Collins

102-242, Craig Arnett 169-469, Caitlin

Stone 197-494, Devin Johnson 208-543,

Danielle Doyle 152-394.

Fort Worth USBC Youth Results

Bryce Abney led the USBC

Youth bowlers in the Fort Worth

area last week by firing a rock

solid 257/700 Wonders series at

AMF Showplace Euless Lanes.

Destiny Velez paced the girls

with an outstanding 226/590 LD

Bell #1 set at AMF Showplace

Euless Lanes.

At AMF Showplace Euless Lanes

– Jesse Soria 245-676, Nathan Runs

Through 222-567, Will Peden 184-541,

Nasir Pooran 190-538, Will Peden

192-454, Nasir Pooran 192-478, Zackary

Brown 108-301, Max Morelli 104-277,

Blake Deluna 87-164, Jake Scheiden

76-137, Taylor Wood 168-463, Destiny

Velez 187-543, Taylor Wood 174-452,

Destiny Velez 175-517, Tori Routon

171-435, Victoria Hylton 210-432, Kiley

Knittle 149-424, Mieke Lass 70-113.

At AMF Spare Time Lanes – Scott

Harrell 214-649, Diane Hasty 198-507,

Logan King 142-232, Charisse Graham

107-193, Colin Robben 134-368, Tara

Spridco 119-329.

At Brunswick Westcreek – Jared

Nichols 166-469, Viktorea Freeman

199-440, Brandon Flores 132-353,

Katarina Korn 169-375, Nathan Flores

129-367, Katie Hamlin 132-310, Teddy

Nelson 141-365, Megan McDuff 117-300,

Cody Owens 90-209, Branden Gentry

110-320, Kevin Williams Jr., 175-390,

Tyler Freeman 181-463, Tyrone Freeman

130-347, Chance Moore 163-460,

Tra McKinney 85-237, Jordan Cooks

206-447, Austin Laster 176-467.

At Brunswick Zone Denton – Landon

Thames 224-640, Natalie Ramsey

152-456, David Hayes 202-547, Cierra

Ferrell 153-430, Chris Woodmansee

153-418, Deborah Samuelson 142-385.

At Brunswick Zone Watauga – Alex

Negrete 615, Kelsie Land 552, Nick

At Mel's Lone Star Lanes, Georgetown

– Dylan Peteete 256-620, Kira

Hamman 215-593, Justin Grant 213-579,

Krista Hill 288-565, Robert Hamman

182-472, Jaelle Hamman 150-404, Jim

Hanna 246-684, Crystal Reese 212-

578, Sykora Hatten 101-193, Kenneth

Simelton 114-214.

At Oil Bowl Lanes, Longview

– Hunter Holler 247-687, Donald

Keener 267-608, Alyssa Hamby 233-614,

Melissa Hammonds 167-479.

At Stadium Lanes, San Angelo –

Antonio Torres 240-629, Amber Carr

177-482, Gavin Maher 101-214, Jill

Taylor 156-349, Christian Dailey 78-

204, Jenna Rossignol 111-259, Baily

Smith 219-553, Amariah Pinchback

212-474.

At Tenpins & More, Rio Rancho,

NM – Janeyl Carper 243-609, Josh

Salazar 260-590.

Curnutt 287, Vanessa Vasquez 211, Matt

Winters 256, Shelly Sloan 288, Zachary

Jones 401, Kynadee Padron 398.

At Cowtown Bowling Palace –

Adam Beasley 240-606, Nadia Stone

214-580, Daniel Christopher 215-545,

Olivia Lindsey 189, James Hix 208,

Shyanne Johnson 188-523, Mathew

Cranfill 208-533, Sebastion Cook 100-

181, Heayn Virgil 69-135, Dylan Smith

87-168, Jake Swift 157-453, Ro'Nae Medearis

155-390, Seth Skinner 109-292,

Kaitlyn Fleming 129-332, Josh Swanson

105-288, Alyssa Ballard 93-170, Randy

Cross, Jr. 236-594, Olivia Lindsey

171-493, Steven Williams 227-582,

Dannyella Hochstine 168-491, David

Strand 205-543, Daniel Christopher

(2 games) 172-285, Bethany Jones (2

games) 85-153, Toby Jones (2 games)

149-283, Mary Maturo (2 games) 74-

134, Daniel Garcia (2 games) 97-180,

Ashley Jones (2 games) 66-101.

At Forum Bowl – Hamilton Joseph

108-204, Annalee Roane 91-166, Trey

Boles 100-180, Jennifer Crawford 79-

154, David Carter 199-543, Katelynn

Correll 164-472, Adan Ruiz 193-515,

Lexey Hilker 154-411, Mitchel Neville

226-650, Kristin Hilker 166-482, Dillon

Braudrick 212-609, Shelbie Goad

159-450.

Boys

Matt Lenz, Mel's Lone Star Lanes ......................... 752

Elijah Sledge, Eastridge Lanes ............................. 718

Allister Rutledge, Plano Super Bowl ..................... 712

Andrew Pryde, AMF Lewisville Lanes ................... 707

Michael Hopkins, Diamond Lanes ........................ 701

Bryce Abney, AMF Showplace Euless Lanes ....... 700

Eric Coleman, AMF Showplace Garland Lanes ... 694

Jaylen Ramirez, Heritage Lanes ........................... 693

Hunter Holler, Oil Bowl .......................................... 687

Brad Edwards, Fiesta Lanes .................................. 660

Jordan Garza, Hallmark Lanes .............................. 651

Mitchel Neville, Forum Bowl .................................. 650

Scott Harrell, AMF Spare Time Lanes ................... 649

Landon Thames, Brunswick Zone Denton............ 640

Antonio Torres, Stadium Lanes ............................. 629

Cole Schroyer, Big Spring Bowl-A-Rama ............. 618

Alex Negrete, Brunswick Zone Watauga .............. 615

Adam Beasley, Cowtown Bowling Palace ............ 606

Josh Salazar, Tenpins & More ............................... 590

Chance Capinia, Killeen Bowlerama ..................... 588

David Green, Red Bird Lanes ................................ 493

Jared Nichols, Brunswick Westcreek Lanes ........ 469

Ryan Yablonsky, Strikz ........................................... 466

Girls

Kayla Endicott, Mel's Lone Star Lanes ................. 640

Tiesha Davis, Heritage Lanes ................................ 633

Jessica McAda, Fiesta Lanes ................................ 628

Morgan Reising, AMF Lewisville Lanes ................ 628

Alyssa Hamby, Oil Bowl ......................................... 614

Janeyl Carper, Tenpins & More ............................. 609

Shana Geerdes, Plano Super Bowl ....................... 608

Rebecca Arrevalos, Hallmark Lanes ..................... 604

Elexis Sledge, Eastridge Lanes ............................. 599

Destiny Velez, AMF Showplace Euless Lanes ..... 590

Courtney Salinas, AMF Showplace Garland Lanes

581

Nadia Stone, Cowtown Bowling Palace ................ 580

Molly Maxson, Killeen Bowlerama ........................ 573

Alexia Rawls, Big Spring Bowl-A-Rama ................ 557

Kelsie Land, Brunswick Zone Watauga ................ 552

Diane Hasty, AMF Spare Time Lanes .................... 507

Aimee Dugas, Diamond Lanes .............................. 486

Kristin Hilker, Forum Bowl ..................................... 482

Amber Carr, Stadium Lanes .................................. 482

Kaylee Hancock, Red Bird Lanes ......................... 458

Natalie Ramsey, Brunswick Zone Denton ........... 456

Viktorea Freeman, Brunswick Westcreek Lanes .. 440

Taylor Christopherson, Strikz ................................ 320

Dallas USBC Youth Scores

Allister Rutledge topped the

Dallas-area USBC youth bowling

last week with an impressive

232-214-266 = 712 Showstoppers

series at Plano Super Bowl.

Morgan Reising led the girls

with a sparkling 237/628 Major

set at AMF Lewisville Lanes.

At AMF Lewisville Lanes – Dawson

Byrd 134-290, DeVesia Bland 82-230,

Conner Mixson 181-473, Alexis Boggs

135-336, Andrew Pryde 268-707.

At AMF Showplace Garland Lanes

– Eric Coleman 242-694, Courtney

Salinas 204-581, James Hough II 178-

480, Grace Blair 119-306, Scott Miller

186-537, Brooke Harris 221-516.

IMPORTANT METROPLEX PHONE NUMBERS

Dallas USBC Bowling Association ................... 972-644-7746

Dallas USBC Women's Bowling Association.... 972-274-4433

Dallas USBC Youth Association ....................... 972-475-5457

Denton County USBC Association ................... 972-360-6890

North Central USBC Association ...................... 817-385-8326

At Plano Super Bowl – Shana

Geerdes 212-608, Cordell Reedy 164-

423, Emma Johnson 89-235, Aidan

Hudson 146-404, Mya Murray 92-244,

Jacob Mix 137-459, Faith Kiefert 140-

343, Da'Shun Lucas 194-513, Katelyn

Elliston 143-404, D'Ontae Rhone

215-596, Jada Davis 192-533, Andrew

Williams 244-678, Kimmi Klein 191-

484, Christian Colwell 134-350, Hailey

Keister 153-449, Sean Cooley 186-439,

Katie Taylor 143-389, Eric Forinash

247-612, Rebecca Tumbry 208-468, R

J Grantham 238-530, Christie Draper

192-527, Andrew Williams 215-615,

Jill Helbig 229-522, Maddox Hatfield

(2 games) 86-143, Angie Hulkewicz

(2 games) 98-185.

At Red Bird Lanes – David Green

186-493, Kaylee Hancock 166-458,

Zackary McGlothin 119-214, Allura

Jules 96-169, Taylor McCaleb 156-389,

Mariah Frazier 86-198, Harrison Sharp

114-226, Amanda Eans 134-268.

At Strikz – Ryan Yablonsky 173-

466, Taylor Christopherson 126-320.
---
Sponsored by

Bowling Novelties at

bowlinggift.com

Bowling Combine to

be held August 6-10

ARLINGTON — The

Bowling Combine for College

Prospects has been a popular

program for youth bowlers and

collegiate coaches, filling to

capacity in each of its first two

years.

Applications for the 2013

Bowling Combine, which will

take place Aug. 6-10 at the

International Training and

Research Center in Arlington,

now are being accepted, and

another full house is expected.

The program was developed to

bring together youth bowlers,

who want to compete at the

collegiate level, and college

coaches, who are looking

for talented bowlers for their

programs.

At the Bowling Combine,

the Team USA coaching staff

evaluates the student-athletes

using the state-of-the-art tools

at the ITRC. Some of the skills

evaluated include shot repeatability

analysis, release ratio,

spare proficiency, breakpoint

management, vertical leap, and

balance test.

Bowlers receive an objective

analysis of their skills, including

a Performance Evaluation

Test (P.E.T.) score. The P.E.T.

score not only can be used to

compare all student-athletes

who have attended a Bowling

Combine, but the P.E.T score

can be used to compare bowlers

of all skills levels who have

gone through the evaluation

Lane Laughter

process at the ITRC, including

Team USA players such as

Chris Barnes, Tommy Jones

and Kelly Kulick.

"The bowlers have told

us the evaluation process is

a great experience, and they

leave knowing their strengths

and weaknesses," said Rod

Ross, ITRC and Team USA

Head Coach. "They also have

the opportunity to meet with

college coaches and learn what

coaches expect from their

collegiate bowlers."

Student-athletes who have

collegiate eligibility remaining,

and have completed at least

their sophomore year in high

school, can submit an application.

Space is limited, and the

application deadline is May 12.

Bowlers who attend will

receive a recruiting kit that includes

video shots, bowler variables

measured and a detailed

report of personal data collected

at the Bowling Combine.

Coaches attending the

Bowling Combine will receive

an evaluation of each bowler

and will have the opportunity

for one-on-one contact with

prospective student-athletes.

Coaches must register and attend

to receive the evaluations.

Athletes and college coaches

interested in the Bowling

Combine can visit BOWL.com/

combine or bowlingitrc.com

for more information and to

register.

xbowling becomes title sponsor

of Collegiate Championships

ARLINGTON — Mobile

sports challenge leader xbowling

has partnered with the

International Bowling Campus

to become the title sponsor

of college bowling's flagship

events starting this year.

The multi-year partnership

establishes new names for

two major championships -

the xbowling Intercollegiate

Team Championships and the

xbowling Intercollegiate Singles

Championships. Both events

will take place in Lincoln,

Neb., this April and the finals

will be broadcast on CBS

Sam Houston

State stays hot

The Sam Houston State

Bearkats won their 4th

tournament championship of

the season, defeating North

Carolina At&T to win the Underwood

Lady Bulldogs Classic

in Laurel, MD. The 4th ranked

Bearkats swept the Aggies 4-0

in the final match to claim the

victory.

SHSU was led by their outstanding

junior, Kimi Davidson

of Azel, TX, who placed second

in individual qualifying averaging

over 220. So far this season

she has 7 top 20's, 5 top ten's,

and two MVP's.

Mesquite - Week 8

Boys Varsity

1. Mesquite 7-1

2. North Mesquite 6-2

3. Poteet 6-2

4. Woodrow Wilson 5-3

5. Bishop Lynch 3-5

6. John Horn 1-7

7. West Mesquite 0-8

Girls Varsity

1. Woodrow Wilson 8-0

2. Bishop Lynch 7-1

3. Poteet 6-2

4. Mesquite 4-4

5. John Horn 2-6

6. North Mesquite 1-7

Boys Jr. Varsity

1. Bishop Lynch 8-0

2. Woodrow Wilson 5-3

3. Mesquite 0-8

4. Poteet 0-8

Girls Jr. Varsity

1. Woodrow Wilson 4-0

Garland - Week 8

Boys Varsity

1. Sachse 6-1

2. Rowlett 6-1

3. Lakeview 5-3

4. Rockwall Heath 3-4

5. South Garland 2-5

Girls Varsity

1. Sachse 7-0

2. Lakeview 7-1

3. Rowlett 3-3.

Boys Jr. Varsity

1. Sachse B 7-0

2. Sachse A 6-1

3. Rowlett 4-2

4. Lakeview 3-4

Girls Jr. Varsity

1. Sachse 7-0

2. Lakeview 2-1

THE BOWLING NEWS | Thursday, February 7, 2013 | Page 11

Sports Network.

"College bowling and

xbowling are a perfect fit," said

Chad Murphy, IBC Managing

Director of Youth Development.

"Marrying a technology

savvy young adult audience

with an industry leader in live

interactive bowling challenges

has great benefit for everyone

connected to the sport."

xbowling is a first-ofits-kind

bowling app that

empowers bowlers to connect

and compete using their smart

phone devices while bowling

within xbowling enabled centers

locally, across the country

and around the world.

"xbowling is incredibly

proud to be the title sponsor for

the Intercollegiate Team and

Singles Championships," said

Bruce Cox, Chief Operating

Officer of Sports Challenge

Network, the developer and

marketing company executing

on the vision of xbowling. "We

recognize the importance of

West Texas A&M University

BOWLING

You meet All Types at the

Int'l Bowling Museum & Hall of Fame

(near the Six Flags in Arlington)

All ages will enjoy the colorful,

5,000-year history of bowling. The

collection of historical artifacts and

interactive presentations is the

perfect outing for a family, school

group, or club. The Hall of Fame

section of the museum is a dynamic

venue that honors the legends g of

the game, past and present. The

museum is an interactive

experience designed for people of

all ages. Explore this exciting game

from the time of ancient Egypt

up until il the h very present.

youth bowling to the future of

the bowling industry and are

committed to supporting youth

bowling initiatives as a longterm

title sponsor of intercollegiate

competition."

The Intercollegiate Team

and Singles Championships are

the crown jewels of the college

bowling season, annually

honoring national champions.

By integrating xbowling into

the Championships, fans from

around the country will be able

to watch live real time scores

from the event on their mobile

devices, while participants in

the event will have access to a

unique mix of automatic stats

through their mobile devices.

In addition to the title

sponsorship of the collegiate

events, xbowling will be the

presenting sponsor of the

North Pointe Junior Gold

Survivor Tournament. That

event features bowlers who

did not advance in the North

Pointe Junior Gold Championships

presented by the brands

of Ebonite International in a

"second-chance" event.

For more information on

collegiate bowling, visit BOWL.

com/Collegiate.

BOWLING BUFFS…

West Texas A&M University

Office of Recreational Sports

WTAMU Box 60825

Canyon, TX 79016-0001

Mark Scroggins

Collegiate Bowling Coach

mscroggins@wtamu.edu

(806) 651-2334

621 Six Flags Drive, Arlington, TX 76011

Regular hours: 9:30-5:00 Tue-Sat

Contact us for Special Group Rates and Times

www.bowlingmuseum.com

info@bowlingmuseum.com

f b l

817-385-8215 or 817-385-8210
---
Page 12 | Thursday, February 7, 2013 | THE BOWLING NEWS

Dallas USBC WBA

Unofficial Final Standings

2013 Dallas City Championship Tournament

Senior Team, Senior Team Div. #5, Handicapped

Place Team name Score From

1 It's What We Do 2,719 Dallas, TX

2 Country Gals 2,683 Kaufman, TX

3 Lady Strikers 2,674 Cedar Hill, TX

Team, Team Div. #1, Handicapped

Place Team name Score From

1 Chaos 2,771 Rowlett, TX

2 4 - Play 2,715 Garland, TX

Team, Team Div. #2, Handicapped

Place Team name Score From

1 In The Pocket 2,694 Richardson, TX

2 Spare Change # 1 2,652 Corinth, TX

3 Christy's Fun Bunch 2,630 The Colony, TX

Team, Team Div. #3, Handicapped

Place Team name Score From

1 Dolls With Balls 2,717 Rowlett, TX

2 Left Out 2,669 Kaufman, TX

3 Diane & "The Little People" 2,642 Farmers Branch, TX

4 Rockwall Insurance.Com 2,617 Garland, TX

Team, Team Div. #4, Handicapped

Place Team name Score From

1 Dee #2 2,636 Irving, TX

2 Dee #1 2,603 Irving, TX

Doubles, Doubles Div. #1, Handicapped

Place Team name Score From

1 Franklin, Genie D / Charles, Sandi D 1,469 Ft. Worth, TX

2 Murr, Leisha K / Wasson, Lisa L 1,444 Ft. Worth, TX

3 Barnes, Elaine / Parker, Wanda Y 1,396 Garland, TX

Doubles, Doubles Div. # 2, Handicapped

Place Team name Score From

1 Smith, Carrie N / Baker, Janet L 1,449 Scurry, TX

2 Schirka, Deborah / Hauenstein, Debbie 1,404 Richardson, TX

3 Carger, Nichole R / Johnson, Sandra M 1,388 Corinth, TX

4 Edgett, Mary M / Large, Carolyn 1,382 Farmers Branch, TX

5 Wright, Beth A / McGinniss, Tracy A 1,378 Waco, TX

Doubles, Doubles Div. #3, Handicapped

Place Team name Score From

1 Rechenthin, Lu Lee / Amacker, Dee 1,366 Rowlett, TX

2 Perry, Dorothy (Creeper) R / Jackson, Yvette R 1,357 Midlothian, TX

3 Weissinger, Patsy C / Killebrew, Melissa L 1,355 Richardson, TX

3 Smith, Karol L / Martin, Paula K 1,355 Gun Barrel City, TX

5 Grisham, Sue / Goss, Ellen 1,342 Princeton, TX

Doubles, Doubles Div. #4, Handicapped

Place Team name Score From

1 Bates, Jane L / Vermeer, Nancy E 1,387 Rowlett, TX

1 Samuells, Marie N / Griffin, Margaret 'Peg" C 1,387 Richardson, TX

3 Pearce, Linda C / Ferguson, Elizabeth 1,373 Rowlett, TX

Singles, Singles Div. #1, Handicapped

Place Team name Score From

1 Wright, Beth A 754 Waco, TX

2 Charles, Sandi D 720 Ft. Worth, TX

3 Franklin, Genie D 715 Ft. Worth, TX

4 Locke, Julie A 704 Ft. Worth, TX

5 Barnes, Elaine 701 Garland, TX

Singles, Singles Div. # 2, Handicapped

Place Team name Score From

1 Dunn, Vicky J 779 Dallas, TX

2 Smith, Carrie N 741 Scurry, TX

3 Johnson, Sandra M 722 Corinth, TX

4 Hopkins, Pamela L 716 Cedar Hill, TX

5 McGinniss, Tracy A 713 Waco, TX

5 Ables, Lyn 713 Sunnyvale, TX

Singles, Singles Div. # 3, Handicapped

Place Team name Score From

1 Speaks, Lesley A 747 Desoto, TX

2 Amacker, Dee 724 Rowlett, TX

3 Cleveland, Glenda M 718 Grand Prairie, TX

4 Hill, Felecia R 713 Irving, TX

5 Stidom, Delois M 709 Forney, TX

6 Sanders, Cathy L 708 Grand Prairie, TX

Singles, Singles Div. #4, Handicapped

Place Team name Score From

1 Mattfield, Connie A 779 Flower Mound, TX

2 Hiam, Catherine A 738 Irving, TX

3 Vermeer, Nancy E 722 Rowlett, TX

4 Weatherford, Randy 718 Irving, TX

All Events, All Events Div. #1, Handicapped

Place Team name Score From

1 Rogers, Michelle R 2,152 Rowlett, TX

2 Baker, Janet L 2,117 Scurry, TX

3 Sposito, Cathy 2,107 Dallas, TX

4 Charles, Sandi D 2,097 Ft. Worth, TX

All Events, All Events Div. #2, Handicapped

Place Team name Score From

1 Johnson, Sandra M 2,121 Corinth, TX

2 Brest, M. Renee 2,111 Garland, TX

3 Large, Carolyn 2,074 Farmers Branch, TX

4 Sommers, Dejar L 2,050 Dallas, TX

5 McGinniss, Tracy A 2,036 Waco, TX

All Events, All Events Div. #3, Handicapped

Place Team name Score From

1 Diggs-Fite, Sherri D 2,069 Rockwall, TX

2 Hartwick, Lisa D 2,043 Garland, TX

3 Brown, Diane 2,037 Farmers Branch, TX

4 Guidry, Cindy D 2,032 Farmers Branch, TX

5 Gipson, Michelle R 2,007 Garland, TX

8 for 8 adult

program introduced

For first-time adult bowlers

ARLINGTON, Texas —

Strike Ten Entertainment

(STE), together with the

Bowling Proprietors' Association

of America (BPAA) and

the United States Bowling

Congress (USBC),

announced a

new introductory

league program

designed exclusively

for firsttime

adult bowlers. The Adult 8

For 8 league program is similar

to the successful Youth 8 For

8 league that recently ended

and has been successfully used

in a number of BPAA member

centers who report flooring

thousands of new, adult league

bowlers.

The new 8 For 8 program is

available exclusively for BPAA

and STE member centers and is

designed to reach a target audience

of first-time adult bowlers.

Dallas USBC WBA City Tournament

The program is scheduled to

run February 1 through April

30.

"This is an encore of the

successful Youth 8 For 8

program that recently ended,"

said Frank DeSocio

of Strike Ten

Entertainment.

"To build on that

success, we designed

a similar program

for adults to experience the fun

of bowling league for the first

time at a great value. Bowlers

get 8 weeks of bowling at a

price of $8 per week. At the

end of the league, each bowler

will receive a new polyester

ball thanks to our industry

partners Brunswick, Columbia

300 and Ebonite."

In addition to the ball, bowlers

also receive FREE USBC

"Club Membership" which

provided benefits including

Team Div. #1 winning team "Chaos", from left, Danielle Sellers,

Sammye Ragland, Jennifer Hayes and Michelle Rogers.

All Events, All Events Div. #4, Handicapped

Place Team name Score From

1 Mattfield, Connie A 2,218 Flower Mound, TX

2 Vermeer, Nancy E 2,115 Rowlett, TX

3 Hiam, Catherine A 2,113 Irving, TX Doubles Div. #1 winners, Genie Franklin and Sandi Charles.

a certified USBC average, a

printable USBC membership

card, and access to the USBC

Member Rewards program.

Proprietors who sign up for

the program get an activation

kit with everything needed

to start: a Standee, 6 posters,

counter card, 250 customizable

sales flyers and a "How-To"

marketing guide.

For more information

about the 8 For 8 program,

log onto the website at

www.8For8Bowling.com where

you can get all the details and

download an order form. To

order your kit, contact Toby

Brown at 800-871-7869, ext.

8444 or ask for your Strike Ten

account representative.

John Davis

passes

John Davis

John Davis, the founder of

the Kegel Company, who died

unexpectedly at age 64 on Jan.

27 of an apparent heart attack,

was an industry icon.

He was a visionary and

pioneer in the creation of bowling

products and services that

promote fair competition on a

consistent playing field.

He also was passionate

about bowling's history and

was proud to serve as a trustee

on the International Bowling

Museum & Hall of Fame board.

Therefore, the family and

the Kegel Company request, in

lieu of flowers, that donations

be made to the John Davis

Historical Preservation Memorial

- a newly created fund

benefiting the IBM/HF.

One-hundred percent of the

proceeds will be applied to the

preservation, organization and

research of historical bowling

documents and artifacts. Please

send donations to the IBM/HF,

621 Six FlagsDrive, Arlington,

TX 76011, or on-line at www.

bowlingmuseum.com
---
10 YEARS AGO

Tres Pesta led the honor roll with 824 at Terrell…Jason

Tidwell shot 798 at Diamond…Robert Robinson rolled 789 at

Big Town…the electric Pete Thomas with 780 at 66 Bowl…

Dani Sellers led the ladies with

738 at BRC Westcreek…Ausie

Burns shot 731 at Diamond…

Last Call Leisha with 300/727

at DC Cityview, why can't you

shoot that today…Lisa Lea was

high at DC West with 710…One

of my top ten favorite people on

earth, Lonnie Waliczek wins his

first PBA national title beating

Patrick Allen in Las Vegas. I

still remember exactly where I

was when that happened. Hammering

the refresh button on the

website to see if he would finally

win, and he did 260-246…Phil

Kepner a 300 at DC West, was it

the Sumo?...Scott Savant a 300

game at Western Bowl, he could

bowl a little...And to close the

week a picture of Lonnie W. and

Daughter Olivia.

Lonnie Waliczek and

Daughter Olivia.

20 YEARS AGO

John Mazza wins the PBA True Value Open, but Ron Williams

retains "king" title for the fourth straight week…Steve Drenser

led the honor roll with 300/826 at Red Bird, I never could figure

out how he could break 200…Chuck Mooney with 814 at Grove

Country…Tony Thayer shot 772 at Showplace-Garland…Kat

LeCroy led the ladies with 721 at DC FW…Sherry Osier with 715

at DC FW…Jocelle Sutton shot 690 at Grove Country…Sheri Pugh

rolled 683 at Westcreek…Cliff

Adair joins AMF Century International…Chuck

Boyer wins

Tour event at DC West…Jerry

Eason a 300 game at Ridglea…

Terry Hadley a 682 at Richland,

does anyone know where he

is these days…Bea Maddox

wins Tour title at DC East…

Anne Marie-Duggan beats Lisa

Wagner for Claremore LPBT

title…Tony Franklin and Debbye

Berry, that's right, me and

Deb, won the 7th Annual Red

River Mixed Doubles event,

beating CDB and Paul Fleming

by over 200 pins, I bet Flem

wasn't too happy about that…

Julie Locke

Look at this young doll on the

front page, 15-yr-old Julie Locke with her 300 ball.

30 YEARS AGO

John Anderson led the honor roll with a triple 7, 777 series at

Ridglea Bowl…JJ Lamar shot 764 at Buckner Bowl…James Lecroy

with 743 at Meadowbrook Lanes…Evan Tinney rolled 300/743

at Jupiter…DeDe Farmer led the ladies with 708 at Wedgwood…

Tonjah Outlaw rolled 698 at Fiesta Lanes…Leila Moore with 678

at Meadowbrook…Guppy Troup wins PBA Quaker State Open

over Ted Hannahs…Andy Warren wins $1000 for ACBA title at

Big Town…Cliff Kirby with BBA title at Hart…Tony Ciofani wins

$1000 for TTBA title at Hart.

"The quickest and best

way to reach people

in bowling–"

Call us for more

information.

817-267-8686

Our 56th Year

BROOKLYN STyLES Top

New York City WTT KingPins

to Win PBA League Debut on

ESPN

Reigning PBA Player of

the Year Sean Rash clinches

victory with two strikes in 10th

frame

ALLEN PARK, Mich. (Jan.

27, 2013) – Reigning Professional

Bowlers Association

Player of the Year Sean Rash

threw two strikes in the 10th

frame to clinch a 225-215 victory

for his BROOKLYN STyLES

team over the New York City

WTT KingPins in the debut of

PBA League team bowling on

ESPN Sunday at Thunderbowl

Lanes.

The STyLES, owned by

Grey's Anatomy actor Jesse

Williams, held a two-pin lead

heading into the 10th frame.

After KingPins' anchor bowler

Pete Weber struck and spared

in his half of the 10th frame,

Rash answered with two

strikes to lock up the win.

"It's a great feeling winning

by yourself, but winning as

a team never gets old," said

Rash, who served as franchise

player for his team and drafted

an all-star lineup that included

PBA Hall of Famer Walter Ray

Williams Jr., veteran Tour

champion Ryan Shafer, and

promising young players Ryan

Ciminelli and Jason Sterner.

"Every single teammate

gave me positive feedback, said

they had all the confidence in

the world," Rash said. "Ciminelli

told me to throw a good

shot; I told him I was going to

throw the same shot I threw at

him to win the Tournament of

Champions last year.

"All five of our guys are

great players. All of us can

throw strikes when we need

to," Rash added. "It shows

my picks were pretty good. I

picked up a team I knew would

never give up, a team that

would be competitively ready

and guys who can get along.

In team sports, everyone has to

jell and that's what we had."

Sunday's win gave the

STyLES 18 points in the race

for the top five positions for

the end-of-season PBA League

Elias Cup finals. Owner Billie

Jean King's KingPins earned 12

points as runners-up.

Sunday's PBA League round

included the top five of eight

five-player teams that had

qualified over a span of four

days and 32 team games on

four different lane conditions

as part of the PBA Detroit

Winter Swing at Thunderbowl

Lanes.

In the semifinal match, the

KingPins and Jerome Bettis'

Motown Muscle threw matching

strikes and spares through

five frames before the KingPins

took the lead behind strikes by

Tommy Jones and Jack Jurek.

Open frames by Tom Smallwood

and Mike Fagan in the

eighth and ninth frames put

THE BOWLING NEWS | Thursday, February 7, 2013 | Page 13

Brooklyn STyLES top New York City

WTT KingPins to win PBA League debut

Motown in a hole it couldn't

escape. The KingPins advanced

to the title contest, 226-191

In the second match,

Motown anchor bowler Mike

Scroggins threw three strikes

in the 10th frame to extend his

team's string to five in a row,

erasing a 14-pin deficit and

forcing Strikers' anchor Rhino

Page to strike on his first shot

in the 10th for a chance to win.

Page, however, left the 4-6-7-9

split and the Muscle advanced

with a 214-194 win.

In the opening match, the

Strikers roared out of the gate

with six consecutive strikes

while the Silver Lake Atom

Splitters, owned by comedian

Chris Hardwick, didn't have

a strike until Josh Blanchard

threw one in the eighth frame.

Terrell Owens' Dallas-based

team easily moved on with a

near-perfect 278-171 victory.

The Detroit Winter swing

included five rounds of PBA

League competition, with points

awarded after each round. The

top four teams after five rounds

will advance to the Elias Cup

finals, named in honor of PBA

founder Eddie Elias, which

will be conducted March 31 at

Woodland Bowl in Indianapolis

as part of PBA Tournament of

Champions week.

PBA League preliminary

rounds continue on ESPN next

Sunday with coverage of the

Chris Paul PBA All-Stars at 4

p.m. ET.

PBA LEAGUE THUNDERBOWL

ROUND FINALS

Thunderbowl Lanes, Allen Park, Mich., Jan. 27

Brooklyn STyLES

New York City WTT KingPins

PBA LLC Photo

PBA LLC Photo

Championship (Baker team format)

BROOKLYN STyLES (Walter Ray Williams Jr.,

Ryan Shafer, Ryan Ciminelli, Jason Sterner,

Sean Rash) def.

New York City WTT KingPins (Tommy Jones,

Jack Jurek, John Szczerbinski, Scott Norton,

Pete Weber), 225-215.

Semifinal Match

New York City WTT KingPins def. Motown

Muscle (Ronnie Russell, Jesse Buss, Tom

Smallwood, Mike Fagan, Mike Scroggins),

226-191.

Match Two

Motown Muscle def. Dallas Strikers (Bryon

Smith, Amleto Monacelli, Mike Machuga,

Norm Duke, Rhino Page), 214-194.

Match One

Dallas Strikers def. Silver Lake Atom Splitters

(Chris Barnes, Stuart Williams, Nathan Bohr,

Josh Blanchard, Dom Barrett), 278-171.

PBA LEAGUE ELIAS CUP

POINTS STANDINGS

(after one of five rounds)

1, BROOKLYN STyLES (owner Jesse Williams),

18 points.

2, New York City WTT KingPins (owner Billie

Jean King), 12.

3, Motown Muscle (owner Jerome Bettis), 9.

4, Dallas Strikers (owner Terrell Owens), 8.

5, Silver Lake Atom Splitters (owner Chris

Hardwick), 6.

6, L.A. X (owner Chris Paul), 5.

7, Philadelphia Hitmen (owner Kevin Hart), 3.

8, Pittsburgh Jack Rabbits (owner LaMarr

Woodley), 2.

MAILBAG

Continued from Page 2

wanted to bowl, you could AL-

WAYS find someone to put up

the money. Over the last decade,

those guys have disappeared.

The young up and comers had

trouble finding the money to

get the experience. With that

being said, I think that is slowly

changing. The young talent is

bowling more now, and that's

because they are finding some

backers. That's my view.

Tony Franklin
---
Page 14 | Thursday, February 7, 2013 | THE BOWLING NEWS

BOWLER FRIENDLY PRO SHOPS & OTHER SERVICES

Giving You The

Power To Perform

Susie Minshew

USOC Bowling

Coach of the Year

(800) 346-3648

FAX 817-783-6010

strikeability@gmail.com

www.strikeability.com

PRO SHOP

1114 S. Main

Duncanville, Texas

Phone 972-298-7143

Jeff Cathey, Manager

JAMES ASKINS

Owner

MAURY NEWMAN

MATT HOYT

BRETT BOLEJACK

INSIDE AMF SHOWPLACE LANES

1901 W. Airport Freeway

Euless, TX 76040

(817) 571-1174

JORDAN VANOVER

INSIDE STATE LANES

5707 State Street

Saginaw, MI 48603

(989) 220-4064

Working Hard

for Your Success

YOUR NEIGHBORHOOD PRO SHOP

INSIDE ROWLETT BOWL-A-RAMA

Anthony Lavery-Spahr

5021 Lakeview Parkway

Rowlett, TX 75088

(972) 475-7080

INSIDE UNIVERSITY LANES

Geoff Martin

1212 E. University Drive

Denton, TX 76209

(940) 808-1622

INSIDE PLANO SUPER BOWL

A. Mark Plagens

Chris Castro

2521 Avenue K

Plano, TX 75074

(972) 881-0242

(inside AMF DeSoto Lanes & AMF Spare Time Lanes)

UpYourAlley

Andrew Lowy

Russell Corwin

Cody Carlton

uyaproshop@yahoo.com

Billy DeCicco

817-875-6488

AMF Spare Time Lanes

3149 S. Cooper

Arlington, TX 76015

817-465-4997

AMF Desoto Lanes

121 Northgate Dr.

DeSoto, TX 75115

972-780-8090

Kirk Wright

469-867-2770

Lessons available by appointment

Carolyn Dorin-Ballard & Del Ballard, Owners

Located inside

Brunswick Zone Watauga

7301 Rufe Snow

Watauga, TX 76148

Phone: 817-485-2695

Brunswick Westcreek Lanes

3025 Altamesa Blvd.

Fort Worth, TX 76133

Phone: 817-294-0501

Cowtown Bowling Palace

4333 River Oaks Blvd.

Fort Worth, TX 76114

Phone: 817-624-2151

Derrick Lott

Brian English

Rudy Garcia Jr.

Taylor Coggins

Xeno Garcia

Dillon Coggins

Fastrack Pro Shop

Located Inside Allen Bowl

1011 S. Greenville Ave

Allen, Texas 75002

Phone: 214-509-9274

E-mail: coachkg58@yahoo.com

www.fastrackproshop.com

Chad Newman - Owner

chad@chadsbowlingshop.com

Rene Benavides

Kurt Gengelbach, Owner

Member, Professional Bowlers Association

Member, Storm and Turbo Advisory Staffs

Private Instructions Available

"Old School" Service Always Available

(Located inside AMF Richardson Lanes)

2101 N. Central Expressway

Richardson, TX 75080

972.231.2695
---
The "IT" Factor,

Do You Have It?

By Xeno Garcia

When I was a teenager I

started looking at this game in

a different light. I would watch

the PBA telecasts and dream of

becoming the next superstar on

tour. There was nothing about

the spotlight that didn't appeal

to me. I wanted the fame, I

wanted the money, but most of

all, I wanted the feeling of being

the very best at what I did.

I've been a fan of talent since

I can remember. I'm in awe of

anyone that can do something

better than anyone else in the

world.

It started by watching other

sports. The first was Michael

Jordan and his dominance

in the NBA, then Mike Tyson

and his almost superhuman

strength in the ring. Years

later, it was Tiger Woods and

his unbelievable runs. These

are men that were competing

against other players that were

considered "professionals"

and making them look like

complete amateurs by comparison.

It took me a few years of

watching to appreciate their

superior talent.

Believe it or not, I'm a big

fan of tennis also. Steffi Graf is

an all-time great in the world

of tennis; from 1987 to 1999

she won 22 grand slams titles.

That means of the 48 possible

major titles, she won 22 of

Tyson Branigan blasted out

a booming 279-267-237 = 783

Monday Nite Men's series to

claim top honors last week at

AMF Lewisville Lanes.

Jeannette Verrelli registered

a sizzling 248-223-247 = 718

Rising Stars set to win the highset

race for the ladies.

HONOR ROLL

Laney Royal 289-750, Amy Anderson

191-544, Bob Bottorf 254-656, Dana

Stites 247-599, Van Stevens 230-657,

Kim Laurita 236-598, Justin Adair

277-683, Stacie Hatton 225-599, Chris

Joffrion 256-749.

them. She

was a freak

of the game,

and I mean that in the best

of ways. In that 12 year span

of competing on the Women's

Tennis Pro tour, she had no

match on the court. It's a very

impressive career considering

everyone she competed against

had a group of coaches to help

them slow her down. Nothing

worked.

So why is she so much

better? Yeah I'm sure she

practiced,... but so did her

competitors. I'm sure she

had coaches,... but so did her

competitors. So then what is

it? I listen to sports radio on a

daily basis and they refer to it

as the "It" factor. "It" factor is

the ability for an athlete to will

themselves into a win. After

several years of watching competitive

bowling, you start to

recognize the players that have

it. It can't be taught or coached,

but I do believe even if someone

isn't necessarily born with

it, that it can be developed over

time. Experience helps.

There are several players

in bowling that are fun to

watch for this very reason.

It's what drove me into the

competitive side of the game.

I always wanted to be "That

Guy." There is no better feeling

At AMF Lewisville

Branigan masters 783,

Verrelli nails 718 At AMF DeSoto

Kathy Kyle 220-625, Rita Smith

213-612, Henry Honore 239-650, Marcia

Lord 210-570, Kris Dennis 267-729, Sabina

DeBord 275-702, Robert LeBaube

237-635, Mary Barton 203-544, Diane

Scalley 179-510. Travis Lux 258-738,

Phil Bender 278-738, Dana Stites 214-

614, Gary Kluempke 246-568, Chris

Hettenbach 205-518, Cornelius Cavitt

256-646, Carol Leis 169-474, Wayne

Crosswy 223-608.

Kris Myers 165-441, Joe Lay 262-

669, Roneshia Williams 193-562.

SENIORS

Ace Darby 214-581, Carol Leis

200-562

BOWLER FRIENDLY

PRO SHOPS & SERVICES

THE BOWLING NEWS | Thursday, February 7, 2013 | Page 15

New York's Doug Kent, Baltimore's Danny

Wiseman elected to PBA Hall of Fame

Induction ceremonies set for March 30 in Indianapolis during PBA Tournament of Champions Week

SEATTLE — Doug Kent of

Newark, N.Y., the winner of 10

Professional Bowlers Association

Tour titles including four

major championships, and

Danny Wiseman of Baltimore,

a 12-time Tour winner with

one major, have been elected

to the PBA Hall of Fame, PBA

Commissioner Tom Clark

than overcoming adversity and

being the victor. Every day of

competition is a new challenge

and we all want to overcome

that obstacle. The obstacle

that plagues us, that goal that

eludes us. We continue on until

we breakthrough and prove it

to ourselves.

In the championship match

of the 2011 US Open, Norm

Duke gave us one of the best

clinics in a championship

match that I can ever remember.

It's a match I still watch

on YouTube, even today, just to

give me a bit of inspiration. It

reminds me of why I continue

putting myself thru this grind

of practicing and problem

solving, these tournament

conditions. Two years after

Norm won, Pete Weber gave

us what some consider to be

the best clutch performance on

television; he threw a perfect

shot to win his 5th US Open

title. I still watch that one too

because like him or hate him,

Pete Weber has that "It" factor

we all strive for each and every

week.

Miller levels

772, Pride

jams 648

Mike Miller claimed highseries

honors for the week at AMF

DeSoto Lanes with power-packed

259-256-257 = 772 marks in the

Pushovers league action.

Stacey Pride led the ladies

with a top-notch 244-217-187 =

648 DeSoto Classic set.

HONOR ROLL

Matt Lawrence 236-650, Lucy

Chism 183-488, Ken Washington

289-751, Dorothea Wilson 243-640,

Steve Ford 234-655, Dellie Bolton

200-538, Chuck Mooney 206-538, Joyce

Thurman 215-576.

Bam Pride 267-749, Leritha Pride

211-598, Jason Colton 244-631, Joyce

Thurman 205-565, James Reddish

219-610, Jerry L Gibson 211-586, Bam

Pride 247-704. Wendy Jones 247-614.

Aric Alcaraz 255-711, Wendy Kent

222-635.

SENIORS

James Bridges 214-590, Helen

Shelton 176-489, Willie Pearse 195-540,

Billie Bradley 174-503.

announced Friday.

Kent and Wiseman will be

inducted during the PBA's Hall

of Fame dinner on Saturday,

March 30, in Indianapolis as

part of PBA Tournament of

Champions week.

No candidate on the Meritorious

Service or PBA50 Tour

ballots received the required

two-thirds majority of votes

cast needed for election.

Kent and Wiseman have had

remarkably similar careers.

Wiseman, 45, joined the PBA

in 1987 and has earned just

over $1.55 million. Kent, also

45, joined the PBA in 1988

and has earned just over $1.51

million during his career. In

the voting for the 50 Greatest

Players in PBA History during

the organization's 50th anniversary

celebration in 2009,

Wiseman was ranked 42nd and

Kent 43rd.

Kent, the winner of six

standard PBA Tour titles, has

the upper hand in major titles.

He won the 1991 United States

Bowling Congress Masters for

his first title, added the 2002

PBA World Championship, and

won both the USBC Masters

and Denny's PBA World

Championship in 2006 on his

way to earning Chris Schenkel

PBA Player of the Year honors.

He is one of only nine players

ever to win two major titles in

the same season.

"I got the call from Tom

Clark and it was nice. Very

good news," Kent said, who is

operating two bowling centers

in his retirement from PBA

Tour competition. "I'm very

satisfied with everything I

accomplished. It was a lot more

than I ever expected. When

you're a young player, you

never know what's going to

happen. You just hope to get

better and be competitive.

"Winning the Masters in

1991 was a big confidence

booster," he added. "It kind of

proved that you can do it. But

the main thing that creates

longevity is being a student

and keeping pace with the

never-ending changes you have

to make to get better."

Kent's best season was

2006-07, but a season that

almost didn't happen, he said.

"It was kind of a strange

thing. When I won the Masters

the second time, it was kind

of near the end of my career. I

was ready to be done. During

the second block of qualifying,

I got off to a bad start and

called my wife, and told her I'd

had enough, that I was ready

to come home, and I wound

up winning the tournament. It

was very strange.

"And a very similar conversation

took place during the

(2006) World Championship,

which I won the second time.

You never know when things

Continued on Page 19

FREE

BOWLING!

Every Monday

thru Friday

11 am until 2 pm

Just join our VIP Club!

Join for FREE at www.shenaniganz.com

M

from

$5 99

Shenaniganz.com

Eastbound I-30 Service Road and Hwy 205

Rockwall, TX 75087
---
Page 16 | Thursday, February 7, 2013 | THE BOWLING NEWS

The being tuned in NMW

Seems like this is one of the

more difficult NMWs. When I

say tuned in, I don't mean to

ball reaction. Watching ball

reaction has its own NMW.

Being tuned in means you

need to be aware of you – on

LONGVIEW, TX – Rod Bach

compiled a top flight 278/786 Oil

league set to gain the top spot on

the honor roll last month at Oil

Bowl Lanes.

Celeste Fears led the ladies'

high-set chart after registering a

sizzling 247/695 Tuesday Mega

Bucks series.

Quintin White garnered highgame

honors with an awardwinning

12-bagger. Jimmy

Marler's near perfect 299 solo

took runner-up honors while

Billy Holler and Luke Pasche fell

a few pins short with 298 singles.

HONOR ROLL

Byron Johnson 258-752, Charlie

Hoot 266-737, Allen Waits 258-733, Phil

Mercer 257-728, Ed Duffee 222-618,

Barry Marett 224-601, Pete Staiti 211-

559, Monia O'Quinn 194-533, Wanda

Hitt 192-514.

constant calm alert.

You should be aware of

what is happening with your

body and its energy levels as

well as any nuances of your

physical game. You should

know what foods give you a

quick boost of energy, which

At Oil Bowl Lanes

Bach bags 786,

Fears fires 695

White 300, Marler 299, Holler, Pasche 298

Sue Waits 201-493, Jerry Fears

280-772, Chris Cranford 279-761, Billy

Holler 759, Daniel Adams 279-753,

Quintin White 741, Ashley Adams

279-694, Jenny Norris 223, Richard

Alexander 279-726.

Ed Duffee 289-706, Irvin Wallace

258-703, Carol Shelton 200-551, Cheryl

Wade 189-534, Jeff Bradshaw 235-671,

Jeff Alexander 234-670, Ricky Bodvisky

226-651, Julie Bonner 202-539.

Sheila Guthrie 186-477, Tommy

Cureton 276-755, Terry Dixon 267-715,

Kelly Bunt 223-552, Cheyanna Flores

236-609, Celeste Fears 570, Ken Messer

279-742, Billy Fourman 277-718, Ty

Tiner 278-703.

Roy Pasche 289-702, Ashley Adams

243-697, Karen Mantz 270-695, Misty

McKinley 226-608, Kim Fourman

221-596, Stephanie Mills 265-681,

Joane Kendricks 267-616, Rita Jackson

220-577.

Oil Bowl Lanes

1102 W. Cotton St., Longview, TX 75604

Telephone: 903-758-9961

give you long-lasting energy,

which make you foggy, and

which make you mentally

sharp. I'm not a nutritionist

and don't pretend to be. If I eat

before I bowl and I'm sluggish,

I notice. If I don't eat and I

can't concentrate, I notice.

There's got to be a happy

medium here somewhere. So, I

studied it a bit.

Complex carbs like cereals or

pasta give long-lasting energy.

Simple sugars give a quick hit.

I'm not interested in a quick

high at 2:00 PM that gives me

a bigger crash at 3:30 than the

low feeling that prompted me

to eat the candy bar at 2:00!

It's not hard to learn this stuff

and there's a lot of information

available about it.

I cannot say enough good

things about water. It is, in my

opinion, the best thing you can

drink when you're competing.

Hydration is very important

to your physical and mental

sharpness. It really helps keep

your head clear. Thirst while

you're competing is a sign

of dehydration. When you're

dehydrated, strength and endurance

are affected. You can't

stay focused and will find it

difficult to concentrate. Drink

lots of water! If you perspire a

lot, replace that loss with sport

drinks.

Check the fit of every ball

you brought in the building

every time you bowl. You are

different today than you were

CASTRO IS DRILLING

Continued from Page 1

sanctioned bowlers. Every year

players travel cross-country

to compete in four events;

team, doubles, singles and

all-events. Bowlers compete in

two separate divisions based on

skill level: the Regular Division

for those averaging above 180,

and the Classified Division

for those who average 180 or

below. Prize money is awarded

in each event, but the ultimate

prize is the Eagle, awarded to

each of the four champions in

each event.

The stadium has several

bowling ball vendors within

the facility offering the latest in

balls, bag, shoes and accessories.

Castro will be on hand

to work closely with this year's

competitors; helping them

match up to the tournament's

challenging conditions. "I love

when my customer's tell me

about all the success their having

with the equipment I drill

for them." He said. "Helping

bowler's achieve their goals is

why I love my job."

He will be leaving in late

February and will stay in Reno,

Nevada until the final ball of

competition is thrown on July

6th, 2013. He said he is excited

about the opportunity and

is looking forward to seeing

everyone walk thru his doors.

yesterday. The ball feels one

way when you put your thumb

in and out and entirely differently

when you're swinging

it. So, be sure that you swing

Results from Oil Bowl in Longview

Charlie Payne Memorial

Handicap Doubles 2013

The Charlie Payne Memorial

Handicap Doubles tournament

was held at Oil Bowl in

Longview, TX on January 26

and 27.

Listed below are the top 10

finishers and honor scores shot.

First Place $1000: 1585 Chris Warner & Tiger

Stovall

Second Place $700: 1565 Ira Johnson & Lula

Johnson

Third Place $500: 1535 Zach Mills & Cheyanna

Flores

Fourth Place $300: 1509 Daniel Adams & Clint

Straitwell

At Terrell

English racks up 758,

Massey mints 600

TERRELL – Frank English

took top honors for the month

at Terrell Bowling Center with

a power-packed 213-268-277 =

758 Terrell Classic series.

Lisa Massey, from the Monday

Night Mixed group, drilled a

sturdy 212-226-162 = 600 set to

front fem scoring.

HONOR ROLL

Janet Newkirk 213-565, Bobby

Holley 259-702, Joyce Williams 185-

545, Herman Butler 244-686, Gloria

the ball back and forth several

times. You don't want the first

time your shoulder feels the

weight of the ball to be when

you really mean it.

Fifth Place $250: 1503 Matt Akin & Johnny Crum

Sixth Place $200: 1469 Jerry Peninger & Chris

Ray

Seventh Place $150: 1462 Alberto Aguilar &

Ladislao Aguilar

Eighth Place $130: 1454 Billy Holler & Luke

Pasche

Ninth Place $120: 1449 Kyle Ford & Johnny

Griffin

Tenth Place $110: 1440 Carrie Mendoza &

Payton Pruett

Total of 174 entries and paid the Top 35 teams.

Some highlights:

Daniel Adams – 299, Chris Cranford – 300, Ira

Johnson – 300, 278, 245 = 823

Daniel Adams and Clint Straitwell had High

Scratch series with 1509

Lewis 190-510, Mark Blasius 269-728,

Toy Callahan 200-569, Ricky Campbell

269-740.

Amanda Harrison 226-543, Donald

Davis Jr. 269-739, Phillip Earnheart

257-707, Pat Cooper 186-522, Ricky

Bambico, Jr. 242-696, Ben Riddle

209-573, James Korn 257-694, Shirley

Barker 203-537.

Rad Quarrington 278-697, Terri

Cooper 205-554, Keith Potter 259-749,

Jason Hill 237-643, John Wilson 289-

651, Mark Blasius 247-703.

48th Terrell Invitational Bowlers Entries

Available Now! www.terrellinvitational.com

$1.50 Game

Special

Monday thru Thursday 2 PM - 5 PM

Fridays—3 PM - 5 PM

TERRELL BOWLING CENTER

ONLY 15 MILES EAST OF MESQUITE ON HWY. 80

2500 W. MOORE, TERRELL, TX 75160

(972) 524-0820
---
Michael Haugen Jr. to face

Scott Norton for PBA Mark

Roth Classic title

Smallwood helps Motown

Muscle claim top team berth in

PBA League qualifying round

ALLEN PARK, Mich. —

Michael Haugen Jr. of Carefree,

Ariz., who won both of his

Professional Bowlers Association

Tour titles in 2008, will

get a chance to end his nearly

five-year dry spell when he

meets Scott Norton of Mission

Viejo, Calif., in the Mark Roth

Classic championship match.

Haugen, after qualifying for

the Roth Classic match play

finals in fifth place earlier

Wednesday at Thunderbowl

Lanes in Detroit, won seven

of his nine match games, tied

another, and averaged 241.94

over a span of 17 games to

finish with 4,338 total pins, 114

pins ahead of Norton. Norton,

who won his second career

BIG SPRING, TX – Eddie

Gonzales, Jr. headed the scoring

charts for the month at Big Spring

Bowl-A-Rama by compiling a

superb 242-245-278 = 765 Men's

Caprock outing.

Irene Jackson's sparkling 199-

196-176 = 571 Wednesday Nite

Trio set paced the ladies.

HONOR ROLL

Chris Munoz 275-727, Charlie

Campbell 248-724, Brent Newton 255-

718, Philip Ringener 264-712, Michael

Leuschner 255-704, Gary Kelley 279-

690, Michael Rowden 279-686, John

Dodd 245-686.

Jared Ringener 235-685, Richard

At Pin Center Bowl

Cox banks 710

CLEBURNE – Steven Cox

won the battle last month for

top billing at Pin Center Bowl

with outstanding 224-237-249

= 710 numbers in Whenever

league play.

Debbie Lee booked a banner

218-141-230 = 589 Monday Blues

set to earn fem scoring laurels.

HONOR ROLL

Tim Dempsey 256-651, Kathy

McGonnagil 211-534, David White 244-

662, Stacie Parrish 212-582, Richard

Diggs 244-674, Debbie Lee 230-589,

Danny Bergman 263-666, Stella Bruce

208-535.

Doug Kahanek 254-667, Stella Bruce

title earlier this season in the

PBA Chameleon Open, overtook

reigning PBA Player of the Year

Sean Rash of Montgomery, Ill.,

by 32 pins in the final game.

"It's been too long. There

are two guys on the show and

135 guys who tried to get there,

so the odds weren't too good,"

Haugen said. "I didn't bowl well

Tuesday. Today I made some

changes, and I did what I needed

to do. It's been too long. You

don't forget how to win, but we'll

see what happens. If (Norton)

beats me, it's not going to be

because I gave him the title. He's

going to have to earn it.

"I came out this year as a

free agent (without a bowling

ball manufacturers' contract),

but to be honest, the most motivation

I had was not getting

drafted in the PBA League. I

had the credentials; I can bowl

in this building, but for what-

At Big Spring Bowl-A-Rama

Gonzales, Jr. grabs 765

Rowden 233-679, Sam Gonzales, Sr.

243-673, Mike Holt 251-668, Tony

Saldana 266-657, Jackie Lecroy 244-

657, Luis Davila 230-655, Alice Ewing

202-562.

Teri Woolverton 224-561, Shauna

White 210-550, Kay Beeler 204-547,

Annette Hopper 215-545, Mary Lou

Saldana 204-542, Tammy Newton

190-537, Julie Bass 201-535, Mary Lou

Saldana 182-531.

Jeanne Ellis 208-518, Veronica

Schroyer 218-512, Sheila Armstrong

191-504, Cindy Loveless 177-491,

Melissa Rogers 172-491, Diane Ewing

190-488.

196-547, Dave Clark 288-677, Selena

Hernandez 225-531, Ronnie Rurak

258-683, Frances Boase 216-561, Jackie

Jones 219-614, Stacie Parrish 214-534.

Steven Cox 269-662, Rob Sandefur

232-594, Kathy McGonnagil 174-495,

Joey Hyde 265-678, Bobby Martindale

238-688, Becky Lee 194-549.

Pat Hogan (2 games) 207-342,

Rebekah Anthony (2 games) 158-311.

SENIORS

Bill Barber 218-578, Chong Ketcham

162-483, Bill Barber 235-680, Rhonda

Hammond 196-502, Robert Spurlock

235-601, Ila Reed 168-476, Larry

Ketcham 223-613, Loou Stanley

187-500.

ever reason, I got overlooked,

so the best way to show them

was to get on the television

show. That was my plan.

"It's very difficult to be one

of two guys to make it to television,

but I've gotta tell you, it

feels sweet."

The Mark Roth Classic

championship match, along

with the Roth PBA League

team stepladder finals, will be

contested on Saturday at 3:30

p.m. ET at Thunderbowl Lanes.

The finals will air on ESPN on

Sunday, Feb. 17, at 3 p.m. ET.

Wednesday afternoon,

Michigan native Tom Smallwood,

who launched his PBA

career at Thunderbowl in 2009,

helped his Motown Muscle

team claim the top stepladder

position in the PBA League

Mark Roth round finals.

Smallwood, a Saginaw

resident who lost his job at

General Motors during the

auto industry's economic

downturn in 2009 and turned

his unemployed status into

a victory in the PBA World

Championship later that same

season, posted an eight-game

total of 1,858 pins to help the

Motown Muscle team – owned

by Detroit native and former

Pittsburgh Steelers star running

back Jerome Bettis – to

the No. 1 berth in the Mark

Roth team qualifying round

stepladder finals by 182 pins

over Billie Jean King's New

York City WTT KingPins.

Actor Jesse Williams'

BROOKLYN STyLES locked up

Have fun with old friends and make

new friends, Life is too short not to

have fun! Give us a call today!

THE BOWLING NEWS | Thursday, February 7, 2013 | Page 17

the third team stepladder berth

with 8,991 pins. The other five

teams will compete in a oneball

Clash Match eliminator

round to determine the fourth

team that will bowl in the

Baker format television finals.

In Baker team competition,

each of the five players bowls

CONGRATULATIONS TO ALL THE WINNERS

Of the 2013

Big Spring USBC Men's Tournament

The Top Three Finishers in each Category

1 st Place Team: Production Pump------Snyder, TX.

2 nd Place Team: Big Spring Music------Big Spring, TX.

3 rd Place Team: Drunken Sloths------Big Spring, TX.

1 st Place Doubles: Sammy Torres & Brian Whitford------Big Spring, TX.

2 nd Place Doubles: Joe Cheyne & Timmy Marshall-----Snyder, TX.

3 rd Place Doubles: Joe Castillo & John Dominquez -----Snyder, TX.

1 st Place Singles: Philip Ringener-----Big Spring, TX.

2 nd Place Singles: John Dominquez------Snyder, TX.

3 rd Place Singles: Joe Castillo-----Snyder, TX.

1 st Place All Events: John Dominquez-----Snyder, TX.

2 nd Place All Events: Joe Roemisch-----Snyder, TX.

3 rd Place All Events: Joe Cheyne-----Snyder, TX.

3318 E. Interstate 20, Big Spring, TX 79720

John and Diana Dodd, Owners and Certifi ed Coaches

432-267-7484 — Fax: 432-267-1644

Snack Bar 432-267-7485

It's never too late to

join a league here at Pin Center Bowl.

two frames to complete a game.

The Detroit Winter Swing

features a unique combination

of PBA individual and

team competitions. A field of

135 players is competing for

individual titles while eight

teams of five players are also

Continued on Page 18

We roll out the Red Carpet for our league bowlers.

Have Fun with old friends while making new ones!

IT PAYS TO BE A PIN CENTER LEAGUE BOWLER!

Have FUN and WIN Money in our High Pots, Brackets and Mystery Score!

$1 per game on Friday's until 5 PM and ALL DAY on Sunday!

$500 PCB League bowlers only Tournaments!

It is never too late to join a league,

give us a call today, we will find a spot for you.

112 Williams Ave., Cleburne, TX 76033

817-641-4441

www.pincenterbowl.com
---
Page 18 | Thursday, February 7, 2013 | THE BOWLING NEWS

At Eastridge Lanes

Treiber snags 300/792,

Bowerman boxes 684

Davis 300

AMARILLO – Tony Treiber

dominated the scoring at

Eastridge Lanes last month with

a high-powered 300-259-233 =

792 Men's Night Out session.

Sydney Bowerman led the

806-494-3533

2002 Quincy,

Plainview, TX

79072

THE ALL NEW

806-352-2737

5120 Canyon Dr. Amarillo, TX 79109

60 Lanes Pro Shop Restaurant Bar

TEEN TIME

$20.00 Non-Refundable

deposit required.

Reserve your lanes today!

Call Kathy or Randy.

ladies with a solid 223-218-243

= 684 Vacation League outing.

Darrel Davis shared highgame

honors with Treiber as

each recorded award-winning

12-baggers.

Package

Includes:

2 Hours of Bowling

Use of House Shoes

Large Pizza

Large Coke per person

$10.00 worth of Game

Tokens (for Birthday Honoree)

$15.95 plus tax per person

(minimum of 10 bowlers)

HONOR ROLL

Tom Crites 275-756, Tal Tate 265-

732, Chad Forney 268-720, Eric Darnell

279-705, Darrel Davis 734, Chien Dang

238-700, Scott Savant 275-704, Stephen

Planer 287-746, Jeff Campbell 268-708.

Marshall Morrison 242-703, Jimmy

Ewell 277-720, Sean Corbett 247-720,

Mark Scroggins 257-752, Cang Tran

267-733, Mike Ault 268-712, Brandon

Williams 256-701, Trenton Fisher

255-715.

Sean Sadat 277-746, Rosa Sledge 238-

677, Chris Sledge 259-723, Christopher

Pollett 274-655, Rosa Sledge 246-650,

Chris Sledge 290-761, Jim Sarna 257-

682, Richard Hunter 246-645.

Joyce Bush 202-529, Scott Bush 242-

669, Sydney Bowerman 222-603, Randy

Ingram 259-642, Betty McLemore 182-

487, James Winningham 201-564, Kate

Miller 154-444, Jason Radloff 249-658.

Jacque Harrison 170-489, Shareasa

Gray 163-443, Brad Pierce 235-611.

MICHAEL HAUGEN

Continued from Page 17

using their qualifying scores

to help their teams qualify in

inaugural PBA League competition.

Competition continues

Thursday with qualifying and

match play rounds in the Don

Carter Classic and the third day

of PBA League competition.

All preliminary rounds of

Winter Swing competition are

being covered live, exclusively

on PBA's online bowling channel,

Xtra Frame.

PBA MARK ROTH CLASSIC

Thunderbowl Lanes, Allen Park, Mich., Jan. 23

Final Match Play Standings (after 17 games,

including match play bonus pins; top two

advance to championship match)

1, Michael Haugen Jr., Carefree, Ariz., 7-1-1,

4,338.

2, Scott Norton, Mission Viejo, Calif., 7-2, 4,224.

Other Match Play Cashers:

3, Sean Rash, Montgomery, Ill., 4-5, 4,192,

$6,000.

4, Mike Scroggins, Amarillo, Texas, 5-4, 4,125,

$4,500.

5, Mika Koivuniemi, Finland, 4-4-1, 4,065,

$4,000.

6, Tom Smallwood, Saginaw, Mich., 4-4-1,

4,056, $3,500.

7, Ryan Ciminelli, Cheektowaga, N.Y., 6-3, 4,017,

$3,000.

8, Pete Weber, St. Ann, Mo., 4-4-1, 4,012,

$2,500.

9, Norm Duke, Clermont, Fla., 3-5-1, 3,984,

$2,200.

10, Ildemaro Ruiz, Venezuela, 2-6-1, 3,972,

$2,000.

11, Dom Barrett, England, 4-3-2, 3,971, $1,900.

12, Brett Spangler, Niles, Ohio, 5-4, 3,968,

$1,800.

13, Jesse Buss, Belvidere, Ill., 3-6, 3,951,

$1,800.

14, Ronnie Sparks JR, Ecorse, Mich., 4-5, 3,944,

$1,600.

15, Chris Loschetter, Avon, Ohio, 2-7, 3,927,

$1,650.

16, Tom Baker, King, N.C., 4-5, 3,788, $1,500.

Other Cashers (after 8 games):

17, Nathan Bohr, Wichita, Kan., 1,832, $1,000.

18, Kelly Kulick, Union, N.J., 1,829, $950.

19, Ronnie Russell, Marion, Ind., 1,827, $900.

20 (tie), Bill O'Neill, Langhorne, Pa., and Brian

Valenta, Lockport, Ill., 1,826, $835.

22, Jack Jurek, Lackawanna, N.Y., 1,823, $800.

23, Lonnie Waliczek, Wichita, Kan., 1,821, $790.

24, Anthony LaCaze, Melrose Park, Ill., 1,816,

$780.

25, Wes Malott, Pflugerville, Texas, 1,814, $770.

26, B.J. Moore II, Apex, N.C., 1,813, $760.

27, Brian Kretzer, Dayton, Ohio, 1,809, $750.

28, Mark Milasinovich, Macomb, Mich., 1,804,

$740.

29, Eugene McCune, Munster, Ind., 1,802, $730.

30, E.J. Tackett, Huntington, Ind., 1,801, $720.

31, Harry Sullins, Chesterfield Twp., Mich.,

1,799, $710.

32, David Haynes, Las Vegas, 1,798, $700.

300 Game: Rick Zakrajsek, Jesse Buss.

At Plainview Bowling Center

Wertz delivers 668

PLAINVIEW – Jeff Wertz won

high-set honors for the month

at Plainview Bowling Center by

polishing off robust 193-280-195

= 668 numbers in Men's Night

Out action. Wertz finished with

a 4 game 957 set.

Karen Crim, from the Tuesday

Night Mixed group, rolled a

rollicking 193-173-202 = 568 set

to pace the ladies.

HONOR ROLL

Jeff Wertz 223-618, Keisha Haley

181-491, Danny Settle 248-661, Rosie

At Western Bowl

Wilson drills 298/795,

Shannon smothers 725

Sevier, Woodard bag 300's, Parker 299

AMARILLO – David Wilson

dominated scoring for the month

at Western Bowl with a powerpacked

288-298-209 = 795 Friday

Nite Runarounds series.

Debra Shannon's sizzling

209-226-290 = 725 Morning Star

outing headed the ladies' highset

chart.

Rick Sevier and Phil Woodard

shared high-game honors with

award-winning 12-baggers.

Curtis Parker earned runner-up

honors with a near-perfect 299

solo.

HONOR ROLL

Nathan Herring 290-774, Curtis

Rutledge 289-764, Mike Scroggins

258-762, Chris Yoshimura 268-749, Seth

Rutledge 279-749, Jim Faust 267-748,

CASINO

BOWLING

Color Pin Sweeper

Saturday Nights

at 8 PM

Entry fee $15.00

Tuckness 181-413, Bud McMickings

169-473, Christy Wertz 192-549, Jonathan

Rodgers 214-497, Shea Anderson

198-512.

Joshua Sherman 256-664, Rita

Settle 203-487, Jeff Stalcup 232-505,

Jake Shaver 191-492, Kim Spencer

147-385, Vondal Burnett 198-541,

Larry Moreman 176-464, Kim Stalcup

191-538, Henry Martin 191-492.

Mark Waters (4 games) 244-900, Bud

McMickings (4 games) 277-938, Joshua

Sherman (4 games) 232-830, Danny

Settle (4 games) 255-845.

Kevin Edmonson 290-748, Mike Ault

268-746.

Dan Hendren 259-746, Bruce Baker

257-746, Kevin Pennington 290-745,

Brian Collier 256-745, Caleb Goehring

265-743, Jonathan Lawson 269-738,

Don Grenier, Sr. 277-735, Chris Fox

280-735.

Casey Parker 279-734, Gary Haynie

265-733, Ross Hayward 278-733, Patrick

Copelin 268-722, Dwaine Munsell

245-649, Joel Grimes 224-637, Blaine

Rhoton 224-646, Megan Campbell

258-720.

Annette Mader 244-669, Debra

Shannon 236-641, Elayne Glenn 215-

636, Donna Bessey 267-631, Candra

Chandler 224-629, Terri Russell

217-621.

Strikepot & Super Strikepot

Tickets Each Game

5405 Amarillo Blvd. East, Amarillo, Texas 79107

806-383-9531
---
NEW YORK'S DOUG

Continued from Page 15

are going to click, but when

everything comes together, you

feel like you can't be beat.

"It's been that way since the

start of my career. You always

need to improve," Kent continued.

"A lot of guys who have

been out there a long time have

had a lot of conversations about

the changes, the fundamentals,

sharing the knowledge. The

knowledge you gain on tour

you can't get anywhere else."

Kent will join his brotherin-law,

Parker Bohn III, in the

PBA Hall of Fame. Kent's wife

is the former Chrissie Beamish;

Bohn's wife is the former Leslie

Beamish. They will be the

second set of brothers-in-law

in the PBA Hall, joining Mike

Aulby and Steve Cook, who

also married sisters.

Wiseman, who won the

first of his 11 standard titles

in the 1990 Fair Lanes Open

in his Baltimore hometown in

his first television appearance,

won the historic 2004 USBC

SAN ANGELO, TX – Jeff

Knopp lit up the lanes last month

at Stadium Lanes after pocketing

prime 253-289-232 = 774

numbers in City League action.

Janis Baucom's sturdy 255-

200-235 = 690 Petroleum League

set led the ladies' scoring race.

Jim Sweat's award-winning

12-bagger earned high-game

accolades.

HONOR ROLL

Betty McIntosh 225-543, Jason

Flynn 279-691, Debbie Flynn 213-490,

Chris Bitney 277-685, Noah Torres

244-673, Vicky Roberts 212-523, Sondra

Wood 193-523, Edna Summers 191-505.

ODESSA, TX – Lee White's

stellar 297/864 Jacks & Jills

showing ended as the top score

last month at Diamond Lanes.

Judy Leverich, White's league

mate, rolled a smooth 234/672 set

to pace the ladies.

Tido Hammonds and Chris

Hull shared high-game honors

with a near perfect 299 game

while Ron Leverich took runnerup

honors with a 298 solo.

Miller High Life Masters which

was staged on a special lane

installation inside Miller Park

in Milwaukee – the first time

a bowling championship had

been conducted inside a major

league baseball stadium.

"It's pretty amazing. I'm

pretty happy, and pretty

amazed considering my recent

years, but I guess there's history

to go by," Wiseman said.

"I got the call from Tom Clark

and I started thinking about it,

and I'm pretty humbled when

you think about all of the elite

players in our sport.

"It's been a long process. It

takes a lot of hard work, a lot

of dedication, a lot of patience.

You have to have an undying

love to be one of the best, and

I've had that. One of my proudest

moments was winning my

first title with my dad there,

and then the 2004 Masters –

those, and being selected as

one of the PBA's 50 best, were

exceptional moments."

One of Wiseman's most

unforgettable performances

was also one of his biggest

disappointments.

At Stadium Lanes

Knopp packs 774,

Baucom tosses 690

Sweat 300

Vickie Vogler 203-464, Jeff Knopp

266-752, Paul Dyer 268-748, Janie

Rodriquez 224-574, Douglas Stinebiser

246-693, Elise Nalepka 209-554, Jeremy

Joiner 265-641, Cathryn Nelson

175-520.

Ski Lisewsky 246-611, Leslie Beal

247-620, John Hayes 202-546, Chanelle

Baker 214-579, Jim Sweat 748, Elaine

Pope 226-492.

SENIORS

William Epp 235-604, Eloise Juhl

174-507, David Wolf 226-588, Geneva

Smiley 178-506, Phil Bailey 279-733,

Mary Ann Smith 181-478, Truman

Kennemer 280-719, Maurine Byrd

176-457.

At Diamond Lanes

White crushes 297/864,

Leverich topples 672

Hammonds, Hull 299, Leverich 298

HONOR ROLL

Curtis Clinton 234-563, Ron

Leverich 763, Roy Benson 268-577,

Scott Murdock 258-720, Darrell Meise

278-629, Lee Williams 242-627, Bonnye

Beadles 166-400, Jewell Thiebaud

215-507.

Sherri Webb 176-495, Brittany Bell

203-492, Pam Mitchell 163-452, Chris

Hull 698, Vic O'Haro 268-767, Billy

Wadle 288-598, Craig Thames 278-710,

Randy Billingsley 278-707, Bob Powell

"The 1992 Firestone

(Tournament of Champions),

when my dad was dying, is a

memory I'll never forget," he

said. "It was a major event, one

I thought I should have won,

but Marc McDowell out-bowled

me, and that was the biggest

disappointment of my career

because I was pretty sure it

would be the last time my

father would ever see me bowl,

and it was.

"But with all of my injuries,

I've always found a way to step

up," Wiseman continued. "I

was close to losing my exemption,

but I bowled through the

pain and made a TV show. If I

missed that exemption, I don't

win the Masters – so it was a

defining moment."

Early in his career, Wiseman

defined himself by

compiling the winningest

television record in PBA history

at that time, and by introducing

a colorful, flame-enhanced

persona that branded him –

intentionally – as something of

a maverick.

"My legacy was bowling

pretty dang-gone good on TV –

I think I was 21-5 at one point

- and I made my own identity,"

he said. "Some of these guys

– Earl Anthony, Marshall

Holman, guys like that – got

their identities because they

were on TV every week. I did it

a little bit different. I was able

to create an identity that tells

people who I am, and people

remember it.

"But it's all pretty humbling,"

he continued. "I was

never a natural. I've studied

and learned and watched. I

learned a skill and was able

to adapt to the environment

throughout my career. I mostly

did it on my own, and I'm

pretty proud of that."

Details concerning the PBA

Hall of Fame dinner, including

ticket availability, will be

announced later.

238-576.

Mark Thames 268-782, Lisa

McCorkill 190-452, Sherlonda Owens

201-506, Kaycee Pound 183-437, Crystal

Ray 201-583, Jennifer Shannon 251-664,

Thomas Fewox 279-789, David Hisaw

289-713.

James Henderson 257-654, Tyler

Nettles 279-715, Doug Davis 268-660,

Jeremy Fowler 276-743, Travis Hagen

276-680, Tido Hammonds 756, Jason

Tidwell 289-777, Phil White 259-652.

Larry Garrett 267-604, Michelle

Lambert 256-669, Debbie Reed 238-

589, Elaine Stephens 196-490, Carlos

Guillen 246-588, George Gifford

267-680, Eli Gonzalez 279-684, Jeff

Harrison 242-668.

Richard Tennison 279-636, Nathan

Stephens 268-622, Ashley Bowen 226-

601, Raymond Cook 279-636.

THE BOWLING NEWS | Thursday, February 7, 2013 | Page 19

We are always looking for

human interest story ideas—

let us know

Call us for more

information.

817-267-8686

Our 56th Year

Diamond Lanes

Where Family Fun Begins

Come visit The Pink Elephant, our NEW

full-service Bar and Lounge, check out our Snack

Bar and meet our friendly staff.

ALL DAY

OPEN TO CLOSE

$1.25 Game - $1.25 Shoes

2208 East 8th Street

Odessa, TX 79761

432-580-4386

Every Monday & Thursday Night is

College Night

@ Stadium Lanes

Unlimited Bowling for only $6 per person

10 PM to 12 AM

Come check out our newly revamped

sound system and light show

2105 Knickerbocker Rd.

San Angelo, Texas 76904

325-651-2695

Fax: 325-224-3052
---
Page 20 | Thursday, February 7, 2013 | THE BOWLING NEWS

"Gold Medal" roster of speakers

highlight 2013 Bowling Summit

SAN ANTONIO — Bowling

industry leaders from across the

nation gathered to hear a starstudded

line-up of speakers at the

2013 Bowling Summit, the premiere

mid-winter conference for

the bowling industry. The Summit

was attended by hundreds of

attendees who came to network

and learn about new industry

insights and upcoming products,

including updates on social media

and healthcare reform.

The Summit featured a

keynote address by Rowdy

Gaines, Olympic gold medalist

and current broadcast journalist

and sports commentator.

Gaines, whose career inside

and outside of the pool is one of

inspiration and courage, spoke

to proprietors about his remarkable

swimming career and his

Gold medal winning bid at the

1984 Los Angeles Olympics.

Applying the challenges and

lessons he learned through

his own sport, Gaines shared

lessons for success and spoke

about the enduring popularity

and appeal of bowling.

"Bowling to me has always

been about the coming together

of people and families. You're

talking about a participatory

sport that is so huge, and bowling

is worldwide," said Gaines.

"Bowling has something for

everyone and is one of the few

sports in the world that can be

enjoyed by people of all ages

and from all walks of life. It is a

sport that does not discriminate."

Added Gaines, "And there

are amazing athletes in bowling

- I put bowling on par with

any Olympic sport."

Attendees also had an opportunity

to hear from respected

PepsiCo Digital Marketer

John Ross. During his seminar,

Ross offered tips and strategies

to help bowling proprietors

seize upon new social media

platforms and technologies to

grow their businesses.

1010 N. Austin Ave.

Georgetown, TX 78626

512-930-2200

www.melslonestarlanes.com

Call Mel or Doug and sign up for a league today!

"The bowling experience

isn't just about what happens on

the lanes; there is so much more

to it. It's about family time, food

and fun. Through social media,

bowling can now tell its story

before, during and after people

go to the lanes, creating an

experience even when people

aren't on premise," said Ross.

Also presenting at Summit

was Rick Berman, famed consumer

advocate and lobbyist,

and a longtime supporter of the

bowling industry. During his

address, "How the Election Will

Impact Small Business," Berman

discussed pressing new

legislative issues and changes

in the political environment

that can have an impact on the

bowling industry.

Additionally, senior executives

from three leading bowling

entities hosted a groundbreaking

"Uniting the Industry"

panel. The conversation includ-

NEW BRAUNFELS – Barry

McKee held the hot hand last

month at Fiesta Lanes by starting

out with an award-winning

300/817 set in Ball and Chain

action.

Teri Gilbert, McKee's league

mate, led the ladies with high

game honors with a rocking

247/653 set.

Josh Jones, Mark London

and Billy Nichols shared highgame

honors with McKee as

each registered award-winning

12-baggers. Dennis Buck and

Josh Jones took runner-up honors

with near-perfect 299 solos.

HONOR ROLL

RJ Klann 278-792, .Keith Durgin

266-753, Billy Nichols 749, Brandon

Scheel 253-705, Randall Thier 180-517,

Jim O'Brien 180-493, Jake Mueller 715,

EJM Maloy 695, Josh Gaspard 246-662.

Denver Tollett, Jr. 234-606, Jake

Herman 259-720, Michael Lassig 237-

590, Tex Saengerhaus 266-768, Bryce

Standard 260-744, Josh Jones (4 games)

1023, Mark London (4 games) 1001.

Mark Combs 224-628, Haven

Barboza 238-614, John Person 233-610,

Tom Williams 182-526, Bill Davis 254-

729, Monty Stromeyer 265-671, Robert

Kaiser 247-703, Jared Werner 245-699.

Bill Davis 278-712, Gene Bishop

244-672, Josh Jones 746, Darrell

Deptawa 247-739, Santiago Rivera

277-706, Coop Cooper 289-696, Sheila

Martignoni 246-644, Lashonda Mannie

246-630.

Sylvia Guerra 212-591, Kathy

Robeck 174-448, Donna Walker

ed leaders from each of the key

bowling industry organizations

that are headquartered within

the International Bowling

Campus (IBC) - the Bowling

Proprietors' Association of

America (BPAA), United States

GEORGETOWN – Jimmy

Thompson strokes super strong

289-249-244 = 782 numbers in

Thursday Thunder action to head

the leader boards for the month

at Mel's Lone Star Lanes.

Lori Thompson paced the

ladies with a classy 250-204-236

= 690 Pot O Gold set.

Dustin Dunn's award-winning

12-bagger garnered high-game

honors.

HONOR ROLL

William Ganem 244-691, Shannon

Brunbridge 206-583, Alan Tweedy

At Fiesta Lanes

McKee chalks up 300/817,

Gilbert decks 653

Jones, London and Nichols add 300's, Buck, Jones 299

160-437, Catherine Wilson 628, Amy

Clements 551, Stephanie Eller 175-419,

Michelle Davis 165-407, Kelly Rock

178-479.

Jacque Watkins 159-417, Lashonda

Mannie 223-649, Jessica Cummins

Bowling Congress (USBC) and

Strike Ten Entertainment (STE).

The conversation took a look at

increasing collaboration across

bowling, the impact of the IBC

and continued improvements

Continued on Page 22

At Mel's Lone Star Lanes

J Thompson notches 782,

L Thompson lands 690

Dunn 300

280-755, Jennifer Manns 243-640, Billy

Gaston 211-573, Sheryl Read 243-577,

Donna LaFogerty 246-631.

Daniel Spells 269-782, Kyle Ramsey

268-715, Jacki Ramsey 220-571, Ken

Gervais 214-730, Ann Shivers 168-

653, Jatonna Kewish 265-673, Alex

Cheesman 245-651, Katina Fotiou

216-552.

Albert Wininger 247-697, Teri

Merkel 166-471.

SENIORS

Jack Piper 263-663, Bonnie Pearson

208-546, Pat McClain 266-732,

Jeanniett Chicky 202-552.

225-628, Jeanette Vacek 214-591, Gini

Griffith 209-539, Sandy Ames 190-522,

Joan Killen 200-519, Ashley Zuehl

189-494.

Sheila Warden 181-491, Debbie

Bradshaw 176-471, Karla Robinson

171-402, Paula Brissenden 233-630,

Elaine Riding 198-536, Misty Kaiser

255-681, Jacque Devine 189-484, Kathy

King 231-625.

Elena Weber 235-588, Katy Doyle

210-564, Harriet Sams 175-516, Tara

Light 279-662, Crystal Salone 214-601,

Lashonda Mannie 267-667, Whitney

Watson 183-520.

Sport Shot

Bowling Leagues

Come out and enjoy the challenge of sport pattern

bowling. The Brunswick Authority 22 Lane

Machine provides the accuracy and consistency

competitive bowlers expect. Take your pick from

some upcoming short season leagues listed below:

2/24/13 - Adult, Sundays @ 1 PM

2/21/13 - Youth Doubles, Thursdays @ 6:30 PM

(Space is limited in Youth Doubles, sign early)

All Sport Shot Leagues will have differing oil patterns,

each individual pattern will run for two consecutive

weeks. Cost for each league is $12.00 per week

Contact Vince Williams or Larry Spencer with any questions.

Fiesta Lanes

1202 Huisache, New Braunfels, TX 78130

830-625-6263

www.fi estabowlinglanes.com
---
Alither Mae Stephens, affectionately

known as Mae, caused

me to get out my dictionary and

look up the word for someone

who has achieved the age of 98.

I knew what a septuagenarian

was because I am approaching

it myself. I knew what

an octogenarian was because

one of my closest friends has

surpassed the 80 year mark.

Mae has surpassed both of

those and at age 98 and is a

nonagenarian who is a weekly

league bowler on the Oldtimers

league at Phantom Warrior

Lanes on Fort Hood.

Mae bowls on the Golden

Girls team with friends, Beverly

Brady and Barbara Burke. The

have been together for many

years. "For a long time I bowled

at Hallmark Lanes on the

senior league and when I was

driving good I often bowled 5

or 6 days a week," she said.

The Cassatt, S.C. native began

bowling rather late in life.

"I started bowling duck pins in

Baltimore in the seventies. You

don't see duck pins much any

By Don Wright

more."

Mae moved to Texas in 2000

because her son, Ernest Sherman,

wanted her closer to him.

"I lived in the country before

moving to Texas and I loved it,"

she said. "I had my own garden

and I grew everything. I didn't

At Hallmark

Bogucki belts 789,

Ciesiolka claims 706

Caballero 300

KILLEEN – Bill Bogucki

rocketed to the top of the honor

roll for the month at Hallmark

Lanes with a booming 231-279-

279 = 789 Primetimers series.

Karin Ciesiolka's sparkling

245-223-238 = 706 Top Gun

Madness set headed the ladies

high-set chart.

Jose Caballero took top honors

for high-game with an awardwinning

12-bagger.

HONOR ROLL

Donna Martin 232-566, John Dixon

248-672, Sandy Monterde 263, Sally

Wedgewood 597, Bryce Ellison 290,

Lee Ellison 716, Bonnie Atkinson 221,

Karin Ciesiolka 596, Jose Caballero 757.

Brenda Wiegert 214-553, Steven

Krech 279, Mark Morgan 740, Karin

Ciesiolka 244-662, Dan Haddenham

277-735, Esther Navarro .65-675, Brian

Vehse 276-736, Maria Dittmer 221,

Doborah Ellison 545.

Jerry Kilpatrick 158-445, Kristie

Duerre 195-465, Tonna Gutierrez 191,

AnneMarie Rumsis 509, Rex Haas

255-687, Sally Wedgewood 214, Mitzi

Cina 565, Lonnie Bridges 266-686,

Gladys Tramp 204.

Deborah Ellison 541, Keith

Desmarais 279, Warren Howard 703,

Mitzi Cina 212-585, Andrew Kirshner

259-710, Rachael Brown 242, Karin

Ciesiolka 614, Fredrick Picknell 243,

Antonio Sosa 657.

Owa Ciesiolka 266, Mark Norman

247, Jim Dittmer 659, Lucy Billman 211-

518, Jerry Kilpatrick 209-547, Vivian

KILLEEN – Lee Ellison, from

the Stars league, pocketed a

power-laden 247/725 series en

route to earning high-set honors

for month at Killeen Bowlerama.

Amanda Greenlaw fired a

power-packed 721 Commercial

session to lead the ladies.

HONOR ROLL

Benny Camba 671, Norma Rios 535,

Vic Linezo 247, Lyn St Felix 210, Julian

Alither Mae Stephens

have to buy a thing. Now all

the things I grew I have to

buy at a store and that ain't

no fun." Ever independent, she

lives alone and maintains her

house by herself.

Aided by a cane, Mae is still

a very good bowler. Averaging

95 on the Oldtimers league she

rolled three games over 100

when she was 92. She stands

firmly at the foul line and rolls

her 8 pound ball straight and

true. "I used to bowl with a 10

pound ball and my doctor told

me that was too heavy and I

should go to a 6 pound ball. I

told him a 6 pound ball wouldn't

knock anything over and I got

an 8 pounder instead. Some

Mikell 154-392, Amy Starkovich 210,

Suzie Wollek 535, Greg Masters 277,

Jose Cruz 677.

Christi Hellon 227-637, Andy

Layne 279-685, Gladys Tramp 217,

Karin Ciesiolka 589, Pete Schirriapa,

Jr. 245-707, Mitzi Cina 202-553, Keith

Desmarais 259, Lewis Stansbury 704.

Mitzi Cina 254, Norma Betts 657.

SENIORS

Natsuko Baumbach 195, Nee

Wallace 554, Verl Lantz 288, Larry

O'Keeffe 699, Barbara Person 223,

Suzie Wollek 535, Ray Miles 276-676,

Marquita Darland 180, Nancy Holstine

505, Don Gillaspie 256.

Bill Bogucki 266-692, Deb Buford

231, Linda Willis 538.

At Killeen Bowlerama

Ellison on top with 725,

Greenlaw maps 721

Pascua 247, Nyle Maxson 230-637,

Lesha Smith 202-573, Joann Biels 549,

Alice Frost 199, Josh Maxson 713.

Clarence Franklin 280, Emily

Berger 278-718, Chad Drew 232-612,

Sandra Cabaldon 171-457, Brad Dewald

258-714, Norma Betts 277-673, Nyle

Maxson 690, Amanda Greenlaw 666.

John Pasch 265, Tawana Ramey

270, Dustin Gatliff 279-704, Stephanie

Tennity 256-644.

THE BOWLING NEWS | Thursday, February 7, 2013 | Page 21

days I do good and some days I

don't," she said with a laugh.

Undeterred by age or her

physical shortcomings she

remains very active. "You have

to stay active," she said. "I

know people who go from the

bed to the couch and back to

bed again. You can't live like

that. You must stay active,

that's the key."

On her 98th birthday she

had a decorated cake from her

fellow bowlers and although

she had a sore back and her

team mates encouraged her to

stay home she said, "No, I'm

www.killeenbowlerama.com

DOLLAR

DEALS!!!

Mondays 7 PM–12 AM

Wednesdays 9 PM–12 AM

Thursdays 9 PM–12 AM

$1.00 per person/per game

(tax not included)

Have fun, go bowling!!!

For Friendly Service, A Super-Clean Facility and

BOWLING AT ITS BEST!

KILLEEN

BOWLERAMA

going bowling." It's hard to

argue with Mae.

One of her Golden Girl team

mates has the same birthday as

Mae. She is younger than Mae,

but won't reveal her age.

Mae has a very sharp wit and

loves to talk with people and is

a devoted member of her church.

Having friends, good conversation,

and her church family help

keep her young at heart.

I suspect Mae will bowl as

long as she physically can and

her league friends will miss her

terribly if she decides it's time

to stop.

254-699-5222

922 N. 38th Street

KILLEEN, TEXAS 76543

bowling@hot.rr.com

ENJOY THE

FUN OF

BOWLING!

HOME OF THE KILLEEN OPEN

SW REGION PBA TOURNAMENT

COCKTAILS IN THE 11TH FRAME LOUNGE

Hails & Farewells, Private Parties, Pool, Karaoke

Mini Sports Bar w/3 TV Screens & DirecTV's NFL Sunday Ticket

FULL COLOR AUTOMATIC SCORING

3 LARGE COLOR TVs TO WATCH WHILE BOWLING

ALL 24 LANES AVAILABLE WITH BUMPERS

Week Night Specials - 9 PM to Midnight

Exit Stan Schlueter Loop off U.S. Hwy. 190

Next to Patriot Pontiac-Buick in Killeen

254-690-4949 FAX: 254-690-4964

E-mail: bowling@hallmarklanes.com

Visit our Web Site: www.hallmarklanes.com

and Visit Us on FACEBOOK
---
Page 22 | Thursday, February 7, 2013 | THE BOWLING NEWS

SPOTLIGHT

Continued from Page 3

This is it. I've shot 13 800's.

How many 300's have you

bowled? 22

Thoughts on your big night? It

was one of those nights where

the nerves never got me and I

was locked in. It didn't matter if

I was off a little bit, everything

got to the pocket. I didn't have

to move or make any adjustments.

I made a few mistakes

on fill balls but that was about

SAN ANTONIO – Zeke Ziakas

was definitely on target last week

at BRC Thousand Oaks as he

dominated scoring with a superb

257-289-247 = 793 Armadillos

league performance.

Jovan Blankenfeld led

the ladies with a highly

commendable 208-255-258 = 721

Thursday Early Mixed set.

Dennis Mann's awardwinning

12-bagger garnered

high-game honors.

HONOR ROLL

Jeff Critchfield 279-697, Helen

Keith 258-716, Bruce Rice 259-621,

it. I had been struggling a little

bit lately, not shooting any big

sets. But on that night everything

came together.

What ball did you throw?

Storm Frantic

Who drills your balls? That

ball I drilled myself. I'm working

at the pro shop at Astro

Bowl in Odessa.

What is your all-time favorite

bowling ball? The Columbia

Powerdrive is my American

Express ball; I never leave

home without it. It's a good

seven years old. I bowled a PBA

At BRC Thousand Oaks

Ziakas logs 793,

Blankenfeld delivers 721

Mann 300

Vivian Corona 221-510, Frank Parker

258-665, Ruth Tuller 205-566, Dennis

Mann 737, Helen Keith 259-670, Patti

Kelso 188-490.

Brenda Clink 178-522, Frank Bove

244-713, Selina Perez 235-652, Graham

Monteleone 279-627, Barbara Neve

219-560, Enrique Martinez 246-662,

Jennifer Harper 205-578, Karen

Glacken 237-655.

SENIORS

Jim Dymond 234-630, Cheryl

Nickles 189-477, Bill McAvoy 216-517,

Olivia Ladson 172-451, Tom Donahue

211-572, Dee Pollock 167-460, Tyrone

Crosby 245-612.

Tuesday night

Want a better way to spend a Tuesday Night?

We are offering 3 games of bowling with a pitcher

of ZiegenBock and a Large Pepperoni Pizza every

Tuesday for 8 weeks. 4 Member Teams

$15.00 per person per week

Starts February 12 @ 7:00 PM

Always Smoke-Free Fun!

BIG FUN! Small Commitment!

BRUNSWICK THOUSAND OAKS

4330 Thousand Oaks Blvd. San Antonio, TX 78217

210-654-0031

regional match against Chris

Barnes a couple of years ago

and he even mentioned that I

was throwing an old relic, but

its been a great ball for me.

What is your all-time high

average? 237

How long have you been

bowling? I started bowling

with my dad about 10 games

on Saturday afternoons. I then

started league bowling in 1989,

and always watched bowling

on TV. I wanted to get to the

level of the pros so I kept working

hard at it. I now bowl three

leagues a week, and practice

6-10 games on the weekends.

Who is your favorite pro

bowler? Growing up it was

Marshall Holman but today

it's Norm Duke. Duke is a true

professional and I love the way

he handles himself. I got the

opportunity to spend some

time talking with him and he

is someone that I will always

look up to. He's a very good

role model.

Most memorable bowling

moment? I won my first PBA

Regional in September of 2012

in the non-champions event in

front of my family and friends

in my home house. I could not

have scripted it better.

What lessons has the game

taught you? Never lose focus.

I've learned that it's all about

the attitude. Whether the day

is going good or bad, you have

to stay focused, keep your head

and work on the things you

need to work on. One thing

I tell the kids is to keep the

attitude positive.

"GOLD MEDAL"

Continued from Page 20

that will be made in the years

ahead within the industry.

"Bowling Summit is about

arming proprietors with

information that will help

them grow their businesses

and this year's event featured a

spectacular line-up of thought

leaders," said Steve Johnson,

executive director of BPAA. "In

today's environment, where

business and culture are in a

constant state of change, it is

so important to stay current

and to challenge yourself to be

at the top of your game. From

leadership strategies to social

media to legislative changes,

the speakers at this year's

Summit covered a variety of

important topics and attendees

are leaving with tips and

strategies that they can put to

work right away."

The BPAA's Annual Bowling

Summit is the premiere annual

strategic mid-winter conference

for bowling center proprietors,

managers and industry leaders,

offering education, networking

and industry insights on new

and upcoming products. The

2013 Bowling Summit was held

from January 27-30, 2013 at the

Hyatt Regency Hotel in the San

Antonio Riverwalk in Texas.

PBA Spare

Shots:

FANS, PBA LEAGUE OWNERS

ALL "A-TWITTER" DURING

LIVE TELECAST

If PBA fans watching the

live debut of PBA League

competition on ESPN Sunday

thought Dallas Strikers'

owner Terrell Owens was

disinterested, looking at his

cell phone through much of the

action, they couldn't be more

mistaken. The reality is, Owens

was live-tweeting to his more

than 1.3 million Twitter followers

– and "smack talking"

with Silver Lake Atom Splitters

owner Chris Hardwick – while

the Strikers were racing away

from the Atom Splitters,

278-171.

The best tweet of the day

came from Chris Hardwick@

nerdist: ME - "Well, the Atom

Splitters got crushed but it was

still fun!" DAD - "Oranges

get crushed. This was worse."

#StillLaughing

Following Hardwick's comments

on Twitter were many

of his 2-plus million fans. And

you can add additional fans

who were getting "tweets"

from PBAL owners Billie Jean

King, Chris Paul, Jesse Williams

and Jerome Bettis during

the telecast.

In addition, the

#LoveTheLanes hashtag on

Twitter got great play. All

of the PBA League player

jerseys are imprinted with the

#LoveTheLanes hashtag, which

relates to the theme of ESPN's

PBA promotional spots for the

2013 television season.

World Famous

MID CITY LANES

ROCK 'N' BOWL

ESPN also joined the Twitter

parade, tweeting a message to

its 6 million followers when

the show came on the air that

it was time to watch the debut

of the PBA League.

Twitter fans can follow the

PBA at @PBATour.

JEROME BETTIS PERFORMS

RARE FEAT WITH PBA

LEAGUE CEREMONIAL FIRST

BALL

Former Pittsburgh Steelers

star running back Jerome

Bettis, a life-long bowler

with 200-level average skills,

performed a rare feat when he

joined fellow NFL superstar

Terrell Owens in rolling simultaneous

ceremonial first balls

to launch the PBA League's

debut on ESPN Sunday at

Thunderbowl Lanes in suburban

Detroit.

Bettis is owner of the PBA

League's Motown Muscle.

Owens is owner of the Dallas

Strikers.

After both PBA League

team owners threw strikes on

their practice shots prior to the

"official" ceremonial shot (Bettis'

was a solid pocket strike,

Owens' was a cross-over),

Bettis got his televised shot too

far right and picked the 6-9

out of a full rack of pins for a

rarely-seen two-count.

"They took my shot

away. They gave me a spare

ball," Bettis groaned in good

humor later. "I had nothing,

no chance. Lousy lane

conditions…"

Owens fared better with

his ceremonial shot, knocking

down nine pins (he left the 5

pin standing on another crosscover

shot).

New Orleans

REMEMBER!

There is only one

ROCK 'N' BOWL ®

Rock 'n Bowl is a federally registered service mark belonging to Mid

City Lanes and Sports Palace, Inc. in New Orleans, Louisiana. It is

against the law to infringe in anyway on this service mark.

Inquiries on such use should be referred to our trademark a orney,

Rick Stanley at 504-523-1580.

MID CITY LANES

3016 S. Carrollton Avenue New Orleans, LA 70118

504-861-1700
---
Bowling Update

From Ten Pins & More

* "Demos Quintana is one

of the most improved bowlers,

in less than a year, that

we've ever seen here", said

Tenpins & More coach, Dana

Miller-Mackie.

Quintana has taught

quantum physics courses at

the University of New Mexico

and is also a sought-after car

mechanic. He's well-skilled

in math too and often helps

younger bowlers with their

homework problems.

Last Sunday, he dominated

standings in the Pentathabowl

five-game tournament, with

games of 300, 256, 296, 279

and 227 for a winning total of

1,220, to beat early leader Gil

Chavez by 24 pins.

Third place went to Gary

Benton, with 1,176 followed by

Jessika Gregor, tied with Sara

Vargas on 1,153. Gary Brignac

and Teresa Hope finished sixth

and seventh in the 40-bowler

event.

Quintana has received

one-on-one coaching with a

RIO RANCHO, NM – Jeff Jones

and Justin Medina tied for the

top spot on the honor roll for the

month at Tenpins & More with

award-winning 810 series. Jones

lit up the lanes with a booming

254-289-267 Thursday Doubles

set while Medina downed hardhitting

278-243-289 numbers in

Bud Scratch Doubles action.

Dana Miller-Mackie registered

a sizzling 235-263-300 = 798

Thursday Doubles set to win the

OKLAHOMA CITY, OK – John

Harrison landed a super strong

279-265-227 = 771 Bowlers R Us

series to head the leader boards

for the month at Heritage Lanes.

April Taylor, Harrison's league

mate, pounded out potent 234-

254-215 = 703 marks to pace

the ladies.

Aaron Hargis garnered highgame

accolades with a near-

number of high average local

bowlers, including former PBA

touring player, Mike Miller,

who helped Quintana increase

his ball speed down the lane

that has upped his strike

percentage.

He'll be one of the bowlers

in this Sunday's 9th annual

Superbowl Sunday Doubles

Marathon starting at 4.30pm.

In the individual games,

Troi Donnachaidh won the

8-pin No-Tap, Chavez the 3-6-9

games, Vargas the 9-pin No-

Tap, Quintana's 277 collected

the beat-your-average prize

and Benton won the handicap

game.

* Danny Cobine of Rio

Rancho won a Junior Bowlers

Tour title in exciting fashion at

Starlight Lanes last week.

In the championship round,

Cobine was not intimidated

by the 13-year-old Arizonan,

Cortez Schenck beating first

Braxton Williams of Texas

230-211 then Derek Acuff of

Arizona 263-202 before beating

At Tenpins & More

Jones and Medina tie at 810,

Miller-Mackie nails 300/798

Grant, Miller-Mackie 300's

high-set race for the ladies. She

also recorded another 300/794

Thursday Doubles series for the

month.

Billy Grant shared high-game

honors with Miller-Mackie with

his own award-winning perfecto.

HONOR ROLL

Reg Card 254-748, Abby Maxwell

237-610, Teresa Hope 245-667, Jim

Barnes 246, Michelle Martindell 229,

Craig Blatt 269-729, Dan Martinez 269-

675, Steve Mackie (4 games) 259-966.

At Heritage Lanes

Harrison catches 771,

Taylor plasters 703

Hargis 296

perfect 296 solo.

HONOR ROLL

David Barz 247-729, Carrie Walton

168-464, Aaron Hargis 760, Crystal

Best 243-622, Elcide Davis 269-719,

Ryanne Seay 236-592, John Williamson

257-719, Dana Picknell 172-501.

SENIORS

Bob Tobias 243-664, Michelle

Montgomery 229-658, Mory Majma

256-696, Jeri Taylor 235-642.

THE BOWLING NEWS | Thursday, February 7, 2013 | Page 23

PBA World Series of Bowling V returns to

South Point in Las Vegas in October

SEATTLE — The South

Point Hotel, Casino and Bowling

Center in Las Vegas will

host the Professional Bowlers

Association's World Series of

Bowling V Oct. 25-Nov. 3, the

PBA announced today.

The fourth consecutive

World Series hosted by South

Point will again feature four

"animal pattern" championships,

the World Tenpin

Bowling Association World

Bowling Tour men's and

women's Finals and the PBA

World Championship.

New for WSOB V will be

opening rounds of the second

Schenck 268-202 for his third

career JBT win.

Othe area youth to finish

well included Tim Baribeau,

Hannah Stedman, Josh

Helmick, Joey Balistreri and

Brad Harvey.

* Justin Medina of Rio

Rancho hit a high-scoring

patch recently and at the right

time.

In the City Championships

at Isleta, Medina shot 218, 216,

201 (635) in teams, 217, 258,

214 (689) in doubles and a

stellar 259, 208, 300 (767) in

singles for a nine-game tally of

2,091 for an average of 232.

Then in the new season of

the Wednesday night Scratch

Doubles at Tenpins & Morehe

fired 279, 243, 288, 209, with

the first three of 810 his highest

ever series.

The previous season win

went easily to John Lund and

Dana Miller-Mackie, whose

154.5 points beat second-placed

Billy Grant/Andy Zumwalt by

over 34 points. The winners

averaged 451 between them,

one of the highest scoring

doubles combinations in city

league history.

HERITAGE LANES BOWLING VALUE DAYS

Monday Wednesday Thursday Fri. & Sat. Sunday

Twilite Bowl 2 til 2

$7.99

+ tax

9 PM till 11 PM

2 HOURS

ALL YOU CAN

BOWL

All You

Can Bowl

Glo-Bowling

2 Hours

$9.99 + tax

Per Person

includes shoes

9 PM till Midnight

REGULAR BOWLING RATES

Monday thru Friday Open to 5 PM $2.89 per game

Monday thru Thurs. 5 PM to Close $3.89 per game

5 PM Friday thru Sunday $4.39 per game

Shoe Rental $3.29

SPECIALS SUBJECT TO CHANGE WITHOUT NOTICE

season of the PBA League, the

PBA50 Tour Finals and Regional

Players Invitational finals. Also

scheduled will be a pro-am

program which will allow

bowling fans the opportunity to

compete with the pros.

"We're looking forward to

bringing the WSOB back to

beautiful South Point Hotel

and Casino in Las Vegas," said

PBA Commissioner Tom Clark.

"While the original vision for

the WSOB was for it to move to

different cities and that still is

an option in the future, South

Point has been an incredible

partner and major contributing

factor in making this event the

premier showcase for profes-

Tenpins & More presents… NEW

GRAND PRIX SERIES

(Leading up to the 10th New Mexico Open/2013)

$1,000 Guaranteed first prize

(In each event, regardless of the number of entries)

Bowl each of these events for scratch tournament experience

NOW 6 events leading up to the 2013 NEW MEXICO OPEN!

Estimated $15,000 total prize-money in the first six events!

1. September 1-3, 2012 (Labor Day weekend)

2. December 30 – January 1, 2012 (New Year's weekend)

3. March 29–31, 2013 (Easter weekend)

4. May 25-27, 2013 (Memorial Day weekend)

5. June 14-16, 2013

6. July 26-28, 2013

7. August 16-18, 2013 (New Mexico Open,

at least $50,000 in Prize Money)

Quarter

Mania

9 PM till Midnight

$10.99 Cover Charge

3-hours, all you can bowl

$.25 Popcorn

$.75 Hot Dogs

$.25 Small Cokes

$1.00 Draft Beer

All prices plus tax

SERIES SPONSORS:

Rio Rancho Convention & Visitor's Bureau,

New Mexico Sports Authority,

New Mexico Bowling Centers Association,

Lo-Mar Bowling Supply, Wayne Luco/Dental

Surgeon in Rio Rancho

1416 Deborah Road SE

Rio Rancho, NM 87124

505-892-7117

www.tenpins-more.com

All you can bowl

Glo-Bowling, Light

Show and Music

All You Can Bowl For

3 Hours: $14.99

Shoes Included

11 PM til 2 AM

All prices plus tax

HERITAGE LANES

11917 N. Pennsylvania

Oklahoma City, Oklahoma 73120

405-755-7575

sional bowling talent anywhere

in the world."

The 2012 PBA World Series

of Bowling IV held last November

attracted a capacity entry

of 240 players from a record 17

countries to South Point. WSOB

I was held at Thunderbowl

Lanes in Allen Park, Mich., in

2009. South Point has hosted

professional bowling's grandest

extravaganza since.

World Series V qualifying

and match play rounds will

again be conducted in the

South Point Bowling Center

with the finals of each event

held on specially constructed

lanes in South Point's Exhibition

Hall complex.

Save these

dates/Bowl

each one!

11 AM til 2 PM

$1.99 PER GAME

PER PERSON

Shoes Not Included

Sunday Twilight

8 PM til 11 PM

3 Hours

ALL THE GLO YOU CAN BOWL

$9.99 per Person

Plus Tax

Shoes Included

Minimum 4 to a Lane

ALL PRICES PLUS TAX
---
Page 24 | Thursday, February 7, 2013 | THE BOWLING NEWS

PIN POINTS

TO PONDER

By CHUCK PEZZANO

You can't be more amazed

than when you spend some

time with today's younger

generations

Whether it is them displaying

their flying fingers on

computers, their flying feet

in gymnastics or their rolling

the ball and making parents

and grandparents take a good

second look at their talent,

mentally and physically.

All sports and all fields have

their child prodigies. There

have been teenagers in every

major sport, and many in their

early teens, particularly in

swimming and tennis.

Many of them have been

great or gone on to greatness,

at great sacrifice being forced

to grow up too quickly, being

forced to choose between fame

and fortune early, or after a

suitable stretch of education.

In the dream world it would

be wonderful if every young

athlete in every sport was

forced to obtain a high school

education at a minimum, and

college or other advanced train-

$10,000.00 in added money

1 st Annual NCTUSBC Open City Tournament

Handicap & Scratch Brackets

High Pots EVERY shi

Brunswick B Westcreek Lanes

3025 3 Altamesa Boulevard

Ft. F Worth, TX 76133

817-294-0501

8

Handicap is 90% of 230

USBC Certified

Prize Fund Returned 100%

Ball Raffle and 50/50 Pot

March 9/10 – March 16/17 – March 23/24

$2 000 00 Guaranteed 1st $2,000.00 Guaranteed 1 Place Team Event

st Place Team Event

Team event will be one division

$1,000.00 added money to each division scratch divisions

North Central Texas USBC

4MEMBERTEAMEVENT

4 MEMBER TEAM EVENT Entry deadline date March 3, 2013

Entry Fee:

Team/Doubles/Singles

/ / g

$30 Per Person Per Event

$10 All Events Per Person

**Oponal Scratch Divisions**

$10 Per Person Per Event

$10 Scratch All Events

Team Event - Open

Doubles Event – 380 Under/381 Over

Singles Event- 190 Under/191 Over

ing as a recommended path.

But the real world doesn't

work out so neatly.

Some really young baseball,

basketball, tennis and hockey

phenoms can and do make millions

of dollars before they can

legally drink or vote. How and

when do you tell them they are

too young or too unprepared?

At 17 they can be accepted into

the armed services and put

their lives on the line.

So how can you realistically

ask any youngster talented way

beyond their years to put a hold

on opportunities and riches that

may not be there later.

In many cases it is boys

against men, and girls against

women. But boys grow up fast

these days and women aren't

nearly as mere as they used to be.

Bowlers are amazingly adept

at early ages. You can visit

any junior program and see

obvious talent. But, at 15 many

bowlers have been bowling for

a decade, and bowling at pro

class caliber for years, By the

time they are ready for college,

many are ready for a shot at

the pro tours or the big money

tournaments.

Look at the Mark Roths,

Johnny Petraglias and Pete

Webers and a list of thousands

and you could see super stars

in the making at ages of 17 or

younger.

Junior bowlers can't be

reminded too often that a 200

game is fine, but an "A" in any

subject is better. A tournament

win is terrific, but the Honor

Roll is more terrific. A 300 game

or even a 900 series is great, but

a diploma is the greatest.

In bowling there is no

reason why both areas cannot

be encouraged, A high school

or college student can utilize

his time, so much can be spent

on bowling and much can be

spent on study. And students

can map out a schedule that

covers both sides, and gives

them the best of both worlds.

Parents, bowling coaches

and bowling officials have a

duty to counsel young bowlers

and not to put too much

pressure on them in either way,

except to use common sense.

Education should always

come first, but bowling is an

education too, if used wisely,

whether you're a shooting star

or a struggler.

But always hit the books as

hard as you hit the pins.

TRAVELING CLASSIC BOWLING

ASSOCIATION OF AMERICA

As of January 19

Men — Dallas I-II

District #1

AMF Lewisville Lanes . . . . . . . . . . . . . . . . . . . . . . . 59 45

Cityview Lanes . . . . . . . . . . . . . . . . . . . . . . . . . . . . . 56 48

Allen Bowl Cafe . . . . . . . . . . . . . . . . . . . . . . . . . . . . 53 51

AMF Garland Cafe . . . . . . . . . . . . . . . . . . . . . . . . . . 51 53

Plano Super Bowl Cafe . . . . . . . . . . . . . . . . . . . . . 49 55

Go Tell It . . . . . . . . . . . . . . . . . . . . . . . . . . . . . . . . . . . 45

District #2

59

USA Bowl Lounge . . . . . . . . . . . . . . . . . . . . . . . . . . 65 39

4-HHHH . . . . . . . . . . . . . . . . . . . . . . . . . . . . . . . . . . . 60 44

Forum Bowl Lanes . . . . . . . . . . . . . . . . . . . . . . . 58.5 45.5

Holiday Glass and Mirror . . . . . . . . . . . . . . . . . . . 55 49

AMF Euless Lanes . . . . . . . . . . . . . . . . . . . . . . . . . . 48 56

Plano Super Bowl Lounge . . . . . . . . . . . . . . . . . . 31

District #3

73

AMF Spare Time Red Door Lounge . . . . . . . 59.5 44.5

Winston Water Cooler . . . . . . . . . . . . . . . . . . . . . . 57 47

AMF Irving Lounge. . . . . . . . . . . . . . . . . . . . . . . . . 54 50

Red Bird Lanes . . . . . . . . . . . . . . . . . . . . . . . . . . . . . 52 52

Serviceledger.com . . . . . . . . . . . . . . . . . . . . . . . . . 48 56

BBB Enclosures. . . . . . . . . . . . . . . . . . . . . . . . . . . 46.5

District #4

57.5

AMF DeSoto Lounge . . . . . . . . . . . . . . . . . . . . . . . 68 36

AMF Richardson Lanes . . . . . . . . . . . . . . . . . . . 52.5 51.5

Cotton Bowlers . . . . . . . . . . . . . . . . . . . . . . . . . . . . 51 53

The Storms . . . . . . . . . . . . . . . . . . . . . . . . . . . . . . . . 51 53

Otis Pillow Pro Shop-Hurst . . . . . . . . . . . . . . . . . 40 64

Level 3 . . . . . . . . . . . . . . . . . . . . . . . . . . . . . . . . . . . . . 35

District #5

69

Splitsville-Fairview . . . . . . . . . . . . . . . . . . . . . . . . . 70 34

Red Bird Lanes Grill . . . . . . . . . . . . . . . . . . . . . . . . 69 35

Chad's Bowling Shop . . . . . . . . . . . . . . . . . . . . . . . 62 42

AMF Irving Lanes . . . . . . . . . . . . . . . . . . . . . . . . . . 53 51

Plano Super Bowl Lanes . . . . . . . . . . . . . . . . . . . . 53 51

AMF Lewisville Pro Shop . . . . . . . . . . . . . . . . . . . 46 58

USA Bowl Lanes . . . . . . . . . . . . . . . . . . . . . . . . . . . . 40 64

Ghost Team 32 . . . . . . . . . . . . . . . . . . . . . . . . . . . . . . 0

District #6

104

Allen Bowl . . . . . . . . . . . . . . . . . . . . . . . . . . . . . . . . . 65 39

AMF DeSoto Lanes . . . . . . . . . . . . . . . . . . . . . . . . . 60 44

Cityview Lounge . . . . . . . . . . . . . . . . . . . . . . . . . . . 56 48

AMF Spare Time Lanes . . . . . . . . . . . . . . . . . . . . . 53 51

Rich's Pro Shop/Forum Bowl . . . . . . . . . . . . . . . . 52 52

AMF Euless Hot Wings. . . . . . . . . . . . . . . . . . . . . . 51

District #7

53

On The Border . . . . . . . . . . . . . . . . . . . . . . . . . . . . . 66 38

AMF Garland Lounge . . . . . . . . . . . . . . . . . . . . . . 59 45

Forum Bowl Lounge . . . . . . . . . . . . . . . . . . . . . . . 52 52

Rowlett Bowl-A-Rama . . . . . . . . . . . . . . . . . . . . . . 46 58

The Bowling Shop/Garland . . . . . . . . . . . . . . . 41.5 62.5

5 J Builders . . . . . . . . . . . . . . . . . . . . . . . . . . . . . . 32.5 71.5

Mail entries into:

North Central Texas USBC

Kevin Roberts

621 Six Flags Drive, Arlington TX 76011

Phone (817) 385-8326 Fax (817) 385 - 8237

Make checks/money orders payable to NCTUSBC

As of January 6

Dallas Women

B-1

The Bowling Shop/Garland . . . . . . . . . . . . . . . 65.0 31.0

Lewisville Travelin' Trouble. . . . . . . . . . . . . . . . 51.0 45.0

Sparetime 2 D Xtreme . . . . . . . . . . . . . . . . . . . . 49.0 47.0

Richardson Lightning Strikes . . . . . . . . . . . . . 39.5 56.5

B-2

Plano Super Bowl . . . . . . . . . . . . . . . . . . . . . . . . 47.0 49.0

AMF Garland Deuces Wild . . . . . . . . . . . . . . . . 44.0 52.0

Brunswick Zone Diamond Queens . . . . . . . . 44.0 52.0

Cowtown Bowling Palace . . . . . . . . . . . . . . . . 39.0 57.0

B-3

GunsAmerica.com . . . . . . . . . . . . . . . . . . . . . . . 55.5 40.5

Rowlett Bowl-A-Rama . . . . . . . . . . . . . . . . . . . . 48.0 48.0

AMF DeSoto Lanes . . . . . . . . . . . . . . . . . . . . . . . 46.0 50.0

Pride and Joy Day Care . . . . . . . . . . . . . . . . . . . 41.5 54.5

B-4

On The Border . . . . . . . . . . . . . . . . . . . . . . . . . . . 60.0 36.0

AMF Garland Lanes . . . . . . . . . . . . . . . . . . . . . . 46.0 50.0

University Lanes . . . . . . . . . . . . . . . . . . . . . . . . . 44.0 52.0

Cowtown Bowling Palace Ladies. . . . . . . . . . 35.0 61.0

B-5

Sheroes . . . . . . . . . . . . . . . . . . . . . . . . . . . . . . . . . . 64.0 32.0

DeSoto Candles Make Scents . . . . . . . . . . . . . 48.0 48.0

Westcreek Lanes . . . . . . . . . . . . . . . . . . . . . . . . . 47.0 49.0

Cityview Lanes . . . . . . . . . . . . . . . . . . . . . . . . . . . 47.0 49.0

B-6

USA Bowl . . . . . . . . . . . . . . . . . . . . . . . . . . . . . . . . 56.0 40.0

AMF Richardson . . . . . . . . . . . . . . . . . . . . . . . . . 53.5 42.5

Power Bows . . . . . . . . . . . . . . . . . . . . . . . . . . . . . 49.0 47.0

AMF Irving Lanes . . . . . . . . . . . . . . . . . . . . . . . . 40.0 56.0

B-7

The Bowling Shop/Lewisville . . . . . . . . . . . . . 56.5 39.5

4H Invest - Bowling Diva's . . . . . . . . . . . . . . . . 56.0 40.0

AMF Euless Lanes . . . . . . . . . . . . . . . . . . . . . . . . 51.0 45.0

Wick's Pro Shop . . . . . . . . . . . . . . . . . . . . . . . . . . 49.0 47.0

B-8

Lusha's Ladies . . . . . . . . . . . . . . . . . . . . . . . . . . . . 52.5 43.5

Red Bird Lanes . . . . . . . . . . . . . . . . . . . . . . . . . . . 52.0 44.0

Forum Bowl 300 . . . . . . . . . . . . . . . . . . . . . . . . . 48.5 47.5

DeSoto Sophisticated Ladies . . . . . . . . . . . . . 43.0 53.0

B-9

Bowling with Innovation . . . . . . . . . . . . . . . . . 44.0 52.0

TBC Pro Shop . . . . . . . . . . . . . . . . . . . . . . . . . . . . 39.0 57.0

Forum Bowlers . . . . . . . . . . . . . . . . . . . . . . . . . . . 39.0 57.0

Kathy's Transport . . . . . . . . . . . . . . . . . . . . . . . . 38.5 57.5

As of January 20

Fort Worth Women

District #1

AMF Spare Time Lanes . . . . . . . . . . . . . . . . . . . 67.0 37.0

Lone Star Spares & Strikes . . . . . . . . . . . . . . . . 56.0 48.0

Spare Girls . . . . . . . . . . . . . . . . . . . . . . . . . . . . . . . 51.0 53.0

Bowling Heifers . . . . . . . . . . . . . . . . . . . . . . . . . . 48.0 56.0

Cityview City Slickers . . . . . . . . . . . . . . . . . . . . . 41.0 63.0

District #2

Chad's Bowling Shop . . . . . . . . . . . . . . . . . . . . . 57.5 46.5

Nine & A Wiggle . . . . . . . . . . . . . . . . . . . . . . . . . 54.0 50.0

Forum Hit & Miss . . . . . . . . . . . . . . . . . . . . . . . . . 50.5 53.5

USA Bowl . . . . . . . . . . . . . . . . . . . . . . . . . . . . . . . . 48.5 55.5

AMF Showplace Lanes . . . . . . . . . . . . . . . . . . . 45.5 58.5

Credit Card Payments can be made by Phone/Fax:

Download your entry form today @

www.thebowlingnews.net

Phone in entries must provide USBC #'s for all entrants