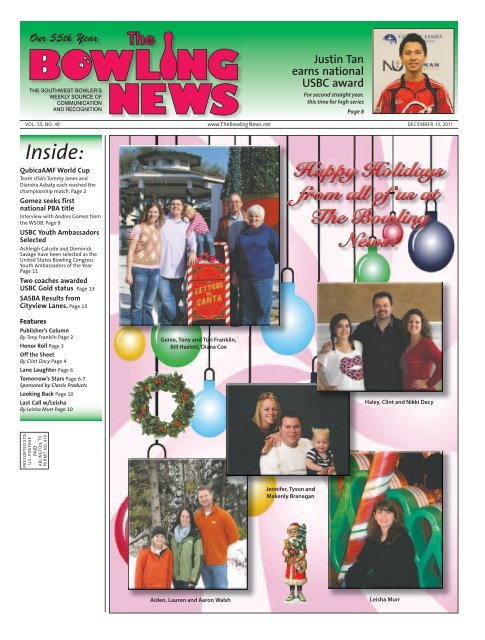 Inside: - The Bowling News
Inside: - The Bowling News
Inside: - The Bowling News
SHOW MORE
SHOW LESS
You also want an ePaper? Increase the reach of your titles
YUMPU automatically turns print PDFs into web optimized ePapers that Google loves.
Our 55th Year

VOL. 55, NO. 49 www.TheBowlingNews.net DECEMBER 15, 2011

Inside:

QubicaAMF World Cup

Team USA's Tommy Jones and

Diandra Asbaty each reached the

championship match. Page 2

Gomez seeks first

national PBA title

Interview with Andres Gomez from

the WSOB. Page 9

USBC Youth Ambassadors

Selected

Ashleigh Calcote and Dominick

Savage have been selected as the

United States Bowling Congress

Youth Ambassadors of the Year

Page 11

Two coaches awarded

USBC Gold status Page 13

SASBA Results from

Cityview Lanes. Page 15

Features

Publisher's Column

By Tony Franklin Page 2

Honor Roll Page 3

Off the Sheet

By Clint Dacy Page 4

Lane Laughter Page 6

Tomorrow's Stars Page 6-7

Sponsored by Classic Products

Looking Back Page 10

Last Call w/Leisha

By Leisha Murr Page 10

PRESORTED STD

U.S. POSTAGE

PAID

ARLINGTON, TX

PERMIT NO. 419

Genie, Tony and Tori Franklin,

Bill Hazlett, Diana Cox

Aiden, Lauren and Aaron Walsh

Jennifer, Tyson and

Makenly Branagan

Justin Tan

earns national

USBC award

For second straight year,

this time for high series

Page 8

Haley, Clint and Nikki Dacy

Leisha Murr
---
Page 2 | Thursday, December 15, 2011 | THE BOWLING NEWS

Random Thoughts

As the calendar closes on

the 55th year for The Bowling

News, we would like to thank

all of our customers, all of our

partners, all of our writers,

and most importantly all of our

readers who pick up the paper

each week, or maybe click on

www.TheBowlingNews.net.

We do it because we enjoy it

and hopefully you're enjoying

it too.

55 years is an amazingly

long time for a publication

to be in print and each week

as we work on the paper, I

find myself more and more

impressed with the vision that

Joe Gennaro had when he

created this fun little paper.

There's a lot of pressure on us

to keep it going, but we're up

to the challenge.

One of the things that we

try to do is make it fun and

entertaining, and I feel we've

been pretty successful at that,

but we will keep trying to take

it to the next level. We focus on

providing information that you

aren't getting anywhere else,

whether it be bowling related

or not. We will continue to

Tony Franklin, Publisher

make that our mission each

and every week.

I've been extremely happy

with the new writers that

we've added this year and we

will continue to add new ones

next year and beyond. We

need a youth writer and we

also need a staff writer that is

focused on our local interest

stories. So, if you've always

wanted to find an outlet for

your creative writing side,

shoot me an email, Tony@

TheBowlingNews.net.

In closing, we would again

like to thank everyone for

their continued interest and

patronage of The Bowling News.

There's no us without you!

Please have a safe and

fun holiday season. Spend as

much time with family as you

possibly can, soak in every

memorable moment, and never

waste an opportunity to do

something good for someone

else.

See you in January for the

56th year!

The Bowling News

Tony, Genie and Bill

IMPORTANT METROPLEX PHONE NUMBERS

Dallas USBC Bowling Association ............................................ 972-644-7746

Dallas USBC Women's Bowling Association............................. 972-274-4433

Dallas USBC Youth Association ................................................ 972-475-5457

Denton County USBC Association ............................................ 972-360-6890

Greater Fort Worth USBC Association. Inc. .............................. 817-336-2555

BUY - - - SELL

AMF - BRUNSWICK EQUIPMENT - COMPLETE PACKAGE

WORLD'S LARGEST NEW-USED SPARE PARTS INVENTORY

Danny or Daryl Tucker

Tucker Bowling Equipment Co. Bowling Parts, Inc.

609 N.E. 3rd St. P.O. Box 801

Tulia, Texas 79088 Tulia, Texas 79088

Call (806) 995-4018 Call (806) 995-3635

Fax (806) 995-4767 Email: bpitx@texasonline.net

Website: www.tuckerbowling.com

Mailing Address: P.O. Box 1642, Colleyville, TX 76034-1642

Delivery Address: 4133 Heartstone Dr, Grapevine, TX 76051

Offi ce: 817-267-8686 • Fax: 817-267-1813 • Cell: 817-368-7960

Website: www.thebowlingnews.net • Email: bowlingnews@sbcglobal.net

JOE GENNARO (972-978-8687) . . . . . . . . . . . . . . . . . . . . . . . . . . . . . EDITOR EMERITUS

TONY FRANKLIN (Tony@TheBowlingNews.net) . . . . . . . . . . . . .OWNER/PUBLISHER

GENIE FRANKLIN (Genie@TheBowlingNews.net) . . . . . . . . . . .OWNER/PUBLISHER

BILL HAZLETT (Bill@TheBowlingNews.net) . . . . . . . . . . . . . . . . .MANAGING EDITOR

JIM WOODRUFF (jim@discountplasticbags.com) . . . . . . . . . . . . . FEATURE EDITOR

EMIL WILLIAMS JR. (emil@thebowlingnews.net ). . . . . . . . . . . . . . . . STAFF WRITER

TYSON BRANAGAN (t.branagan@yahoo.com) . . . . . . . . . . . . . . . . . . STAFF WRITER

BREANNE EOFF (breanne@TheBowlingNews.net) . . . . . . . . . . . . . . . STAFF WRITER

CLINT DACY (Clint@TheBowlingNews.net) . . . . . . . . . . . . . . . . . . . . . . . . COLUMNIST

SUSIE MINSHEW (strikeability@gmail.com) . . . . . . . . . . . . . . . . . . . . . . . . COLUMNIST

LEISHA MURR (leisha@TheBowlingNews.net) . . . . . . . . . . . . . . . . . . . . . COLUMNIST

BUBBA FLINT (fl intsworld@aol.com) . . . . . . . . . . . . . . . . . . . . . . . . . . . . . CARTOONIST

CONTRIBUTING FEATURE WRITERS

John Jowdy • Chuck Pezzano • Don Wright

Note: Opinions expressed by our independent columnists and feature writers are

their own and do not necessarily refl ect the views of The Bowling News.

Subscription rates: $65 a year in advance. Check or money orders should be addressed to

THE BOWLING NEWS.

© 2011

Th e Bowling News

FOUNDED AND PUBLISHED BY JOE GENNARO FROM 1956-2009

Team USA duo excels at

2011 QubicaAMF World Cup

Team USA's Tommy Jones of

Simpsonville, S.C., and Diandra

Asbaty of Chicago each reached

the championship match of the

2011 QubicaAMF World Cup in

Johannesburg, South Africa, in

their respective divisions, but

both fell short of hoisting the

coveted cup Wednesday.

Jones, a four-time Team

USA member and first-time

QubicaAMF World Cup participant,

was the top seed for

the three-person stepladder,

but lost to Australian twohander

Jason Belmonte, 2-1,

in the finale. Asbaty, the 2006

World Cup champion, qualified

second and defeated Sweden's

Sandra Andersson before suffering

a 2-1 loss to defending

champion Aumi Guerra of the

Dominican Republic.

Belmonte led the first three

days of the event at Northcliff

Bowling Centre before Jones

pulled ahead and cruised into

the top spot after 36 games. In

the title match, it was Jones

who started strong with a

At AMF Irving Lanes

Coburn and

Yanai top

scorers

Robert Coburn led the scoring

race for the week at AMF Irving

Lanes with a super solid 247/592

Odd and Ends series.

Kimberly Yanai, from the

Youth Practice league, posted

a nice 224/583 set to pace the

ladies.

HONOR ROLL

Chris Tidwell 222-545, Deb Jaggears

200-451, Bill Tenison 551, Jannete

Vasquez 185, Bubba Smart 221-527,

Tessie Wells 456, JoAnn Garcia 461,

Stanley Henderson 236-577, June Trout

190-493.

Ralph Swanson 224, Margaret Ruse

190, Garfield Andrew 562, Louise

Feuberbacher 181-477, Loyall Linman

557, Sue Southland 477, Vicky Alcorn

195-515, Curtis Engel 210, Hillary

Kraus 178.

John Johnson 569, Helen Dirla 172.

Diandra Asbaty and Tommy Jones

279-259 win in the opening

game, but Belmonte took the

next two, 247-216 and 259-236,

for the victory.

On the women's side,

Guerra become only the second

bowler in World Cup history

to win back-to-back titles and

the fourth woman to win the

event twice. Jeanette Baker of

Australia won in 1982 and '83,

while Pauline (Smith) Buck of

Great Britain and Team USA's

Shannon Pluhowsky also own

two titles.

Guerra dominated the lanes

this week and out-averaged

the field by more than eight

pins over the 36 games. She

opened the title match with

an 11-strike 266 to Asbaty's

201, but the 13-time Team

USA member was able to even

things up with a 227-214 win

in Game 2. The two were

separated by just one pin heading

into the final frame of the

DFW BOWLING

SINGLES SCRATCH

TOURNAMENT

$4,000 FIRST PLACE

PRIZE FUND of over $16,000!!!

(Based on only 200 entries)

finale before Guerra escaped

with a 202-199 victory.

In the men's semifinal,

Belmonte defeated Mykhaylo

Kalika of the Ukraine, 2-1 (237-

203; 248-266; 266-185), while

Asbaty topped Andersson, 2-1

(217-267; 247-219; 279-243).

The week started with

players from more than 80

countries, who all bowled 20

qualifying games before the

field was cut to the top 24

men and top 24 women for an

additional eight games. The

top eight in each division then

returned for eight games of

match play, before the field

was cut to the top three for

Wednesday's stepladder.

For more information and

scores from the event, visit

QubicaAMF.com.

Want to compete in the QubicaAMF

World Cup next year?

The winners of the 2012 USBC

Team USA Trials this January

will automatically earn

spots to compete in the 2012

event! For entry information,

visit BOWL.com/tournaments/

usbcteamusatrials.

2011 QubicaAMF World Cup

At Northcliff Bowling Centre

Johannesburg, South Africa

CHAMPIONSHIP ROUND

MEN

Semifinal: Jason Belmonte, Australia,

def. Mykhaylo Kalika, Ukraine, 2-1

(237-203; 248-266; 266-185)

Final: Belmonte def. Tommy Jones,

United States, 2-1 (259-279; 247-216;

259-236)

WOMEN

Semifinal: Diandra Asbaty, United

States, def. Sandra Andersson, Sweden,

2-1 (217-267; 247-219; 279-243)

Final: Aumi Guerra, Dominican

Republic, def. Asbaty, 2-1 (266-201;

214-227; 202-199)

WHEN: JANUARY 21ST AND 22ND

WHERE: AMF SHOWPLACE EULESS

$99 ENTRY FEE OR BOWL EVERY SQUAD $325

SATURDAY SQUADS- NOON, 1:30 PM, 3 PM, 5 PM, 7 PM

SUNDAY SQUADS- 10 AM, 11:30 AM, 1 PM, 3 PM

SEMI-FINALS- SUNDAY AT 5 PM

FINALS IMMEDIATELY AFTER SEMIS

Brackets & High Pots Cash 1 in 6

FORMAT

QUALIFYING- 4 GAMES ACROSS 4 PAIRS

SEMI-FINALS- 4 GAMES ACROSS 4 PAIRS

FINALS- TOP 16 BOWL 2 GAME

HEAD-TO-HEAD MATCHES

FOR COMPLETE TOURNAMENT INFORMATION

AND SEEDED SQUADS GO TO "DFW BOWLING"

GROUP ON FACEBOOK OR SEND AN EMAIL TO

DFWBOWLINGTOURNAMENT@GMAIL.COM
---
Men

Anthony Simonsen, Plano Super Bowl ................. 843

Phillip Kepner, AMF Richardson Lanes ................ 808

Sylvester Howard, AMF Showplace Euless .......... 803

Derek Eoff, AMF Spare Time Lanes ...................... 795

Ted Pritts, AMF Showplace Garland Lanes .......... 795

Ron Boroff, Brunswick Westcreek Lanes ............. 793

Vernon Smith, Jr., Cowtown Bowling Palace ........ 779

Larry Syring, BRC Thousand Oaks ....................... 778

Mark Neville, Forum Bowl...................................... 776

Dale McFarland, AMF DeSoto Lanes .................... 773

Jack Armstrong, AMF Hurst Lanes ....................... 763

David Brewster, USA Bowl..................................... 761

Sean Lavery-Spahr, AMF Lewisville Lanes ........... 761

Steve Fuhrman, Brunswick Zone Watauga ........... 749

Marvin Sitts, Jr., Cityview Lanes ........................... 749

Boyce Lewis, Brunswick Zone Denton ................. 716

Jeffery Cathey, Red Bird Lanes ............................ 692

Mike Bailey, Strikz .................................................. 691

Robert Ford, Rowlett Bowl-A-Rama ...................... 662

Robert Coburn, AMF Irving Lanes ........................ 592

James Patterson, AMF Arlington Lanes ............... 591

Women

Val Goss, AMF Showplace Euless Lanes ............. 751

Michelle Rogers, AMF Richardson Lanes ............ 723

Cathy Sposito, Plano Super Bowl ......................... 719

Donnie McMasters, AMF Spare Time Lanes ........ 712

LeeAnn Sikora, Brunswick Westcreek Lanes ....... 685

Megean Benavides, AMF Showplace Garland ..... 683

Emily Johnson, USA Bowl ..................................... 681

Annie Akanni, Forum Bowl .................................... 680

Jessica Hirschmann, BRC Thousand Oaks ......... 679

Katie Tallant, Cowtown Bowling Palace ................ 679

Debbie Benjamin, Cityview Lanes ......................... 675

Trish Hicks, AMF Lewisville Lanes ........................ 665

Mary Dreessen, Brunswick Zone Denton ............. 643

Stacey Williams, AMF DeSoto Lanes .................... 632

Lisa Steele, Brunswick Zone Watauga ................. 628

Lisa Girton, AMF Hurst Lanes ............................... 626

Cathy Eberly, Strikz ................................................ 603

Lauren Daniel, Red Bird Lanes ............................. 589

Cindy Howell, Red Bird Lanes .............................. 589

Kimberly Yanai, AMF Irving Lanes ........................ 583

Ashley Heinaman, Rowlett Bowl-A-Rama ............. 546

Taira Portley, AMF Arlington Lanes ....................... 516

At Cityview Lanes

Sitts, Jr. strokes 749,

Benjamin downs 675

Black 300

Marvin Sitts, Jr. was red hot

last week at Cityview Lanes with

a power-laden 256-246-247 = 749

series in Billie & Les High Pot

league play.

Debbie Benjamin led the

At USA Bowl

Brewster collects 761,

Johnson coins 681

David Brewster landed a

banner 235-268-258 = 761 Just

For Fun series to head the honor

roll last week at USA Bowl.

Emily Johnson paced the gals

with a stellar 211-222-248 = 681

West Stars set.

HONOR ROLL

Burdette Graham 244-693, Marty

Barlow 161-440, Ronnie Willets 213-

607, Steve Kerr 238-702, Dondi Rhone

231-524, Chris Wooley 179-417, Susan

Charlton 209-565, Joe JeanJacques

(4 games) 265-907. Lynelle McLain

(4 games) 257-728, Dennis Bolding

259-740, Emily Johnson 248-681, Jim

Ellis 162-444, Jennifer Curl 249-663,

Jim Ellis 179-470, Pat Sheetz 203-550,

Marvin Sitts, Jr. 267-736.

Vanessa Brown 223-629, Chris

Holliday 255-712, Jennifer Curl 217-598,

Brad Ellis 258-686, Sonya Robinson

197-503, Brian Hammond 685, Tammi

Rowley 192-489, Brad Ellis 237-673.

Aricia Grant 181-458, Chris Kyser

267-678, Janie Munoz 188-552, Jim

Brown 231-662, Kim Lopez 132-361,

Chad Brown 267-690, Michelle Carr

245-675, Earl Davis 191-473, Kylie

Chapman 153-373.

Val Goss

This week's high female is

Val Goss with a 215-257-279 for

a 751 series in the Full House

league at AMF Showplace

Euless Lanes. Val works for the

City of Coppell in the Parks

and Recreation department as

a crew leader. She is also one

the best bowlers ever to come

out of Fort Worth, and as you

will read below, she was pretty

much born in a bowling center.

What is your high series? 825

at Hurst in 2006.

How many 300's have you

bowled? Five

Thoughts on your big night?

It was one of those things. I

was just relaxed and having a

good time. It's important for me

to have a good time bowling or

it's not worth doing.

What ball did you throw? I

can't even remember the name;

it's a five year-old ball.

Who drills your balls? James

Askins

What is your all-time

favorite bowling ball? The one

that James drilled that I shot

800 with, but I don't remember

the name of that one either.

What is your average in this

league? 221 but I can't believe

I'm carrying an average that

high.

What is your all-time high

average? I'm usually around

211.

How long have you been

bowling? About 40 years now,

my mom bowled and I grew up

in Richland Bowl. She had the

beauty shop at Richland which

was next to the barber shop

and the nursery. My mom,

Betty Peterson, passed away in

2005 but is in the FW Bowling

Hall of Fame and I would love

ladies' high-set race with a

rollicking 195-246-234 = 675

Saturday Night Doubles set.

Michael Black had an awardwinning

12-bagger to lead the

high-game contest for the week.

HONOR ROLL

Chris Stevens 243-688, Jodie Snook

289-679, Cherie Deleon 227-616, Lori

Wacker 216-583, Joe Sanchez 268-662,

Amy Langham 235-636, Pam Candler

217-638, Frank Lenihan 269-707.

Carla Crowe 205-525, Crickett

Paret 204-541, David Watson 256-705,

Leigh Batten 223-588, Harold Jackson

264-711, Lynette Berry 192-517, Jack

Wassman 182-541, Mickie Archer

227-623.

Jerry Davis 267-658, Chris Holliday

269-713, Diane James 220-634, Dion

McMiller 234-642, Chris Allen 256-657,

Maria Dulaney 208-548, Pat Sharp

203-541.

SENIORS

Bobby Wineinger 232-614, Karen

Holder 199-542, Chuck Tanner 269-669,

Judy Baumgardner 224-590.

THE BOWLING NEWS | Thursday, December 15, 2011 | Page 3

to join her there someday.

Who is your favorite pro

bowler? Earl Anthony, he was

so smooth and I just loved to

watch him bowl. He was easy

to watch and he really knew

what he was doing.

Most memorable bowling

New Year's Eve

Moonlight Bowling

Color Pin Sweeper

Saturday, December 31st

9 PM to 1 AM

$35.00 per person

$60.00 per couple

If paid by Dec. 30th

$40.00 per person after the 30th

(Lay-away plan available)

Bowling—Color Pins—Champagne Toast

Door Prizes—Black Eye Peas—Games

9 Pin No Tap

90% Handicap from 220

Use current 12 game Cityview Lanes average

If no current average use Book Average

Payout 1 place for every 6 entries

Optional Side Pots/Brackets/Strike Pots

Sign Up Now !!

The "New"

817-346-0444

moment? My first 300, it was

on my mom's birthday. I was

15 at the time and a junior

bowler. We were having a

birthday party for some folks

so everyone was there to see

it. I shot my second one almost

exactly a year later.

Cityviewlanes.net Fax: 817-346-7208

Senior

Bowlers

Mondays, Wednesdays

& Thursdays

11 AM to 3 PM

$1.00

per person per game

Must be 55 years or older.

Wishing you Happy Holidays

& a Great New Year

From the staff of USA Bowl

214-358-1382 Fax: 214-358-4056

10920 Composite Drive, Dallas, TX 75220

Visit us on the Web at www.USABowlInDallas.com
---
Page 4 | Thursday, December 15, 2011 | THE BOWLING NEWS

It's that time of year again.

No I'm not talking about

Christmas, but instead, BCS

controversy time.

Every year someone has an

argument as to why their team

should or shouldn't be in the

BCS games or rankings etc.

This year it's Oklahoma

State who has the biggest beef

as the BCS chose a rematch of

LSU and Alabama to decide the

National Championship. You

have to admit that it would be

interesting to watch Oklahoma

State and their powerful offense

go against LSU's smothering

defense, but it's all for

dreams because of the BCS.

To make it more controversial

Alabama Head Coach Nick

Saban wanted to make sure

Oklahoma State didn't make

up any ground on them so he

ranked them 4th in the coaches

rankings which do affect the

BCS calculations.

If I were "a man," such as

Oklahoma State Head Coach

Mike Gundy says he is, then

I would never rank Alabama

ever again. Let's see how Saban

likes that!

I just completed my move

into our new house and I must

say that the word "service" has

taken on new meaning. First

of all, let's discuss types of

service.

There is good service and

bad service. There is no service

and rarely over-serviced, but

what do each of these cost?

Unfortunately they all cost

about the same…too much.

In my daily job I'm asked to

provide a service to physicians

to help make their lives easier

by giving them new technologies

to better assist them to do

their job. There is no payment

or tips just a position to provide

an extra service for physicians.

During the move I had to

hire many companies to come

out and perform different

services. The problem I have is

that I'm paying for the service

through the company, but they

are not fairly distributing the

money to their employees who

are actually doing the work.

This is where tipping comes

into play. I've always argued

that why should I tip a pizza

delivery driver when I just paid

a delivery service charge? Why

shouldn't the pizza company

pay the delivery charge to the

driver?

When it came to the moving

company I was already paying

for them to come out and

move all of my things from

one house to another, but the

entire time the guys doing the

actual work kept hinting about

the tip at the end. Obviously

LOOKING FOR THAT

SPECIAL PLACE TO

HAVE A PARTY?

PLANNING A PARTY FOR

THE FAMILY, COMPANY

OR A GET TOGETHER

WITH FRIENDS FOR THE HOLIDAYS?

LOOK NO FURTHER…call 972.475.7080

today to book your special event.

Come by Splits and try one of our new drinks!!!

www.facebook.com/rowlettbowlarama

5021 Lakeview Parkway, Rowlett, TX 75088

972-475-7080

www.rowlettbowlarama.com

above and beyond service is a

given that they deserve a tip,

but when I feel as exhausted as

they do because I had to help

load and unload the truck so

that they didn't bleed me dry

paying by the hour, I don't feel

like spending more of my hard

earned money to reward them

for taking longer and charging

me more.

However, just like everybody

else I don't want to be

the cheap guy, so I tip them

well anyway. Surely I'm not the

only one who feels this way,

and I understand that the guys

doing the work aren't getting

paid a ton, but it should also be

considered that I just paid out

the wazoo for their service.

It's certainly a catch-22, but

I no longer feel bad for being

picky about the service I do

get. I guess it boils down to the

pride of the worker and how

much ownership they take for

their work. I guess you could

say that hiring good people is

as important as providing the

service yourself.

As 2011 comes to end I

always want to thank those of

you who routinely read "Off

the Sheet" and whether you

agree with me or not I hope

you all find it entertaining and

somewhat insightful. Trying to

write an article every week can

be difficult, because of how

challenging it is to come up

with material to write about.

So I appreciate you fighting

through my flops and soaking

in my near Pulitzer Prize

winning moments. I'm not far

away from the 100th episode

so stay tuned in 2012 for a very

special 100th episode.

To all my bowling friends

and family I want to wish

you all a very safe and Happy

Holidays, and lets all try and

make an effort to be a little

kinder to one another.

At Rowlett Bowl-a-Rama

Ford

collars 662

Robert Ford won the high-set

contest last week at Rowlett Bowla-Rama

as he tossed a top-notch

203-200-259 = 662 numbers in

Sunday Mixers league play.

Ashley Heinaman, Ford's

league mate, led the ladies with a

stately 221-166-159 = 546 series.

HONOR ROLL

Mike Marcus 243-651, Betty

Parman 189-483, Mike Cawthon 236-

630, Debi New 207-485, John Mock,

Sr. (2 games) 225-413, Bev Jones (2

games) 173-309.

SENIORS

Gary Teague (2 games) 154-305,

Gladys Aldrich (2 games) 169-282,

Rodney Savole 212-612, Louise Garner

167-483, Jim Ritchie (no tap) 256-644,

Shirley Large (no tap) 186-506.

PBA social networking pays

off for bowling fans

SEATTLE – As pro bowling

fans follow the greatest bowlers

in the world during the PBA

Tour, opportunities to directly

participate and cash in are

part of the fun via PBA social

networking. The PBA digital

platform provides an exclusive

source of fan interaction and

breaking news with the chance

to win valuable prizes.

Through the PBA Winning

Wednesday program last

At Brunswick Westcreek

Boroff reels in 300/793,

Sikora drums up 685

Ron Boroff led the high-set

chase last week at Brunswick

Westcreek Lanes after pocketing

prime 237-300-256 = 793

numbers in Classic High Pot

action.

LeaAnne Sikora, Boroff's

league mate, led the gals with a

sky-high 213-225-247 = 685 set.

HONOR ROLL

Jim Wright 245, Suzanne Gardner

201-497, Stephen Rogers 640, James

Johnson 233, Lee Ann Clark 190-504,

Gene Gaspar 633, Ken Garber 190-567,

Teresa Tibbs 215-511, Greg Avery

266-685.

Arlene Holland 120-329, Jeff

Hamlin 256-708, Cassie Williams 165,

Chuck Cox 233-547, Sonja Nichols 171-

485, Jennifer Korn 254-646, Barbara

Avery 189, Ronnie Everage 253-689.

season, PBA product-registered

companies 900 Global, Brunswick,

Columbia 300, Ebonite,

EFX Performance, Etonic,

Hammer, KR Strikeforce,

MOTIV Bowling, Roto Grip,

Storm, Track, Turbo and Vise

provided high-performance

bowling balls, bowling shoes,

accessories and performance

wrist bands. This season,

MOTIV Bowling provided high

Continued on Page 15

Jamey Coggins 222-610, Ron

Williams 259-677, Anita Whitley

205-602, David Dewberry 278, Yvette

Bernal 205-528, Charles Covert 735,

Ron Waller (9 pin, no tap) 290-796.

Virginia Hamilton (9 pin, no tap)

254-637, Marty Tomlinson 258-670,

Teresa Tibbs 212-553, Chester Jones

289-727, Karen Vasquez 185, Margie

Wherry 487, Maxine Woolard 182-514,

Roy Johnson 289-724.

Gloria Llagas 246-641, James

Franklin 268-770, Trisha Burns 224.,

Kecia Andries 606, Terri Trefger 214-

590, Daniel Shue 227, Ranndee Drake

169, Willie Jackson 254, Monetta

Maddux 245-633.

Laughton Smith 709, Lee Rodawalt

258-666, Darlene A Jones 188, Mary

Hove 512.

ADULT LEAGUES

Day Time League Name Team Start

TUESDAY 6:30 PM HAPPY HOUR* 4 1/17/12

TUESDAY 9:10 PM LOUSY BOWLERS 2 1/17/12

TUESDAY 9:00 PM 8 FOR 8 CLUB 3 1/24/12

WEDNESDAY 9:30 AM WED. WARM-UP* 3 1/4/12

WEDNESDAY 6:45 PM BEAT THE HOUSE* 4 1/25/12

WEDNESDAY 9:00 PM DV8 MISFITS CLUB 3 1/25/12

WEDNESDAY 9:00 PM INKAHOLICS 3 1/11/12

FRIDAY 7:00 PM FRIDAY MIXED 4 2/3/12

FRIDAY 7:00 PM SINGLES CLUB 3 1/13/12

SUNDAY 3:00 PM C.C.C. LEAGUE 4 1/22/12

* Indicates 2nd Half of League

SENIORS

Day Time League Name Team Start

MONDAY 1:00 PM SENIOR NO TAP 3 2/6/12

TUESDAY 1:00 PM HAPPY ROLLERS 3 1/10/12

THURSDAY 1:00 PM BABY BOOMERS 3 1/12/12

FRIDAY 1:00 PM SENIOR SOCIAL CLUB 4 2/17/12

YOUTH LEAGUES

Day Time League Name Team Start

SATURDAY 10:00 AM LITTLE RASCALS 2 1/7/12

SATURDAY 10:00 AM BRUNSWICK YOUTH CLUB 2 1/14/12

SATURDAY 3:00 PM YOUTH/ADULT SCHOLARSHIP 4 2/12/12

SUNDAY 3:00 PM JUNIOR PRACTICE 3 1/8/12

SUNDAY 3:00 PM YOUTH/ADULT CLUB 4 2/12/12

All meetings are 30 minutes prior to start time.

Brunswick

Westcreek Lanes

3025 Altamesa Blvd., Fort Worth, TX 76133

817-294-0501
---
AMF Hurst Lanes 720 West Pipeline Road, Hurst, TX 76053 Ph: 817-282-6754

AMF Spare Time Lanes 3149 S. Cooper St., Arlington, TX 76015 Ph: 817-465-4997

AMF Showplace Lanes Euless 1901 W. Airport Frwy., Euless, TX 76040 Ph: 817-540-0303

AMF Showplace Lanes Garland 1950 Marketplace Dr., Garland, TX 75041 Ph: 972-613-8100

AMF Richardson Lanes 2101 N. Central Expwy., Richardson, TX 75080 Ph: 972-231-2695

AMF DeSoto Lanes 121 Northgate Drive, DeSoto, TX 75115 Ph: 972-780-8090

AMF Arlington Lanes 1801 E. Lamar Blvd., Arlington, TX 76006 Ph: 817-276-9898

AMF Irving Lanes 3450 Willow Creek Drive, Irving, TX 75061 Ph: 972-790-8201

AMF Lewisville Lanes 1398 West Main St., Lewisville, TX 75067 Ph: 972-436-6575

THE BOWLING NEWS | Thursday, December 15, 2011 | Page 5

1st Place $50,000/Division!

2nd Place $25,000/Division

3rd Place $10,000/Division

Go to AMF.com for complete rules.

4 Divisions

Open 200+ Average A: 180-199 B: 160-179 C: 159-Below
---
Page 6 | Thursday, December 15, 2011 | THE BOWLING NEWS

Sponsored by

Fort Worth USBC Youth Results

Deidra Juetten led the Fort

Worth-area USBC youth bowling

last week with a smartly rolled

245/709 Wonders series at AMF

Showplace Euless Lanes.

Joshua Fredman paced the

guys with an outstanding 236-

201-212 = 649 All Star Juniors

set at Brunswick Zone Denton.

At AMF Showplace Euless Lanes–

Andrew Martin 198-446, Cody

Busocker 77-135, Peyton Fultz 151-375.

At AMF Spare Time Lanes – Garrick

Schmit 248-643, Diane Hasty

176-486, Justin Beaver 91-156, Charisse

Graham 80-156, Christopher Carson

143-413, Kelcie Crunk 100-292.

At Brunswick Westcreek Lanes

– Katelyn George 214-571, Courtney

Coggins 213-528, Cubie Williams 214,.

Devynn Birdow 201-574, Cooper Cox

546, Brennon Pegues 122, Laci Moore

110, Casey Tibbs 123, Katarina Korn

109-297, John Holland 191-526, Rachel

Garber 145-400, Trey Johnson 130,

Brianna Avery 157-465, Kevin Williams

125, Viktorea Freeman 155-374, Chance

Dallas USBC Youth Scores

Anthony Simonsen rolled to

the top of the heap of the Dallasarea

USBC youth bowling last

week with a rock solid 278-300-

265 = 843 Sunday Youth/Adult

series at Plano Super Bowl.

Lindsay Paredes, also from

Plano Super Bowl, led the girls

with a very solid 267/672 Showstoppers

set.

At AMF Irving Lanes – Zander

Villinger 245-530, Jaden Takayesu

245-559, Danny Hylton 212-566, Kimberly

Yanai 224-583, Major Whisenton

224-498, Destiny Velez 112-508.

At AMF Lewisville Lanes – Jeremy

Palmatier 106-278, Zhanna Miller 115-

306, Connor Mixson 175-517, Danielle

Cole 129-359, Robert Benson 232-640,

Area USBC

Youth Scores

Christian Perez led the Southwest-area

USBC youth bowling

last week with chart-topping 214-

267-245 = 726 Division II series

at BRC Thousand Oaks.

Kelsi Anderson was equally

dominate as she led the girls

by shooting 243-198-236 = 677

Scholarship set at BRC Thousand

Oaks.

At BRC Thousand Oaks, San

Antonio – Joseph Seitz 177-412, Kylie

Strain 170-428, Damien Leal 262-719,

Katelyn Nelson 233-615, Aaron Burch

253-697.

Moore 232-578, Haleigh Russell 119,

Stanton Avery 223-529, Katie Hamlin

131, Cooper Cox 205-526.

At Brunswick Zone Denton – Darla

Dreessen 224-572, Matthew Reed 160-

392, Lexey Houck 170-439, Travis

Dreessen 212-582, Darla Dreessen

165-435, Landon Thames 194-574,

Krystle Newlin 436-182.

At Brunswick Zone Watauga – Micah

McCracken 214, Connor Strehlow

604, Kyra Zink 176, Rebekkah Jones

487, Jeffrey Fleming 465, Dannyella

Hochstine 366.

At Cityview Lanes – Matt Becker

248-647, Khilya Dyche 212-493,

Brandon Bonner 59-157, Sydnee LeClear

61-162, Blake Grove 81-222, Stephanie

LeClear 60-128, Matthew Reininger

135-393, Samantha LeClear 153-450,

Marc Aguirre 91-247, Caitlyn Wallace

106-268, Mitch Williams 80-233, Brhea

Stevens 102-260, Andrew Becker

127-336, Tory Davis 111-291, David

Becker 104-275, Sam Ambani 143-343,

Catie Carlberg 163-440, Blake George

198-558, Alison Norman 87-335, Tanner

Kelly Cozza 214-514, Jill Helbig 195-514.

At AMF Richardson Lanes –

D'Ontae Rhone 258-665, Ashley

Hathaway 166-469, Cody DeGray

74-144, Aamari Faulkner 78-145, Jared

Shurtleff 267-632, Landon Ward 103-

197., Brianna Urban 93-185, Nicholas

Lemon 171-440, Samantha Hesler

104-270, Madison Ward 143-374, Jared

Shurtleff 225-597.

At AMF Showplace Garland

Lanes – Dakota Boyette 278-749, Jordan

Hodge 184-534, Amare Miller 147-373,

Hannah Cassell 114-314, Nia Davis

164-469, Timothy Becker 73-184.

At Plano Super Bowl – Lindsay

Paredes 227-628, Cordell Reedy 104-273,

Emma Johnson 78-219, Aidan Hudson

128-363, Kristin Wood 156-342, Tyson

Gray 177-490, Hailey Keister 140-405,

Hunter Keifert 182-431, Megan Cooley

153-407, Anthony Simonsen 247-706,

Jada Davis 234-636, Brian Robinson

245-661, Ashley Hansen 241-648,

Hunter Harty 262-667, Tyler Samsel

254-702, Jessica Bowen 192-481, Sean

Morgan 156-396, Megan Cooley 169-430,

Veronica Prior 155-343, Jacob Box 219-

623, Kirsti Jack 227-577, Nick Wiggins

177-499, Kristie Draper 175-466, Hunter

Harty 206-527, Stephanie Sims 215-533,

Luke Henke 82-158, Hajrah Ali 67-120.

At Red Bird Lanes – Jamall Washington

236-629, Makensie Martin 204-525,

Taylor McCaleb 126-348, Cheyenne Hancock

170-474, Carissa Petrik 78, Joshua

Lewis 127-223, Bailey Speaks 138-261.

At Strikz – Avery Collins 188-472,

Katie Schuh 96-215.

Bankston 195-483, Thelma Watson

168-434, Marin Smolcic 111-330, Matthew

Becker 207-512, Cameron Royce

178-511, Steven Morris 194-523, Austin

Schotnaus 190-488, Kevin Graham

199-501, Dalton Spark 112-278, AJ

Sutton 160-434, Tyler Meeks 129-314,

Joshua Reininger 121-342, Andy Steed

175-465, Dillon Spark 119-302, Josh

Gibbs 149-436, Jeremy Petosa 242-602,

Sheldon Graham 171-587.

At Cowtown Bowling Palace

– Cameron Kidwell 156, Gabby Gonzales

212-515, Zachery Moore 219-574,

Shyanne Johnson 169-485, Josh Jones

213-582.

At Forum Bowl – Cole Jennings

194-554, Kayla Lopez 179-491, Trey

Boles 118-226, Samantha Brown 114-

216, Aiden Mills 88-166, Chloe Ballard

102-193, Adan Ruiz 154-402, Amaya

Boles 179-478, Codey Dong 144-385,

Samantha Kuilan 144-375, David Carter

150-409, Kristin Hilker 155-434, Jason

Honegger 169-404, Jordyn Ateman

146-413, Mitchel Neville 203-550, Davin

Ateman 159-419.

Mesquite - Week 3

Boys Varsity

1. Mesquite 3-0; 2. North Mesquite

2-1; 3. Bishop Lynch 2-1; 4. Poteet

2-2; 5. John Horn 1-1; 6. Woodrow

Wilson 0-2; 7. West Mesquite 0-3.

Girls Varsity

1. Poteet 4-0; 2. North Mesquite 2-1;

3. Bishop Lynch 2-1; 4. Mesquite 1-2;

5. Woodrow Wilson 0-2.

Boys Jr. Varsity

1. Mesquite 3-0; 2. Bishop Lynch

3-0; 3. Poteet 2-2; 4. John Horn 1-1;

5. Woodrow Wilson 0-2; 6. North

Mesquite 0-3.

Girls Jr. Varsity

1. Bishop Lynch 3-0

Garland - Week 3

Boys Varsity

1. Rowlett 2-0; 2. Sachse 2-0; 3.

South Garland 0-2; Lakeview 0-2.

Girls Varsity

1. Sachse 2-0; 2. Lakeview 1-1; 3.

South Garland 1-1; 4. Rowlett 0-2.

Boys Jr. Varsity

1. Rowlett 2-0; 2. Sachse 2-0; 3.

South Garland 0-2.

Girls Jr. Varsity

1. Lakeview 2-0; 2. Sachse 1-1.

Central Texas - Week 1

Boys Varsity

1. Ellison 1-0; 2. Shoemaker 1-0; 3.

Harker Heights 1-0; 4. Copperas

Boys

Anthony Simonsen, Plano Super Bowl ................. 843

Dakota Boyette, AMF Showplace Garland Lanes 749

Christian Perez, BRC Thousand Oaks .................. 726

D'Ontae Rhone, AMF Richardson Lanes .............. 665

Joshua Fredman, Brunswick Zone Denton .......... 649

Matt Becker, Cityview Lanes ................................. 647

Garrick Schmit, AMF Spare Time Lanes ............... 643

Robert Benson, AMF Lewisville Lanes ................. 640

Jamall Washington, Red Bird Lanes ..................... 629

Connor Strehlow, Brunswick Zone Watauga ........ 604

Josh Jones, Cowtown Bowling Palace ................. 582

Chance Moore, Brunswick Westcreek Lanes ....... 578

Danny Hylton, AMF Irving Lanes........................... 566

Cole Jennings, Forum Bowl .................................. 554

Avery Collins, Strikz ............................................... 472

Andrew Martin, AMF Showplace Euless Lanes.... 446

Girls

Deidra Juetten, AMF Showplace Euless Lanes ... 706

Kelsi Anderson, BRC Thousand Oaks .................. 677

Lindsay Paredes, Plano Super Bowl ..................... 672

Kimberly Yanai, AMF Irving Lanes ........................ 583

Darla Dreessen, Brunswick Zone Denton............. 572

Katelyn George, Brunswick Westcreek Lanes ..... 571

Jordan Hodge, AMF Showplace Garland Lanes .. 534

Makensie Martin, Red Bird Lanes ......................... 525

Gabby Gonzales, Cowtown Bowling Palace ........ 515

Kelly Cozza, AMF Lewisville Lanes ....................... 514

Jill Helbig, AMF Lewisville Lanes ......................... 514

Khilya Dyche, Cityview Lanes ............................... 493

Kayla Lopez, Forum Bowl ...................................... 491

Rebekkah Jones, Brunswick Zone Watauga ........ 487

Diane Hasty, AMF Spare Time Lanes .................... 486

Ashley Hathaway, AMF Richardson Lanes ........... 469

Katie Schuh, Strikz ................................................. 215

Cove 0-1; 5. Killeen 0-1; 6. Memorial

Christian 0-1.

Girls Varsity

1. Killeen 1-0; 2. Shoemaker 1-0;

3. Copperas Cove 1-0; 4. Harker

Heights 0-1; 5. Memorial Christian

0-1; 6. Ellison 0-1.

Lane Laughter

Boys Jr. Varsity

1. Ellison 1-0; 2. Harker Heights 1-0;

3. Killeen 0-1.
---
Sponsored by

Bowling Novelties at

bowlinggift.com

Central Texas District

- Texas High School

Bowling Club

Eagles, Roos Split District

Opener

The Ellison Eagles pitched a 17-0

shutout against the Killeen Kangaroos

Monday at Hallmark Lanes in

the season opener for both teams.

Erik Thomas and Chance Capinia led

a balanced Eagle attack, averaging

184 during match play, to roll over

the Roos. Tyrone Deckhard-Pittman

led the Roos in scoring.

Killeen's Lady Roos returned the

favor in the girl's match, posting a

15-2 victory over the Lady Eagles.

Jessica Parker led Killeen to a 5-2

lead after match play before they

swept the team games for the

final score. Rebecca Arrevalos and

Cynthia Briscoe captured points for

the Lady Eagles.

Wolves Sweep Memorial

Christian

The Shoemaker Grey Wolves

opened their season with a 17-0

shutoff of the Memorial Christian

Warriors Tuesday at Hallmark

Lanes. Derek Halteman led the Grey

Wolves, but had plenty of help from

Moty McKinney and Josh Frishman.

Sam Sanders led Memorial in

scoring.

The Lady Grey Wolves took a

14-3 victory over the Lady Warriors

Tami Duniphin-Steiger and Shelby

Hope led Shoemaker to a 6-1 lead

after match play before they took 3

of 4 team games. Rebeca Phelps led

the Lady Warriors.

Stanford Perfecto Leads

Knights Over Cove, Lady

Dawgs Prevail

Harker Heights' Adarius Stanford

rolled the first perfect 300 game

in the 11 year history of district

play Tuesday at Killeen Bowlerama,

helping the Knights roll over the

Copperas Cove Bulldawgs 15-2.

Two seasons ago, the Heights boys,

on which Stanford was a member,

rolled the first team 300 game in

state history. Stanford rolled a 226

before his perfecto to average 263 for

the day. However, Justin Rogers, Tim

Rackley, and Ryan Everett all averaged

well over 200 to head Heights

to a 7-0 lead after match play. Cove,

who was led by Tyler Combs and

Jacob Reed, could manage only one

win in the team games for the final

tally.

In a battle of the top two teams

in district, Cove's Lady Dawgs

served notice they want to dethrone

the 3-time defending champion Lady

Knights, taking a hard fought 11-6

win. Behind senior Brittney Wehmeier

(213 average), Cove jumped

out to a 5-2 lead after match play

winning total pins by just 5 pins.

Heights came back to take a 6-5 lead

after the first two team games, but

Cove then shot 192-213 to pull away.

Shelby Schwab and Alexis Hughes

led the Lady Knights in scoring.

Brunswick Zone Watauga

Junior Holiday Tournament

and Junior Gold Qualifier

6 Game Tournament

Scratch and Handicap Divisions

Monday, December 26

Registration: 5:30 PM

Practice: 6:30 M

Start: 6:45 PM

Entry Fee: $45.00

Optional Junior Gold

Qualifier

$30.00

Brunswick Zone Watauga

7301 Rufe Snow Dr

Watauga, TX 76148

817-485-2695 817-281-5428 Fax

Brunswick Zone Watauga Junior Holiday Tournament

Name: ________________________ SCRATCH or HANDICAP

USBC # ____________ JR. GOLD # _____________

Address: _____________________________________________________

City: ___________________ ZIP: ________ Phone #: ________________

2010- 2011 Book Average: ________________

THE BOWLING NEWS | Thursday, December 15, 2011 | Page 7

At Cowtown Bowling Palace

Smith, Jr. soars to 300/779,

Tallant tackles 679

Vernon Smith, Jr.'s exceptional

257-222-300 = 779 Men's Night

Out session topped the charts for

the week at Cowtown Bowling

Palace.

Katie Tallant led the ladies

with a top notch 249/679

Wednesday Winners series.

HONOR ROLL

Tyler Sims 274-710, Katie Tallant

205-573, Randy Cross, Sr., 201-580,

William Gann 266, Katie Tallant

210-584, Mark Hannah 245-670, Gloria

Llagas 201-572, Nathan Hulcy 243,

Shirley Felts 196.

Jesse Negrete 649, Jim Sapey 267-

615, William Anderson 245-701, Leon

Aragon 233, Dee Munsell 630, Steven

Sanchez 276-733, Michelle Teel 237-577,

Anthony Irizarry 267-721.

Charlotte Robertson 225-590, Pat

Teel 259, Peggy Tice 215, Daniel

Hughes 728, Jamie Hines 573, Jeff

Waits 265-605, Richard Botello 633,

Annette Kizewic 239-600, Brad George

236.

Rebecca Williams 215, Frankie

Mata 235, Lindsey McGredy 542,

Vernon Smith, Jr. (4 games) 1027,

Andy Mortensen (4 games) 279-1033,

Sam Magill (4 games) 290-910, Paul

Fleming (4 games) 268-988.

John Reger (4 games) 269-988, Tyler

Overstreet 243-662, Dawn Monk 177,

Onil Llagas 236-623, Kieth Cantrell

252-651, Rene Miller 214-604, David

Pruitt 246-687, Dawn Crum 197-479.

Tony Zarate 242, Michelle South

182.

SENIORS

Bob Bailey 237-579, Emily Arnold

At AMF Arlington

Lanes

Patterson

and Portley

lead scoring

James Patterson and Taira

Portley led the scoring race

for the week at AMF Arlington

Lanes.

Patterson earned top honors

with a sturdy 204-201-186 = 591

Six Flags outing while Portley,

from the Freaky Friday group, led

the ladies with a fine 203-157-156

= 516 set.

HONOR ROLL

Bill Holland, Jr. 168-486, Judy

Johnson 150-406, Stephen Setrak

213-537, Troy Thomas 136-391, Jeoffrey

Schroeder 202-574, Amber Lumpkin

171-427, Louie Iglesias 223-524, Debbie

Wootan 190-473.

Josh Ritter 207-507, Susan Holland

180-457.

215-519, Larry Thun 604, Yolanda

3rd Annual

Monica Brooks Memorial

Youth/Adult Tournament

January 14-15

Squad times: Saturday at 10 AM, 11:30 AM, 1 PM, 2:30 PM

Sunday at 10 AM Last Chance Squad, Finals at Noon

Stop in and see what we have done now!

New 42" Flat Screen scoring

units are just the latest

addition to Cowtown Bowing

Palace's efforts to improve

your bowling experience.

For more

information

contact Chris

Johnson or

Jamie Brooks

817-624-2151

4333 River Oaks Blvd., Fort Worth, TX 76114

Youth Skill Camp

Train T i with ith Team T USA C CCoaches h

Call Today

800-752-2671

Email:

training@bowlingITRC.com

Lunch is Provided

Space is Limited

Two Camps

10am -4pm

Basic - Thursday Dec. 29

Average 170 and Below

Physical Game - Spares - Classroom

$40.00

Advanced - Friday Dec. 30

Average 171 and Above

Physical Game - CATS - Video

$80.00

SETTING THE STANDARDS,

RAISING THE BAR

Espinoza 513, William Odom 222,

Clodine Griffin 192, Gilbert Settle

257-618, Marge Neuville 191- 498, Red

Kelly 242-632.

Kare Holder 191, John Stewart

235-634, Charlene Ardoin 513, Randy

Biel 237-560, Carrie Reed 179-479, Don

Key 221-606, Edna Daggett 175-471,

John Ferrell 201.

www.bowlingitrc.com

621 Six Flags Dr. Arlington, Texas, U.S.A.
---
Page 8 | Thursday, December 15, 2011 | THE BOWLING NEWS

Justin Tan earns

national USBC award

For second straight year, this time for high series

By Tyson Branagan,

Staff Writer

For the second straight

year, Justin Tan, of Flower

Mound, Texas, has earned a

national honor from the United

States Bowling Congress for

individual achievement. In

the 2009-2010 season, he was

recognized with the high average

for a USBC Youth member

with a 239 average, and this

season, he was awarded for

a different and quite possibly

more impressive achievement,

an 879 series, filled with 35

of 36 possible strikes, back in

early March.

Tan, now a freshman at

Newman University in Wichita,

Kansas, shot his incredible

honor score at AMF Lewisville

in the Denton County Youth

Alibi Tournament at AMF Lewisville

Lanes, using a Columbia

300 Burst. His 879 registers

as the fourth highest series by

a youth in the nation, but as

the highest of the 2011-2012

season.

On receiving another

national award from the USBC,

Tan said, "It makes me feel like

all of the hard work is paying

off and it drives me to keep

getting better and become the

best I can possibly be."

Now just days away from

completing his first full

semester in college at Newman,

Tan has a life that is very

Deck your halls then roll our balls!

Come relax after all that decorating (or just

get the kids out of the way so you can hide

your gifts). Talk back to the pin boy, watch a

video, id llearn th the ttechnology h l th that t goes iinto t

making the pins and

balls, play a game

or two of string-pin

bowling. There is

so much to see and do!

Justin Tan

much centered on the sport of

bowling, earning thousands of

dollars in scholarship money

through competition, as well as

from the school itself to come

and be an integral part of its

budding bowling program.

"In just one semester of

college, I have learned so much

as a bowler, and what being

a team player is all about,"

said Tan on his transition

into college bowling. "Before

I got here, I was more of an

individual bowler, but now I

feel like I've learned how to

balance being a team as well as

an individual bowler."

Like any young individual

who had to make the transition

from high school and living

at home to college and living

alone, especially in a different

621 Six Flags Drive, Arlington, TX 76011

Open: 9:30-5:00 Tue-Sat

(closed Christmas Eve & New Years Eve)

www.bowlingmuseum.com

info@bowlingmuseum.com

817-385-8215 or 817-385-8210

Holiday Bonus: Bring a non-perishable food item for

The North Texas Food Bank and get $5 $5.50 50 admission

(one discount per donated item – not valid with other discounts)

state, it has been quite the

experience for Tan.

"The transition was really

hard at first," said Tan on going

away to Newman. "I missed

my parents a lot but eventually

I got used to it after probably

about two months."

"Since then it has been a

great experience," he added. "I

have made more close friends

than I have ever had and have

learned a lot on how to be

more independent and manage

myself much better."

Although bowling is what

ultimately led him to Newman

and to where he is today, Tan

is going to enjoy his experience

at college, not only on the

lanes, but on his own.

"I love the freedom I have

in college, how I am constantly

hanging out with friends and

teammates and get to make

decisions for myself and deal

with the consequences on my

own, good or bad," he said.

"Not that being at home ever

really restricted me, but it's

just something different away

at college than during high

school, I have to take care of

myself."

Tan hopes to be able to add

some more awards and accomplishments

to his mantle in

the coming years. Whether it

is the same awards of the past

couple of seasons, and even

some additional awards during

his collegiate experience. His

ultimate goal as a member of

the Newman Jets is to help lead

his team to a National Title,

and he would love to perhaps

add a collegiate bowler of the

year honor to his credit as he

furthers himself.

Nobody knows where the

ceiling is for this rising star, as

anything is possible for him.

He is still only in his teens and

has set marks as a bowler that

many very good bowlers will

never reach. There is nothing

that can be put past him at

this point, and he is sure to be

a force on the lanes for many

years to come.

ARLINGTON — A large (30"

x 40") oil painting of bowling

pioneer Joe Thum will be the

star attraction at the Salute to

Bowling at the 2012 Bowling

Summit next month in Napa

Valley, Calif.

Created by Bowlers Journal

International publisher emeritus

Mort Luby Jr., the artwork

will be featured in the collection

of sports memorabilia to

be auctioned at the fundraiser

for the International Bowling

Museum and Hall of Fame.

Joe Thum was a major

promotional force for the sport

in the early decades of the 20th

century. A poor immigrant

from Germany, he began his

career as a bowling proprietor

when he built some alleys

in the basement of his New

York City saloon. Later, he

installed 24 lanes in a building

on Broadway. When friends

derided the notion of such a

large tenpin center, he retaliated

by christening the place

the "White Elephant". The

At Brunswick Zone Watauga

Fuhrman crunches

749, Steele delivers 628

Steve Fuhrman topped the

scoring parade last week at

Brunswick Zone Watauga with

a 749 Men's Commercial series.

Lisa Steele led the ladies with

a chart topping 628 COED set.

HONOR ROLL

Mike Walters 269, Erin Whetson

IBM/HF NEWS:

Mort Luby Jr. donates Joe Thum painting

as auction item for salute to bowling

256-610, Chuck Baker, Sr. 587, Laretta

Williams 496, Justin Blackshear 700,

Lavillie Tate604, Jennifer Roberts 534.

Buddy Moore 636, Ashley Hannah

627, Michelle Holton 566, Robert

Bayer 675.

SENIORS

Eddy Smith 677, Cathy Holland 622.

establishment flourished.

An avid internationalist,

Thum was one of the chief

organizers of the huge bowling

exhibition which was held

during the 1936 Olympics in

Berlin. Then-BJI-publisher

Mort Luby Sr. was part of the

entourage that accompanied

the Thum-organized American

team that dominated the

competition.

Thum was also a major cog

in the creation of the American

Bowling Congress, precursor

to the United States Bowling

Congress.

Mort Luby, Jr., 80, was editor

and publisher of BJI for four

decades. When he retired more

than 15 years ago, he transformed

himself into an artist.

Over the years, his paintings

have won more than 40 major

awards, including four bestof-show

citations. His work is

displayed in five galleries in

Chicago and Maui.

Luby is currently immersed

in a new project that will bring

him back to publishing: a book

called "Chicago Brushstrokes"

will feature 100 of his Chicagoarea

paintings.

The Thum painting took

more than a month to complete.

After researching period

details (such as the actual

lampposts that lined Broadway

in the 1920s), Luby delved into

ancient photos and stories from

BJI files before taking up his

brush.

Why Joe Thum? "I've

always felt that Thum is one of

bowling's unsung heroes," says

Luby. "He really planted the

seeds for bowling's worldwide

growth."
---
Gomez seeks first national

PBA title at WSOB

Andres Gomez with Bill O'Neil in the background at the WSOB.

By Leisha Murr, Columnist

This Sunday, December 18,

at 1:00 EST on ESPN will be

the second pod of four from the

top 16 of the PBA World Championships,

the Billy Hardwick

Division Finals. This division

will include Tom Smallwood

who qualified 2nd, Venezuelan

Ildemaro Ruiz who was 7th,

Andres Gomez qualifying 10th,

and Ryan Shafer from 14th.

While we were in Vegas, Genie

and I did some interviews with

bowlers making television

finals this year, so that we

could get to know the players

on the PBA tour a little better.

So, for this week, I interviewed

Andres Gomez.

Being the highest qualifier

in this division, Tom Smallwood

got to pick which pattern

they will be bowling on this

Sunday, and he selected the

Scorpion pattern. I asked

Gomez how he felt about the

pattern and he said it was

good. He bowled pretty consistently

on all four of the animal

patterns averaging about 220

on each, so he was comfortable

on any of them. There wasn't

one specific pattern he had

bowled really well on, nor was

there one that gave him too

much difficulty. Consistency on

all the patterns is what got him

into the top 16 for the World

Championships.

A native of Columbia, Gomez

moved to Florida in 1996,

where is still resides. When

he first moved to the states,

he went to study English in

Gainesville, Fl. Gomez later got

accepted and went to college at

the University of Florida there

in Gainesville. I asked him

if he had bowled in college,

but he said at the time there

weren't very many scholarships

available for bowling. Instead,

he bowled some amateur

events like the High Roller

and Mini Eliminator (which is

where I first met him) in Vegas

to make money while he was

in college.

Andres Gomez is still

considered an international

player even though he's lived

in the states for about 15 years.

He loves watching American

football, both NFL and college.

But who is his favorite team,

"the best one, the Florida Gators,"

he said. I think everyone

is a fan of their Alma Mater.

Gomez has had an impressive

international bowling

career winning multiple

events and medals overseas.

He also owns a USBC Eagle,

being a member of the Team

All-Events Championship team

at the 2004 ABC Nationals. He

first joined the PBA in 2005,

for one season, then re-joined

from 2009 until now. He has

one PBA Regional title, and

made two TV finals last year

but has yet to win a national

PBA event. But he kicked it up

a notch this year by making

three television finals at the

WSOB, so maybe it's finally his

turn for a title. On Sunday the

journey will start.

So after this event, we will

next see Gomez in March

for the Mark Roth/Marshall

Holman Doubles Championships.

He qualified 3rd and

picked another international

player and fellow Storm staffer,

Martin Larsen, for his partner.

They will be the 3rd seeded

team in the baker stepladder

finals. Gomez will then be on

the show again in April where

he was the highest qualifier

for the Carmen Salvino Classic

finals.

In addition to bowling the

rest of the PBA tour season,

Gomez will bowl a few of the

World Bowling Tour international

events. He says he

doesn't like to travel to every

tournament overseas because

the travel time and number of

games is hard on your body.

Instead, he will pick some

where there are a few tournaments

in a row to be overseas.

Plus, staring the first of the

year, Gomez will be the new

rep for Storm bowling products

in Latin America.

Be sure to watch for more

videos and interviews from

the WSOB as the PBA tour

season airs on ESPN on www.

TheBowlingNews.net

At Red Bird Lanes

Cathey

books 692

Jeffery Cathey headed the

leader boards for the week at Red

Bird Lanes by logging laudable

217-268-207 = 692 numbers in

Colts & Fillies action.

Lauren Daniel and Cindy

Howell shared the top spot for

ladies with a 589 series. Daniel

from the Sunday Nite Mix group

delivered a sturdy 193-203-193 set

while Howell with the Thursday

Nite Mix league rolled a solid

180-206-203 series.

HONOR ROLL

Rita Becker 196-548, Mary Childres

223-549, Bam Pride 248-667, Bradley

Robinson 228-651, John Hinckel 183-

523, Rebecca Salinas 149-388, Julie

Sellers 206-553, Pat Karre 217-568.

Jennifer Farrell 201-587, Mel

Richards 235-653, Chad Davis 233-

641, Jeffery Cathey 218-624, Deanna

Hoffman 203-581, David England

221-631, Jerry Dodd 245-631, Angela

Davis-White 221-568.

Ray Williams 235-627, Carolyn

Shaffer 190-522, Pete Silva 248-662,

Michelle Payton 180-497, Jimmie

Hawkins 207-492, Sandra Hawkins

151-409, Scott Roath 268-683, Carolyn

Large 171-480.

Ida Tibbs 181-527, Ted Shaffer 203-

556, Sheila Lock 156-443.

THE BOWLING NEWS | Thursday, December 15, 2011 | Page 9

Don't Miss

a Chance to

Bowl for REAL! COME ON &

MEN &

WOMEN

I GOT GAME,

DO YOU?

GROW A PAIR

Bowl when 200 IS a good game

Tuesdays at 9 PM

Starting in January 2012

Stay tuned, more details to come!

Family owned and Independently operated for 38 years

2011 EBONITE

SASBA TOUR

SASBA AGE BRACKET TOURNAMENT

CITYVIEW LANES, FORT WORTH, TX

DECEMBER 3-4, 2011

1114 S. Main

Duncanville

972-298-7143

fax: 972-709-5677

redbirdlanes@sbcglobal.net

50-59 DIVISION 60-69 DIVISION 70 + DIVISION

STEP UP

TO A REAL

CHALLENGE

Bowler Prize Fund Bowler Prize fund Bowler Prize Fund

1 Dean Jones $1,050.00 1 Gary Dickinson $1,250.00 1 Ross DiCapo $1,450.00

2 Vernon Smith $750.00 2 Phil Prieto $800.00 2 Albert Waites $750.00

3-4 Steve Wright $550.00 3-4 Pat Currie $600.00 3-4 Harry Deter $550.00

3-4 Joe Lecroy $550.00 3-4 Roger West $600.00 3-4 Robert Gibbs $550.00

5-8 Mark Williams $400.00 5-8 Butch Calvert $400.00 5-8 Norm Clark $400.00

5-8 Ron Benz $400.00 5-8 Leon Schon $400.00 5-8 Fred Barnes $400.00

5-8 Paul McCordic $400.00 5-8 Paul Pender $400.00 5-8 Jerry Beavers $400.00

5-8 Mike McHugh $400.00 5-8 David Rountree $400.00 5-8 Tip Bullock $400.00

9-10 Robert Dunaway $325.00 9-13 Jesse Jackson $350.00 9 Leo Markwardt $350.00

9-10 Pete McCordic $325.00 9-13 Sam Magill $350.00

9-13 TJ Johnson $350.00

9-13 Maury Newman $350.00

9-13 Willie Jackson $350.00

DON'T BE A

WUSS
---
Page 10 | Thursday, December 15, 2011 | THE BOWLING NEWS

By Leisha Murr

'Tis the season to be jolly!

That's what they say anyway.

The holidays are the most wonderful

time of the year with all

of the parties with friends and

co-workers, and the time with

family, and of course the food.

But, the hustle and the bustle

of the holiday season can be

exhausting. Don't let yourself

get so caught up with too many

commitments and trying to

SAN ANTONIO – Larry Syring

landed a top notch 261/778

Armadillos series to head the

honor roll last week at BRC

Thousand Oaks.

Jessica Hirschmann, Syring's

league mate, logged a classy 226-

225-228 = 679 set to front fem

scoring.

HONOR ROLL

Keith Durgin 270-704, Vicki Kerern

220-556, Mitchell Van Gundy 257-714,

Sheila Berg 210-589, Johnny Green

254-696, Joyce Gallegos 185-488, Tom

Barry 259-662, Inge Parker 203-506.

Irene Glaske 170-510, Norb

Dominguez 278-767, Charlotte Minor

ADULT LEAGUES

make everything perfect, that

you are too stressed to enjoy

the season. Shopping for the

perfect present is stressful

enough!

The commercialization of

Christmas has gotten ridiculous.

Decorations are out in

stores even before Halloween,

Black Friday shopping is starting

on Thanksgiving Day, and

Cyber-Monday now lasts all

At BRC Thousand Oaks

Syring drills 778,

Hirschmann hammers 679

259-647, Brenda Clink 214-529, Faith

Stilling 197-554, Joe Brock 289-664,

Brianna Galler 251-632, Doug Scheible

284-742.

Brianna Galler 278-621, Carol

Kenney 248-662, Brandon Lee 287-674,

Marieroze Hollyday 233-599, Greg

Melancon, Jr. 256-685, Shawn Salzman

275-712, Helen Keith 254-619, Leroy

Strain 257-716.

SENIORS

Ted Smith 233-662, Roberta

Grassmuck 225-549, John Robison

255-654, Dee Pollock 183-529, Steven

Nicholson 264-626, Bill Vale 243-553,

Betty Laskowski 188-531, Tom Donahue

229-655.

LEAGUE TEAM DAY MEET TIME START TIME

PRACTICE 4 SUNDAY 1/15/12 5:00 PM 1/15/12 5:30 PM

MILLER LITE 2 MONDAY 1/23/12 9:30 PM 1/23/12 9:45 PM

8X8 2 THURSDAY 1/26/12 9:30 PM 1/26/12 9:45 PM

DV-8 2 FRIDAY 1/27/12 9:15 PM 1/27/12 9:30 PM

HAVE A BALL 2 WEDNESDAY 2/8/12 9:30 PM 2/8/12 9:45 PM

SUPER SUN. NITERS 4 SUNDAY 2/12/12 7:45 PM 2/12/12 8:00 PM

LEAGUE OF MONTH 2 THURSDAY 3/1/12 9:30 PM 3/01/12 9:30 PM

LOUSY BOWLERS 2 TUESDAY 3/6/12 9:30 PM 3/6/12 9:45 PM

YOUTH ADULT

LEAGUE TEAM DAY MEET TIME START TIME

BIG-N-LIL 4 SUNDAY 1/8/12 5:00 PM 1/8/12 5:30 PM

BOWLING CLUB 4 SUNDAY 1/15/12 1:45 PM 1/15/12 2:00 PM

YA BOWLING 4 THURSDAY 2/16/12 12:45 PM 2/16/12

YOUTH LEAGUES

1:00 PM

LEAGUE TEAM DAY MEET TIME START TIME

BRC SCHOLARSHIP 1 MONDAY 1/2/12 6:15 PM 1/2/12 6:30 PM

ALL STAR VARSITY 4 SATURDAY 1/7/12 9:00 AM 1/7/12 9:15 AM

Always Smoke-Free Fun!

BIG FUN! Small Commitment!

BRUNSWICK THOUSAND OAKS

4330 Thousand Oaks Blvd San Antonio, TX 78217

210-654-0031

week. Retailers look for Christmas

shoppers to make up about

20% of their revenue for the

entire year. Are we out there

shopping for a gift because we

want to make someone happy

and put a smile on their face,

or is it just because we feel we

have to give them something?

Most of us have lost sight

of the true meanings of the

holidays. It's really all about

the people and the spirit of love

and giving.

Giving to others is always

a great feeling. If you have

the means, take the time to

adopt an Angel and give a

child a great Christmas. Or,

donate something to Toys for

Tots. If you don't have a lot

of money, you can volunteer

your time too. Maybe you

want to volunteer to ring the

bell for the Salvation Army. I

don't know how they do that

for hours and hours out in the

cold, but I saw a great idea that

will warm your heart. Buying

the bell ringer a cup of coffee

or hot chocolate to warm them

up out there is a great way to

show good will towards others.

The meaning of your gifts

should be more important

than the monetary value. If

you are at a loss on what to

get someone, make someone

something they will love or

frame a great picture of you

with them. The best gifts are

the ones that come from the

heart anyway, right? I created

my nephews personalized skins

for their cell phones. They were

inexpensive, but I spent a lot

of time designing just the right

ones to fit their personalities

and I know they're going to

love them.

I love it when I get a gift

that shows someone was really

thinking about me. I once got

a gift that included Dr. Pepper

and Fruity Pebbles (two of my

favorite things at the time), and

it was great. Little things like

that show you that someone

was paying attention. I'm the

worst to try to buy a gift for

anyway. I always end up buying

the things that I need, so I

never have a true "wish list".

It's the curse of being single

and without children. I don't

have to take care of anyone

else so I generally take care of

#1. Being single does have a

few perks!

I am lucky that I have so

many great friends and family

around me. For some, being

alone, especially during the

holidays, can be very depressing.

Watching all those around

you enjoying all the time

with friends and family can

just amplify the loneliness or

hopelessness of someone who

doesn't have anyone significant

to spend their time with. Holiday

blues are also common in

those who've lost loved ones or

don't have any family close-by.

Reach out to those around you

who may be alone and make

sure they have somewhere to

be for Christmas. Just knowing

that someone cares can put

a smile on their face for the

holidays.

In closing, I wish you all a

joyous and merry Christmas.

10 YEARS AGO

Robby Dally led the honor roll with 823 at AMF Jupiter…

Brad Tolson shot 812 at AMF Showplace Garland…Chris Hayes

with 801 at Plano…Bam Pride was high at AMF DeSoto with

798…Cody Castillo shot 768 at BRC Watauga, with handicap…

Sheryl Johnson led the ladies with 729 at AMF DeSoto…Mickie

Archer rolled 719 at DC Cityview…Dawn Nichols was high at

AMF Showplace Garland with 698…Cindy Raborn dominated BRC

Watauga with 675…Jimmy Carmen dies at 63 after bout with

lung cancer…Mika Koivuniemi and Kim Terrell win respective

US Opens…John Woessner shoots 300 at Big Town.

30 YEARS AGO

Harold Walker led the honor roll with 300/776 at Golden

Triangle…Richard Ellington shot 767 at Jupiter…Tim Petit was

high at All Star West with 750…the insatiable Rick Talley with

720 at Wedgwood…Billy Cathey 684 at Red Bird, did he ever

bowl anywhere else…John Lee 707 at Circle…Gloria Alderman

led the ladies with 707 at Berry…Pam Weiher rolled 662 at

Meadowbrook…Mary Grundy 659 at Richland…Sandy Johnson

608 at Forum…Lyn Ables rolled a solid 596 at Town North…

Steve Weir wins $4000 for BBA Christmas title at Berry, George

Davis wins $2000 for second, they had 530 entries, great money

in 1981, or 2011…Steve Martin wins 5th PBA title…Ellis Kirby

shot 733 at Lewisville…a very young Mike White beats a very

young David Smith 247-181 to win the Alpine Lanes Junior

Scratch tournament. Alton Isham finishes 3rd, now that's a name

I haven't heard in a very, very long time.

Senior player and tournament

organizer Mel Wolf dies at 71

SEATTLE – Longtime Professional

Bowlers Association

Senior Tour player Mel Wolf of

Jackson, Mich., died Tuesday

after a long battle with cancer.

He was 71.

During a nearly 20-year

career bowling on the Senior

Tour, Wolf had one Senior Tour

title (1994 Canadian Senior

Open) and one senior regional

title.

While an avid competitor on

the Senior Tour, he was also a

great supporter of PBA as the

tournament chairman of the

PBA Senior Jackson (Mich.)

Senior Tour event hosted by

Airport Lanes where he was

the driving force in bringing

the event to Jackson in 1992.

Through his work he was

successful in gaining community

involvement for the

tournament that resulted in

more than $300,000 raised for

the Hospice of Jackson (now

Allegiance Hospice).

"Everyone including the

bowling community has lost a

terrific person and a great supporter

of the sport," said PBA

Hall of Famer, fellow competitor

and friend Dave Soutar. "He

worked extremely hard in so

many aspects for the sport—not

May your holidays be filled

with laughter, love, happiness,

and hope for the New Year! I

never make any New Year's

resolutions, but nothing ever

seems to change either. Maybe

I'll start working on some

resolutions to make 2012 the

best year yet! Until then…

only as a competitor, but as a

promoter at all levels.

"We became great friends

over the years and often

travelled together on Tour. We

will miss him a lot."

Wolf, a retired optometrist,

was also active in supporting

Michigan youth bowling and

in March of 2011 served as the

manager of the Michigan High

School Athletic Association

Bowling finals. He earned the

2005 Al Cotton Award from

the Jackson Citizen Patriot

newspaper for his work in

bringing high school bowling

to Jackson.

Another one of his passions

was golf and at one time was

a near-scratch player winning

several titles in the Jackson

area. He also organized the

charity golf tournament held

in conjunction with the PBA

Jackson Senior Tour event.

"This is a very sad day for

the PBA," said John Weber,

Director of Regional and Senior

Tours for the PBA. "Mel was

a great supporter of the PBA

and put on one of the premier

events on the Senior Tour.

Wolf was a graduate of the

University of Michigan in 1960

before attending the Illinois

College of Optometry in 1963.

After graduating from the

Illinois College of Optometry,

her served three years in the

Air Force and was discharged

in 1966 as a 1st lieutenant.

He is survived by his wife,

Ann; sons David (Kris), Mike

(Jennifer) and Barry (Jennifer);

and four grandchildren.
---
USBC Youth Ambassadors of the Year selected

ARLINGTON — Ashleigh

Calcote of Friendswood,

Texas, and Dominick Savage

of Missouri City, Texas, have

been selected as the United

States Bowling Congress Youth

Ambassadors of the Year by the

USBC Youth Committee.

The award annually recognizes

one female and one

male USBC Youth bowler for

exemplary contributions to

the sport, academic accomplishments

and community

involvement.

With both from the Houston

area, the USBC Youth bowlers

are very familiar with one

another.

"Ashleigh and I have worked

together on numerous occasions,"

Savage said. "Over the

last few years we have closely

worked together on creating

new Youth Leader programs

across the state."

Ashleigh Calcote

Calcote, 17, began bowling

in a league with her family at

age 8 and soon after started

attending Youth Leader meetings.

She was appointed to the

Greater Houston USBC Board of

Directors as a Youth Director

in 2008 and currently serves as

president of the GHUSBC Youth

Leaders. When her brother,

Kyle, was selected as a USBC

Youth Ambassador four years

ago, she set her mind on also

earning the award.

"I have always been involved

in the service side of

bowling but after he won this

award, it made me strive to get

it as well," Calcote said. "When

I found out that I received the

honor of this award, I was

ecstatic."

Calcote currently is homeschooled

and in her senior

year. She takes dual credit

courses at San Jacinto Community

College and plans to attend

college next year and major in

Dietetics. She works in Carol

Norman's pro shop UCanBowl2,

which she calls "an education

in and of itself."

Norman said Calcote is very

motivated to achieve whatever

goals she sets. "Ashleigh is

definitely going to be somebody

in our sport; in fact, she

already is," Norman said in her

recommendation letter. "She is

what's good about our youth

and upcoming leaders."

Dominick Savage

Savage, 17, started bowling

at age 4. He has been on the

Texas State USBC Board of

Directors since 2008, serving

on several committees including

the Hall of Fame/Hall of

Boyce Lewis posted a robust

248-258-210 = 716 Practice

League series to head the leader

boards last week at Brunswick

Zone Denton.

Mary Dreessen rolled a tidy

229-212-202 = 643 ALOOO set

to front the lady bowlers.

Chuck Collier earned highgame

honors with an awardwinning

12-bagger.

HONOR ROLL

Hal Green 233-653, Valerie Ferguson

207-593, Jacob Truitt 257-694, Stephanie

Ary 187-531, Wade Chapman 236-648,

Teri Lynn McCool 181-529, Jerrid Dye

246-713, Frederica Studamire 225-616.

Mark Neville high-stepped his

way to a 263-256-257 = 776 Fast

Lane Trio series to end the week

at the top spot of the honor roll

at Forum Bowl.

Annie Akanni found herself

standing at the top of the ladies

leader board as she shot 233-

243-204 = 680 in the Dynamic

Duo league.

Randall Winter's near perfect

299 solo earned high-game

honors.

HONOR ROLL

Mark Neville 223-610, Lessie

Watkins 214-511, Al Nagel (9 pin)

297-789, Hazel Bunyea (9 pin) 233-634,

Lessie Watkins 212-566, Holly Ginn

193-534, Brian Heath 253-723, Connie

Loter 194-561.

Jamie Hines (4 games, 9 pin)

287-988, Nancy Lira (4 games, 9 pin)

Honor and Adult Recognition

Awards committees. He also

has been on the TSUSBC Youth

Committee.

He currently serves as

president of the TSUSBC Youth

Leaders Association and met

with youth bowlers in the

Dallas, San Antonio and Austin

areas to assist them with starting

their own Youth Leader

programs.

"As one of the most prestigious

awards offered by USBC

for youth bowlers, winning this

award has sparked my drive to

continue on the path that my

wonderful advisers have set

for me," Savage said. "After the

hard work I've invested into

the Youth Leader program, it is

phenomenal to receive recognition

for the amount of time

put into helping better youth

bowling across my city, state,

and nation."

At Brunswick Zone Denton

Lewis blanks 716,

Dreessen rolls 643

Collier 300

Susan Harding 177-488, Mike

Breeding (2 games, no tap) 268-533,

Jennifer LaChance (2 games, no tap)

225-422, Laney Royal 256-692, Brenda

Larsen 232-608, Alex Paeltz (4 games)

257-932.

Angie Richardson 190-528, Jacob

Truitt 227-658, Kady Wilkinson 224-

589, Keith Bancewicz 237-647, Mary

Dreessen 219-543, Chuck Collier 703,

John Lowe 219-646, Linda Tubbs

186-505.

Jonathan Pelc 265-642, Nancy

Dreessen 137-382.

SENIORS

Wayne Moore 243-674, Elaine

Burick 212-582.

At Forum Bowl

Neville rips 776,

Akanni crushes 680

Winter 299

204-795, Nate Gillespy 255-685, Tammy

Henderson 216-570, Jaime Gonzalez

243-639, Donna Pulice 242-552.

Wallace Chambers 244-673, Jenny

Hartwig 164-467, Bill James 234-682,

Dena Buffington 209-579, Mark Neville

(4 games) 1034, Elizabeth Sienicki

(4 games) 258-895, James Bridges

255-738.

Carl Coppenger 268-686, Cindy

Stallins 202-571, Wally Belton 215-

612, Mhalee Davilla 176-490, Silas

McCaddon 243-680, Tami Rogers

195-566, Rick Van 210-577, Niki Branch

161-414.

Bobby Adkison 266-747, Dorothea

Wilson 257-644, Mark Parlington 258-

696, Emily Montgomery 222-617, James

Ellington 268-739, Linda McCollum

228-571, Jeremy Allen 220-599, Amber

Snyder 223-557.

THE BOWLING NEWS | Thursday, December 15, 2011 | Page 11

Savage, a senior at Thurgood

Marshall High School, is in the

Triple A Music, National Honor,

International Thespian Honor,

and National Spanish Speaking

League Day

Adult:

Meeting Date/Time Start Date/Time Team Weeks

DV8 Cosmic Mon. Jan. 23rd @ 8:30 PM Jan. 23rd @ 9:00 PM 3 15

Practice League Tues. Jan. 10th @ 8:30 PM Jan. 10th @ 9:00 PM 3 16

8 x 8 Tues. Jan. 24th @ 8:30 PM Jan. 24th @ 9:00 PM 3 8

Happy Hour Wed. Jan. 11th @ 9:00 PM Jan. 11th @ 9:30 PM 4 16

Lousy Bowlers Wed. Mar. 7th @ 8:45 PM Mar. 7th @ 9:15 PM 3 12

Miller Lite Club Thurs. Feb. 16th @ 8:45 PM Feb. 16th @ 9:15 PM 4 15

Pub & Grub Thurs. Mar. 1st @ 8:45 PM Mar. 1st @ 9:15 PM 4 12

Youth/Adult:

League Day Meeting Date/Time Start Date/Time Team Weeks

Cosmic No-Tap Sat. Feb. 11th @ 11:30 AM Feb. 11th @ Noon 2 10

Youth/Adult Sun. Jan. 8th @ 4:30 PM Jan. 8th @ 5:00 PM 4 19

League Day

Juniors:

Meeting Date/Time Start Date/Time Team Weeks

Fri. Kids Fri. Jan. 6th @ 10:00 AM Jan. 6th @ 10:30 AM 3 19

All Star Program Sat. Jan. 21st @ 9:30 AM Jan. 21st @ 9:30 AM

Seniors:

3 17

League Day Meeting Date/Time Start Date/Time Team Weeks

Senior Social Mon. Mar. 5th @ 12:30 PM Mar. 5th @ 1:00 PM 4 12

Always Smoke-Free Fun!

BIG FUN! Small Commitment!

940-383-3515

2200 San Jacinto Blvd Denton, TX 76205

Welcomes

Senior Masters and

Senior Queens

January 28th & 29th

Reserved entries close January 19th.

Ask your center for an entry or go to

www.texasbowling.com.

QUALIFY

TO WIN A PAID

ENTRY FOR THE USBC

SENIOR MASTERS

Honor societies. He is on the

student council, in the Speech

and Debate Club, and has been

an officer in the Book Club the

last three years.

Robbie Fravel, a former

Adult Advisor for the Greater

Houston USBC who worked

Continued on Page 13

QUALIFY

TO WIN A PAID

ENTRY FOR THE USBC

SENIOR QUEENS

2001 S. Great Southwest Parkway

Grand Prairie, Texas 75051

972-641-4406 or 972-647-2275
---
Page 12 | Thursday, December 15, 2011 | THE BOWLING NEWS

BOWLER FRIENDLY PRO SHOPS & OTHER SERVICES

Giving You The

Power To Perform

Susie Minshew

USBC Bowling

Coach of the Year

(800) 346-3648

FAX 817-783-6010

strikeability@gmail.com

www.strikeability.com

PRO SHOP

1114 S. Main

Duncanville, Texas

Phone 972-298-7143

Jeff Cathey, Manager

JAMES ASKINS

Owner

JORDAN VANOVER

MATT HOYT

BRETT BOLEJACK

INSIDE AMF SHOWPLACE LANES

1901 W. Airport Freeway

Euless, TX 76040

(817) 571-1174

RON WILLIAMS

Owner / Operator

PBA Member

OTIS PILLOW

BALLS BAGS SHOES

AMF HURST LANES

720 W. PIPELINE RD.

HURST, TX 76053

817-282-2401

www.pillowproshop.com

otis@pillowproshop.com

billy@pillowproshop.com

Lessons Available

HOURS: Monday–Friday 1–9, Saturday 1–7

Billy DeCicco

817-875-6488

Inside AMF Arlington Lanes

1801 East Lamar Blvd.

Arlington, TX 76006

Working Hard

for Your Success

YOUR NEIGHBORHOOD PRO SHOP

INSIDE ROWLETT BOWL-A-RAMA

DARREN KRAVITZ

5021 Lakeview Parkway

Rowlett, TX 75088

(972) 475-7080

INSIDE UNIVERSITY LANES

GEOFF MARTIN

1212 E. University Drive

Denton, TX 76209

(940) 808-1622

INSIDE PLANO SUPER BOWL

2521 Avenue K

Plano, TX 75074

(972) 881-0242

INSIDE CITY VIEW LANES

6601 Oakmont Blvd., Fort Worth, TX 76132

817-263-1935 Fax: 817-370-1831

Kirk Wright

469-867-2770

Inside AMF Irving Lanes

3450 Willow Creek Dr.

Irving, TX 75061

Fastrack Pro Shop

Located Inside Allen Bowl

1011 S. Greenville Ave

Allen, Texas 75002

Phone: 214-509-9274

E-mail: coachkg58@yahoo.com

www.fastrackproshop.com

Kurt Gengelbach, Owner

Member, Professional Bowlers Association

Member, Storm and Turbo Advisory Staffs

Private Instructions Available

"Old School" Service Always Available

Krazy Davz Customz

Custom Embroidery & More

• Bowling Shirts, Biker Patches,

Logo Golf Shirts, etc.

• No project too small

Barbie Sandoval

214-914-6795 (cell)

Sales@KrazyDavz.com

Lessons available by appointment

Carolyn Dorin-Ballard & Del Ballard, Owners

Derrick Lott Maury Newman

Brian English Xeno Garcia

Rudy Garcia Jr.

Located inside

Brunswick Zone Watauga

7301 Rufe Snow

Watauga, Tx 76148

Phone: 817-485-2695

Located inside

Brunswick Westcreek Lanes

3025 Altamesa Blvd.

Fort Worth, TX 76133

Phone: 817-294-0501
---
Two coaches awarded

USBC Gold status

ARLINGTON — Hank Boomershine

of Brigham City, Utah,

and Joe Slowinski of Lake

Wales, Fla., have been awarded

Gold level coaching status

after successfully completing

certification requirements

through the United States

Bowling Congress Coaching

Certification and Development

department.

Gold level is the highest certification

a coach can achieve

through USBC. USBC recently

conducted coaching recertification

and, with the addition of

Boomershine and Slowinski,

there now are 16 USBC Gold

coaches worldwide.

"To reach this prestigious

level as a coach takes a tremendous

amount of dedication,"

said Neil Stremmel, USBC

Managing Director National

Governing Body. "We congratulate

Hank and Joe for their

hard work and commitment to

the sport of bowling."

Boomershine, 41, is vice

president of sales and marketing

for Storm Products, Inc. He

started bowling at age 10 and

began working in the industry

at age 15. He has been involved

in almost every aspect of the

bowling industry during his

career.

BOWLER FRIENDLY

PRO SHOPS & SERVICES

Todd Zenner is now at Cowtown Bowling Palace

Chad Newman - Owner

chad@chadsbowlingshop.com

Located in Cowtown Bowling Palace

4333 River Oaks Dr.

Fort Worth, TX 76114

Email: flushfitproshop@gmail.com

Website: www.flushfitproshop.com

Phone: 817-624-4920

Believe. Bowl. Follow Through.

(Located inside AMF Richardson Lanes)

2101 N. Central Expressway

Richardson, TX 75080

972.231.2695

(inside AMF DeSoto Lanes & AMF Spare Time Lanes)

UpYourAlley

Andrew Lowy

Russell Corwin

Cody Carlton

uyaproshop@yahoo.com

"This is the final piece to

a puzzle," Boomershine said.

"You've worked your whole

life putting all

these elements

together. To

be certified as

a Gold level

instructor

means a great

amount."

Slowinski,

44, is the

administrative

head coach for

the Webber

International

AMF Spare Time Lanes

3149 S. Cooper

Arlington, TX 76015

817-465-4997

Hank

Boomershine

University bowling program

and the men's head coach. He

is a Master Teaching Professional

at the Kegel Training

Center and is a contributing

writer for Bowling This Month

magazine.

"For me, it validates your

hard work," Slowinski said.

"I've really tried to help the

sport by making people better

and by contributing and sharing

ideas. When I get excited

about something, learn about

it and share it so other people

get excited – that's it. It's just

validation of hard work."

His father was a youth

director, and when Slowinski

was 17 he decided to take a

AMF Desoto Lanes

121 Northgate Dr.

DeSoto, TX 75115

972-780-8090

coaching course through the

Young American Bowling

Alliance (YABA).

"It was exciting to learn

about the

sport and how

to coach," Slowinski

said.

"That's where

the seed was

planted."

The process

of becoming

a USBC Gold

coach is

Joe Slowinski

similar to obtaining a doctorate

in a field of study. Candidates

are required to demonstrate

knowledge through practical

application and discussion. The

final review program requires

a coach to conduct a class,

participate in an oral exam

and give lessons to bowlers of

various skill levels. The final

review board consists of active

USBC Gold coaches and USBC

staff.

Candidates recently went

through the final review at

the International Training and

Research Center in Arlington.

"You put so much effort

and time into building the

presentation – your philosophy

and your thoughts on teaching,"

Boomershine said. "Then

presenting it, defending it,

knowing you are going to be

graded on your output. And

then everything else that went

with it – all the certifications

you had to do over your career,

the long hours of coaching,

teaching and doing lessons. It's

a long process."

Visit BOWL.com/coaching to

learn more about USBC coaching

certification programs.

USBC YOUTH

Continued from Page 11

closely with Savage, said Savage

is "truly an ambassador in

every aspect of the word."

"He loves the sport of

bowling and will talk your ears

off on how great the sport is,

as well as always finding a way

to talk about the Youth Leader

program," Fravel said in his

nomination letter.

Savage will attend Newman

University in Fall 2012 and

plans to major in Communications

and Political Science with

a minor in choral music.

For being selected as the

USBC Youth Ambassadors, both

Calcote and Savage will receive

$1,500 scholarships and a trip

to the awards ceremony held

in conjunction with the 2012

USBC Convention in Arlington.

One of the winners may have

the opportunity to be selected

to serve on the USBC Youth

Committee.

THE BOWLING NEWS | Thursday, December 15, 2011 | Page 13

At AMF Lewisville

Lavery-Spahr leads at

761, Hicks powers 665

Sean Lavery-Spahr racked up

a power-packed 258-245-258 =

761 Monday Men's series to head

the leader boards last week at

AMF Lewisville Lanes.

Trish Hicks, from the

Lewisville Mixed group, paced

the ladies with a rollicking 279-

220-166 = 665 set to take top

honors.

HONOR ROLL

Pat Steele 234-589, Dee

Jungerman 219-567, Laney Royal

241-654, Krysti Hicks 181-528,

Erlinda McIntire 184-528, Eric Van

Hoff 199-547, Barbara Hoggman 144-

361, Kevin Washer 264-672.

At AMF Richardson

Kepner cracks 808,

Rogers rolls 723

Phillip Kepner won the

high-set race last week at AMF

Richardson Lanes by hammering

our hefty award-winning 269-

280-259 = 805 marks in Classic

Trios action.

Michelle Rogers, also from

the Classic Trios group, rolled a

sizeable 257-266-200 = 723 set

to take top honors for the ladies.

HONOR ROLL

Gary Peterson 259-651, Joyce Kerby

173-501, Ryan Theroux 253-677, Linda

Alexander 212-582, James Fitzsimmons

242-639, Barb Wygren 186-514, Larry

Bilbrey 194-551, Dana Cantwell

At AMF Showplace Garland

Pritts pockets 795,

Benavides chalks up 683

Ted Pritts racked up top-flight

237-279-279 = 795 numbers in

Money Changers league session

to earn the top spot on the honor

roll last week at AMF Showplace

Garland Lanes.

Megean Benavides rolled

a sterling 193-211-279 = 683

NASCAR set to lead the ladies.

HONOR ROLL

Kevin Boykin 197-550, Shawn

Taylor 160-452, Christie Sourivon 267-

677, Kevin Hill 256-702., Joyce Lindley

198-550, Kelley Dickey 235-626, Ashley

Byrd 153-404, Katina Tassopoulas

160-463.

Joe Garrison 232-544, Linda Lackey

The Bowling News is now on-line!

Check us out at www.TheBowlingNews.net

James Young 211-566, Rachael

Maestas 153-430, Neil Brady 278-724,

Sherri Strongren 234-629, Susan Cox

215-550, Lewen Albritton 236-644,

Jean Ann Boudreaux 222-546, Ken

Smithers 266-645.

Sabina DeBord 187-525, Shawn

Kelly 237-658, Mindy McNeal 203-

562, Carrie Jeske 181-472, Billy

Fisher 262-721, Heather Robb 247-

652, Gerald Dewberry 232-669, Stacie

Hatton 216-575.

Ted Bennett 213-590, Cindy

Connolly 206-592, Chad Fisher 245-

644, Raeshel Parker 187-525, Scott

Cristee 187-498, Sue Romo 150-442.

119-341.

Cory Dollard 226-663, Kathleen

Wright 183-495, Louis Goode 224-642,

Karen Koenig 197-501, Mike McManus

214-584, Lana Gray 193-444, Ryan

Moore 220-597, Hannah Godwin

131-366.

Hal Begzos 210-563, Sandee Lowe

150-442, Ron Yoshida 225-632, Stacy

Froschauer 179-496, Scott Gesino

279-649, Mary Gesino 193-499, Luke

Hickey 231-564, Jessica Martin 117-296.

Will Benson 236-679, Vicki Grizzaffi

176-497, Sam Stephenson 222-584,

Debbie Whitson 204-501.

177-517, JD Venable 223-624, Terri

Page 188-519, Dean Wilt 219-622,

Gloria Brown 153-446, Jeffery Hunter

256-717, Buddy May 224-583, June

Armon 180-516.

Ernest Harwell 269-772, Mike

Faulkenberry 253-747, Shirley Haney

212-504, Bertha Sanchez 204-496,

Robert W Wilson 267-709, Rita

Williams 181-512, Brack Morelock

266-765.

Ernest Harwell 255-736, Steven

Smith 262-719, Jessica Walter

223-620, Clint Johnson 269-771,

Christine Couville 245-666, Don

Hightower278-776, Carlean Saffold

212-526, Brian Hilz 279-755.

Linda Chambers 269-645, Mark

DeArment, Jr. 260-673, Kimberly Waltz

178-497.
---
Page 14 | Thursday, December 15, 2011 | THE BOWLING NEWS

Eliminator format adds more

action to PBA telecasts

LAS VEGAS – All four

finalists will be in action

in the very first match this

Sunday as bowling fans will

experience the unique pace

and player strategies of the

"eliminator" format beginning

with this week's telecast of the

Professional Bowlers Association

World Championship Don

Carter Division finals at 1 p.m.

Sylvester Howard outscored

the competition last week at AMF

Showplace Euless with a powerpacked

269-267-267 = 803 Full

House league production.

Kirk Eady and Rob Hendrix

finished close behind Howard

with award-winning 800 series.

Eady logged a 299/802 Tuesday

Trios series while Hendrix

finished with a 278/801 Las

Vegas set.

Val Goss, Howard's league

mate, rounded up the top score

for the ladies with a 215-257-279

= 751 set.

Jonathan Bolejack, Carl Starr,

Rickey Kay and Ken Nickels

shared top game honors with

ET on ESPN from the South

Point Hotel & Casino in Las

Vegas.

Designed to provide bowling

fans with more action and

more exposure for their favorite

players, the PBA has incorporated

the eliminator format into

its entire series of PBA World

Series of Bowling telecasts.

In addition to the five-show

At AMF Showplace Euless Lanes

Howard notches 803,

Goss garners 751

Eady 299/802, Hendrix 801, Bolejack, Kay, Starr

and Nickels 300's

perfect 300s.

HONOR ROLL

Jonathan Bolejack 766, Larry

Darvas 287-790, Jonathan Bolejack

258-745, Kelly Warms 279-732, Elmer

Howard 259-706, Robert Jones 248-704,

Charles Walton 248-651, Clint Barton

224-647.

Joe Gray 234-625, Doug Smith

235-571, Sheila Walton 245-722, Diana

Jessie 264-693, Janice Rinehart 247-

673, Lisa Steele 213-630, Shelley Fugitt

255-606, Tammy Kent 234-590, Sheila

Walton 236-588.

Terri Homme 204-570, Teresa Fuller

186-515, Joan Dale 174-509, Bobbie

Matievic 181-509, Christina Patterson

181-501, Cassi Dehaas 205-492, Barbara

Chaky 178-476.

PBA World Championship, the

format will also be used for the

finals of all four of the PBA's

"animal pattern" championship

events, the Carmen Salvino

Classic and Elite Players

Championship.

In the eliminator format, the

four players bowl at the same

time to start each telecast. The

player who bowls the lowest

score in the first game is

eliminated and the other three

advance to the second round

where the same format applies.

Game three features the two

surviving players, who bowl

one more game for the title or

division crown in the case of

this week's show. The format

means nine games will be seen

in full on the telecasts, as op-

At AMF Spare Time

Eoff explodes with 795,

McMasters banks 712

Hunter 300

The greatest of all time, Derek

Eoff headed the honor roll for

the week at AMF Spare Time

Lanes by logging laudable 269-

247-279 = 795 numbers in STL

Businessmen action.

Donnie McMasters paced the

ladies with an awesome 268-199-

245 = 712 Hot Rollers set.

Brad Hunter took top-game

honors with an award-winning

12 bagger.

HONOR ROLL

At Plano Super Bowl

Simonsen aces 300/843,

Sposito masters 719

McKay 825, Land, Park, Precourt, Sr. 300's,

Gibson, Acon and Brodeur 299

Youth bowler, Anthony

Simonsen's booming 278-300-

265 = 843 Sunday Youth/Adult

session dominated the scoring

parade for the week at Plano

Super Bowl.

Joey McKay finished close

behind Simonsen with an awardwinning

825 Sportsman series.

Cathy Sposito was the top lady

of the week with a blistering 198-

267-254 = 719 Las Vegas Doubles

showing.

Jimmy Land, Casey

Park and John Precourt, Sr.

shared top game honors with

Simonsen with award-winning

12-baggers. Rhonda Gibson,

Eric Acon and Ryan Brodeur's

near perfect 299 solo's garnered

runner-up honors.

HONOR ROLL

Kevin Prior 259-663, Lisa Prior

191-476, Dwayne Whiteaker 267-713,

Cathy Sposito 203-514,. Hieu Du 259-

715, Shari Garber 153-424, Anthony

Hopkins 268-731, Pam Grimes 214-532,

Ron Welte 268-684. Loree Clark

204-544, Casey Park 268-705, Debra

Gardner 244-640, Carol Arnold 180-

509, Kathy Denison 176-481, Ronnie

poses to six in more traditional

formats.

For decades, the PBA's "stepladder"

TV format would pit

the No. 4 qualifier against the

No. 5 qualifier in a one-game

match. The winner will bowl

against the No. 3 qualifier, and

so on. The leading qualifier

would bowl only one game to

either win or lose the title. In

recent years, a bracket-style

format with two semifinals and

a final became a regular format

on the PBA Tour, and stepladders

included four finalists

rather than five.

The change to this alternative

format for this year's

WSOB, according to PBA

Commissioner Tom Clark, is

aimed primarily at enhancing

Carrie lacey 210-567, Bob Mann

257, Leona Davis 199, Jim Graham

683, Cheta Philpot 537, Robert Jones

290-747, Kara Congi 234-680, Frank

Locker 285, Kara Congi 268-674, Ed

Keyes 745.

Susan Klocinski 203-509, Ron Vraa

256, Loree Wade 207-506, Rob Spanger

658, Randy Windle 266-718, Shannon

Munns 215, Debbie Camp 545, Ben Ross

278-665, Sandra Stratman 167-464.

Pat Womack 269-705, Cassie Reese

222-595, Trayce Chovanec 247-673.

Rhodes 278-752, Linda Davidson

217-563, Terry Walton 233-645.

Donna Pollack 184-515, Rhonda

Gibson 646, Jim Smith 265-715, Karen

Clevenger 196-570, Randy Hiam

223-603, Cindy Mann 174-467, Patty

Ellington 255-670, Michelle Artman

212-586.

George Vaughn 289-784, Steve

McBride 278-752, Ed O'keeffe 178-492,

Lynda O'Keeffe 199-482, Bill Ferguson

259-732, Cathy Sposito 219-635, Mark

Plagens 278-784, Kelli Spencer 245-634.

Jeff Flovin 256-700, Diane

Wallentine 237-619, Cathy Sposito

236-654, Jane Kirby 257-628, John

Precourt, Sr. 706, Eva Rhodes 219-616,

Larry Parker 232-644, Jen Fredrickson

211-579.

David Zappitelli 257-751, Ruby

Bennett 227-636, Joe Rener 279-716,

Jackie Fisher 224-639, Martiza Matteo

226-636, Kati Aceves 215-588, Casey

Park (4 games) 1052, Lisa Garza (4

games) 269-928.

Ed Hookings 254-724, Hieu Du

279-659, Stephanie Robinson 202-580,

Steve Garcia 265-696, Pam Garcia

221-636, Rick Mann 279-759, Tammy

Crawford 203-564, Gary Suder 259-691,

Lisa Nordstrom 195-554.

the bowling fan's television

experience.

"Bowling fans will notice an

increased amount of action in

every show," Clark said. "In the

first match, four players bowling

at the same time means

more shots, more styles and

more personalities. Right from

the beginning, fans will be

introduced to all four players,

enabling them to form opinions

and develop rooting interests.

"Unlike the traditional

stepladder format, which has

been a PBA mainstay since it

debuted on television in the

early 1960s, there is less of a

competitive disadvantage for

players coming on cold and

more potential for players to

gain more telecast exposure.

"The eventual champion

will have survived all three

games in the telecast, meaning

that he'll be on the entire

show from start to finish,

guaranteed," Clark said. "The

fact that the winner will be

on the entire show means fans

will get a better chance to

follow the player's progress and

adjustments throughout the

show."

The eliminator format was

introduced in the 2009 Don

Johnson Eliminator in Columbus,

Ohio, and a variation

of the format was used from

start-to-finish in last season's

Dick Weber PBA Playoffs.

Clark said this season will

not see a complete departure

from the classic stepladder.

"The stepladder is still a

brilliant format to bring excitement

and fairness to televised

bowling," Clark said. "Later

this season, the traditional

stepladder finals format will

continue to be used for the

USBC Masters, U.S. Open, PBA

Tournament of Champions and

some of the Xtra Frame Tour

events."

Last year's WSOB shows, including

the PBA World Championship,

used the stepladder

format exclusively. Last year's

PBA World Championship winner

Chris Barnes sees pros and

cons to the eliminator format.

"It's a format that I personally

like," Barnes said of the

eliminator. "You get a chance

to be on the lanes and it

rewards good bowling that

consistently gets better. If there

is a downfall it's that the top

seed doesn't get to bowl for

the title automatically, but the

top seeds are only 6 out of 11

in the last two years, and the

top seed here got to pick the

pattern."

Clark said that the eliminator

theoretically also cuts down

on "blowout" matches by virtue

of more players fighting for

survival up to the one-on-one

final, and said another reason

for the eliminator format in the

WSOB's two-lane arena setting

was the fact practice off the

pair was impossible.

"The eliminator format

creates an obvious and identifiable

differentiation between the

preliminary matches and the

final," Clark added. "The final

game is the only time the pace

returns to a traditional one-

Continued on Page 15
---
BWAA looks down under for bowler of the month

ARLINGTON, Texas - Jason

Belmonte of New South Wales,

Australia, has been named the

November 2011 Kegel Bowler

of the Month by the Bowling

Writers Association of America.

Belmonte won a record

three titles in the Professional

Bowlers Association's World

Series of Bowling (WSOB) in

PBA SOCIAL

Continued from Page 4

performance bowling balls for

a six-week Winning Wednesday

program through Dec. 22.

In addition, PBA has

provided subscriptions for Xtra

Frame, the online Bowling

Channel, and worked with

Crave Games to also provide

Brunswick Pro Bowling

video games for lucky fans that

participate in online games and

trivia contests. During Xtra

Frame live webcasting, Hammer

Bowling provided Black

Widow double-ball totes last

season and a towel and grip

sack package for fans watching

the online show this season.

Over $5,000 in prizes have

been given away to lucky fans

since last season.

"I love trivia contests, I

have Xtra Frame and I watch

all the shows. When can I

win again?"--Rob Gotterbarn,

Garden City South, N.Y.

"Awesome. Happy to hear

it, I will gladly take a brand

new bowling ball."--Aarik

Torres, Covina, Calif.

PBA social networking

through PBA on Facebook

and Twitter provides exclusive

photos, videos and information

designed to generate interest

and viral sharing among fans

of professional bowling. Links

back to PBA.com provide

greater details and information

on PBA players, tournaments

and news.

Fans can interact directly

with the stars of the PBA Tour,

ESPN announcers Rob Stone

and Randy Pedersen, PBA Tour

Commissioner Tom Clark and

Xtra Frame personalities Mike

J "Laneside" Jakubowski, Jason

"The Bowling Guy" Thomas

and PowerHouse's Jackie

"Bowling" Marinkovich. Bowling

fans from around the world

can communicate with each

other via the Xtra Frame chat

feature or directly in one-onone

conversations.

To 'like' the Professional

Bowlers Association

on Facebook, visit PBA.com

and click the Facebook icon:

http://www.facebook.com/

ProfessionalBowlersAssociation

To 'follow' the PBA on Twitter,

visit PBA.com and click the

Twitter icon: www.twitter.com

and search for @PBATour

Las Vegas. The first crown for

Belmonte came in the WSOB

Chameleon Open, defeating

Sean Rash, Montgomery,

Illinois, 268-191. Next was the

GEICO Shark Open when he

downed Chris Barnes, Double

Oak, Texas, 243-213. The

third win was the Pepsi PBA

Elite Players Championship,

with Belmo outlasting Mike

DeVaney, San Diego, California,

At AMF DeSoto

McFarland reigns in 773,

Williams mints 632

Dale McFarland rolled a

chart-topping 289-226-258 =

773 DeSoto Classic set to take

high series honors for the week

at AMF DeSoto Lanes.

Stacey Williams posted a lofty

246-192-194 = 632 Pushovers set

to pace the ladies.

HONOR ROLL

Ray Petry, Sr. 247-658, Dellie Bolton

203-562, James Bridges 268-738, Dellie

Bolton 214-592, Ken Washington 279-

722, Andrea Calloway 203-579, Wes

At Strikz

Bailey builds 691,

Eberly rocks 603

FRISCO – Mike Bailey highstepped

his way to a 262-258-171

= 691 J C Penney's League series

to end the week at the top spot of

the honor roll at Strikz.

Cathy Eberly had a solid 225-

191-287 = 603 Lousy Bowlerz

series to lead the ladies.

HONOR ROLL

Joesph Jimenez 244-632, Candy

Torrey 229-596, Don Levy 193-557,

Harmony Montgomery 160-507, John

Carter 229-554, Melaine Covington

184-482, Holly Stephens 194-410, Cathy

Eberly 229-596.

Julie Collins 176-458, Rick Irvine

ELIMINATOR

Continued from Page 14

on-one format, but it elevates

the final's intensity and creates

a special distinction because

the two finalists already have

bowled two games against each

other. It creates some unique

strategies that never existed in

stepladder events."

Sunday's Don Carter

Division final will feature

Stuart Williams and Dominic

Barrett, both of England; Osku

Palermaa of Finland, who

became the second player in

PBA Tour history to win a PBA

Tour title with a two-handed

delivery (Jason Belmonte of

Australia was the first) will

be trying for his second Tour

title after winning last season's

PBA Shark Championship in

the 2010 PBA World Series of

Bowling. Rounding out the

255-238.

A third place finish in the

Carmen Salvino Classic and a

fourth place standing in the

PBA World Championship

rounded out the best performance

by any bowler in the

three-year history of the WSOB.

In the span of 16 days, the 2011

Bowling ESPY award winner

captured his second, third, and

fourth PBA titles.

Milliorn, Jr. 222-639, Glenda Cleveland

176-504. Johnny Hopkins 227-631, Pam

Hopkins 226-622, Ruben Rios 257-658,

Lisa Alonzo 180-514, Brad Wood 256-

699, Tammy McFarland 233-618, Ken

Suber, Sr. 258-711, Lucy Chism 200-537,

Bam Pride 258-719. Leritha Pride 209-

573, Bradley Robinson 258-713, Victor

Minor 245-713.

SENIORS

Vernon Johnson 213-610, Kathy Lee

168-499, Robert Dehner 254-588, Sue

Hill 178-512.

246-641, Cathy Eberly 198-564, Jim

Reynen 259-626, Angela Garcia 158-

450, Paul Woodin 216-579, Pat Irvine

137-376, Rodel Dalmacio 224-619.

Katrina Espinosa 138-389, Mark

Donnell 232-618, Tracy Buckaloo

197-539, Larry Obertz 225-575, Paula

Johnson 182-472, Jim Reynen 234-682,

Kenneth Judge 225-654, Debbie Colby

172-508.

Gerry Vecchio 258-651, Kathleen

McNamara 169-428, Matt Robinson

254-684, Sarah Riise 174-489, Mike

Robinson 208-621, Deanna Goldsmith

182-461, Brian Holland 215-541, Laine

Barr 191-455.

foursome will be Jack Jurek of

Lackawanna, N.Y., trying for

his third Tour title.

Over the following three

consecutive Sundays (except

Christmas Day), the Billy

Hardwick, Johnny Petraglia

and Mike Aulby Division finals

will air on ESPN at 1 p.m. ET,

with all four winners advancing

to the World Championship

finals on Jan. 15 at 1 p.m. ET.

To qualify for the Division

finals, the 16 finalists survived

a 40-game marathon contested

on five different lane conditions

against a field of 204 players.

Bowling fans can catch

enhanced pre- and post-tournament

World Championship

coverage on bowling's online

bowling channel Xtra Frame.

For subscription and schedule

information visit www.

xtraframe.tv.

THE BOWLING NEWS | Thursday, December 15, 2011 | Page 15

Ross DiCapo wins first

SASBA title!

By Jim King

At the Age Bracket tourney

at Cityview Lanes in Fort

Worth, Ross DiCapo survived

the 70 & over bracket to bowl

in the title game vs. Gary

Dickinson and Dean Jones.

All three hit the pocket on every

shot, but Ross carried a little

better and won the match with a

248. Gary was 2nd with 228 and

Dean got third with a 206.

It was the first time the 70 &

over bracket survivor went on

to win the tournament.

Thanks to Bill Blackerby and

crew for being gracious hosts.

We had 99 total entries, the

same as last year. With the

three brackets vs. four (as were

the last two), we were able to

pay more on top and beef up

At AMF Hurst Lanes

Armstrong claims 763,

Girton bags 626

Jack Armstrong rounded

up a sky-high 257-246-260 =

763 T.G.I.S. series to end as the

number-one bowler of the week

at AMF Hurst Lanes.

Lisa Girton posted a lofty 225-

223-178 = 626 Rainbow Bowlers

set to pace the lady bowlers.

HONOR ROLL

Billy Brown 200-475, Elsie Phillips

155-380, Kevin Condell (4 games)

the others prizes and the 2nd

chance tournament as well.

The next Age Bracket event

will be in Austin on May 12-13.

Our next tournament is in

two weeks. It is the Annual

Christmas Team Tourney. This

is the most fun tournament we

have all year. The computer

picks the teams and the tournament

uses the Swiss format.

Sign up early, as entries have to

be in a multiple of five and the

last 2-3-4 who enter could get

shut out. There will be a BBQ

dinner (included with entry)

after bowling on Saturday.

We will present the year-end

awards at the dinner. We need

to know if you will be attending

the dinner and if you plan

to bring a guest ($10 per guest).

235-843, Jeff Wynne (4 games) 218-816,

Charles Newton 245-659, Lucky Hansen

198-569, Cody Sheppard 256-721.

Andrea Collins 205-545, Camden

Jackson 180-491, Linda Davis 143-376,

Michael Meriwether 245-684, Dot

Rotruck 186-521, Brad Tyrone 223-613,

Trudy Tyrone 167-432, Scott Grimmett

236-677.

Diana Kee 176-513, Darrell Scruggs

203-737, Lisa Powell 157-564.

972-668-5263

8789 Lebanon Road,

Frisco, TX 75034

www.strikz.com
---
Page 16 | Thursday, December 15, 2011 | THE BOWLING NEWS

HOST HOTEL:

NORTH ROCK SUITES

36th & North Rock Road

Wichita, KS 67226

(316) 634-2303 • (800) 881-0067

Complimentary hot breakfast

Book online at www.hotelinwichita.com

78th

Annual

February 18 – March 25, 2012

Entry forms, rules and additional information available at:

www.swbowling.com

– Entries Close Midnight, January 23, 2012

$7500

ADDED

PRIZE MONEY!

Brackets, Pots,

Games, and

More!

NORTHROCK LANES

Bowling / Arcade / Sports Grill

Largest Bowling Center in Kansas

All New Lanes

3232 N. Rock Road

Wichita, Kansas 67226

(316) 636-5444

www.northrocklanes.com

Handicap based on 80% from 220 Average

USBC

Sanctioned

Both Open

and Women's

Divisions

See Your Local

Director

or Proprietor for

Entries