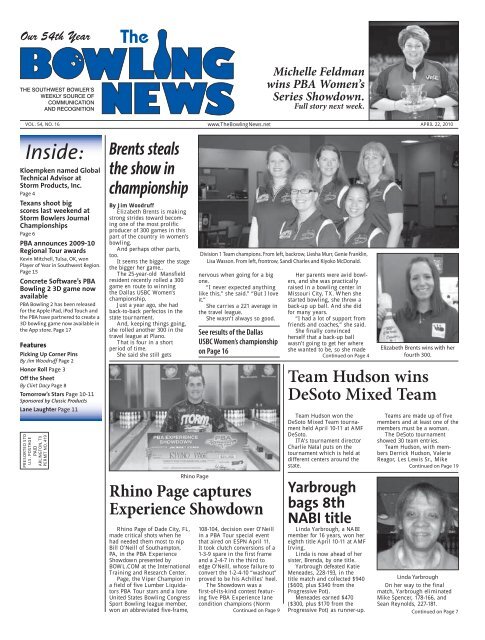 Inside: - The Bowling News
Inside: - The Bowling News
Inside: - The Bowling News
SHOW MORE
SHOW LESS
You also want an ePaper? Increase the reach of your titles
YUMPU automatically turns print PDFs into web optimized ePapers that Google loves.
Our 54th Year

VOL. 54, NO. 16 www.TheBowlingNews.net APRIL 22, 2010

Inside:

Kloempken named Global

Technical Advisor at

Storm Products, Inc.

Page 4

Texans shoot big

scores last weekend at

Storm Bowlers Journal

Championships

Page 6

PBA announces 2009-10

Regional Tour awards

Kevin Mitchell, Tulsa, OK, won

Player of Year in Southwest Region.

Page 15

Concrete Software's PBA

Bowling 2 3D game now

available

PBA Bowling 2 has been released

for the Apple iPad, iPod Touch and

the PBA have partnered to create a

3D bowling game now available in

the App store. Page 17

Features

Picking Up Corner Pins

By Jim Woodruff Page 2

Honor Roll Page 3

Off the Sheet

By Clint Dacy Page 8

Tomorrow's Stars Page 10-11

Sponsored by Classic Products

Lane Laughter Page 11

PRESORTED STD

U.S. POSTAGE

PAID

ARLINGTON, TX

PERMIT NO. 419

Brents steals

the show in

championship

By Jim Woodruff

Elizabeth Brents is making

strong strides toward becoming

one of the most prolific

producer of 300 games in this

part of the country in women's

bowling.

And perhaps other parts,

too.

It seems the bigger the stage

the bigger her game..

The 25-year-old Mansfield

resident recently rolled a 300

game en route to winning

the Dallas USBC Women's

championship.

Just a year ago, she had

back-to-back perfectos in the

state tournament.

And, keeping things going,

she rolled another 300 in the

travel league at Plano.

That is four in a short

period of time.

nervous when going for a big Her parents were avid bowl-

one.

ers, and she was practically

"I never expected anything raised in a bowling center in

like this," she said." "But I love Missouri City, TX. When she

it."

started bowling, she threw a

She carries a 221 average in back-up up ball. And she did

the travel league.

for many years.

She wasn't always so good. "I had a lot of support from

friends and coaches," she said.

See results of the Dallas

USBC Women's championship

She finally convinced

herself that a back-up ball

wasn't going to get her where

She said she still gets on Page 16

she wanted to be, so she made

Continued on Page 4

Rhino Page

Rhino Page captures

Experience Showdown

Rhino Page of Dade City, FL,

made critical shots when he

had needed them most to nip

Bill O'Neill of Southampton,

PA, in the PBA Experience

Showdown presented by

BOWL.COM at the International

Training and Research Center.

Page, the Viper Champion in

a field of five Lumber Liquidators

PBA Tour stars and a lone

United States Bowling Congress

Sport Bowling league member,

won an abbreviated five-frame,

Division 1 Team champions. From left, backrow, Liesha Murr, Genie Franklin,

Lisa Wasson. From left, frontrow, Sandi Charles and Kiyoko McDonald.

108-104, decision over O'Neill

in a PBA Tour special event

that aired on ESPN April 11.

It took clutch conversions of a

1-3-9 spare in the first frame

and a 2-4-7 in the third to

edge O'Neill, whose failure to

convert the 1-2-4-10 "washout"

proved to be his Achilles' heel.

The Showdown was a

first-of-its-kind contest featuring

five PBA Experience lane

condition champions (Norm

Continued on Page 9

Michelle Feldman

wins PBA Women's

Series Showdown.

Full story next week.

Yarbrough

bags 8th

NABI title

Linda Yarbrough, a NABI

member for 16 years, won her

eighth title April 10-11 at AMF

Irving.

Linda is now ahead of her

sister, Brenda, by one title.

Yarbrough defeated Katie

Meneades, 228-193, in the

title match and collected $940

($600, plus $340 from the

Progressive Pot).

Meneades earned $470

($300, plus $170 from the

Progressive Pot) as runner-up.

Elizabeth Brents wins with her

fourth 300.

Team Hudson wins

DeSoto Mixed Team

Team Hudson won the

DeSoto Mixed Team tournament

held April 10-11 at AMF

DeSoto.

ITA's tournament director

Charlie Natal puts on the

tournament which is held at

different centers around the

state.

PBA LLC Photo

Teams are made up of five

members and at least one of the

members must be a woman.

The DeSoto tournament

showed 30 team entries.

Team Hudson, with members

Derrick Hudson, Valerie

Reagor, Les Lewis Sr., Mike

Continued on Page 19

Linda Yarbrough

On her way to the final

match, Yarbrough eliminated

Mike Spencer, 178-166, and

Sean Reynolds, 227-181.

Continued on Page 7
---
Page 2 | Thursday, April 22, 2010 | THE BOWLING NEWS

By JIM WOODRUFF

I've had many discussions,

or arguments, over the many

yeas about which sport has

the best athletes.

Bowling, of course, has

some excellent all-around

athletes, but has to take a

back-seat when compared to

some of the other sports.

Baseball is right there near

the top. You have to consider

how terrific the players'

timing is when hitting and

fielding. The pitches come

like bullets and they have

to catch up with them with

those small bats.

Football requires a lot of

talent, and muscle, but allaround

they are not and some

of them never could be.

Auto racing? I really don't

compare it to other sports

because too much depend on

the cars.

Golfers are getting better

and better. Partly because of

the equipment getting better.

But all-around athletes they

are not.

Tennis players are very

talented, but too many are too

small for other sports.

Swimming requires a lot

of muscle and endurance. You

can find weaknesses in most

athletes.

The toughest sport of them

all, I feel, is ice hockey.

But my vote for the top allaround

athletes would have to

go to pro basketball players.

Most of them look like

they would make good tight

ends. They can catch the ball

and throw it, too.

And they have to stay in

tremendous condition.

* * *

Be sure to check out the

spring edition of US Bowler

which is being delivered to

you.

It has some good stories

and photos you will enjoy.

* * *

If you want to see some

great bowling, be at AMF

Showplace Euless on May

1-2. The SASBA Trios will be

there.

* * *

I think I would still rate

the Mark Roth-Marshall Holman

era as the best the PBA

has ever produced.

⌧ ⌧ ⌧

BUY - - - SELL

AMF - BRUNSWICK EQUIPMENT - COMPLETE PACKAGE

WORLD'S LARGEST NEW-USED SPARE PARTS INVENTORY

Danny or Daryl Tucker

Tucker Bowling Equipment Co. Bowling Parts, Inc.

609 N.E. 3rd St. P.O. Box 801

Tulia, Texas 79088 Tulia, Texas 79088

Call (806) 995-4018 Call (806) 995-3635

Fax (806) 995-4767 Email: bpitx@texasonline.net

Website: www.bowlingpartsandequipment.com

Mailing Address: P.O. Box 1642, Colleyville, TX 76034-1642

Delivery Address: 4133 Heartstone Dr, Grapevine, TX 76051

Phone 817-267-8686 • Fax: 817-267-1813

Cell: 817-368-7960 • Email: bowlingnews@sbcglobal.net

JOE GENNARO . . . . . . . . . . . . . . . . . . . . . . . . . . . . . . . . . . . . . . . . . . . . . EDITOR EMERITUS

TONY FRANKLIN (Tony@TheBowlingNews.net) . . . . . . . . . . . . .OWNER/PUBLISHER

GENIE FRANKLIN (Genie@TheBowlingNews.net) . . . . . . . . . . .OWNER/PUBLISHER

BILL HAZLETT (Bill@TheBowlingNews.net) . . . . . . . . . . . . . . . . .MANAGING EDITOR

CAROL HAZLETT (Carol@TheBowlingNews.net) . . . . . . . . . . . .MANAGING EDITOR

JIM WOODRUFF (Bigdjim25@aol.com) . . . . . . . . . . . . . . . . . . . . . . . FEATURE EDITOR

JAMES CRUZ JR. (jcruz0502@aol.com) . . . . . . . . . . . . . . . . . . . . . . . . . . STAFF WRITER

CLINT DACY (Clint@TheBowlingNews.net) . . . . . . . . . . . . . . . . . . . . . . . . COLUMNIST

SUSIE MINSHEW (strikeability@gmail.com) . . . . . . . . . . . . . . . . . . . . . . . . COLUMNIST

DON WRIGHT (wrightdk@hot.rr.com) . . . . . . . . . . . . . . . . . . . . . . . . . . . . . COLUMNIST

BUBBA FLINT (fl intsworld@aol.com) . . . . . . . . . . . . . . . . . . . . . . . . . . . . . CARTOONIST

CONTRIBUTING FEATURE WRITERS

John Jowdy • Chuck Pezzano • Dick Evans

Note: Opinions expressed by our independent columnists and feature writers are

their own and do not necessarily refl ect the views of The Bowling News.

Subscription rates: $65 a year in advance. Check or money orders should be addressed to

THE BOWLING NEWS.

© 2010

Th e Bowling News

FOUNDED AND PUBLISHED BY JOE GENNARO FROM 1956-2009

Welcome Texas State USBC Open

Championship Bowlers

Starts Tuesday, June 1st

at 9:00 PM

Organizational Meeting at 8:30 PM

2 Member Teams Any combo Male/Female. Handicap - 90% from Individuals Average and 220

Weekly Fee: $28.00 Includes Cruise and League

Don't be left!!! Come voyage with us on March 6, 2011 for this 7 day cruise as we sail to the beautiful

ports of Montego Bay, Jamaica, Grand Cayman, Cayman Islands & Cozumel, Mexico.

There will be lots of fun excursions at each port of call. Cabins are booked double occupancy and

there will be a $100 franchise fee per person due to hold your cabin reservation.

Join the Fun TODAY!

STARTS JAN. 16TH THRU MAY 8TH

Every Saturday Night

We are bringing everyone together to see who rules PSB. Sign up

begins at 9 PM, contest starts at 10 PM. Singers are competing for

a chance to go to Las Vegas, June 26-29th.

You will be representing Plano Super Bowl at the Bowl Expo. Finals

will be held May 22nd.

Contact George Crenshaw at PSB for more information.
---
MEN

James Rougely, AMF Richardson ......................... 842

Richie Rylant, Rowlett Bowl-a-Rama .................... 842

Brad Hunter, AMF Spare Time ............................... 823

Ryan Brodeur, Plano .............................................. 814

Jody Wagner, AMF Lewisville ................................ 804

Bill Anderson, Brunswick Zone Watauga ............. 793

Rick Lawrence, Hilltop Super Bowl ...................... 791

Tommy Walker, AMF Showplace Euless ............... 791

Paul Wilson, AMF Showplace Garland ................. 791

Graham Monteleone, BRC Thousand Oaks ......... 782

Chris Holliday, Cityview ......................................... 775

Lewis Gray, Forum ................................................. 774

Rick Lawrence, Jupiter .......................................... 773

Jerrod Gertsema, Interstate .................................. 772

Darrell Hart, Cowtown ............................................ 769

John Garnett, Brunswick Westcreek..................... 768

Tony Slovak, All Star Bowl ..................................... 749

James Carberry, Bandera Super Bowl ................. 741

Chris Shipley, AMF DeSoto ................................... 734

Allen Fanslau, Lake Country Lanes ...................... 727

Rick Hightower, AMF Hurst ................................... 714

Bob Allen, USA Bowl ............................................. 712

Adam Neugent, Red Bird ....................................... 698

Danny McCarter, Corsicana Super Bowl .............. 673

Glen Porter, Lakes Lanes ....................................... 598

Dave Scott, Lakes Lanes ....................................... 598

Donnie Cagle, AMF Irving ...................................... 587

WOMEN

Lynda Barnes, AMF Lewisville .............................. 805

Nikki Brodigan, AMF Spare Time .......................... 737

Teresa Carter, Brunswick Zone Watauga .............. 733

Whitney Harris, BRC Thousand Oaks ................... 729

Amy Hart, Cowtown ............................................... 727

Lillian Pallanes, Bandera Super Bowl ................... 727

Sandra Craig, Lake Country Lanes ....................... 717

Karen Witken, Plano .............................................. 717

Virgie Wright-Jones, AMF Richardson .................. 714

Lea Anne Sikora, AMF Showplace Euless ........... 709

Laura Wood, Brunswick Westcreek ...................... 709

Theresa Bankston, Cityview .................................. 701

Chrissy Castro, Forum ........................................... 685

Tonjah Castro, USA Bowl ....................................... 680

Michelle Rogers, Rowlett Bowl-a-Rama ............... 679

Barbara Shaw, AMF Showplace Garland .............. 676

Erin McCarty, Jupiter ............................................. 660

Barbara Shaw, All Star Bowl.................................. 630

Gale Lee, Interstate ................................................ 626

Marilyn Masterson, Red Bird ................................. 620

Amy Weis, Hilltop Super Bowl .............................. 617

Janet Miller, AMF DeSoto ...................................... 602

Lucky Hansen, AMF Hurst ..................................... 559

Jenny Severson, Lakes Lanes .............................. 544

Lynn Zainhotsky, Corsicana Super Bowl .............. 544

Valerie Williams, AMF Irving .................................. 540

At Cityview

Holliday strokes 775,

Bankston banks 701

Witt aces 300 game

Chris Holliday pocketed prime

228-268-279 = 775 numbers in

Monday Night Mixers action to

head the scoring race for the

week at Cityview Lanes.

Jay Witt's award-winning

12-bagger earned high-game

accolades.

Theresa Bankston's impressive

213-257-231 = 701 Billie &

Les High Pot series led the lady

bowlers.

CITYVIEW HIGHS

J.J. Martin 264-725, Richard Neace

259-737, Cherie Deleon 231-620, Birdie

Auerbach 223-574, Sid Slater 278-708,

Nell Ray 223-626, Mike Hernandez

268-741.

Jeri Harlin 269-619, Cheryl Killough

192-550, Ron Neely 246-696, Judy

Long 200-537, Rudy Garcia Jr. 289-742,

Lonnie Gilley 221-624, Tammy Stone

180-494, Ed Frieze 278-682, Diane

James 267-630.

Oni Llagas 258-668, Jim Helbing

263-664, Stephanie Alsbrook 208-561,

Ron Coggins 248-716, Jamey Coggins

194-576, Al Arens 259-725, Jo Cleveland

178-513, Gus Thrash 246-669, Cheryl

Killough 181-527, Trey Shurman 264

(162 avg.).

James Rougley

This week's high man

is James Rougley with a

289-277-276 for an 842 series

at AMF Richardson. James

frequently participates in NABI

tournaments and is a five-time

champion. His two sons are

also very good bowlers as well

as his wife.

What is your high series?

858. I shot that in a tournament.

I have bowled five 800's.

How many 300's have you

bowled? Maybe 30.

What ball did you throw?

Columbia Freeze. I have always

had success with the Columbia

balls. My daughter got me that

ball for Christmas this year.

Who drills your balls? Tom

Wicker for the last nine years.

What is your all-time

favorite bowling ball? A Columbia

Sport ball, but I don't know

if anyone else liked that ball.

I saw Wendy Macpherson use

that ball on TV so I thought I

would give it a try and I ended

up bowling six 300's with it.

What is your average in the

XXXX Rated league? 216.

What is your all-time high

average? 229 at USA Bowl.

How long have you been

bowling? I started bowling in

1985 and bowled all them time

until 1995. I then took some

time off because I was coaching

Pop Warner football and

that consumed all of my time.

I started back in 2000 and

haven't stopped since. I have

always watched bowling on TV

but had never actually bowled.

It looked like a lot of fun, so I

started messing around with it

and then joined a league and

here I am now.

What part of the lane were

you playing when you shot this

series? I was playing straight

up 10. Normally I will play in

further but that night I decided

I would play straighter to see

how long it would last and

fortunately my line held up all

night.

Who is your favorite pro

bowler? Without a doubt it's

Walter Ray. I saw him holding

up a $25,000 check and it

looked like a fun way to make

money. Of course I have never

won events like that but I still

enjoy it.

Most memorable bowling

moment? I won a NABI tournament

in Euless were I averaged

about 257. It was a really good

day.

How much do you practice?

Lately I will get a few warm-up

games on Thursday, but that's

about it. My wife bowls too

and we used to practice all the

time, but just don't have the

time now.

Do you have anyone who

coach's you? Never had a coach.

I just practiced a lot, worked

THE BOWLING NEWS | Thursday, April 22, 2010 | Page 3

on different hand positions and James's tip of the week: I

different approach's.

always treat my team sports

Other bowling thoughts on like a singles tournament. Even

the big night? I told my wife I though you are on a team it

was going to use one ball and will keep your focus sharp.

one line for the entire night, Bowl like you are bowling for

and it worked pretty well. the top prize every time and

I only missed striking four you will have good success.

times. Continued on Page 20

2010 U.S. WOMEN'S OPEN

MAY 6TH—12TH, CITYVIEW LANES

Lynda Barnes Brenda Edwards

Stefanie Nation

Shannon O'Keefe

SPECIAL MEET & GREET

SUNDAY, MAY 2ND 2 PM TO 5 PM

WIN A WEEK-LONG PASS TO SEE THE GREATEST WOMEN

BOWLERS IN THE WORLD THIS MAY AT CITYVIEW LANES.

"WHICH OF THESE LADIES WAS THE 2007

NTCA BOWLER OF THE YEAR?"

MAIL ANSWER TO CITYVIEW LANES ON OR BEFORE APRIL 26, 2010. ALL PARTICIPANTS

WITH THE CORRECT ANSWER WILL BE PLACED IN DRAWING TO BE HELD SUNDAY,

MAY 2ND AT 4:30 PM. NEED NOT BE PRESENT TO WIN.

The "New"

Tennelle Milligan

817-346-0444

Cityviewlanes.net Fax: 817-346-7208

USBC OPEN

CHAMPIONSHIP BOWLERS

USA Bowl invites you to practice

on the championship pattern

Monday's From 6 PM To 8 PM

$2.00 A GAME

PROFESSIONAL COACHING

AVAILABLE BY

BOB LEARN JR.

SPACE IS LIMITED

Amanda

Vermilyea

214-358-1382 Fax: 214-358-4056

10920 Composite Drive, Dallas, TX 75220

Visit us on the Web at www.USABowlInDallas.com
---
Page 4 | Thursday, April 22, 2010 | THE BOWLING NEWS

It's always the right time to

sign up for a League

Call your local center now to sign up

RENT-A-LANE

SPECIALS

SUNDAYS

9AM-11AM $18.00 PER HOUR

11AM-1 PM $20.00 PER HOUR

TUESDAYS

9AM-5PM $18.00 PER HOUR

INDIVIDUAL & COUPLES LEAGUE SPOTS

STILL AVAILABLE

ASK ABOUT OUR KIDS BIRTHDAY PARTIES

Family owned and Independently operated for 37 years

Lakes Lanes in The Colony

is independently owned and

operated for the bowlers

5000 Main Street, Suite 138

The Colony, TX 75056

972-624-5263

www.lakeslanes.com

The Coach's Eye International

Pro Shop at Lakes Lanes.

Bill Lish drills

and custom

fits each ball

personally.

1114 S. Main

Duncanville

972-298-7143

fax: 972-709-5677

redbirdlanes@sbcglobal.net

Kloempken named Global

Technical Advisor at

Storm Products, Inc.

BRIGHAM CITY, UT —

Storm Products Inc, announced

that effective immediately Steve

Kloempken has been named

Global Technical Advisor.

Steve formally worked as

the Director of Marketing for

Storm and as the Technical

Director for the USBC. Steve

At USA Bowl

Allen belts 712,

Castro drills 680

Bob Allen won the high-set

race last week at USA Bowl by

hammering out hefty 236-268-

208 = 712 marks in Golden Age

Trio action.

Tonjah Castro paced the

ladies' scoring contest with a

laudatory 177-256-247 = 680

OLBA showing.

USA BOWL HIGHS

Jim Ellis 181-525, Bert Johnson

267-706, Michelle Carr 234-671, Robert

Natho 259-691, Blanche Hollingsworth

186-473, L. Trammell 229-369.

Candice Atterbery 157-288, Donna

will be responsible for global

coaching opportunities and

product development for Storm

Products, Inc.

"We pride ourselves in continuing

to hire the best of the

best, and Steve is no exception.

He is a great public speaker,

has a wealth of knowledge in

Peters 172-479, Steve Kerr 269-701,

Ronnie Willets 235-624, Bobby Galen

(PBA Experience, 4 games), Mindy

Jordan (PBA Experience, 4 games)

179-636.

T.V. Robinson 256-709, Della Baker

217-591, Missy Bowersock 237-652,

Raymond Ojeda 200-373, Kim Dobbs

149-256, Todd Williams 248-698.

Christina Garcia 255-625, Donald

Brewer 224-634, Patricia Anderson

178-470, Paul Burnett 247-673,

Thea Reddick 183-534, Terry Marek

149-423.

Neugent records 698 at Red

Bird, Masterson mints 620

Adam Neugent headed the

leader boards last week at Red

Bird Lanes by logging laudable

193-269-236 = 698 numbers in

Sunday Nite Mix action.

Marilyn Masterson's stately

204-234-182 = 620 Blue Monday

Ladies showing led the lady

bowlers.

RED BIRD HIGHS

Jennifer Farrell 219-536, Fran

Gonzalez 202-563, Zachary Wrightsil

226-667, Billy Cathey 248-654, Mary

Edgett 192-512, Carolyn Large 234-589,

Rob Billman 278-675.

Beth Winstead 183-524, Clay

Robinson 219-639, Brian Dickerson

236-626, Butch Lee 256-684, Deborah

Hodge 184-495, Paul Grody 237-688,

Janet Moore 198-555, Charles Waldo

258-647, Renea Powell 178-478.

James Cooper 257-657, Myrtle Ellis

201-537, Brian Dickerson 244-639,

Jennifer Farrell 199-566, Gary Brown

277-666, Erica Ramsey 213-584, Gary

Foster 227-624.

Jimmie Hawkins 180-485, Betty

Anderson 147-381, Adam Neugent

269-698, Lisa Powell 221-561, Glenda

Richardson 202-524, George Gillman

243-651, Karen Gillman 198-542.

At Lakes Lanes

Porter, Scott, Severson

lead scoring

THE COLONY — Glen Porter

and Dave Scott tied for the top

spot on the honor roll last week

at Lakes Lakes as both rolled a

598 series.

Porter posted 136-220-242

games in Monday Madness, while

Scott had 189-235-174 lines in

Midweek Mixed action.

Jenny Severson, Scott's

leaguemate, led the ladies with a

nice 212-168-164 = 544 set.

OTHER SCORES

Elaine Porter 201-525, Cody Krebbs

212-583, Marvin H. 197-571, Roxy

Robinson 185-509, Bill Lish 223-550,

Denise Smyser 193-521.

coaching, product development

and teaching. He is a perfect fit

for us to continue to grow our

company" said president, Dave

Symes.

Robert Dong, vice president

of International Sales and

Marketing said, "I am really

happy and excited to have

Steve back working with us.

He was a very integral part of

Storm's International activities

before his departure to USBC.

Combined with his past experiences

with Storm and very

successful stint with USBC, I

am sure he will be a great asset

to what we are accomplishing

internationally. I would like

to extend my sincere appreciations

to Bill Chrisman, CEO,

Symes, president, and Hank

Boomershine, VP of USA Sales

& Marketing for putting their

efforts to bring Steve back to

Storm."

BRENTS STEALS

Continued from Page 1

the change, and all went well.

"I finally figured it out," she

said.

She attended college at Neuman

University in Kansas. She

made many trips to this area

to bowl in tournaments. She

finally moved here with friend

Julie Locke.

She is still working on her

game, and wants to be good

enough to do well in the big

tournaments like the Queens

and U.S. Open.

She is now working for the

USBC as collegiate coordinator.

She and Gary Brown share

those duties.

"I really like it because I

bowled in college and it's nice

to still be involved in it," she

said.

In the city tournament, she

changed balls after one game,

and immediately shot a 300.

Brents rolled a 2081 to win

the city title.

The Division 1 team

championship went to the

Ron Williams Pro Shop team

which included Genie Franklin,

Leisha Murr, Kiyoko McDonald,

Lisa Wasson and Sandi Charles.

As far as her job is concerned,

she feels collegiate

bowling is on the rise. She is

happy to be there to see it get

bigger.

She has come a long way

from that back-up ball.

"The quickest

and best way to

reach people in

bowling–"

P.O. Box 1642, Colleyville, TX 76034

Phone 817-267-8686

Fax 817-267-1813
---
AMF Hurst Lanes 720 West Pipeline Road, Hurst, TX 76053 Ph: 817-282-6754

AMF Spare Time Lanes 3149 S. Cooper St., Arlington, TX 76015 Ph: 817-465-4997

AMF Showplace Lanes Euless 1901 W. Airport Frwy., Euless, TX 76040 Ph: 817-540-0303

AMF Showplace Lanes Garland 1950 Marketplace Dr., Garland, TX 75041 Ph: 972-613-8100

AMF Richardson Lanes 2101 N. Central Expwy., Richardson, TX 75080 Ph: 972-231-2695

THE BOWLING NEWS | Thursday, April 22, 2010 | Page 5

It's Time for Summer Leagues at AMF.

Join an AMF League today and have a blast EVERY WEEK!

Meet new people!

Kick up some competition with friends!

There are leagues for all skill levels… that means fun for everyone!

SUMMER LEAGUES FORMING NOW FOR: YOUTH • ADULT • SENIOR

AMF DeSoto Lanes 121 Northgate Drive, DeSoto, TX 75115 Ph: 972-780-8090

AMF Arlington Lanes 1801 E. Lamar Blvd., Arlington, TX 76006 Ph: 817-276-9898

AMF Irving Lanes 3450 Willow Creek Drive, Irving, TX 75061 Ph: 972-790-8201

AMF Lewisville Lanes 1398 West Main St., Lewisville, TX 75067 Ph: 972-436-6575
---
Page 6 | Thursday, April 22, 2010 | THE BOWLING NEWS

Texans shoot big scores last

weekend at Storm Bowlers

Journal Championships

RENO, NV — For 64 years,

the Storm Bowlers Journal

Championships, presented by

USBC, has complimented the

United States Bowling Congress

Open Championships as the

ultimate warm-up for bowlers

before they compete under

the bright lights and custom

scoreboards of the main event.

Bryan O'Keefe of Arlington,

stopped at the Bowlers Journal

Championships for a tuneup

last week and rolled the

highest individual set on the

tournament lanes since the

event changed to a four-game

format in 2006.

O'Keefe posted games of

275, 286, 258 and 235 for a

1,054 total and teamed up with

Chris Viale of Westfield, MS,

to move into second place in

Open Doubles with a 1,932 total.

Viale contributed 213, 289,

189 and 187 for an 878 set. Erik

Vermilyea of Mansfield, and

Anthony LaCaze of Melrose

Park, IL, lead with 1,972.

Chad Maas of Brookfield,

WI, previously held the fourgame

record with 1,045, which

he shot on the way to the

Classic Singles title in 2008.

Unfortunately for O'Keefe,

he will not be celebrating

singles glory of his own after

neglecting to take advantage of

the tournament's Dual Entry

feature, which allows bowlers

to count their four-game totals

SUNDAY MAY 16

Check-In 12:30, Bowl 1 PM

$ 750 1st Place

(Based on 30 entries)

for doubles and singles at the

same time.

"I honestly just forgot

about it," said O'Keefe, who

shared the 1996 Classic Singles

title with Lumber Liquidators

Professional Bowlers Association

champion Robert Smith.

"After I got done bowling my

first doubles set, I just paid

my entry for the next set and

didn't think about it. I have

won the event before, and to

win it twice would have been

awesome. Unfortunately, there

is nothing I can do about it

now."

In their second game,

O'Keefe and Viale both tossed

10 consecutive strikes and

combined to shoot 575.

Not to be outdone, O'Keefe's

wife, Team USA member Shannon

O'Keefe, struck 11 times

on the way to a 295 game.

"Chris and I both started

with a spare in the first frame,"

said O'Keefe, who made his

first Bowlers Journal Championships

appearance in 1994.

"We got to the last ball of the

10th frame and I left a 2-4-8-10,

while Chris left a 10 pin. My

wife, Shannon, started with the

first 11 strikes, but the last ball

was a little wide, and she left a

washout for 295."

O'Keefe's experience and

knowledge as a USBC Coaching

Specialist helped him realize

what was happening on the

Bowl 8 games across 16 lanes

$80 Entry Fee

Prize fund

returned 100%

BRACKETS & HIGH POTS AVAILABLE

For more information contact Tony Schronce or Scott Dull

817-624-2151

4333 River Oaks Blvd., Fort Worth, TX 76114

lanes and what he needed to do

to succeed.

"During practice, I saw

there was a little more hook,

so I made a move left," said

O'Keefe, who finished third in

Regular Doubles at the 2009

USBC Open Championships.

"During the second game, we

went back to the pair that I

started on in my previous set,

and I knew that one lane was

tighter. Then, I shot 286, and

it just went on from there.

The lanes were playable, and

it helped that the three other

people on my pair were playing

in the same area. It is cool to

know that is the highest fourgame

set ever."

O'Keefe, who entered the

2010 Open Championships with

a career average of 213 through

16 years, shot 638 in singles,

600 in team and 547 in doubles

for a 1,785 all-events total.

Shannon O'Keefe rounded out

her second tournament appearance

with 710 in team, 623 in

doubles and 604 in singles for

1,937. Their team, Cambridge 1

of Feeding Hills, MS, is seventh

in Regular Team with 3,217.

Bowlers Edge Pro Shop of

Neenah, WI, leads with 3,408.

Mike Tryniski of Fulton, NY,

also found success at the Bowlers

Journal this weekend as he

posted the second perfect game

of this year's event. LaCaze

rolled the other.

The accomplished righthander

already owns a 300

game and 800 series at the

Bowlers Journal, and his efforts

this weekend helped him into

eighth place in Classic Singles

with 890 (194, 300, 214, 183).

Jeffrey Mersch of Orlando, FL,

leads with 970.

"It felt good," Tryniski said.

"After the first game, I moved

a little left and was able to

roll the ball a little bit more. I

also was able to hook the ball

a little more, and I ended up

shooting 300."

Each year, Tryniski, 49,

looks at the Bowlers Journal

Championships as an

opportunity.

"It's another opportunity

to compete," said Tryniski,

who owns Lakeview Lanes

in Fulton, NY. "Usually, the

shot is different, and it's a

way for bowlers to get loose.

Our group has had some past

winners, and we look forward

to bowling with each other

with another chance to make

money."

Two of those past winners

are Joe Petrowski of East Syracuse,

NY, and Art Alexander

III of Baldwinsville, NY, who

won Open Doubles in 2006.

Petrowski also looks forward to

the Bowlers Journal every year.

"I like how all 10 guys can

be involved," Petrowski said.

"We all bowl with each other

for doubles, and it gives everyone

an opportunity to compete

and cash with each other."

Tryniski also has a track

record of success at the Open

Championships with a 300

game at the 1993 event in

Tulsa, OK, and Regular Doubles

and Team All-Events titles

a year later in Mobile, AL.

He and his Lakeview Lanes

teammates made a run at

the Regular Team lead at the

National Bowling Stadium on

Sunday night.

The group put together

games of 1,024, 1,213 and

1,076, but fell short and settled

into second place with 3,313.

Petrowski led the way with

a 726 series and was followed

by Alexander (690), Tryniski

(657), Dean Distin (626) and

Ray Cyr Jr. (614).

Their companion team, Ray

Cyr's Pro Shop of Baldwinsville,

NY, also bowled well

and moved into fifth place in

Regular Team with 3,248.

Joe Conti Jr. of Liverpool,

NY, the Open Singles champion

at last year's Bowlers Journal

event, led the way for Ray Cyr's

Pro Shop on Sunday with a

697 series and was followed by

Larry Porter (660), Matt Chetney

(639), Michael Carno (633)

and Joseph Losurdo (619).

At AMF Showplace Euless

Walker scorches 300/791,

Sikora compiles 709

McKinnie, Raborn bag 300 games

Tommy Walker's powerpacked

277-300-214 = 791 Masters

showing headed the leader

boards for the week at AMF

Showplace Euless.

Patrick McKinnie and Cindy

Raborn shared high-game honors

with Walker as all fired awardwinning

perfectos.

Lea Anne Sikora, from the

Full House group, posted a blueribbon

183-279-247 = 709 set to

front distaff scoring.

HONOR ROLL

Jeff Tomerlin 278-788, D.C. Frederick

266-780, Larry Dotson 279-770,

Dennis Trammell 269-738, Tom

Crawford 258-722, Michael Aldridge

248-719, Eric Robertson 280-715, Sandy

Soule 279-707.

Charlie Pickett 245-707, Scott Grim-

mett 255-702, Lee Cooper 279-695, Pete

Lopez 236-687, Mike Herod 241-663,

Lester Cassell 243-653, Anthony Moore

229-639, Herman Campbell 220-628,

Terry Hill 236-595.

Keisha Pylant 268-698, Ruth

Crawford 254-694, Cindy Raborn

300-686, Kathleen LeCroy 267-671, Lisa

Steele 237-656, Tina Taylor 230-626,

Barbara Chaky 219-622, Stephanie

Harp 224-610.

Sheila Walton 222-609, Nell Hebert

222-607, Carolyn Perez 216-594, Lisa

Girton 214-577, Chris Penczynzyn

233-576, Janis Behr 189-556, Laurie

Witt 201-552, Amber Wilkins 157-409,

Shelley Fugitt 143-368.

SENIORS

Don Leuty 267-660, Cathy Holland

203-585, Joan Dale 202-506.

At Cowtown

D. Hart guns down 769,

A. Hart hurls 727

Darrell Hart turned in the top

score of the week at Cowtown

Bowling Center. Hart landed a

high-powered 259-242-268 =

769 series in Men's Night Out

action.

Amy Hart paced the ladies

with a high-flying 244-224-259 =

727 Get Your Gear showing.

COWTOWN HIGHS

Bill Ritsch 208-612, Mike Petosa

210-567, Tim Martin 201-552, Phillip

Mills 267-701, James George 232-649,

Jerry Densmore 288-601, Ronnie Sloan

606, Onil Llagas 252-661.

Jacob Lewis 621, Jerry Stewart

182-538, Catie Jensen 234-684, Keith

Grassmuck 243-639, James Hufhines

225-615, Jerry Jones 224-617, Coy Hart

279-747, Eva Pierce 225-600, Mickey

Adkins 267-718.

Jamie Hines 205-560, Vincent Pang

720, Amy Hart 571, Robert Beland

P.O. Box 1642, Colleyville, TX 76034

Phone 817-267-8686

Fax 817-267-1813

268-642, Amy Hart 258-629, Jeremy

Trubenstien 265-708, Melissa Tice

256-680, Jannette Sanchez 237, Matt

Suarez 267-749.

Frank Stone Sr. 278, Larry Wilson

248-586, Johnnie Palmeiro 234-610,

Alice Phillips 569, Rodell Ramos 237-

609, Howard Gordon 226-645, Deana

Gann 233-650, Brian Grange 265-680.

Nicholas Gann 253, Rob Haughts

247-598, David Pruitt 235-653, Richard

Warren 621, Randy George 237, John

Cantu Jr. 244, Butch Beck 203, Darlene

Trumble 228, Mark Matthews 225.

SENIORS

William Turner 264-619, Sandra

Carter 203, Les Messinger 230-638,

Karen Holder 202-518, Glen Hardee

224-609, Wanda Eads 521, Randy Biel

219-610, Larrie Boyett 208, John Lower

208-587, Betty Odom 526, Bert Olsen

224, Yolanda Espinoza 193-503.

We are always

looking for human

interest story

ideas—let us know
---
Long-time High Roller

staff member passes

John Miekoski, Special

Events Director for High Roller,

Inc., passed away April 3.

A member of the High Roller

staff since 1988, John joined

the firm after bowling in High

Roller tournaments since 1984.

He lived in Las Vegas since

1988, moving from New Jersey

John Miekoski

when he started working with

High Roller. He became an

Assistant Director, until being

named Special Events Director

in the late '90's.

John worked very closely

with the Edelman family and

Chet and Carol Hensor as a key

employee until he became ill

At Rowlett Bowl-a-Rama

Rylant rockets to 842,

Rogers on top with 679

ROWLETT — Richie Rylant's

award-winning 268-279-295 =

842 Classic Trio showing ended

as the top score of the week at

Rowlett Bowl-a-Rama.

Michelle Rogers, Rylant's

leaguemate, fronted distaff scoring

with a top drawer 278/679

set.

OTHER HIGH SCORES

Robert Ford 233-631, Meagan Stone

225-584, John Mock Sr. 238-436, Silvia

Cherry 173-312, David Blue 226-660.

Helen West 156-446, Susan Lee

223-630, Pete Hamilton 258-708, Amber

Athey 223-600, Tony Boyd 245-702,

Susan Lee 244-662.

Mike Chambers 232-602, Tabitha

Wall 186-472, Todd Delzell 270-699,

Kerry Lopez 201-577.

SENIORS

Ray Lanham 163-310, Nancy Heltzel

187-328, Bill Hutchinson 200-554,

Louise Garner 204-548, Sam Stovall

(no-tap) 210-584, Shirley Large (no-tap)

277-641.

At Jupiter Lanes

Lawrence unloads 773,

McCarty uncorks 660

Young 300, Vanderslice 299

Rick Lawrence's first rate 237-

257-279 = 773 Nite Owls session

ended as the number-one set of

the week at Jupiter Lanes.

John Young earned high-game

honors with an award-winning

perfecto, while Matt Vanderslice

took runner-up kudos with a

299 solo.

Erin McCarty's masterful

Family Fun Bunch showing of

228-245-187 = 660 garnered fem

scoring laurels.

JUPITER HIGHS

Ben Hassen Jr. 226-631, Trixie

Cantwell 157-417, Katina Tassopoulos

189-474, Thomas Kelley Jr. 243-669,

JoEllen Mitchell 202-565, Jimbo Land

194-346, Angelica Holden 147-286,

Bertha Sanchez 218-606.

Rit Kriechbaum 268-715, Tonjah

Castro 223-652, Erin McCarty 215-633,

James Morrison 250-687, John Young

300-746, Bertha Sanchez 225-623, Nick

Meno 269-771.

SENIORS

Buddy May (no-tap) 286-743, Cheryl

Willis (no-tap) 297-812.

this past January. He was 54

years old.

"John will be missed

tremendously by our staff and

the thousands of bowlers he

had made friends with during

his long association with High

Roller," stated Brad Edelman.

"John was part of our family

and will be remembered

always."

YARBROUGH BAGS

Continued from Page 1

Meneades advanced by

besting Mike Counts, 201-184,

and Ed Ross, 236-205.

Reynolds and Ross finished

in 3-4, earning $178 ($150, plus

$28 from the Progressive Pot)

each.

Other Top 8 finalists

were: 5-8. Gloria Edmark, Pat

Shelton, Mike Counts, Mike

Spencer, $90 each.

Other cashers included:

9-21. Vinny Meneades, Vince

Brezinsky, Duane Bates, Woody

Woodard, Sandy Willmon,

Doc Payne, Bob DuBoise, Wes

Willaert, Torris Jackson, Wolf

Bobermin, Brenda Yarbrough,

Eddie Rogers, Frankie Garza,

$70 each.

High Qualifier (no-tap)

Torris Jackson, $21; Vince

Brezinsky, $11; Woody Woodard,

Sandy Willmon, $5 each;

Vinny Meneades.

High Pot Winners

Vinny Meneades, $30; Doc

Payne, $20, Vince Brezinsky,

Katie Meneades, Ed Ross, $20

each; Torris Jackson, $15; Wolf

Bobermin, Linda Yarbrough,

Brenda Yarbrough, Woody

Woodard, Sandy Willmon,

Wes Willaert, Ed Williams,

Pat Shelton, $10 each; Ronnie

Allen, $5.

Bowler of the Year

1. Bob Kielich, 4941; 2.

Ted Garner, 4930; 3. Ronnie

Allen, 4634; 4. Austin Hill,

4141; 5. Frankie Garza, 4121;

6. Eddie Rogers, 3618; 7. Vinny

Meneades, 3347; 8. Linda Yarbrough,

3290; 9. Lloyd Payne,

3240; 10. Brenda Yarbrough

3118.

The AMF Irving NABI

tournament had a total payout

of $4,618 with 83 entries.

"The

quickest and

best way

to reach

people in

bowling–"

P.O. Box 1642, Colleyville, TX 76034

Phone 817-267-8686

Fax 817-267-1813

THE BOWLING NEWS | Thursday, April 22, 2010 | Page 7

P.O. Box 1642, Colleyville, TX 76034

Phone 817-267-8686

Fax 817-267-1813

New

Leagues

Now

Forming

To view our entire

league schedule visit

www.bowljupiter.com

11336 Jupiter Road

Dallas, TX 75218

214-328-3266

We are always

looking for human

interest story

ideas—let us know

New Leagues

Now Forming

Contact Christy at 972-475-7080

To view our entire league schedule

visit

www.rowlettbowlarama.com

5021 Lakeview Parkway, Rowlett, TX 75088

972-475-7080

www.rowlettbowlarama.com
---
Page 8 | Thursday, April 22, 2010 | THE BOWLING NEWS

Last Sunday was the first

annual America's Run 5k at

the new Cowboy's Stadium in

Arlington.

It was fitting that this event

took place at the same time

that the old Texas Stadium was

imploded.

For those who didn't know,

I committed to running this

because my wife loves to run.

She also sits and watches my

bowling all the time, so I felt

it was time for me to give

something back.

The week leading up to the

race, I went to the gym twice

and ran 1.6 miles the first time

and then two miles the second

time.

As Sunday rolled around we

met our running partners April

Ellis and Brett Cooper and we

proceeded to the starting line.

While listening to the

introductions they announced

that Troy Aikman was running

the half marathon that had just

started 30 minutes earlier. I am

now starting to sense how big

of a deal this was.

From left, Brett Cooper, April Ellis, Nikki and Clint Dacy.

I start getting amped up and

at 8 a.m. we started the race

and I was to the starting line

at about 8:02 a.m. My plan all

along was to run a mile, walk

3101 N. IH 35

Round Rock, TX 78664

(Exit 256 N.)

512-255-8826 (Lanes)

512-255-8619 (Fax)

www.interstatelanes.net

a mile, and then run the rest of

the way into the stadium.

However, after the first mile

my adrenaline started to kick

in and I noticed that very few

people were passing Nikki and

I, and we are running past a lot

of people.

We made it to the half way

point without stopping and

suddenly my competitiveness

kicked in. It seemed that every

person running in front of me

quickly grew a target on their

back and I had to pass them.

The next thing I knew we

could see the stadium opening

and I knew I was getting close.

As we turned down the

tunnel to the field I suddenly

became weightless. Nikki said

she has never seen me smile

so big as I did when I saw that

football field.

As we ran onto the field I

had to do a tiptoe down the

back of the end zone like Jason

Witten on a wheel route.

Then I turned my focus

to the finish line. I couldn't

help myself, as all the people

seemed to be slowing down so

I began high-stepping all the

way from the end zone to the

finish line at the 50 yard line.

By popular demand I finished

the race with my Deion

Sanders touchdown dance. As

Nikki and I finished and we

made our way to the holding

area we found Brett and April.

They ran the race in 34 minutes

and Nikki and I completed

it in 38 minutes.

This is by far one of my

most memorable sporting

events ever because I thought

there would be no way I could

run the whole thing without

stopping.

We polished off all of the

festivities at IHOP with a

big helping of pancakes and

sausage.

As a follow up, although I

announced my retirement from

running shortly after the race

(like five steps after), Nikki

was already researching the

next one we can run. I will

keep you posted with our next

venture.

I don't know about you, but

I really enjoyed the Masters

Golf tournament this year. Like

most people I was sucked into

the Tiger Wood's fiasco, but the

golf was just sensational.

Mickelson was fantastic and

there were so many players

in contention that there were

plenty of great golf shots to

be seen. Normally when it's

a two-man race the cameras

stay on those two throughout

all of their practice swings and

pre-shot routines.

In the final round though,

they cut from shot to shot and

kept me entertained the whole

way.

Maybe bowling should take

that into consideration. If they

try and remove some of the

pre-shot routines and focus on

the action parts of the game,

maybe that will make for a

more interesting show.

Last Thursday was one of

the most emotional sporting

events I have ever personally

attended.

We went to the Stars home

At Forum Bowl

Gray locks up 774,

Castro topples 685

Lewis Gray won the high-set

contest last week at Forum Bowl

with a top-notch 264-254-256 =

774 Crusaders league series.

Chrissy Castro led the Duncanville

ladies' race with a stately

258-237-190 = 685 Funtime set.

FORUM HIGHS

Herchel Smith 199-565, Elsie Allen

186-483, Homer Dudley 246-735,

Margaret Montgomery 194-542, Denise

Maras 211-523, Billy Langston 267-695,

Roberta Haffner 268-629, Lisa West

132-381.

Ed Block (no-tap, 4 games) 286-

1045, Holly Beers (no-tap, 4 games)

165-632, Jason Bowerman 248-691,

Glenn Frankiewicz 213-625, Emily

finale and most likely the last

home game in a Stars uniform

for Modano, Lehtinen and

Turco.

It was only my second

hockey game ever and I

actually really enjoyed it. The

action was great even though

both teams were out of the

playoffs.

However, the night belonged

to Mike Modano. Here is a guy

Montgomery 223-616, Frank Mills 242-

647, Cindy King 213-542, Eric Taylor

226-612.

Bryan Carmichael 222-574, Sharon

Carmichael 169-469, Kelvin English

278-715, Vicky Dunn 235-606, Otis

Dean (4 games) 276-993, Megan Simon

(4 games) 247-874, Greg Coy 234-694,

Karen Hoyle 223-554, Tricia Guzman

221-594.

Tony Keen 244-617, Julie Ramirez

168-464, Ron Rogers 245-718, Nancy

Burden 202-542, Sharhonda Bishop

223-641, Terry Ellis 239-656, Deanna

Garcia 198-557, Brad Sampson 228-658,

Emily Montgomery 211-540, Juan

Guzman 267-725.

that is everything that's right

with sports. He was the face

of the franchise and taught

the game of hockey to Texas.

The crowd was great and we

gave him an ovation fitting of

a king. Although it was his last

game I believe he will be with

the club for many more years

to come in some way, shape, or

form.

SUMMER

LEAGUES

NOW

FORMING

SIGN UP TODAY!!!

Leagues for ALL ages

Introducing the

Rags to Rich's League

(Rich's Pro Shop Promo League)

Contact Teresa Herr

2001 S. Great

Southwest Parkway

Grand Prairie, Texas 75051

972-641-4406 or 972-647-2275
---
RHINO PAGE

Continued from Page 9

Duke, Cheetah pattern; Mike

DeVaney, Scorpion; Jack Jurek,

Shark; O'Neill, Chameleon,

and Page) along with Kevin

Reuer, a USBC Sport Bowling

league member from Hoffman

Estates, IL. Reuer, who bowls

in the Beverly Lanes Sport

PBA Experience Showdown crowd.

PBA Experience lane condition champions, from left, Bill O'Neill,

Rhino Page, Mike DeVaney, Jack Jurek, Norm Duke and Kevin Reuer,

USBC Sport Bowling league bowler.

League in Arlington Heights,

IL, won a national competition

among thousands of USBC PBA

Experience League bowlers for

the right to bowl against the

PBA stars.

The made-for-television

event required all six players

to bowl a single frame on each

of the five "animal patterns"

and then repeat that process to

complete a 10-frame game. After

one full round, the field was

trimmed to the two highest

scores for a five-frame championship

game, also across all

five patterns. In sequence, players

bowled one frame each on

the Shark, Chameleon, Viper,

Scorpion and Cheetah patterns.

Reuer started the qualify-

Bowlers practice before the show.

ing round with a 173. Duke

followed with a 213. Page,

bowling third, looked like he

was in immediate trouble,

leaving the 3-6-7-10 on his

first shot on the Shark lane.

He converted that spare, but

he missed a 2-7 left-side "baby

split" in the second frame on

the Chameleon lane. Page then

rallied to salvage a 223, putting

together a string of four strikes

in his second five-frame round.

O'Neill followed Page and he

was untouchable. After a spare

in his opening frame, O'Neill

threw six consecutive strikes

and then struck out in the 10th

frame on the Cheetah pattern

for a 258 game.

That meant Jurek or DeVaney

needed to top Page's 223

to remain in title contention.

Jurek finished with a 197 and

DeVaney, who started with

four strikes, left a "big four"

split on his second trip to the

Chameleon lane to stall his bid.

Needing a strike on his first

shot in the 10th frame to knock

out Page, DeVaney left a 6 pin

and finished with a 217.

In the finale, O'Neill again

jumped into the lead with a

double, but the "washout" in

the fourth frame proved to be

the difference as Page alter-

nated spares and strikes for his

four-pin victory.

"I got pretty fortunate that

Bill made a bad shot and I was

able to capitalize. It was kind

of a lucky draw the way the

lanes were set up because I

struggled the whole show with

the Shark," Page said. "If you're

going to miss, the first frame

is the time to do it. Bill was so

locked in.

"It was really a challenge

changing angles on every

lane," he added. "I was lucky

to throw that four-bagger in

the first round just to give

myself a chance, and even then

I was able to dodge a couple

of bullets from Duke and

DeVaney. For both of them to

miss strikes in the 10th on the

Cheetah? That's a lot of good

things going my way."

For his victory, Page collected

a $25,000 first prize.

"That was great and the timing

was perfect," he grinned. "I

can put a little money into my

new home and also have some

money to pay my taxes."

The Lumber Liquidators

PBA Tour completes its 2009-10

season with another special

event, the 25th anniversary

DYDO Japan Cup, April 23-25,

in Tokyo. Defending champion

Patrick Allen of Wesley Chapel,

FL, will lead a contingent of 20

PBA Tour stars into that event.

"The quickest and

best way to reach

people in bowling–"

P.O. Box 1642, Colleyville, TX 76034

Phone 817-267-8686

Fax 817-267-1813

THE BOWLING NEWS | Thursday, April 22, 2010 | Page 9

At Plano Super Bowl

Brodeur smashes 300/814,

Witken blasts 299/717

Graham fires 300/805, Scalf adds 298

Ryan Brodeur outscored the

competition last week at Plano

Super Bowl with a dual awardwinning

247-300-267 = 814 Pepsi

Classic league production.

Will Graham followed close

behind Brodeur with his own

dual award-winning 300/805

Thursday Classic session.

Karen Witken fired a booming

213-205-299 = 717 Holy Rollers

set to take top honors for the

ladies and runner-up kudos for

high game.

Mike Scalf posted a 298 honor

score.

PLANO HIGHS

Doug Swenson 253-733, Frieda

Castaldo 235-563, Rich Sourddress

258-714, Marie Cummins 185-492,

Steve Grimes 268-788, Jennifer Hayes

236-659, Joey Lang 257-736, Lisa Garza

236-591.

Patty Ellington 244-646, Laurie

Kammerer 228-586, Ray Montoro 259-

718, Eva Rhodes 209-584, Jim Monroe

213-617, Jean Foland 201-508, Mike

Scalf 298-781, Cindy Mann 246-681,

Greg Staton 268-731.

Kay Pingsterhaus 211-563, Chad

Cobb 268-678, Lynne Sinclair 152-418,

Chris Davis 223-620, Dawn Samaniego

168-438, William Haverland 243-676,

Melissa Carrillo 267-597, Feli Hagan

218-583, Diane Mueller 221-553, Debbie

Brown 222-557.

Linda Maeder 200-536, Les Burnham

242-730, Greg Staton 267-0694, Joe

Keylon 278-705, Kelly Murray 227-616,

Clayton Hale 265-761, Robin Harrison

215-559, Matt Powell 269-766, Cathy

Powell 193-512, Chris Ewing 279-718.

Diane Wallentine 232-605, Andy

Fischman 200-580, Michelle VanGlider

191-566, George Vaughn 236-669,

Marcy Clampitte 221-560, Greg Gray

257-701, Loree Clark 228-594, Dawn

Klapper 265-638.

Doc Haggard 256-681, Melissa

Carrillo 248-641, Robert McBride

(4 games) 279-1038, Jaclyn Clark (4

games) 249-822, Chris Davis 257-696,

Diane Wallentine 224-676, Jared

Rhodes 245-681, Kevin Hiam 246-682,

Arvese McGraw 213-594, Fred Menifee

241-673, Mary Sanford 237-643.

MAKE YOUR AD STAND OUT!

Spot and Full Color is available

Call us for more

information.

817-267-8686

Our 54th Year
---
Page 10 | Thursday, April 22, 2010 | THE BOWLING NEWS

Sponsored by

Fort Worth USBC Youth Results

Taylor Coggins headed the

USBC youth scoring last week

with a big 699 Peterson Point

series at Brunswick Zone

Watauga.

Kimi Davidson, Coggins'

leaguemate, paced the girls with

a strong 668 set.

Other Fort Worth-area

scores:

At AMF Showplace Euless — Jacob

Hollis 238-648, Jordan Soria 241-627,

Carl Geisel 223-585, Cyril Ogbeide

223-566, Ethan Materne 186-539,

Ethan Materne 215-536, John Uhl

183-483, Derek Chouinard 170-478,

Vince Pontecorvo 183-475, Lynwood

Garza 203-470, Devin Arnold 179-458,

Bobby Foret 146-407, Nicholas Ramos

79-147, Cody Busocker 75-142, Cara

Damschroder 226-626, Destiny Velez

201-540, Carley Overstake 166-427,

Carley Overstake 145-393, Tareyn

Blanton 132-385, Beth Geisel 135-378,

Angela Ngo 154-369, Maysa Bidri

1127-358, Molly Cook 218-356, Kaitlyn

George 152-345.

At Cowtown — Garrett Graham

258-686, Katie Tallant 225-626, Bryan

Gratts 277-632, Katie Tallant 214-618,

Zachery Moore 193-506, Gabriella

Gonzales 200-510, Tyler Sims 277-

665, Katie Tallant 202-556, Shyanne

Johnson 181-517, Anthony Gann 227,

Roddy Douthit 87, Leilany Lopez 94,

Chandler Kitsch 284-650, Cody Frank

210-609, Jessica Cantu 214-586.

At Cityview — Heather Pelton

135-361, Jeff Dyche 162-533, Jordan

Cisneros 168-434, John Pelton 195-551,

Brhea Stevens 114-293, Marin Smolcick

161-411, Kimberly Sharp 97-259, Paul

Casten 232-570, Blake George 165-456,

Mike Tomich 163-433, Joshua Gibbs

161-398, Tanner Bankston 163-439,

David Becker 94-237, Matthew Becker

177-490, Austin Schotanus 130-383,

Katie Carlberg 192-517, Steven Morris

159-439, Rebecca Carlberg 140-363,

Jordan Cisneros 167-467, Katie Rooney

196-544, Nathan Smith 152-331, Olivia

Lindsey 144-373, Adam Sears 100-264,

Justin Lindsey 160-379, Toby Jones

71-202, Kelsea Johnson 156-431,

Chris Carlberg 157-405, Khilya Dyche

137-381, Josh Johnson 213-586, Justin

Beimler 278-676, Cameron Roy 159-461,

AJ Sutton 146-386.

At Brunswick Zone Watauga

— Aidan O'Neil 374, Bayleigh Padron

332, Micah McCracken 627, Kyra Zink

453, Micah McCracken 517, Rebekkah

Jones 409, Matt Moses (4 games)

634.

Dallas USBC Youth Scores

Robert Wyman led the Dallas-area

USBC youth bowling last

week with a solid 202-194-256 =

652 Family Fun Bunch series at

Jupiter Lanes.

Christina Hansen led the

girls with a fine 216-154-211 =

581 Showstoppers set at Plano

Super Bowl.

Other Dallas-area scores:

At Red Bird — Christopher McCaleb

207-584, Stephanie McCaleb 184-527,

Jacob Merrick 193-384, Kaylee Hancock

176-448, Alex Goode 203-549, Makensie

Martin 166-490, Justin Eans 160-245,

Lauren Bannister 95-164.

At AMF Richardson — Kelsey Potts

203-579, Ethan Grant 88-167, Coral

Rhodes 89-165, Timothy Seitz 192-455,

Emily Harris 165-357, Scoty Caddell

220-577, Patrick Hutchinson 136-368,

Nicole Cash 143-382, Wyatt Caldwell

192-537, Marc Rosenzweig 219-590,

Madisyn Murphy 99-254.

At Lakes Lanes — Randy Hedrick

118-301, Taylor Stricklin 131-318,

Elizabeth Brewer 130-334, Sean Vong

243-561, Brittani Payton 142, D'Angelo

Sewell 223-585.

At Rowlett Bowl-a-Rama — Juan

Saenz 120-223, Faith Vinson 112-201,

Trey Cudahy 104-296, Rebekah Jones

67-171, Williams Plagens 171-406,

Samantha Marsolek 78-201.

At Jupiter — Ashley Epple

161-446.

At Plano — Adam Amar 80-224,

Faith Kiefert 117-313, Hunter Kiefert

132-338, Katie Thompson 111-318, Andrew

Smith 161-451, Myranda Peterson

109-304, Alex Hudson 142-411, Emmy

Epperly 88-228, Allister Rutledge 225-

303, David Shellem 235-600, Jasmine

Davis 235-578, Michael Miller 206-610,

Lindsay Paredes 201-568, Chris Barrett

212-561, Julie Woods 142-389, Havannah

Holmes 69-133, Brysson Koenig

202-574, Christi Nedved 218-472,

Jacob Hollis 221-605, Jessie McCusker

217-538.

Area USBC

Youth Scores

Whitney Harris led the Southwest-ares

USBC youth bowlers

last week with a thundering

264-241-224 = 729 All Star

Scholarship series at BRC Thousand

Oaks.

Taylor Anderson, Harris'

leaguemate, paced the boys

with a super solid 233-237-237

= 707 set.

Other Southwest-area

scores:

At Forum — Cameron Loggins 91-

175, Candace Brown 103-196, Sammie

Boles 88-165, Samantha Brown 119-184,

David Carter 169-440, Samantha

LeClear 162-432, Zach Jennings 143-

392, Katelynn Correll 135-393, Mitchel

Neville 233-653, Shelbie Goad 178-482,

Jessie King 210-588, Misty Sprinkle

137-363, Cory Jones 215-600, Kayla

Lopez 156-417, Trevor Jones 205-552,

Maryann Medellin 143-368.

At Brunswick Westcreek — Venise

Mayfield 68-183, Victoria Mayfield

74-195, Lee Garcia 127-358, Edith

Menchaca 92-259, Gabe Conover

171-451, Caitlyn Gibson 134-369,

Jay Garcia 191-417, Katelynn George

170-407, Cooper Cox 191-523, Becky

Tharp 152-353, Alex Grogan 267-605,

Rachel Gaiber 124-280, Tim Crabb

91-253, Deion Lewis 198-498, Sam

Gibson 91-256, Tyler Hunter 110-288,

Chandler Mayfield 139-387, Brandon

Hollie 201-518, Daniel Shue 151-418,

Daniel Jones 143-398, Kamari Wine

160-458, Logan Scheps 159-438, Logan

Charon 91-159, Noah McCleery 97-167,

Sahish Shrestha 80-152, Keith Searle

130-294, Nicole Yerks 124-300, Kevin

Williams 77-200, Wesley Barnes-Searle

146-406, Sanish Shrestha 191-515,

Thomas Manning 203-557.

At All Star Bowl, Ennis — Zacharie

Hahn 209-558, Caitlyn Chapman

98-212, Austin Midkiff 189-502,

Joshua Brickey 106-277, Adam Murray

225-590, Todd Smith 193-512, Jeff Baum

179-454, Joshua Heady 178-477, Lauren

Newman 166-489, Austin Midkiff

213-593.

At Corsicana Super Bowl, Corsicana

— Tahoe Mickle 193-472.

At BRC Thousand Oaks, San

Antonio — Eli Kardon 246-656.

At Interstate, Round Rock — Adam

Gonzales 248-594, Alex Sumruld

201-562, Nathan Diaz 148-383, Taylor

Marietta 127-326, Cody Black 134-353,

Ryen Fierro 51-151, Victor Odighibor

264-578, Ellen Birrell 160-464, Daniel

Silguero 216-561, Tatum Holder 146-

403, Chris Spencer 190-514, angela

Kinningham 171-466, Levi Schrowang

154-388, Mary Spencer 134-334, Bailey

Franklin 120-290, Kira Hamman 171-

466, Zachary Gould 100-284, Kimberly

Spencer 134-334, Cody Schwartz 267-

579, Delaney Rowald 138-386, Adam

Gonzales 225-575, Bridget Westra

130-360.

BOYS

Taylor Anderson, BRC Thousand Oaks ................ 707

Taylor Coggins, Brunswick Zone Watauga ........... 699

Garrett Graham, Cowtown ..................................... 686

Justin Beimler, Cityview ......................................... 676

Robert Wyman, Jupiter .......................................... 652

Jacob Hollis, AMF Showplace Euless .................. 648

Michael Miller, Plano Super Bowl ......................... 610

Alex Grogan, Brunswick Westcreek ...................... 605

Adam Gonzales, Interstate .................................... 594

Austin Midkiff, All Star Bowl .................................. 593

Marc Rosenzweig, AMF Richardson ..................... 590

D'Angelo Sewell, Lakes Lanes .............................. 585

Christopher McCaleb, Red Bird ............................ 584

Tahoe Mickle, Corsicana Super Bowl ................... 472

William Plagens, Rowlett Bowl-a-Rama ................ 406

GIRLS

Whitney Harris, BRC Thousand Oaks ................... 729

Kimi Davidson, Brunswick Zone Watauga ............ 668

Katie Tallant, Cowtown........................................... 646

Cara Damschroder, AMF Showplace Euless ........ 626

Christina Hansen, Plano Super Bowl ................... 581

Kelsey Potts, AMF Richardson .............................. 579

Alex Sumruld, Interstate ........................................ 562

Katie Rooney, Cityview .......................................... 544

Stephanie McCaleb, Red Bird ............................... 527

Lauren Newman, All Star Bowl .............................. 489

Ashley Epple, Jupiter ............................................. 446

Katelynn George, Brunswick Westcreek .............. 407

Elizabeth Brewer, Lakes Lanes ............................. 334

Samantha Marsolek, Rowlett Bowl-a-Rama ......... 201

YOUTH TOURNAMENT SCHEDULE

April 24-25 — National Family State Finals, Highland Lanes, Austin

May 1-2 — Junior All Stars – State Championship, Killeen Bowlerama

May 16 — Grand Prix Qualifying, Plano Super Bowl

May 16 — Grand Prix Qualifying, Interstate Lanes, Round Rock

May 22-23 — AAU Jr. Olympic Games State Qualifier, Cowtown Bowling Center,

Singles and Team, Entry Fee $15 per event. Contact Cowtown

Bowling Center, 817-624-2151 for entry forms and more

information.

May 23 — Grand Prix Qualifying, Fiesta Lanes, New Braunfels

June 12-July 18 — Texas State USBC Youth 2010 State Championship. Every

weekend, Armadilla I, Pasadena, TX, Team event; AMF Alpha

Bowl, Webster, TX Doubles, Singles. Entries close Mar. 15,

979-778-4351

June 13 — Grand Prix Qualifying, Killeen Bowlerama, Killeen

June 13 — Grand Prix Qualifying, Crossroads Bowl, Beaumont

July 10-16 — USBC Junior Gold Championships, Indianapolis, IN

July 17-19 — North Pointe High School Singles, Hindel Bowling Lanes,

Indianapolis, IN. Get entry forms at www.bpaa.com

July 29-31 — International Family Tournament, AMF Showplace Euless, Euless,

TX. Qualifying ends Mar. 13, 2010.

Aug. 7-8 — Grand Prix State Finals, Mel's Lone Star Lanes, Georgetown

If you have upcoming youth tournaments you would like listed

on the schedule, contact The Bowling News at 817-267-8686, fax:

(817-267-1813) or email: bowlingnews@sbcglobal.net.

USBC Youth bowling is a unique opportunity to

get involved with a sport that you can stay with

forever and offers more than $6 million in annual

scholarships that reward academic, leadership and

on-lanes performance skills. USBC Youth also provides opportunities

for coaching and instruction, fun and friendly competition, fair play,

teamwork, and leadership development. And there are cool new awards

that include updated emblems, trophies, and even rings!

To be a bowler, you don't have to be the biggest, tallest or strongest

to succeed on the lanes. In fact, the world's best bowlers come in all

shapes and sizes – short, tall, heavy, thin. Bowling technique is all

about leverage and timing, so your physical size and strength does not

matter as much as in sports like football or basketball.

Bowling has a lot to offer young people. If you or your child wants to

get involved with a cool sport that anyone can play and one that helps

build their future, give bowling a try! Join USBC Youth bowling today!
---
Dallas North A, Montgomery South capture

All-District Team State bowling titles

The All-Stars from the

Dallas North A district of the

Texas High School Bowling

Club captured the 2010 boys

title April 11 at Grand Station

Entertainment in College

Station by rolling over Houston

SE.

Featuring bowlers from

Allen, McKinney Boyd, McKinney,

and state team champion

Plano East, North A captured

Dallas North A team

Montgomery South team.

the #7 seed after the threegame

qualifying round.

In the quarterfinals, they

edged #2 Houston SW, 187-197,

256-223, 220-202, in a thriller

to advance to the semifinals

against #3 North Texas 2.

There, they took the best two

of three matchs in straight

games, 247-205, 191-163.

In the championship match,

they continued to roll against

Oak Hills Lanes hold Annual

Top 20 Scratch Tourney

From left, High game winners Sean Cobett and Dianna Barkett,

tournament champions Zach Trevino and Ashle Reid.

Oak Hills Lanes in San

Antonio was the site of the 31st

Annual Top 20 Scratch Tournament

held April 11.

Fifty-one bowlers competed

for $4,350 in scholarships.

In addition to scholarship

money awarded, the high game

and series from games four,

five and six, were awarded $50

in scholarship money.

Zach Trevino, Georgetown,

won $675 for first place for the

boys, while Angel Morales,

Killeen, finished in second and

earned $475.

the top seed, again taking

straight games, 238-210, 231-

194, for the title.

Team members were Preston

Lewis, Brysson Koenig, Ben

Walk, and Josh Burnham of

Allen, Tyler Samsel of Plano

East, Drew Claus and Sheldon

Fulton of McKinney Boyd and

Rusty Hunt of McKinney. The

champions were coached by

Floyd Carter of Allen.

Houston SE was represented

by bowlers from Alvin, Pearland,

Texas City, Pearland

Dawson, Clear Creek, and Clear

Brook.

Montgomery South topped

Dallas North B to capture the

Girls All-District Team title.

Seeded #4, they topped #5

Pasadena in the quarterfinals,

155-157, 202-188, 191-145.

In the semifinals, they

prevailed over top-seeded Dallas

North A, 171-193, 180-137,

180-147, before rolling over #7

seed Dallas North B, 191-183,

172-145 for the title.

Montgomery South players

consisted of Madison Simmons,

Maegan Kelly and Rina Price

of Spring, Charlena Melnyk of

The Woodlands and Courtney

Phillips of Conroe Oak Ridge.

They were coached by Kim

Phillips of Oak Ridge.

Dallas North B was

represented by bowlers from

Plano, Plano West, Richardson

Berkner, and Fairhill.

The Texas High School

Bowling Club consisted of 32

districts in the 2009-10 season.

Of those, 19 districts competed

in the boys division and 20

districts competed in the girls

division.

The girls division was won

by Ashle Reid, from Oak Hills

Lanes. She earned $550 for her

1975 10-game total.

Sydney Barren, San Antonio,

bowled a 1954 earning her

$350 in scholarship money.

Sean Corbett, San Antonio,

received $50 for his 300 game

and also won the Jr. Gold

entry. Dianna Barkett, Cibolo,

earned $50 for her 234 game.

High series went to Trevino,

694, and Barren, 655. They

received $50 each.

Boys Division: 3. Joshua

Ramon, San Antonio, $350; 4.

Arlin Navarro, San Antonio,

$250; 5. Nik Humphress, San

Antonio, $169; 6. Konner

Moore, San Antonio, $165; 7.

Sean Corbett, San Antonio,

$150; 8. Marshal Morrison,

New Braunfels, $130; 9. Martin

Velasquez, San Antonio,

$120; 10. Harrison Jarvis,

San Antonio, $105; 11. Rocky

Garza, Converse, $95; 12. John

Glacken, San Antonio, $80; 13.

Vaughn Cruz, San Antonio,

$55.

Girls Division: 3. Jeanette

Van Gundy, San Antonio, $250;

4. Dianna Barkett, Cibolo, $150.

THE BOWLING NEWS | Thursday, April 22, 2010 | Page 11

Sponsored by

Bowling Novelties at

bowlinggift.com

Billy Welu Scholarship

applications due May 31

SEATTLE, WA — Applications

are due May 31 for the

Professional Bowler Association's

Billy Welu Scholarship,

awarded annually to a male

or female college student

who competes in the sport of

bowling and exhibits exemplary

qualities as a student and

citizen.

The scholarship winner

receives a $1,000 award.

To be eligible, candidates

must be amateur bowlers

who are currently in college

(preceding the application

deadline) and maintain at least

a 2.5/4.0 GPA or equivalent.

Recent winners include

Elizabeth Seibel, Penn State

University (2009); Heather

D'Errico, Robert Morris

Lane Laughter

University-Illinois (2008), and

Ricki Williams, Wichita State

University (2007).

A PBA Charter Member,

Welu was inducted into both

the PBA and United States

Bowling Congress Halls of

Fame in 1975. Welu won the

BPAA All-Star competition in

1959 before winning the 1964

and '65 USBC Masters events.

He was PBA president for two

years, a member of the PBA

Tournament Committee for

eight years and served for 16

years on the Executive Board.

Welu also was color analyst

working with Chris Schenkel

on Pro Bowlers Tour telecasts

on ABC-TV before he unexpectedly

died of a heart attack in

1974 at age 41.

MAKE YOUR AD STAND OUT!

Spot and Full Color is available

Call us for more

information.

817-267-8686

Our 54th Year
---
Page 12 | Thursday, April 22, 2010 | THE BOWLING NEWS

At Bandera Super Bowl

Carberry collars 300/741,

Pallanes plasters 727

SAN ANTONIO — James

Carberry captured high-game

and series honors for the week at

Bandera Super Bowl after pounding

out potent 300/741 numbers

in Sunday Fun league action.

Lillian Pallanes, Carberry's

leaguemate, plastered the ladies'

high-set board with a rip-roaring

258/727 outing.

LEAGUE LEADERS

Victor Valadez 248-721, Frannie

Tumlinson 191-503, Jeff Ozee 219-546,

Dee Diaz 178-482, Jeffrey Brower

256-646, Lisa Ferrebee 168-481, Chris

Benavides 234-700, Linda Short

184-527.

"The quickest

and best way to

reach people in

bowling–"

P.O. Box 1642, Colleyville, TX 76034

Phone 817-267-8686

Fax 817-267-1813

Team format:

4:1 or 3:2

Combination

Squad Times:

Saturday: 1:00 PM

Sunday: 11:00 AM

Pamela Powell 209-530, Dana Trevino

208-512, Scottie Steines 202-552,

Norm Clark 279-721, Mike Calahan

280-734, Tish Sikes 259-642, Lamar

Amos 222-565, Marie Hepline 217-538,

Wyatt Moore 256-712.

Sandra Marin 237-574, Aaron

Espinoza 248-653, Jenn Martinez

183-532, Jerry Garcia 200-539, Katy

Ellis 172-350, James Carberry 237-748,

Victoria Galvan 259-707, Carlos Delcado

225-621, Bambi Teveda 165-456.

SENIORS

Gene Layman 245-673, Amy Olsen

240-581, Cray Lester 235-645, Olga

Perez 188-506.

Fiesta Mixed

Team Tournament

April 24-25, 2010

First Place Team

$3,000.00

Based on 40 teams

At Corsicana Super

Bowl

McCarter

levels 673

CORSICANA — Danny Mc-

Carter's stellar 239-210-224 =

673 Thursday Night Mixers series

headed the leader boards for the

week at Corsicana Super Bowl.

Lynn Zainhotsky posted a

fine 186-180-178 = 544 Double

Trouble set to pace the ladies.

HONOR LIST

Joe Ingles 218-578, Lisa Opry 223-

537, Jaqueine Brown 145-414.

EBONITE SASBA TOUR

2010 SCHEDULE

May 1-2** AMF Showplace Euless (Annual Trio) Euless, TX

May 8-9 Mel's Lone Star Lanes (Singles) Georgetown, TX

May 29-30 Armadilla I (Member/Guest Doubles) Pasadena, TX

July 3-5 Plano Super Bowl (Firecracker) Plano, TX

July 10-11 Holiday Lanes (Over 67/Over 60/Over 50 Trio) Oklahoma City, OK

July 31-Aug. 1 Copperfi eld (Singles) Houston, TX

Aug. 7-8 Diamond Lanes (Over 60/Over 50/Guest Trio) Odessa, TX

Aug. 21-22** 300 Bowl (Singles) Conroe, TX

Aug. 28-29 All Star Lanes (Singles) Shreveport, LA

Sept. 4-5 Holiday Lanes (Labor Day Blowout) Oklahoma City, OK

Sept. 18-19 All Star Lanes (Member/Guest Doubles) Shreveport, LA

Sept. 25-26 Plano Super Bowl, (Over 70/Over 60 Dbls.) Plano, TX

Oct. 9-10** AMF Showplace Euless (Annual Championship) Euless, TX

Team Entry Fee:

$250.00

Team Average

Cap: 1000

This is a non-sanctioned handicap tournament open to all bowlers except PBA exempt bowlers.

For more information, full rules and entry forms, contact the front desk at Bandera Super Bowl or the

Tournament Directors:

Charlie Natal Joe Vito

512-738-7287 or Email: cnatal@centurytel.net 210-663-9477 or Email: jgbowls@aol.com

210-523-1716

6700 Huebner Road, San Antonio, TX 78238

The Bowling News welcomes

LABSportswear to the Pro Shop page

LABSportswear is a new

bowling apparel business

located in the LAB Coaching

Center and Pro Shop in

Mel's Lone Star Lanes in

Georgetown.

Sandy Hood started the

business after listening to

bowlers about the clothing they

would like. She created soft

shirttoos, or tattoos for shirts.

Shirttoos do not require

expensive set-up charges, are

At Hilltop Super Bowl

Lawrence leads at 791,

Weis wires 617

WAXAHACHIE — Rick Lawrence,

from the Monday Nite

Mixed group, pocketed powerladen

279-279-233 = 791 numbers

en route to earning high-set

honors for the week at Hilltop

Super Bowl.

Amy Weis, Lawrence's leaguemate,

rolled a smooth 202-256-

159 = 617 set to lead the lady

bowlers.

LEAGUE LEADERS

Keith Hollabaugh 242-698, Kim

At All Star Bowl

Slovak snares 749,

Shaw sacks 630

ENNIS — Tony Slovak racked

up a rousing 248-243-258 = 749

Sunday Nite Stars league session

to earn the top spot on the honor

roll last week at All Star Bowl.

Barbara Shaw, from the Pairs

N Spares rolled a sterling 224-

234-172 = 630 set to pace the

ladies.

HONOR ROLL

Dennis Farmer 245-680, Wendy

Jones 239-590, Casey Powell 269-725,

Matt Lawrence 297-723, Terry Pefuhl

265-669, James Beaver 258-687.

At Lake Country Lanes

Fanslau hammers 727,

Craig cruises to 717

MARBLE FALLS — Allen

Fanslau topped the scoring charts

for the week at Lake Country

Lanes with a sky-high 290/727

Thursday Merchants session.

Senior bowler Sandra Craig,

from the Young at Heart group,

led the women with a hard-hitting

229-211-277 = 717 set.

HONOR ROLL

Hutch Hudgins 253, Glen Capra

672, Sandra Craig 248-557, Betty

soft and comfortable to wear,

are color-fast and don't crack

or peel even after repeated

washings.

You can order from Amazon.com

after the first of May

and their own website should

be up by June.

Contact them at LABSportswear@yahoo.com

for more

information on what they

carry.

Tucker 213-569, Steven Thomas 215-

582, Margaret Thomas 147-341, Keith

Hollabaugh 247-642, Stephanie Moore

200-567.

Brandon Snowden 115-303, Chesney

Moyer 105-301, Justin Lesly 206-567,

Samantha Armstrong 122-343, Austin

Sillavan 131-212, Lyndsey Baker

90-165.

SENIORS

Paul Sheperd 266-613, Betty

Peacock 173-500.

Shannon Brown 222-579, Jason

Hinz 231-674, Brandi Strain 215-538,

Tom Findlay 193-523, Margie Jenkins

168-48, Tim Riojas 261-701.

Anthony Porter 269-679, Daralynn

Stewart 240-635, Austin Midkiff 213-

593, Lauren Newman 166-489, Brandi

Strain 175-454.

SENIORS

Tom Findlay 225-607, Jacquie Rice

173-395, Harold Rice 150-428, Neon

Langston 152-413, Frank La Scala Sr.

201-526.

Jenkins 221, Janice Naumann 509,

Dick Grenwelge 257.

Paulette Bracken 234-638, John

Woessner 666, Sandra Craig 267-632,

Simon Guerrero 214-491, Shana Arteasa

133, Valerie Barbaree 363.

Jesse Castaneda 259-691, Shanell

Sheppard 204, Angela Handing

561, Sandra Craig 199-544, Tommy

Fergeson (senior) 223-598.

⌧ ⌧ ⌧
---
Something for everyone. Here are a few.

Monday: Match Point League–3 member mixed

Matches bowler against bowler,

Team against team

Possible 25 points per week

Monday: Youth/ Adult League

Wednesday: 9 Pin No Tap League

Wednesday: Beach Blanket League.

At the end of the season each bowler will receive

a 2 night stay at the Bayfront Plaza Hotel in

Corpus Christi.

Thursday: Summer Senior Trio

Come by or check out

www.BowlLakeCountryLanes.com for full schedule

2303 W. Ennis Ave. Ennis, TX 75119

For Info: 830-693-4311

Hilltop Super Bowl

2010 West Business 287, Waxahachie, TX 75165

(972) 935-9705

We're more than just bowling,

Hilltop Super Bowl

is your Family Entertainment Center!

-Gutter-Free Bumper Bowling!

-Billiards!

-Parties for All Occasions!

-The Coolest Arcade Games!

-Great Food and Drinks!

Hilltop Super Bowl always has new and exciting

leagues for bowlers of all ages and skill levels.

THE BOWLING NEWS | Thursday, April 22, 2010 | Page 13

Visit us Monday open to close for

BILLIARDS

ARCADE

All Star Bowl's

12 Game

Scratch Marathon

SUPER BOWL ENTERTAINMENT, LLC

All Star Bowl, 2303 W. Ennis Avenue, Ennis, TX 75119 | Phone: (972) 875-1558

Bandera Super Bowl, 6700 Huebner Road, San Antonio, TX 78238 | Phone: (210) 523-1716

Corsicana Super Bowl, 2801 West 7th Avenue, Corsicana, TX 75110 | Phone: (903) 874-3746

Hilltop Super Bowl, 2010 West Business 287, Waxahachie, TX 75165 | Phone: (972) 935-9705

Lake Country Lanes, 112 North Ridge Road/Highway 281 North, Marble Falls, TX 78654 | Phone: (830) 693-4311

Plano Super Bowl, 2521 Avenue K, Plano, TX 75074 | Phone: (972) 881-0242

$750

First Place

Guaranteed

Sunday May 30

Sign in 11:30 AM, Bowl at 12:00 PM

Bowl 12 games

across 12

Lanes

Payout Ratio: 1:5

Brackets Available

High game pots

Available

Only $100

Entry Fee

$25.00 Lineage

$75.00 Prize Fund

$ 1

(Shoes not included)

Games

per

person

LEAGUES FOR ALL AGES

SMOKE FREE ENVIRONMENT

FAMILY FUN FOR EVERYONE

2801 W. 7th Ave., Corsicana, TX 75110

903-874-3746

For information contact

Casey Powell at:

2303 W. Ennis Ave.

Ennis TX. 75119

(972) 875-1558

Located directly behind Don

Jose's Restaurant

Check us out

on the web:

www.

allstarbowlennis.com
---
Page 14 | Thursday, April 22, 2010 | THE BOWLING NEWS

Bowling writer's

case settled

A settlement was reached

in former sports writer Harry

Page's defamation of character

lawsuit against some

employees of the San Antonio

Express-News, the Express-News

and the Hearst Corporation in

March, 2010.

In November 2007, the

Express-News terminated Page

after editors accused him of

lifting material for his bowling

blog from two Web sites, www.

pbatour.com and www.bowl.

com, without attributions. The

works appeared on the paper's

site, but was later removed.

Page insisted he reposted material

with credit as outlined in

his job description and did not

plagiarize.

Page, represented by

attorney Darryl K. Carter of

the Houston-based Glickman,

Carter & Bachynsky, L.L.P.,

law firm, sued the newspaper

believing that the Express-News

invented the false plagiarism

charges after he refused to

participate in a "voluntary

separation program" in October

2007.

The settlement came in

District Court of Bexar County

Texas, 224th Judicial District,

case no. 2008-CI-07082, after

the Hearst Corp. was denied a

summary judgment to get the

suit dismissed in December

2009. Details of settlement

weren't disclosed.

Page worked for the Express-

News as a sports writer from

Harry Page

April 1970 to Nov. 7, 2007. He

was considered the first African-American

to be employed

in the editorial department

at the paper, and the first to

be awarded a column of any

type. Page was given a bowling

column in the early 1970s. He

also has been a contributor to

the The Bowling News over the

years.

He also authored a "Where

Are They?" column for more

than 15 years, and a "Post

Card Home" section which

featured collegiate athletes

from San Antonio for nearly 10

years.

Page, a 1970 graduate of St.

Mary's University in San Antonio,

is a member of the San Antonio

Bowling Council and the

Edgewood School District halls

of fame, and a Bowling Writers

Association of America member

for more than 30 years. He

League Day of Meeting # Per # of

Name Week Date Time Team Weeks Cost Type

ADULT LEAGUES

Practice Sun. 06/06/10 5:30 PM 4 12 12.00 Mixed

Madison Hills Sun. 05/30/10 5:00 PM 4 12 10.00 Mixed

MLB Ball Sun. 05/16/10 1:30 PM 4 12 10.00 Mixed

NASCAR Sun. 05/23/10 1:30 PM 4 12 16.00 Mixed

Practice Mon. 06/07/10 6:30 PM 4 10 12.00 Mixed

Trendsetters Tues 05/18/10 6:00 PM 4 12 14.00 Mixed

Postal Family Wed. 06/02/10 9:00 AM 3 9 10.00 Mixed

Scratch Trios Wed. 05/19/10 6:00 PM 3 12 20.00 Any

High Anxiety Wed. 06/02/10 6:00 PM 4 12 14.00 Mixed

Doubles Thurs. 05/27/10 9:30 AM 2 12 10.00 Any

Ultra Classic Thurs 05/27/10 6:00 PM 4 12 15.00 Mixed

SENIOR LEAGUES

Tuesday Mixed Tues. 05/18/10 9:00 AM 4 12 10.00 Mixed

No Tap

YOUTH/ADULT

Thurs. 06/03/10 11:45 AM 4 12 6.75 Mixed

MLB Ball Sun 05/16/10 1:30 PM 4 13 10.00 Y/A

Nascar Sun. 05/23/10 1:30 PM 4 12 16.00 Y/A

Big-N-Lil Sun. 06/06/10 5:00 PM 4 12 8.00 Y/A

No Tap Mon. 06/07/10 12:00 PM 2 10 9.00 Y/A

YOUTH LEAGUES

Scratch Trios Mon. 05/17/10 6:15 PM 3 12 13.00 Youth

Jr. Practice Thurs. 06/10/10 12:30 PM 4 10 7.00 Youth

High School Fri. 06/11/10 12:00 PM 3 10 9.00 Youth

Pee Wees Sat. 06/05/10 9:00 AM 1 10 7.00 Youth

Division I Sat. 06/05/10 9:00 AM 3 10 9.00 Youth

Division II Sat. 06/05/10 9:00 AM 4 10 9.00 Youth

Individuals Sat. 06/05/10 9:00 AM 4 10 5.00 Youth

Bowlopolis Sat. 06/12/06 12:00 PM 3 4 10.00 Youth

BRUNSWICK THOUSAND OAKS

4330 Thousand Oaks Blvd • San Antonio, TX 78217

210-654-0031

has earned more than 40 years,

plaques and certificates for his

bowling coverage and civic

accomplishments, including

earning Murrey Internationals'

national Bowling Writer of the

Year award in 1989.

Page has been organist for

the Mount Calvary Baptist

Church in San Antonio for

34 years, and is currently

substitute teaching in the San

Antonio Independent School

District.

Sources: The case was in

https://apps.bexar.org/dklitsearch/search.aspx

Also online:

"Infamous Scribbers", "Blogging

Can Be Fatal" and "Can't Stop

The Bleeding"; Craig Silverman,

"Plagiarism at the San

Antonio Express-News," Regret

the Error, Nov. 13, 2007; and

"Reporter says Express-News

defamed him with false accusations

of plagiarism," Courthouse

News Service, May 6, 2008.

2010 PBA

SENIOR

SCHEDULE

Apr. 24-27

PBA Senior Columbus Open

HPL Lanes, Columbus, OH

May 2-5

PBA Senior Mooresville Miller

High Life Classic

George Pappas Victory Lanes

Mooresville, NC

May 30-June 2

PBA Senior Northern California

Classic

Harvest Park Bowl, Brentwood,

CA

June 6-11

PBA Senor U.S. Open

Suncoast Bowling Center,

Las Vegas, NV

June 13-18

USBC Senior Masters

South Point Bowling Center

Las Vegas, NV

Aug. 9-12

PBA Senior Lake County Indiana

Open

Olympia Lanes, Hammond, IN

Aug. 14-17

PBA Senior Decatur Open

Spare Time Lanes, Decatur, IL

Aug. 21-24

PBA Senior Jackson Open

Airport Lanes, Jackson, MI

We are

always

looking

for human

interest story

ideas—let us

know

P.O. Box 1642, Colleyville, TX 76034

Phone 817-267-8686

Fax 817-267-1813

At BRC Thousand Oaks

Monteleone masters 782,

Harris registers 729

Johnson bags 300 game, Alvarado 298

SAN ANTONIO — Graham

Monteleone dominated scoring

last week at BRC Thousand Oaks

with a chart-topping 269-246-

267 = 782 series in Armadillos

action.

Jeff Johnson claimed highgame

honors with an award-winning

12-bagger. Stan Alvarado's

298 solo took runner-up kudos.

Youth bowler Whitney Harris

outscored the ladies with an

exceptional 264-241-224 = 729

All Star Scholarship series.

HONOR ROLL

Emil Kostenlnik 270-717, Jovan

Blankenfeld 249-720, Tom Brown 278-

646, Amanda Eachus 201-573, Mike

Keith 258-723, Stan Alvarado 298-734,

Team: Division 1 — 1. LAB

Rats, Austin, 3308; 2. Dart Bowl

Pro Shop, Austin, 3290; 3. Finish

Strong, Austin, 3238. Division 2

— 1. Spare Me, Lubbock, 3294;

2. Popeye's, Alice, 3251; 3. Bad

MoJo, Killeen/Ft. Hood, 3119. Division

3 – 1. WAKS, Austin, 3402;

2. Marie's Team, San Antonio,

3306; 3. Who Dat, Austin, 3254.

Division 4 — 1. Dolls With Balls

#2, Dallas, 3386; 2. Starstruck,

San Antonio, 3360; 3. True Blue,

Beaumont, 3349. Division 5 — 1.

Misfi ts, Beaumont, 3430, 2. Lucky

Ladies, Kingsville, 3386; 3. Dolls

With Balls, Odessa, 3373.

Doubles: Division 1 — 1.

Alicia Jones/Rebecca Lovorn,

Austin, 1359; 2. Karen Holrath,

Wendy Spencer, Austin, 1286; 3.

Sandy Monterde/Rachael Brown,

Killeen/Ft. Hood, 1255. Division

2 — 1. Michelle VanGilder/Mada

Chavez, Dallas, 1321; 2. Donna

Fanslau/Sandra Craig, Highland

Lakes, 1311; 3. Lee Roberts/Gail

McBride, Austin, 1301. Division

3 — 1. Latasha Odstrcil/Linda

Aleman, Houston, 1433; 2. Jere

Irvin/Cheryl Kass, Kerrville, 1396;

3. Kim Clements/Annice Stephens,

Lubbock, 1355. Division

4 — 1. Vicki Oliver/Yvette Nickel,

Austin, 1386; 2. Bernadette Look/

Eva Cooper, Abilene, 1356; 3.

Emma Childress/Melissa Phillips,

Brownwood, 1355. Division 5

— 1. Carrie Cox/Carisa Melancon,

Beaumont, 1417; 2. Peggy

Whitehead/Margaret Holmes,

Janette Nevels 267-716.

Robert Luce 264-765, Greg Tabor

289-643, Crystal Harred 236-586,

Shawn Salzman 228-665, Amy Lloyd

221-597, Jeff Johnson 300-650, Carol

Kenney 248-606.

Dennis Lagrimini 287-752, George

Coffee 226-596, Loretta Sibley 199-593,

Rex Poppy 261-583, Amy Lloyd 201-492,

Kent Sutton 225-624, Ruth Tuller

184-513, LaVerne Vick 206-517, Gloria

Richard 194-552.

SENIORS

John Robison 246-644, Bea Leslie

202-506, Bev Pollard 195-520, Joe

Puente 254-661, Edna Martin 205-550,

Eloy Guajardo 247-716, Tom Donahue

224-577, Ameedah Shakir 171-448, Lisa

Wilkes 165-451.

73rd TSUSBC Women's

Championship Tournament

Standings as of April 11

Beaumont, 1411; 3. Shirley Cox/

Brenda Herrington, Beaumont,

1399.

Singles: Division 1 — 1. Rebecca

Lovorn, Austin, 785; 2. Rikki

Meiers, Lubbock, 730; 3. Lee Roberts,

Austin, 727. Division 2 — 1.

Latasha Odstrcil, Houston, 747; 2.

Carolyn Rydbom, Houston, 737;

Connie Moorman, Amarillo, 716.

Division 3 — 1. Bootsy Norwood,

Abilene, 757; 2. Earline Horn,

Houston, 750; 3. Rosa Sledge,

Amarillo, 743. Division 4 — 1.

Kim Clements, Lubbock, 758; 2.

Crysti Brewer, Dallas, 740; 3. Erin

Moorman, Amarillo, 738. Division

5 — 1. Sharon White, San

Marcos, 740; 2. Janice Horton,

Odessa, 739; 3. Sheila DeDecker,

Denton County, 737.

All Events: Division 1 — 1.

Rikki Meiers, Lubbock, 2101; 2.

Rebecca Lovorn, Austin, 2087; 3.

Lee Roberts, Austin, 2002. Division

2 — 1. Latasha Odstrcil,

Houston, 2065; 2. Deborah Ellison,

Killeen/Ft. Hood, 2020; 3.

Anne Marie Pellar, Austin, 2019.

Division 3 — 1. Lakeisha Morris,

Houston, 2129; 2. Michelle VanGilder,

Dallas, 2126; 3. Cheryl Kass,

Kerrville, 2107. Division 4 — 1.

Kim Clements, Lubbock, 2159;

2. Stephanie Garcia, Highland

Lakes, 2137; 3. Wilma Baumann,

San Antonio, 2112. Division 5 —

1. Janice Horton, Odessa, 2210;

2. Carrie Cox, Beaumont, 2188; 3.

Tammy Green, Dallas, 2159.

IMPORTANT METROPLEX PHONE NUMBERS

Dallas USBC Bowling Association ................. 972-644-7746

Dallas USBC Women's Bowling Association .. 972-274-4433

Dallas USBC Youth Association ..................... 972-475-5457

Denton County USBC Association ................. 972-360-6890

Greater Fort Worth USBC Association. Inc. .... 817-336-2555
---
PBA announces 2009-10

Regional Tour awards

SEATTLE, WA — The

Professional Bowlers Association

has announced the

season-ending awards for the

2009-10 PBA Regional Tour

season. Each of the seven PBA

regions recognized a Player of

the Year, Rookie of the Year

and Patterson Award winner.

Four regions also recognized a

Senior Player of the Year.

Player of the Year and

Rookie of the Year awards

are voted on by the regional

managers and John Weber,

Director of the Senior and Regional

Tours. The Pat Patterson

Awards, recognizing individual

contributions to the regional

program, were selected by the

respective regional managers.

In all, 159 regionals were

conducted during the season.

In the Central Region, Riga

Kalfas of Florence, KY, earned

his second Player of the Year

honor after becoming the

Central Region point rankings

leader. Making match play in

10 of 17 events, Kalfas had one

title and one runner-up finish.

The Dan Ottman Rookie of

the Year award went to Dustin

Baker of Melbourne, KY, who

had a best finish of third in

15 events. Harry Sullins of

Chesterfield Township, MI,

was a double winner in the

Senior Player of the Year

category taking that honor in

both the Central and Midwest

Regions. The 2009 PBA Senior

World Championship winner

made match play in nine of 10

events, had one win and five

other top-five finishes in the

Central Region, and one win

and four other top-five finishes

in the Midwest Region. Linus

Hartings of Coldwater, OH,

received the Central Region's

Pat Patterson Award.

The PBA East Region

crowned Ray Edwards of

Middle Island, NY, Player of

the Year for the third time with

one title, one runner-up finish,

cashing in all 12 events and

making match play eight times.

With six cashes in 12 events,

a best finish of seventh and

two match play appearances,

John Conroy of Mahopoc, NY,

earned Rookie of the Year honors.

Former Lumber Liquidators

PBA Tour player and three-time

East Region Player of the Year

Darryl Bower of Middletown,

PA, had one win, a second and

a third along with seven match

play appearances in eight

events, to earn his first Senior

Player of the Year award. Len

Reyngoudt of Catskill, NY,

received the East Region's Pat

Patterson award.

Former PBA Tour player

and four-time Tour titlist Dave

Traber of Hebron, IL, won the

Midwest Player of the Year

honor with one win and four

runner-up finishes. He also had

nine match play appearances in

15 events. Despite only competing

in five events, Mike Steil

of Wheeling, IL, won one title

and had two match play appearances

to earn Rookie of the

Year honors. Larry Richardson

of Muscatine, IA, was the Pat

Patterson Award recipient.

In the Northwest Region

six-time PBA Tour titlist Chris

Warren of Puyallup, WA, who

returns to the PBA Tour next

season, won his second Player

of the Year with two victories,

two runner-up and four thirdplace

finishes in 13 events.

Rookie of the Year honors went

to Adam Ahmad of Pullman,

WA, who had two runner-up

finishes in 13 events and Mark

Fennell of Bonney Lake, WA,

was the Pat Patterson Award

recipient.

Chris Collins of Fayetteville,

NC, was Player of the Year in

the South Region with two

victories, one runner-up and

two third-place finishes in 18

events. Chris Polizzi of Spring

Hill, FL, was Rookie of the

Year earning a best finish of

fourth in five events. PBA Hall

of Famer Tom Baker of King,

NC, won Senior Player of the

Year with one victory, two

runner-up and three other top

five finishes in the 11 events

he entered. Richard Langton

of Tallahassee, FL, was the Pat

It's time

to be

thinking about

Summer Leagues

Call or check with your

local center now to sign up

Patterson Award winner.

With three wins and two

fifth-place finishes in 13

events, Kevin Mitchell of Tulsa,

OK, won Player of the Year in

the Southwest Region. Rookie

of the Year went to Jay Futrell

of Derby, KS, who won twice

and made match play in four

of six events. Paul Kreins of

Lakewood, CO, was the winner

of the Pat Patterson award in

the Southwest Region.

In the West Region Jon

Brandon of Newhall, CA, had

two wins, two second-place,

two third and two fifth-place

finishes to propel him to Player

of the Year honors. Tim Porritt

of Anaheim, CA, had a best

finish of second, made match

play 11 times and cashed in 15

of 23 events to earn Rookie of

the Year.

Former PBA Tour player and

titlist Tony Reyes of San Bruno,

CA, earned the region's Pat

Patterson Award.

2009-10

PBA REGIONAL

SCHEDULE

April 23-25

PBA Southwest Region Doubles

(Member/Guest), Longview, TX

April 30-May 2

PBA SW/MW Region Meritrust

Credit Union Open, Junction City,

KS

May 7-9

PBA SW Region Del Rio Open, Del

Rio, TX

May 14-16

PBA SW Region Northwest

Arkansas Open, Lowell, AR

May 21-23

PBA Southwest Region Port Arthur

Open, Port Arthur, Texas

May 28-31

PBA Regional Players

Championship Allen Park, MI

June 4-6

PBA Southwest Region Fort Sill

Open, Fort Sill, Oklahoma

June 11-13

PBA Midwest/Southwest Region

Olathe Lanes East Open, Olathe,

KS

June 18-20

PBA Southwest/Midwest Region

Wichita Open, Wichita, KS

July 16-18

PBA Southwest/Midwest Region

Jonesboro Super Regional,

Jonesboro, Arkansas

August 20-22

PBA Southwest Region Killeen

Open, Killeen, TX

August 27-29

PBA Southwest Region Greenville

Open, Greenville, TX

September 4-6

PBA Southwest Region Carol

'Stormin' Norman Pro Shop U

Can Bowl 2 Del Mar Lanes Open,

Houston, TX

September 17-19

PBA Southwest Region Young &

Pratt Austin Open, Austin, TX

September 24-26

PBA Southwest Region Fort Smith

Open, Fort Smith, AR

September 24-26

PBA Southwest Region Fort Smith

Senior Open, Fort Smith, AR

October 1-3

PBA Southwest Region Denver

Challenge (Non-champions event),

Lakewood, CO

October 1-3

PBA Southwest Region Denver

Senior Open, Lakewood, CO

THE BOWLING NEWS | Thursday, April 22, 2010 | Page 15

At Brunswick Westcreek

Garnett weaves 768,

Wood chips 709

Jackson, LeCroy nail 300s, Horne 298

John Garnett headed the leader

boards last week at Brunswick

Westcreek Lanes by logging laudable

246-277-245 = 768 numbers

in High Pot w/a Twist action.

Willie Jackson and Joe LeCroy

shared high-game honors as both

recorded award-winning perfectos.

Cliff Horne's 298 single took

runner-up kudos.

Laura Wood, Garnett's leaguemate,

paced the ladies with a

free-wheeling 233-259-217 =

709 set.

LEAGUE LEADERS

Willie Jackson 300-761, Nita Stein

220-627, Jonathan Redfield 268-751,

Terri Trefger 244-616, Cliff Horne

276-745, Pearl Tucker 246-609, April

Shelton 234-606, John Rodela 263,

Darlene Lemmon 145-405.

Franklin Chane 608, Jerry Suttle

246-652, Lexanne Fuentes 209-535,

Erica Duron 179-338, Reese Hallak

438, Nick Wolinski 545, Joy Baldwin

108-297, Sean Derbyshire 228-637,

Starts at

10 PM

Check-in

9:30 PM

FRIDAY NIGHT

Cost: $25 per person

Amanda Dominguez 203-529.

Randee Seward 127-434, Jeremy

Smith 669, Terri Trefger 235-622, Ron

Waller 278-699, Karen Holder 213-549,

Matt Suarez 254-744, Cathy Nelson 236-

694, John Grudecki 289-737, Amanda

Dominguez 240-688.

Jonathan Bolejack 257-726, Pat

Shelton 233-632, Adolphus Akanni

257-724, Beverly Rogers 222-631,

Amanda Dominguez 213-531, Rodney

Honeycutt 714, Cliff Horne 298-746,

Barbara Avery 232-621.

Carl Jordan 680, Nita Stein 642,

Steve DeRizzo 234-660, Paula Davis

202-535, Scott Martin 269, Theresa

Allen 235-529, Jeff Auch 727, Carlos

Zapata 237-607, Brien Keeler 297-736,

Nita Stein 238-643, Monty Bower 268,

Red Waite 711.

Eleanor MacDonald 497, Lamar

Griggs 246, Peggy Sharp 169-418, Mark

Tiefenbrun 574, Dee Sanders 179-501,

Dolores Howard 183, Vicki Davis 227,

Charles Stein 256, Coty Carter 258, Earl

Albert 193, Keith Hightower 245.

"The quickest and best way to

reach people in bowling–"

Call us for more

information.

817-267-8686

Our 54th Year

Bowl 4

games

(throw

out low)

Win Place Money

(pay out based on # of entries)

Win $$$ for colored pin strikes

Brackets - High Pots

Strike Pots

Brunswick

Westcreek Lanes

3025 Altamesa Blvd., Fort Worth, TX 76133

817-294-0501
---
Page 16 | Thursday, April 22, 2010 | THE BOWLING NEWS

USBC WBA Annual

2010 Championship

Tournament ends

The USBC WBA Annual

2010 Championship Tournament

was held at USA Bowl

and ended March 28.

Elizabeth Brents was the

City Champion with a 2081

scratch score.

Janet Miller was the Senior

Bowler of the Year with a 1939

scratch score.

The Division 1 Team champions

were Ron Williams Pro

Shop (Genie Franklin, Leisha

Murr, Kiyoko McDonald, Lisa

Wasson, Sandi Charles).

Other champions were:

Division 2 Team – Lewisville

Travelin' Trouble (Roxanne

Verrelli, Jessica Lowy,

Heather Robb, Felicia Hill,

Carolyn Robb).

Division 3 Team – Forum

Double Up (Deborah Kyser,

Anna Kyser, Barnarda Gabriel-

Taylor, Carol Horton, Joyce

Thurman).

Division 4 Team – Superstars

#3 (Lori Hearn, Ruthie

McKenzie, Tricia Keen, Sharon

Hawkins, Sharon Wilson).

Senior Team – It's What

We Do (Lois Gibson, Marilyn

Briscoe, Joyce Thurman,

Myrtle Ellis).

Doubles Division 1 – Heather

Hobson/Bernadette Slivinski.

Doubles Division 2 – Marilyn

Briscoe/Linda Wise.

Doubles Division 3 – Maria

Gonzales/Angie Benavidez.

Doubles Division 4 – Angela

Nelson/Michelle Gipson.

Singles Division 1 – Elizabeth

Brents.

Singles Division 2 – Lyn

Ables.

Singles Division 3 – Dee

Mullinax.

Singles Division 4 – Sherry

Looney

All Events Division 1

– Elizabeth Brents.

All Events Division 2

– Elizabeth Strickland.

All Events Division 3

– Marilyn Briscoe.

All Events Division 4

– Patricia Keen.

Faye Browning Award

– Barbara Shaw.

Bunny Larsen Award

– Cathy Brown.

Do You Remember?

Lewisville Travelin' Trouble Division 2 Team Champion.

Maria Gonzales & Angie Benavidez, Division 3 doubles champions.

Elizabeth Strickland Division 2

All Events champion.

Lyn Ables, Division 2 singles

champion.

Dee Mullinax, Division 3 singles

champion

Barbara Shaw, Fay Browning

Award winner.
---
10 YEARS AGO

Bobby Holley burned up Terrell with an 800…Scott Craddock

posted a 779 at Plano SB…Kevin Moon hit Cowtown with

a 779…Brian Tilley tore up Big Town with a 737…Elaine Curry

turned in a 691 at Red Bird…Katrina Delgado ripped Blazer with

a 671…Melissa Reoninger pitched a 663 at AMF DeSoto…Mike

Davis had it going at DC Oakmont with a 790.

20 YEARS AGO

Chris Warren won the ABC Masters…Don Richey rocked Big

Town again with a 674…Bobby Lynch led the way at Plano with

a 735…Jesse Marable was out front at Red Bird with a 704…Buck

Chavis was tops at Showplace Garland with a 779…Terry Griffin

was the pacesetter at Forum with a 774…Danny Kaplinger

rocked Ridglea with a 698…Leading the charge at Richland was

Billy Jones with a 643.

30 YEARS AGO

On top at Meadowbrook was Gloria Alderman…Wayne Webb

won the Tournament of Champions…Becky Justus won the Dallas

city title…Dale Reynolds was high man at Hart with a 779…Milt

Molhusen was the man at Circle with a 752…Homer Hamil was

at 700 at Town North…John Brasher was top gun at Jupiter again

with a 735…Jim Stephen's 682 was high at Expressway.

At Brunswick Zone Watauga

Anderson crunches 793,

Carter drills 733

Ricardo rolls 300 game

Bill Anderson was red hot

last week at Brunswick Zone

Watauga with a power-packed

793 Mix It Up league series.

Jesse Ricardo's award-winning

12-bagger earned high-game

honors.

Teresa Carter was high for the

ladies with a hard-hitting 733

COED set.

HONOR ROLL

Teresa Carter 275, Nell Hebert 676,

Jimmy Taylor 743, Kathleen LeCroy

681, Gary Anderson 769, Sandy Dooley

693, Jesse Ricardo 765, Donna Brown

538, Joe Grace 649, Laretta Williams

517.

Dan Ellis 745, Robyn Stuart 544,

Ken Koonce 768, Monnie Cozby 528,

Kevin Sancibrian 726, Robert Jacobs

567, Terry Johnson 498, Bobby Bean

782, Beth Standlee 643.

SENIORS

Eddy Smith 658, Lynell Jarvis 505,

Don Holland 655, Ginnette Patzer

600.

At Interstate

Gertsema garners 772,

Lee lands 626

ROUND ROCK — Jerrod

Gertsema rounded up the top

score of the week at Interstate

Lanes after pounding out a riproaring

246-279-247 = 772 Alley

Cats session.

Gale Lee, from the Double R

Handicap group, led the ladies

with a strong 234-194-198 =

"The quickest

and best way to

reach people in

bowling–"

P.O. Box 1642, Colleyville, TX 76034

Phone 817-267-8686

Fax 817-267-1813

626 set.

INTERSTATE HIGHS

Hunter Provost 193-566, Daisy

Tatum 140-395, Dan Woda 215-563,

Dana Scott 133-350, Albert Garcia

Jr. 224-629, Louise Herrin 162-476,

Richard Claude 247-626, Patsy Gross

176-465, John Edgington 184-521.

Sunny Rathore 251-716, Stefanie

Mueller 216-611, H. Koberlein 225-625,

Pat Parke 212-581, Joe Pineda 258-656,

Cheryl Ross 174-478, RJ Little 227-654,

Paula Fritz 165-458, Susan Devereaux

210-472.

Tim Quinn 243-701, Tanya Wren

188-540, Rick Stalder 235-623, Tammi

Carter 189-533, Becki Horowitz 199-

534, Chris Saxelby 181-485, Ken

Brown 279-771, Pete Illing 255-716,

Jim Devereaux 209-528.

SENIORS

Jack Piper 235-663, Bevrly Helsel

188-498, Larry Gautier 234-650, Carol

Haight 185-486, Albert Garibay 218-

567, Pat Will 175-484, Tom Woewucki

248-538, Kay Thomas 176-456.

Concrete Software's

PBA Bowling 2 3D

game now available

SEATTLE, WA — Concrete

Software, Inc., a leader in

innovative mobile content, has

released PBA Bowling 2 for the

Apple iPad, iPod Touch and

iPhone. Concrete Software and

the Professional Bowlers Association

(PBA) have partnered to

At AMF Spare Time

Hunter crushes 823,

Brodigan blisters 737

McGraw, Ward nail 300 games

Brad Hunter lit up the AMF

Spare Time Lanes last week

with a chart topping strike-

THE BOWLING NEWS | Thursday, April 22, 2010 | Page 17

create a 3D bowling game now

available in the App Store.

The 3D PBA Bowling game

allows users to play against

PBA stars, such as Walter Ray

Williams Jr., Wes Malott, and

Pete Weber. The newest locations

from the Lumber Liq-

filled 276-289-258 = 823 STL

Businessmen's league series.

Robert McGraw and Justin

At AMF Showplace Garland

Wilson chalks up 791,

Shaw turns in 676

Chambers, Decker ace 300 games

Paul Wilson, from the Roadrunners

group, pocketed powerladen

267-267-257 = 791 numbers

en route to earning high-set

honors for the week at AMF

Showplace Garland.

Linda Chambers and Keith

Decker shared high-game honors

as both rolled award-winning

perfectos. These were posted the

week of April 15.

Barbara Shaw's rousing 246-

206-224 = 676 Wednesday Nascar

showing topped the ladies'

high-set chart.

LEAGUE LEADERS

Michael Trammell 268-756, Michelle

Butler 269-632, Jim Ramey 236-668,

Deneace Johnson 247-670, John

McDonald 244-636, Michelle Baker

198-549, Roger Moser 245-661.

Michelle Newman 216-641, Kathy

Hopkins 191-532, Travis Houser 202-

592, Judy Stark 167-449, Larry Calton

213-598, Judy Parker 188-542, Kevin

Carbo Jr. 253-714, Lois Rhodes 218-571,

Leslie Mitchell 201-568.

Tori Hilz 213-559, Buddy May

216-610, Wilma Brockington 190-501,

Michael Sanders 267-730, Brenda

Rogers 184-492, Al Aguilar 244-697,

June McCauley 202-484, John Reed

279-711, Buddy May 225-610.

Evelyn Anders 178-499, Cody Mollenhauer

258-740, Sammye Ragland

213-604, Mike Cheatham 265-715,

Kristy Bell 174-476, Rosemary White

224-555, Jessie Sereseroz 256-723,

Dolores Heitman 198-569.

Brunswick Zone Watauga

Bowling Academy

The Academy will be an instructional program

encompassing the physical game, ball motion, lane

play, oil patterns, and on-lane instructions.

You will receive training materials, a gift bag and a t-shirt.

Event Schedule

• 1/2 hr – Presentation

– Physical Game

• 1 1/2 hr – On-lane – Physical

Game Instruction

• Lunch

• 1/2 hr – Brunswick Ball Rep

• 1 hr – Presentation – Ball

Motion/Lane Play

• 1 1/2 hr – On-lane – PBA

Experience Patterns

AND

Presents

uidators PBA Tour, including

Detroit, are offered for single

games and tournaments. One

of the most notable features

included in the game is online

leader boards, which allow

users to view scores of other

players worldwide.

Although bowling games

are nothing new to mobile,

PBA Bowling 2 offers many

advanced features including

intense 3D graphics, customizable

game play, an immersive

3D environment and the

recognition of the PBA brand

that set it apart in the ranks

of the mobile bowling game

market.

Ward shared high-game honors

as both fired award-winning

perfectos.

Nikki Brodigan registered

a sizzling 267-203-267 = 737

Sundowners set to front distaff

scoring.

LEAGUE LEADERS

Kara Congi 263-720, Lee Spanger

247-646, Gloria Elgan 198, Jackie

Metz 514, J. Frankie Duncan 268-712,

Chelsea Herrera 243-588, Tim Jopson

283.

Lloyd Daugherty 733, Mary Edgett

167-630, James Scales 245, Cheta

Philpot 193, T.V. Robinson 655, Marylee

Heiermann 504, J.R. Young 253, Lele

Skinner 235-597.

Justin Boggio 672, Jason Brewer

259, Debbie White 266, Doug Anderson

697, Greg Joyner 290-794, Chelsea

Herrera 268-687, Donna Heishman

213-566, Donni McMasters 223-555.

Sunday, May 23

10:00 AM to 4:00 PM

$80.00

Open to All Bowlers

Please sign up and pay in

Ballard's Bowling Solutions Pro Shop

A special Academy Staff has been selected for this event.

USBC Silver Level Event Staff includes:

• Hall of Famer - Carolyn Dorin-Ballard • PBA Regional Champion - Paul Fleming

• Hall of Famer - Del Ballard, Jr. • Brunswick Ball Rep - Robert Lawrence

Brunswick Zone Watauga

7301 Rufe Snow Dr. • Watauga, Texas 76148

Phone (817) 485-2695 • Fax (817) 281-5428

E-mail: lderrick87@yahoo.com
---
Page 18 | Thursday, April 22, 2010 | THE BOWLING NEWS

BOWLER FRIENDLY PRO SHOPS & OTHER SERVICES

JAMES ASKINS

Owner

LEO ERNE

JORDAN VANOVER

MATT HOYT

BRETT BOLEJACK

INSIDE AMF SHOWPLACE LANES

1901 W. Airport Freeway

Euless, TX 76040

(817) 571-1174

INSIDE COWTOWN LANES

4333 River Oaks Blvd.

Fort Worth, TX 76114

INSIDE ROWLETT BOWL-A-RAMA

YOUR NEIGHBORHOOD

PRO SHOP

GEOFF MARTIN

pro shop manager

5021 Lakeview Parkway

Rowlett, TX 75088-411

(972) 475-7080

Working Hard

for Your Success

RON WILLIAMS

Owner / Operator

PBA Member

HOURS: Monday–Friday 1–9, Saturday 1–7

Two Locations

CITYVIEW

LANES

6601 Oakmont Blvd.

Fort Worth, TX 76132

AMF SPARETIME

LANES

3149 S. Cooper

Arlington, TX 76015

Susie Minshew

USA Bowling

Coach of the Year

(800) 346-3648

FAX 817-783-6010

strikeability@gmail.com

www.strikeability.com

Giving You The Power To Perform

8216 Dot Hudson Road, Alvarado, Texas 76009

OTIS PILLOW

BALLS BAGS SHOES

AMF HURST LANES

720 W. PIPELINE RD.

HURST, TX 76053

817-282-2401

www.pillowproshop.com

otis@pillowproshop.com

billy@pillowproshop.com

Located inside Brunswick Zone Watauga

7301 Rufe Snow

Watauga, Tx 76148

Phone: 817-485-2695

Fastrack Pro Shop

Located Inside Allen Bowl

1011 S. Greenville Ave

Allen, Texas 75002

Phone: 214-509-9274

E-mail: coachkg58@yahoo.com

www.fastrackproshop.com

Carolyn Dorin-Ballard

Del Ballard

Brett Cooper

Derrick Lott

Kurt Gengelbach, Owner

Lessons

available by

appointment

Coach's Eye International

WILLIAM E. "BILL" LISH

(817) 624-2151

817-263-1935

Fax: 817-370-1831

817-419-3236

5000 Main Street, Suite 138

The Colony, TX 75056

972.624.5263

coachlish334@yahoo.com

Plan to win or wait to fail

PRO SHOP

1114 S. Main

Duncanville, Texas

Phone 972-298-7143

Jeff Cathey, Manager

Pro-Staff providing all your bowling equipment needs!

PEOPLE'S PRO SHOP

–

Inside

2521 Avenue K, Plano TX 75074

972-881-0242

Member, Professional Bowlers Association

Member, Storm and Turbo Advisory Staffs

Private Instructions Available

"Old School" Service Always Available

Largest Bowling Service Provider In The DFW Area

www.thebowlingshops.com

NEW

LOCATION!

AMF Lewisville

Manager

Tyson Branagan

972-436-6575

Dino Castillo

Owner

AMF Showplace Garland

Manager

Chris Castro

972-613-8100

AMF Richardson

Manager

Chad Newman

972-231-2695
---
At AMF Richardson

Rougely explodes with 842,

Wright-Jones tosses 714

Newman, Thayer log 300 games

James Rougely dominated

scoring for the week at AMF

Richardson after firing a thundering

strike-filled 289-277-276

= 842 series in XXXX Rated

action.

Chad Newman and Tony

Thayer shared high-game honors

as both rolled award-winning

12-baggers.

Virgie Wright-Jones, Rougely's

leaguemate, fronted fem scoring

with a high-flying 267-257-190

= 714 set.

LEAGUE LEADERS

Mike Taylor 255-721, Tony Thayer

300-782, Brian Tilley 278-705, Anthony

Williams 245-704, Chad Newman

300-761, Jim Mahoney 259-758, Lori

Rougely 267-686, Wanda Parker

238-642.

Heather Hobson 248-671, Ron

Bosbyshell 220-584, Carolyn Burk

176-468, Mike Boss 256-694, Linda

Maeder 203-585, Mark Moore 279-721,

Monica Adams 190-538, Leon Jones

237-652.

Karen Rainish 179-504, Ed Pease

245-636, Marge Carnes 167-425, Tom

Bowman 255-698, Sandy Watson

244-684, Rhonda Yoshida 244-640,

Ed Wilson 233-628, Emily Harting

246-648, Mike Braby 253-669.

Danyelle Becker 224-610, Louis

Henley 246-686, Flo Arista 197-492,

Rodney Petty 193-528, Sherry Wilson

161-452, Tonya Dickey 198-526,

Greg Whitson 219-518, Melissa Keen

172-470.

78th Texas State USBC Open

Tournament

As of April 11

TEAM EVENT

Division 1 — 1. In Memory of

Gary Ford, Odessa, 2988; 2. Glass

Jewlers, San Angelo, 2980; 3.

Texas Express, Dallas, 2973.

Division 2 — 1. Randy's Raiders,

Victoria, 3121; 2. Big D Auto

Parts, Dallas, 3105; 3. Athritic

Keglers, Dallas, 3043.

Division 3 — 1. Alley Cats,

Amarillo, 2797; 2. Reel Em In,

Brazos Valley, 2778; Newcomers,

Houston, 2723 .

Division 4 — 1. Five of a Kind,

Brazos Valley, 2837; 2. What's

It Gonna Be?, Mainland USBC,

2777; 3. American State Bank,

Scurry County, 2764.

Division 5 — 1. SUDOCO, Inc.,

Scurry County, 2656; 2. Production

Pump, Scurry County, 2549;

3. Corsairs, Bee County, 2545.

DOUBLES

Division 1 — 1. Donald Taylor/Darryl

Short, Red River USBC,

1360; 2. Daniel Banda/Alfonzer

Powell, San Angelo, 1357; 3. Ryan

Gauthier/Michael Keith, San Antonio,

1350.

Division 2 — 1. Don Chaney/

Chris Kelley, Killeen-Ft. Hood,

1256; 2. Basilio Marquez/Randy

Moran, Waco, 1254; 3. Terry

Landry/David Moran Jr., Brenham,

1242.

Division 3 — 1. Micky Girard

Jr., Micky Girard Sr., Dallas, 1279;

2. Patrick Johnson/Louis Hill,

Killeen-Ft. Hood, 1264; 3. Rodney

Baker/Rodney Hatfield, Dallas,

1251.

Division 4 — 1. Denis Comer/

Matt Stuffl ebeam, Waco, 1254; 2.

Tye Dorn/Clayton Dorn, Brazos

Valley, 1248; 3. Melvin McConico/

Keith Lucas, Houston, 1247.

Division 5 — 1. Jeremy Roemisch/Timmy

Marshall, Scurry

County, 1126; 2. Glenn Hull/Sean

Flaherty, Wichita Falls, 1117; 3.

Fred Bartolomy/Jeremy Jones,

Red River USBC, 1077.

SINGLES

Division 1 — 1. Michael Keith,

San Antonio, 770; 2. John Shuffl

er, Dallas, 753; Ryan Gauthier,

San Antonio, 735.

Division 2 — 1. Rick Browder,

Red River USBC, 721; 2. Gary

Finke, Brenham, 672; 3. Kenneth

Schupbach, Victoria, 665.

Division 3 — 1. Larry Jones,

Houston, 749; 2. Randy Moran,

Waco, 721; 3. David Coburn,

Mainland USBC, 649.

Division 4 — 1. Mark Donnelly,

Dallas, 622; 2. Javier Frias,

Amarillo, 612; 3. James Jourden,

Killeen-Ft. Hood, 606.

Division 5 — 1. Tara Light, San

Antonio, 678; 2. Russell Carr, San

Angelo, 665; 3. Joe Roemisch,

Scurry County, 618.

ALL EVENTS

Division 1 — 1. Michael Keith,

San Antonio, 2171; 2. Lee White,

Odessa, 2163; 3. John Shuffl er,

Dallas, 2126.

Division 2 — 1. Paul Kirkley,

Dallas, 1936; 2. Denis Comer,

Waco, 1891; 3. Timmy Marshall,

Scurry County, 1882.

Division 3 — 1. Randy Moran,

Waco, 2088; 2. Greg Burkhalter,

Brazos Valley, 1874; 3. John

Figueroa, Victoria, 1854.

Division 4 — 1. Javier Frias,

Amarillo, 1865; 2. James Jourden,

Killeen-Ft. Hood, 1805; 3. Joe

Cheyne, Scurry County, 1775.

Division 5 — 1. Joe Roemisch,

Scurry County, 1745; 2. Will Henderson,

Mainland USBC, 1678; 3.

Shaun Smith, Killeen-Ft. Hood,

1671.

At AMF Lewisville

Barnes blasts 300/805,

Wagner smashes 299/804

Watts adds 299 game

Lynda Barnes' dual awardwinning

278-300-227 = 805

league production in Monday

Nite Mixers action headed the

competition for the honor roll for

the week at AMF Lewisville.

Jody Wagner, ended one pin

behind Barnes with a strike-filled

299-246-259 = 804 Monday Nite

Men's set to lead the men.

At AMF Hurst

Hightower

hurls 714

Rick Hightower's outstanding

194-242-278 = 714 T.G.I.S. outing

led the scoring race last week at

AMF Hurst.

Lucky Hansen paced the lady

bowlers with a tidy 183-199-177

= 559 Wild Bunch Sr.'s set.

OTHER SCORES

Neil Bronstein 205-566, Gay Marshall

178-487, Julian Rimmer 228-644,

Beth Hughes 159-420, Jason Wilemon

(4 games) 242-947, Dena Frayer (4

games) 607.

Michael Meriwether 214-612, Kent

Belcher 255-704, Mary Yager 203-552,

Charles Newton 224-629, Sandy

Robertson 193-486, Bob Santos (no-tap)

298-765.

Missy Harcourt (no-tap) 242-700,

Roxie Popillion 488, David Bowman

267-649, Diana Davis 162-462, Nancy

Story 200, Mark Haug 277.

TEAM HUDSON

Continued from Page 1

Reagor and Wes Milliorn Jr.

posted a 6502 score and collected

$1,800 for their victory.

Second place went to

Team Gray with a 6385 score.

Members were James Stewart,

Steve Ford, Levon Douglas,

Melody Foster and Ken Washington.

They earned $1,000 as

runner-up.

Third place Team Alcaraz

collected $500 for their 6305.

Members included Tammy

Self, Tony Hernandez, Thorlon

Gregg, Russell Corwin and Aric

Alcaraz.

Bank on It took fourth

place. Their score of 6280

earned them $250. Members

were Justin Owings, Mary

Brathwait, Yolanda Garrett,

Rene Lopez Jr. and Jeff Banks.

Individual champions were

Thomas Sapp with a scores of

1503 and Troylen Howell, 1307.

They each collected $50.

The next tournament at

AMF DeSoto will be on July 4

weekend.

THE BOWLING NEWS | Thursday, April 22, 2010 | Page 19

Brian Watts shared runner-up

honors with Wagner as they both

rolled 299 solos.

HONOR ROLL

Bruce Babcock 2050594, Dee

Jungerman 233-587, Charles Brannon

217-547, Jered Bland 214-547,

5th Annual

East Texas Open

East Texas Open

July 24-25 & July 31 -August 1, 2010

Hosted by

Lakeplex Lanes

Seven Points,TX

Entry Deadline:

June 5, 2010

4 Person Teams,

Doubles & Singles

(Any combination

of Men or Women)

Handicap 80%

from 220

45 min.

from 635

Lakeplex

Lanes

Veterans Ln

175

USBC

Certified

Brackets & Highpots, Optional Scratch Events

-Pro Shop Specials-

900 Global Ball to

be given away

during each team

squad

Sabina DeBord 263-653, Brian Watts

299-759.

Dianne Brandon 266-678, Mark

Merchant 242-702, Lisa Miller 219-572,

Susan Cox 203-556, Willard Harmon

234-653, Yvonne Wynn 181-520, Ken

Smithers 211-609.

Sabina DeBord 228-563, Shawn

Kelly 256-661, Connie Maxwell

200-482, Kathy Davis 233-517, Lee

McDonald Sr. 268-758, Betty Morrison

202-601, Bruce Bricker 243-694, Becky

V. 163-456.

Gerald Dewberry 267-697, Ashley

Helm 214-602, Gary Kluempke 247-

629, Bonnie Kluempke 189-530, Jerry

Sagui 254-654, Ruby Bennett 222-619,

Justin Westerman 246-639, Julie Young

221-590.

At AMF DeSoto

Shipley polishes off 734,

Miller bags 602

Pride aces 300 game

Chris Shipley chalked up estimable

202-256-276 = 734 marks

in Pushovers action to head the

honor roll for the week at AMF

DeSoto.

Bam Pride's award-winning

12-bagger claimed high-game

honors.

Janet Miller, Shipley's leaguemate,

rolled a lofty 228-170-204

= 602 set to lead the ladies.

HONOR ROLL

Lee Clark 245-703, Wendy Kent

183-544, Chuck Mooney 235-657,

Carolyn White 188-525, Billy Adams

715, Pat Blair 219-567, Jimmie Hawkins

203-524, Marie Anders 210-530.

JR Verdell 204-600, Joyce Thurman

203-543, Shane McClellan 248-632,

Katherine Sunday 194-536, Travis

Franklin 235-616, Raymond Neugent

234-606.

Kevin Hardy 211-585, Helen Watley

197-522, Aric Alcaraz 246-714, Melody

Foster 201-566, Victor Minor 246-694,

Deneace Johnson 221-565.

SENIORS

Bob Gray 225-572, Billie Bradley

174-485, Roger Strand 248-674, Jan

Powell 191-495.

85

334

274

635 / I-20

34

Presented by

lark's

CPromotions L.L.C.

For more information call

972-754-0387

www.easttexasopen.com
---
Page 20 | Thursday, April 22, 2010 | THE BOWLING NEWS

SPOTLIGHT

Continued from Page 20

Lynda Barnes

This week's high woman is

Lynda Barnes with a 278-300-

227 for an 805 series at AMF

Lewisville Lanes.

As everyone knows, Lynda

is the wife of PBA professional

bowler Chris Barnes and the

mother of twins Ryan and Troy

who will be eight-years-old in

May.

While both boys have

followed in their parents

footsteps with bowling, they

are involved in every kind of

"ball" sport.

Lynda is also hosting and

running the Strike Out Diabetes

Charity Bowling Event,

Saturday, May 22 at AMF

Lewisville Lanes.

What is your high series? An

806. I shot it while on tour in

Omaha, NE. I made the show

and finished second.

How many 300's and 800's

have you bowled? I have

20-some 300s, two 800s and a

billion 790s.

What ball did you throw?

A Columbia Pure Swing. It's a

great ball.

Who drills your balls? Chris

is drilling them right now.

What is your all-time

favorite bowling ball? Right

now it's the Pure Swing. But I

would say the Blue Hammer or

Black U-Dot.

What is your average in the

Monday Nite Mixers league? It

was 232 before the 800. I don't

have a lot of games in since we

are gone a lot.

What is your all-time high

average? Probably the 232. I

really don't know.

How long have you been

bowling? I started when I was

four. My mom was the junior

director and she told me when

I could hold it with one hand I

could bowl.

What part of the lane were

you playing when you shot this

series? I was playing about 17

to 8 at the break point.

Who is your favorite pro

bowler? I have to say Chris

because of his versatility. He

never boxes himself in. I also

like Doug Kent, Kim Terrell

because she is so smooth and

calm. Carolyn Dorin-Ballard

because of her fire and Donna

Adamek. She was so small but

she had such power.

Most memorable bowling

moment? Winning the Queens

the second time. It was an

affirmation that I could still

compete. And, hearing the

National Anthem the first time

as a Team USA member. That is

a feeling you can't explain.

How much do you practice?

When there are tournaments,

every day. When there aren't

any tournaments, then weekly.

I've been injured with a bad

back. So, I've in been in physical

therapy for two months.

This was only my third week

back to bowling.

Do you have anyone who

coach's you? Mark Baker. A lot

of times he talks me through

things on the phone. He saved

Cagle, Williams lead scoring

at AMF Irving Lanes

Donnie Cagle and Valerie Williams

led scoring for the week at

AMF Irving.

Cagle rolled games of 160-181-

246 for a 587 That's Incredible

series, while Williams paced the

ladies with 165-181-194 = 540

Bowlettes lines.

OTHER SCORES

Don Banfield 212-560, Roberta

my career after the National

Championship. I owe him a lot.

Other bowling thoughts on

your big night? This is such a

fun, crazy league. They are

all so supportive. It was fun to

share this with them.

What are your immediate

bowling plans? I plan to bowl

the Queens and the U.S. Open.

Then I will evaluate what I will

be doing.

Lynda's tip of the week: Practice

as much as you can and

have fun while you do it. Also,

respect the sport.

Richie Rylant

We were unable to reach

Richie for his interview

because he was bowling a PBA

Regional this weekend.

Richie also posted an 842

series on games of 268-279-295

in the Classic Trio league at

Rowlett Bowl-a-Rama. We hope

to have his interview next

week.

FULL MENU | FULL BAR

OPEN 11AM-2AM

4060 Beltline Rd.

Addison TX 75001

214.272.7028

We appreciate

our sponsors

NOW OPEN!

Mike Lynch's

Strong 185-482, Garfield Andrew 211-

533, Margaret Riise 157-434, Shirley

Acosta 182-474, Bobbie Woods 181-515,

Maria Williams 201-490.

Robert Haney 231-578, Jannete

Vasquez 188-460, Chuck Heintzelman

211-556, Holly Turrentine 220-516,

Aaron Alcorn 190-545, Letris Stewart

202-515, Robert Ayr 184-438.

Joyce Murphy 119-346, James

Adrian 152-436, Linda Dershem 119-

332, Terri Braswell 204-512, Benjamin

Millende 165-458, Crystina Kendrich

153-388.

NABI of DFW is the #1

Best Rated Handicap

Tournament in the

Dallas/Ft. Worth area.

April 25 AMF Showplace Lanes Garland

**Sunday Only**

Squad Times: Sun: 12:00 - 1:30 - 3:00, Shoot Out Finals @ 4:15

High Man & Woman on the first squad are automatically seeded to the Finals. Men are 1-6 and Woman are 1-4

Entry Fee: $55. Pre Paid $60. On Site

TEAM TOURNAMENT 2010

3 Members or 2 Members and 1 Guest

$2,400 1st PLACE

BASED ON 60 TEAMS

$150 Entry fee if paid by April 25, $180 Entry fee if paid on day of the event.

$150 Re-Entry

May 1st & 2nd @ AMF DeSoto Lanes

Please see the Team Tournament Flyer for all details about this event.

Guests are invited to bowl in this tournament, but see Guest rules, for full details.

SIDE SINGLES - $500 1ST PLACE

The 3 games you bowl in the team event will be your Singles score. There will be a $20.00

Entry fee for each squad. You may enter and cash more than once. However, you can only

cash once in the top 3 spots. Guests will not be allowed to bowl the singles event.

FOR MORE INFORMATION:

PLEASE CONTACT TERRY OR TINA TAYLOR

817-685-6147 / EMAIL: cantstrike@aol.com

2009/2010

Certifi cation #

Pending

VISIT OUR WEBSITE - WWW.BOWLNABI.COM