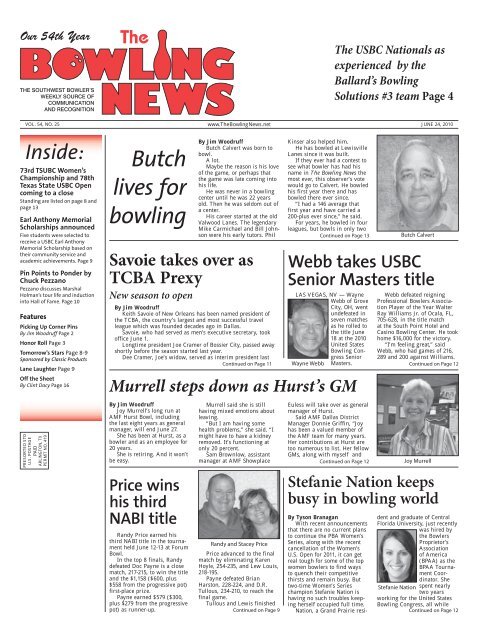 Butch lives for bowling - The Bowling News
Butch lives for bowling - The Bowling News
Butch lives for bowling - The Bowling News
SHOW MORE
SHOW LESS
You also want an ePaper? Increase the reach of your titles
YUMPU automatically turns print PDFs into web optimized ePapers that Google loves.
Our 54th Year

VOL. 54, NO. 25 www.TheBowlingNews.net JUNE 24, 2010

Inside:

73rd TSUBC Women's

Championship and 78th

Texas State USBC Open

coming to a close

Standing are listed on page 8 and

page 13

Earl Anthony Memorial

Scholarships announced

Five students were selected to

receive a USBC Earl Anthony

Memorial Scholarship based on

their community service and

academic achievements. Page 9

Pin Points to Ponder by

Chuck Pezzano

Pezzano discusses Marshal

Holman's tour life and induction

into Hall of Fame. Page 10

Features

Picking Up Corner Pins

By Jim Woodruff Page 2

Honor Roll Page 3

Tomorrow's Stars Page 8-9

Sponsored by Classic Products

Lane Laughter Page 9

Off the Sheet

By Clint Dacy Page 16

PRESORTED STD

U.S. POSTAGE

PAID

ARLINGTON, TX

PERMIT NO. 419

Butch

lives for

bowling

Price wins

his third

NABI title

Randy Price earned his

third NABI title in the tournament

held June 12-13 at Forum

Bowl.

In the top 8 finals, Randy

defeated Doc Payne is a close

match, 217-215, to win the title

and the $1,158 ($600, plus

$558 from the progressive pot)

first-place prize.

Payne earned $579 ($300,

plus $279 from the progressive

pot) as runner-up.

By Jim Woodruff

Butch Calvert was born to

bowl.

A lot.

Maybe the reason is his love

of the game, or perhaps that

the game was late coming into

his life.

He was never in a bowling

center until he was 22 years

old. Then he was seldom out of

a center.

His career started at the old

Valwood Lanes. The legendary

Mike Carmichael and Bill Johnson

were his early tutors. Phil

Savoie takes over as

TCBA Prexy

New season to open

By Jim Woodruff

Keith Savoie of New Orleans has been named president of

the TCBA, the country's largest and most successful travel

league which was founded decades ago in Dallas.

Savoie, who had served as men's executive secretary, took

office June 1.

Longtime president Joe Cramer of Bossier City, passed away

shortly before the season started last year.

Dee Cramer, Joe's widow, served as interim president last

Continued on Page 11

Randy and Stacey Price

Price advanced to the final

match by eliminating Karen

Hoyle, 254-235, and Lew Louis,

218-195.

Payne defeated Brian

Harston, 228-224, and D.R.

Tullous, 234-210, to reach the

final game.

Tullous and Lewis finished

Continued on Page 9

Kinser also helped him.

He has bowled at Lewisville

Lanes since it was built.

If they ever had a contest to

see what bowler has had his

name in The Bowling News the

most ever, this observer's vote

would go to Calvert. He bowled

his first year there and has

bowled there ever since.

"I had a 146 average that

first year and have carried a

200-plus ever since," he said.

For years, he bowled in four

leagues, but bowls in only two

Continued on Page 13

LAS VEGAS, NV — Wayne

Webb of Grove

City, OH, went

undefeated in

seven matches

as he rolled to

the title June

18 at the 2010

United States

Bowling Congress

Senior

Masters.

Murrell steps down as Hurst's GM

By Jim Woodruff

Joy Murrell's long run at

AMF Hurst Bowl, including

the last eight years as general

manager, will end June 27.

She has been at Hurst, as a

bowler and as an employee for

20 years.

She is retiring. And it won't

be easy.

Murrell said she is still

having mixed emotions about

leaving.

"But I am having some

health problems," she said. "I

might have to have a kidney

removed. It's functioning at

only 20 percent.

Sam Brownlow, assistant

manager at AMF Showplace

By Tyson Branagan

With recent announcements

that there are no current plans

to continue the PBA Women's

Series, along with the recent

cancellation of the Women's

U.S. Open for 2011, it can get

real tough for some of the top

women bowlers to find ways

to quench their competitive

thirsts and remain busy. But

two-time Women's Series

champion Stefanie Nation is

having no such troubles keeping

herself occupied full time.

Nation, a Grand Prairie resi-

Butch Calvert

Webb takes USBC

Senior Masters title

Euless will take over as general

manager of Hurst.

Said AMF Dallas District

Manager Donnie Griffin, "Joy

has been a valued member of

the AMF team for many years.

Her contributions at Hurst are

too numerous to list. Her fellow

GMs, along with myself and

Continued on Page 12

The USBC Nationals as

experienced by the

Ballard's Bowling

Solutions #3 team Page 4

Webb defeated reigning

Professional Bowlers Association

Player of the Year Walter

Ray Williams Jr. of Ocala, FL,

705-628, in the title match

at the South Point Hotel and

Casino Bowling Center. He took

home $16,000 for the victory.

"I'm feeling great," said

Webb, who had games of 216,

289 and 200 against Williams.

Wayne Webb Continued on Page 12

Joy Murrell

Stefanie Nation keeps

busy in bowling world

dent and graduate of Central

Florida University, just recently

was hired by

the Bowlers

Proprietor's

Association

of America

(BPAA) as the

BPAA TournamentCoordinator.

She

Stefanie Nation spent nearly

two years

working for the United States

Bowling Congress, all while

Continued on Page 12
---
Page 2 | Thursday, June 24, 2010 | THE BOWLING NEWS

BUY - - - SELL

AMF - BRUNSWICK EQUIPMENT - COMPLETE PACKAGE

WORLD'S LARGEST NEW-USED SPARE PARTS INVENTORY

Danny or Daryl Tucker

Tucker Bowling Equipment Co. Bowling Parts, Inc.

609 N.E. 3rd St. P.O. Box 801

Tulia, Texas 79088 Tulia, Texas 79088

Call (806) 995-4018 Call (806) 995-3635

Fax (806) 995-4767 Email: bpitx@texasonline.net

Website: www.bowlingpartsandequipment.com

Mailing Address: P.O. Box 1642, Colleyville, TX 76034-1642

Delivery Address: 4133 Heartstone Dr, Grapevine, TX 76051

Phone 817-267-8686 • Fax: 817-267-1813

Cell: 817-368-7960 • Email: bowlingnews@sbcglobal.net

JOE GENNARO (972-978-8687) . . . . . . . . . . . . . . . . . . . . . . . . . . . . . EDITOR EMERITUS

TONY FRANKLIN (Tony@TheBowlingNews.net) . . . . . . . . . . . . .OWNER/PUBLISHER

GENIE FRANKLIN (Genie@TheBowlingNews.net) . . . . . . . . . . .OWNER/PUBLISHER

BILL HAZLETT (Bill@TheBowlingNews.net) . . . . . . . . . . . . . . . . .MANAGING EDITOR

CAROL HAZLETT (Carol@TheBowlingNews.net) . . . . . . . . . . . .MANAGING EDITOR

JIM WOODRUFF (Bigdjim25@aol.com) . . . . . . . . . . . . . . . . . . . . . . . FEATURE EDITOR

JAMES CRUZ JR. (jcruz0502@aol.com) . . . . . . . . . . . . . . . . . . . . . . . . . . STAFF WRITER

CLINT DACY (Clint@TheBowlingNews.net) . . . . . . . . . . . . . . . . . . . . . . . . COLUMNIST

SUSIE MINSHEW (strikeability@gmail.com) . . . . . . . . . . . . . . . . . . . . . . . . COLUMNIST

DON WRIGHT (wrightdk@hot.rr.com) . . . . . . . . . . . . . . . . . . . . . . . . . . . . . COLUMNIST

BUBBA FLINT (fl intsworld@aol.com) . . . . . . . . . . . . . . . . . . . . . . . . . . . . . CARTOONIST

CONTRIBUTING FEATURE WRITERS

John Jowdy • Chuck Pezzano • Dick Evans

Note: Opinions expressed by our independent columnists and feature writers are

their own and do not necessarily refl ect the views of The Bowling News.

Subscription rates: $65 a year in advance. Check or money orders should be addressed to

THE BOWLING NEWS.

© 2010

Th e Bowling News

By JIM WOODRUFF

There are many times in

this old life that it pays handsomely

to be in the right place

at the right time.

AMF Showplace Garland

would certainly know about

that.

The center would not wish

any misfortune on anybody,

but the closing of two centers,

Big Town and Jupiter, certainly

gave Showplace a strong boost.

They did not go out wishing

any bad luck on the two

centers which have had to close

shop recently, but have enjoyed

the good times from gaining

so many new bowlers to their

houses.

Most of the bowlers from

Big Town and Jupiter have

landed at Showplace.

Showplace had room for all.

And the bowlers have no other

place to go unless they want to

travel more. And most bowlers

do not care for that.

Here's hoping that Showplace

enjoys its new bowlers

and that the new bowlers are

happy with their new homes.

* * *

So here we go again with

another summer.

Personally I have never understood

why so many bowlers

do not bowl in the summer.

In the old days it was

because it was too hot.

Now, however, bowling

centers are great places to stay

cool.

* * *

The word is that there

is talk about a mixed travel

league being organized. That

would be nice.

IMPORTANT METROPLEX PHONE NUMBERS

Dallas USBC Bowling Association ................. 972-644-7746

Dallas USBC Women's Bowling Association .. 972-274-4433

Dallas USBC Youth Association ..................... 972-475-5457

Denton County USBC Association ................. 972-360-6890

Greater Fort Worth USBC Association. Inc. .... 817-336-2555

FOUNDED AND PUBLISHED BY JOE GENNARO FROM 1956-2009
---
MEN

Mike Scalf, Plano.................................................... 786

Jason Spotanski, Cowtown ................................... 783

Vince Marchello, AMF Showplace Euless ............ 778

Brandon Wallace, Forum ....................................... 777

Thomas Rash, AMF Showplace Garland .............. 772

Jonathan Bolejack, Brunswick Zone Watauga ..... 770

Taylor Coggins, Brunswick Westcreek ................. 750

Will Haverland, AMF Richardson .......................... 744

Richard Neace, Cityview Lanes............................. 740

Joon Pac, USA Bowl .............................................. 729

Rob Billman, Red Bird ........................................... 694

Ruben Lozano, Bandera Super Bowl .................... 690

Paul Lindner, Interstate .......................................... 687

Cody Sheppard, AMF Hurst .................................. 687

Mike Morris, Rowlett Bowl-a-Rama ....................... 680

Dustin Dunn, Lake Country Lanes ........................ 668

Roy Istre, Corsicana Super Bowl .......................... 606

WOMEN

Karen Hoyle, Forum ............................................... 760

Miki Jo Parish, AMF Showplace Euless ............... 746

Tonjah Castro, AMF Showplace Garland .............. 701

Dana Short, USA Bowl ........................................... 695

Barbara Jernigan, Plano ........................................ 679

Ginnette Patzer, Brunswick Zone Watauga .......... 672

Katie Tallant, Cowtown........................................... 672

April Shelton, Brunswick Westcreek ..................... 663

Tammy Klomps, Rowlett Bowl-a-Rama ................. 658

Denise Jones, Cityview Lanes .............................. 639

Makensie Martin, Red Bird .................................... 614

Alex Sumruld, Interstate ........................................ 591

Danyelle Becker, AMF Richardson ........................ 588

Polly Norton, Lake Country Lanes ........................ 587

Jessica Hirschmann, Bandera Super Bowl .......... 559

Sandy Robertson, AMF Hurst ................................ 521

Lisa O'pry, Corsicana Super Bowl ........................ 479

At Cityview

Neace notches 740,

Jones jams 639

Richard Neace held the hot

hand at Cityview Lanes last week

after pocketing a high-flying 215-

262-263 = 740 Billie & Les High

Pot series.

Denise Jones, Neace's leaguemate,

paced the ladies with a

sterling 171-266-202 = 639 set.

CITYVIEW HIGHS

Monday Mixers 268-713, Jamey

Coggins 235-596, Ron Neely 235-632,

Gloria Black 188-508, Mickie Archer

203-580, David Canaveral 218-590,

Carolyn Reisz 244-625.

SENIORS

George Mathis 253-655, Irene

Hagerman 170-503.

At USA Bowl

Pac polishes off 729,

Short snags 695

Joon Pac's noteworthy 256-

247-226 = 729 Just For Fun

series headed the honor roll for

the week at USA Bowl.

Dana Short fired a sturdy 287-

210-198 = 695 TNL Ladies set to

front fem scoring.

USA BOWL HIGHS

Joseph Puckett 227-657, Pam Rigg

178-515, Jay Nephew 235-669, Betty

Swinners 245-515, James Fugitt (PBA

Experience, 4 games) 246-809, Lynelle

McLain (PBA Experience, 4 games)

173-535.

Matt Delarosa 247-642, Julia Hill

184-534, David Day 238-628, Nicole

Christianson 121-329, Paul Jackson

237-658, Sonya Robinson 170-493,

Chris Wooley 135-391, Chad Newsome

196-534.

Lonnie LaFrance 230-684, Marcie

Shaw 210-626, Chris Kyser 265-663,

Brenda Yarbrough 201-500, Arli Wilkes

215-608, Burdette Graham 247-634,

Marty Barlow 178-476.

Karen Hoyle

This week's high woman is

Karen Hoyle with a 213-247-

300 for a 760 series at Forum

Lanes. Karen has a son, Mike

(Fig) who is a great bowler and

daughter who doesn't bowl.

Her real bowling hero is her

husband, Don, though.

What is your high series?

This is my high. My previous

high was 720, pretty amazing.

How many 300's have you

bowled? This is my first 300. I

had 21 strikes in a row to finish

the night. I had 30 strikes

in the series.

What ball did you throw?

Ebonite Mission. I didn't like it

right out of the box, but I had

Don shine it up and now it's

working great.

Who drills your balls? Rich

Snyder, he's my ball guy, he's

great.

What is your all-time favorite

bowling ball? I really liked the

Hammer Hot Sauce.

What is your average in the

Twilight league? 193.

What is your all-time high

average? 190.

How long have you been

bowling? Forever. I started in

1973, had some people work

with me and I am always

trying to improve.

Who is your favorite pro

bowler? It used to be Earl Anthony,

but my current favorite

is Walter Ray Williams. I

like how he is a down and in

player, really accurate and an

all-around nice guy. I bowled

with him in the Quaker State

Pro-am years ago.

Most memorable bowling

moment? I think this was it.

I didn't really get nervous till

I got to the ninth frame, the

last shot was really good, and

I turned around and screamed.

I think they heard me all the

way to Fort Worth.

How many leagues do bowl?

I usually average three and

Don and I bowl lots of tournaments

on the weekends.

Other thoughts on the big

night? I had really been throwing

the ball good, trying to

slow my feet down and everything

just clicked that night. I

was so shocked to strike on 30

of 36 shots.

Karen's tip of the week: No

matter how old you are, just

keep practicing and it will

happen for you. Keep your

feet slow and keep a positive

attitude and you will do great.

Terri Trefger

Last week's high woman

was Terri Trefger with a

286/744 series at Brunswick

Westcreek.

Terri and her family moved

to Texas in 2005 from Anaheim

Hills, CA, to be with family.

She has owned an embroidery

company called TNT Embroidery

since 2001.

THE BOWLING NEWS | Thursday, June 24, 2010 | Page 3

What is your high series?

769.

How many 300's have you

bowled? None. My high game

is 298.

What ball did you throw?

A Brunswick HP. It's a ball I

haven't used in a while, but it

has been working really well.

Second Chance

Tournament (SCT)

Squad Times:

Sunday:

2:30 PM

4:00 PM

Shoot Out Finals

at 5:15 PM

Sunday, June 27th

SPORTS SHOT TOURNAMENT

Guaranteed 1st Place

$1,000

Plus Progressive Per Division

Based on 80 entries

$65 Dollar Entry Fee per division or

$110 Dollars to bowl both divisions (cash only)

There will be a handicap and scratch division. 1 out of 6 will be guaranteed to cash

from each division. Each division will pay out separately.

Handicap will be based off of 80% from 220. House shot book average will be

adjusted to sports average.

Contact the front counter for a full brochure with complete rules and format.

Feel free to call or email me for further questions on rules or format. donaldbowls@

ymail.com or Cell: 903-513-5532. Donald Davis Jr., Tournament Director

214-358-1382 Fax: 214-358-4056

10920 Composite Drive, Dallas, TX 75220

Visit us on the Web at www.USABowlInDallas.com

(...or any other toe)

$5,000.00 for 10 teams

$10,000.00 for 20 Teams

Tuesday Nights in the Fall at 9:00 PM

5 Member Teams

Handicap 90% Team Handicap from 1100

Entering Average based on 2009-2010 Book Average

$100.00 Franchise Fee Per Team

36 Week League

3 – 12 Week Blocks

Top 2 Teams Each Block Advance To Playoffs

Paid Block Winners

Added Money Paid To Playoff Teams

The "New"

817-346-0444

Who drills your balls?

Tommy Underwood from

California.

What is your all-time favorite

bowling ball? Since the HP has

been working so good for me, I

will have to say that ball.

What is your average in the

Continued on Page 11

Cityviewlanes.net Fax: 817-346-7208
---
Page 4 | Thursday, June 24, 2010 | THE BOWLING NEWS

The USBC Nationals as

experienced by the Ballard's

Bowling Solutions #3 team

By Clint Dacy

One of my favorite tournaments

of the year is the USBC

Nationals. It serves as a time to

bowl with my friends in a very

competitive environment on a

very challenging condition.

This year's tournament

was held in Reno, NV, at the

National Bowling Stadium. If

you have never made the trip

out there you really should go

and check it out if you get the

chance.

My Ballard's Bowling Solutions

#3 team has now been

together for four years, and our

goal was to put a team together

that we could take every year

and be competitive.

I think we have finally put

together a good mix of players

who can work together to

break down a lane properly.

My teammates are David

Smith, Brad Hunter, Terry

Taylor, and Brett Cooper.

The first couple of years we

bowled well, but struggled to

score. Now that we are in our

fourth year we are starting

to understand how to break

down the lanes properly, and it

reflected with our score.

The key is to get everyone

playing in the same zone to

build a track in the lane. This

can be very difficult if you get

matched up with the wrong

team on your pair.

Plastic balls are your worst

Saturday June 26th 7:30 PM

Check-in at 6:30 PM

$20 Sweeper entry fee

Mystery Score - 1st Game Strike Pot

King and Queen Tickets • Mega-Shots Every Night

Crazy Eights after Sweeper

$5.00 entry fee - up to two re-entries

COME JOIN THE FUN! Strike pot tickets every game

All split

conversions pay

money

enemy at nationals. There is

always a heavy volume of oil

on the lane, and plastic balls

only push oil down the lane

causing tighter back ends and

erratic hook spots.

What you want to do is to

use balls with some surface

that will soak up oil, and by

playing in the same spot on

the lane your team can build a

tunnel to the pocket.

With four of our team members

being right handed, we all

started off playing around 12 at

the arrows with a break point

around nine down the lane at

the tracer.

The tracer is a dash at about

45 to 50 feet down the lane

that can be used as a target for

your breakpoint.

For the last two years the

tracer or a board right seems to

be the proper placement for a

successful shot.

In team we missed several

easy spares the first game and

shot 968. It's very easy to bowl

a bad game on the fresh at

nationals so we were pretty

satisfied with that.

After seeing our shot open

up to 15 to 10 we began bowling

very well and shot 1128 the

second game.

In our last game the back

ends got a hair tighter and a

couple of errant shots cost us

a shot at 1100. We ended up

shooting 1062 the last game

Mr. Bill's Color Pin Sweeper

Susan B. Koman Bowl for the Cure Sweeper

A fi ve Dollar or more donation will receive a limited edition Mr. Bill

Bottle Koozie! Also we will be raffl ing off a special pink Susan B.

Koman bowling ball. Come join us for this great cause!

Handicap

90% of 220

Ladies four-bagger pays $5.00 once a night.

Men's fi ve-bagger pays $5.00 once a night.

Will also pay out men's and women's high series

each night - scratch/handicap

Handicap-Scratch-Ladies Brackets $5.00 each

Cross-Over Doubles $1.00 per person

Mr. Bill 817-557-0749 Cell: 817-925-3892

2001 S. Great

Southwest Parkway

Grand Prairie, Texas 75051

972-641-4406 or 972-647-2275

for a 3158 team series, which

currently is in 55th place.

Our scores were Clint Dacy

621, Brad Hunter 566, David

Smith 596, Terry Taylor 693,

Brett Cooper 682.

In doubles we were fortunate

as it seemed that the

people who bowled the team

event before us were able to

adequately break down the

lanes and we all bowled pretty

well.

My doubles partner Hunter

shot 656 and I shot 676 for 1332

doubles score which is currently

in 106th place. We both felt

it could have been a lot more,

as I am sure everyone does, but

overall I think we were both

happy to have bowled well

together.

We were able to get deep

into the lane and bounce it off

the tracer down the lane at the

10th board and still able to get

it back to the pocket. Misses

left also skated to the hole so

we had a good amount of room

to play with.

With team and doubles a

success we were ready to go

into singles and have ourselves

a big all events score.

We crossed with David

Smith and Brett Cooper and

as always they both had solid

sets. Brett is like a machine

and he bowled well the whole

tournament. In doubles Brett

shot 642 and David shot 603 for

a 1245 series.

Unfortunately in our singles

event we caught a pair that

had previously had multiple

people throwing plastic so

there was oil everywhere and

we all struggled the first game

of singles with Brett being high

with 207 and everyone else

was below 185.

The ball I was throwing in

doubles was skidding too far

down the lane and every mistake

I made paid the ultimate

price. I split eight times in

two games for a score of 133

followed up by a 147.

I jokingly told my teammates

that it only took me 22

frames to get to 300. Everyone

else seemed to find their

groove in game two, but I

struggled for a 147 and well

on my way to my first sub 500

series in a long time.

Brett shot 633, David shot

612, and Brad had a nice couple

of games and ended with a 647

series.

Overall it was a great

experience and I look forward

to bowling nationals every

year. Maybe with a couple of

more years together we can

make a run at an eagle, or at

least pound the senior brackets

when David and Brad mature a

little more.

At Forum Bowl

Wallace wraps up 300/777,

Hoyle smashes 300/760

Brandon Wallace led the

high-set chase last week at Forum

Bowl with a power-packed

300-251-226 = 777 Sundowners

league showing.

Karen Hoyle dominated the

ladies with a blue-ribbon 213-247-

300 = 760 Twilight production.

Wallace and Hoyle shared

high-game honors as each recorded

award-winning perfectos.

FORUM HIGHS

Homer Dudley (no-tap) 300-821,

Sandra Rogers (no-tap) 252-680, Ricky

Ellis (no-tap, 4 games) 290-1115,

Whitney Herr (no-tap, 4 games) 244-

823, Chuck Walker 244-651.

Sandi Chappel 150-419, Michael

Rumey 233-581, Elaine Mason 224-608,

Eric Edwards 216-632, Ronceynius Neal

202-584, James Parsons 245-635, Pam

Griffin 205-545.

Mike Newton (4 games) 265-953,

Jamie Weaks (4 games) 236-866,

Tony Hodge 278-684, K.B. Empy 288-

730, Kristal Canales 204-555, Adam

Borcherding 246-641, Sylvia Wolk

173-428.

Chuck Mooney 247-632, Eva Lopez

254-533, Don Hoyle 257-731, Roberta

Haffner 232-621, Jeremy Allen 246-683,

Carolyn Perez 266-577, Rick Nagler

227-665, Amanda Turner 213-535.

At Interstate

Lindner lands 687

ROUND ROCK — Paul Lindner

led the scoring parade for the

week at Interstate Lanes with a

free-wheeling 216-215-256 = 687

Classic Trio session.

Youth bowler Alex Sumruld

paced the ladies with a lofty 219-

195-177 = 591 Summer Generation

Gap set.

INTERSTATE HIGHS

A. Salehesthehar 233-639, Rowena

Barfield 157-409, Ann Quinn 201-511,

Jerry Connoly 174-452, Fern Aguilar

141-344, Ron Gillis 279-651, Ann Quinn

169-464, Jose Montelongo 201-569, Lisa

Archuleta 158-460.

Bobby Harmel 265-611, Brenda

Walker 177-499, Richard Will 215-577,

Ann Shivers 170-489, Mark Quinn

254-671, Mindy Ventura 174-467,

Clay Julian 237-640, Jan Alderman

165-454.

David Bowman 206-562, Celena

Adkins 148-373, Joe Ramon 176-486,

Dana Scott 126-355, Todd Black 216-

613, Susan Black 157-430, Steve Traynor

225-606, Lisa Sumruld 166-391.

3101 N. IH 35

Round Rock, TX 78664

(Exit 256 N.)

512-255-8826 (Lanes)

512-255-8619 (Fax)

www.interstatelanes.net
---
AMF Hurst Lanes 720 West Pipeline Road, Hurst, TX 76053 Ph: 817-282-6754

AMF Spare Time Lanes 3149 S. Cooper St., Arlington, TX 76015 Ph: 817-465-4997

AMF Showplace Lanes Euless 1901 W. Airport Frwy., Euless, TX 76040 Ph: 817-540-0303

AMF Showplace Lanes Garland 1950 Marketplace Dr., Garland, TX 75041 Ph: 972-613-8100

AMF Richardson Lanes 2101 N. Central Expwy., Richardson, TX 75080 Ph: 972-231-2695

THE BOWLING NEWS | Thursday, June 24, 2010 | Page 5

It's Time for Summer Leagues at AMF.

Join an AMF League today and have a blast EVERY WEEK!

Meet new people!

Kick up some competition with friends!

There are leagues for all skill levels… that means fun for everyone!

SUMMER LEAGUES FORMING NOW FOR: YOUTH • ADULT • SENIOR

AMF DeSoto Lanes 121 Northgate Drive, DeSoto, TX 75115 Ph: 972-780-8090

AMF Arlington Lanes 1801 E. Lamar Blvd., Arlington, TX 76006 Ph: 817-276-9898

AMF Irving Lanes 3450 Willow Creek Drive, Irving, TX 75061 Ph: 972-790-8201

AMF Lewisville Lanes 1398 West Main St., Lewisville, TX 75067 Ph: 972-436-6575
---
Page 6 | Thursday, June 24, 2010 | THE BOWLING NEWS

ALL STAR BOWL

RATES AND SPECIALS

$3.95 per Game per Person

$3.00 Shoes Per Person

$24.95 1 Hour Rent-A-Lane

(Per lane, up to 6 people, shoes included)

WEEKDAYS BEFORE 5 PM & SUNDAYS ALL DAY

$2.25 per Game per Person

$2.25 Shoes per Person

ALL STAR BOWL SPECIALS

Mondays 5 PM-Close

$1.25 per Game per Person

Wednesdays 5 PM-Close

$10 per Lane per Hour & $3 Shoes per Person

Thursdays 9 AM-Close

$1 per Game per Person

972-875-1558 www.allstarbowlennis.com

For Info: 830-693-4311

Hilltop Super Bowl

2010 West Business 287, Waxahachie, TX 75165

(972) 935-9705

Beat the Heat this

Summer, join one of

our Short Season

Leagues!

MONDAY

Monday Nite Mixed

4-Member Mixed

Begins June 7th

Bowls at 7:30 PM

TUESDAY

Tuesday Seniors

4-Member Seniors

Begins June 1st

Bowls at 10:30 AM

Tuesday Generation Gap

4-Member Team

(2 Adult, 2 Children)

Begins June 1st

Bowls at 7 PM

WEDNESDAY

Wednesday Trios

3-Member/Any Combo

Begins June 2nd

2303 W. Ennis Ave. Ennis, TX 75119

Bowl at 7:30 PM

Visit us Monday open to close for

BILLIARDS

ARCADE

$ 1

(Shoes not included)

LEAGUES FOR ALL AGES

2801 W. 7th Ave., Corsicana, TX 75110

903-874-3746

SUPER BOWL ENTERTAINMENT, LLC

All Star Bowl, 2303 W. Ennis Avenue, Ennis, TX 75119 | Phone: (972) 875-1558

Bandera Super Bowl, 6700 Huebner Road, San Antonio, TX 78238 | Phone: (210) 523-1716

Corsicana Super Bowl, 2801 West 7th Avenue, Corsicana, TX 75110 | Phone: (903) 874-3746

Hilltop Super Bowl, 2010 West Business 287, Waxahachie, TX 75165 | Phone: (972) 935-9705

Lake Country Lanes, 112 North Ridge Road/Highway 281 North, Marble Falls, TX 78654 | Phone: (830) 693-4311

Plano Super Bowl, 2521 Avenue K, Plano, TX 75074 | Phone: (972) 881-0242

THURSDAY

9 Pin No-Tap League

4-Member/Any Combo

Begins June 3rd

Bowls at 7 PM

FRIDAY & SATURDAY NIGHT

Blackout Bowling

SATURDAY

Youth Leagues

Bumper Buddies

Saturday Sleepers

Saturday Experienced

4-Member Mixed

Begins June 5th

Bowls at 9:30 AM

SUNDAY

Sunday Nite Mixed

4-Member Mixed

Begins June 6th

Bowls at 7 PM

For our League and

Senior bowlers,

$1.50 per game,

anytime!

Games

per

person

SMOKE FREE ENVIRONMENT

FAMILY FUN FOR EVERYONE
---
At Lake Country Lanes

Dunn downs 668 series

MARBLE FALLS — Dustin

Dunn's solid 233-202-233 = 668

Summer Twisters series headed

the honor roll for the week at

Lake Country Lanes.

Polly Norton paced the ladies

with a fine 182-222-183 = 587

Summer Merchant set.

OTHER SCORES

Lee Morris 244-597, Chrissy Morris

At Corsicana Super Bowl

Istre sacks 606 series

CORSICANA — Roy Istre's

strong 212-191-203 = 606 Summer

Double Trouble series led

the honor roll for the week at

Corsicana Super Bowl.

Lisa O'pry, Istre's leaguemate,

$6,000 Guaranteed 1st Place

(Based on 40 entries)

Sunday, July 25th

Brackets

Eliminator

Check in: 9 AM

146-396, Janice Naumann 176, Mary

McIntyre 456, Larry Gutzler 252.

Lucy Grenwelge 175, Sharell Sheppard

462, David Levingston 198-494,

Katie Johnson 160-432, John Woessner

236-636.

SENIORS

Gary Guthrie 184, Bessie Weinand

179-456, Ross Walker 489.

paced the ladies with a nice 142-

173-164 = 479 set.

OTHER SCORES

Danny McCarter 236-605, Mitchell

Williams II 224-583, Joan Siovak

184-434.

At Rowlett Bowl-a-Rama

Morris produces 680,

Klomps fields 658

ROWLETT — Mike Morris

won high-set honors last week

at Rowlett Bowl-a-Rama by polishing

off robust 183-246-251 =

680 numbers in Friday Night

Live action.

Tammy Klomps, from the

Thursday Funfours group, fronted

fem scoring with a sparkling

221-182-255 = 658 set.

OTHER HIGHS

Fred Burns 245-669, Paula Griffin

203-579, Jeanetta Stovall 211-525, Larry

Lee 224-638, Carisa Patrick 268-632,

Ed Brown 237-661, Monica Villarreal

227-626, Earl Wilson 231-602, Kimberly

Wilson 230-610.

SENIORS

Bill Hutchinson 206-365, Nancy

Heltzel 203-349, Jim Ritchie 197-550,

Laura Peterson 179-513, Marvin Dennis

(no-tap) 258-693, Jeanetta Stovall

(no-tap) 191-513.

Bowling Starts 10 AM

Crossover

Doubles

Deadline to sign up: July 21st

Entry Fee: $100 per person / $400 per team

4-Person Teams

800 Cap

Must have one member of the the opposite sex

Handicap 80% of 210

Will bowl 5 games

The highest 08-09 Yearbook average will be used.

(No book average, then 210 entering average)

For more information, contact Calvin at 210-654-0031

BRUNSWICK THOUSAND OAKS

4330 Thousand Oaks Blvd • San Antonio, TX 78217

210-654-0031

At Bandera Super

Bowl

Lozano levels

690 series

SAN ANTONIO — Ruben Lozano

logged a laudable 255/690

Bandera Doubles series to head

the leader board for the week at

Bandera Super Bowl.

Jessica Hirschmann's smooth

207/559 PBA Experience series

paced the lady bowlers.

OTHER SCORES

Don Weber 255-666, Elaine Limon

213-507, Donald Webber 245-623, P.J.

Couch 186-544, Wyatt Moore 246-550,

Joe Lobello 203-532.

Mary Alice Robles 155-371, James

Cullum 209-570, Joann Thomas

133-436, Rosie Pittman 189-482,

Pete Graham 175-462, Laura Evans

136-372.

SENIORS

Ken Hallstrom (no-tap) 279-660,

Amy Olsen (no-tap) 264-721.

www.itabowling.com

Team format:

4:1 or 3:2

Combination

Squad Times:

Saturday: 1:00 PM

Sunday: 11:00 AM

THE BOWLING NEWS | Thursday, June 24, 2010 | Page 7

New Leagues

Now Forming

Contact Christy at 972-475-7080

To view our entire league schedule

visit

www.rowlettbowlarama.com

5021 Lakeview Parkway, Rowlett, TX 75088

972-475-7080

www.rowlettbowlarama.com

3rd Annual

MEGA Mixed

Team Tournament

June 26-27, 2010

First Place Team

$2,500.00

Based on 36 teams

Team Entry Fee:

$250.00

Team Average

Cap: 1000

This is a non-sanctioned handicap tournament open to all bowlers except PBA exempt bowlers.

For more information, full rules and entry forms, contact the front desk at Bandera Super Bowl or the

Tournament Directors:

Charlie Natal Joe Vito

512-738-7287 or Email: cnatal@centurytel.net 210-663-9477 or Email: jgbowls@aol.com

210-523-1716

6700 Huebner Road, San Antonio, TX 78238
---
Page 8 | Thursday, June 24, 2010 | THE BOWLING NEWS

Sponsored by

Fort Worth USBC Youth Results

Taylor Coggins' thundering

220-263-267 = 750 Adult/Youth

series at Brunswick Westcreek

dominated the Fort Worth-area

USBC youth bowling last week.

Katie Tallant led the girls with

a sky-high 236/672 Generation

Gap series at Cowtown Bowling

Palace.

Other Fort Worth-area

scores:

At Cowtown — Roddy Douthit 203,

Roger Douthit Jr. 181-499, Katie Tallant

214-591, Brittney Martin 227-539, Tyler

Sims 242-617, Katie Tallant 225-571,

Adam Beasley 205-577, Zach Bedfort

167-401, Markeith Striker 102, Chandler

Ritsch 247-567, Randy Cross Jr. 189,

Brittney Martin 195-530.

At AMF Showplace Euless — Randy

Ashford 221-629, Major Whisenton Jr.

252-629, Lyone Velez 223-583, Alex

Dallas USBC Youth Scores

Matthew Korn topped the Dallas-area

USBC youth bowling last

week with a booming 254-180-

277 = 711 Showstoppers series

at Plano Super Bowl.

Alex Schmieg, Korn's leaguemate,

paced the girls with a super

strong 207-211-235 = 653 set.

Other Dallas-area scores:

At Plano — Aidan Hudson 133-

325, Spencer Brandon 99-273, Katie

Thompson 134-329, Jaxson Mueller

159-457, Parker Daniels 138-397,

Emmy Epperly 106-285, Darrian Banks

180-489, Keilah Giovino 242-575, Eric

Beat 268-706, Brianne Hansen 213-614,

Michael Evans 181-461, Hailey Keister

116-317, Nick Fryar 211-580, Stephanie

Sims 134-342, Cody Pedersen 255-640,

Christie Draper 177-470, Cody Elliott

(4 games) 205-667, Melanie Crawford

(4 games) 162-638, Robert Wyman (4

games) 242-795, Elizabeth Eldredge (4

games) 223-720.

At AMF Showplace Garland

— Bastian Kasunuran 223-639, Darian

Scotch 148-393, Caleb Palmer 134-333,

Kristina Hill 232-571, Destiny Velez

203-567, Makensie Martin 194-560,

Jessica Joplin 99-253.

At Forum — Mykah Dallas 117-198,

Dawn Parrish 75-135, Ethan Loggins

99-186, Anyssa Boles 63-124, Zach

Jennings 145-363, Katelynn Correll

131-343, Trevor Goad 122-320, Kristin

Hilker 111-309, Nick Kennedy 182-502,

Kayla Lopez 252-607, Chris Swenning

170-477, Shelbie Goad 168-399, James

Parsons II 165-439.

At Brunswick Westcreek — Chandler

Mayfield 171-404, Katie Hamlin

119-294, Katelyn George 203-562,

Kamari Wine 156, Courtney Cotton

140, Chris Jones 213-561, Chris

Holiday 221-626, Sanish Shrestha

172, Thomas Manning 180, Cooper

Cox 218-605, Alex Grogan 239-626,

Keith Searle 117-332, Wesley Searle

Moore 155-434, Hunter Varner 77-143,

Martin Montes 234-599, Stephanie

Montes 143-407.

At AMF Richardson — Jared

Shurtleff 198-567, Steven Gold 76-144,

Nahuel Veyan 145-377, Katie Ross

129-340, David Seitz 184-497, Ashley

Epple 167-440, Jake Whitson 211-601,

Madisyn Murphy 180, Ashley Hathaway

172-455.

At Rowlett Bowl-a-Rama — Tristan

Perry 84-158, Morgan Perry 98-194,

Juan Saenz 99-257, Madison Fowlkes

87-226, William Plagens 194-541, Toiya

Smith 98-261.

At Red Bird — Dustin Mires

216-542, Stephanie McCaleb 147-409,

Courtney Ward 121-306, Kaylee

Hancock 116-333, Dustin Mires 190-

533, Makensie Martin 211-614, Chase

Kuehnhold 115-204.

At USA Bowl — Daniel Castillo

98-255, Mikala Kearns 194-520, Josias

Murphy 80-218, Emily Kannenbe 66-

131, Sara Griffen 84-236, Dina Castillo

83-214.

It's time to be

thinking about

Summer Leagues

Call or check with your local center now to sign up

215-514, Deion Lewis 174-502, Selena

Hernandez 179-508, Deondra Owen

127-363, Lee Garcia 105-251, Rachel

Garber 106-306, Jay Garcia 167-425,

Aveion Walker 123-296.

At Brunswick Zone Watauga

— Aidan O'Neil 419, Reynalda

Contreras 303, Jeff Bayer 523, Claudia

Roberts 380, Connor Strehlow 635,

Jordan Tucker 517, J. Wayne Holt 382,

Claudia Roberts 387, Micah McCracken

548, Kyra Zink 452, Connor Strehlow

(4 games) 746, Megan Bentham (4

games) 661.

At Cityview — Kelsea Johnson

145-425, Tyler Meeks 126-344, Justin

Beimler 246-646, Toby Jones 86-208,

Ashley Jones 40-94, Bethany Jones 25-

71, Joshua Gibbs 160-381, Blake George

189-424, Kimberly Sharp 119-337.

Area USBC

Youth Scores

Alex Sumruld led the Southwest-area

USBC youth bowling

last week with a big 219-195-177

= 591 Summer Generation Gap

series at Interstate Lanes.

Josh Belew, Sumruld's leaguemate,

paced the boys with a fine

157-156-212 = 525 Teen Match

Play set.

Other Southwest-area

scores:

At Interstate, Round Rock — Charlie

Buxton 175-505, Rachel Wise

158-420, Lukas Bielecki 167-471, Tatum

Holder 144-412, Zach Simon 158-458,

Laura Trimble 193-525, Thomas Ingram

165-426, Caitlin Hall 90-253.

Team: Division 1 — 1. Pride

and Joy, Dallas, 3412; 2. 1000

Oaks Split Rail, San Antonio,

3320; 3. LAB Rats, Austin, 3308.

Division 2 — 1. 5X, Red River,

3418; 2. Renea's Team, San Antonio,

3367; 3. Pearl of the Orient,

Beaumont, 3322. Division

3 – 1. Flying Pins, Dallas, 3479;

2. (tie) Multiple O's, Austin, Split

Fire, Lubbock, 3435; 2. Split Fire,

Lubbock, 3435. Division 4 — 1.

Pin Busters, Tyler, 3498; 2. The

Fabulous Five, Tyler, 3481; 3.

Clueless, Tyler, 3432. Division 5

— 1. Misfi ts, Beaumont, 3430, 2.

Lucky Ladies, Kingsville, 3386; 3.

Dolls With Balls, Odessa, 3373.

Doubles: Division 1 — 1.

Sarah Redding/Lori Thompson,

Houston, 1492; 2. Jody Puckett/Lisa

Lea, Fort Worth, 1438;

BOYS

Taylor Coggins, Brunswick Westcreek ................. 750

Matthew Korn, Plano .............................................. 711

Justin Beimler, Cityview Lanes ............................. 646

Bastian Kasunuran, AMF Showplace Garland ..... 639

Connor Strehlow, Brunswick Zone Watauga ........ 635

Randy Ashford, AMF Showplace Euless .............. 629

Major Whisenton Jr., AMF Showplace Euless ...... 629

Tyler Sims, Cowtown .............................................. 617

Jake Whitson, AMF Richardson ............................ 601

Dustin Mires, Red Bird........................................... 542

William Plagens, Rowlett Bowl-a-Rama ................ 541

Josh Belew, Interstate ........................................... 525

Nick Kennedy, Forum ............................................. 502

Daniel Castillo, USA Bowl ..................................... 255

GIRLS

Katie Tallent, Cowtown .......................................... 672

Alex Schmieg, Plano .............................................. 653

Makensie Martin, Red Bird .................................... 614

Kayla Lopez, Forum ............................................... 607

Alex Sumruld, Interstate ........................................ 591

Kristina Hill, AMF Showplace Euless .................... 571

Katelyn George, Brunswick Westcreek ................ 562

Mikala Kearns, USA Bowl ...................................... 520

Jordan Tucker, Brunswick Zone Watauga ............ 517

Ashley Hathaway, AMF Richardson ...................... 455

Darian Moore, AMF Showplace Garland .............. 434

Kelsea Johnson, Cityview Lanes .......................... 425

Toiya Smith, Rowlett Bowl-a-Rama ....................... 261

YOUTH TOURNAMENT SCHEDULE

June 12-July 18 — Texas State USBC Youth 2010 State Championship. Every

weekend, Armadilla I, Pasadena, TX, Team event; AMF Alpha

Bowl, Webster, TX Doubles, Singles. Entries close Mar. 15,

979-778-4351

July 3 — Junior Bowlers Southwest Area Tour (JBSWAT) with 2011 Jr. Gold

Qualifier. AMF Richardson. Check-in 12 noon, Bowl at 12:45 p.m.

Scratch and Handicap divisions. Entry fee $45. Call 972-821-8131

or visit www.jbswat.com.

July 10-16 — USBC Junior Gold Championships, Indianapolis, IN

July 17-19 — North Pointe High School Singles, Hindel Bowling Lanes,

Indianapolis, IN. Get entry forms at www.bpaa.com

July 29-31 — International Family Tournament, AMF Showplace Euless, Euless,

TX. Qualifying ends Mar. 13, 2010.

Aug. 7-8 — Grand Prix State Finals, Mel's Lone Star Lanes, Georgetown

If you have upcoming youth tournaments you would like listed

on the schedule, contact The Bowling News at 817-267-8686, fax:

(817-267-1813) or email: bowlingnews@sbcglobal.net.

73rd TSUSBC Women's

Championship Tournament

Standings as of June 13

3. Elaine Curry/Sherri Flannery,

Fort Worth, 1389. Division 2

— 1. Carmen Solis/Nora Solis,

Houston, 1416; 2. Mickie Archer/Linda

Madewell, Fort Worth,

1407; 3. Carola Vendetti/Linda

Wooldridge, Fort Worth, 1363.

Division 3 — 1. Marsha Dupree/

Bethany Dupree, San Antonio,

1,433; 2. Latasha Odstrcil/Linda

Aleman, Houston, 1433; 3. Sharon

Hon/Judi Wardrup, Mainland

USBC, 1427. Division 4 — 1.

Gwen Boone/Sue Rue, Mainland

USBC, 1437; 2. Sybil Smith/Delia

Segura, San Antonio, 1432; 3.

Jennifer McMillian/Sabrina Toler,

Tyler, 1418. Division 5 — 1. Natha

Dillon/Sharan Dillon, Montgomery

County, 1435; 2. Kristin Wilhelm/Crystal

Zerbe, Austin, 1432;

3. Lisl McClure/Cathy O'Higgins,

San Antonio, 1424.

Singles: Division 1 — 1.

Rebecca Lovorn, Austin, 785; 2.

Crystal Boutotte, Montgomery

County, 761; 3. Deb Jacobs, Dallas,

747. Division 2 — 1. Diane

Mann, Fort Worth, 766; 2. Jerene

Smith, Fort Worth, 750; 3. Latasha

Odstrcil, Houston, 747. Division 3

— 1. Jessica Gutierrez, Mainland

USBC, 797; 2. Stacey Bockhorn,

Brenham, 773; 3. Amy Starkovich,

Killeen-Ft. Hood, 766. Division 4

— 1. Linda Reyes, Austin, 785; 2.

Kim Castro, Dallas, 766; 3. Catherine

Determann, Montgomery

County, 762. Division 5 — 1. Jerin

Bryant, Kingsville, 793; 2. Adelia

Wimbish, Beeville, 781; 3. Linda

Martin, Dallas, 757.

All Events: Division 1

Continued on Page 13
---
Earl Anthony

Memorial Scholarship

recipients announced

Five students have been

selected to receive a United

States Bowling Congress Earl

Anthony Memorial Scholarship

based on their community

service and academic

achievements.

Each of the USBC bowlers

will receive a $5,000 scholarship.

Four of the recipients are

recent high school graduates,

while the other is a first-year

college student.

The scholarship recipients

are:

Jessica Ash, Corona, CA,

Angela Kaczowka,

Youngstown, OH,

Joanna Loewen, Wichita,

KS,

Joe Phillips, Fond du Lac,

WI,

Gregory Pizl II, Antigo,

WI.

Ash was valedictorian of the

class that recently graduated

from La Sierra High School.

Her volunteer activities include

working at an animal hospital

and a local elementary school.

In her application, Ash said

bowling has been a part of

her family from the time

her grandfather set pins as a

teenager.

The two most important

things I have learned from

bowling are how to be part

of a team and what my place

on that team is," Ash wrote.

"Though it may seem trivial,

this type of interaction helps to

prepare us for those which will

occur in college, in the work

place, and even in our own

personal lives."

Kaczowka, the valedictorian

Lane Laughter

of the 2010 Boardman High

School class, was a four-year

member of the bowling

team and a member of the

marching/concert band. She

said bowling has taught her

patience, good sportsmanship

and discipline.

"Bowling also has taught me

that you are allowed to have

bad days," Kaczowka wrote in

her application.

"Sometimes the pins just

don't fall the way you may

hope. This is a lesson that can

be applied to life."

A recent graduate of Wichita

High School North, Loewen

was the school newspaper's

editor and the National Honor

Society president. She volunteered

with Big Brothers/Big

Sisters and Bowl for Kids Sake.

A four-year member of the

bowling team, she recalled

how she started in the sport of

bowling just before her freshman

year and how she did not

get to bowl in many matches

early in her high school career.

"Each day I had to make

the choice to continue and not

let myself or my team down,"

Loewen said.

"Through pressing on, I

gained knowledge and skill in

the sport. A few years later, I

was able to help my team to

multiple match and tournament

wins."

Phillips was valedictorian

of the St. Mary's Springs High

School Class of 2010. In

addition to being a member of

the school's bowling team, he

was active in the Performing

Arts Club and concert chorus.

He had almost 1,700 hours of

community service during his

high school career, including

work at St. Agnes Hospital

and taking part in the Salvation

Army Operation Back To

School program that assisted

underprivileged children with

school supplies.

"I have always tried to make

service a priority in my life,"

Phillips said. "I have gained

valuable lessons from service

such as keeping my problems

in perspective as opposed to

others who are struggling for

the basics of life."

As a freshman at Viterbo

University during the 2009-10

school year, Pizl was named to

the National Collegiate Bowling

Coaches Association Academic

All-America Team. He is a

USBC Bronze coach and has

worked with Special Olympics

bowling events and clinics for

his local youth programs. He

has helped with fundraising for

the Langlade County Cancer

Center and the Boys and Girls

Club.

"Through bowling, I have

learned that with dedication,

research, preparation and

practice, success will follow,"

wrote Pizl in his application.

The Earl Anthony Memorial

Scholarships are presented in

honor of legendary bowling

professional Earl Anthony, one

of the great ambassadors of

the sport who was dedicated to

helping youth bowlers. A committee,

including Anthony's

THE BOWLING NEWS | Thursday, June 24, 2010 | Page 9

Sponsored by

Bowling Novelties at

bowlinggift.com

PRICE WINS

Continued from Page 1

third and fourth, respectively,

and each won $196 ($150, plus

$46 from the progressive Pot).

Other finalists were: 5-8.

Karen Hoyle, Brian Harston,

Pamila Jones, Gloria Llagas,

$120 each.

Other cashers included:

9. Donna Heishman, $90;

10. Barbara Nothnagel, $85;

11-13. Jeremiah LaRoe, Patricia

Shelton, Charles Millsap, $80

widow, Susie, and USBC staff,

determine the scholarship

winners.

To be considered for the

scholarship, applicants must

be enrolled in their senior year

of high school or attending

college as of May 1 in the year

in which they apply, be a USBC

member, have a minimum

grade-point average of 2.5

(based on a 4.0 scale), and

submit at least two letters of

reference.

each; 14-18. Katie Meneades,

Will Hopkins, Ron Ducote,

Jay Lucas, Cassie Norris, $75

each; 19-23. Thomas Mays, Vee

Avery, Frankie Garcia, George

Martinez, Mark Shepard, $70

each.

High Qualifier (no-tap)

Will Hopkins, $29; Frankie

Garcia, $5; Doc Payne, Ronnie

Allen, Ron Ducote.

High Pot Winners

Randy Price, $50; Brian

Harston, Karen Hoyle, $30

each; Donna Heishman, Will

Hopkins, Ronnie Allen, Doc

Payne, Frankie Garcia, Mark

Shepard, Thomas Mays, D.R.

Tullous Jr., $20 each; Lupe

Reyna, Lance Elliott, Michael

Counts, $10 each.

The Forum tournament had

99 entries with a total payout

of $5,163.

July 3, 2010

1:00 PM

Check-in starts at 12 PM

Sign-up at tournament—entries at 12:45 PM

AMF Richardson

2101 North Central Expressway, Richardson, TX

(972) 231-2695

Scratch & Handicap Divisions

Entry Fee: $45.00

This tournament is USBC certified

This tournament will be bowled on Sport Conditions

Optional 2011 Junior Gold Qualifier: $40.00

• 1 in 5 Qualify — Major fraction rule applied

• 6 games of qualifying will be used to determine JG qualifiers —SCRATCH

• Separate boys and girls divisions if we have at least 5 boys and 4 girls.

Handicap Division: 80% of 220. Highest 2009-2010 average listed on bowl.com will be used for competition. If no average,

current average of 9 games or more will be used. If no average listed on bowl.com you must bring proof of current average.

Bowlers who don't meet average requirements will only be allowed to bowl in scratch division.

Eligibility: All USBC Youth Welcome

Rules: All USBC Rules apply

Dress Code: No wearing of halter tops, tank tops, spaghetti straps or cut offs. The length of the shorts or skirts will be

governed by the following guideline: With your hands to your side. If your hands touch your flesh of your legs, the shorts/skirts

are too short. The length will be observed and enforced throughout the entire tournament. No obscene language, advertising of

drugs/alcohol will be allowed on clothing. Any decisions on dress code will be determined by tournament officials.

Contacts: Kristie Tan (972)821-8131 ktan@jbswat.com

Jave Tan (972)740-8123 jtan@jbswat.com

Come out and support JBSWAT—New SouthWest Region Tour Visit us @ www.jbswat.com
---
Page 10 | Thursday, June 24, 2010 | THE BOWLING NEWS

Kickoff the

League Season!

RENT-A-LANE

SPECIALS

SUNDAYS

9AM-11AM $18.00 PER HOUR

11AM-1 PM $20.00 PER HOUR

TUESDAYS

9AM-5PM $18.00 PER HOUR

INDIVIDUAL & COUPLES LEAGUE SPOTS

STILL AVAILABLE

ASK ABOUT OUR KIDS BIRTHDAY PARTIES

Family owned and Independently operated for 37 years

1114 S. Main

Duncanville

972-298-7143

fax: 972-709-5677

redbirdlanes@sbcglobal.net

Brunswick

Westcreek Lanes

3025 Altamesa Blvd., Fort Worth, TX 76133

817-294-0501

PIN POINTS

TO PONDER

By CHUCK PEZZANO

For the first time the official

Hall of Fame inductions of new

United States Bowling Congress

hall members were held

outdoors at the International

Bowling Campus in Arlington,

TX.

Some say the event was held

outside to keep the featured

honoree, Marshall Holman,

cool.

One one of the most controversial

bowlers on tour, he also

was hailed as one of the best,

among his 22 titles being two

PBA Tournaments of Champions

and a pair of U.S. Open

crowns as well as one of the

top 10 money winners for 11

seasons and Player of the Year

recognition.

All this came despite suspensions,

disagreements with

rules that at times kept him out

of action and competition that

pit him against Earl Anthony

and Mark Roth in the prime of

their glory days.

Holman quickly became

known as the Medford Meteor

after his home town in Oregon

and for his fiery and unpredict-

able actions. It is difficult to

determine if Holman was as

ill mannered as it seemed

or whether it was part of a

mind set and style guaranteed

to gain attention and upset

opponents.

The PBA Tour of Holman's

era was a far cry from later

years. Bowling was the new

kid pro sport on the rise with

TV ratings in the clouds, and

the sport took its role seriously.

The night before a live TV

final the qualifiers, usually

five, went through a rigorous

check list. They presented the

clothes they were going to

wear, slacks, shirts, even shoes

and socks. Bowlers had the

choice of colors based on their

qualifying finish.

In addition the PBA coordinator

checked to make sure

their head, sideburn and chin

hair were within the limits

formulated by PBA officials

and the players tournament

committee. Some of the rules

seemed so stringent, they

seemed silly but the sponsors

loved rigid standards.

At Brunswick Westcreek

Coggins blasts 750,

Shelton sizzles with 663

Youth bowler Taylor Coggins

pounded out a high-powered

220-263-267 = 750 Adult/Youth

series to take top honors on the

leader board for the week at

Brunswick Westcreek.

April Shelton headed the ladies'

honor roll with a robust

245-185-233 = 663 Sunday Mix

outing.

HONOR ROLL

Jonathan Redfield 277-689, Terri

Tharp 486, Tony Williams 218-562,

Kelli Lucas 118-302, David Neville

139-354, Brett Thomas 251-655, Coty

Carter 258-673, Amanda Dominguez

214-613.

Cameron Huey 199-394, Bethany

Conrad 200-527, Dan Conrad 530,

Monty Bowers 244-668, Ginny Martin

189-504, Gene Gaspar 266, Pat Currie

257, Don Thompson 287-695.

Luther Mayfield Jr. 144-345, Edgar

Allen 200-566, Luther Mayfield III

190-504, Nigra Burnett 186-508, Beverly

Butler 192-526, Daniel Burnett 202-531,

Mallory Owen 160-432.

Jeff Hamlin 229-595, Chuck Cox

223-634, Sheri Searle 96-269, Rob Searle

159-371, Ken Garber 230-572, Nick

Garcia 190-487, Robby Owen 155-429,

Nick Garcia 190-487.

At Red Bird

Billman books 694,

Martin mints 614

Rob Billman's rollicking 247-

215-232 = 694 Red Bird Men's

outing headed the honor roll for

the week at Red Bird Lanes.

Youth bowler Makensie Martin

rolled a solid 211-211-192 =

614 High Roller series to lead

the ladies.

RED BIRD HIGHS

Jimmie Parrish 175-488, Lauren

Daniel 207-553, Rob Billman 237-610,

Deanna Hoffman 205-535, Joseph Boner

267-622, Arthur Stangl 242-678.

Len Cline 215-617, Judy Dillabough

178-488, Chris Lopez 225-657, Erica

Ramsey 201-546, Robert Saunders

224-623, Lois Gibson 169-472, Larry

Martin 258-657.

Monica Diaz 134-385, Bradley

Robinson 245-690, Monica Diaz

176-479, Frank Bell 255-681, Annette

Bell 197-546, Florence Bates 138-383,

Lois Gibson 187-514, Jennifer Farrell

204-555.

So did TV producers and

directors who were amazed

when the biggest names in the

game agreed to almost any

request for special interviews

or instruction pieces.

But as time went on Guppy

Troup wore his tailor-made

pants, each leg a different color

and Ernie Schlegel came up

with his tux outfits, his custom

buttons and the hair grew

longer and from everywhere.

And Holman? Well, Holman

was Holman. He yelled.

He grimaced. He snarled. He

kicked at bowling devils only

he seemed to see and he bewildered

opponents and audiences

with bodily gestures that defied

definition but defined a new

style.

These days, Holman looks

back in amusement, creating

more discussion as to whether

he was the bad boy he seemed.

"I didn't know what I was

doing until after I did it,"

recalls Holman.

He hit bowling center walls

with his bowling hand more

than once or twice. His hand

lost every time. But he always

gave the fans a show beyond

the athletic talents displayed

by so many. In the ballot to

determine the 50 greatest pro

bowlers of all-time, he finished

ninth. His actions gave his

game and the pro game the

little extra to take some of the

robot like image to the human

level.

At 55 he made the USBC

Hall, 20 years after he made

the PBA Hall the first year he

was eligible. Where is Holman

now? He still lives in his home

area, does an outstanding job

as color man when TV bowling

shows give him a second look.

But his main enterprises

are the income tax preparation

franchises he and his wife

operate. Holman is the expert

at promotion and public relations

in an area where he is a

sports legend.

And who can argue his

expertise at numbers and skill

in gaining people's attention.

2010 PBA

SENIOR

SCHEDULE

Aug. 9-12

PBA Senior Lake County Indiana

Open

Olympia Lanes, Hammond, IN

Aug. 14-17

PBA Senior Decatur Open

Spare Time Lanes, Decatur, IL

Aug. 21-24

PBA Senior Jackson Open

Airport Lanes, Jackson, MI
---
10 YEARS AGO

Butch Soper captured his first PBA senior title in Seattle…

Tommy Crouch of Sweeney won the SASBA in Port Arthur…Rick

Lawrence won the PBA regional in Shawnee…John Tillotson

took his fourth NABI win at Jupiter…Tam Wasson cruised to a

794 at Plano…Sammye Ragland ripped Showplace Garland with

a 782…Michelle Feldman won the LBPT stop in Omaha…Jr.

bowler Michael Mayo led at Red Bird with a 729.

20 YEARS AGO

Dana Miller-Mackie won her second US Open in Michigan…

Butch Calvert dropped a 695 at Triangle Lewisville…Kari Weems

was the NTTB winner at Heart…Bo Bowden and Gregg Cathey

won the Memorial Doubles at Triangle Irving…Kris Doyle had

a 701 at Blazer…Roger Fikes led at Ridglea with a 663…Janet

Wright was tops at Spare Time with a 566…Sandra Jo Shiery

won the LPBT Ebonite Open…Larry Bilbrey was named DBA

president.

30 YEARS AGO

David Albright was out front at Preston Forest with a

606…Bobby Long chilled Big Town with a 707…John Martin

came in with a 683 at Bronco…Archie Tepfer registered a 642

at Forum…Tommy Hudson and Pete Couture won the National

Doubles…Holly Ginn burned FW All Star with a 673…Johnny

Main socked Hart Bowl with a 762…Floyd Green was the TTBA

winner at Cotton Palace.

2009-10 PBA REGIONAL SCHEDULE

July 16-18

PBA Southwest/Midwest Region

Jonesboro Super Regional,

Jonesboro, Arkansas

August 20-22

PBA Southwest Region Killeen

Open, Killeen, TX

August 27-29

PBA Southwest Region Greenville

Open, Greenville, TX

September 4-6

PBA Southwest Region Carol

'Stormin' Norman Pro Shop U

Can Bowl 2 Del Mar Lanes Open,

Houston, TX

September 17-19

PBA Southwest Region Young &

Pratt Austin Open, Austin, TX

September 24-26

PBA Southwest Region Fort Smith

Open, Fort Smith, AR

September 24-26

PBA Southwest Region Fort Smith

Senior Open, Fort Smith, AR

At AMF Showplace Euless

Marchello rounds up 778,

Parish plasters 746

Mittag, Sapp 300 games

Vince Marchello racked up a

rousing 279-224-275 = 778 Full

House league session to earn

the top spot on the honor roll

last week at AMF Showplace

Euless.

Ryan Mittag and Dan Sapp

shared high-game honors as

each recorded award-winning

perfectos.

Miki Jo Parish, compiled a

thundering 223-245-278 = 746

Tuesday Trios session to lead the

ladies' high-set race.

HONOR ROLL

Dan Sapp 300-756, Josh Mittl

268-717, Don Pontecorvo 266-716,

THE BOWLING NEWS | Thursday, June 24, 2010 | Page 11

Dan Sprinkle 268-688, Carl Spencer

278-680, Mike Cranfill 268-675, Jordan

Vanover 226-637.

John Sholar Sr. 234-628, Dale Gann

214-622, Clint Barton 228-609, Yolanda

Garrett 236-658, Demetrya Wilson

224-617, Melissa Lewis 223-614.

Terri Homme 216-595, Anna Jutson

215-591, Chelsea Herrera 193-551,

Karen Reeves 201-549, Rica Velasquez

198-542, Carla Kilgore 224-534, Jo Russell

206-532, Barbara Seely 194-492.

SENIORS

Hoss Morgan 216-604, Al Mayfield

214-581, Shala Allen 179-494, Mary

Poorman 171-474.

At Brunswick Zone Watauga

Bolejack lights up 770,

Patzer pockets 672

Haydel aces 300 game

Jonathan Bolejack's chart-topping

770 Thursday Mixed series

took top billing on the honor roll

for the week at Brunswick Zone

Watauga.

Kris Haydel claimed highgame

honors with an award-winning

12-bagger.

Ginnette Patzer headed the

ladies' leader board with an outstanding

672 Mix It Up series.

OTHER HIGH SCORES

Ginnette Patzer 257, Derrick Lott

767, Christina Tucker 606, Mike Cepeda

703, Reanne Kaesberger 619, Tommy

Winchester 614, Lisa Groschup 445.

Derrick Lott 711, Sherry Holloway

527, Brandy Boylan 527, Wayne Holt

609, Jerry Kelly 712, Laura McIntosh

580, Lisa Head 547, Fred Gonzales 736,

Debbie Fridley 532.

Chris Hibbitts (PBA Experience,

SAVOIE TAKES OVER

Continued from Page 1

season, but did not seek the

presidency this year

The executive board ran

the tournament last season.

Most of the work for the year

had been taken care of prior

to Cramer's death. Director

Charles Tanner and Savoie ran

the tournaments last season.

Tanner said the new season

will start July 8.

4 games) 934, Sarah Hibbitts (PBA

Experience, 4 games) 709, Randy

Demuth 658, Margaret Hull 542, Ross

Dicapo 730, Julie McHugh 589.

SENIORS

Eddy Smith 604, Dot Rotruck 489,

Chuck Rotruck 648, Ginnette Patzer

600.

SPOTLIGHT

Continued from Page 3

High Pot with a Twist league? It

is 198.

What is your all-time high

average? 211.

How long have you been

bowling? I started bowling

when I was nine in Torrance,

CA. I stopped for about seven

years, got married, needed

something to do so I started

bowling again. My two girls

also bowled but found that it

took up their Saturdays, so

now they just bowl for fun.

Most memorable bowling

moment? When I shot my high

game of 298 in 2008, I had the

first 11 strikes but didn't get

the 300.

How many leagues do you

bowl? I bowl in two leagues

and then sub in another on

occasion. I really like to bowl,

it can be more work than fun,

but I enjoy it.

Other thoughts on the big

night? I had to change balls due

to the ball I normally use had

a flat spot in it, so I ended up

having to throw the HP. Since

then, everything has been

going good.

Terri's tip of the week: Don't

get frustrated, it's just a game!

Have fun while you're doing it,

it's easy to get frustrated when

things aren't going right, but

just have fun.

Mike Scalf

This week's high man was

Mike Scalf. Mike posted a

239-247-300 = 786 Sportsman's

Trio series at Plano Super Bowl.

We were unable to get a phone

number for Mike to interview

him for the Spotlight.

Bowl Your

Head Off

Sunday through Thursday

9 PM to Close

$2.29 + tax per Game per Person

$1.00 Each Shoe Rental, Small

Popcorn, Hot Dog and Small Soda

plus Draft Beer Specials!

Watauga

7301 Rufe Snow Drive, Watauga, TX 76148

817-485-2695
---
Page 12 | Thursday, June 24, 2010 | THE BOWLING NEWS

WEBB TAKES USBC

Continued from Page 1

"I knew I had to bowl really

good to beat Walter and

fortunately for me, when I hit

the pocket, I was striking. So

that helps."

The win gave Webb his

third career Senior PBA Tour

major title, having also won

the Senior U.S. Open in 2008

and 2009. He also won the

PBA Senior Columbus Open in

April.

"This means everything

to me, just like winning the

Senior U.S. Open," said Webb,

who also has 20 PBA national

titles to his credit. "I hadn't

won the U.S. Open on the

national tour, but I'd come

in second. I never won the

Masters, but I had finished

fourth. Now I've won all the

majors on the Senior Tour, and

it feels great."

For Williams, the loss to

Webb was the end of a long

string of victories. Williams

started the double-elimination

match-play bracket with a

first-round loss to Hugh Miller,

but bounced back to win 10

consecutive matches in the losers

bracket. Williams reached

the championship match by

defeating top qualifier Peter

Knopp of Bremen, Germany,

Do You Remember?

696-539.

After leading the tournament

in qualifying, Knopp

ended up third in the event. He

dropped to the losers bracket

with a 613-551 loss to Webb

after winning five consecutive

matches in the winners

bracket.

Kenny Parks of Hammond,

IN, the 2008 Senior Masters

champion, finished fourth after

losing to Williams, 679-634.

The 2010 USBC Senior

Masters attracted a field of

298 of the top professional and

amateur bowlers ages 50 and

older.

For more information on

the USBC Senior Masters, visit

BOWL.com.

Championship Match – Williams,

$8,000.

Round 10 Losers – Knopp,

$6,000.

Round 9 Losers – Kenny

Parks, $4,600.

Round 8 Losers – Pete

McCordic, Katy, TX, Henry

Gonzalez, Colorado Springs,

CO, $3,500 each.

Round 7 Losers – Marc Lineberry,

Camanche, IA, Robert

Harvey, Boise, ID, $2,500 each.

Round 6 Losers – Mike Eias,

Lafayette, CO, Ross Packard,

San Jose, CA, Marv Sargent,

Temecula, CA, Kent Wagner,

Palmetto, FL, $1,900 each.

Round 5 Losers – Hugh

Miller, Mercer Island, WA, Bo

Goergen, Sanford, MI, Dale

Traber, Cedarburg, WI, Michael

Karch, Edgewood, WA, $1,500

each.

Round 4 Losers – Harry

Sullins, Chesterfield, MI,

Charlie Tapp, Portage, MI,

Christopher Keane, New City,

NY, Joe Salvemini, Las Vegas,

NV, Dave Soutar, Bradenton,

FL, Les Shirwindt, Las Vegas,

NV, Roger Kossert, Lithia, FL,

David Eatmon, Ferndale, MI,

$1,300 each.

Round 3 Losers – Gary

Hiday, Indianapolis, IN, Dick

Baker, Las Vegas, NV, Barry

Gurney, West Hills, CA, Dave

Sill, Rockledge, FL, Mark Williams,

Beaumont, TX, Bob

Purzycki, Las Vegas, NV,

Cliff Connors, Tempe, AZ, Gary

Bessette, Summerdale, AL,

$1,100 each.

Round 2 Losers – Anthony

Myers, Pensacola, FL, John

Dudak, Orland Park, IL,

Samuel Perrotta, Lincoln Park,

NJ, Gary Morgan, Marietta, GA,

Ron Winger, Las Vegas, Brian

Brazeau, Ocala, FL, Robert

Faragon, Schenectady, NY, Gary

Dickinson, Edmond, OK, Howie

Partell, Las Vegas, NV, Marc

Scherlis, Littleton, CO, Darryl

Bower, Middletown, PA, Keith

Kolozsi, Las Vegas, NV, Donald

Breihan, Columbia, SC, Tom

Baker, King, NC, Rohn Morton,

Portland, OR, Paul McCordic,

Sugarland, TX, $1,000 each.

Round 1 Losers – Ted Staikoff,

Black Hawk, SD, Bobby

Johnson, Chillicothe, OH, Clark

Poelzer, Arden Hills, MN, Jim

Murtishaw, Menifee, CA, Brad

Snell, Mount Prospect, IL, Dean

Jones, San Marcos, TX, Warren

Blankenship, Ardmore, OK,

Bob Handley, Winter Park, FL,

Vince Honeycutt, Buford, GA,

John Di Santis, Wilmington,

DE, Darwin Wilmer, Mesquite,

NV, John Chapman, Canada,

Greg Shields, Independence,

MO, Noel Vazquez, Sacramento,

CA, Don Fowler, Overland

Park, KSPhillip Karwoski Sr.,

South Hadley MA, $950 each.

MURRELL STEPS DOWN

Continued from Page 1

the rest of the AMF team, will

certainly miss her and wish

her the very best."

Murrell said Donnie told her

there would always be a job

for her at Hurst. She said she

would not rule out a return

But her priorities right now

include getting her health

problems straightened out and

getting her home in order.

She said husband Lee, who is

retired, has been doing a fine

job with cooking and other

chores but not in cleaning up."

As far as her health is

concerned, Joy said the doctors

are doing some nuclear testing

on her.

Murrell has had some other

health woes. She broke a hip

four years ago and injured her

hand two months ago. She is

not bowling well, but is still

STEFANIE NATION

Continued from Page 1

competing full time on the

PBA Women's Series, as well

as, multiple other women's and

even men's events throughout

the year.

This new position will

require even more of her time

with travel to ensure the success

of many BPAA and USBC

run events.

"My long term goal is

to increase awareness and

participation of these events,

along with the potential of

developing more in the future,"

said Nation. "I am looking

forward to the opportunity to

be involved within the industry

and be able to be in touch with

our members one on one."

Stefanie got her start into

the sport at age six when her

parents signed her and her

brother Keith up for Saturday

morning youth leagues.

It was more of a hobby for

her as she grew up as she was

more involved with sports

like volleyball, basketball and

cross country. It wasn't until

her high school years when

she began to get much more

serious into bowling when at

age 15, she made Junior Team

USA for her first time.

"When I went to Junior

Gold in 1999 and made Junior

Team USA at 15, it was at that

moment I was hooked," Nation

said of her first big moment. "I

had a taste of what elite junior

bowling was all about and

from that point I never looked

back."

Like so many young bowlers,

she worked at a local

bowling center as she grew

up, and spent countless hours

after work practicing game

after game on different things,

working to get better.

She knew it would take a lot

of time and hard work to get

to the top of the sport amongst

the best where she wanted

to be and was willing and

motivated to do all it took.

"I started seeing results

after I started winning events

at the local and state levels and

trying.

"I will bowl as long as I can

stand up," she said.

She said she had always

tried to make Hurst a familyoriented

center. She knows her

bowlers by first names.

She also knows the shoe

sizes for many of them who

are always impressed with her

warmth.

On June 25 from 4 to 7 p.m.

friends, family, employees,

former employees and past and

present bowlers are invited to

attend an open house to wish

Joy well and reminisce about

the past.

that kept me hungry for more,"

said Nation.

As a member of the bowling

team at the University of

Central Florida, Nation was a

four-year standout, capping

those years off as a 2006 All-

American. She used her time

at UCF to fully prepare her for

where she is at today, both as a

successful professional bowler

as well as with the USBC and

BPAA.

"I've been fortunate to have

gone to school and obtain a

bachelors and masters degree

and have made a decision that

at this point in my life, I can

give back to bowling in a different

way aside from actually

competing, hence my excitement

for this new position,"

said Nation about her time at

Central Florida.

It was all those times growing

up that prepared Nation for

her years competing amongst

the best women bowlers in the

world on the PBA Women's

Series.

She wasted no time proving

that she belonged out

there when she won her first

title at the 2008 Pepsi Viper

Championship over Michelle

Feldman. Being her first

experience on live TV, she was

understandably very nervous,

but composed herself quite well

to capture the title.

"My mom and brother were

in the audience so that was

very comforting to know," she

said of being on TV.

"Before I knew it I blinked

and we were in the 10th frame

and I knew I had won title. I

was overwhelmed with emotion

and I couldn't hold back

the tears. It was very special

that my Grandma got to see

me win before she passed,"

she added. "She was always so

proud of me and I know even

now she's still watching."

After adding a second title

at the 2010 Early Anthony

Memorial Classic, which also

earned her a spot on the season

ending PBA Women's Series

Showdown, where she finished

third, it was announced that

the PBA would not continue

the Women's Series as part

of the many changes, leaving

the future as a professional

for Nation and other women's

professionals very uncertain.

"The future of women's

bowling is definitely uncertain,

but we can always be hopeful,"

she said on future women's

professional bowling.

In the mean time she will

keep herself busy with her new

position with BPAA, as well

as other things not related to

bowling.

She's currently training to

compete in a triathlon this July

with fellow Women's Series

competitor Shannon O'Keefe, as

well as playing in a volleyball

league, and just spending some

much deserved time relaxing

with friends at home in Texas.

If and when women's pro

bowling gets going again, look

for Nation to be right there

competing again as one of the

very best.
---
Murray captures 8-Game

Scratch Tournament at

Cowtown Bowling Palace

Aaron Murray won the 8-

Game Scratch Tournament held

June 13 at Cowtown Bowling

Palace.

Murray averaged 238.6 for

the eight games and claimed

$700 for his victory.

Rick Lawrence finished just

seven pins behind Murray for

second-place and cashed for

$400.

Other cashers were: 3.

Amanda Beck, $320; 4. Bam

Pride, $240; 5. Rudy Garcia Jr.

$160; 6. Blaine Adkins, $100.

Joe LeCroy was the high

senior non-cash bowler and

received $100.

The June tournament

showed 32 entries. The next

tournament is scheduled for

Sunday, July 18.

78th Texas State USBC Open

Tournament

As of June 13

TEAM EVENT

Division 1 — 1. Bowl El Paso

#1, El Paso, 3445; 2. Strize Zone

Pro Shop, Fort Worth, 3382; 3.

Red White Blue I, Fort Worth,

3380.

Division 2 — 1. Tuff-E-Nuff,

South Brazoria County, 3274; 2.

Rampage, Houston, 3150; 3. Alley

Cats, Dallas, 3123.

Division 3 — 1. Boerne Kegel

Meisters, San Antonio, 3155; 2.

Deez Fluffy Nutz, Houston, 3040;

3. Express, Dallas, 3020.

Division 4 — 1. The Odd Balls,

Mainland USBC, 3068; 2. Strike

Force, Kingsville, 2906; 3. Mixed

Up, Killeen-Ft. Hood, 2876.

Division 5 — 1. Old and Young,

Abilene, 2751; 2. Here and There,

Abilene, 2685; 3. SUDOCO, Inc.,

Scurry County, 2656.

DOUBLES

Division 1 — 1. Patrick Adams/

Steve Graeve, Fort Worth, 1565;

2. Michael Walters/Marcus Williams,

Fort Worth, 1504; 3. Lewis

Apperson/Steve Burns, Denton

County, 1503.

Division 2 — 1. Gerald Dewberry/William

Allen, Dallas, 1503;

2. Gary Brenner/Geoffrey Bond,

Houston, 1408; 3. Terence Arceneaux/John

Arceneaux, Houston,

1388.

Division 3 — 1. Kevin Barnes/

Jerry House, Dallas, 1,338; 2.

James Johnson/Brett Hale,

Brazos Valley, 1320; 3. Gerald

Brooks/Lindy Conner, Kingsville,

1312.

Division 4 — 1. Rodney Malin/

John Zapalac, Kingsville, 1369; 2.

Nanette Fox/Michael Richardson,

Cameron County, 1295; 3. Rudy

Jimenez/Rolando Jimenez, Cameron

County, 1285.

Division 5 — 1. Jason Page/

David Evans, Polk County,

1196; 2. Rocky Strange/Michael

Kelley, Baytown, 1166; 3. William

Smith Jr./Ed Cantrell, Bowie

County, 1159.

SINGLES

Division 1 — 1. Dino Castillo,

Dallas, 845; 2. William Haverland,

Dallas, 806; 3. Tyson Branangan,

Dallas, 803.

Division 2 — 1. Leo Stanley,

Fort Worth, 770; 2. Johnny Morton,

Montgomery County, 759; 3.

Lindy Conner, Kingsville, 731.

Division 3 — 1. Harry Griffi n,

Dallas, 770; 2. Larry Jones, Houston,

749; 3. Joseph Solida, Bowie

County, 736.

Division 4 — 1. Reginald Chevalier,

Houston, 724; 2. Vincent

Newton, Brownwood, 723; 3.

Charles Laird, Abilene, 712.

Division 5 — 1. (tie) Monty

Bryant, Kingsville, Tara Light, San

Antonio, 678; 3. Russell Carr, San

Angelo, 665.

ALL EVENTS

Division 1 — 1. Chris Johnson,

Fort Worth, 2260; 2. Jeff Pahl,

Austin, 2248; 3. Merv Parrish,

Houston, 2221.

Division 2 — 1. Lindy Conner,

Kingsville, 2079; 2. Roger

Schoiber, Houston, 2075; 3. Leo

Stanley, Fort Worth, 2068.

Division 3 — 1. Kris Dosser,

Abilene, 2089; 2. Randy Moran,

Waco, 2088; 3. Kevin Turner,

Houston, 2083.

Division 4 — 1. John Zapalac,

Kingsville, 1956; 2. Alex Hermosillo,

Abilene, 1882; 3. Rudy

Jimenez, Cameron County, 1877.

Division 5 — 1. Brett Hale,

Brazos Valley, 1828; 2. (tie) Jimmy

Jenkins, Dallas, 1784, Jeremy

Dawson, Houston, 1784.

(New scores in bold)

It's time to be

thinking about

Summer Leagues

Call or check with your local center now to sign up

At Cowtown

Spotanski produces 783,

Tallant polishes off 672

Wallace aces 300 game

Jason Spotanski wrapped up

the top score last week at Cowtown

Bowling Palace by firing

a power-packed 279/783 Ladies

and Gents session.

Brian Wallace nailed down

high-game honors with an awardwinning

12-bagger.

Youth bowler Katie Tallant

lit up the ladies' high-set board

with a sky-high 236/672 Generation

Gap set.

THE BOWLING NEWS | Thursday, June 24, 2010 | Page 13

COWTOWN HIGHS

Bill Ritsch 232-628, Marchell Cross

190-540, Randy Cross Sr. 233-618,

Tony Schronce 262-715, Rachel Cantu

191-496, Ryan burns 237-656, Ryan

Keplant 236-562, Jamie Brooks 671,

Sal Grieco 268-699.

Jim Safey 258-664, Amy Hart 257-

622, Gustavo Leon 278-676, Earline

Cobb 209, Darrell Hart 269-696,

Luann Satchell 544, Ramiro Botello

Jr. 248-715, Melissa Tice 233-631, Onil

At AMF Hurst

Sheppard delivers 687

Juetten nails 300 game

Cody Sheppard's rollicking

246-183-258 = 687 Crazy Doubles

series earned the top spot

BUTCH LIVES FOR

Continued from Page 1

now."

Why the love of bowling?

"It's been my life," he said.

"I just like it. "It's something I

am good at and it's nice to get

the respect of the guys I bowl

with."

Fifteen or so years ago,

Calvert gave the PBA a short

whirl. He, Bob Benoit, Ken

Johnson, Robert Lawrence and

Jimmy Thompson traveled

together. Calvert cashed a little

but not for much.

As an amateur, he did win a

regional in Roswell.

"I think I was the first

amateur to win one," he said.

He has finished well in

some other big-money events.

He won $15,000 in the Texas

State Scratch event in San

Antonio, and also won $10,000

in the Memorial Classic at

Showplace Euless.

Calvert said he thought he

would clean up after becoming

eligible for SASBA.

"I found out that those guys

are good," he said. "They can

really bowl.

He has won only once, but

hopes to do better soon. He has

had five seconds.

He has been bowling in

SASBA, his favorite competition,

for 11 years. He and Mike

Lynch make many of the trips

together.

Calvert doesn't like the way

bowling is going. He feels it is

getting too easy with the new

balls and conditions.

"It used to be something

when you bowled a 300," he

said. "Now everybody is throwing

them, It is no big deal."

"Bowlers who used to average

195 are now carrying 215."

on the honor roll for the week

at AMF Hurst.

Don Juetten nailed down

high-game honors with an awardwinning

perfecto.

Sandy Robertson rolled a nice

204/521 Livewires Jr.'s set to pace

the ladies.

OTHER SCORES

Martin Schellinger 213-563, Linda

Neal 170-465, Charles Newton 245-648,

Nancy Story 495, Tricia Juetten 189-

368, Joe Laehr 256-670, Kris Dennis

243-641, Diana Davis 168-473.

NO TAP

DOUBLES

T O U R N A M E N T

July 3rd & 4th

Squads at 12, 2 & 4 Each Day

Entry Fee: $20 per person

Pay-off 1:5

Handicap 90% of 210

For more information contact Tony Schronce or Jamie Brooks

817-624-2151

Llagas 235.

Pam Candler 228-612, Ben Griffin

Sr. 638, Joe LeCroy 278-782, Blane

Adkin 276-716, Frank Stone Sr. 264-726,

Clayton Morris 233-586, Jessica Cantu

203, Ronnie Medearis 212-598.

Brian Wallace 279-771, Jamie

Hines 255-663, Darrell Hart 670,

Amy Hart 224-640, Kelly Hooper 247,

Donna Barnes 215-579, Brian Wallace

300-711, Amy Hart 224-618, Darrell

Hart 247-715.

Tammy Sitton 193-500, Bobby

Shaw 223, David Pruitt 248-616, Nina

Marcum 195-527, Harry Myers 245-643,

John Gallant 237-630, Michael Johnson

235-621, Keith Grassmuck 235-620.

SENIORS

William Odom 217-591, Johnnie

Palmeiro 200-576, Rusty Carter 211-

560, Wanda Eads 534, Tony Schronce

267-645, Alice Phillips 222-565, John

Hunt 237-646, Larrie Boyett 514, John

Willis 212, Millie Griggs 214.

73RD TSUSBC WOMEN'S

Continued from Page 8

— 1. Lori Thompson, Houston,

2197; 2. Bethany Dupree, San

Antonio, 2189; 3. Christine Daniels,

Fort Worth, 2188. Division

2 — 1. Misty Kaiser, Tyler, 2238;

2. Carri Lee, Victoria, 2134; 3. Tracye

Chovanec, Fort Worth, 2128.

Division 3 — 1. Sally Weatherly,

Killeen-Ft. Hood, 2217; 2. Jessica

Gutierrez, Mainland USBC, 2200;

3. Judi Wardrup, Mainland USBC,

2182. Division 4 — 1. Kim Clements,

Lubbock, 2159; 2. Linda

Noe, Killeen-Ft. Hood, 2150; 3.

Stephanie Garcia, Highland Lakes,

2137. Division 5 — 1. Mycha

Combs, Waco, 2320; 2. Carolyn

Wight, Alvin-Pearland, 2217; 3.

Janice Horton, Odessa, 2210.

(New scores in bold)

4333 River Oaks Blvd., Fort Worth, TX 76114
---
Page 14 | Thursday, June 24, 2010 | THE BOWLING NEWS

BOWLER FRIENDLY PRO SHOPS & OTHER SERVICES

JAMES ASKINS

Owner

LEO ERNE

JORDAN VANOVER

MATT HOYT

BRETT BOLEJACK

INSIDE AMF SHOWPLACE LANES

1901 W. Airport Freeway

Euless, TX 76040

(817) 571-1174

INSIDE COWTOWN LANES

4333 River Oaks Blvd.

Fort Worth, TX 76114

CITYVIEW

LANES

6601 Oakmont Blvd.

Fort Worth, TX 76132

817-263-1935

RON WILLIAMS

Owner / Operator

PBA Member

HOURS: Monday–Friday 1–9, Saturday 1–7

Two Locations

AMF SPARETIME

LANES

3149 S. Cooper

Arlington, TX 76015

817-419-3236

Fastrack Pro Shop

Located Inside Allen Bowl

1011 S. Greenville Ave

Allen, Texas 75002

Phone: 214-509-9274

E-mail: coachkg58@yahoo.com

www.fastrackproshop.com

Kurt Gengelbach, Owner

Member, Professional Bowlers Association

Member, Storm and Turbo Advisory Staffs

Private Instructions Available

"Old School" Service Always Available

Coach's Eye International

WILLIAM E. "BILL" LISH

5000 Main Street, Suite 138

The Colony, TX 75056

972.624.5263

coachlish334@yahoo.com

(817) 624-2151 Fax: 817-370-1831

Plan to win or wait to fail

INSIDE ROWLETT BOWL-A-RAMA

YOUR NEIGHBORHOOD

PRO SHOP

GEOFF MARTIN

pro shop manager

5021 Lakeview Parkway

Rowlett, TX 75088-411

(972) 475-7080

Working Hard

for Your Success

PRO SHOP

1114 S. Main

Duncanville, Texas

Phone 972-298-7143

Jeff Cathey, Manager

Susie Minshew

USA Bowling

Coach of the Year

(800) 346-3648

FAX 817-783-6010

strikeability@gmail.com

www.strikeability.com

Giving You The Power To Perform

8216 Dot Hudson Road, Alvarado, Texas 76009

OTIS PILLOW

BALLS BAGS SHOES

AMF HURST LANES

720 W. PIPELINE RD.

HURST, TX 76053

817-282-2401

www.pillowproshop.com

otis@pillowproshop.com

billy@pillowproshop.com

Pro-Staff providing all your bowling equipment needs!

PEOPLE'S PRO SHOP

–

Inside

2521 Avenue K, Plano TX 75074

972-881-0242

Carolyn Dorin-Ballard & Del Ballard, Owners

Brett Cooper Maury Newman

Derrick Lott Chad Veneville

Located inside

Brunswick Zone Watauga

7301 Rufe Snow

Watauga, Tx 76148

Phone: 817-485-2695

Largest Bowling Service Provider In The DFW Area

www.thebowlingshops.com

NEW

LOCATION!

Lessons available by appointment

AMF Lewisville

Manager

Tyson Branagan

972-436-6575

Dino Castillo

Owner

Located inside

Brunswick Zone Denton

2200 San Jacinto Blvd.

Denton, TX 76205

Phone: 940-383-3515

AMF Showplace Garland

Manager

Chris Castro

972-613-8100

AMF Richardson

Manager

Chad Newman

972-231-2695
---
Kent and Walton win

T.G.I.F. Mixed Doubles at

AMF DeSoto

Wendy Kent and James

Walton teamed up to win the

T.G.I.F. Mixed Doubles handicap

tournament at AMF DeSoto

Lanes.

The duo won $475 for the

1367 score.

Kirsten Foley and Chuck

Anderson Jr. took second place

BOWLER FRIENDLY

PRO SHOPS & SERVICES

Carry More

Pro Shop

Located inside Strikz Family Entertainment Center

and $300 with their 1347 score.

Sheila Wilcoxer and Lynn

Broadway finished third with a

1309 score and won $150.

The tournament had 16

team entries.

The next tournaments are

scheduled for June 25, July 9

and July 23.

At Plano Super Bowl

Scalf plasters 786,

Jernigan strokes 679

Neil adds 300 game

Mike Scalf, from the Sportsman's

Trio group, pocketed

power laden 239-247-300 = 786

numbers en route to earning

high-set honors for the week at

Plano Super Bowl.

Danny Neil shared high-game

honors with Scalf as both recorded

award-winning perfectos.

Barbara Jernigan registered

a sizzling 241-225-213 = 679

Friday 4-Some set to front distaff

scoring.

PLANO HIGHS

Russell Walker 236-653, Debby

Ouilicky 234-650, Bob Senking 178-353,

Carol Shinoda 165-294, Danny Neil

290-774, Dawn Klapper 200-557, Bob

Pearce 234-671, Jaclyn Clark 190-501.

Ronnie Rhodes 278-733, Linda

Maeder 209-563, Jackie Fisher 223-582,

Mark Thompson 267-738, Brenda Buchanan

245-636, Bob Senking 202-352,

Nancy Daniels 137-269, Rich Souddress

278-736, Nicki Souddress 189-490.

Joe Findling 261-656, Melissa Car-

illo 186-500, Brenda Kindrick 241-532,

Patty Ellington 185-523, Randy Hiam

267-726, Tony Iovinelli 270-682, Buck

Bulgereit 215-586, Rosemary Lynch

165-456, Mark Plagens 268-749.

Kelly Murray 242-619, Will Benson

280-697, Cathy Powell 202-528,

Jeremiah Johnson 255-638, Diane

Wallentine 215-578, Ed Blevins 255-

724, Palma Madonna 194-495, Jake

McKewin 253-703.

Barbara Jernigan 205-552, Mark

Grimes (4 games) 269-972, Karleen

Reynolds (4 games) 232-850, Bill

Allen 265-700, Kevin Hiam 266-738,

Cindy Mann 218-563, Darrell Odie

288-716, Michelle VanGilder 227-595,

Jimmy Land 257-716, Penny Pedersen

211-536.

Mike Gumpert

Owner

www.carrymoreproshop.com

214-9234823

8789 Lebanon Road

Frisco, TX 75034

THIS SPACE

FOR RENT

At AMF Showplace Garland

Rash registers 772,

Castro collects 701

Freeman adds 298 game

Thomas Rash won the highset

contest last week at AMF

Showplace Garland after tossing

a top-notch 278-247-247 = 772

Follies series.

William Freeman's 298 solo

earned high-game honors.

Tonjah Castro posted a skyhigh

257-196-248 = 701 Money

Changers set to lead the lady

bowlers.

LEAGUE LEADERS

William Freeman 298-744, Timothy

THE BOWLING NEWS | Thursday, June 24, 2010 | Page 15

Crowe 247-670, Ashley Goss 190-544,

Kathy Hopkins 222-614, Mark Almon

253-623, Carmen Houser 159-425,

Harold Simmons 230-649.

Judy Parker 194-567, Russell Parks

259-717, Ann Kunkle 215-541, Rex

Adams 209-567, Tori Hilz 213-534, Ed

Dooley 196-555, Joan Dooley 160-409,

Bill Hendricks 202-543.

Ursula Kundl 177-487, Pat Pentino

279-714, Linda Chambers 235-664,

Robert Hutchinson 235-621, Bertha

Sanchez 216-529, Robert Dean Moss

213-635, Evelyn Anders 184-544.

Bo Bowden 267-735, Tonjah Castro

247-694, Dorsey Williams 258-752,

Helga Lumsden 193-565, Harold

Hamsher 215-593, Angel Chambers

218-599, Linda Chambers 202-594,

Jason Price 259-757.

EBONITE SASBA TOUR

2010 SCHEDULE

Cancelled Bandera Super Bowl (4 Person Mixed) San Antonio, TX

July 3-5 Plano Super Bowl (Firecracker) Plano, TX

July 10-11 Holiday Lanes (Over 67/Over 60/Over 50 Trio) Oklahoma City, OK

July 24-25** Cityview (Non-champs Singles) Fort Worth, TX

July 31-Aug. 1 Copperfi eld (Singles) Houston, TX

Aug. 7-8 Diamond Lanes (Over 60/Over 50/Guest Trio) Odessa, TX

Aug. 21-22 300 Bowl (Singles) Conroe, TX

Aug. 28-29 All Star Lanes (Singles) Shreveport, LA

Sept. 4-5 Holiday Lanes (Labor Day Blowout) Oklahoma City, OK

Sept. 18-19 All Star Lanes (Member/Guest Doubles) Shreveport, LA

Sept. 25-26 Plano Super Bowl, (Over 70/Over 60 Dbls.) Plano, TX

Oct. 2-3** AMF Showplace Euless (Annual Championship) Euless, TX

Oct. 16-17 Oil Bowl (Member/Guest Doubles) Longview, TX

Nov. 6-7 Plano Super Bowl (4-man Team) Plano, TX

Nov. 13-14 Del Mar Lanes (Singles) Houston, TX
---
Page 16 | Thursday, June 24, 2010 | THE BOWLING NEWS

I would like to start off by

saying that I am certainly no

expert on the rough seas. As a

matter of fact I am not comfortable

getting into the ocean on a

beach without a life jacket.

However, I am having a

really hard time understanding

how parents can let their 16year-old

daughter sail around

the world by herself.

If you have not heard the

story, a 16 year old girl from

California was attempting

to sail around the world by

herself when her sail boat ran

into problems in extremely

high seas and forced her to call

for help.

It took almost two days to

get to her, but finally they were

able to rescue her.

As fortunate as they were to

not lose their daughter, I can't

for the life of me understand

why they would allow her to

do this. I've seen Gilligan's

Island and Castaway so I know

what can happen at sea.

This young lady was very

fortunate to still be alive. I

hope she and her parents have

learned their lesson and they

don't try this again.

Las Vegas and Reno are

truly amazing places. The

change in people as they

cross the Nevada border is

unbelievable.

Of course by people I mean

me and most everyone else.

Nevada is the only place

where you literally throw

money around like it doesn't

matter. When you are gambling

in Nevada you forget all about

how much things cost or how

much you have in front of you,

after all they are only chips,

right?

I wish they would let me

place my wagers with bills. I

would like to double down my

water bill please. Better yet a

five coin play on a slot machine

is one and a half five layer

burritos from Taco Bell.

It is also funny how much

people will tip a hot dealer

while only tipping the waitress

or the bell hop a dollar. The

bell hop just carried six bowling

balls, your dirty skibbies,

and the rest of your luggage

and all he gets is a couple of

bucks, but a dealer deals you a

blackjack, that you would have

gotten anyway, and he gets a

10 spot.

Another Nevada thing is the

food. I have been trying to lose

a few pounds for a while, but

little did I know that all I had

to do was go to Reno.

I was standing at the Silver

Legacy with Lee Vanderhoef

and he mentioned that he had

not eaten all day. I then realized

that I myself had not eaten

since the night before. It was

almost 24 hours without eating

when normally I can't go four

hours.

And for those thinking it,

no, moving to Reno is not the

answer to my losing weight.

The NBA season has come

to an end and just like last

year, the Los Angeles Lakers

are your NBA Champions.

As far as I was concerned I

could really care less who won

this series (with the exception

of game fives first half, after all

I was in Reno).

I really don't like either

team so the outcome was pointless

to me, but I did want to see

a good series. Fortunately that's

what we got, as game seven

went down to the final seconds

and the Lakers beat the Celtics

by four for the NBA title.

The Lakers are truly a team

of second chances and they

should be humbled by the

experience. Each of the big four

could have easily been in jail,

out of the league, or buried on

a bad team so I hope they can

all appreciate this victory.

I thought I would take a

moment to update the progress

of our precious little gem

Lexi. While I was out of town

bowling, Nikki decided to go to

the pet store to replace the bark

collar that Lexi somehow got

off of her neck and chewed up.

While at the pet store she

discovered a toy that you put

peanut butter into and the dog

has to do some work to get it

out.

Nikki called me all excited

that it was working great and

that the dogs were occupied for

hours licking peanut butter out

of this toy.

The pet store clerk then told

her that she could put it in the

freezer and it would last even

longer.

So she filled the toys with

peanut butter and put them in

the freezer overnight. When

she woke up the next morning

Lexi was eating the peanut

butter out of the toy. The only

problem is that Nikki didn't get

the toy out of the freezer for

Lexi.

Yep, you guessed it. Lexi

somehow opened the freezer

and got it out herself. That dog

is the most amazing magician

I've ever seen.

How can such a cute looking

dog be such a pain in the

rump? I really wish I would

have had a camera setup to see

that one.

At AMF Richardson

Haverland hurls 744

Findling aces 300 game

Will Haverland won the

high-set race last week at AMF

Richardson by hammering out

hefty 257-268-219 = 744 marks

in Bowling Shop Trios action.

Joe Findling nailed down

high-game honors with an awardwinning

12-bagger.

Danyelle Becker's tidy

222/588 Wednesday Fun session

paced the ladies.

HONOR ROLL

Chad Newman 244-726, Joe Findling

300-709, Shawn Dotson 270-708,

Roman Czopyk 202-591, Sharon Alphin

182-472, Ryan Theroux 222-608,

Elynn Boss 214-586, Gino Catenacci

235-685.

Barb Wygren 186-536, Kris Lovelady

217-562, Austin Greenfield 231-553,

Cynthia Quick 148-402, Terry Wilcox

234-581, Kathleen Wright 195-548,

Jim Mahoney 236-641, Theresa Roy

212-512, Matt Seidler 245-704, Sam

Stephenson 257-695, Linda Foley

203-463.

Clara Shoope 201-479, Wade

www.itabowling.com

Team Payoff:

1. $3,000.00

2. 1,750.00

3. 900.00

4. 750.00

5. 600.00

6. 500.00

7. 350.00

8. 250.00

Fuller 248-642, Emily Harting 219-573,

David Robinson 237-651, Tim Gesino

267-674, Donna Smith 192-546, Hugh

Katz 219-532, Jeanne Burnes 209-500,

Kellen Tillman 220-579, Victoria Jiles

187-472, Jim Mahoney 226-611, Tonya

Pease 172-498.

Handicap is 70% of 220.

HIGHEST 2009-2010 USBC

BOOK AVERAGE WILL BE

USED.

Bowler must provide

verification of average with

minimum of 21 games. If no

available 2009-2010 average

or no verification, bowler

must bowl scratch.

Bowl 6 games across 6 pair

of lanes.

High handicap total scores

determine winners.

AMF LEWISVILLE LANES

Sunday, July 11th, 2010

12 PM START

$70 ENTRY FEE

Pays 1:5 entries

(based on 48 entries)

NAME:________________________________________ USBC #:______________________

FIRECRACKER

Mixed

Team Challenge

July 3-4, 2010

First Place Team

$3,000.00

Based on 58 teams

Optional Sweeper Saturday Night

Team Entry Fee:

$250.00

Squad Times:

Saturday: 1:00 PM

Sunday: 11:00 AM

This is a non-sanctioned handicap tournament open to all bowlers except PBA exempt bowlers.

Teams bowl 3 games Saturday and 3 games Sunday.

Team Average Cap: 1000. Team format: 4:1 or 3:2 Combination

For more information, full rules and entry forms, contact the front desk at USA Bowl or the

Tournament Director: Charlie Natal at 512-738-7287 or Email: cnatal@centurytel.net

214-358-1382 Fax: 214-358-4056

10920 Composite Drive, Dallas, TX 75220

"The quickest and

best way to reach

people in bowling–"

P.O. Box 1642, Colleyville, TX 76034

Phone 817-267-8686

Fax 817-267-1813

LIMITED TO 96 ENTRIES!

ENTER EARLY TO

RESERVE YOUR SPOT!

OPTIONAL HCAP &

SCRATCH SIDE POTS

$20 SCRATCH / $10 HCAP

ENTER THE OPTIONAL

SCRATCH DIVISION FOR

AN ADDITIONAL $10!!

Pays 1:8 entries for

scratch division.

PBA members who held an exempt status in 2008-2009 or

2009-2010 are ineligible to bowl.

For info email Kevin Green @ www.tournamentdirector2@gmail.com

HIGHEST 2009-2010 AVERAGE:_______________

LEAGUE:_______________________________________________(21 GAME MINIMUM)

Please include final league standing sheet if average cannot be verified on www.bowl.com. Each bowler is

responsible for making sure this average is accurate. Mail entry and payment to:

Kevin Green, 212 Ferndale Dr., Highland Village, TX 75077

Entries must be postmarked by July 5th, 2010. No checks after July 5th!!! Money order or cashier's check

also accepted. Checks to be made payable to Kevin Green. Cash only on day of tournament.