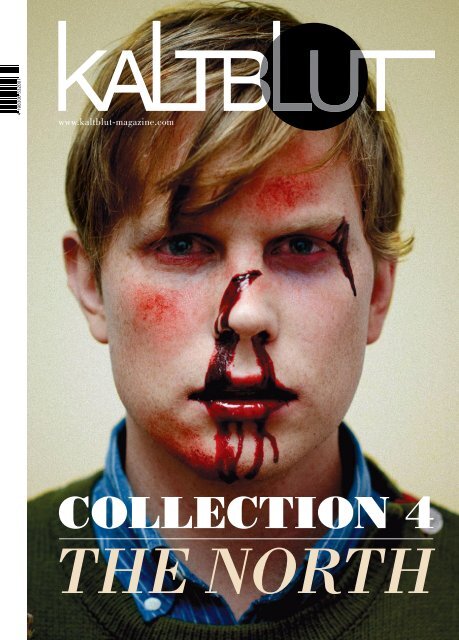 Collection 4 THE NORTH
Here we are: COLLECTION 4 THE NORTH Get a print here: http://kaltblutmagazine.bigcartel.com/product/collection-4-the-north Online Issue 404 Pages, included : Jacky Hijstek, Ólöf Arnalds, Mats Udd, The Echo Vamper, Bernhard Musil, Madame Peripetie, Morten Anderson, Nicole Sabouné, Edgar Vila, Lille Santanen, JÖR by Guðmundur Jörundsson, Sóley, Kevin Junk, Polly Balitro, Rough Days For Daimond Trade, Rut Sigurðardóttir, Camilla Storgaard, Anna Gregory, and many more. CLICK HERE TO GET YOUR PRINT COPY: http://kaltblutmagazine.bigcartel.com/product/collection-4-the-north www.kaltblut-magazine.com www.facebook.com/kaltblut.magazine Berlin 2013. All Copyrights at KALTBLUT Media UG and the artists. Enjoy our 4th Collection! Like it? Share it
Here we are: COLLECTION 4 THE NORTH Get a print here: http://kaltblutmagazine.bigcartel.com/product/collection-4-the-north
Online Issue 404 Pages, included : Jacky Hijstek, Ólöf Arnalds, Mats Udd, The Echo Vamper, Bernhard Musil, Madame Peripetie, Morten Anderson, Nicole Sabouné, Edgar Vila, Lille Santanen, JÖR by Guðmundur Jörundsson, Sóley, Kevin Junk, Polly Balitro, Rough Days For Daimond Trade, Rut Sigurðardóttir, Camilla Storgaard, Anna Gregory, and many more. CLICK HERE TO GET YOUR PRINT COPY: http://kaltblutmagazine.bigcartel.com/product/collection-4-the-north
www.kaltblut-magazine.com www.facebook.com/kaltblut.magazine Berlin 2013. All Copyrights at KALTBLUT Media UG and the artists. Enjoy our 4th Collection! Like it? Share it
SHOW MORE
SHOW LESS
You also want an ePaper? Increase the reach of your titles
YUMPU automatically turns print PDFs into web optimized ePapers that Google loves.
www.kaltblut-magazine.com

1

COLLECTION 4

THE NORTH
---
ISSEVER BAHRI

SPRING|SUMMER 2013
---
chapeli

Nature

6

-BJÖRK-
---
Editor-in-Chief

Fashion Editor

Art Director

Art Editors

Movie Editor

Uk Editor

Brazil Editors

Music Editor

2nd Fashion Editor

Sales Manager

Translation /

Proofreading

Marcel Schlutt

mschlutt@kaltblut-magazine.com

Nicolas Simoneau

nsimoneau@kaltblut-magazine.com

Amanda M. Jansson

ajansson@kaltblut-magazine.com

Emma E.K. Jones

ejones@kaltblut-magazine.com

Claudio Alavargonzalez Tera

calvargonzaleztera@kaltblut-magazine.com

Aiden Connor

aidenconnor@kaltblut-magazine.com

Mauricio & Aleesandro Lázaro

brazil@kaltblut-magazine.com

Amy Heaton

amyheaton@kaltblut-magazine.com

Biki John

bikijohn@kaltblut-magazine.com

Alexander Danner

danner@kaltblut-magazine.com

Amanda M.Jansson, Amy Heaton,

Bénédicte Lelong.

KALTBLUT MAGAZINE

Grünbergerstrasse 3

10243 Berlin

Germany

www.kaltblut-magazine.com

KALTBLUT Magazine is published by KALTBLUT Media UG

Nicolas Simoneau & Marcel Schlutt

All Copyrights at KALTBLUT Media UG

All of KALTBLUT´s contributors are responsible and retain the

reproduction rights of their own words and images.

Reproductions of any kid are prohibited without the express permission of

the magazine, editor and each contributor.

KALTBLUT Magazine is printed in Germany

Möller Druck und Verlag GmbH

Zeppelinstraße 6 | 16356 Ahrensfelde OT Blumberg

www.moellerdruck.de

8

Helena-Narra Kapidzic / Make Up artist / Singer

www.narra.cc

Helena is a well known name in the fashion world

and this has been that way for over 8 years now. She

worked for a lot of magazines and designers. Based in

New York, she is also a singer.

Fleur Helluin Artist / Writer

www.fleurhelluin.tumblr.com

The French lady is taking care of our "Berlin Faces

Section". For a couple of years now, she has been

based in Berlin. Music and art are her life. Being part

of different music projects makes her to an expert

when it comes to new faces in town.

Marianne Jacquet Artist / Writer

www.wrangelkiez.org

Marianne has been a friend of our magazine for a long

time now. Music is her life. But she also runs a very

well known Berlin blog, where she is blogging about

her Xberg-Kiez. For the second time she has written

one of her nicest articles for us.

Bernhard Musil / Photographer

www.be-musil.com

Born in Austria. The Berlin based photographer produced

for this issue the "The Echo Vampers" editorial.

The young photographer has worked for every major

magazine in the fashion world over the last year.

Kevin Junk / Writer

www.wolfauftausendplateaus.blogspot.com

Born in 1989, he lives in Berlin. He studied Japanese

literature in Berlin and Kyoto. His writings on art,

fashion, pop- and subculture try to explore contemporary

discourses along with an analytical and personal

stance towards what matters.

Bénédicte Lelong/ Social Media Manager

benedicte_lelong@kaltblut-magazine.com

A long, long time ago in a galaxy far, far away, a

retarded stork messed up a delivery, resulting in an

innocent tyke being dropped off in the wrong

country... She's writting our Music Laden section.

Special thanks to Herr Von Keil, Suzana Holtgrave, Nico

Sutor, ZILLMANN, Pascale Jean Louis, Alexander Danner,

Laura Palm, Dimitri Rigas, Alexandra Vial,

Benjamin Becker, Jana Schulze

COVER

Photography by Ole Kirchmeier

Model: Mats Udd
---
9

No, just kidding. Welcome to KALTBLUT Collection 4. The North, Ice-Land, Myth, Legends and Nature.

Our initial idea was to create an issue focused on Iceland, but then we got so many mails and work from artists based in

Scandinavia as well as in Iceland, that we had to broaden the theme. Which was a good idea. We are proud to present you

404 pages filled with fashion, art, music and media from artists around the world playing with the theme.

But why is the North so interesting? Let´s be honest: people from the North are the most creative creatures in this world.

Is it because they live in a darker world than the people from the South? What do you do when you live most of the time

in winter? You sleep or create art?

The Scandinavian countries are dominating the pop music world. Nearly each artist works at least once with a producer

from Sweden. The best music videos are done by filmmakers from the North.

The fashion world would be super boring without the designers from Iceland and Scandinavia. Some of the most talented

designers are coming from the North. I am a big fan of movies from the Nordic countries. They are always dark, especially

criminal cinema is so sinister and well produced when it comes from there.

Yet the most beautiful part of the North is nature. Endless forests, the Northern lights, proud animals. The infinite wild

nature is inspiring for so many artists and it always will be. Come with us on a little trip. We wanna show you how creative

the Nordic world is.

Working on Collection 4 has been the most difficult project in our history so far. Not because the artists were stressful..

NO, the hardest part this time was dealing with those PR and advertising people. Arghh.. please don´t waist our time

if you don't understand us. Please don´t order free copies of our magazine and then in the end you don´t even take a

look inside? If we all worked with an attitude like yours there would be no magazine at all. And just for the record, just

to make this one thing clear: we are not a gay magazine, we are not a straight magazine. We are here for everybody. We

don´t mind if you are young, old, gay, lesbian, straight, tiny, black or white. In KALTBLUT every human being is more

than welcome. We don't like to squeeze people into boxes. So get over this, advertising world.. If not.. we don't mind.

KALTBLUT is and always will be open for everybody out there. No rules, no gender problems. It is 2013 wake up world!

Have fun with our new Collection.

Yours Marcel and the team

Hello,

my name

is Anna

Wintour

and I welcome

you to the

latest issue of

Playboy.
---
p.12 Lurking Innocence

Fashion Story

p.24 Jacky Hijstek

Photo Story + Interview

p.33 Marzena Skubatz

Photo Story

p.40

Berlin Faces

You Should Know

p.46 Ólöf Arnalds

Interview

p.50

Fashion Story

The Rite

p.60 Pat Perry

Portrait

p.66 Dear Bad Beg Bug

p.68 Brunhilde

Fashion Story

p.78 Mats Udd

Interview

p.80

p.84 The Echo Vamper

Portrait + Fashion Story

p.92 Mid Summer

Fashion Story

Music Laden

p.102 Snow Queen

Comic

p.106 Top 5

p.108 Morten Andersen

Interview

p.114

Fashion Story

Dandy of the

Grotestque

p.120 Fjarlægð

Fashion Story

p.128 Edgar Avila

Interview

p.136 Mental Postcards

Interviews with Tim Fite and Lasse Matthiessen

p.138 Saga Úr Sjó

Fashion Story

p.148

Fashion Story + Interview

p.158 Herr von Keil Says

Column

p.160

Fashion Story

p.166

Article

Natures Beauty

p.170 Villtur Sjó

Photo Story

p.176 Valkyrje

Fashion Story

p.182

p.184 Out of

the dark

Fashion Story

Must have

p.188 Adrenolytic Agent

Fashion Story

p.196

Interview

My sounds of

the north

Rough Days

for Diamond Trade

p.200 Lille Santanen

Interview

p.206

Fashion Story

JÖR by Guðmundur

Jörundsson

Princess Of The

Fallen Garden

p.216 Notes on Epic

Article

p.220 Metamorphosis

Fashion Story
---
p.228 Sóley

Interview

p.234

Fashion Story

Hel The Goddess

Of The Underworld

p.242 Luxury Girl

Fashion Story

p.246 Polly Balitro

Portrait

p.250 Here Comes The Storm

Fashion Story

p.260 Nicole Sabouné

Interview

p.266 Svalbard

Photo Story

p.272 Katrin Berge

Interview

p.278

Fashion Story

p.288

Article

p.292

Article

Between Heaven

And Hearth

How the Nothern Lights

took over the world

A glimpse of

Swedish cinema

p.294 Snow White 2.0

Fashion Story

p.300 Jacob Felländer

Interview

p.306 Berlin's Best

p.312 Madame Peripetie

Interview

p.320 Melancholia

Article

p.324 Must wear

11

p.328 Blue Shadows

Beauty

p.334

Interview

Anna Gregory

p.340 Paper Cut

Photo Story

p.344 Ice-Cool

Interview with Nico Sutor and Zillmann

p.348 The X-Insider

Interview with Nina Legnehed

p.350 Fox

Photo Story

p.356 #ThingsWeLove

dot com

p.358

Portrait

p.360

FAshion Story

p.366 Vagabond

Fashion Story

p.367 Trolltours

Photo Story

p.380

Article

Susanne Bier

Allerleirauh

Saami, the

reindeerpeople

p.384 The Outtakes

Fashion Story

p.394 Art Around The World

p.398 CrayZay Giveaway

p.400 Imprint

p.401

(End).itorial

p.402 Label Index
---
13

Lurking

Innocence

Photographer: Thanos Poulimenos

Styling: Yorgos Mesimeris

Hairstylist: Christos Bairabas

MakeUp: Efi Ramone

Photographer Assistant: Evan Baul

Model: Anna @ X-Ray models

All clothes are from: Konstantinos Melis / by Laskos
---
Jacky

Hijstek

"A celebration of

handwork."

Photography by Dudi Hasson
---
25

Jacky Hijstek is a young artist based in Rotterdam/Netherlands.

When I saw her series "The Boys From School" for the first time I thought WOW that is super

nice and I want this in our magazine. Jacky is a little paper-handwork-photoshop genius.

She gains her inspiration from photos which she finds on the internet and is transforming

them into new pieces of art. I am 100% sure that in the near future we will see her work in

many galleries cause her motto is: Dream big! We at KALTBLUT, are happy to introduce

you to Jacky Hijstek, a very special artist. Read our interview and enjoy some great pictures.

Max Threlfall and Philip Görs
---
26

KALTBLUT: Hello Jacky. Welcome to our magazine. Some

months ago when I opened my email and I saw your mail my

first thought was: YESSSS! She is good. So I contacted you

and now here we are. I just love what you do. How do you

describe your art work?

Jacky: Thank you very very much! Stoked to be here. I guess you could

describe my work as manual photoshop. A celebration of handwork but

not effusively girly as you would expect. It has a bit of a dark twist,

strange things happen in my work. It consists of some manual magic and

is built up of many layers. I'm not here to tell narrative stories, I'd like to

keep it a bit mysterious. Pictures do not naturally lend themselves to telling

stories as stories. So I'm not giving into that. It's not that I just want

to make aesthetically pleasant things to look at but I also want things to

be done the right way, to handle the material the right way. No hiding or

disguising from anything. It is what it is.

KALTBLUT: Your mix of handwork, photography and laser

print is very unique. When did you come up with this idea?

Was there any inspiration before?

Jacky: Well, it all started with the creating of The Haunting Period,

where four prints from a self-portrait were interwoven into a new large

scaled piece during my year of graduation. I wanted to do something

with the traditional art of weaving but not take it back to a couple of

centuries ago. Paper is quite an underrated material and easy to handle

so that came easy to me. I scattered photos from tumblr pages which I

printed out and hung on this massive studio wall I kept staring at, day

after day, until I took some down, cut them up to pieces and started

assembling them back together by hand. A very satisfying job. In the

last month and a half of my studies I worked 12 to 14 hours straight on

this work. That was a madly insane period. I changed the found footage

into photos I shot myself, of myself, but I wanted to break free from that

typical 'female artist using her own body' cliche.. It gave me the push to

do what I'm doing now.

KALTBLUT: What does the creative process look like?

Jacky: For me making is thinking. Which means I don't write or draw

things out specifically. I start doing things and while I'm doing something

I see how it turns out. I listen preferably hours of hours to dark

house and techno on my headphones. The tempo or bpm in those mixes

sets me into a sort of state in which I can create best. Locking myself in

the studio and switching off my phone usually helps too. Other than that,

I'm traveling the world to see shows at galleries, museums but also have

coffee in cafes and stare at people. I'm a restless seeker and always on a

journey for something new.

KALTBLUT: Do you also shoot all the models or are those

photos from other photographers?

Jacky: Unfortunately not yet, I gain my inspiration from photos which

I find on tumblr. The Boys From School series is completely based on

footage which I found online. The past few weeks, knowing that this entry

was coming I spent many hours tracking back to the original owners.

Which is so hard to do. I might need a detective one day. I do not claim

the ownership to anything I have found on the internet or that I'm using,

only to the techniques I apply to it. I think you could see it as an unofficial

reworking.

KALTBLUT: Your artwork looks like you have to spend

hours to do that. How long do you need for one item? And

how do you do this? It is soooo creative.

Jacky: It depends on the feeling really, sometimes I create a work in 4

or 5 hours, sometimes it's lying around in my studio for days or weeks

without being touched. There are times when I completely lose track

of time. And then once again it's 3am. What I notice in my work is that

things are getting much more complicated to do. I have a passion for manual

labour so that is something I really want to express. It usually starts

off with a very basic idea. It could be something I'd like to do contrast

wise or perhaps a second cigarette that needs to be lit in the print. From

there I start cutting into the paper. There is room for error of course, if

things are not working out the right way, I throw it out and start over.

What helps is a pair of skilled and delicate hands. I'm always looking for

a tension point to challenge myself and keep myself occupied. I set very

high standards for the work I make but all I need is a knife to cut paper.
---
27

Daniel Kullen by Kristina Soljo
---
Yuri Pleskun by Damon Baker

28

KALTBLUT: Have you

ever gone to any art

school or something like

that?

Jacky: Oh yeah, I've studied

for 8 years at creative schools.

I started at a college for styling

and window-dressing which

wasn't my forte as I look back

on it, although it gave me the

opportunity to test out all sorts

of things, graphically as well

as sculptural. During that period

I made more installations

than actual window displays

for shops. Instructors weren't

happy but I was.

As a young kid I had this big

dream of wanting to go to the

Academy Of Arts. I basically

spent all my time preparing

for art school. I tried out loads

of techniques at home and was

basically always busy with

creating something.

Once, I almost lit my carpet

in my room on fire because I

had the idea to do something

with burned paper. Anyway,

I recently graduated at the

Willem de Kooning Academy

in Rotterdam where I took a

course in Fine Art. While my

peers produced very conceptual

work I was always

busy with the craft of things.

I moved for a period of time

to Calgary, Canada, to do a

double major in intermediate

sculpture and glassblowing at

the ACAD institute. I think I

have been challenging myself

in exploring new things and

finally have found something

I like doing best. Funny that

it started off in my first year

with works from cut up paper

and ended with it too.

KALTBLUT: Ice-Land,

legend, myths.. this is our

theme this time. What comes

to your mind when

you hear those words?

Jacky: Mythic creatures,

dark fairly tales, long nights

and deep, rich contrasts. Also

boys with very pale skintones,

beards and red-ish hair. Iceland

is of course an amazing

country which I'd love to visit

one day.

KALTBLUT: Is there any

artist you would say is

your personal icon?

And why?

Jacky: I'm able to find inspiration

in all sorts of things.

There isn't just one artist in

particular. There is this Italian

writer Alessandro Baricco,
---
who has written a book named

The Barbarians. It is actually

a collection of articles about

the current way of gaining

information, there is a richness

without getting deeper into the

core of the subject, scattering

bits and pieces to get the info

you really need, as if there are

no deeper studies needed with

books and encyclopedia. He

argues that despite the pressure

of technological innovation,

social mobility and globalisation,

there still is room

for inspiration in the modern

world. Baricco says there is no

collision between civilisation

and barbarians, but that contemporary

culture is in a state

of mutation, moving from an

old to a new culture. Which

set me off to a whole new way

of thinking about art as well

as my own work. While I was

reading his book it got to me

that there's no wrong way of

gaining inspiration or doing

things. I guess I needed to see

that in black and white.

In general I love artists who

work with their hands. The

exhibition: The Shape of

Things To Come (2011) at the

Saatchi Gallery in London

still gives me loads of inspiration.

They've published

an amazing catalog with it.

Folkert de Jong is a great artist

who makes over the top big

ass sculptures. Next to that I

would love to have a talk with

Chuck Close, his story and

work is impeccable. Close has

been a printmaker throughout

his career - he uses the most

intensive labour techniques on

portraits which he then fills in

with paint by hand. So much

layering! I can only take my

hat off for that.

KALTBLUT: 2012 was

a really successful year

for you. You had some

exhibitions. How does it

feel to show your work in

a gallery?

Jacky: I wouldn't call it

successful yet. Sure, there

have been a couple of exhibitions

and nominations after

graduation and it got off to an

amazing start but I know I can

do so much better. I'm 25, the

best is yet to come. Gallerywise

it's still a bit weird. It's

quite surreal to hang at a gallery

with work you have been

creating. In the studio everything

is safe and sound. Out

there everyone has an opinion.

Ultimately you do it so your

work gets seen, I tend to forget

that sometimes.

29

Yuri Pleskun by Ronald Dick
---
KALTBLUT: You

were also nominated

for the BLOOOM Art

Award and The Media

Art Friesland Young

Talent Award. Congratulations.

What does it

feel like to get recognized

in the international

art world?

Jacky: When I hear someone

else speaking about

it, it really moves me. I'm

full of pride. They were

both amazing opportunities

to show my work. The

BLOOOM award one especially,

was super special,

my first international show

on such an occasion with

so many people who came

to visit. My work was seen

by powerful curators and

hang at Art.Fair in Cologne

between other established

artists, with Chuck

Close within 10 meters

distance. Surreal.

KALTBLUT: What

are your plans for

2013? Any new exhibitions

coming up?

Jacky: I'm currently negotiating

with a gallery about

something that's hopefully

going to be a solo show

somewhere near spring or

summer. I've been asked

to do a couple of artworks

for music releases. I'd

love to have a bigger and

better studio to work in.

But what I'm really aiming

for is a gallery or agent

who is going to represent

me. I'd love to team up

with a photographer or

some models to shoot my

own material. My ultimate

goal is to live from my art

and not have to work at a

boring job ever again. But

who doesn't. Dream big

I'd say.

KALTBLUT: Do you

have some advice for

all those young artists

out there to live their

dreams? What would

you tell them?

Jacky: Never stop.

KALTBLUT: Thank

you very much for

the interview and the

stunning story you

have produced for us.

www.jackyhijstek.com

Interview by Marcel Schlutt

30

Max Schubert by Vincenzo Laera
---
31

Stefan Heinrichs
---
32

Marzena Skubatz

Documentary

"This is an ongoing project about Dalatnagi /

Iceland. Dalatangi is a small farm run by two

people next to Brekka in Mjöifjördur which is in

the East Fjords of Iceland. I spent a half year

there documenting the everyday life of Billa,

who is one of the farm owners. I got to know

her family, who came by from time to time, and

some of her friends and neighbours.

But most of the time it was just me and her

doing the farmwork and talking about life and

death. I dedicated my heart to this place and

the project. What you see is a small selection of

a body of work."

www.marzenaskubatz.com
---
"When it comes to the future,

there are three kinds of people:

those who let it happen, those

who make it happen, and those

who wonder what happened."

John M. Richardson.

KALTBLUT wants to introduce

you to some of the kind

who make it happen. They are

extraordinary, creative, outstanding,

special, notable and

unique and they will change

the world soon. That's why we

have to keep an eye on these

three people and you should

better do the same.

40

BERLIN

Faces
---
41

By Fleur Helluin

Photo by Denny Wiebel

d.wiebel@gmx.de
---
M a r t i n B a c k e s

KALTBLUT: Your work is at the meeting

point between visual and audio art,

could you tell our readers a little more

about background?

MArTin: i started my career as an

artist in the late 90s focusing mainly on

experimenting with sounds, producing

& composing music and DJ-ing. Later

on, during my studies at the University

of Arts in Berlin, i got myself more into

the field of sound, video, new media,

installation and performance art, and

of course design. Most of my works are

still using sound as a material, but some

don't. So i am also interested in working

with other materials like graphic,

light, fabric, interactive components, the

use of sculptural materials, media, etc.

Talking about pigeonholes people would

probably put me into categories such as

new media, computational & generative,

video, installation, sculpture, intervention

in public space and sound art. At

the moment my main focus is somewhere

around failure, stability, mimesis,

illusion, simulation and ambiguity i

would say. Beside my artistic career and

42

artin Backes created a sensation

a few month ago with his

pixelhead. There's something

in his art meets activism

that's just completely

fashion-forward. But the man

isn't only the dad of the protective

piece; artist, designer,

director, lecturer, performer,

hacker and composer. Yes,

it's the XXIst century, let's

talk about it.

teaching at the University of Applied

Sciences Berlin i am also co-founder of

a company called Aaconica - creative

lab for sound + media which is so to say

a studio for sound & new media design

constantly working on commercial, artistic

and independent projects in the fields

of culture, industry and research. Within

this platform we are currently working

pretty hard on our first software product

which is about to be released very soon.

KALTBLUT: You are living as an artist,

working as a teacher and also being an

entrepreneur. How do you juggle them

all?

MArTin: For me it's just one hat, but

yes, i know what you mean. Sometimes

i ask myself exactly the same question

(laughing). i am kind of driven. One

could say that i get bored by things

pretty fast, but i would say that i am

getting interested in things pretty fast.

Things which arouse my curiosity and

interest - things i want to know and

understand. At the moment my biggest

concern and problem is really to

concentrate on just one thing, that's hard

though. When an idea comes into my

mind - i have to do it, no matter whether

i have the expertise in it or not. My

Pixelhead artwork is the best example

for this kind of issue. i really had no idea

about fabrics, sewing, designing a fashion

piece, etc. but i managed to produce

it with some help of good friends. And

now i am very glad and thankful that i

made it, because it attracted world-wide

attention and i found myself in the news

with Justin Bieber (laughing). i really do

love this kind of lifestyle and variation.

Every day is different in the sense of not

getting to the office from nine-to-five

each and every day. if we talk about

professions the combination of learning

new things, teaching, working and trying

to implement my ideas is what gives me

the biggest freedom. But everything i do,

whether commercial or more artistic, is

somehow linked to each other. And we

all know there are more things in life besides

work which are important, but that

was not the question (laughing).

KALTBLUT: What do you have next to

your bed?

MArTin: A medium called air, lots of

space ;)

KALTBLUT: Environment in a broader

sense is an extremely important part of

your work. What would be your ideal

surroundings?

MArTin: Yes, of course. i mean there's

always some sort of environment - surrounding

or context. it's very nice to exhibit

artworks in a gallery, but it's probably

much more interesting to go into

a public space for example - for both,

analyzing and intervention. i mean we

are not living in a clean laboratory roomlike

environment. it could be interesting

from a social, religious or political point

of view or even perception-wise. i am

also interested a lot in how we perceive

things and what this does to us. When

it comes to an outcome, doing works

for more than just two dimensions and

working for more than just one sense is

what interests me the most as an artist. i

think this comes closer to our human nature.

So i am not sure what my personal

ideal surrounding would be and probably

never will, but i am working on it.

KALTBLUT: Where is your favourite

place to listen to music?

MArTin: i don't listen to music, i am

just listening to the every day soundscape

... i think our acoustic environment is entitled

to be heard. Just kidding! There's

no special place. i surround myself with

music when i am on the way, at home or

during work (if i am not working with

sound of course). But sometimes i'm

listening to music or more experimental

stuff in total darkness lying in bed and

trying to immerse myself into the sounds

and get fully absorbed by it. Have you

ever heard of transducers, a technique

which converts sound directly into vibration

- you should try it!? Especially when

your full body is connected to the corpus

of a bed for example.

KALTBLUT:is there a mantra or motto

that you repeat to yourself?

MArTin: "i Have nothing to Say and

i Am Saying it". Surely not by myself,

but i love this quote by John Cage. Pure

Poetry!

KALTBLUT: Who most inspires your

work?
---
43

MArTin: i'd rather decline answering that question. i think too many

people categorize us by our influences. So i would say i'm influenced

by everything that surrounds me: education, every day life, culture, politics,

literature, art, design, media, technology, commercialism, history,

reality, the power and strength of nature, etc.

KALTBLUT: To what extent is your work having an impact on your

everyday life?

MArTin: There's probably not a distinction between my everyday life

and working, at least not mentally. it could be a predominant political

status quo seen in the news which pisses me off or a perfectly synchronized

flight of a bird flock moving slowly through the air which triggers

some ideas. i mean there's basically no quitting time so to speak.

There's no definite break like in a nine-to-five job where you go home in

the evening and try to concentrate on the funnier things in life or whatever.

So my head is constantly thinking on something and working on

stuff. Even during the night i sometimes find myself awake while i am

not able to turn off my brain. Which brings us back to your question

"How do you deal with so many hats?" (laughing). But i am working

on that - don't worry. Asian philosophy and martial arts are good

friends of mine. i am trying to have a well-balanced life and it's working

better and better nowadays. And talking about procrastination, i

am living in Berlin. i've heard that you can have parties here each and

every day (laughing).

KALTBLUT: Would you like to tell us about your current projects?

MArTin: Beside teaching and working also on commercial projects

(please see www.aconica.de) i am working on a bunch of new works.

A new audio-visual installation is nearly finished. Basically it will be a

computer within an installation environment which presumes understanding

human emotions and performance in the context of pop culture.

The machine tries to perform the most emotional songs you can

get unstoppably. if you are familiar with the movie "Terminator" you

get the idea (laughing). So within this installation artificial intelligence/

emotion will rise up and attempt to take over, but more in a poetic and

funny way.

Another audio-visual installation is about expressing the feel of a cos-

mic consciousness experience. Or

in other words - it will be a generative

installation which is about the

poetics of natural sciences working

with materials like sound, wind

and transforming motion graphics.

Yet another work is dealing with

perceptual coding systems, probably

better known in the context

of computation as file formats like

JPEGs or MP3s. There will be also

a follow-up to my Pixelhead work.

it will not be a wearable piece this

time, more like a fully functional

sculpture. That's all i can say at the

moment.

All in all there are a lot of things

in the pipeline right now. So if you

or your readers would be interested

in those projects, please feel

free to take a look at my websites

below for more information.

www.martinbackes.com

www.aconica.de
---
K i m H i o r t h o y

44

here are some rare treasures in

life, and sometimes you discover

one by accident. Kim Hiorthoy

might just be one of them. He

works as a graphic designer (for

Rune Grammofon), a visual artist

and a musician. I discovered

his music some years ago with

my bestie Magritte Jaco, and we

were hooked! We're part of Mr

Hiorthoy's devoted following.

Maybe you'll become part of the

club too?

KALTBLUT: Hello Kim, could you

please tell us about what you do?

KiM: i mostly do graphic design for

record sleeves and other printed matter.

i work as a musician and an artist. i've

worked as a cinematographer for documentaries

and feature films. Last year i

finished a masters degree in choreography.

KALTBLUT: When you were a teenager

did you imagine you'd be doing what you

are doing now?

KiM: i always made drawings, but what

i was mostly interested in was film and

theatre. When i was very young i wanted

to be an actor.

KALTBLUT: What would you like to say

to the future version of you?

KiM: i don't know. i thought this was

the future.

KALTBLUT: What are your favourite

smells?

KiM: They're too many to mention,

some are too personal for me to say. i like

the smell of cut wood and cut grass. But

who doesn't? Fireworks.

KALTBLUT: Would you rather have

leaves for hair, or stone for skin?

KiM: none.

KALTBLUT: Did you ever have a special

master? Someone who told you something

you'll never forget, or played a role

in your creative development?

KiM: i had a teacher once who simply

said: if you want to do it you have to do

it. i think he meant that studying something

is all good and well but it's not the

same as actually doing it, and nothing

will teach you how to do something in

the way that actually doing it will.

KALTBLUT: What kind of music do

you listen to at home?

KiM: radio.

KALTBLUT: Our edition this time is

nordic special. Where's your favourite

place in norway?

KiM: i don't have a favourite place.

Hanging out with friends or working.

KALTBLUT: As a big fan there's a question

burning inside me and i have to drop

it: are you going to release a new album

or E.P soon?

KiM: Yes, a new album is coming in

spring.

KALTBLUT: Finally, can you tell us

what you're up to at the moment and

your plans for the future?

KiM: i'm working on the new album

and an art show which will open at

Standard (Oslo) in February.

www.smalltownsupersound.com

www.standardoslo.no
---
KALTBLUT: Hello Jonas! For the readers

that don't know you yet, could

you please tell us what you're doing?

JOnAS: i mix, produce, manage bands/

acts and also do all kind of music related

stuff from touring, curating, to playing.

All around craziness.

i call myself a music worker. i run a company

in Berlin called Kaiku Studios with

two other colleagues. i love finding new

acts and developing them, also i love to

work internationally, and travel around.

KALTBLUT: When you were a teenager

did you imagine you'd be doing what you

are doing now?

JOnAS: i always wanted to be a music

producer, somehow i was interested in

how the records sound the way they do,

how they have been made, and how to

create that kind of sound. i was thinking

about that actually last year when i

was traveling somewhere every week. i

was like "aww, again, i'm flying here and

there, booo..." then i remembered that

this is what i always wanted to do, hah. i

always wanted to travel a lot, see shows,

work in the music business. So i guess in

a sense i'm doing exactly what i wanted

to when i was a teenager.

KALTBLUT: What would you like to say

to the future version of you?

JOnAS: Focus. And stick to the plan.

KALTBLUT: You produce a lot of

rhythmic music, is there a special way of

formulating your relationship to rhythm,

beats, groove?

JOnAS: Hmm. i don´t know how i'm

formulating. But i do get inspired by a

lot of ethnic music. And old Hip Hop

and r'n'B of course. i've always had a

45

s the thinking head of the Kaiku Studios based in Berlin, Jonas

Verwijnen is bringing Finnish freshness into the productions of LC-

MDF, DENA, or Zebra & Snake. He's working in the shadows and

on stage as a 4x4 music expert. If you feel a bit lost in the music

world, and don't know where to turn your ears to, follow this dude.

love for beats. And wanted to create that

perfect groove (haven´t done it yet). if

you have a great song, you just need a

great groove and you're there. no need

to fix anything or use tricks to make the

record good.

KALTBLUT: How do you know when

your work is going well?

JOnAS: When people like what you

do (now i mean not your mom or your

friends).

it's really hard for me sometimes to know

this thing. i know when things are ready

in a way. Sometimes i think something is

great and every one is like "noooo".

i think working well is coming together

with working hard and a lot. i believe

that a big output will lead into well working

things.

KALTBLUT: Would you prefer to have

fur or wings?

JOnAS: Wings!

KALTBLUT: Did you ever have a special

master? Someone who told you something

you'll never forget, or played a role

in your musical creations?

JOnAS: Yes in music composing/producing,

less is more. it leaves space for

the actual meaning.

Jonas Verwijnen

KALTBLUT: What do you listen to at

home?

JOnAS: nothing! really i don't even

have speakers at home.

KALTBLUT: Our edition this time is

nordic special. What's the best Finnish

dish?

JOnAS: Definitely Finnish salmon soup.

KALTBLUT: Finally, could you please

tell us what you're working on at the moment

and what the future looks like for

you?

JOnAS: D E n A full-length album

(producing, mixing), some songs for

Hidden Cameras (mixing) album, Ballet

School (producing, mixing) and Kakk

Madda Fakka (recording) new album.

Just talking of doing Spencer Krug'smoonface-

(producing, mixing) new solo

piano album. Hmm... There was something

more, can't remember.

www.soundcloud.com/jonas-kaiku
---
"We

recorded

it in a

wooden

cabin by the

sea."

46
---
Ólöf

Arnalds

Ólöf Arnalds is an Icelandic singer and

multi-instrumentalist whose sound first

captured me when I heard her track "Surrender"

featuring the vocal of Björk. As

a classically trained musician (with the

violin, viola and self-taught on guitar and

charango) I still think that her most distinctive

asset is definitely her voice – it has

the most intriguing 'otherworldly' quality

which I feel captures the spirit of her native

Iceland perfectly. We had a little chat

with her this winter to find out the inspirations

behind her brilliant new album,

"Sudden Elevation" due for release this

February. It's a sensitive, intimate collection

of tracks that take you on a winding

journey through the private and endearing

world Ólöf paints with her songwriting. A

true gem.

www.olofarnalds.com

Interview by Amy Heaton

KALTBLUT: Hey Ólöf! We're very excited to be featuring you

in our new issue. I've been listening avidly to your new record,

"Sudden Elevation", it is a truly beautiful collection of songs,

are you pleased with how the album has turned out?

ÓLÖF: Hey! I'm very pleased with the outcome. Skúli and I

worked very carefully on every detail and I really feel like I've put

all of my heart into the record.

KALTBLUT: So what is your composition process like, are you

writing all the parts yourself or did you work with other musicians

for the album?

ÓLÖF: For this album the majority of the parts are written and in

fact played by me. The producer, Skúli Sverrisson writes and plays

his bass-lines as well as some electric guitars.

KALTBLUT: I can imagine you recording your album somewhere

quiet and out amongst nature, I'm sure this probably

wasn't the case! How did you actually go about it?

47

ÓLÖF: Actually this was the case, so thumbs up to imagination! We

recorded it in a wooden cabin by the sea in Hvalfjörður and had very

little connection with the outer world. There was a fire place and every

day I had the task of lighting it and maintaining the fire, which was

sort of symbolic for keeping the fire of the creativity alive.

KALTBLUT: Your songs are so simple and patient – do you feel

you are putting a lot of your own personality into your music?

ÓLÖF: I think my music is highly personal. The composition have

often been in my mind for years and when I feel ready, I turn them

into recorded songs. The lyrics are all about very intimate things in my

life as well.

KALTBLUT: There is a kind of melancholic atmosphere through

the album, do you find yourself falling into that kind of wistful

world when you're composing?

ÓLÖF: Not always. But for this record for sure. I have a feeling that

my next one will be more cheerful.

KALTBLUT: Your vocal style is very unique, have you always had a

similar way to sing or is it something you've developed over time?

ÓLÖF: It's hard to say. The voice is a bit like a living creature. It evolves

with the person. I've never been very deliberate in developing my

voice and I like to use it differently in different songs.

KALTBLUT: I'm sure many producers have asked you to collaborate

with them or if they can remix your songs, did you ever think

about going down that road?

ÓLÖF: I'm a bit difficult when it comes to new collaborations, because

I find making music together with someone a very serious and intimate

thing. I like it when new musical relationships are born out of inspiration,

friendship and dedication. Although I'm very open to using all

aspects of my voice and developing further varieties in tone and character,

and doing so with other people's compositions is a very good ground

for this kind of work.. I am more sensitive to being truthful to my voice

when I sing my own songs. Therefore I've been reluctant to work with

people I don't know. Especially when it comes to my voice.

KALTBLUT: Do you often relate back to your classical background

when you're writing music now or do you have other inspirations?

It feels like there is also some folk-lore inspiration running

through your songs?

ÓLÖF: I think that the classical background always sneaks into my

compositions through, for example.. chord structure. I'm drawn to folklore

inspirations but when creating songs I feel that the process is very

intuitive as well as my overall approach to music.

KALTBLUT: So your first instrument is violin (mine too!), did you

find it a natural progression to take up the other instruments you

later pursued?

ÓLÖF: Although the violin is a brutally difficult beginners instrument

(I assume that you have suffered like me!), it is a great instrument for

developing a strong ear for pitch and texture. I think this has probably

made it easier for me to become self taught on another stringed instrument.

KALTBLUT: The Icelandic language really fits to your vocal style,

I think when I hear it spoken it can be like birds singing! What

made you decide to write your lyrics in English for the new album,

as opposed to your native language?
---
ÓLÖF: English is not that far away from me, because my mother is

born and raised in England and most of my extended family on her

side only speak English, although her parents were from Iceland. I've

played in very many different countries and always felt that I could

easily communicate the emotional content of my music without people

understanding the words. This time I strongly felt that I wanted people

to understand the words as well. It's a different way of communicating

with an audience. Especially live. The challenge of writing in English

was also fun for me.

KALTBLUT: Your song writing is often like story telling. Did you

enjoy tales from your country as a child?

ÓLÖF: I was mad about the Brother Grim fairytales. I knew less

about Icelandic tales.

KALTBLUT: Our latest issue is based all around the theme "ICE-

LANDS" – Do you feel coming from such a cold place changes

the sensitivity in your music making?

ÓLÖF: I prefer cold to heat because I feel like I can think better when

it's cold. I also tolerate cold very well. The good thing about the cold

in Iceland is the dry air, so you can always dress for it. I actually lived

in Berlin for one winter as I was planning to study there then I took

a different path and went to the Icelandic Art Academy… but that

damp main land cold, that was really something else! No matter how

much clothing you were wearing, it always crept to your bones.

KALTBLUT: That's true! Well Iceland seems like such amazing

place to visit, even with that cold. What do you like (or dislike!)

most about your native land?

ÓLÖF: I think the water, the air and the natural resources make

Iceland very unique. I also like how the community is very much

about self sufficiency and getting by rather than having the precise

right person do each individual task. It makes every process (especially

creative ones) much more interesting. Poor infrastructure is the only

downside of this arrangement, but people's ability to work unselfishly

and extremely hard to get things done fast makes up for it.

KALTBLUT: I was reading an article recently about how governments

in Scandinavia and surrounding countries actively support

art and music. Do you think this could be a reason why so much

unusual new music is being created there? Have you had any experience

of that during your career?

ÓLÖF: When I was more an upcoming artist I had a lot of access

to grants and financial support, which was very helpful. Grants in

Iceland seem to be more aimed to fresh blood though, so usually this is

a luxury that does not last long. It is interesting, because when you are

no longer just starting out but in the period of emerging as an artist

that could potentially become fully established internationally, that is

the time when you need the most support. I think the growth of Scandinavian

music has a lot to do with the life quality, safety and options

that young people in these countries have. Not that I want to undervalue

the purely artistic/cultural aspect of this increased musical activity.

KALTBLUT: So I guess music was a big part of your life growing

up, was your whole family musical?

ÓLÖF: Yes, on both sides.

KALTBLUT: Your cousin Ólafur Arnalds is also a well-known neoclassical

composer, do you ever work with him musically?

ÓLÖF: Not yet, we would both be happy to collaborate, maybe the

difference in style and output might have had an effect of us not getting

to do so yet.

48

KALTBLUT: Even so in your previous two albums you've collaborated

with the likes of Björk and Kjartan Sveinsson (Sigur Rós) How did that

come about?

ÓLÖF: It's all through friendship and inspiration. I'm lucky that those people

have been so supportive and interested in my work.

KALTBLUT: Perhaps this is a silly question considering the facts above..

but if you could work with any other musician in the world who would

it be?

ÓLÖF: I think Skúli Sverrisson and I are just beginning, even though we've

worked on each other's music for 12 years. I've only spent one day experimenting

with Cyril Atef and the dynamic between the three of us was quite

extraordinary. Us as a trio is all I can dream about at the moment.

KALTBLUT: I love the music video for "Surrender", it reflects your

sound perfectly, has your music ever been used in a film before?

ÓLÖF: Only very small, individual films. I would love to do some new

work for film, since my relationship and understanding of music is very

visual.

KALTBLUT: It seems like you prefer to play smaller acoustic sets as

opposed to a big live set up on stage, would you agree?

ÓLÖF: It has been a great practice for me to play so much alone, because it

has made me a lot stronger as a performer. It is very economical as well. For

me it's becoming lonely and one sided now. So this time around I will be

joined on stage by Skúli Sverrisson and Cyril Atef. Both amazing musicians

that I really look forward creating a new live experience with for my

audience.

KALTBLUT: What about your experience touring with Múm, how did

it compare playing with them as opposed to your solo project?

ÓLÖF: Touring with Múm was a good school. I learned my way around

the stage and the technical things (although that is still a bit of an Achilles

heel for me). I had very free hands when creating my parts and improvised,

which was good practise. It was also just such a great adventure for a young

person to experience all this touring, the friendship, playfulness and fun.

KALTBLUT: How much do you feel your music has progressed since

your first release?

ÓLÖF: I think this new record is my best so far, it somehow feels to me as

a manifestation of my musical language in a resolution that is much higher

than I've reached before. The first record was very clear and fragile at the

same time since it was my debut. Somehow I feel that Innundir Skinni (the

one in the middle) suffered a bit from lack of clarity, due to the long period

and various collaborators. Skúli Sverrisson has an exceptional understanding

of my voice as an artist, so to be able to work with him this intensively (that

is non stop for 2 weeks) was life changing for me as a composer and a singer.

KALTBLUT: So what are your plans for the Spring, have you got a tour

planned out already? We hope to see you play live sometime!

ÓLÖF: Everything is in the making, and I can't wait to get back on the

road. And I will be coming to Germany for sure!

KALTBLUT: To close, can you share with us one of your most treasured

memories of such an intriguing musical career?

ÓLÖF: I'd say singing an Icelandic rhyme off microphone as a "zugabe" in

the Sidney Opera house.

Thank you so much for the lovely interview! We wish you all the best

with your new album and the year ahead.
---
The Rite

50

Photographer: Iris Bjork

Stylist: Sunna Thorsteinsdottir

Jacket: Rex, Pants: Shireeka Devlin, Shoes: stylist own

Makeup and hair: Amrit Preet

Model: Zoe Laxton @Eclipse
---
Jumper: Ekaterina Gerasimova

52
---
Vest, shirt, tights: Ekaterina Gerasimova , Necklace: stylist own

53
---
Dress and Sleeves: Ekaterina Gerasimova, Hat: Stephanie Ghoussain

54
---
Jumper: Ekaterina Gerasimova, Leggings: Ekaterina Gerasimova,

Shoes: stylist own

55
---
56

Leather jacket: Ekaterina Gerasimova, Shirt: Stephanie Ghoussain, Dress: Rex, Bracelet: Ekaterina Gerasimova
---
Jacket, fur and tights: Ekaterina Gerasimova, Skirt: Elly Cheng

57
---
Dress: Ekaterina Gerasimova

58
---
Coat: Ekaterina Gerasimova, Dress: Rex, Shoes: Ekaterina Gerasimova

59
---
60

P A T P E R R Y As I was looking on the

internet for artists to collaborate

with in the next

Issue I found Pat Perry's

page. After coming across

his work on Alaska I knew

from that minute that we

absolutely had to do something

together. His

full "Alsaka" series is

really beautiful. I love

the way he mixes the

media to create a

story. The blending

of illustrations,

photography and

text give another

dimension to his

work. Pat Perry is

the kind of person

who draws every

single day, he is really

paying attention

to details in the world

around him, and one

of his main hobbies is to

travel : this is maybe the

reason why I was so attracted

to his work

"Alaska" when I saw it..

you can really feel the

emotions, and kind of live

the journey he made.

www.patperry.net/art/alaska

Instead of doing an

Interview I asked Pat if

he would write

a text to share

the story of his

trip. I thought

it would be interesting

to mix his words with the

work itself. By the way,

we did not publish the full

"Alaska" series and I really

do encourage you to

have a look at it.

Text by Nicolas Simoneau
---
I spent July up in

Alaska working

on an art project

with the

National Park

Service. I spent

the month in

Katmai National

Park backpacking,

tagging along

with park rangers,

flying around, and

making art.

It was such a wonderful month! The project was

really challenging because soon after getting there,

I realized that no artwork I'd make would possibly

do justice to that place. I ended up deciding to try to

focus on the human experience of a person being in

the park and what that is like. This helped me be able

to process a little easier, and I did my best to make

something worthwhile.

Katmai is remote and even getting there was a

challenge. I flew to Anchorage, then took a plane to

the small town of King Salmon, just outside of park

limits. There are no roads going into the park, so my

only way in was to fly in a small bush plane that the

National Park Service uses. We flew to the tiny peopled

center of Katmai called Brooks Camp. This is the

only place in the 6,395 square-mile park with structures

and more than a couple people. We landed, and

stayed in the plane while a grizzly bear strolled the

beach by our plane.

I saw at least one grizzly bear almost everyday I

was there. Many times, I'd be walking alone in the

woods when I'd spot one and have to get out of the

way. I didn't have bear spray or a gun, but would

instead call out at the bear and face it. There was no

use in running or hiding. The bears tend to not engage

you if you stand your ground. Katmai has the most

concentrated grizzly bear population of anywhere

in the world. In July, a large group of bears head to

Brooks Falls where I would often go to observe them.

61
---
62

If the bears didn't make me feel small, the landscape sure did. The vastness of Alaska was perfectly sampled

in Katmai. I made quick friends with some park rangers that became my comrades for several hiking

trips. We summited two mountains, and took small boats far into mazes of glacial lakes. The longest hike

was one through the Valley of Ten Thousand Smokes to Novarupta, a volcano that released 30 times as

much magma as Mt. St. Helens. The Valley on the way there was completely dead and filled with ash.

There was no trail, so we used topo maps and a compass to navigate. There were no trees, only beautiful

crevasses and pumice fields. We would often cross snow sheets, and had to eventually take our pants off

to make a chilly 40 degree river crossing. I've never felt further out and away from everything than when I

was out in that valley.
---
63

Between daily grizzly encounters, volcanic ash valleys, and miles and miles of hiking, I managed to draw

almost everyday. That was the most hands-on residency I've ever heard of. I often picture most artist residencies

as an artist that is quietly painting inside a warm cabin, anchored down in a cozy corner of some

national park. In Katmai, the rules were written a bit differently. My focus, and the park's focus was to be

outside as much as possible, taking in wilderness, being humbled by it, and interpreting it. My hiking boots

were dirty and completely destroyed by the end of it.

While I was staying in Brooks Camp, I'd walk down to the edge of the huge lake each night before I

slept. There would always be light, even if it was midnight. The dusky sky would be pale, and beyond the

lake were snow-capped peaks. I'd stand just a little ways in the water with my rain boots on checking left and

right down the shore for bears.
---
I'd breathe in the

clean air and

remember that I

wouldn't always

be able to see that

sight. I relished in

it while I could,

and even though its

been months since

I stood there, I can

still imagine it

perfectly.

www.patperry.net

64
---
66

DEAR BAD BED BUG

Amanda M. Jansson & Emma E. K. Jones
---
68

PHOTOGRAPHER: SCARLETT WERTH

FASHION STYLIST: JULIA QUANTE & DANNY SCHNEIDER

MODEL: LINA (MEGA MODELS)

Brunhilde

HAAR & MAKE-UP STYLIST: PATRICIA PIATKE

Dress: Won Hundred, Coat: Michael Sontag, Top: Dominic Knecht, Arm/Shoulder Piece: Moga e Mago
---
Coat: Michael Sontag,

Top: Sammler Berlin,

Dress: Malaika Raiss,

Trousers: Y-3,

Socks: Falke,

Shoes: Reality Studio,

Shoulder Piece: An!mal,

Earring: Perlensäue

70
---
71

Dress: Won Hundred, Dress: Malaika Raiss, Jacket: Dawid Tomaszewski, Necklace: Mango, Headpiece: Perlensäue
---
Blouse: Chloé Vintage,

Shoes & Skirt: Won Hundred,

Socks: Falke,

Vest: Moga e Mago,

lace Handkerchief (as belt): Stylist's own,

Necklace headpiece: Rita in Palma,

Necklace: In Odd We Trust,

Leather bracelet: An!mal

72
---
73

Dress & Cape: In Odd We Trust
---
74

Dress: Vladimir Karaleev, Skirt: Dawid Tomaszewski, Jacket: Elisabetta Franchi, Necklace: An!mal, Shoulder Piece: Moga e Mago, Bag: seen at TK MAXX
---
75

Dress: Adidas SLVR, Lacetop: Sammler Berlin, Vest: Isabell de Hillerin, Kette: Maria Black, Shoulder piece: An!mal, Fingertip: In Odd We Trust, Belt: Dominik Knecht
---
Top: Dominic Knecht,

Dress: In Odd We Trust,

Jacket: An!mal,

Necklace: Weekday,

Bracelet: BjØrg,

Hat: Reality Studio,

Shoes: United Nude x Iris Van Herpen

76
---
77

Dress: Won Hundred, Dress: Y-3, Blouse: Dominic Knecht, Vest: Guess, Belt: An!mal, Shoes: Adidas SLVR, Socks: Falke, Ring: BjØrg
---
MATS UDD Mats Udd is a really special young director

from Sweden. There is no way you

haven't come across one of his really

breathtaking music videos that are

taking youtube by storm. Coming from

a small town in the heart of Sweden he

has been traveling and filming in all

possible continents creating a world

full of mysticism and wonder, full of

blood and magic, strange shapes

and all things surreal. A man with a vision, that is all

his own, he talks to us about what he really wants to

create and how it is coming from Sweden.

79

Photo by Ole Kirchmeier

Interview by

Amanda M Jansson and Emma E K Jones

www.vimeo.com/matsudd

KALTBLUT: You make lots of different videos. What kind of

video do you really prefer making though?

Mats: I've always been a fan of storytelling, and I can do funny videos

and videos with no point at all and even though it's great to do different things

I really prefer to find my self in some sureallistic world where everything is possible. To put

characters in strange situations, play with animal masks, make something different. The Susanne Sundfør

video White Foxes is a good example of a video of a combination of a somehow beautiful and un-natural world where

you actually can have a brain tumor shaped as a foster of a fox. That's the kind of world I belong in.

KALTBLUT: Are there any places in Sweden that you really love shooting at? Why is that so? What opportunities does Sweden offer in terms of

location?

Mats: Every year I find Sweden more and more exotic. We have great nature and it's probably where I get most of my inspiration from. We also have a

long time of tradition where you can find the soul of Sweden. There is something very sad about these good years now turning into bad times. People

moving away from small towns. Shops closing down etc. I won't say I like it but I find something in it which is very sad, but also touching and beautiful.

The countryside of Sweden will always be in my heart.

KALTBLUT: Where does your fascination with blood and the macabre come from?

Mats: Don't know where it started but during my teenage years I always looked after the most extreme stuff on videos that you could get. I always had

a great interest in serial killers, occult stuff and just very bizarre kind of movies. I guess I'm fascinated to experience how much stuff I could handle,

and also to lose the limit of what you could show to an audience. If there is someone saying "oh you can't show so much blood" that won't be me. I

guess I also have a feeling for showing things that the audience didn't know that they wanted to see.

KALTBLUT: What was your toughest, bad luck situation that happened to you while filming, and how did you deal with it?

Mats: One time we did this video which was all about the artist on a delivery trike, the problem was just that the trike's breaks stopped working during

the shot and we were driving so fast down a hill and I was so glad he didn't drive off the road or into another car. I'm sure he would have died. I'm

sure the video would had some more views on youtube… but still.

KALTBLUT: Have you ever worked with an artist you always admired? How was it?

Mats: Yeah, I actually have worked a few times with bands and artists I really admired years before I got the opportunity to make their videos. Joel

Alme is a great example of that. I loved his first album and on his second album I got to do the video. It's a bit surreal but fun.

KALTBLUT: You are traveling a lot. How does this change your perspective of things, how do you see the world differently, and how does Sweden and

Stockholm change in your eyes?

Mats: I've been visiting the biggest cities in the world, but I also visited very poor areas in Asia and India which gives me a perspective and I can see

how good Sweden really is. Therefore I try to take every opportunity I can to fight the rascism in Sweden. Most people in Sweden live a very healthy

and rich life and and they should obviously be helping other people.
---
80

MUSIC

Album preview by Bénédicte Lelong

Iconic American guru of pop Dick Clark once said "Music is the soundtrack of our lives".

Music IS everywhere. We eat it for breakfast, breathe it on the dance floors and live it 24/7,

MP3 players firmly glued to our ears.

An eclectic listener's paradise, our Musik Laden's motto is simple: "Open ears, open mind".

Satisfaction guaranteed.

Interpret: Bastille

Album: Bad Blood

Genre: Alternative, Indie rock

Label: Virgin / EMI Records

Origin: UK

Released: March 2013

Members: Dan Smith, Chris 'Woody' Wood,

Will Farquarson, Kyle Simmons

There is in all honesty nothing I can say that will do Bad

Blood, Bastille's debut album, proper justice. These Brits

have what it takes both sonically and lyrically to make it big,

very big. Truth be told, Bad Blood is a thing of beauty.

Bastille will be touring Europe in the spring and so I would

advise you to get tickets to one of their gigs as soon as you

can since they're already selling out shows and headlining

festivals. You wouldn't want to be the one who missed these

up-and-comers, now would you?

Beautiful arrangements and spellbinding melodies, coupled

with Dan Smith's, the band's founder

and lead singer, equally spellbinding vocals

make for an absolute gem of a record.

Not so bad for a "first", if you ask me.

Bad Blood is nothing short of grandiose

and epic. The title track itself should be

enough to convince you that if there's one

album that you shouldn't miss in 2013,

it's most definitely this one. That way in

a couple of years you'll be able to say not

without a certain sense of pride, that you

knew them before they were famous.

So first, get your hands on their amazing

first album, then buy a ticket to see them

live. Chop-chop! Get on it!

Must-hear tracks: Pompeii, Things We

Lost In The Fire, Bad Blood, Laura Palmer
---
Interpret: Theodore Paul & Gabriel

Album: Please Her Please Him

Genre: Folk rock

Label: Belleville Music

Origin: France

Released: October 2012

Members: Théodora De Lilez, Pauline Thomson,

Clémence Gabriel

I will admit that the only reason I gave Theodore Paul &

Gabriel a listen is the cover of their album. Androgynous

looking girls wearing ties and a tux sounded like my kind

of thing.

As it turns out, there's more than meets the eye with this

trio.

With Please Her Please Him the band is paying homage

to The Beatles debut album Please Please Me. And just as

the Brits took over the world in the 1960's, it seems that a

French Invasion is in the works.

As a matter of fact a new breed of talented artists, who

are part of the French Touch, appears to be more than willing

to revive folk rock. The genre quite literally exploded

in the sixties and seventies before reaching a climax during

the Vietnam War, and then taking sort of a backseat in the

music world.

The magic of Theodore, Paul and Gabriel is that you

don't even have to be into folk rock to fall in love with the

band.

The voice of lead singer Clémence Gabriel, powerful,

brazen and gritty, is one of a kind. It's different enough

from everything we hear right now that it will make you

want to lend an attentive ear.

Every time I listen to "Chasing The Sea", I see Simon &

Garfunkel. The record's true beauty lies in the fact that it's

a time machine, pure and simple. With Please Her Please

Him there's a very distinct air of 1960 nostalgia and melancholia,

when music still felt rooted somewhere, meaningful.

When music had a purpose, when it was telling a story.

And that's why this record is a definite must-have.

Must-hear tracks: Bad Mood, The Silent Veil, Chasing

The Seat

81

Mainstream is to music what Instagram is to photography.

It's become such a terrifying word. Especially when

Tegan & Sara, a band that has been touring (successfully

so) the indie circuit forever, or so it seems, decides to take

that dreaded leap. It's an even harder pill to swallow when

they admit that this risky move will most likely cost them a

portion of their most loyal (and oldest) fans... and that it's

basically OK.

The first problem I had with Heartthrob was its title.

And if Tegan's new haircut was any indication, the thirty

something twin duo had gone all out and caught Bieber

Fever, earning a well-deserved spot on the Lesbians That

Look Like Justin Bieber tumblelog.

In the end Heartthrob, their 7th record, isn't their

best but it isn't as bad as some detractors had predicted.

And when you lend a closer ear, you'll realize that things

haven't changed that much. Sara's tracks are still a bit

more edgy, deep and angsty than her sister's catchier tunes

-a sister who by the way sounds more and more like a prepubescent

teenage boy.

Besides, change isn't always all that bad. And in Tegan

& Sara's case, as long as they keep reinventing themselves

on stage and offering their audience stripped down acoustic

versions of old hits, chances are the world isn't coming to

an end anytime soon. Their sound might have taken a turn

for the best or the worst, depending on where you stand,

but if you manage to look past the surface, the old Tegan &

Sara are still there somewhere.

So maybe you won't like Heartthrob and maybe you'll

think that the sisters have really gone off the deep end this

time. We'll always have The Con then... won't we?

Must-hear tracks: How Come You Don't Want Me, Now

I'm All Messed Up, Shock To Your System

Interpret: Tegan & Sara

Album: Heartthrob

Genre: Indie rock, Synthpop

Label: Warner Bros. Records

Origin: Canada

Released: February 2013

Members: Tegan Quin, Sara Quin
---
Interpret: Merz

Album: No Compass Will Find Home

Genre: Alternative

Label: Accidental Records

Origin: UK

Released: February 2013

Member: Conrad Lambert

It's very hard to label Merz's sound, first of all because

when you listen to No Compass Will Find Home (his third

full length) you realize very early on that it doesn't fit any

pre-defined category. This record is its own thing.

Saying that it is a bit different from all the crap that

floods our ears on a daily basis is the understatement

of the year. And as such of course it probably won't be

everybody's cup of tea.

But don't get me wrong, No Compass Will Find Home is

different in the best possible way. Come to think of it, this

record is so out of this world sonically, maybe Merz should

have his own genre. I wasn't that surprised to learn that

one of the rooms where the album was recorded used to be

Einstein's laboratory... in the end, it all kinda feels like the

work of a mad (albeit incredibly talented) scientist.

Agreeing to listen to this record is agreeing to embark

on a wild and unpredictable journey. Forget everything you

know (or think you know) about music, No Compass Will

Find Home is bigger and better, and it will reach deeper

than anything you've ever heard before.

It's true artists like Merz who completely redefine the

way we consume music, experimenting and constantly reinventing

the medium along the way, offering listeners this

incredibly emotional patchwork of instruments and sounds.

Authentic, pure and disarmingly bare at times, No Compass

Will Find Home forces you to reconsider your relationship

to music. It is an adventure that will put listeners on

the path to a musical (re)awakening: Merz's album might

be the most honest work I've had the pleasure to sample in

a while. THIS is what real music is supposed to sound like.

Must-hear tracks: Arrows, Judge, Goodbye My Chimera,

No Compass Will Find Home

82

No need to be a rocket scientist to understand how

the masked Los Angelenos of rap-rock band Hollywood

Undead have managed to develop some kind of a cult

following over the years. It's not just the masks, it's this

hybrid sound that makes them an even more intriguing

and interesting band to listen to. As such they shouldn't be

taken lightly as they might well be Linkin Park's rightful

successors.

Hollywood Undead likes to mix and match genres and

influences and that's a huge plus for any eclectic music

lover. Their unique sound perfectly mirrors our generation's

relationship to music: it's all about diversity. If like most

children of the 80's your musical tastes were influenced

by a whole bunch of currents, from metal to rap, hip hop,

dance or pop, then this band is right up your alley. And if

like me you simply like to live dangerously, mixing things

up a little when it comes to music (able to go from Metallica

to Britney Spears in the blink of an eye), you won't be

disappointed either.

Notes From The Underground, the band's third LP,

manages to deftly switch from one genre to another in an

almost seamless manner. Don't let power ballads like Rain,

From The Ground and Believe fool you: Notes From The

Underground is nothing but poppy, sensitive lyrics in an

ocean of metal-fueled choruses.

Last but not least, Another Way Out is almost too good to

be true. It stands out hands down as THE most danceable

track. Electric guitars, dance beats, hip hop vocals... an

explosive combination, just like the rest of this record, not

to be missed.

Must-hear tracks: Another Way Out, We Are, Rain,

Believe

Interpret: Hollywood Undead

Album: Notes From The Underground

Genre: Rap-rock, Rap-metal

Label:Universal Music Group

Origin: USA

Released: January 2013

Members: harlie Scene, Da Kurlzz, Danny,

Funny Man, J-Dog, Johnny 3 Tears
---
In France, a new wave of musicians is finally coming to

terms with the fact that yes, singing in English will most

definitely open doors in the music industry. Better late than

never. Lilly Wood & The Prick is no stranger to that trend.

They're one of these up and coming French artists who

along with Christine & The Queens, Pamela Hute or Theodore

Paul & Gabriel seem to "get it".

Lilly Wood & The Prick have been around for some time

now with influences ranging from Johnny Cash to The Kills

or Patti Smith.

The Fight, their second album, is so good you'll most

likely feel the need to sing along on every single track. The

choruses are catchy. To be perfectly honest there's so many

good things about this record that I'm not even sure where

to start. The bass line in Le Mas, for one. Eargasm-inducing

as one would say today.

With Where I Want To Be, the first track and one of the

first singles off The Fight, you'll find yourself longing for

California.

Also the way the album is arranged gives Hadida's voice

plenty of room to entice listeners, especially as there's no

overbearing instruments.

To quote No Mark (track 10): "You know how crazy it is

when you meet someone and you feel like you've known

them forever?" Well that's kind of how I felt with The Fight.

Like I've known them forever. Familiar and comfortable.

It's very apropos that these guys appear on the album

cover wearing boxing gloves. The music industry sort of

feels like a ring sometimes. Lilly Wood & The Prick have

been playing the indie scene for a couple of years, from

small venues to festivals, and this album feels like it is

"It". They're here. And they're ready to fight their way to

stardom.

Interpret: Lilly Wood & The Prick

Album: The Fight

Genre: Electro pop folk

Label: Cinq 7

Origin: France

Released: November 2012

Members: Nili Hadida, Benjamin Cotto

83

Interpret: Marybell Katastrophy

Album: Amygdala

Genre: Alternative, Electro-pop, Avant-garde pop

Label: Snowhite

Origin: Denmark

Released: March 2013

Members: Marie Højlund, Emil Thomsen, Jakob

Schweppenhäuser, Q

Marybell Katastrophy, an alternative, avant-garde synthpop

act from Denmark has been around for a while, touring

most of Europe and being dubbed 'best new band from

Denmark' in the process.

Their first LP, The More, was released in December

2008 and was almost immediately lauded by the press.

So much so that it soon became 'album of the year' in

Denmark. And you know what they say, there's no smoke

without fire. So of course I decided to get on the Marybell

Katastrophy's bandwagon and give it a good listen. As it

turns out, it's every bit as good as I expected it to be.

From Björk to The Knife, Steed Lord, Flunk or The

Legends if you're a little bit familiar with bands and artists

from the North of Europe (Sweden, Norway, Denmark, Iceland...)

you must have asked yourself the following question

at least once: is there something in the water up there?

I mean, how is it even possible to give birth to so many

awesome bands, amirite?

Hard not to draw the comparison with Björk when you

hear Marie Højlund's ethereal and crystalline voice. But if

the influences are obvious, the originality is undeniable.

Also don't miss the video clip for the album's single Somewhere

Behind My Lips: the dancing skeletons and neon

pink visuals are quite a sight.

All in all, Amygdala, Marybell Katastrophy's second full

length, is a wonderful, eargasm-inducing musical experiment

that's bound to please even the pickiest of listeners.

You've been warned!

Must-hear tracks: Heavy Industry, Wake Up, Dexter II
---
85

The Echo

Vamper

Photography: Bernhard Musil - www.be-musil.com

Stylist: Biki John - www.bikijohn.com

Styled looks in collaboration with The Echo Vamper

Hair & Make-up: Theo Schnürer @ Blossom Management

The Echo Vamper: Iza Mortag Freund & James Brook

James wears : All outfit-James's own. Blue shoulder pieces: wings Moga E Mago.

Iza wears: All outfit-Iza's own
---
Iza wears: Nude Playsuit - epanoui by Eva Poleschinski,

Black Pumps - RENO,

Black latex heel pieces & Black latex gloves - Très Bonjour,

Harness - Moga E Mago,

Tights - Iza's own

86

The Echo Vamper

are dynamic duo

James Brook (UK)

and Iza Mortag

Freund (Denmark)

who recently brought

their charismatic

music, artistic charms

and theatrical

creations down to

Berlin. The city will

never be the same

again…
---
James wears : All outfit - James's own.

Iza wears: All outfit - Iza's own.

Black harness: Moga E Mago.

87
---
James wears : All outfit- James's own.

Black shoulder pieces, wings - Moga E Mago.

Iza wears: Black hat and tights - Iza's own

Black lace body - Stylist's own

Latex hot pants & Black latex gloves - Très Bonjour.

89

Since exploding onto the scene a year ago the Berlin-based band's

music has received a sizeable positive response. It has been described

as, 'early electro rock', 'synths meets rockabilly' and 'DIY Rock n

Roll' mixed with a 'Cabaret Voltaire Feel'. Visually, the pair make

an arresting couple both on and off the stage, thanks to their love of

retro and vintage statement pieces.

Last year, the girl/boyfriend duo independently released and financed

their EP, 'It's The Echo Vamper' which went to number 1

on iTunes in Scandinavia knocking Noel Gallagher off the top spot.

The band are particularly proud of this record as it was a

labour of love which they wrote, recorded, mixed, mastered,

and even went so far as designing the cover themselves. Both

Iza and James agree that this was, 'a strong statement'

of who they are and what they stand for, 'both artistically

and musically'.

This year, James and Iza are particularly excited about making

the music for Lars Eidinger's, 'Romeo and Juliet', which

will be shown on the Main Stage of Schaubühne's Theater, Berlin.

Apart from this project, the band is in the process of writing their

first album which will be released next year. For this they intend to

release a couple of singles as fore-runners. With regards to the singles,

they promise to have some, 'very exciting videos and conceptual

works' which they 'can't wait to release'.

When asked to share their thoughts on KALTBLuT's current theme-

Ice. Land, Myths, Legends and Nature, this is what they had

to say-'Myths and Legends play an important part in all societies,

as they are a way of communicating important social issues. They

also reflect the inner life of all human beings, the conflicts and the

feelings that we all share between us. Especially in rock, there is an

old theatrical & Mythical tradition that we find highly fascinating,

and is something we always strive to channel our music through.

In terms of Scandinavian Culture, the natural world has always

been used as a way of mirroring the complexities and conflicts of

human nature. The elements are represented strongly, as are the

nature of men and women through strong archetypical characters

and symbols that re-enforce the duality in all.

Because we have both been surrounded by Scandinavian culture for

so long, we now carry those myths and understandings with us'.

After receiving phenomenal reception from their live shows in Berlin

and a warm welcome from the community at large, the pair decided

to move to Berlin. Now based out of here, they both agree that,

'life in the big city affords you a snapshot view of life; concentrated,

for good and for bad.' They also observed that being, 'surrounded

by a very different culture and atmosphere challenges and broadens'

them in a different way. Being relatively new residents to the city,

Iza and James both feel that they, 'connect very strongly with the

seriousness, poetry and theatrical foundation of the 'German Way'.

If the stir they've caused in their home city of Copenhagen is

anything to go by then Berliners have a lot to be excited about with

the arrival of this memorable pair.

Text by Biki John

www.theechovamper.com
---
91

Opposite Page: James wears : Black latex mask - Très Bonjour.

Iza weras : All outfit-Iza's own

James wears : All outfit-James's own.

The

End.
---
92

MID

SUMMER

Long Embroidered Dress: Claudine Ivari

Pearls: Vintage

Photography: Vivienne Mok

Model: Anne Claire Ameslon

Styling: Sarah Cazeneuve

Make-Up: Guilaine Frichot

Hair: Sandra Yazoue
---
Halter White Lace Dress: Claudine Ivari

94
---
Silk Chiffon Dress: Etienne Jeanson

Flower Crown: Vintage

95
---
96

Dress: Claudine Ivari

Necklace: PP from Longwy

Stay Ups: Vintage
---
Pleated Lace Dress: Etienne Jeanson

Bracelet & Ring: PP from Longwy

97
---
Long Embroidered Dress: Claudine Ivari

Pearls & Umbrella: Vintage

98
---
Dress: Joseph Font

Ring and Necklace (worn in hair): PP from Longwy

99
---
Pleated Top & Embroidered Tulle Skirt: Claudine Ivari

Vintage Ballet Shoes: Sansha

100
---
101
---
102
---
103
---
104
---
105
---
106

TOP5Facing

North: This should be the real name of this

Selected by Claudio Alvargonzález Tera

Just before becoming an international star after Lars von Trier's Breaking the

Waves and Gus Van Sant's Good Will Hunting, Stellan Skarsgard played an experienced

Swedish police detective in this Norwegian film investigating the murder

of a teenage girl in a small town above the Arctic Circle. But the investigation goes

as bad as it can get when he shoots his partner by mistake and tries to cover up

his bungle and continues the investigation by trying to connect his partner's death

with the teenage girl's killer.

Insomnia refers to Skarsgard's inability to sleep due to his guilt and the Arctic

midnight sun. The film became a hit and opened Hollywood gates to Stellan Skarsgard.

But Hollywood also saw the possibilities of the story and hired Christopher

Nolan in 2002 (who was Hollywood's most wanted those days after filming Memento)

to direct the American remake relocated to Alaska with Al Pacino (playing

the detective), Robin Williams and Hilary Swank. The result was a global

hit too, mainly because of Al Pacino's talent but we still prefer the original one

and Skarsgard's performance. We can see Stellan Skarsgard in some of the best

Lars von Trier movies and most of the blockbusters of the last decade including

Pirates of the Caribbean, Thor or The Avengers. At the moment he's shooting a

new version of William Shakespeare's Romeo and Juliet with Paul Giamatti and

Homeland's new star British Damian Lewis.

2.

EASY MONEY

(Daniel Espinosa, 2010)

Easy money (Snabba Cash in Swedish) is a thriller film directed by Daniel Espinosa.

Again, like many of the Scandinavian films, it is based on a novel of the same name by

Jens Lapidus. It's the story of Johan "JW" Westlund, a poor man who leads a double

life in the upper class areas of Stockholm, but after meeting a wealthy girl, he falls into

the world of organized crime and begins to sell cocaine to afford his expensive lifestyle.

Easy Money was an instant hit in Sweden with more than 100,000 tickets sold during

the film's first weekend in theaters.The film has become a trilogy with the third part

right now in production. Joel Kinnaman stars in the lead role. Kinnaman was very

well known in Sweden until he became famous worldwide after staring in the American

TV series "The Killing" that opened Hollywood gates. You could see him in the

American remake of The Girl With The Dragon Tattoo directed by David Fincher and

he just signed for the main role in a new remake of the iconic Robocop together with

Gary Oldman and Samuel L. Jackson in the cast. He keeps working on both sides of

the Atlantic so we will hear a lot from him in the future.

TOP 5. There's a boom in Scandinavian cinema, we all

know that. In the last years northern European cinema

has gone global the same way French new wave or Korean

horror did before. Hollywood's hunger leads to all

sorts of remakes and some of the most popular Scandinavian

actors have a solid career in the American

film industry these days. Max von Sydow, Lena Olin,

Mads Mikkelsen, Ulrich Thomsen, Joel Kinnaman

and especially Stellan Skarsgard and Noomi Rapace

are some of the faces you can see in American cinema

these days.But why is it we love Scandinavian movies?

It could come from the combination of beautiful scenery,

good acting, smart screenwriting and a stunningly

dark sense of humor. But it could also come from Stieg

Larsson and Jo Nesbo's dark novels. In fact thanks to

Larsson's literature we discovered a whole world full of crimes, death, moral corruption and stark landscapes.

All blended with a touch of a certain kind of realism and a sense of humor which makes it much more intriguing.

And you always thought they are not having fun up there!!

Here are our favorite 5 crime movies we have selected for you.

1.

INSOMNIA

(Erik Skjoldbaerg, 1997)
---
3.

107

HEADHUNTERS (Morten Tyldum, 2011)

The second Norwegian film of this Top 5 is an action

thriller about an accomplished headhunter who seems to

have a perfect life with his wife, but in reality he's living

far beyond his means so in order to keep that expensive lifestyle he

steals pieces of art. Until one day he risks everything to obtain a

valuable painting owned by a former mercenary and problems start

showing up. Headhunters is based on a novel by Norwegian crime fiction

sensation Jo Nesbo, whose Harry Hole books have sold incredibly

well in Norway and abroad. The film directed by Morten Tyldum is in

fact the first big screen adaptation of Nesbo's work.

We can't say the film is a masterpiece but the beginning is brilliant and

cinical and some parts are a bit tricky but at the end it's fast and

really easy to enjoy. One of the main highlights is the strong and

charismatic interpretations of the two main actors, Aksel Hennie and

Nikolaj Coster-Waldau (that Danish actor who plays the despicable

4.

Jamie Lannister in the acclaimed TV series Game of Thrones).

JAR CITY (Baltasar Kormákur, 2006)

Yes, we know that Iceland isn't in Scandinavia , but Jar

City (Mýrin in Icelandic) is definitely a Scandinavian

crime film or what some critics call Nordic Noir, and it

really deserves a place on this list. Once again a thriller

based on the best-seller novel Tainted Blood by Icelandic

writer Arnaldur Indridason about a never solved crime that

took place in a small town in 1974 and an exhausted detective

(Ingvar E. Sigurdsson) in the present day who begins to investigate

a link between that notorious unsolved crime and the homicide of a

local thug. But soon the investigation opens up a bleak trail of long

buried secrets and corruption for the detective and his squad.

The film was a big national hit, becoming the highest grossing domestic

title in Iceland to date (although Iceland's population is around

320,000). Internationally it wasn't a hit but garnered enough attention

in festivals and some other countries to get the remake rights by

one of the American majors. Kormákur is also working as a

producer in the English-language remake.

5.

THE GIRL WITH THE DRAGON TATTO

(Niels Arden Oplev, 2009)

Definitely not our favorite. But if we are writing about Nordic Noir

and its boom worldwide it's because of Stieg Larsson's novels. He has

had his trilogy of Millennium novels adapted into three feature films

- The Girl With the Dragon Tattoo, The Girl Who Played With Fire and The Girl

Who Kicked The Hornet's Nest. In all the three films starred now international star

Noomi Rapace (Prometheus) as Lisbeth Salander, a computer hacker with a troubled

past and Michael Nyqvist as journalist Mikael Blomkvist.

But why have we listed only the first one on this Top 5? Because it's the only one

of some interest. Firstly, of all, it's based on the best novel, the one with the best

plot. Secondly, because the producers thought of how much money they could get

and decided to film the other two as a TV mini series changing the director (Daniel

Alfredson directed the last two).

The result is like two kinds of cinema making, the first one is darker that the rest,

the other two filmed with too much footage, some for the last films showed in theaters

and the rest of the extra scenes for the mini series. But also the image quality

and photography is worse, as it's not the same to use a cinema camera than a TV

one.

Despite all that, the trilogy (the first one being the most successful one) earned

hundreds of millions worldwide and having its American remake in 2011 directed

by David Fincher which wasn't as good as everyone expected.
---
Morten AndersenInterview

108

by Oryanne Dufour
---
109

Meeting Morten Andersen and his stunning collection of visual art on a icy cold day was quite something.

In the studio his textured canvases jumped towards me, flashing colours like the Northern Lights. Contrasted with all

the soft white snow falling outside it seems like winter is the best time to experience his extraordinary work.
---
KALTBLUT: What made you decide to

leave your native Denmark and move to

Berlin? Didn't you feel you'd already had

enough of snow for a while…?

MORTEN ANDERSEN: I wanted to

change my life. I was not fulfilled with what

I had and what I was doing... everything was

going quite well actually, I had a good job as

a social worker, nice place to live, nice friends

around, doing mad shows on the side, starting

to sell well in fact. So you would think, why

leave that?? Fact is I needed a change, more

challenge. I wasn't pushing myself to the next

level I somehow had in mind.

I also wanted to be with other like-minded

individuals. Not just running around in my

hometown with a few guys doing what at

that time was for a very small crowd and not

something that more established international

galleries would really pay any attention to. I

was in contact with a Berlin gallery that had

already offered me some good and exciting

shows so I decided to move down and give it a

try to live exclusively as an artist. I have been

here for almost 4 years now, on and off...

KALTBLUT: Working as a full-time artist

is not always easy though… where do you

look for your daily inspiration?

MORTEN ANDERSEN: I simply open my

eyes: the people living here, the underground,

the different scenes, art, music, design etc.,

there's just so much going on, such diversity.

Something totally random can inspire me in

the painting process…like, you see a crazy

odd man in the streets of Berlin, dressed like

whaaat.. no way! and you might laugh a bit

to yourself… then when you're back in the

studio, you use the brush like what you felt for

that moment, out of norm, because you just

witnessed something - according to me - quite

extreme!

You allow yourself to override boundaries

because what you have around you is more

vivid and extreme. My paintings have got so

much closer to where I really want them to be

the last years. Considering how I would imagine

them sitting back home in Aalborg - my

hometown in Denmark - and not having been

able to actually realise that kind of progression,

this move was definitely important!

KALTBLUT: Can you remember any

moments of intense revelation that opened

your eyes as a budding artist?

MORTEN ANDERSEN: There is one

moment, before I got into painting graffiti

in 1994. I used to go as a teenager to this

infamous abandoned school hall, it was an

amphitheater in a small valley in the middle of

the woods. I went there one day to check for

new pieces, it was winter time and mega cold.

There was these three walls and there in

the middle, the longest of them, was totally

painted by Swet: a crazy colorful burner piece.

With the snow all over, there was this totally

white backdrop. I stood there amazed... for

110
---
like an hour I think! I was so stoked about

this piece, a whole new world opened to me

that one winter day. It must've been 92-93 I

think…I still have the photo at home, me 15

years old posing in front of this Sweet burner!

[laughs]

It was definitely an eye opener artistically.

There was a line drawn straight in front of me.

And I thought "Okay dude, get into this graffiti

thing and see what you can do with it." Graffiti

had my attention for 10 years before going

over to canvas work, new techniques and new

medias.

KALTBLUT: Do you feel it's important

to have a balance between painting in the

street and your gallery work?

MORTEN ANDERSEN: People ask me

quite often to paint some huge walls and do

collabs with other street artists but I can't

paint huge walls... I'm super afraid of heights!

Maybe it's a challenge for me to overcome

in the near future! [laughs] In general I don't

paint too many walls as I have not yet seen it

possible to totally convey my canvas techniques

onto a wall surface.. so the final wall

piece would lack what I would really want it to

be like! I can use many great tools, techniques

and different styles when working on canvas.

Having these kinds of effects coming out

looking the same way on a wall is very difficult

so I'm searching for new methods to convey

my canvas style to standing surfaces. I'm not

proud of that many walls I've done, a few in

2012 I'm happy with, like the facade of my

main gallery in Denmark, Galerie Wolfsen. I

have one wall running in downtown Glasgow

that I like. That was painted in 2011 during the

"Rudimentary Perfection" show which was

focusing on post-graffiti and modern abstract

melting together. Great show! But I've been

an old graffiti writer for 10 years, so surely

messing around on a wall from time to time is

super fun.

KALTBLUT: So do you have everything

already planned out in your mind before

you start on a new painting?

MORTEN ANDERSEN: I freestyle everything

when I paint, so no, nothing is planed

and I have no sketches. It's straight out of my

head! I build up a small repertoire of designs

and techniques for a new series. I like to play

with the materials, see how they act, how they

appear under different lights. The process is

very exciting to me and I can always come up

with something new to spice it all up.

KALTBLUT: How did you come up with

this transparent and geometrical styling

that runs through your work?

MORTEN ANDERSEN: I like how all different

tools act out and look on the canvas: spray,

acrylics, markers, inks etc... All these different

media have their own unique utility and

outlook, and I get different forms and surfaces

111

working with them. So at some point it's kind

of hard to paint some of it over again because

they all look cool in some way! I guess that's

why I came up with this transparency style, to

see all the different layers at one time. In the

beginning, years ago, I was not really aware

of it, but now it's something I try to pursue

and have as my fingerprint in my paintings.

Transparency, shadows and dimension are my

keywords.

All the geometrical work is a direct extension

of my background in graffiti which was

based on outlines. I like sharp and correct

lines. It gives energy to an empty area. Contrasts

are very important in my paintings too. A

very drippy wet area may be held together by

straight lines to give a good contrast. I play a

lot with dimension to have the canvas appearing

more like a room where I put in elements,

rather than a flat piece of linen.

KALTBLUT: Your studio is full of artwork.

Are you working on all of them at

the same time?

MORTEN ANDERSEN: I need to keep an

eye on all canvasses at once, to be able to push

an idea to the extreme, to utilize it the best, to

twist all out of the idea and to use it in different

ways in different compositions. When a new

idea doesn't fit with the current series then I

keep it for the next one. I often see something

new or some changes when I have this long

distance view on my paintings. You need to get

real close and very far away to see the complete

effect of the abstraction and to correct it well

you need distance. iPhone is good for that! I

make small notes where to adjust and so on…

watching and analyzing is a huge part of my

work.

KALTBLUT: If we give you 20 million

Euros but in return you have to stop painting,

would you do it!?

MORTEN ANDERSEN: Hell no! 20 is not

enough... I work step by step, always with a

goal in my mind to reach. So stopping right

now would be so frustrating. I would have the

feeling that I never achieved my dreams and

my goals. If you're a creative person, you'll

always be messing around with different

materials that can be manipulated or styled into

something new, something artistic, because

you can't help it. I guess Pele still kicks a ball

around when he sees one, that's still fun for

him to see if he can nail a trick or two… It's in

you, it's not something you learn at the academy

or try to get into, you either have it or you

don't. You can process skills and techniques,

but all these great things are nothing if you're

not able to do something unique and original

with them. You need an artistic mind for that,

see the unseen and go for your feelings. So I'll

always be doing something creative, I have a

quite strong feeling about that. Maybe not to

the same extend as now when I'm young and

have much energy and power. I could see my

abstract work going in a more physical form

like sculptures.
---
Opening Page: Volatile, 130x200 cm, February 2013

Double page: Morten in his studio

This page: Stand still and ricochet off the wall, 160x190 cm, July 2012

Right page Top: The Ultra, 200x200 cm, September 2012

Right page Bottom: Poly Cubo, 140x170 cm, Januar 2013

All photos of paintings are by Morten Andersen

All photos of the studio are by Alison Tara

112
---
Exhibition: "Extent Immeasurable"

Artist: Morten Andersen

Location: Liebkranz Galerie

Augustrasse 62

10117 Berlin - Mitte

Open: March 1st 2013

Running: 6 weeks

www.liebkranz.de

113

KALTBLUT: I've followed your work for 6 years

now, and I love your unique and abstract style..

but how about if you had to paint a realistic face

or portrait of someone, could you?

MORTEN ANDERSEN: Not at all! I can't really

draw and I don't practice it anymore like back in the

days when I was writing and needed a sketch with

letters to start. Abstract is an art form that is built on

something different. Surely you need to be in control of

the brush, marker etc... but abstract is nothing actually.

It's forms, shapes, elements working together like a

giant puzzle. People are often astonished by their own

lack of knowledge to "tell what it is", but when I tell

them: "you're absolutely right - it's hard to understand

because it is nothing! It's like instrumental music,

you're not supposed to understand, there's no lyrics, it's

about feelings!" Then they're feeling relaxed again.

KALTBLUT: What do you feel makes a good

piece of abstract work? What makes abstraction

special for you?

MORTEN ANDERSEN: It's when you can't tell, but

it hits you in the stomach and you get that feeling like,

yeah it's right on spot, have no idea why, but it's there,

I feel it! That's what my work is about, I'm not telling

you anything specific, anything political, pointing

fingers or something. I'm trying to convey to you an

experience through senses, something different, out of

the ordinary. I once named a solo show "I see colors

like you hear jet planes" - maybe this gives you an idea

about how to try to attack abstraction for a better understanding.

Don't try to understand it with a specific goal

in mind or a special optic, because then you'll loose.

Feel free... open your mind and let loose.

KALTBLUT: So, the most important question saved

till last, where can we actually see your work

on show?

MORTEN ANDERSEN: "Pieces of the Sky". February.

Galerie Wolfsen. Aalborg, Denmark 2013

Soloshow. March 1st. Galerie Liebkranz. Berlin, Germany

2013

Museum groupshow. March 24th. Saarbrücken, Germany

2013 35 urban artists groupshow.

Amongst them: (Futura, Rammellzee, Quik, Retna,

Dare, Reso, Invader, Doze Green, Shepard Fairey ...)

Best of BSA (Berlin Selected Artists). Galerie Wolfsen.

June. Aalborg, Denmark 2013

Soloshow. November. Galerie Wolfsen. Aalborg, Denmark

2013

KALTBLUT: Great Morten. Thanks so much for

sharing that insight with us at Kaltblut! Any last

words??

MORTEN ANDERSEN: Thanks to you, Oryanne,

for inviting me to do this interview, always a pleasure

to work with you. High-fives and much respect to my

Danish curator Rasmus Ejaas Fischer from Galerie

Wolfsen and Kent Wolfsen who runs the gallery, these

guys I owe a lot for believing in me and taking my art

to new heights! My Berlin curator Uwe Goldenstein for

pushing me down here. Any one who follows my art

and have been watching over the years, keep following,

I'm only just getting started.

www.m-andersen.com
---
114
---
115

Dandy of the Grotesque

Photography: Ole Westermann - www.olewestermann.de

Fashion Styling: Timo Bloom - Nude Agency

Model: Sasha Marini - Joy Model Management

Hair/MakeUp: Timo Bloom - Nude Agency

Location: Berlin - Studio Stockholm

all Garments are made in Berlin by - Dandy of the Grotesque

www.dandyofthegrotesque.com

Slim Jacket: Dandy of the Grotesque

Ring: models own
---
Bowler Hat: Dandy of the Grotesque

Shirt: Zara

Slim Jacket and Trousers: Dandy of the Grotesque

Belt: Zara

Ring: models own

Shoes: H&M

116
---
117

Vest, Bolero Jacket and slim Trousers: Dandy of the Grotesque

Shirt: Zara

Shoes: H&M
---
Wool Kimono: Dandy of the Grotesque

Hoody: Dandy of the Grotesque

Nosering: Naked Steel

118
---
issue 10

119

paint sound film flesh us

meet the artists we love

roomsmagazine.com
---
120

Fjarlægð

Photography by Sebastian Donath | www.neoncolour.com

Assistant Pascal Flor

Colour Photos

Styling: Janetta Benner | www.janettabenner.com

Hair & Make up: Maria Ehrlich | www.maria-ehrlich.tumblr.com

Model: Sophie Labowsky @ IZAIO models

B/W Photos

Styling: Lina Saleem & Isolde Richly | www.linasaleem.com & www.isolderichly.com

Hair & Make up: Selina Reimann | www.selinareimann.com

Model: Steffen Dietz @ IZAIO models
---
121
---
122
---
123

Hairpiece by Zofie Angelic
---
Necklace by Heubel Collection Provence

Fur Coat by Butterfly Soulfire

124
---
125

Coat by JULIAANDBEN, Glasses and Bag by Lina Saleem
---
Coat by JULIAANDBEN, Glasses and Bag by Lina Saleem

126
---
127

Coat by JULIAANDBEN, Glasses and Bag by Lina Saleem
---
Edgar

128

Avila

A quiet street in Paris 10th arrondissement,

a typical Parisian building, climbing a wooden

staircase, a door opening onto a vast kitchen and

here I am in Mr. Edgar Avila's apartment, also

doubling as his atelier at the moment. A nice cup

of tea is awaiting me as we discuss his artistic path,

sharing insight into his works and constant search

of the perfect scenery for his inspiration.

Edgar is a Parisian Argentinian who was

adopted by the city of lights 20 years ago.

He studied architecture in Argentina and

followed a path into fashion in Paris, studying at

the Studio Bercot and working as a set and costume

designer. His dreams came true as he went from

studio intern at Lacroix, Chloé, Véronique Leroy to

fashion editor for more than 10 years, but in 2009

he made the strong decision to dedicate himself to

his art. As a polymorphous artist he is constantly

exploring every medium and creating new ones,

remaining open-minded and working closely with

his environment, passions and his Iphone (yes!) His

art is simultaneously nostalgic and unique, and he

perfects his creations and discovers new techniques

using everyday objects.

A Barbie doll, the sign of our childhood, becomes

his heroine, a plastic mask now appears to him as a

faun, he never stops morphing objects into his own

wonders, and our own.

These days he is working with light. Light as a medium,

an object, an assistant or a colour. Through

one of the most familiar office tools: a simple scanner,

he is playing with artefacts, wrapping papers,

metallic foils and the edges of the unknown, he

creates dreamy countrysides, a vague souvenir of a

past, or scary volcanoes ready to burst...

Interview by Ya-Shi Emilie

Photography by Nicolas Le Moal

whyaintyoucreative.tumblr.com
---
129
---
KALTBLUT: Hi Edgar, let's talk about

you, who are you?

EDgAR AVILA: I am an Argentinian

who studied architecture.

KALTBLUT : Why architecture?

EDgAR AVILA: It was the closest to

what I wanted to do which was theatrical

sets and costumes a cross between fashion

and theatre. I did that for a while in Argentina

and then I discovered the Studio

Bercot in Paris. I came to Paris 20 years ago

to study at Berçot for a two year course.

I then interned everywhere you had to

intern: Christian Lacroix, Chloé, Véronique

Leroy… But like a lot of foreigners I did

not have the requested papers to work, so

I wasn't able to get a steady job. It was a

tough time. Luckily, I started to assist a

fashion director from a magazine and ended

up being a fashion editor for 10 years.

KALTBLUT: Fashion editor for ten

years.. but then why did you stop?

EDgAR AVILA: So for 10 years till 2009,

I work in fashion as a stylist, an editor.

Since then it is a world that I am no longer

interested in. There is a lot of pressure from

the advertisers and the current (fashion)

environment. As a fashion editor in a magazine,

you are unable to produce interesting

work. I quit in 2009 in order to pursue my

dreams. Since then, I have dedicated myself

to my works.

130

KALTBLUT: That's a brave decision.

So how is it going so far?

EDgAR AVILA: It is picking up. I did an

exhibition in Los Angeles and Milan, and

Vienna might be around the corner; I need

to visit the place first. I am also now part of

a company catalog, which installs wallpapers

and carpets in hotels and specific places

around the world. They either do printed

carpets or propose hand knotted carpets.

KALTBLUT : Your work has been

featured as part of a catalog which is

more product focused, is it okay with

you that your work is more accessible to

the public?

EDgAR AVILA: I think it is very good as

the company is very focused. They bought

the flower series and landscapes, it is meant

to be a big installation project. When I imagined

these projects I really thought about

the medium and knew that it should be in

big proportion. You create a picture on a

software medium, how do you want it to be

exhibited? You can project it on a wall, paint

it or print it out from its software version.

I don't see it like a betrayal to my original

work. You can do whatever you want with it.

I like it this way.

KALTBLUT: Indeed, but a lot of artists

would feel that like was a betrayal of

some kind…

EDgAR AVILA: Maybe the work is

becoming more material and tangible. But

it is a way of reaching everyone. After all it

will be part of your everyday life. As part of

everyday, I am currently making pictures

with my Iphone and transforming them

into a polaroids thanks to a mini software.

I snapshot things, it is very interesting, it

can be printed in big format or very small

ones like a polaroids... (he shows me some

works on his Iphone). For the carpets I did

a porno series, but as I have captured just

fragments of it so it doesn't look like porno,

you cannot see or guess what it is.

KALTBLUT: So how did you start to

use digital processes?

EDgAR AVILA: I started in 1997, I prepared

a series of works for a designer that

I loved and wish to work for. The original

work was photocopies on paper and tracing

paper, with addition of nailpolish for color

hints. That is how I discover that working

on photocopies was really interesting. I also

started to touch different media then such

as ceramic. I worked in little neighborhood

ateliers but then moved on as it was mainly

full of women wanting to do little cute pots

or gifts. I wanted to explore the ceramic

medium with protean shapes. And then I

started to work with fabric, to create these

forms….(sculptures of fabric are picked up

from his shelves of collections). I have also

touched on embroidery. Looking for a way

to do it not so neatly.

KALTBLUT: You currently work with

a scanner, isn't it a bit 'flat' as a medium?

Don't you still need to touch and

feel the materials?

EDgAR AVILA: Nowadays I am really

into sculpture. I am nurturing myself with

exhibitions, statues in garden, looking

around... with the scanner I am working on

creating volumes with the light. It is capturing

a moment in one shot. I like that it is

ephemeral. I hate to be too neat. I am very

meticulous when it comes to tiny details, I

see everything even the smallest details but

when I produce it and do it, it is immediate.

It is hard to fix it. Like in my landscapes, I

do it like I feel it. It is my own perception,

If I mean horizontal it is horizontal. It is

organic, it moves sometimes it doesn't stay

as I want.
---
131

KALTBLUT: Do you like the idea of it

being 'alive'?

EDgAR AVILA: Yes that's exactly what I

like about these researches. When you work

with a scanner you have to work upside

down, backwards, picturing the result. In

Morocco there is a technique called 'Zellige'

for the mosaic art. The designs are done upside

down; so they don't really picture what

they do, they see the final result when they

return it. My work is twice unexpected. You

don't know how the light is going to come

out nor how the objects will be reacting. I

happened to try and buy expensive material,

in the end no result. Now I only work with

the things that I find left alones, such as the

hair pieces that I bought in flea markets. I

understand why photographers are obsessed

with the casting, the perfect fit and person.

Sometimes some models are not convincing.

Now I am also casting objects and dolls.

KALTBLUT: Let's talk about "VUL-

CANOES" the work that is featured in

this issue, how did you realise it?

EDgAR AVILA: I did a first work on

landscape a few years ago and then moved to

other things. When my tastes and techniques

had evolved, I wanted to do a new

series of landscapes with a volcano base. I

became obsessed with it following a trip to

Sicilia. I also come from a place where there

are a lot of volcanoes.

KALTBLUT: Are you missing Argentina?

(He is showing us some volcano

landscapes)

EDgAR AVILA: This is where I come

from. This is called the Six Thousands, it is

a small space full of volcanoes, they are all

extinguished. I am not missing Argentina, I

have been living in Paris for 20 years, I have

it in me.

KALTBLUT: What are your future

projects?

EDgAR AVILA: I am looking for an

atelier. I need to have my own separate space

to work. I can no longer work in my home.

I am working on the Vienna project and

developing the wallpaper project. And…at

one point I even thought of cooking, Most

of my friends are telling me that I should

be a home chef, but it is already another

universe. I have tried to put it aside but it is

part of me. I make snapshots of my cuisine

and food setting with my Iphone. I do my

own market. You have to snap shot it quickly

before your guests eat it or it gets cold. Although

I am not sure of the Iphone reliability

as a serious medium. When I was a fashion

editor I was using it a lot to snap pictures in

the showroom of interesting things. But it

is part of the new communication tools, you

cannot be closed to new tools, well at least

my new tool.

edgaravila545@gmail.com
---
132
---
133
---
134
---
135
---
Into

136

MENTAL

CARDS

TIM FITE

Time Fite is an independent, ultra creative musician and

visual artist from New York. He opened for Bonaparte during

the last tour in Europe before going back to his various

projects. He is currently rapping with GRANT$, an unconventional

duet we should definitely keep an eye on!

To see some of his videos, prints and hear some free

spirited music jump onto his website

here : www.timfite.com

Tim, close your eyes and picture a deserted

landscape:

It is very crowded in the front of the frame

and open in the back. The land is red and

the sky is a purplish-grey, the trees have

ants running on the bark and there is a

fence that breaks the crowded part of the

land from the empty part.

There is a cube do you see it?

The cube in the landscape is green and it

is glowing, filled with children.

Do you see the horse near the cube?

The horse near the cube is a little bit

angry, I think he stepped on a nail.

What about that door there, a little bit

further?

I can see it but it won't open, it is locked.

Perhaps I can knock on it and someone

else could open it for me.

You don' t have the key?

No!

Text and illustrations by Marianne Jacquet, www.wrangelkiez.org

from Tim Fite and Lasse Matthiessen.
---
137

Ice-covered land, wild open field, fierce freezing wind, and extravagant, almost extinct

animals.. I invite you to join my experiMENTAL trip into the imagination of two Nordic

artists Tim Fite and Lasse Matthiessen! Both have opened their minds to embark on this

creative journey driven by the sound of a narrators voice. Please read carefully and then

close your eyes to picture this unique postcard of the mind, a place called imagination.

LASSE MATTHIESSEN

Lasse Matthiessen is a singer song writer from Copenhagen. He recently released a new album with the Icelandic

artist Halla Nördfjörd and Ian Fisher (US).The trio will be performing in Berlin at the Nordic

Embassy on the 16th of May.

www.lassematthiessen.com

When you close your eyes what do you see?

I see a red wooden cabin on the other side of the frozen lake. We are in the "Fjell"

(mountains). The sky is clear and the sun is turning red and yellow and distant over

the mountain tops.

If this place is a sound, what is it like?

It's the Norwegian Hardanger Fehle - Hardanger violin with the four drone strings

ringing underneath the normal violin strings...and with the

volume going

slowly

up the

Fender

Telecaster

with

a touch of

overdrive,

reverb and

delay. The

sound scape is

of the wide open

space and the

reverb from the

mountains.

An animal

is coming

towards you

do you see

it?

No…but

I hear a

moose in the

distance…and

I think of how I love moose with potatoes and…oh..ok so I

hear the moose coming closer. It has this strange call and when

you hear it you're not sure whether to laugh or cry that huge ani-

mal has been given this strange sound. It sounds a bit like a horny cow's

"muuh".

The sound is leading you to a house, can you describe it?

Yes, to the red cabin. It's small but because of the

colour it stands out in the snowy white landscape. I

cross the deep frozen lake and hope it really is

frozen.

Do you enter the house?

It doesn't take long to cross the lake and as I stand

there in front of the massive oak tree door I turn the door

handle and go in.

Right in front of you there are some instruments… which one

do you pick or which song are you singing?

I think it's my left hand Martin acoustic guitar in the corner. I

pick it up and play a song that I recorded in a red wooden house

in Norway February 2012 called "Oh, Ulysses".
---
138
---
139

Saga Úr Sjó Concept/

WHITE OVERALL: TANJA HULD LEVY GUDMUNDSDÓTTIR

GOLD OVERALL: BJÖRG SKARPHÉDINSDÓTTIR

Production/Art Direction:

Nicolas Simoneau & Rut Sigurðardóttir

Photographer:

Rut Sigurðardóttir

www.rutsigurdardottir.com

Stylist:

Erna Hreinsdóttir

www.ernahreinsdottir.com

Make up:

Jamal Musa @ Nude Agency

Hair:

Persona Non Grata, Berlin Headquarters

www.facebook.com/slutnongrata

Hair assistant:

Katie Jacques Foolsgold

Models:

anh & Lex @ Seeds Management

Special Thanks:

Swarovski
---
140

DRESS, DENIm JACKET, JEANS: EYGLO
---
141

VEST: Hildur Yeoman, SHORTS: ZISKA
---
142

DRESS: HILDUR YEOMAN
---
143

SWEATERS, KNIT PIECE: EVA BRá BARKARDÓTTIR
---
144

HOOD: ZISKA, BRA: HILDUR YEOMAN
---
145

SWEATER, TROuSERS: EVA BRá BARKARDÓTTIR, SHOuLDER PIECE: HILDUR YEOMAN
---
146

SWEATER: HILDUR YEOMAN, TOP, SHORTS: EVA BRá BARKARDÓTTIR, BRA, TROuSERS, RING: HILDUR YEOMAN
---
147

NECKLACE: SwAROVSKI, SWImSuIT: EYGLO, KNIT PIECE: HILDUR YEOMAN
---
148

JÖR

by

Guðmundur

Jörundsson

Interview by Marcel Schlutt

Photography: Íris Björk

Styling: Sunna Þorsteinsdóttir

Makeup and hair: Harpa Finns

Models: Emil Þór Guðmundsson

& Ómar Þór Ómarsson

Iceland, this little but extraordinary country in the North of Europe, with a population of just 320.000 human

beings is one of the most creative places in the world. The fashion scene is very small but some of the most

exciting young fashion labels are coming from this island. One of our favorite labels from Iceland is contemporary

menswear label JÖR by Guðmundur Jörundsson, founded by menswear designer Guðmundur

Jörundsson in 2012. The designer knows how to bring back men glamour and true gent's style. The Spring/

Summer Collection is entitled Jewlia and I am in love with every single piece of it. Photographer Iris Björk

produced this editorial starring Emil Þór Guðmundsson and Ómar Þór Ómarsson just for our issue. And I

had the pleasure of talking to Guðmundur Jörundsson about his new label and the fashion scene in Iceland.
---
149
---
150
---
151
---
KALTBLUT: Congratulations for the successful launch of

your very first collection and the label JÖR by Gudmundur

Jörundsson. I love every single piece of your collection. Tell

us what is your vision with your design?

GUDMUNDUR: Thank you Marcel, that's great to hear. I guess my vision

for design runs on different obsessions, which makes every collection and

the label in general a sort of concept label and concept collections. I like

creating a different world for each collection.

KALTBLUT: What I like most looking at your designs is the

mix of classic menswear with this special touch of futuristic

style. Where do you get your inspiration from?

GUDMUNDUR: Inspiration comes from all directions I guess, most

frequently from conversations, movies, photography and even dreams.

KALTBLUT: Ice-Land, Myths, Legends and Nature is the

theme of this issue. How much has Iceland influenced your

work?

GUDMUNDUR: Probably more then I suspect myself. I spend a lot of time

in nature, but it would be a cliché to say I'm inspired by Icelandic nature.

Maybe I am a cliché after all. Nevertheless, living in an almost non-existent

Icelandic fashion scene is fun. It's our time.

KALTBLUT: What kind of material do you work with? And do

you work with fabrics from your home country?

GUDMUNDUR: I am a lot into natural fabrics, and slowly adding more

and more of organic fabrics. I have been best described as a "linen pervert".

Guilty as charged on that subject. From Icelandic fabrics, I have only

used leather -- There are not so many options when it comes to Icelandic

fabrics, of course you have the Icelandic wool for knitting. It's rough and

itchy, good for herding but nothing more. What I have used in the leather

area? Icelandic lamb, reindeer and cod for example.

KALTBLUT: Looking at your first fashion show for JÖR I have

to say: I love the type of guys you have booked for the show.

What does the perfect man look like for your garment?

GUDMUNDUR: The guys play an important role in the making of a

collection and a lot of time goes into researching models. As to the perfect

guy for my garments I have to say that it ranges also, depending on each

collection. For example this collection is more 'sud de france' than before,

more delicate.

KALTBLUT: Can you explain: Why menswear and not fashion

for women? What is the reason?

GUDMUNDUR: Well, to tell you the truth I have just as much interest

nowadays in womenswear. And we will be adding womenswear to the JÖR

collection soon. But at first I was more interested in menswear. There are

so many rules in menswear to break, you don't have that in womenswear.

KALTBLUT: You graduated from Iceland Academy of Arts last

year. And we can see that you are very talented in what you

do. Have you always wanted to be a fashion designer?

GUDMUNDUR: No, I guess not. I'm not sure I was aware of the existence

of fashion design until later in my life. I figured it out around 17 or 18. Then

a little later I started working for Kormákur & Skjöldur at their shop. A

little later I was studying fashion design; I had just dropped out of school

and was kind of lost. When I started working at the Kormákur & Skjöldur

store I withheld my focus on fashion or menswear. At first the K&S store

was focusing on second hand formal menswear. I stayed back in the

stock where all the Savile Row tailored suits were. They were from the old

Bertie Wooster store in London. I remember I used to smell the Savile Row

garments. Kind of sick when you think about it.

152
---
153

KALTBLUT: What was the first piece you ever designed? And

what was it for?

GUDMUNDUR: It was some ridiculous jacket with a Dracula collar and

orange buttons. I made it for my application to the Icelandic Academy of

the Arts. Unnsteinn, who is now the lead singer of Icelandic band Retro

Stefson modeled for me. Good times.

KALTBLUT: How did you grow up in Iceland? Did you get the

support from your family and friends?

GUDMUNDUR: My childhood is pretty basic. Sports, fishing, skiing. I

grew up in Reykjavik. I was a pretty hyperactive child, although my mother

says I was just an "active" child with an "active imagination".

KALTBLUT: The fashion scene in Reykjavik is growing a lot

these days. The international fashion world is looking at your

country. Why is Iceland the place to be for you?

GUDMUNDUR: Iceland is the best and Iceland is the worst. I like the

contrast and I need the over exaggerated contrast.

KALTBLUT: Are there any menswear designers you look up

to? And if so, why?

GUDMUNDUR: Alexander McQueen - He was a damn good designer and

did a lot for modern menswear.

KALTBLUT: Can you name 3 must have items for a modern

man?

GUDMUNDUR: Linen jacket, linen shirt, linen trousers.

KALTBLUT: There is so much good work from music to art to

fashion coming from Iceland. It is always a big inspiration.

Can you explain why your folk is one of the most creative

ones in the world? What is the secret of Icelandic artists?

GUDMUNDUR: There is a nice concoction between creative fields in

Iceland. The music scene in Iceland is the best example of how to do good

- Everybody helps each other out. The competition is built on good terms

and that's how it should be with every scene. Nearly all of my friends are

musicians, it's kind of funny.

KALTBLUT: Which are your favourite artists from Iceland?

And why?

GUDMUNDUR: This might be the most difficult question I have been

asked… My all-time favourite is Prins Póló. The new Retro Stefson record

is also brilliant -- And at this exact moment I am listening to the new

Hjaltalín album and it is really, really good. Ragnar Kjartansson, Apfelsin

Bros - Sindri Sin Fang & Örvar Múm. FM-Belfast. Inga Birgis. I could go on

and on.

KALTBLUT: Have you ever been to Berlin? Or Germany in general?

And what do you know about our fashion scene here?

GUDMUNDUR: Yes, I have been to Berlin. I spent 3 weeks there once. It's

a tremendous city and I hope to live there one day. Actually I love Germany,

I support the German football team and I love German language. I am sort

of a Germanophile.

KALTBLUT: Thank you very much for the interview. And good

luck on your way with the label.
---
154
---
155

"Maybe

I am

a

cliché.

"
---
156
---
157
---
158

COLUMN: HERR VON KEIL SAYS

"Please mind the prat between the train and the platform."

"Step back please!", the loudspeaker voice of tin is yelling at me.

Well I would, if I could.

I am standing in the U5 towards Hönow, it is shortly after 9pm and the metro is so packed that

I can barely move. Doesn't seem to be bothering the man behind me who is breathing happily

down my neck, his deepest rotten breath.

Text by Magnus Von Keil www.vonkeil.com

Same goes for the completely intoxicated group of

tourists from Southern Germany right next to me,

all the pushing isn't getting to them at all: shouting

out lame jokes across the wagon, while the snow

melting off the umbrella of the bloke in front of me is

soaking my shoes.

Even though I feel the urge to free exponential

aggression rising, I attempt to escape this merciless

scenario, at least in thought. As I note a particularly

smeary grease impression on the battered windowpane,

I stare out into the darkness of the underground.

How you wish yourself far, far away at moments

like this! Away from street dirt, shit on the pavements

and drunk, partying tourists. Further away

than the U5 could ever take you...to a place where

you regain space, peace and finally a perspective; a

view free of ugly concrete blocks and oversized Fastfood

billboards. But as it is, I live in Berlin – a city

in which you are never alone.

This is basically the reason why you live here: after

all. It is filled with people of progressive thoughts,

people who want to move things, even if only from

the pub next door. It is filled with people who are

gladly playing music for free, sometimes during

the night or right by your bedroom window. But it

seems, there are also those people who apparently

purely exist here just to get on all the other people's

nerves.

Anyone who has ever played "Super

Mario Bros" will surely remember

the Thwomps. The Thwomps

are big, spiky boulders, apparently

just pointlessly hanging from the

ceiling but falling just at the right

moment when Mario stands directly

underneath one. And this is exactly the type

of people who can turn anybody's life into living

hell: Boulderpeople.

Boulderpeople are those who during rush hour,

push their dirty bikes or kids buggy into the hope-
---
lessly stuffed S-

Bahn so they can

then unpack their

file folders and

study for an upcoming

business

studies exam.

Boulderpeople

are also those

who will push

their way through

a concert only to

stop still right in

front of you and

then not move

an inch until the

show is over. Who

in public spaces

will always come

a few centimetres

too close, and violate

your privacy.

Boulderpeople

prefer to

carry around

particularly

bulky

objects such

as hiking

backpacks,

violas,

or partly

wrapped

IKEA furniture

in order

to drag them

around

carelessly

taking no

notice of

anything in

their path.

If you have to

walk around in

urban spaces a

lot, you will come

to recognise these

Boulderpeople

from afar. Like a

sharp-eyed hunter

who scans the

rocky wastelands

of the Siberian

tundra for ptarmigan

and arctic

hare, the savvy

urbanite scans

his territory for

hostile obstacles.

159

Illustration: Tim Brackmann

His trained eye instantly spots Boulderpeople based

on their square stature, their practical polyester

anorak and the large blank face whose emptiness

is optionally amplified by a tasteless cash register

frame.

There are no real sex or age differences between them -Boulderkids

do obviously exist as well. Baby-Thwomps. This species

is most commonly encountered occupying and often hampering

public spaces: in the corridors of shopping centres, for example,

or on the 30cm wide sidewalks of East Berlin – just at precisely

those places where it is extremely inappropriate for newborns

to learn how to

walk…

Although all

of these obstacles

do not go

by unnoticed

by the experiencedmetropolist,

no matter

how hard

you try -you

can't escape

them. If you do

it Super Mario

style and just

run, you could

survive.. but

although this plan

works out pretty

well in theory

–there is a tiny

hindrance: since

we in fact don't

live in the areal

clarity of the

Siberian tundra,

but in a big city

instead, the long

distance visibility

is somehow always

impaired by

a Starbucks sign

or a "Cirque du

soleil" advertising

placard - and before

you know it,

behind the next

corner a fresh idiot

will be waiting

to stand eagerly

in the way.

Let's face it, you

can either despair,

or take your

destiny for granted

and embrace

it. In the end, it is

a cosmic law that

on the grand escalator

of life there

will always be one

arsehole that is

blocking the natural

organic flow of

things.

And this is

something

that even the

Siberian hunter

himself

can confirm.
---
160

NATURES

BEAUTY

Photography by Victoria Bolkina

Style by Diana Bogach

Accessories by POSH

Hair: Zina Morino

Make up: Anna Kuzminykh

Models: Marie Orlova @MSS, Luba Varga and Daria Savchenko @Star System
---
161
---
162
---
163
---
164
---
165
---
MY SOUNDS

OF THE

NORTH

166

This is one part of the theme "ICE-LAND" that we

can't possibly ignore. That magical spark of creativity

that runs through Scandinavian waters and

surrounds.. flows into its musicians, out through their

fingers and into our ears…

From the first moment I heard The Knife's "Silent

Shout" album it changed the way I listened to

music forever.. and after wracking my brains for

the last months I still can't put my finger on it.. what

makes music from the North so special?

Maybe it's the cold atmospheres, the all-encompassing darkness, the inspiration from such unforgiving

nature, the eccentricity, a heightened sensitivity… or maybe a collection of these combined

that draws it out somehow.. either way, this shared intensity undoubtedly makes for some of the most

eccentric artists and perfect sounds that I've ever heard…

It has been a massive task having to narrow it down to just these few of many, many more worthy of

a place in this list, but for now here it is, a definitive guide to my favourite artists from the North..

Iamwhoiamwhoami

Epic Escapism

Text by Amy Heaton

This strange title is the pseudonym for the

mesmerising audio-visual experiment of

Jonna Lee (with co-producer Claes Björklund).

I first discovered her epic videos via

YouTube, well that's the way that she intended

it, and was totally grabbed by her

weirdness. It's tasteful, full of details and

each video runs into the next, featuring

more and more strange and wonderful

costumes, characters and locations tinged

with that Scandinavian backdrop….

woodlands, washed out colours.. it's really

well worked. But the project is not only

on this list for the art that she creates (as

brilliant as it is), I'm also really intrigued

by the way that Jonna went from humble

unknown singer-songwriter to all out viral

video hype machine. She really manipulated

the press, sending links to videos

featuring her blonde (unidentified) image

and had them all head scratching, but

then as the releases continued they seemed

to catch on that the artist, whoever

it was, was speaking directly with the audience.

I love this level of secrecy she creates,

keeps people thinking and waiting,

she's really thought about how to present

herself and play with her image, a whole

new way to expose her music that's entirely

her own in a way that is only possible

through the internet. Love it!

Editor's Pick

With Jonna it's not enough to just

hear her sounds, if you want the

full experience go and watch them

alongside her videos on her YouTube

channel. The first one I watched was

";John", think it's still my favourite.

www.youtube.com/user/iamamiwhoami
---
Björk

Our favourite Icelandic icon

167

Her extroverted character and unique vocals have been leading audiences to either love her or hate her for decades,

but either way, you can't deny her originality for one second. Trying to sum her up in a paragraph is impossible.

She flits around the genres like a musical butterfly, from experimental electronica, rock, trip-hop and jazz to alternative

dance, industrial and rave… and from musician to songwriter and producer she moved into film with her memorable

performance in Lars Von Trier's "Dancer in the Dark" (2000) and has made it onto every magazine's fashion

pages with her outlandish style and designs. Her unconventional approach to the music industry and her anarchistic

affinity with nature has kept her firmly in the public eye but it's her music that deserves the real press coverage.

Playful, intelligent, innovative compositions. True works of art. In 2011 her latest project "Biophilia" (One Little Indian)

was released which aimed to combine music with technological innovation, science and nature, and an "app

album" was also released which made it highly interactive. With every new release she challenges us, and remains

a current and relevant artist. Reported to be working on a book release and playing intense live shows in Paris in

February of this year she shows no signs of slowing down, wherever will she take us to next!?

Sigur Rós

The music that dreams are made of…

Whenever I listen to this band I'm totally overcome with a wash of complete awe. It's surely some of the most beautiful

music created in modern times. It sparkles through your mind, delicate and fragile, but builds up into moments that

fill your soul and leave goose bumps rippling across your skin… frontman Jónsi Birgisson's vocals ride high over the

uplifting waves of noise in his native Icelandic tongue and if you close your eyes, you feel like you're no longer listening

to music from this world. Last year they released their sixth album, "Valtari" (2012) and experimented with various films

to attach to their sound that you absolutely have to search for. They are currently on a world tour with an all new live

show which includes an 11-piece band and claim to be taking their sound in a whole new direction with yet more

new material due out this year, every concert ticket comes with a 3-track E.P of previously unreleased tracks, if you can

get hold of one that is…

Editor's Pick

It's got to be her 1995

album "Post": that dark

heavy energy of "Army

of Me" and the visceral

driving "Hyperballad"

which both have classic

music videos from her

long time friend and collaborator

Michel Gondry

plus her all time hit, Betty

Hutton cover, "Oh It's Oh

So Quiet" with the Spike

Jonze-directed music video

clip.

www.bjork.com

Editor's Pick

The bands fourth album

"Takk…" (2005) features

their better known

tracks "Sæglópur" and

"Hoppípolla", and you

can hear why, but for

me their latest offering

"Valtari" (2012) is my

favourite album of all,

especially the track

Varúð (Caution, in English),

and the films that

accompany the album,

to be released on their

own exclusive DVD collection

this year.

www.sigur-ros.co.uk
---
I had her album "These Things Take

Time" (2009) on constant repeat for

about one month solid and I can still

listen to it now from start to finish, it's

not very often I find a new record like

that. I think it's her frank, simple and

witty lyrics that you can so easily

relate to, themes of broken love, everyday

observations and emotions.

It's an endearing melancholy that

pulses through her stripped back

and unpretentious instrumentation:

simple drum claps, melodic synth

lines, repetitive and dreamy supporting

her voice, she's almost speaking

her words to you and just doing

her thing in a completely honest

and unapologetic way, it couldn't

be more effective. Based out of Berlin

she also has a collection of equally

quirky makeshift music videos online

and proved that first album wasn't

just a fluke when she released her

brilliant second full length, "History"

(2011) the same way she puts out

all her music, on her own label 'Dark

Skies Association'.

The mysterious Swedish born siblings Karin Dreijer Andersson

and Olof Dreijer are cited by millions of electronic

acts across the world as a source of inspiration and

arguably sparked off a whole sub-culture of our time...

but no matter how many poor imitations I've searched

through never have I come across anything else quite

like it. Nobody really knows much about them, they keep

themselves and their influences

extremely private, but

at the end of the day who

cares. Their self titled debut

was a gentle introduction to

the pair who later unleashed

the full fury of their electoneon

nightmare corridors

in "Deep Cuts" (2004) and

"Silent Shout" (2007) that

twist before you in ways that

would make even the great

David Lynch's toes curl. It's

unsettling for sure, but just as

playful as it is horrible. For me

it's their intuitive mix of samples,

patience, a shed load

of good taste and of course

those distinctive vocals that

make their sound so impossible

to replicate (and as if

anyone would even dare..)

Every note seems to have

its place, and you couldn't

rewrite it any other way. It's

been nearly a decade since

their last release, and staying

true to their own habits

(despite the album title) their

new album has been kept

close to their chests until a

teaser video was posted on

their website late last year.

We can now confirm that

they are releasing "Shaking

The Habitual" in April 2013...

You have no idea how

happy this makes me.

168

Molly Nilsson

Vintage Pop Perfection

The Knife

Masterminds of electronica

Editor's Pick

Listen to it all, from start to finish, then go

back and start again… If I HAVE to pick

one, it's maybe either… "Forest Families"

(Silent Shout) or "A Lung" but please,

don't make me choose!

www.theknife.net

Editor's Pick

I think there's not a

soul in Berlin who

can't relate to the

words of "(Won't

Somebody) Take

Me Out Tonight"…

feel free to prove me

wrong. "You always

hurt the one you

love" from "History" is

a brilliant track too.

www.darkskiesassociation.org
---
Over to Denmark now with

producer Anders Trentemøller,

his deep ambient electronica

stood out for me amongst a

wall of Berlin minimal, techno,

progressive house.. His debut

album "The Last Resort"

(2006) is one of my all time

favourite electronic records;

intense, driving, powerful, but

washed with a melancholic

resonance. On top of his own

compositions it's his remixes

that really get me. His 2011

release "Remixed/Reworked"

featuring various other great

artists such as the mighty

Thom Yorke. New and established

acts alike he doesn't

seem to care which, but they

all have one thing in common,

that he clearly loves

the track he's rediscovering,

and it's this appreciation of

the original sound and structure

that so clearly comes

through in the music. He also

remixes a lot of his own work

and I often enjoy the remix

just as much if not more than

the first version. Of course he

also transfers this technique

over into his DJ sets, so if you

can catch a live set by him

at Panorama Bar or wherever

else absolutely do it. He's

due to release a new record

this year with his own "In My

Room" imprint and lining up

festival dates for this year.

169

Trentemøller

Editor's Pick

It's got to be between his own

remix of "Moan" and the Kollektiv

Turmstrasse remix of "Even

Though You're with Another Girl".

www.anderstrentemoller.com

Intuitive Techno

"So there you have it!

You can hear all of these artists and more in my mix for our collection at

www.mixcloud.com/amyheaton/ice-lands"
---
170
---
171

Villtur Sjó

by Amanda M. Jansson & Emma E.K Jones

www.amandamorganjansson.co.uk

www.emmaelinakeirajones.com
---
172
---
173
---
174
---
175
---
176

ValkyrjePhotography by Lesha Lich

Styling: Anna Bugera, Olia Svarga,

Olga Sadovskaya

Make up: Olia Svarga

Hair: Yaroslav Rudakov

Models: Helen Lee @InStars,

Olga Qluckova, Kate Braga

Armor - ArtMaster, Dress - Yana Chervinska, Furcoat - Rybalko, Accessoires - Rybalko
---
177
---
178
---
179

Furcoat, Rings - Property of stylists, Armor - ArtMaster, Accessoires - Rybalko, Anna Laty
---
180
---
181

Accessoires - Rybalko, Elena Romanova, Fur of dear
---
182

MUST

You certainly can live without these ITEMS, but life is so much More Beautiful with THEM.

Selected by Marcel Schlutt

Phillip Lim

Shark Embossed

Pashli Medium Satchel

If I were a girl I would kill for this

bag. 3.1 Phillip Lim brings some

fresh color in these dark months

with his yellow design masterpiece.

This 3.1 Phillip Lim satchel

features exposed zip gussets at the

front and two rolled top handles

with a push stud secure. Interior

features one exposed zip pocket.

100% cow leather

www.31philliplim.com

Candies from

The North

I just love all the candies

from The North. Wine gums,

liquorice, toffees, hard boiled

candy, lollypops and salty candy.

Hmmm it is so tasty. Yes I know

salty sweets? Have you ever

tried it? If not you should

do so. Favourite brands

are Läkerol, Cloetta,

Jenkki, Kexchoklad,

Malaco, Sportlife,

Saila, Red Band

and Sperlari.

Acne - Ankle Length Cut Out Boots

Chiara Natural could be your favorite boots for spring 2013. Those boots are looking clean, simple but also

stylish. I wanna see big city girls in those great shoes. Acne is one of our favorite fashion labels from Scandinavia.

Have a look in the online shop. I am sure you will find your personal Must Have Item.

www.shop.acnestudios.com

Hasselblad H5D

The next step in the evolution of the world

renowned Hasselblad H System, the

Hasselblad H5D provides a powerful

addition to any photographer's

toolbox and provides you with

the competitive edge you need in

today's crowded marketplace.

The H5D features Hasselblad's

legendary image quality, a new

stylish and more compact design,

an updated lens line, new electronics,

improved AF precision

and speed, increased stability and

performance, and a range of other

new camera functions.

www.hasselblad.co.uk

CURVE BLUETOOTH® iDock

Charge your iPhone and sync it with iTunes. Simultaneous Bluetooth

® wireless connection to 2 devices with volume controls on

the phone and place to leave your iPhone at the base station.

While you are relaxing with the Curve wireless handset phone,

your iPhone is charging permanently on the base station.

You can use it for your iPhone, iPad and Android.

www.nativeunion.com

CK One

Calvin Klein´s perfume

CK One is a classic. The

Unisex Fragrance is

timeless. He represents

exciting purism and

erotic naturalness.

Since we have a 1990s

flash back: CK One

should be on your body

each day.

www.calvinklein.com
---
eL Masterpiece

for Zumtobel

The eL Masterpiece

was designed by

Polish-born architect

Daniel Libeskind

along with his

astrophysicist son Dr

Noam Libeskind, who

developed an

algorithm for lighting

patterns on the

luminaire that

represents the

development of the

universe. These lights

are stunning and

futuristic. I watched

Star Trek back in the

1990s and with the eL

Masterpiece I will feel a

bit like in the old days.

www.zumtobel.com

Minio Cover Mk2

Do you love your new

iPad? Do you want your

new tool to be safe but still

good looking? Minio Cover

Mk2 is the perfect idea.

Technology and wood together.

Super easy handling with self

aligning magnetic wood hinge.

It can hold your iPad in 3

different ways. And: it

looks sooo good.

www.miniot.com

Eve Fragrance

Body

Shampoo

Founded by Hiroshi Fujiwara

and Murakami, retaW offers

up unique fragrances made in

Japan with Japanese products

and available across a line of

personal care products and

home goods.

www.retaw-tokyo.com

183

IGL Jet desk

Pimp up your office. With this orange desktop your office or work

space is turning into a 1970s lounge. The desk is also available

in white and black. The retro limited IGL Jet desk collection is a

multifunctional workspace. Available at Steelcase.

www.steelcase.de

Mickey Crop Top

Yes girls. Comic prints are back and I would

love to see you in this little Mickey Mouse top.

Seen at Topshop. Crop tee with roll

back sleeves.

www.topshop.com

Billionare Boys Club

Partnering with Japanese fashion legend Nigo,

Pharrell Williams and his manager Robert Walker

founded Billionaire Boys Club in 2005, a line of

high-end luxury streetwear. And I like this Burgundy

Plaid Digi Shirt a lot.

www.bbcicecream.com

Chuck Taylor ThunderCats /

Converse

Getting the DC Comics license it was obvious that Converse

had to do something with the Thundercats. The Chuck

Taylor model in its two versions is selected, for surely

this is the tip of the iceberg of this new collection. Lion-

O, Panthro, Cheetara and Tigro appear on one side

of a Chuck Taylor Hi, on the other side you can

see the eye of Thundera. A Chuck Taylor Low

is dedicated to the beautiful Cheetara, and

finally a Chuck Taylor Hi dedicated to the

antagonist, the powerful Egyptian

sorcerer priest and Mum-Ra.

www.converse.com
---
OUT OF THE DARK

Dress: Danielle Romeril

184

Photographer - Adam-Peter Hicks

Collagist - Jordan Lelong

Stylist - Marina German

Styling Assistance - IndyAnna

Hair Stylist - Erika Selvaggio

Make Up Artist - Maddie Austin

Models - Rebecca (Models 1), Juliette (IMG), Dasha (Profile)

Dress: IndyAnna, Jacket: Jayne Pierson
---
Dresses: IndyAnna & James Hock, Shoes: Cleo B

Snug white fur: James Hock , Top: IndyAnna

185

Dress: IndyAnna, Jacket: Jayne Pierson

Dresses: IndyAnna & James Hock
---
Dress: IndyAnna, Bag: Barbara Boner, Shoes: Chinese Laundry

186

Dress: Jayne Pierson

Dress: IndyAnna , Jacket: Jayne Pierson
---
187

Dresses: Gemma Fanning

29.06 — 07.07 2013

ROSKILDE

13

FESTIVAL

9 dAyS oF FESTIVAL

AwESomEnESS!

phoTo: helena lundquisT

Busy FRom 29 June – 7 July? This is one FesTival you don'T wanT To miss ouT

on! Roskilde FesTival is one oF The woRld's laRgesT and mosT specTaculaR

music FesTivals wiTh 80,000 daily visiToRs FRom all oveR The woRld.

you geT aBouT 200 conceRTs wiTh huge household names as well as The

Rising sTaRs oF TomoRRow.

pack youR TenT, gRaB youR FRiends and Join us in denmaRk This summeR

FoR 9 days oF awesome music, FanTasTic aTmospheRe, impRessive aRT and

FaBulous people!

geT youR TickeT aT: www.BilleTlugen.com

Roskilde-Festival.com
---
188

Adrenolytic Agent

Photography: Julia Blank / www.juliablank.com

Models: Alexa / Miha Model Management & Annika

Make-up&Hair: Kerstin J. Hajdu

Styling: Miriam Lehle
---
Blouse: Prose. Jacket: Stylists own.

189
---
Jacket: Prose. Right Page, Blouse: Prose. Jacket: Desire.

190
---
191
---
192
---
193

Blouse: Peter Hahn. Jacket: Daniela Barros. Bracelet: stylists own. Left Page, Jacket: Prose.
---
194

Jacket: Prose. Right Page, Blouse: Prose. Jacket: Desire.
---
195
---
196
---
197

Rough Days

for Diamond Trade

On my quest to bring you the very best music coming down from the North I was starting to lose my mind in a sea

of innumerable album releases.. but then I came across the sound of 'Rough Days For Diamond Trade'. It's the solo

project of the Copenhagen based musician and award winning filmmaker Frederik Sølberg. For the last 10 years he

has been a key figure on the Danish indie scene as a member of the bands Ghost Society and Lake Placid, making remixes,

directing music videos and live visuals and he is seriously talented in both fields. The debut E.P

"Somehow" was released at the end of last year and it's stunning.

A perfect blend of his electronic and indie influences contrasting distorted guitars, electronic drum beats and catchy synths

with his moody androgynous vocal.

"The sound of broken hearts on a dance floor"

We talk going solo, music making and Scandinavian melancholia on a cold winter's night…

KALTBLUT: Hey Frederik. Thanks for taking some time to chat

to us! Your E.P is out now in Germany! Were you happy with the

response you had here in Berlin?

FREDERIK: Yes, Berlin was totally overwhelming, it was really

much more than I had expected, we played at "Monarch" and it was

full.. I really hadn't expected it! It was quite amazing to play. Even

if we had played in Copenhagen there wouldn't have been as many

people.. Maybe the project is more hyped in Germany than I thought

but the whole time was packed with interviews, and meetings and good

response from lots of people and that was really, really nice. I also think

maybe this kind of music fits Berlin…

KALTBLUT: Yeah that's true I've found so many great artists

coming from the North also being based out of here. Why do you

think Scandinavian music is so popular in Berlin?

FREDERIK: I think because Berlin has more this sort of cosmopolitan

feeling, that it seems that people are more interested in these kind

of things, no matter which way you look at it Denmark is much more

conform and so I guess some of the interest in my project could be the

fact that I'm Scandinavian, which of course doesn't add anything in

Denmark but in Germany could mean something…

KALTBLUT: When did you first get into music, or did the interest

in film making come first?

FREDERIK: I've been a music lover since I was very young, I don't

have parents who are interested in music or anything like that so I think

I got the idea on my own. My mother's a librarian and I think I was

around 9 or 10 years old asking her to borrow books and articles about

Jimi Hendrix for me, so I had this kind of innocent interest in music

since I was a child but I didn't start playing until I was say 13, 14, with

guitar, my main instrument... film came later, I was like 12 or something,

but I started wanting to do fiction film and I did that for some

years, I was working as an assistant director doing some short films,

music videos and then I started moving towards documentaries…

KALTBLUT: Which one of the two would you say you put more

of your time and energy into?

FREDERIK: I guess music comes more naturally to me, it's very

easy, when I work on music I forget about time and space, I forget

about my girlfriend.. I'm just totally immersed… but when I'm making

Interview by Amy Heaton

film, of course it's still a creative process but it's also a very rational

process where you have to amplify, you have to develop, you have to

sit in an office etc, so it's not so instantly creative, so I think for me it's

two very different creative outputs. I think that's the reason I made so

many music videos because it's the two things I know about… I think

when I make films I also put a lot effort in thinking about the music so

it's interconnected.

KALTBLUT: You've been used to playing in bands most of the

time. How does it compare being out on your own now?

FREDERIK: Totally different, it also means that you're much more

vulnerable, like when we released the E.P in Denmark even though there

we have an much bigger network, it was pretty much myself because

our label and our promotion company are in Berlin so they took care of

the German part, and I remember that there were lots of things I thought

would happen here and then I got a bit disappointed when they didn't

and I was thinking like, "hey! I've been playing music in Denmark for

so many years, I know journalists I know people etc…" and I'm not

sure I would have had that same feeling if I'd have been in a band, you

don't get that feeling like "we're all in it together.." and I like that! I'm

a very social person, I enjoy sharing things with people, so when we

played in Berlin last week and had all this great response, it was pretty

overwhelming.. and I tried to call my girlfriend and share that feeling

but it's totally different when you're in a band. Of course I have lots of

friends around who are very sweet, and the musicians I play with, but

still it's not the same..

KALTBLUT: So did you plan out your solo sound from the start

or was it just unfolding as you went along?

FREDERIK: In the beginning I had this idea that I would never

tell anyone that it was me doing it, I could put it out, on myspace or

something, and I would never have to play live or actually release

anything.. but then it just grew somehow, and I got more self-confident

about it at some point, not only the music, but the thing about playing it

live..

I'm so privileged to have a lot of friends who are musicians and I asked

a few of them if they wanted to play with me, we did this show for a

film festival and in the beginning when we started out rehearsing I was

saying, "can we turn you guys up and my voice down..?" because I

didn't want to hear my own voice, and then I realised after this coup-
---
le of weeks rehearsing that I couldn't hear

myself and we had to turn it up and at the end

actually it sounded pretty good! I don't know

how but I started to quite like my voice, because

I used to hate watching myself on video

or when I'm singing.. and my voice when

I'm singing is pretty different from when I'm

talking… I think the main challenge is playing

live, but I've put quite a lot of effort into the

show, visually with the visual expression,

and I planned that but I didn't plan myself..

I guess that's the same with the music that, it

just developed somehow..

KALTBLUT: How did you go about making

the project into a live show?

FREDERIK: On stage we're a live band,

but we keep a lot of the electronic elements,

we have a backing track, and an emphasis

on the visual part.. so normally, I'm standing

further back, with a guitar player to one side

of me and a bass player to the other kind of

in a half circle… and then we have this visual

show which is done by one of my friends. The

concept of it is a laser beam and a diamond

ring and he projects light to the diamond ring

with a combination of pre-filmed material

and live… it depends on where we're playing

because some places it works better, there's

no front light, there's only light from the back

and the visuals… the darker it is the better,

I like it when it's very dark because I'm not

a traditional sort of lead singer type, I don't

want to be in front… I've been playing music

for a long time and I've always been confident

about playing live, but I've always been the

guitar player you know, being off-centre and

being a part of the band, now every single key

is decided by me, every single word… and

at the same time I'm not that fond of being

the centre of attention, so, it's not only about

being shy, it's about being concerned about a

visual expression that I think supports music

in the right way, and therefore we've done this

kind of half circle thing with the diamond in

the middle, so it becomes much more of an

audiovisual experience…

KALTBLUT: Do you get more nervous

performing alone instead of with a band?

FREDERIK: Actually I was quite friendly

on stage in Berlin, I was chatting with the

audience etc, but normally I don't say much,

and that's also a bit difficult because I don't

want people to consider me as being a bit

arrogant…and if you don't say a single word

people might consider you as being pretentious

or something…like 'Fever Ray' live and

I'm not like that at all.. but at the same time

I'm not gonna be this friendly lead singer

who's saying like "yeah, cheers" etc.. and

winking at the beautiful young girl in the front

or something, I mean that's not me.

KALTBLUT: What about your musical

inspirations when you're composing..

what do you usually like listening to?

FREDERIK: I'm almost as inspired by

electronic music as I am by indie pop really,

198

for instance most of the songs on the E.P they

have the same groove all the way, I'm playing

in the same key all the time, and you would

never question that on an electronic album, so

I definitely think there's some clear electronic

inspiration in that way. I'm very fond of British

electronic music, I listen a lot to Burial,

Portishead and stuff like that, I mean I also listen

a lot to O.M.D and The Cure and definitely

wanted it to have that melancholic side, you

know "broken hearts on the dance floor" – it's

melancholic but you can still dance to it.

I've always liked dancing and I've always

had a sort of cheerful approach to life but at

the same time I'm also a really melancholic

person, so I like this combination of that

where the rhythm and the body has a beat and

it goes forward but the lyrics are much more

softer, that's also how you react sometimes

in life, you stress yourself out, you get drunk,

you fuck up… well I dunno, maybe that's too

much..

KALTBLUT: This project has moved in a

much more electronic direction than your

earlier sound. Was this an easy progression

for you?

FREDERIK: Actually when I started out

in the beginning I wasn't sure that it was ever

going to be anything that people would want

to listen to.. when I began writing songs for

this project I was working with another electronic

project together with a girl, we didn't

make that much progress but I was really keen

on moving more into electronic stuff and I

was thinking, that's what I'm going to do,

somehow, I dunno, I started working on it, and

it took some time, especially for me to realise

this change from being a guitar player to becoming

a songwriter..

I have this very nice friend, who's also a

musician, I played one of the first songs I did

for him and he was like "It's really good, you

have to do something about it…" and from

there it took some time before I moved on… I

mean, writing the songs was not the most difficult

part, it was actually working on aesthetically

developing it in a direction and finding

my own expression but when I do music I get

very concentrated and focused on it and it just

leads me somewhere or I lead the music somewhere..

and I made it to here.

KALTBLUT: Do you still start your songwriting

with the guitar though usually?

FREDERIK: I'm working in Ableton live,

I steal a lot… nah… haha.. I mean a lot of the

programming of the drums is like taking samples

and using different sounds from a sound

bank or something like that, but everything

was made on purpose rather than accidentally.

It's also because I work somewhere in-between

electronic and indie, so it has elements

of indie rock and most of the songs have been

written on a guitar, and most of the beats have

been made on the computer.. though most of

the songs were guitar based.. it sometimes

even started with the beat and then I created

the song from that.

KALTBLUT: Our new collection is based

all around the theme "ICE-LANDS" – Do

you feel coming from a cold climate affects

your music making? Maybe the E.P

would sound differently if you'd recorded

it in L.A..!?

FREDERIK: It's funny you say that because

the cello was actually recorded in L.A

two years ago.. but not on a conscious level

no. Maybe somewhere subconsciously or

somewhere out in the periphery of your mind

there's definitely some kind of Scandinavian

melancholia but I think when it comes to my

more specific inspiration I think it's more a

question of being surrounded by musicians

and a lot of my closest friends play in really

good bands, so most of them have a similar

expression to my own.. except for the fact

that most of the people I know don't make

anything electronic and they're all playing in

indie pop bands or indie rock bands.. but I'd

say the general atmosphere of my songs could

be inspired by other Danish bands.

KALTBLUT: Did you collaborate with

many other people whilst making the E.P

then?

FREDERIK: I've been totally on my own,

100%, except, I was living together with a

very good friend, also a musician, and I was

recording over and over, and there's an additional

voice on one of the songs and he did

that, and then I asked my friend Caecille Trier

to play cello on one of the songs like I said

and she did that, then I had some help with

mixing, making the drums a bit bigger, but

when it comes to songwriting and lyrics and

expression and synths and everything like that

I've done everything on my own.

KALTBLUT: How about your image.. do

you ever think about experimenting with

that as part of the project or is it more just

about the music for you?

FREDERIK: I don't know… I could be up

for trying styling but I want to have my right

to refuse something as well, I didn't think so

much about these things, of course it's nice

to have a look at what pictures are going out,

and so you know what kind of press is going

around about, but as long as there's an honest

interest in the music that I'm doing.. I think

for the listener there should be a balance

between having a clear expression which is

thoughtful and thoroughly developed and at

the same time some kind of honesty, not like

with these posers, I mean you just get bored of

that, unless they really write good pop songs,

otherwise people are just posing, wearing

sunglasses all the time and it's like… errm…I

guess maybe at one point it could be fun to

kind of play with this pop star thing, but it

would only be to play with it, to play a character

or something. I could see that as something

interesting but this plain pop star image I
---
think is pretty boring and also I'm definitely not the one, if someone

should do that it's not me! I mean there's some performers when

you watch them and you can see this is totally natural for them to

play in front of 20,000 people or whatever.. that's just not me.

KALTBLUT: Do you feel like the concept is best it could

be now or are you still in an experimental mindset about the

whole thing?

FREDERIK: Well I don't want to say I know everything but I

feel that after so many years making music and then doing a solo

project now, I should be able to create an expression that fits to my

inner aesthetic or something.. of course it definitely helps that I'm

certain about the music, like, if I was doubting the music and the

direction I wanted to go I would be doubting the rest of it.. so in

that sense I'm sure but it's also continuing to grow, for example regarding

the videos we're doing, I did one of them myself, but now

we have 3 music videos and the other guys had totally free hands..

well, I had a bit of an input but not so much and the video we just

released for the song "OK" is not at all what I expected, but I like

that, and it's so far away from what would be my expression. I think

it's also a question of choosing the right people and trusting the

right people around you when you start to include different people.

KALTBLUT: Yeah I really like the music videos for the E.P!

Really beautiful, sensitive, visceral. In your own experience

do you usually find it works better if you're making music for

the video or the other way around?

FREDERIK: That depends. Some of the ideas were just random

ideas I already had but other times I got ideas when people approached

me and asked me to make a video for a specific song so you

know it changes, I don't do that many music videos anymore, I got

tired of it I must admit. I think for me, I started out doing music videos

for indie bands who were really sort of grateful and open-minded

when it came to the idea for the video and I think at the point

where I moved to more major labels I realised that instead of being

around people who were friends in a nice team and did something

really creatively together, enjoyed and had fun doing it, you kind of

start getting trapped at the hands of a machine that is already preprogrammed

so there isn't really any artistic freedom or anything,

and of course you can't expect to have 100% artistic freedom when

it comes to a music video that somebody else is paying you to do,

but there's a difference between when people trust your choices and

your creativity rather than people who say things like, "oh can you

please cut in this bit because it makes us look better" or something

like that. So actually I got a bit disillusioned about it in the end.

KALTBLUT: That's a shame, well who would you say has

been your most interesting collaboration to date anyway?

FREDERIK: I think the best time was when I convinced a

Danish band that I had to go to Japan and do a video shoot, and we

couldn't even afford to bring the band, so we did a casting in Japan

and I got these kids to put on the bands clothes and then I went there

with 2 friends and had a really amazing time doing this, like no

pre-assumptions and just casting some kids and then filming around

in Tokyo. It was such a great experience. I couldn't believe they

paid for that! But I think it's also one of the best videos that it I've

made it really fits with the music etc..

KALTBLUT: You've been involved in the Danish indie

music scene for a long time now.. How do you feel things

compare now to when you first started out?

FREDERIK: I would say that for some years we've definitely

had a more melancholic vibe for most indie bands. I mean, ten

years ago I played in a band and it was a bit more cheerful that what

was happening on the indie scene back then and so I would say that

within the last couple of years it's been a bit more shoegazing, melancholic,

not that music style necessarily was shoegazer but all the

expression, the live expression, but I think it's changing a bit again,

199

I mean the bands I know and the friends of mine in really good

Danish indie bands are quite relaxed and feeling good on stage, in a

soulful kind of way, and I really like that, but that's not part of my

expression, but I'd rather keep it deep melancholic and a bit kind of

dark..

KALTBLUT: What about releasing new music generally.

Does it feel any different for you with this E.P, especially

with how the internet dominates these days?

FREDERIK: I guess things are also much changed in the music

scene generally, for instance going back to the music videos, to

me it seems like today it's not even enough to have a music video

because there's just SO many music videos and people have access

to them all the fucking time! So you need to have a very good

music video or a very interesting music video because sometimes I

can just watch half a music video and I'm like, I get bored with it…

It's also about the consumption of music now, I mean if you've got

8 tabs open on your internet browser and you're on facebook at the

same time, and then you watch a little bit of a music video, they're

embedded in there and you just scroll down.. it's endless and you

don't give everything a proper chance. I remember when I was a

teenager back in the 90's and I would go the local indie record shop

in Copenhagen, and I'd go to the guy and say "I'd like to listen to

this record" so he'd put it on and then I'd just stand there and listen

to it, maybe even half an hour, maybe the whole album through,

before I made the decision to buy it, and it was like 20 euros or

something and I wanted to be sure.. I mean of course I bought lots

of albums I shouldn't have bought, but I also got so many great

albums because I waited and found out that song number 6 or song

number 8 was the best, I'm definitely more impatient now.

KALTBLUT: How about the rest of the time… are you living

solely from music now?

FREDERIK: No, at the moment I am currently working in

Copenhagen, on and off, as a freelance TV producer for a TV

company, which… I mean, they're nice people, they're sweet, but

they're also people who are very fond of television, in any kind of

way they like television, and they're not so, I would say critical as

I am, I mean I don't even own a TV set, I don't watch television in

general…not exactly my crowd… I don't think I've ever really had

this pop star dream or dream of living from making music because

I think also making music can be a bit, not when you're in a band,

but it's hard to be depending on your own creativity all the time…

KALTBLUT: So what are your plans for the coming months,

will you push forward with your solo project?

FREDERIK: I don't know if I'm allowed to say exactly when but

we have one date properly confirmed, there's going to be a small

European tour in March but we don't know exactly how many dates

yet and then we take it from there, but I'm totally happy with the

E.P release so far, everything's going in the right direction, it looks

like we're going to work on a UK release too.

Thanks a lot for the interview. We wish you all the best for

the upcoming tour in Spring!

www.wearelookingforward.de
---
200

Lille Santanen

http://kadullesi.blogspot.gr

http://lille-lle.blogspot.gr
---
201
---
202

Lille Santanen aka Lille Lle is a Finland based artist,

barely 19, who doesn't enjoy talking about herself that much. Lille has been

working on her print/illustration stuff for a couple of years now and you can

surely see why they are becoming so popular. She says she is not interested in

spreading a message through her art, but mainly wants to make nice looking

things, put them on t-shirts and make them walk. Inspired by Nordic animals,

nature, shapes and all things Scandinavian she lets the work speak for itself.

Enjoy this visual feast and if you see through a picture and can come up with

any theory regarding the meaning, this will be pleasing to this young artist, who

believes that the audience's imagination is a big part of the picture and should

never be left out!

Interview by Amanda M Jansson and Emma E K Jones
---
203
---
204
---
KALTBLUT: What does geometry mean to you? How much

does it play a role in your everyday life?

LILLE: Nature is all about geometry and numbers. Nothing is

random and I love that thought. Nature's geometry is much softer

and more mysterious than the geometry we humans build around

us. Finding that balance between those two is what I do in my work

perhaps. I don't really think about it, it comes naturally, as it is.

KALTBLUT: What's your favourite animal? Why do you

like drawing animals?

LILLE: My favorite animal is a bear, bears are powerful and

simply designed. Also, the bear as an animal represents the whole

start of my career since it was the first thing I drew and the reason

I ended up in this business. I like drawing animals because their

personality doesn't need to be explained the same way as humans'.

I feel like humans need to have a name and story behind them and

people automatically come up with many questions when they see

a picture of a person, who is he/she? what is she/he doing? where??

and so on...

Animals are just animals and one can construct them as he/she

will. Sure people are animals too, other animals just look cooler

and aren't as complex as we are. I'm not so good at human biology.

That's the real truth.

KALTBLUT: Has Scandinavian and Finnish art influenced

you in any way?

LILLE: Yes it does. But more than the art itself, the people and

firms behind it inspire me. Artists, illustrators, designers and such

people inspire me. Also, for example, Finnish textile industry, huge

brands such as marimekko are my main role model. Despite the

creativity in a fabric, cup, happening, music or exhibition there's

huuuuuge amount of work behind it, and that's what I admire, people

who actually get up and do stuff. The hardest part of working is

getting it started and finishing it.

Nordic design is very timeless. Some prints and designs just last and

survive through this time where nothing really lasts, and I'm not

talking about being ecological, I'm talking about creating stuff that

generation after generation can enjoy.

KALTBLUT: Do you prefer black and white or colour?

When do you use one and when the other?

LILLE: I draw the originals using tiny tiny liners and ink. I don't

use colors cause I'm already filling the "empty" spaces with other

details, there's simply no room for colours or it turns into a mess.

Nowadays I'm adding the colors afterwards on the computer. I'm

a bit afraid of using colors on the originals cause it's so easy to fail

205

with them. Can't fail with photoshop, and if you do you always have

the original file.

I think photoshopping is a cool tool but it has also gotten me

further from the actual colors and techniques.

When I draw it's just fun how a tiny little wrong line can turn the

whole picture around. But if the bear shouldn't be blue there's no

fixing it into yellow, unless it's photoshop.

KALTBLUT: How is life in Finland? Is there anything

distinct or characteristic that makes it obvious this is Finland

and not germany or UK etc?

LILLE: I love my home town Helsinki. It's not like it immediately

loves you back and takes you in its loving arms showing you the

prettiest side of it. But it's getting easier to get along with. A year in

Helsinki is cut in longer cycles which are pretty much winter and

summer. Summer is crazy, the city is full of life and happenings,

festivals, block parties, restaurant days, flea markets all over the

park... And then BOOM comes the winter and we either stay and

get cozy and lazy at home or go abroad for the winter. Then comes

the summer again. And it's super nice, I believe the long and dark

winter has something to do with it. Even big cities in Finland are

quite small and easy to go around, you can't miss the point where

the city ends, it's clear and simple.

KALTBLUT: Where do you like to work? Is there a special

spot or place that works best for you?

LILLE: I have a working space in Helsinki which I'm sharing with

a few other artisans. It's been way better after I got the spot. Now

I can have all my stuff there and also leave it there! No matter how

much one loves his/her work I think it's important to be able to leave

it there and go home. I love what I'm doing but there are times

when I'd rather do my laundry. The most important thing still is

to just sit down where ever you are. That's a problem sometimes,

it's hard running around the city and drawing at the same time. I

hope one day I will have a bigger and lighter working space where I

could also make big paintings and run a showroom.

KALTBLUT: What was your first drawing that defined your

style? How did it come to life?

LILLE: The Karhu - print! I had some new friends from Stockholm

visiting. They absolutely loved a Finnish beer label "Karhu"

(=Bear, in finnish), not maybe for the taste but for its logo. So after

not drawing or painting for ages I decided to paint them a stylized

version of it. I started sketching some bear illustrations randomly

and everybody kept telling me I should turn the Karhu into a

t-shirt print. So I did and here I am and Karhu is still my

trademark and the bestseller. This was all in January 2011.
---
206

Princess

Of

Fallen

The

Garden Garden

Concept and photography by Suzana Holtgrave

Styling by Jale Kustaloglu - Basics

Hair & Make up by Anna Obendiek - Basics

Model: Monika Hirzin - Colors / Zagreb
---
Couture Dress: Sasa Obradovic

"Cul De Paris" Manner Flying Dress: Unrath&Strano

Feathered Headpiece: Rentajalehouse/Stylist own creation

207
---
Headpiece/Fabric Out Of Cream Coloured Lace:

Pinned Up Designer Dress "Me+Blue" Los Angeles

Jewellery On The Forehead: Dolce&Gabbana Vintage

Blouse: Dolce&Gabbana Vintage

Black Couture Dress + Corset: Unrath&Strano

Belt: Antique Market Berlin 17th Of Juneon

208
---
209

Headpiece "Geisha": Fiona Bennet

White Fur Cape + Integrated Latex Reptile

Print: Butterfly Soulfire

Couture Wedding Dress: Unrath&Strano

Leather Gloves with Jewels: Zara

Faux-Fur Skunkcoat: Stylist own
---
Headpiece "Geisha": Fiona Bennet

White Fur Cape + Integrated Latex Reptile

Print: Butterfly Soulfire

Couture Wedding Dress: Unrath&Strano

Leather Gloves with Jewels: Zara

210
---
211

Red Couture Silkdress: BLAENK

Black Leather Cuffs: Butterfly Soulfire

"Birdy" Feather Headpiece: Anna Dello Russo For H&M

Black Organza Scarf: Stylist own
---
Couture Wedding Dress: Unrath&Strano

212
---
213

Black Italian Lace gloves: Agent Provocateur Vintage

High Heels: Jimmy Choo Vintage

Paillette Embroidered Nipple Jewellery: Sisley

Bunny Head Piece: Fiona Bennett
---
Head Piece "Geisha": Fiona Bennett

Dress: unrath & strano

214
---
215

White and Black Lace Headpiece: Fiona Bennett

Couture Lace Dress: Unrath & Strano
---
216

Notes on

Epic!

Illustration by Apostol Kardamov
---
217

Whether you're

browsing

through fashionmagazines,

watching

music videos or TV series, you

no longer have to go to a museum

to see heroic figures, epic tales or

myths, nor is it just a geek's business

to deal with fantasy creatures. The

epic seems to be a major narrative

in pop-cultural discourses and has

become state of the art in so many

arenas. The very fact that the epic

has returned as a prevailing modus

of representation says a lot about

the times we are living in.

Okay, admitted: it had never

really gone anywhere. Below the

surface sub-cultures continued to

embrace it, metal shirts always depicted

weird creatures and troubled

teens messed around with magic in

their bedrooms, but now suddenly

these themes are a big thing again

and just by cutting off the sleeves

of something ugly, you have a club

outfit. Or music: does anyone remember

witch house? Yes, it's this

music which sounds like "The Knife"

forgot to take their antidepressants.

Talking about club fashion:

since when is gothic back? There

is also a big bunch of online shops

springing up, offering all kinds of

satanic, esoteric and supposedly

magical designs, bloggers encouraging

you to play tarot with your

closet. No matter which intersection

you focus on, there is apparent

resemblance within all kinds of art

and expression when it comes to the

virality of epic images, designs and

narratives.
---
"Hipster bashing" has become a big thing in

mainstream media lately, they say that our generation

has nothing else to do than curate a retrospective

of fashion on our young bodies. Perhaps a

more considered view on what is actually happening

is slightly more rewarding. In order to create

something new, we need two movements: remembering

what is actually there and what actually

happened. This is what retro styles are about.

By reconfiguring techniques, sounds, ideas and

trends of times passed, something different will be

created. And to boost this creativity, there needs to

be space for dreams and tales. What else, if not the

modus of epic, is giving us space for such irrational

thoughts? The epic, so far, seemed to be a lot

about the past indeed. We all know about Greek

mythology, northern sagas and grew up with fairy

tales. But every era mediates these discourses in

a different way, and this way says more about the

contemporary than about the actual past.

A longing for alternate realities or times is as

old as modernity itself, so art, literature and history

is crammed full of references relating to other

spheres and worlds. From back when rationality

arose, there was always an alternative conglomerate

of thinkers questioning the pureness of

thoughts or challenging the reign of the brain over

the heart. The irrational is the naughty little sister

that the rational wanted to leave at home while

playing with the other kids. It seems like finally,

after (post-)modernity was overcome more than

once, rationality is about to say bye. If you don't

know someone is wearing "MMORPG1-" merchandise

or is on the edge of fashion that clearly

shows that epic is appealing to a broader audience

than ever before.

In times of crisis after crisis, when the future

is no longer sure, safety becomes more and more

of an illusion. We either become as small minded

and conservative as possible to protect ourselves -

or we try to figure out new ways of expression. As

everything fast-forwards in transit there's a feeling

that systems are about to alternate. It is the fatigue

of never ending watersheds, political struggles

and post-modern coldness, which generates the

lust for something else. We want to be seduced

again, we want to long for something, we want to

dream and go somewhere else. The mythological

and surreal is sexy. Just think about "True Blood".

Beyond the hotties getting it on all the time, it

is nice to think about the possibility of another

reality. Vampires exist? Raww. Bite me. (and I'm

not even talking about "Twilight"). Our saturated

yet insatiable minds are desperate to believe that

maybe there is something more. Maybe the world

is not what it seems. Maybe there is something

else to discover. Come, let's follow the little rabbit

and let's see what happens if we go through the

looking glass. The same sexiness that made "The

Matrix" a big success, made parents and children

fight about who is going to be the first one reading

the new "Harry Potter" novel. "Game of Thrones"

was definitely another major step for the epic in

pop culture. No clue how many times I heard the

statement, "Actually I don't like fantasy, but…"

218
---
219

In the worst case, epic fails can turn

into kitsch. But stop, what would be

wrong about kitsch? Kitsch or even

camp is all about exaggeration. As Susan

Sontag said in the late 1960s; camp is

nothing but an aesthetic phenomenon.

According to her, camp is due to its

mere naiveté, something that on the first

glance is neither complex nor serious,

and it just looks simple. At the same

time, by "dethroning the serious", it

turns into a subversive strategy, setting

free non-hegemonic thoughts. As camp

was arising, and virulent strategy in

mainstream discourses, it seems like the

epic might be an equivalent mode of representation

for our times. The examples

above are my proof and evidence.

Keeping the subversive potential of

camp in mind, may the epic be another

subversive strategy? Something that was

always there, but right now turns into a

distinctive contemporary aesthetic, even

a phenomenon? The modus of choice

for avant-gardes? Epic kitsch might be

the suitable cure for the disease of an

evidently exaggerated life constrained

by rationality.

The paradox is obvious: the epic is

something already told, known and

commonly spread. At the intersection

of things known and unknown, the

epic mediates. As much as we want

to escape, we hope that these images

will affect our lives and our minds.

There is a craving for something new.

The epic is giving us the space for this.

More than escapism, it is guilty and

escapist pleasure. We want something

bigger, something nicer, something

more naive and at the same time more

aggressive. We are longing for realities

far away from things we see in daily life

and media. The appealing aesthetics of

the epic, thought in a more futuristic

manner, feed the hunger in our souls for

something new, non-retro, and nonrecycled.

Thinking epic, living epic, wearing

epic, walking epic, laughing epic, drawing

epic, cooking epic, smoking epic,

dancing epic... There is nothing, which

shall not be epic in our lives anymore.

Even though it is dreamy, irrational and

adolescent – this stance towards the

world will help to reveal hidden boarders

in our realities and can lead to new

ways of seeing things. At the intersection

of known and unknown, cozy and

uncanny, confusing and enlightening,

let the epic dethrone the serious.

Text by Kevin Junk
---
Photography: Kay Smith / www.kaysmiths.com

Fashion Styling: Gilles Clarisse

Model: Audrey Ruysschaert @ www.muga-model.de

Hair: Antoine Iter

Make up: Lila Guéant @ B4 agency PARIS

Location: PARIS

220

Opposite Page: Necklace: Topshop, Dress: All Saints, Bracelets: Hermès, Vintage, Boots: All Saints, Rings: Gavilane, Vintage
---
221
---
222

Necklaces: Zara, Fashionology, Belt: Maison Martin Margiela
---
223

Shirt: Maje, Panties: Wolford, Necklace: Hardware, Rings: Gavilane, Vintage, Shoes: Zarae
---
224

Shirt: Eleven, Necklace: Maison Martin Margiela for H&M, Bracelets: Jean Paul Gaultier, Rings: Gavilane, Vintage
---
Rings: Gavilane, Vintage, Bracelets: Vintages

225
---
226

Opposite Page: Necklace: Maison Martin Margiela for H&M, Leggings: American Apparel, Bracelets: Jean Paul Gaultier, Rings: Gavilane, Vintage
---
227
---
228

Sóley Stefánsdóttir, best known as Sóley is perhaps more well known for her collaboration with Icelandic artists Sin

Fang and Seabear, but it's her solo project that I find most intriguing. Dusky piano chords set out the rhythms rather

than the drum beats of her electronic contemporaries and her dark yet colourful lyrical tales spin out over the

cloudy minor tones. Only discovering her singing voice properly for the first time a few years ago the naivety of her

vocals shines through but the lyrics themselves are a sophisticated narrative of a fantasy world inside her head, her

very own wonderland, that she explores as her ethereal instrumentation unfolds below. We were excited to hear that

she's setting out to record her new album over the next year, so we got in touch to find out more….
---
Sóley

Interview by Amy Heaton

Photos by Inga Birgisdóttir

Album: We sink

Artist: Sóley

Out: NOW

KALTBLUT: Hey Sóley! Welcome to KALTBLUT. We're

big fans of your sound! How did you start your solo project?

SÓLEY: Hey! So my first album Theater Island (EP) came out in

march 2010 on Morr Music. By that time I was touring a lot with

Seabear, another band I play in, and really not planning any solo

career! It all kind of happened, which I'm really happy about! So

after my E.P came out there was no turning back, took a little time

to suddenly be solo and my biggest fear ever was to sing alone on

stage. Times have changed, I sing on stage now though it sometimes

can be a challenge!

KALTBLUT: Going back to the beginning for our readers

who don't yet know your album, can you tell us a bit about

your musical background, I read that you studied composition,

have you always studied music over other subjects?

229

SÓLEY: Yes kinda. I started in music school when I was four

years old playing this wooden flute that every kid needs to start

practicing on and at the age of 8 I started playing classical piano

which in my teenage years turned into playing more jazz music and

being in bands and stuff. In 2007 I was approved into the art academy

of Iceland studying composition, which helped me to become

who I am today but in a different way.

KALTBLUT: How does working alone as a solo artist compare

to being in the band with Seabear?

SÓLEY: Being solo is being your own boss. Being in a band is

being with a group and everyone has an opinion.

KALTBLUT: Is it a really different experience playing live

on your own then as opposed to with a band behind you?

SÓLEY: Since my project started I have had some people playing

with me so I haven't really experienced being alone on stage apart

from few times but my main difference between being solo and

with Seabear is that while I'm solo I have to sing and talk between

songs and be the front type. When you're not that person you can

just relax and play, haha!

KALTBLUT: It's clear from your tracks that you feel quite

an affinity with the piano, is that your first and main instrument?

SÓLEY: Yubb, as I said I started playing piano when I was 8 and

I have this beautiful piano that my grandmother had and I love

playing it, though I stopped playing classical music I still play and

play and play…

KALTBLUT: Is it true you never really thought you had a

nice singing voice? We find that a bit hard to believe!

SÓLEY: I didn't know how my voice sounded and I know that

my tone range is not very much but all you gotta do is practice and

that's on my to do list, learn more singing techniques.

KALTBLUT: How about when you're writing your lyrics, do

you draw on your own experiences or is it a more imaginative

process for you?

SÓLEY: It's all something that pops into my head. I tried not to

use anything from my daily life and I think I'll keep on with that

idea.

KALTBLUT: Where do you usually get the inspiration from

to start working on a new song?

SÓLEY: Some poems or maybe just a sentence that I see or hear.

It's really random what makes me wanna write about. If I think of

anything nice/weird I try to write everything down so I can come

back to it.

KALTBLUT: It sounds like you create your own little world

inside your music, do you ever feel like that's the case when

you're composing?

SÓLEY: I try to think of the whole sound, colors and atmosphere

when I'm writing so if that's where I'm aiming for I would try to

keep that world "in the making" process also.
---
KALTBLUT: How about your other

inspirations aside from music, what

would you usually be doing if you're

not writing or touring?

SÓLEY: Oh, I hang out with my boyfriend,

friends and family. I go swimming

and running, I go dancing, I drink coffee,

make more music, read books and poems,

watch something nice, party a little and

chill a little more!

KALTBLUT: I really loved the track

"Smashed Birds", and you use the bird

imagery quite a lot, is there a reason for

that?

SÓLEY: I love animals and I like birds,

they can fly!

KALTBLUT: What about recording

and producing your music, do you like

to stick to one special studio or do you

move around?

SÓLEY: I just moved into a new apartment

which has a garage. I am right now

working on making that garage a studio,

takes a while though, but I think I'll work

my next album's demos there and then

I'm just gonna see where life takes me!

Of course it would be cool to be in a very

good studio with great mics and instruments

but unfortunately it's very expensive.

230
---
KALTBLUT: So would you prefer

to spend time at home writing music in

Iceland or be writing whilst travelling

away on tour?

SÓLEY: Home writing music, I'm not

really good at writing music while I'm on

tour. Well I write poems on tour and then I

come back home with tons of poems that I

can try to fit some music to.

KALTBLUT: You've been touring

around North America with Monsters

of Men recently, how's that been going?

SÓLEY: It was fine. They are great kids

and it was lovely to hang around with

them! Concerts were big and I learned a

lot on this tour.

KALTBLUT: What about the most

amazing gig you've ever played?

SÓLEY: Few of my last year's favorite

gigs were in Stuttgart, at Dockville Festival

in Hamburg and oh also in Brussels

at Palezein 12. And well I had a

great time at Iðnó during iceland

Airwaves!

KALTBLUT: Talking of live shows,

how do you go about playing your music

live (usually), do you prefer to keep

a simple set up?

SÓLEY: I've had a simple set up yes,

we are three on stage, me who play

keys, guitar, sing and do some loops,

Jón Óskar who plays drums and Albert

who plays keys and guitar. First it

was only me and the drummer but

I thought we needed a bit more

bass in the set so I added Albert

and I'm really happy with the

set up. It's easy to travel with

and boys are great! But who

knows if I'll add one more to

it… who knows…

KALTBLUT: How about

your music videos? They are

beautiful artworks. Are people

usually approaching you to

make them or are you reaching

out to the directors who fit your

taste?

SÓLEY: The video for Smashed

Birds was done by my friend Ingibjörg

Birgisdóttir. She won the "best video"

at the Icelandic Music Awards last year.

231

"I was just too shy to sing."

Máni my friend did the video for Pretty

Face and a girl who contacted me who lives

in Holland and it was very random that I

answered her (!) came to Iceland and did

I'll Drown video which was also her final

project in her art school in Holland. And

yes various people contact me about doing

videos or some have already done them

and I think it's great to see how many people

are doing something with my music.

KALTBLUT: Your imagery surrounding

the album is also the same style,

you're mixing soft graphics with your

photos, do you work on that yourself?

SÓLEY: I used to draw but I kinda

stopped doing that, don't know why but

Ingibjörg Birgisdóttir she does the artwork

for me. Sindri my friend and her boyfriend

actually came up first with this idea of the

facepaint. I really like it.

KALTBLUT: What about the Iceland

Airwaves festival next year, it looks like

an amazing line-up! Are you excited?

SÓLEY: Sure, I love Airwaves!

KALTBLUT: Who else would you say

we have to check out there?

SÓLEY: For next year, I don't think that

any bands have been announced but you

should just go for the Icelandic ones, I

think that is safe!

KALTBLUT: Our latest issue is based

all around the theme "ICE-LANDS"

and we're all engrossed by the stunning

images of your native land! Do you feel

the icy landscapes inspire your music at

all?

SÓLEY: no… sorry… I don't think so…

but it's beautiful!

KALTBLUT: When would you say is

the best time to experience Iceland in all

its glory?

SÓLEY: July if you wanna camp and

travel around. Fall if you like fall. Winter if

you wanna see snow and be cold and dark

all the time… January and February are

hard to survive, so much darkness!

KALTBLUT: We've been overwhelmed

with how much beautiful music

comes out of the North in general, any

ideas about why that could be..?

SÓLEY: Probably the darkness… no…

I don't know. Iceland? We have to do something

that is fun, we are stuck on a damn

island!

KALTBLUT: The image you've created

to accompany your music is a humble

one with no gimmicks, it's great! Did

you ever play with the idea of creating

a character or pseudonym for your solo

project?

SÓLEY: Yes, and I'm still thinking but I

don't give myself enough time to finish it…

maybe for next album!

KALTBLUT: You use social media in

a really personal way to connect directly

with your fans, do you feel like this is an

important part of being a musician these

days?

SÓLEY: Ya, I like it. It's nice. If someone

that I like or adore in music would write

something from the heart I would definitely

"like it"! I think it's an important way of

keeping in touch with fans.

KALTBLUT: What about for the future,

do you see any drastic changes on

the horizon for the second album?

SÓLEY: I don't know, I'm about to start

and I'm very excited to see what comes

from my mind!

KALTBLUT: When can we hope to

hear it!? We hope not too far away.

SÓLEY: No… now is January, maybe in a

year? Maybe sooner?

KALTBLUT: And finally, will you be

coming to play for us in Berlin any time

soon??

SÓLEY: Nothing planned but I wanna

come at least once this spring! Love Berlin!

Thank you so much for taking the

time to answer these questions for

us and all the best for your coming

year!

www.soleysoley.com
---
Iceland's Premier Hotel Chain

Your Gateway to Iceland

Discover Iceland via 8 luxury hotels at

convenient locations around the country.

For information and bookings:

www.icelandairhotels.com

or by telephone (+354) 444 4000

REYKJAVÍK NATURA REYKJAVÍK MARINA in KEFLAVÍK FLÚÐIR KLAUSTUR HÉRAÐ AKUREYRI HAMAR
---
© Alexandr Mitiuc - Fotolia.com

Liebling in Schönefeld rausgeflogen.

Dein Code für 3 Monate

freie Mitgliedschaft:

KALTBLUT2013

zum Beispiel:

2 Stunden

20 Kilometer

6€ inklusive Benzin!

*

Fahrtkosten am Boden geblieben.

Wir machen Autofahren lächerlich günstig. Mach mit!

CiteeCar – das LowCost Carsharing für alle.*

* Mietgebühr 1 € pro Stunde. Mindestmietdauer von 2 Stunden. Zusätzlich werden gefahrene Kilometer mit 0,20 €/km berechnet. Autovermietung nur an Mitglieder. Mehr Informationen unter

www.citeecar.com. Bei Anmeldung bis zum 15. Februar 2013 sind die ersten drei Monate der Mitgliedschaft gratis. Anschließender monatlicher Mitgliedsbeitrag 5 €. CiteeCar hat dich nicht

überzeugt? Schade! Kündigst du innerhalb der ersten 30 Tage nach deiner Registrierung, erstattet dir CiteeCar bis zu 2 Stunden Fahrzeugmiete und 20 gefahrene Kilometer.
---
HEL

The

Goddess

Of

The

Underworld

- Photography -

LAURA PALM

- Model -

JANINE HENKES

- Hair and Make-up -

THEO SCHNÜRER @BLOSSOM

- Styling -

MADLEN UHLEMANN

- Assistant -

SWANTJE NEUBOHN

Fur by FENN WRIGHT

Body by PRINCESSE TAM TAM

Hat by GUIDO MARIA KRETSCHMER

234
---
235

"You cannot light

separate

from its

shadow."
---
Dress by VALENTINO SEEN BY TK MAXX

Skirt by SAVA NALD

Trousers by AUGUSTIN TEBOUL

Fur collar by GUIDO MARIA KRETSCHMER
---
Dress by GUIDO MARIA KRETSCHMER

Headpiece by STYLISTS OWN

237
---
Jacket by GUIDO MARIA KRETSCHMER

Dress by ASOS

Skirt by DSTM

Shoes by UNITED NUDES

238
---
Jacket by GLAW

Skirt by MONKI

Dress by FADE TO W BY WEEKDAY
---
Leathershirt by MUUBAA

Skirt by OAKWOOD

Long skirt by KILIAN KERNER

Collar by AUGUSTIN TEBOUL
---
Dress by WAREDROBE

Jacket by GLAW

Headpiece by RITA IN PALMAY

241
---
LUXURY

242

Photos by Marcel Schlutt

Model: Mimmi Symphony

Hair and Make up by Fleur Heullin

All scarves by Erfurt Luxury Accessories

www.erfurt.dk
---
243
---
244
---
LOVE

AT FIRST

LIGHT.

Neo2 iPad

will make you

fall in love.

An interactive

magazine like

you have never

seen before.

Both in English

and Spanish.

Search for it

now at the

Apple Store

WWW.NEO2.ES/MAGAZINE

Photographer: MARKUS RICO Model: IRINAS d UNO BCN Models
---
246

Polly

Balitro

Text By

Amanda M Jansson

and

Emma E K Jones

w w w. p o l l y b a l i t r o . c o m
---
247
---
248

Polly

Balitro currently lives in

Helsinki, Finland. She's interested in

analogue image making, traveling, culture and

history and is especially inspired by the natural environment;

her works are mainly photographic series of places

that she visits and finds revealing and registrations of certain

moments and details that she encounters: natural sites are among her

favourite subjects and forests are definitely the places where she likes to

be the most - luckily there are plenty of them in Finland.

Forests are truly unique and special places for her: as soon as she enters them,

she becomes aware of the vegetation growing all around her, which is abundant

and overwhelming with smells and sounds, and she also feels the presence of

other living creatures that inhabit the trees and the bushes; sometimes she hears

these creatures calling and singing and sometimes she even meets them, but most

of the birds and other animals of the forest prefer to keep on hiding.

During her trips to the forest, she usually finds the traces and the signs that its inhabitants

leave around - like footprints in the snow or feathers - and she occasionally

meets some birds, such as coal tits, black birds and even woodpeckers, but

she very rarely has the time to photograph them and she never spots more than

a few at a time.

In her collages, the photographs she takes in the forest become suddenly

populated by various species of birds, which gather together - as

if they were chatting to each other - and don't seem to be scared

by her presence at all. She likes to think that, every time she

walks deeper into a forest, the clearing she has just

passed immediately fills up with animals looking

at her leaving.
---
249
---
250

Storm

Photographer - Mika Ceron - www.mikaceron.com

Styling - Biki John - www.bikijohn.com

Hair and Makeup - Wiebke Olschewski - www.basics-berlin.de

Using for Hair - Kiehls and Makeup - MAC cosmetics

Models - Dalia Günther from Model Mangament, Hamburg and Lukas Ziegele

Post Production - Mika Ceron and Federico De Luca (DIAZO)

Casting Director - Oliver Ress (Artform Group)

Photographer Assistants - Minatha Condé, and Angela Hechtfisch

With very special thanks to

Studio Berlin - www.studioberlin.eu

Props Equipments - Objets Trouvés

Dalia wears

Black lace dress - Fade to W, Black corset belt - Dawid Tomaszewski, Black leather roses headdress - Augustine Teboul,

Blue/Green Necklace - Weekday, Black leather and velvet gloves - Dawid Tomaszewski.
---
251
---
252

Lukas wears

Chainlink necklace - Shokay, Blue jeans - Cheap Monday, Navy jumper- Kilian Kerner,

Blue loafers - Levi's Footwear.
---
253

Dalia wears

Black dress with metal embellishment, Black and copper shoes , Black Gloves, Black leather Belt - Dawid Tomaszewski,

Earrings - Vintage, Pink rose bracelet - Sabrina Dehoff,
---
254

Dalia wears

Green dress, Black leather trousers - Dawid Tomaszewski, Black belt and gloves - Dawid Tomaszewski,

Black peep toe patent shoes - RENO, Blue/Green necklace - Sabrina Dehoff.
---
255

Lukas wears

Beige knit scarf, Chainlink necklace - Shokay, Beige bomber jacket - Soulland,

Blue jeans - Cheap Monday, Blue loafers - Levi's Footwear.
---
256

Lukas wears

Chainlink necklace - Shokay, Mustard leather puffer jacket- Kilian Kerner,

Brown jumper, Mustard trousers - Kilian Kerner, Brown loafers - Levi's Footwear, Bracelets - Model's own
---
257

Dalia wears

Necklace - Sabrina Dehoff, Pink rose bracelet - Sabrina Dehoff, Beige sheer top - ep_anoui by Eva Poleschinski,

Beige sheer skirt, Beige Swarovski leggings - Dawid Tomaszewski, Silver and beige shoes and belt - Dawid Tomaszewski,
---
258

Dalia wears

Blue and Green necklace - Weekday, Ring, Spine ring - Bjørg, Pink rose bracelet - Sabrina Dehoff, Lace body - Stylist's own,

Black transparent dress, Black belt, Black leather jacket - Dawid Tomaszewski, Black gaiters - Augustin Teboul, Black peep toe patent shoes - RENO.

Lukas wears

Grey and pink scarf, Houndstooth jacket, Black jumper - Marc Stone, Black jeans - Weekday, Blue loafers - Levi's Footwear.
---
259
---
260

Nicole Sabouné

We were first captured by emerging Swedish starlet Nicole Sabouné when she released her debut single, "Unseen footage

of a forthcoming funeral" back in the Autumn. Composed by legendary rock vocalist Ola Salo (The Ark) who also mentored

her through "The Voice Sverige", the track is oozing with feminine post-punk energy which perfectly showcases her

stunningly husky vocal. If that wasn't enough, when we watched the tasteful music video from talented Swedish director

Mads Udd (also featured in this very issue) we had no doubt that she was on the road to a successful musical career and

had to grab her for an interview. So here she is, let us introduce you to Collection 4's newcomer, Nicole, as she starts recording

her very first album….

Interview by Amy Heaton

Photos by Viktor Flumé

www.nicolesaboune.se
---
KALTBLUT: Hey Nicole!

Thanks for taking some time to

talk with us. Can you tell us a

bit about your musical background

first, how long have

you been singing for? Was it

always a dream of yours to

become a musician?

NICOLE: Music has been a big

part of my life since I was a child.

Not only that I sang all the time,

music was a world full of freedom

and a room that I could escape

into whenever I wanted. And it's

still like that. Music is my best

way to communicate and I feel

that I am understood when I use

music and words. So to be able to

create and work with music today

is a dream come true!

KALTBLUT: So did you already

have a plan for your music

before your success on "The

Voice Sverige", or was that

really the beginning for you?

NICOLE: The Voice was absolutely

a door into the music industry

but I moved to Stockholm two

years ago to focus on my music

and to find a way to grow within

my writing. So my plan and dream

has always been to be an artist.

KALTBLUT: What about your

experience with the show?

What made you decide to

apply?

NICOLE: My song coach

recommended me to the show.

They called me up and asked me

if I wanted to apply, I checked

who would be in the jury and saw

Ola Salo's name, and decided to

go for it. He was one of the big

reasons that made me apply. And

I will never regret it! It was a

fantastic experience and I learned

a lot, and I met Ola. It means a

lot to me.

KALTBLUT: How about your

song choices on there, big

challenges like Florence and

he Machine, Robyn or Kate

Bush must have been a bit

nerve-wracking right?

NICOLE: Yes, absolutely! I

always think it's hard and tricky

to sing other people's songs. It's

interesting to do it, but hard. The

artists have a world they want

to share with their lyrics and

melodies, and it's hard to get

inside someone else's head to see

what the song actually is about for

them. So the challenge was to play

around with the idea of the song,

get a story of my own, and do my

best to make that story show. But

nerve-wracking? YES, haha!

KALTBLUT: Your mentor Ola

Salo loves you to bits and has

even composed your first single!

How was it working with

him? Did you learn a lot?

NICOLE: Ola is now a part of

my world and he's the person I

trust the most in this. To write my

first single with him was wonderful!

I am still working with him on

a few more songs, and it's great!

We work very well together with a

clear and straightforward communication.

KALTBLUT: Do you ever do

some composing of your own,

or do you prefer to work with

other people making music that

fits your vocal?

NICOLE: Yes, I do! I love to

write and compose. I also love to

write with others. I feel that I need

to be involved in every song and

every story. And if I write with

someone else or by myself doesn't

matter as long as I can stand

261

for every word and every note I

sing. Co-writing with others is

interesting because you get more

perspectives and some songs need

that.

KALTBLUT: What about

singing in English, does it feel

natural? Do you ever think

about making some tracks in

your native Swedish?

NICOLE: I have always imagined

my music in English. It suits

my emotions and my thoughts. So

I never think I decided between

Swedish and English, it just turned

naturally into English. My dad is

French and he spoke English with

me when I was little, so I grew

up with that language too and had

a lot of emotions connected to

English words even then. Languages

are fascinating! And who

knows, maybe I'll start to write in

Swedish, some time when it feels

right..

KALTBLUT: You have a great

vocal range, must make it

really interesting to record you!

Where do you feel more comfortable

and expressive? Up

with the sopranos or something

in the lower octaves?

Single: Unseen footage from a forthcoming funeral

Artist: Nicole Sabouné

Out: NOW

NICOLE: Oh, Thank you so

much! It's a good question. It depends

which song I sing, I think. I

love to sing in the lower octaves, I

feel the singing in my whole body

when I hit the low notes and it's a

cool feeling.

KALTBLUT: We love the

energy coming through in the

single, somewhere between the

lo-fi rock 'n' roll of the 1970s

and 80s post punk. Has this

always been the kind of music

you listened to? Who would

you say are the artists from these

eras that most inspire you?

NICOLE: Thank you! It's hard

to say 'always'. Just like the clothes,

I've had different periods in

music too but rock has been with

me the most and it's that kind of

music that I started to feel a real

and true connection to. My dad

played Pink Floyd in the car when

I was little so I grew up with rock

as a central piece in my choice of

music. But it was when I heard

David Bowie for the first time

that I realized what music really

felt like and how it affected my

soul and mind. Bowie became my

house god among artist like The

Velvet Underground, Patti Smith,

The Clash, Sex Pistols and The

Doors….not far from that I got

"Transmission" by Joy Division

sent to me by a friend, and since

then; I'm stuck! Ian Curtis has

taken a place among the house

gods too. So it's a lot of 70's and

80's music in my speakers. But I

also listen to new bands like The

Vaccines, The Drums and DIIV.

Music is so much fun! There are

so many different worlds to find a

place in…

KALTBLUT: We posted a

piece on our website about

the music video back when

it was released, how did you

go about creating the concept

with Mats? Did you guys get

on well working together?

Was it fun to make?

NICOLE: Mats is a fabulous

director and we worked very well

together. He really listened to my

idea about the old archive clips

and created a room for it so people

could relate to the song and experience

a journey of weirdness,

hehe. We sat a whole evening just

to pick out what clips we wanted

to use. It was so much fun and we

laughed a lot. He's really good! I

hope he wants to work with me in

the future too!
---
KALTBLUT: Do you reckon

your first album will stick to

this sound and image then? Or

do you have any other ideas in

mind?

NICOLE: "Unseen Footage

From a Forthcoming Funeral" is

the best presentation of what you

can expect from the album. I will

stick to the post-punk vibe, with a

mix of 70's rock n' roll and some

songs have more melodic melodies.

It's a mix of what I like the

most in music. So exciting! Hope

you'll like it!

KALTBLUT: For an emerging

artist it's always a rollercoaster

ride through the first year..

Which would you say you find

more exhilarating so far…the

pressure of a studio recording

or the adrenaline of a live

show?

NICOLE: The live shows

for sure! I love to be on

stage and see the people

I sing to, and I love my

band. They are great

musicians and

true post-punkers! Hihi!

KALTBLUT: How about connecting

with your new fans?

Does it ever feel strange to be

suddenly in the public eye?

NICOLE: It's overwhelming

to hear beautiful words from

someone who's really into what I

do. I never think I will get used to

that. I'm so grateful! But I don't

think of it as I'm in the public

eye, I think of it as I invite people

to be a part of my world and they

can stay if they want or leave if

they want.

262

KALTBLUT: You've created

quite a strong dark image, lots

of black! Have you always

had a darker style and taste in

fashion?

NICOLE: It feels like I had

every style in the world before I

really knew what I felt comfortable

in. I think I needed to go

through a lot of different periods

of my life to find what I liked and

how I wanted to present myself.

It comes with age I think. Clothes

for me are a part of my personality

and I see them as a way to

make myself feel safe in my body

and mind. And I love black, it's a

fascinating colour.

KALTBLUT: Do you enjoy

doing photo-shoots and experimenting

with your image

too? All the make-up, hair,

amazing clothes…lighting,

must be like a dream,

right!?

NICOLE: It's always

fun to experiment!

I don't

wear a lot of

makeup in

private, and I

don't spend

a lot of time

on my hair,

so it's fun

to work with

creative people

in those kinds

of situations.

But I will never

do something

that doesn't feel

a hundred percent

me. To be on

stage is my dream,

and everything that

comes with that is a

great bonus.

KALTBLUT: Our

upcoming issue is all

around the theme "ICE-

LANDS" - Do you feel

the cold climate intensifies

the emotion in

your music?

NICOLE: I definitely

think that the environment,

the weather and

the people affect me.

Not only in music. I

like the time of the

year when it gets dark

outside early and I

like to write when

it's dark. But some

songs have to be

written when the

sun hits my face. Some things

are said in sunlight and some

things are said in the dark. The

challenge is to capture the words

and the feelings when they come

around. That's why I feel that it's

important that I get a change of

scenery sometimes so I get some

perspective.

KALTBLUT: If you could live

anywhere other than Sweden,

where do think would suit you

best?

NICOLE: Hard to say. I can

only relate to the places I've been

to, but I think London would suit

me. The indie rock culture and the

history over there really inspires

me! Many of my friends tell me

to go to Berlin, and I have to go

because I've never been there.

Only seen some beautiful pictures

of art and music. I love to travel

so hope my music takes me all

over the world!

KALTBLUT: You've been

getting lots of great feedback

from the media in Sweden and

it's spreading further afield

now too! What would you say

has been your most surreal or

amazing moment of the year?

NICOLE: To release the single

for sure. It feels like my newborn

child that I have to take care of

now. It's an amazing feeling.

KALTBLUT: So are you

happy with how things are

working out? What are your

plans for the coming months,

shows/a tour?

NICOLE: I'm super happy! The

plan and vision for these coming

months is to finish my album and

take one day at the time from

there! This is my first album so I

really don't know what to expect

from this situation but I'll try to

be a part of this reality and grow

as much as I can.

KALTBLUT: Thanks again for

having a little chat with us. We

wish you all the best for your

bright future ahead and look

forward to the album!

NICOLE: THANK YOU! I'm

so happy that you like my music

and it's a pleasure to be a part of

your amazing magazine! I wish

you all luck with your work and

hope to meet you in the near

future. All my Love, Nicole
---
263

"

The artists

have a world

they

want to

share.
---
264
---
265
---
Svalbard

Photography by Christian Aslund

www.christian.se

266
---
267
---
268
---
269
---
271
---
272

Katrin Berge.

Katrin Berge is a true artist and her illustrations

are just pure magic. With a

Bachelor and a Master degree this

young Norwegian surely deserves all

the attention she gets. We made her

tell us all about Northern Mythology

in her work, what it is like drawing

your own home, emotions and how

surrealism is present in every day life.

Interview by

Amanda M. Jansson

and Emma E.K. Jones
---
273
---
KALTBLUT: You use a lot of "magical stuff" in your work,

has the northern mythology influenced your art, and if so,

how?

KATRiN: Northern mythology has definitely influenced my art in many

ways, consciously and unconsciously. I grew up with fairytales by Asbjørnsen

& Moe and Theodor Kittelsen which I was fascinated by from

an early age. The surreal elements in my drawings often emerge from

an intuitive state of mind and the things that I especially like to draw at

that time. I can be influenced by music, a trip to the mountain, a really

beautiful book and so on. I rarely know the outcome of the drawings I

make - they emerge bit by bit. I think it's difficult to have 100 % control

of what I make, maybe that is what makes it so much fun to work with?

KALTBLUT: What is the shortest and what is the longest time

you ´ve worked on a sketch/drawing?

KATRiN: The shortest amount of time I've used on a drawing (I rarely

make sketches) is perhaps three hours. The longest is maybe 50 hours on

one drawing where I struggled a lot with a complex composition and a

lot of elements. I used the eraser diligently on that drawing, and I did

a good job with covering all of the mistakes. I almost ripped apart this

piece of artwork, but in the end it survived my anger and frustration!

274

KALTBLUT: Blank faces, you use this concept quite often,

what does it mean to you?

KATRiN: Facial expressions reveal a lot of our emotions and state of

mind, and when we're not able to see a person's facial expression in

any given situation we become very curious of what kind of answers the

faces are hiding. Blank or partially blank faces is a way of mystifying the

characters and make the viewer curious and looking for answers in other

elements than the face. We learn to interpret facial expressions from a

very young age, so we rely on them telling us a lot about a situation, but

sometimes you have to look for other ways of expression and answers.

KALTBLUT: How did you start working on this kind of

drawings?

KATRiN: The blank faces appeared more and more in my drawings

a few years ago, and I honestly don't quite remember how it started...

I especially remember one drawing where I covered up the faces of five

children around a beetle on a box because I wanted the children to have

a mysterious appearance and force the viewer to look for answers in

other things than facial expressions. I remember that it was so much fun

to just show parts of their faces and put more emphasis on the strange

elements covering the faces. I think it was here it all started with the

indistinct appearance, and it has become a part of my expression up

until today.

KALTBLUT: Most of your works are pretty surreal, surrealism

always hides a secret meaning and tries to state something,

what do you want to say through your art? What would your

sketches/drawings say if they could speak?

KATRiN: Perhaps I want to say that there are not always answers to

everything we want to know. We have to wonder and make up our own

theories in both small things and big things in life. I can't and I won't

give my viewers all of the answers in my art, it is made for wonder and

mystery, questions and secrets.

KALTBLUT: What kind of equipment do you use? Do you

have some favourite ones? Like some kind of pencil you

prefer the most etc?

KATRiN: I use a lot of mechanical pencils and I have several different

ones besides regular pencils. I use leads with thickness from 0.3

up to 0.7 with different degrees of soft- and hardness. I especially

love the mechanical pencils from KOH-I-NOOR HARDTMUTH.

They have the most wonderful tools for drawing and artwork! I'm

considering purchasing a mechanical eraser, but I'm worried I

would never use it anyway, it's just a fun geeky thing to have. I

visit every art supplies store when I'm traveling, like any other

geek would!

KALTBLUT: if you had to draw your city/country,

What would the drawing look like?

KATRiN: The cities would probably be overgrown by wood

and overcrowded by wild animals and birds which represent

Norway. Such as deer, fox, wolf, rabbit, otter, weasel, owl

and eagle – all of them typical animals in the Norwegian

fauna. And since I especially love to draw the wild animals

these would represent Norway in a rich and varied way

where each animal has its own purpose and qualities in nature.

The cities and traffic is slowly taking over areas where

wild animals live and threatens more and more species, so I

guess my drawing would be a protest against this.
---
275
---
276 "

Facial expression

reveal a lot of

our

emotions.

"
---
277

KALTBLUT: Do you prefer drawing people, animals or insects and why?

KATRiN: I have to say a mix of these because they are all interesting to draw in different ways. What I love to draw about people is the clothing with

nice textures and interesting patterns that I often create from my mind. I love to make simple and subtle geometrical patterns in clothes that look a bit

old fashioned. I love to draw haircuts that look combed and proper – "hipster haircuts" is perhaps what one would call them today? But they were hip

in the early 20th century too! Insects are fun to draw because they are so different from humans, a little sci-fi I guess!

www.katrinberge.com
---
Earring – Camila Klein

Dress – Cholet

278
---
279

BETWEEN

HEAVEN AND EARTH

PHOTOGRAPHER

FASHION EDITION

BEAUTY

MODEL

PHOTO ASSISTANT

BRUNA CASTANHEIRA @ABA MGT

MAURICIO MARIANO AND ALESSANDRO LÁZARO @ABA MGT

LIEGE WISNIEWSKI USING GUERLAIN

ELLEN PINAFFI @ WAY MODELS

NATÁLIA CANESHIRO
---
Dress – Casa Juisi

280
---
Cape dress – Cholet

Dress – Daniele Mabe

Rings – Camila Klein

281
---
Cape – Casa Juisi

Dress – Antix

282
---
Earrings – Camila Klein

Dress – Lia Souza

283
---
Blouse – Casa Juisi

Lace blouse – Agatha

Skirt – Pat Bo

284
---
Necklace worn as a craw – Camila Klein

Dress – Tigresse

Bra - Darling

285
---
Necklace – Camila Klein

Dress – Saad

286
---
Blouse – Casa Juisi

Shorts – Tigresse

287
---
288

How the Northern Lights

took over the world.

Text & Illustration By Amanda M. Jansson and Emma Elina Keira Jones

As it is today Icelandic, Scandinavian

and Northern Art is literally everywhere

to be found and with it

goes all the culture and the spirit

of the North, because in one way or another

Scandinavian art and design is deeply

rooted in magic and mysticism and the

special aspects of the country itself, no

matter how clean or modern it might

seem at times. If you think that all the

geometry and innovation coming your

way has nothing to do with Valhala and

Thor and fairy tales of old, frozen land and

endless woods and all that, think twice.

If you've ever been to one of

these Nordic countries, however,

you will know that the

true spirit and heart of the

North are still alive and

breathing and this is probably

what makes their

art so popular.
---
289
---
First of all we need to look into the background of all

these countries who differ widely yet do have enough

in common to be considered a bunch. What makes

Scandinavian art Scandinavian art? First of all, geographically

speaking, we are talking about vast fields and mountains

and woods, surely not densely populated and pretty much

cut off of the rest of the world. We are talking about endless

winter nights and midsummer nights, ice and wild seas, strange

lights and strange colours. Then, culturally speaking, there are

goblins and trolls, witches and fairies, heroes and gods, all of

them stemming from the same mythology, affected by the land

itself and the dark imagination of its inhabitants, rough and

tough people who used imagination, colours and simplicity to

get through the struggles of every day life.

If you look at the work of all great Icelandic and Scandinavian

and even Baltic artists what is the first thing to strike you? You

can guess, without looking. Nature. Endless wild landscapes.

Animals, snow, lakes, sea, ships,

forests. One must not forget

how nature and its riches

had been the only means

for the Northern people.

Yet, all that, is

definitely also the

perfect setting

for all the

fairytales

and

290

mythological creatures native to these lands. The power the

forces of nature had over people in this northern isolated part

still remains today, partially. When myths speak of enchanted

woods like Járnvid, home to every creature associated with

the North -trolls, giants, witches- and of ash tree gods, brook

horses emerging from the fog, and wolves like Skoll and Hati

chasing the moon and the sun, and finally everything ruled by

the most famous tree ever -The Yggdrasil, it is not possible to

ignore this. Painters like Marcus Larson, Anders Zorn, gustaf

Fjaestad, Peder Balke, Hans gude, are some of the dozens of

artists who could not resist the animal symbolism and the wilderness

of their home countries and incorporated it into world

famous paintings.

OK, to be honest, another thing that always comes to mind

when speaking of Scandinavian and Icelandic art: creatures.

And not just their ghosts haunting these beautiful landscapes,

but the actual creatures. Mind, one of the most famous story

tellers, Hans Christian Andersen is Scandinavian and a little

mermaid is all many people actually know of Copenhagen. Yes,

hairy and slow trolls, forest maidens and seductresses, werewolves,

dangerous but also friendly mermaids who can see into the

future, longnosed witches of the woods or domesticated vicious

ones, cats with superhuman powers, music playing fossegrimen,

shapeshifters, ghosts of dead sailors, dwarfs and giants,

and beautiful elves , even dragons and worms. When paganism

and folklore is so rich wouldn't you be tempted to draw some

inspiration from this infinite pool? John Bauer remains

one of the most well recognized illustrators, same goes

for Theodor Kittelsen and Nils Blommer.

Now as time went by, and even though these

parts of the world still remain the most

Pagan ones, for sure, the Northern tribes

were faced with modernism, modern

life, industrial revolutions and all the forces

and trends from the South. This would have a

tremendous impact on people whose whole life was

the old ways and whose mythology was interwoven

with fact. The result of such a clash was evident in Northern

art. A world that is surreal to them as it was to the rest

of Europe, a world that fills the artists with agony and despair,

having lost faith in many of their given values. Spectacular

artists emerge. Pioneers, like Edvard Munch whose screaming

man has become a symbol for mankind. Or Sigrid Hjerten

whose bold canvases helped reinvent Scandinavian art. Or Eugene

Jansson with his bold nudity, the first openly homosexual

painter when being gay was still illegal.

By now, you will have recognized parts and pieces of Scandinavia

and Iceland all around you. One of the biggest elements of

Northern art is just about to be revealed though: bright bright

colours. It is impossible you have never noticed the feast of colours

when you are dealing with anything Icelandic or Scandinavian

in the broader sense. From places so dark, coming such

lively colours and shapes, would seem odd or actually would

seem totally expected. People needed to bring colour into their

lives and that's just what they did. Think of how Iceland is covered

in ice for such a long period of the year. Think of the dim

lights, of the Aurora Borealis. And then also think of the crazy

geometric shapes and the colours of folklore costumes of the

North. Doesn't it all fall to place? People create what they need

most. Like Asgrimur Jonsson, or Svavar gudnason with their

explosive use of colour, or Josef frank with his clean patterns.

Having read this you will hopefully have understood how an

area of the world so lonely, isolated, cold, and mystic has come

to invade everyone's hearts and everyone's homes, especially

when it comes to art and also design in a way. It is because all

these contrasts and secrets are simply irresistible.
---
291
---
292

There are many many things Sweden is known for. Some of them are

the beautiful girls, "Swedish porn" (most of the time made somewhere

else, perhaps in a basement in Brooklyn, but hey, there is

always a blonde wig to use and a sausage like in Fäbojäntan), our

nudity, clothes that all look the same from ACNE and Whyred,

August Strindberg, radical feminists, polar bears walking in the

streets (and it´s just a myth), Björn Borg, ABBA, Swedish meatballs,

the chef from the muppets and finally our depressing movies.

I guess every Swedish film maker wants to be the new Ingmar Bergman.

To live in Sweden is alright. It´s really dark and cold in the winter, so you

become melancholic or depressed easily, just get seized by this melancholic,

depressing mood in a second and then the summer just rains

away to the sound of pouring rosé wine.

You get depressed because you´ve got really nothing to be depressed

about, or at least that is what most Swedish film makers would like us to

think.

Swedes call it "Radhusångest". A radhus is an ordinary house that looks

just like all the rest on the same street, the type of house that Malvina

Reynolds sings about in "Little Boxes" on The Weeds-jingle. Ångest is

just angst. Ordinary fuckin' angst.

Everyone's got their luxury issues going on and I just wanna scream

AAAAAAAHHHHHH when I see one of those boring, melodramatic films

CAUSE EVERYTHING IS TOO ALRIGHT! Where is the intrigue? Where

is the background story? Where is the drama? Should I relate to all that

bullshit about your life is being a mess and the only reason you´re life is a

mess and you´re depressed is you having a 40 years old midlife crisis and

nothing ever happens to you except from feeling guilty cause you fantasize

about sleeping with the neighbour just to feel alive?

Are we so just alright, just fine, just so ordinary, that we have to complain

about how ordinary our lives are? Everything is filmed in a light that

makes you think of abduction more than anything else. Or someone just

sitting and staring out of the window with empty eyes to the sound of

rain drop indie. Well, true, it is a fact: If you're making a comedy you will

never win one of those prestigious prizes they give out at indie film festivals.

Your movies have to be dark and complicated but totally uncomplicated

in the background. All you need to remember is if you´re writing

about a happy happy joyful reality it is just not OK on film.

So, every Swede I know hates Swedish movies and nobody wants to

watch them because of all the cliches. We laugh at the miserably drunk

like in Sällskapsresan (Lasse Åberg, 1980) and at people characters

representing the stereotype we´re so afraid to be. The Svensson. The

Average Jones type. The ordinary guy sitting next to us on the bus (OK

not next to us, more like five seats behind us because here you don´t sit

next to someone on the bus if it´s not filled).

But here we also have something we call "Jäntelagen", it´s the idea of

believing that you are not better than anybody else. You should never

think you are somebody special and if you say it out loud, well, then

you´re just a braggart. Lets keep that in mind as well.

What I miss in Swedish cinema are real scripts of real problems.

Perhaps you still wanna give it a try though.

Do you have Radhusångest?

A GLIMPSE OF
---
293

SWEDISH CINEMA

by Charlotte Signell

Photo by www.flickr.com/photos/ichimusai

My top 5 Radhusångest movies:

Sånger från andra våningen (Roy Andersson, 2002)

Vuxna människor (Felix Herngren and Fredrik Lindström, 1999)

Farväl Falkenberg (Jesper Ganslandt, 2006)

Flickan (Fredrik Edfeldt, 2009)

Äta sova dö (Gabriela Pichler, 2012)
---
294

NOW

HITE 2.0

Design & Styling: Aynur Pektas

Make Up: Kristina Loos

Hair: Milko Grieger

Photographer: Patrick Styrnol

Model: Marijana Jurcevic @Brodybookings Stuttgart
---
295
---
296
---
297
---
298
---
299
---
300

Jacob

Jacob Felländer is one of our favourite Swedish artists, no doubt. He is famous for his collections of

really large scale abstract photographs of cityscapes but also landscapes around the world in magnificent

double exposures. He has a degree in Fine Art photography and Graphic Design and began experimenting

with landscape photography in the late 90s. He talked to us about the similarities of big cities around

the world, how it feels showing his work and basically just everything.
---
Felländer Interview

301

by Amanda M Jansson and Emma E K Jones
---
302

"

Differences

or

similarities

depend on the context.

"
---
303

KALTBLUT: You've been to many places. How different and how similar

were they? What where the similarities and differences between

them?

JACOB: Differences or similarities depend on the context, photographing

is one thing, the people another. going in one lap around the

world makes me see similarities mainly. A stock broker in New York

City has the same problems and dreams as a taxi driver in Bangkok.

Traveling and photographing sometimes feels like going through the

same country, only with different scenery and colours. It makes me feel

human kind is all one. Sounds like a Miss Universe speech, but everyone

actually had the same things to do daily, everyone worried about

the same things, about money or if they had money then about time.

Same problems, same joys. In terms of photographing I chose places

that actually look alike a lot. In a way it's almost like large cities are 1

country all over the world.

KALTBLUT: Has Sweden influenced your art and if so, how?

JACOB: I don't think so. The rest of the world has. Sweden is like a

blank canvas. A good place to leave from. A good place to start from.

The rest of the world is inspiring to me. The journey around the world

but also inside myself.

KALTBLUT: You shoot both cities and landscapes, what are the major

differences for you? How do you approach each?

JACOB: No difference for me, at all. Sometimes I just feel like making

something pretty in nature and then something dark and dense in the

city.

KALTBLUT: You have published three books, what is most important

to you when you are putting together a book and what is the last book

about?

JACOB: My images are very very large so it's hard to carry them

around. A book is good for showing. What is important is that the

images are well represented. My latest book "Anatomy" is only black

and white. It is also in multiple exposures like the rest of my work and

comes in a cool box with my name on it.

KALTBLUT: You often speak about time, why is this concept so important

to you?

JACOB: Time is an aspect of photography. Like with painting, photography

is all about space, light, and time. Where you are, how much

light you let in, and for how long you let the light into the picture.

Usually a photo is a moment frozen in time and history. My pictures

are more like a film actually, because they are many different moments

in time. For instance, a picture can be a flight of 15 hours, from Los

Angeles to Hong Kong. While producing one single image, time shifts,

you cross time boarders.

KALTBLUT: If you had a time capsule which era would you like to go

back to or forward and why?

JACOB: I don't know. It depends on whether I get to be me or someone

else. As myself, being a white male, I could get away with pretty

much anything, during any era in history. It hasn't always been so fortunate

for women or black people and so on. I guess I would choose

the 60s. Late 60s. Lots of art took place back then. Lots of big steps

forward in art and music were happening. Much more was going on

than now really.
---
KALTBLUT: What cameras do you use and how

did you come to experiment with them in the first

place?

JACOB: I use all kinds of cameras. Different one

for every image. An old Polaroid camera is one of

my favourites, film cameras, a Mamiya, an old Leica.

I experimented a lot and through experimenting

you always discover something. Through experimenting,

you make mistakes and this is the only

route to discovery. Some of the greatest inventions

were all about experimenting and accidents.

KALTBLUT: Have you been influenced or inspired

by the work of some other photographers or

artists or a movement?

304

JACOB: Yes. A lot. Many people have influenced

me. A very interesting photographer I had discovered

in the beginning of my career is Robert

Frank. Then while studying, there have been some

great teachers who have been truly inspiring for

me. I love photography a lot in general, and well all

types of art and music inspire me.

KALTBLUT: How has Stockholm changed

through the years? (in every day life but also in art)

JACOB: I don't know. I lived in the States for 8 years

and when I got back here it was difficult to tell

how much of all the change had happened inside

me or around me. Had I changed or Stockholm?

What's me and what's Stockholm?
---
305

KALTBLUT: So many people are talking about

your work worldwide…how does it feel? Did you

expect this?

JACOB: I don't hear people's conversations, so I

don't know how many talk about my work, or who

it is, and what they say. I love consuming art, we

are consumers in a way. For art lovers to consume

someone must produce stuff. It is my responsibility

to produce works, this responsibility is what makes

it worth it. I keep producing and consuming. I

wouldn't know people in greece or anywhere else

are talking about me, so I don't know how you or

anyone views it. By producing and exposing your

art you become subject to other people's opinion.

Some part of me wants to be pleased, my ego needs

to hear it's good, but there's part of me that really

doesn't care at all. It's not always good to hear only

good things, some artists like Van gogh were not

necessarily acknowledged at first. In fact, naming

art good or bad is a threat to art. You need to take

these labels away so you can experience it. We are

trained to have an opinion on everything and that

stops us from really experiencing things.

www.jacobfellander.com
---
Selected by Nicolas Simoneau

306

BERLIN'S

Best
---
One of the first things that came to my mind when

I thought about Ice-land is the SAUNA. You know

I always picture naked people taking these hyper

warm baths in the forest..I wonder where that comes

from. Maybe it's time for me to have a serious chat

with my father.

Anyhow, I digress. Let's get back to talking about

saunas. My 'little' issue convinced me to give you

some tips and talk to you about the best places to go

for a good sauna in Berlin.

But before I get into this, did you notice how we

all love going to the sauna but that nobody really

knows how to do it properly? That's why I'm going

to explain it to you, and then you'll be ready to go

sweat out all your stress and worries.

Try this method first, and once you have, you can

always adapt it to your tastes:

1°Start by taking a shower. This helps to keep the

hot room clean.

2°Enter the sauna and sit on the upper bench. You

may want to use a small towel to sit on.

3°Sit back for a few minutes and let the heat permeate

your body and open the pores of your skin.

4°You may adjust the air moisture by throwing water

on the stones of the heater. The steam will make

307

the room feel hotter.

5°Go for a cold shower and relax a bit before you

come back

6°You may go back to the heat a few times, taking

your time to relax and enjoy the warmth.

7°Finally shower to clean yourself from the sweat.

8°Allow yourself to cool and dry properly before

putting your clothes back on.

Complete the sauna with a peaceful rest and a drink.

To get the most of your sauna session, you will need:

At least half an hour, preferably an hour or more, so

you have ample time to relax.

A large towel to dry yourself

You may also want to consider these:

A smaller towel to sit on

A moisturising lotion for after the sauna

A bathrobe to wear while cooling down

Flip-flops

Illustration by Alexandra Vial

www.funghii.com

Ready? GO!

By the way if you want to go in your birthday suit,

go for it, we are in Berlin after all, the city of the

FKK (Freikörperkultur).
---
308

if you want to be selfish, don't hesitate to indulge in a

guilty pleasure : this is definitely the thing to do.

LUXUrY is the first word that comes to mind when

i think about this place. When you're there, it is just

somehow like you were cut out from the rest of the

world. First of all when you arrive at the Soho House,

you need to go down to get to the sauna. Once you

get there it already feels like your mind is letting go,

submerged in an ocean of peace and quiet.

You will have a private bathroom, where you can

change, the lockers are electronic so no need to cary a

key around. Everything has been thought of for your

own comfort. So first let me talk a little bit about the

private bathrooms: These are just HUGE, of course

you'll find a shower with an assortment of Coswed

products for your hair, your body, the full experience,

Yes Sir - Ma'am!

Once you've changed into something more comfortable,

you will enter a little space with a HUGE sofa

that can fit in at least 10 people, easy. There are magazines

if you feel like you want to chill and relax for a

while.

This place is basically the room that separates you

from the sauna. it's cosy, and the atsmophere is so

smooth, it almost feels like your whole body is wrapped

in cotton wool.

Here you are in the sauna. When you finally go in,

take a minute to look around you: the place is beautiful,

with tiled floors everywhere.

Two big separate places, one sauna and one Turkish

bath / Hammam. What struck me was the smell of

this place: it smelled incredibly good, i can't explain.

The whole atmosphere feels like something out of a

fairytale: the light is really soft, and in the middle of

the room there is this cute little fountain if you want

to wash your hands...

And here's the cherry on top : if you do not want to

relax with people all around you, that's not a problem,

there are 3 little private salons where you can

read and chill all by yourself if that's what you're

into. You can have your privacy thanks to a velvet

curtain, and then it's just you and no one else.

COMPLETE SiLEnCE. i could have slept there if

i wanted too. The only drawback is, everything feels

quite boxy and tiny, so that if there's more than 10

people you might feel crowded and uncomfortable.

Price:

20 euros for a day pass but seriously you're not gonna

stay the whole day there, i mean i wouldn't, because

quite frankly i get bored at some point.

Be selfish!

Looking good, feeling gorgeous.

Cowshed: Soho House Berlin Torstraße 1

10119 Berlin

www.sohohouseberlin.de

Photo by Soho House Berlin, Cowshed
---
Back to the Future: here it really feels like you are

in roman times.

Forget about luxury, this a city Building. Still, the

baths were re-opened in 1998 and now offer roman-style

bathing in exquisite surroundings. The

architectural centerpiece of the baths is a circular

marble hall with a stained-glass skylight which the

sun glistens through on bright days.

in Stadtbad neukölln you can enjoy magical surroundings

and architecture in which you can do

your lengths… Corinthian columns, bronze gargoyles

and multi-colored mosaics make for a sensual

swimming experience, similar to bathing in a traditional

roman bath. With a large regular pool and

a smaller but warmer second pool… you can also

have a lovely time in one of the 8 different saunas

and steamrooms ... herbal steamrooms, some hotter

saunas… a real oasis of rest and relaxation.

309

Ganghoferstraße 3

12043 Berlin

www.berlinerbaederbetriebe.de

nOW a little word of advice for you, first about

the swimming pools : you do not really want to go

there to swim : the length of each pool is 20 and

25 meters : a bit short if you wish to exercise, but

perfect for relaxation.

This being said, the place itself is a definite MUST-

SEE, and i'm talking about the swimming pool

and the sauna Area.

You won't find any hipster here, only real people

from neukölln. And to be honest sometimes its

also good to go to a place just to relax and not to

show off.

Definitely one of my favorite spots in Berlin.

14 euros for a day pass ( including access to the

swimming pools).
---
Ok so the thing about the Liquidrom is, it can

become your Paradise on earth just as quickly

as it can turn into a Hellhole. if you want to

enjoy the place (and yourself), i would advise

against going on the weekends, and forget

about Friday and Thursday evenings as well

… Yes i know it does not leave you that much

of a choice, but now you've been warned.

Oh, and also if you do want to try to go there

on the weekend ( do not say that i haven't

warned you) you might have to wait something

like an hour before you can actually

go in. YES!

Well actually it's a good thing they limited the

amount of people inside…But still weekends

= overcrowed = endless queue = thanks, but

no thanks = pizza quadri fromagio at home.

Well if you want some time to relax and if

you happen to be with a friend, this is a

good place. A bit expensive though ( count

something like 20€ for 2 hours and 25€ for 4

hours), but i do like the place , you know the

kind, really design-oriented, something that

looks like it belongs in a architectural magazine

somewhere or on a poster. The place is

very clean and peaceful ( depending on when

you go of course, i think you get that now).

Liquidrom is definitely a place to visit and

here's why:

1° They have this huge floating pool of salt

water, which makes for a uniquely relaxing

experience. The pool is very nicely presented

with low lights and music piped through the

water ( oh yes, music under water…great way

to relax)

2° There is an outdoor courtyard with a really

warm pool. needless to say, the best time

to go there is when it's snowing outside, how

it feels on your body is hard to put into words,

it's just awesome : there's nothing quite like

sitting outside in the freezing cold after a hot

sauna and watching the steam rising off your

body, just like sitting in a warm pool in the

open air.

And of course like in every respectable sauna,

there's one thing you should not miss: the

"Aufguss session". Every hour the Saunameister

will perform this sort of ritual during

which he will pour water on the hot stones to

increase humidity and then proceed to wave

a large towel around in order to allow the hot

air to circulate through the sauna, thus intensifying

the heat -and making you sweat some

more. Keep in mind that according to sauna

etiquette, it is deemed disrespectful to either

enter or leave the sauna during that time.

310

Piece of advice on this one : the higher you go in the sauna

the warmer it will be, so if it's your first time i would encourage

you to sit down next to the stones.

And there is also a hammam.

Oh and if you need some refreshments the bar is here for

you. Actually i do not find it that expensive (compared to

the admission price) and you'll find some good products

too : carrot juice with infer tea, healthy sh*t.

TiP: you are allowed to bring water with you from the outside,

sooooo if you remember it, try not to forget a big bottle,

because it's always good to drink a little between saunas.

Moeckernstrasse 10

10963 Berlin

www.liquidrom-berlin
---
311

Persona Non Grata

Facebook: Persona Non Grata

Hairdressing

Berlin Headquarters

modvark@gmail.com
---
I t

312

Madame Peripetie

"Dream Sequence"

is a big honour to introduce you to a very special artist and photographer Madame Peripetie. I have been a big fan of

her work for some years. Madame Peripetie alias Sylwana Zybura is a pardoned award winning photographer and her

work has been shown in many exhibitions. Reality is a stranger to her. She shows you a different world of Dadaist

mythical creatures. There is so much creativity involved and I love the composition in her pictures, the colours.

Now in 2013 she is on her way to publish a book: "Dream Sequence".

A project she has been working on for more than 3 years. Each photo is a piece of art.

I had the pleasure of having a little chat with Madame Peripetie about this upcoming release.
---
Interview by Marcel Schlutt

Photography + Creative direction: Madame Peripetie

www.madameperipetie.com

Styling: Stella Gosteva

Make-up/Hair: Marina Keri

Models: Yana@M+P/ Mark&Caleb @D1/David@AMCK

313
---
KALTBLUT: Welcome to our magazine.

I have been a big fan of your work for years

so it is my pleasure to introduce you to our

readers. Your work is outstanding. Please

tell us, when did you start with photography?

And how long did you need to create

your own style?

MADAME PERIPETIE: I started around 5

years ago, and because it was a very thoughtthrough

decision I already had a precise idea of

how I would like my images to look. Photography

happened to be the medium that helped to

visualise my staged ideas of character design.

KALTBLUT: Let´s talk about your longterm

project, "Dream Sequence". You are

working on the project now for 3-4 years

which is a long time. What was the idea

behind this project?

MADAME PERIPETIE: The project started

in 2009 as a commission for one of the NY

magazines and turned into a long-term project

that I have been photographing infrequently

ever since. It was inspired by the Salvador Dali

dream scene from the Alfred Hitchcock's film

Spellbound and so it is closely connected to

archetypal dreams (investigated very closely by

Gustav Jung) that occur in a transitional period

of one's life and often leave you in a sense of

awe and reverence, staying in your mind long

after you experienced them. The main idea was

to create unconventional characters that radiate

the contemplative and poetic artificiality of

Sugimoto's wax sculptures, the hallucinogenic

beauty of abstract surreal objects and incorporate

physicality and intangibility at the same

time. The hypnotic visual experience is being

intensified by ephemeral flowers, hazy light

and an illuminated black background.

KALTBLUT: Looking at the pictures I can

see there is a lot of work to be done just for

one shot. Where do you find your models

and stylist to work together? Or do you

have a fixed team?

MADAME PERIPETIE: It is a very analytical

approach towards a very specific colour

palette and a strong composition involving

both solid preparation – costume and modelwise

- and experimental approach on set,

where the magic happens! It is a mixture of

theatrical images that has been composed fully

by myself and also in collaboration with stylist

Rolf Buck. The 2012-2013 part (partially

presented in your magazine) is being created

together with a stylist Stella Gosteva and make

up artist Marina Keri, who both understand

my vision completely and implement the ideas

with an immaculate precision and skill. It is

difficult to say how exactly a character will appear

and evolve – sometimes it is the garment I

see somewhere that inspires me, sometimes the

texture and shape of the flowers that capture

my attention or an unusual model that is being

transformed into a bizarre persona. In the end,

the interaction of all elements constitutes a

final result.

314
---
KALTBLUT: How important is the fashion aspect in your work?

Is fashion something you use to create your style? Or do you take

what the stylist presents you?

MADAME PERIPETIE: Fashion is important but only in terms of

structure, colour and in order to illustrate a character and specify attributes

that belong to that entity. See the visually arresting costumes of

Eiko Ishioka or Colleen Atwood that envision the final character in all his

subtleties.

315

KALTBLUT: Can you describe the process of creating your

awesome photos, especially during this project?

MADAME PERIPETIE: As I said before it is a mixture of research,

solid preparation and a sparkle of spontaneity on set. The project itself

fluctuates, the protagonists transform from session to session, the light

set up differs slightly as I am working in different environments and it

is becoming more and more mosaic and complex to tell the same story

with a surprising, bold twist – keeping the idea fresh and creating new
---
captivating characters that will mesmerize

you. I find myself comparing the actual part

with the older one that I shot in 2009 – but

it is pointless in a way because I see it as a

perpetual creative process with heterogeneous

evolutionary stages connected by the

architecture of proportion and chromaticity.

KALTBLUT: Do you have moments

where you don't get inspired during a

photo shooting? And if so how do you

get past that?

MADAME PERIPETIE: Not that often

actually, as I am always very well prepared

so plan B and C are always there. The

concept is being developed beforehand and

if something is not working as it should

we always have a back-up and a pinch of

improvisation.

KALTBLUT: You are planning a book

with your project. How big will it be?

How much of your work will be inside?

316

MADAME PERIPETIE: The book is

planned for later this year and will include

around 40-50 images from the series.

KALTBLUT: Where will the book be published?

Or do you look for a publisher?

If so, where can a publisher contact you?

MADAME PERIPETIE: I don't have a

publisher yet as the project is still progressing

but I have a few publishing houses in

mind that would be a perfect fit.

KALTBLUT: There is also an exhibition

coming up this year in New York. Where

will it be? In which gallery can we visit

your work?

MADAME PERIPETIE: Yes, it will be a

part of a group exhibition at The National

Arts Club that is taking place in September

in New York City this year.

KALTBLUT: I would be proud like hell

to see my work in a gallery. During the

last few years you have shown your pieces

in a couple of big exhibitions. How do

you feel when you see your work there?

MADAME PERIPETIE: It is always good

to showcase your work and get constructive

feedback from the audience on it.

KALTBLUT: Your work has been featured

in various different art and photography

magazines.. and you can call

yourself an award winning artist. Are you

proud of your awards? Or which is the

most important one for you?

MADAME PERIPETIE: I really appreciate

it but it is only to satisfy your ego for 5

minutes and make you realize that you have

to work even harder to stand up to the task.

KALTBLUT: You worked for some big

names in the fashion world like Maison

Martin Margiela or our friends from

Moga E Mago. But as an unknown

designer, could I contact you to work
---
together? Or do you choose your clients?

MADAME PERIPETIE: It all depends on

the project and visual interpretation. I love

working with Moga e Mago not only for their

beautifully crafted pieces but because of their

conceptual approach which makes you cherish

their piece even more. It is always possible to

collaborate – it is all about concept, dedication

and unconventional ideas. The Margiela shoot

was very relaxed and I quite enjoyed it. I don't

differentiate between brands – I am always

involved 100% no matter how big the client is.

KALTBLUT: If I wanna have a print of

yours for my home what do I have to do?

And how much do I have to pay?

MADAME PERIPETIE: Contact me or my

agent with the details for bespoke images or

editions.

KALTBLUT: Are there any photographers

you look at or let's say more, are there any

artists who are influencing you?

And if so why?

MADAME PERIPETIE: There are so many

– from the surrealistic movement, architectural

Heatherwick Studio designs, JG Ballard short

stories, and independent cinema. At the moment

I am obsessed with new technologies! I

am also exploring the phenomenology of visual

noise, silence and boredom.

KALTBLUT: We wish you a lot of success

with your project! And publishers if you

wanna show Madame Peripetie´s work,

please contact the outstanding artist,

because we want this book!!

317
---
318
---
319
---
320

Melancholia feeds

the North with

Text and illustartions by Agnes Lindström Bolmgren
---
Something is happening to the mind when one

half of the year is full of light and endless nights

where the landscape offers dreamy pictures,

and the other half is sudden darkness and bitter

cold, only lightened up by cold quiet snow.

I think this melancholia is present in a lot of different

contexts in Scandinavian culture and it's something many

of us learned not to be afraid of but to even regard and

make use of. Maybe it's even simpler than we think. It

could also be the result of our survival instincts that made

us deal with the winter depression and loneliness like

this. For some of us it's even grown to something that

we'd like to feed and let grow. If you somehow manage

to use this melancholia for creativity and productivity it

almost makes you achieve the quite opposite: a feeling

of satisfaction and achieving something.

I think this Scandinavian melancholia has become a

necessity, if not even vital tool for the creativity.

Most of the Scandinavian writers, artists, musicians,

filmmakers and photographers have a preference for

Melancholia. I think creativity needs this mood to

breathe.

I do think that you'll find not only the lack of light

causing this state of mind but also the nature itself. In

Sweden the conditions for melancholia are superb. The

silent, well-meaning but reserved attitude of the people

combined with apathetic void, early mornings, naked

trees, thick forests of fir trees, funereal nature, dreamful

beauty, trudging animals, surprised elks, scared rabbits,

brutal birds, myth-like haze and fog.

It definitely puts a solid ground for the melancholic

soul.

You can see a connection between

the climate and the nature with the

old sagas and northern mythology

and the modern melancholia present

in the arts.

The old Nordic myths are most

of the time based on mysterious

beautiful creatures in the forest

or around the water that usually

hide pretty brutal secrets.

There are a lot of warnings

for temptations. If you can't

handle the temptation right it

does not seldom have a fatal

end.

We have the story about

Näcken. A handsome naked guy

who's sitting in the river in the deep

forest and plays the violin. Some traditions

describe him as making people

drown in the river with his charm and his

beautiful melodies. Others describe him as

a harmless depressed person who couldn't

have his freedom.

Another example is the myth about Huldra.

A breathtaking beautiful naked woman who

hangs out in the forest and likes to lure men into

the forest to have sex with them, often killing those

who don´t satisfy her.

We can also see how this melancholia has been

321

forming the humor. There's a lot of tragicomic connected

to it. Dark humor and subtle details. The Swedes like

joking about themselves. And about how Swedish we

are. It's something about the melancholy and everyone

recognizes a little part of themselves in the idea of the

tragicomic Swede.

The Swedish photographer Lars Tunbjörk has definitely

got an eye for this melancholic humor in Swedish

culture. His images often content human loneliness,

tragicomic scenarios, dejection, vacuum like landscapes,

rainy Midsummer, depressing caravan vacations. Tunbjörk

portraits people with a humorous sense but without

looking down on them.

Some of the characters in his photographs are like

modern versions of old Swedish myths about beings in

the forest.

The cover photo of his book of selected work is quite

a good summary of Swedish melancholia; an unambitiously

made snowman without hat and carrot but with a

smile and dots made with spray color on dirty snow.

If you look at the filmmaker Roy Andersson's work

there is a lot of speechless melancholic pictures of landscapes

and all of his films show a very typical Swedish

mood. There are silences and doubting and a melancholic

breeze. He works a lot with beige and grey color

scales and by building up every single scene in his

famous studio in Stockholm he manages to create his

own cities and therefor keeping an almost fantasy-like

anonymousness. All of the actors are being type-casted

from the streets and usually have no experience in acting.

It's not a secret that he has a preference for small

fat elderly men with cartoon-like faces and a lot of

charac- ter. This is very typical for his

later films like "Songs from

the second floor"(Sånger

från andra våningen, 2000)

and "You, the living"(Du

levande, 2007) but there

is another type of melancholia

in his first film. The

beautiful movie "A Swedish

love story"(En kärlekshistoria,

1969). It's a wonderful

portrayal of a love story

between two very young

people and the soundtrack

by

Björn
---
Isfält is so melancholic but beautiful

that it makes you want to cry. He's

also the composer behind many of the

screen adaptions of Astrid Lindgren's

children books.

Another more obvious example is

one of the most famous Swedes; Ingmar

Bergman. Many of his films, for

example "Persona"(1966), are shot at

his beloved Fårö, a small island close

to Gotland, famous for this landscape

with wounded rocks, beaches of broken

stones, grey scale surroundings

and the wind mourning in the background.

His characters are also not less

melancholic with often a dramatic

inner life filled with angst, regret,

helplessness and melancholia. I think

he made an important base for following

artists and filmmakers on how

to welcome and not avoid the greyer

shades of life.

You can track down this melancholia

not only in films but also in the art

and in the Swedish fashion. Designers

like Nakkna and Diana Orving are

working with colors and materials that

make you think of the Swedish forests

and the sagas about the elves and

trolls.

I think there is even a certain

melancholy that connects the old

sagas and their nature with the modern

surroundings and the city and

its buildings. I think about the suburbs

with the 60s function houses almost

GDR-like. I think about how Thomas

Alfredsson uses them in "Let the right

one in" (2008) and how he connects

this modernity with the mystic almost

mythology-like story.

In comparison to Germany I think

the melancholia is more present in

Sweden because Germany has been

struggling with many other problems

and has got a unique dramatic history

that Sweden hasn't had. Sweden

didn't experience the same kind of

dramatic events the last centuries and

I think it has given people more time

to start growing this other state of

mind. The Melancholia.

www.agnes.given.se

322
---
323
---
324

MUST

Andrea Pompilio Nicolas K

Selected by Marcel Schlutt
---
325

R i c h a r d N i c o l l Frankie Morello Raf Simons
---
326

Peter Pilotto Tracey Reese Nicole Miller
---
327

Creatures Of The Wind Hermes Vivienne Tam
---
328

Blue Shadows

Photographer, Hair & Make-up:

Pascale Jean-Louis

Art Direction:

Nicolas Simoneau

Models:

Maria Bräutigam

mariabraeutigam@gmx.de

Special Thanks:

Swarovski

www.swarovski.com

Uslu arlines

www.usluairlines.com
---
329
---
330
---
331
---
332
---
333
---
334

Spotlight on Upcoming Designer

Anna GregoryBy Biki John

Anna Gregory's eponymous label, 'Anna Gregory Designs' is greatly inspired by the Nordic countries, and

her collections are said to be marked with a, 'distinct Scandinavian mood'. As such, her naturally sourced

pieces have a rugged and yet gentle beauty. Her collections which are sourced from natural fibres such as

silks, cottons, wools and linens have recurring themes of rustic texture, fullness and wood; and in her words,

'nature' remains her primary inspiration.

KALTBLUT: Tell us about your background, how did you get into

fashion design?

ANNA GREGORY: My mother is an interior designer as well as an

artist, so growing up I always wanted to be an interior designer.

However when I applied for the University program in Poland, I was

unsuccessful. You see in Poland, the competition for universities is

extremely high- you can only apply to one university at a time, which

leads to thousands of applicants vying for one spot. So instead of

wasting a year because I didn't get the place I wanted, I decided to

go to a fashion design school. After my first year, I loved the courses

I was studying so much within the program (which included fine art,

drawing, painting and interior design) that I decided to stick with

fashion.

KALTBLUT: Where did you go after your fashion design course?

ANNA GREGORY: After doing that program in Poland for two years,

I then did a BA (Hons) in Fashion Design at the University of East

London, BA (Hons).

KALTBLUT: How would you say your art background has influenced

the pieces you make today?

ANNA GREGORY: Well, my old professors in London who see my

work today say that my pieces have an artistic edge, so this is probably

because of the Fine Art subjects I studied when I was in Poland.

KALTBLUT: Currently, you have designed two collections- S/S

12 and A/W 12. How would you describe the aesthetic of your

designs?

ANNA GREGORY: All my designs are hand-made and I label each

and every one as, 'Scandinavian' because my inspiration comes

from there. This is why I only use natural fibres in earthy colours and

oversized, cocoon shapes. Also, I made the wooden jewellery you see

in my first collection.

KALTBLUT: Oh, really? I assumed that the wooden jewellery

pieces were made by a jewellery designer who collaborated

with you for that particular collection.

ANNA GREGORY: No they were all made by me, I decided to make

chunky, wooden jewellery because they really fitted the natural vibe

of that collection, and it made sense to add pieces that had been

sourced from nature. With the wooden pieces, I was wholly inspired

by my trips to the Fjords, Norway and as a reference I used the pictures

I had taken in the forests, paying particular attention to the tree

patterns I saw. Every piece was painted, hand-dyed and dip-dyed,

meaning that each piece is unique.

Photography by Gokhan Goksoy

www.vragency.co.uk

Models: Emilia Samelsson and Leanne
---
335
---
336
---
337

KALTBLUT: Is there anything in particular you remember about those trips?

ANNA GREGORY: Yes, how magical the waterfalls and mountains were and how eerily

quiet the Fjords were; it has a special kind of silence. Also in relation to my work, I remember

how dedicated I was in ensuring my pieces reflected as much as I was able to capture

during those journeys. For example, I would lift a wood pattern from a tree and put it on a

dress, and for a whole week I photographed the stones on the pavement, in order to imitate

the patterns on my fabrics.

KALTBLUT: Could you tell us about one of your earliest, most memorable Nordic

trips?

ANNA GREGORY: That would be the summer when I was ten years old. I went on a road

trip with my parents where we started in Bergen, Norway and travelled along the coast, all

the way to the North Pole. It was such a magical trip! I'll always remember being fascinated

by witnessing the Sami people first-hand. Even from the car, I could tell that they were a

strong community of people who lived a life that was totally dictated and inspired by nature.

KALTBLUT: If I had to use two words to describe your clothes, I would say- texturized

shapes. I like the way you play with different lengths, volumes and silhouettes

with your pieces- a straight fitting waistcoat there, a ruched, puff skirt there- is

this a reflection of your own personal style?

ANNA GREGORY: Well, the oversized pieces in my collection are definitely a reflection of

my style. If you open my wardrobe, it is crammed with oversized pieces. My own personal

style is understated and yet distinct and this can be seen in my pieces.

KALTBLUT: As of now some of the recurring themes in your work are milk-paint,

sustainable, wood, hand-made which are all said to be marked with a distinct

Scandinavian mood'. How do you see this evolving in the future?

ANNA GREGORY: I see myself being even more inspired by Scandinavia and continuing

my design explorations in that area. I will also continue to be faithful to my use of natural

fibres.

KALTBLUT: So far in your current base- London, you have shown your pieces at

London Fashion Week (Off-Schedule) as well as Alternative Fashion Week and

Graduate Fashion week. How much do you think London supports emerging

designers?

ANNA GREGORY: I believe that as a city it supports emerging designers very well. You can

see this from the fashion week it hosts where the city pays special attention to new designers

like LFW, Off Schedule, where I've shown my work. Also from my personal experience,

there are boutiques that have approached me because they want to promote new designers;

so I assume that if I am getting this assistance, then other emerging designers are

too. There are also many London- based online stores that cater to selling pieces from new

designers.

KALTBLUT: Which public figures would you most like to see wearing your clothes?

ANNA GREGORY: Oh my God, Sienna Miller! I also love the Polish model, Anja Rubik.

KALTBLUT: What kind of woman do you think you design your clothes for?

ANNA GREGORY: Stylish, relaxed women who are able to combine luxury with second

hand clothes effortlessly. So for example, she can wear Yohji Yamamoto with pieces from a

fabulous retro shop.

KALTBLUT: Is there any designer you would like to collaborate with for a one-off

collection?

ANNA GREGORY: Stella McCartney, I love the cut and lines of her pieces. Also I admire the

stance she makes against fur, as I am anti-fur as well.

KALTBLUT: What kind of music do you play in your studio to stir your creative

juices?

ANNA GREGORY: I tend to listen to a lot of classical music or Jazz which used to confuse

me because normally, I listen to Hip Hop which is weird.

KALTBLUT: Why is listening to Hip Hop weird?
---
ANNA GREGORY: Well, people say it doesn't

suit me…

KALTBLUT: If you don't mind me saying,

that's a very silly thing to say. Music is

universal, that's the whole point of it.

ANNA GREGORY: Well, the thing is when I

listened to Hip Hop in my studio, I just couldn't

concentrate. So I began to listen to classical

music and I discovered that due to the rhythm

and pace that comes with that style of music,

my design team and I was able to concentrate

more.

KALTBLUT: I can imagine... The theme for

this issue is Ice.Land, Myths, Legends and

Nature- what imagery do you conjure up

when you hear those ethereal words?

ANNA GREGORY: I actually think of a mood

board I made in university a few years ago

where for inspiration I used those exact words!

KALTBLUT: Really?

ANNA GREGORY: Yes, the mood board

borrowed from themes and subjects that were

derived from childhood tales like the Ice Queen

and 'The Lion, The Witch and The Wardrobe'.

Really, when you say the theme words of the

magazine, my imagination goes straight to

these tales.

KALTBLUT: As you know, lots of fashion

businesses are driven by social media.

How have you found balancing promoting

your brand through social media and

creating your designs?

ANNA GREGORY: I find it very difficult to keep

the balance because even though I use social

media platforms like Facebook to engage with

my market- it does not come to me naturally.

Also, I am an artist and as such, I would rather

use my time designing than sitting in front of a

computer.

KALTBLUT: What are your dreams for the,

'Anna Gregory' brand for the future?

ANNA GREGORY: For the future, my dream is

to have my own boutique in an area like Islington

or Shoreditch. In this store I would be in

charge of everything from the visual merchandising

to the design of the shop. It may sound

like a small dream but in London, getting those

locations is very difficult.

KALTBLUT: I am intrigued, I expected you

to say that you would want Anna Gregory

stores around the world!

ANNA GREGORY: Yes that would be great but

I feel to achieve something so formidable, you

need a lot of help or contacts in the industry.

Take Stella McCartney for example, she is undeniably

talented but having the surname that

she has helped to open a lot of doors for her.

So for me now, I want to dream small before I

dream big.

www.annagregorydesign.co.uk

338

"I want to

dream

small

before I dream

Big"
---
339
---
PaperCut Photographer:

340

Svetlana LK / www.SvetlanaLKphoto.com

Hair & Make up: Helena Narra Kapidzic/narra.cc

Stylist: Josephina Rigall

Stylist Assistant: Marie Pedon

Model: Martina Dimitrova / Soul Artist Management
---
341
---
342
---
343
---
344

AW 13/14 ICE-COOL
---
345

Some weeks ago we presented our very first KALTBLUT AW 13/14 Collection during Berlin

Fashion Week. The idea behind this project is to give young and unknown fashion designers a

platform to create their designs and show them to the fashion world.

For our first collection we worked together with two Berlin based fashion labels. NICO SUTOR

who has created an intense black and white themed collection. Her theme is: ICE. Accessories for

our collection come from ZILLMANN. The designer has created some outstanding pieces for

us, stunning and eccentric headwear and masks. Her theme is: COOL. The presentation during

fashion week took place at the FIER Showroom and was really well received, it seemed that people

really appreciated the collection and are excited about it, we are so happy that our plan worked

out!

I had a little chat with both designers, speaking about their designs, the concept and fashion in Berlin.

Interview by Marcel Schlutt

Photos by Pacale Jean Louis and Marcel Schlutt

Hair and Make up by Pascale Jean Louis

Models are: Adrian Dorsch, Lukas Sauer, Andreas Milz, Elizabeth Ehrlich.
---
KALTBLUT: First of all I want to say: Thank you!

To both of you for creating such a great collection

for our magazine. It is the first time that KALT-

BLUT is working together with 2 designers in this

way. You are part of the family now forever. What

was your first thought when I asked you to work

with us on this?

NICO SUTOR: Yes!

ÅLISA ZILLMANN: COOL! Nico Sutor and Zillman

already work well together, we were already married!

but we were excited to enlarge the family. More importantly

it's a privilege to work with you. Thank you.

KALTBLUT: Is there a difference between creating

a collection on your own and being commissioned

to make one for a magazine? Do you feel like we've

given you enough space to be creative?

NICO SUTOR: No, there's not really a difference,

maybe just a different form and direction as far as

where the inspiration is coming from. I think 404 pages

is definitely enough for inspiration… and enough

creative space too !

ÅLISA ZILLMANN: It is different. I was concentrated

and focused but I didn't feel imprisoned. Nico

and I were immediately inspired by the "kalt" in

"Kaltblut" and named the collections: Ice and Cool.

We've known each other for years and so our ideas fit

together easily without much need to work on it. for

example, the triangle. that was cool!

KALTBLUT: We showed the collection during the

last Berlin Fashion Week just 4 weeks ago and the

people loved it. Can you tell me about your different

inspirations for our collection?

NICO SUTOR: Since I visited Iceland, I've been

fascinated by glaciers and I've always wanted to do

something using that topic. One thing lead to another

with the theme of the issue also being "ICElands".

For Kaltblut I wanted the design to be strict

and linear, stern and strong, just like the magazine.

Clear concept, clean lines, clean cuts.

ÅLISA ZILLMANN: I'm a big fan of Disney, Tim

Burton and 80's style series and films. With the experience

that I have, and that you wanted me, what I

thought was: cool! So it made sense to call it that. After

cool came: cat. Of course I immediately thought

about Michelle Pfeiffer as Catwoman (Directed by

Time Burton), but in the 90's in a jazz club...poetry

slam...also I love animals... at the moment I have two

canaries (Bonnie Tyler and Maedchen)... when I got

them I worked with feathers. The cat masks are also

inspired by a cat I once had called Emily Strawberry.

KALTBLUT: Ålisa, everybody is in love with your

masks. Some people even wanted to have them directly

after the show. What kinds of materials were

you working with? And how did you create your

show pieces?

ÅLISA ZILLMANN: I always work with all kinds of

materials and try making more editions than collections.

For example, neoprene with feathers, copper

pipes.. For the base I use this rather uncool, old kind

of felt material, because it is stable and it allows me to

make 3D designs. I love to build things, or demolish

things, like walls.. you get that rush. With the masks

it was no different.

It's a sexy adrenaline kick !

KALTBLUT: Nico, we've known each other for

around one year now and it's actually not the first

time that we've worked together. Can you tell our

readers how long you've been working on your

collection? And which garments did you use?

346
---
NICO SUTOR: We had our one year

anniversary on 17.01 during Berlin

Fashion Week! I still love this moment

and remember it fondly The actual

work was about 2 weeks, but finding

the ideas and the forms takes me

around 1.5 to 2 months. My favourite

material is and always has been jersey,

but it creeps now more and more in the

direction of chiffon. I like to play with

transparency of a material and then put

it against something more dense.

KALTBLUT: How did your friends,

family and customers react when you

told them that you will be designing a

collection for a magazine?

NICO SUTOR: COOL.

ÅLISA ZILLMANN: My family,

friends and customers (I can call lots of

my customers friends too) they know

how hard it can be to be self-employed:

so proud!

KALTBLUT: Our idea is to support

young fashion labels and give them a

platform to show their designs in the

international fashion world. What

is your fashion background? Since

when do you work in fashion?

NICO SUTOR: My first victim was my

Barbie, so I'd say I've been in fashion

my whole life, and then I also studied

fashion. After my studies I worked for

a Berlin based label and started Nico

Stuor in 2011.

ÅLISA ZILLMANN: I also dressed

my Barbie dolls with couture clothing

as a child, handkerchief and sellotape

creations... that counts as fashion design,

right? In my youth I never found

cool clothes, it was also really hard,

because I never had a specific style. I

had a design in my head but I didn't

know how to create it. My clique went

the way into fashion, so I also wanted

to become a designer. I guess officially

though since 2005.

KALTBLUT: I am a little bit disappointed

about the Berlin Fashion

Week. I think the German Government

should support young labels

much more. Do you get any support

from the state or if not, how do you

survive?

NICO SUTOR: I also think there

should be more support given, if they

advertise Berlin and the fashion here,

they should also promote the designers

better! That doesn't even necessarily

have to be financially, when you consider

how many rooms and shops could

be let for free, it's the least they can do

to just make that available to showrooms

and designers for Fashion Week.

Berlin advertises "poor but sexy" but if

the fashion dies then we're just poor!

ÅLISA ZILLMANN: No, if you don't

347

have a customer base you can't be considered

for credit, without credit you get

no money, without money you can't buy

materials, without materials you have

no product, and without product you

have no customers, then you find yourself

drowning. Luckily I put on a regular

night club "ENKLAVE" that goes well

and makes me some money, and I am

also an illustrator, a well paid job!

KALTBLUT: Which designers inspire

you? Who are your personal favorites?

And why?

NICO SUTOR: Vladimir Karaleev and

Michael Sontag! I love their aesthetic!

KALTBLUT: Can you both name 3

must have items for a fashion victim in

2013?

NICO SUTOR: Fun… "Cool" by Zillmann

and "Ice" for KALTBLUT.

Ålisa Zillmann: Masks, because then you

don't need make-up. Cool leggings. Clothes

that you can easily fall in love with.

So many "in" items have become standard,

for example studs, you can easily

wear them now in everyday life.

KALTBLUT: What is coming next for

you then? Our collection is ready to get

sold, some stylists booked pieces for

shootings and we can't be more happier!

But what are your plans for the

future?

NICO SUTOR: A holiday, a new collection,

more shops, more happy customers.

After my father comes to visit us at

Fier in January he'll also want us at the

Fashion Week tent….

ÅLISA ZILLMANN: There will soon

be the ZILLMAN slim edition. T-Shirts

with my illustrations and jute bags in

my style: with ears. Otherwise I let life

surprise me and wait to find some new

materials.

KALTBLUT: Thank you very much for

your work. What I like the most about

you both is that you don't have this

weird attitude which we experience

each day in fashion. You're down to

earth and live in the real world. Please

keep this forever. Love you both!

www.nicosutor.com

www.alisazillmann.tumblr.com
---
The

348

Insider

Text and Interview by Amy Heaton

Illustration by Nicolas Simoneau

As

we delved

deeper into the Scandinavian

psyche with our issue I

caught up with the lovely Nina

Legnehed for this collections

X-Insider. She and her partner

Steffi von Kannemann

run the brilliant Berlin-based

PR Agency called "Nordic by

Nature" and represent bags

of Scandinavian music talent

through tasteful promotion

and events. She shared a bit

of insight about Swedish

nostalgia and why moving to

Berlin was the scariest, but

most soul-satisfying decision

she's made…

" Just work really

hard and stay

true to your

taste and your

concept."
---
KALTBLUT: Hey Nina, thanks for having a chat with us for our X-Insider! So tell us a

bit about your story, why did you come to Berlin? Nina: Well I'm from Göteborg, the

second largest city in Sweden, and I have a background there dj-ing, running club

nights etc.. but I studied in Human Resources, so when I was in my 20's I don't

think I really realised that it's so easy to get a job in the music industry! So I

moved to Stockholm and I started working in normal companies but I soon realised

that's not what I wanted to do. It's funny, because when I quit my job there another

guy quit to become a professional poet that day.. I suppose there was always a

small clique of people who were not fitting in there and were really somehow

unhappy or unsatisfied.. it's not that big companies are bad to work for, I sometimes

end up defending that experience because people think big corporations are

evil, but any experience in life is valuable for later on. During that time I had been

coming to Berlin, visiting a friend of mine who was living here.. Berlin for me was

this kind of haven that I could go to and get away from everything I didn't like

about my life in Sweden and then I just decided to move, leave everything and try

something else. It was really scary, but I had some money and some time to work

it out, and then I met Steffi and we started doing club nights, events etc, all with

the Scandinavian theme. KALTBLUT: I think it's normal for these kinds of office jobs

to drive people into creativity eventually..! How do you think your experience of

setting up a business here has been different from if you'd done the same thing in

your hometown? Nina: We weren't so business minded in the beginning but then we

realised we had found a niche in Berlin. I guess the cultures are completely

different and since the Scandinavian music scene is so small there's some politics

to consider, like always very friendly, but you have certain allies in a way, and

you're working with labels who are usually putting out good stuff. Here in Berlin

it's more about this idea of helping each other out a lot more.. but in Sweden

people are really competitive, even in the creative industries, even amongst your

closest friends it's not normal to share contacts, if someone has a valuable contact

it's somehow special and they want to keep it for themselves, but if it was Berlin

and somebody knew someone who could be good for you to meet for some reason,

work, or hobbies or whatever, you would be straight away like, "Oh you have to

meet my friend…" so it's very different in that way. KALTBLUT: Do you think that

makes it harder to get things moving in Berlin, than it would back home, because

that competitive spirit is missing? Nina: Personally I think that by helping each

other out you get further. I mean we've gained so much from other people sharing

their knowledge with us and as I see it I'm not competing with the other agencies

or the other creative PR companies around Berlin. If I was back in Sweden I

couldn't ever admit if I had an unsuccessful event or if things aren't going so well

but with Germans they're just so honest, they just say it how it is and that's brave!

On the other hand I guess that also means that Germans won't be nice to you if they

don't like you and I think the Swedish way is complete opposite, it's not about

conflict so much but we don't like awkwardness or it's hard for us to be rude, you

would always have to have an excuse to leave or something, I think that's very

Scandinavian. KALTBLUT: Why do you think Scandinavian concepts like your own

do so well in Germany at the moment? Nina: I guess we try to have this Scandinavian

attitude so I don't think people mind if it's a bit strange to them, they like it, for

example the way we write a press release, or an event text, the way you write it

might normally be different between Hamburg and Berlin, but we have this Scandinavian

touch we always use so that's really our style, and the way we do the night

we want people to feel like that could also be the way it feels to be at a club in

Stockholm.. we do a lot of stuff that a music export agency would normally do but

it's not so formal, we really do it out of love, not just love, but really a kind of taste.

We want good music to come to here and people have caught onto that. KALTBLUT:

What about the difference between the scene over here and back in Sweden? Nina:

I think that Germany is definitely more divided, and all the major cities have their

own different scene. Also the German media climate can be frustrating. I mean on

a national scale, and I don't want to be negative here, but I feel like the whole

German scene is a bit behind in a way, also with the idea of being selective or

exclusive, that we think is important, but I find that if I contact someone that I have

a good relationship with they never say no to me.. maybe that's just because they

like what we're doing! But I want there to be better blogs in Germany, more

influential, more powerful and I think that the ambitious new ones who start

writing really good stuff are great, but if they write about all the stuff we give

them, and they also write about lots of other stuff that other people give them, then

you kind of lose the edge a little bit, like the thing about 'Pitchfork' or something

more exclusive, it's so hard to get in, because it's so hard to get in there everybody

349

knows it really means something if you get in there. In a way you need a PR agency

in Germany because this hype thing doesn't happen, if we send out a press release,

nobody writes about it, nobody just picks it up, I mean things can get spread so

quickly outside of Germany, using blogs or social networking, but that doesn't

seem to happen here, but then if I call people up or write them and ask them to

write about something they're like "Yeah, sure"! They're actually just sitting back

and waiting for people like me to call them.. but where's their ambition to find it,

and be the first ones? That kind of ambition is what drives the Swedish scene at

least. KALTBLUT: So do you think that means the quality is somehow reduced over

here than there in that case? Nina: Maybe it might be true just for the Berlin scene,

but music wise at least it's like you can always get a gig, even if you're not very

good you can get a gig.. and you can play somewhere. But in Sweden there's a lot

of competition and judgement, there's some circles you want to get into or

something, like when I talk with Swedish artists they are really self critical and

they're thinking "am I really making something new here, am I really adding

something to music history.." and why would you do it if you don't feel like you're

adding something? but in Berlin people don't seem to think that at all. I've known

Swedish bands who even announced that they wouldn't release the album that they

made because they didn't think it was good enough, it was so hyped up and there

was so much expectation that they couldn't bring themselves to release tracks that

they didn't think were good enough. It's kind of cowardly but it's also a really

interesting cultural observation about such high ambition to the point where it

could stop the whole process. They'd written the songs and everything, it's not like

they had writers block, but I think that is so super Scandinavian to do that…

KALTBLUT: The big question is…. What do you miss most about Sweden!? Nina:

Before the interview I was thinking about it, what's unique about Scandinavia? Or

what do I miss most about it. I really miss the cleanliness, even like housing and

stuff, I was at a friend's flat recently and everything was so perfect, the walls.. the

toilet.. Here I'm living in an Alt-Bau and of course that was my dream when I was

moving to Berlin and when I was looking for a flat I really wanted that and now I'm

so sick in a way, everything's so, well it looks pretty but there's always some kind

of dust in the corner, you don't know where it comes from.. KALTBLUT: Maybe if

you could bring that kind of cleanliness down to Berlin you'd have your perfect life

then? Nina: Haha, yeah maybe, but in a way it's good for me to start questioning

those things a bit, I think I have quite a nostalgic view of Sweden and it being so

perfect. Actually I think there's this pressure to actually be perfect in Sweden and

I feel like being in Berlin is kind of a relief from that. KALTBLUT: Do you feel that

you dress differently here than you would back home? Nina: Sure, I'm walking

around in clothes here that I would never wear in Sweden. It's much more casual,

and I think that's mostly good, I don't know if it has something to do with size or

something, because Sweden is still small and it's hard to be really anonymous in a

way, but I do feel like people know who other people are and you're much more

judged all the time.. KALTBLUT: We love your concept at 'Nordic by Nature' and

you've represented some pretty high profile artists (before they were famous!) and

things are going from strength to strength..! Do you have any words of advice for

other ambitious Scandinavians thinking of moving here on a whim? Nina: Yeah, I

mean I'm proud to look back, that's also kind of our goal, to be the first ones to

bring in a band and then they make it in Germany. It was really difficult in the

beginning, it's like a lesson you have to learn yourself because people think it's

easy but putting on events can be really hard, and I guess that can be whatever

you start doing here. We have changed a lot in the way we do things since we

started, you have to be careful with how much money you spend because you're

going to lose money here. Just work really hard and stay true to your taste and

your concept. KALTBLUT: Why do you think so many Scandinavian artists are

migrating to Berlin right now? Nina: One idea is that Sweden has been a bit behind

traditionally, for example in the kind of pop music revolution, like what happened

in other places where it was like years before, and that was a very interesting

music scene then, Sweden was more conservative, more song writing, and then

this real new indie pop wave came to Sweden much later. So in a way that's

happening now that we're creating our identity and building up our own scene, so I

think that's why it's so exciting and so interesting right now, maybe in 20 years it'll

be different. The thing with Scandinavia is that you have to go internationally

otherwise you can only play 3 gigs and you're done, so even small indie labels are

pushing acts to break out into the European scene. In Germany you can sell a lot

more records than in Scandinavian countries. Or maybe it's just that we like better

music in Scandinavia…!
---
350
---
351

FOX

Photography by Camilla Storgaard

www.camillastorgaard.tumblr.com
---
352
---
353
---
354
---
355
---
356

#ThingsWeLove

dot

Selected by Nicolas Simoneau

If we spent as much time doing (productive) things as we did surfing the internet, well... LIFE WOULD BE SO

BOOOORIIIIIIING! You know, i have to check my Facebook profile, comment posts on different blogs, re-tweet my

friends, and watch my Klout score, keeping it from going down #CRAZY.

Surfing day and night, we always find things that NEED to be shared. And yes, we are so #connected here

@Kaltblut-magazine that we want to share with you what we find everyday on the world wide web

#ThingsWeLove dot com.

Did you notice how, when it's time for you to get ready in the morning,

you never (ever!) seem to find two socks that match? Or it is just me?

Well, I did notice that somehow I always find myself in a situation

where i am like: "Shit! Are you serious?! why can't I find two matching

socks again today?". Come on, fess up it HAS to have happened to you

too! You go to the doctor and he asks you to take your shoes off, and

oh surpriiiiise one black sock and one white one (with a hole the size

of Texas, of course). Hmmmm : awk-weeerd, right? Or you go to buy

shoes with your boyfriend/girlfriend and when you decide to try them

on, hmmmm lookey here! Nice grey sock that matches quite perfectly your

Mickey Mouse one.

But this? This was before I found out about "HAPPY SOCKS".

These Swedisch sock makers have some really nice stuff.

Bye bye depressive socks, HEL-LO colorful, playful, patterned socks!

I mean it is rather unusual to come across a brand that's 100% focused

on our feet and the way to dress them.

Picky sock wearer, are ya? You know what they say: Swedes do it better

(I'm sure whoever came up with that saying was talking about socks).

You'll find the sock that's right for you at Happy Socks: stripes, dots,

argyles, squares, leopard patterns, whatever you're into, they'll have

what you're looking for.

Look at you... you've never looked so sexy wearing nothing but

socks.
---
www.happysocks.com

357
---
SUSANNE BIER

358

From Dogma to Hollywood
---
359

I

still remember watching the 2010 Academy Awards ceremony

when the stunning presence of Barbra Streisand showed up

on stage to introduce the five nominees for best achievement

in directing. It was a special night, although James Cameron

was the main favorite, for the first time a woman and an African

American director could win an Oscar. But when Barbra

opened the envelop something in cinema history changed and

her first words were: "Well, the time has come!" and a very nervous

Kathryn Bigelow won the golden trophy. David defeated Goliath.

The Hurt locker defeated Avatar and a woman defeated a man called

James "The King of the World" Cameron.

Only 4 women had been nominated for this Oscar. Lina Wermüller

in 1976, Jane Campion in 1993, Sofia Coppola in 2003 and the winner

Kathryn Bigelow. It seems directing is still a man's world. Hundreds

of men but only dozens of women. Jodie Foster, Penny Marshall,

Julie Taymor, Agnieszka Holland or Isabel Coixet to name a few more.

And one of these brave fighters is the Danish director Susanne Bier.

At the moment it's easy to see many Scandinavian directors working

in Hollywood but some years ago it was unthinkable to see

people like Lars von Trier (Melancholia) or Thomas Vinterberg (Dear

Wendy) directing a very fresh and light comedy with Julia Roberts for

example. Things have changed and some names like Ole Bornedal

(Nightwatch), Niels Arden Oplev (Dead Man Down), Lone Scherfig

(An Education) and of course Lasse Hallström (The Cider House Rules,

Salmon Fishing in the Yemen, who can be considered an American

director) but in 2012 he was back to his native Sweden to shoot the

thriller Hypnotisören with his wife Lena Olin maybe following the recent

boom of Scandinavian crime fiction (see our Top 5 in this issue).

Susanne Bier was born in Copenhagen in a jewish family and was

an important part of Dogma movement where she became very popular

with films like Open Hearts (2002). Bier always tended to show

these emotional relationships pushing her characters to the limit with

a deep and effective morality and soon she turned into one of the

most popular Danish film makers working with the best of Danish cinema

like Mads Mikkelsen, Connie Nielsen, Mikael Persbrandt, Ulrich

Thomsen or Trine Dyrholm in masterpieces like Brothers (2004), After

the wedding (2006) and In a better world (2010).

Bier (who also won an Oscar in 2011 for Best Foreign Language

Film with her excellent film In a better world) is a "rara avis". A director

who comes from Dogma and fits perfectly in both sides of the

Atlantic or perhaps somewhere in the middle. Susanne Bier is able

to develop her cinema between the borders of two continents, between

both ways of making cinema, the emotional drama, the "made

for TV" short of narrative and social critic like most of Lars von Trier's

works (producer of many of her films). In her films we usually find a

common line that has become something really characteristic in all of

her works: the portrait of emotional links between families and couples.

Of course the American industry didn't take long to discover her

talent and call her and in 2007 she released Things We Lost in the

Fire with Benicio Del Toro and Halle Berry (in probably her best role

after Monster's Ball) but the reception of the film wasn't as good as

the producers expected perhaps because the audience thought it was

a regular romantic drama with the two popular stars. In my opinion

Things We Lost in the Fire is one of her finest films, a chronicle of a

very painful redemption, an elegy of survival when the external and

internal fire, fate or soul's demons have devastated every existing

thing around us. I still remember the first time I watched this film,

I remember the way it touched and moved me. I have to admit I'm

quite a cryer but this time my tears were extremely dry.

I imagine there are no formulas or

rules in fiction to make the audience

cry. Everyone cries when or how he/

she feels like it, even when the melodrama

is heading that purpose. Susanne

Bier is one of those directors who

takes you to that place where your

eyes start to get wet maybe because

our own life gets related in a certain

way to the fate of some of the characters

on the screen in front of us. And

that feeling is simply priceless.

In her last film Love is all you need,

staring Pierce Brosnan and Trine Dyrholm,

Bier has gone back to comedy

after many years. But not the typical

romantic comedy made in USA. Susanne

Bier has the ability of making

comedy from the drama of a woman

healing from cancer while she discovers

her husband's infidelity. Again,

love, family and human conditions as

the main engine of her films. The film

never loses its humor and although

this last film seems to be lighter than

the rest, it keeps that exquisite taste

of the Danish director while taking the

human side of drama and never forgetting

Bier's films identity: a wedding

(After the wedding), dysfunctional families

(Brothers, Things We Lost in the

Fire) or cancer (In a Better World) but

also pain, vulnerability and seeking

happiness.

She has completed her second

American film called Serena about a

couple in North Carolina during the

Depression-era staring Jennifer Lawrence

and Bradley Cooper. The film

will be released later this year. Let's

see how it will turn out.

Of course no one is perfect and it

is said that working with her is hard

as she turns out to be very authoritarian.

But like her i do believe good

directors have to be a bit dictatorial. If

an actor wants to risk and be able to

get to hidden places that actor must

know there's a director covering his

back who knows what he's doing. And

Susanne Bier seems to know very well

what she has in her hands.

Some of her critics say her films are

just a bunch of high standing "soap

operas" but in my opinion, if Susanne

Bier didn't exist we should have to

invent her.

Text by Claudio Alvargonzález Tera
---
Earring: Made by Stylist

Top: Goldknopf Couture

Clutch: Friendly Fur

Trousers: Stylists own

Shoes: Miroike

360

Allerleirauh

Photographer: Pia Schweisser

Photo assistance: Anja Kerth

Hair&Makeup: Kerstin Hajdu

Styling: Irmela Schwengler

Model: Tonia Farber @ Tune Model MGMT
---
Mask: Stylists own

Earring: Made by Stylist

Jacket: Prose Studio

Dress: Unrath&Strano

361
---
Fur: Strenesse

Clutch: Friendly Fur

Dress: Goldknopf Couture

362
---
Wedding Dress: Unrath&Strano, Shoes: Vintage

363
---
Accessoire: Prose Studio

Fur Vest: Strenesse

Trousers: Stylists own

Boots: Miroike

364
---
Fur: Strenesse

365
---
367

www.nicosutor.com www.kaltblut-magazine.com

www.alisazillmann.tumblr.com
---
VAGABOND

368

Photography by Phoebe Cheong

(www.phoebecheong.com)

Photography assistants by Matthew Aland,Charlotte Ellis,

Jonathan Fleetwood & Alejandro Torija

Hair & Makeup by Clare Greathead

Styling by Victoria Child

Styling assistant by Emma West

Modelling by Kristie @ Leni's Model Management

Set Design by Larissa Gauger

(www.larissagauger.co.uk)

Vintage, man's blazer: Stylist's own

Hand knitted man's overalls by Stephen Garvey

Vintage bowler hat: Stylist's own

Leather Ankle Boots with fringe detail by ASOS
---
369
---
Wallpaper print midi dress by ASOS

Leather Ankle Boots with fringe detail by ASOS

Black socks. Stylist's own

Coat by Zara

Vintage, women's coat. Stylist's own

Vintage Faux Fur Hat

370
---
371

Tweed Boiler Jumpsuit by ASOS

3D Check Oversized navy Scarf by ASOS

Platform Ankle Boots by ASOS
---
Fur collarless coat by Zara

Gortex man's coat by Michael James

Vintage white skirt. Stylist's own

Ear muffs by ASOS

Suede Knee High Boots by ASOS

372
---
373

Gortex man's coat by Michael James

Fingerless gloves, Vintage Dress. Stylist's own

Vintage leather trousers by Cow vintage

Leather shoes with cut-out detail by ASOS

Khaki Felt Cap by ASOS
---
Faux leather dungarees by ASOS

Sheer white shirt by H&M

Oversized Scarf with pom pom's by ASOS

Leather shoes with cut‐out detail by ASOS

374
---
375
---
Handmade plastic dress

Devore dress by Georgina Mullholland

376
---
377
---
378

TROLLTOURS by Stini Mimissonsdottir

The 70 pages long book TROLLTOURS displays visionary and vibrating images in a

playful way. Produced by Berlin based photographer Stini Mimissonsdottir, 4 fictional

characters meet for a holiday trip to the unknown, underlined by commercial quotes

from nail polish or tampon ads right out of the American lifestyle magazine "PEOP-

LE", which is their constant companion on this trip. Put into new settings those quotes

turn from Kitsch to Pop.

The photos show a subjective but very fictional journey through Iceland's fascinating

nature and bond with the old Icelandic stories and traditions which were collected in

the so called Sagas. The book displays its own unforgettable insight into a hidden world

of Iceland's spirits. It is like a diary full of memories and magical moments in a riot of

colour and kitsch which turns this book into a modern Saga itself.

Performers: Jonathan Löwengart, Sabrina Köhler, Uta Sanchez

Artist Book

70 Pages

limited, hand signed issue - 50 Copies

Englisch

2013

www.mimissonsdottir.tumblr.com
---
379
---
SAAMI,

380

the reindeerpeople

When you think Scandinavia

you might think of snow

and reindeer sometimes, but

admit it, you don't think of

Sami people. If you even

know what the Sami are.

Saami are the indigenous

people of The North. Our

northern European natives

so to speak. Sadly a minority

today, they used to inhabit

large parts of northern

Norway, Sweden, Finland

and the Kola Peninsula in

Russia before Germanic tribes

pushed them even further

north.

The Sami being referred to as

Fenni or Phinnoi are

mentioned for the first time

in 98 AD in Greek and

Roman sources. However, it

is pretty certain that the Sami

date back to 5,000 BC when

other evidence found in their

areas suggests they existed as

early as 10,000 BC.

Now a little more history,

because you just love it.

Sami, and definitely not

Lapps -as lapp means piece

of cloth and is a silly and

derogatory term, kept

moving around in the north

but also the south of what is

today known as Scandinavia

depending on the movement

of glaciers in the area.

By Amanda M. Jansson and Emma E. K . Jones

By Photoglob AG Zürich [Public domain or Public domain],

via Wikimedia Commons
---
381

Gatherers and hunters for thousands of

years, they lived off wild reindeer and

fish, two food sources that would keep

them going for a long time. Yet, in the

middle ages as the "other Scandinavians"

kept expanding and the wild

reindeer population began to shrink

most Sami began keeping reindeer

herds, especially those who didn't live

near the coasts. As the bubonic plague

crawled up north and many Norwegians

died on it, the Sami always keeping

to themselves didn't get affected

really but continued to thrive both in

coastal areas as well as in the mountains

and inland.

However, before long, the

first church was built in

"Lapland", and it is easy

to imagine what followed.

The so-called civilization

process was forced upon

the Sami. The mine in

Nasafjäll, Sweden was

opened and the Sami were

employed to work and

were cruelly punished

if they refused to. Many

Sami tried to flee the land

and abandon the areas

they had inhabited for

thousands of years, but the

government sent troops to

prevent them from leaving.

So the colonization of the

Sami areas began with

settlers who moved into

their land. The new ways

of life contrasted with the

traditional ones and of

course the extensive hunting

brought many species

to the brink of extinction

and the Sami had to face

starvation.

Towards the end of the 17th century

things got worse. The Christian religion

that had become the official

religion of all Scandinavian countries

hit the North. Sami drums were burnt,

people who practiced the old religion

were persecuted and holy sites and

idols were destroyed. Soon the burning

of people at the stake followed

on any occasion that could be related

to "witchcraft". After the turn of the

century the Sami were gathered and

deported to the "Lappish administrative

region", which meant they would

have to continue reindeer herding in

restricted areas upper north. A hundred

years later, Sami people were stripped

of all property rights and the land they

were allowed to use for their animals

kept shrinking.

The 20th century didn't make things

any better for these indigenous people.

In 1905 the nomadic mountain

Sami had to decide which country they

wanted to belong to and then moving

wouldn't be possible for them anymore.

Next, a bill was passed to grab

all useful lands and give them to the

white settlers. After the first world war

racism was institutionalized in Sweden

and race segregation became the norm

while the Sami language was forbidden

in public and a racebiological

institute was created in Uppsala. The

Sami tried to organize and protect their

rights but even as recently as in the 70s

they were not allowed to have a house

bigger than modest, while many forest

Sami populations got extinct.

When the UN declaration of human

rights was introduced in 1948, Sami

people started hoping but they still

continued losing land, their land was

being polluted by new power plants

and even the Chernobyl disaster ruined

them, compensations promised were

never given to them. The lakes and

areas reserved for the Sami are given

away to non-Sami who exploit the

areas thoughtlessly and basically all

Sami rights are being violated. Split

into many different organizations the

Sami are still fighting for their rights

and trying to make their voices heard.

Today, if you go to Finland you can

actually visit real Sami habitats, even

though non-Sami dressed in inaccurate

traditional costumes are often employed

for tourist entertainment, as well

as Sami-ish ceremonies and giftshop

artifacts. The religion and art of the

Sami people should not be overlooked.

It is much more than cheap methods to

attract naïve tourists. The roots of all

Scandinavian and Norse mythology is

to be found in the Sami pantheist religion

and many sacred sites have luckily

managed to survive, while all bright

and colourful geometry that is typical

in Scandinavian art can be traced back

to traditional Sami art and culture.
---
382

Be your

friend's

true friend.

eturn

gift gift.

for
---
Repay

383

laughter

with

laughteragain

but

betrayal

with

treachery.

- The Havamal / Book Of Viking Widsom -
---
Jacket - Rick Owens

Photography - Ram Shergill

Styling - Aiden Connor

Make up - Ahmed Chami

384

THE OUTTAKES

Hair - Aaron Charlo

Model - Bianca, Simon @Nevs

David @Nevs
---
385

Dress - Vintage Oscar de la Renta
---
Lace top - Christian Lacriox from House of Liza

Gloves - Vintage @ Relik

Trousers - Versace menswear @Relik

Shoes - Bernard Chandran

386
---
Printed bodysuit - Ziad Ghanem

387
---
Jacket - Ziad Ghanem Couture

Bag - Marjan Pejoski

388
---
389
---
Top - Adidas

Pants - Ziad Ghanem

Coat - Lanvin @House of Liza

390
---
Bodysuit - Rokit

Head Piece - Ziad Ghanem Couture

391
---
392

KALTBLUT is calling all artists!

Theme is: The Male Issue!

The 5th issue will be focusing on Boys, Boys and Men.

What makes a man to a man?

Do we live in a men's world?

Why are guys so sexy?

What are your visions when you think about boys?

Do you want to share your vision with the rest of the world?

Be it fashion, articles, photography, art,

if this theme speaks to you,

if you play with this theme, contact us!

Artists from all over the world are more than

welcome to work with us.
---
393

BE PART OF

COLLECTION 5!

collection5@kaltblut-magazine.com

Photo by Marcel Schlutt, Model: Mo
---
394

ART

We have selected 6 events we would kill to go to. We can't afford travelling the globe but there's surely

something near you that you will get excited about.

Atheneum Art Museum

In the Spirit of Symbolism

till 28 April 2013

www.ateneum.fi

Kaivokatu 2, FI-00100 Helsinki, Finland

Thoughtfully selected by Amanda M. Jansson & Emma E.K.

This one is all about illusions. Trompe l'oeil translates into tricking the eye or something. So

you get the picture. An amazing collection of not frequently shown work will be at your disposal

Trompe-l'oeil art originated in painting, in which the illusion created by a painted object

relies heavily on perspective and chiaroscuro. The objects displayed are of various different

forms, from the most modest ones to the most sumptuous and they all imitate some other

material. Wallpapers that looks like wood or velvet or framed pictures. Ceramics imitating

porphyry or gold, this game of patterns and illusions knows no limits, especially not in the

18th and 19th century when it was spreading to fashion and the theatre. This one should be an

unforgettable experience.

Scandinavian art kicks ass and so does Helsinki and all the events we came across. This breathtaking exhibition

presents a special selection of art in 5 exhibition rooms. Symbolism in Finnish art from the 1890s to the late 1910s

is all about religion and mysticism, the world of ideas and death. Visual symbols and metaphors emphasizing

on the Platonic concept of a world of ideas which the visible reality remotely reflects. Timeless and fundamental

truths, emotions and states of mind come to life in the work of Akseli Gallen-Kallela, Magnus Enckell, Hugo Simberg,

Väinö Blomstedt, Pekka Halonen, Ellen Thesleff and Ville Vallgren. This could even make you fly to Helsinki.

Paris: Les Arts Décoratifs

Trompe-l'œil. Imitations, pastiches et autres illusions

till November 2013

www.lesartsdecoratifs.fr

Les Arts Décoratifs , 107, rue de Rivoli 75001 Paris

Rene Magritte - Ceci N´est Pas Une Pomme.
---
Tate Modern

Lichtenstein: A retrospective

till 27 May 2013

Bankside, London SE1 9TG

www.tate.org.uk

Photo: Roy Lichtenstein, Oh, Jeff…I Love You,

Too…But… 1964

Private Collection © Estate of Roy Lichtenstein/

DACS 2012

395

Tate Modern is known for its amazing exhibitions and is now proud to present a retrospective of one of the greatest American artists of the twentieth century.

This is the first full-scale retrospective of this important artist in over twenty years, with 125 of his most definitive iconic paintings and sculptures. For

those not familiar, Lichtenstein's work is based on comic strips and advertising imagery coloured with his signature dots. Visitors will be lucky enough to

appreciate paintings like Drowing Girl or Whaam! as well as works on Rowlux and steel and some previously unseen collages and masterpieces of paper.

21_21 Design

Design Ah!

9-7-6 Akasaka, Minato-ku, Tokyo

till: 02 June 2013

www.design-ah.net

What can be said about Japanese design.

We all know it is fantastic and more than

inspired, minimalistic, genius, out of

this world. In a uniquely built art space

directed by three Japanese masters of

design you get the chance of enjoying

some young design wonders' latest

works. With all the data overload this

show wants to determine the adequacy

of the things around us. Overseen by

some experts in all sorts of design fields

and with lots of hands-on experiences,

workshops, and audio visual extras this

should be really fun.
---
This Hamburger Bahnhof's

"secret universe" exhibition

is about an artist not as

well known as he would

deserve to be. Born in

Kentucky in 1962, George

Widener developed an

early interest in numbers,

numerology, history,

calculations, artificial

intelligence. So his work

is actually complex

number pictures. With

images based on secret

algorithms, dates are

no longer patterns but

become a system for

perceiving the world. An

unusually talented man

predicting the melting of

consciousness into software?

This is definitely

not something to miss.

Nationalgalerie Hamburger

Bahnhof

Secret Universe IV. George

Widener

till: 16 June 2013

Invalidenstr. 50, 10557

Berlin

www.hamburgerbahnhof.de

Photo: Sunday´s Crash,

undatiert

paper, 91,3 x 132,1 cm

Collection abcd, Paris

© George Widener

396

The Metropolitan Museum of Art

Plain or fancy? Restraint and Exuberance in the Decorative Arts

Till: 18 August 2013

1000 Fifth Avenue, New York, New York 10028-0198

www.metmuseum.org

Choosing New York events has never

been easy, since this city is always

buzzing with the most amazing exhibitions.

Basically, we would kill to go

to at least 10 of them. However, this

one here is a really interesting and

thought provoking one you shouldn't

miss. The exhibition contrasts austere

works of art with much more ornate

ones, encouraging viewers to examine

their own esthetics and responses

and to view them in the context they

were created considering time,

trends, and styles. Drawn from the

Museum's vast collection of European

sculptures and decorative arts, this

exhibitions includes items from the

Renaissance to the early twentieth

century.
---
Marc Chagall, Moi et le village (Detail), 1911, The Museum of Modern Art, New York, Chagall ®/© 2013, Pro Litteris, Zürich

397

DER DIVIDED

HEAVEN

GETEILTE

HIMMEL

Neue Nationalgalerie

Staatliche Museen zu Berlin

Kulturforum

Potsdamer Straße 50

10785 Berlin

www.smb.museum

The Collection.

1945 – 1968.

Neue Nationalgalerie

130124_NNG_Der geteilte Himmel_240x168,5.indd 1 24.01.13 15:38

Auch montags geöffnet!
---
CRAY

Zay

Frida Hyvönen

www.fridahyvonen.com

kswiss

398

Marybell Katastrophy

www.marybell.dk

2x CDs:"To the Soul"

3 x K-Swiss

Brogue-Sneaker (42-46)

2x CDs:"Amygdala"

www.kswiss.com

Davidoff

www.nintendo.com

You like it, you get it. Just pick the item you

would like to have, write a nice-crazy-funny

letter (ho yes we're a bit old-school, we love

snail post!) with your name, your address,

and the thing you want.

JUST ONE ARTICLE PER

PERSON.

And we will pick the winner. Good Luck.

Your Kaltblut Team. Write to : Kaltblut

Magazine, Grünbergerstrasse 3, 10243,

Berlin,Germany.

Smnovella

1x Acqua di Rose

1x Crema al Polline

www.smnovella.com

3x Perfume

Davidoff "The Game"

www.davidoff.com

Nitendo 3DS

1x Game: Mario Kart 7
---
1x Refurbished 80S Style

Polaroid 600 Camera Kit

www.the-impossible-project.com

Roskilde-festval.dk

399

Nordic by Nature

2x Print T-Shirts

www.nbnberlin.de

The Impossible Project

2x Tickets to Roskilde Festival 2013

www.roskilde-festival.dk

Calvin Klein

3x Perfume: CK One

www.calvinkleinfragrances.de

Buff wear

3x BUFF Scarf

www.buffwear.com

Tony&GuY

1x Tony&GUY Men´s Collection

1x Styling glue + 1x 2in1 Anti-Dandruff Shampoo &

Conditioner, 1x Deep Clean Shampoo, 1x Styling Pompade,

1x Styling Putty, 1x Styling Fibre,

www.toniandguy.de
---
Info

info@kaltblut-magazine.com

Press

press@kaltblut-magazine.com

400

KALTBLUT Magazine

Grünbergerstrasse 3

10243 Berlin

Germany

www.kaltblut-magazine.com

www.facebook.com/kaltblut.magazine

www.twitter.com/KALTBLUTMAG

www.kaltblut-magazine.tumblr.com

KALTBLUT Magazine is published by

KALTBLUT Media UG (haftungsbeschränkt)

CEO: Nicolas Simoneau,

Grünbergerstr. 3, 10243 Berlin,

Germany

Adverstising

advertising@kaltblut-magazine.com

Steuernummer: 37/216/21621 Amtsgericht Berlin – Charlottenburg HRB 144993

www.wetransfer.com

Events

events@kaltblut-magazine.com
---
Our second print issue : The North.

It is such a relief to realize that this project, our project, KALTBLUT

is going to be able to live on. The most difficult thing about throwing

yourself heart and soul into a project is not so much creating something

as it is keeping it going, and being able and willing to put more

energy into it in order to bring it to the next level.

The excitement is still palpable even after we've gotten all the submissions,

and every day it is sheer pleasure to read more and more

positive feedback about the Magazine.

KALTBLUT was created to give a chance to all the creative people

out there. A chance to see their work published by providing a platform

where they can showcase their art and express themselves freely.

We take great satisfaction in opening our mailbox every day to that

we have hundreds of emails from people from all over the world

sending us their work: it is working, it was a good thing to do, and

we are proud to be this connection between the artists and our

readers.

Releasing these 404 pages is our way of saying thank you. Thank you

for believing in us, and thank you for being a part of it too because

let's be honest, without you all, KALTBLUT wouldn't be here.

This issue is chock-full of creativity and beauty coming your way

straight from the North. It is such a privilege for us to be able to

introduce you to wonderful artists like Jacky Hijsteck, Morten Anderson,

Marzena Skubatz and many others, like Suzana Holtgrave,

who have been supporting us from the very beginning.

Dealing with a project like this is not an easy thing. Of course we're

bound to make a couple of mistakes along the way, but we are

learning every day, and we are enjoying every second of it.

We are not perfect, but we try to do things a little bit better every

time, and when we get emails saying that KALTBLUT MAGAZINE

is a great thing, it truly is one of the best presents that we could

possibly receive.

We believe in what we do and we hope that you do too.

Nicolas
---
A

ACNE

www.acnestudios.com

ADIDAS SVLR

www.slvr.com

AGENT PROVOCATEUR

www.agentprovocateur.com

AGATHA

www.agatha.com.br

ALL SAINTS

www.allsaints.com

AMERICAN APPAREL

www.americanapparel.net

AMERICAN RETRO

www.americanretro.fr

AN!MAL

www.anmal.de

ANDREA POMPILIO

www.andreapompilio.it

ANNA DELLO RUSSO

www.annadellorusso.com

ANNA LATY

www.annalaty.tumblr.com

ANNA GREGORY

www.annagregorydesign.co.uk

ANTIX

www.amoantix.com

ARTMASTER

ASOS

www.asos.de

AUGUSTIN TEBOUL

www.augustin-teboul.com

AYNUR PEKATS

B

BARBARA BONER

www.barbaraboner.co.uk

BILLIONARE BOYS CLUB

www.bbcicecream.com

BJØRG

www.bjorgjewellery.com

BJÖRG SKARPHéðINSDÓTTIR

BLAENK

www.blaenk.net.com

BLUSH

www.blush-berlin.com

BUTTERFLY SOULFIRE

www.butterflysoulfire.blogspot.de

BURBERRY

www.burberry.com

C

CALVIN KLEIN

www.calvinklein.com

CAMILA KLEIN

www.camilaklein.com.br

CASA JUISI

www.juisi.blogspot.com

CHANTAL THOMASS

www.chantalthomass.fr

CHEAP MONDAY

www.cheapmonday.com

CHLOE

www.chloe.com

CHOLET

www.cholet.com.br

CHINES LAUNDRY

www.chineselaundry.com

CLAUDINE IVARI

www.claudineivari.com

CLEO B

www.cleob.com

CONVERSE

www.converse.com

CREATURES OF THE WIND

www.creaturesofthewind.com

D

DAMARIS

www.damaris.co.uk

DANDY OF THE GROTESQUE

www.dandyofthegrotesque.com

DANIELA BARROS

www.danieladebarros.blogspot.de

DANIELE MABE

www.danielemabe.com.br

DANIELLE ROMERIL

www.danielleromeril.com

DARLING

www.darling.com.br

DAVID TOMASZEWSKI

www.dawid-tomaszewski.com

DESIRE

www.desireclothing.co.uk

DOMINICK KNECHT

www.dominicknecht.de

DOS SANTOS

www.petradossantos.com

DSTM

www.dont-shoot-the-messengers.com

402

E

EKATERINA GERASIMOVA

ELENA ROMANOVA

ELEVEN

ELISABETTA FRANCHI

www.elisabettafranchi.it.

ELLY CHENG

ERFURT

www.erfurt.dk

ETIENNE JEANSON

www.etiennejeanson.com

EYGLO

www.eyglocollection.com

EVA BRA BARKARDÓTTIR

EVA POLESCHINSKI

www.epanoui-fashion.at

F

FADE TO W

www.weekday.se

FALKE

www.falke.com

FENN WRIGHT

www.fennwrightmanson.com

FRANKIE MORELLO

www.frankiemorello.it

FRÄULEIN KINK

www.frauleinkink.com

FIONA BENNETT

www.fionabennett.com

G

GAVILANE

www.gavilane.com

GEMMA FANNING

www.gemmafanning.tumblr.com

GEORGINA MULHOLLAND

www.georginasjorneyintofashion.blogspot.de

GLAW

www.glaw-berlin.com

GUESS

www.guess.com

GUIDO MARIA KRETSCHMER

www.guidomariakretschmer.de

H

HASSELBLAD

www.hasselblad.co.uk

H&M

www.hm.com

HEUBEL

www.heubel-collection.de

HILDUR YOEMAN

www.hilduryeoman.com

HERMES

www.hermes.com

HUGO BOSS

www.hugoboss.com

I

IN ODD WE TRUST

www.iowtca.tumblr.com

INDYANNA

www.indyanna-fashion.blogspot.de

IRIS VAN HERPEN

www.irisvanherpen.com

ISABELL DE HILLERIN

www.isabelldehillerin.com

J

JAMES HOCK

www.jameshock.co.uk

JAYNE PIERSON

www.jaynepierson.co.uk

JEAN PAUL GAULTIER

www.jeanpaulgaultier.com

JOSEP FONT

www.josepfont.com

JIL SANDER

www.jilsander.com

JIMMY CHOO

www.jimmychoo.com

JITROIS

www.jitrois.com

JULIA ANDBEN

www.juliaandben.com

JW ANDERSON

www.j-w-anderson.co.uk

K

KAVIAR GAUCHE

www.kaviargauche.com

KILIAN KERNER

www.kiliankerner.de

KONSTANTINOS MELIS BY LASKOS

www.konstantinosmelis.com
---
L

LA PERLA

www.laperla.com

LASCIVIOUS

www.lascivious.co.uk

LAURITZ

www.lauritz.com

LEVIS

www.levi.com

LIA SOUZA

www.liasouza.com.br

LINA SALEEM

www.linasaleem.com

M

MALAIKA RAISS

www.malaikaraiss.com

MAISON MARTIN MARGIELA

www.maisonmartinmargiela.com

MAJE

www.maje.com

MARC STONE

www.marc-stone.ch

MARIA BLACK

www.maria-black.com

MICHAEL JAMES

MICHAEL SONTAG

www.michaelsontagcom.

MINIOT

www.miniot.com

MOGA E MAGO

www.mogaemago.com

MONKI

www.monki.com

MUUBAA

www.muubaa.com

N

NAKED STEEL

www.naked-steel.de

NATIVE UNION

www.nativeunion.com

NICO SUTOR

www.nicosutor.tumblr.com

NICHOLAS K

www.nicholask.com

NICOLE MILLER

www.nicolemiller.com

O

OAKWOOD

www.oakwood.fr

P

PAT BO

www.patbo.com.br

PERLENSÄUE

www.perlensau.com

PETER HAHN

www.peterhahn.de

PETER PILOTTO

www.peterpilotto.com

PP FROM LONGWY

www.ppfromlongwy.com

RITA IN PALMA

www.ritainpalma.com

PROSE

www.prose-studio.com

PRINCESSE TAM TAM

www.princessetamtam.com

POSH

R

RAF SIMONS

www.rafsimons.com

REALITY STUDIO

www.realitystudio.de

RENO

www.reno.de

RETAW

www.retaw-tokyo.com

REX

RICHARD NICOLL

www.richardnicoll.com

ROECKL

www.roeckl.com

RYBALKO

S

SAAD

www.saad.ind.br

SABRINA DEHOFF

www.sabrinadehoff.com

SASA OBRADOVIC

SAMMLER BERLIN

www.sammler-berlin.com

SAVA NALD

www.savanald.de

SHIREEKA DELVIN

SHOKAY

www.shokay.de

SISLEY

www.sisley.com

STEPHANIE GHOUSSAIN

STEPHEN GARVEY

SWAROVSKI

www.swarovski.com

403

T

TANYA LEVY

www.cargocollective.com/tanjalevy

TIGRESSE

www.tigresse.com.br

TRACY REESE

www.tracyreese.com

TRES BONJOUR

www.tresbonjour.de

TRIUMPH

www.de.triumph.com

TOPSHOP

www.topshop.com

TOPMAN

www.topman.com

U

UNRATH & STRANO

www.unrath-strano.com

V

VALENTINO

www.valentino.com

VLADIMIR KARALEVV

www.vladimirkaraleev.com

W

WAREDROBE

www.wardrobeclothing.com

WEEKDAY

www.weekday.com

WOLFORD

www.wolford.com

WON HUNDRED

www.wonhundred.com

Y

Y3

www.y-3.com

YANA CHERVINSKA

Z

ZARA

www.zara.com

ZILLMAN

www.alisazillmann.tumblr.com

ZISKA

www.ziskas

ZOFIE ANGELIC

www.zofieangelic.com

ZUMTOBEL

www.zumtobel.com

1

3.1 PHILLIP LIM

www.31philliplim.com
---
JJJJJJJJJJJJJJJJJJEEEEEEEEEEEEEEEEEETTTTTTTTTTTTTTZZZZZZZZZZZZTTTTTTTTTTT JJJJJJJJJJJJJJJEEEEEEEEEEEEEEEEETTTTTTTTTTTTZZZZZZZZZZZTTTTTTTTT

BBBBBBBBBBBBBBBBBBBBBBEEEEEEEEEEEEEEEEWWWWWWWWWWWWWWWWWWEEEEEEEEEEEEERRRRRRRRRRBBBBBBBBBBEEEEEEENNNNNN!!!

BBBBBBBBBBBBBBBBBEEEEEEEEEEEEEEEEEEWWWWWWWWWWWWWWWWWEEEEEEEEEEEEERRRRRRRRRRBBBBBBBBBEEEEEEEENNNNNN!!!!

404

Deine Idee für Berlin

be Berlin sucht neue Berlin-Souvenirs. Bewirb Dich bis zum 29.4. mit Deinem Design und zeig der Öffentlichkeit, wie

ungewöhnliche Hauptstadt-Souvenirs aussehen können. Eine renommierte Jury prämiert die besten und marktfähigsten

Ideen mit bis zu 5.000 Euro. Die nominierten Entwürfe bekommen außerdem eine Ausstellung und stehen mit etwas

Glück schon bald als Berlin4U-Kollektion in den Läden der Stadt. Alle Infos auf www.sei.berlin.de/du

Schirmherr: Jury: Gremium: GmbH

Medienpartner: