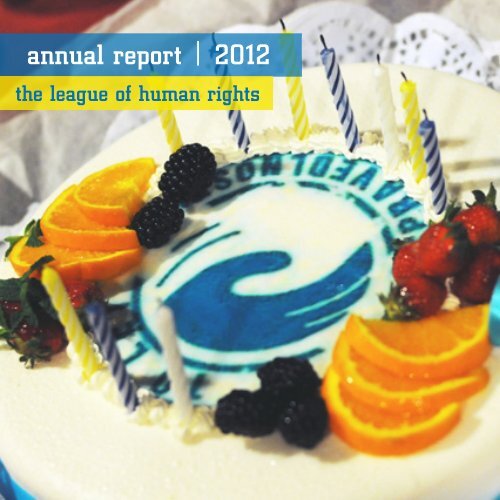 League of Human Rights | Annual Report | 2012
You also want an ePaper? Increase the reach of your titles
YUMPU automatically turns print PDFs into web optimized ePapers that Google loves.
annual report | 2012

the league of human rights
---
introduction

to slow down for a while

For many of us the clear feature of the present time is lack of time while we

attempt to meet the pilling deadlines and commitments. It is more and more

difficult to slow down for a while and think why we actually do what we do.

In the past year The League of Human Rights celebrated the 10th anniversary.

The time has come to reflect but also to realize what values connect us and what

we want to achieve. We have been reassured in our belief that we cannot achieve

any real changes without involvement of others and that our goal is not only to win

law suits for the weaker or to assert legal changes to prevent violation of freedoms.

Our mission is also to point at values of freedom, justice and mutual respect upon

which our society is built, and to show a path of how to fight for their preservation

and expansion.

In year 2012 we have begun two main activities within this context. One is a project

Anyone Can Be a Hero through which we already collected over a hundred stories

of people who have fought for the values they stand for and overcame many an

obstacle. The second one is social company LLP Vision. We have established the

company based on our decision to apply our knowledge and experience through

paid seminars and trainings. The profit from the business will help to provide publicly

profitable activities led by the League. The creation of a separate subject was

motivated by the belief that the model of social company is still unknown in the

Czech Republic. The example of Teo Babuna, who I had the honor of meeting two

years ago in the USA, shows that the road to socially responsible activities does not

have to lead only in direction of non-profitable organizations. For many years he

successfully traded between the USA, Cuba and the Caribbean. After reading a book

by Bob Buford, The Halftime, he experienced a moment of great inspiration and

decided to apply its ideas in real life. He sold most of his companies and established

the Americas Relief Team, which delivers humanitarian aid into places affected by

natural disasters.

Anyone can be a hero. It is only a matter of slowing down for a while and realizing

that everyone has the chance to fulfill the best in us.

David Zahumenský, the head of The League of Human Rights.

the league of human rights

We are a non-profit organization which defends rights and freedoms of all people.

We help people to know their rights and to actively enforce them. We win lawsuits

of the weaker ones, produce expert analyses and system recommendations, but we

also publish comprehensible law guides for the public. We push through system

changes, which improve the quality of life in the Czech Republic.

author: League archive
---
patients' rights

Our free law clinic for patients noted

the 3000th question. The clinic visit

rate on our web page ferovannemocnice.cz

has been increasing ever since its

creation in 2006. On average 1100 people

visit the page daily and throughout

the last year we recorded approximately

185 thousand unique users.

The regional court in Brno has for the

second time ruled in favor of a young

woman who was involuntarily moved

to a hospital after giving birth

at home. A very precise ruling pointed

at an unsatisfactory knowledge of doctors

of patients' rights – predominantly

about the right to decide care and the

right to personal freedom.

We have also approached the Constitutional

Court with a complaint on limiting

women's right to choose a birth

place outside a hospital. The Court has

rejected the complaint, however it

made clear that factually the complaint

could be reasonable and asked the

state to lead a serious discussion on the

matter. We have therefore approached

the European Court for Human Rights.

The Highest Court has accepted the

complaint by the League that a compensation

of 150 thousand Czech

crowns for an unauthorized ovaries

removal is insufficient. According to

the ruling courts should in the future

take more into account the significance

of compensation as a preventive

tool. Our client was later ascribed

a compensation, which was twice as

much that is 300 thousand crowns.

We have reached an extrajudicial

settlement for an unlawful sterilization

of our client. A part of

the settlement is besides a financial

compensation also an admittance of

error from the Czech government. The

government should discuss a proposal

for a compensation of all unlawfully

sterilized women, on which the League

participated and which has already

been approved by the Government

Committee for Human Rights.

author: ISIFA
---
author: ISIFA

We have achieved two very significant

successes at the European Court

for Human Rights. Both cases were

ruled as violations of European Convention

on Human Rights and both were

ascribed a compensation of 20.000

Euros. The rulings also helped to change

the unsatisfactory legal statutes in the

Czech Republic.

The case of Mr Bureš concerned an unlawful

chaining and it was historically

the first time the Czech Republic was

condemned for humiliating treatment.

In the second ruling in the case of Mr

Sýkora, the court criticized the process

of legal incapability and placing

people under guardianship into

clinics on the sole basis of guardian's

consent.

We have trained more than 500

social workers and guardians in the

area of providing social services and

legal capability.

We have contributed to an overall

improvement of the involuntary

hospitalization process. Thanks

to participation in a work group at

the Ministry of Justice we have managed

to push through a number of

suggestions into the civil court order

amendment.

We have finished methodology for

judges, lawyers and psychiatric clinics

and a flyer for their patients concerning

involuntary hospitalization.

Materials are available on Ministry's

webpage.

We have presented an analysis of

Czech and international legislature

on the people's with a disability

right to work. In cooperation with

Cinetik Studio we filmed a documentary

Ploty, which surveys the situation

in the Czech Republic, Great Britain,

Finland and the Netherlands.

handicapped persons' rights
---
human rights issues in judiciary

We gave publicity to cases of a

possible abuse of defamation as

criminal offence.

We followed the case of Mr. and Mrs.

Lubovy, who alerted authorities for

a possible abuse of children in Novy

Jicin childrens' home and later had to

face a law suit and were accused of

causing defamation.

We also drew attention to the case of

Mr. Flekal, who complained about the

policemen and was then accused of

a false accusation despite the fact that

there was no proof of deliberate false

accusation.

In two cases we challenged the six

months time limit to apply for a

compensation for an unlawful state

intervention into personal freedom

or human dignity.

According to us this limit is extremely

short in comparison with the three

year limit for cases where in similar

cases someone else than the state is

responsible.

We have created a new thematic

webpage www.ferovajustice.cz.

This page provides information on

how to defend oneself if one is aggrieved

by an action or inaction of the

authorities or judges. The visitors will

also be advised with finding a free

legal help.

We have published an analysis

pointing at issues of the current

system of compensation for civilians

aggrieved by an unlawful court

decision or authority or an erroneous

legal proceeding.

author: ISIFA
---
author: ISIFA

We represented parents of physically

handicapped Erik, who we believe

is being discriminated, as the

financing of a pedagogic assistant

was not sufficient.

We filed a complaint to the ombudsman

and an administrative action to

a regional court. The court rejected the

action and therefore we approached

the Highest Administrative Court with

a cassation complaint.

We produced 48 study cases focused

on pupils with special education

needs.

These will help schools and parents

with integration and education of

children with a similar story.

We have awarded five more schools

with the Fair School certificate for

their effort and progress towards

more inclusive environment.

In total there are 23 and another 20

schools are interested in obtaining the

certificate.

We organized an international

specialist conference called Fair Generation

2013, whose goal was to

start cooperation between schools

and the Ministry of Education in the

area of inclusive education.

The event was organized on the fifth

anniversary of the ruling of the European

Court on Human Rights in case

of D.H. and others against the Czech

Republic, in which the Strasbourg

court condemned the Czech Republic

for discrimination of the Roma people

in education.

We organized an international

competition called Focused on Tolerance.

Pupils from the Czech Republic and

the United States were filming short

videos about what the attitude is like

in their communities towards people

who are different. 44 film teams from

27 Czech schools and the USA entered

the competition.

fair school
---
fair childhood

The Constitutional Court chose

a guardian for a 16 year old boy,

whose parents were not able to

agree on the terms of mutual contact

for years. The court stated that

common courts were not sufficiently

respecting opinion of the child and

the proceedings were simplified into

finding faults on the side of the mother

or the father. The case was dragging on

for nearly ten years – the case first reached

court when the boy was seven.

We opened a new and neglected

topic – childrens' rights (offenders)

younger than 15 years in criminal

proceedings. The police can interrogate

children without parents or

a solicitor only with the supervision of

a social worker. However, for adolescents

over 15 years and in some

cases even for adults the state provides

a solicitor automatically. In one of the

cases, which we are looking into, we

filed a constitutional complaint.

We cooperate with the Palacky

University Law School and the Pro

Bono alliance in the project of a free

law clinic for families with endange-

red children. Our goal is to increase

availability of quality, professional and

free legal counseling.

We are striving to prefer long term

cooperation with endangered families

to short term and often short

sighted solutions in the form of

removing children and putting

them into an institutional care.

Therefore in year 2012 we focused

predominantly on lobbying for the

new amendment to the social children

protection law, which has come

into effect in January 2013.

author: ISIFA
---
The European Court on Human

Rights stated in our case of Mr. Pecha

for the first time in history that

Czech authorities violated the right

to life. According to the Court the

authorities did not sufficiently investigate

circumstances of a young Roma

man, who died after an 8 meters fall

from a Brno police station. From the

very beginning the authorities considered

suicide as the only possible

cause of death.

Today more than ten years after the

event it is not possible to figure out

what exactly happened at the police

station. A number of errors during the

investigation do not make the police

version any more trustworthy. The

Court granted the aggrieved family

half million crown compensation.

We continued monitoring activities

of the newly established General Inspectorate

of Security Forces, which

has been from year 2012 investiga-

author: KIVA FOTO

ting criminal offences committed

by the police. Even though we supported

the establishment of this institution

for a long time, the expectations

were not met due to the personnel

choices. From the bigger part the new

independent institution is made up

of the old police inspection staff. On

some cases of police violence we have

verified that the inspection deliberately

refuses to investigate.

We have launched a new thematic

webpage www.ferovapolicie.cz.

It brings concise and organized information

on the rights and duties

of citizens meeting policemen and

police officers. Visitors can also find

a procedure how to defend themselves

if the police act unlawfully.

abuse of police power
---
the people of the league – the club of friends

The People of the League is a club of friends and supporters of the League of

Human Rights who by regular support have helped us to advocate human rights

and to work on improvement of life in the Czech Republic.

The members of the club are invited to exciting social and sport events; every month

we prepare a fresh portion of information about the League in our electronic

newsletter "We cheer for justice", twice a year they receive theme specific EXTRA

League newspaper, an annual report and other exciting bonuses.

In March we organized for our supporters and partners a theatrical performance The

Vagina Monologue in HaDivadlo in Brno. At the end of June we invited them to our

beneficial tournament in five-a-side football called The League Cup. The second

year of the tournament raised 250 thousand crowns, which will enable running

of our free law clinic for patients for a period of six months.

In December we organized for our friends in Art cinema in Brno a premiere of the

film Ploty – a story of one life step – on employing people with a handicap. Our

supporters also participated in an award ceremony of our student competition Human

Rights Thesis and Human Rights Moot Court in the Sunset restaurant in Brno.

They could talk not only to us, but also to a senator Eliška Wagnerová or the Highest

Administrative Court judge Kateřina Šimáčková.

Do you want to improve the state of human rights in our country?

Join us at www.lidiligy.cz.

author: League archive

"The League of Human Rights is a system

defender of rights of those weakest

groups and persons, who find themselves

in a situation, in which their freedom

is wholly put into disposal of public

power. Yet the interests of these persons

are entirely exterior to the interests of

the majority society even though it concerns

problems characterizing the level

of humanity of the whole society, often

it even concerns human dignity, on

which our constitutional order is built.

Well done, League, thank you."

Eliška Wagenerová

subscribe for our e-magazin
---
publications project

In April we published our analysis Influence

of Pharmaceutical Companies,

Advertisement and Vaccination. It provoked

a great interest in the expert public

and the association of pharmaceutical

industry issued their own press release.

In May we published Manual for

Pediatricians, which should make orientation

in legal issues easier for them.

These issues include informed consent

or refusal of care. The manual also provides

help on effective communication.

We finished Methodology for Judges,

Solicitors and Psychiatric clinics

concerning procedure of involuntary

hospitalization and a flyer for patients

with information on their rights. Both

documents are available on the Ministry

of Justice webpage.

We introduced analysis on Employing

People with a Handicap and Transformation

of Social Services. It maps

the legislative changes from 2012 and

brings information on practice abroad.

anyone can be a hero

In the second half of the year we launched a new project Anyone Can Be a Hero in

cooperation with the NESEhnutí organization. The aim of the project is to inspire and

motivate to a greater civil engagement through examples of good practice.

We collected stories of 105 heroes during the fall and the winter, who were nominated

by the public and non-profit organizations. The patrons of the project are

for example catholic priest Tomáš Halík, journalist Ludmila Rakušanová or music

duo Čokovoko. At the beginning of year 2013 an expert committee will select ten

finalists from which then the public will choose the winner.

A part of this extensive project, which concludes in the fall 2013, is also media campaign

"Don't be a loser, be a hero" a guide for an engaged citizen, a series of exhibits

and discussion events, weekend workshops, e-learning and counseling for everyone

who wants to actively engage in defending their rights.

www.hrdinou.cz

author: ISIFA
---
OSF and OSI

28 %

Foundation

Partnerství and

Irish Council

1 %

US Embassy

3 %

CEE Trust

5 %

income

10 137 051

own

resources

8 %

financial

gift

1 %

MDAC

(Mental Diasability

Advocacy Center)

5 %

EU and state

subsidies

49 %

expert financial

services, translations,

interpretation

16 %

legal

services

9 %

others

2 %

fair

school

27 %

anyone can

be a hero

9 %

imprint, print,

publication,

propagation

4 % communication,

travelling

expenses

5 %

social and health

insurance

13 %

health

7 %

expenses

10 099 258

rights of people

with a handicap

28 %

judicial

and police

21 %

fair

childhood

8 %

operating costs

and material

expenses,

literature

4 %

energy,

rent and

repairs

5 %

salaries,

contract for

services

42 %

author: ISIFA
---
contacts

Burešova 6, 602 00 Brno

tel.: +420 545 210 446

fax: +420 545 240 012

e-mail: brno@llp.cz

www.llp.cz

www.llpvision.cz

www.lidiligy.cz

www.ferovaskola.cz

www.ferovanemocnice.cz

www.ferovapolicie.cz

www.ferovajustice.cz

www.ferovamedia.cz

author: League archive

You can find us on Facebook

facebook.com/liga.lidskych.prav

.........................................................

The League of Human Rights © 2013

editor ang graphic: Dan Petrucha

translation: Jolana Venenyová

Lucie Attkins

Jitka Bartošová

Martin Bartoš

Štěpánka Bibrová

Klára Částečková

Čokovoko

Tobi Manikin-Collett

Tomáš Halík

Pavel Hamřík

Veronika Helferová

Kamila Holoubková

Tereza Hrubá

Robert Cholenský

Zuzana Kameníková

Vít Klusák

Tomáš Kocourek

Michal Kolínek

Michaela Kopalová

Jiří Kopal

Radovan Kramář

Olga Kusá

Klára Lukášová

Zuzana Melcrová

Ondřej Moravec

Pavlína Navrátilová

Iveta Němečková

Jiří Novák

Monika Pacalová

Veronika Pejchalová

Josef Piher

Michal Pliska

Nikola Poláčková

Pavla Polechová

Marta Polešovská

Lenka Popovičová

Dominika Prinzová

Eva Pulkrtová

Ludmila Rakušanová

Zuzana Révezsová

Jan Sokol

Jan Scheuer

Pavel Sláma

Saša Stankov

Jitka Straková

thanks to

Luboš Šanoba

Tereza Šíblová

Kateřina Šimáčková

Jitka Šmídová

Alena Švaříčková

Hanka Švejdová

Maxim Tomoszek

Adéla Tukhi

Lenka Vavrušová

Jolana Venenyová

Tomáš Vojtíšek

Eliška Wagnerová

Eliška Veselá

Roman Zmrzlý

and companies

AVG, Tiskárna Didot,

GE Money Bank, ISIFA,

Špondr CMS,

Lakkis Toner Servis,

Sunset restaurant,

Knihovnička.cz, Deník

…and to all members of of the league club
---
2,5 mil. kč

compensation for

our clients

+ 70 %

of fan activity

on Facebook

240

quotations

in media

36

press

releases

180.000

visitors of the

online counseling

+ 40 %

newsletter

subscriptions