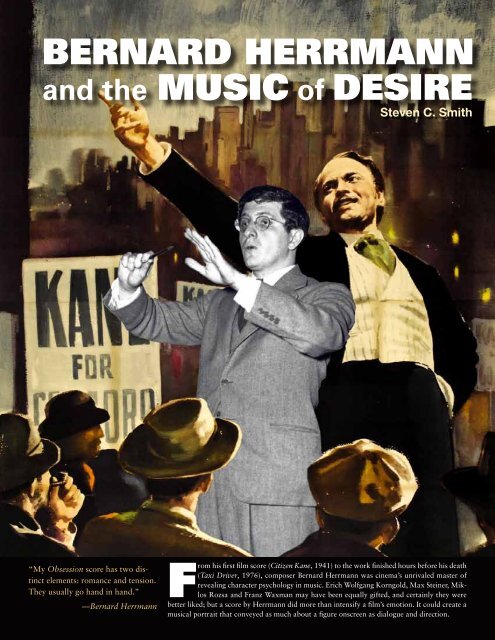 BERNARD HERRMANN - Film Noir Foundation
BERNARD HERRMANN - Film Noir Foundation
BERNARD HERRMANN - Film Noir Foundation
SHOW MORE
SHOW LESS
Create successful ePaper yourself
Turn your PDF publications into a flip-book with our unique Google optimized e-Paper software.
Bernard Herrmann

and the music of desire

Steven C. Smith

"My Obsession score has two dis-

From his first film score (Citizen Kane, 1941) to the work finished hours before his death

(Taxi Driver, 1976), composer Bernard Herrmann was cinema's unrivaled master of

tinct elements: romance and tension.

revealing character psychology in music. Erich Wolfgang Korngold, Max Steiner, Mik-

They usually go hand in hand."

los Rozsa and Franz Waxman may have been equally gifted, and certainly they were

—Bernard Herrmann better liked; but a score by Herrmann did more than intensify a film's emotion. It could create a

musical portrait that conveyed as much about a figure onscreen as dialogue and direction.

28 NOIR CITY I FALL 2011 I www.filmnoirfoundation.org
---
His career encompassed radio, film, television, and the concert

hall. The cinematic genres in which he worked ranged from traditional

drama to fantasy to science fiction. But the composer, whose

centenary is being celebrated worldwide this year with film festivals

and concerts, remains best known for scores that explore the darkest

side of human nature. Many intersect with the themes and obsessions

of noir.

On Dangerous Ground (1952), directed by Nicholas Ray and

produced by Herrmann's friend John Houseman, may be the most

canonical example. As he would throughout his 35-year film career,

Herrmann carefully chose his instruments to illuminate character.

Here he selected the viola d'amore, a stringed instrument popular in

the baroque era, as the musical voice of Ida Lupino's blind heroine,

Mary Malden, because of the "veiled quality" of its sound. For the

score's climactic cue, "The Death Hunt," Herrmann used no fewer

than eight horn players, pushed to their limit playing rapid-fire triplet

figures, to suggest the animal ferocity of the chase pitting cop

Jim Wilson (Robert Ryan) against a murderer (Sumner Williams) he

hopes to save from a victim's vengeful father (Ward Bond).

In 1957's The Wrong Man—one of eight collaborations with Alfred

Hitchcock—Herrmann transforms the plucked rhythm of the

bass played by nightclub musician Manny Balestrero (Henry Fonda)

into a ghostly, ticking nemesis on the soundtrack; it echoes each step

of Manny's prosecution for a crime he didn't commit. A dissonant

cluster of muted trumpets tracks the mental breakdown of Manny's

wife Rose (Vera Miles). Only when Rose is released from an institution

in the film's last moments are the trumpets freed from their

mutes to produce a clear, liberated sound.

Herrmann's ability to translate feelings of entrapment, anxiety,

and romantic yearning into music surfaced early. Born in New York

City on June 29, 1911, the son of a successful Russian Jewish optometrist,

he studied at Juilliard and NYU. Herrmann would learn more,

however, during his restless, first-hand

explorations of the musical wonders

New York offered in the 1920s

and 1930s. With best friend (and future

film composer) Jerome Moross,

"Benny" snuck into Toscanini-Philharmonic

concerts. He launched combative

friendships with rising contemporaries

like Aaron Copland and Oscar

Levant. He debated Russian composers

with George Gershwin while the latter

wrote Porgy and Bess. (Another neighborhood

friend, Abraham Polonsky,

would later write the John Garfield

noir classic Force of Evil.)

Formed early was Herrmann's selfimage

as an uncompromising outsider

in a world of conformists and Machiavellis.

"Sparrows fly in flocks," he

would say, quoting Tolstoy. "Eagles fly

alone." Musically he found a role model

in Hector Berlioz, the tempestuous

19 th -century composer whose Treatise

on Orchestration introduced Benny

to a world of dramatic musical effects

and rare instruments. A favorite Berlioz

piece was the nightmarish "Symphonie Fantastique," which describes

an opium user's dream of murdering his beloved, then paying

the price on the guillotine.

In 1933, a staff job as composer/conductor at CBS Radio gave

Herrmann the ultimate training ground for his later career in Hollywood.

Radio drama was a new medium. Commercial restraints

were few, and experimentation was encouraged. Over the next two

decades, he would score hundreds of radio shows, most broadcast

live and many drawn from popular crime fiction.

Dashiell Hammett inspired two of the best. 1939's Campbell

Playhouse adaptation of The Glass Key starred 24-year-old Orson

Welles, the Playhouse's producer/director, as charismatic, corrupt

politician Paul Madvig—a performance enhanced by Herrmann's

original cues and bluesy source tunes. The program aired five months

The composer's onscreen credit in Hitchcock's The Wrong Man

www.filmnoirfoundation.org I FALL 2011 I NOIR CITY 29
---
The fiery performance of Herrmann's "Concerto Macabre" is the climax of the classic horror-noir Hangover Square

after Welles and Herrmann—temperamental innovators who became

close friends—crafted their most notorious radio show: The War of

the Worlds. (The Glass Key can be heard online at http://sounds.

mercurytheatre.info/mercury/390310.mp3).

In 1942, Herrmann scored a Hammett short story that was more

explicitly noir-themed. Two Sharp Knives aired on Suspense, the anthology

series that opened each week with Benny's graveyard-dirge

theme. Stuart Erwin starred as a shrewd, small-town police chief who

unravels a murder scheme crafted by one of his own officers. The

tale's tension is heightened by brief but essential commentary from

Herrmann: rising/falling patterns for muted brass, low woodwinds

and tremolo strings. It reflects Herrmann's lifelong technique of using

short musical phrases, often repeated in a pattern, with growing

intensity: his fondness for orchestral color is defined by the elimination

or increasing of specific instruments. (Two Sharp Knives can be

heard online at http://www.youtube.com/watch?v=hzFDb3HElEA)

Also in 1942, the 30-year-old composer achieved an unprecedented

feat in Hollywood, earning Academy Award nominations for his first

and second film scores: Citizen Kane and All That Money Can Buy

(aka The Devil and Daniel Webster). The latter won. With camerawork

inspired by German Expressionism, and themes of entrapment

and isolation—Kane by his growing power, farmer Jabez Stone by his

30 NOIR CITY I FALL 2011 I www.filmnoirfoundation.org

seven-year pact with Satan—each film mixes noir sensibilities with

other genres (biography and fantasy, respectively). Their escalating

sense of suffocation is driven by Herrmann's music, which constantly

reminds us of the price waiting to be paid by the story's protagonists.

Herrmann and Welles's partnership in radio had convinced the directing

wunderkind to bring his friend to Hollywood in 1940, when

filming began on Kane. Welles hoped that Herrmann would provide

innovations on the soundtrack that would match his own. It was a

challenge Herrmann embraced and fulfilled.

Dies Irae, an ancient Gregorian chant of death, is the foundation

of his Kane score; a variant of this melody serves as the recurring

leitmotif for Charles Foster Kane. It "seemed to suggest to me

what the subject of Kane was, which is 'All is vanity,'" Herrmann

explained. The score also offers early clues to the film's two mysteries:

who was Kane, and what was Rosebud? Herrmann answers

the second question before the film is half over: his "Rosebud"

theme is heard just before and after the dying tycoon says the word,

then returns to underscore young Charles's snow ride on his treasured

sled. "The music has told [the audience] right away," Herrmann

observed. "The score, like the film, works like a jigsaw."

That theme returns as a fortissimo cry of anguish during Rosebud's

incineration, in one of cinema's most perfect fusions of sound and
---
image to convey immutable loss.

Four years after Citizen Kane, Herrmann—

now an established concert, film, and radio composer

- summoned the musical furies that guide

another antihero to his doom, in the gothic noir

Hangover Square (1945). Laird Cregar stars as

George Henry Bone, a composer in Edwardian

London whose lust for a conniving music hall

singer (Linda Darnell)—and a brain disorder triggered

by high-pitched sounds—spark a murder

spree—one that ends in conflagration during the

premiere of Bone's piano concerto.

Producer Robert Bassler and director John

Brahm (The Brasher Doubloon, The Locket) enlisted

Herrmann to write the single-movement

Concerto Macabre prior to filming. The complete

work is performance at the film's climax, but its

themes are the basis of the underscore throughout;

most memorable is a low-octave figuration

for piano, evoking the licking flames that engulf a

pawnbroker, Darnell's femme fatale … and Bone

himself.

One moviegoer fascinated by the concerto

was 15-year-old Stephen Sondheim. The future

Broadway composer/lyricist memorized the

piece's opening and wrote Herrmann a fan letter

(he received a friendly response). Three decades

later, Sondheim's desire to "write a musical with a

kind of Bernard Herrmann score" resulted in his

masterwork, Sweeney Todd.

By 1951, radio drama in New York was dying.

The CBS Symphony that Herrmann led in

concert broadcasts was disbanded. A new home

and career beckoned in Los Angeles. Now working

almost exclusively in film and television, the

composer worked in a range of screen genres,

from literary adaptations (The Snows of Kilimanjaro)

to groundbreaking sci-fi (The Day the Earth

Stood Still). He wrote ingenious small-ensemble

scores for American radio's last great drama series:

Crime Classics, a darkly witty survey of history's

most notorious murders, from Julius Caesar

to Lizzie Borden.

Herrmann responded most intensely to stories

of thwarted desire (The Ghost and Mrs. Muir,

Other sounds of noir

During the 1940s and '50s, approaches to scoring crime drama were as diverse as the

cultural backgrounds of its top practitioners. Here are some of the most memorable.

The Maltese Falcon (1941)

London-born Adolph Deutsch (1897–1980) may be the most unjustly overlooked

of Golden Age composers. Against an image of the black bird, Deutsch scores Falcon's

main title with an eerie, exotic theme representing the mysterious title object

and its Spanish origins. The theme becomes a musical question mark—one that pervades

the soundtrack to suggest both lost treasure and the obsessive, futile quest to

possess it.

Double Indemnity (1944)

As a shadowy figure on crutches moves toward us and the title card appears, Hungarian

Miklos Rozsa (1907–1995) delivers his own death march: a loping theme for

low brass whose subtle dissonance proved a subject of controversy. Paramount music

director Louis Lipstone hated its "Carnegie Hall" pretensions, and "asked why I hadn't

written something attractive," Rozsa recalled. "I replied that Billy Wilder's film was

about ugly people doing vicious things to each other." Lipstone did his best to have the

score dropped—until after the first preview, when Paramount production head Buddy

De Sylva praised its hard-hitting power. Rozsa watched, bemused, as Lipstone threw

his arm around De Sylva and replied, "Don't I always get you the right man?"

The Big Sleep (1946)

If Austrian native Max Steiner (1888–1971) didn't invent the rules of film scoring,

he perfected them in dozens of early talkies for RKO and Warner Bros. By the time he

tackled Howard Hawks's version of Raymond Chandler, Steiner had perfected his style

of creating leitmotivs (recurring themes) to define characters and situations. The surprise

is that his European vernacular works so well in everything from westerns to noir—even

if his theme for Philip Marlowe sounds like a German-American cousin of Strauss's Till

Eulenspiegel's Merry Pranks. The score's finale, where a swooning Bogie-Bacall love

theme is joined by police siren obbligato as the couple kisses, is as witty as it is sexy.

D.O.A. (1950)

Bernard Herrmann believed that "a composer's first job is to get inside the drama."

The music of Dimitri Tiomkin (1894–1979) takes the exact opposite approach: the Russian

composer excelled at flamboyant, fortissimo statements of a drama's externals, hitting

home an idea that is already told visually. D.O.A. is no exception: Tiomkin even

throws in a wolf whistle for the walk-by of a comely female. Still, his sledgehammer

neo-romanticism lifts movies like D.O.A. so far above reality that the effect is undeniably

powerful. His soundtracks are as explosive and effective as a Tommy gun blast.

Sunset Blvd. (1950)

Franz Waxman (1906–1967) knew evil first-hand. Beaten in the street by Nazis in

his native Germany, he fled to Hollywood, where he scored two of the most beautiful

monsters in movies: The Bride of Frankenstein and Norma Desmond in Sunset Blvd.

In the style of countryman Kurt Weill, Waxman uses a jaded tune for saxophone to

evoke the moral slide of screenwriter Joe Gillis, and paraphrases Richard Strauss's

Salome— Norma's dream project—for a theme that tells us exactly how the forgotten

film star sees herself and the world around her. The result was an Oscar win, and

a score that comingles beauty and horror. As Waxman knew from Berlin, nothing is

as scary as a dream that turns to madness, then murder.

—Steven C. Smith

www.filmnoirfoundation.org I FALL 2011 I NOIR CITY 31
---
Alfred Hitchcock warily considers his favorite overworked compose

Obsession), suspenseful pursuit (Five Fingers, North by Northwest)

and psychological disorder (A Hatful of Rain, Marnie). Fueling his

empathy for the tragic side of life was his own growing pessimism

and anger. By the 1960s, his dreams of a conducting career and of

producing his grand opera Wuthering Heights were largely crushed.

Casualties of his explosive temper included countless professional

relationships and two marriages—first to writer Lucille Fletcher

(Sorry, Wrong Number), then to Fletcher's cousin, Lucy Anderson.

A third marriage to Norma Shepherd, a BBC producer 29 years Herrmann's

junior, survived similar storms until his death.

If Herrmann was unable to control his rage, he could still channel

his anxieties into music of striking psychological force. The ultimate

outlet was his decade-long partnership with Alfred Hitchcock,

launched with The Trouble with Harry (1955).

Hitchcock involved his favorite composer from the start of each

project, adjusting his approach to sound design and pacing to reflect

Herrmann's input. That trust would shape two of their most influential

collaborations: Vertigo (1958) and Psycho (1960).

"All of this will naturally depend upon what music Mr. Herrmann

puts over this sequence."

—Hitchcock production notes on Vertigo

Music communicates character and story from the first seconds

of Vertigo's score. Herrmann's main title Prelude opens with a hypnotic,

rising/falling triplet pattern for winds and strings. It describes

both the fear of heights and the emotional disorientation that will

cripple detective Scottie Ferguson (James Stewart), as he falls in love

with a woman destined for death.

Over that triplet ostinato (the term for a repeated musical pattern),

Herrmann adds a plunging, two-note motif for horn that

evokes the nightmarish series of falling bodies that motivate the

story from its first scene to its last.

Much of Vertigo plays without dialogue, achieving tension on the

soundtrack almost solely through music. These sequences include

Scottie's shadowing of the mysterious Madeleine Elster (Kim Novak);

Madeleine's apparent death; and most unforgettably the "recognition

scene," as Judy Barton, Madeleine's double, embraces Scottie

while dressed as her dead alter ego.

Herrmann's climbing strings deliberately echo Wagner's Liebe-

32 NOIR CITY I FALL 2011 I www.filmnoirfoundation.org

stod from Tristan und Isolde, since Scottie is by

now a man in love with death; years later, Herrmann

recalled with pride Hitch's description of

how this perverse love scene would be staged:

"We'll just have the camera and you."

"I think that we're all in our private traps—

clamped in them, and none of us can escape."

—Norman Bates in Psycho,

screenplay by Joseph Stefano

Homicidal transvestites, matricide, and onscreen

gore were uncharted turf in late 1959

when Psycho was shot. Hitchcock hedged his

bets with a modest budget, including less money

than usual for music. Herrmann embraced the

limitation, foregoing woodwinds, brass, and

percussion to write a score for string orchestra

only. His reason for the selection: "to complement the black-andwhite

photography of the film with a black-and-white score."

During Psycho's first 40 minutes, charting the doomed flight of

secretary Marion Crane (Janet Leigh) after stealing 40,000 dollars, it

is the role of the music to "tell the audience, who don't know something

terrible is going to happen to the girl, that it's got to." Herrmann's

main title immediately sets the tone, with its stabbing opening

chords and frenetic rhythm that pulses like a skipping heartbeat.

This music returns to stalk Marion from the start of her panicked

exodus to her rain-drenched arrival at the Bates Motel.

Herrmann's score for Hitchcock's Vertigo may be his most psychologically complex
---
Psycho would prove to be the composer's most sonically iconic score

Although Hitchcock asked for no music during the film's notorious

shower scene, Herrmann characteristically followed his own

instinct. The resulting cue—which Hitchcock loved—was simple to

perform and multilayered in meaning. Its slashing sound is created

solely by violins, but evokes Norman's knife, Marion's screams, Norman's

stuffed birds (another Herrmann clue to a film's denouement),

and, to quote the composer, sheer "terror."

Psycho concludes with much exposition but no resolution. Marion's

desperate attempt to "buy happiness" ends in annihilation. A

handsome young man grins a deaths-head smile inside his own private

trap, his identity forever lost. Daringly, Herrmann reinforces

Psycho's lack of closure by ending with a violent unresolved chord.

It was an approach he used again in his final score, Taxi Driver

(1976)—another portrait of alienation and romantic obsession

which briefly quotes Psycho's score, while offering a new sound for

the composer: a melancholy jazz theme for tenor sax. Herrmann intended

the theme "to show that this was where [cabbie Travis Bickle's]

fantasies about women led him," recalled co-producer Michael

Phillips. "His illusions, his self-perpetuating way of dealing with

women had finally brought him to that bloody, violent outburst ... I

had never thought of it in terms of what Benny said, but Bobby [De

Niro] and I both said, 'God, he's right.' Absolutely. Perfect."

The theme is as melodically seductive as it is unnerving in its

dramatic use. "Herrmann knew how lovely the dark should be,"

observes David Thomson in his New Biographical Dictionary of

Film. "He was at his best in rites of dismay, dark dreams, introspection,

and the gloomy romance of loneliness. No one else would have

dared or known to make the score for Taxi Driver such a lament for

impossible love. Try that film without the music and the violence is

nearly unbearable. Yet the score … is universally cinematic: it speaks

to sitting in the dark, full of dread and desire, watching."

By the time of its composition, Hermann had been exiled for a decade

in London, largely forgotten by an industry that now preferred pop-

heavy soundtracks (and the hit albums

they might yield). It took a new

generation of directors led by Brian

De Palma, Larry Cohen, and Martin

Scorsese to rediscover him. By 1975

Herrmann was busier than ever.

That December 24th, hours after

Taxi Driver's last recording session,

the 64-year-old composer—weakened

by heart disease, but creatively

undimmed—returned to his hotel

room in Universal City, not far from

the moonlit façade of the Bates Motel.

"What are we doing here," he

sighed to Norma, before closing his

eyes one last time and surrendering

all battles with the world. ■

Steven C. Smith is the author of A

Heart at Fire's Center: The Life and

Music of Bernard Herrmann (University

of California Press, 1991).

www.filmnoirfoundation.org I FALL 2011 I NOIR CITY 33