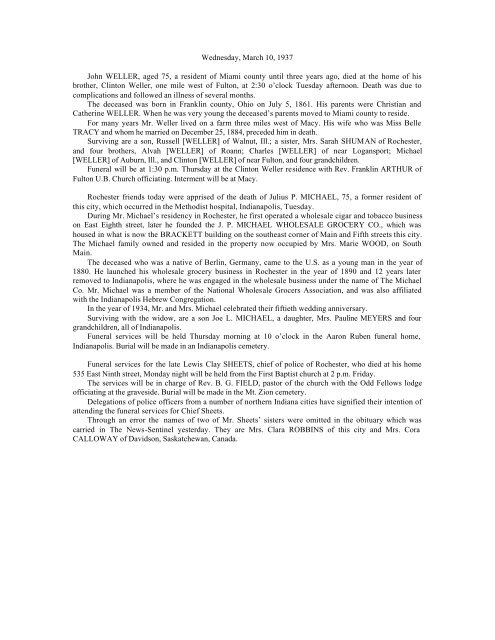 The News-Sentinel 1937 - Fulton County Public Library
The News-Sentinel 1937 - Fulton County Public Library
The News-Sentinel 1937 - Fulton County Public Library
SHOW MORE
SHOW LESS
You also want an ePaper? Increase the reach of your titles
YUMPU automatically turns print PDFs into web optimized ePapers that Google loves.
Wednesday, March 10, 1937

John WELLER, aged 75, a resident of Miami county until three years ago, died at the home of his

brother, Clinton Weller, one mile west of Fulton, at 2:30 o'clock Tuesday afternoon. Death was due to

complications and followed an illness of several months.

The deceased was born in Franklin county, Ohio on July 5, 1861. His parents were Christian and

Catherine WELLER. When he was very young the deceased's parents moved to Miami county to reside.

For many years Mr. Weller lived on a farm three miles west of Macy. His wife who was Miss Belle

TRACY and whom he married on December 25, 1884, preceded him in death.

Surviving are a son, Russell [WELLER] of Walnut, Ill.; a sister, Mrs. Sarah SHUMAN of Rochester,

and four brothers, Alvah [WELLER] of Roann; Charles [WELLER] of near Logansport; Michael

[WELLER] of Auburn, Ill., and Clinton [WELLER] of near Fulton, and four grandchildren.

Funeral will be at 1:30 p.m. Thursday at the Clinton Weller residence with Rev. Franklin ARTHUR of

Fulton U.B. Church officiating. Interment will be at Macy.

Rochester friends today were apprised of the death of Julius P. MICHAEL, 75, a former resident of

this city, which occurred in the Methodist hospital, Indianapolis, Tuesday.

During Mr. Michael's residency in Rochester, he first operated a wholesale cigar and tobacco business

on East Eighth street, later he founded the J. P. MICHAEL WHOLESALE GROCERY CO., which was

housed in what is now the BRACKETT building on the southeast corner of Main and Fifth streets this city.

The Michael family owned and resided in the property now occupied by Mrs. Marie WOOD, on South

Main.

The deceased who was a native of Berlin, Germany, came to the U.S. as a young man in the year of

1880. He launched his wholesale grocery business in Rochester in the year of 1890 and 12 years later

removed to Indianapolis, where he was engaged in the wholesale business under the name of The Michael

Co. Mr. Michael was a member of the National Wholesale Grocers Association, and was also affiliated

with the Indianapolis Hebrew Congregation.

In the year of 1934, Mr. and Mrs. Michael celebrated their fiftieth wedding anniversary.

Surviving with the widow, are a son Joe L. MICHAEL, a daughter, Mrs. Pauline MEYERS and four

grandchildren, all of Indianapolis.

Funeral services will be held Thursday morning at 10 o'clock in the Aaron Ruben funeral home,

Indianapolis. Burial will be made in an Indianapolis cemetery.

Funeral services for the late Lewis Clay SHEETS, chief of police of Rochester, who died at his home

535 East Ninth street, Monday night will be held from the First Baptist church at 2 p.m. Friday.

The services will be in charge of Rev. B. G. FIELD, pastor of the church with the Odd Fellows lodge

officiating at the graveside. Burial will be made in the Mt. Zion cemetery.

Delegations of police officers from a number of northern Indiana cities have signified their intention of

attending the funeral services for Chief Sheets.

Through an error the names of two of Mr. Sheets' sisters were omitted in the obituary which was

carried in The News-Sentinel yesterday. They are Mrs. Clara ROBBINS of this city and Mrs. Cora

CALLOWAY of Davidson, Saskatchewan, Canada.