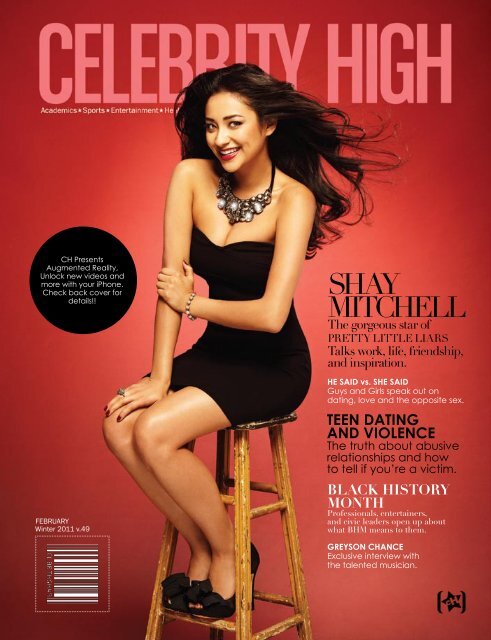 SPORTS - Celebrity High Magazine
SPORTS - Celebrity High Magazine
SPORTS - Celebrity High Magazine
SHOW MORE
SHOW LESS
Create successful ePaper yourself
Turn your PDF publications into a flip-book with our unique Google optimized e-Paper software.
CH Presents

Augmented Reality,

Unlock new videos and

more with your iPhone.

Check back cover for

details!!

FEBRUARY

Winter 2011 v.49

SHAY

MITCHELL

The gorgeous star of

PrETTY LITTLE LIArS

Talks work, life, friendship,

and inspiration.

He said vs. sHe said

Guys and Girls speak out on

dating, love and the opposite sex.

TeeN daTiNG

aNd viOleNCe

The truth about abusive

relationships and how

to tell if you're a victim.

Black history

month

Professionals, entertainers,

and civic leaders open up about

what BHM means to them.

GReYsON CHaNCe

Exclusive interview with

the talented musician.
---
#1 Community College chosen by LAUSD Graduates

The proven best choice

One of the top transfer schools in Southern California

100 subject fi elds to choose from

More than $13 million available in Financial Aid

Alliances with UCLA, USC, CSUN, Caltech & more

Opportunities in the arts & sports

Lowest cost higher education in the nation

Fastest growing college in the Southland

Beautifully renovated, spacious 426-acre campus

www.piercecollege.edu
---
4

Celebrity High

FEBRUARY 2011

Volume 49

06

08

12

14

16

24

29

VS.

SPORTS

TECHNOLOGY

LIFESTYLE

ENTERTAINMENT

HEALTH

ACADEMICS

Experience Celebrity High in Augmented Reality

Augmented Reality combines real and virtual, is interactive in real time and is

registered in 3D.

1. Download the free Junaio app to your phone from the App store or Droid Market

2. In Juniao create an account (Free)

3. In Junaio, search for the CH February channel (Add to your Favorites)

4. Aim your phone's camera at the pages in the magazine.

HOROSCOPES

$100,000

Libra 9/23 – 10/23

Talking to friends will spark a set of ideas that fly among all of you like

fireflies. Socializing will lead to intellectual discovery, and you'll be the

one to communicate just how revolutionary everyone has become.

Scorpio 10/24 – 11/22

This month you will feel like you're watching a really awful horror movie.

All you'll see is the cracks in other people's logic, just like those props

and fake sets in a bad flick. Instead of getting annoyed, let it crack

you up.

Sagittarius 11/23 – 12/22

Brand-new ideas and intellectual musings will swim through your head

all day like schools of tropical fish. Be the tour guide and share your

colorful thoughts, because those around you want to listen.

Capricorn 12/23 – 1/20

Solitary high jinks will have you giggling with secrets and fun. Break out

of your shell and do something just sideways of normal, because you

know there's a whole lot of life you haven't done yet.

Aquarius 1/21 – 2/19

Your natural stubbornness will keep you from rushing into a bad

decision this month. Don't be afraid to throw obstinate words at those

who try to push you into too-fast choices. You know what's right for you.

Pisces 2/20 – 3/21

You're on the launchpad, suited up and ready to blast off with your

new idea. Don't slow down the plans with details -- take off into the

atmosphere with what you have already. People will want to follow.

Aries 3/22 – 4/21

Artistic impulses overtake you. The form of the project may mutate to

embrace more ideas, but the artistic endeavor in and of itself will drive

you as it has driven most great artists. Enjoy the process, you baby

Picasso.

Taurus 4/22 – 5/21

High energy, equal to that of wiggling puppies, readies you for physical

and philosophical exercise today. A brisk walk and long talk could get

your heart rate up and ideas jumping in fruitful, fascinating ways.

Gemini 5/22 – 6/21

A swarm of new viewpoints will inspire you to see the world from

different perspectives. Toward evening, you'll settle on the most

interesting worldview and think about it deeply, like an undersea diver

exploring new waters.

Cancer 6/22 – 7/22

Oh you brainy, sexy fool. You're busy intellectualizing and philosophizing

today, and people will be impressed. In the evening, put some of that

energy into family matters and practice your management skills.

Leo 7/23 – 8/22

Look for chipmunks, flowers, golf balls or chocolate drops today,

because you'll find beauty in the smallest and oddest things around

you. Share some of the best with your friends, because they'll

appreciate your personal touch.

Virgo 8/23 – 9/22

Stay logical early in the day. In the evening, slip into pajamas and let

visions of overseas adventures return. Travelogues and documentaries

inform your dreams. The more you know, the more vivid your night

visions become.
---
Hey Students,

February is the month of Love, but more

importantly, it's Black History Month. African

American's have contributed or invented

numerous things that we use on a daily basis.

From the super soaker, to spark plugs for a car, to

a coin changer. The list goes on and on.

Throughout this month of February, let us keep

in mind the role of Black History in our nation's

narrative. And as the calendar turns to March, our

homes, schools, churches, and town halls need

to execute the vision of our forefathers, and make

EVERY month, a time in which Black History is not only celebrated,

but revered.

In this month's issue we covered how video games are becoming more

and more addictive. Video game addictions in some cases have also lead

to death. But you have to prioritize and take care of your school work first

before consuming yourself with hours of fun.

The city of Los Angeles will be hosting this year's NBA All-Star game and

my man Kobe Bryant will be leading the way for the West team, as well as

Blake Griffin. Enjoy the festivities Feb. 18th-20th.

We shouldn't wait to show love or appreciation for people until a certain

time of the year. It should be done all year round.

Have a safe blessed month.

Respectfully,

Nick Cannon

CEO Celebrity High Magazine

DISTrIbuTIoN

AFtERSCHool pRogrAMS tHAt SponSoR SuBSCRIptIonS

BIRMIngHAM, CAnogA, CHAtSWoRtH, ClEVElAnD, El CAMIno REAl, grAnADA HIllS, HIgH tECH

HIgH,KEnnEDy, MIllER, MonRoE, RESEDA, SHERMAn oAKS CEntER FoR EnRICHED StuDIES, tAFt, VAllEy

AltERnAtIVE, pAnorAMA, ARlEtA, EASt VAllEy, grAnt, noRtH HollyWooD, polytECHnIC, SAn FERnAnDo

,SylMAR, VAn nuyS, VERDugo HIllS, CREnSHAW, DoRSEy, HAMIlton, lACES, loS AngElES, MARlton, MCBRIDE,

unIVERSIty, VEnICE, WEStCHEStER, WIDnEy, BElMont, ContRErAS, DoWntoWn MAgnEt, EAglE RoCK,

FAIRFAx, FrAnKlIn, HollyWooD, loS AngElES SCHool oF gloBAl StuDIES, MARSHAll, HIgHlAnD pARK,

nEWMARK, WHItMAn, BrAVo MEDICAl MAgnEt, BoylE HEIgHtS,gARFEIlD, JEFFERSon,lInColn, MontEREy,

nEW tECH JE ERSon, oRtHopEDIC, AngElES, rAMonA, RooSEVElt, SAntEE EDuCAtIon CoMplEx, WIlSon,

BEll HIgH, ElIzABEtH lEARnIng, HuntIngton pARK HIgH, oDySSEy, SAn AntonIo,SoutHEASt HIgH,

IntERnAtIonAl StuDIES, SoutHgAtE, FREMont, HopE, JoRDAn, KIng DREW MED MAg, loCKE, MAnuEl ARtS,

RIlEy, RoDIA, tRItH, WESt ADAMS, youtH oppoRtunIty unlIMItED, BAnnIng HIgH, CARSon, gARDEnA,

nARBonnE, SAn pEDRo, WASHIngton. CHARtER SCHoolS InCluDE CHAMpS CHARtER, oSCAR DE lA HoyA

AnIMo, AnIMo lEADERSHIp, AnIMo rAlpH BunCH, AnIMo JuStICE, AnIMo pAt BRoWn, AnD SAnDIEgo

CoMplEx CH IS AlSo DIStRIButED to loCAl 7 ElEVEn AnD gRoCERy StoRES

11724 Ventura Blvd. Suite C+D

Studio City, CA 91604

phone 818 508 9705

fax 818 508 0917

E-mail: ch@celebrityhigh.net

Website: www.celebrityhigh.net

STAFF LISTING

Celebrity High, Inc.

Chairman/CEo

nick Cannon

Founder / publisher

Coline Witt

Executive Director

Mackenzie Woods

Vice president

otis Collins

Harut Dzhuryan

Editor in Chief

Henry l.n. Anderson, Ed.D

Managing Editor

Dorian graham

Editor

Stephen Witt

Editorial

Edgar Rodriguez

Creative Director

nir gutman

Staff & online Writers

nyvia Weathersby Singh Harjindiv

Shushanik Baghdasaryan Shakdat Ismatora

Avetis Koshkaryan gevorg Koshkaryan

Elizabeth Arias Erica oliveros

Hector Jacobo gabriell Salas

Claudia R Arias

Advertisement Sales

Robin White

peter guy

legal Department

Fagerholm & Jefferson

Make School count tour

James Jefferson Jr.

Cameron Mcgee

Journalism after School Recruitment

Champions u.S.A

liaison

priscillia omon
---
V S. 6

Mystified over what you crush may be thinking? Always

wondered what the other side had to say? You

may be scared to ask, but we aren't! We'll tell you

what we heard from the guys and the girls and what

we learned *(WWL) from it all along the way.

You've just gone out with someone and you want

to text them after to let them know you had a great

time. You want them to know you're really interested

but where is the line between like and "stalker"?

He said: "By about the third time you text me in row

without me responding back. Once I had left my

phone in the other room and when I got back to it

like an hour later this girl had text me like 20 times

and we had just met! Her last text was like 'why are

you ignoring me?' it was just too much." ~ Mike

She said: "Three times is the limit. But it's more

genuine when you call" ~ Brit

WWL: 3 sounds like the magic number for everybody

but the bottom line is to relax. Stay calm; you don't

want your new crush to go from BF/GF potential to

trying to change their number.

You're interested, but then that guy or girl says or

does something that turns your 'yes' into a 'no'. You

absolutely hate it when __________

He said: "I hate it when girls are overly fake. I

thought this girl was really hot but then when we

hung out she started batting her eyes and whining,

I mean who does that?! I didn't really like her after

that." – Chris

"I don't like it when a girl spends too much time

talking about her ex. If you mention him more than

lets say twice in a single date without me asking I'm

going to be really irritated." -- John

She said: "I don't like it when guys are too aggressive

or playerish. If I'm hanging out with you I probably

like you, or would at least like to get to know

you, but I don't like to feel pressured. Just relax and
---
let me take my time and have my space."

– Kayla

"Dirty clothes or shoes. I say this dude that

was cute from across the mall but then he

got closer his shoes were just gross, ugh

I swear he smelled weird. Then I wished

he never came over and I had to act like I

thought he was someone else." – Cynthia

WWL: Obnoxious or rude behavior can

quickly turn a 'yes' into a 'no'. Be yourself

and consider the other person. Good hygiene

and grooming never hurt either , the

second someone thinks "ugh" your chances

are pretty much over.

Pet names … cute or nauseating?

He said: "Pet names are great. They're

easy because you don't have to remember

everyone's name all the time; as long as

you don't get your 'Sugar Bears' mixed up

then you're fine …" (no we meant how do

you feel about being called pet names by

your GF) "…oh. Well that's just gross!" –

Riley

"They're ok as long its just when we're

together. There is a time and a place. Like

don't EVER do it in front of my guy friends."

– Evan

She said: "No thank you. Please don't. I'd

rather not. My actual name will do just

fine." – Alexis

"I like it. But I want my own name. I don't

like being called 'baby' if you call everyone

that and I don't want the same nickname as

your ex either" - Carlyn

WWL: We were kind of surprised because a

lot of people said they don't like pet names

but everyone's been somewhere and heard

"pookie bear" being called. But for the

most part we say a nickname can be cool

and cute if it's some sort of variation on the

person's name or has some sort of special

meaning that is unique to them or something

you experienced together. Anything

embarrassing or generic is a no go.

Someone is crushing on you but you

haven't noticed them yet … what should

they do?

He said: "Just let me know directly. Hit me

on facebook or text or whatever." – Mike

She said: "You could just send me a note

or aim or something. Just whatever you do

say it and if I don't respond then let it go."

-- Sarah

WWL: Everyone wants so much straightforward

honesty but are they willing to give

that back in return? We're not so sure, and

its also a lot harder then it sounds; we know

facing possible rejection can feel like facing

a bullet and a firing squad. The good news

is that even if you do get shot down you

(usually) live to see another day. Honesty

might really be worth a try, if your crush

ends up embarrassingyou publically then

honestly they're a

ARE YOU IN THE 'FRIEND ZONE'?

You have a great friendship going,

you're hanging out and talking, but

you suddenly wonder if maybe this

friendship could be something more.

Maybe your relationship with your

crush is more casual but either way

you want to know. But how do you

know if it's a possibility or if you've

been forever placed in the infamous

"friend" box? Honesty is often the

best policy but before you risk your

pride and your friendship getting

sliced by a katana blade, there are

signals as to whether or not they like

you in that way. Seven signs he/she

just may not be that into you…

1.

2.

3.

4.

5.

6.

7.

jerk and you pretty much dodged a bullet in

not being with them; and if you're successful

then… *smiles*

What's the one thing you wish the other

sex knew?

He said: "… oh does that mean they don't

read minds? I feel like girls expect me to

read theirs. If they like you I wish they

would just say 'I like you too' or whatever.

Instead I have to guess." – Malik

"I wish girls knew that being overly loud is

not a good thing. My ex used to show off in

front of her friends really loud all the time

and I always wish she knew when to stop."

– Jason

"I don't like it when girls try to tell other

people you're in a relationship before you

really are. Then you have to try to play it off

or explain. Awkward." - Cameron

She said: "I wish my boyfriend knew when

to joke and when to be serious. Its ok to be

goofy sometimes but he plays too much."

– Alyah

"I wish guys would just be honest instead

of telling me what I want to hear." – Nicole

"He should know that random gifts when

you don't expect it are the best … even if its

like a piece of pie or something." – Rachel

If you're doing 80% of the communicating

He de-tags himself in a picture you posted of the two of you

on Facebook, explaining, "I don't want other chicks to think

we're together."

He or she checks out or talks about other people they are

interested in.

He or she actually says they aren't into you like that (this

sounds obvious but you'd be surprised how many people

ignore this statement)

They never want to hang out one on one, they always

invite friends/back up (and then gives the friends most

of their attention)

They encourage you to date others

She accidentally says to her guy friend "girl guess what just

happened…" or he starts calling his girl friend by her last

name (you're just like one of my football buddies!)
---
SPORTS 8

SPORTS - AWESOMELY

WEIRD, CRAZY AND

MINDBOGGLING SPORTS

By Kayla ThorTon

no offense to anyone who happens to love the sport, but

I hate baseball. It feels like a group of guys standing

around looking bored waiting for the off chance a ball may

come their way. Basketball and football offer a little more

action but its still a little "been there done that" isn't it?

From each region of the world, along with the very popular

common sports there are also those really popular but

sometimes weird sports. So I started to wonder what type

of sporting events that might be out there that could add

some out of the ordinary excitement. all I can say is ESPn

is missing out. What was out there are sports even more

awesome than what you'd normally see on the television.

here are a few of our favorites but note some of these are

so mindboggling odd and or dangerous,

we beg you not to try this at home.
---
Cardboard Tube Fighting

This is exactly what it sounds like. If

you ever battled with empty wrapping

paper tubes and loved it this sport might

be for you. There is actually a global

organization called The Cardboard

Tube Fighting league (CTFl) that

hosts cardboard tube based events in

Seattle, Washington; San Francisco,

California; and Sydney, australia. The

CTFl hosts tournaments and battles

where cardboard tube fighters go headto-head

in an attempt to break their

opponents tube without breaking their

own. Cardboard tubes are provided and

all events are free for participants.

Bog Snorkelling

Bog n. - wet, spongy ground with soil

composed mainly of dead and decayed

plant matter. Snorkeling v. - the sport

of swimming with a snorkel and face

mask. Bog Snorkeling v. – The sport

of swimming with a snorkel and face

mask in a trench of totally gross water

including decayed plant matter and all

sorts of other crud you'd really rather

not stick your face in with or without a

mask.

Each year in Wales they hold a world

championship where competitors

race basically half the length of a

football field and back. Competitors

must wear snorkels and flippers, and

complete the course without using

conventional swimming strokes, relying

on flipper power alone. Wet suits are

not compulsory, but are usually worn and

apparently are often accompanied by a

costume (not sure why but got to love a

sport that takes every opportunity to up the

ante on entertainment value). Fastest time

wins. In 2010 a new world record was set

at 1m30.66s.

Mountain Unicycling

I admit it, I thought unicycles were only

ridden by clowns at the circus; I was so

wrong. Chuckles juggling around the clown

car may be lame but mountain unicycling

is just plain incredible. The amount of

strength and balance required to make

it through a race is phenomenal. To be

honest, watching the whole race isn't that

exciting. however, seeing a unicyclist go

up a tough hill, or down a rocky path is

as exciting as anything on the television.

Think Tony hawk on one big wheel.

Ladder Racing:

have you ever seen those competitions

firemen have where they climb their

ladders? This is that, if the firemen were

like part spiderman part ninja. The main

thing I learned watching this sport is

that if I'm ever caught in a multistory

building during a fire, I hope my fireman

is Bulgarian. The goal is simple; first guy

to the top wins. The entertaining part is

these guys move freaky crazy fast. Whew!

Camel Wrestling

The Spanish have bullfights, the Italians

have cockfights, and we have Michael

Vic. Meanwhile the Turks have camel

wrestling. This is not to be confused with

bullfighting where a human challenges

a bull, this is camel vs. camel in a knock

down drag out match. not into violence?

Don't worry. While it sounds like a recipe

for camel WWF and animal rights activists

would really like to see it go away, camel

wrestling is more akin to comedy than to

blood-sport (wait maybe it is like WWF

after all).

The Tulu Camels are specially bred for the

competition, and decked out with bells

and colorful ornamentation. They're then

sent into the ring with another camel to

do battle over a hot camel-babe in heat.

That is not a metaphor. When male camels

get aroused, streams of viscous milky

saliva start frothing from their mouths

and nostrils. oh, and camel liquid doesn't

stop there. Eyewitnesses say the camels

also urinate profusely, and since they

aim backward, spectators have to guard

against getting sprayed during a battle.

Camels can win by either making their

opponent fall, scream or gallop away in

a comical leg-flapping manner. Trainers

try and install fighting methods in their

camels but a camel's grasp of advanced

fighting practices is notoriously poor, and

thus it seems they just bang into each

other in a saliva-filled clattering until one

topples over.

Bossaball

Bossaball is my favorite on this list. If they

brought this to the USa I would totally

want to try it out. Bossaball is somewhat

like volleyball, but way better. Think

volleyball but in a pimped out bounce

house. The game is played on an inflatable

volleyball court, and in front of the net

on each side is a round trampoline so

players can get some serious height when

spiking. Teams are comprised of three,

four or five players, one of which must be

on the trampoline (the attacker), whilst

the other four must set the ball up for the

attacker to spike. and of course everyone

is bouncing around the whole time.

Invented in Belgium there are now clubs

in Brazil, Germany, Spain and even Kuwait

(but no l.a.? Total travesty!) overall it

includes elements of soccer, gymnastics

and capoeira (a Brazilian martial art) all

thrown together then bounced into the

air, producing something which is mindblowingly

awesome. I got next!
---
TECHNOLOGY 12

m

You don't drink it, eat it, smoke it, or snort

it but some think its becoming as addictive

as drugs and alcohol and it has started

claiming lives; figuratively and literally. Some

may say its ridiculous to consider video

game addiction a "real" addiction but half

of you know a World of Warcraft addict or

someone who won't leave their house for

fear of dying crops on Farmville and if you're

still in doubt experts are pretty unanimous

that it is a thing. The headlines have been

pretty horrific; from social death to actual

death compulsions to play these games has

taken a toll and the numbers keep going up.

THIS IS YOUR MIND ON CLICKS: THE

STORY BEHIND VIDEO GAME ADDICTION

(YES IT'S REALLY A THING)

By: Joseph Ackerly

Video games can be fun and in some cases even educational.

For most teens, playing games on a computer, video game

console, or handheld device is just a regular part of the day.

Most are able to juggle the multiple demands of school,

sports, work or chores, friends and family life. Where it

becomes a problem is when it starts to get in the way of

other parts of your life. When you're willing to give up

grades, friends, family or even food for the game. Video

game designer Erin Hoffman said it perfectly: "Addiction

is not about what you DO, but what you DON'T DO

because of the replacement of the addictive behavior."

JUST WHAT IS IT?

Addiction is not just associated with substances such

as drugs and alcohol. Doctors recognize addictive

behaviors as well. Too much gaming may seem

relatively harmless compared with the dangers of a

drug overdose, but Keith Bakker, director of Smith &

Jones Addiction Consultants says video game addiction

can ruin lives. Teens who play four to five hours per

day have no time for socializing, doing homework, or

playing sports, he says. "That takes away from normal

social development. You can get a 21-year-old with

the emotional intelligence of a 12-year-old. He's never

learned to talk to girls. He's never learned to play

a sport." In older addicts, compulsive gaming can

jeopardize jobs or relationships. In a WebMD feature on

the definition of addiction, psychiatrist Michael Brody,

MD, set forth the following criteria:

• The person needs more and more of a substance or

behavior to keep him going.

• If the person does not get more of the substance or

behavior, he becomes irritable and miserable.

Kimberly Young, PsyD, clinical director of the Center

for On-Line Addiction and author of Caught in the Net:

How to Recognize the Signs of Internet Addiction -- and

a Winning Strategy for Recovery, says compulsive

gaming meets these criteria, and she has seen severe

withdrawal symptoms in game addicts. "They become

angry, violent, or depressed. If [parents] take away

the computer, their child sits in the corner and cries,

refuses to eat, sleep, or do anything."

WHY ARE THEY SO ADDICTIVE?

After quitting War of Worldcraft, also known as

"Warcrack" by the seriously obsessed, Gary Haran

started up wowdetox.com so that "anyone could

anonymously write their reasons for quitting the

game." He says he got over 20,000 posts after only

a few months. That's a lot of people with a serious

problem. Massive Multiplayer Online Role-Playing Games

(MMORPGs) like WOW can be especially addictive

because there's no ending. Unlike traditional games like
---
Super Mario Brothers, where you win when you save the

princess, you can't rescue the princess in an MMORPG.

And that's a big part of why its so hard to stop.

Once upon a time video game creators built games. They

charged you $40 or $50 for said game hoping you'd like it

enough to buy the next version without

really worrying how often you were going

to play it. That was then, this is now

where video game creators make money

from game subscriptions which require

players to keep on playing until the world

ends or they literally pass out (which has

actually happened). They also now make

money from advertising within the game,

which also makes them more money if

they can show that you will spend hours

upon hours playing. But anyone would

get tired of anything eventually right?

Right. So here's where it gets a little

creepy because what that means is that

some video games need to be designed

to keep you playing even when you're

not enjoying it. Have you ever noticed

how certain games might randomly drop

bonuses or things you need to collect

in the game? (Of course you can't stop

now because the next thing might help

you win!) Or that level ups are so much harder to get at higher

levels or even that sometimes a game can punish you if you

don't play? (My crops are dying help!) All of these are game

tools to keep you playing, even when it stops being fun.

Obviously not all games are bad, and even the most habit

forming can be ok if you aren't trading passing grades in

biology for healthy Farmville crops or skipping time with

friends to reach the next level in Halo. Some games can even

be educational but when there is a problem it is time to get

help.

HOW TO TELL THE "FUN" IS OVER AND WHAT TO

DO ABOUT IT?

If you think there might be a problem, there probably is. And

you certainly wouldn't be the first. Some experts say as many

as 10 percent of all people who use the Internet or play video

games are addicted to them. Five signs the "fun" is over:

• You feel really happy when you're online or when you're

playing games, but as soon as you have to stop, you get

angry or upset.

• You think about going online or playing when you are

supposed to be focusing on other things, like doing school

work or having dinner with your family.

"It's like a food

addiction,"

Young explains.

"You have to

learn to live

with food."

• You spend more time with your keyboard or controller

than physically hanging out with your friends.

• Your friends or parents ask what you spend all your

time doing, and you lie about it or laugh it off, but inside

you know they may have a point.

• You get up in the middle of the

night to check your e-mail or your

MySpace comments because you're

having a hard time sleeping.

It's a tough habit to kick. Treatment

for video game addiction is similar to

detox for other addictions, with one

important difference. Computers

have become an important part of

everyday life. You need it for school

and to stay in touch with your friends.

If you're a gamer, most of your

friends may also be gamers, meaning

that you would not have anyone to

hang out with if you stopped playing

completely.

"It's like a food addiction," Young explains.

"You have to learn to live with food."

Because video game addicts can't avoid computers,

they have to learn to use them responsibly. Bakker

says the toughest part of treating video game addicts

is that "it's a little bit more difficult to show somebody

they're in trouble. Nobody's ever been put in jail for being

under the influence of [a game]."

The key, he says, is to show gamers they are powerless

over their addiction, and then teach them "real-life

excitement as opposed to online excitement."

If you think you or someone you know has a problem the

best thing to do is talk to an adult you trust. Chances

are, the games aren't the real issue. Some gamers use

the controller to avoid doing things they don't want to do

or thinking about things that are stressful. Sometimes

that's okay - grownups do it, too. But when it's keeping

you from sleeping, or causing you to be angry with the

people who love you, there's a better way. So go on. Get

off the computer or send an e-mail to someone asking

for help. And that's a good sign.
---
LIFESTYLE

14

A Unifying

Heritage

It is often said by many, that black history is American history. In essence Black History

Month is a healing period, a connecting point that can bring us more together as a new

nation. We are all the victims and the benefactors of the black experience in America. Since

1976 February has offered an opportunity to celebrate the accomplishments of this one

particular group of American's who overcame obstacles to fashion some of the greatest

educational, scientific, architectural, agricultural and social accomplishments this country

has seen; Whose very existence is a testament to the undying power of the human spirit.

It offers, equally, opportunity to people not of obvious African dissent to discover and

appreciate their historic role in the ever-evolving grand experiment of democracy that

currently defines us as Americans and citizens of the greatest country on the planet.

last year marked an especially historic black history month as it witnessed both the

100th anniversary of the nAACp as well as the election of Barack obama as the first

African –American president.

Frederick Barron, 17, a senior at north Atlanta High School in Atlanta states "Barack obama

is opening our hearts and minds to the true meaning of Black History Month," Barron said.

"African Americans won't be viewed as just a minority but as people who make a difference."

This year we decided to ask a group of professionals, entertainers and civic leaders what

Black History Month means to them:

"Black History Month allows us to reflect on the work of our ancestors,

rejoice in the present and look ahead to new possibilities. It is about

honoring the accomplishments of African Americans who have helped to

build this country."

– Kamala Harris – California Attorney General

on January 3, 2011, Harris became the first woman African-American, and Asian-American

attorney general in California and the first Indian-American attorney general in the

united States. She has taken a stand for civil rights, immigration rights, education and has

advocated for strong enforcement of environmental protection laws.

"Black History Month is a time of remembrance and appreciation. It's a

time to reflect on what our ancestors and forefathers have fought for in

the past and to make sure that their fight was not in vain."

- Harvey Mason, Jr. – Producer

Harvey Mason, Jr. has penned and produced songs for superstars such as Justin timberlake,

Beyonce, Chris Brown, Britney Spears and Whitney Houston. Major motion picture studios

have called upon Harvey's talent to produce music for films like Shrek 3, Kung Fu panda

and Dreamgirls. Harvey serves on the Board of trustees of the los Angeles Chapter of the

Recording Academy. He has been involved in grammy Camp, grammy in the Schools, and

the Music Cares Foundation.
---
"Black History Month to me means Freedom. Freedom to be able to

talk to who I want, hang out with who I want and skate with who I

want. It just means everyone being looked at as one."

-Terry Kennedy – Professional Skateboarder

terry Kennedy – professional Skateboarder

tK is sponsored by Baker, Supra, Boost Mobile and KR3W. He is featured in the video

game "Skate" and has had his own reality show on BEt.

"Black History Month is an opportunity to combine the knowledge

and pride of where we have come from with our collective plans for

the future. Its not just about black American's… it's a chance for all

Americans to celebrate resilience, strength, and to move forward in

creating a better world together."

– Coline Witt, Publisher Celebrity High Magazine.

"Black History Month reminds us that life is really all

about human history and human dignity." -Dr. Alveda C. King

Dr. Alveda King, niece of Dr. Martin luther King, Jr., is a pastoral Associate

of priests for life and Coordinator of our African American outreach

Black History Month Events in l.A.

Long Beach Aquarium The aquarium will host its 9th Annual African American Festival.

The festival includes live entertainment, arts and crafts, food vendors, and more. Also there will be

scheduled performances by hip hop and break dancers, live jazz bands, and West African dancers.

The festival will be held Saturday and Sunday, February 26-27 at the aquarium. Admission is

included in the regular ticket price for the aquarium. It is free to aquarium members. guests of

members will receive 20% off. parking is $8.

www.aquariumofpacific.org

The California African American Museum

located near the California Science Center in Exposition park, each Sunday during February

the museum will be running workshops at 2 pm. Some workshop topics are famous African

Americans, canning and preserving foods, creating Victorian style keepsakes, and other

informative topics. The museum is free, but donations are requested. parking is $8.

www.caamuseum.org/

Pan African Film and Arts Festival now in its 19th year, the film festival showcases

films that are about or made for people of African descent. The movies range from comedies,

dramas, documentary, shorts, animation, and romantic comedies.

The pan African Film festival will be held February 16-21 in los Angeles, CA.

In conjunction with the film festival will be special programs and venues for all members

of the family.

www.paff.org .
---
ENTERTIANMENT

16

photo courtesy of ABC *
---
photo courtesy of ABC

*

By priscillia oman

Cover photo and photos

by Michael Williams

SHAy MITCHELL MAKES

HEr SCrEEN-ACTING

DEBuT

in the one-hour drama Pretty Little

Liars, based upon the popular book

series from Alloy Entertainment, as

Emily Fields, an athletic girl who is

struggling with her sexuality. Born

Shannon Mitchell, to a Filipino

mother and Irish/Scottish father, is a

native of Toronto, Canada. As a young

child, Mitchell was interested in the

performing arts. By her late teens,

Mitchell had successfully modeled for a

variety of companies in cities as varied

as Bangkok, Hong Kong and Barcelona.

Wanting to focus on her true passion,

Mitchell returned to Toronto and began

to study acting with great focus and

determination. Her hard work paid off

and, after signing with her first theatrical

agency, she appeared in the hit series

DeGrassi: The Next Generation and

Copper.

CH: Which character do you most relate to in Pretty Little

Liars and why?

SM: I see a little of myself in every character, but that's the

great thing about Pretty Little Liars, it is very easy to relate to

all of the characters.

CH: Pretty Little Liars revolves around one big secret

everyone is hiding, what can you tell celebrity high something

that most people might not know about you?

SM: I have a passion for interior design and love watching

home decorating shows.

CH: For people that don't know how would you best describe

your character on the show of Pretty Little Liars?

SM: Emily is the sweetest out of the group and is an extremely

loyal friend with a competitive edge, as she is captain of the

swim team. She has been raised with a very conservative family

and is finally discovering who she truly is.

CH: What do you miss about living in Toronto and how

would you compare it to living in Los Angeles?

SM: It's like apples and oranges, they are completely different.

Toronto is more of a city with an urban vibe that feels like
---
home to me, but you really can't beat the perpetual sun in Los

Angeles. The biggest thing I miss about Toronto is my friends

and family.

CH: What made you decide to take on a character that was

going through such a sensitive situation as figuring out her

sexuality?

SM: The fact that I thought this was a character a lot of girls

and guys could relate to. There are so many similar issues in

society and I think the show and Emily's character is helping

people learn how to accept other people's differences.

CH: What advice would you have for a girl who is going

through a similar situation?

SM: I would say to be true to yourself and know you're not

alone. There are a lot of great support lines out there that you

can talk to, as opposed to holding everything in and

potentially hurting yourself.

CH: The girls of PLL have such individual

and unique styles. What is it like being a

fashion icon and how would you describe

your personal style?

SM: My personal style is a mix

between many different styles. I

actually wouldn't even say I have a

style; I just wear what I like and feel

comfortable in. I go how I feel in the

morning, punk, bohemian, prep- it

changes depending on my mood.

CH: Are you as athletic as your character

Emily?

SM: Well I'm not on a swim team, but I can

be athletic. When I have free time I love to ride

my bike, play basketball, hike, and even rock climb.

CH: What do you like to do in your free time?

SM: Hang out with friends and watch movies in bed, and sleep.

CH: If you were not in entertainment what would

you be doing?

SM: I would love to be a traveling food editor and try out

different dishes around the world.

CH: How does it feel to be on a hit show on television?

SM: Words cannot describe it, I am living my dream and it just

keeps getting better and better.

CH: How do your peers respond to you being famous?

SM: I definitely don't use the word "famous," it's a word I will

never get used to. But having them see me on TV is a neat

experience for them but also weird because they are seeing me

be someone who is not my everyday self.

CH: Do you watch yourself on tv?

SM: yes of course, but I don't watch to see myself. I love to see

how everything comes together: lighting, music, etc. I also kind

of need to know what the fans have seen so I don't give any

secrets away.

CH: What pressures do you feel as an actress?

SM: For Emily's character, I felt a certain pressure to put life

into a book character and I really wanted to do her justice since

she is already is so many girls minds.

CH: Have you ever had a crazy fan moment that you

can share?

SM: Just having amazing girls and guys waiting outside to

"I look up

to Angelina

Jolie. She has

used her name

to shed light on

issues that really

matter to

her."

meet me at interviews or hotels in the snow to meet me and get

an autograph or picture, is amazing.

CH: Before becoming an actress you used to do modeling.

Which do you prefer?

SM: I prefer acting, hands down.

CH: What are some future aspirations that you have?

SM: Future aspirations I have are going to Cambodia and

visiting Somaly Mam and the women's shelters and making

even one girls life a little bit better

CH: How would you describe your high school life? Where

you very popular?

SM: I wouldn't call myself popular. I went through all the

stages in High School from eating lunch alone to having a

close group of friends. At one point or another I was a friend

with every group.

CH: What advice would you give to a teen trying to

get into your position of being a famous actress?

SM: Never give up, and don't let anyone tell

you no.

CH: What can we expect from you in the

near future? Can we get an inside scoop?

SM: Continue to work on this amazing

show and embrace other opportunities

as they arise and hopefully please the

fans.

CH: Is there someone in the

entertainment business that you admire,

respect or look up to?

SM: I look up to Angelina Jolie. She has

used her name to shed light on issues that

really matter to her.

CH: What were some of your favorite TV shows

growing up?

SM: Home improvement, Will & Grace, and

I Love Lucy.

CH: Have any of the schools you've attended been like PLL or

Degrassi?

SM: No, I am very happy my school was not like Pretty Little

Liars because I wouldn't be able to handle a character like "A".

My school was somewhat similar to Degrassi, but everything is

always exaggerated for TV.
---
LAUSD Schools Move Forward

in Cyber Competition

Students from local high schools will be going to Washington DC for national competition.

Students from local high schools will

be going to Washington DC for national

competition.

Two Beyond the Bell student teams

have won invitations to attend the

nationwide championships of the

CyberPatriot program. The championships

will be held in Washington DC on April

1st and 2nd. Out of 180 teams that

entered the competition last year only

twelve have been invited to attend this

prestigious event. The schools are

Franklin High School out of Eagle

Rock, and Locke High School from

Watts.

CyberPatriot, an education

initiative produced by the Air

Force Association, is a one-of-akind

computer programming and systems

competition designed to introduce

students to cyber security. It provides

high school students hands-on learning

about cyber defense in a fun and

exciting environment.

"This is an incredible accomplishment

for our students." says Alvaro Cortes,

LAUSD Assistant Superintendant and the

head of the Beyond the Bell Branch

which sponsors the program for the Los

Angeles Unified School District. There

are twelve teams left, two of which

come from our program. This shows what

a commitment those students have made.

"There's an incredible amount of

enthusiasm for cyber security displayed

by these students as they compete, and

we are thrilled about their response,"

said Bernie Skoch, CyberPatriot

Commissioner. "These students are doing

something that is both exciting and

challenging, and we wish all the teams

the best of luck."

Beyond the Bell (BTB) schools,

representing LAUSD, has had more teams

in each of the qualification rounds than

any school district in the nation.

That strong trend has produced two

of the last twelve teams in the

Finalist round, the ones that will

be wearing the Beyond the Bell

logo.

"One of our best CyberPatriot

team members grew up in a

disadvantaged family. He

never had strong support,"

said Carey Peck, Program Director

for the CyberPatriot Program.

"Until CyberPatriot came along

he never had regular access to a

computer, but now he does, and

he has been posting some of the

highest scores in the nation. He will be

a star, and CyberPatriot opened the door

for him."

CyberPatriot will host its finals at

the Gaylord National Convention Center

in Washington, D.C. in April 2011, in

conjunction with AFA's CyberFutures

Conference and Technology Exposition.

CyberPatriot is presented by Northrop

Grumman, with founding partners SAIC

and the CIAS at the University of

Texas-San Antonio. More information

can be found on CyberPatriot at

www.uscyberpatriot.org.

BTB
---
20

Greyson Chance

By: Joshua Diaz

When 12-year-old

Greyson Chance

posted a clip of himself

performing Lady Gaga's

"Paparazzi" on YouTube

in April, he never

dreamed that the video

would become a viral

sensation viewed by

more than 30

million people.

The clip, shot by Greyson's dad, shows the

Cheyenne Middle School sixth-grader at

the piano, singing his heart out at a choir

event as the female-dominated audience

looks on slack-jawed with amazement.

Greyson is already earning kudos for his

original compositions. YouTube clips of him

performing "Stars" (about a woman with

cancer who reunites with her husband in

heaven) and "Broken Hearts," have racked

up more than nine million collective views.

"I want people to be able to feel what I'm

feeling when I'm singing," he says. "That's

what it's all about for me."

Greyson is currently in the studio working on

his debut album with veteran songwriter/

producer and Geffen Records chairman Ron

Fair (Christina Aguilera, Black Eyed Peas,

PussycatDolls). Greyson is the first artist

signed to Ellen Degeneres newly formed label

Eleveneleven Records.
---
CH: When can we expect a full album?

GC: My record will be out sometime

this year.

CH: Can you tell us more about your

latest single?

GC: "Waiting Outside the Lines" is

about getting over something that is

bothering you and haunting you. It has

a positive message and anybody any

age can relate to

the song!

CH: What advice would you give to a

student trying to become a famous

musician?

GC: To keep following your dreams

and never let anyone get

in your way by telling you that

you can't do it.

CH: You have a strong stance on

Bullying where does that come from?

GC: I was bullied as a kid; I was an

outcast. I got through it by escaping

in music and building my confidence.

One of my records on my album is

called "Purple Sky" I want kids to

listen to it and feel confident.

CH: Do you write a lot of your own

music?

GC: Yes. A lot of the record is written

by me.

CH: What does it feel like to be signed

to Ellen?

GC: It feels incredible! I love Ellen. She

has become such an amazing role

model and friend.

CH: What's your favorite subject in

school?

GC: My favorite subject in school

would probably have to be math.

CH: Does your school have a

performing arts department?

GC: I do online school. So, if YouTube

doesn't count at school then…not

really.

CH: What was your parents' and

peers reaction to seeing you perform

paparazzi at your school?

GC: My parents were very proud of

me! My friends loved the performance

as well.

CH: You have been playing piano for

over 3 years now. Do you have any

interest in any other instruments?

GC: Not really. I love Piano and that's

my only instrument.

CH: What do you like better singing or

playing instruments?

GC: I like performing. I love putting

them both together and making

something incredible.

CH: Who and what inspires you?

GC: I am very inspired by Coldplay

and Snow Patrol. I also love old

Rock n Roll like Journey.

CH: What was it like becoming an

overnight sensation?

GC: It has been so incredible. I have

the most amazing fans in the world

and they mean everything to me. This

has always been my dream so it is

awesome to see it come true

CH: Coolest thing you've been able to

do since being discovered?

GC: It was probably meeting Lady

Gaga. She is a very big inspiration to

me and she is so nice.

CH: Why did you choose the song

paparazzi to perform at your school?

GC: I loved the song because it was

such a different song.

The arrangement was incredible

and Gaga's voice was amazing on

the record. I think it is one of the

best records of all time.

CH: What kind of music do you

listen to?

GC: I listen to a lot of old music.

Madonna, Michael Jackson, KISS,

Journey.

CH: Who would you like to

collaborate with?

GC: I would love to collaborate

with Christina Aguilera and Taylor

Swift.

CH: If you could have any super

power what would it be and why?

GC: I would want to be able to

fly! So I could see anything I ever

wanted to see.

CH: If you weren't singing what

would be your ideal career?

GC: I would love to be a

photographer.

CH: If you were stranded on a

island who and what would you

bring, if you you could only choose

three items and one person?

GC: I would bring an iPod, endless

amount of McDonalds, and a

record player. And I would bring

Paul McCartney.
---
HEALTH 24
---
Types of Abuse

Dating violence may look different

in each relationship. Here are

just a few examples of what each

type of abuse can include:

• Physical abuse is any unwanted

physical contact like hitting, slapping,

holding you down, pulling your hair,

pushing, blocking your way or spitting.

It doesn't have to leave a mark or even

hurt for it to be abusive.

• Verbal/emotional abuse includes

threatening you, calling you names,

setting rules for you or trying to control

your behavior. Verbal and emotional

abuse is sometimes disguised as jokes.

If your boyfriend or girlfriend makes

jokes that make you feel threatened or

bad about yourself – that's not okay.

• Sexual abuse can be pressuring you

into doing something sexually you

don't want to do, rape, unwanted touching

or kissing and refusing to use or

damaging your birth control method.

It's important to remember: No matter

what you've down with someone sexually

in the past, you always have the

right to say "no" and be respected for

that choice.

• Technological abuse is when your

partner demands your passwords to social

networking sites like Facebook or

mySpace, sets rules about who you can

be friends with online, sends unwanted

texts or phone calls, checks your phone

history or damages your computer.

Cycle of Abuse

In many abusive relationships,

abuse is not a one time incident.

While every relationship is different,

many abusive relationships

follow a repeating pattern called

the Cycle of Abuse. The Cycle of

Abuse has three phases: Tension

Building, Explosion and Honeymoon.

1. In the Tension Building phase,

things start to become difficult between

you and your dating partner. You may

feel like you need to tip-toe around him

or her, or that you're always getting

into fights and taking the blame.

2. During the Explosion, an incident

of abusive behavior happens. It can be

something like yelling at you in front of

people or hitting you for the first time.

Explosions tend to get more severe

each time and happen more often as the

relationship goes on.

3. In the Honeymoon, an abuser tries

to make you forgive and forget whatever

happened in the Explosion. He or she

might apologize, promise it will never

happen again, buy you gifts or blame it

on something else like being drunk or

stressed out.

What Can You

Do?

If you see warning signs of

abuse now, it is likely that it will

get worse. Here are some tips on

how to keep

as safe as possible if you

or someone you know is thinking

about leaving an abusive

relationship:

• Tell someone you trust (a family

member, a friend, teacher or coach)

about the abuse

• Keep records of anything the abuser

sends like texts, voicemails and

emails and store them in a safe place.

They may be helpful later in getting a

restraining order.

• Create a safety plan. To learn

more about safety planning, visit

breakthecycle.org.

• File for a restraining order. It's

free and can keep an abuser from

threatening, contacting or coming

near you or your friends. Visit

breakthecycle.org to find out the law in

your state.

Spotlight on

Technology

Abuse

We often think of love like it is

portrayed in the movies, consumingcan't-stop-thinking

about-you, wantto-spend-every-waking-minute-withyou

love. But in the real world,

that kind of love is not only

unrealistic, it's unhealthy. Telephone

by Lady GaGa featuring Beyonce

makes the important point that

obsessive relationships can be

stressful and exhausting:

The stress from being in constant

communication with your partner can

affect you in

many negative ways. Checking your

phone constantly and nonstop texting

can make it

impossible to live in the moment. This

song sends an empowering message

to anyone

in this kind of unhealthy relationship.

Change your routine, ditch your

phone,

hang out with friends, family or just

have some "me" time.

To learn more visit:

www.thesafespace.org

thesafespace.org

popQuiz: Is Your

Relationship

Healthy?

Everyone deserves to be in a safe and

healthy relationship. Do you know if

your relationship is as healthy as you

deserve? Answer "yes" or "no" to the

following statements to find out! Have

a piece of paper and pen nearby. At the

end you'll find out how to score your

answers. (QUIZ IS ON NEXT PAGE)
---
26

thesafespace.org popQuiz

The person I am with:

01. Is very supportive of things that I do. [YES] [NO]

02. Encourages me to try new things. [YES] [NO]

03. Likes to listen when I have something on my mind. [YES] [NO]

04. Understands that I have my own life too. [YES] [NO]

05. Is not liked very well by my friends. [YES] [NO]

06. Says I\'m too involved in different activities. [YES] [NO]

07. Texts me or calls me all the time. [YES] [NO]

08. Thinks I spend too much time trying to look nice. [YES] [NO]

09. Gets extremely jealous or possessive. [YES] [NO]

10. Accuses me of flirting or cheating. [YES] [NO]

11. Constantly checks up on me or makes me check in. [YES] [NO]

12. Controls what I wear or how I look. [YES] [NO]

13. Tries to control what I do and who I see. [YES] [NO]

14. Tries to keep me from seeing or talking to my family and friends. [YES] [NO]

15. Has big mood swings - gets angry and yells at me one minute, and the next minute

is sweet and apologetic. [YES] [NO]

16. Makes me feel nervous or like I\'m \"walking on eggshells. [YES] [NO]

17. Puts me down, calls me names or criticizes me. [YES] [NO]

18. Makes me feel like I can\'t do anything right or blames me for problems. [YES] [NO]

19. Makes me feel like no one else would want me. [YES] [NO]

20. Threatens to hurt me, my friends or family. [YES] [NO]

21. Threatens to hurt him or herself because of me. [YES] [NO]

22. Threatens to destroy my things. [YES] [NO]

23. Grabs, pushes, shoves, chokes, punches, slaps, holds me down, throws things or

hurts me in some way. [YES] [NO]

24. Breaks things or throws things to intimidate me. [YES] [NO]

25. Yells, screams or humiliates me in front of others. [YES] [NO]

26. Pressures or forces me into having sex or going farther than I want to. [YES] [NO]

Scoring:

Give yourself 1 point for every "no" you answered to numbers 1-4; 1 point for every "yes" response to numbers 5-8; and 5

points for every "yes" to numbers 9-26.

Now that you're finished and have your score, the next step is to find out what your score means. Simply take your total score

and see which of the boxes below applies to you.

Score: 0 points

You got a score of 0? Not to worry—it's a good thing! It sounds like your relationship is on a pretty healthy track. Fostering

healthy relationships takes some work—keep it up! Remember that while you may have a healthy relationship, it's possible

that a friend of yours may not. If you think you know someone who may be in an abusive relationship, Visit thesafespace.org

to learn how you can help that person end the abuse.

Score: 1-2 points

If you scored 1 or 2 points, you may be noticing a couple of things in your relationship that may be unhealthy, but it doesn't

necessarily mean they are warning signs. It's still a good idea to keep an eye on them to make sure there isn't a pattern. The

best thing to do is to communicate with your partner and let them know what you like and don't like. Encourage them to do the

same. Remember, communication is always a step forward to building a healthy relationship. It's also good to be informed so

that you learn to recognize the warning signs. Visit thesafespace.org to learn more about the different types of abuse.

Score: 3-4 points

If you scored 3 or 4 points, it sounds like you may be seeing some warning signs of an abusive relationship. Warning signs

should never be ignored. Something that starts small can get much worse over time. Relationships are never perfect—they

take some work! But in a healthy relationship you won't find abusive behaviors. If you think your relationship may not be as

healthy as you deserve, Visit thesafespace.org to get more information.

Score: 5 points or more

If you scored 5 points or more, you are definitely seeing warning signs and may be in an abusive relationship. You don't have

to deal with this alone. Break the Cycle can help. We can help you learn about your different options and legal rights.

Visit thesafespace.org to learn more.
---
CALLING ALL COOL IDEAS–

SCIENCE FAIR 2.0 AIMS TO

BLOW YOUR GOOGLE OFF!

By April Woodrow

In 1996, two young computer science students, Larry Page and Sergey Brin, had a hypothesis that

there was a better way to find information on the web. They did their research, tested their theories

and built a search engine which (eventually) changed the way people found information online. Larry

and Sergey were fortunate to be able to get their idea in front of lots of people. And that little idea

became the tech giant known as Google. But how many ideas are lost because people don't have the

right forum for their talents to be discovered?

Are you a student who loves science? Do you have a good idea for an experiment that you'd like to

share with the world? If so break out the baking soda volcano, your bottle rockets and your Bunsen

burners. Google has announced a first of its kind, worldwide, web-based science fair; inviting students

from all over the world to compete. Now any student with an idea can participate from anywhere, and

share their idea with the world. You build and submit your project—either by yourself or in a team of up

to three—entirely online. Students in India (or Israel or Ireland) will be able to compete with students in

Canada (or Cambodia or Costa Rica) — and the prizes won't just be shiny blue ribbons, either. Prizes

include once-in-a-lifetime experiences (like a trip to the Galapagos Islands with a National Geographic

Explorer), up to $50,000 scholarships and real-life work opportunities (like a five-day trip to CERN in

Switzerland). And if you're entering a science fair locally, please feel free to post that project online

with Google Science Fair, too!

"We believe that science can change the world—and one way to encourage that is to celebrate and

champion young scientific talent as we do athletes and pop idols." Google spokesperson explains.

The contest is open to students around the world who are between the ages of 13-18. All you need

is access to a computer, the Internet and a web browser. You can enter in a variety of categories

including Computer Science & Math, Earth & Environmental Sciences, Behavioral & Social Sciences,

Flora & Fauna , Energy & Space, Inventions & Innovation, Physics, Biology, Chemistry, Food Science,

and Electricity & Electronics . To enter, register online and create your project as a Google Site.

Registration is open through April 4, 2011. Please note: you must get parental or guardian consent

in order to compete. Fifteen finalists will be invited to bring their projects to Google headquarters on

July 11 to compete in the final, live event, where world-renowned science judges will select a winner in

each age category, as well as a grand-prize winner.

To help make today's young scientists the rock stars of tomorrow, the global science competition is

being hosted in partnership with CERN (the European Organization for Nuclear Research), LEGO,

National Geographic and Scientific American. The goal is "to create a new kind of online science

competition that is more global, open and inclusive than ever before."

So if you think you're the next Albert Einstein, Marie Curie—or Larry Page or Sergey Brin—sign up

today for the Google Science Fair. Prove once again how science can change the world!

For full rules and to enter visit www.google.com/sciencefair

also visit the official Google Science Fair YouTube page!

http://www.youtube.com/user/GoogleScienceFair

ACADEMICS