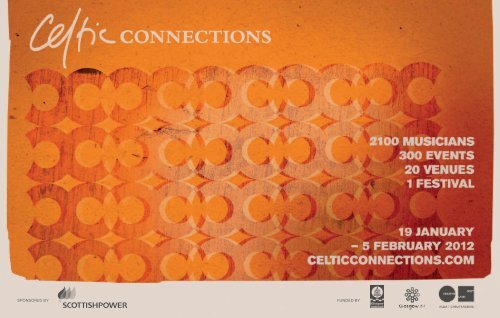 Download the Celtic Connections Brochure - Glasgow Life
Download the Celtic Connections Brochure - Glasgow Life
Download the Celtic Connections Brochure - Glasgow Life
SHOW MORE
SHOW LESS
Create successful ePaper yourself
Turn your PDF publications into a flip-book with our unique Google optimized e-Paper software.
SPONSORED BY

FUNDED BY
---
INTRODUCTION

3

As the 19th Celtic Connections festival bursts onto stages across Glasgow, we look forward

to another chance to celebrate the vast riches of Scotland's blossoming music scene, whilst

engaging with amazing artists from all over the world, who promise to thrill you with their

inspired songs and melodies that forge a deep connection with our own traditions.

'Collaboration and camaraderie' is a phrase that has become renowned with Celtic Connections. Along with

much loved bands and recognised acts, there are numerous artists embracing the challenge of sharing a stage

for unique and one-off concerts, one example being "Woody at 100", a special concert marking the centennial

of the great Woody Guthrie – a folksinger who was committed to changing the world with his voice and guitar,

and whose songs have been the catalyst of an entire movement of political folksong spread across generations.

In addition to the increasingly exciting new talent from our own traditional music revival, we have invited

an extensive array of world music stars from the four corners of the globe. Compelling artists include

Orchestra Baobab from Senegal, Fado star Ana Moura from Portugal and the spiritually uplifting voice of

Faiz Ali Faiz from Pakistan. These shows are just a few examples of concerts that continue to acknowledge

the vision of the late Billy Kelly, who programmed the many years of Glasgow's Mayfest and Big Big World.

Of course the great experience that Celtic Connections has become famous for depends on

more than great music. It also needs you, the audience! So come and join us for what promises

to be another unique winter celebration of music from these shores and beyond.

Donald Shaw Artistic Director
---
4

HOW TO BOOK…

ONLINE

www.celticconnections.com

PHONE

0141 353 8000

IN PERSON

Glasgow Royal Concert Hall

2 Sauchiehall Street

Glasgow G2 3NY

Some concerts are seated and some are

standing, this will be indicated beside

the price on the relevant page. Ask our

box office team about the chance to buy

Premium Seats for concerts in the

Main Auditorium.

OPENING HOURS

Online

24 hours, 7 days a week

Phonelines

Monday – Friday 9am – 6pm

(later on concert evenings)

Saturday 10am – 6pm

(later on concert evenings)

Opening hours on a Sunday vary

BOX OFFICE COUNTER

Mon–Sat 10am–6pm (longer opening

hours will apply during the festival)

A transaction charge of £1.50 applies to

all phone bookings and £1 to all online

bookings.

Please note that all under 14s are to be

accompanied by an adult in Glasgow Life

venues. The O2 ABC Glasgow, Arches and

Òran Mór are all over 14s only and under

16s should be accompanied by an adult.

Limited door sales at each venue on the

night subject to availability.

www.celticconnections.com

All details were correct at time of going to print, but may be subject to change.

Scan to watch our film for a taste of the festival atmosphere!

DISCOUNT CARD

Save up to 15%* on tickets for all Celtic

Connections events when you buy an exclusive

Celtic Connections Discount Card. There are a

strictly limited number of these exclusive

Discount Cards available, so be sure to buy

yours quickly before they're gone!

For more information visit:

www.celticconnections.com/discountcard

* = 15% discount on all purchases made until 27/12/11,

10% discount on all purchases made from 28/12/11 onwards.
---
CONTENTS

Introduction 3

Rough Guide to Celtic Connections 2012 7

EVENTS GUIDE BY VENUE

Concert Hall: Main Auditorium 8–16

Art Exhibitions & Ceilidhs 17

Old Fruitmarket 18–25

Concert Hall: Strathclyde Suite 26–33

City Halls: Grand Hall & Recital Room 34–37

University of Glasgow Chapel 36

O2 ABC Glasgow 38–43

Mitchell Theatre 44–45

The National Piping Centre 46–47

Òran Mór 48–51

St Andrew's in the Square 52–55

Tron 56–58

CCA 59

Platform & St Mary's Cathedral 60

The Arches 61–63

Brel 64

The Glasgow Art Club 65

BBC Scotland Pacific Quay 66–67

Festival Club & Late Night Sessions 68

Showcase Scotland & Danny Kyle Open Stage 69

Workshops 70–73

Quick Guide: A–Z 74–77

Education 78

Venue Map 79

FESTIVAL DIARY

8 PAGE PULL-OUT GUIDE

QUICK

GUIDE…

AMERICANA

NEW TALENT

INDIE

FUSION

TRADITIONAL

WORLD

SONG

FOLK

EXCLUSIVE

THEATRE

GAELIC

CHECK what's on in the

EVENTS DIARY…

8 page pull-out guide

5
---
6

SPONSORS

PRINCIPAL SPONSOR FUNDERS MEDIA PARTNERS

Celtic Connections' diverse programming

and valuable education work complements

ScottishPower's firm commitment to

making culture accessible for all, and the

company is proud to support Scotland's

premier roots music festival.

SPONSORS, PARTNERS AND SUPPORTERS

Celtic Connections would like

to thank Glasgow City Council

and all our other funders for

their continued support in

funding the festival and its

education programme.

Enjoy coverage and daily festival listings

in the Evening Times, and catch up with

festival news, reviews and interviews in

the Herald, Sunday Herald and on

www.heraldscotland.com

OFFICIAL TRANSPORT PROVIDER

ScotRail is operated by First.

Celtic Connections is promoted by Glasgow Life. Glasgow Life is the

operating name of Culture and Sport Glasgow registered in Scotland

No SC313851 with its registered office at 20 Trongate, Glasgow, G1

5ES. Culture and Sport Glasgow is a company limited by guarantee

and is registered as a charity (No SCO37844) with the Office of the

Scottish Charity Regulator.

Campaign design by

.co.uk
---
OUR TIPS TO ENSURE THAT YOUR

FESTIVAL GOES WITH A BANG!

You have in your hands your personal guide to the hottest winter festival in the music

calendar, featuring renowned acts from the worlds of folk, roots, indie and Americana. We

want you to make the most of all 18 days so here's our handy guide to help you do just that.

Browse through the venue pages, find your favourite artist in the A-Z on page

74, or just pick a day in the pull-out diary and see what takes your fancy.

The Rough Guide to Celtic Connections 2012 7

KEEP IN TOUCH

TRANSPORT YOURSELF

SHARE IN THE MUSIC

IT'S OFFICIAL

Share your thoughts and concert

suggestions with other fans of the festival,

and get all the latest Celtic Connections

news on our Facebook page

www.facebook.com/celticconnections

For the inside track on what's happening

behind the scenes and to share your

festival stories follow us on Twitter at

ccfest and use #celtic2012

Read the daily column in the Evening

Times and be sure to pick up the

Sunday Herald for your own free Celtic

Connections wallplanner and CD, as well

as artist interviews and concert previews.

Making your journey to the festival

couldn't be easier with ScotRail, our

official transport provider. ScotRail offers

convenient, fast and frequent services

to Glasgow from all over Scotland and a

wide range of great value off-peak and

group fares. ScotRail is operated by First.

Visit www.scotrail.co.uk or call 08457

484950 to find out more.

If you are making a night of it and want

to eat out before or after a concert

we have teamed up with Glasgow Dine

Around to offer special deals at a range

of restaurants across the city during the

festival. Visit www.glasgowdinearound.

com to view restaurants and menus. At

the Concert Hall you can dine in the

stylish surroundings of the Green Room

restaurant and sample our delicious

Scottish menu inspired by the festival.

Our fantastic workshop programme

lets you have a go at an instrument you

always wanted to try out, or can help you

develop from an enthusiastic beginner to

a seasoned pro. Turn to page 70 for the

full workshops listings. Perfect for those

'must try something different' New Year's

resolutions!

To enjoy the music of your favourite artists

long after the concert has finished, visit

the CODA Music stand located in the foyer

of the Glasgow Royal Concert Hall, and

browse a wide selection of recordings

by festival artists. An extra special new

addition for this year will be CD signings

every day at 2pm.

We're delighted that Celtic Connections

won Best Education Event at the

Scottish Event Awards for our Education

Programme, which you can find out more

about on page 78. This year we're also

finalists in the UK Event Awards so keep

your fingers crossed!
---
8

CONCERT HALL: MAIN AUDITORIUM

An Evening with Béla Fleck and The Flecktones

with special guests

Cherish the Ladies with special guests

CHERISH THE LADIES

BÉLA FLECK AND THE FLECKTONES

EXCLUSIVE

THURSDAY 19TH JANUARY, 7.30PM

£18-£23, SEATED

SPONSORED BY SCOTTISHPOWER

Two decades on from the original Flecktones' first parting of ways, when founding

pianist/harmonica player Howard Levy bowed out after six meteoric years, Celtic

Connections is proud to host the reconvened quartet's European debut, following last

May's release of their dazzling new album Rocket Science. While it entered at No.1

simultaneously on the Billboard, iTunes and SoundScan Jazz charts, the gloriously

kaleidoscopic sound of Levy's reunion with the band's prime mover, banjo wizard Béla

Fleck, bassist Victor Wooten and percussionist/Drumitarist Roy 'Futureman' Wooten

renders genre as consummately and enthrallingly irrelevant as they ever did, further

enriched by a freshly collaborative approach to composition and arrangements. In

addition to the Rocket Science material, they'll be connecting with some special Celtic

guests, including Irish songstress Karan Casey, the fabulous Gaelic singer Kathleen

MacInnes – on whose forthcoming second album Fleck features – and Transatlantic

Sessions regular Michael McGoldrick, just off tour with Mark Knopfler.

FOLK

FRIDAY 20TH JANUARY, 7.30PM

£18-£23, SEATED

If ever a band have earned the accolade of "perennial favourites" at Celtic Connections,

it's Irish-American supergroup Cherish the Ladies, who first graced the Concert Hall

stage on only the festival's second outing, back in 1995. Having marked their 25th

anniversary in 2011 – after originally forming for a one-off concert series, uniting the

US's finest female Irish musicians – the Ladies present their Country Crossroads show

to delight their Glasgow fans. Named for their silver jubilee album, released last August,

it celebrates the band's distinctive dual heritage in company with contemporary banjo

pioneer Alison Brown, dobro demon and Blue Highway co-founder Rob Ickes and other

special guests including ex-Silly Wizard vocalist Andy M. Stewart, long renowned among

Scotland's finest singers and songwriters.

WWW.CELTICCONNECTIONS.COM
---
CONCERT HALL: MAIN AUDITORIUM 9

Le Vent du Nord 10th Anniversary

with Väsen, Breabach & Dervish

Bring It All Home – Gerry Rafferty Remembered

GERRY RAFFERTY

LE VENT DU NORD

EXCLUSIVE

SATURDAY 21ST JANUARY, 7.30PM

£18-£23, SEATED

The irrepressible, irresistible Québécois quartet Le Vent du Nord kick off their 10th

anniversary year with a mutually open-armed welcome back to Glasgow. There isn't

a stage in the world big enough to hold all the friends that singers and multiinstrumentalists

Nicolas Boulerice, Simon Beaudry, Olivier Demers and Réjean Brunet

have made at Celtic Connections over the years: the Concert Hall's will be crowded

enough as it is with those they've invited to co-host the party.

World-renowned Swedish trio Väsen, brilliant young Scottish five-piece Breabach and

traditional Irish powerhouse Dervish will join them in turn, performing a mix of both

bands' material, with a massive all-hands finale surely on the cards. Le Vent du Nord's

own line-up of hurdy-gurdy, fiddle, accordion, guitar and foot percussion will also be

complemented by a string section for some of the lush orchestral arrangements featured

on their latest album Symphonique.

SPONSORED BY

EXCLUSIVE

SUNDAY 22ND JANUARY, 7.30PM

£25-£28, SEATED

SPONSORED BY SCOTTISHPOWER

One year on from Gerry Rafferty's much-mourned passing, his daughter Martha and

his long-term friend Rab Noakes curate a lavish commemorative gathering of the

Paisley-born singer-songwriter's friends, family, bandmates, collaborators and admirers,

performing their pick of classics and lesser-known jewels from his 40-year career;

from the Humblebums through Stealers Wheel, City to City and Baker Street to his later

solo releases. Artists include The Proclaimers (Rafferty having co-produced their 1987

breakthrough hit Letter from America); flying in specially from Toronto, Ron Sexsmith;

Barbara Dickson (who sang backing vocals on City to City and Night Owl, later duetting

with Rafferty on her Dylan album); fellow 70s hitmaker Maria Muldaur; ex-Cream singer

and bassist – and fellow Scottish small-town-boy-made-big – Jack Bruce; Burns Unit/ex-

Delgados songstress Emma Pollock and soulful Irish balladeer James Vincent McMorrow.

Three of Rafferty's regular sidemen, guitarist Hugh Burns, saxophonist Mel Collins

and multi-instrumentalist Graham Preskett, will feature with the evening's house band,

Glasgow's own Roddy Hart and the Lonesome Fire.

TICKETS: 0141 353 8000
---
10

CONCERT HALL: MAIN AUDITORIUM

"Jaadu" – Faiz Ali Faiz with Titi Robin and At First Light

The Louisiana Connection with Aaron Neville and Cedric Watson

AARON NEVILLE

FAIZ ALI FAIZ

WORLD

MONDAY 23RD JANUARY, 7.30PM

£18-£23, SEATED

Jaadu, which aptly translates from Hindi as "magic", is a mesmerising meeting of

minds between two of today's most original world music adventurers. Maverick French

guitarist Thierry "Titi" Robin – here also playing Afghan rubab and Middle Eastern

buzuq – has long roved across cultural boundaries, finding and forging links among

Mediterranean, Balkan and gypsy traditions. Pakistan's Faiz Ali Faiz, a former protégé

and designated understudy of the late great Nusrat Fateh Ali Khan, is widely regarded as

today's greatest living qawwali singer, also renowned for his previous collaborations with

flamenco artists. Together, they make intensely powerful, truly transcendental music.

After a decade's gradual evolution, At First Light now unites the formidable talents of

John McSherry, Dónal O'Connor, Francis McIlduff, Ciara McCrickard, Michael McCague

and Tony Byrne, on uilleann pipes, whistles, fiddles, keyboards, bouzouki, guitar,

bodhrán and vocals. As their new debut album, Idir, abundantly shows, it's been well

worth the wait.

AMERICANA

TUESDAY 24TH JANUARY, 7.30PM

£20-£25, SEATED

On the occasion of his 71st birthday, Aaron Neville celebrates the authentic, indomitable

spirit of his beloved hometown, New Orleans, having once more revisited his original

love of gospel – absorbed literally at his granny's knee – in his 50th year of recording,

with 2010's passionate, prayerful I Know I've Been Changed. Reuniting Neville with fellow

Big Easy icon Allen Toussaint, who produced the singer's debut studio session in 1960,

it's his first gospel release since losing his home to Hurricane Katrina, then his wife of

47 years to cancer. But even as he mourns, Neville's inspirational voice discovers hope

and joy both in the album's longer, full-circle perspective, and at the wellspring of his

lifelong faith. He appears tonight with full band including his brother Charles.

Singer, accordionist and songwriter Cedric Watson is one of Louisiana's hottest young

champions, exploring Creole, Cajun and zydeco sounds – including their African and

Native American lineage – in a sizzling mix of traditional, contemporary and original

material.

WWW.CELTICCONNECTIONS.COM
---
CONCERT HALL: MAIN AUDITORIUM 11

Woody at 100 featuring Jay Farrar, Yim Yames, Anders Parker &

Will Johnson with Sarah Lee Guthrie & Johnny Irion

Session A9 with Sultans of String and The Quebe Sisters Band

SESSION A9

WOODY GUTHRIE

EXCLUSIVE

WEDNESDAY 25TH JANUARY, 7.30PM

£18-£23, SEATED

July 14th 2012 marks 100 years since the birth of Woodrow Wilson Guthrie, indisputably

the most important US folk artist of the 20th century. Celtic Connections inaugurates his

centenary year with a dynamic live embodiment of his vast and continuing legacy, as Jay

Farrar (Son Volt), Yim Yames (My Morning Jacket), Anders Parker (Gob Iron) and Will

Johnson (Monsters of Folk) perform newly-wrought settings for some of the thousandodd

completed song lyrics, minus tunes, that Guthrie left behind. Guthrie himself mostly

wrote words to existing folk melodies, matching a keen observational eye with first-hand

empathy for the human struggles he witnessed across Depression-era America, creating

in his songs a living yet timeless archive of ordinary folks' experience, and a powerfully

eloquent vehicle of protest and resistance. Also on the bill is his granddaughter Sarah

Lee Guthrie, with duet partner Johnny Irion, as we celebrate a truly iconic figure whose

influence remains as potent and vital as ever.

SPONSORED BY

TRADITIONAL

THURSDAY 26TH JANUARY, 7.30PM

£18-£23, SEATED

The seasoned strength and sumptuous ensemble finesse of Session A9's current lineup

– fiddlers Charlie McKerron, Adam Sutherland, Gordon Gunn (also on mandolin)

and Kevin Henderson, with pianist Brian McAlpine, guitarist/singer Marc Clement and

percussionist David Robertson – was buoyantly evident on 2010's critically-acclaimed

live album One for the Road, since when extensive touring has enriched their sound

and reputation yet further.

Self-styled purveyors of "atomic world-jazz flamenco", Sultans of String are one of

Canada's hottest new musical exports, dynamically embodying their homeland's values

of tolerance and respect for diverse cultures. Centred on the founding interplay

between Chris McKhool – a six-string violinist of Lebanese/Egyptian descent – and

Kevin Laliberté's rumba-accented guitar, they weave a gorgeously-hued tapestry of

Spanish, Arabic, Latin, French and gypsy strands.

Completing this sizzling fiddle-esque triple bill are rising Western Swing stars The

Quebe Sisters Band, featuring the three siblings on fiddles and exquisitely arrayed

harmonies, also spanning styles from bluegrass to jazz.

TICKETS: 0141 353 8000
---
12

CONCERT HALL: MAIN AUDITORIUM

Song for Ireland

Spirit of Scotland Pipe Band and

Lothian & Borders Police Pipe Band

SPIRIT OF SCOTLAND PIPE BAND

FINBAR FUREY

CARA DILLON

TRADITIONAL

TRADITIONAL

FRIDAY 27TH JANUARY, 7.30PM

£18-£23, SEATED

Following the sellout success of A Scottish Songbook at Celtic Connections 2010, this

year it's Ireland's turn. A glittering array of artists perform a sumptuous set of classic

and lesser-known songs, across diverse genres, with origins in Irish tradition. The cast

includes two veteran colossi of Irish folk, singer and uilleann piper Finbar Furey, and

singer/accordionist Séamus Begley, the latter joined by his daughter Méabh. Cara Dillon

and Luka Bloom will each cast their distinctive but equally compelling spell, and Eleanor

McEvoy, who penned the title track on the landmark 1992 album A Woman's Heart,

brings her eloquent folk-pop sensibility to the mix. Dick Gaughan – being half-Irish –

represents the long, close kinship between Ireland and Scotland, while Irish-American

supergroup Solas, in the role of house band, feature as ambassadors for the wider

diaspora and extend their line-up to include Natalie Haas (cello) and Dirk Powell (banjo)

also showing their Irish roots.

SATURDAY 28TH JANUARY, 12NOON

£13, SEATED

Nowadays known as the movie stars of the piping world, since starring in the 2010

feature documentary On the Day, the Spirit of Scotland Pipe Band are among the newest

Grade 1 competing outfits on the circuit, having formed as an international all-star lineup

to enter the 2008 World Pipe Band Championships – their double-quick preparation

for and subsequent progress in that contest forming the narrative of On the Day. Under

Pipe Major Roddy MacLeod MBE, they comprise members from Scotland, Ireland,

Canada, Australia and the USA.

Fellow Grade 1 stalwarts the Lothian and Borders Police Pipe Band, originally formed

in 1882 as the Edinburgh City Police Pipers, are currently led by Pipe Major Neil Hall

and Drum Major Jacob Jørgensen. Particularly renowned as a proving-ground for young

players, they are also pipe band to The Royal Company of Archers, the sovereign's

official bodyguard in Scotland.

WWW.CELTICCONNECTIONS.COM
---
CONCERT HALL: MAIN AUDITORIUM 13

Emir Kusturica & The No Smoking Orchestra and La Carrau

Bruce Hornsby & Special Guests

BRUCE HORNSBY

EMIR KUSTURICA

WORLD

SUNDAY 29TH JANUARY, 7.30PM

£18-£23, SEATED

Like the man himself – a Bosnian-born, secular Muslim Serb - and his wildly original,

multi-award-winning movies (including Time of the Gypsies, Underground and Black

Cat, White Cat), the music of Emir Kusturica and the No Smoking Orchestra is a heady,

sometimes bewildering concatenation of contrasts. The New York Times's description of

Underground as simultaneously "a tragic political allegory and a furiously Rabelaisian

frolic" evokes the analogous energies that vie and seethe among this 10-piece line-up

– massive cult heroes across Europe and around the world – whose history dates back

some 30 years, and whose white-hot sonic crucible fuses Slavic, Balkan, gypsy, Greek,

German, Middle Eastern and Mexican elements, with an impact at once euphoric and

cathartic.

Fast gaining Europe-wide renown as festival favourites, Catalan seven-piece La Carrau

cross-match rumba, cumbia, rock and electronica with their native folk traditions,

creating a powerful, innovative mix of songs and tunes.

EXCLUSIVE

MONDAY 30TH JANUARY, 7.30PM

£27.50-£30.50, SEATED

The fact that Virginia-born singer, songwriter and pianist Bruce Hornsby has won

Grammys in both bluegrass and pop categories (besides his Best New Artist gong in

1986) is just one clue to this hugely accomplished, free-spirited musician's insatiable

appetite for different musical challenges. Another is that following his socially conscious

folk-pop smash The Way It Is – the most-played song of 1987 on US radio – he

subsequently spent five years touring with The Grateful Dead, finding fresh inspiration in

their freewheeling improvisational approach. Drawing on a 25-year, multimillion-selling

back catalogue that merges pop, jazz, Americana and classical influences, Hornsby is

joined tonight by several special Celtic guests.

SPONSORED BY

TICKETS: 0141 353 8000
---
14

CONCERT HALL: MAIN AUDITORIUM

Dónal Lunny, Liam O'Flynn, Andy Irvine and

Paddy Glackin with 'Outlands' featuring Fred Morrison

World Turned Upside Down

KARINE POLWART

PURA FE

FRED MORRISON

DÓNAL LUNNY

TRADITIONAL

TUESDAY 31ST JANUARY, 7.30PM

£18-£23, SEATED

No need to ask why the awesome Irish quartet of Dónal Lunny, Liam O'Flynn, Andy

Irvine and Paddy Glackin didn't bother coming up with some catchy collective moniker:

each of their names alone – three Planxty co-founders and two Bothy Band originals

– never mind all together, guarantee a performance of sublimely seasoned class. Even

decades on from their initial seismic impact, all four remain standard-bearers in their

field, both for their deep-dyed traditional mastery and their boundless receptivity to

fresh ideas.

Also setting the bar prodigiously high, Scottish bagpipe legend Fred Morrison performs

material from his dazzling 2010 album Outlands, on which he stakes out common ground

between his family's South Uist piping style and US bluegrass. As on the recording,

he explores this vibrantly fertile territory with Americana luminaries Ron Block (Alison

Krauss & Union Station) and Tim O'Brien, as well as regular cohorts Matheu Watson

and Martin O'Neill.

FOLK

WEDNESDAY 1ST FEBRUARY, 7.30PM

£18-£23, SEATED

Borrowing its title from both an English Civil War broadside ballad and Leon Rosselson's

contemporary version, The World Turned Upside Down takes the pulse of protest song

today. Solidarity and resistance in the face of adversity and oppression have always

been intrinsic to folk music, as highlighted by musicians' vital role in the Arab Spring

uprisings, and the popular hunger for such expression has rarely been more acute than

in our current tumultuous times. Among those standing up to be counted tonight are the

pioneering Palestinian singer Kamilya Jubran, whose 20-year involvement with the group

Sabreen helped forge new forms of Arabic song, and whose solo work has seen her

combining traditional instrumentation with electronic arrangements. Joining her will be

Native American singers, songwriters and activists Pura Fé and John Trudell, together

with two of Scotland's most articulate and incisive contemporary voices, Justin Currie

and Karine Polwart, plus the quietly biting songcraft of England's Chris Wood.

WWW.CELTICCONNECTIONS.COM
---
Average White Band with special guests

CONCERT HALL: MAIN AUDITORIUM 15

AVERAGE WHITE BAND

FUSION

FRIDAY 3RD FEBRUARY, 7.30PM

£20-£25, SEATED

Four decades since the Average White Band was born, emerging from the

late-60s ferment of British jazz, R&B and Atlantic, Stax and Motown imports,

Scotland's least likely bestselling export makes its Celtic Connections debut.

One recent commentator perceived their "tight, fiery sound" as "belying

their Scottish heritage" – but we know all about tight and fiery around these

parts, even if AWB's musical heartlands were the soul/funk capitals of Detroit,

Memphis and Philadelphia. While best remembered for their 1974 US-charttopper

Pick Up the Pieces, the band, who reformed in 1989 after a seven-year

split, have remained a hot property on the live circuit ever since, meanwhile

reaching new audiences via the rare-groove movement: an entire wall of their

studio today is covered with record sleeves from the 200-plus artists who've

sampled their work. Founding bassist/vocalist Alan Gorrie and guitarist Onnie

McIntyre step up tonight with their longtime US bandmates, plus special guests

including Dundee bard Michael Marra.

Watch this space!

An exciting new Celtic Connections event

this March will be launched soon.

Check www.celticconnections.com

for more details after 22nd November.

SPONSORED BY

TICKETS: 0141 353 8000
---
16

CONCERT HALL: MAIN AUDITORIUM

Transatlantic Sessions

EDDI READER

RUTH MOODY

KAREN MATHESON

RAUL MALO

TRADITIONAL / AMERICANA

THURSDAY 2ND AND SUNDAY 5TH FEBRUARY, 7.30PM

£25-£28, SEATED

If it ain't broke, don't fix it: like its similarly long-running TV counterpart, the

Transatlantic Sessions at Celtic Connections has grown into a treasured and worldfamous

musical institution, latterly spinning off into a phenomenally successful touring

project. The organically-evolved secret ingredient is the balance between comfy-oldfurniture,

kick-back-and-cut-loose familiarity and thrilling novelty – thrilling equally for

first-time guest stars, discovering this uniquely auspicious yet intimate camaraderie

onstage; for the house-band regulars, getting the chance to play with an annual array

of heroes and favourites, and for each year's sellout audience.

Talking of sellouts, Raul Malo's sensational headline O2 ABC show was widely ravedabout

as a top highlight of Celtic Connections 2011, and we're delighted to welcome him

back for his third consecutive festival visit, and his first Transatlantic Sessions.

WWW.CELTICCONNECTIONS.COM

Malo's decade-long, post-Mavericks solo career, starting back touring small clubs by

car, attained its latest triumphant fruition with his 2010 album Sinners & Saints, a

deeply soulful distillation of his Latin heritage with a wide-ranging love of country,

blues, jazz and vintage rock'n'roll. He joins tonight's distinguished guests ahead of

the Mavericks' recently-announced reunion tour, kicking off at California's Stagecoach

festival in April.

While the Wailin' Jennys take a year's break, Ruth Moody, the dulcet soprano of that

exquisitely harmonised threesome, is building on the fervent critical praise that greeted

her 2010 solo debut The Garden.

Riding high on rave reviews for his recent third album Mag Pai Zai, which stripped

its predecessors' glossier pop appeal back to subtler acoustic arrangements, Irish

balladeer Declan O'Rourke joins the Celtic vocal team, along with Scottish favourites

Eddi Reader and Karen Matheson, while the Stateside posse also features Tim O'Brien,

Darrell Scott and Bruce Molsky. Musical directors Aly Bain and Jerry Douglas lead the

ever-stellar house band, including John Doyle, Danny Thompson, Michael McGoldrick,

John McCusker, Donald Shaw and James Mackintosh.

IN ASSOCIATION WITH
---
CAROLINE HEWAT, SLATE FORM

ART EXHIBITIONS

ISLAND BAR,

GLASGOW ROYAL CONCERT HALL, FREE

Caroline Hewat

www.carolinehewat.com

caroline.hewat@btinternet.com

Caroline Hewat is an artist living

and working on the Black Isle in the

Highlands of Scotland – a place with an

ever changing landscape that provides

constant inspiration for new work.

GEORGE BAIN, FROM THE BOOK OF KELLS

Groam House: George Bain

and the Celtic Art Revival

www.groamhouse.org.uk

curator@groamhouse.org.uk

Inspired by his study of illuminated manuscripts

such as The Book of Kells, Book

of Durrow and the Lindisfarne Gospels,

Celtic metalwork, jewellery and early

Christian cross slabs, George Bain is

widely regarded as the "Father of Modern

Celtic Art". His seminal text Celtic Art –

the Methods of Construction in 1951 is

still used by artists and designers today.

PEARCE INSTITUTE 17

CEILIDH DANCES

Get your dancing shoes on! £10

The ever popular Celtic Connections ceilidh expands to six nights during

this year's festival. With a different band each week, all you need is bags

of enthusiasm and willingness to join in.

FRIDAY 20TH JANUARY, 7.30PM

The Occasionals

Widely regarded as one of the foremost

Scottish ceilidh dance bands,

The Occasionals have been playing

for dancing the length and breadth

of Europe since 1986.

SATURDAY 21ST JANUARY, 7.30PM

Fergie MacDonald Band

Button accordion player Fergie MacDonald

has been an extraordinary ceilidh band

leader for over 40 years. MacDonald is

at the top of the ceilidh band music scene

and has recorded over 23 albums.

FRIDAY 27TH & SATURDAY 28TH

JANUARY, 7.30PM

The Cullivoe Ceilidh Band

Famed Shetland dance band, once the

group fronted by Shetland fiddle legend the

late Willie Hunter, The Cullivoe Ceilidh Band

now features his protégé, and some would

say his spiritual successor Bryan Gear.

FRIDAY 3RD FEBRUARY, 7.30PM

The Black Rose Ceilidh Band

Fantastic Scottish dance music from a

band steeped in musical Highland tradition.

Formed in the early nineties at the height

of the ceilidh dance revival in Glasgow

by Alasdair MacCuish, the band have long

been recognised as the 'leading lights' of

the ceilidh band world.

SATURDAY 4TH FEBRUARY, 7PM

Take The Floor – free but

ticketed – tickets available

1st December

BBC Radio Scotland's longest running show

is delighted to make a return to this year's

festival. Join presenter Robbie Shepherd

with Iain Anderson and his Scottish Dance

Band for a great night of music, song and

dance.

TICKETS: 0141 353 8000
---
18

OLD FRUITMARKET

Lochaber Gold

Ana Moura with N'Diale: Jacky Molard Quartet

& Foune Diarra Trio

ANA MOURA

GAELIC

FRIDAY 20TH JANUARY, 9.30PM

£16, SEATED & STANDING AREAS

To mark the 50th anniversary of the 'new' Lochaber High School, Lochaber Gold

celebrates the alumni who have gone on to perform with bands such as Blazin' Fiddles,

Shooglenifty, Breabach, Salsa Celtica, Dàimh, Skipinnish, Mouth Music and Deaf

Shepherd. The original version of this show, compèred again tonight by author and

broadcaster Hugh Dan MacLennan, was a highlight of the 2011 Blas festival, extending

those silver jubilee festivities into a broader showcase for Lochaber's fabulous wealth

of traditional talent, across several generations, interspersed with the odd tale out

of school. With accordionist Gary Innes, of Mànran and Box Club fame, as musical

director, the line-up includes James Mackintosh, Kaela Rowan, Malcolm Stitt, Angus

Grant Jr, Iain MacFarlane, Ingrid Henderson, Allan Henderson, Ewen Henderson, Megan

Henderson, Ross Martin, Annie Grace, James Bremner, Andrew Stevenson and Duncan

Nicolson, plus special appearances by Aonghas Grant Sr and Fergie MacDonald.

WORLD

SATURDAY 21ST JANUARY, 8PM

£16, SEATED & STANDING AREAS

With her strikingly earthy, intensely soulful contralto voice, Ana Moura is poised to

become the next global star of Portuguese fado. Having cut her teeth in rock and pop

bands as a teenager, before being championed by leading fadista Maria de Fe, Moura

has released six albums since 2003 – most recently 2011's Coliseu – and guested live

with Prince and the Rolling Stones. She appears tonight with her four-piece band.

Hailed by Songlines as "a perfectly weighted partnership of equals", N'Diale brings

together the Jacky Molard Quartet, led by the pioneering Breton violinist who's graced

such legendary outfits as Gwerz, Pennou Skoulm and Celtic Procession, with the Foune

Diarra Trio, featuring one of Mali's fastest-rising vocal stars. The combined line-up also

features saxophone, accordion, double bass, kamele n'goni (a traditional Malian hunter's

lute) and djembe, drawing on Celtic, African and jazz influences to forge a new musical

language.

WWW.CELTICCONNECTIONS.COM
---
OLD FRUITMARKET 19

Väsen with Chris Stout, Catriona McKay and

Scottish Ensemble

BBC Scotland TV Special from the Festival

OLD FRUITMARKET

VÄSEN

EXCLUSIVE / FUSION

SUNDAY 22ND JANUARY, 8PM

£16, SEATED & STANDING AREAS

A prevailing northerly current flows through tonight's tantalising programme, its first-half

centerpiece being the world première of Seavaigers, a concerto for fiddle, Scottish harp

and string orchestra by Sally Beamish – "one of our boldest, most original musical

minds" (Observer), whose recent work has increasingly engaged with Scottish traditions.

A joint commission between Celtic Connections and Edinburgh International Harp

Festival, backed by Creative Scotland, and featuring Shetland and Dundee-born soloists

Chris Stout and Catriona McKay with the Scottish Ensemble – also performing some of

their duo material – it reflects, Beamish says, "the anticipation, fear, comradeship and

adventure of sea voyaging."

Rounding off an unforgettable night's music, Swedish super-trio Väsen combine their

native folk traditions with unique instrumentation (nyckelharpa, 5-string viola, 12-string

guitar), boundless compositional prowess and sublime musicianship. Or, as Wired

magazine put it: "the ideas of folk, the virtuosity of prog, and the humor of the

insane asylum".

EXCLUSIVE

MONDAY 23RD JANUARY, 8PM

FREE BUT TICKETED, STANDING

BBC Scotland hosts their highly successful annual event, featuring a diverse range of

some of the best artists from this year's festival. A night of musical surprises which will

be recorded and broadcast at a later date on BBC television.

TICKETS: 0141 353 8000
---
20

OLD FRUITMARKET

The Unthanks and The Bevvy Sisters

Jack Bruce with special guests Lau & friends

and Domini Màgic

JACK BRUCE

THE UNTHANKS

FOLK

TUESDAY 24TH JANUARY, 8PM

£16, SEATED & STANDING AREAS

December 2010, when The Unthanks originally premièred tonight's set at London's Union

Chapel, wasn't the first time they'd covered songs by Robert Wyatt and Antony Hegarty,

(of Mercury-winners Antony & the Johnsons): beautiful interpretations of Wyatt's Sea

Song and Hegarty's For Today I Am A Boy have previously featured alongside Rachel and

Becky Unthank's bewitching treatments of traditional Northumbrian ballads. Here, though,

with their full 10-piece band, Hegarty's fellow Mercury nominees devote their whole set

to these two richly singular artists, further consolidating The Unthanks' A-list stature

in British contemporary folk. "The songs sound simultaneously as old as the hills and

unique and new." (Guardian)

Also leading the field in spine-tingling female harmonies are Scotland's Bevvy Sisters,

featuring Heather Macleod, Kaela Rowan and Roberta Pia's radiant frontline vocals

over ultra-tasteful yet tautly muscular backing from guitarist David Donnelly, bassist

Emma Smith and drummer James Mackintosh, in a lovingly configured array of vintage

Americana and classy originals.

LEGEND

WEDNESDAY 25TH JANUARY, 9PM

£20, SEATED & STANDING AREAS

One of those gigs that could surely only happen at Celtic Connections, this mouthwatering

encounter between Cream co-founder, vocalist and bassist Jack Bruce, and one

of today's most groundbreaking musical triumvirates, Lau, had its genesis in a 2011

Artworks Scotland documentary about Bruce's life and work, incorporating responses

from some of his many musician fans. (Bruce's Celtic connection, incidentally, isn't only

that he was born in Bishopbriggs and trained at the RSAMD, but won a Gaelic singing

competition at the Glasgow Mod aged 10.) The seminal prog/psychedelic-edged wildness

of Cream's sound, together the with voracious diversity of Bruce's subsequent projects,

make him a natural partner-in-crime for Lau, with percussionist Jim Sutherland,

keyboardist Andy May, guitarist Taj Wyzgowski, bassist Nico Bruce and Mr McFall's

Chamber completing the line-up.

Support comes from Catalan quartet Domini Màgic, whose diverse backgrounds in folk,

jazz and classical music, together with multiple vocals and string-based instrumentation,

create a colourful, adventurous sound.

WWW.CELTICCONNECTIONS.COM
---
OLD FRUITMARKET 21

Thea Gilmore presents 'Don't Stop Singing' and Kris Drever Band

Salsa Celtica and Fatoumata Diawara

SALSA CELTICA

THEA GILMORE

EXCLUSIVE

THURSDAY 26TH JANUARY, 8PM

£16, SEATED & STANDING AREAS

Like all the best tribute projects, English singer-songwriter Thea Gilmore's new

recording of previously un-scored compositions by the late Sandy Denny, Don't Stop

Singing, not only revisits but builds upon a monumental legacy, illuminating both artists

afresh. Gilmore grew up with Denny's songs from early childhood, later developing a

vocal and lyrical style that's often been likened to her predecessor and heroine, and

won steadily mounting renown over the course of 10 previous albums. Flanked here

by her full band plus string section, Gilmore has crafted adaptations and settings

from Denny's unfinished writings with such intuitive sensitivity that the Guardian

unequivocally declared them equal to "what Denny herself might have composed."

One of the busiest men in Scottish music (Lau, Drever McCusker Woomble, duetting

with Éamonn Coyne), Kris Drever finds a window to focus on his superb solo repertoire,

together with his new backing trio of Coyne, multi-instrumentalist Megan Henderson

and drummer Calum McIntyre.

WORLD

FRIDAY 27TH JANUARY, 9.30PM

£16, STANDING

Never mind the January cold, one of the year's hottest parties is guaranteed as the

mighty Salsa Celtica once again take the Fruitmarket stage. With each of their five

albums to date, this unique Scottish big-band have taken their signature hybrid of Latin

grooves and vocals with Celtic jigs, reels and ballads, complete with cross-fertilised

instrumentation, to another new level. Now established as firm international favourites

across the folk, world and jazz scenes, they're currently at work on their first studio

release in seven years, due out summer 2012.

With the recent release of her self-titled debut album, Malian singer Fatoumata Diawara

– aka Fatou – has been hailed as "the most beguiling talent to hit the world music

scene in some time" (Telegraph). Gifted with a deliciously cool yet soulful voice, she

blends her homeland's Wassoulou traditions and her own often outspoken lyrics with

subtle shades of funk and jazz.

SPONSORED BY

TICKETS: 0141 353 8000
---
22

OLD FRUITMARKET

Orchestra Baobab and RURA

Bonnie Prince Billy and support

BONNIE PRINCE BILLY

ORCHESTRA BAOBAB

WORLD

SATURDAY 28TH JANUARY, 8PM

£16, STANDING

One of the defining acts in contemporary African music, Orchestra Baobab, first formed

in 1970, fused Senegal's formerly predominant Afro-Cuban sounds with Congolese

rumba, Ghanaian high life, griot singing and other local styles. Originally the house

band at Dakar's hottest nightspot the Baobab Club, they attained huge popularity, paving

the way for such stellar compatriots as Youssou N'Dour and Baaba Maal. Subsequent

rediscovery by Western world music audiences prompted their triumphant reformation in

2001, since when their latest album, 2007's Made in Dakar, has won widespread critical

reviews, with the BBC's Jon Lusk hailing it as "pure, vintage Baobab".

Young Highland hotshots RURA, now featuring singer-songwriter Adam Holmes alongside

fiddler Jack Smedley, piper Steven Blake, guitarist Chris Waite and David Foley on

bodhran, followed up their 2011 Danny Kyle Open Stage Award with a highly successful

summer festival season, and will soon release their debut album.

FOLK

SUNDAY 29TH JANUARY, 8PM

£18, STANDING

Long known as the least predictable of creative shapeshifters, Bonnie 'Prince' Billy

has also undergone a major status overhaul within the contemporary musical context

he helped pioneer. Having made No.9 in John Peel's 1993 Festive 50 out of nowhere,

with the debut Palace Brothers single Ohio River Boat Song – long before terms

like 'Americana' or 'alt-country' were invented – Will Oldham's music (to use another

sometime sobriquet) nowadays sounds increasingly prophetic – albeit the work of

a prophet who rather prefers the wilderness. His grittily mystical, darkly playful

explorations of America's historical, musical and psychic backwoods remain way out on

their own, with the dramatic songcraft and stark, hushed arrangements on new album

Wolfroy Goes to Town staking out his latest intriguing claim.

WWW.CELTICCONNECTIONS.COM
---
OLD FRUITMARKET 23

The Singing Land

Four Men & a Dog Big Band and Broken Strings

FOUR MEN & A DOG

OLD BLIND DOGS

SONG

TRADITIONAL

WEDNESDAY 1ST FEBRUARY, 8PM

£16, SEATED & STANDING AREAS

Maybe it's something in the water up there, but one-third of the songs collected by

seminal US musicologist Francis James Child (1825-96), for his monumental compendium

of English and Scottish Popular Ballads, had their origins in North-East Scotland –

hence his designation of this remarkably fecund musical seedbed as "the singing land".

Tonight's celebration of this rich past and present heritage is also a 20th anniversary

party for one of the region's top contemporary folk acts, Old Blind Dogs, who've continued

to mine its wealth of both songs and tunes throughout their long, consistently successful

evolution, delivering them in the band's signature stripped-down, powerfully rhythmic,

vibrantly harmonized style. Featuring the giant of the north-east's proud bothy ballad

tradition Jock Duncan, while redoubtable Aberdeenshire fiddler Paul Anderson and the

enchanting young Huntly-born singer Shona Donaldson complete the bill.

THURSDAY 2ND FEBRUARY, 9.30PM

£16, SEATED & STANDING AREAS

Now in their 22nd year, Four Men & a Dog are one of Ireland's most enduringly popular

outfits, a happily self-perpetuating status thanks to their present policy of only playing

gigs they know they'll particularly enjoy. It's their incandescent, irrepressible live sets

that primarily fuel their reputation, primed in turn by superlative musicianship and a

distinctive blend of Irish and US, traditional and original material. Leaving the dog

aside, tonight they number no less than eight men, including core members Cathal

Hayden (fiddle/banjo), Gerry O'Connor (banjo/fiddle), Gino Lupari (percussion/vocals),

Kevin Doherty (guitar/vocals) and Dónal Murphy (accordion), plus keyboards, bass and

drums.

Winners of the Orkney Folk Festival Open Stage in 2010 and a Danny Kyle Award in

2011, the seven school pals collectively known as Broken Strings have now attained the

grand old age of 15, cooking up a rich, buoyant sound on four fiddles, banjo, bagpipes,

accordion, mandolin, guitar and cajon.

SPONSORED BY

TICKETS: 0141 353 8000
---
24

OLD FRUITMARKET

Omar Sosa and Ibrahim Maalouf

Meschiya Lake & The Little Big Horns

with The Wiyos

MESCHIYA LAKE

OMAR SOSA

WORLD / JAZZ

FRIDAY 3RD FEBRUARY, 9.30PM

£16, SEATED & STANDING AREAS

Joyously transcending the realms of jazz, world and classical music, the multi-awardwinning

pianist, composer and bandleader Omar Sosa combines deep allegiance to

his Afro-Cuban roots with a boundlessly adventurous exploration of African, American

and European traditions. He has worked with global music luminaries as diverse as

Trilok Gurtu, Jacques Morelenbaum, Miguel 'Anga' Diaz, Tim Eriksen and Paolo Fresu,

and released 22 albums as a leader. Justly renowned as a thrillingly inspirational live

performer, he appears here with regular touring outfit the Afreecanos Quintet, featuring

fellow Cuban Leandro Saint-Hill on saxophones, Mozambiquan bassist Childo Tomas, live

drum'n'bass pioneer Marque Gilmore and German trumpeter Joo Strauss.

The Lebanese-born, Parisian-based trumpeter Ibrahim Maalouf, who's worked with the

likes of Amadou and Mariam, Sting, Salif Keita and Toumani Diabaté, recently completed

a triptych of albums with his new release Diagnostic, extending his creative conversation

between Arabic music and jazz, classical, funk, Latin, electronic and even heavy metal

sounds.

AMERICANA

SATURDAY 4TH FEBRUARY, 8PM

£16, SEATED & STANDING AREAS

A sizzling double bill of ultra-hot US acts breathing dynamic new life into Depressionera

sounds. The sensational New Orleans-based singer Meschiya Lake, crowned as

Best Female Performer in the 2011 Big Easy Music Awards, is spearheading a revival

in swing-dance, lindy-hop and jitterbug music, belting out classics by the likes of Jelly

Roll Morton, Duke Ellington and Bessie Smith alongside richly seasoned originals, at the

helm of a line-up featuring trumpet, trombone, sousaphone, washboard and guitar.

The Wiyos, named after a 19th century New York street gang, likewise put a stylish

contemporary spin on their self-styled mix of "vaudevillian ragtime jug-band blues and

hillbilly swing", splicing it with strands of pop, rock and hip-hop. With their debut album,

2009's Broken Land Bell, having earned them a tour support slot with Bob Dylan, they'll

be previewing tracks from its forthcoming follow-up Twist, inspired by The Wizard of Oz.

WWW.CELTICCONNECTIONS.COM
---
OLD FRUITMARKET 25

UCS 40th Anniversary Celebrations with Special Guests

UCS MARCH

FOLK

SUNDAY 5TH FEBRUARY, 8PM

£16, SEATED & STANDING AREAS

A hand-drawn benefit gig poster, listing Donovan, Gallagher & Lyle and the JSD Band as

playing in aid of the Upper Clyde Shipbuilders' celebrated work-in of 1971-2, highlights

folk musicians' vital supporting role in the campaign – which also famously elicited a

£1000 donation from John Lennon and Yoko Ono. While shop steward Jimmy Reid may

be best remembered for his "no hooliganism, no vandalism, no bevvying" admonition,

another excerpt from his announcement of the work-in resounds still louder: "We

refuse to accept that faceless men, or any group of men in Whitehall or anywhere else,

can take decisions that devastate our livelihoods with impunity. They're not on." This

special commemorative concert, 40 years after the unions' landmark victory, includes

appearances from Arthur Johnstone, David Hayman, Tom Leonard, Jimmie Macgregor

and Alasdair MacDonald, as well as a specially-commissioned work from composer

Eddie McGuire, featuring the Whistlebinkies, a saxophone quartet and the young horns

ensemble Alba Brass.

Sign up at

www.celticconnections.com/

celticfriends to enjoy exclusive

benefits and support the musicians

of tomorrow.

SPONSORED BY

TICKETS: 0141 353 8000
---
26

CONCERT HALL: STRATHCLYDE SUITE

Matt Molloy, John Carty

& Arty McGlynn and Eilidh Grant

Fèis Rois with

Comhaltas Ceoltóirí Éireann

Far, Far from Ypres – WW1 songs from a

Scottish perspective with Ian McCalman

MATT MOLLOY, JOHN CARTY & ARTY MCGLYNN

TRADITIONAL

FÈIS ROIS

NEW TALENT

TRADITIONAL

FRIDAY 20TH JANUARY, 8PM

£13, SEATED

Among all the illustrious members of The Chieftains, flute

player Matt Molloy – also of Bothy Band and Planxty

fame – commands the most exalted individual reputation,

revered the world over for his peerless technique and

vast depth of musicianship. With award-winning multiinstrumentalist

John Carty on fiddle, he explores the

musical treasure-trove of their shared North Connacht

tradition, accompanied by master guitarist Arty McGlynn.

"Brilliant and unselfconscious yet incredibly thoughtful

trad." (Niall Keegan, Journal of Music)

Winner of a 2011 Scottish New Music Award for her

debut album Masks and Smiles, a luminous blend of

traditional and original songs, Eilidh Grant has been

likened to a Caledonian Joni Mitchell.

SATURDAY 21ST JANUARY, 2PM

£11, SEATED

Two of Celtic music's most important and far-reaching

youth organisations, Scotland's Fèis Rois and Ireland's

Comhaltas Ceoltóirí Éireann, team up to showcase

tomorrow's traditional stars today. Fèis Rois, which

celebrated its 25th anniversary in 2011, has taught

thousands of budding singers and instrumentalists at

its weekly classes and residential courses around the

Highlands, while Comhaltas – which turned 60 the

same year – continues to foster the close cultural links

between Scotland and Ireland through its branches in

the Central Belt. Many of today's top Scottish musicians

were schooled and inspired by one or the other: spot their

successors on this prodigiously talented bill.

SATURDAY 21ST JANUARY, 8PM

£13, SEATED

The original stories behind this concert date back nearly

a century now, but a later starting-point came in 2007

when Greentrax Records boss Ian Green visited the World

War I graveyards of Flanders. A year later, Greentrax

released the double CD Far, Far From Ypres, a collection

of soldiers' songs, music-hall favourites and home-front

anthems from 1914-18, alongside subsequent songwriters'

reflections on the conflict, curated and produced by

Ian McCalman. A live selection of the material proved

a powerful highlight of Greentrax's 25th anniversary

concert in October 2011, leading to this brand new

full-length show, featuring an array of performers from

the album including Ian Bruce, Ragged Glory, Soopna,

Sangsters, Dick Gaughan, Barbara Dickson, Stephen

Quigg, Tom Ward, Donald Hay (drums) and narration by

Iain Anderson.

WWW.CELTICCONNECTIONS.COM
---
CONCERT HALL: STRATHCLYDE SUITE 27

New Voices: Duncan Lyall Ray Fisher Tribute Tigran and the Song of the Oak & The Ivy

TIGRAN

RAY FISHER

DUNCAN LYALL

NEW TALENT

SUNDAY 22ND JANUARY, 1PM

£11, SEATED

SUPPORTED BY THE SUNDAY HERALD

Given his increasingly linchpin profile on the contemporary

Scottish scene over the last half-dozen years, Duncan Lyall

has done surprisingly little composing. Though he's hardly

been idle, establishing himself as the bassist of choice for

Scotland's younger folk generation, guesting on over 50

albums, and now an increasingly sought-after producer.

He describes his New Voices composition, Infinite

Reflections – named for the image of two facing mirrors

– as telling a kind of wordless story, not with any specific

tale in mind, but hopefully to evoke your own. Ali Hutton,

Angus Lyon, Peter Tickell, Innes Watson and Martin

O'Neill join him in spinning the yarn.

SONG

SUNDAY 22ND JANUARY, 8PM

£13, SEATED

The late and dearly lamented Ray Fisher (1940–2011)

once declared, "I'm not interested in what posterity has

to say about my contribution to folk music." Posterity,

nonetheless, has already enshrined her among the

all-time great Scots singers – and characters. What

Ray meant, though, was that she was more interested in

sharing songs – with family, friends and the many young

singers she inspired and encouraged – than in making a

career of them. Tonight's tribute honours that spirit with

a line-up including Archie Fisher, Cilla Fisher, Martin

Carthy, Sheila Stewart, Emily Smith, Siobhan Miller,

Ewan Robertson, Gary Coupland and Fiona Hunter,

performing an array of the key songs she shared with

them.

JAZZ

MONDAY 23RD JANUARY, 8PM

£13, SEATED

The word 'prodigy' barely does justice to 24-year-old

Armenian pianist Tigran Hamasyan, who was picking out

Led Zep and Beatles songs by age three, and won the

ultra-prestigious Thelonious Monk International Jazz Piano

Competition at 19. After three albums as a leader, his 2011

solo debut A Fable sees Tigran finding his own true voice,

marrying his extraordinary jazz prowess with his native folk

traditions.

Premièred in 2011 to celebrate the Edinburgh International

Harp Festival's 30th anniversary and the Clarsach Society's

80th, Corrina Hewat's six-harp suite – featuring acoustic,

electric and wire-strung versions – brilliantly encapsulates

the diverse energies of the contemporary Scottish harp

revival.

SPONSORED BY

TICKETS: 0141 353 8000
---
28

CONCERT HALL: STRATHCLYDE SUITE

Box & Fiddle Night Cecil Sharp Project The Paul McKenna Band, Fribo and

Blue Moose & The Unbuttoned Zippers

FRIBO

CECIL SHARP PROJECT

TRADITIONAL

TUESDAY 24TH JANUARY, 8PM

£13, SEATED

Nearly 60 years since Jimmy Shand played 'The Bluebell

Polka' on Top of the Pops, this all-star gathering –

specially curated for Celtic Connections – celebrates the

proud history of Scottish accordion and fiddle music, and

remembers its most legendary figures, with a selection

of classic tracks from classic albums, dating right up to

the present. Described as "the ultimate dance-band mix

tape", and featuring plenty of tall tales and anecdotes in

between sets, the show is hosted by the inimitable John

Carmichael, presiding over a line-up including Duncan

and Robert Black, Marie Fielding, Alasdair MacCuish and

Tom Orr, plus some very special surprise guests.

SONG

WEDNESDAY 25TH JANUARY, 8PM

£13, SEATED

Originally commissioned by the Shrewsbury Folk Festival,

the Cecil Sharp Project brought together eight leading

British and North American folk artists for a week's

collaborative residency in March 2011, inspired by

the work of seminal folksong collector Cecil Sharp,

particularly his Appalachian expeditions of 1915-18. Show

of Hands' Steve Knightley, English sibling singers Jim

Moray and Jackie Oates, accordionist Andy Cutting, ex-

Breabach fiddler/vocalist Patsy Reid, Southern US roots

specialist Caroline Herring and Canadian clawhammer

banjo ace Leonard Podolak, of The Duhks, tonight

perform the resulting set of newly-written and traditional

material, exploring the life and legacy of this pivotal but

enigmatic figure.

FOLK

THURSDAY 26TH JANUARY, 8PM

£13, SEATED

Voted Up and Coming Artist of the Year at the 2009

Scots Trad Music Awards, song-led quintet The Paul

McKenna Band have since continued their steep

upward trajectory, matching McKenna's powerful vocals

with fiddle, flute, bouzouki, guitar and percussion, as

showcased on 2011's second album Stem the Tide.

Scotland's favourite nu-Nordic outfit Fribo also have

a new sophomore release, Happ, adding fresh US folk

flavours to the mix along with new members. Besides

their own set, they'll share a few numbers with tonight's

third act, Boston-based quartet Blue Moose and the

Unbuttoned Zippers, whose contemporary string-band

sound features the extra twist of a nyckelharpa.

WWW.CELTICCONNECTIONS.COM
---
CONCERT HALL: STRATHCLYDE SUITE 29

Nuala Kennedy and Las Migas RCS with Folkestra Breabach and Corquiéu

BREABACH

FOLKESTRA

NUALA KENNEDY

FOLK

FRIDAY 27TH JANUARY, 8PM

£13, SEATED

Premièred to rave reviews as a New Voices commission

at Celtic Connections 2007, Irish flautist and singer Nuala

Kennedy's Astar is a musical evocation of her extensive

travels over the years, the sounds she's absorbed and

the diverse kindred spirits she's encountered. With a

nine-piece line-up including Bonnie 'Prince' Billy, fiddler/

trumpeter Daniel Lapp, bassist Euan Burton and pianist

Brian McAlpine, the show also features visual projections

by Edinburgh filmmaker Ruth Barrie.

The all-female, Barcelona-based Las Migas, comprising

a French and a Spanish guitarist, a German violinist

and a Catalan singer, supplemented here with bass and

percussion, create a ravishing blend of flamenco, jazz,

fado and pop.

NEW TALENT

SATURDAY 28TH JANUARY, 2PM

£11, SEATED

Ever since the Scottish Music BA was established at

Glasgow's RSAMD – now the Royal Conservatoire of

Scotland – in 1996, it's been a rich source of life-blood

for Celtic Connections, providing both a steady supply

of excellent new artists, and an inexhaustible one of

session-hungry aspirants. With many of the former having

returned to teach the latter, this now-annual celebration

of the UK's first-ever folk degree promises another

cornucopia of talent.

Founded and directed by Kathryn Tickell, Folkestra is the

North of England's leading youth folk band, based at the

Sage in Gateshead, bringing together a diverse, dynamic

array of instrumentation and material.

TRADITIONAL

SATURDAY 28TH JANUARY, 8PM

£13, SEATED

2012 looks like another strength-to-strength year

for young Highland quintet Breabach, with their hotly

anticipated third album out on March 5th. Recent recruits

Megan Henderson (fiddle/vocals/stepdance), and James

Duncan Mackenzie (pipes/flute) have forged a seamlessly

fresh creative dynamic with existing members Calum

MacCrimmon (pipes/whistles), Ewan Robertson (guitar/

vocals) and James Lindsay (double bass), while retaining

Breabach's signature synergy between traditional and

modern, sweetness and fire.

Corquiéu are one of Asturias's most popular and

successful contemporary folk acts, combining bagpipes,

fiddle, whistles, flute, guitar, bouzouki, percussion and

powerful lead vocals, most recently on their excellent

2010 album Suaña.

SPONSORED BY

TICKETS: 0141 353 8000
---
30

CONCERT HALL: STRATHCLYDE SUITE

New Voices: Laura-Beth Salter

Alasdair Fraser, Natalie Haas and

Tony McManus with Rua Macmillan Trio

Bridget St John and Lol Coxhill with the

National Jazz Trio of Scotland

BRIDGET ST JOHN

ALASDAIR FRASER & NATALIE HAAS

LAURA-BETH SALTER

NEW TALENT

SUNDAY 29TH JANUARY, 1PM

£11, SEATED

SUPPORTED BY THE SUNDAY HERALD

A co-founder of all-female sextet The Shee, Lincolnshireborn

mandolin player and vocalist Laura-Beth Salter

has become an increasingly well-kent face around

the folk scene in recent years, guesting with such

leading-edge international outfits as Shooglenifty and

Frigg. She reflects on her musical journey to date in this

all-original suite of songs and instrumentals – entitled

Breathe – from her early immersion in blues, old-time

and bluegrass, via Newcastle University's folk degree

programme to her current base in Glasgow. Her ensemble

also features Patsy Reid (fiddle/vocals), Amy Thatcher

(accordion), Jenn Butterworth (guitar/vocals), James

Lindsay (bass) and James Mackintosh (percussion).

TRADITIONAL

SUNDAY 29TH JANUARY, 8PM

£13, SEATED

Both the Scots/American duo of fiddler Alasdair Fraser

and cellist Natalie Haas, and the Scots-born, Canadianbased

guitarist Tony McManus, raise instrumental music

to a truly revelatory level. Fraser and Haas's ongoing

reinvention of a venerable Scottish partnership, complete

with 21st-century grooves, attains fresh heights of

artistry on their new album Highlander's Farewell, while

McManus's uncanny transposition of fiddle or bagpipe

ornaments and haunting Gaelic song airs onto his six

strings was most recently showcased on 2009's Maker's

Mark. Joining this illustrious company is the 2009 Radio

Scotland Young Traditional Musician of the Year, Rua

Macmillan, with Tia Files (guitar/bass), and Adam Brown

(bodhran).

EXCLUSIVE

MONDAY 30TH JANUARY, 8PM

£13, SEATED

A stellar summit gathering of musical mavericks,

featuring an ultra-rare appearance by 1970s folk-rock

heroine Bridget St John – "the best lady singersongwriter

in the country," according to John Peel,

on whose Dandelion label she recorded three highly

sought-after albums. Lol Coxhill – like St John, a

one-time collaborator with Soft Machine founder Kevin

Ayers – is regarded by the cognoscenti as one of the

world's most adventurously original saxophonists. Hosted

by the renowned though unclassifiable Scottish pianist

and composer Bill Wells, the show will also preview

tracks from his deceptively-named National Jazz Trio of

Scotland's new album, Standards Vol. 2.

WWW.CELTICCONNECTIONS.COM
---
CONCERT HALL: STRATHCLYDE SUITE 31

Rab Noakes & Friends Genticorum and The Maggie MacInnes Trio Kathryn Tickell: Northumbrian Voices

KATHRYN TICKELL

GENTICORUM

RAB NOAKES

FOLK

TUESDAY 31ST JANUARY, 8PM

£13, SEATED

As underlined by his starring role in the Bob Dylan

70th birthday jamboree Forever Young, at Celtic

Connections 2011, and our 2012 tribute to the late

Gerry Rafferty, singer and songwriter Rab Noakes

is a supremely seasoned campaigner on both the

Scottish and international rock'n'roots scene. Or as

the Herald admiringly put it, "a Noakes show is a

decidedly non-fusty lesson in the history of popular

music." This particular Noakes show sees him joined

by a host of pals from across the years, including

Tim O'Brien, Rod Clements, Monica Queen, Jimmie

Macgregor and a band featuring David Paton, Fraser

Speirs, James Mackintosh and Hilary Brooks.

WORLD

WEDNESDAY 1ST FEBRUARY, 8PM

£13, SEATED

Described by Montreal's Hour magazine as "a sonic

marvel of synergistic chemistry", Québécois stars

Genticorum – Yann Falquet on guitar and jaw harp,

Alexandre de Grosbois-Garand on flute, bass and fiddle,

Pascal Gemme on fiddle and foot-percussion, plus all

three on vocals, cheek and charm – return with a rich

new crop of material, from their travel-themed 2011

album Nagez Rameurs.

Drawing on several generations of Barra singing renown,

award-winning Gaelic singer Maggie MacInnes performs

material from her previous six albums and currentlyin-progress

seventh, including a few Scots songs,

accompanied by Brian McAlpine (piano/accordion) and

Anna Massie (guitar).

TRADITIONAL

THURSDAY 2ND FEBRUARY, 8PM

£13, SEATED

Lovingly created by Northumbrian pipes virtuoso Kathryn

Tickell, in collaboration with award-winning theatre

director Annie Rigby, this captivating words-and-music

performance reflects Tickell's own formative experience

of learning her craft, directly from relatives and other

older players around her native North Tyne region.

Transcripts from recorded interviews with these sources

form the narrative element of the show, conjuring past

and present aspects of Northumbrian life and lore,

delivered by Tickell, her father Mike and Hannah Rickard.

These anecdotes and dialogues are complemented by both

traditional and original music, with Kit Haigh (guitar/

piano), Patsy Reid (fiddle) and Julian Sutton (melodeon)

completing the line-up.

SPONSORED BY

TICKETS: 0141 353 8000
---
32

CONCERT HALL: STRATHCLYDE SUITE

Skipinnish and friends TMSA Young Trad Tour 2011 with UHI Ceòlas

SOUTH UIST

TMSA YOUNG TRAD TOUR

SKIPINNISH

GAELIC

NEW TALENT

GAELIC

FRIDAY 3RD FEBRUARY, 8PM

£13, SEATED

Crowned as Scottish Dance Band of the Year at the 2009

Scots Trad Music Awards, Tiree-based Skipinnish –

centred on the founding partnership of accordionist Angus

MacPhail and piper Andrew Stevenson – return to Celtic

Connections with a newly revitalised and expanded fivepiece

line-up, including the superb young singer/guitarist

Robert Robertson, plus Ali Murray (drums/pipes) and Scott

Wilson (bass/piano/accordion). As befits a proper ceilidh –

and the proprietors of two leading Highland music venues

– they'll also be introducing a selection of the best young

artists they've programmed this past summer, plus Gaelic

singer Rachel Walker and other special guests.

SATURDAY 4TH FEBRUARY, 2PM

£11, SEATED

The annual TMSA tour by the winners and finalists of

Radio Scotland's Young Traditional Musician of the

Year competition has become a highlight of Scotland's

folk calendar. Reigning Orkney fiddler Kristan Harvey

lines up one more time with Lorne MacDougall (pipes/

whistles), Tina Rees (piano), Alistair Ogilvy (Scots song),

Mairi Chaimbeul (clarsach/Gaelic song) Andrew Waite

(accordion) and 2010 winner Dan Thorpe (fiddle).

To salute the University of the Highlands and Islands'

official inauguration, an ensemble of its traditional music

students and staff, directed by Anna-Wendy Stevenson

and Rick Taylor, perform a celebratory programme

including new compositions by Mark Sheridan.

SATURDAY 4TH FEBRUARY, 8PM

£13, SEATED

Founded in 1996, Ceòlas is a celebrated annual summer

school on the tradition-rich island of South Uist,

whose integrated range of tuition centres on the vital

connections between Scottish traditional music, Gaelic

song and dance, partly via strong connections with

Cape Breton. Set within a Gaelic-speaking community,

Ceòlas offers ample opportunity to participate in this

living culture, at local cèilidhs and in locals' homes, and

tonight extends this Hebridean hospitality to Glasgow.

With past Ceòlas tutors and graduates including the likes

of Rona Lightfoot, Iain MacFarlane, Angus MacKenzie,

Fin Moore, Allan MacDonald, Allan Henderson. Angus

Nicolson, Kathleen MacInnes, Sineag MacIntyre,

Gillebride MacMillan, Kenneth MacKenzie, Calum

MacKenzie, Frank McConnell and Mairead Stewart,

it's sure to be some hootenanny.

WWW.CELTICCONNECTIONS.COM
---
CONCERT HALL: STRATHCLYDE SUITE

33

New Voices: Fiona Rutherford

Finale Showcasing Danny Kyle Open Stage Winners

FIONA RUTHERFORD

NEW TALENT

SUNDAY 5TH FEBRUARY, 1PM

£11, SEATED

SUPPORTED BY THE SUNDAY HERALD

Not many New Voices composers bring harpist Fiona Rutherford's wealth of experience

to bear on the commission: winner of the Clarsach Society's 2010 Young Composer

Award, with degrees in composition from both Dartington College and Edinburgh

University, she's written for film, theatre, classical groups and her own current harp/

double bass duo. Here she premières a new work on the theme of sleep and dreams,

performed by a nine-piece vocal and instrumental ensemble, including harps, vocals,

strings and piano – and while its topic seems a high-risk one for a festival Sunday

lunchtime, Rutherford's imaginative exploration delves into nightmares and insomnia

as well as lullabies.

NEW TALENT

SUNDAY 5TH FEBRUARY, 5PM

£5, SEATED

IN PARTNERSHIP WITH THE EVENING TIMES

Established in memory of the late lamented Danny Kyle, an indefatigable champion of

new musical talent, the Danny Kyle Open Stage Award at Celtic Connections has been

an invaluable career launch-pad for a host of emerging acts over the years, heralding

the future successes of Malinky, GiveWay, Phamie Gow, RURA, La Sonera Calaveras,

Breabach and The Chair, among many others.

With around 80 acts selected to perform during the festival, out of the 200-300

hopefuls who apply from far and wide each year, the competition nowadays is fierce

indeed, guaranteeing that tonight's six winners will be worthy ones indeed.

SPONSORED BY

TICKETS: 0141 353 8000
---
34

City Halls: GRAND HALL

The BIG Breakthrough

Janis Ian and Simon Lynge

JANIS IAN

THE BIG BREAKTHROUGH

EXCLUSIVE

MONDAY 23RD JANUARY, 7PM

£13, FREE FOR CHILDREN UNDER 14 (MAXIMUM 2 FREE TICKETS

PER PAYING ADULT) SEATED

Welcoming, in the UK's Olympic year, this celebration of Olympic and Paralympic

values – excellence, friendship, respect, courage, determination, inspiration

and equality – features children and young people from The BIG Project in

Broomhouse, several choirs and 10 leading professional musicians, including

Karine Polwart, in an interactive singalong show. The centrepiece of the

evening programme is a newly-commissioned work by singer-songwriter and

pianist Kim Edgar, Breakthrough, featuring all of the evening's performers en

masse, with a series of overlapping themes representing the Olympic rings.

SONG

TUESDAY 24TH JANUARY, 7.30PM

£15, SEATED

Despite turning 60 in 2011 – having released her first album in 1967 – Janis Ian shows

no sign of slowing the pace. Not when there's another new generation discovering one of

contemporary folk's most durable back-catalogues, with an ongoing reissue programme

and Ian's recent first-ever best-of, The Autobiography Collection. Besides her songwriting

eloquence, Ian is also a wonderful live performer, witty and heart-tugging by turns.

It's a fair old way from Greenland to LA, but that's the journey embodied on half-Inuit

singer-songwriter Simon Lynge's magical 2010 debut The Future, produced in the City of

Angels by Matt Forger and Jon Mattox, and lavished with Atlantic-spanning praise.

WWW.CELTICCONNECTIONS.COM
---
Martin Simpson, Dick Gaughan &

June Tabor and Finbar Furey

Linn begins at 40: A Celebration of 40 Years

of Scotland's Most Influential Music Company

CITY HALLS: GRAND HALL 35

Savourna Stevenson & Friends:

50th Birthday Concert

SAVOURNA STEVENSON

CAROL KIDD

JUNE TABOR

TRADITIONAL

THURSDAY 26TH JANUARY, 8PM

£15, SEATED

Singer, songwriter and guitarist Martin Simpson has

won steadily mounting acclaim since returning from an

extended US sojourn in 2002, most recently in cahoots

with June Tabor and Dick Gaughan, sharing lead vocal

duties on his stunning new release Purpose and Grace.

While looking back to his former duo partnership with

Tabor, this fresh collaboration with two kindred spirits

marks the next enticing chapter in Simpson's ongoing

dialogue between traditional and modern, British and

US folk.

Irish icon Finbar Furey, too, still has new tricks up

his sleeve, as highlighted by the powerful original

songwriting on his latest album, Colours, alongside his

signature magic on the uilleann pipes.

EXCLUSIVE

SATURDAY 28TH JANUARY, 7.30PM

£15, SEATED

Celebrating four decades since the founding of Scotland's

most influential music company, tonight's show presents a

capsule collection from Linn's famously discerning roster,

comprising artists of outstanding individual distinction,

but shared exceptional calibre. They include Glasgow jazz

diva Carol Kidd, whose mesmerising live performances

draw on a quarter-century of award-winning Linn

releases, while captivating folk/pop songstress Maeve

O'Boyle will be previewing tracks from her second, the

successor to 2008's highly-praised All My Sins. Mistress

of contemporary chanson Barb Jungr, following her recent

collection The Man in the Long Black Coat, arrestingly

reinterprets the Bob Dylan songbook.

FUSION

TUESDAY 31ST JANUARY, 7.30PM

£15, SEATED

Scottish harp pioneer Savourna Stevenson first emerged

way ahead of the curve, opening new horizons for both

her iconic national instrument and traditional music itself,

via cross-fertilisation with jazz and world strains – this

being as far back as the early 1980s. She's continued to

take the harp where it's never been before, with excerpts

from her acclaimed Harp Quintet, premièred at Celtic

Connections 2000, having soundtracked episodes of

both Sex and the City and Ugly Betty. That same work,

teaming Stevenson with the Edinburgh Quartet, forms

the centerpiece of this 50th birthday celebration, among

music for both pedal harp and clarsach, also featuring

long-time collaborator Danny Thompson.

SPONSORED BY

TICKETS: 0141 353 8000
---
36

CITY HALLS: GRAND HALL

Lau with Northern Sinfonia:

Strange Attractors. Conducted by Brian Irvine

BBC Radio Scotland Young Traditional

Musician of the Year Final 2012

UNIVERSITY CHAPEL

University of Glasgow

Memorial Chapel

CHAPEL CHOIR

KRISTAN HARVEY

LAU

FUSION

SATURDAY 4TH FEBRUARY, 7.30PM

£18, SEATED

Stretching themselves in a very different but no

less intriguing direction to that of their other Celtic

Connections gig, with ex-Cream legend Jack Bruce,

renegade folk trio Lau join forces with the adventurous

Northern Irish composer Brian Irvine – whose CV ranges

from film scores to free improvisation – and leading

contemporary ensemble the Northern Sinfonia, in the

Scottish première performance of Strange Attractors.

Rather than simply orchestrating Lau's material, Irvine

has built on snippets of it to craft both dialogue and

juxtapositions between the two elements – and Lau should

certainly be well warmed up to meet the challenge,

having played their own set in the first half.

NEW TALENT

SUNDAY 5TH FEBRUARY, 5PM

£13, SEATED

For every previous BBC Radio Scotland Young

Traditional Musician of the Year – Anna Massie, James

Graham, Stuart Cassells, Shona Mooney, Catriona Watt

Ewan Robertson, Ruairidh Macmillan, Daniel Thorpe

and Kristan Harvey – winning the competition has

been a major springboard to a professional career

in music. Tonight's six talented finalists are:

Kirsty Watt (Gaelic song)

Katie Boyle (fiddle)

Catriona Price (fiddle)

Roisin Anne Hughes (fiddle)

Rona Wilkie (fiddle)

Alistair Ogilvy (Scots song)

SONG

CHORAL RECITAL FOR CELTIC CONNECTIONS

TUESDAY 31ST JANUARY, 6PM

A concert of choral music to celebrate Celtic Connections

which will include Ronald Stevenson's Medieval Scottish

Triptych, Ecce novum Gaudium – Anon (arr. Kenneth

Elliott), Aurora rutilat – Anon (medieval Scottish chant)

and William Sweeney's Wha Kens.

The Chapel Choir of the University of Glasgow will

be conducted by James Grossmith with organist

Kevin Bowyer.

Please note that entry is free and the event is

not ticketed.

WWW.CELTICCONNECTIONS.COM
---
CONCERT CITY HALL: HALLS: MAIN RECITAL AUDITORIUM ROOM 37

BARBARA DYMOCK

BEN GLOVER

Nuala Kennedy: Enthralled

SATURDAY 21ST JANUARY, 8PM

£10, SEATED

Enthralled is the album recorded as a duo by

the late, great Canadian fiddler-composer Oliver

Schroer and flute player, singer and composer

Nuala Kennedy. Kennedy presents Enthralled

in collaboration with two highly-regarded

and incredibly accomplished musicians from

Norway – Frode Haltli on button accordion and

Vegar Vårdal on violin and hardanger fiddle.

Ben Glover

SUNDAY 22ND JANUARY, 8PM

£10, SEATED

Ben Glover has been compelled to write songs since

his mid-teens growing up in County Antrim, Northern

Ireland – when he was awoken and unsettled by

Bob Dylan. Armed with a law degree, he put his

legal ambitions on hold to pursue a career in music

and has drawn rave reviews and comparisons to

the likes of Ryan Adams and Bruce Springsteen.

SPONSORED BY

Buddy Greene & Jeff Taylor

MONDAY 23RD JANUARY, 8PM

£10, SEATED

Harmonica ace Buddy Greene brings a wide variety

of southern Americana influences to the stage, with

a unique musical hybrid of country, bluegrass,

folk, gospel and traditional blues. He is joined for

this concert by multi-instrumentalist Jeff Taylor.

Cahalen Morrison & Eli West

TUESDAY 24TH JANUARY, 8PM

£10, SEATED

Duo Cahalen Morrison and Eli West produce lush,

soulful, organic and earthy music they describe

as 'old-time music styled for the 21st century'.

Multi-instrumentalists Morrison and West's debut

album The Holy Coming of The Storm led to

an invite from Bob Harris to record a session

for his BBC Radio 2 show in the studio, as he

described their music as "quite extraordinary".

Guitar Summit featuring Walter Strauss

and Tony McManus

SATURDAY 28TH JANUARY, 8PM

£10, SEATED

Uniting the technical and creative talents of

two virtuoso musicians, Guitar Summit features

Californian guitar maestro Walter Strauss, who

was described as "a many-layered, multi-textured,

one-man folk festival" by Maverick Magazine, and

Scotland's Tony McManus, who deftly brings the

ornamentation normally associated with pipes

and fiddles to his traditional guitar sound.

Catford and Eilidh Grant

SUNDAY 29TH JANUARY, 8PM

£10, SEATED

"This is an engaging excursion as a trio of

North-East musicians, including two founders

of the seasoned folk band the Old Blind Dogs,

emigrate musically to the US West coast to

come up with original songs which combine

creamy vocal harmonies and some silky

string settings." (The Scotsman) Tonight they

will be joined by guest Nigel Hitchcock.

Former Danny Kyle Open Stage winner, Eilidh Grant

loves to sing Scottish traditional songs - and is

especially fond of those of Robert Burns, but her

feel for and interpretation of lyrics shows when

she switches to a more contemporary style.

Rebecca Pronsky

MONDAY 30TH JANUARY, 8PM

£10, SEATED

Brooklyn native Rebecca Pronsky is one of New

York's finest singers/songwriters. She visits Glasgow

to share a new crop of her dark country-tinged

gems. Her latest album Viewfinder was released to

rave reviews in April. "…an outstanding lyricist with

the ability to stop you in your tracks." (BBC Radio 2)

Barbara Dymock Band

FRIDAY 3RD FEBRUARY, 8PM

£10, SEATED

Founder member of Ceolbeg, Barbara Dymock was

raised in the vocal traditions of her Scots/Irish

background. After a break from the music scene to

pursue a medical career and raise a family, a voice

described as "one of the Scottish folk scene's best"

(The Herald) is back with a new quartet line up.

James Keelaghan

SATURDAY 4TH FEBRUARY, 8PM

£10, SEATED

One of the most distinctive voices on the

Canadian music scene, James Keelaghan is a

masterful story-teller. His literate song-writing

has earned him a host of prestigious awards

and nominations, and his latest album, House of

Cards features tracks co-written with the likes of

David Francey, Karine Polwart and Rose Cousins.

CAHALEN MORRISON AND ELI WEST

CATFORD

ENTHRALLED

REBECCA PRONSKY

TICKETS: 0141 353 8000
---
38

O2 ABC Glasgow

Carolina Chocolate Drops with Punch Brothers

The Big Dish and Iona Marshall

THE BIG DISH

CAROLINA CHOCOLATE DROPS

AMERICANA

FRIDAY 20TH JANUARY, 7.30PM

£15, STANDING

Continuing their mission to revive and reinvent the African-American string-band

tradition, the Grammy-winning Carolina Chocolate Drops recently expanded to a

four-piece, with songwriter/multi-instrumentalist Hubby Jenkins and beatboxer Adam

Matta joining co-founders Dom Flemons and Rhiannon Giddens. Following 2011's EP

collaboration with the Luminescent Orchestrii, their new, Buddy Miller-produced album

is due in early 2012.

The formidably virtuosic, genre-busting quintet Punch Brothers, formed in 2006 by

ex-Nickel Creek mandolinist and singer Chris Thile, have been likened by Slant magazine

to "a string-band version of Radiohead". After ecstatic acclaim for their sophomore

release, 2010's Antifogmatic ("an impossibly perfect mixture of down-home charm and

staggering sophistication," raved Paste).

EXCLUSIVE

SATURDAY 21ST JANUARY, 7.30PM

£17, STANDING

Two decades after they split, Airdrie's finest The Big Dish still hold a cherished place

in many Scottish music-lovers' hearts, with memories of frontman Steven Lindsay's

consummate popcraft and gorgeous vocals latterly prodded by his two acclaimed solo

albums. This one-off reunion, convened simply because "the time just seemed right",

also features guitarist Brian McFie, bassist Raymond Docherty, Allan Dumbreck on

keyboards and drummer Ross McFarlane. They'll be playing their pick from the band's

three albums, Swimmer, Creeping up on Jesus and Satellites, plus at least one

surprise cover.

A 2011 Danny Kyle Award winner, rising nu-folk star Iona Marshall fuses melodic

songcraft with experimental synth parts, delicate harmonies, found samples and

acoustic guitar hooks.

WWW.CELTICCONNECTIONS.COM
---
The Shoogle Project and MOVE

Luka Bloom and The Long Notes

O2 ABC Glasgow 39

King Creosote & Jon Hopkins

and support

LUKA BLOOM

SHOOGLENIFTY

FUSION

SUNDAY 22ND JANUARY, 7.30PM

£15, STANDING

It's Shooglenifty's main mission in life to make people

dance, so working with renowned Highland dance-maker

Frank McConnell was a natural meeting of minds and

talents – especially since Shooglenifty bassist Quee

MacArthur had already contributed to several previous

productions by McConnell's Plan B company. With six

dancers strutting their stuff to a live set from the band,

The Shoogle Project – part gig, part ceilidh - promises

to get its audience comprehensively in the groove.

Another dynamic, high-octane fusion of contemporary

dance with Scottish tradition comes courtesy of MOVE,

in which a heavyweight posse of pipers, drummers and

instrumentalists – including Neil Primrose (Travis), Fraser

Fifield, John Goldie and John Saich – meets hip-hop crew

Random Aspekts.

MOVE are supported by the Year of Creative Scotland

SPONSORED BY

FOLK

WEDNESDAY 25TH JANUARY, 7.30PM

£15, SEATED & STANDING AREAS

Many would vie for the honour, but few better merit

the role of personal musician to the Dalai Lama, on

his Australian tour last June, as Irish world troubadour

Luka Bloom, who opened each of His Holiness's "public

conversation" events with As I Waved Goodbye, a song

he wrote in tribute some years ago. A longtime Glasgow

favourite, Bloom delighted fans once again with 2010's

Dreams in America, a newly-recorded, solo-acoustic

sampler from his 25-year back catalogue.

Dazzling London-based quartet The Long Notes,

comprising Jamie Smith (fiddle), Colette O'Leary

(accordion), Brian Kelly (banjo/mandolin) and Alex Percy

(guitar/vocals) recently released their superb second

album, In the Shadow of Stromboli.

INDIE

THURSDAY 26TH JANUARY, 7.30PM

£15, STANDING

Their justly-titled, Mercury-nominated album Diamond

Mine announced Fence Collective heid yin King Creosote,

aka Kenny Anderson, and dance/electronica artist

Jon Hopkins as one of 2011's dream-team pairings,

sending critics into unanimous raptures. Seven years

in the making, it features an array of gems delved

from Anderson's 20-year archive, tumbled and polished

with freshly-recorded vocals, found sounds and digital

manipulation, to create – in Anderson's words – "a nearclassical

suite of emotion ranging from cracked despair

to patched-up euphoria."

TICKETS: 0141 353 8000
---
40

O2 ABC Glasgow

Admiral Fallow and Dry The River and

Chasing Owls

Blazin' Fiddles and Sol i Serena

Peatbog Faeries and Stanley Odd

PEATBOG FAERIES

BLAZIN' FIDDLES

ADMIRAL FALLOW

INDIE

FRIDAY 27TH JANUARY, 7.30PM

£12.50, STANDING

Having crafted their sound and fan-base from the

grassroots up, Glasgow's Admiral Fallow seem poised

for the big time, after winning favourite-new-band

status across a broad swathe of folk, pop and indie

opinion throughout 2011. Matching vividly literate, keenly

observed lyrics with big, uplifting melodies and highly

sophisticated musicianship, they'll be showcasing material

from their forthcoming second album, following major

acclaim for debut release Boots Met My Face.

London five-piece Dry the River boldly reclaim the

term 'emo' – originally short for 'emotive hardcore', an

apt capsule tag for their distinctive alloy of acoustic

earthiness and post-punk intensity, while Edinburgh indiefolk

newcomers Chasing Owls have already made waves

at the NME Weekender Festival and Go North 2011.

TRADITIONAL

SATURDAY 28TH JANUARY, 7.30PM

£15, STANDING

Lauded by the Herald on tour last spring, promoting

new album Thursday Night in the Caley, as "a collective

force that does indeed blaze but can also smoulder,

glow and positively scorch," the latest incarnation of

top Scottish band Blazin' Fiddles unites the suitably

incendiary talents of Shetland fiddler Jenna Reid and

multi-instrumentalist Anna Massie with four founder

members. Ranging between Highland-style musical

berserking and exquisitely arrayed orchestration,

they'll leave you blissfully shaken and stirred.

Putting a fresh contemporary spin on Catalan folk music's

rich diversity of influences, Sol i Serena play some 20

instruments – many distinctive to the region – between

six members, fronted by the stirring vocals of Marta Rius.

FOLK

SUNDAY 29TH JANUARY, 7.30PM

£15, STANDING

Fifteen years after their landmark debut Mellowosity, having

twice won Live Act of the Year at the Scots Trad Music Awards,

Skye's Peatbog Faeries released their sixth and finest album,

Dust, in August 2011. Now comprising Peter Morrison (pipes/

whistles), Peter Tickell (fiddle), Tom Salter (guitar), Innes

Hutton (bass), Graeme Stafford (keyboards) and Stuart Haikney

(drums), plus The Wayward Boys' resplendent wall of brass,

their mix of jigs, reels, jazz, hip-hop, reggae, electronica and

more continues to lead the Celtic dance music field.

Electrifying Scottish hip-hop crew Stanley Odd spark off

MC Solareye's wickedly eloquent wordcraft and Veronika

Elektronika's wry, sensuous vocals, while piano, guitar, bass

and drums serve up the slickest of beats.

WWW.CELTICCONNECTIONS.COM
---
Madison Violet and

The Whisky River Boat Club

Damien Dempsey and Kitty the Lion and

Eoin Glackin

O2 ABC Glasgow 41

Blues of the World featuring Moussu T,

Pura Fé & John Trudell and Errol Linton

MOUSSU T

DAMIEN DEMPSEY

MADISON VIOLET

AMERICANA

TUESDAY 31ST JANUARY, 7.30PM

£11, SEATED & STANDING AREAS

As the only Canadians ever to win the John Lennon

Songwriting Award – for The Ransom, off their 2009

third album No Fool for Trying – Madison Violet, aka

Brenley MacEachern and Lisa MacIsaac, ensured major

attention for their 2011 follow-up The Good in Goodbye,

whose stunning equilibrium between soul-searching lyrics

and uplifting melodies widely surpassed expectations.

As per the name, new Scottish five-piece The Whisky

River Boat Club – Salsa Celtica's Toby Shippey, fiddler

Jo Jeffries, singer/multi-instrumentalist Jed Milroy,

bassist Marty Camino and singer/guitarist Gavin Taylor –

originally peddled their country/bluegrass mix of classic

and original material on a 70-mile canoe trip down the

Spey in October 2011, taking in a few gigs and plenty of

drams en route.

Please note that this event will take place in O2 ABC2.

SPONSORED BY

INDIE

WEDNESDAY 1ST FEBRUARY, 7.30PM

£15, STANDING

Hailed as "one of the most important and evocative Irish

singers of all time" (Irish Examiner) Damien Dempsey has

earned a home-turf heroic stature akin to Bob Marley's in

Jamaica. This scion of Dublin's tough Northside district

addresses the local and the global with searing fury,

compassion and humour, expressed in a formidably mighty

voice. After 2008's traditional-based The Rocky Road,

he's currently at work on a new self-penned album.

With its succinct, she-wolf-in-ewe's-clothing connotations,

Kitty the Lion's name provides a clear pointer to this

young Glasgow quintet's smart, mouthy, adrenalin-fuelled

folk-pop, while Dempsey's young fellow Northsider Eoin

Glackin cites "Damo" as the founding inspiration behind

his deservedly much-touted debut album, Not Lost.

WORLD

THURSDAY 2ND FEBRUARY, 7.30PM

£15, SEATED & STANDING AREAS

Setting aside Chicago and the Mississippi Delta's rival

claims to blues-heartland primacy, this international

gathering brings together artists whose lineage and

traditions stretch from southern France to Central

America, Native American to British Caribbean,

highlighting the blues' rich diasporan diversity. For

Provençal quartet Moussu T e lei jovents, singing in the

ancient Occitan language, the interface is the their home

port of Marseille, gateway to Africa and the Americas;

for singer-songwriters and activists Pura Fé (of Puerto

Rican and Tuscarora Nation parentage) and John Trudell

(Santee Sioux/Mexican) it's the shared slave history of

Native and black Americans. Brixton-born harmonica

wizard and singer Errol Linton, meanwhile, infuses his

blues with shades of reggae and ska.

TICKETS: 0141 353 8000
---
42

O2 ABC Glasgow

Mull Historical Society and

Washington Irving

Treacherous Orchestra and

Gabby Young & Other Animals

Floating Palace

ABIGAIL WASHBURN

KT TUNSTALL

TREACHEROUS ORCHESTRA

MULL HISTORICAL SOCIETY

INDIE

FOLK

SONG

FRIDAY 3RD FEBRUARY, 7.30PM

£15, STANDING

After two albums under his own name, most recently

2009's intimately stripped-down, much-lauded Island

– recorded at his old primary school, now Tobermory's

An Tobar arts centre – Colin MacIntyre re-embraces

both the urban and his former alias as he launches a

new Mull Historical Society release, City Awakenings.

Produced by Dom Morley, who won a Grammy for Amy

Winehouse's Back to Black, its ten new MacIntyre

originals pay tribute to Glasgow, London and New

York from a Mulleach's perspective. Tonight's other

MHS members are Fiona Shannon (keyboards), Sorren

MacIean (bass) and Ross McFarlane (drums).

Glasgow six-piece Washington Irving's rousing, raucous

richly-hued indie-folk has won comparisons with Arcade

Fire, The Band, The Waterboys and The Pogues.

SATURDAY 4TH FEBRUARY, 7.30PM

£15, STANDING

Treacherous Orchestra's previous Celtic Connections

shows – both as the final night's final fling at the Festival

Club, and since they graduated to the main programme –

have already gone down in the festival annals, so expect

something truly, stratospherically spectacular as this

fearsome dozen-strong crew launch their long-awaited

debut album. "A terrific party band, with lofty creative

ambitions to bend traditional music into virile new

shapes." (Scotsman)

Some fans have coined the term 'circus swing' to

encapsulate Gabby Young's splendidly flamboyant,

carnivalesque panoply of gypsy, punk, folk, jazz, indie and

cabaret styles. Originally trained in opera, she fronts an

eight-piece line-up including trumpet, trombone, piano,

clarinet, banjo and accordion.

SUNDAY 5TH FEBRUARY, 7.30PM

£15, STANDING

As its name suggests, this highly select musical salon,

hosted by renowned English eccentric Robyn Hitchcock,

represents something of a fantasy scenario for its

distinguished guests (and for its audience), bringing

together global Scottish star KT Tunstall, English folk

royalty Martin and Eliza Carthy, the boundary-busting

US singer and banjo doyenne Abigail Washburn, and

alt.country experimentalist Howe Gelb, for an intimate

evening of free-wheeling musical collaboration. Freed

from the pressures of studios and deadlines, yet

buoyed by the buzz of a live audience, these six highly

contrasting kindred spirits will take turns joining in with

songs they know and songs they've only just met.

WWW.CELTICCONNECTIONS.COM
---
O2 ABC 2 Glasgow 43

Hazy Recollections

DEAD MAN'S WALTZ

FINDLAY NAPIER & THE BAR ROOM MOUNTAINEERS

WASHINGTON IRVING

SUNDAY 22ND JANUARY, 29TH JANUARY &

5TH FEBRUARY, 2.30PM

O2 ABC 2, £10, SEATED & STANDING AREAS

Following from the success of last year, Hazy

Recollections is back for Celtic Connections

2012. Hazy Recollections celebrates and connects

acts whose music meets at the boundaries of the

indie, folk and roots scenes. Over the past two

years it has brought together a wealth of these

versatile artists and built a loyal following.

Each Sunday we'll be joined by five of the best

homegrown talents and some from further afield,

for a special series of three afternoon concerts.

22ND JANUARY

Glasgow's folk-rock outfit Washington Irving bring their

Arcade Fire-influenced sound to Hazy Recollections. Also

featuring on the bill are former Down the Tiny Steps

frontman Jonnie Common, who showcases the gorgeous

whimsical pop sounds of his new solo material, and

Scottish bluegrass quintet The Dirty Beggars, who

are making waves across the UK's Americana, country

and bluegrass scenes. Acoustic pop singer-songwriter

Siobhan Wilson, whose diverse influences range from

Bach to Willie Nelson, will also make an appearance,

as will BBC Radio 2 Young Folk Award nominee Adam

Holmes accompanied by his roots-pop band The Embers.

29TH JANUARY

Highly acclaimed US troubadour Foy Vance, who

brings soul, blues, gospel and jazz influences to his

beautifully-crafted songs, leads a bill of superb talent,

which also includes the hugely talented Dean Owens,

who is attracting major recognition and counts Karine

Polwart, Martin Green, Mattie Foulds and Irvine Welsh

as fans. Leading the Scottish nu-folk revolution with

anthemic, humour-laced tales of love, debauchery and

sin, Findlay Napier & The Bar Room Mountaineers

also perform this afternoon, as do Doghouse Roses,

who make the connection between British folk music

and Americana, and Edinburgh singer-songwriter Kim

Edgar, who brings her compelling narratives and strong,

piano-led melodies to the Hazy Recollections stage.

5TH FEBRUARY

Hailing from the Isle of Skye, 'folk-noir' four piece

Dead Man's Waltz embrace the darker side of traditional

music, with their sinister vaudevillian sounds sure to

complement the critically-acclaimed 'circus swing' of

Gabby Young, who performs today without her usual

theatrical ensemble, for a more intimate Sunday

afternoon performance. They are joined on the bill

by the all-female Hidden Lane Choir, singing rich and

polished versions of songs from all genres, Captain

and the Kings – whose melodic, harmony-driven pop

is underpinned by a strong sense of heritage - and

The Seventeenth Century, described by the Daily

Record as "a Hebridean take on the Beach Boys".
---
44

MITCHELL THEATRE

Communion Records James Vincent McMorrow and support Rachel Sermanni with Russian Red

RACHEL SERMANNI

RUSSIAN RED

JAMES VINCENT MCMORROW

MARCUS FOSTER

INDIE

FRIDAY 20TH JANUARY, 7.30PM

£14, SEATED

Jointly founded by Mumford & Sons' Ben Lovett, ex-

Cherbourg bassist Kevin Jones and renowned producer

Ian Grimble, and launched in summer 2006 at Notting

Hill Arts Club, Communion is a monthly live club night

– rapidly sprouting regional offshoots – a flourishing

community of musicians and fans, and now a record

label, providing a supportive but high-profile platform

for today's freshest young indie-folk artists. Tonight's

line-up showcases the raw London blues-rock of Marcus

Foster; Matthew and the Atlas's bruised, earthily soulful

heartache; the darkly delicate balladry of Elena Tonra,

aka Daughter, and ex-Cherbourg frontman Andrew Davie's

new combo Bear's Den.

SONG

SATURDAY 21ST JANUARY, 7.30PM

£14, SEATED

Playing drums in hardcore rock bands isn't how your

average singer-songwriter starts out, but thus began

the long, circuitous, meticulous and soul-searching

apprenticeship behind Dubliner James Vincent

McMorrow's acclaimed 2010 debut album Early in

the Morning – and besides, he's no average singersongwriter,

as signalled by comparisons to Antony

Hegarty, Jeff Buckley and Sufjan Stevens. "A charming

performer, beautiful songwriter and a voice that would

stop anyone with a soul in their tracks." (Irish Times)

INDIE

SUNDAY 22ND JANUARY, 7.30PM

£14, SEATED

Rachel Sermanni's rave-reviewed New Voices concert

at Celtic Connections 2011 ushered in something of an

annus mirabilis for the young Highland singer-songwriter,

including similarly stellar appearances at such tastemaker

gatherings as South by Southwest, the Hebridean Celtic

Festival and Cambridge Folk Festival. Ranging waywardly

but deliciously from spiky art-pop to dreamy pastoral folk,

she's one of Scotland's most exciting new talents.

Named for her favourite shade of lipstick, Russian Red

is actually Spanish indie sensation Lourdes Hernández,

whose second album Fuerteventura, released in 2010,

was recorded with legendary Glasgow producer Tony

Doogan. Guesting on the album were Stevie Jackson and

Bob Kildea of Belle and Sebastian, who appear tonight

alongside Hernández's own band.

WWW.CELTICCONNECTIONS.COM
---
Josh Rouse and State of the Union

Justin Currie and Naomi Bedford

MITCHELL THEATRE 45

Julie Fowlis "Heisgeir" and Fernhill

JULIE FOWLIS

JUSTIN CURRIE

JOSH ROUSE

SONG

TUESDAY 24TH JANUARY, 7.30PM

£14, SEATED

Nebraska native Josh Rouse's latest album, Josh

Rouse and the Long Vacations, distils myriad musical

influences from his peripatetic career, encompassing

both the classic 1970s sounds of his childhood and the

Mediterranean flavours of his adopted Spain.

State of the Union is a mouthwatering new partnership

between celebrated ex-Bible singer/songwriter Boo

Hewerdine and veteran US slide guitar ace Brooks

Williams, whose eponymous debut album captures their

uncanny creative chemistry.

SONG

WEDNESDAY 25TH JANUARY, 7.30PM

£14, SEATED

In MOJO's words, "Saying Justin Currie knows how to

craft a song is a bit like saying Caravaggio could paint."

The ex-Del Amitri frontman's signature synthesis of

irresistible melodies, surgically barbed lyrics and superb

vocals continues to bear rich fruit in his solo career.

He'll also be guesting with late-blooming English

songstress Naomi Bedford, debuting their collaboration

on her ecstatically-received new album, Tales from the

Weeping Willow.

GAELIC

FRIDAY 27TH JANUARY, 7.30PM

£14, SEATED

Splicing vividly illustrative, resonantly meditative

documentary film with live Gaelic song and music from

her band, Julie Fowlis's Heisgeir, exploring the history

and heritage of the now-unpopulated Monach Isles, was

the undisputed highlight of 2011's Blas festival.

Fronted by the bewitching vocals of Julie Murphy, Fernhill

are one of Wales's top contemporary folk acts, creating

an intensely lyrical sound that also features fiddle,

trumpet, flugelhorn, flute, guitar and shruti box.

Heisgeir is supported by of the Year of Scotland's Islands

SPONSORED BY

TICKETS: 0141 353 8000
---
46

THE NATIONAL PIPING CENTRE

The Deadly Duos

Celtic Connections settles happily back into The National Piping Centre with

an international feast of delectable and deadly duos – sometimes morphing

into trios, and even quartets, but then they do say two's a magic number…

FRASER FIFIELD & GRAEME STEPHEN

ERWAN HAMON & JANICK MARTIN

Fraser Fifield & Graeme Stephen

with Greg Lawson & Pete Garnett

FRIDAY 20TH JANUARY, 8PM

Distilling the fruits of their 15-year partnership,

multi-instrumentalist Fraser Fifield (bagpipes/

saxophone/whistles/kaval/cajon) and guitarist

Graeme Stephen (Scottish Jazz Instrumentalist

of the Year 2011) magically explore and expand

the folk/jazz interface, incorporating original

material and live electronica. Violinist Greg

Lawson and accordionist Pete Garnett, of

Moishe's Bagel fame, share a selection from

their vast, cosmopolitan joint repertoire.

Allan MacDonald & Griogair

SATURDAY 21ST JANUARY, 8PM

£11, SEATED

Two doughty champions of Gaelic culture, pipers

and singers Allan MacDonald and Griogair

Labhruidh both combine deep traditional knowledge

with a highly individual approach. Among Griogair's

recent projects was a duo album with Donegal seannós

singer Doimnic Mac Giolla Bhríde, exploring

the ancient musical kinship between Ulster and

Argyll, while MacDonald is especially renowned for

reconnecting Gaelic song with piobaireachd.

John McSherry & Donal O'Connor

with Erwan Hamon & Janick Martin

SUNDAY 22ND JANUARY, 8PM

£11, SEATED

An Irish/Breton double bill featuring, in John

McSherry and Dónal O'Connor, the uilleann pipes/

fiddle engine of powerhouse traditional outfit At First

Light, and the recent pairing of two well-travelled

Breton instrumentalists: Erwan Hamon, on bombarde

and wooden flute, and accordionist Janick Martin,

performing an inventive blend of traditional and

original material they call "liberated Breton music".

Wingin' It with Angus Lyon & Ruaridh Campbell

TUESDAY 24TH JANUARY, 8PM

£11, SEATED

Accordionist Angus Lyon and fiddler Ruaridh

Campbell continue to build on the modern-classic

status of their 2006 album 18 Months Later, while

the guitar/mandolin tag-team of Chas MacKenzie

and Adam Bulley, aka Wingin' It, haven't looked

back since winning a Danny Kyle Award in 2007.

Together, they are the Halton Quartet, tonight

unveiling material from their imminent debut album.

Finlay MacDonald & Chris Stout

with Stewart Hardy & Frank McLaughlin

WEDNESDAY 25TH JANUARY, 8PM

£11, SEATED

A one-on-one between piper Finlay MacDonald

and Shetland fiddle supremo Chris Stout is a

delectably formidable prospect, given the electricity

they've previously generated in MacDonald's band,

and their shared appetite for musical adventure.

Northumbrian fiddler Stewart Hardy's eclectic

tastes take in folk, pop, rock, country, jazz and

western swing, meeting their perfect match in

Scottish guitarist and piper Frank McLaughlin.

FINLAY WELLS & SORREN MACLEAN

MAIREARAD & ANNA

Finlay Wells & Sorren Maclean

with Mairearad & Anna

THURSDAY 26TH JANUARY, 8PM

£11, SEATED

Having first met as tutor and student, veteran

Oban guitarist/singer Finlay Wells and young Mull

pretender Sorren Maclean combine influences

from around the world with bold improvised flights

in original songs and dazzling guitar duets. The

award-winning twosome of accordionist/piper

Mairearad Green and multi-instrumentalist Anna

Massie serve up sassy, sophisticated, largely

self-penned tunes with lashings of brio and charm.

WWW.CELTICCONNECTIONS.COM
---
Calum Stewart & Heikki Bourgault

with Jordi Molina & Perepau Jiménez

FRIDAY 27TH JANUARY, 8PM

£11, SEATED

The self-titled debut album by Mànran's flautist

Calum Stewart and Breton guitarist Heikki

Bourgault, released last May, was praised by

Irish Music Magazine as "a rare and precious

combination…captivating music from two young

masters". From Catalonia, Jordi Molina on

the oboe-like tenora and diatonic accordionist

Perepau Jiménez also put an arresting

original spin on their native traditions.

Ross Ainslie Trio and Jarlath Henderson Trio

SATURDAY 28TH JANUARY,

8PM, £11

The duelling Scottish/Irish pipes'n'whistles of Ross

Ainslie and Jarlath Henderson exploded onto the

scene with the 2008 release of their dazzling debut

album Partners in Crime. Tonight, this singularly

deadly duo goes head-to-head in two trios – and

ultimately a sextet – with Ainslie featuring alongside

Ali Hutton and James Mackintosh, while Henderson

is flanked by Innes Watson and Duncan Lyall.

Ross Martin & Eilidh Shaw with Macmaster/Hay

SUNDAY 29TH JANUARY, 8PM

£11, SEATED

With a joint list of credits including Harem Scarem,

Keep It Up, The Poozies, Dàimh, the Julie Fowlis

Band and the Unusual Suspects, fiddler Eilidh Shaw

and guitarist Ross Martin together delve deep into

their native West Highland traditions. Harp/vocals/

percussion partnership Macmaster/Hay also strip

things back to the groove-based bone, inversely

enriching their mix of tunes and songs.

Litha

TUESDAY 31ST JANUARY, 8PM

£11, SEATED

Now you see two duos…now you see a quartet:

Litha were formerly known, in fact, as 2Duos,

authors of 2009's Until the Cows Come Home: "a

great, great album" (Mike Harding). Now Germany's

Deitsch – aka Gudrun Walther and Jürgen Treyz

– and fellow singers/multi-instrumentalists Claire

Mann and Aaron Jones launch their follow-up,

Dancing of the Light.

Kevin Henderson & Mattias Pérez

with Dagger & Colin Gordon

WEDNESDAY 1ST FEBRUARY, 8PM

£11, SEATED

Shetland's Kevin Henderson recently stepped

aside from his band work with Fiddlers' Bid

and Session A9 to make his first solo album,

Fin da Laand Ageen, on which his interplay with

Swedish guitarist Mattias Pérez formed a vibrant

backbone. Like Father/Like Son is the aptly-titled

new release from Highland mandolin legend

Dagger Gordon and his guitarist progeny Colin.

THE NATIONAL PIPING CENTRE 47

Piping at Celtic Connections

THE GORDON DUNCAN MEMORIAL RECITAL

SUNDAY 29TH JANUARY, 1PM

£11, SEATED

A revision of the previous competition format which still

retains the essence of the former event by presenting

music from the Scottish, Irish and Breton piping traditions

which Gordon Duncan in his lifetime enjoyed and excelled

in playing. The new recital format also allows the invited

pipers to pay homage to Gordon Duncan through the

inclusion of some of his compositions in their recital sets.

The invited pipers include Angus MacColl (Scotland:

2010 Glenfiddich Piping Champion), Alexis Meunier

(Brittany: Winner of the 2010 Gordon Duncan Memorial

Piping Competition) and Robert Watt (Northern Ireland:

several times winner of the Lorient Festival MacCrimmon

Piping Competition).

SPONSORED BY

TICKETS: 0141 353 8000
---
48

ÒRAN MÓR

Niteworks and Donald Macdonald & The Islands

To Kill a King and Frànçois & The Atlas Mountains

TO KILL A KING

NITEWORKS

FUSION

SATURDAY 21ST JANUARY, 7.30PM

£14, STANDING

Citing influences that range from Shooglenifty and the Peatbog Faeries to Apparat and

Kollektiv Turmstrasse, the young folk/fusion outfit Niteworks were a major hit of the

2011 Hebridean Celtic Festival. Reflecting their Skye heritage in live Gaelic vocals,

pipes and whistles, while drawing on the dynamic electronic music scene of their

adopted Glasgow, they're spearheading today's new wave of Celtic dancefloor sounds.

Despite their faintly tongue-in-cheek name, Donald Macdonald & The Islands – fronted

by the singer-songwriter son of Runrig's Calum Macdonald – are being tipped as a

seriously hot prospect, with a line-up also featuring button box, moothie, banjo, ukulele,

bass and percussion.

INDIE

SUNDAY 22ND JANUARY, 7.30PM

£10, STANDING

With the release of their debut single, Fictional State and EP My Crooked Saint in 2011,

Leeds/London four-piece To Kill A King are winning hybrid comparisons to the likes

of Mumford & Sons, Arcade Fire, Frightened Rabbit and The National. Fronted by the

brooding voice and densely crafted songwriting of Ralph Pelleymounter, their "rousing

orch-folk" (Guardian) contrasts raw euphoria with lyrical lushness.

Bordeaux/Bristol is the dual home base of Fránçois Marry, whose French/Scottish fourpiece

The Atlas Mountains, splicing breezy indie-pop with sharp dance grooves, were

among the highlights of the Fence Collective's Home Game festival in 2011.

WWW.CELTICCONNECTIONS.COM
---
ÒRAN MÓR 49

Alternative Burns Night

with Babelfish and special guests

C.W. Stoneking and New Country Rehab

Larkin Poe and support

LARKIN POE

CW STONEKING

BABELFISH

EXCLUSIVE

WEDNESDAY 25TH JANUARY, 7.30PM

£14, SEATED

Another of the marvellously maverick line-ups spawned

amid the late-night primal soup of Celtic Connections'

Festival Club, Babelfish – who released their brilliantly

kaleidoscopic debut album, International Disgrace, in

2011 – now evolve onto the main festival bill, as hosts of

a Burns Night with lots of differences. Featuring fiddler

Adam Sutherland, pianist Andy Thorburn, accordionist

John Somerville, drummer Iain Copeland and rapper/

poet/polemicist Jock Urquhart plus special guests, the

entertainment combines radical new renditions of Burns

material with 21st century responses to it, in the true

mercurial spirit of the bard.

There will be an opportunity to taste whisky from our

sponsor Bruichladdich before the gig.

SPONSORED BY

AMERICANA

THURSDAY 26TH JANUARY, 7.30PM

£14, STANDING

Australian-born of American parentage, raised in an

outback Aboriginal community, the compelling musical

curiosity known as C.W. Stoneking has won such

influential fans as Jools Holland and Jack White, with

his own roundabout take on the early jazz and blues in

which his songs are steeped. He describes his sound

as "calypsonian blues, hokum and jungle music"; Word

magazine declared it "the most authentic 21st-century

voodoo-jazz-blues-Delta-Dixie experience of them all."

Making their debut UK appearance, Canadian quartet New

Country Rehab are turning heads aplenty with their selftitled

debut album, newly released in the UK, combining

classic country balladry with dashes of surf-rock, dub

reggae and even disco.

AMERICANA

FRIDAY 27TH JANUARY, 7.30PM

£14, SEATED

Aged just 20 and 22, Rebecca and Megan Lovell have

already notched up gigs at Bonnaroo, Telluride and the

Grand Old Opry, as two-thirds of the erstwhile Lovell

Sisters, together with eldest Jessica. With a repertoire

ranging from traditional bluegrass through original

songs to Massive Attack and Jimi Hendrix covers, the

renamed Georgian duo not only sing the sweetest of

harmonies, but play mandolin, guitar, dobro and lap steel,

additionally backed with electric guitar and drums.

"Attempting a move away from their previous bluegrass

approach, Larkin Poe are making the transition

successfully, without entirely losing their heritage; there

are elements of bluegrass here, but this is a move into

soul and pop territory. And these girls have the vocal

and song writing prowess to make a success of whatever

genre they turn their hand to." Americana-UK

TICKETS: 0141 353 8000
---
50

ÒRAN MÓR

Foy Vance and Findlay Napier &

the Bar Room Mountaineers

Mànran and Tarras

Paul Kelly and Tensheds

PAUL KELLY

MANRAN

FOY VANCE

INDIE

SATURDAY 28TH JANUARY, 7.30PM

£14, STANDING

The actual son of a preacher man, Co. Down native Foy

Vance spent his earliest formative years in the US Bible

belt, infusing his Irish influences with soul, blues and

gospel. His 2007 debut album Hope won comparisons

to Van Morrison, Stevie Wonder and Richie Havens, and

he's recently completed a second with David Holmes, the

Belfast-born producer who soundtracked Ocean's Eleven

through Thirteen.

With their cracking second album File Under Fiction,

road-tested with a string of acclaimed 2011 festival

appearances – including Shetland, the Insider and

Belladrum – Findlay Napier and the Bar Room

Mountaineers' bracingly bolshy, subversively hook-laden

Scottish nu-folk takes another bold leap forward.

WWW.CELTICCONNECTIONS.COM

GAELIC

SUNDAY 29TH JANUARY, 7.30PM

£13, STANDING

Following last January's phenomenally successful launch

of their debut Gaelic single, Mànran have notched up

triumphant appearances at the Hebridean Celtic Festival

and Cambridge Folk Festival, and released a stunning

debut album. Featuring Scottish and Irish bagpipes,

fiddle, flute, vocals and a rock-style rhythm section,

they've been hailed by the Herald for their "top-drawer

technical prowess and wealth of distinctive flourishes",

while the Irish World called them "one of Scotland's most

fascinating new musical forces".

After first tasting success in the late 1990s, the reunited

Northumberland/Borders six-piece Tarras, whose

vibrantly layered mix of pop-tinged original songcraft and

traditional material features accordion, fiddle, cittern,

piano and rhythm section, are soon to release their longawaited

third album Warn the Water.

FOLK

WEDNESDAY 1ST FEBRUARY, 7.30PM

£14, STANDING

Australian singer-songwriter Paul Kelly's gift for

encapsulating his homeland has been likened to Bruce

Springsteen's or Ray Davies's in their respective domains.

He's been plying his trade for nearly 40 years now,

steadily gaining profound respect worldwide as well as

Down Under, with recent shows drawing on his massive

box set The A-Z Recordings, the audio parent of his

"mongrel memoir" How to Make Gravy, published in 2010.

A classically trained pianist with "a voice that sounds like

it's lived twice as long as his body" (NetRhythms), 2011

Danny Kyle Award winner Tensheds imbues heart-tugging

balladry with an array of Stateside shadings.
---
Hidden Orchestra and Chapelier Fou Rock Salt & Nails and support The Alan Kelly Gang and Yuptae

ÒRAN MÓR 51

THE ALAN KELLY GANG

ROCK SALT & NAILS

HIDDEN ORCHESTRA

FUSION

THURSDAY 2ND FEBRUARY, 7.30PM

£14, STANDING

Epitomising the blurred – or simply irrelevant – musical

boundaries common to so much great Scottish music right

now, the Hidden Orchestra (formerly Joe Acheson Quartet)

have previously won both the indie/guitar-dominated

T-Break contest and a place in Radio Scotland's A-Z of

jazz greats, meanwhile frequently featuring guests from

folk and classical backgrounds. Duelling acoustic and

digital percussion, piano, violin, bass and samples forge

an enthrallingly accessible yet experimental sound.

The nom de plume of one Louis Warynski, from Metz

in north-east France, Chapelier Fou creates playful,

poignant collages of electronica and live instrumentation,

reinventing the one-man band for the 21st century.

FOLK

FRIDAY 3RD FEBRUARY, 7.30PM

£13, STANDING

Powerhouse Shetland outfit Rock Salt & Nails made

their name at the forefront of Scotland's new folk wave

in the 1990s, marrying their rich native traditions with

bluegrass, country and excellent roots-pop songwriting.

To launch their 21st anniversary year, founder members

Paul Johnston (guitar/vocals), Fiona Johnston (keyboards/

vocals), John Clarke (bass) and Russell Gair (drums)

lead an extended line-up featuring some of the many top

Shetland and mainland musicians who've worked with

the band over the years. Long famed for their rock'n'roll

approach to live performance, they'll raise the roof

on Celtic Connections' final Friday night in signature

Shetland style.

FOLK

SATURDAY 4TH FEBRUARY, 7.30PM

£14, STANDING

Wielding a variety of his instrument still rare on the

Irish scene, piano accordionist Alan Kelly has long

since carved his own highly regarded niche, gradually

gathering about him the like-minded cohorts now officially

dubbed the Alan Kelly Gang, whose recent debut release

Small Towns and Famous Nights has won vociferous

acclaim. Along with Tóla Custy (fiddle), Steph Geremia

(flute/vocals) and Tony Byrne (guitar), he's joined tonight

– as on the album – by our very own Eddi Reader.

The instrumental eight-piece Yuptae, winners of a 2011

Danny Kyle Award, are all 'graduates' of Glasgow's St

Roch's Céilí Band, a celebrated hotbed of outstanding

young talent.

SPONSORED BY

TICKETS: 0141 353 8000
---
52

ST ANDREW'S IN THE SQUARE

Cuairt nan Eilean This is How we Fly and Liguriani Empreintes and Cruinn

EMPREINTES

THIS IS HOW WE FLY

CUAIRT NAN EILEAN

GAELIC

FRIDAY 20TH JANUARY, 7.30PM

£13, SEATED

Translating from the Gaelic as "a tour around the

islands", and staged as the opening show of 2011's

Hebridean Celtic Festival, Cuairt nan Eilean brings

together three of today's finest young Gaelic singers,

performing both classic favourites and little-known

gems, to illuminate their diverse Hebridean traditions.

Representing Harris, where her family roots lie, is Jenna

Cumming; from Skye comes fellow Mod gold medallist

Darren Maclean, while North Uist's Linda Macleod brings

a wealth of scholarly research as well as her beautiful

voice to the project. They're accompanied by an array

of top instrumentalists including Matheu Watson, Patsy

Reid, Fiona Macaskill and James Mackenzie.

FOLK

SATURDAY 21ST JANUARY, 7.30PM

£13, SEATED

A white-hot creative crucible uniting four pyrotechnic

young talents, This Is How we Fly was born of a 2010

Dublin Fringe Festival commission, supposedly a one-off

encounter between Caoimhín Ó Raghallaigh (fiddle/

hardanger fiddle), Seán Mac Erlaine (bass clarinet/

saxophones/electronics), Nic Gareiss (percussive dance),

and Petter Berndalen (drums/percussion). The cuttingedge

chemistry they ignited, between Irish and Swedish

trad, American freestyle footwork, improvised jazz and live

electronica, is blazing an awesome new trail.

As their name suggests, Liguriani champion the distinctive

culture and dialect of their native Liguria, near the French

border in north-west Italy, in a vibrant array of songs with

instrumentation including fiddle, flute, bagpipes, accordion

and guitar.

WORLD

SUNDAY 22ND JANUARY, 7.30PM

£13, SEATED

While continuing his 30-year career as a linchpin of

numerous major Breton bands and performance projects –

including Skolvan, Barzaz, L'Héritage des Celtes and Bagad

Kemper's Azéliziza – master guitarist Gilles Le Bigot has

released two acclaimed solo albums under the Empreintes

title, in 2002 and 2011, here selecting from that material

in company with vocalist Marthe Vassallo, flautist Jean-

Michel Veillon and saxophonist Bernard Le Dréau.

Making their maiden public performance, Cruinn are a

new Scottish Gaelic supergroup comprising James Graham,

Fiona Mackenzie, Brian Ó hEadhra and Rachel Walker,

whose outstanding vocals and interpretative finesse are

complemented by strong contemporary songwriting and an

array of instrumental skills.

WWW.CELTICCONNECTIONS.COM
---
ST ANDREW'S IN THE SQUARE 53

LAUREN MACCOLL

A Celebration of the Dewar Awards

MÁIRTÍN O'CONNOR & SEAMIE O'DOWD

Sligo Live Sessions

with Máirtín O'Connor & Seamie O'Dowd,

The Gorgeous Colours and The JP Trio

FIDIL & SOLO CISSOKHO

Fidil with Solo Cissokho and Fatoumata

Diawara with Michael McGoldrick Quartet

TRADITIONAL

MONDAY 23RD JANUARY, 7.30PM

£13, SEATED

Founded in 2002 as an apt ongoing memorial to

Scotland's inaugural First Minister Donald Dewar

(1937-2000), the Dewar Arts Awards exist to "to give

exceptionally talented young people of meagre means

some assistance in fulfilling their potential in any branch

of the arts." This 10th anniversary celebration, hosted

by current Awards trustee Sheena Wellington, features

some of the many traditional musicians who've benefited

from the scheme, be it in recording albums or acquiring

new instruments, including flautist/singer Nuala Kennedy,

fiddlers Lauren MacColl and Graham Mackenzie, piper

Angus Nicolson and harper Fraya Thomsen.

TRADITIONAL

WEDNESDAY 25TH JANUARY, 7.30PM

£13, SEATED

Marking the second year of Celtic Connections'

partnership with the Sligo Live festival, another triple bill

curated from Ireland's traditional heartland – and one

of its most exciting contemporary hotbeds – reunites the

fabled partnership of pioneering accordionist Máirtín

O'Connor with guitarist, singer and fiddler Seamie

O'Dowd, as heard on O'Connor's 2005 album The Road

West. Aptly-named indie-popsters The Gorgeous Colours

channel blues, folk, jazz, soul, rock, indie and electronic

influences into "a perfect package of feelgood, danceable

and all-round gorgeous sounds" (State.ie), while O'Connor

himself has hailed young Sligo natives and Danny Kyle

Award winners The JP Trio as "the new cutting edge of

fused traditional music".

EXCLUSIVE

THURSDAY 26TH JANUARY, 7.30PM

£13, SEATED

Building on a very special show originally staged at the

2011 Earagail Arts Festival in Donegal, tonight reunites

the radical young Irish fiddle trio Fidil with seventhgeneration

Senegalese griot singer and kora player

Solo Cissokho – which built in turn on his previous

collaborations with Altan's Mairéad Ní Mhaonaigh and

Dermot Byrne, as well as with Swedish fiddler Ellika

Frissell.

Forging further new links between African and Celtic,

traditional and contemporary music, the wonderful new

Malian singer Fatoumata Diawara, aka Fatou, will team

up with the Michael McGoldrick Quartet, featuring Gerry

O'Connor on banjo, guitarist Tony Byrne and percussionist

James Mackintosh.

SPONSORED BY

TICKETS: 0141 353 8000
---
54

ST ANDREW'S IN THE SQUARE

ALISTAIR HULETT

The Wrigley Sisters and Tattie Jam Alistair Hulett Tribute Sultans of String and The Outside Track

M E M O R I A L F U N D

SULTANS OF STRING

ALISTAIR HULETT

THE WRIGLEY SISTERS

TRADITIONAL

FRIDAY 27TH JANUARY, 7.30PM

£13, SEATED

While their age might belie their 20-year playing

partnership, the fact of fiddler Jennifer and guitarist/

pianist Hazel Wrigley's twinship means they did start

very young: 13, to be precise, on their debut recording

Dancing Fingers. Since then they've toured the world

several times over, before founding their successful

music school, The Reel, back home in Orkney. Having

recently released their sparkling fifth album Idiom, the

Wrigleys are raring to be back on the road.

Tattie Jam are cellist and singer Seylan Baxter with

Ruaridh Pringle on vocals, guitar, banjo, didgeridoo,

mandolin and percussion – though to hear their big,

dynamic folk/swing sound you'd swear they were twice

that number.

WWW.CELTICCONNECTIONS.COM

SONG

SATURDAY 28TH JANUARY, 7.30PM

£13, SEATED

As Celtic Connections 2012 explores and celebrates the

interplay of music and politics, tonight pays tribute to a

much-loved local hero in this field, with a second musical

gathering in memory of singer, songwriter, socialist and

revolutionary Alistair Hulett (1951-2010). The line-up

includes such friends and kindred spirits as legendary

fiddler Dave Swarbrick – with whom Alistair enjoyed a

popular duo partnership – and singers/songwriters Roy

Bailey, Karine Polwart, Alasdair Roberts and Ian Bruce.

Also on the bill will be the winner of the Songs for Social

Justice Award, a new songwriting competition aimed at

continuing Alistair's musical and political legacy.

TRADITIONAL

SUNDAY 29TH JANUARY, 7.30PM

£13, SEATED

Self-styled purveyors of "atomic world-jazz flamenco",

Sultans of String are one of Canada's hottest new musical

exports. Centred on the founding interplay between Chris

McKhool – a six-string violinist of Lebanese/Egyptian

descent – and Kevin Laliberté's rumba-accented guitar,

they weave a gorgeously-hued tapestry of Spanish,

Arabic, Latin, French and gypsy strands. "Immaculate

musicianship – terrific group" – fRoots

Two Canadians also feature in The Outside Track –

Vancouver singer/flautist Norah Rendell, and Cape Breton

fiddler Mairi Rankin – together with award-winning

Scottish harpist Ailie Robertson and accordionist Fiona

Black, plus lone Irishman Cillian O'Dálaigh on guitar.

Drawing from across this vibrant spectrum of home

traditions, they combine classy musicianship with

winning joie de vivre.
---
ST CONCERT ANDREW'S HALL: IN THE MAIN SQUARE AUDITORIUM55

The Spey in Spate Mary Gauthier and Darrell Scott Rachel Sermanni & Friends

RACHEL SERMANNI

MARY GAUTHIER

ANNA-WENDY STEVENSON

TRADITIONAL AMERICANA FOLK

FRIDAY 3RD FEBRUARY, 7.30PM

£13, SEATED

Named after a classic tune by Scottish fiddle icon James

Scott Skinner, tonight's line-up cherry-picks from the

flood of exceptionally gifted, highly distinctive fiddlers

currently inundating the Scottish scene, featuring wellkent

names alongside players less often seen on the

concert circuit. Each performing with a sole accompanist

of their choice, they include Shetlander Kevin Henderson

of Fiddlers' Bid fame; Orkney's Kristan Harvey in

her penultimate performance as the reigning Radio

Scotland Young Traditional Musician of the Year; the

classical-tinged lyricism of Anna-Wendy Stevenson; and

Galloway-born Amy Geddes, previewing material from her

forthcoming solo album, plus other special guests.

SATURDAY 4TH FEBRUARY, 7.30PM

£13, SEATED

After mounting acclaim for her five previous albums,

Louisiana's Mary Gauthier won a remarkable sweep of

critical superlatives with 2010's The Foundling, exploring

her experiences of childhood abandonment and adoption.

Rarely can such unanimity have prevailed between No

Depression ("the most raw, brave and ultimately satisfying

album I've heard in a very long time") and the Sun ("one

of the most brilliant and heartbreaking pieces of music

you'll hear this or any year").

Recently recruited into Robert Plant's Band of Joy,

Darrell Scott reveals his romantic side on current solo

release A Crooked Road, combining the songcraft behind

numerous country hits with his own luscious baritone

voice.

SUNDAY 5TH FEBRUARY, 7.30PM

£13, SEATED

A year on from her triumphant New Voices show, Rachel

Sermanni's star remains steeply on the rise, with the

imminent release of her official, Ian Grimble-produced,

debut EP following last summer's self-released four-track,

The Bothy Sessions. Numerous festival appearances

throughout 2011 saw her captivating audiences at

home and abroad, with highlights including South by

Southwest, LA's Musexpo and Holland's Eurosonic plus

the Insider, Hebridean Celtic Festival and Cambridge Folk

Festival – not to mention opening for Elvis Costello at

October's Sligo Live. She returns to Glasgow with her full

eight-piece band, including fiddles, piano, guitars, bass

and Admiral Fallow's Louis Abbott and Phil Hague on

percussion.

SPONSORED BY

TICKETS: 0141 353 8000
---
56

THE TRON THEATRE

Cathy Jordan and Damien O'Kane

Ailie Robertson's Traditional Spirits

and Gráinne Holland

Tom Russell and support

TOM RUSSELL

AILIE ROBERTSON

CATHY JORDAN

TRADITIONAL

FRIDAY 20TH JANUARY, 8PM

£13, SEATED

During 20 years with Dervish, Roscommon singer Cathy

Jordan – also of transatlantic super-trio The Unwanted –

has secured her place in Ireland's traditional pantheon.

Amazingly, All the Way Home – launched tonight, with

guests including Michael McGoldrick and Väsen's Roger

Tallroth – is her first-ever solo album, also encompassing

Americana and newly composed material.

Banjo virtuoso Damien O'Kane's 2010 debut Summer

Hill also "adds his name to the proud history of Ulster

singers" (fRoots), while new release The Mystery Inch

captures him session-style with guitarist David Kosky.

FOLK

SATURDAY 21ST JANUARY, 8PM

£13, SEATED

As rich, varied and potent as its subject, harpist Ailie

Robertson's instrumental suite Traditional Spirits,

originally premiered in spring 2011, distils and blends

folk, jazz and classical elements in a musical evocation

of whisky-making. Robertson features alongside Fraser

Fifield, Patsy Reid, Adam Sutherland, James Ross, Conrad

Molleson, Tom Oakes and Chris Wallace.

Rising star Gráinne Holland, a Gaelic singer from West

Belfast who numbers Damien Dempsey among her fastgrowing

fanbase, opens the show, accompanied by Dónal

O'Connor, John McSherry, Tony Byrne and Lewis Smith.

There will be an opportunity to taste whisky from our

sponsor Bruichladdich before the gig.

FOLK

SUNDAY 22ND JANUARY, 8PM

£13, SEATED

Veteran US singer-songwriter Tom Russell lends authentic

meaning to terms like "renegade country". Alongside his

own prolific, restlessly questing output, from 1976's Ring

of Bone to 2011's Mesabi – "an album that defines what

Americana is" (All Music Guide) – his songs have been

covered by Johnny Cash, Guy Clark, Dave Alvin and k.d.

lang, among many others.

"Cut from the same cloth as songwriting alchemists

Kris Kristofferson and Guy Clark, his evocative portraits

of everyday life draw as much from Graham Greene as

they do Johnny Cash." Pop Matters

"One of the best singer-songwriters of our time."

The Washington Post

WWW.CELTICCONNECTIONS.COM
---
The Captain's Collection

The Quebe Sisters Band

and Simon Bradley Trio

THE TRON THEATRE 57

The Annie Grace Band and Lídia Pujol

THE ANNIE GRACE BAND

THE QUEBE SISTERS BAND

THEATRE

WEDNESDAY 25TH & THURSDAY 26TH JANUARY, 8PM

£13, SEATED

Originally the brainchild of Blazin'Fiddles' Bruce

MacGregor, Dogstar Theatre Company's award-winning

music theatre production vibrantly dramatises the life

and work of Captain Simon Fraser – fiddler, composer,

publisher, dispossessed laird and Empire soldier – whose

1816 collection The Airs and Melodies Peculiar to the

Highlands of Scotland and the Isles, preserved a wealth

of ancient Gaelic songs and tunes for posterity. Directed

by Alison Peebles, the cast comprises Matthew Zajac

(winner of Best Actor at the 2009 Critics' Awards for

Theatre in Scotland) and Gaelic singer/actress Alyth

McCormack, with live music from Jonny Hardie and

Ingrid Henderson.

FOLK

FRIDAY 27TH JANUARY, 8PM

£13, SEATED

Fronted by the three sisters' divinely dovetailed vocals

and silkily intertwined fiddles, hot young Texan combo

The Quebe Sisters Band – thwarted by illness from

debuting at Celtic Connections 2011 – have been

captivating audiences far and wide with their vintagesounding

yet freshly-minted mix of Western Swing,

bluegrass, jazz and cowboy songs.

Manchester-Irish fiddler Simon Bradley's 15-year musical

journey, via Edinburgh and Asturias to Benbecula,

resonates through his all-original new trio set with

Anna-Wendy Stevenson and Matheu Watson, recalling the

celebrated trad/swing sound of The Easy Club.

FOLK

SATURDAY 28TH JANUARY, 8PM

£13, SEATED

Annie Grace's richly abundant talents on vocals, bagpipes

and whistles have previously featured in The Iron Horse,

the Unusual Suspects, Scottish Women and Grace, Hewat

and Polwart, as well as on her 2004 solo debut, Take Me

Out Drinking Tonight, a sensuous blend of folk, jazz and

blues, whose follow-up The Bell she launches here.

Another welcome guest from Catalunya, our international

partners at Showcase Scotland 2012, singer Lídia Pujol

boldly interweaves her native traditions with Yiddish,

Celtic, medieval, Sephardic and flamenco sounds.

SPONSORED BY

TICKETS: 0141 353 8000
---
58

THE TRON THEATRE

Woody Sez

The Boy and the Bunnet

THEATRE

SUNDAY 29TH JANUARY – THURSDAY 2ND FEBRUARY, 8PM

£13, SEATED

The political strand within Celtic Connections' 2012 programme overlaps wholly

organically with our centenary celebration of Woodrow Wilson Guthrie (1912-1967),

the "dust bowl troubadour" who both chronicled and protested the Great Depression,

"singing for the plain folks and getting tough with the rich folks." Named for his Daily

Worker newspaper column, Melting Pot Theatre Company's dynamic production features

four multi-talented actor-musicians – playing guitars, fiddles, banjo, mandolin, dobro,

autoharp, dulcimer, jaw harp and spoons – who bring to life both Guthrie's own colourful,

arduous story and the rich cast of characters who shared in it. Featuring around 30

classic Guthrie songs, from desolate ballads to defiant rallying-calls, the show pays

fittingly heartfelt, uncontrived and freshly topical tribute to a towering folk icon. "Knocks

big West End biopics such as Jersey Boys into a heap of dust… stirringly captures the

rebellious spirit of Guthrie's times, and of our own." (Guardian)

THEATRE

FRIDAY 3RD FEBRUARY, 7PM; SATURDAY 4TH FEBRUARY, 2PM

£13, FAMILY TICKET £35 (2 ADULTS AND 2 CHILDREN)

WEAR A BUNNET TO THE SHOW FOR £4 OFF YOUR FAMILY TICKET! SEATED

Conceived as Scottish traditional music's answer to Prokofiev's Peter and the Wolf,

with the aim of introducing audiences to key instruments and their roles, and to

Scotland's languages, via vivid, character-driven narrative, The Boy and the Bunnet

unites the formidable talents of Booker-nominated author James Robertson and pianist/

composer James Ross. Robertson's Scots text, narrated by Gerda Stevenson, spins a

lively contemporary fairy-tale about a young boy's adventures while lost in the woods,

where he encounters an array of real and supernatural creatures, each characterfully

conjured by Ross's typically imaginative, lyrical score. Originally premiered in Aonghas

MacNeacail's Gaelic translation at the 2011 Blas festival, this inaugural Scots

performance again features Ross with Corrina Hewat (harp and voice), Patsy Reid

(fiddle), Neil Johnstone (cello), Angus Lyon (accordion) Fraser Fifield (pipes) and Signy

Jakobsdottir (percussion).

WWW.CELTICCONNECTIONS.COM
---
CCA

59

Ceòl 's Craic Anne Martin & Friends Kaela Rowan with Ewan MacPherson

& James Mackintosh

Donald MacDonald &

The Islands

'Se Ceòl 's Craic an àite cruinneachaidh

beothail agus an àrd-urlar airson cultar na

Gàidhlig an latha an-diugh ann an Glaschu.

Thigibh còmhla rinn aig Celtic Connections

airson trì latha de bhuithtean-obrach,

filmichean, òraidean, ceòl agus dannsa.

Thigibh a-staigh bho shia uairean feasgar

airson aon no a h-uile gin de na tachartasan

a bhios ann air an oidhche. Gheibhear eòlas

agus tuigse air cultar na Gàidhlig aig

Ceòl 's Craic.

Ceòl 's Craic is the vibrant social hub and

platform for contemporary Gaelic culture in

Glasgow. Join us during Celtic Connections

for three days of workshops, film, talks, live

music and dancing; exploring aspects of fusion

between Gaelic and other world traditions.

Come along any evening from 6pm onwards

for one or all of the acts. Experience and

explore Gaelic with Ceòl 's Craic.

A' bharrachd air na priomh tachartasan ciùil,

bi rudan a' tachairt gach oidhche bho 6f le

òraidean, bùthan-obrach, cearcall còmhraidh

agus fiolmaichean-thoir sùil air an làrach-lìn

airson barrachd fiosrachaidh.

In addition to the main musical acts there will

be pre concert events every evening from 6pm

featuring lectures, workshops, the conversation

café and film screenings, please see

www.celticconnections.com for full details.

ANNE MARTIN

GAELIC

THURSDAY 26TH JANUARY, 8PM

£13, SEATED & STANDING AREAS

Equally at home performing at large

festivals, concert halls, or small and

intimate village halls, Anne Martin has

been singing and researching Gaelic

song since a child. Born and brought up

in Trotternish on the Isle of Skye, she

learnt a wealth of her tradition from older

neighbours and relatives.

KAELA ROWAN

GAELIC

FRIDAY 27TH JANUARY, 8PM

£13, SEATED & STANDING AREAS

Compelling singer-songwriter Kaela

Rowan is the former lead singer of

groundbreaking outfits such as Mouth

Music and Sola and is also one of

the vocalists in The Bevvy Sisters,

specialists in the field of spine-tingling

female harmonies. She is accompanied

tonight by Ewan MacPherson, (Fribo,

RoughCoastAudio) and Shooglenifty's

James Mackintosh.

DONALD MACDONALD & THE ISLANDS

GAELIC

SATURDAY 28TH JANUARY, 8PM

£13, SEATED & STANDING AREAS

Donald Macdonald & The Islands from

the Scottish Highlands are a five-piece

alternative folk band that have made a big

impact on the music scene in the short

time they have been together. Expect the

only folk band you'll ever see crowd surf

with an accordion!

TICKETS: 0141 353 8000
---
60

PLATFORM

Cornershop and support

Laetitia Sadier, Jo Mango

and Dan Haywood's New Hawks

ST MARY'S CATHEDRAL

An Aifreann Gàidhlig (The Gaelic Mass)

ST MARY'S CATHEDRAL

LAETITIA SADIER

CORNERSHOP

INDIE INDIE GAELIC

FRIDAY 20TH JANUARY, 7.30PM

£12.50, STANDING

Although still best known for their 1997

crossover hit Brimful of Asha, the UK's

favourite indie-dance-country-funk-

Punjabi-hip-hop outfit Cornershop have

never stopped making music, albeit

in a creatively mercurial fashion that

consistently confounds pigeonholes. "The

only thing all our records have in common,"

acknowledges co-founder Tjinder Singh,

"is that each one tries to sound utterly

different." Their new album, Cornershop

and the Double-O Groove Of, features

the wondrous vocals and female-centred

songwriting of previously-unknown Hindi

singer Bubbley Kaur.

WWW.CELTICCONNECTIONS.COM

SATURDAY 21ST JANUARY, 7.30PM

£10, STANDING

Stepping out solo after almost 20 years

with post-rock pioneers Stereolab, Frenchborn

singer Laetitia Sadier won glowing

reviews for her 2010 debut album The

Trip, displaying her airily voluptuous vocals

in a set of deeply personal songs. After

recent collaborations with Vashti Bunyan,

David Byrne and Devendra Banhart,

Scottish singer-songwriter and multiinstrumentalist

Jo Mango previews her

imminent, Adem-produced second album,

while Lancashire native Dan Haywood and

his band perform material inspired by an

extended sojourn in Scotland's far north.

SATURDAY 21ST JANUARY, 7.30PM

£15

An Aifreann Gàidhlig represents a musical crossover between the traditional and

classical styles and is a project which has interested and fascinated Blair Douglas

for some years, but one which he has only recently felt equipped, both musically and

spiritually, to undertake.

More akin to the folk masses of Ramirez than the full-blown classical versions of a

Mozart or Fauré, the Gaelic Mass is firmly rooted in the Celtic tradition, but also seeks

to explore and develop differing musical themes.

It features a host of Gaelic talent including the Inverness Gaelic Choir and soloists

Paul McCallum and Maggie MacDonald, who combine musical styles in this unique and

original work, created without sacrificing the sanctity of the Mass.
---
Zoe Muth & The Lost High Rollers

and Turtle Duhks

KAN with Guidewires

THE ARCHES 61

The Sweetback Sisters and support

THE SWEETBACK SISTERS

KAN

ZOE MUTH

AMERICANA

SATURDAY 21ST JANUARY, 7.30PM

£14, STANDING

Even amid Americana music's ongoing decade-long purple

patch, rarely have pundits been so unanimously excited as

they are about young singer-songwriter Zoe Muth, thanks

to vocals and wordcraft that have seen the Seattle native

– abetted by her superb backing quartet The Lost High

Rollers – variously likened to Emmylou Harris, Tammy

Wynette, Iris DeMent, Loretta Lynn and Gillian Welch.

With a sound self-styled as "bluegrass/folk/garage", the

Turtle Duhks are a labour-of-love side project featuring

clawhammer banjo demon Leonard Podolak, guitarist

Jordan McConnell – both of top Canadian neo-traditional

band The Duhks – and Turtle Island Dream's Lydia

Garrison on fiddle.

FOLK

FRIDAY 27TH JANUARY, 7.30PM

£14, STANDING

Named for the mythical Mayan seed of vision and dreams

that flowered through melody and harmony, fronted by

flute/whistle genius Brian Finnegan (Flook) and demon

fiddler Aidan O'Rourke (Lau), KAN further cross-fertilise

the mix with guitarist Ian Stephenson and drummer Jim

Goodwin's fiendishly inventive rhythms. After two years'

live development, tonight's set showcases material from

their eagerly-awaited debut album.

Guidewires are another instrumental powerhouse,

comprising Irishmen Pádraig Rynne (concertina), Tóla

Custy (fiddle), Paul McSherry (guitar) and Karol Lynch

(bouzouki), plus Brittany's Sylvain Barou (flute), whose

new album Guidewires II – featuring guest vocalist

Tríona Ní Dhomhnaill – won comparisons to Lúnasa

and At First Light.

AMERICANA

SATURDAY 28TH JANUARY, 7.30PM

£14, STANDING

They ain't no blood relations – indeed, the full Sweetback

sisterhood includes a rockin' four-man band – but

Kansas/California-born singers and songwriters Emily

Miller and Zara Bode share a rare vocal chemistry

usually confined to families. Their 2011 second album

Looking for a Fight comprises mainly original material,

steeped in vintage country, swing, honky-tonk and oldtime

flavours, plus covers of Patsy Cline, Hazel Dickens

and the Traveling Wilburys.

"If you think the concepts of hipster Brooklynites and

classic country music are mutually exclusive, allow us

to introduce you to this swinging sextet. Fronted by the

closely harmonizing duo of Zara Bode and Emily Miller,

the zingy group is simultaneously reverent of tradition

and contemporaneously cheeky." The Boston Globe

SPONSORED BY

TICKETS: 0141 353 8000
---
62

The Arches

Martha Reeves & the Vandellas

and support

Jonathan Wilson and support

Laura Veirs and support

LAURA VEIRS

JONATHAN WILSON

MARTHA REEVES

LEGEND

SUNDAY 29TH JANUARY, 7.30PM

£20, STANDING

There are mighty few original Motown legends still

going anything like as strong as Martha Reeves, who

soundtracked the summer of '64 with Dancing in the

Street and has since lent her magnificent voice to rock,

jazz, country, gospel, blues and classical material.

Together with the Vandellas – her sisters Lois and

Delphine – she still maintains a full-time live schedule,

including her sensational 69th birthday show at the

Arches in July 2010.

AMERICANA

THURSDAY 2ND FEBRUARY, 7.30PM

£14, STANDING

Not to overplay the narcotic analogies, but the Guardian

approvingly likened alt.country mover and shaker

Jonathan Wilson's first solo album, 2011's Gentle Spirit,

to "a free reflexology treatment and a small dose of

diazepam", while NME concluded: "As California dreamin'

goes, this is almost as good as heading for the hills,

reaching for a hand-tooled native American bong and

calling yourself Moon Unit." Despite their best efforts at

21st century cynicism, both critics – along with numerous

others, either side of the Pond – were blissfully seduced

by Wilson's slow-matured, all-analogue homage to the

timeless virtues of classic early-70s country-rock.

FOLK

FRIDAY 3RD FEBRUARY, 7.30PM

£14, SEATED & STANDING AREAS

A very warm welcome back to Colorado singer-songwriter

Laura Veirs, who last played Celtic Connections just at

the birth of her acclaimed seventh album, 2010's July

Flame, and shortly before that of her first child. With

July Flame offering a lusher echo of her early acoustic

arrangements, new release Tumble Bee comprises

children's songs drawn from US folk tradition, some of

them centuries old: in Veirs's words, "a sampling that

reflects our richness as people."

"Laura Veirs makes thoughtful, folk-tinged, quietly

rapturous albums that inspire effervescent reviews. July

Flame is her seventh, and parts of it are so extravagantly

beautiful that it will send you scurrying back to its

predecessors." The Guardian

WWW.CELTICCONNECTIONS.COM
---
Beat Bothy Club Night

Smoove & Turrell and

Federation of the Disco Pimp

Vieux Farka Touré and support

THE ARCHES 63

VIEUX FARKA TOURÉ

SMOOVE & TURRELL

CHAPELIER FOU

FUSION

FRIDAY 3RD FEBRUARY, 10.30PM – LATE

£10, STANDING

Glasgow's most fabled club venue, The Arches will

be dancing to a different drum tonight, feasting on a

massive late-night spread of cutting-edge beats, tunes

and grooves. For your booty-shaking delectation, we

present the debut outing by three of Croft No.5 and the

Treacherous Orchestra's chief culprits - guitarist Barry

Reid, accordionist John Somerville and fiddler Adam

Sutherland – in their bangin' new electro/dance project

Halcyon; Skye's young champions of Celtic/clubland

fusion Niteworks, and all discerning folkies' favourite DJ

Dolphin Boy. Also from Skye, there's the small matter of

Mylo with a specially created set, and from France the

21st-century one-man-band that is Chapelier Fou.

FUSION

SATURDAY 4TH FEBRUARY, 7.30PM

£13, STANDING

The Geordie duo of vocalist John Turrell and DJ/producer

Jonathan Watson, aka Smoove, put their own cannily

seductive spin on soul music history from Motown

to modern-day urban, via funk, disco and acid jazz,

attaining fresh peaks of perfection on 2011's second

album Eccentric Audio: "an astute and crafty piece of

funky blessedness that grows on you like stirring love."

(bluesandsoul.com)

Glasgow seven-piece Federation of the Disco Pimp

have been proclaimed by Jazz FM's Christian Bragg as

purveyors of "the hottest Scottish funk since the Average

White Band" – although they themselves favour the term

'extreme funk', as befits their blistering live performances.

WORLD

SUN 5TH FEBRUARY, 7.30PM

£14, STANDING

The son of late Malian guitar legend Ali Farka Touré,

encouraged from childhood by kora maestro Toumani

Diabaté, Vieux Farka Touré at once celebrates and

transcends those formative influences on his new third

album The Secret. Recorded in Bamako and Brooklyn,

it further develops the guitarist and singer's distinctive,

hypnotic amalgam of desert blues, rock, jazz and Malian

sounds, also featuring vocalist Dave Matthews, Derek

Trucks on electric slide guitar and jazz guitarist

John Scofield.

SPONSORED BY

TICKETS: 0141 353 8000
---
64

BREL

BELLA HARDY

IAN STEPHENSON

BREL JAZZ - ORIGAMI

Saturday 21st January, 3-6pm, £5

London jazz outfit Origami, normally

resident in Oliver's Jazz Bar Greenwich,

stop off on their national tour.

BREL FOLK - IAN STEPHENSON TRIO &

GUESTS

Sunday 22nd January, 7.30pm, £10

BBC Radio 2 Young Folk Award-winning Ian

Stephenson (KAN, Baltic Crossing, Chris

Stout Theory) will perform material from his

acclaimed debut album Line-Up, with Sarah

Hayes (Admiral Fallow) and Andy May.

FEDERATION OF THE DISCO PIMP

REMEMBER REMEMBER

BREL SESSIONS

Monday 23rd and Monday 30th January,

9pm-1am, Free (not ticketed)

Organised by Sarah (Admiral Fallow),

Laura and Jennifer (Rachel Sermanni

Band), the usual night of sessions will

feature special guests during the festival.

ACOUSTIC NIGHT - CHEMIKAL

UNDERGROUND & FRIENDS

Tuesday 24th and Tuesday 31st January,

7.30pm, £5

Two evenings curated by the iconic Glasgow

label Chemikal Underground, originally

formed by ex-members of The Delgados.

ACOUSTIC NIGHT - LOUIS ABBOTT (ADMIRAL

FALLOW) & FRIENDS

Wednesday 25th January and Wednesday

1st February, 7.30pm, £5

Two evenings curated by Admiral Fallow's

Louis Abbott, fresh from a string of

festival appearances including Glastonbury

and South by Southwest in Texas.

BREL JAZZ - FEDERATION OF THE

DISCO PIMP

Saturday 28th January, 3-6pm, £5

Providing unstoppable grooves, FOTDP are

Scotland's premier exponent of modern

funk: "The most aggressive Funk I've heard

in years!" (Craig Charles, BBC 6music)

BREL ROCK ACTION - REMEMBER

REMEMBER AND ADAM STEARNS & THE

GLASS ANIMALS

Sunday 29th January, 7.30pm, £10

"Remember Remember – aka Graeme

Ronald [and now a seven-piece band]

excels at creating existential soundscapes

through looped samples, minimalist keys

and twinkling glockenspiels that have the

power to burrow through to the very core

of your emotional being." NME 8/10

Support comes from Adam Stearns

& The Glass Animals, with their rich

blend of folk and psychedelia.

BREL JAZZ - MARIA SPEIGHT QUARTET

Saturday 4th February, 3-6pm, £5

Based in Scotland, but hailing from

Alabama in America's deep south – the

cradle of jazz music – Maria Speight is

blessed with a genuine richness in her

vocal delivery, pouring her heart into

the delicate rendition of every song.

BREL FOLK - BELLA HARDY & GUESTS

Sunday 5th February, 7.30pm, £12

Acclaimed Peak District singer Bella

Hardy's soaring and captivating voice

inhabits her characters and spins stories

with an equal balance of strength and

sensitivity. Her recently released third

album combines the traditional styles and

ballad forms that have always been at the

centre of her work, with an added gift for

poetry and Angela Carter-inspired twisted

tales. "An impressive set" **** Guardian

WWW.CELTICCONNECTIONS.COM
---
STEVE TILSTON

FRIDAY 20TH JANUARY, 8PM

£10, SEATED

Steve Tilston celebrates 40 years in the

business and the release of his latest

recording The Reckoning. The writer of

the classics The Slipjigs and Reels, The

Naked Highwayman and A Pretty Penny,

tonight he is joined by Keith Warmington

(harmonica) and Stuart Gordon (violin)

performing beautiful arrangements of

songs old and new.

"…songs of great heart, delivered with

authority and instrumental panache."

*****The Scotsman

SHEENA WELLINGTON &

THE WIGHTON COLLECTION

SATURDAY 21ST JANUARY, 8PM

£10, SEATED

Opened by Dr. Sheena Wellington in

2003, Dundee's Wighton Collection is

one of the world's finest repositories of

Scottish music. It performs a vital role

in furthering the study and development

of music in Scotland and tonight,

with the help of special guests, she

performs some of its hidden gems.

SPONSORED BY

SISTERS UNITE FEATURING AILEEN

CARR, ELSPETH COWIE AND

GORDEANNA MCCULLOCH

TUESDAY 24TH JANUARY, 8PM

£10, SEATED

An evening of the very finest in Scots

song, featuring three outstanding

doyennes of the tradition: ex-Seannachie

and Chantan mainstay Elspeth Cowie,

and fellow one-time Palaver members

Gordeanna McCulloch (also of The Clutha

fame) and Aileen Carr – all riveting

performers, as well as inspirational rolemodels

to their successors.

GAELIC SONG CIRCLE WITH GILLEBRIDE

MACILLEMHAOIL, NORRIE MACIVER AND

ALASDAIR WHYTE

WEDNESDAY 25TH JANUARY, 8PM

£10, SEATED

A triumvirate of Gaeldom's younger male

champions from around the Hebrides,

including South Uist's Gillebrìde

MacIllemhaoil – "a voice that wine writers

would love to set their vocabularies loose

on" (Herald) – and fellow Mod Gold

Medallist (at 19!) Alasdair Whyte, from

Mull. Leòdhasach Norrie MacIver, of

Bodega and Mànran, completes the circle.

EILEAN MO GHAOIL

(THE MUSIC OF ARRAN)

TUESDAY 31ST JANUARY, 8PM

£10, SEATED

Performing a selection of the beautiful

island of Arran's best music from the

album of the same name, are some of

Scotland's leading traditional musicians:

Angus Lyon (accordion, piano, rhodes,

melodica), Ali Hutton (pipes, guitar),

Kathleen Graham (vocals) and Ross

Kennedy (vocals, guitar), all directed

and arranged by Arran native, Gillian

Frame (fiddle, viola, vocals).

ANDY WHITE

THURSDAY 2ND FEBRUARY, 8PM

£10, SEATED

Belfast born and raised, Andy White

has earned a global following for

blending folk and pop stylings with

a poet's sensibility. Working with the

greats of Irish music – Sinead O'Connor,

Van Morrison – and writing with Peter

Gabriel and Neil and Tim Finn, Andy has

won Ireland's top songwriting awards

and toured the world many times over.

GLASGOW ART CLUB

GLASGOW ART CLUB 65

VOICES IN SCOTLAND

FRIDAY 3RD & SATURDAY 4TH FEBRUARY,

8PM, £10, SEATED

Experience a collection of stories from

around the world, complete with musical

accompaniment, told by storytellers from

Scotland, England Ireland, Japan, Africa,

America and Canada, all of whom now

reside in Scotland.

Fri 3rd: Mara Menzies, Marion Kenny and

Lawrence Tulloch (storytellers), Mairi

Campbell, Jamie Kenny, Joel Sanderson,

Sarah McFadyen, Sandy Wright, Dougie

Hudson, Andy Cooke, Stuart Dinwoodie

and Pete Vilk (musicians).

Sat 4th: Claire McNicoll, Mio Shapely and

Chuck Warren (storytellers), Donald Hay,

Jamie Kenny, Mary Macmaster, Leo McCann,

Mugenkyo Taiko Drummers, Marion Kenny,

Dougie Hudson and Eddie McGuire

(musicians). Voices in Scotland is supported

by the Year of Creative Scotland

TICKETS: 0141 353 8000
---
66

BBC SCOTLAND

LIVE RADIO BROADCASTS FROM PACIFIC QUAY

ROSS AINSLIE

92-95FM and 810MW

The festival is pleased to collaborate once again

with our national radio station with six live shows

coming from BBC Scotland's headquarters at

Pacific Quay. Tickets will be available from

1st December.

MARY ANN KENNEDY'S GLOBAL GATHERING

TUESDAY 24TH &

TUESDAY 31ST JANUARY, 8PM

FREE BUT TICKETED

Mary Ann has music from round the world and round the

corner, and will feature a handpicked selection of festival

artists playing live in BBC Scotland's headquarters on

the Clyde.

TRAVELLING FOLK

THURSDAY 26TH JANUARY

& THURSDAY 2ND FEBRUARY, 8PM

FREE BUT TICKETED

Bruce MacGregor presents a special live show featuring

some of the best music from this year's festival, from

BBC Scotland's headquarters at Pacific Quay.

ANOTHER COUNTRY WITH RICKY ROSS

FRIDAY 27TH JANUARY

& FRIDAY 3RD FEBRUARY, 8PM

FREE BUT TICKETED

Ricky Ross presents a special show featuring Americana

and alternative country artists playing live from BBC

Radio Scotland's headquarters in Pacific Quay.

WWW.CELTICCONNECTIONS.COM
---
BBC SCOTLAND 67

TAKE THE FLOOR Saturday 4th February, 7pm

The MacLeod Hall, Pearce Institute, Govan, Free but ticketed

Take The Floor, BBC Radio Scotland's longest running show, is delighted to make a

return to this year's festival. Join presenter Robbie Shepherd with Iain Anderson

and his Scottish Dance Band for a great night of music, song and dance.

BBC RADIO SCOTLAND YOUNG

TRADITIONAL MUSICIAN OF THE YEAR FINAL

Sunday 5th February, 5pm, City Halls

Live coverage of the competition on BBC Radio Scotland featuring six talented

finalists, see page 36.

Celtic Connections on TV, Radio and Online

BBC RADIO 2

On Wednesday 2nd and Wednesday 9th February at 10pm, BBC Radio 2 will

broadcast the highlights of this year's festival in two hour long specials

presented by Ricky Ross.

BBC RADIO 3

Tuesday 31st January – Friday 3rd February

10pm till late

Mary Ann Kennedy introduces World on 3 live from the Late Night Sessions – four

broadcasts from the Glasgow Royal Concert Hall with performances by some of

Celtic Connections' finest – see page 68 for details.

BBC SCOTLAND TV

BBC Scotland will visit the Old Fruitmarket on Monday 23rd January to record

a special showcase programme featuring a selection of top festival artists for

broadcast at a later date on BBC television.

ONLINE

Visit bbc.co.uk/celticconnections for full listings and to enjoy all of the BBC's

coverage on demand, including exclusives you won't find anywhere else.

Follow us on Twitter: @bbcscotmusic

TICKETS: 0141 353 8000
---
68

THE FESTIVAL CLUB

Apollo 23

THURSDAYS, FRIDAYS, SATURDAYS AND SUNDAYS

THROUGHOUT THE FESTIVAL, £8, 10PM – LATE

Our late night club ensures that there is even more

music to enjoy after all the gigs are over. With inspired

line-ups that are never divulged before the night, the

Festival Club will be filled with Celtic craic.

LATE NIGHT SESSIONS

Exhibition Hall, Glasgow Royal Concert Hall

RIGHT THROUGH THE FESTIVAL

(EXCEPT THURSDAY 19TH, SUNDAY 22ND – TUESDAY 24TH

AND MONDAY 30TH), £6, 10PM – LATE

SPECIAL OFFER: BUY TWO TICKETS FOR £10 BEFORE 24TH DECEMBER.

For a more intimate evening during the festival, enjoy our Late Night Sessions taking

place in the Exhibition Hall at the Glasgow Royal Concert Hall. Featuring just as many

great musicians as the main Festival Club, the bar will be open late and you can be

assured of many a memorable moment.

Relaunched in 2011 as a brand new live

music venue which sits on the site of

the legendary and much missed Glasgow

Apollo, Apollo 23 aspires to create the

same sort of buzz and is ideally placed

in the heart of the city centre. Sparkling

host Kevin Macleod will guide you through

proceedings and you never know who

you'll bump into as you join the throngs

in the bar.

Please note that the Festival Club is

for over 18s only.

Following the huge success of BBC Radio

3's World on 3 broadcasts at the previous

two festivals, World on 3 returns for an

extended four-night residency live from

Late Night Sessions. Presented by Mary

Ann Kennedy, the shows will feature a top

line-up of festival artists performing live

as well as recorded highlights of the 2012

festival, broadcast Tuesday 31st January

– Friday 3rd February.

You'll also be assured of a warm welcome

at the House of Song hosted by Doris

Rougvie in a peaceful oasis away from the

main stage.

WWW.CELTICCONNECTIONS.COM
---
RURA

DANNY KYLE'S OPEN STAGE

Spot tomorrow's talent today!

69

THURSDAY 26TH TO

SUNDAY 29TH JANUARY

ROSS AINSLIE

PAUL MCKENNA BAND

LA CARRAU

STARTS 20TH JANUARY 5-7PM

GLASGOW ROYAL CONCERT HALL

In partnership with the Evening Times and

broadcast live on Celtic Music Radio 1530AM

Danny Kyle was a passionate supporter of traditional music and a constant

campaigner for its revival in Scotland. Each night on the Open Stage, new

musical talent is given the chance to shine under the Celtic Connections

spotlight and the six best acts win through to the final night showcase concert,

which takes place in the Strathclyde Suite. With a support slot at next year's

festival up for grabs, it's a hard fought competition. Compered by Danny's close

friend Liz Clark, it has been the launch pad for many now familiar names such

as Adam Sutherland, Karine Polwart and The Chair.

And did we mention – it's absolutely FREE

"SHOWCASE SCOTLAND PROVIDES A UNIQUE OPPORTUNITY

TO SEE THE BEST ESTABLISHED AND UP AND COMING

SCOTTISH FOLK ARTISTS AND ALSO TO MEET AND DISCUSS

IDEAS WITH THE LEADING PROMOTERS OF CELTIC MUSIC

FROM AROUND THE WORLD."

Eddie Barcan, Cambridge Folk Festival

Approaching its 13th year, Showcase Scotland has become the

nation's largest international gathering of the music industry.

Taking place at Celtic Connections over the final weekend it

features an extensive range of home-grown acts, and is

attended by nearly 200 international music-industry delegates,

representing over 25 countries.
---
70

WORKSHOPS

Our workshop programme is designed to

inspire people of all ability levels to get

involved in traditional music and song.

Please book early to avoid disappointment as numbers

are limited. The rough guide to ability levels:

COME&TRY

If you have always wanted to have a go

but have never had the confidence or

opportunity! Instruments are provided.

BEGINNERS

Those who have just started learning an instrument.

IMPROVERS

If you have been playing your instrument for

about a year and are ready for the next level.

SATURDAY 21ST JANUARY

KIDS PERCUSSION WORKSHOP FOR WEE ONES

Join the fun with Big Groove's percussion workshop for children aged

4-7 years: a groovy introduction for wee ones to explore their natural

sense of rhythm. Children must be accompanied by an adult throughout

the workshop. 11-11.45am / £4 (Adults Free) / Exhibition Hall

COME&TRY MANDOLIN

The Lanarkshire Guitar and Mandolin Association are always

enthusiastic about spreading the mandolin word. Tutors have loads of

instruments and boundless energy and enthusiasm – it's absolutely

infectious! Come and have a go and take the first steps in a life

enhancing experience. 11am-12.30pm / £7 / Buchanan Suite

COME&TRY FIDDLE

Lynsey Tait from the Glasgow Fiddle Workshop will have instruments on

hand to let you have a go at taking the very first steps to learning the

fiddle. Learn the basics – how to hold the instrument and bow and learn

a simple tune. This could be the start of a wonderful musical journey

for you – aimed at people who have never tried the instrument before.

11am-12.30pm / £7 / Lomond Foyer

COME&TRY WHISTLE

If you've always wanted to try out the whistle but needed some guidance

– here's your opportunity. Lorne MacDougall is a fine young piper

and whistle player from Carradale in Argyll and will demonstrate easy

whistle tunes for absolute beginners in this fun workshop. Whistles in

the key of D will be provided but bring your own if you have one.

11am-12.30pm / £7 / Clyde Foyer

KIDS' PERCUSSION

Specially designed for children aged 8-12 years, Big Groove will guide

children through simple and fun rhythms with samba instruments.

Children must be accompanied during the workshop by an adult and

numbers are strictly limited. 12-12.45pm / £4 / Exhibition Hall

FAMILY PERCUSSION WORKSHOP

Big Groove will continue the day of percussion with a workshop aimed

at adults and older children (over 8 years old please) to explore the

fascinating rhythms of samba. This is a great family event – find your

inner percussionists together and enjoy a real family experience.

1.30-3pm / £7 / Lomond Foyer

COME&TRY BODHRAN

The bodhran looks like one of the simplest of instruments to play but

don't be fooled. Andy May will show you the basics of this sensitive

instrument. Andy is a well known performer and tutor of the bodhran

and he will teach his students how to achieve good basic rhythms

so that you will be able to accompany tunes. Drums and beaters are

provided – all you need is a good sense of rhythm.

1.30-3pm / £7 / Lomond Foyer

BEGINNER WHISTLE

If you are in the early stages of learning the whistle, why not come

along to this workshop and extend your skills. Learn some new tunes

and develop your playing techniques with Lorne MacDougall. You will

get a good grounding in whistle techniques concentrating on the

Scottish style of playing. Whistles in the key of D will be provided

but bring your own if you have one. 1.30-3pm / £7 / Clyde Foyer

SUNDAY 22ND JANUARY

KIDS PERCUSSION WORKSHOP FOR WEE ONES

Big Groove will lead another percussion workshop for children aged 4-7

years: young children have a natural ability for percussion and a natural

sense of rhythm. Children must be accompanied by an adult throughout

the workshop. 11am-11.45am / £4 (Adults Free) / Exhibition Hall

OPENING YOUR VOICE 1

This workshop is a unique opportunity to work with Harriet Buchan - a

supremely gifted vocal tutor who will help you to find your own voice.

This workshop is not about learning songs - it's about exploring the

sounds you can make and finding your singing voice through relaxation

and vocal exercises. 11am-12.30pm / £7 / Buchanan Suite

COME&TRY FIDDLE

Lynsey Tait from Glasgow Fiddle Workshop will have plenty fiddles on

hand to let you have a go at taking the very first steps to learning the

fiddle. Learn the basics – how to hold the instrument and bow and learn

a wee tune with simple fingering. This workshop offers another chance

for people who have never tried the instrument before.

11am-12.30pm / £7 / Lomond Foyer
---
WORKSHOPS 71

COME&TRY UKULELE

Were you lucky enough to get a uke for Christmas and have no idea

what to do with it? Or do you just want to give it a go? This is the

workshop for you! Even if you don't have your own, come and try this

delightful little instrument. Lots of ukes will be provided by GFW and

Finlay Allison will lead you through some basic chords and rhythms. Be

warned - life as you know it could change dramatically! By the way, the

ukulele is Hawaiian for Jumping Flea. 11-12.30pm / £7 / Clyde Foyer

KIDS PERCUSSION

Specially designed for children aged 8-12 years, Big Groove will guide

children through simple, fun rhythms with samba instruments. Children

must be accompanied by an adult at all times and numbers are strictly

limited so please book early. 12-12.45pm / £4 / Exhibition Hall

WOMEN'S SAMBA

This workshop is just what you need after a busy week. Forget the

bubble bath and sauna! Release all those tensions, find your very

own internal drummer and have a glorious 90 minute session with

samba. It's perfect therapy for a Sunday afternoon! Samba rhythms

are energising, invigorating and utterly empowering! Lots of fun and

laughter guaranteed with Big Groove and loads of drums!

1.30-3pm / £7 / Exhibition Hall

OPENING YOUR VOICE 2

You will be encouraged to explore and develop your own voice using

instruments from Harriet Buchan's international travels. Harriet has

worked her magic with singers all over the world and she can do the

same for you. This workshop is not about learning songs but exploring

how to use and develop your voice. She will introduce methods to

improve your overall sound, making singing feel more natural to you.

1.30-3pm / £7 / Buchanan Suite

BEGINNER FIDDLE

If you have been learning the fiddle for at least six months or if you

used to play and haven't picked one up for years, why not freshen

up your skills with Celine Donoghue from Glasgow Fiddle Workshop.

GFW run regular classes through the year and always welcome new

members. No music reading is necessary as all tunes are taught by ear

– instruments will be supplied if you don't have your own.

1.30-3pm / £7 / Lomond Foyer

BEGINNER UKULELE

If you're already learning, come along and extend your skills. Finlay

Allison is one of Glasgow Fiddle Workshop's regular tutors and delights

in teaching his students tunes and melodies on this beautiful instrument.

His infectious sense of fun as well as skill and expertise will have you

strumming along with some great classics. You will be astonished at the

real progress you make during this workshop.

1.30-3pm / £7 / Clyde Foyer

SATURDAY 28TH JANUARY

LEARN TO PLAY THE SMALL PIPES IN A DAY

This workshop sounds completely impossible but it actually does work -

you can learn to play the small pipes in a day. Northumbrian piper Dave

Shaw is the piping wizard who will take you through the first steps in

playing this beautiful instrument. You will learn use of bellows, blowing

and fingering and tuning of drones. Pipes are supplied and over 14s

only please. 11am-4pm / £35 / Buchanan Suite

COME&TRY GAELIC SINGING

Gold medal winner, Darren MacLean is a naturally gifted beautiful

singer from Skye. He will share his love of Gaelic singing with you

and inspire you to learn more. Absolutely no knowledge of Gaelic is

necessary for this enjoyable workshop.

11am-12.30pm / £7 / Lomond Foyer

COME&TRY HARMONY SINGING

This workshop with Alison Burns is for people who have always wanted

to try out harmony singing, but lack the confidence or opportunity.

Alison is a skilled and very experienced workshop leader and this

session will get you singing your socks off while gaining confidence in

finding and learning simple harmonies.

11am-12.30pm / £7 / Clyde Foyer

GAELIC SONG

Learn more about the melodies, rhythms and lyrics of beautiful

Gaelic songs with Darren MacLean. Darren is highly accomplished in

performing Gaelic mouth music – Puirt-à-beul – for dancing. He will

introduce and share his knowledge of Gaelic song and the culture from

which it comes. He is passionate about encouraging people to become

involved in understanding and participating in this incredible heritage.

1.30-3pm / £7 / Lomond Foyer

HARMONY SINGING

Alison Burns runs workshops all over Scotland and is well known for her

great skills as a writer of songs that she often uses in her workshops.

You don't need to read music because the melodies will be learned by

ear. Alison leads the acclaimed Feral Choir in Dumfries and Galloway

and is a writer and arranger for choirs. She is very well known for her

uplifting harmonies and easy teaching style.

1.30-3pm / £7 / Clyde Foyer

In partnership with:
---
72

WORKSHOPS

SUNDAY 29TH JANUARY

LEARN TO PLAY THE IRISH PIPES IN A DAY

The Irish pipes have a reputation for being difficult to learn but in the

skilled hands of Dave Shaw, piper and pipe maker from North Durham,

you will find that you too can learn this sweet instrument in just one day.

Pipes are supplied. Over 14s only and complete beginners please.

11am-4pm / £35 / Buchanan Suite

COME&TRY MANDOLIN

The Lanarkshire Guitar and Mandolin Association giving us another

opportunity to try out this very versatile instrument. Tutors have loads

of instruments, experience and enthusiasm - it's absolutely infectious!

Why not give the mandolin a go this year?

11am-12.30pm / £7 / Lomond Foyer

DANDLING: ON YER MAMMY'S KNEE

Traditional songs for bouncing babies, with actions, cuddles and fun

for wee toots with an adult led by Chrissie Stewart. Singing and playing

with your baby can be really helpful in a baby's development. Come and

learn some Scottish songs and revisit some old favourites like Three

Craws, I Had a Wee Hen and Wee Chookie Birdie.

11am-12.30pm / £7 /Clyde Foyer

BEGINNER BODHRAN

This workshop is for people who have started learning the instrument.

Please bring your own instrument and Andy May will take your playing

to another level. Learn about the subtleties of this fine accompanying

instrument and you and your drum will be warmly welcomed at every

session from now on.

1.30-3pm / £7 / Lomond Foyer

LULLABIES: SING A SONG OF SLEEP

Explore traditional sleepy time songs with Chrissie Stewart – simple

Gaelic lullabies featuring soothing repetition to more elaborate Scots

songs with moving, heartfelt social messages. Expand your repertoire

and find out more about these beautiful and often overlooked songs. No

experience of singing is necessary, but you're very welcome to bring

a baby.

1.30-3pm / £7 / Clyde Foyer

SATURDAY 4TH FEBRUARY

COME&TRY GOSPEL

What a life enhancing way to start the weekend! Tracey Braithwaite

and Chris Judge from the Gospel Truth Choir will lead singers in this

exhilarating experience. Complete beginners are very welcome as are

those with more singing experience.

11am-12.30pm / £7 / Exhibition Hall

WHISTLE FOR PLAYERS

This workshop is for players who are interested in developing their

skills and techniques on the whistle. Players of low D whistles are very

welcome too and Lorne MacDougall will extend your repertoire and your

confidence with some really beautiful tunes.

11am-12.30pm / £7 / Buchanan Suite

SLOW GROUPWORK SESSION

This is a terrific start to the weekend with a great big magical session

of tunes played at a reasonable speed. Designed for people who are

currently learning or can already play an instrument and don't often

have the opportunity to join in a session, or even lack confidence in

joining in, GFW's Nigel Gatherer will lead you in some cracking tunes.

All welcome: fiddles, mandolins, accordions, whistles, harps, ukes and

bodhrans. You'll be surprised how much confidence is gained by playing

familiar tunes with other people at an easy pace.

11am-12.30pm / £7 / Lomond Foyer

BEGINNER UKULELE

Bitten by the Uke Bug? If you're learning, here's an opportunity for

ukulele learners to extend their skills. Finlay Allison is one of Glasgow

Fiddle Workshop's regular tutors and delights in teaching his students

tunes and melodies on this beautiful instrument. He will help you to

develop your playing and you will be delighted with your progress.

11am-12.30pm / £7 / Clyde Foyer

COME&TRY DJEMBE

In this workshop you will get the chance to learn something about this

increasingly popular percussion instrument originally from West Africa.

Allan Hughes will show you how to get the most out of your drum,

learning specific rhythms and developing hand co-ordination. Some

drums are provided but please bring your own if you have one – early

booking is essential.

1.30-3pm / £7 / Exhibition Hall

COME&TRY MANDOLIN

The Lanarkshire Guitar and Mandolin Association are offering festival

goers a last chance to come and try the mandolin. The mandolin is

fast overtaking the bodhran as the session instrument so why not come

along and see why it's so popular. Mandolins will be provided.

1.30-3pm / £7 / Buchanan Suite

A REALLY BIG SING

Gillian Frame – a singer and fiddler from Arran, best known for her

work with Back of the Moon and Findlay Napier and the Bar Room

Mountaineers, is one of the founding members of the Hidden Lane Choir

– singing a range of contemporary pop through to traditional material.

With her distinctive style and range of influences, this workshop will be

great fun covering really singable songs for all ability levels.

1.30-3pm / £7 / Lomond Foyer

UKULELE FOR IMPROVING PLAYERS

If you're really serious about your uke, don't miss this workshop. Finlay

Allison will help you to develop your skills and techniques to help you on

to the next level. Fast becoming one of the most popular instruments,

here's your chance to learn from one of Scotland's finest tutors and

meet other people who are besotted with their ukes. Maybe we can start

our own Celtic Connections Ukulele Orchestra!

1.30-3pm / £7 / Clyde Foyer

SUNDAY 5TH FEBRUARY

ALREADY HARMONY

If you have done some singing in the past and want to learn more about

harmony singing, come along to this workshop with Corrina Hewat.

Melodic songs that lend themselves to harmony work- short and quick

to learn bring instant rewards and maximum fun. This workshop, very

popular with new and experienced singers, offers an opportunity to sing

your socks off while gaining confidence in finding harmonies.

11am-12.30pm / £7 / Exhibition Hall

BEGINNER ACCORDION

If you have your own accordion and have recently started learning, this

is the workshop for you. You will have the opportunity to develop your

techniques and skills with Alan Shute, one of GFW's skilled tutors. You

can't beat the accordion for getting toes tapping so come and develop

your technique and learn some new tunes.

11am-12.30pm / £7 / Buchanan Suite

In partnership with:
---
CLARSACH WORKSHOP FOR IMPROVERS

If you already have some experience of the harp and want to extend your

repertoire, this is your chance to develop your skills. Heather Downie

is a talented, accomplished player and tutor of this beautiful instrument

and is known for her enthusiastic and fun-loving approach to teaching.

Please bring your own instrument.

11am-12.30pm / £7 / Lomond Foyer

ALREADY HARMONY AND A LITTLE FURTHER

This workshop will consist of some good time warm ups, some fun

simple songs that are instantly harmonious and also more complex

and challenging pieces in several parts that offer the opportunity for

a really good sing. No need to read music because all melodies will

be taught by ear. You will be amazed at the sound the group produces

under the skilful guidance of Corrina Hewat.

1.30-3pm / £7 / Exhibition Hall

SPOONS

Here comes the Eigg man - coo coo ca joo - for his annual workshop

of clattering, cacophonous yet strangely hypnotic rattlings. Eddie Scott

from Eigg will teach you all the spoon skills you need to dazzle your

friends and family with your new found talent. Whip them out any time

and you're guaranteed to be the centre of attraction. Some spoons will

be provided but if you have a favourite set, bring them along to this

authentic Eigg and Spoons Workshop. Silver ones make the best sound!

1.30-3pm / £7 / Buchanan Suite

JOIN A BAND FOR A DAY

Join Glasgow's Barulho Beat for a 90 minute samba workshop which,

weather permitting will culminate in a performance on the steps of

the Glasgow Royal Concert Hall. With funky bass surdos, banging

toms, melodic ago-go bells, speedy snares and cracking tambourims

to choose from there is a drum for everyone. Where else can you be a

learner and performer all on the same day? Open to adults and young

people 12+.

1.30-3pm / £7 / Lomond Foyer

BODHRAN FOR PLAYERS

Expand your repertoire of rhythms and individualise your style of playing

with Mark Dunlop. This workshop is for players who have already

grasped the basics of the drum and who want to develop light and

shade, pace and style in their playing. Please bring your own bodhran.

1.30-3pm / £7 / Clyde Foyer

The Fiddle Village: Trad Strings Weekend Masterclass

with Alasdair Fraser and Natalie Haas

SATURDAY 28TH AND SUNDAY 29TH JANUARY

10.15AM-3PM, £55 WEEKEND TICKET, EXHIBITION HALL

.

ALASDAIR FRASER AND NATALIE HAAS

Fraser and Haas will hold a special two day Trad

Music Workshop/Masterclass for intermediate to

advanced string players (fiddle, viola, cello and bass)

based on the fiddle music of Scotland and beyond.

Alasdair Fraser excels in expressing the beauty and

energy of traditional Scottish fiddling and in creating

exciting new music that remains true to that tradition.

A focus of Alasdair's teaching is to encourage people

young and old – experienced and beginning – to

find their own voice in traditional music; to explore

their potential in a supportive and non-competitive

environment; and to use the power of music and dance

to create and enhance community.

The goal of the Fiddle School is to explore playing

traditional music in a group, with emphasis on

arrangement ideas and the techniques that give

traditional music its particular flavour. We will look

at the elements of language and dance and how to

put fiddle tunes together to form a medley or a larger

piece of music. All tunes will be taught by ear,

but music will be provided.

Space is limited – call 0141 353 8000 or visit

www.celticconnections.com to book.

For all other enquiries, contact:

caroline.hewat@btinternet.com

phone 01349 877434
---
74

ARTIST A – Z

A

Abbott, Louis 64

Adam Holmes & the Embers 43

Adam Stearns & The Glass Animals 64

Admiral Fallow 40

Alan Kelly Gang, The 51

Alasdair Fraser and Natalie Haas 30, 73

Alba Brass 25

Allison, Finlay 71, 72

Anderson, Iain 26

Anderson, Paul 23

Angus Lyon & Ruaridh Campbell 46

Annie Grace Band, The 57

At First Light 10

Average White Band 15

B

Babelfish 49

Bailey, Roy 54

Bain, Aly 16

Barbara Dymock Band 37

Barulho Beat 73

Bear's Den 44

Bedford, Naomi 45

Begley, Méabh 12

Begley, Séamus 12

Béla Fleck and The Flecktones 8

Berndalen, Petter 52

Bevvy Sisters, The 20

Big Dish, The 38

Big Groove 70, 71

Black Rose Ceilidh Band, The 17

Black, Duncan 28

Black, Robert 28

Blazin' Fiddles 40

Bloom, Luka 12, 39

Blue Moose & The Unbuttoned Zippers 28

Bonnie Prince Billy 22

Bowyer, Kevin 36

Boy and the Bunnet, The 58

Boyle, Katie 36

Braithwaite, Tracey 72

Breabach 9, 29

Bremner, James 18

Broken Strings 23

Brooks, Hilary 31

Brown, Alison 8

Bruce, Ian 26, 54

Bruce, Jack 9, 20

Bruce, Nico 20

Buchan, Harriet 70, 71

Burns, Alison 71

Burns, Hugh 9

Butterworth, Jenn 30

Byrne, Tony 51

C

Calum Stewart & Heikki Bourgault 47

Captain and the Kings 43

Captain's Collection, The 57

Carmichael, John 28

Carolina Chocolate Drops 38

Carr, Aileen 65

Carthy, Martin 27, 42

Carty, John 26

Casey, Karan 8

Catford 37

Ceòlas 32

Chaimbeul, Mairi 32

Chapel Choir of the University

of Glasgow, The

Chapelier Fou 51, 63

Chasing Owls 40

Chemikal Underground 64

Cherish the Ladies 8

Chris Stout and Catriona McKay 19

Cissokho, Solo 53

36

Clark, Liz 69

Clements, Rod 31

Collins, Mel 9

Comhaltas Ceoltóirí Éireann 26

Common, Jonnie 43

Cornershop 60

Corquiéu 29

Coupland, Gary 27

Cowie, Elspeth 65

Coxhill, Lol 30

Cruinn 52

Cullivoe Ceilidh Band, The 17

Cumming, Jenna 52

Currie, Justin 14, 45

Custy, Tóla 51

Cutting, Andy 28

D

Dan Haywood's New Hawks 60

Daughter 44

Dead Man's Waltz 43

Dempsey, Damien 41

Dervish 9

Diawara, Fatoumata 21, 53

Dickson, Barbara 9, 26

Dillon, Cara 12

Dirty Beggars, The 43

Doghouse Roses 43

Dolphin Boy 63

Domini Màgic 20

Donald MacDonald & The Islands 48, 59

Donaldson, Shona 23

Donoghue, Celine 71

Douglas, Blair 60

Douglas, Jerry 16

Downie, Heather 73

Doyle, John 16

Drever, Kris 21

Dry the River 40

Duncan, Jock 23

Dunlop, Mark 73

E

Edgar, Kim 34, 43

Eliza Carthy 42

Emir Kusturica & The No Smoking

Orchestra

13

Empreintes 52

Erwan Hamon & Janick Martin 46

F

Faiz, Faiz Ali 10

Farka Touré, Vieux 63

Farrar, Jay 11

Fé, Pura 14, 41

Federation Of The Disco Pimp 63, 64

Fèis Rois 26

Fergie MacDonald Band 17

Fernhill 45

Fidil 53

Fielding, Marie 28

Fifield, Fraser 58

Findlay Napier & The Bar Room

Mountaineers

43, 50

Finlay Wells & Sorren Maclean 46

Fisher, Archie 27

Fisher, Cilla 27

Folkestra 29

Foster, Marcus 44

Foune Diarra Trio 18

Four Men and a Dog 23

Fowlis, Julie 45

Frame, Gillian 72

Frànçois & The Atlas Mountains 48

Fraser Fifield & Graeme Stephen 46

Fribo 28

Furey, Finbar 12, 35

WWW.CELTICCONNECTIONS.COM
---
ARTIST A – Z 75

G

Gabby Young & Other Animals 42

Gareiss, Nic 52

Gatherer, Nigel 72

Gaughan, Dick 12, 26, 35

Gauthier, Mary 55

Geddes, Amy 55

Gelb, Howe 42

Genticorum 31

Geremia, Steph 51

Gilmore, Thea 21

Glackin, Eoin 41

Glackin, Paddy 14

Glover, Ben 37

Gorgeous Colours, The 53

Grace, Annie 18, 57

Grant Jr, Angus 18

Grant Sr, Aonghas 18

Grant, Eilidh 26, 37

Greene, Buddy 37

Greg Lawson & Pete Garnett 46

Grossmith, James 36

Guidewires 61

Guthrie, Sarah Lee 11

H

Haas, Natalie 12, 30

Haigh, Kit 31

Halcyon 63

Hamasyan, Tigran 27

Hardie, Jonny 57

Hardy, Bella 64

Harvey, Kristan 32, 55

Hay, Donald 26

Hayman, David 25

Henderson, Allan 18

Henderson, Ingrid 18, 57

Henderson, Kevin 55

Henderson, Megan 18

Herring, Caroline 28

Hewat, Corrina 27, 58, 72, 73

Hidden Lane Choir, The 43, 51

Hidden Orchestra 51

Hitchcock, Robyn 42

Holland, Gráinne 56

Hopkins, Jon 39

Hornsby, Bruce 13

Hughes, Allan 72

Hughes, Roisin Anne 36

Hunter, Fiona 27

I

Iain Anderson's Scottish Dance Band 17, 67

Ian Stephenson Trio 64

Ian, Janis 34

Ickes, Rob 8

Innes, Gary 18

Inverness Gaelic Choir 60

Irion, Johnny 11

Irvine, Andy 14

Irvine, Brian 36

J

Jackson, Stevie 44

Jacky Molard Quartet 18

Jakobsdottir, Signy 58

Jarlath Henderson Trio 47

John McSherry & Donal O'Connor 46

Johnson, Will 11

Johnstone, Arthur 25

Johnstone, Neil 58

Jordan, Cathy 56

Jordi Molina & Perepau Jiménez 47

JP Trio, The 53

Jubran, Kamilya 14

Judge, Chris 72

Jungr, Barb 35

K

KAN 61

Keelaghan, James 37

Kelly, Alan 51

Kelly, Paul 50

Kennedy, Mary Ann 66, 67, 68

Kennedy, Nuala 29, 37, 53

Kidd, Carol 35

Kildea, Bob 44

King Creosote 39

Kitty the Lion 41

Knightley, Steve 28

Kris Drever Band 21

L

La Carrau 13

Lanarkshire Guitar & Mandolin

Association

70, 72

Larkin Poe 49

Las Migas 29

Lau 20, 36

Le Vent du Nord 9

Leonard, Tom 25

Liguriani 52

Lindsay, James 30

Linton, Errol 41

Litha 47

Long Notes, The 39

Lothian & Borders Pipe Band 12

Lunny, Dónal 14

Lyall, Duncan 27

Lynge, Simon 34

Lyon, Angus 58

M

Maalouf, Ibrahim 24

Mac Erlaine, Seán 52

MacAskill, Fiona 52

MacColl, Angus 47

MacColl, Lauren 53

MacCuish, Alasdair 28

MacDonald, Alasdair 25

MacDonald, Fergie 18

MacDonald, Maggie 60

MacDougall, Lorne 32, 70, 72

MacFarlane, Iain 18

MacGregor, Bruce 66

Macgregor, Jimmie 25, 31

MacIllemhaoil, Gillebride 65

MacInnes, Kathleen 8

MacIntyre, Colin 42

MacIver, Norrie 65

Mackenzie, Graham 53

MacKenzie, James 52

Mackintosh, James

16, 18, 30,

31, 59

MacLean, Darren 52, 71

MacLellan, Hugh Dan 18

Macleod, Kevin 68

Macleod, Linda 52

MacNeacail, Aonghas 58

MacPherson, Ewan 59

Madison Violet 41

Maggie MacInnes Trio, The 31

Mairearad & Anna 46

Malo, Raul 16

Mango, Jo 60

Mànran 50

Maria Speight Quartet 64

Marshall, Iona 38

Martha Reeves & The Vandellas 62

Martin, Anne 59

Martin, Ross 18

Matheson, Karen 16

Matthew and the Atlas 44

May, Andy 20, 70, 72

McCallum, Paul 60

SPONSORED BY

TICKETS: 0141 353 8000
---
76

ARTIST A – Z

McCalman, Ian 26

McConnell, Frank 39

McCormack, Alyth 57

McCulloch, Gordeanna 65

McCusker, John 16

McEvoy, Eleanor 12

McGlynn, Arty 26

McGoldrick, Michael 8, 16, 53

McGuire, Eddie 25

McManus, Tony 30, 37

McMorrow, James Vincent 9, 44

Melting Pot Theatre Company 58

Meschiya Lake & The Little Big Horns 24

Meunier, Alexis 47

Michael McGoldrick Quartet, The 53

Miller, Siobhan 27

Molloy, Matt 26

Molsky, Bruce 16

Moody, Ruth 16

Moray, Jim 28

Morrison, Cahalen 37

Morrison, Dennis 28

Morrison, Fred 14

Moura, Ana 18

Moussu T 41

MOVE 39

Mr McFall's Chamber 20

Muldaur, Maria 9

Mull Historical Society 42

Mylo 63

N

National Jazz Trio of Scotland, The 30

N'Diale 18

Neville, Aaron 10

New Country Rehab 49

Nicolson, Angus 53

Nicolson, Duncan 18

Niteworks 48, 63

Noakes, Rab 9, 31

Northern Sinfonia 36

O

Ó Raghallaigh, Caoimhín 52

Oates, Jackie 28

O'Boyle, Maeve 35

O'Brien, Tim 16, 31

Occasionals, The 17

O'Connor, Máirtín 53

O'Dowd, Seamie 53

O'Flynn, Liam 14

Ogilvy, Alistair 32, 36

O'Kane, Damien 56

Old Blind Dogs 23

Orchestra Baobab 22

Origami 64

O'Rourke, Declan 16

Orr, Tom 28

Outside Track, The 54

Owens, Dean 43

P

Parker, Anders 11

Paton, David 31

Paul McKenna Band, The 28

Peatbog Faeries 40

Podolak, Leonard 28

Pollock, Emma 9

Polwart, Karine 14, 34, 54

Powell, Dirk 12

Preskett, Graham 9

Price, Catriona 36

Proclaimers, The 9

Pronsky, Rebecca 37

Pujol, Lídia 57

Punch Brothers 38

Q

Quebe Sisters Band, The 11, 57

Queen, Monica 31

Quigg, Stephen 26

R

Rafferty, Marthy 9

Ragged Glory 26

Reader, Eddi 16, 51

Rees, Tina 32

Reid, Patsy

28, 30, 31,

52, 58

Remember Remember 64

Rickard, Hannah 31

Rickard, Mike 31

Rigby, Annie 31

Roberts, Alasdair 54, 56

Robertson, Ailie 56

Robertson, Ewan 27

Robertson, James 58

Robin, Thierry "Titi" 10

Rock Salt & Nails 51

Roddy Hart and the Lonesome Fire 9

Ross Ainslie Trio 47

Ross, James 58

Ross, Ricky 66

Rougvie, Doris 68

Rouse, Josh 45

Rowan, Kaela 18, 59

Royal Conservatoire of Scotland 29

Rua Macmillan Trio 30

RURA 22

Russell, Tom 56

Russian Red 44

Rutherford, Fiona 33

S

Sadier, Laetitia 60

Salsa Celtica 21

Salter, Laura-Beth 30

Sangsters 26

Scott, Darrell 16, 55

Scott, Eddie 73

Scottish Ensemble 19

Sermanni, Rachel 44, 55

Session A9 11

Seventeenth Century, The 43

Sexsmith, Ron 9

Shaw, Dave 71, 72

Shaw, Donald 16

Shepherd, Robbie 17, 67

Shooglenifty 39

Shute, Alan 72

Simon Bradley Trio, The 57

Simpson, Martin 35

Skipinnish 32

Smith, Emily 27

Smith, Gordon 28

Smoove & Turrell 63

Sol i Serena 40

Solas 12

Soopna 26

Sosa, Omar 24

Speirs, Fraser 31

Spirit of Scotland Pipe Band 12

St John, Bridget 30

Stanley Odd 40

State of the Union 45

Stevenson, Andrew 18

Stevenson, Anna-Wendy 32, 55

Stevenson, Gerda 58

Stevenson, Savourna 36

Stewart, Andy M. 8

Stewart, Chrissie 72

Stewart, Sheila 27

Stitt, Malcolm 18

Stoneking, C.W. 49

WWW.CELTICCONNECTIONS.COM
---
ARTIST A – Z 77

Strauss, Walter 37

Sultans of String 11, 54

Sutherland, Jim 20

Sutton, Julian 31

Swarbrick, Dave 54

Sweetback Sisters, The 61

T

Tabor, June 35

Tait, Lynsey 70

Tarras 50

Tattie Jam 54

Taylor, Jeff 37

Taylor, Rick 32

Tensheds 50

Thatcher, Amy 30

This is How we Fly 52

Thompson, Danny 16, 35

Thomsen, Fraya 53

Thorpe, Dan 32

Tickell, Kathryn 29, 31

Tilston, Steve 65

To Kill A King 48

Tonra, Elena 44

Treacherous Orchestra 42

Trudell, John 14, 41

Tunstall, KT 42

Turtle Duhks 61

U

Unthanks, The 20

V

Walker, Rachel 32

Ward, Tom 26

Washburn, Abigail 8, 42

Washington Irving 42, 43

Watson, Cedric 10

Watson, Matheu 52

Watt, Kirsty 36

Watt, Robert 47

Wellington, Sheena 53, 65

West, Eli 37

Whisky River Boat Club, The 41

Whistlebinkies, The 25

White, Andy 65

Whyte, Alasdair 65

Wilkie, Rona 36

Wilson, Jonathan 62

Wilson, Siobhan 43

Wingin' It 46

Wiyos, The 24

Wood, Chris 14

Woody Sez 58

Wrigley Sisters, The 54

Wyzgowski, Taj 20

Y

Yames, Yim 11

Young, Gabby 42, 43

Yuptae 51

Z

Zajac, Matthew 57

Zoe Muth & The Lost High Rollers 61

PHOTOGRAPHY CREDITS

Claire Snedden: Old Fruitmarket (inside cover)

www.photoman.ca: Le Vent du Nord (9)

Original artwork used with permission of John Byrne:

Gerry Rafferty (9)

Live Wire photo: Woody Guthrie (11)

Dragan Teodorovic Zeko: No Smoking Orchestra (13)

Michael Weintrob: Bruce Hornsby (13)

Jack Storms: Pura Fé (14)

E Casey: Eddi Reader (16)

Lieve Boussauw: Karen Matheson (16), Old Fruitmarket (19),

Innes Watson (27), Treacherous Orchestra (42)

Neil Wallace: Lochaber (18), Uist (32)

Paulo Segadães: Ana Moura (18)

Maria Camillo: Väsen (19)

Pip: The Unthanks (20)

Archie MacFarlane: Old Blind Dogs (23)

Massimo Mantovani: Omar Sosa (24)

Fair Pley: UCS march (25)

Courtesy of Newcastleton Festival Archive: Ray Fisher (27)

Pete Dibdin: Box & Fiddle Night (28)

Louis DeCarlo: Nuala Kennedy (29),

TMSA Young Trad Tour (32)

Mark Savage: Folkestra (29)

Louise Bichan: Laura-Beth Salter (30)

Catherine Aboumrad: Genticorum (31)

Reed Ingram Weir: Northumbrian Voices (31)

Queen's Hall: The Big Breakthrough (34)

Judith Burrows: June Tabor (35)

David Tiernan: Lau (36)

Bill Steber: Carolinas Chocolate Drops (38)

Ewa Figaszeska: Luka Bloom (39)

Euan Robertson: Admiral Fallow (40)

Manivette: Moussu T (41)

Dan Massie: Mull Historical Society (42)

Michelle Fowlis: Julie Fowlis (45), Lauren MacColl (53)

Laurent Graal Rousseau: Erwan Hamon & Janick Martin (46)

Danny Grant: Finlay Wells and Sorren Maclean (46)

Leila Angus: Cuairt nan Eilean (52)

Hugh O'Conor: This is How We Fly (52)

Drew Reynolds: Tom Russell (56)

Roger Sargent: Cornershop (60)

Alicia Rose: Laura Veirs (62)

ianwilliams@photographer.net: Smooth & Turrell (63)

Gemma Hall: Vieux Farka Touré (63)

Karen Miller: Celtic Connections BBC launch (66,67)

We would like to thank all the photographers who may

be uncredited, this was completely unintentional.

Vance, Foy 43, 50

Väsen 9, 19

Veirs, Laura 62

W

Waite, Andrew 32

SPONSORED BY

TICKETS: 0141 353 8000
---
78

EDUCATION: AT THE HEART OF CELTIC CONNECTIONS

CREDIT: EPIC SCOTLAND

Whether it's enabling children to

experience live music for the first

time, or giving adults the chance

to try a new instrument, Celtic

Connections is as committed to

ensuring the future of traditional

music as it is to celebrating the

past and the present.

Up to 10,000 children will attend special concerts by

big-name Celtic artists in the Glasgow Royal Concert

Hall during the festival. For many, this will be their

first experience of live music, and an unforgettable

introduction to Scottish culture and its links to music

from around the world. Free to schools and home

educators throughout Scotland, the concerts attract

schools from as far away as Tiree, Fort William and

Dumfries & Galloway. The final education concert this

year will also feature the winner of the ScottishPower

Powerful Performance – a competition run by Celtic

Connections' principal sponsor for all secondary

schools in Scotland.

Over 1,300 Glasgow children will benefit from inschool

workshops, offering a hands-on introduction to

everything from Scots song to Scottish step-dancing!

Since 1998 over 180,000 children from all over Scotland

have participated in the Celtic Connections Education

Programme. For more information on the public

workshops run during the festival, please see

pages 70-73.

"A wonderful opportunity for children to participate

in this international festival. The Celtic Connections

Education Programme gives children opportunities for

new experiences which children may not otherwise have

outside of school. The visit to the concert hall itself is

an invaluable experience in terms of social education

and citizenship, as the children have the opportunity to

assemble with pupils from other schools from in and

around Glasgow." St Stephen's Primary School

The Celtic Connections Education Programme is

supported by Creative Scotland and Celtic

Connections Friends.
---
MAP 79

MAP AND VENUE DETAILS

14

3

GLASGOW ROYAL

CONCERT HALL

2 Sauchiehall Street, G2 3NY

0141 353 8000

www.glasgowconcerthalls.com

1 7

2

4

5

6

CITY HALLS,

RECITAL ROOM &

OLD FRUITMARKET

Candleriggs, G1 1NQ

0141 353 8000

www.glasgowconcerthalls.com

O2 ABC GLASGOW

300 Sauchiehall Street, G2 3JA

0141 332 2232

www.o2abcglasgow.co.uk

GLASGOW ART CLUB

185 Bath Street, G2 4HU

0141 248 5210

www.glasgowartclub.co.uk

ÒRAN MÓR

Byres Road, G12 8QX

0141 357 6200

www.oran-mor.co.uk

ST. ANDREW'S IN

THE SQUARE

1 St Andrew's Square, G1 5PP

0141 559 5902

www.standrewsinthesquare.com

8

9

10

11

12

BBC SCOTLAND

40 Pacific Quay, G51 1DA

0141 422 6000

www.bbc.co.uk

TRON THEATRE

63 Trongate, G1 5HB

0141 552 3748

www.tron.co.uk

CCA

350 Sauchiehall Street, G2 3JD

0141 352 4900

www.cca-glasgow.com

THE ARCHES

253 Argyle Street, G2 8DL

0141 565 1000

www.thearches.co.uk

APOLLO 23

11 Renfrew Street, G2 3AB

0141 332 8209

www.apollo23.com

THE PEARCE INSTITUTE

840-860 Govan Road, G51 3UU

0141 445 6007

www.pearceinstitute.org.uk

13

14

15

16

17

18

ST MARY'S CATHEDRAL

300 Great Western Road, G4 9JB

0141 339 6691

www.thecathedral.org.uk

BREL

Ashton Lane, G12 8SJ

0141 342 4966

www.brelbarrestaurant.com

THE NATIONAL PIPING CENTRE

30-34 McPhater Street, G4 0HW

0141 353 5551

www.thepipingcentre.co.uk

THE MITCHELL THEATRE

3 Granville Street G3 7EE

0141 287 2999

www.glasgowlife.org.uk

PLATFORM AT THE BRIDGE

1000 Westerhouse Road,

G34 9JW

0141 276 9696

www.platform-online.co.uk

UNIVERSITY OF GLASGOW

MEMORIAL CHAPEL

Glasgow University, G12 8QQ

0141 330 5419

www.gla.ac.uk/services/chaplaincy

13

5

18

9

16

7

12

PITT ST

3

DOUGLAS ST

BROWN ST

4

BOTHWELL ST

WATERLOO ST

CADOGAN ST

BLYTHSWOOD ST

JAMES WATT ST

BROOMIELAW

WEST CAMPBELL ST

YORK ST

RENFREW ST

SAUCHIEHALL ST

BATH ST

WEST REGENT ST

WEST GEORGE ST

ST VINCENT ST

WELLINGTON ST

ROBERTSON ST

15

HOPE ST

ARGYLL ST

10

OSWALD ST

RENFIELD ST

GORDON ST

CENTRAL

STATION

UNION ST

11

JAMAICA ST

CLYDE ST

COWCADDENS RD

BUCHANAN

BUS STATION

KILLERMONT ST

1

WEST NILE ST

MITCHELL ST

BUCHANAN ST

QUEEN ST

STATION

HOWARD ST

GEORGE SQUARE

QUEEN ST

RIVER CLYDE

MILLER ST

VIRGINIA ST

CATHEDRAL ST

GEORGE ST

INGRAM STREET

GLASSFORD ST

HUTCHESON ST

BRUNSWICK ST

CANDLERIGGS

2

8

ALBION ST

HIGH ST

17

6
---
80

TITLE: SUB TITLE

ScottishPower is proud to support Celtic Connections