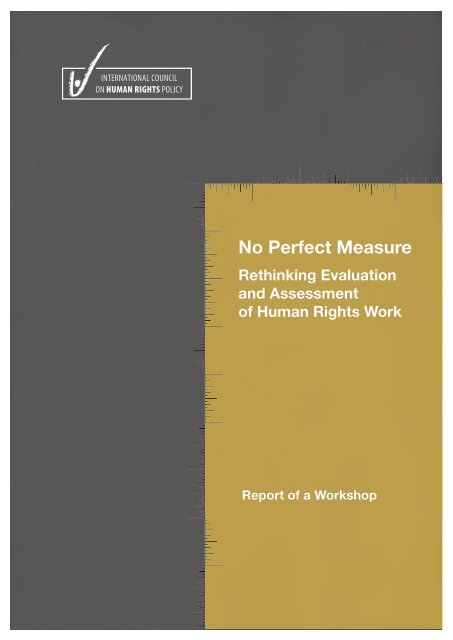 No Perfect Measure: Rethinking Evaluation and ... - The ICHRP
No Perfect Measure: Rethinking Evaluation and ... - The ICHRP
No Perfect Measure: Rethinking Evaluation and ... - The ICHRP
SHOW MORE
SHOW LESS
Create successful ePaper yourself
Turn your PDF publications into a flip-book with our unique Google optimized e-Paper software.
No Perfect Measure

Rethinking Evaluation

and Assessment

of Human Rights Work

Report of a Workshop
---
ABOUT THE ICHRP

The International Council on Human Rights Policy (ICHRP) was established in Geneva in 1998 to

conduct applied research into current human rights issues. Its research is designed to be of practical

relevance to policy-makers in international and regional organisations, in governments and intergovernmental

agencies, and in voluntary organisations of all kinds. The ICHRP is independent,

international in its membership, and participatory in its approach. It is registered as a non-profit

foundation under Swiss law.

www.ichrp.org

Members of the international council

Fouad Abdelmoumni (Morocco)

Monica Aleman (Nicaragua)

Magda M A Ali* (Sudan)

Ghanim Al-Najjar (Kuwait)

Fateh Azzam* (Palestine)

Hossam Bahgat (Egypt)

Radhika Balakrishnan (India)

Maggie Beirne* (United Kingdom)

Cynthia Brown (United States)

Santiago A. Canton (Argentina)

Kamala Chandrakirana (Indonesia)

Pablo de Greiff (Colombia)

Dina Haynes (United States)

Maya Hertig Randall* (Switzerland)

Sara Hossain (Bangladesh)

*Board Member

Hina Jilani (Pakistan)

Douglas Mendes (Trinidad & Tobago)

Juan E. Mendez (Argentina)

Tessa Morris-Suzuki (Australia)

Chidi Anselm Odinkalu* (Nigeria)

Jelena Pejic (Serbia)

Sorpong Peou (Canada/Cambodia)

Emma Playfair* (United Kingdom)

Devendra Raj Panday (Nepal)

Usha Ramanathan (India)

Abbas Rashid (Pakistan)

Marco Sassoli (Switzerland)

Joseph Schechla (United States)

Tamar Tomashvili (Georgia)

ACKNOWLEDGMENTS

The ICHRP thanks all the workshop participants, as well as others who could not attend but contributed

to the report or the research.

The workshop was supported by the Swiss Ministry of Foreign Affairs (DFAE) and the Ford Foundation.
---
CONTENTS

Introduction and Context 1

Part I: Rights and Results 3

1. Human Rights Work in the Time of a Results-Based Culture ......................................................................... 3

2. Questions of Accountability and Power........................................................................................................... 4

Box 1: Results-based management and human rights in the United Nations..................................................5

3. The particularities of human rights work.......................................................................................................... 6

Box 2: Impact assessment in the context of prevention of torture...................................................................7

4. Micro and macro narratives of success and failure......................................................................................... 9

Part II: Ways Forward? 11

1. Shifting the frames of evaluation ................................................................................................................... 11

Box 3: How Things Work – an International Center for Transitional Justice (ICTJ)

initiative in evaluation research to describe the space between 'inputs' and 'outputs'

in justice interventions.....................................................................................................................................12

2. "From Judgement to Learning" ..................................................................................................................... 13

3. Peer review and evaluation............................................................................................................................ 14

Box 4: Peer Review of Transitional Justice Initiatives in Africa: Removing Adversity

from Evaluation...............................................................................................................................................15

Conclusion 16

Annex: List of Participants 17

International Council on Human Rights Policy – January 2012
---
INTRODUCTION AND CONTEXT

A combination of factors, including increasing

professionalization of social action, geopolitical

shifts and developments in the global economy,

the growth of philanthrocapitalism 1 and the

expanding roles played by NGOs in governance,

have resulted in profound shifts in approaches

to programming, evaluation and funding of

human rights work. One of the most significant

consequences is the increasing emphasis within

the human rights community as well as from

donors, evaluators and others on assessing

and measuring the 'impact' of human rights

interventions. More generally, the voluntary and

non-profit sector today is feeling the full impact

of the emergence of 'results-based management'

and 'value for money' or 'audit' culture, and human

rights organisations too are feeling the pressure to

prove their 'impact',' value' or 'success'.

The rise of 'new public management' and the

management sciences in the 1980s marked the

beginning of profound changes in the private

and public sectors, most notably in terms

of subjecting outcomes to measurements to

ascertain economy, efficiency and effectiveness.

A "measurement revolution" has since taken hold

in relation to human rights work as well. Beginning

with attempts to quantify such "elusive concepts"

as democracy, discrimination, corruption, freedom

and governance, 2 it has lead, more recently, to

the investment of significant resources in the

development of indicators and tools to measure

everything ranging from state compliance to

effectiveness of human rights interventions.

While better understanding and analysis of the

successes and failures of human rights work is

undoubtedly necessary, there are widespread

concerns that current assessment and evaluation

techniques are not sufficient to measure the

complexities of social change processes,

especially those driven by human rights. For

the most part this concern stems from the

understanding that the methods and approaches

used are not specifically developed for human

rights work or by human rights practitioners,

but rather are transplanted from development

practice or even business. 3

It was in this context that the ICHRP initiated work on

approaches to assessing and evaluating human

rights work. In March 2011, the ICHRP published

an Approach Paper 4 to outline the challenges

of assessing the impact and effectiveness of

human rights work, and the role and relevance

of human rights principles in this process. As a

next step, the ICHRP convened a practice and

research workshop to further explore the issue,

bringing together human rights advocates,

evaluation practitioners and theorists, donors,

policy researchers, development professionals

and other relevant experts. The objective was to

reflect on current challenges and opportunities

and particularly how approaches to evaluation

themselves impact human rights work.

The workshop was not designed to explore or

identify the 'best' methodologies or practices,

although some good practice was indeed

exchanged. As one participant said, there are

almost as many impact assessment tools out

there as there are actual assessments; therefore,

a shift to examine the issues of core principles is

more valuable at this point. The workshop was

intended primarily as a forum to:

a) reflect on the underlying political and

normative issues and concerns rather

than technical solutions;

b) discuss how to change the terms of

the debate around evaluation and

impact assessment and define possible

directions of change, taking into account

the complexities of human rights work.

This report does not attempt to summarise the

proceedings of the workshop, although its structure

loosely reflects the agenda of the meeting. Instead,

it draws together key issues that emerged from the

discussion and raises a number of important ways

of thinking, including questions to be given further

consideration. It also draws on literature that was

not discussed at the workshop, where appropriate,

to complement or clarify issues further. In keeping

with the spirit of the workshop, remarks and

comments are not attributed by name but speech

marks (" ") are used to indicate when participants

are quoted verbatim.

1 A term that entered common parlance in 2006 to describe

the drive for philanthropy to become more like for-profit

markets with 'investors' and 'social returns'. See www.

ssireview.org/point_counterpoint/philanthrocapitalism

and www.economist.com/node/5517656.

2 Kate Desormeau & Michael Ignatieff, "Measurement and

Human Rights: Tracking Progress, Assessing Impact", A

Carr Center for Human Rights Policy Project Report, Summer

2005, p. 1. Available at: www.hks.harvard.edu/cchrp/mhr/

publications/documents/MeasurementReport2005.pdf.

3 Snibbe highlights the underlying assumption that

the work of non-profits can be measured cheaply

and in a cost-effective manner, similar to measuring

business performance through profit. Alana Corner

Snibbe,"Drowning in Data", Stanford Social Innovation

Review, 2006. Available at: www.ssireview.org/articles/

entry/drowning_in_data/.

4 Available at: www.ichrp.org/files/papers/186/impact_

assessment_human_rights_approach_paper.pdf

No Perfect Measure: Rethinking Evaluation and Assessment of Human Rights Work 1
---
PART I: RIGHTS AND RESULTS

1. Human Rights Work in the Time of a

Results-Based Culture

In the 1990s Michael Power described an

'audit explosion' across many different sectors,

characterised by the emergence of audit not just

as a technique but as an idea, one that "has much

to do with articulating values, with rationalising

and reinforcing public images of control." 5 From

across the spectrum of Power's arguments, there

are five dimensions 6 of the audit explosion that are

especially pertinent to discussions in this report:

a) The power of audits lie in the manner

in which environments are made and

structured to become auditable;

b) Where audits fail, the common response is

to call for more audits;

c) More than passive monitoring, audits shape

standards of performance and conceptions

of the very problems they claim to solve;

d) 'Value for money' audits (which are a key

driver of these changes) result, firstly, in a

drift towards numbers to assess economy,

efficiency and effectiveness; and secondly,

in a strong emphasis on 'good management'

above all else;

e) The rise of audits marks a shift in power

from the public to the professionals and

specialists, in particular to managers and

overseers.

It is striking that merely replacing 'audits' with

'results-based management', or even 'impact

assessments' or 'evaluations' in the five points

above aptly conveys some of the current

perceptions and concerns, expressed in different

ways throughout the workshop, regarding the

impact of these discourses on human rights work.

Results-based management (RBM) and similar

log frame systems have become widespread first

and foremost because of donors – who sometimes

directly transferred or adapted practices from

the business world in which many philanthropic

institutions have their roots. 7 However another

factor, more internal, was the push within the

human rights community to understand if their

work is 'making a difference', and if so how. For

5 Michael Power, The Audit Explosion, Demos, 1996, p. 5.

6 Ibid. See pp. 5, 7, 26 and 38.

7 In fact, Evaluating Training Activities in Human Rights

Education, a handbook published by the Office for the

High Commissioner for Human Rights in collaboration

with Equitas, confirms how international donors and

multilateral organisations often insist that human

rights organisations apply the RBM approach to

their evaluation work. Available at: www.ohchr.org/

Documents/Publications/EvaluationHandbookPT18.pdf.

example, one workshop participant maintained

that being able to assess impacts "gave a sense

of purpose".

So, what then is the problem? As another participant

observed, the central concern is not RBM itself

but its transformation "from a tool to a paradigm"

leading over time to the increasing entrenchment

of potentially technocratic approaches, which

seem to shape what organisations are, not just

aspects of their work. For example, value-formoney

(economy, efficiency and effectiveness)

and a results-based culture were central to the

UK Department for International Development's

(DFID) recent multilateral aid review. 8 In short,

most funders, bilateral and private foundations,

are looking, like DFID, for "organisations with: a

clear mandate and strategy; effective leadership

and governance structures; a results culture

and results based management systems with

comprehensive results frameworks including

baselines and targets at the input, output and

outcome level…" 9

Are evaluation methods and frames of impact

assessment actually exerting a disproportionate

pressure on the narratives and practices of

human rights work, distorting priorities, objectives

and processes? The challenge is captured in

the observation of one participant that human

rights organisations often had "too broad a

justice perspective – [donors] are looking for

measurable impact on people."

A major concern with RBM is the fact that it

focuses essentially on measuring outcomes

or impacts against goals that were stated at

the outset. 10 While this can encourage human

rights organisations to be more strategic and

plan ahead consistently, the very focus on

results could well risk disregarding or lowering

sensitivity to processes, changes, and outcomes

that were not envisaged from the outset. The RBM

approach was described by one participant as,

at its worst, like hammering a nail into the wall;

the wall around the nail may crumble but this

goes unnoticed as long as the nail is in the wall.

At the meeting, some participants expressed

concern that evaluators were not incorporating

the "do no harm" principle into their evaluations,

demonstrating that results-based methodologies

are often unable to account for the wider,

unplanned positive or negative impacts of an

8 Department for International Development, Multilateral

Aid Review, March 2011. Available at: www.dfid.gov.uk/

Documents/publications1/mar/multilateral_aid_review.

pdf.

9 Ibid.

10 Indeed, logical framework approaches are also known

as Goal Oriented Project Planning (GOPP).

No Perfect Measure: Rethinking Evaluation and Assessment of Human Rights Work 3
---
intervention. This would require a recognition

of the 'externalities' of human rights work:

for instance, one participant noted that an

organisation whose staff members travel all over

the world for advocacy, research or meetings

will have a very high carbon footprint, thereby

contributing to climate change, itself a cause of

severe violations of human rights.

At least two other significant related concerns

seemed to come through the discussions in this

respect:

a) That human rights work is being driven

into "what's measureable instead of what

matters" (i.e., that a focus on programming

with benchmarks and predicted outcomes/

impacts is actually narrowing or diluting

visions of broad social change or justice);

b) The fact that advocates and organisations

"are justifying themselves not in terms

of being [part of] a social movement

but of trying to achieve specific goals",

demonstrably measurement-friendly.

However, that which is measurable by indicators

is no replacement for a qualitative and political

engagement with process and context. Since

evaluation inevitably feeds back into and shapes

practice, there is a real danger that as human rights

practice increasingly adapts to the technocratic

requirements imposed by external actors it will

distance itself from its normative foundations. 11

It was observed that the very language of results,

in the current political climate and funding

environment, has the power to "trap your way

of thinking about [human rights] work". Indeed

this is something everyone – donor, grantee or

evaluator – is vulnerable to. Seen this way, the

idea of 'common metrics' and reporting, while

possibly attractive, also raises the spectre of

forcing a common language, one that can "lose

all meaning" stripped of contextual richness,

and in turn undermine the political content so

central to human rights work. One participant

warned that the overbearing power of the results

culture could lead to 'isomorphic mimicry' (i.e.,

organisations increasingly pushed to replicate

those that are 'successful'). Over time, this could

lead to a levelling of the field, a migration to the

middle ground, and an erosion of more radical,

risky and innovative approaches.

2. Questions of Accountability and Power

Few will disagree that accountability, especially

to the core constituencies human rights

organisations work with, is of paramount

importance. As human rights organisations

have grown in visibility and influence, and

especially as they engage deeper with policy

implementation questions, there is an inevitable

rise in demands for accountability, effectiveness

and independent and objective methods of

evaluation. However, as one participant stressed,

human rights organisations are of course by no

means accountability-free at present, and in fact

are constantly engaged in answering for their

work to peers, members, donors, governmental

authorities, victims of human rights violations and

local communities. Human rights organisations

have also initiated or engaged with processes

for developing frameworks for accountability at

both national and international levels. 12

While donor practices and approaches certainly

vary with respect to evaluations, especially

between governmental donors and private

foundations, there is little doubt that currently

donors as a body exert the biggest influence

on evaluation practice, with a view to enhancing

effectiveness and accountability. The question

is whether the currently dominant results-based

culture actually leads to meaningful accountability.

Accountability should not be viewed as relevant

to grantees alone. Donors of course also face

pressure in various forms of accountability to

their members, trustees, and/or tax-payers.

Governmental donors must demonstrate with as

much clarity as possible that the public's money is

spent effectively, an even more pressing concern

in an era of strapped resources. Needless to

say, the accountability and reporting frameworks

that donors are embedded in, also shape their

priorities, programming and evaluation practices.

For instance, one participant suggested that it is

no coincidence that the length of project-funding

cycles of many bilateral donors often correlate

with the length of the electoral cycle. On the other

hand, private foundations and philanthropists may

– consciously or unconsciously – see themselves

as agents of active social change, viewing human

rights organisations as their "sub-contractors". It is

conceivable that in such relationships evaluation

may be understood quite differently by both parties.

In addition, one participant forcefully noted that

there is a case for making demands of "mutual

accountability" from donors, giving the example

of how many governments fund human rights

organisations while at the same time funding

arms manufacture or fuelling foreign conflicts.

The detrimental impact that conditionalities and

restrictions imposed by the US on funding global

health programmes have had on the right to health

of women in low-income countries is another

11 Paul Gready, "Reasons to be Cautious about Evidence

and Evaluation: Rights based approaches to development

and the emerging culture of evaluation", Journal of Human

Rights Practice, 2009, Vol.1, No. 3, p. 383.

12 See, e.g., the International NGO Accountability Charter.

Available at: www.ingoaccountabilitycharter.org.

4 Report of a Workshop
---
Box 1:

Results-based management and human rights in the United Nations

Flaminia Minelli, Office of the High Commissioner for Human Rights (OHCHR)

The main challenge for the Policy, Planning, Monitoring and Evaluation Section (PPMES) continues

to be the adaptation of the results-based management model – strongly called for by Member

States, and by the United Nations system – to human rights work. In recent years, OHCHR has

adopted innovative practices to integrate the RBM process with the content, standards and

principles of a human rights-based approach to programming. This has provided an opportunity for

OHCHR to redirect scarce resources towards key results and have the potential for demonstrating

real impact. In pushing the limits of the classic RBM model to adapt to the unique requirements of

human rights work, PPMES has demonstrated the potential of this model, which is often perceived

as too rigid by the human rights community.

Apart from consistently combining results-based management with the human rights-based

approach to programming, the following interpretative adaptations have been adopted:

▪ ▪ OHCHR defines a result not only as a change but also as the prevention of a negative change,

when it operates to prevent the deterioration of compliance with international human rights

standards;

▪ ▪ OHCHR accepts that, because of its mandate, it may need to continue investing resources in

challenging human rights areas where it is known that results may not be achievable within a

given programming cycle;

▪ ▪ OHCHR recognises that human rights results are the outcome of a combination of factors and

of the work of many diverse actors; consequently, OHCHR rarely speaks of attribution and

prefers to highlight its collaborative contribution to the achievement of results, and those of its

partners, in its reporting;

▪ ▪ Considering the confidentiality parameters within which it often operates, both in relation to

duty bearers and rights-holders (and particularly victims of human rights violations), OHCHR

does not publicly report on all of its results.

pertinent example. 13 Nevertheless, the power

relationship is such that grantees holding donors

accountable is all but impossible, leaving human

rights organisations (many of whom also feel that

their perceived independence and credibility is

affected by relationships with governments) with

difficult decisions to make about whether or not

to accept money in such circumstances.

Many participants suggested that countability

does not necessarily lead to accountability.

When an environment – organisation or process

– is structured for audit, it is designed to be, first

and foremost, rendered more explicable in the

terms set by the auditor but not necessarily more

accountable in some wider, public sense. 14 Hence

the concern that the current results culture tends

to be significantly skewed towards promoting

upward accountability (i.e., to donors). 15 Indeed,

13 See, e.g., Jamila Taylor and Anu Kumar, "How Existing

US Policy Limits Global Health and the Achievement of

Millennium Development Goals and to Improve Maternal

health and Promote Gender equality" in The Yale Journal.

Winter 2011, pp. 43–52. Available at: yalejournal.org/

wp-content/uploads/2011/03/116108taylor-kumar.pdf.

14 Power, 1996, pp.6.

15 Alnoor Ebrahim & V. Kasturi Rangan, "The Limits

of Nonprofit Impact: A Contingency Framework for

Measuring Social Performance", Harvard Business

School Working Paper, 10-099, 2010, p. 12.

as evaluation methodologies have become more

complex and specialised they have tended to

recede further into the domain of experts. Evaluation

has become a highly specialised field with its

own vocabulary and interests; "an elite epistemic

community" or "an industry", as some participants

put it, raising questions about the accountability of

evaluators themselves. As one participant noted

"Who is evaluating the evaluators?"

The importance of addressing conflicts of interest

with respect to evaluators also emerged as a

concern. It is ironic that 'independent evaluation' is

sometimes carried out by individuals or entities that

can in no sense be considered truly independent.

Evaluation is a highly lucrative industry today

and has attracted investment from a number of

sources. Large private corporations, with interests

in activities that are profoundly antagonistic to

human rights work, may also own or control

evaluation consultancies. For example, one of the

organisations represented at the workshop had

the experience of a donor awarding an evaluation

contract to a private firm that was part of a larger

business with interests in security, natural resource

extraction, infrastructure development etc., all of

which engage many human rights concerns. It is

in this context that the recommendation that human

rights organisations and donors develop clear

policies with respect to flagging potential conflicts

No Perfect Measure: Rethinking Evaluation and Assessment of Human Rights Work 5
---
of interest concerning consultants bidding for

evaluation work assumes significant relevance.

Evaluation is often perceived as a technical,

specialist exercise that can only be performed by

'experts' rather than staff from within an organisation.

Additionally, the general feeling is that donors

perceive external evaluations as more credible

and thus more valuable. This further entrenches

the power of evaluation practitioners. However, as

was pointed out, a 'professional distance' may also

converge with other kinds of distances, including

from the social, political and organisational context

and history, which can limit or distort comprehension

of change. This is further accentuated by additional

power dynamics when consultants or evaluators

from the global North, appointed by donors, are

evaluating interventions in the South. One participant

described the increasing transactions involving

donors, evaluators and NGOs as akin to "bureaude-change

transactions" – losing value with each

link in the chain, in terms of understanding, insight

and sensitivity to the local context.

In addition, as was observed, while employing

external evaluators can be beneficial, bringing

new perspectives, transparency and impartiality,

they can also deprive the organisation of valuable

learning opportunities (see "From Judgement to

Learning" on page 13). Some participants also

argued that members of the public or rights holders

would engage more openly with members or staff

of an organisation, perceiving them to care more

about, and be more sensitive to, the issues at stake.

At its core, evaluation is about assessing how far

expectations of one sort or another have been

met. However, as argued elsewhere in this report,

the predictions required for such an exercise

are difficult-to-impossible in much human rights

work. It is therefore important that donors and

evaluators are more flexible about setting,

reviewing, and revising these expectations,

where they can. This may mean relying in part

on trust rather than verification, an element of the

donor–grantee relationship that was repeatedly

described as lacking. Some participants at the

workshop raised the provocative question of

what, exactly, is so wrong with a fully trust-based

and non-standardised approach to assessment,

particularly in the case of a private foundation

with few statutory obligations in this regard? All

this begs the question of whether donors "are

actually willing to cede the power" they wield and

engage in a meaningful open-ended process

of developing more relevant approaches to

evaluation and accountability. 16

16 According to Hailey, comparative research conducted by

the Maastricht based ECDPM demonstrates that external

evaluations are increasingly identified as "inappropriate

or counter-productive", suggesting self-assessment as

a more effective evaluation method. Hailey and James,

in NGO Capacity Building: The Challenge of Impact

Assessment, Oxford University Press, 2003, p. 4.

3. The particularities of human rights work

A common frustration of human rights organisations

facing evaluations or impact assessments is that

the frameworks used have often been designed

for development or humanitarian work. 17 The

workshop explored whether there were any

particular challenges facing evaluation and impact

assessment in the field of human rights. Several

participants argued that perhaps human rights

work is not as unique as its practitioners sometimes

seem to think; reference was made to the Big Push

Forward, 18 an initiative that shows development

organisations are facing similar challenges with

regard to evaluation and assessing their impact.

Indeed, both development work and human rights

work encompass a huge spectrum of (sometimes

overlapping or at least mutually reinforcing)

activities. Human rights and development work

both take place within dynamic environments; both

are inevitably highly contextualised, involving a

multiplicity of actors and engagement with various

levels of power relations. Predicting results in such

environments is fraught with error or even danger,

and causal relationships are difficult to determine,

making attribution problematic. Thus, any easy

claim by human rights activists that their work is

17 One participant shared the example of a recent funding

call for human rights issued by a major bilateral donor. The

rigidly structured application format was clearly designed

for development grants and was thus inappropriate. For

instance, "outputs" were defined as "the products, capital

goods and services, which result from a development

intervention" (emphasis added). The formulated outcomes

had to "fall within the programme's span of influence",

almost impossible to predict for activities such as human

rights advocacy, unless the ambition was substantially

narrowed down. The accompanying model application

form was constructed around a proposal for enhancing

employability of people in poverty and neither the problem

nor the solution, nor indeed the indicators, were articulated

in human rights terms. The measures of effectiveness

proposed were quantitative (number of people trained;

number employed successfully etc.). On the whole, the

application form and model were far from applicable to a

human rights approach, especially advocacy. It was almost

impossible for a human rights advocacy proposal to meet

the standards set unless it was significantly reshaped to suit

the requirements and demands set by the call itself.

18 The Big Push Forward is a network of

practitioners identifying and sharing strategies for

encouraging funders and implementers to experiment

with different approaches to impact assessment and

reporting of international aid programmes and projects.

Conceived in 2010 in reaction to a narrowing of what

is valued and how value is measured, The Big Push

Forward initiative seeks constructive ways to advance

conceptually and methodologically for assessing the

impact of development aid in support of a fairer world,

beyond the narrow bureaucratic protocols that assume

guaranteed predictable outcomes. It seeks to tackle

and take progressive action on a number of important

issues, including challenging the dominant 'value' and

'impact' discourses, expanding space for voices from

the Global South in development debates, developing

different methods of reporting, and enhancing

organisational learning and reflective practice. See

www.bigpushforward.net.

6 Report of a Workshop
---
somehow less amenable to measurement than

anything else can appear self-serving to external

commentators. At the same time, the discussions

did highlight some challenges that were felt to

be particular to, or at least especially relevant for,

evaluating or assessing human rights work.

Perhaps the most clear-cut particularity of human

rights work was felt to be its grounding in an

international legal framework with accompanying

mechanisms. This engenders the most basic

aspect of human rights work – holding states to

account, publicly and often internationally, for their

actions, measured against these legal obligations.

This framework allows human rights organisations to

authoritatively highlight breaches of responsibilities

at national and international levels by 'naming and

shaming'. Governments are placed 'in the dock'

of public opinion. This 'adversarial' methodology

common to many human rights organisations

prompted one participant to say, "You never see

host governments working with domestic human

rights organisations". In fact, an increasing number

of human rights organisations work in collaboration

with governments, for example training police

forces or running legal advice centres. However,

development and humanitarian organisations more

often work to create 'partnerships' with government

agencies and rarely focus as much attention on who

is to "blame" or who should be held to account, but

rather concentrate on more immediate and practical

needs. The focus on accountability as opposed to

cooperation means that human rights work is often

considered more politicised in nature than the work

of development and humanitarian communities.

Moreover, human rights advocates, especially when

they name-and-shame, are more likely to be the

direct (rather than indirect) targets of government

repression. Thus, many participants pointed out

that in contexts that are severely repressive, merely

managing to keep a human rights organisation alive,

however skeletal and limited its work, should count

as a significant success.

Secondly, in the case of human rights work

claims of attribution or even contribution are

generally more difficult to make or sustain. Many

would argue that the claims of "attribution" that

can be made by, for instance, service delivery

Box 2:

Impact assessment in the context of prevention of torture

Vincent Ploton, Association for the Prevention of Torture (APT)

As a human rights organisation focused on prevention, APT faces several particular challenges

in assessing its impact. The following is a summary of some of the issues and APT's approaches:

1. Limits: reliability of data, causality

Although quantifying human rights violations presents inherent risks and difficulties, assessing

preventative human rights action poses a particular challenge of data reliability. At APT, we

consider that quantitative approaches to measuring torture are unreliable, and therefore examine

prevalence of risks for torture, rather than prevalence of torture itself. This issue of causality is

again especially relevant for prevention, as the fact that no change happened can itself constitute

evidence of a positive impact – but evidencing the link between absence of change and preventive

action is almost impossible.

2. Don't be seduced just by tangible changes and concrete victories

Concrete examples of change which lessen the risk of torture are available. For example, the Maldives

"National Preventative Mechanism" succeeded in closing one prison where the treatment of prisoners

was particularly horrendous, while the French NPM managed to strip migration police of lethal

weapons. These examples, while valuable, should not undermine the potentially wider impact new

laws and legal cultures can have, although evidence of their effects may be more difficult to produce.

3. Assessing a negative occurrence through positive developments

Preventing torture and other human rights violations requires fostering an environment and culture

conducive to avoiding or lessening the risk of abuse, especially amongst sectors such as law

enforcement. APT considers that torture prevention work can be "assessed" by looking at positive

changes in such an environment and culture. Examples include the implementation of basic

safeguards such as access to independent medical checks, legal advice following arrest and

video surveillance in police stations.

4. Risk mitigation and environment building

In general, the absence of safeguards and legal cultures that do not integrate universal human rights

standards can increase the likelihood of violations. We thus use tools and methods, including advocacy

and capacity building, which can contribute to building an environment where the risk can be neutralised

and lessened in a demonstrable way.

No Perfect Measure: Rethinking Evaluation and Assessment of Human Rights Work 7
---
groups, can never be made by human rights

groups, and that even claims of "contribution"

to change can prove difficult. For the most

part, human rights claims require change on

the part of government, and changes at this

level are rarely easy to achieve. Indeed, states

will rarely attribute change in policy to pressure

from human rights NGOs, or may actively deny

it; often this follows from a denial of the abuse

in the first place. States rarely have a selfinterest

in publicising changes brought about by

human rights groups (since they were normally

secured despite, and not because of, political

will). On the contrary, in the development and

humanitarian fields, it can often be in the interest

of governments – since they want to maintain the

funding and practical support of such groups in

concrete projects – to share the credit with others

for positive outcomes.

Thirdly, it is clear that human rights work,

especially advocacy, follows an often long and

unpredictable path with many setbacks, as

well as (hopefully) 'champagne moments'.

Human rights change is aimed at challenging

and sometimes overturning current power

relationships and therefore indicators need

to be long-term and qualitative. Development

change cannot be assessed with solely

quantitative data, but such data is valuable.

The number of people vaccinated, the levels

of infant mortality, the number of children

attending school, all give important insights

into the effectiveness of monies spent on

development. In the context of human rights

advocacy however, the indicators need to be

much more complex so that they can parse the

political rhetoric, and determine the genuine

extent of political will which alone will ensure

that any change for the better is indeed longlasting.

As one author comments: "[o]bserving

the number of individuals trained, the number

of individuals with piped water systems, or

attendance at a workshop is relatively straightforward

... monitoring advocacy-based projects

and their impact on human rights is not." 19

When human rights work aims at changes in

domestic law and/or policy, which are subject

to the exigencies of the political process

(especially changes in governments), impacts

are particularly difficult to predict or plan for.

"Changing the law is a fundamentally political

activity," said one participant, and it is in the

nature of politics to shift, change and behave in

unpredictable and nonlinear fashions. Advocacy

efforts to change policy can take decades to

come to fruition: one participant noted that the

freedom of information law in Nigeria, recently

passed, was the product of 20 years of advocacy

19 Cited in Gready, 2009, p. 398.

work. Teles and Schmitt 20 argue that advocacy

work is at a disadvantage because it is difficult to

measure using short-term indicators and is highly

sensitive to external pressures and influences,

such as international political situations or the

economic climate. In planning a project, it would

be challenging, if not impossible, to take such

events into account, let alone predict them as a

results-based framework may demand. 21

The chaotic, nonlinear nature of the evolution of

policy agendas means that often, very little will

seem to be happening. As Verta Taylor points

out in her study of the women's movement, "a

cause can remain in 'abeyance' for decades, but

if the fires are kept burning, it's possible to get

things moving when conditions become more

permissive." 22 It is, however, nearly impossible to

measure how much longer change would have

taken had those fires not been kept burning in the

intervening period and if human rights advocates

were not ready and capable of exploiting the

political opportunities when they eventually arise.

Fourthly, 'keeping the fire burning' perhaps best

describes some of the most dogged human

rights work that may seem to be going nowhere,

such as working for decades on disappeared

people, or a new treaty, or campaigning against

the death penalty. In some cases, "just making

the claim" in steadily more assertive ways

over a long period could be seen as a valid

goal. For example, although the campaign

for comprehensive immigration reform in the

United States has been a failure in terms of its

ultimate goal, it has resulted in an incredibly

vibrant organised community of migrants

claiming their rights. Whilst no one probably set

out this objective as such at the outset of the

work, in retrospect it is an extremely important

achievement. Strict evaluation practice might

require that such unintended 'by-products' be

discounted, since they were not clearly defined in

advance as objectives to be secured. Moreover,

20 Teles and Schmitt, "The Elusive Craft of Evaluating

Advocacy", Stanford Social Innovation Review, 2011,

p. 39. Available at: www.ssireview.org/images/digital_

edition/2011SU_Feature_TelesSchmitt.pdf.

21 Take, for example, healthcare reform in the United

States. The eventual legislation of 2010 was prefaced

by decades of work by a number of organisations.

However, it would be difficult to accurately demonstrate

causality since the factors involved in such change

were chaotic, numerous and random at times. Teles and

Schmitt compare the eventual success of this campaign

for healthcare reform with that for action on climate

change, which has not been 'successful', but reject the

conclusion that healthcare reform advocacy was thus

better than that around global warming. Instead, they

describe these situations as most probably a result of

many factors including "dumb luck". (Teles and Schmitt,

2011, p. 40.)

22 Verta Taylor, "Social Movement Continuity: The Women's

Movement in Abeyance," American Sociological

Review, 1989, pp. 761–775.

8 Report of a Workshop
---
human rights advocates may consider it wrong,

or fear that it looks defensive or misguided, to

claim credit for such achievements, despite their

importance. Ironically, the long-term advantage

of creating a cohesive and vibrant community or

movement, with a shared purpose, may prove

to be much more "impactful" (in terms of public

education, rendering the cause visible and

mobilising new change agents) than a one-off

legal change, but how could that be assessed?

Fifthly, there is the question of changes and

developments that are not always visible or even

easy to shed a public spotlight on. For example,

in certain contexts it may be imprudent for

an organisation to publicly lay claim to certain

activities let alone their impacts. A number of

participants noted that on many occasions they

had been unable to publicise, sometimes even to

donors, a certain impact because it would have

endangered a specific individual or a group.

Indeed, tactically, human rights advocates often

encourage others to claim primary credit for

changes secured, since this 'co-opts' others into

the process of ownership and may prove useful

in fully embedding change.

Another related dimension highlighted was the nearimpossibility

of accurately measuring changes in

human rights-violating activities that are by definition

clandestine, such as torture. In such contexts

it is important to note that human rights work is

sometimes directed not at change, but at preventing

negative developments. One participant pointed out

that the same could be said for conflict prevention

or climate change work. Nevertheless, there was

general agreement that this kind of work was difficult

to measure or demonstrate as successful, inevitably

involving complex counterfactual scenarios, which

by their nature are impossible to put beyond

question or doubt.

The context in which human rights organisations

work can sometimes compel them to adopt

ways of working that may not necessarily reflect

human rights principles or 'tick the right boxes'

for assessors. For instance, external observers

may want to measure the effectiveness of human

rights organisations according to their ability to

mobilise a broad-based membership or to secure

good media coverage. However, one participant

stated from experience that such tactics could be

counter-productive in, for example, the context of

a long-running violent sectarian conflict.

Finally, it may be relevant that development work,

unlike human rights work, generally focuses

on 'developing' countries: while some poverty

alleviation and relief work also takes place in the

global North, many more resources are channelled

to aid for the Global South. This North–South/

developing–developed divide has no relevance

at all for human rights: the worst violators of

human rights can be the wealthiest countries

economically. Many human rights organisations

therefore focus (at least part of) their work on

developed nations, although there is increasing

pressure from many donors to focus on countries

eligible for Official Development Assistance.

All said and done, the 'exceptionalism' of human

rights work should not be exaggerated. For

example, human rights activists can be service

providers as well as advocates and sometimes

work promoting socio-economic well-being by

human rights and by development groups is not

easily distinguishable. There is much evaluation

experience and practice to be exchanged across

different disciplines; nevertheless it was felt that

evaluation practices must also be sensitive to

potential particularities and divergences.

4. Micro and macro narratives of success

and failure

More than a decade ago, Amartya Sen identified

the paradox of micro successes and macro

failures in the context of poverty alleviation. 23

Since then, this gulf has been increasingly

recognised as a significant concern and

considerable efforts have been made to better

comprehend the nature of this disjuncture and

how it might be overcome, at least in the context

of development and poverty alleviation. 24

Micro and macro have to be understood not in

the usual sense of levels of intervention such as,

for example, grassroots work (micro) and policy

research (macro), but rather as poles within the

same broader evaluative frame. This includes,

for example: a specific project vis-a-vis the wider

work of the organisation; the change objectives

of a project cycle vis-a-vis the broader change

dynamics; a particular organisation vis-a-vis the

wider community/movement it is part of; and, in

the case of donors, a specific grant vis-a-vis the

wider portfolio. As highlighted often in discussions

at the workshop, the disjoint between the macro

and micro level in human rights and development

work leaves gaps which risk leaving real and

sustained social change out of reach.

Across these evaluative frames, there is a

tendency to focus on the micro because it is

usually the pole that is more comprehensible

and easier to subject to measurement. This is

connected to a phenomenon referred to by one

participant as "the relentless generation of micro-

23 Amartya Sen, Development as Freedom, Oxford

University Press, 1999.

24 See, e.g., "Assessing Linkages between Micro and Macro

Level Issues Meeting", 2002, UNDP Evaluation Office,

available at www.undp.org/evaluation/documents/

micro-macroLinkages-workshop-report.pdf and "Moving

Out Poverty: Understanding Freedom, Democracy

and Growth from the Bottom Up", PREM, World Bank,

2007, available at siteresources.worldbank.org/

INTMOVOUTPOV/Resources/2104215-1187710751691/

Bangladesh_NSR_Final_Draft.pdf.

No Perfect Measure: Rethinking Evaluation and Assessment of Human Rights Work 9
---
narratives of success". Driving this, arguably, is

the use of standardised reporting formats that

focus on measureable indicators rather than

longer term processes of social and political

change, rendering donors and NGOs complicit in

the co-construction of narratives of success. 25 This

quashes creativity and discourages a constructive

engagement with failure, which negatively impacts

on organisational learning. (Discussed, below on

page 13.) The requirements of donors, who

often insist on short project cycles and rapid

impact, influence how NGOs approach notions of

success and failure within the micro and macro

frames. There is a notable trend amongst NGOs

to package or reformulate their macro agendas in

the form of small-scale interventions, benchmarks

or goals, attempting to demonstrate the linear,

attributive, predictable and short-term results for

projects more suited to broader and longer term

macro level intervention.

The micro-success/macro-failures syndrome

has major implications and raises a number

of serious questions that merit attention in

the context of evaluating human rights work.

The tension between a particular project or a

specific project cycle and the wider or longer

term work of an organisation is a good example.

Sustained long-term work and investment is

often needed to redress deep-rooted systemic

or structural human rights concerns, such as

discrimination, for example. Yet project cycles

are short-term, typically of 2–4 years. Is this

encouraging organisations to "pick low hanging

fruit", i.e. projects which can be more easily

measured and demonstrated as successful? Are

fewer organisations choosing 'riskier' projects

or approaches with longer-term time horizons?

More importantly, to what extent is the success or

failure of a particular project linked to the wider

work or mission of an organisation in the long

run? 26 Organisations may limit themselves,

planning for advocacy "in terms of a well-marked

path to success" and specific timescales of

change in order to secure funding. Teles and

Schmitt note that such logic may be harmful

and prove regressive to bold advocacy efforts,

allowing the opposition to adapt and regroup or

for less ambitious goals to be set and accepted.

Donors and evaluators should bear in mind

these gulfs between micro- and macro-frames

when assessing the 'success' or 'failure' of a

project or organisation, as external timetables

and pressures contribute significantly to the

increased tendency for human rights work to

operate within micro frames, less risky and with a

higher possibility of clear results. The disjuncture

also applies at the level of specific grant units

(project or organisational) versus the wider

portfolio (thematic or organisational). To what

extent should donor organisations concentrate

on evaluating impacts of grants made to specific

organisations or specific projects? Should

such a focus be tempered or shaped by the

assessment of wider grant portfolios at a wider

thematic or multi-organisational level? If so,

how? Alternatively, is the move by some donors

to concentrate on long-term core support for

individuals and organisations with a proven track

record a more appropriate path? This approach

does not minimise the need for accountability

from grantees, but allows them more flexibility

(and financial security) as they develop reporting

mechanisms which benefit both donors and

grantees and therefore, the work as a whole.

An awareness of this issue is also critical to

human rights practice. It calls for human rights

organisations to examine internal approaches

and visions of their own effectiveness in the light

of the micro-macro tensions. Clearly, the task of

accounting for the macro in evaluation poses a

wide range of challenges, but that does not make

an approach that privileges the micro any better.

25 Alnoor Ebrahim, NGOs and Organizational Change:

Discourse, Reporting and Learning, Cambridge

University Press, 2005.

26 For example, work on a particular death row case

versus an organisational mission to abolish the death

penalty worldwide.

10 Report of a Workshop
---
PART II: WAYS FORWARD?

1. Shifting the frames of evaluation

'Shifting the frames' entails a call to assessors

to focus evaluation of human rights work not

on individual grants or projects but the wider

grant portfolio, over a reasonable length of

time. Such a shift only reflects the reality that

individual projects or even organisations rarely

achieve change alone, but rather truly significant

change is usually due to the combined efforts

of many. Moreover, the very idea of 'failure'

is questionable, since some approaches,

organisations and projects need to 'fail' if others

are to learn the lessons thereby created and be

deemed 'successful'.

Pre-determined paths do not allow for changing

circumstances, whereas successful advocacy

efforts depend on an ability to adapt to change. In

this context, Teles and Schmitt suggest that funders

"take chances on big efforts to change policy and

public assumptions, rather than retreating to the

safer space of incremental change". 27

Another important corresponding shift is to focus

evaluation not on the specific advocacy initiatives but

instead on deeper attributes within the organisation

that can enable it to straddle the uncertainties

as well as leverage the opening of unexpected

opportunities effectively. Consequently, Teles and

Schmitt argue that the proper focus for evaluation

is not particular acts of advocacy but rather the

"long-term adaptability, strategic capacity", as well

as creativity, tactical agility and "ultimately influence

of organisations themselves." 28

Similarly, Ebrahim and Rangan suggest that

performance in advocacy and rights-based work

cannot easily demonstrate impact, and thus can

be measured most effectively in terms of outputs

and "influence" in shaping key policies, rights

and freedoms ("intermediate outcomes"), rather

than impacts. In fact, of the four categories of

intervention they identify, only service delivery

27 Teles and Schmitt, 2011, p. 40.

28 Ibid, p. 42.

activities can readily be measured in terms

of impact. 29 "Efforts to influence public policy,

however, are typically more complex, and

they are shaped by many factors which may

be poorly understood and nonlinear. In such

contexts, it is hard to know how much of a

difference a particular intervention makes",

especially as they involve "constellations of

many actors". 30 Ebrahim and Rangan thus

identify an organisation's theory of change as a

key factor in its ability to demonstrate causality

and impacts. Advocacy organisations generally

have more complex theories of change (than, for

example, service providers or humanitarian relief

agencies) that do not necessarily follow a linear

logic. Coupled with their relative lack of control

over outcomes, this means they are unlikely to be

able to demonstrate a causal link between their

work and results. 31

In light of these insights, it seems desirable that

those who commission evaluations, whether

funders or grantees, work towards more holistic

and flexible evaluation methodologies and

frameworks for human rights work (especially

that related to policy, research and advocacy),

with longer-term horizons and more focus on the

institutional, strategic capacity of organisations

and their influence. Participants at the workshop

queried the current excessive emphasis on

supposedly "scientific" approaches and called

for evaluation frameworks that give greater

recognition of the subjective world of politics

in which human rights change takes place.

Moreover, several participants referred to the

importance of viewing evaluation not as a single

event but as an ongoing process of reflection.

29 Ebrahim and Rangan, "The Limits of Nonprofit Impact:

A Contingency Framework for Measuring Social

Performance", Harvard Business School Working Paper

10-099, 2010, pp. 22–27. Available at: www.hbs.edu/

research/pdf/10-099.pdf.

30 Ibid, p. 23.

31 Ibid, p. 27.

No Perfect Measure: Rethinking Evaluation and Assessment of Human Rights Work 11
---
Box 3:

How Things Work – an International Center for Transitional Justice (ICTJ)

initiative in evaluation research to describe the space between 'inputs' and

'outputs' in justice interventions

Pablo de Greiff, ICTJ

How Things Work is meant to contribute to discussions about impact, by taking a step that should

precede evaluation, namely, understanding precisely how interventions in the area of justice work.

In the absence of clarity regarding what makes it reasonable to assume that if a certain measure is

implemented certain consequences will follow, the great rush to adopt results-based approaches

and to understand programmes primarily through the prism of 'impact' seems, well, rushed.

Practitioners, anthropologists, historians, and other academics have provided rich and finegrained

descriptions of particular cases, while sociologists and political scientists, in particular,

have offered a different type of description, concentrating on correlations between interventions

and 'results'. On the other hand, human rights activists and scholars, amongst others, have

engaged in sometimes sophisticated debates that seek to strengthen the various justifications

of undertaking transitional justice interventions. How Things Work is intended to occupy a space

between descriptivism (an account of how particular interventions have worked) on the one hand

and normativism (a justificatory account of transitional justice interventions) on the other, by

constructing 'reasonable accounts' of how interventions can bring about the effects that are often

attributed to them.

To this end, a group composed of prominent practitioners and scholars in equal measure were

invited to participate in this project, receiving exactly the same assignment: to construct, initially,

three different detailed accounts that might provide an explanation of the 'results' of transitional

justice interventions. 'Providing an explanation' consisted of reconstructing the causal pathways

that could lead from the intervention (input) to its outcomes (output).

The project, now in its final stages, has led to the following insights:

▪▪

Monocausal accounts of the relationship between justice interventions and the ends frequently

attributed to them are likely to rest on over-simplification.

▪▪

▪▪

▪▪

▪▪

▪▪

The very same interventions can serve various goals at the same time; but neither the goals nor

the relationship between interventions and measures are of a kind. In particular, it is important

to distinguish between 'immediate', 'mediate', and 'final' goals of interventions; the point is not

only about temporal proximity (or remoteness) but causal sufficiency (or insufficiency). There

are goals that can be brought about through single interventions (and rapidly, to boot), and

others that cannot plausibly be brought about through the implementation of a single type of

measure, not even in the long run.

There is a trade-off between which types of goals to focus on for purposes of assessments.

Effectiveness is more easily assessed by reference to more immediate goals but ignoring

mediate and more 'final' goals deprives policy design and choice from an important source

of guidance and critique. Ultimately, this choice imperils the normative leverage which could

explain why justice sector work is important in the first place. Current approaches also create

a counter-incentive for policy integration, catalysing competition and short-termism rather

than cooperation and coherence.

The current rush in favour of results-based approaches sends strong (and therefore all other

things being equal probably costly) signals in favour of assessing the success and failure of

interventions only by reference to the attainment of their more proximate goals.

The two primary 'social mechanisms' that can be used in order to explain the way justice

interventions work are norm affirmation, and the capacity of these measures to articulate

and disarticulate social groups. There are reasons to think that designing and implementing

programmes having these mechanisms in mind may increase their effectiveness.

How Things Work underlines the immense importance of a phase of enquiry that ought to

precede discussions about impact and evaluation. However, such foundational work, which

analyses the process of hypothesis formation is distinctly lacking. While no one should assume

that justice related programming should be exempt from evaluation, in the absence of clearer

accounts of how such programmes work the use of present 'measurement' techniques as a

criterion for investment decisions in this sphere should itself be open to question.

12 Report of a Workshop
---
2. "From Judgement to Learning"

Ultimately the purpose of all evaluations is to help

individuals and organisations learn not only from

successes and failures but also from the process

of measuring and assessing them meaningfully.

The challenges that human rights organisations

face with respect to learning are often similar

to those faced in other fields, although there

are some distinctions. Some of the most salient

challenges include:

a) The fact that human rights work is generally

driven by a moral imperative and its

foundations are universal norms may pose

a barrier to learning or insulate the work

from open criticism, in that practitioners may

justify their actions (to themselves and/or to

others) as simply 'the right thing to do'.

b) The flip side of a tendency to generate

'micro-narratives of success' (see above)

may lie in a reduced ability to engage

honestly with failure. The fear of a loss of

credibility, especially in a context where

human rights organisations are subjecting

other state and non-state actors to criticism

for their failures, can further aggravate this

tendency and pose a significant barrier

to learning. Where there is a competitive

funding environment, the risks posed by

concealing error as opposed to celebrating

learning are all the greater.

c) Evaluation processes themselves may

be a block. When evaluations are seen

as externally imposed, solely fulfilling

commitments made to donors, conducted

in non-participatory ways or impose

excessive burdens on staff then they can

be counter-productive, demotivating and

are highly unlikely to facilitate learning.

The last point is especially salient

because evaluations are often an addition

to primary responsibilities carried by staff.

In a similar vein, if evaluations are seen as

a proxy for (or dovetailed inappropriately

with) personal performance assessments,

it can obstruct learning. Evaluations have,

on occasion, been commissioned to

address "hidden" organisational agendas

(to justify closure of particular programmes

or posts; or to clandestinely look at

systemic problems) and it is self-evident

that, once detected, such an approach

is unlikely to foster honesty or trust and

therefore will be counter-productive.

One of the key messages for consideration from the

workshop was that embedding learning requires a

shift from a focus on evaluation or audit to "evaluative

thinking", an approach characterised by an actionreflection-learning

chain that is continuous and

integrated into the organisation's culture. Such a

shift requires a political commitment; creating a

learning environment requires both institutional

structures and spaces, and also political legitimacy

within an organisation.

When evaluations are perceived mainly as tools

for vertical accountability (to external donors or

internal management), which can often be the

case, this reduces opportunities for learning. This is

not only as a result of problems already identified,

but also because a duty to learn or enable learning

is not seen as part of the accountability discussion.

Reconciling this unhelpful perception of dichotomy

is paramount. Any worthwhile definition of

accountability should explicitly embrace learning:

an accountable organisation is one that learns and

improves as a result. 32 Reframing the 'evaluation'

paradigm in this way may help its perceived

relevance to learning in general and to human

rights work in particular.

Viewing evaluations as learning opportunities

and spaces is critical but as was observed,

currently most "interesting learning opportunities

are farmed out to external consultants". This

not only reduces the overall learning quotient

within the organisation but also builds barriers to

evaluations themselves. The idea of expanding inhouse

evaluations through internal consultancies

is an important suggestion that merits serious

consideration. Such opportunities could

contribute to expanding cumulative learning

within the organisation, embedding a learningorientation

as well as expanding capacities.

Bridging individual and organisational learning

is also critical. Evaluations by themselves

will not result in such bridging unless special

efforts are made. Institutionalising lessons and

insights gathered by individuals, and creating

and sharing institutional memories of lessons

learnt with individuals are significant challenges.

Meeting them requires creating and legitimising

time spent in learning processes, including

lending the political weight needed. It may be

helpful to ask individuals to think about three

different levels of responses to evaluations:

the first concerned with the wider policies and

structures of the organisation; the second related

to the specific processes already in place which

need to take the findings into account; and, the

third related to what individuals can do as part of

exercising their own agency. 33

Of course, different organisations face different

challenges in this respect, particularly in terms of their

relative size. Larger ones may find it much harder to

'learn' at an organisational level than a small, more

internally flexible advocacy group. However, there

are some core issues that all organisations should

consider. As was noted, "one must examine where

learning sits in an organisation's strategy, what is its

relationship with governance, and what resources

are dedicated to it?"

32 Zaira Drammis, (Amnesty International), Reflection

paper for ICHRP workshop.

33 Zaira Drammis (Amnesty International) Reflection paper

for ICHRP workshop.

No Perfect Measure: Rethinking Evaluation and Assessment of Human Rights Work 13
---
Consistency can be vital to ensure opportunity

for learning is created and maintained through

structures and processes that encourage

exchange through narration, listening, reading

and recording. However, structures and processes

can calcify, becoming routine and predictable and

thus hinder learning. Some argued that a "learning

system" is an oxymoron, as transformative

learning happens when our usual assumptions

and patterns are shaken. "Disruptive learning"

(i.e., using facilitated but varied learning events

and spaces), was offered as a useful antidote.

One participant pointed out that it is important

to recognise different types of learning, for

example: compliance learning, resistance

learning and transformative learning, with the

latter not happening enough. Compliance

learning has come to predominate: the more

systems of compliance are imposed, the

better people become at getting round this -

or complying mechanically. An employee of a

human rights organisation might learn how to

create a log frame, because it is necessary in

order secure funding – but this is not in itself

likely to be real, transformative learning. A true

learning environment may encourage individuals

to assume risks with greater confidence, a critical

issue when it comes to human rights work, which

often follows unpredictable trajectories.

A key element in moving from "judgement" to

"learning" is the creation and maintenance of

trust amongst all the various parties concerned.

The process itself needs to be open and frank;

mistakes must be openly acknowledged. Yet,

this kind of honest dialogue will only occur if there

is adequate transparency and participation,

and if all involved are seen to share the same

overall goals. Of course, honest dialogue can

be particularly challenging given the nature of

relations between funders and grantees.

3. Peer review and evaluation

An increasing number of concerns surround the

burgeoning evaluation industry and the politics

of professional evaluators. In such a context,

complementing calls for enhancing learning

through internal evaluation and reflection

through peer review/assessment/evaluationbased

learning merits closer examination. Such

methods are used widely in the social sciences

but also in many prominent public spheres such

as the African Peer Review Mechanism within

New Partnership for Africa's Development;

the Trade Policy Review in the World Trade

Organisation and also within the Organisation for

Economic Cooperation and Development. 34 The

34 See, e.g., The African Peer Review Mechanism:

Process and procedures, United Nations Economic

Commission for Africa and also Peer Review as a

Tool for Co-Operation and Change: An analysis of an

OECD working method, Fabricio Pagani, both in African

Security Review, Vol. 11 No 4, 2002. Available at: www.

iss.co.za/pubs/asr/11no4/Feature1.html.

Universal Periodic Review of UN Human Rights

Council is also a peer review mechanism.

In a manner of speaking, external evaluators of

human rights organisations may also be 'peers',

to the extent of their association and involvement,

previous or concurrent, within the broader human

rights movement. As was pointed out by more

than one participant at the workshop, a history

of active involvement in human rights work often

helps to render evaluations more useful and

evaluators themselves more credible. In addition,

measures such as the Grantee Perception Index, 35

for example, also approximate some form of peer

assessment. The idea of formal, institutionalised

peer review/evaluation-based learning however

takes this a logical step forward.

In a context that is marked by a blend of

competitiveness and cooperation, discussion

on the peer evaluation approach underlined the

potential as well as challenges. A peer evaluation,

whereby staff from one or more organisations

undertook a review of another could ensure better

understanding of the issues, build solidarity

and mutual capacities, and foster mutual

learning within both organisations. The affinities

developed and discovered through shared

issues and concerns could build a platform that

would benefit the human rights community as a

whole. The level of trust and solidarity could in

fact encourage greater honesty and openness.

On the other hand, many challenges were also

outlined. A first step to effective peer review is

meaningful institutionalisation of the principles

of mutual learning and horizontal accountability

within the organisations concerned i.e. amongst

staff internally. Active and intense facilitation is

a prerequisite, both to build trust as well as to

generate a credible process and establish clear

and effective ground rules, including around

issues like confidentiality. Tensions could also

emerge from the fact that different organisations

value, prioritise and choose different action and

learning methods or models. The fact of being

peers many also render issues of self-censorship,

on the part of both sides, fairly significant.

A question of wider relevance that arose was

who exactly is included in the category of 'peer'.

Are donors included? What about other actors?

Some felt that donors could play a productive role

in the peer group process, while others felt that

power dynamics would create problems. "Getting

the right people together" was underlined as

key – in other words, the importance of paying

attention to affinities – in terms of geo-political

context, issue focus, approach and expertise

etc. – in the selection of peers. The relevance

of context and affinities also poses challenges;

for instance, while an appreciation of the local

context and understanding is important, a

35 The Center for Effective Philanthropy, www.

effectivephilanthropy.org/index.php?page=granteeperception-report.

14 Report of a Workshop
---
perspective from a distance may also help; for

example, a peer review of a Geneva-based

human rights organisation working at the level of

UN advocacy could benefit from involvement by

an organisation in the field.

Another significant question is setting the aims of

a peer-led review. Should it focus on the question

of effectiveness and impact as such, or is it

more relevant to conceive of it as a 'peer-to-peer

learning process', one focused on looking inward

towards internal processes rather than external

impacts? Indeed both could be achieved,

subject to the design of the process and the

methodology. The extent to which such processes

could fulfil donor evaluation requirements is also

unclear. Could donors be engaged in facilitating

such peer-to-peer processes? If so, how may this

influence the process and outcomes? Despite

the many questions, there was widespread

agreement that this is an idea that merits further

exploration, including support from donors

for pilot peer reviews and learning initiatives,

which would enable lessons to be learnt.

Finally, it is worth stressing that in reality there is a lot

of 'informal' peer evaluation already taking place.

These range from back-room conversations about

other organisations; responses to requests from

donors or other actors for feedback concerning

other organisations; shared reflection at the level

of individual staff across organisations; and more

formal feedback on reports or projects. Giving

a more definitive institutional character to this,

although not without its challenges, may go a long

way in enhancing horizontal accountabilities as

well as potentially change the discourse around

evaluation for the better.

Box 4:

Peer Review of Transitional Justice Initiatives in Africa: Removing Adversity

from Evaluation

Colleen Duggan, International Development Research Centre (IDRC)

In 2007 the African Transitional Justice Researchers Network (ATJRN) requested the support of

the International Development Research Centre to help in an exploration of evaluation approaches

that would be appropriate for assessing transitional justice initiatives. The initiative was motivated

by several factors, including a Network frustration with dominant donor approaches to evaluation

which members perceived to be top down, punitive and unhelpful in illuminating larger goals

such as how transitional justice contributes to durable peace.

Network members singled out a process of rotational self-evaluation between professional

peers as a collaborative learning approach that would allow constructive critical reflection and

strengthen network relationships, while surfacing assumptions underpinning project work and

uncovering theories of change, something that tends to be particularly elusive in the field of

transitional justice. The peer review approach brings together organisations with comparable

levels of expertise and working in similar focus areas or contexts. To structure the review in a

balanced and even-handed manner, participants jointly develop terms of reference that set out

(1) the objectives, scope and intended results of the review; (2) the roles and responsibilities

of the review team and of the organisation under review; and (3) the timeline and human and

financial resources required for the exercise. The review framework includes:

▪ ▪ Ex ante study by the reviewers of documents relating to the mandate, structure, partnerships

and programmes of the organisation under review;

▪▪

A self-assessment report undertaken by the organisation under review;

▪ ▪ An in-country assessment by the reviewers including interviews with staff, external partners

and other stakeholders;

▪ ▪ A de-brief between the reviewers and the organisation being reviewed, prior to departure;

▪ ▪ Production of two reports: A confidential report to be reviewed exclusively by review participants

and a second report detailing general aspects of the peer review process and suggestions for

its improvement.

Conducted in Kenya and Sierra Leone, members highlighted a number of strengths and benefits

of the methodology. They noted that having a respected peer offer an impartial assessment helped

to depersonalise and depoliticise difficult issues, making it easier for the organisation under

review to confront and address them objectively. Similarly, the existence of a well-established prior

relationship, shared values between the reviewing organisation and the organisation under review

and the confidential nature of the methodology were critical for ensuring a successful experience.

Sources:

International Journal of Transitional Justice. Vol.4 Issue 3. November 2010: Colleen Duggan, Editorial Note, pp. 315–328.

Nokukhanya Mncwabe, African Transitional Justice Research Network: Critical Reflections on a Peer Learning Process, pp.

497–508.

No Perfect Measure: Rethinking Evaluation and Assessment of Human Rights Work 15
---
CONCLUSION

This report has canvassed a number of

different concerns regarding approaches to

'evaluation' or 'impact assessment' of human

rights work, as well as possible ways forward to

rethink and redefine current practice. A serious

consideration of the problems and ideas raised

at the workshop would constitute an important

step towards strengthening human rights work

and the accountability of all involved in it –

advocates, donors and evaluators alike.

One of the most prominent threads running

through the discussions at the workshop was

the tendency to over-privilege the application of

metrics and positivist methods to complex and

elusive processes of change. As one participant

noted, approaching evaluation as a science

rather than an art could lead to an over-reliance

on "algorithms" at the expense of "nose",

contextual judgement or instinct.

The dangers of this are tellingly illustrated in

an anecdote shared with ICHRP regarding an

evaluation of a programme on women's rights

and empowerment in rural India. Evaluators were

hard-pressed to find data for the various indicators

they had developed to show any significant

positive change in women's lives as a result of the

intervention. Then, in the course of an interview,

one of the women associated with the organisation

said that previously whenever the local landlord

addressed her, she had always answered with her

eyes on the ground; now, she responded with her

gaze on the top button of his shirt, and expressed

the hope that one day she would be able to look

him in the eye and reply. 36 Undoubtedly, ensuring

that evaluation and assessment of human rights

work can account for such subtle realities of

change presents a huge challenge to human

rights organisations, donors and evaluators alike.

It is however imperative that every attempt is made

to grapple honestly with the complexities of the

challenge, compelling as the temptation may be

to resort to quick fixes and expert-led solutions; at

stake is the heart and soul of human rights work.

36 Srilatha Batiwala, AWID Scholar Associate, personal

communication to ICHRP, 2011.

16 Report of a Workshop
---
ANNEX: LIST OF PARTICIPANTS

Magda Ali, Board Member, ICHRP

Chidi Anselm Odinkalu, Open Society Justice Initiative/ICHRP Board Member

Natacha Antille, Swiss Agency for Development and Cooperation

Fateh Azzam, OHCHR Middle East / Arab Human Rights Fund / Board Member, ICHRP

Maggie Beirne, Board Member, ICHRP

Daniel D'Esposito, HURIDOCS

Kate Donald, Research Fellow, ICHRP

Zaira Drammis, Amnesty International

Ashley Drew, Research Intern, ICHRP

Chris Duckett, International Service for Human Rights

Rosalind Eyben, Institute of Development Studies, University of Sussex

Paul Gready, University of York (Teleparticipant)

Ceri Hutton, Independent Researcher/Evaluator – Business & Human Rights

Juana Kweitel, Conectas HR

Cailean Maclean, Research Intern, ICHRP

Julie Marion, International Commission of Jurists

Laila Matar, Cairo Institute for Human Rights

Paula Mendez Keil, Research Intern, ICHRP

Benoit Meyer-Bisch, Swiss Agency for Development and Cooperation

Flaminia Minelli, OHCHR

Vijay Nagaraj, Executive Director, ICHRP

Lizzy Openshaw, International Service for Human Rights

Tim Parritt, Oak Foundation

Radosh Piletich, International Commission of Jurists

Emma Playfair, Board Member, ICHRP

Vincent Ploton, Association for the Prevention of Torture

Gisella Reina, International Commission of Jurists

Mark Schmitt, Roosevelt Institute (Teleparticipant)

Daniel Sershen, Open Society Foundations

Ramesh Singh, Open Society Foundations

Claire Thomas, Minority Rights Group

Monette Zard, Ford Foundation

No Perfect Measure: Rethinking Evaluation and Assessment of Human Rights Work 17
---
Is the emphasis on a results-based culture and value for money having a

disproportionate impact on the work of human rights organisations? How

do evaluation and impact assessment practices shape priorities, objectives

and processes in human rights work? Are human rights organisations being

discouraged from taking risks and pursuing long-term agendas in favour of

projects that are easier to measure and 'prove' as successful? No Perfect

Measure focuses on the political and normative issues underlying these

questions and concerns.

Drawing on discussions at a workshop involving advocates, donors, social

scientists and evaluators, this report is a continuation of the ICHRP's work

towards facilitating critical refection on redefining approaches to evaluating

and assessing human rights work. Examining questions of power and

accountability, the particularities of human rights work, the tensions

between micro and macro narratives and other issues, the report also

points to approaches that widen the frames of evaluation and assessment

and place a greater emphasis on learning rather than judgement, including

ideas such as peer review.